The Maze
For me, this is and always will be the real start of my Speedhunting year.
It might be a strange thing to say, having just covered Formula D and AutoCon in Long Beach, California the weekend before, but Dubshed has become a ritual each year for me. I did miss it a few years ago, and that was maybe when I realised just how it had got under my skin.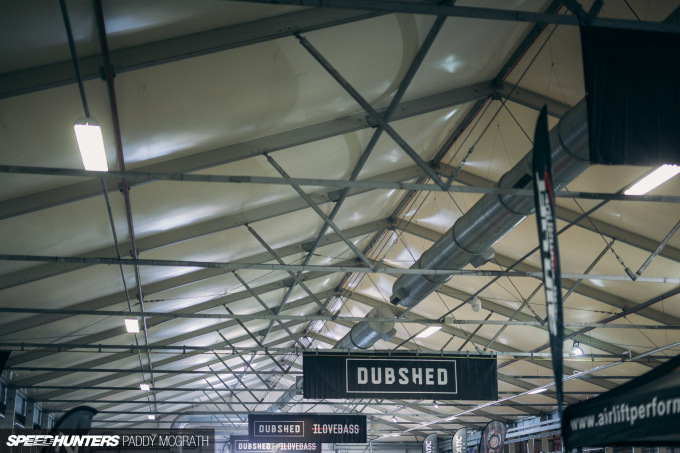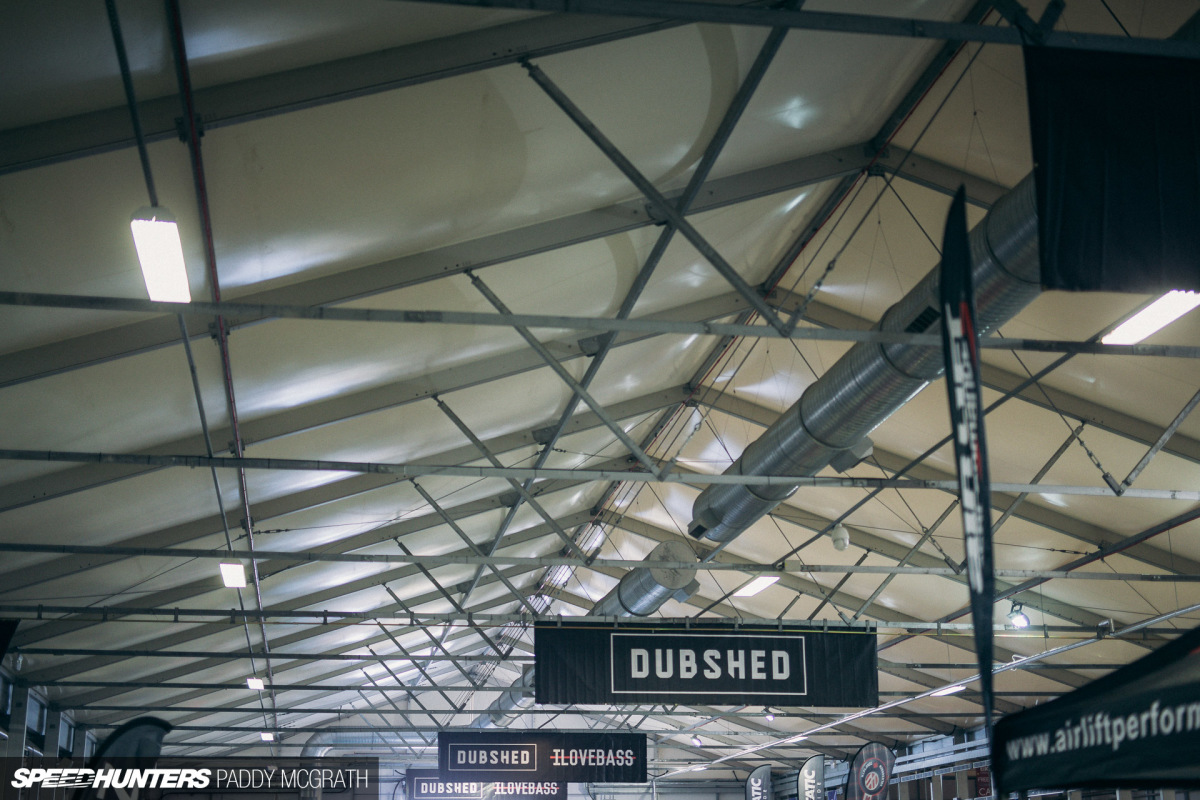 Returning to the Eikon Complex, south of Belfast, for the second year running, Dubshed remains the best static show anywhere in Ireland. When I say best, I'd like to qualify that by saying that I think it has the highest standard of cars, the finest venue, is brilliantly organised, and in general is just a pleasure to attend. It's not perfect, but then, I don't think any show is.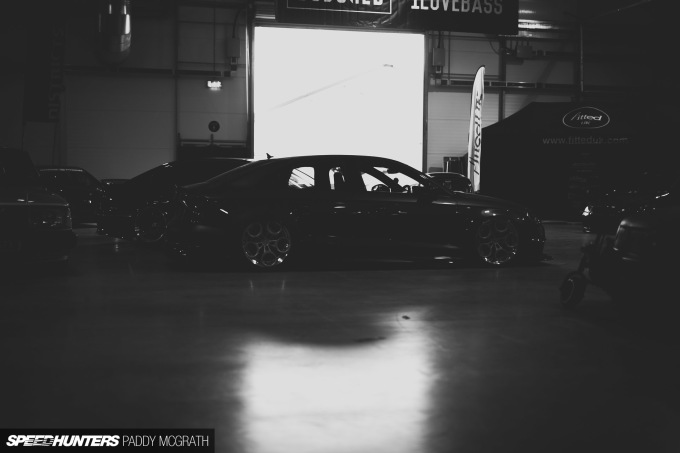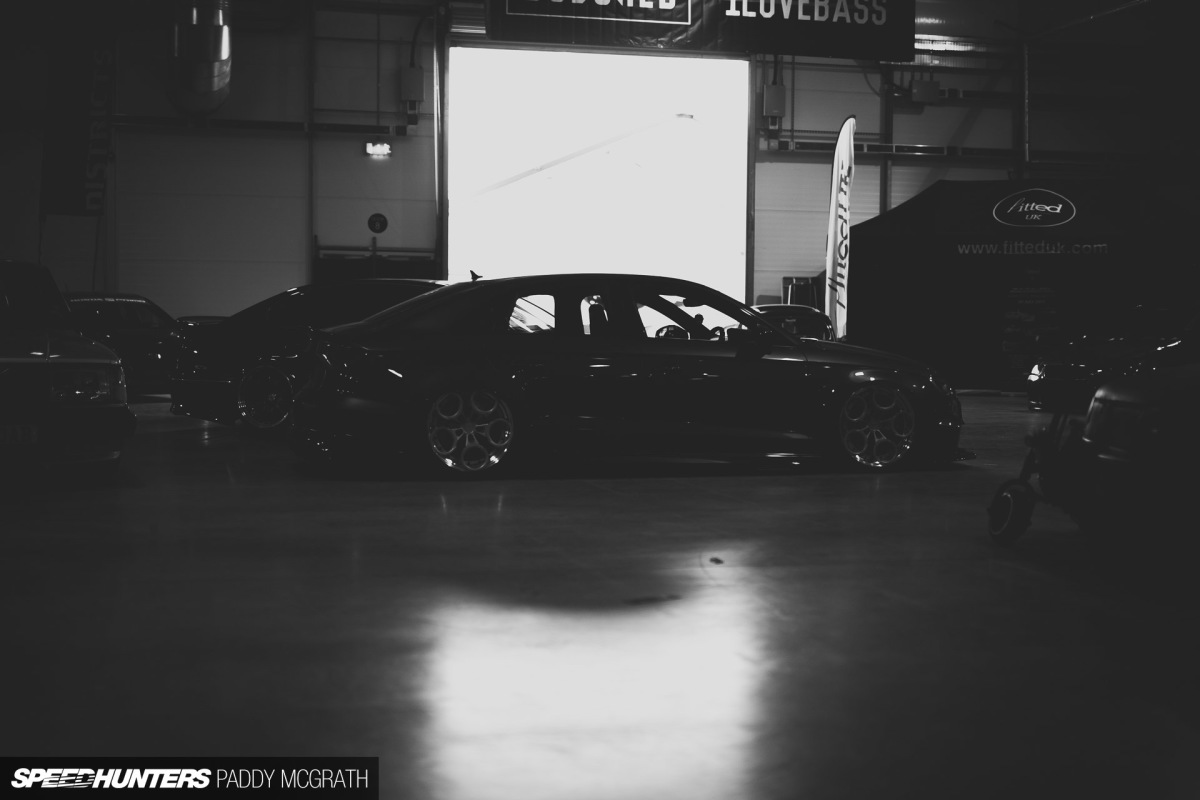 Ultimately, any show is only as good as those who build for it and attend. When considered as an island, the countries of Ireland and Northern Ireland are two places where car culture really shouldn't exist. There are places that have it worse, but not many. In saying that, not only does car culture exist here, it absolutely thrives.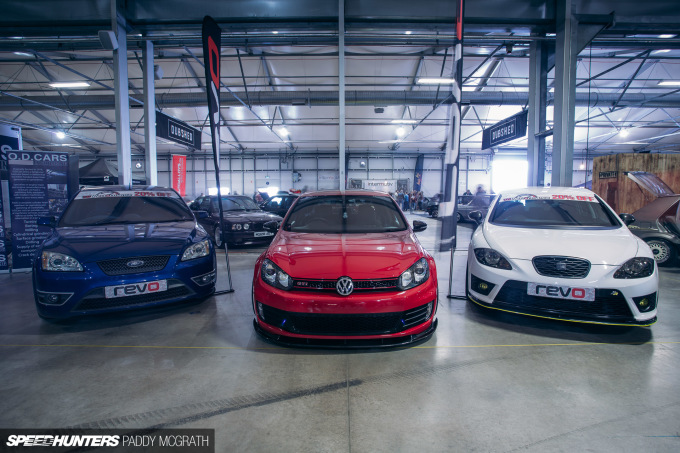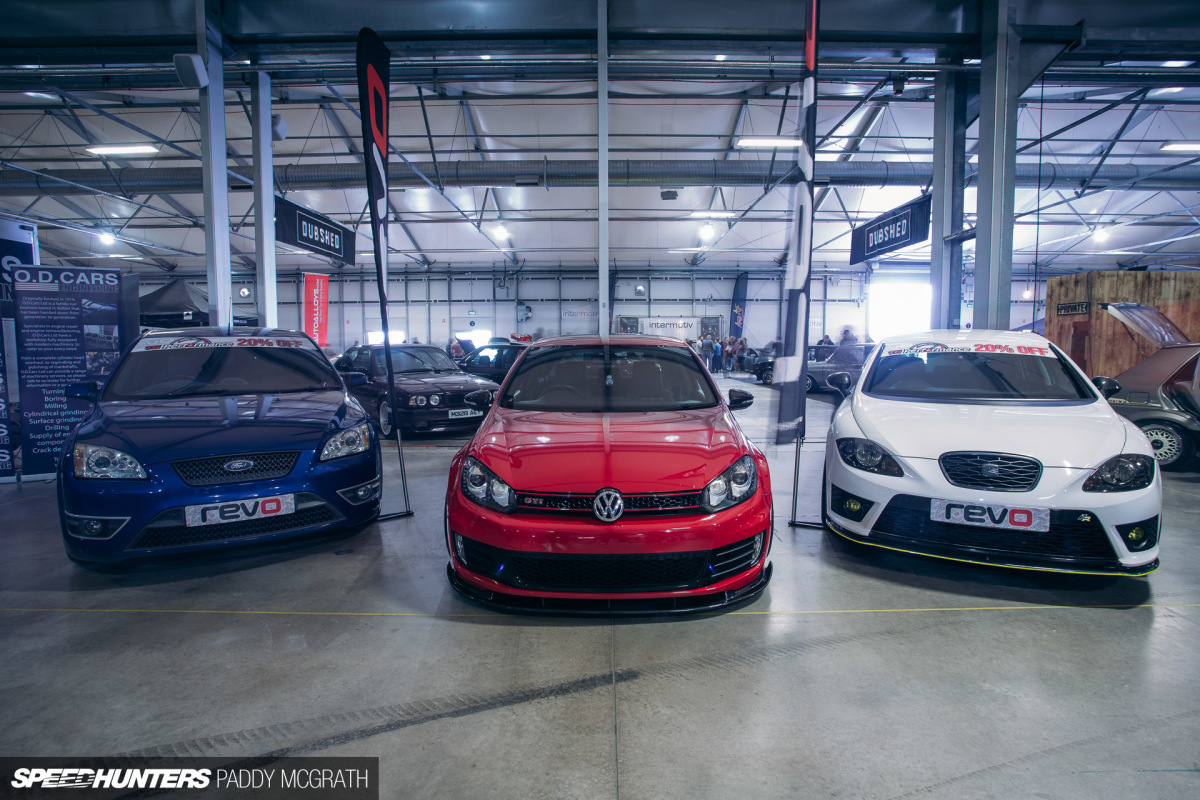 I arrived tremendously early on the Sunday morning to have my car added to the TG Performance NI stand, the same crew who gave Project GTI the Revo treatment last year.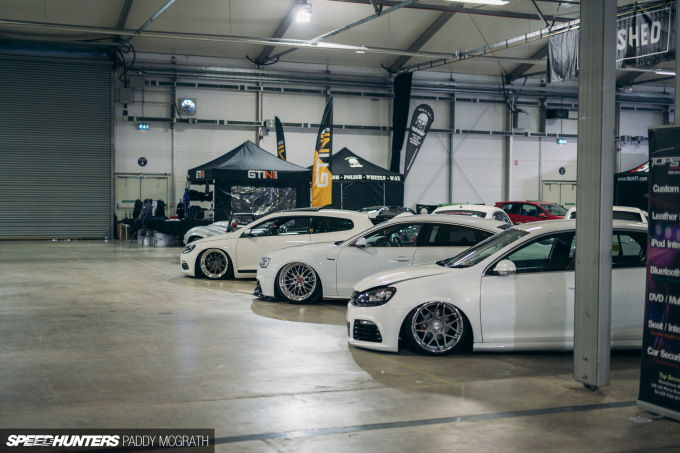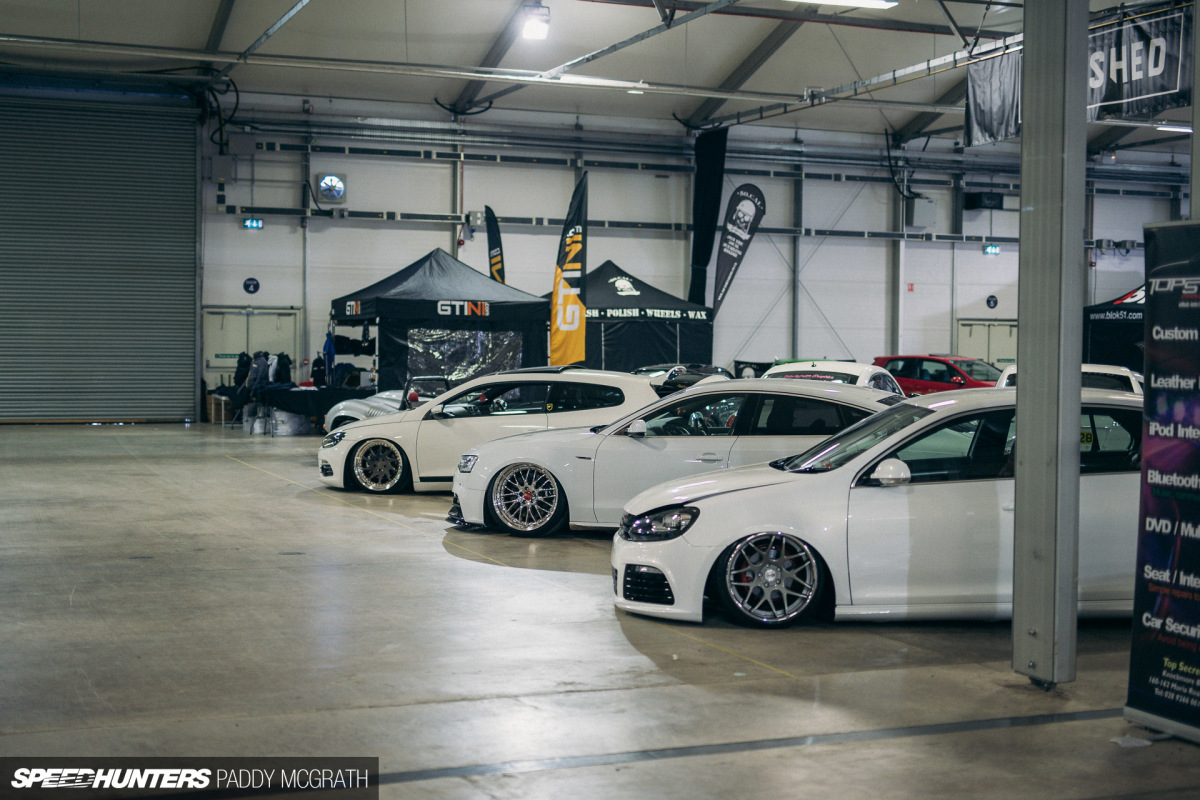 With the doors to the public not due to open for another couple of hours, it was the perfect opportunity to wander the show and get a feel for what had turned up this year.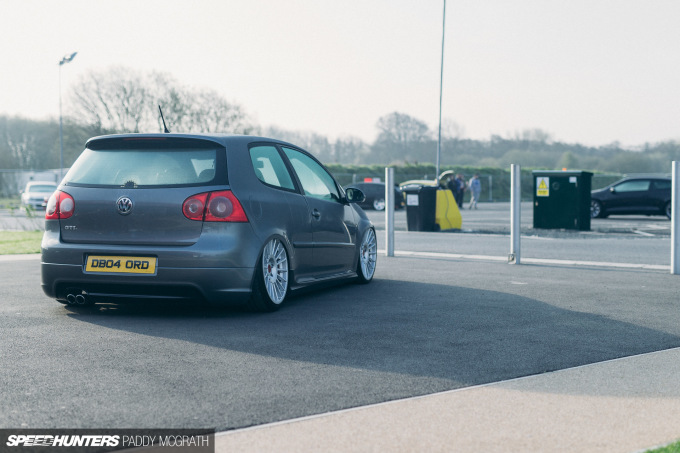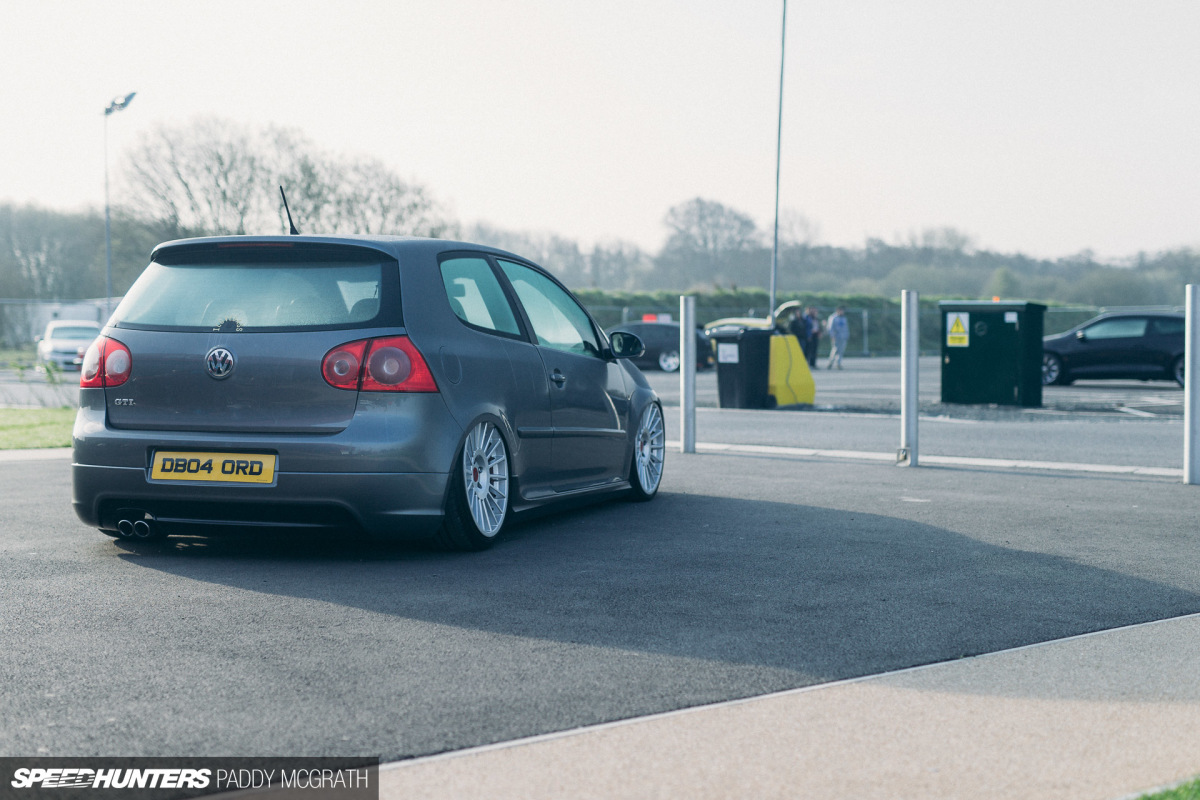 I made my first pass with a camera, but decided to put it away for a little bit and use my eyes to look instead. Now, I was looking at the cars and not looking for a composition or solid photo opportunity. It's not something I often do, but it is something that I plan on doing more of in the future. It's funny the difference it makes.
Open Doors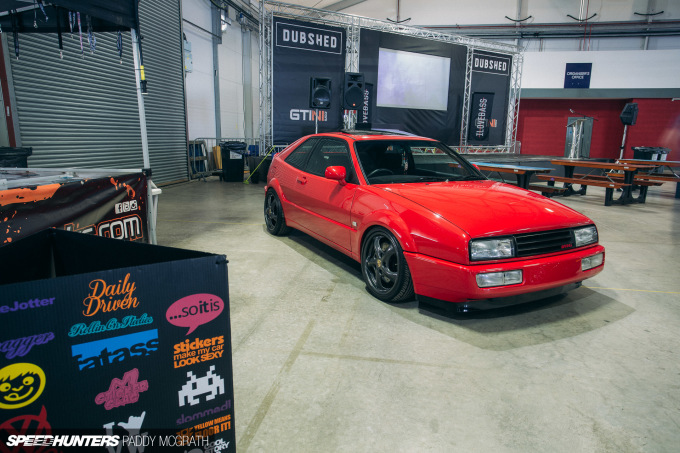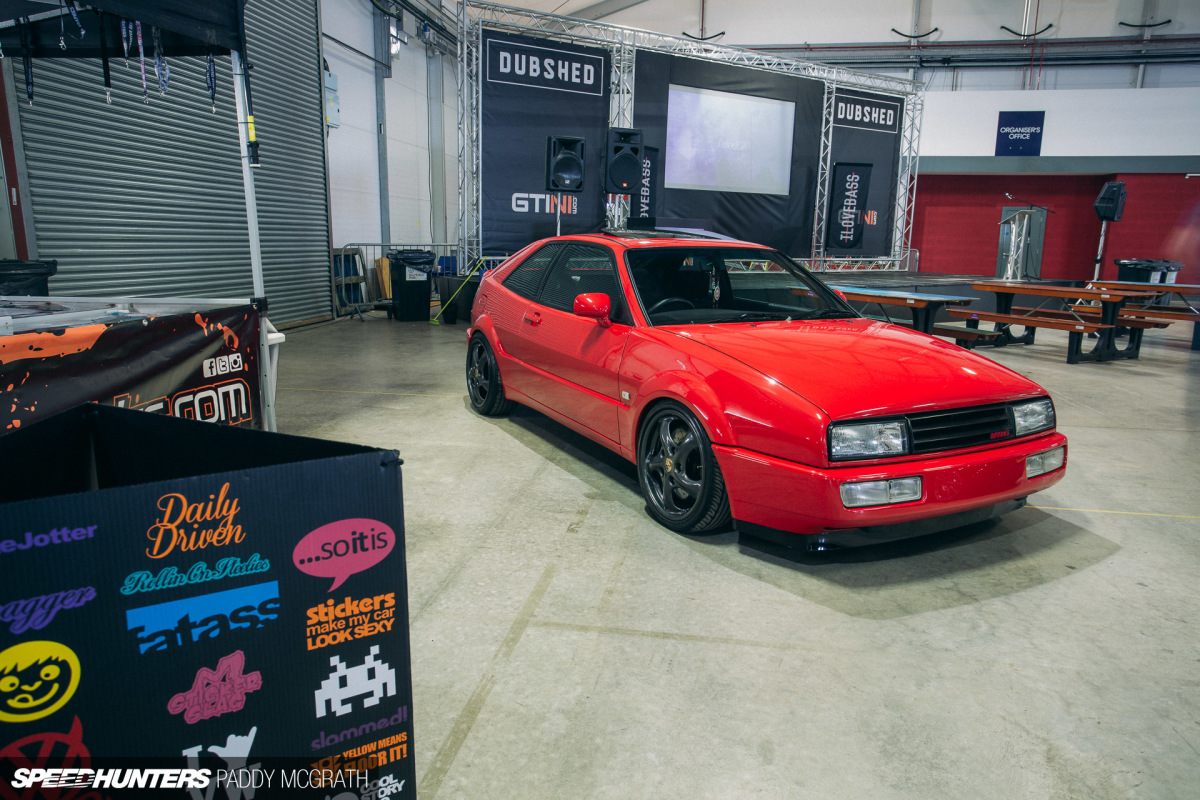 I thought I'd open the coverage with this, a great example of a VR6 Corrado. I know we've spoken at length in the comments about the lack of them these days, so it was a pleasant surprise to find this example pretty much straight away.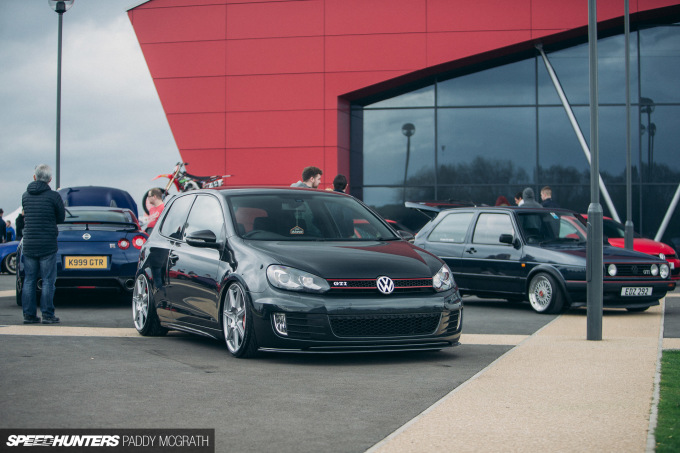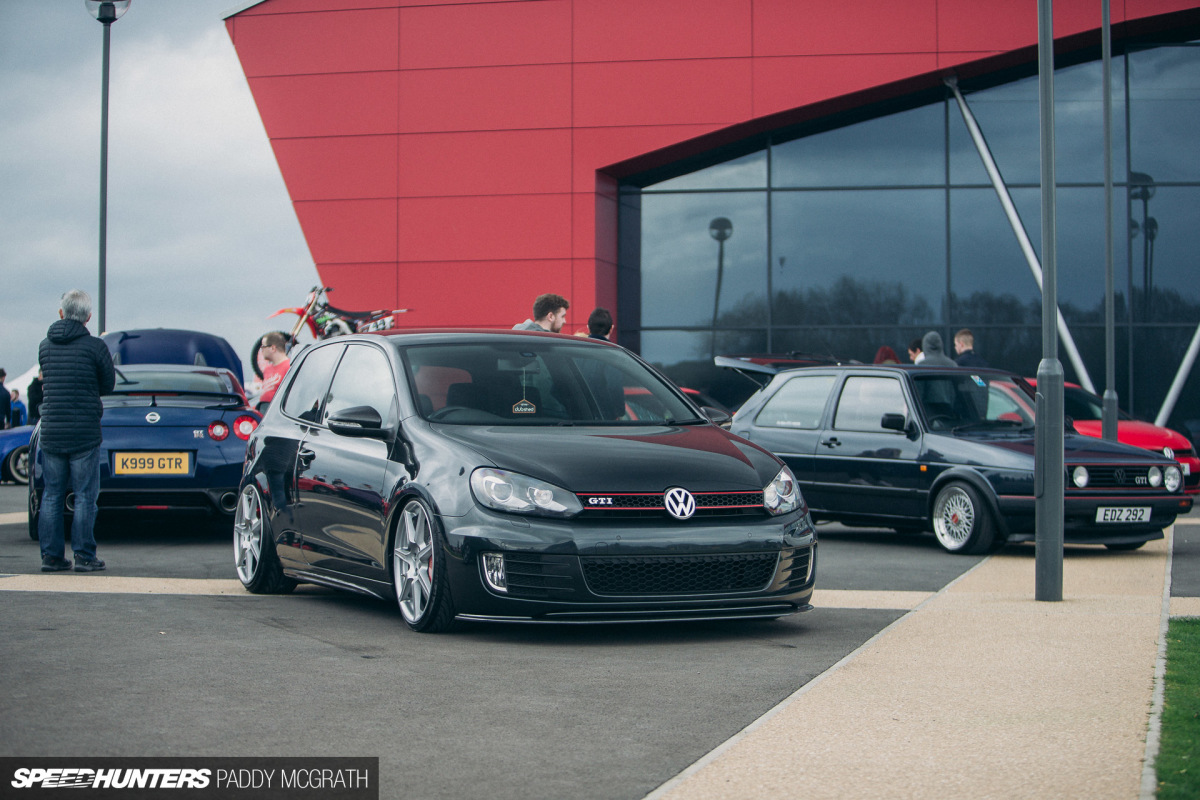 Each year, as my own tastes change, I find myself looking for different qualities in builds. This year, maybe more than ever, I was searching for those OEM+ type builds. Cars that can be used everyday, that retain an original ethos, but are just that subtle bit better than factory.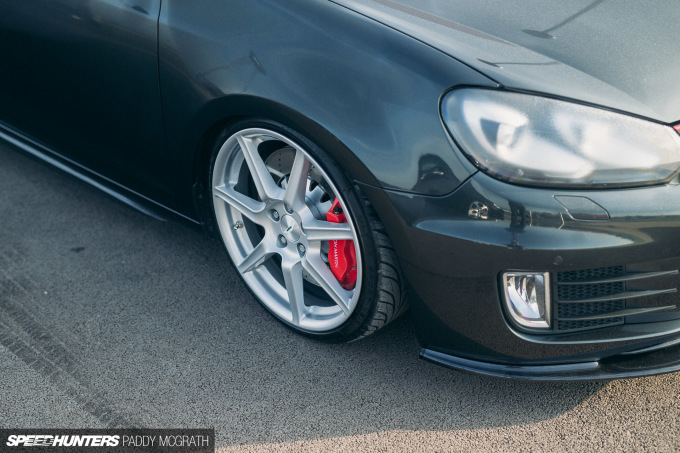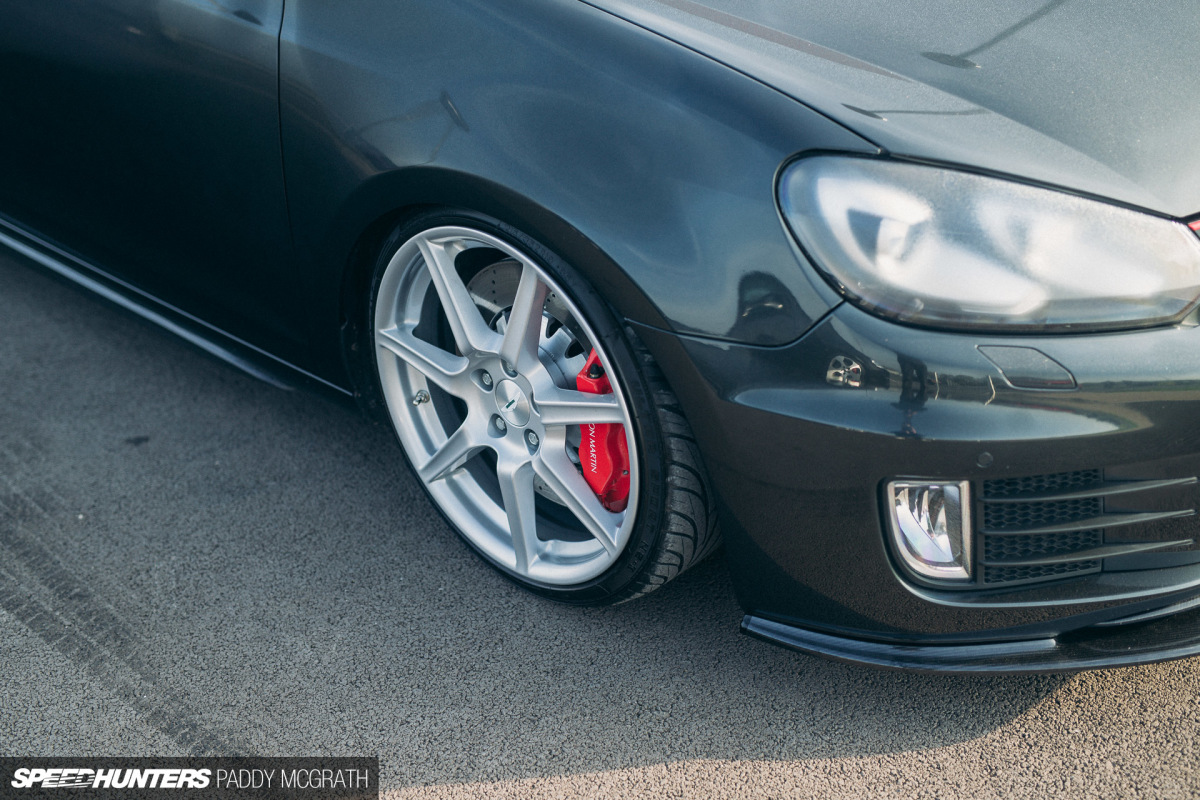 One of the first that caught me was this Mk6 GTI on an Aston Martin V8 Vantage wheel and brake combination. The inclusion of a subtle front lip and the removal of the front registration plate, along with an aftermarket rear spoiler, were all the touches it needed. Going by the proximity of the rear wheel lip to the arch edge I'd guess it was on air, but it's getting harder to tell.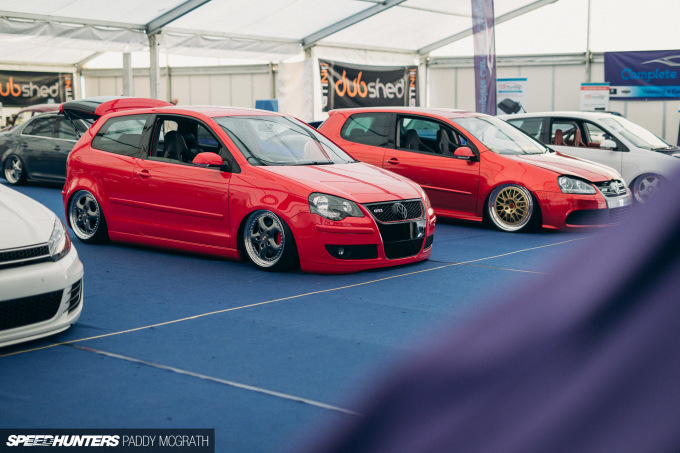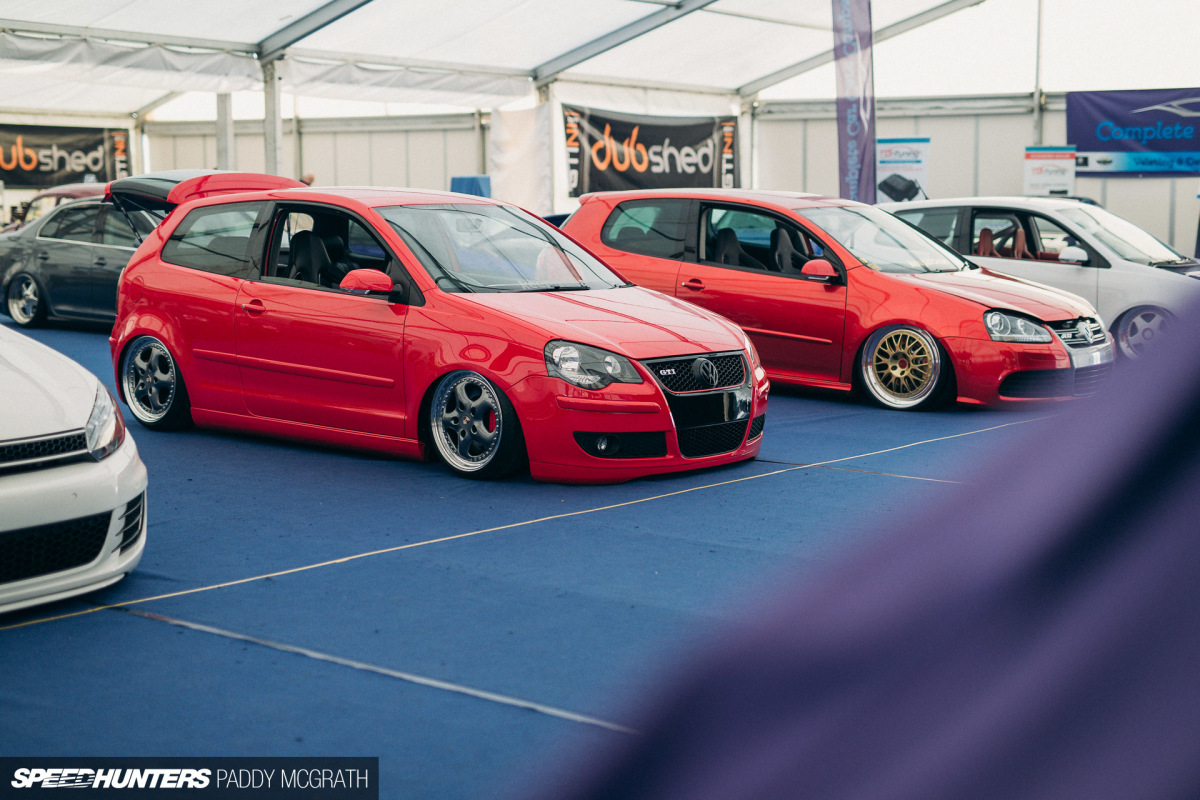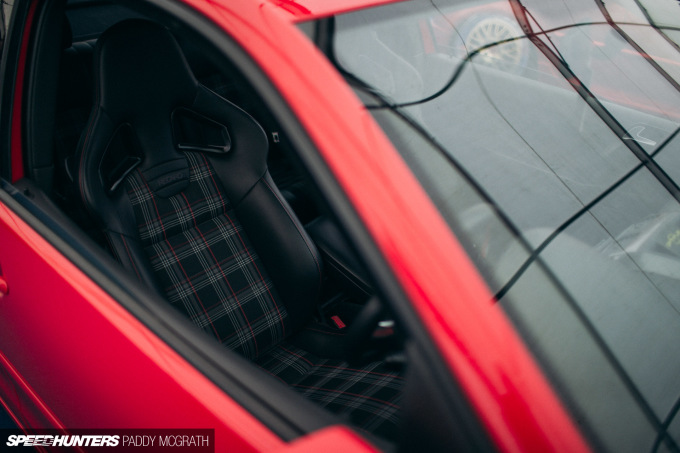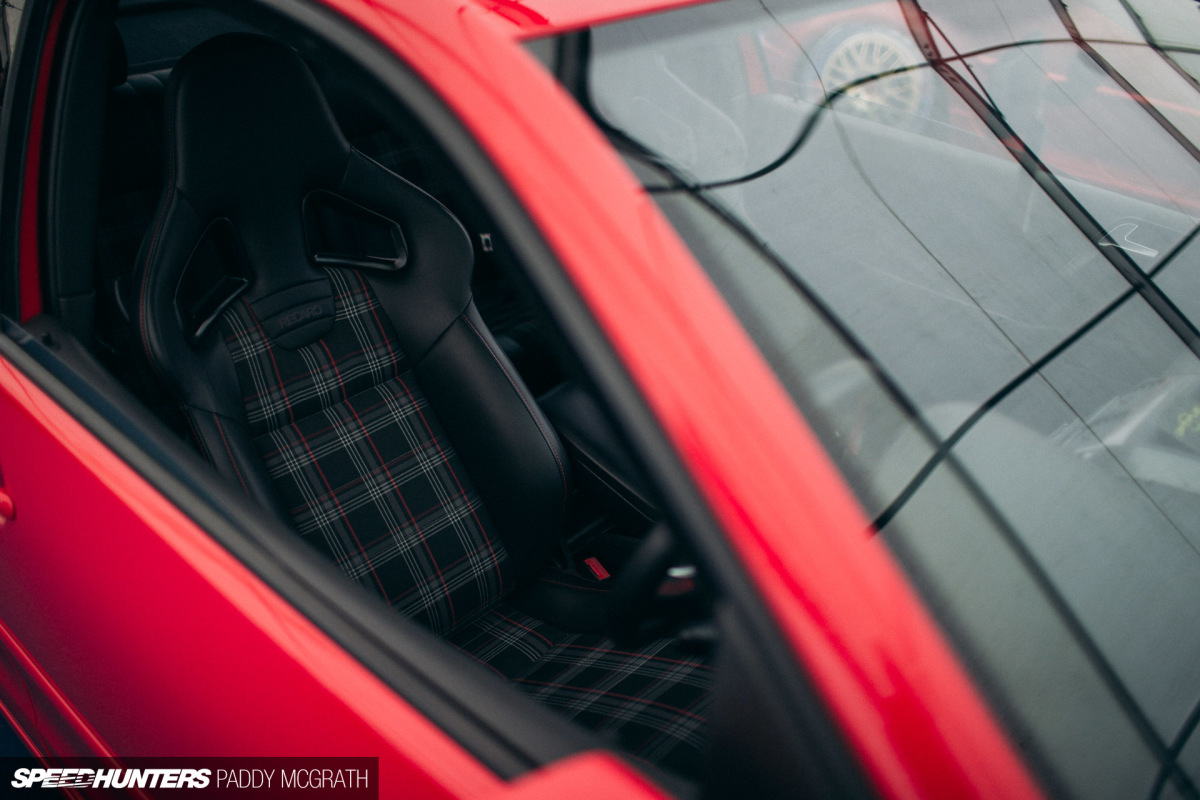 This face-lifted Mk4 Polo was another. Again, it's just simple things like the retrofitted Recaro seats trimmed in GTI tartan, the Mk6 Golf GTI steering wheel and the Air Lift Performance V2 controller flush-mounted into the centre console. I'm not a big boot install person, but this was neat and tidy, while tying into the rest of the car.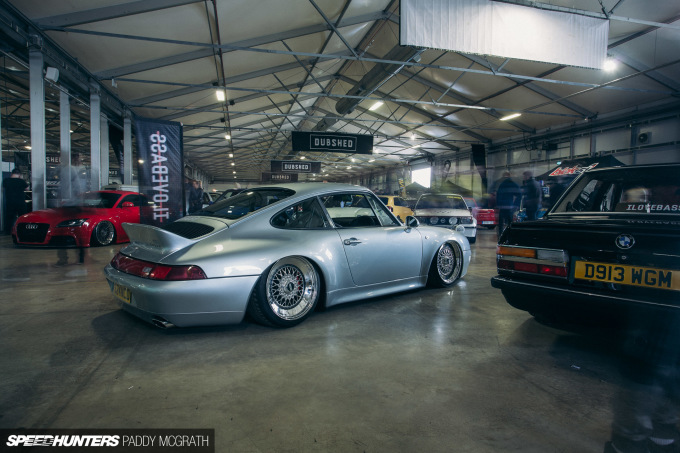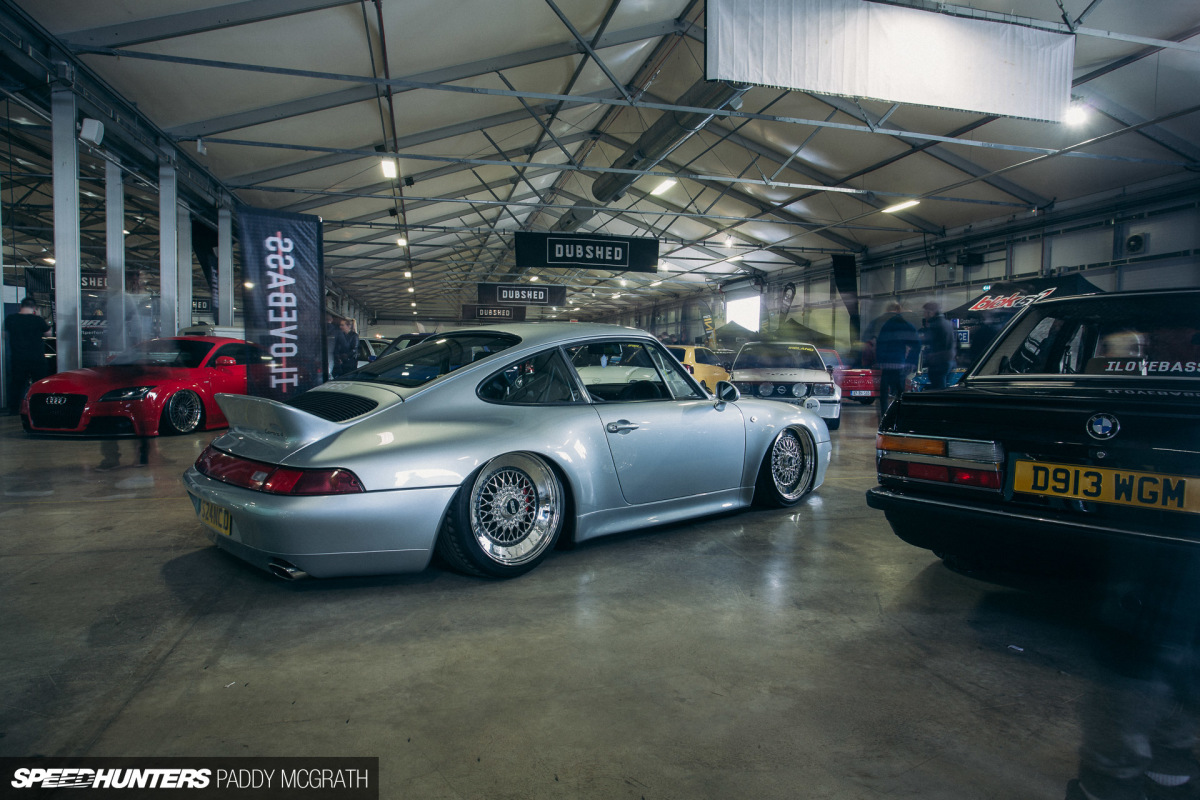 We've seen a lot of slammed Porsche 911s on polished wheels, but they're not something that I'm tired of looking at. This 993 was just about perfect; the rear ducktail made it for me.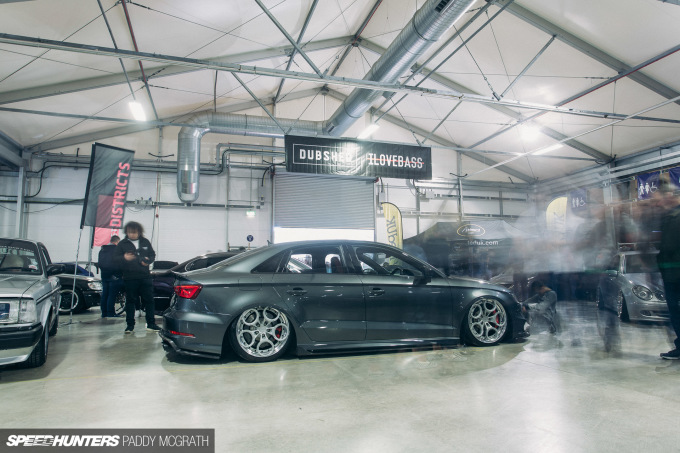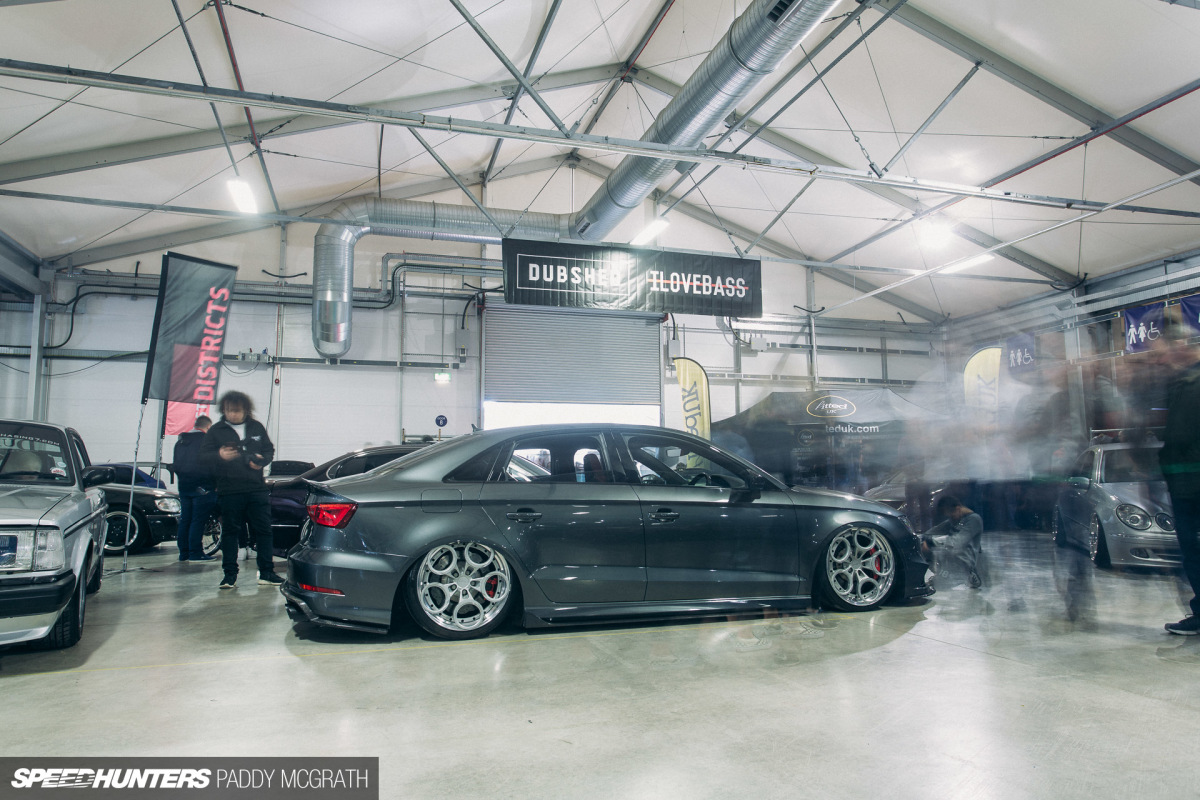 At the top end of the scale, you have cars like this Audi S3 which is pretty much the archetype of a show car build. Inside and out, it's a finely finished car.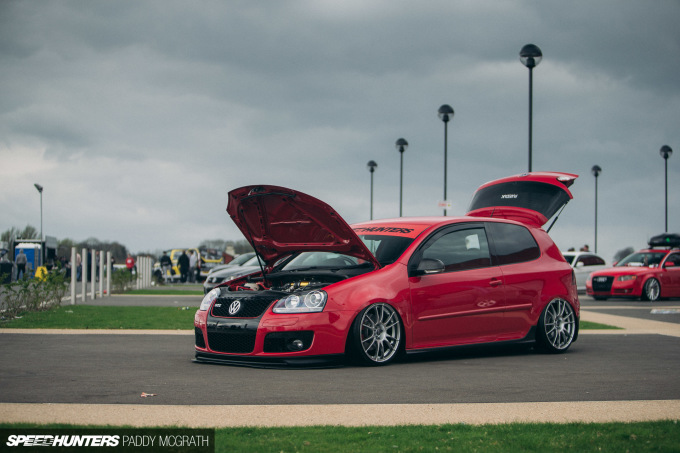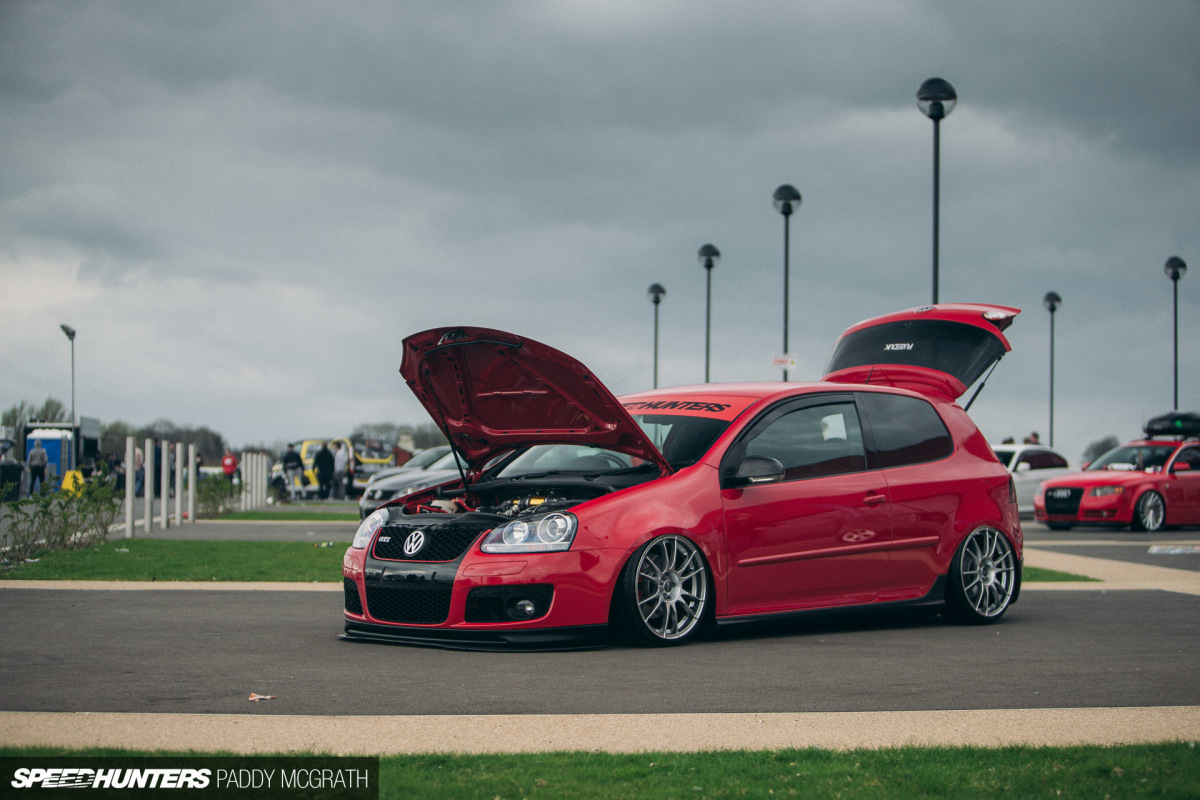 A Speedhunters windscreen banner is always going to help if you want a not so subtle shout out, but this was another well thought out and executed Mk5 GTI.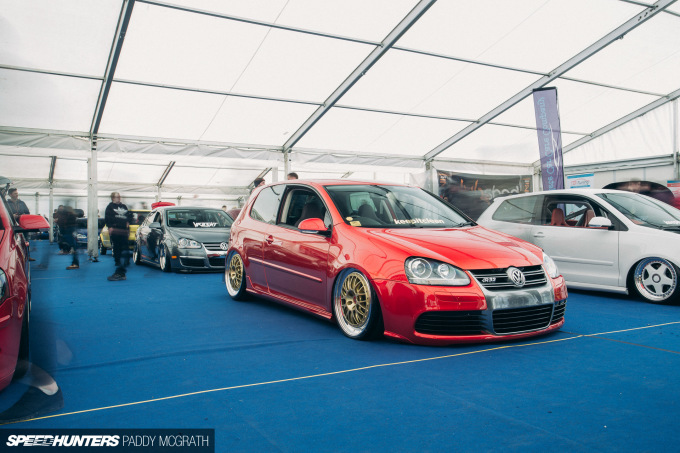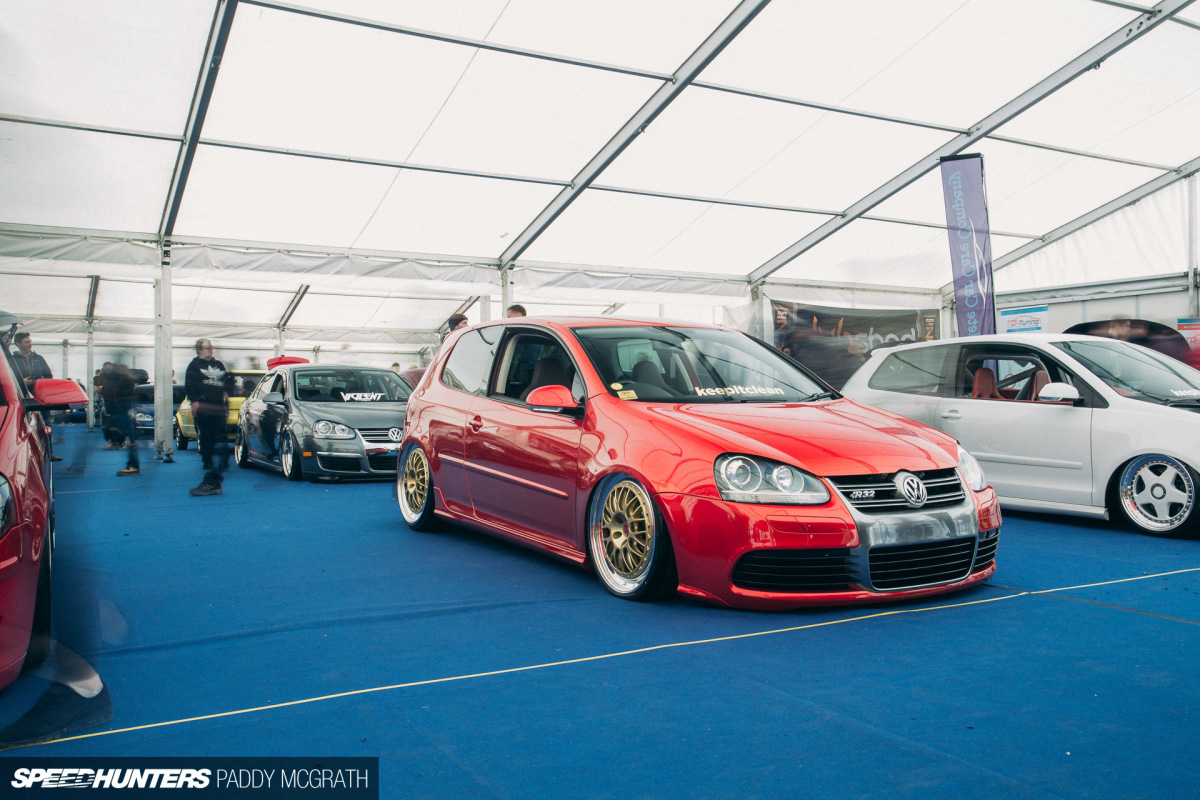 On the subject of Mk5s, there was a huge surge in them this year as they've become so affordable in recent times. They also strike a nice balance between being a new car but something that's still analog to a certain extent and can be worked on at home. There were few better Mk5s than this, mind.
Although being primarily a VW show, most, if not all German marques are welcome. This year, the BMW NI club were given a display space right in the middle of the main hall. They assembled quite a quite collection of M cars and other special BMW models. I think I'll forever have a soft spot for Dakar Yellow E36 M3s.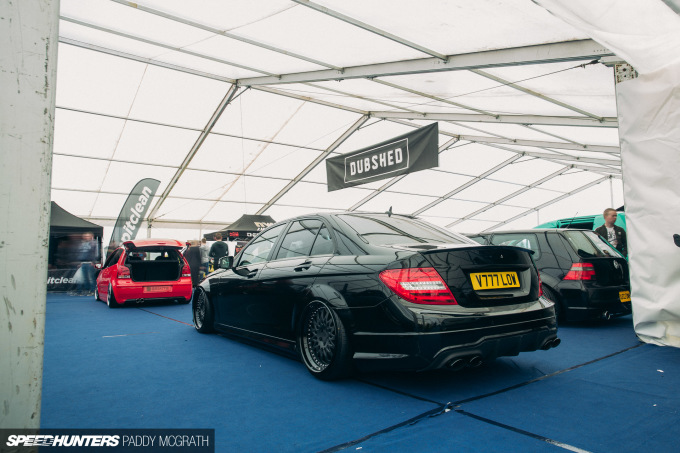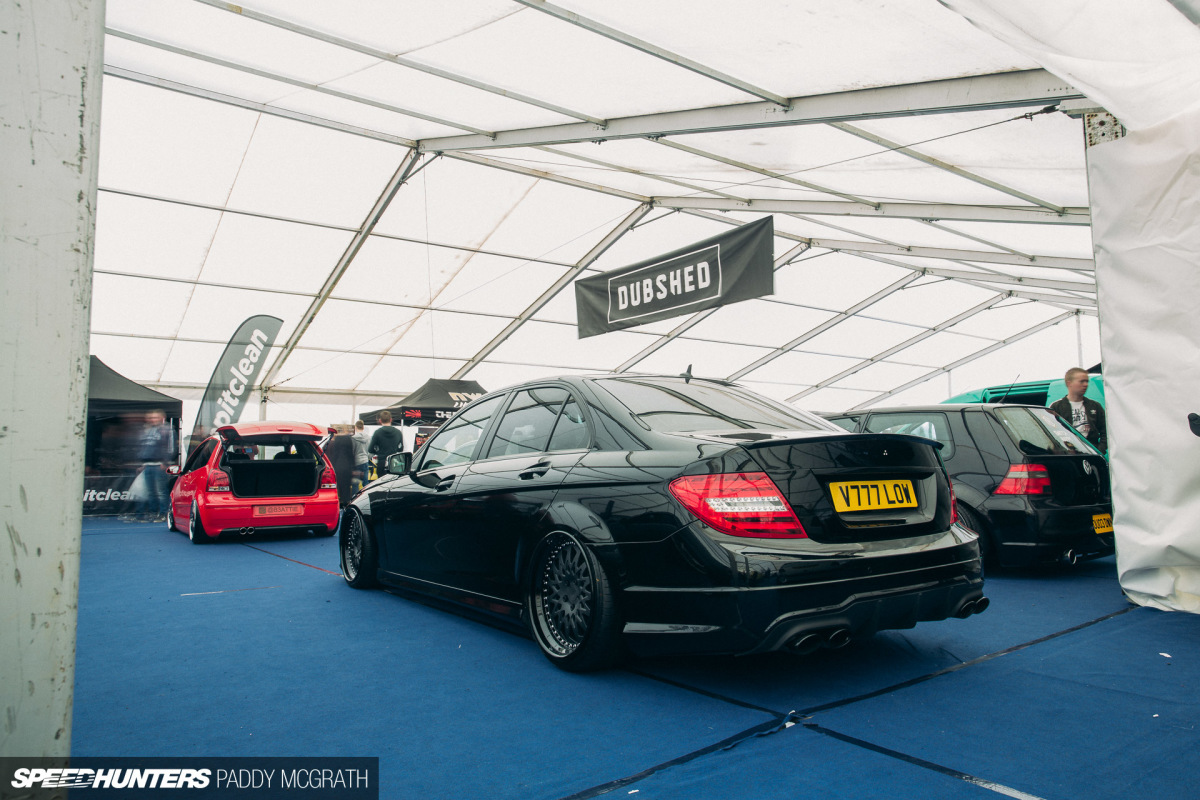 Another non-VW, but one that was a welcome sight. This black-on-black C Class was just mean as hell.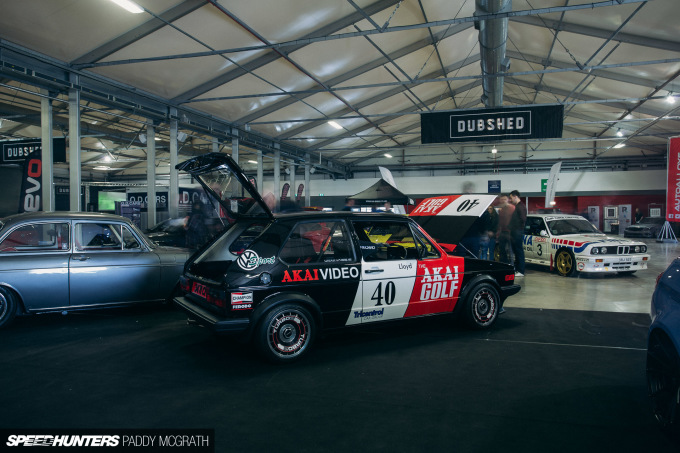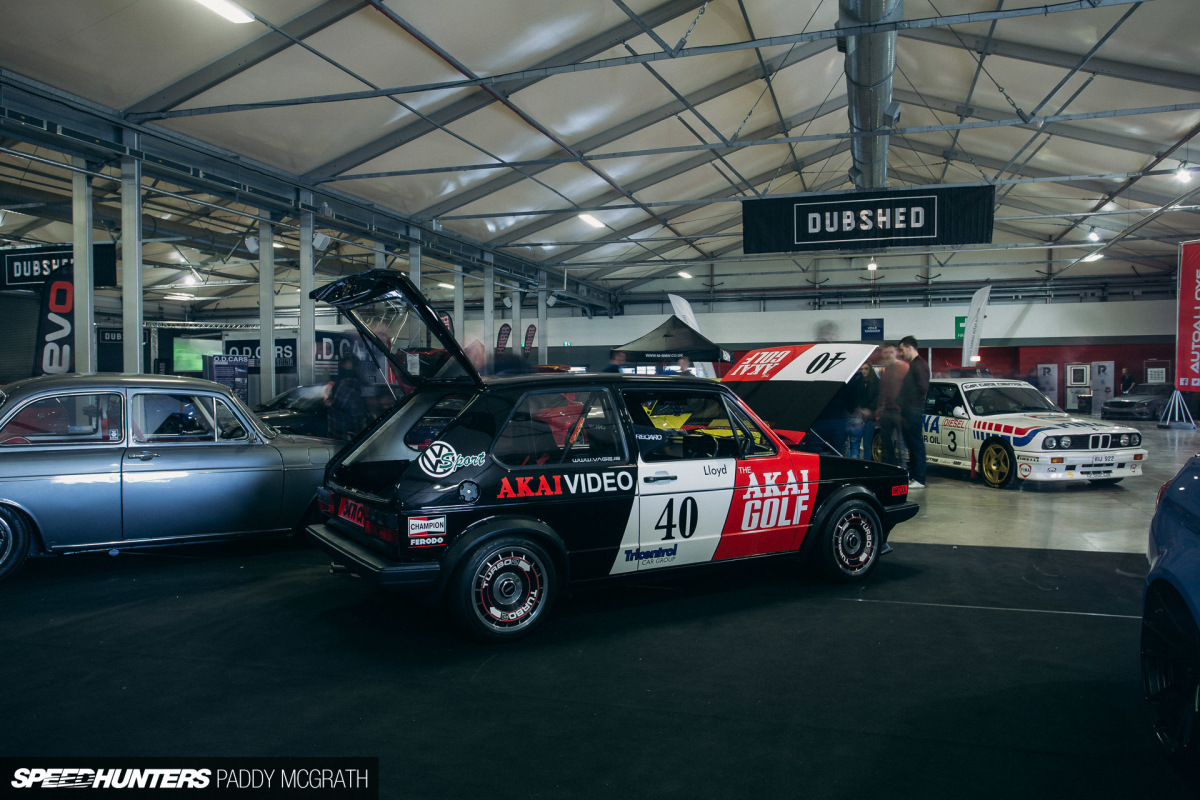 This Mk1 GTI has been slowly evolving every time I see it, and it's always a welcome sight. Its new vintage race graphics are a brilliant addition in making it stand out amongst the crowd.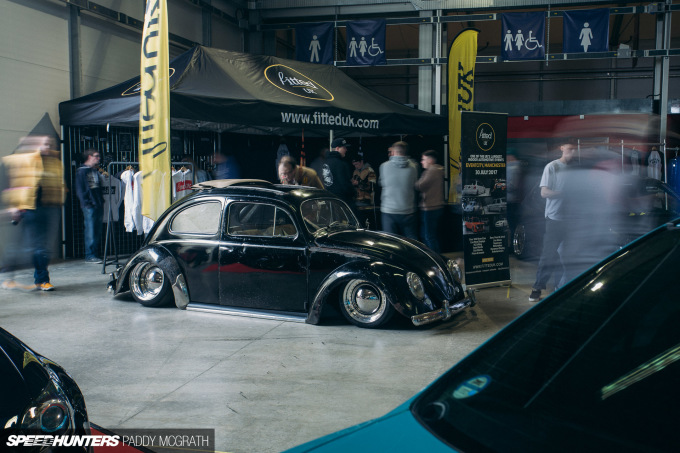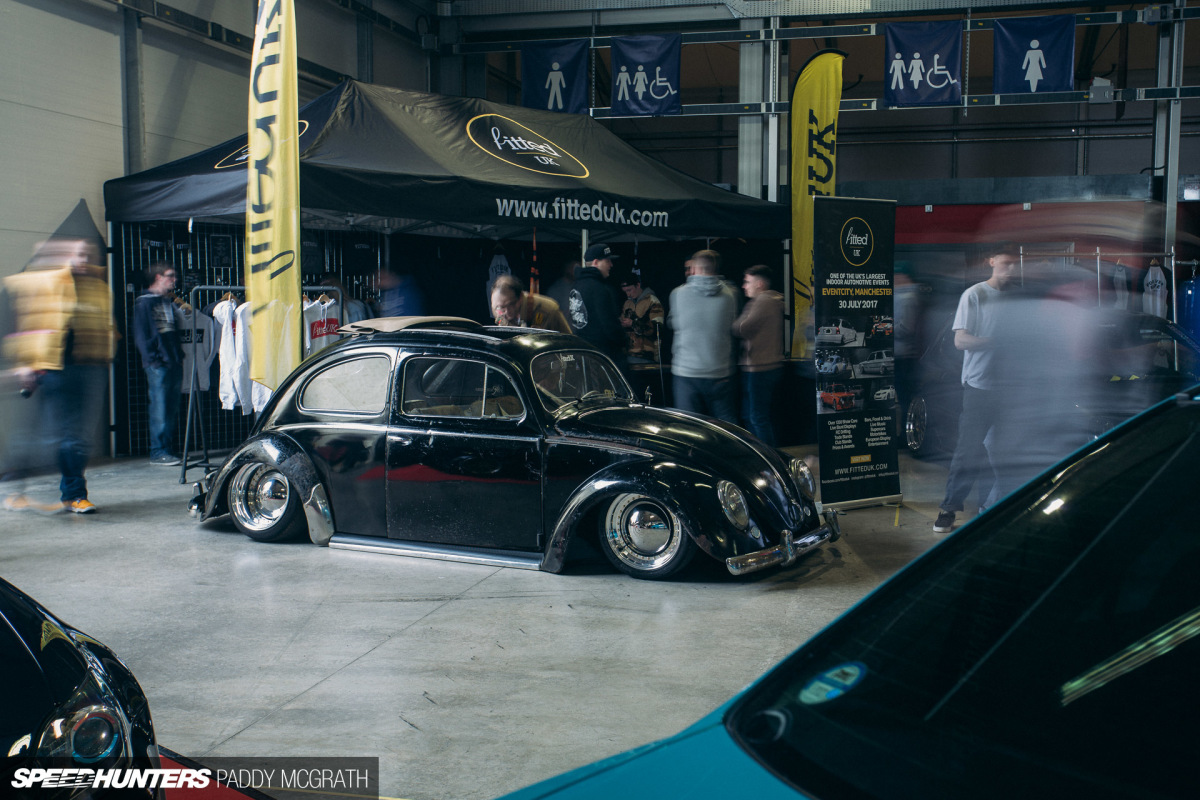 Maybe I missed them, but there was a surprising lack of air-cooled Volkswagens this year, although those that were present were all worth their salt.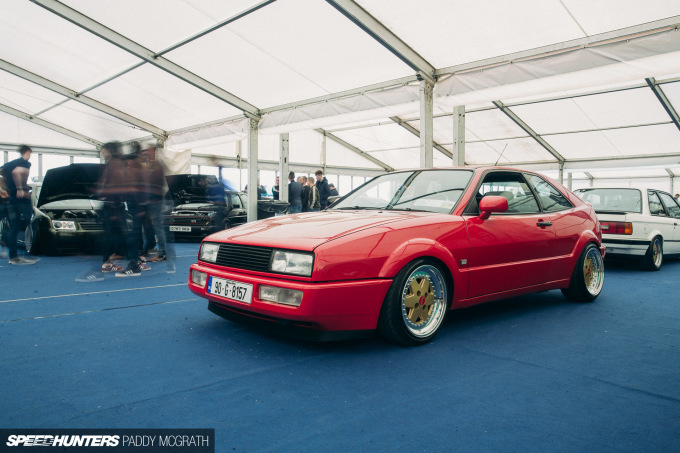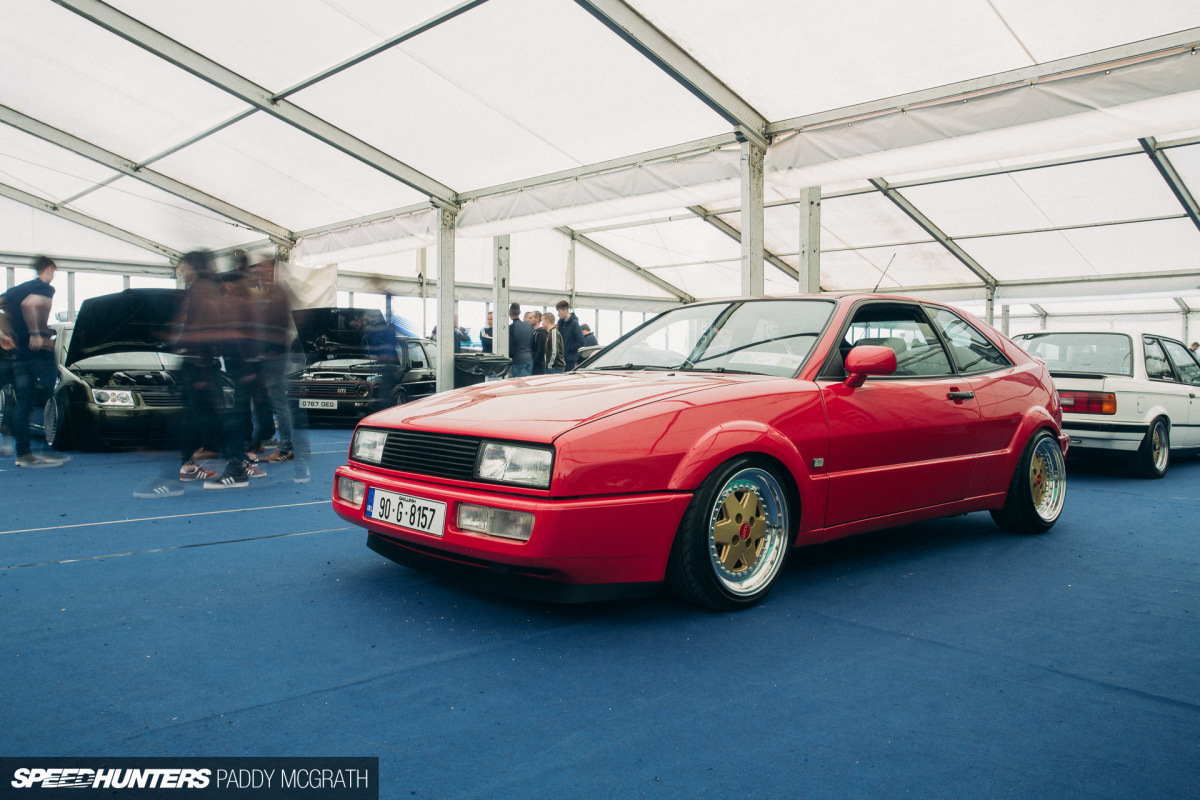 Another Corrado? What is this madness.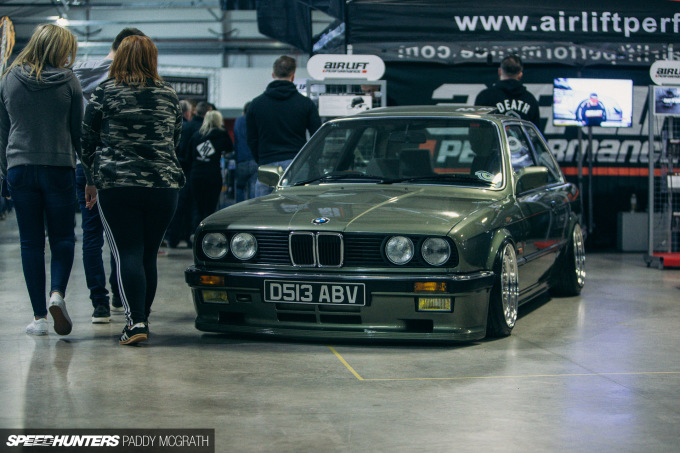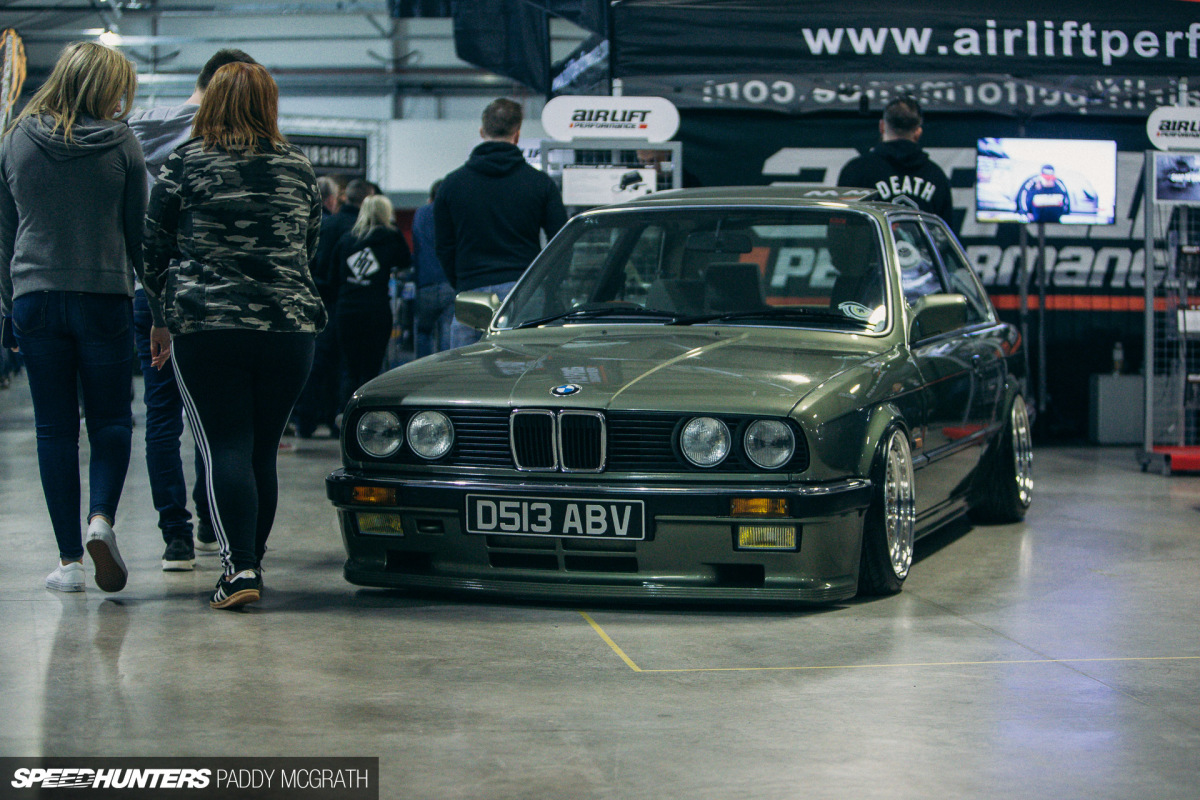 The Air Lift Performance stand was host to a few really good cars, but I think that this E30 was maybe the best of them.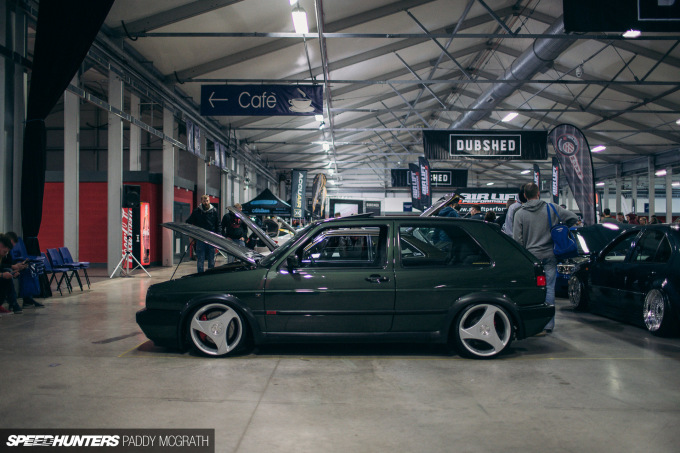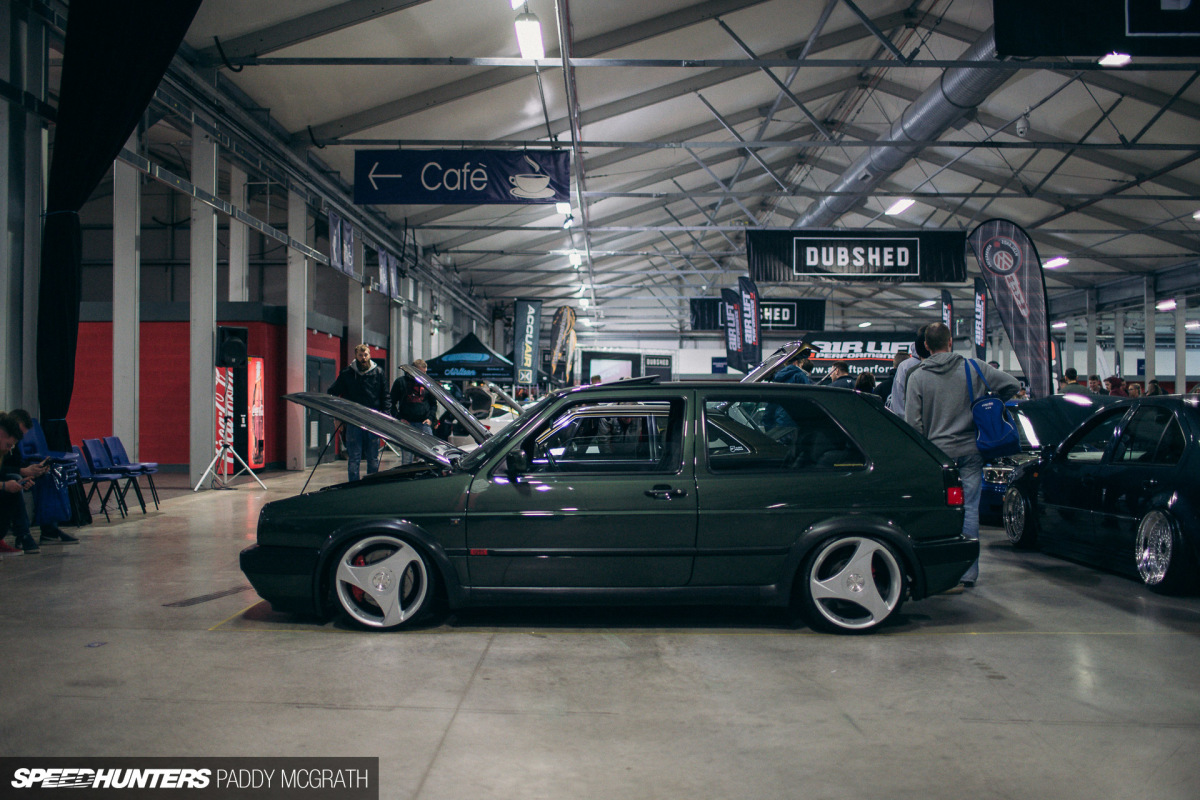 Brace yourselves, but three-spoke wheels are making a comeback, and I for one am ecstatic about it. It's going to be hard to beat Super Advans, but these are having a pretty good go at them.
Less Talk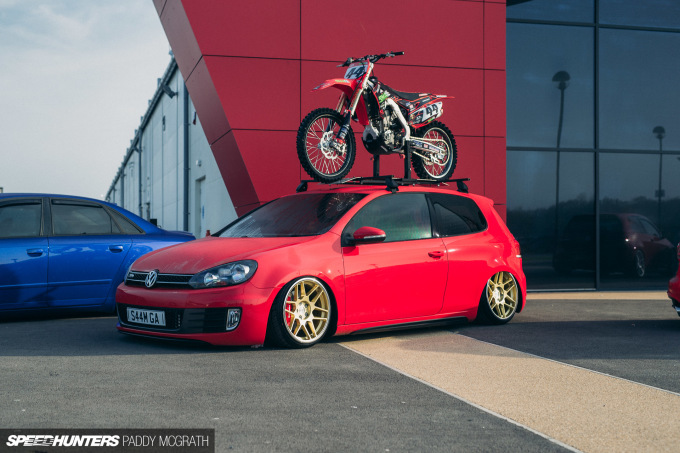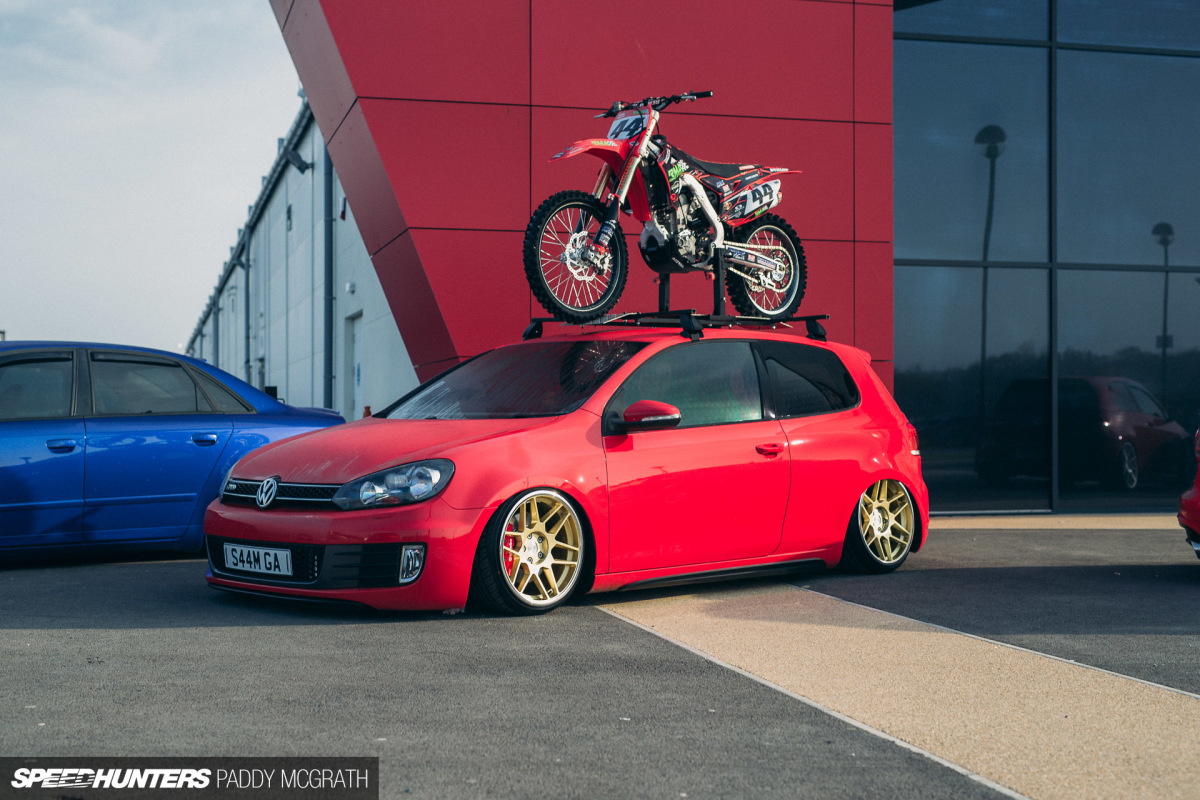 If there's not something at a VW show that makes you scratch your head, then you're not at a VW show. I think this is a worthy upgrade on the ironic roof-mounted BMX, although I'm curious as to how it was lifted up there. Obviously, it's going to wheelie off.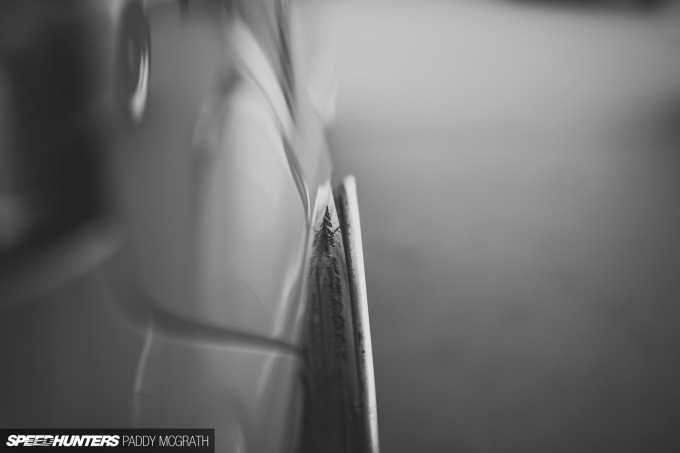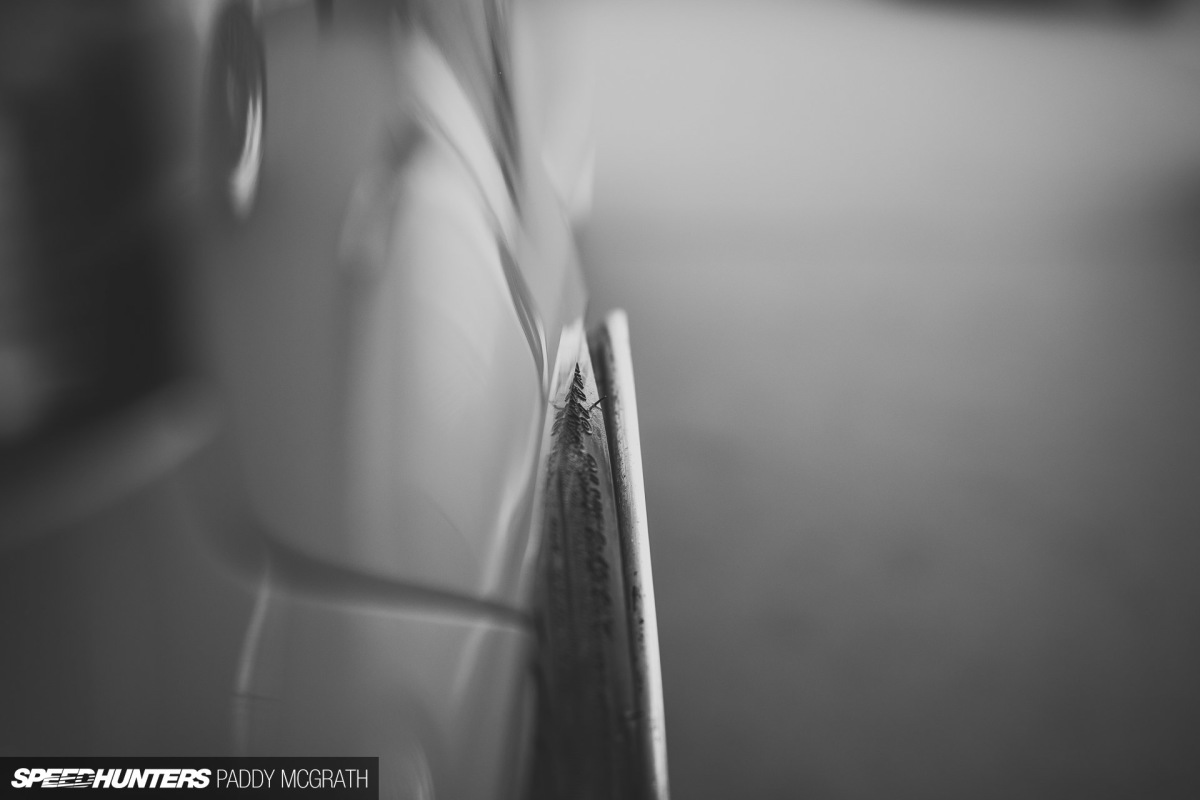 Similarly, if there's not something present that makes you angry on some level, that same motto applies. De-beading a tyre either on purpose for the sake of fitment or because of a misjudgement is a bit silly. I'm always willing to give the benefit of the doubt, however.
For the record, I'm not against tyre stretch, provided it's done in an intelligent manner. Some might consider that an oxymoron, but I've been around the block a few times and I've seen it used on proper race cars to good effect, so I know that it can be perfectly acceptable, but it needs to be done in a considered manner.
I've had longings for a Mk2 Golf of late, and this 3.2 V6 did nothing to alleviate it. It's a car that looks like it would be just as comfortable on track as it is on the show floor.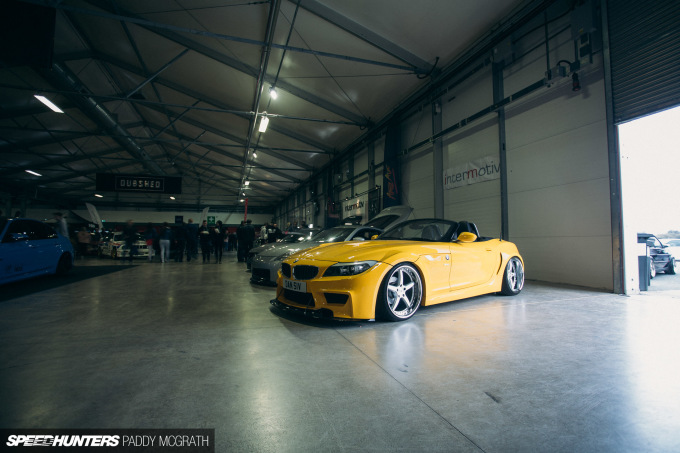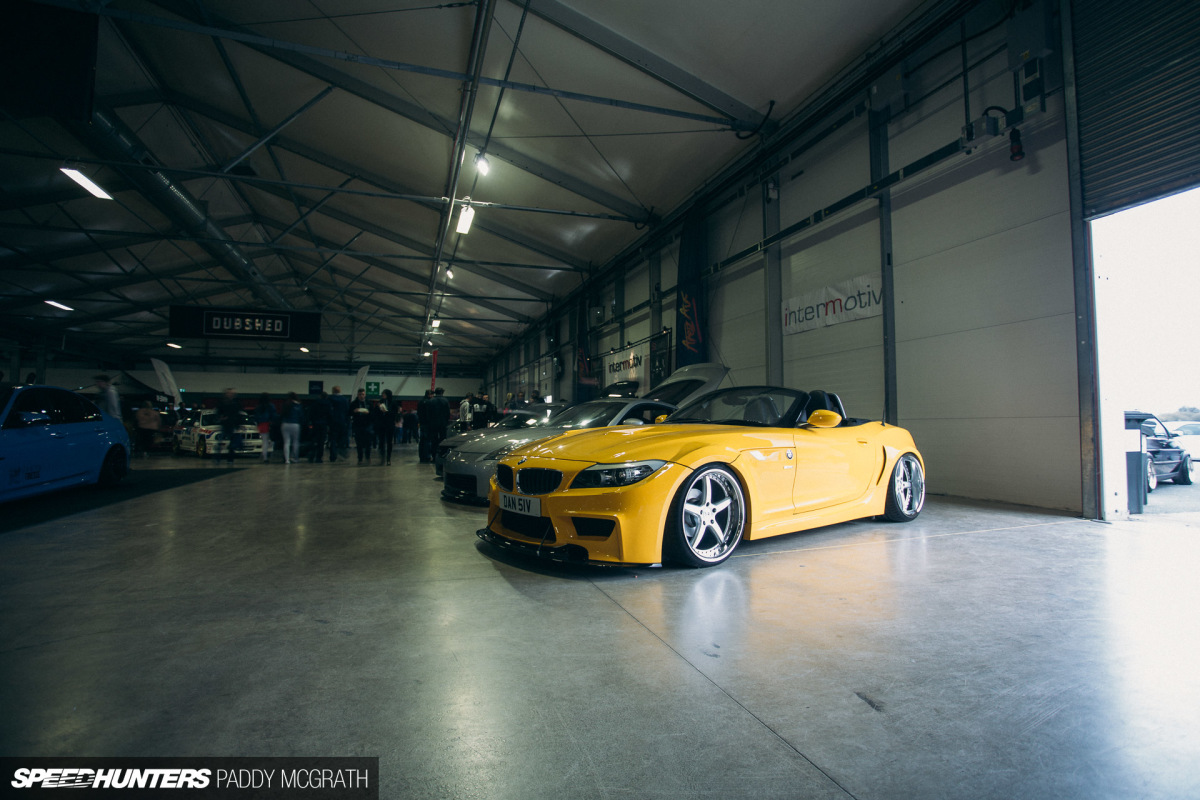 I thought that there was a preference for large diameter, five and six-spoke wheels at Dubshed this year. It's something I'm keen to keep an eye on to see if it's prevalent amongst the rest of the VW scene, or if it's localised.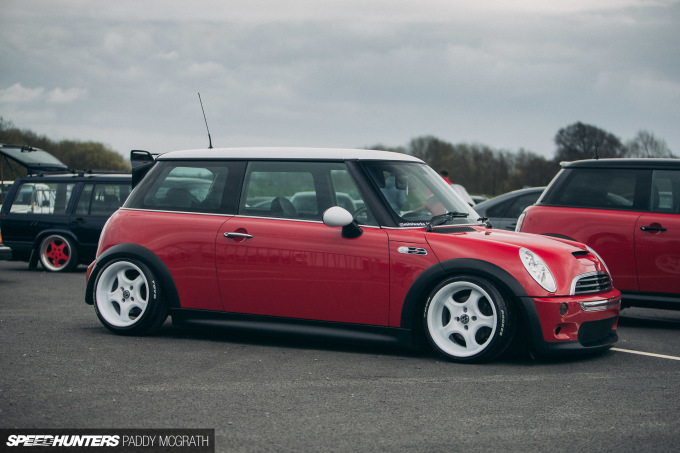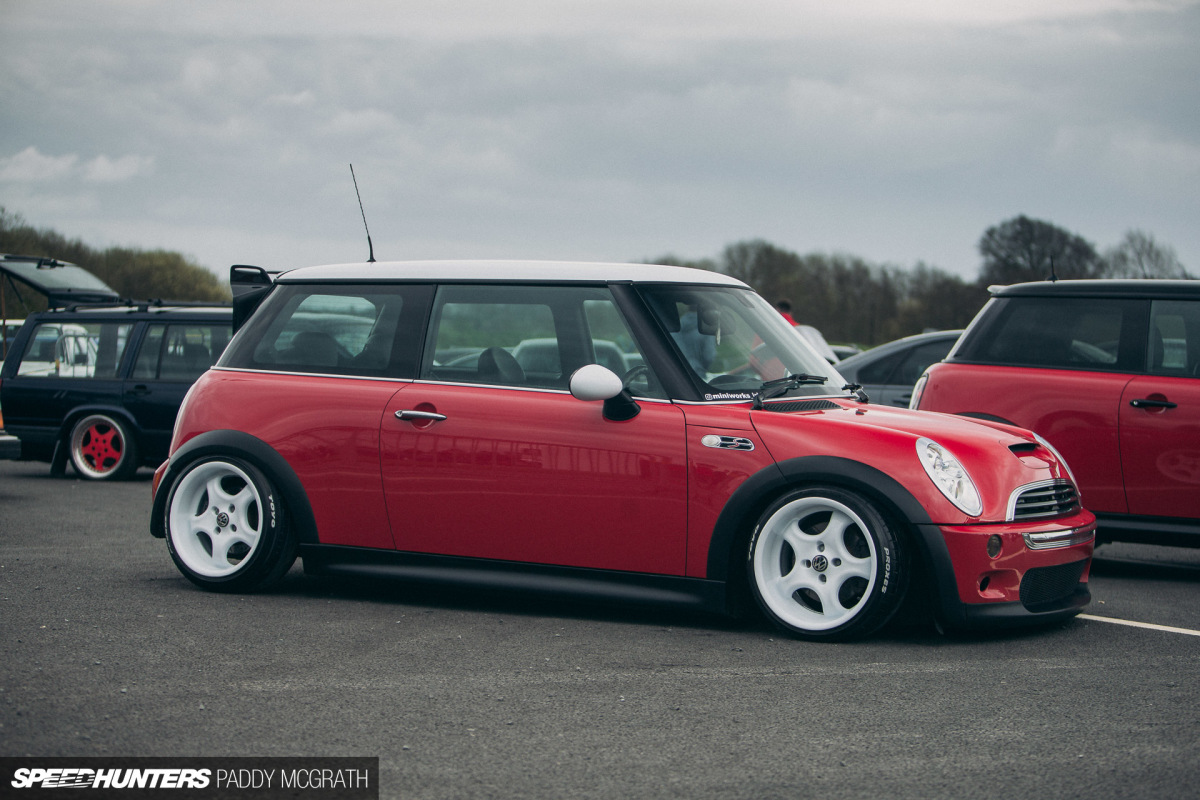 Often, I don't make it outside, but I did this year – choosing to sacrifice visiting the 1/8th mile drag strip – and there were rewards for it. In recent years, I've grown a fondness for the MINI especially in Cooper S or JCW trim. They're definitely a grower and this was a well executed example.
This rally-influenced Opel Manta and Ascona pairing, in matching Opel Team Ireland part-liveries, were catching a lot of attention throughout the course of the show. No surprises, there. I really must try and find good examples of each to feature; there's definitely not enough love for them around these parts.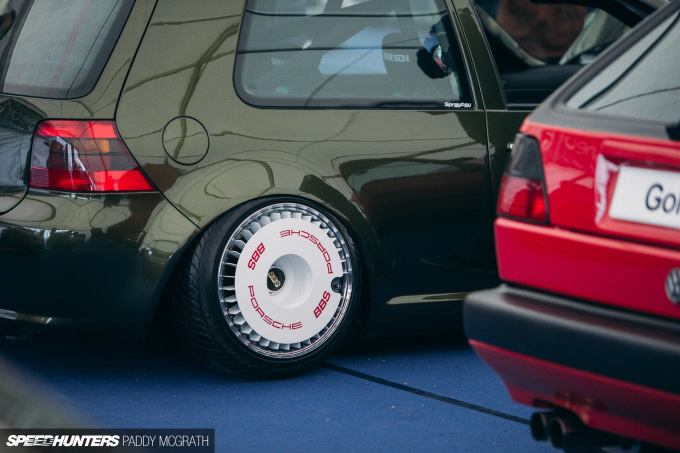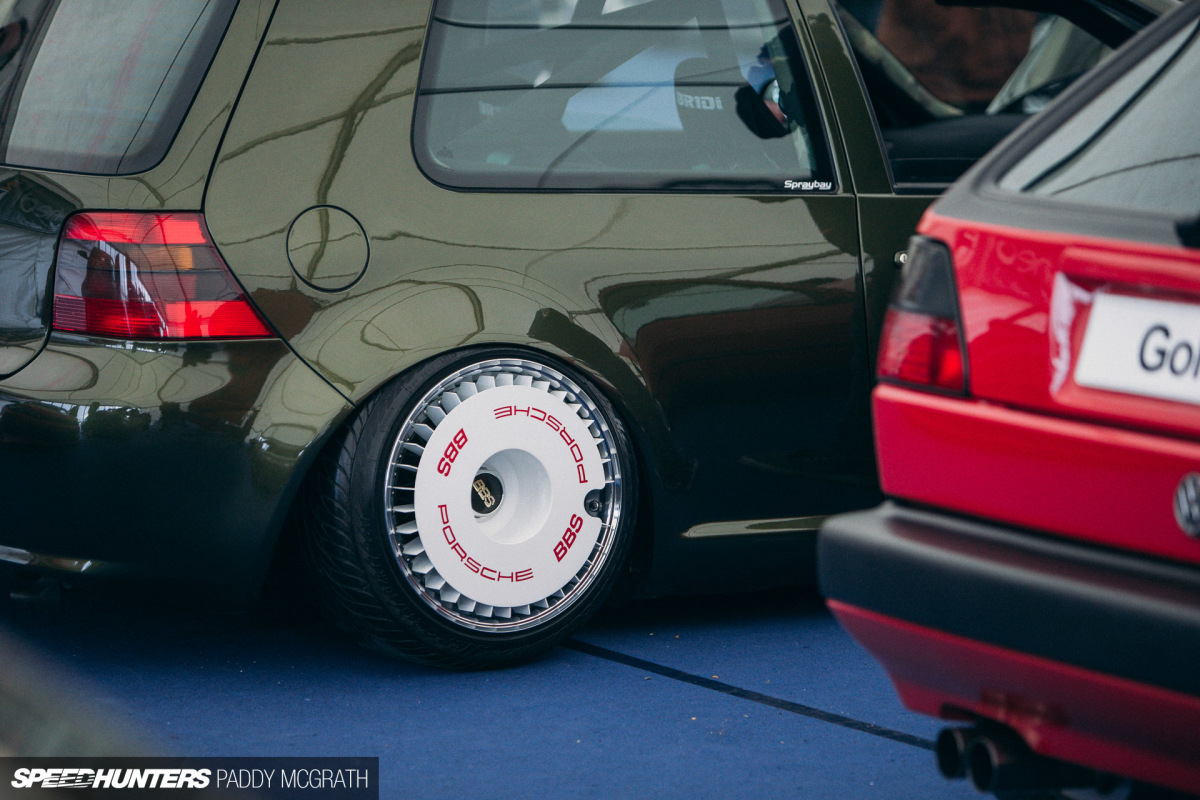 Some cars don't seem to change much over the years, but then, they don't have to. This green Bolf is maybe one of the most famous VWs from this part of the world and it's still as impressive today as it was when I first saw it.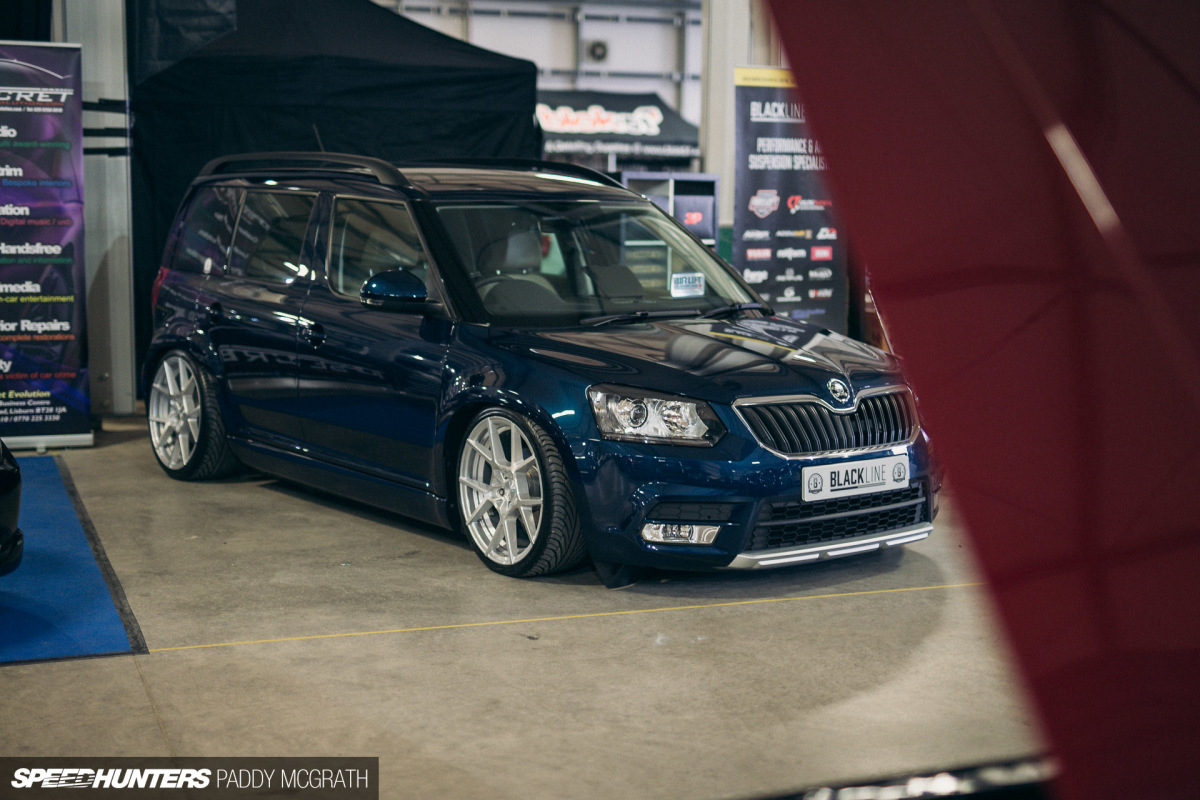 Pretty much top of the list of cars I didn't expect to see a modified example of was this Skoda Yeti on Rotiform KPS wheels.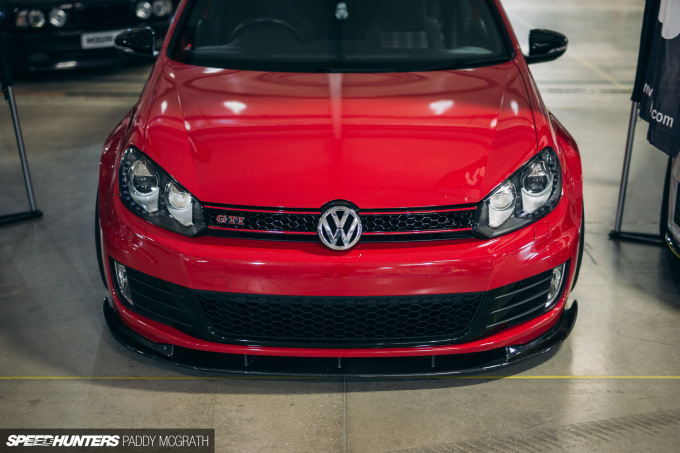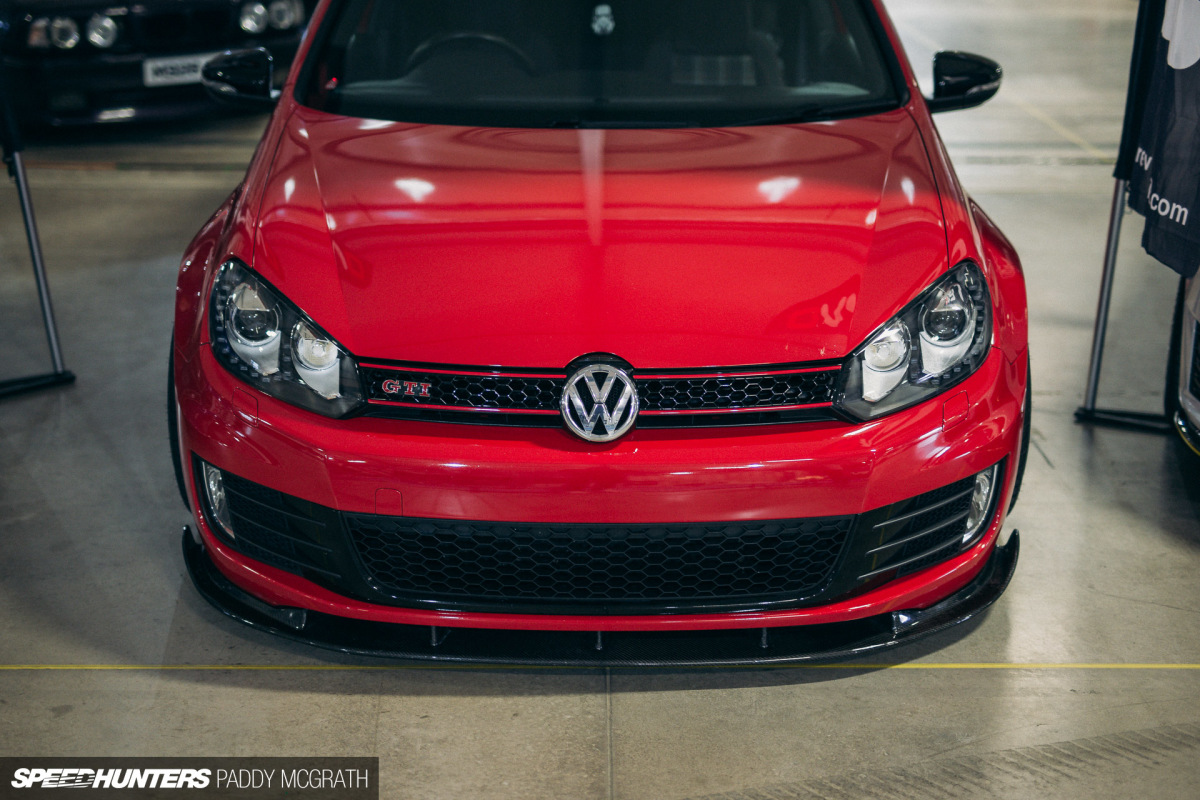 Yes, I took a picture of my own car. Yes, I was embarrassed, but also a little proud. But mostly, embarrassed. I was that guy.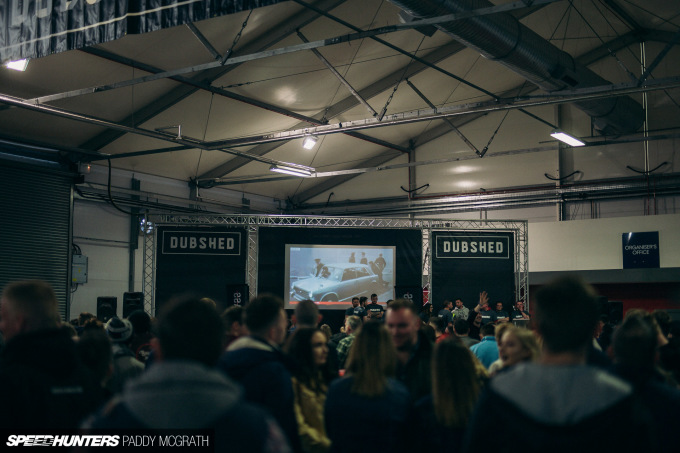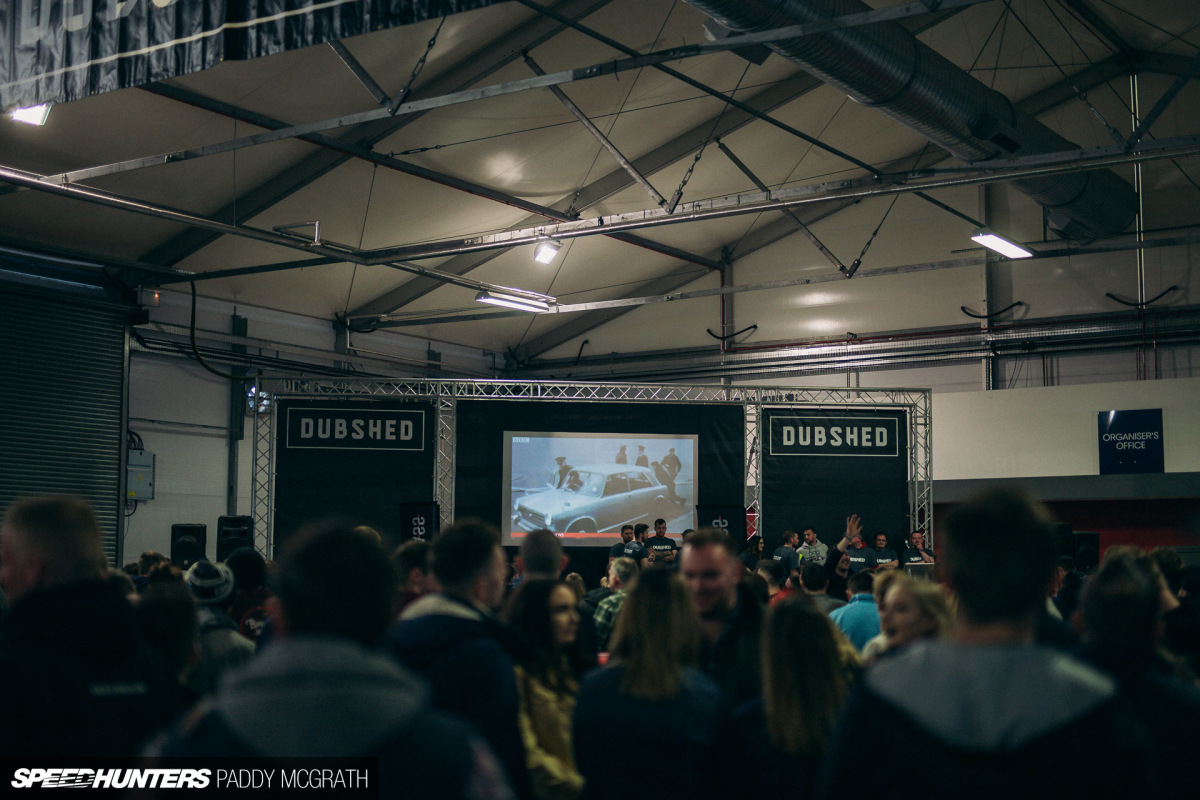 There were awards, people won them, I do not know who won what. Cutting edge journalism here, folks. I'll be waiting by the door for my imminent Pulitzer. Honestly, I've no real interest in this part of any show, although I think it's nice for people's hard work to be acknowledged. However, if you're building cars for the purpose of winning trophies, you're doing cars wrong.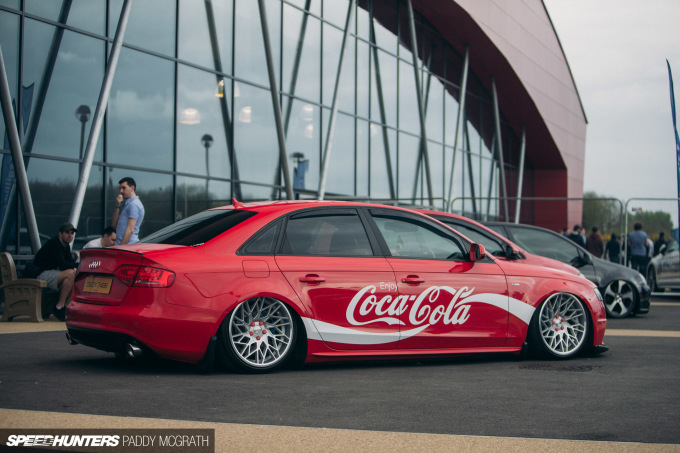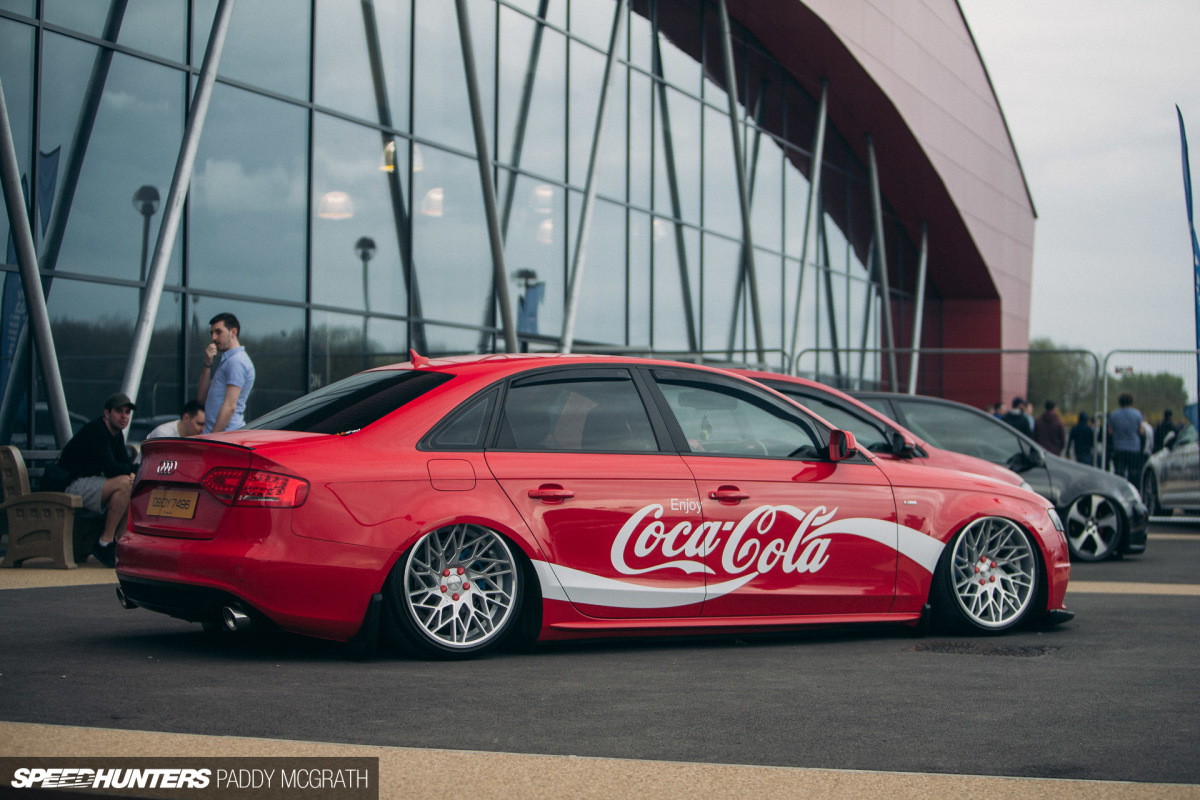 It should be about fun, about enjoying the process and doing something that puts a smile on your face.
Earlier this year, I wrote an editorial wondering if we had 'seen it all' by now. It was more of a thinking out loud piece than anything with real conviction, but I believe I know the answer now.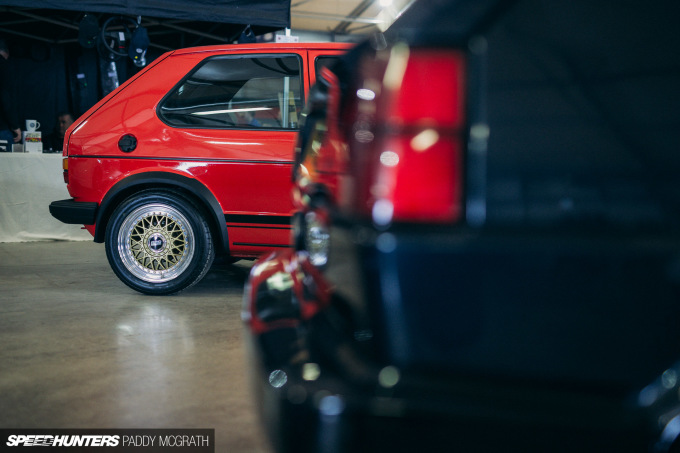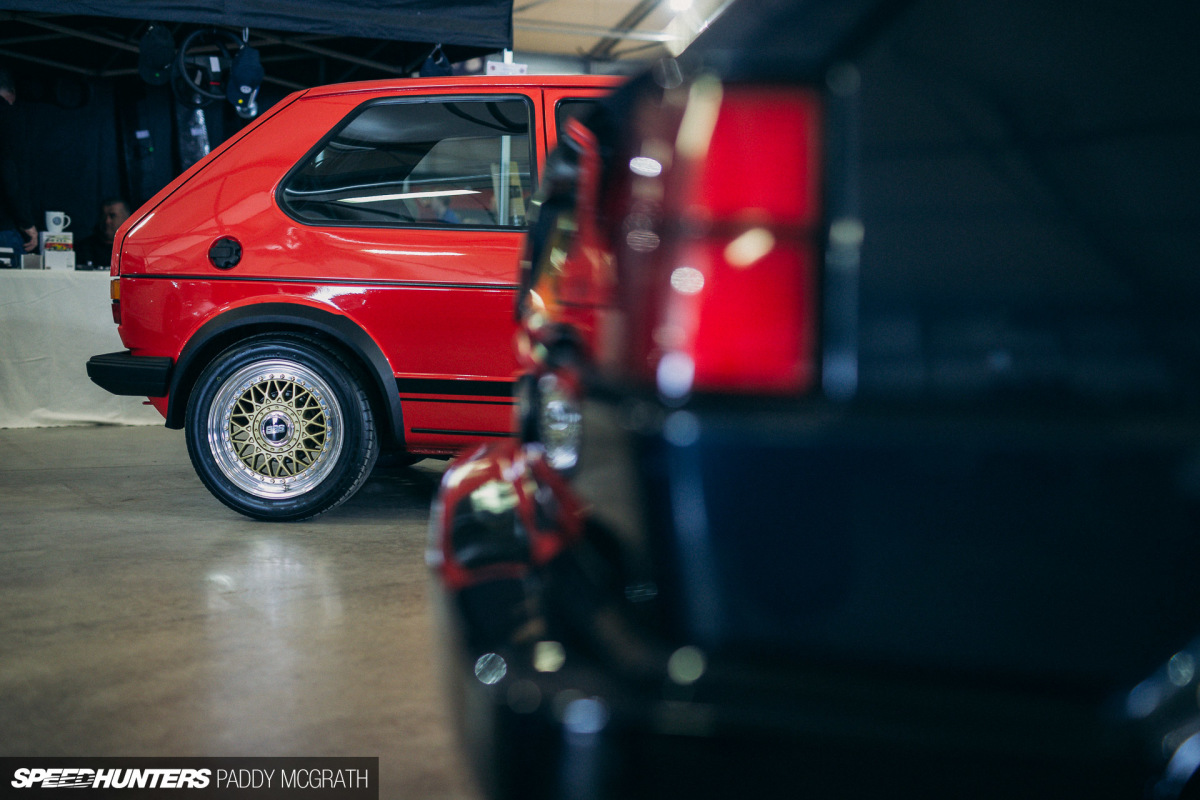 It doesn't matter if we have seen it or if we haven't. Trying to force the issue won't really make anything worthwhile happen.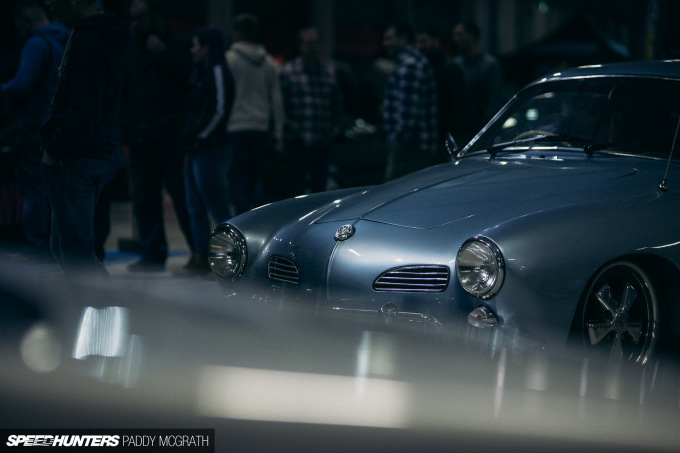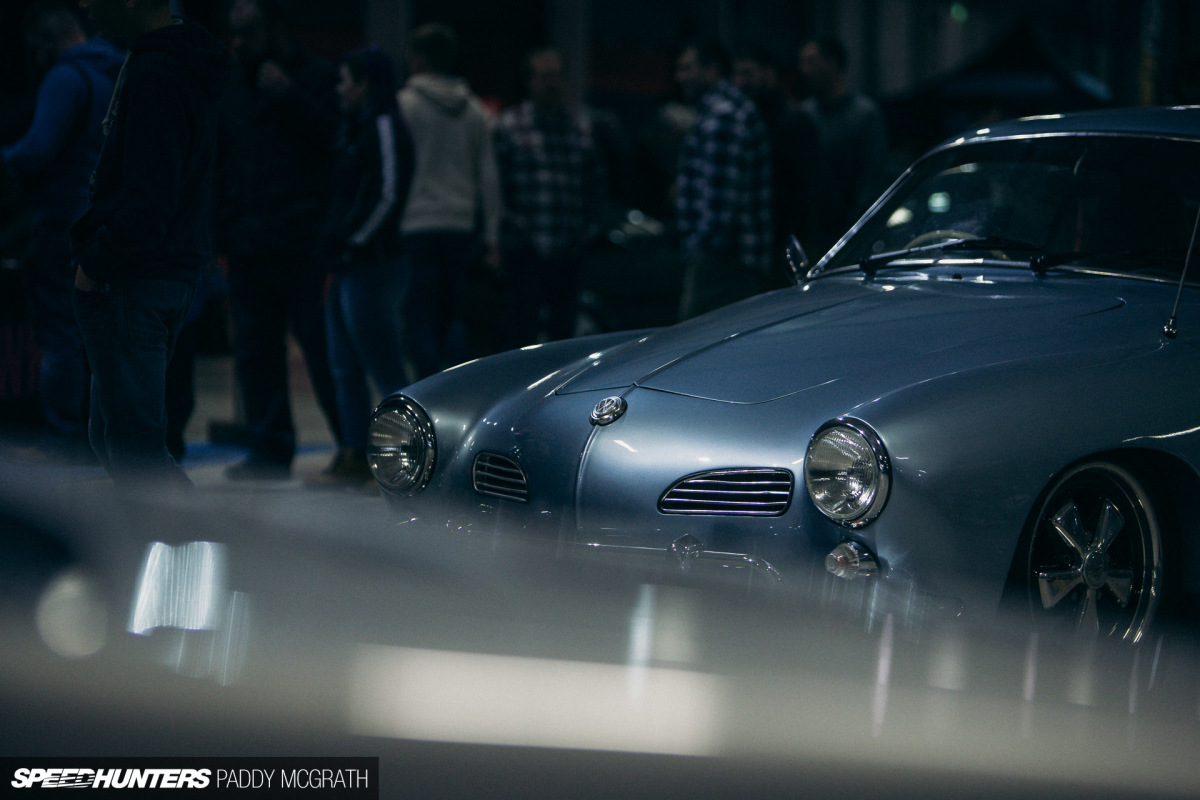 The Volkswagen scene has been around longer than most of us have been alive, and it'll likely be around long after we're gone too. It's always evolved naturally, and in unexpected ways, and will likely continue to do so.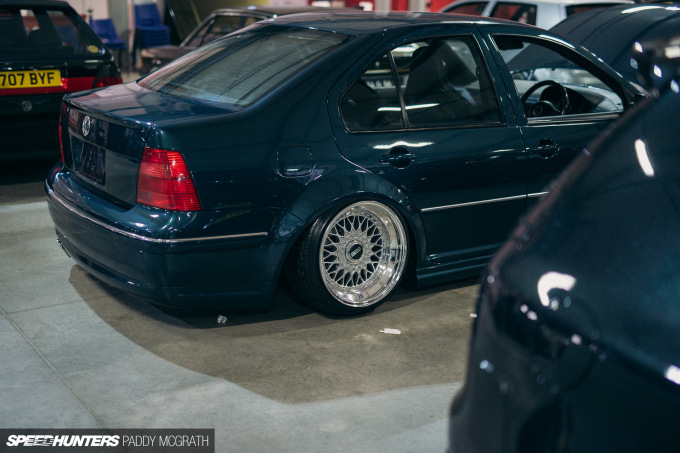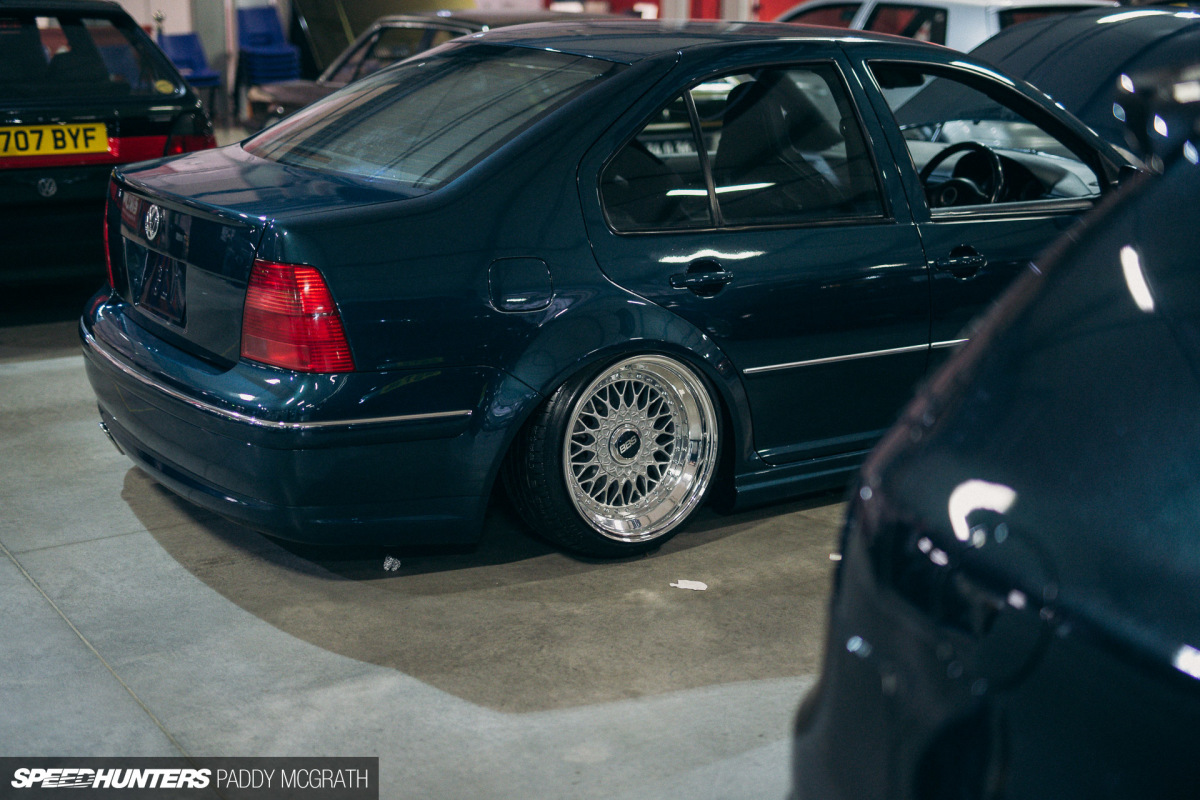 Instead of worrying where it's going next, I think I'm just going to relax and enjoy wherever the ride takes us. Let's just have some fun.
Paddy McGrath
Instagram: pmcgphotos
Twitter: pmcgphotos
paddy@speedhunters.com
Cutting Room Floor