Ghetto Racer
It's no secret that success in drag racing usually comes with a price tag that's out of reach of the average Joe. But what if we shift our definition of success? One racer I met at Sydney's recent Jamboree sport compact event knows there's more than one record in the book and more than one way to be successful on the quarter mile.
Tim 'TJ' Jimenez was at one of those pivotal turning points in life; he was facing a problem that most of us will, or have already faced. It was almost time to pack up the toys and start saving for a house like the responsible adult that we're all trained to be. But purchasing a home in Australia's inflated property market is no easy task. Sacrifices usually have to be made.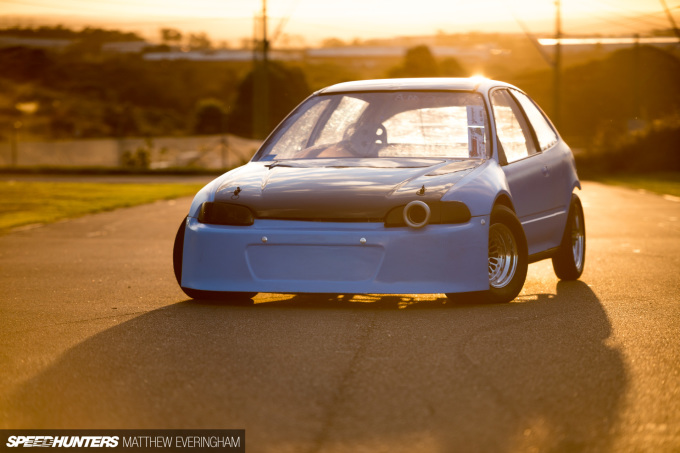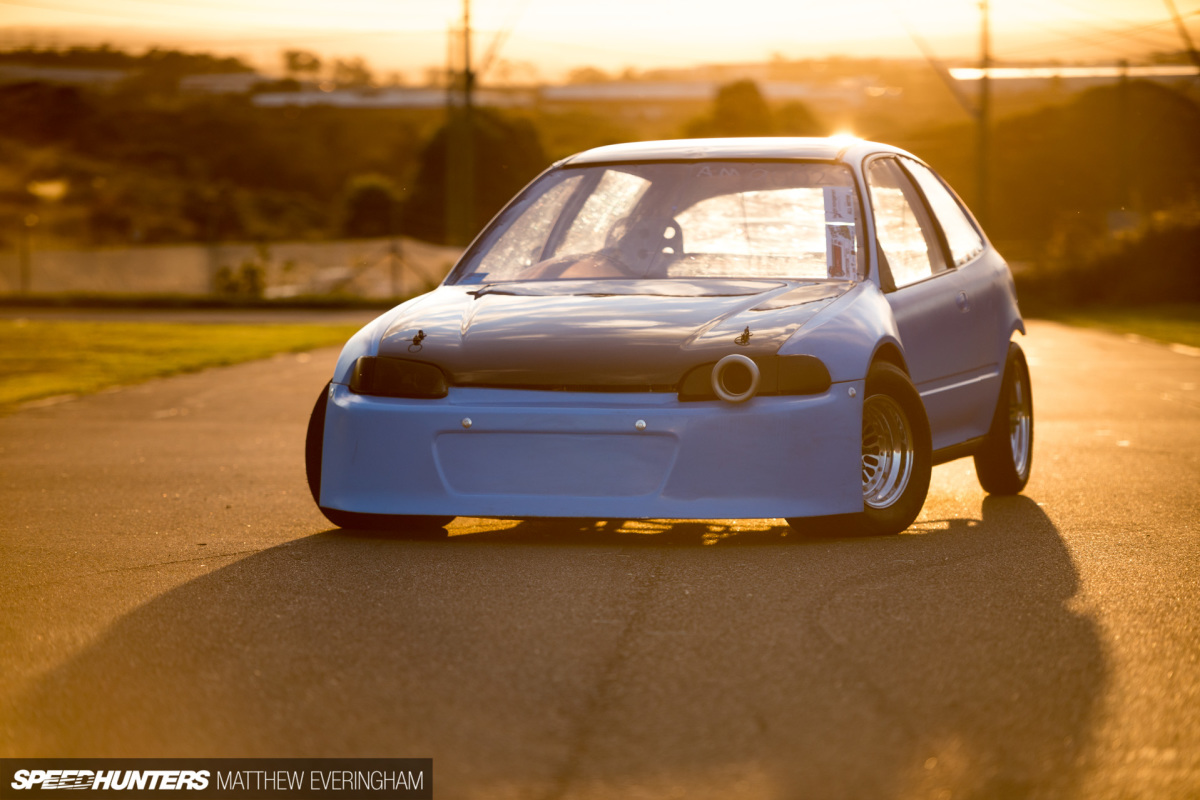 But TJ's love for cars and competition was to strong, so instead of throwing in the towel for a simpler life he opted to find a cheaper way to keep the dream alive. A dream that lives on in his K-swapped EG Honda Civic.
The shell was picked up for just AU$300 (US$230) as a complete car with a blown head gasket after some haggling on Gumtree (Australia's version of Craigslist). Getting the car towed home cost almost the same amount, bringing the total cost for the project's base to AU$500 (US$380). The engine was transplanted from TJ's DC5 Integra Type R into the smaller, lighter chassis.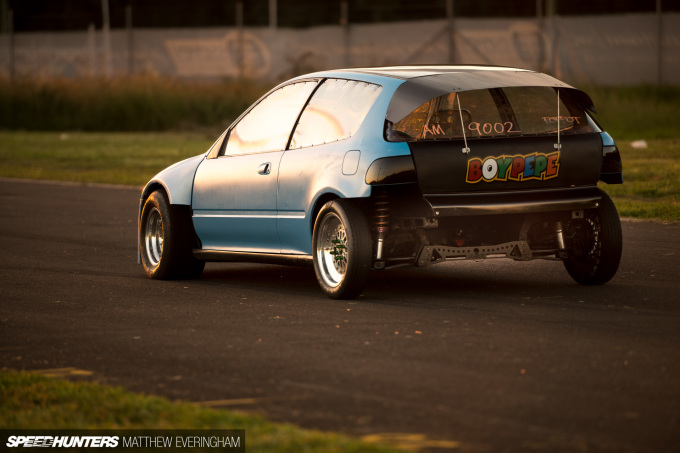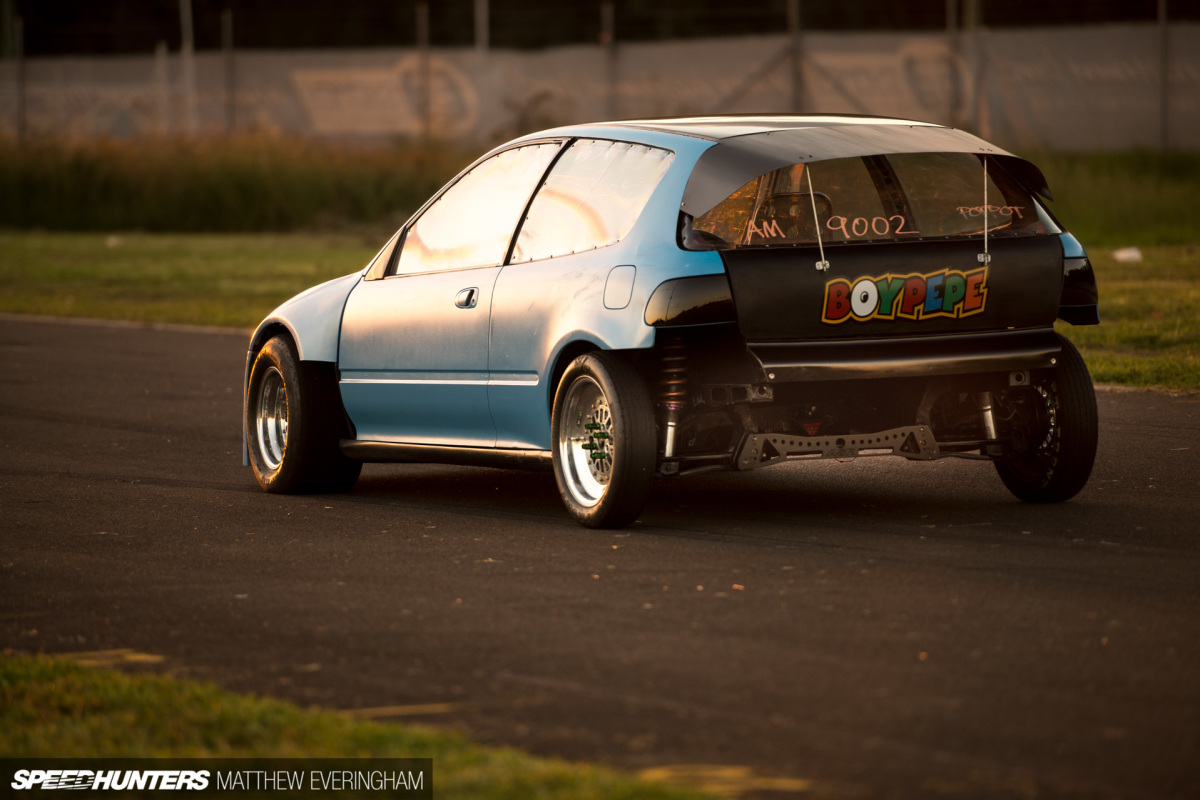 2010 saw the new project come together as complete package for the first time and lay down its first set of numbers. Its introduction to the strip was less than spectacular, but would be the baseline that all further development and times would be judged against. The stock chassis Civic and K20A2 combo (with just an aftermarket air filter) was happily running mid-14 second passes all day long, with a best ET of 14.4. Over the next seven years, the Civic would be slowly transformed into the pastel blue little monster that caught our attention at Sydney Dragway a couple of weekend's ago.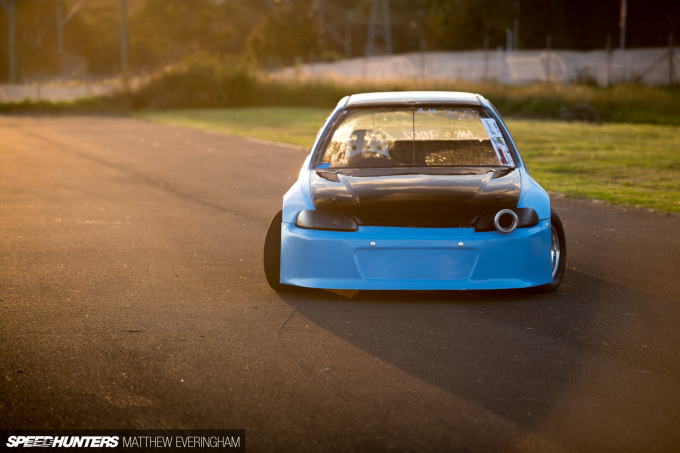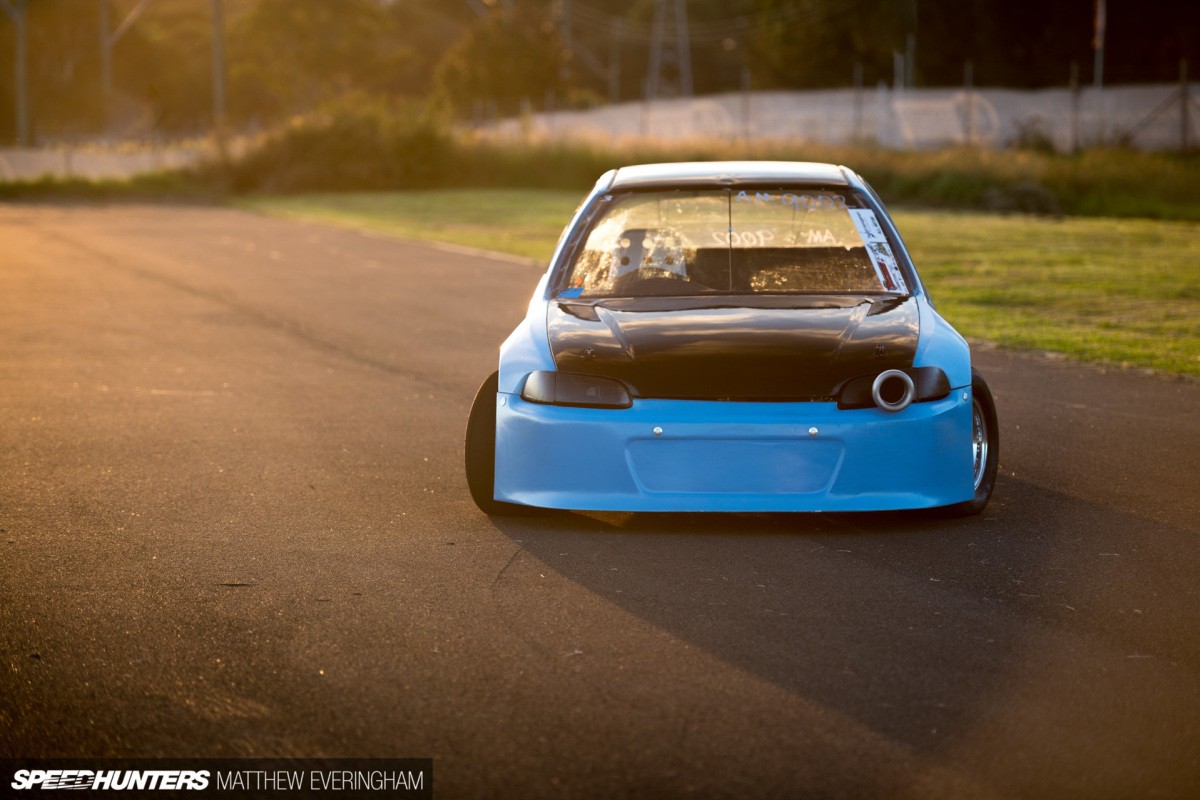 TJ began his involvement with the Honda scene when community interest in the K-series was running hot. Following on from that spark, TJ's wholly committed to seeing how far he can push the little powerhouse before opening up the motor or adding forced induction. What started off purely out of curiosity has seen TJ's combination of a lightweight chassis, some very sticky tires, and a selection of bolt-on modifications to the stock engine, take him to within tenths of a second of breaking records.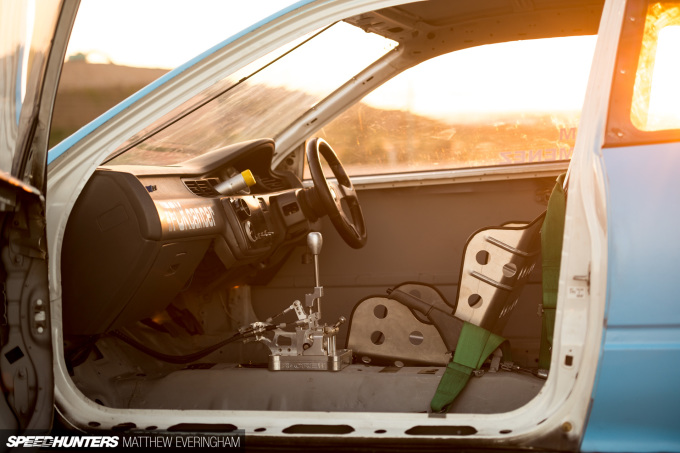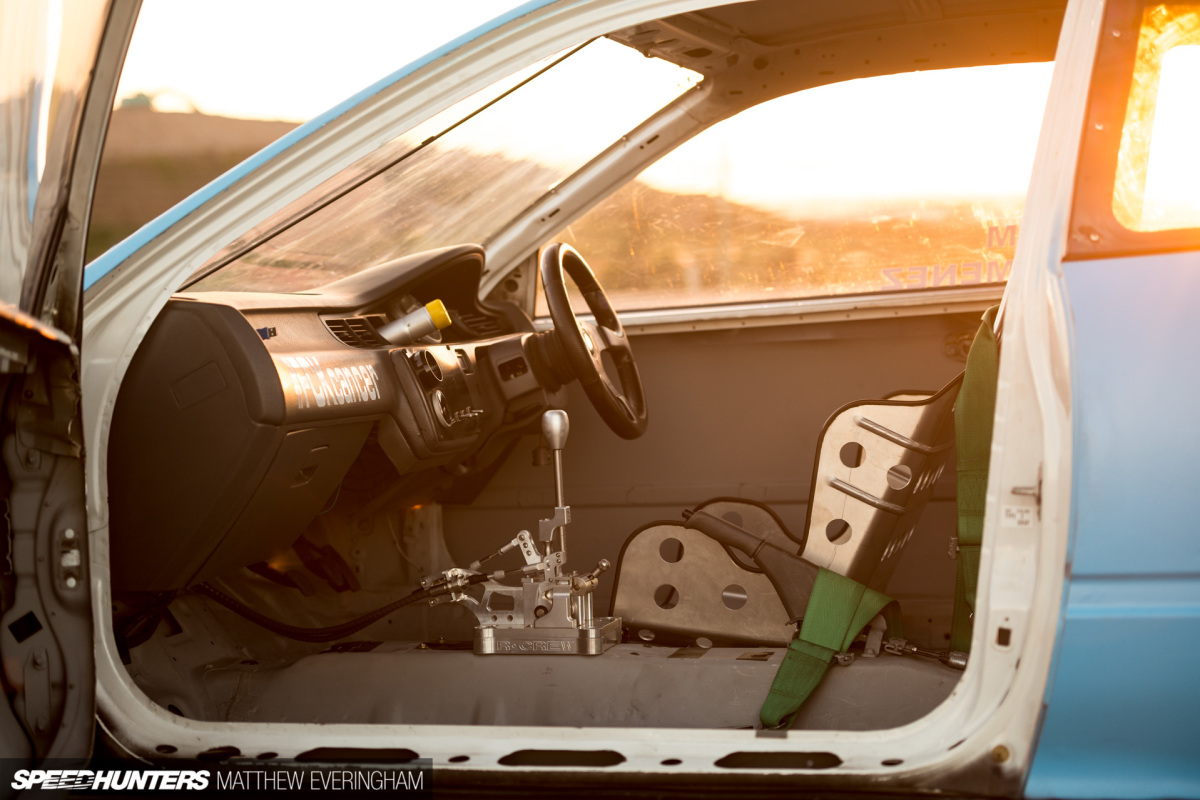 With horsepower being difficult to wrangle under the conditions, TJ's attention has turned to weight loss. A quick glance reveals how seriously curb weight has been attacked; there is little more than a bare shell left. Anything deemed non-essential was hacked, ripped or torn out. And when I say non-essential, I don't mean the stereo and rear seats; we're talking about absolutely everything that doesn't directly put power to the ground.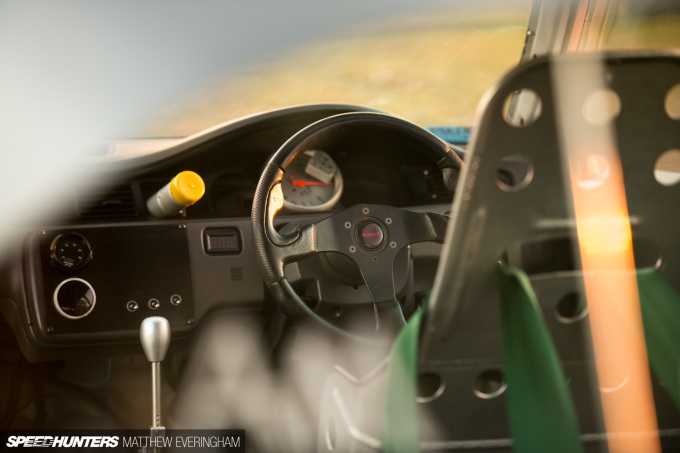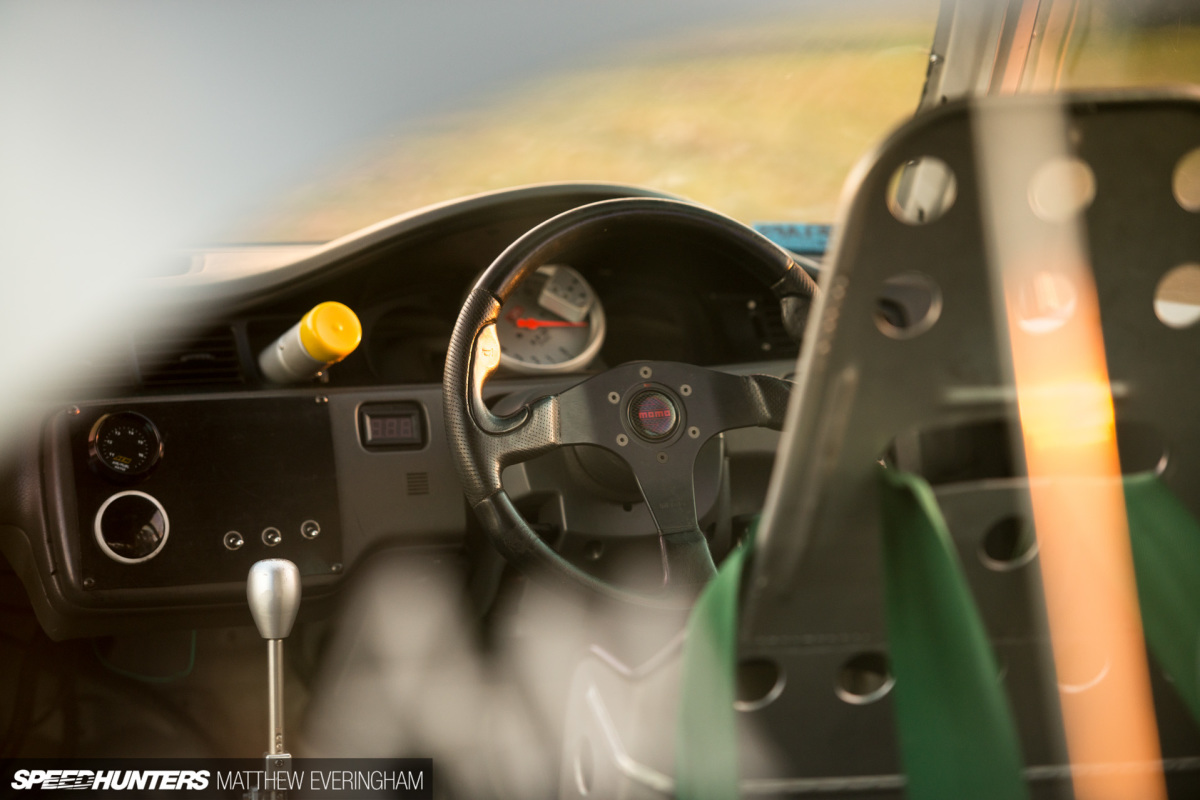 Panels were torn back to skins, the glass was replaced with lightweight Lexan, and even the factory chassis treatments have been cooked, scraped and removed. Those parts that couldn't be removed all together have been lightened or replaced.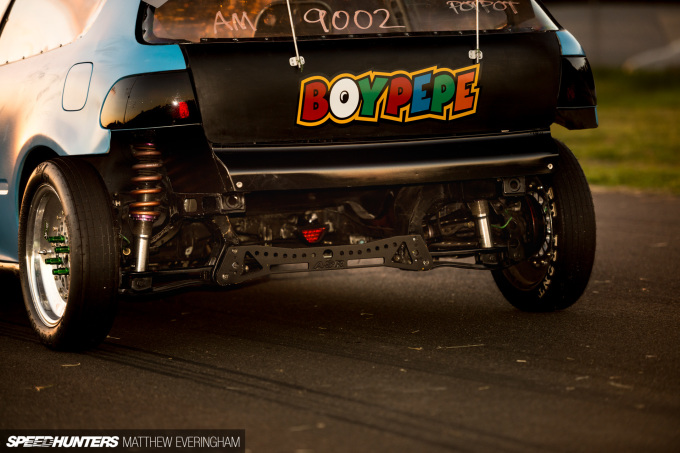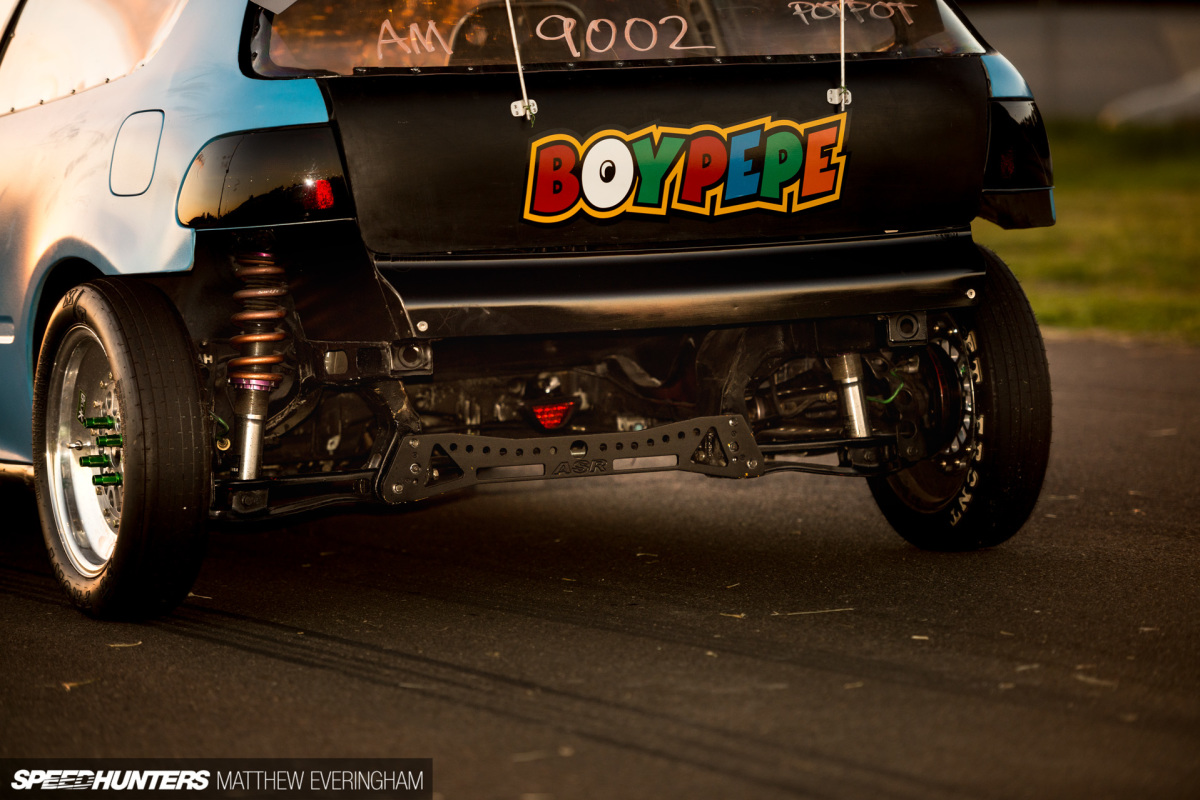 While I'm not one to usually recommend crash dieting, going the extra mile on the Civic has paid off big time, dropping its curb weight from 1,143kg (2,519lb) to just 707kg (1,560lb). Next on the list is a pair of carbon doors and a carbon roof that should see the tiny hatch drop to below 700kg.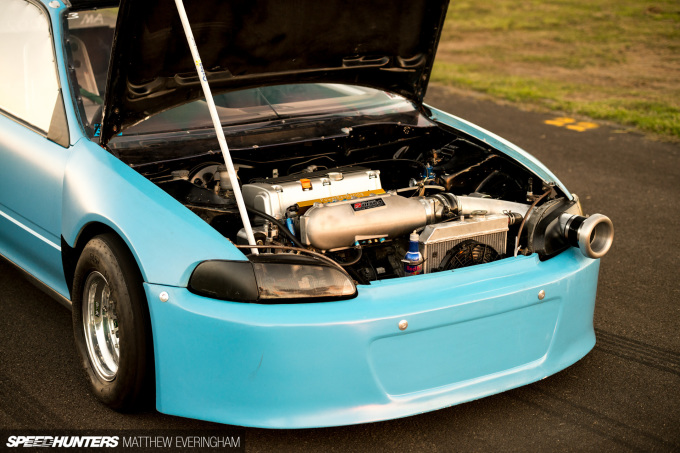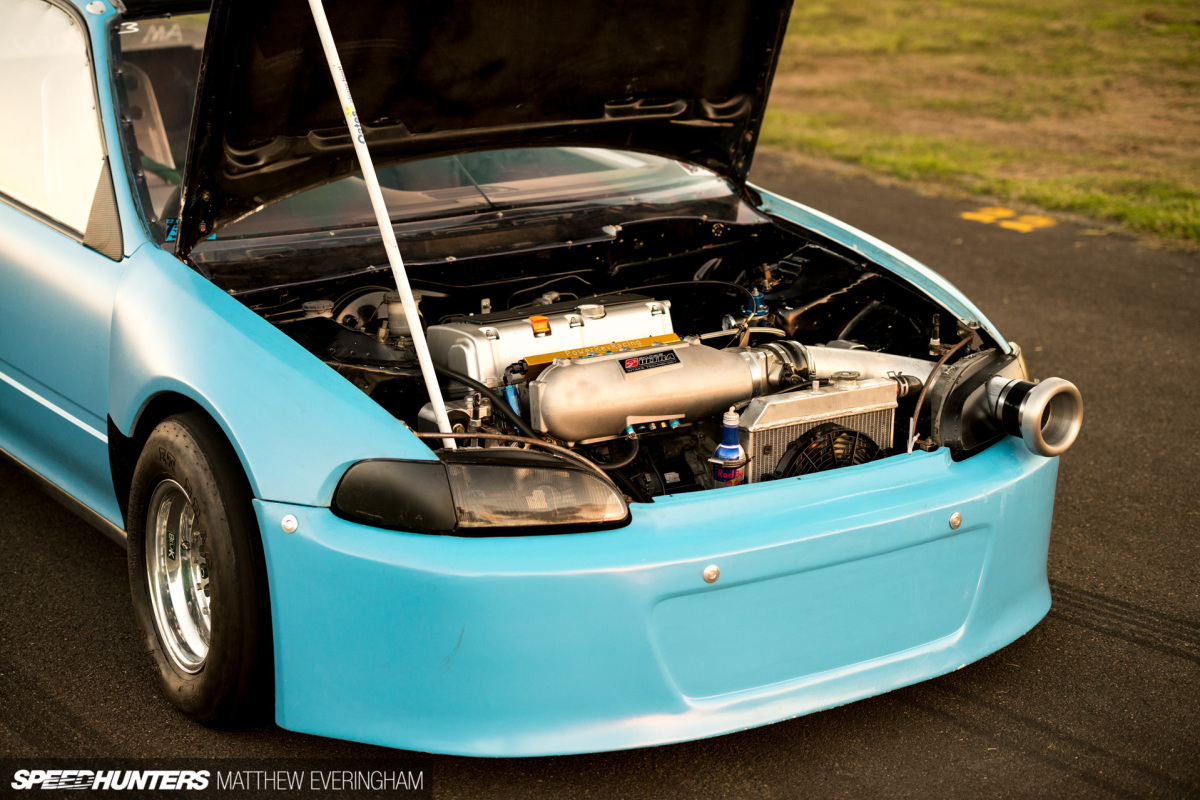 Under the hood is what's really interesting. It's rare to see an owner go all-out on a build while also choosing to work within a very restrictive set of parameters. Despite the K20A2 never been cracked open (except for maintenance) there's still plenty of eye candy under the bonnet.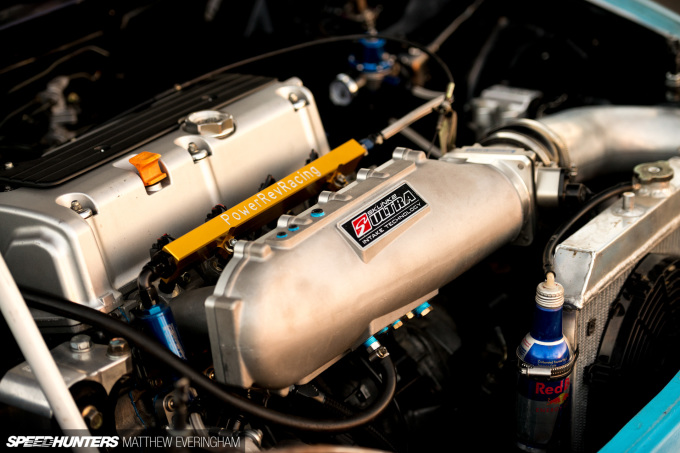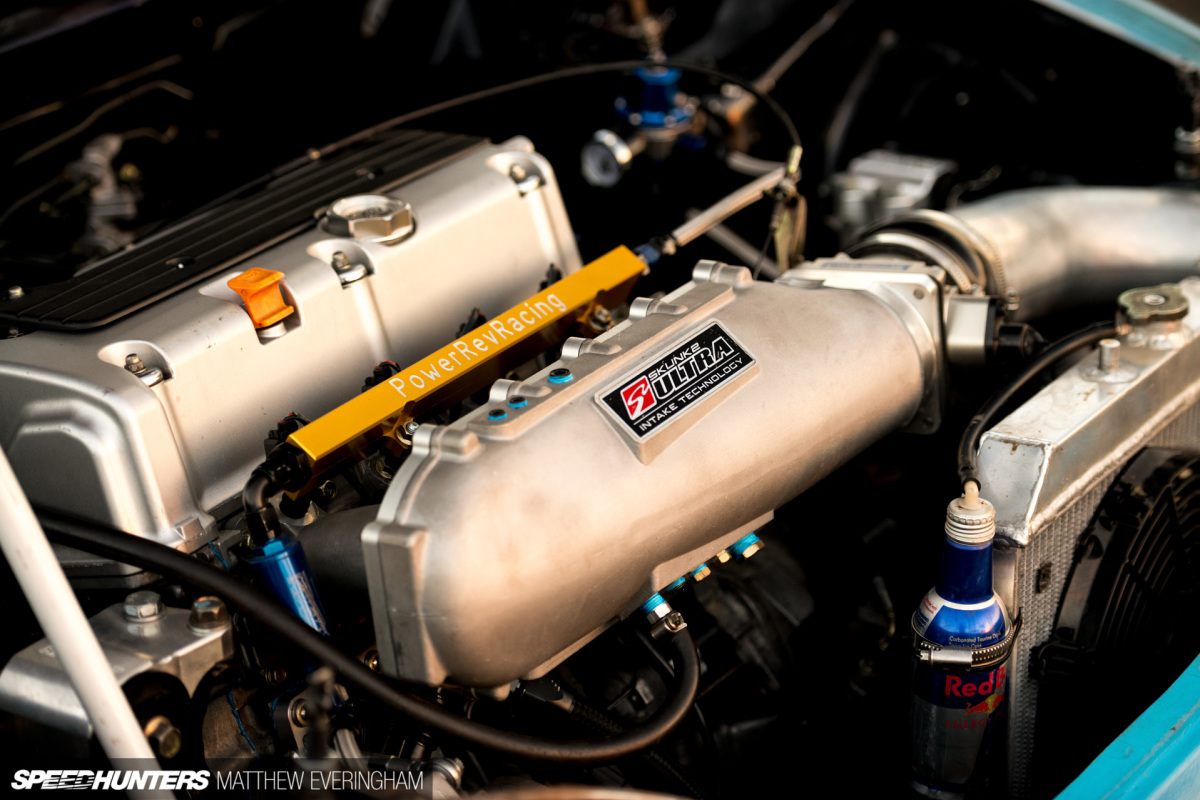 A velocity stack through the passenger side headlight cover directs ambient air to a 90mm throttle body and into the Skunk2 Ultra Race manifold. Methanol is TJ's fuel of choice, and it's fed into the engine via Grams Performance 750cc injectors via a large Bosch fuel pump. PLM K-Swap headers vent the exhaust directly into the atmosphere, ensuring everyone hears the engine scream all the way up to its eighteen-billion RPM redline, while a K-Tuned electric water pump and custom alloy radiator keep things cool. A K-Tuned billet short shifter is used to get the 182kW (244hp) generated to a pair of 24.5-inch Mickey Thompson ET Drag tires.

While 182kW (244hp) doesn't sound impressive on paper alone, it's still close to a 20 percent increase in power without any internal modifications. Even the most modest increases in power will be noticed both from the driver's seat and also on time slips in a car that weighs just over 700kg. TJ's personal best so far is an 11.3-second pass, but he believes that with a little more work and patience a 10.9-second ET might be possible.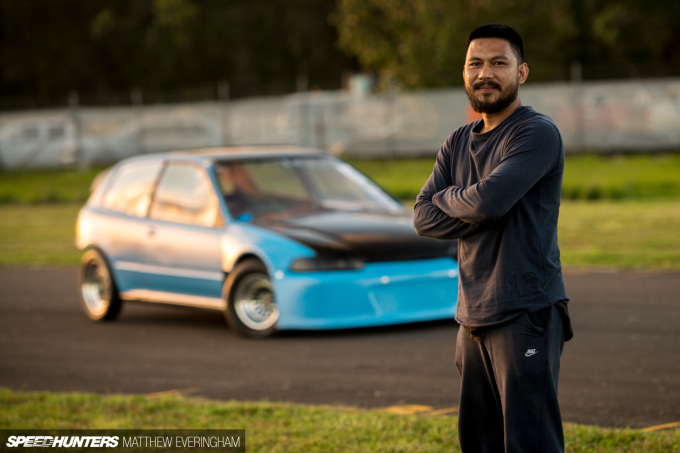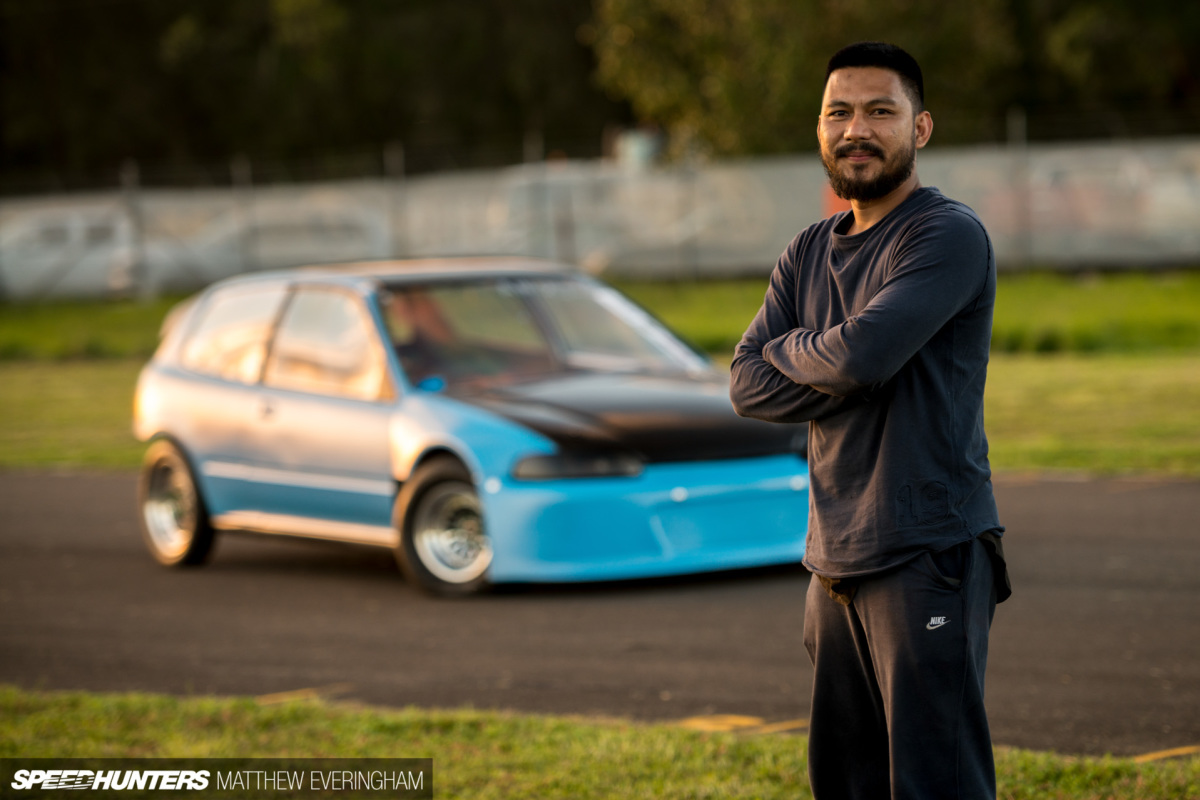 Cracking into the 10s would leave TJ satisfied enough to move along to his next project. He's still undecided on whether he'll add forced induction to the current setup and test its limits without the previous restrictions, or whether he'll just jump straight into a new engine. Work in his home garage has already began on a K24 long block.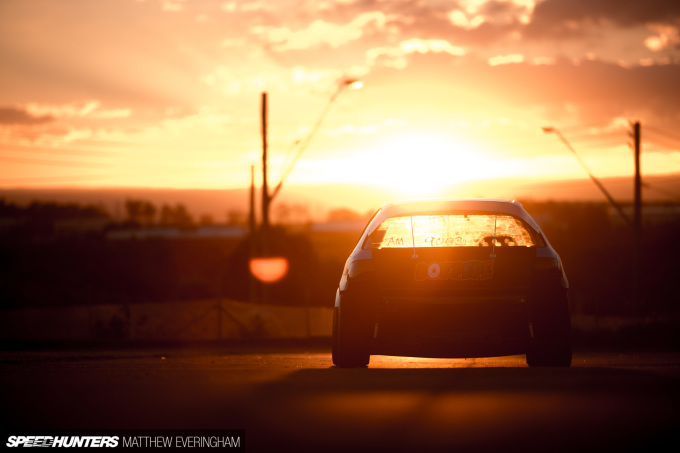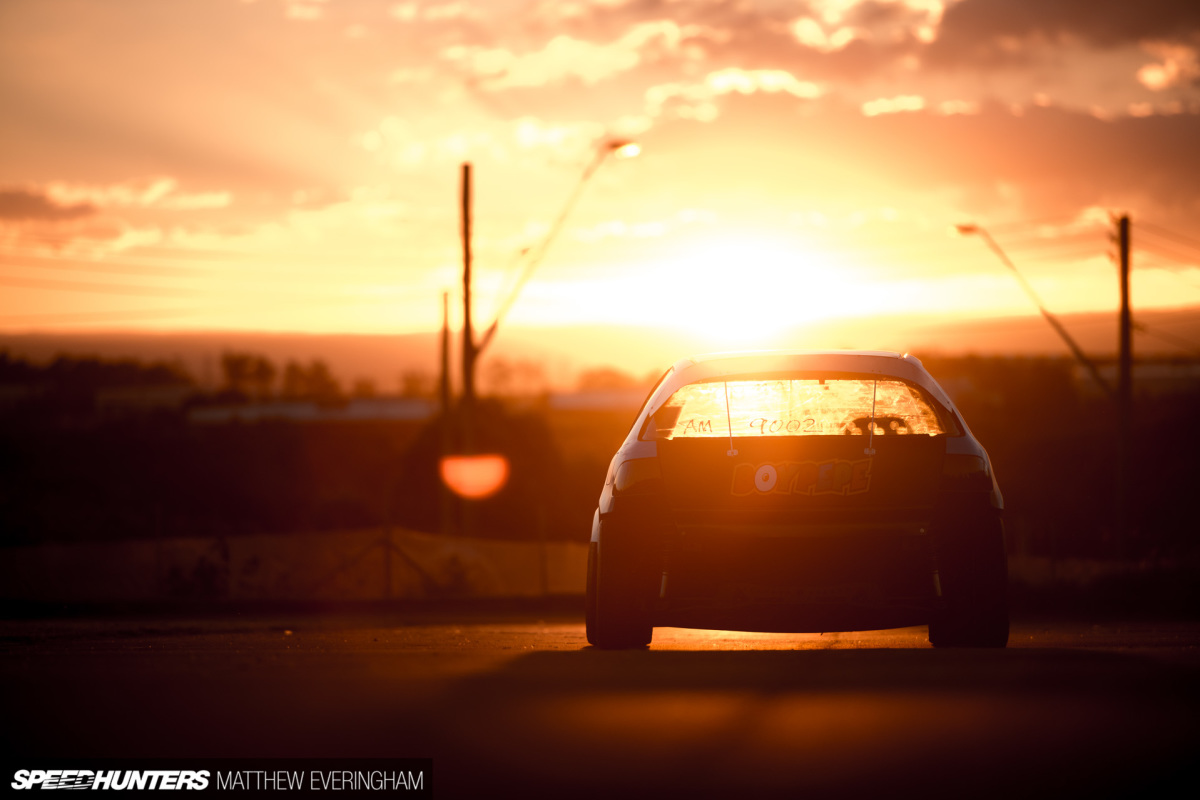 Either way, TJ's sure he'll continue to learn and have fun at the same time, and if he manages to inspire a few others to get out on the track, that will be counted as a bonus.
Matthew Everingham
Instagram: matthew_everingham
matt@mattheweveringham.com
More stories from Australia on Speedhunters
Cutting Room Floor