Welcome To Racewars
I'm at a remote airfield. I'm surrounded by high horsepower dream machines, but I'm not an extra on a movie set. Welcome to amazing Albany, Western Australia. Welcome to Motul Racewars.
Looking around, it's hard to imagine that all this was sparked during a semi fairly intoxicated pub conversation. What was originally intended as a testing day for a small group of friends has transformed into this year's massive event. Runway racing in Australia, and possibly even further abroad, will never be the same. Well, I think not; hopefully similar events will stop and pay attention to what this small team has achieved in a relatively short space of time.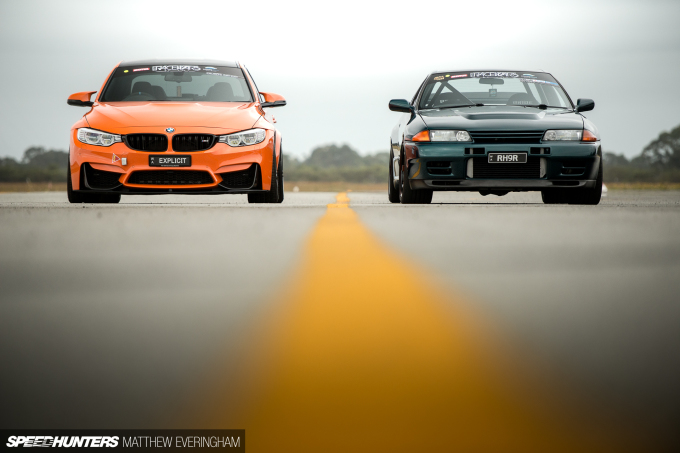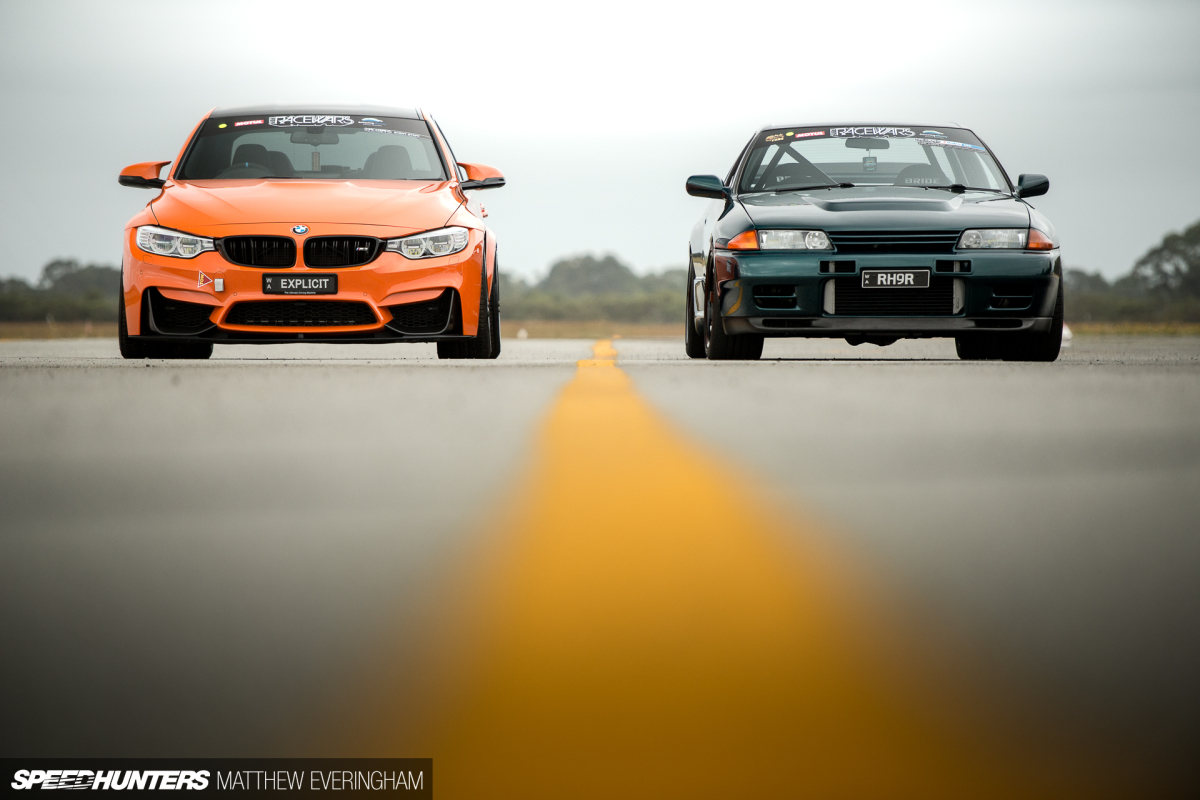 While the event wasn't exactly like a certain scene out of The Fast and the Furious, it really wasn't that far off. It's impressive how close it all was to the movie version, especially for an Australian event. The Australian government has a well earned reputation for disliking car enthusiasts, and pretty much anything else that might be even slightly enjoyable. I can't even imagine how many hoops or metres of red tape the crew had to navigate to bring hundreds of cars to an operating airport so they could race.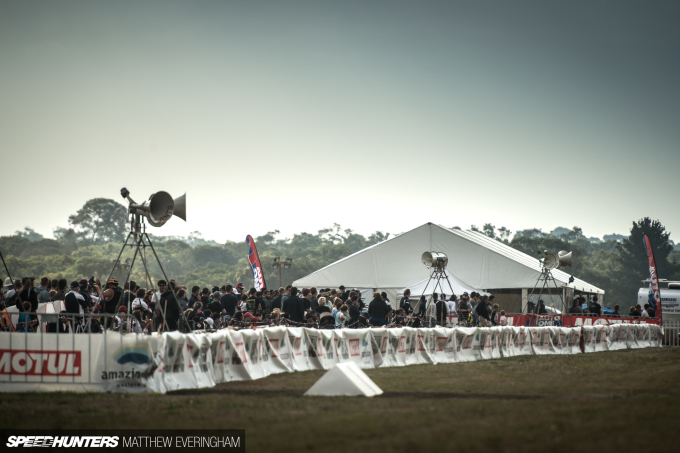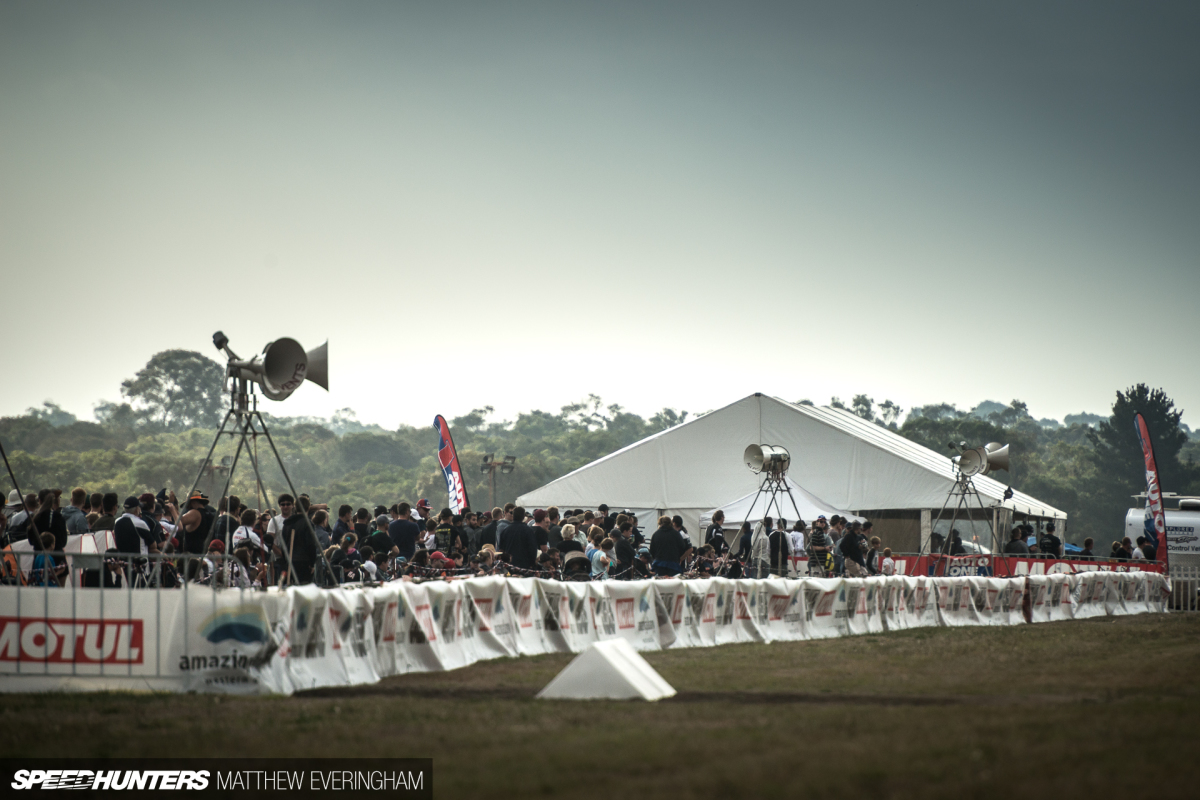 What the event lacked in Hollywood glamour it compensated for by real performance from an insane caliber of cars. The abandoned desert airfield was swapped for an operational airport in the very scenic coastal Albany; the 'dangerous' crowd was replaced by  7,000 happy, family-friendly punters; dance music was exchanged for rev limiters and the scream of external wastegates. All in all, it wasn't a bad trade off. I didn't seen Brian O'Conner or Dom Torretto, but I'm pretty sure their cars would have only placed in the middle of the field if they had shown up.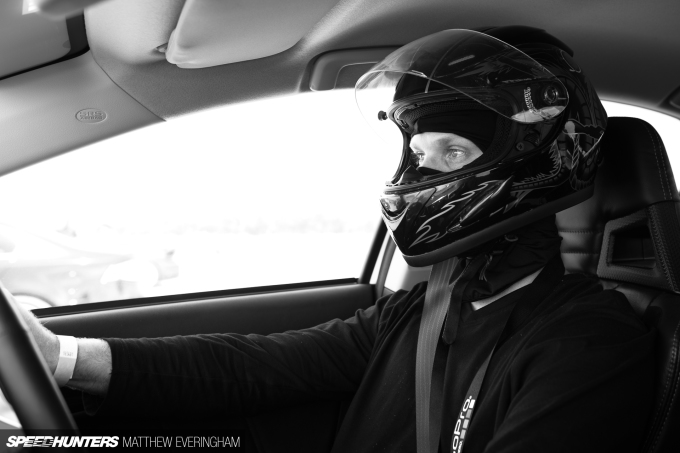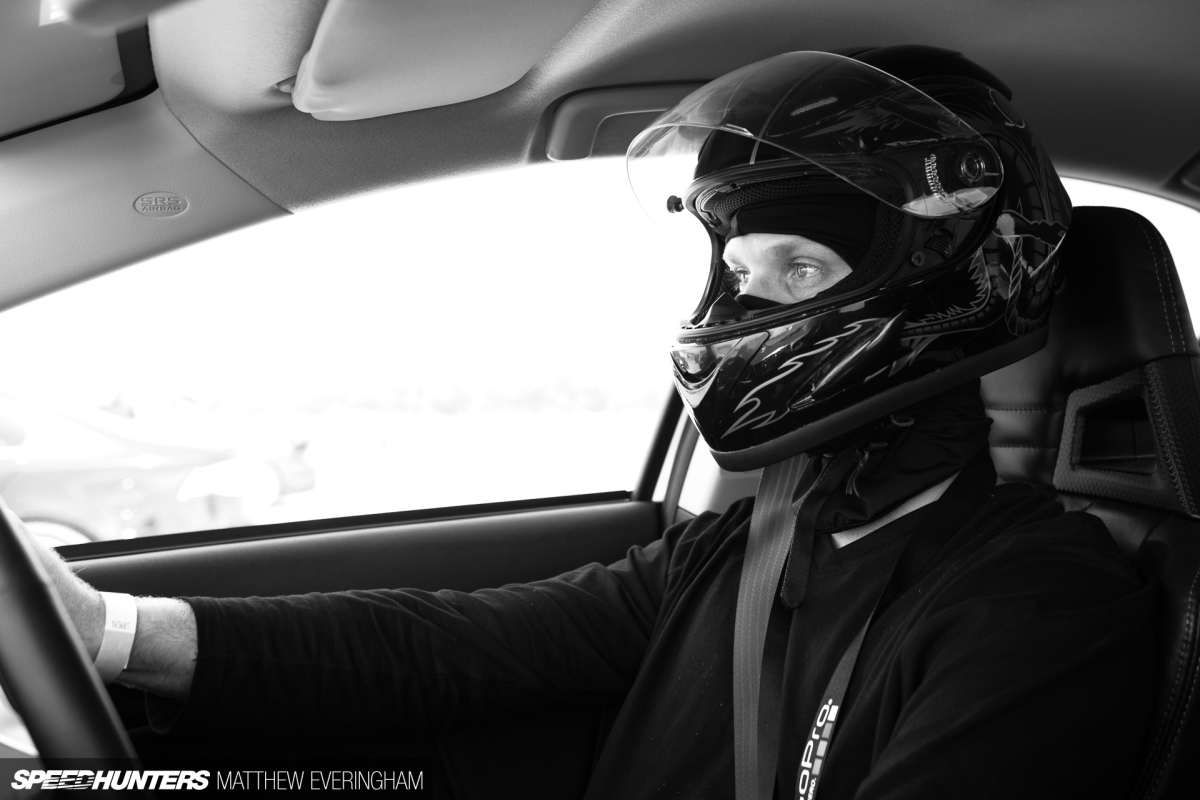 Giving drivers a shot at some high speed runs in such an overprotected country is admirable. Giving drivers a shot with a massive crowd of fans and with a scenic venue as a backdrop is a plus. With no F&F cast on hand, the real stars were the cars on display. Aussie muscle, JDM, euro and super exotic were all well represented.
The Cars Are The Stars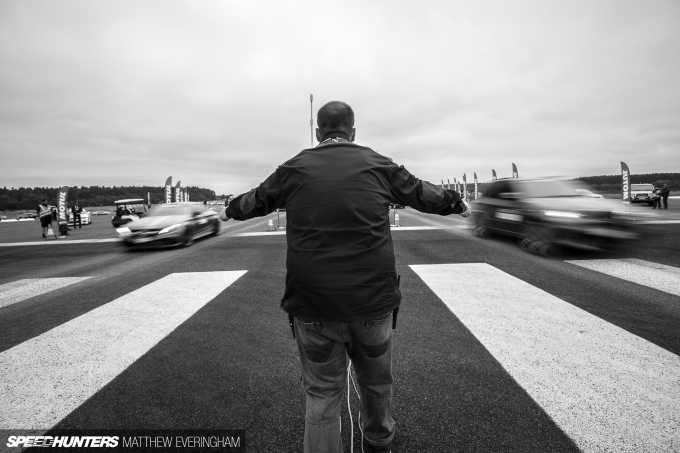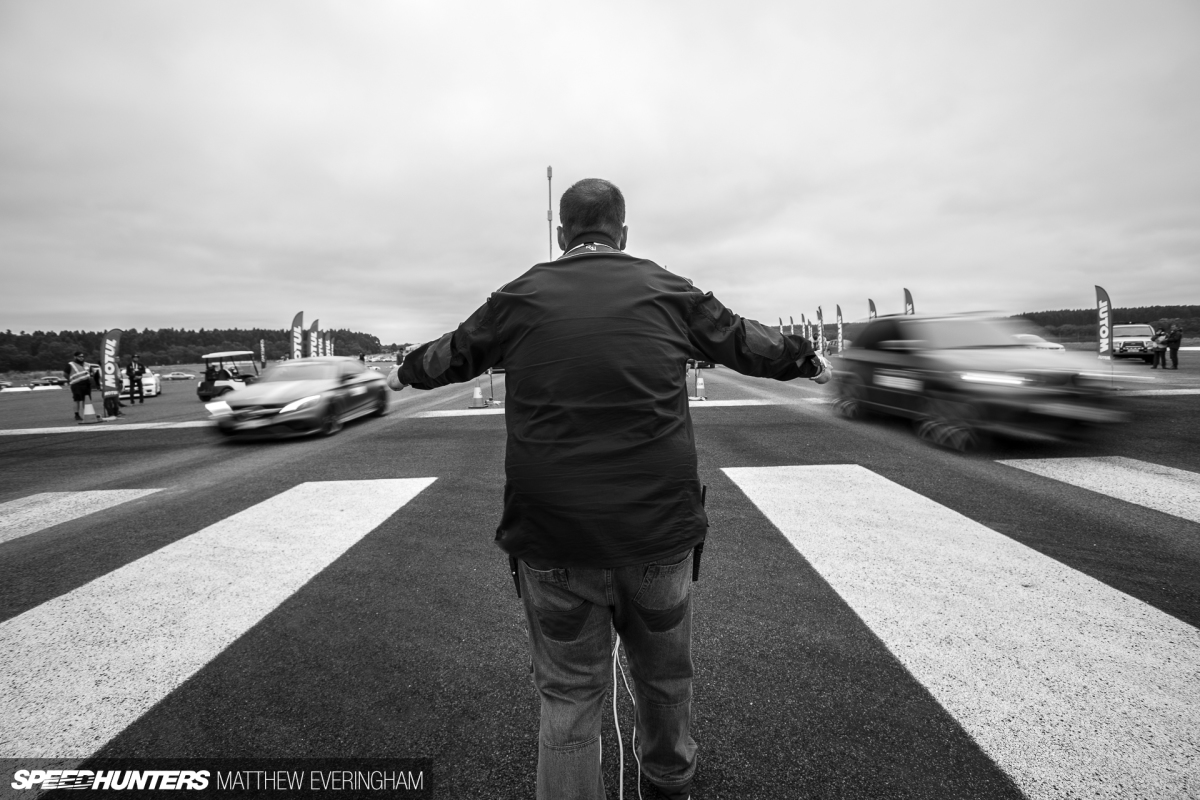 Official standings in the 1000-metre (3280ft) Vmax event were sorted by both trap speed and also elapsed time. The name of the event is Velocity Max, so I'm going to sort the leaderboard by maximum velocity at the 1000-metre mark from a standing start.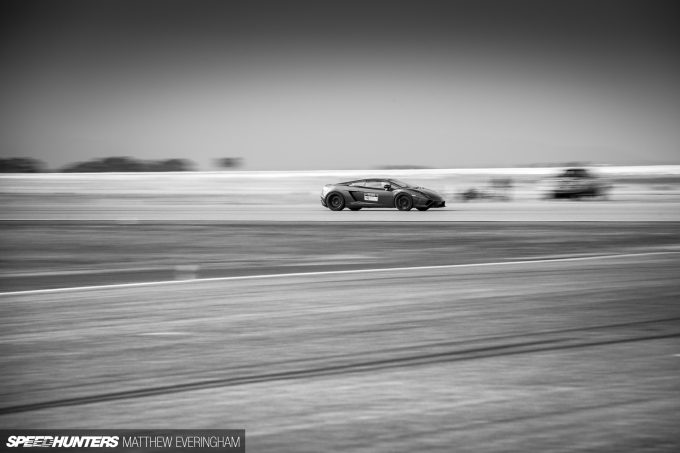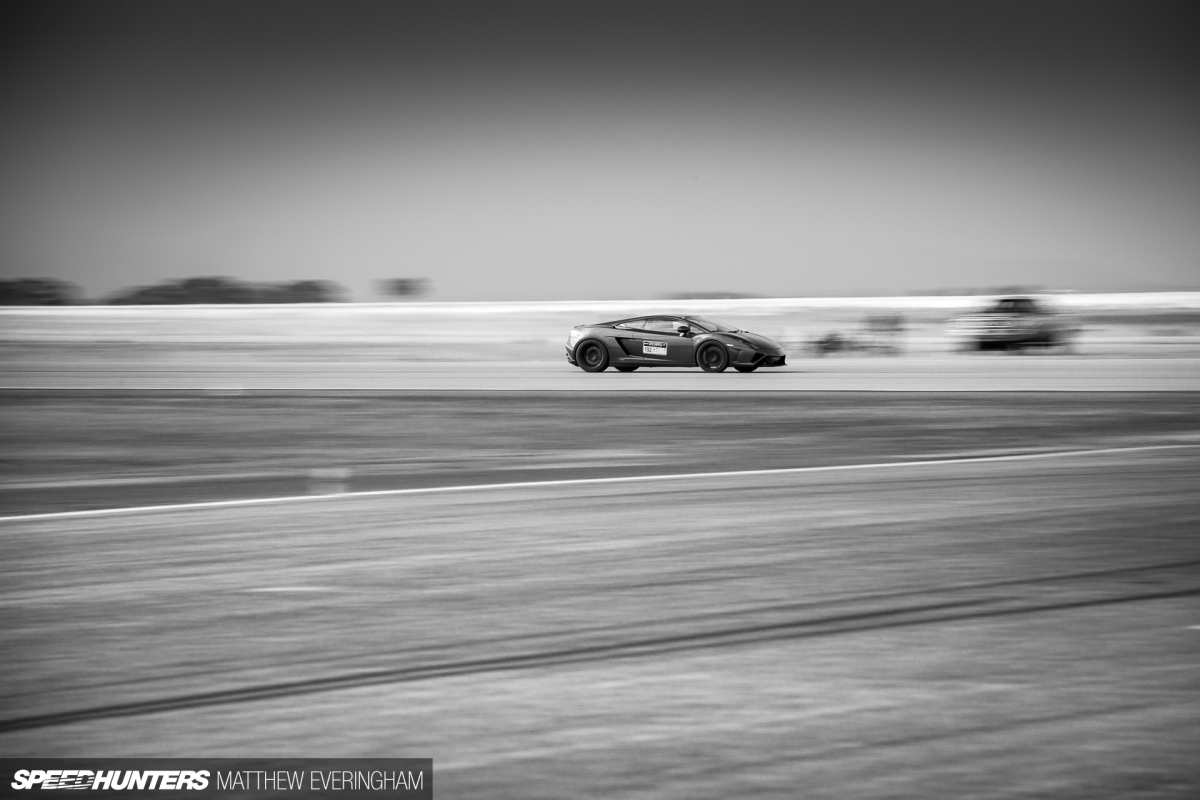 Winner by Maximum Velocity – John Kopcheff and his 2011 Lamborghini LP1600-4 twin-turbo Gallardo, who recorded an incredible maximum speed of 324.97km/h (201.93 mph) from a standing start. The Gallardo can generate up to 951kW (1275hp) at 8000rpm. The car's top recorded speed is actually 327km/h (203mph), but unfortunately Racewars competitors had to compete with a fairly strong headwind for the vast majority of the weekend. The Lamborghini's best ET was 18.979 seconds.

John is one of those cool characters that makes Speedhunting worth the effort. His Gallardo was driven across the full width of Australia to compete in the event, and by that I don't mean he trailered it over, or that he put it in crate and flew. His Gallardo made it from coast to coast across one of the globe's widest and harshest continents, only to be pushed to its absolute limits once it arrived. I'll admit I felt pretty stupid when I asked John why he chose to do the massive drive, but his reply was too good to not share.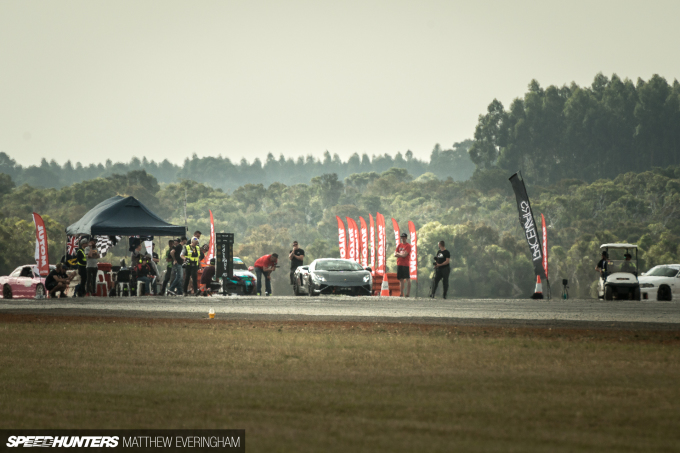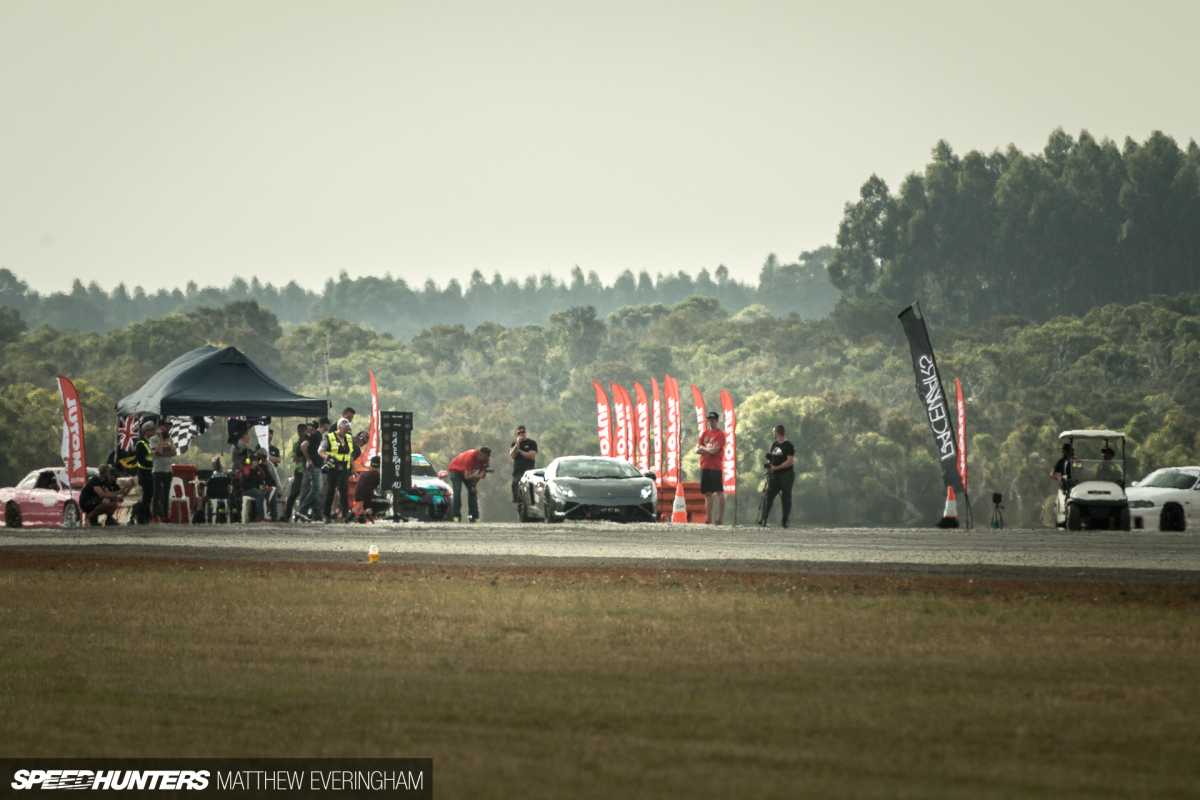 After staring at me incredulously for a very long second he simply replied: "Why not? It's a car; it's been built to be driven and enjoyed." Each time I walked past the car in pit lane he was busy sharing the build with a crowd of eager fans who probably wouldn't normally have the opportunity to nose around inside a supercar so casually.
Matty Haines and his enviable Nissan 1994 Nissan Skyline R32 GT-R recorded the second highest trap speed – 324.32km/h (201.52mph).
After a whole weekend of competition, these two completely different cars – and top honours – were only separated by 0.65km/h! While Matty's final speed fell just short of John's LP1600, his ET for the 1000-metre run was a quicker 17.925 seconds.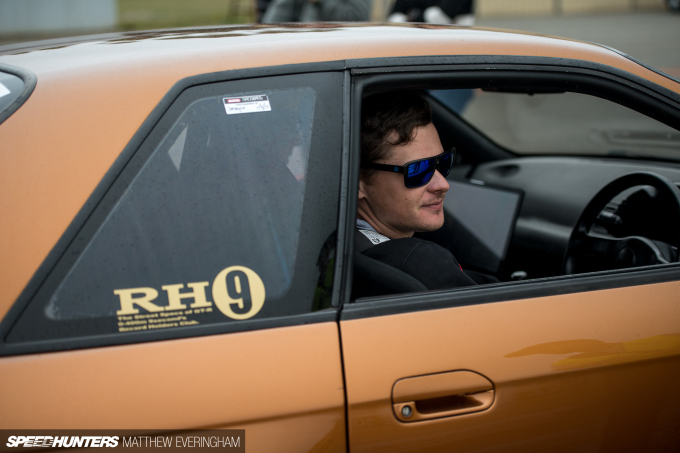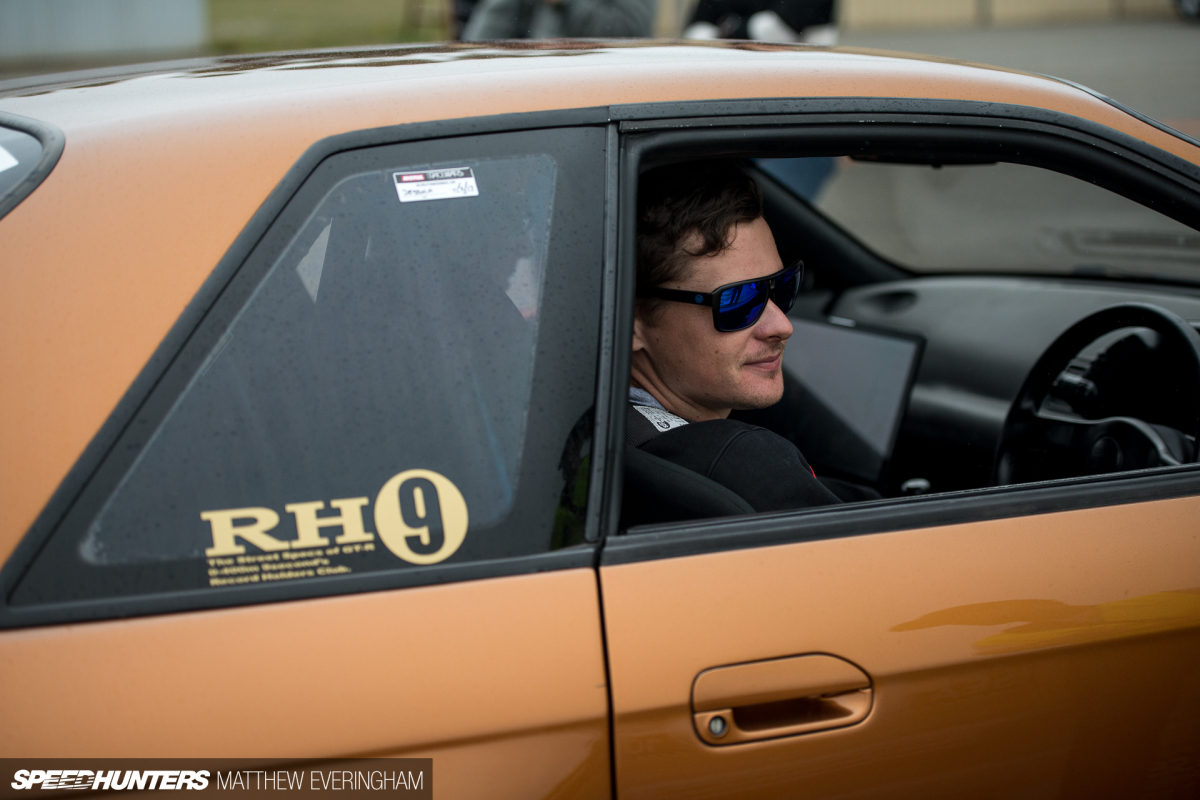 The GT-R also recorded the event's fastest 1/2 mile speed of 308.31km/h (191.57mph) and also the fastest 1/2 mile ET of 15.734 seconds.
While John took home the highly coveted Top Speed award, Matt's GT-R was filled with just about every other trophy on offer during the presentation and afterparty. Perhaps this GT-R is worthy of the RH9 stickers after all – we'll find out in a forthcoming feature.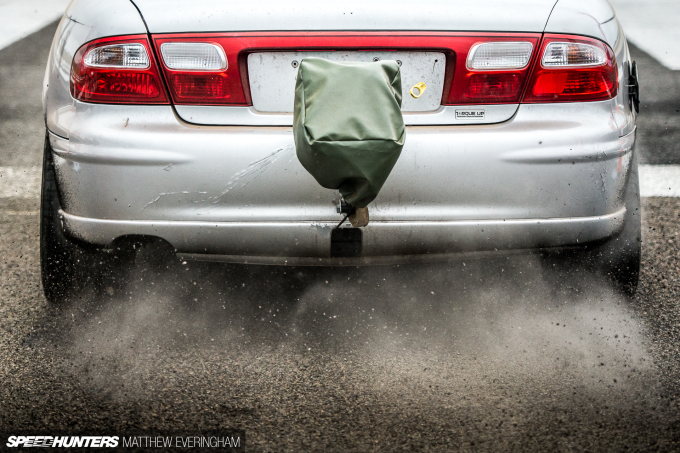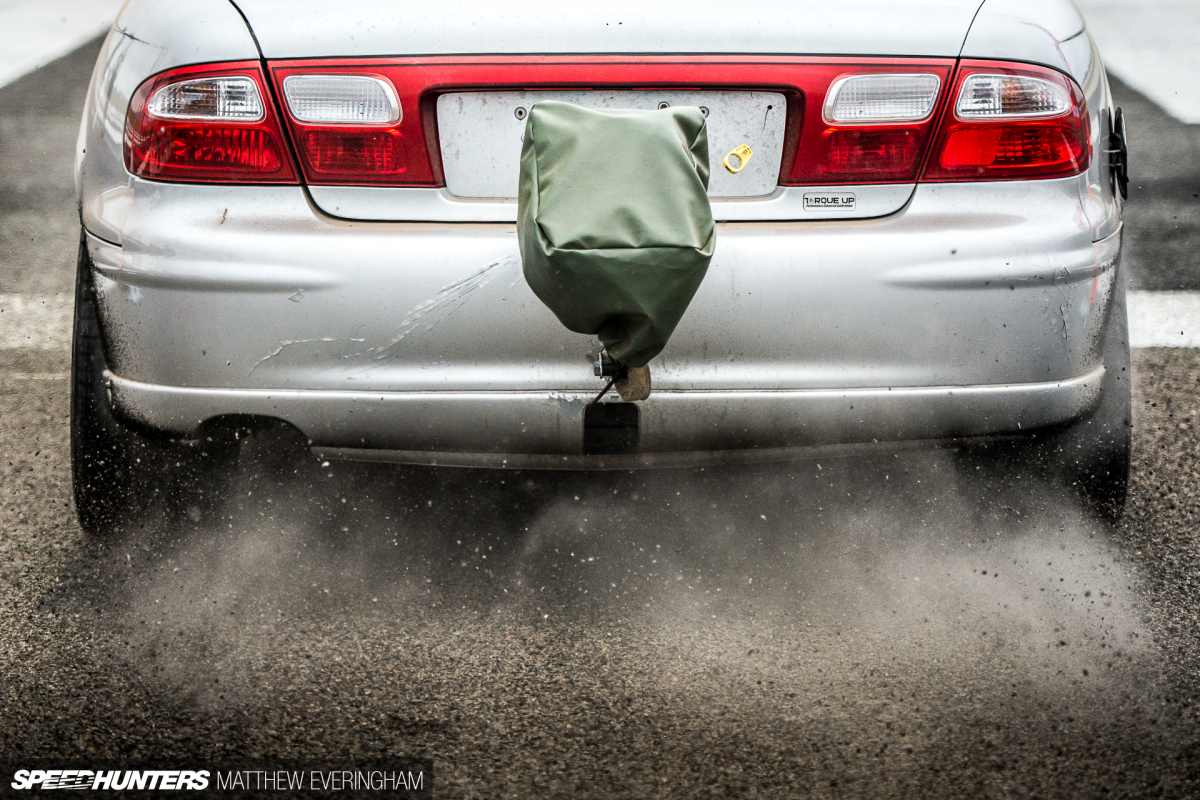 Highlighting the diversity that ran across the entire field is David Christie and his bat-sh*t insane 2002 Holden VT Commodore. For those of you who are unfamiliar with the car, say hello to Australia's taxi, commercial and government fleet, circa 2000. This is a car well known locally for its complete lack of personality and ability to underwhelm everyone, including the market's least demanding buyers. But this fairly unattractive and somewhat depressing icon of Australian auto manufacturing has had a strong shot of adrenaline injected by Dave and his team at Torque Up, and throwing a mental setup in such a mundane car made it a favorite of mine at the event.
The VT Commodore ran a top speed of 302.58km/h (188.01mph) and an ET of 19.95, just inside a second of John's Gallardo. What's responsible? A well thought out pair of snails forcing air through a 6.3-litre LSX V8 with enough fuel and spark to create some big, big numbers. I can't help but but think about much fun you could have painting this up as a taxi and scaring the bejeebus out of unsuspecting passengers.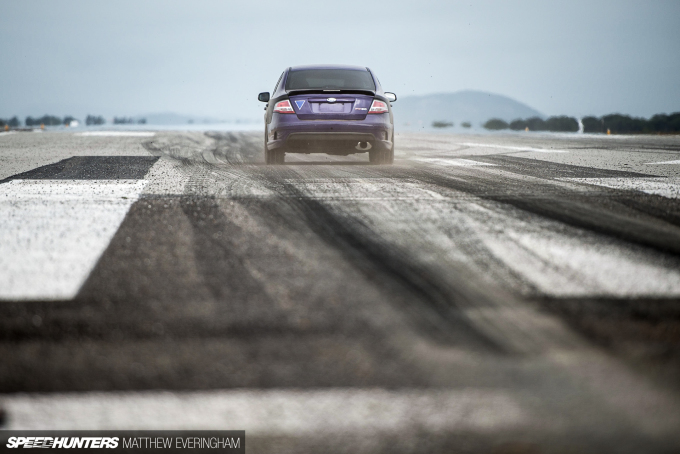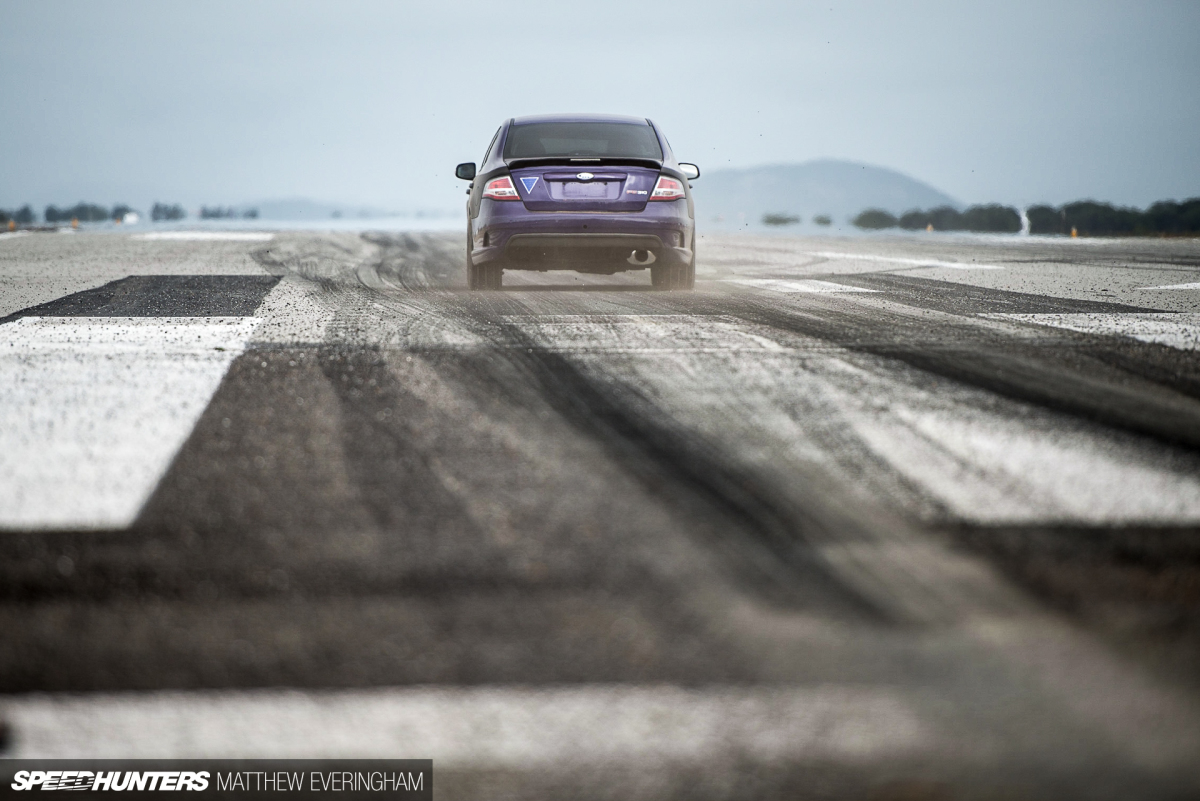 Joshua Lacob brought another Aussie icon inside the top five. His 2009 Ford Performance Vehicles (FPV) F6 was pipped for a podium position by just 0.078 seconds and 0.12km/h (0.075mph).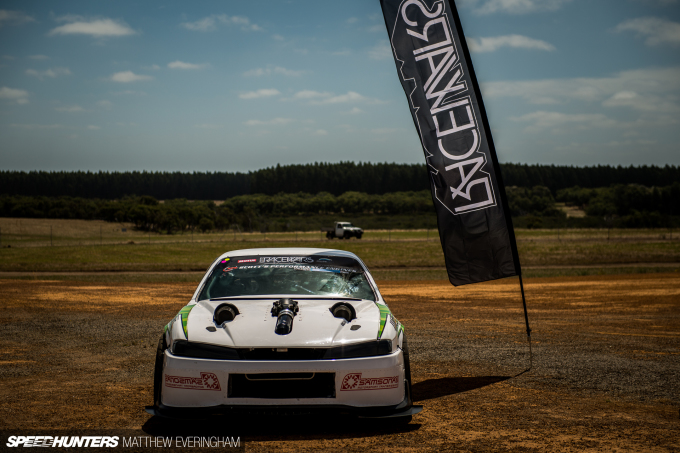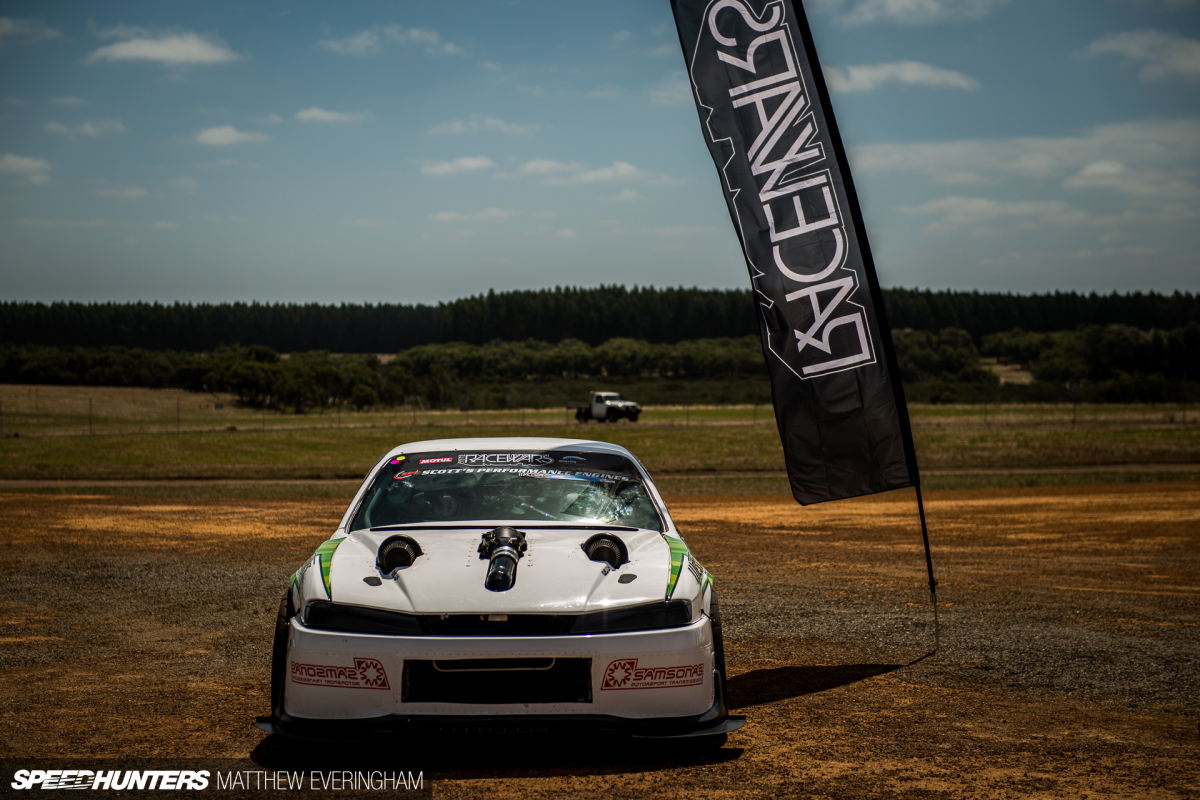 Adam Monck rounded out the top five in a car that quite clearly has a very set of different daily duties. His twin-turbo LSA-powered Nissan Silvia drift car underwent some minor/backyard changes for Racewars, most noticeably some DIY sheetmetal to minimise drag across the front bar, and a drop spoiler across the back to help encourage as much downforce as possible on a rear end that's usually set up to for skids. Final stats: 298.95km/h, painfully close to a membership in the coveted 300+ club. The final ET for the V8-powered Silvia was 21.179 seconds – not a bad effort for a drift car. Adam's ride was probably the most exciting to watch from the sidelines too, thanks to it managing to fry tyres for most of its journey to the magic marker.
Firsthand Fast & Furious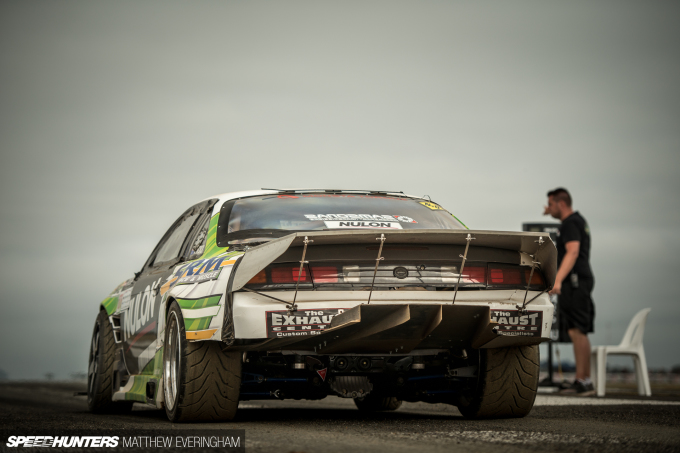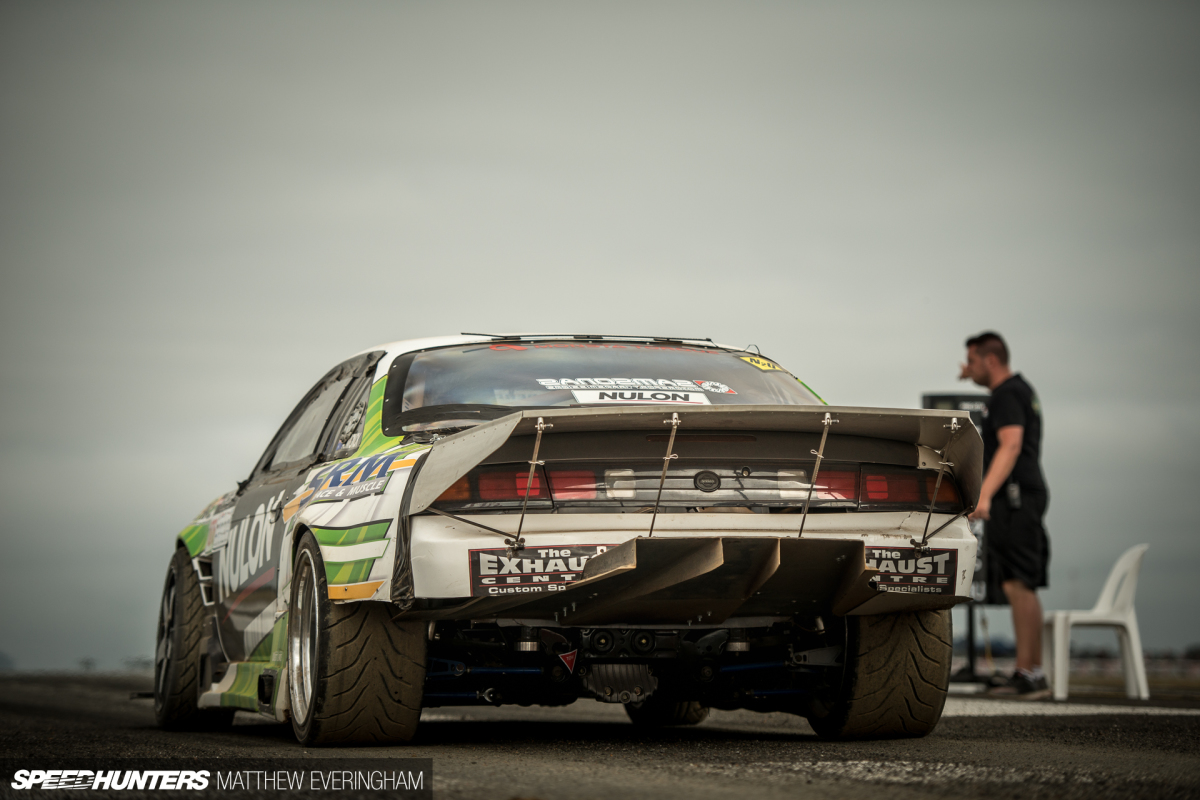 "Just so you know, I'm going for it, I'm not slowing down." Adam Monck informs me with a matter of fact tone as I slide between the serious roll-cage and strap myself into the 4-point harness of his passenger seat. Despite being on opposite sides of our big brown continent, I'd seen Adam drift before, and heard rumours that he's a complete mad man. Had I made the right decision jumping in?

We're flagged to go and Adam dumps the clutch. I struggle to sit up high enough to get a good vantage point of the runway ahead over one of the turbos protruding out of the bonnet. We're sliding all over the tarmac, but somehow also still accelerating. Fast too. Whoever was lined up next to us for our run is nothing but a speck in the rear-view mirror; that is, if one had time to look in a mirror. Defying physics we continue to push faster and faster as the S14 skates in all directions across the tarmac surface. Adam blips sequentially through gears, and before I know it we're almost 1000 metres from where we started.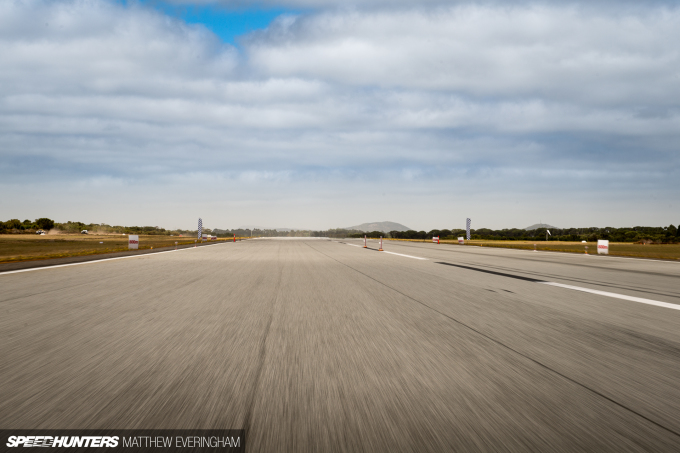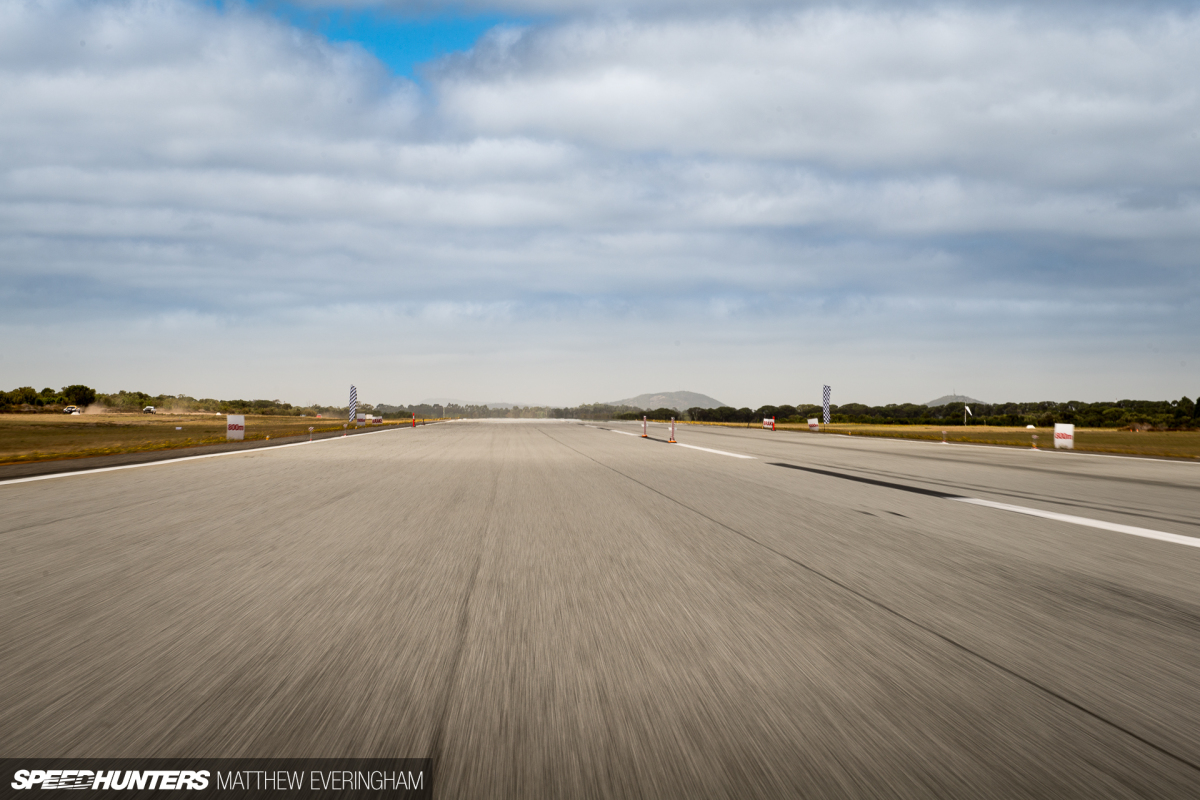 If I had to guess, I'd say we had traction for the last 200 metres of the track, which is a good thing when you're planning on stopping soon. We managed to crack 281.7km/h with me in the car, which I'm fairly certain was a new personal record for top passenger speed. The quest for 300km/h will have to continue, but it might have to wait till this Racewars next year if I'm in the passenger seat, as this is the only high-speed event in the country that allows such a thing.
Variety Is The Spice Of Life
Sure, there was a tonne of horsepower and some massive builds competing for top honours, but for the majority of entrants, Racewars was more about breaking personal records, pushing projects and having a blast in the process. One of the most eclectic fields of makes and models came together for their shot at glory and clocking serious speeds in a safe environment away from the watchful eyes of the Australian Highway Patrol.
Let's take a minute to celebrate some of the diversity on display…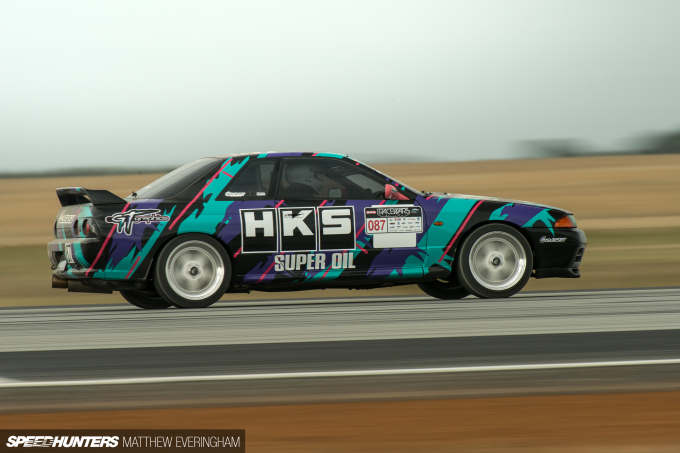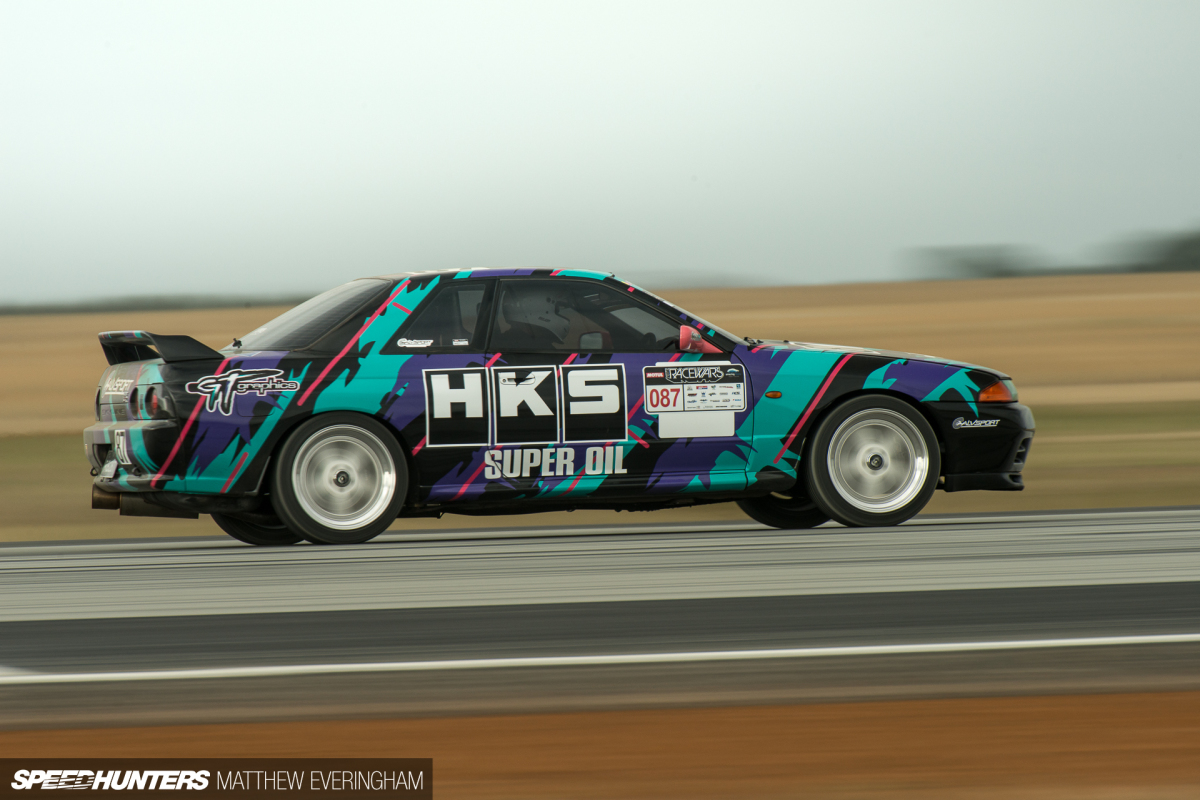 This RB28-powered R32 GT-R was a crowd favourite for fairly obvious reasons. Damo's Skyline did more than just amaze, it sounded incredible and was brutally fast.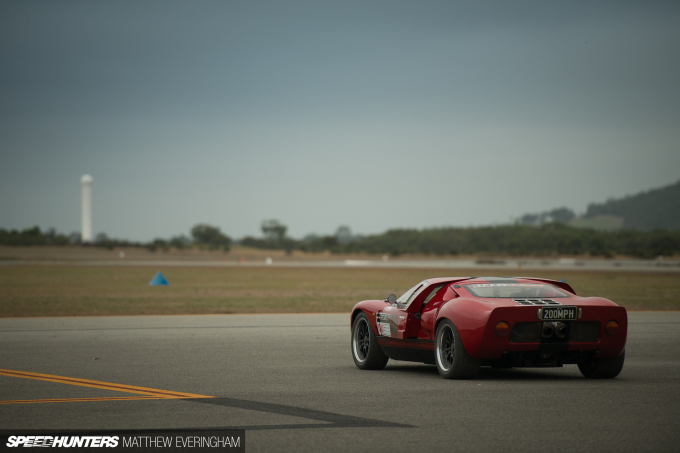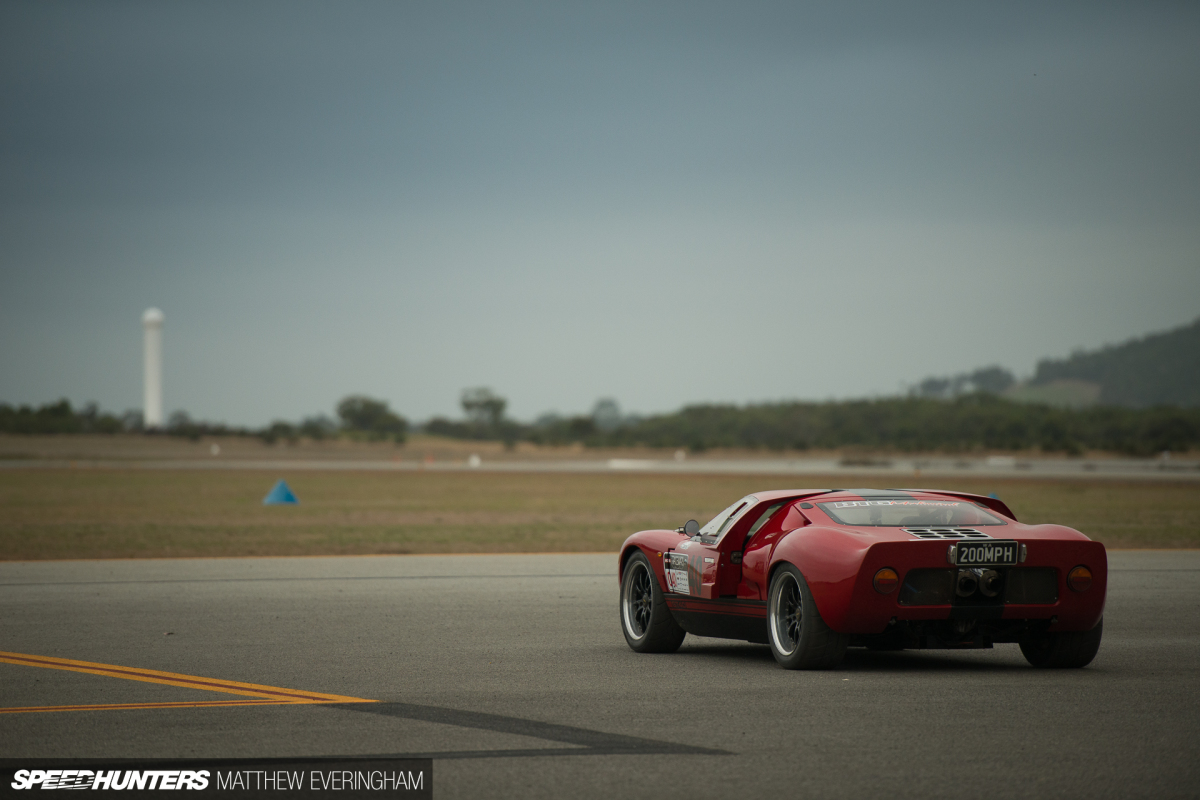 Julian O'Hara's Ford GT40 replica snapped a lot of necks both on the runway and also on Monday's industrial zone Street Sprint.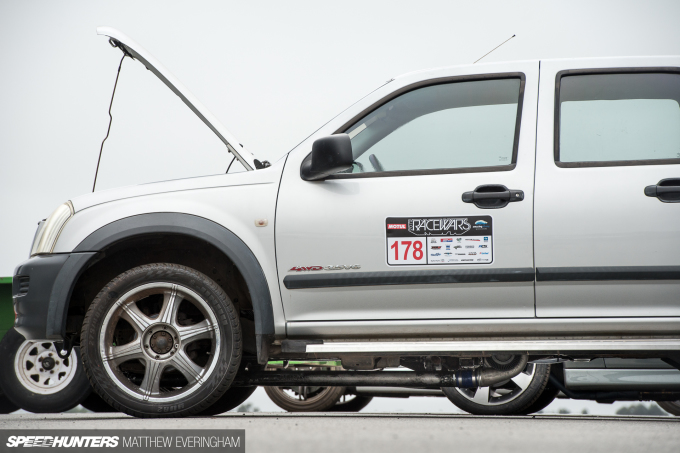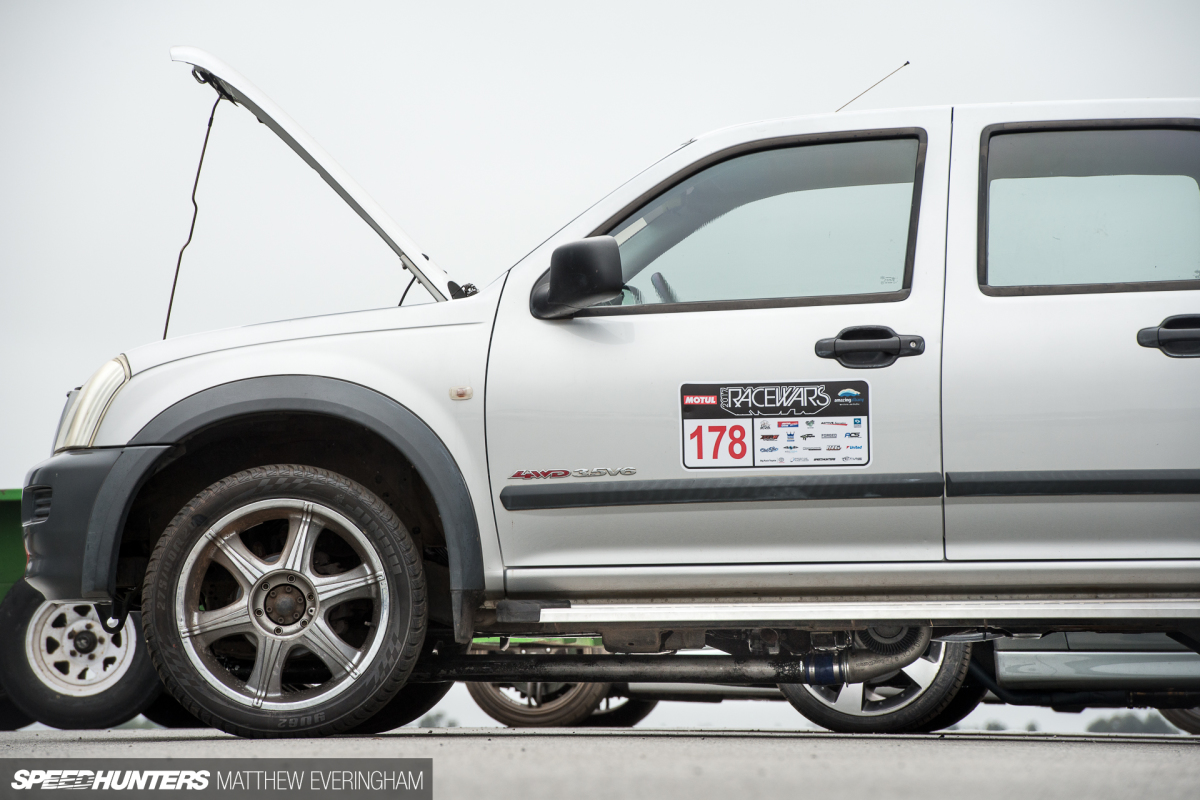 I first ambled past Simon's Holden Rodeo ute in the pit area in the morning, and if it hadn't been for the entrant sticker on the door I would have dismissed it as a support vehicle. But I was walking with a local photographer who recommended I go take a closer look. The standard 2.5-litre four-cylinder had been replaced with, yep you guessed it, a 5.3-litre LS engine. What you didn't guess was hanging under the ute… Check out that top image again, paying attention to the underside. Did you notice the BorgWarner S475 turbo sitting there? Let us know in the comments section if you saw it straight away. That cooler in the rear tray is actually part of the water-to-air intercooler system. Power figures are still unknown for the Slowdeo, but its top speed was 231.59km/h (143.9mph).
Regardless of your main persuasion, all tastes were catered for. Prefer a bit of US muscle? Check. There was plenty to be seen.
More of a JDM fan? Fine examples from all generations were on hand to admire, or to line up against if you wanted to settle a dispute and see who was fastest on the strip.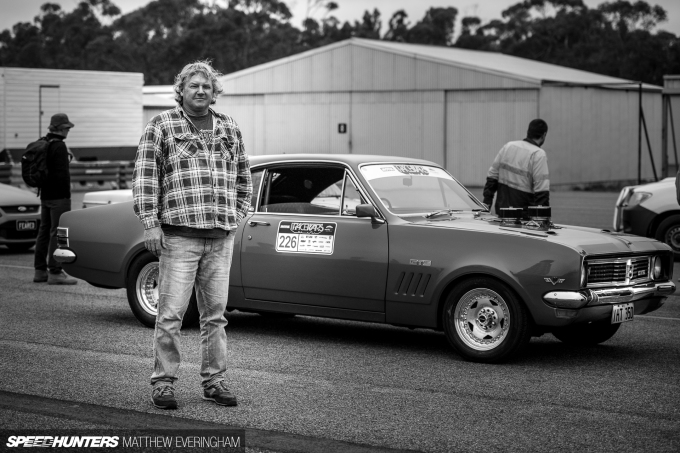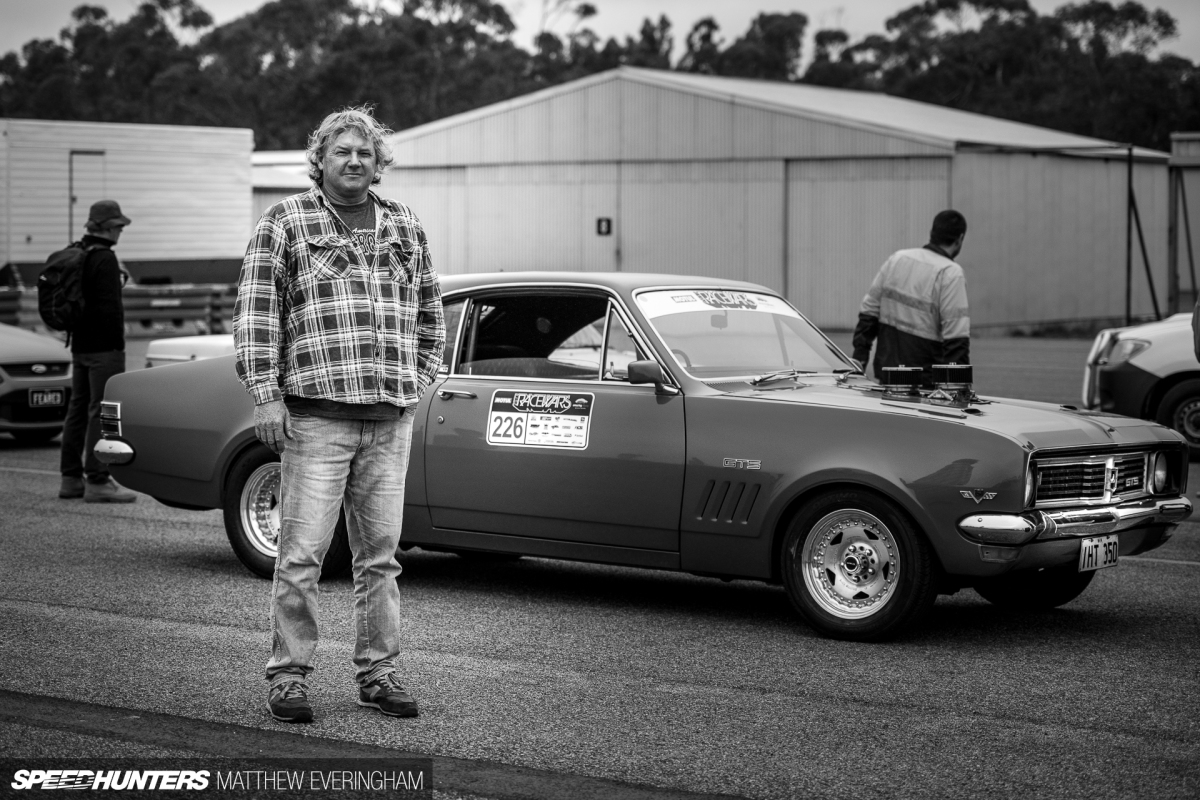 There was no shortage of local rigs putting stupid amounts of power to the ground, but because racing was conducted on an operational runway, a very strict 'no burnout' policy was in place. Instead, punters had to warm their tyres on a massive sheet of steel just before staging. Over the course of the weekend, different cars experienced differing levels of success using the 'pad'. What I noticed was that those cars who did fry some rubber before a run seemed to spin a bit more during what should have been a smooth take off. Naturally, the Aussie cars (and Adam Monck's S14) put on the best smoke shows before each run. Straya!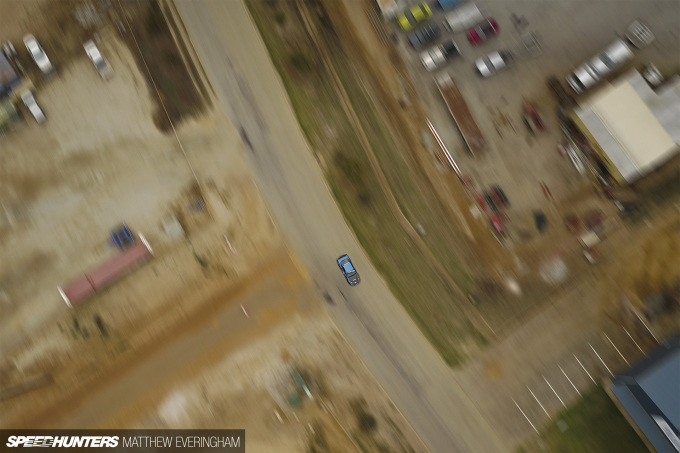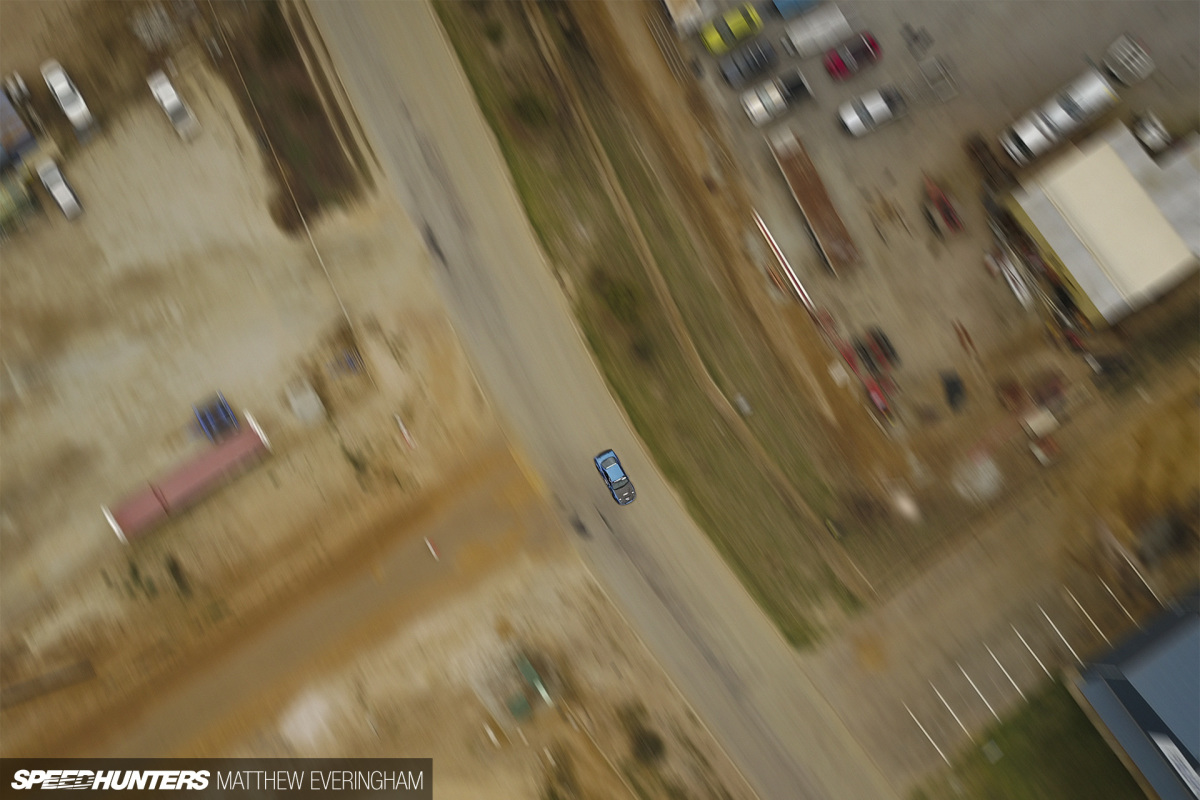 Drivers were invited to an optional event on Monday morning when Racewars took over an entire industrial estate for the final ceremonial 'burning of the tyres'. The event may have been timed, but only about half the field seemed hell-bent on breaking circuit times. Most of the guys and girls were just happy to slay their final sets of tires before packing up the cars and making their long journey to wherever home was.
Blue smoke, red earth and some very iconic rural Australian backdrops made for a great morning of motorsport and a fitting finale to a great long weekend of horsepower-fuelled antics.
Cash Days
On the Saturday night, the runway was handed over to the owner of local car magazine Forged, Jordan Leist, who installed some basic lighting and ran a separate 'Cash Days' event. Based on the concept made famous by the Street Outlaws show, punters would race for cold hard cash over a 1/8th mile track.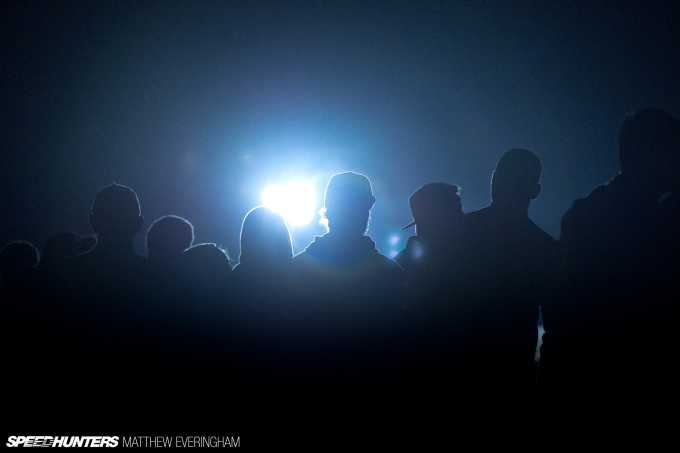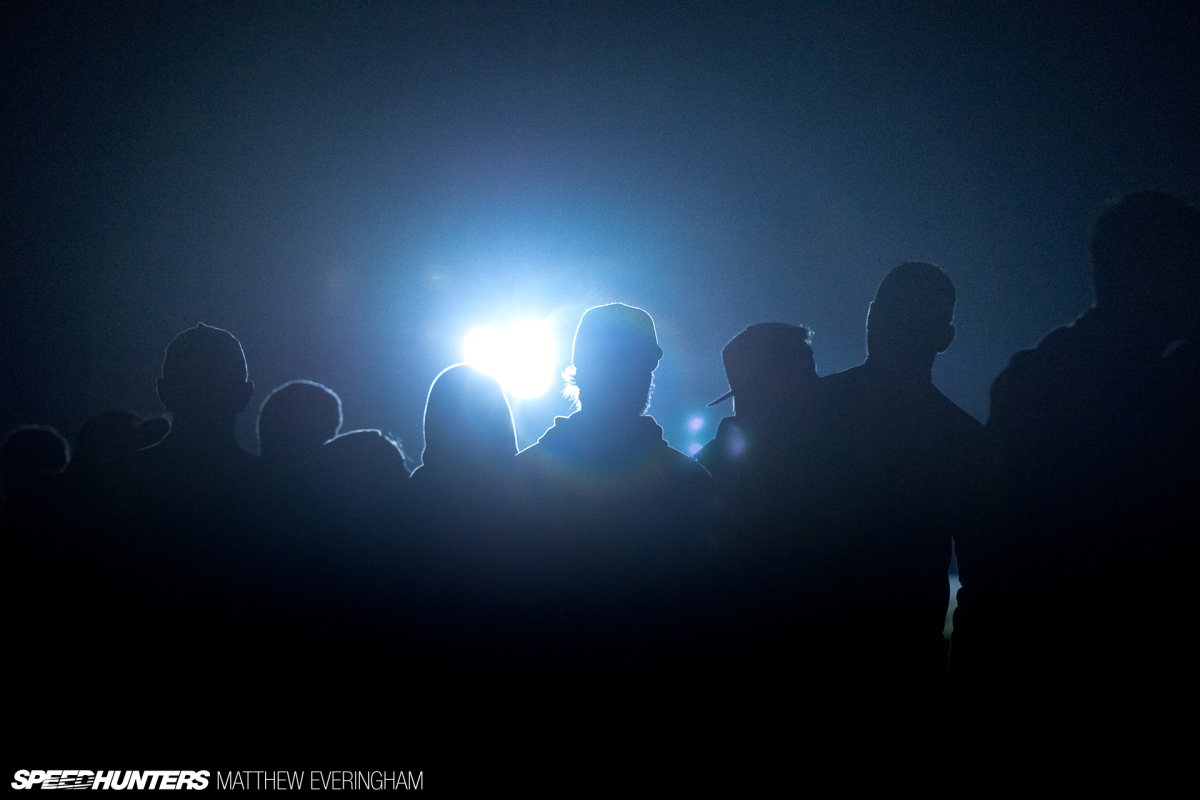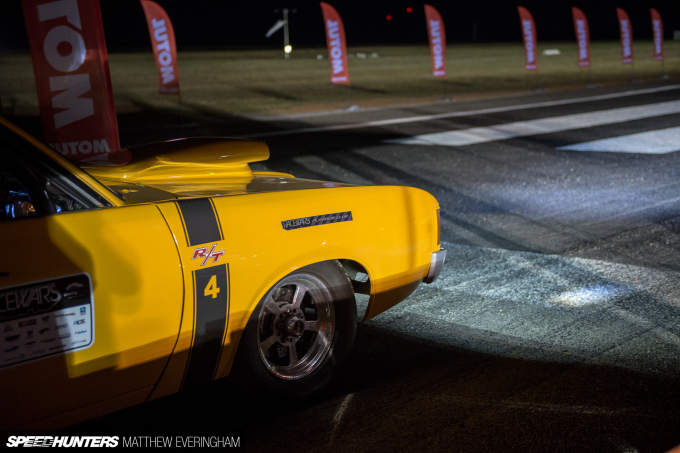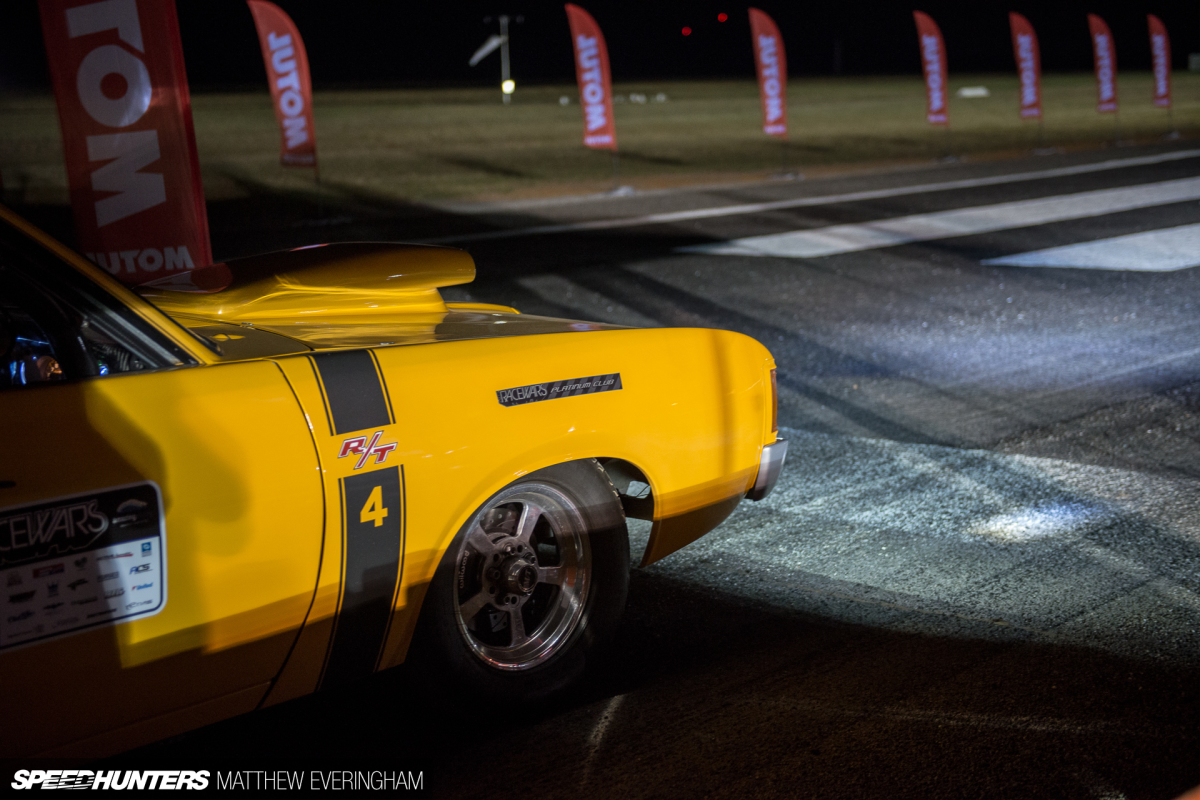 The concept is simple: you pay to play in an elimination style of head-to-head drag racing, driver's having the option to bet one on one, on the side. Once the random car draws were made, it was time roll up and race.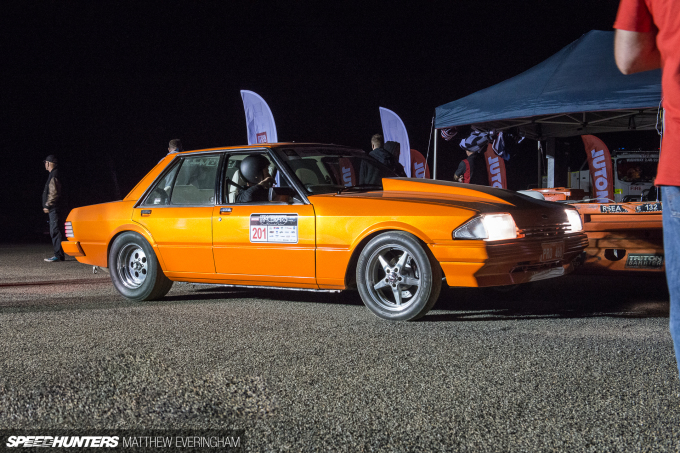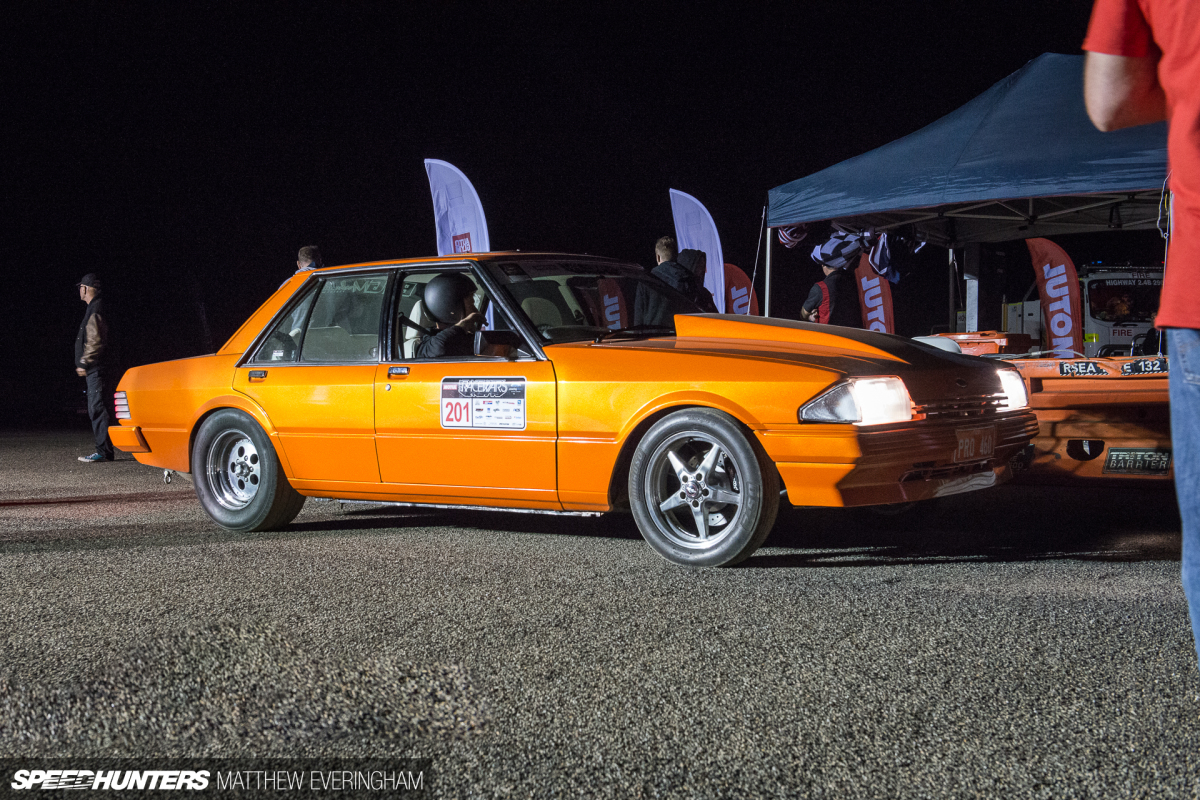 The vast majority of competitors travelled from across the state and even further afield. Ultimately, it was local boy Brook Gunning in his XE Ford Falcon who took it out, leaving the event with an extra $2000 in his back pocket.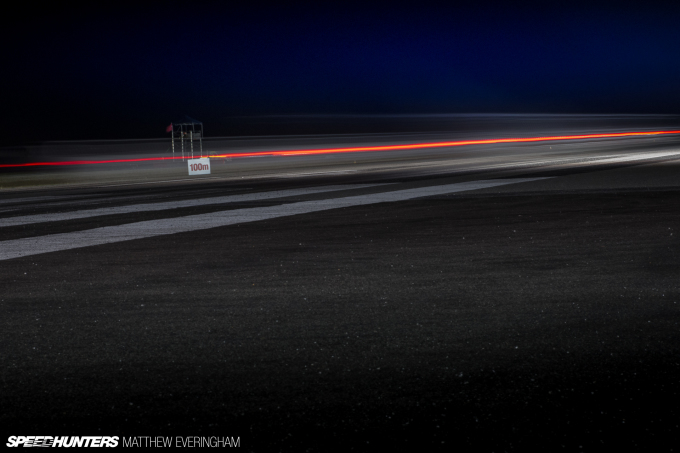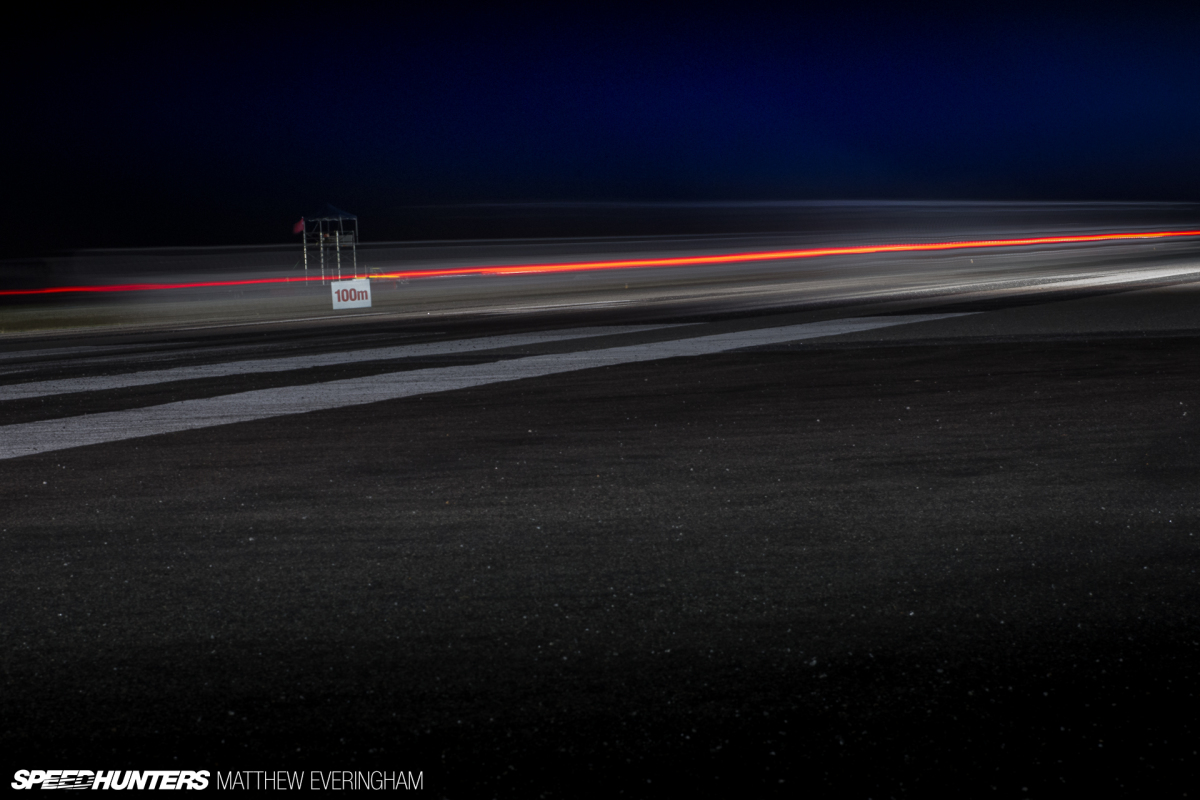 Motul Racewars 2017 redefined my perception of what runway racing can be. It'll be interesting to see how the event evolves in the future and if other organizers take some cues from what the gang at Albany have achieved here.
It really has the potential to be the one Australian event to win if you're chasing top speed glory. Every year thousands of fans flock to Sydney for the World Time Attack Challenge, Canberra for Summernats, and Bathurst for the 1000. I can see a future where fans will flock to Albany for Racewars.
Matthew Everingham
Instagram: matthew_everingham
matt@mattheweveringham.com