Addicted To Track
It's been years since I last did a track day.
I'm not sure why to be honest. I think I'm too good at making excuses for things that I need to do to my car before it can go on track. I'll do one once I've got new tyres, or once I've changed my brakes. Or when I change the seats for something a bit more supportive. Maybe once these nice new tyres have worn down a bit so they're not so fresh…
You get the picture.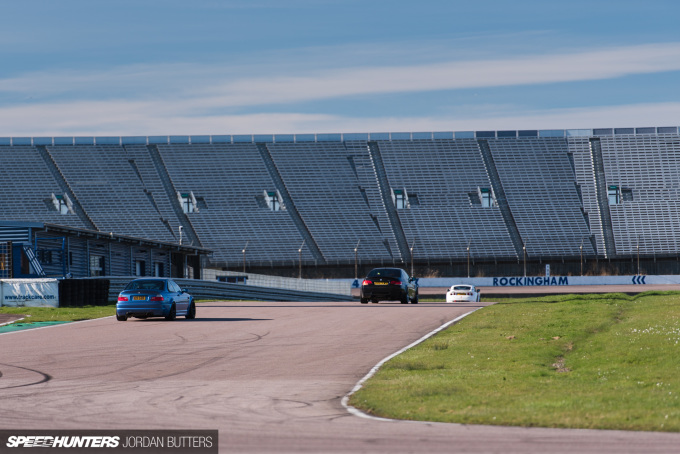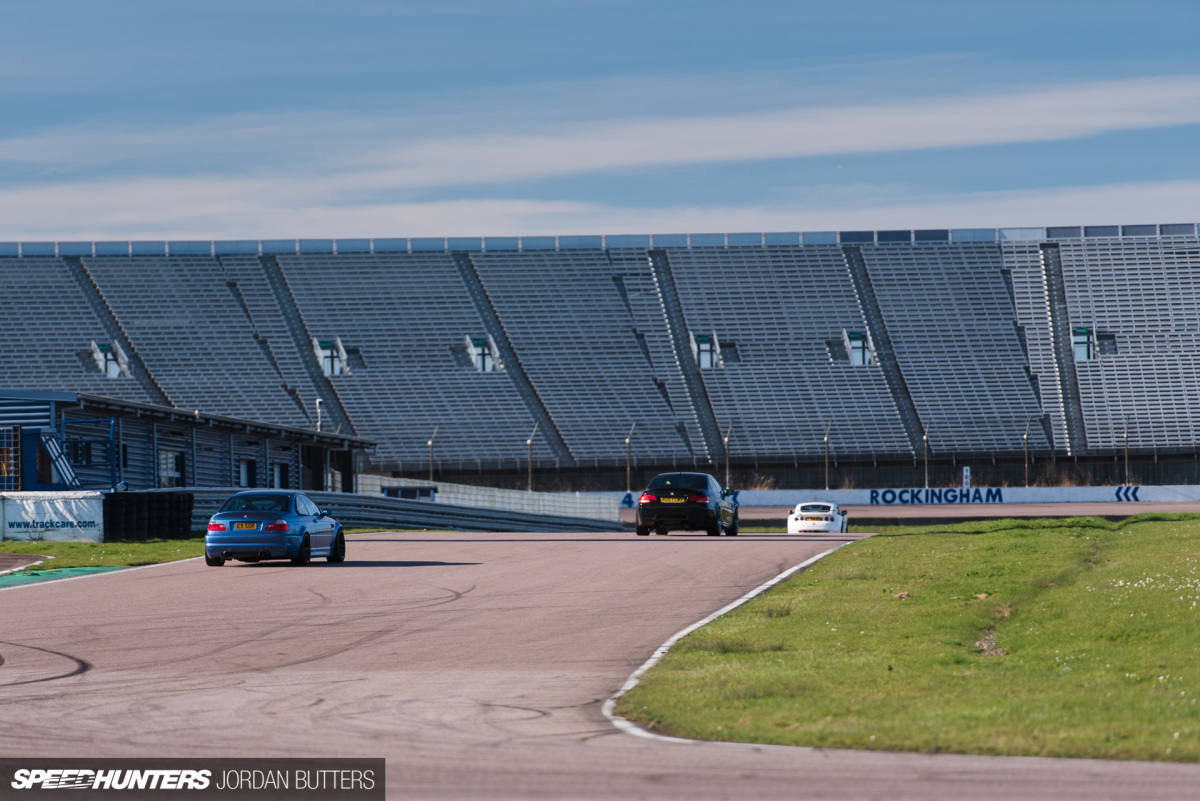 When I found out that there would be a #TrackAddict day at Rockingham Motor Speedway in Corby, Northamptonshire – a mere 35 minutes from my house – I thought it'd be rude not to head over for a cheeky few laps and give my Honda S2000 a proper shakedown in near-stock form before I make any major changes.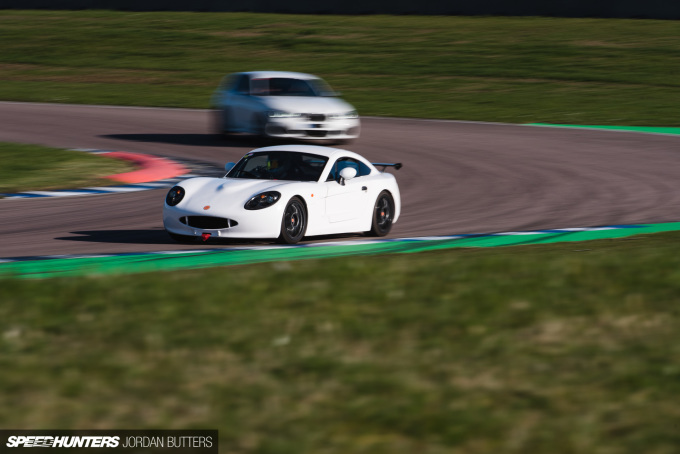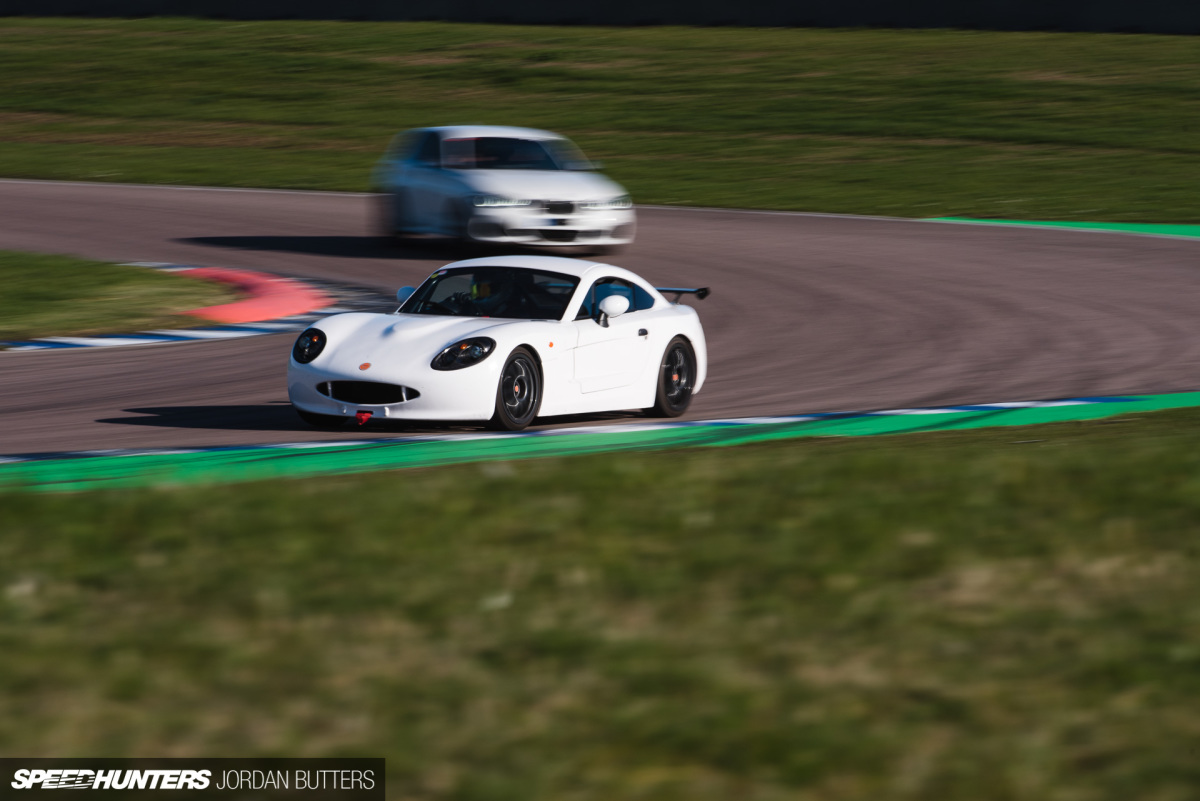 As founder Jason explained to me, #TrackAddict isn't a track day organiser as such, but rather a social media-based car club for those interested in tracking their cars. I've followed them on Instagram for a while, and there's often something that catches my eye on their social media feed.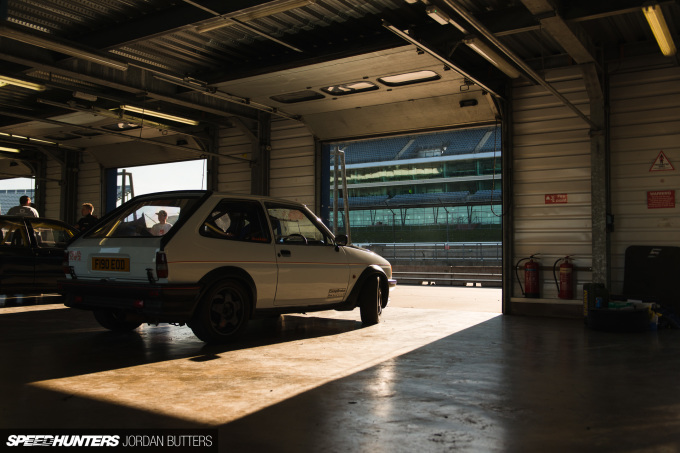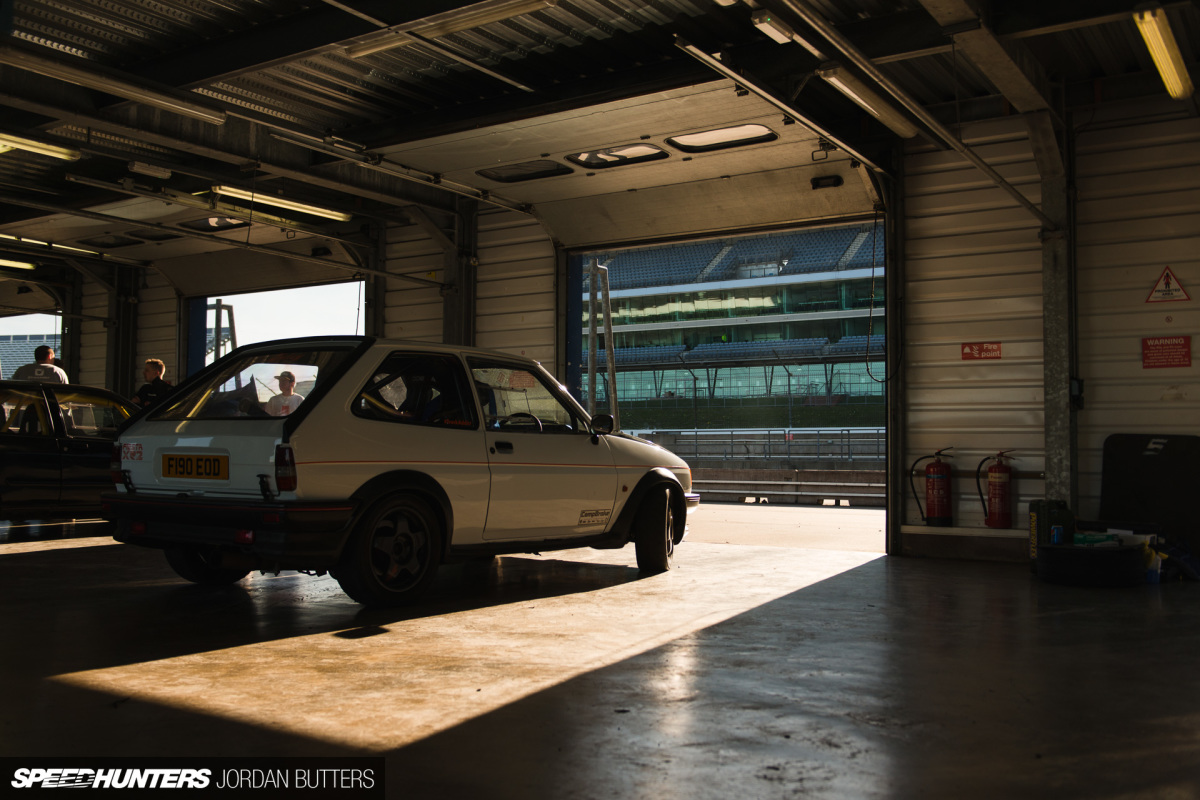 For an entirely reasonable £165 (US$206) for the whole day, you could enjoy an open-pit format on one of Rockingham's various configurations. The circuit takes you around the fast speedway banking before sweeping sharply around a hairpin into the infield complex.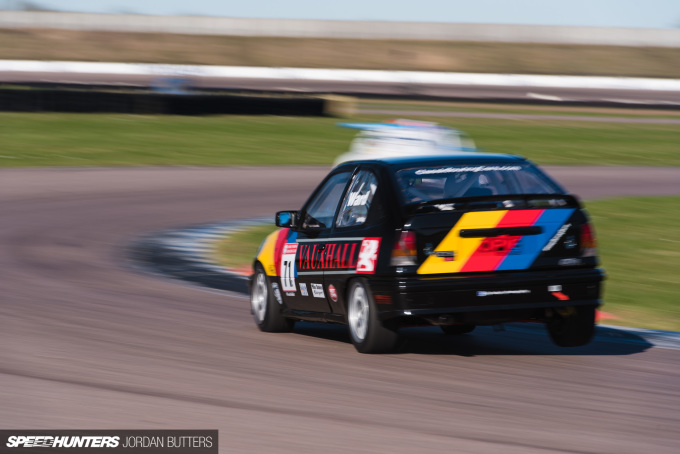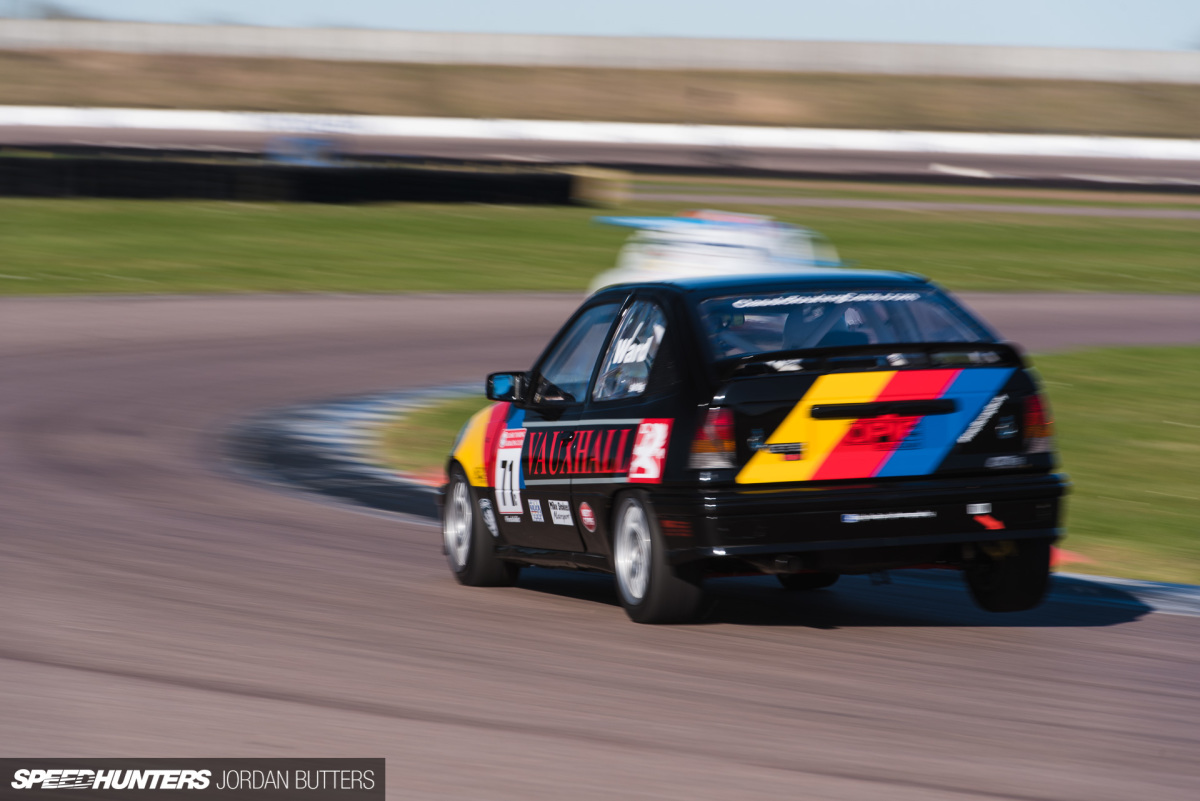 A collection of fast corners of varying degrees as well as undulations and changes in elevation tests your skills before you spill back onto the high-speed bank once again.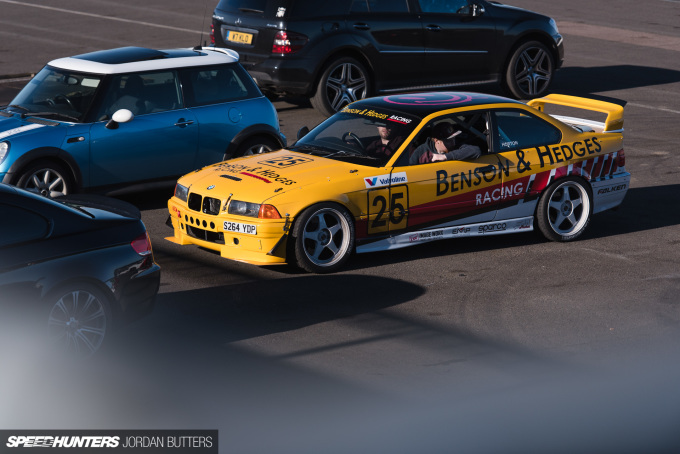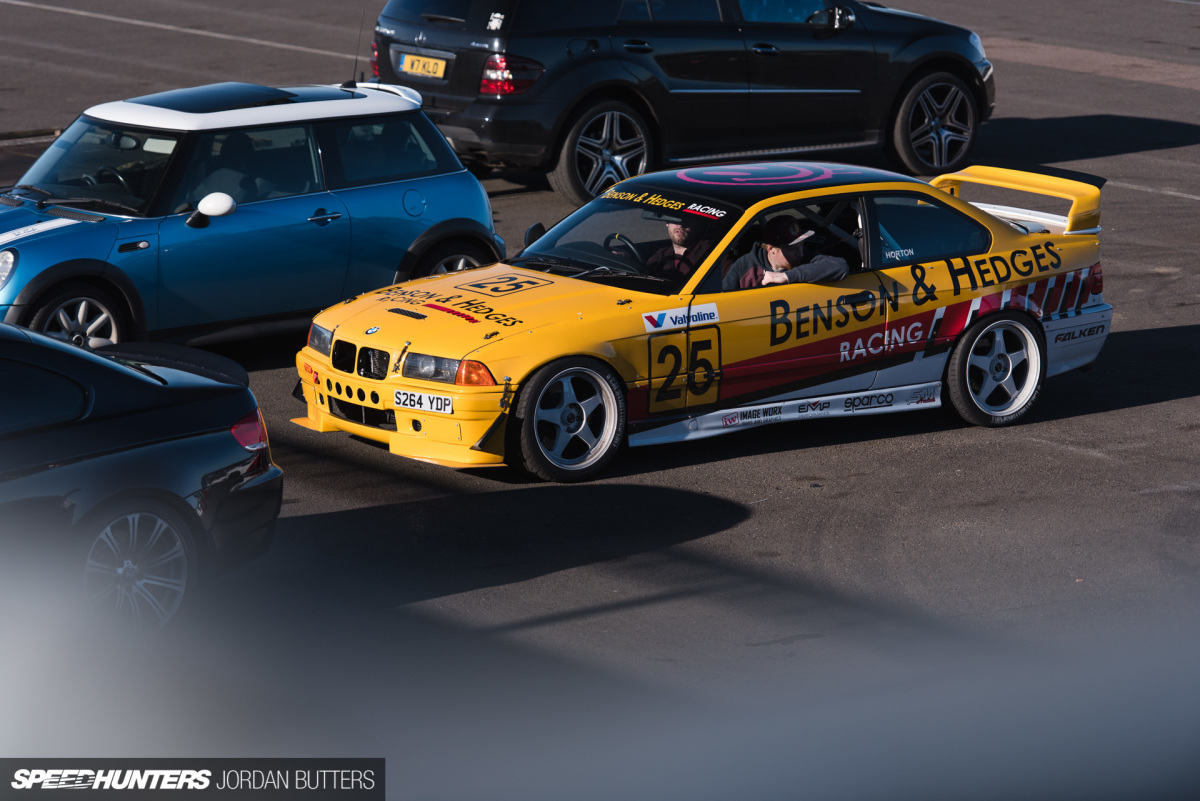 Rolling into Rockingham's main paddock in the centre of the circuit for the second time in as many weeks, I was greeted by a pretty diverse selection of cars. Part of the charm of open-pit days like this is that you never know what you're going to find.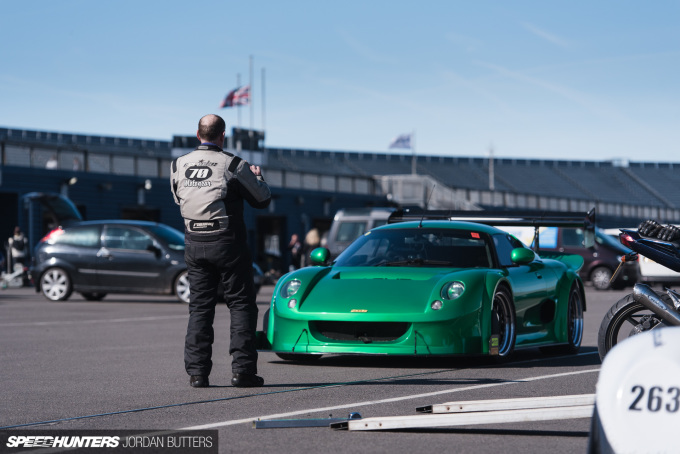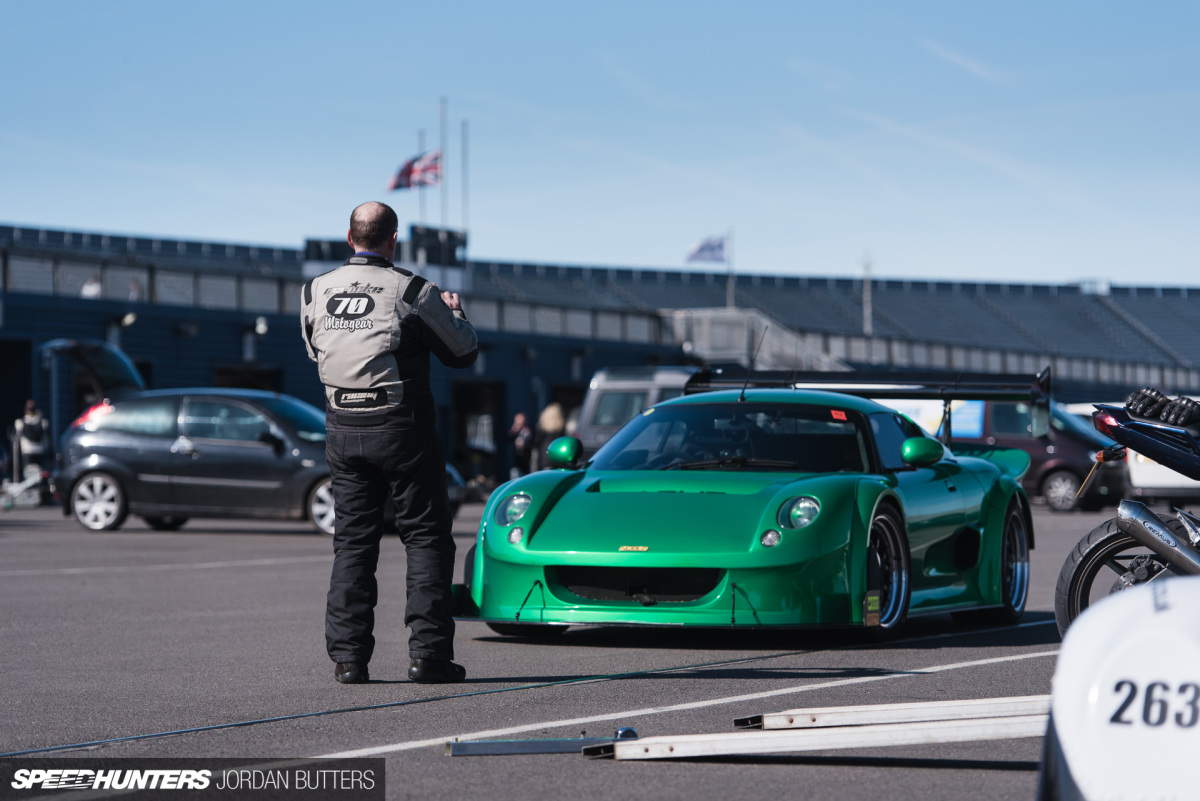 There might be a 600bhp Time Attack series monster out for a pre-season shakedown lapping alongside a home-built budget hot hatch. There's no snobbery with #TrackAddict – as long as your car meets safety and noise regulations you're good to go.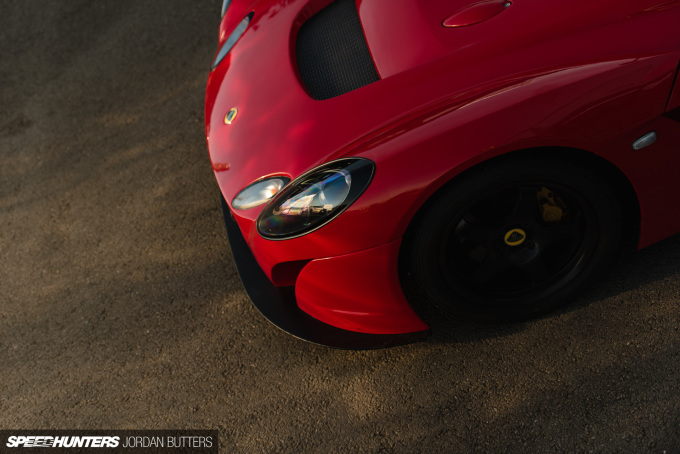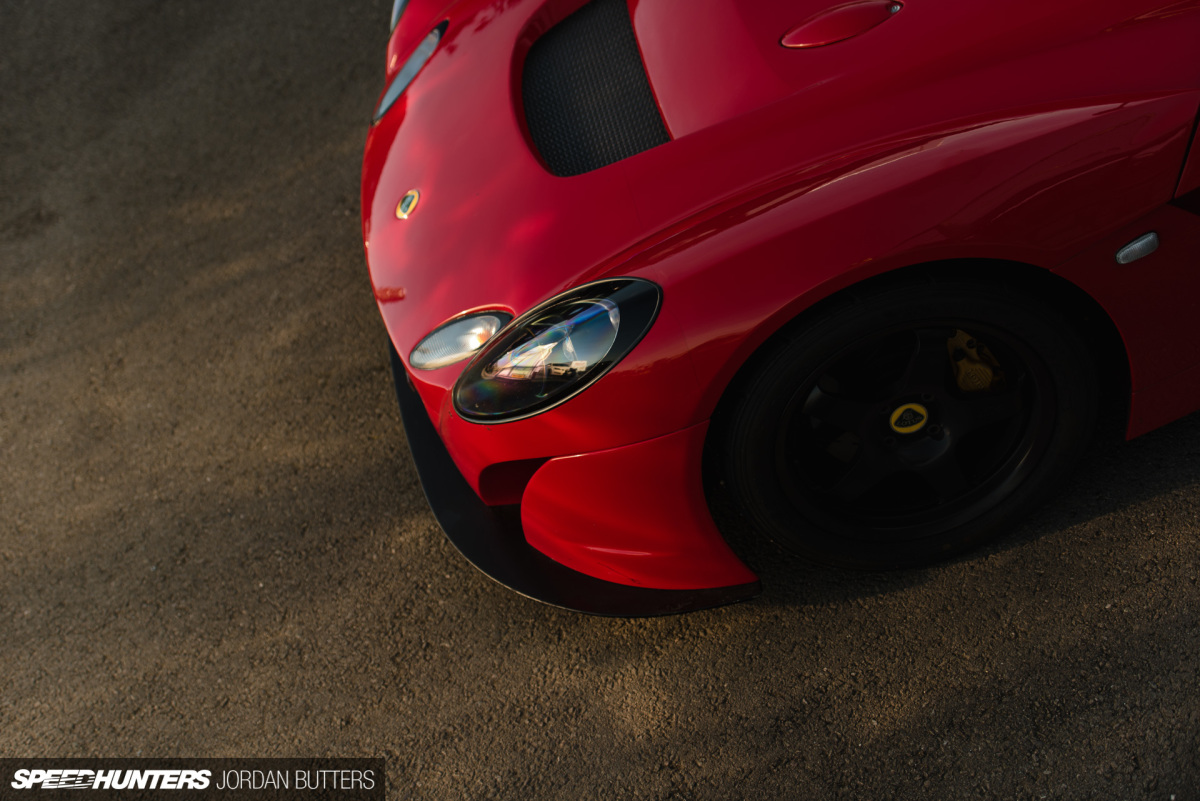 It helped that #TrackAddict Rockingham was taking place on the warmest weekend of the year so far. I mean, it was still pretty damn cold – proper thick jacket weather – but the presence of glorious sunshine from dawn until dusk made the Saturday a noteworthy event in itself.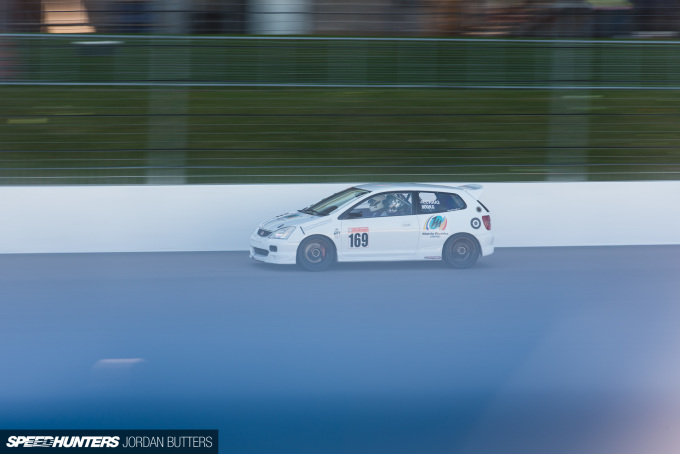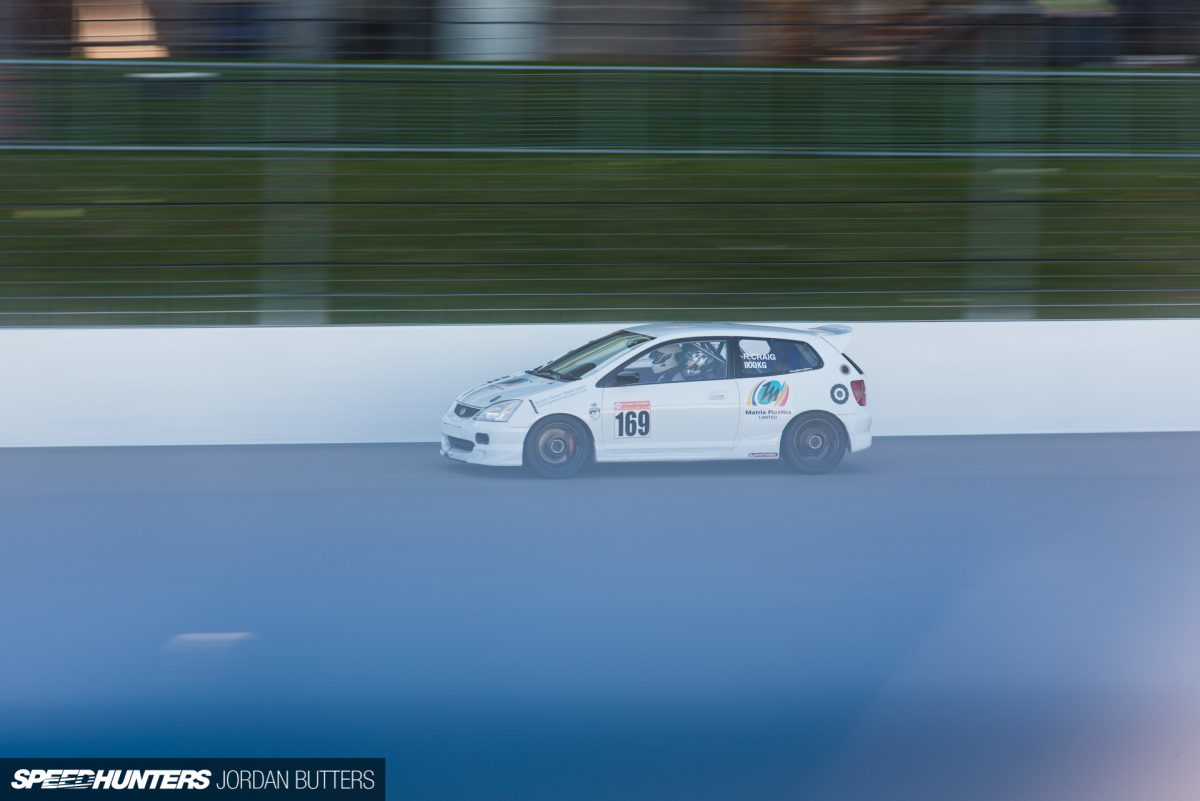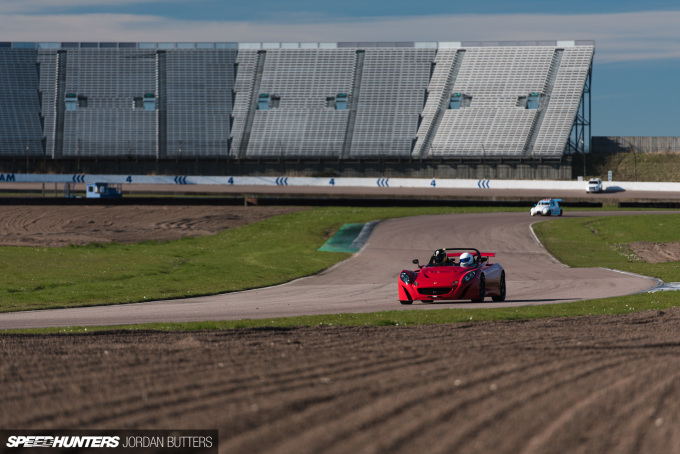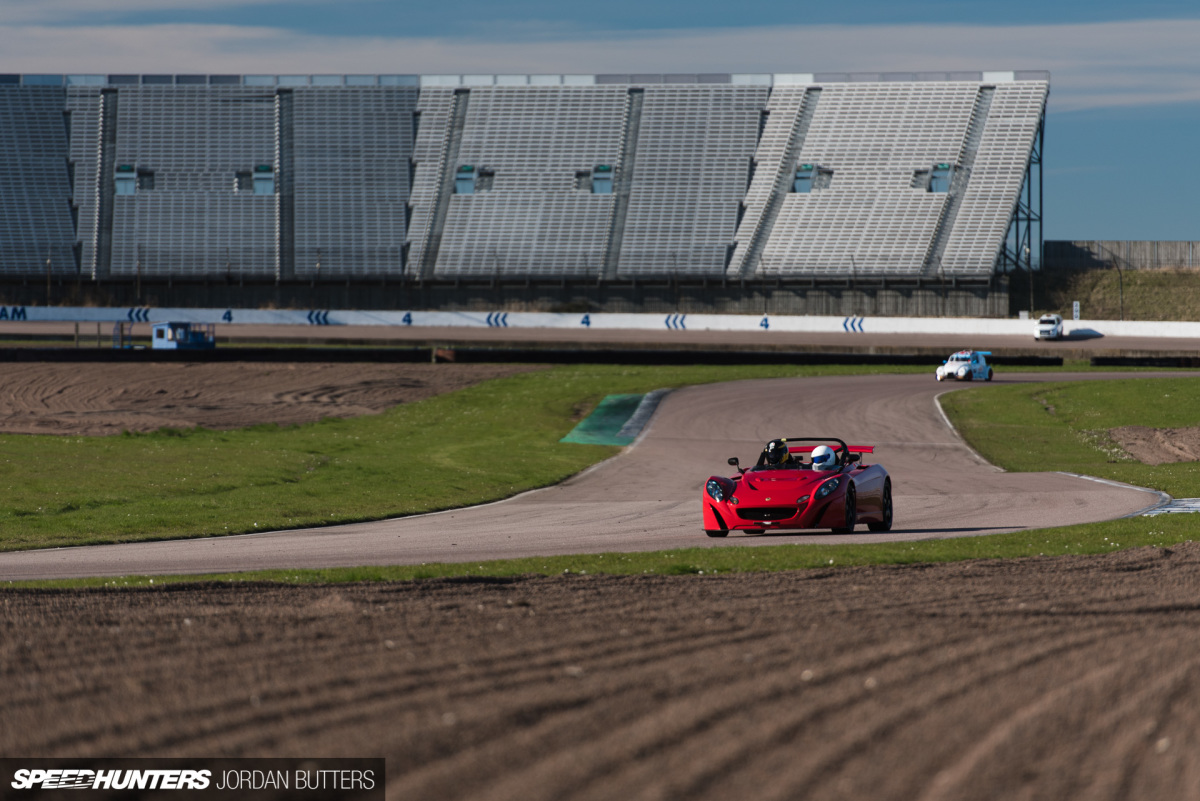 Weather aside, we're pretty fortunate here in the UK that there's such a large choice of different circuits and track day promoters and organisers for enthusiasts to choose from. I'm pretty sure that, between the months of March and October, you could almost fill every weekend with a track day should you have the inclination.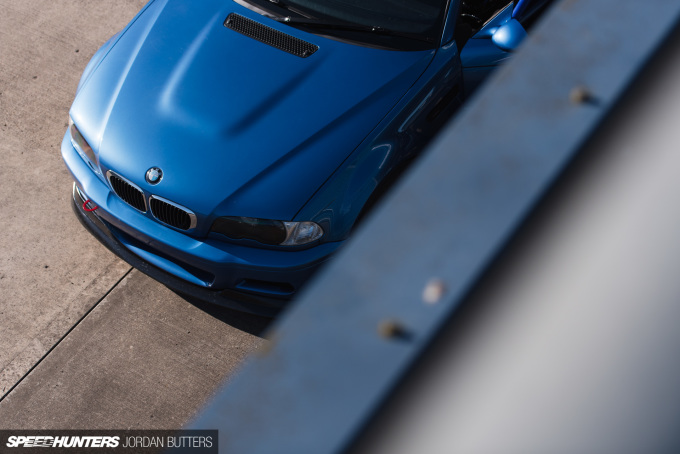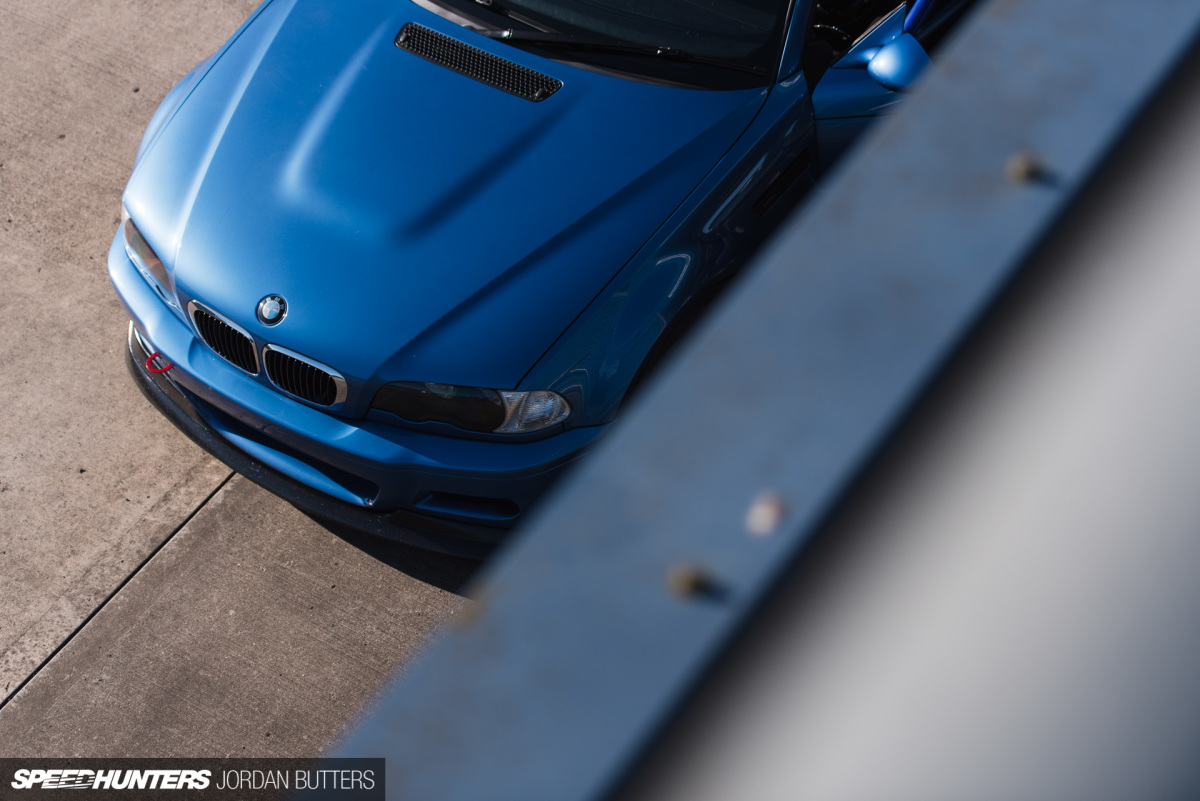 As with all over the world, the road laws here are increasingly becoming stricter and with greater penalties for those that flaunt them. While I completely agree that the road is not a racetrack, I still think that car enthusiasts are an easy target, and if you're driving around in a performance-oriented car then sooner or later you're going to come under scrutiny in one form or another.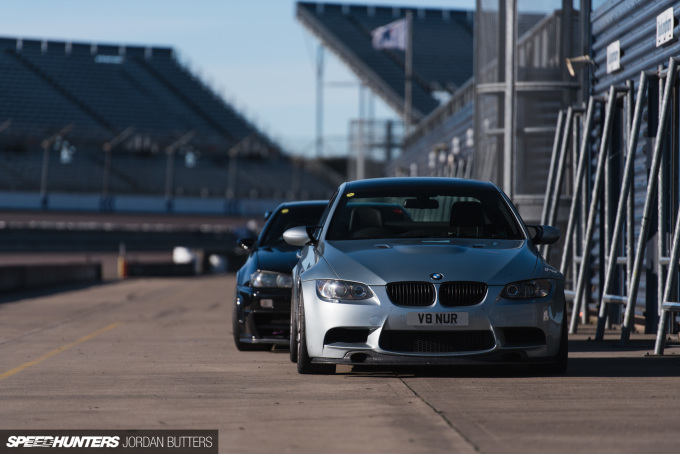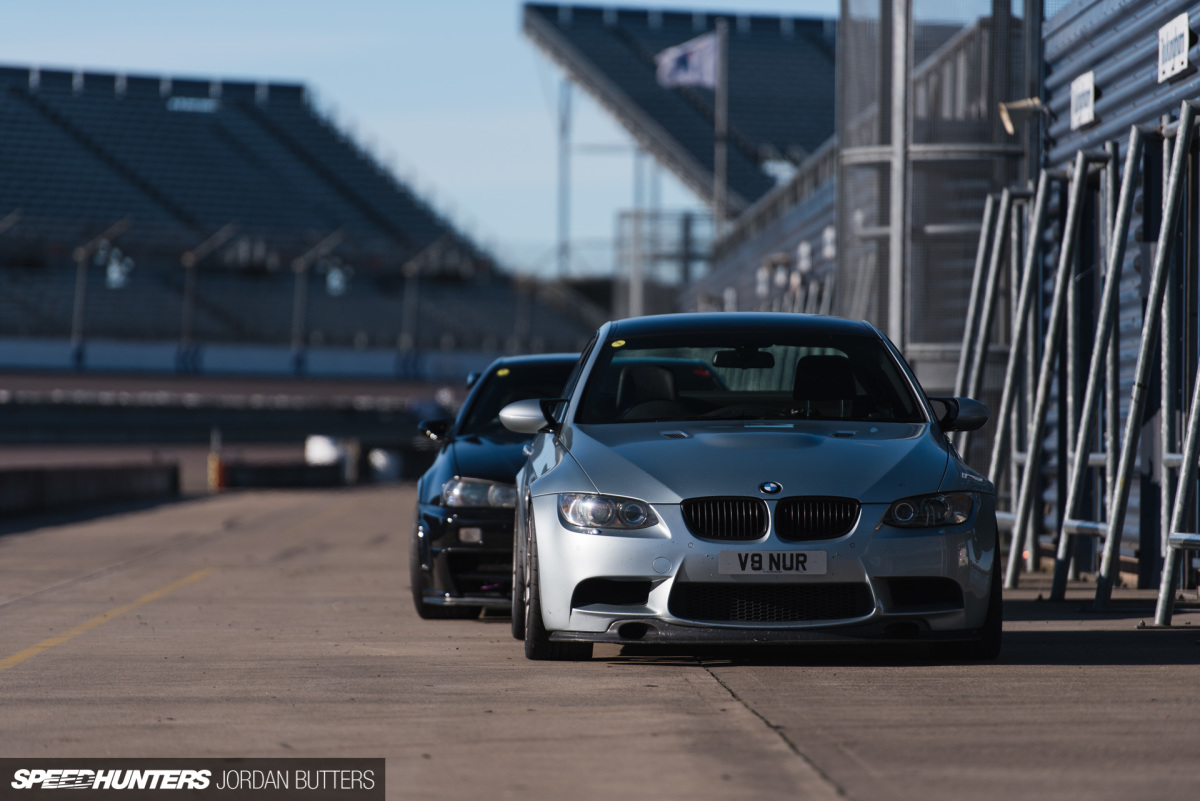 Add to that that we're only really a short boat ride and a four-and-a-bit-hour drive from the ultimate track-day destination: the world famous Nürburgring, and you'll understand why there's a reasonably large track day following on our small island.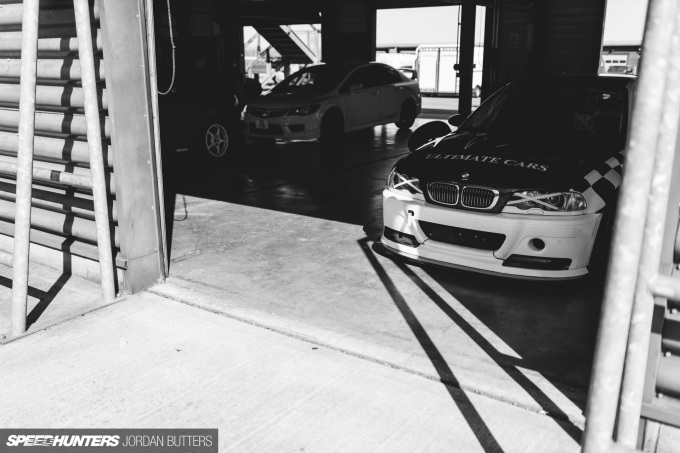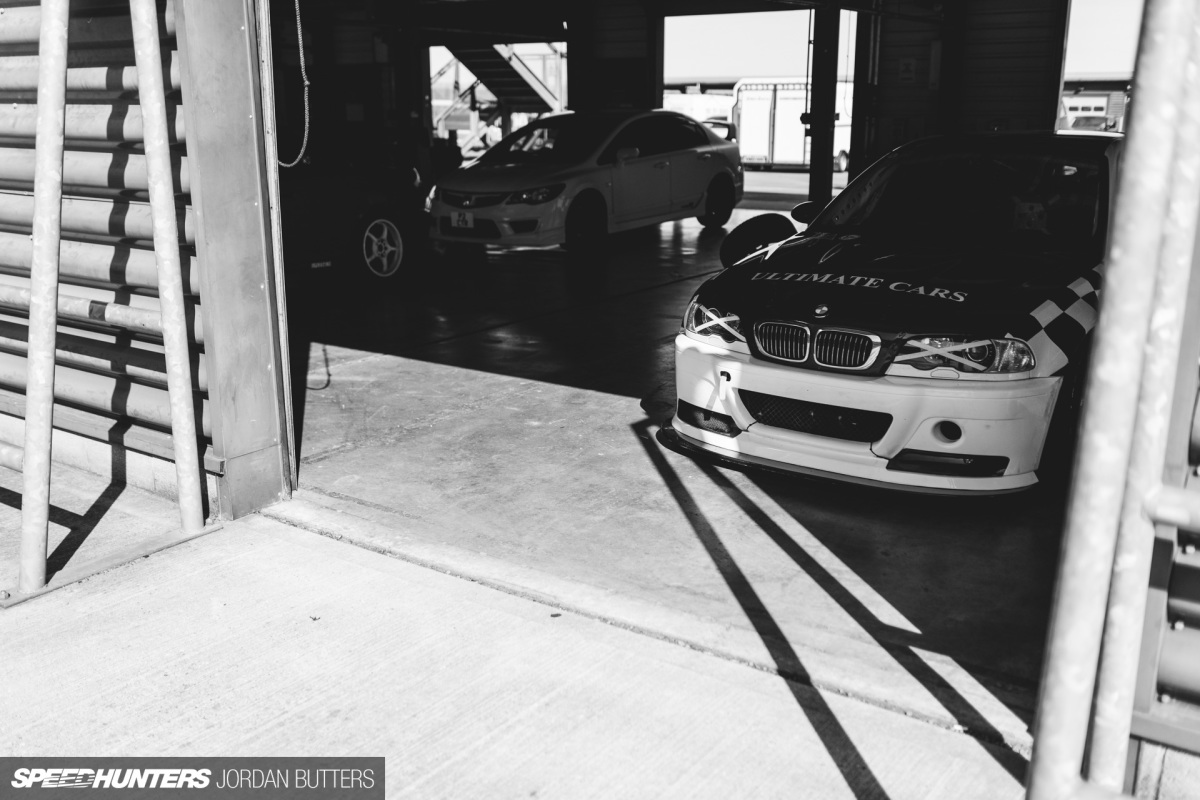 In fact, looking around the paddock I lost count of the 'Ring stickers I saw on rear windows alone. I must have been the only person there who's yet to drive the Green Hell in real life.
I really must fix that soon.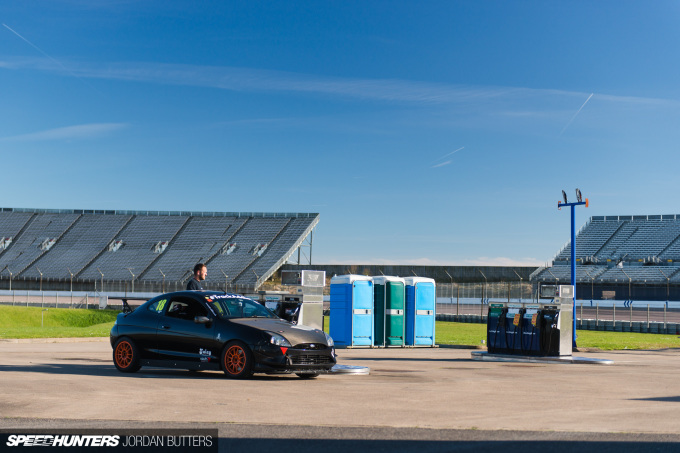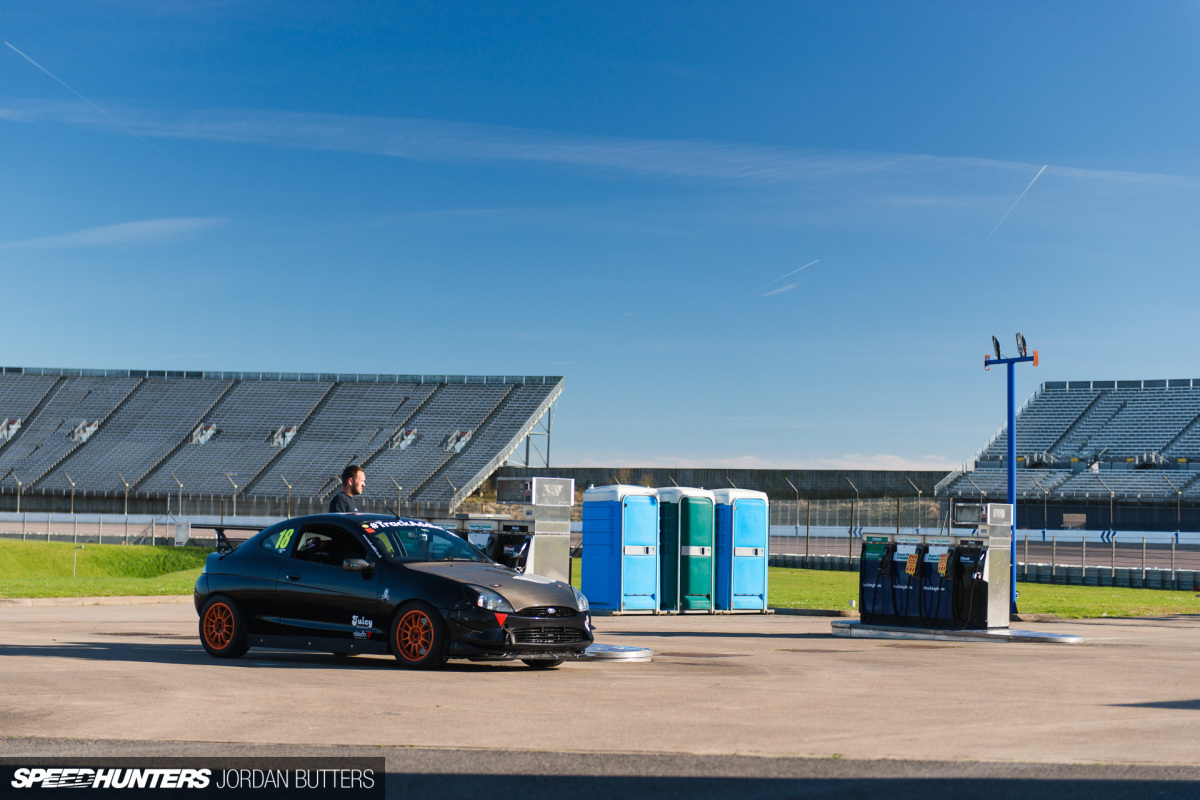 You may notice that there's a distinct lack of S2000 thus far. No, I haven't come up with yet more excuses – truth be told, it's actually away at present receiving some much needed TLC courtesy of bodywork master Greg Howell. I had originally intended to take it to the track, however a pretty busy work schedule in the days and weeks leading up to the event meant that I was a little behind on getting it booked in, and subsequently its time away clashed with the event. I'd have to make do with just watching this time around.
OK, OK, it is an excuse, but not having a car is a fairly valid one. Right?
A Pit Walk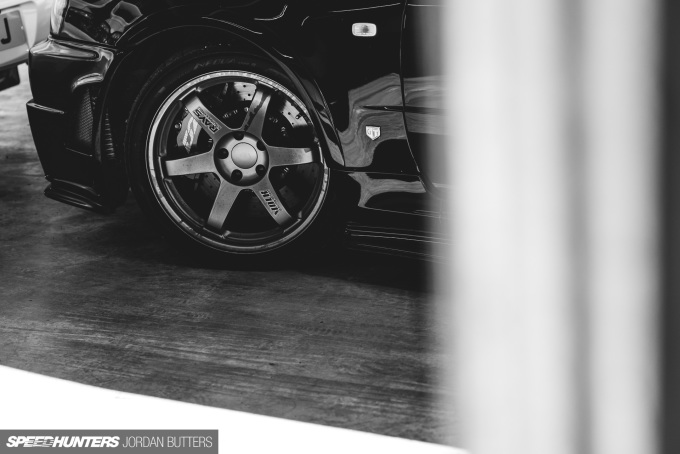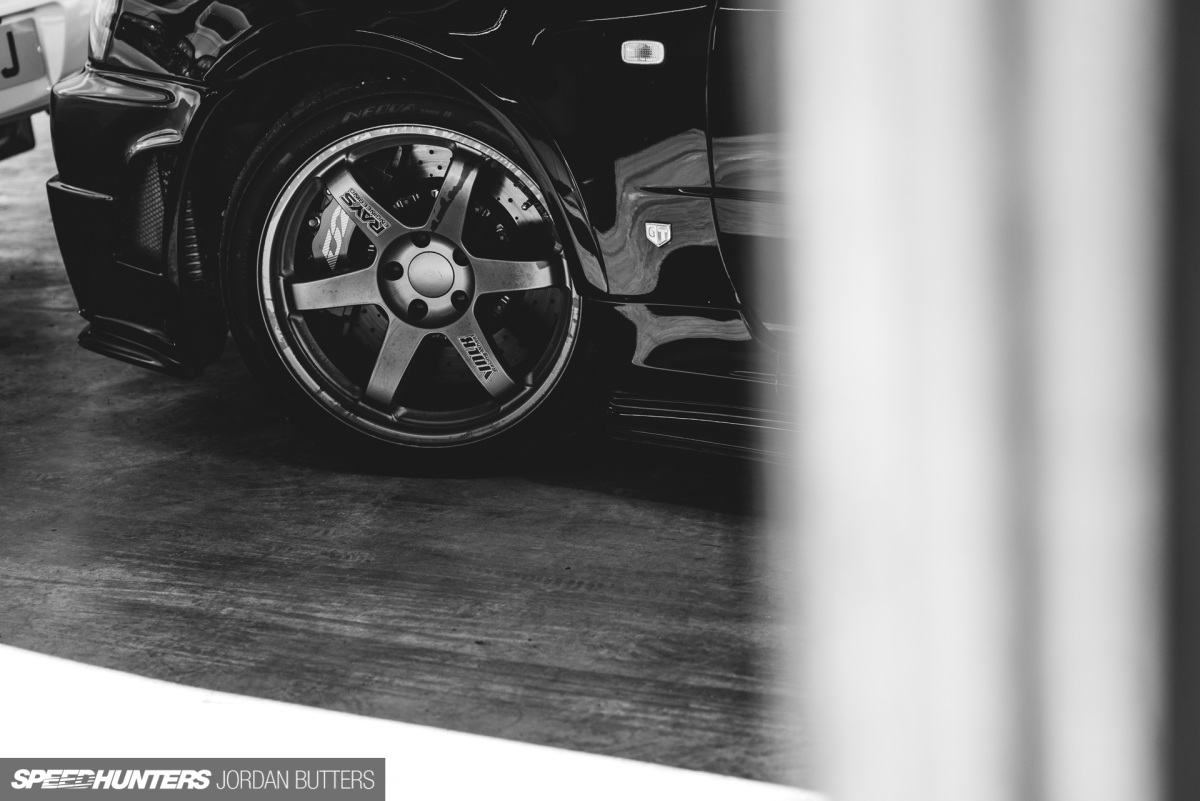 I found two familiar faces in one of the pit garages as fellow Speedhunters staffers Mark and Ben had just come in from the morning's sessions and were enjoying a spot of socialising during lunch.
Sadly I didn't see them on track during the afternoon; it would've been good fun to try and distract Ben from the sidelines while he tried to navigate the circuit.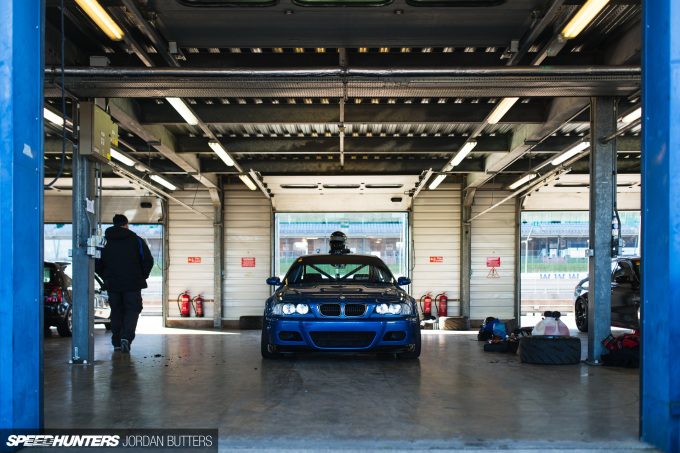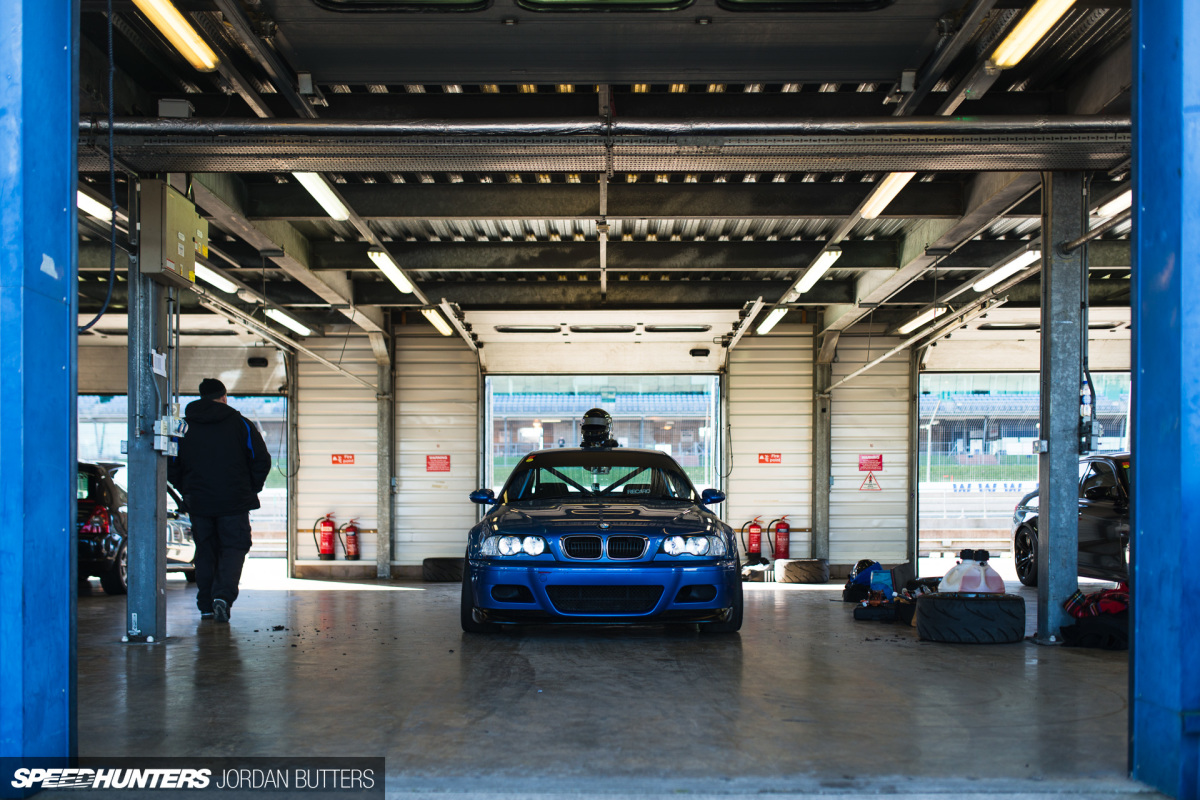 A further scout down the pitlane revealed some interesting cars in attendance. Sam Ratcliffe's immaculate Estoril Blue E46 M3 has undergone a transformation from road-going BMW to a dedicated track car, boasting a stripped interior, pretty serious cage and some meaty tyres.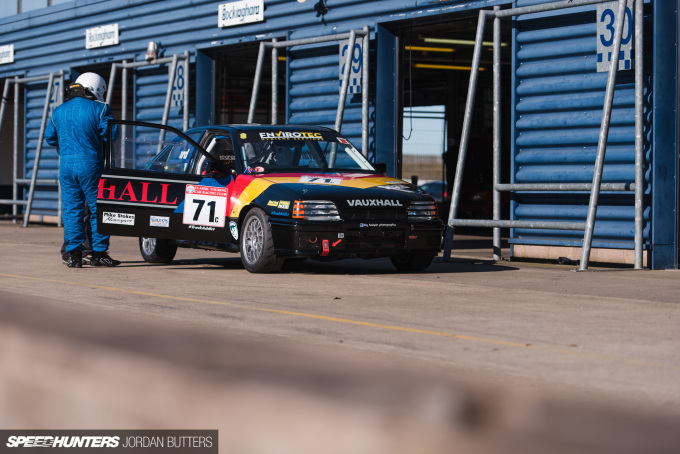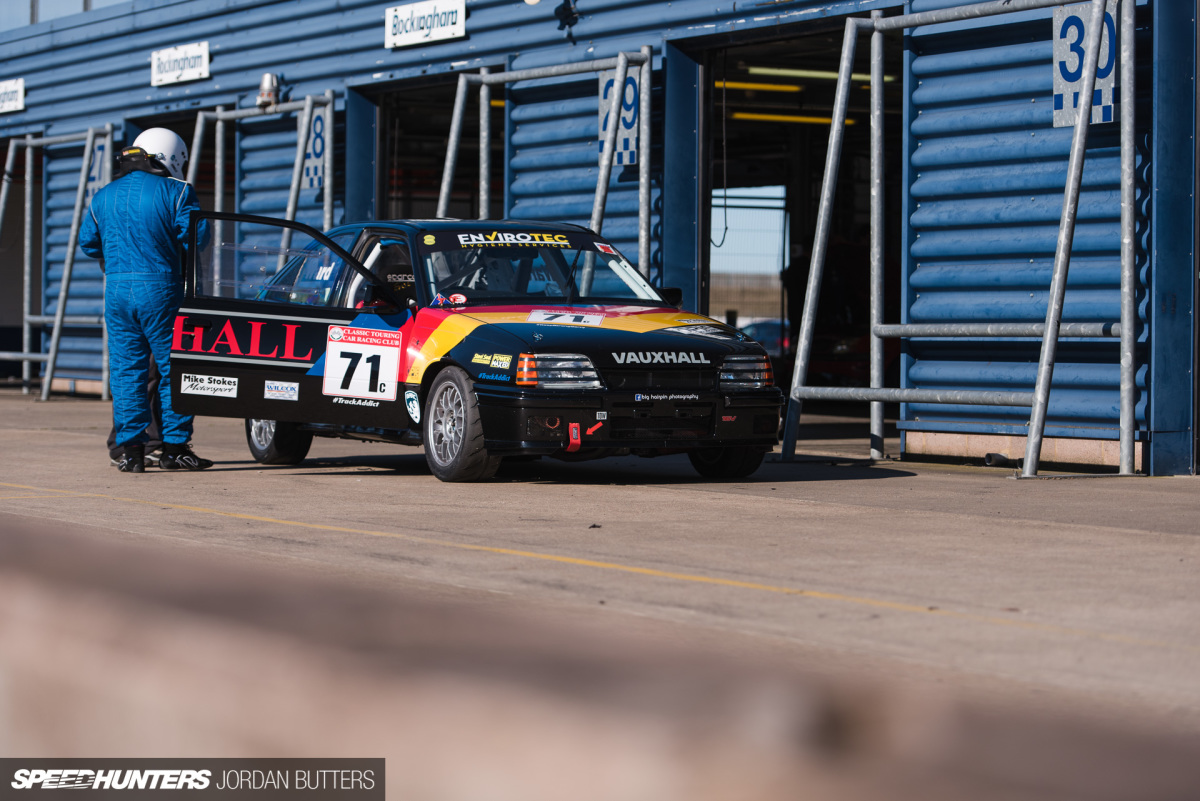 I'm a sucker for a retro and this '90s Vauxhall Astra GTE 16V was a bit of me. The driver wasn't afraid to throw it into the bends at Rockingham either, regularly three-wheeling it around corners.
Further down several people were working away on an awesome DC2 Integra. Whatever the issue was it was soon resolved and the Honda was back to screaming around the infield.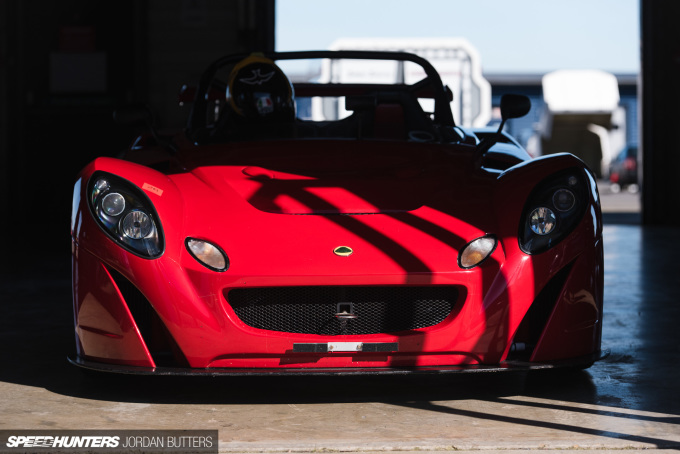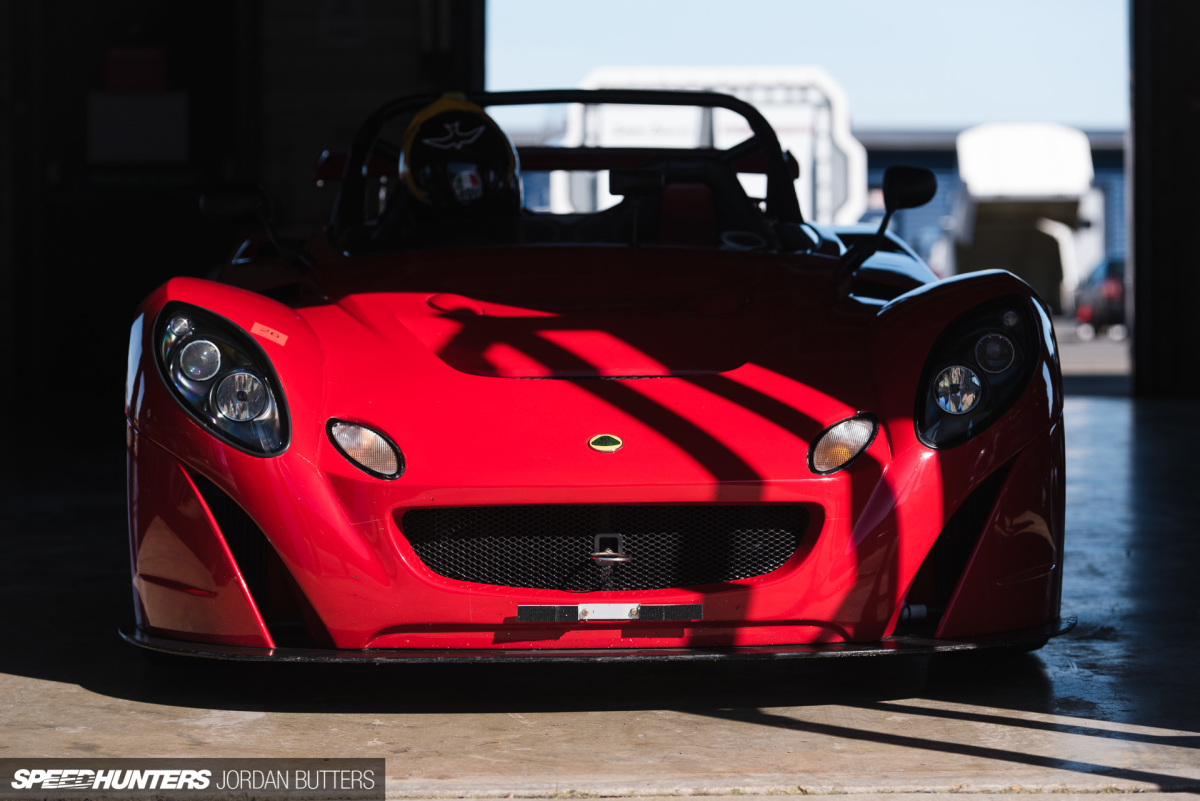 As this bright red Lotus 2-Eleven nosed out of one of the pit garages, a siren wailed on the loudspeaker to let those in attendance know that the action on track was about to begin again.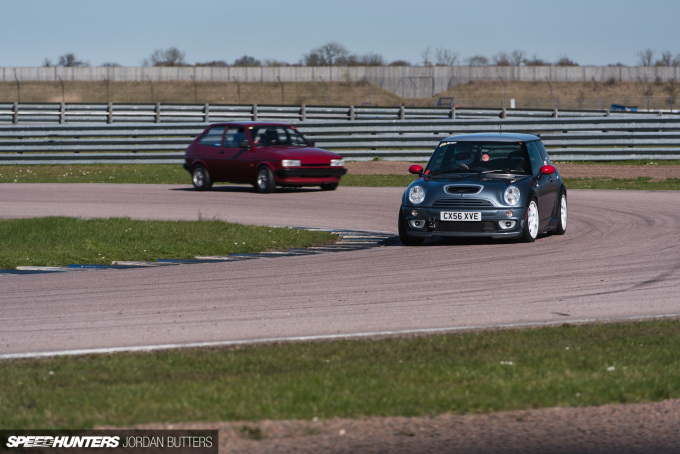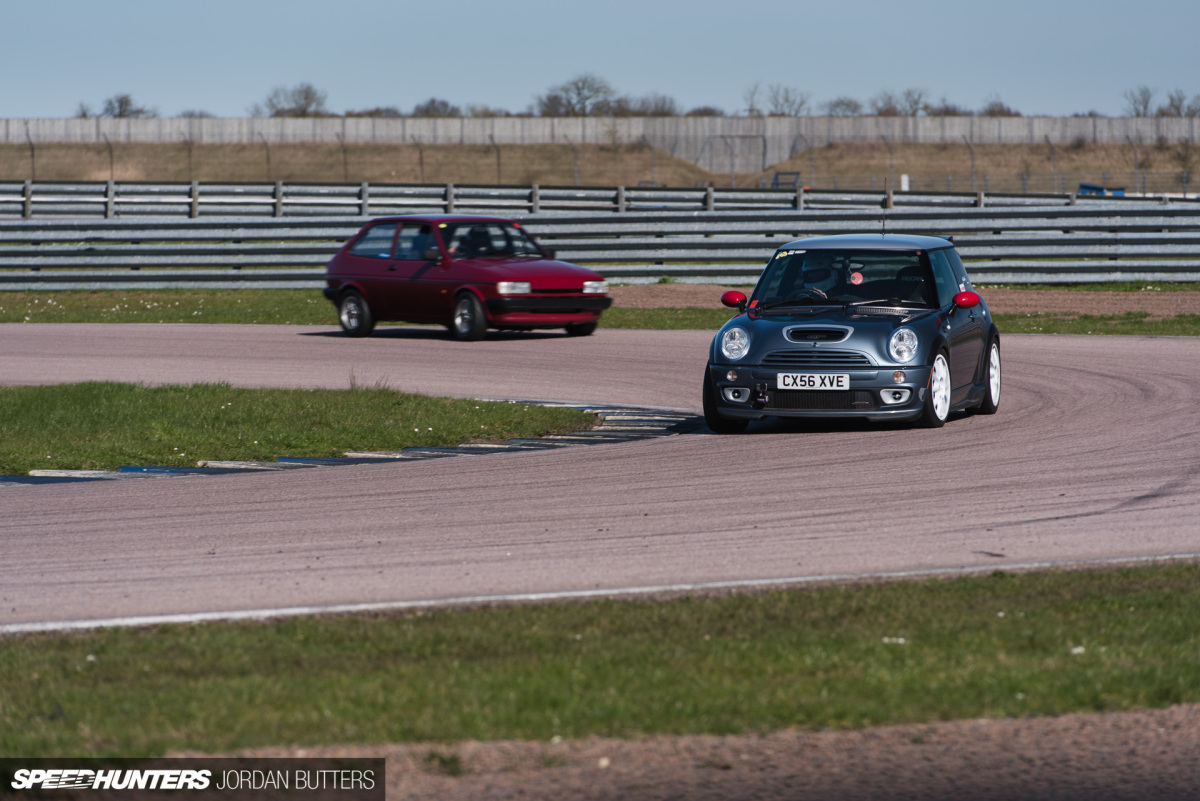 Heading out to the infield to shoot some action, it became apparent just how popular small hot hatches have become in track day circles. It shouldn't really come as a surprise – they're cheap, light and usually have enough power on tap to offer a good time out on circuit.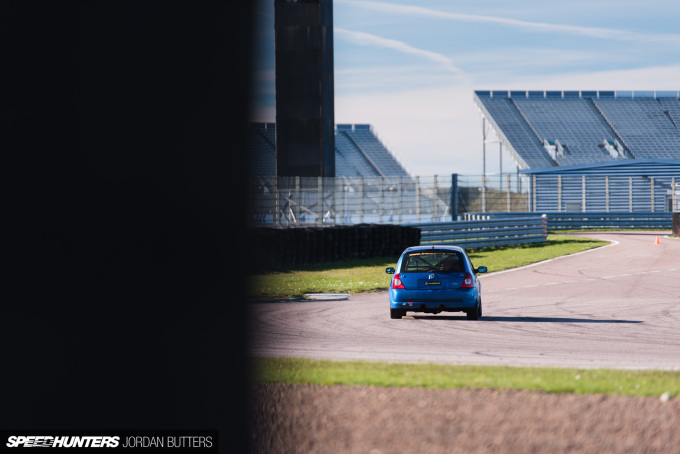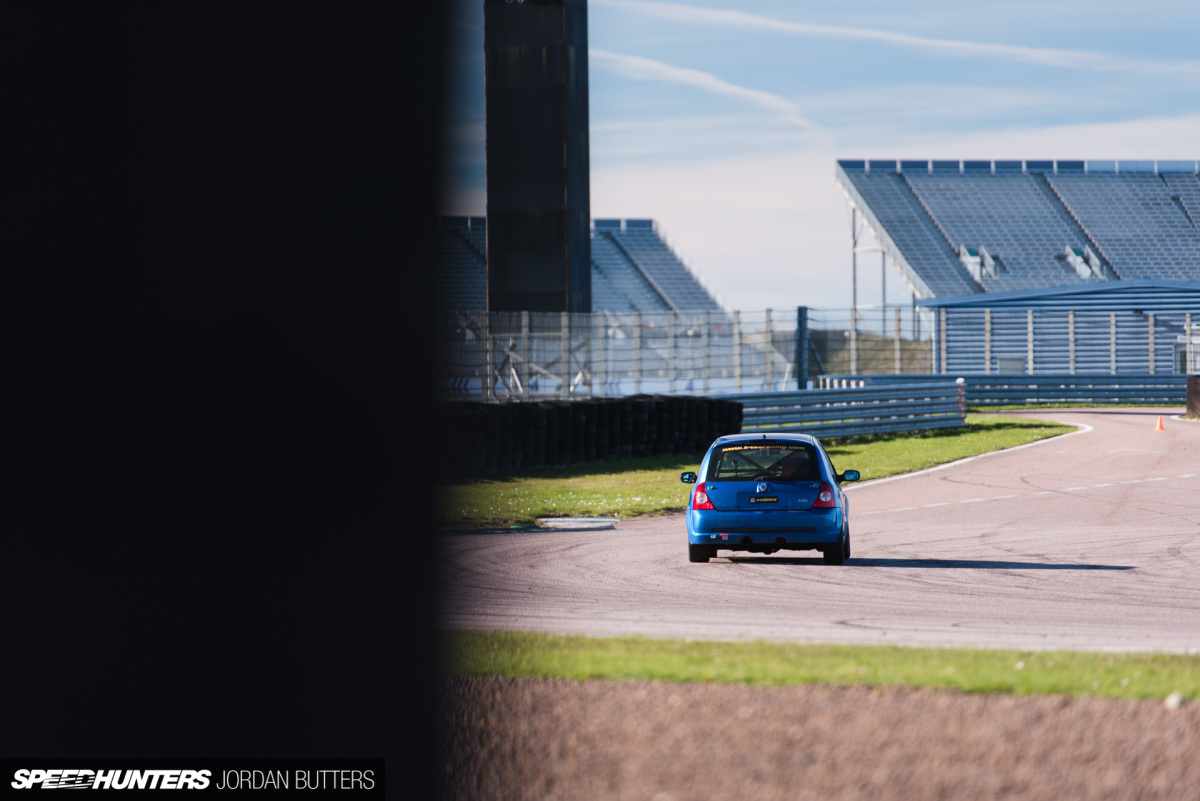 By stripping out the excess weight and adding a few features like a good pair of seats, decent brakes and sticky tyres, you've soon got yourself a budget racer that, on the right circuit and in the right hands, can mix it with much bigger and more powerful machines.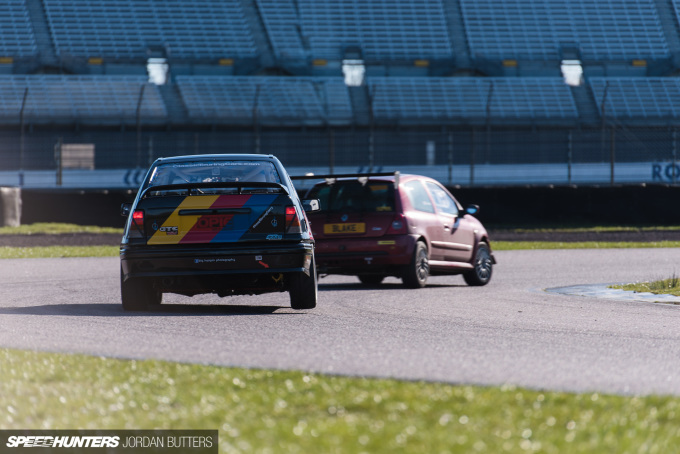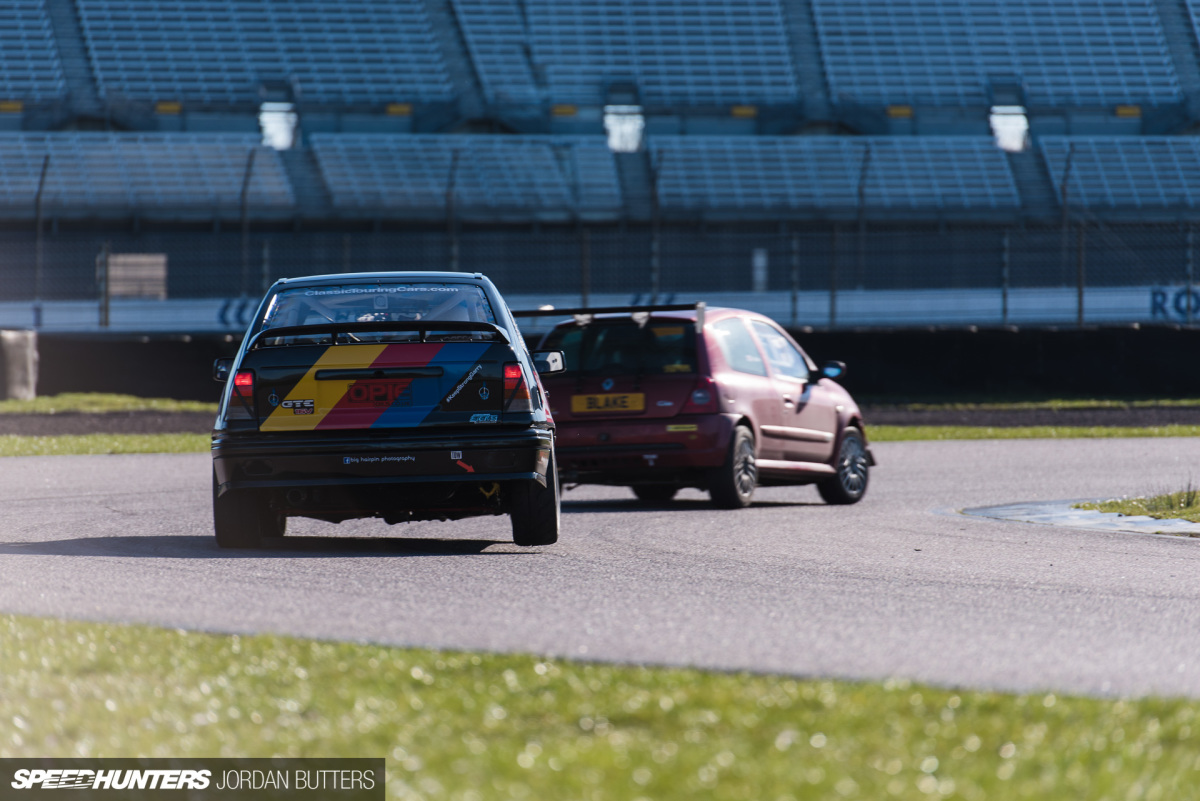 It's always more satisfying to catch a more powerful car under braking and in the corners than gaining a lead under straight-line acceleration alone.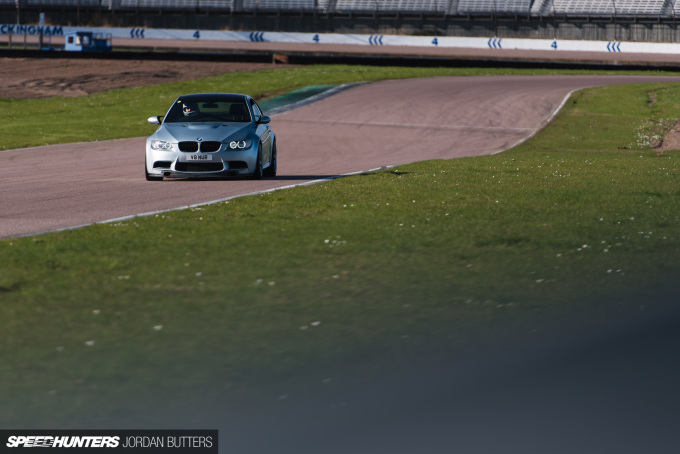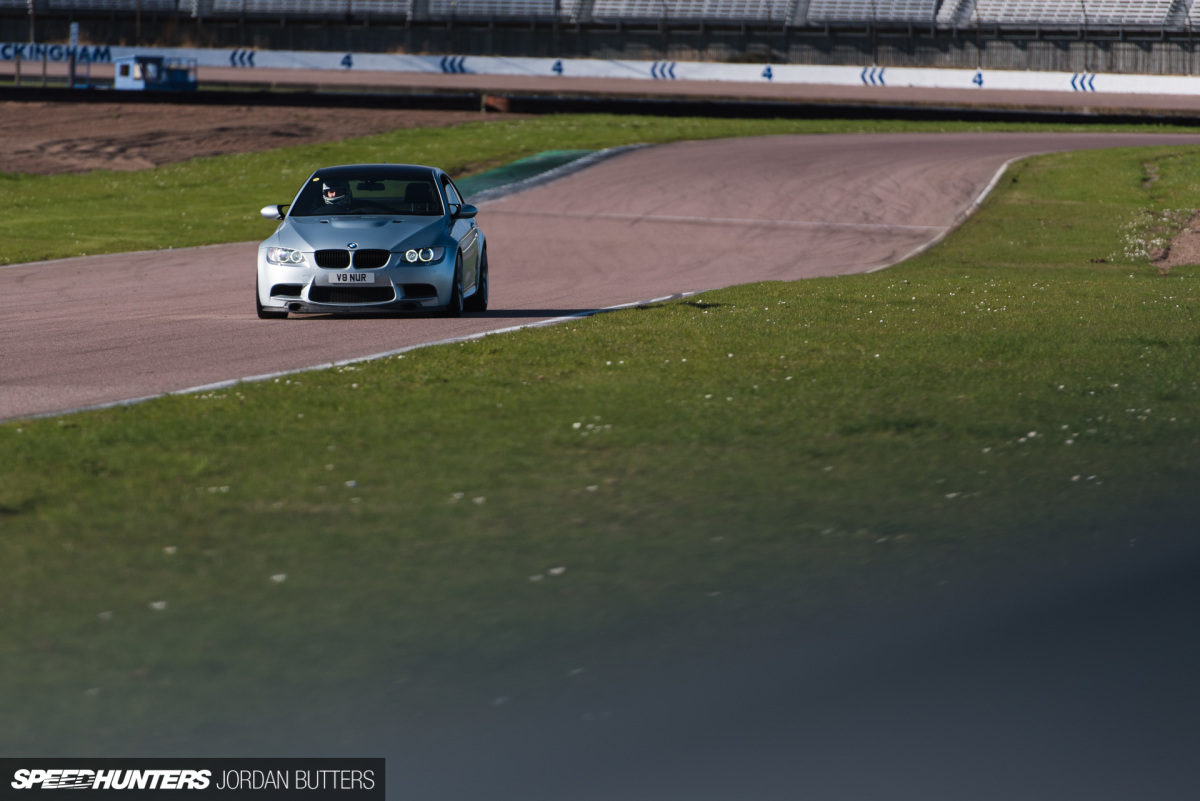 Having said that, there's a huge track following for BMW's M cars at present, with a healthy mix of Bavarian motors lapping Rockingham. The E46 is now a firm favourite for someone looking for a great base chassis to improve with a few select tweaks, while the E92 M3 has come down in price to a reasonable level for many.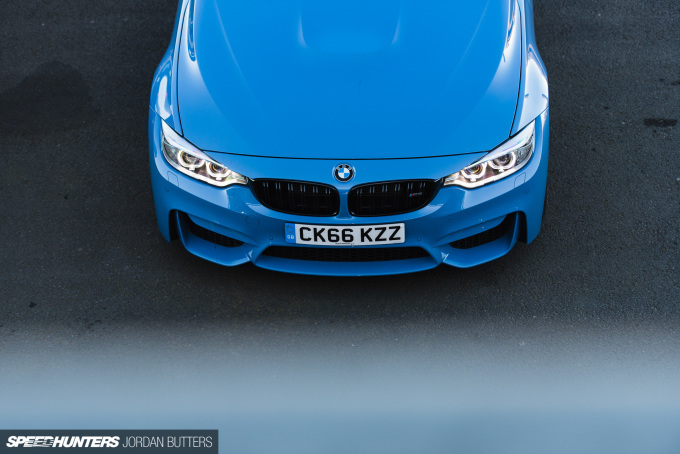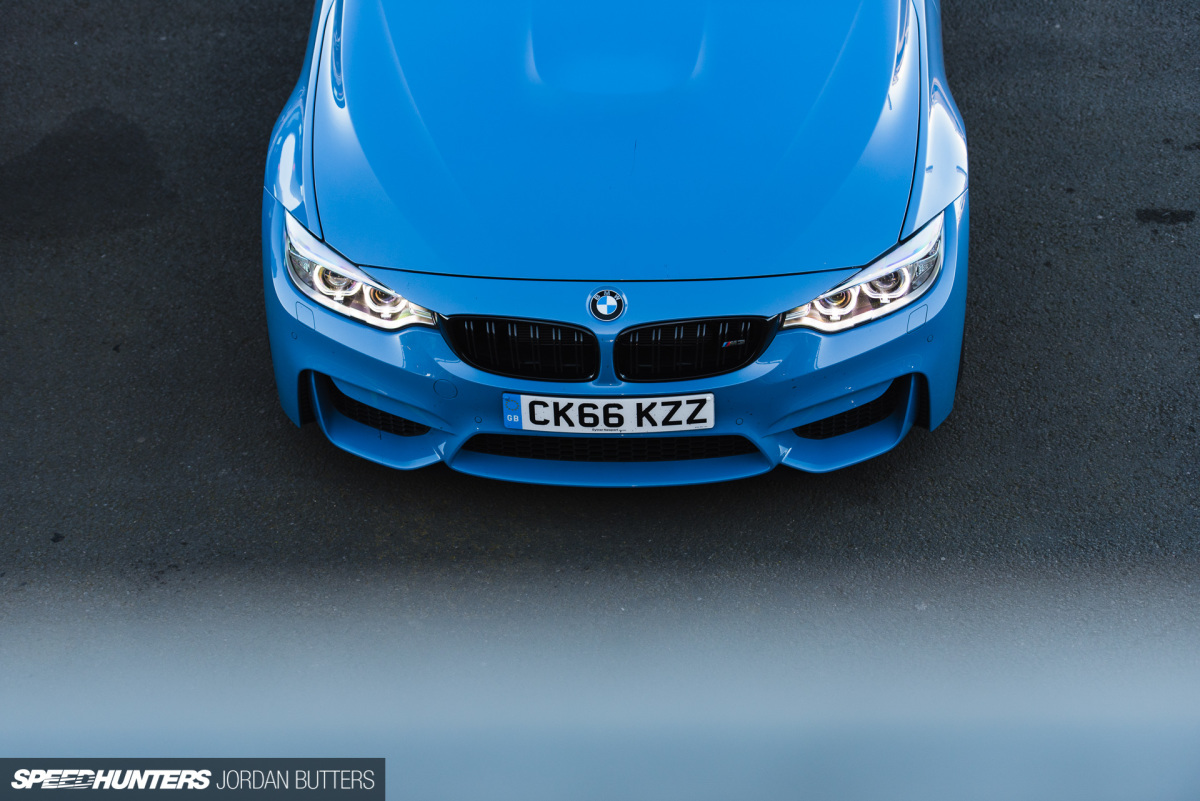 I was continually drawn to this Yas Marina Blue F80 – it's such a photogenic colour. Even in stock form these are incredibly capable track cars, whilst retaining all the creature comforts.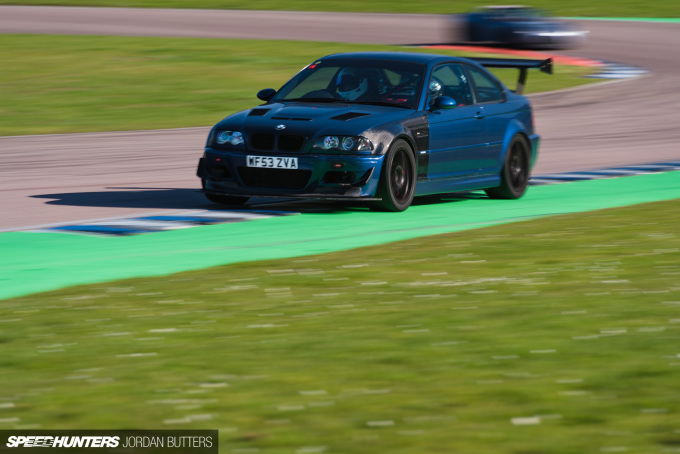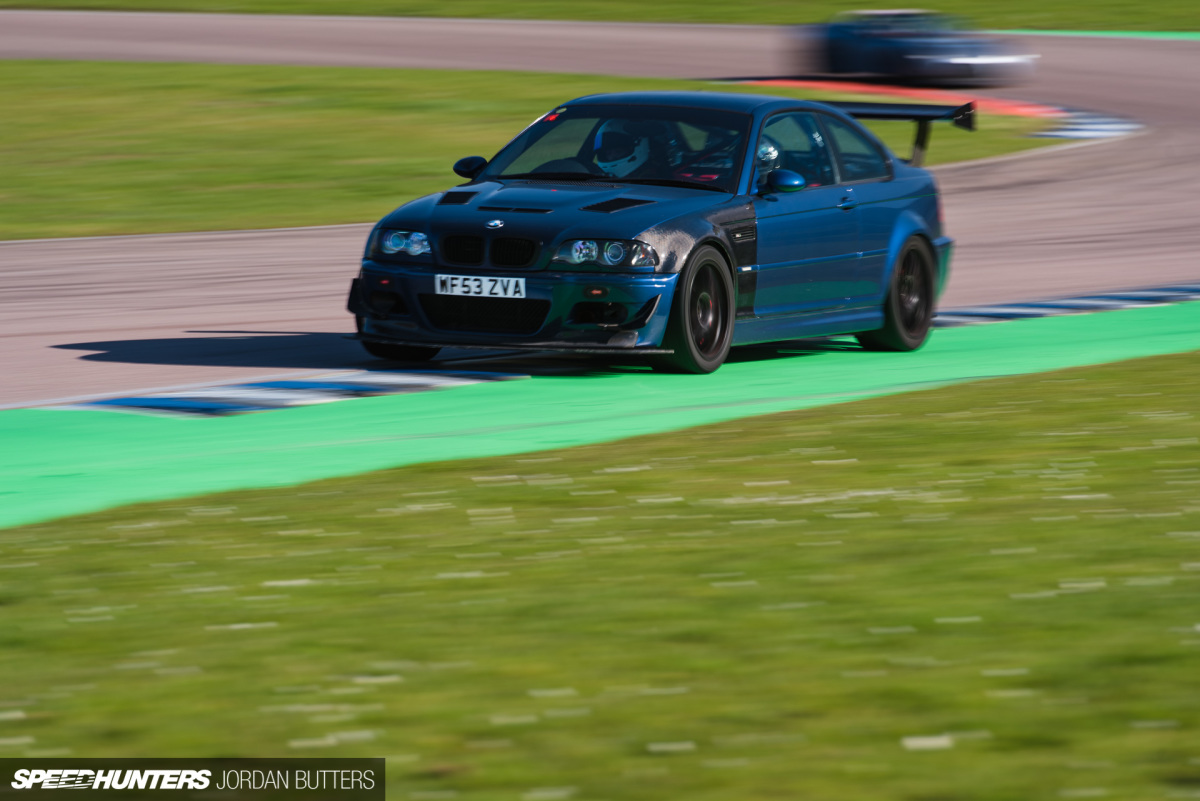 At the other end of the scale, Oliver Danker's E46 M3 is way past 'a few tweaks' – it's a fully fledged carbon-wearing track animal. The speed at which he was taking T1 and T2 in comparison to the rest of the field at Rockingham showed that all that aero is definitely working.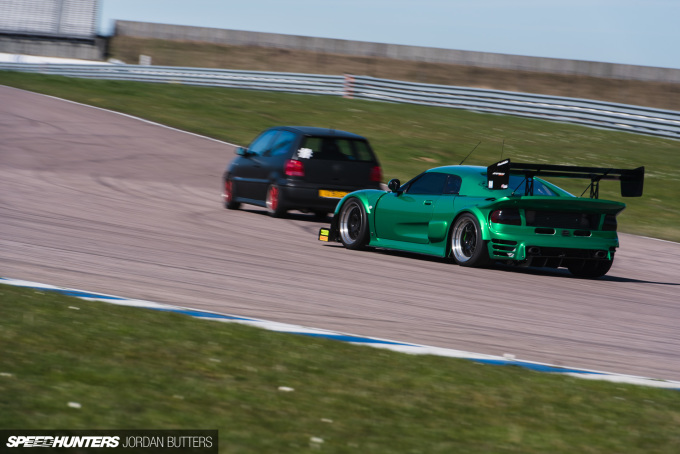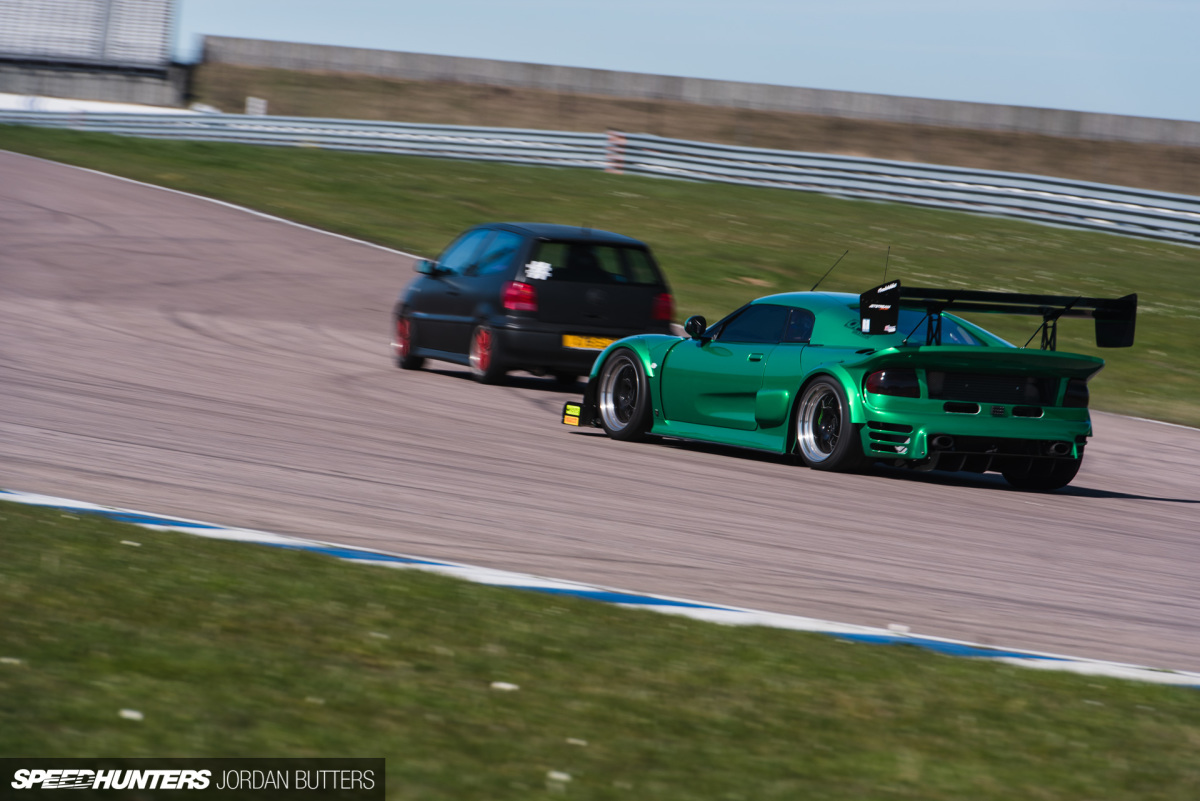 Also lapping with ferocity was Simon Robert's 650bhp Noble M12 RSR Time Attack car. I'll be taking a closer look at this unique and road-legal monster soon…
There were a handful of red flags and breaks in play during the afternoon, but no one seemed to mind that much. It gave everyone a chance to have a nosey around the pit garages and enjoy the social aspect of the #TrackAddict events.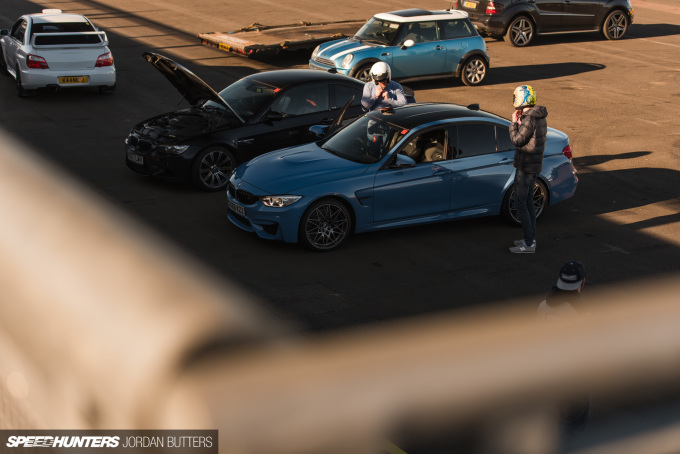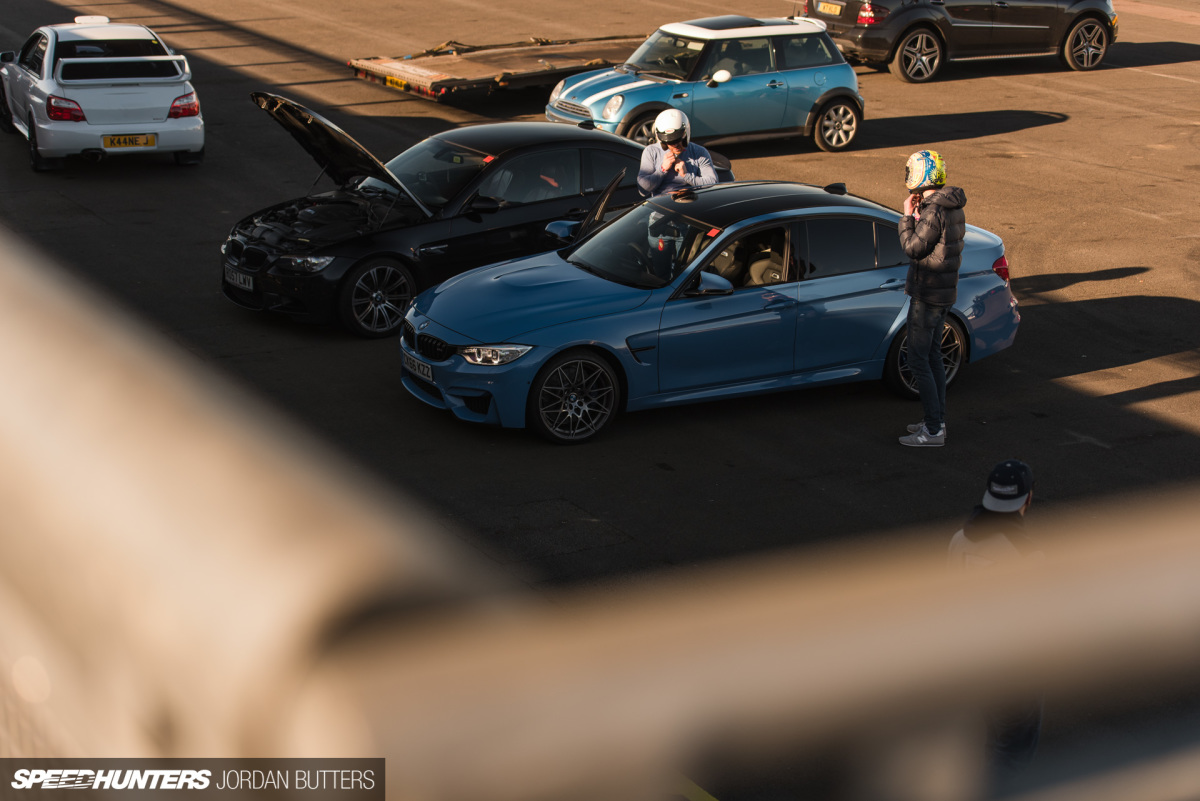 For how seriously many people took it out on track, the atmosphere was super laid back. As the sun started to dip behind Rockingham's grandstands, the keen headed out for a few more laps while those content, or broken in various forms, packed up and headed home.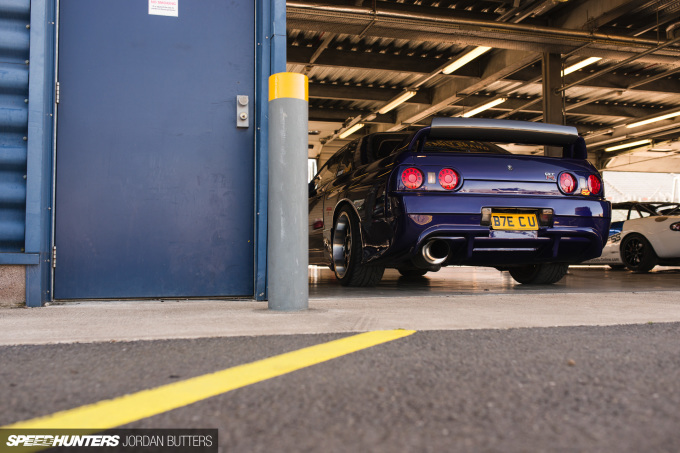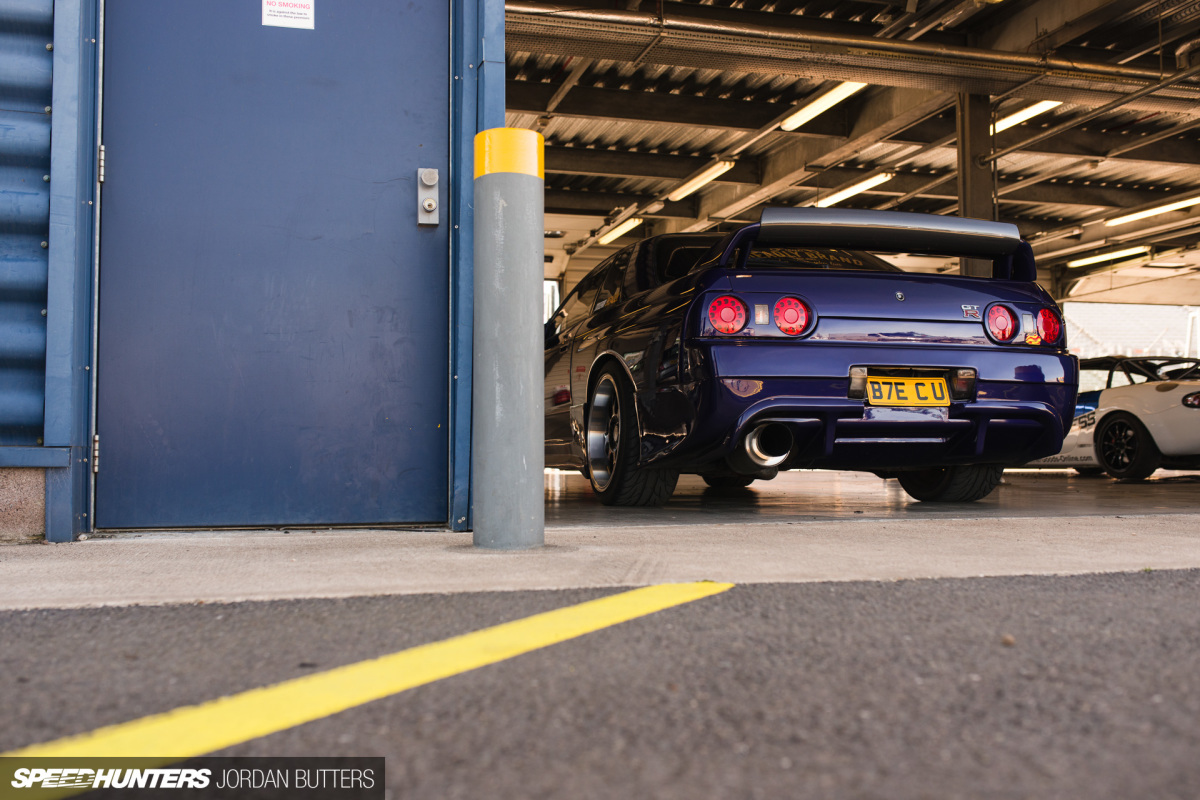 As I began to wind up my wander around the pits I managed to get a closer look at a pair of Skylines that I'd spotted briefly. The first was an immaculate R32 GT-R that hadn't seen the track, but was impressive all the same.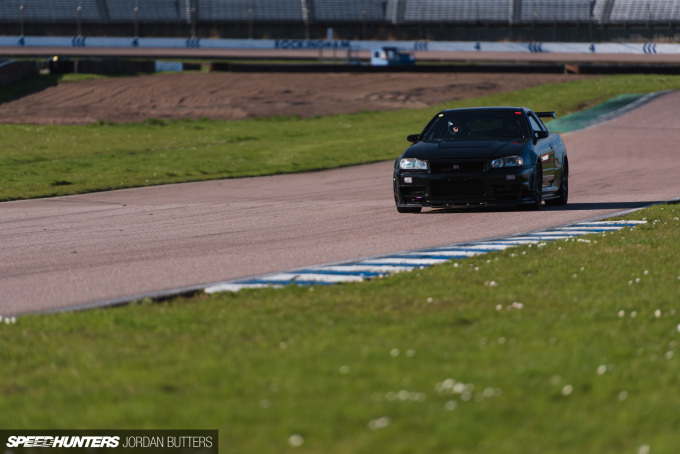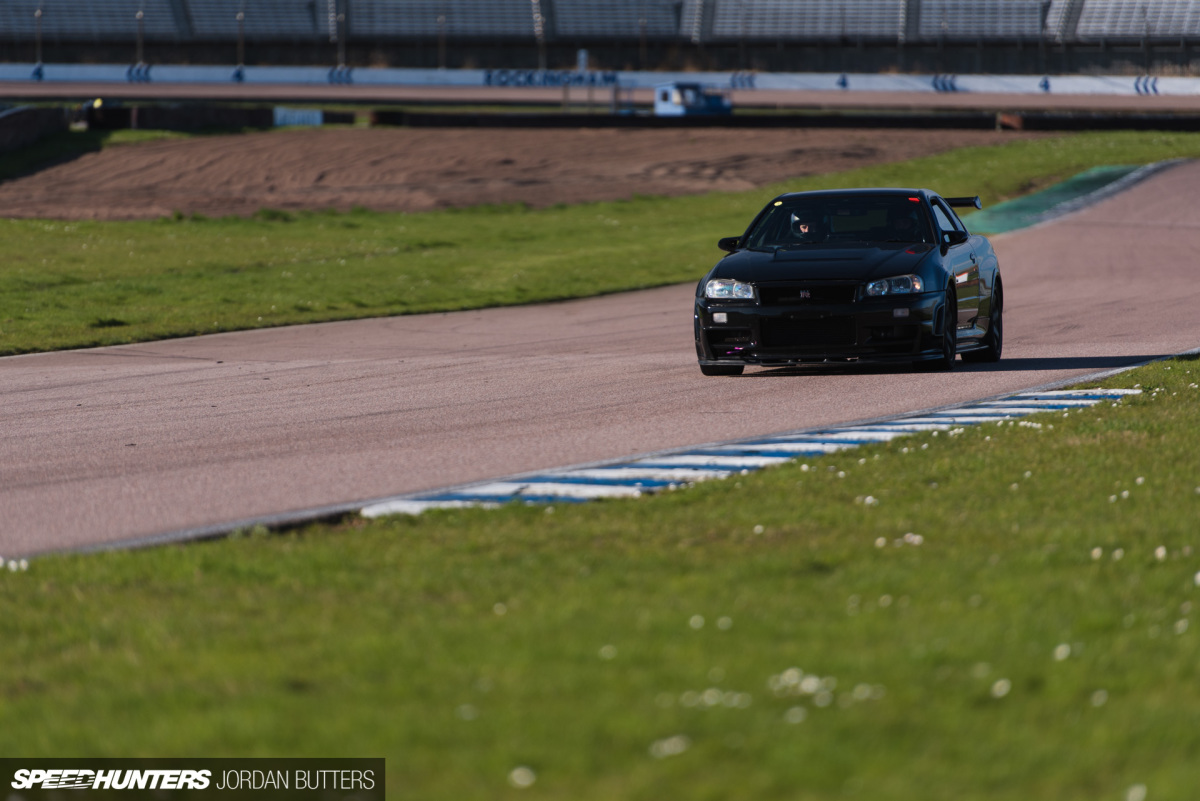 And the other was this moody black R34 GT-R sitting on a set of RAYS Volk Racing TE37s. It was still ticking and tapping as it cooled down after screaming around the circuit all day.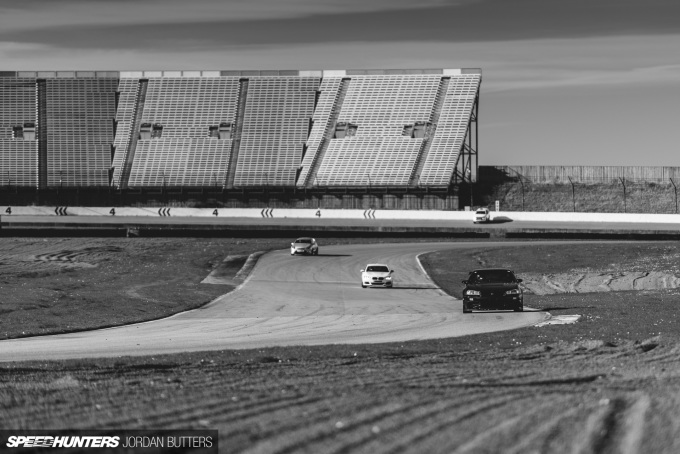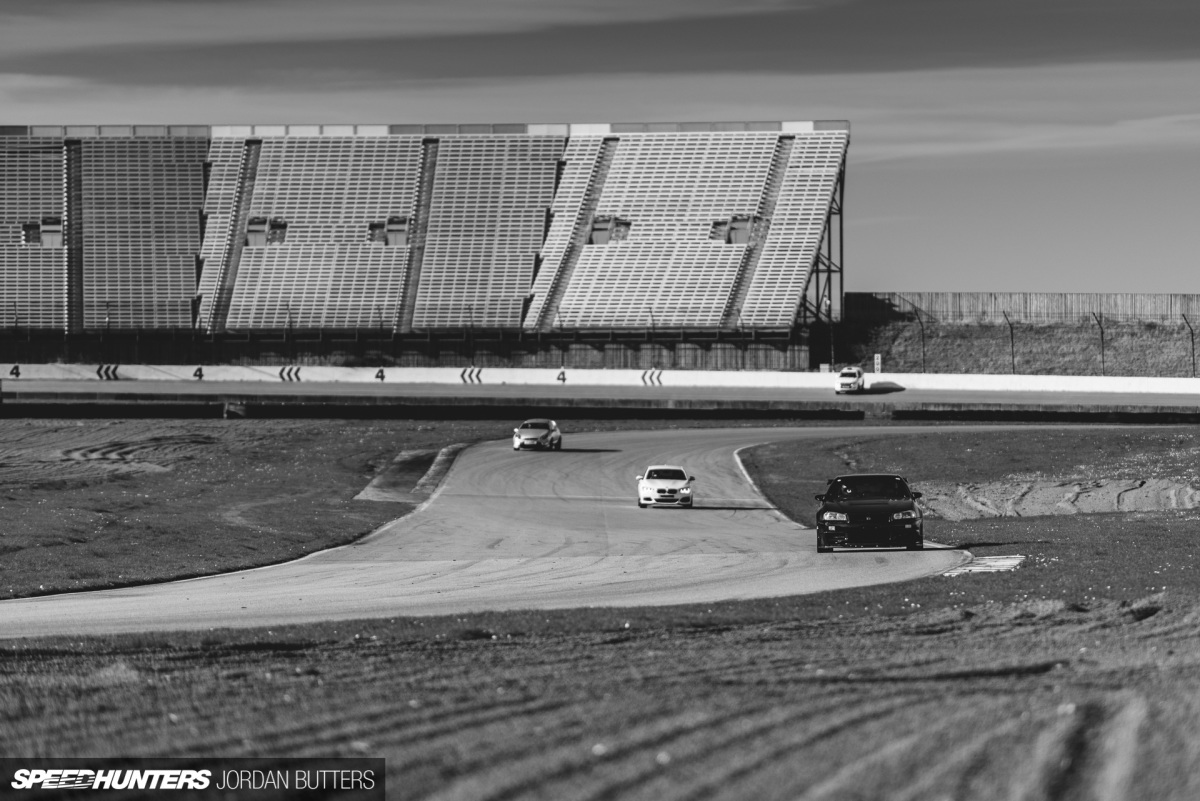 As enjoyable as wandering around and taking in the machinery is, and as satisfied as I was with what I'd seen, I miss the feeling of being out on circuit myself.
I really need to make it out to a track day in the S2000. No excuses.
Jordan Butters
Instagram: jordanbutters
Facebook: Jordan Butters
jordan@speedhunters.com
Cutting Room Floor