It's not often that you find a street car that'll do everything, but in my opinion the Toyota Chaser JZX100 comes pretty close.
It's large, has four doors, looks great, is rear-wheel drive and can be tuned to a safe 400bhp+ for relatively little expenditure. It can get you to work and back throughout the week, transport other human beings up and down the motorway in relative speed and comfort, fit the shopping in the boot and slay a set of tyres or crush a track day on the weekend with ease.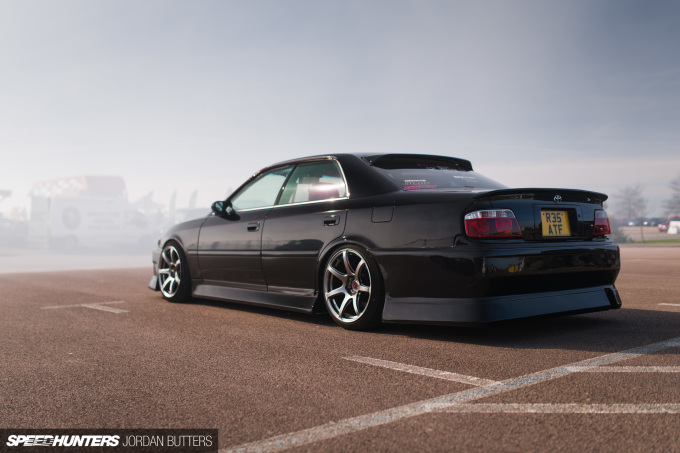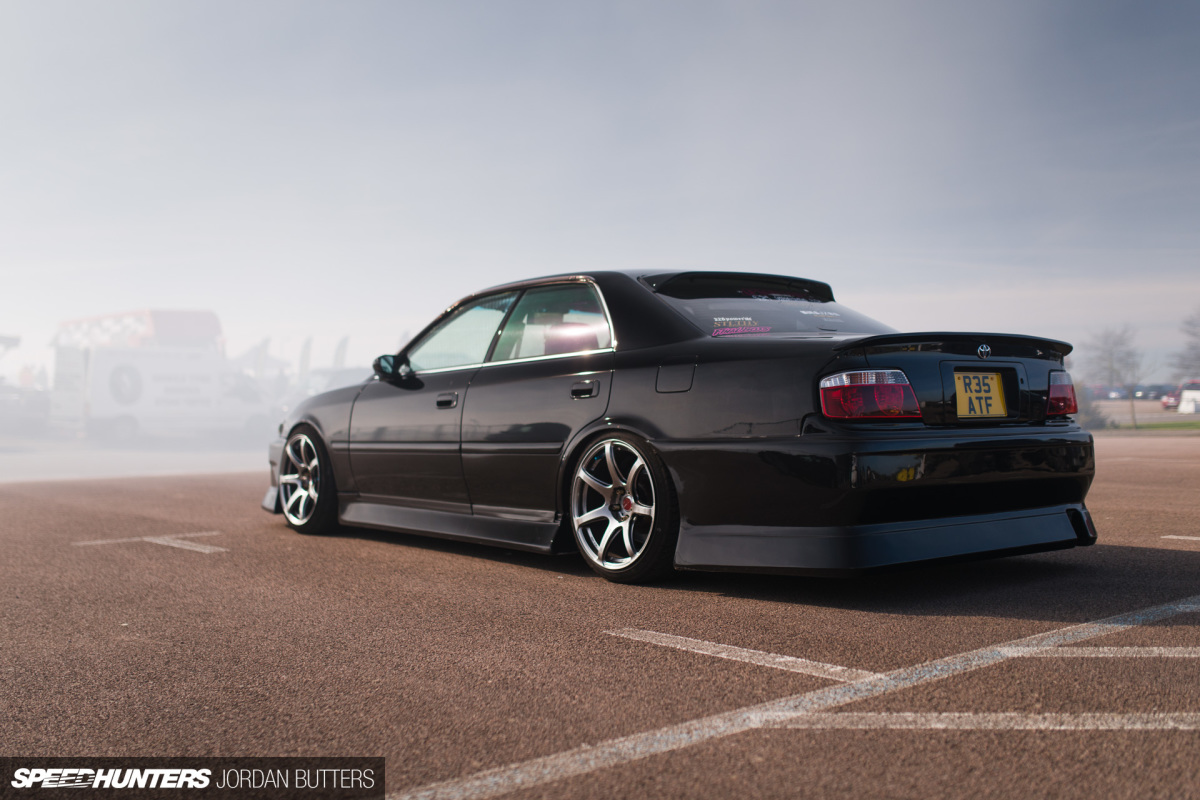 With first round of the 2017 British Drift Championship taking place at Rockingham Motor Speedway on the same weekend as the #TrackAddict track day that I brought you earlier in the week and the weather being so great, I couldn't pass up the chance to nose around with my camera and see what I could see.
I've not had great luck with spotlight potential at UK drift events before, so didn't expect to come across something that grabbed my attention so quickly, but upon parking up at the venue straight away I could make out the silhouette of a mean-looking JZX100 through the tyre smoke wafting across the carpark. OK, it's not really 'in the wild' per se, as you always increase your chances of finding something different in an event carpark.
It didn't only look aggressive sat surrounded by the mundane everyday machines either side of it, but it also represented the idea street-style Chaser, in my eyes.
Sometimes you go hunting for speed, and at others you just kind of stumble upon it. This was definitely a case of the latter, although I'm not sure that Speedstumblers has the same ring to it?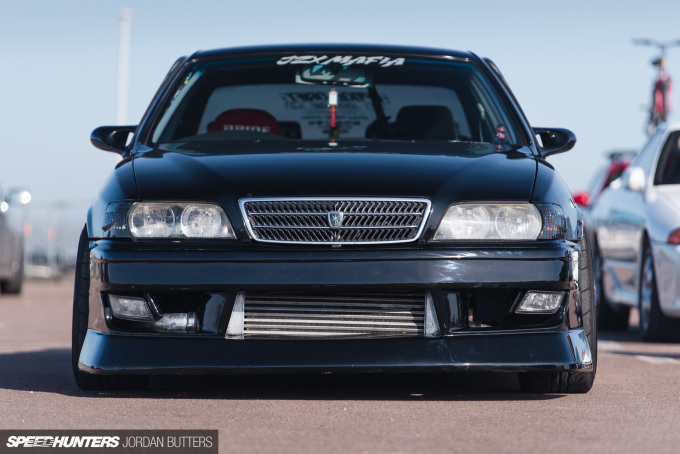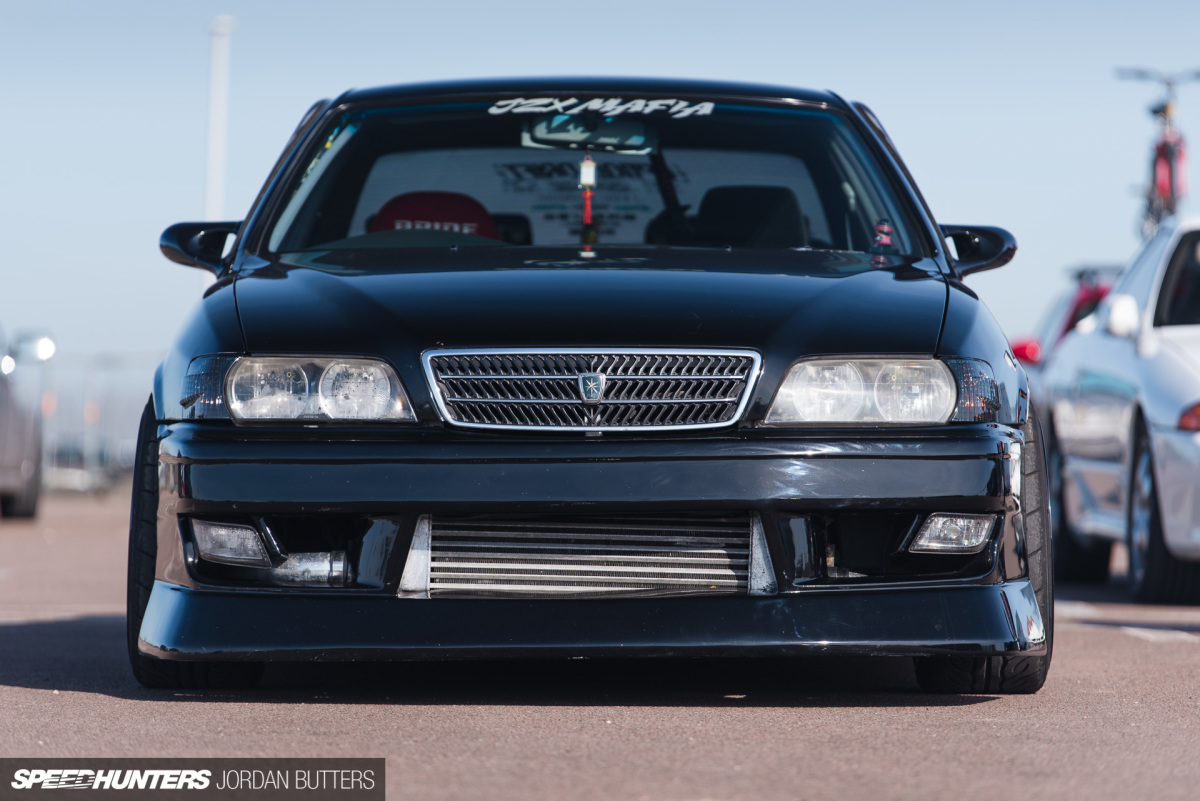 The JZX100 was the sixth generation of Chaser produced by Toyota for the Japanese market. The chassis itself is shared by three different models – the Mark II, Cresta and Chaser, with the latter offering the most sporty looks and drive of the trio. The car itself was never offered for sale here in the UK, but our fairly relaxed import laws make it easy to import a Japanese model without too much stress.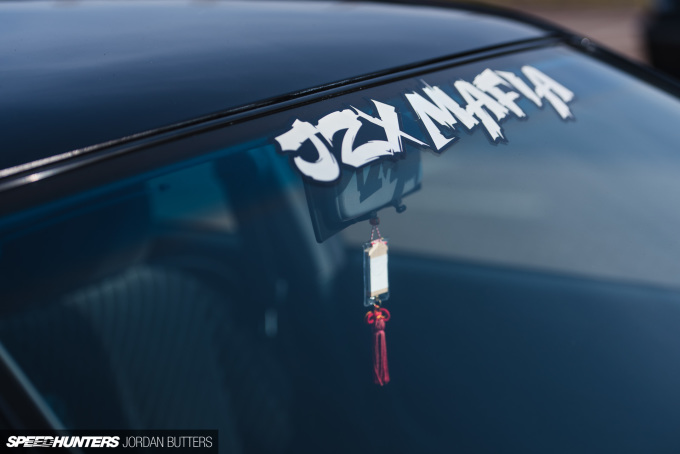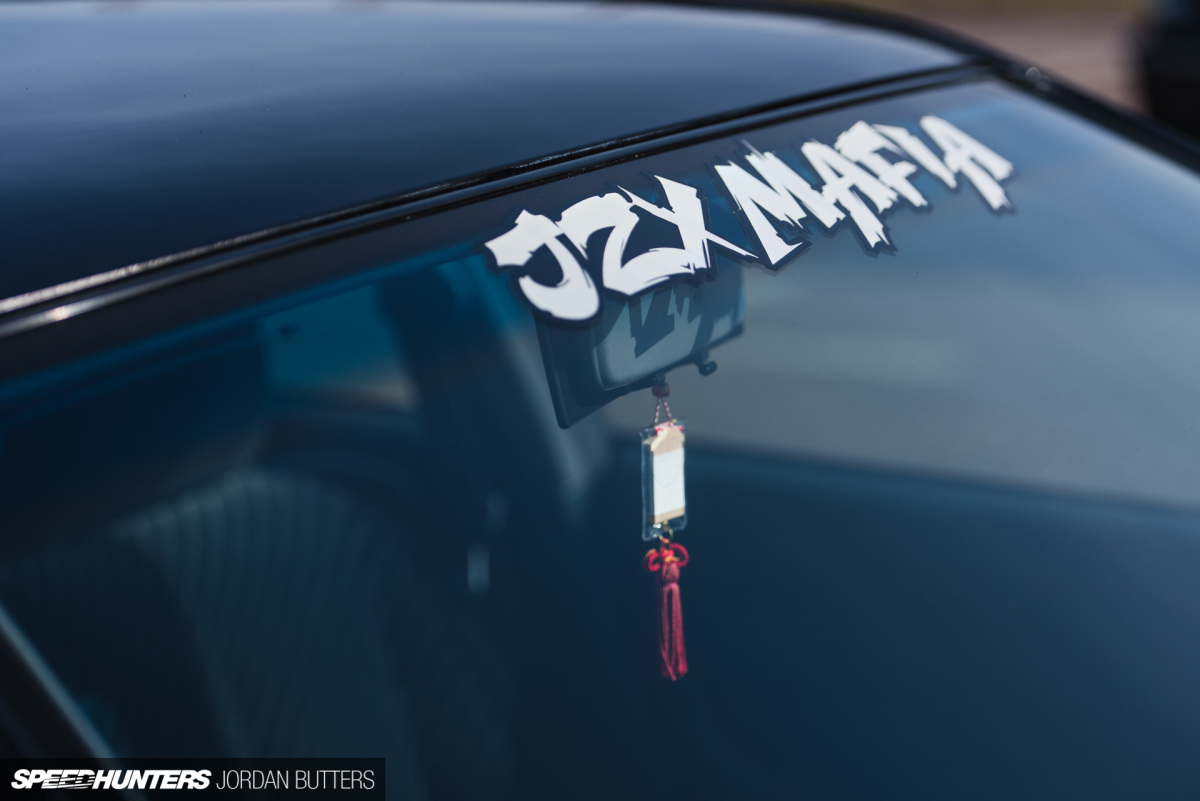 The popularity of the JZX series seems to be at an all-time high over here. Whereas once drift days were 90 percent Nissan S-bodies, there's now a fair smattering of Toyota's big four-door models to be found in the UK drift community. It's easy to understand why too – they pack a highly tuneable and robust single-turbo 1JZ-GTE motor as standard, handle surprisingly well for a large saloon, and offer the sort of comfort and everyday driveability that you simply don't get in the smaller drift chassis.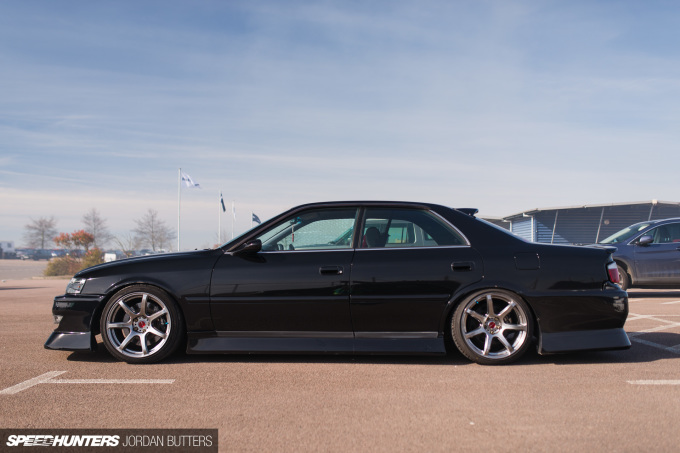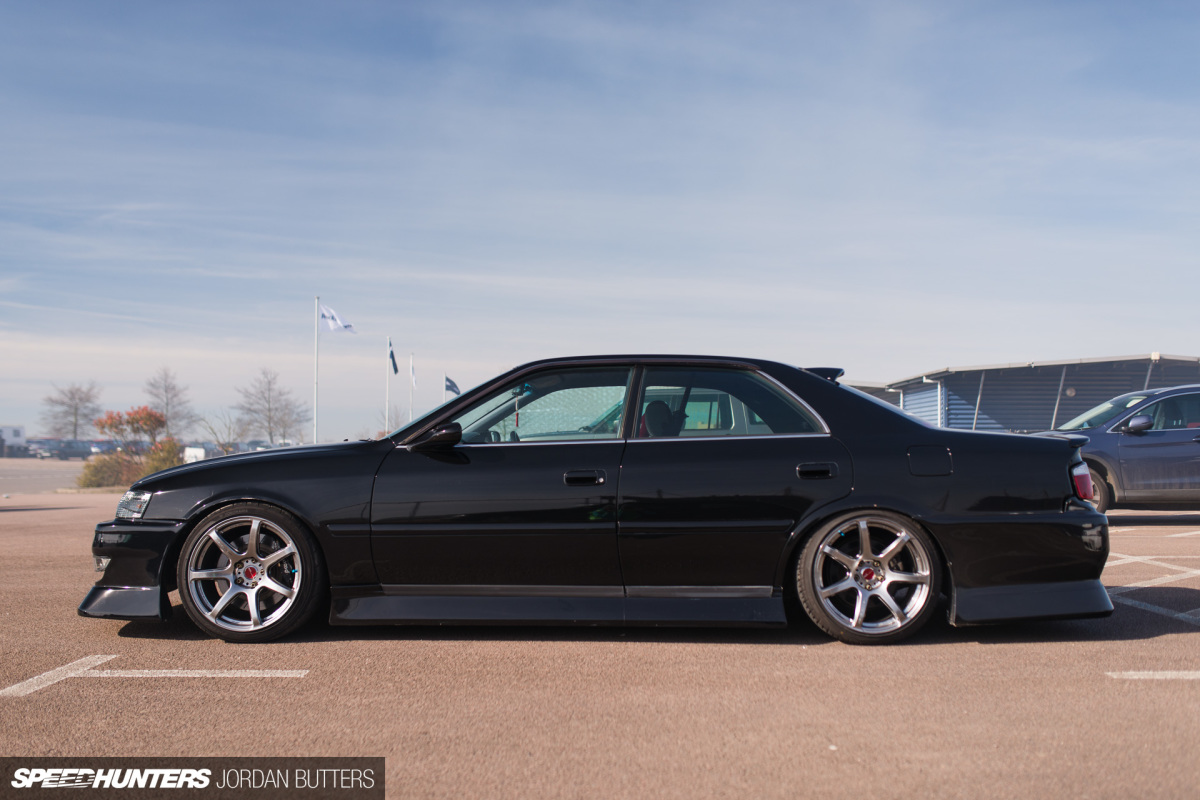 This particular Chaser is owned by Jake East-Woods and, despite its clean appearance, is regularly used for drift practice days throughout the year.
The car is a 1997 manual gearbox model, and the exterior has been treated to an aggressive BN Sports kit comprising of front and rear bumpers and deep side-skirts.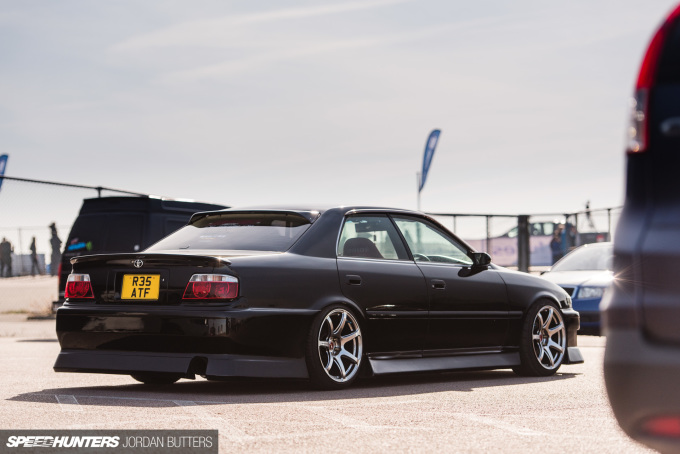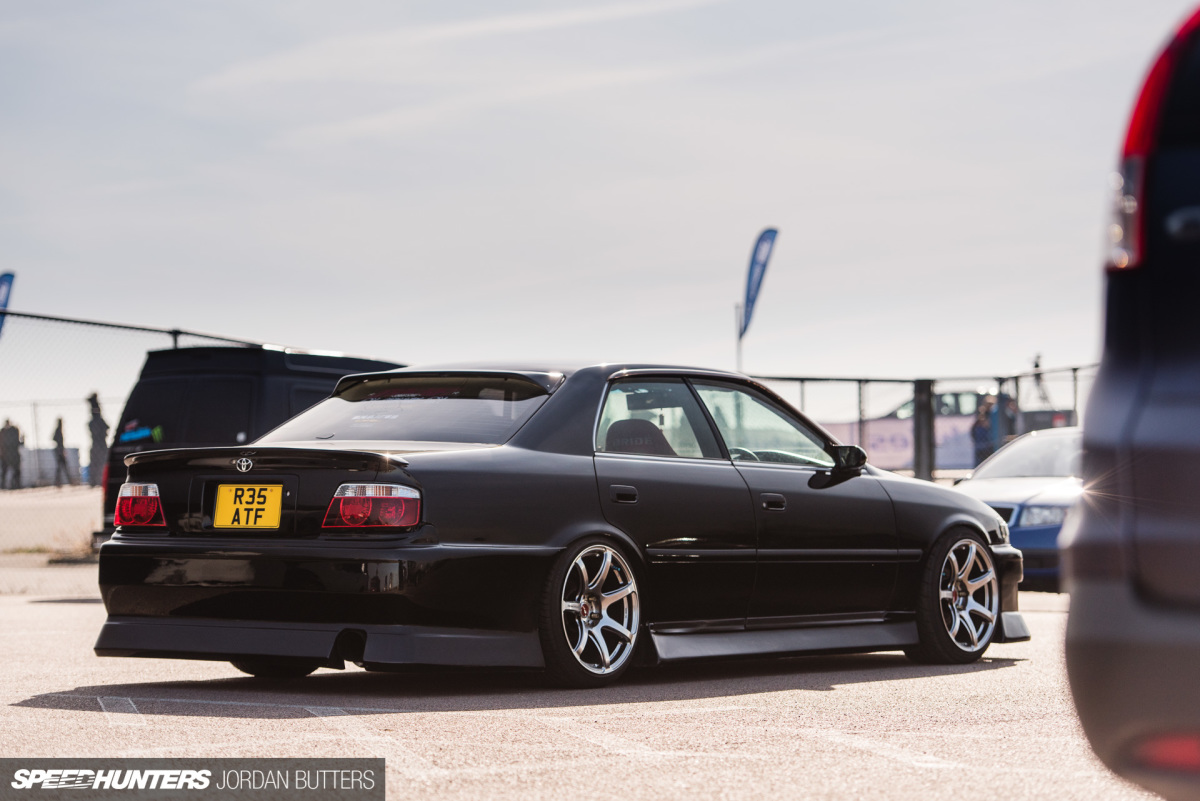 At the back you'll find a set of updated kouki tail lights, genuine Toyota roof spoiler and a URAS boot spoiler.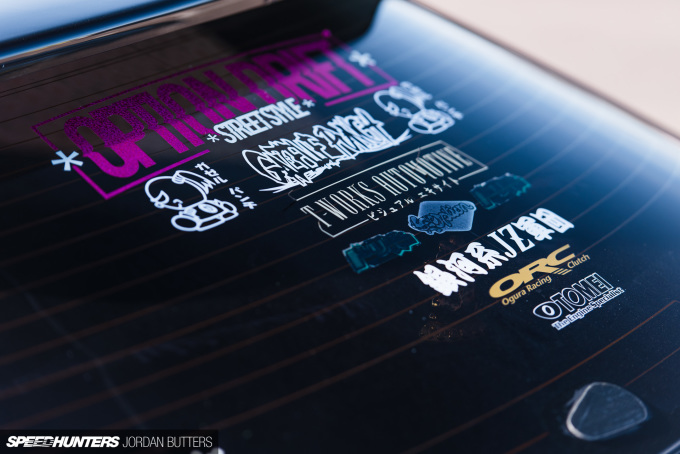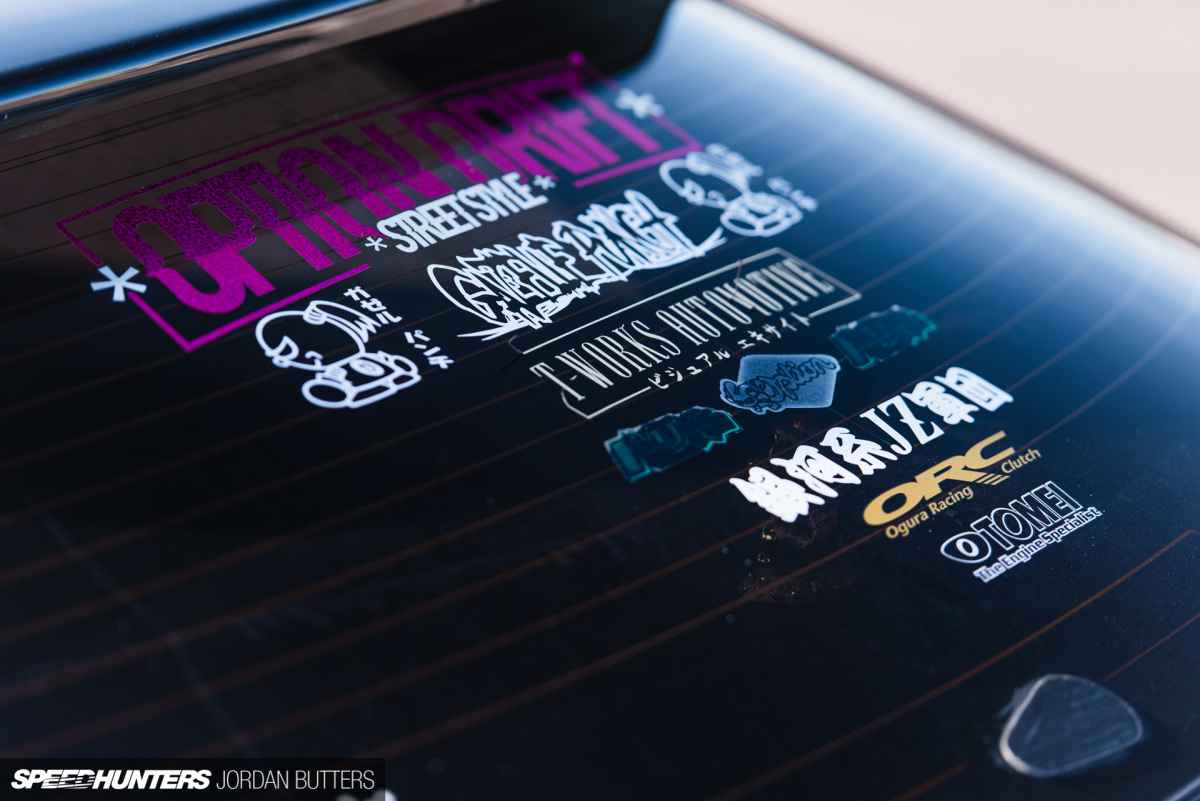 There's also the obligatory collection of drift team stickers and slogans, both a mix of Japanese originals and the UK's take on '90s JDM drift culture, which is very much on-trend at present.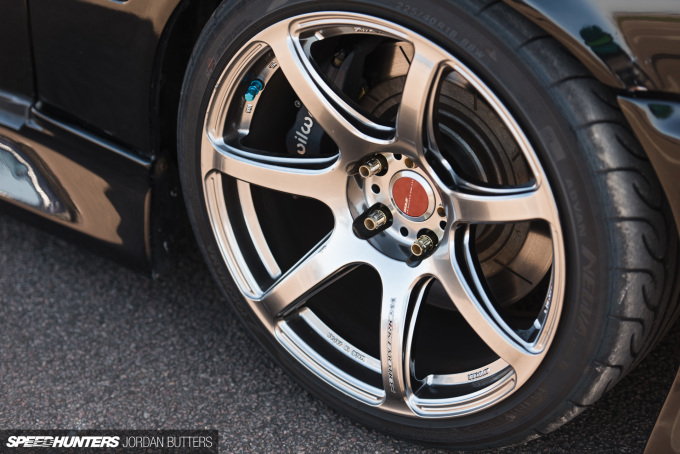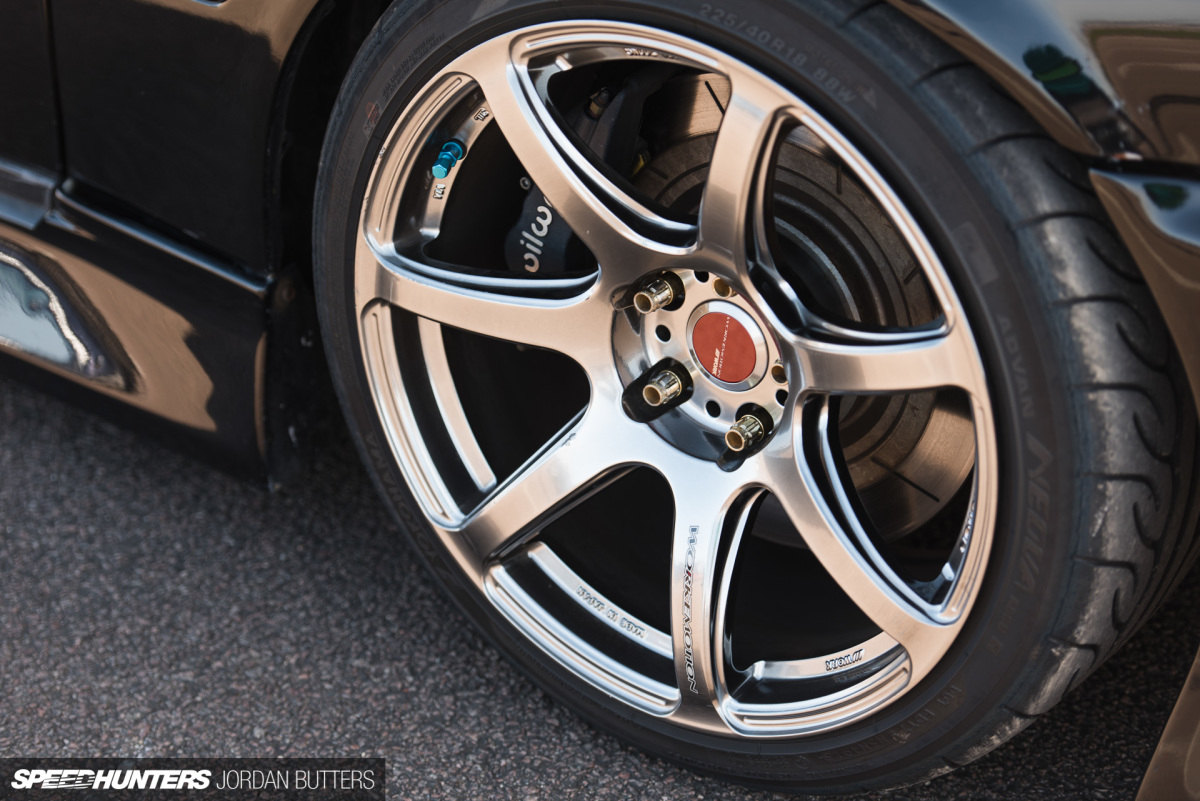 The Chaser sits low over a set of Work Wheels T7Rs in 18×9.5-inch +15 all around with grippy 225/40R18 Advan Neova AD08R up front and more disposable Kenda Radials at the rear. Peeking out from behind the front T7R's spokes are a set of Wilwood 4-pot brakes.
Reduced ground clearance and improved handling are courtesy of some select suspension modifications; a set of HSD Monopro coilovers drop the car down to ground while D-Max adjustable arms bring the alignment back into check. Jake has tightened up the chassis with a Cusco front strut brace, solid diff bushes and subframe locking collars.
A set of URAS tie rods and Super Now tie rod ends have improved the JZX's steering lock over standard, and a Cusco RS 2-way limited slip differential help Jake to keep the rear wheels spinning.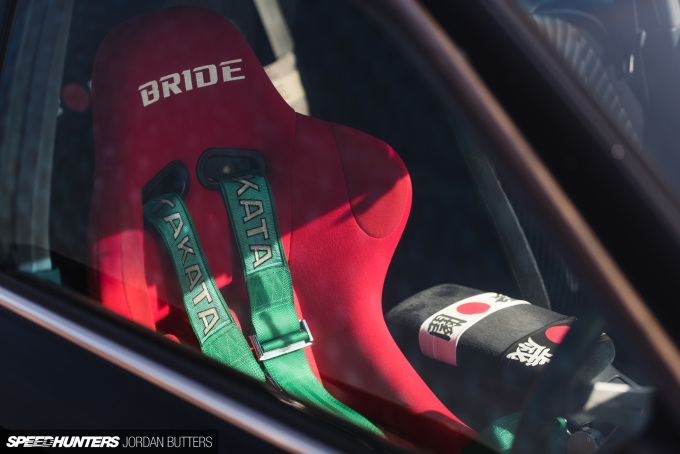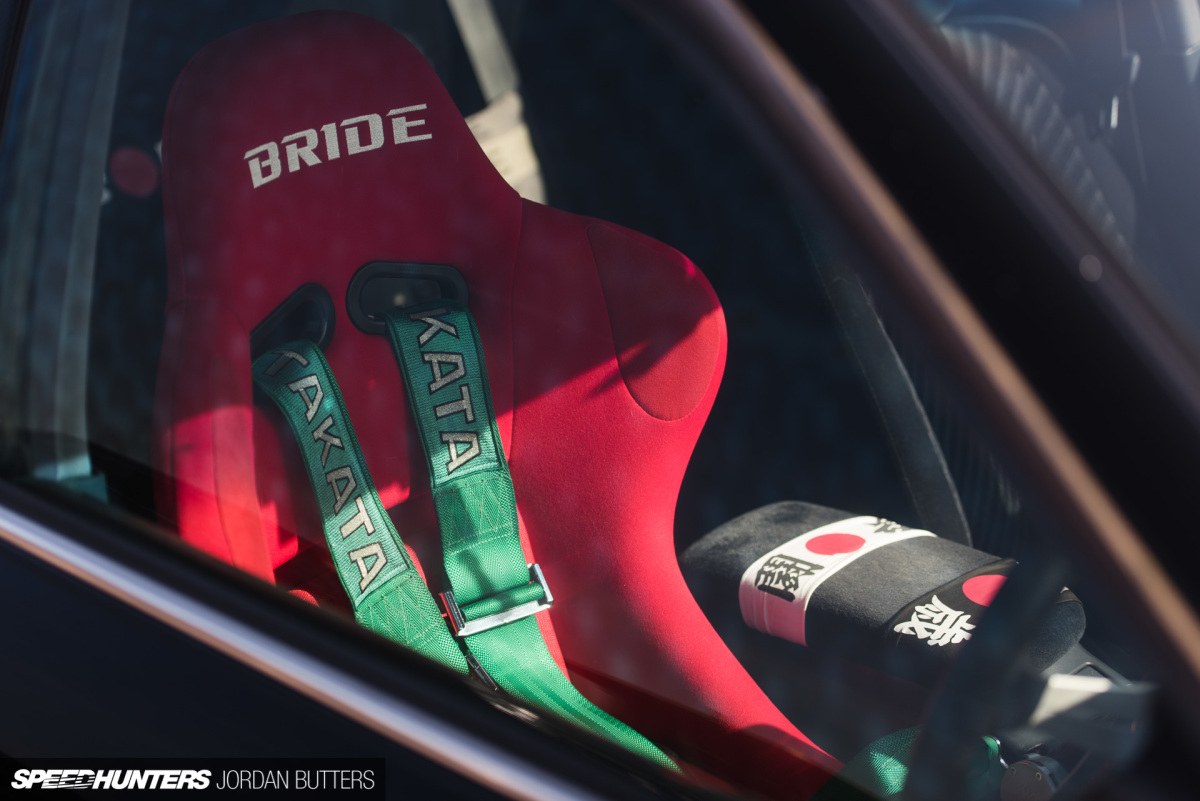 On the inside there's a single red Bride Zeta III seat for the driver, a Nardi 350mm Deep Corn wheel and a set of Defi gauges to monitor water and oil temperature, as well as boost and oil pressure. Naturally there's a smattering of JDM trinkets and touches to be found inside too.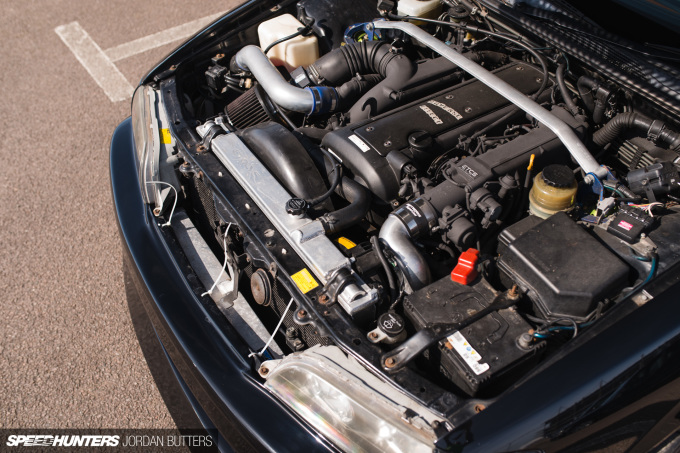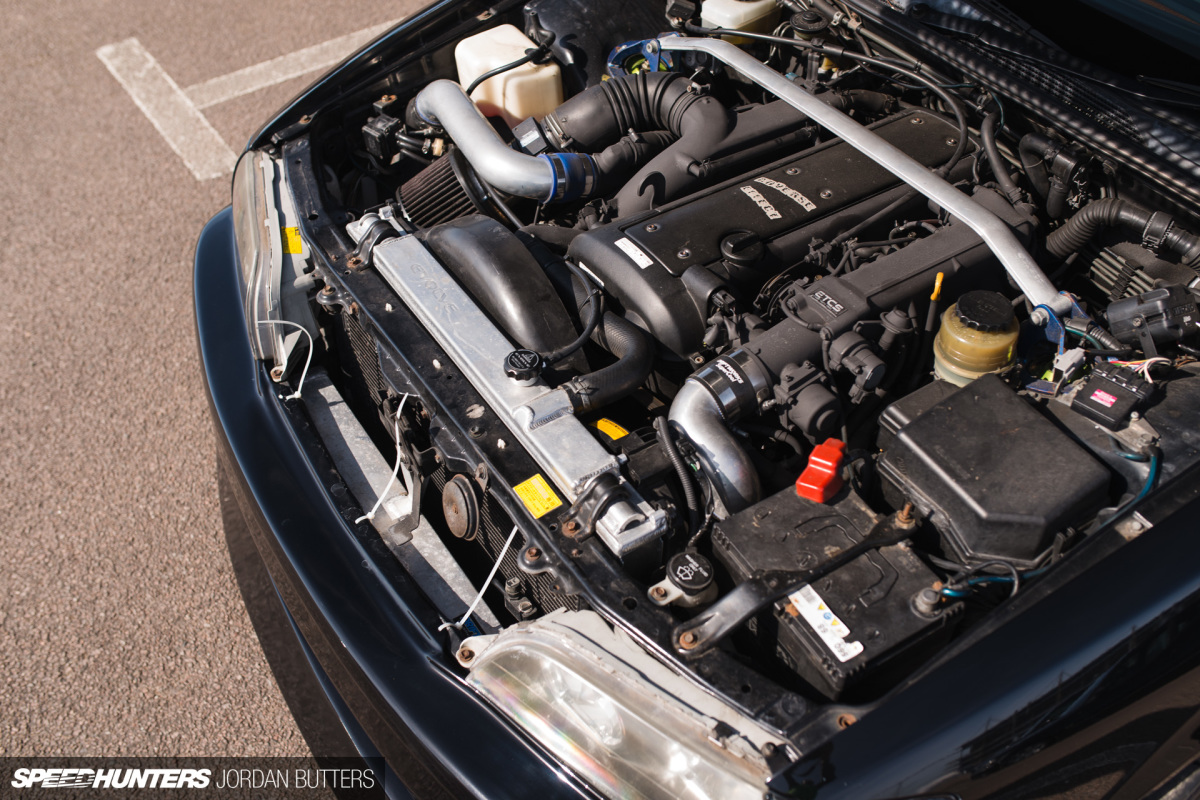 Under-bonnet modifications are modest for now. Jake's running an A'PEXi air filter to feed the stock turbo, a Driftworks Supercool intercooler is employed to keep intake temperatures down, and boost has been upped by a HKS EVC controller. On the exhaust side, a HPI turbo elbow, de-cat and A'PEXi N1 system expel the spent gases. This little lot has boosted the JZX100's power output up to circa 350bhp, but Jake's after more in the near future. For now, the upgrades that have been done improve the Chaser's handling, power and looks substantially over standard.
If I was building a JZX100 for the road, it wouldn't be much different from this. How about you?
Jordan Butters
Instagram: jordanbutters
Facebook: Jordan Butters
jordan@speedhunters.com