The Master Plan
While expensive impulse buys, pestering people and having an innate ability to never be pleased would spell disaster for the majority of us, it spells 'RX-7′ when someone like Jonathan 'Buckets' Murray applies the same processes to his life decisions.
Aside from creating and running Racewars, Jonathan is pretty sure that committing to build this toy was the stupidest, yet most fun, dream he's ever chased. This unconventional tale of building one of Australia's most impressive FD3S Mazda RX-7s also has a very unusual beginning.
It all started while shopping for a new Mitsubishi Evolution X that would eventually be Jonathan's new track hack. After a test drive and chat about future plans to build a solid track car, the sales agent mentioned he knew of a Ralliart Evolution X that was already prepared for racing which was up for grabs. The car was at LF Performance, a well respected Perth-based workshop that specialises in quality race conversions.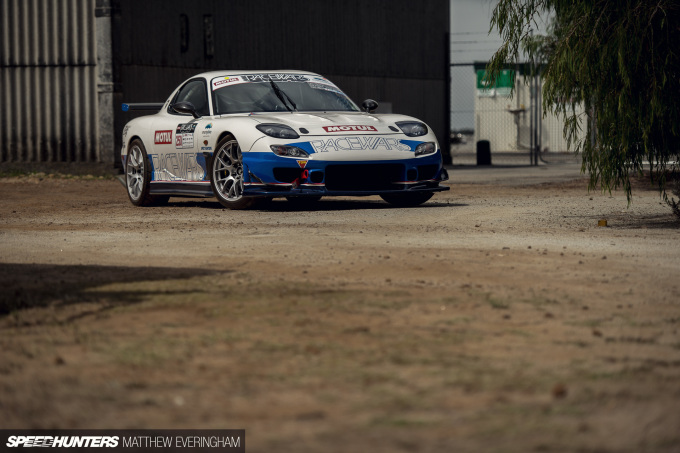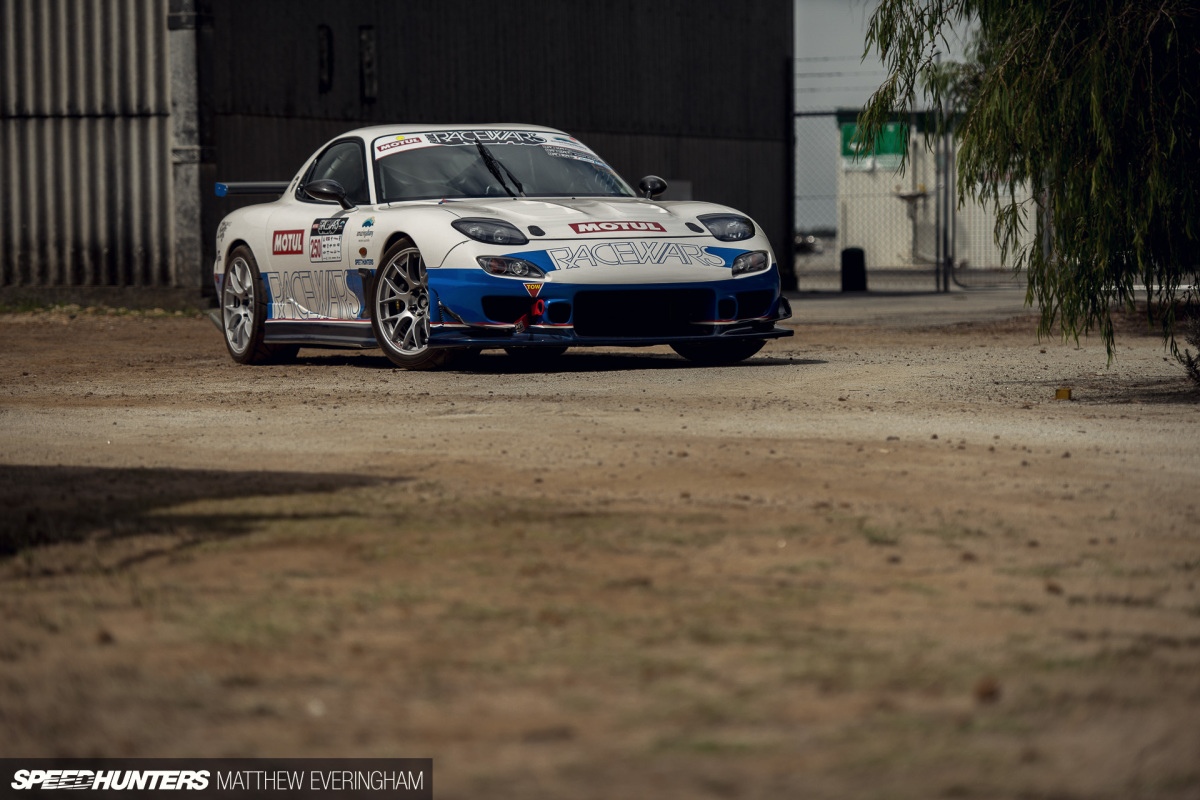 During his visit to LF, Jonathan not only got to check out the Ralliart-prepped Evo, but also saw Australian racing driver Steve Jones's locally-famous blue FD3S RX-7 on the dyno. It was love at first sight; whatever interest he may have had in the Evolution X faded with his ability to hear properly after the Mazda's 13B screamed its way to top RPM on the dyno.
"You can keep the Evo, sell me the FD," he shouted louder than he probably needed to. Clearly this didn't impress the guys at LF Performance who responded with a flat 'no'. They offered a similar response when asked if they could build something similar; apparently the blue car was a lot of work. Not wanting to buy something he wasn't happy with, Jonathan left the workshop with empty hands and the strong impression left by the RX-7.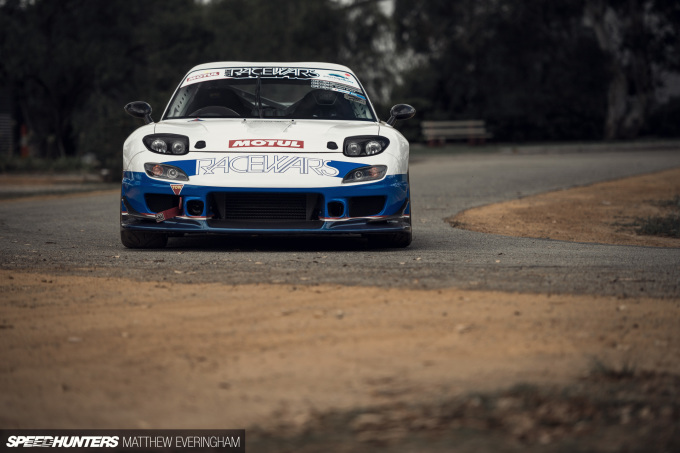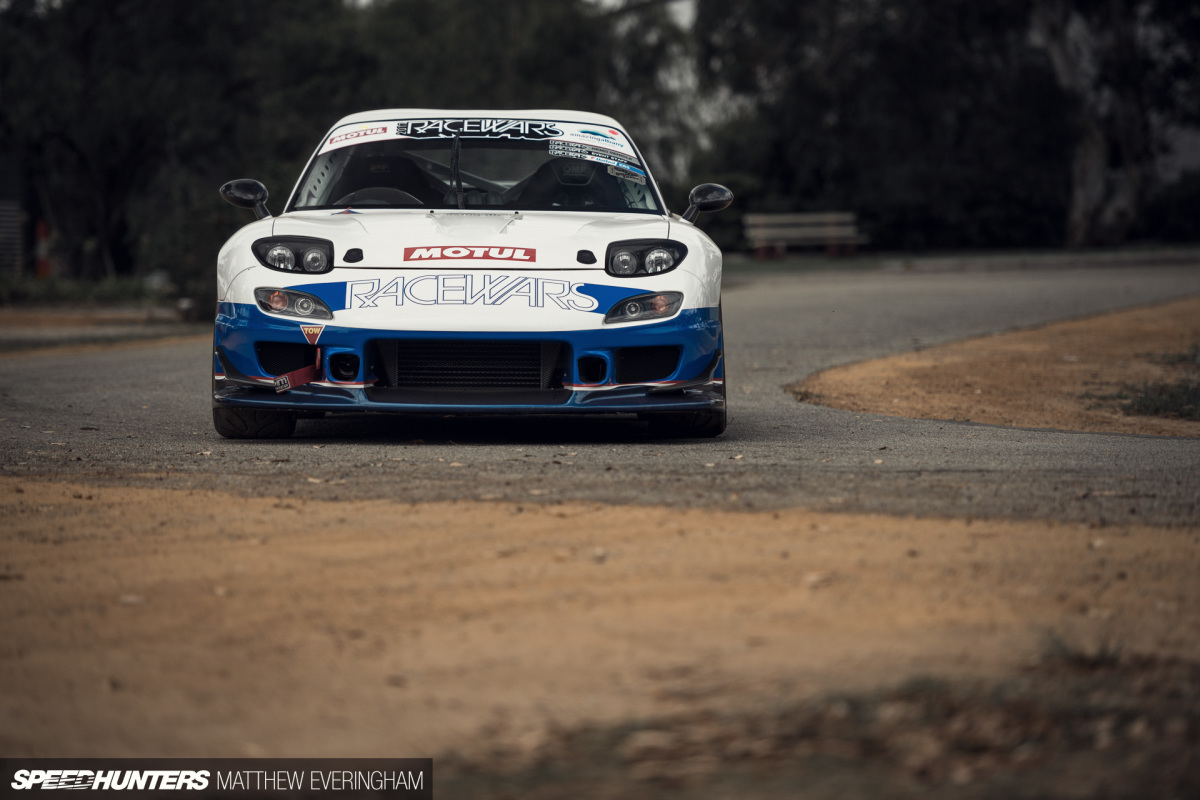 Months later, and with the thought still rattling around in his head, Jonathan had a brilliantly impulsive idea to buy a lonely looking FD3S RX-7 from Osaka, Japan, that he'd stumbled across while doing some 'research' on the internet at work.
The car eventually arrived in Australia, but it would be after another Perth-based rotary specialist had a crack at it, that it ended up in LF Performance's driveway in 2009, ready to be prepared properly. Initially, Mike and Kim at LF maintained a reluctance to take on the build, but Jonathan wouldn't take no for an answer, and eventually the Mazda was rolled into the workshop.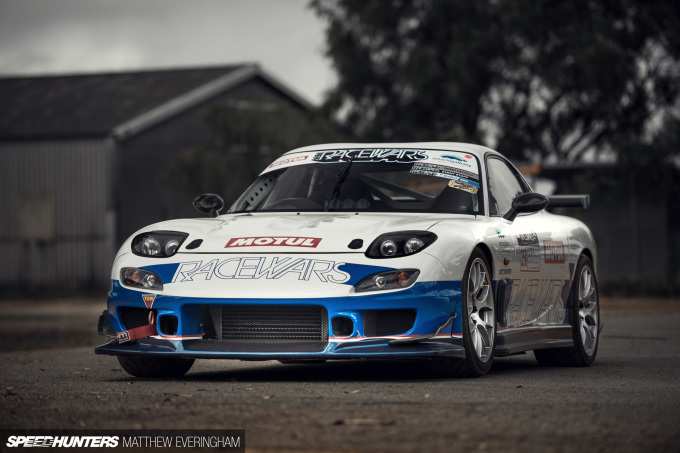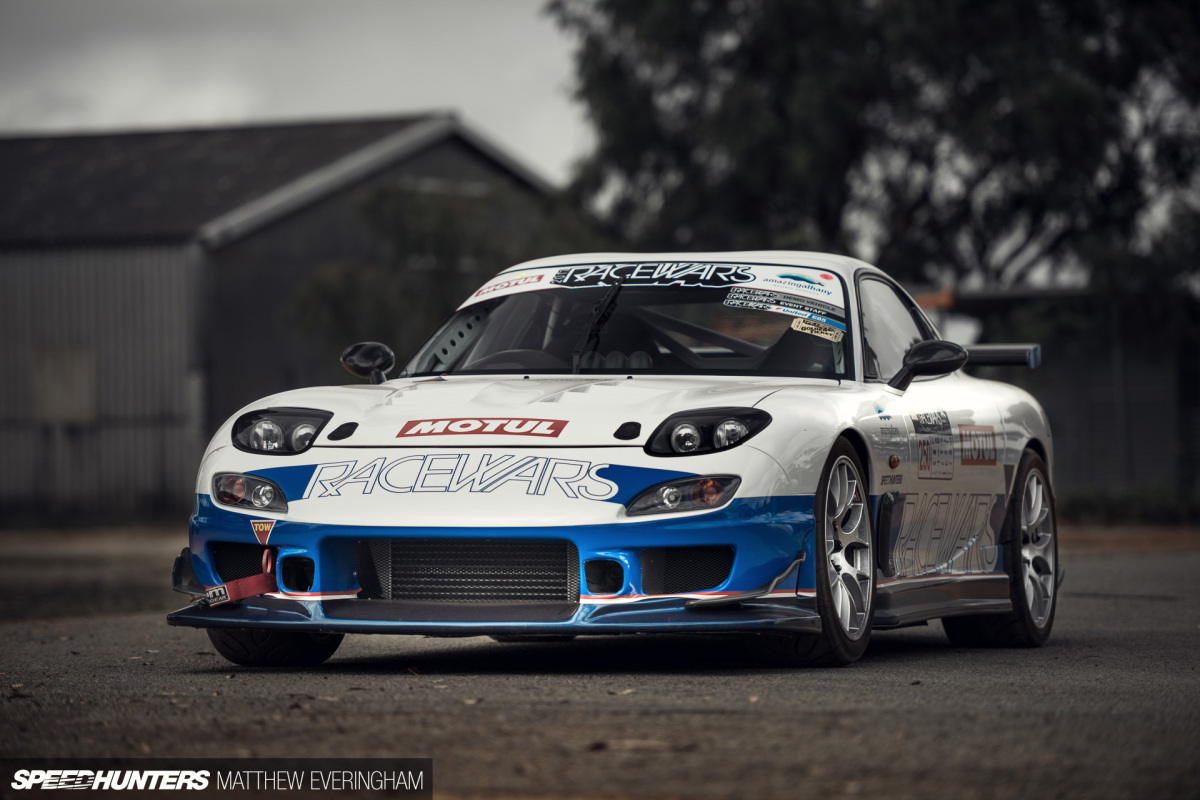 When asked about the build process I was expecting to hear about how much heart and soul was poured into the beast, but instead Jonathan offered a refreshing and brutally honest account of the whole process. "The build basically involved me spending far more money than I could afford to build a car. I'm still sh*t-scared to drive it to its full potential, and now barely get to use it as I live overseas. But honestly, I couldn't give a f**k. To say I utterly adore this little thing is an understatement. Every time I squeeze into the seat and fire it up, I'm basically a kid again; you can't wipe the smile from my face."

The Mazda has had a few different iterations over its eight-year life as a project, but the current concept is a car that can run in the Clubsprint class at the World Time Attack Challenge, held annually on the other side of the country in Sydney. To be eligible for this class, cars essentially need to street registered and driven. To be competitive in 2017, they also need to be fast. Really fast.
While WTAC Clubsprint machines are more about power and handling and less about the crazy aero that defines the event's top-tier classes, in Jonathan's humble opinion, Clubsprint class cars represent the perfect balance between mild and wild.
Ready For War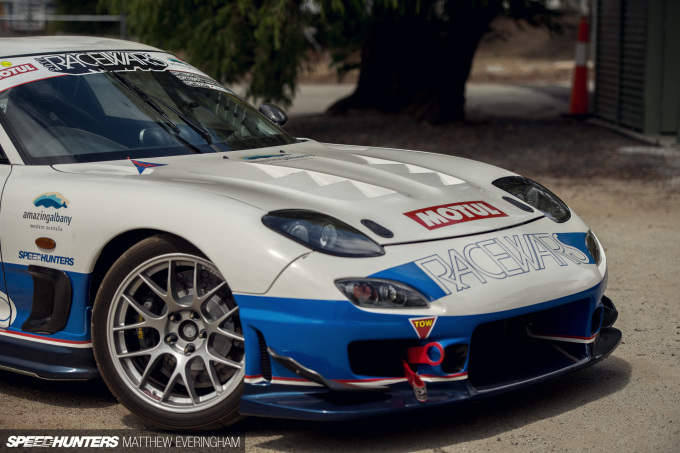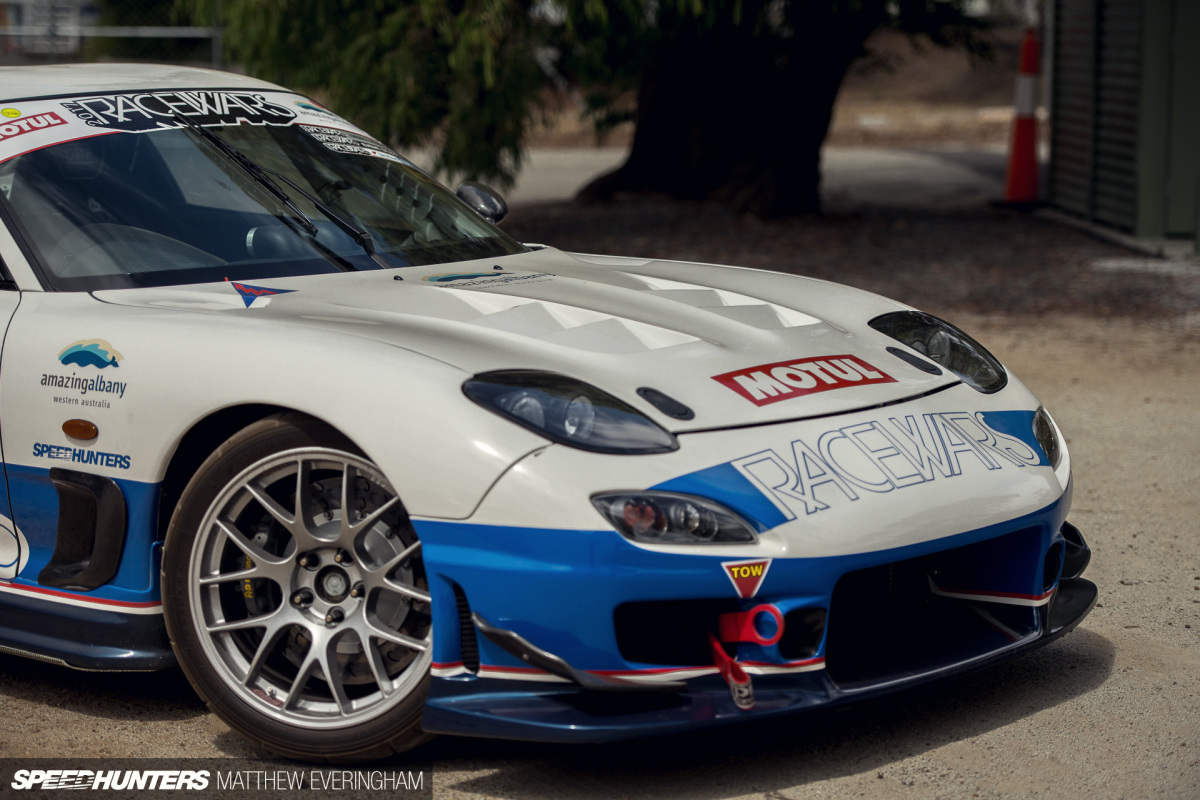 I doubt that many of you would dispute that the FD3S chassis is one of the best looking Japanese sports cars of its era (I'd love to know you favourite '90s chassis in the comments section). Even after 25+ years, it's still as beautiful as it was when it first rolled off the Mazda production line. Knowing that it's pointless to try to improve on perfection, external changes were made only to personalize the car and to aid in bettering its performance.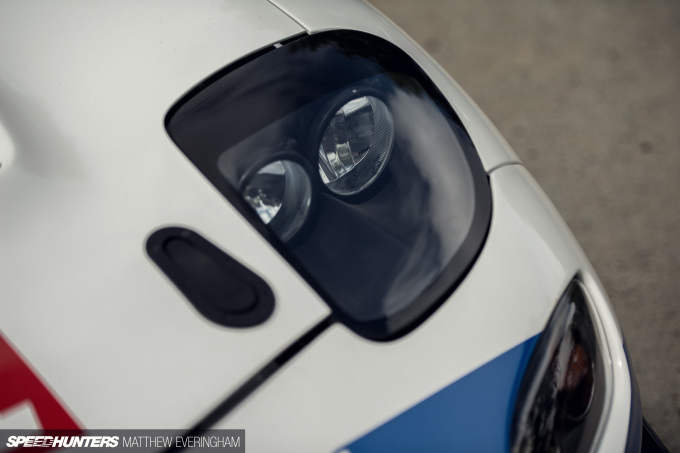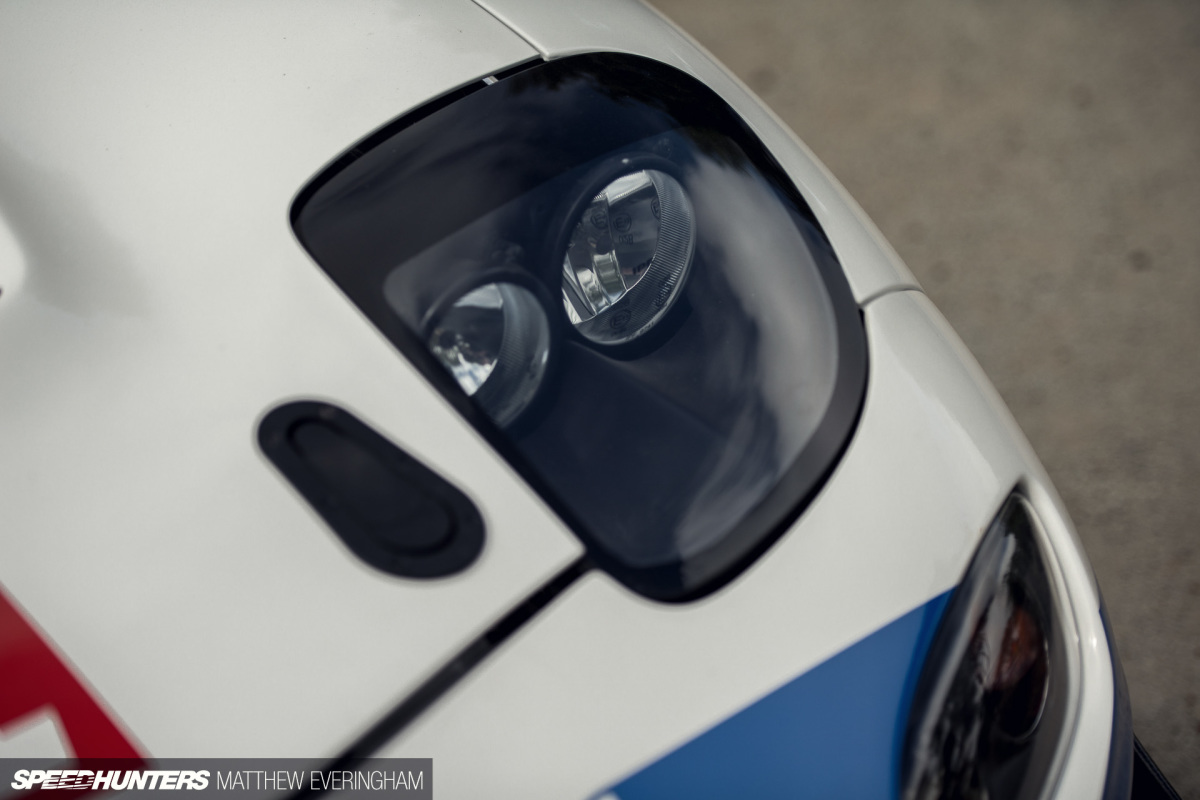 The most notable external modifications are the C-West NII front bumper and side skirts with custom-made Kevlar under-trays and diffusers. An RE Amemiya AD9 dry carbon bonnet was fitted up, but painted to match the rest of the body, and the finishing touches came in the form of a fixed headlight kit and carbon aero mirrors – both from RE Amemiya also – plus wide fender vents and an LF Performance rear spoiler.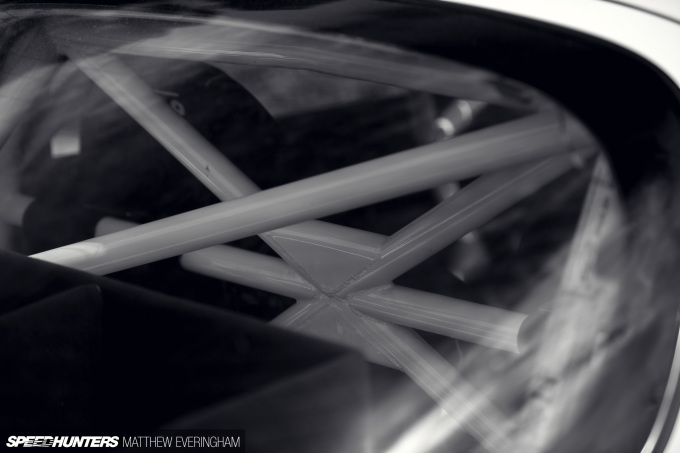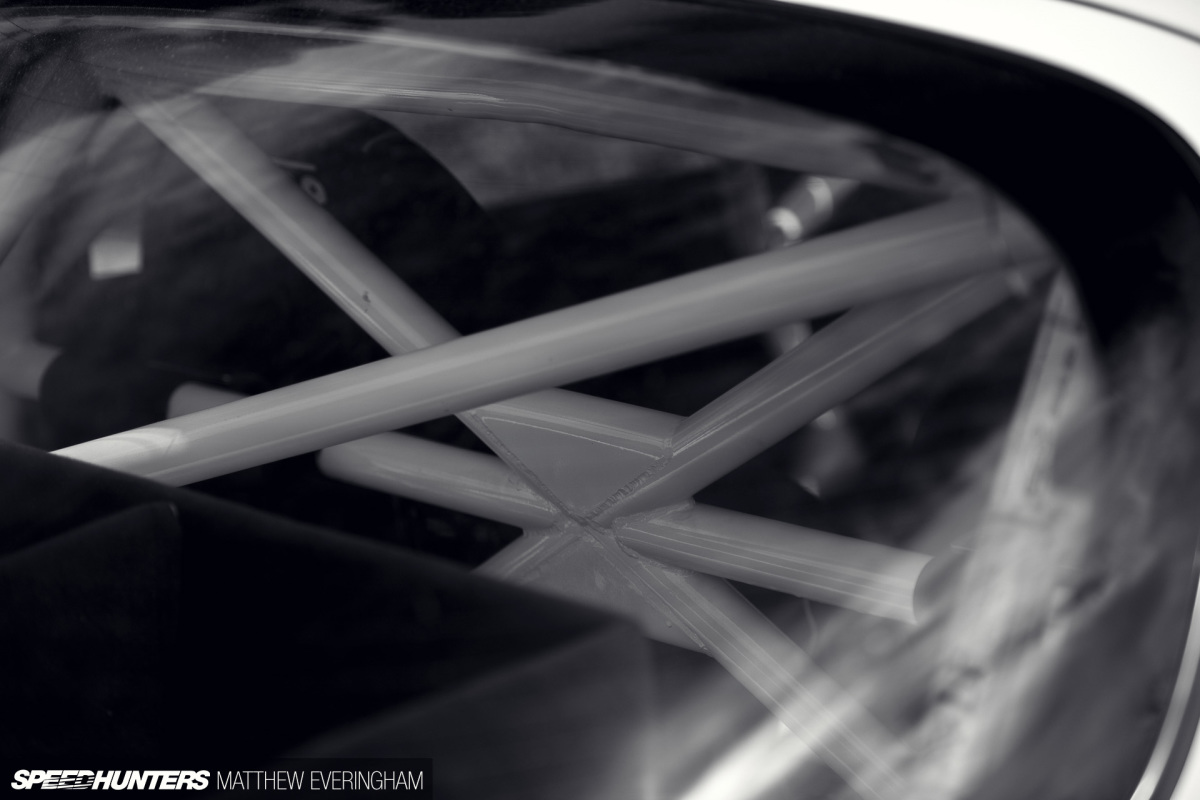 The body, however, was modified to fit not only its 6'3″ owner's frame, but also a CAMS-approved full roll-cage. Sounds fairly straight-forward, right? If only it had been… What sounds like a simple job turned out to be a substantial task. LF Performance ended up fabricating a new lower floorpan and transmission tunnel which allowed them to set the seat further back and towards the centre of the vehicle. Although it was only an incremental change to the driving position, it made a world of difference to Jonathan's comfort and his confidence behind the wheel.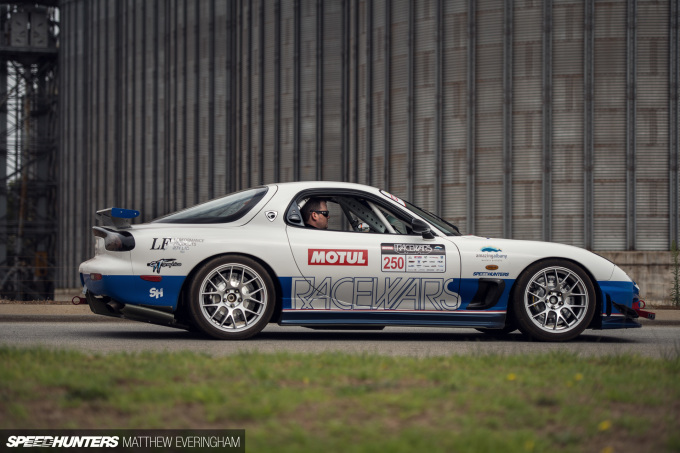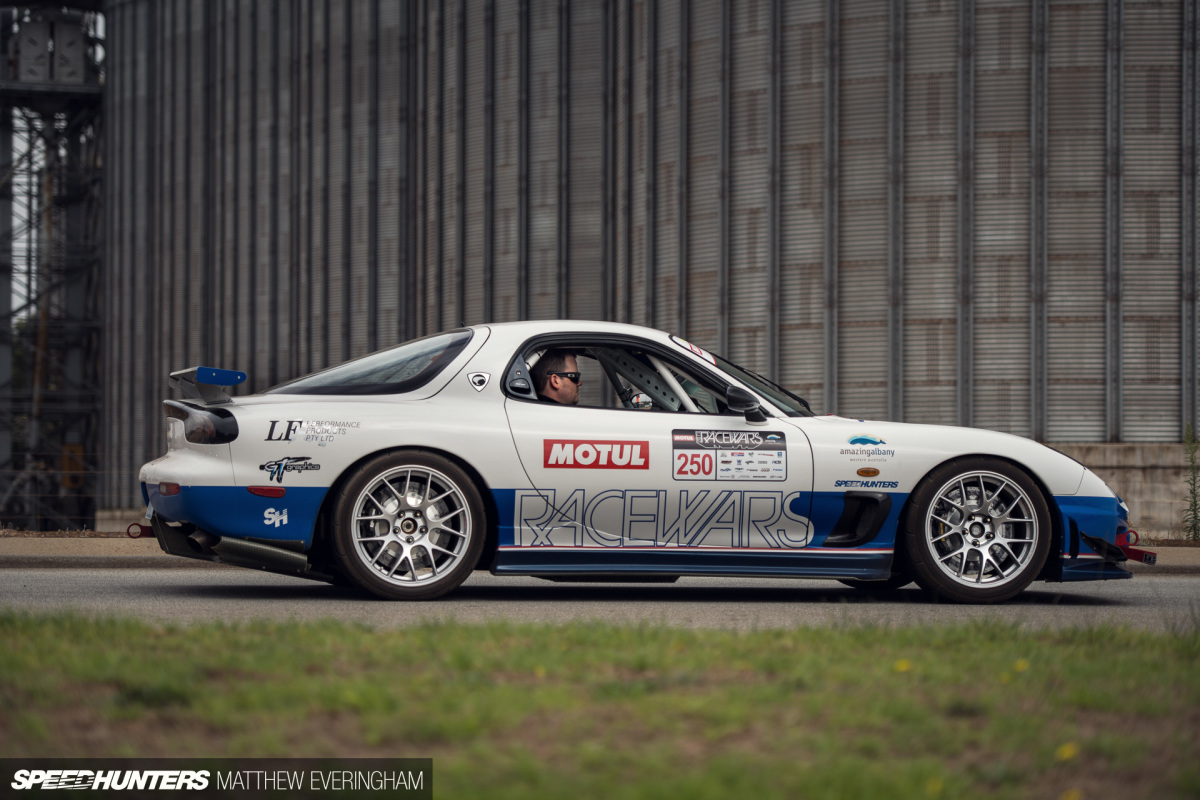 Once pieced together, the Mazda received a generous coat of Candy White paint, before Gavin at GT Graphics was tasked with designing a livery inspired by Alan Moffat's legendary Group C SA22C RX-7. In the early 1980s, this was a giant-killer that frequently embarrassed the V8 establishment, but these days it enjoys an only slightly more relaxed life in classic racing circles. And when it's not being tracked by its owner, it can often be found alongside Jonathan's car in the corner of the LF Performance workshop, where it's maintained.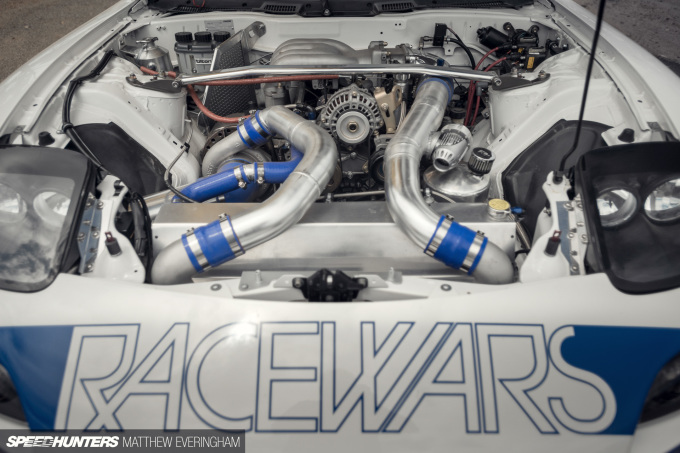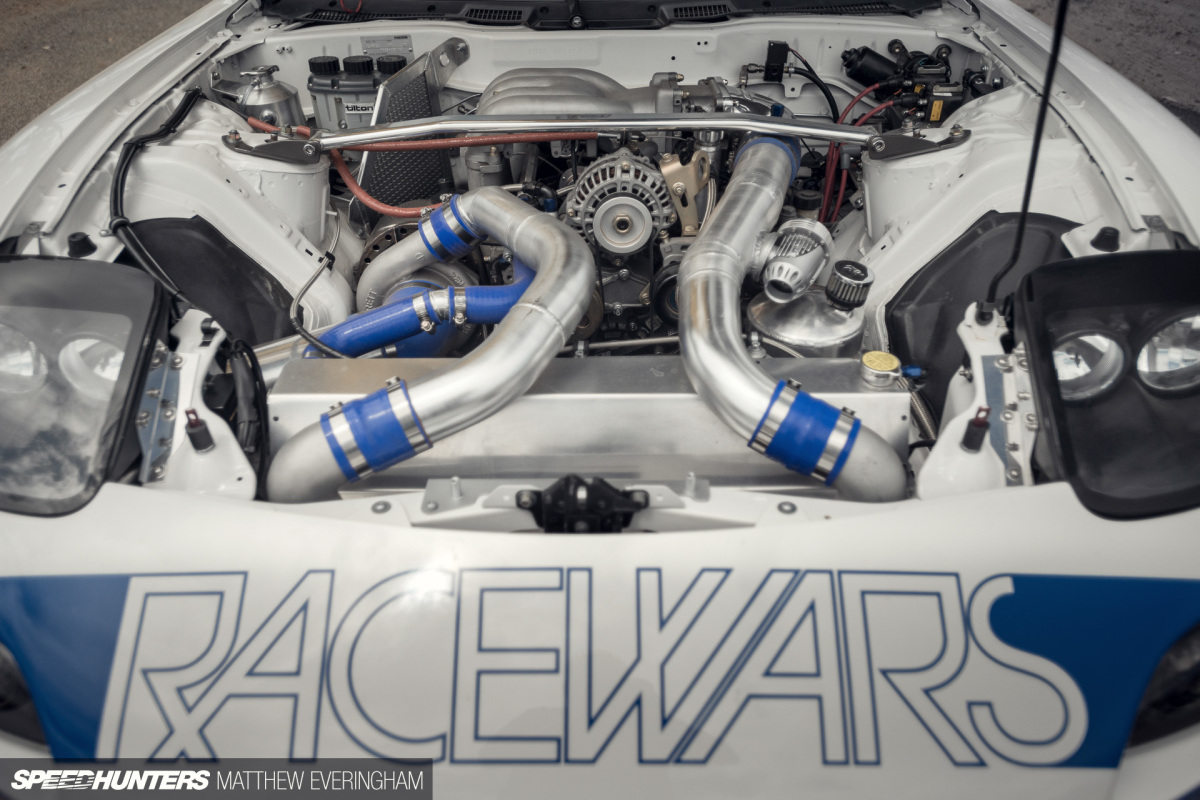 Getting back to the FD3S, under the bonnet sits an E85-fuelled 13B bridge-port engine with a Garrett T04Z hanging off the side. The twin-rotor motor was built from scratch using brand new core ingredients from Mazda plus a shopping list of aftermarket parts, all as specified by Ian and Matt from LF Performance.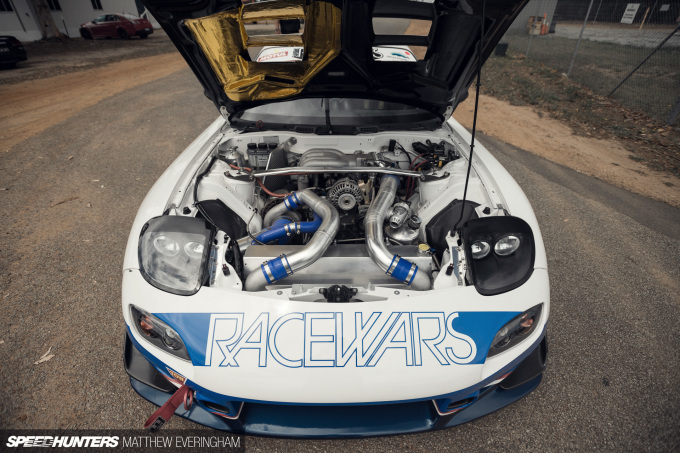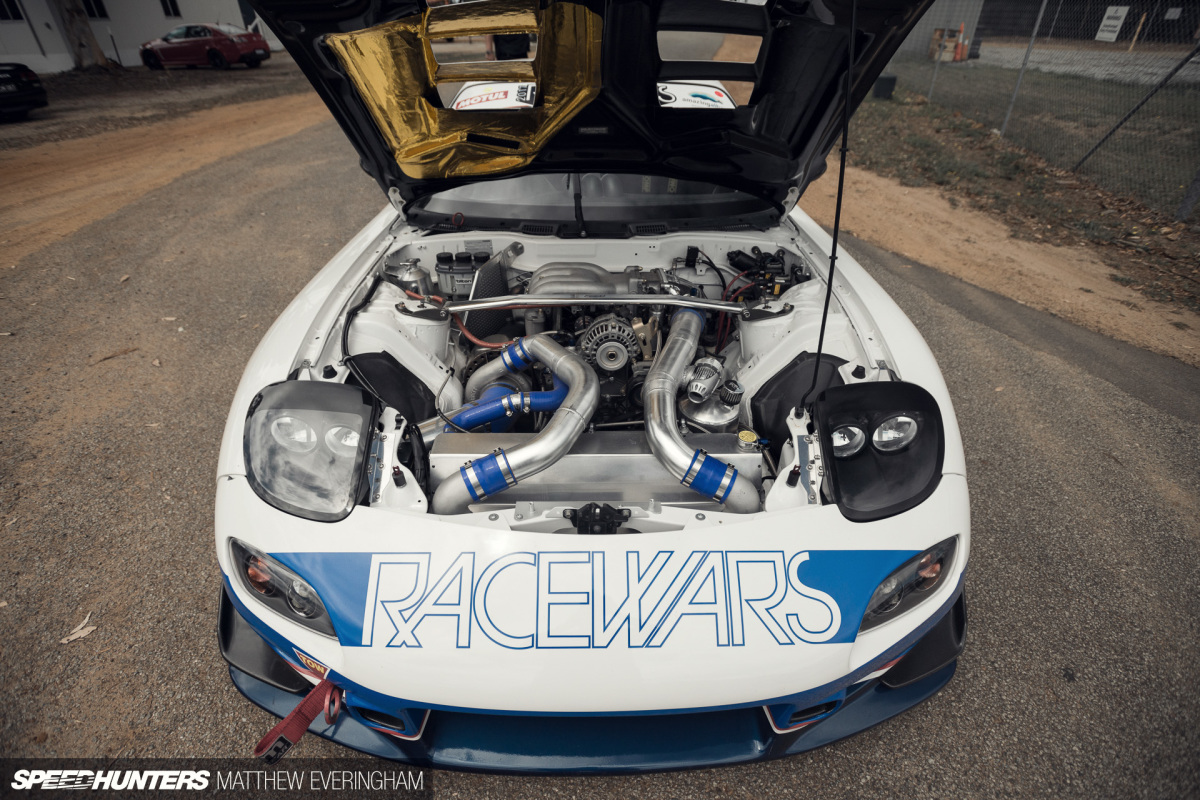 The MoTeC M800-managed engine package was tuned by a local living legend nicknamed Yoda, the force strong enough to see more than 500hp at the wheels with boost pressure capped in the mid teens (psi) and a sub 8000rpm redline. There's room for more power, and the idea has been discussed a few times, but until Jonathan gets some seat time he's comfortable chasing the RX-7 around the track with its current output. The team who've helped with the project unanimously agreed that it's the smart thing to do in the interim.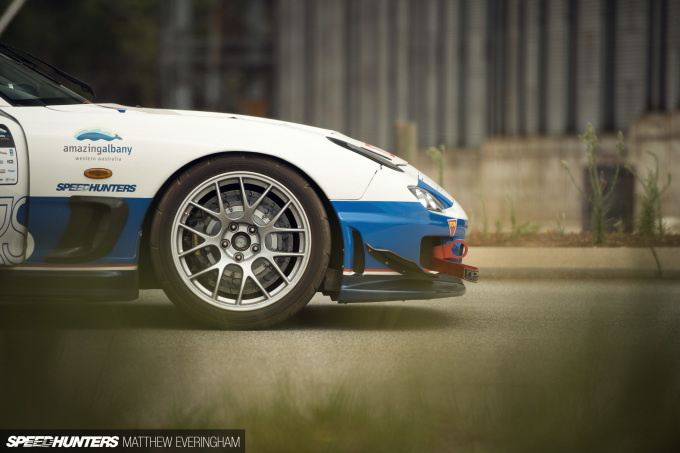 You'll likely have spotted the giant AP Racing brakes by now – they're hard to miss through the spokes of the 18×9.5-inch BBS race wheels fitted with Yokohama Advan A050s at all four corners.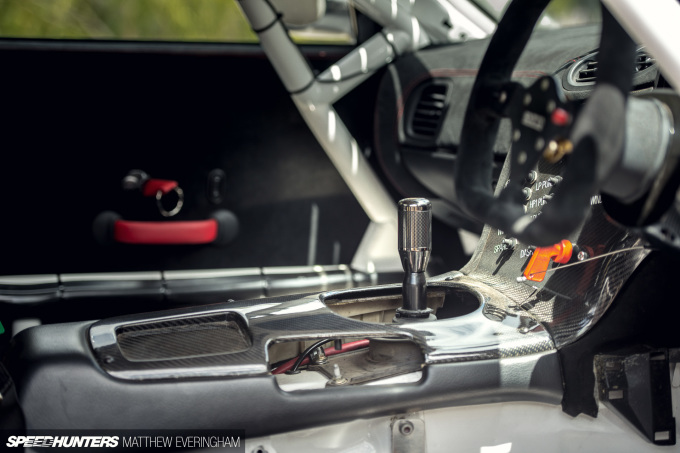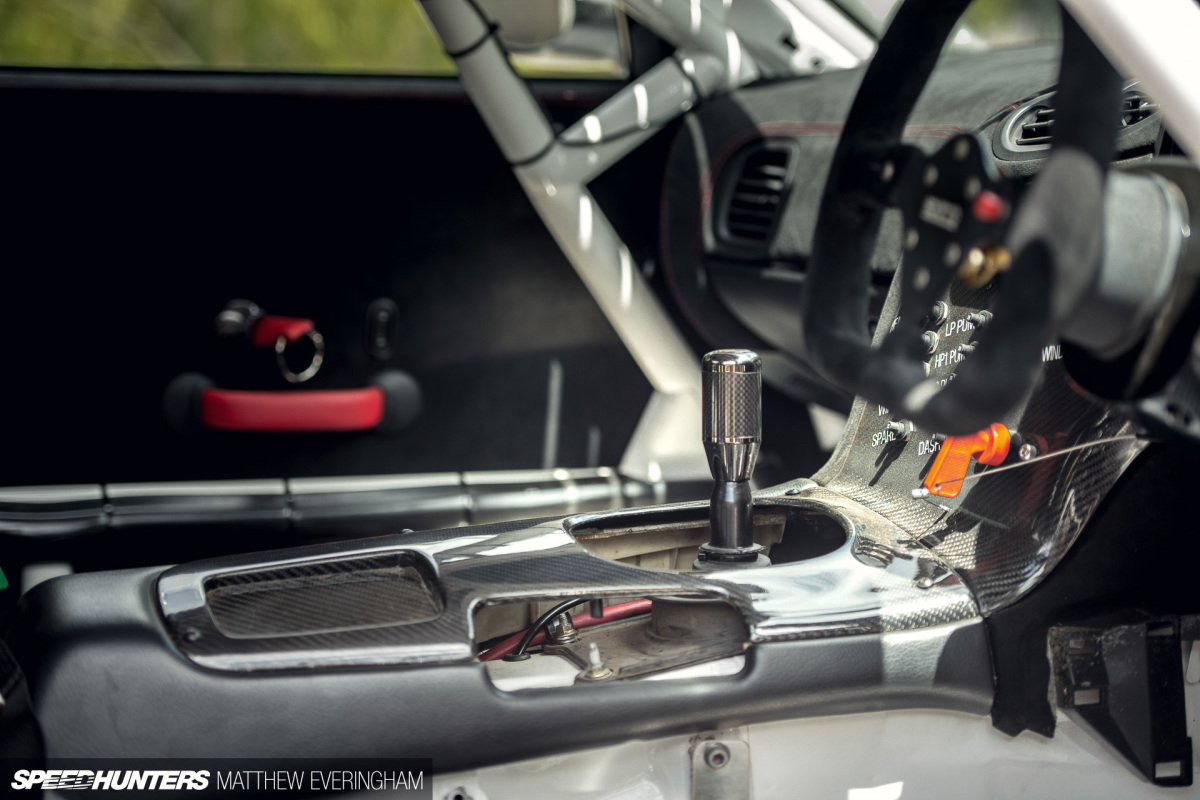 Given its racing path, the RX-7's interior has seen substantial alteration too. Alcantara features heavily, and there's also a carbon fibre dash insert and centre console, plus Porsche 964 RS door pulls and OMP WRC XL seats. Being street registered and driven, it still has working power windows and power mirrors.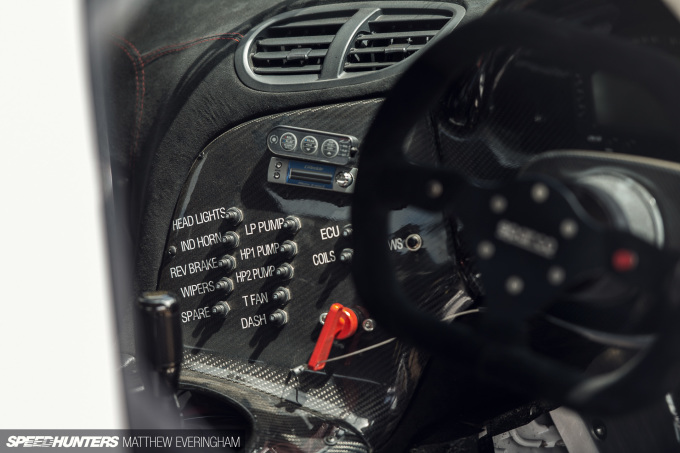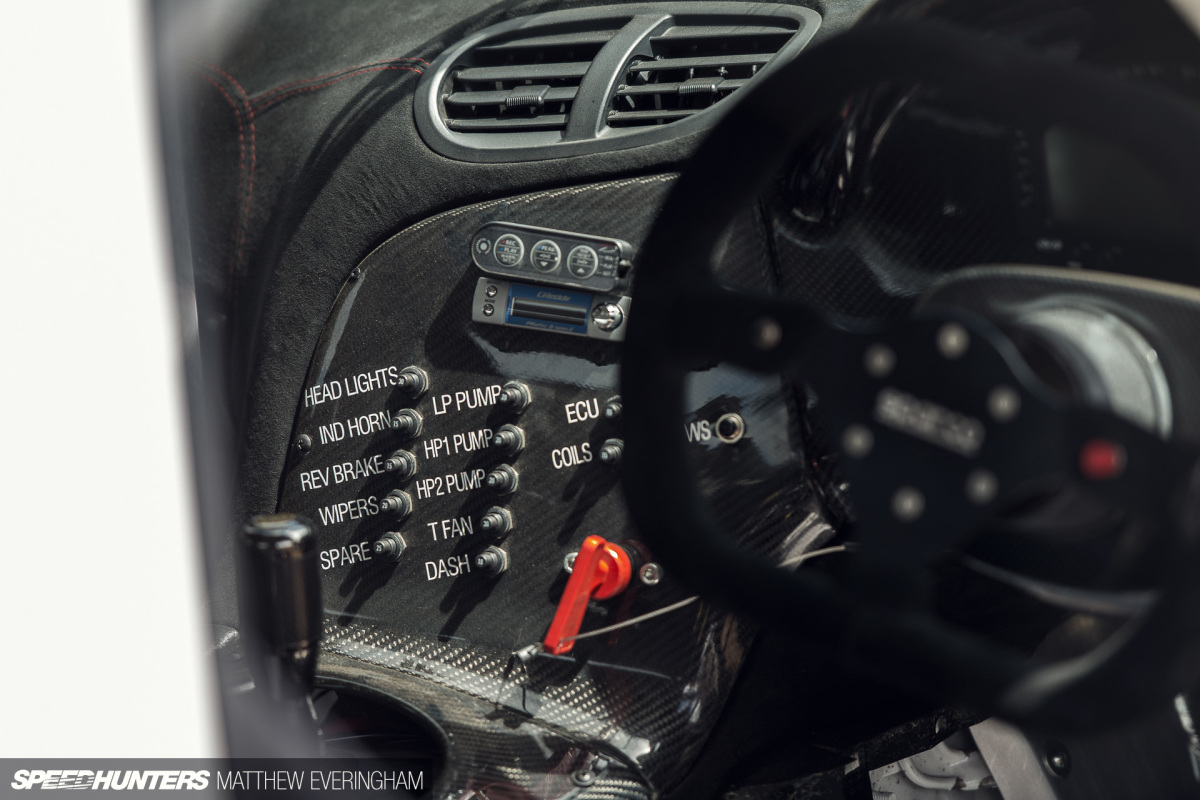 While the AiM dash is more than capable of displaying info from pretty much every sensor in the car, the RX-7's Japanese performance street car roots are reflected in a trio of Defi gauges proudly mounted on the dash.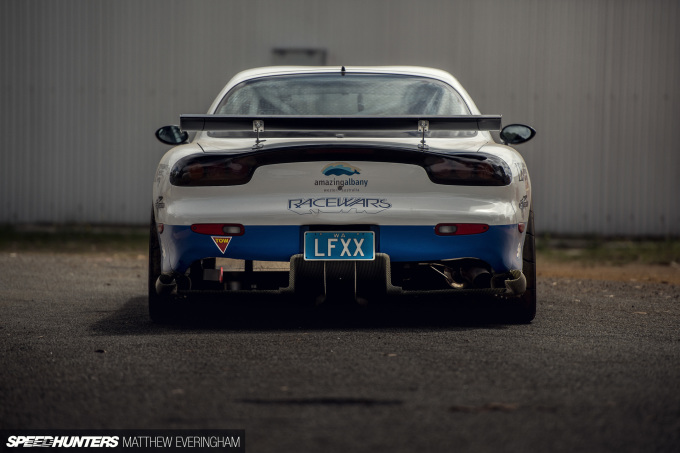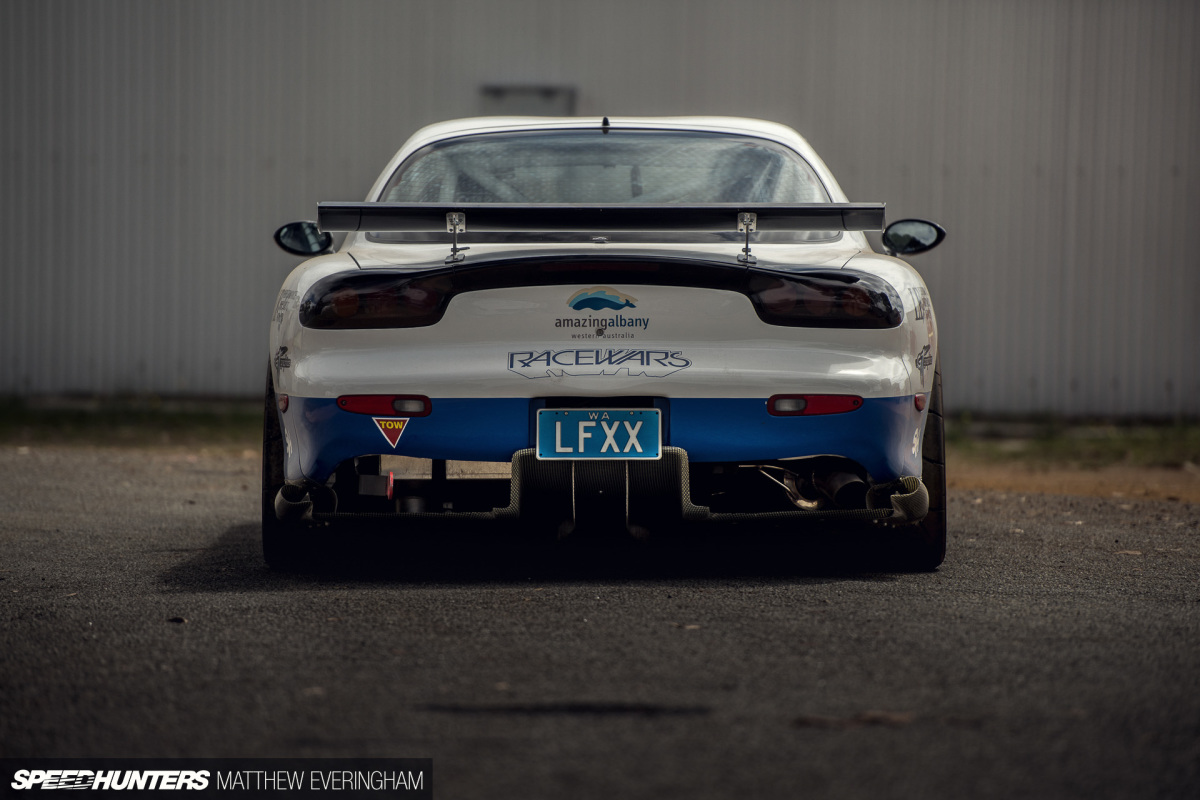 With six months until the 2017 Yokohama World Time Attack Challenge, I'd dare to say that this RX-7 will undergo a few more changes between now and race day, suspension being the next big item on the hit list.
It'll be interesting to see exactly what Jonathan and the team at LF Performance turn up with to contest the Clubsprint class, and even more interesting to see if 'Buckets' has what it takes to tame this hard-tuned machine around Sydney Motorsport Park.
Matthew Everingham
Instagram: matthew_everingham
matt@mattheweveringham.com
Cutting Room Floor