Celebrating The Skyline
In Japan, March is a magical month for owners and fans of the various R32, R33, and R34 Nissan Skyline models.
Just like 86 Day (8/6) for the Hachiroku and 7s Day (7/7) for the RX-7, a simple model code sees enthusiasts gather to admire, show off, and celebrate their cars on specific March dates – the R32 on 3/2, the R33 on 3/3 and the R34 on 3/4.
I'll let you take a wild guess at which day this was.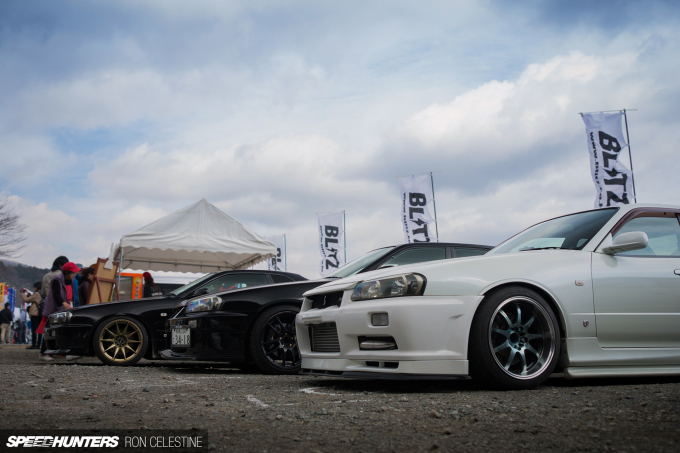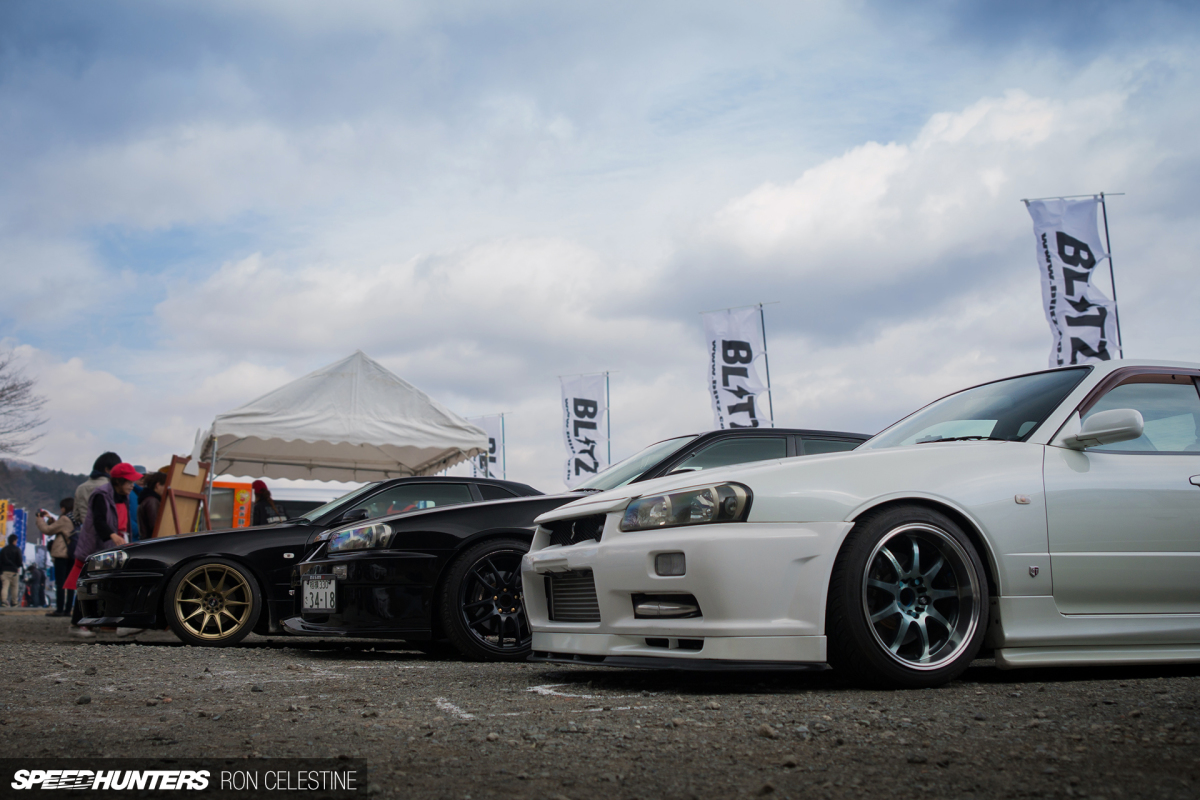 Every year, Fuji International Speedway plays host what is surely the biggest single-day gathering of R34s anywhere in the world. Knowing that there would be another solid turnout of Skylines, I woke up early and made the drive down to Fuji from Tokyo.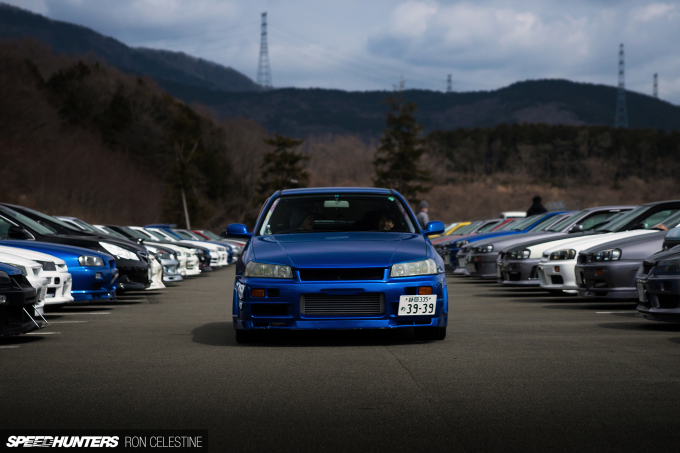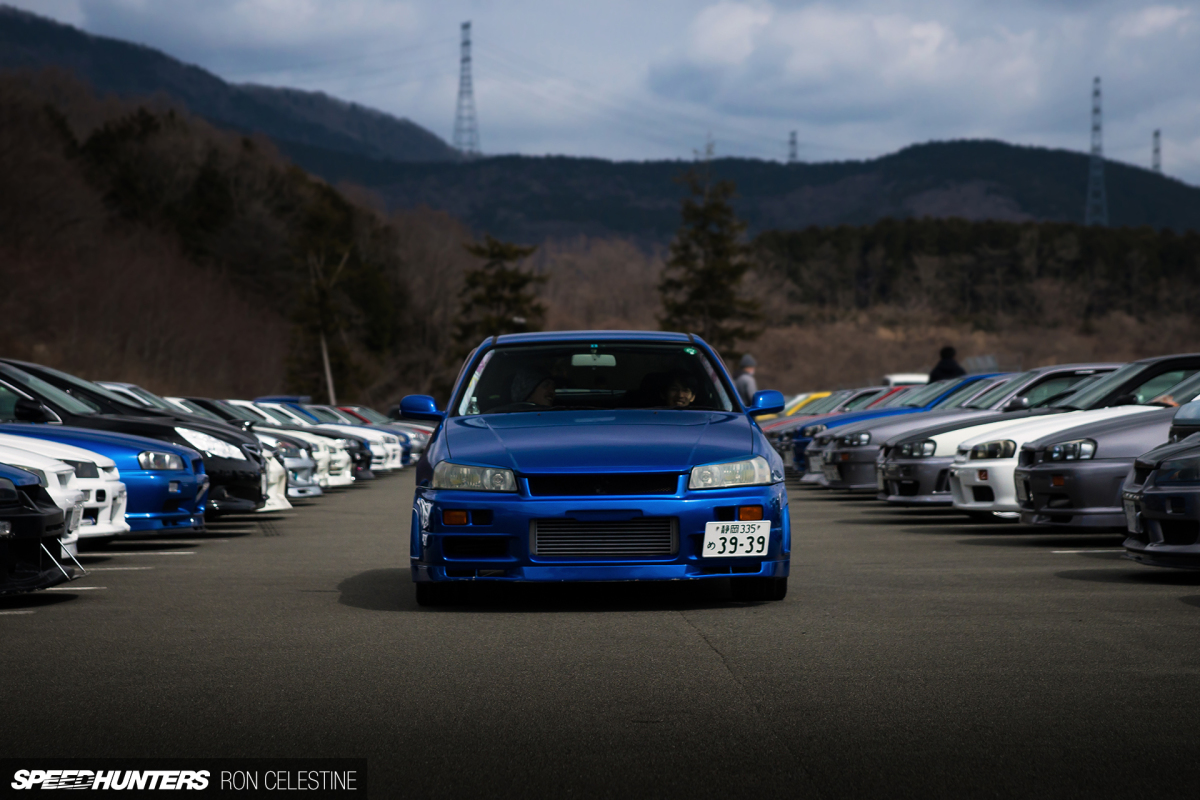 As expected, a large number of R34 GT-Rs showed up to the party, but to my surprise it was the far less expensive 2-door and 4-door ER34 Skyline 25GT-Ts that filled the entire upper parking lots.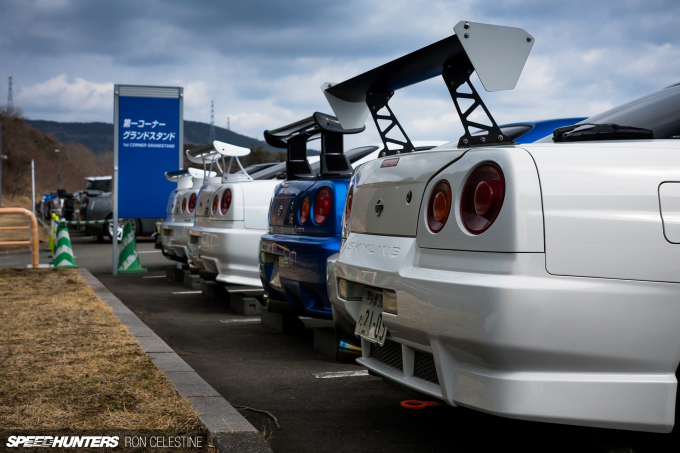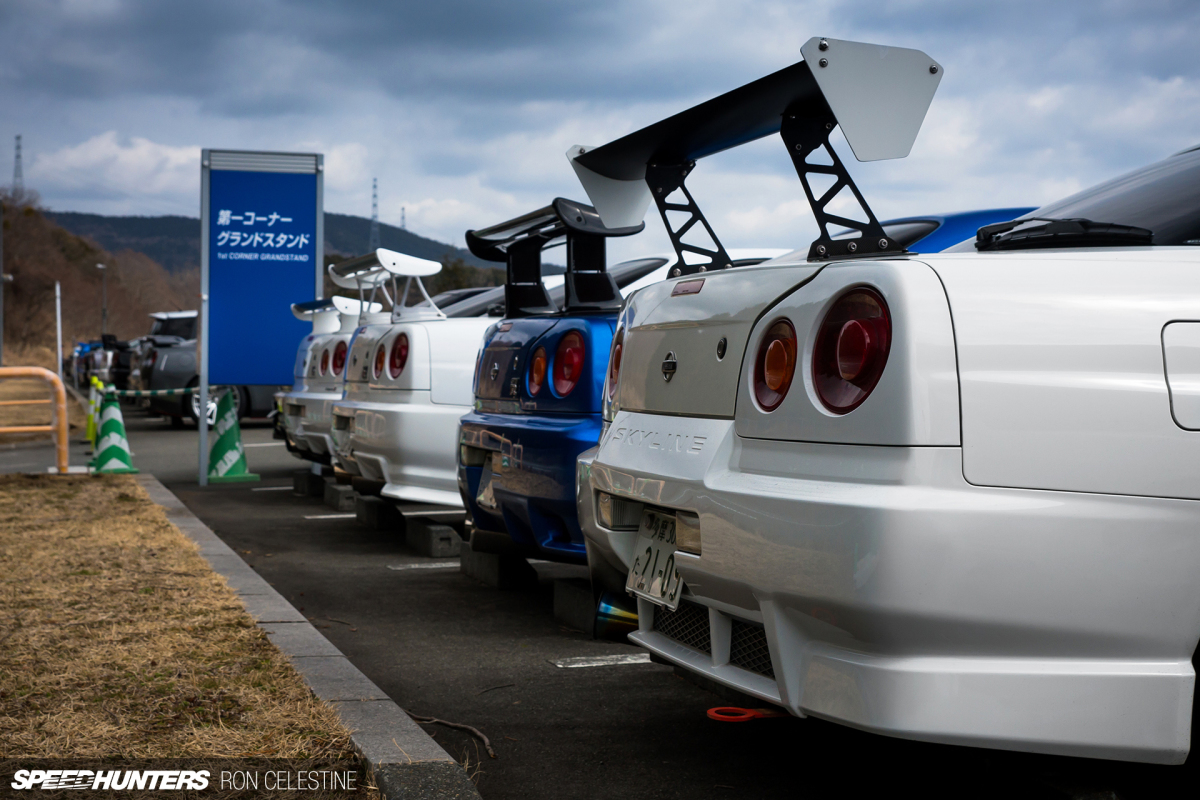 As Dino mentioned in his R's Meeting post back in September last year, the value of BNR34 Skyline GT-Rs have gone through the roof, with even previously crashed and repaired and/or high-mileage cars now too commanding silly money. You need extremely deep pockets for a clean, low-mileage example, and even deeper ones for a special variant in excellent condition.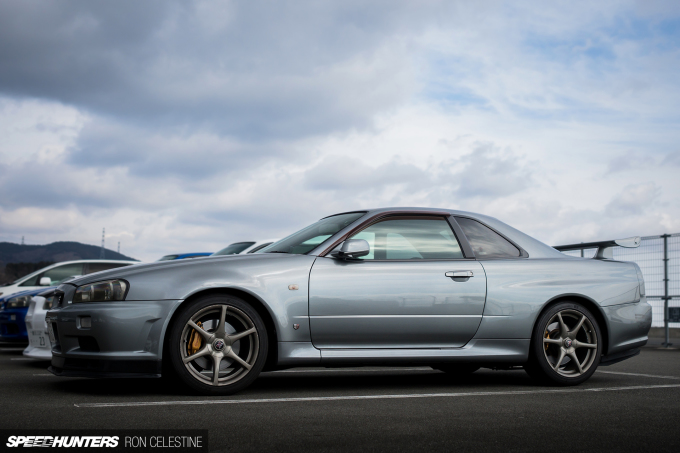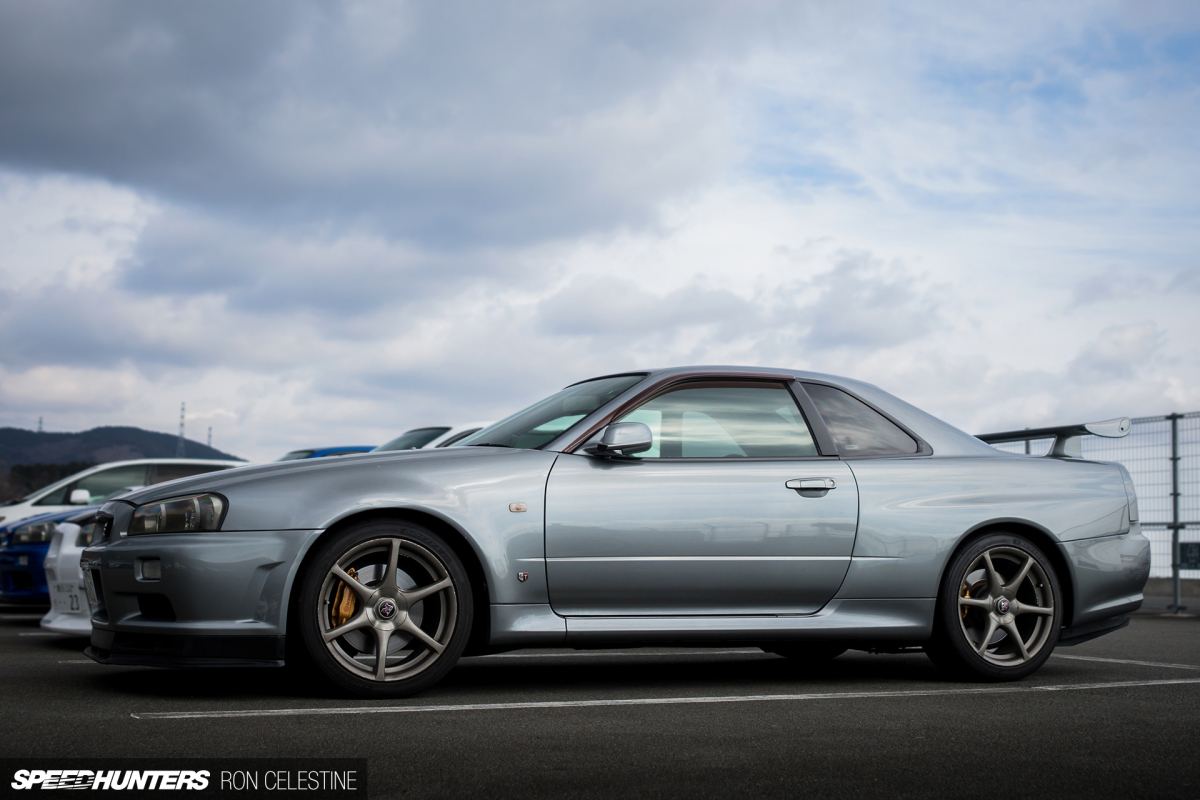 Much of this is due to the fact that the BNR32 Skyline GT-R is now able to be lawfully imported into the United States thanks to NHTSA's 25-year-old exemption rule. As the demand for those cars has increased, so too have their value, and it's rubbed off on the other Skyline GT-R models.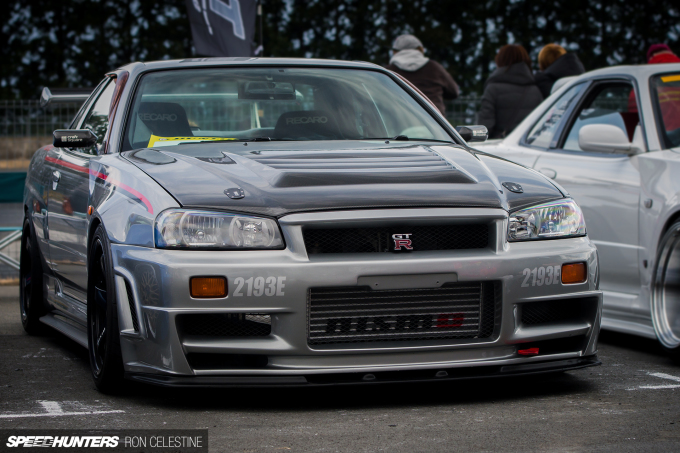 Owners, normally older in age, have been aware of this for quite some time now and are keeping their precious GT-Rs safely hidden aways in garages as appreciating assets. It's all well and great if you've already owned a BNR34 for more than a few years, but if you look at this from a buyer's perspective, the days of getting your hands on a decent example at a reasonable price are now over. These cars are so expensive that younger enthusiasts simply cannot afford them anymore.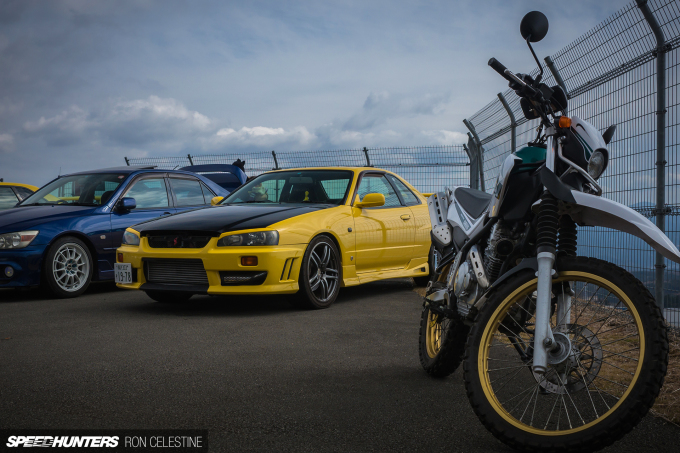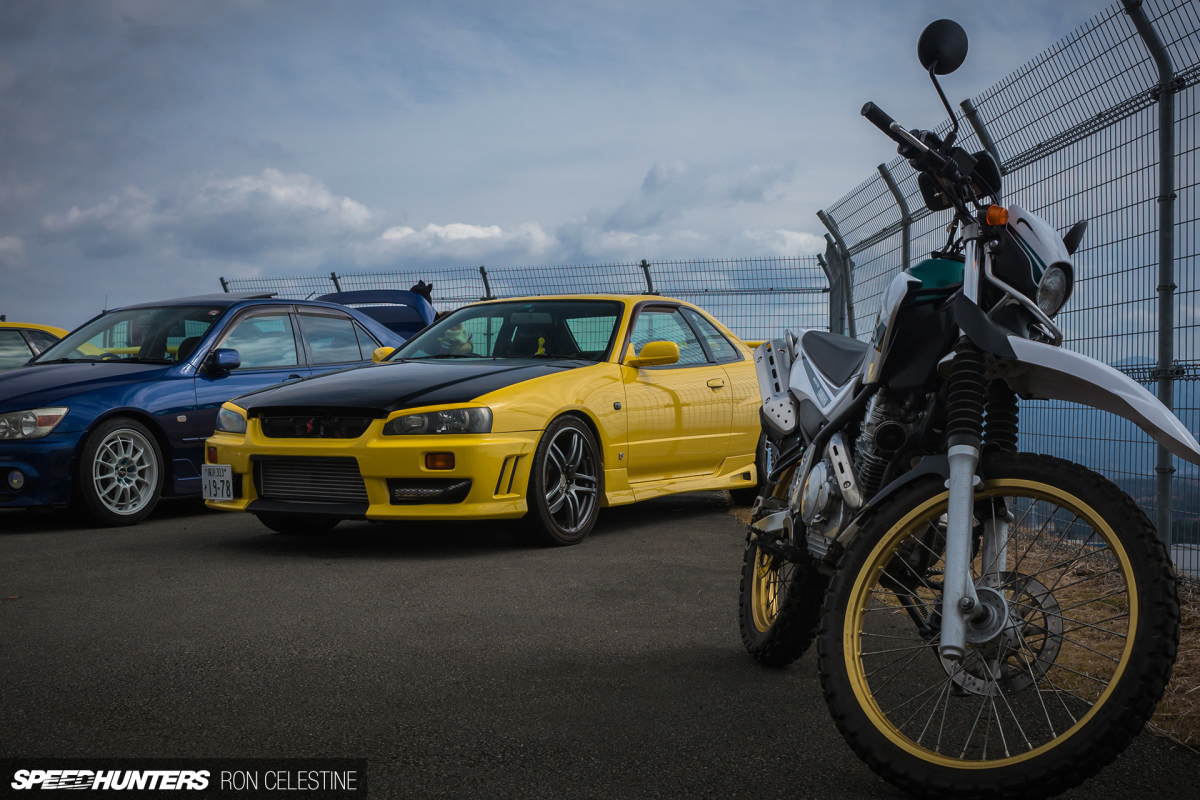 If anything though, it's shone a spotlight on the ER34, the Skyline that I now consider to be the 'people's champion.'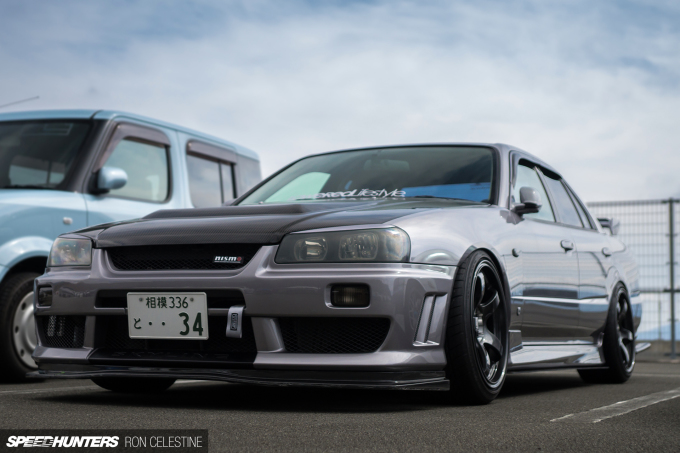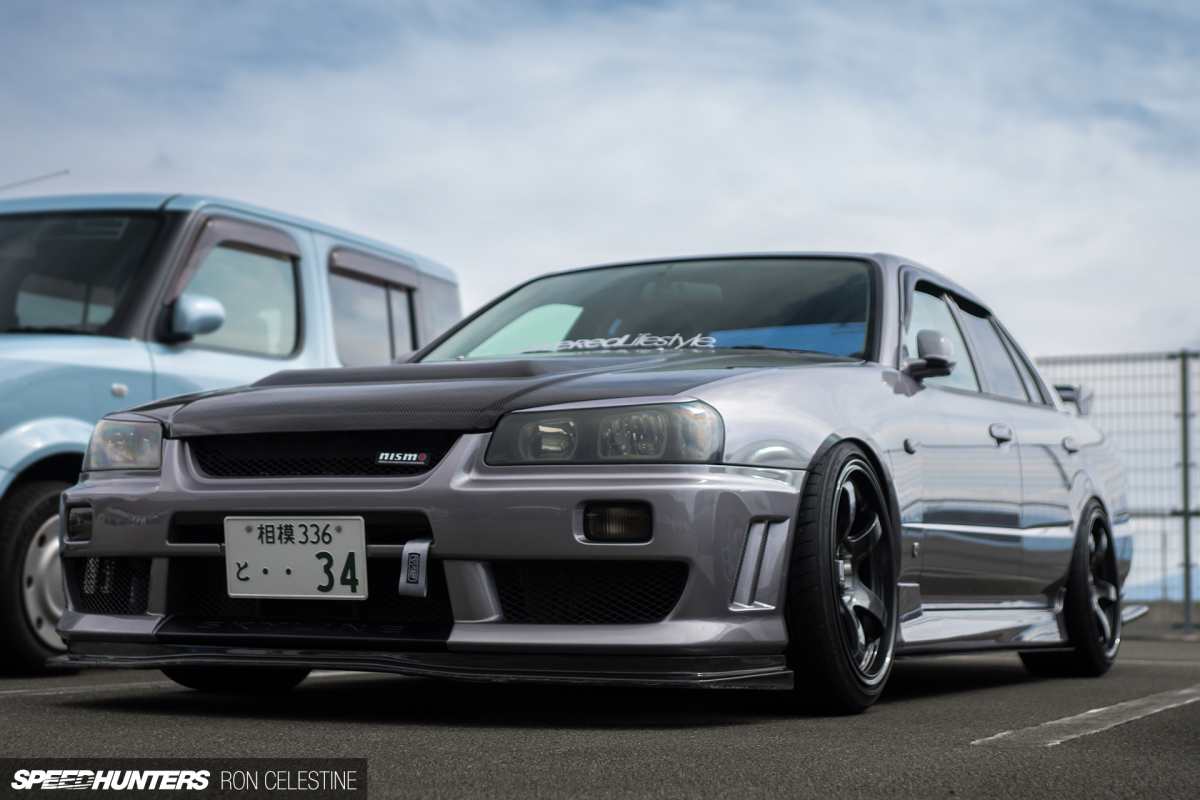 Besides the fact that the ER34 variants are much more affordable than their BNR34 counterpart, the aftermarket support for the lower-spec model gives enthusiasts a vast variety of options to customize and inject their own personality, something that many GT-R owners now fear doing too much of.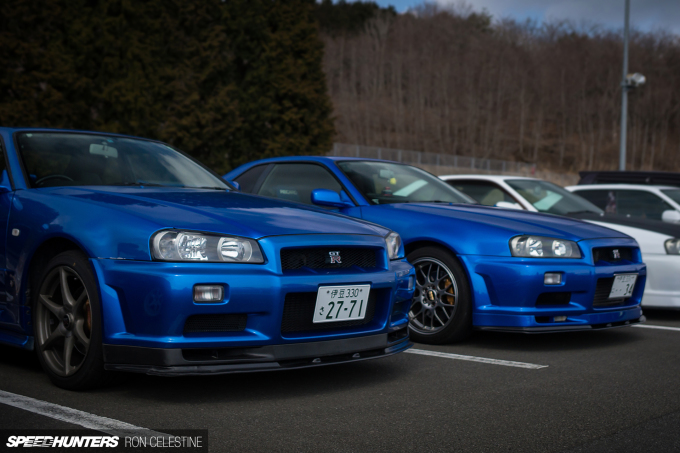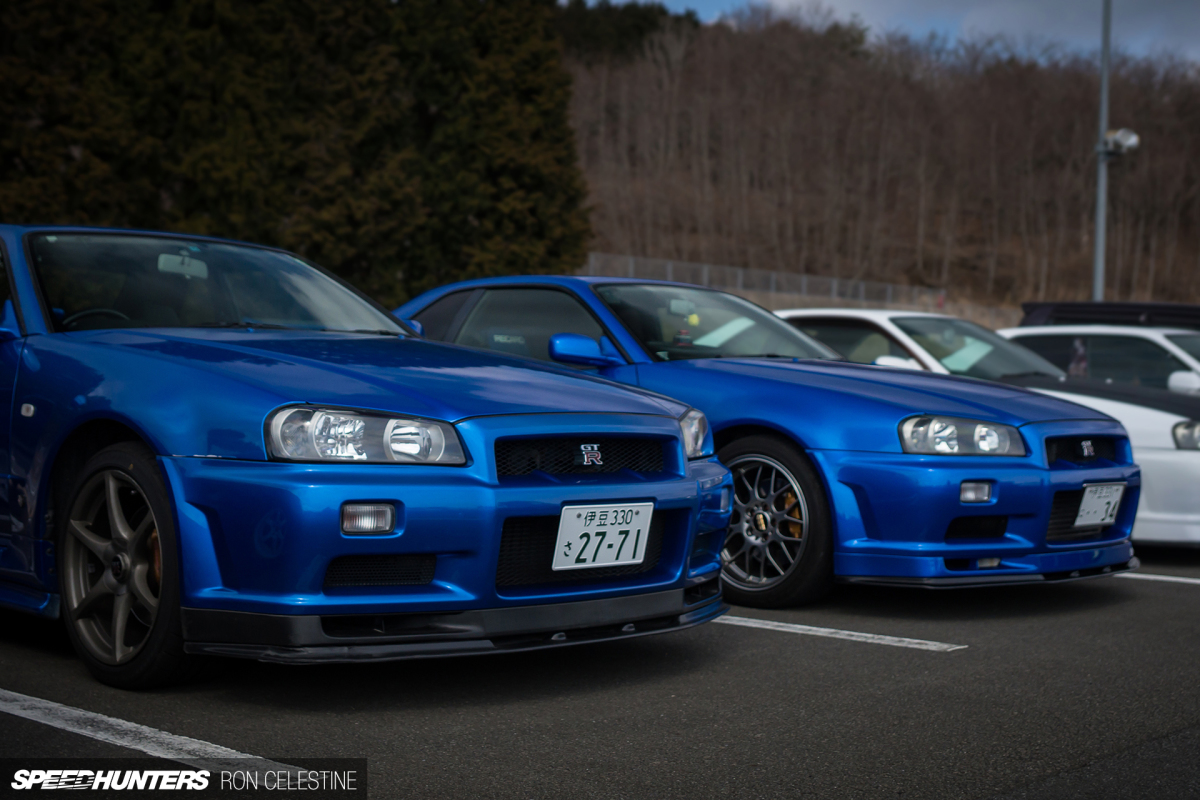 A good example of this restraint could be found in these two GT-Rs parked next to each other. Both looked stunning in Bayside Blue – one standard and one seemingly only lightly modified with BBS LM wheels and Recaro seats.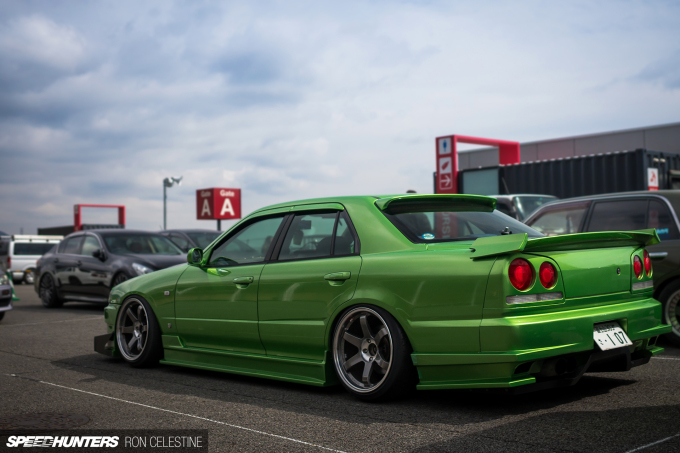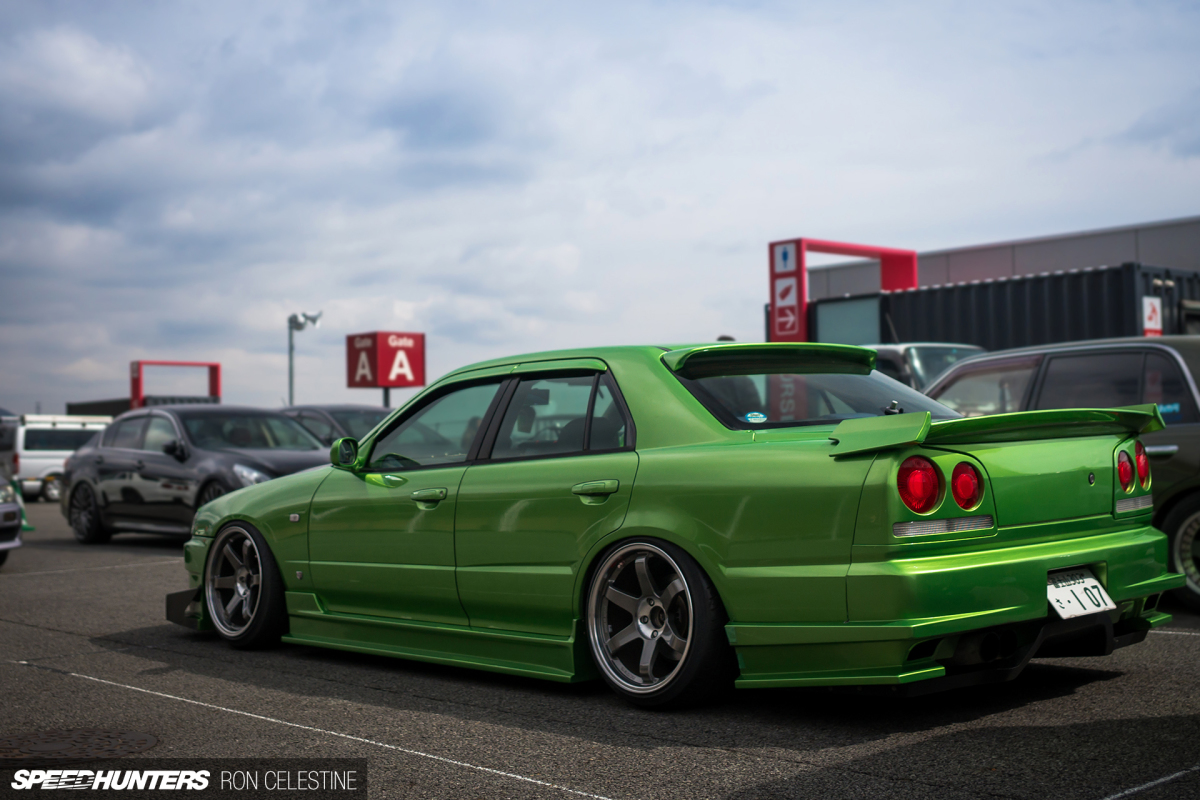 With ER34s though, owners don't seem to be holding back. At R34 Day, it was hard to find two that were alike!
Itasha, which literally translates to 'painful car' (it hurts your eyes to look at), is another way to stand out in the crowd.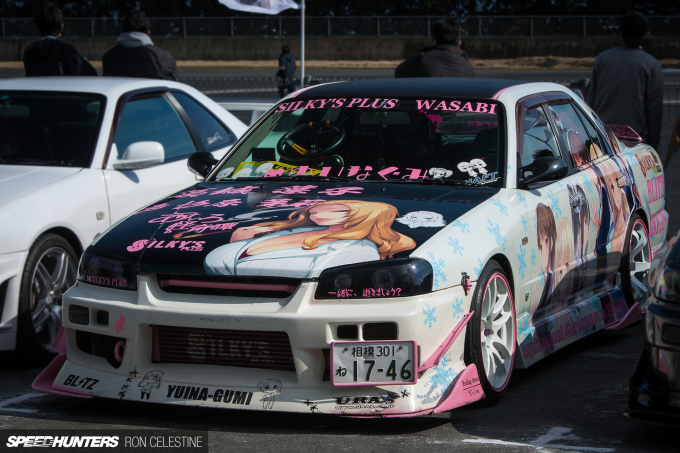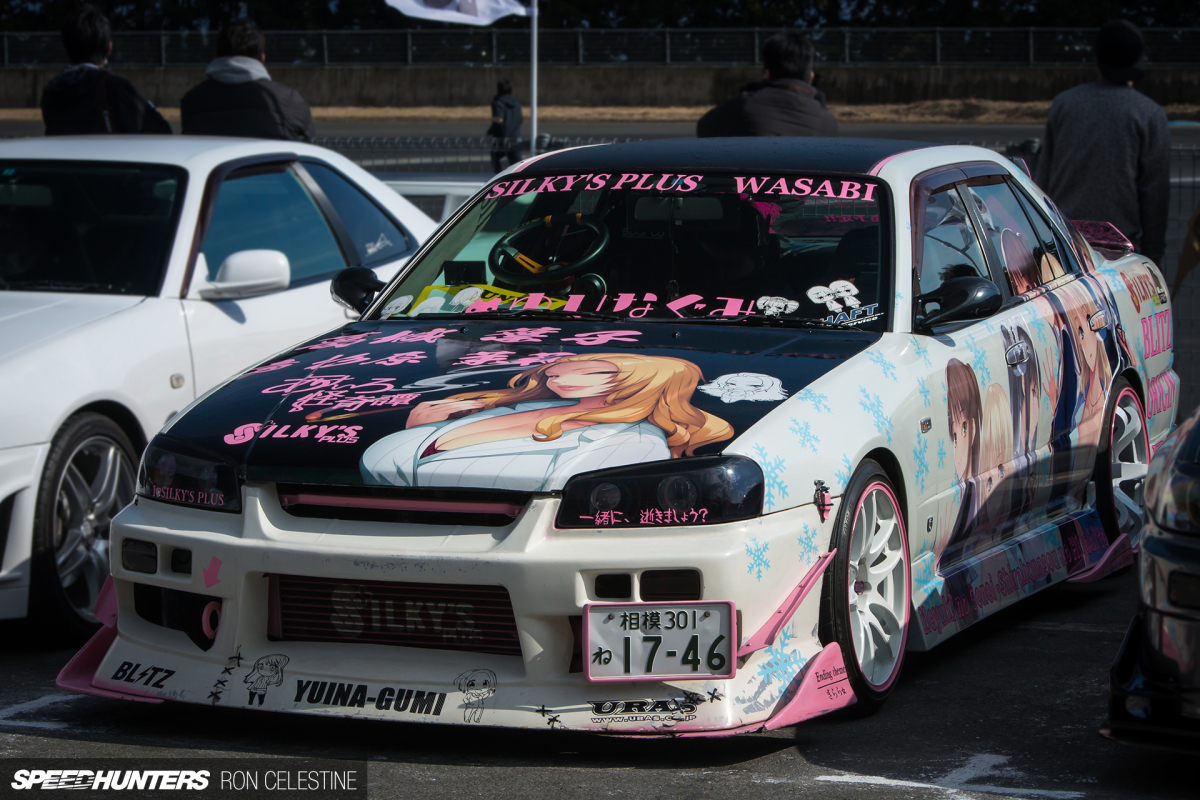 I'm not really a fan, but the unique and almost strictly Japanese styling culture has really piqued my curiosity; I wonder why anyone would want to do this to their car…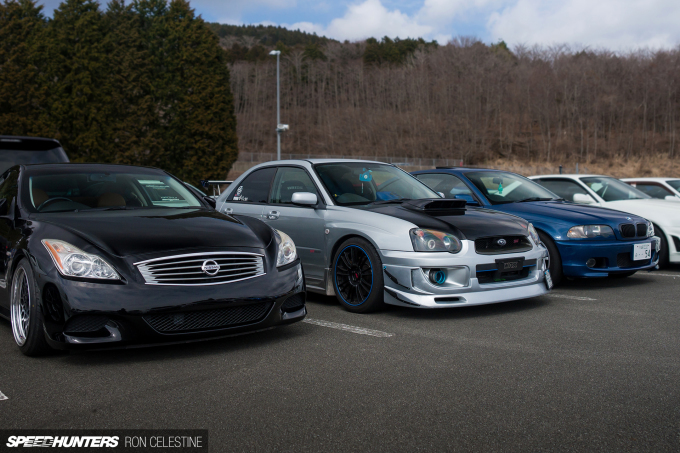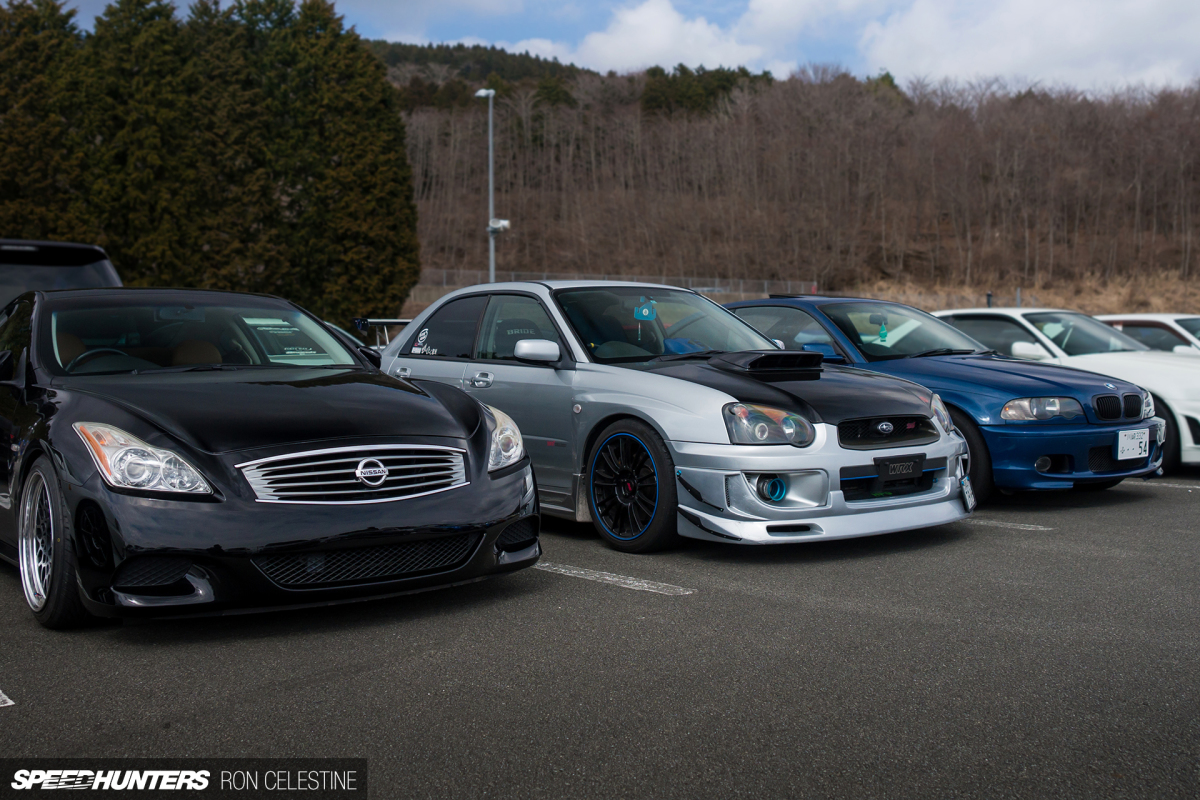 Just because the event was dedicated to R34s didn't mean a few other brands couldn't be found in the massive sea of Skylines.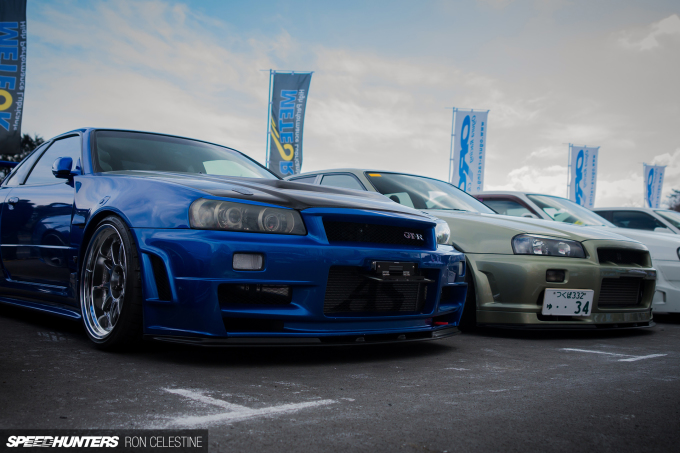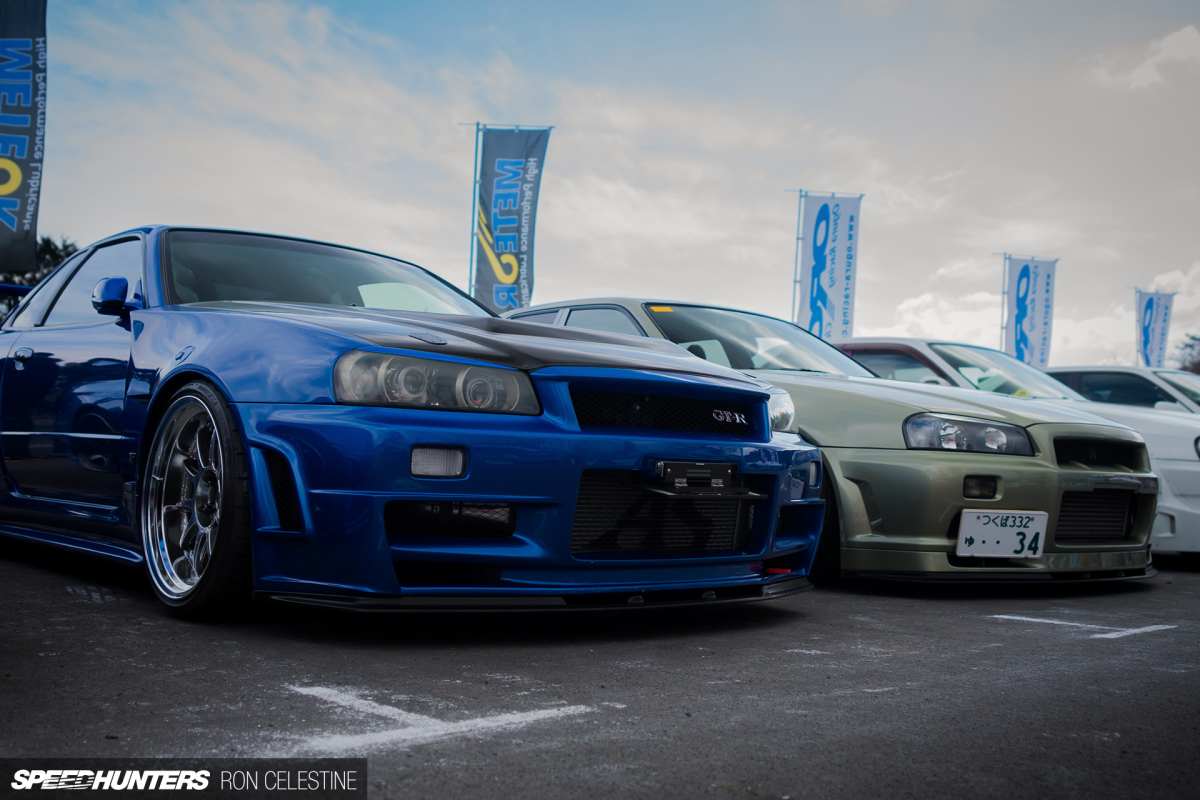 One modification that did seem to be common among many ER34s was the use of BNR34 body parts.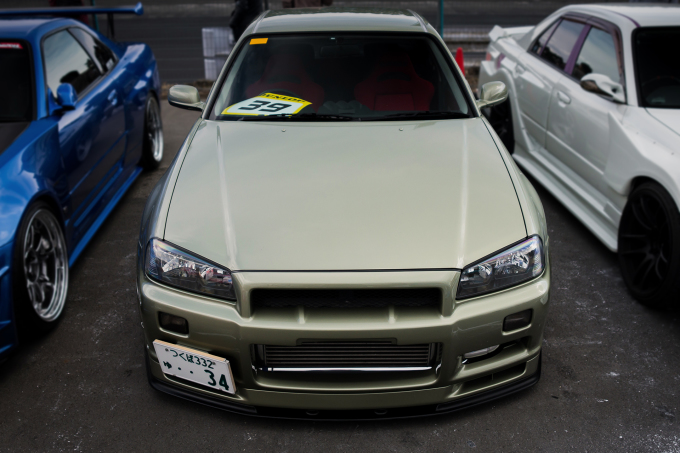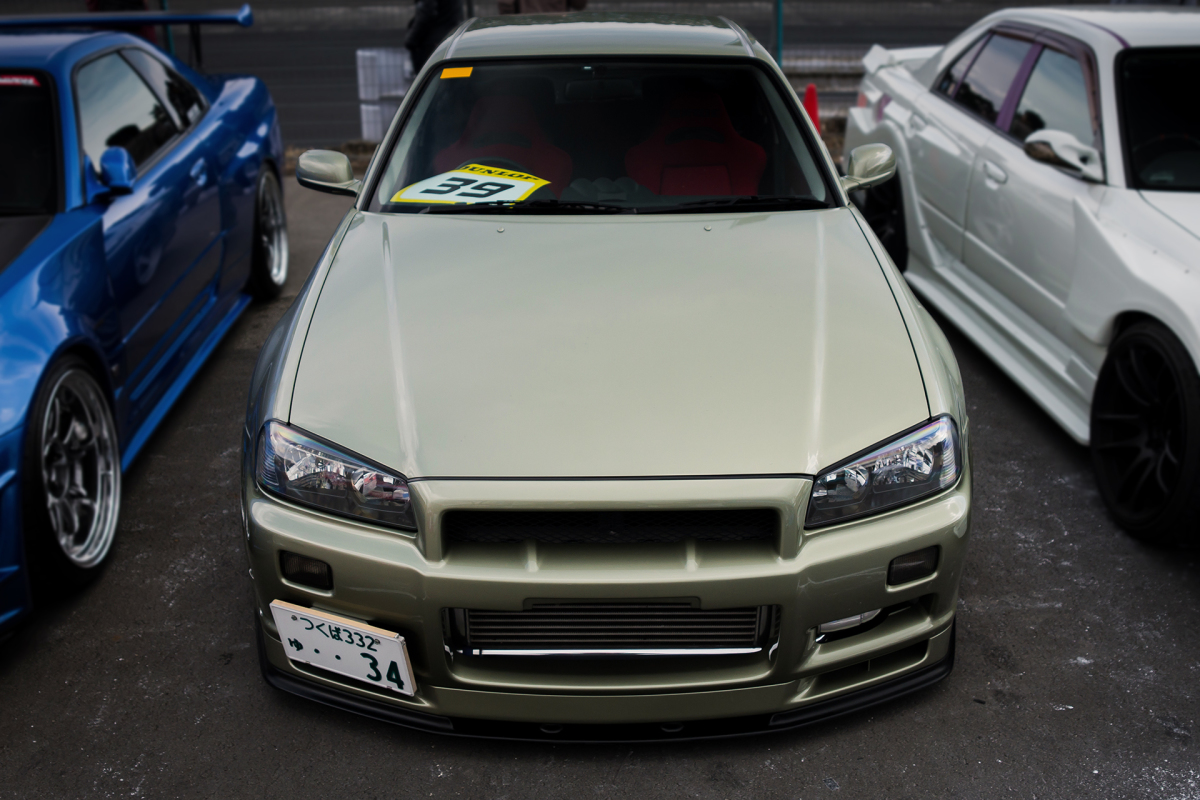 Some of the conversions are quite convincing too, and anyone unfamiliar with this might think that Nissan secretly made a 4-door version of the GT-R.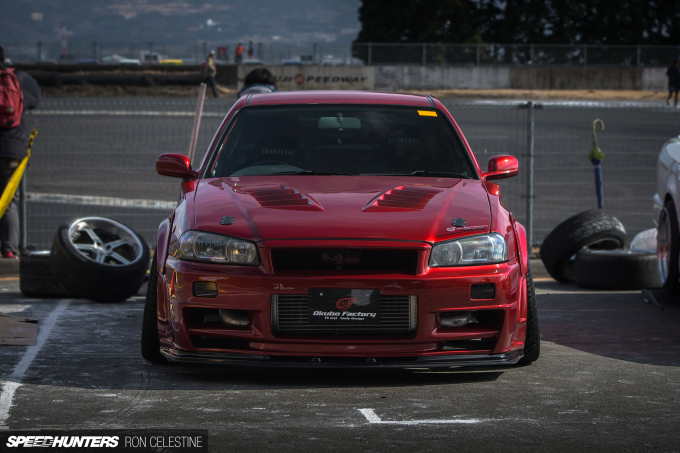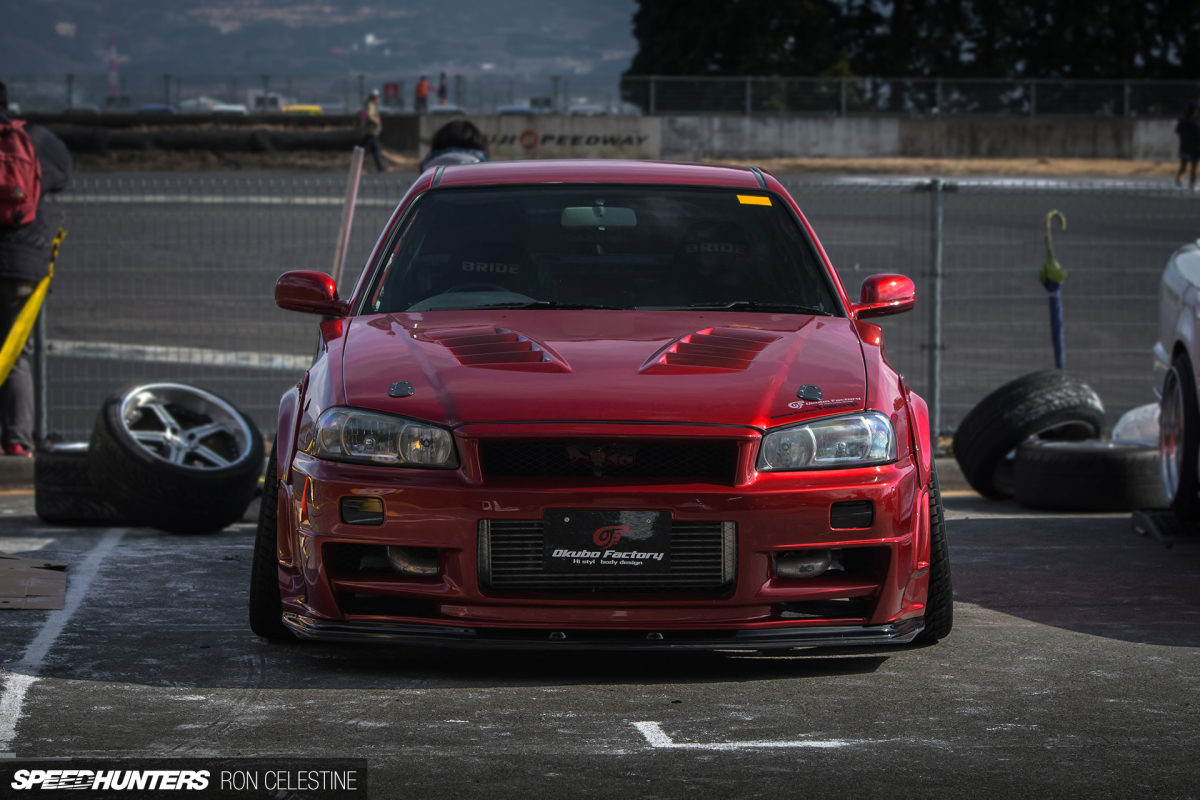 Okubo Factory, which brought out its aggressive drift ER34, is an expert at this trick.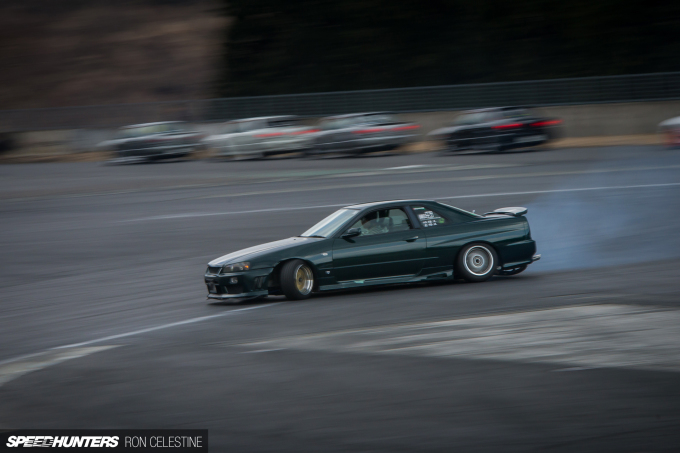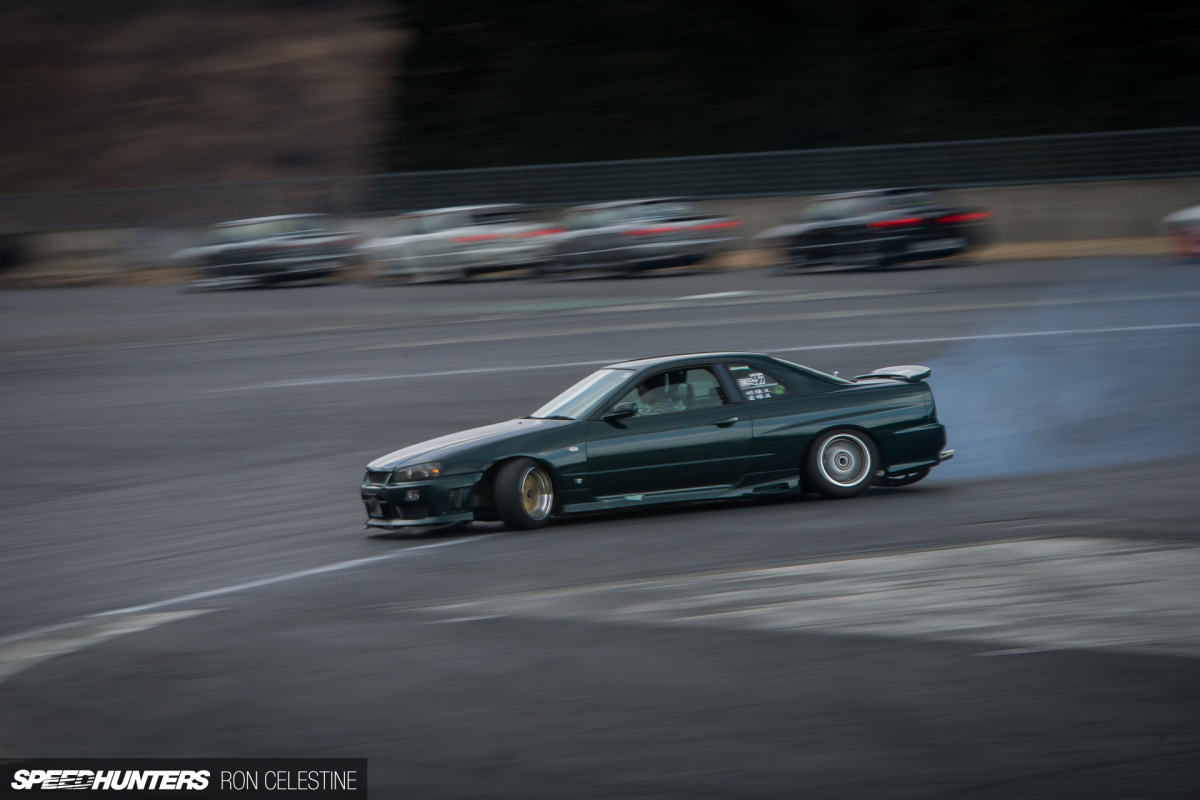 For me, the absolute best thing about the ER34 25GT-T is the fact that being rear-wheel drive, they have the ability to sacrifice tires to the drift gods.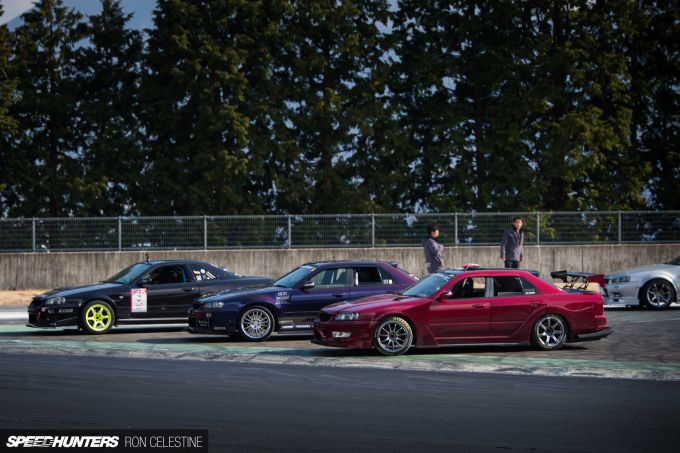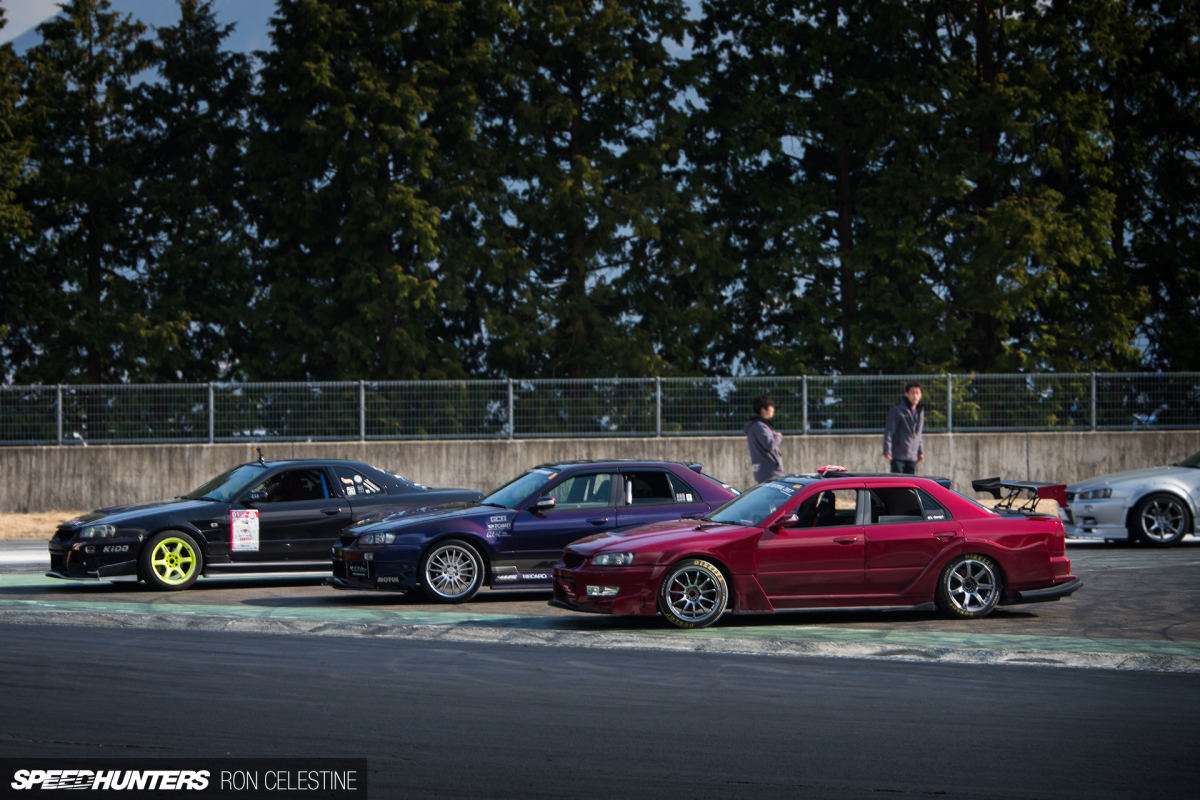 Across from the upper parking lot, Factory Base was hosting a drift event where owners had the opportunity to compete in a tournament-style competition around the tight and technical track.
When their numbers were called out, entered drivers made their run in front of the judges in an effort to advance to the next round.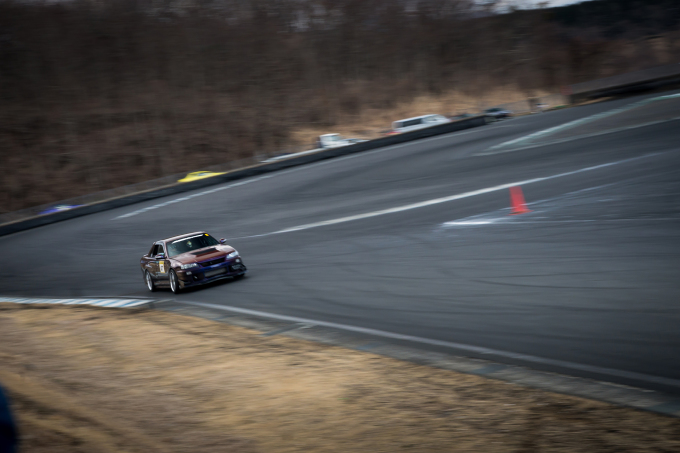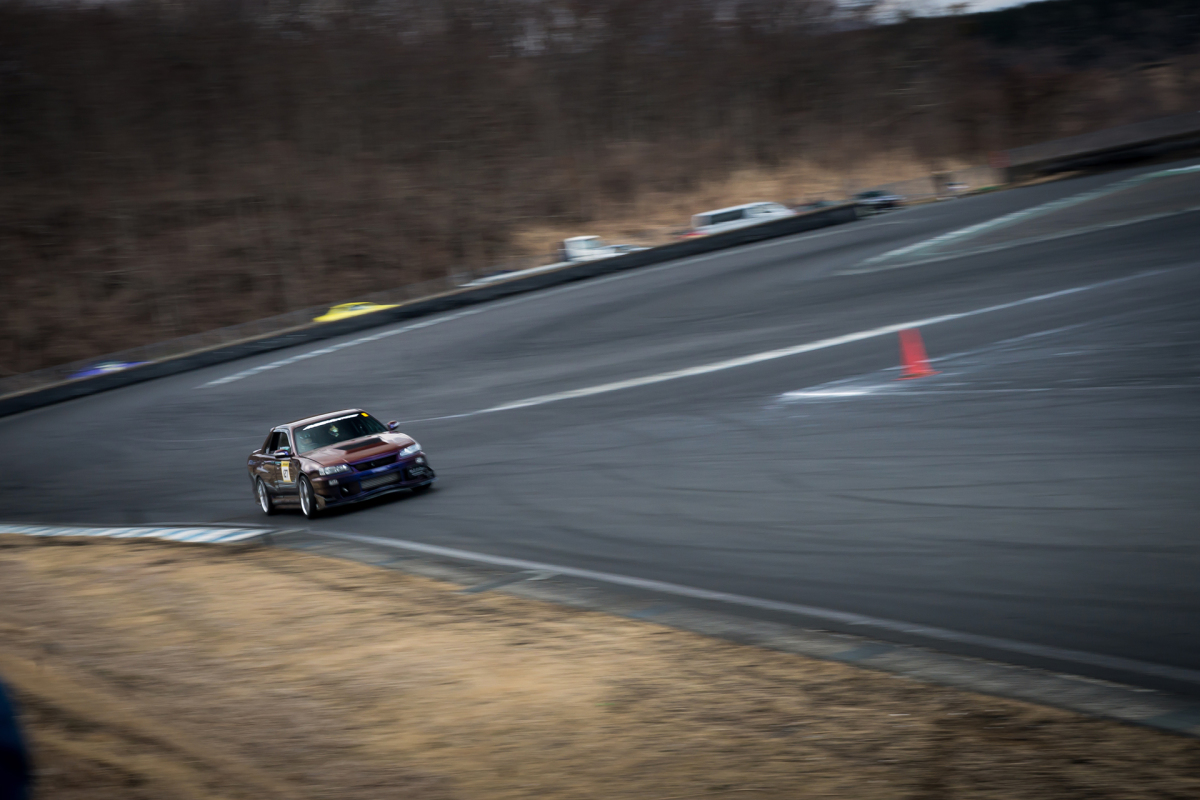 Similar to Formula D, points were award for aggressive entries, minimal corrections during the drift, and of course tire smoke.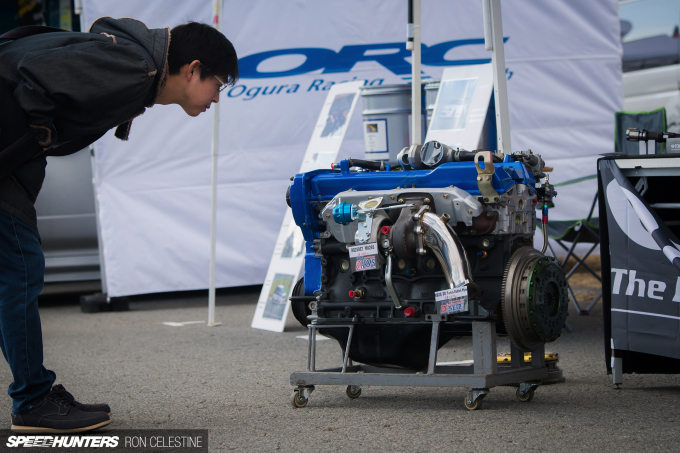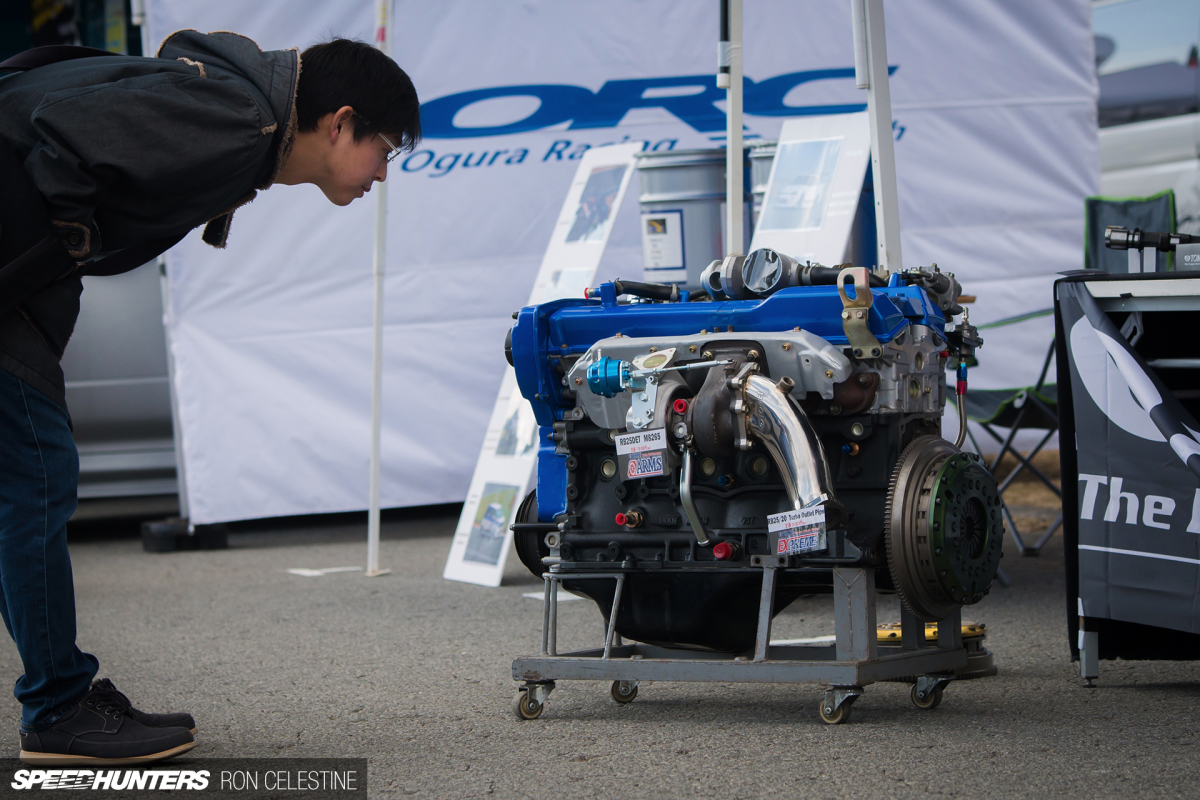 While the oversteer and tire destruction was going on, vendors were lined up showcasing a variety of aftermarket parts. Everything from Bride seats to Tomei turbo kits could be found, waiting to take your R34 to the next level of performance and style.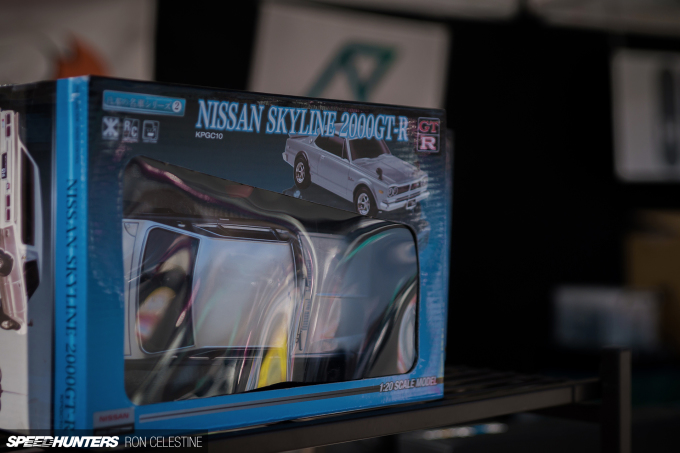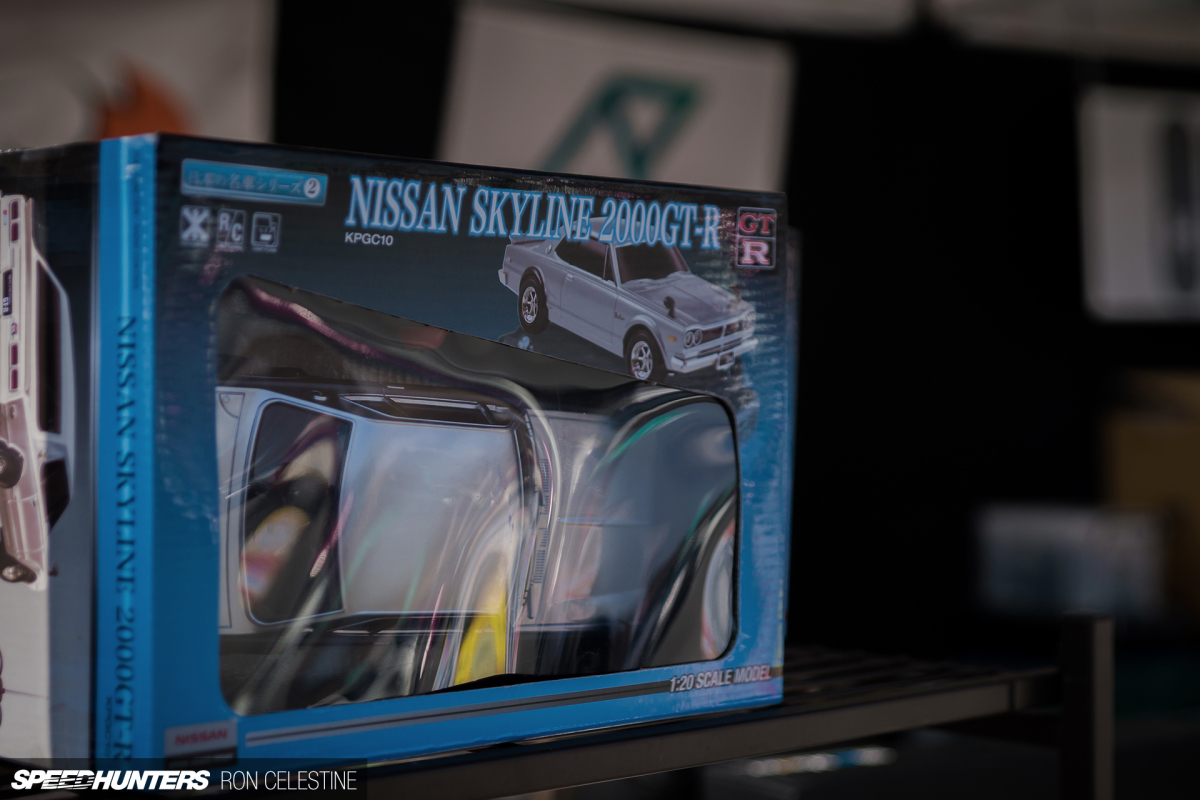 Of course, if overly-priced scale models are you thing, those too could be found at one of the booths.
With the festivities wrapping up, everyone was allowed on the drift course for the annual group picture.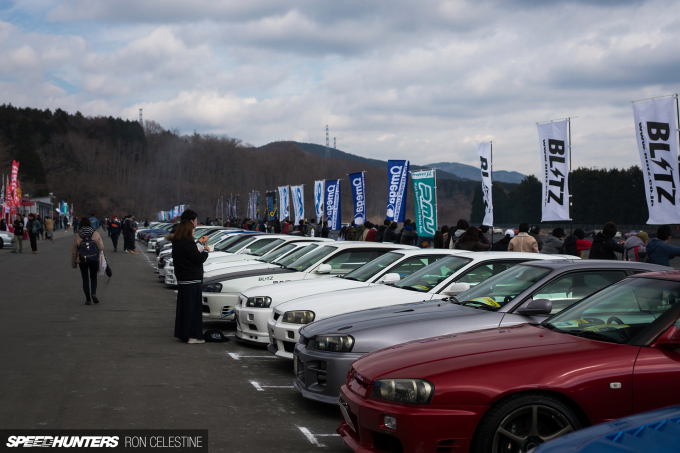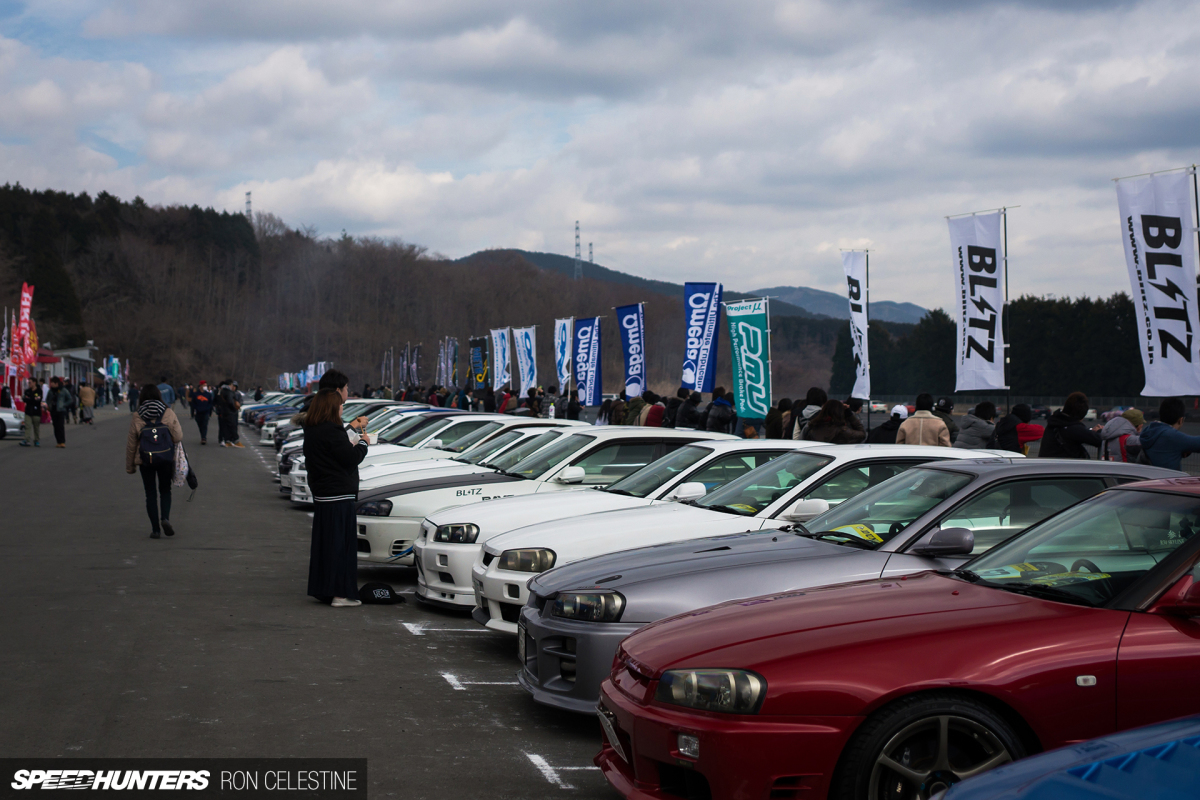 R34 Day was pretty cool, and I have to say that I came away with a newfound respect for the non-GT-R R34s out there.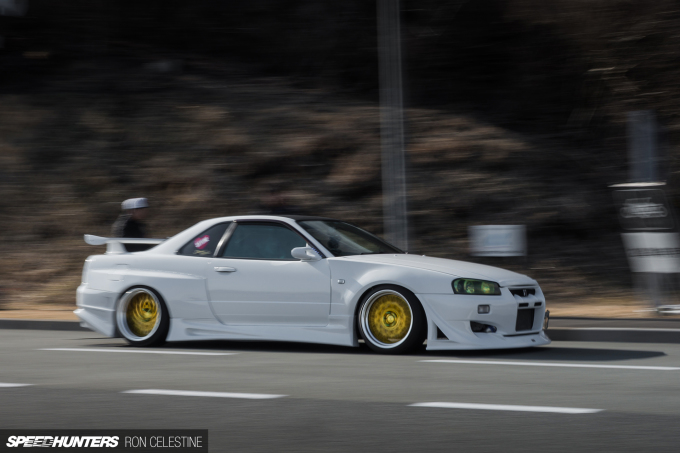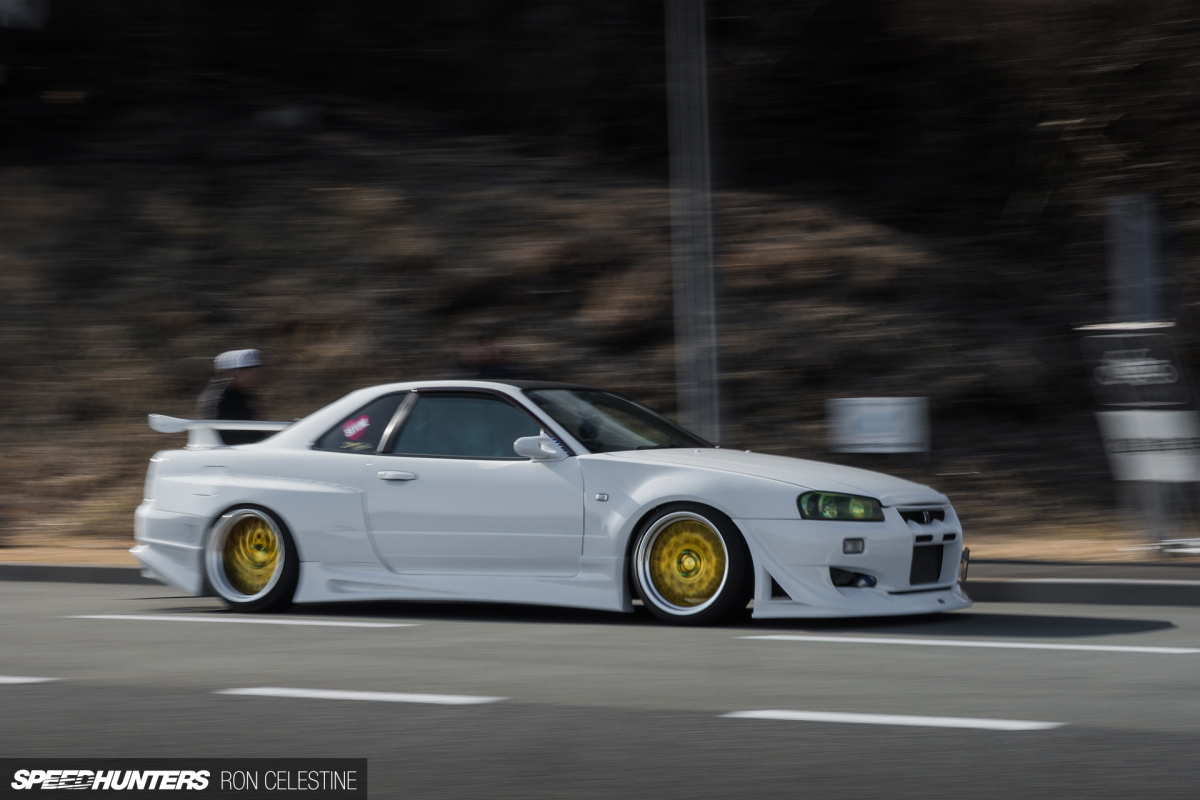 Yes, the BNR34 will always be sought-after, especially given it was the last GT-R to be fitted with the iconic RB26DETT engine, but that doesn't mean an ER34 25GT-T can't be built up into something pretty cool, and more importantly, put a smile on your face.
Ron Celestine
Instagram: celestinephotography
Cutting Room Floor