Time To drift
After checking out Daigo Saito's crazy JZX100 and getting some excitement flowing for the new international drift season which has just kicked off, I wanted to share a slightly more in-depth look at a car we briefly checked out last month: HKS's new Drift 86.
When I headed out to Fuji Speedway's drift course the other week to see Daigo shakedown his D1GP Corvette, the HKS crew brought out a couple of other cars in their race transporter.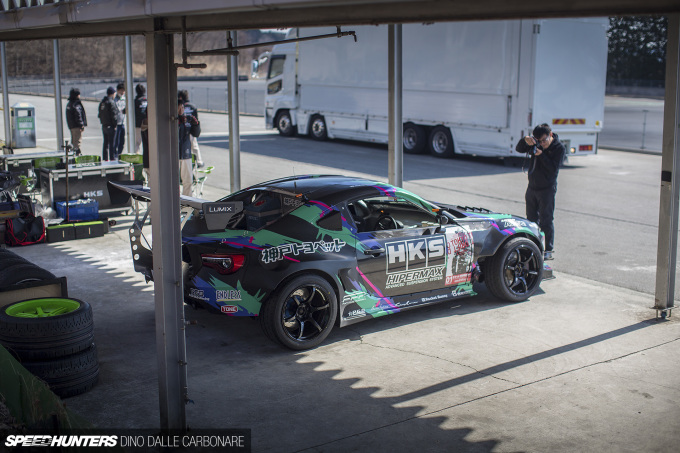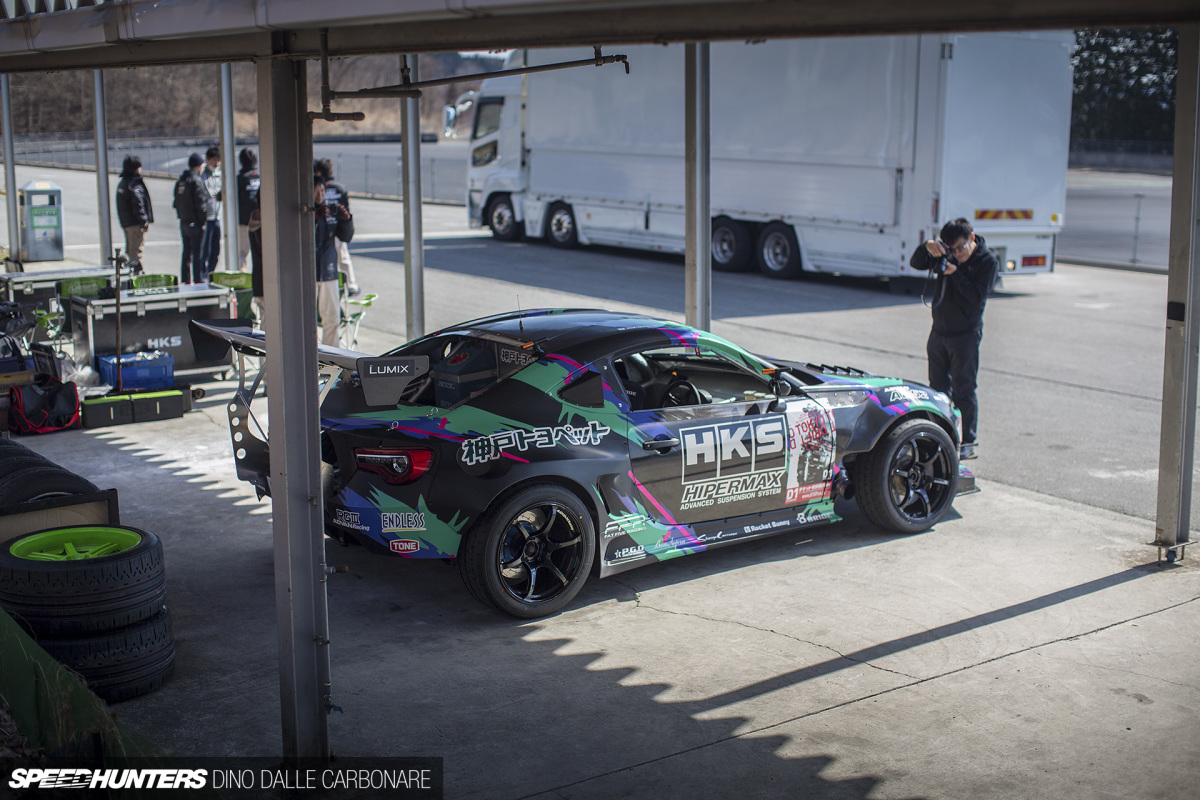 One was the new 86 and the other was Saito's Formula D Japan Nissan R35 GT-R, both of which were on-site to star in a new promotional film by Huxham Creative Studios that'll be coming out soon.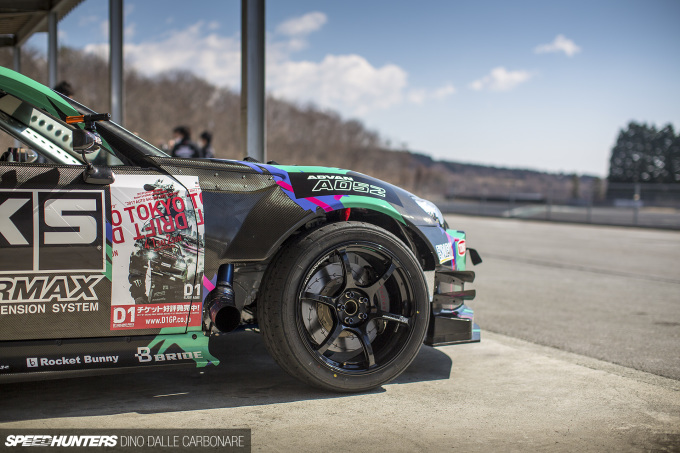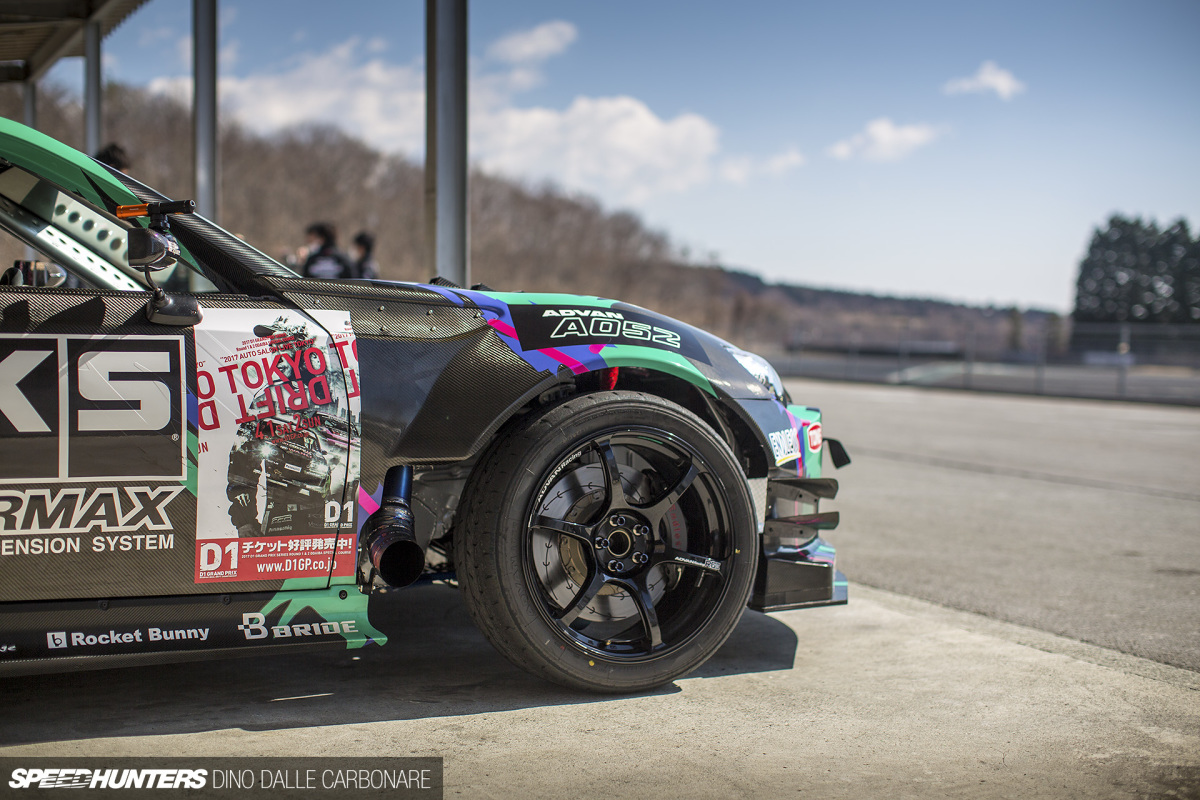 With a lot of the attention in the morning being directed towards the GT-R, the 86 was sitting in a pit space all by itself.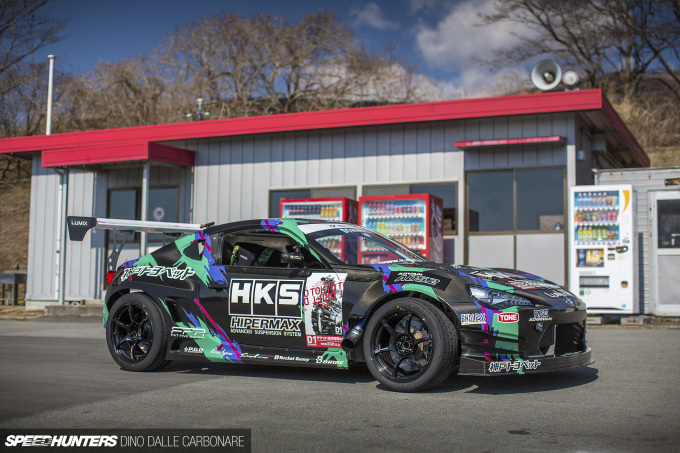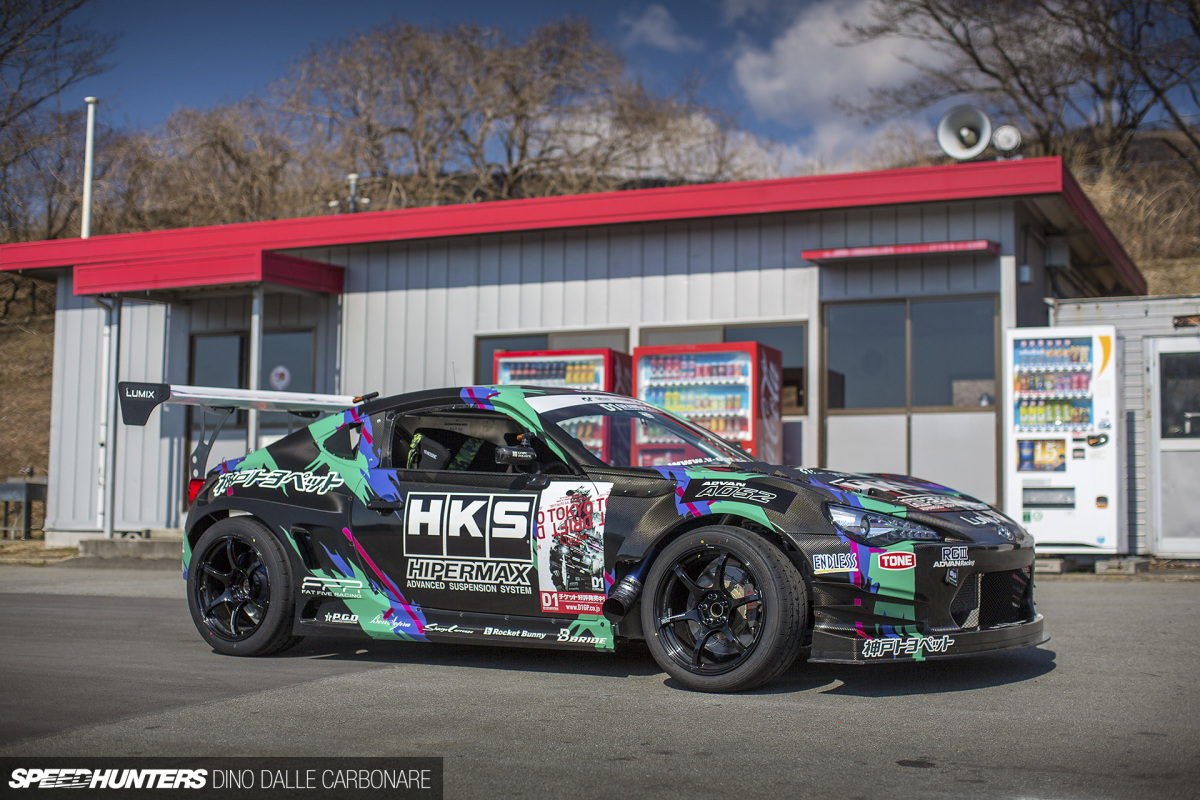 I could have shot it there, anywhere for the opportunity, but the HKS team were more than happy to move it out into the paddock so I could check it out in far more detail than when I first saw it at HKS Premium Day back at the end of January.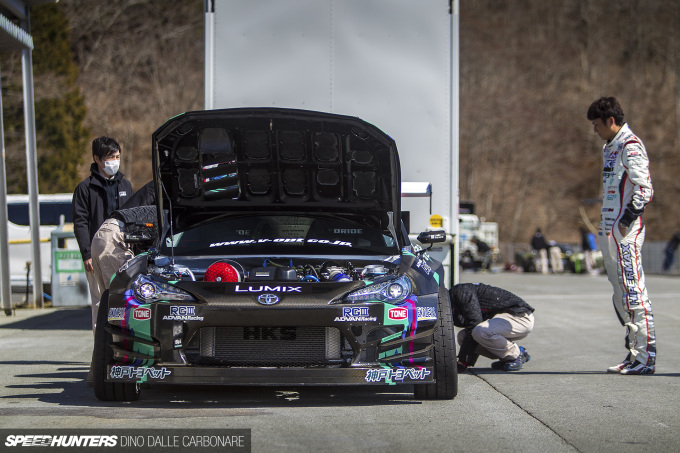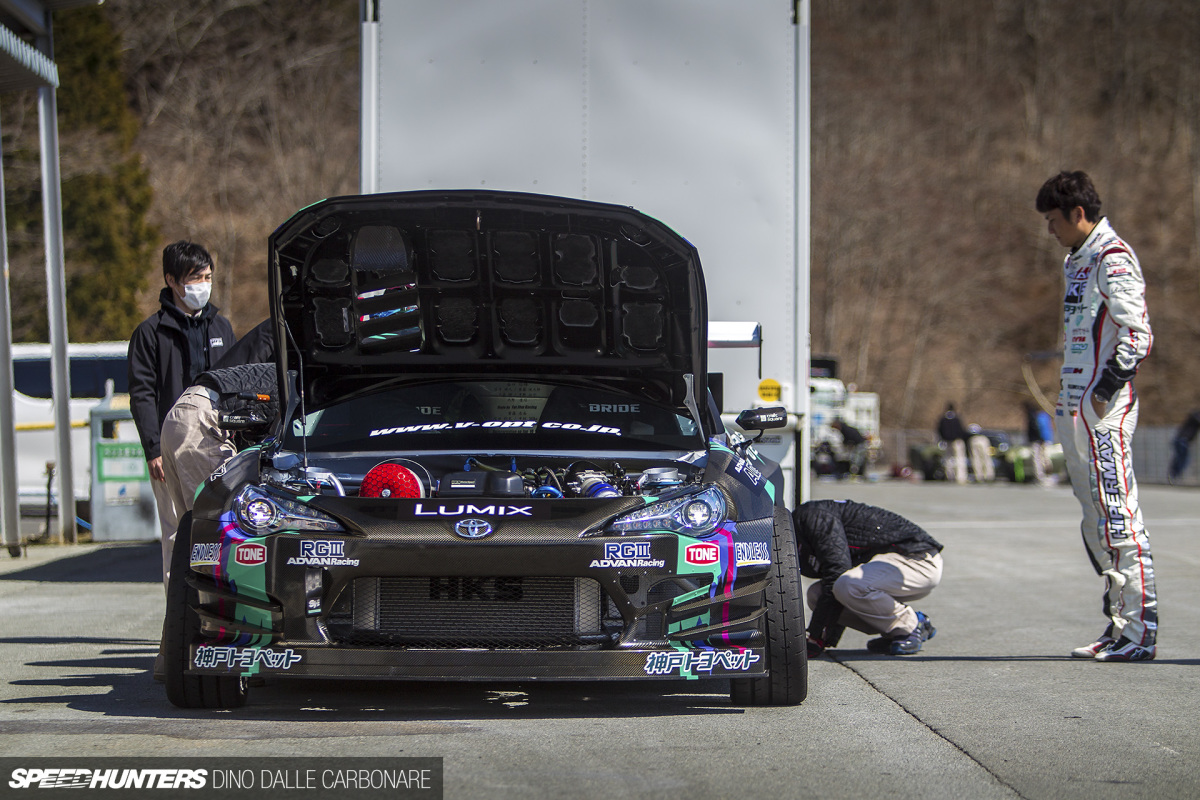 The 86 is actually a collaborative build between HKS and Daigo Saito's Fat Five Racing, but it's not Daigo that's driving it. It's actually Nobuteru "NOB" Taniguchi's new toy, and he was having a blast behind the wheel.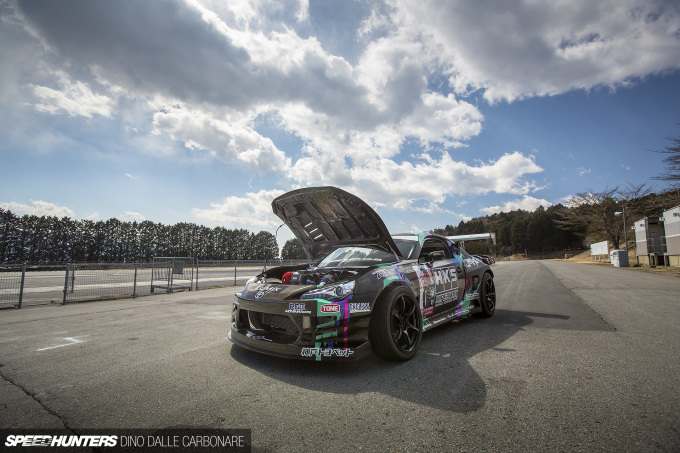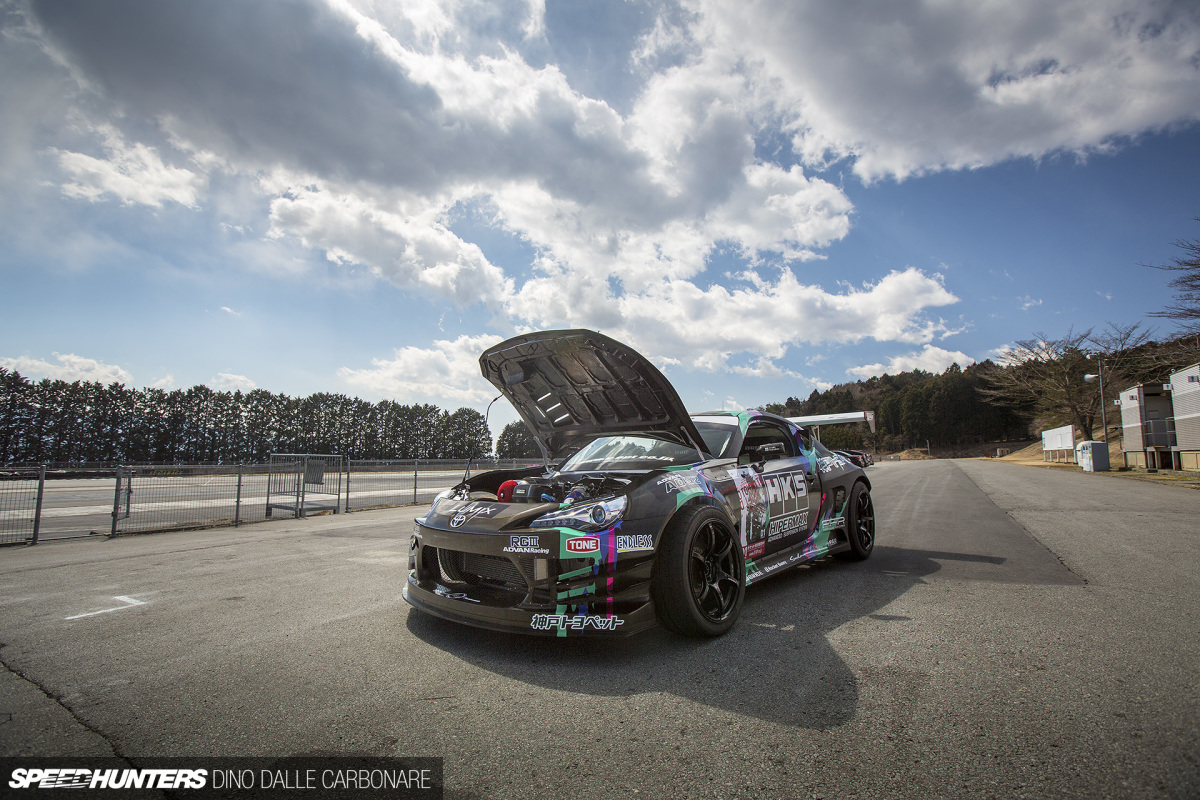 At HKS Premium Day it was really hard to take the car in with so many people gathered around it every time I went to check it out, but not on this day. It was all mine!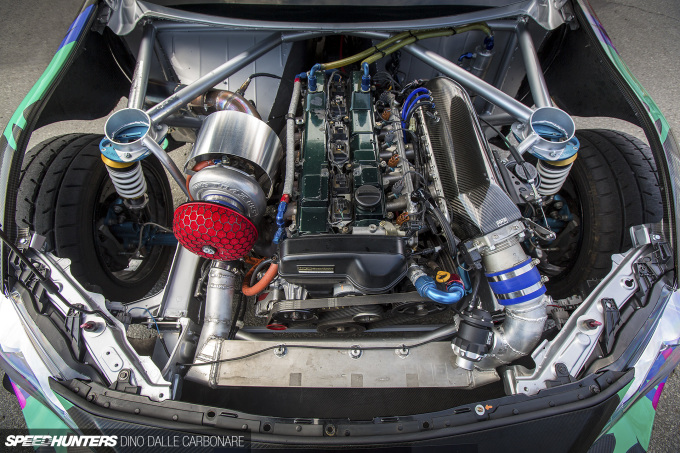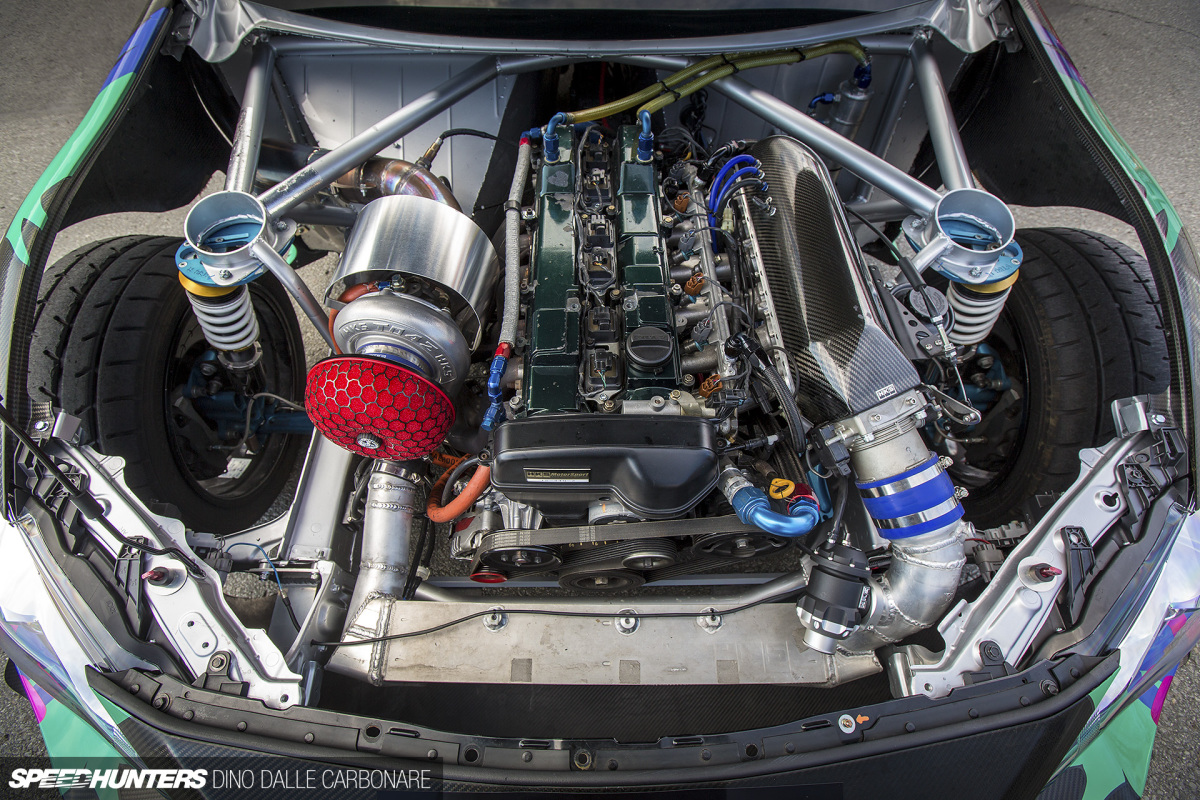 I'm going to get straight to the bit that matters most with this build – the engine. Unlike its new time attack car, HKS didn't for one second assume that the stock 4U-GSE (aka FA20) would suffice in a build of this caliber. Plus, the famous Japanese tuning house has been there and done that with its previous iteration of this car, which also served as a test-bed for pretty much every single engine part that HKS now makes for the Subaru/Toyota flat-four.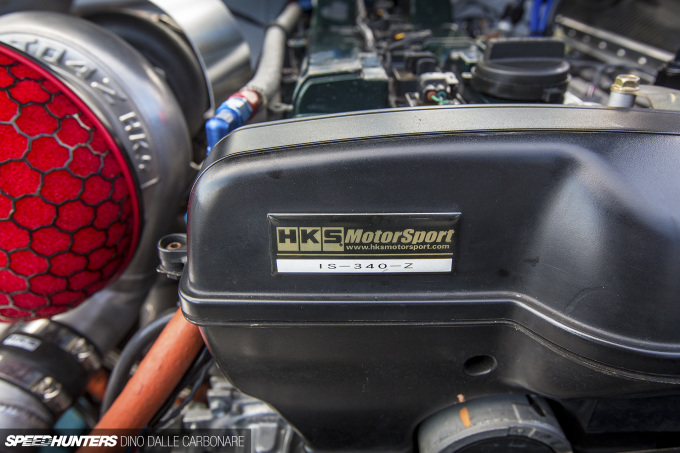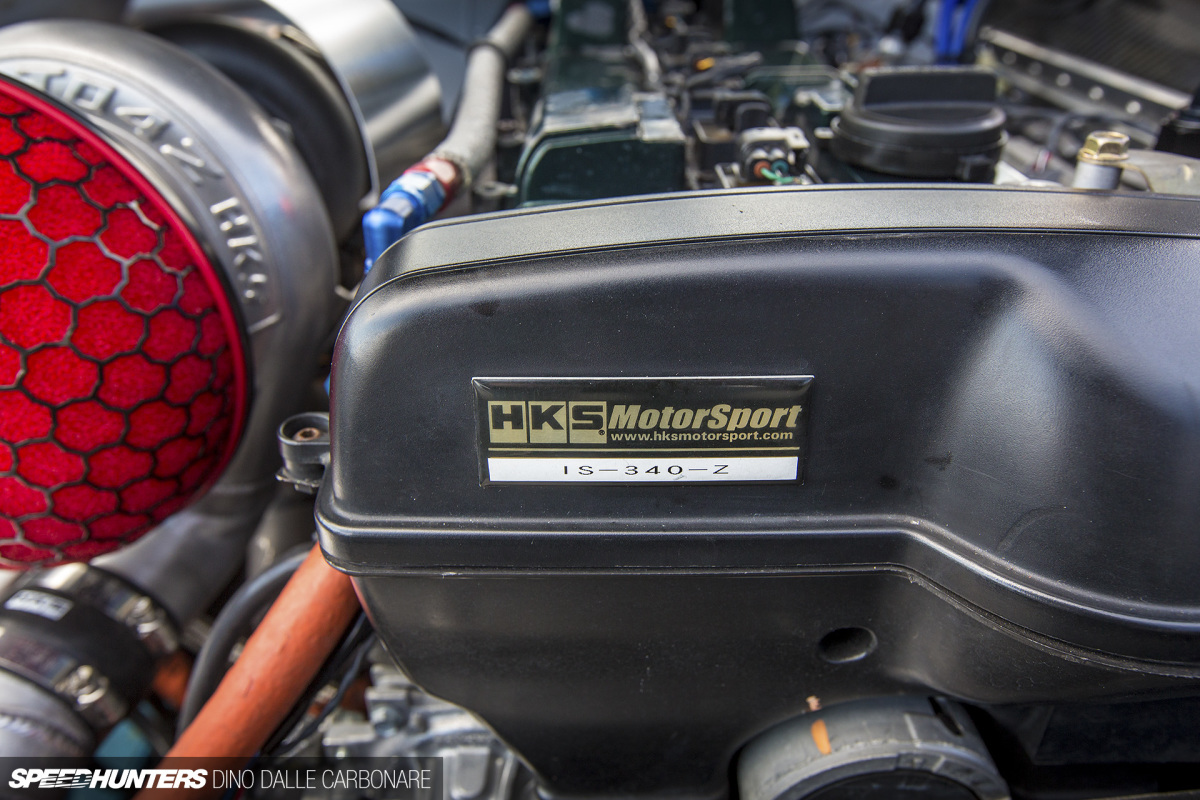 The 2JZ (based on a naturally aspirated 2JZ-GE and not a twin-turbo 2JZ-GTE) has the seal of excellence – an "HKS MotorSport" plaque applied to the plastic cam cover, hinting at the fact it's fully loaded with the finest HKS components and probably some secret ingredients too. What is known is that it features an HKS 3.4L stroker kit, some refinement to the intake and exhaust ports as well as HKS cams – 280°/9.3mm lift for both the intake and exhaust.
The engine is currently serving as an R&D tool for HKS's new prototype GTIII 4R single turbo, a replacement for the iconic HKS T51R which should be released later in the year. Even though it looks like a T51R, its internals are quite different, utilizing Mitsubishi's latest bearing and vane technology. I love the carbon HKS Racing Surge Tank and the look of that new HKS blow-off valve.
It all translates to 700PS and 800Nm of torque developed at 1.8bar (26.5psi) boost. Those sound like pretty conservative figures to me, but I guess HKS likes to err on the side of caution rather than over-quoting numbers.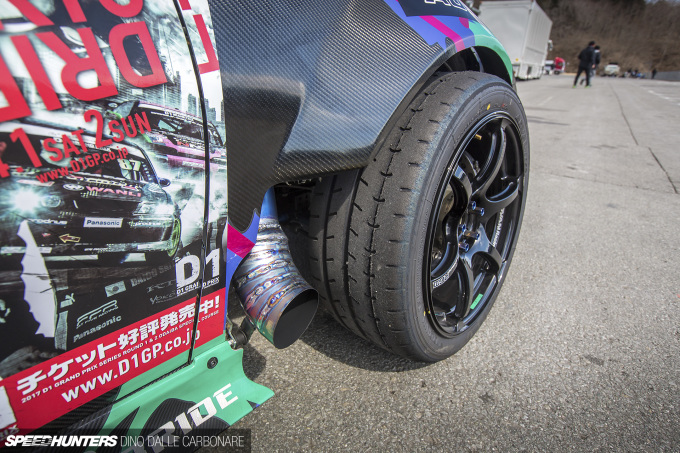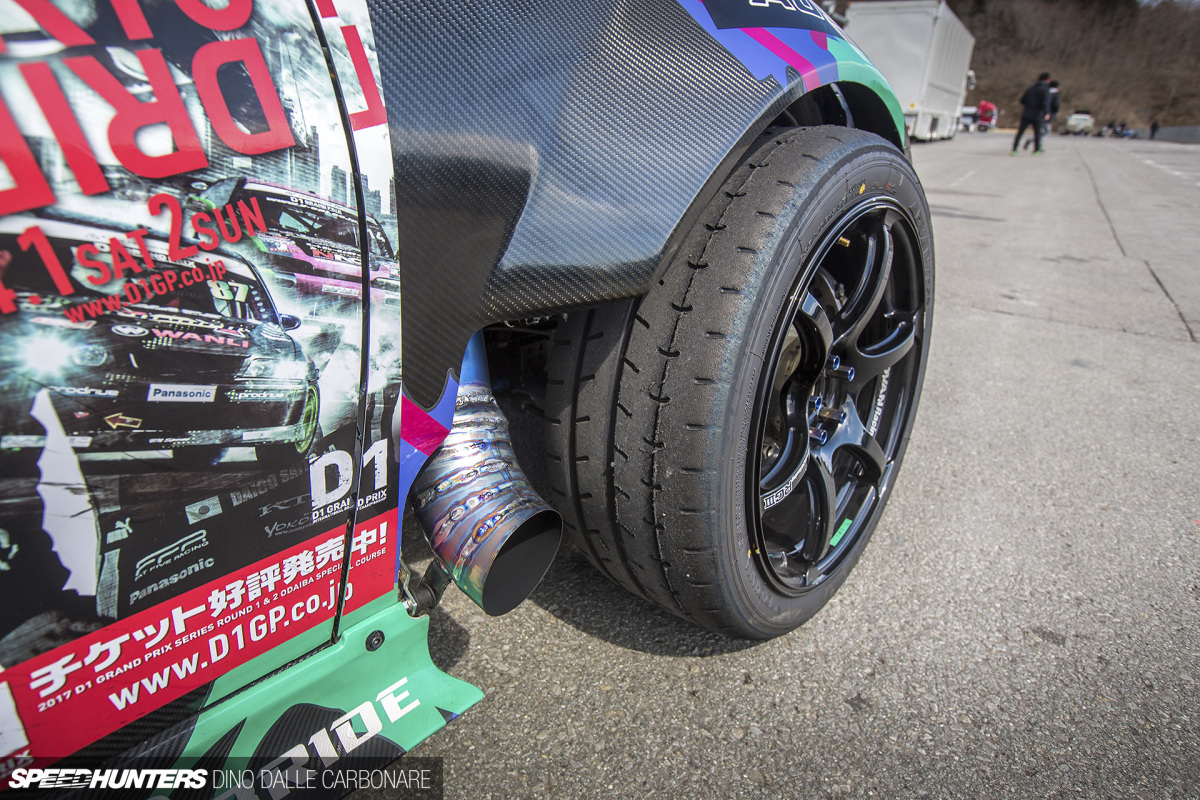 Since we last saw the car there have been a few small upgrades made, one of which is the lengthening of the side-exit exhaust by an inch or so. It's probably to ensure the composite bodywork doesn't burn with every backfire!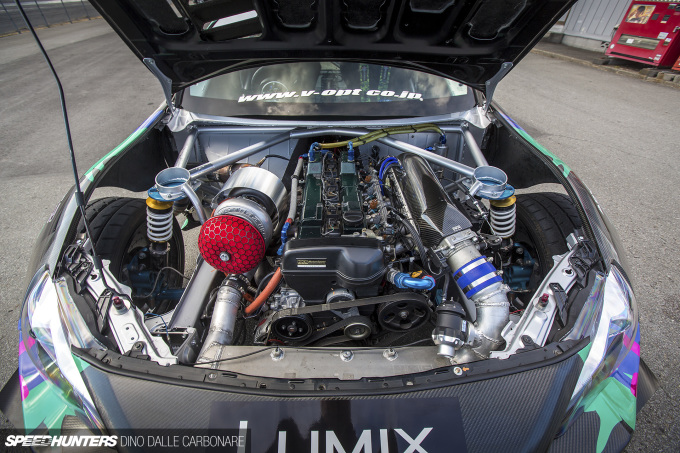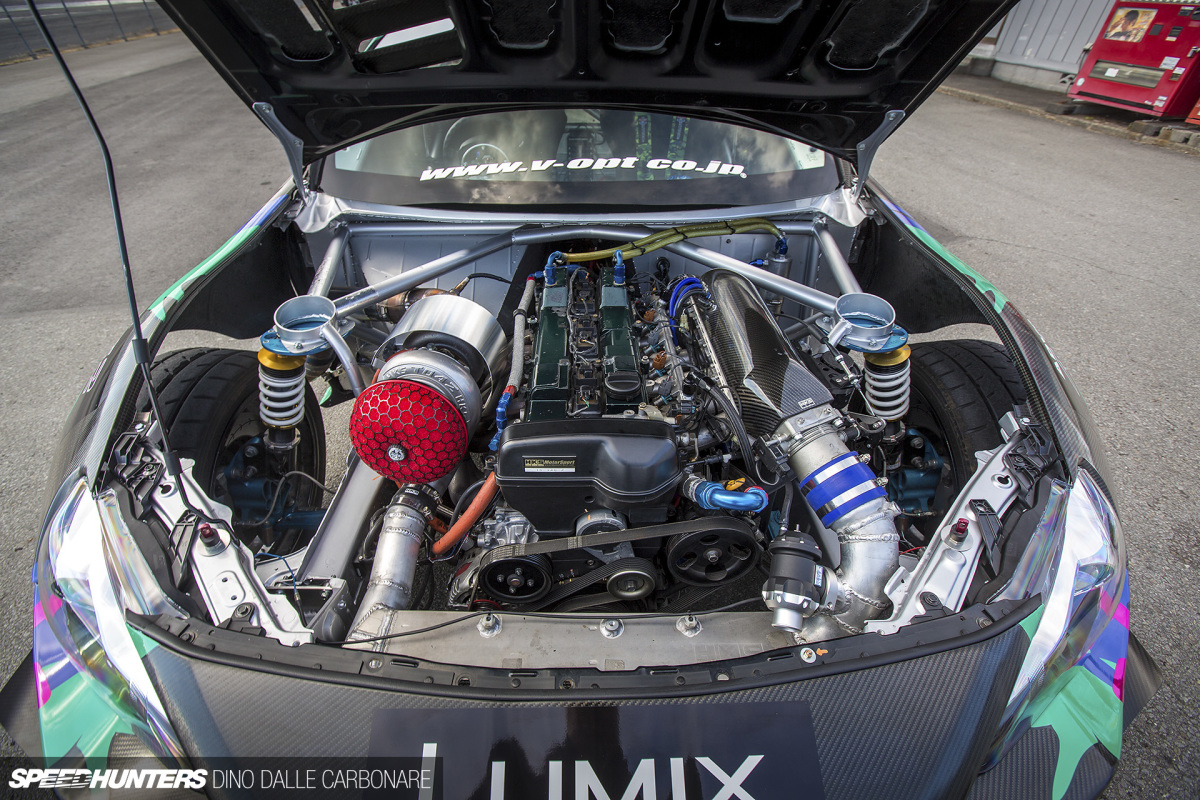 As a whole, the Drift 86 is a real sight to behold; you truly see the signature look of HKS mechanicals mated to the wild look of a chassis prepped by Daigo Saito and Fat Five Racing.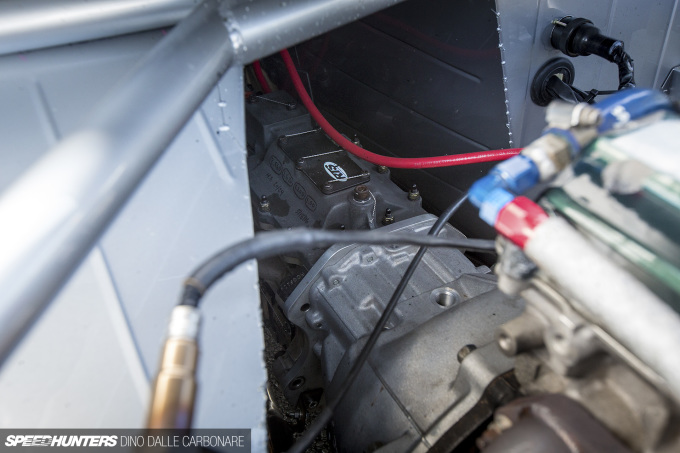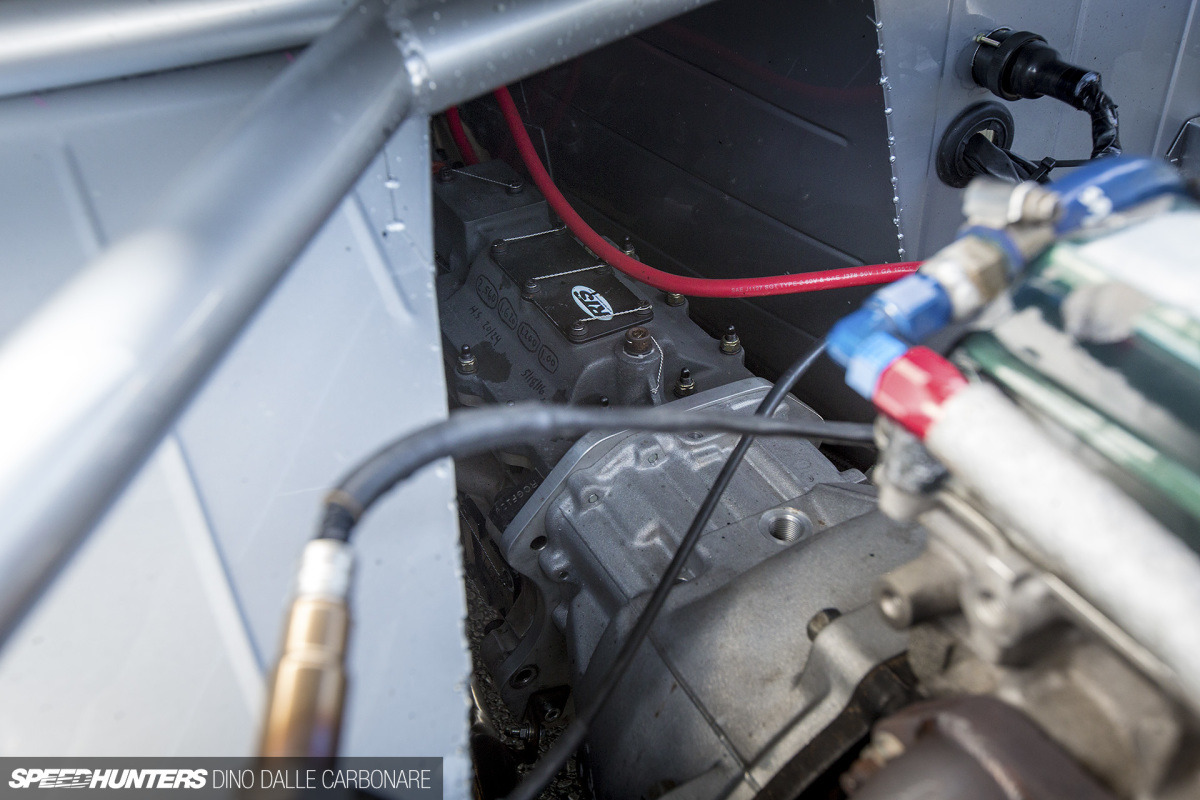 A beefy G-Force 4-speed gearbox was chosen for its proven reliability in big-power FD and D1 cars, and also because of its simplicity over a sequential transmission.
If you thought Daigo's JZX100 defined minimalism, the HKS 86 takes it a step further. Save for the two main rails, the front part of the chassis has been chopped clean off and replaced with a tubular structure that holds up the suspension uprights. It's skeletal and simple but effective, and does away with the need for an actual inner wheel arch. Remember when front-end tubbing was big in drift cars? Yeah, old school – you should all be doing this now. The car runs Wisefab lower arms and adjustable camber plates, while the knuckles are from Heyman. HKS Hipermax IV SP drift-spec coilovers are employed at each corner.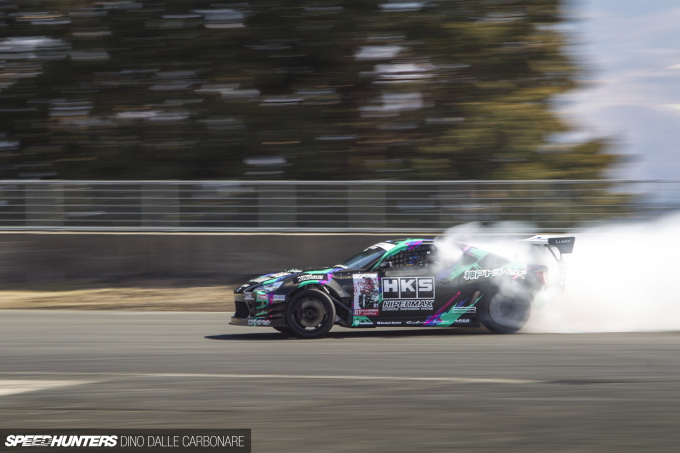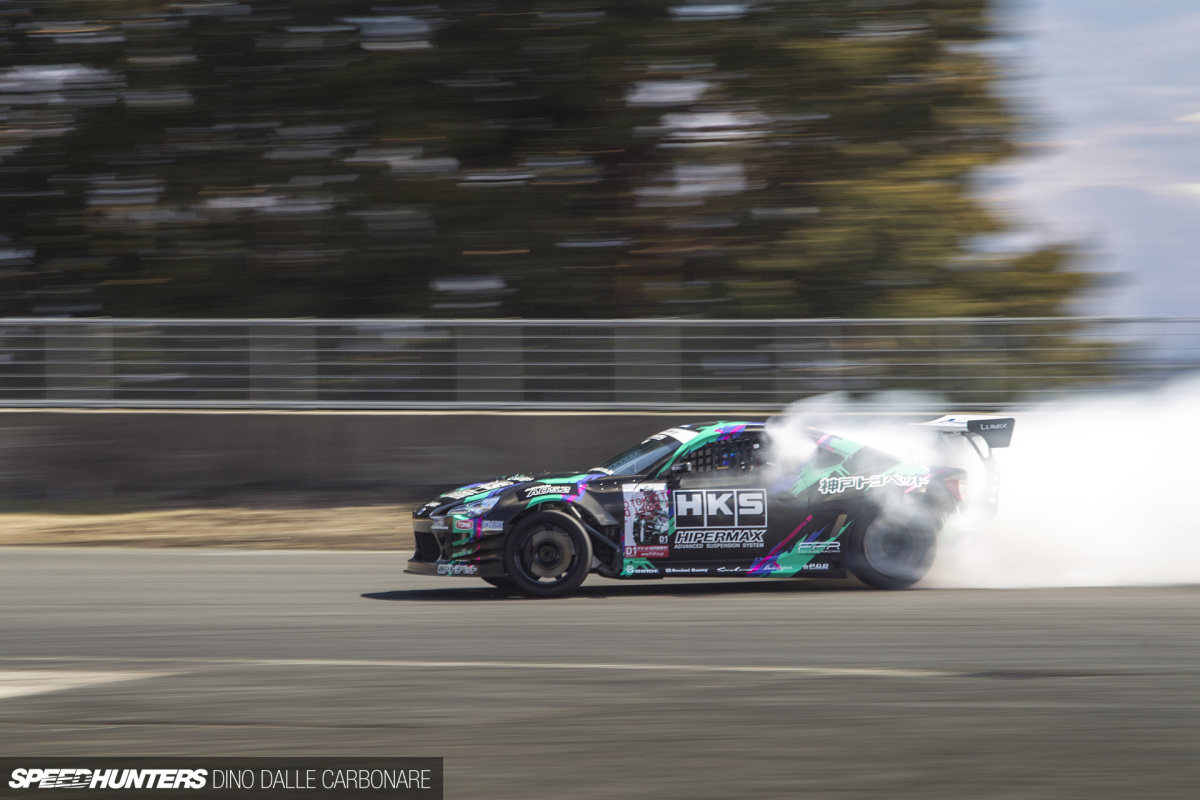 Together, it's brutally effective in Taniguchi's hands. The 86 obviously has a ton of power thanks also to the minimal curb weight, and it looked very manoeuvrable and adjustable throughout the initiation and mid-section of the drift. From then on it's all about power!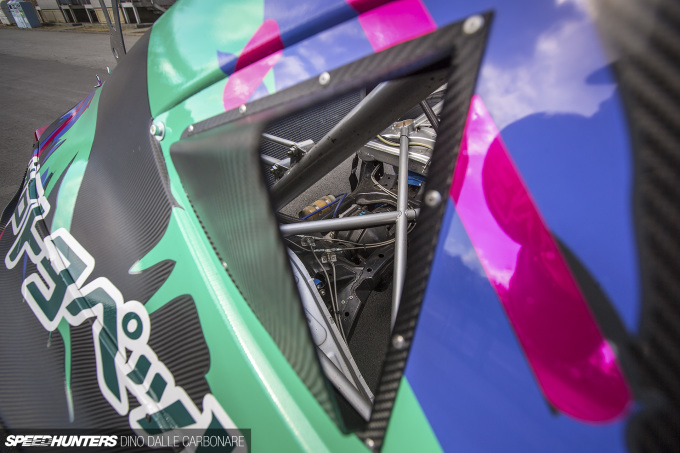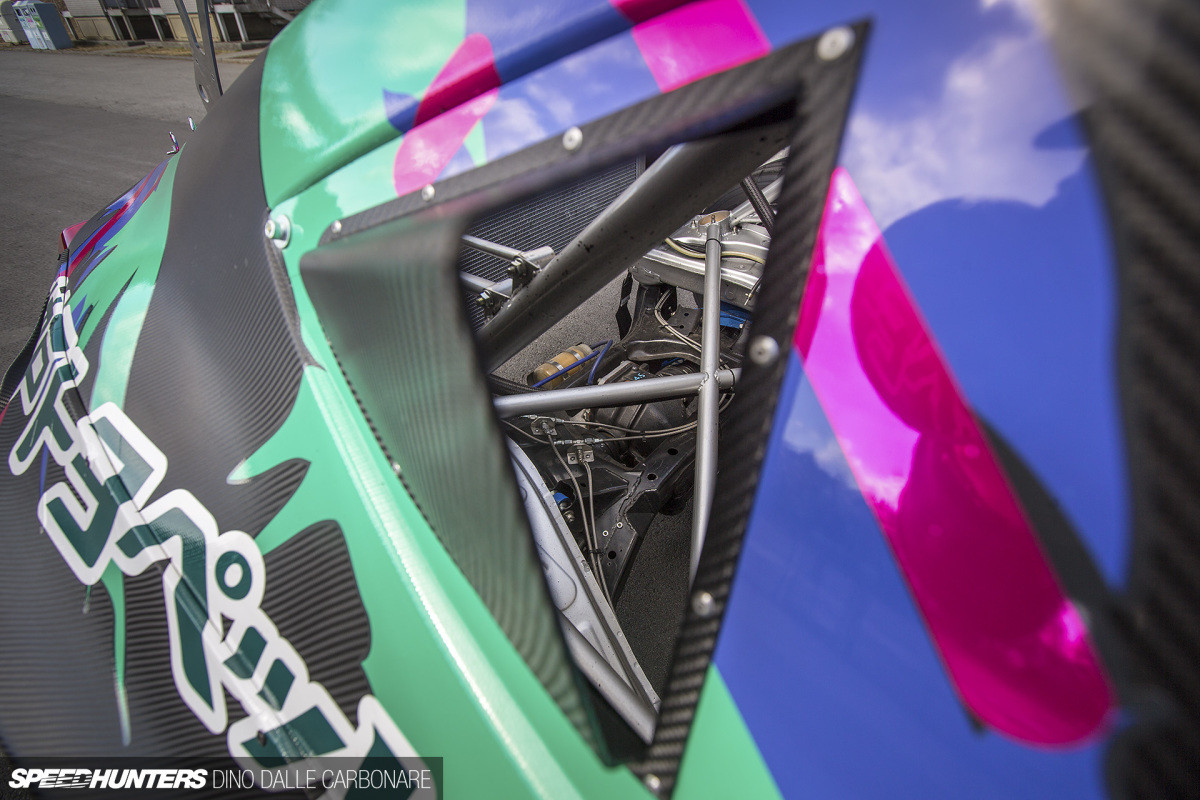 Behind the cockpit, the skeletal theme continues.
Keeping It light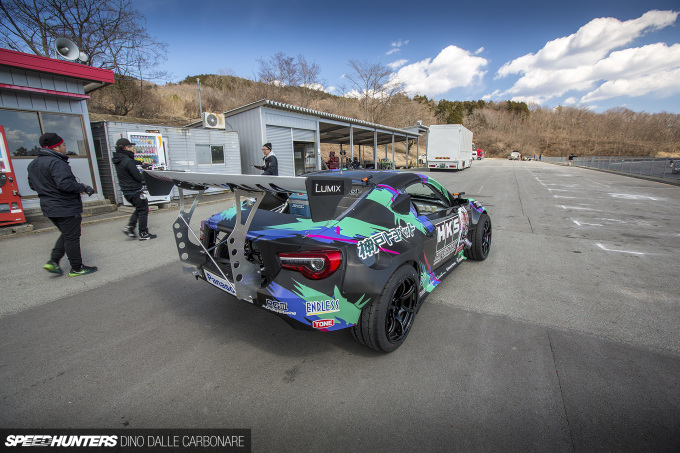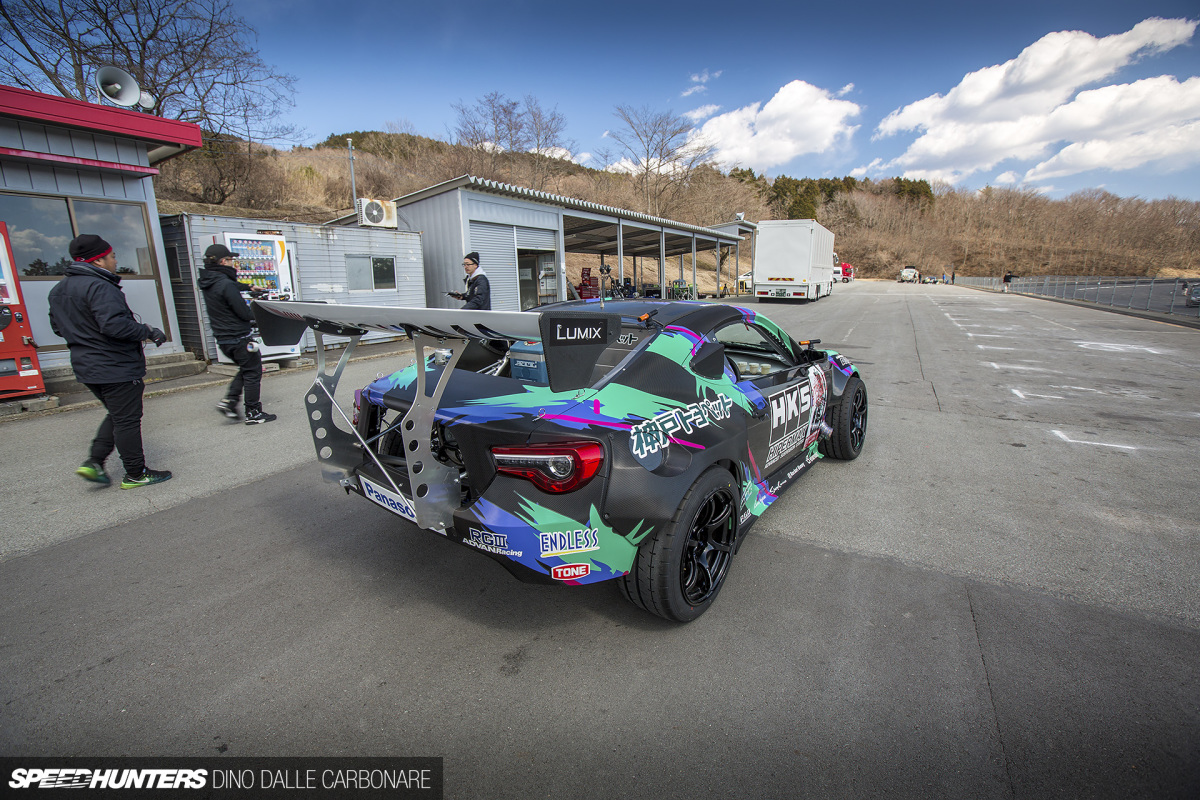 It may look like a Toyota 86 from the rear, but once you take a step closer you quickly realize you're looking at a lightweight dress – thin bodywork hiding all the work that has gone into the chassis.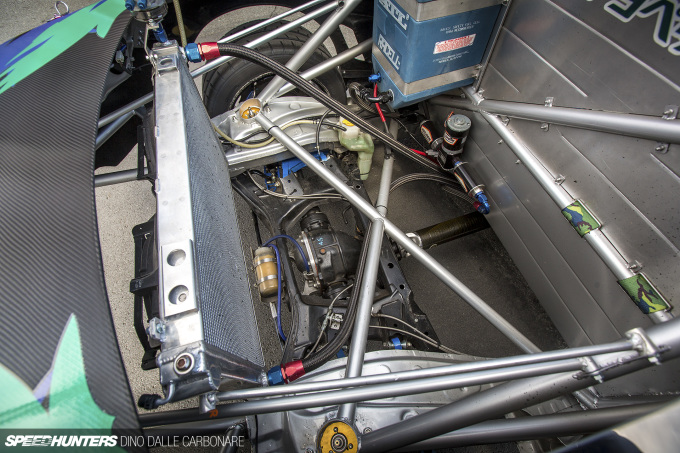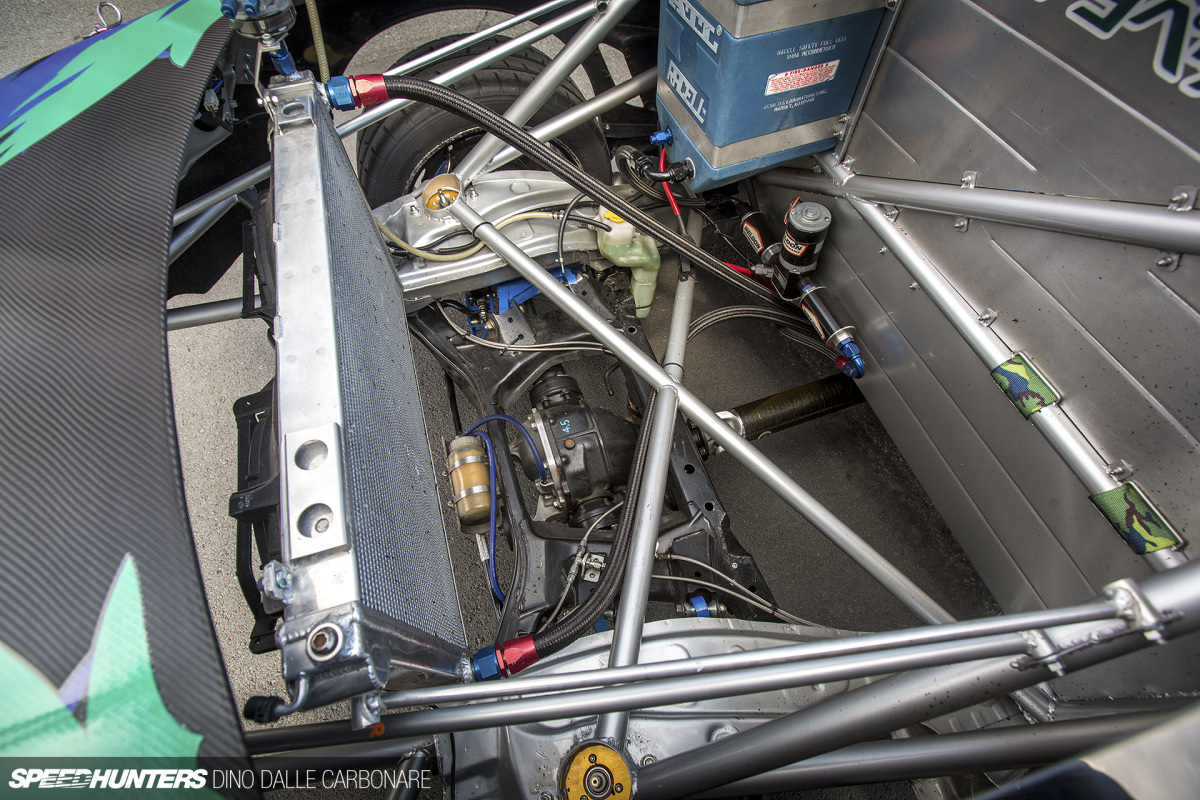 The cabin is separated by sheet metal, just like in FIA GT car, with everything except the suspension turrets cut away. The roll-cage adds structural integrity and stiffens up the shell while serving as a mounting point for things like the fuel cell, radiator and miscellaneous other tanks and breathers.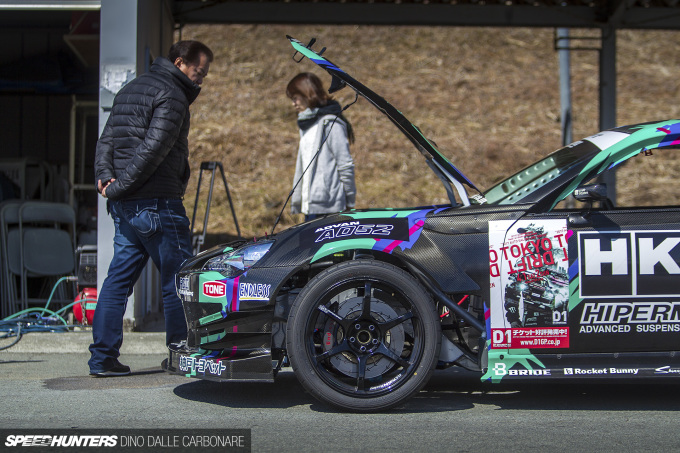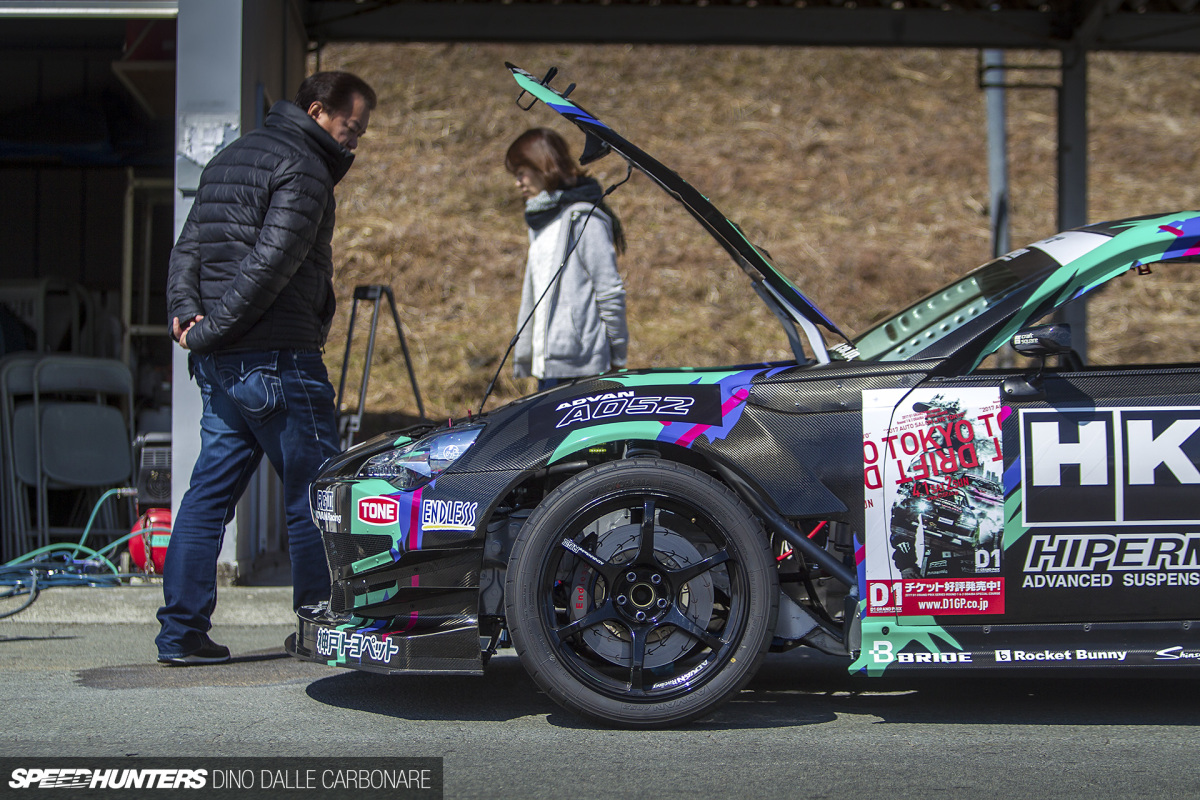 As I mentioned in my first look at the HKS Drift 86, this isn't a car that's been built for any series; the way it's been put together means it does not conform to D1 and FD Japan rules, and won't be eligible to compete unless some changes are made to the technical regulations of both series. Iwata-san, the man behind FD Japan, dropped by the track to have a quick look.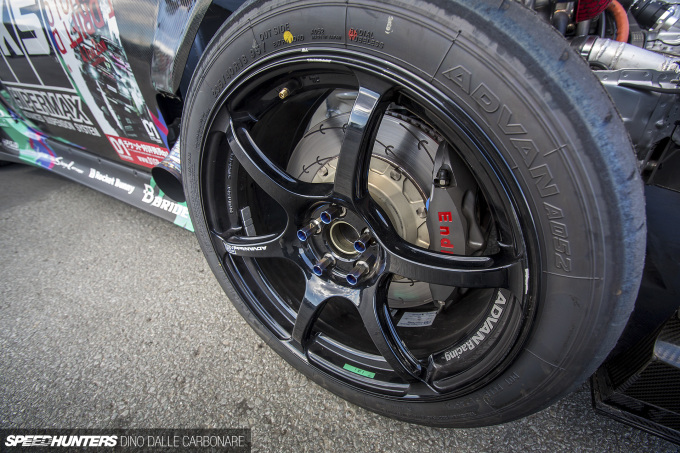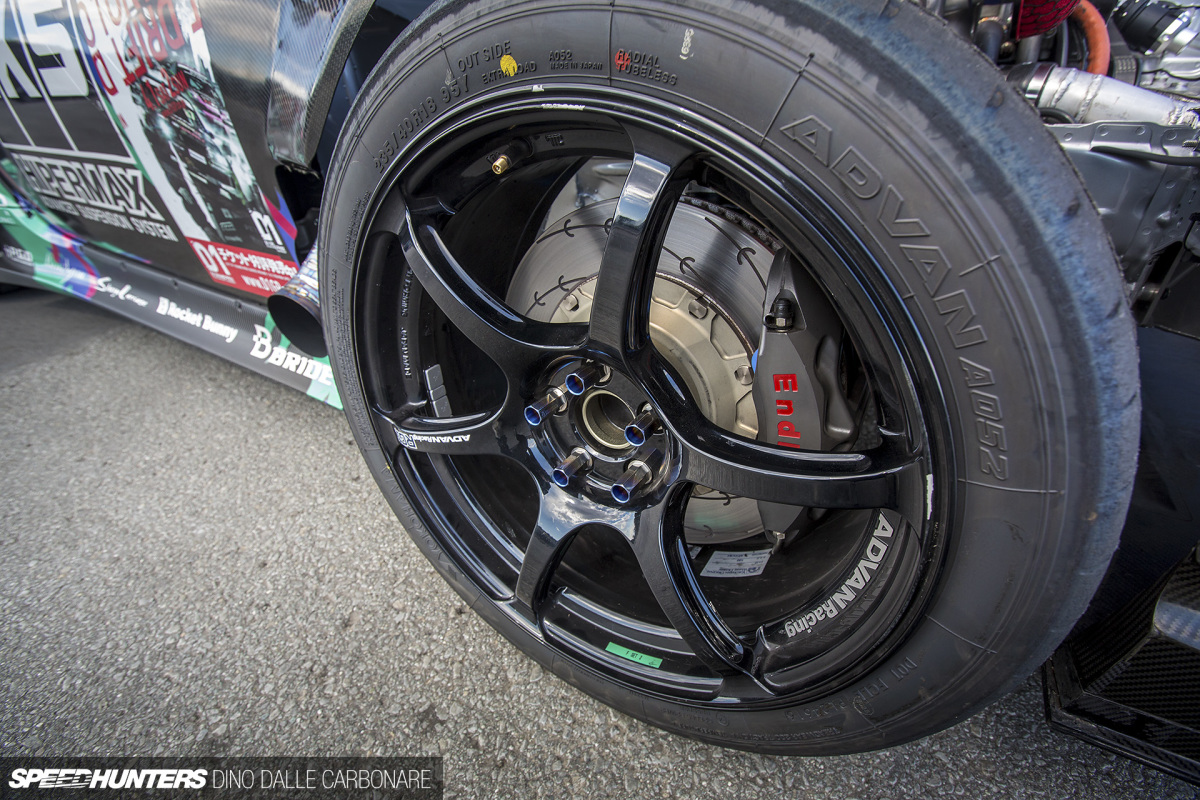 HKS and Taniguchi's links to Yokohama mean the car could only be sitting on Advan rims and tires. Chosen for the project are Advan Racing RGIIIs in 18×8.5-inch for the front and 18x.10.5-inch for the rear, with new Yokohama Advan A052 semi-slicks – 235/40R18 and 265/40R18 respectively – to take care of the grip. Because drift cars need a lot of grip, contrary to what many assume.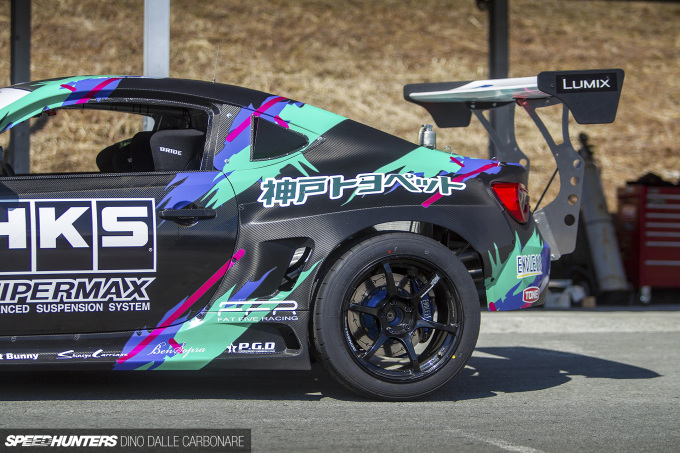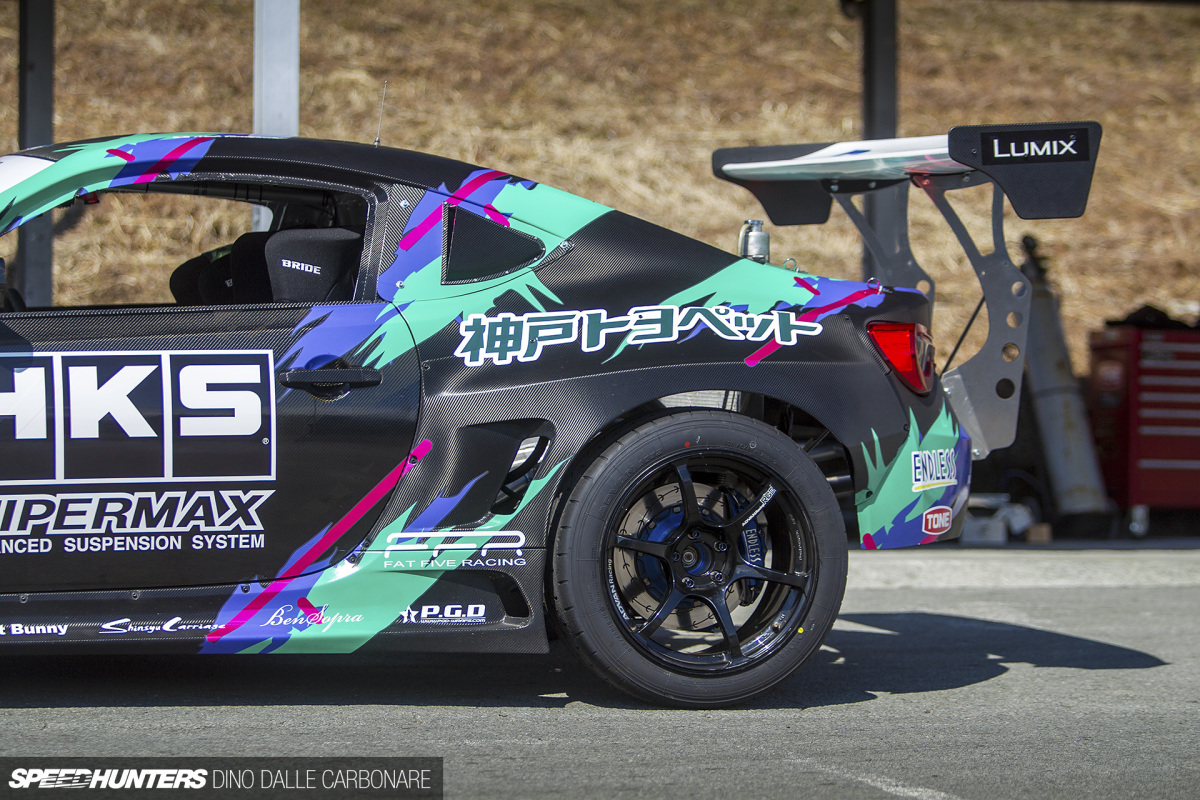 In the brake department, Endless 4-pot monoblock calipers are employed up front while the rear end gets a more conventional Endless 4-pot setup.
HKS's Best?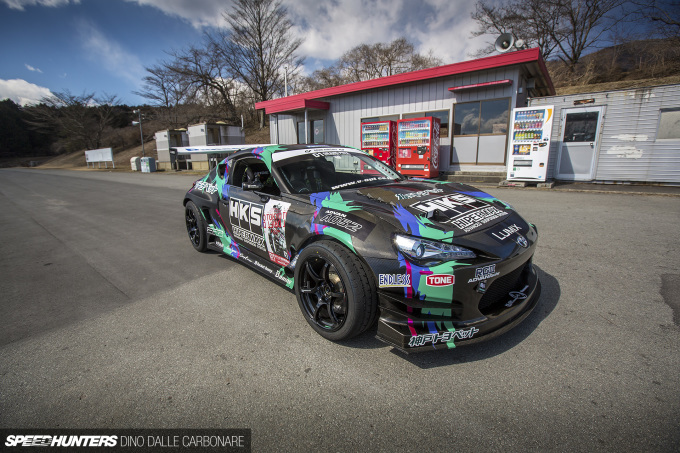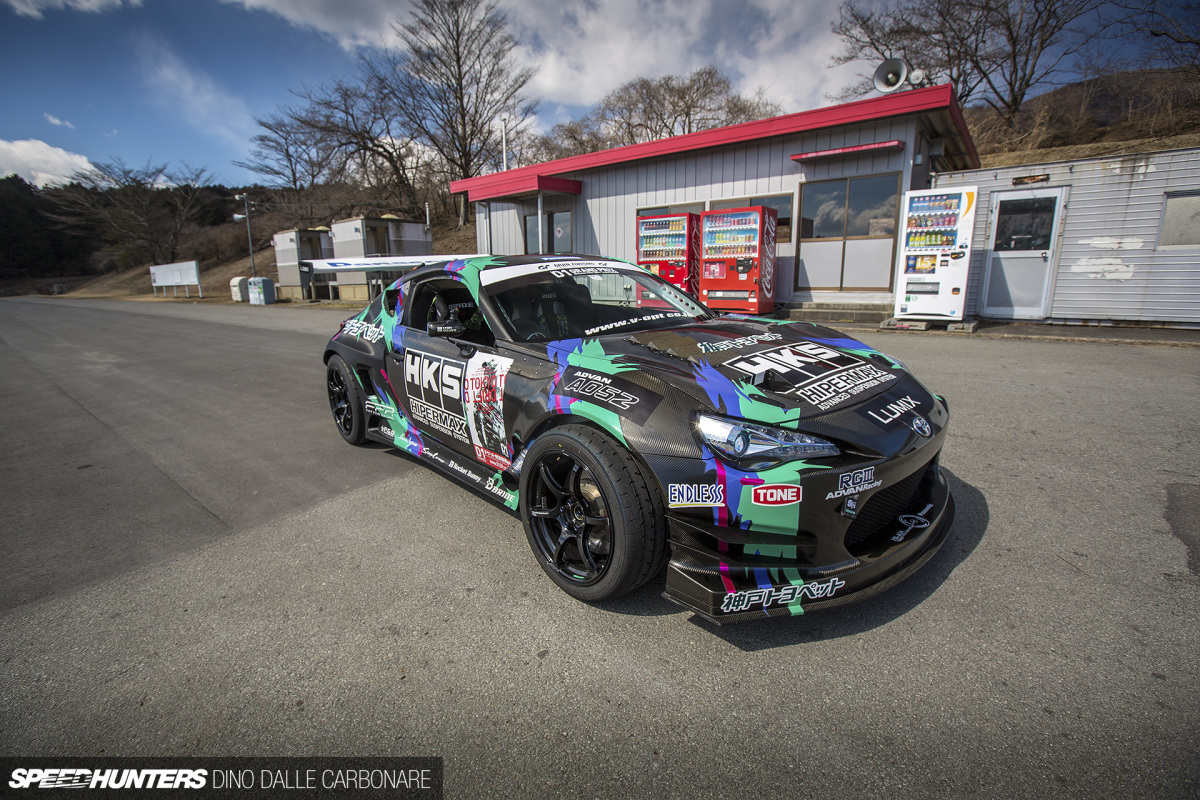 No matter the discipline, HKS has always built impressive cars, and its drift-specific machines have evolved tremendously over the last decade or so. Cast your minds back to the Genki S15 and the Altezza that Taniguchi drove in D1GP; those were well-built cars, but the Drift 86 takes it a whole step further with the chassis work and lashings of carbon fiber. I guess being able to whip up a batch of pre-preg carbon molds in your in-house autoclave allows you to go a little overboard when it comes to special projects like this.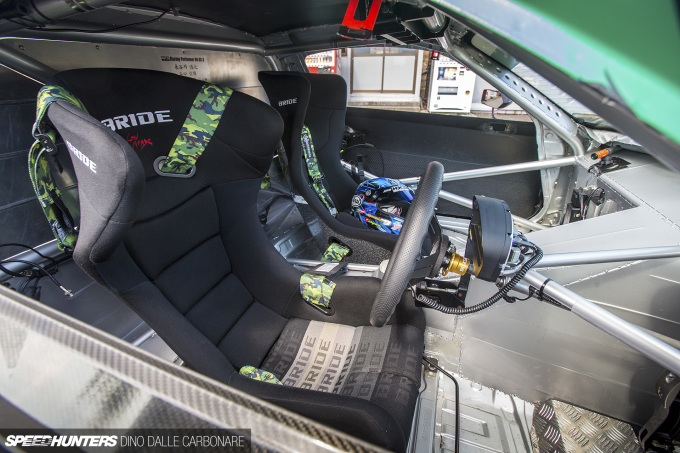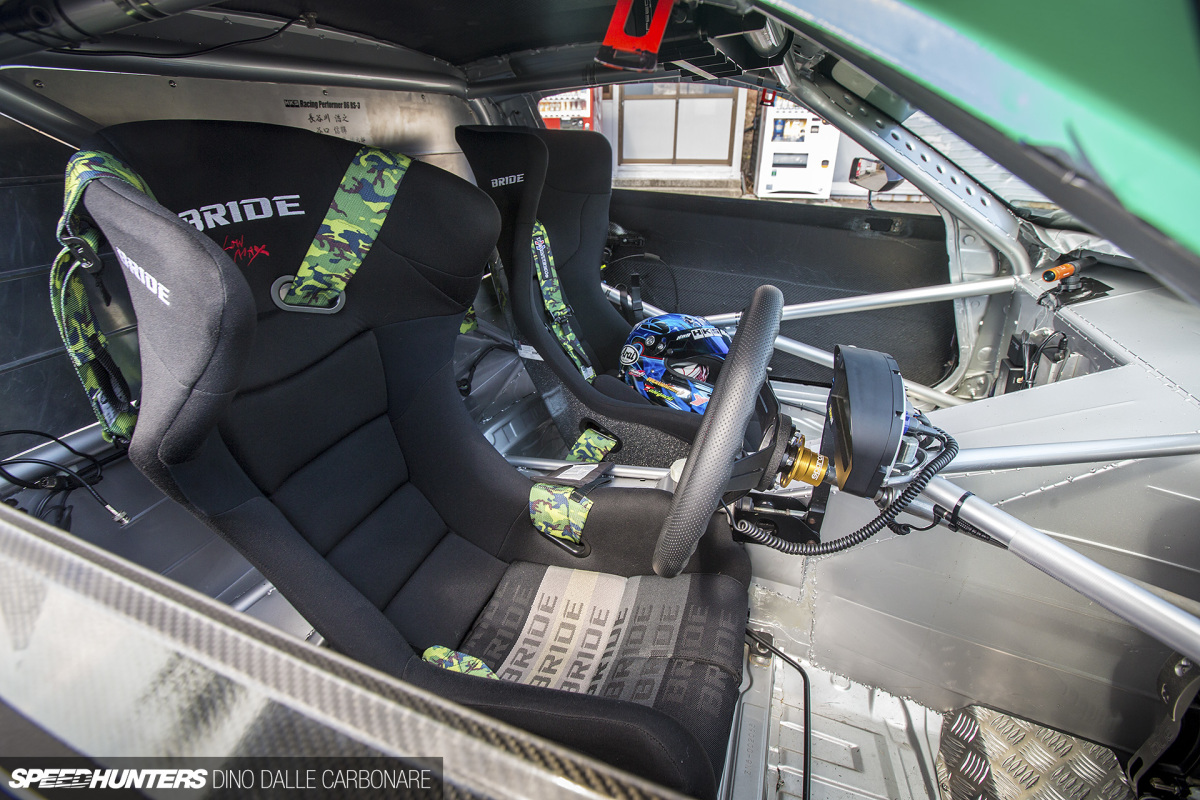 The exposed metal in the cabin shows you just how many alterations have been made, starting with shifting the driving position as far back as possible and a cage to support the structure in a safe and unobtrusive way.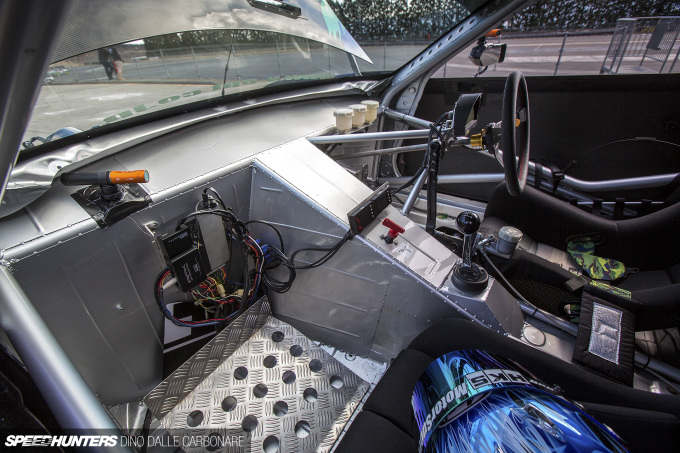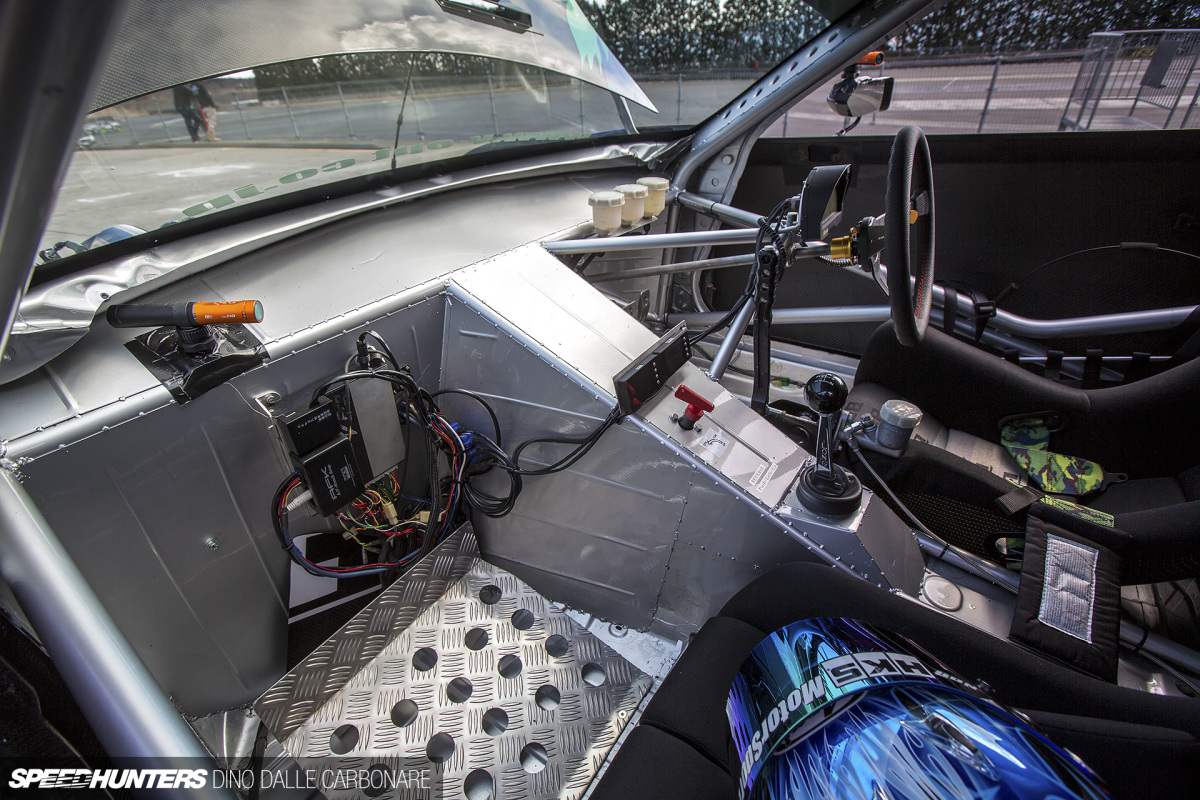 The exaggerated transmission tunnel that was opened up to fit the G-Force transmission sort of created the sloping center section to the dash area, which has been used to position the HKS A/F Knock Amp 2 and the EVC6 boost controller. Other modules are located on the passenger side of the newly constructed firewall.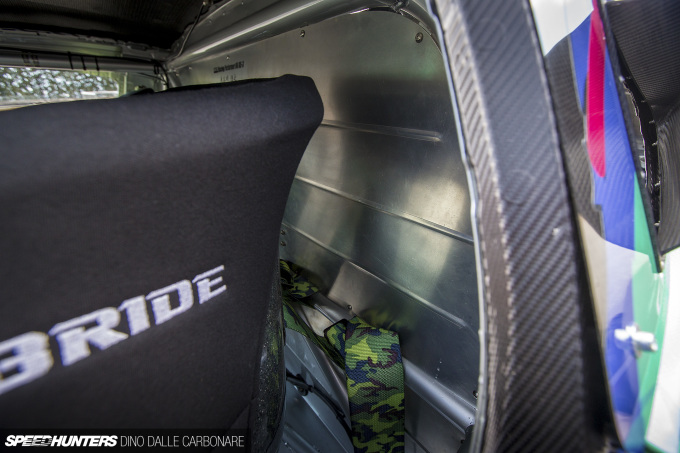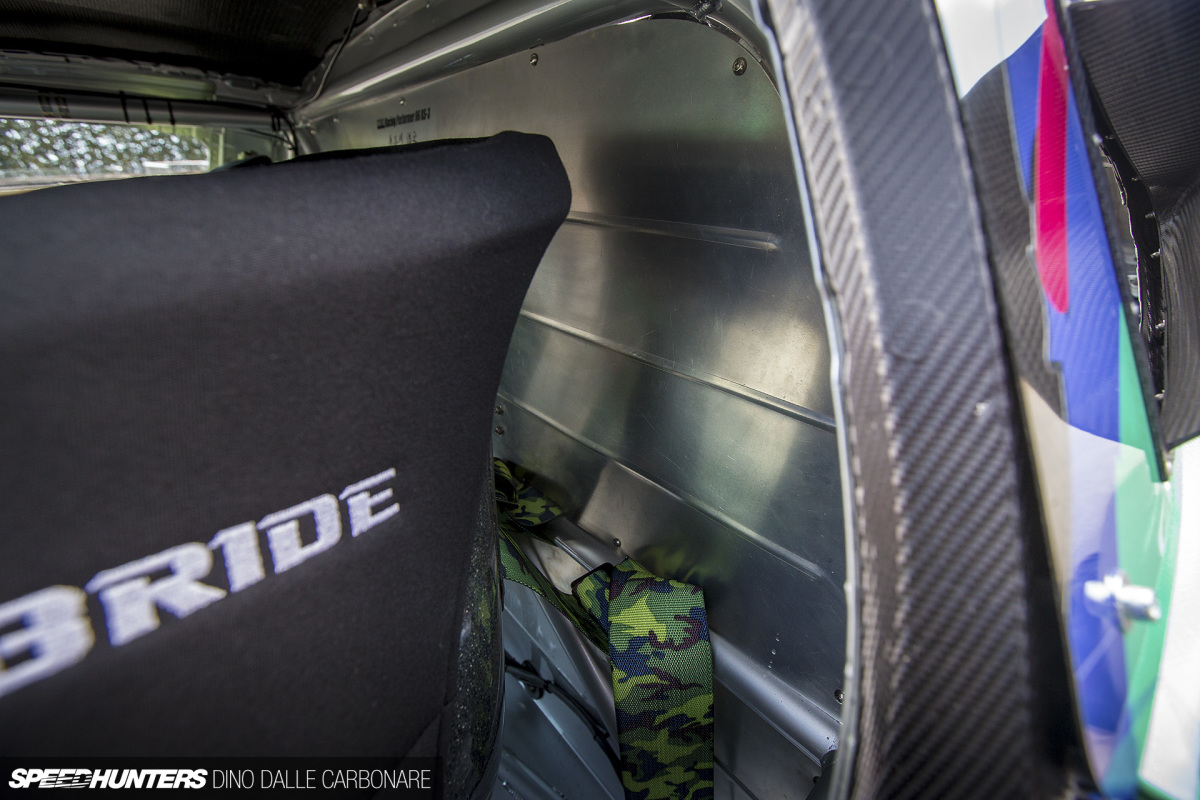 Rear firewall? Cockpit separator? Call it what you will, but the 86's interior effectively ends right behind the Bride Gardis III seats. So much for keeping an eye on the chase car!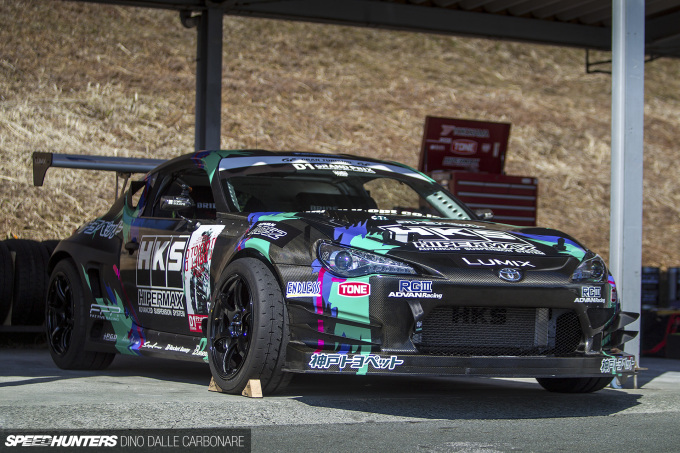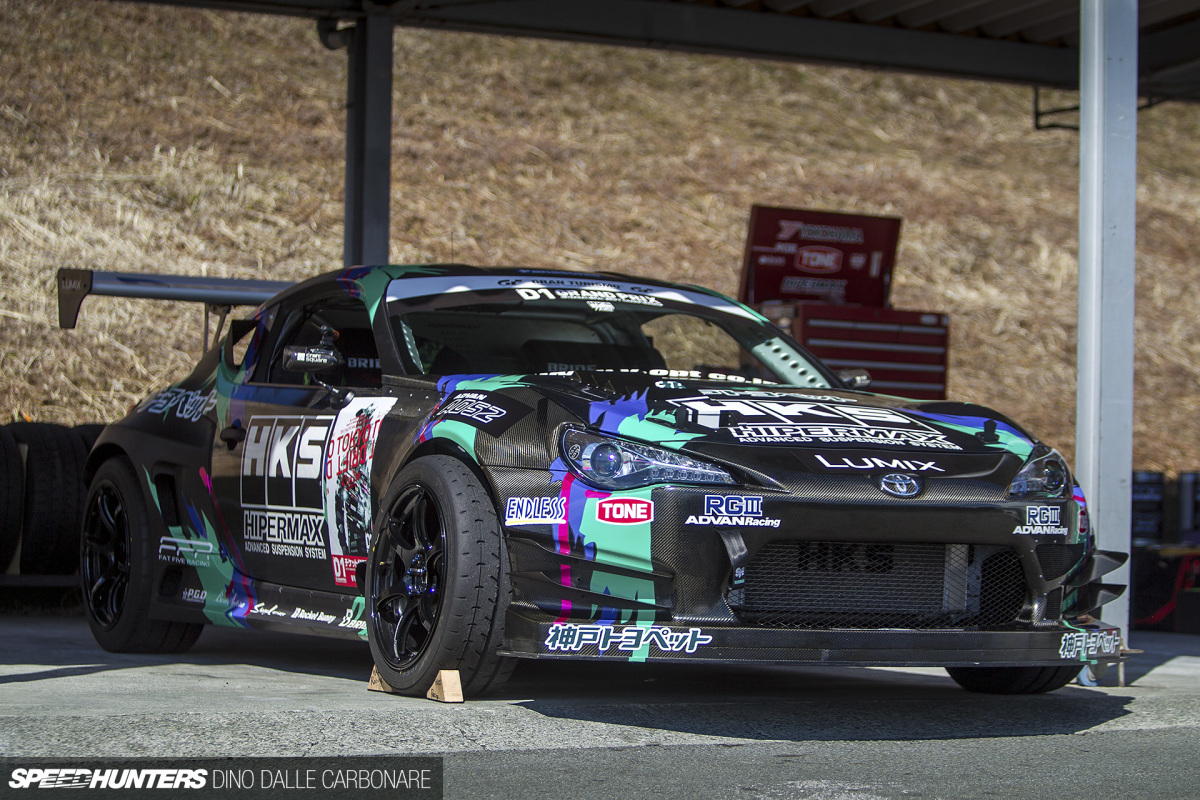 With the help of Fat Five Racing, HKS has created one of the most evolved drift cars Japan has ever seen. It's just a pity that for the time being we won't be seeing it compete.
Dino Dalle Carbonare
Instagram: speedhunters_dino
dino@speedhunters.com