Two Guys, Two Garages
If you ask five different auto enthusiasts what their dream car is, chances are you'll probably get five completely different answers. And if you were to ask the same people for a list of their top 10 favorite cars, you'd get any even more diverse list of vehicles. And that's all part of the beauty of car culture.
No matter the budget or tastes, the automotive hobby can be anything to anyone. If you ask me, those differing styles and approaches are what make this pastime so great.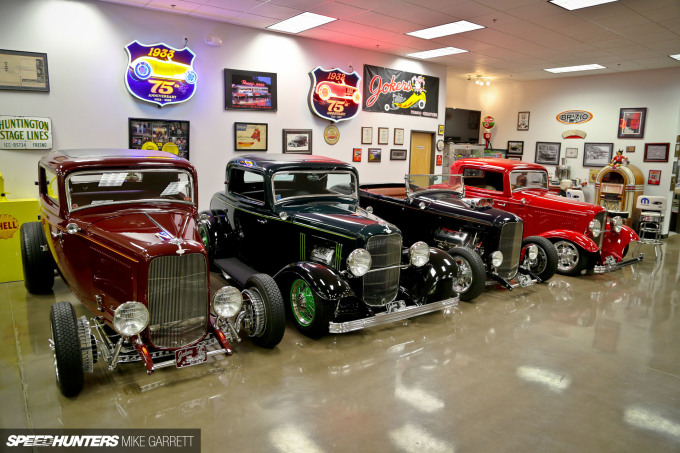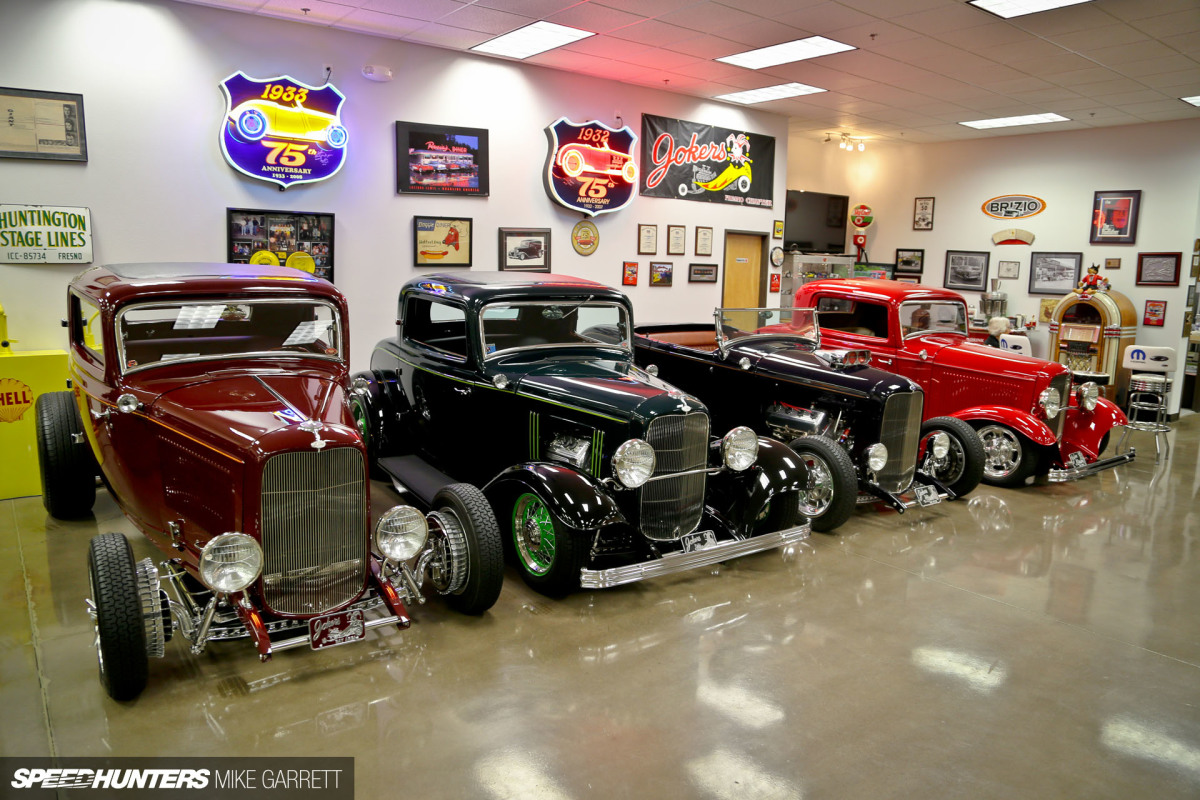 But regardless of their backgrounds, I think one thing all car enthusiasts can agree on is the garage. In an ideal world where we all had the means to collect and drive our favorite cars, we'd also want a cool place to keep them, because there really are few things more inspiring than a nicely specced-out garage full of interesting machines. Just last weekend I had the chance to check out two such garages and collections.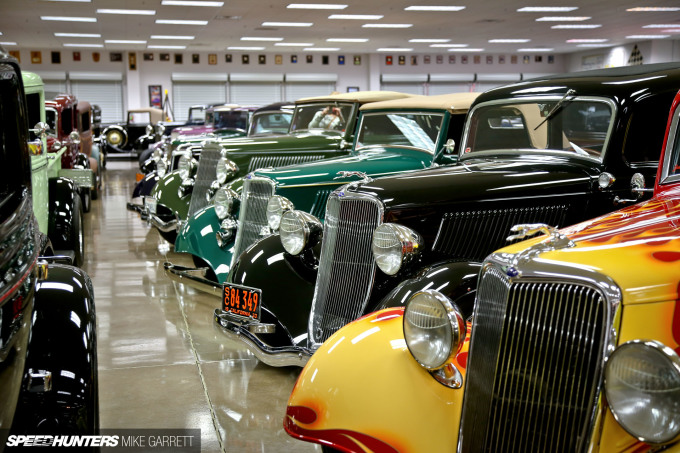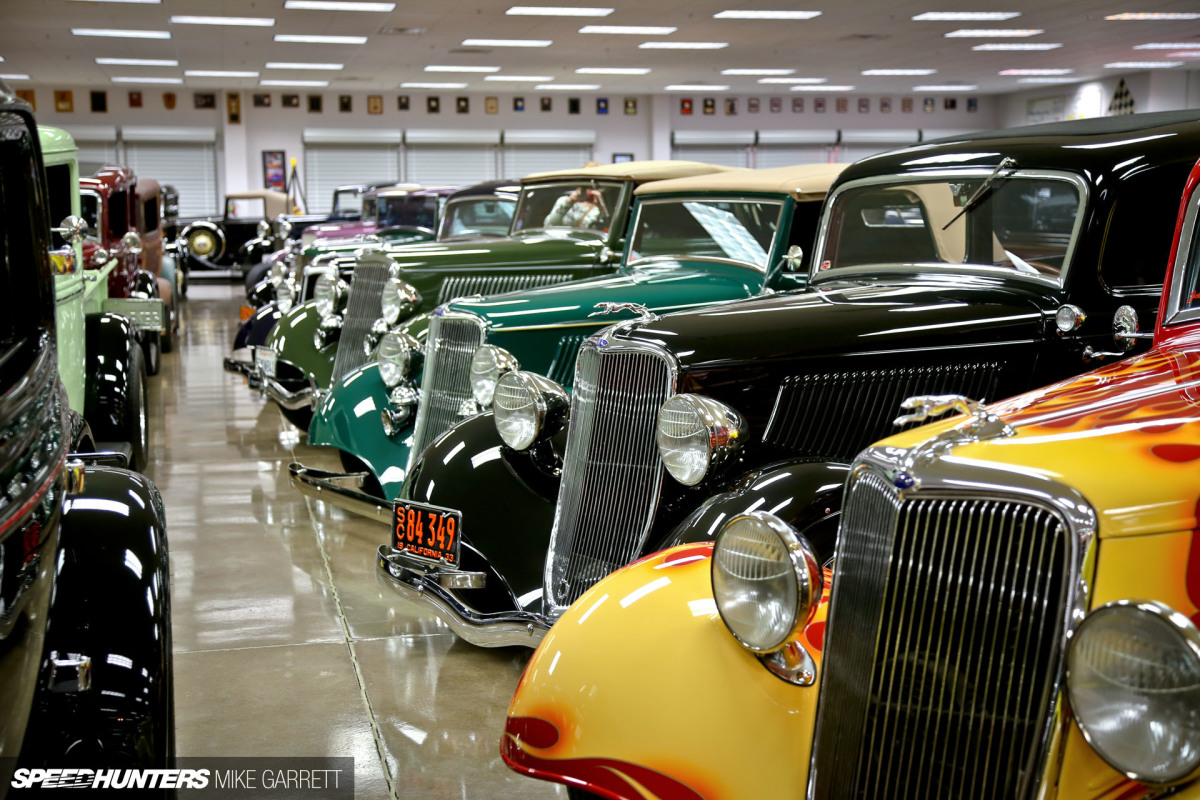 It was a cool, drizzly morning last Saturday but when my dad told me some of his car club buddies were going to tour a couple of local garages, so I decided to grab my camera and tag along. And boy am I glad that I did, as my perception of the term 'garage goals' was completely redefined.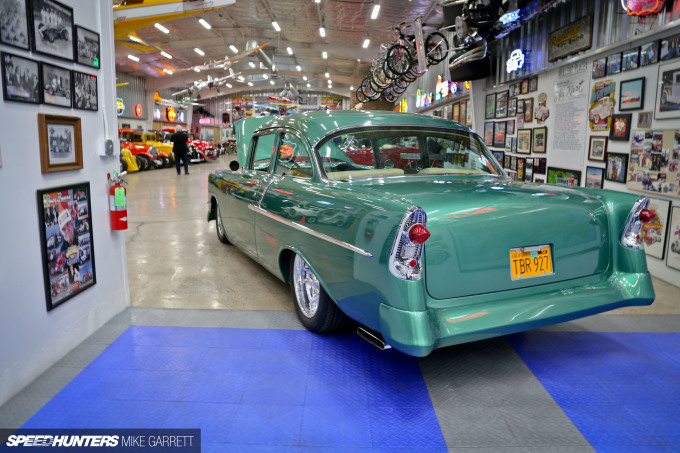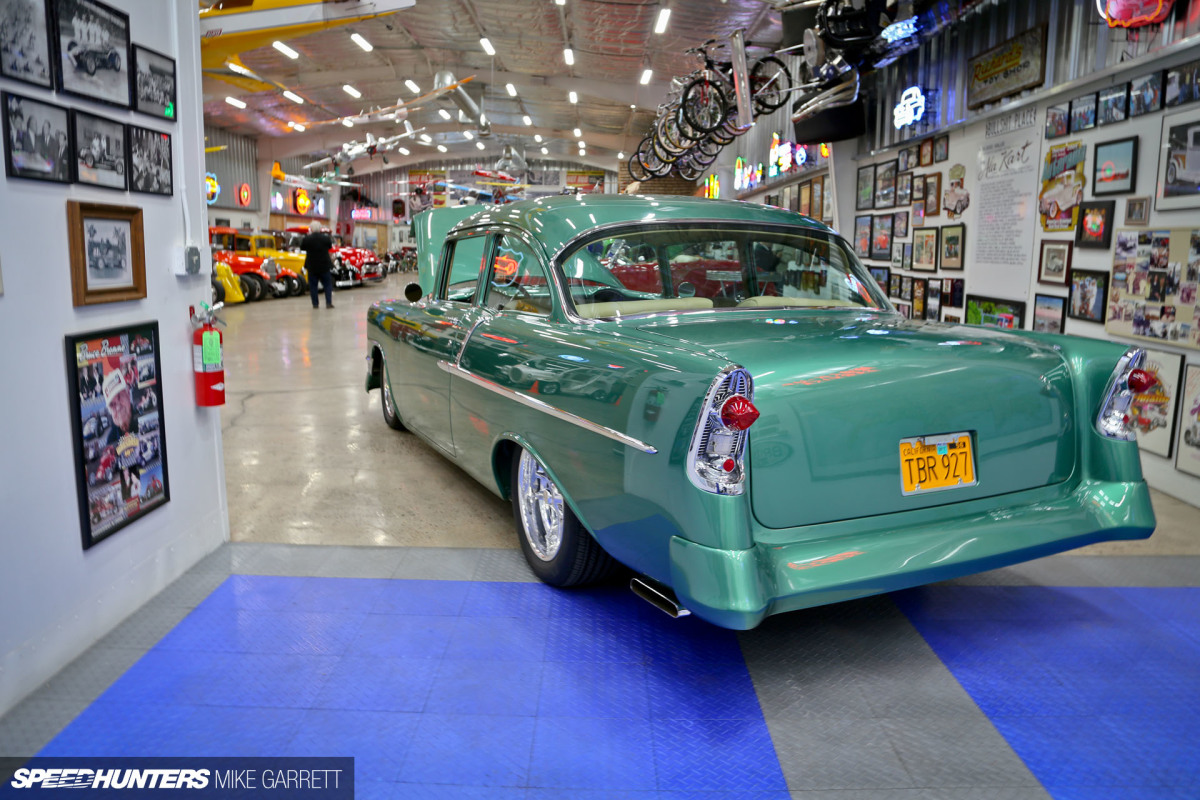 After meeting up for a quick breakfast, our first stop was the Fresno garage of Richard Peters, a retired farmer, pilot, businessman and most importantly a lifelong hot rodder and gear-head.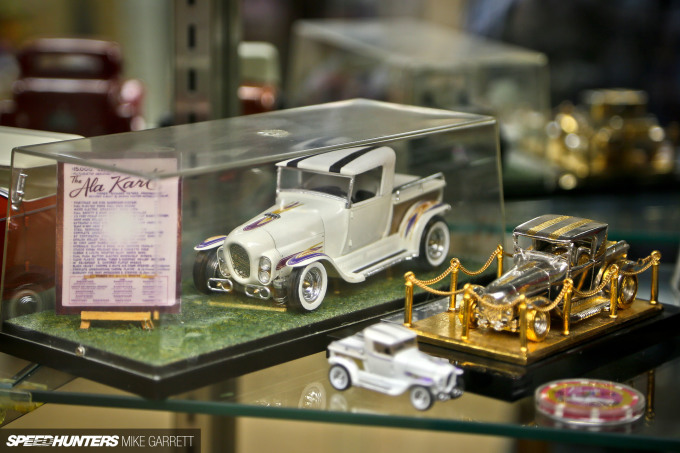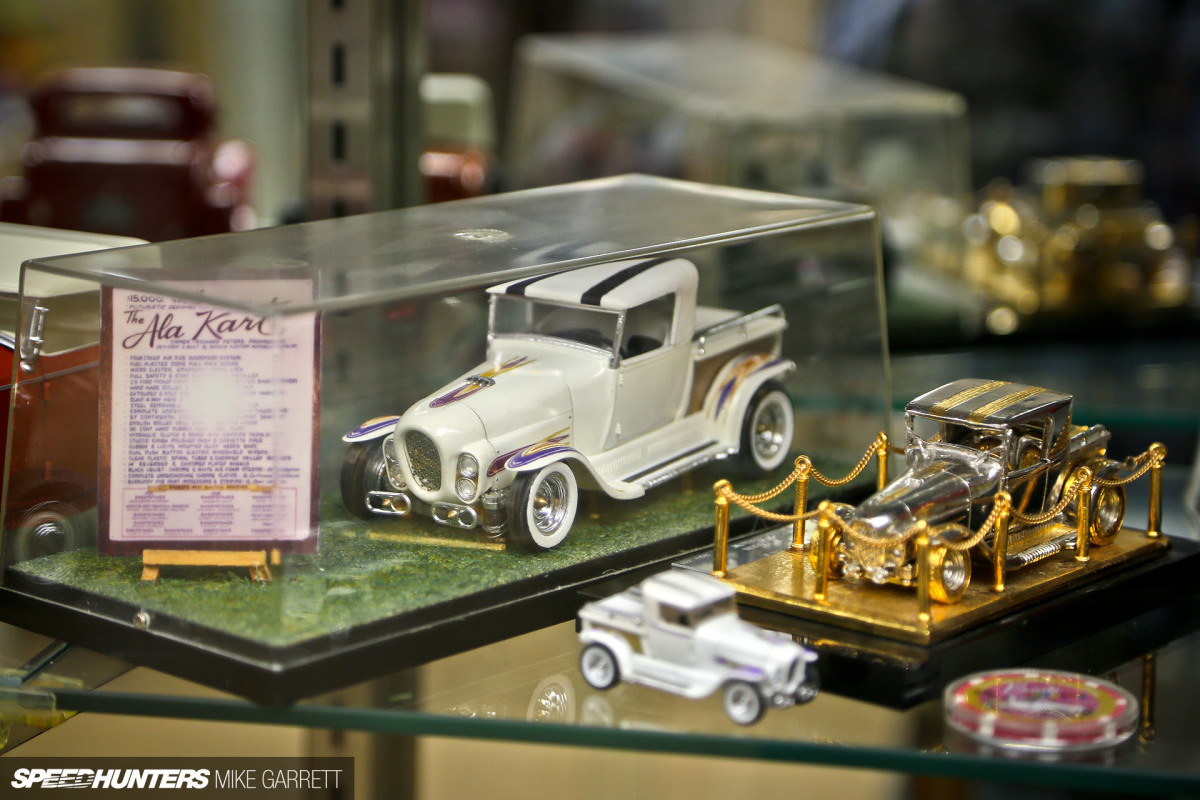 At a very youthful looking 82 years old, Richard isn't just known locally but among the international hot rod scene. That's largely because of Ala Kart, a heavily customized '29 Model A Roadster pickup that he built back in the late 1950s with the help of George Barris and Blackie Gejian.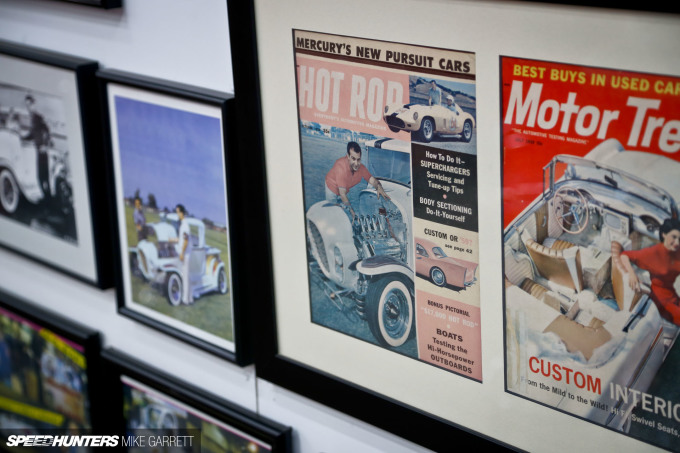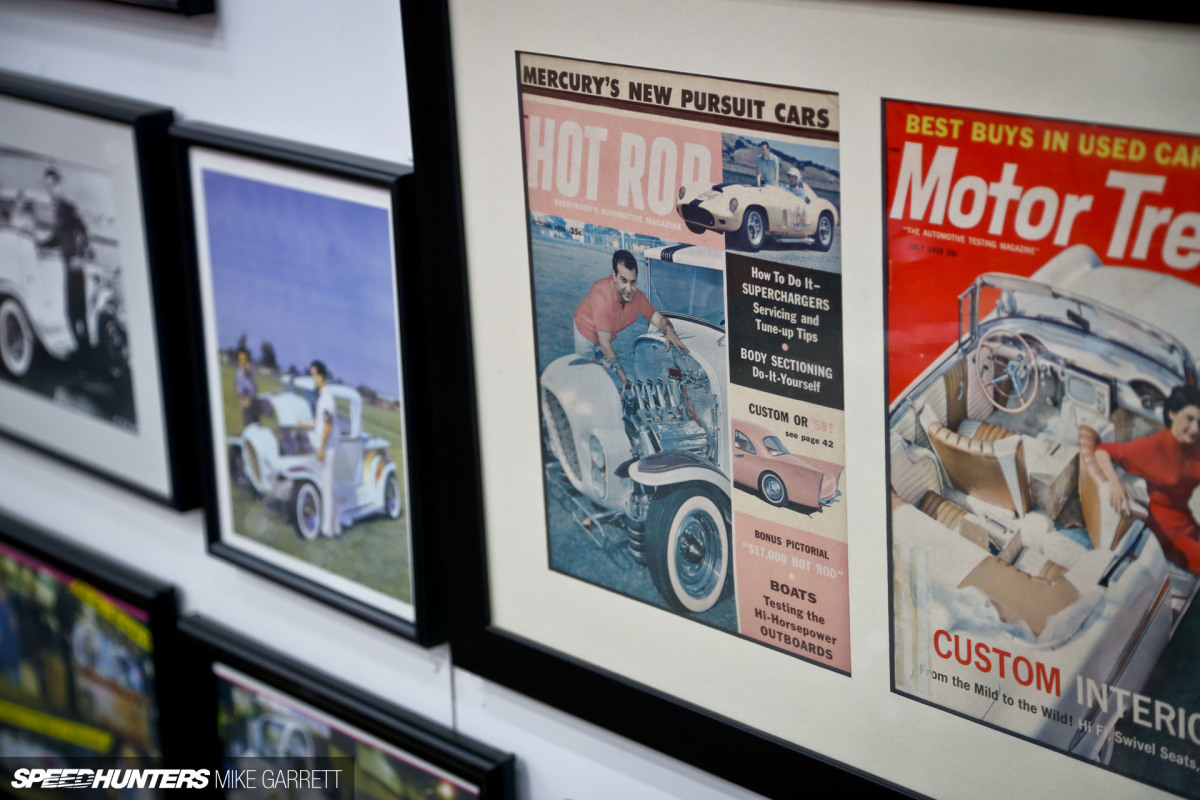 The car won two America's Most Beautiful Roadster awards and was immortalized an AMT model kit. But that was just the start of Richard's love affair with hot rods and custom cars.
Today his collection is located in an 8,000 square foot building that stretches the boundaries of what a 'garage' actually is. More than just a place to store and work on cars, Richard's building is the ultimate man cave; it's part museum and part place for him to hang out with his buddies. And he's happy to welcome visitors.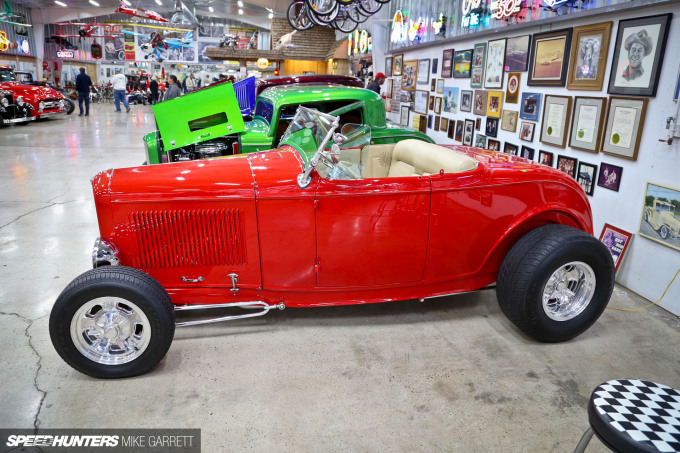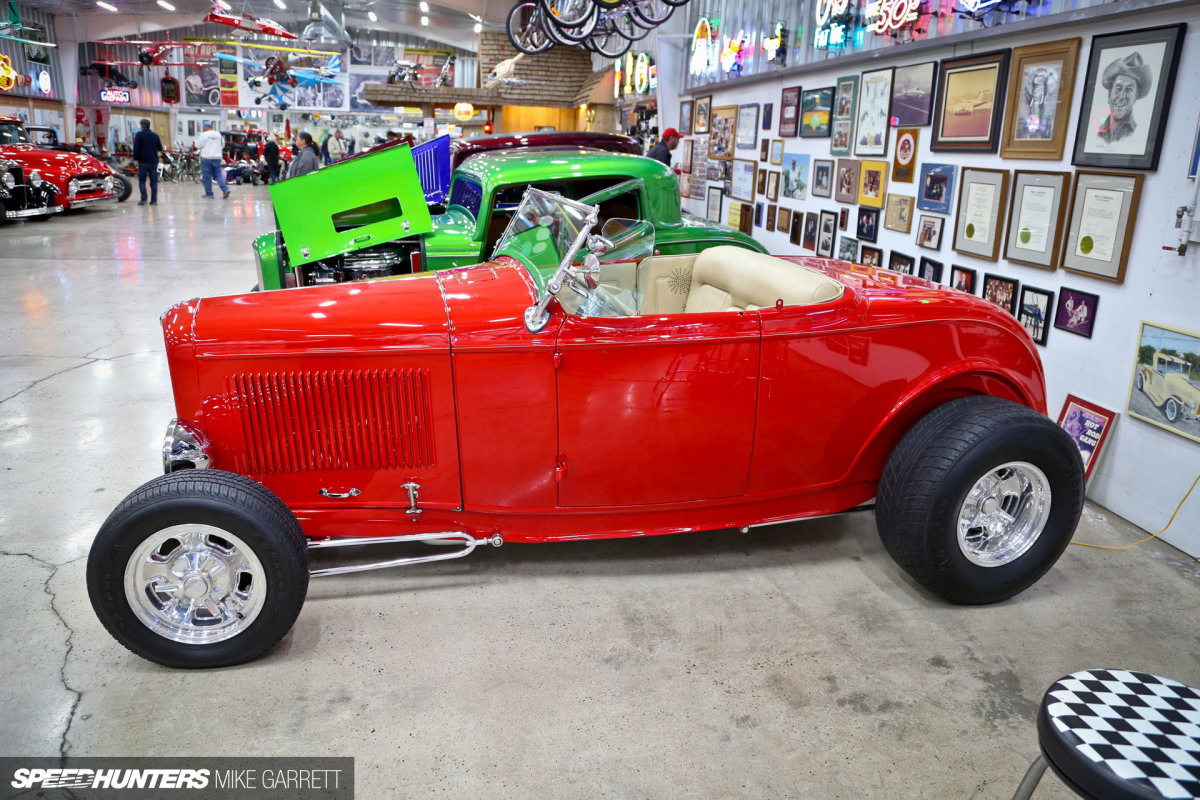 While Richard's tastes are rooted firmly in the world of hot rods and customs, the collection inside the building is both diverse and colorful. In terms of street cars, there are several different coupes and roadsters all modified to different degrees.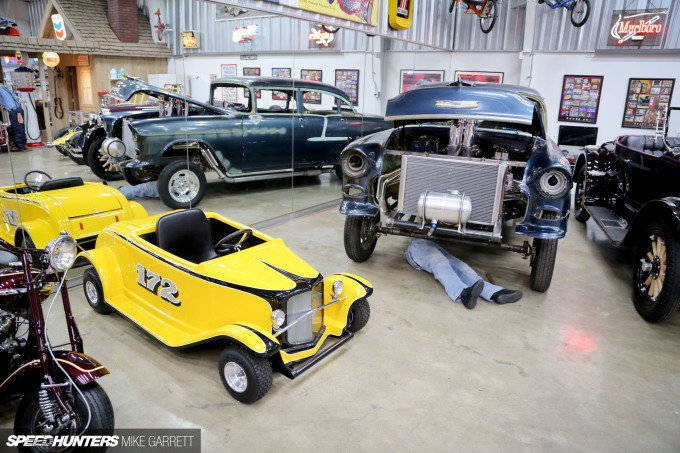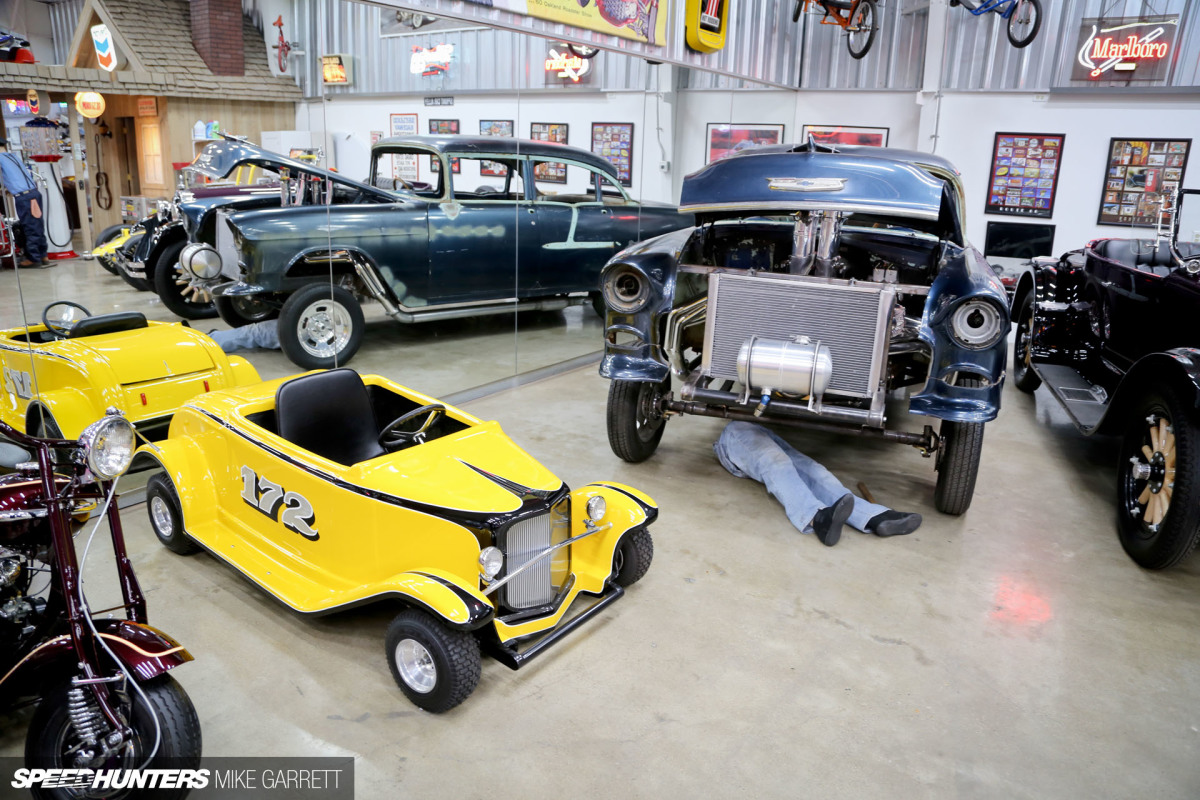 He also has some cool machines that are currently under construction, including a pretty radical looking '55 Chevy gasser that he's building for the airstrip drags at Eagle Field.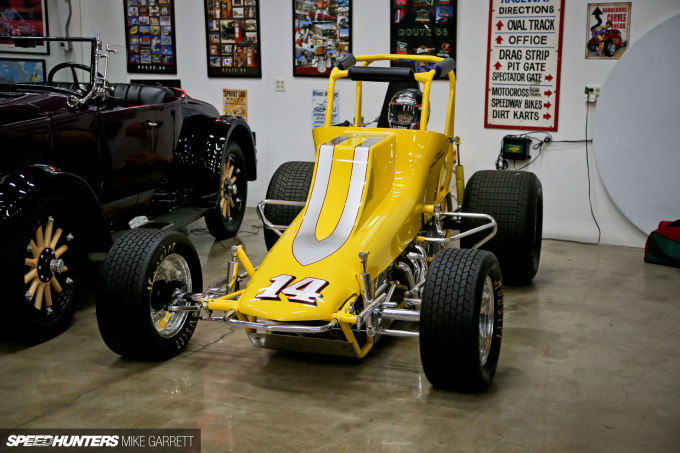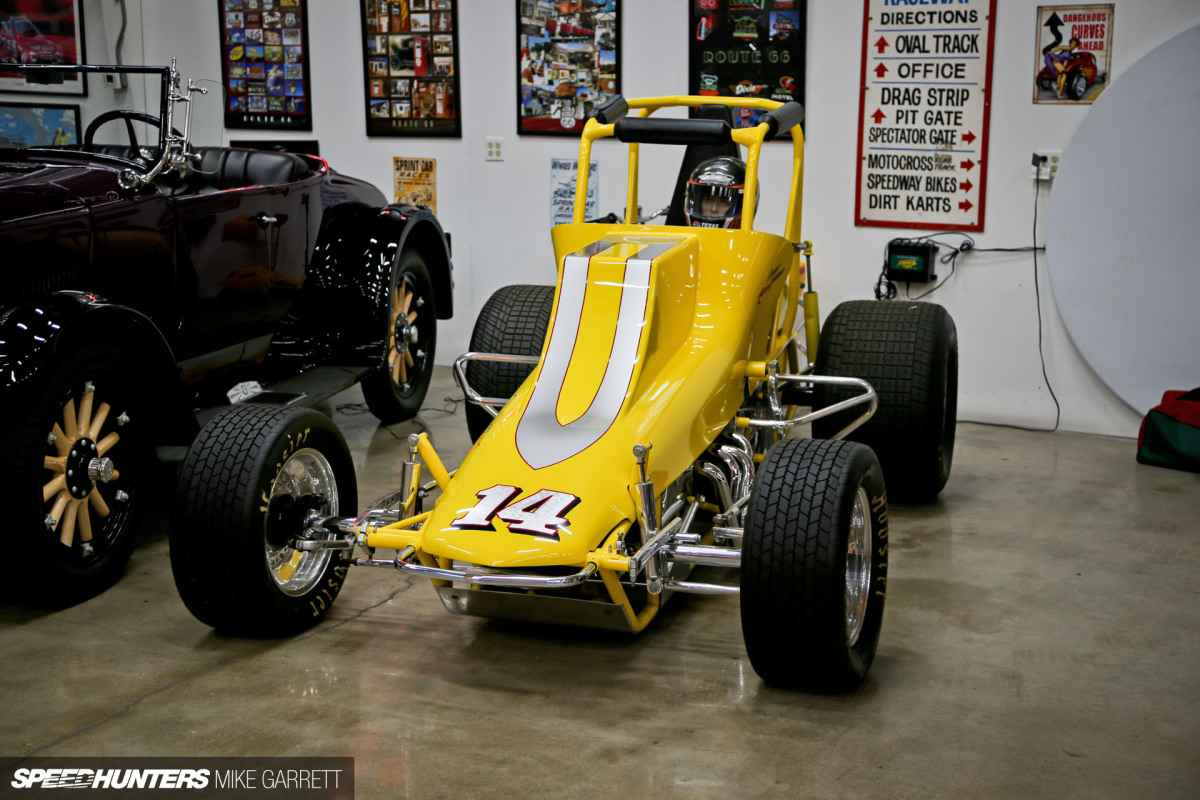 He also has a couple of vintage dirt track and circle track racers that he fires up from time to time just to give visitors an extra treat.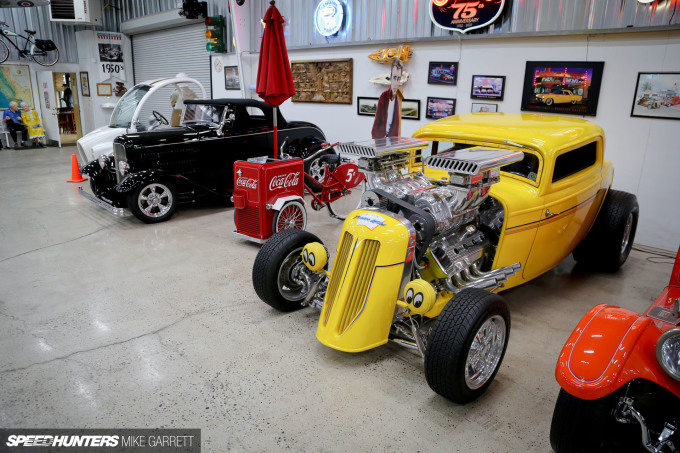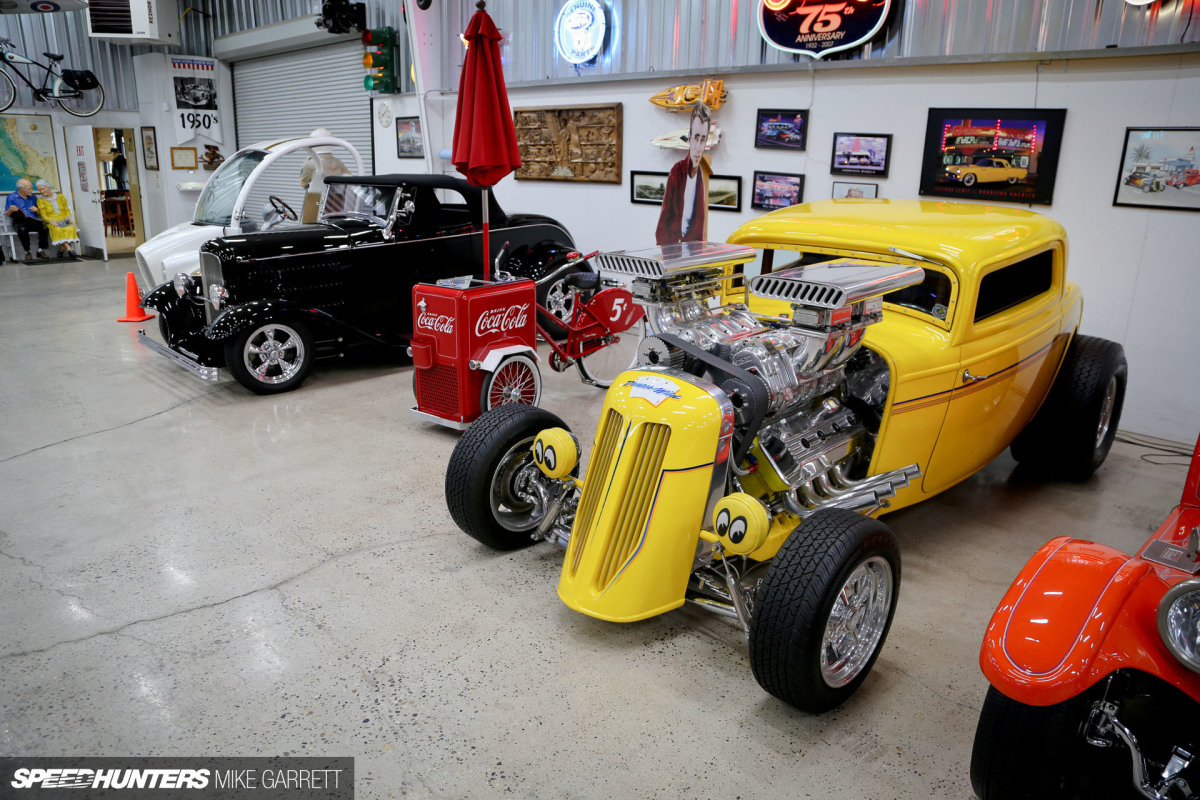 Looking for something off the wall? How about this radical coupe powered by a Hemi with two superchargers hanging off of it. And yes, it's street legal!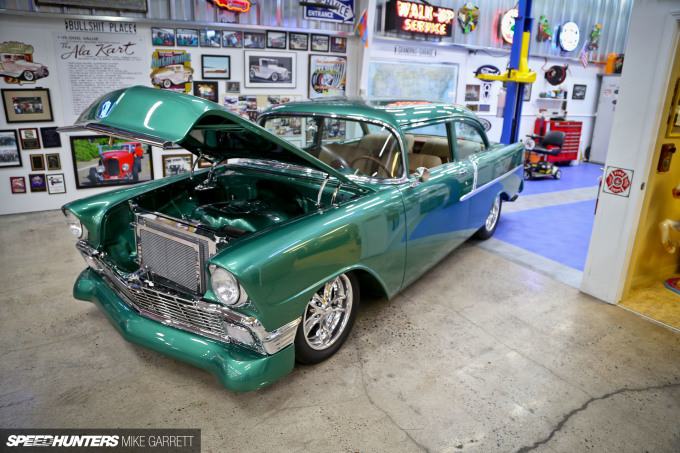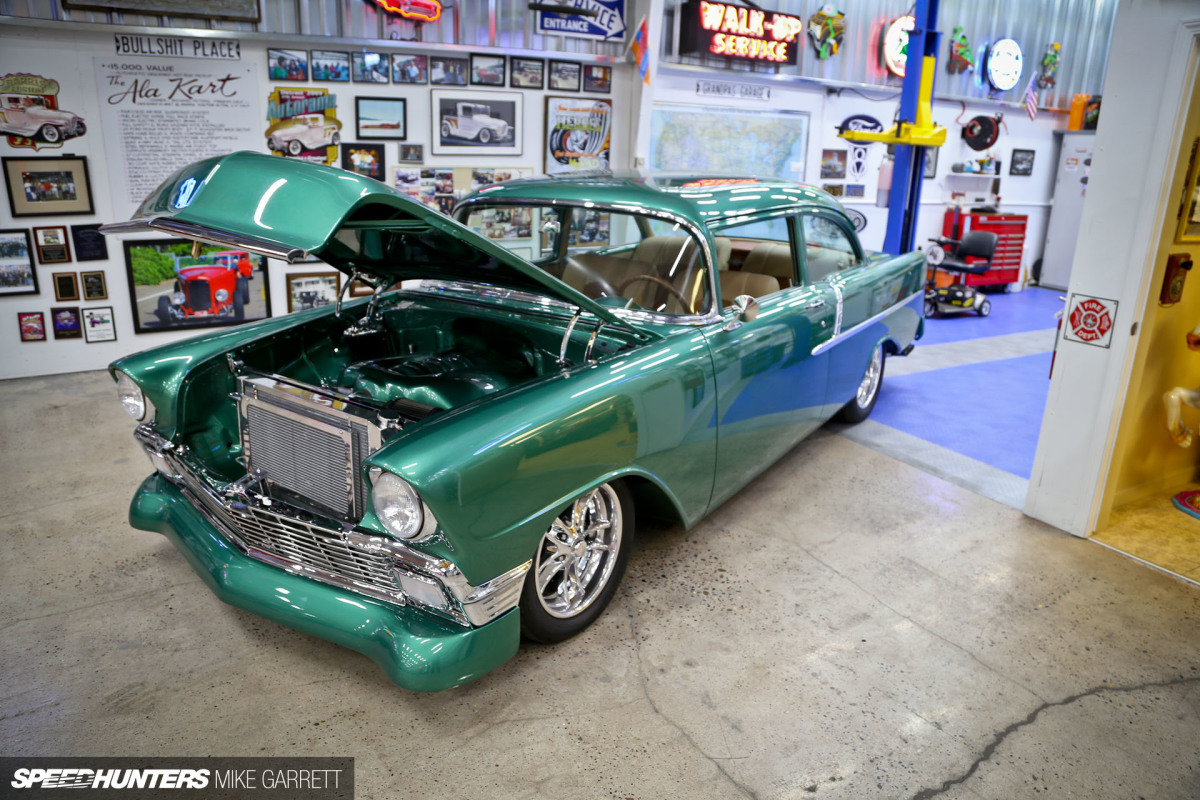 A little more mild is Richard's freshly completed '56 Chevy which is packing a Corvette LS3 engine, upgraded suspension and a whole bunch of other modern goodies.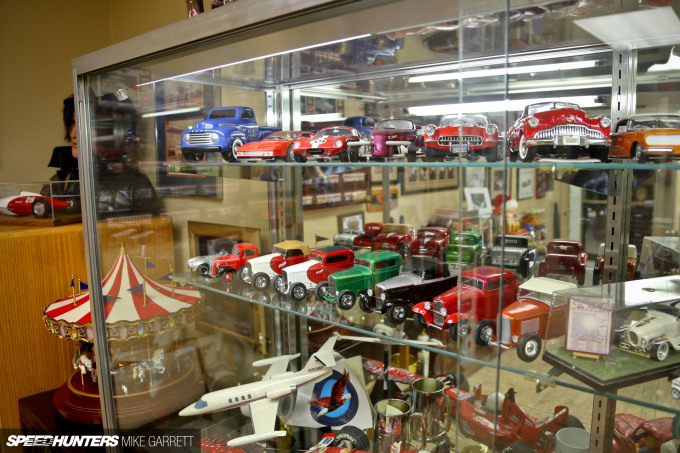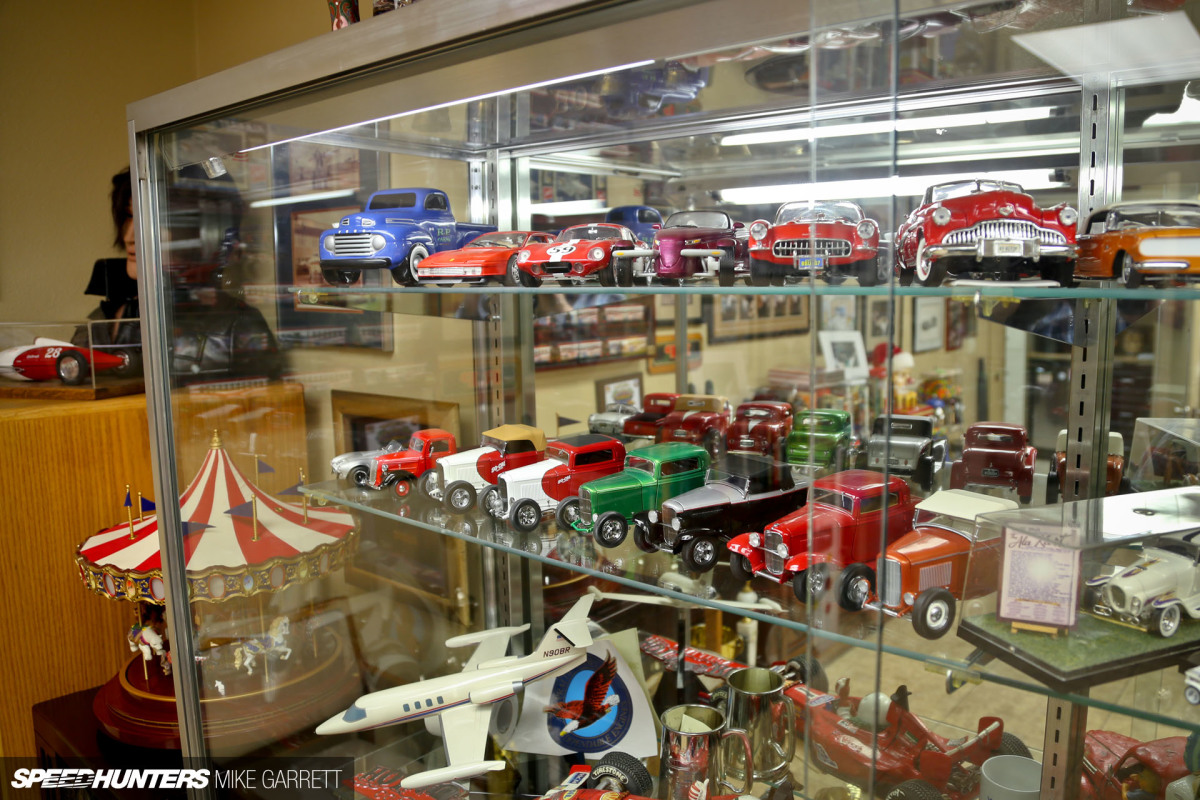 Aside from the real cars, the garage is also home to an impressive collection of bicycles, go karts and minibikes, along with model cars and other pieces of memorabilia.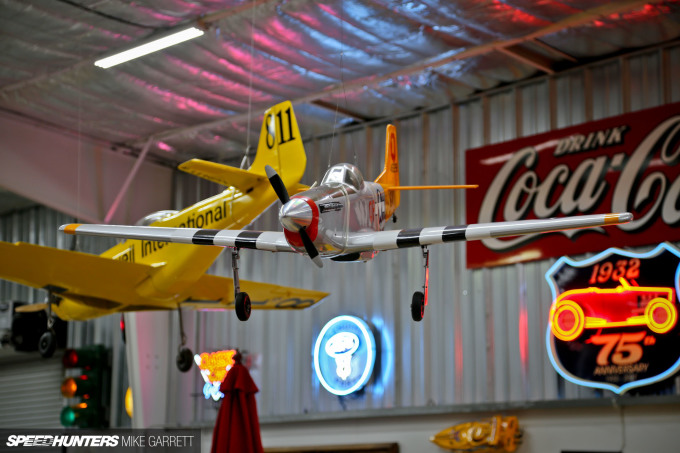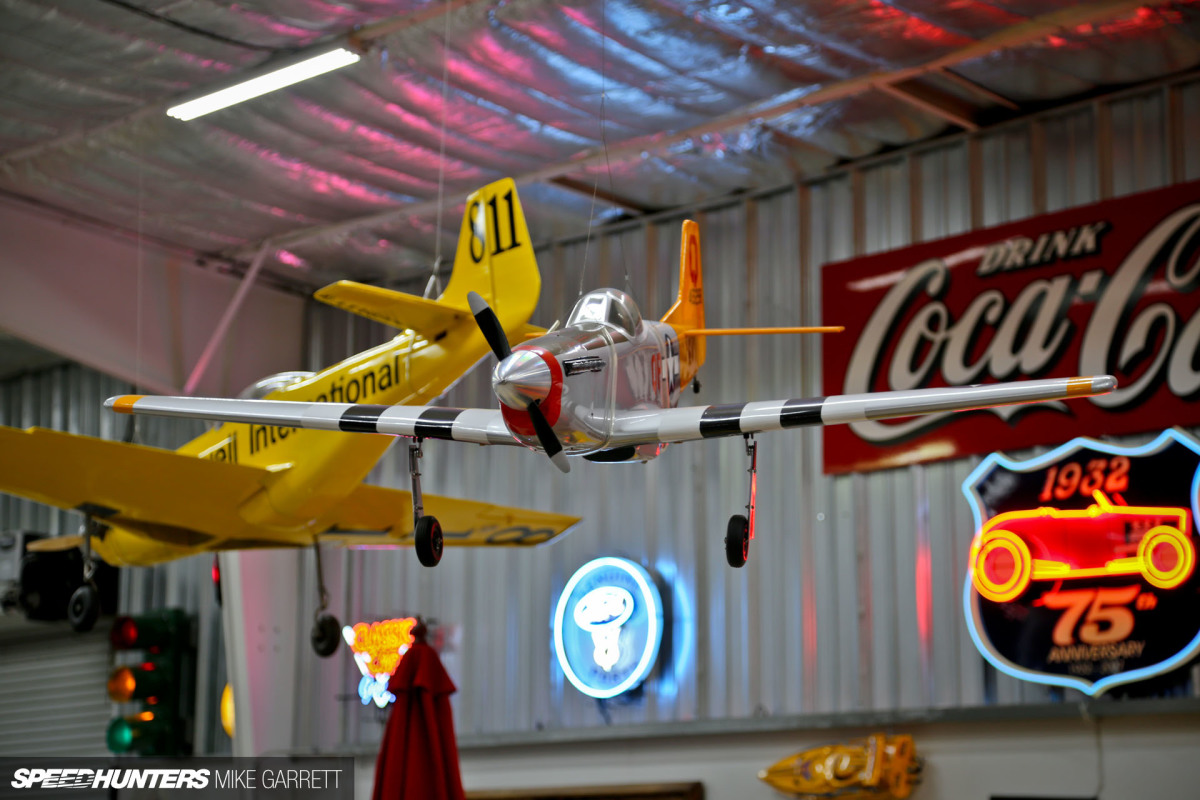 He's also got an amazing collection of giant model airplanes hanging from the ceiling, some of them almost as big as the real things. In addition, he's planning to install a model train setup that loops around the building which will make the whole place just that much more fun to visit.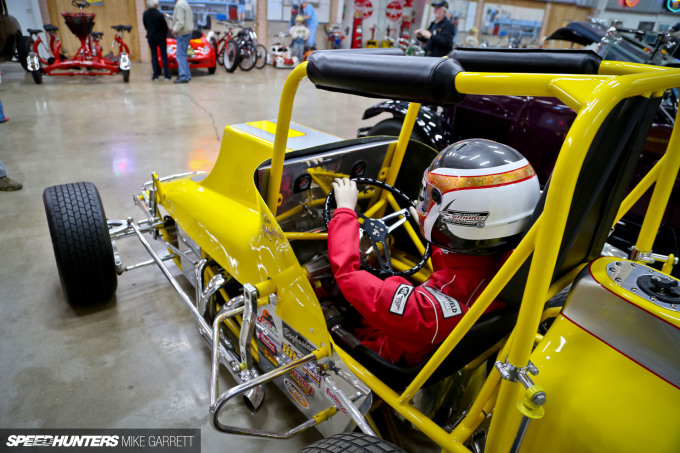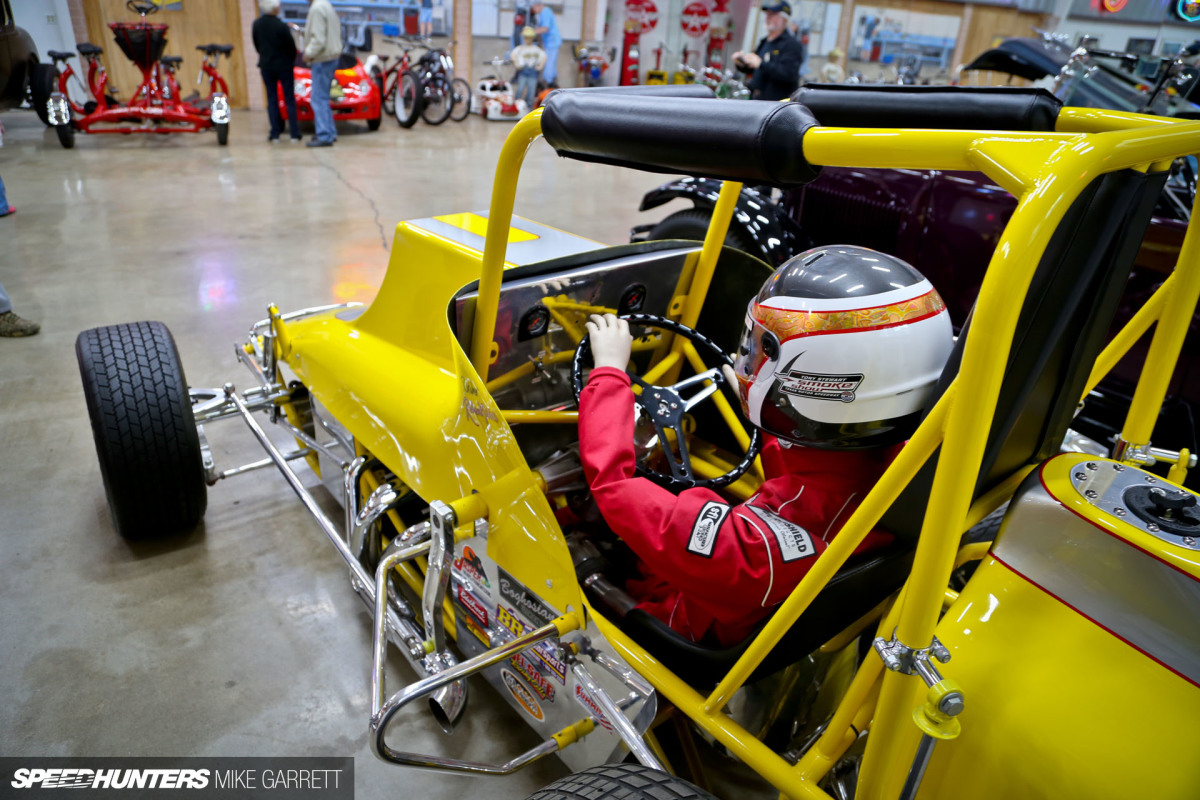 After a little more time spent drooling over the contents of his garage and chatting with Richard, it was time to hit the road for the next destination which was literally less than a mile away.
Hot Rod Heaven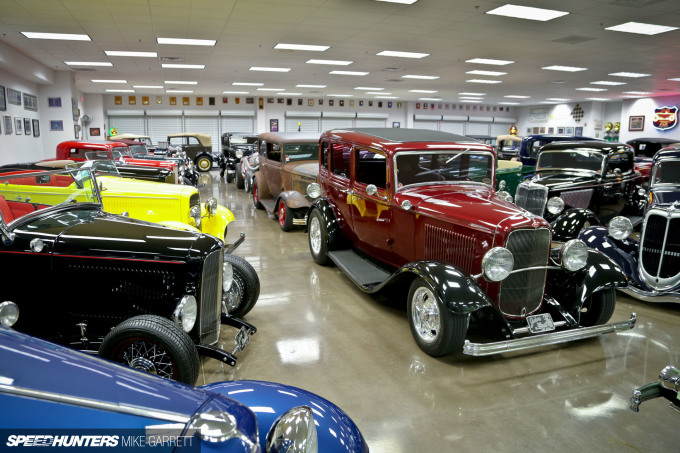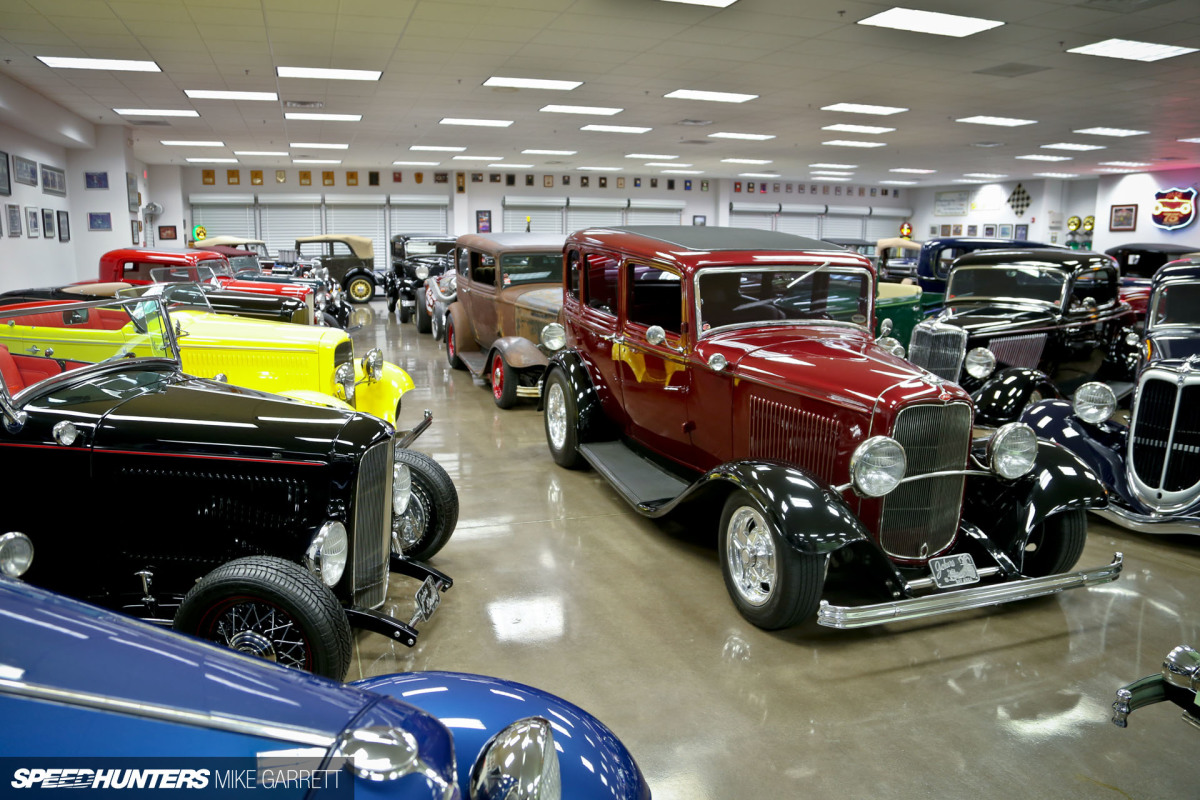 Our second stop was the garage of John Lawson, the purveyor of a successful trucking business and very well known collector of '32-'34 Fords, with a particular preference for the legendary Deuce.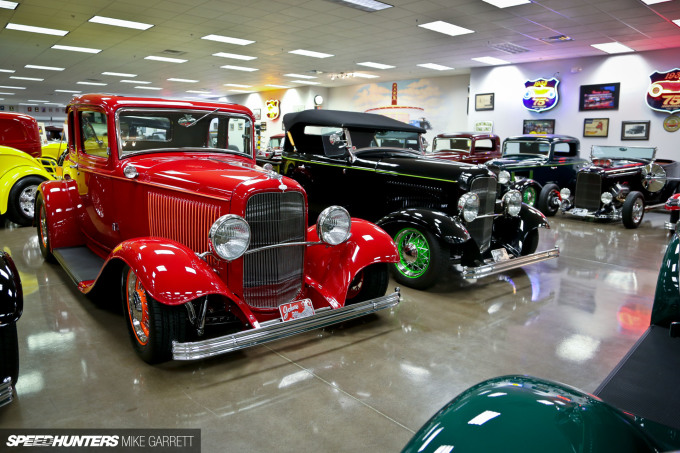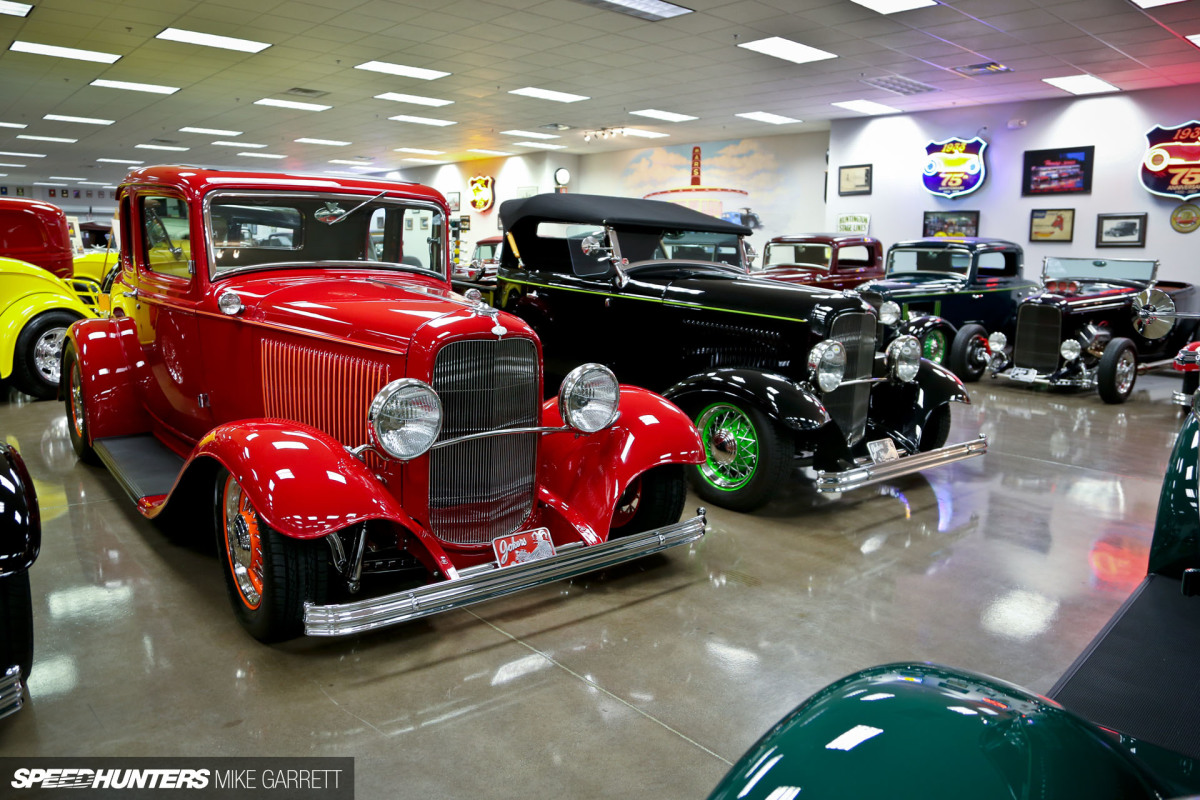 And I don't mean collector as in he has five or six of them, John has an entire building that is packed to the brim with the cars. There were around 70 of them present on this particular day.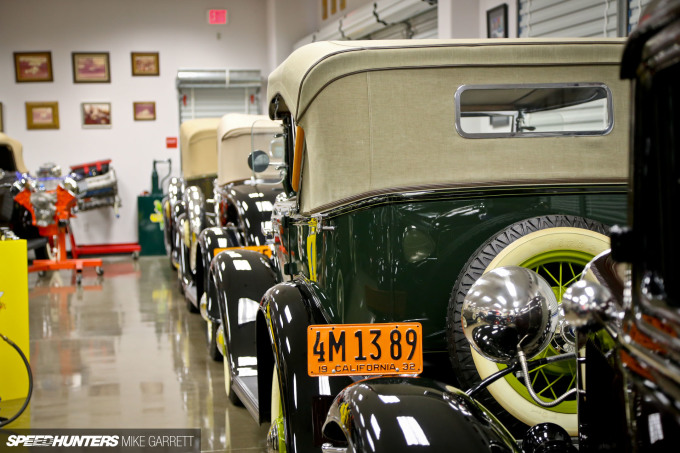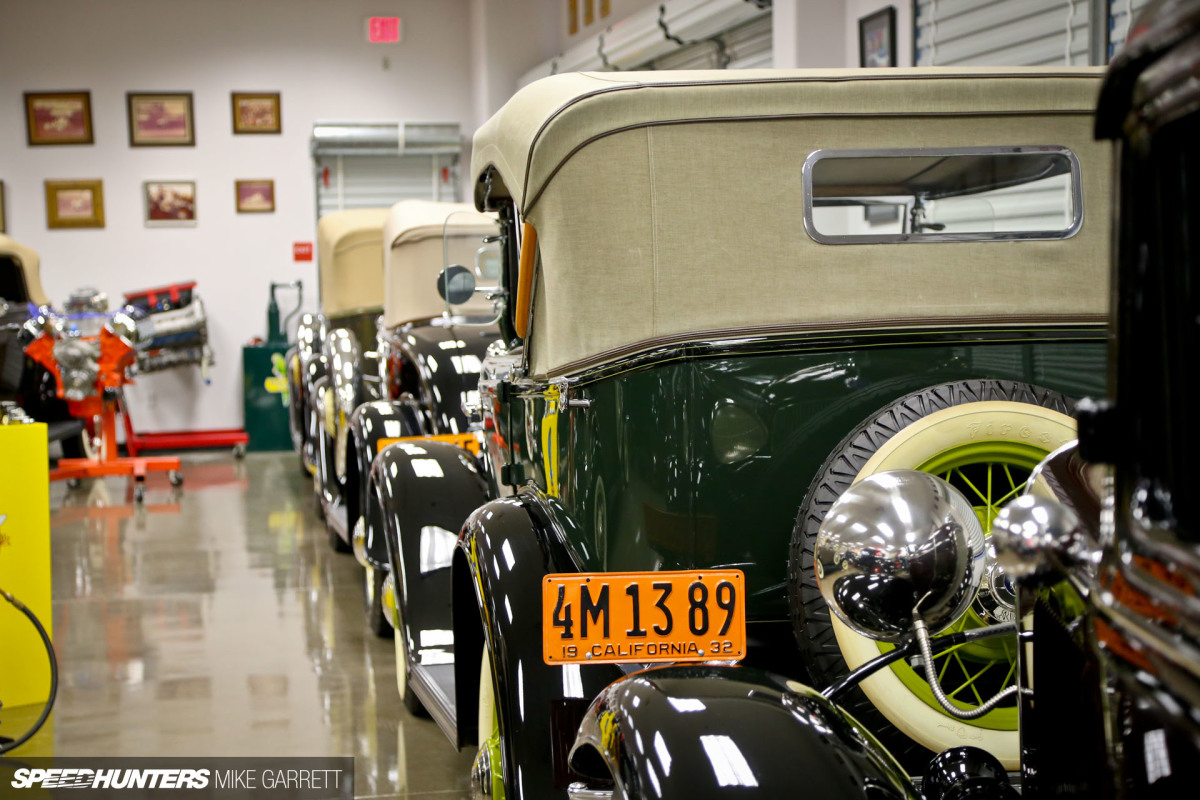 You might be wondering why someone would possibly want to collect so many examples of the same vehicle, but if there was ever a car to do it with, this would be the one.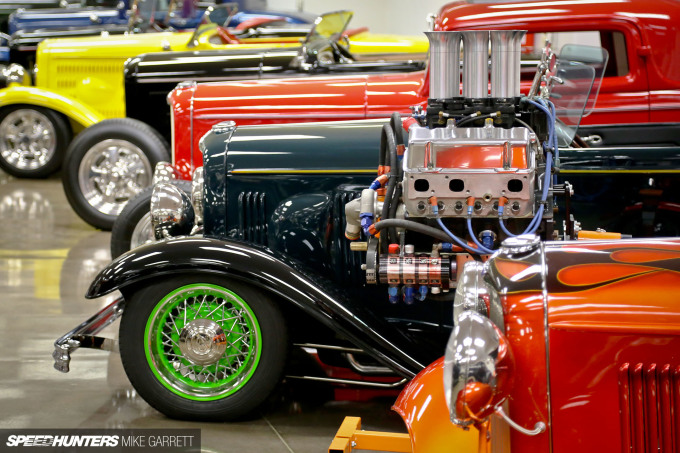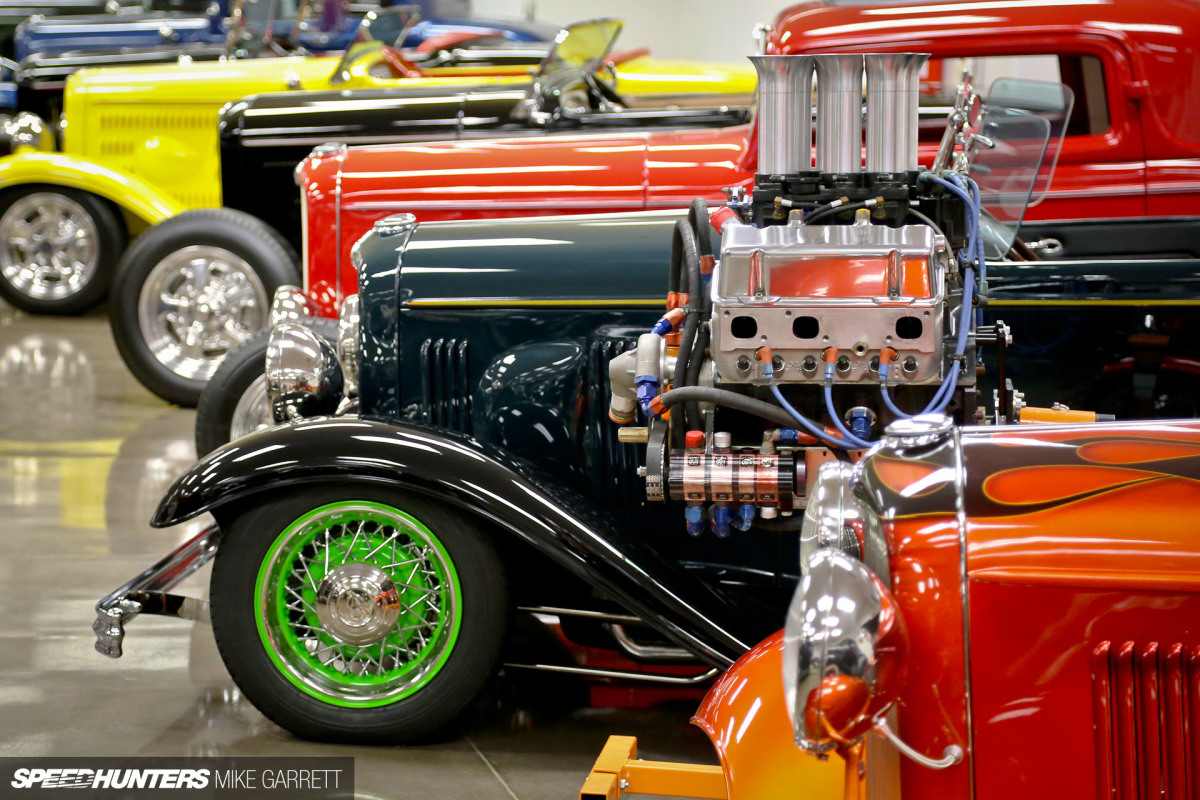 It's because there aren't many other cars that can be restored, modified, raced and enjoyed in so many different ways, and John's collection includes examples of them all.
From beautifully restored cars in factory original condition to radical hot rods and race cars, from sleek stripped down roadsters to boxy sedans – you forget just how varied these early '30s Fords can can be until you see so many of them in one place.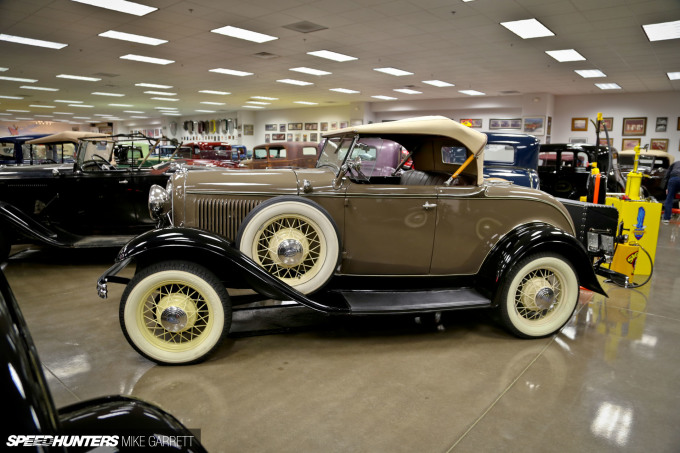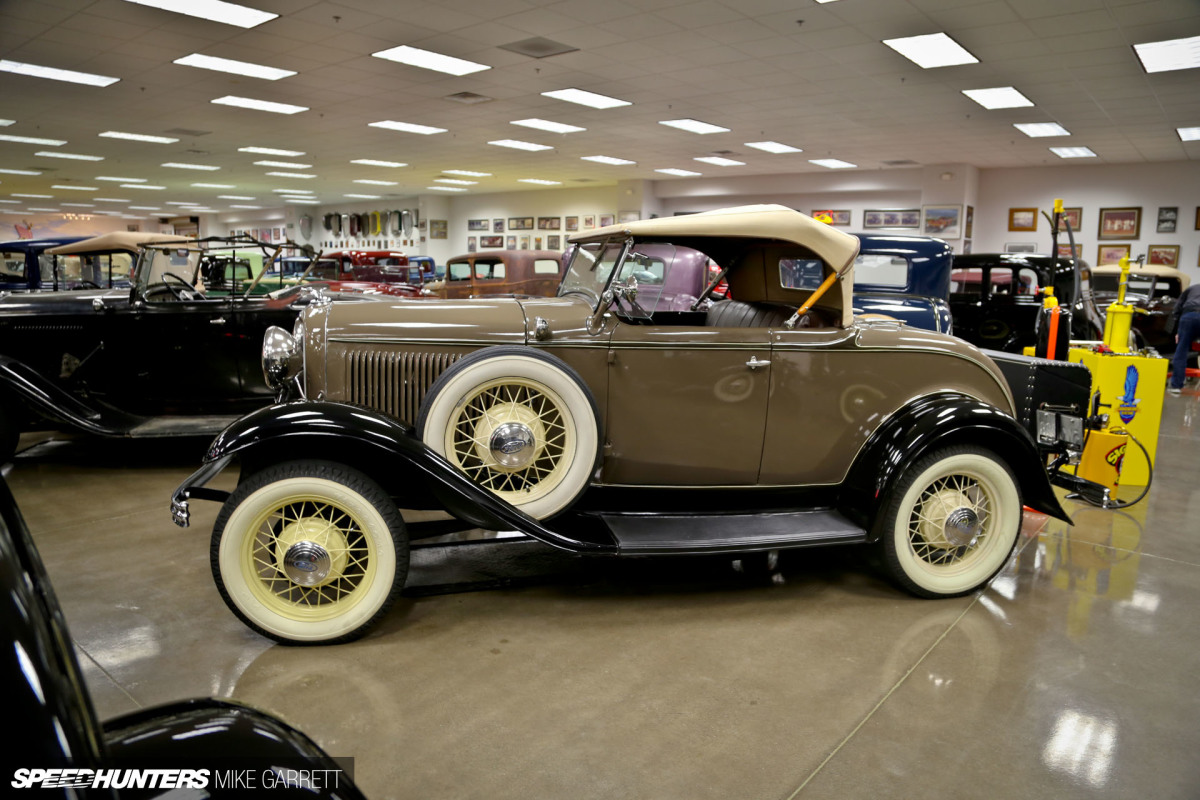 What struck me the most is the stark contrast between a stock roadster and a modified one. With the factory fenders, windshield and ride height it looks like a completely different car.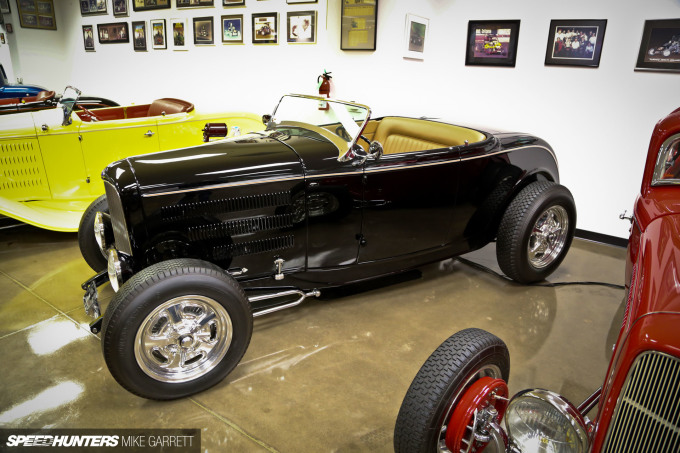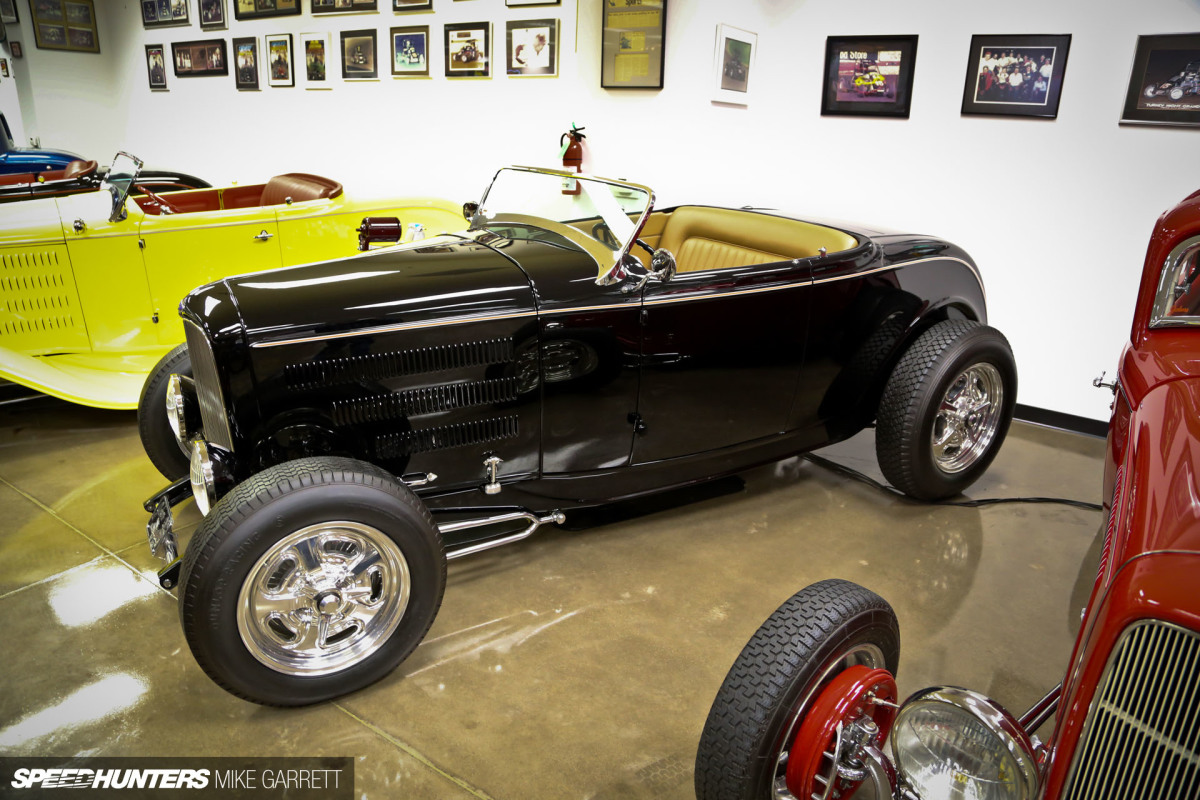 See my point? Stripping away all of that stuff also makes the car look about half the size, probably because it is.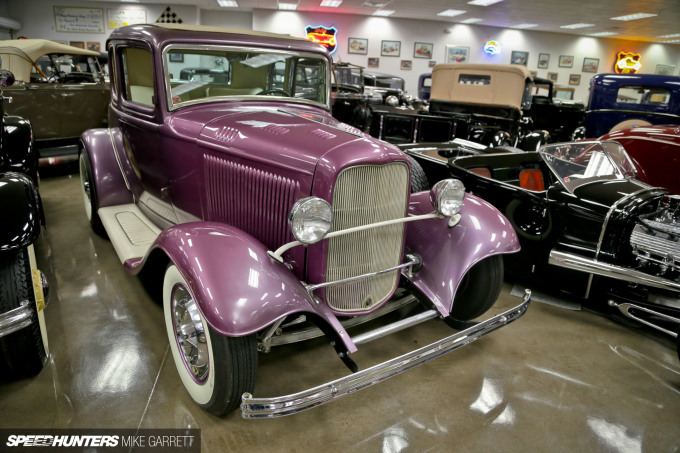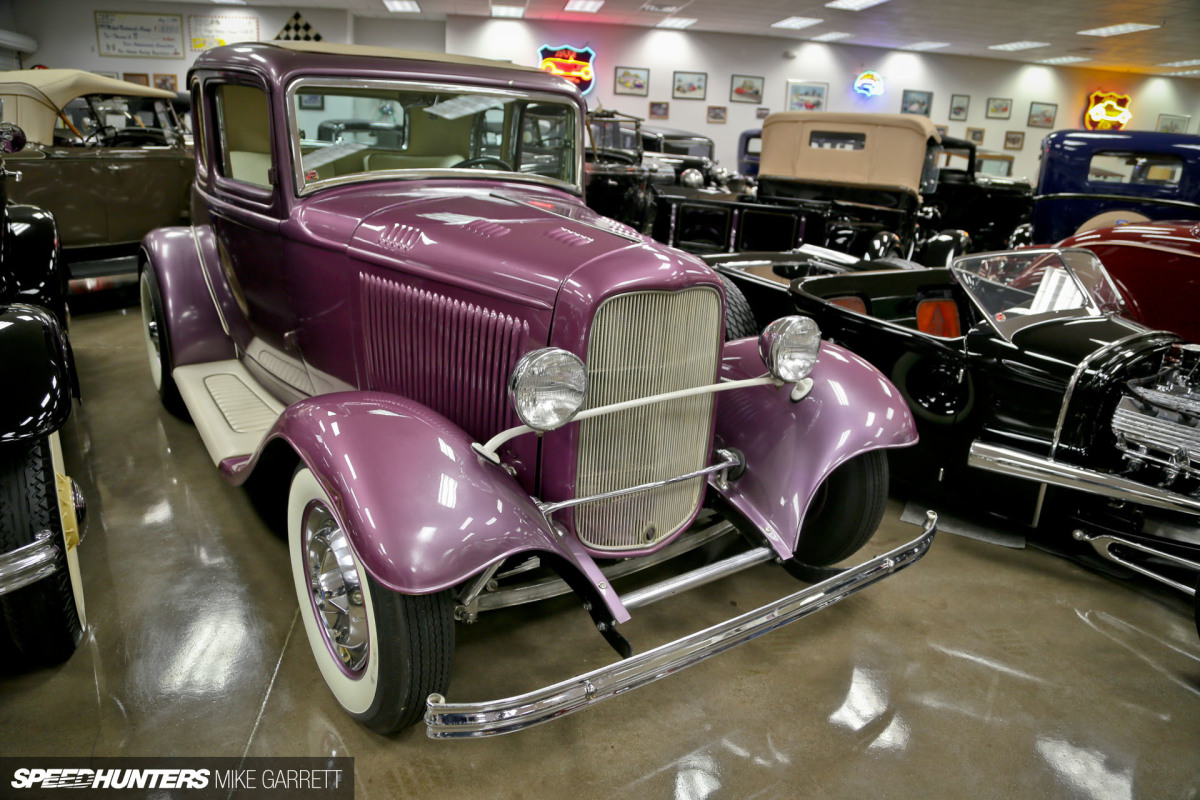 Among the collection are genuine hot rods built back in the day, like this non-chopped Oldsmobile-powered coupe on wide whites and full wheel covers.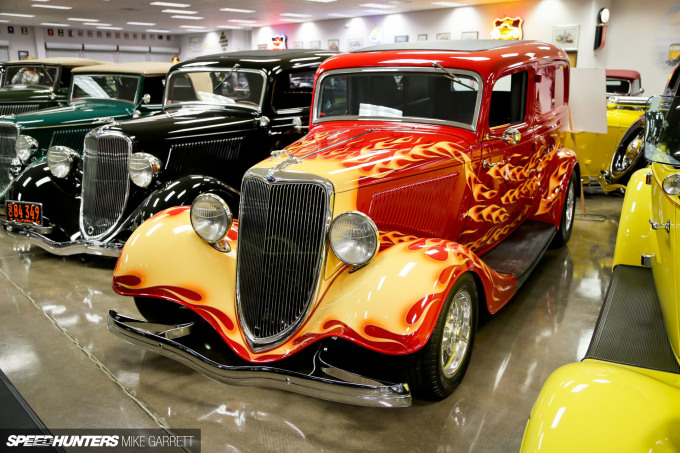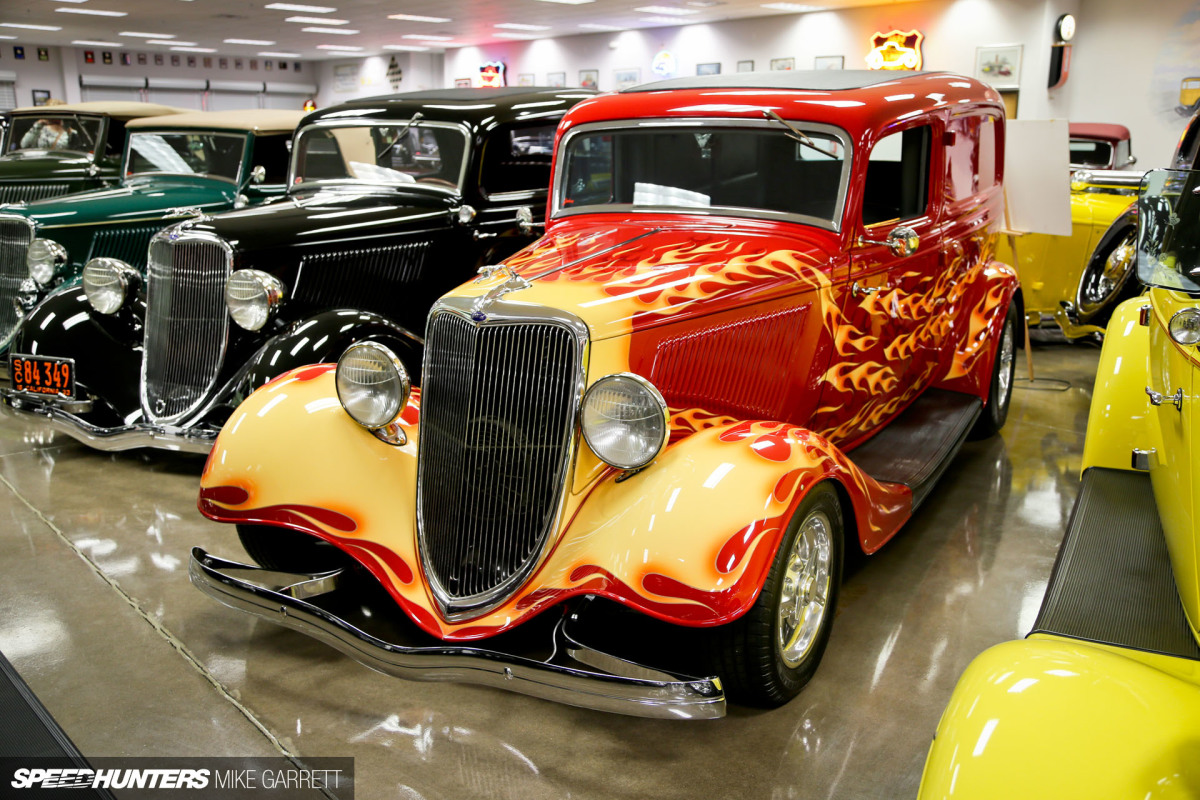 Others are more contemporary in their approach, with updated running gear, wheels and styling.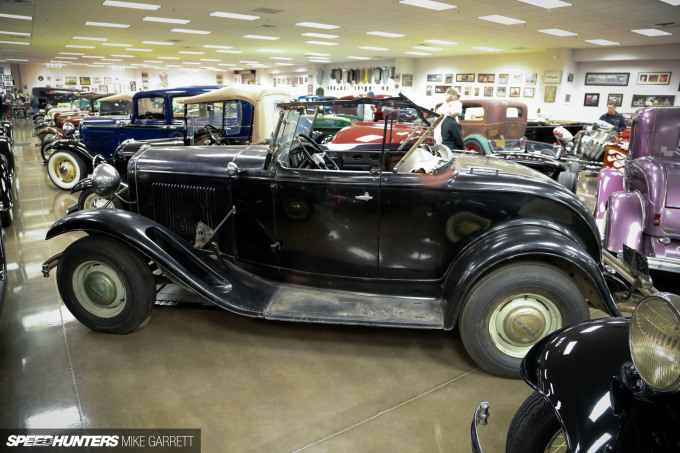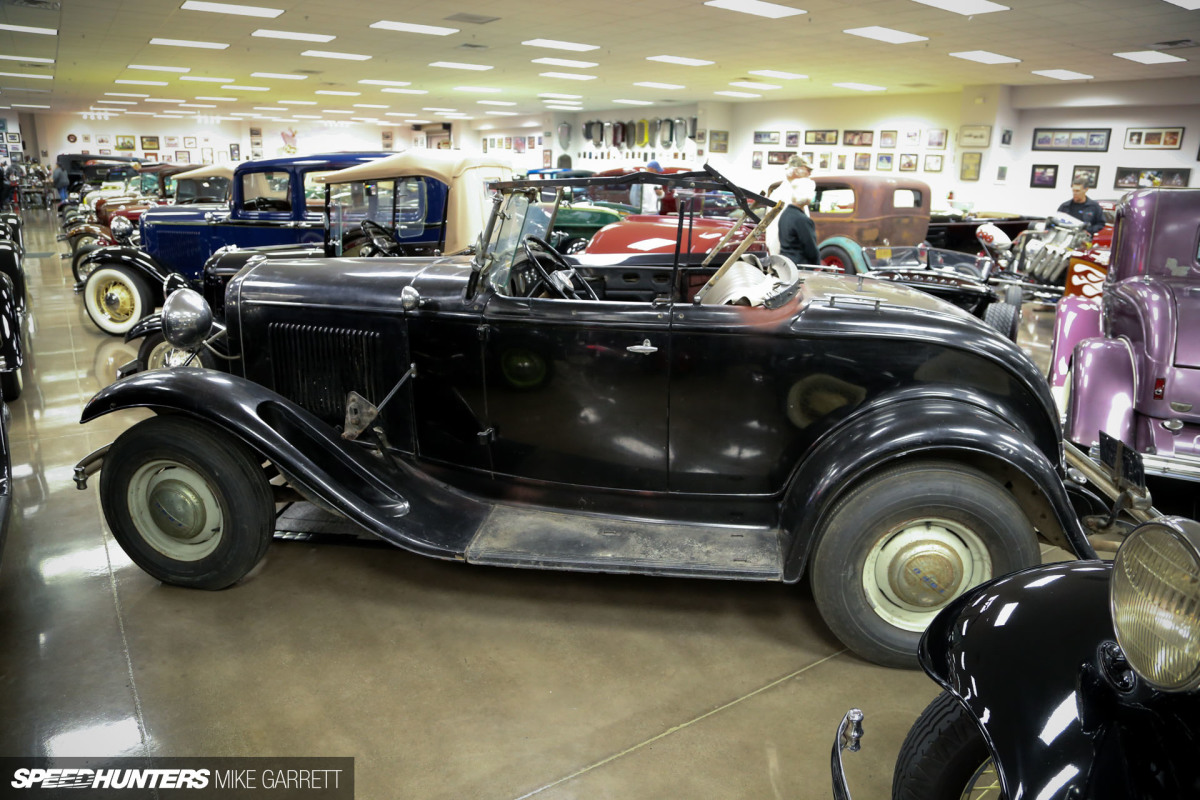 One of my favorites was this flathead-powered roadster that was completely unrestored. It made for a stark contrast to the other machines gleaming under the lights.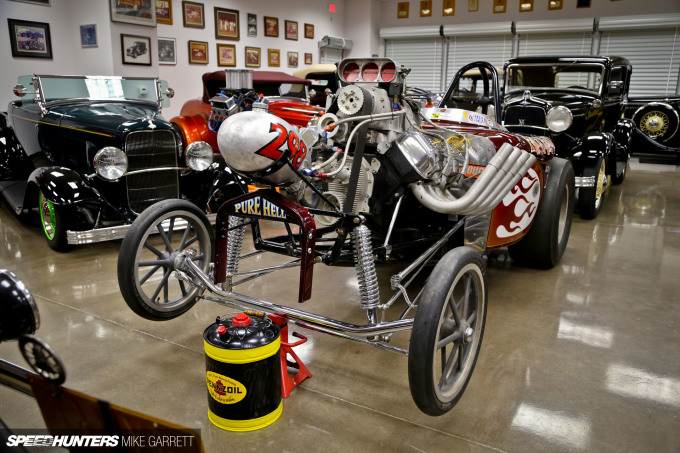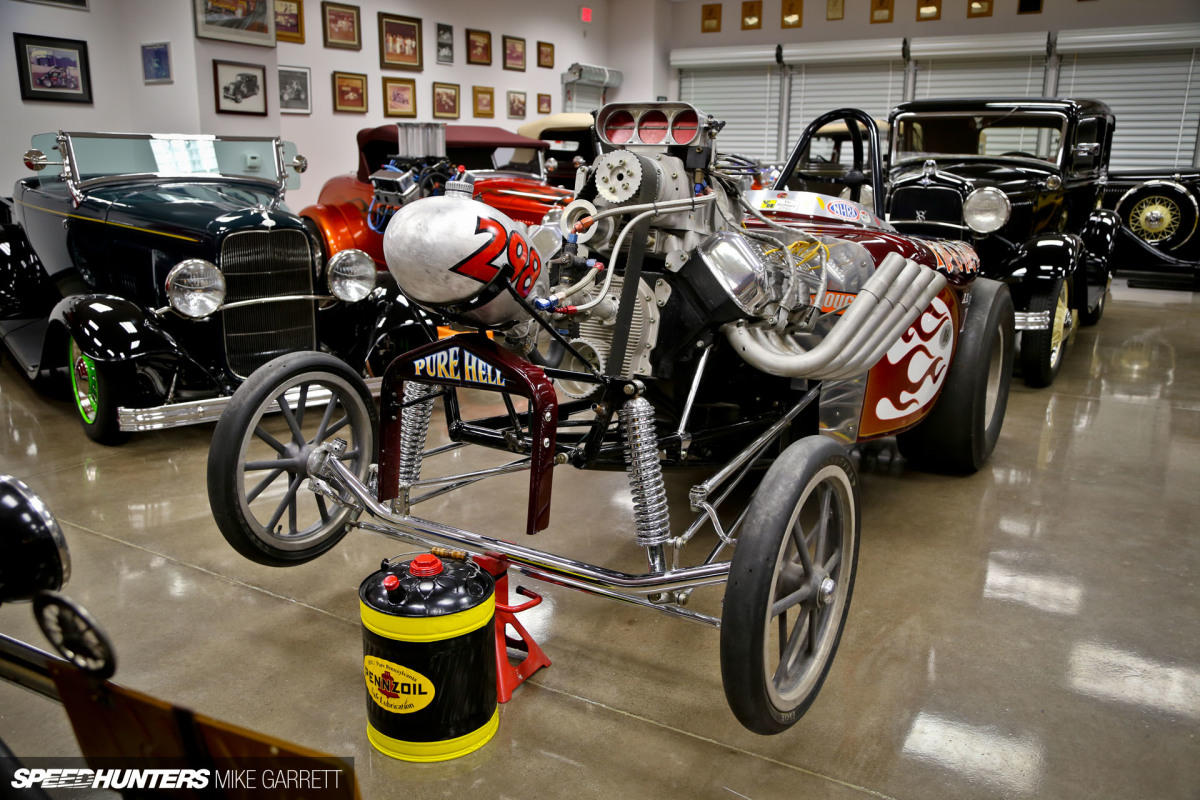 John's collection also includes a couple of full-on race cars including the legendary Pure Hell fuel altered with its blown Hemi.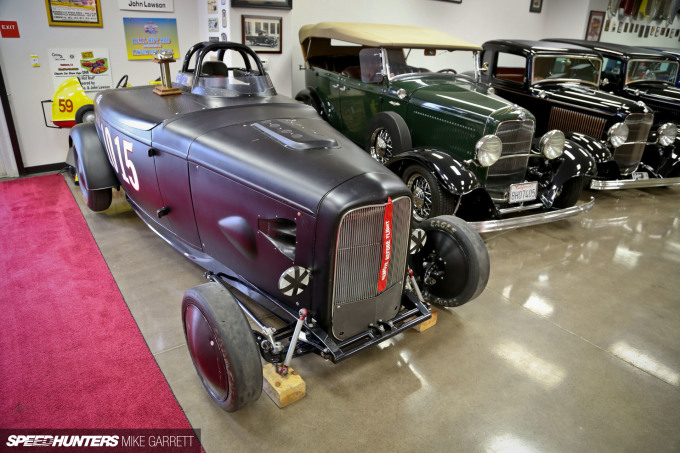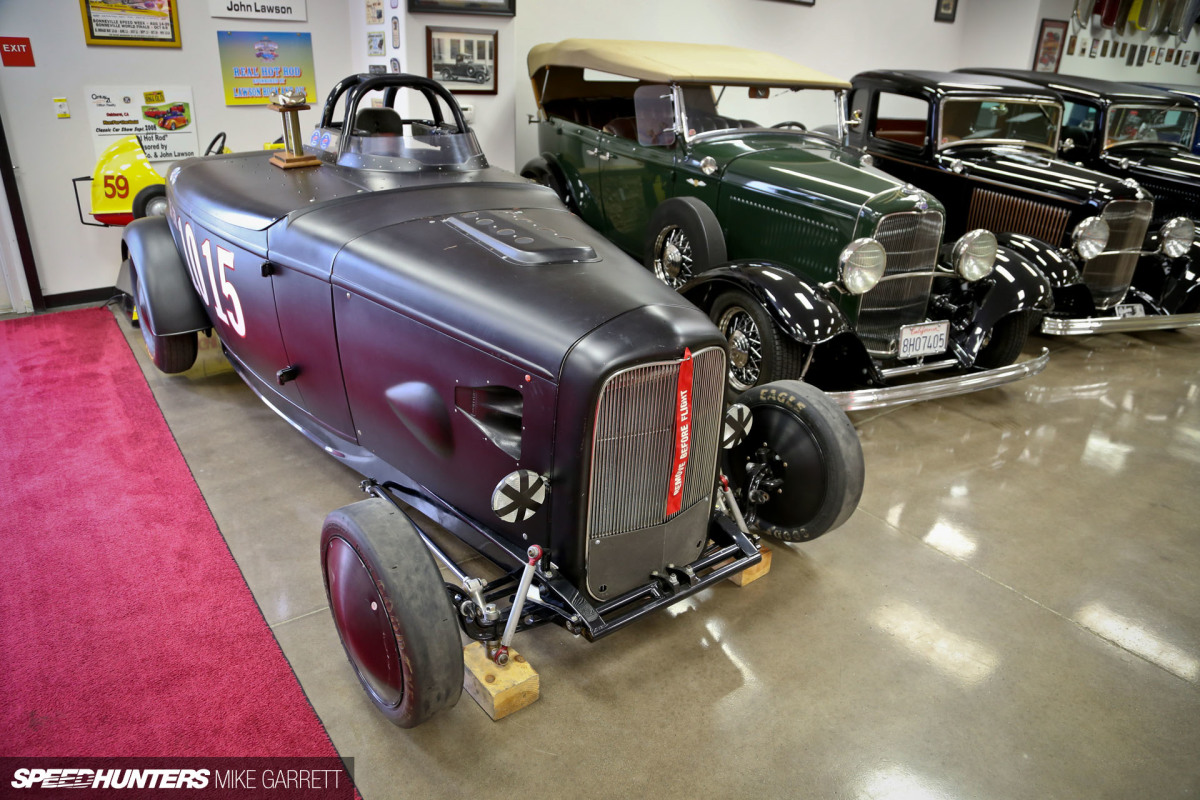 There's also the roadster that John drove to 186.66mph (300km/h) on the Salt Flats at Bonneville back in 2012.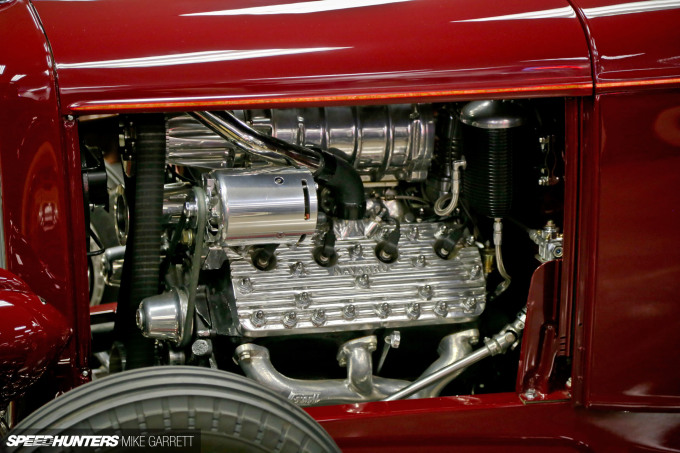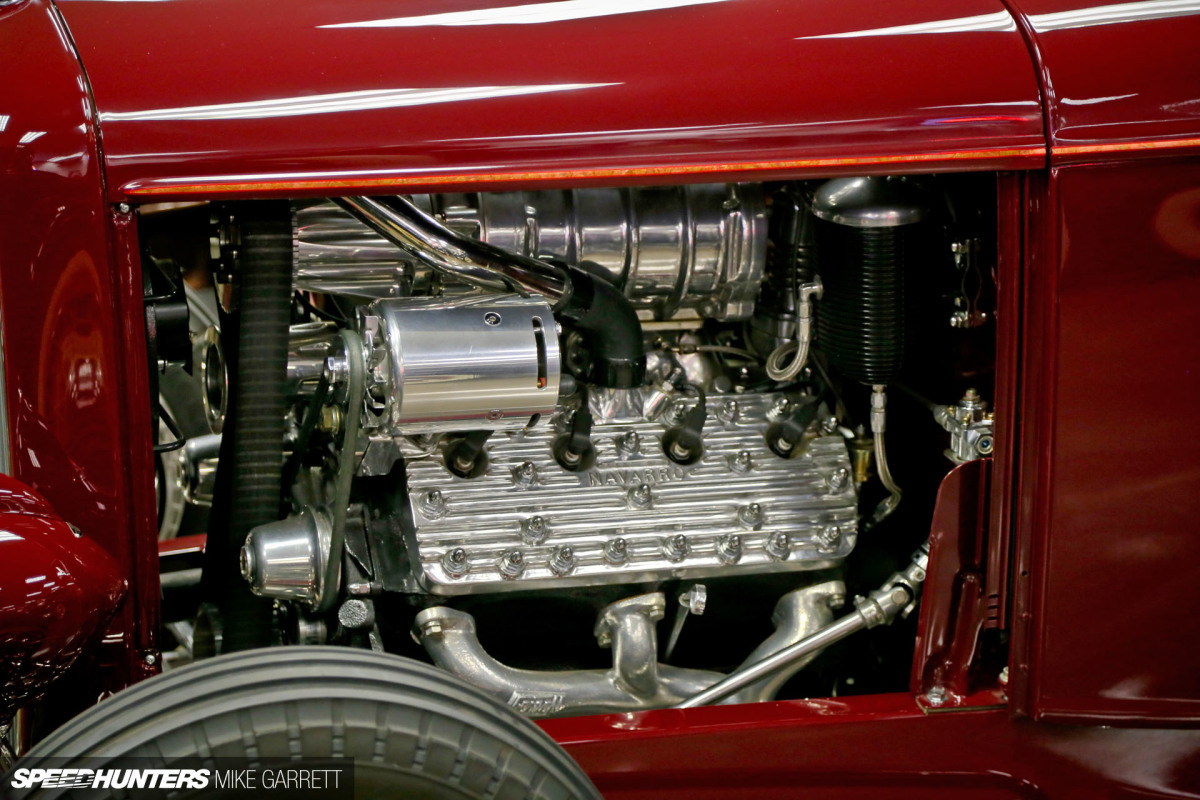 And while the cars themselves are all of similar origin, the engines are a different story. There are flatheads, Chevy V8s and plenty of Hemi heads both of the factory Chrysler and the Ardun conversion variety.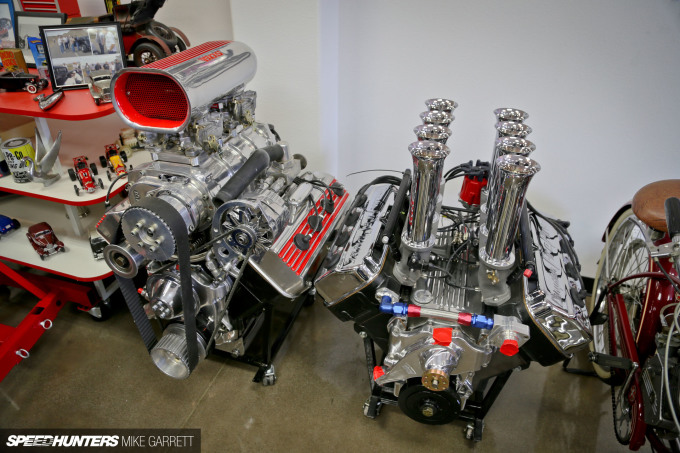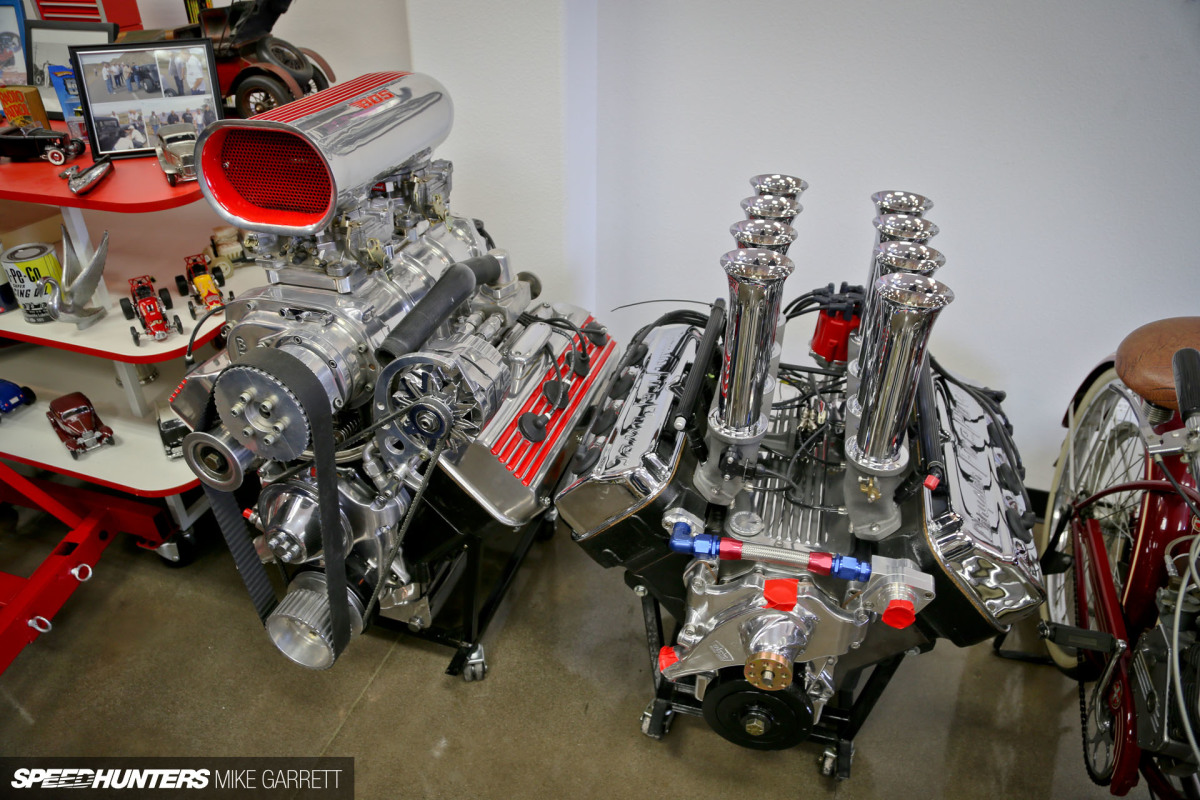 The collection also includes plenty of engines, themselves displayed in all of their glory, along with an equally impressive assortment of model cars, memorabilia and collectables. Because a garage is about more than just the automobiles contained within.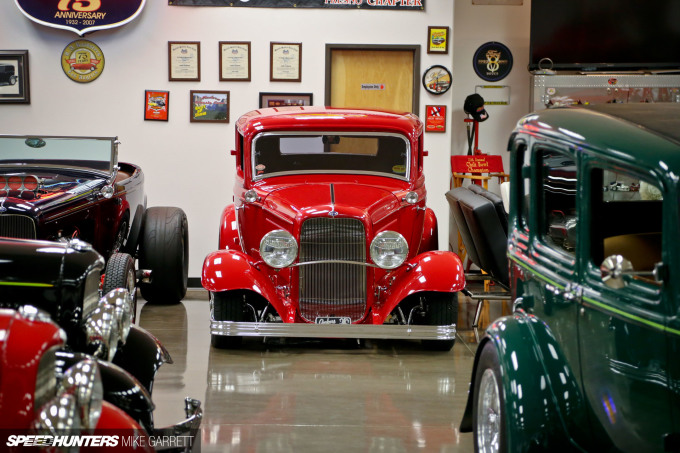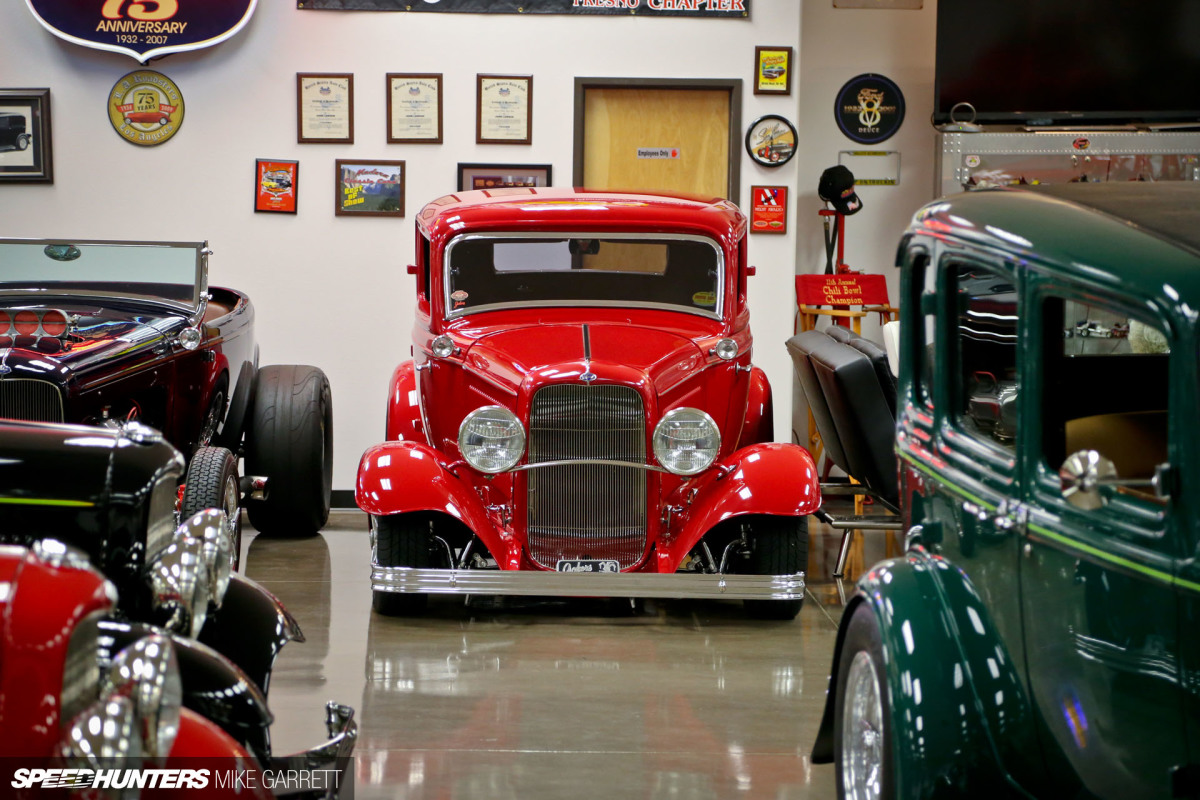 Thanks to my automotive ADD, I know that if I had the means my own dream garage would be a little more varied in nature. But a big part of me also respects the guys that have an extremely deep appreciation for one particular style of car.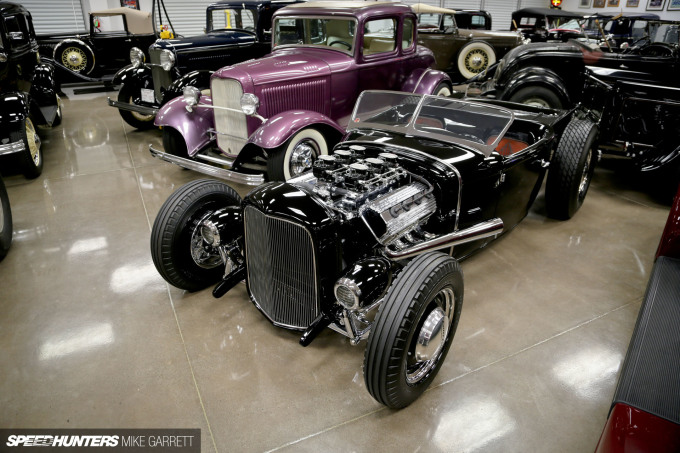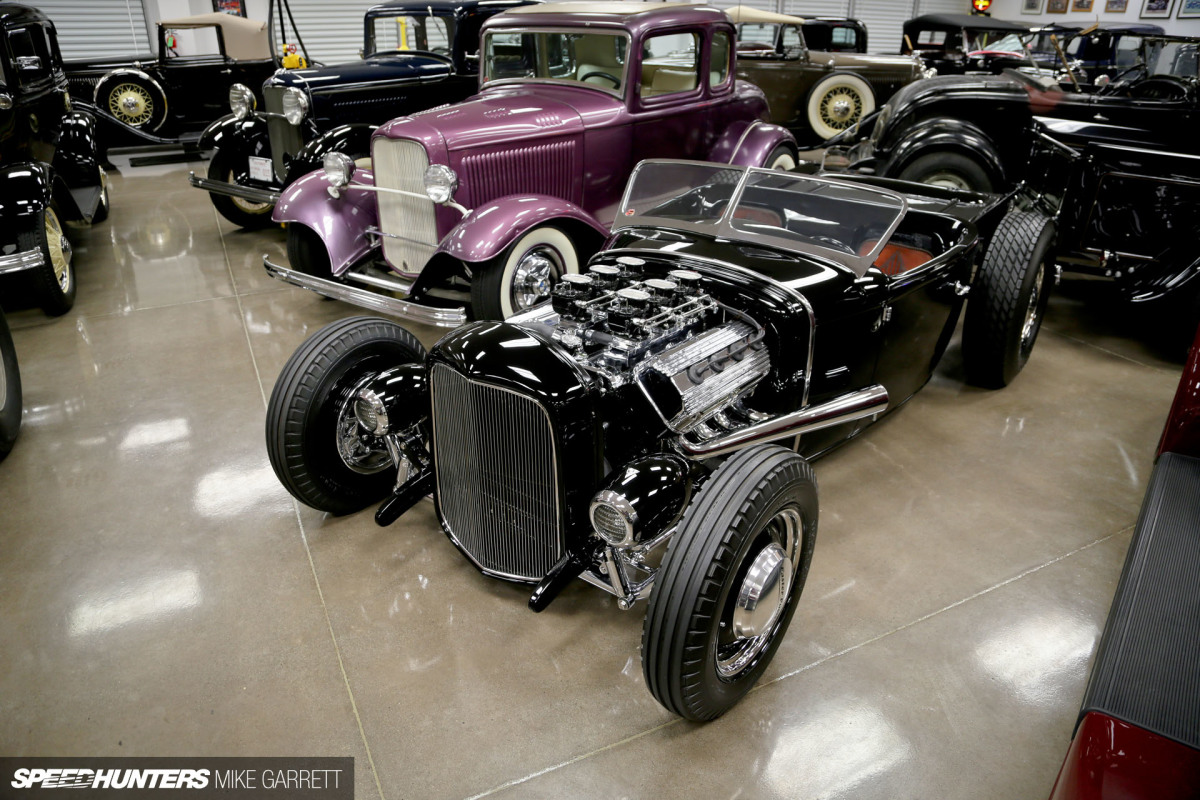 We all love different kinds of cars and have different visions of what a dream garage and car collection would be, but there's just no way not to appreciate what Richard and John have done with their 'little' garages in the heart of California's central valley.
There's no shortage of passion here, and in the end that's what it's all about.
Mike Garrett
Instagram: japanifornia
mike@speedhunters.com
More Garage stories on Speedhunters
Cutting Room Floor