Since the announcement late last year that James Deane and Piotr Wieçek would tackle the 2017 Formula D championship, details of the newest team on the grid have been kept under wraps. Speculation has been rife, but both drivers have remained quiet on any rumours sent their way, and there's been a good reason for this.
It's not been out of ignorance or some sort of superiority complex, but rather that they've waited until everything has been set in stone before announcing the next part of their 2017 campaign: their cars. And as you've already seen both above and below, Deane and Więcek will be campaigning two almost identical Nissan Silvia S15s as part of the newly formed Worthouse Drift Team.
It's the obvious choice and one which makes the most amount of sense for both drivers as they tackle their first full Formula D campaigns. Both are familiar with Nissan's S-chassis, as they are with what will power them: Toyota's venerable 2JZ-GTE. By removing as many unknowns as possible, it allows them to settle quicker and focus on driving.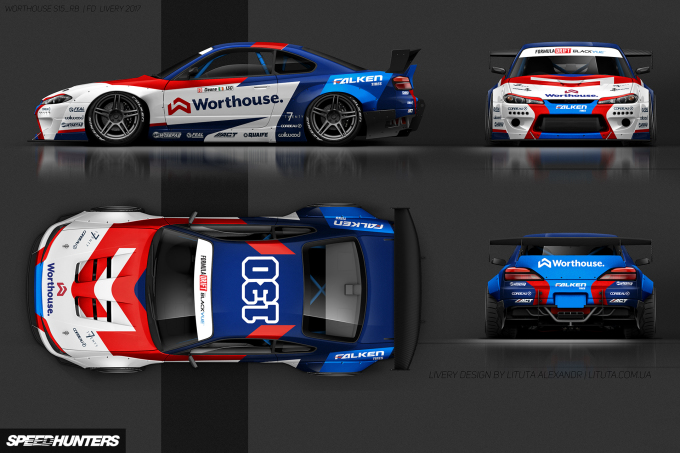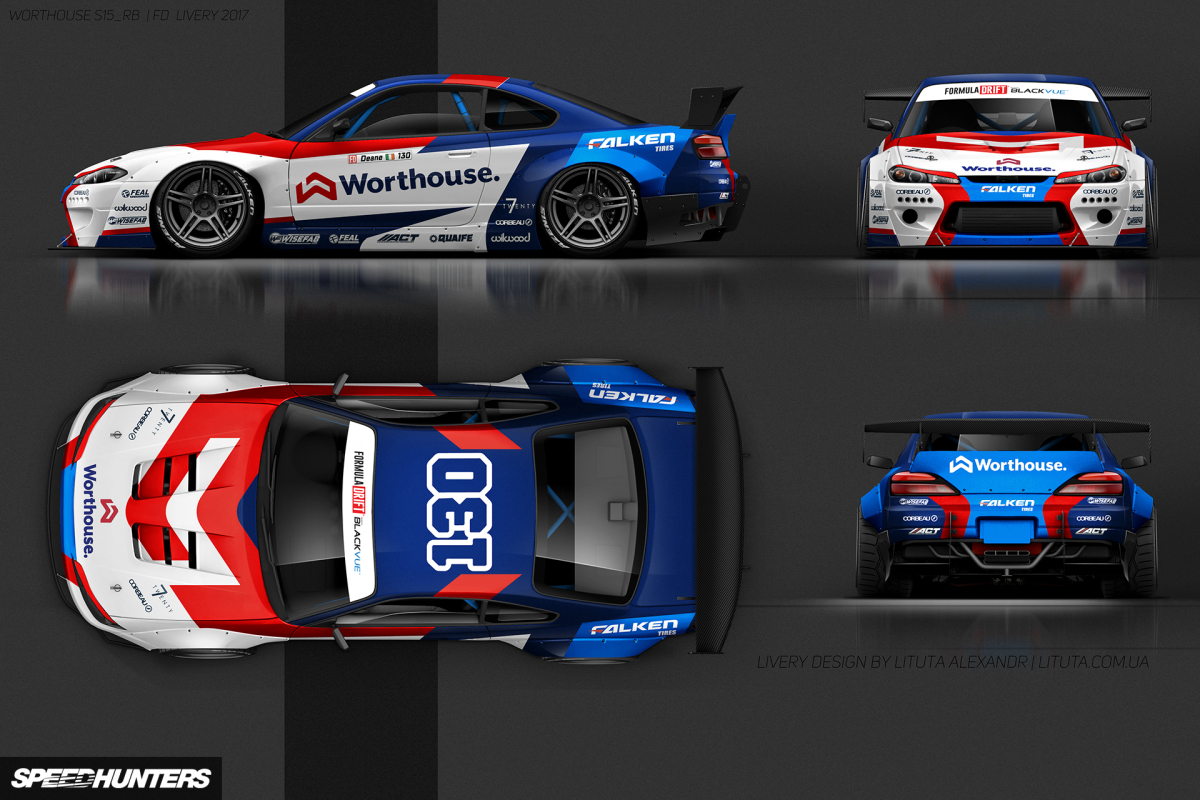 The difference between the cars is both cosmetic – the liveries are subtly different – and mechanical, with Piotr's car being left-hand drive and James' being right-hand drive. The dissimilarities, however, end there.
Both cars will be running new dry-sumped 2JZ-GTE engines with single Garrett GTX4088 turbochargers and NX direct port nitrous. Management will be handled by Link Thunder ECUs and custom wiring harnesses. At the back of either inline-six will be a Quaife QBE69G 6-speed sequential gearbox with an ACT Race triple-disc clutch. The cars will be suspended on Feal 443 3-way coilovers, with Wisefab setups both front and rear. Wilwood brakes will take care of stopping duties with 6-piston front calipers and 12-inch rotors paired with a dual 4-piston rear setup and a custom hydraulic e-brake. The shells have both been seam welded, fitted with FD specification roll-cages, painted and will have custom kits added. Both drivers will use custom Corbeau carbon seats and harnesses. The 7twenty Style 46 wheels will be wrapped in Falken RT615K+ tires.
Both S15s have been under construction for several weeks, and both are being built as 'new' and from the ground up. But here's the interesting bit: one car is being built in Poland and the other in Ireland. This has created a logistical challenge, with both sides being required to stay in constant communication with the other as each build progresses. The cars will eventually unite before being shipped to the United States in time for Long Beach and Round 1 of Formula D 2017 at the end of March.
Exciting times lay ahead, and it's a story that we intend to cover on Speedhunters from inception to the final round. I've already spent a couple of days in the wilds of Co. Cork with the Deanes as their side of the story has begun to take shape. The eagle-eyed amongst you might have noticed the subtle inclusion of James' S15 in one or two shots. Well, the underside of it at least.
This is only the beginning of this story; who knows what the future holds or what story will be told by the time the lights turn off at Irwindale in October…
Paddy McGrath
Instagram: pmcgphotos
Twitter: pmcgphotos
paddy@speedhunters.com