Tara Hurlin braves the cold to check out Rally America's Sno*Drift in our latest I Am The Speedhunter submission.
Rally photography is my drug of choice. When the road is hot, I'm tuned into every turbo spool and exhaust backfire, watching the oncoming vehicle's every move once it rounds the corner within the reach of my lens. By the end of each rally, all the time spent planning for the event and the work throughout doesn't seem laborious at all.
Photo equipment endures extra abuse: During summer, I fear flying dirt and loose gravel, and in winter, splashing slush and fast-draining batteries keep me on my toes. But as soon as the race starts, that is all I focus on; I'm there, living in the moment, waiting for the next car to blast by and leave behind a crisp scent of race gas, which is enhanced in cold temperatures.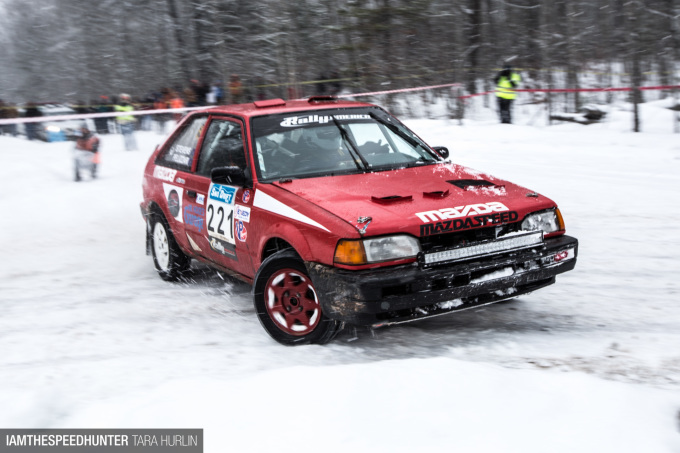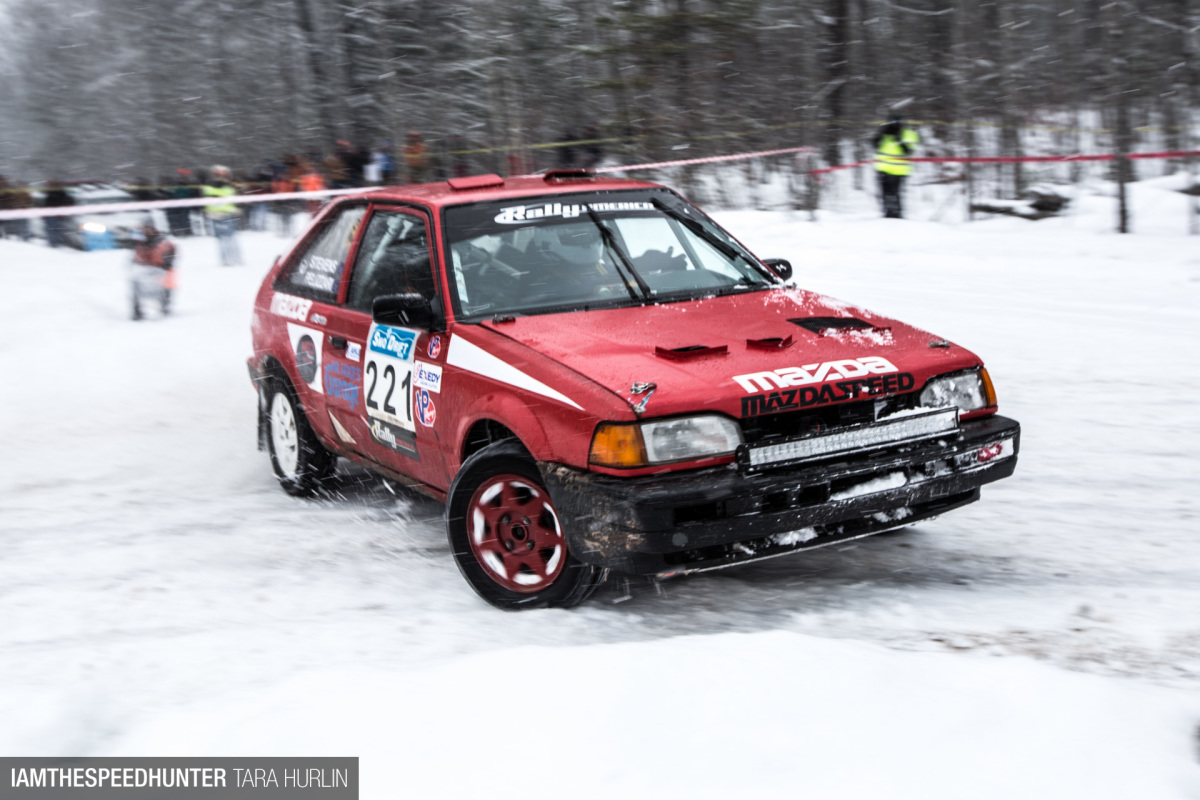 Whether a driver, photographer or motorsports fan, anyone who loves a challenge and doesn't mind roughing it will fall in love with rallying. As a journalist, covering a rally event means a lot of packing, moving, unpacking and rushing from stage to stage just to catch a glimpse of the rally cars flying by.
The Rally America regional and national championship series kicked off with Sno*Drift in Atlanta, Michigan – the most challenging event of the season considering the cold. Although unpredictable like most stage rallies, there is an added element: the varying conditions of snow, slush and ice, and with Old Man Winter's abuse on the unmaintained roads comes ruts and wheel-eating potholes. This year, suspensions were shaken apart by the washed-out seasonal roads, and solid snow banks shattered bumpers.
Friday and Saturday began with the Parc Expose before the teams set off to the first stage of each day. This is the best time to see the rally cars up close in all their glory, from vintage VWs, a plethora of Subarus and even a Toyota Yaris.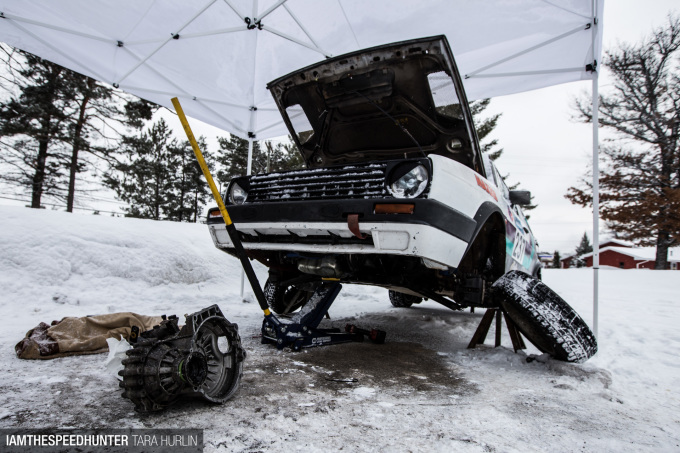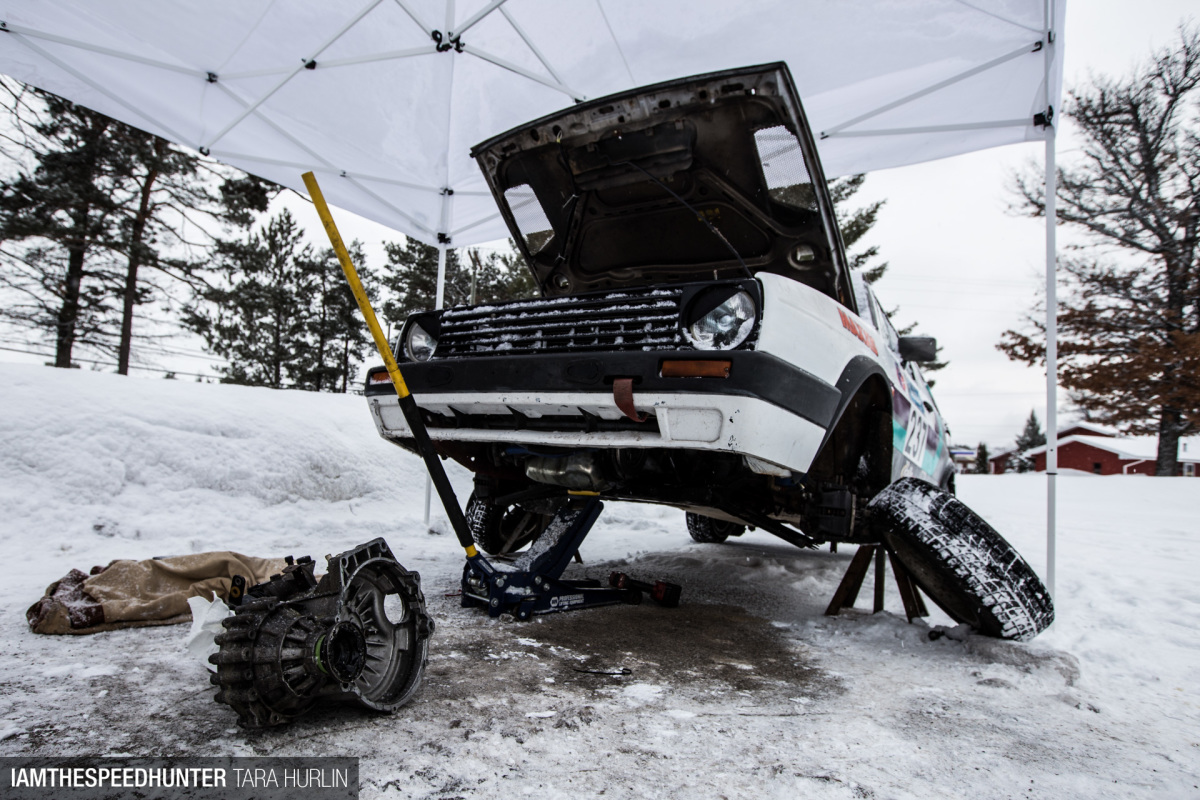 The most carnage can typically be seen in the service area while teams are troubleshooting, making repairs or just doing a once-over to ensure their cars are safe for another go. Fortunately, aside from mechanical failure and a couple of shattered bumpers, there wasn't any major damage. The priority of the weekend was chiseling pounds of compacted snow from wheel wells and underbodies. Large trailers and tents sheltered some teams from the wind and tarps on the ground shielded them against the cold, wet ground. The majority worked without shelter on the frozen tundra.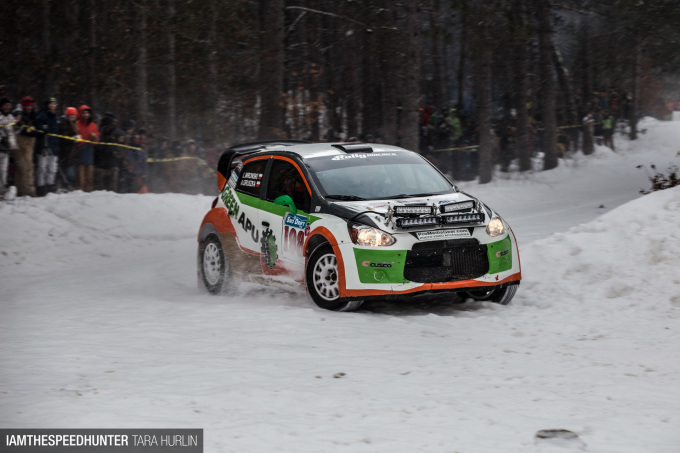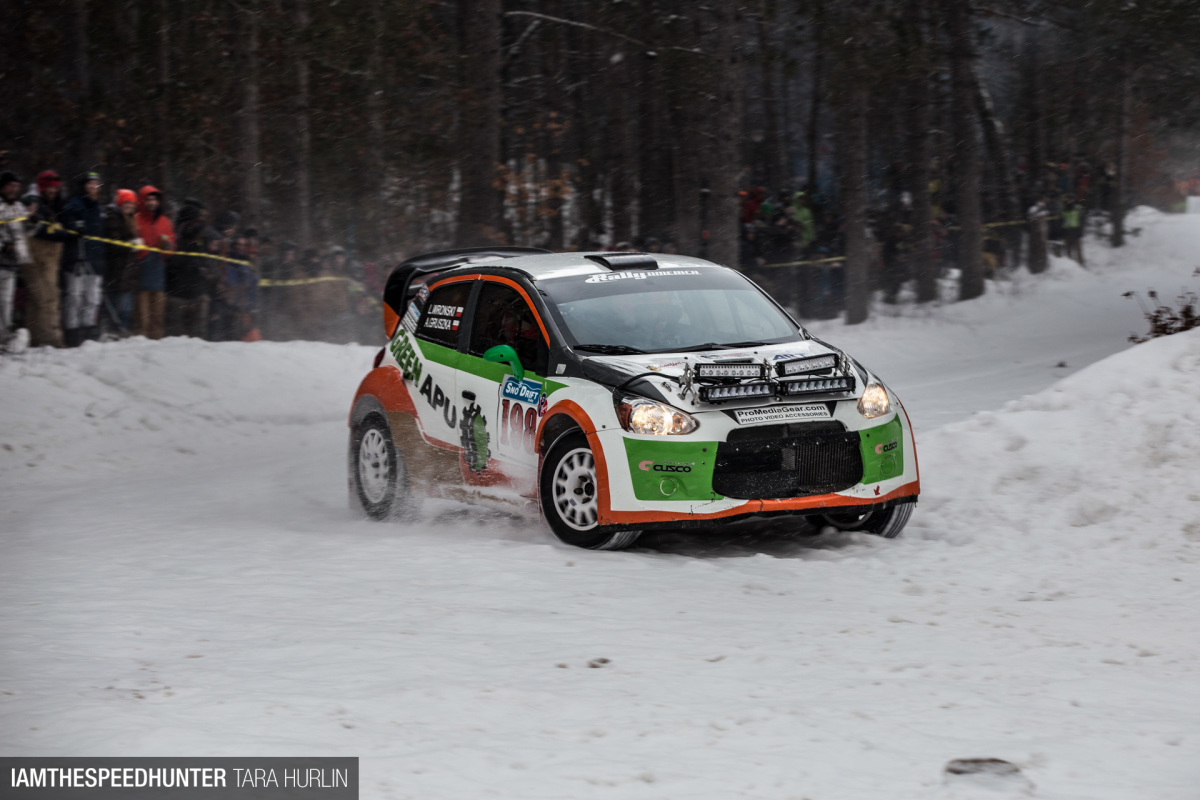 Tires can make or break a rally. For Sno*Drift, most competitors use high performance snow tires as a base, then carve the treads wider with a tire groover for better grip in the snow and slush. For icy conditions, some teams will further customize their tires by using a tractionizer (rollers with rows of spikes) to chew up the rubber compounds on street tires for clingy, Velcro-like traction.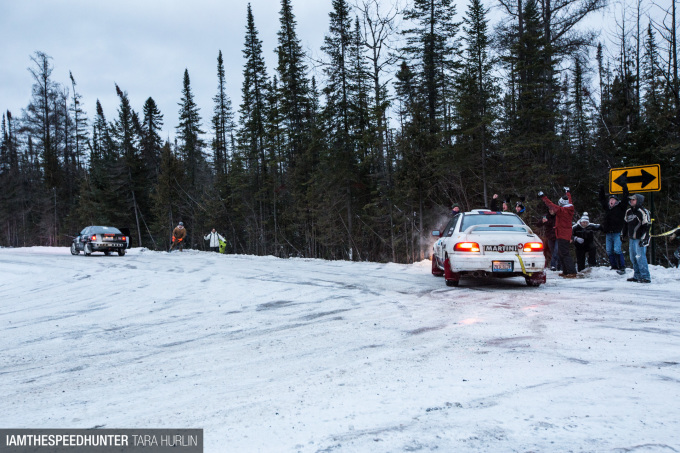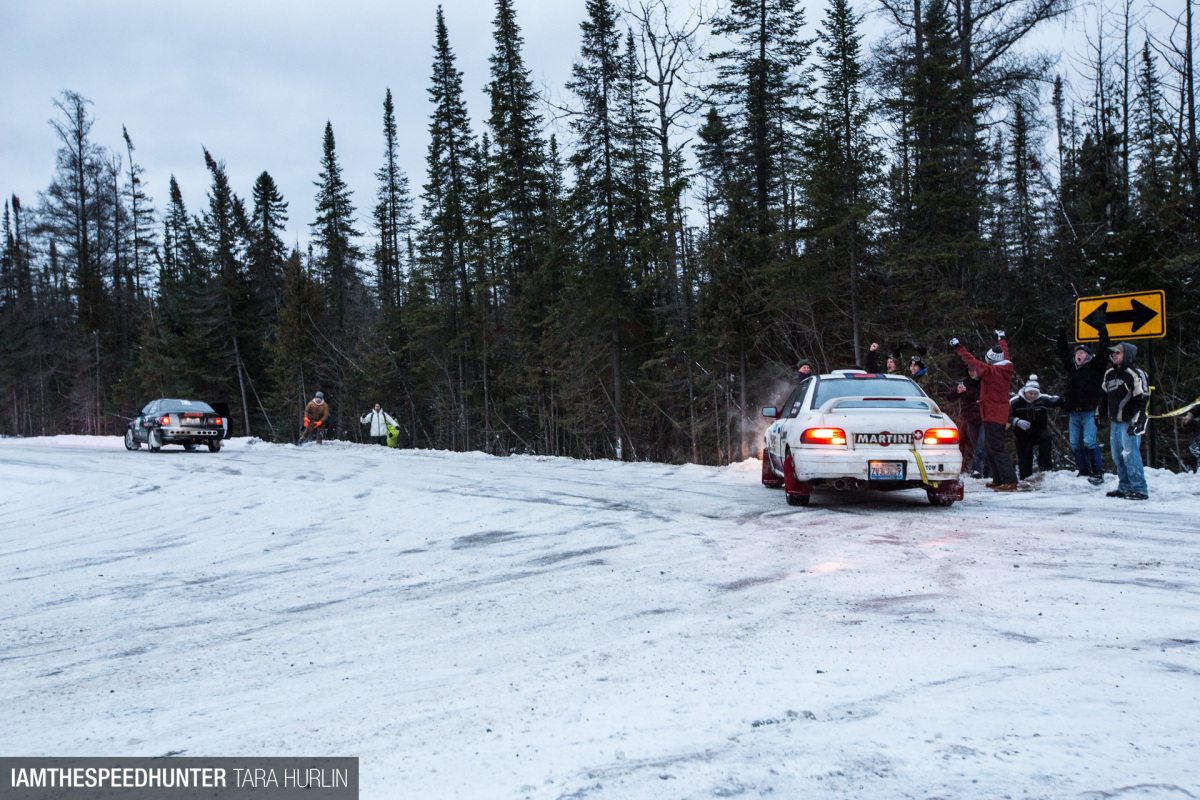 No matter how many precautions are taken, the stages get increasingly slick with each passing vehicle, and I happened to find a dangerously slippery corner. During my half-hour stay at this vantage point, four vehicles slid into the ditch and at least five more almost lost it, but were able to stop or swing around in time.
The spectators are one of the most amazing aspects of rallying. Crowds stand shivering in the middle of the woods, snow past their knees in 20°F weather (often colder), cheering for the vehicles that swoop by and out of sight in a matter of seconds. Then, if a car gets stuck, people swarm around like ants on a gummy bear to get the team back into the competition.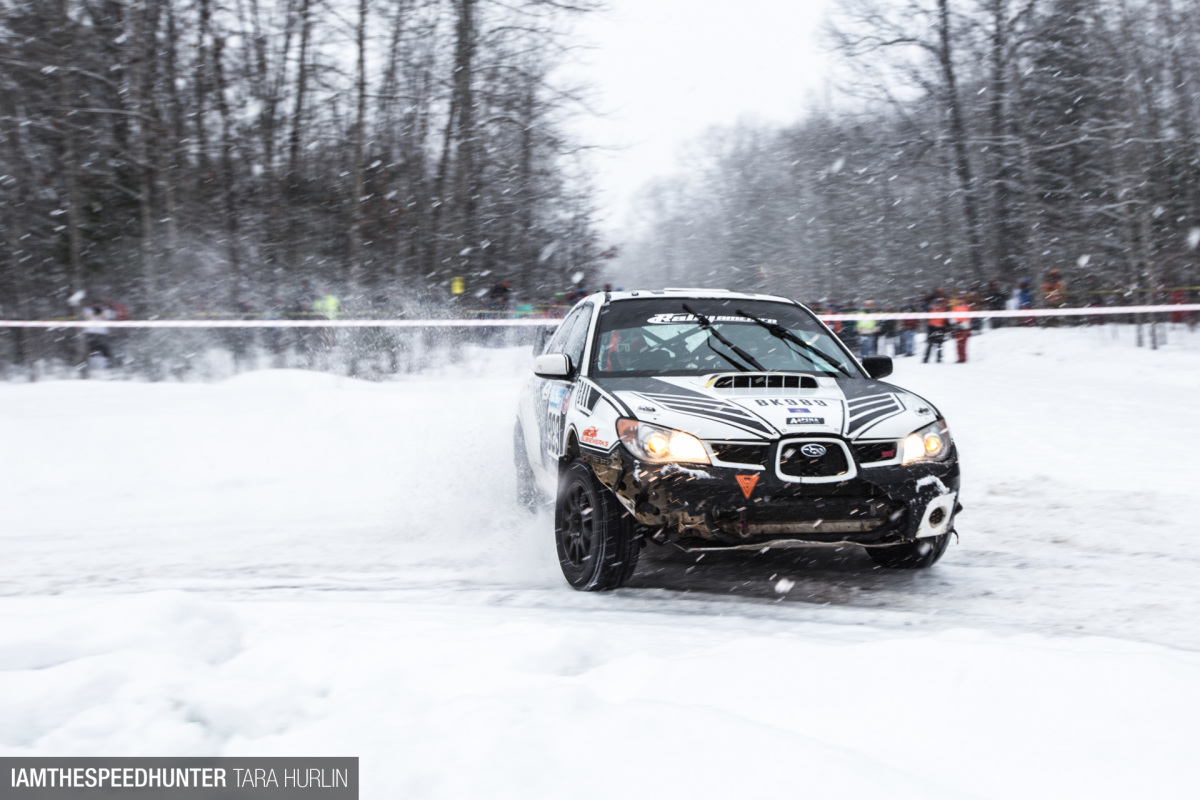 While teams battled through the stages, I focused on capturing the most memorable moments of Sno*Drift, and the most action-packed. It's all about being in the right place at the right time. There's no better place to be than near a corner, or an air-catching incline, but I have yet to check that shot off my bucket list. You know you found a good corner when drivers run their cars into banks to maintain traction.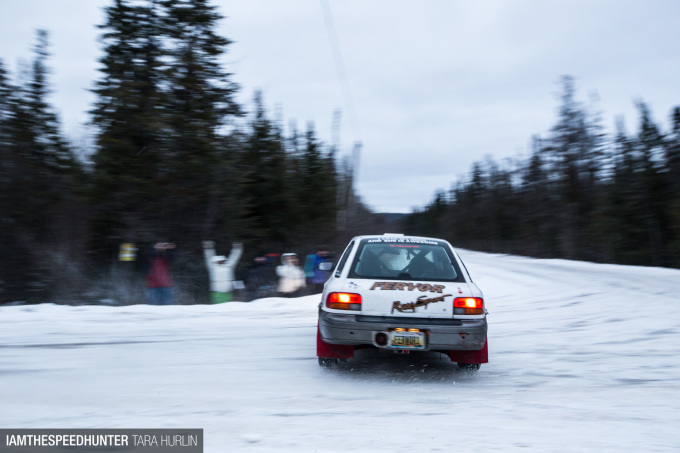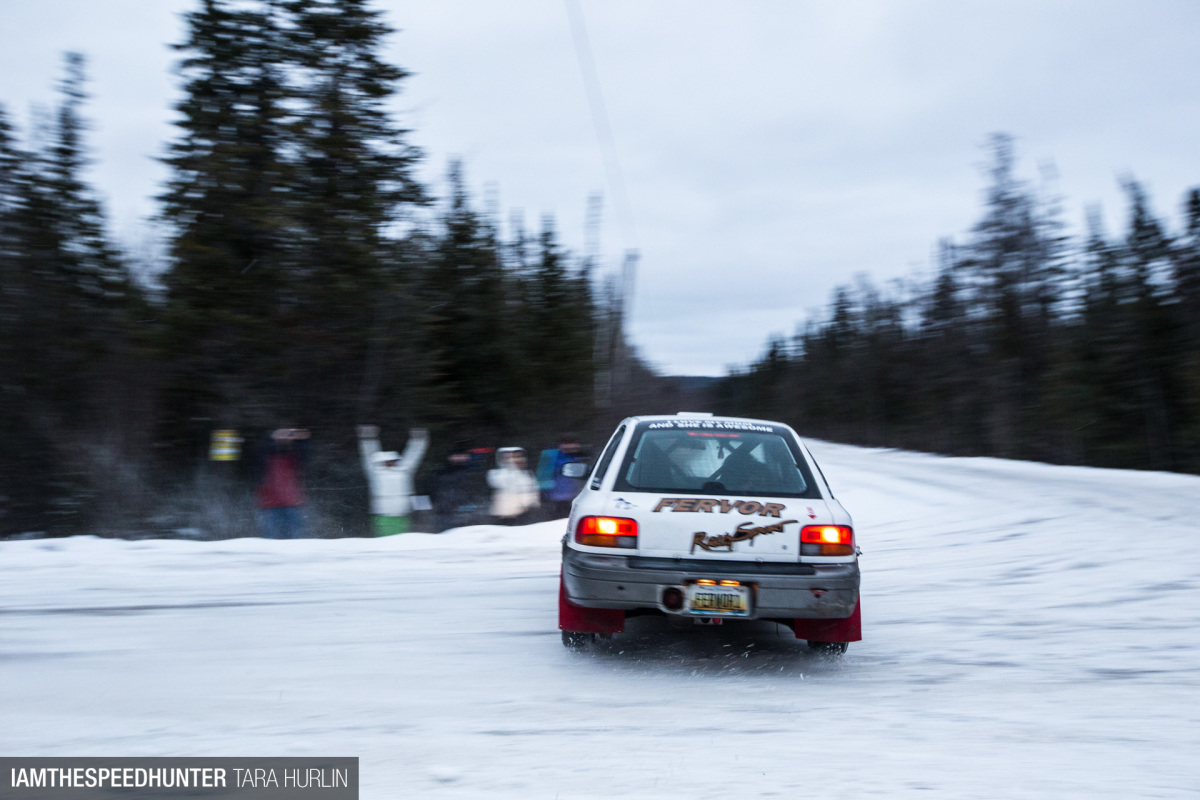 The best thing after a long rally weekend is celebrating with fans and teams during the awards ceremony, although I think we were all longing for some warm food, dry clothes and choice beverages. Pictured are first through third place winners overall, and the first through third place winners in the two-wheel-drive class.
Rallying isn't just about racing. It's about comradery, trust, and the challenge to be not only the best driver or navigator, but also your best self. Stage rallies bring the best out of everyone. Sure, the teams are racing to win and the fans are cheering for their favorite teams, but if any car ends up in a sticky situation, taking care of each other becomes first priority. The rally community sticks together to keep the sport alive in the United States for years to come.
Tara Hurlin
Facebook: tara.rottenhurlin
How To join The IATS Program: We have always welcomed readers to contact us with examples of their work and believe that the best Speedhunter is always the person closest to the culture itself, right there on the street or local parking lot. If you think you have what it takes and would like to share your work with us then you should apply to become part of the IAmTheSpeedhunter program. This is our way of trying out fresh talent on the site and encourage you to get involved! Contact us here.