While preparing a car for the 2016 SEMA Show was a welcome and exciting challenge for me, it's a much different experience than dealing with a 'normal' project car.
A typical weekend project car allows you do small tasks one by one, giving you a chance to properly enjoy each and every little modification and upgrade. But working with a huge to-do list and a tight deadline doesn't always allow for that, especially in the case of cars like my '75 Dodge Dart, where we ended up replacing just about every major component in a relatively short time.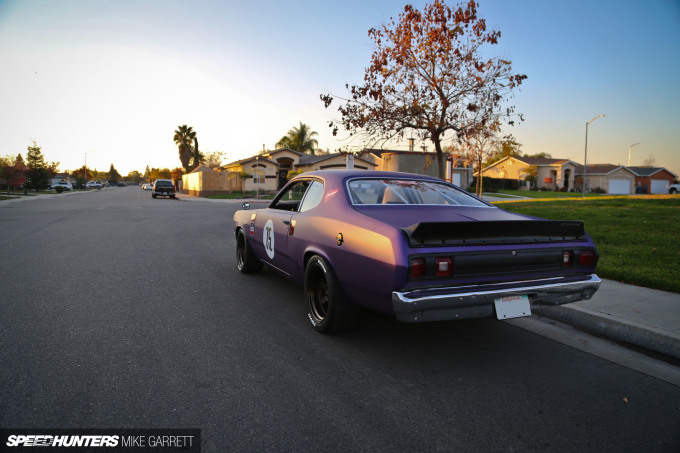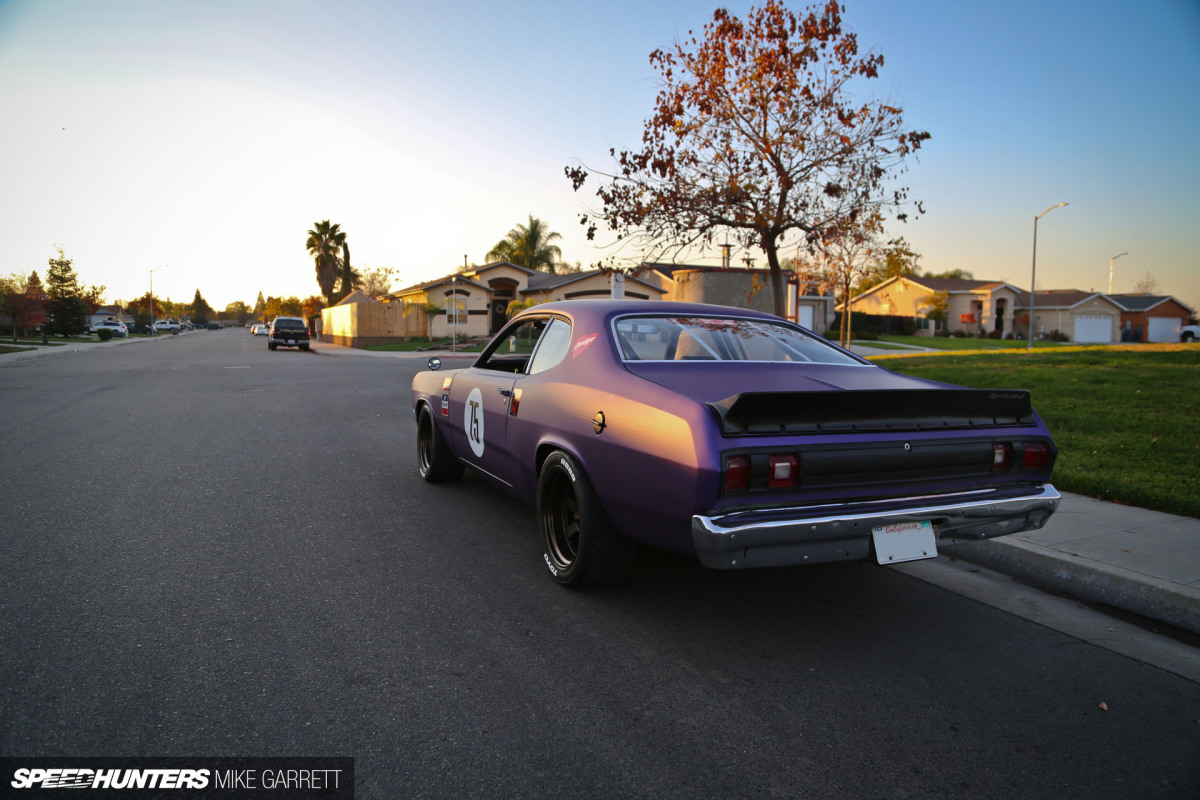 During the last few weeks before SEMA, progress on my car was so quick that it all became a blur, and I'm still amazed how it managed to come together in time. The good news though, is that with SEMA over and Project Yankee parked in the garage ready to taken out whenever I please, I now have the time to soak it all in.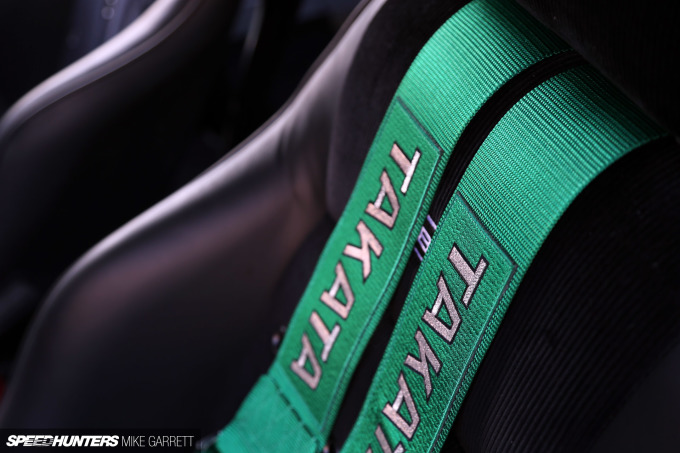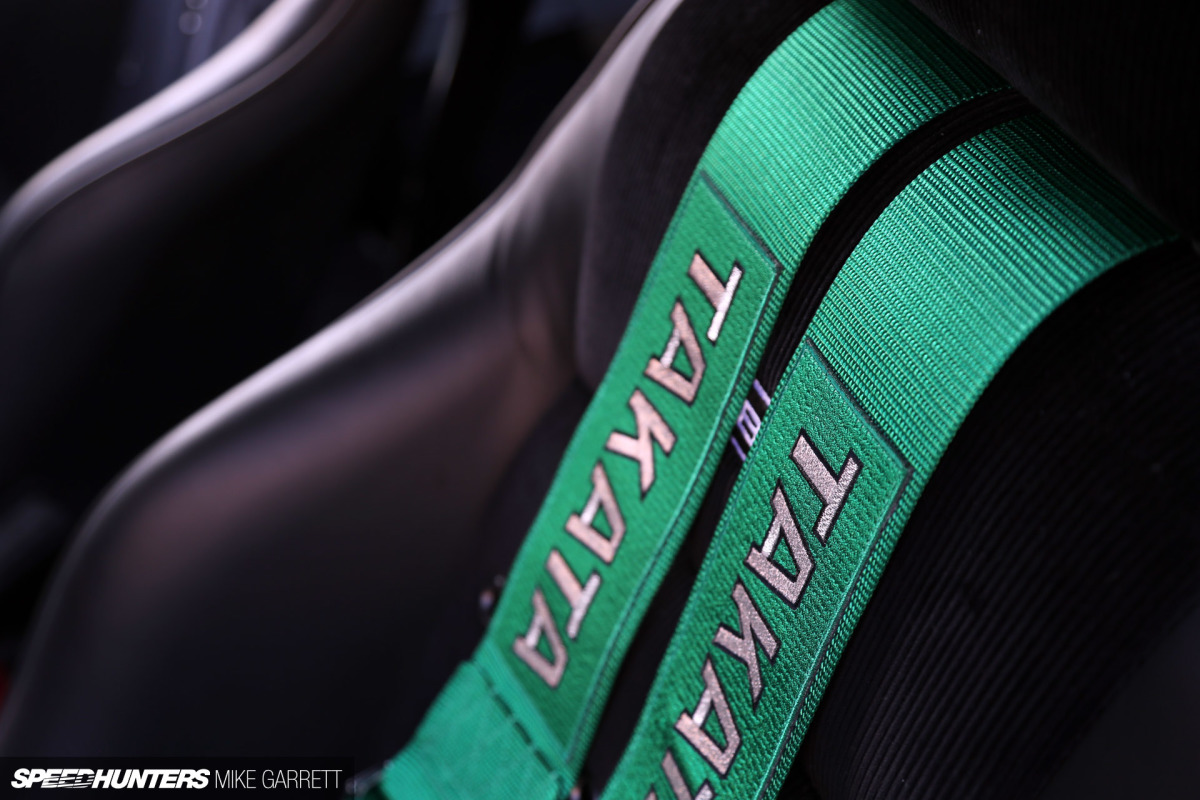 So with that in mind, I wanted to spend a little time talking about one of the final parts installs we did before the car was loaded up and transported to Las Vegas: a pair of Formula 6 harnesses from our friends at Takata Racing.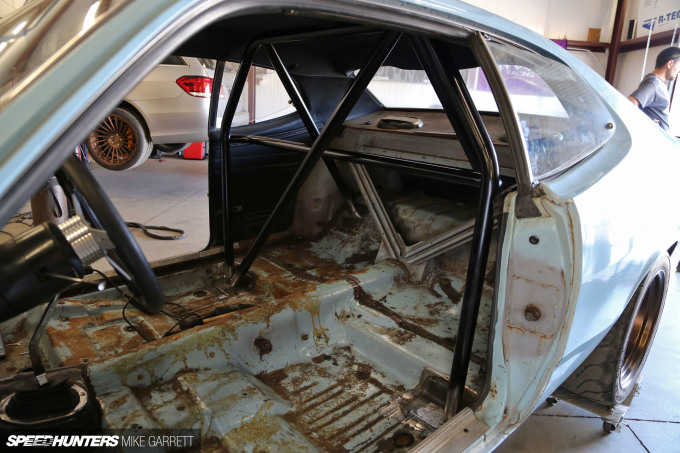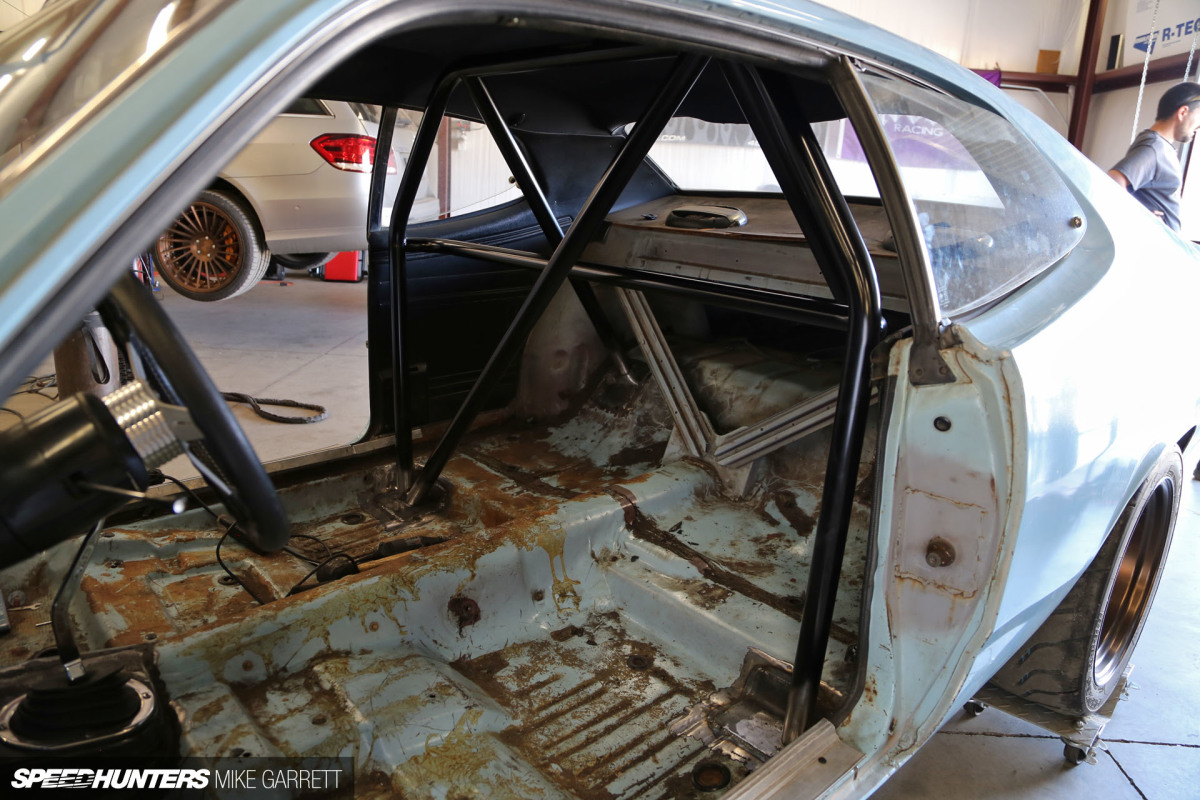 Prior to this, my personal experience with racing harnesses was very limited; most of the cars I've modified were daily drivers, so I'd never had the necessity to install them. Project Yankee was different though.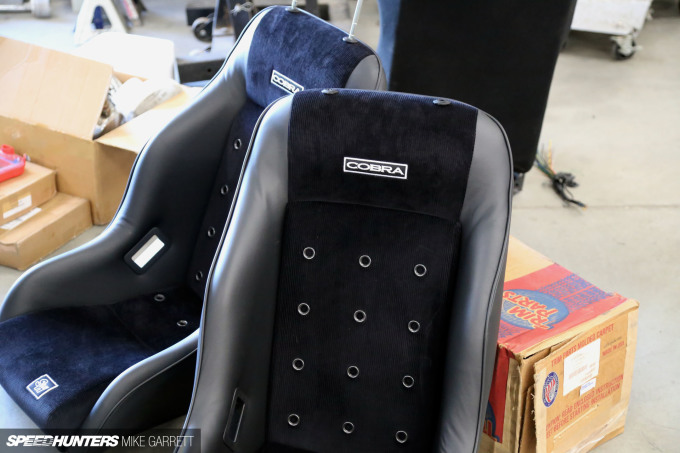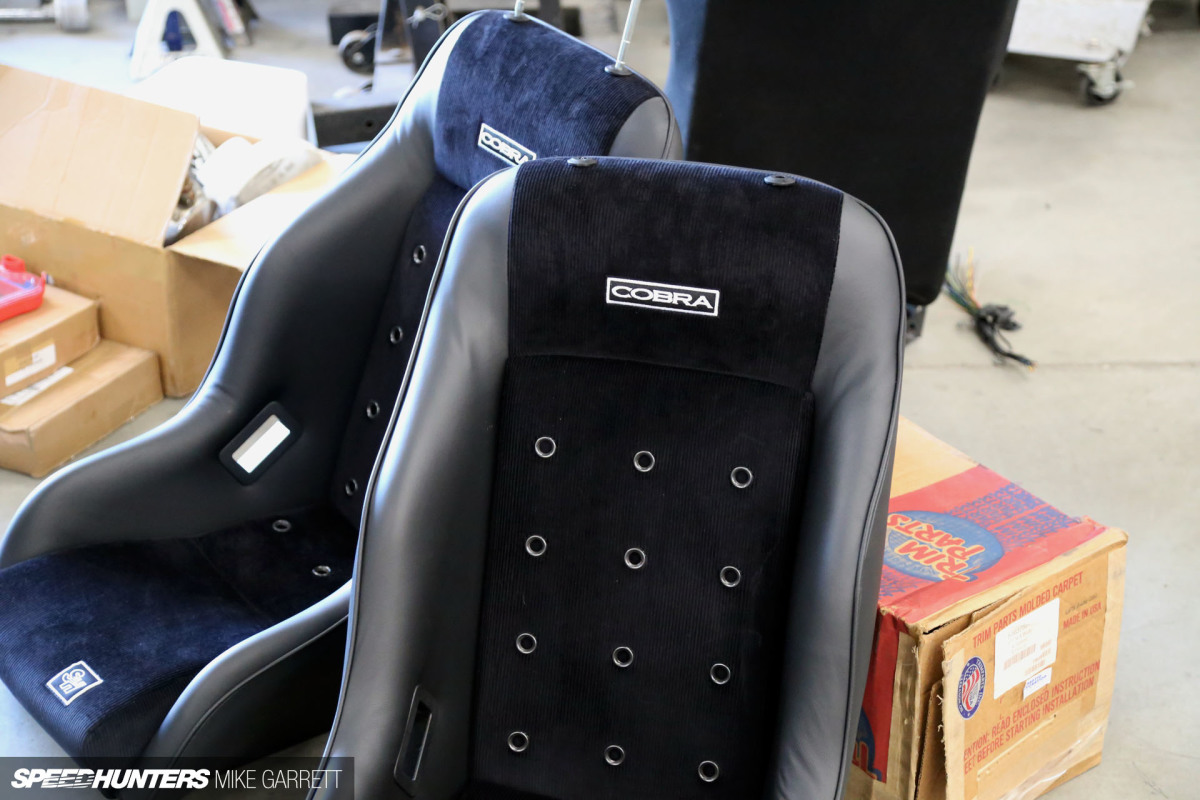 While it would still be a road-going car, the Dart was envisioned to have a lot of race car in it, and the rear seat delete, custom roll bar and Cobra Classic RSR full bucket seats made for a huge departure from the original cabin configuration. Not only that, but the original 1975 lap belts were in questionable condition and certainly needed to be replaced with something securing the driver and passenger in a more contemporary fashion.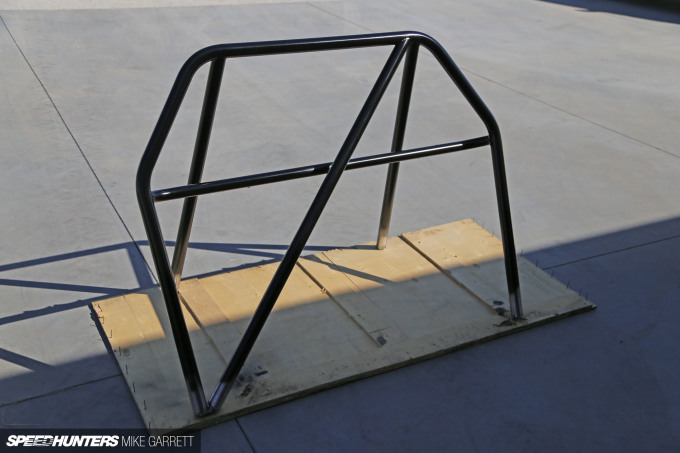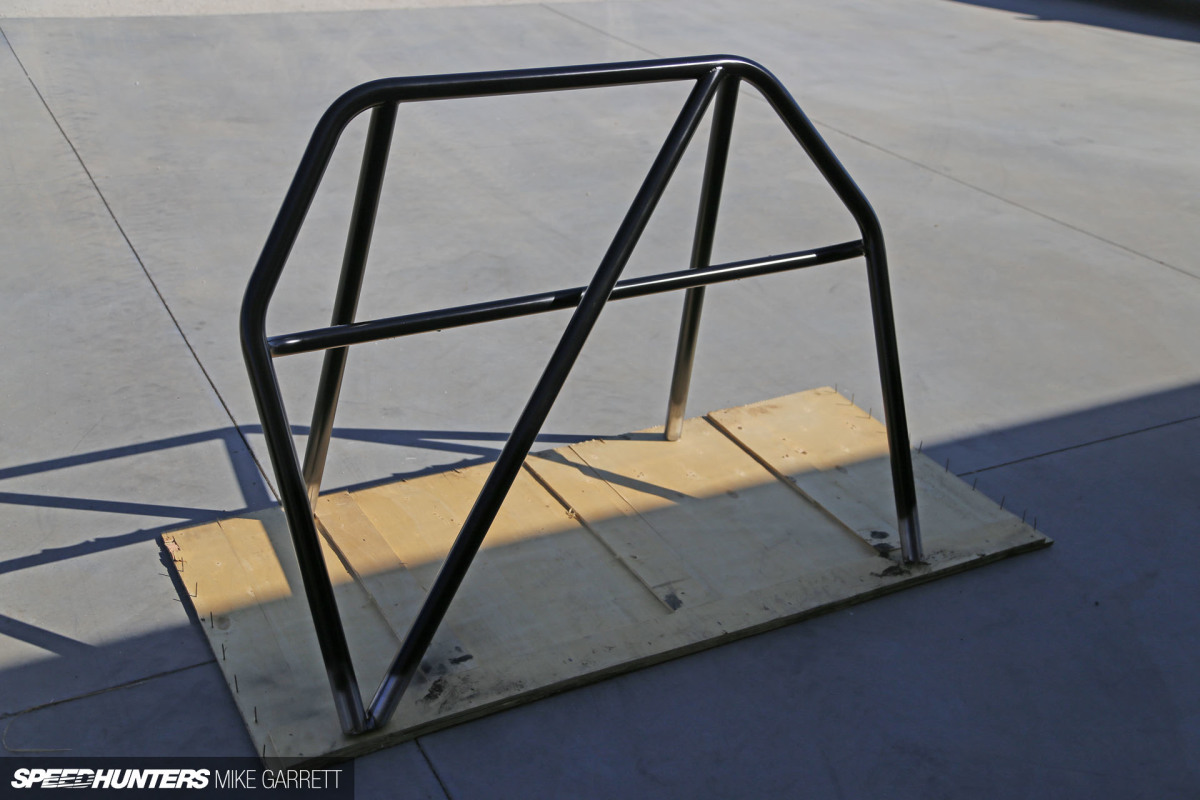 With Takata Racing being a longtime supplier and supporter of Speedhunters, I took a look through their offerings to see what would be ideal for my application. Given my inexperience with racing harnesses and the uniqueness of the project, I asked Matt from Caliber Customs for some additional input. Having built, prepared and raced many different kinds of cars and fabricating the roll bar for Project Yankee I knew his advice would be invaluable here.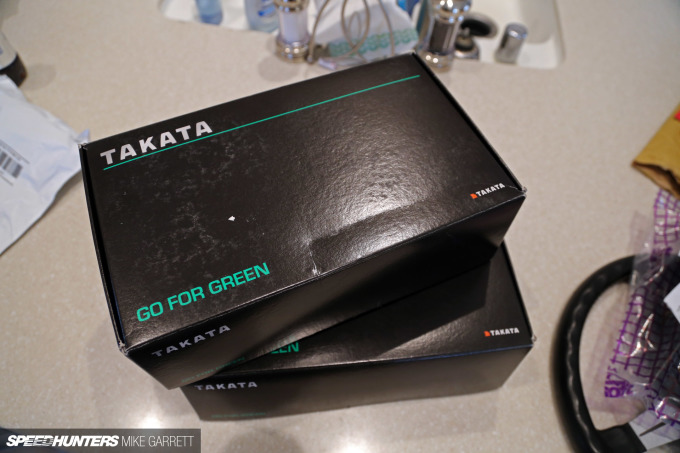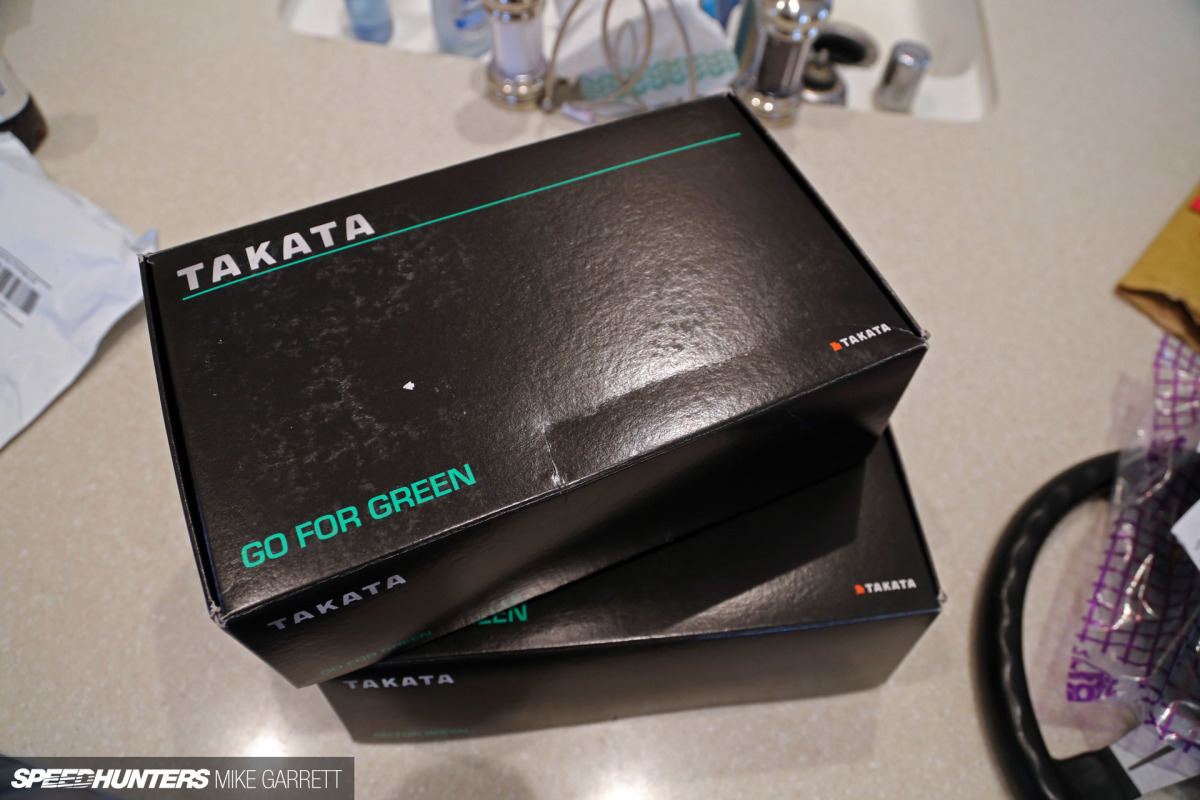 After talking with Matt and looking at the seats, cabin dimensions and roll bar design, we decided on the Takata Racing Formula 6, an FIA-approved 6-point harness with 3-inch shoulder belts, 2-inch lap belts and 2-inch crotch belts made by Takata's European division in Germany.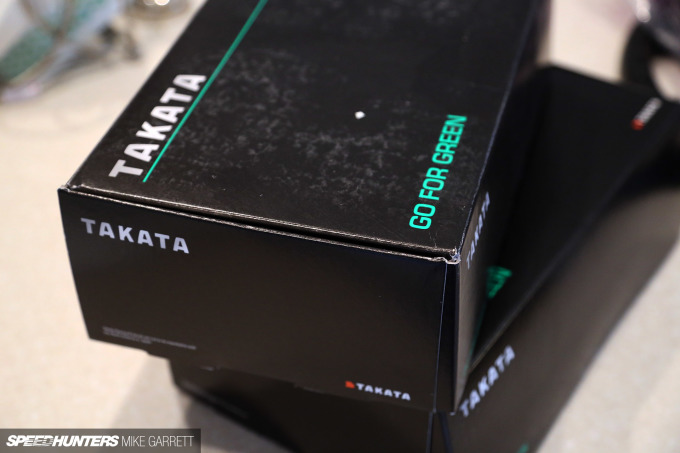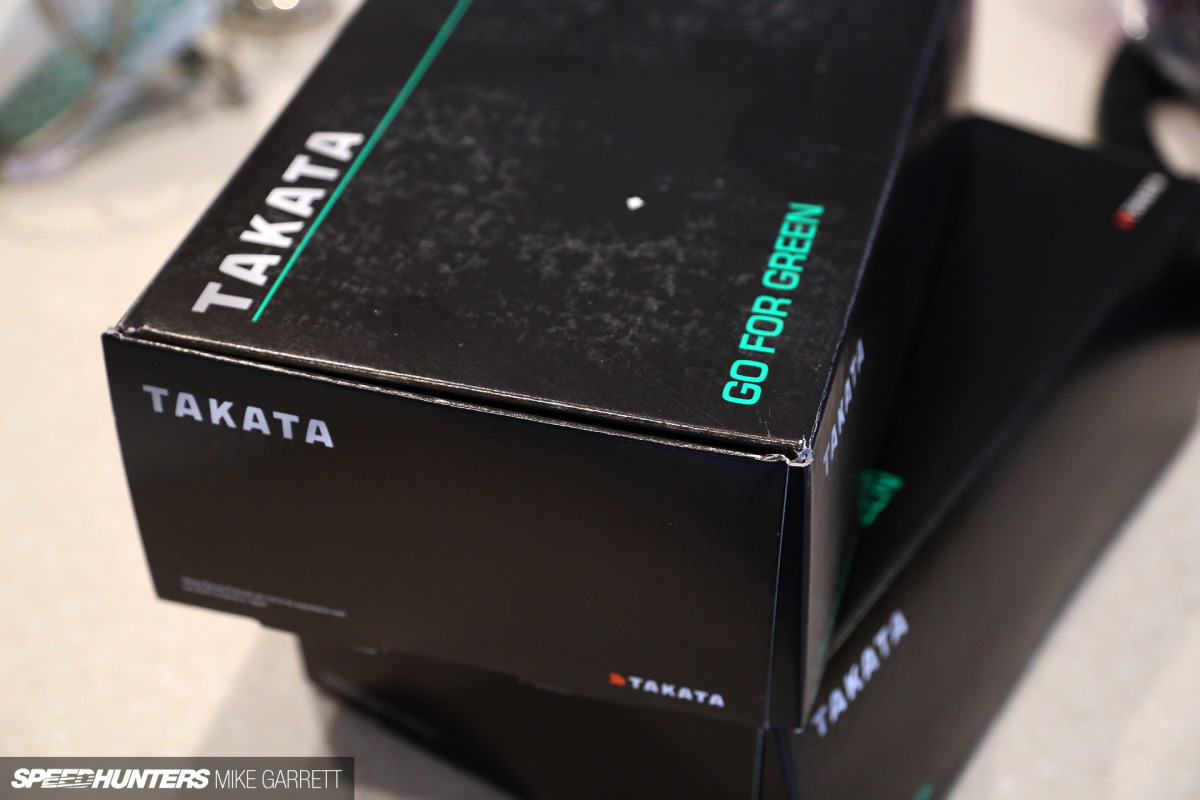 From there the other choice was green or black, and I figured why not splash a little bit of that famous Takata Racing Green into Project Yankee's interior?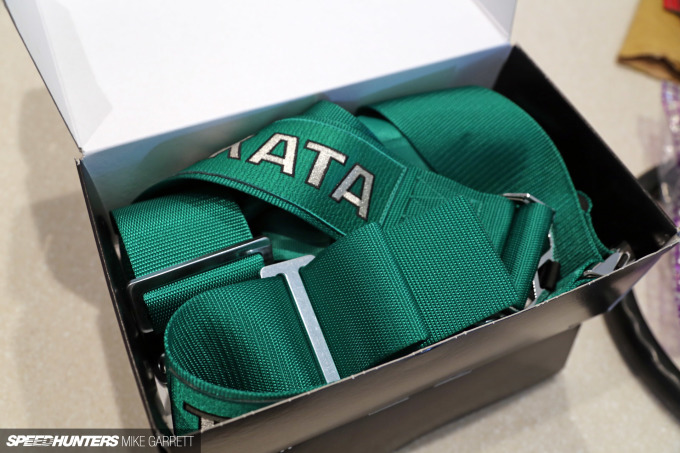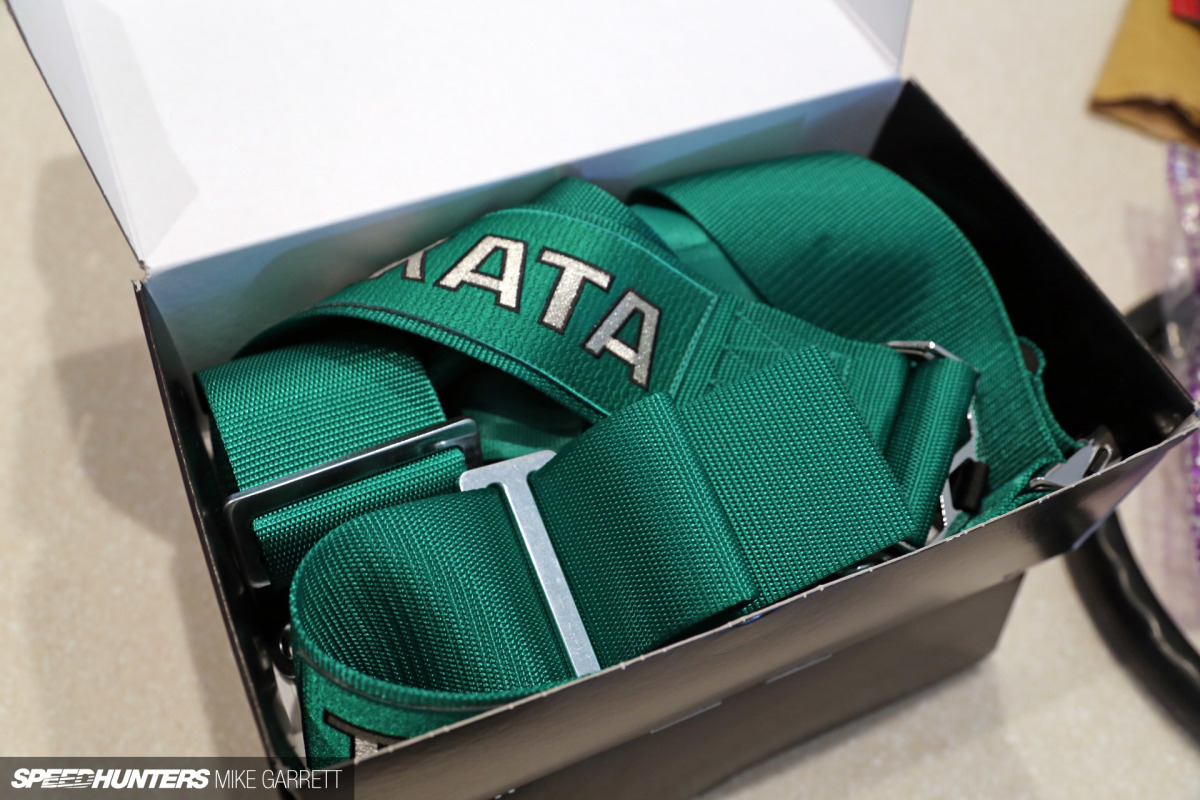 If you've ever followed a SEMA build, then you probably know that despite the best planning, things rarely go perfectly to schedule. There's always that last-minute crunch, and Takata Racing's US distributor put a rush on the shipment, which arrived just hours before the car was scheduled to be picked up.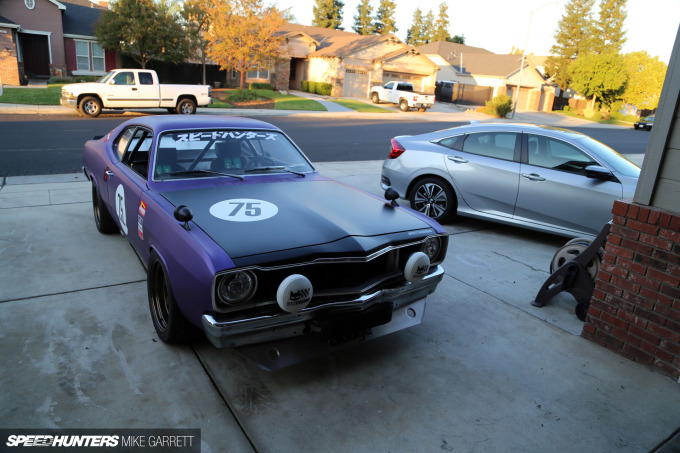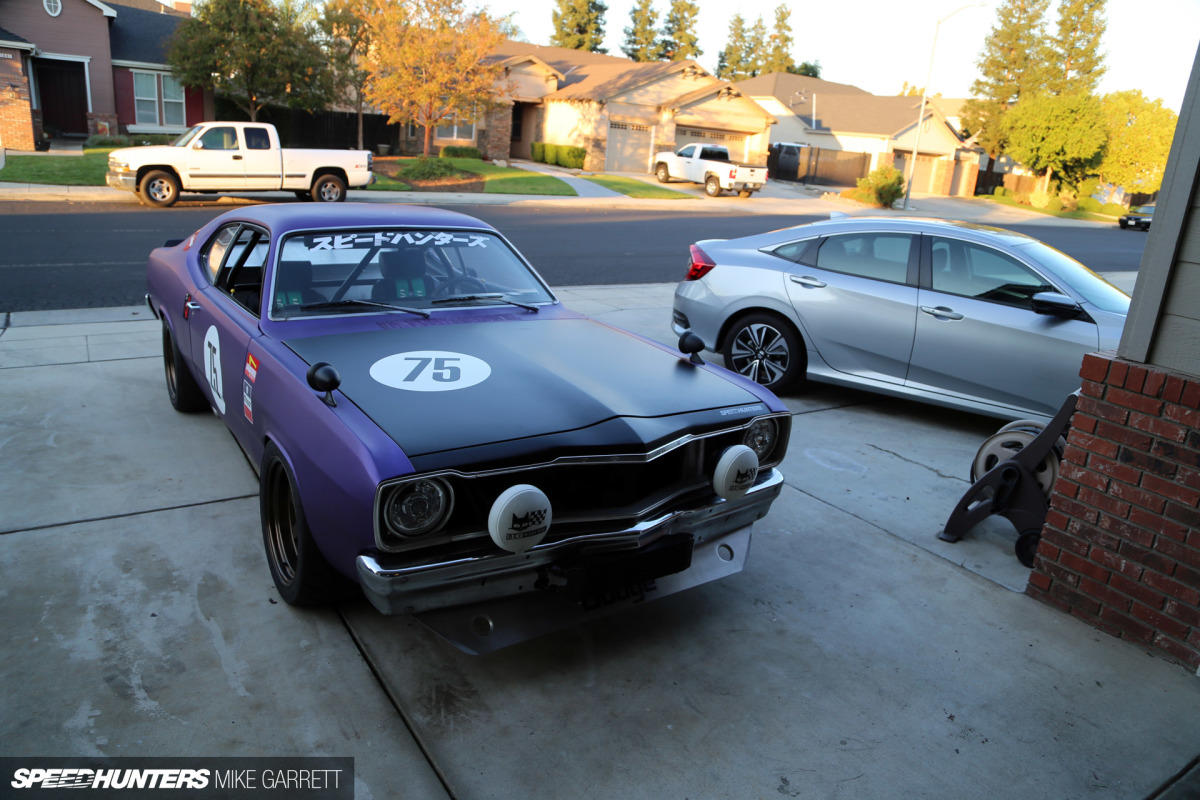 By this point I was putting the finishing touches on the car after it was done at the body shop, and as soon as the UPS man dropped off the harnesses, Colton from Caliber Customs rushed over to lend a hand with the install.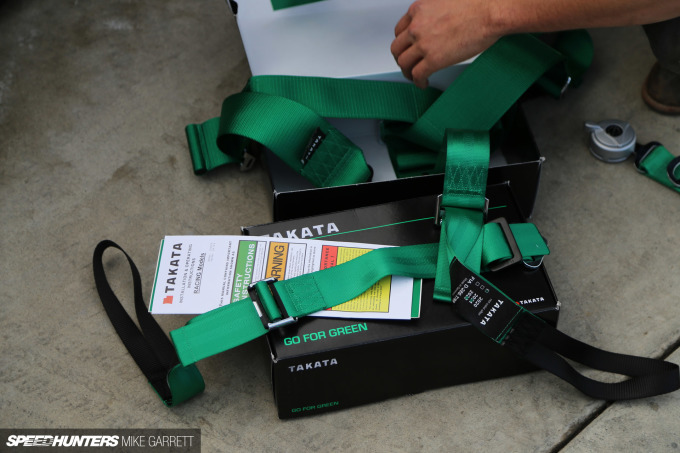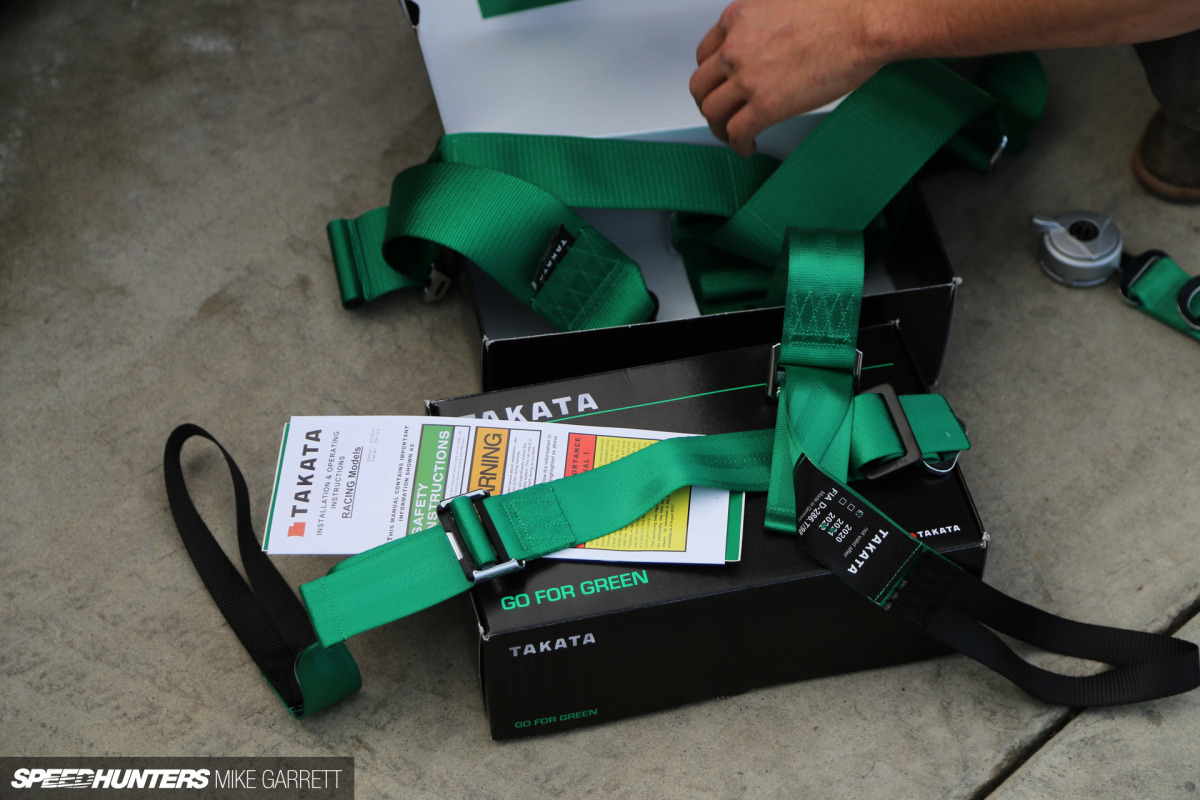 With dozens of harness installs under his belt (see what I did there?) Colton's expertise was a huge help. Attempting this stuff on your own is always rewarding, but I'll gladly take assistance from someone who has experience, especially when it comes to safety equipment.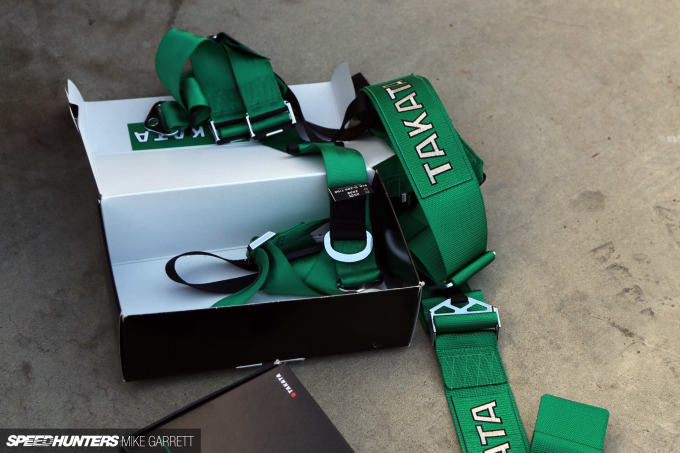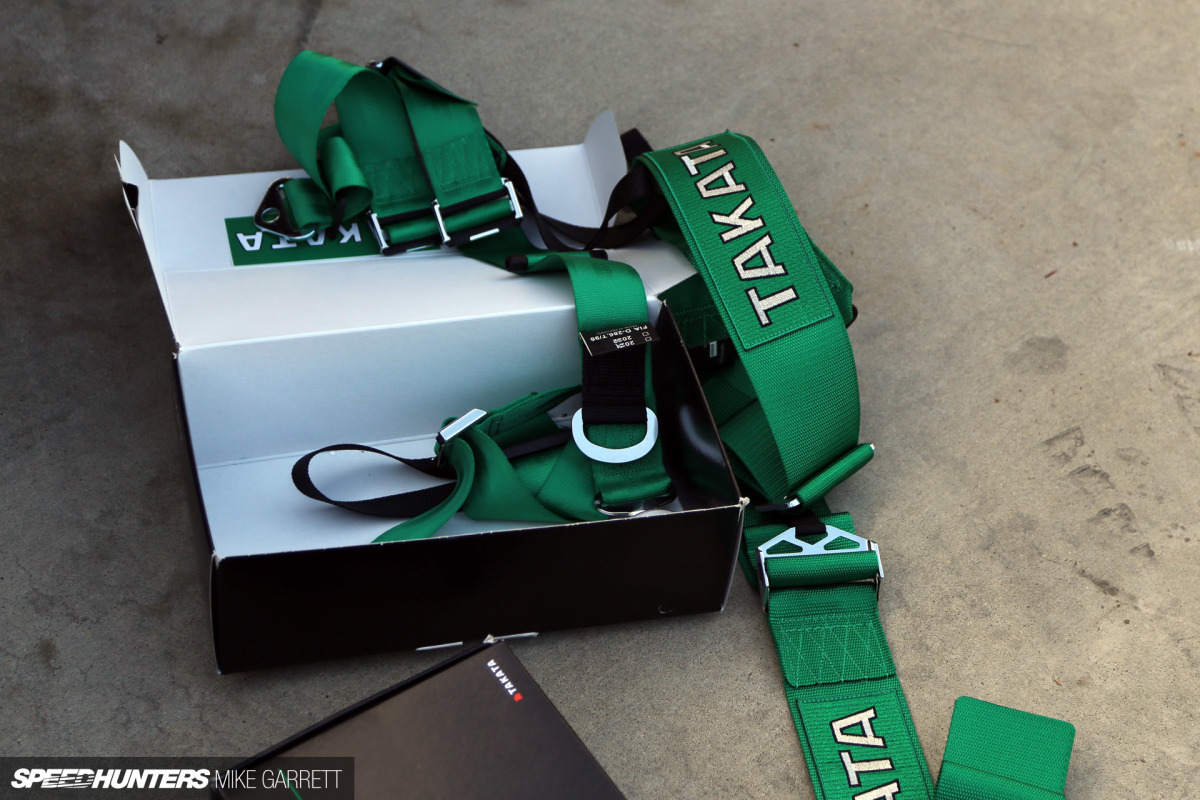 While Colton crawled inside the car to begin fitting the harnesses, I was going back and forth between shooting photos of the progress while also doing last-minute detailing and painting in the engine bay. That's how the SEMA Crunch goes.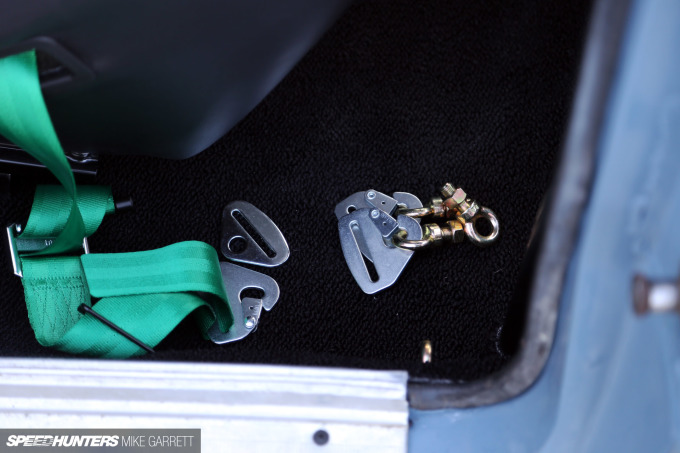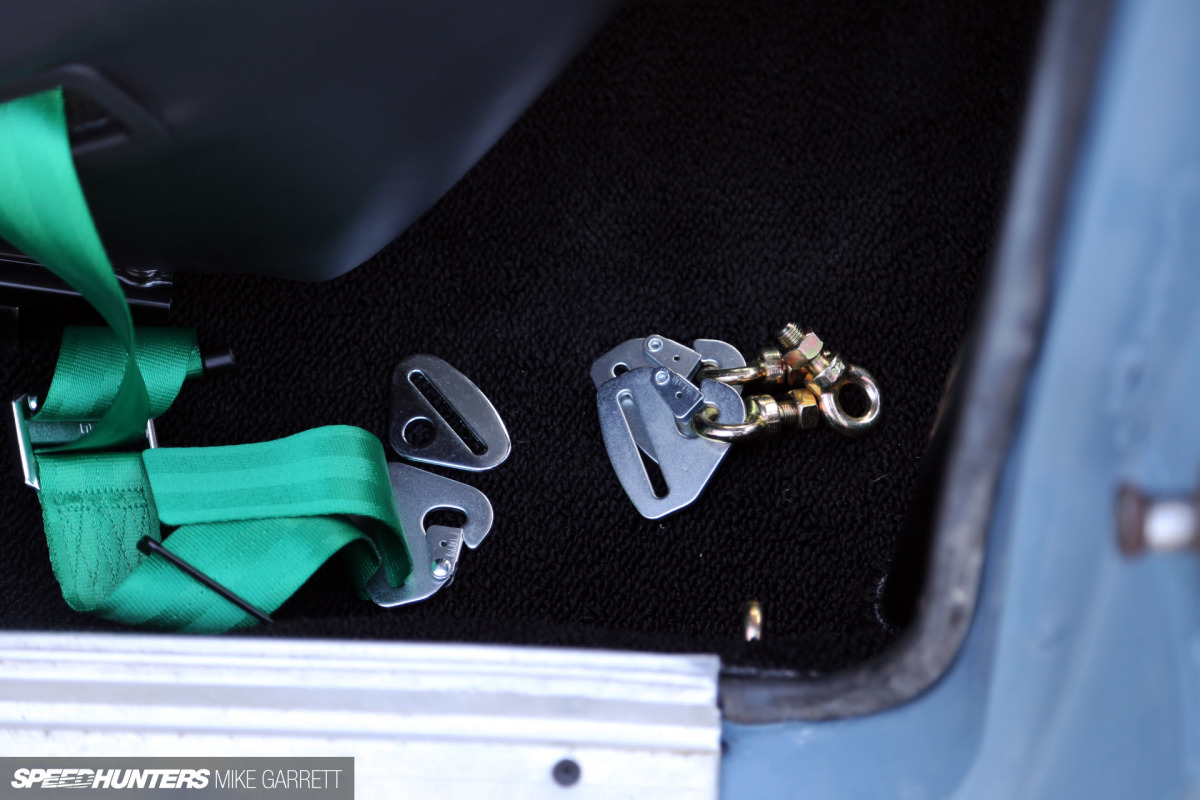 After unboxing the harnesses and double checking the safety instructions and included mounting hardware, the installation process was very straightforward.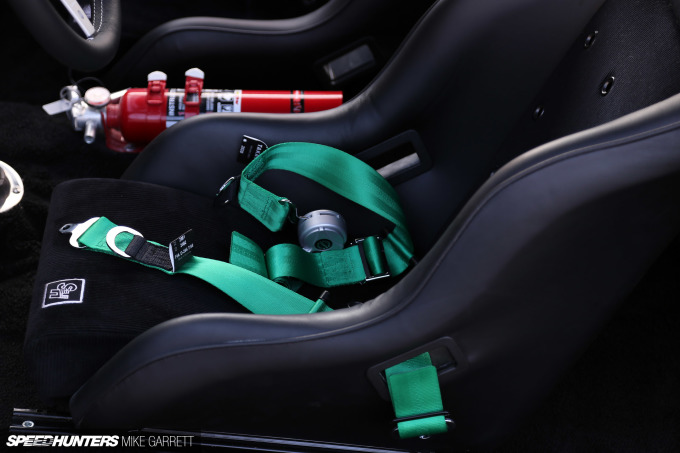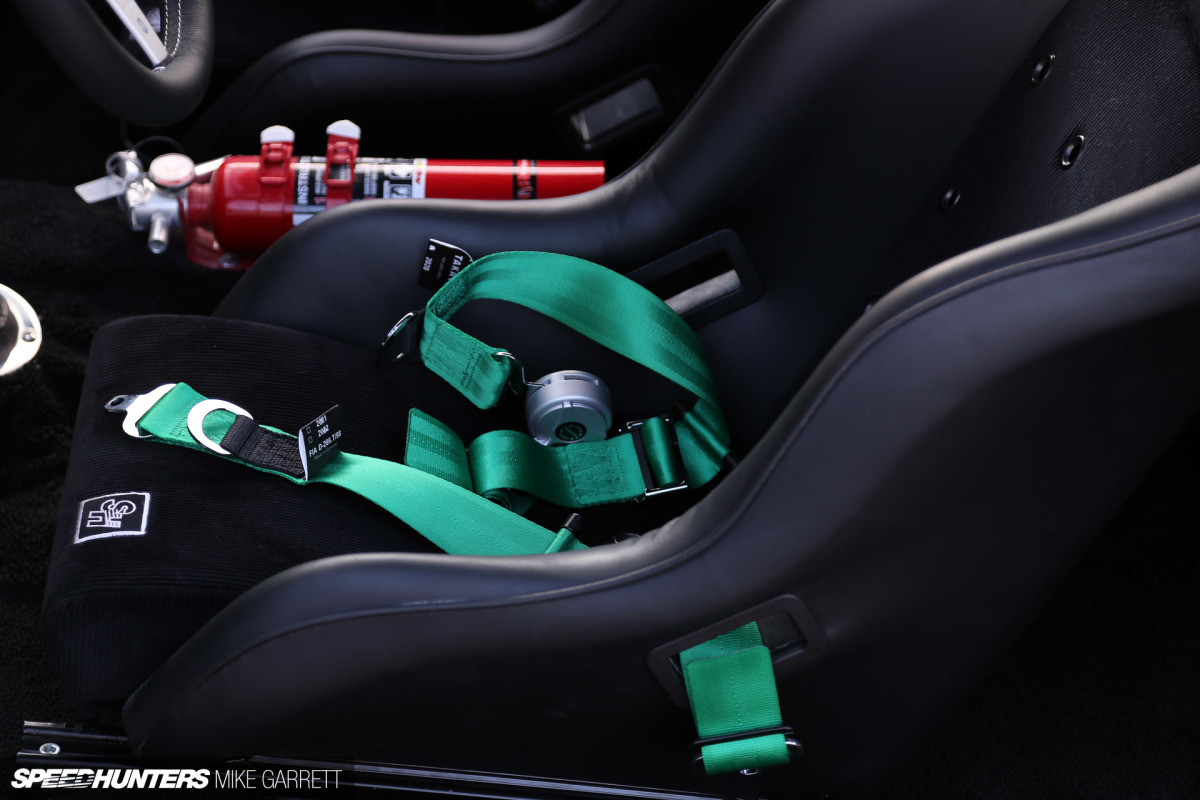 The first step was fitting the lap belt mounts based on the mounting points for the long-removed factory seat belts. Actually now that I think about it, I'm not even sure if the factory belts were even hooked up when I bought the car back in 2015. Such is the fun of dealing with a 40-plus-year-old car.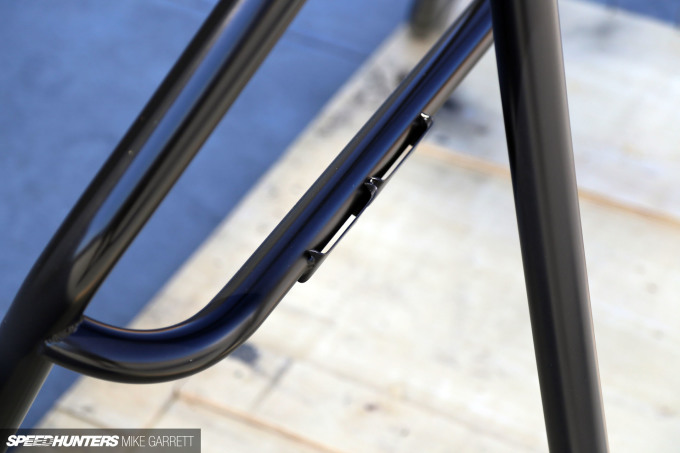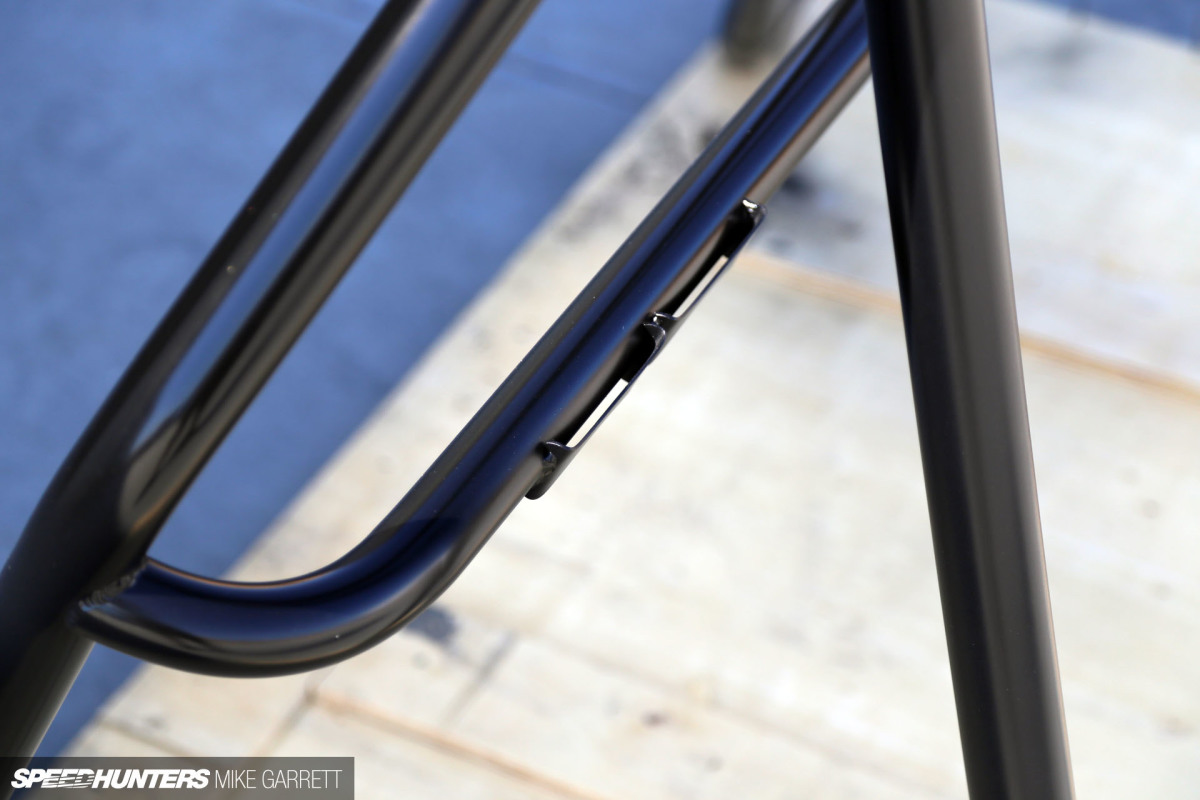 Anyway, we had planned on running aftermarket harnesses from the beginning, so when the roll bar was fabricated Matt included a harness bar designed specifically for this purpose.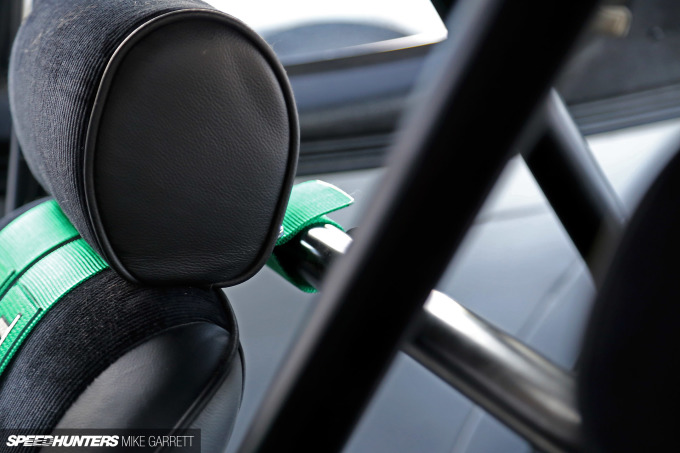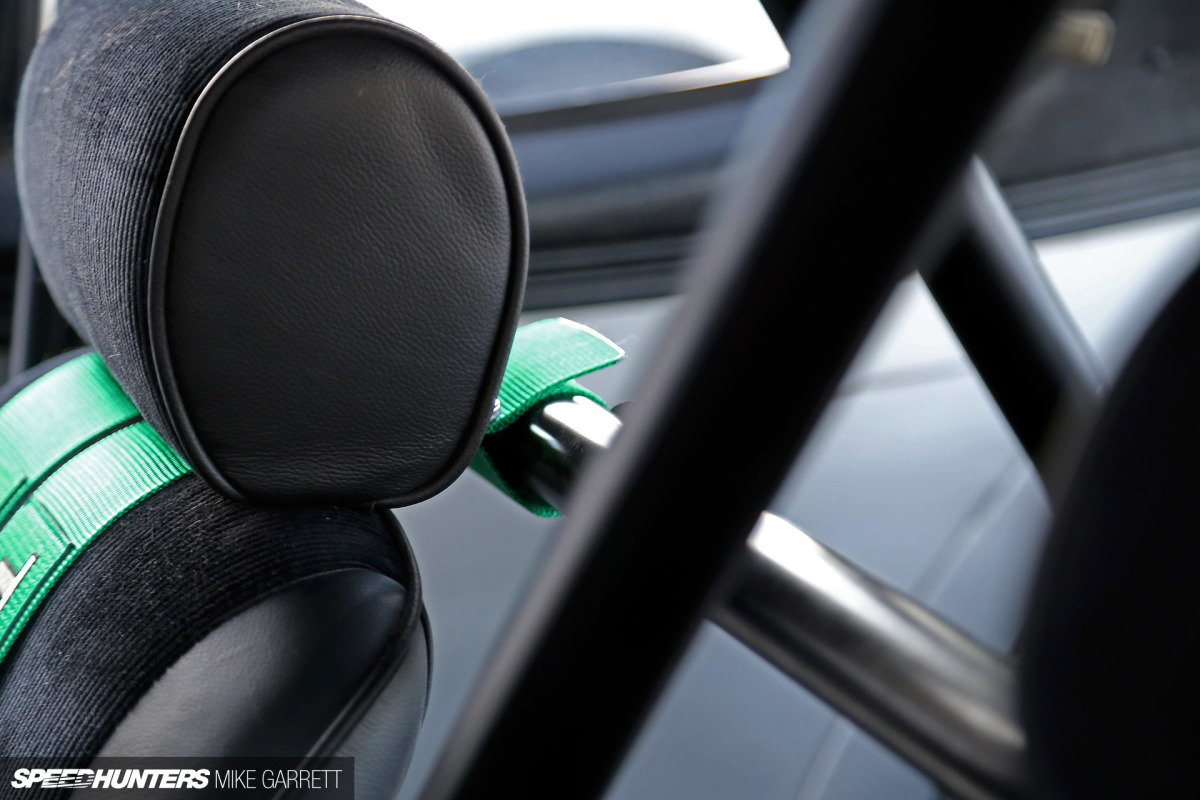 With the back seat completely removed and the harness bar in place, securing the shoulder straps was also extremely easy.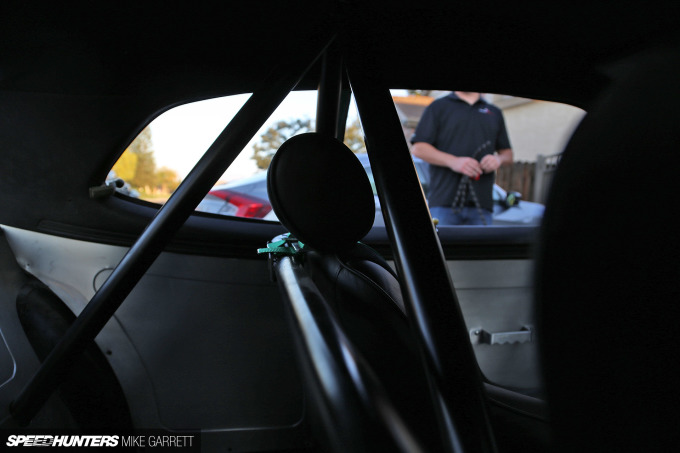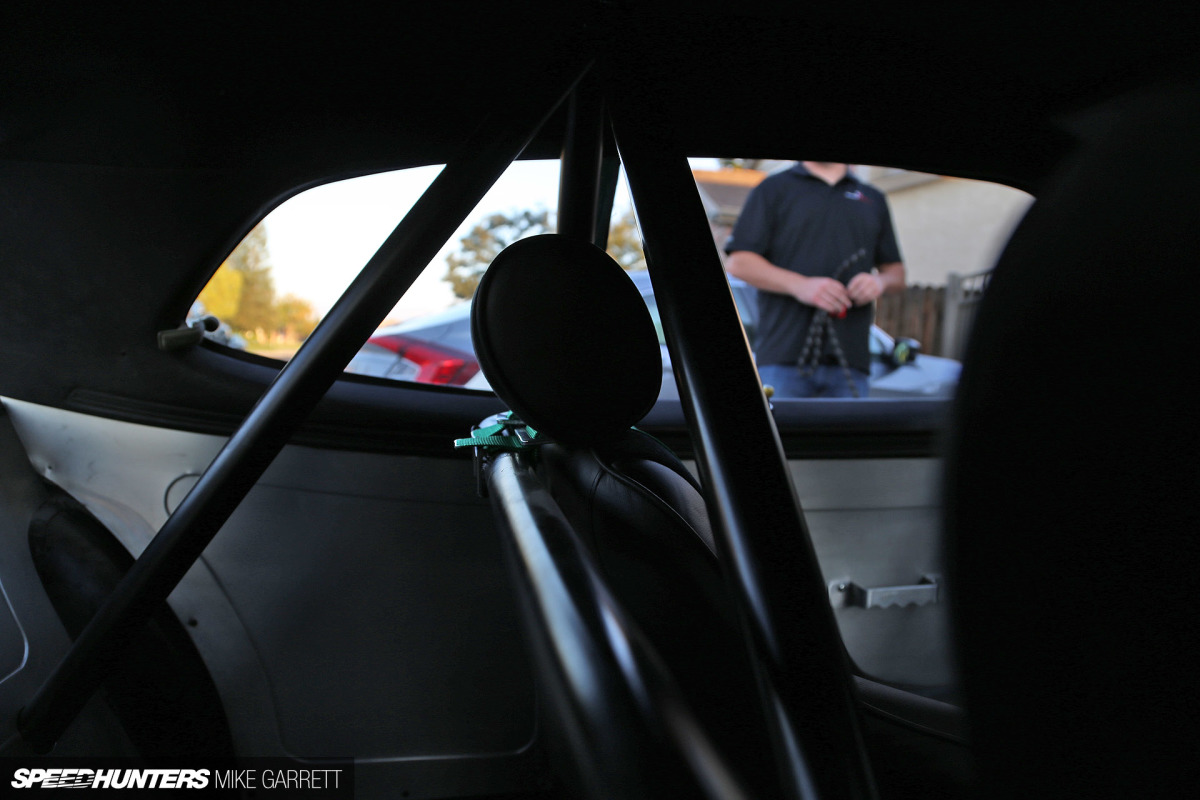 Obviously this isn't an option for everyone, but it can't be understated just how much having a harness bar simplifies the installation and supports the overall function of the harnesses.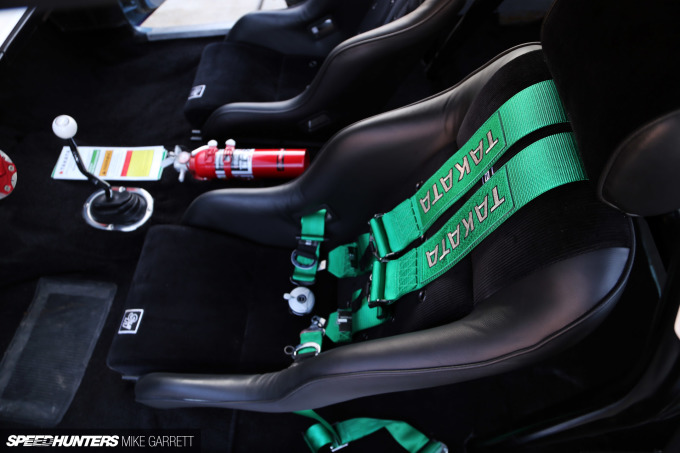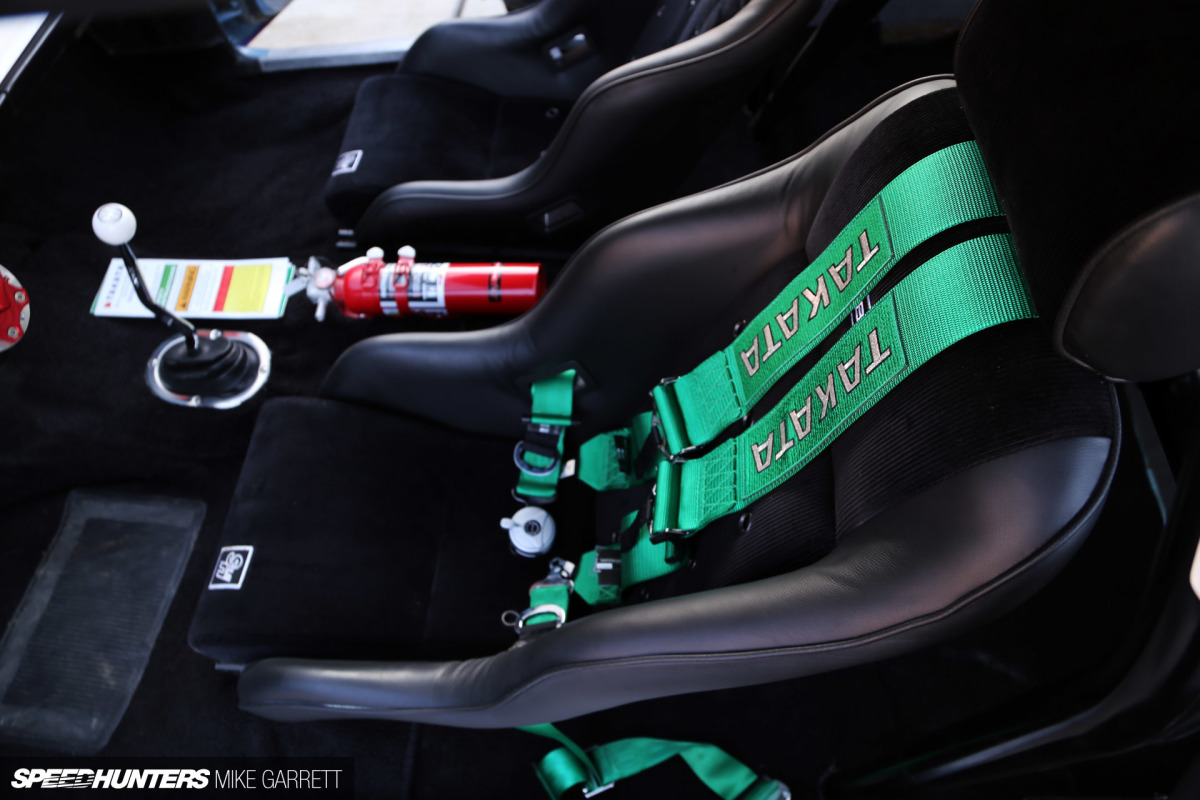 You'll likely notice that in these photos you don't see the Formula 6's anti-submarine/crotch straps. Unfortunately, with the tight schedule before SEMA we didn't have time to drill the holes in the floor for the additional straps, but they are next on the list to be installed, along with a handful of other small bits that didn't make the SEMA cut-off. Look for that in a future update.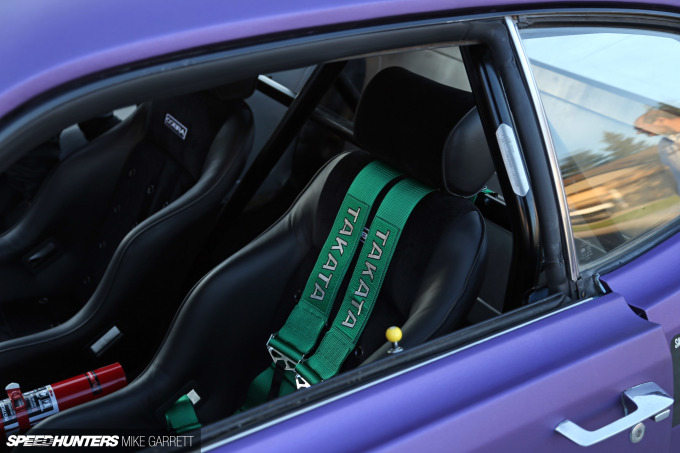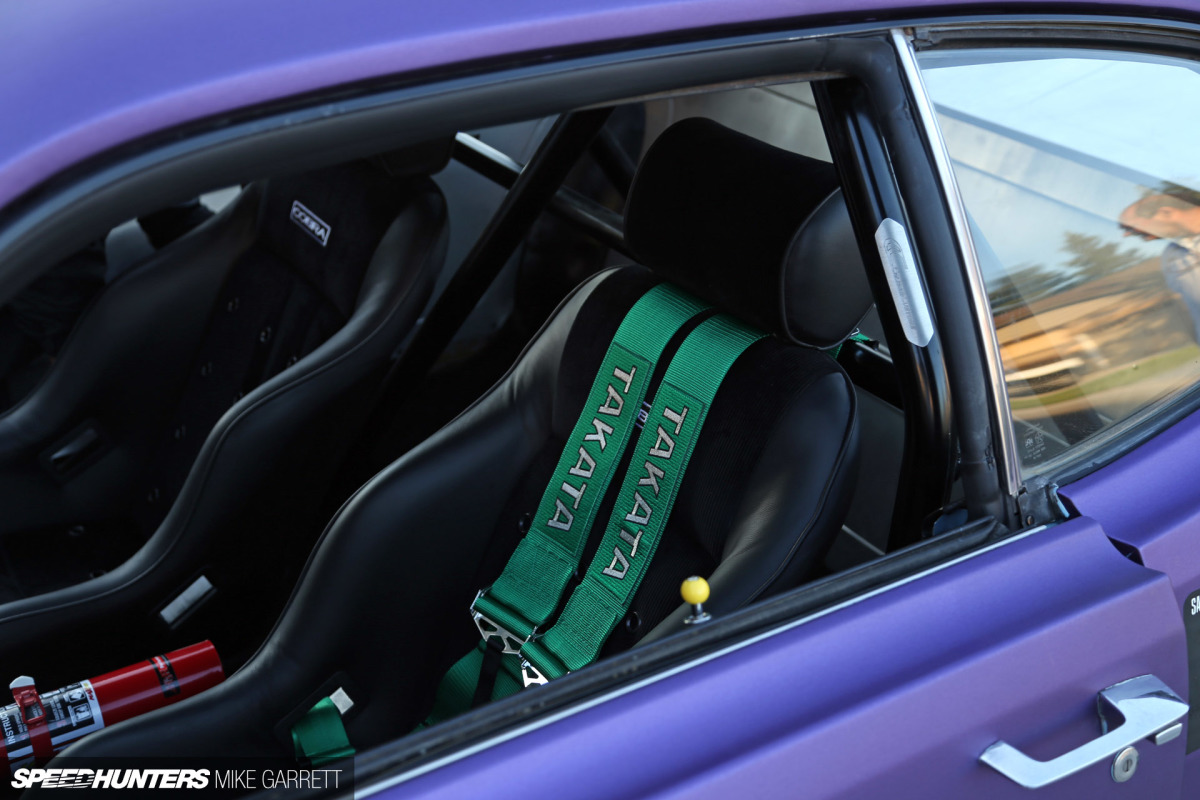 With the seats and harnesses, climbing in and out of Project Yankee takes more effort than your typical 1970s cruiser, but the Takata multi-point cam-lock buckles are very easy to use. Having driven and being a passenger in cars with many different kinds of harnesses, I always have to ask the owner exactly how to strap in, but it's very simple here. Once you are in the seat and buckled up, the feeling could not be more different than the slippery, unsecured experience that greeted me when I drove the car home for the very first time.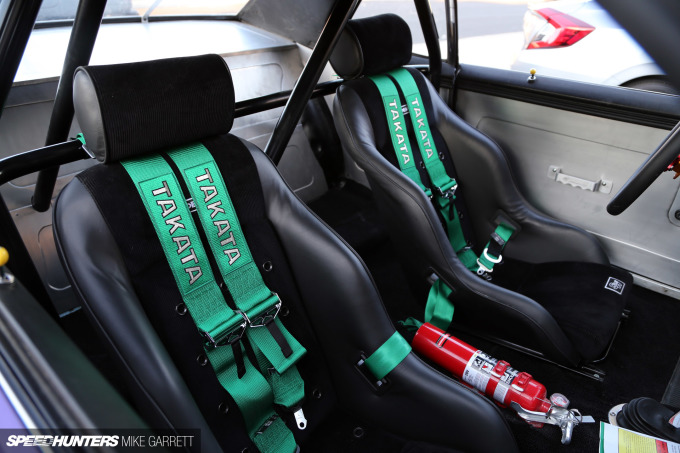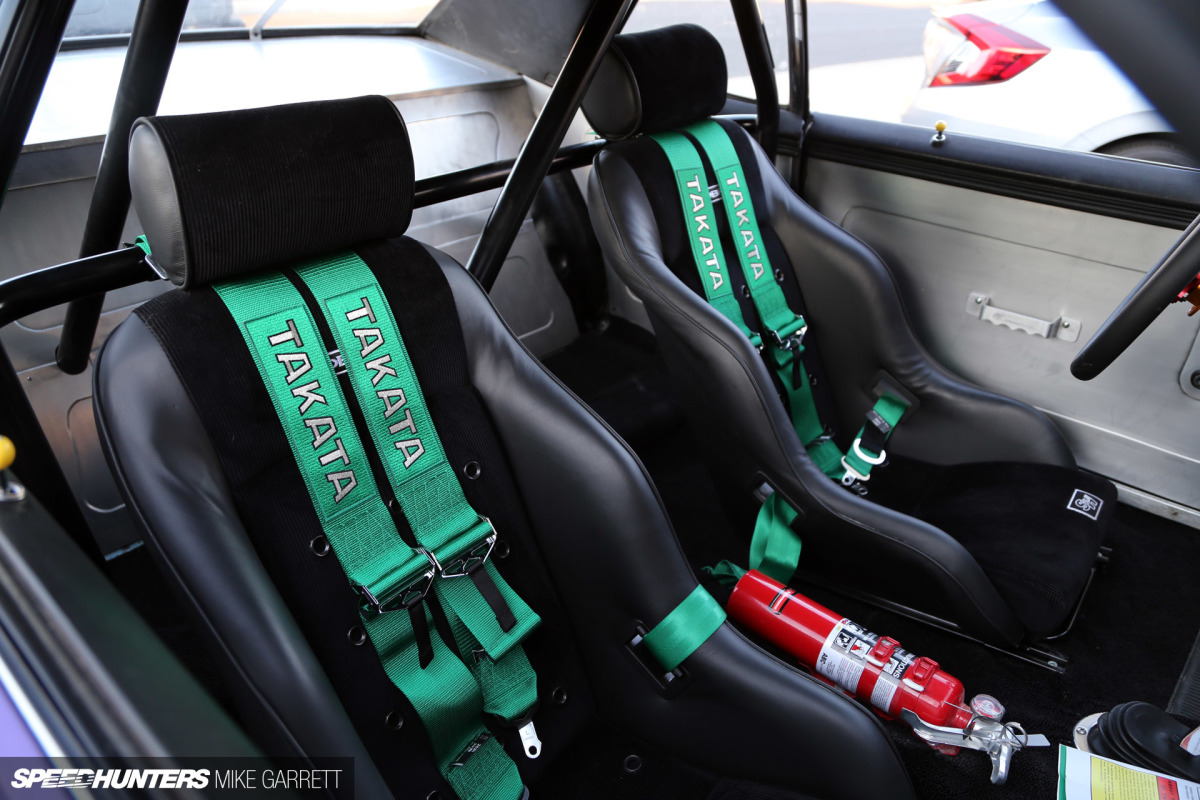 They've made the car safer, they look great, and best of all the new Takata Racing harnesses fit in perfectly with Project Yankee's ethos as a 1970s Dodge Dart reinvented into a modern performance machine with a lot of international inspiration.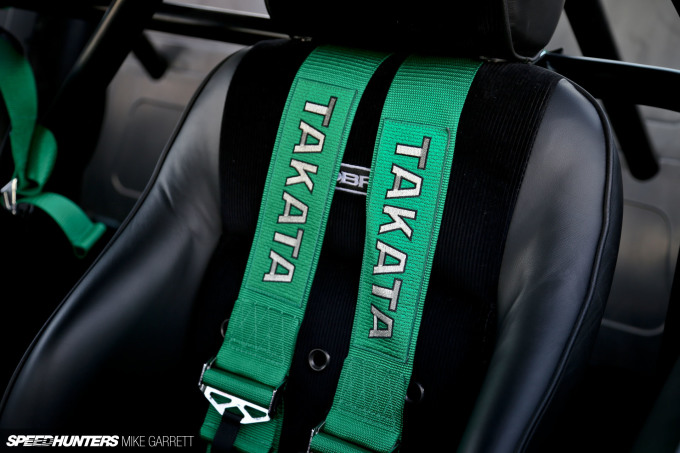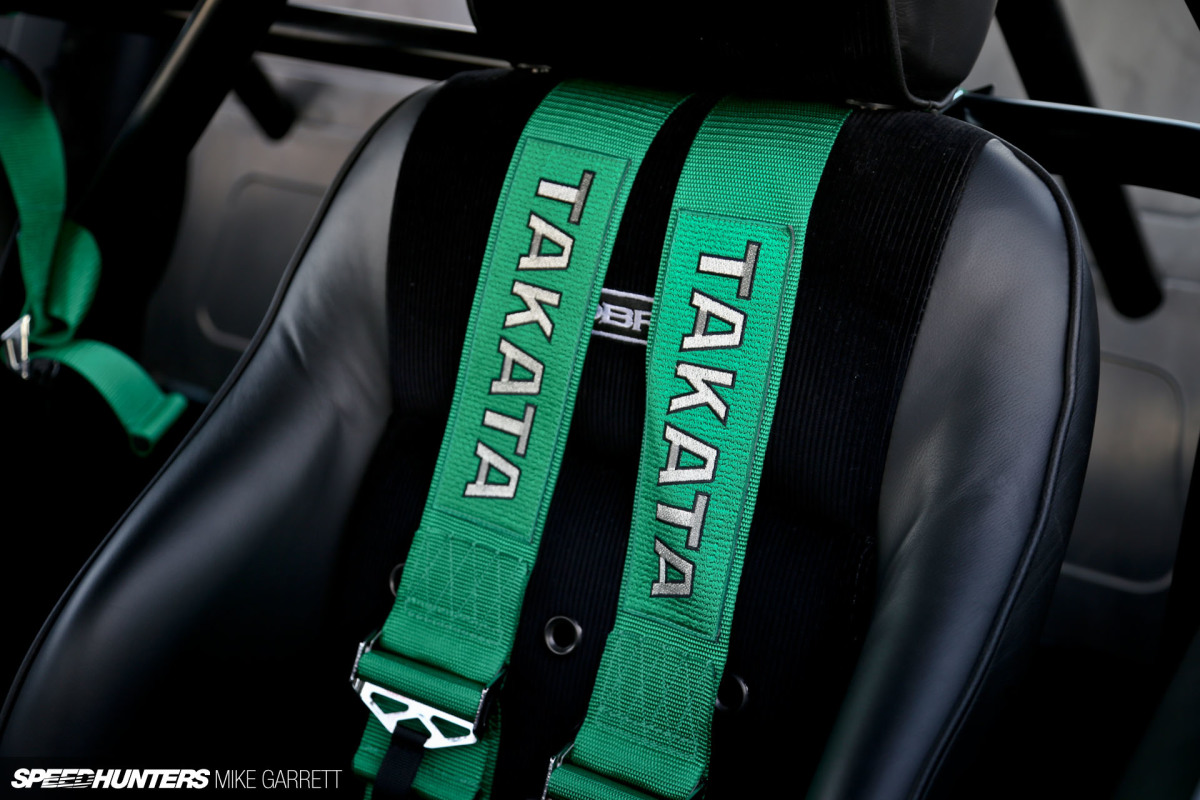 The new harnesses may have been the last aftermarket part installed before SEMA, but seeing as how I'll be using them each and every time I climb in, they are easily one of the car's most important upgrades. Big thanks to the Takata Racing team for jumping on board with the project and helping with the perfect finishing touch.
Mike Garrett
Instagram: japanifornia
mike@speedhunters.com