Adventuring
When my wife and I decided to plan a 2550-mile road trip through Arizona and the entire length of California, we had one concern: Would we be able to tolerate that much seat time in a car? And by we, I mean the two of us plus our two little kids.
We have our family truckster, a 2005 Lexus GX470, that's on its second timing belt (you do the math), and it's so rock solid that I had zero reservations taking our family on the trip in it. But then I had a thought: What if we took my recently acquired Project FujiSpeed Lexus IS F? It would surely be more stable and comfortable for sustained speeds on the open highway. We kicked the idea around and even took a short 100-mile test run with the car seats and all the kids gear. My wild idea was actually starting to make sense.
In the end, the decision rested on one thing: Would all our crap – the amount of crap it takes to sustain a family of four for 10 days and thousands of miles – fit in the car? Trust me, I was going to make it fit!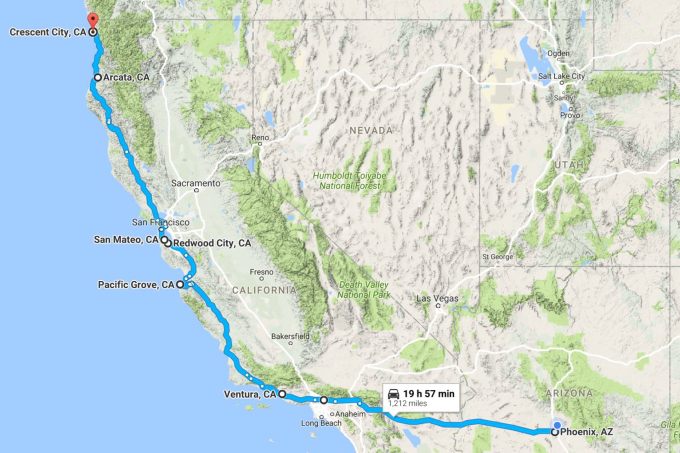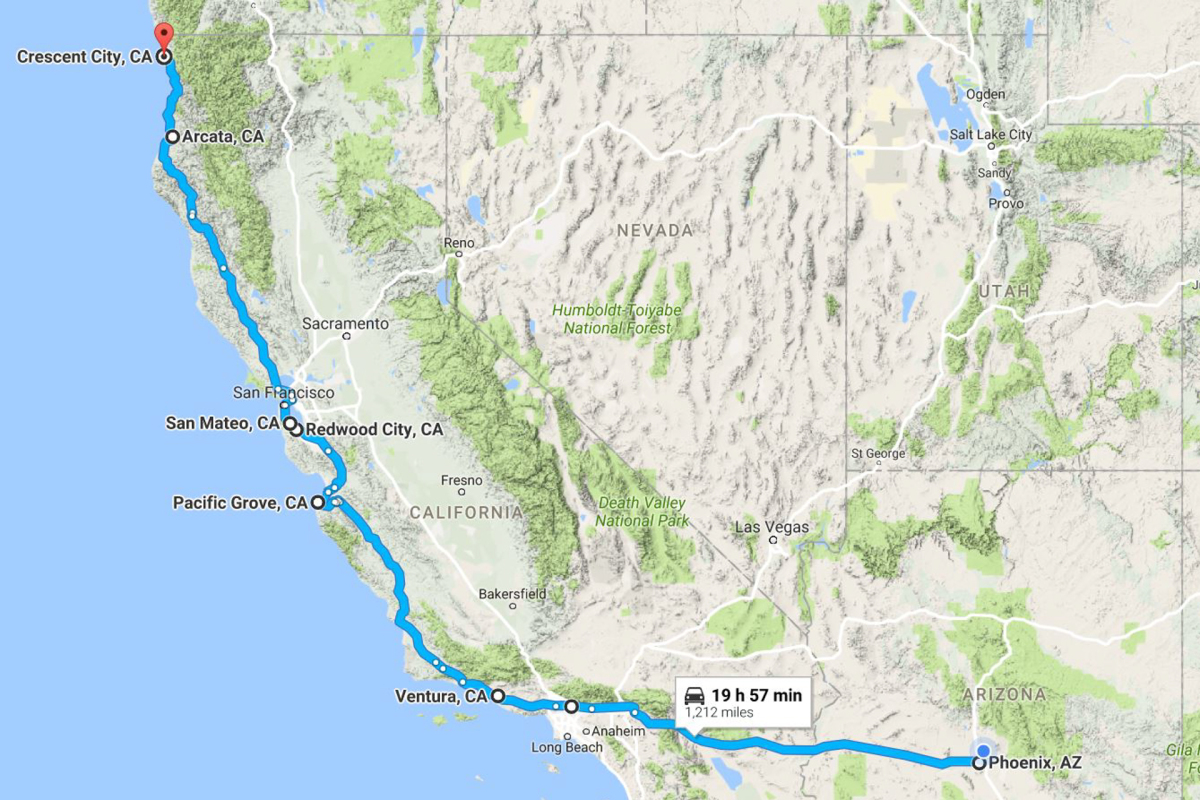 Our trip would take us through several stops in California, giving us the chance to visit family and friends on our way to the redwood forests of Humboldt County.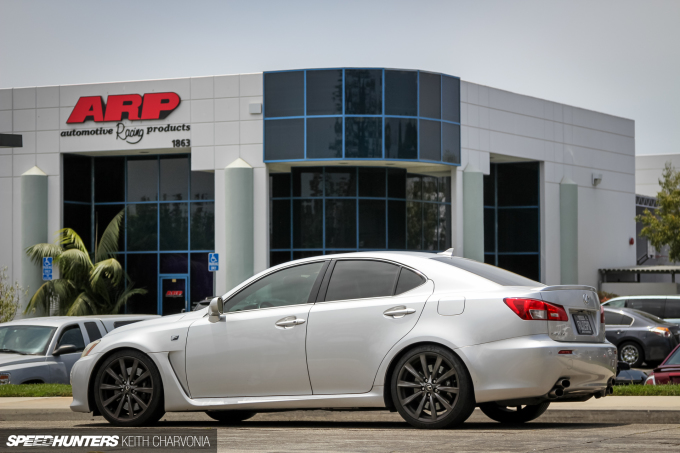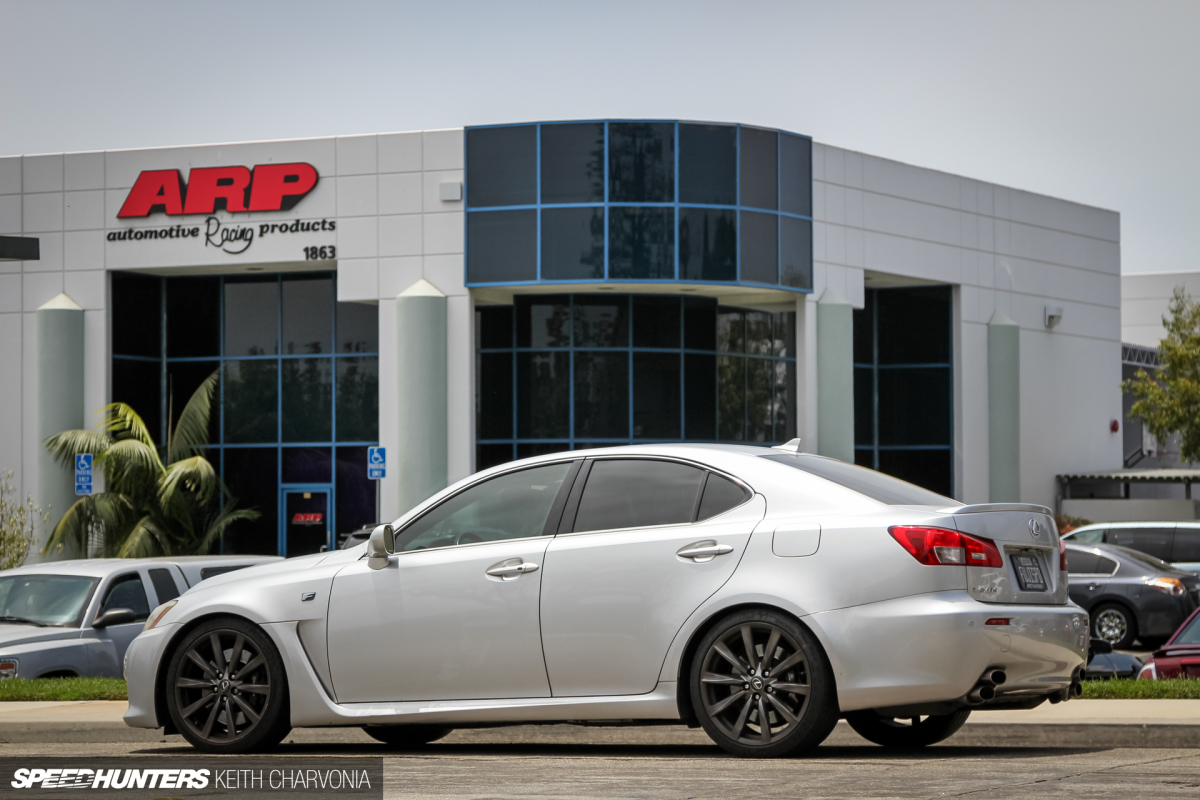 One of our first stops was in Ventura, where my dad lives. ARP also happens to be right up the street, so we stopped in to get some hardware I needed for Project Trailhunter. It was about this time that I realized I left my Canon 6D body in the garage from documenting my Toyota Land Cruiser build, so I also borrowed my dad's Rebel. Fortunately, I still had my camera bag with lenses.
Ventura is already a couple hours north of Los Angeles, so the next morning, feeling refreshed and refueled, we hit the road and quickly made our way into central California.
I did the bulk of the driving, so chances to take photos were pretty sparse. That said, I still clicked off a few snaps when I saw something interesting, like this Tri-Five with a considerable amount of Pacific Northwest patina.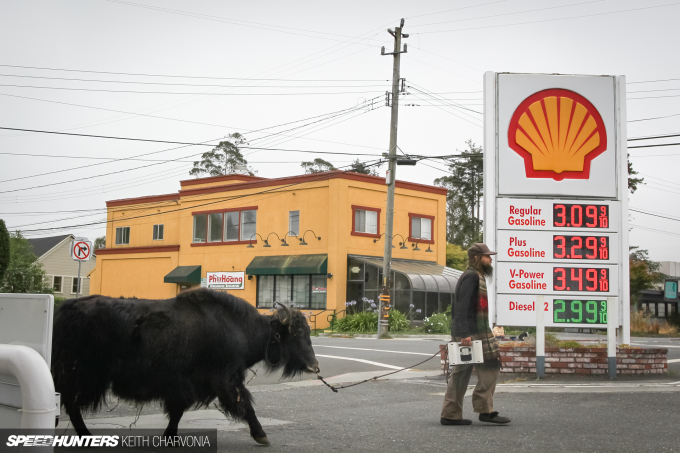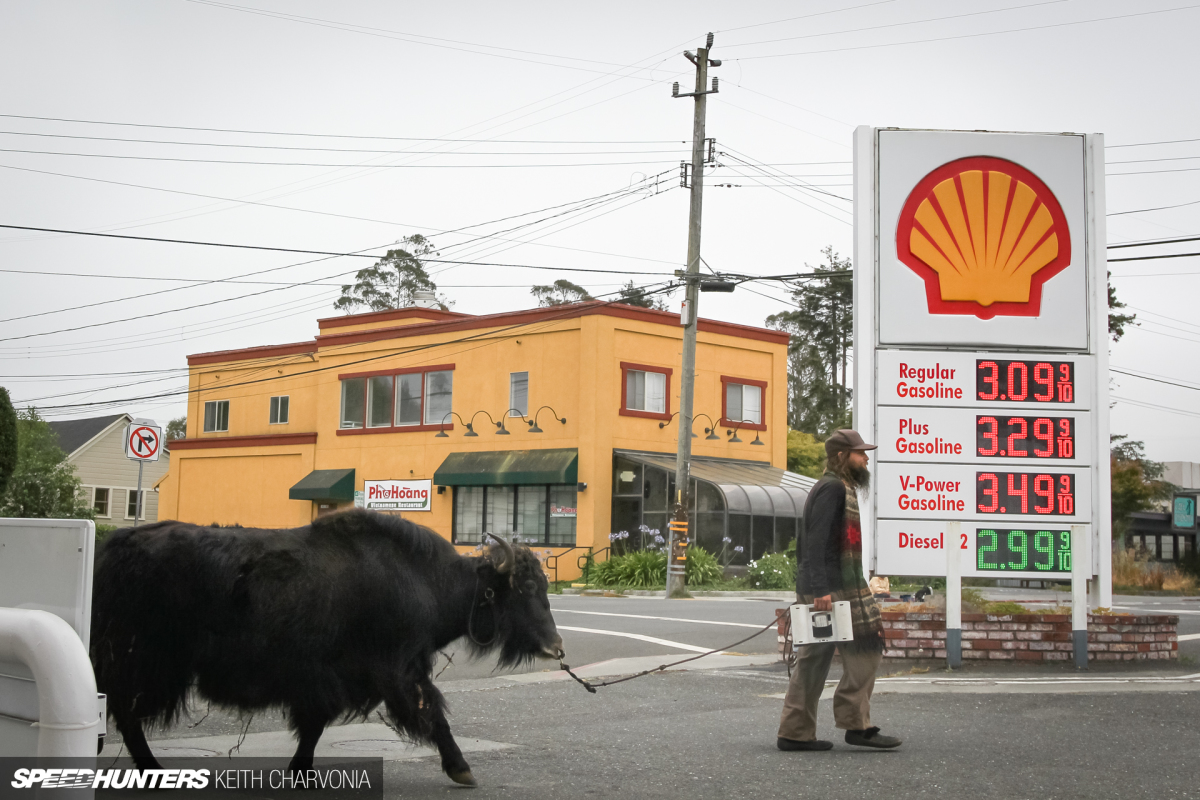 Isn't there a saying about people looking like their pets? Things were getting weirder the further north we journeyed.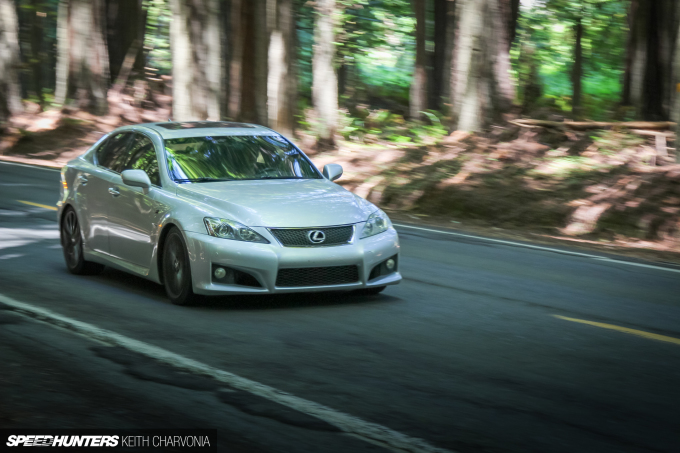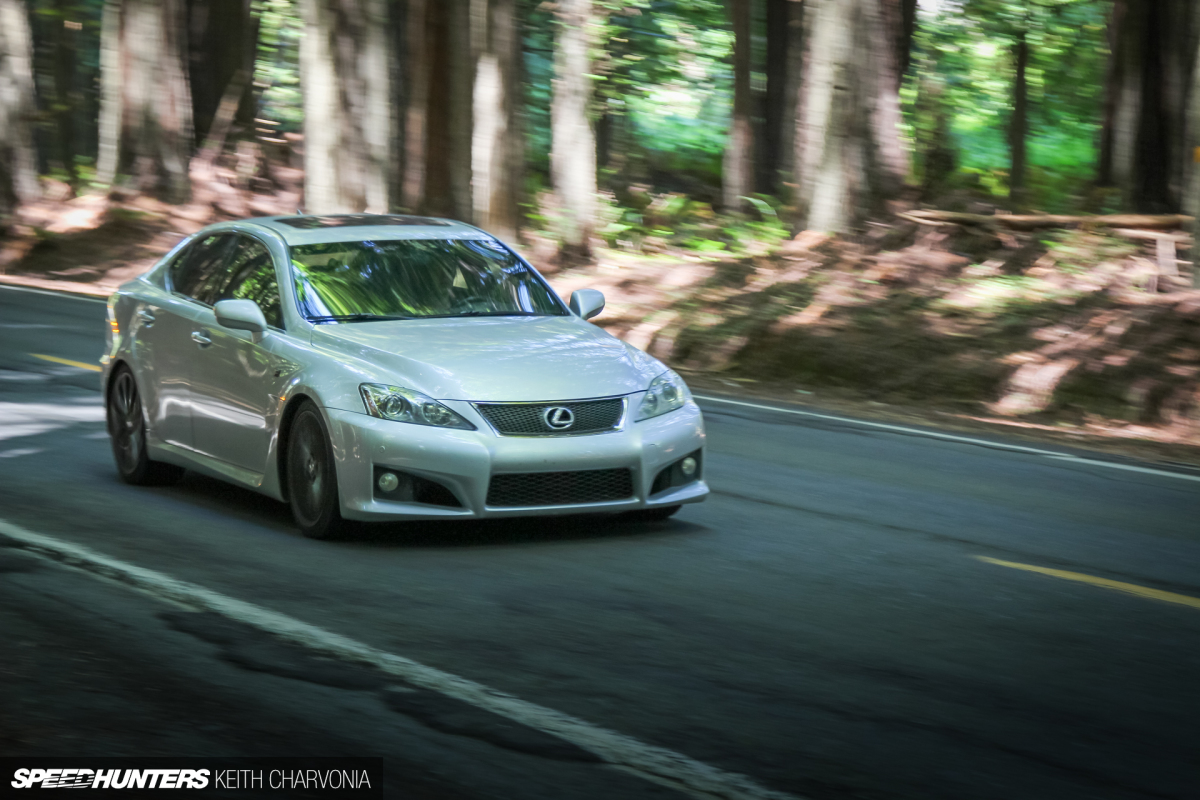 Soon we found ourselves amongst the massive redwoods we had traveled to see. The IS F was loving eighth gear and the kids were comfortably watching DVDs in the back seat.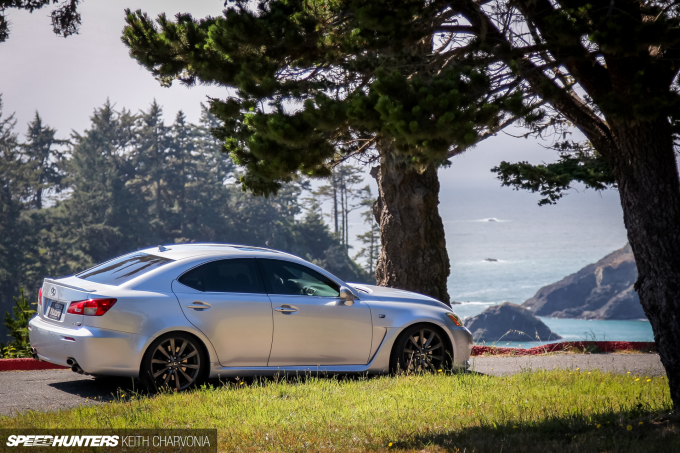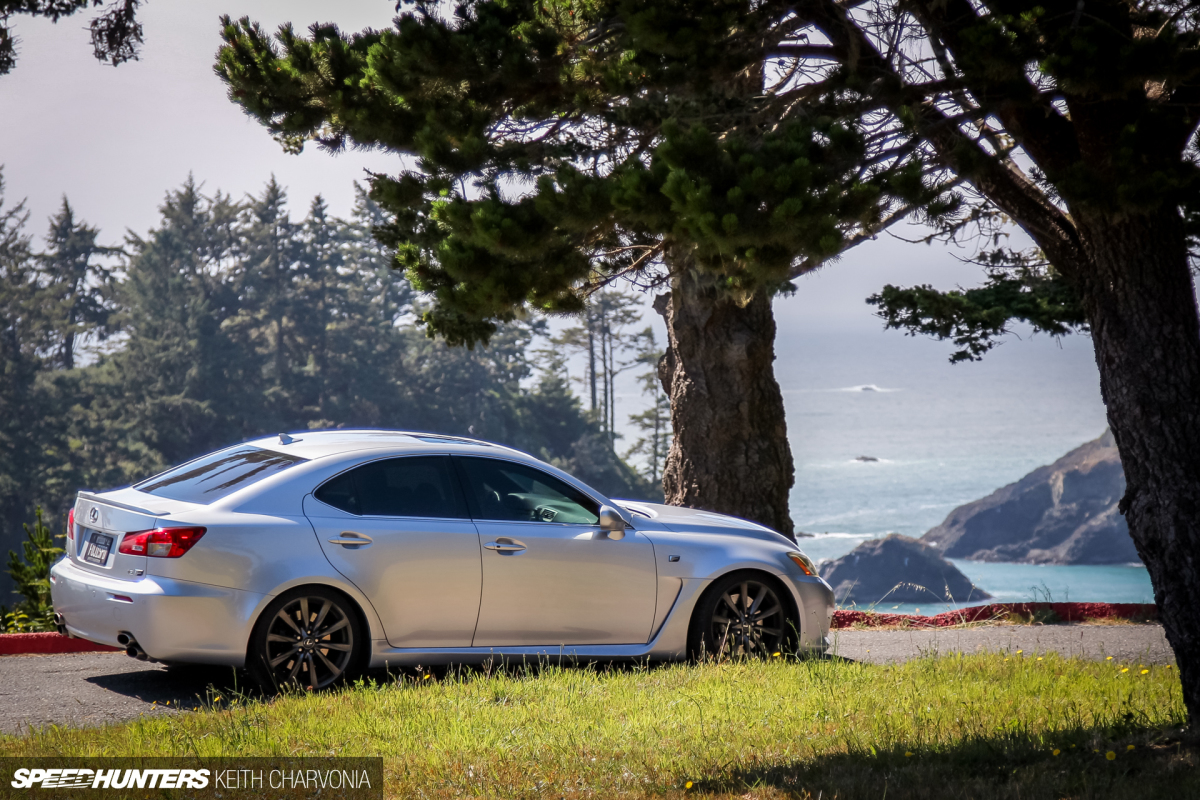 Being from Arizona, we sure were enjoying the cool coastal breeze too. Mind you, this was during the hottest summer months, so being in a scene like this was pretty much paradise to us.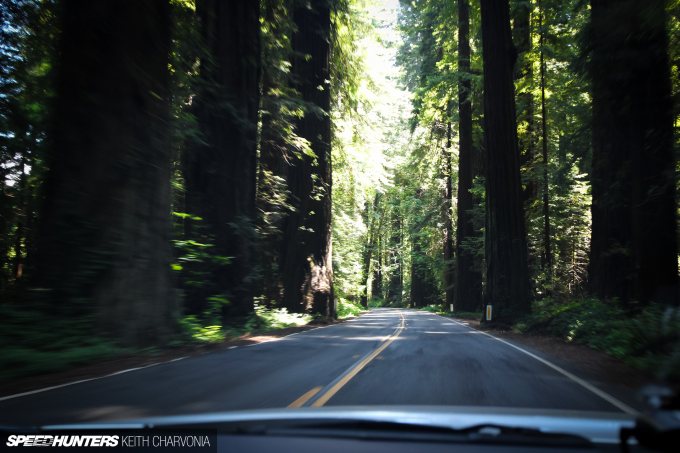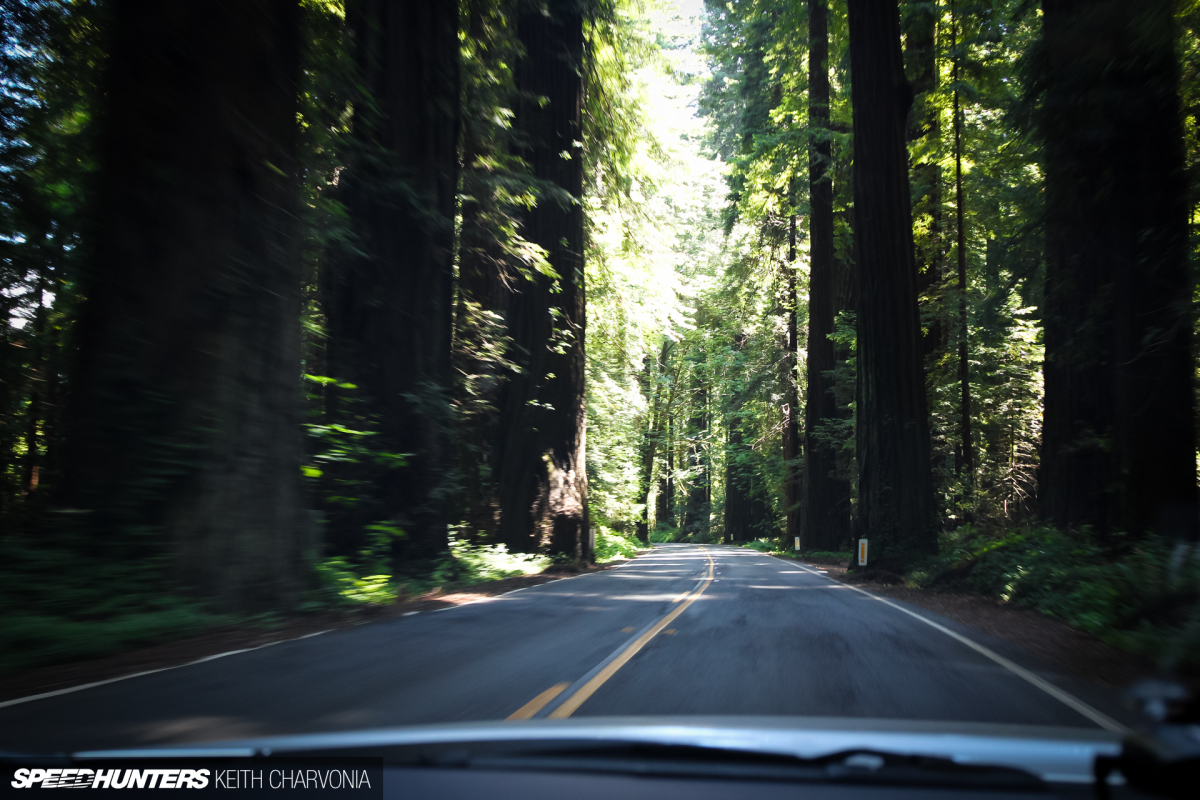 The KW V3s were nice and taut on the highways and backroads, and especially fun through the twisty woods. I put the Lexus in Sport mode and shifted manually through this section. Of course I took it easy with the family on board, but it was still a blast.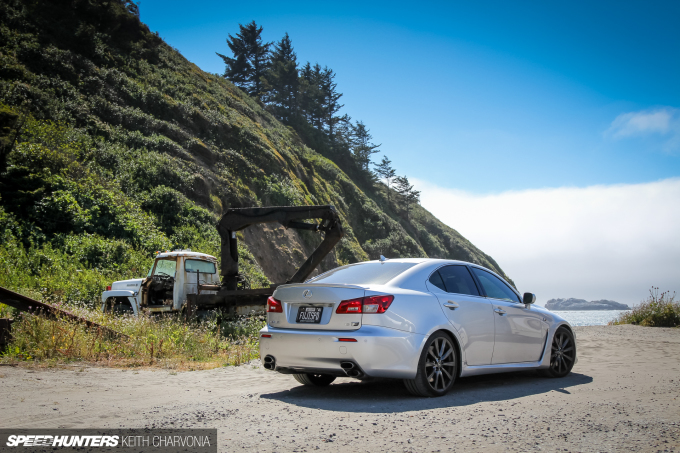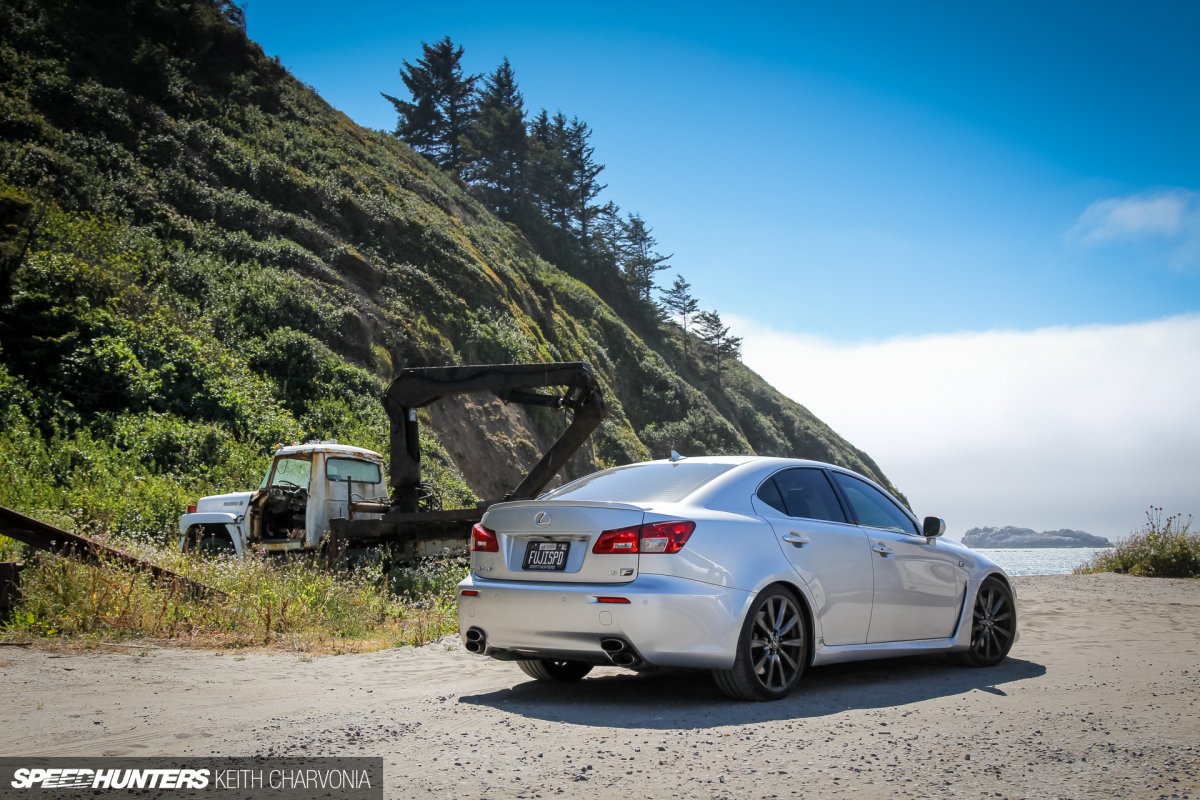 We vacationed for a few days with some family friends, and found ourselves on this cool beach at one point. I had to get a few shots with the abandoned crane truck and small island in the background. As you can see, I don't exactly baby my Lexus; it's my daily, and while I don't abuse it I'm certainly not afraid of a little sand either.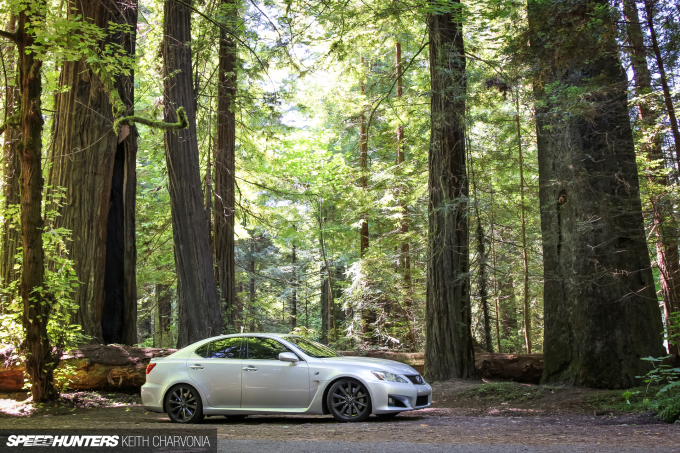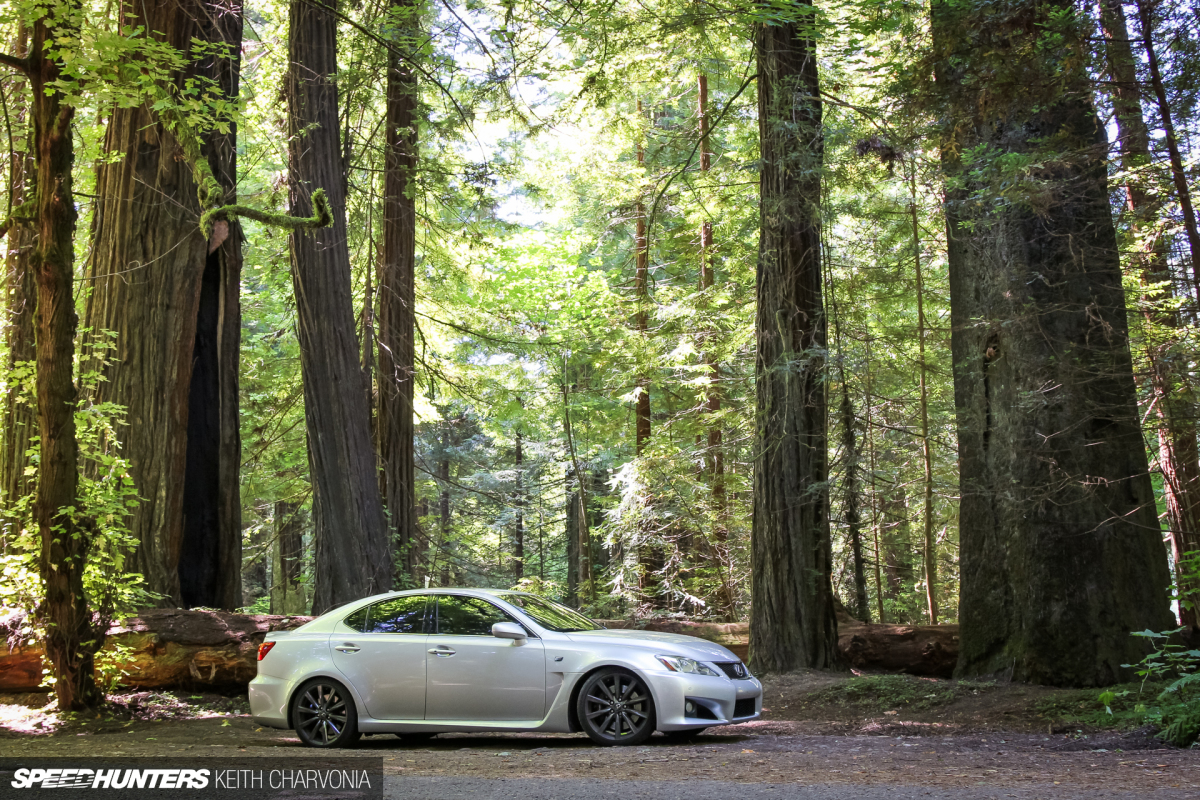 At last we arrived at the Avenue of the Giants, where some of the largest redwoods exist. I tried to capture the scale here, but a photo simply does not do these huge trees justice.
After a few very short days, it was time to head back; we still had another 1300 miles for the return journey.
It was a new dynamic for our family to take a 10-day trip and drive six of those days, but I'm thrilled to report that the Lexus IS F is the perfect grand tourer for a family of four. We still had our reservations even as we left town on the first day, but once we all settled in we were quite pleased with our choice to take the car over the SUV.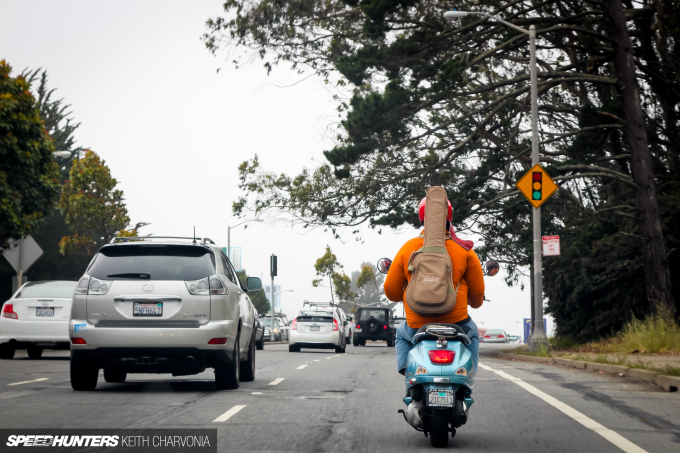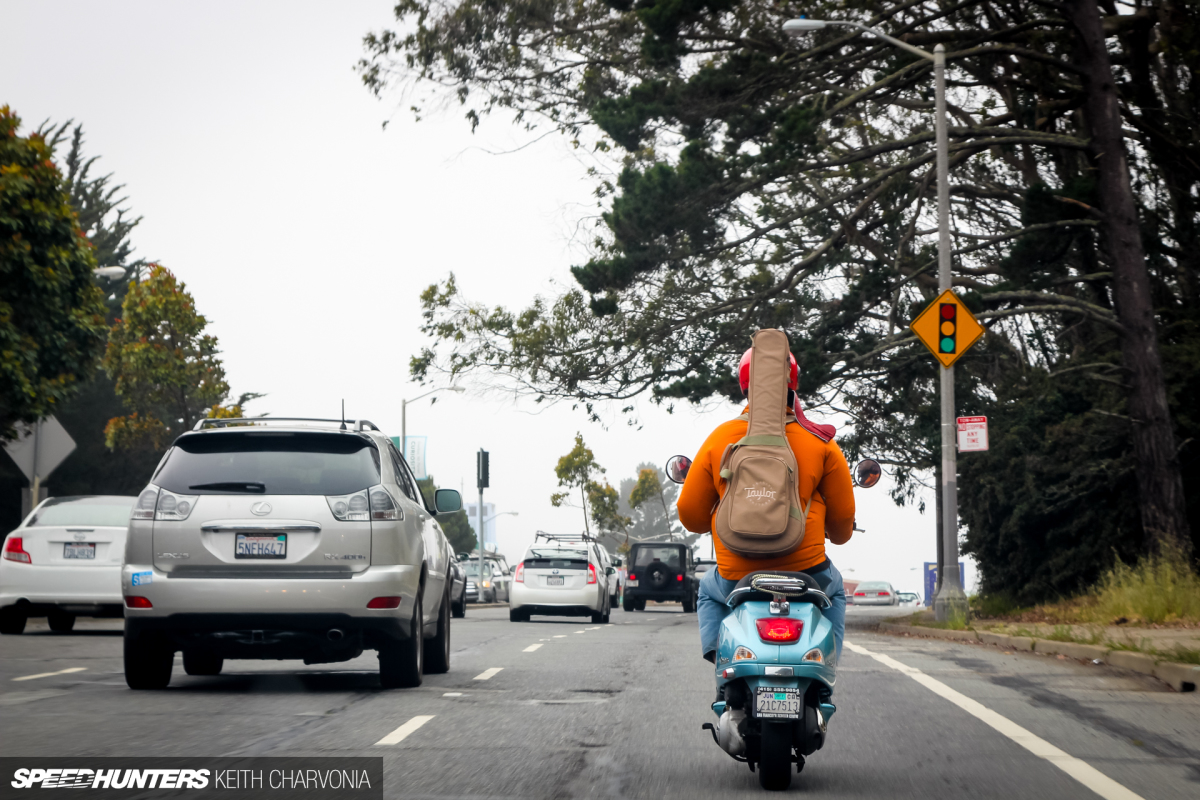 There's not much between the most northern reaches of California and San Francisco, so we made quick work of that drive.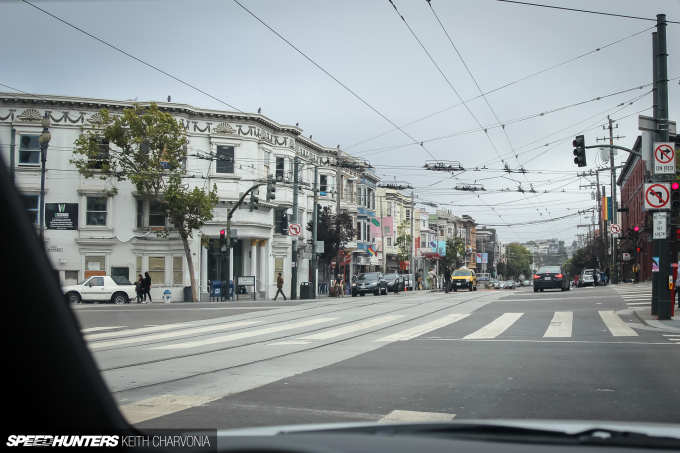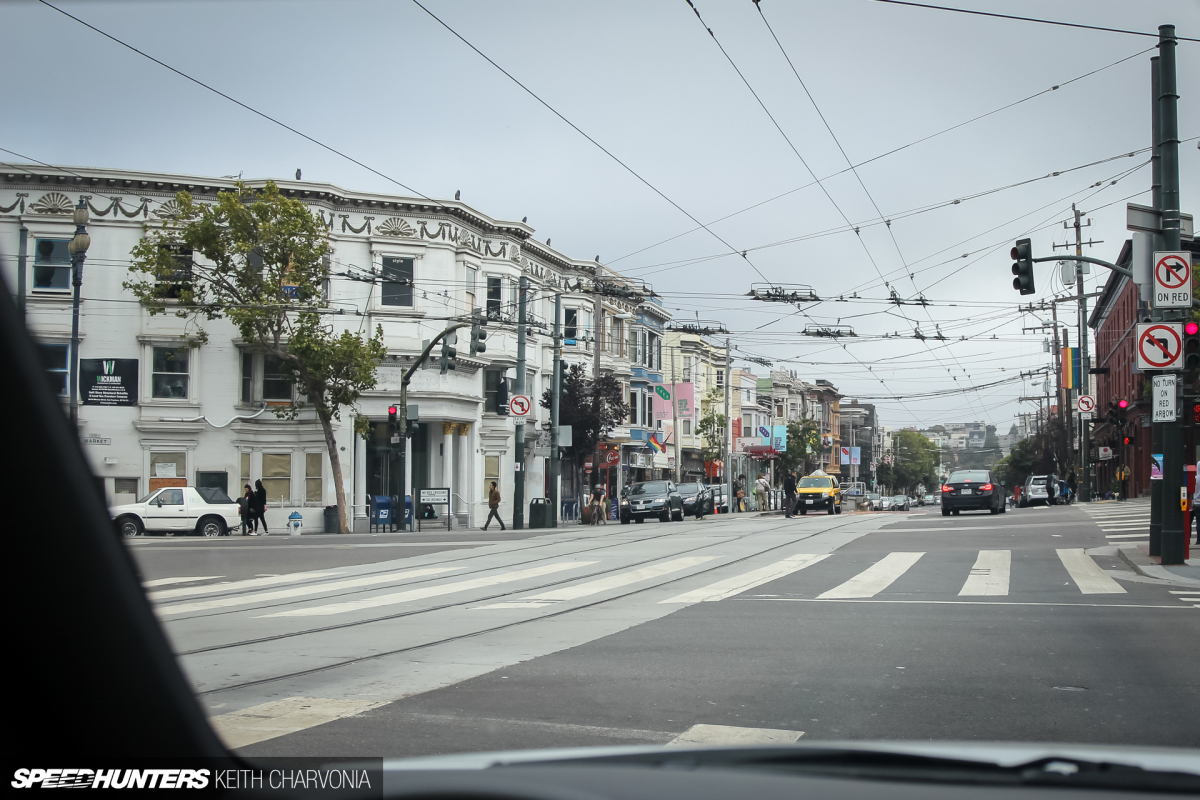 By the afternoon we were in one of my favorite cities to visit. San Francisco has such a cool vibe – it's scenic, unique and has the big city feel.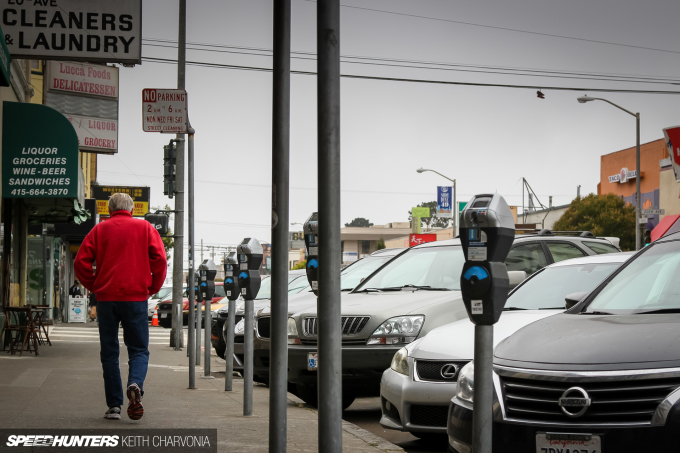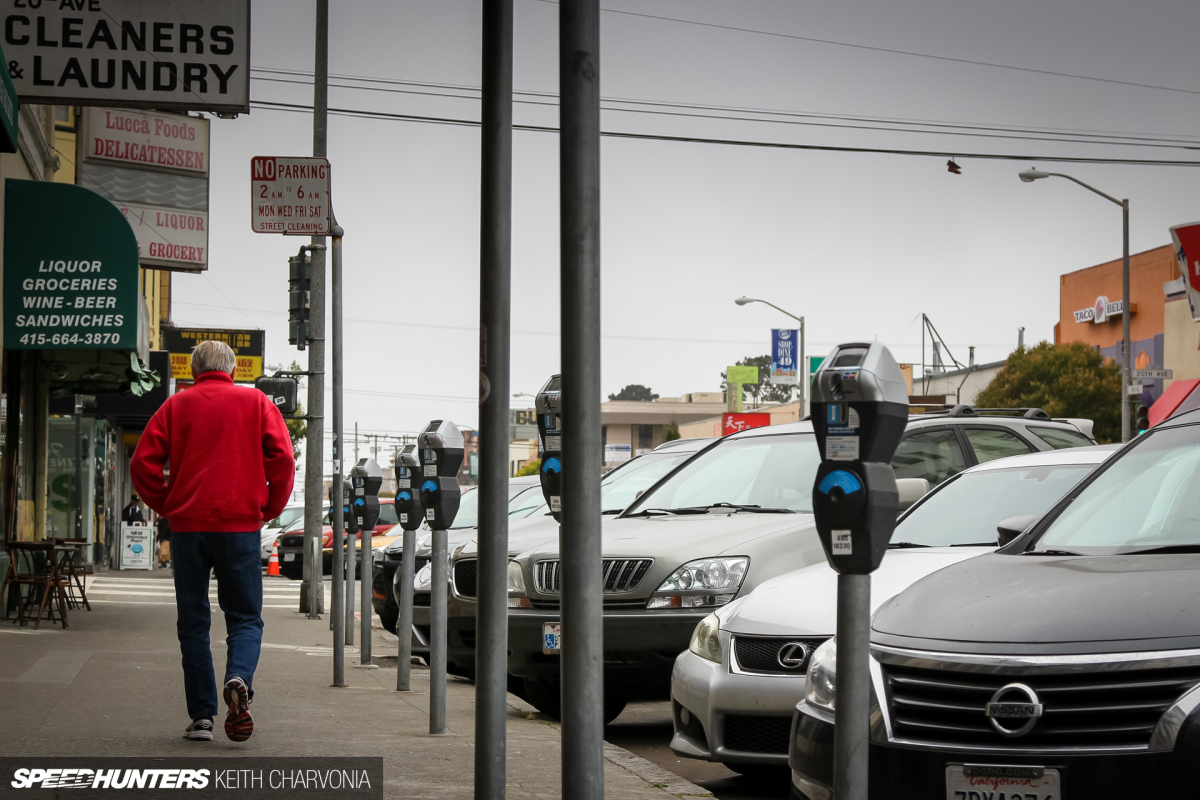 Of course, parking is one of the biggest issues in SF, but we scored a spot near Starbucks and took a break. We should have counted the number of Starbucks we visited, because it was more than a few.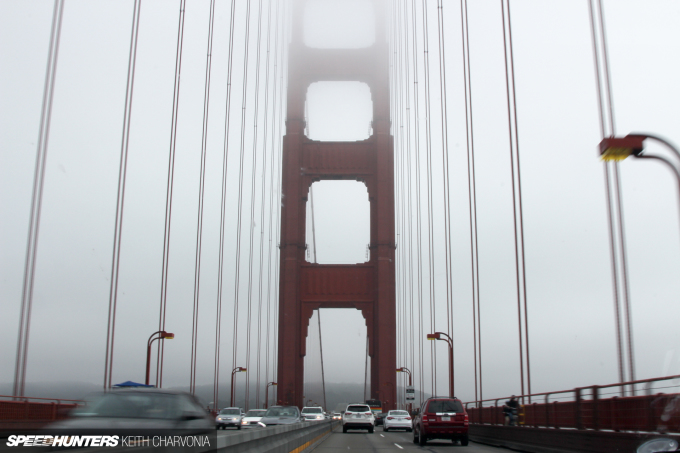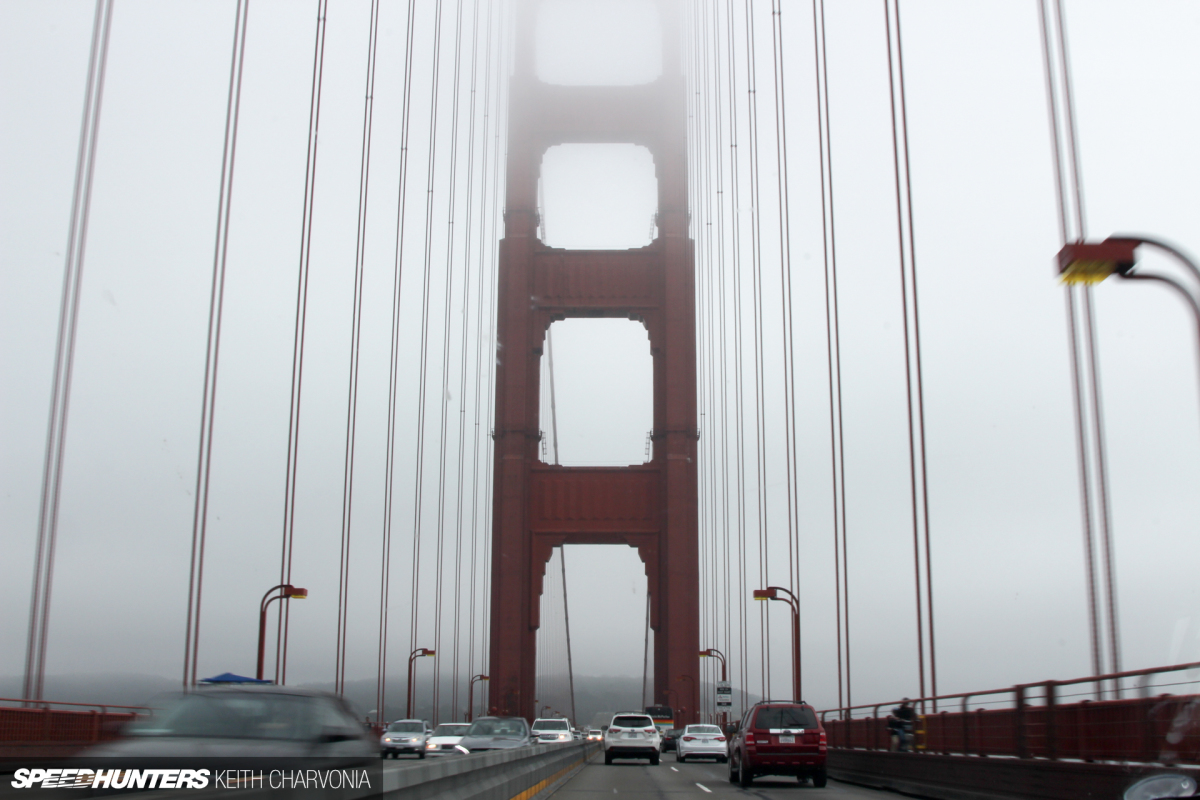 I drove the kids over the Golden Gate Bridge, where they could also see Alcatraz in the Bay. It was definitely a highlight for my five-year-old son!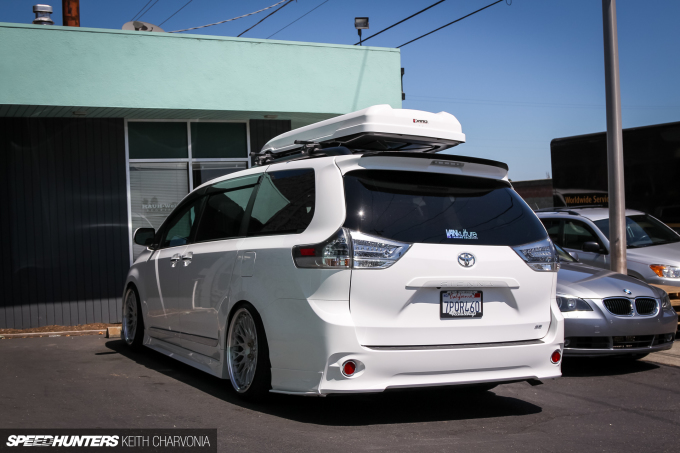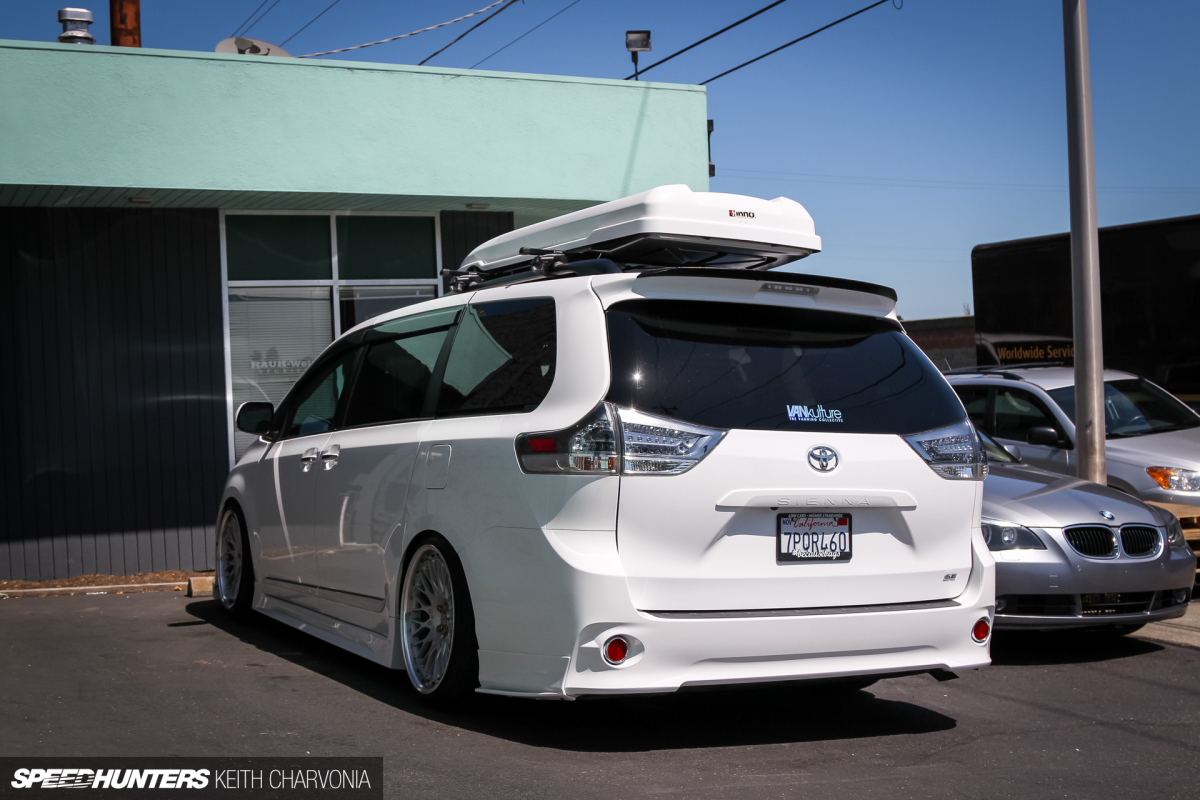 I had a few more stops on my wishlist for the ride home, pending approval by my three travel companions. One of these was to finally see the Fatlace Paddock for myself, where we met the owner of this badass slammed Toyota Sienna SE. Could this be our next family wagon? It's certainly a contender.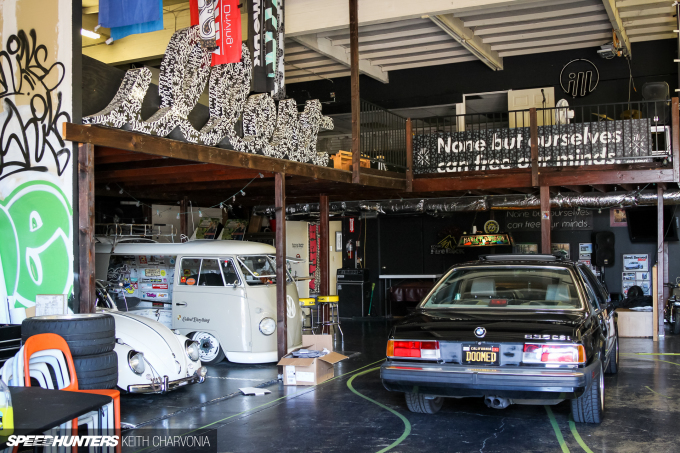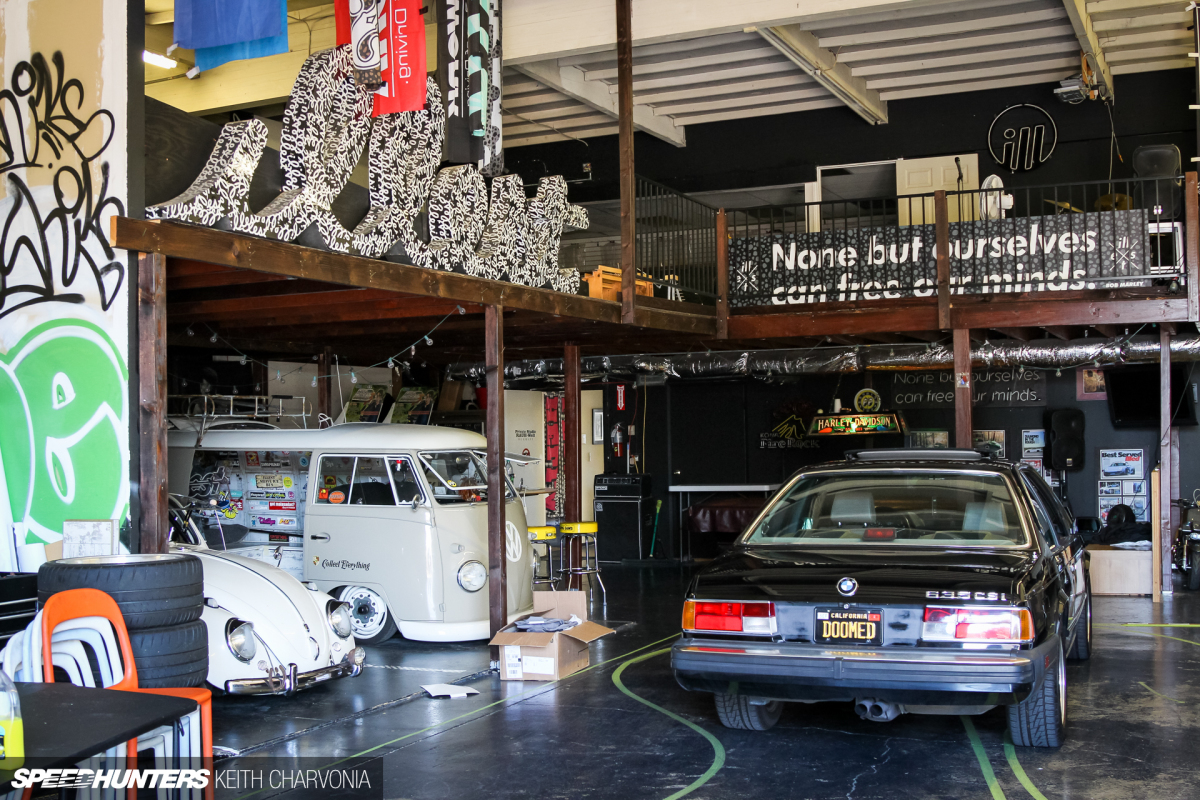 Mark Arcenal has created his own fantasy factory here, and it's hard not to be envious.
It's actually separated into two shops, one for Fatlace and another for RWB. I must have gotten the special tour, because I discovered where Nakai-san lays his head when he visits. Pretty damn cool.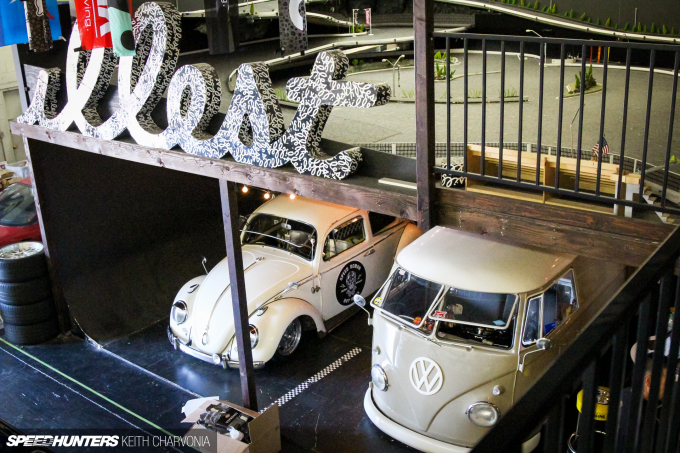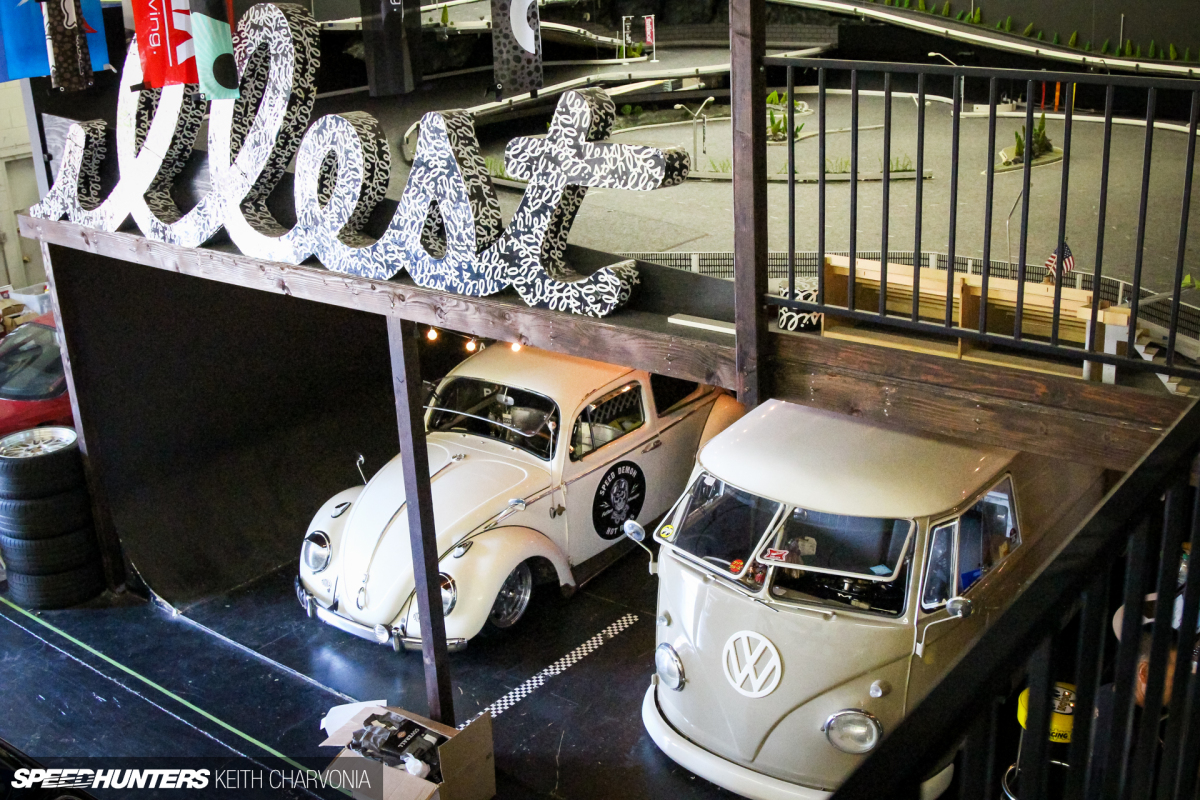 Also up on the loft is a huge RC car track, along with a small counter where they sell RC parts. See what I mean about this being a fantasy factory? Whatever Mark is into, be it cars big and small, streetwear or art, he has given it a home here at his shop.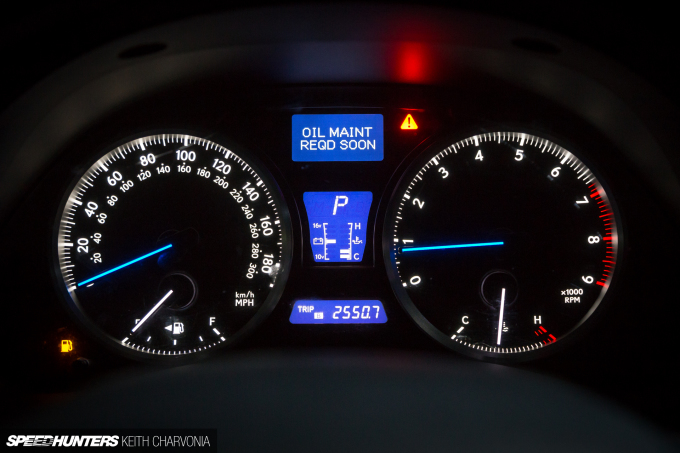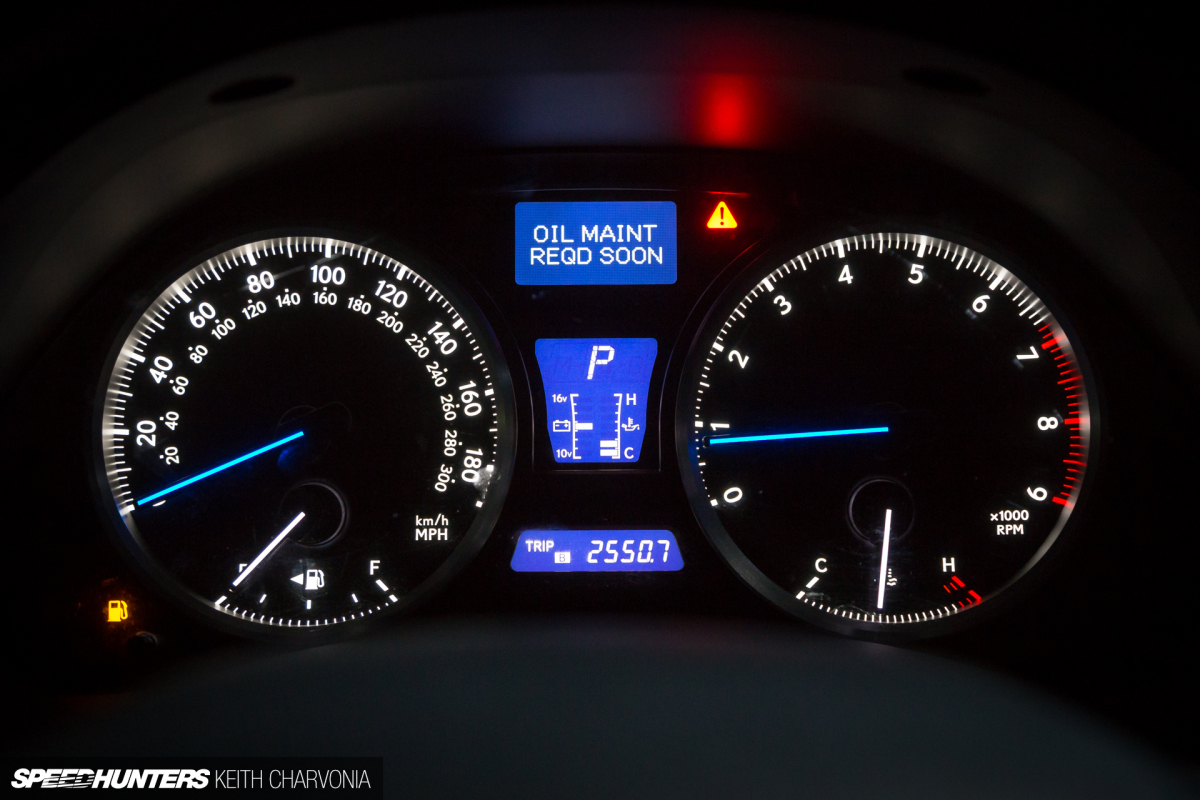 The end of the trip had us yearning for home, so we hustled and made it back in good time. And wouldn't you know it, as soon as we pulled into Phoenix the Oil Maintenance light came on!
Maintaining
With our roadtrip over, it was back to the daily grind. Fortunately, my grind allowed me to use the lift at lunch time and change my oil at least.
The 5.0-liter V8 2UR-GSE takes a whopping 10 quarts of synthetic oil, turning an oil change into quite an expensive chore. The upside though is that with that much oil volume comes increased cooling and dirt-holding capacity, and with Torco products I knew I'd have nothing to worry about for a while.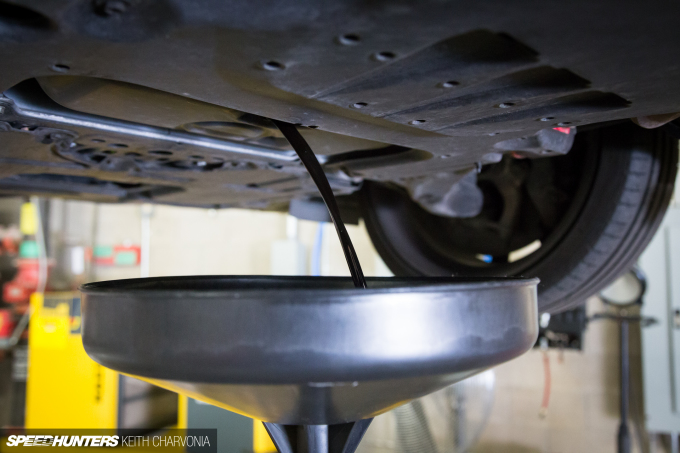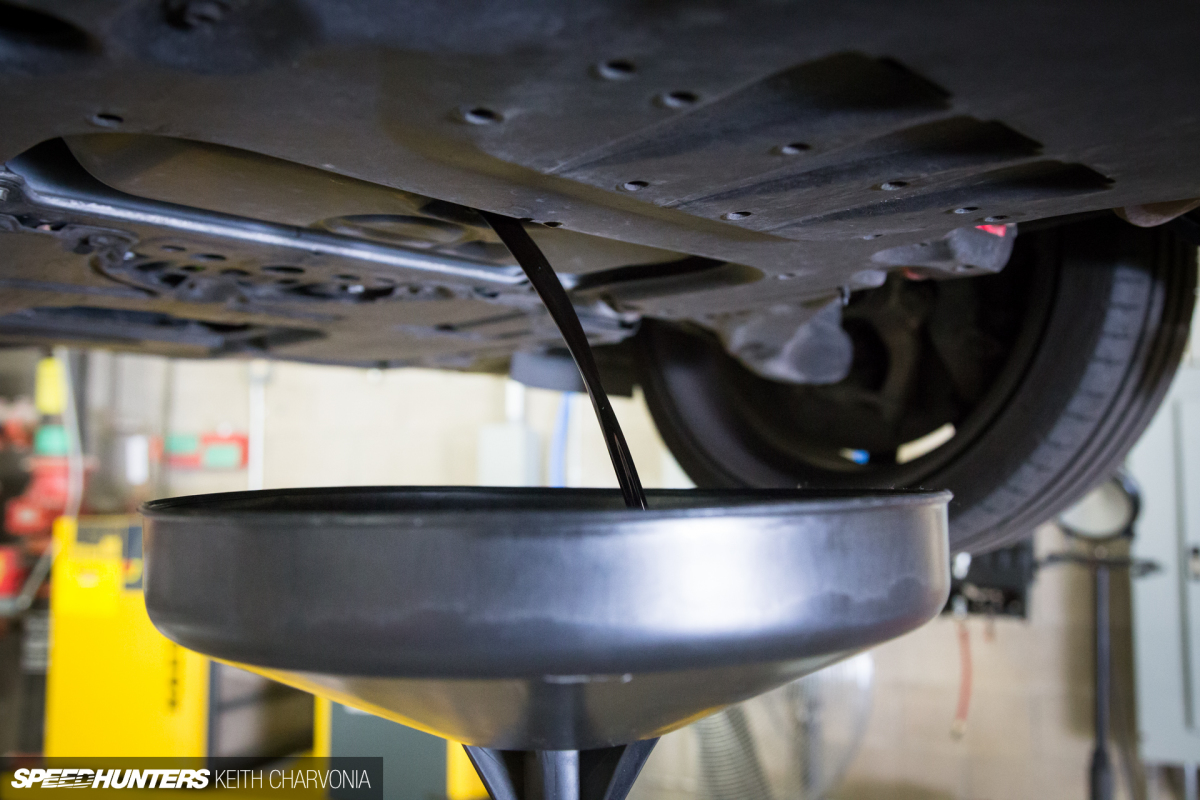 Out came the old oil. I believe the previous owner went with Amsoil for his one oil change.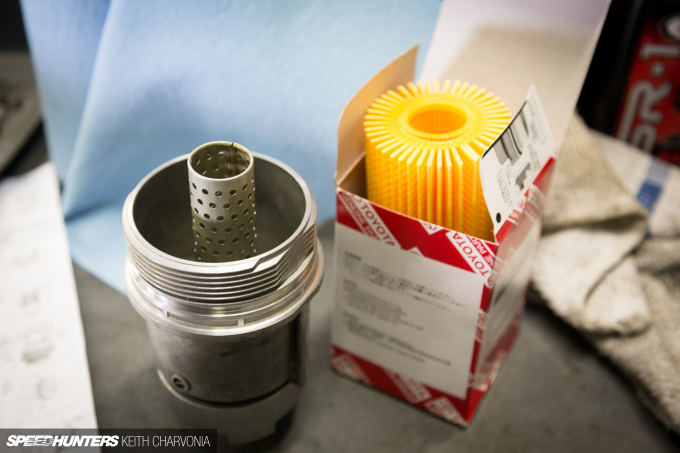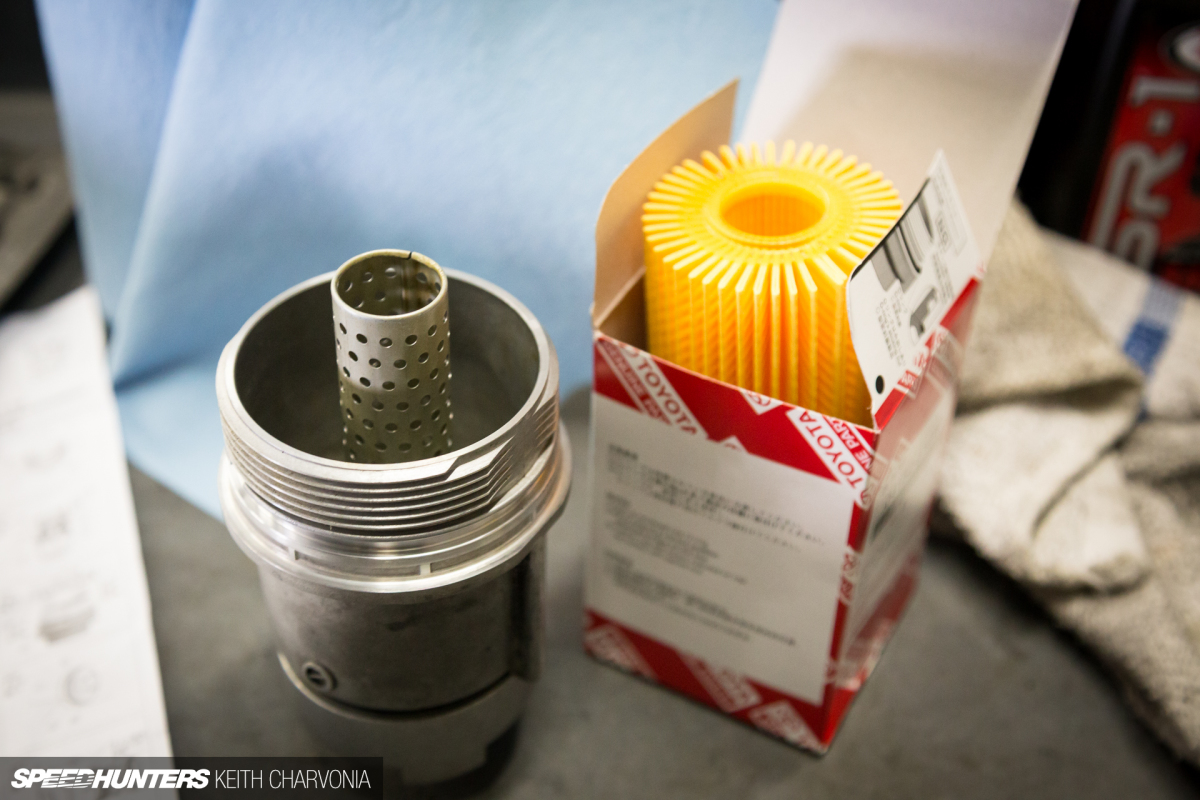 I'm a firm believer in using OEM oil filters. I just don't like thinking that an aftermarket filter might have different media that restricts the flow of oil or lets dirt by, or that they got the bypass spring pressure wrong or some other issue. The bypass spring isn't an issue with the cartridge-style filter used on the third-gen IS engines though, because the spring is built into the housing. All I had to do was clean everything out and drop in the new filter element.
It took a while to dump all 10 bottle of Torco SR-1 into the crankcase, but it sure is a good feeling to know your engine has been treated to a quality oil change. It almost makes you not feel bad when you run it through the gears and bang it off redline. Almost.
While the car was in the air I gave it a routine inspection and rotated the tires too.
Modding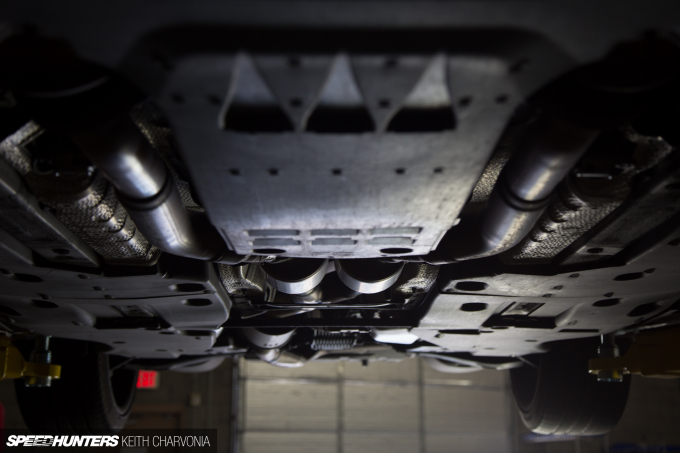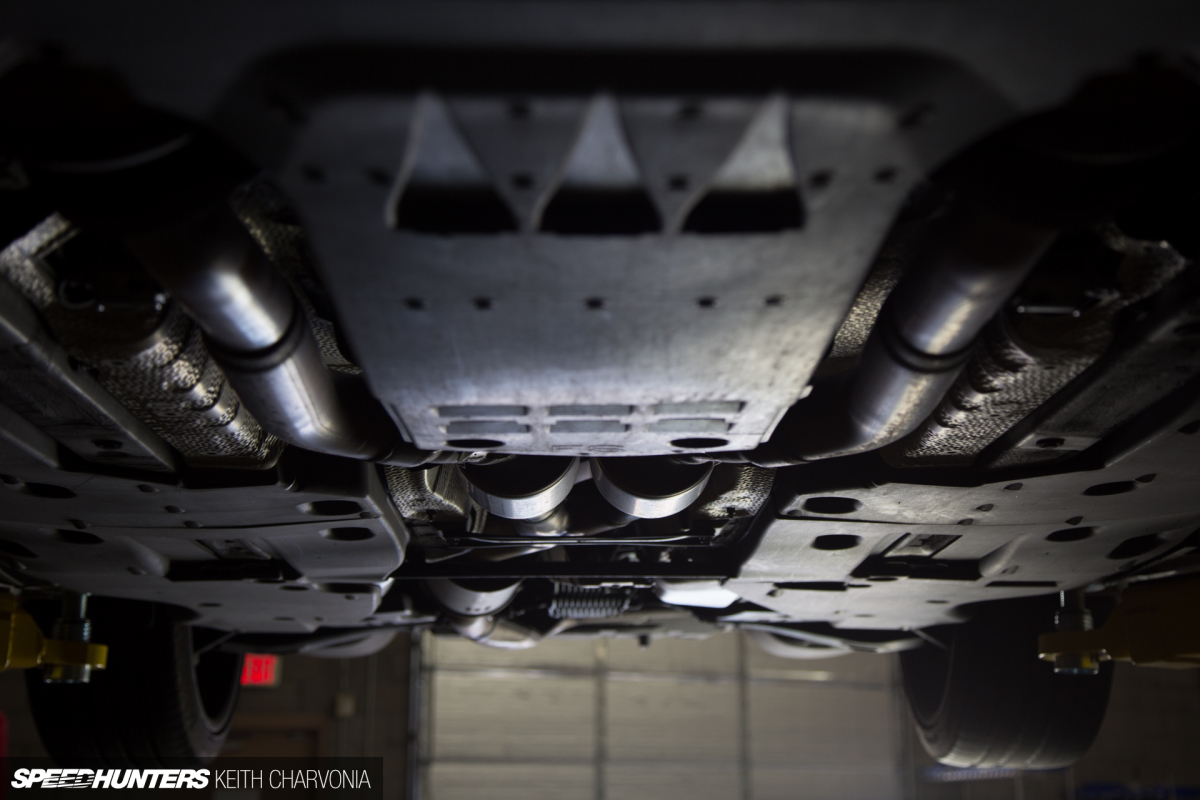 So far I had resisted being bitten by the mod bug too badly. It's true that once you feel a little power, you'll always want more, but I've modded enough cars to learn to slow down a bit and plan very carefully.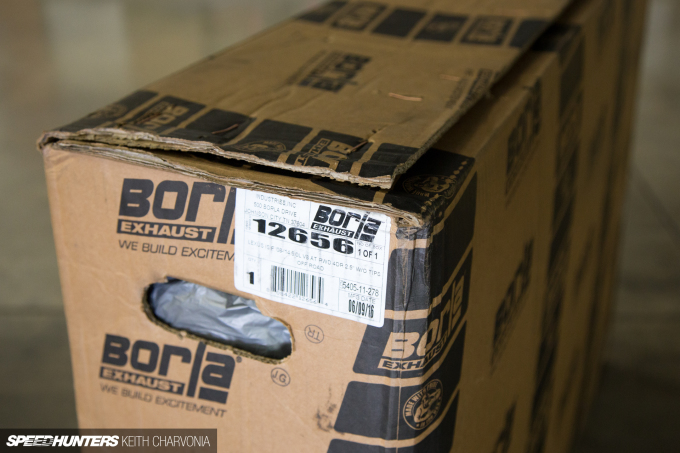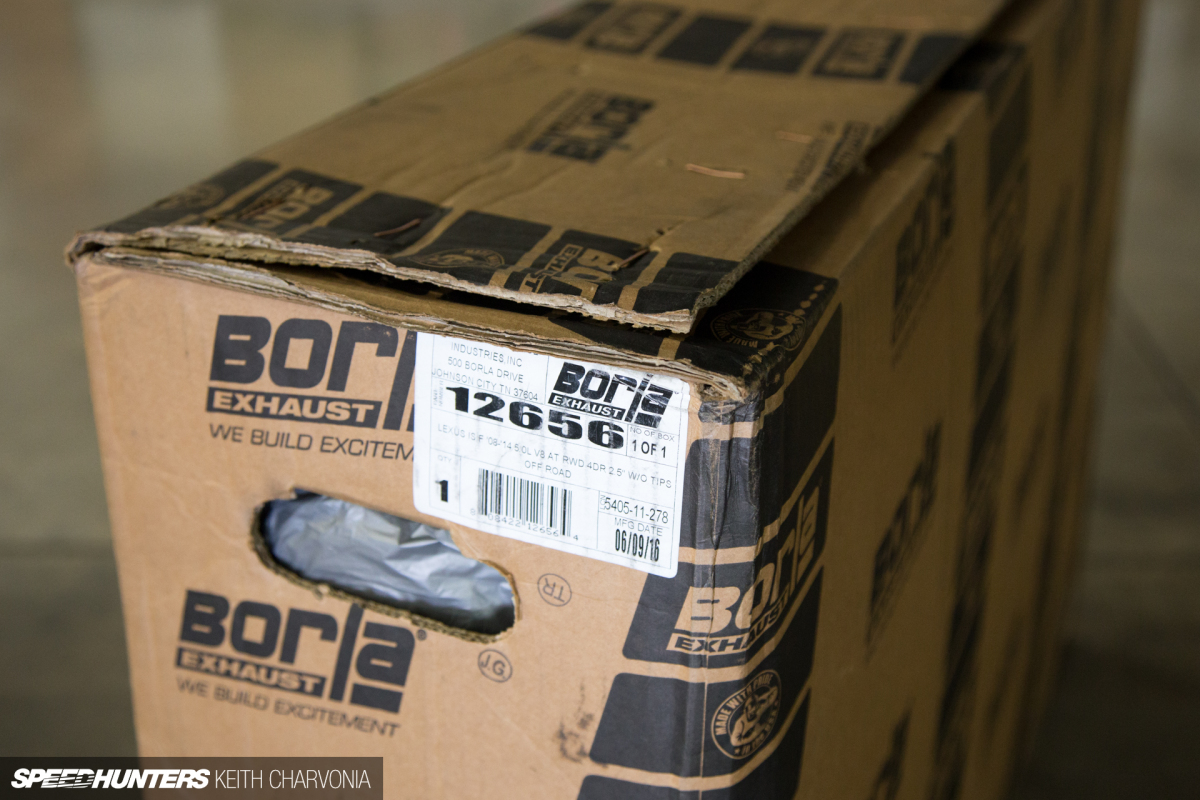 I've run Borla exhausts on my LT1 Chevy-powered Kaiser and my Scion FR-S too, and it's interesting to me that they can nail the sound on such different engines. The IS F was no different, and the Borla was the best-sounding option in my opinion. So many of the aftermarket exhausts have a loud, buzzy sound, which I definitely did not want coming from my V8 sedan.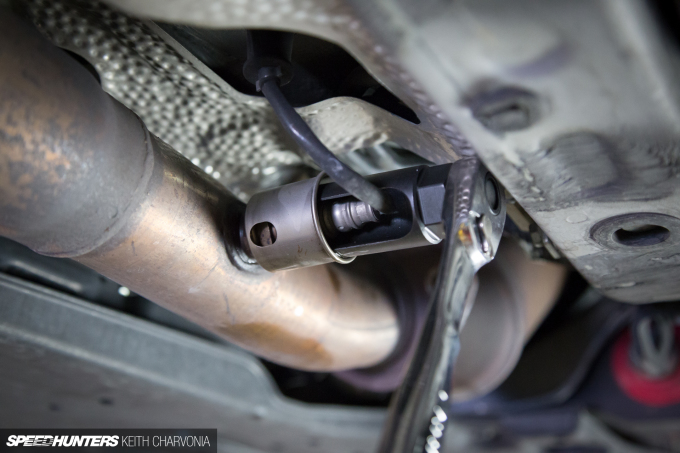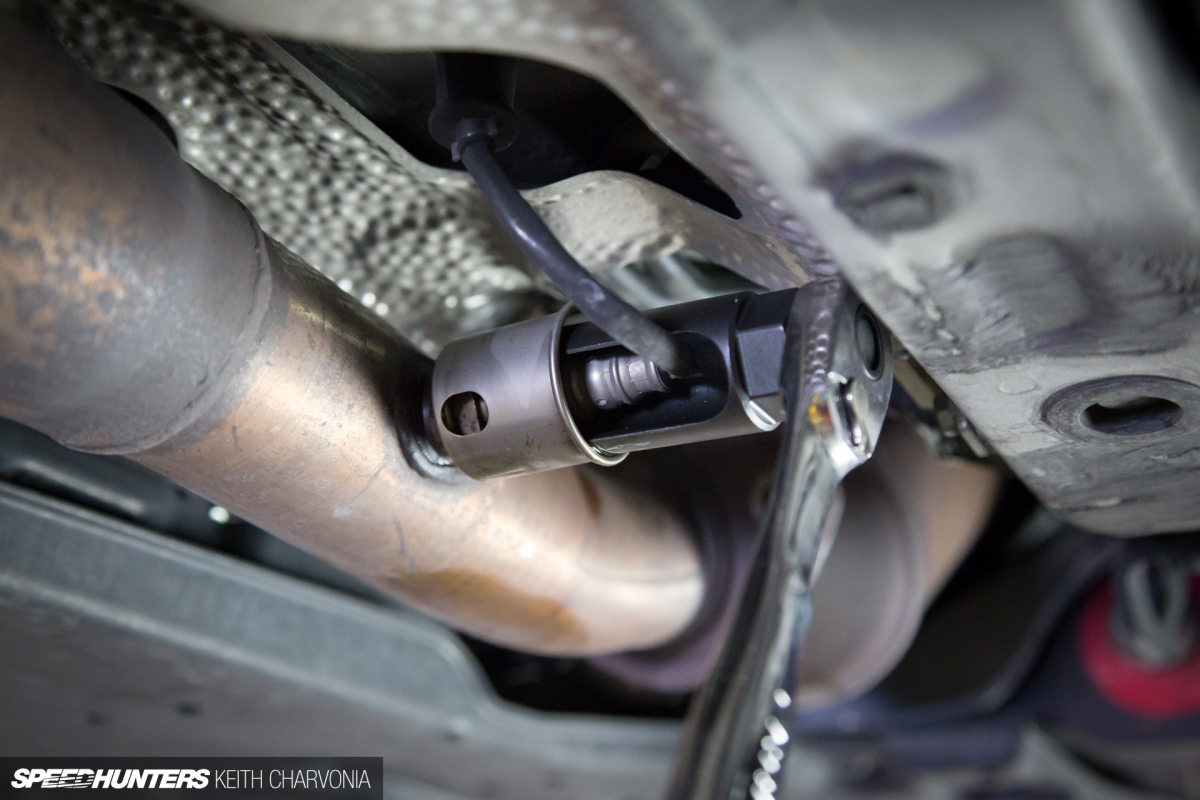 So, on another lunch break I racked the car and got to work. I sprayed some lubricant on the exhaust hangers and eased them off with a pry bar, and then used a special oxygen sensor socket to remove the O2s. As you can see, the clearance was tight along the frame rails, but true to Toyota's excellent engineering, the ratchet still fit and the sensor came out without drama.
I got the factory exhaust on the floor and the improvements of the Borla cat-back were obvious. Lexus used a two-into-one design with secondary cats and a resonator, and the pipes are flattened to maintain clearance over the rear axle. It seems the OEMs are more concerned with healthy clearances than the aftermarket.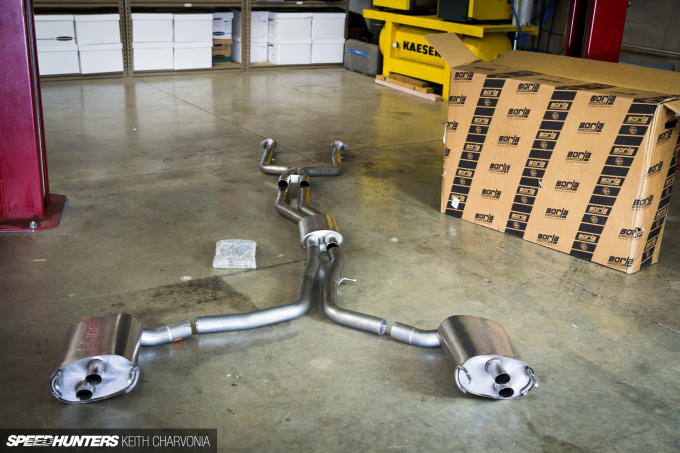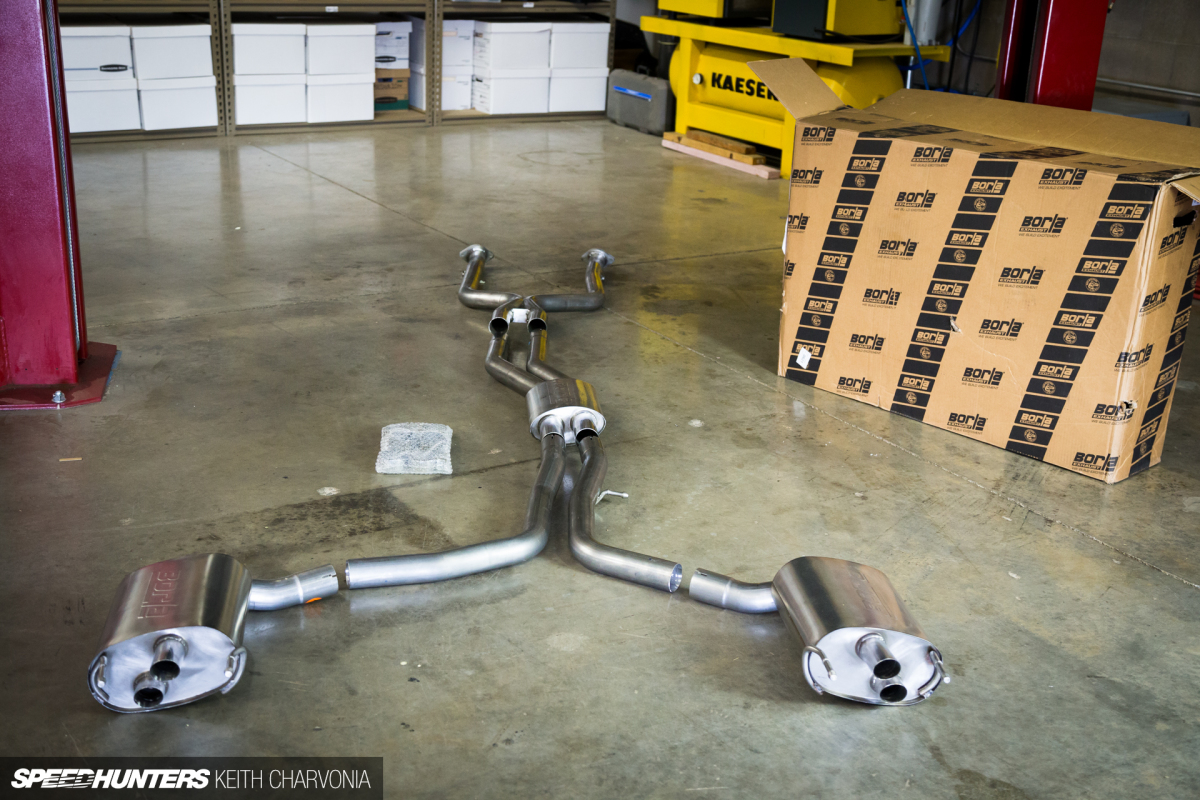 The Borla is true dual exhaust, with no smashed bends and all stainless construction. It also uses an X-pipe design to balance exhaust pulses and improve flow characteristics.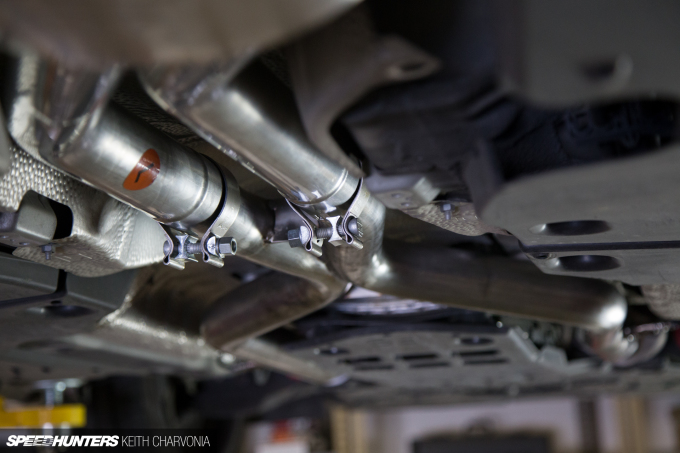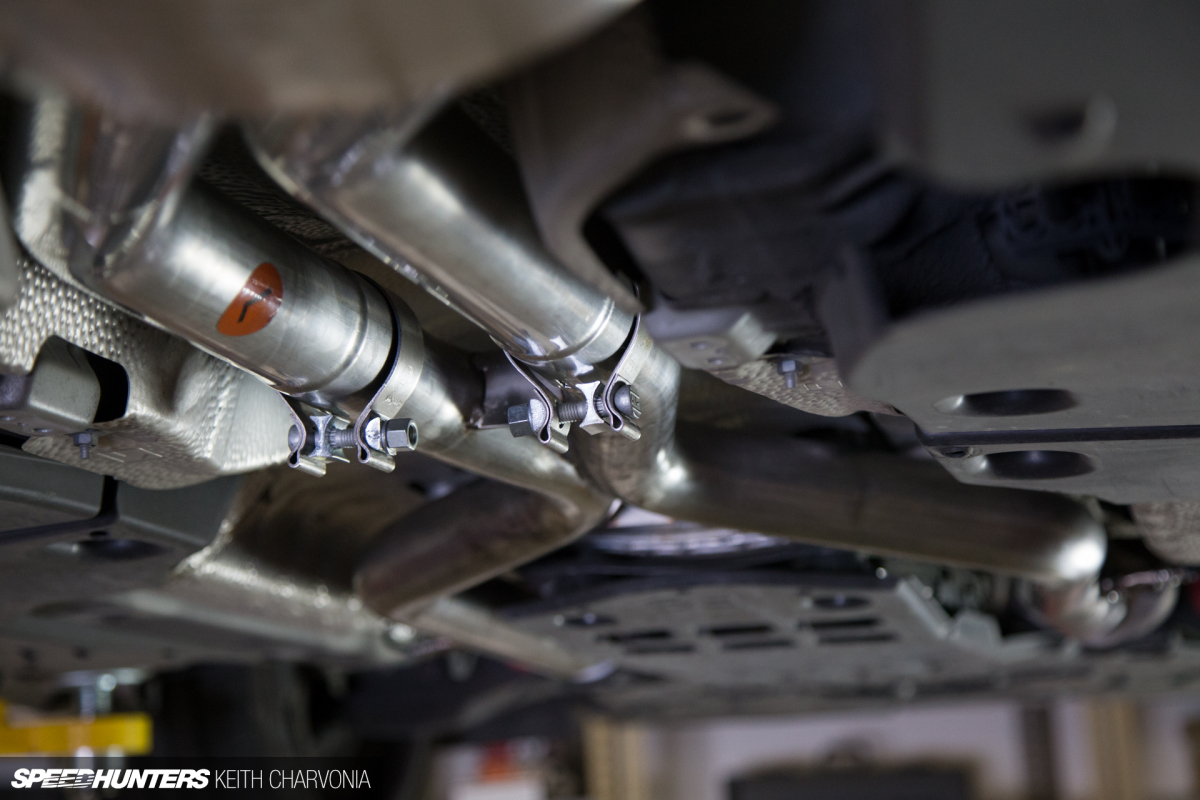 Working from the front to the back of the car, I first assembled everything loosely so I could find the ideal position before clamping it all down.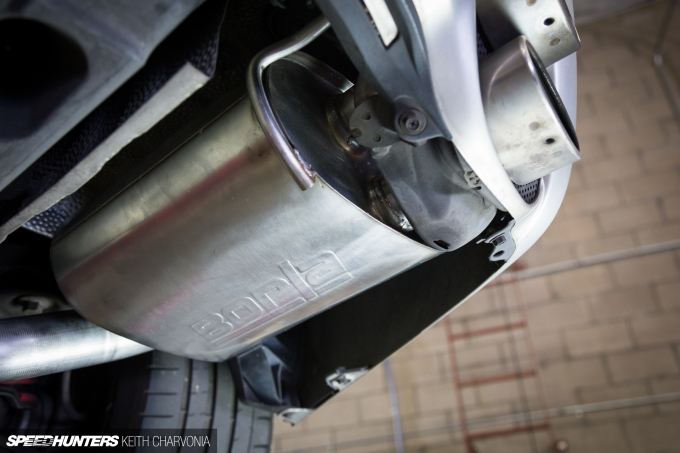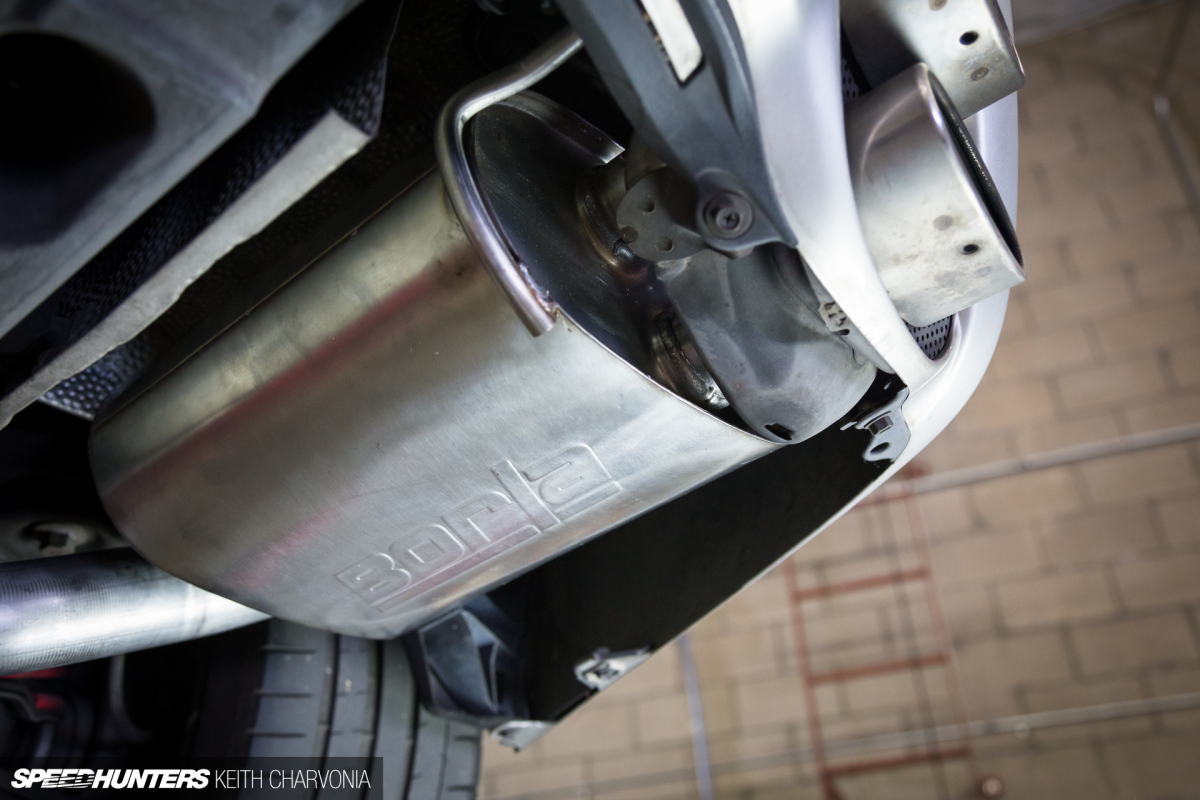 The Borla breathes through the stock tips, which is just fine by me. I've yet to see an aftermarket solution that looks better.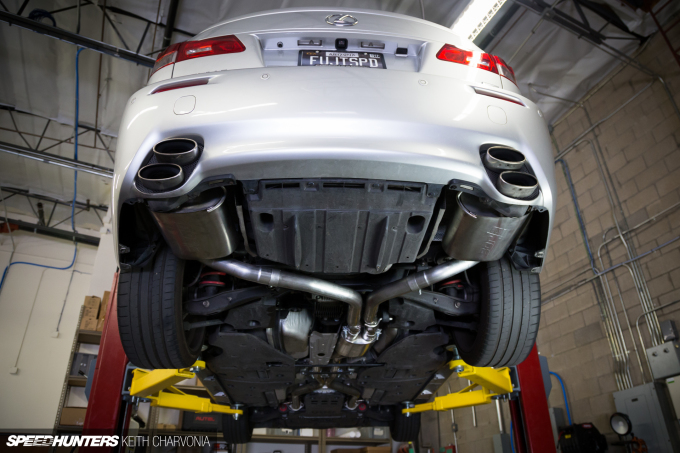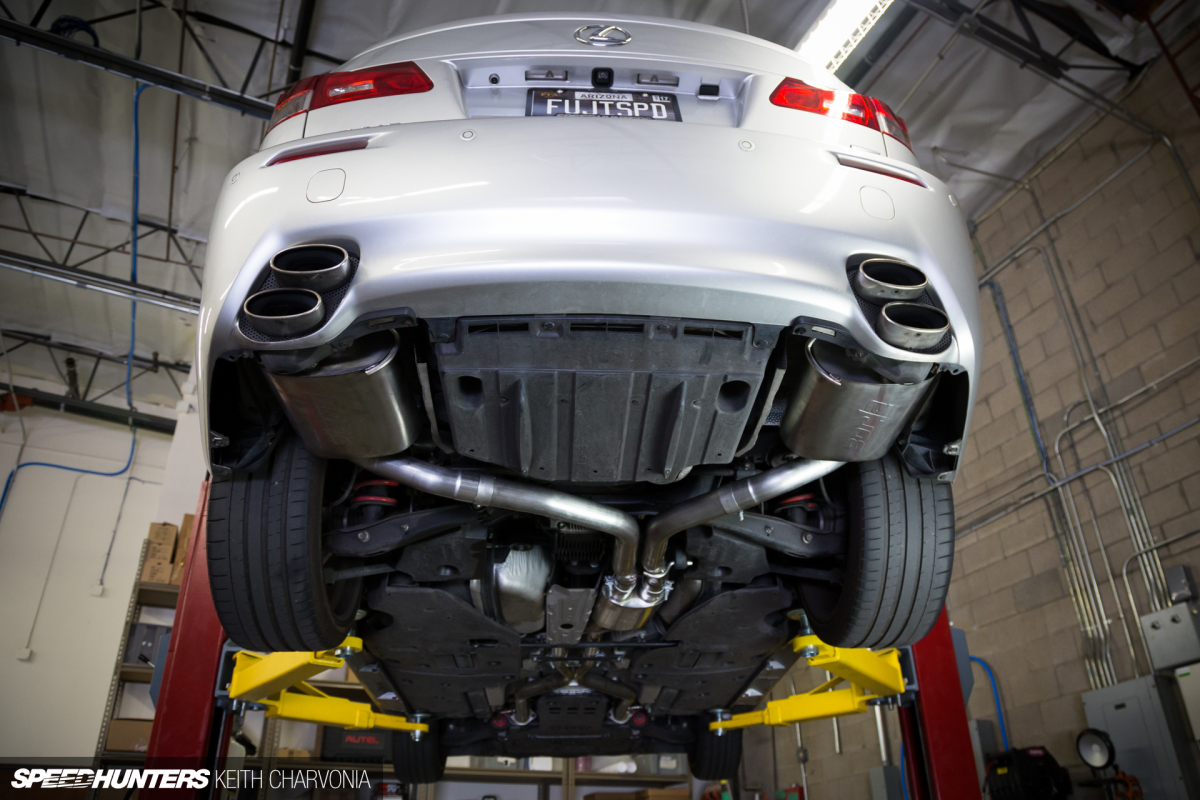 So, mission accomplished, and I didn't even run too long on my lunch break either. The sound is pretty mellow, but you still know there's a V8 under the hood, which is precisely what attracted me to the Borla in the first place.
So what's next? Stay tuned to see how I fit a staggered set of RAYS wheels and Nitto tires under this beast…
Keith Charvonia
Instagram: speedhunterskeith
keith@speedhunters.com