The JCCA New Year Meeting is arguably the best event on the calendar anywhere in the world for fans of classic Japanese automobiles.
All our favourite Japanese performance cars are there: 510, Celica, S660, 2000GT, GT-R, and the list goes on… But you can also be sure to find some of the quirkier creations that have rolled off Japanese production lines, like the Hino Contessa 1300 coupe (or rather three of them, as you can see in the header photo).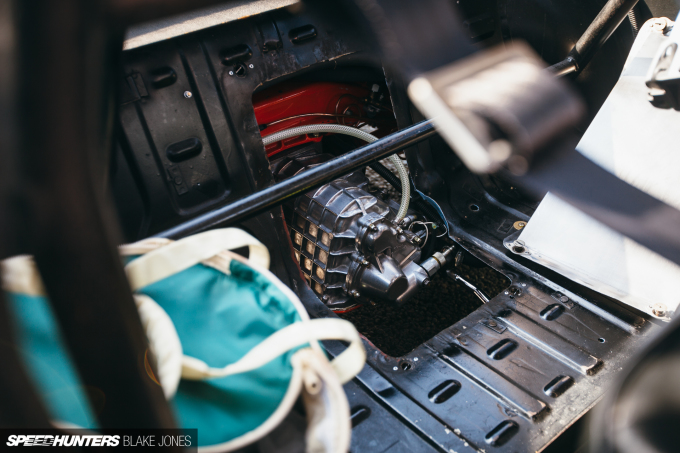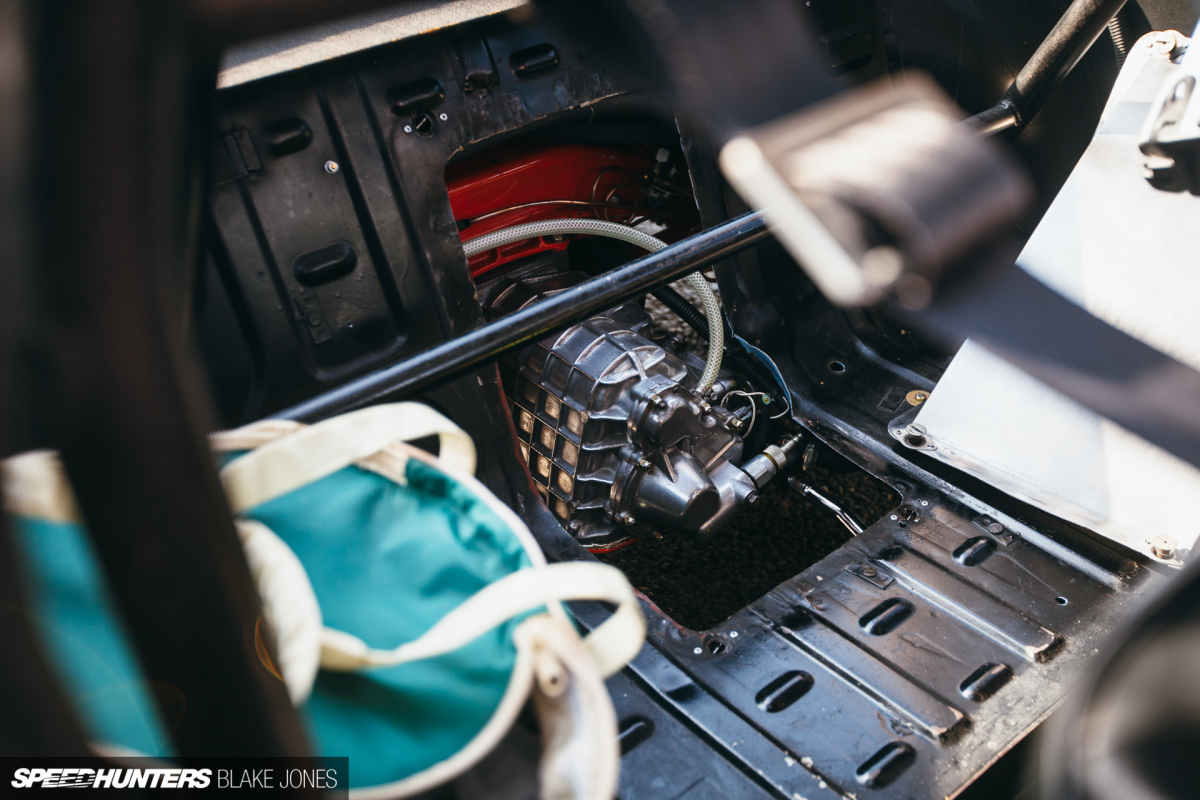 When I first approached the white and red-livered car, all openings bar the driver's side window were closed, so I cautiously poked my head and camera inside this curiosity for a closer look. It was hard to miss the transaxle gearbox poking through this cut out, but hang on a second, where's the driveshaft?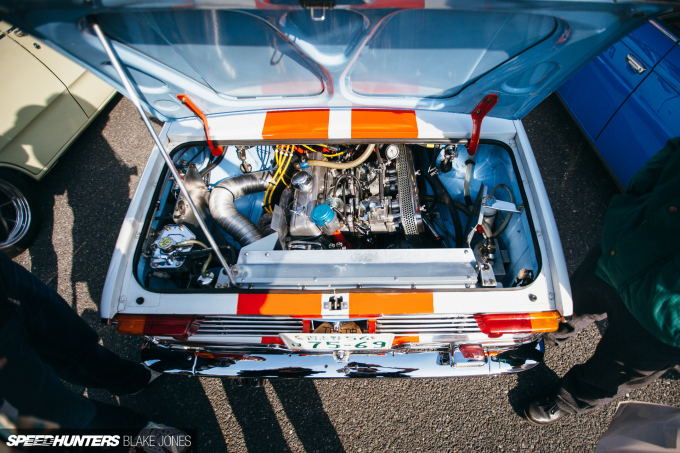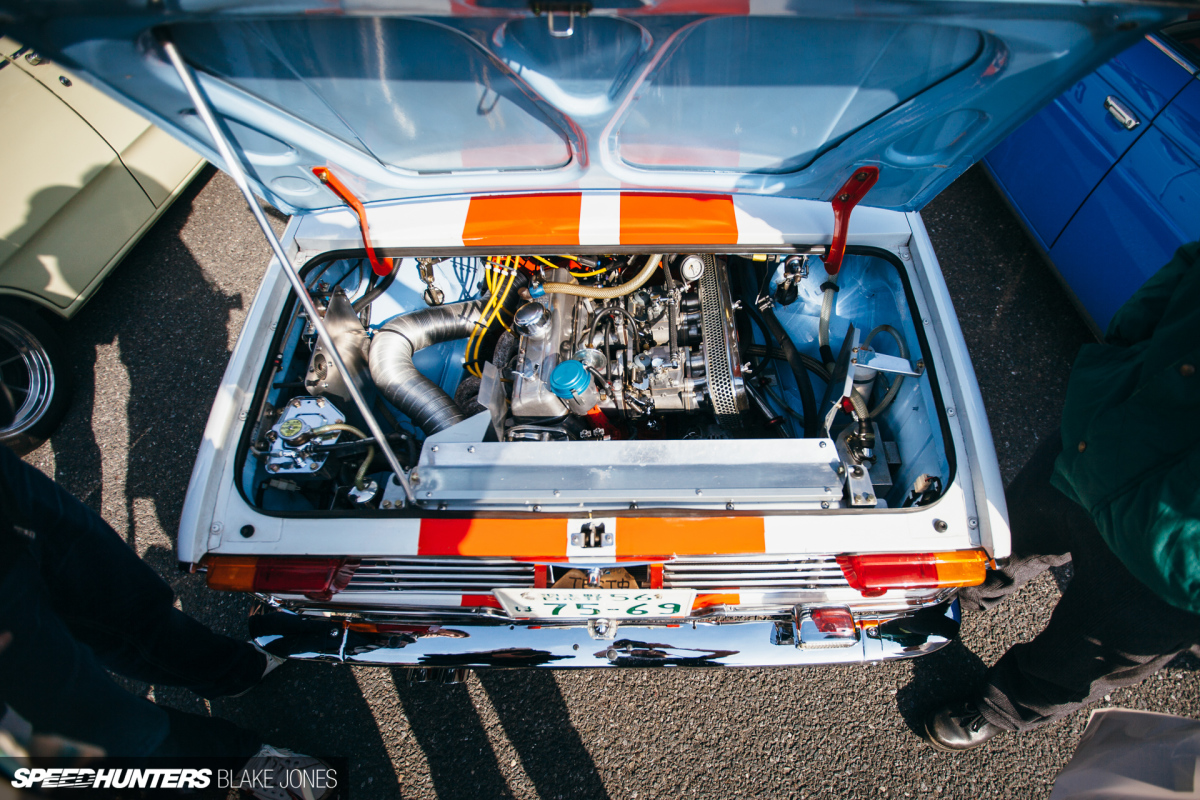 I quickly learned the error of my ways; of course it was a rear-engined car I was staring at. The owner of the Hino, Satoshi-san, was bemusedly watching me trying to figure out what I was looking at, but eventually and mercifully unlatched the trunk engine compartment and began to explain the history of his unique machine to me.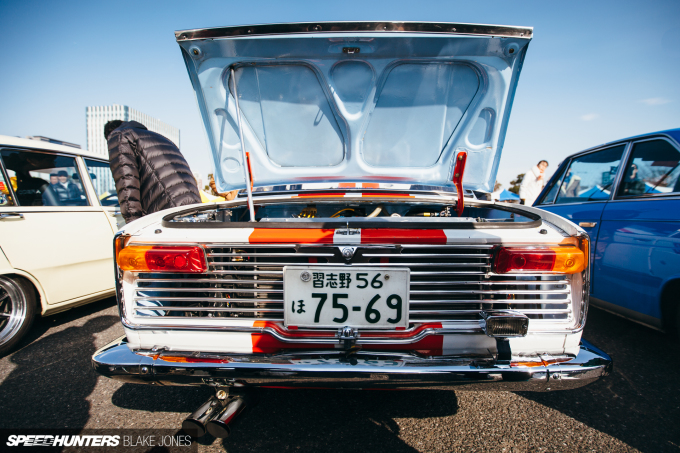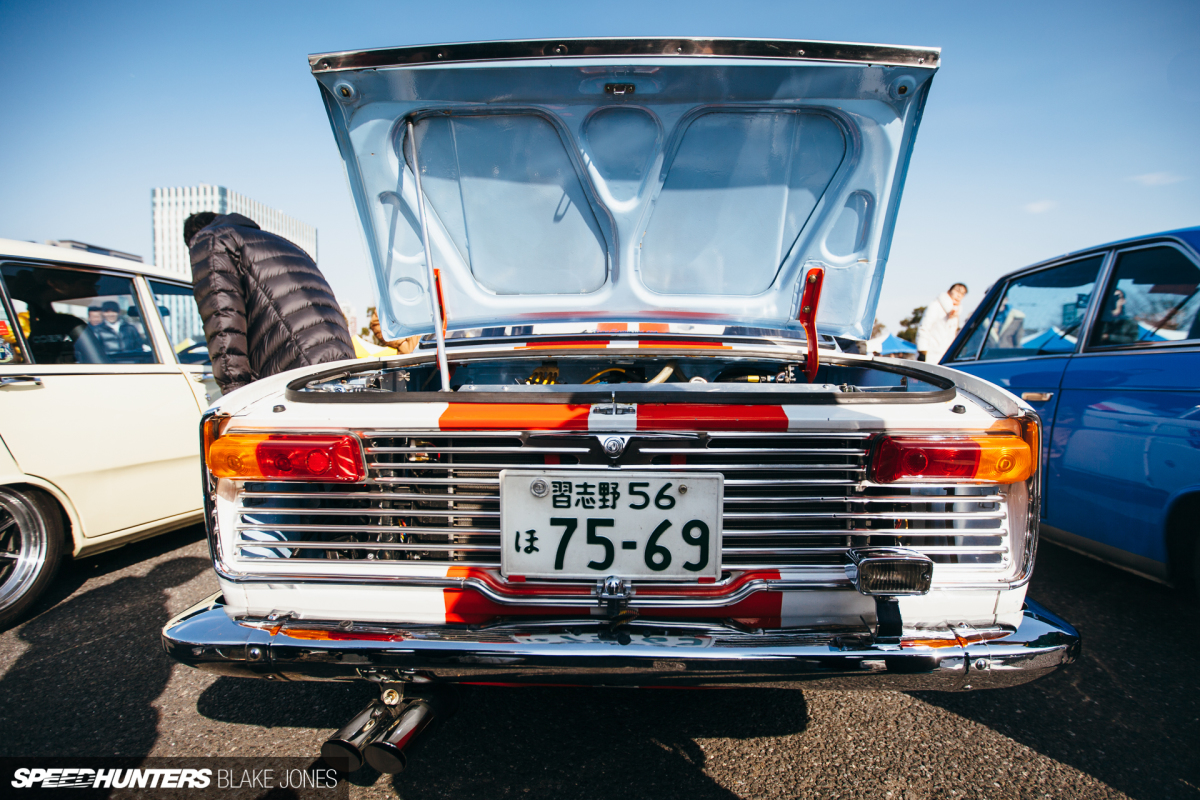 The car's typical 'three box' design had fooled me for engine placement, but now it was quite obvious looking at the rear end where the power plant lies. The independent Hino Motors had based the Contessa's basic design on the Renault 4CV after having built them under licence since 1953, and enlisted the help of prolific Italian designer Giovanni Michelotti to dream up a body appropriate for a gentleman's touring version – the 1300 coupe.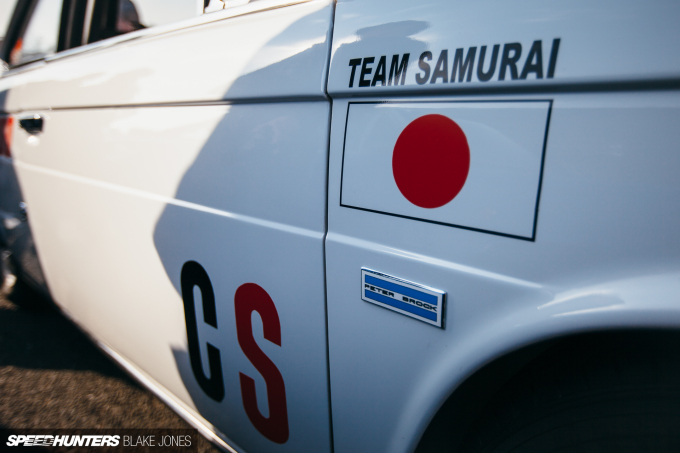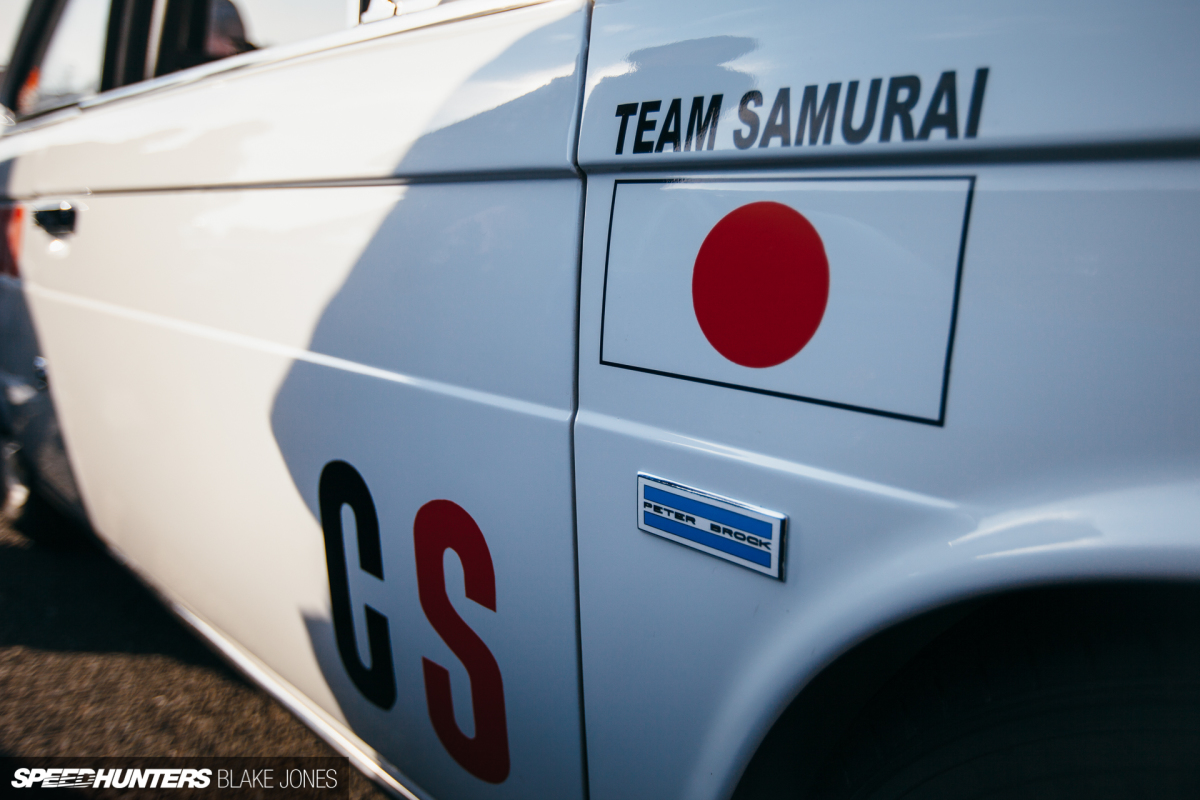 Bob Dunham, an American actor and automotive journalist based in Japan, convinced his friends at Hino that racing was the key to breaking into the massive North American market, so they contacted a plucky car designer and team owner by the name of Peter Brock to build them a car. Brock and Dunham called themselves 'Team Samurai' in a not-so-subtle nod to the Contessa's unique Japanese roots. Note that this was before a Toyota or Nissan had ever turned a wheel in anger in the US, thus effectively representing the birth of Japanese motorsport Stateside.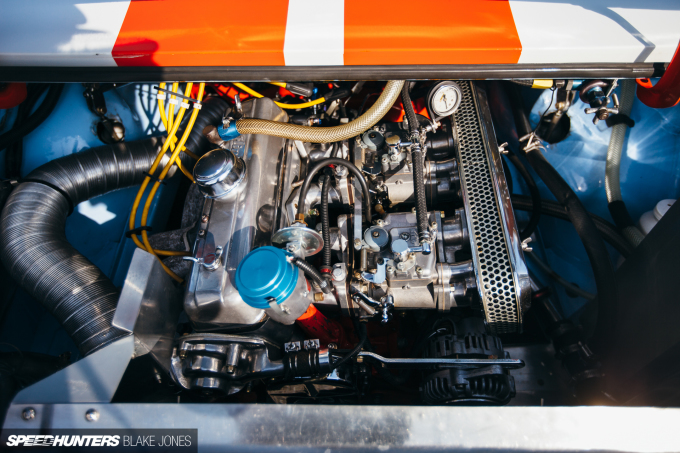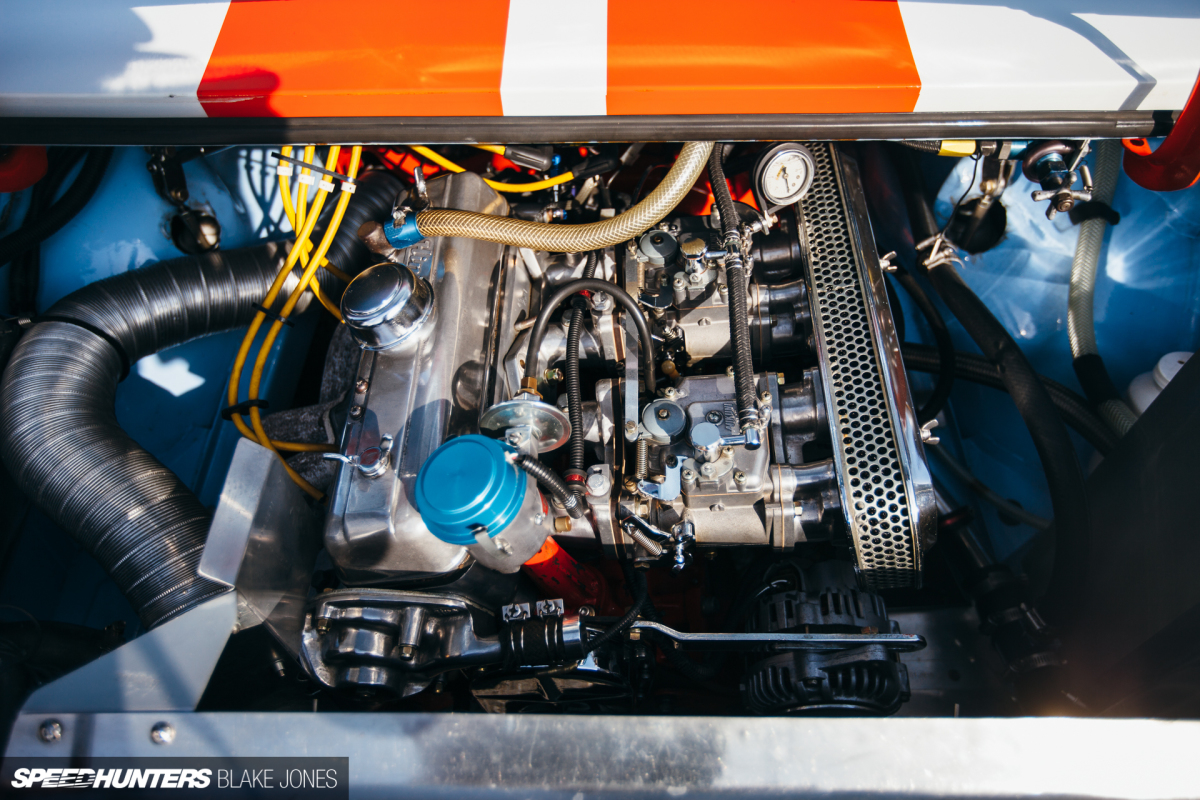 The engine was an in-house development from Hino as opposed to being an adapted Toyota block as I'd suspected. The unit in this particular car has been significantly improved by Brock, and Satoshi-san demonstrated with pride how smooth his car sounded at idle compared to the other Contessas. And he was right, there was no metallic harshness common with engines of this vintage.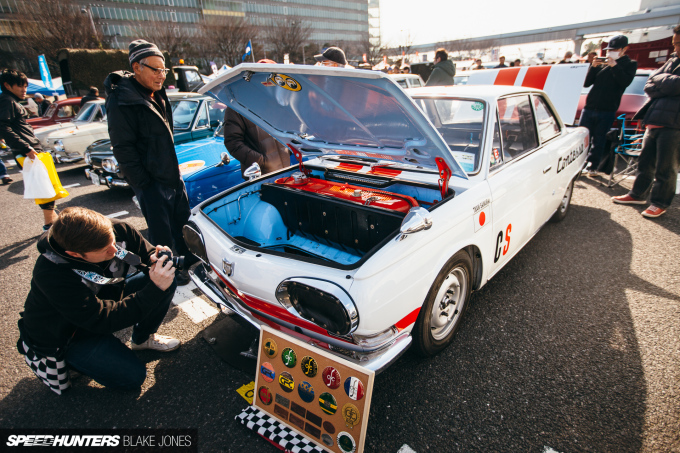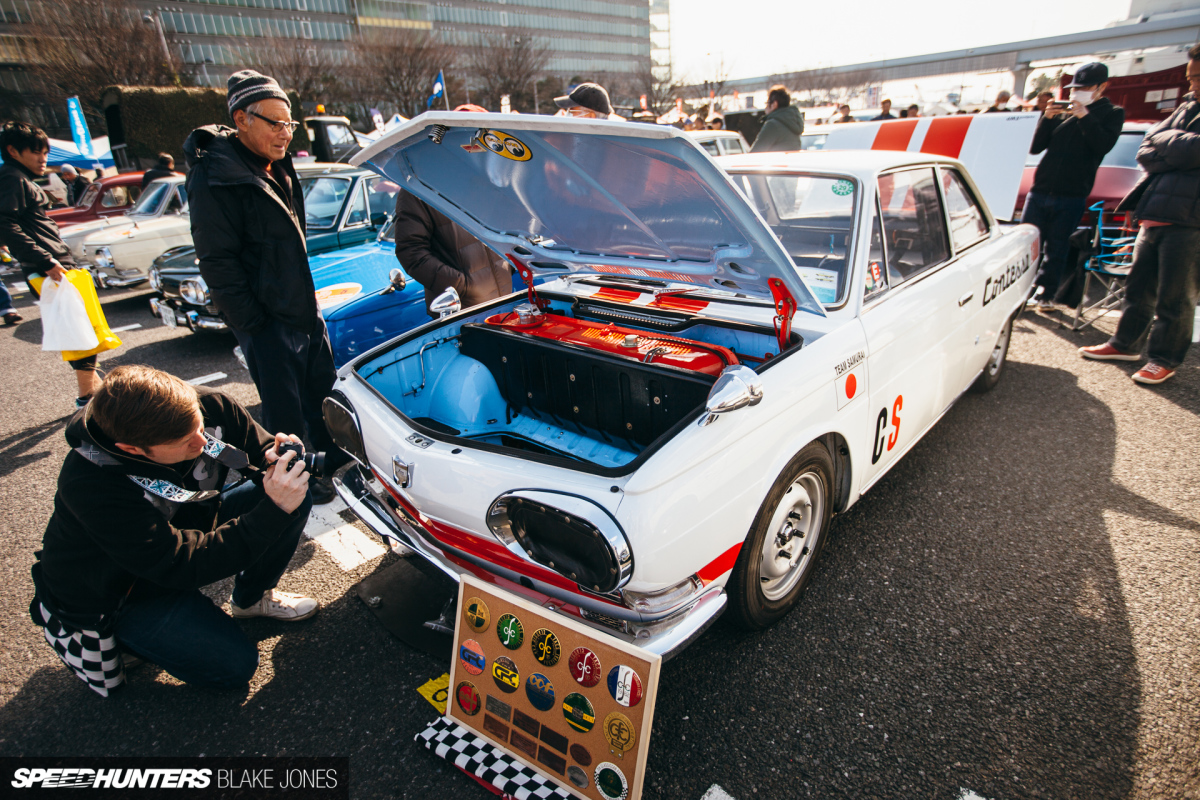 Of course, Brock and BRE went on to form a hugely successful partnership with Datsun that embedded Japanese brands in American motorsport until the present day. The story was less exciting for Hino though, and after only a year racing the Contessa it was absorbed by Toyota. Then, so as not to compete with existing Toyota offerings, the Hino passenger car line-up was scrapped entirely.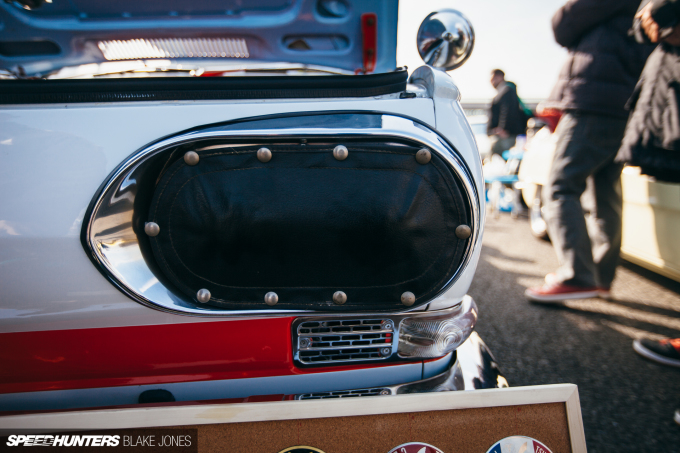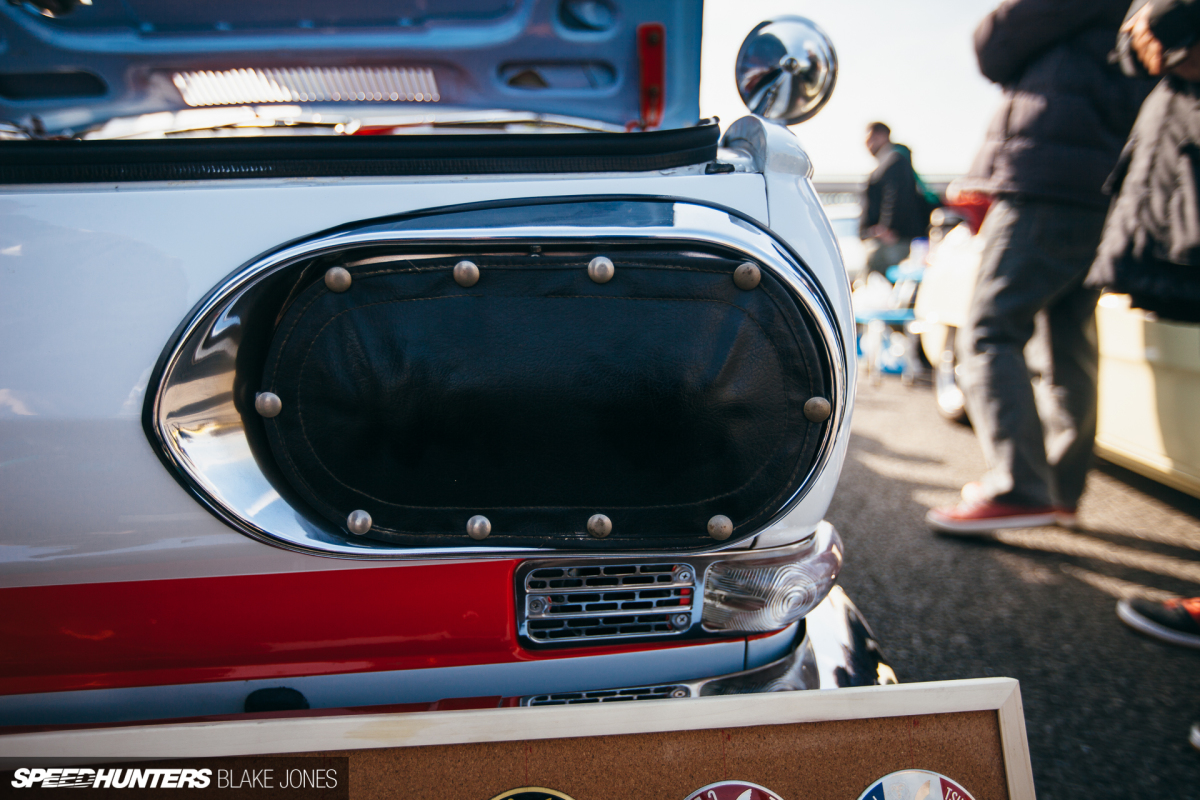 Being an original race car, this example features plenty of idiosyncrasies when compared to a production Contessa. Most were added by Brock himself with his typical eye for detail, like these clip-on leather headlight covers.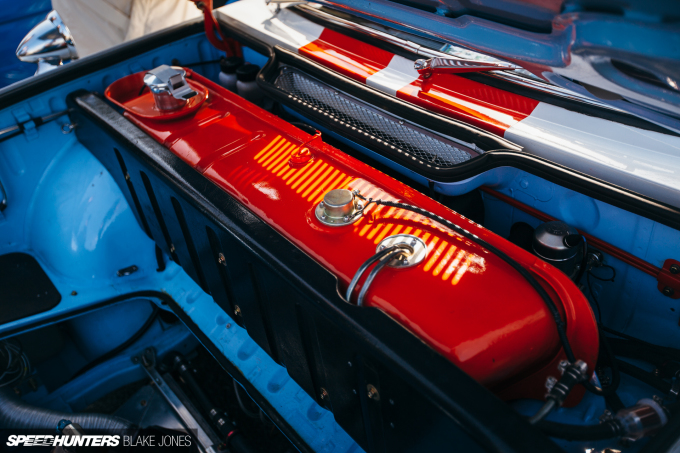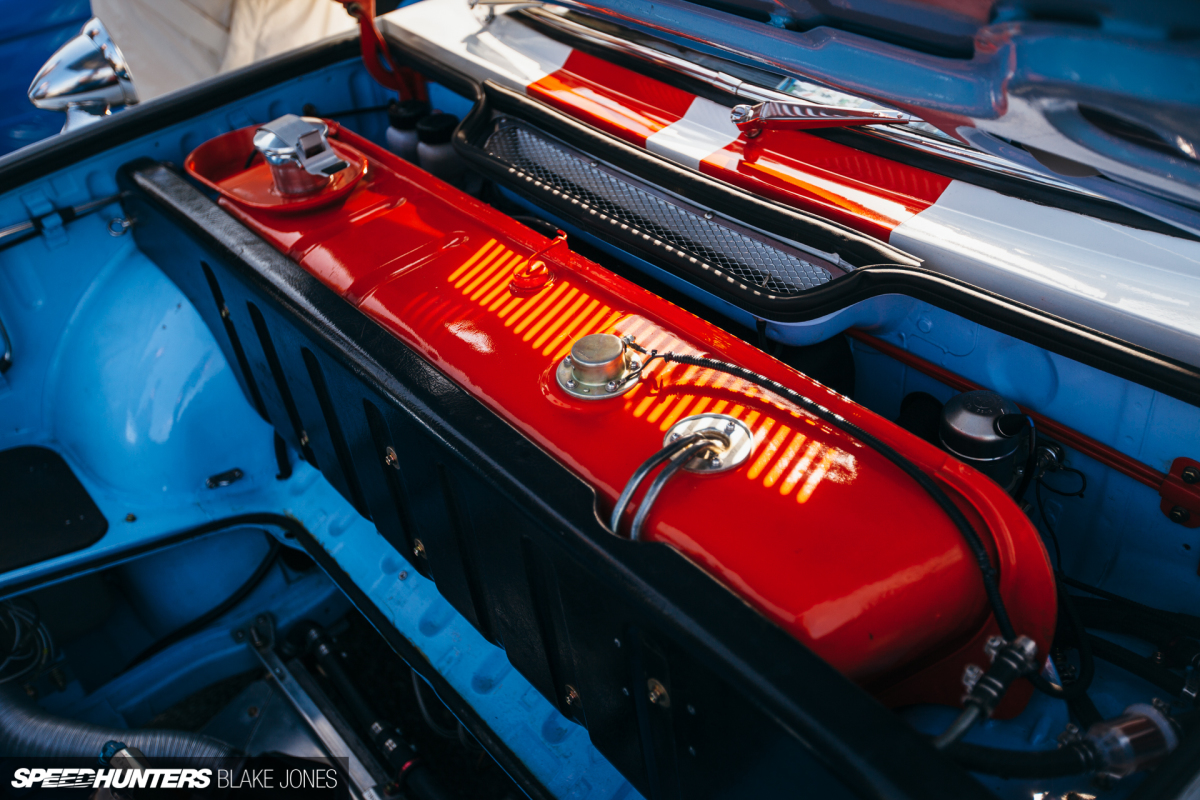 There's also an unbelievable number of period racing modifications made. Satoshi-san was happy to list them off, but I lost count after about 20! A race fuel cell and front-mounted aluminium radiator (unlike most rear-engined cars of the era, the Contessa was not air-cooled) are all that occupy the front luggage space. It's the kind of car that you could spend a whole day looking at, yet still not see everything.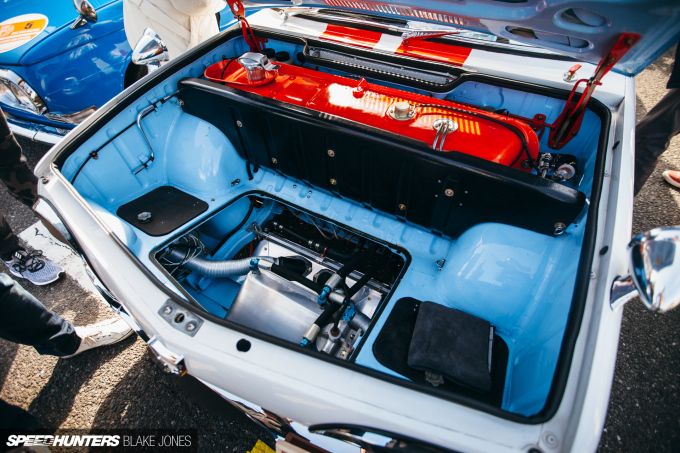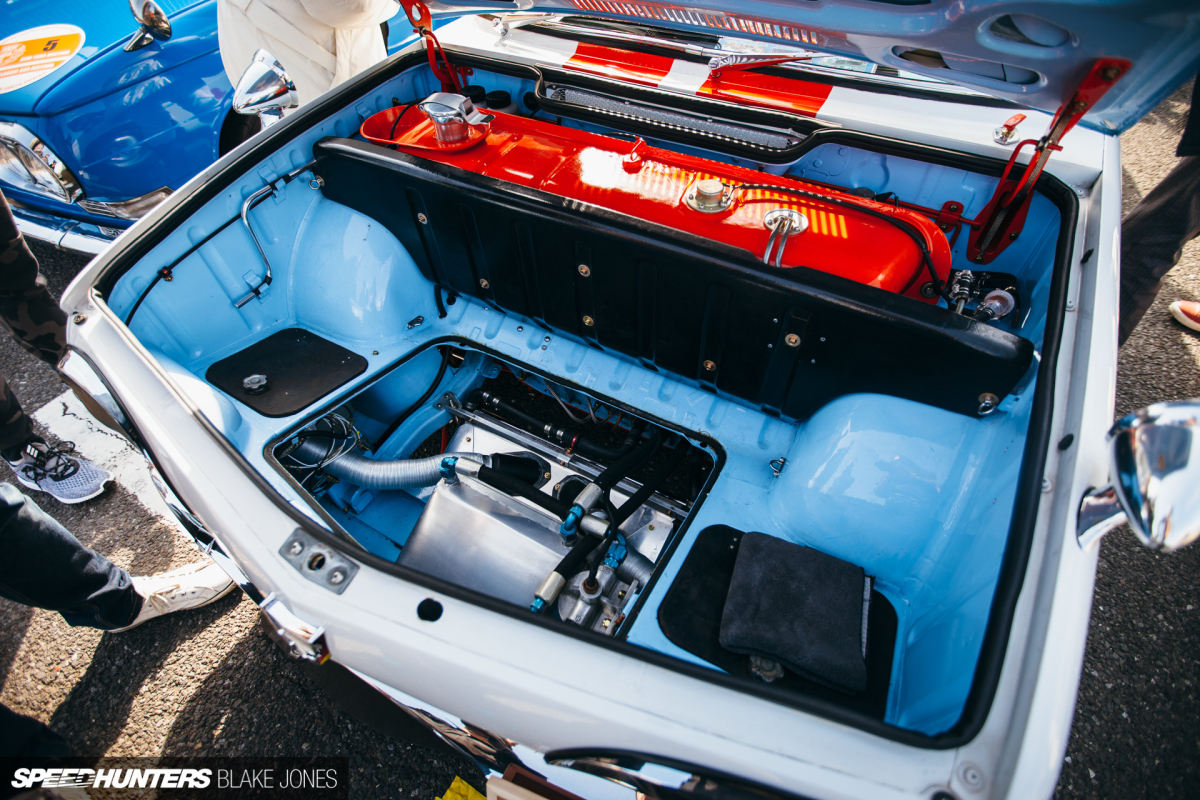 Perhaps most interestingly, the car's panels were actually pressed out of metal 2mm thinner than the standard road car, contributing to a 50kg weight loss which helped get the kerb weight down to a level similar to the Minis that Team Samurai was competing against.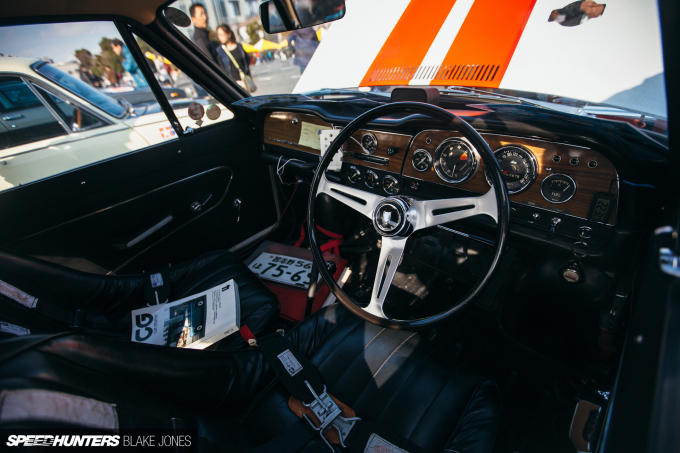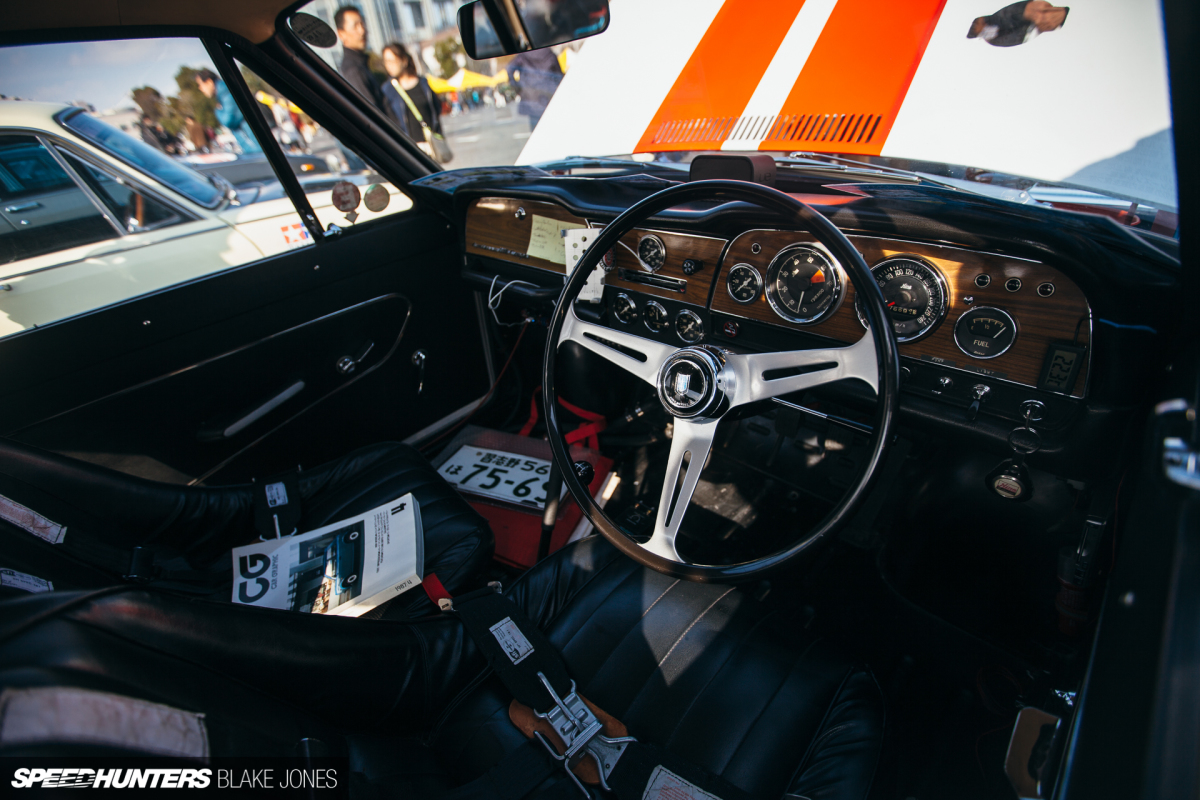 Despite being quite the rarity, Satoshi-san doesn't allow his Contessa to gather dust. It's often driven to and displayed at JCCA and Hino events and even competes in the odd motorkhana, where he says it's plenty of fun and still quick enough to chase down newer machinery.
Satoshi-san is just one of the passionate owners at JCCA doing his job to ensure the fascinating history of the Japanese automotive industry doesn't fade away.
Blake Jones
Instagram: blaketjones
blake@speedhunters.com