60 Years Of Fun
Every year, the Grand National Roadster Show features special showcases dedicated to specific types of vehicles or customization styles. 2017 marks the 60th birthday of the '57 Chevy, so it was only natural that this year's show featured an entire building dedicated to Tri-Five Chevys of all styles.
'The GNRS organizers gathered up over 100 different examples of the '55-'57 Chevy for one hell of an anniversary celebration.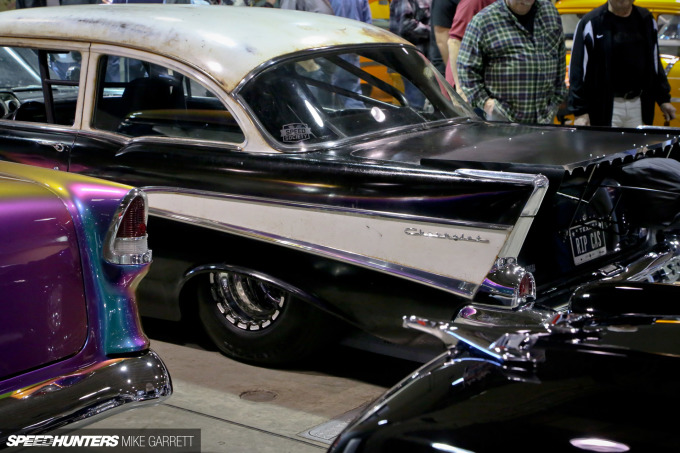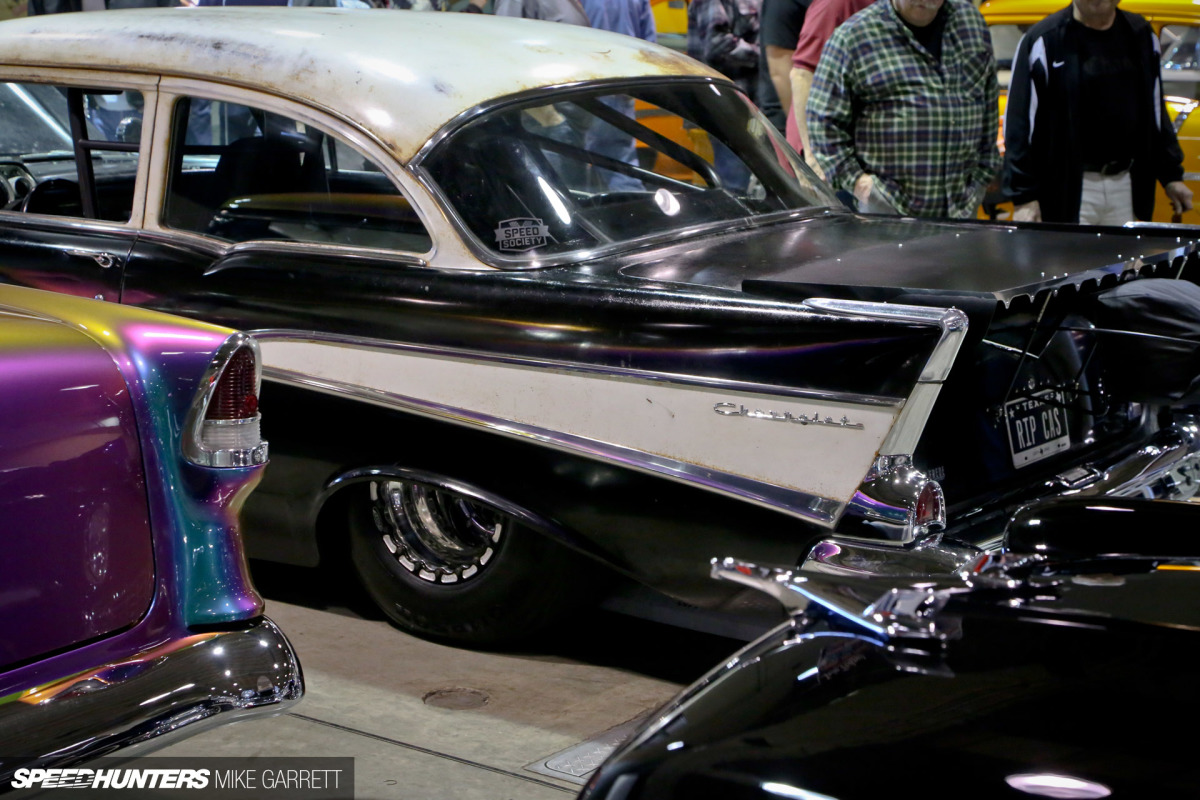 When it comes to classic American cars, they don't get more ubiquitous than the Tri-Five. The '55 Chevy was a groundbreaking car when it launched, thanks to the debut of the new 265ci 'small block' V8, an engine that continued to power GM vehicles until 2003.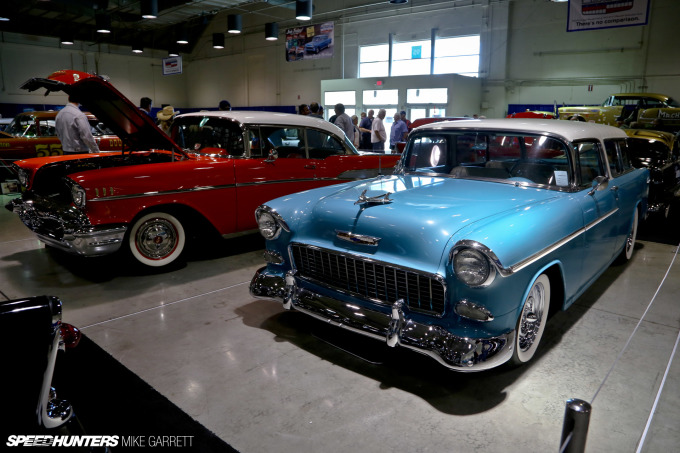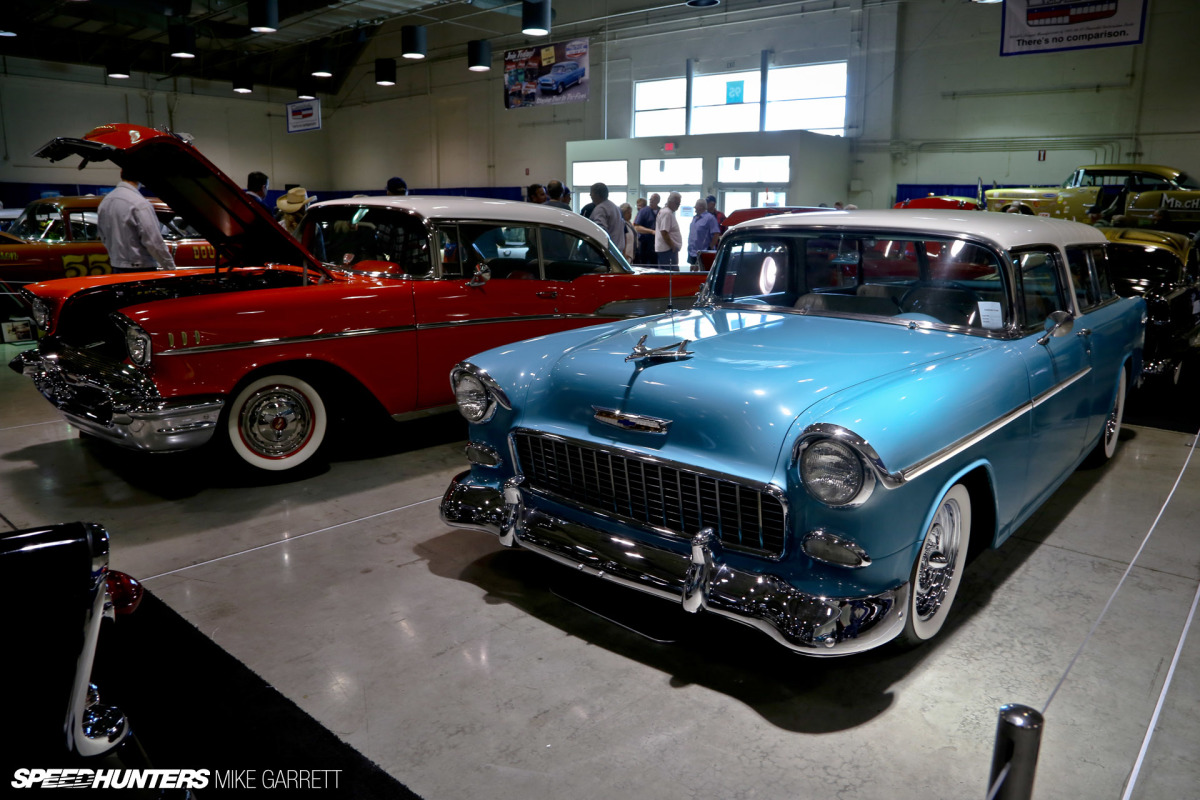 Despite sharing the same underpinnings, '55, '56 and '57 Chevys all look completely different from each other. This is hard to imagine given that nowadays cars can go for years without receiving major styling changes, but it was commonplace for cars in the 1950s, and it's a big part of what gives the Tri-Fives so much character. Everyone has their favorite of the bunch.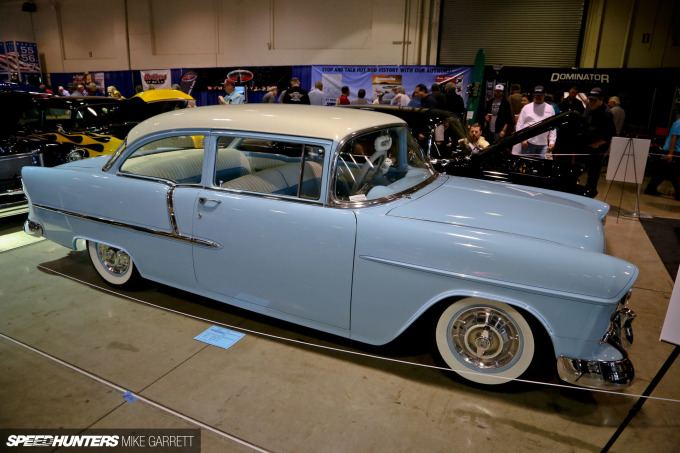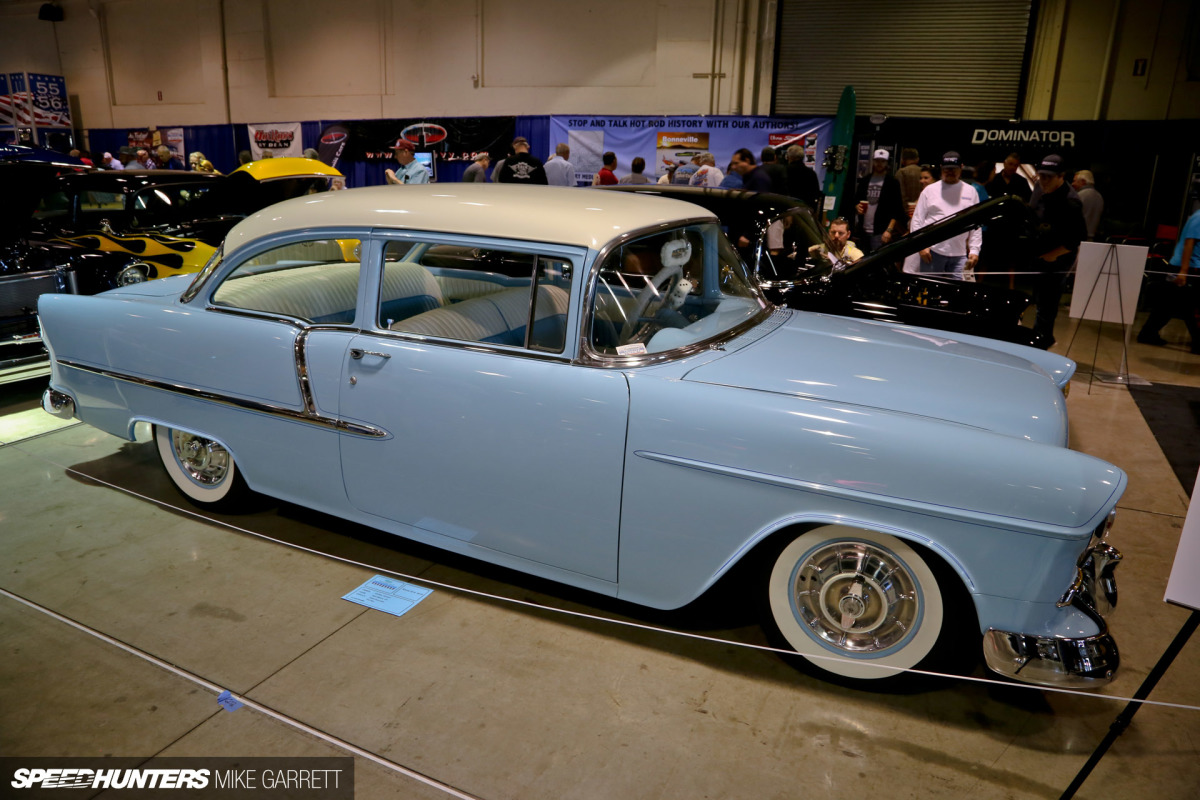 And also unlike today's cars, the Tri-Five comes from the era of when most cars could be had in several different body styles – two-door, four-door, convertible, station wagon and more.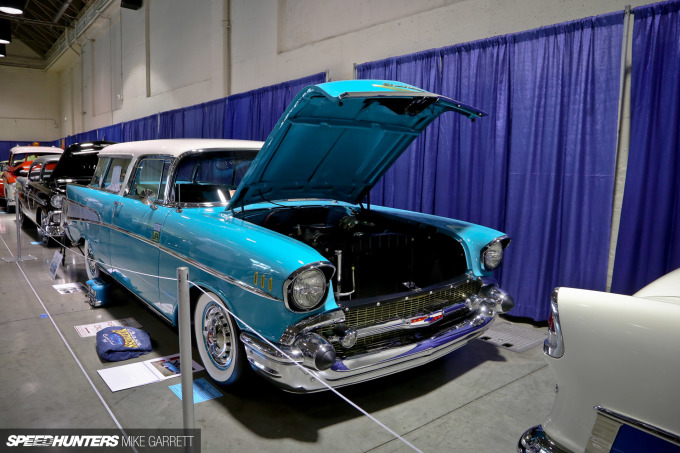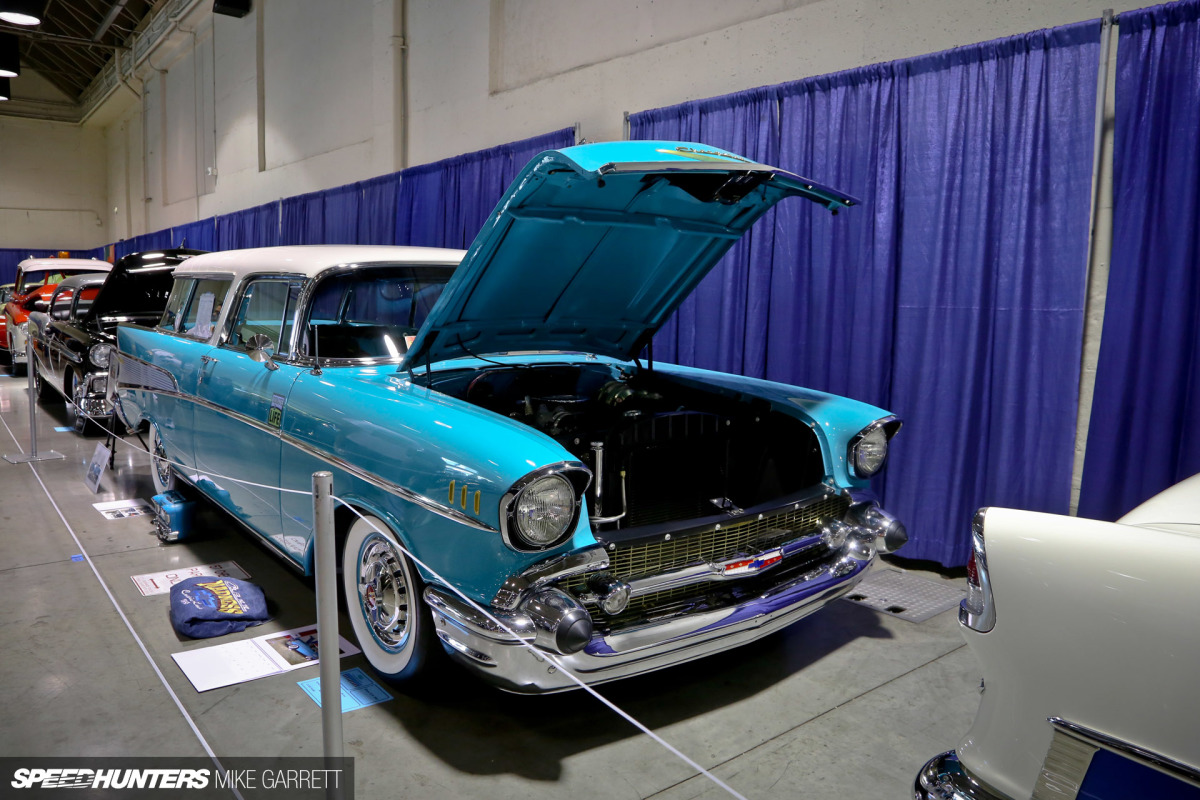 And speaking of station wagons, '55-'57 Chevy buyers could also pick a sleek, stylized two-door wagon known as the Nomad, which would go on to become one of the most sought-after Tri-Fives of all.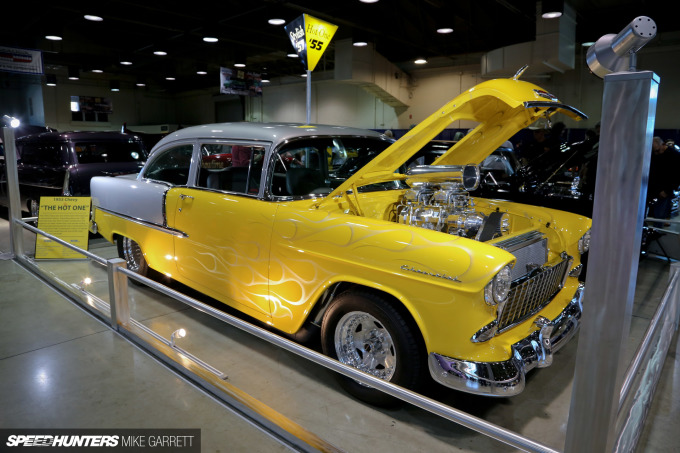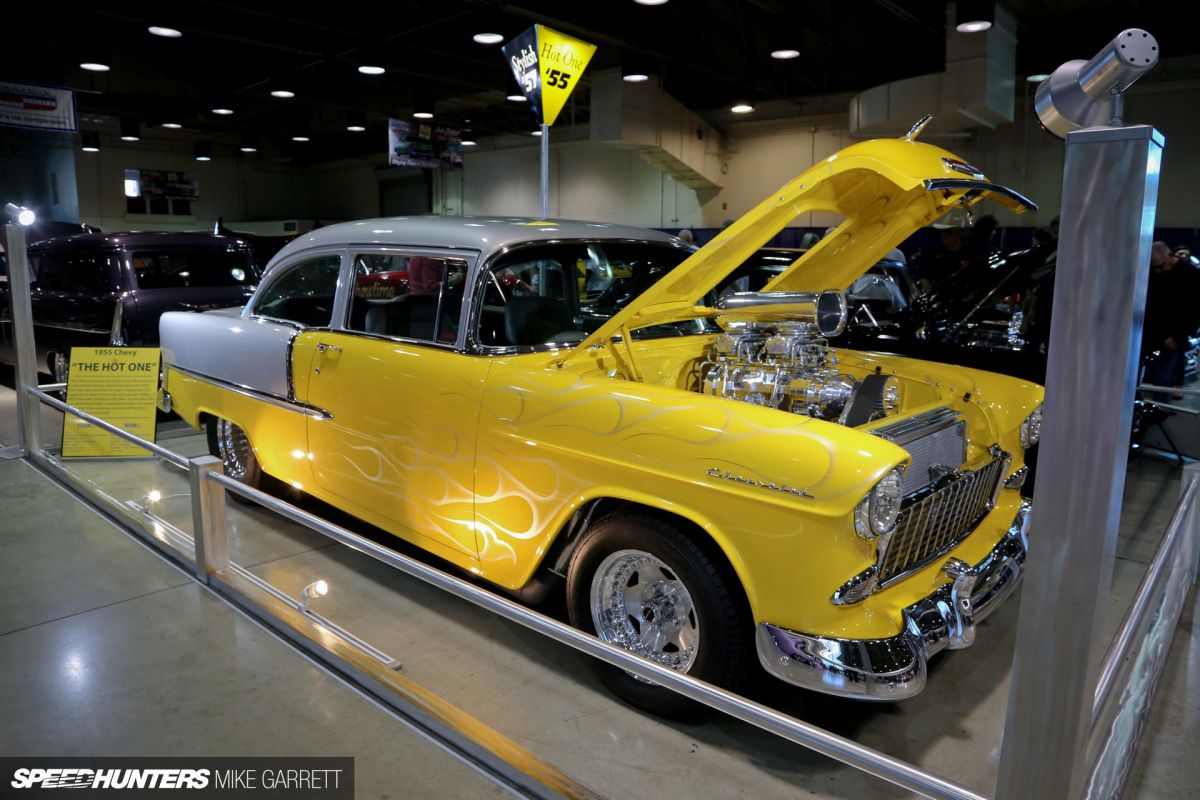 Tri-Fives were big sellers in their day, but I'm not sure if anyone could have predicated just how iconic they would become. In the six-plus decades since, hot rodders, customizers and racers have made the car all their own.
And this endless amount of customization potential was a big part of the GNRS display. Packed into the building were examples of Tri-Fives representing many different eras and dozens of different styles.
Built For Speed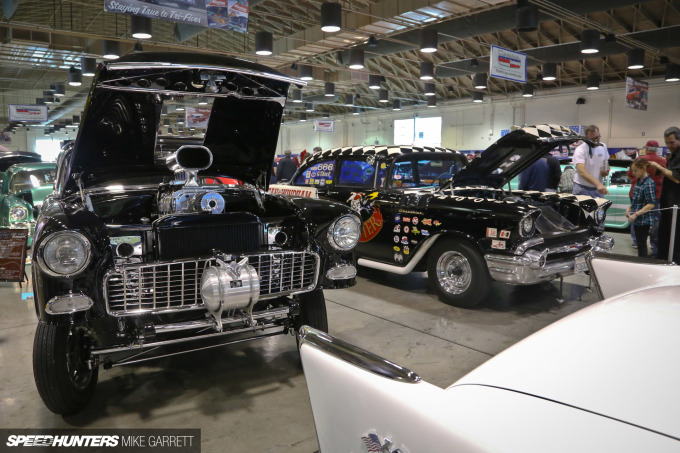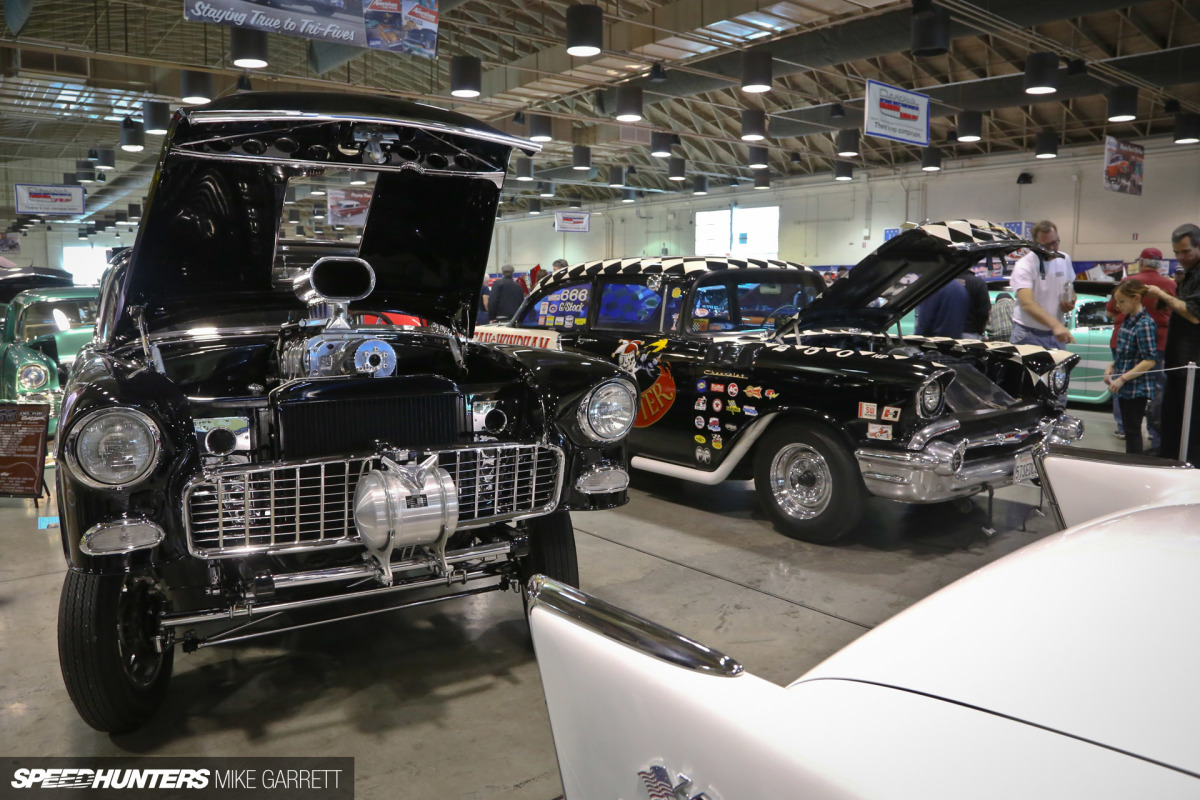 From their earliest days, Tri-Five Chevys proved to be very popular among racers, and the display at the GNRS included race machines spanning from the '50s right up to today.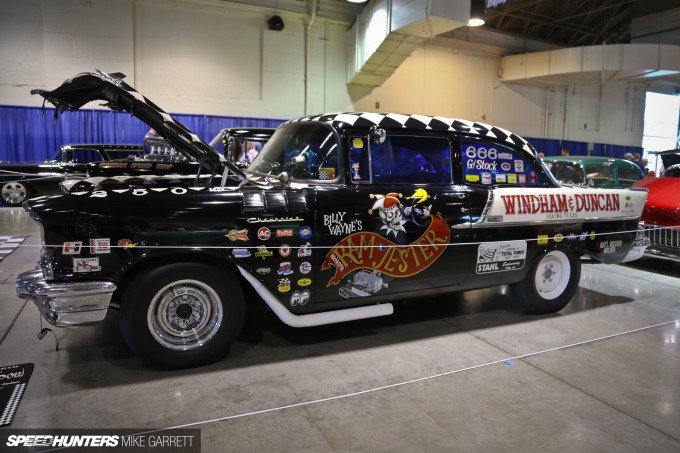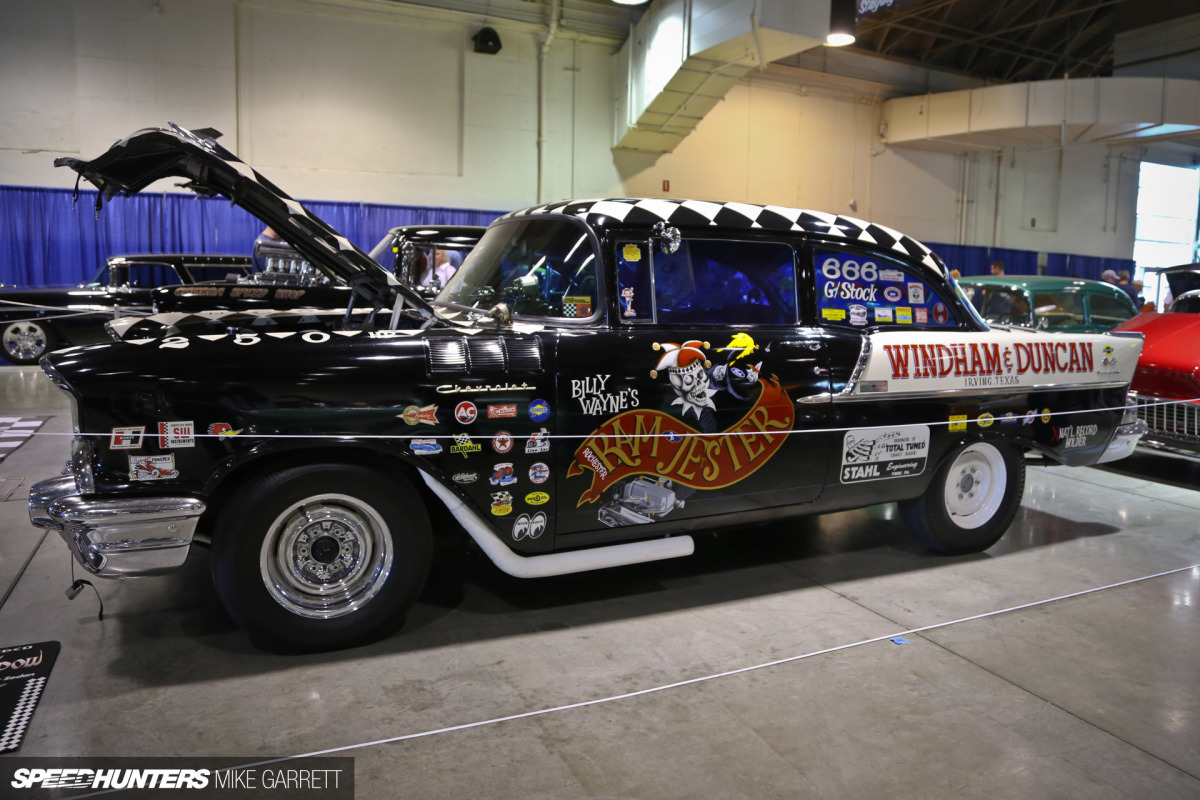 This '57 two-door sedan dubbed the Black Widow has a long history that includes both stock car and drag racing. It's presented here in its early-1960s quarter mile configuration.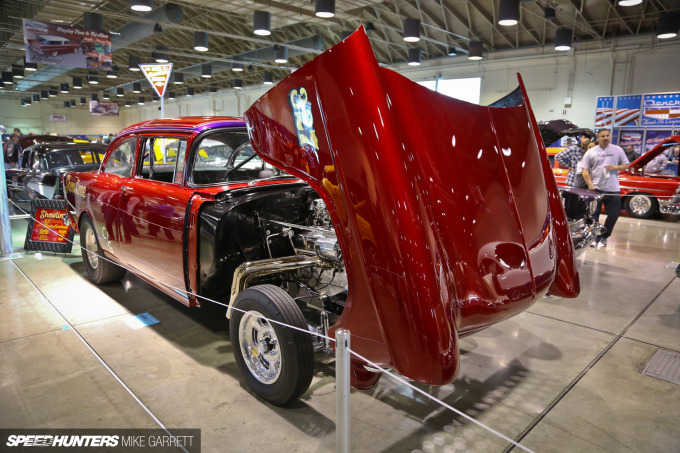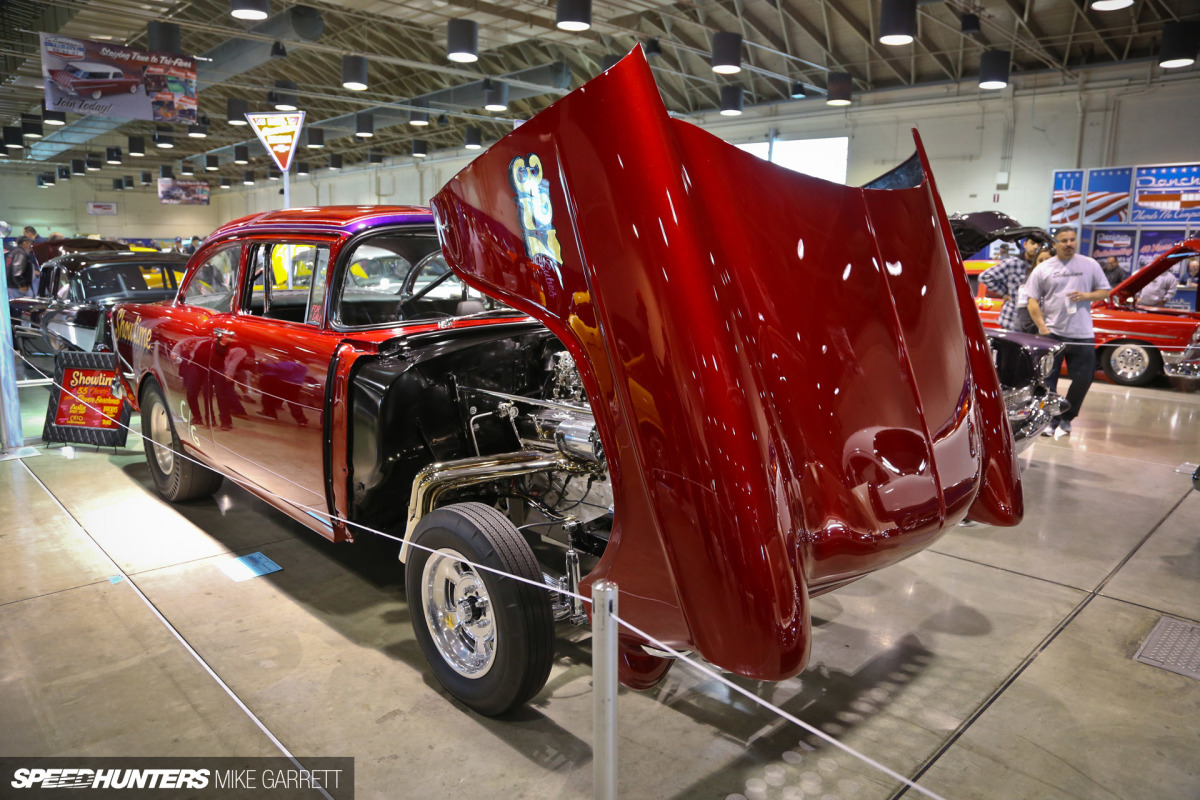 Needless to say, there were plenty of gassers among the bunch too, including Showtime, a beautiful '55 built by Austin Speed Shop.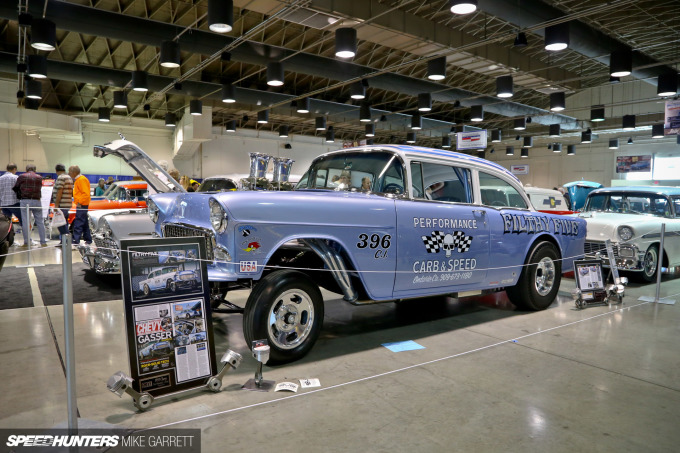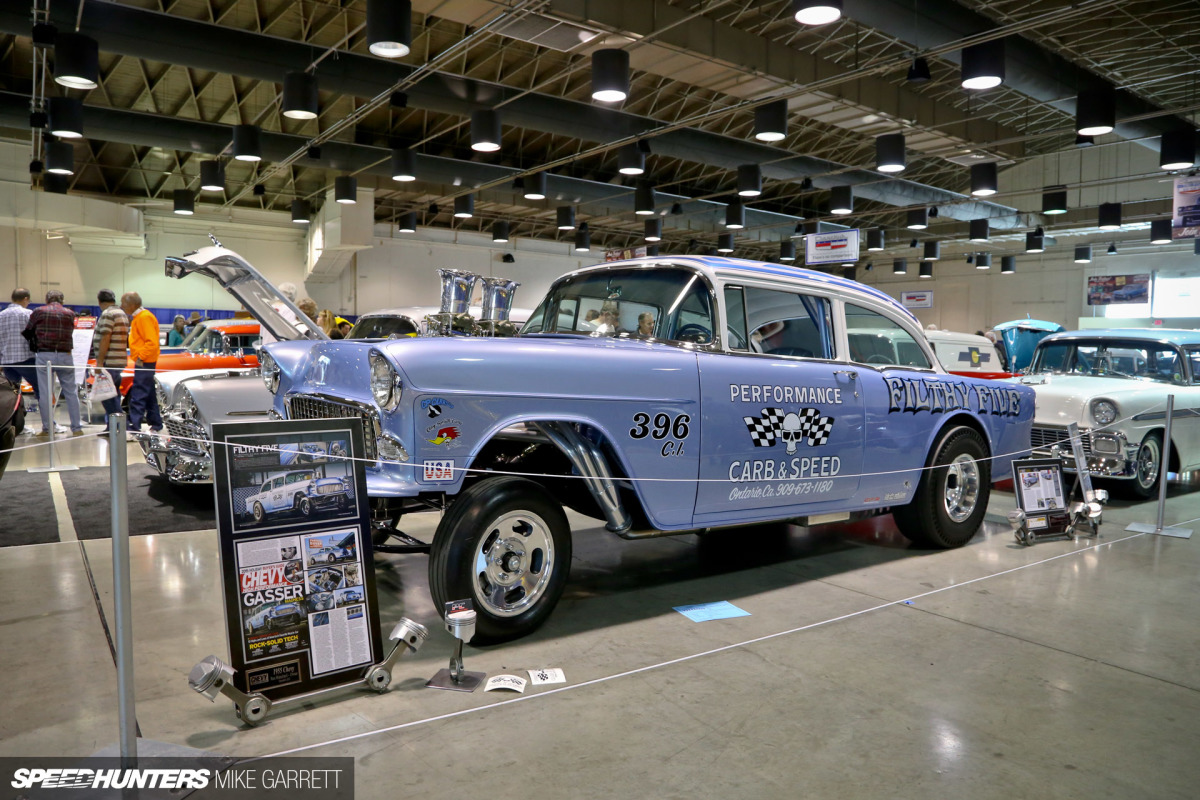 When I think of a Tri-Five gasser, it's something like Performance Carb & Speed's Filthy Five that comes to mind. Straight-axled, big block-powered and positively bitchin'.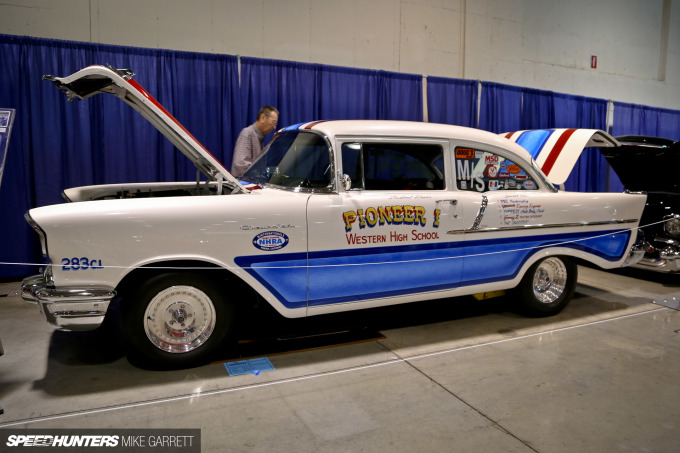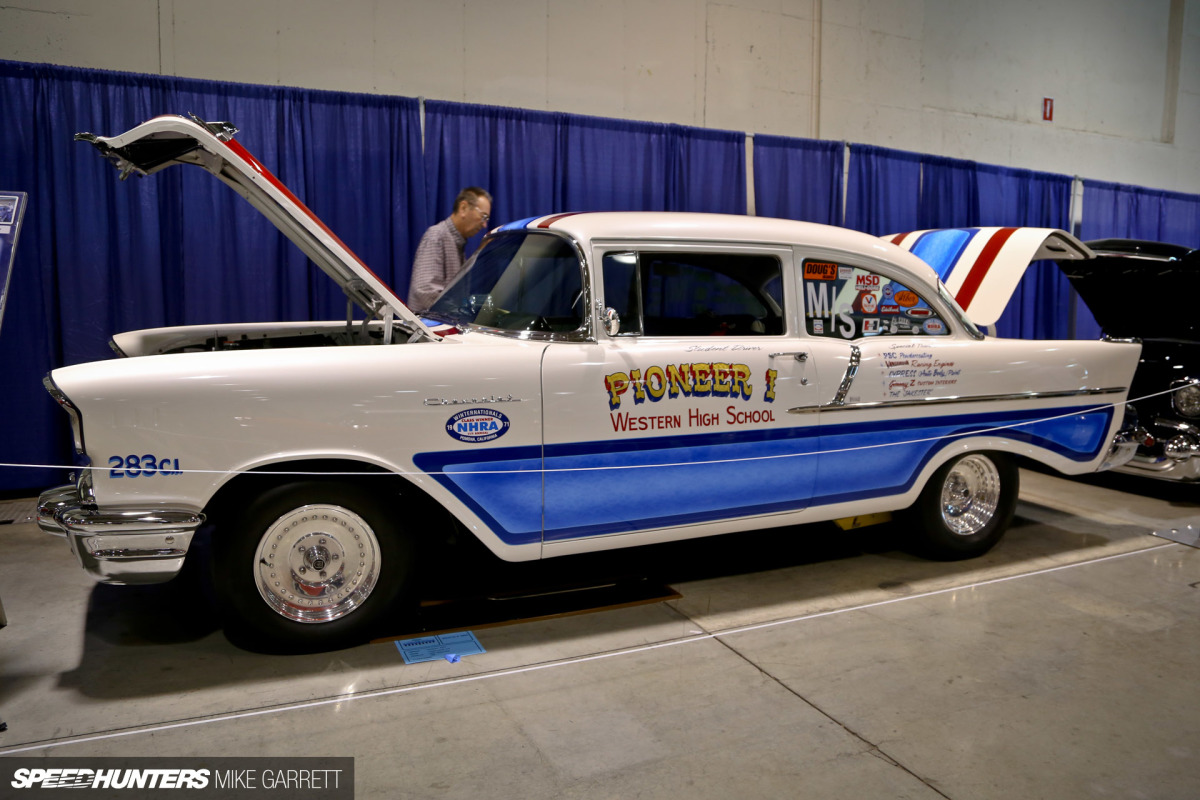 This '57 known as Pioneer I was built and raced by auto shop students at Anaheim's Western High School in 1969 and 1970. After being lost sometime during the early '70s, the car was found in 2003 and restored to its original glory.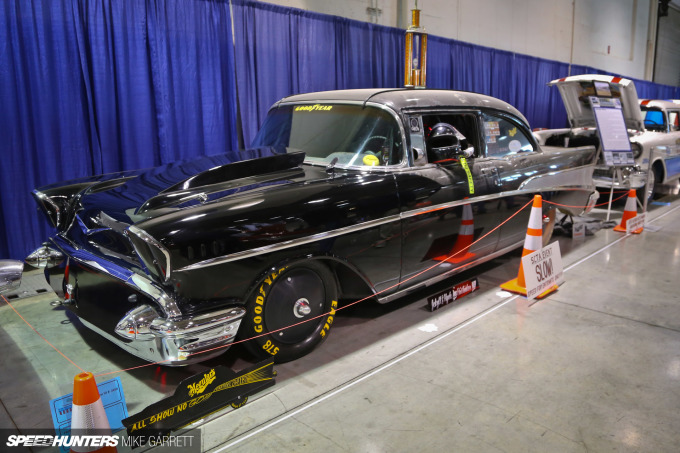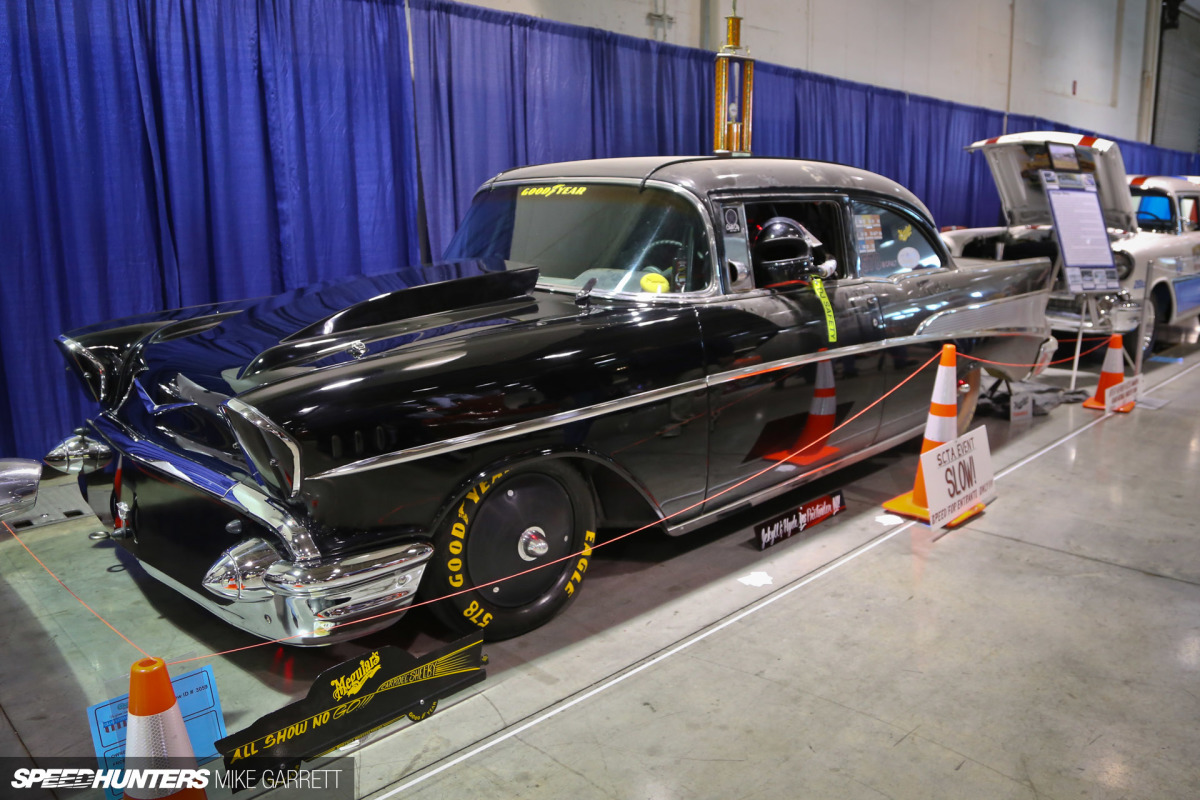 This '57 meanwhile wasn't built for the quarter mile, but the wide open reaches of El Mirage. It was displayed wearing a layer of dust from the dry lake bed.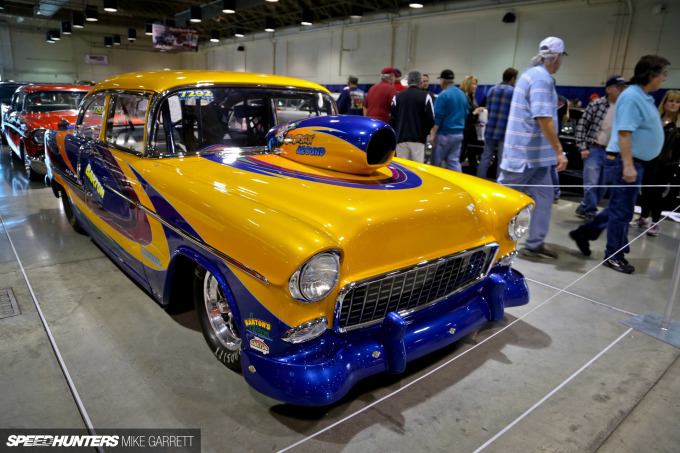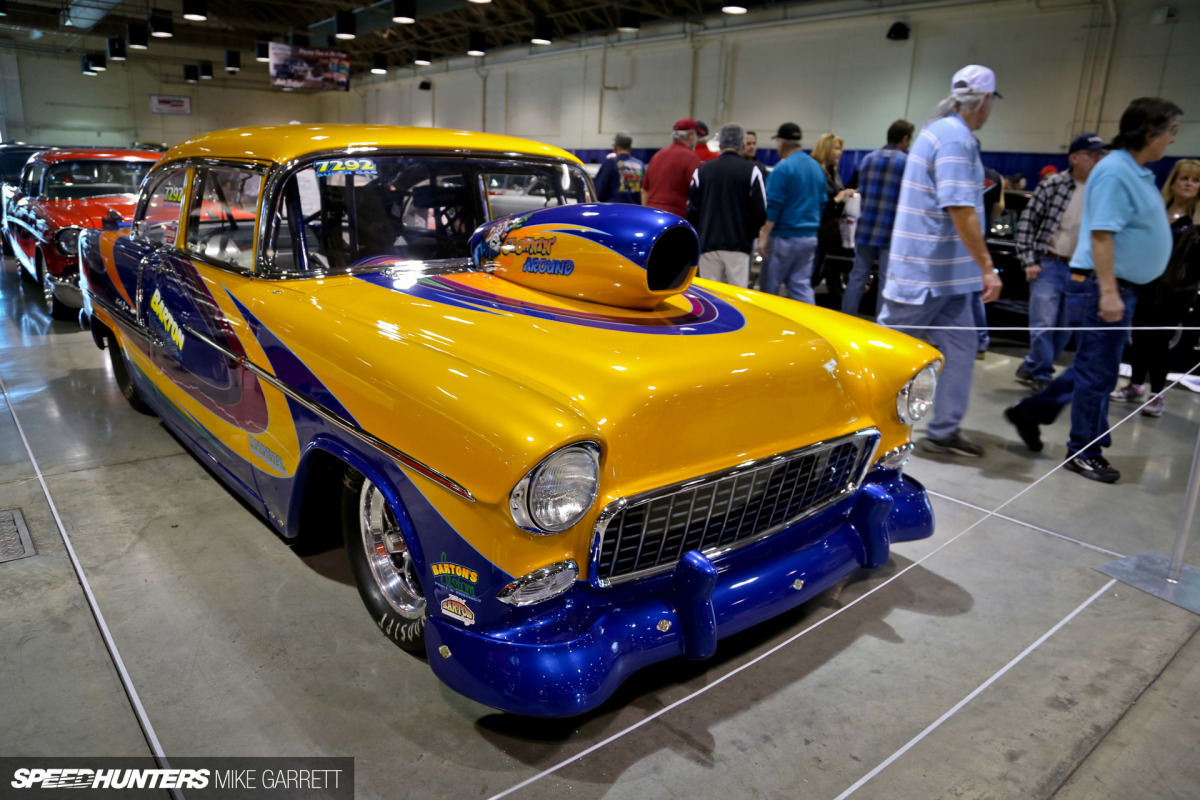 In contrast to the high-riding gassers that were on display, this modern tubbed and low-slung '55 shows how drag car builds have evolved over the decades.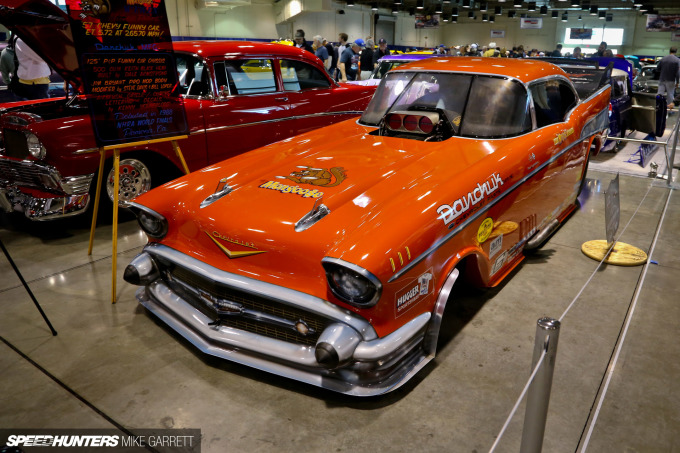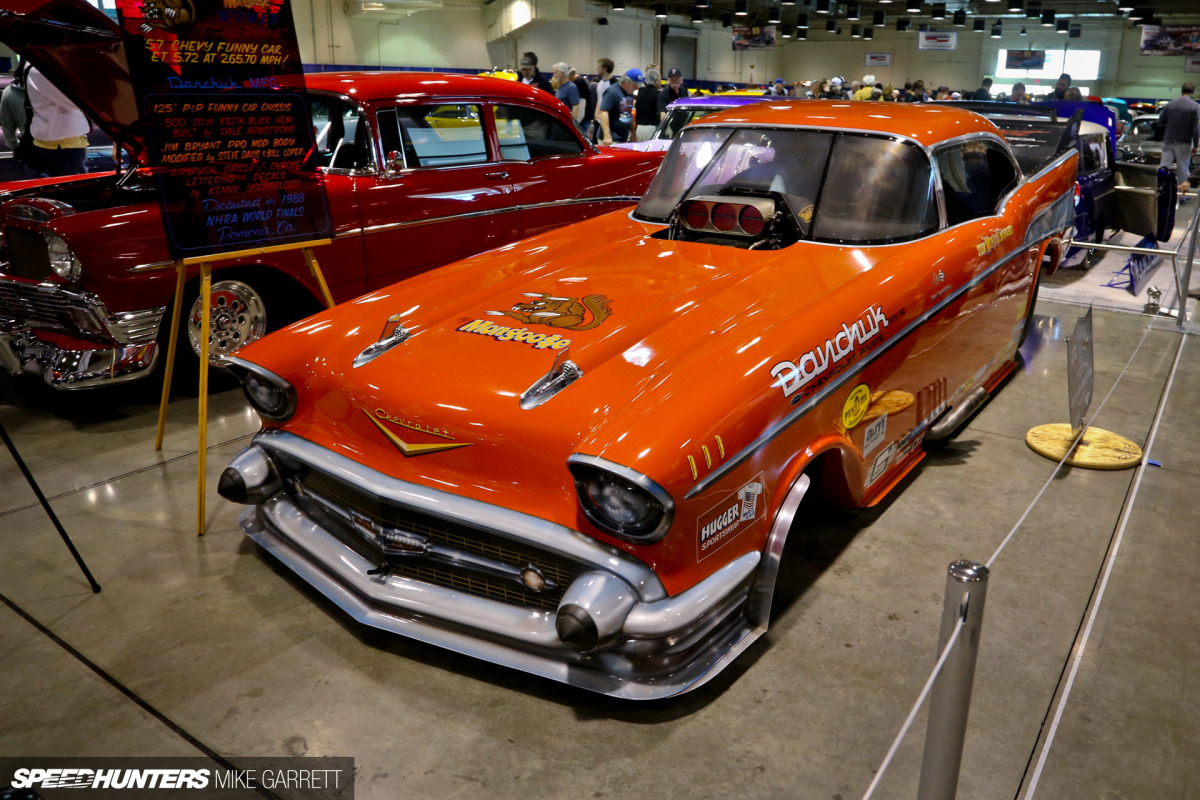 And here's one I'm guessing some of you might recognize. It's the famous '57 Chevy Funny Car driven by Tom 'Mongoose' McEwen which debuted at the Pomona World Finals in 1988 and put down a best ET of 5.72 at 265mph.
Not surprisingly, the variety of engine setups on display was as diverse as the cars themselves. From vintage Stromberg carburetors to superchargers, turbochargers and engine bays filled with everything from Chrysler Hemis to modern LS swaps.
Forever Custom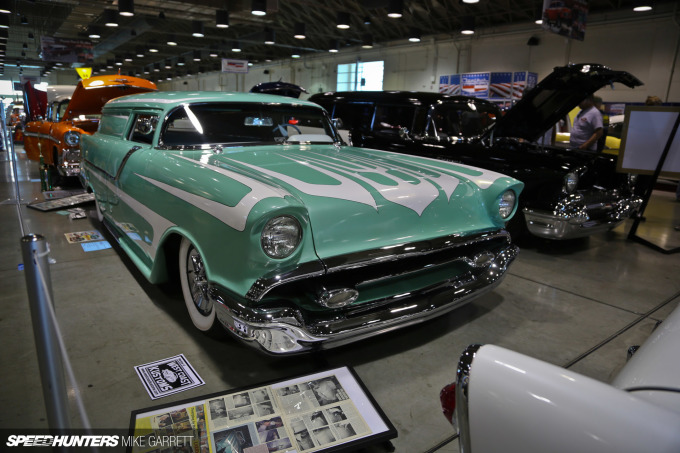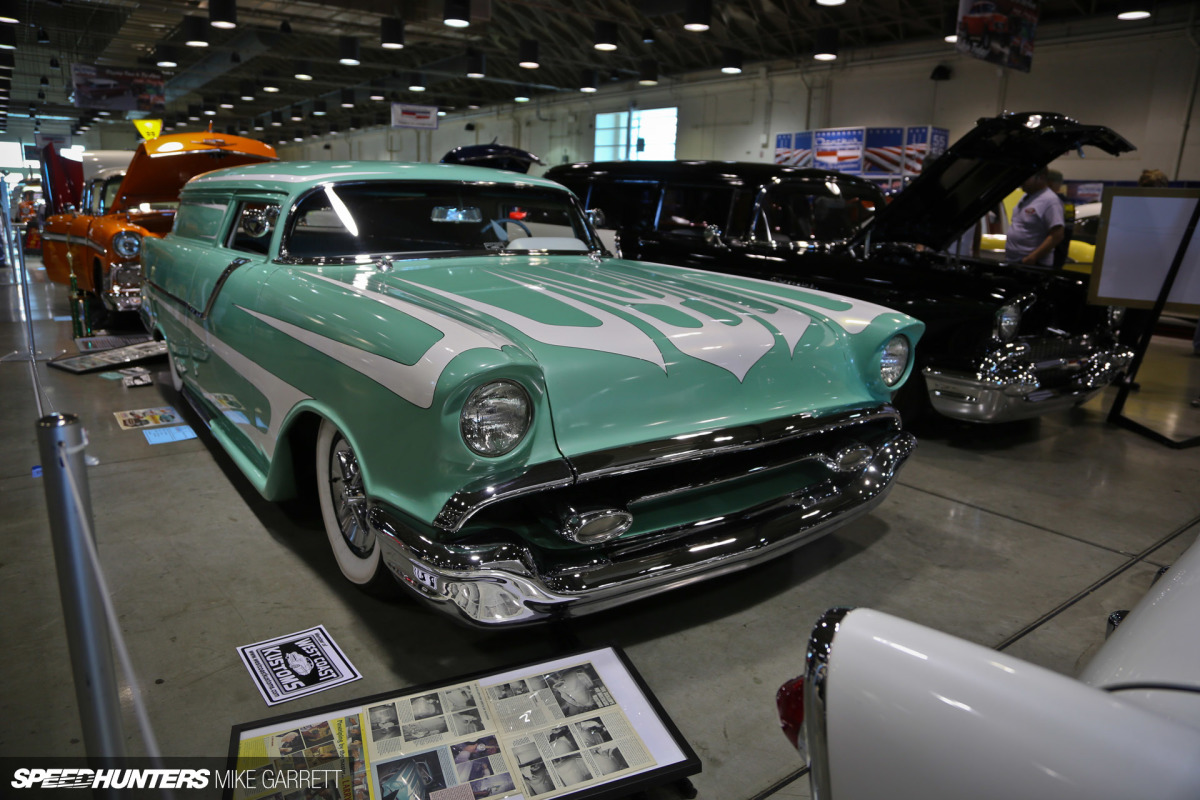 Of course, not all of the Tri-Fives selected for the display were about outright speed; there were plenty of street cars and customs as well. Here's Miles Metcalf's chopped '57 Sedan Delivery representing the West Coast Kustoms crew.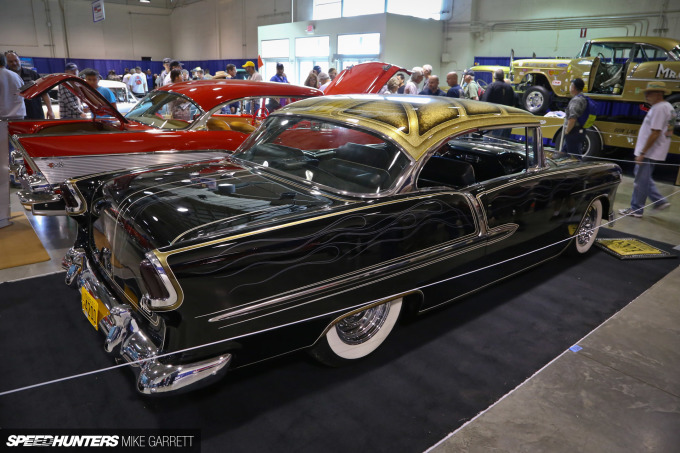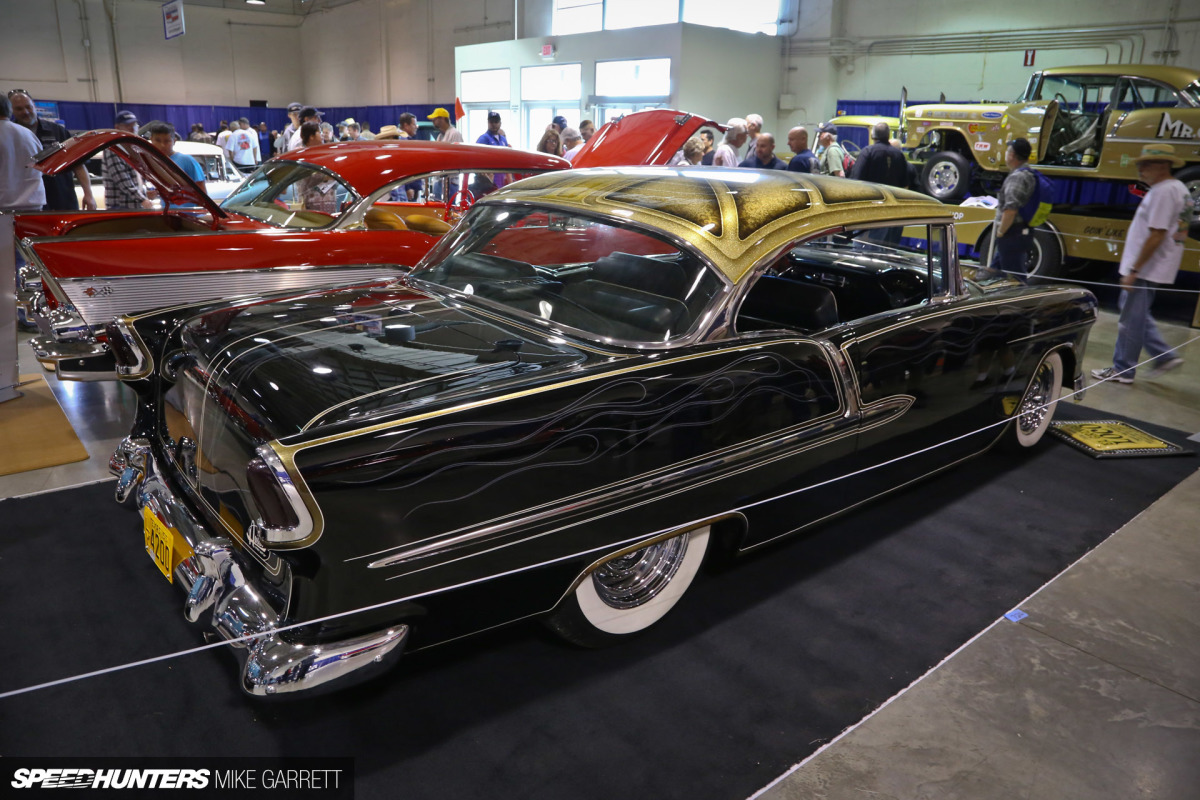 Austin Speed Shop also built this gorgeous '55 hardtop known as El Gringo Loco. I've seen this one at a few different shows, and I dig it even more each time.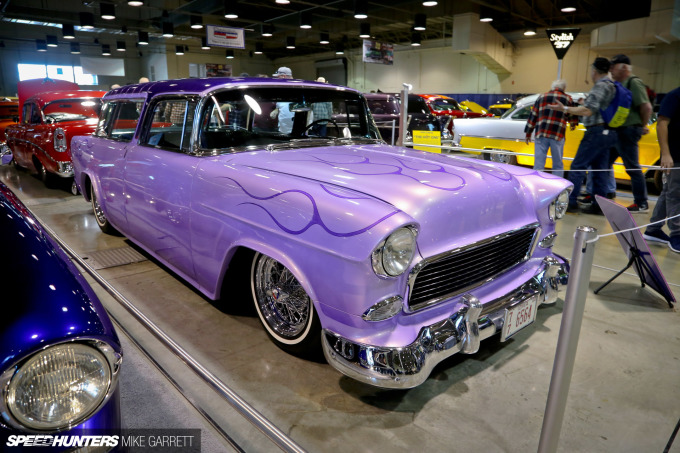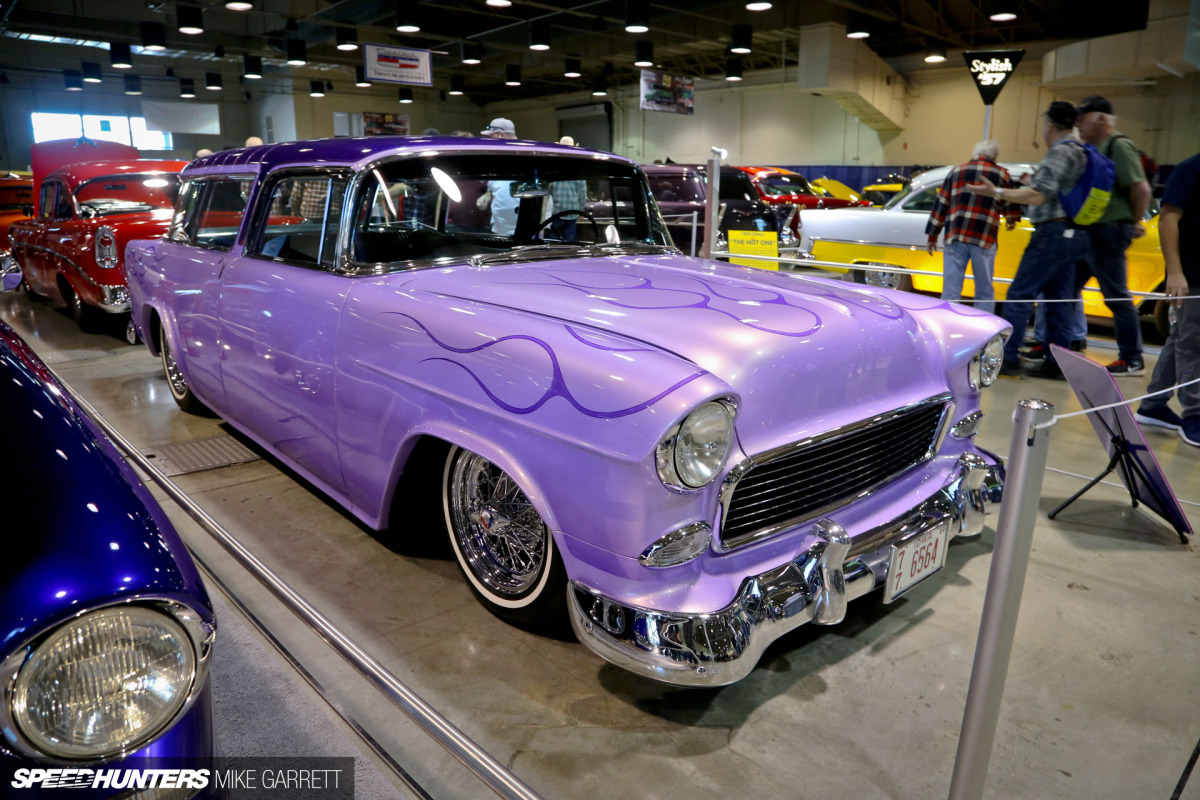 All of the same can be said for Lee Pratt's '55 Nomad custom. This car was originally built for the show circuit in the mid '60s and received a full restoration a few years back.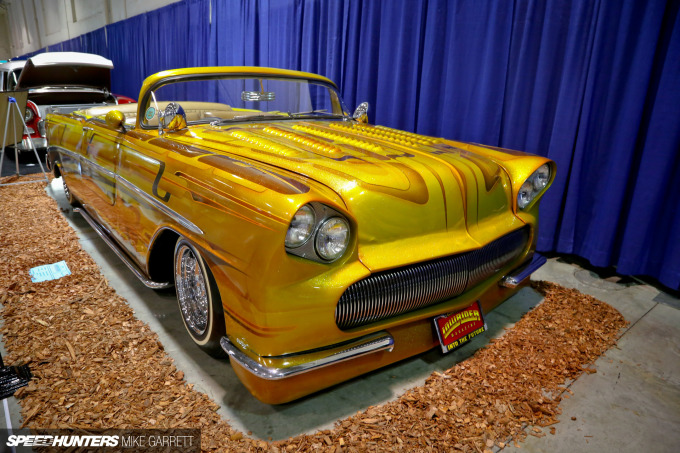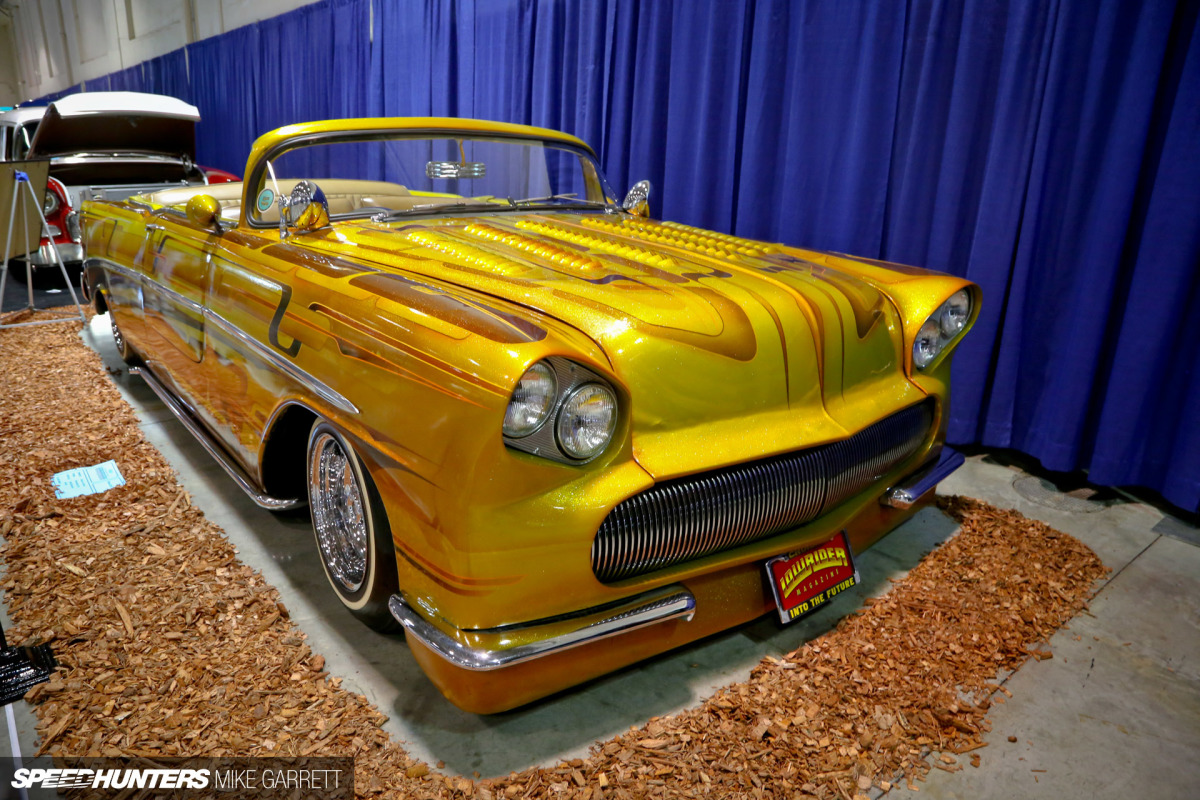 While the Tri-Five Chevy might not be one the first cars you associate with the lowrider scene, this wild '56 drop-top represents just one more of the many genres represented.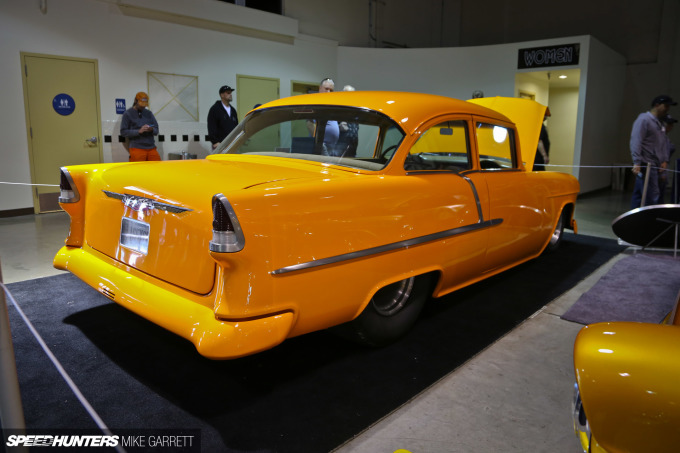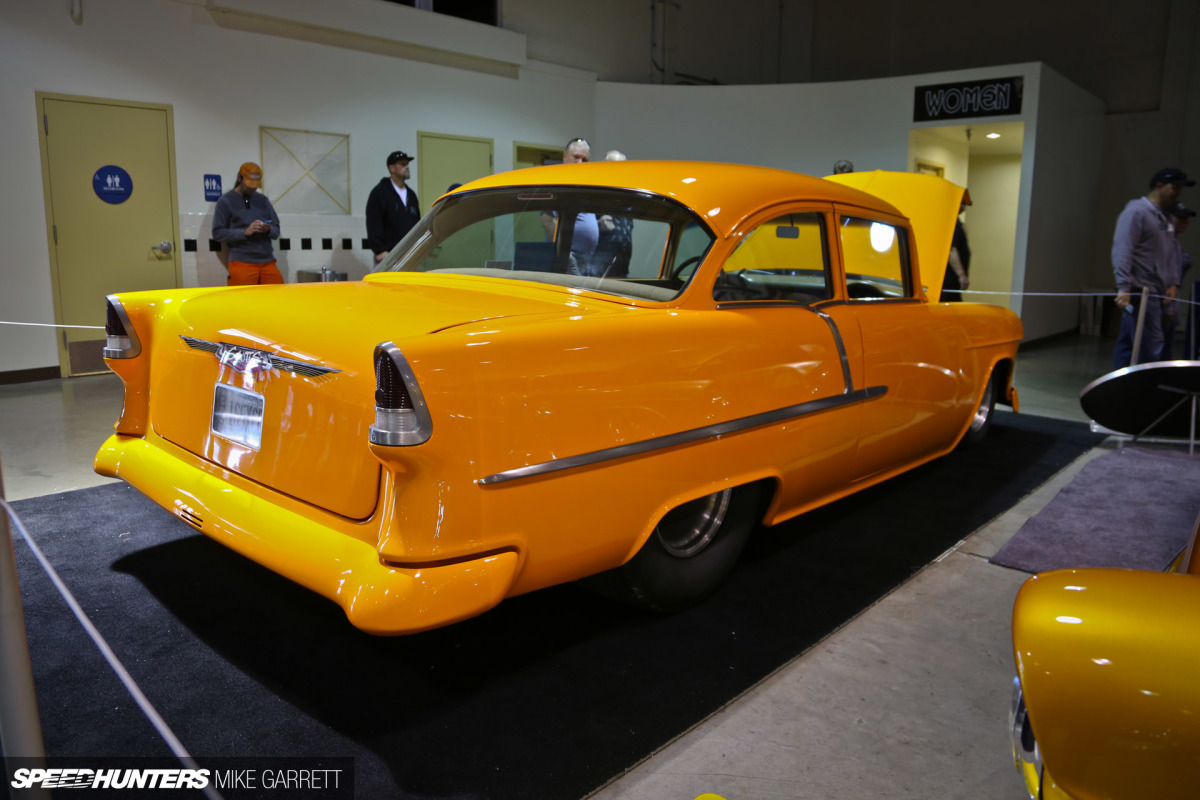 And moving in a completely different direction, we have Scott Sullivan's '55 representing the wildly popular pro street movement of the late 1980s and early 1990s. I think I'd be down for a pro street comeback – how about you?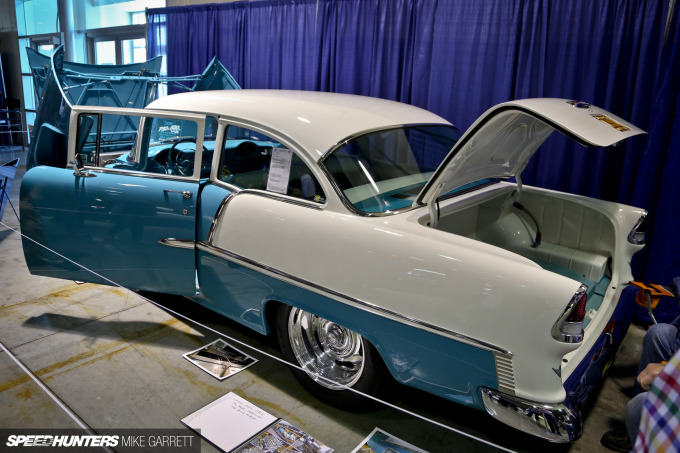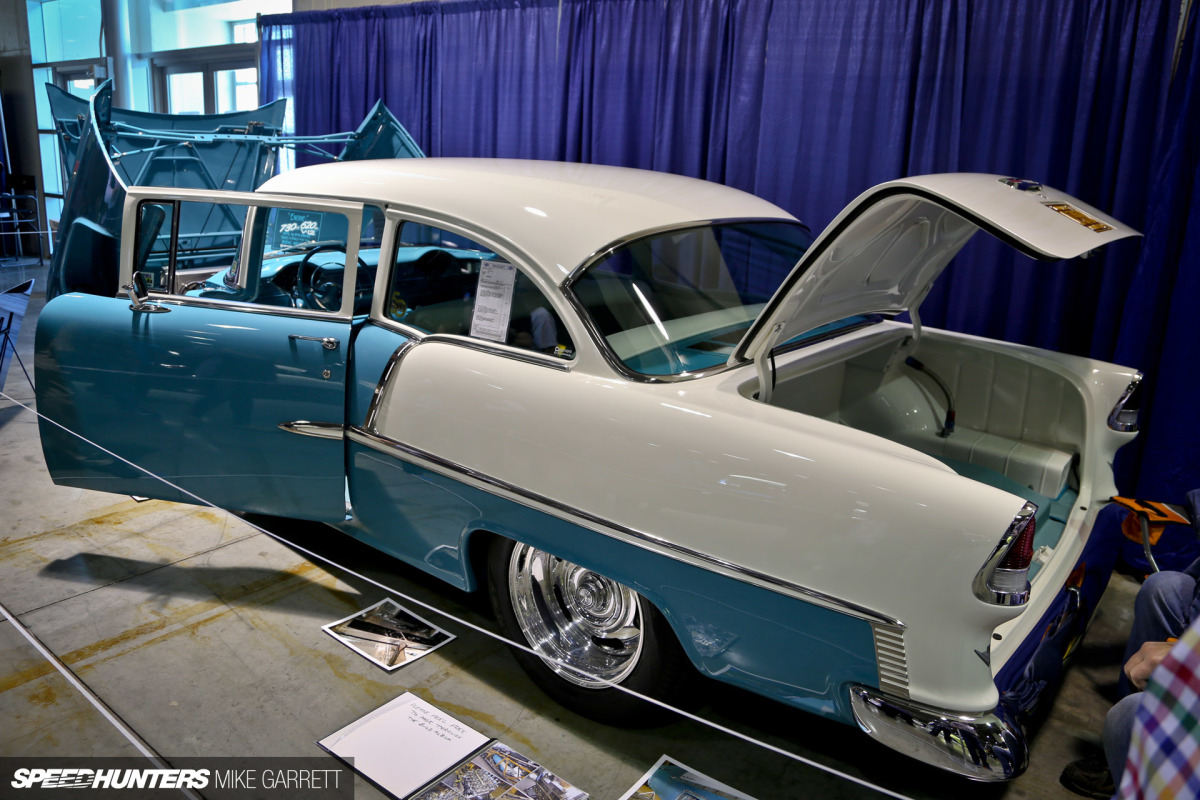 It's not just the suicide doors and flip-up front end that make Gary Kollofski's '55 unusual…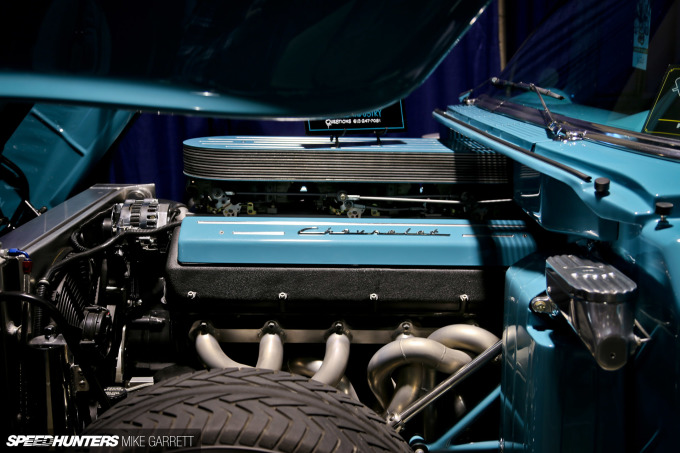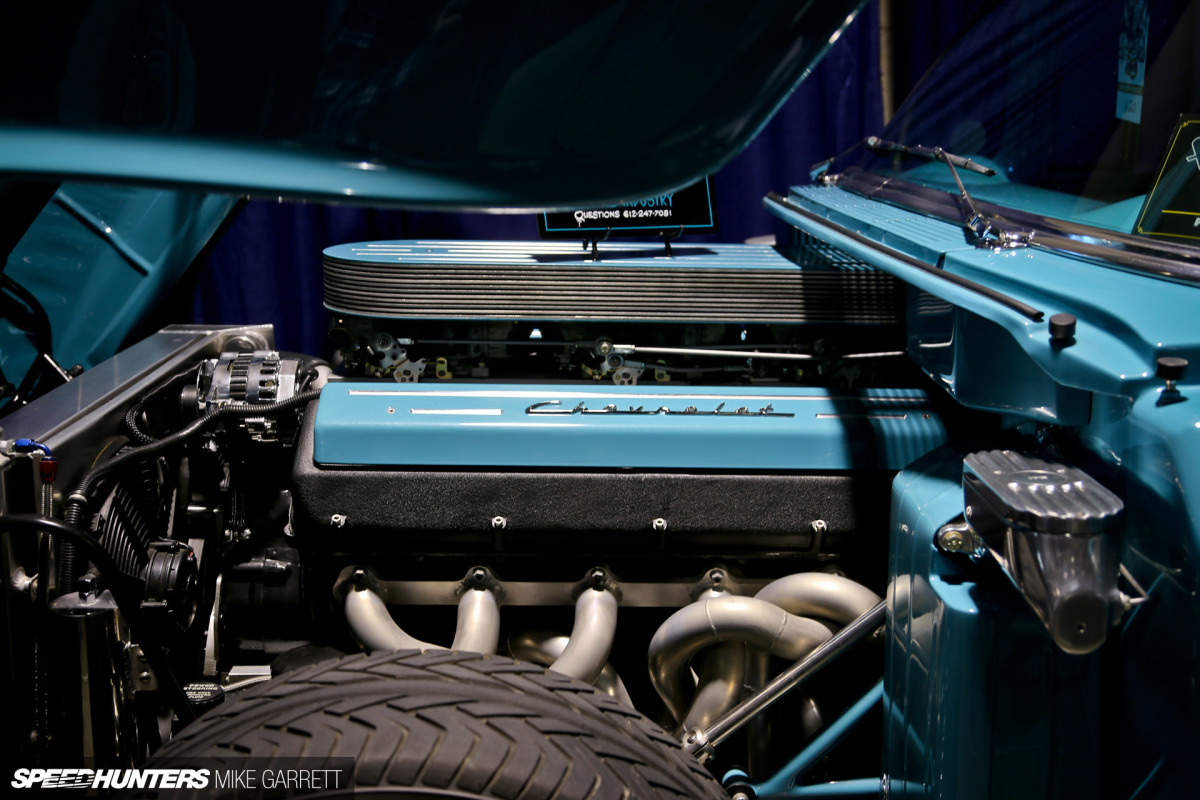 It's the 730ci Hemi-head V12 fed by three Holley four-barrel carbs making 620hp and 720lb-ft.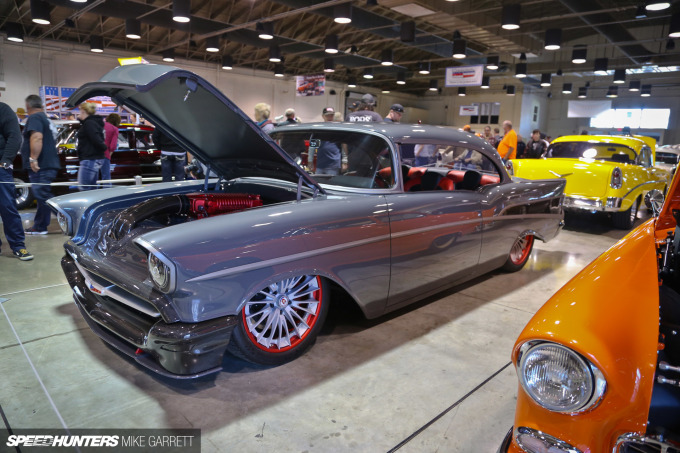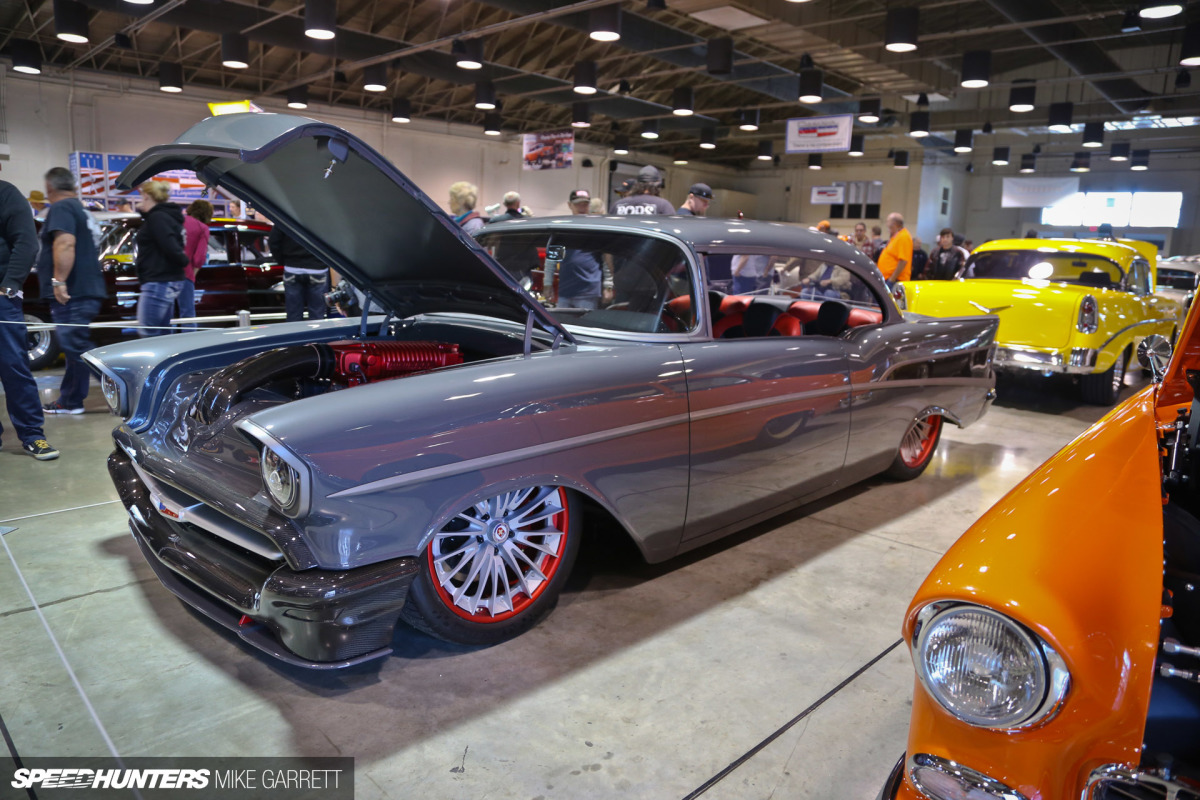 And if you want to see the latest in Tri-Five styling and performance, check out Ironworks Speed & Custom's '57 that debuted at the 2016 SEMA Show. It's riding on an Art Morrison chassis, HRE wheels and has Whipple-supercharged LS9 power under the hood. It's a perfect modern bookend to an incredible display of automobile history.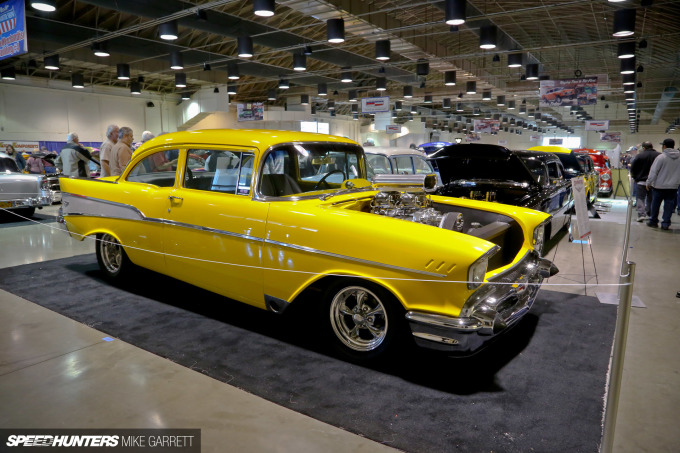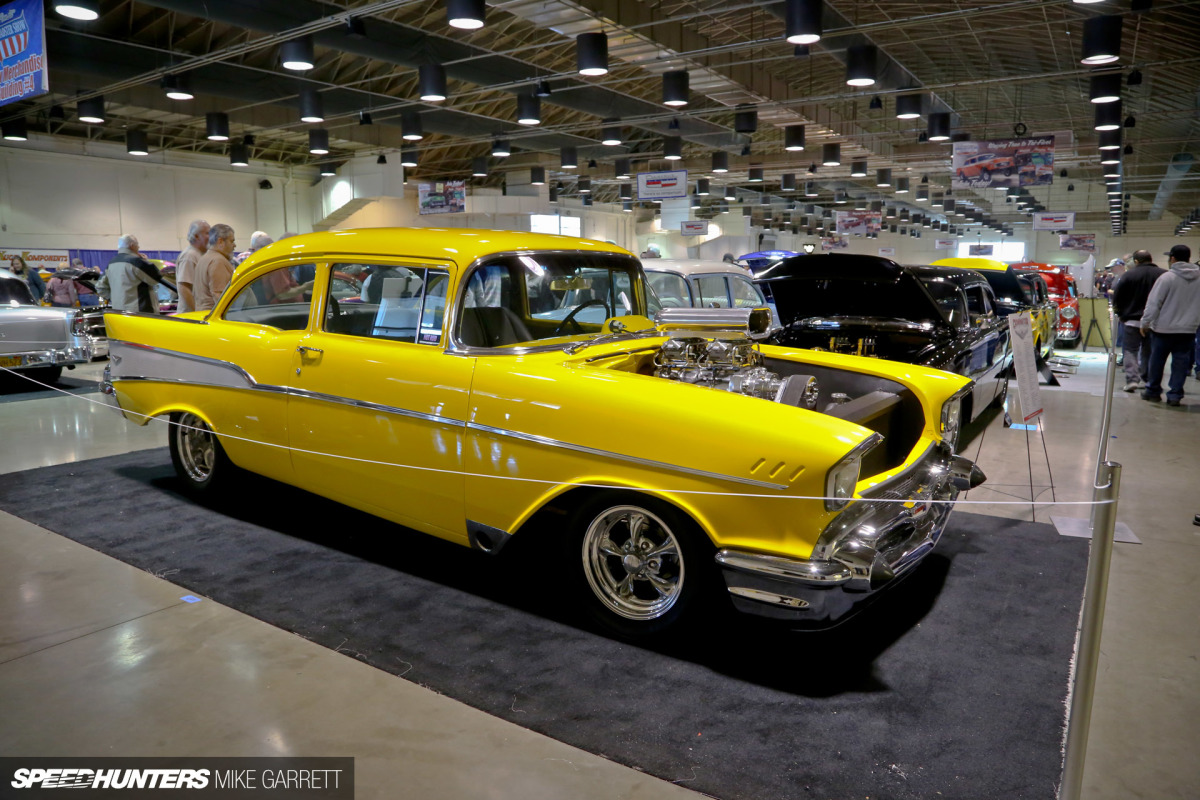 More than just being some of the most iconic cars of all time, the Tri-Five Chevy is the perfect canvas to to view the evolution of the American automotive hobby itself. The styles, techniques and equipment have all changed, but the passion for these legendary Bowties has not.
Mike Garrett
Instagram: japanifornia
mike@speedhunters.com
Cutting Room Floor