There are certain perks to working for Speedhunters. Although fame and fortune aren't amongst them, access to some of the best tuning shops on the planet is certainly towards the top of the list.
First, let me set the scene. It's just before SEMA last year and I find myself in the passenger seat of a blacked-out Chevy Suburban with our wannabe American but actually British, Ben Chandler, at the wheel. I've known Ben for many years, he's become a good friend and is someone I trust and can confide in. He also has the attention span of a Red Bull-fuelled 4-year-old at Disneyland.
On this particularly hot Californian day we had just visited Rotiform in Compton when it was suggested we check out Boden Autohaus in Costa Mesa, as it wasn't too far out of our way. Well, we didn't come to hang about and do nothing, so Google Maps was loaded and we made an almost direct route across the highways and streets of Los Angeles.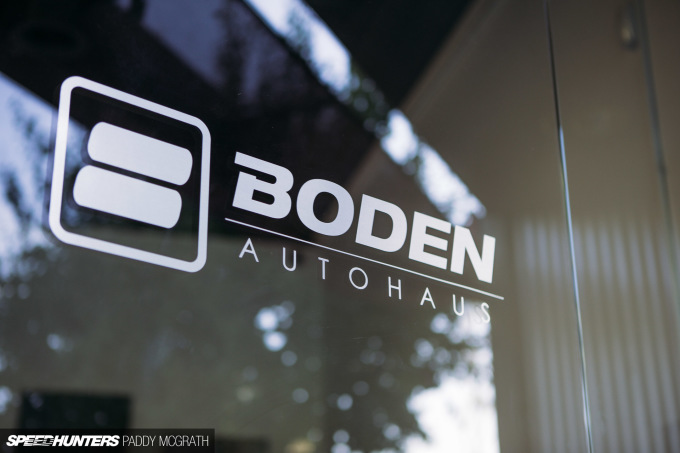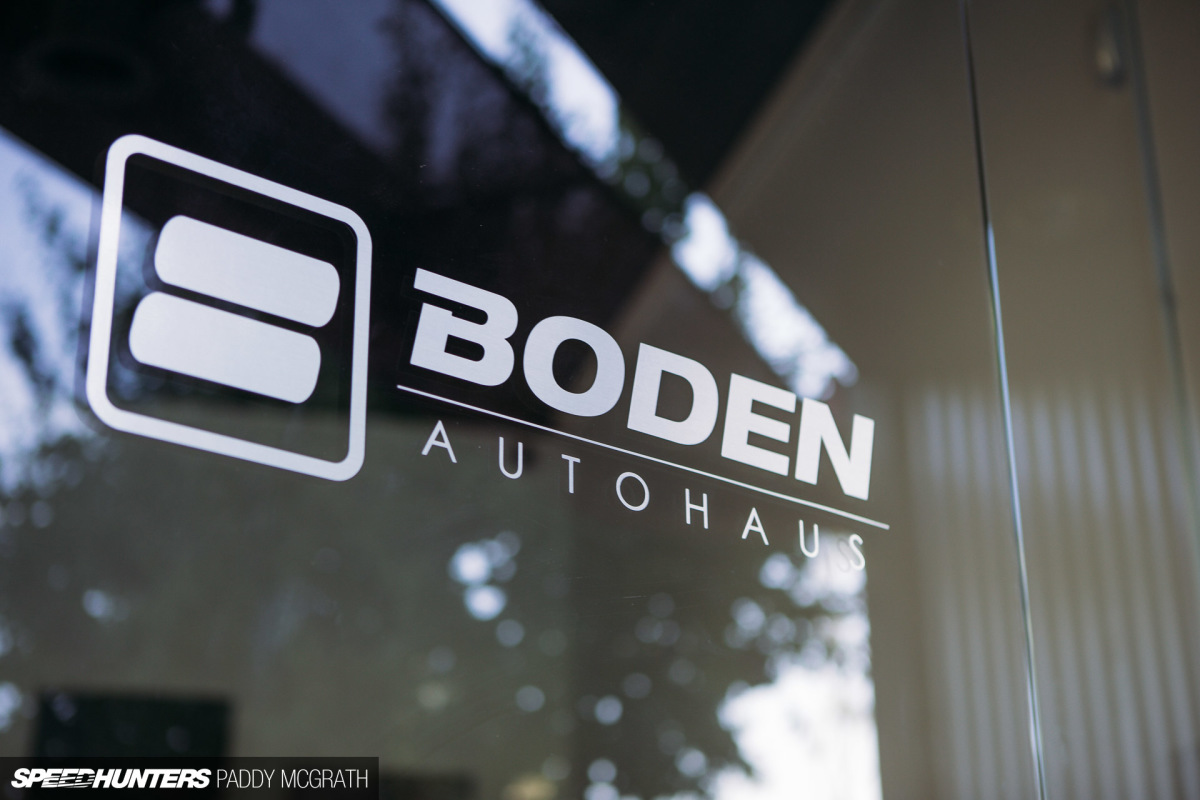 I had been following Boden's Instagram account for several months beforehand, so I sort of knew what to expect. It's such a pleasure though, to be able to actually go and visit these places and see them in person. It's sort of surreal too. While I know that one must uphold a professional attitude to the job, on the inside I'm usually having an absolute fanboy meltdown of biblical proportions. Think 'leave Britney alone' but positive and with added Ferrari, and you're just about there.
From the outside, the Boden building is quite discreet. So discreet in fact that we missed it the first two times around the block. But once you're inside, there's no doubting that you're somewhere special.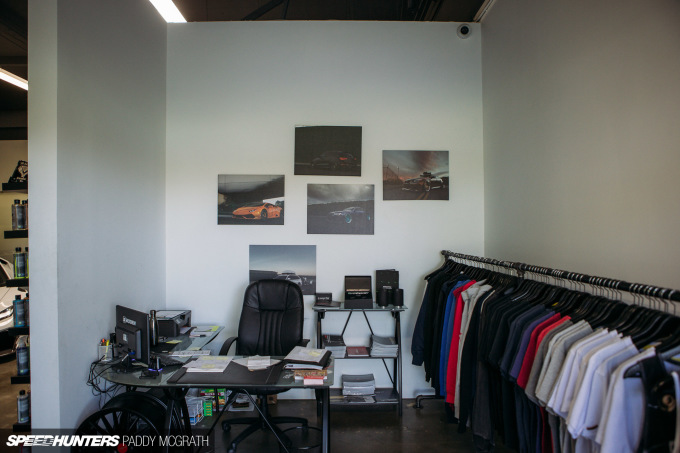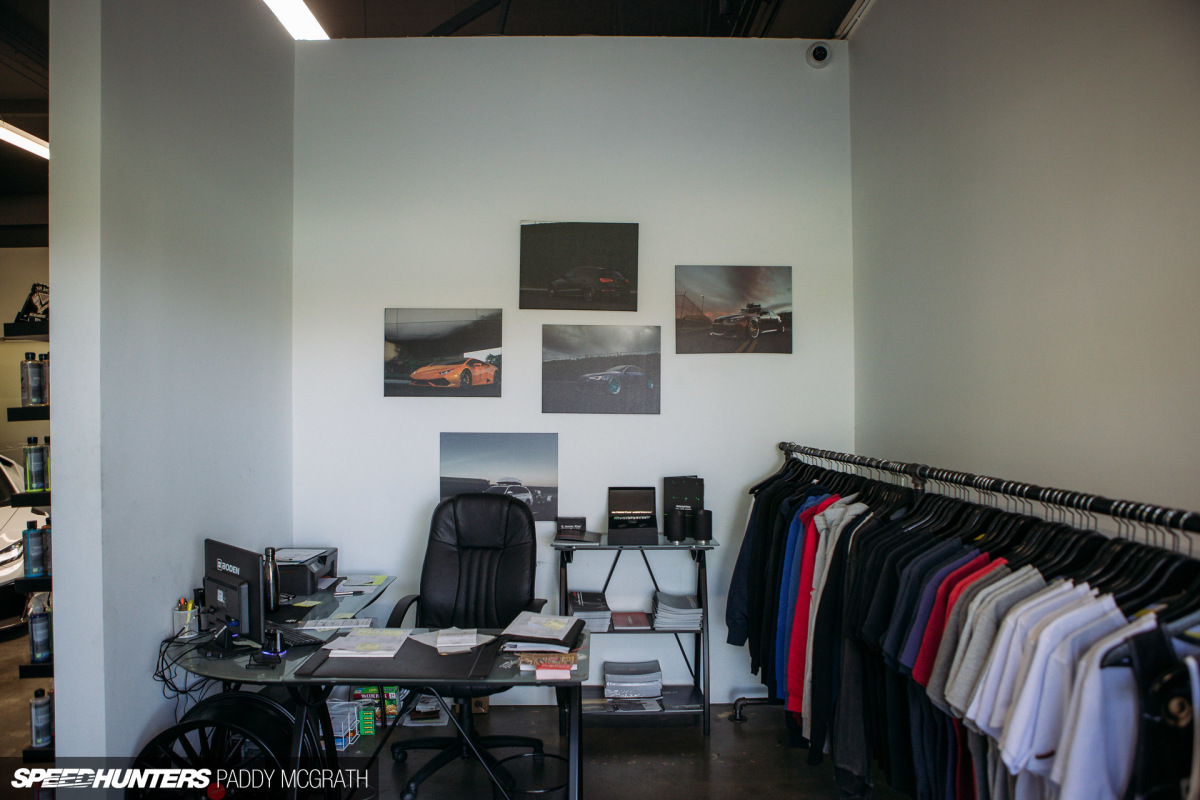 You're immediately greeted by a reception area, but you probably won't spend much time here as there's something a little more interesting just to your left…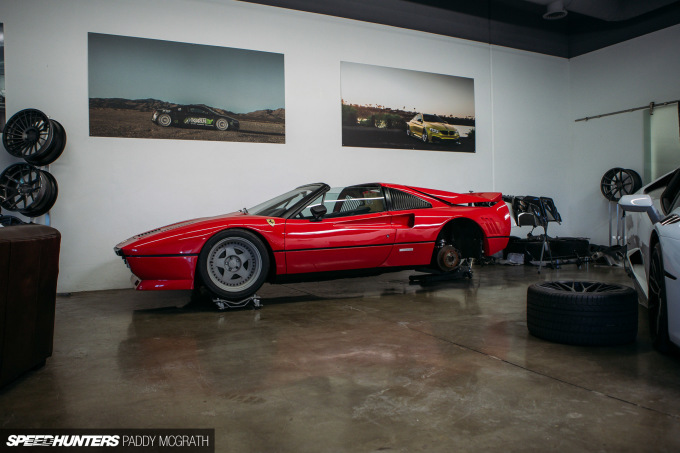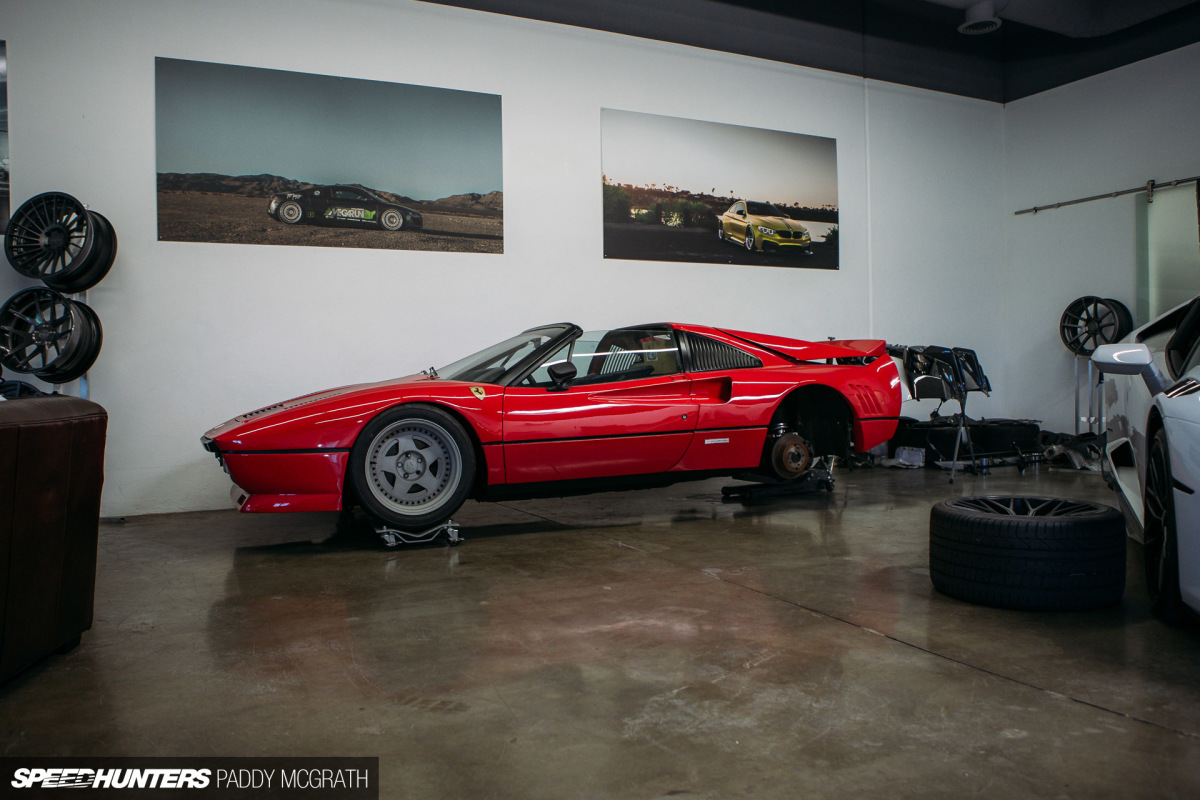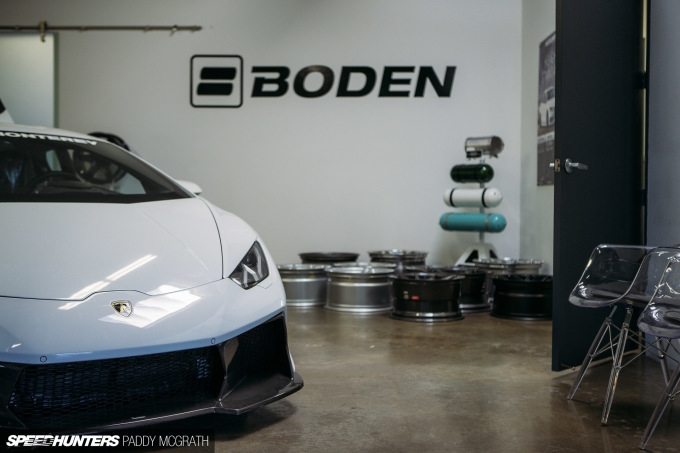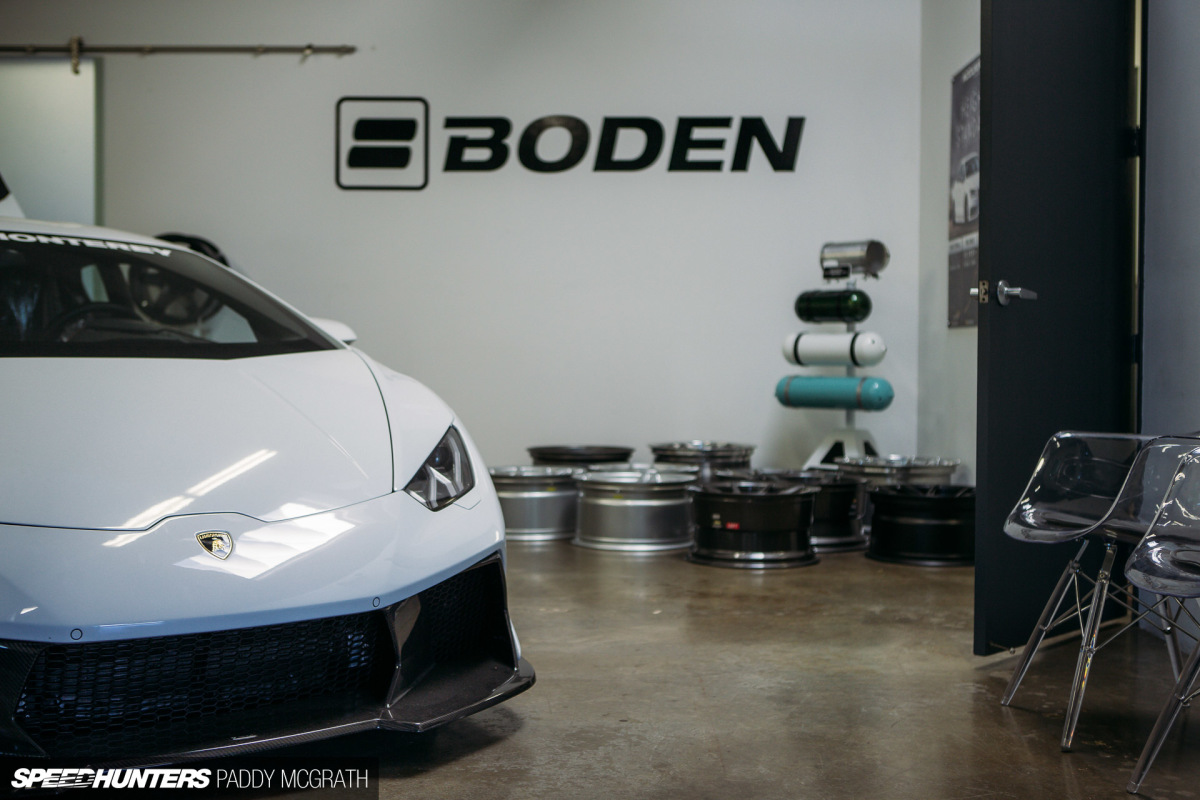 Now, that's a waiting room. It was a particularly busy time of year for the Boden Autohaus crew, so their workshop had slightly overflowed into the waiting area and showroom. It's taken me nearly all of this just to realise that there were a set of Recaro wingbacks in the waiting area, seats I've been trying to source for my own car. Damn.
Obviously, the major talking points in here are a Ferrari 328 and a Vorsteiner-kitted Lamborghini Huracán. Typically, I'm not a big supercar person, but these both just really worked for me. The 328 is simply '80s cool, while the more modern Lamborghini had just the right amount of aftermarket touches without it looking tacky. It was very well executed.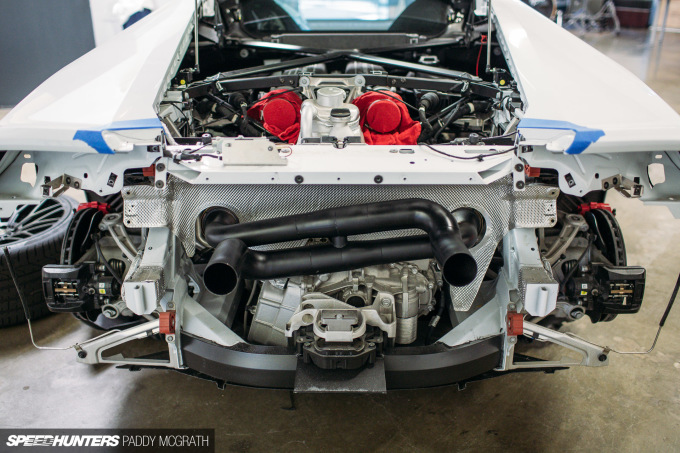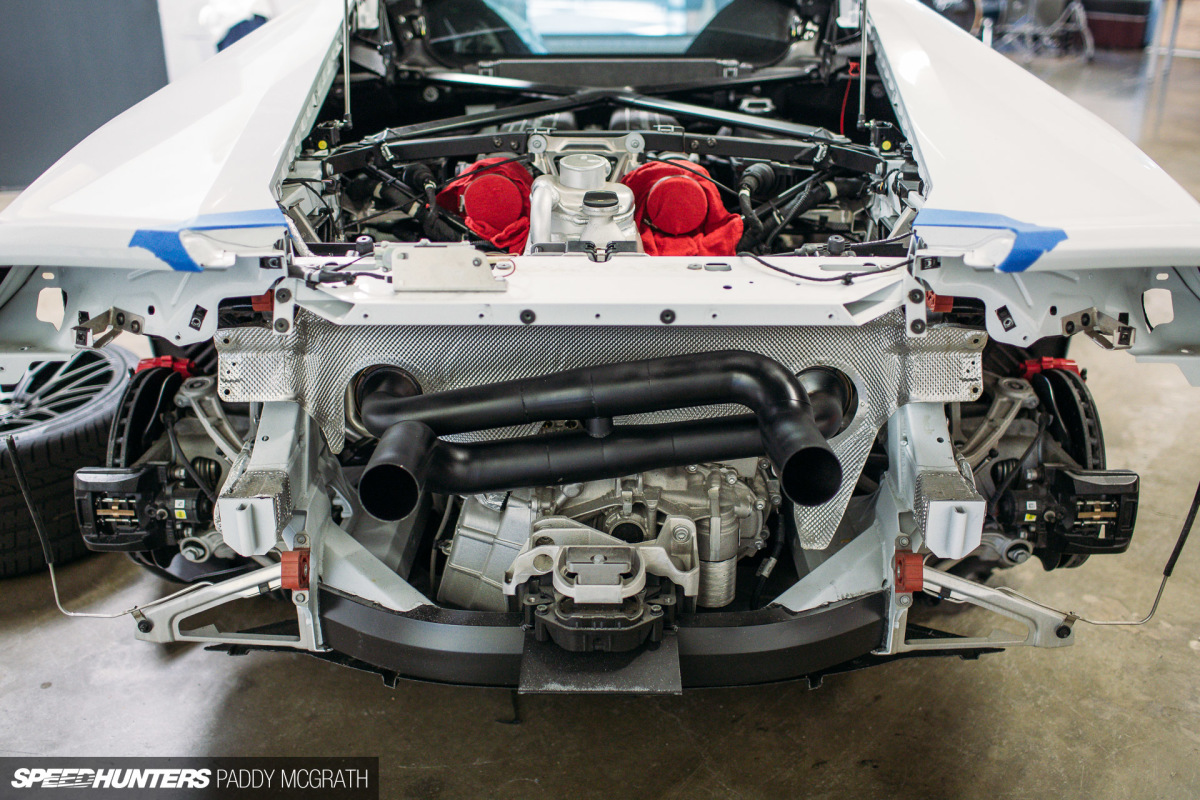 The Huracán was being modified by Boden to feature a mid-level centre-exit exhaust system, something they were fabricating from scratch to protrude through the largely carbon fibre rear of the car. You can check out a finished example of this exhaust system on their IG account here.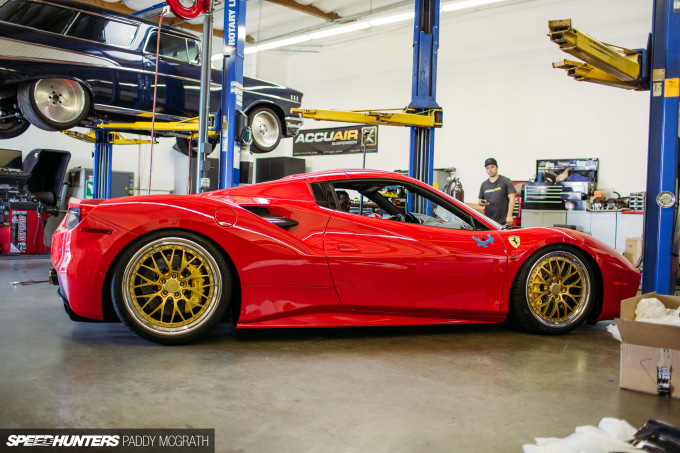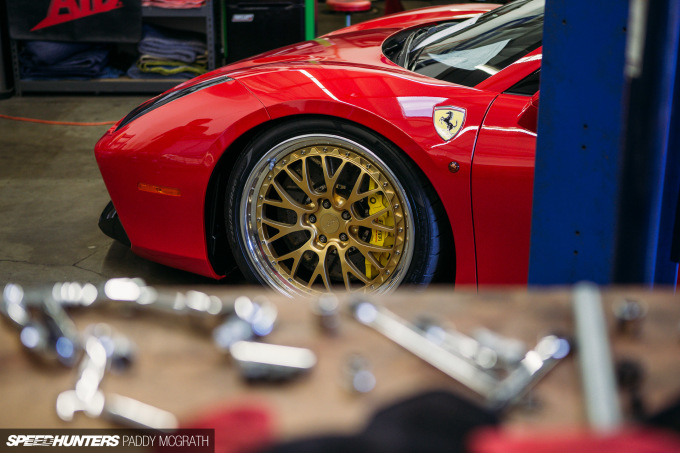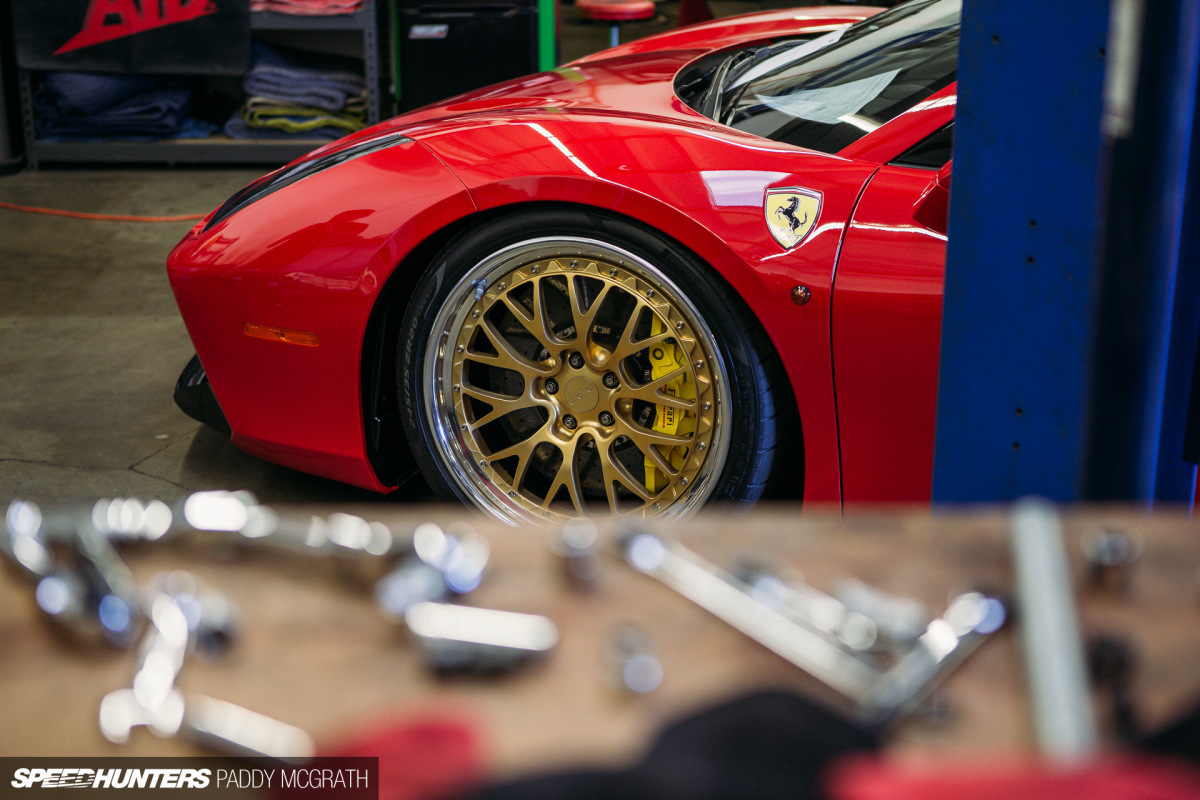 One of the cars we were made aware of before the drive over to Boden was a rather fine example of a Ferrari 488 Spider. Like the Huracán, it was just the right amount of modified; it retained all the things that looked good from factory, with simple additions to accentuate these. When we visited, it was having some carbon fibre trim installed and was sitting on Rotiform LSRs.
I think the Spider might be even better looking than the coupe? It's a beautiful car, regardless.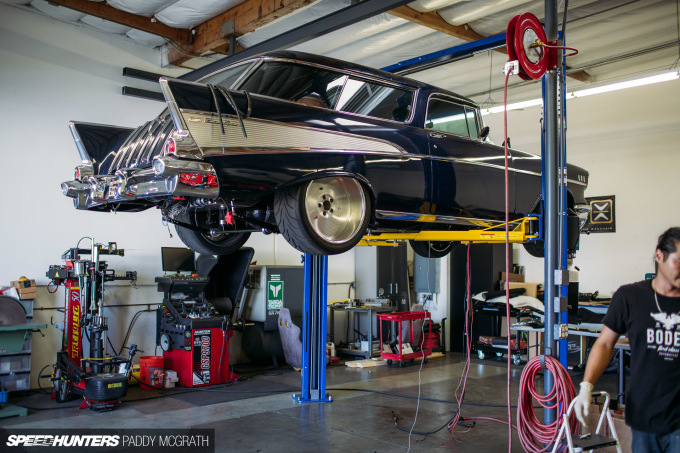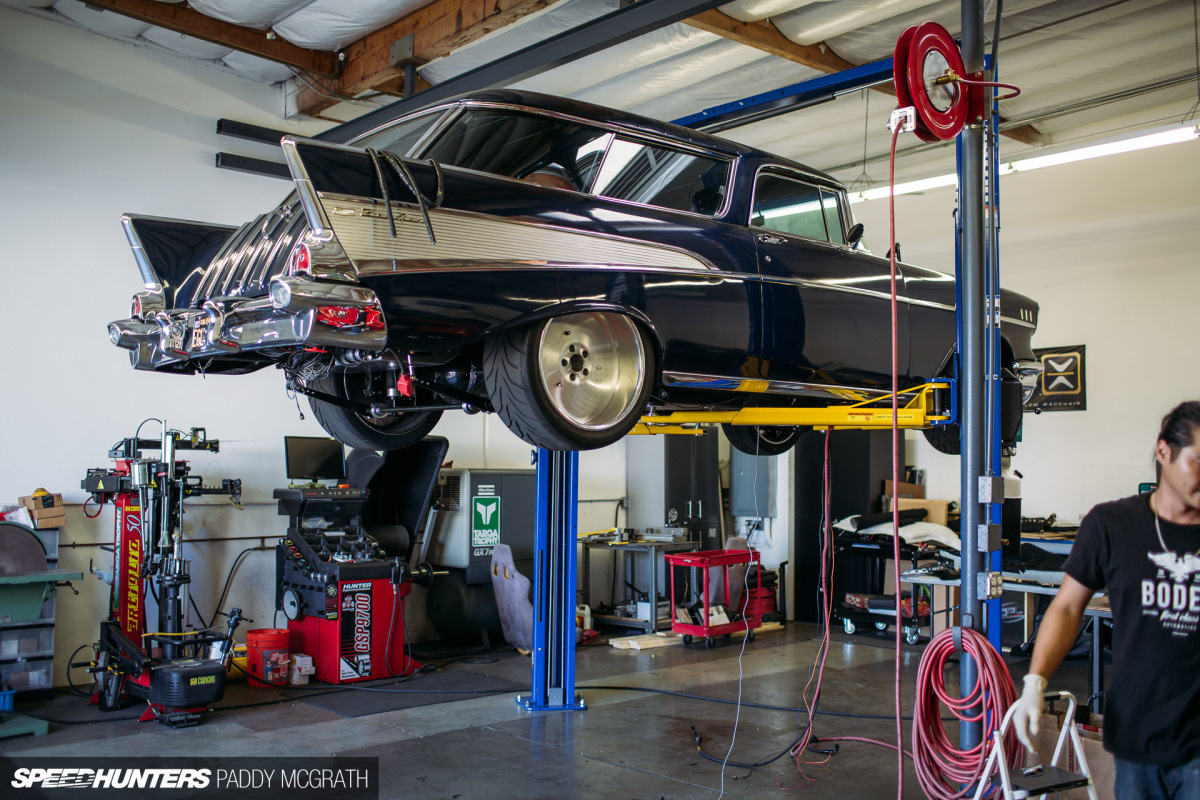 Sharing the workshop with the 488 was this Chevy Nomad, a model I had never seen in person before. When did two-door wagons stop being a thing?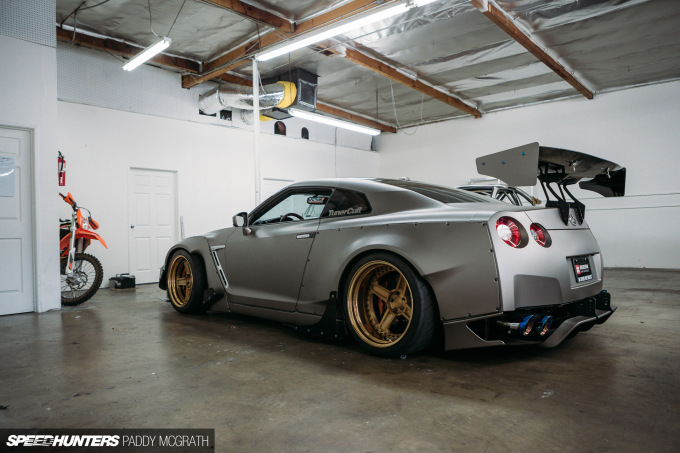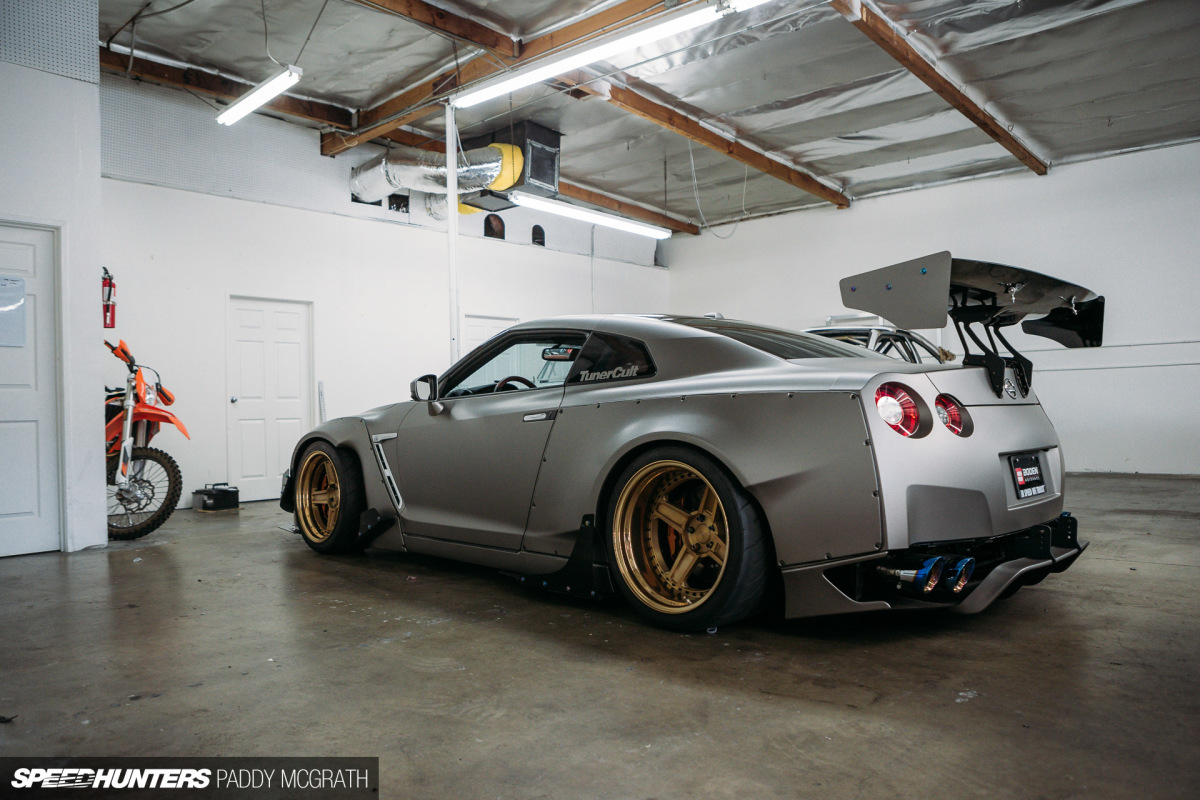 What was I saying about access? Located not too far from Boden's main premises is an overflow garage, where past and future projects reside. Maybe the highlight here was a Rocket Bunny-kitted GT-R on four-spoke Rotiform RBQs.
It also perfectly encompasses what I've come to describe as the Overfender Paradox, where you might skim past a car in photographs, but when you're confronted with one in person it blows your mind.
Just behind the GT-R was a Volkswagen Type 2 and a caged BMW E46 mid-build with an S85 V10 power plant, along with Mad Mike Whiddett's PITBUL, a 13B-powered '74 Mazda Rotary Pickup (REPU).
A pair of Audi R8s were also present, including a particularly sinister matte coloured new model. Almost successfully hiding in the corner was a BMW E30, with a Pandem kit being mocked up against it. A pretty eclectic bunch of cars, not forgetting the Impreza that was also present.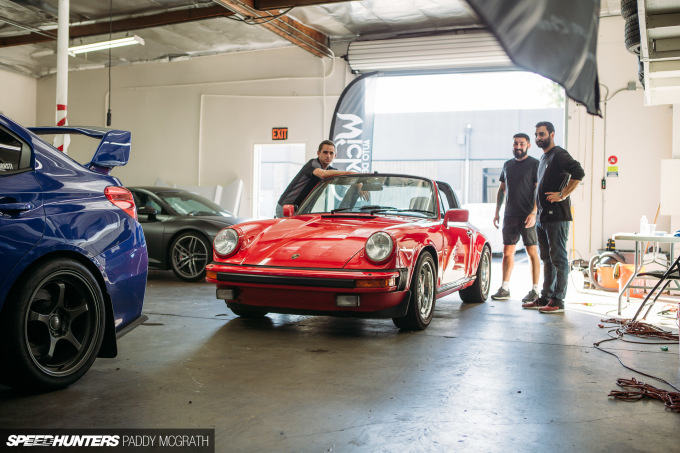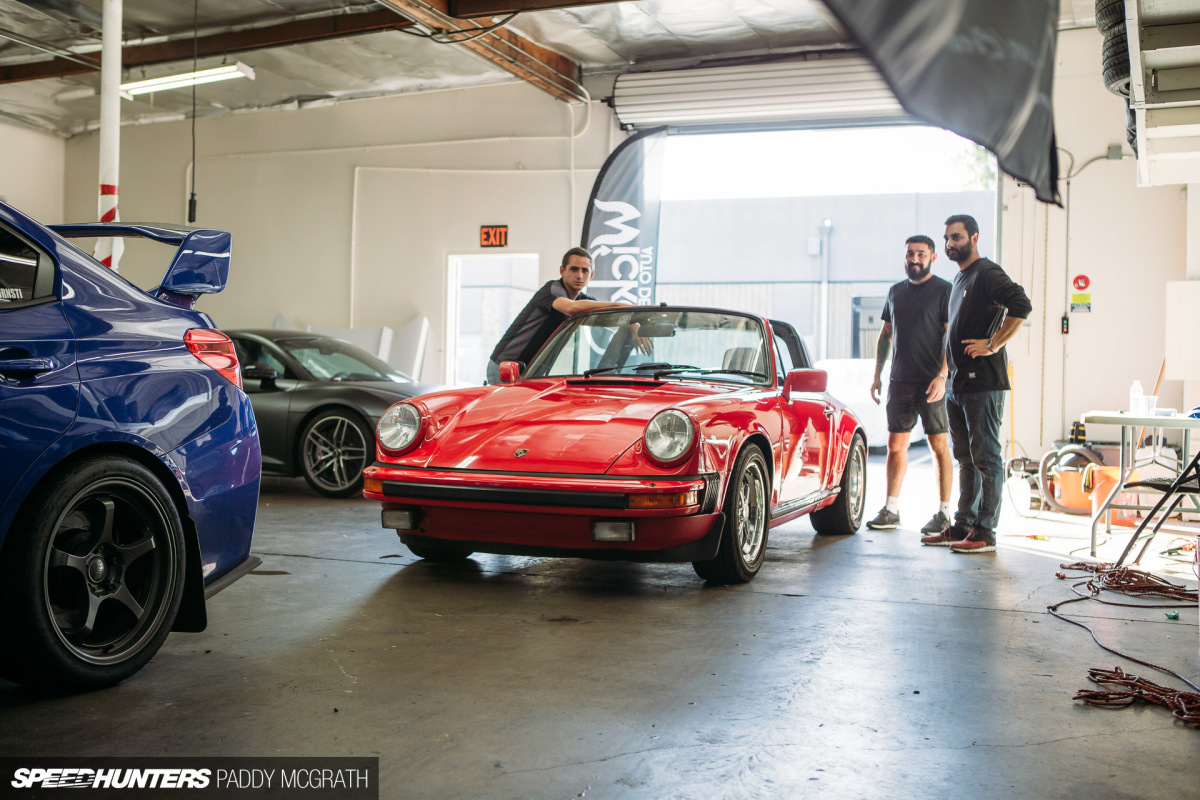 While our visit was only a short one, I think it's important that we express our gratitude to Josh and the team at Boden Autohaus for opening their doors to us on such short notice at what is a real hectic time of year for them.
They weren't the only ones on this particular trip to let us see what lay behind closed doors, but that's another story for another day.
Paddy McGrath
Instagram: pmcgphotos
Twitter: pmcgphotos
Facebook: Paddy McGrath
paddy@speedhunters.com