The Early Years
Way back in 2006, before Speedhunters even existed, I had the opportunity to travel to China with a group of 15 drifters.
I recently spent some time digging the shots from this adventure out of my archives, and is it was basically the beginning of professional drifting in China, I thought I'd share the story with you.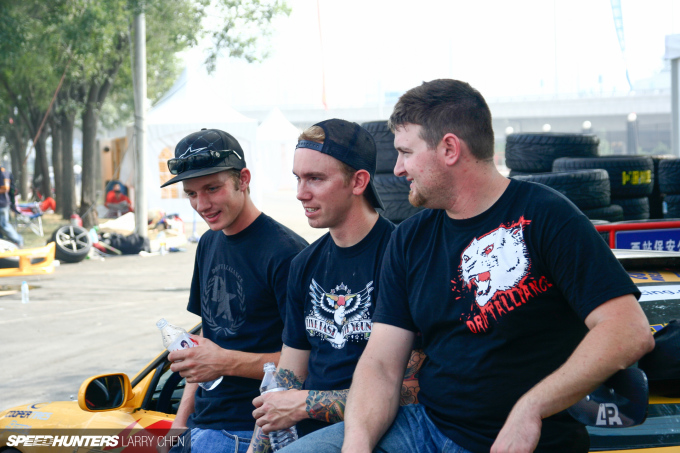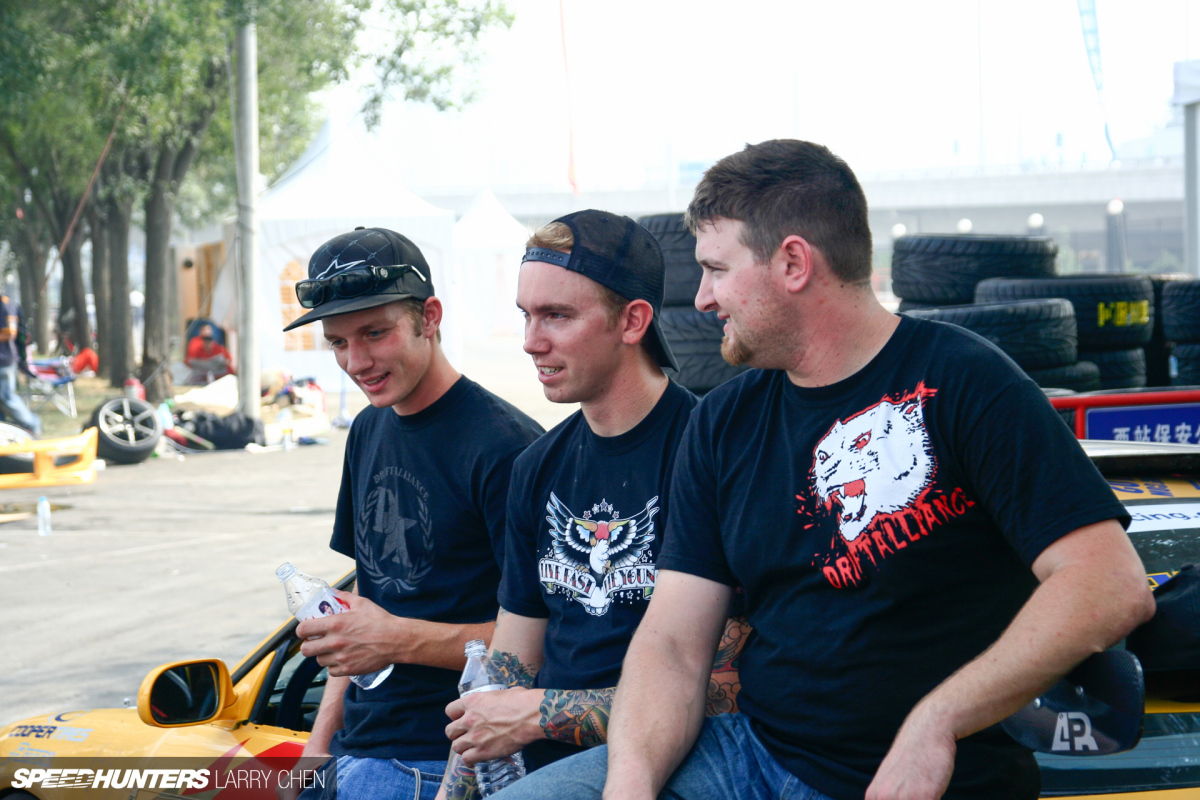 While I was still relatively new to the scene, guys like Ryan Tuerck, Chris Forsberg and Vaughn Gittin Jr. were already veterans of drift, even if the sport itself was still in its infancy in North America. Formula Drift had completed three full seasons at this point.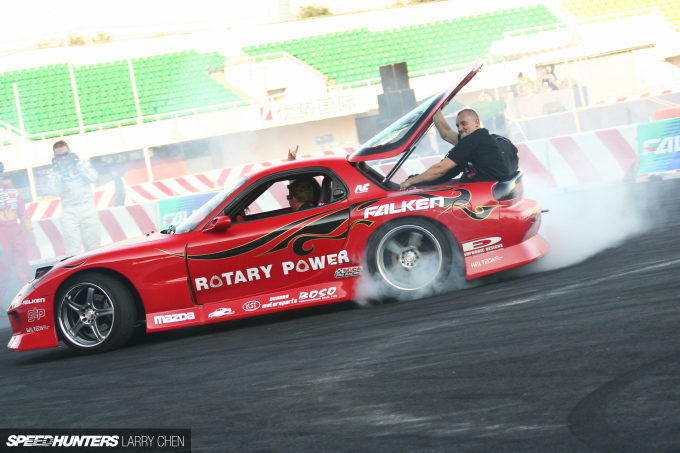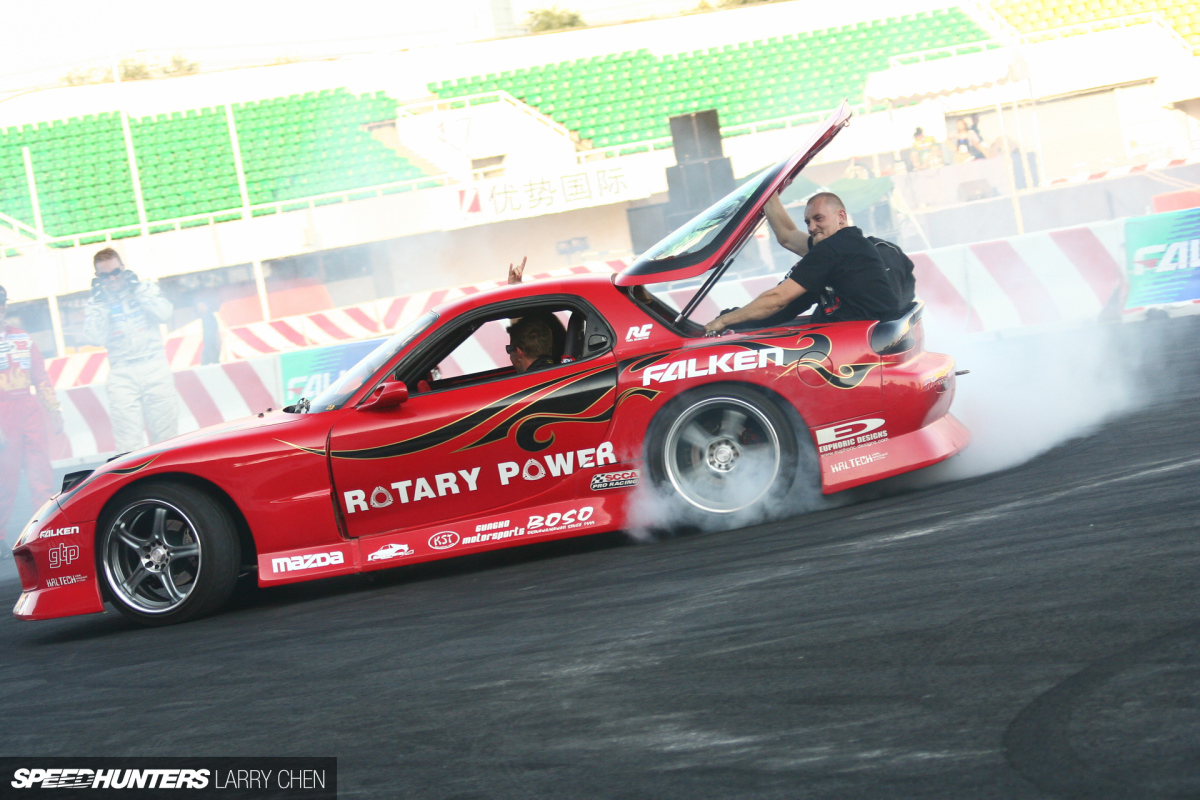 But outside of a few smaller demos and competitions put on by locals and some Hong Kong people with deep pockets, no one in mainland China had really seen real drifting. There may have been one demo put on by D1 Grand Prix, but from what I remember, that was held at a race track, not in the middle of the capital city of Beijing.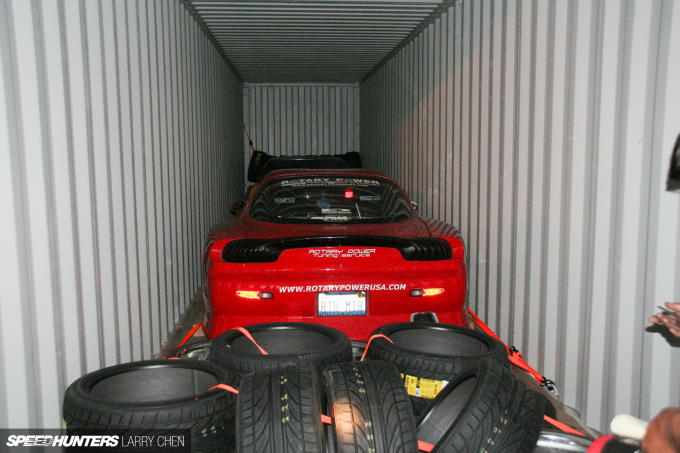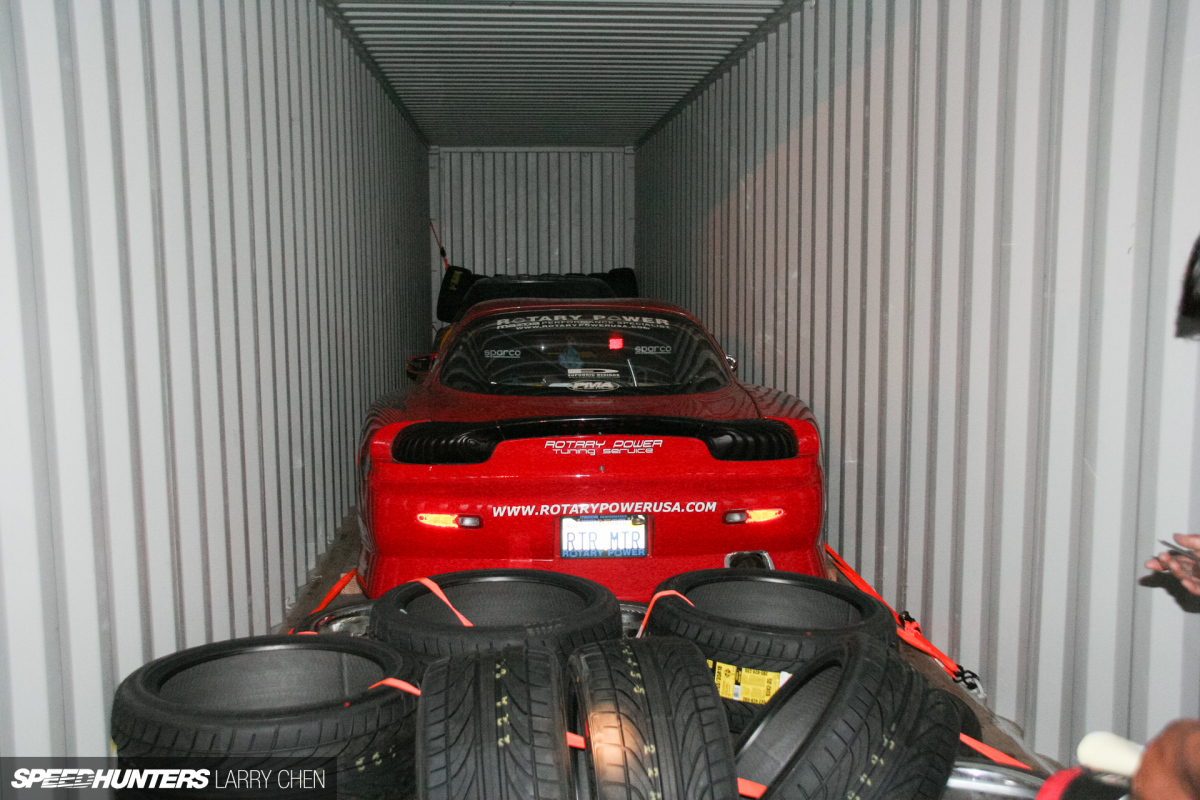 My Chinese drifting experience started in Shanghai, and I was traveling with one other person who had a briefcase full of US dollars with him. This was China after all, and due to the nature of the beast everyone's palms needed greasing, especially to get these cars out of customs and actually pay for the event to happen. It was an uneasy flight to say the least.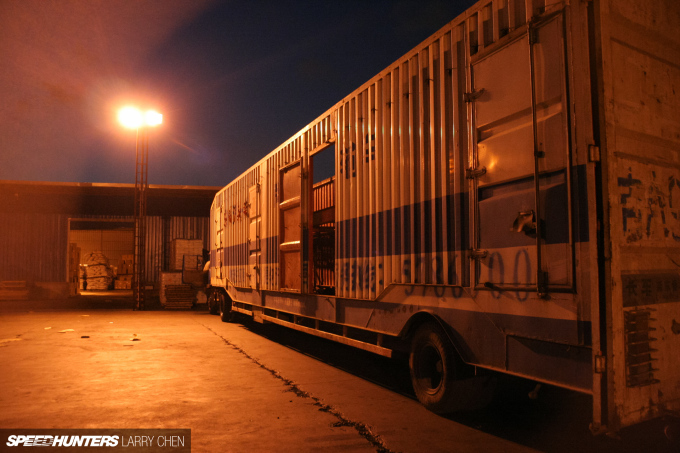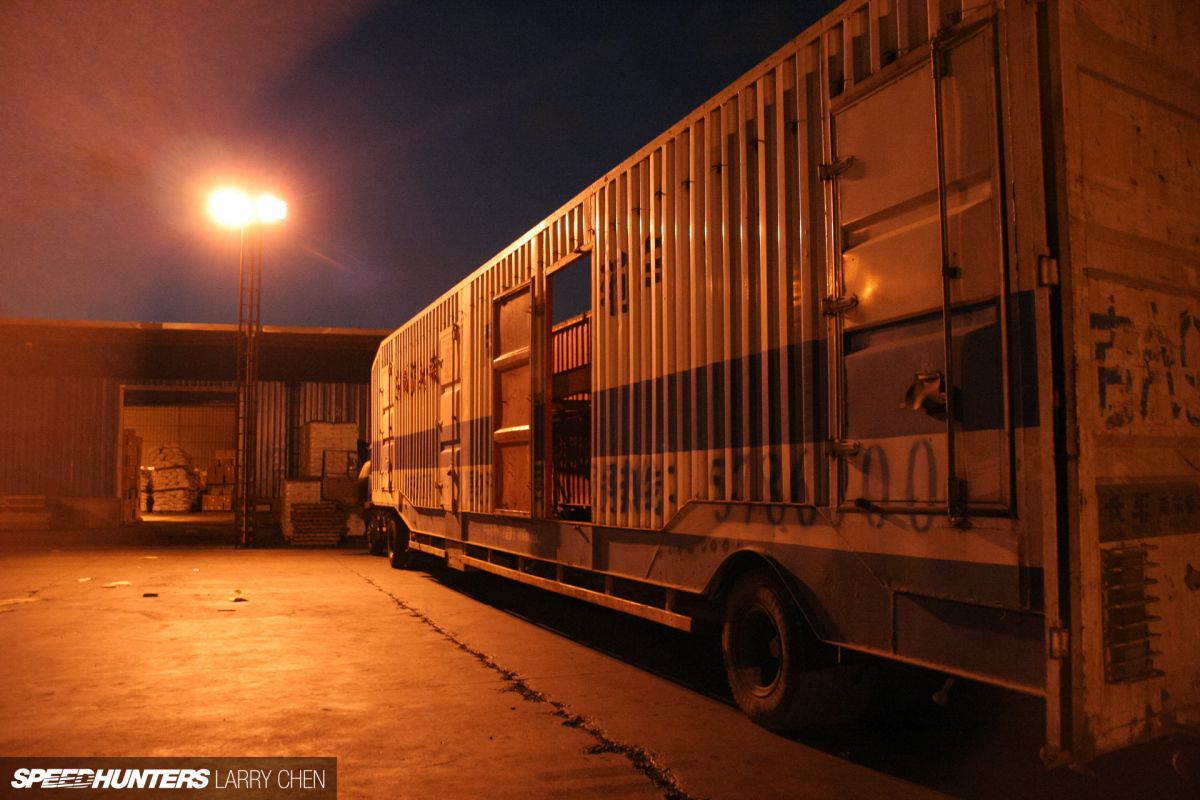 But the night before the event, the 15 drift cars brought over from the US were all stuck in shipping containers.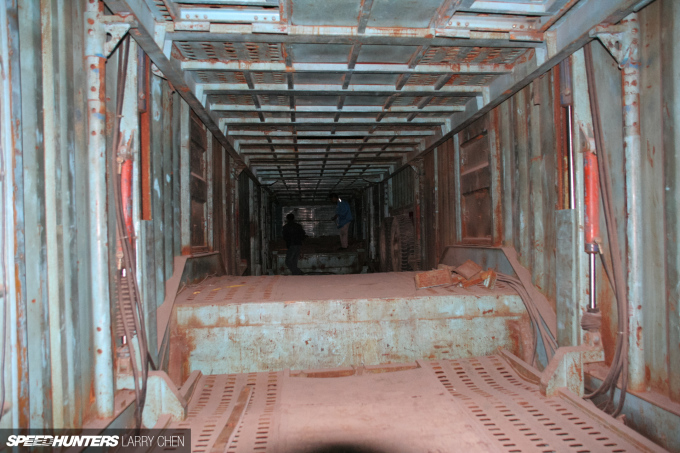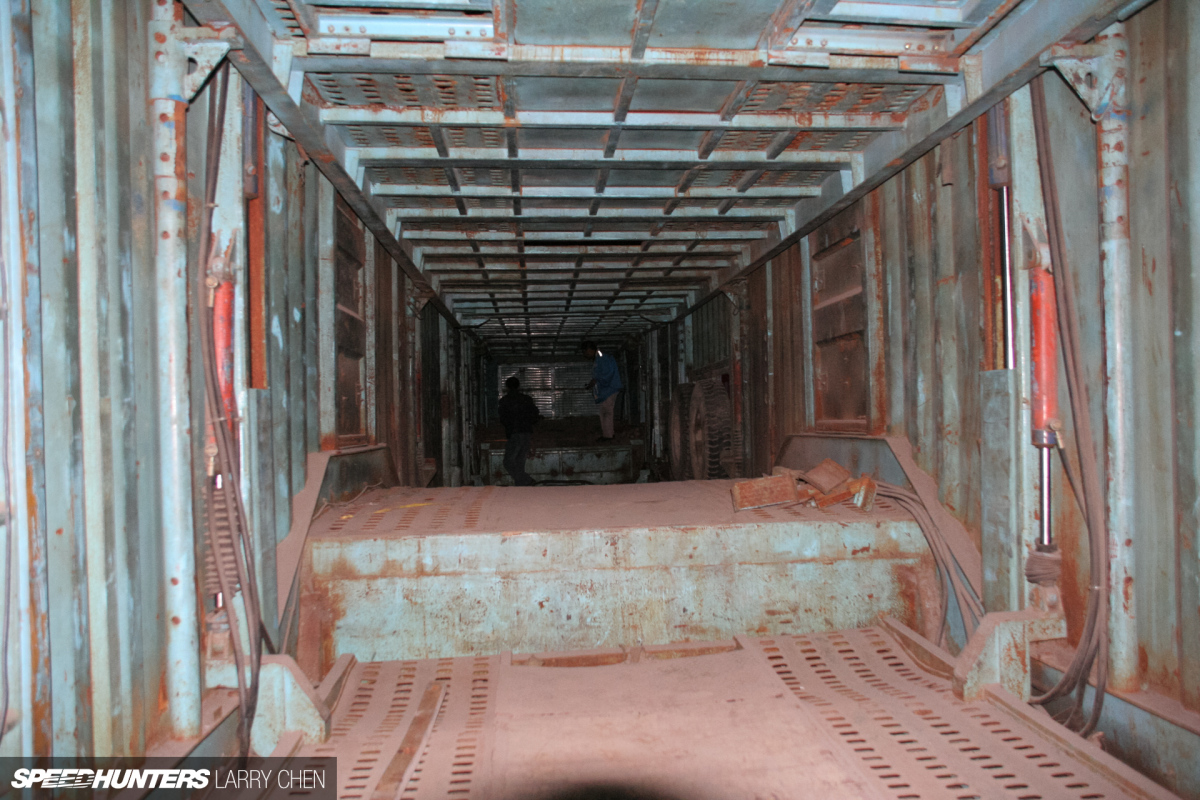 Someone was paid off so the cars were able to be fast-tracked through, and then it was up to me to unload each and every one of then. There was a big problem though: all of these lowered drift cars had to be reloaded into the worst-looking transport trucks I've ever seen.
On top of the cars themselves there were tires, tools and spare body parts. Anybody and everyone came by to help unload. At this point it was around midnight already.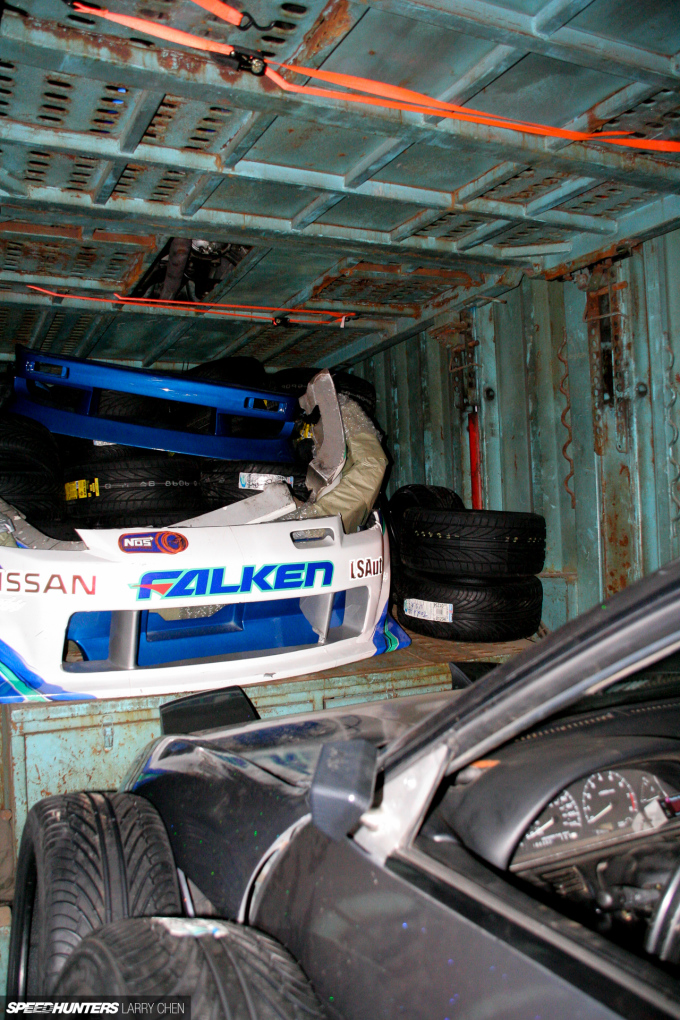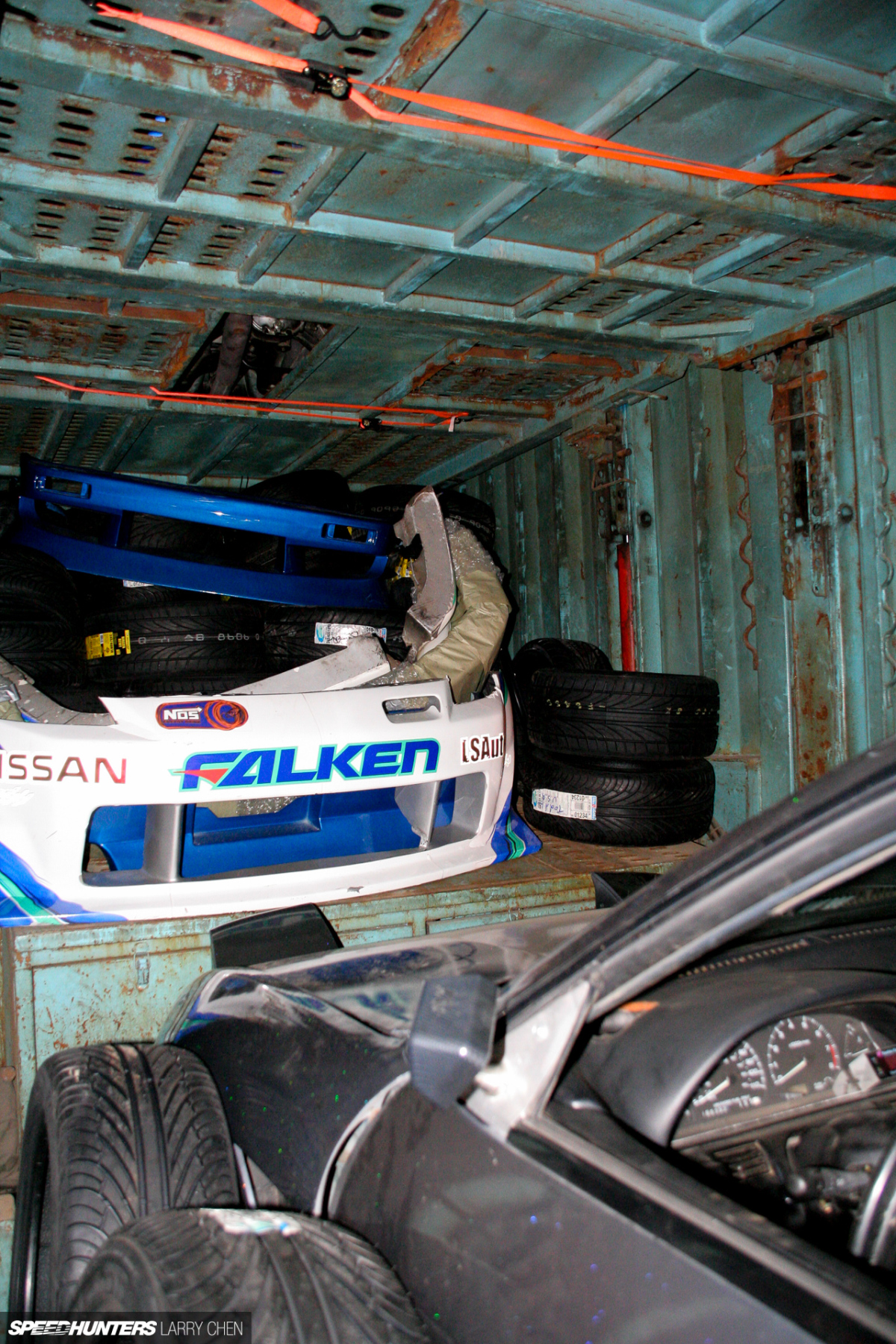 One by one, I carefully drove the cars out of the containers and into the trucks. Due to clearance issues we actually had to hire quite a few locals to physically pick up the cars to make it over the humps so the cars wouldn't get high centered.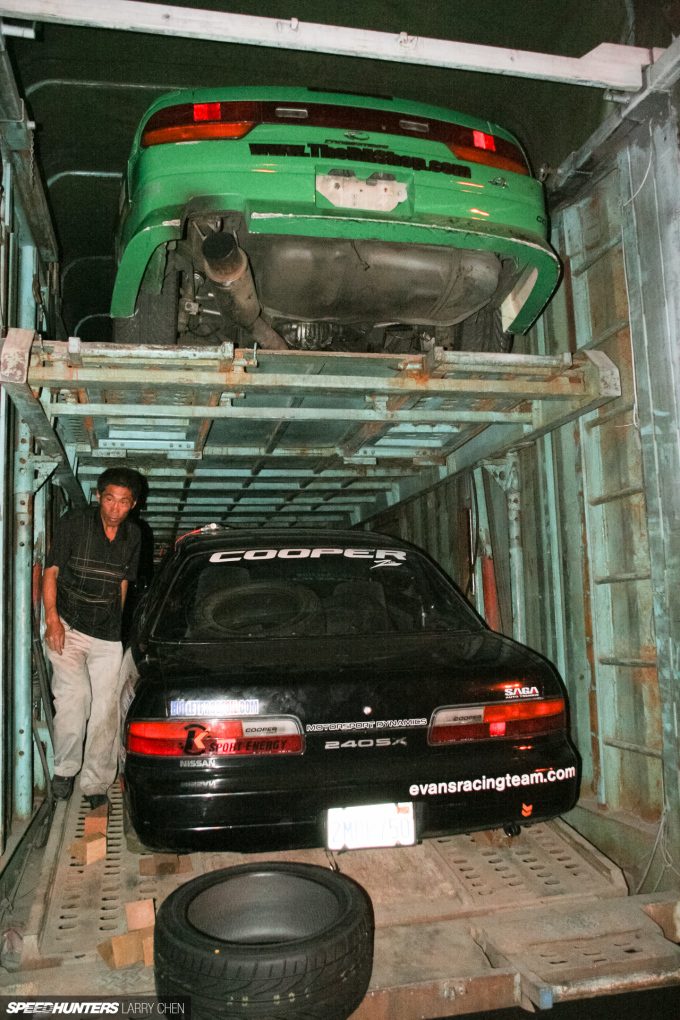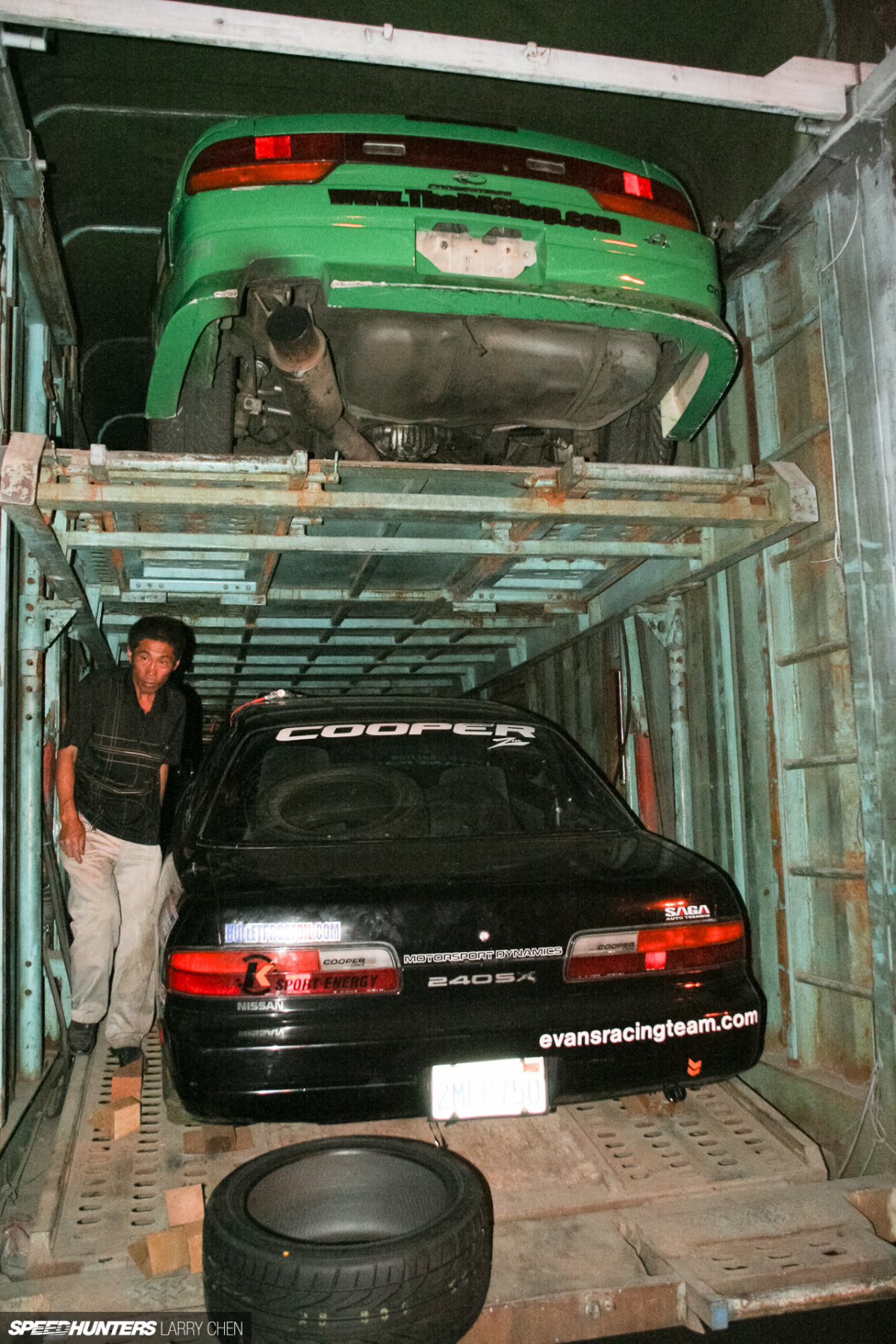 It was a nightmare, but in the end we were able to board a flight for Beijing while the trucks made their overnight road journey to the event.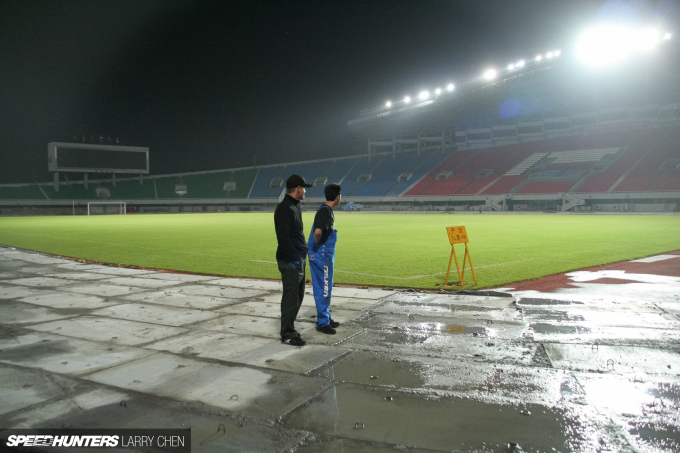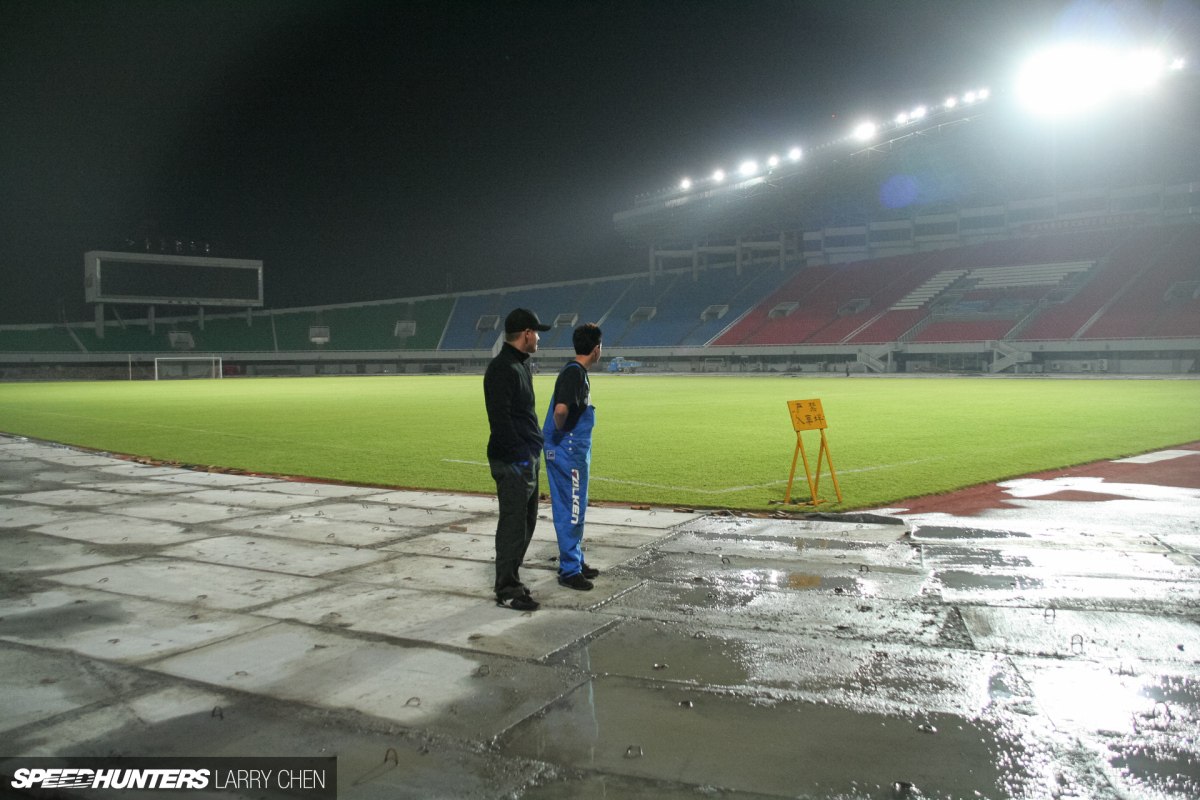 When I arrived at the stadium in Beijing the track was still being paved. Turning the track and field course into a temporary drift track was a huge undertaking.
The Team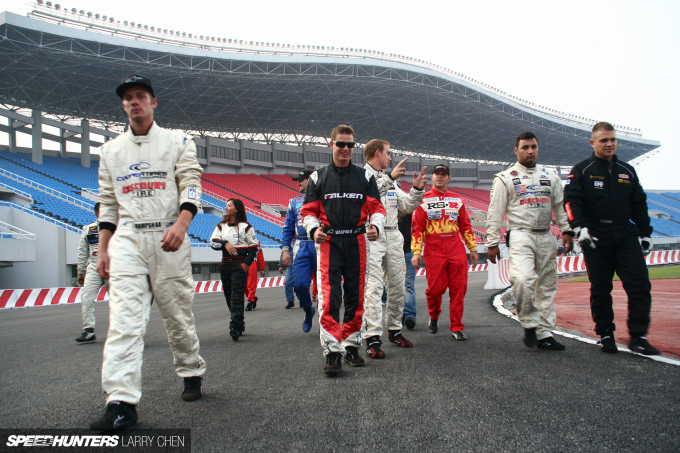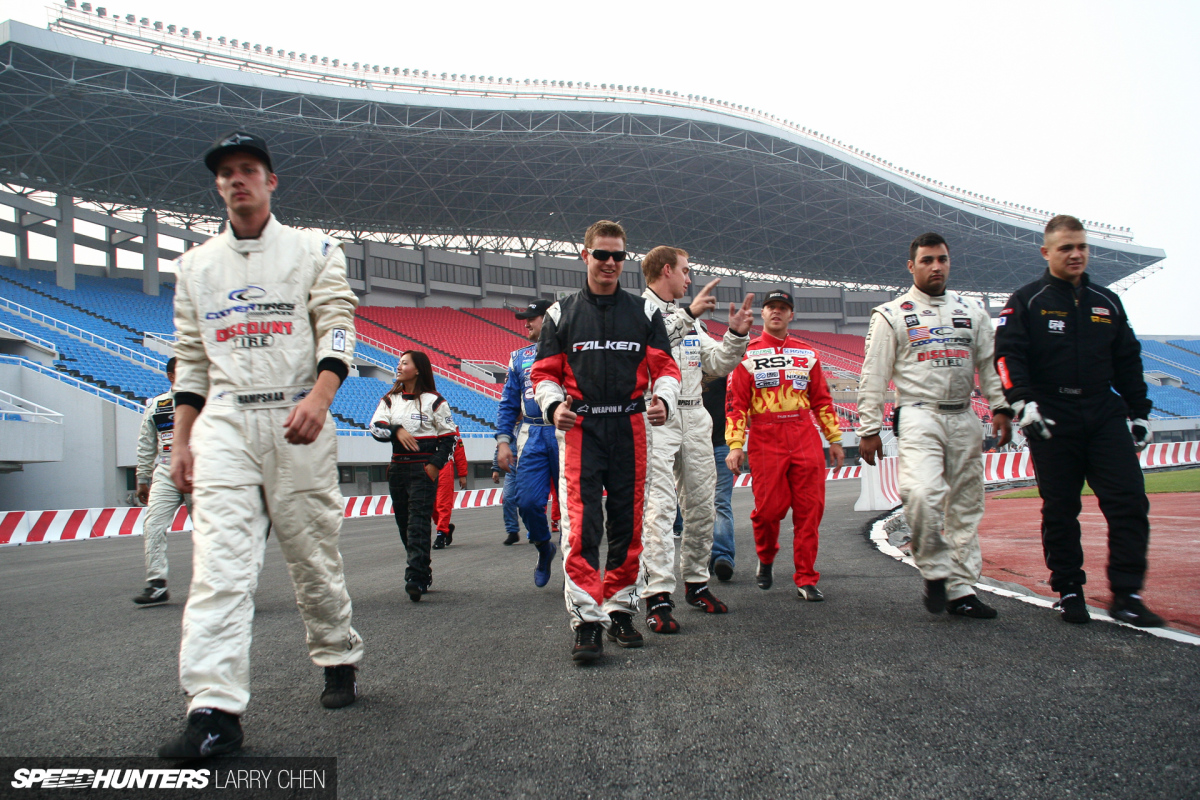 Set to compete in the event were FD Pros like the Drift Alliance crew plus Pro-Am and amateur drivers.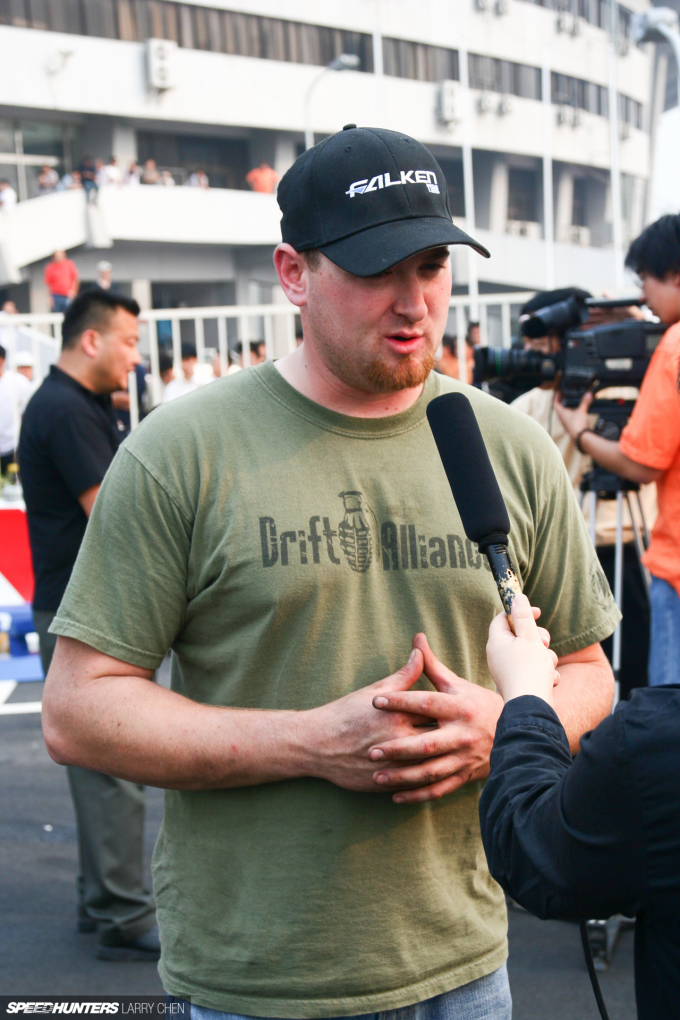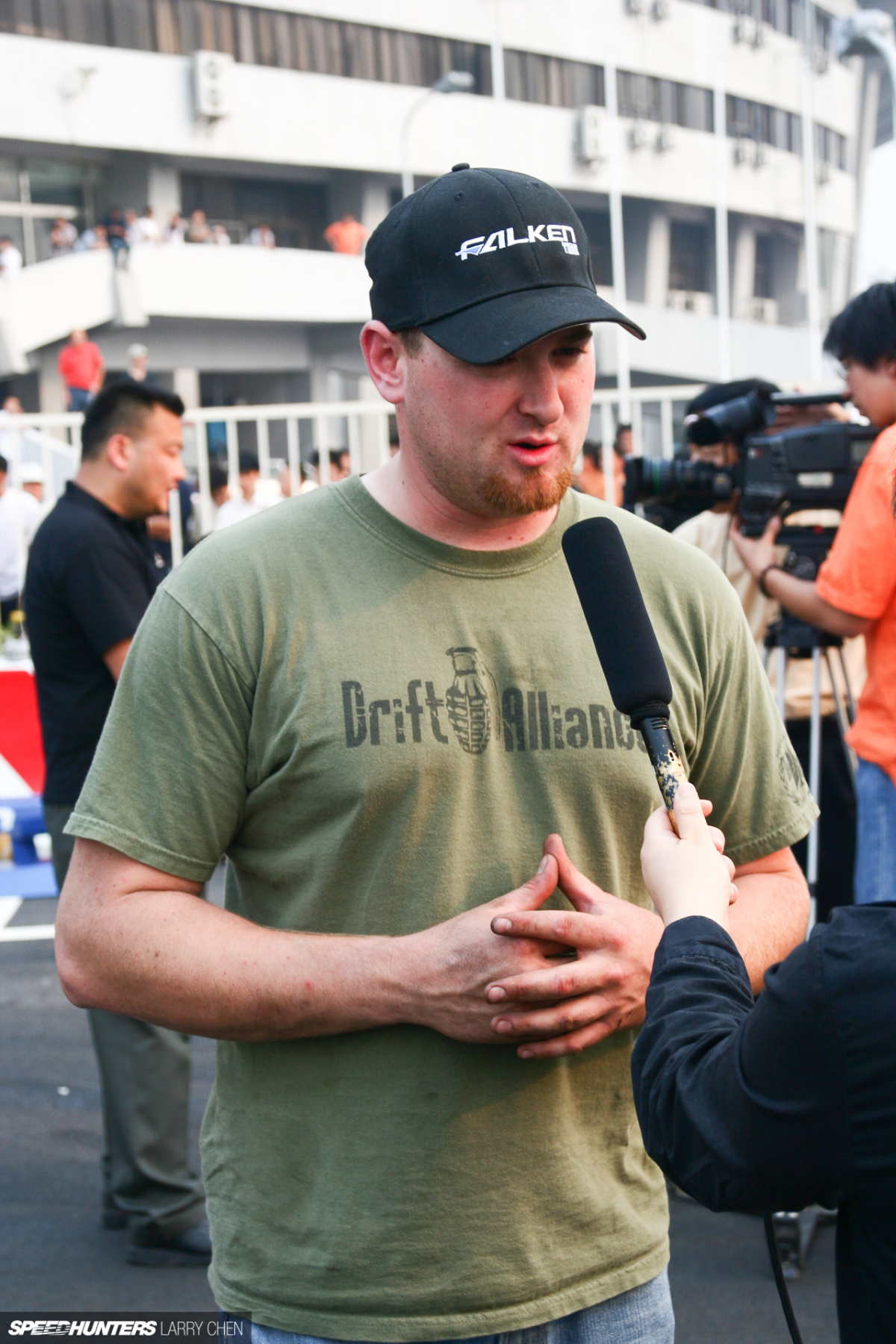 I barely knew who any of these guys were back then, so it's fun for me to go back through these photos.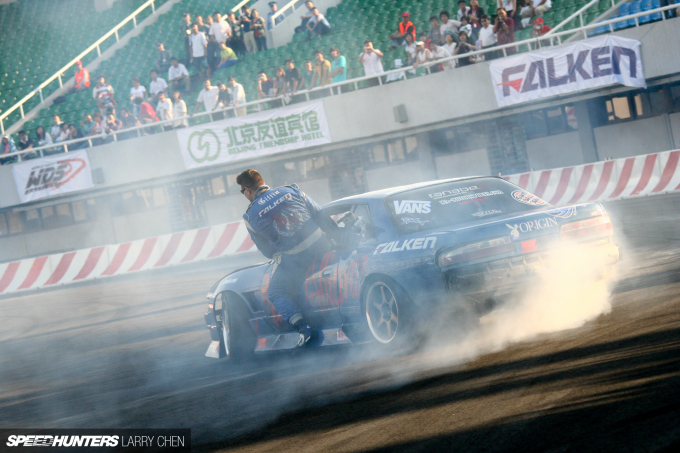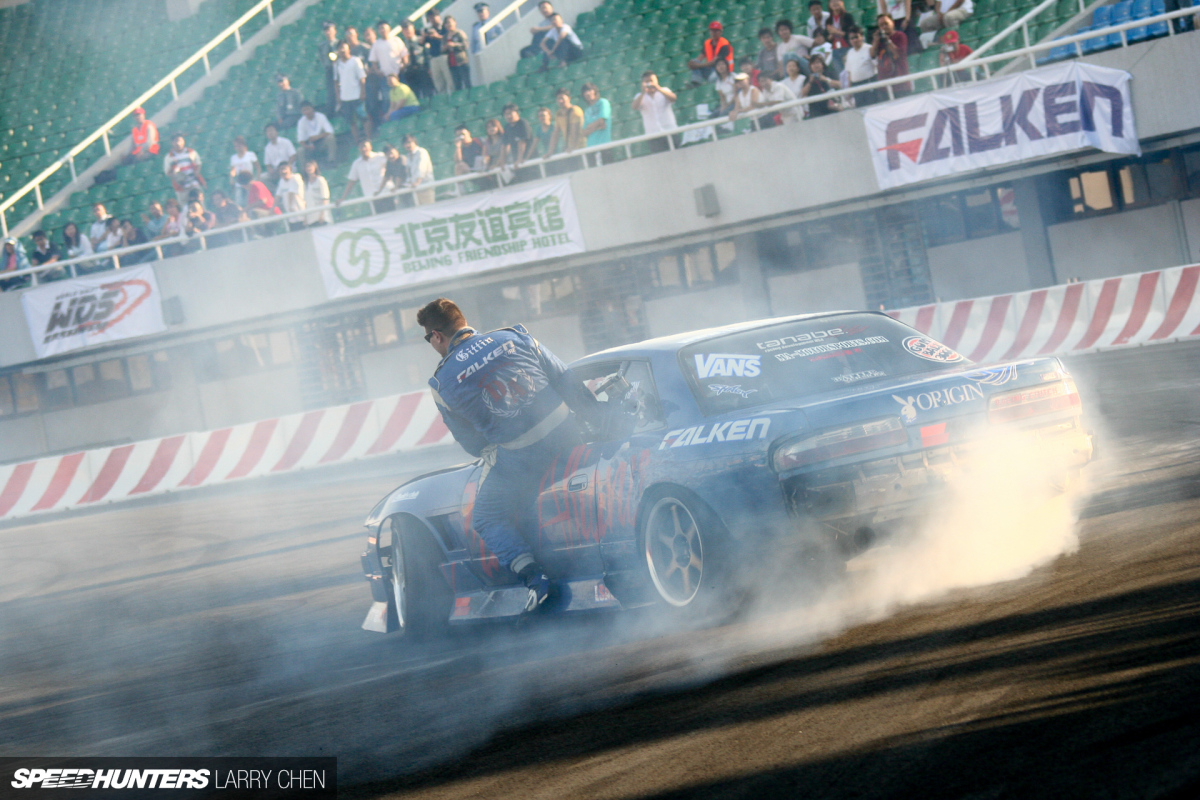 I know a lot of people like to root for the underdog, but check out how bad-ass this guy is.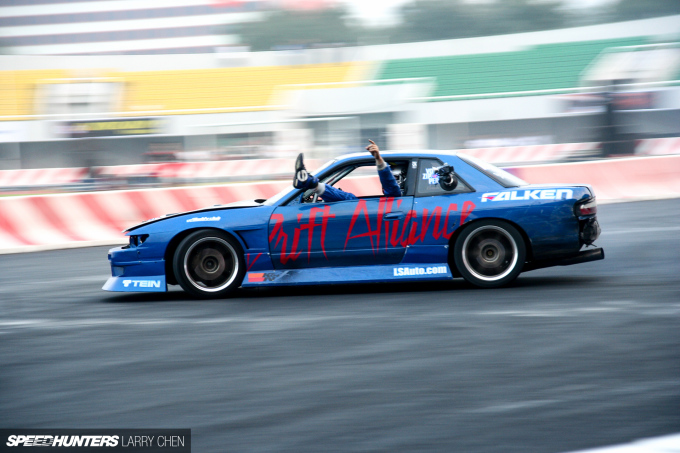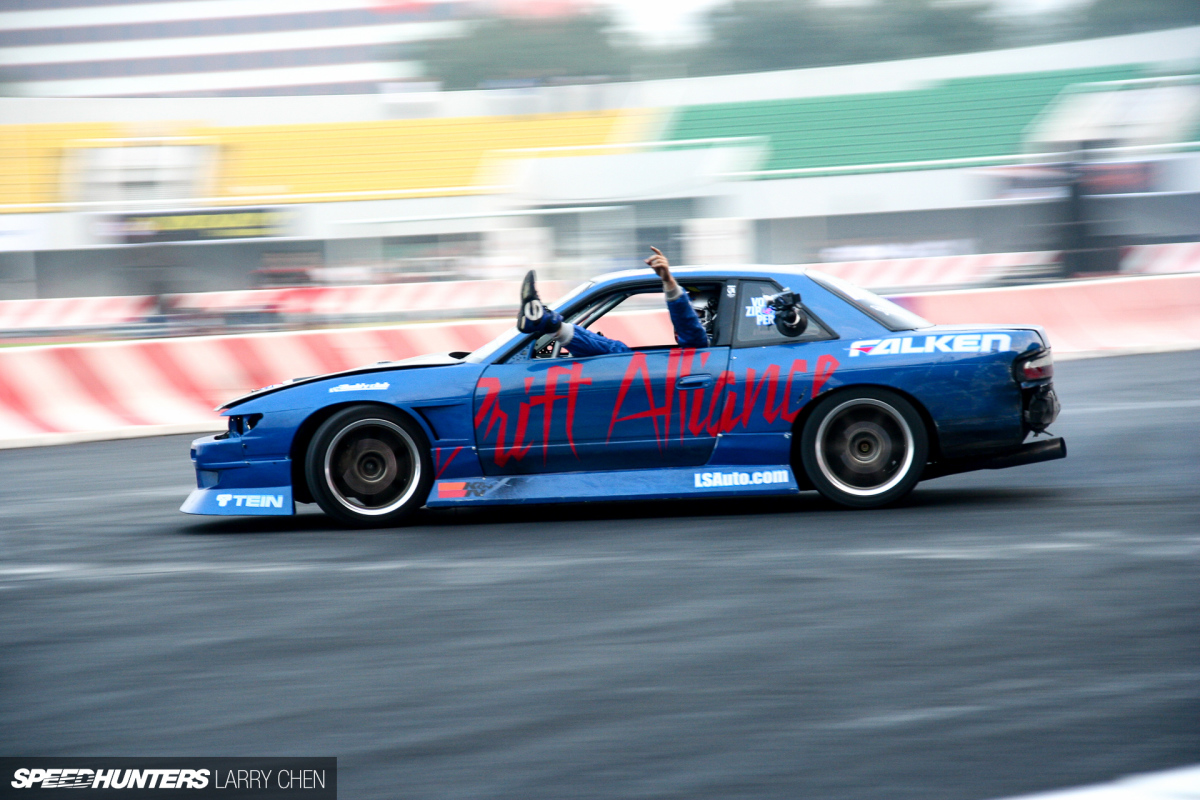 Vaughn brought over his very first drift car – an SR20DET-powered S13 – which he still has by the way. Can you imagine him drifting this thing?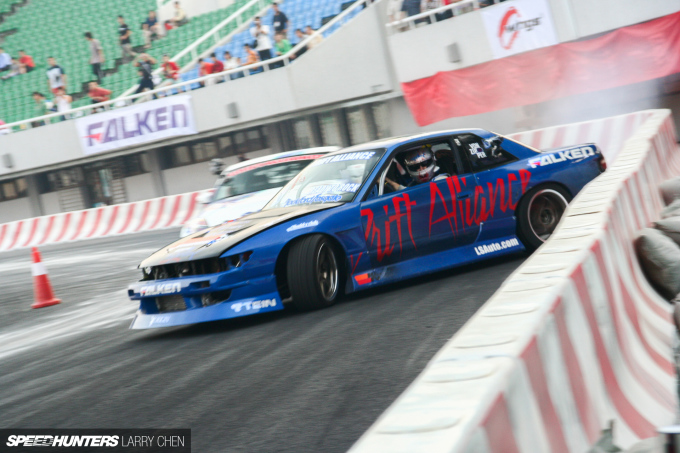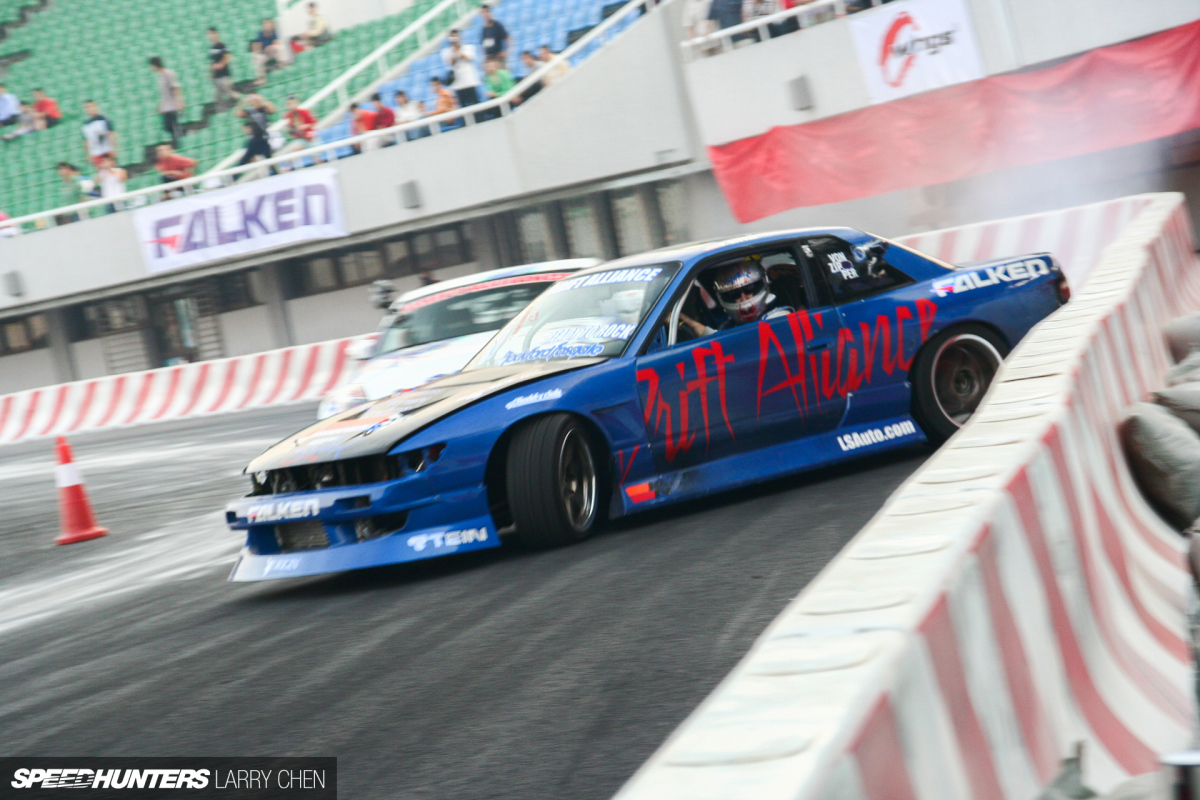 It might have been underpowered by today's standards, but he still ripped like there was no tomorrow.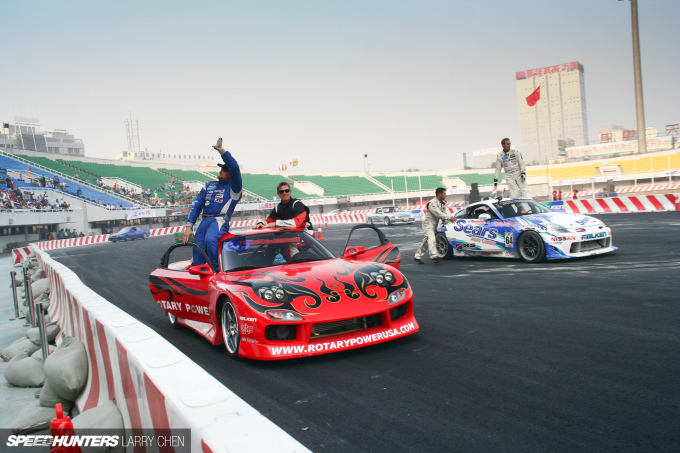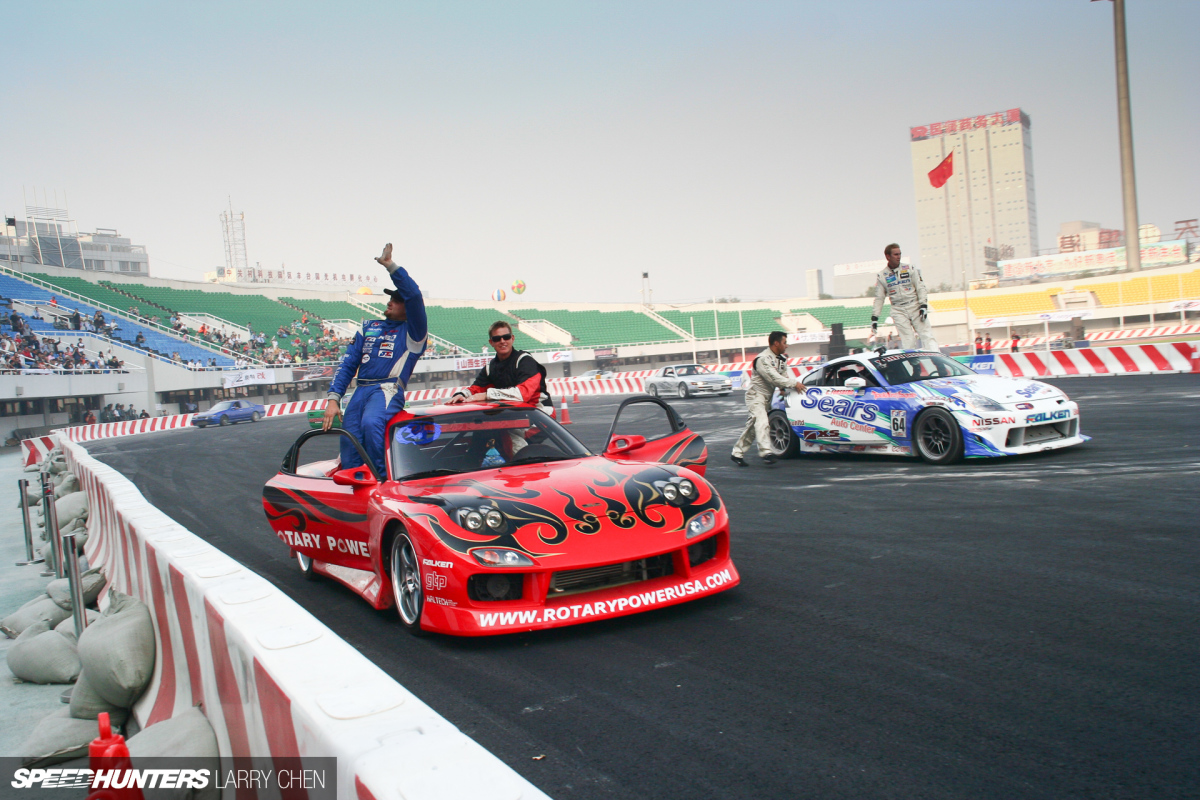 The event itself was not a competition, but rather a three-day demo to gauge interest in drifting as a motorsport in China. The crowd absolutely loved it.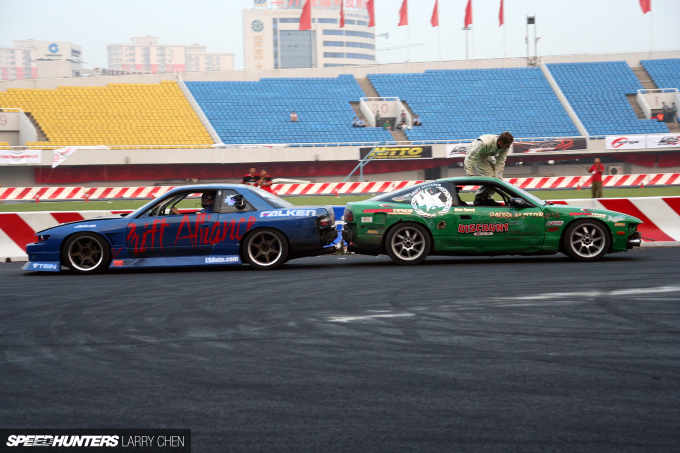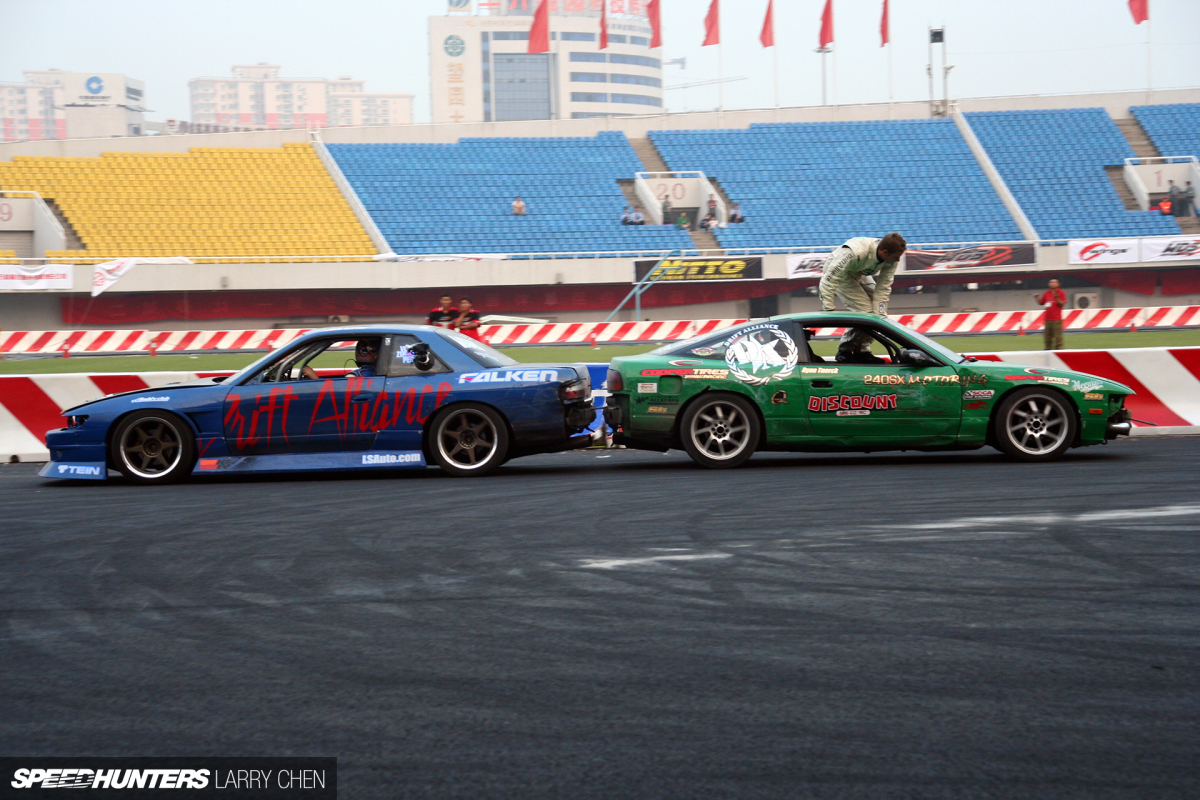 Here's something you don't see anymore – a Drift Alliance tug of war.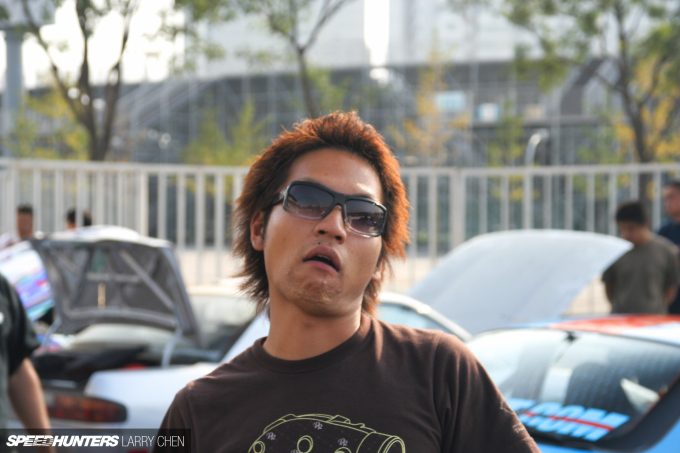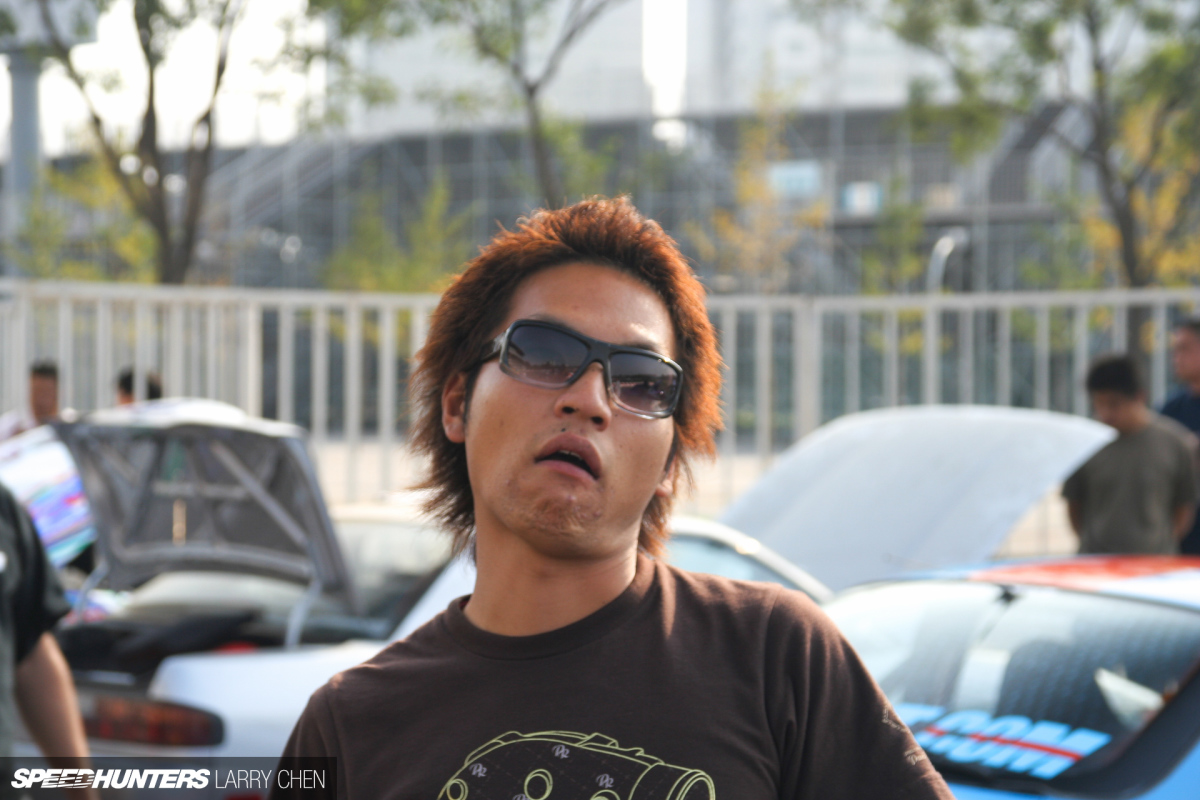 Daijiro Yoshihara was also out at the event, although he felt under the weather for most of the trip. It was probably something in the water.
At the time, none of the guys were champions; it's crazy for me to think that this was 11 years ago.
Although everyone was allowed to bring one mechanic, there was no way they could keep the cars running due to the terrible fuel. If I remember right, 85-octane is all that was available and every car except one was turbocharged.
Chris Forsberg brought out an SR20DET-powered Nissan 350Z.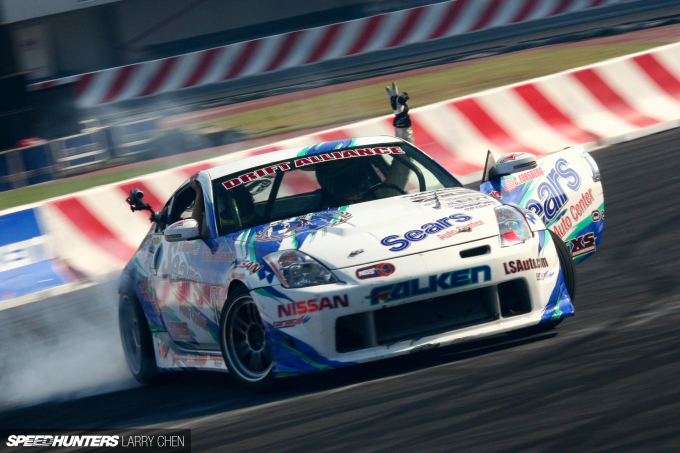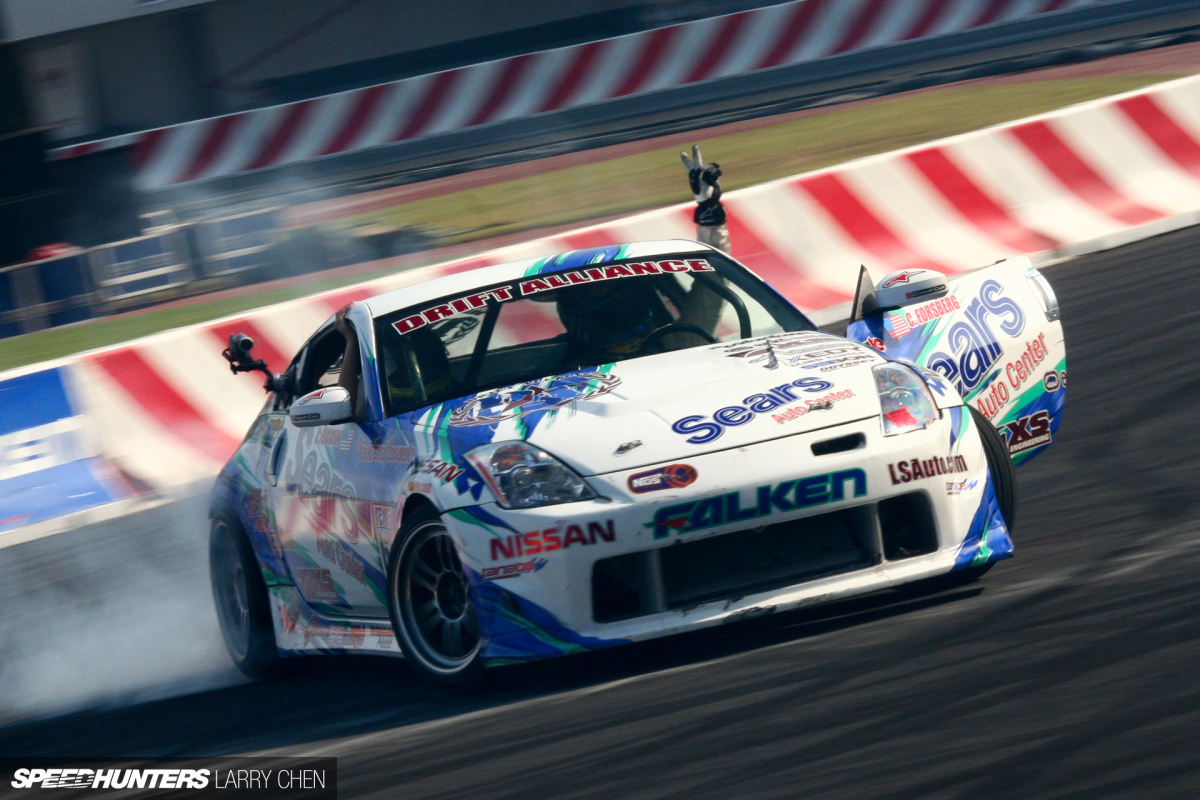 I find it really amazing how far drifting as a motorsport has evolved.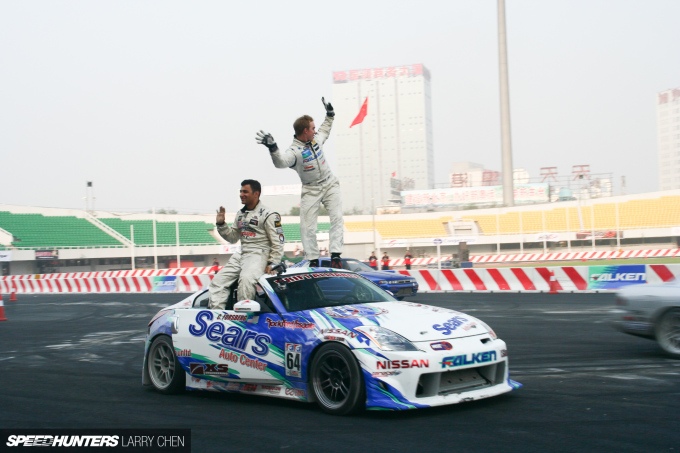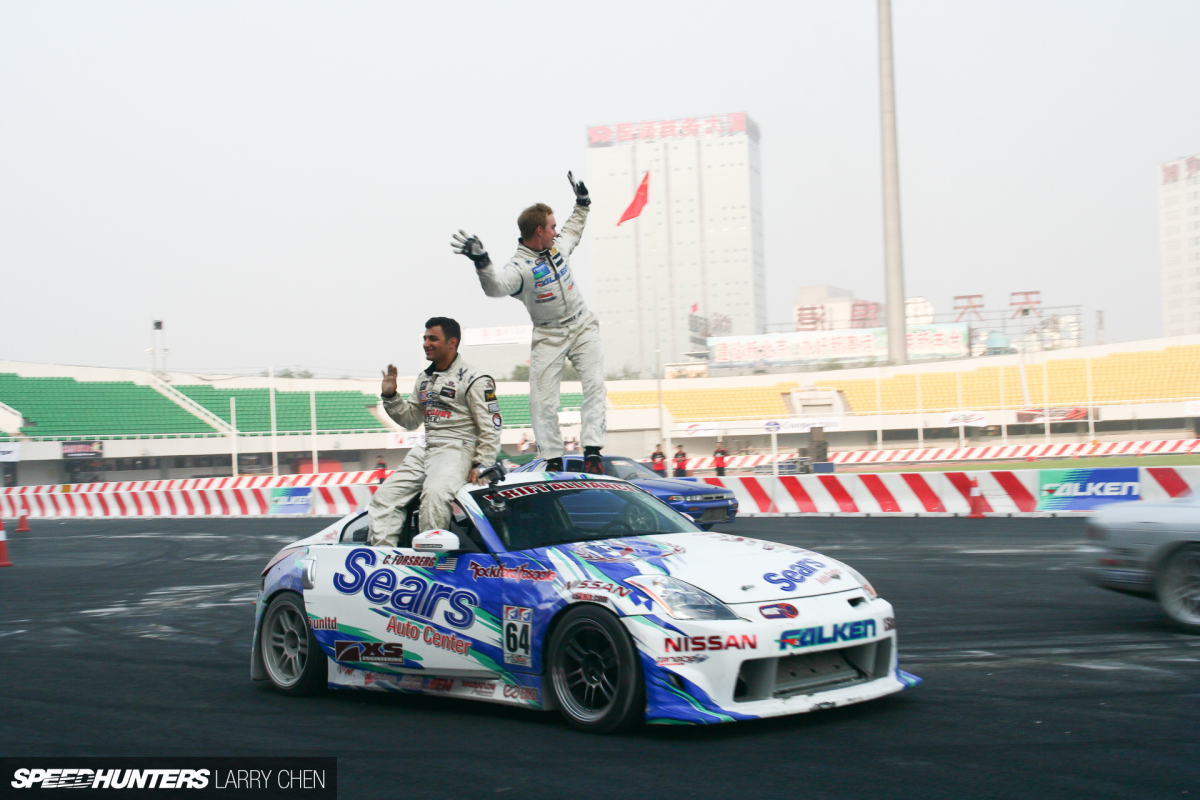 I doubt you would see these guys 'ghost-riding the whip' anymore.
The Wrecking Crew
Out of all the drivers, I probably knew Ross Petty the best, and we have stayed friends ever since. He was always the clown of the group, which was good because we were always in need of comic relief.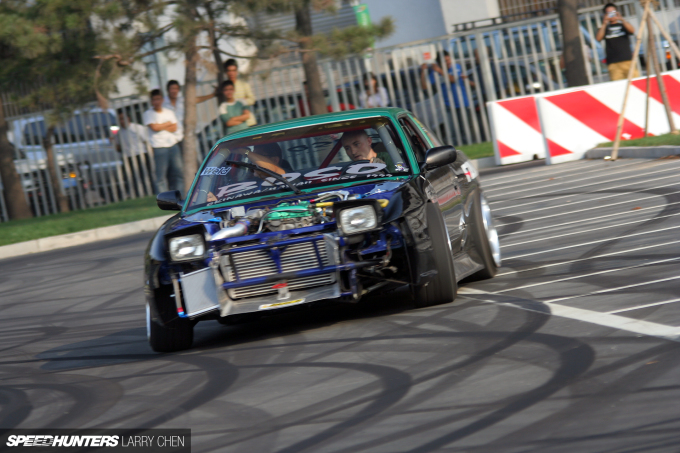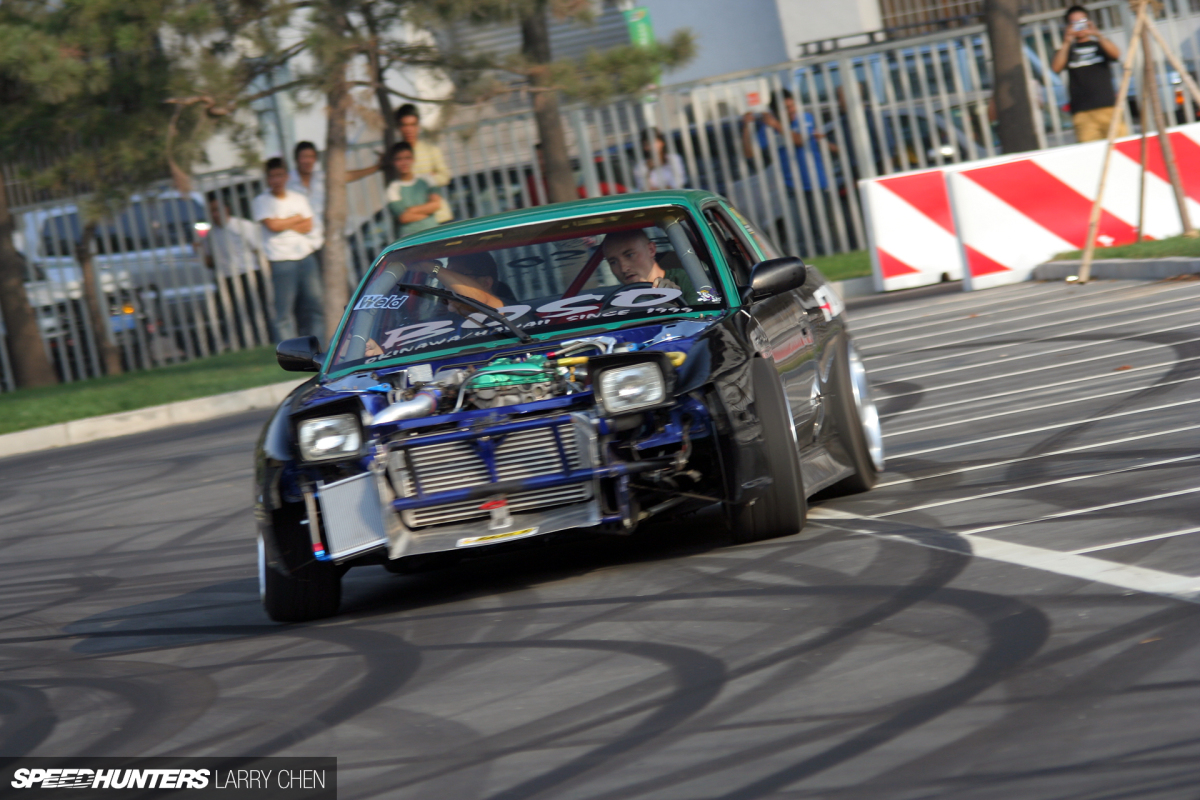 He brought out my favorite car of the 15. It had perfect fitment and style for the time.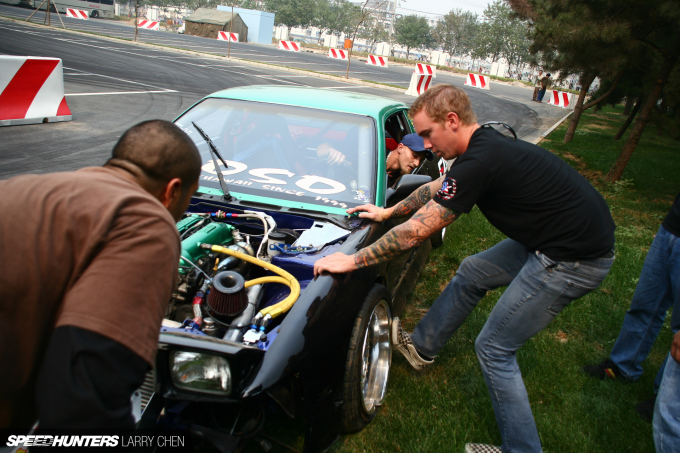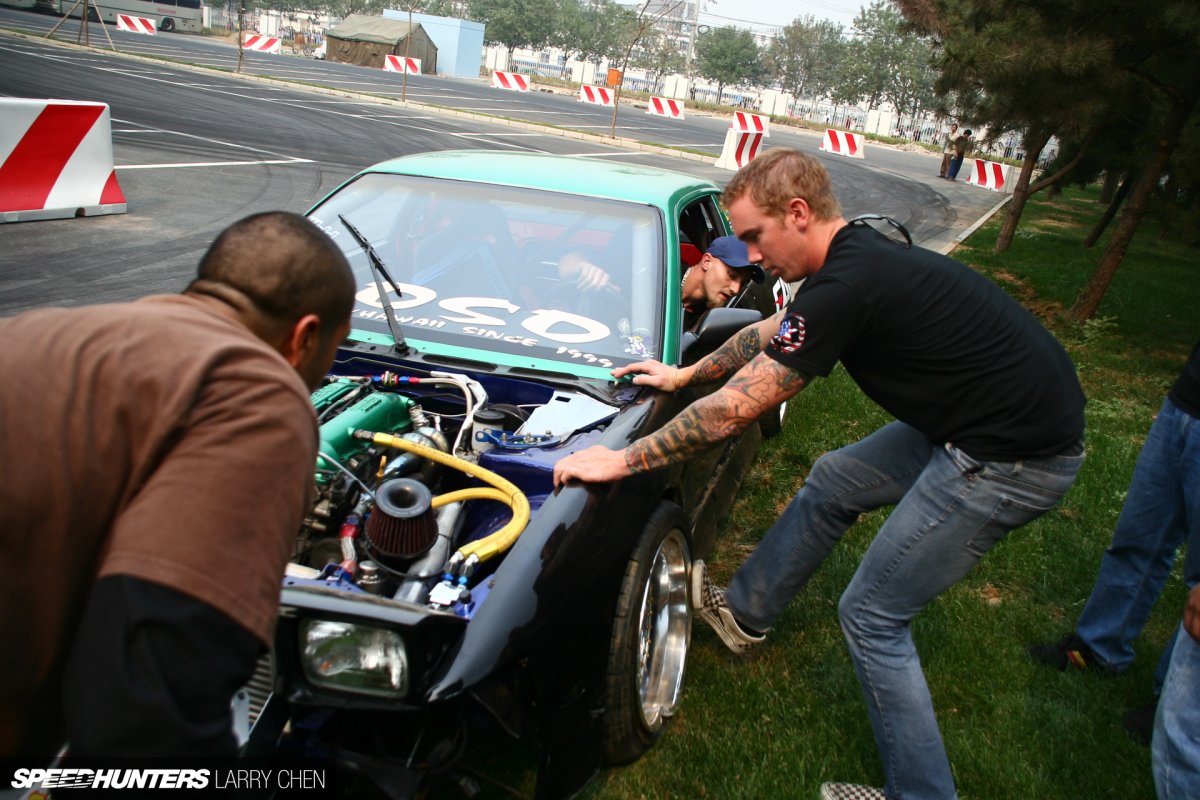 As we were waiting for the pavement to harden the boys were practicing outside in the parking lot. Here's Chris lending a helping foot after Ross crashed into the curb.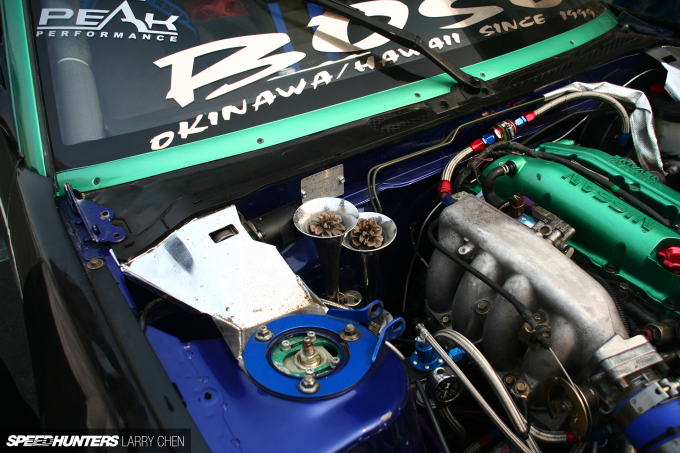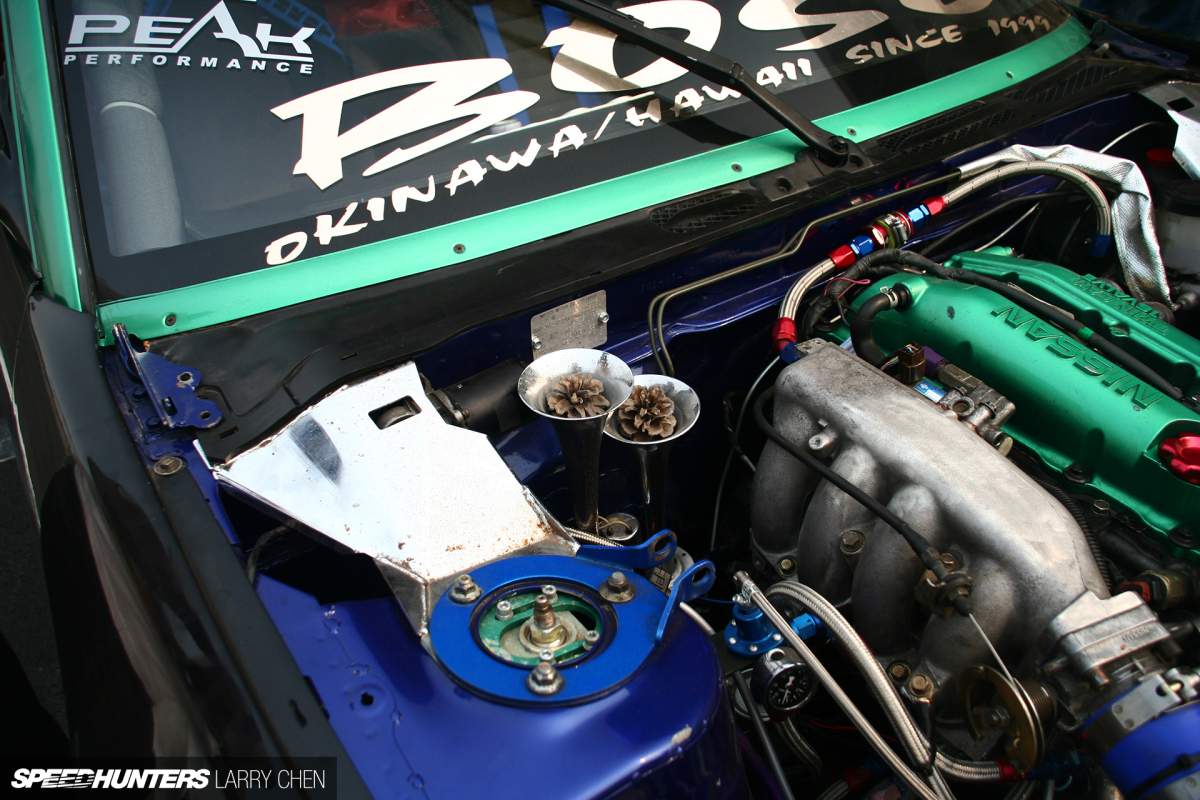 I will never forget it – he tapped a tree and two pine cones dropped perfectly into his air horns.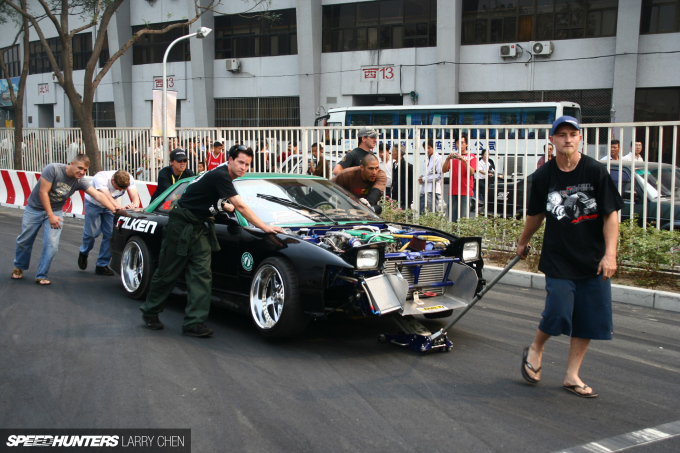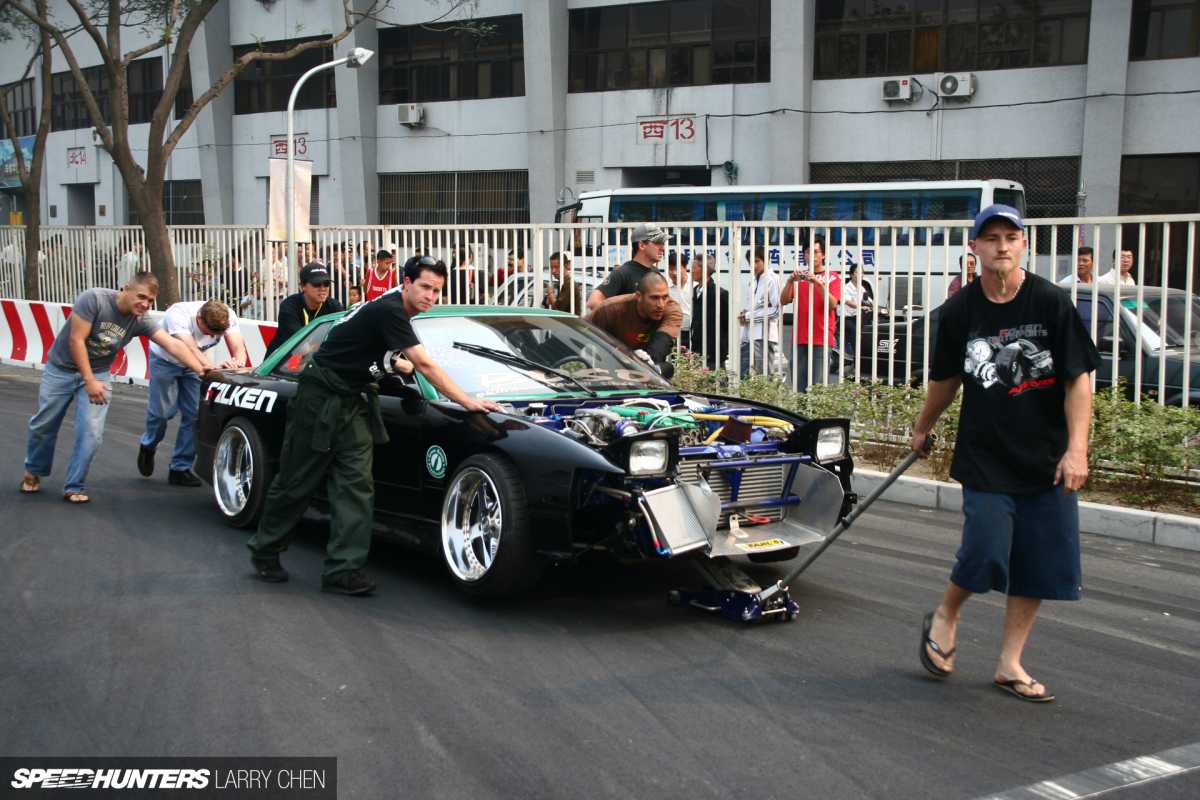 The guy helping push on the passenger side is Kevin Wells, who is currently the Formula Drift technical director.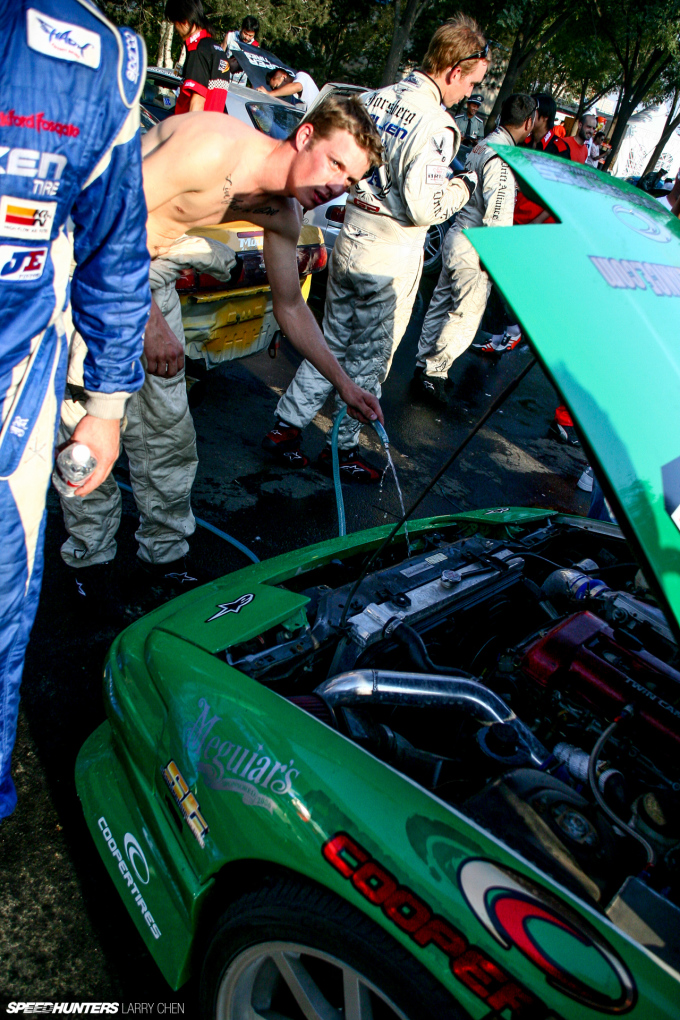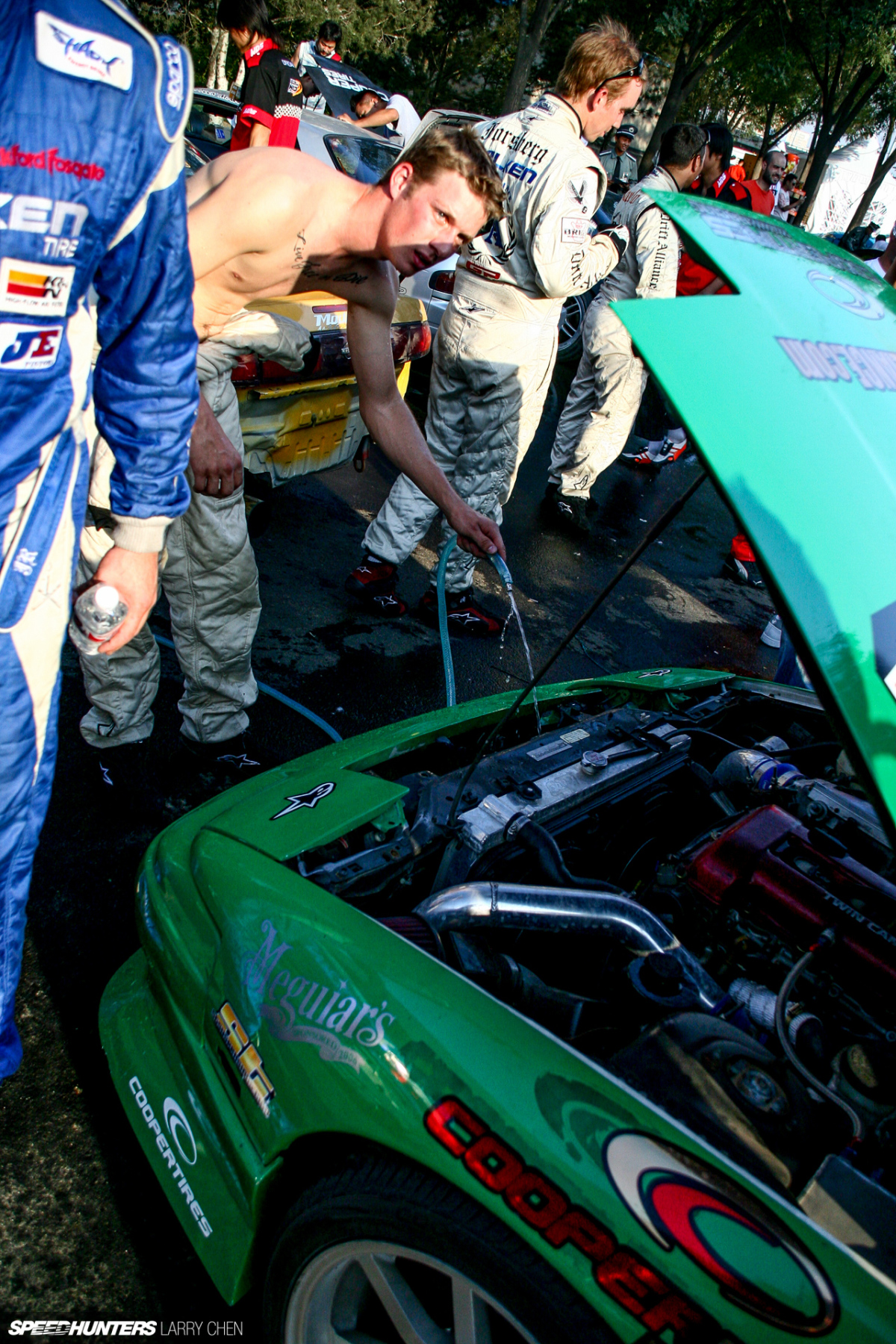 Ryan Tuerck with his shirt off, what a surprise! Due to the terrible fuel, headgaskets were blowing one after another and everyone's engines were overheating, but in an effort to keep the show going the cars were driven until they wouldn't drive anymore.
If you guys are wondering, I had a very basic camera kit back then. I was shooting with the first Canon Rebel XT, a kit lens and a $100 zoom lens that I am sure was made entirely out of plastic.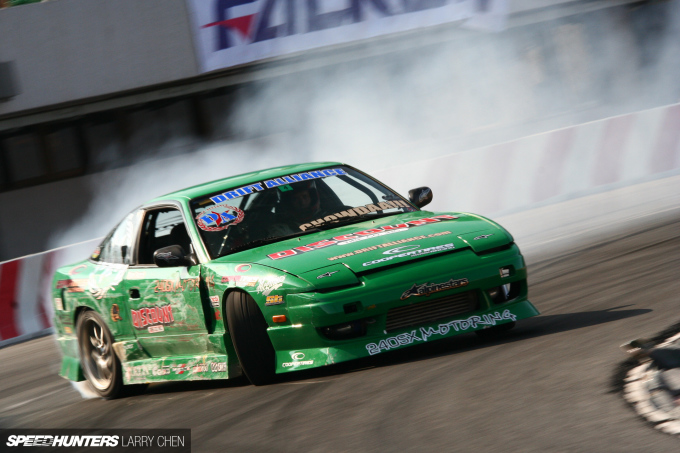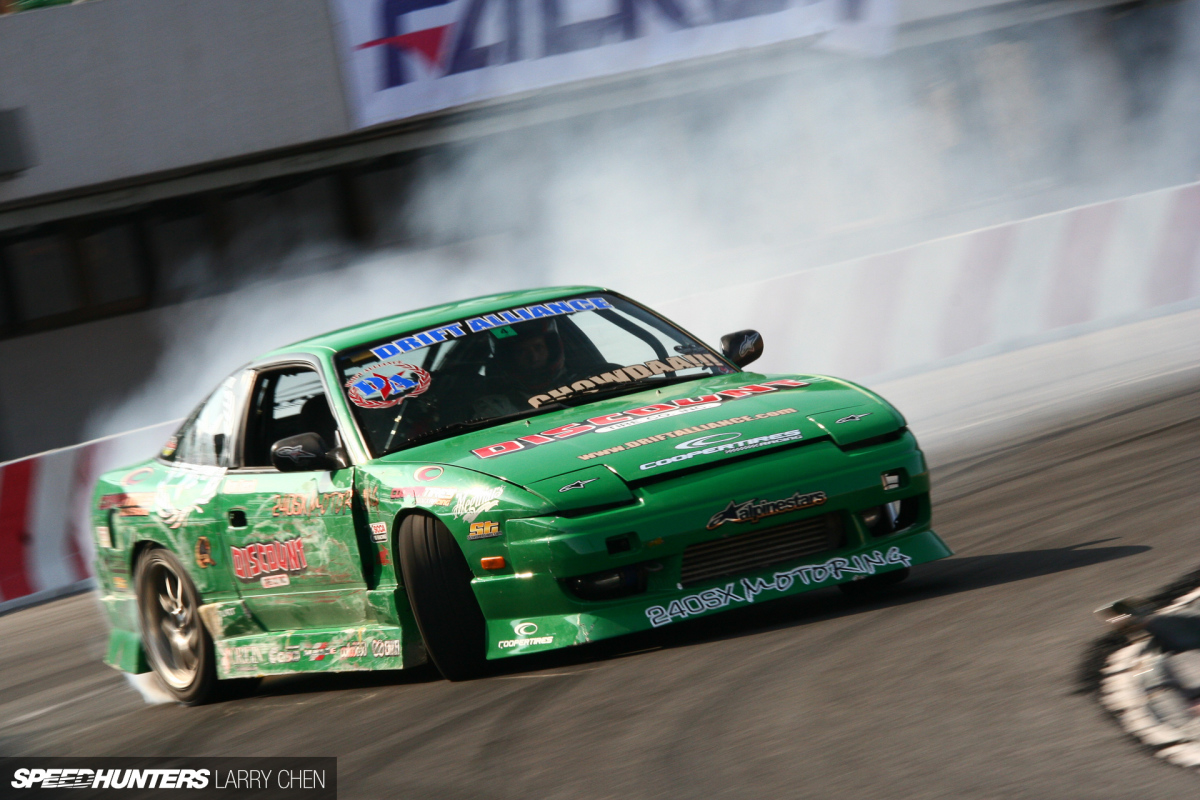 It's fun for me to look back on all these shots knowing that I still get to photograph most of these guys.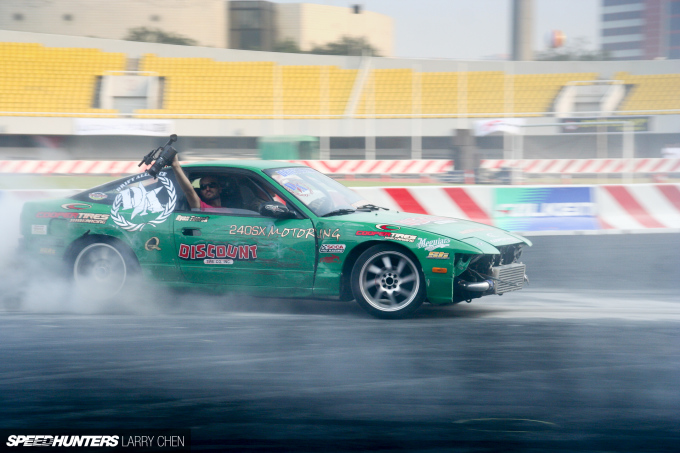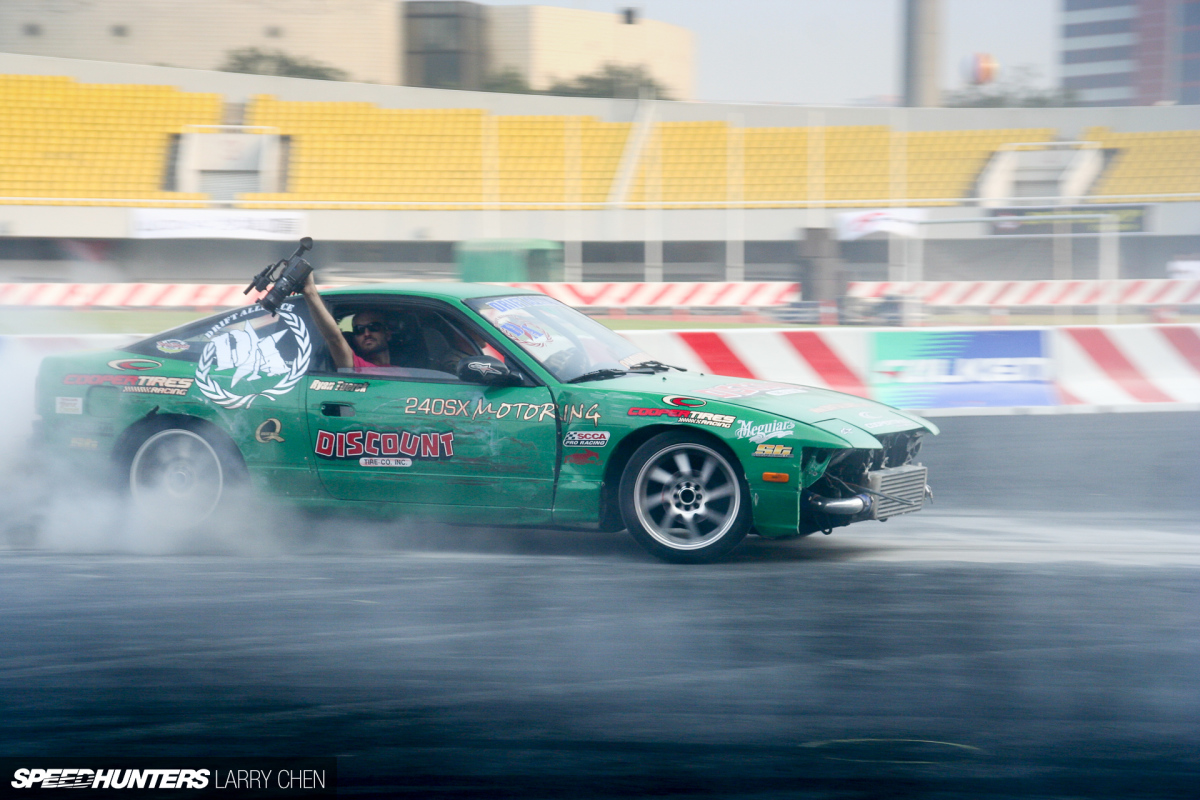 I love this shot of my buddy Andy Laputka. No helmet – no problem! Remember, this was before GoPros were really being used in motorsport, so video footage was captured on MiniDV tape.
The crowds were not massive, but not bad considering it was the first time something like this had ever shown up in the city.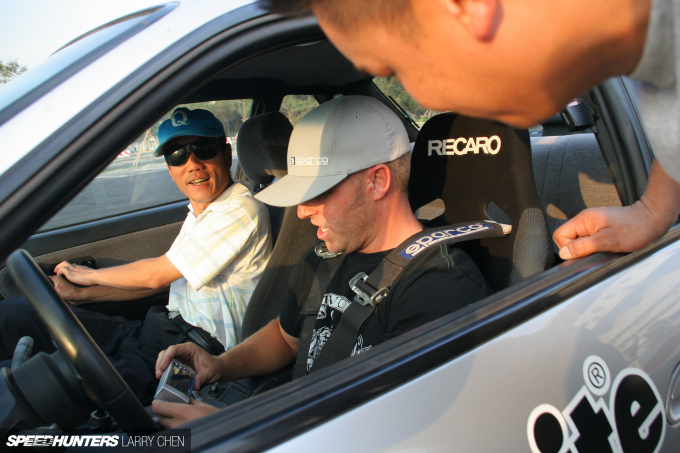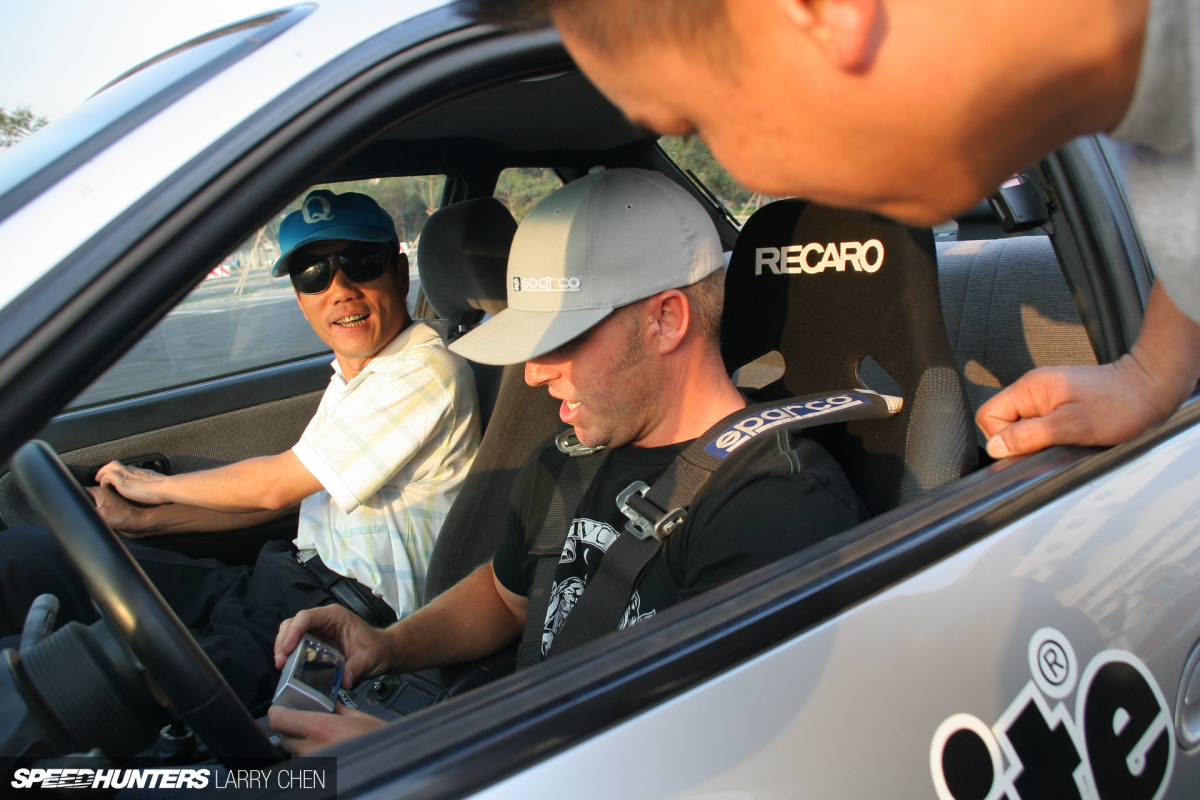 Tyler McQuarrie was another driver that made the trip over to China to drive.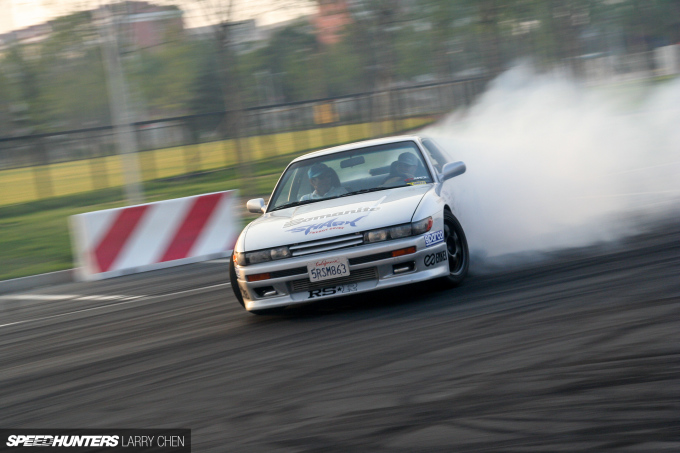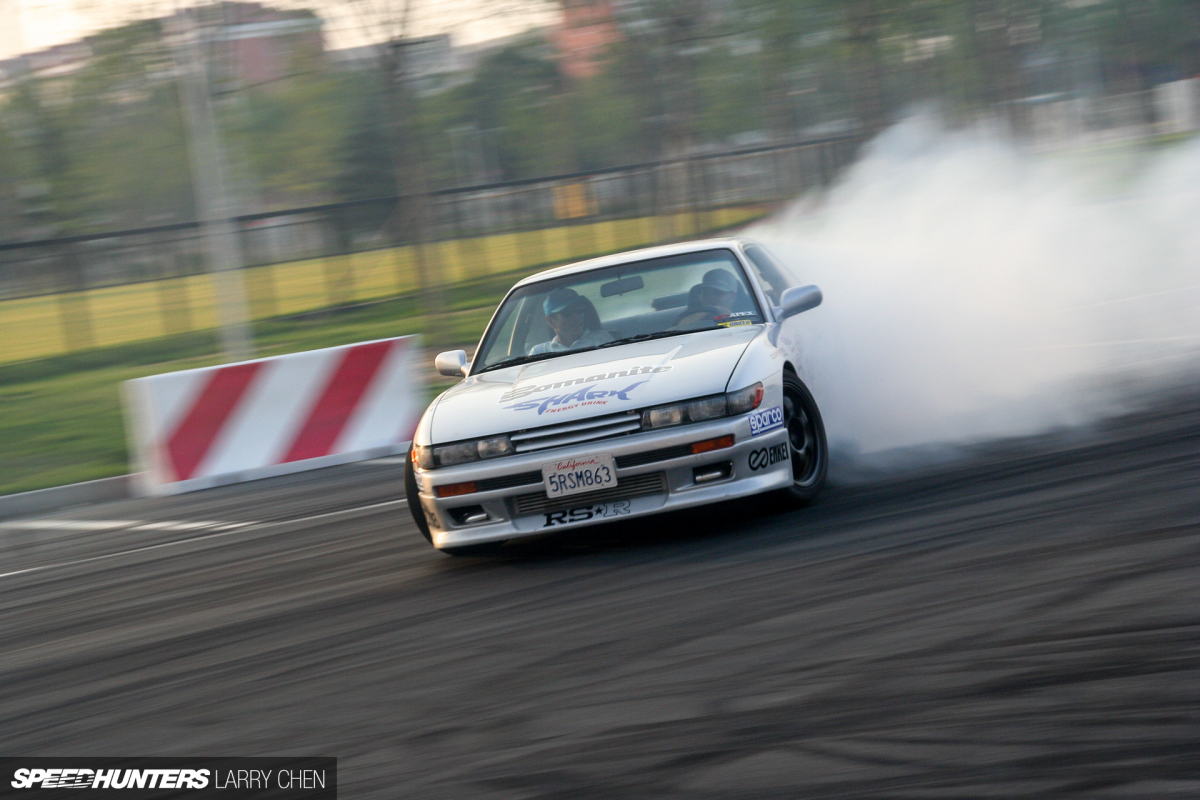 I can honestly say he was the only one who didn't crash or blow up his car.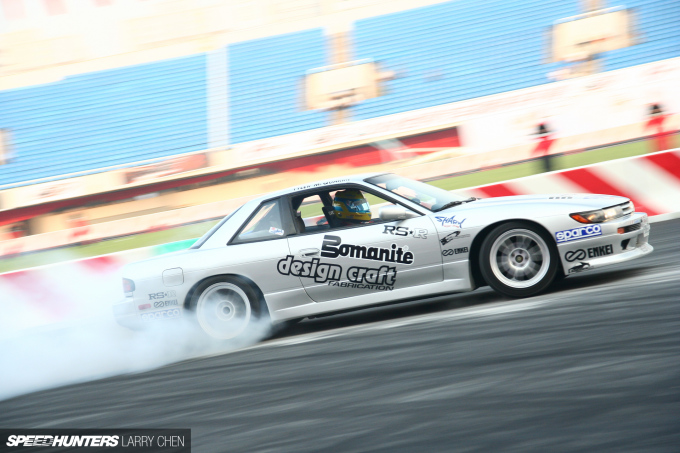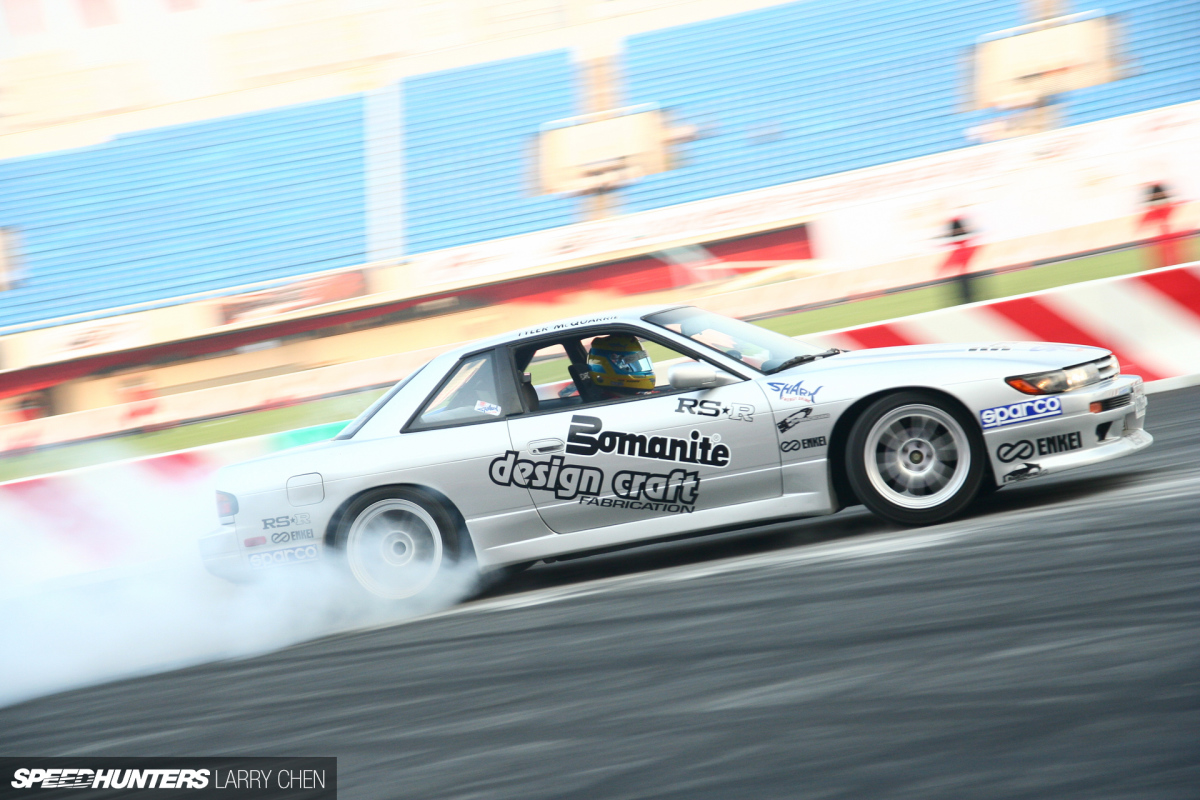 I think part of the reason why is because he was borrowing the S13 from a friend, and it was even for sale.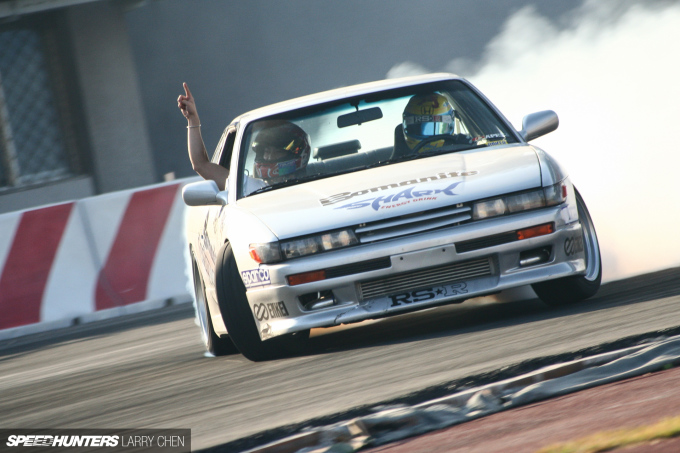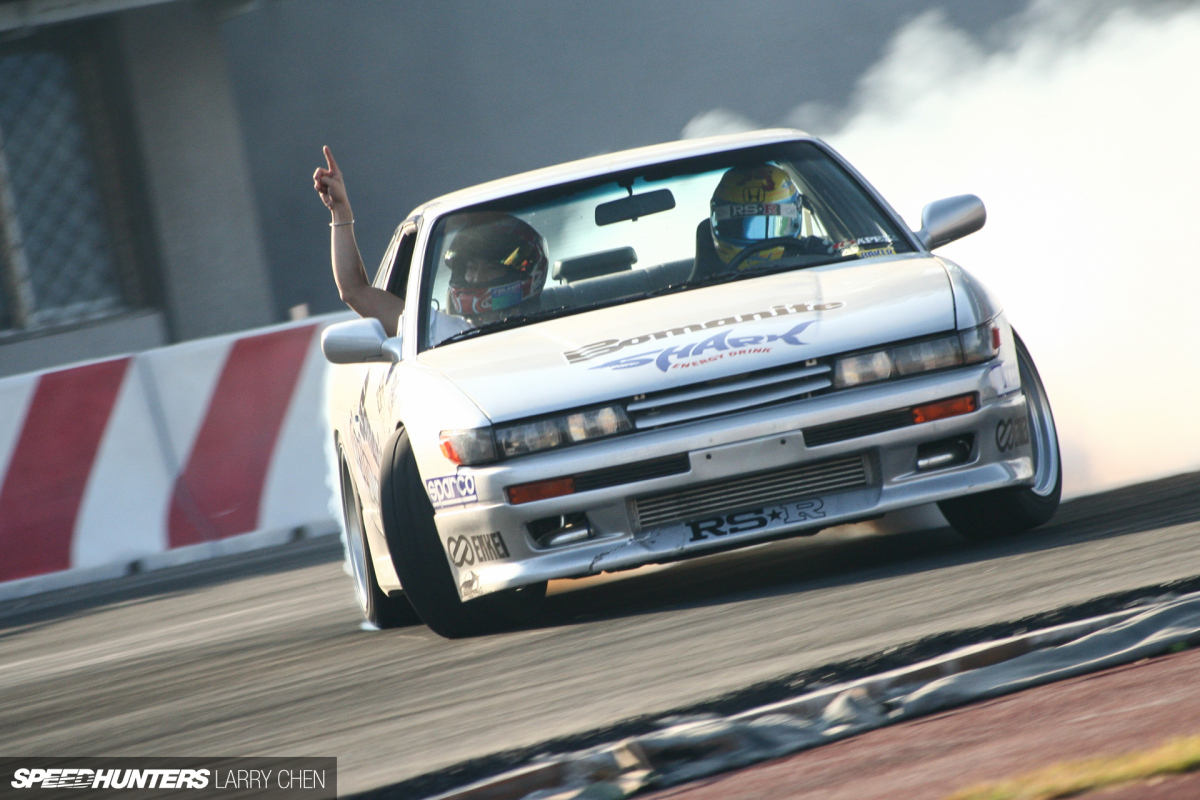 Heck, I'd drive this thing on the street today!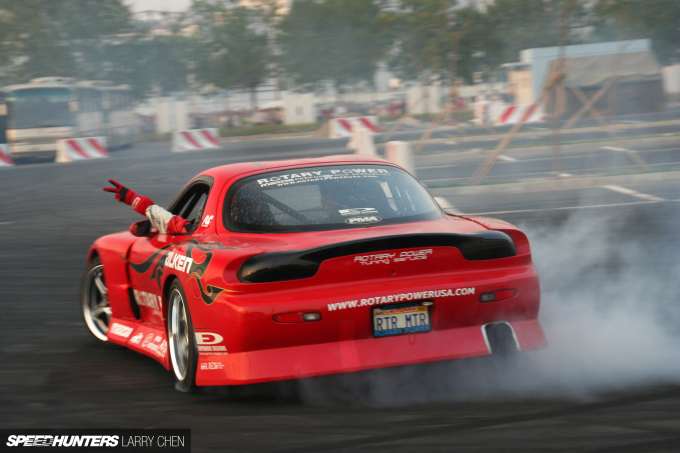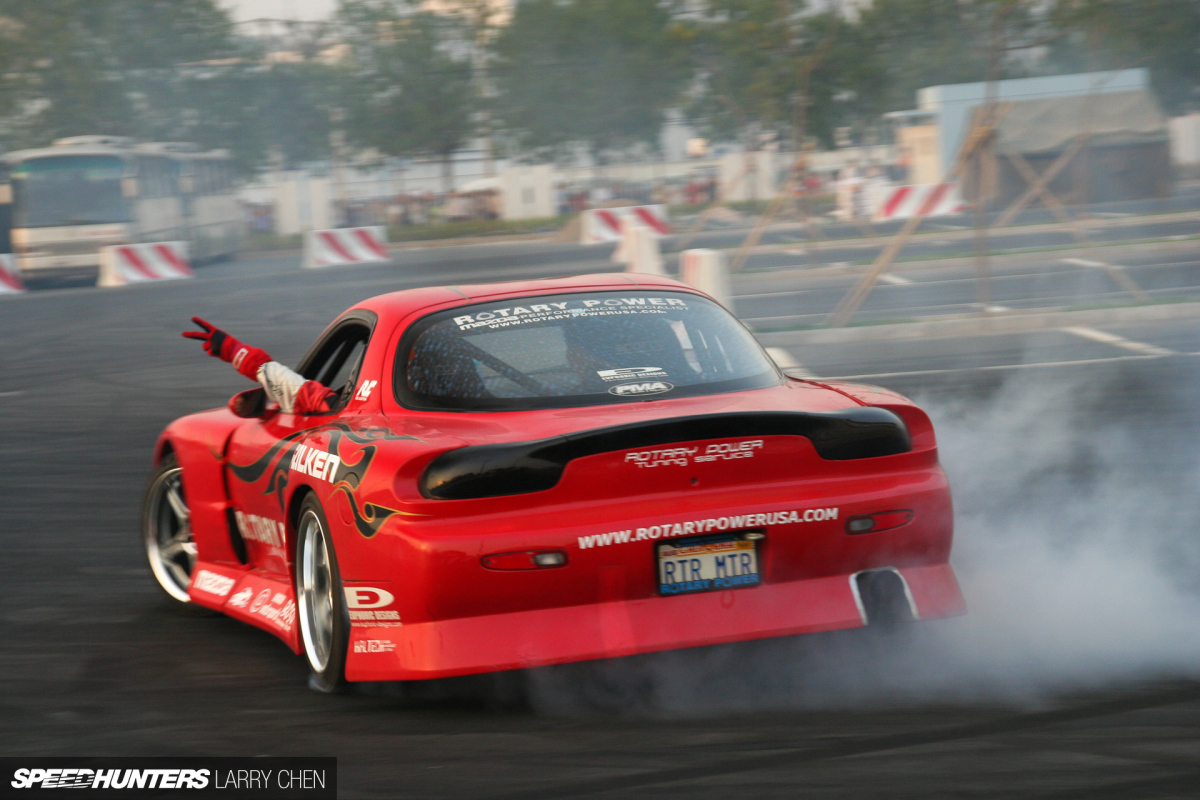 Most of the other guys that came along don't compete professionally anymore, including 'Weapon H', also known as Ryan Hampton, who was driving this Rotary Power FD3S Mazda RX-7.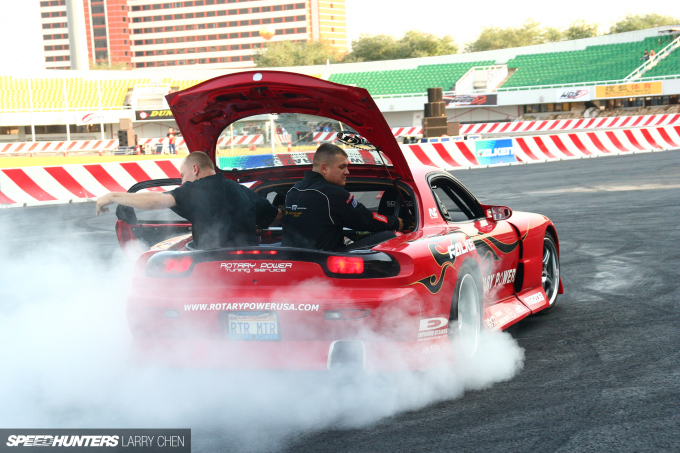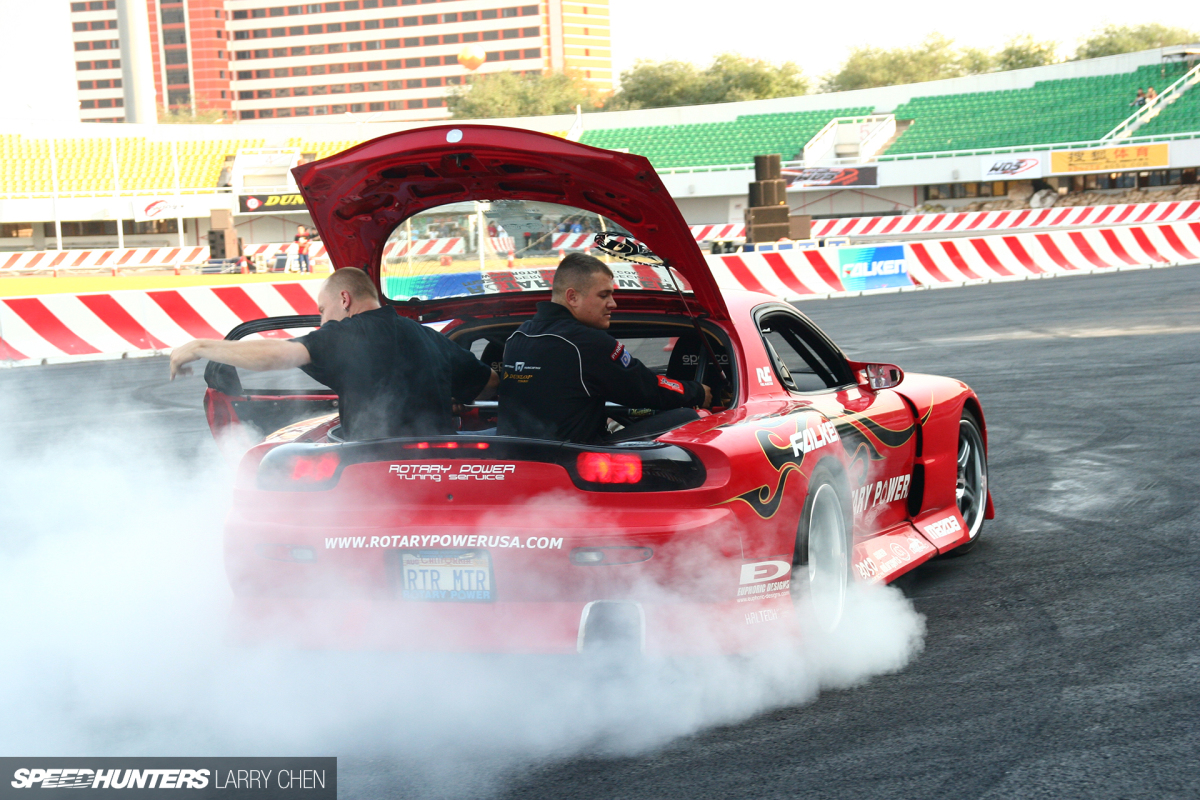 I don't think the motor blew up, but I know the transmission got torn to bits. I can't imagine why.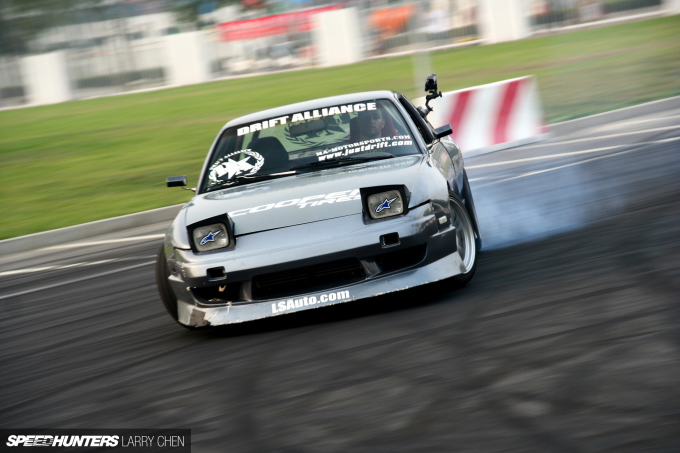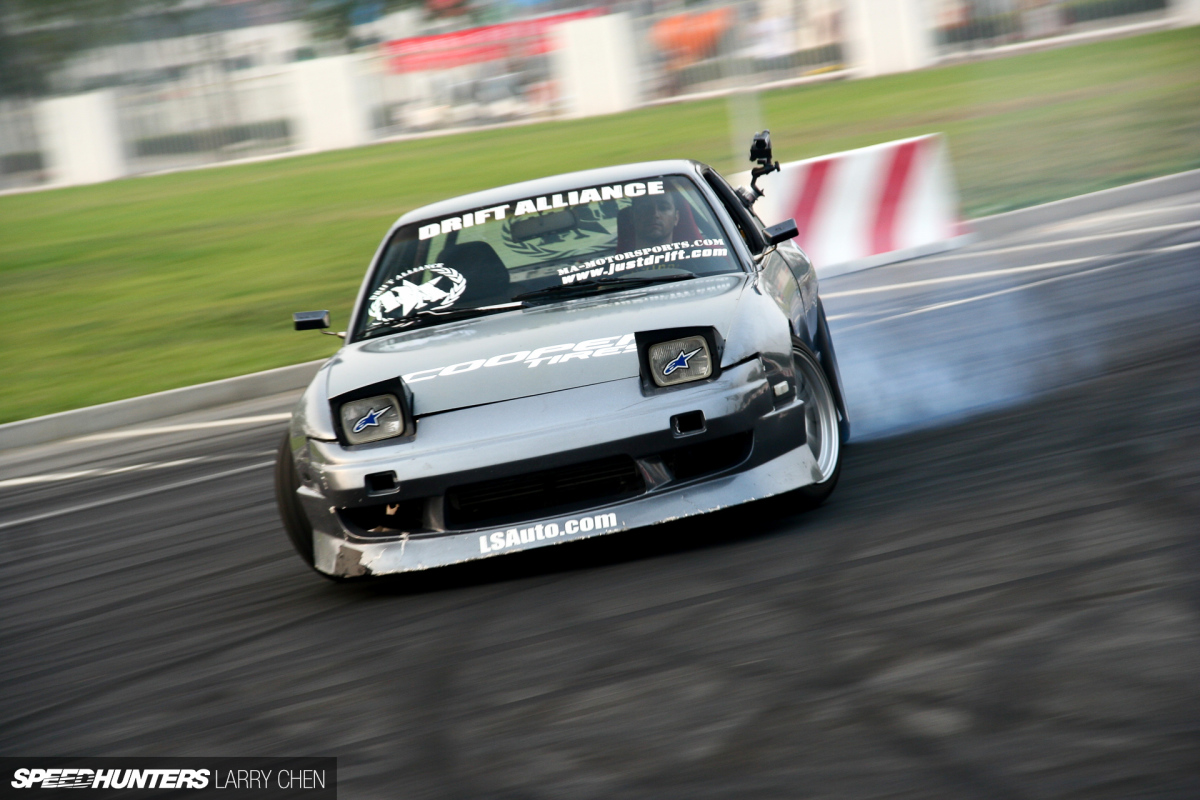 Tony Angelo was also driving; you can find him at Hot Rod Garage now doing all sorts of cool videos.
Drifting In China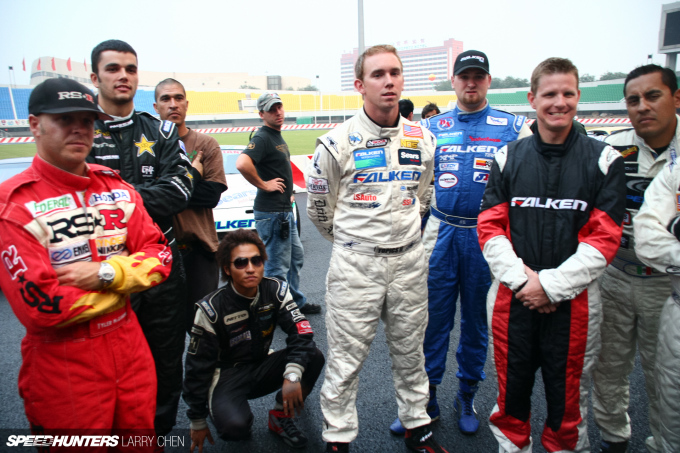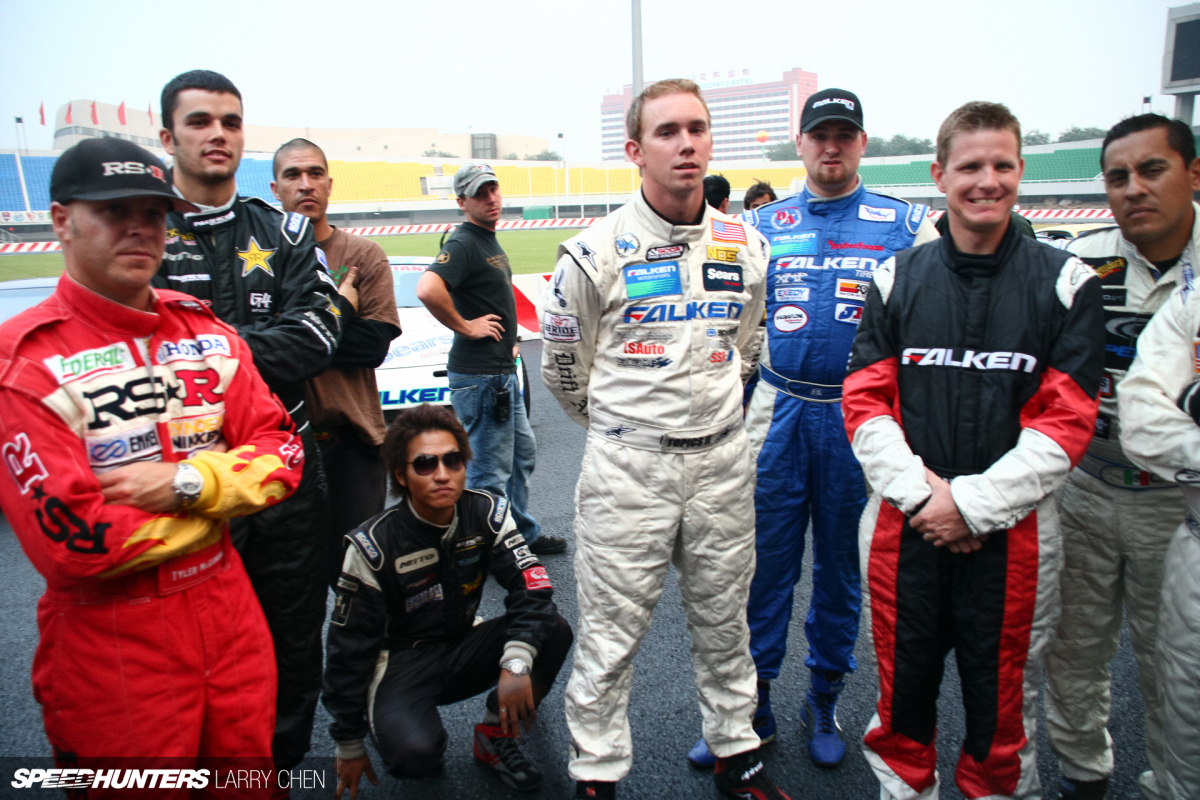 Look at these young guns! Ben Schwartz (in the Rockstar suit) is still part of Formula Drift, but he spots for Ken Gushi now and works for GReddy USA. The guy on the far right is Casper Canul; we always joked around that he was the world's best Mexican drifter.
The locals thought it was just the craziest thing they had ever seen. I probably looked like this the first time I got out of a car with a roll-cage.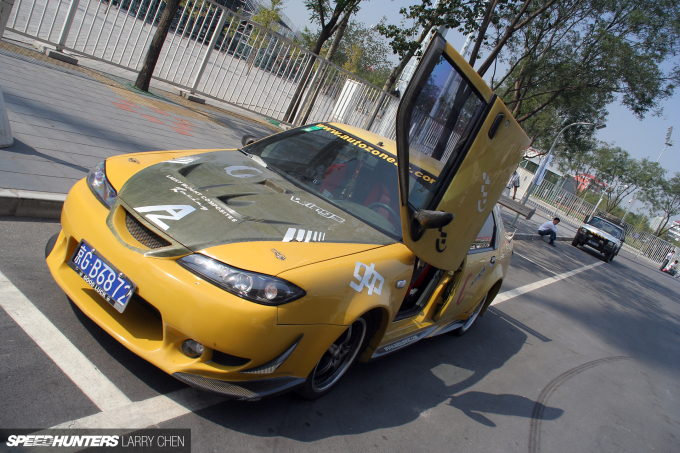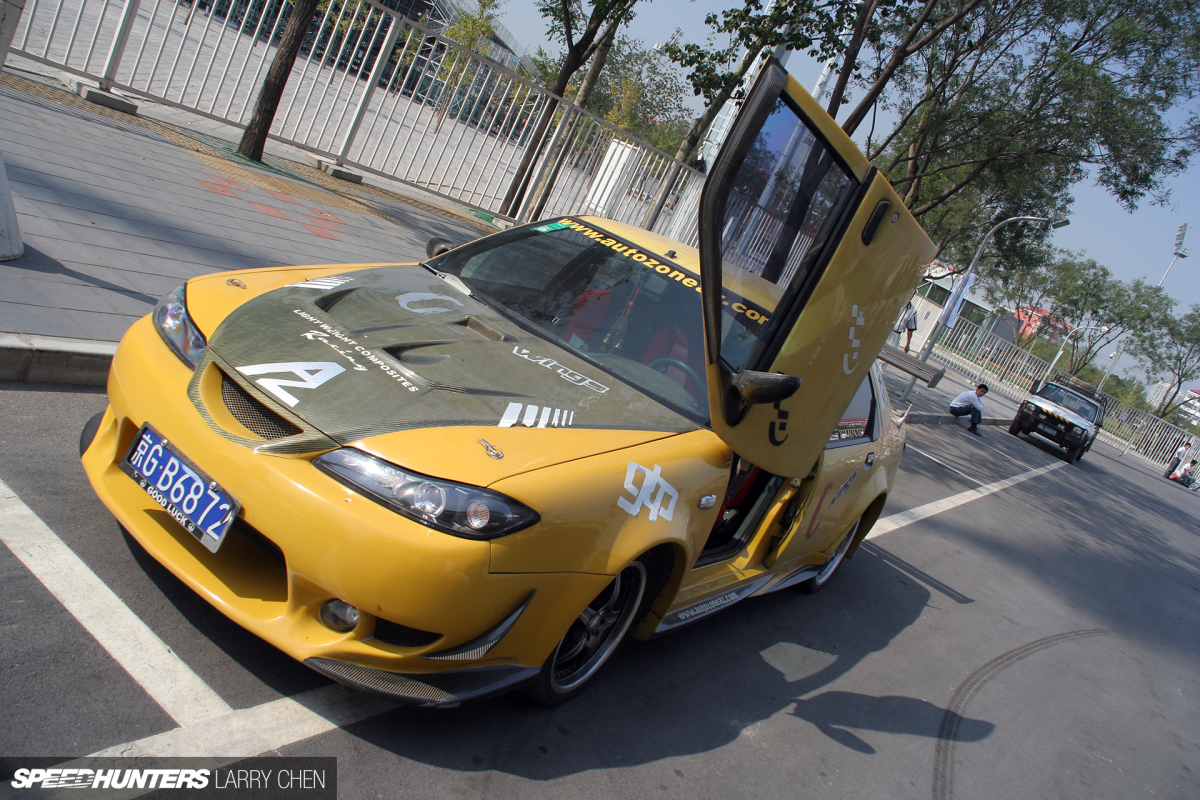 Some of them even brought along their own drift cars.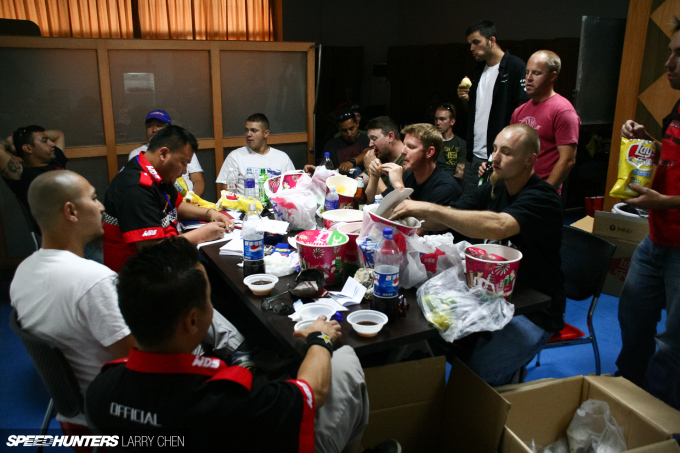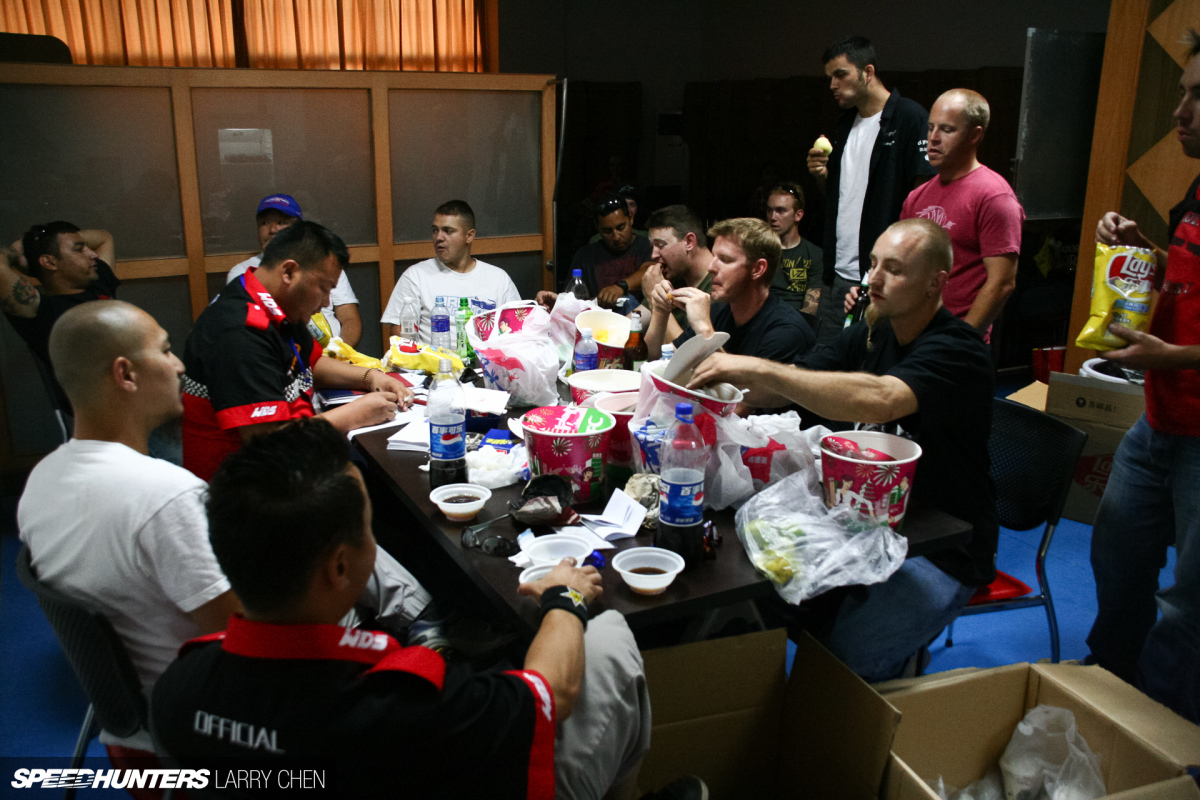 The local cuisine that we feasted on every day and night was none other than the finest Kentucky Fried Chicken, as there was not much else to eat that was safe. You might think I'm joking, but I am completely serious.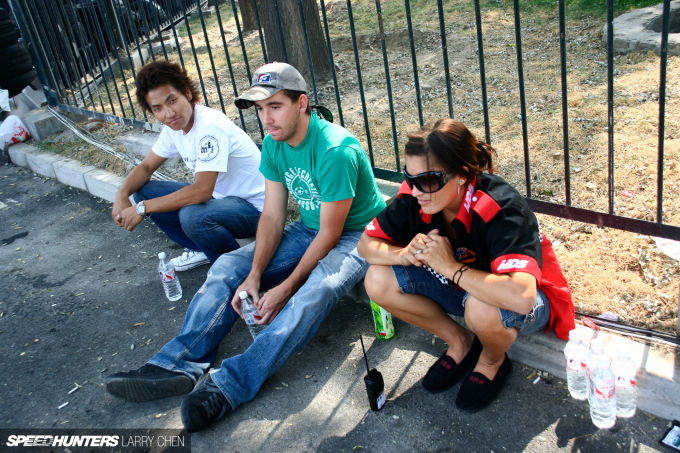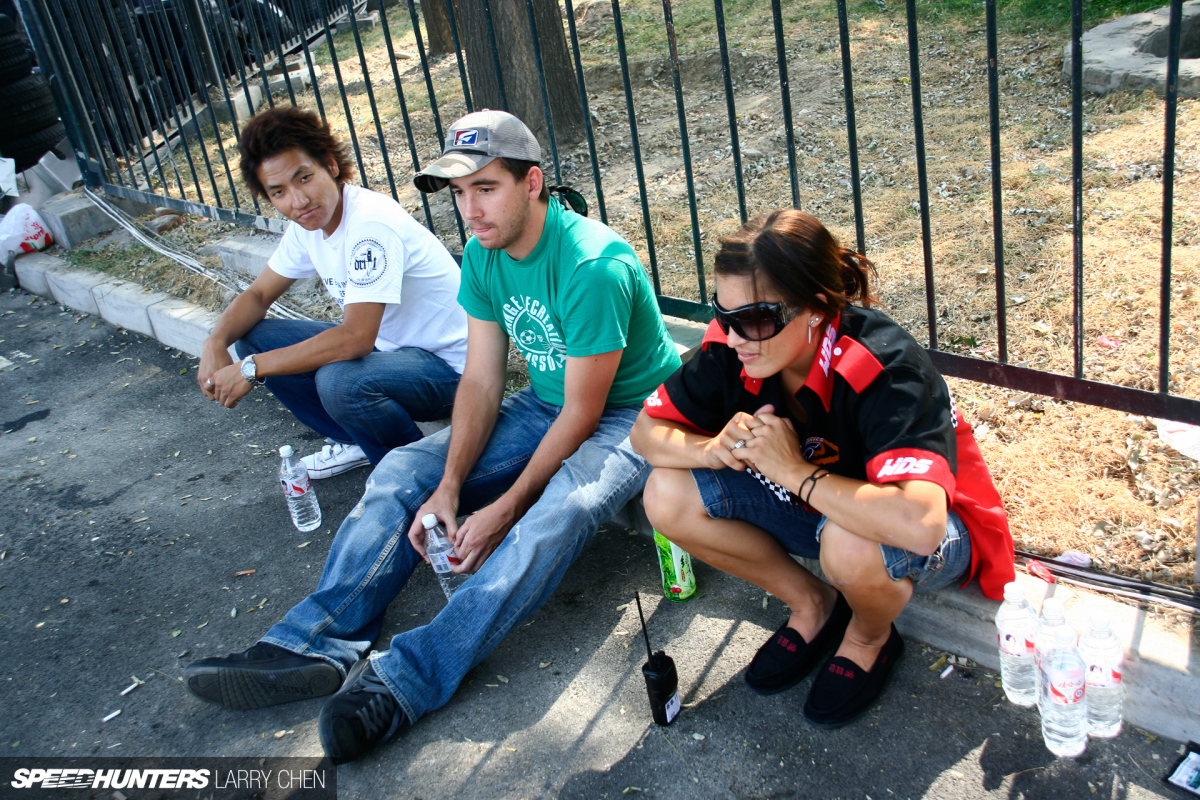 Just look at Dai looking like a thug; now he's a FD champion and a father. Boy, times have changed.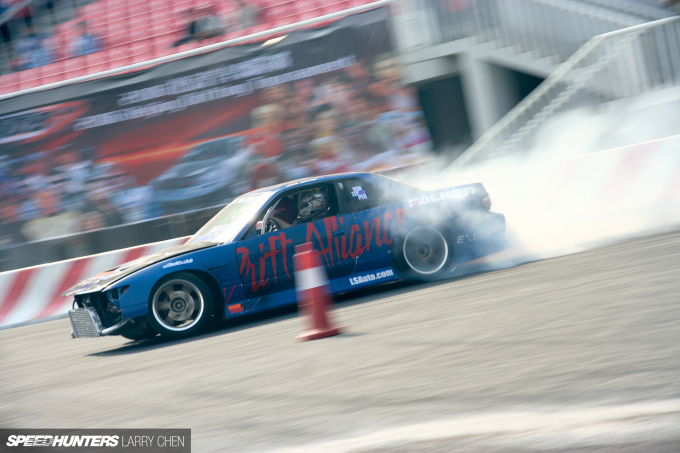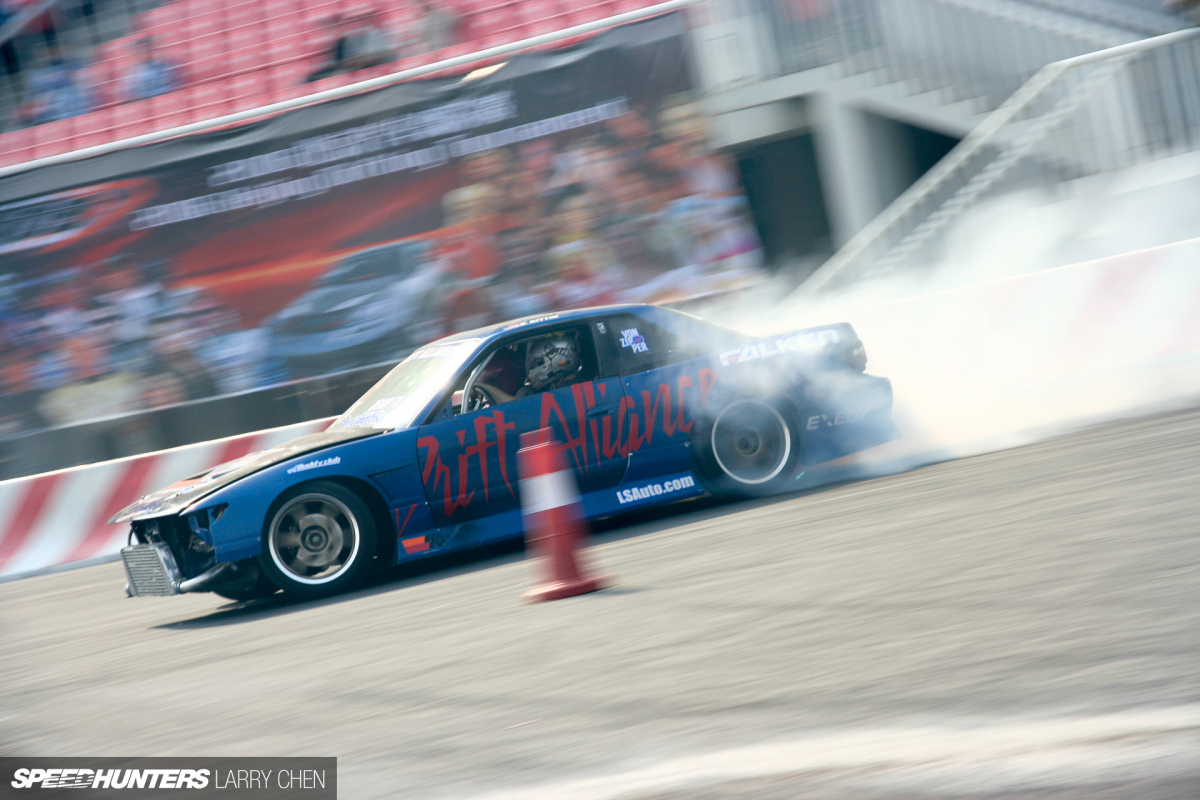 If anyone ever feels the need to hate on Vaughn, just come back and look at these photos. He didn't just start at the top.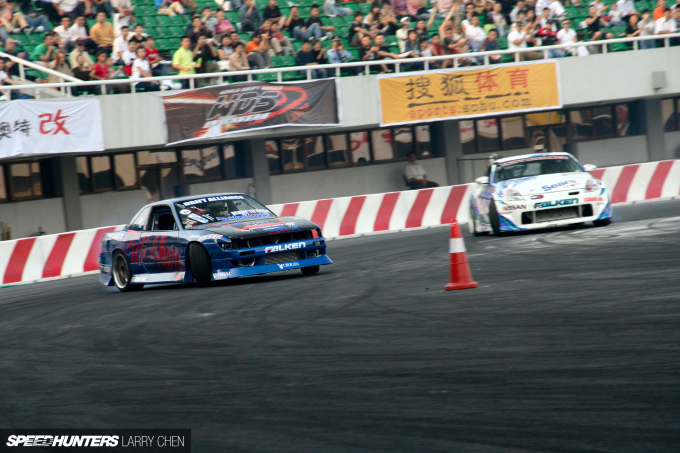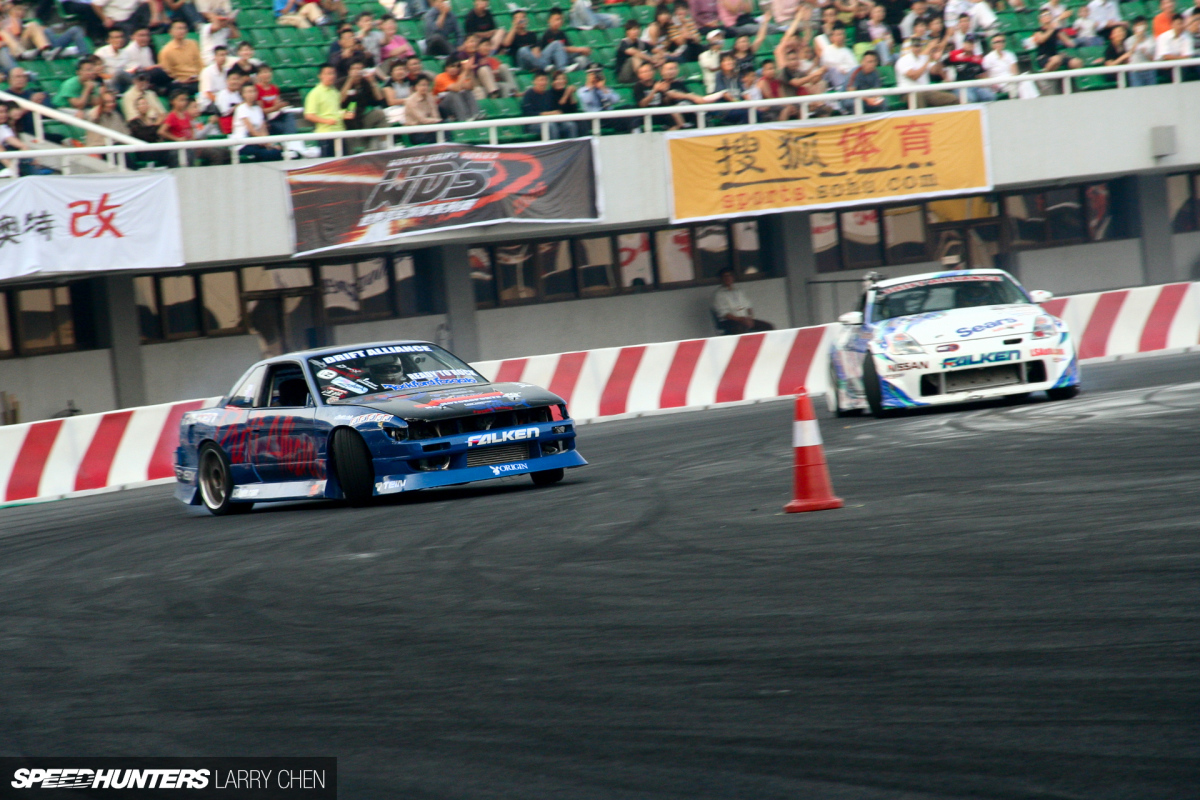 Vaughn told me that one of these days he is going to restore his S13 to its former glory, and right down to the original Falken Tire colors it ran in competition. I can't wait to see that.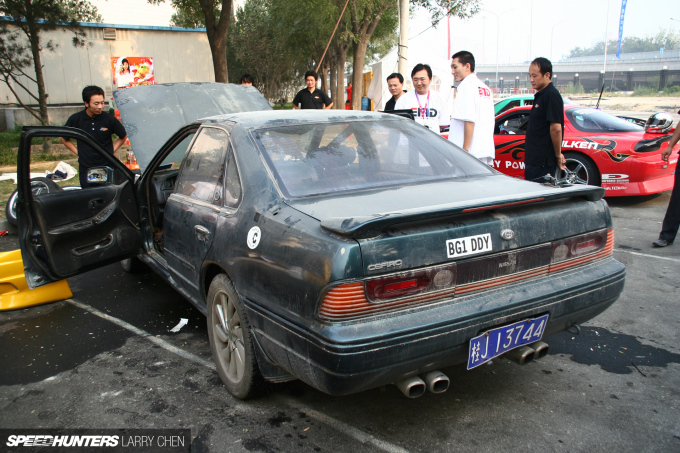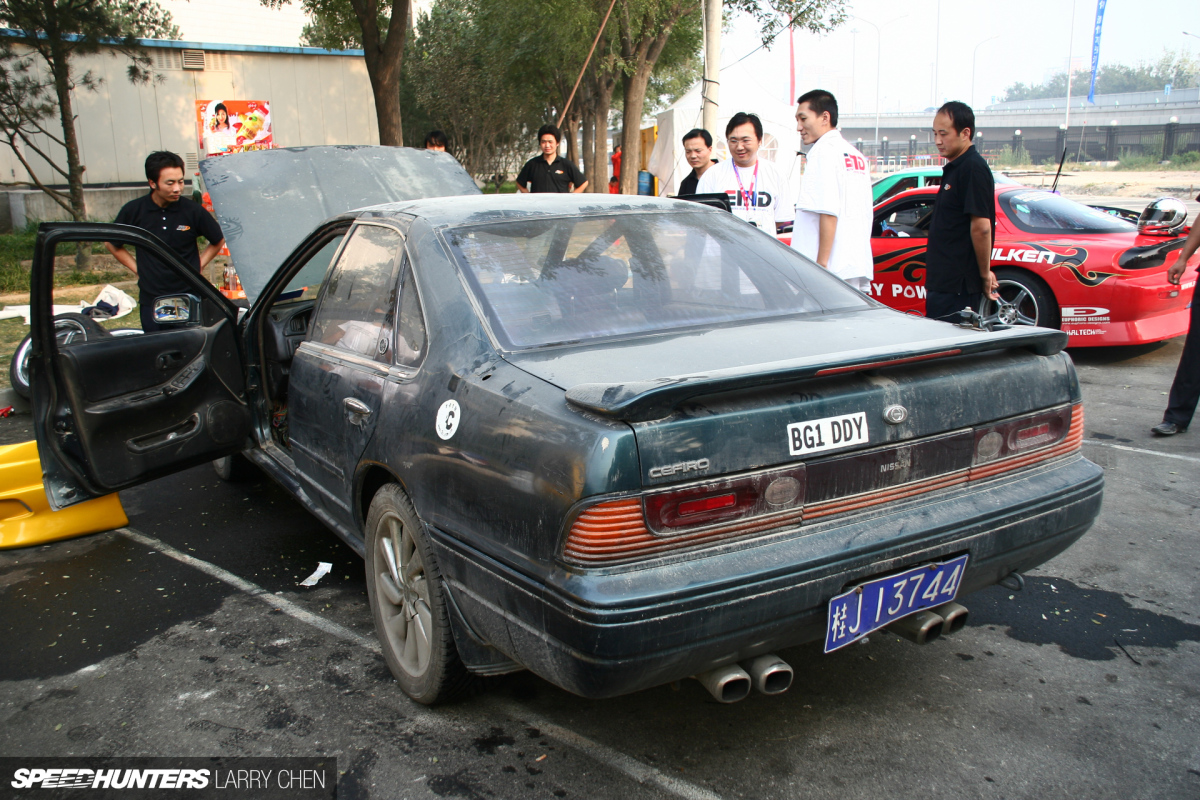 Because most of the cars were blown up or out of commission, someone had the bright idea of renting local cars that were imported from Hong Kong. If I remember correctly, this A31 Nissan Cefiro had a V8 swap and an open diff. It lasted maybe 15 seconds on track before it blew up.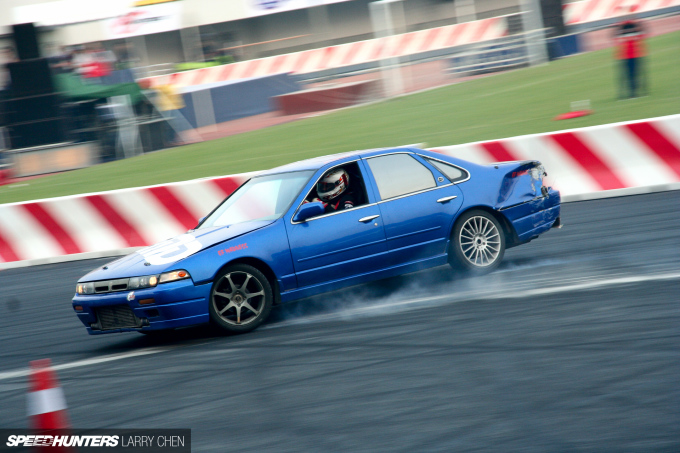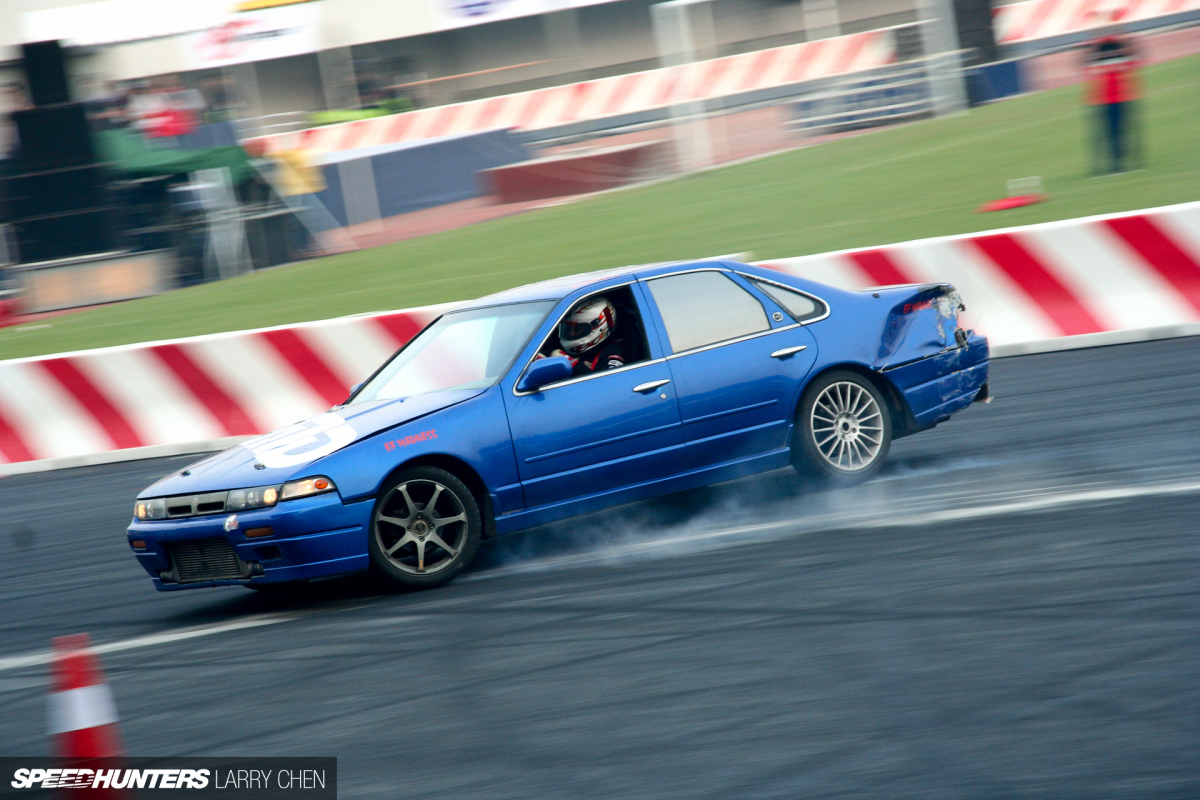 This Cefiro lasted a bit longer, but the body was damaged beyond recognition. The guys ended up giving the owner a truckload of tires as payment for his damaged car.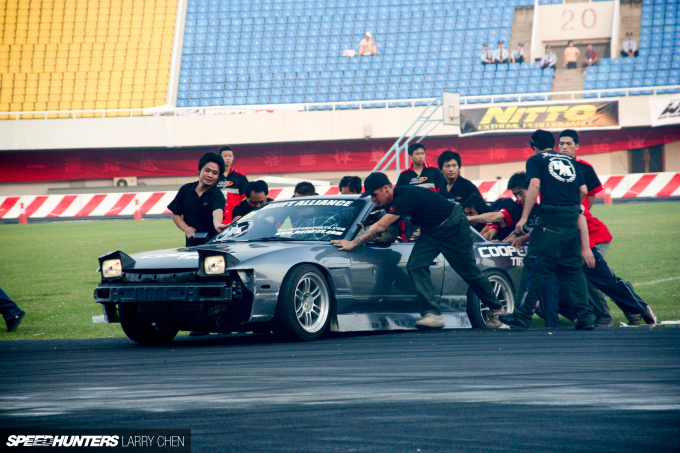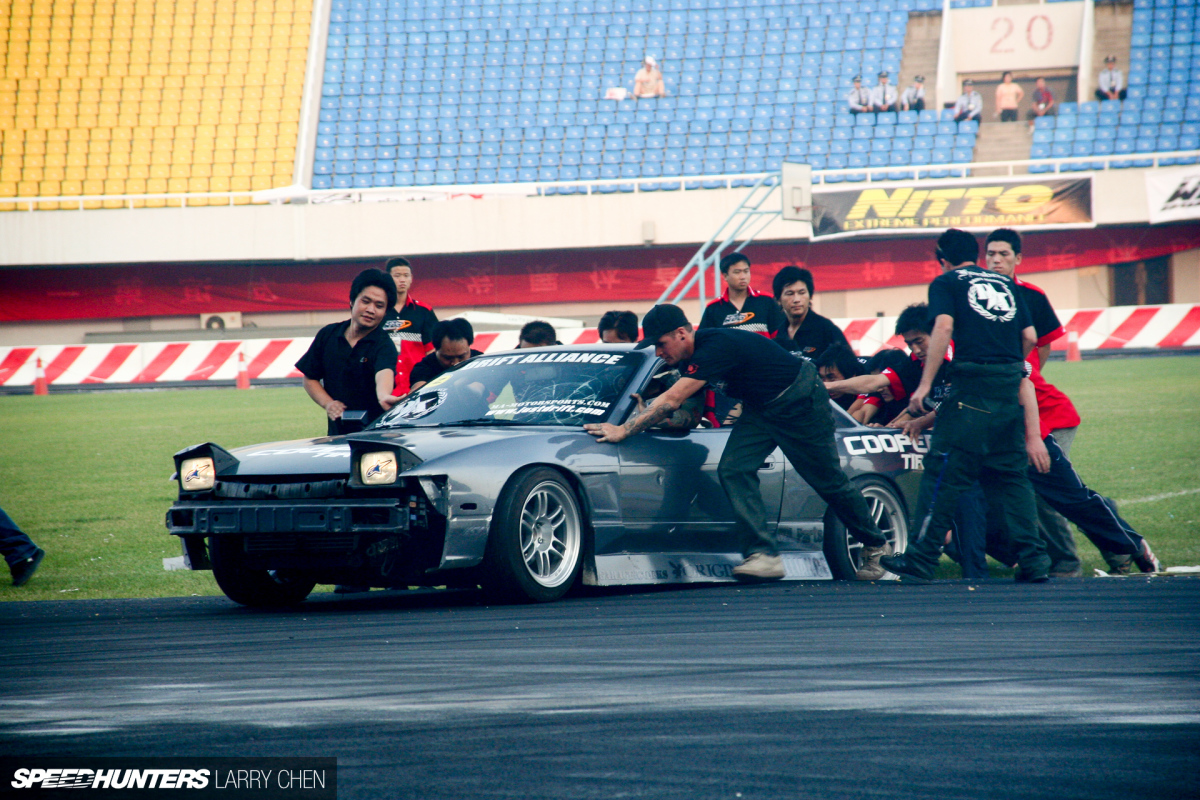 Overall, it was an amazing experience and it opened the doors for me to follow the series for nine more years.
In 2007 it became an actual competition, pitting drivers from all over the world against the best local Chinese talent, hence the name: World Drift Series China.
If you guys enjoyed this retrospective story, I'll be happy to touch more on the early years of my adventures behind the lens. Make sure you let me know in the comments section below.
Larry Chen
Instagram: larry_chen_foto
larry@speedhunters.com