To the uninformed, Africa is a place where people ride on elephants instead of in cars, and lions and other wild animals roam the streets. But if you dig a little deeper, it's so much more, with ridiculous car culture and pretty crazy builds to be found. You just need to know where to look.
My name is Stefan Kotzé, I'm from deep, dark Africa. Well, more specifically, South Africa. I've been a total car nut since I was a first grader in 1994, when the totally over-the-top, but totally awesome at the time TV show Viper first aired. From that moment on I was forever hooked on cars, spanning die-cast models, Scalextric, R/C cars and eventually real cars.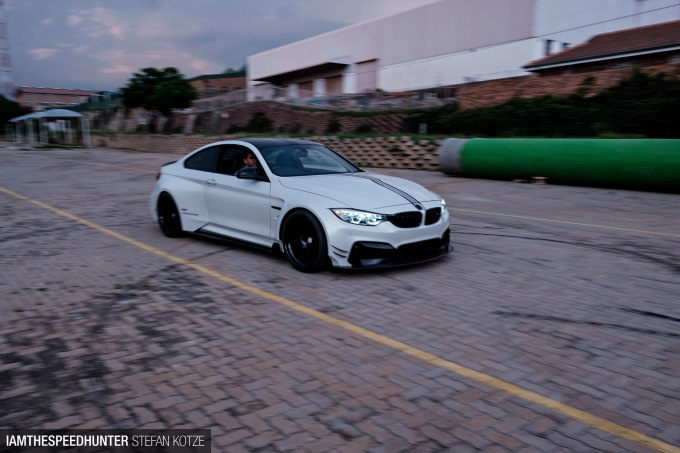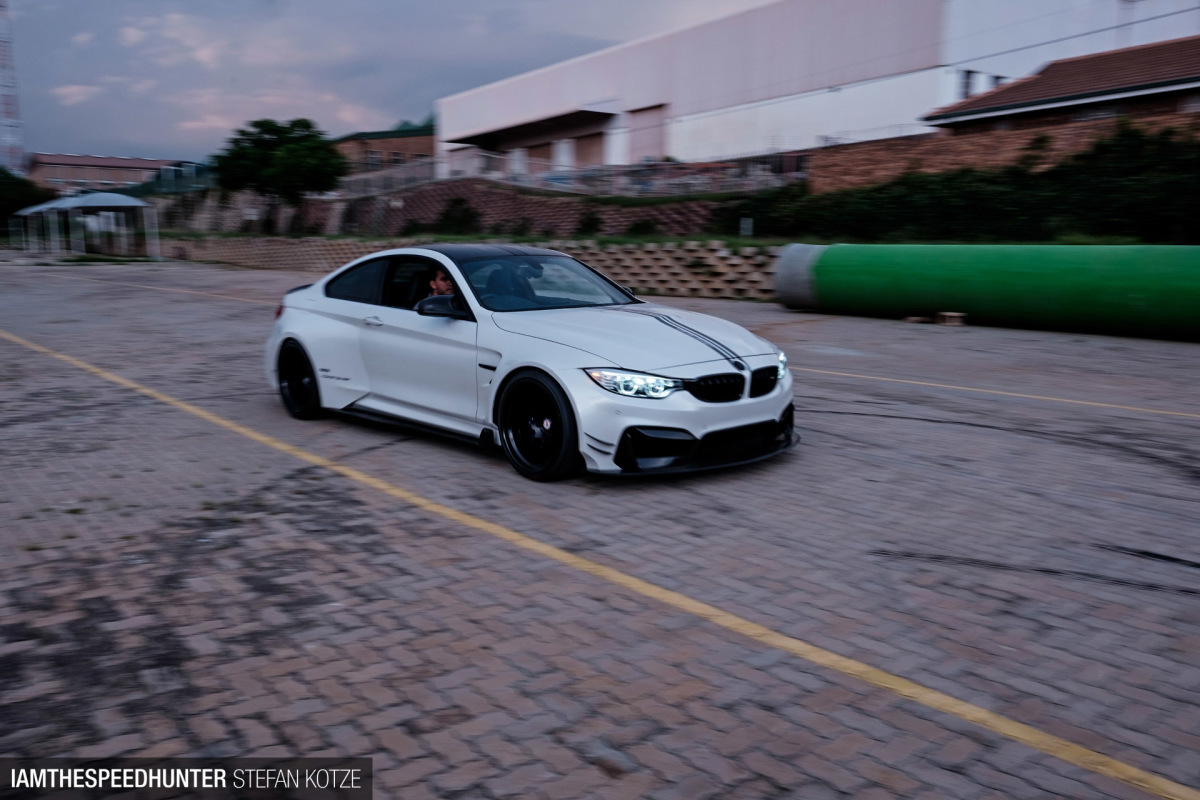 During high school my love for cars grew even more and I still remember being in awe when a spoiled kid pulled up in a Golf Mk3 VR6. The six-cylinder burble infatuated me. Living in South Africa there's lots of cars we've missed out on, including loads of Japanese sports cars like the Skylines, Supras, RX-7s and all the American muscle stuff as well. It's all because of our strict no left-hand drive policies.
To make up for this we've had a few very special and currently very collectible cars, produced only for our local market, like the E30 BMW 325iS and 333i as well as the Ford Capri Perana V8 to name just a few. Let's not forget Elon Musk is also from here as well as Gordon Murray, the designer of the McLaren F1. Suddenly, old Africa doesn't sound so backwards anymore. Furthermore, most of our Police are very lenient to speeding and a simple 'donation' is almost always enough to get out of a sticky situation.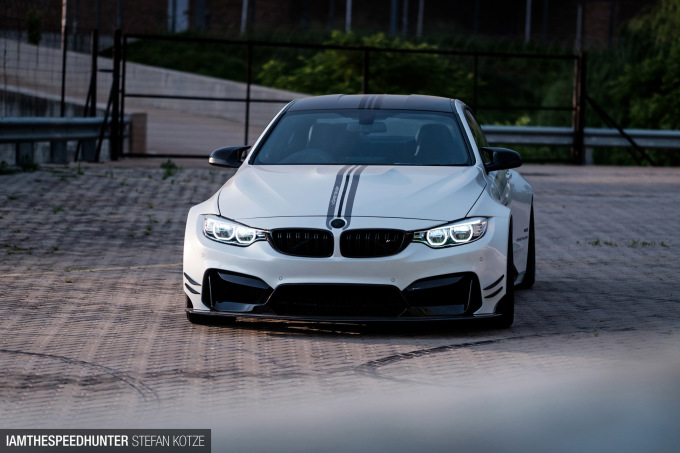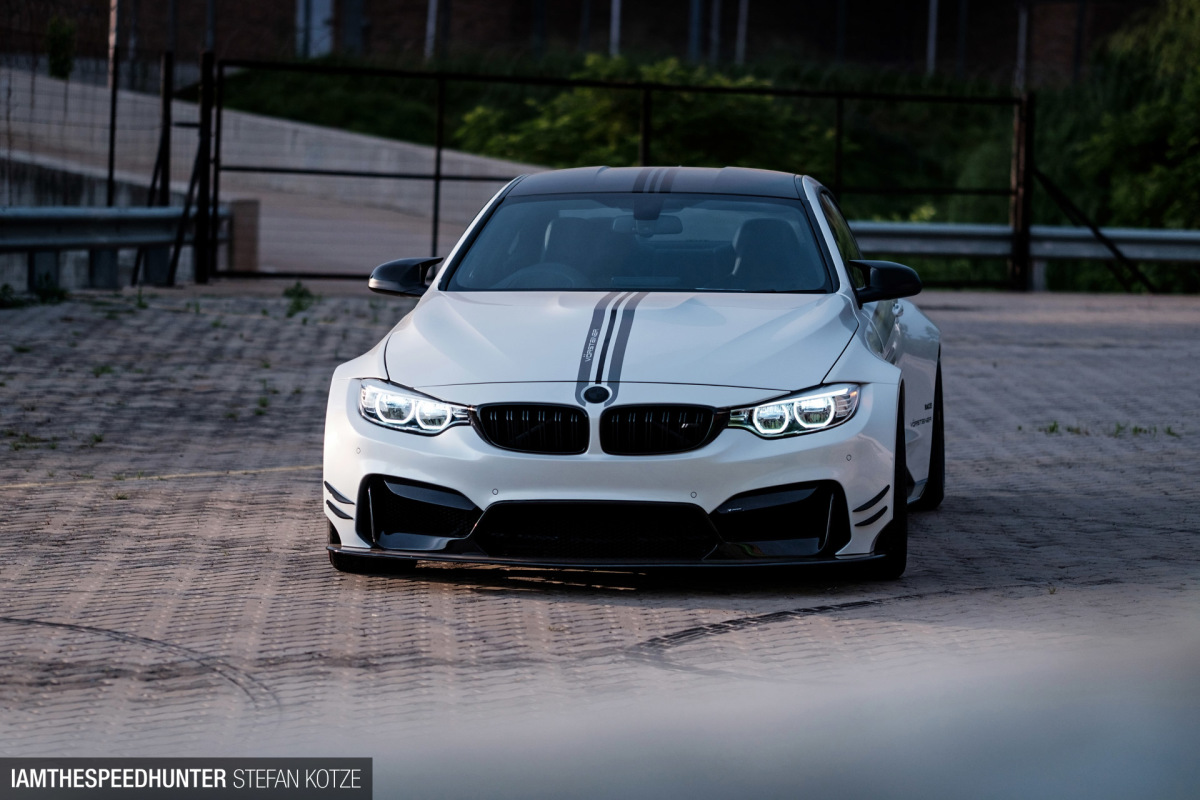 What do you do when you already have a huge collection of supercars, including a Ferrari Enzo, McLaren P1, Pagani Zonda, McLaren SLR, Aventador SV, Liberty Walk Nissan GT-R and a Liberty Walk Porsche 991.2 Turbo S to name but just a few?  You buy a BMW M4 of course. Then you drive it for a month or two and realize it totally bores you.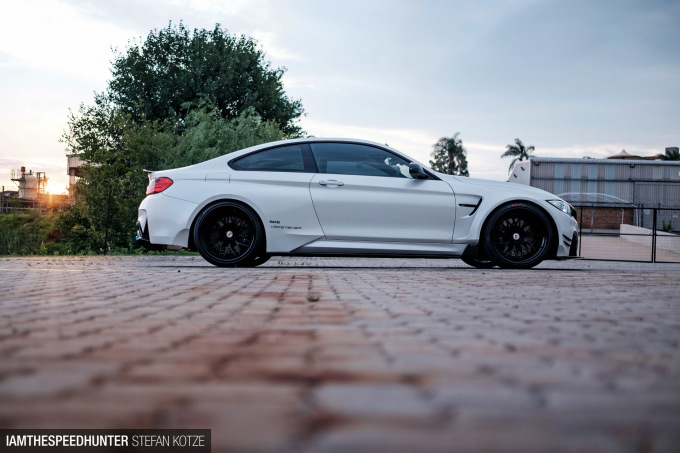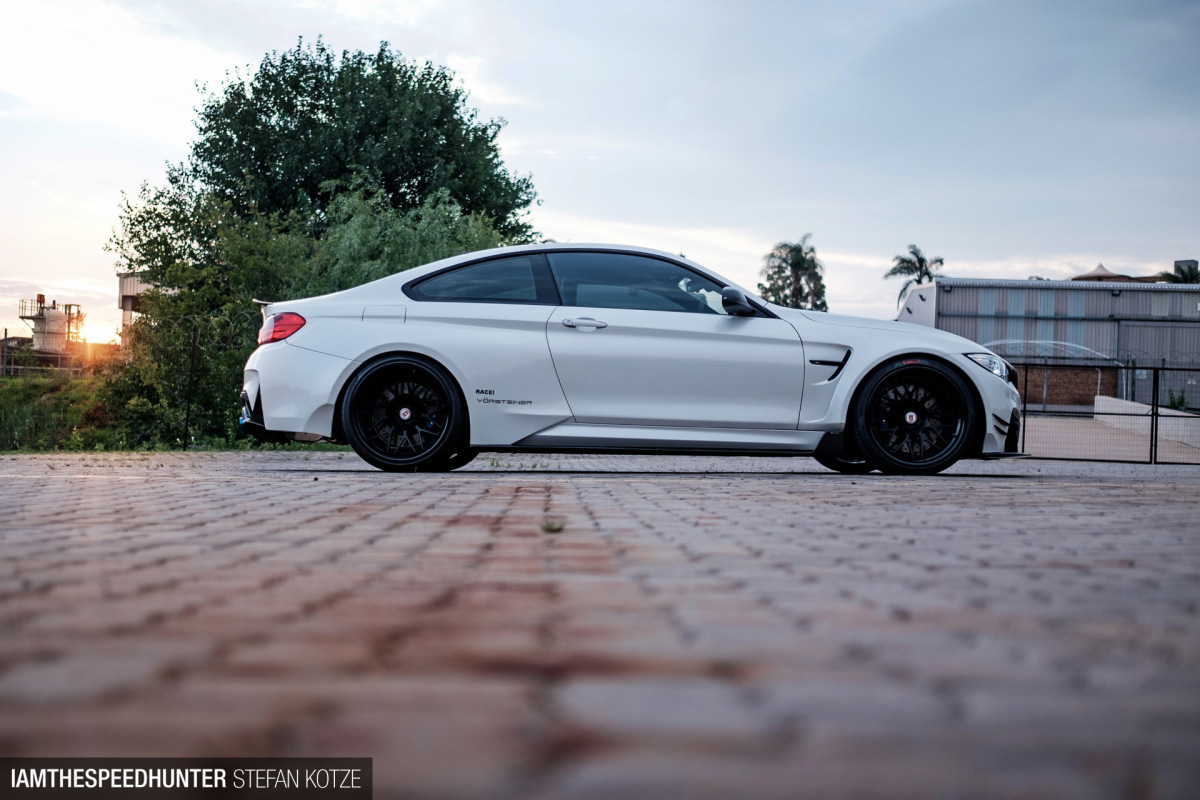 That's exactly what the owner of this wide-bodied beauty did. He thought a M4 would be something fun and more normal to try out, but it got somewhat pedantic pretty quickly. So he called up tuning house Race!, the same guys who had built both his Liberty Walk cars, and told them he wanted his M4 to be stupidly loud, stupidly fast and that cost would be of no concern.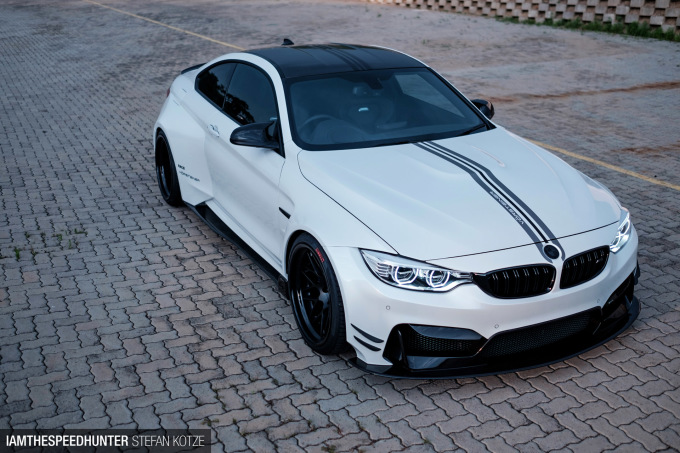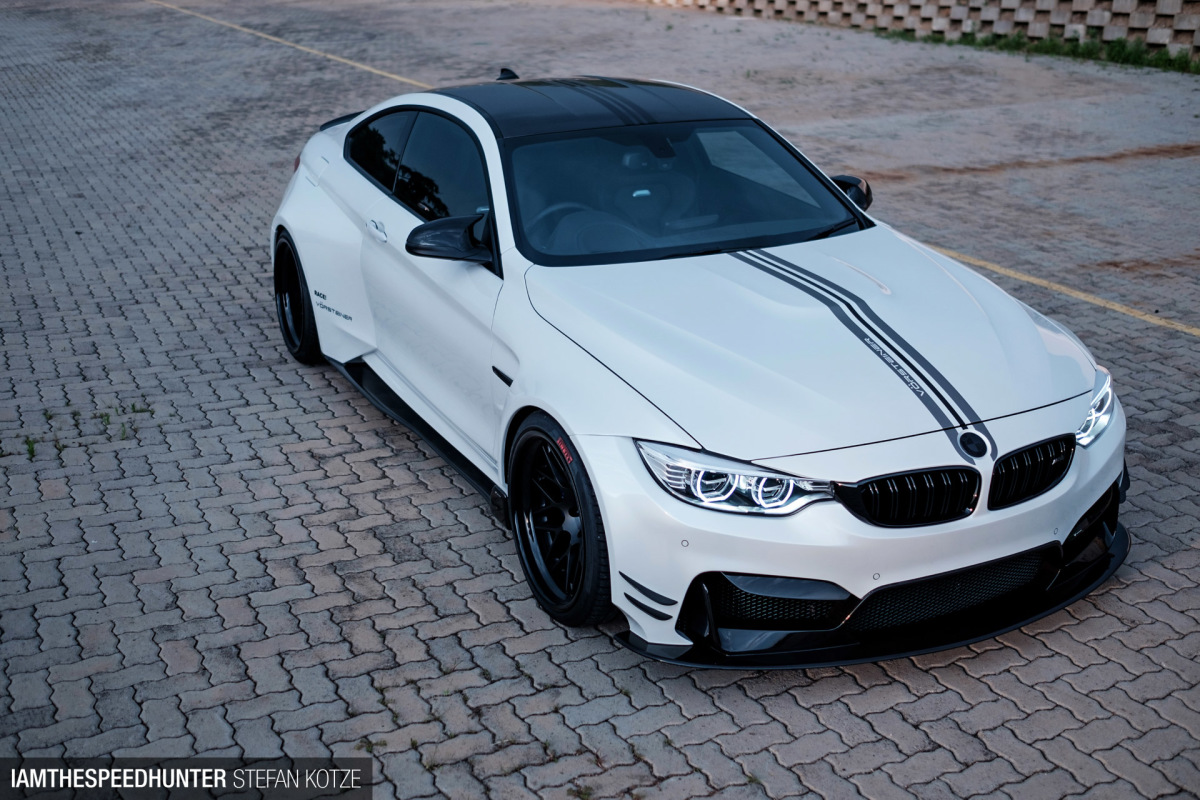 Race! is without a doubt the the most sophisticated and professional custom shop in the country, by my standards anyway. The company started out working on custom and race bikes, with the owner of the shop Marco Casciani, having raced many bikes over the years, across multiple continents. Race! still builds some crazy bikes, but it eventually transitioned into cars as well. Today, it feels like there's nothing the Race! guys can't do and no car is too rare or expensive for them to work on. From restoring Lancia Delta Integrales, to cutting up Ferraris and Lamborghinis, all in house, everything they touch comes out as close to perfect as perfect can get.

The M4 project happened pretty quickly, because although budget wasn't a factor, time was. This shop is no stranger to impossible deadlines though, and Race! constantly pumps out top quality builds in very short time periods. A lot of planning was done to get everything right from the start. Only the best parts would do for this build and first up and most important was the choice of wide-body kit for the car.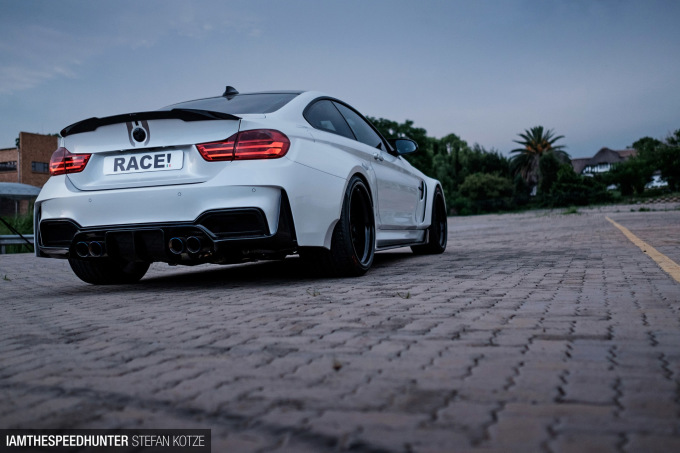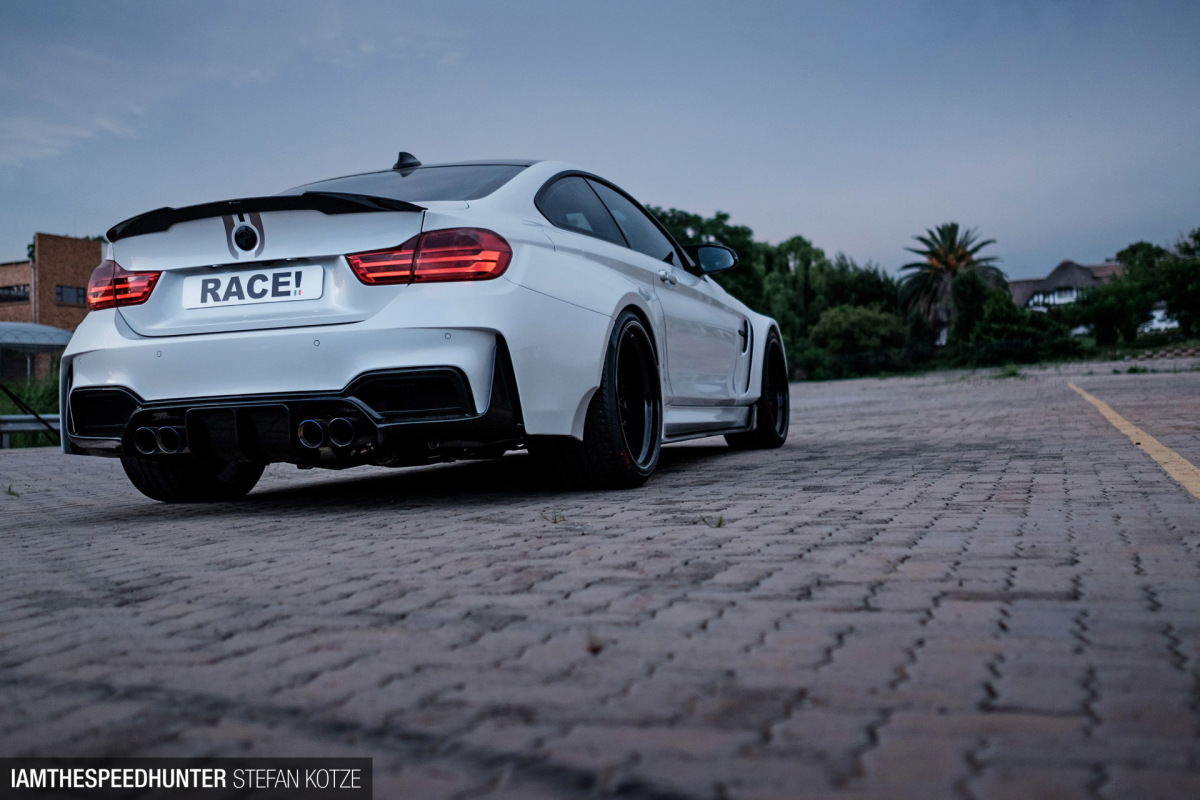 The Vorsteiner GTRS4 kit was chosen as the perfect fit. Not only does it have super aggressive looks, but there's a superior build quality with construction from pure carbon fiber instead of FRP or ABS plastic, and not forgetting the reduced weight too. Once the kit arrived it was test-fitted onto the car, then painted and refitted, looking like it could've been fitted by the BMW factory itself.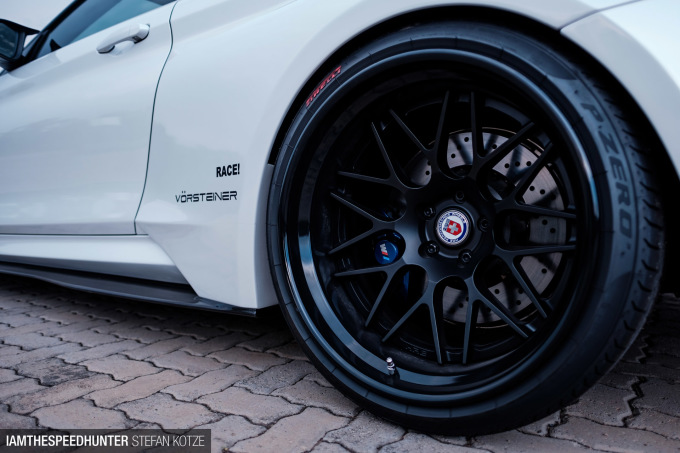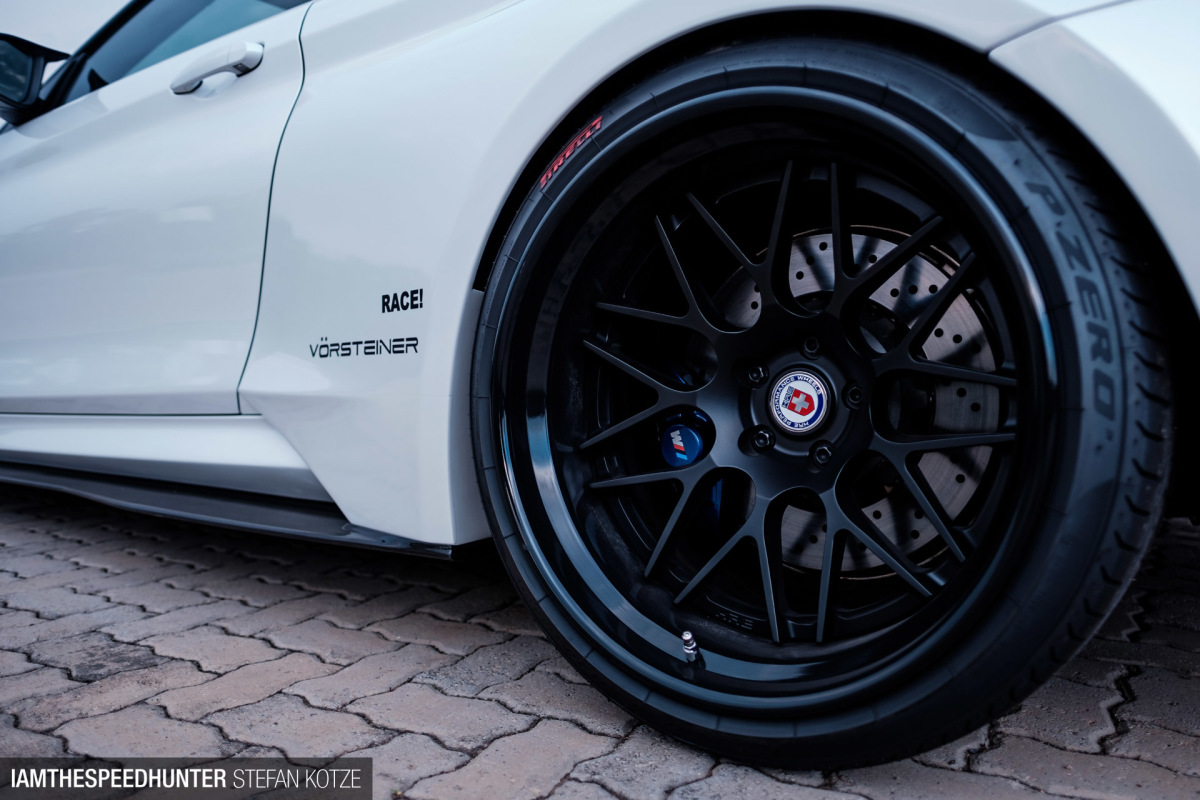 A wide-body with skinny wheels would just look plain stupid, so HRE was called upon for a very wide set of HRE RS100s in satin black, wrapped in sticky Pirelli P Zeros measuring 275/30R20 in front and a stupendous 345/25R20 in the rear. That's a lot of rubber, the Trojan Magnum XL of tyres you could say.
Now that car's booty was huge and it had wheels and tyres to match, it was time to sort out the suspension. Not that the standard M4 suspension is bad, but after all the effort put into other areas, leaving the suspension stock was never going to happen.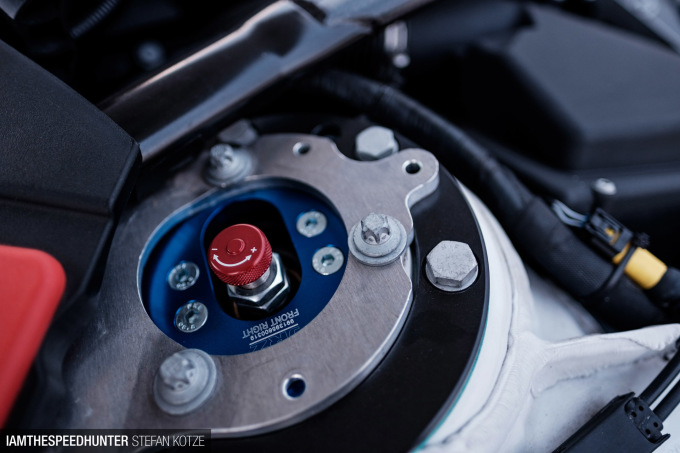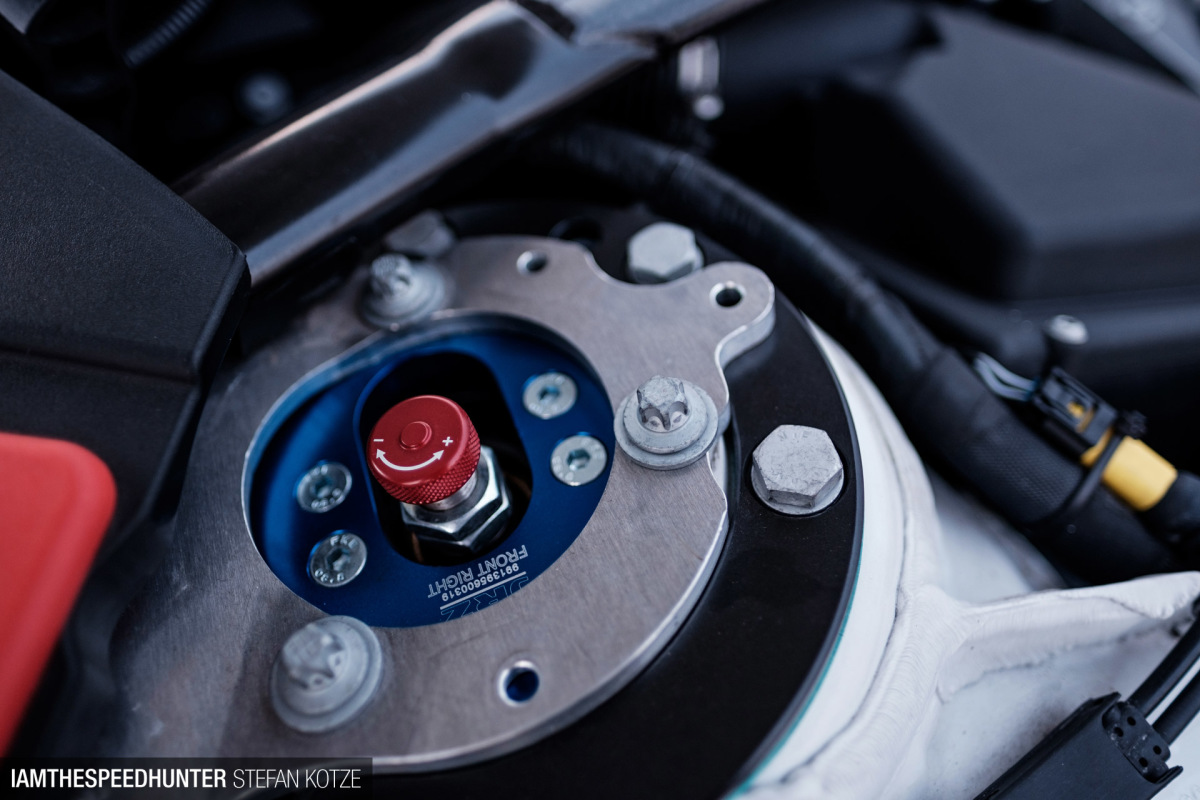 JRZ RS Pro coilovers were chosen for their quality and adjustability, offering up handling performance for the track, but still able to be dialed in for a comfortable ride on the street. Coupled with an Umbrella Auto Design variable ride height (VRH) suspension system, the BMW is able to be raised or lowered by up to 75mm on the fly at the push of a button.
The M4 produces some decent numbers from its 3.0-litre twin-turbo powerplant, but when was stock ever enough? The software was upgraded to extract some extra kilowatts and running along the car's belly is a full Armytrix stainless steel valvetronic system to really let the motor breath and more importantly make some glorious noises, especially when the valves are all the way open.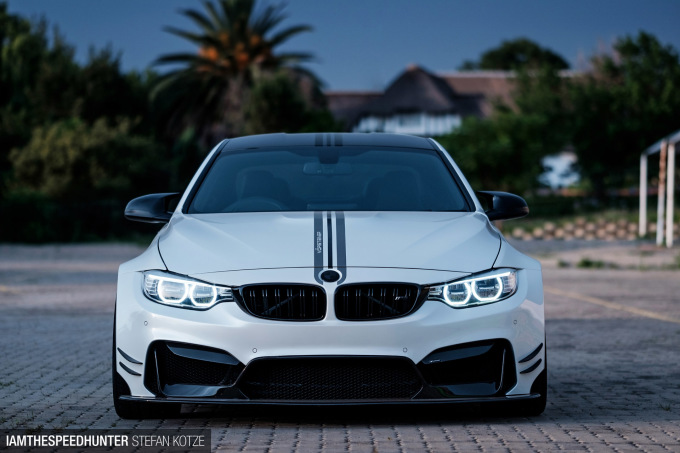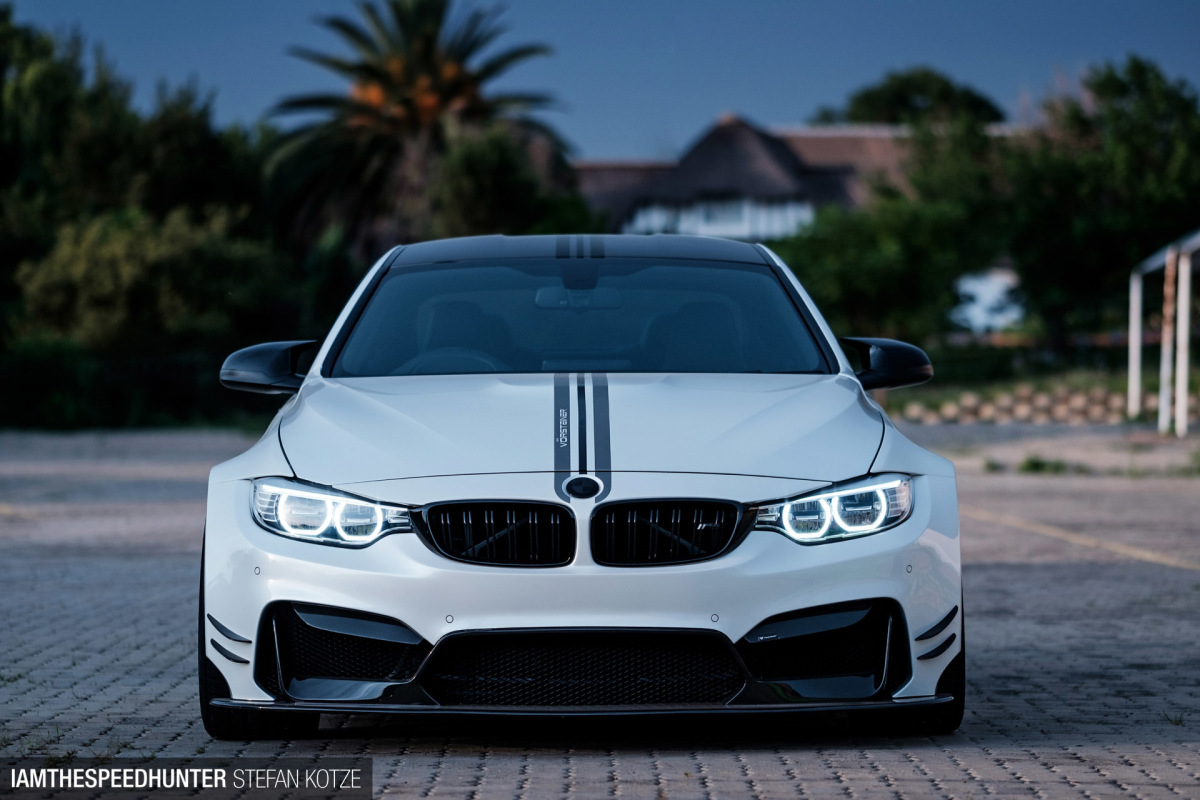 The final touches to the build were some satin grey striping across the center of the car incorporating the Vorsteiner logo, just to give it a more completed look. The Vorsteiner GTRS4 conversion has been done on a few cars since its launch at the 2014 SEMA Show, but this specific built has left almost no details out, checking every possible box for an epic build.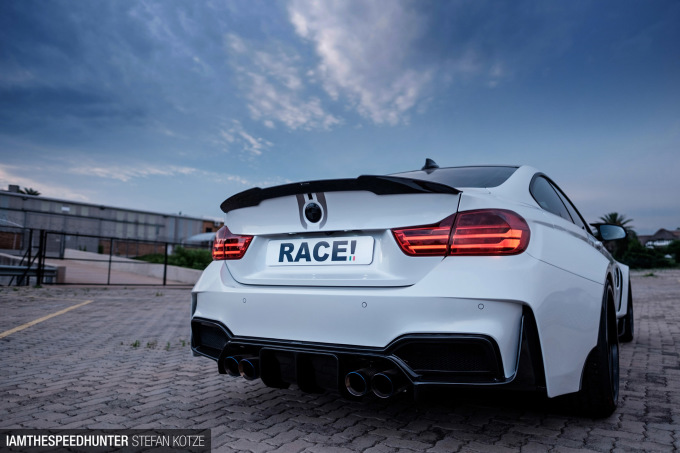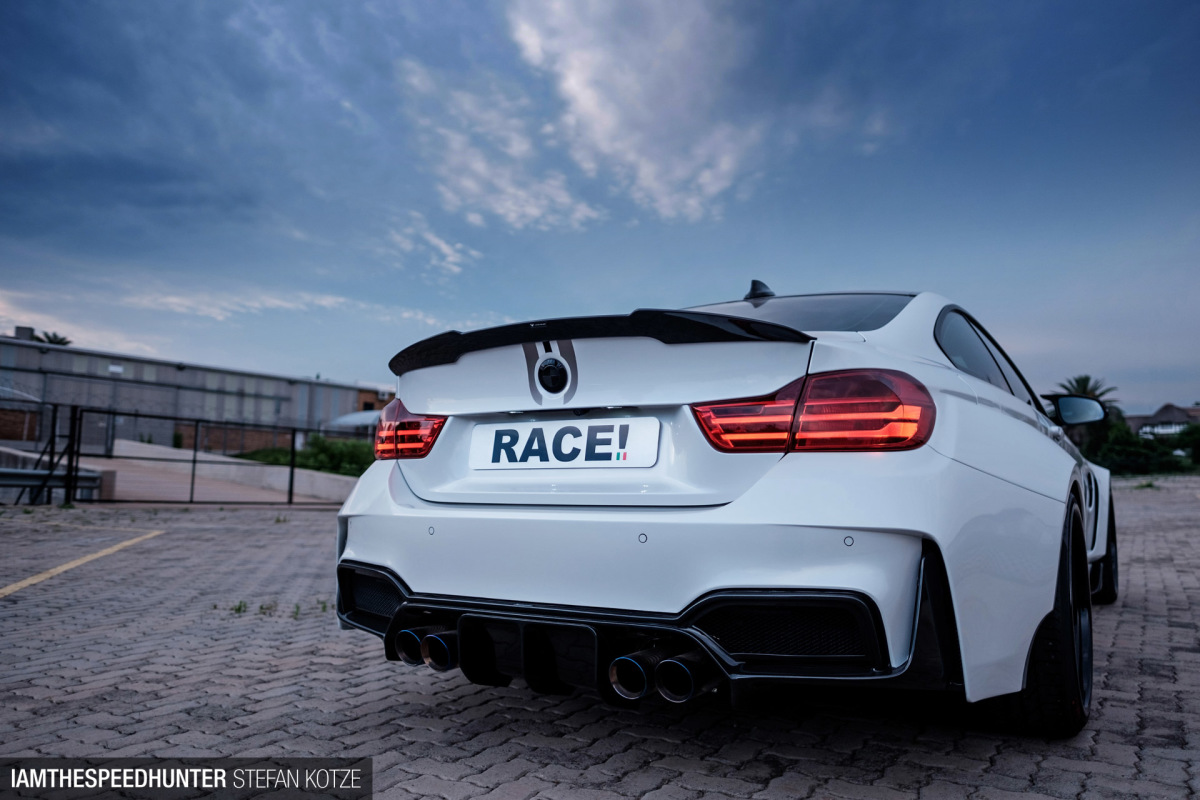 Do you think the owner made a wise decision doing this to his car, or would a Liberty Walk build have been better? Perhaps you are of the less is more approach and think that the stock body is just perfect with some suspension and wheels. As for me, I wouldn't mind having one of these in my garage at all.
Hopefully I'll be bringing you some more interesting stories from sunny South Africa in the future!
Stefan Kotzé
Instagram: stefankotzephoto
info@stefankotze.com