The Other Side Of Tokyo Auto Salon
Car shows attract car enthusiasts, and car enthusiasts drive cool cars. Thus, car show carparks will have cool cars.
That simple equation is true everywhere in the world, but especially so for the legions of Japanese fans that turn out for Tokyo Auto Salon every year.
So it's become a bit of a Speedhunters tradition to show you not only the cars under the lights inside, but also what your average Japanese enthusiast is driving to Chiba over the TAS weekend.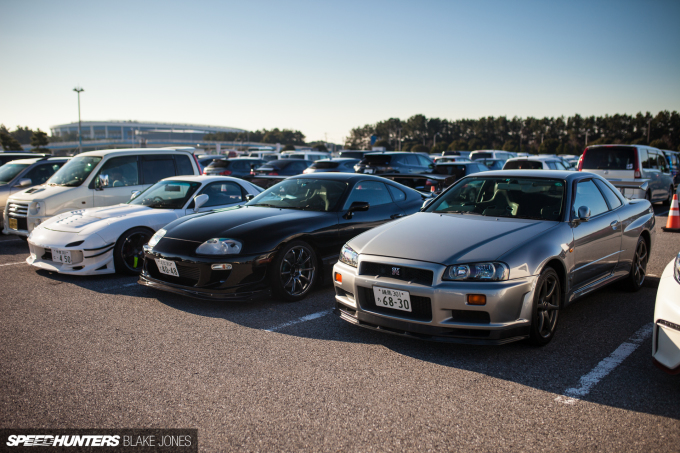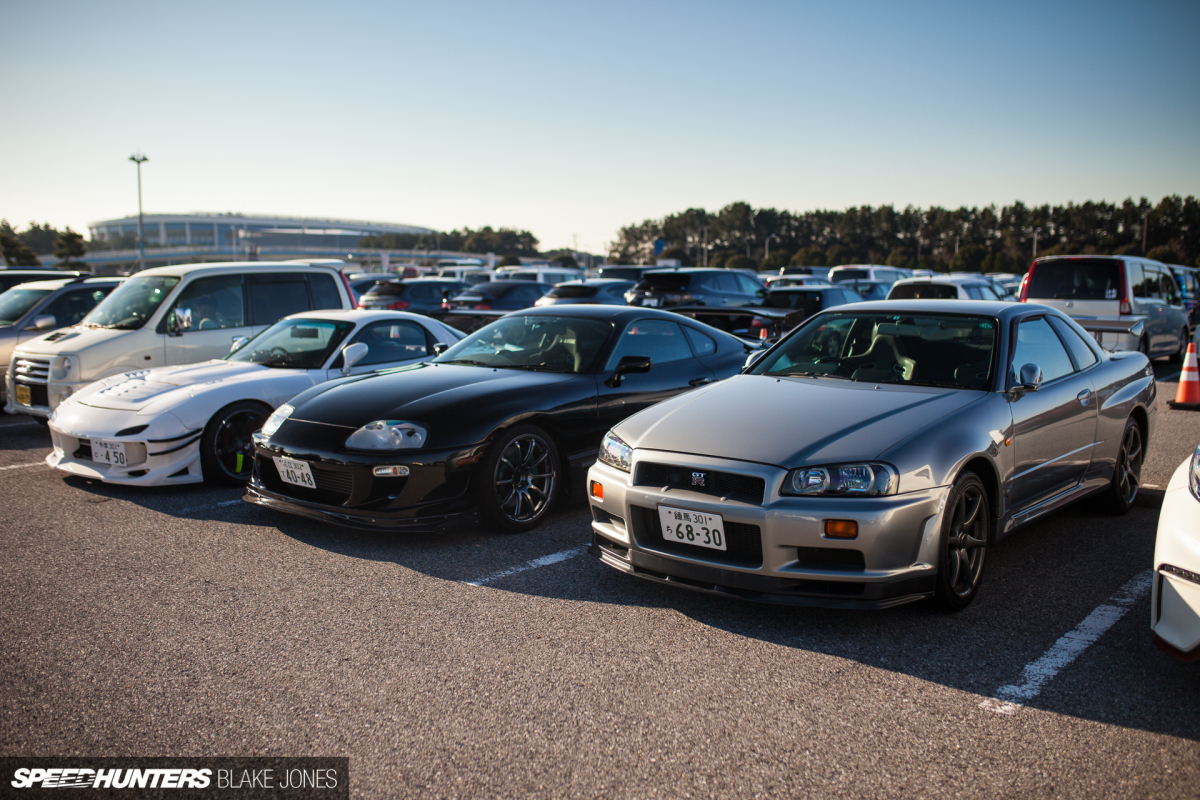 Although the Japanese performance icons of the '90s and '00s may be slowly thinning out, there's still plenty to get nostalgic about, while also taking a look at some of the more contemporary trends and cars on the rise.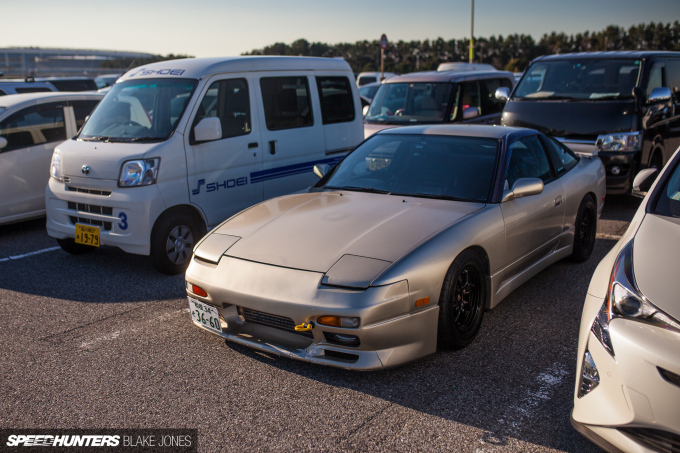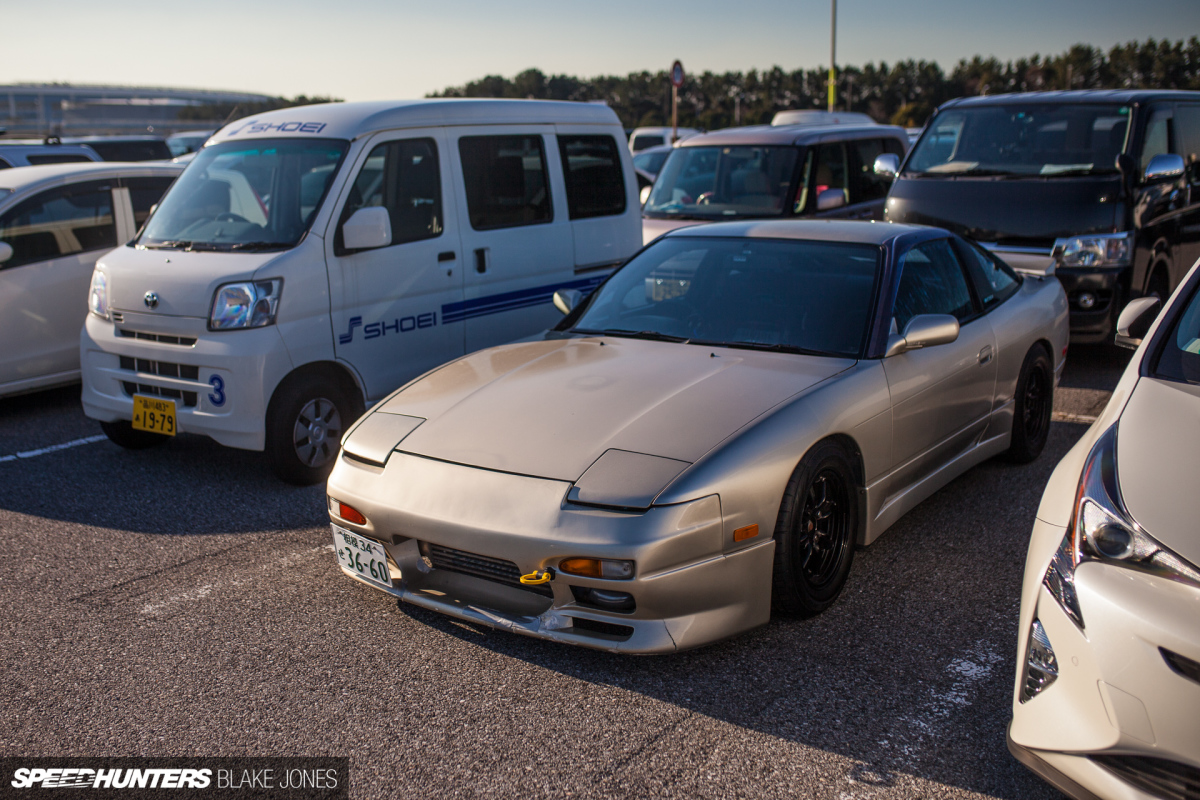 And while I've deliberately focused on the more interesting cars in the Auto Salon parking lot, a quick look at the background of the photos reveals that there's plenty of regularity to go around, too.
But hey, let's put our slow demise into a fuel-efficient, battery-driven future aside for a few minutes, and enjoy what came out to play last weekend.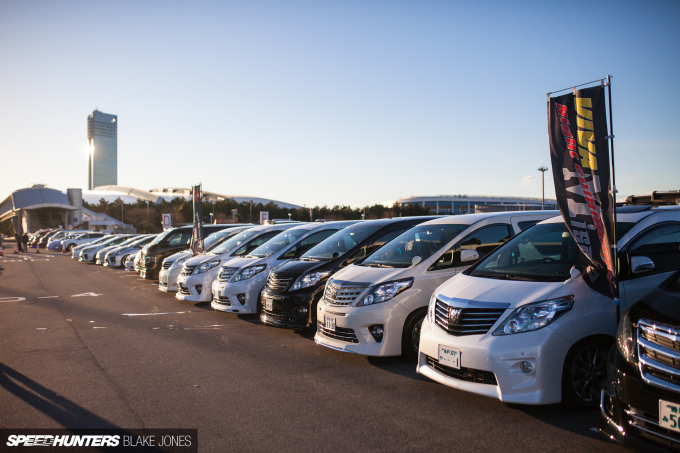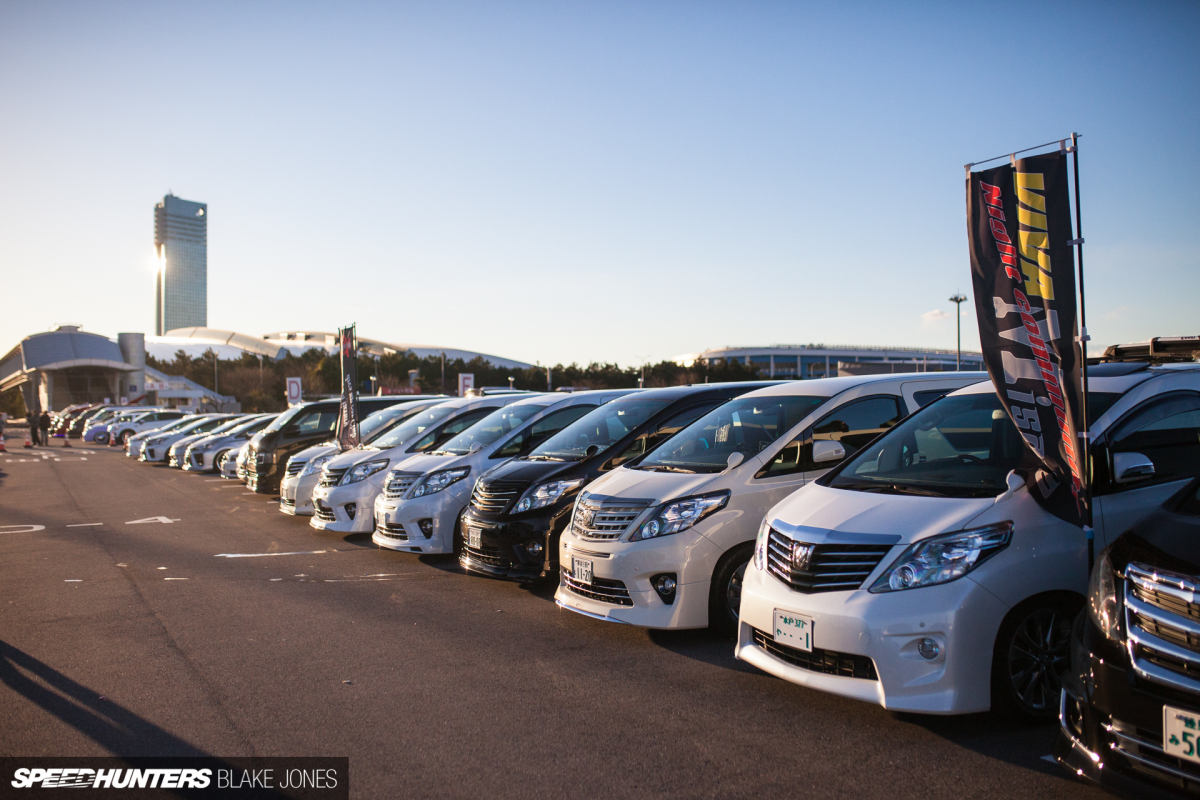 I'd made the drive over to Makuhari Messe from Tokyo at the crack of dawn, and fully expected to park close to the front of the massive lot, it being more than two hours prior to doors opening at 9:00am. So it was a little surprising to find the parking area almost full, and I had to park in the last row of the main lot.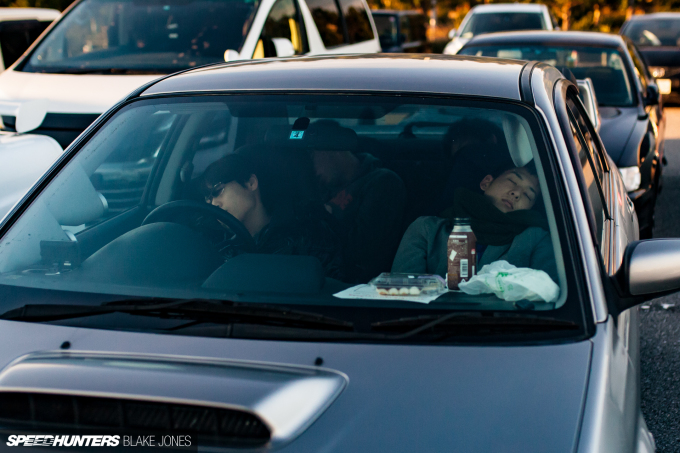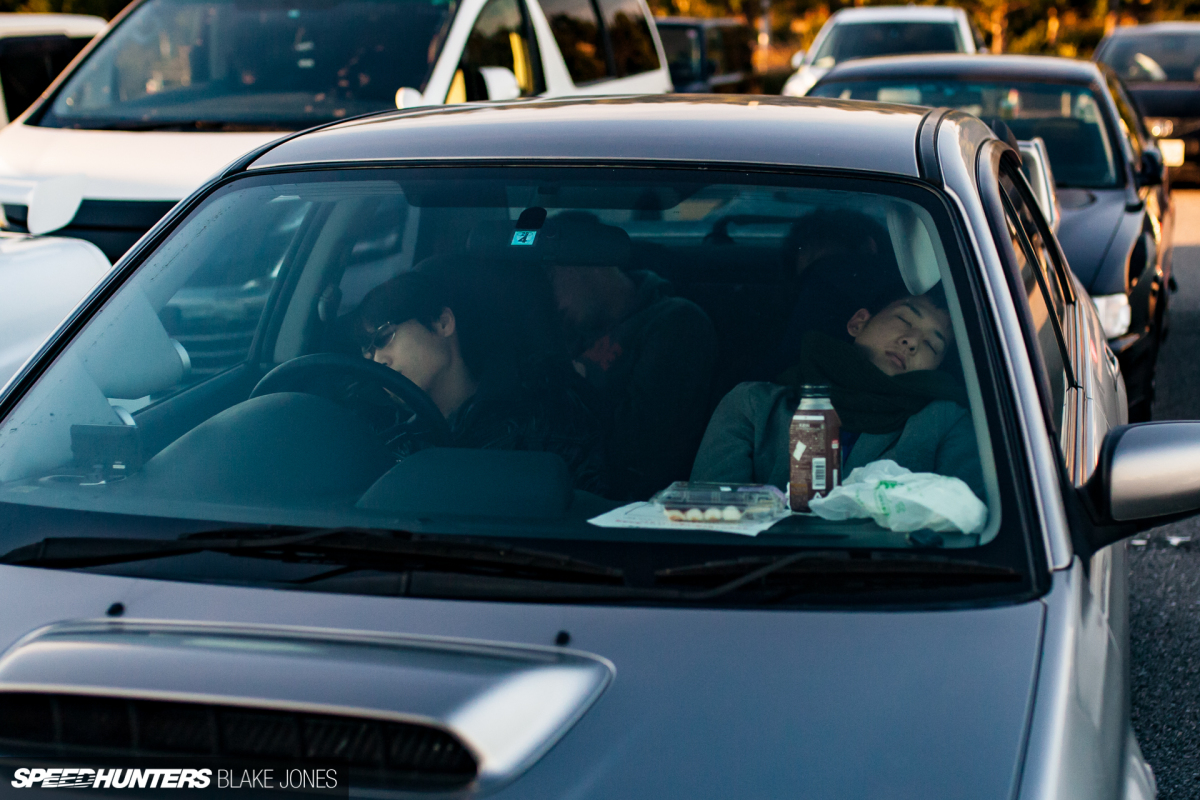 As it turned out, pretty much everyone else had the same idea of getting in early to beat the rush. Most people would pull into a spot, leave the engine running and catch a few hours of shut-eye before the doors to the massive exhibition center opened.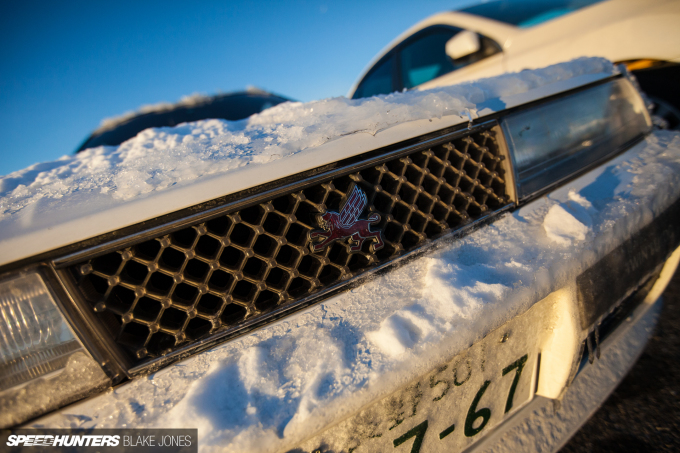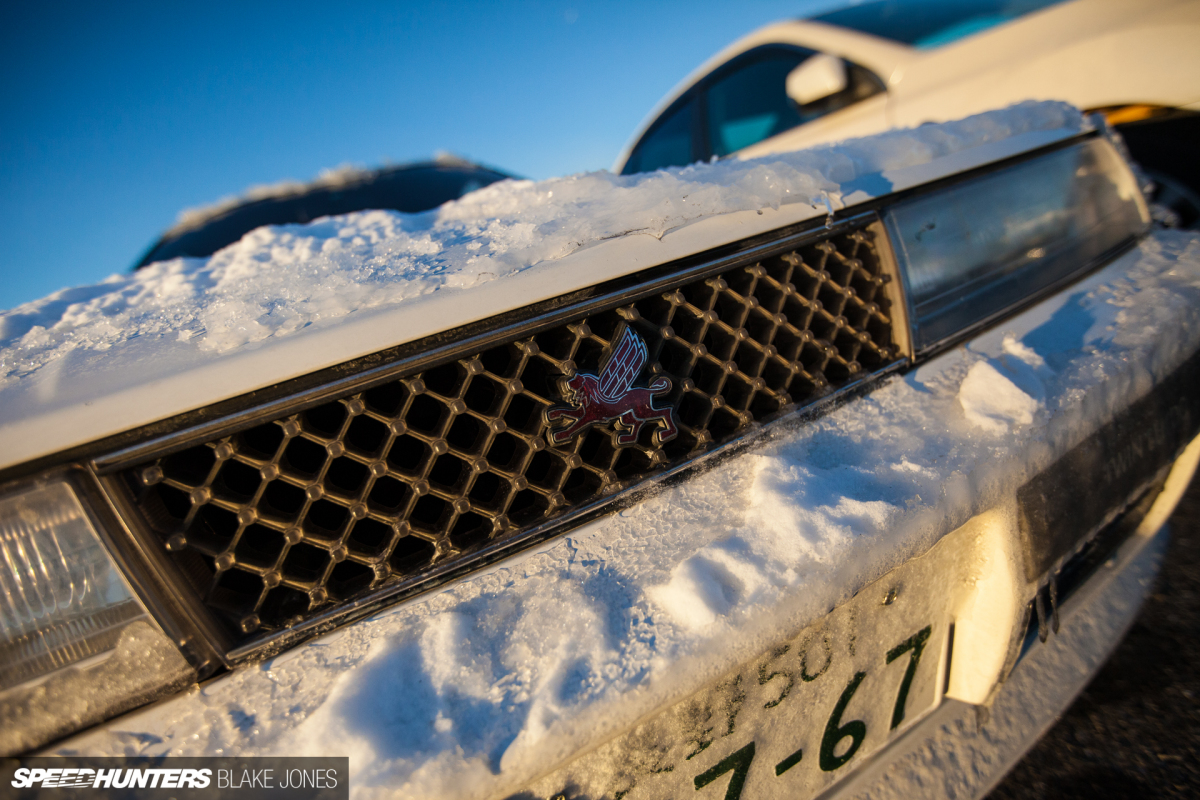 Some attendees drive from places as distant as Akita, a regional area about seven hours north of Tokyo by car. Although snow hasn't fallen in Tokyo since November, much of Japan is under the white stuff at the moment and a few attendees had brought some of it along for the ride.
Despite the biting morning cold, spotting a clean early Soarer always warms me up. The model is a great example of Japanese 'Bubble Era' product design, where the engineering budgets were limitless and everything had to be electronically controlled. These cars could even be specified with semi-active suspension and 'Electro Multi Vision', which would let you monitor the car's vitals, or alternatively tune into local television channels. All in 1985!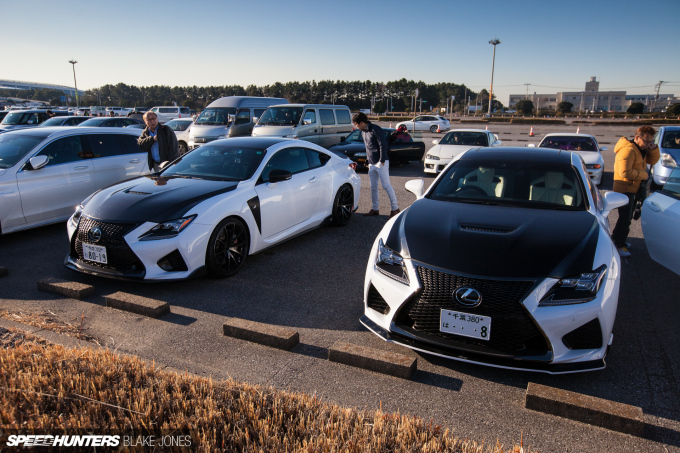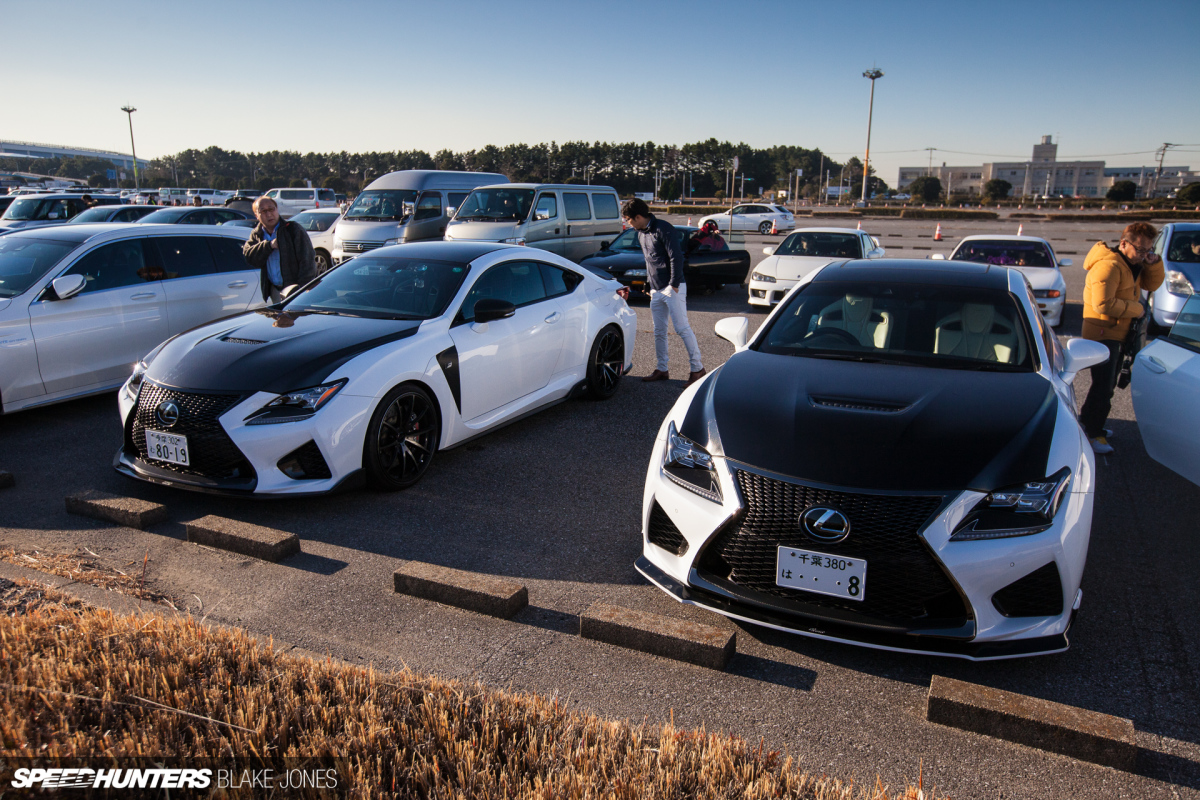 A group of tuned Lexus' rolled in together after meeting up earlier just outside the parking entry. Because nothing beats getting a spot next to your mates.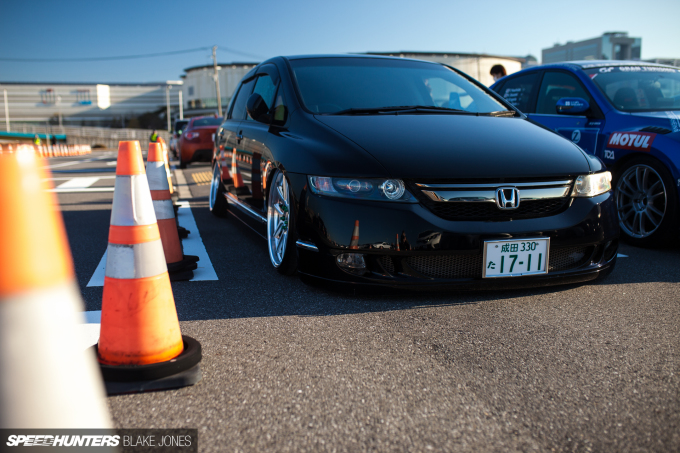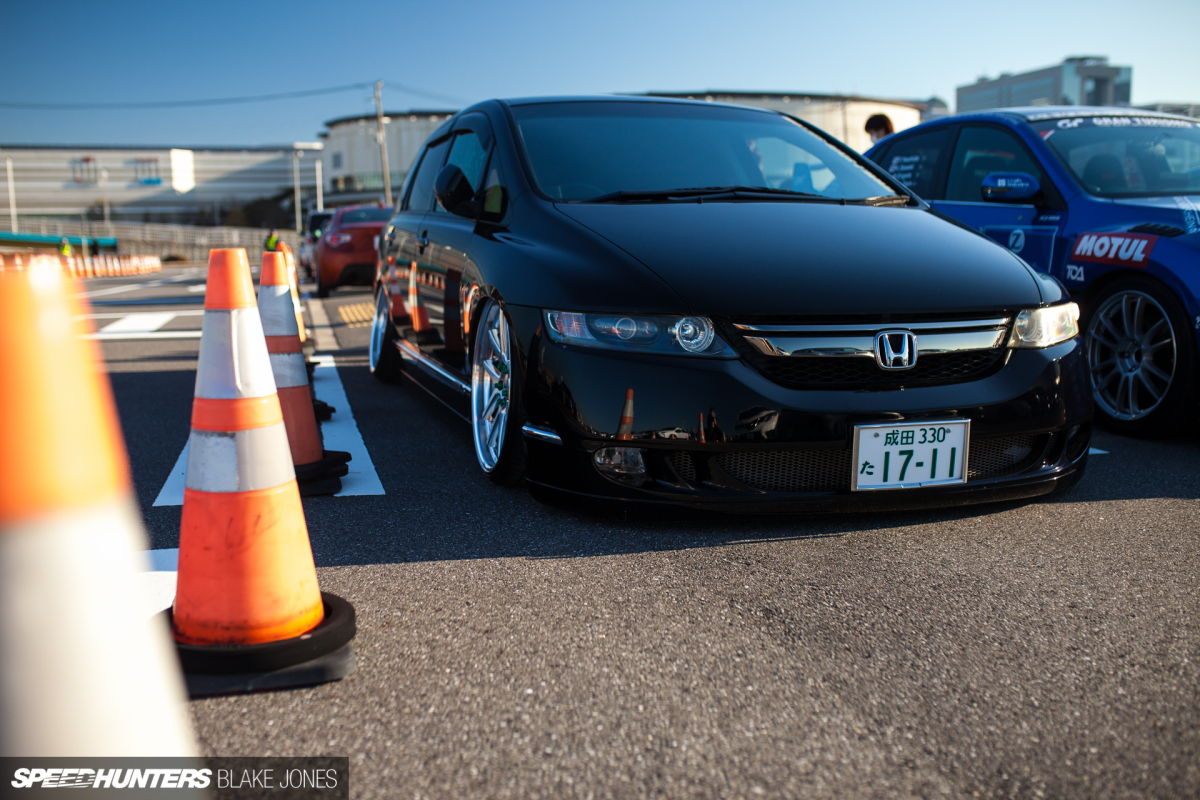 Vanning is a seriously massive subset of tuning culture in Japan. From people movers like the Odyssey to more utilitarian models like the Hiace, owners here are more than happy to tune and customise their rides.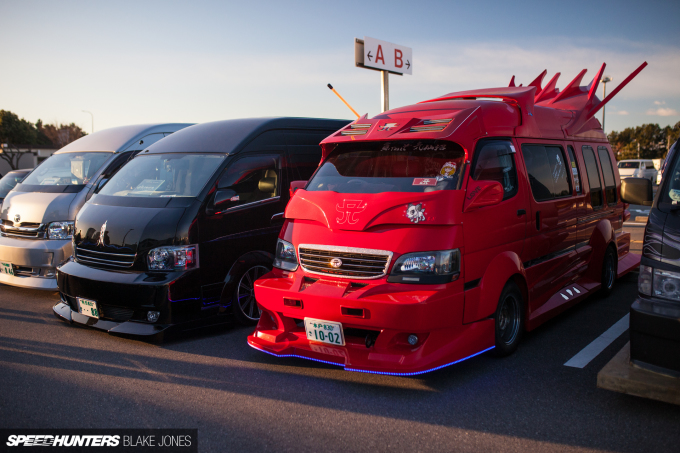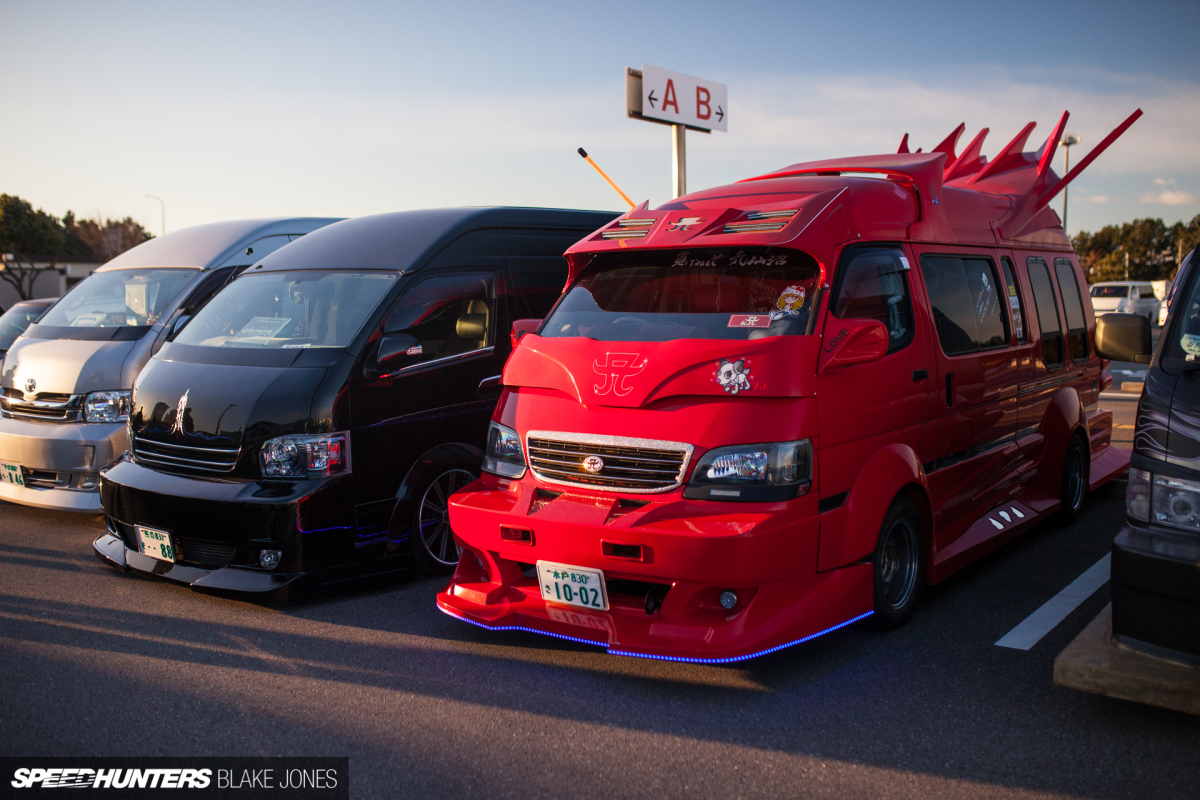 In fact, you can find specialty magazines for the Hiace in newsagents more readily than almost any other car. It's mind-blowing.
Some interpretations are obviously more extreme than others.
Side note: the interiors of these vans are without fail clogged with extra gauges, screens, tables and air fresheners. I don't want to imagine what would happen in the case of an airbag deployment…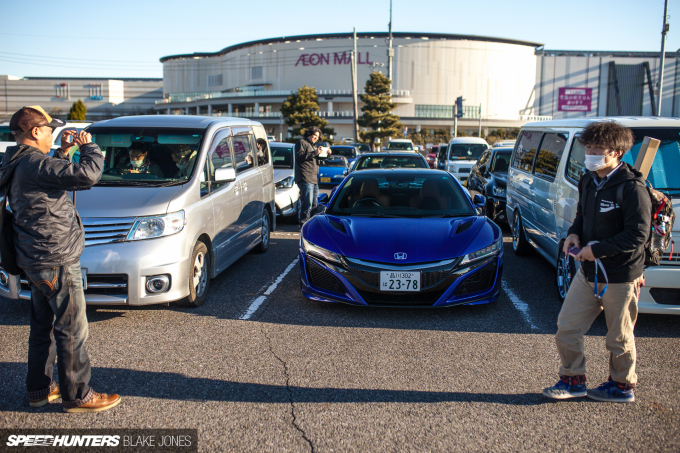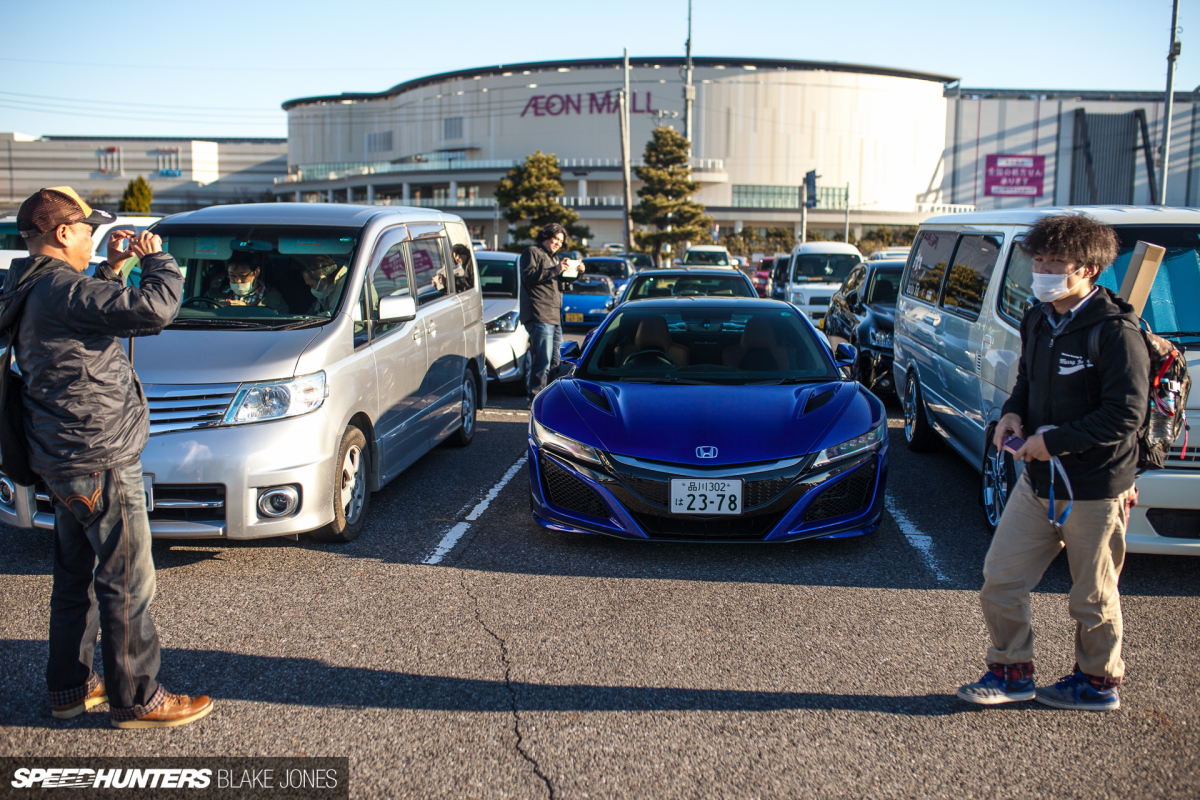 Although there were several on display inside the Makuhari Messe, this new generation NSX was generating plenty of attention outside.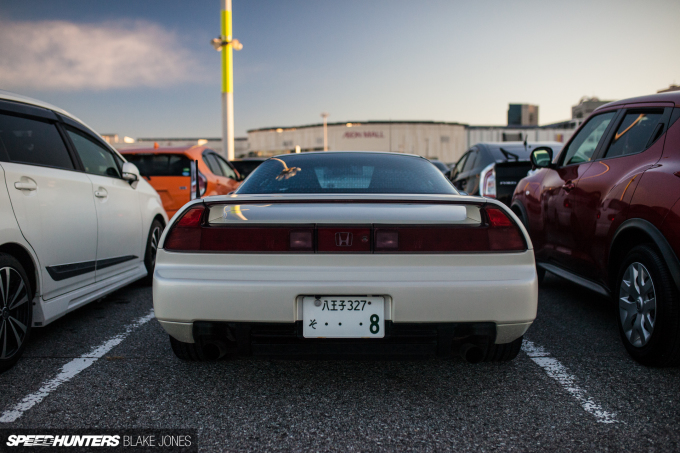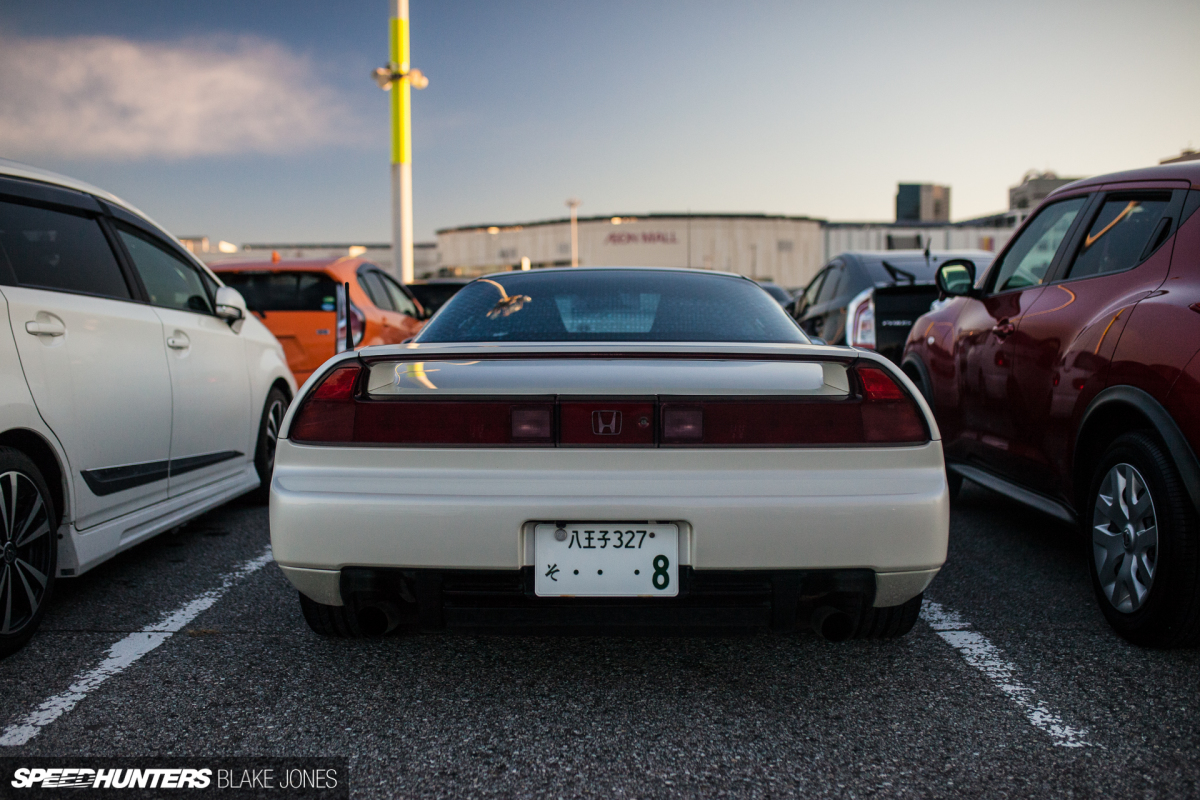 Anyone who knows me knows how much reverance I have for the original NSX, and it's always a treat seeing one in person. Unfortunately, there were hardly any to be found inside the TAS display halls this year. Too valuable to modify now, perhaps?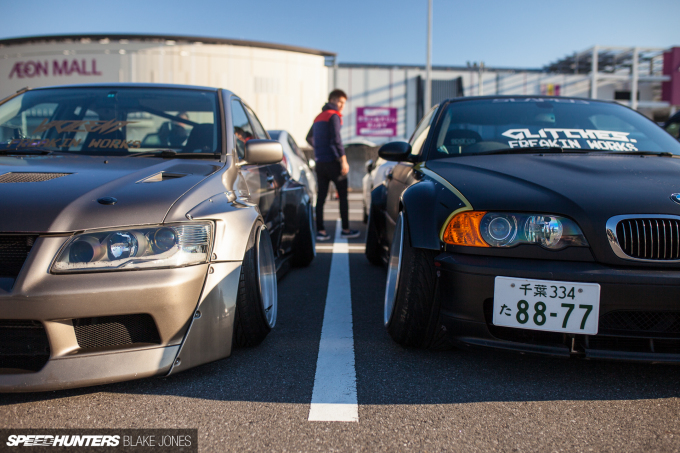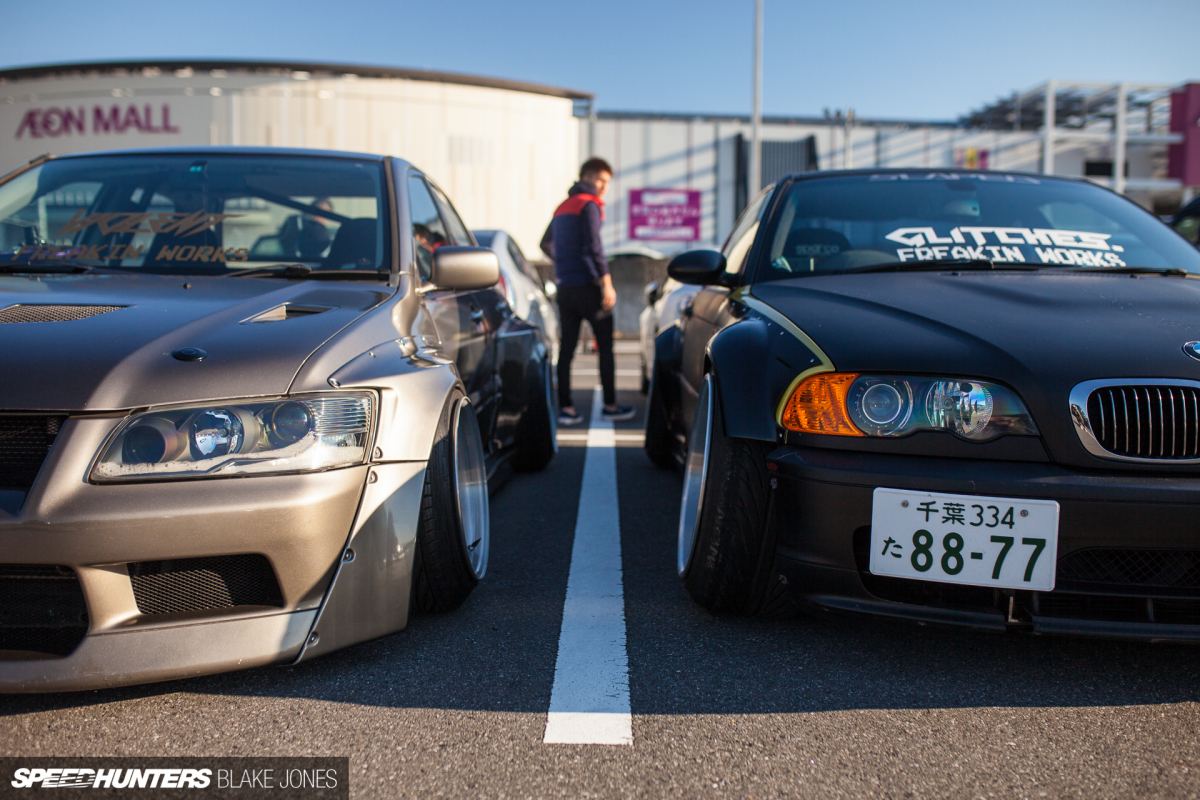 As you may have gathered from the NSX in the header image, there was a decent turnout of 'stanced' cars. Like it or not, this movement is continuing to grow in Japan, with more cars, shows and teams popping up every month. This Lancer and E46 duo belongs to Freakin Works, the same team responsible for the wild 300ZX that Dino featured back in 2015.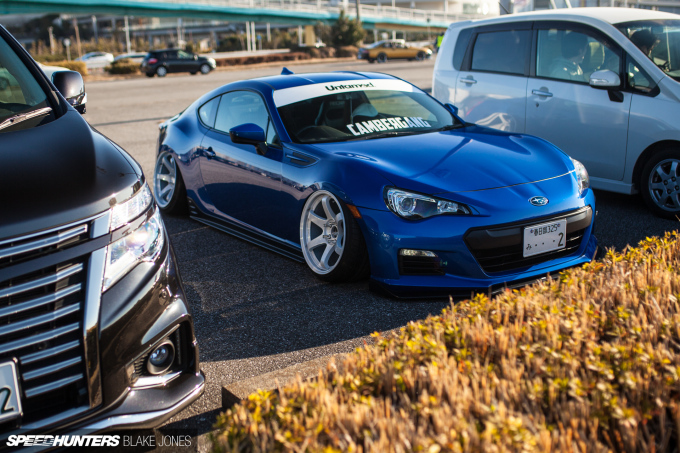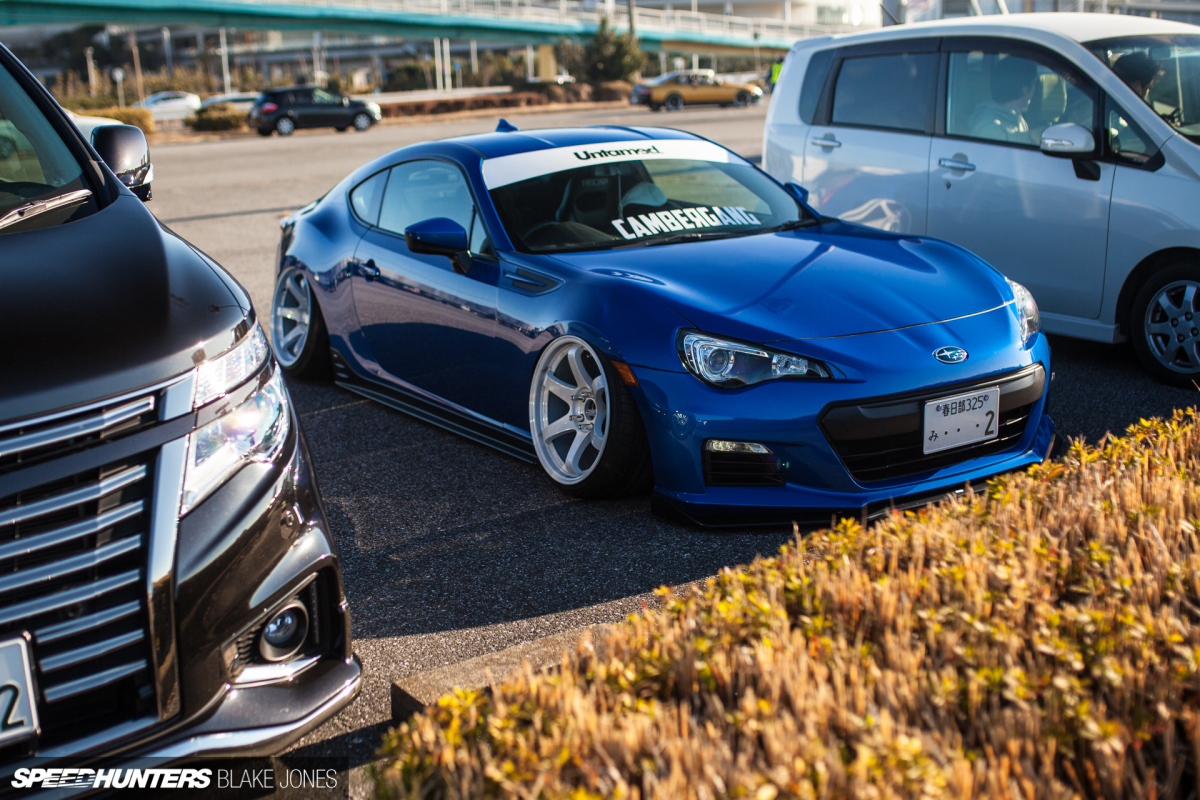 Even the nimble 86/BRZ can't escape the trend.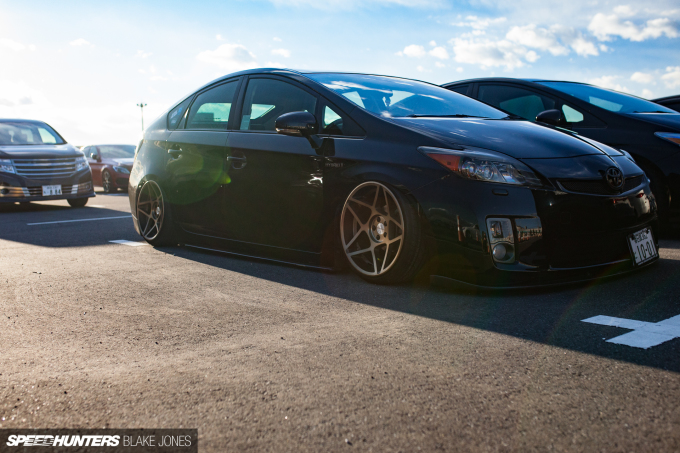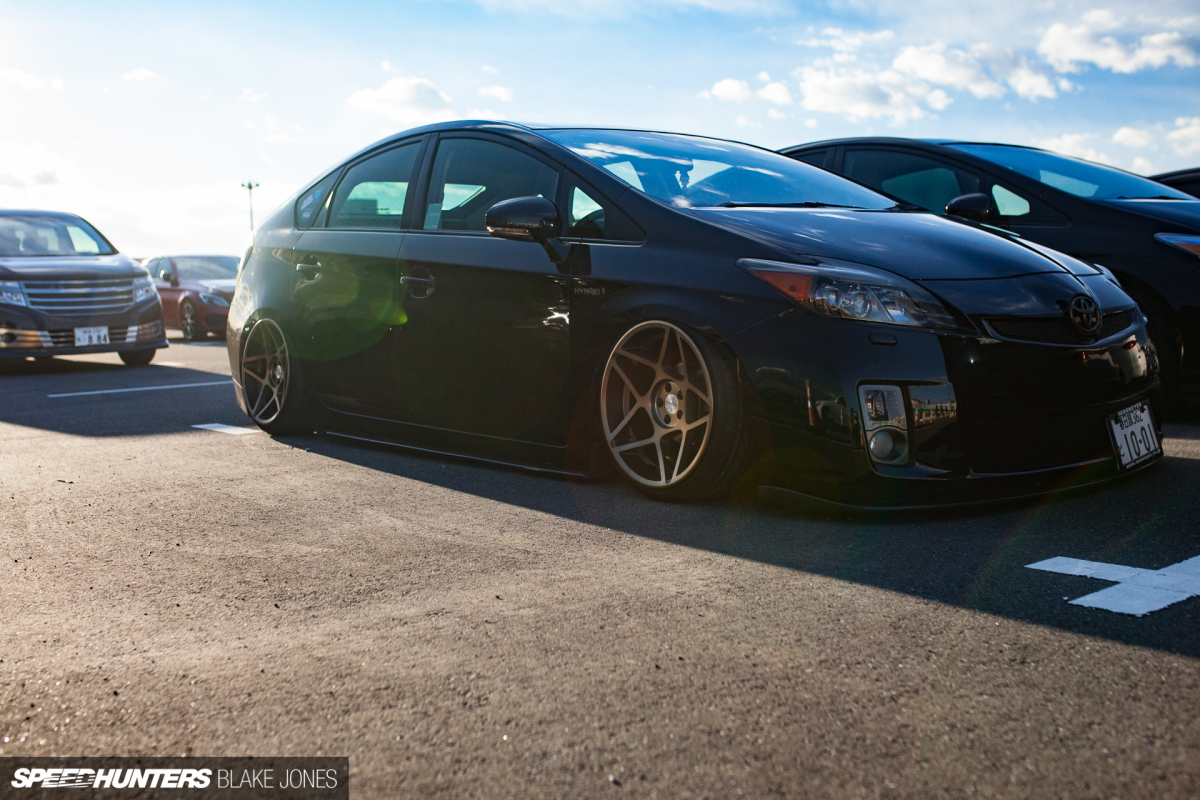 This Prius was executed really nicely; all badges had been blacked out and the lenses smoked to give a really clean look and contrast to the brushed-copper five spokes tucked under the guard lips.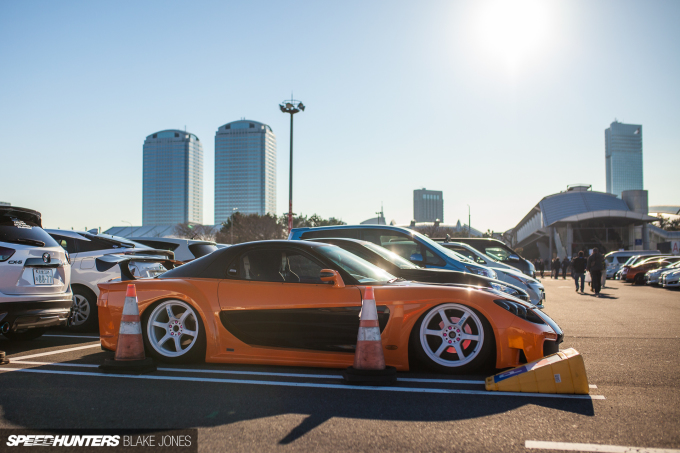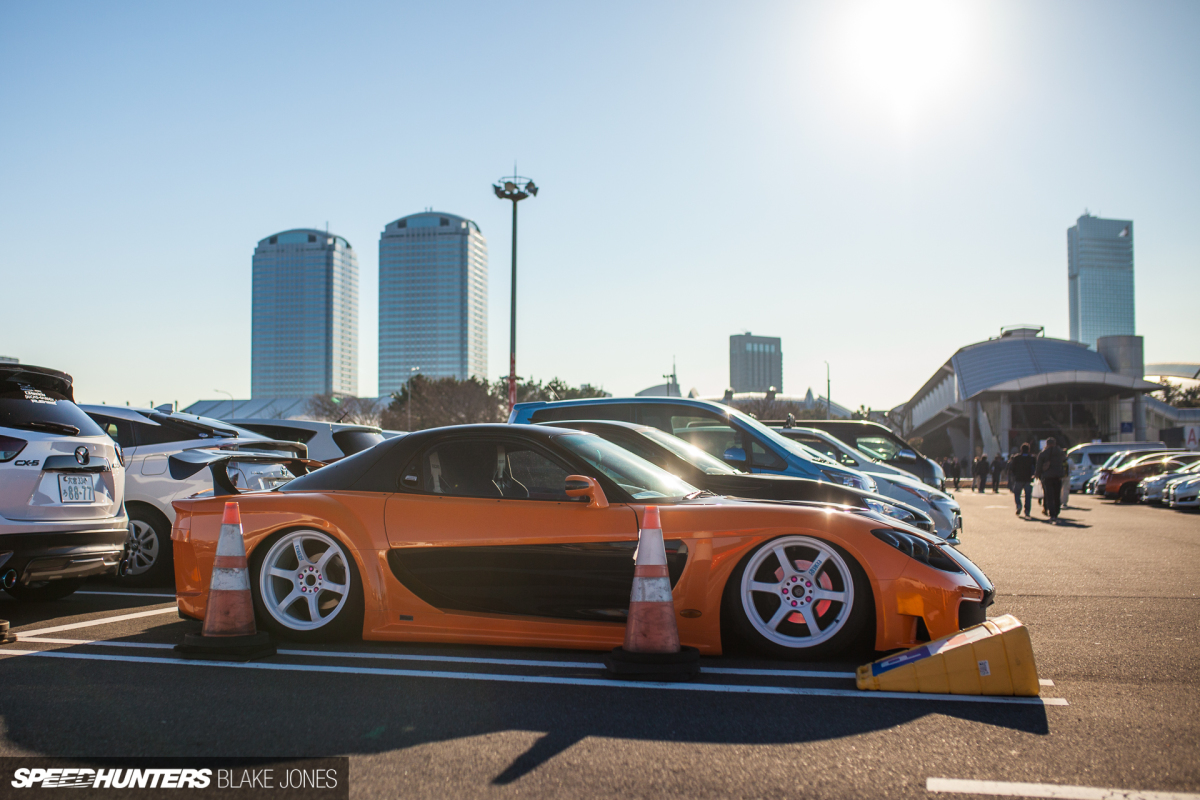 I've seen a few RX-7's sporting the VeilSide Fortune kit made famous by Fast and the Furious: Tokyo Drift (or as it's known in Japan, Wild Speed 3), but this particular car purports to be the actual car used in the film. It's looking a little worse for wear these days, but significantly better than when it was upside down and alight on the streets of Shibuya, I guess…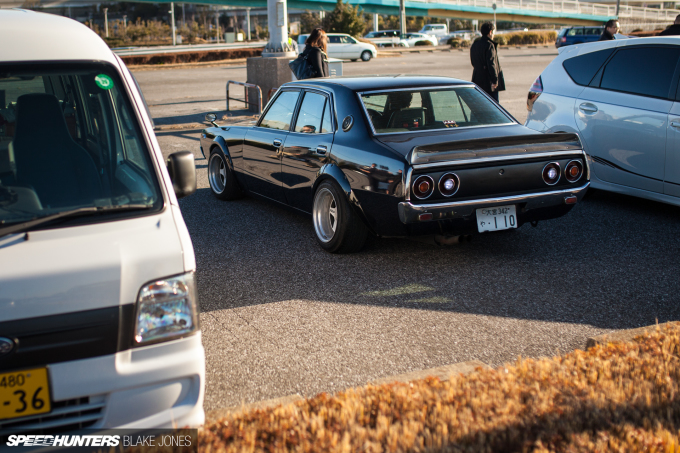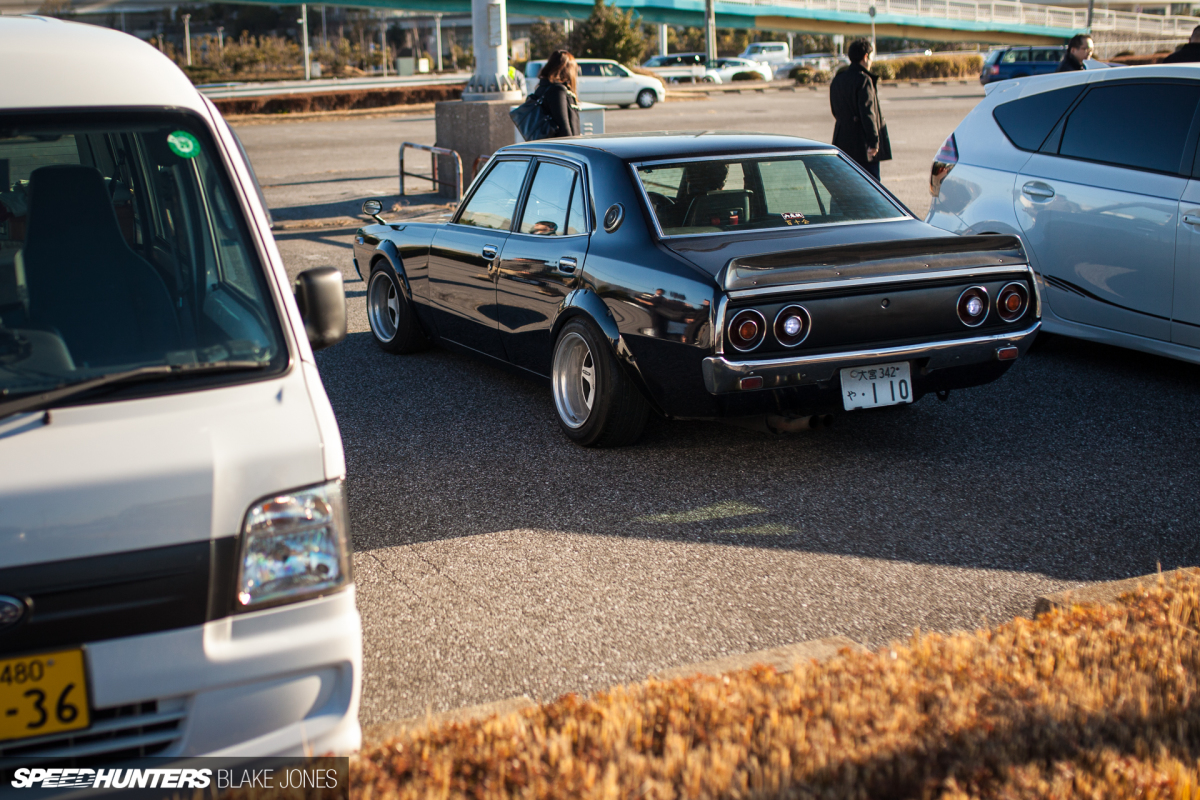 Rocking a tough stance of its own was this Kenmeri sedan. In my opinion, this is one of the best-looking sedans ever built, and the tried and tested over-fenders and lip spoiler additions don't hurt, either.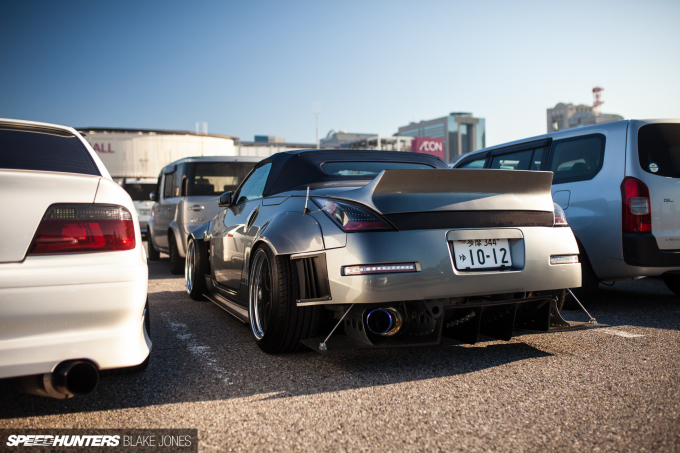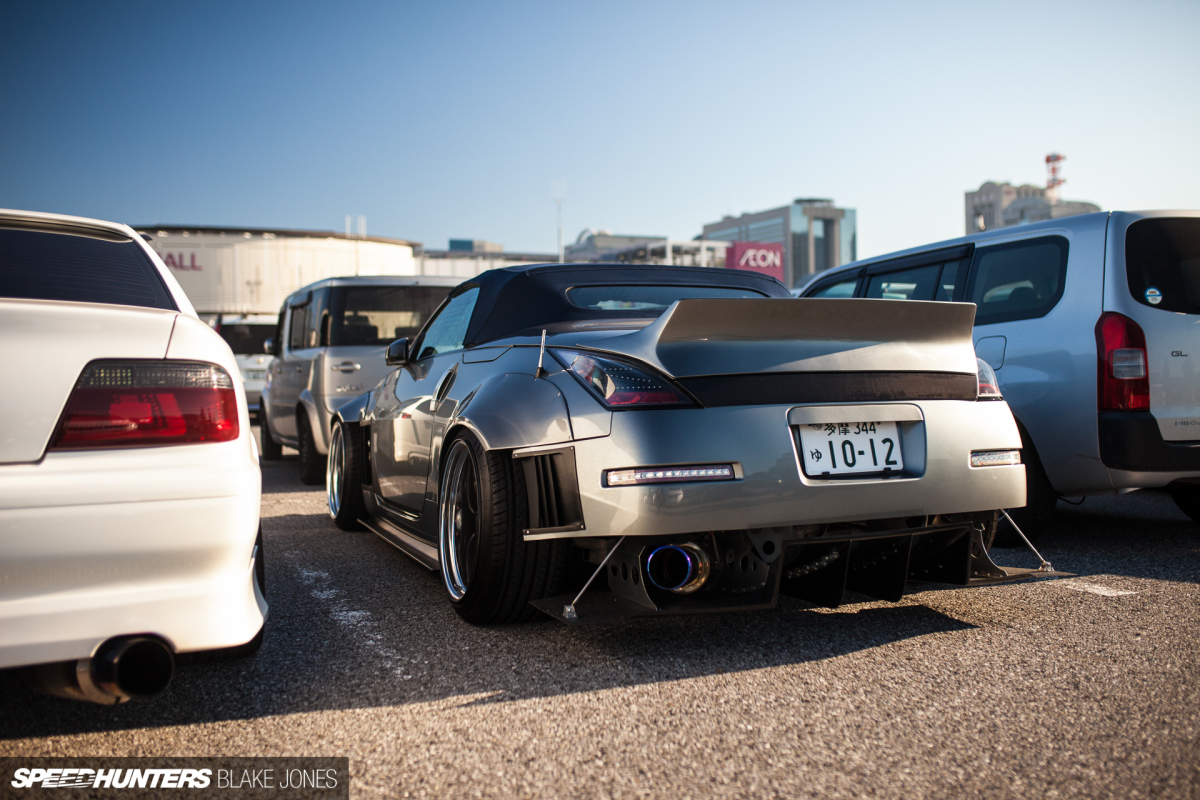 Same formula, different style: an aggressive 350Z convertible perfect for cruising the Wangan at night.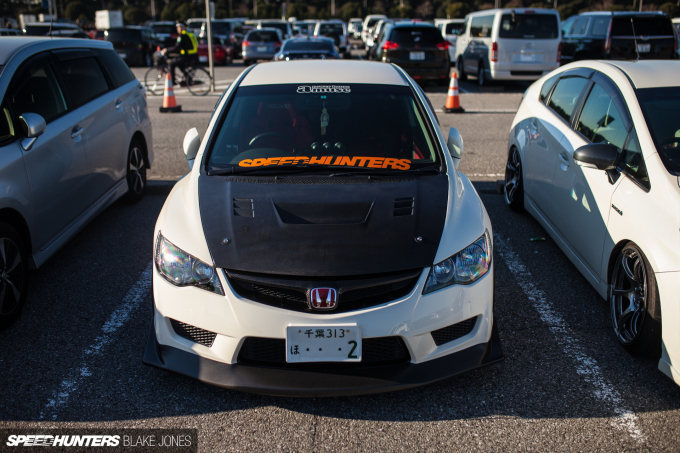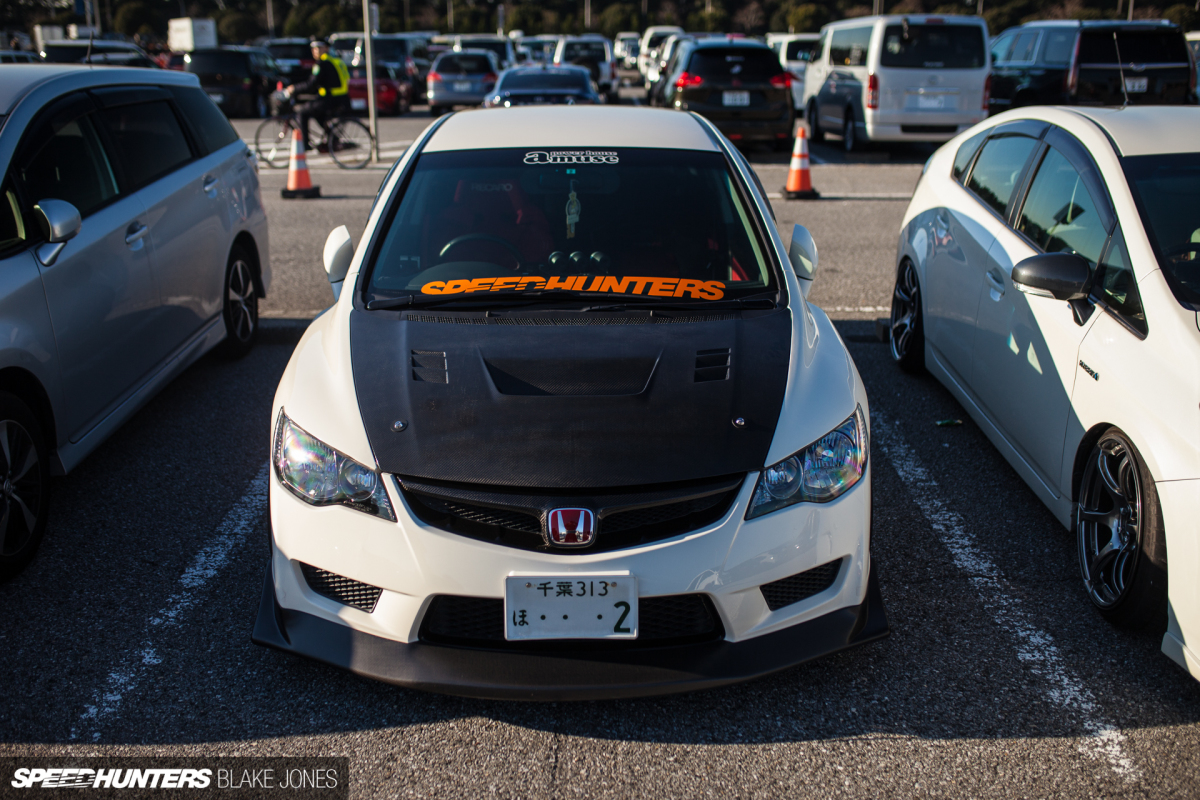 Repping one of our windshield banners is a great way to help your car appear on the site.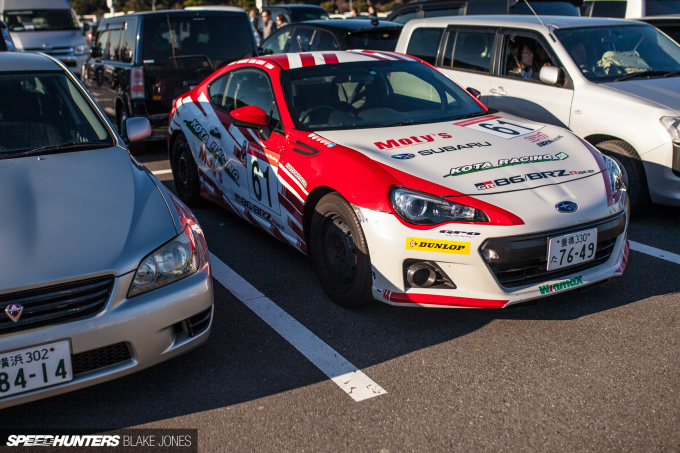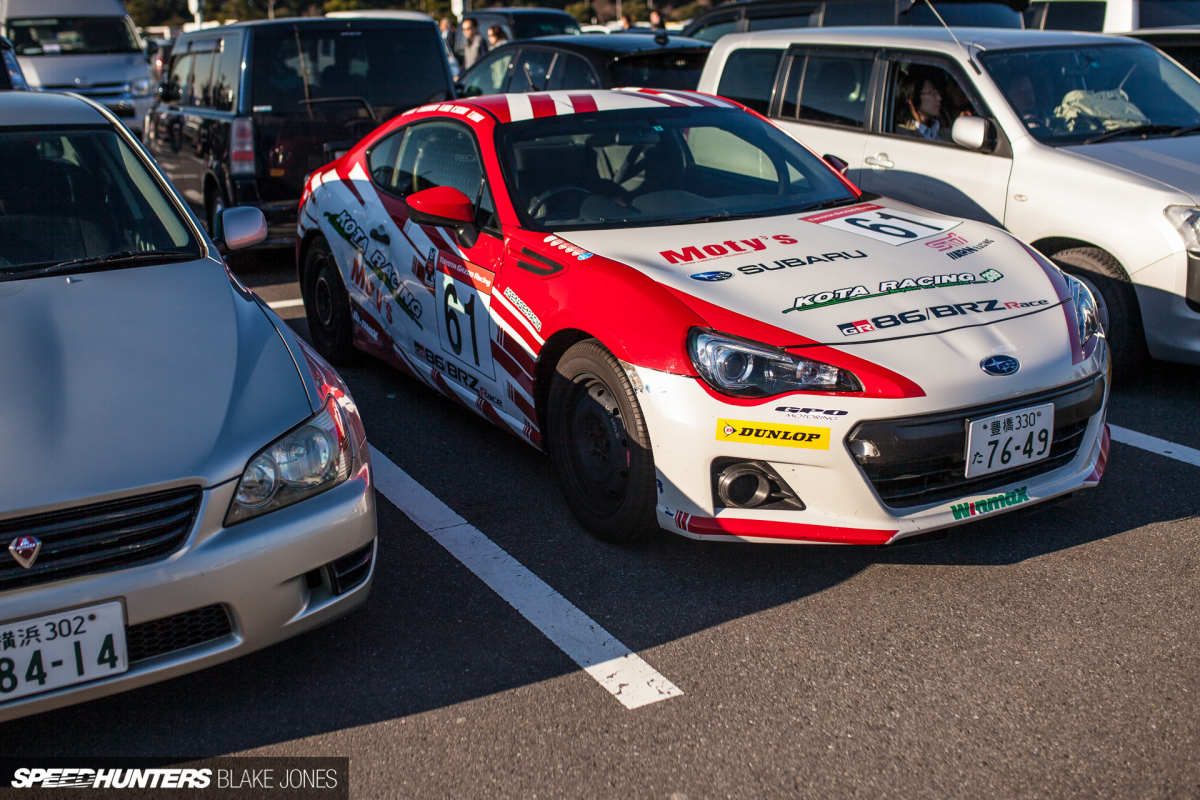 One TAS attendee drove out in his actual Gazoo Racing 86/BRZ series race car, still wearing some battle damage on the driver's side rear fender and door panels.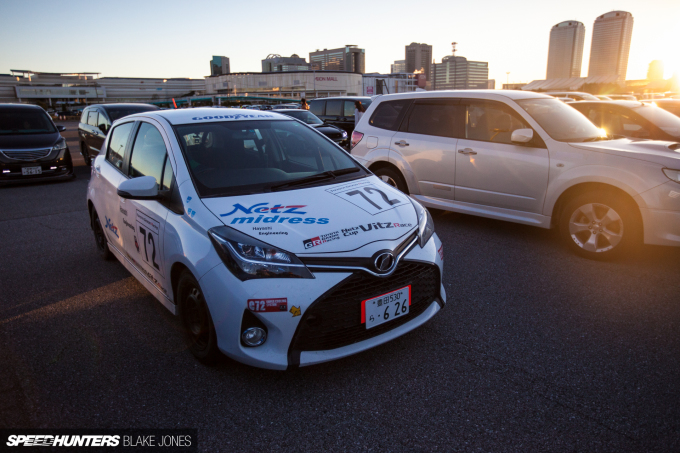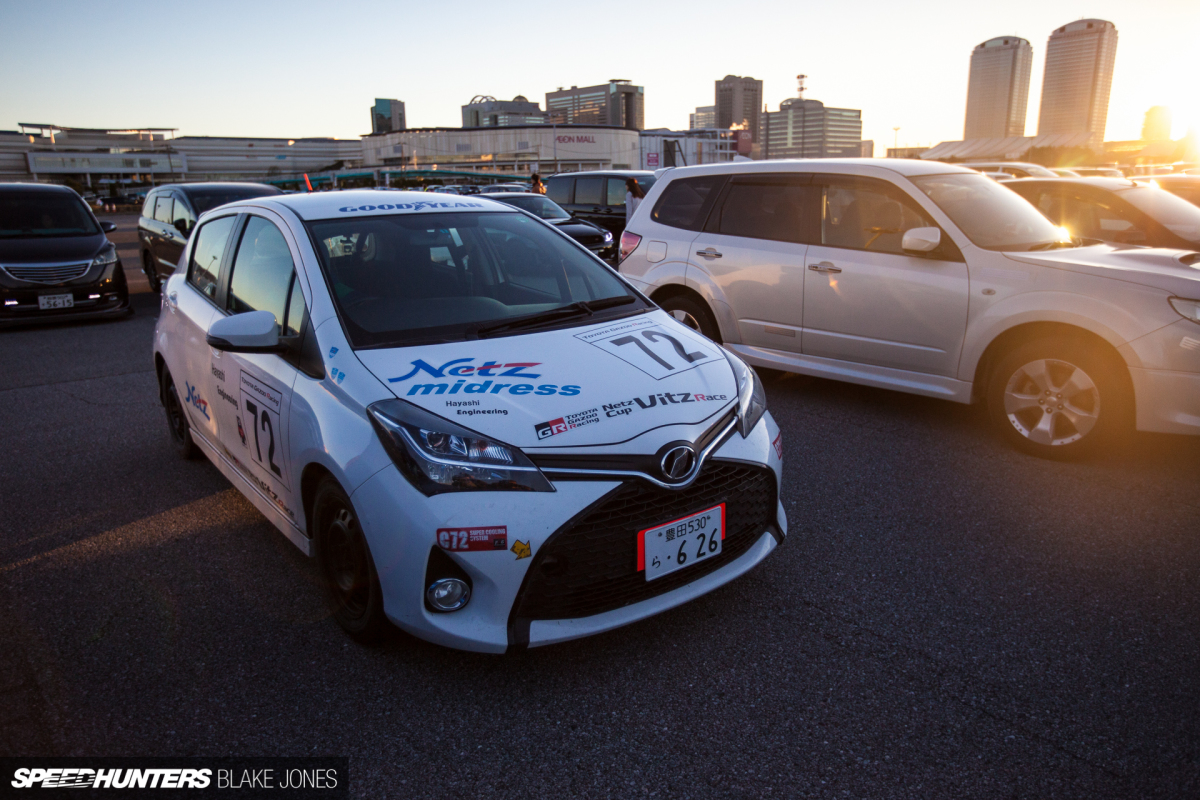 Along with the Netz Cup Vitz Race, these series allow enthusiasts to try their hand at proper wheel-to-wheel motorsport in a control series, without having to deregister the vehicle. It's a sweet spot between grassroots and professional racing with the goal of elevating genuine talent without huge sums of money required.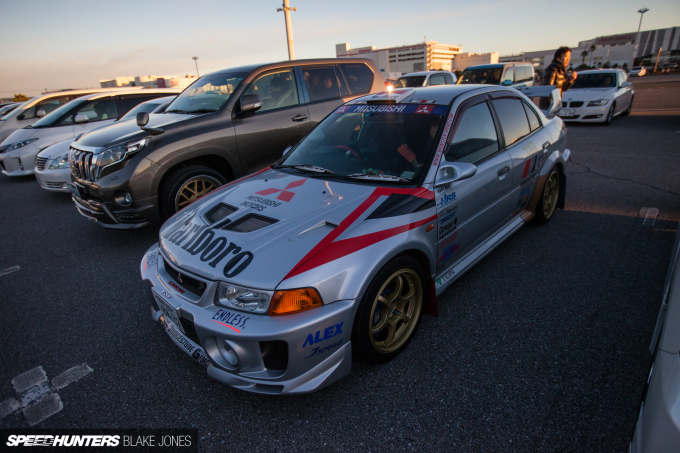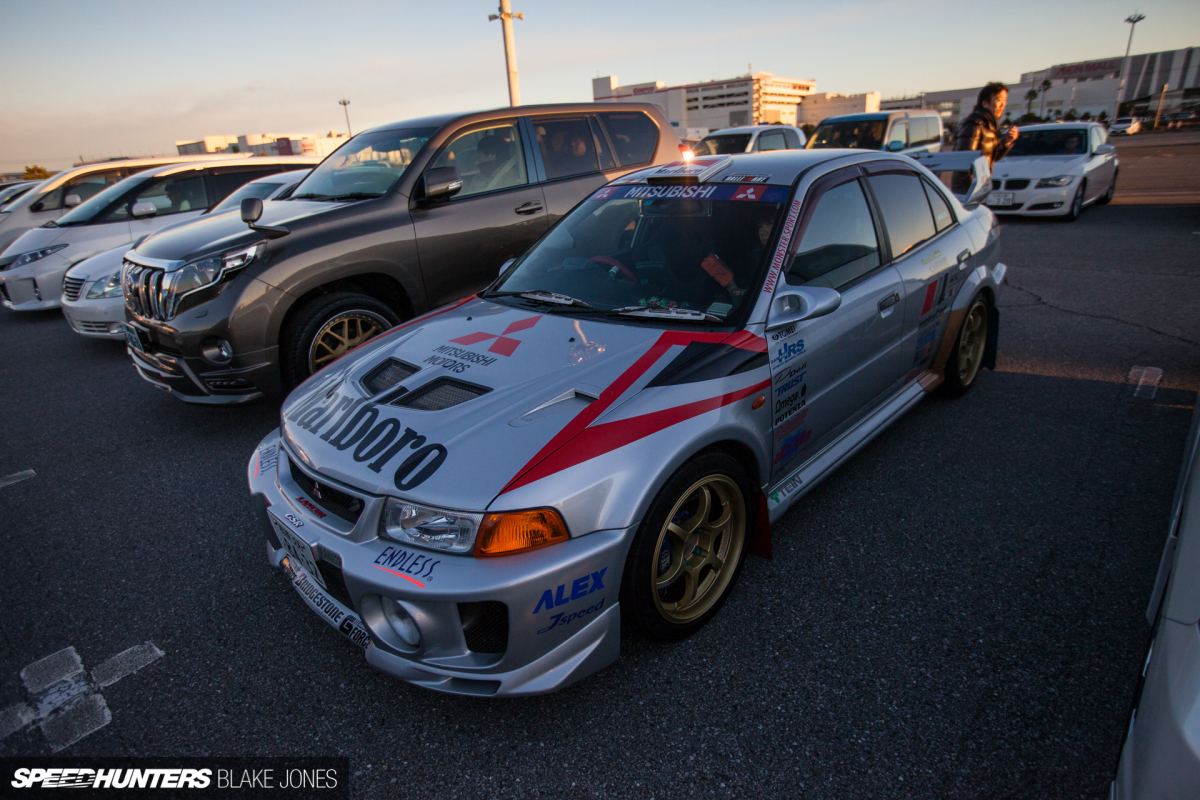 You don't need to be a real race car to wear the livery though, as demonstrated by this Mitsubishi Lancer Evo V.
The Roadster remains a great entry point for budget-conscious enthusiasts; prices don't seem to have swelled like with many other once-affordable Japanese sports cars. This orange example looked great sitting on RS Watanabe wheels.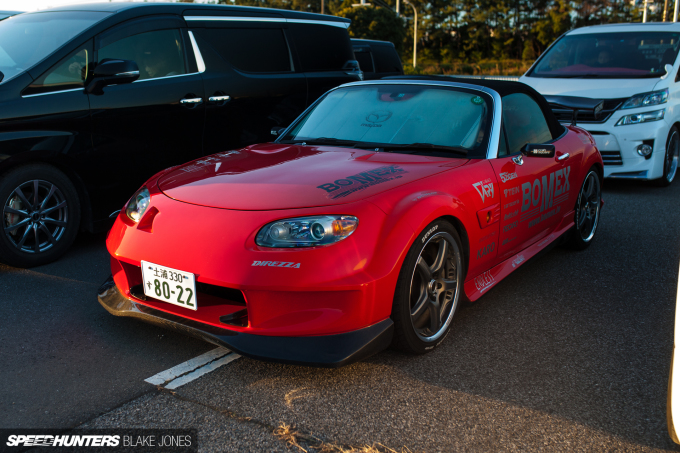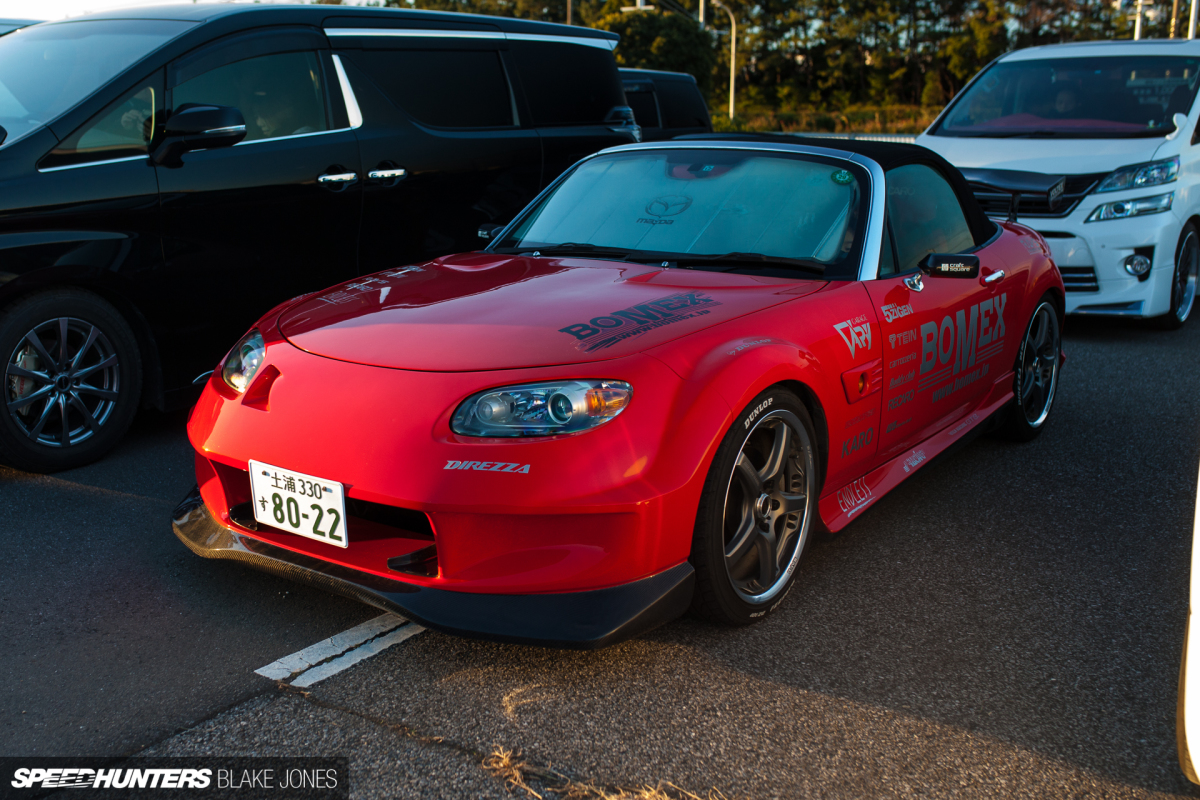 I can't be 100 percent sure it's the same car, but an almost identical Bomex-kitted NC Roadster was displayed at the Tokyo Auto Salon way back in 2006. It's still looking good 10 years on if this is that one.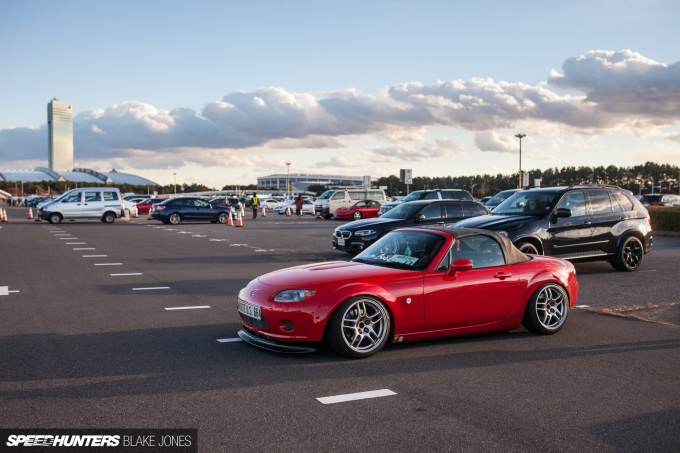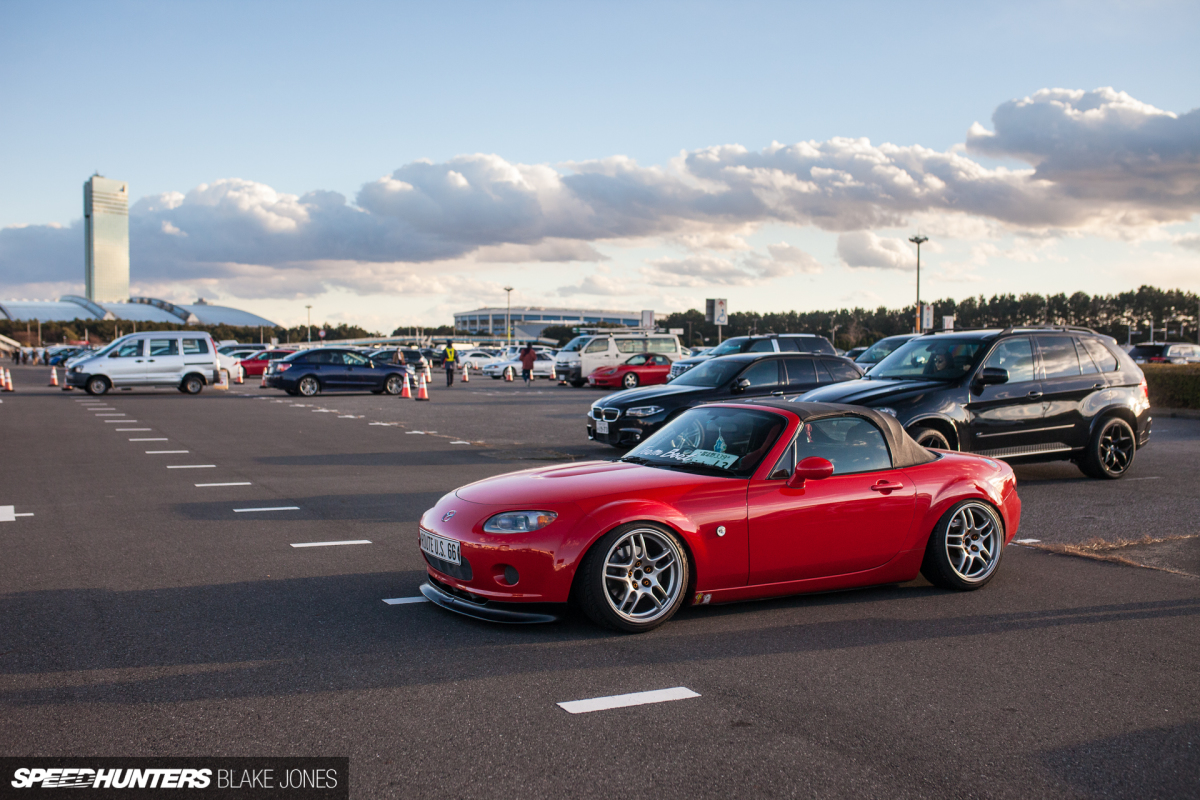 It's been said before but it's worth saying again: R33 GT-R wheels look good on everything.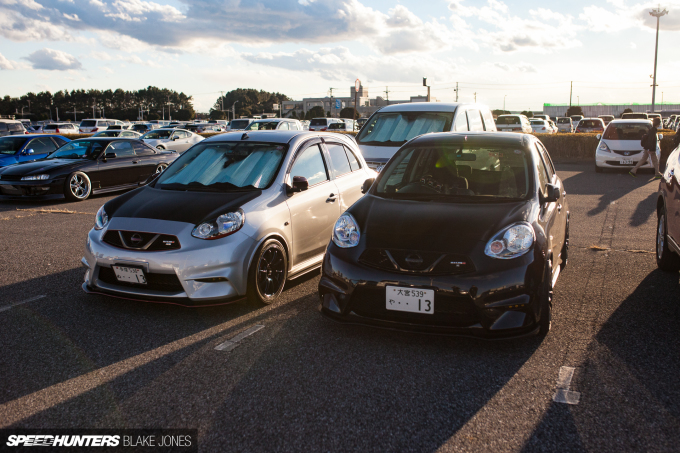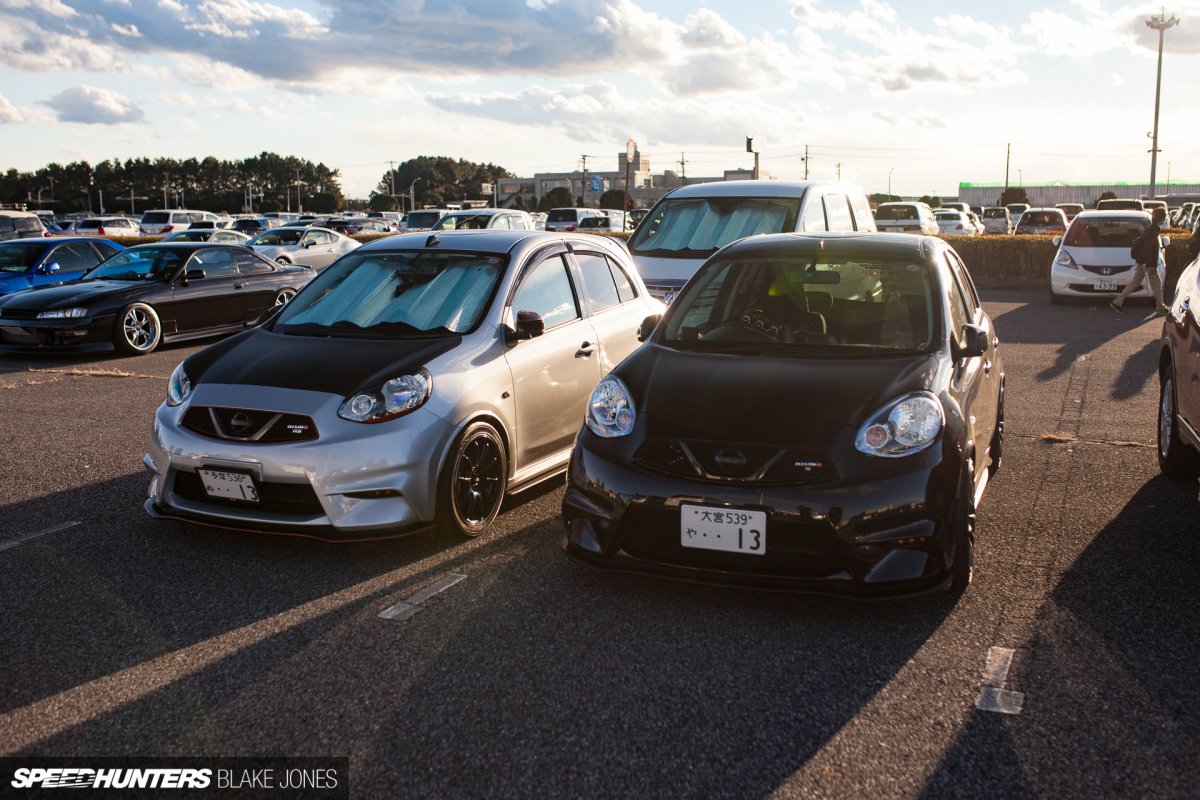 The diminutive Nissan March has been warmed up by Nismo, and I feel like I've been seeing them everywhere since Nismo Festival late last year.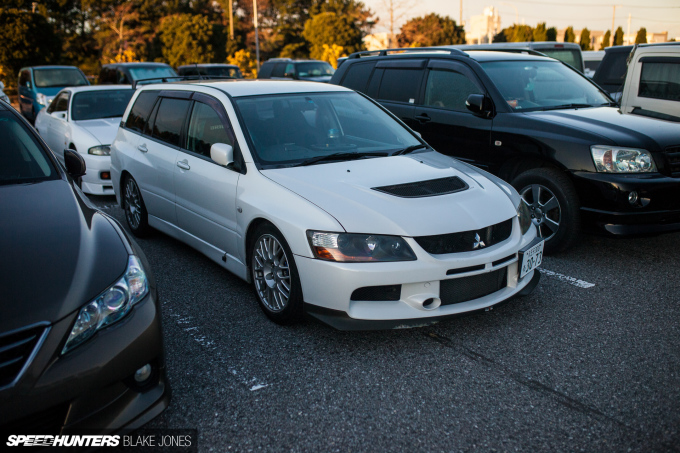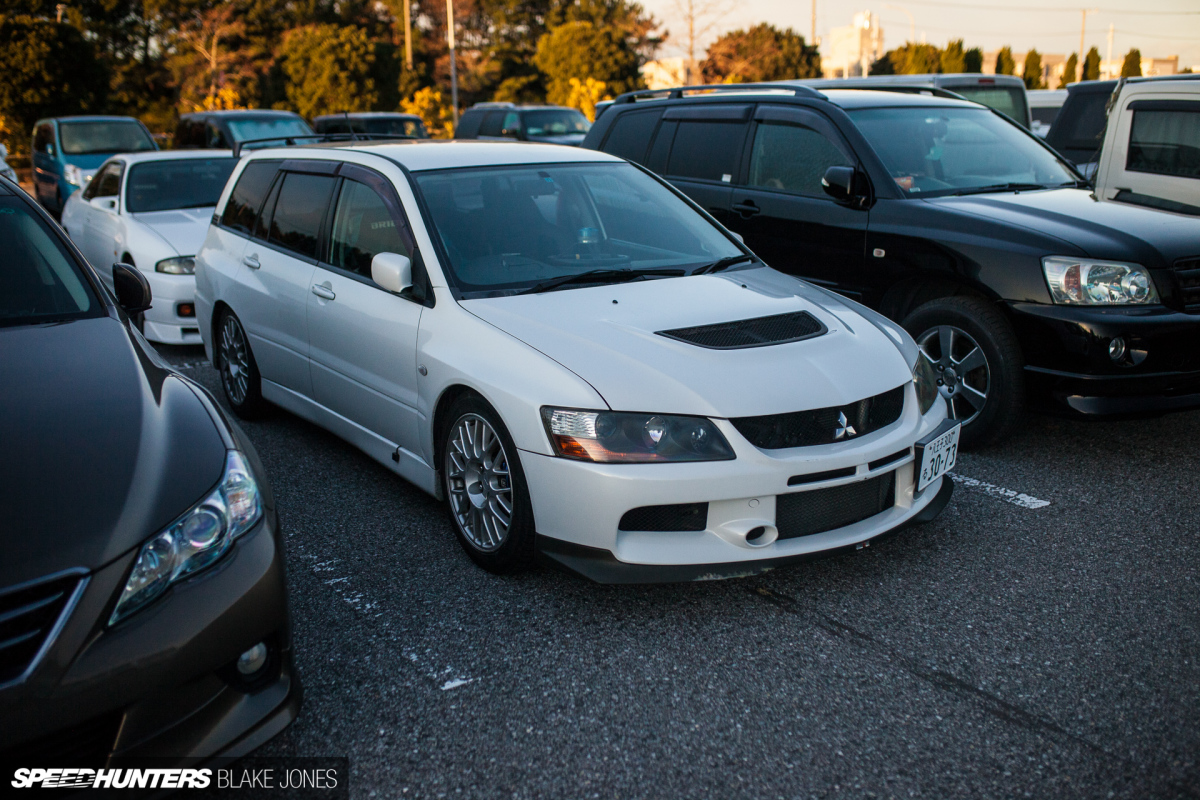 Something I don't see all that often is the wagon variant of the Lancer Evolution. I've been spending a bit of time at the snow recently, and can't think of a better car to lug my snowboard up the mountain.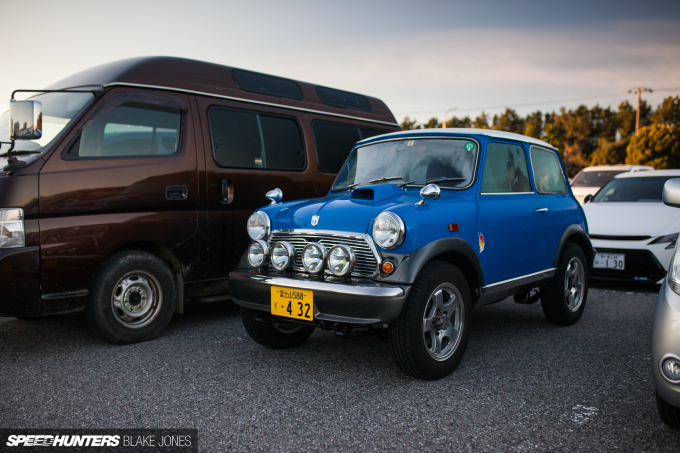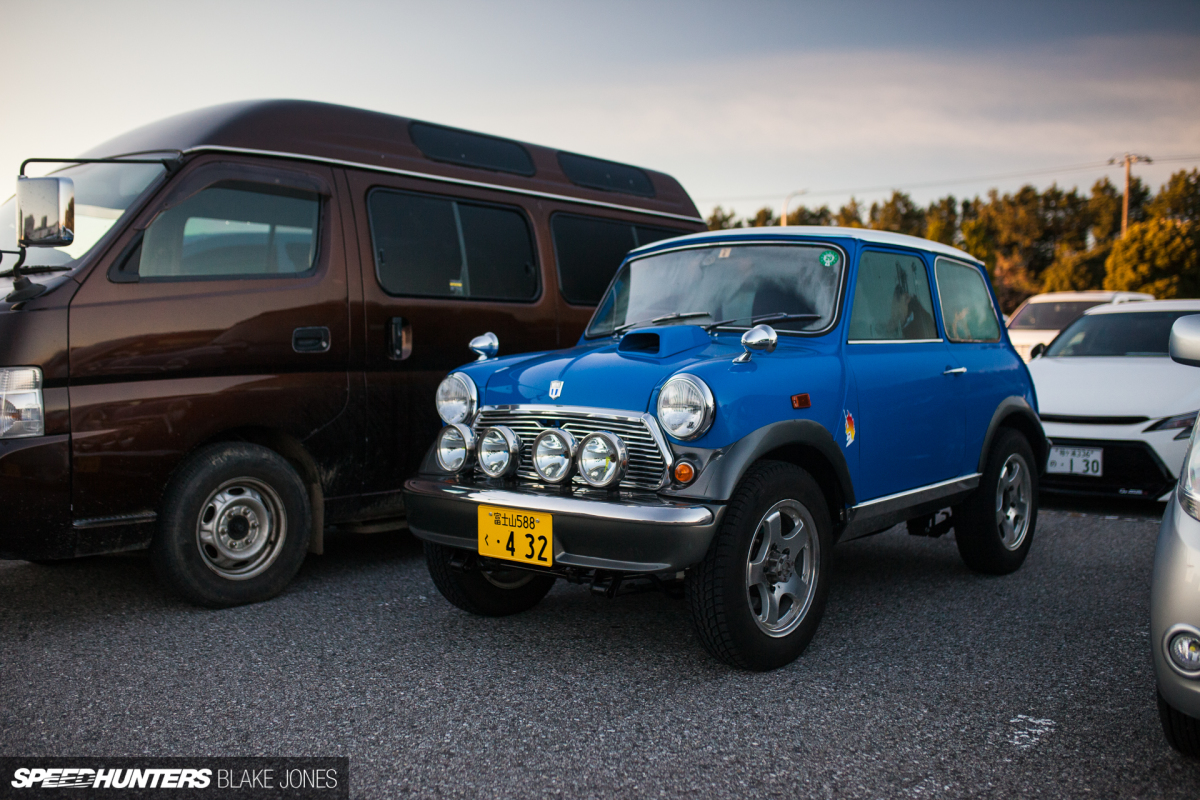 This lifted, 4×4 Mini was certainly eye-catching. The bumpers and flares had an almost production look to them, so I can't help wonder if this is some limited-run creation from a Japanese or British outfit.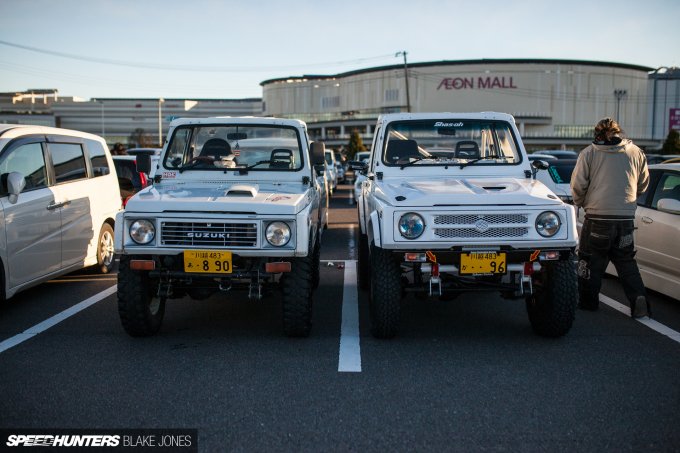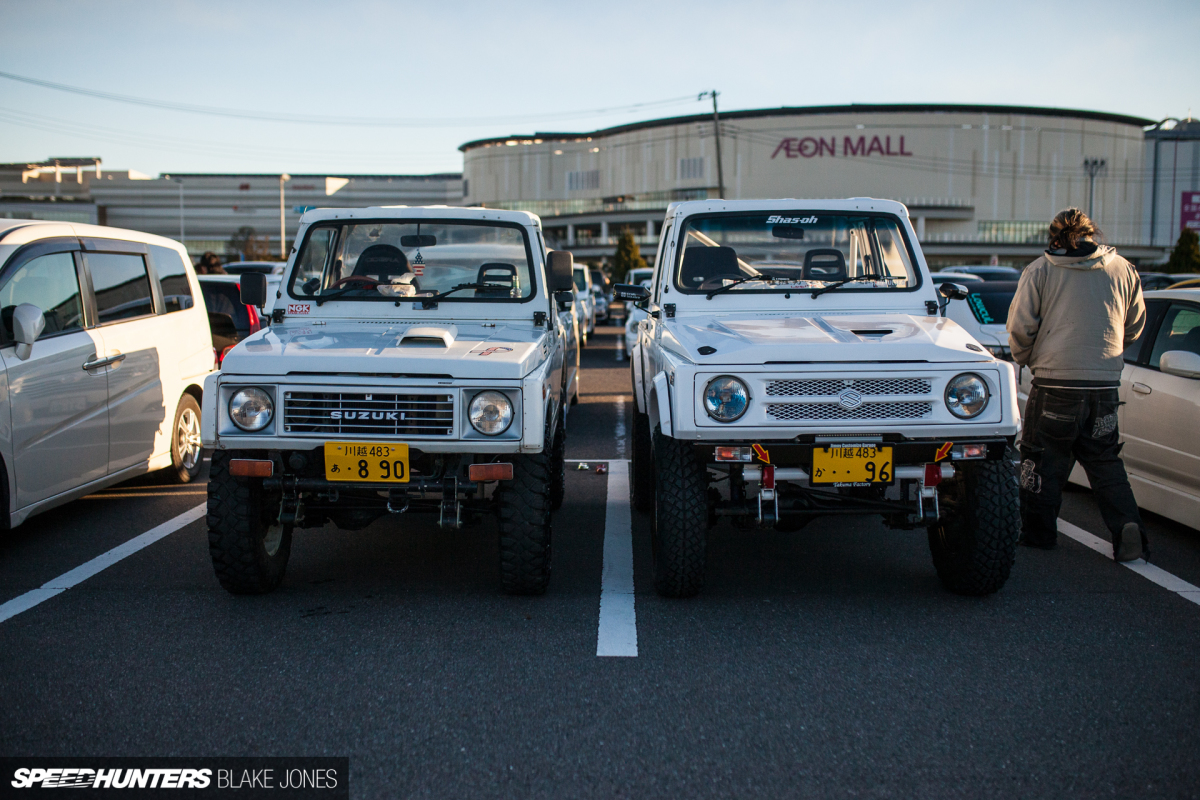 Like the Mini, the yellow plates on these Suzuki Jimnys indicate a kei class car, falling within government-defined rules for size, engine capacity and power.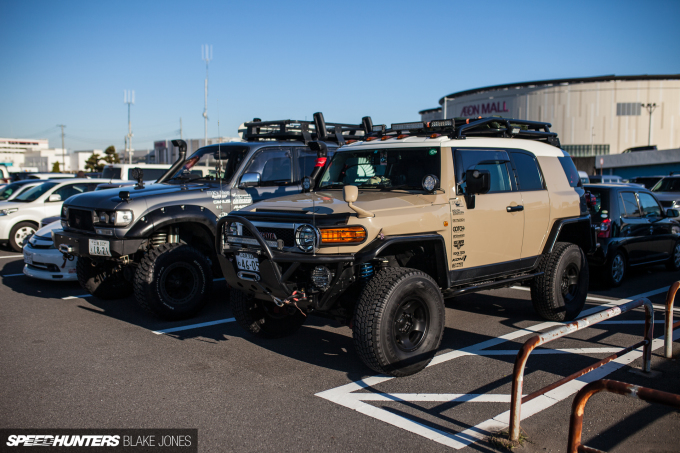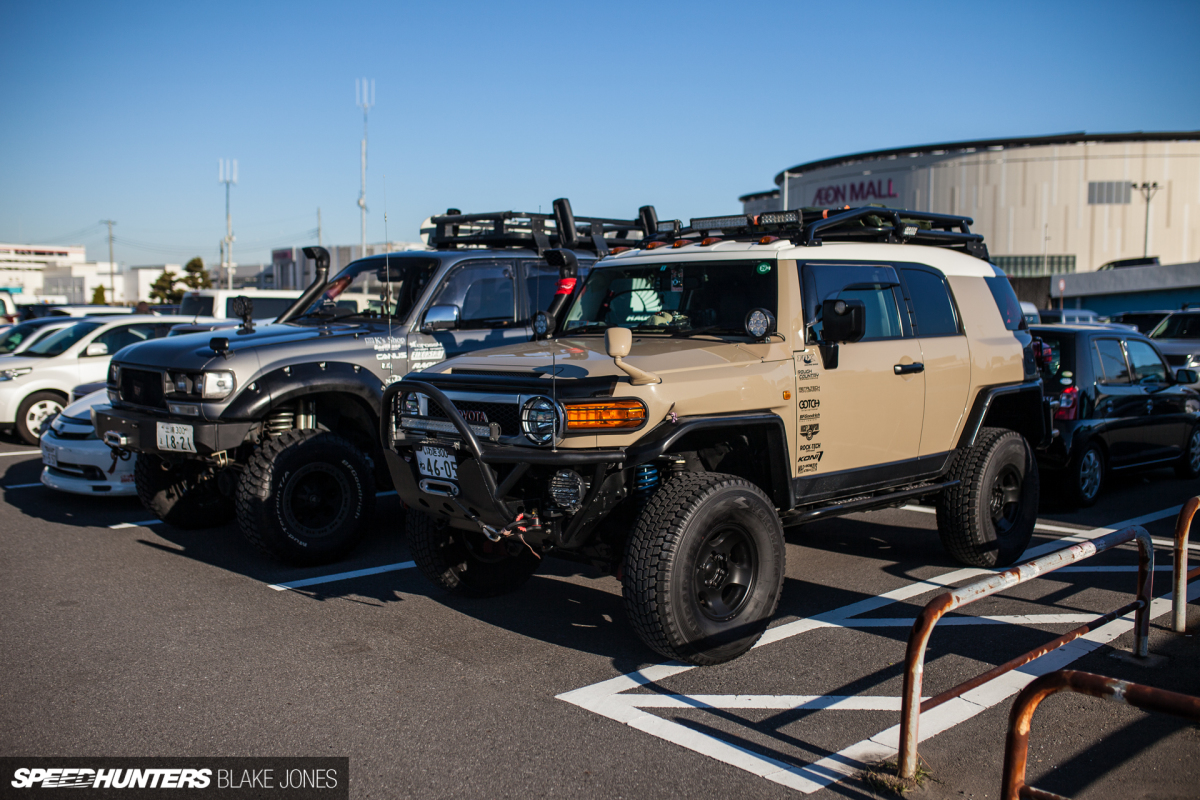 Off-roading has never been something I've been that interested in, but a nicely modified FJ like this has me imagining myself plowing through inhospitable terrain and zombies in a Walking Dead-esque post-apocalyptic world.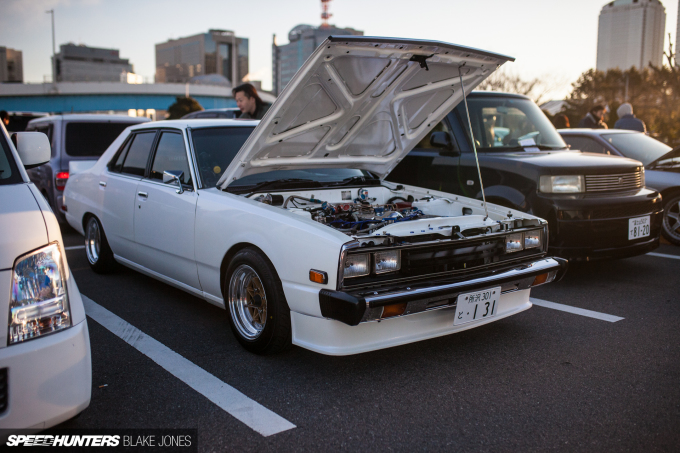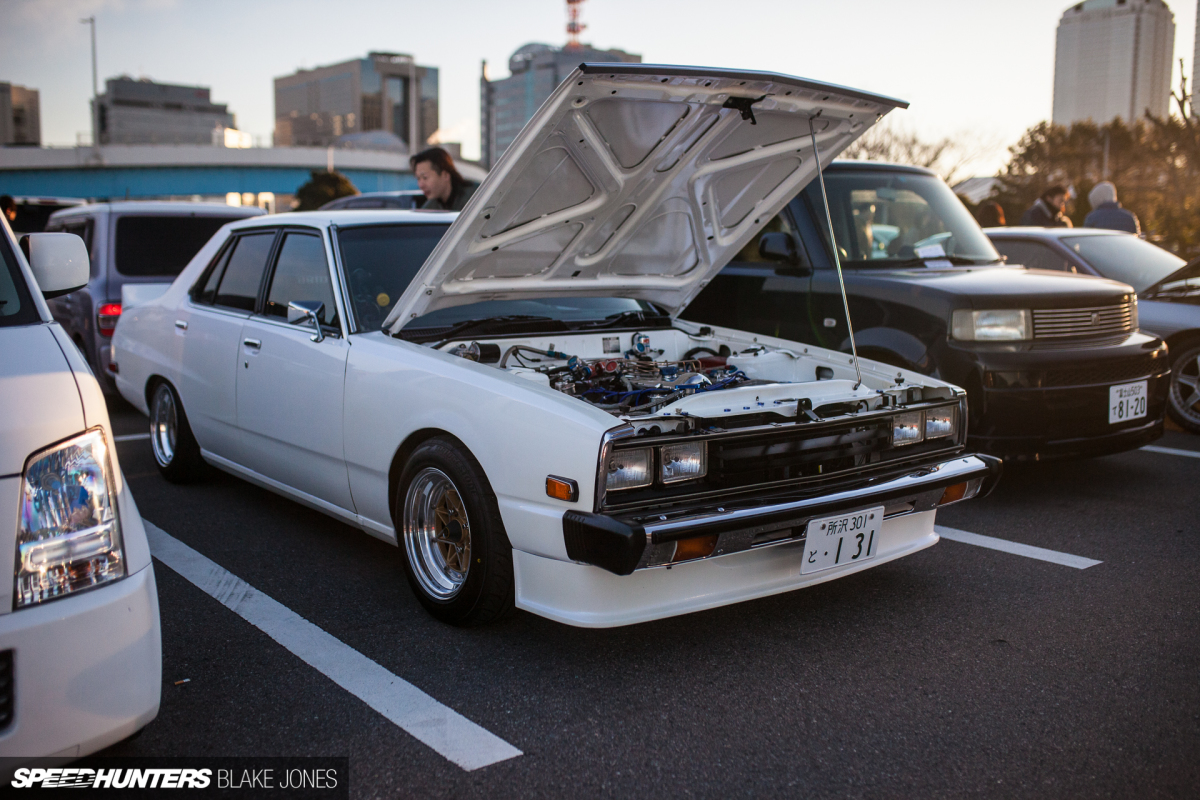 The owner of this C210 sedan was making the most of their prime parking position in front of the main entry to show off some recently completed work under the hood.
Overall, it was an extremely clean and nicely detailed build, but taking centre stage was the chromed L28 topped with a NOS system – not something you see too often in Japan.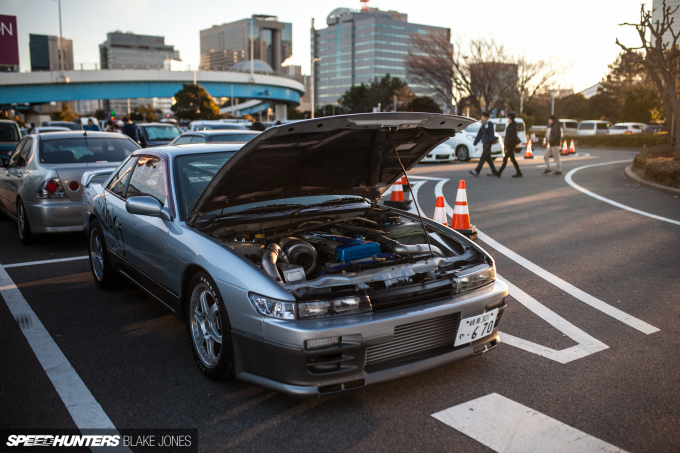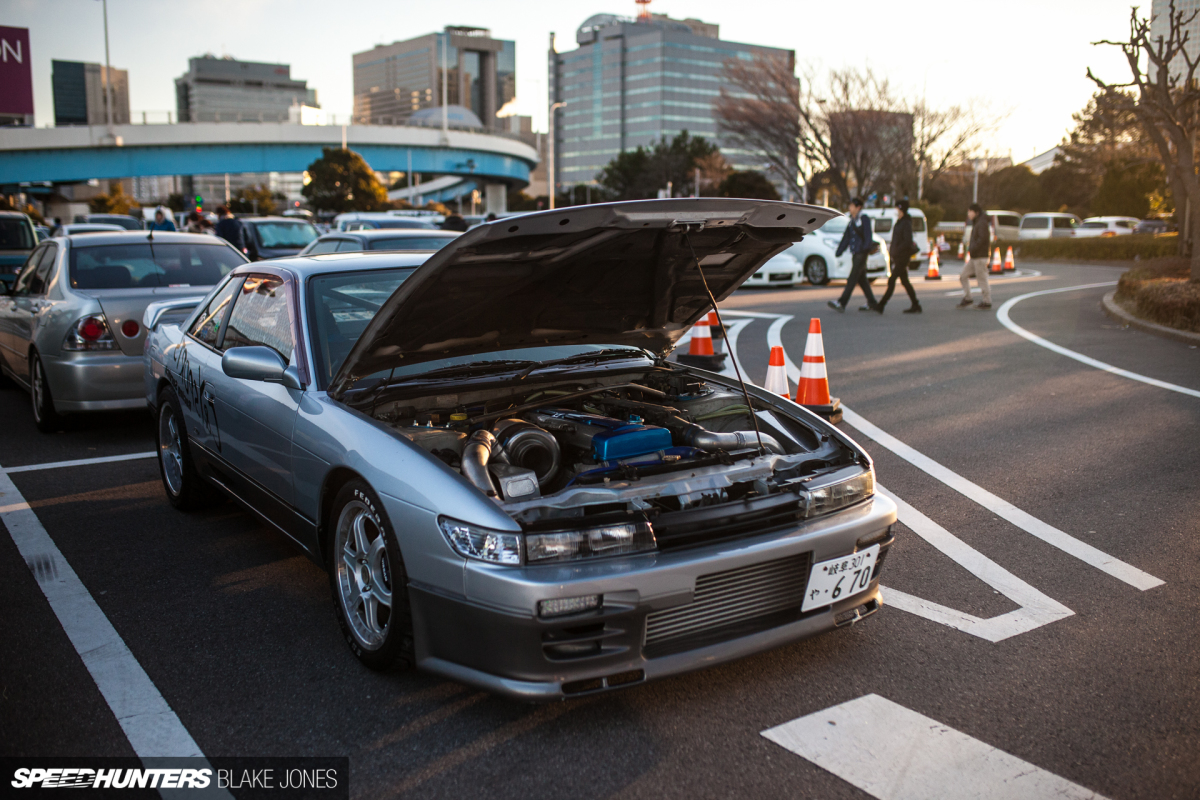 Sitting one spot across from the Skyline was a lovely example of '90s Japanese drag style in this fairly tame-looking two-tone Silvia.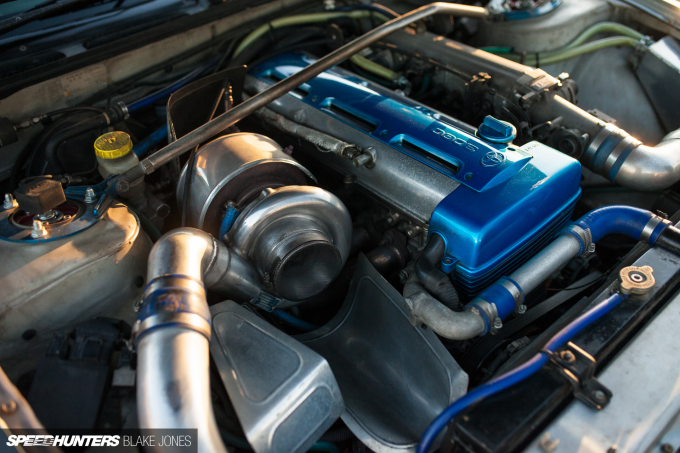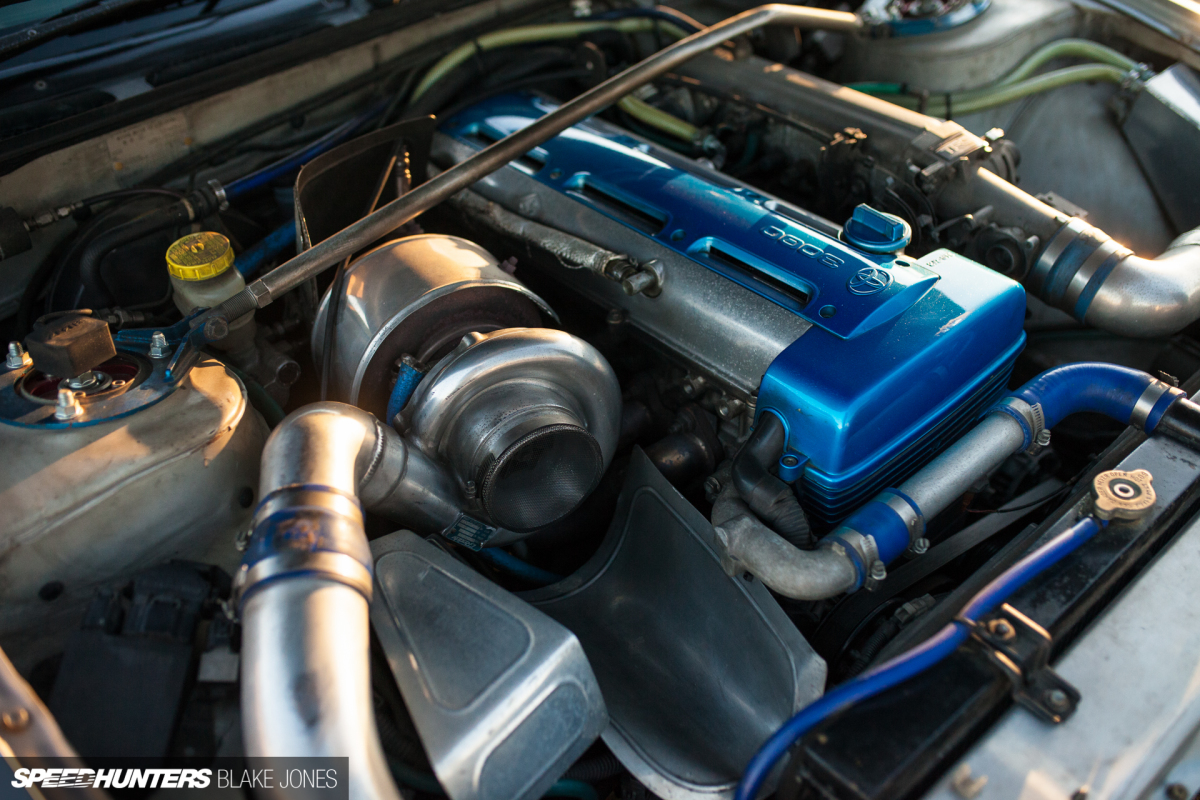 The exterior is the only sedate thing about the S13 – check out the size of the turbo strapped to the swapped 2JZ! As the logo graphics on the rear quarters proclaimed, this is actually a C&Y Sports build, and a quick search on YouTube turned up a video of it in action.
Toyota's Prius and Aqua are respectively the best and second best-selling models in Japan, so of course there are plenty of modified examples cruising around. Take a closer look at those headlights… Not only were they custom designs, but two little anime figurines had found their way inside.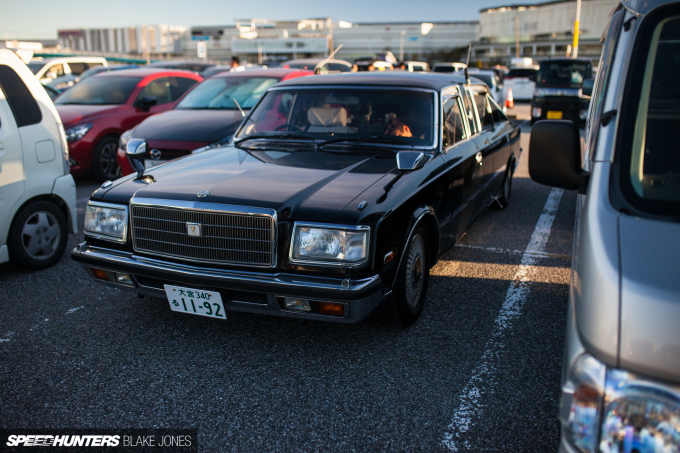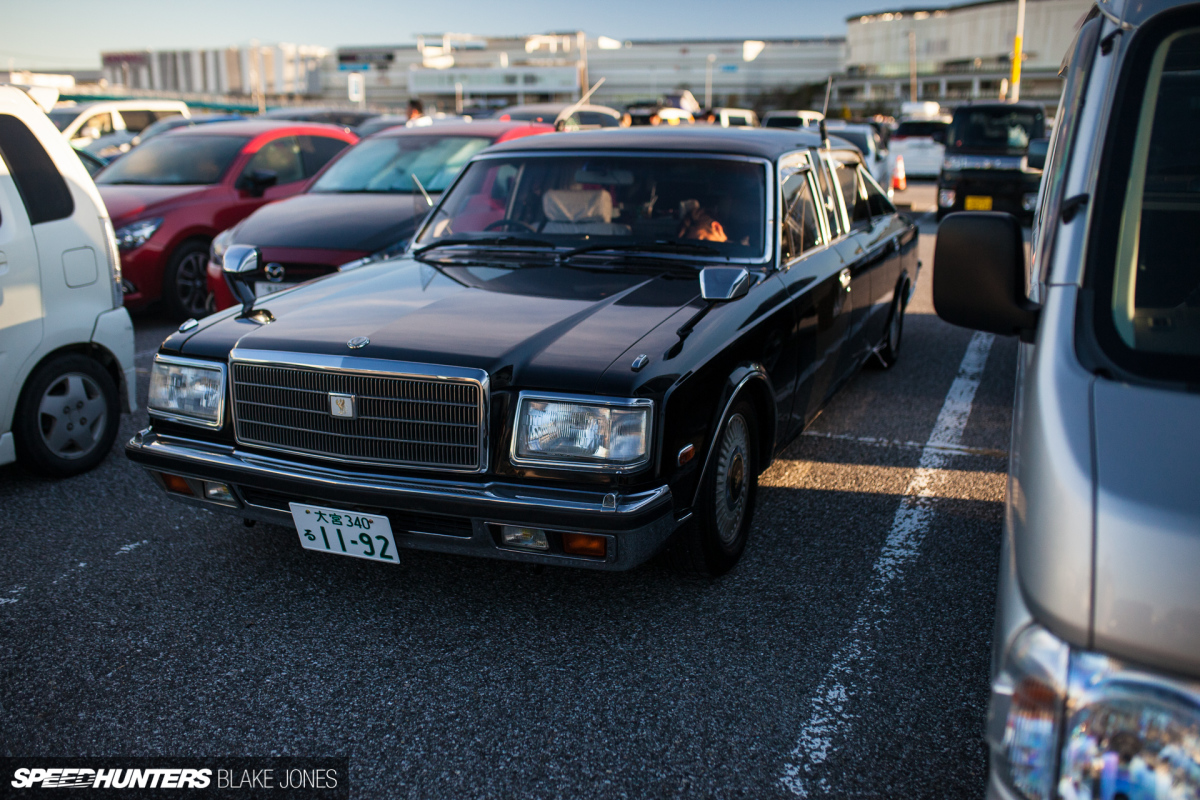 What I first thought was a demonstration of extremely poor parking etiquette turned out to be one of the more interesting finds of the day – a factory-built Toyota Century stretched limousine taking up two spots.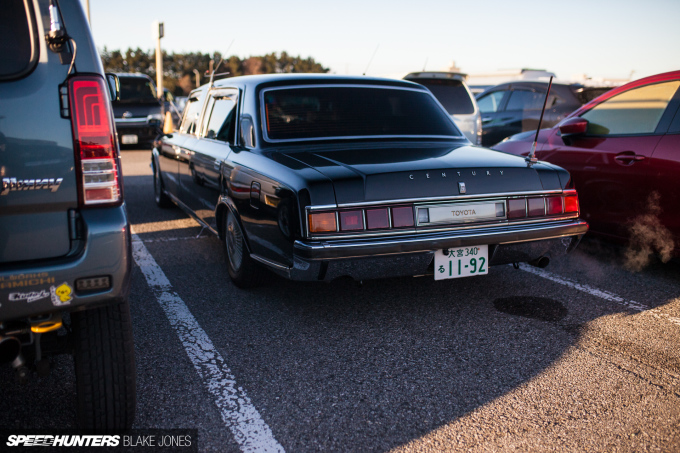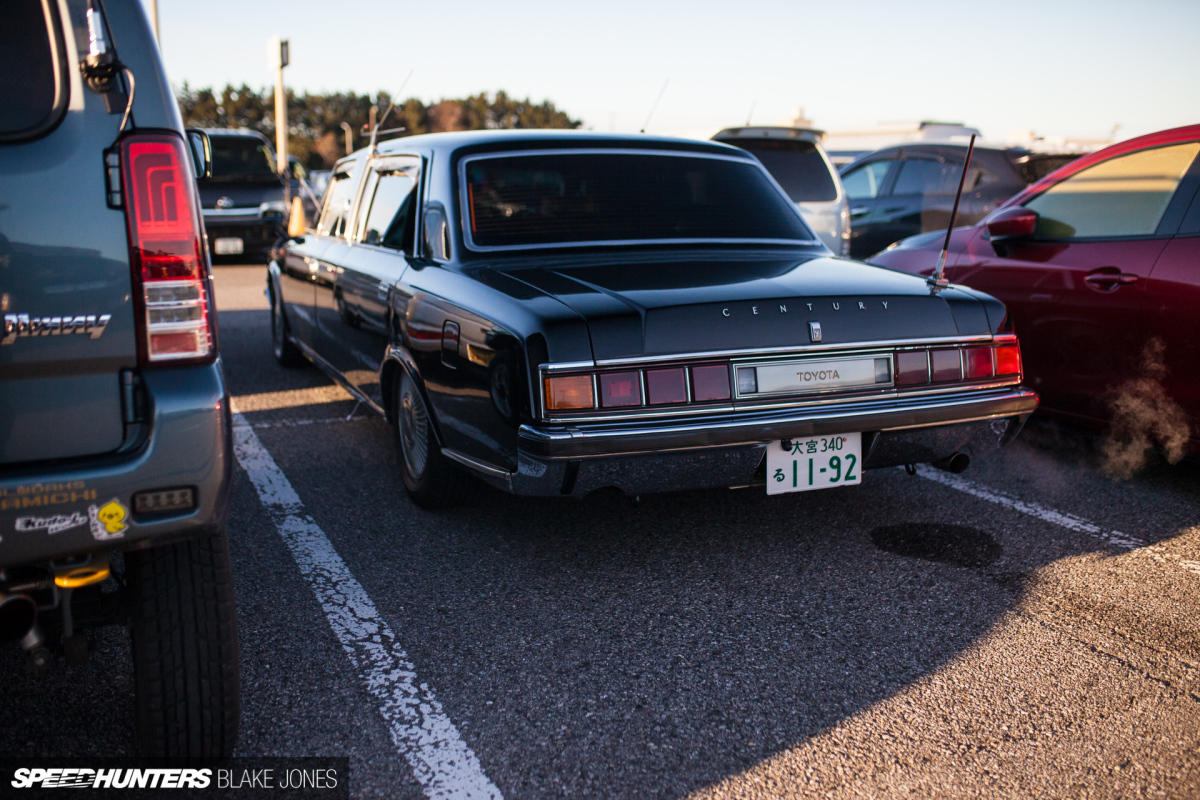 If I had to hazard a guess at the rarest car in the parking lot on Sunday, this would be it. Apparently only 60 examples were made per year, and even then you could only purchase one if you were an appropriately esteemed politician or businessman (or Yakuza, perhaps).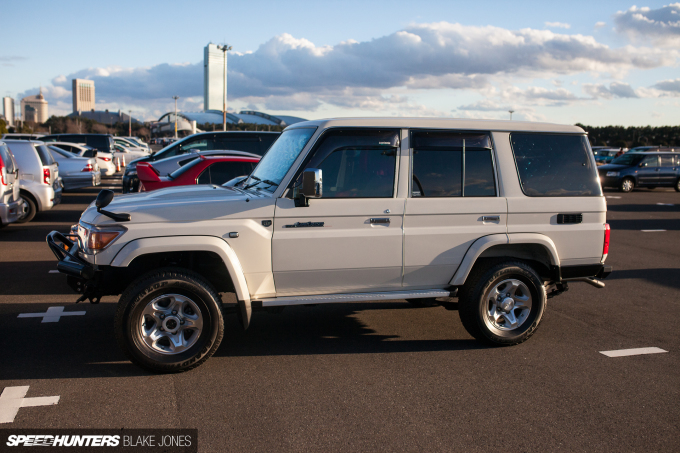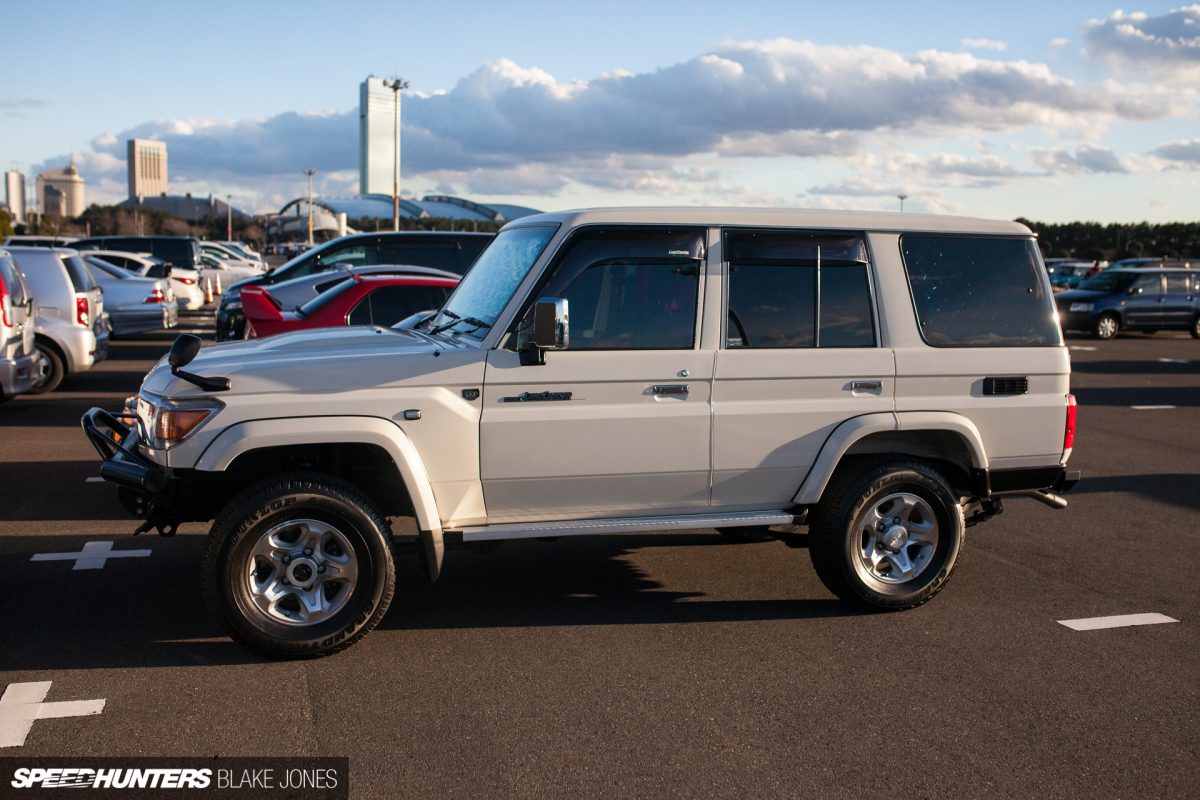 The 70 series Land Cruiser was a familiar sight on the roads in my home country of Australia. Strangely, a lot of outlets claimed that the 70 series was 'going back into production' for a year, whereas in reality production never stopped – the car was just not sold in the Japanese market. Either way, they were snapped up enthusiastically by Japanese buyers who were keen to recapture the nostalgia.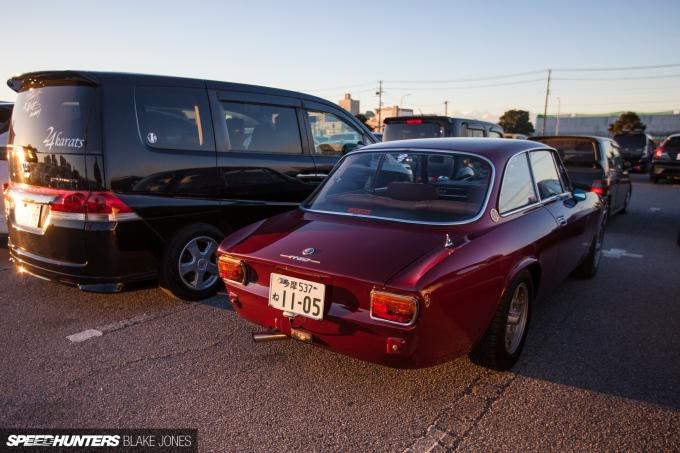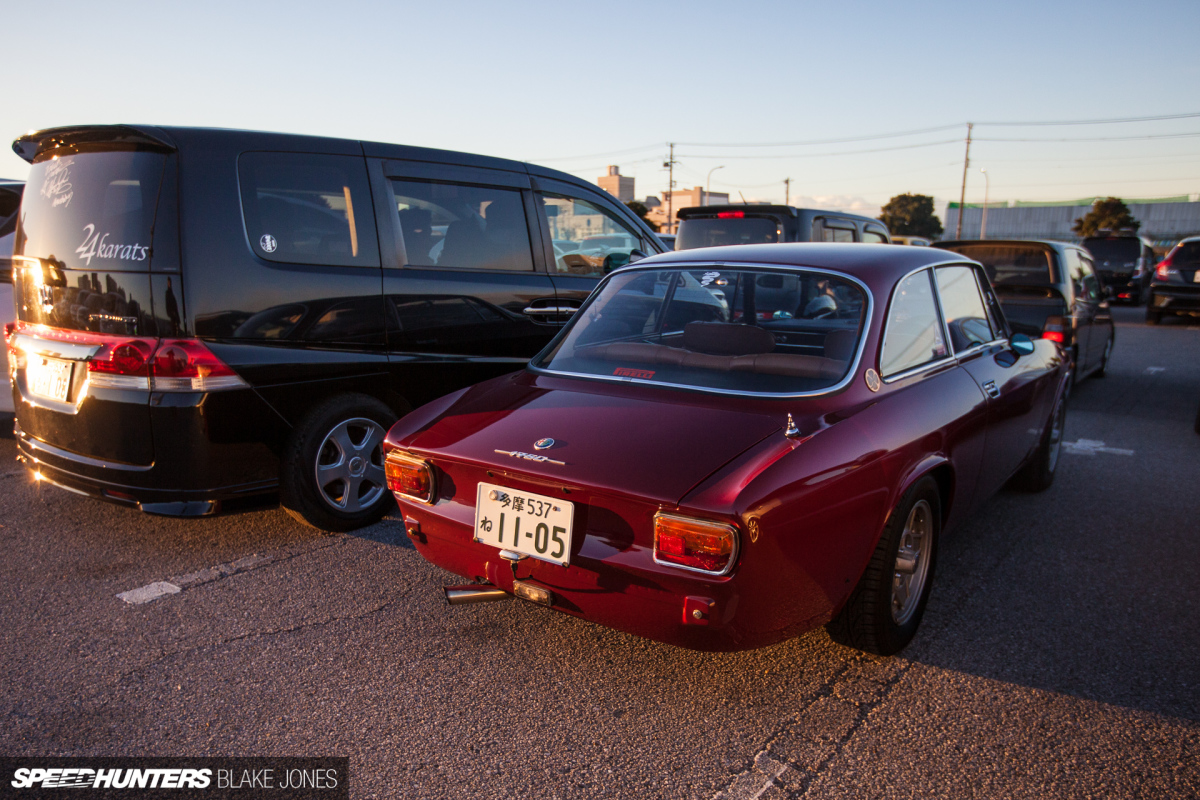 Not much beats a bumper-less '70s Alfa for sex appeal. There's a huge following for Alfa Romeo in Tokyo, along with pretty much anything else Italian. (Not pictured here – the many Lancia Deltas in attendance).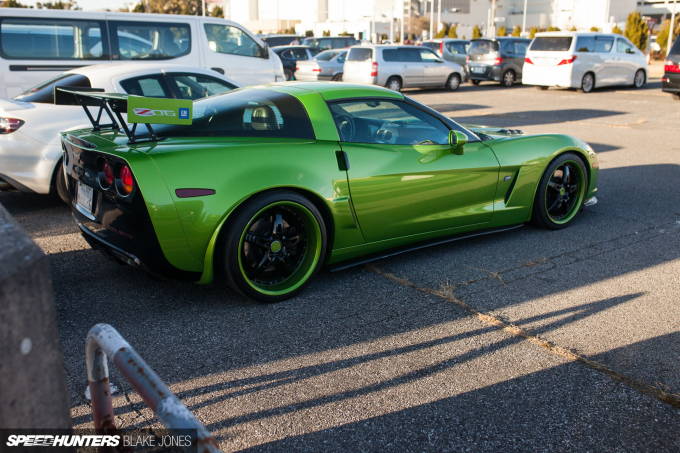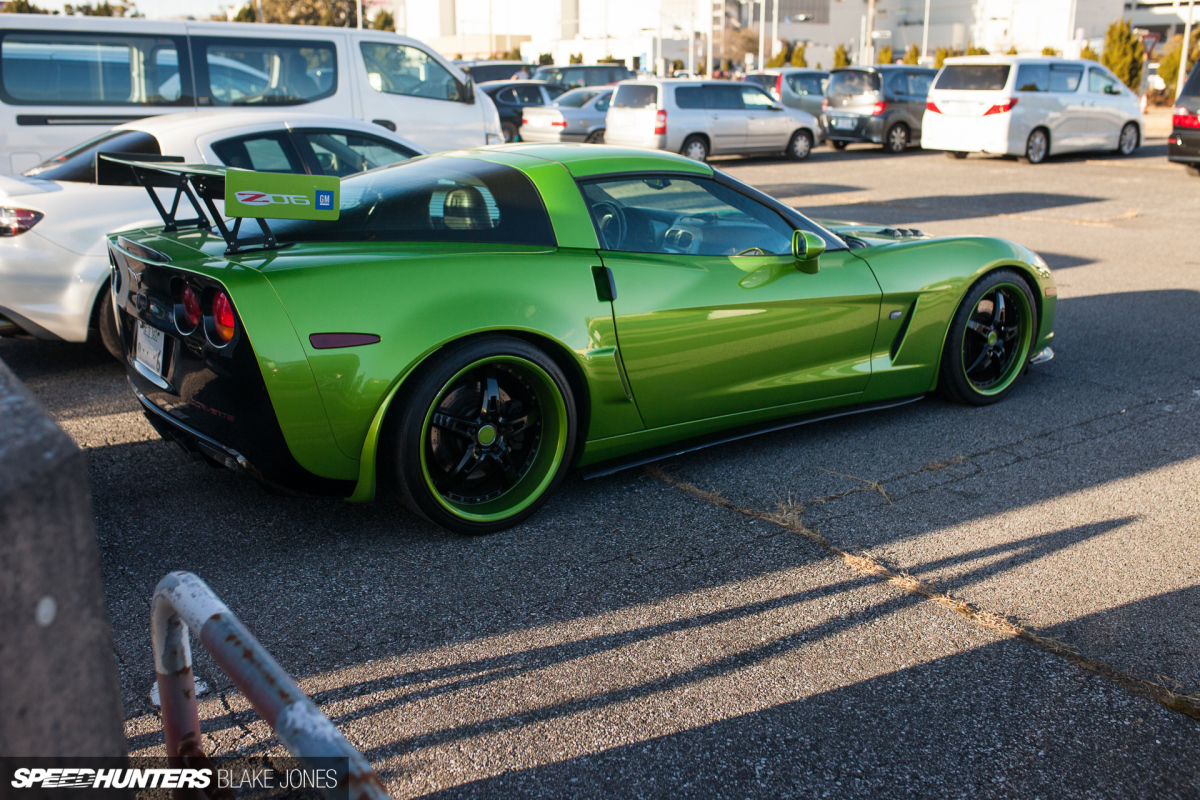 There's always some interesting Americana to be found, too.
From iconic '80s designs like the Pininfarina Honda City Cabriolet and AE86 Corolla Levin…
To track-ready Nissan sports cars – there's plenty to see in the Tokyo Auto Salon carpark.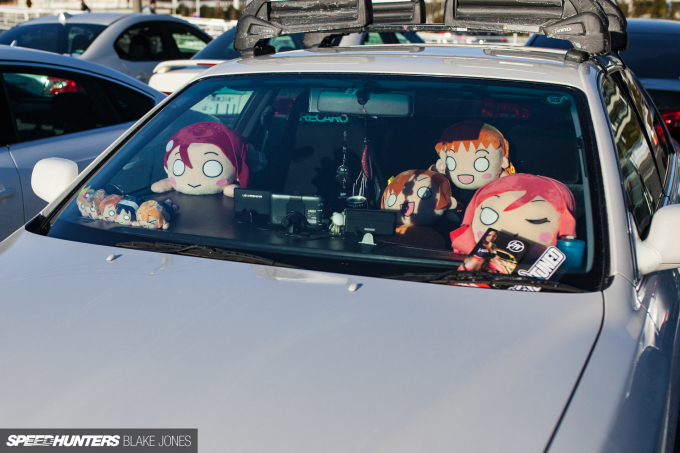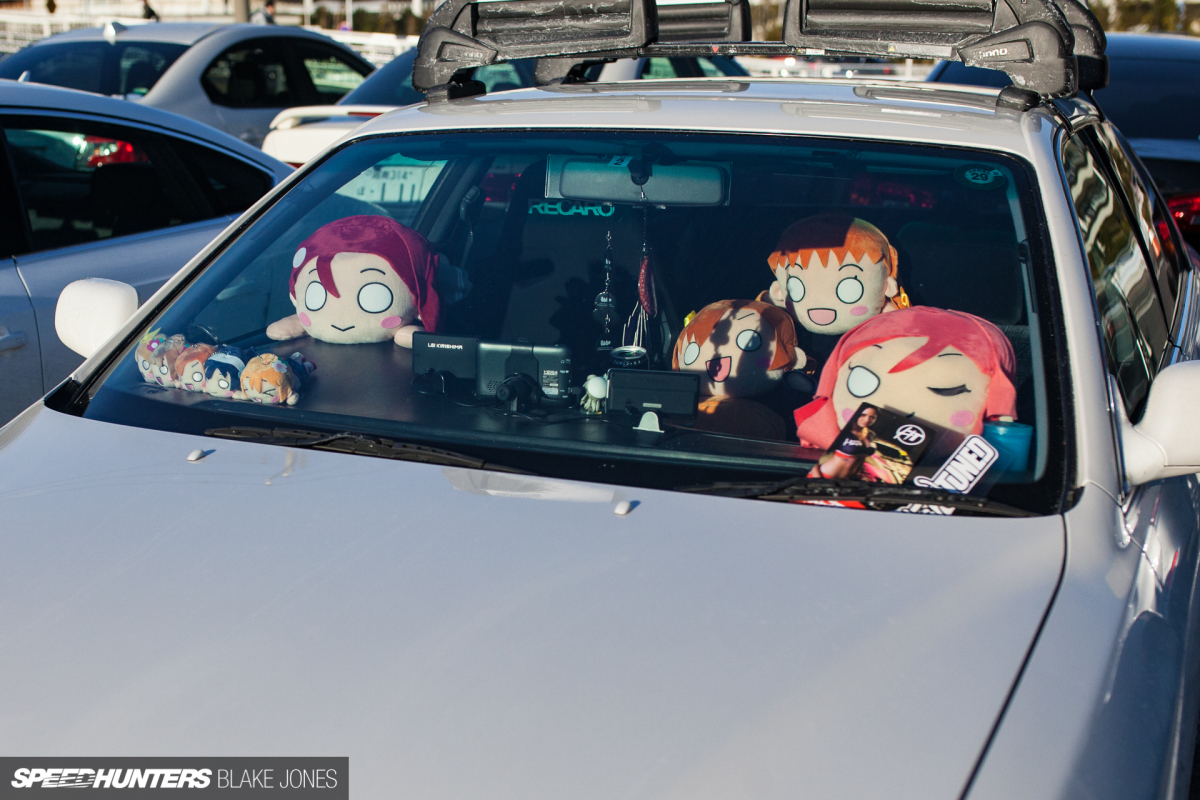 If you ever find yourself at the event, make sure you allow at least an hour to walk through and check out the craziness on display.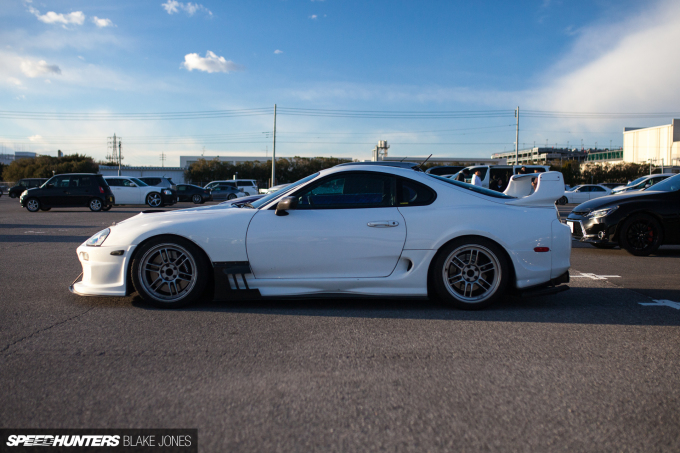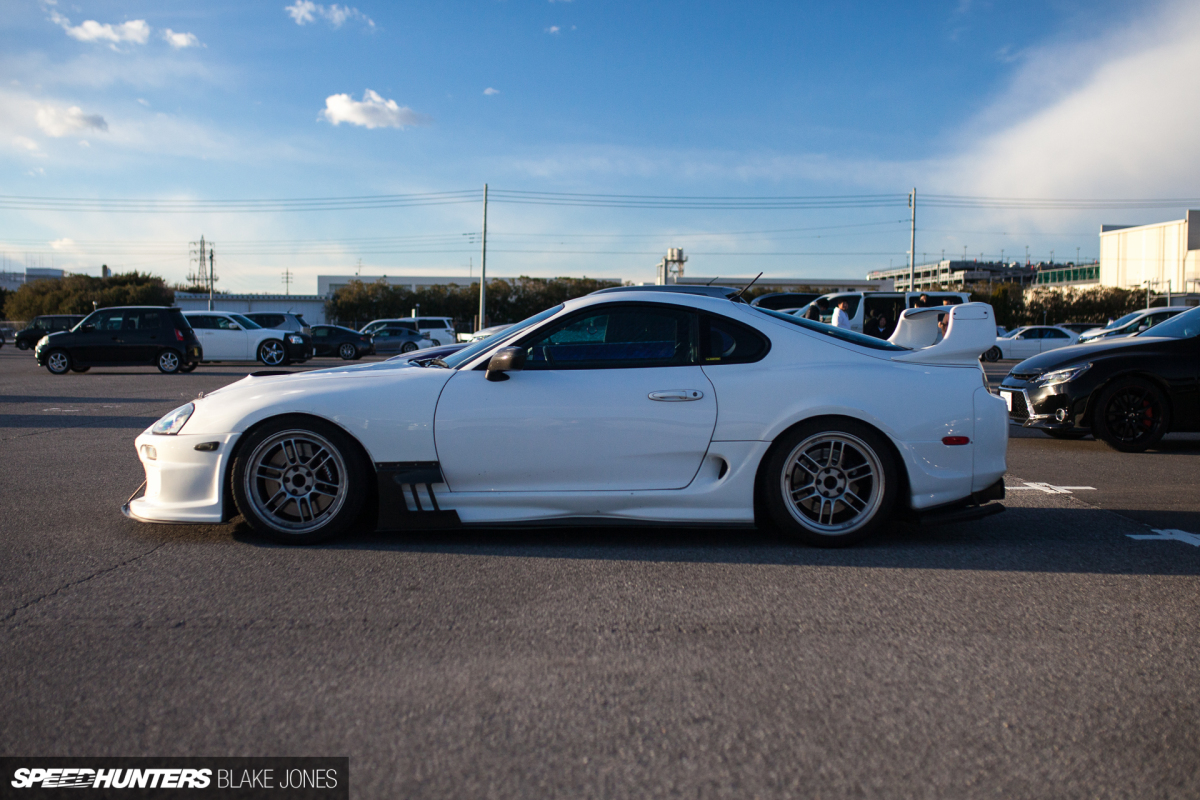 The last car I snapped was this JZA80, parked close to my own car, right before paying my ¥1000 (US$9) parking fee and hitting the highway back to Tokyo.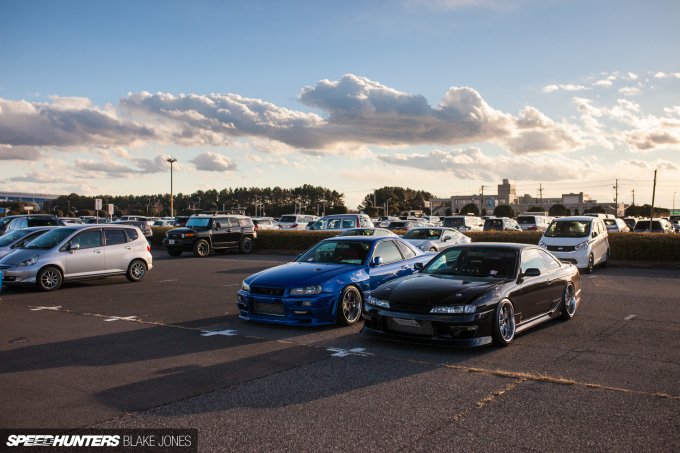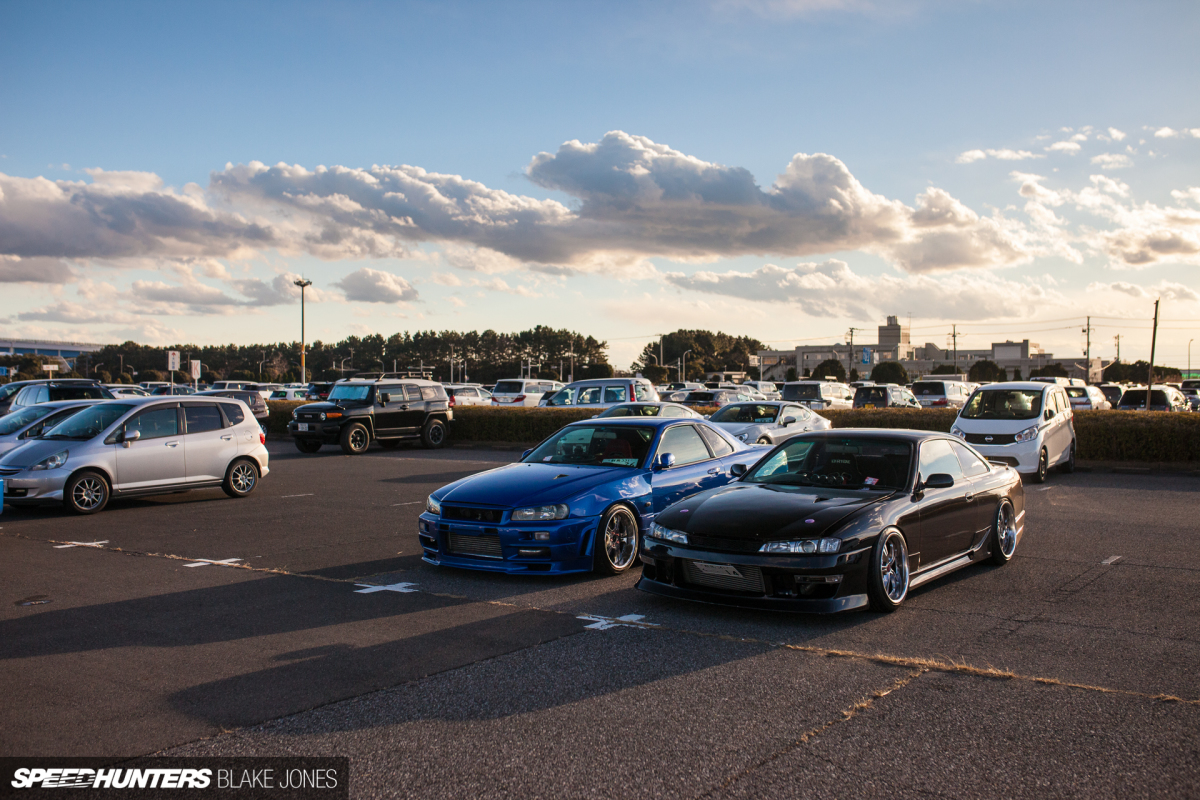 That's all from the Makuhari Messe carpark, but there's still plenty more to come from inside the Tokyo Auto Salon halls.
Blake Jones
Instagram: blaketjones
blake@speedhunters.com
Cutting Room Floor