Classic Selection
This is a completely self-indulgent post. During the three days of Tokyo Auto Salon there's plenty to pore over: show cars, race cars, endless merchandise stands, new parts and all of the other attractions that define the biggest event on the Japanese tuning car calendar. But what really gets my heart racing is the mix of classic JDM kyusha on display.
That being said, I'm selfless enough to want to share the best old school machinery that TAS had to offer this year.
Long Live The Fairlady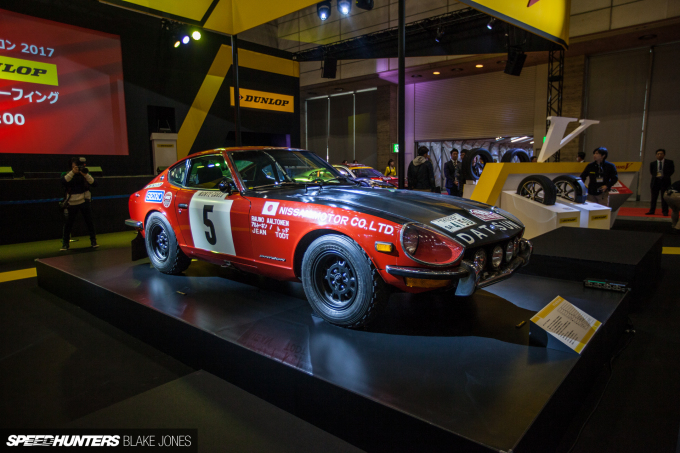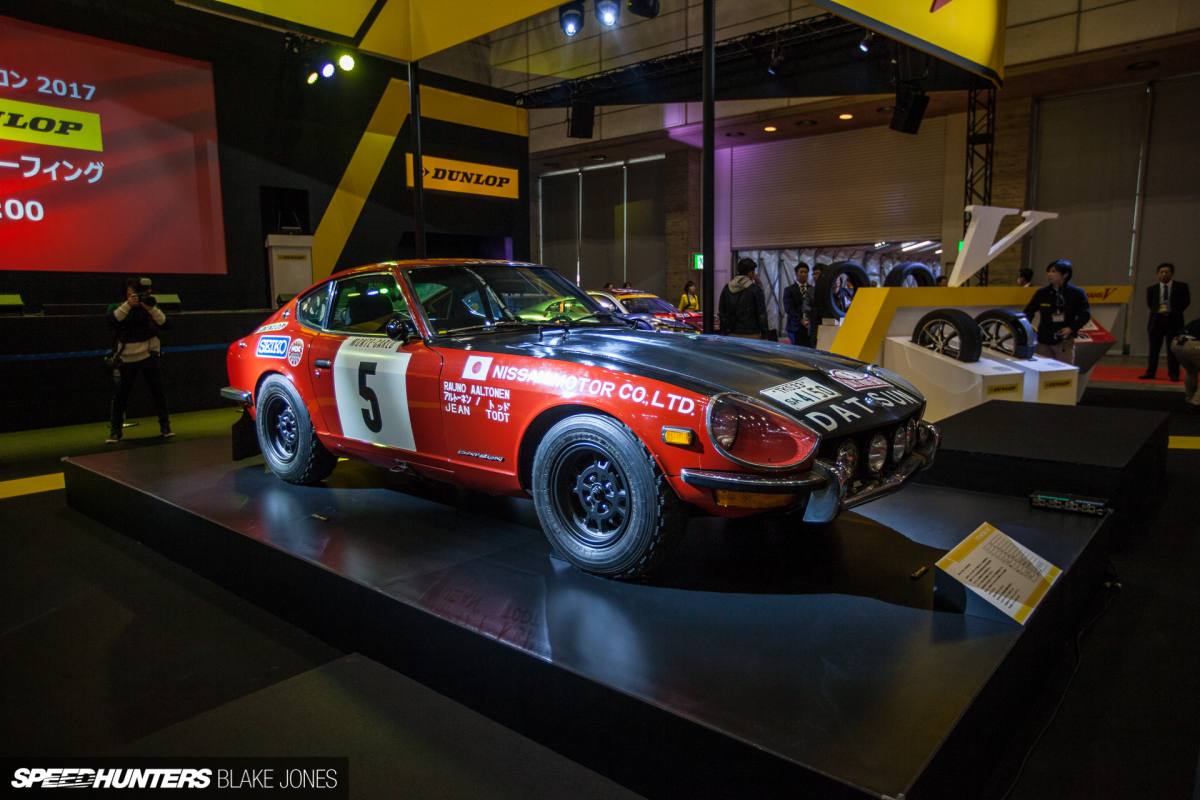 No matter how many times I see one of Nissan's first generation Z cars, also known as the S30, I never grow tired of them. Like the Porsche 911, they are an example of a manufacturer managing to absolutely nail the perfect sports car proportions, and the iconic Datsun model seems to grow more desirable (and certainly more expensive) every year. There were several on display at Tokyo Auto Salon this year, each showcasing a wildly different style. The Nissan Heritage Collection had lent the 1972 Monte Carlo rally car to Dunlop for the centrepiece of its display.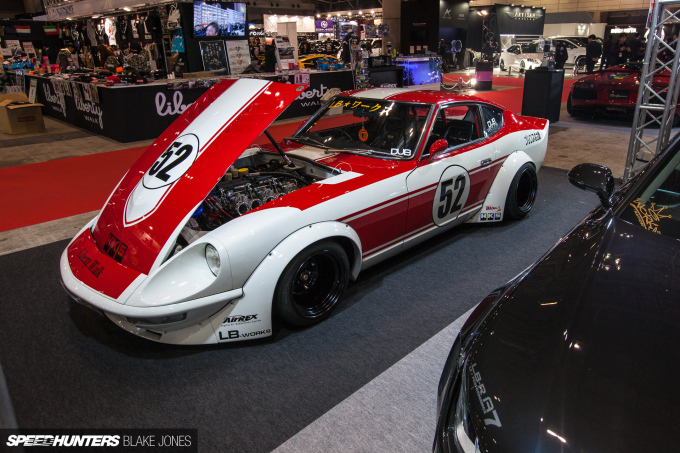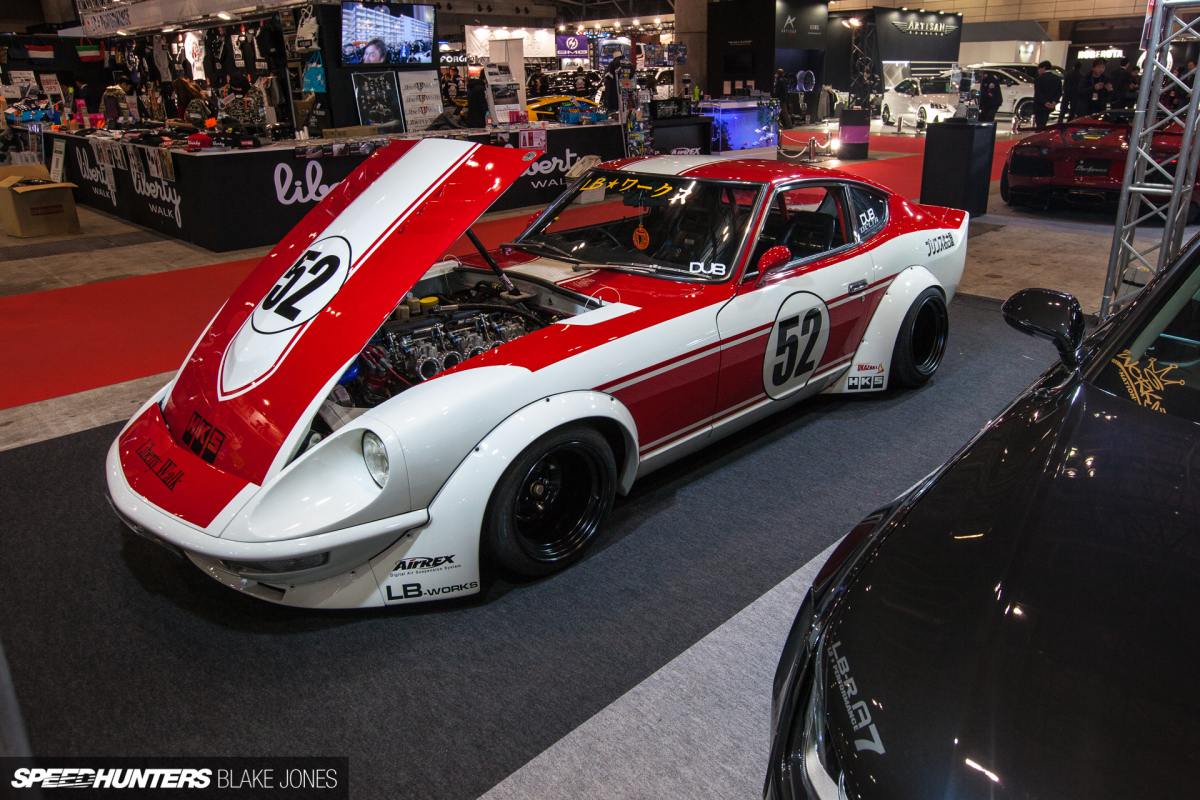 Dino already took a look at Liberty Walk's stand, but tucked around the corner from their main display was this extreme S30 – Kato's personal car – that we're yet to examine closely. While the S30 proved itself to be a formidable motorsports platform at special stages around the world, in the '80s and '90s it became coveted by Japan's modifiers and hooligans as a cheap yet respectable car to channel their self expression.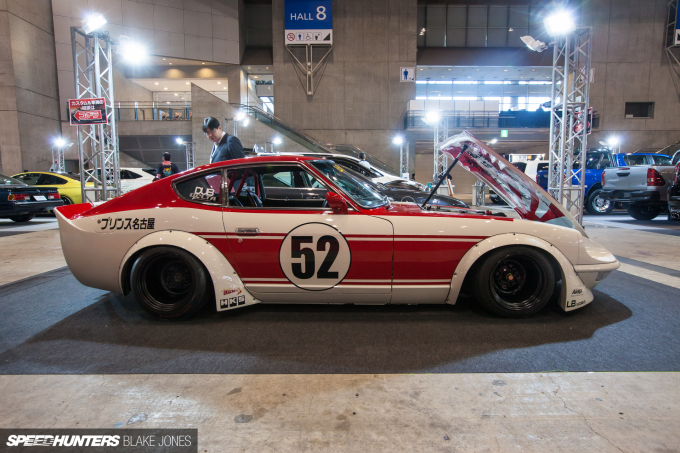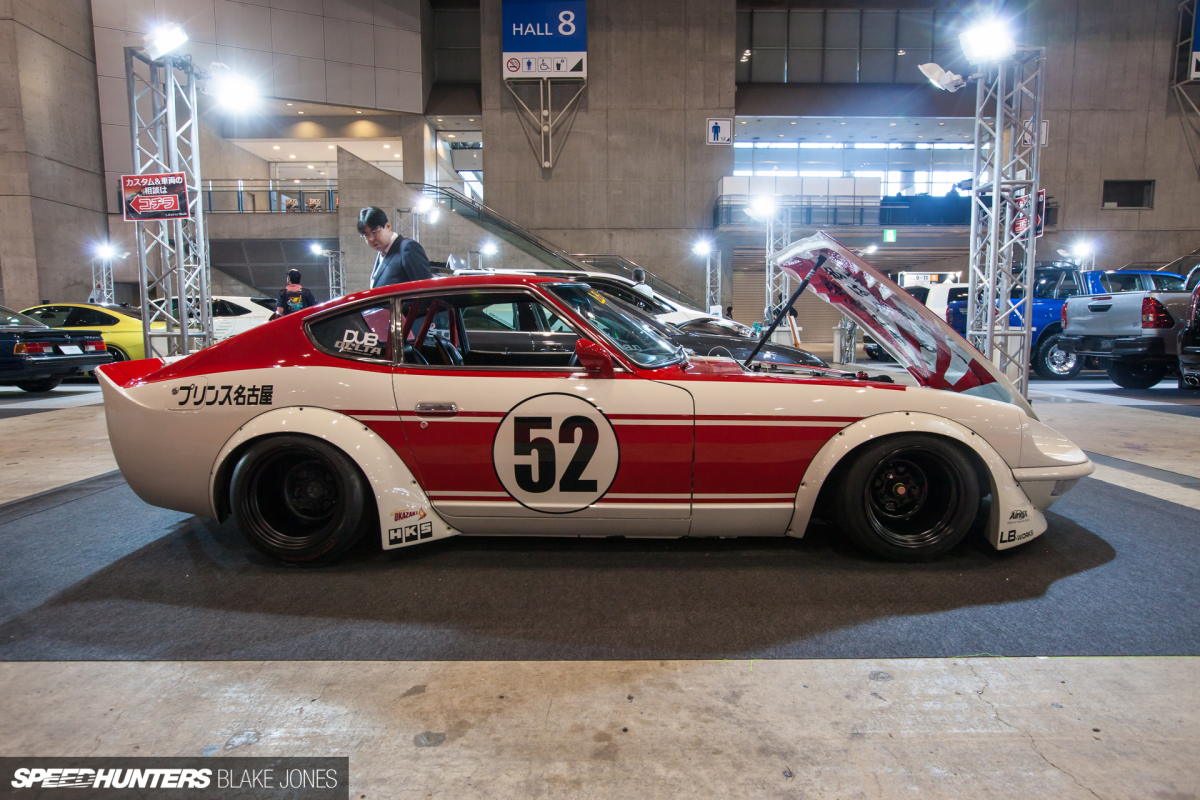 While Liberty Walk is an unashamedly contemporary entity (one could argue its worldwide domination couldn't have happened without social media), Kato-san has been on the scene for long enough to know what he's doing when it comes to an authentic yankee build. Air suspension offers one modern and practical touch.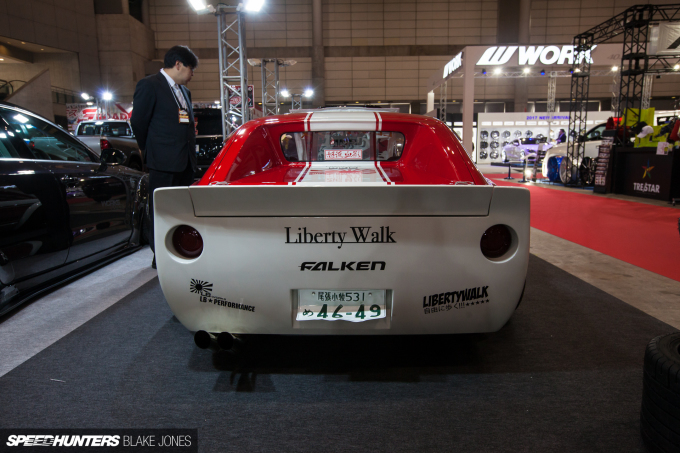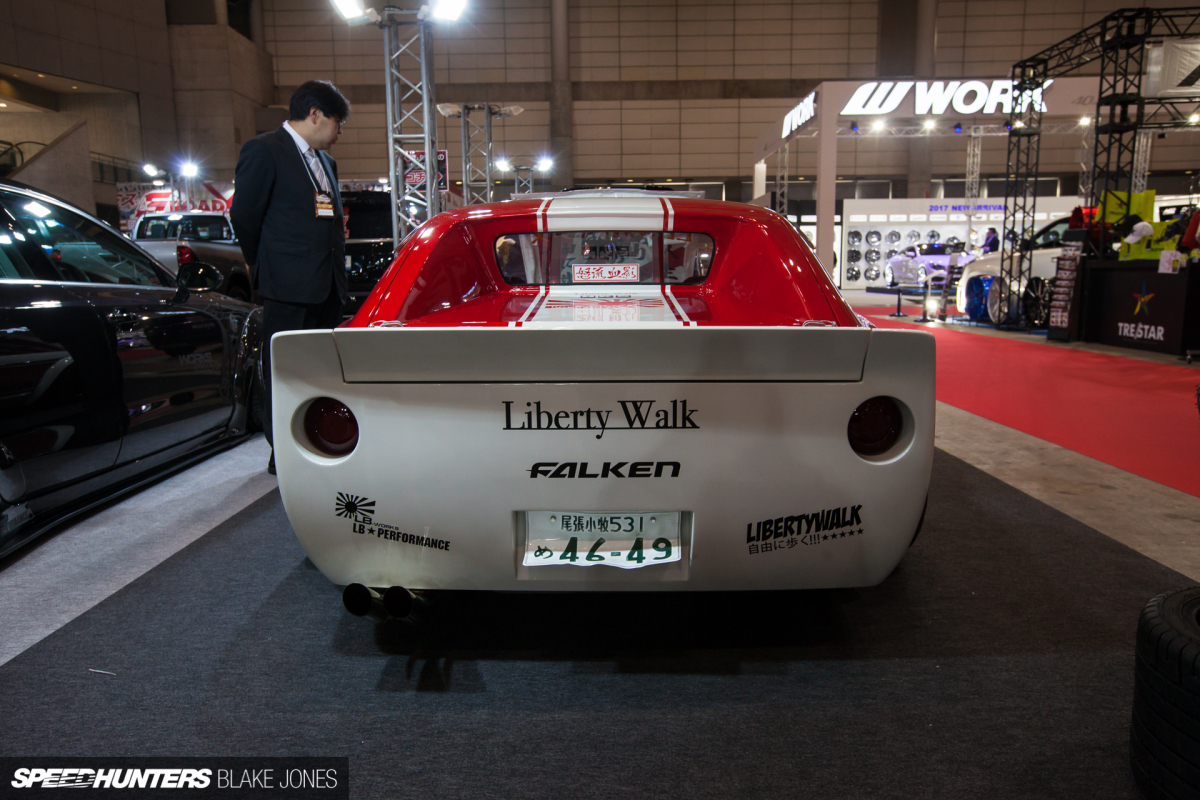 The S30's original rear end is basically unrecognisable, having been replaced with the broad and flat expanse of fibreglass characteristic of yankee style creations, and the glass window was binned in favour of a period 'Pantera' hatch. This is a car built for grabbing attention, and that it does. Dino met up with the S30 while it was over in the US for SEMA so you can expect a full feature in the near future.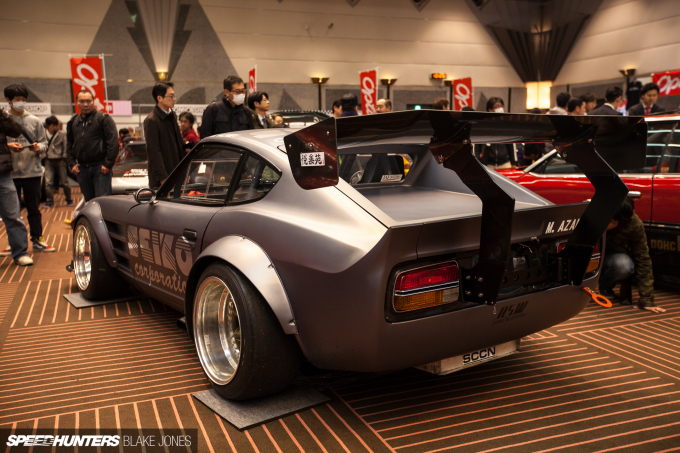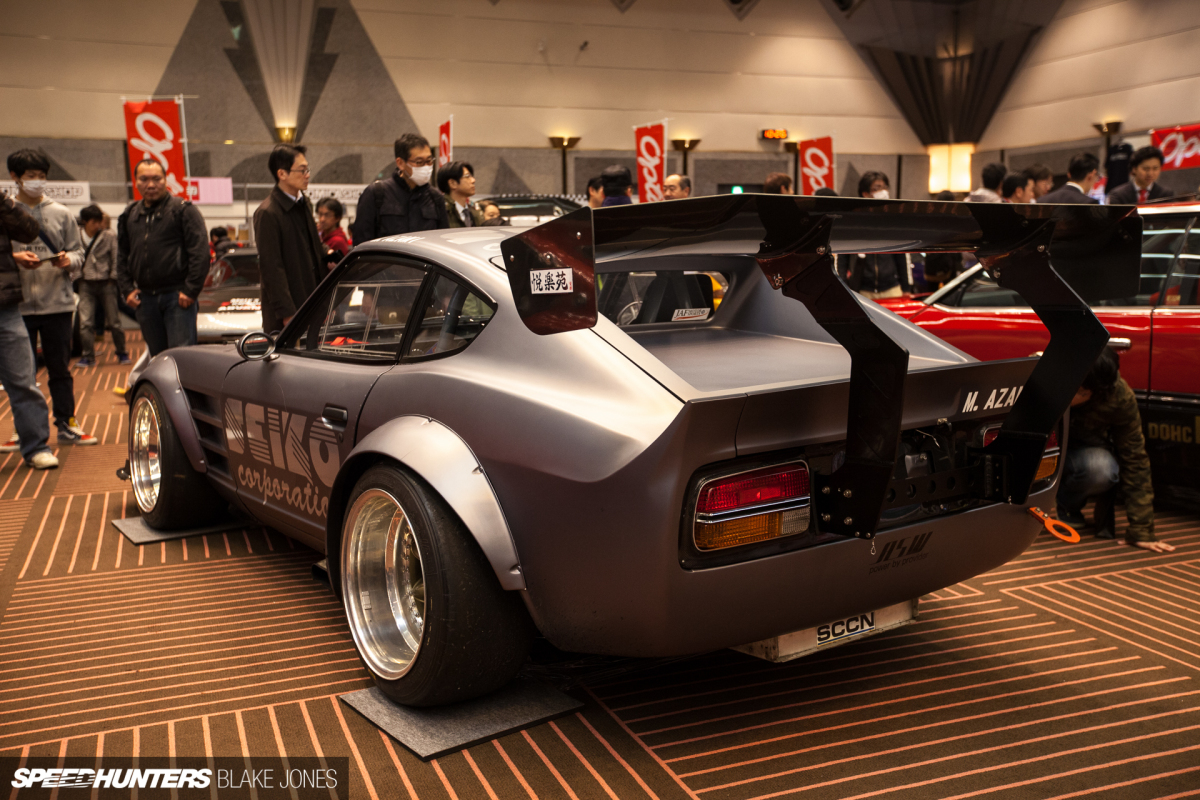 Moving on to another attention-grabbing Fairlady Z in the 'Tuning Car Meeting' was this Auto Service Watanabe creation ready to chase Tsukuba lap records. Again, the Pantera hatch makes an appearance, with the massive wing and rear guards completing the outlandish appearance.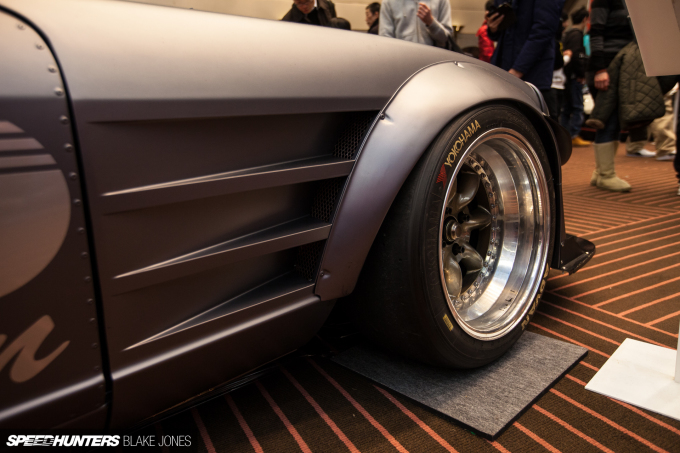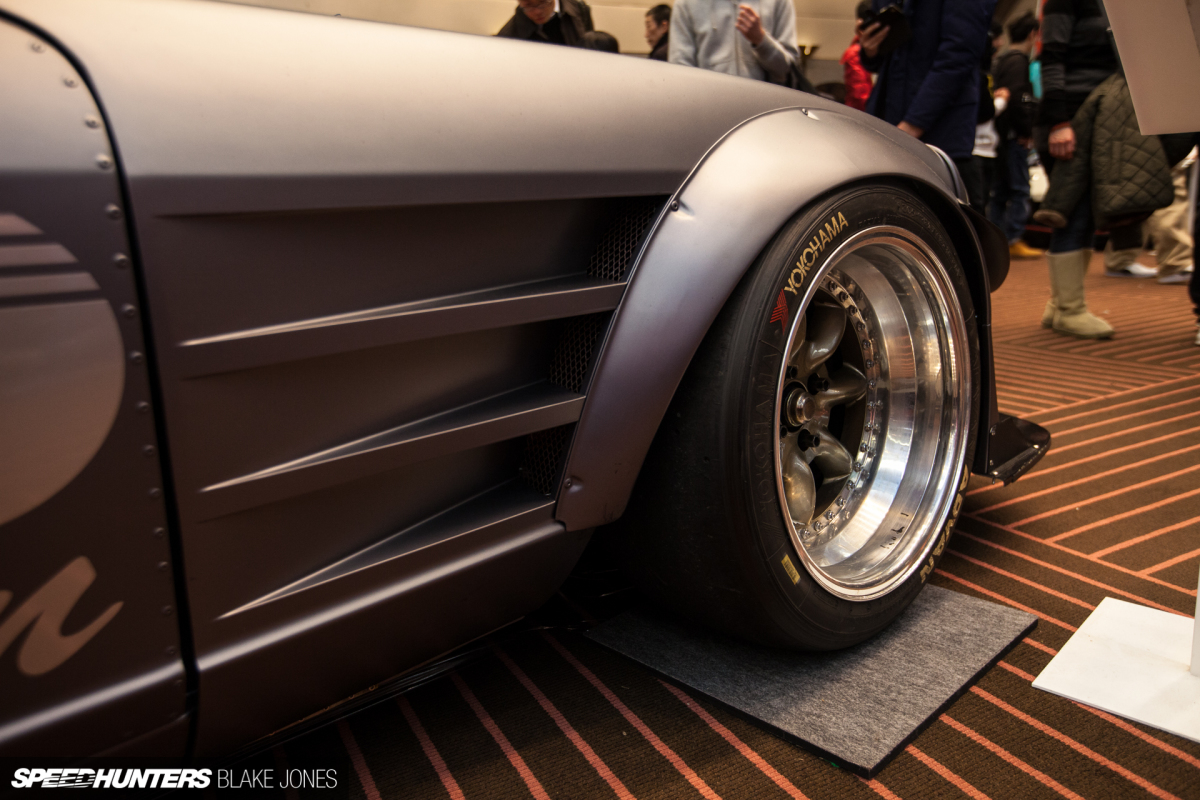 My favourite detail on the car was the front fenders pumped out to accomodate the slick-shod 10-inch-wide Panasport Racing wheels. I don't even care if those strakes aren't functional, they look incredible!
Under the hood is a worked L28 with a reported 280hp at 7000rpm. I was expecting at least twice that, but perhaps more power is on the way after TAS. Judging by the unblemished satin paint it's a fresh build, but I'm looking forward to seeing it attacking Tsukuba Circuit or Fuji Speedway.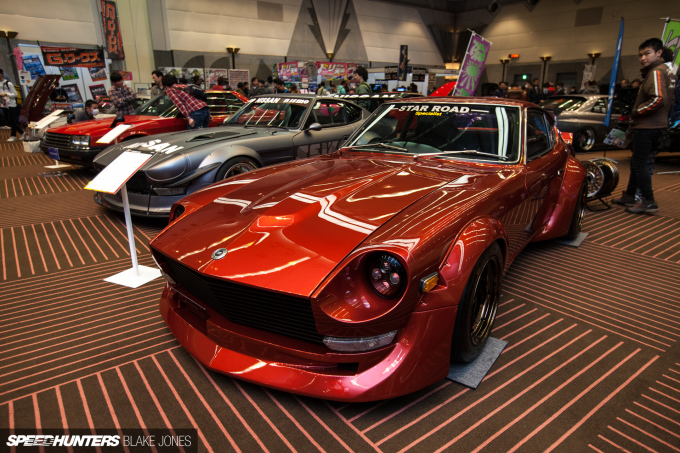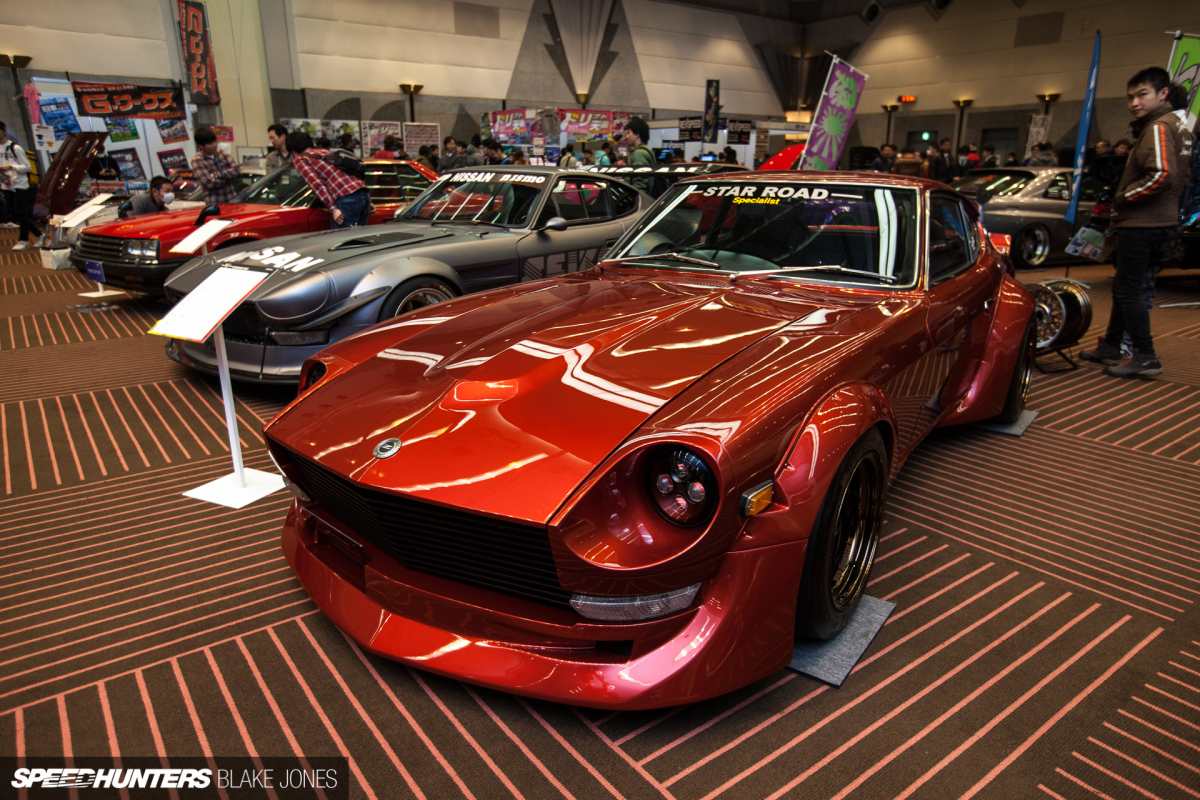 Yet another example of an over-fendered S30 done right is this custom creation from Star Road's Shoji Inoue. Inoue-san designed not only the seven-piece wide-body kit but also the Glow Star wheels (manufactured by Work Wheels) that complete the wide and low stance.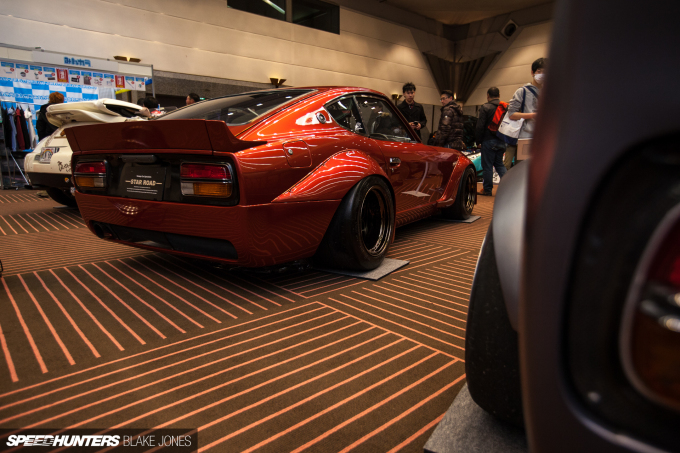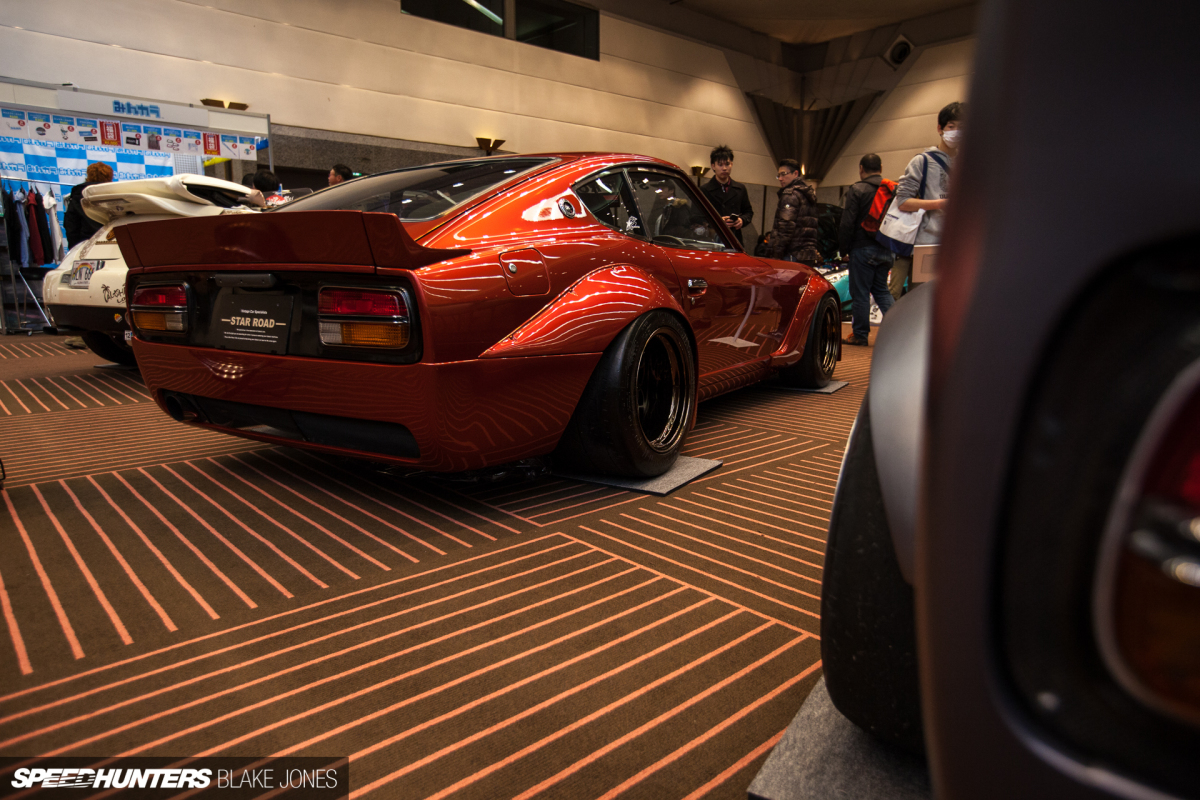 The craftsmanship and attention to detail on these Star Road builds quite frankly puts many other shops to shame; they're something I'd like to see more of at Japanese shows like Tokyo Auto Salon.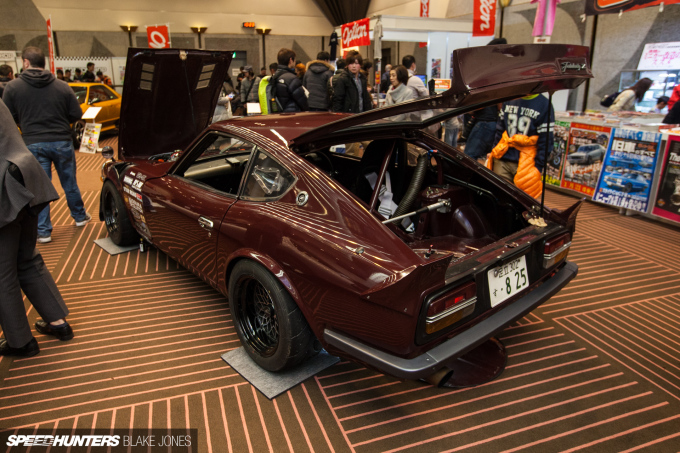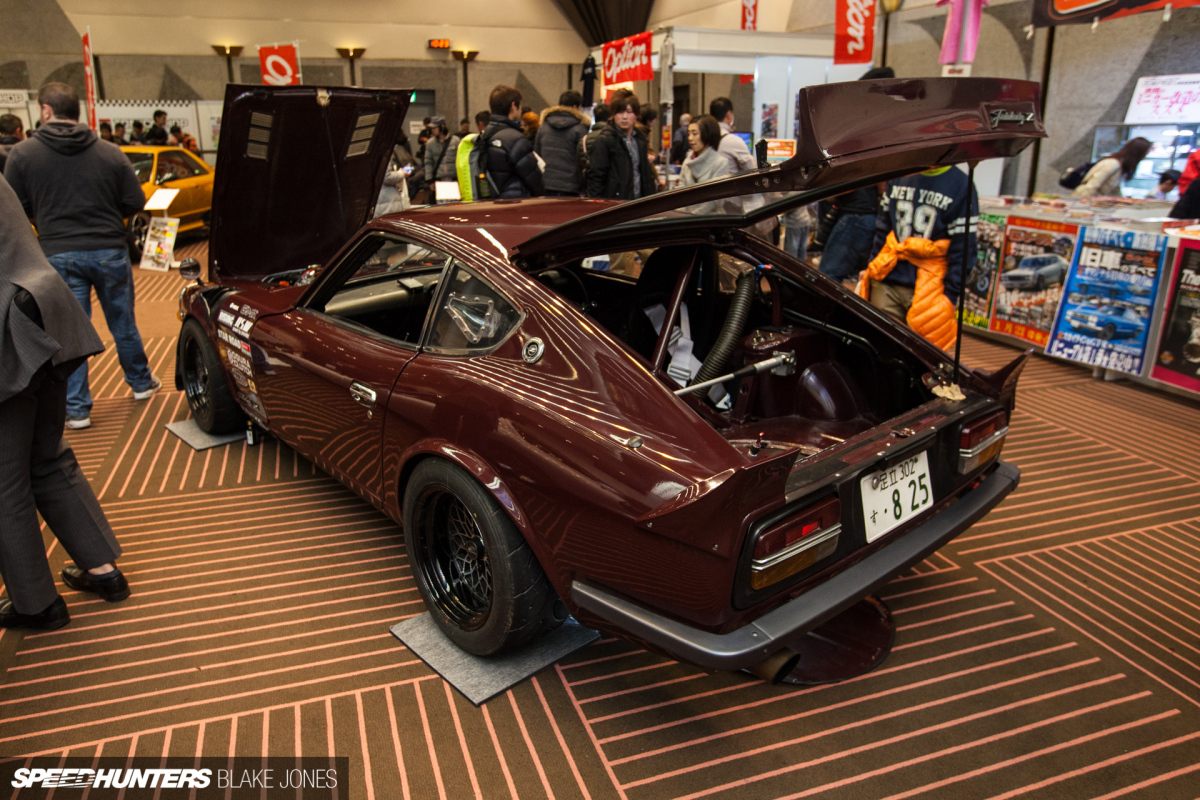 Somewhat surprisingly, this much tamer S30 was also from the Star Road workshop, but built for outright speed rather than cruising Tokyo's highway network. Glow Star wheels make an appearance again, but everything else is pure function.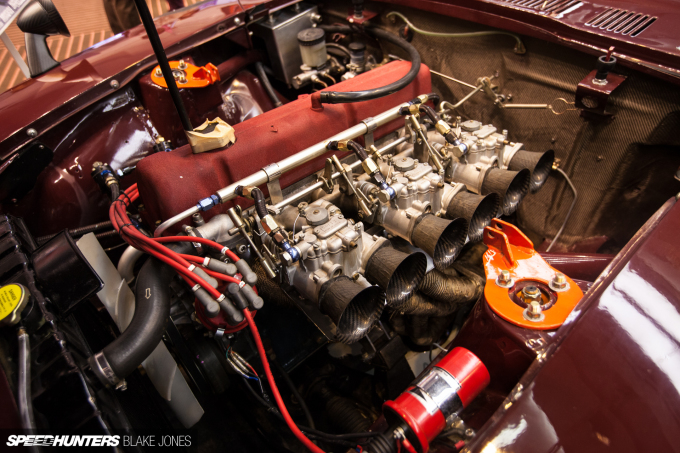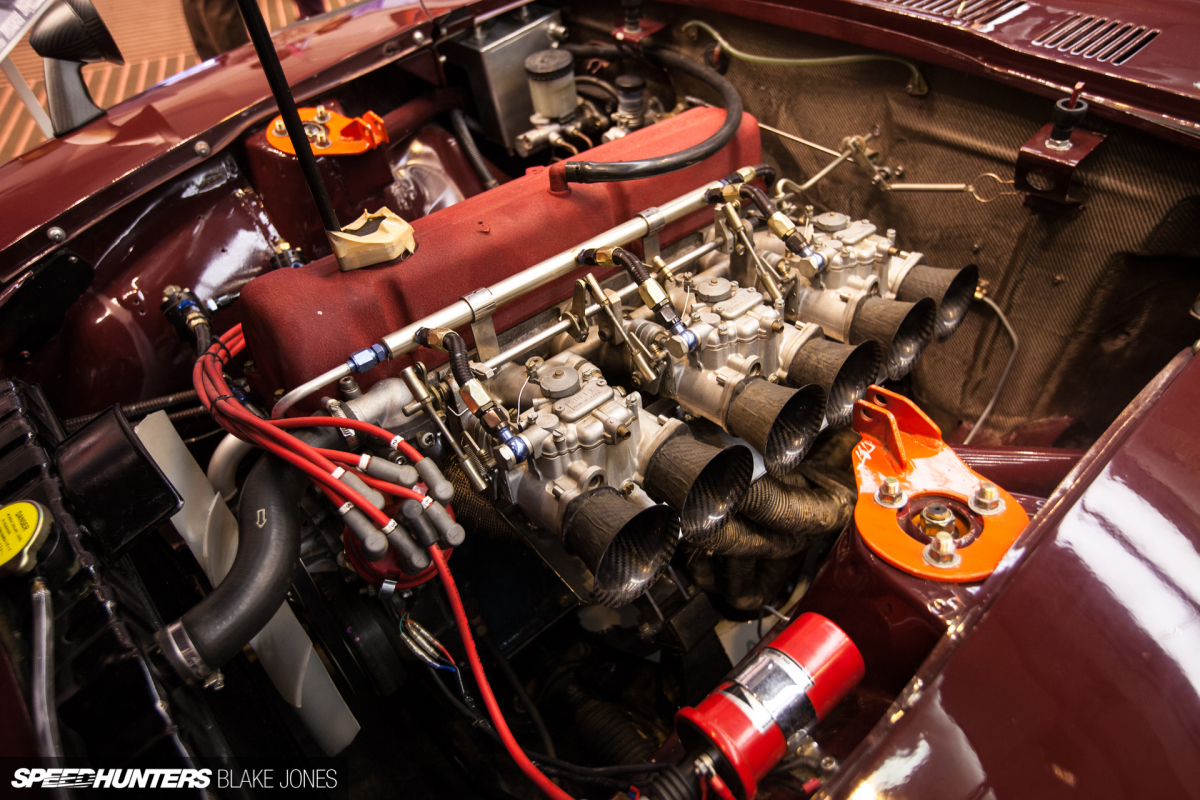 The L28 now displaces 3.2L and has had a literal shopping list of upgrades thrown at it, but the carbon trumpets stole the show for me.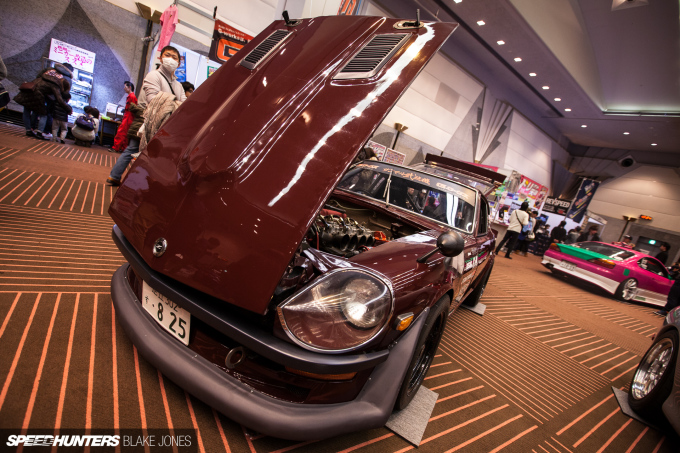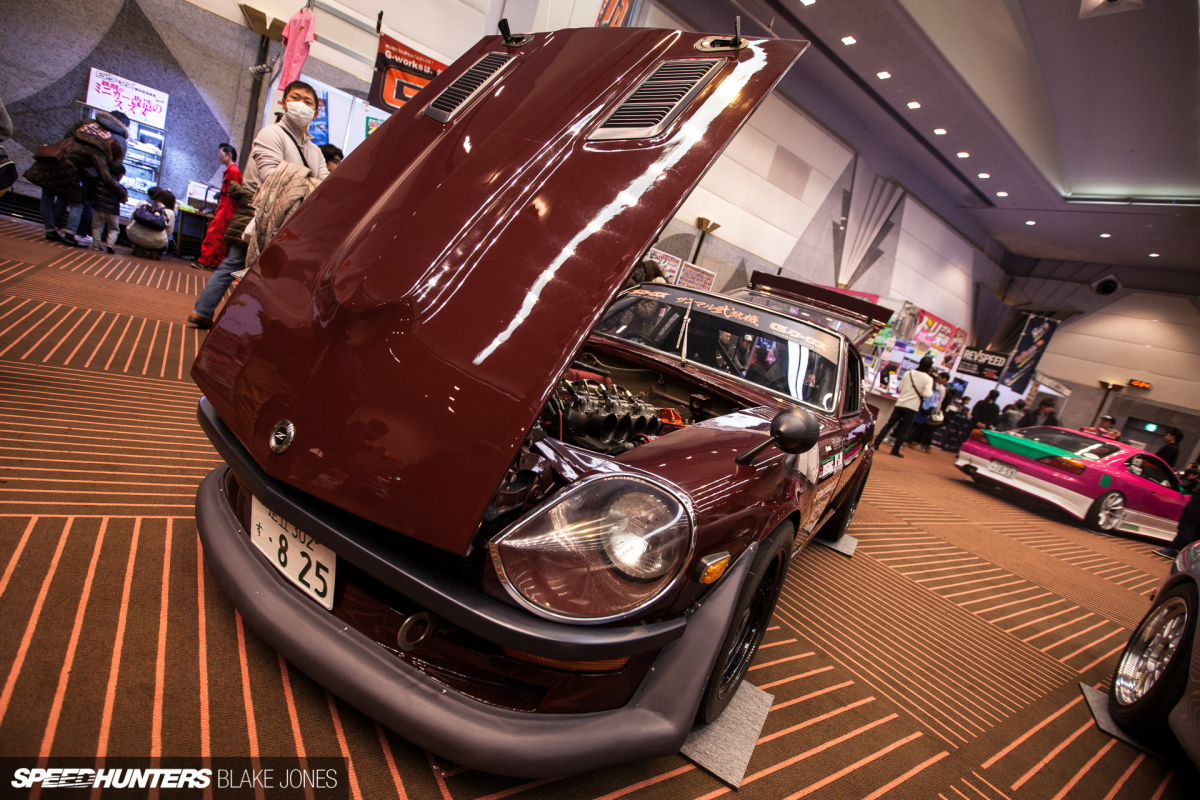 The road-registered car has set a 1:01.016 lap at Tsukuba circuit and an 11.88 quarter mile, hugely impressive times for the vintage chassis, showing how much potential the S30 has even today.
Skyline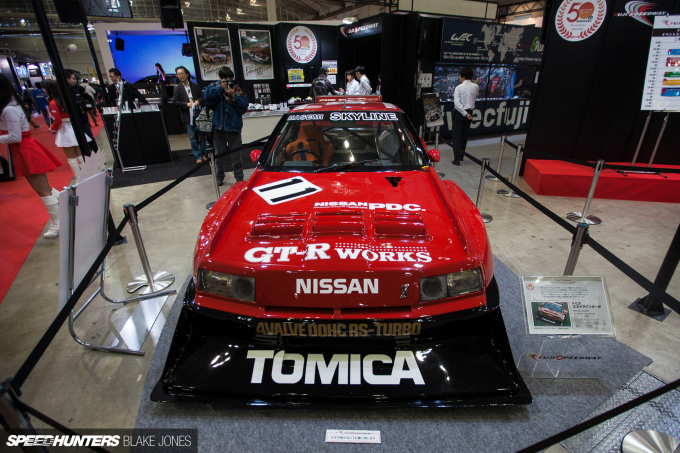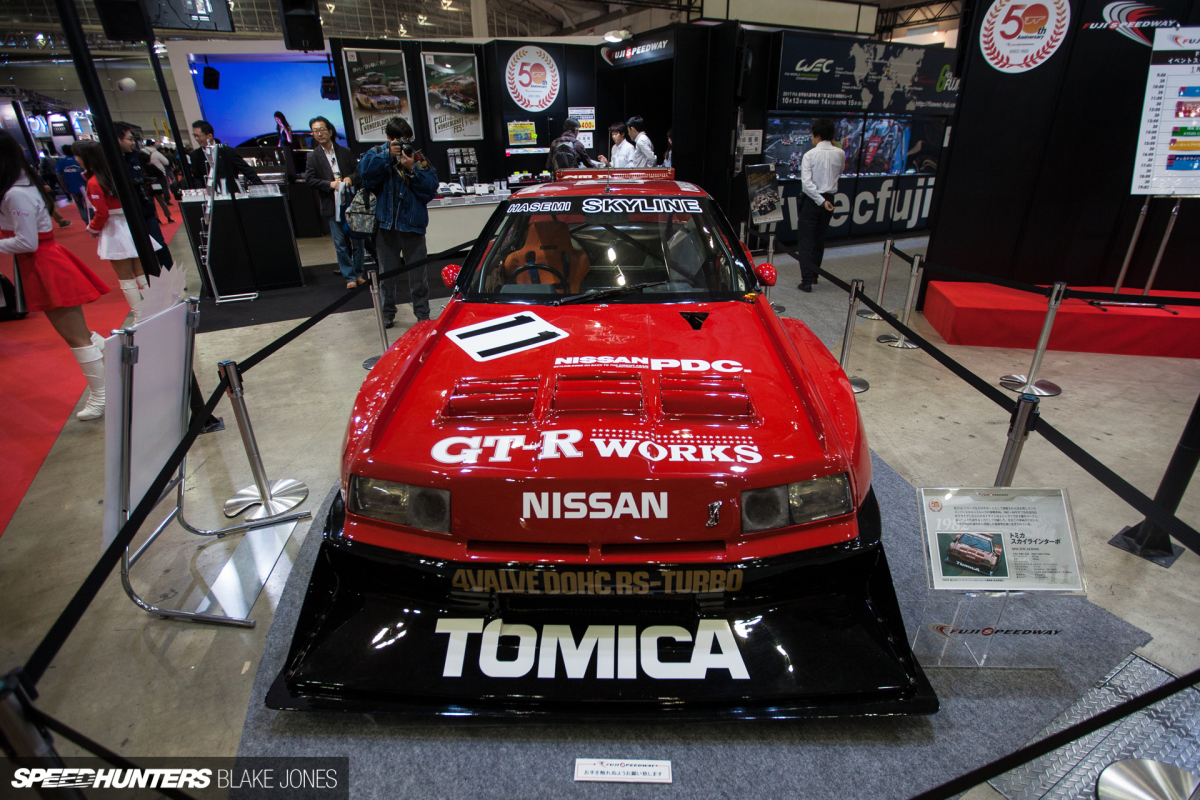 Sometimes it seems that Nissan has a monopoly on iconic historic race cars, from the humble Z to the fire-breathing Tomica DR30 Super Silhouette racer displayed at the Fuji Speedway booth.
Could the '80s be the best era for race cars, ever? Peering inside it was instantly obvious just how little 'real' Skyline was left in the car. Safety and aerodynamics have come a long way since 1985!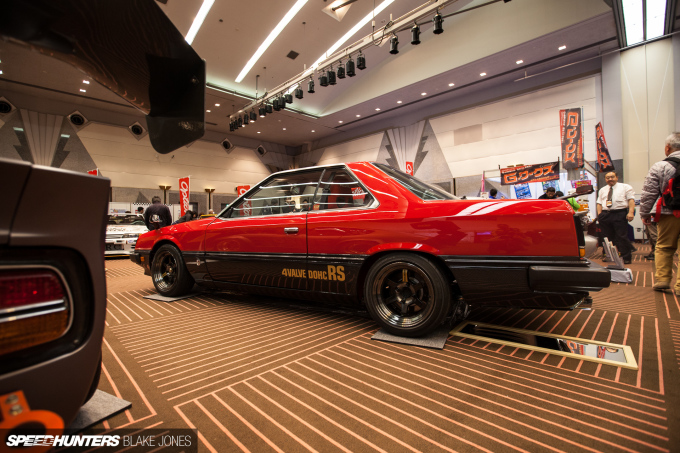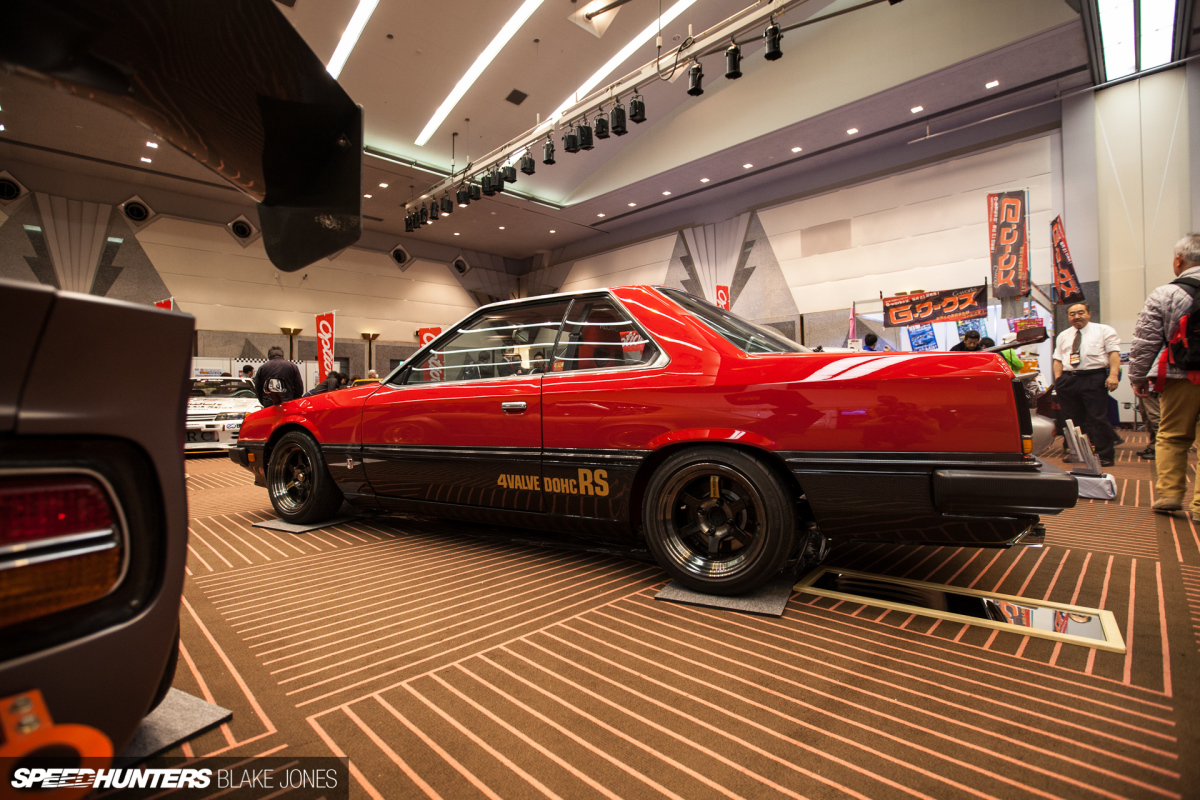 I have a real soft spot for these boxy, slightly cumbersome looking Skylines, but unfortunately many in Japan are full of rust and the best examples can be worth over ¥3,000,000 (US$26,000). What looked to be a nicely restored Skyline RS revealed itself to be much more upon closer inspection…
I'll give a small hint, what appears to be black two-tone paint is nothing of the sort. Dino will take a closer look at this DR30 later on.
The owner was more than happy for me to open the curiously light doors and check out the factory fresh interior. From what I could tell, the genius inclusion of an umbrella holder in the driver's side door is a custom addition from the owner, not a factory option. Either way, it had me wondering why we don't see this in more cars.
The guys down at R31 House had some Skylines that were closer to my budget. The R/C scene in Japan is still very strong and these limited run shells can command high prices from collectors and enthusiasts.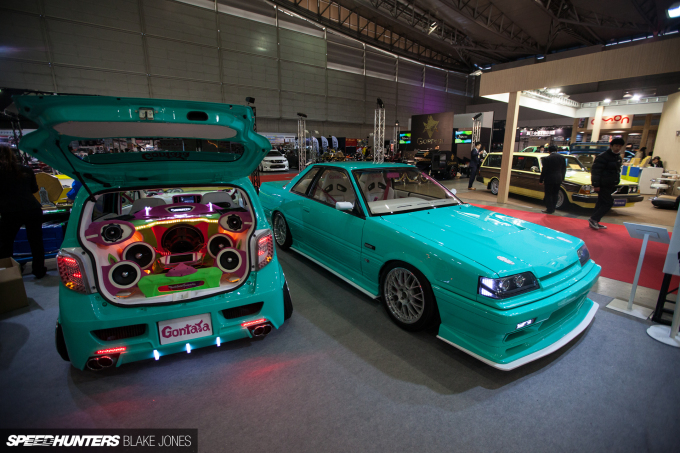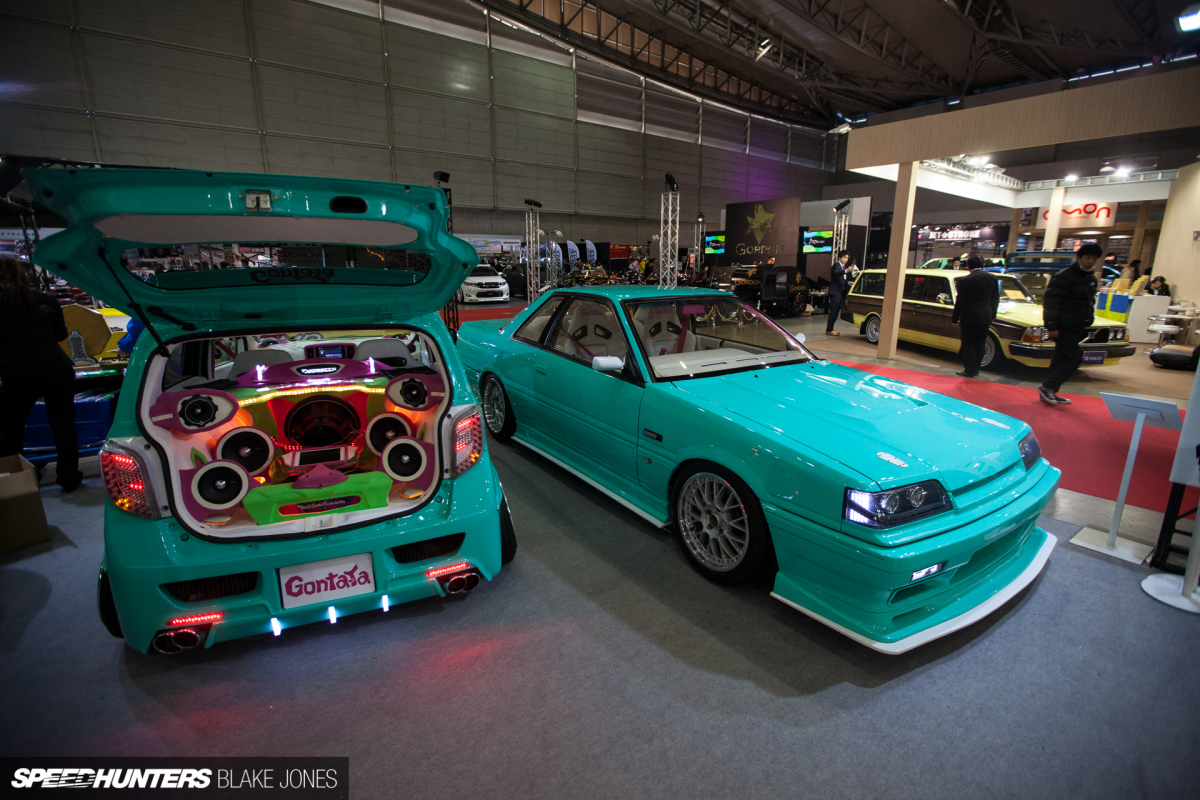 So we've seen some very nice examples of kyusha, but now it's time for something a little different. The teal exterior, tan leather interior, audio and sunken wheels on this R31 Skyline coupe transported me back to the early 2000s show scene in Sydney. Not a pleasant memory, if I'm to be honest.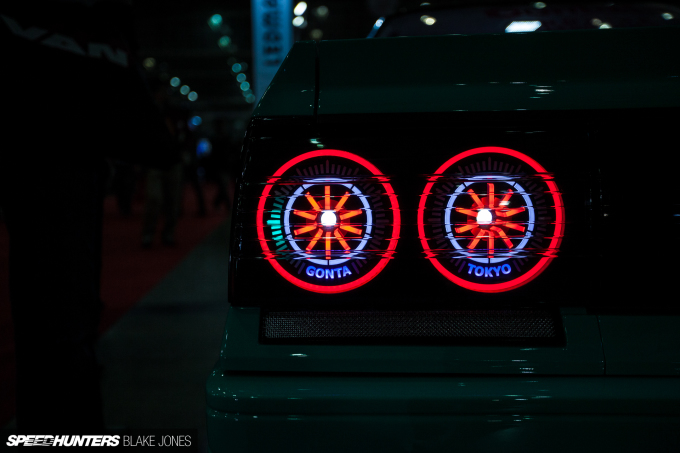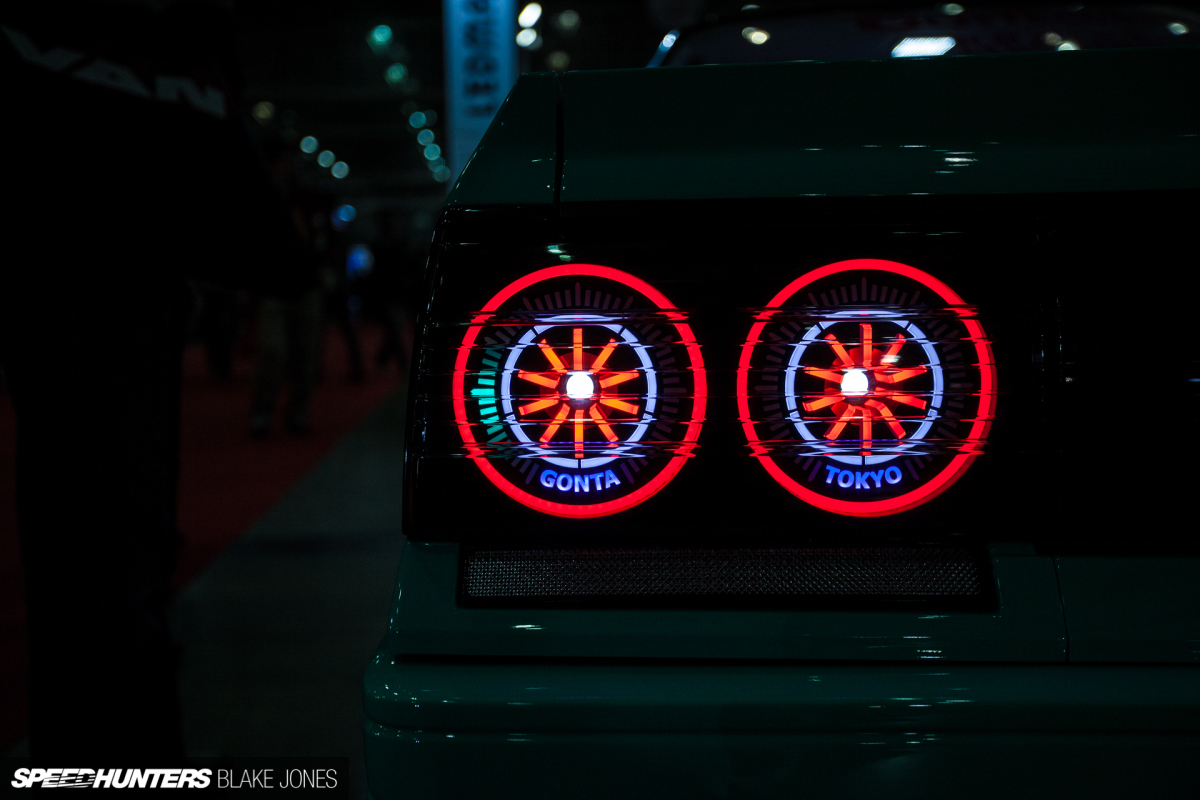 I'm willing to forgive it all for these amazing programmable LED taillights from Gonta-ya that were cheesy enough to be cool.
The Best Of The Rest
The Toyota Technical College Tokyo is renowned for some questionably inspired designs, but thankfully this KP61 Starlet is not one of them. Usually content with FRP, for this project the overfenders were hand-beaten from metal, and for this effort I award them an A+.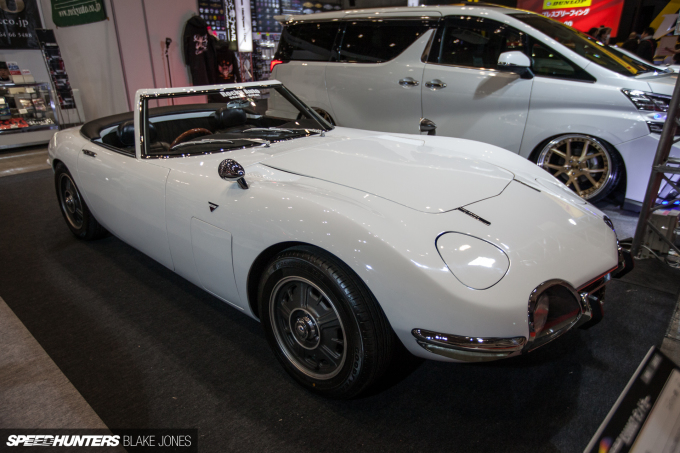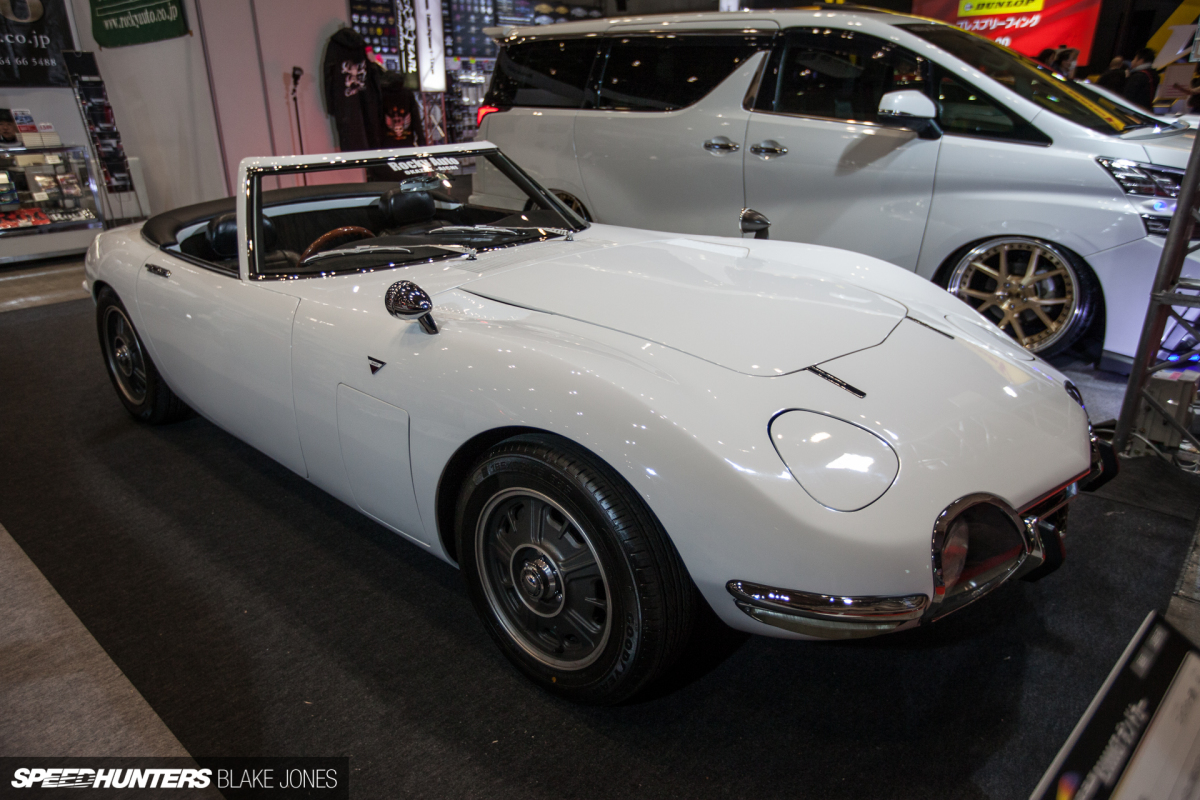 Last time I spotted this convertible 2000GT at the Mooneyes show I made the mistake of thinking it was the actual car used in Sean Connery's You Only Live Twice, but I wouldn't be fooled again. It is of course Rocky Auto's '3000GT' 2JZ-powered replica, and it does do a remarkable job of posing as the real deal.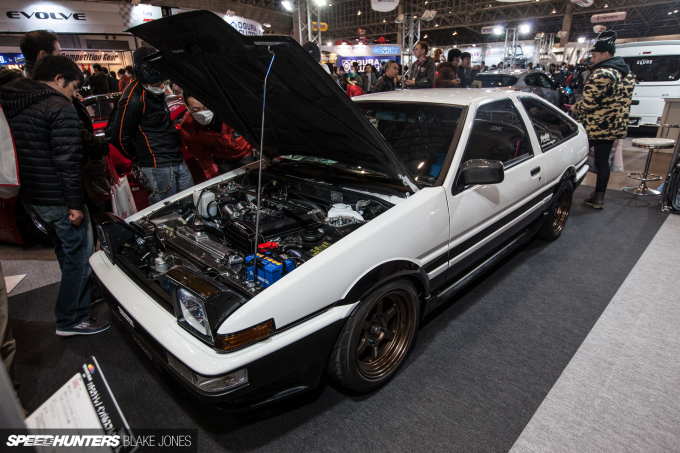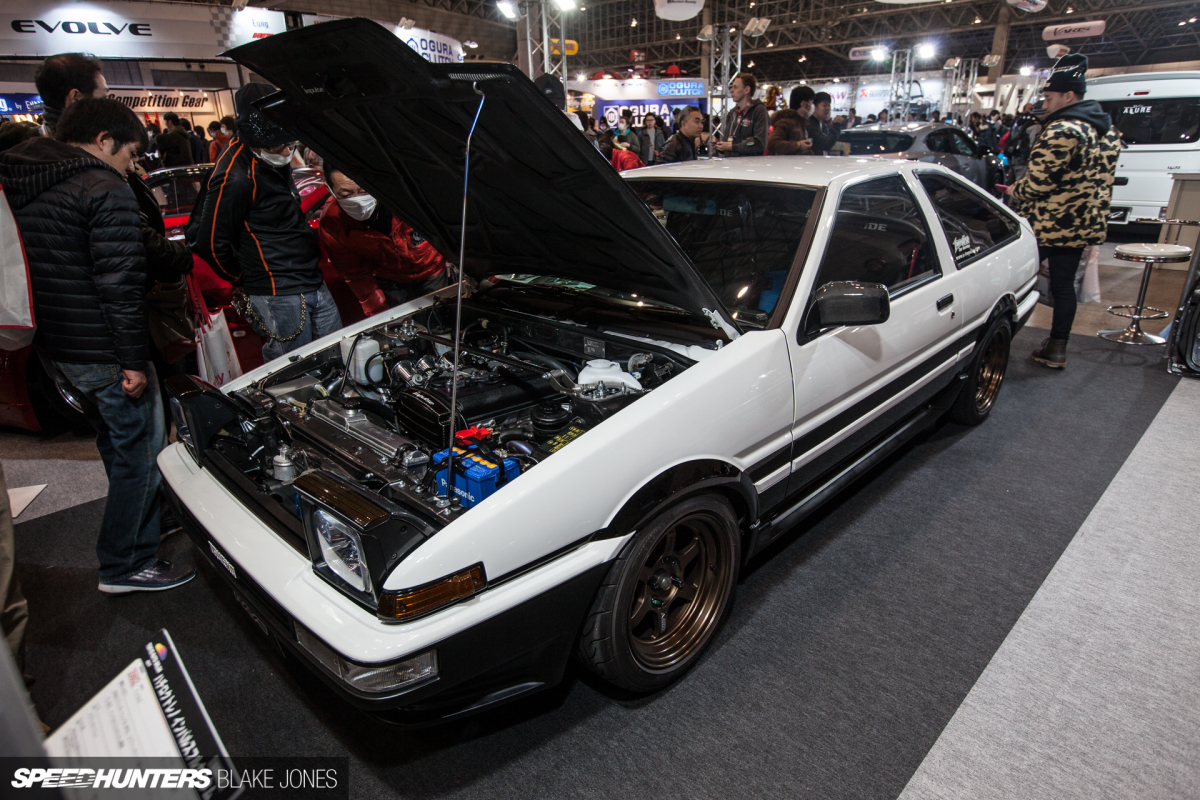 One of my favourite AE86 tuners, Impulse from Kobe, was showcasing a customer car that has just come off a three-year restoration and upgrade that includes a 6-speed gearbox, Endless brakes, RAYS Volk Racing TE37Vs and Impulse's specialty – plenty of carbon fibre.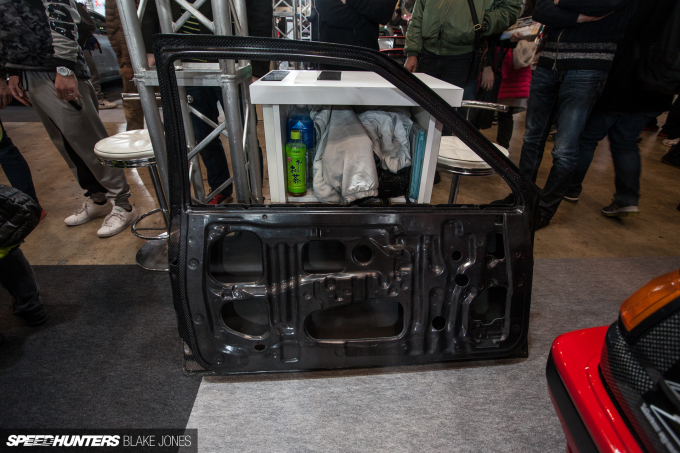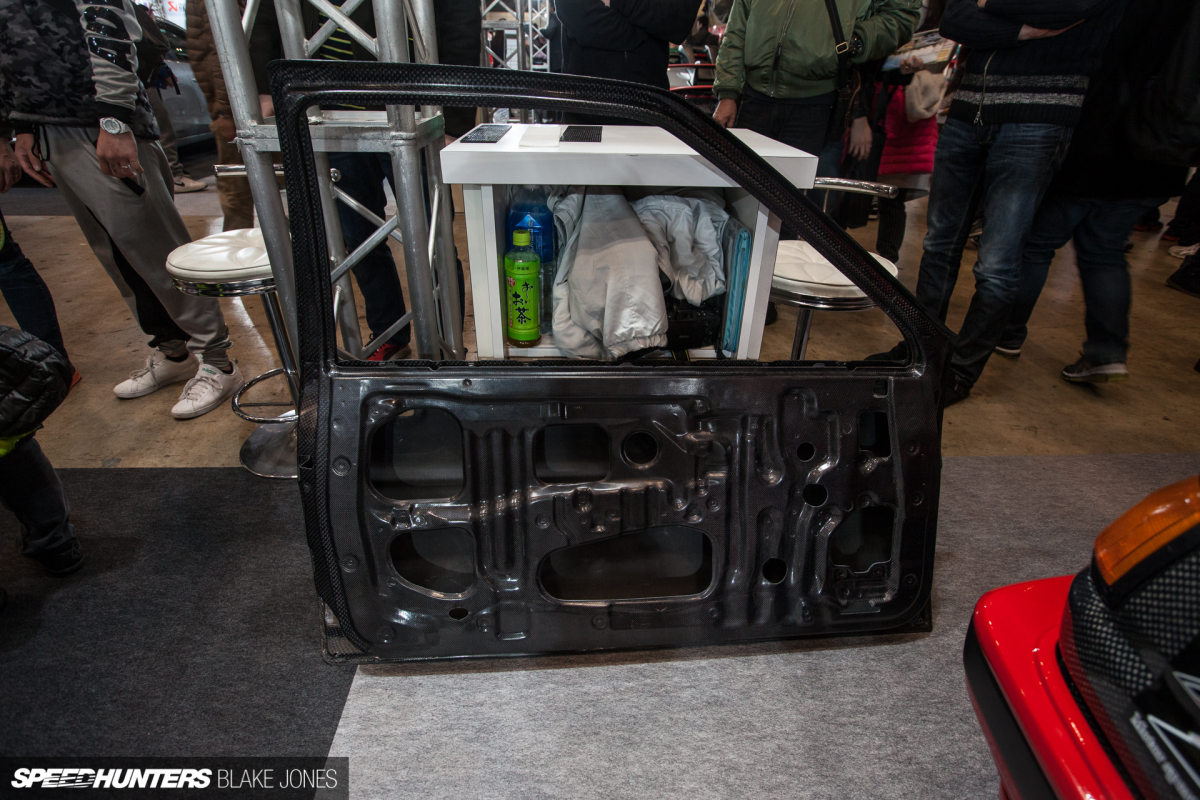 I've seen some poorly-finished carbon parts, but this AE86 door isn't one of them. That exoskeleton is identical to the original door it's moulded off so fitting factory hardware and and door cards for that stealthy look would be a cinch.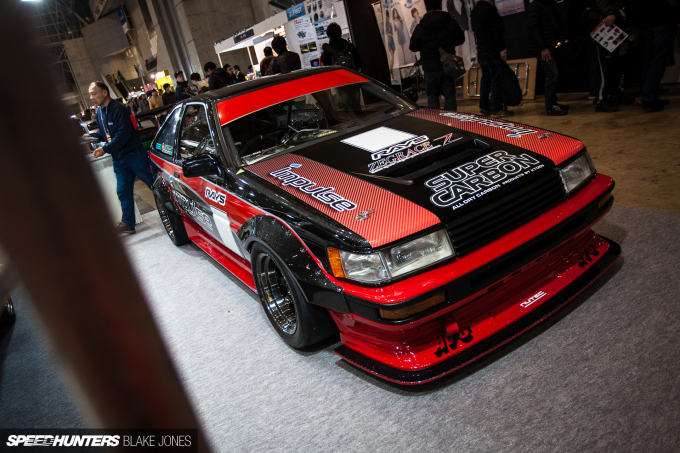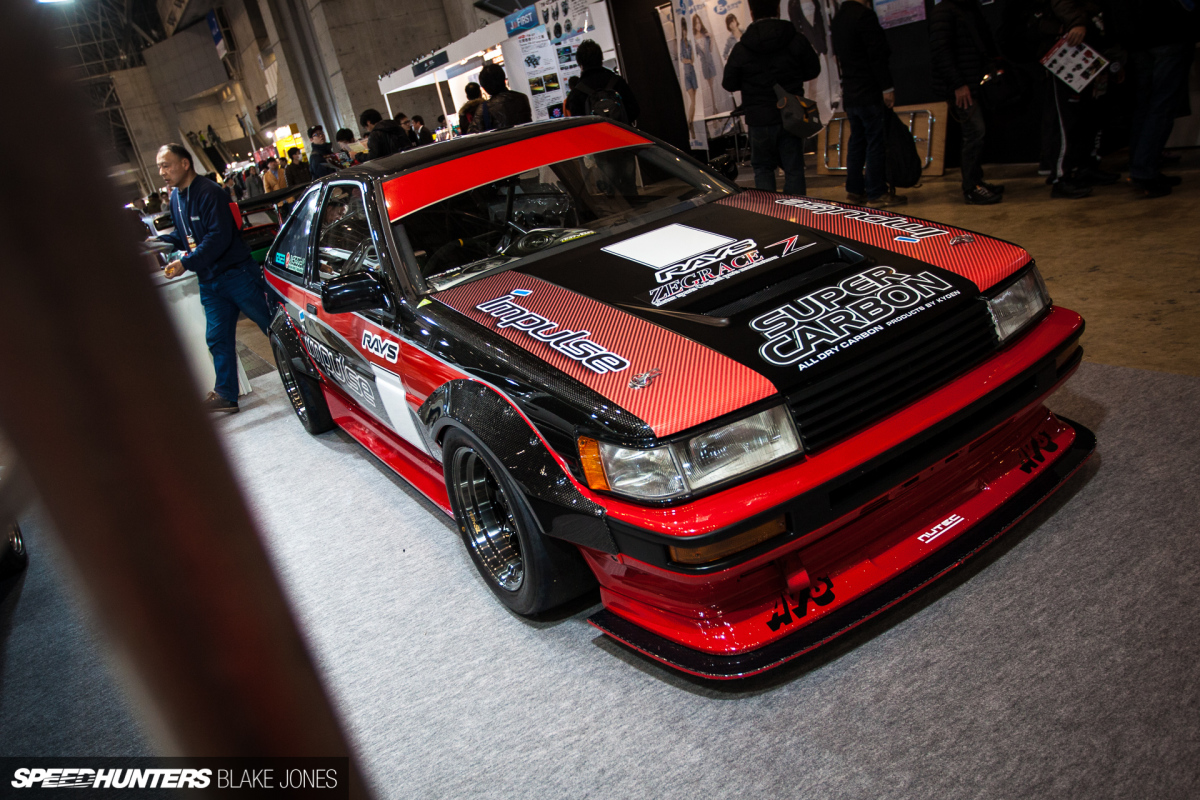 Across from the road car was the Impulse demo car. I couldn't find a single panel on the car not made from dry carbon, which goes a long way to explaining the 735kg kerb weight!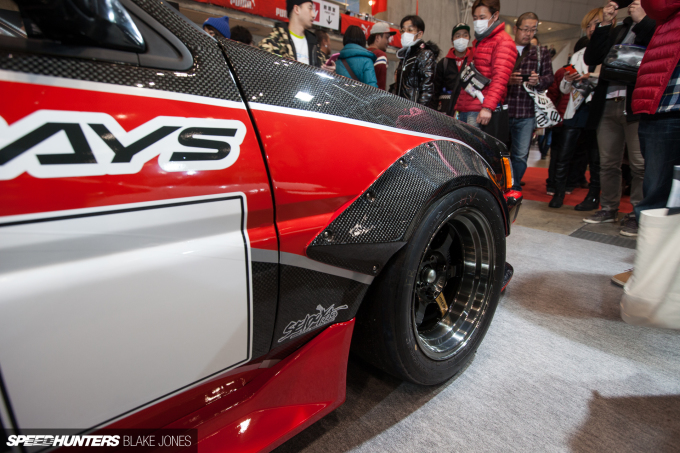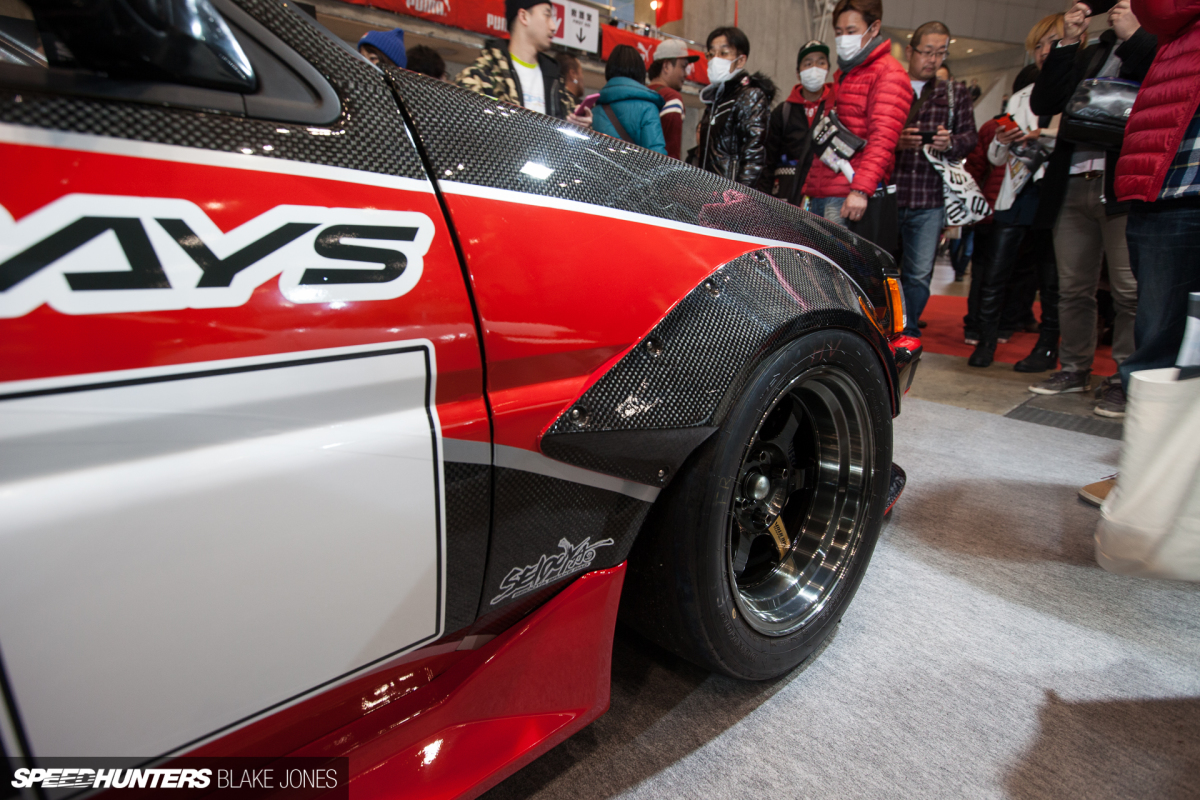 It's great to see that old platforms like the Hachiroku are still having new parts developed today. Impulse uses this Levin as a platform to test many products before they are rolled out to customer cars, including the aforementioned 6-speed transmission upgrade, which actually uses an ZN6/ZC6 (86/BRZ) gearbox as the base.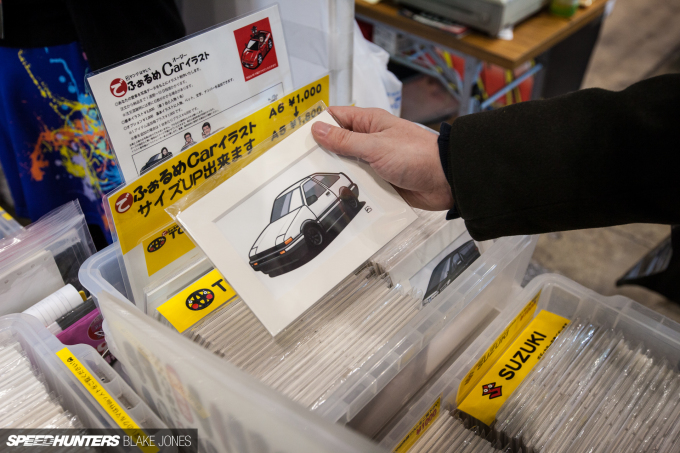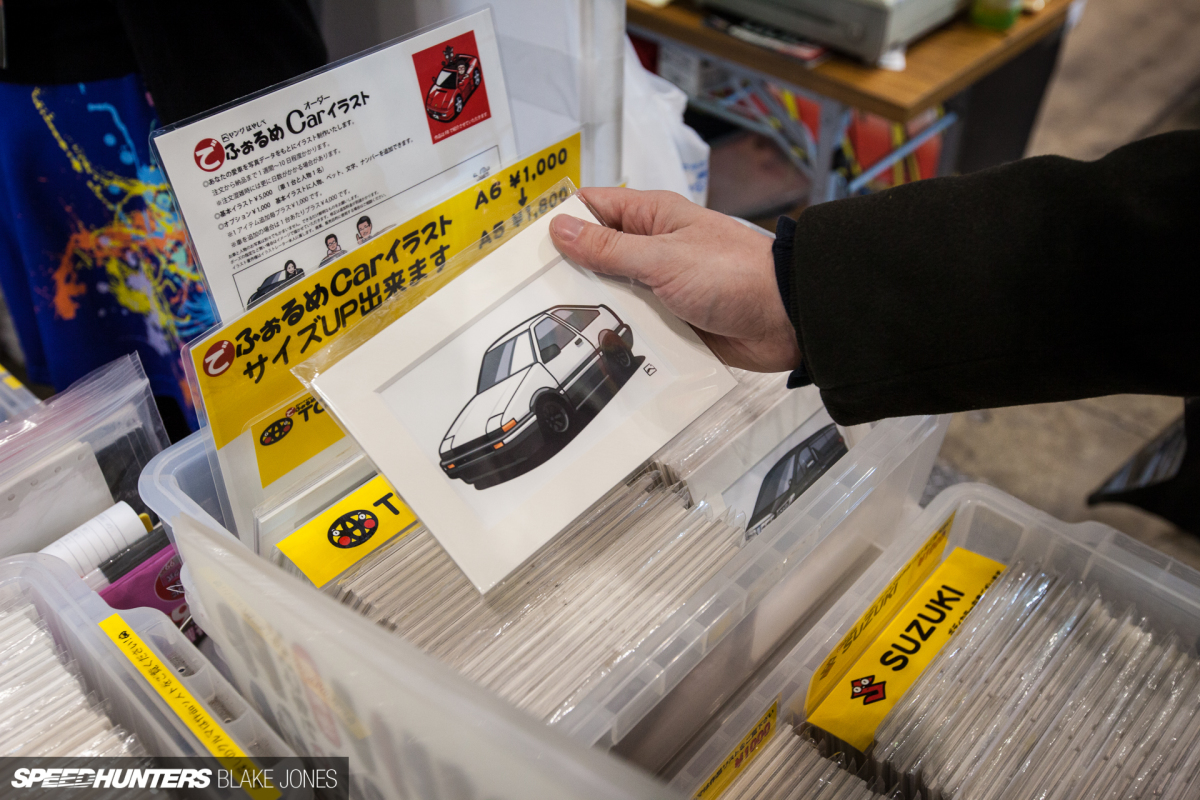 I can never resist rifling through the collections of odds and ends at the TAS vendor stands, overpriced as they may be. If it's AE86 related and you can't find it at Tokyo Auto Salon, it probably doesn't exist.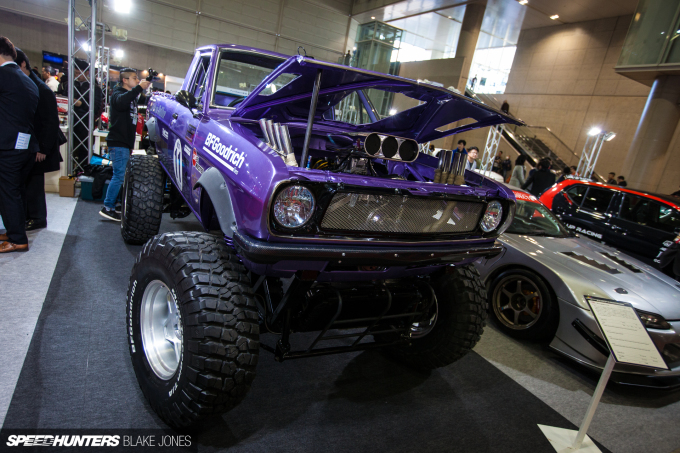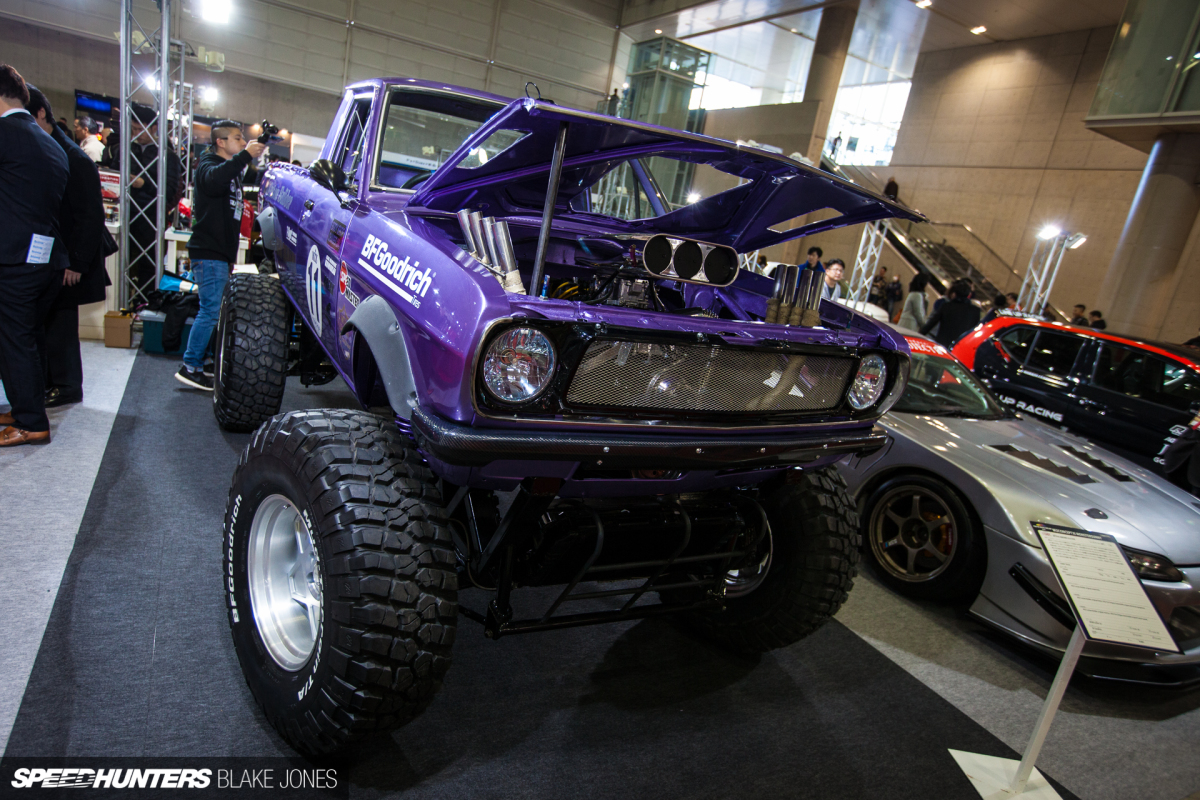 Probably one of the wildest kyusha creations (and my personal favourite) was this lifted Datsun Sunny from students at the International Information & Engineering College in Fukushima. Under the hood sits a 530ci Chev V8 good for 370hp.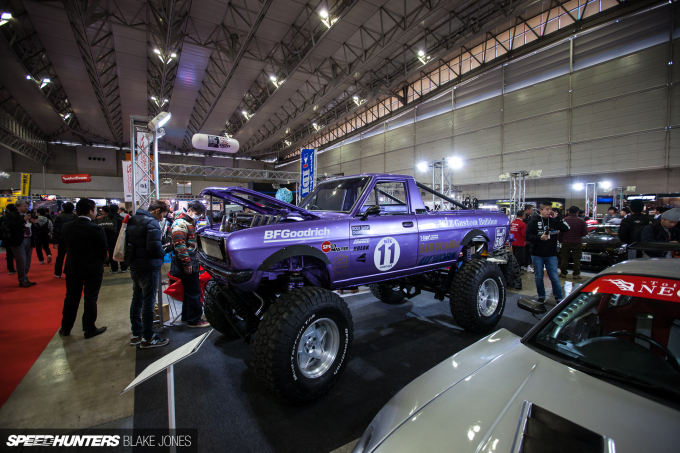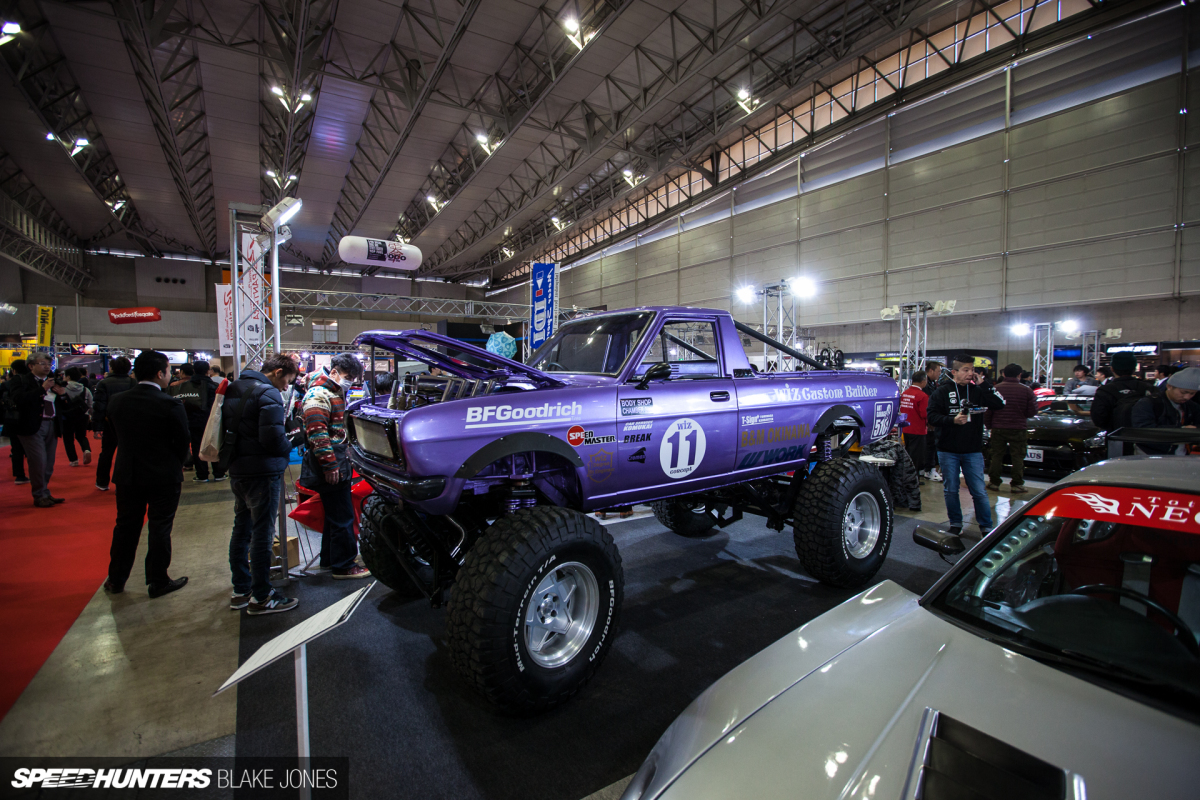 The custom suspension setup was pieced together from Silvia S14 parts and significantly modified to give the 'Monster Sunny' its rock-climbing stance. The students were rightfully proud of their creation; it really stood out at Tokyo Auto Salon, a tall order indeed.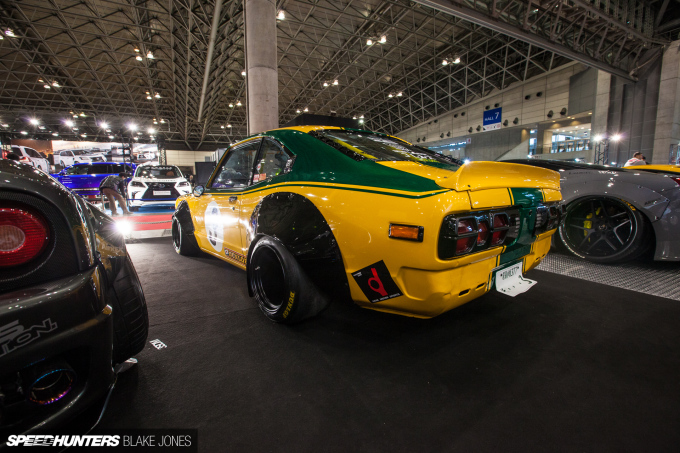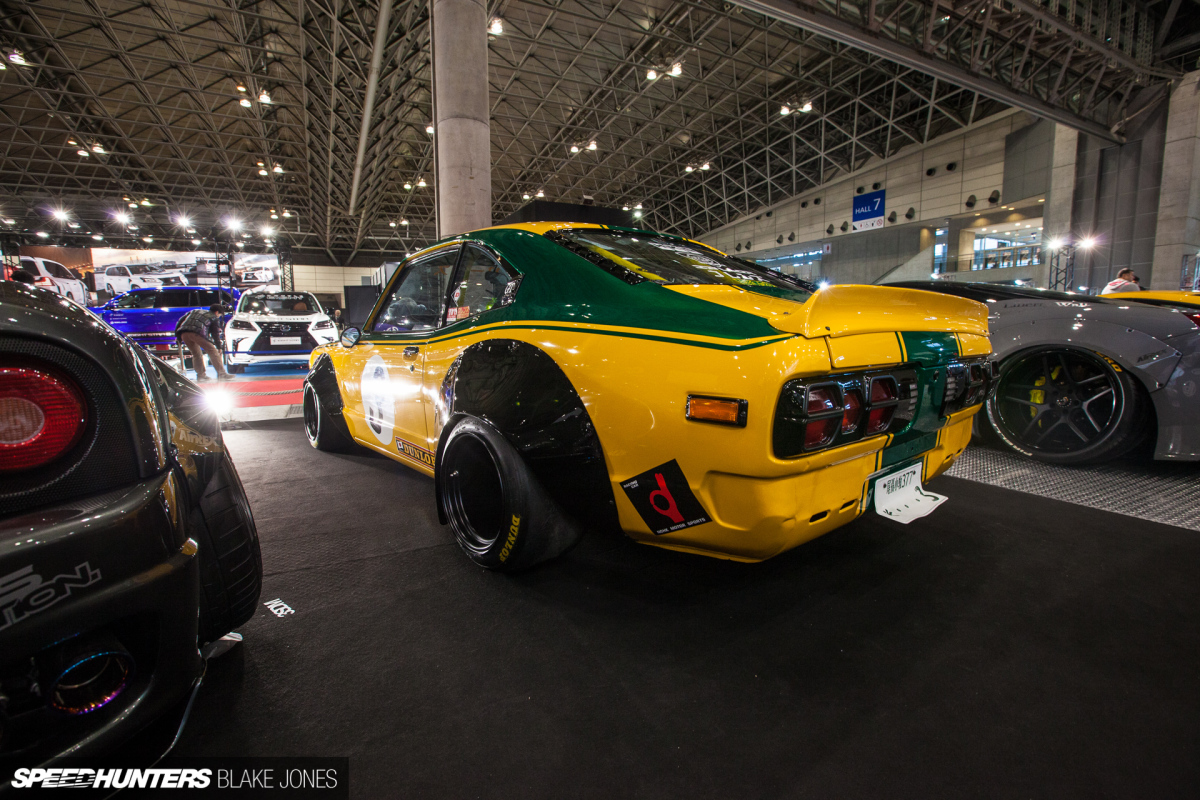 Finally, I wanted to loop back to the Liberty Walk booth to take a quick moment to appreciate Kato-san's other bosozoku-style build – this super aggressive Mazda RX-3. There's a full feature on it coming from Dino, so keep your apex seals intact until then.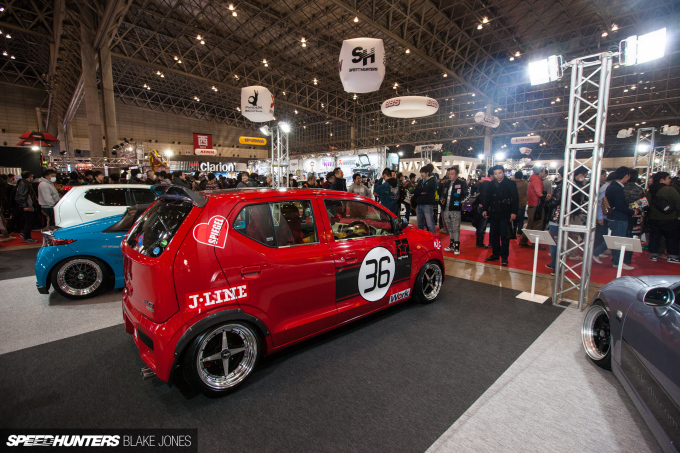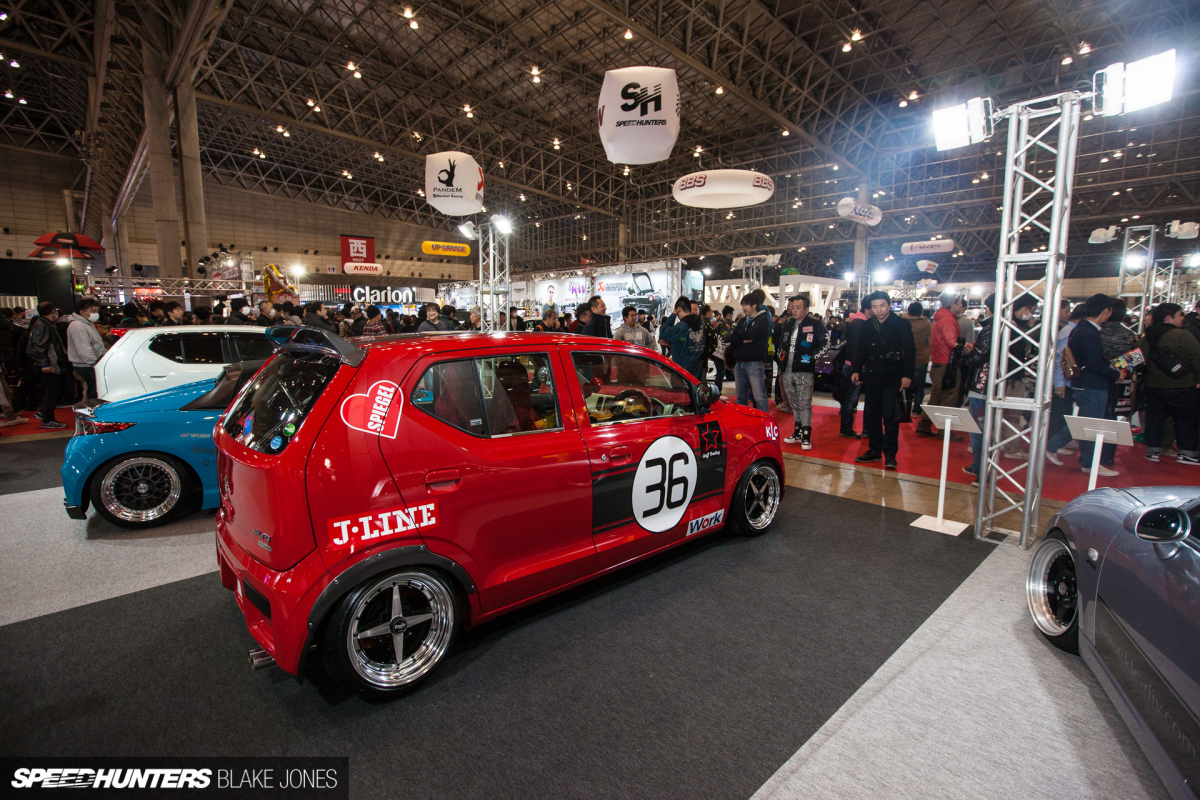 It's a relief to see that the old school contingent at TAS is still as strong and varied as ever, and I can only hope it continues into the future.
Blake Jones
Instagram: blaketjones
blake@speedhunters.com