The Brothers Drift
Regular visitors to these pages will no doubt be familiar with the name. Whether it's attached to James or Mike, the Deane surname has become synonymous in Irish drifting circles as royalty.
Of course, the name goes beyond drifting and isn't exclusive to the two brothers either. The Deane household is one which is steeped in motorsport history, although their success in drifting has been their finest hour. An hour which has so far extended to over a decade at the very top of the sport.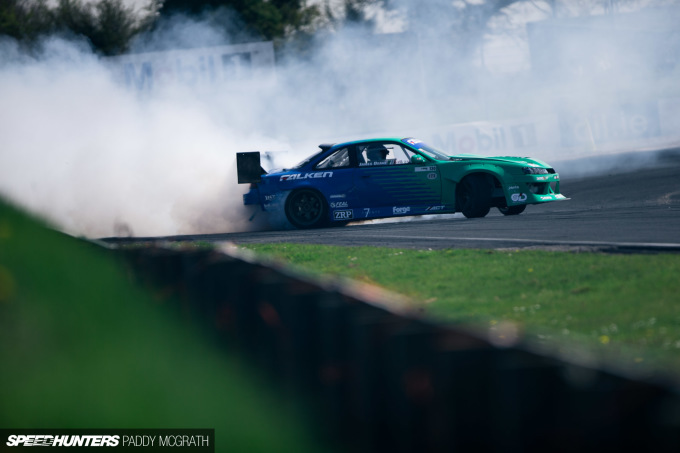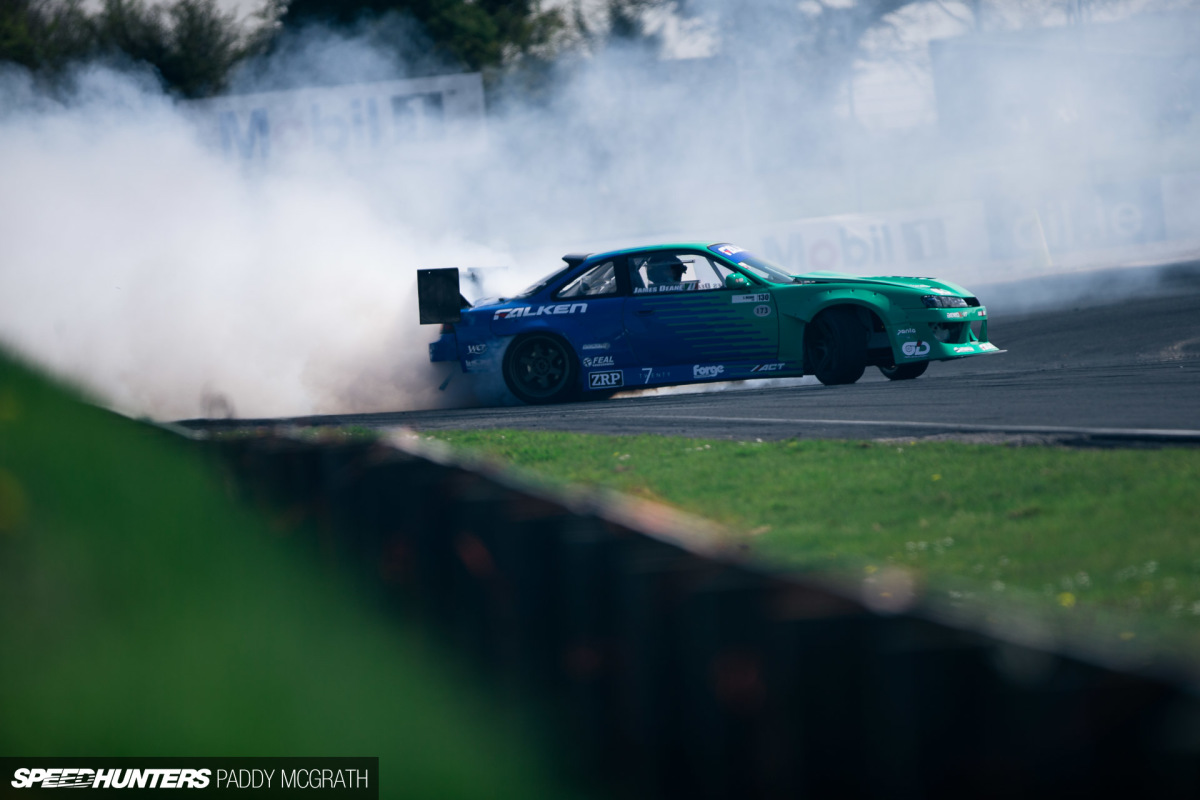 It's hard to remember a time when James Deane wasn't the dominant force in European drifting. I personally can't even begin to recall the amount of victories and championships he has taken over the last 10 years, and when he's asked, I don't think he can quite remember them all either. Don't take that as arrogance or a careless attitude to what he has achieved, because for James the only thing that matters is his next win.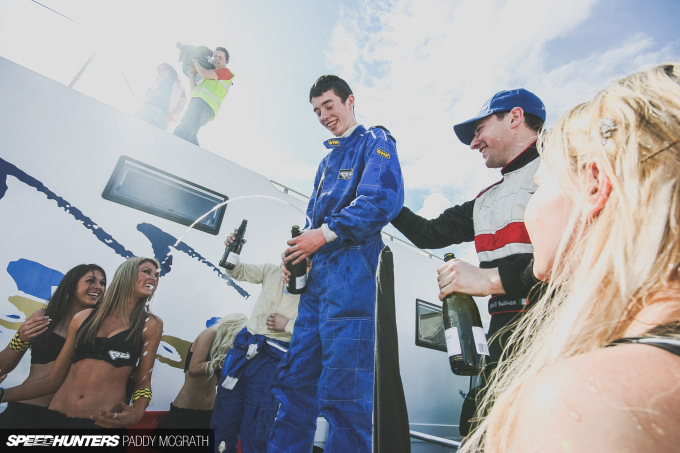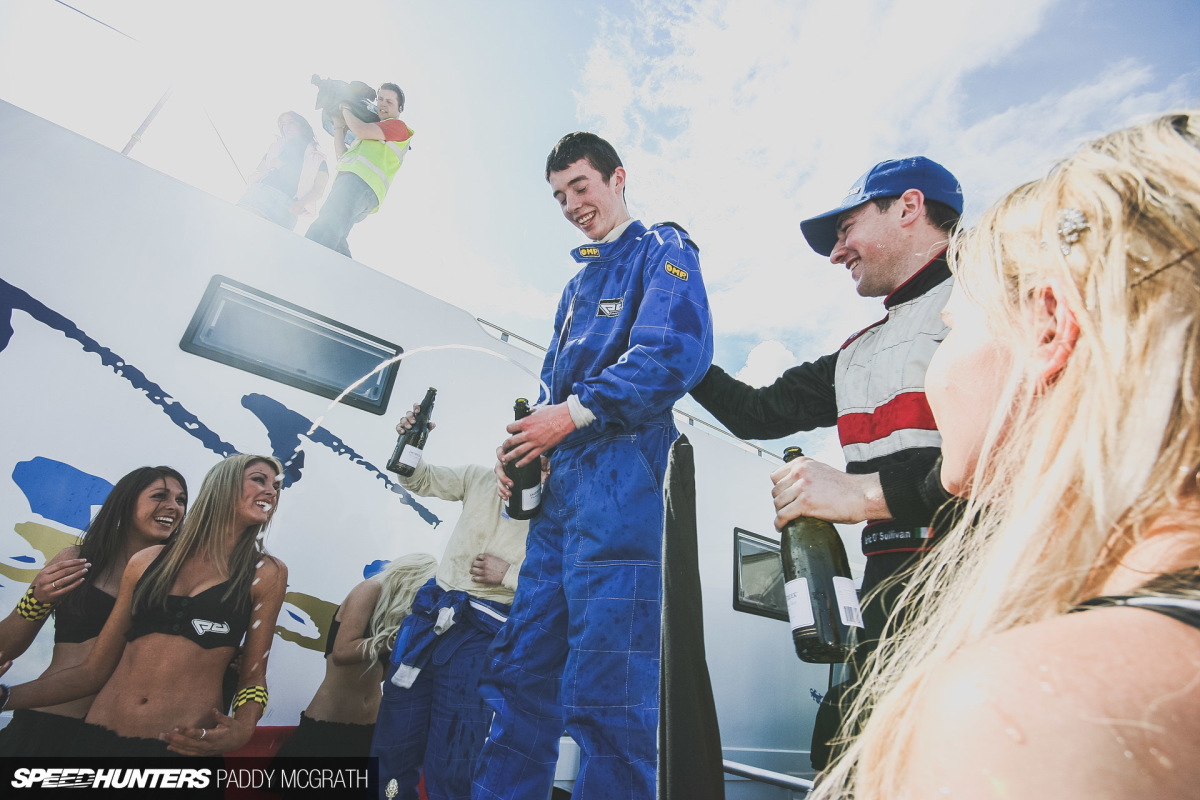 James' first Pro class win came at just 16 years old in 2007. In the decade since, he's racked up numerous event and series wins in Prodrift Series Ireland, Prodrift Series Europe, the Irish Drifting Championship, Drift Allstars and Drift Masters GP, to name but a few. In 2017, James will launch his first full Formula D campaign alongside Polish driver Piotr Wieçek in a team new to the North America-based series.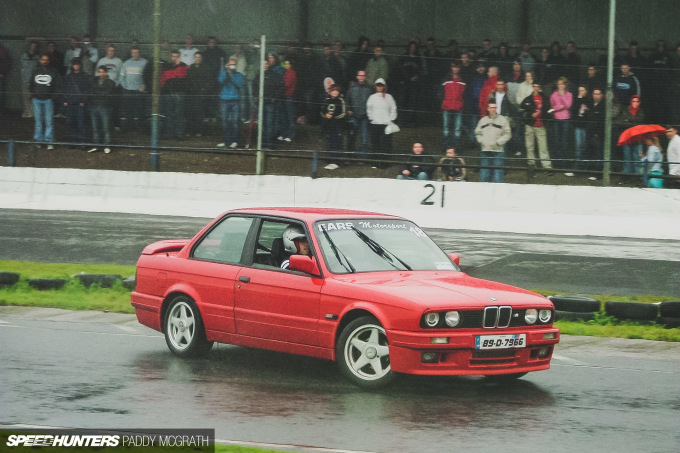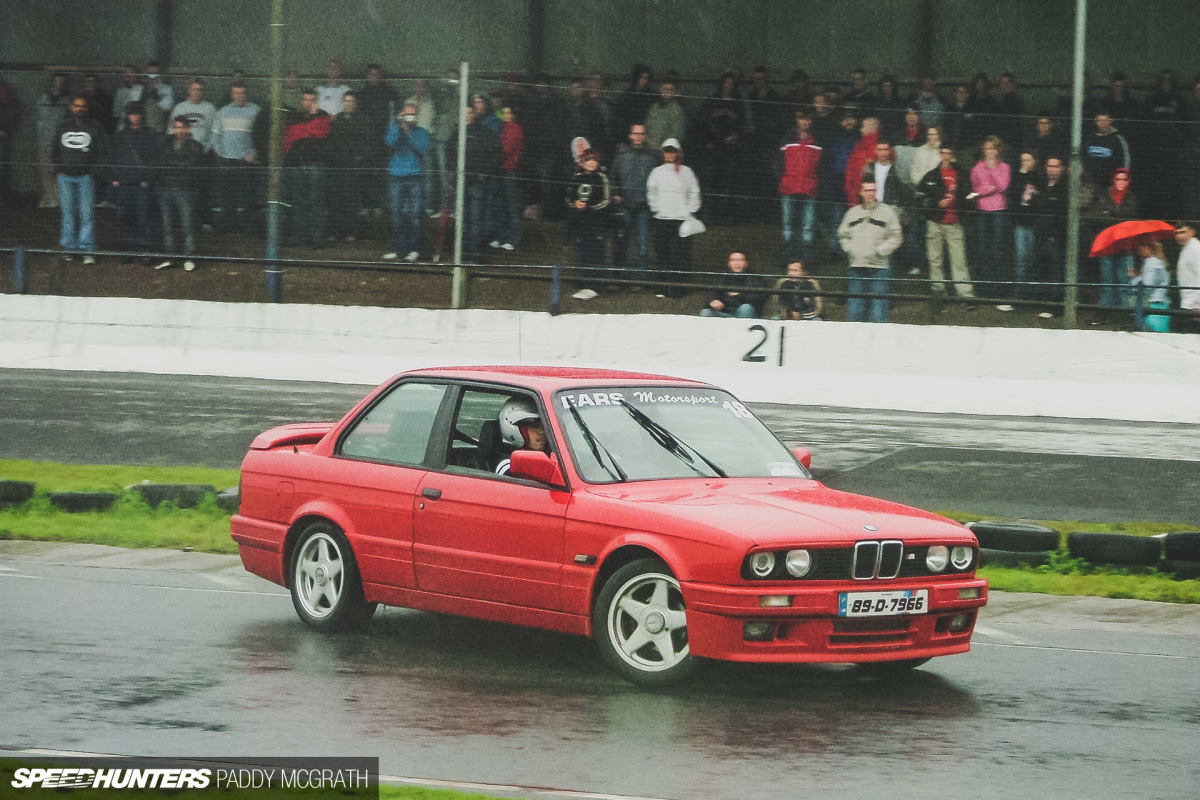 His older brother Mike holds some impressive records himself. He was the winner of the first ever drift event in Ireland and he too is a former Prodrift Series Ireland champion. Famously, he once borrowed a family members BMW E30 street car for a weekend. He cleaned it, fuelled it, put some nice plastic seat protectors in it and then entered it in a drift event and stuck it on the podium. These were the days pre-mandatory safety devices, but still. It was maybe the last time he was offered a car for a weekend.
For all their success, and how long it has been sustained for, you'd be forgiven if you thought that they come from a wealthy background, and that this was just a hobby or play thing for them. The truth is far, far from it.
Working From Home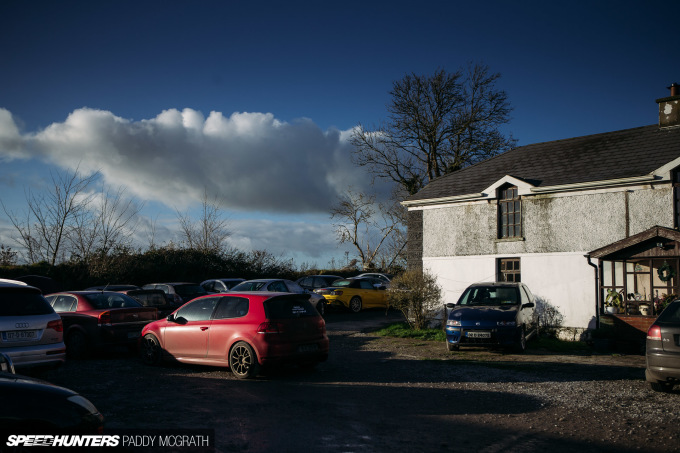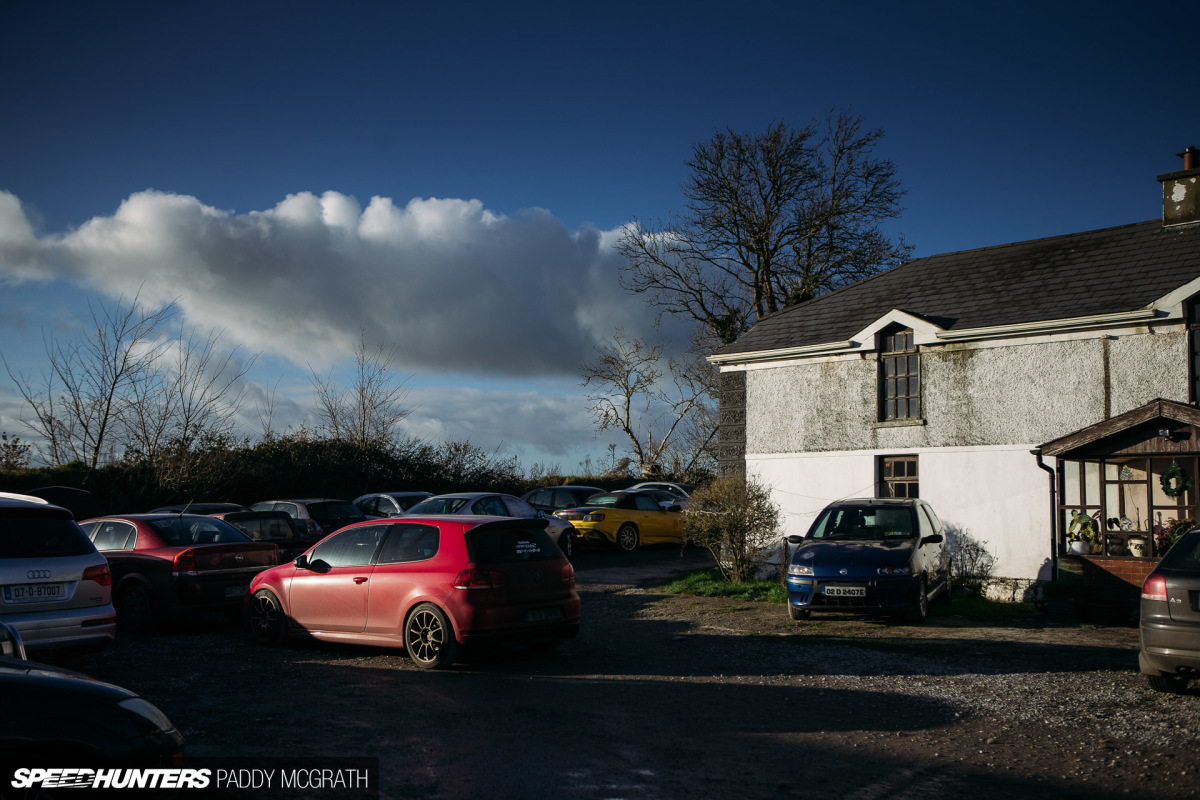 I've always appreciated just how much of Ireland's drift community comes from the south of the country, and in particular the county of Cork. The Deanes are no different. Located around halfway between the towns of Fermoy and Mallow, they've made their home on the outskirts of a small village called Castletownroche. The places you pass through and the roads themselves are about as Irish as it gets.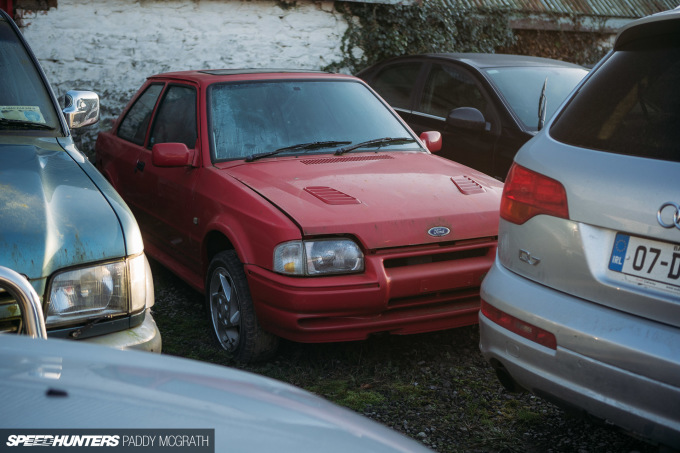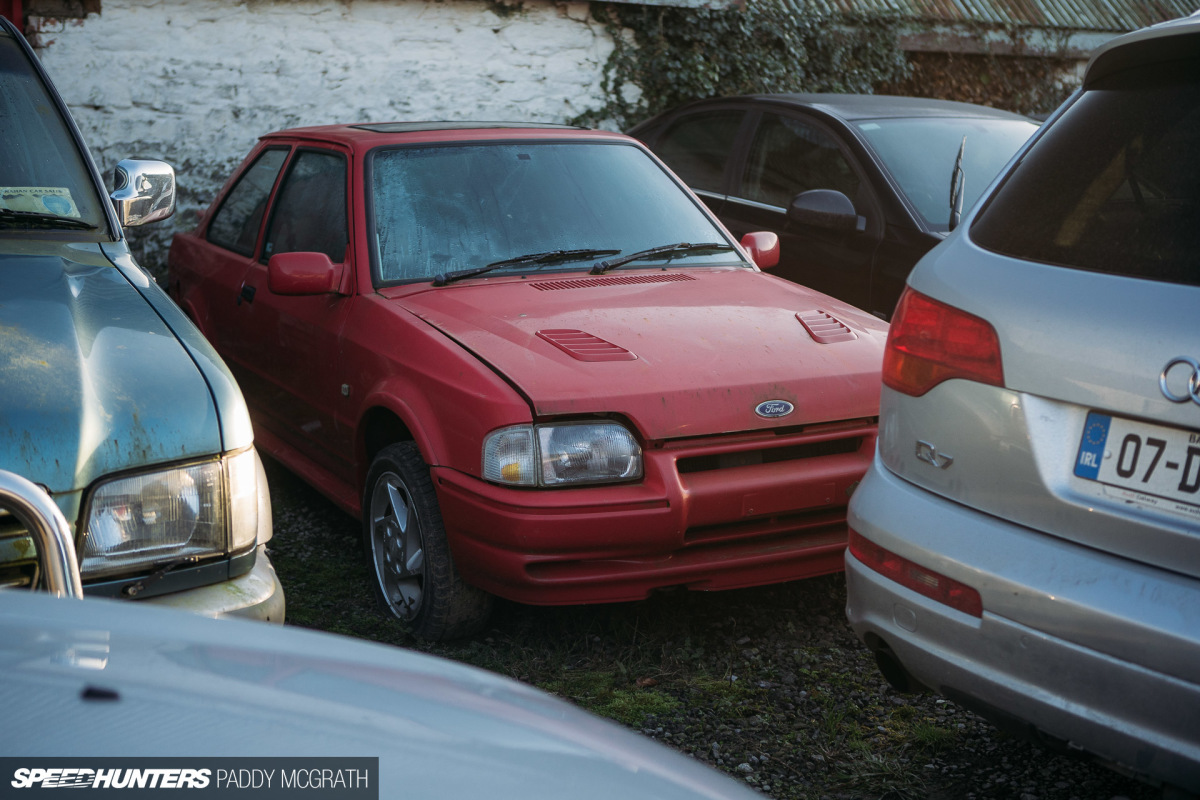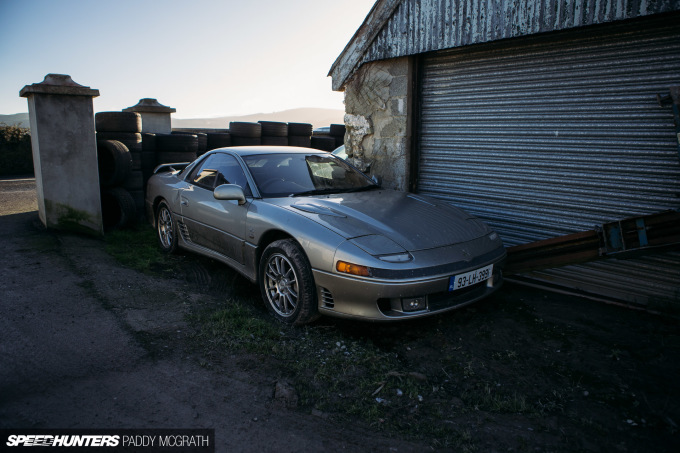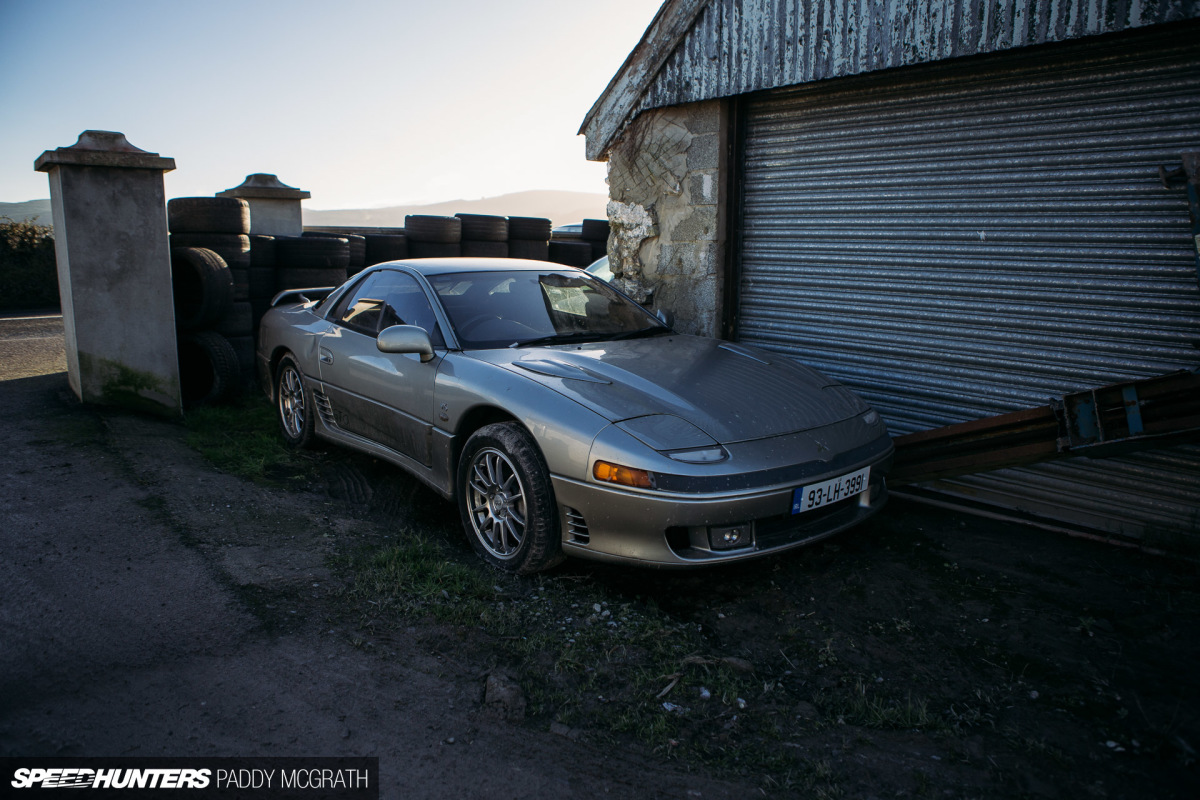 The family home has long since been engulfed by the business, the same business which started as the Deanes working on their own cars and grew organically from there. The yard is full of cars which are ready to be brought back to life or used as donors for greater things. It's been a while since I've seen a Mitsubishi GTO.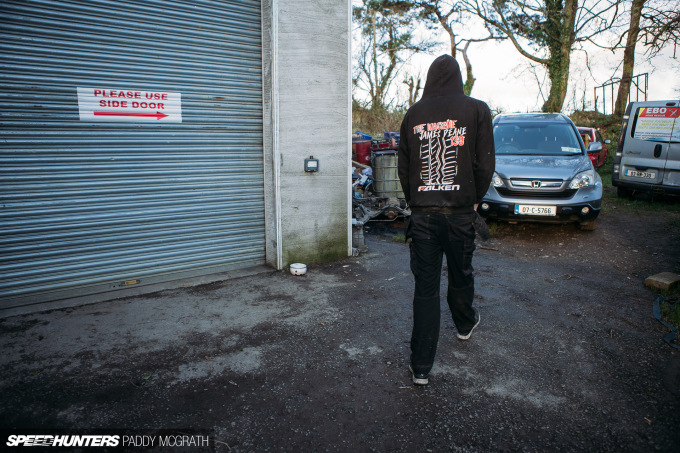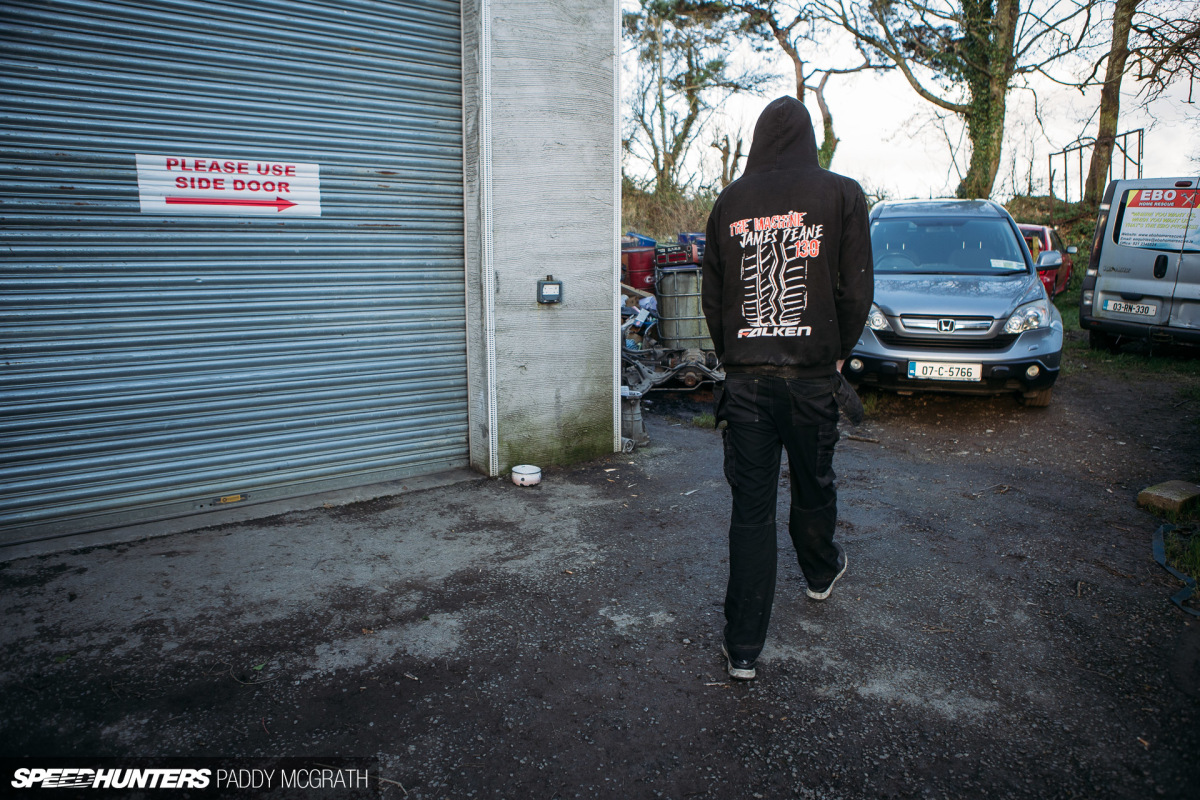 I followed James through the yard to the workshop at the top. For all the years that I've known the Deane family, this was my first visit. What's funny is that I must have driven past their front door countless times over the years and never knew it.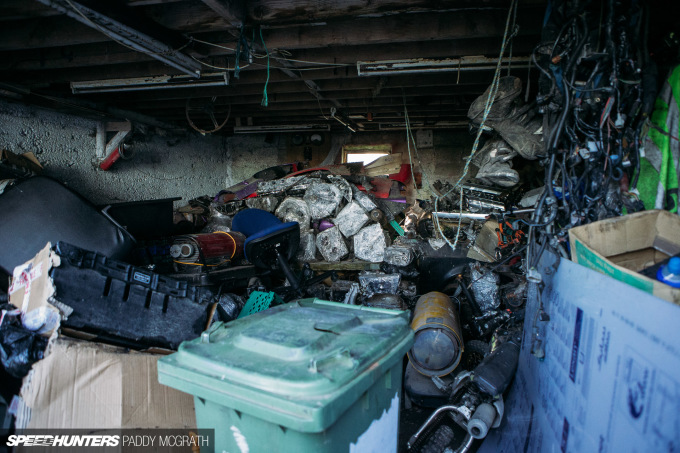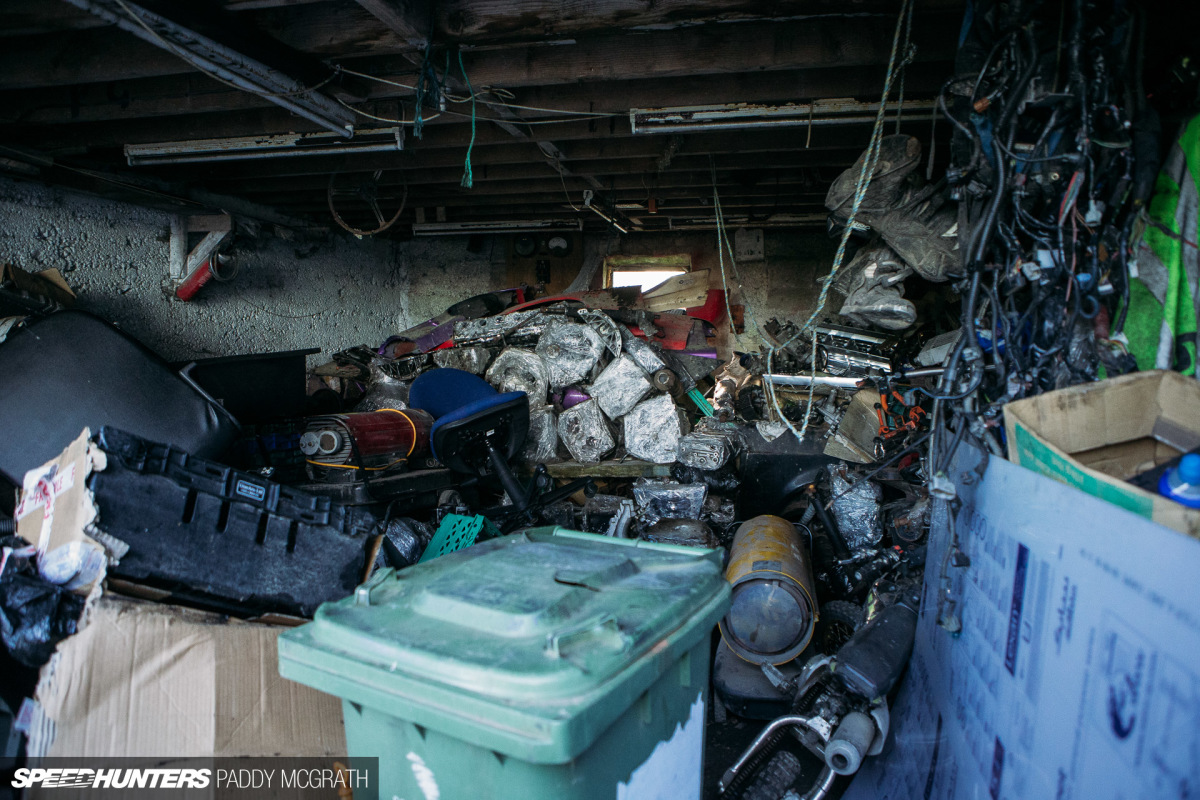 Does anybody fancy taking a guess at what the car that's hidden in here is? Deane Msport, as you might have guessed, isn't a surgery or a sterile place, but it's all the better for it.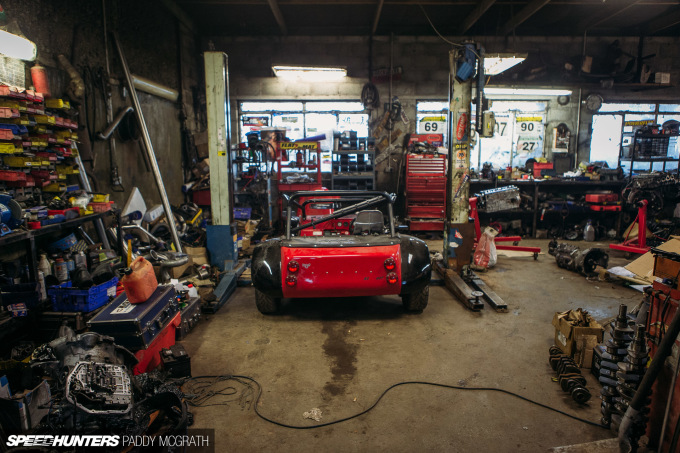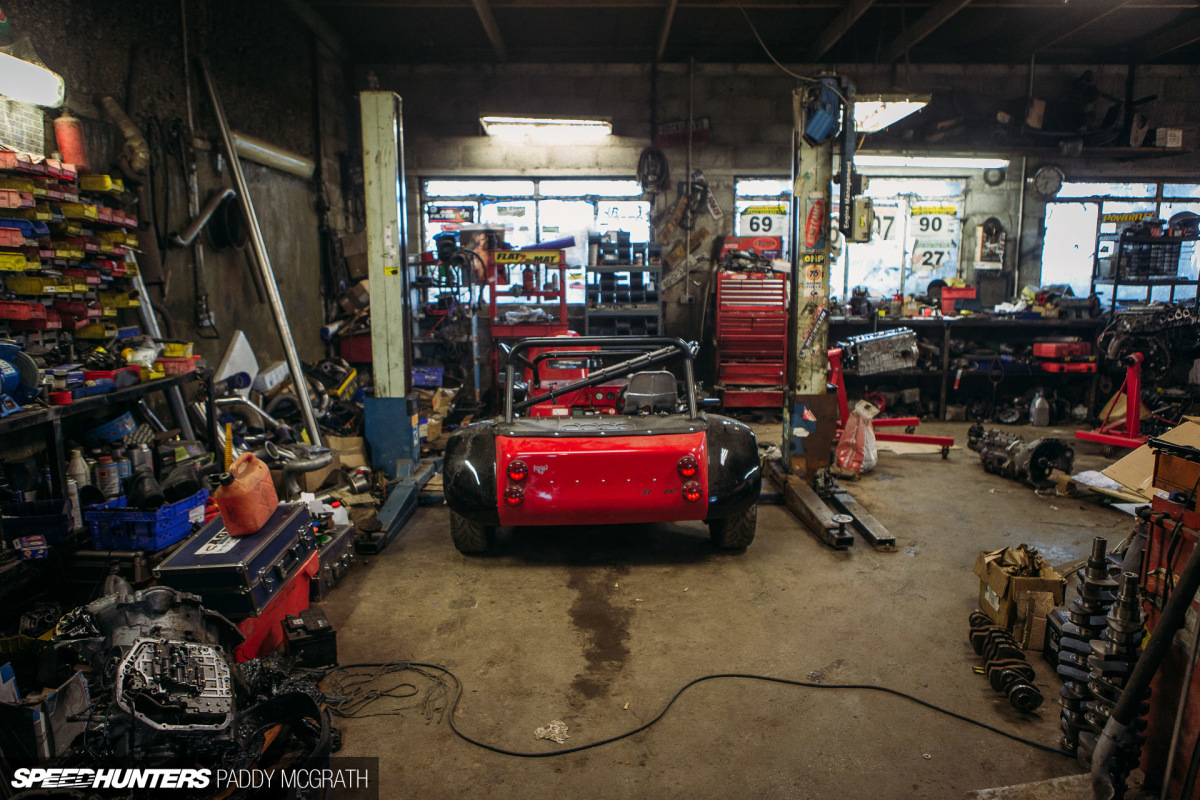 In fact, for me this is somewhere that I feel most comfortable. It's reminiscent of most Irish home garages, where every inch of space is used and there's history to be found in every corner. It's chaotic and calming all at the same time. It's also strangely similar to the workshops that I grew up in.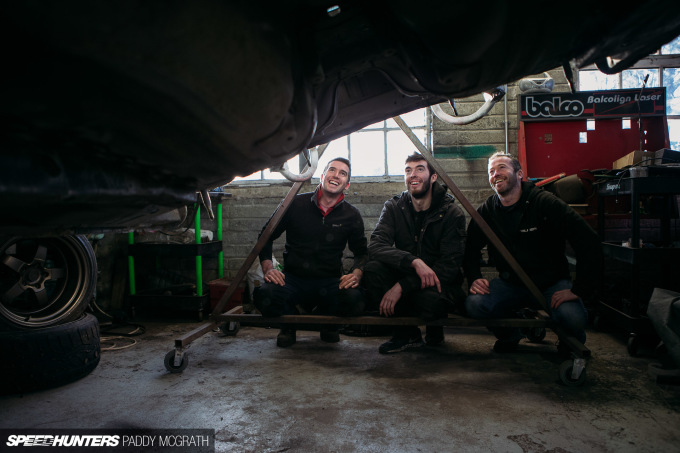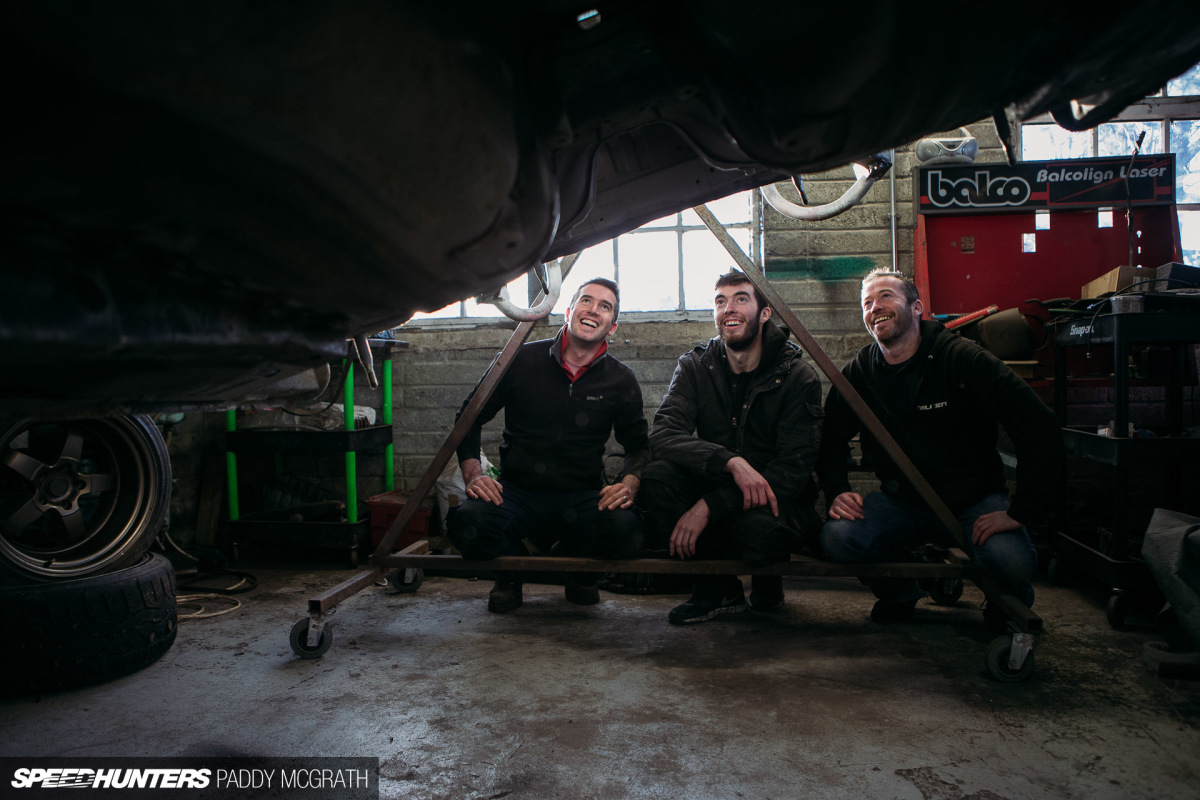 It's where the three Deane brothers – that's Kenneth on the left, James in the middle and Mike – work from every day. Thankfully, they're much better at building cars and engines than they are at pretending to pose for a candid photograph. They're a funny bunch, and while James is the quiet one, you need to watch what you say around Ken and Mike or else you're in for the piss-taking of a lifetime.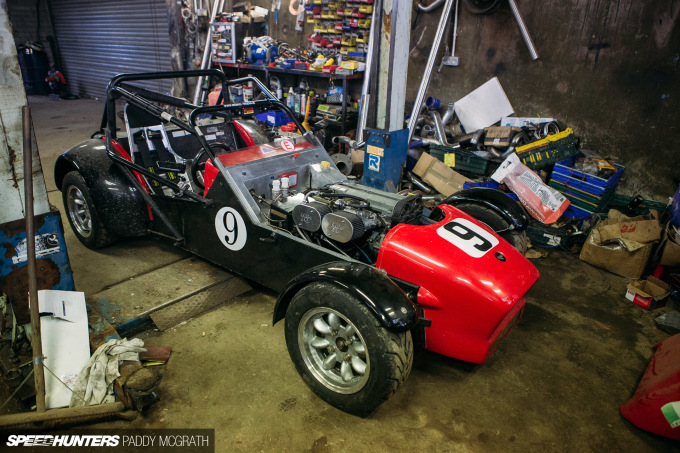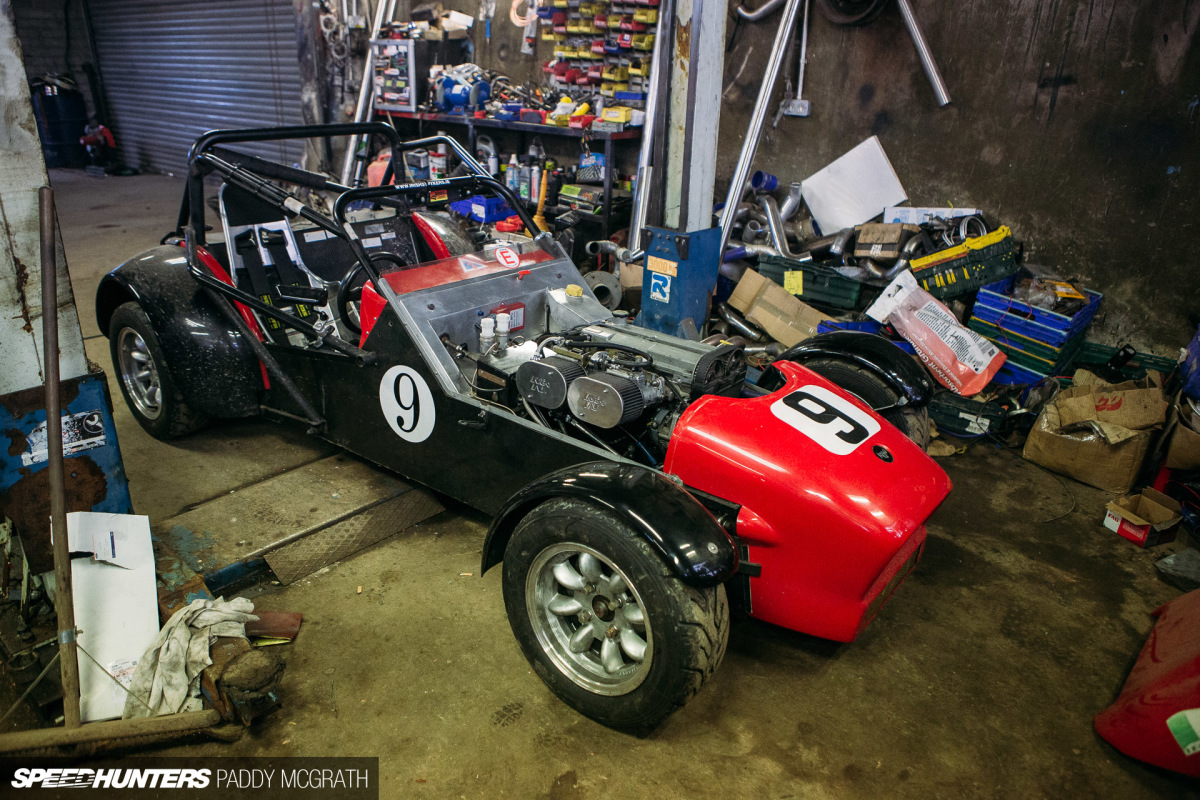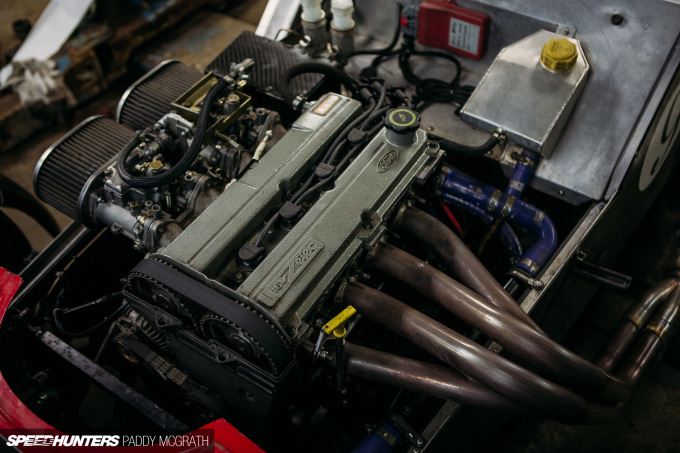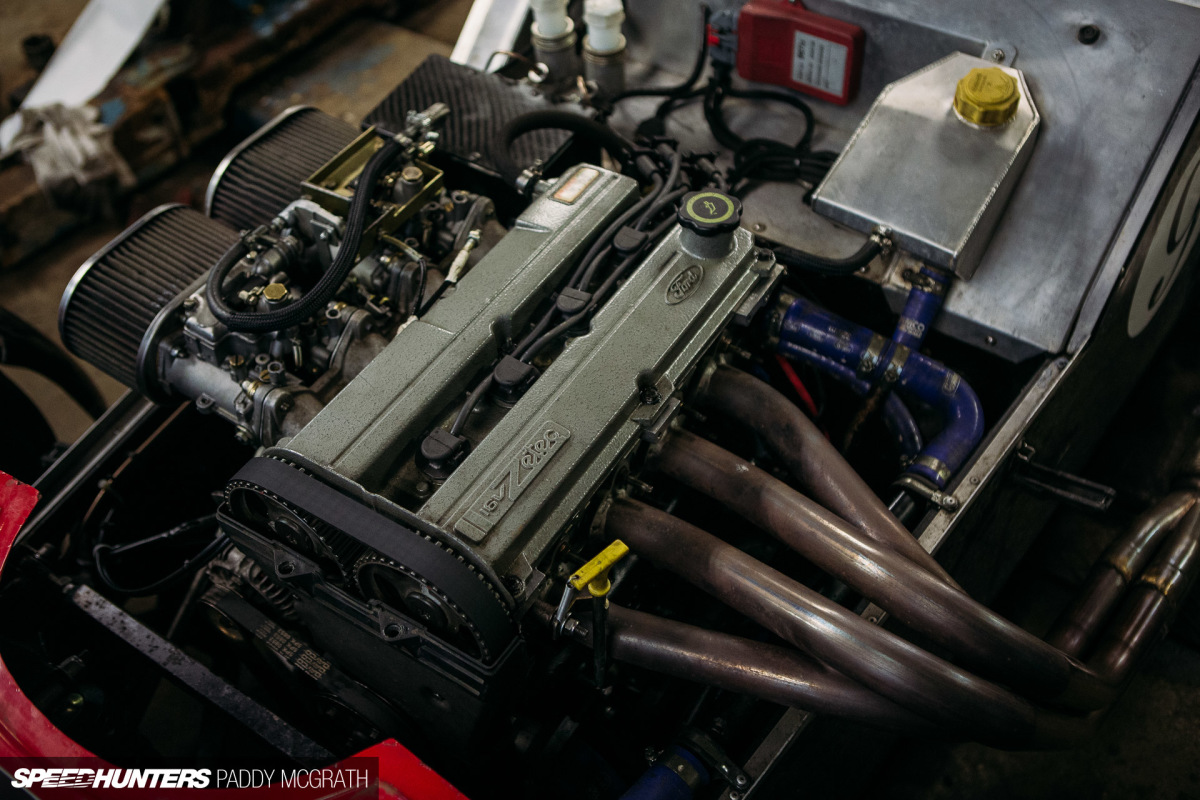 The business is responsible for keeping a lot of the mundane stuff in the locality on the road, but there's often some pretty cool stuff about – case in point this Striker sports car. It has obvious influence from the Lotus Seven and Caterhams of the world, with the goals of the car being similar: lightweight, reliable and affordable driving or motorsport in this particular case. The 16-valve Ford Zetecs are restricted by stringent rules, so they don't make a lot of power, but that doesn't stop the cars from being frighteningly quick on a backroad or hillclimb.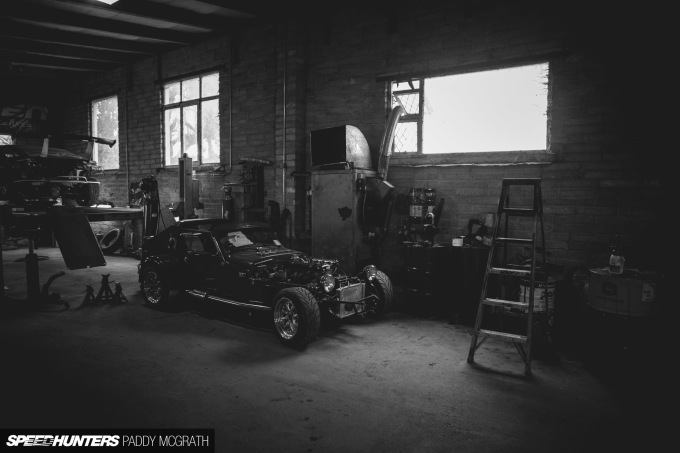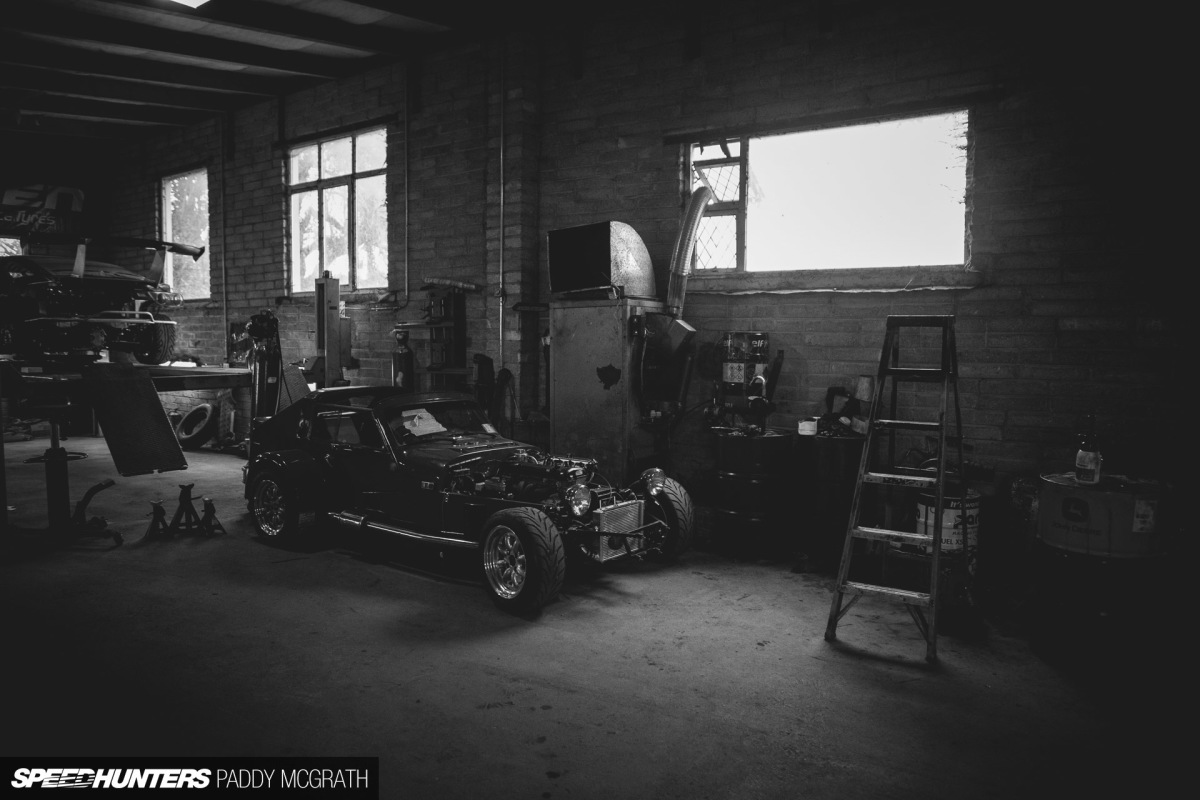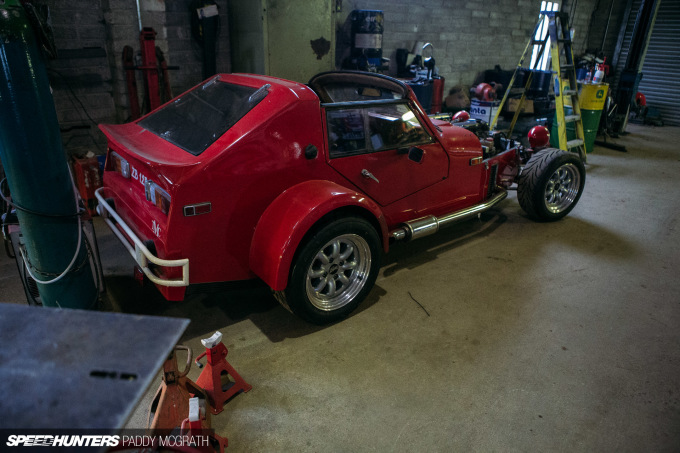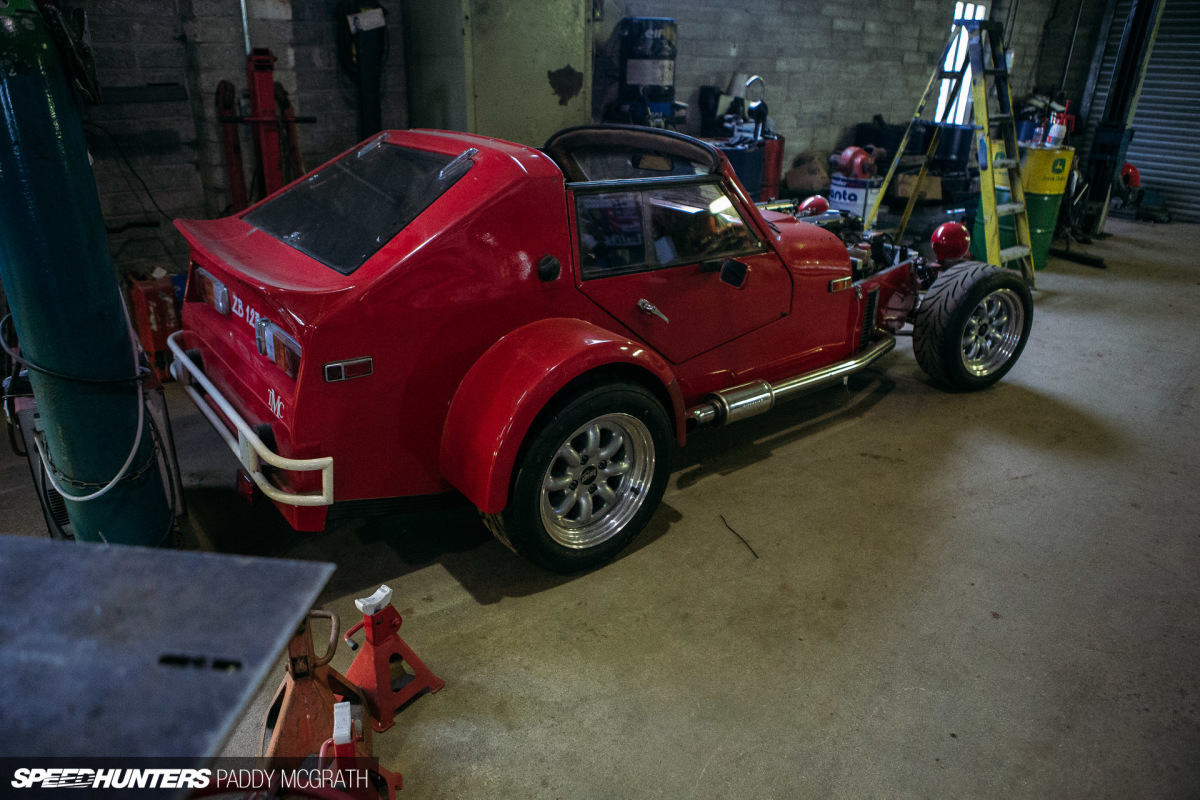 It's rare enough that I have to ask what a car is, so it's especially embarrassing when said car was one of a rare few that was built in Ireland. And this one is incredibly rare; it has been said that there were less than 40 examples ever built. It is a TMC Costin, an Irish car built to rival the Caterhams and Westfields of the world. It's another Seven-type car, like the Striker above, and originally came equipped with a variety of Ford-based engines from the Crossflow to the Cosworth-designed BDA. After the company went bust in 1987, the chassis design was sold to an American gentleman named Daniel Panoz, and would form the base of the Panoz Roadster.
This particular Costin has been fitted with a more modern Ford Duratec 16-valve DOHC engine on ITBs, with Deane Msport fabricating a new exhaust and all-new lower suspension arms to bring the TMC into the modern era. With AP Racing brakes and Toyo Proxes R888s, and now a later-model power plant, it's maybe become the car it always should have been.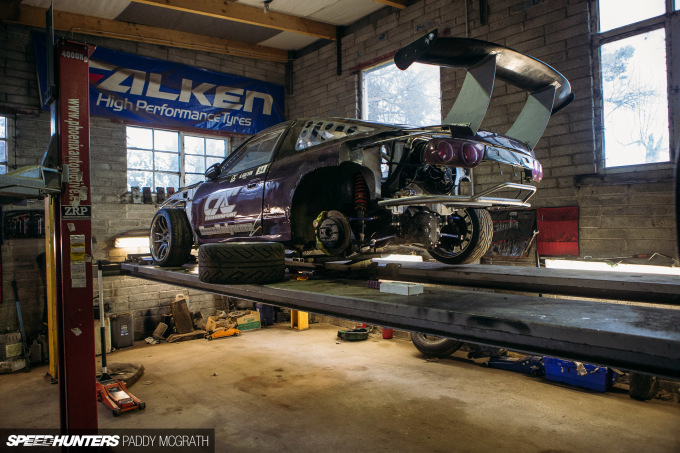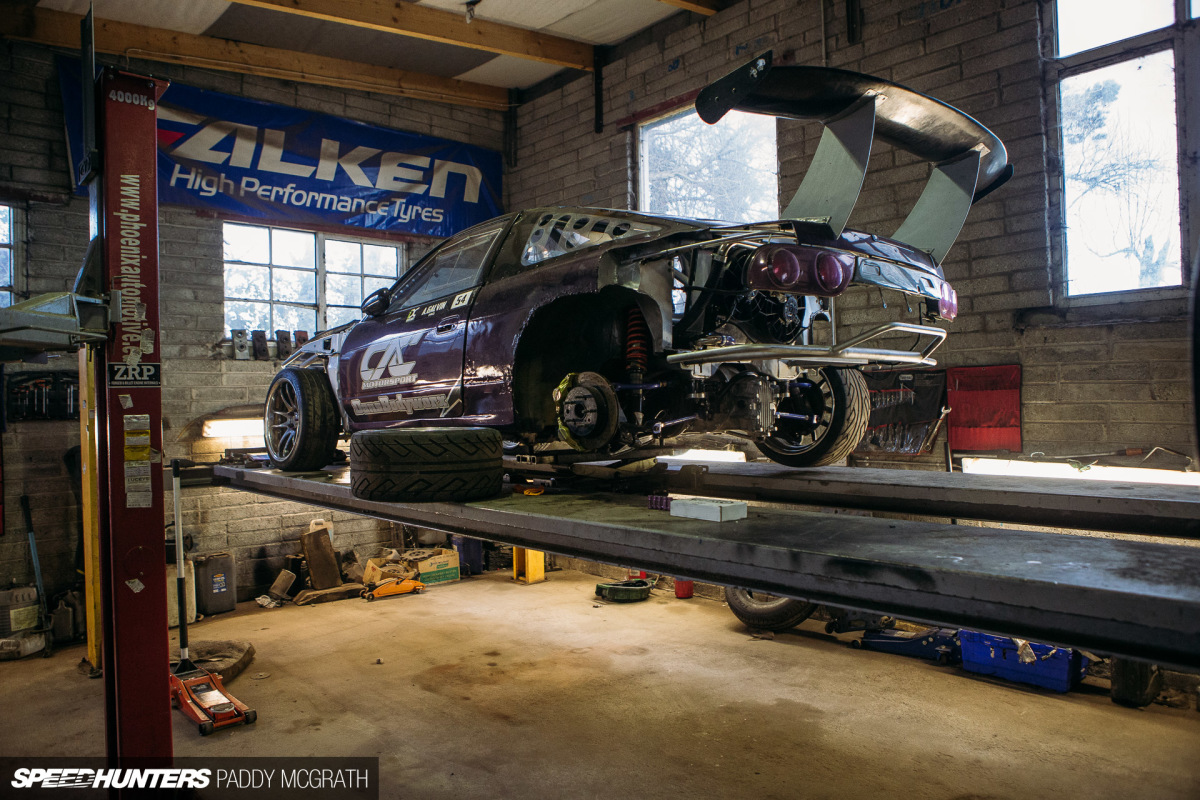 A more recognisable sight was Anthony Galvin's 180SX IDC car. It was completed for the start of the 2016 season, and I had promised Anthony a feature on it but time got away from us. If you're reading, Anthony, my apologies. Still, I think we should try and at least grab a spotlight on it before the new season starts while it's fresh again, don't you think?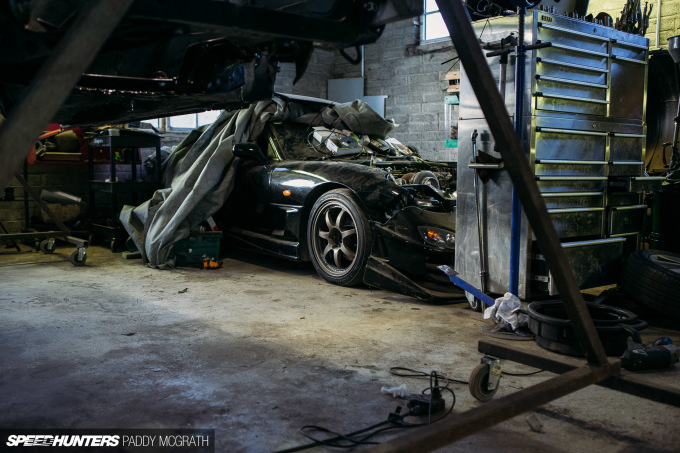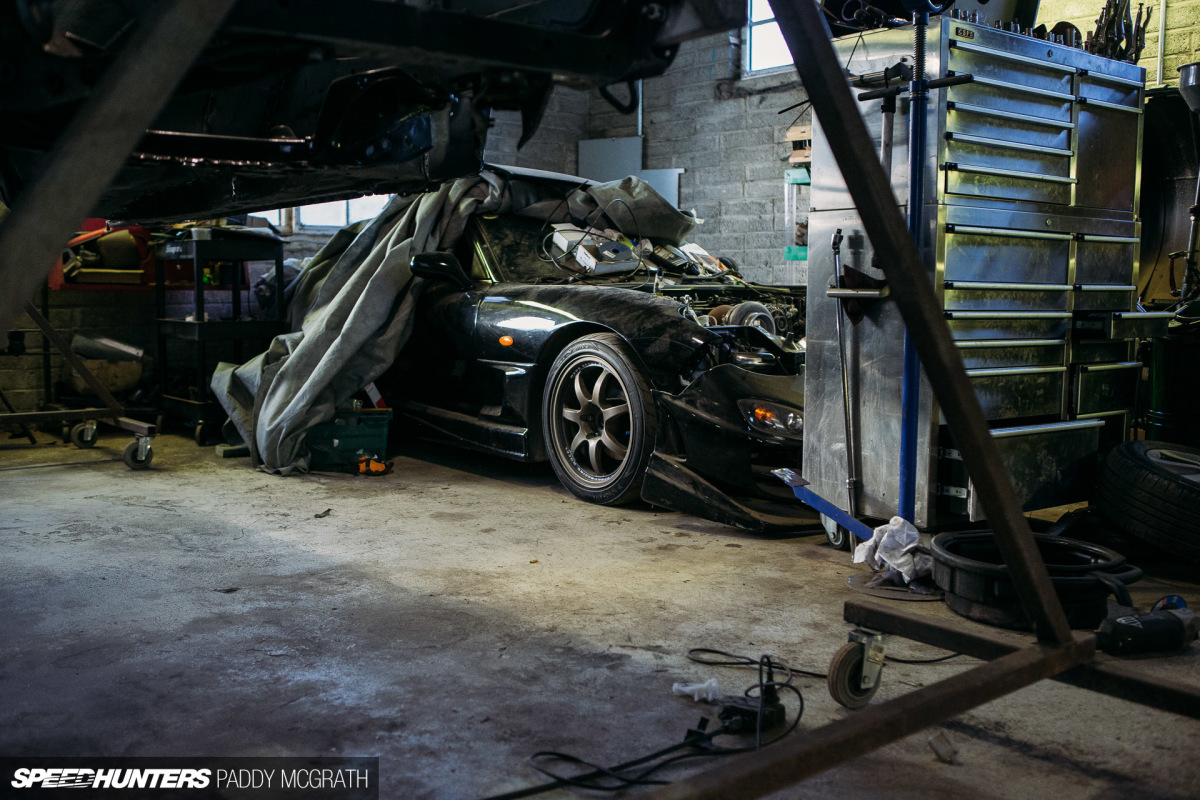 Sitting quietly in one corner, was this FD3s. Mazda RX-7s are actually pretty rare in Ireland, with many surviving examples have being swapped to traditional piston power if they haven't been given up on completely.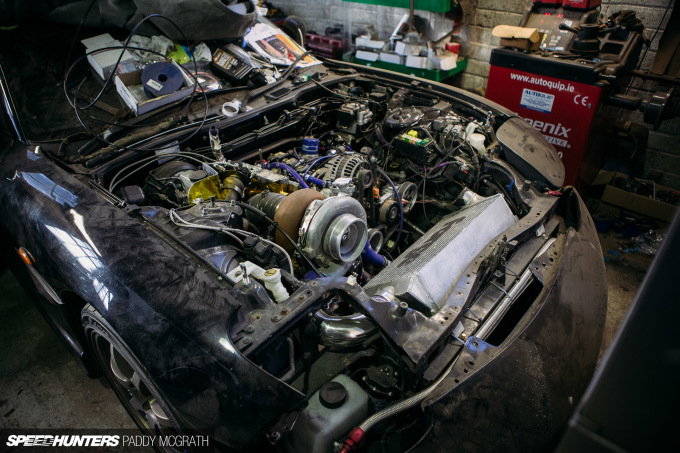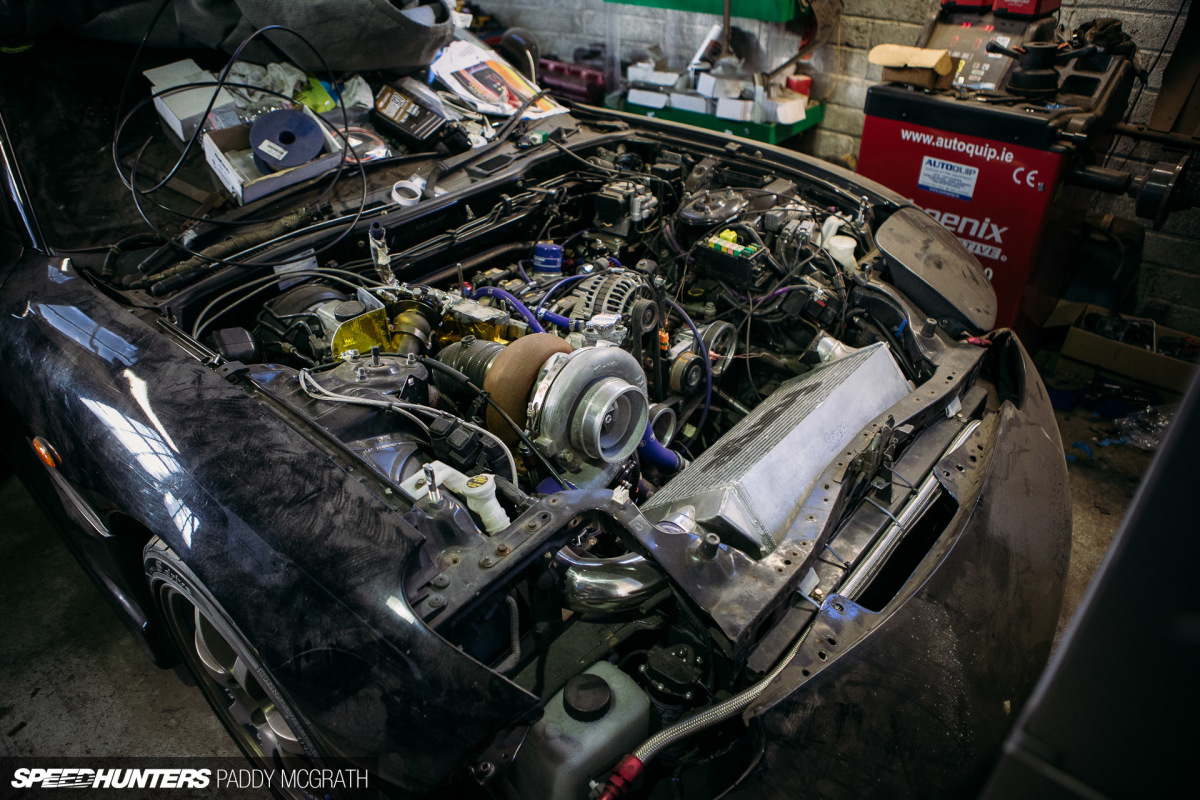 This isn't one of them. With its 13B still intact, and a massive single turbo, I'm looking forward to hearing and seeing this light up the streets or track or wherever it's destined for.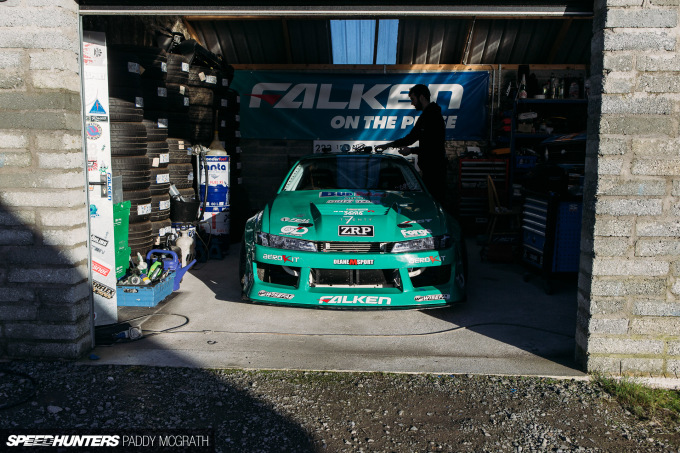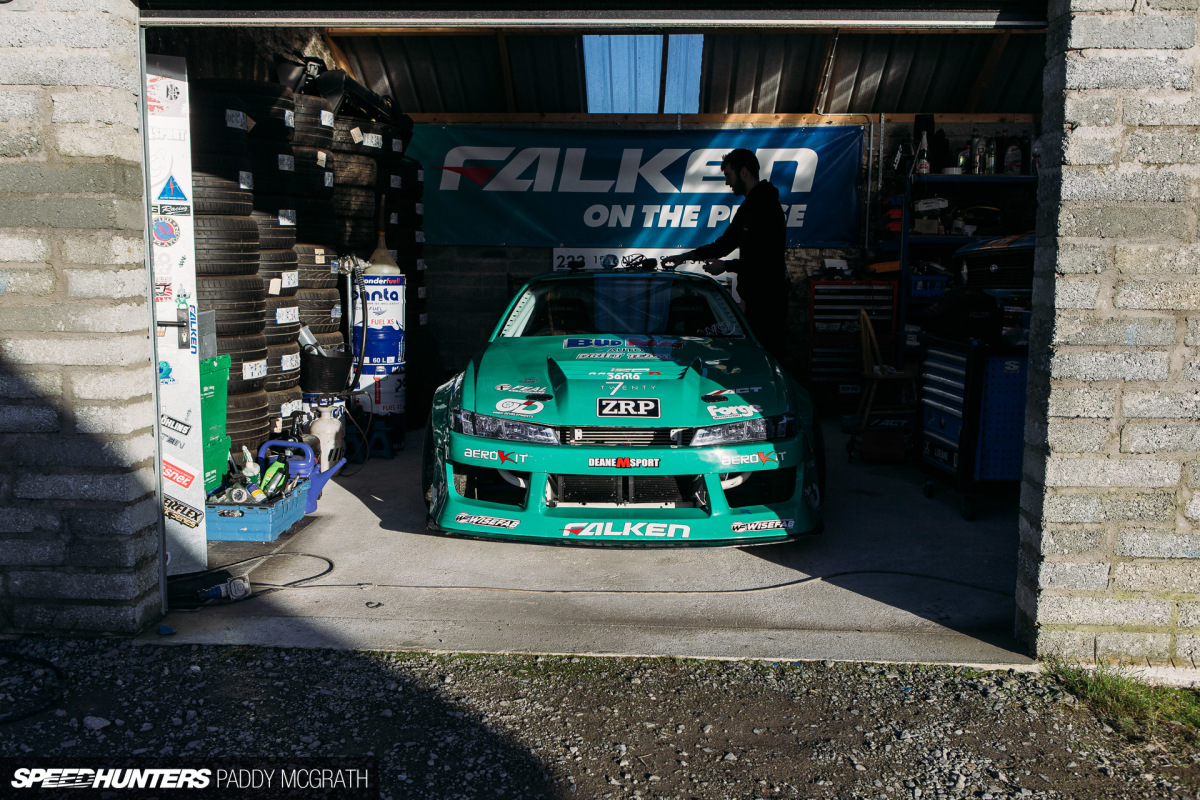 At the other side of the property, in what James refers to as his own workshop, resides a more familiar face. This visit took place before Christmas and before James refreshed his utterly dominant 2JZ-powered S14 for the 2017 season. Out of curiosity, is there a more successful – with regards to drifting – S-body on earth?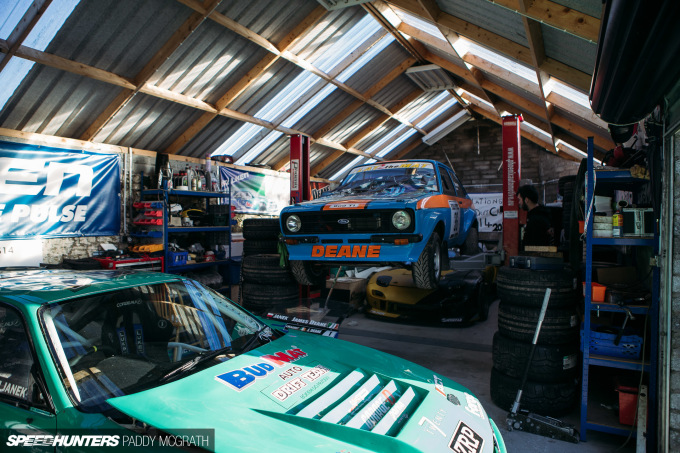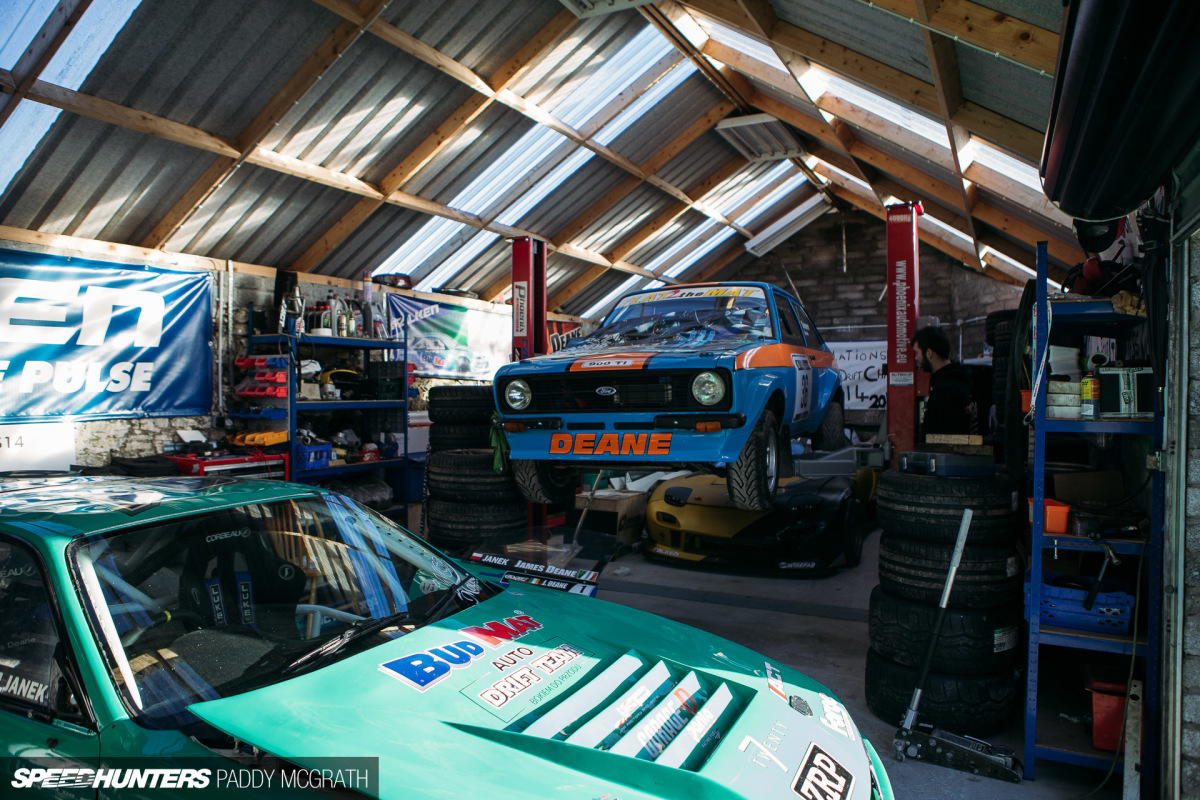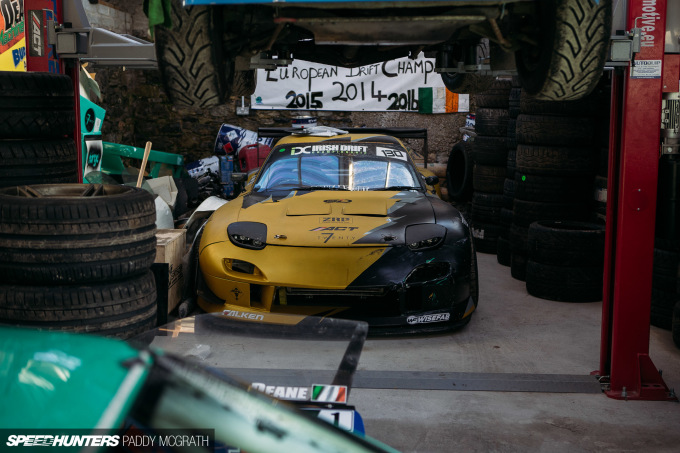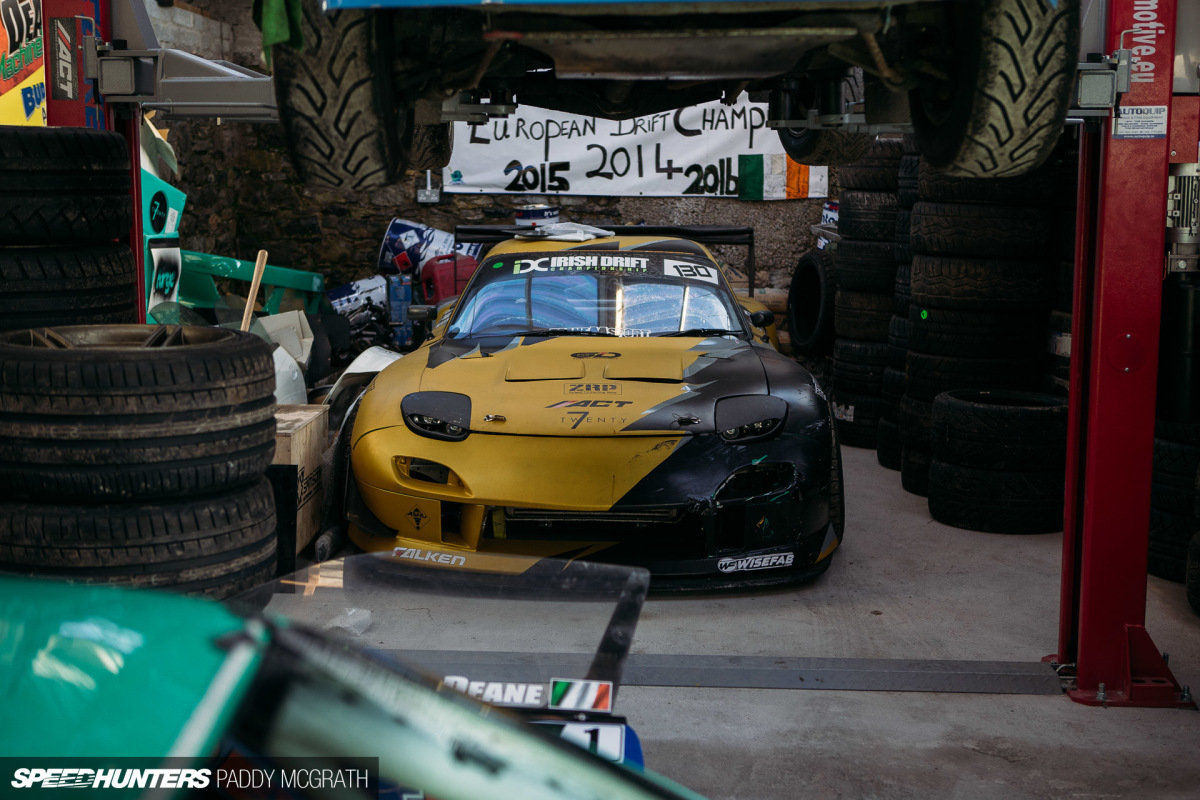 In this smaller garage also resides Mike's 4A-GE-powered MkII Escort complete with a broken rear hub from a recent rally sprint. Behind and beneath it, is James' SR20-powered FD3S completing the garage of engine swaps. James is quite famously consistent and rarely loses even as much as a bumper, but on the RX-7's last outing it blew an engine, caught fire and crashed all on the same run. I still don't think that James has got over it.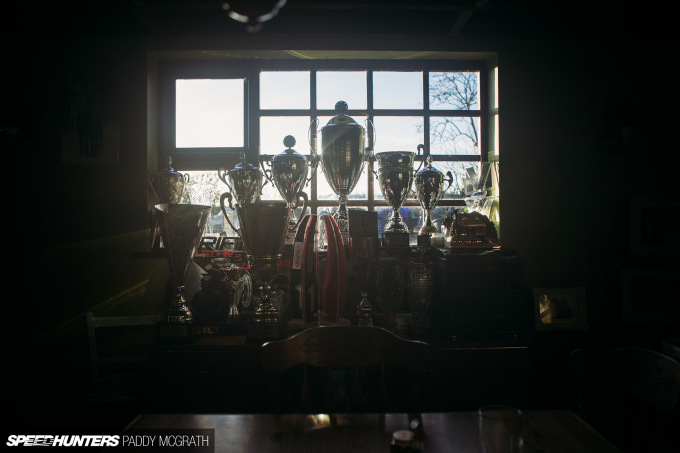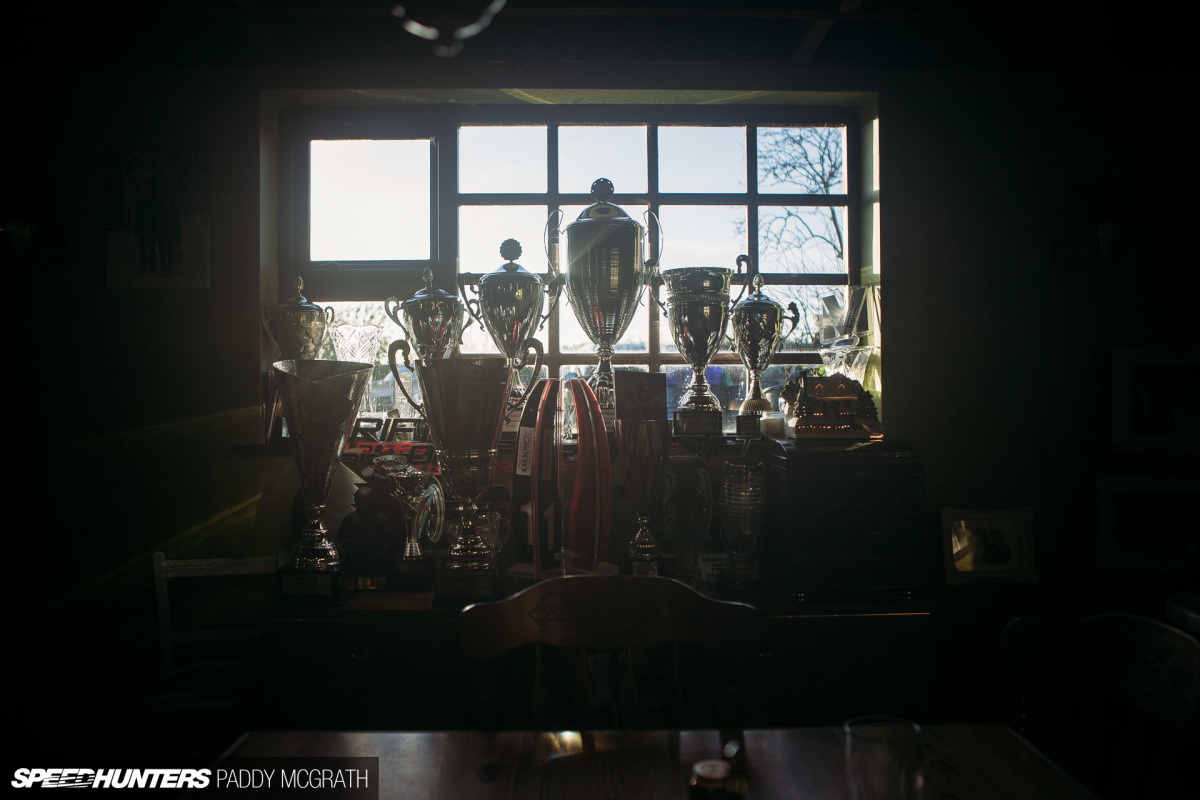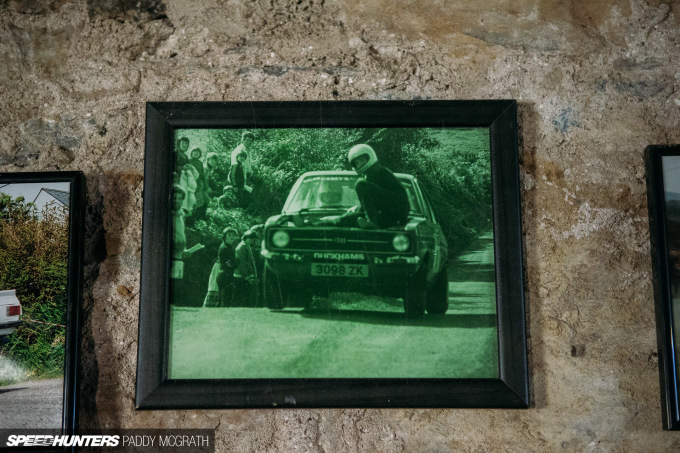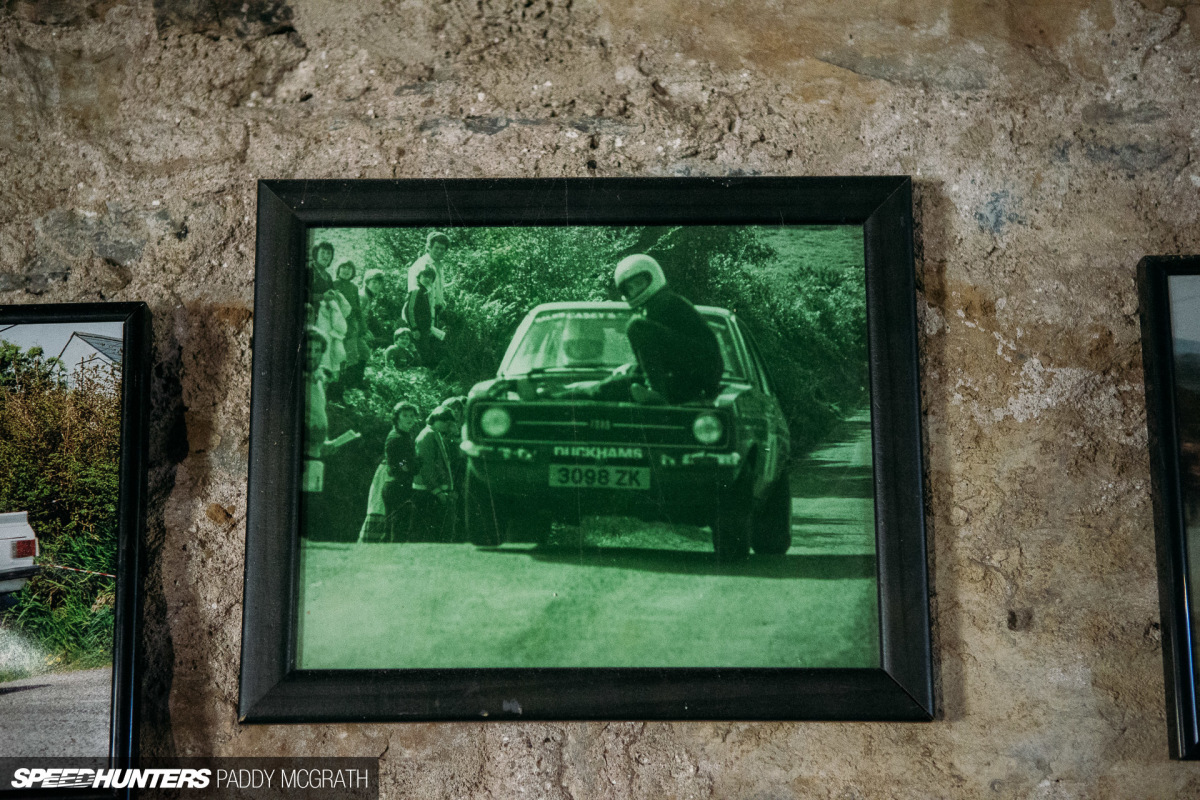 After finishing the grand tour, we headed inside where Popa and Moma Deane had lunch prepared for not just us, but all of the mechanics and family working. I had been warned before about the trophy collection, but to see it with my own eyes was something else. There are multiple rooms full of trophies and photographs of the family's achievements in motorsport. From Mike Sr.'s rallying days – complete with navigator operating the throttle from the engine bay – to Mike and James' more recent successes, you really appreciate just how much motorsport means to everyone in the Deane household. If it must be said, it means everything to them.
They say you can't choose your family, but I don't think the Deanes would choose anyone else.
Paddy McGrath
Instagram: pmcgphotos
Twitter: pmcgphotos
paddy@speedhunters.com
Cutting Room Floor