Hello, my name is Yuri. I'm an automotive photographer from a small town not far from Minsk in Belarus, which itself is a small Eastern European country between Russia and Poland.
I have only been shooting for about three years, and always try to find cars that have an interesting look for me. It can be old American classics like the Plymouth Fury, a stanced VW Jetta II, or a brand new Octavia vRS. We have many interesting cars in Belarus but many owners do not like publicity, so there are still many dream cars to photograph.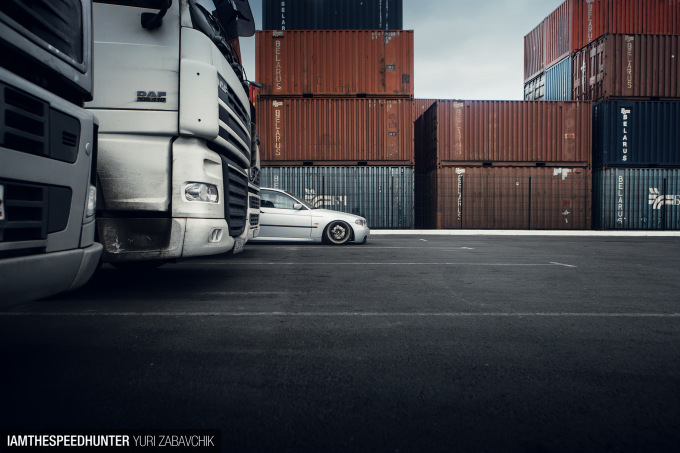 Belarus has a population close to that of Tokyo, and its quite small size means that if you are really into car culture, you will know about every big project from all over the country. You may even know the owners personally if you are lucky enough and attend all the major events. These events are usually held by two big automotive clubs in our country; 'Autoamerica' as you might guess by its name is all about American cars, while 'BellyRubbers' are a group of people united by the love of stance. My story today is about Belarusian stance.

To give you a little bit of background on the stance scene here, I first want to talk about Andrew 'Drull', the founder of the BellyRubbers club. In 2015, Andrew took part in Raceism 2K15 event where his red Scion FR-S placed in the Top 8. He's earned a number of awards at Polish, Russian, Ukrainian and Belarusian events, but it was the success at Raceism that made us feel proud. It showed us that a car from a country with an average monthly salary of about $350 can compete with high-budget projects from all over Europe.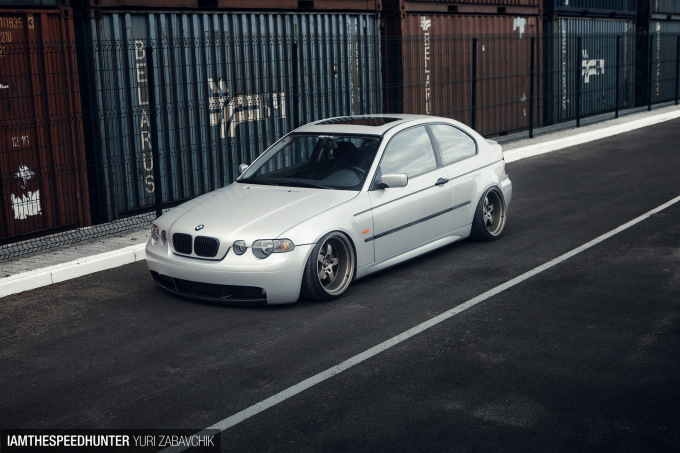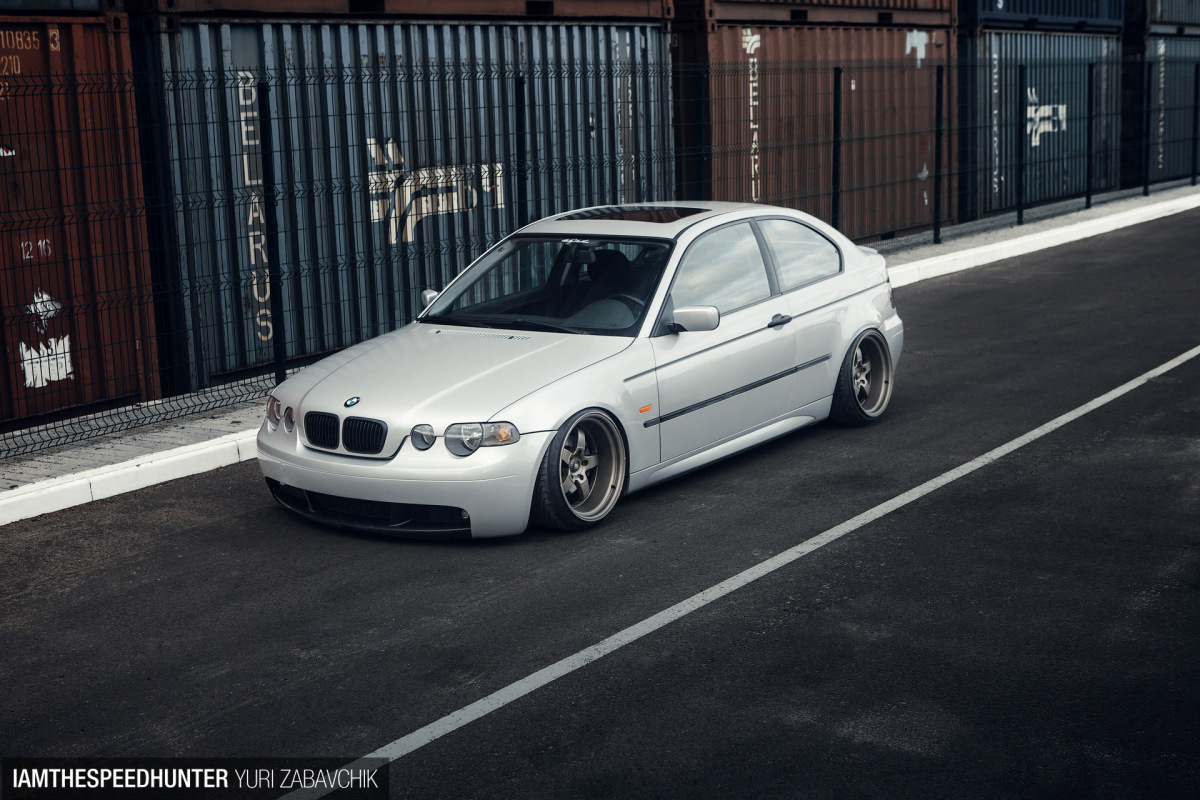 But the build I want to share with you today is owned by another Andrew, who also has an interest in stance. Like most other guys, Andrew has been into cars since his youth, and having readily accessible internet he got into stance culture very fast. He dreamed about building up a clean looking VW Golf, but luckily that never happened. By 'luckily' I don't mean that owning a Golf is a bad thing, but there are already just so many customized examples out there.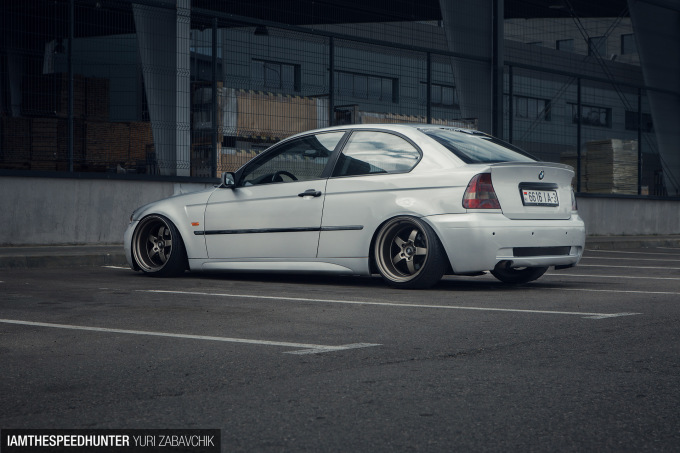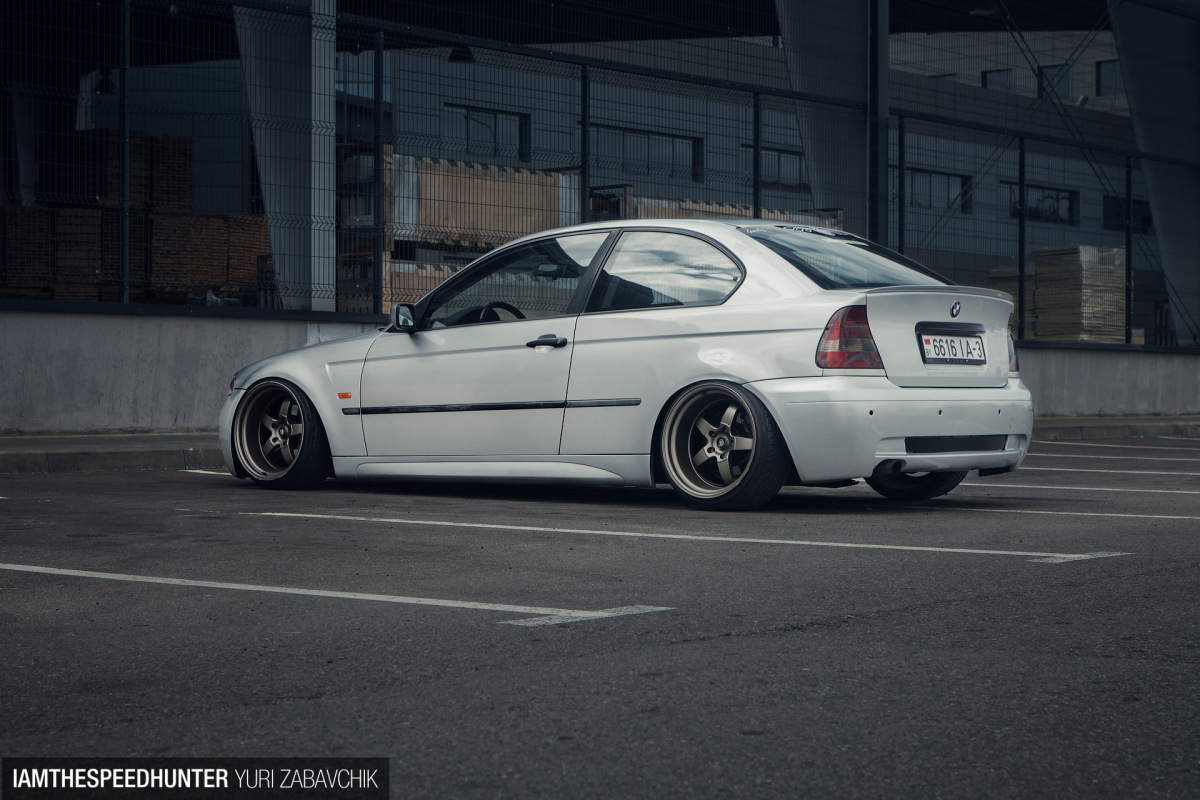 After not being able to find a suitable Golf, he began to consider other cars like the BMW E36. But then one day his buddy called up and said, "Hey, I've found nice E46 coupe for you". Well, it turned out that it wasn't a coupe, it was 3 Series Compact, the ugly duckling amongst all E46 BMW models.
I've always found the 3 Series Compact to be awkward and I do wonder what it is that draws people to these cars in the first place. I guess it's something to do with the model being reliable enough and having inexpensive parts.
Andrew took a glance at the silver Compact and decided to buy it. When he got home, he Googled the words 'E46 Compact stanced' and found that the number of results were surprisingly small. Andrew quickly realised that this body style is not a very popular base for lowering, but that didn't put him off. Instead, he took it as a challenge.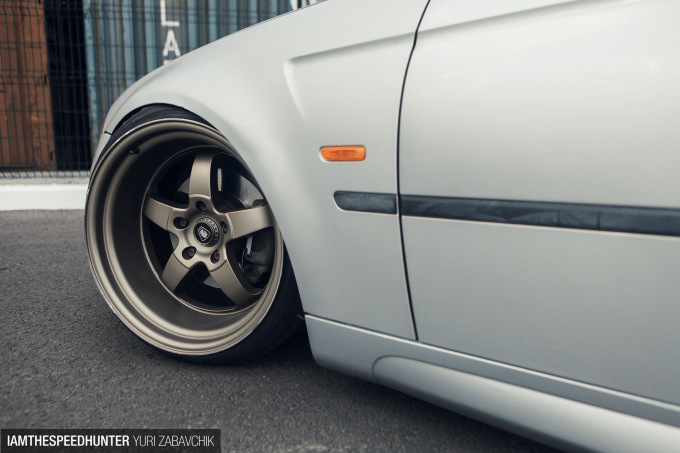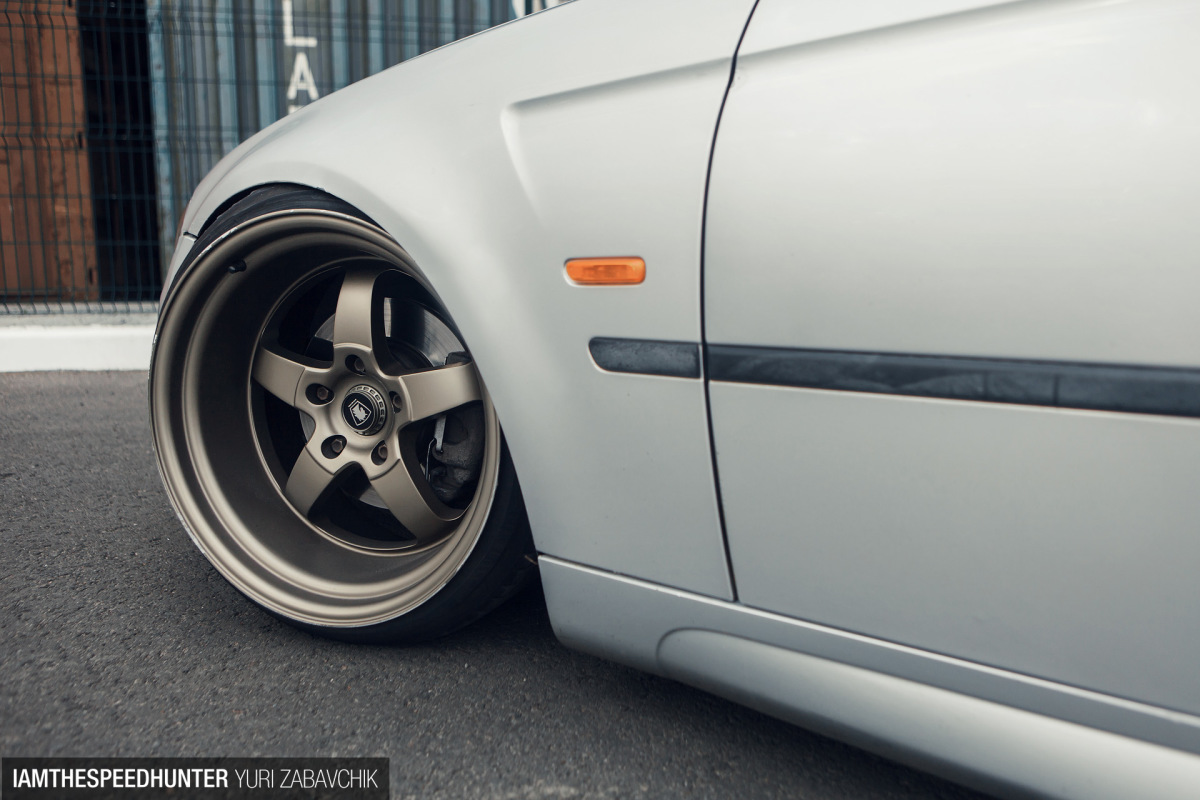 The project started in 2015 and for that season Andrew chose wheels that were too wide. In fact, the rear wheels didn't physically fit at all. For 2016 he was much more prepared when choosing the right wheels, and as it sits today the car looks clean as opposed to being overly radical.
The spec includes TA-Technix coilovers with -3.5 degrees of camber in the front and -5 degrees at the rear, while the aforementioned wheels are 18×10.5-inch 7Twenty Style49s fitted with 215/35R18 tyres. M-style bumpers and side skirts have also been added.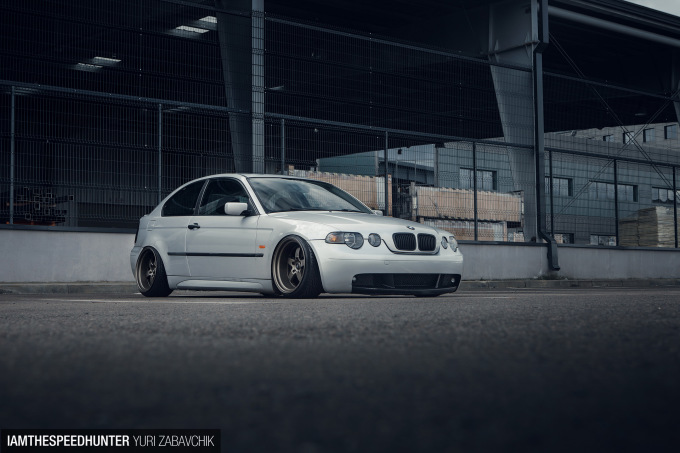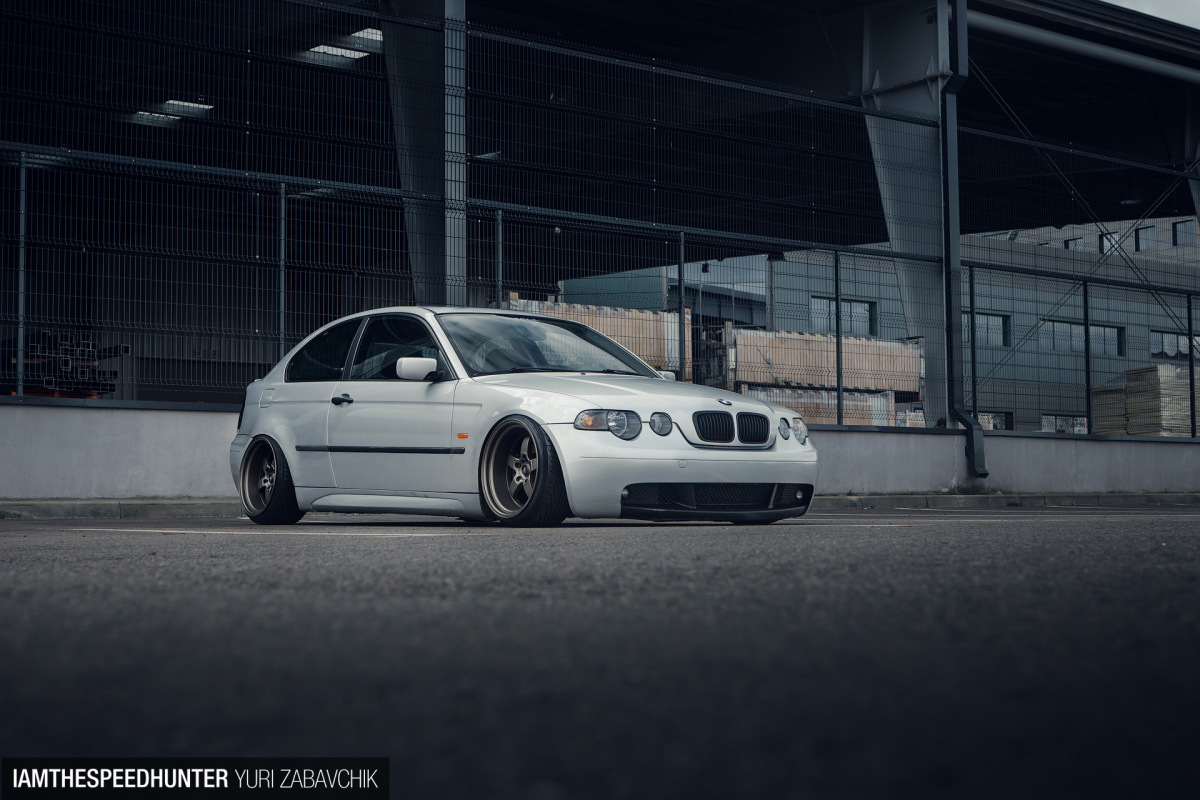 Andrew wanted to build first stanced E46 compact in the CIS (Commonwealth of Independent States), and he achieved that goal. There are many more goals ahead though, and his plans for 2017 include more camber, wider wheels and some exterior changes. I'm sure that when those things happen, the BMW will become even more unique and will receive the attention it deserves.
The number of car festivals in post-Soviet countries is constantly growing, as is the quality of cars participating. I hope I can show you many more interesting cars from CIS in the future!
Yuri Zabavchik
Instagram: isteone