The Nismo Festival
Hakosuka. Kenmeri. Fairlady. Silvia. Stagea. GTi-R. GT-R. What happened, Nissan?
Somewhere along the line us enthusiasts were forsaken; one by one, you took away our toys and left us with nothing but memories of the good old days, a legacy of L28s, SR20DETs and RB26DETTs.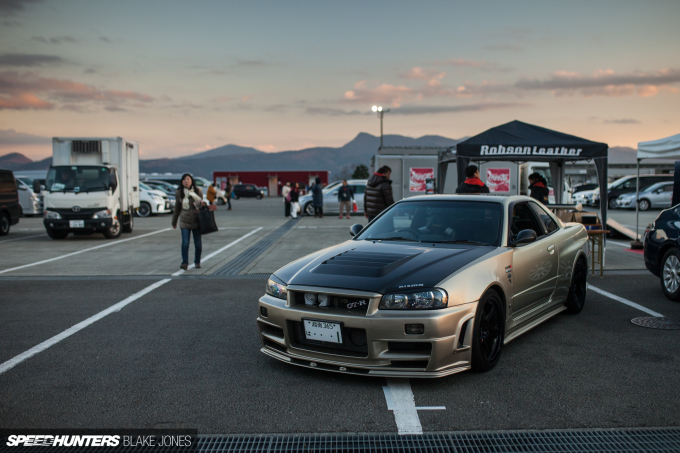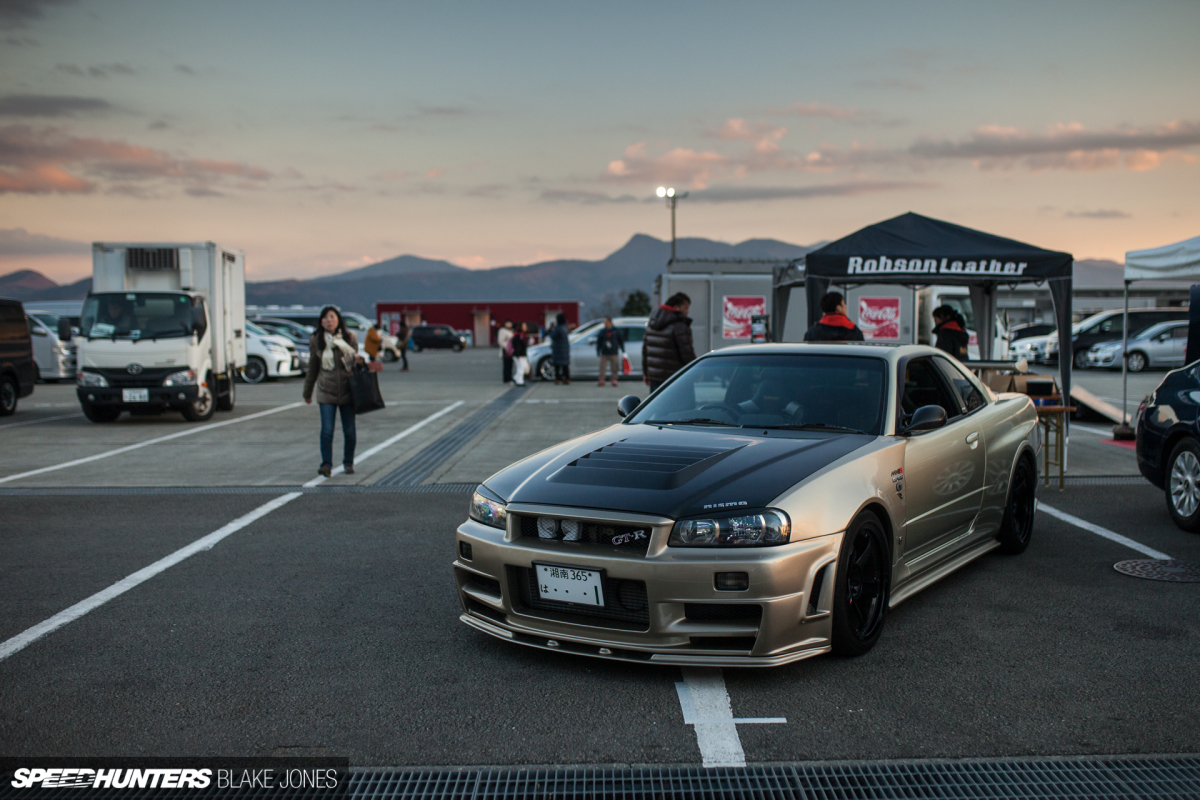 And what a legacy it is. In December each year Nissan takes time to celebrate its motorsport and performance heritage in the form of Nismo Festival, held at Fuji International Speedway under the watchful gaze of the eponymous Fuji-san. Since the early days, Dino has been bringing you the deep, insightful coverage you'd expect from a Nissan die-hard, but this year it's time to take a look through my lens. Talk about the weight of expectations…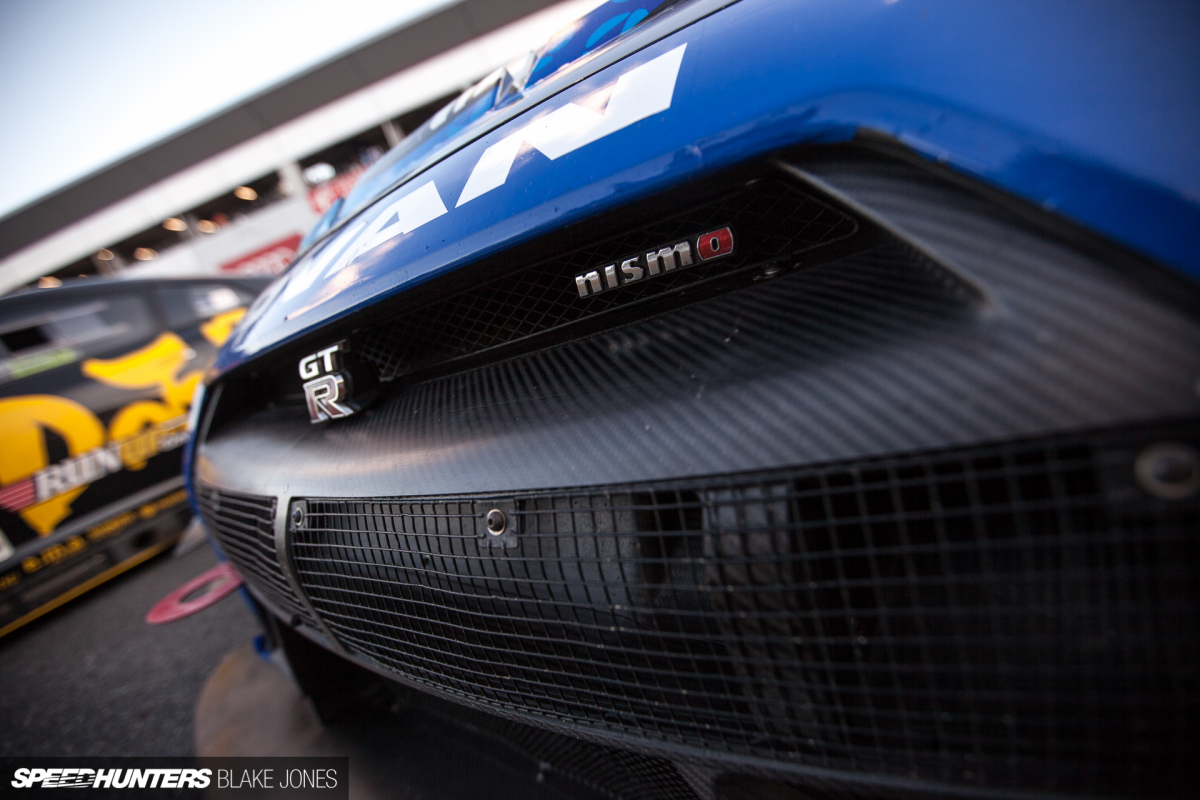 But one thing Dino and I definitely agree on is the lack of passion in the current product range. Perhaps it's unfair to lambaste Nissan when many other Japanese manufacturers are in a similar position and the R35 GT-R is still striking fear into the hearts of Porsche Turbo owners 10 years after it hit the market. But that has been a long 10 years, and since the delightful IDx concept was nixed I'm starting to wonder if there's an ace in the hole for Nissan.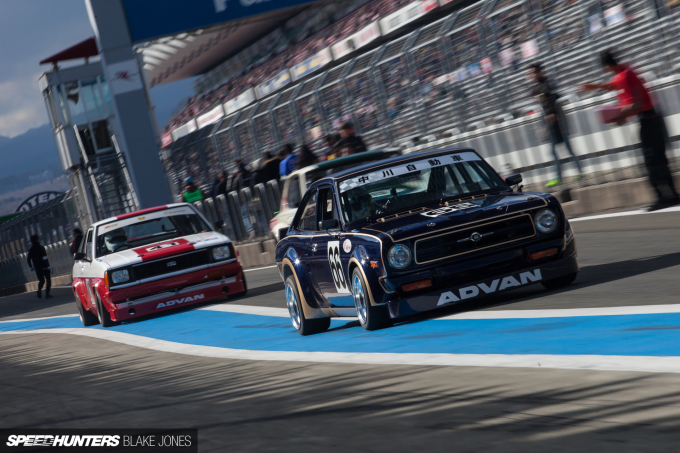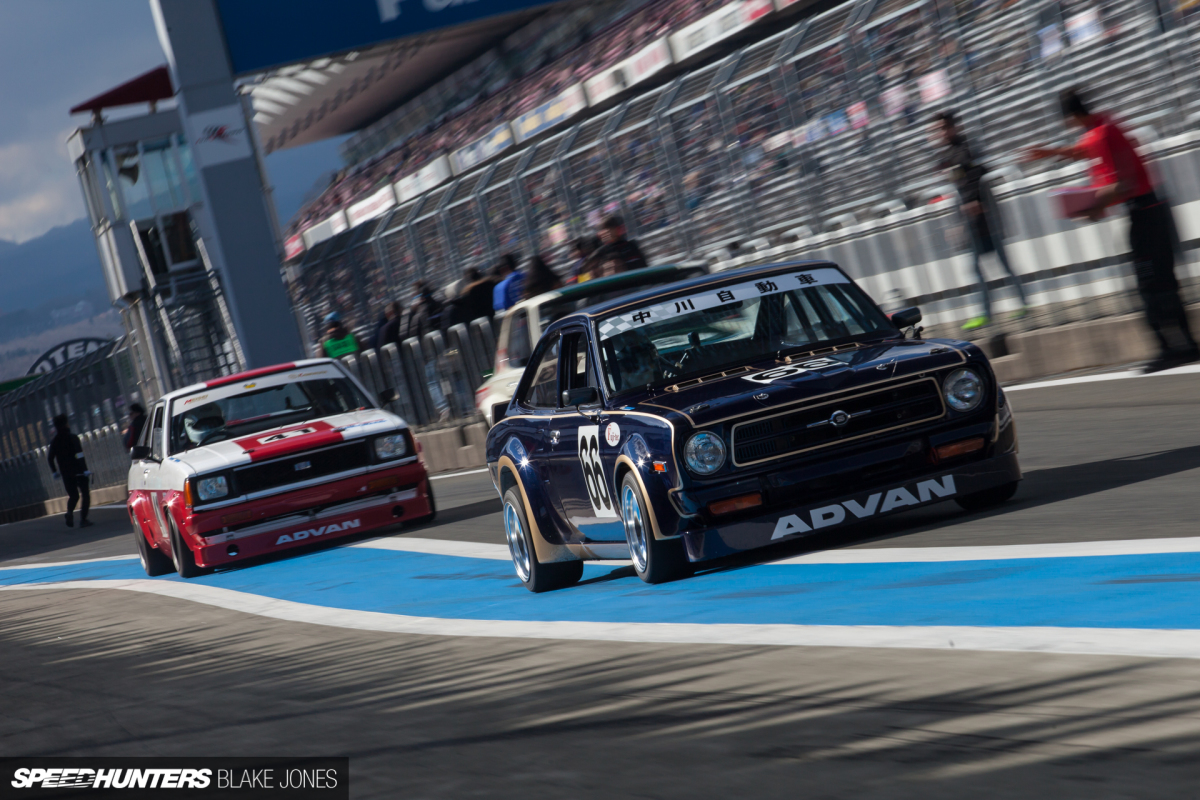 Only at the Nismo Festival does it become apparent just how rich and varied Nissan's motorsport history is. There's so many great cars big and small to draw inspiration from – c'mon Nissan!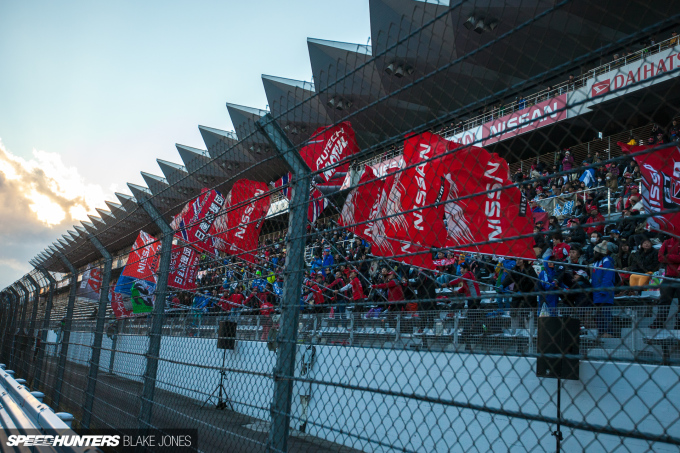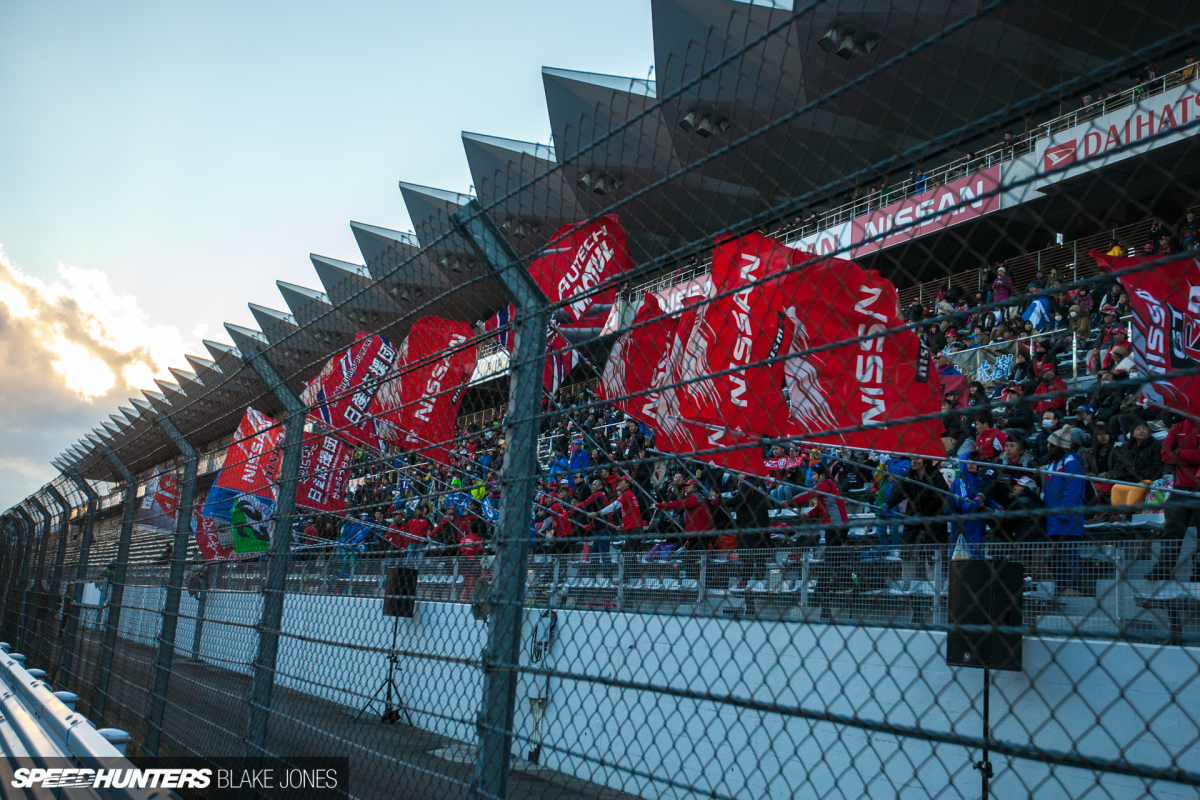 The good news is that the passion for the brand from outside remains as strong as ever. Between the aftermarket community, owners, and racing fans, I can state with confidence that Nissan is easily the most adored Japanese marque by enthusiasts. They are the ferrarista of Japan, unwavering in their support and fiercely defensive of the nameplate.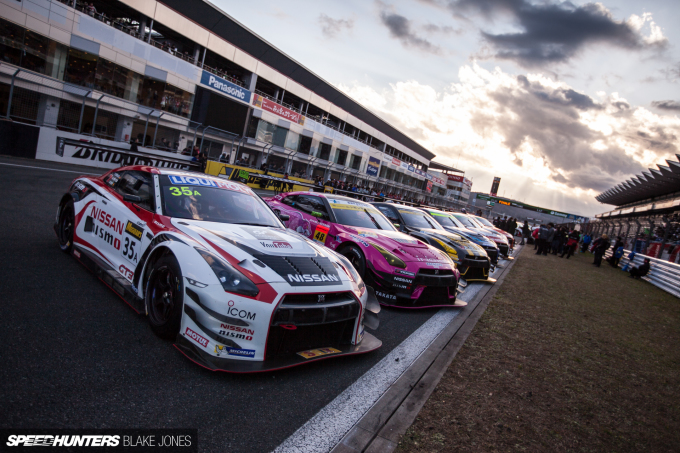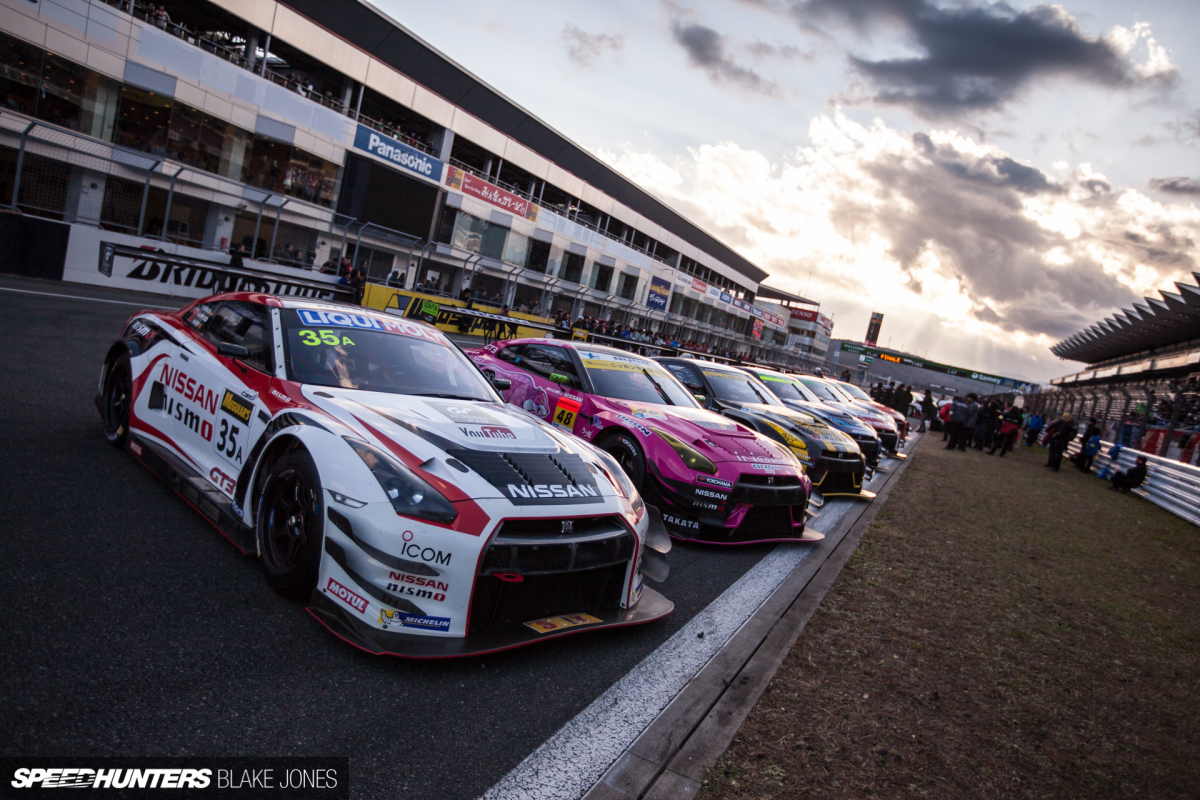 The Nismo Festival is the brand's way of saying 'thank you' to the fans. An attendee can park their car amongst like-minded owners, get up close and personal with race teams and drivers, pose for a photo in their favourite race car and even get taken for a blast around the Fuji circuit.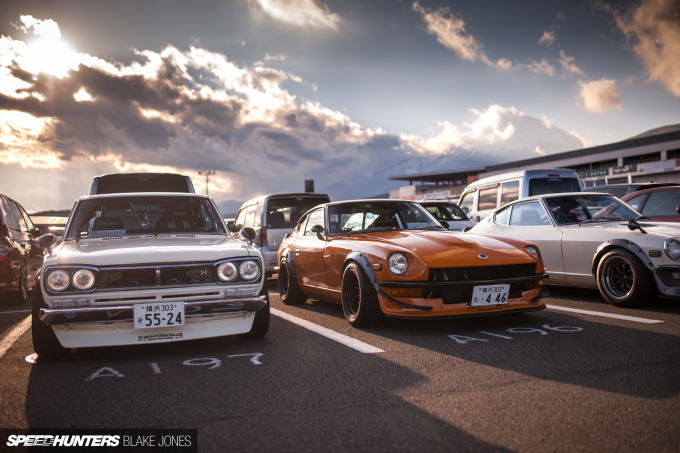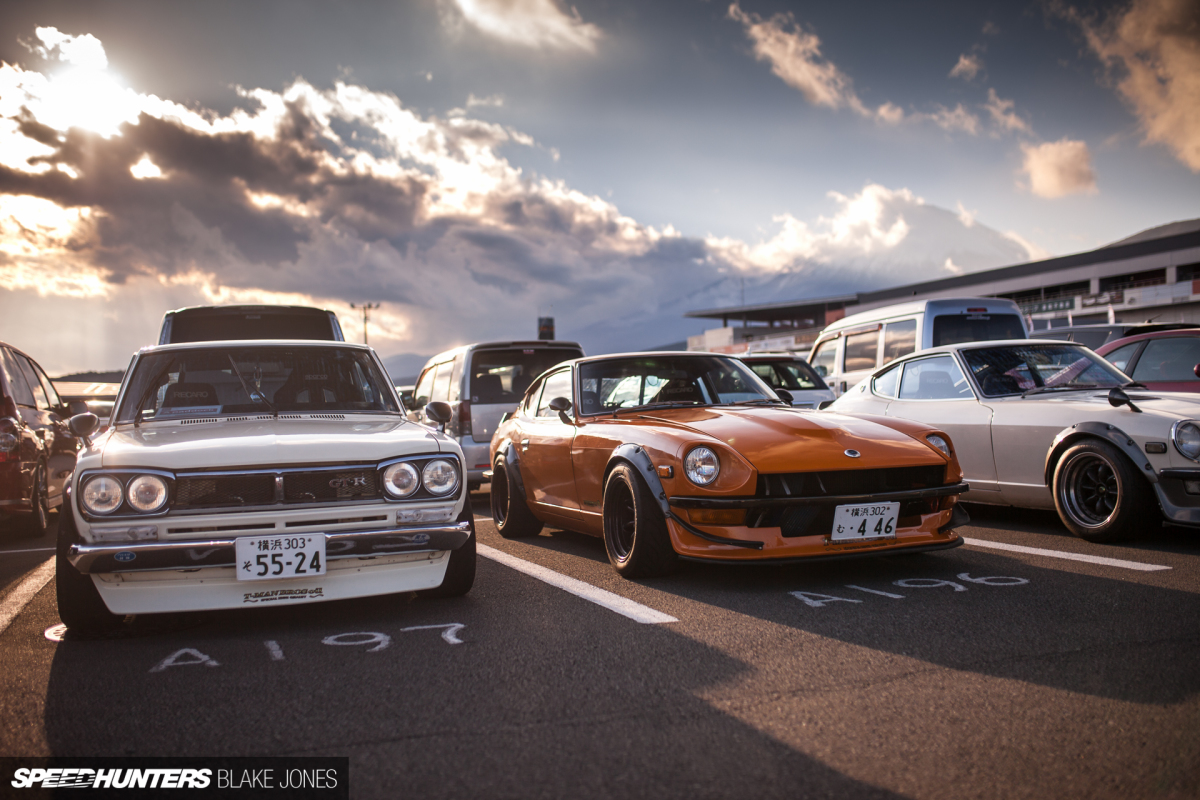 The event easily fills the expanse of tarmac that makes up Fuji International Speedway, and as I found out is simply impossible to see all of in one day. Although I managed to run and gun through most of the official event, I just know the visitor parking lot would be an absolute goldmine for quality Speedhunting. Next time…
Buy, Buy, Buy!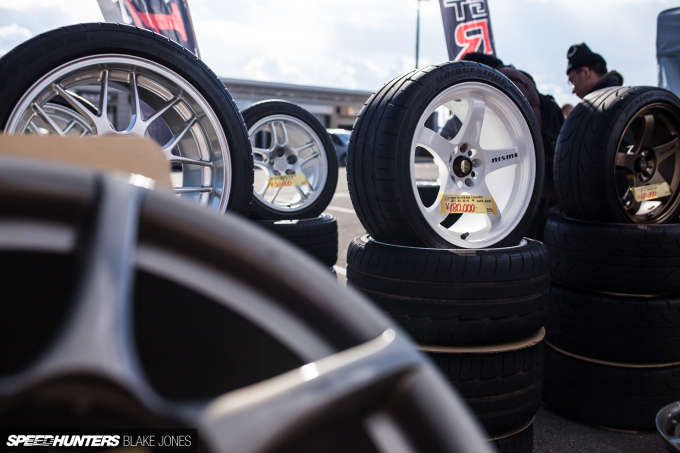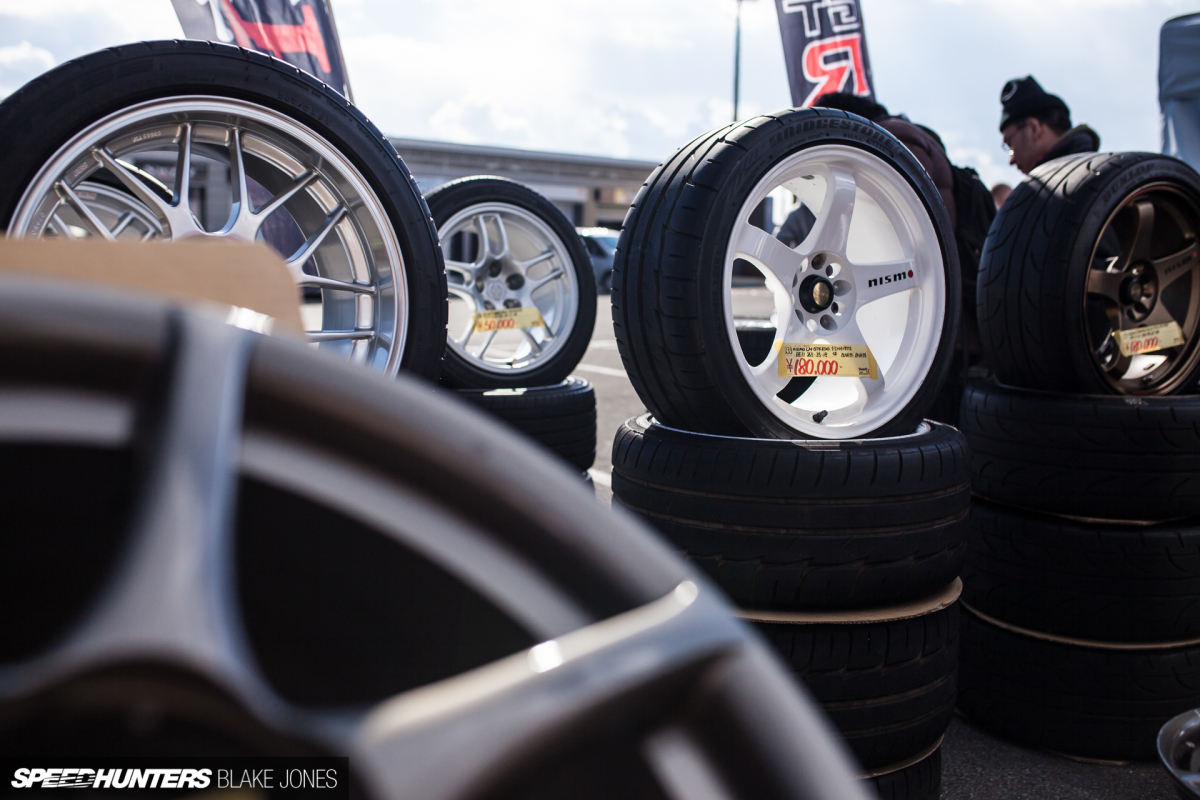 If you're a Nissan fan planning to attend Nismo Festival, it's probably best to leave the credit card at home.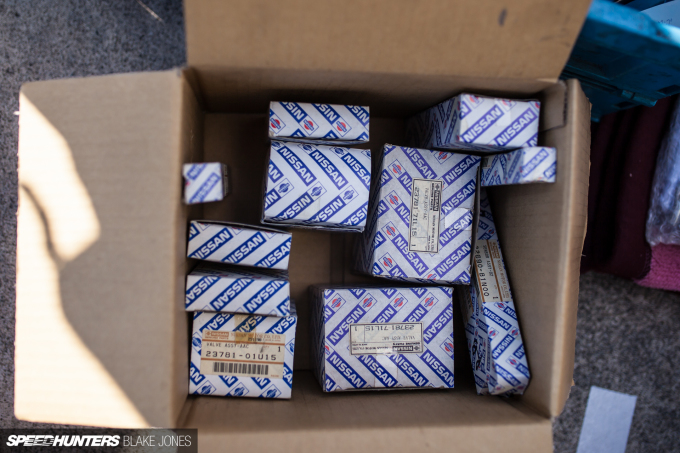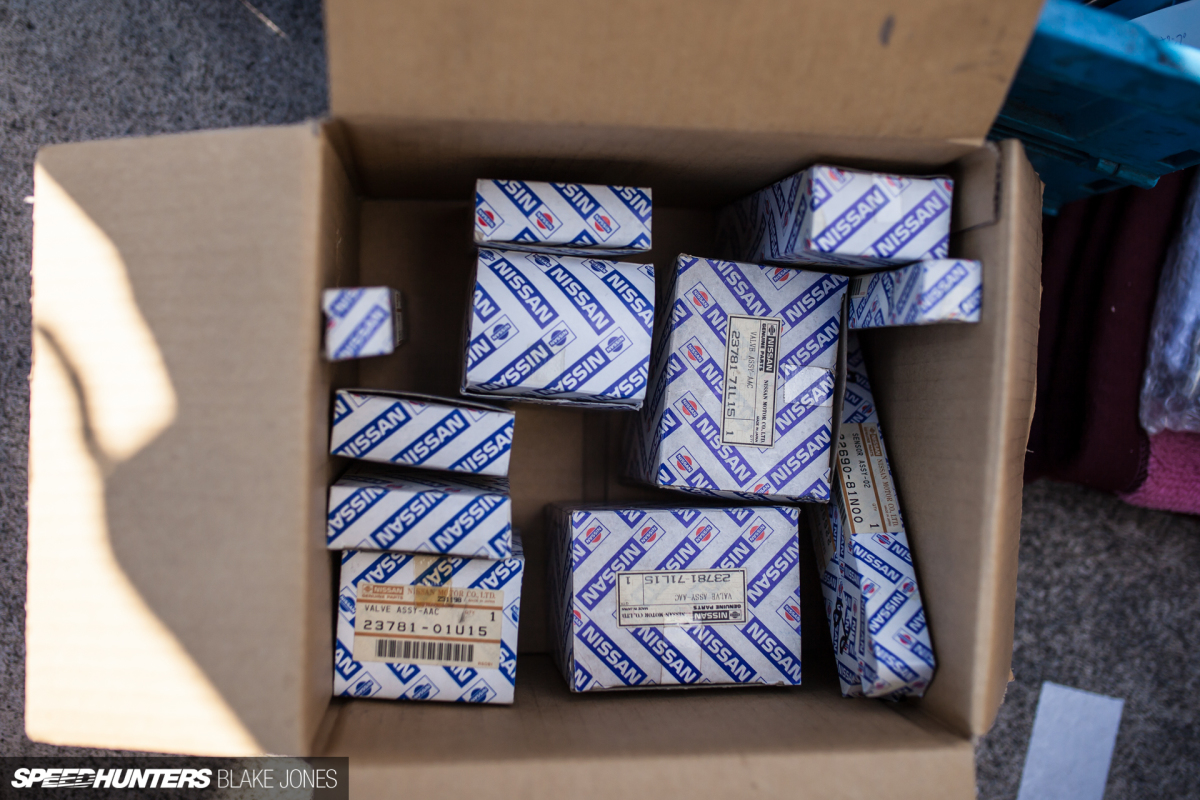 You will be tempted to buy those NOS fender mirrors for the 240Z project that's totally going to happen. One day.
But even for the budget conscious amongst us there's fun to be had. Models big and small of all your favourite homologated road cars are available. In fact, that very AUTOart V-Spec II model is parked on my side table staring at me as I put this post together.
Back to 1:1 scale at the RAYS booth where an updated 2017 GT-R was wearing a set of the handsome new Volk Racing G25 Edge wheels in an aggressive yet street-friendly size.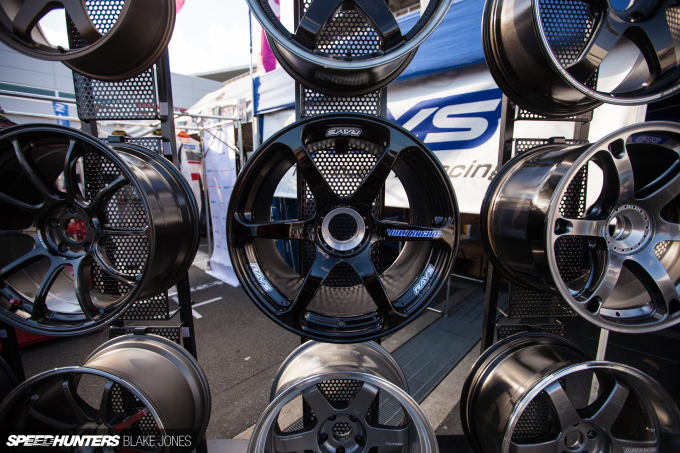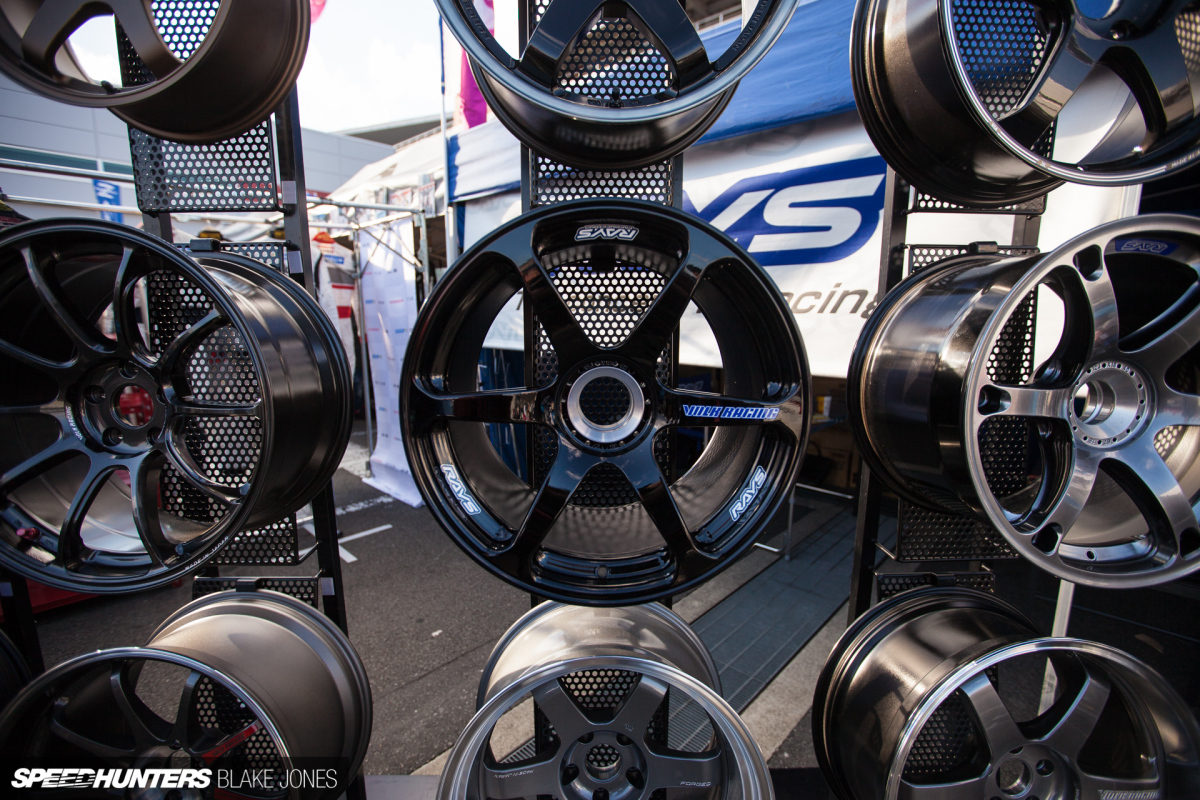 RAYS is the official supplier for a number of Super GT teams including the official Nismo GT500 R35 GT-R, and its 2016 center-lock race wheel was on display amongst the other Volk Racing forged wheels more suitable for road use. Although, I guess there's nothing stopping you buying these for your own GT3 RS or center-lock converted project car.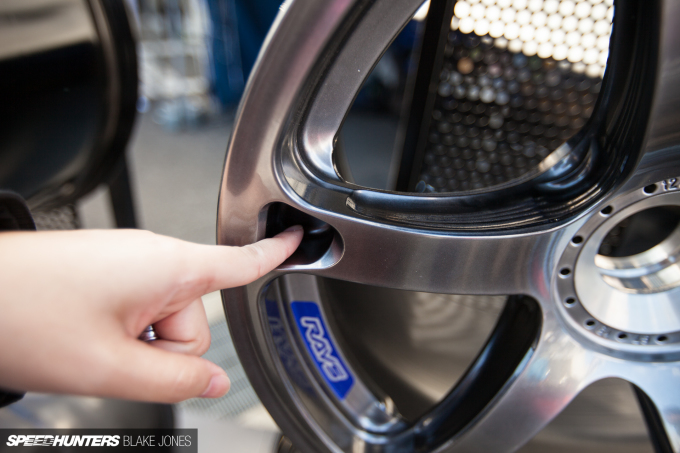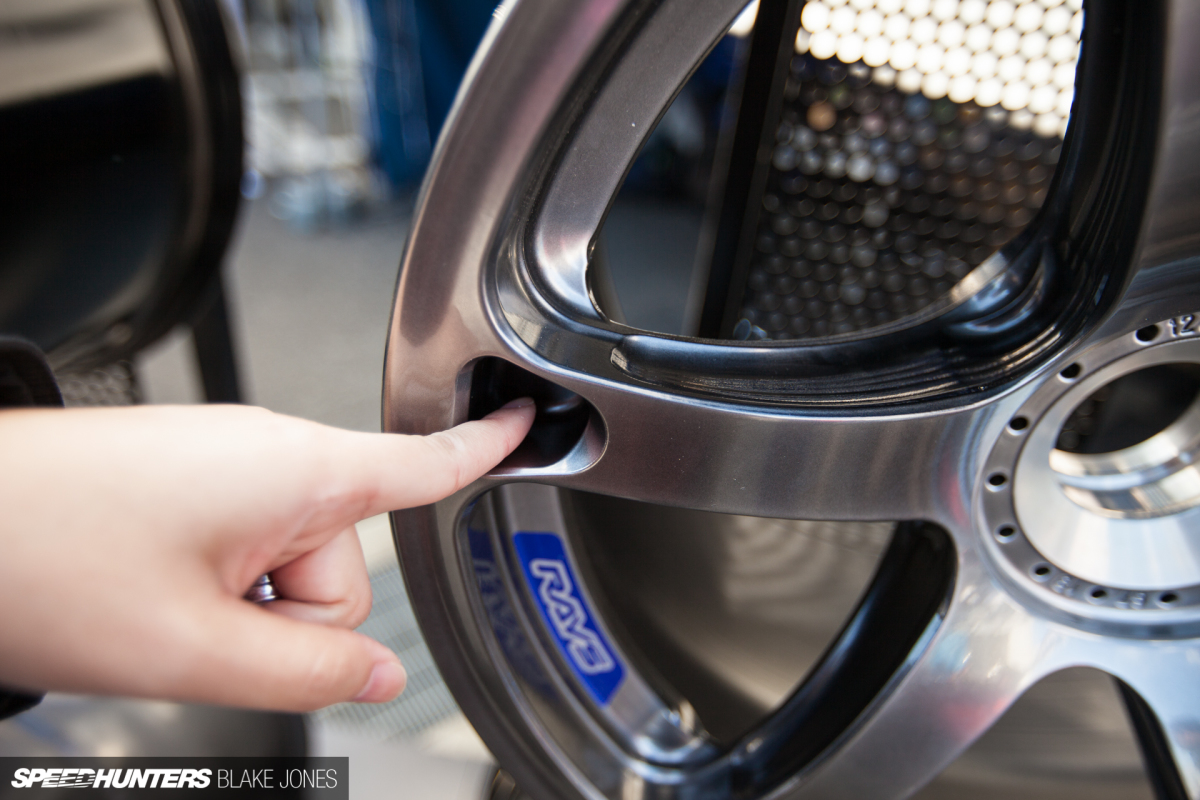 For 2017 even more weight has been shaved off the wheels through the subtraction of metal wherever possible. Note in particular the chamfered holes where each spoke meets the outer rim and ribbed inner spoke to help maintain rigidity.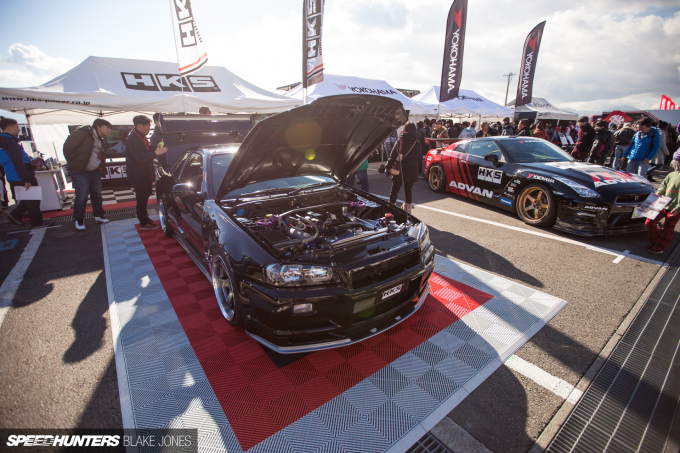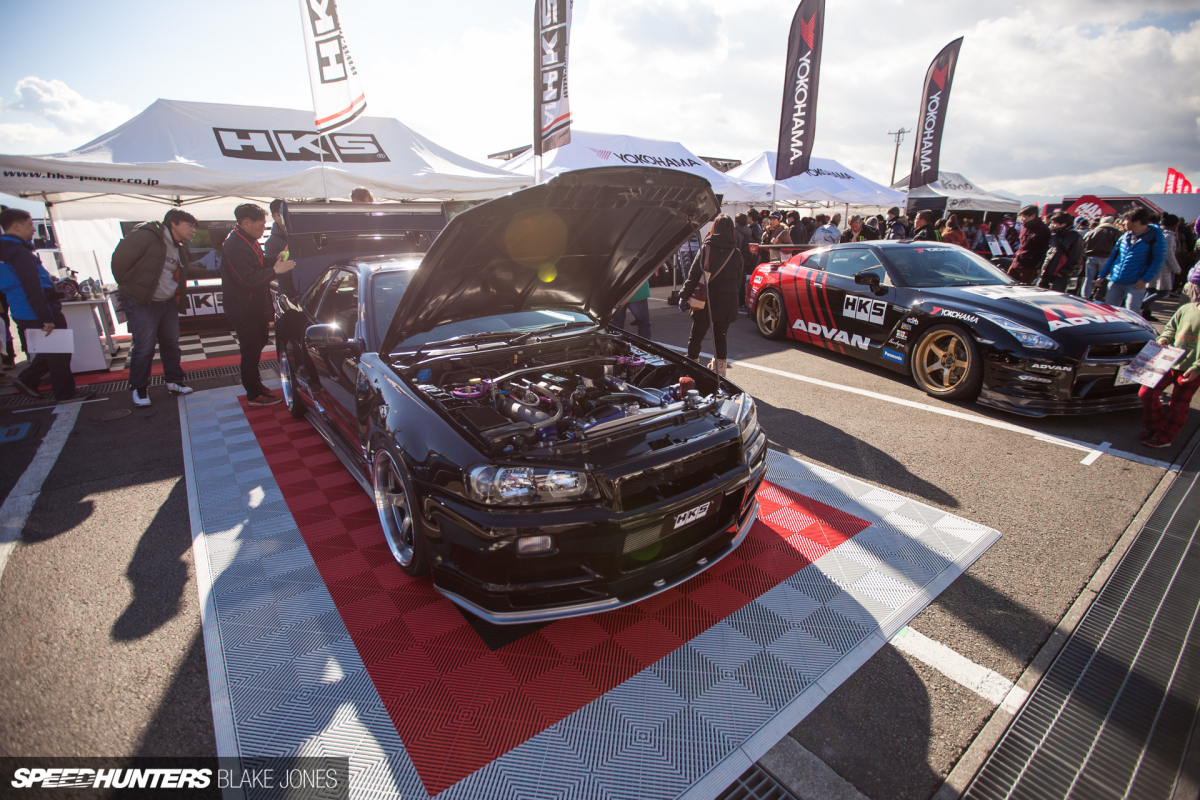 A short stroll away were the HKS and Yokohama stands, featuring significantly enhanced examples of the R34 and R35. Even though HKS founder Hasegawa-san sadly passed away last month, we're excited to see what's next from this powerhouse of the JDM tuning industry.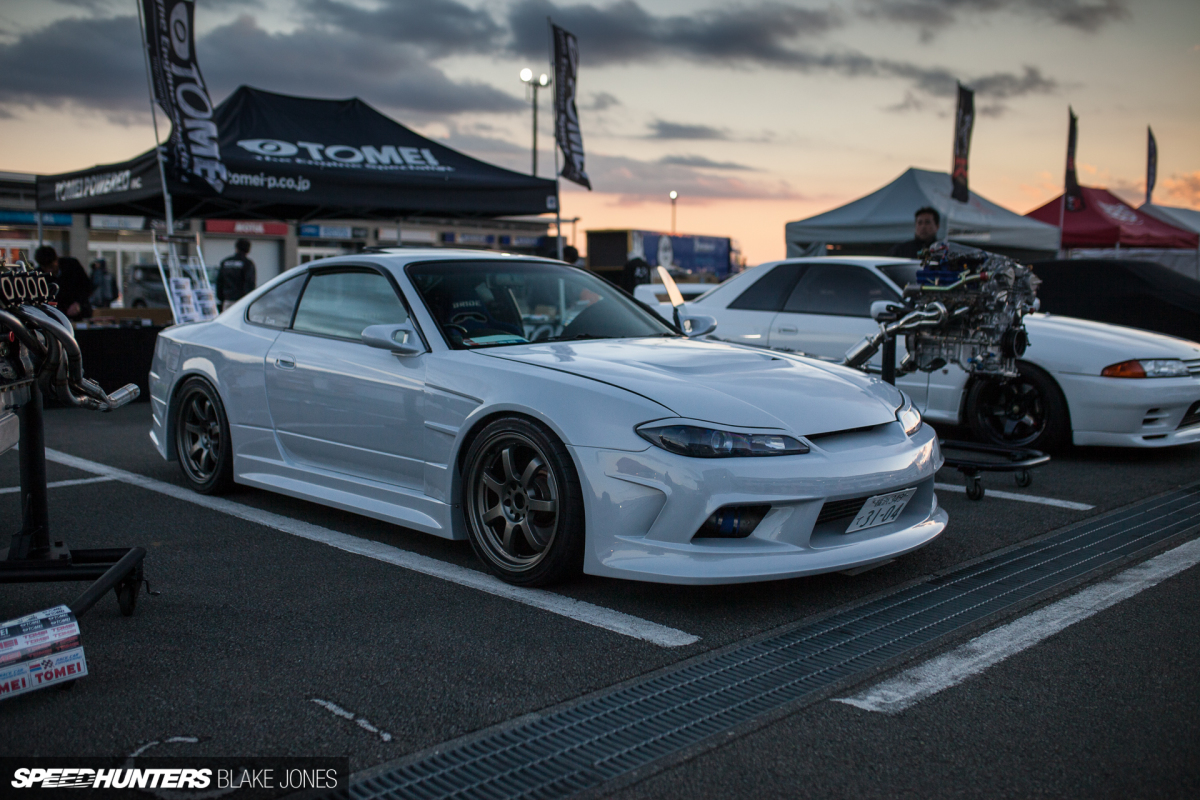 Tomei's stand had a collection of its complete custom built 'Genesis' engines on display, and one very handsome S15. The car is actually owned by a staff member named Kodama-san, who is a master engine builder at the company.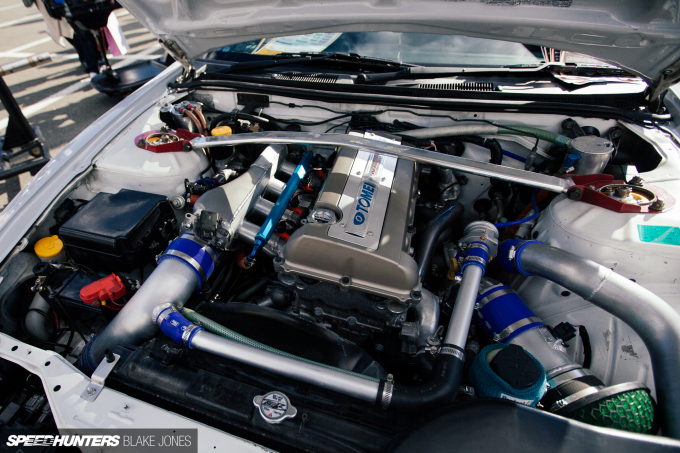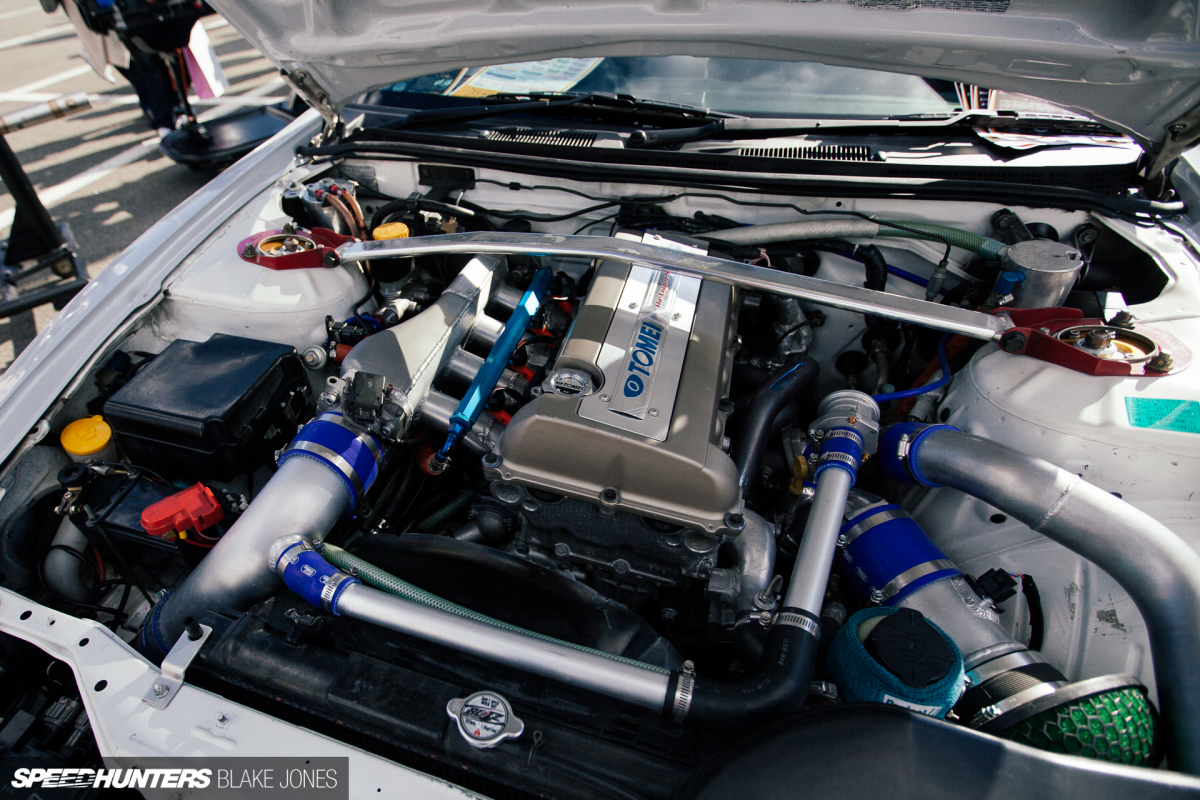 As you can probably expect, lifting the hood is pretty much looking at the Tomei brochure for the Silvia. Starting at the top, a variable valve timing SR20VE head from a P12 Primera was matched with the SR20DET block, itself stroked to 2.2L. On the hot side a Tomei ARMS M8280 turbo runs into an Expreme exhaust manifold and then into a matching titanium exhaust. Currently it's pushing out 450hp at 7500rpm, but I'm told that's just for now…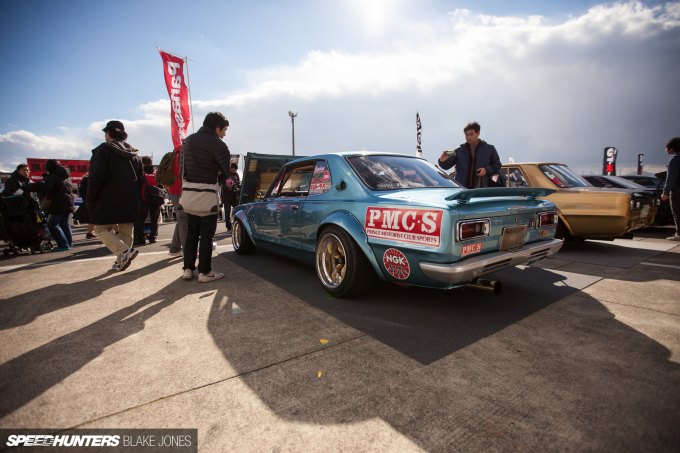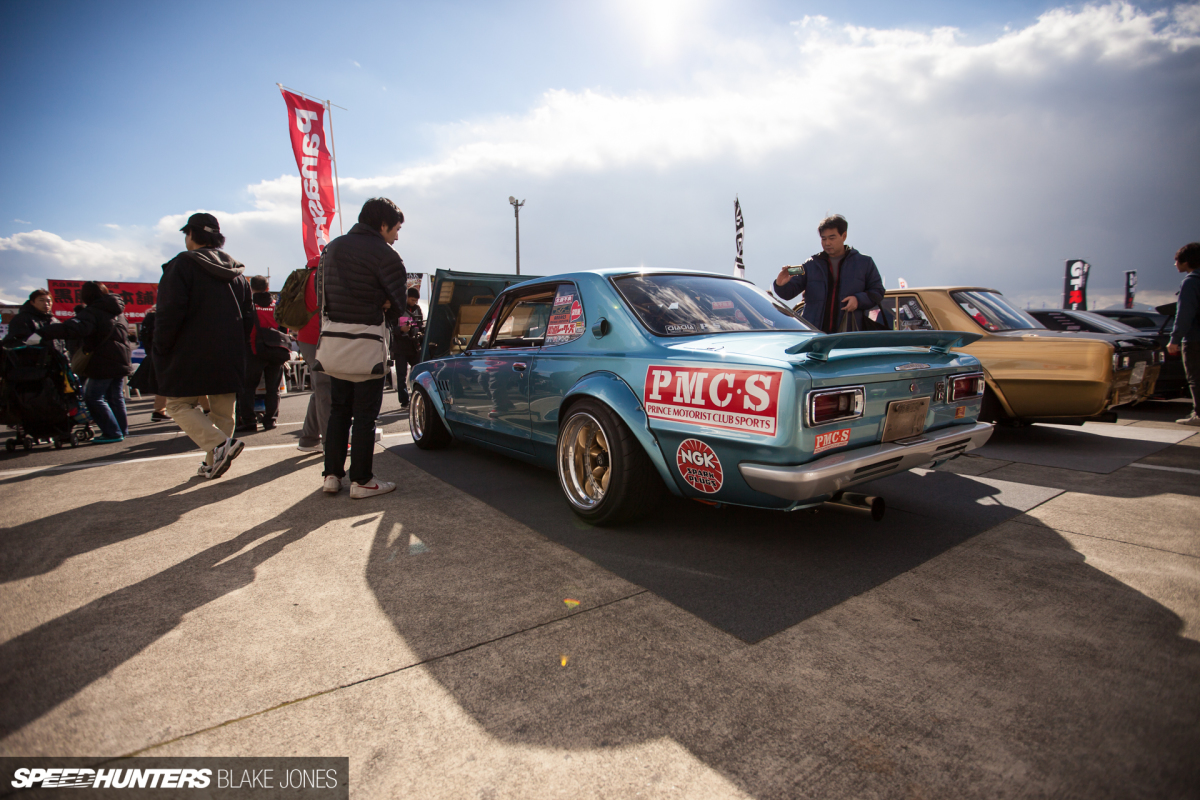 Panasport had a pretty limited display of products but gave pride of place to two owners repping its wheels in pretty extreme sizings. These guys are huge Speedhunters fans and the cars were very unlike most Hakosuka builds you see. I circled back later in the day to take a closer look, so keep an eye out for the spotlight next week.
Nearby at the GReddy stand, the covers were literally being pulled off the latest iteration of the 35RX D1 Grand Prix drift car to be piloted by Masato Kawabata in the 2017 series.
Mine's Motorsports may be famous for its giant-killing iterations of the GT-R but has recently turned its expertise towards the smallest member of the Nismo family – the March. About 14hp has been liberated from the engine by an ECU and intake update that could almost be mistaken for factory, were it not for those perfect lobster-back welds on the intake pipe.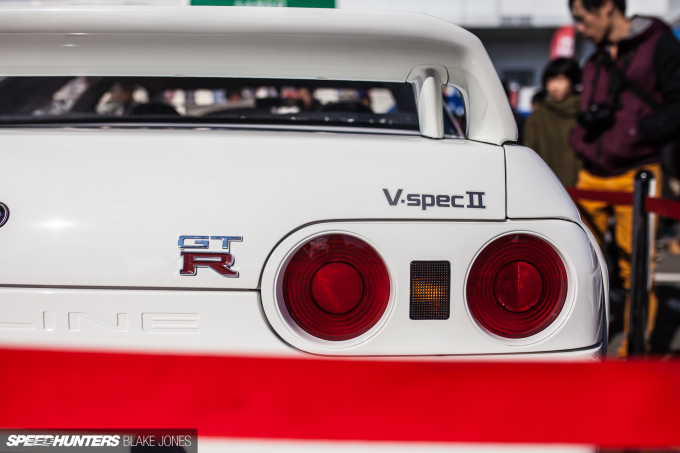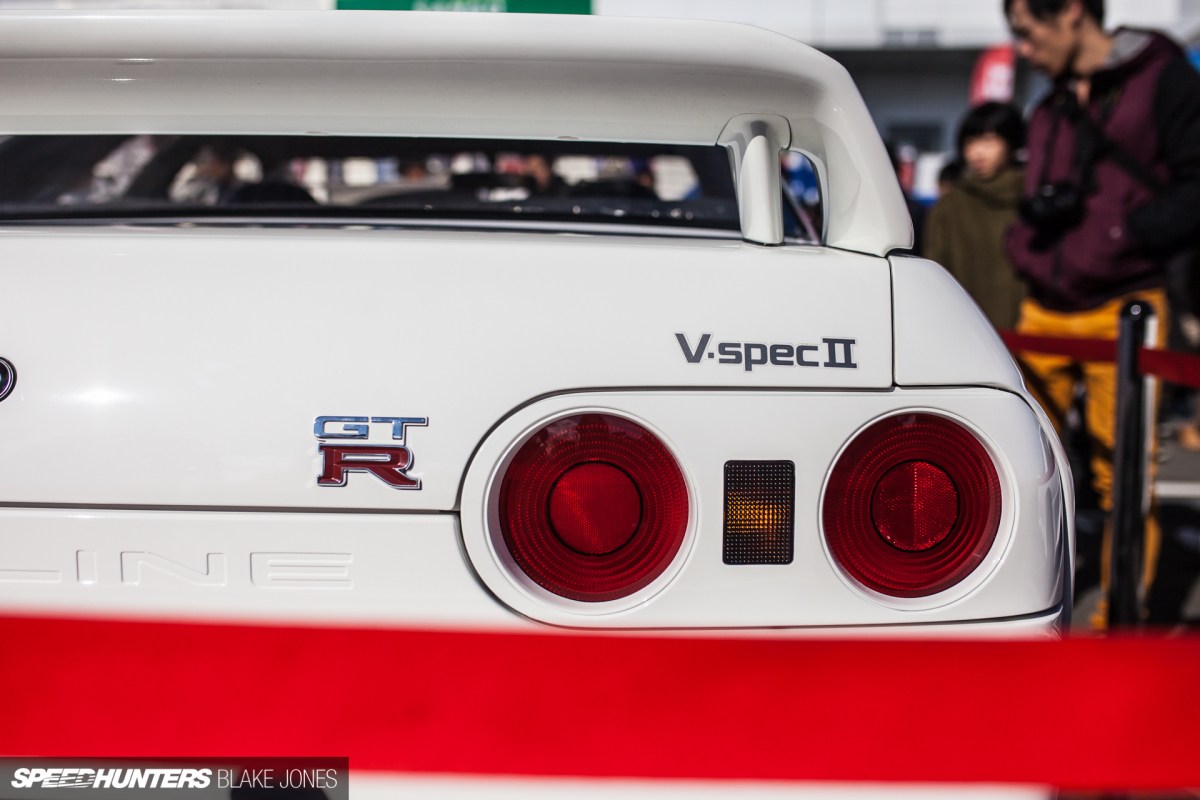 At an event like the Nismo Festival punters are generally free to get as close as they like to the cars on display. In fact, if you're prepared to line up you could even sit in some of Nissan's most iconic race cars. There was one car, however, that was separated from the unwashed masses.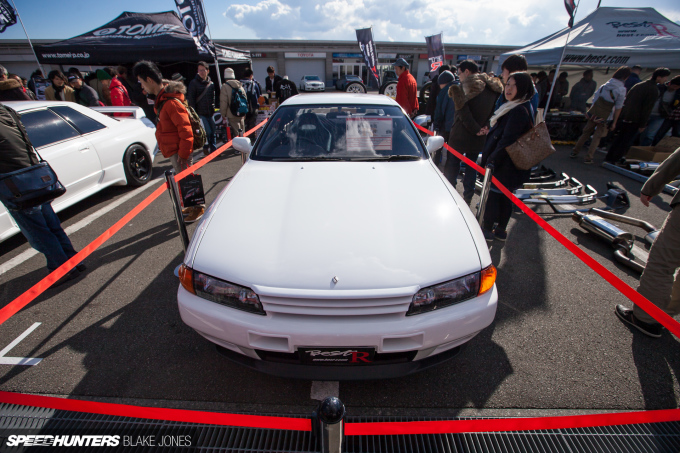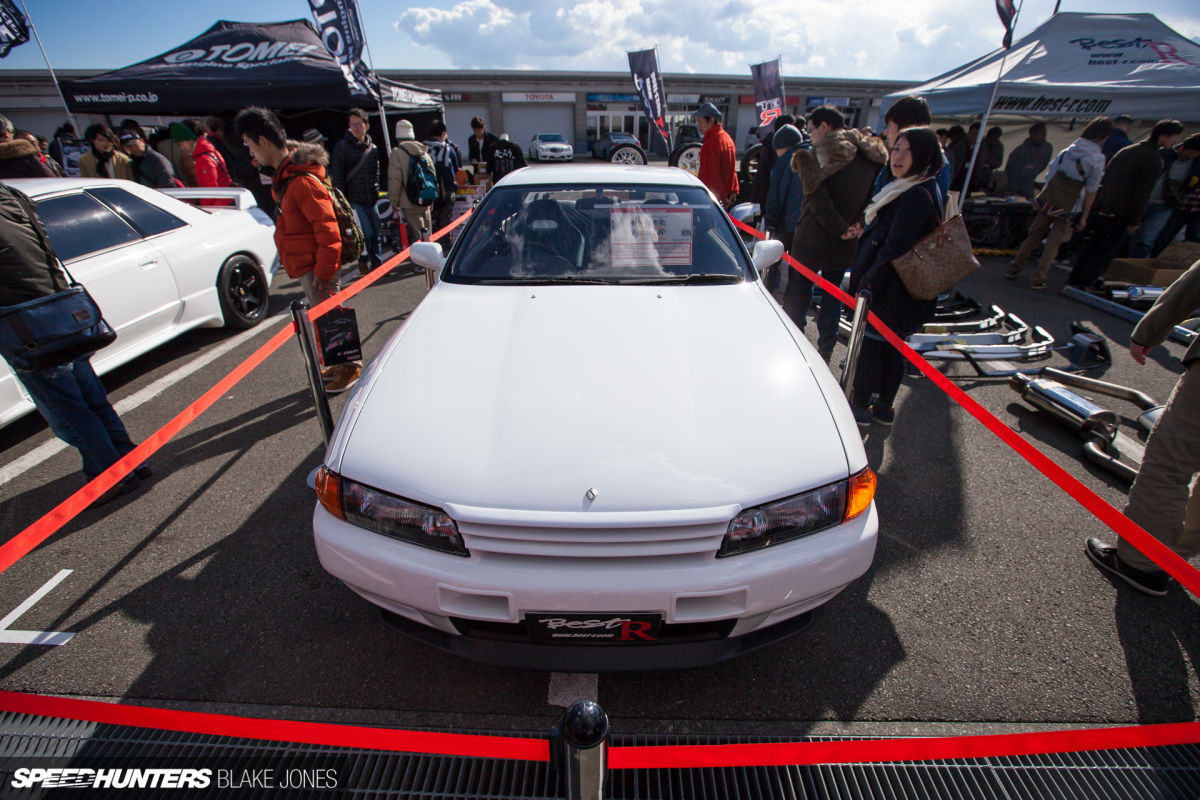 This pristine white R32 GT-R V-Spec II N1 is one of the most collectible of the GT-R family, with only 48 ever leaving the production line for homologation purposes in this specification. With the 'rare' and  'pedigree' boxes ticked we know this car is certifiably investment grade. The other thing on the savvy prospector's mind is mileage, so we must enquire just how many kilometres are showing on the R32's odometer.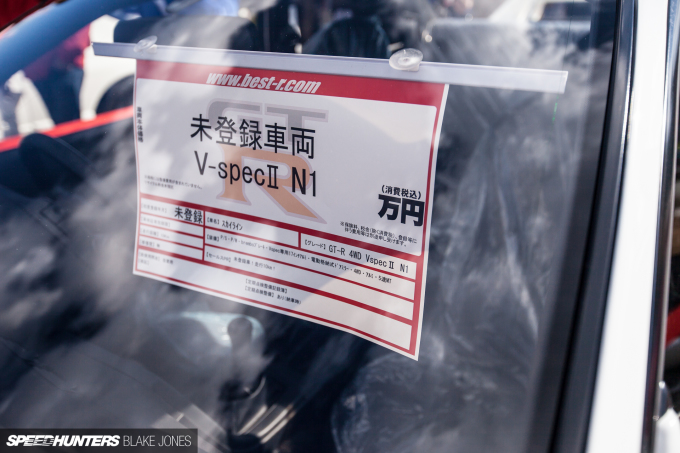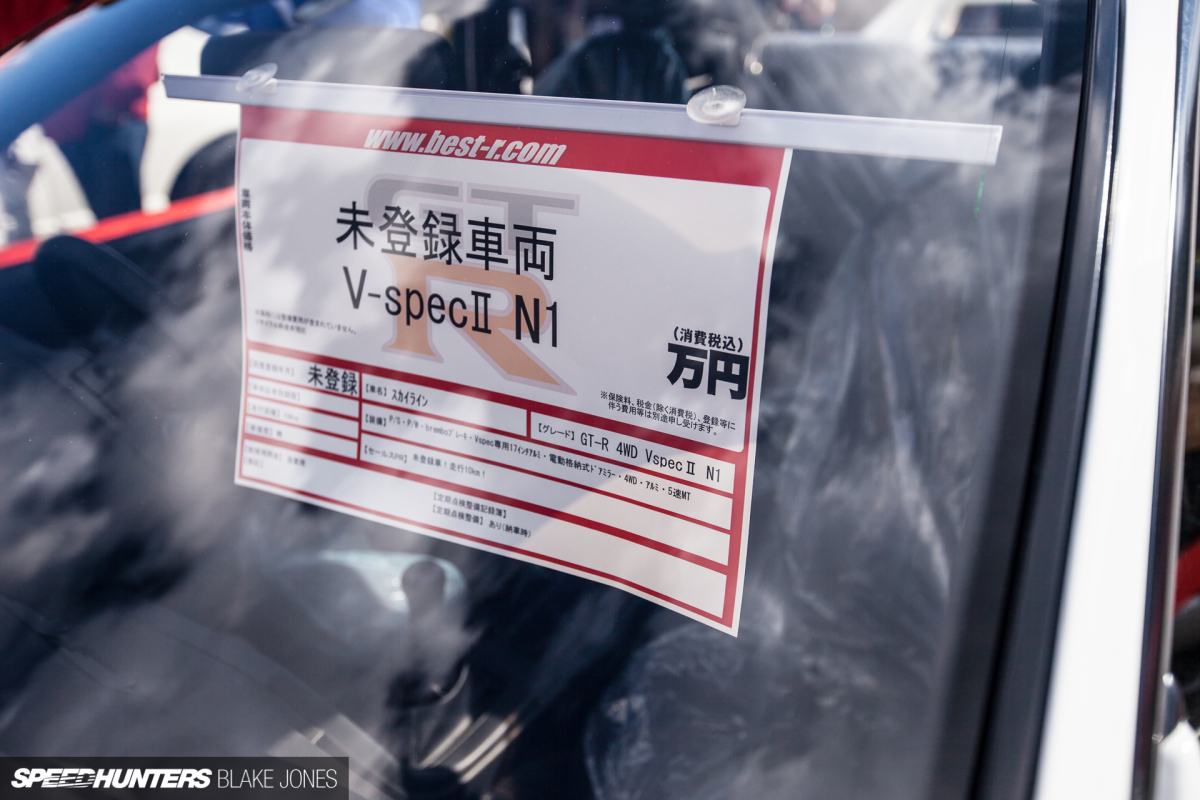 The grand total of… 10. I travel further on my daily commute! And as for the price, well if you have to ask, you can't afford it (for the record I did ask, and received laughter in response). The collectors are out there, and they are paying big dollars to secure these incredibly rare vehicles.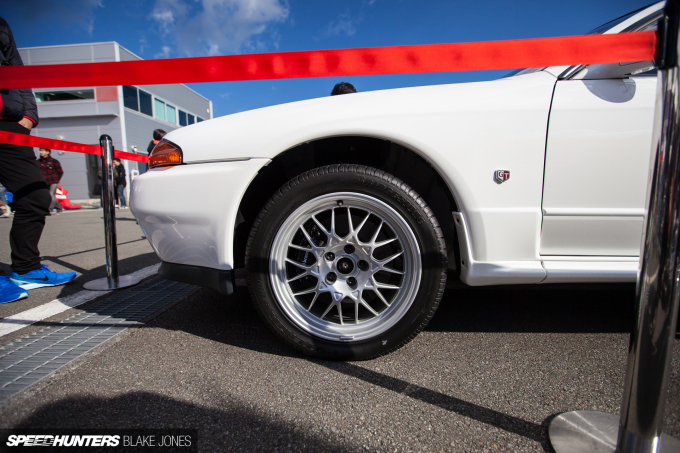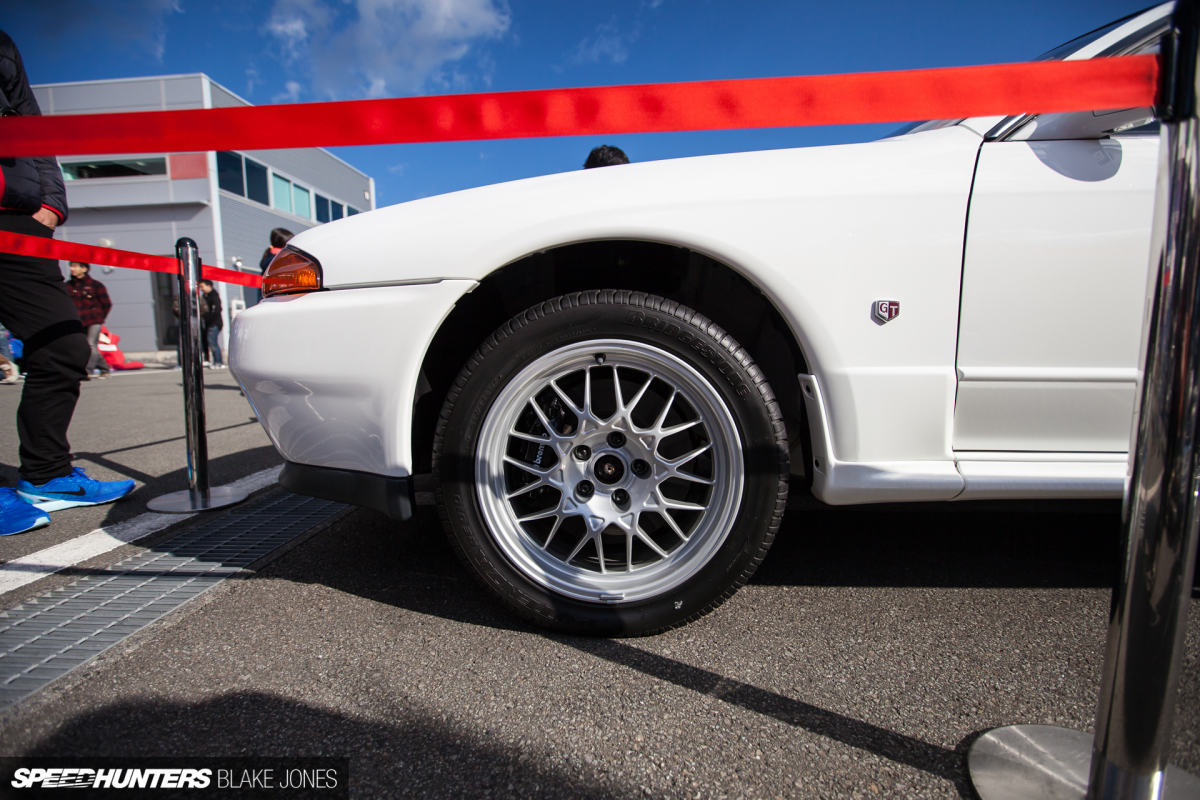 Check out that ride height! Looking at some Nissan brochure images, I have a feeling this might have actually been the factory spec and I've just been exposed to too many lowered GT-Rs.
A Hot Track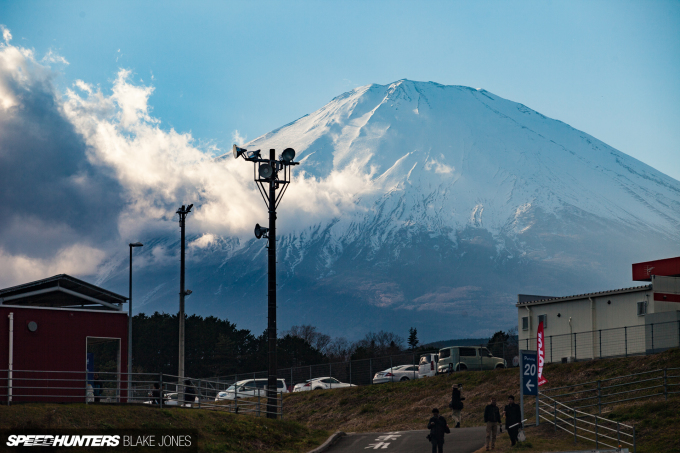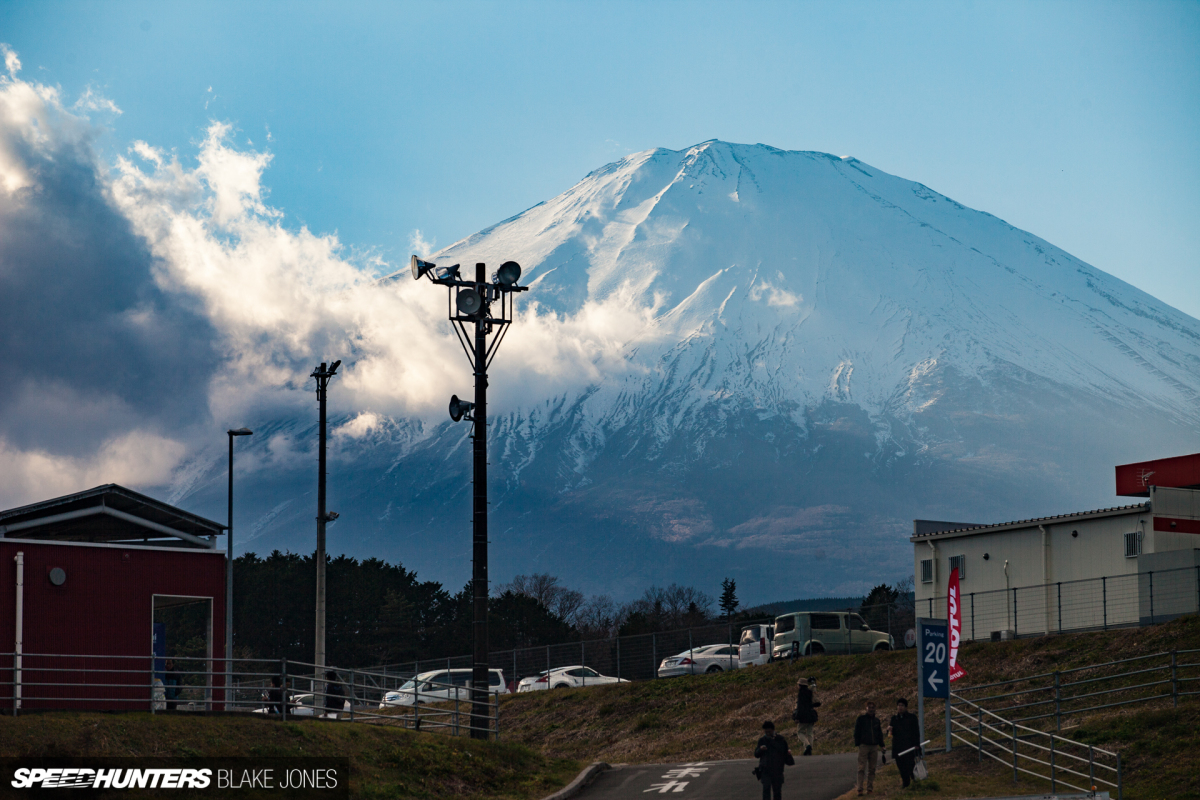 It's impossible to talk about the experience of shooting at Fuji Speedway without mentioning the 3776m tall active volcano that is Mt. Fuji. Although it remained hidden behind a shroud of cloud for most of the day, every now and then it was possible to look up and be captivated by the natural beauty of Japan's geographical icon. I can actually see Fuji-san from my office building three hours north in Tokyo, but being up close is a completely different experience. Once the snow melts, it might be time to try hiking to the summit.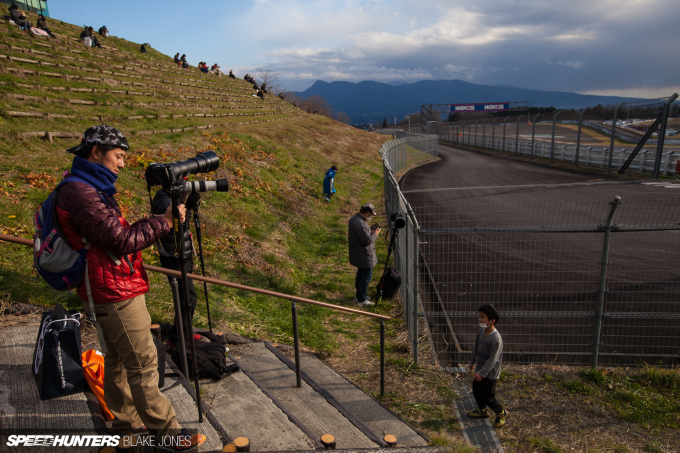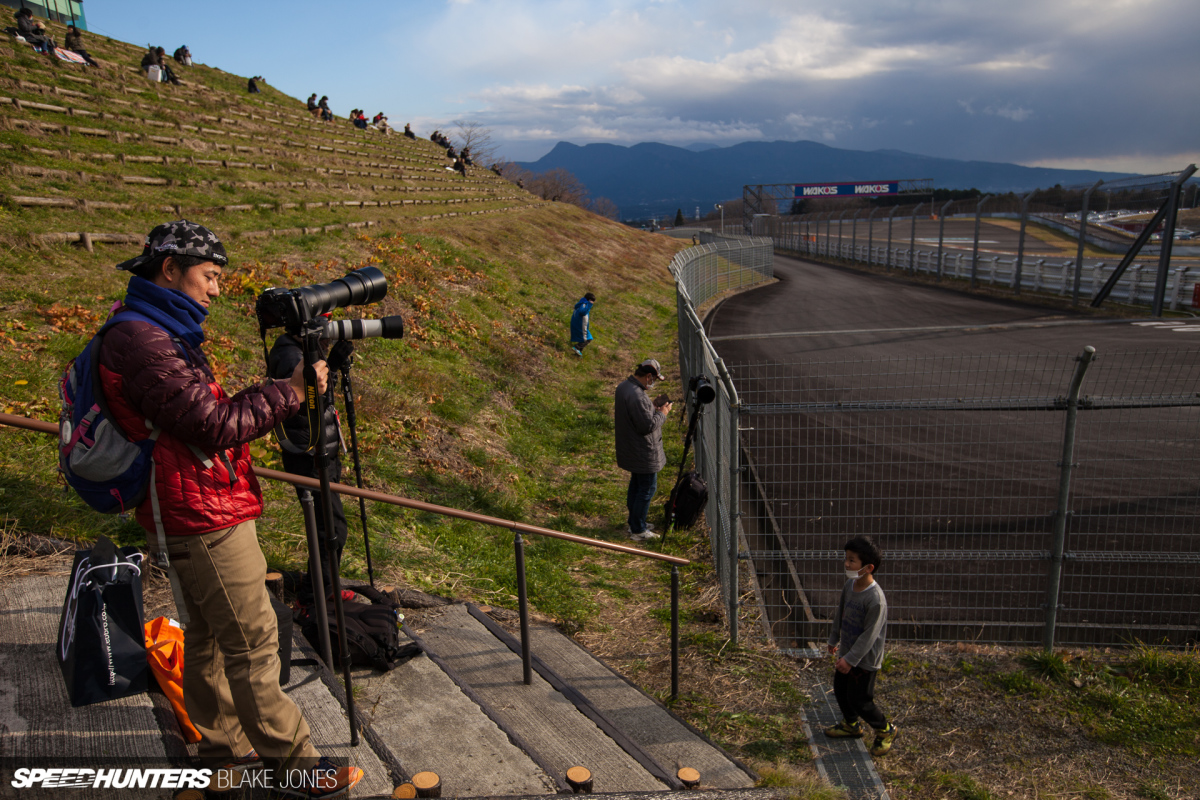 Another certainty at Fuji – you can always count on the amateur photographers in Japan to be as well kitted-out as the professionals.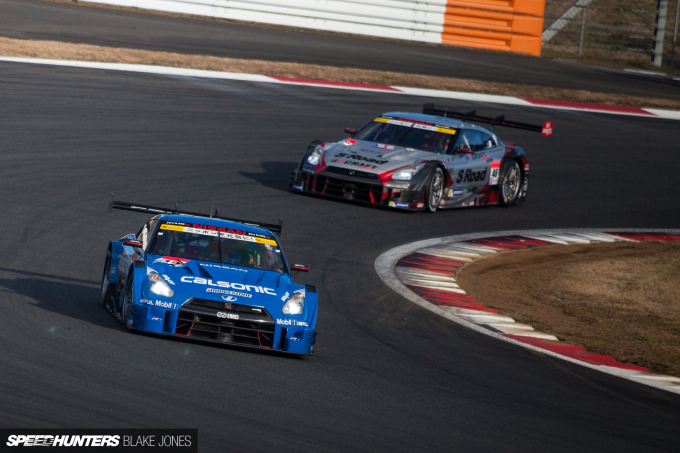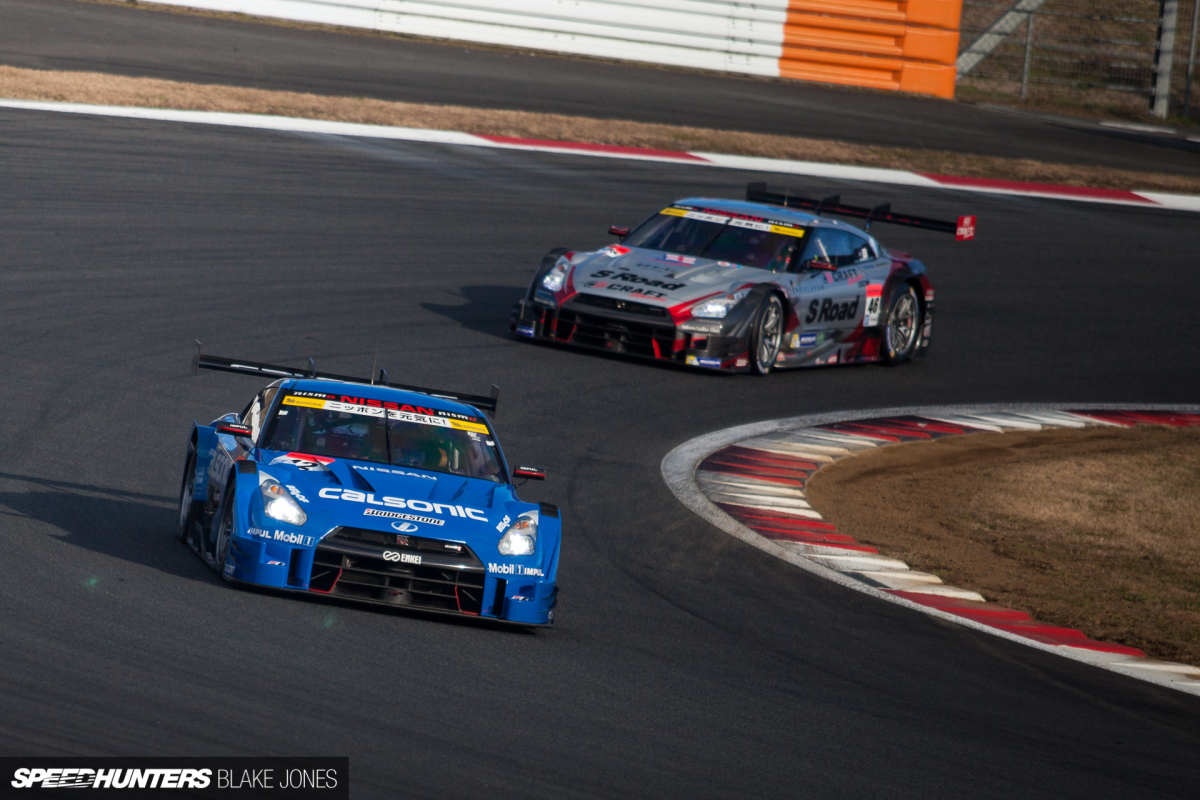 Race cars new and old lap the circuit almost constantly during the Festival, giving shooters plenty of opportunity to practice those slow pans.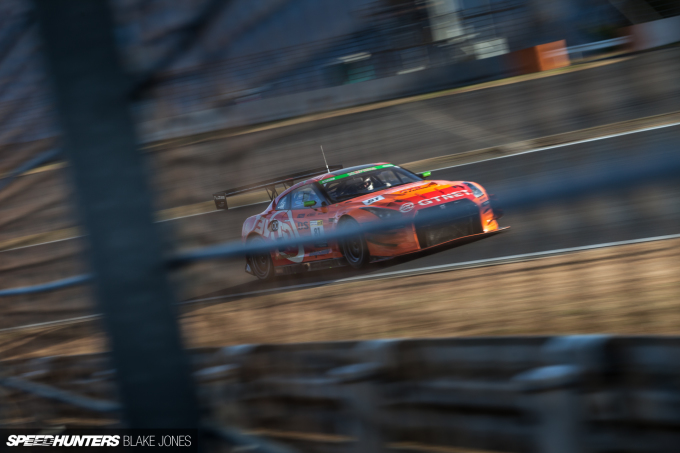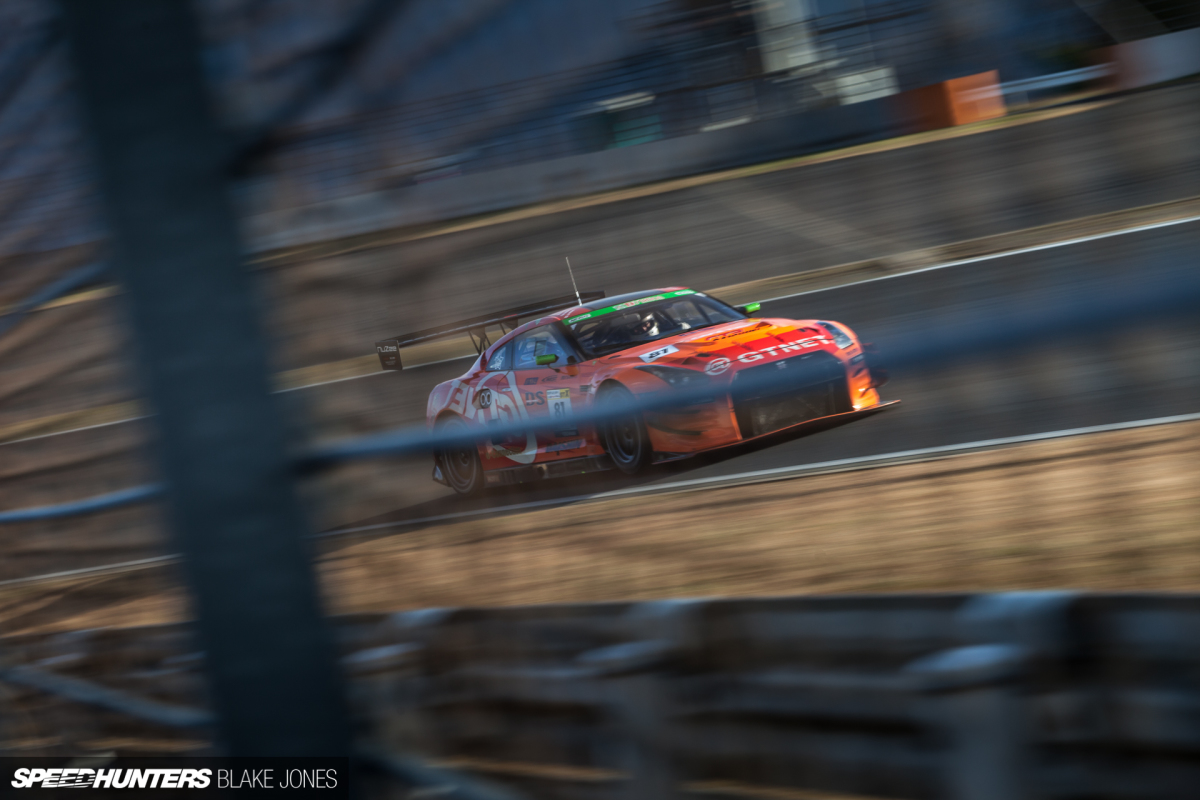 Being a high-speed international circuit means getting close to the action is difficult compared to Japan's many smaller circuits. Large fences ring the 4.5km circuit with sporadically placed 'windows' for photographers to stick their lenses through and fire away while remaining protected.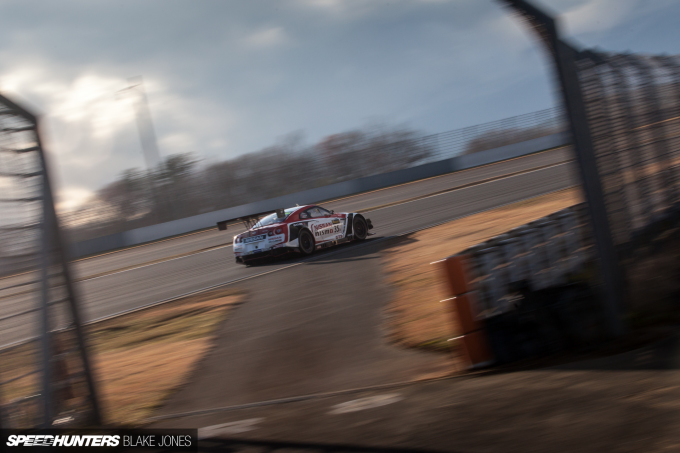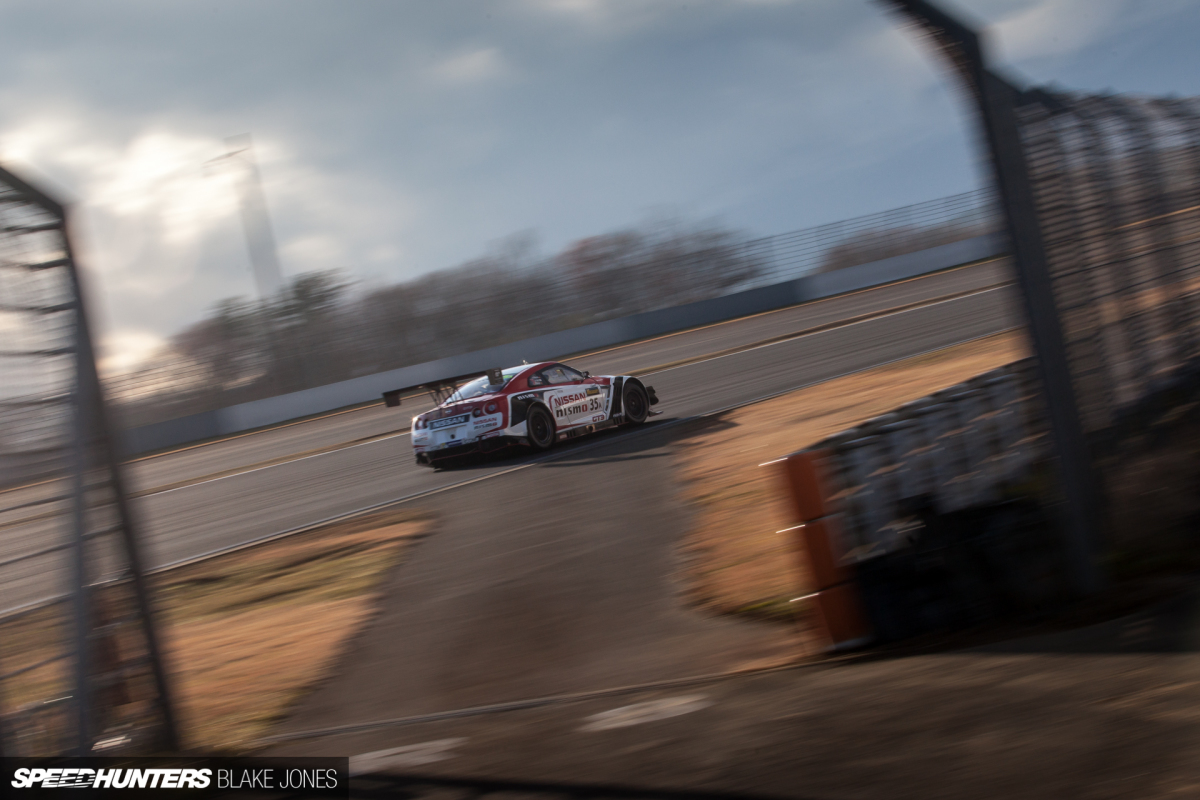 However, it means getting to all the good spots could take a day in itself, and with the sun nearing the end of its shallow arc through the winter sky, I simply didn't have time for that.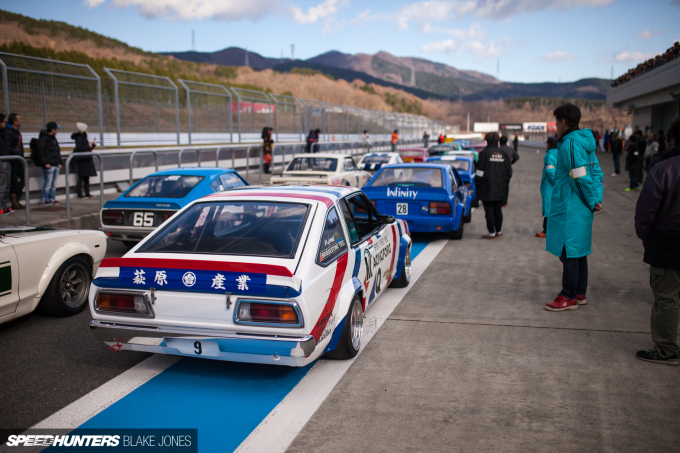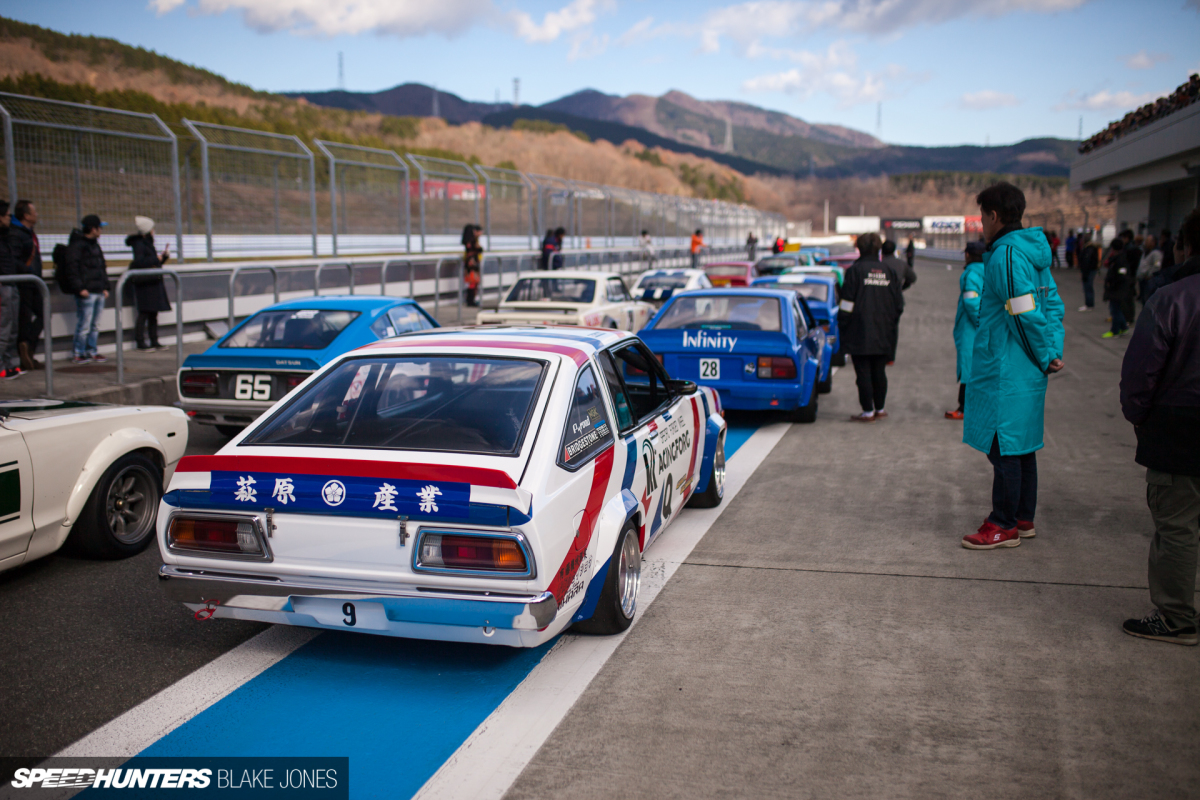 It was time to trek back to pit lane to check out the buzzing hive of activity about to head out on track.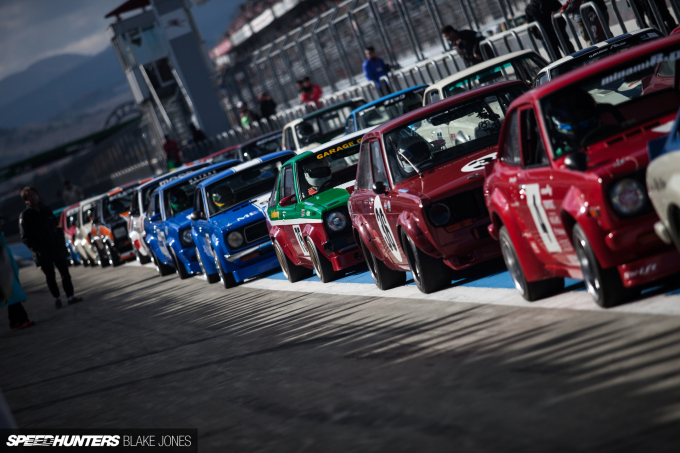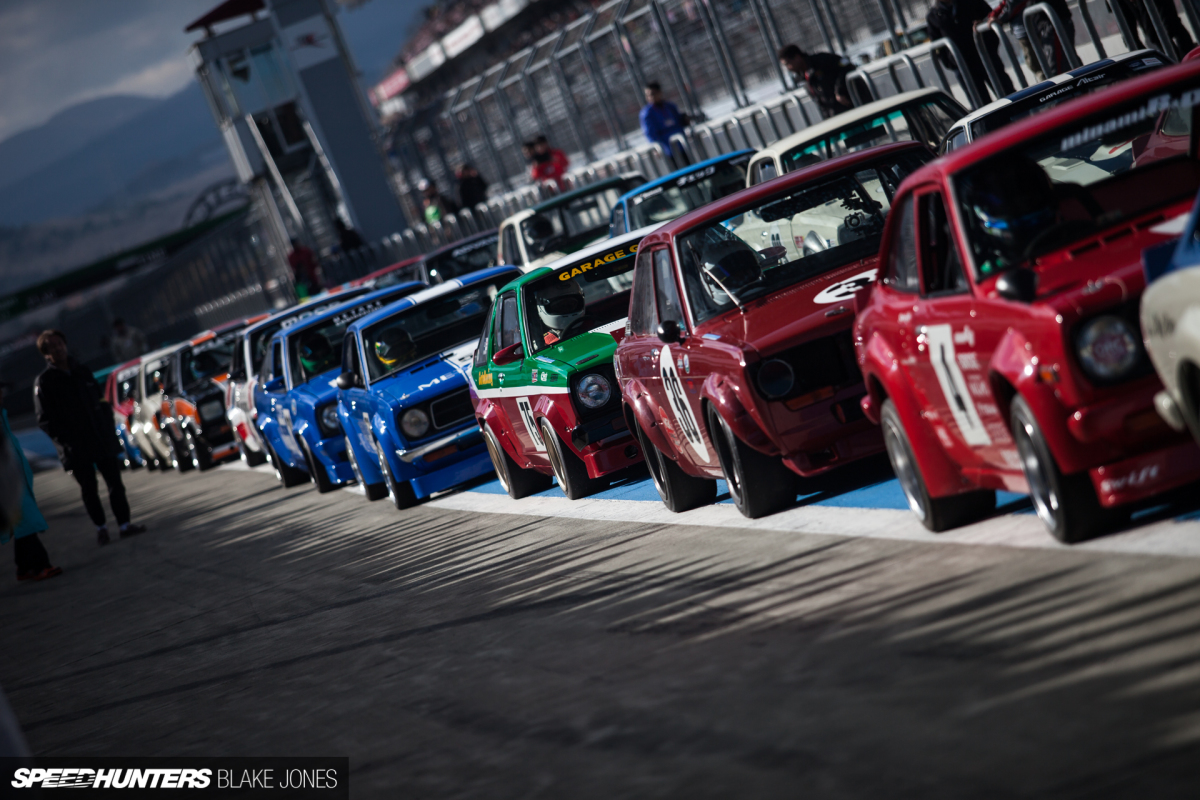 This colourful fleet of Nissan Sunny B310 coupes (plus a few ring-ins) compete in the TS Cup, a long-running three-race series that takes in Fuji Speedway and Tsukuba Circuit. Racing is fiercely competitive but high spirits and smiles are aplenty amongst the owners and drivers. Some have been racing these cars in excess of 30 years and are now starting to hand over the mantle to the next generation of speed junkies.
The cars can push upwards of 170hp from heavily worked A12 engines, and with only 750kg to haul they aren't over-extended by even a long circuit like Fuji.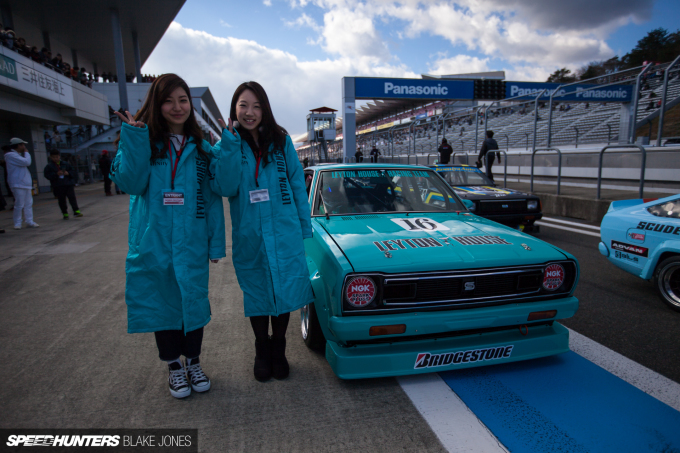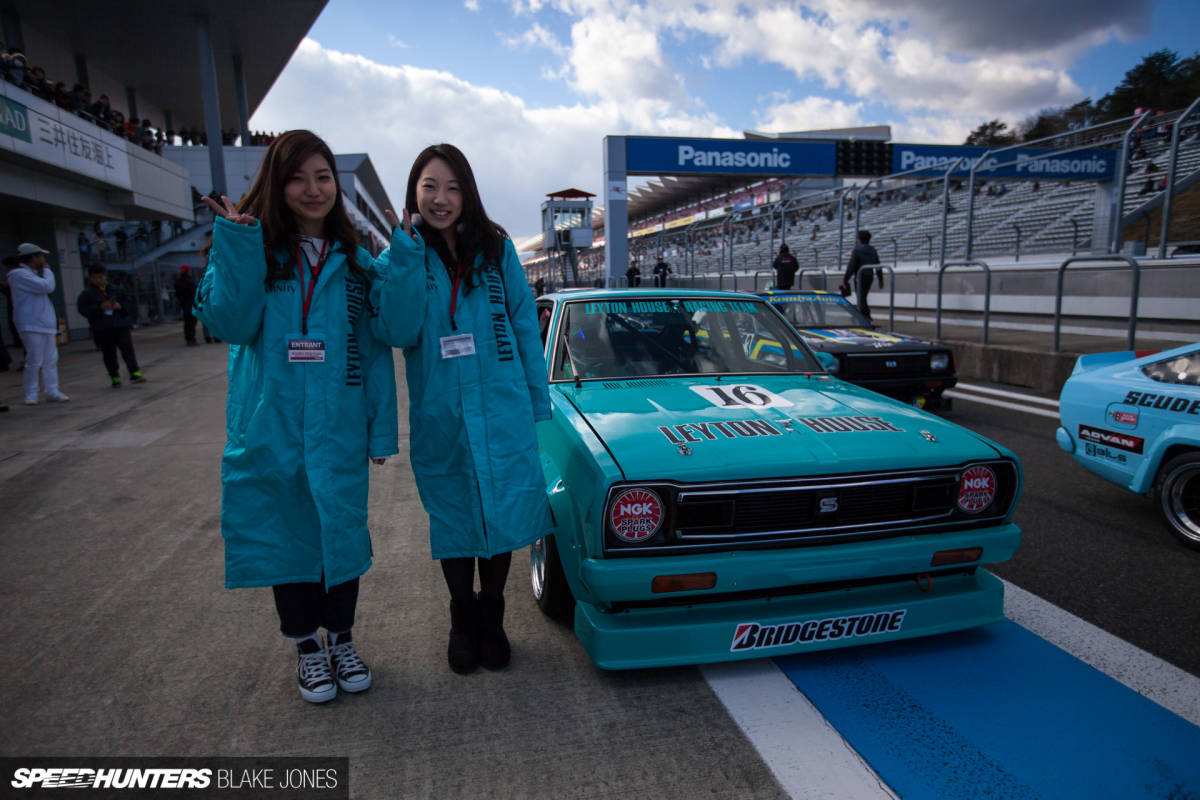 You might be cool, but you will never be Nissan Sunny B310 race car with '90s Japanese Formula One team livery and matching support crew cool.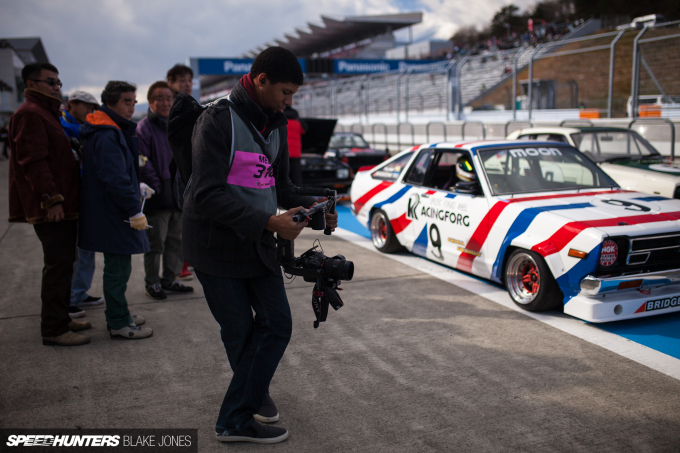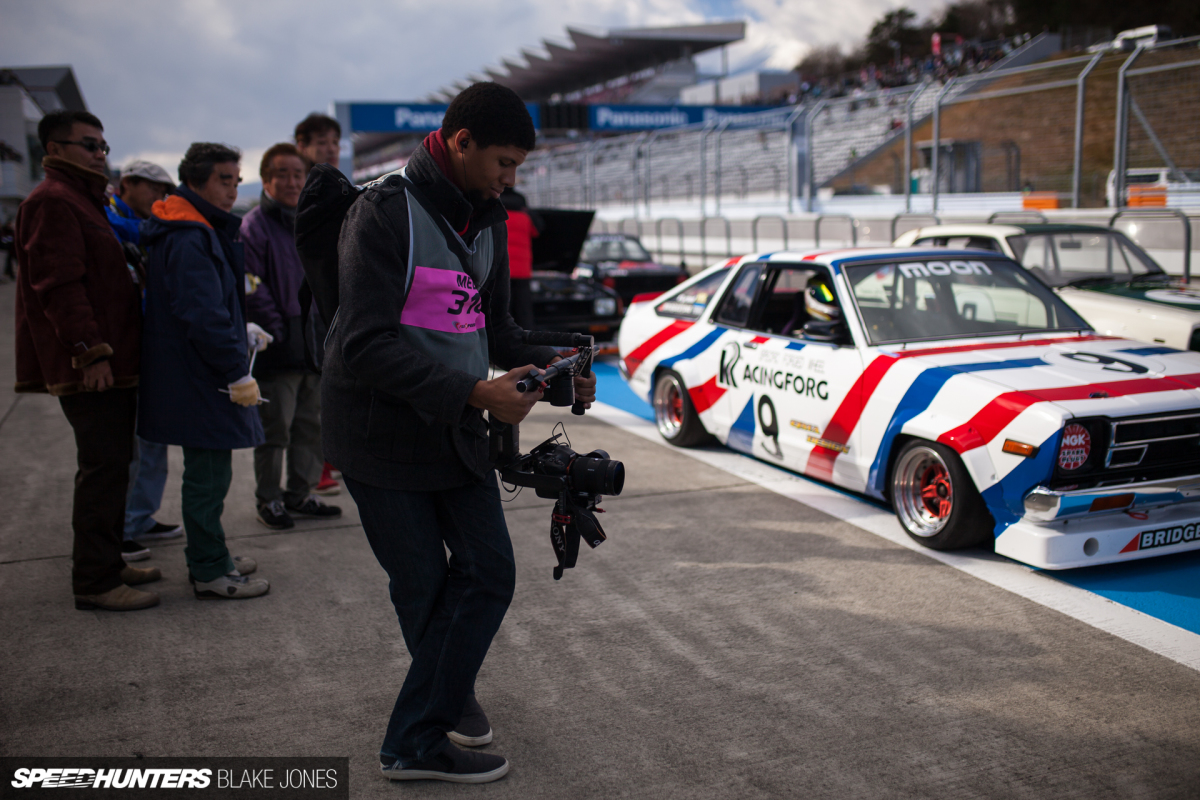 Look who I found amongst the retro racers, none other than fellow Speedhunter Ron Celestine, who was turning his hand to capturing video of this year's event. If you really want to get a feel for the atmosphere (and hear those A12s idling angrily), check out the finished product below.
Okay, are you back with us? With the TS Cup underway it was time to duck back into the paddock to see what else I could pore over. It's a rare opportunity to see this machinery at any time, let alone in race-ready guise.
A Moving Museum
1969 was the birth year of the GT-R badge with this, the C10 Hakosuka sedan. A hugely successful racing career spawned the GT-R lineage that we know today, and now surely this early S20-powered car is the apple of any Nissan Motorsport enthusiast's eye.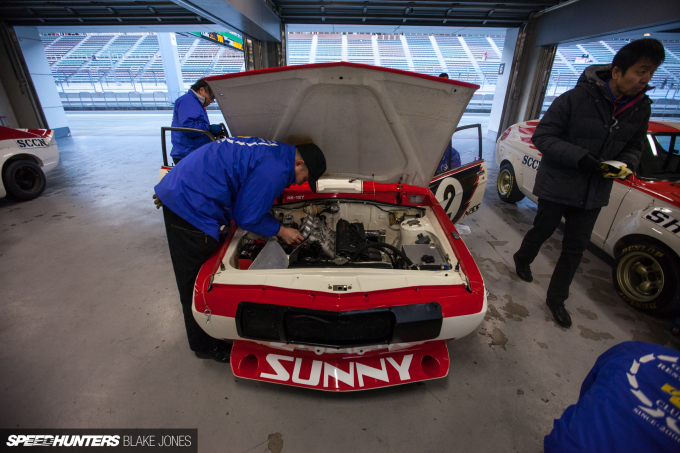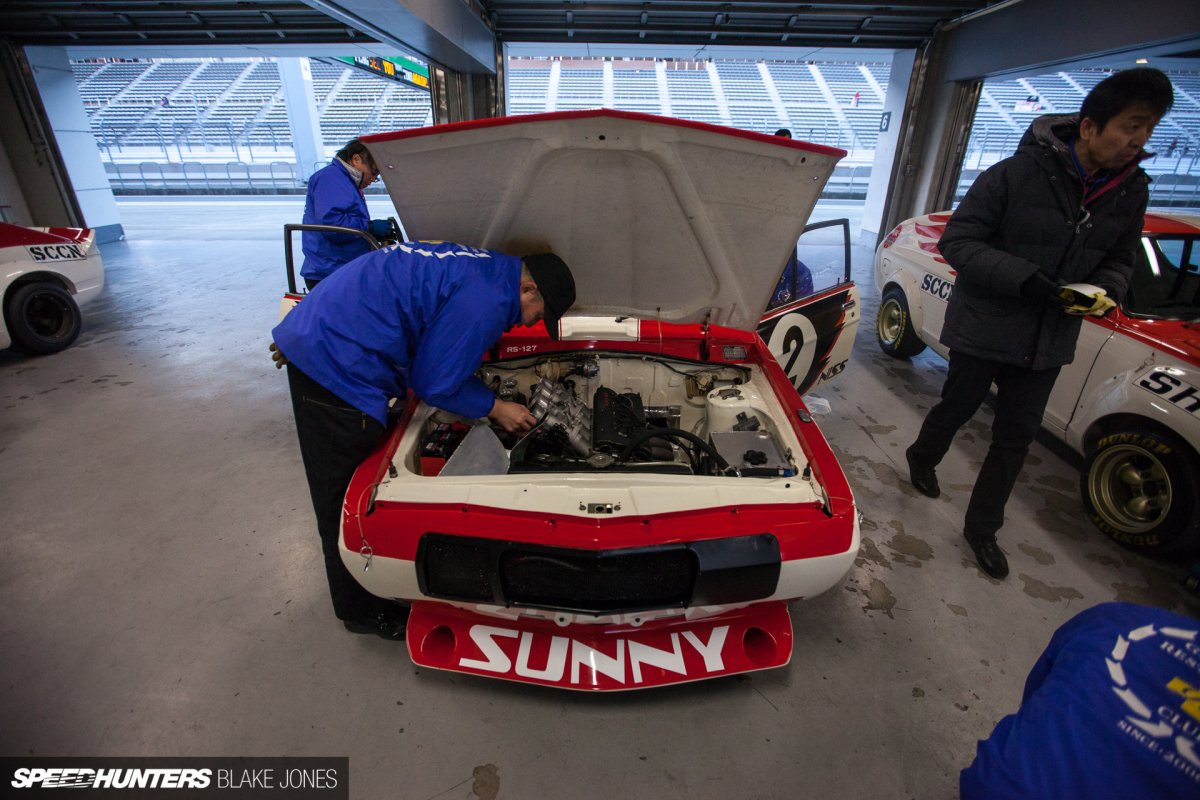 It's kind of crazy how far touring car racing has evolved over the last 40-odd years. There was once a time where you could walk into your local Nissan dealership on Monday, plonk down your cash and walk away with basically the same car that had crossed the finish line on Sunday afternoon.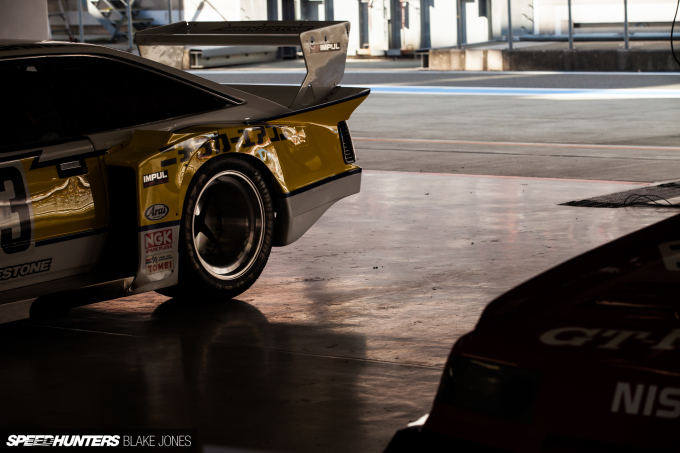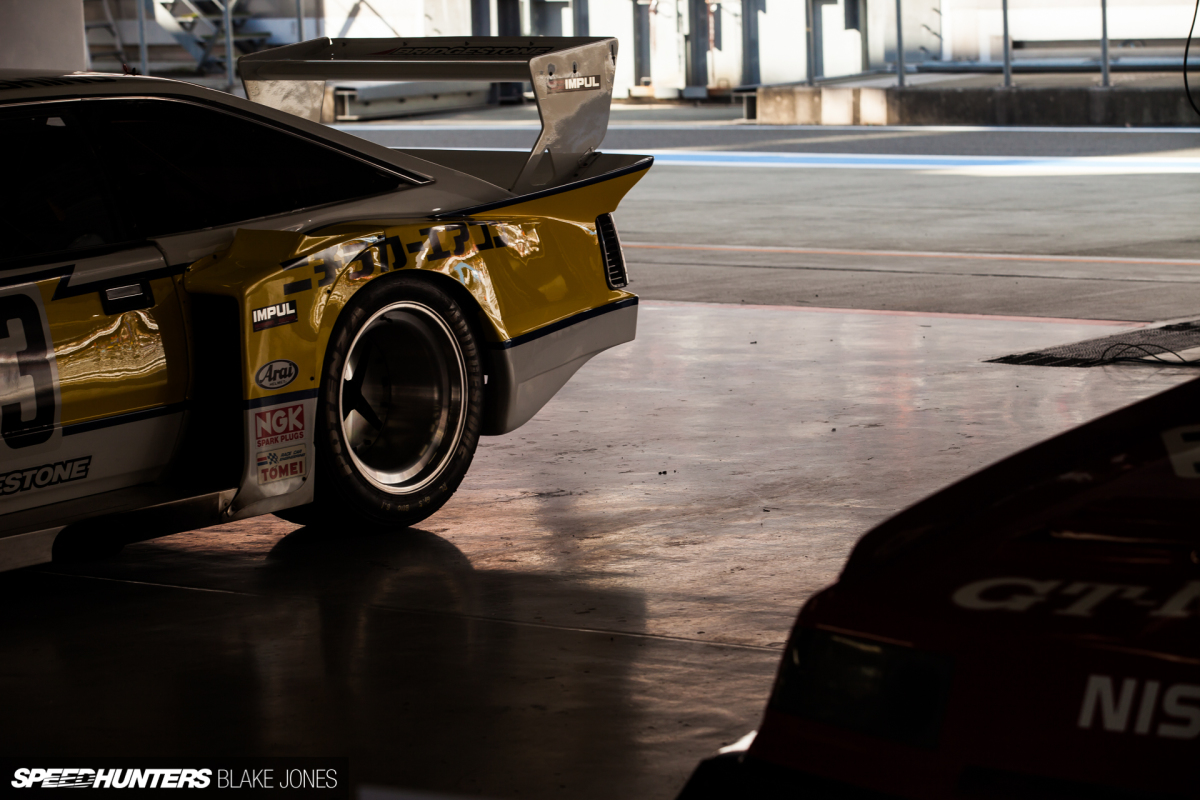 If I could teleport myself to any place and time, it would have to be Japan in the mid '80s. The country was booming off the back of an economic revolution and nobody was making more money than the car manufacturers that were taking over the world one Nissan Pulsar at a time. The country was motorsport crazy and being a top-tier racing driver was the closest one could get to being a living god. Silhouette racers like the Nihon Radiator S12 Silvia were pushing almost 600hp from 2.0L four-cylinder engines thanks to huge development budgets and very loose rulebooks.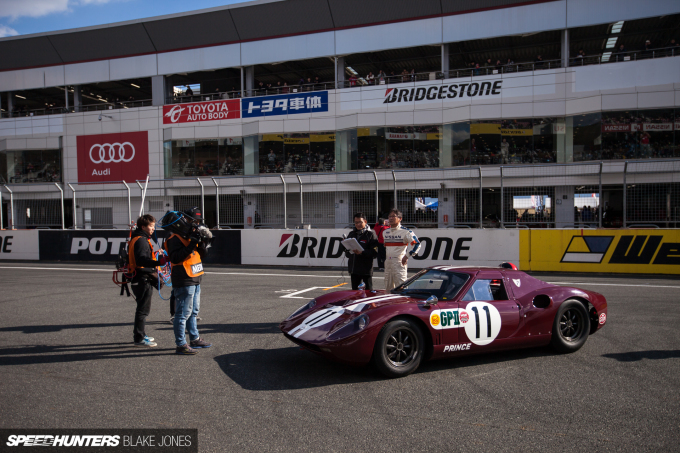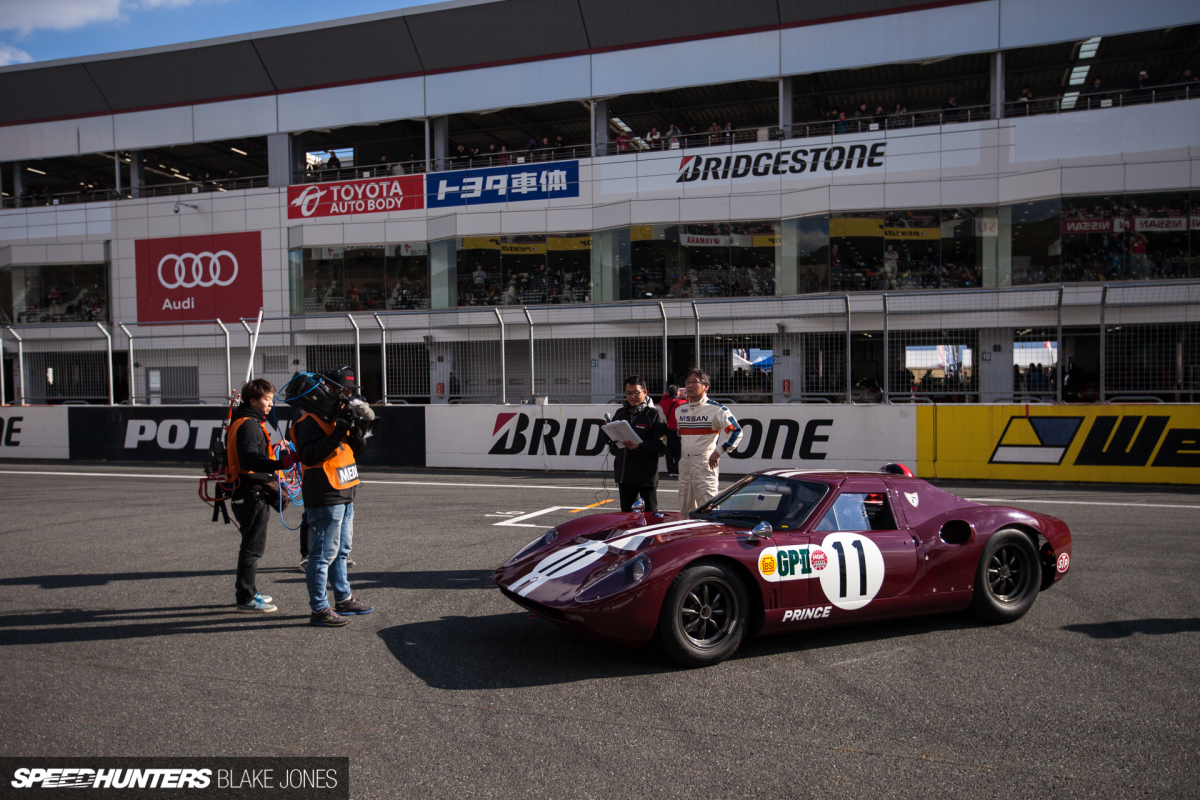 Nissan also brought out the Prince R380, the country's first attempt to build a prototype race car with a stated objective of 'overthrowing Porsche'. I guess the similarity to the 904 is no accident, then. Nissan and Prince merged the year after the R380 finished initial development and campaigned the car with reasonable results but limited victories.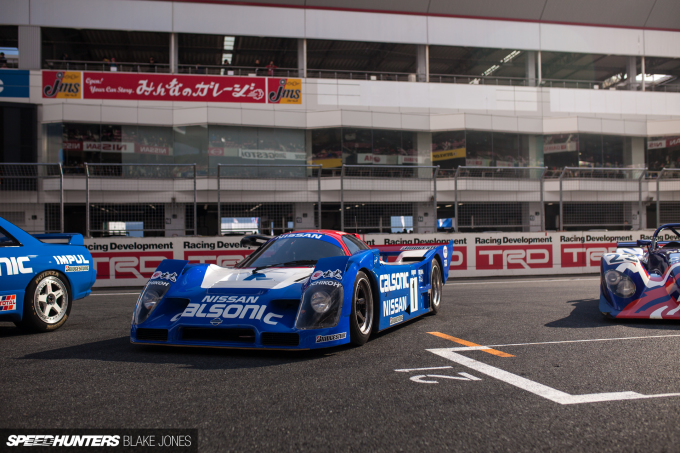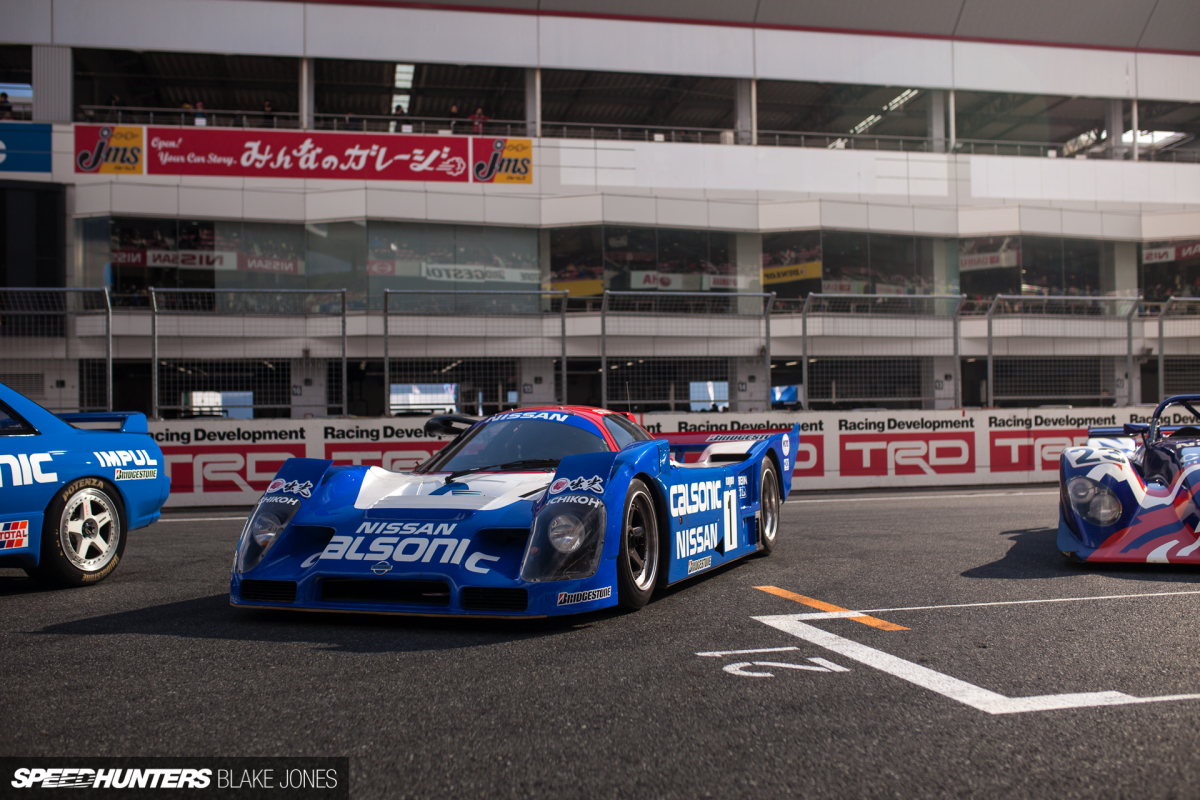 Sportscar racing for Nissan was bookended by the hugely successful R90C, seen here in 1992 Group C Specification (R92CP). As budgets began to be wound back in the early '90s and manufacturers like Nissan focused on their high-volume production models, Prototype-style race cars were relegated to the history books (with the exception of the ill-fated 2015 Nissan GT-R LM Nismo built for LMP1-H).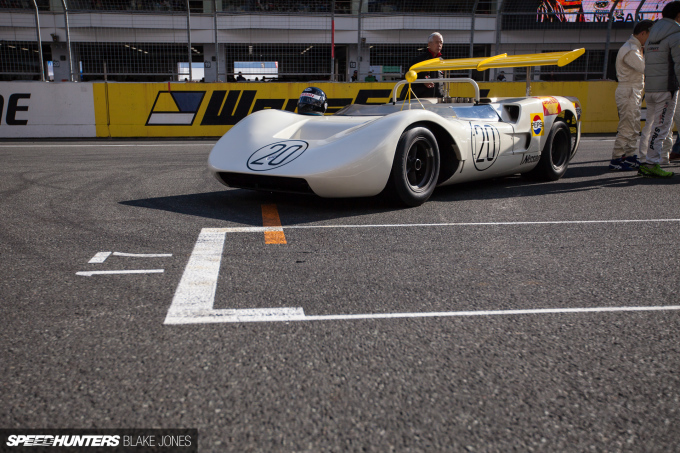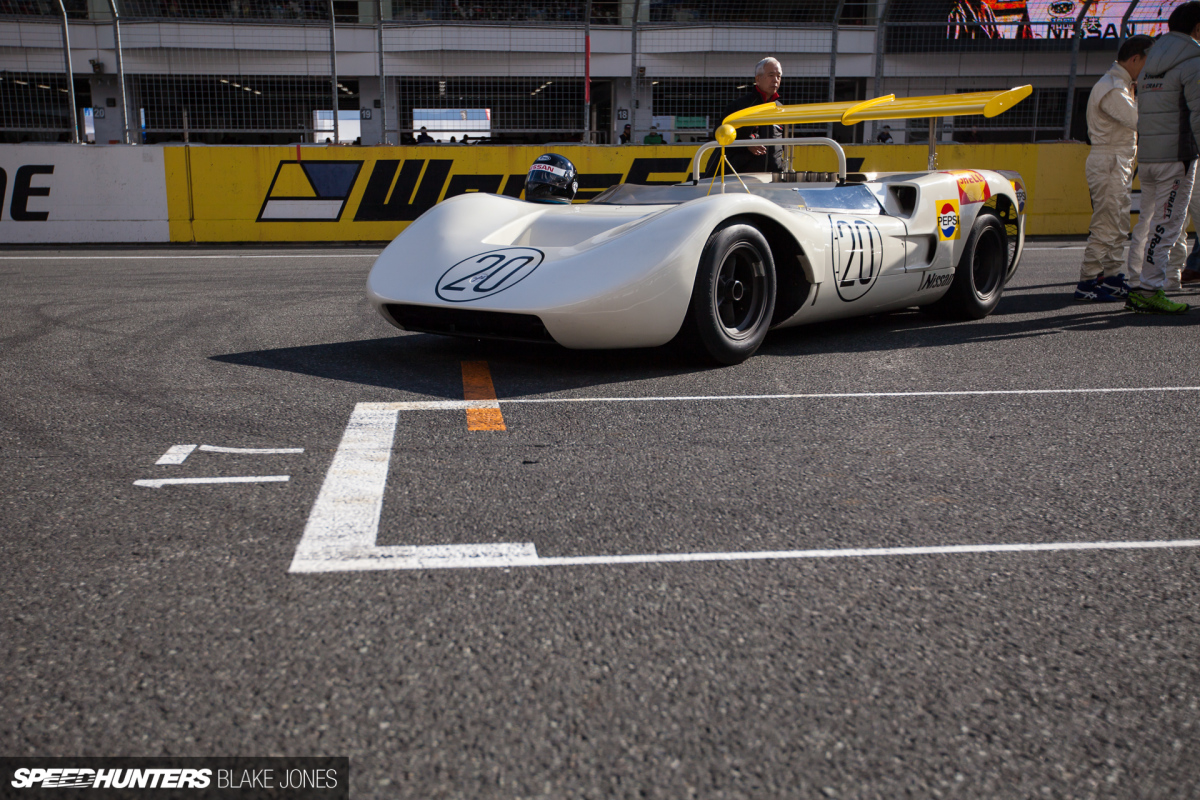 You could easily fill a cabinet with books about Nissan's racing history, from quirky innovations like the R381's dual wing (the angle of the left and right sides could be altered independently)…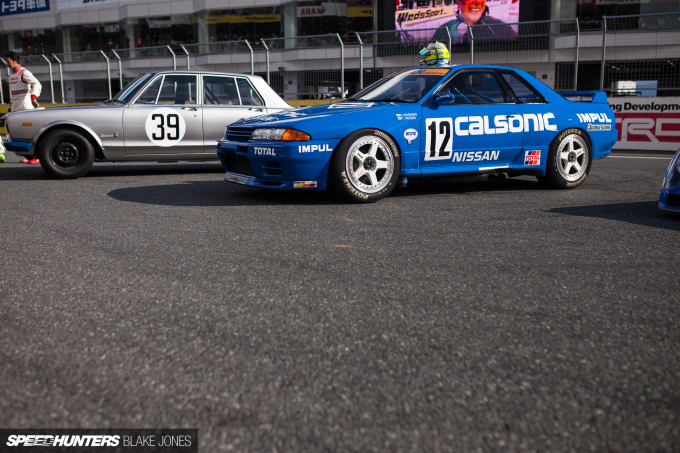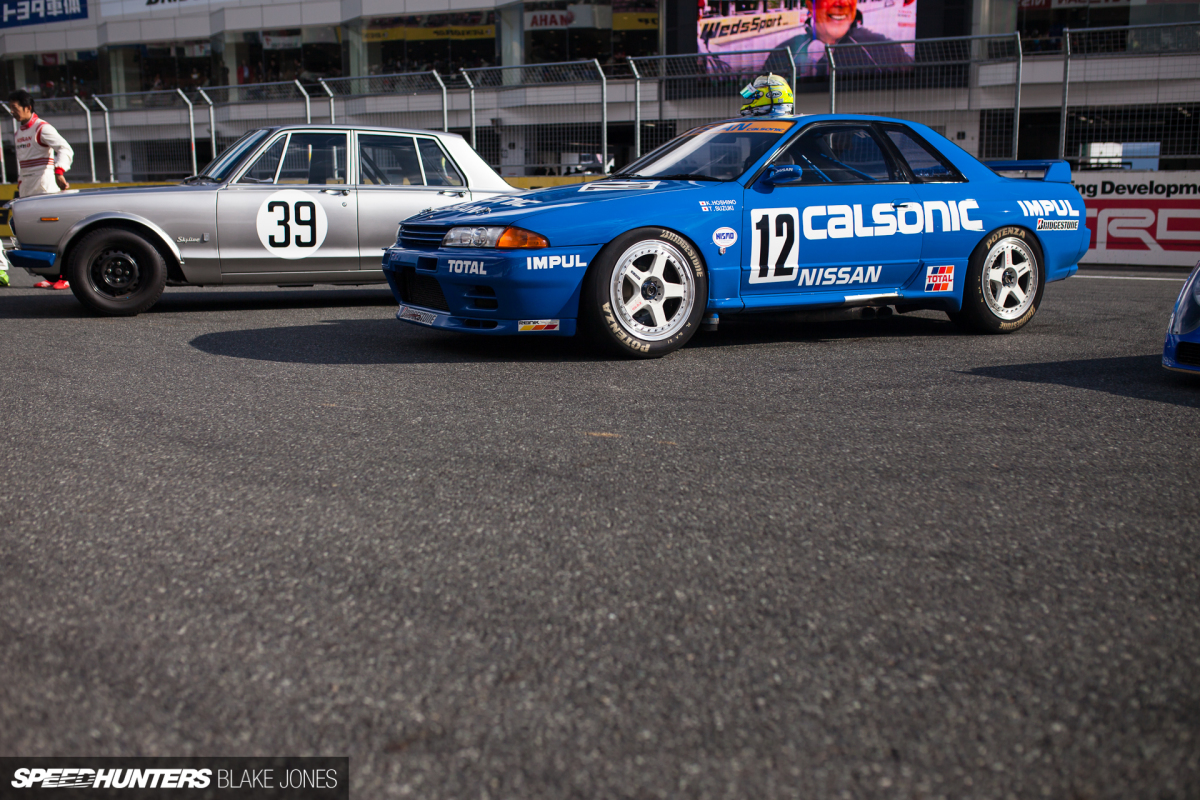 To game changers like Godzilla, the R32 GT-R that changed the face of Group A Racing forever.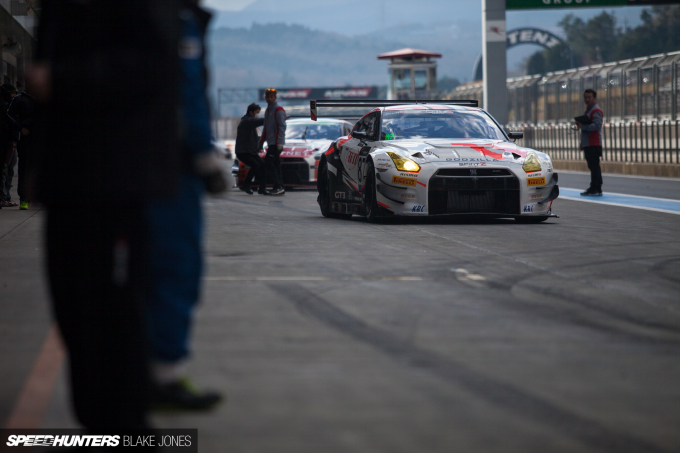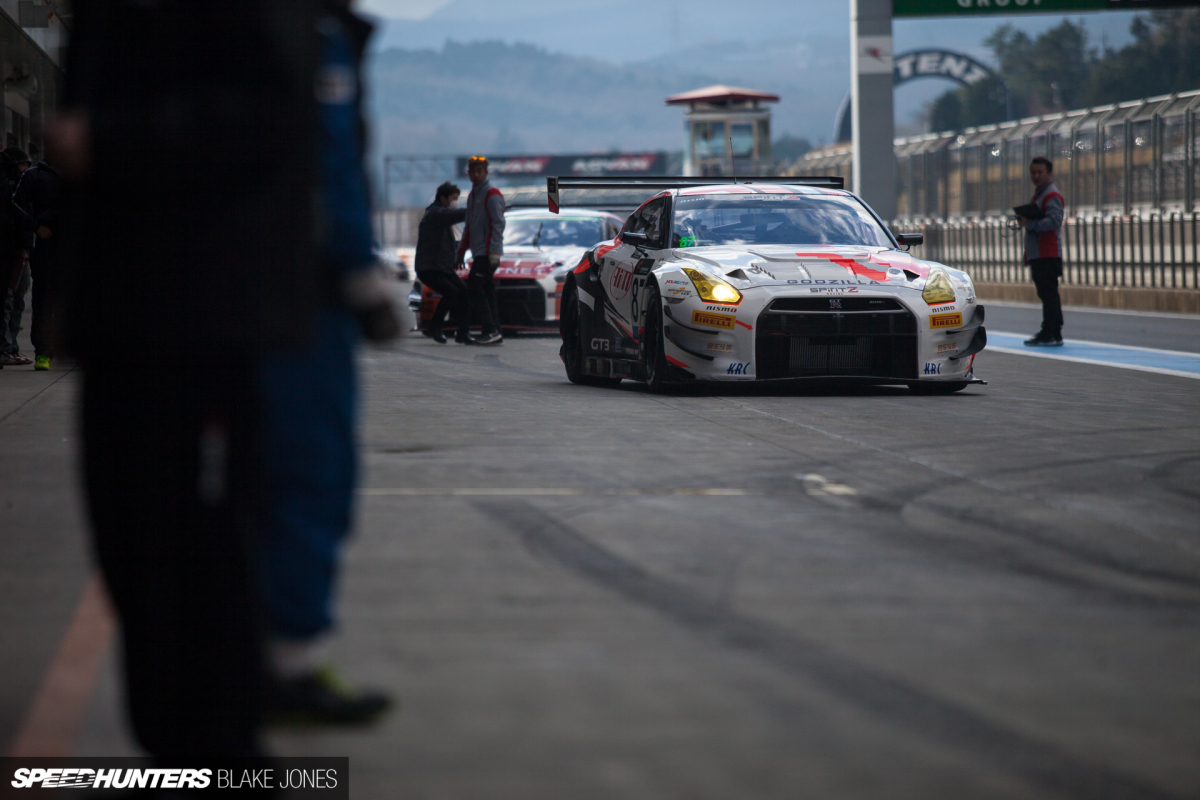 The R35 GT-R has proven itself to be an extremely capable platform across many forms of motorsport – drag, drift, endurance and sprint. I have to wonder if it will go down in history with the same love as its RB26-powered predecessors.
Smiling Faces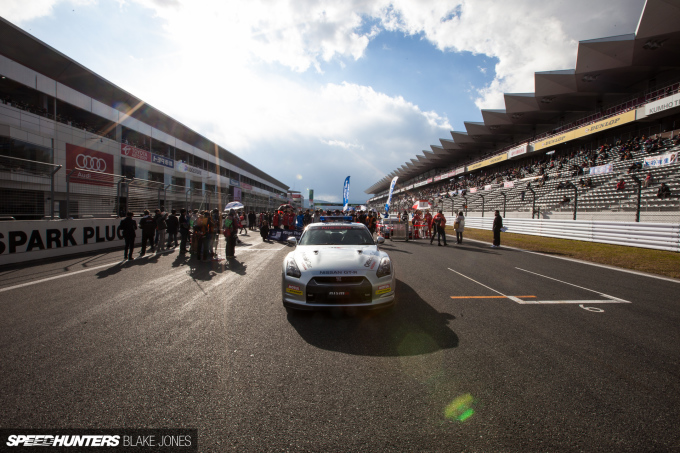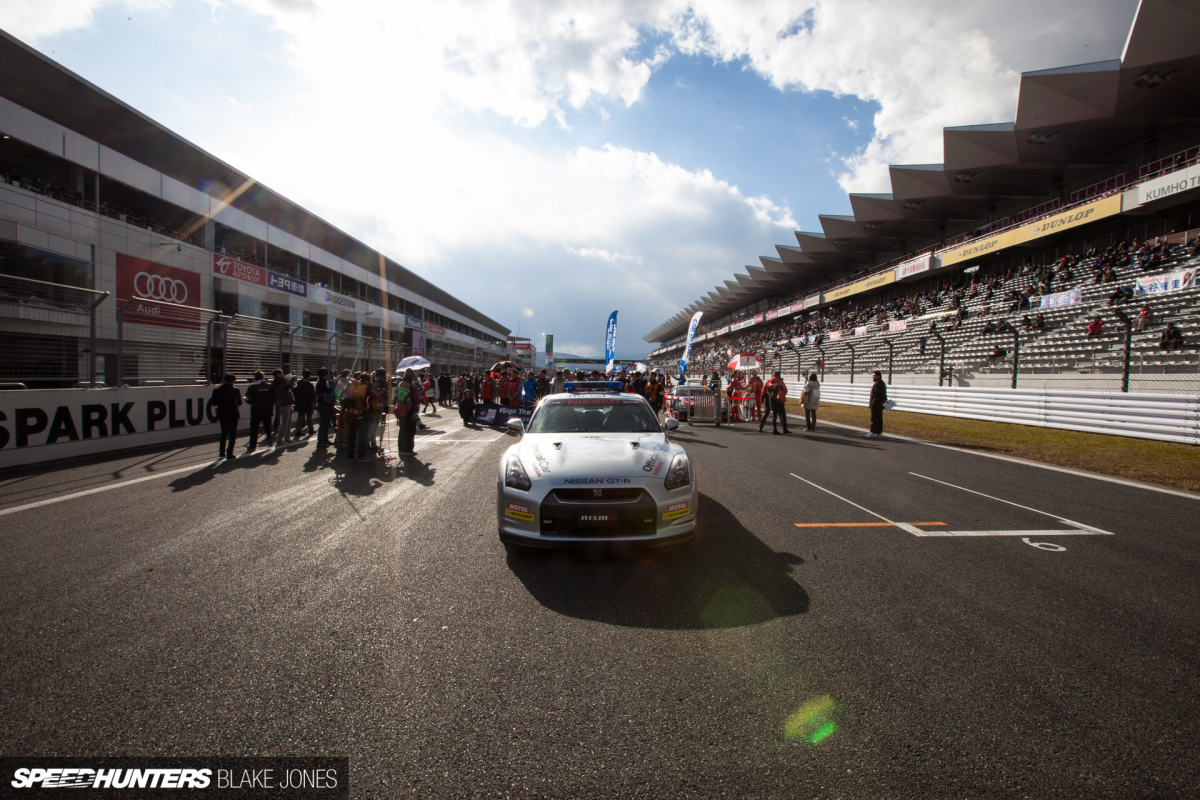 Back on track and it's time for a grid walk – the best part of the day for most fans! Despite us edging into winter here in Japan, the sun was out and provided perfect conditions for a bit of a stroll and chinwag with some of the characters around Nismo Festival.
A fixture at Japanese motorsport events (as much as the drivers, pit crew or anyone else) are the promotional models or 'race queens' as they are known in Japan.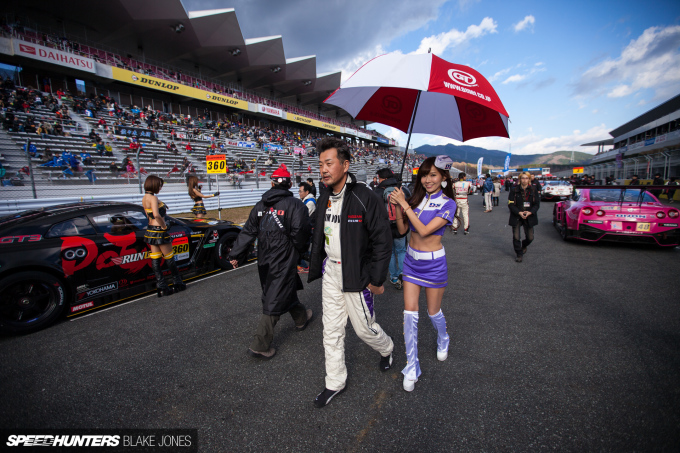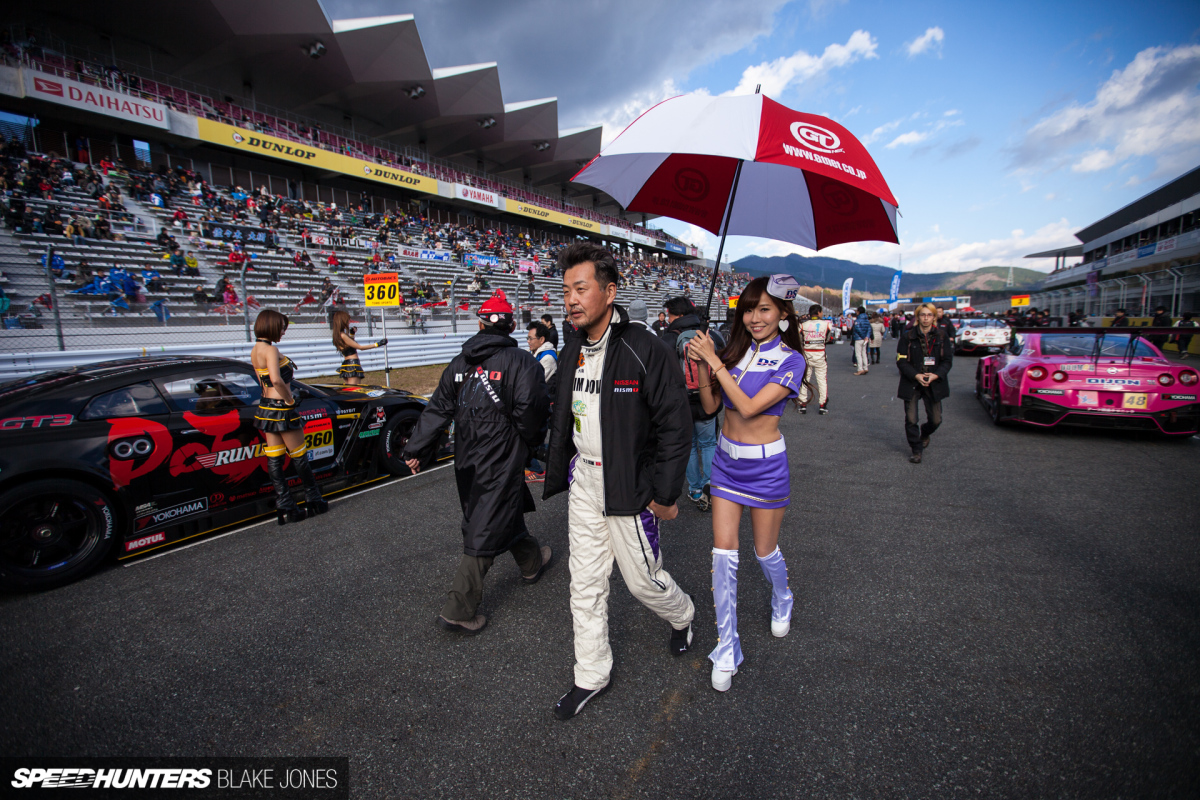 Race queens seem to be a dying breed in most parts of the world, but it seems Asia – and Japan in particular – is keeping the tradition alive.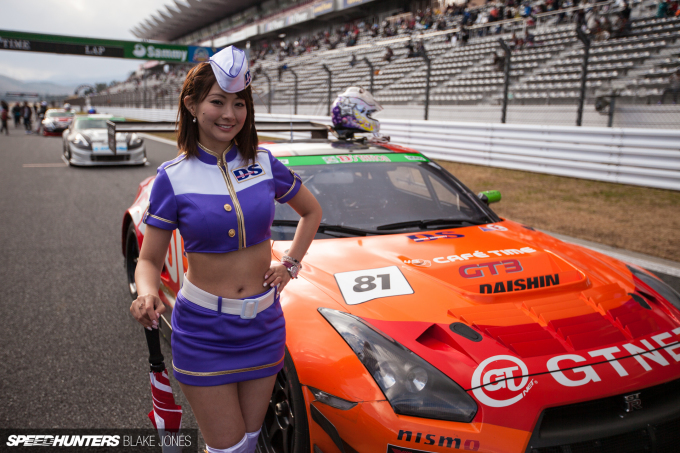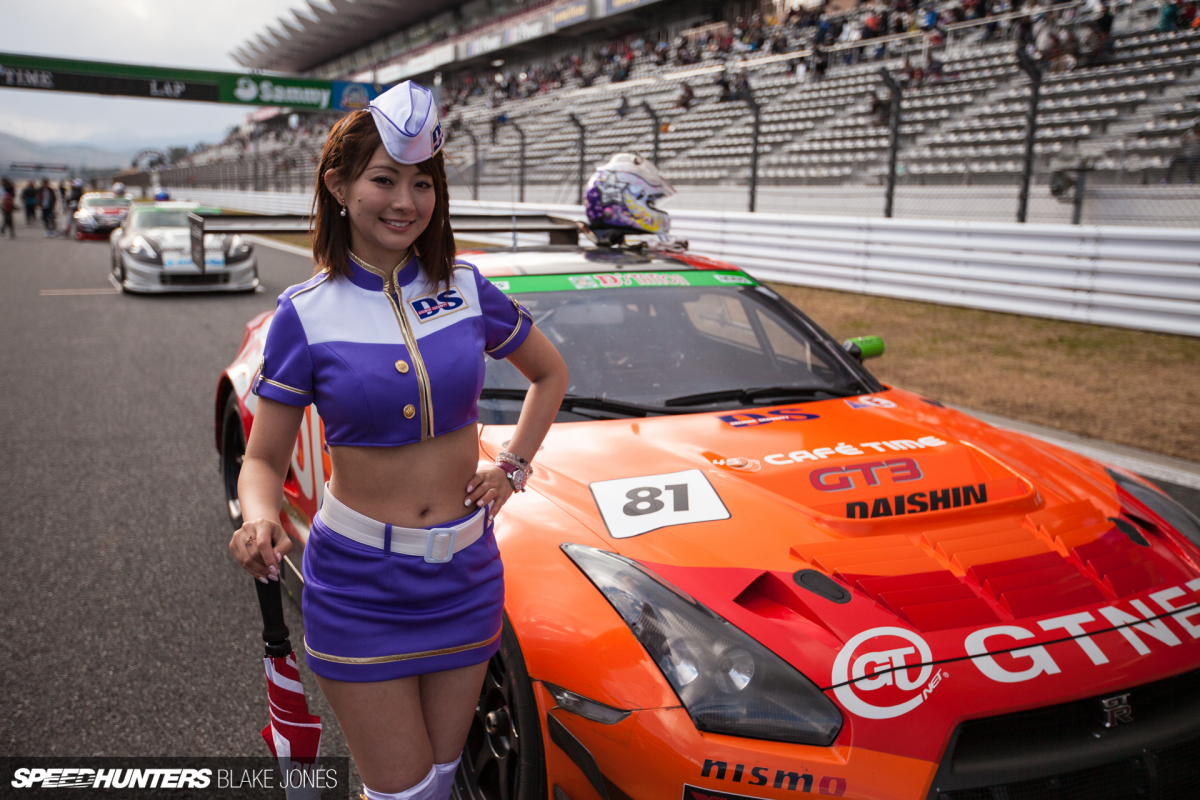 Many of the girls rival the drivers for popularity and have their own fan photo and signing sessions which are without fail some of the busiest parts of the day. And while we know drivers can be precious about their working conditions at the best of times, the girls manage to keep a cheerful smile all day despite temperatures dropping to three degrees after sundown and the, err… unconventional outfits.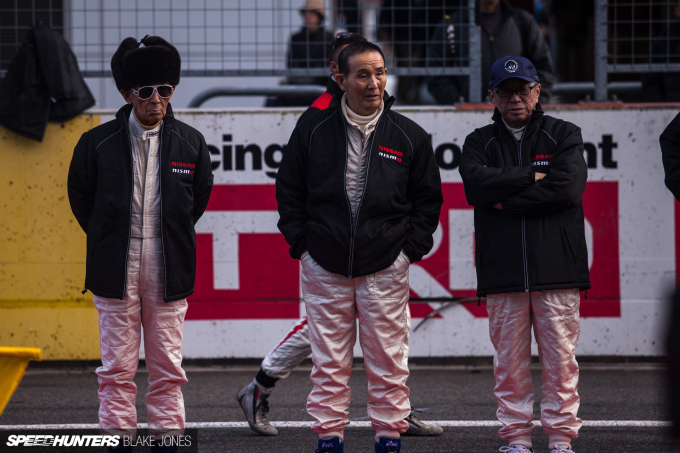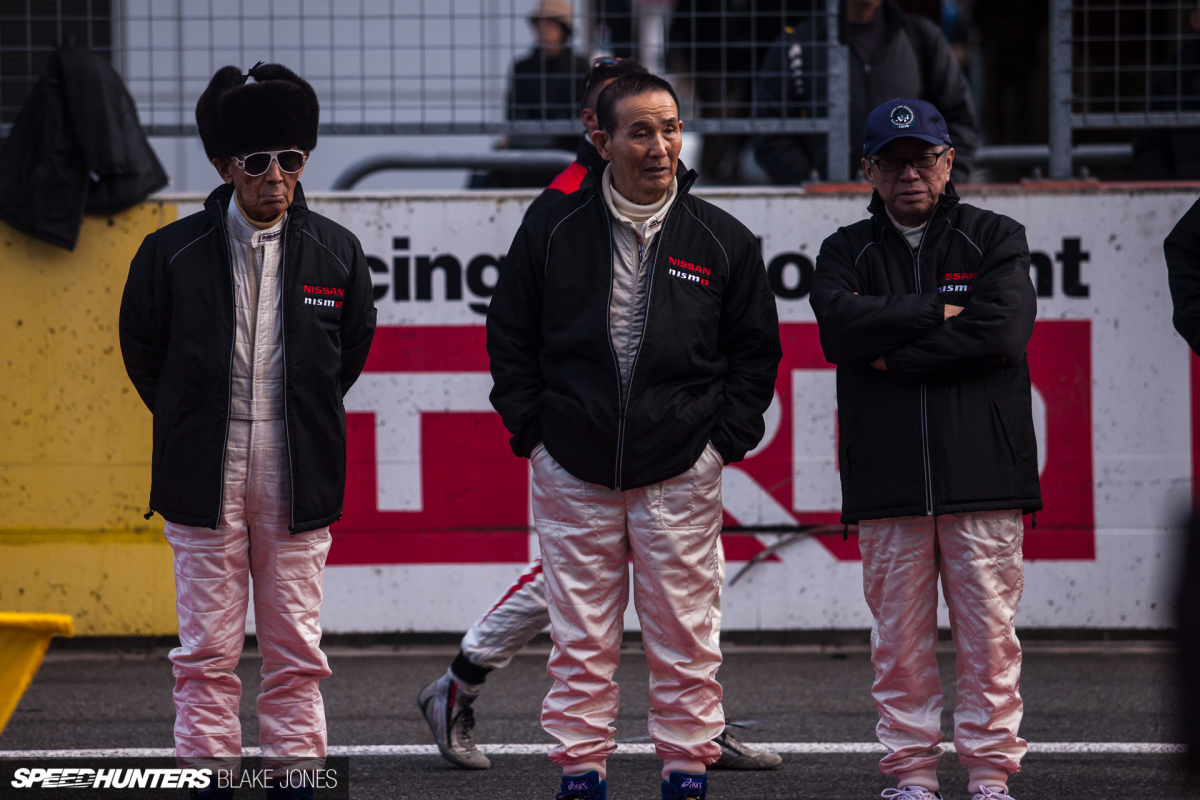 Sunako Yoshikazu is instantly recognisable at any racing event thanks to an eclectic taste in headwear and eyewear. Yoshikazu-san is renowned for being involved in the 1964 'Birth of the Skyline Legend' race at Suzuka Circuit for Prince and later piloted the R380 to a Japanese GP victory in 1966 and won the Japanese Touring Championship the same year.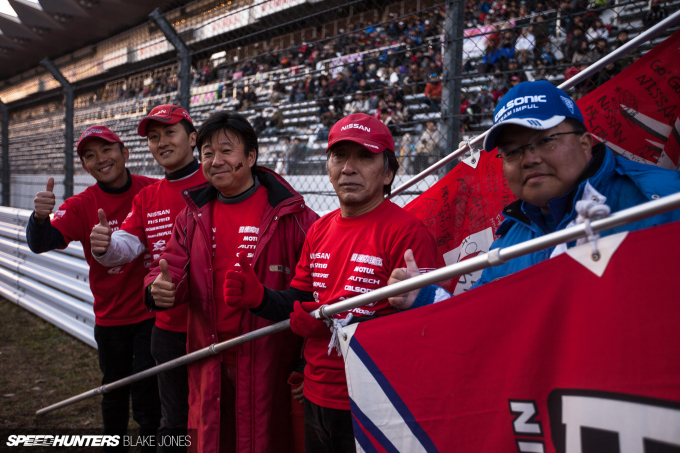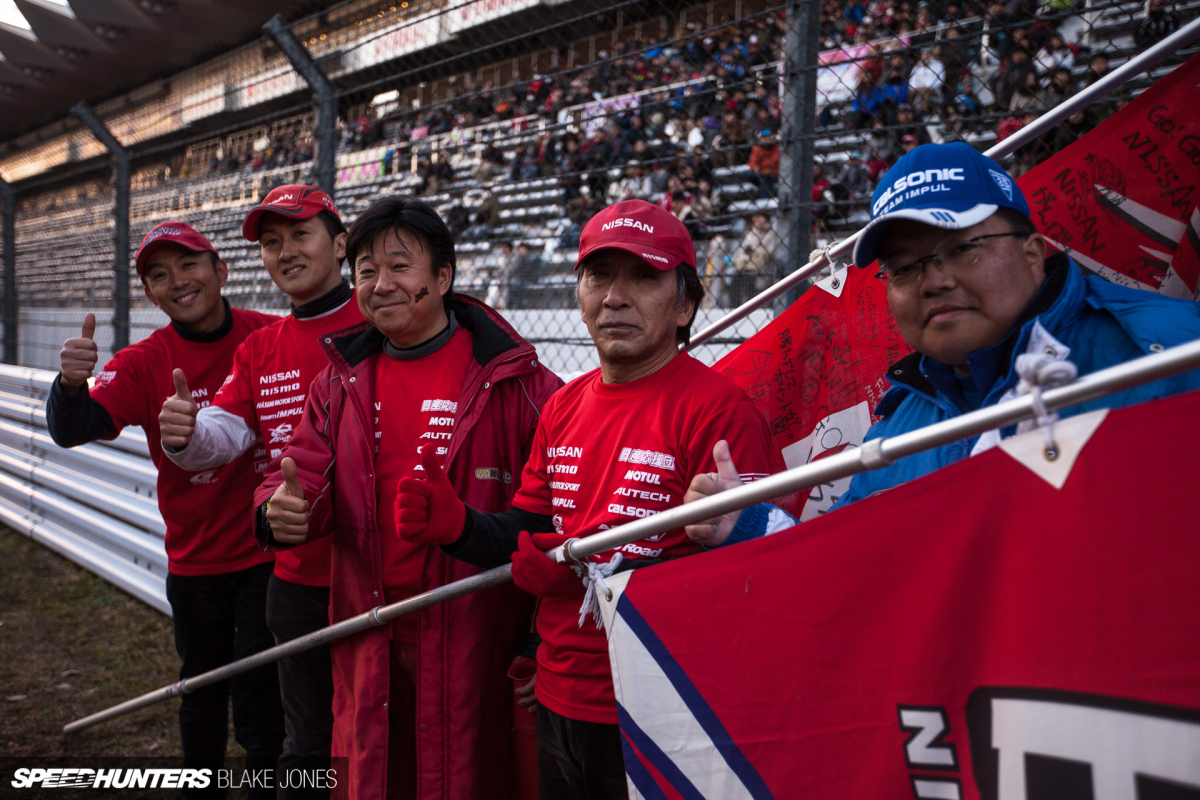 Five members of the offical Nismo Supporters Club stepped down from their posts in the front row of the grandstand to share a pretty special moment with the gathered crowd – the celebration of their 20th anniversary!
The President and CEO of Nismo, Takao Katagiri, said a few choice words to the group and thanked them for their unwavering support. There was more than a few tears from the group's leader.
Even as the sun and centigrade began to lower, the fans stayed put. It's pretty clear that all the drivers are extremely grateful for the level of support they receive from the domestic fanbase, and use the Nismo Festival as their opportunity to 'give back'. Here you can see Ronnie Quintarelli holding the envelope containing a donation from the Nismo family to communities in Quintarelli's native Italy which was rocked by a series of deadly earthquakes earlier in the year.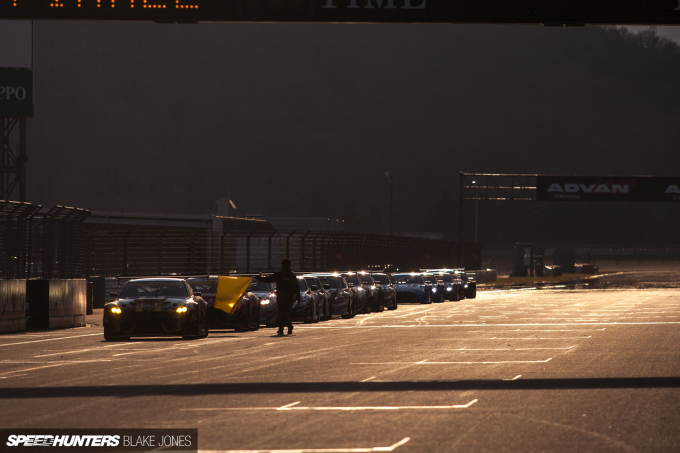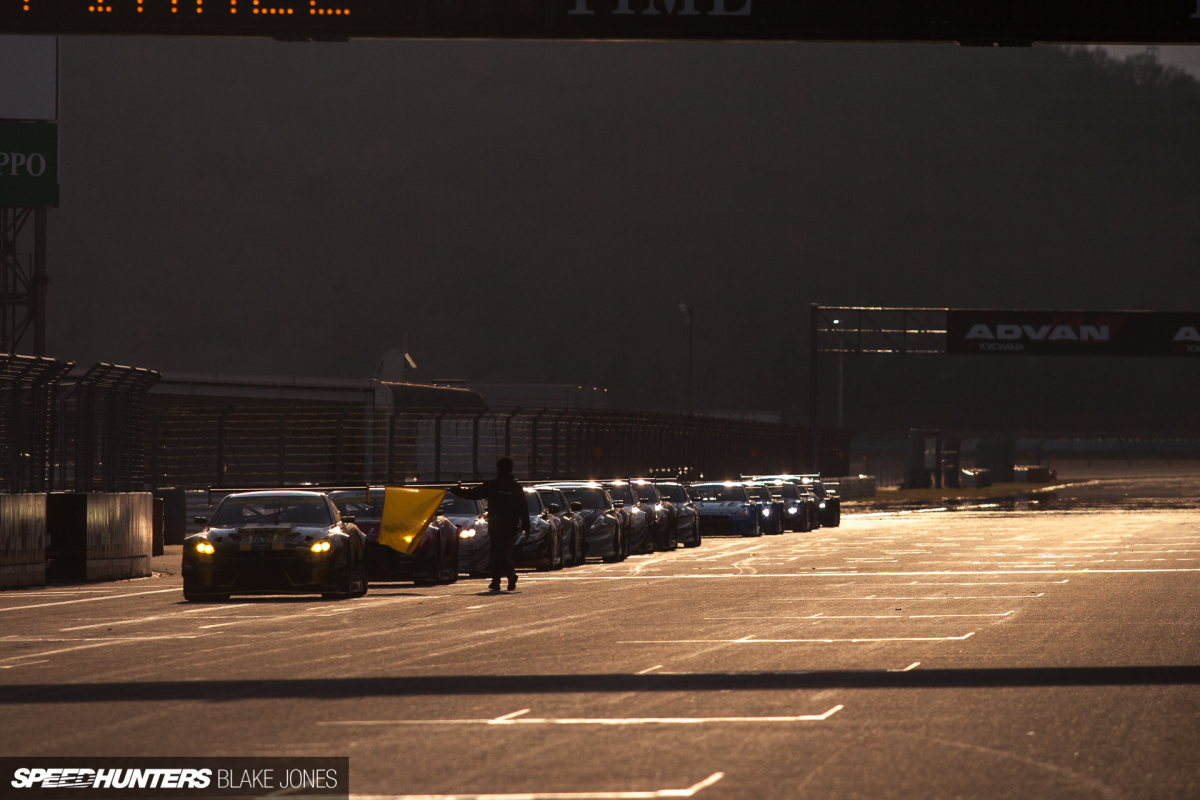 I know Toyota, Honda, Mazda and Subaru all have diehard fans, but there seems to be something more that sticks people to the Nissan brand. I have a few theories on why this might be (see preceding 60 photos), but would love to hear you thoughts in the comments section below.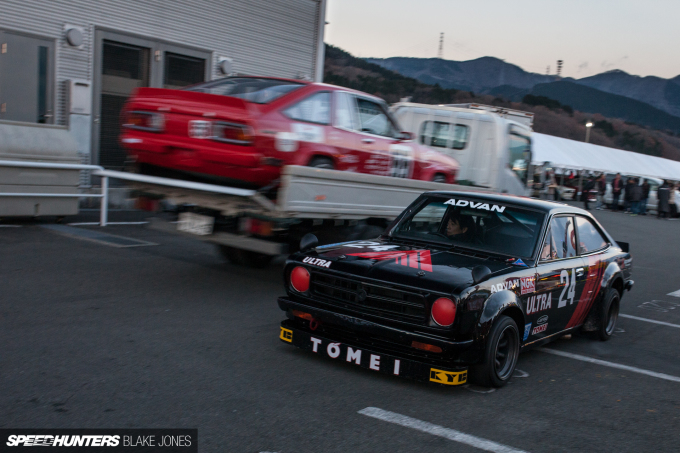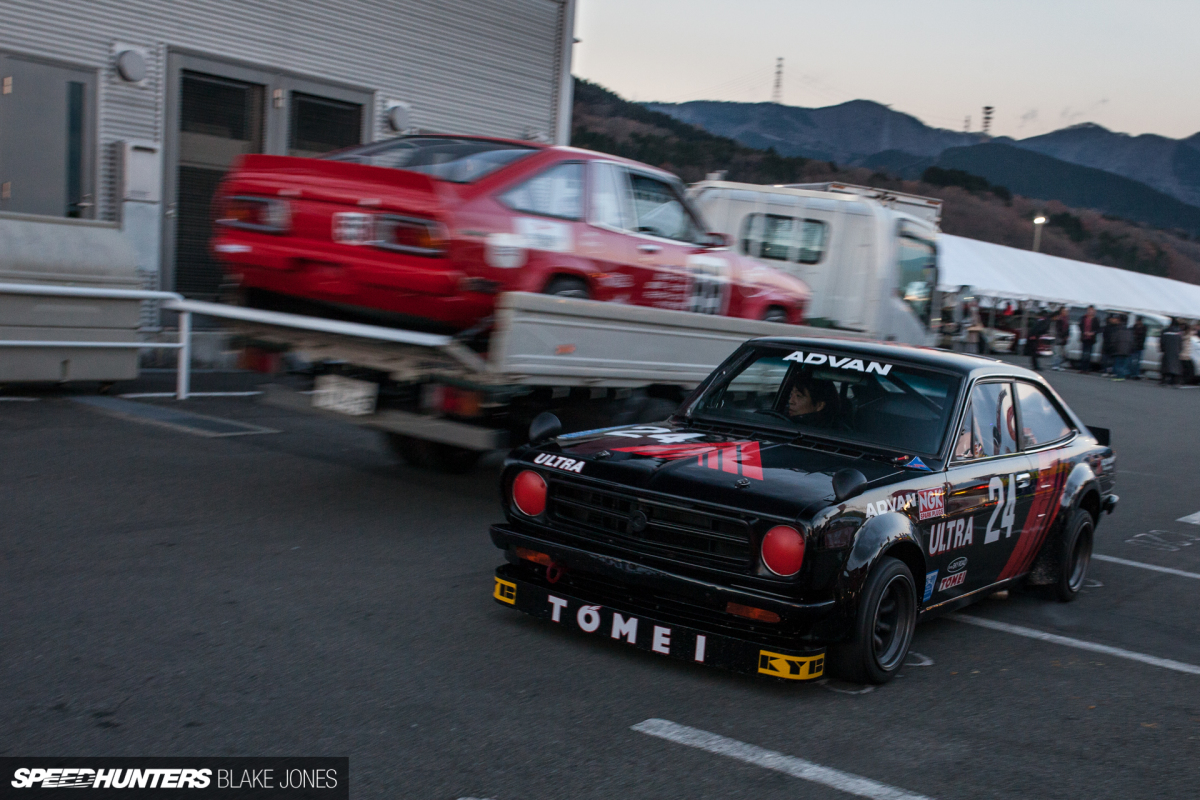 All good things must come to an end, and fans made a beeline towards the exit to avoid the traffic while race cars were efficiently loaded into transporters for the trip home.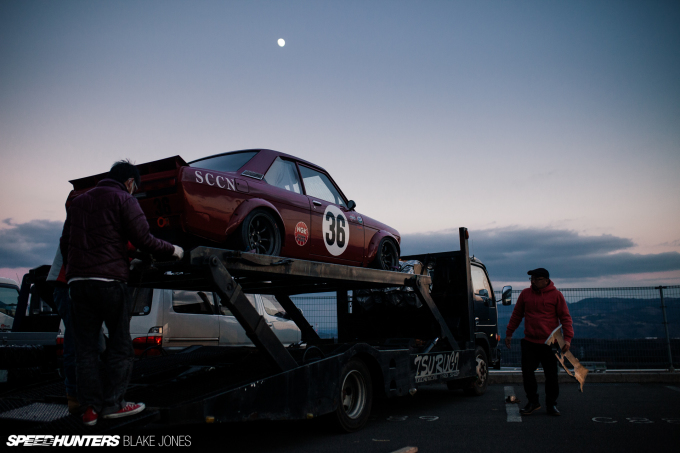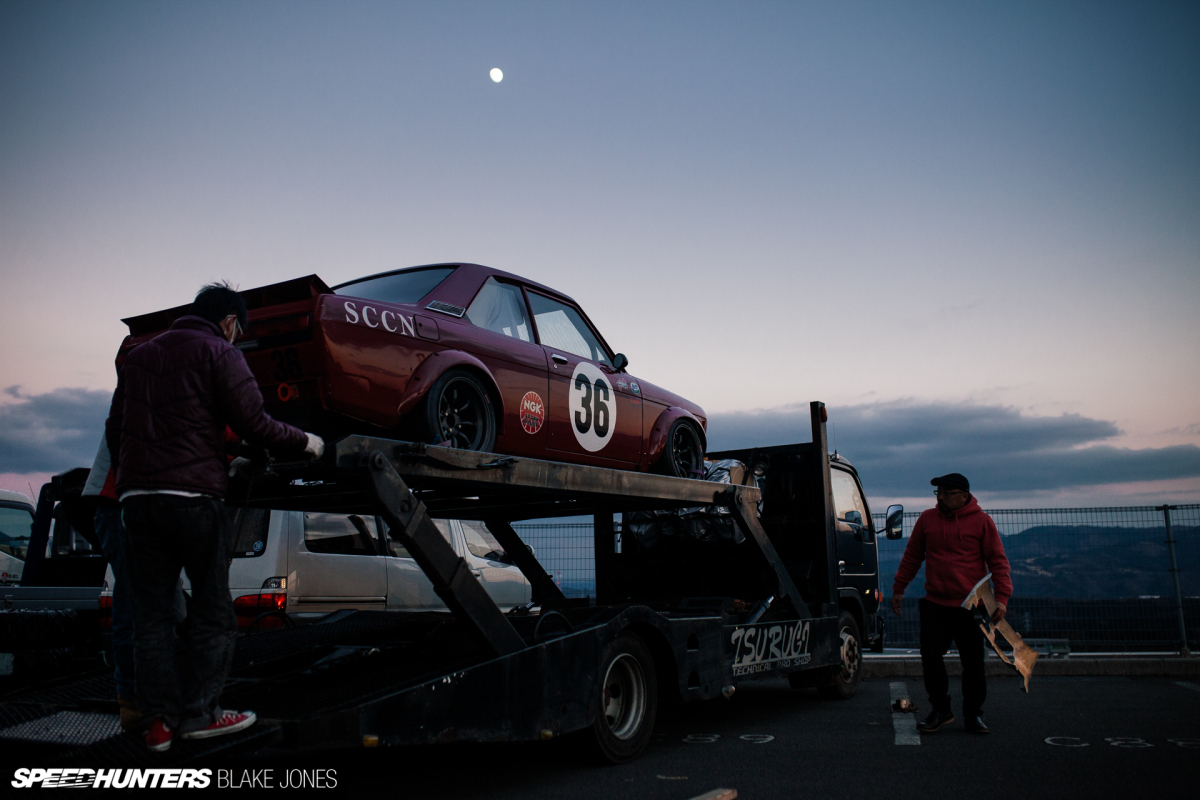 But the soft light at this time of day always offers some magic photo opportunities, so it was time to crank up the ISO and grab a few final shots of the classic metal before it disappeared onto Japan's expressway network.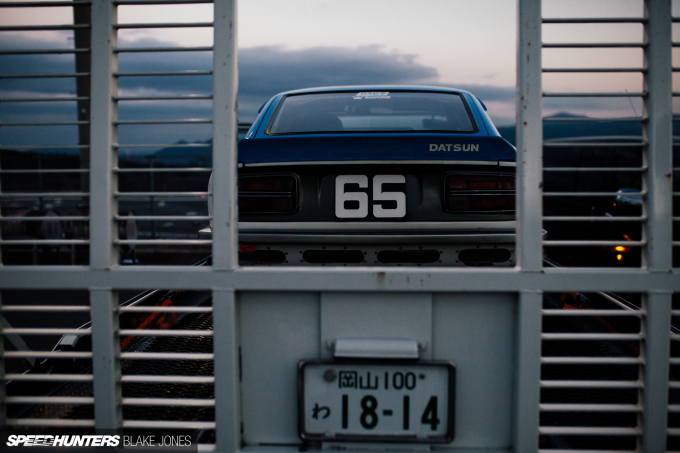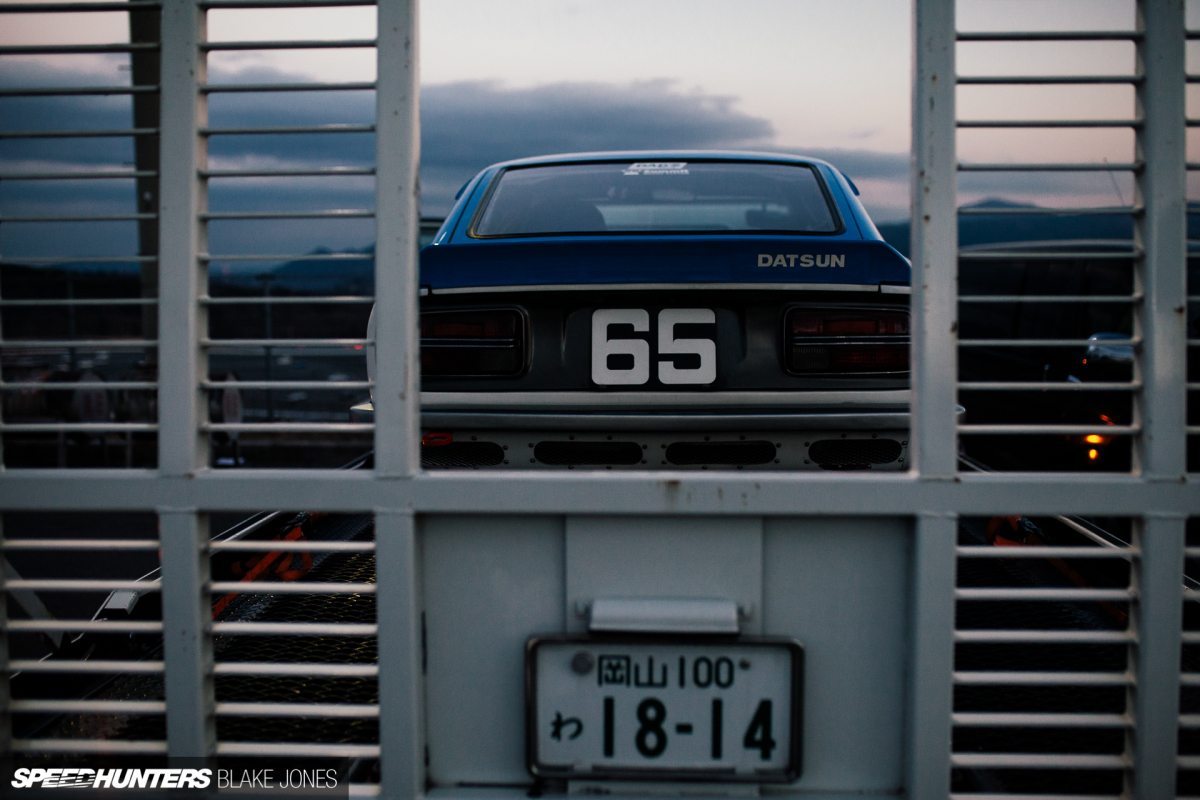 By land mass Japan isn't so large, but being the elongated island it is travel times between cities can be extremely protracted. The trip up from Okayama for this 240Z takes eight and a half hours on a clear run (which, on Japan's expressways, is rarer than an original Z432!).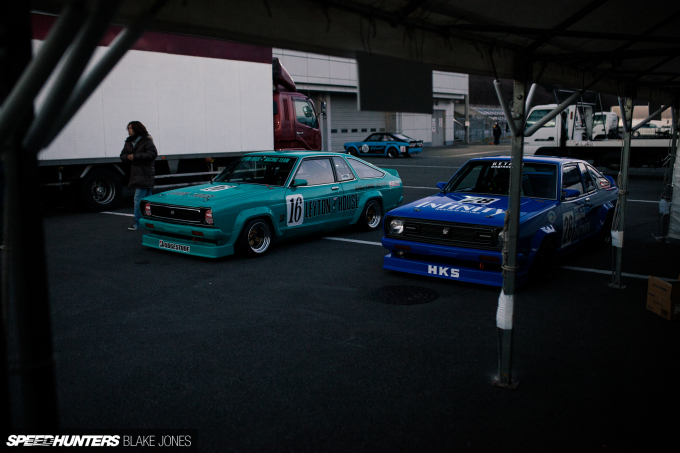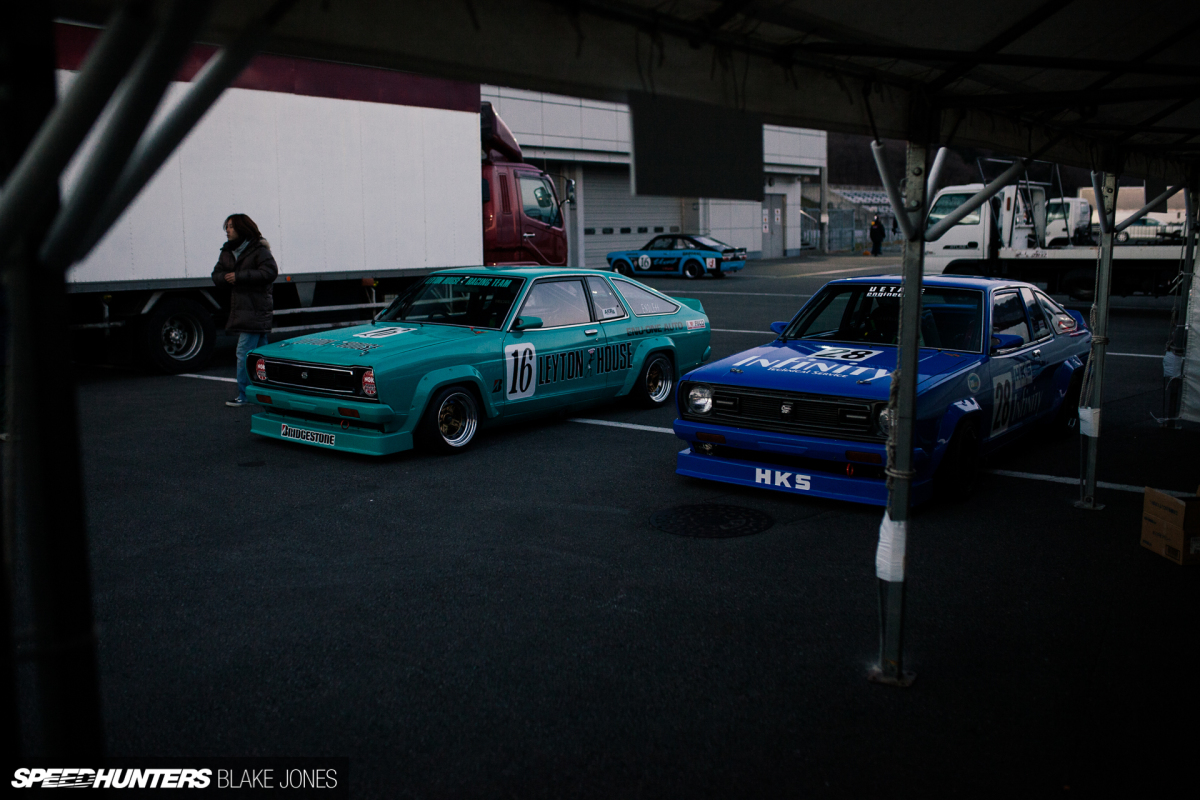 I couldn't help but revisit some of the Sunny racers that had captivated me earlier in the day for a final look. Pressures of capturing the event now subsided, I even had some time for a bit of banter with the owner/drivers packing up nearby, who were more than happy to share stories and a laugh.
Nismo Festival was a massive day, and I didn't even come close to seeing the whole thing. However, I could return home happy knowing I'd uncovered a little bit of Nissan magic (and a few forthcoming spotlights).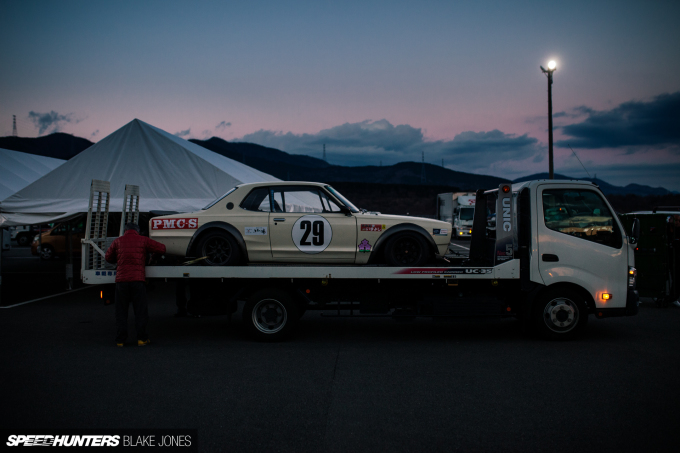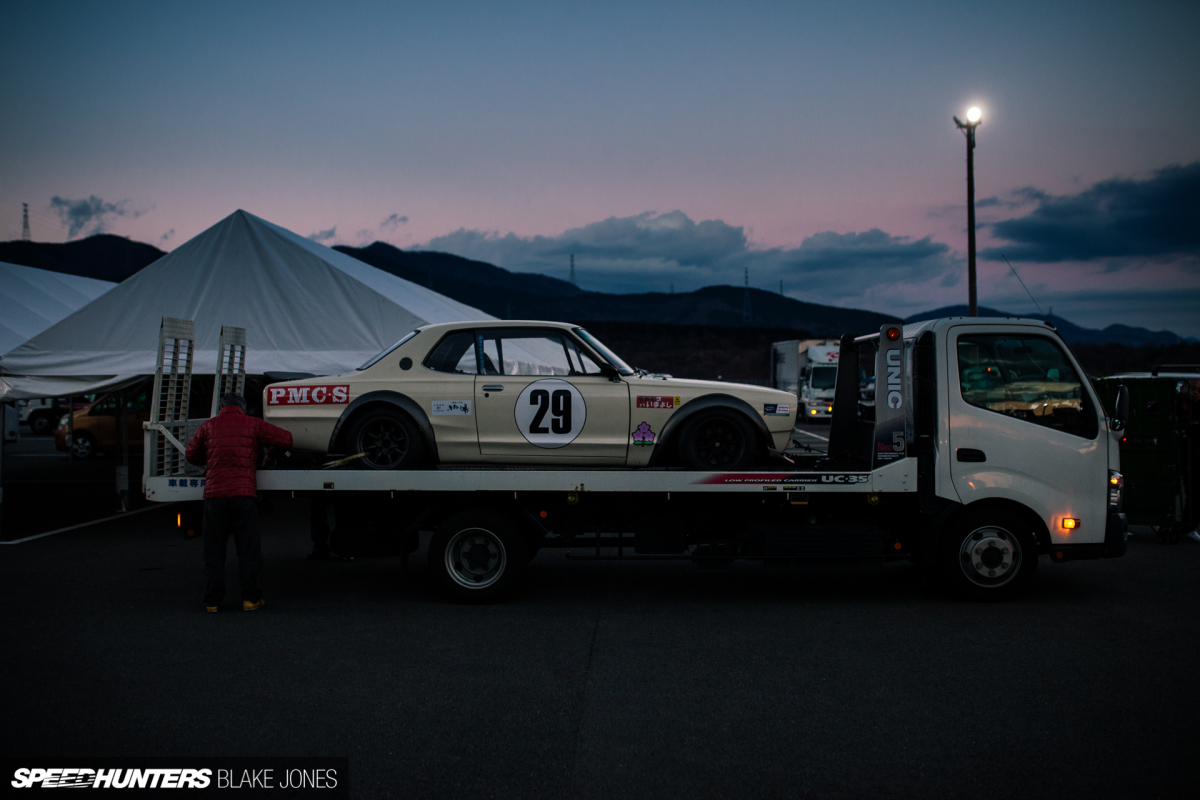 And then, the light was gone. Hands frozen, feet sore it was time to retire to the nearby township of Gotemba for some hard-earned tonkotsu ramen with new friends.
Blake Jones
Instagram: blaketjones
blake@speedhunters.com
Cutting Room Floor