The Best Of Both Worlds
If you were to take a look at automotive culture today, you'll likely find that things have gotten pretty tribal.
Sure, car people have always had their own crowds that they stick to, but these days being a car enthusiast almost feels like being a hardcore sports fan. If you love one team, you must hate your team's rival.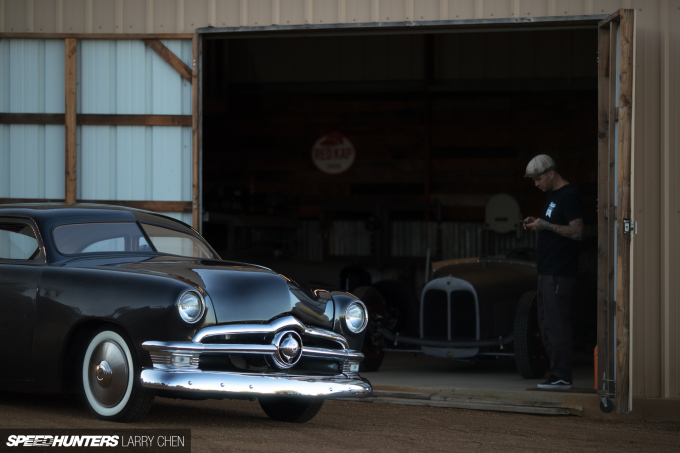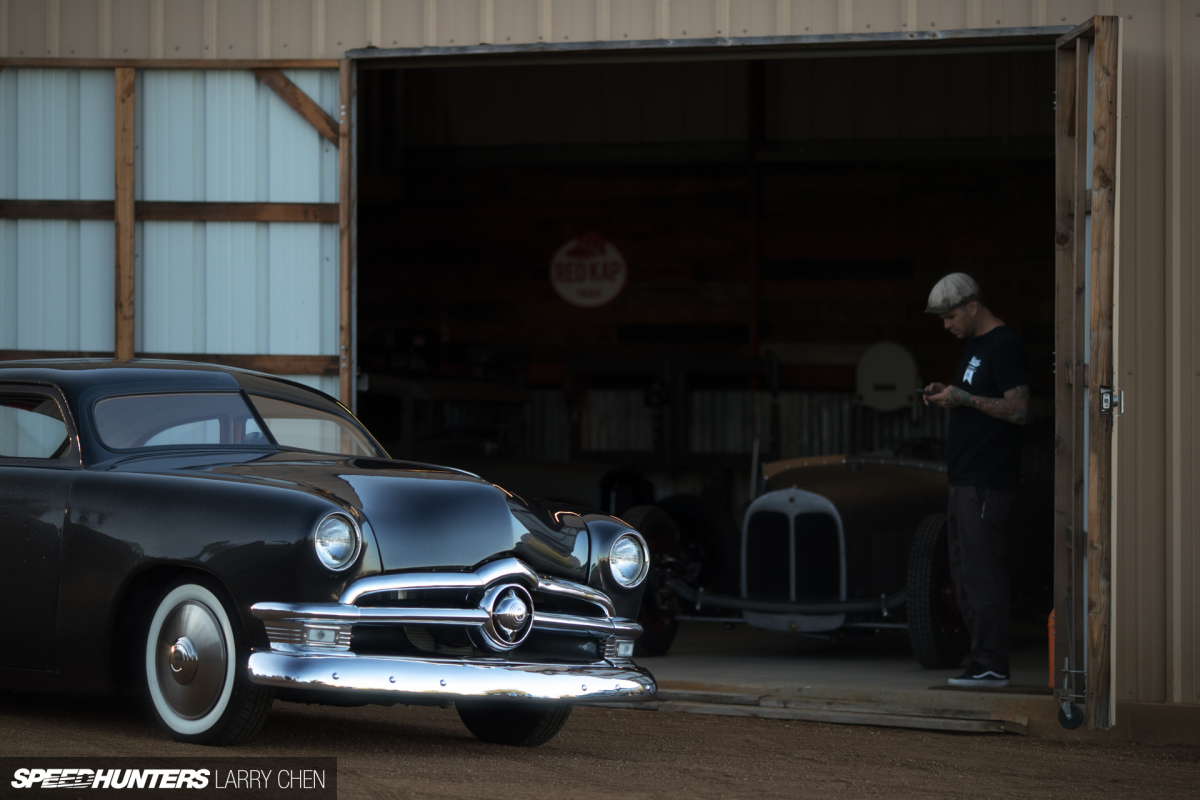 Based on what you find in internet comment sections and social media posts, you might believe that it's impossible to enjoy both stripped-out race cars and low and slow cruisers at the same time. Don't those two stand in complete opposite to each other? You've got to choose one or the other, right?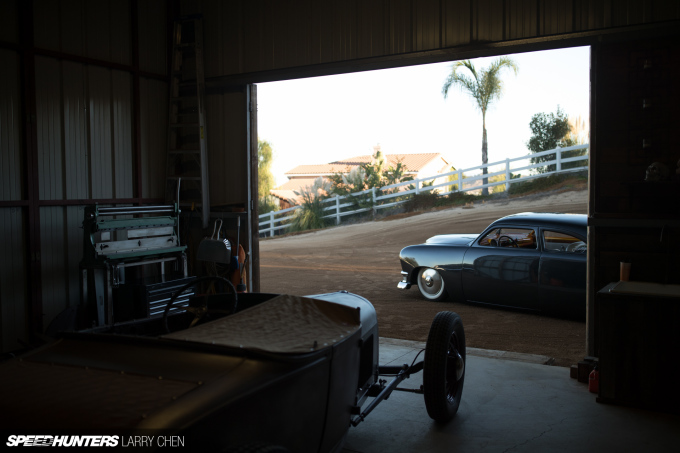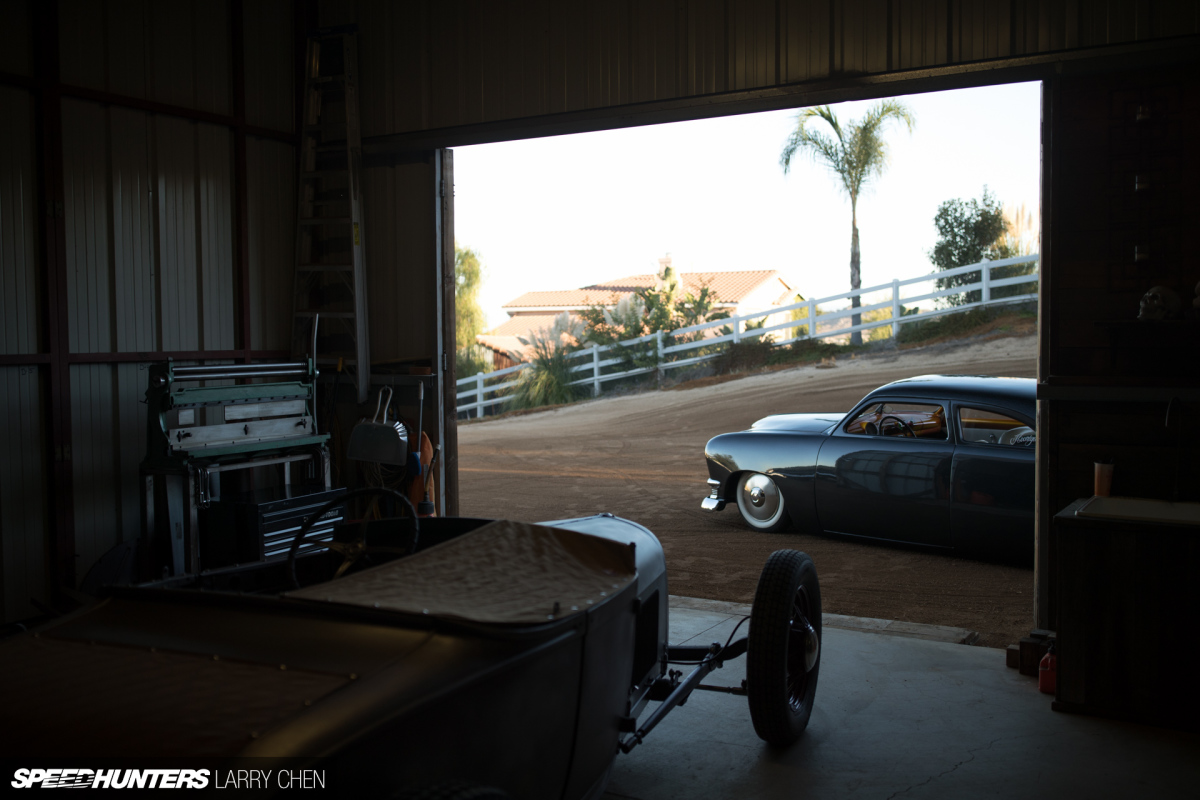 The answer should be no. Just look at the terms 'rod and custom' and how closely those two genres are intertwined. It's strange because if you go by their traditional definitions, hot rods and custom cars couldn't be more different from each other.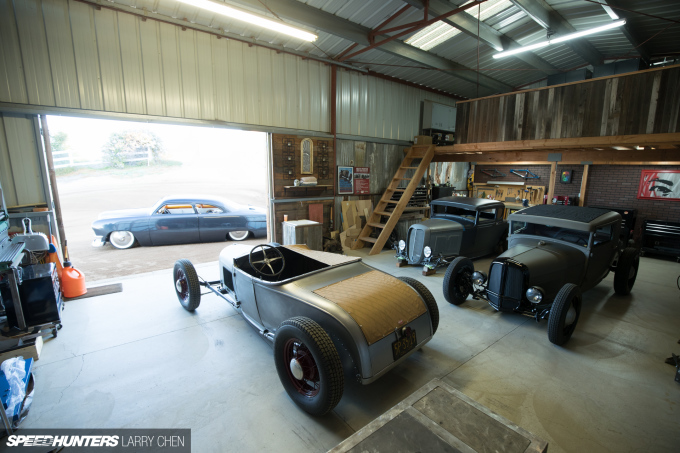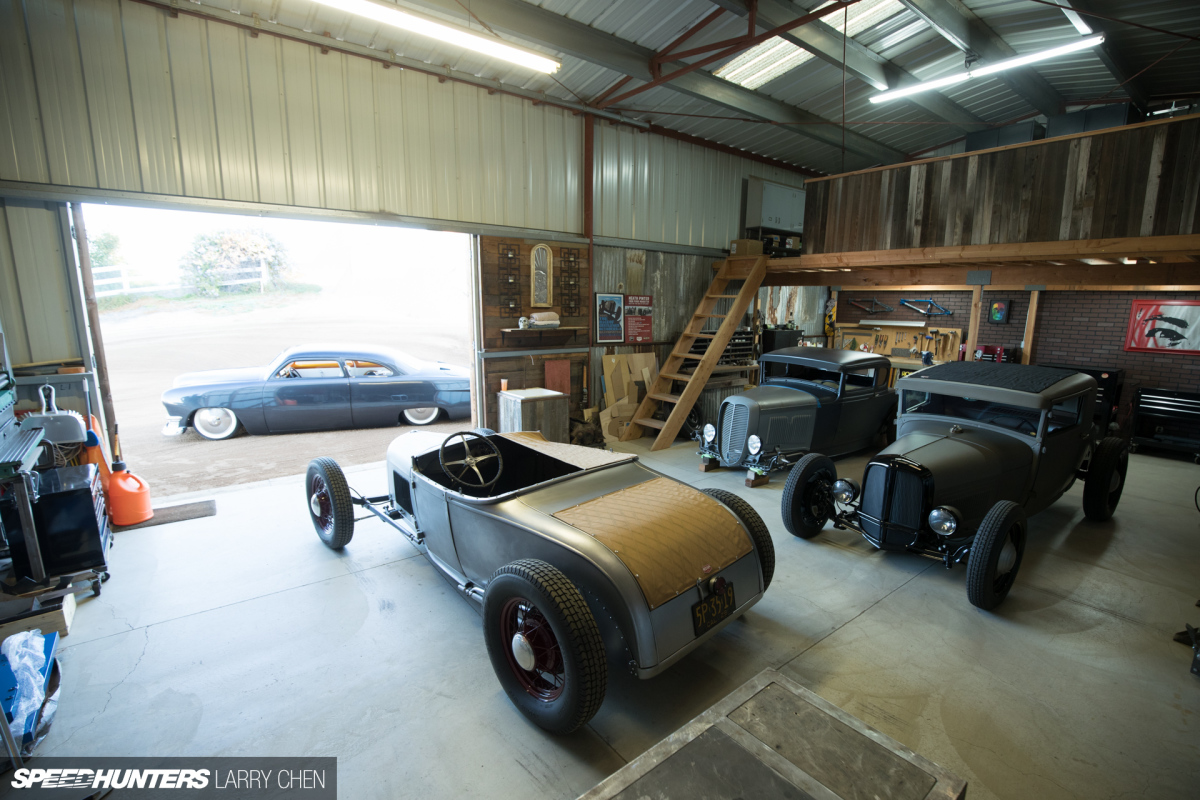 In their purest form, hot rods were stripped down to the basics and built for speed well before comfort and style. Their coolness often came from their raw looks and their rough-around-the-edges nature.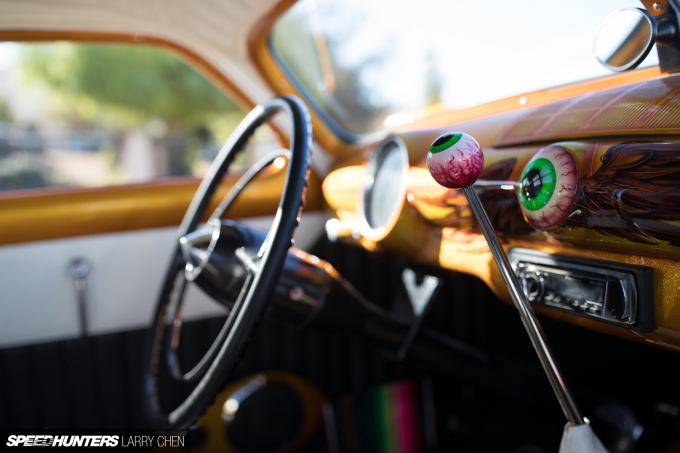 On the other hand, custom cars and lead sleds were completely different. For them it wasn't about speed, first and foremost it was all about style. From massaged bodywork to intricate paint and detailed interiors, they were as cool standing still as they were moving.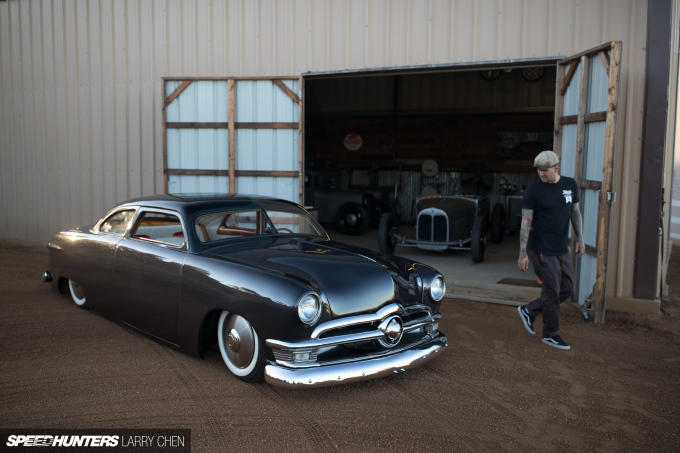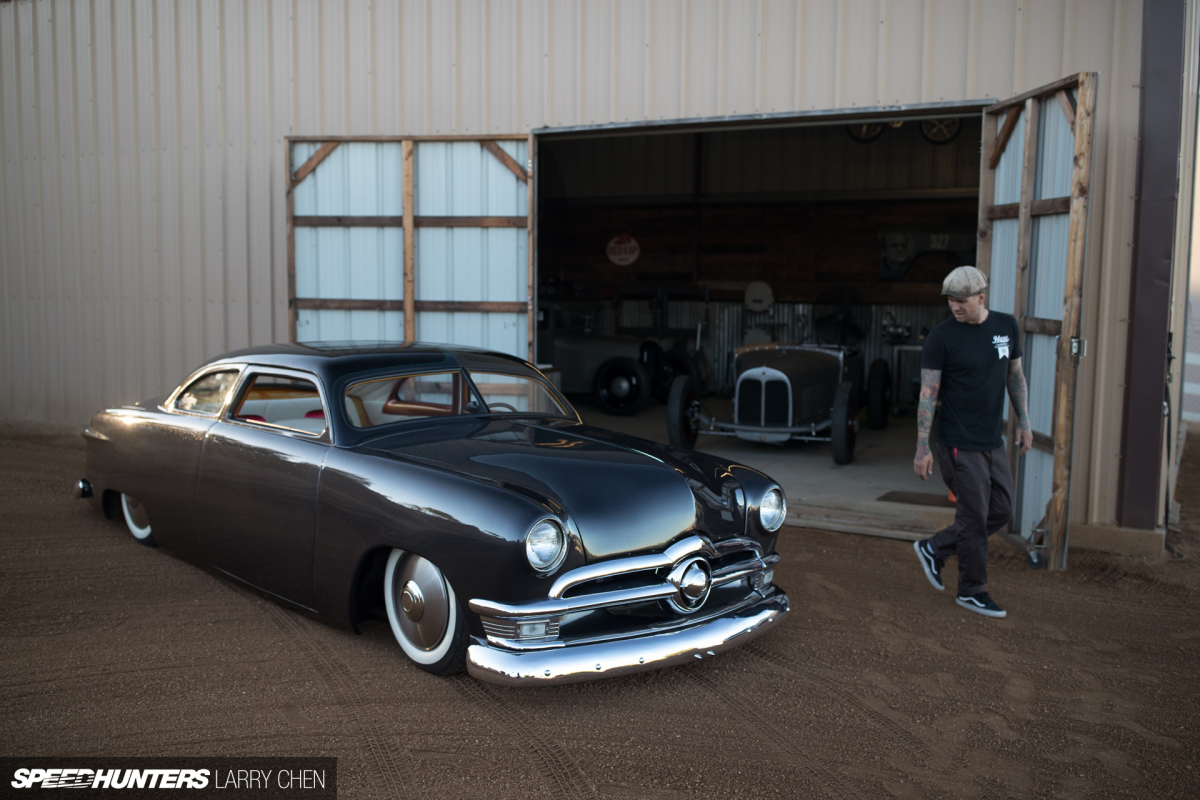 Yet despite their dramatic differences, the hot rod and custom car communities have always been tightly linked. Since the earliest days there have been clubs, events and magazines that cater to both. And there are plenty of builders and enthusiasts out there who enjoy traditional customs as much as they enjoy hot rods and race cars.
Heath Pinter is one of those guys.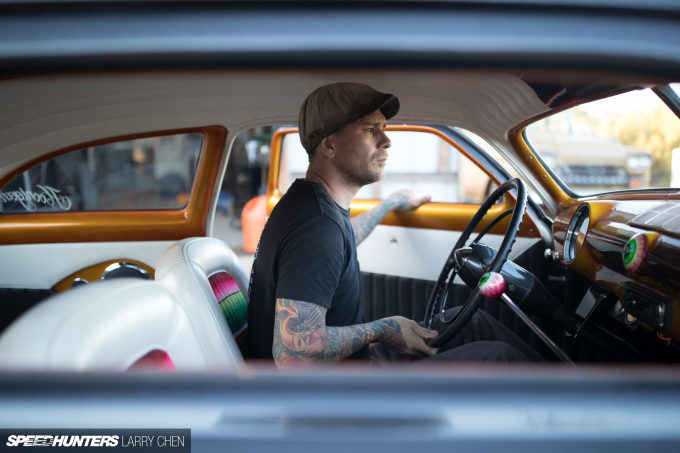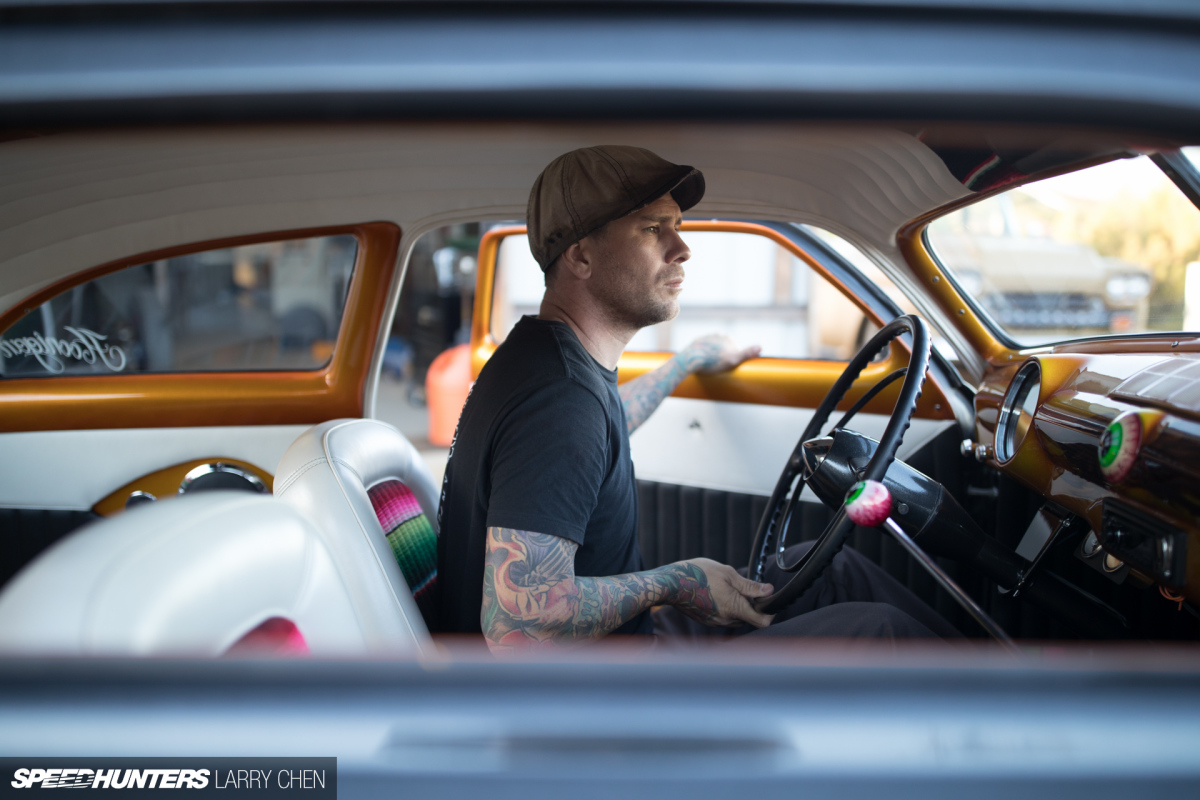 Last month we checked out an awesome 1928 Ford Sports Coupe owned by the professional BMX rider, but the '28 is just one of the cool vintage machines in Heath's collection. Another is his equally impressive 1950 Shoebox Ford.
A Project Evolves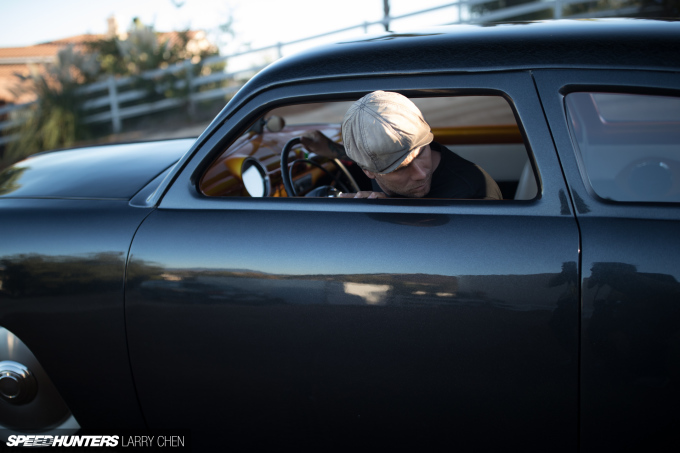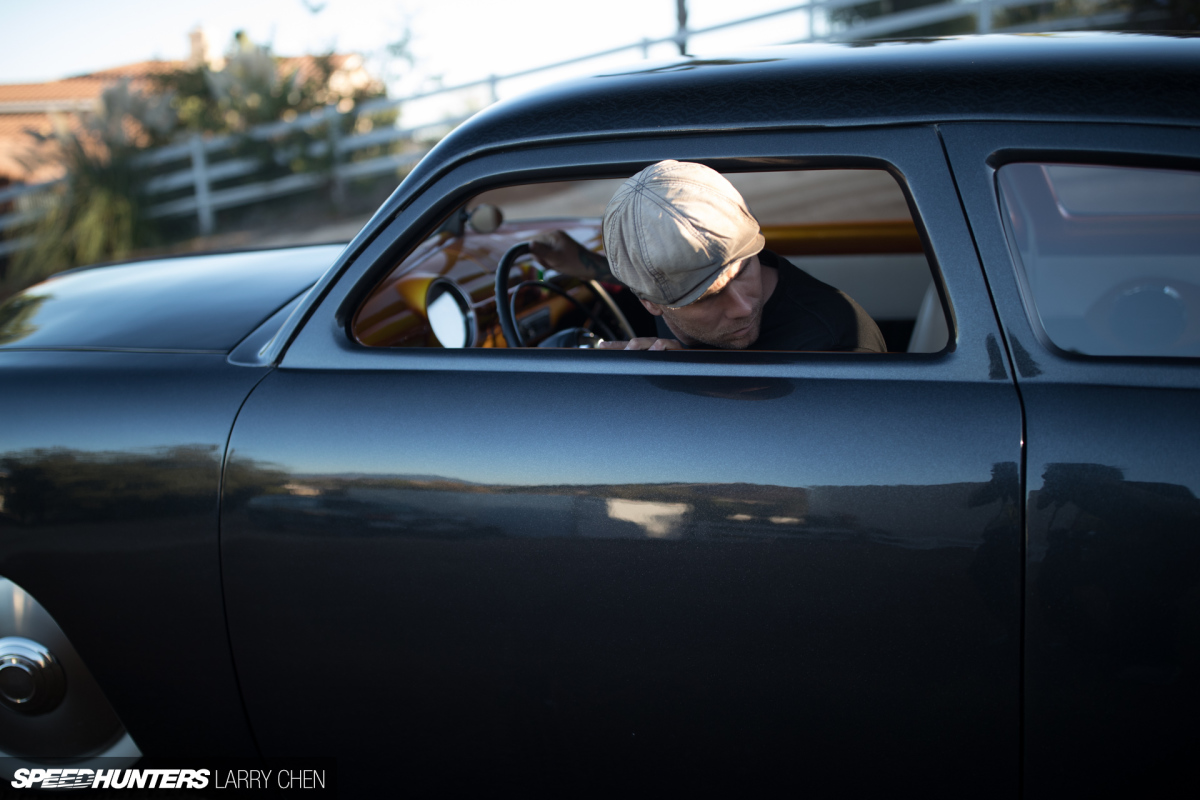 When Heath first started building the Shoebox he wanted an unabashed cruiser, something he could hop in and rip around town with the windows down and the radio up.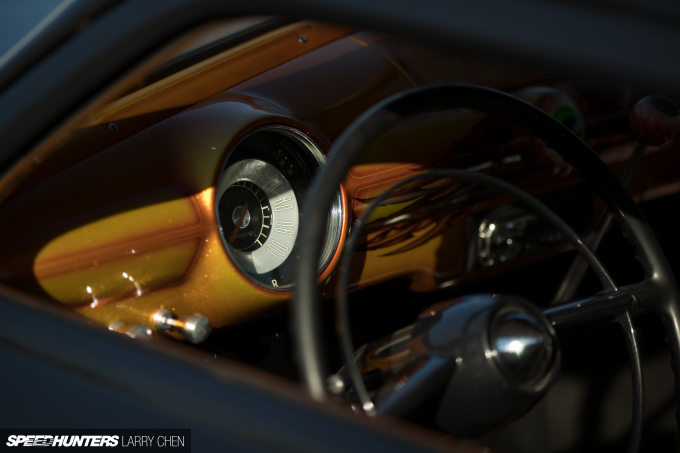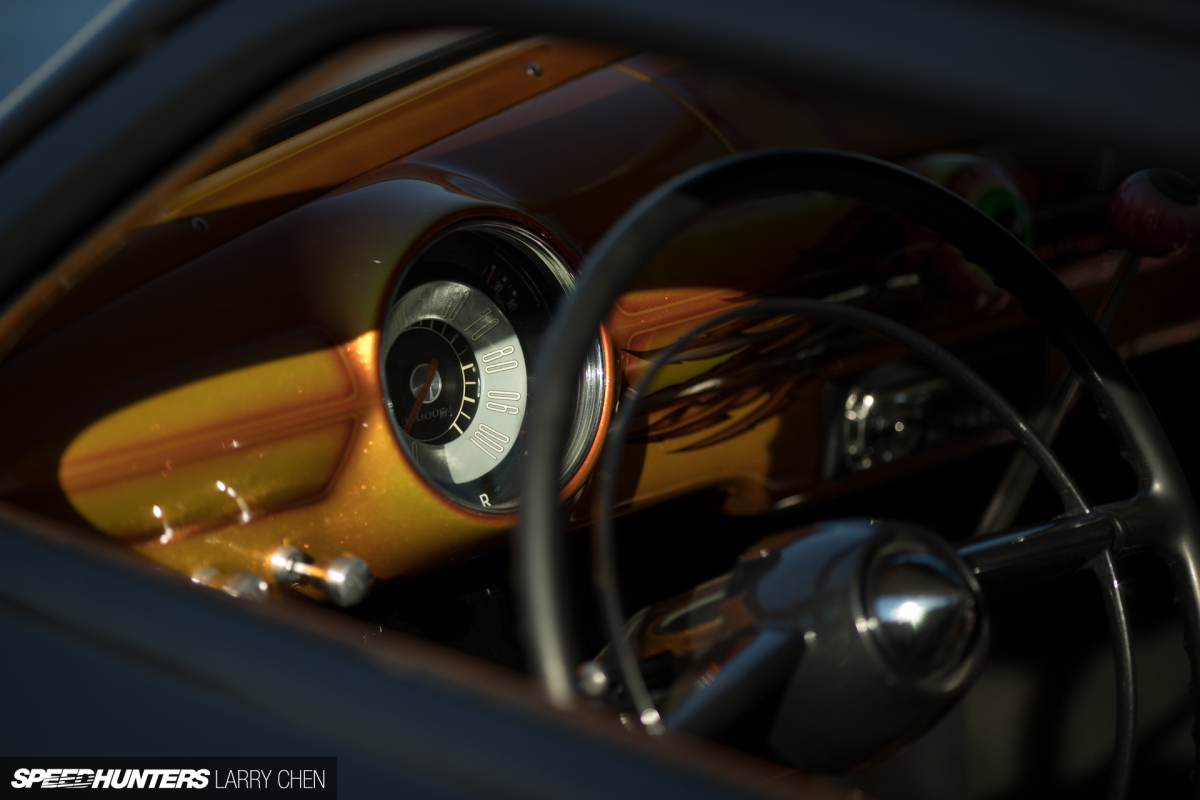 Initially, his idea was to make the Ford a bit of a low-budget beater; plans called for a basic roof chop and lowering job and a body that would be left in raw primer. But as they often do, the project evolved into something a little different.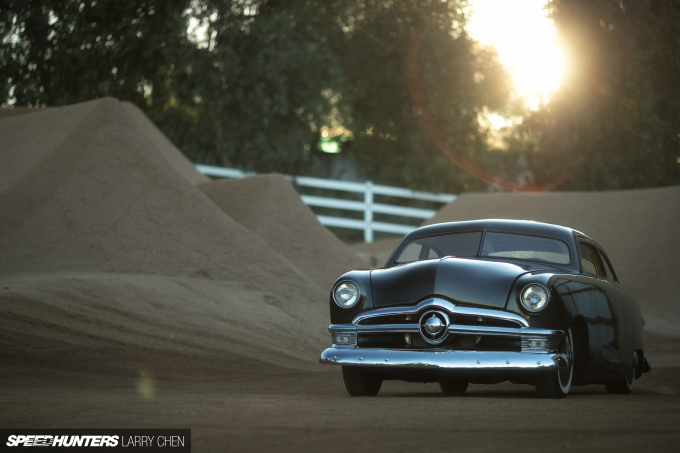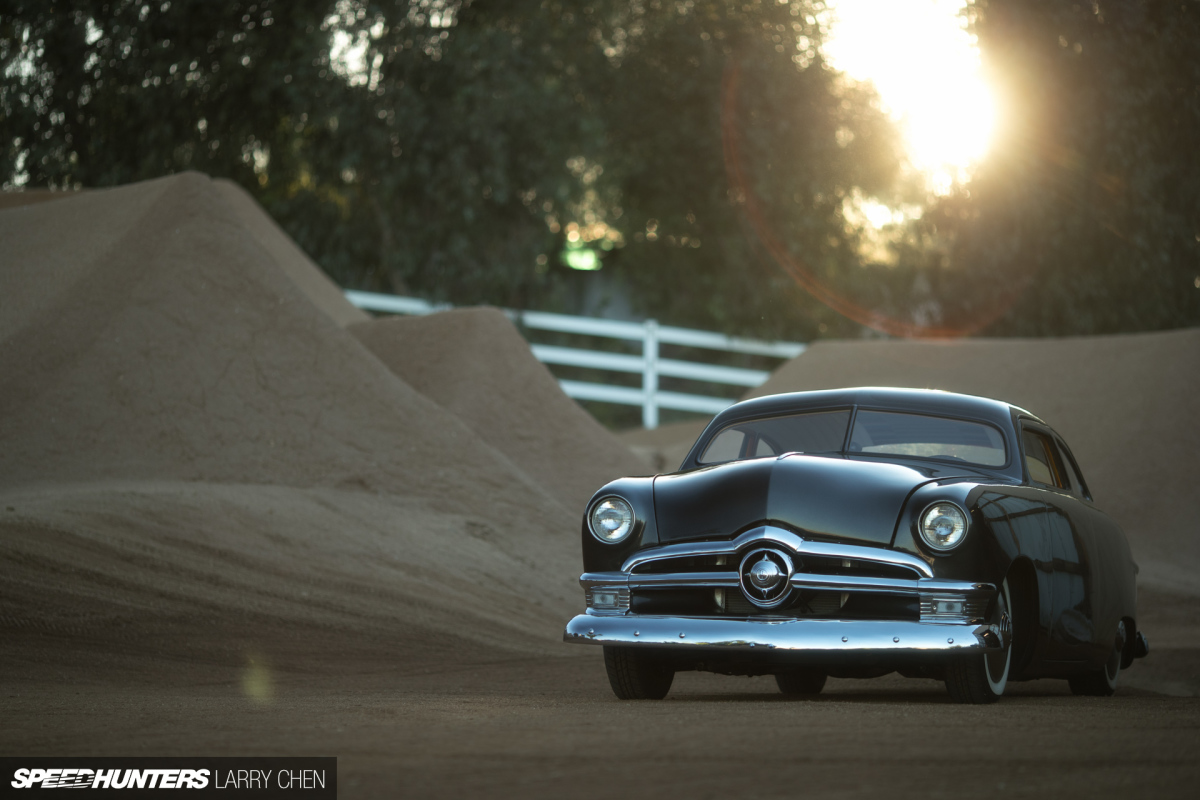 With the body removed, Heath began by installing a TCI Mustang II-based front suspension and a new 4-link setup in the rear that also came from TCI. And with everything torn apart, he decided he might as well powder-coat the frame and suspension.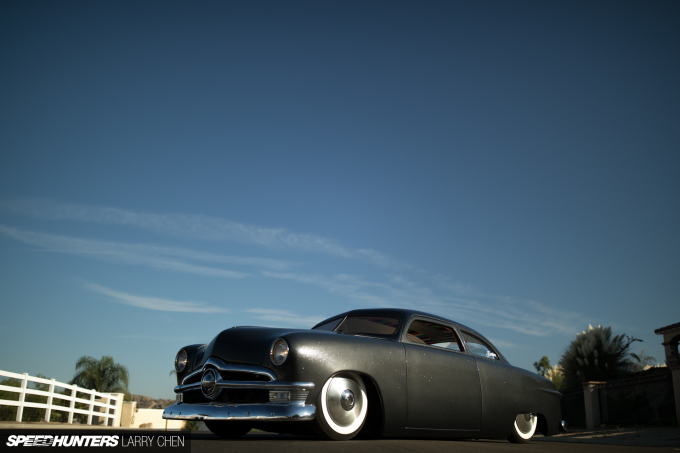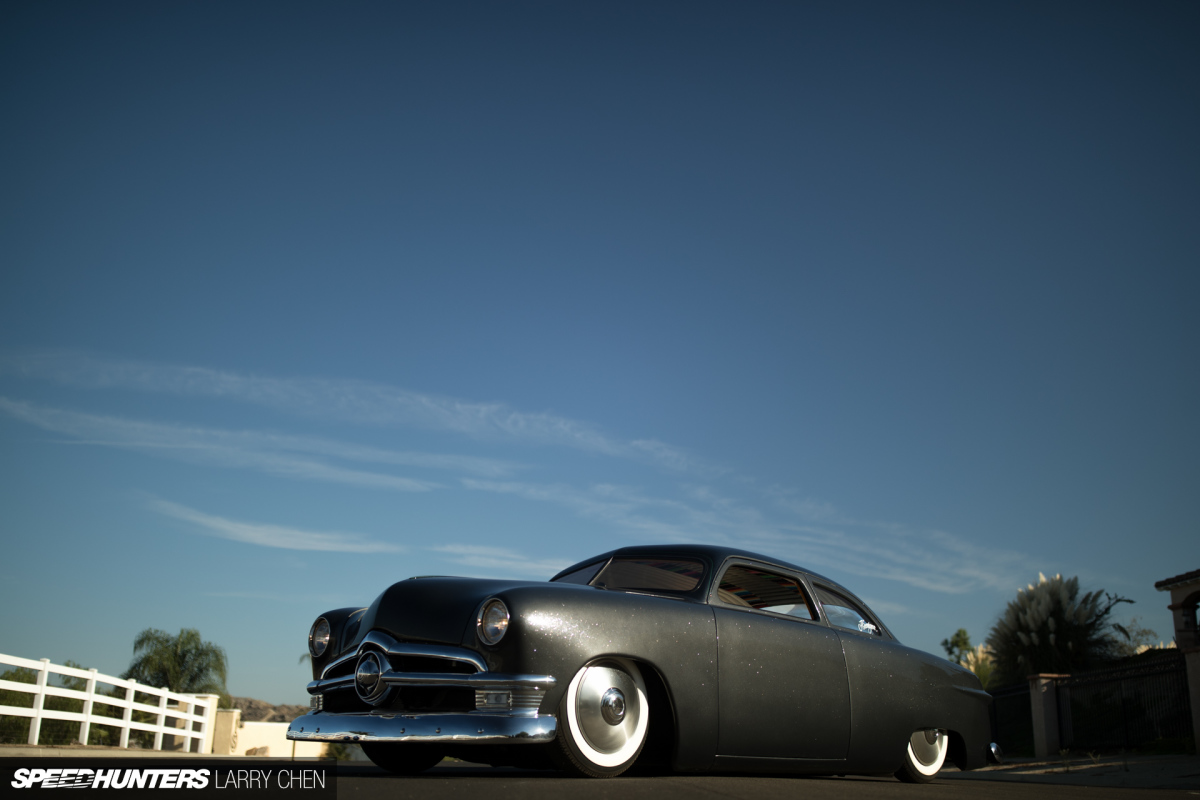 As it sits now, the modernized and air-bagged suspension gives the Shoebox a more comfortable ride and most importantly a radical look when the bags are aired out.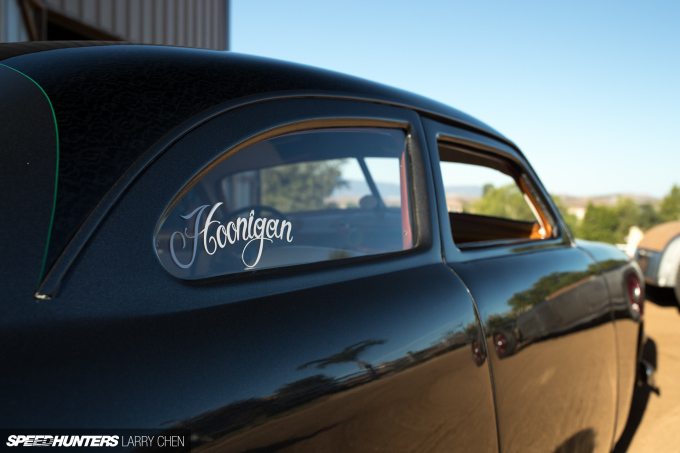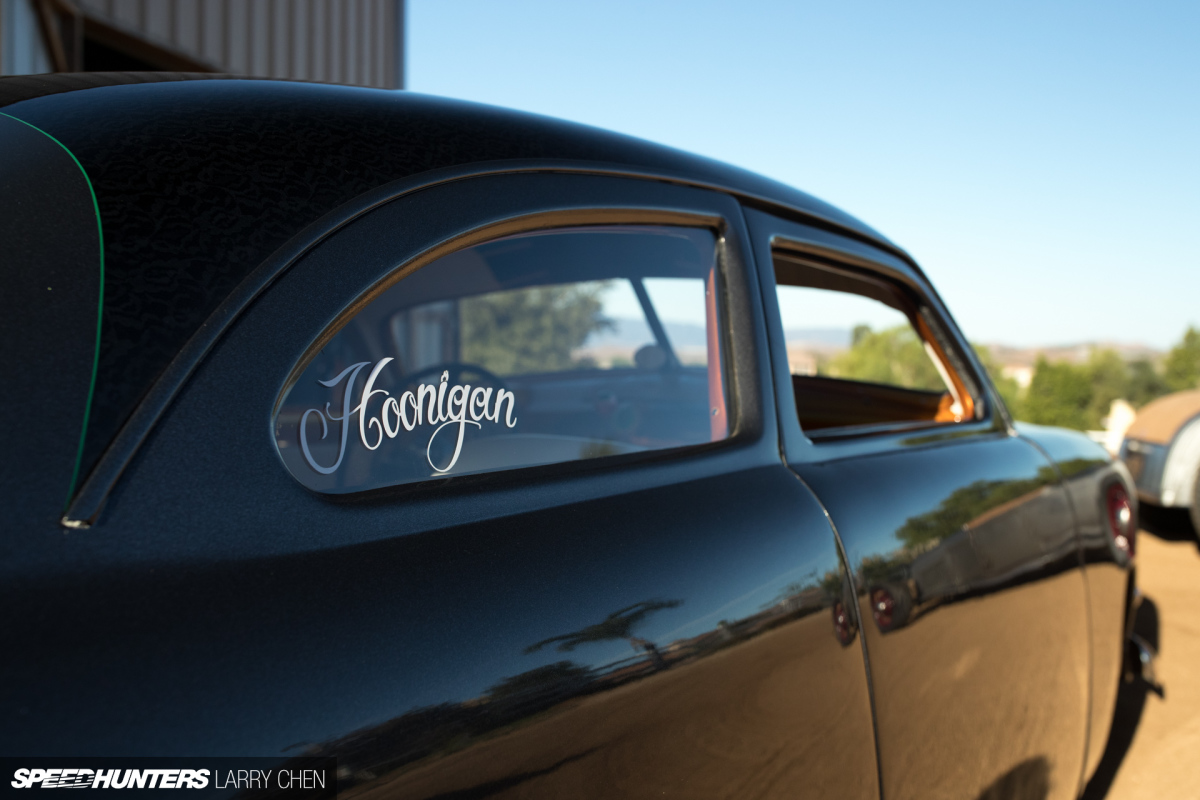 When it came to the Ford's body, Heath applied many of the popular Shoebox tricks. For starters, the roof has been chopped by four and a half inches in the front and six inches in the rear, making for that classic lead sled look.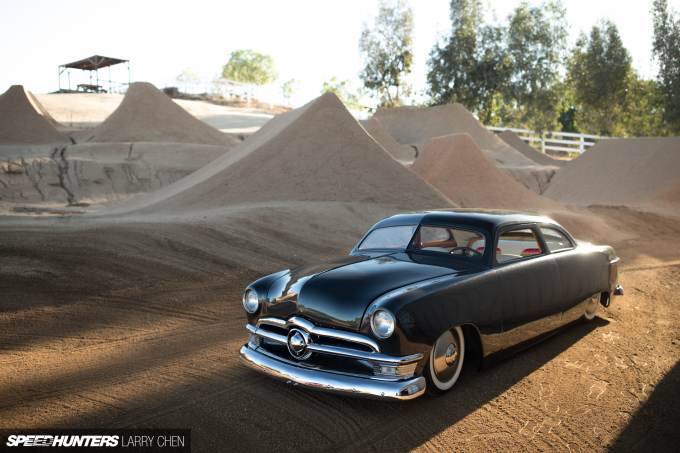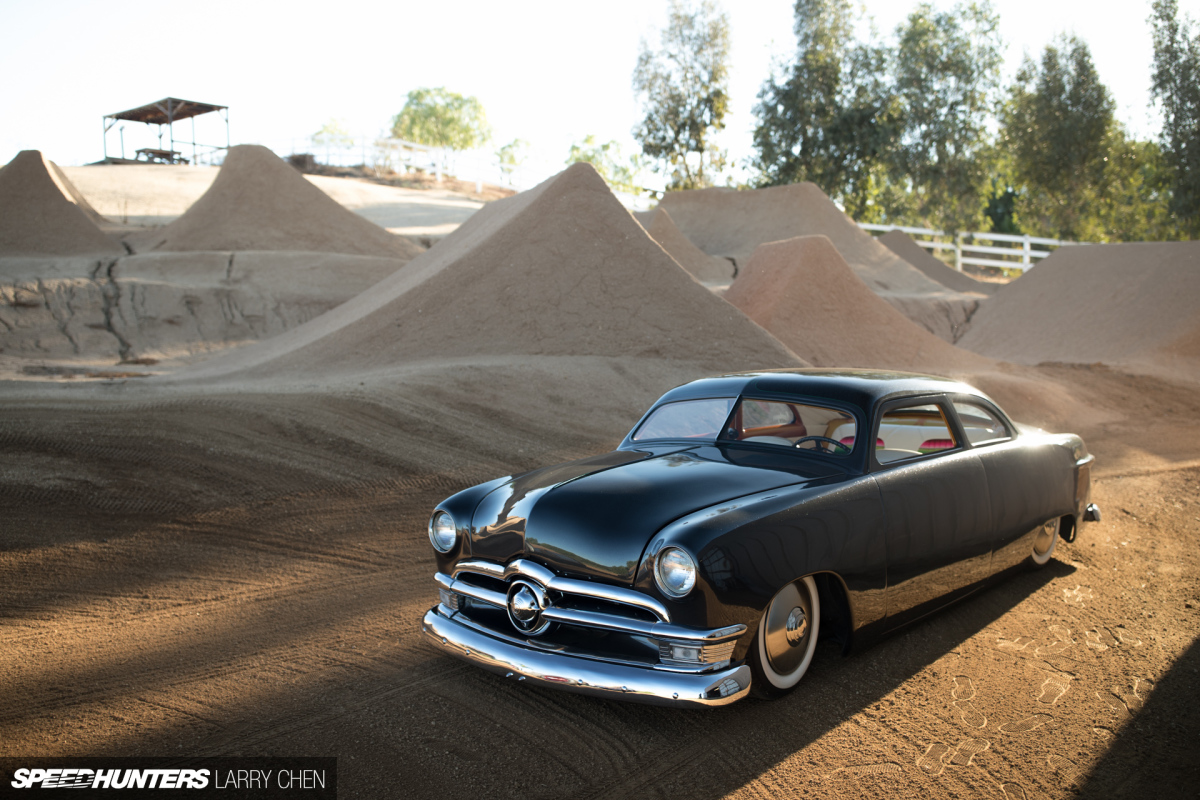 As for the rest of the body, both the headlights and tailights have been frenched, the door handles were shaved, and the whole body was coated in gleaming coat of dark gray PPG paint by Paul Gauvry and Troy Lee Designs. So much for that whole primer thing…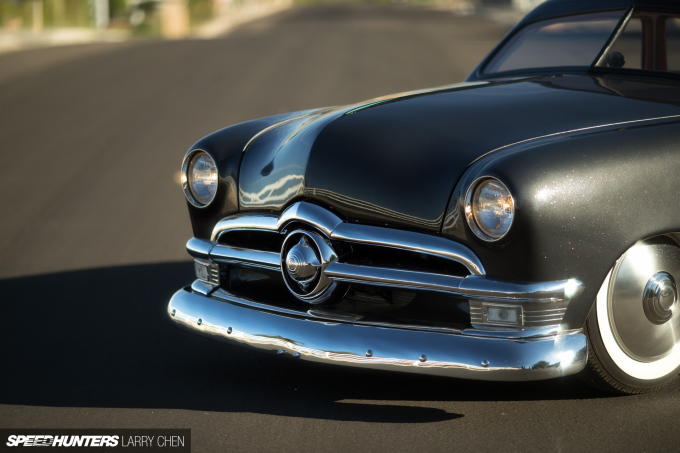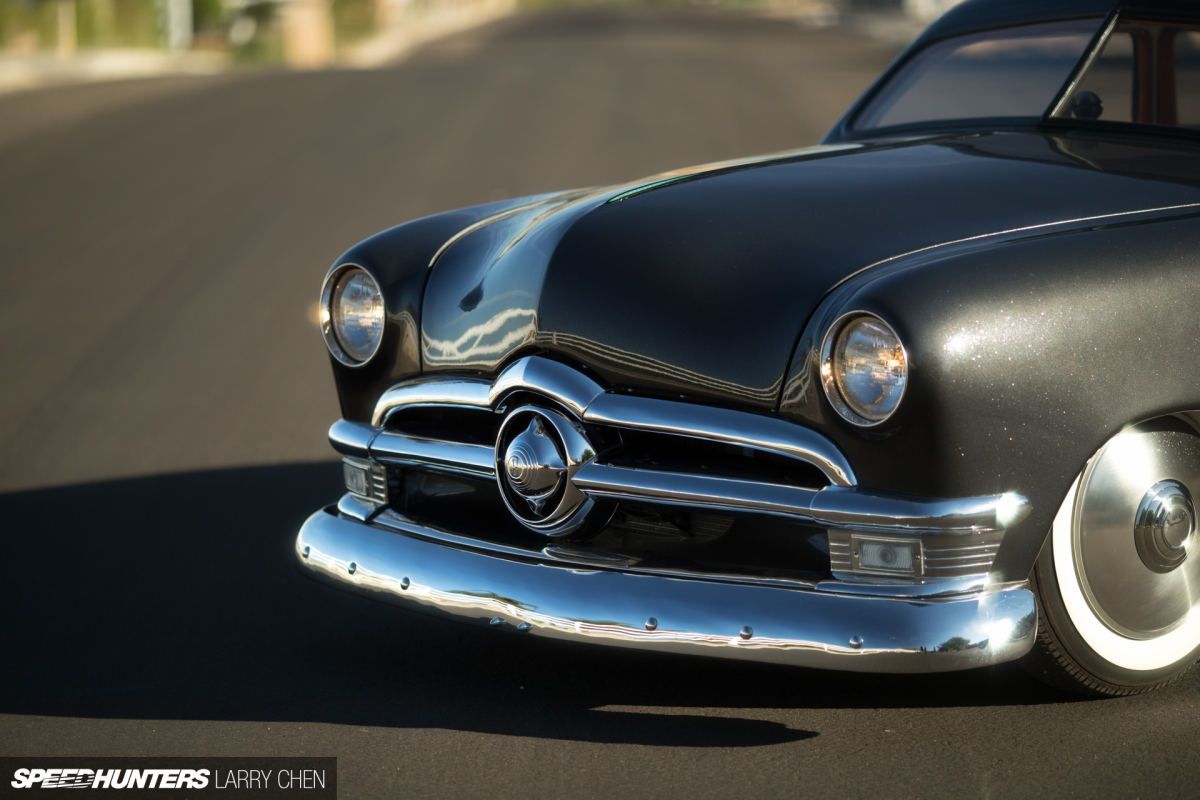 Rather than going the custom route for the grille and bumpers, Heath left them stock. Given the iconic look of the Shoebox Ford grille, I think this was the right choice.
Learning From The Past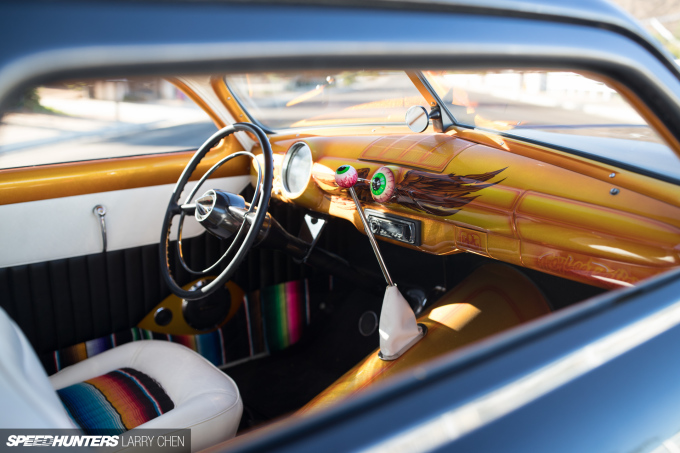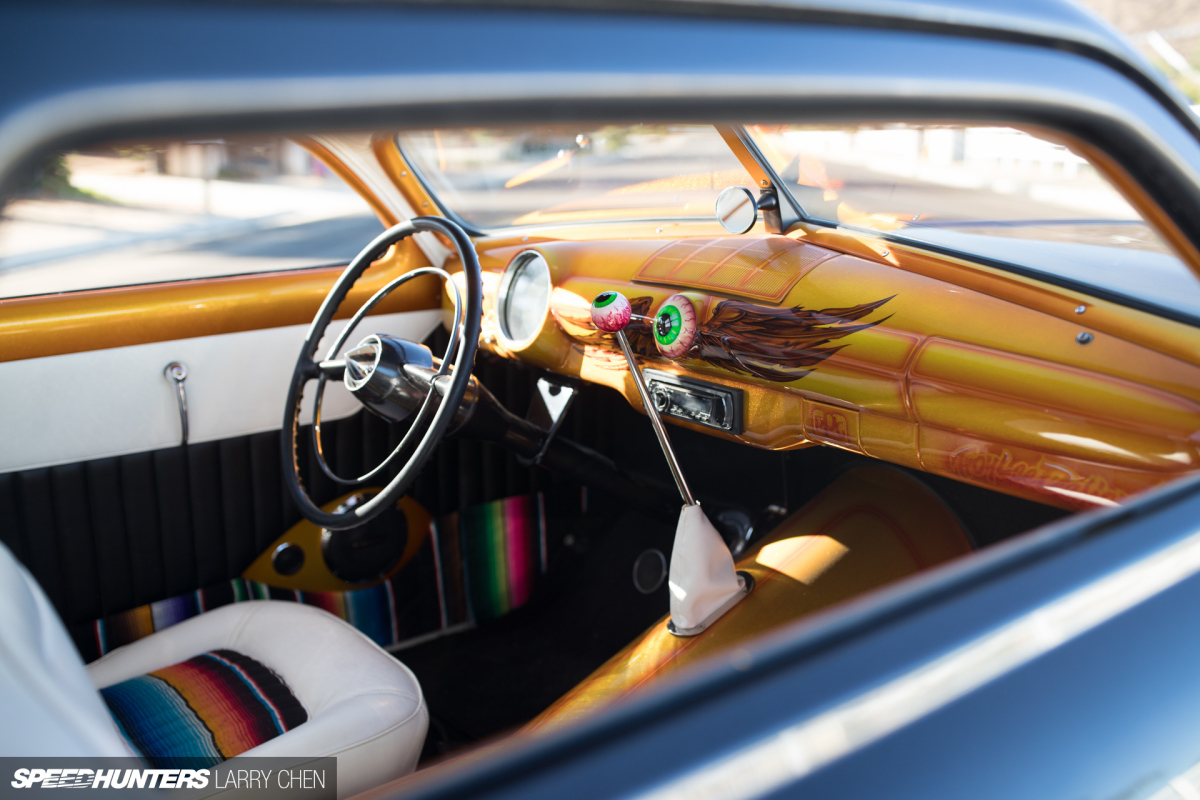 Inside the cabin of the Ford you can see the custom fabricated transmission tunnel and package tray, as well as the 1966 Mustang front and rear seats that have been recovered with Mexican blanket upholstery.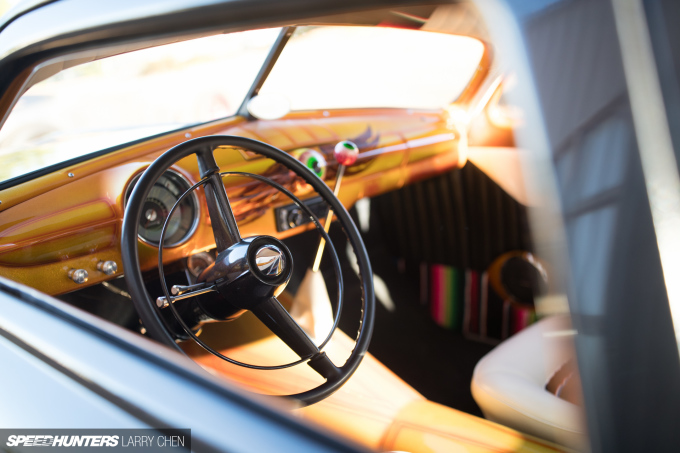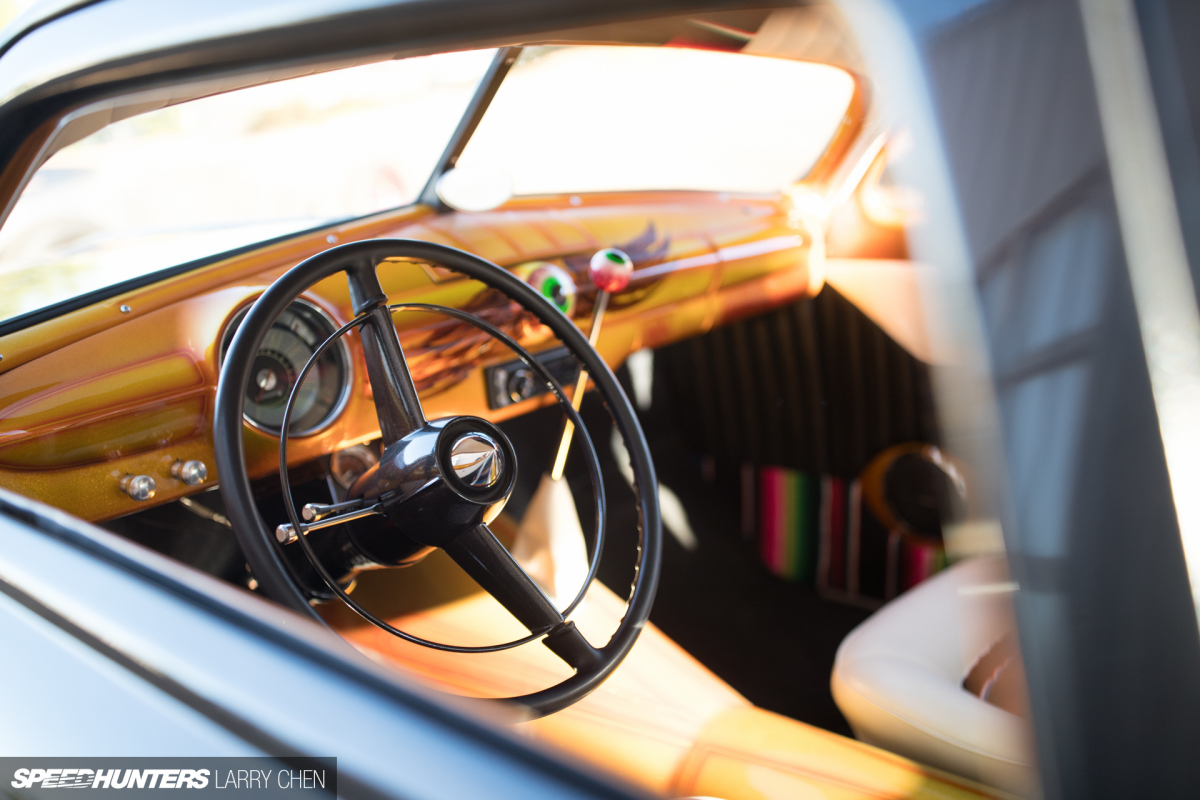 Troy Lee Designs also painted the dashboard and transmission tunnel with an intricate design that makes for a nice contrast against the understated body color.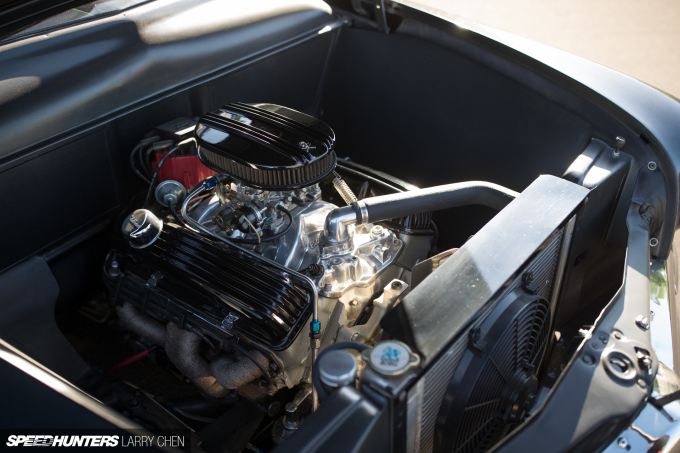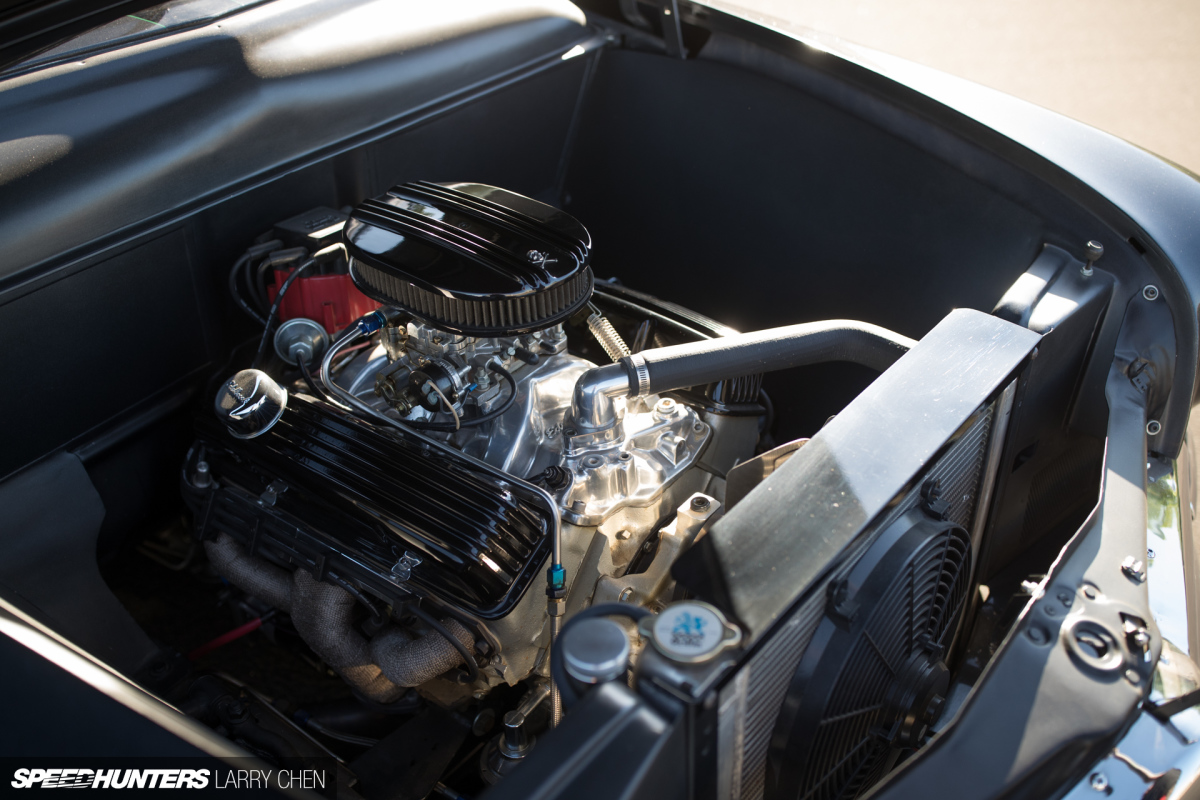 With cruising being the primary goal, there was no need for extravagance when it came to the powertrain. The engine is fresh 350ci Chevy V8 with Corvette 'Camel Hump' cylinder heads and an Edelbrock intake and carburetor.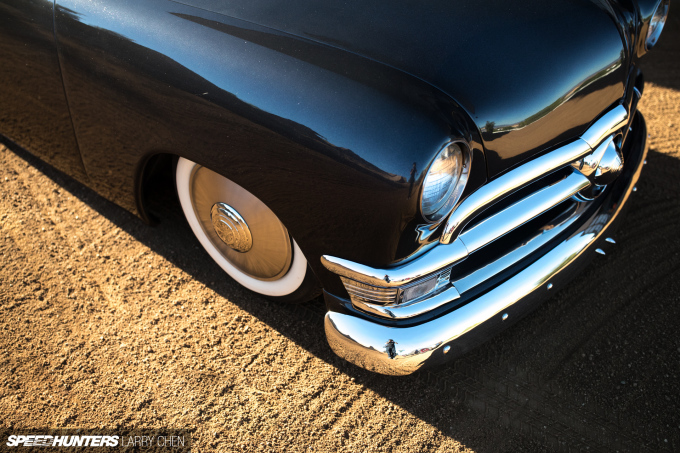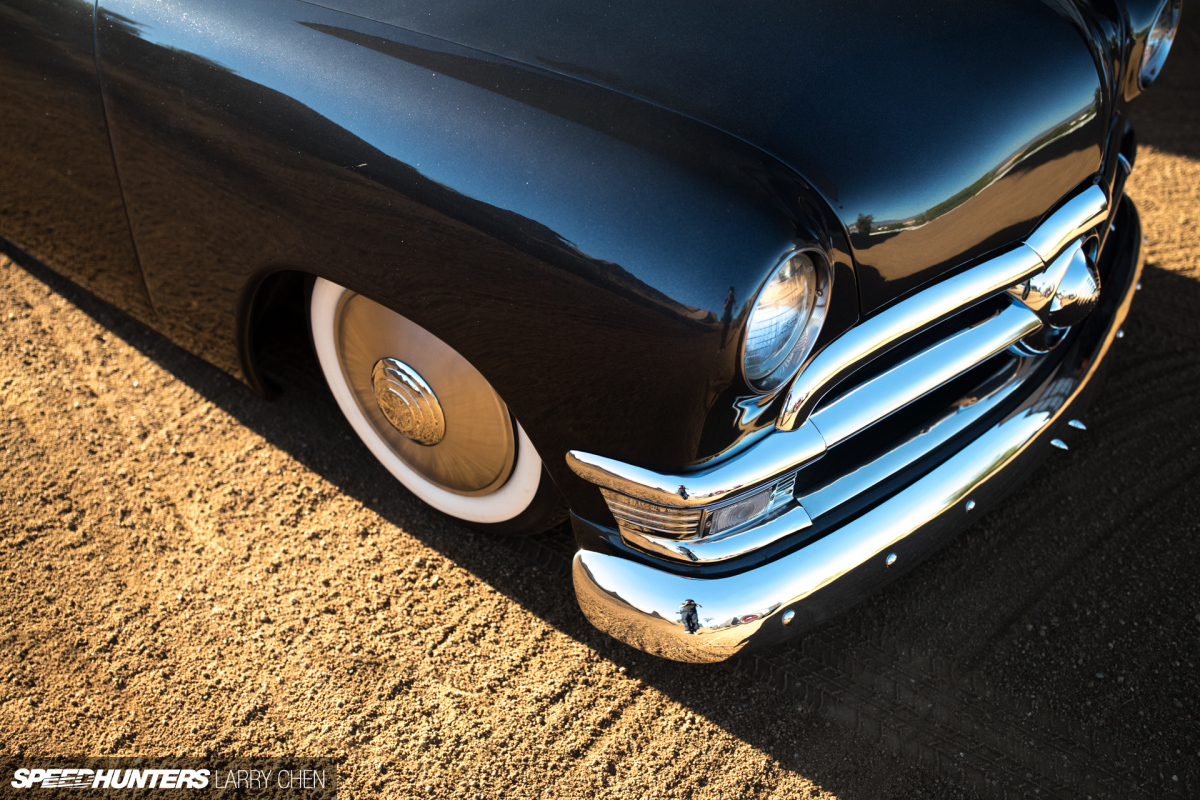 Last but not least we have the wheels and tires: 15×6-inch Coker steelies with full Moon disc covers and '32 Ford center caps with Coker wide white-wall tires.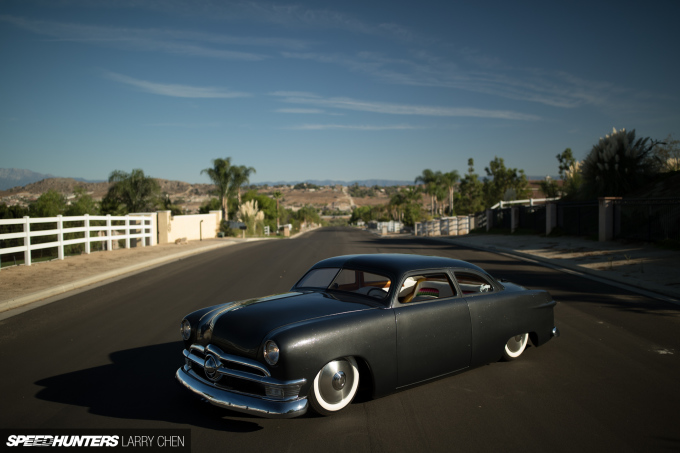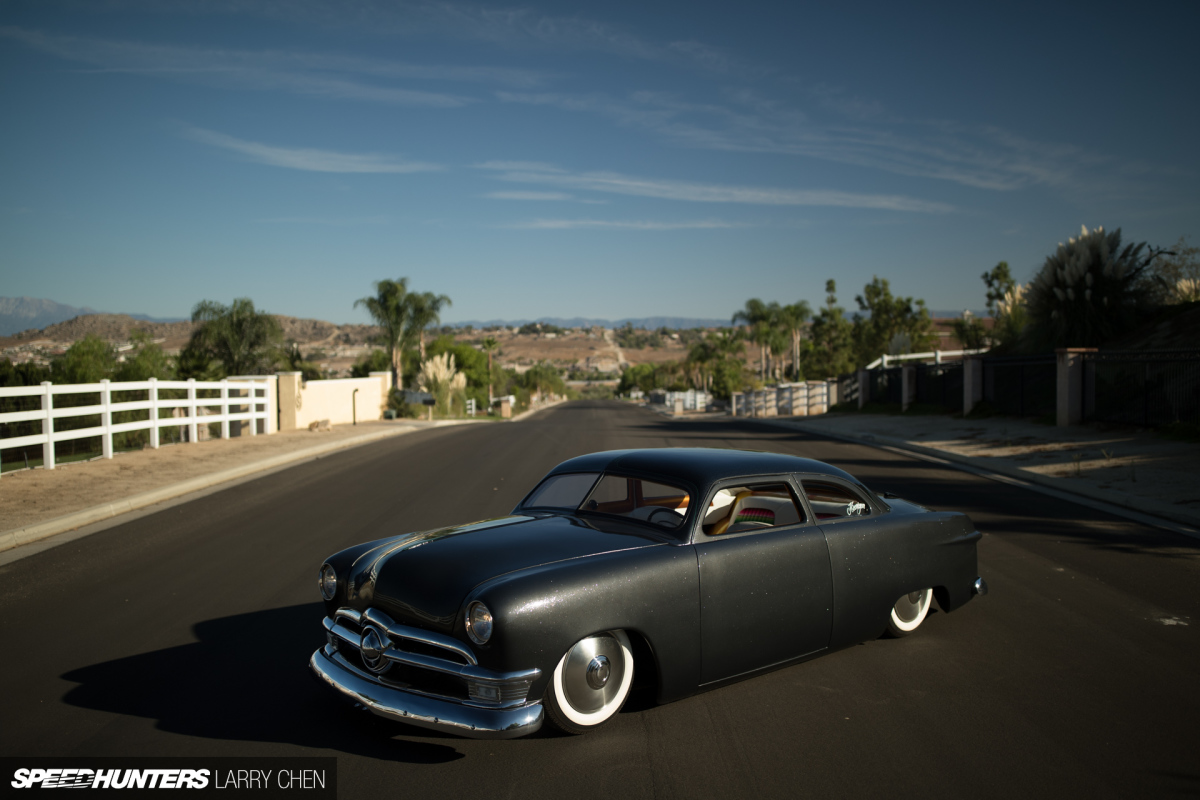 From start to finish it took Heath eight months to get the car looking as it does today, and the relaxed Shoebox really is the perfect contrast to the stripped-down hot rods that it shares the garage with.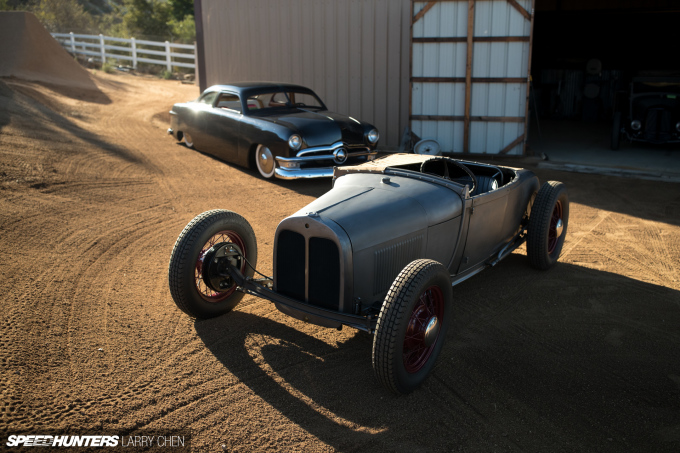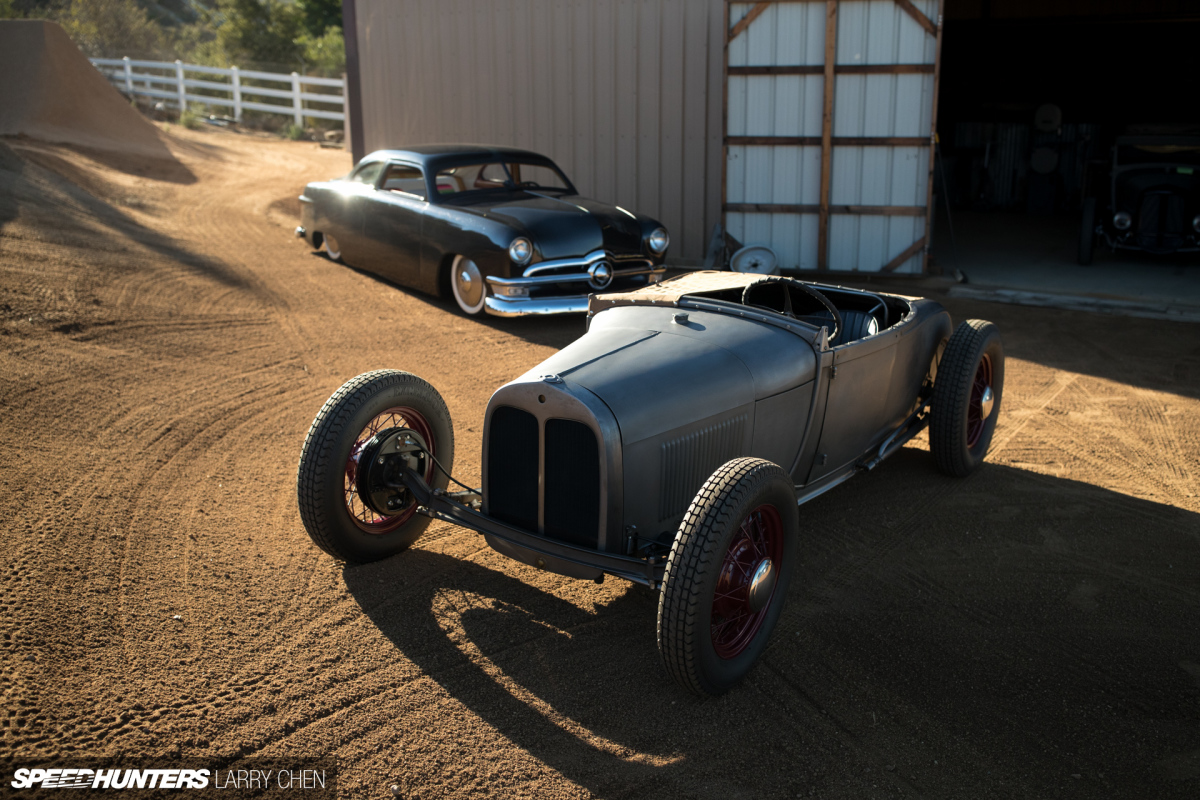 I love hot rods and customs not just because of the history and style, but also because the two seemingly different genres have managed to coexist and thrive off of each other for decades, just as they do in Heath's collection today.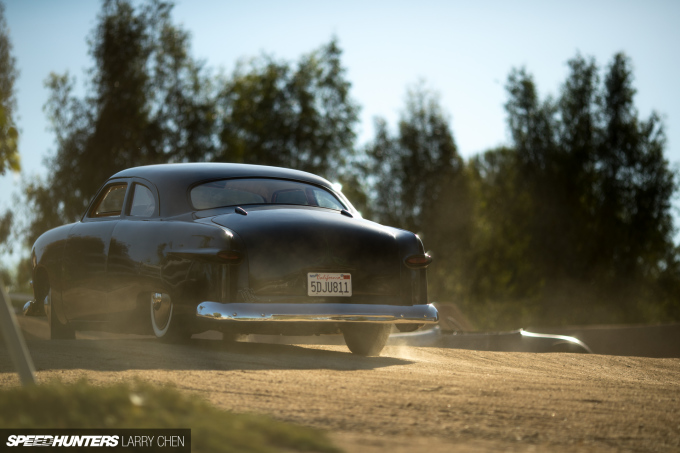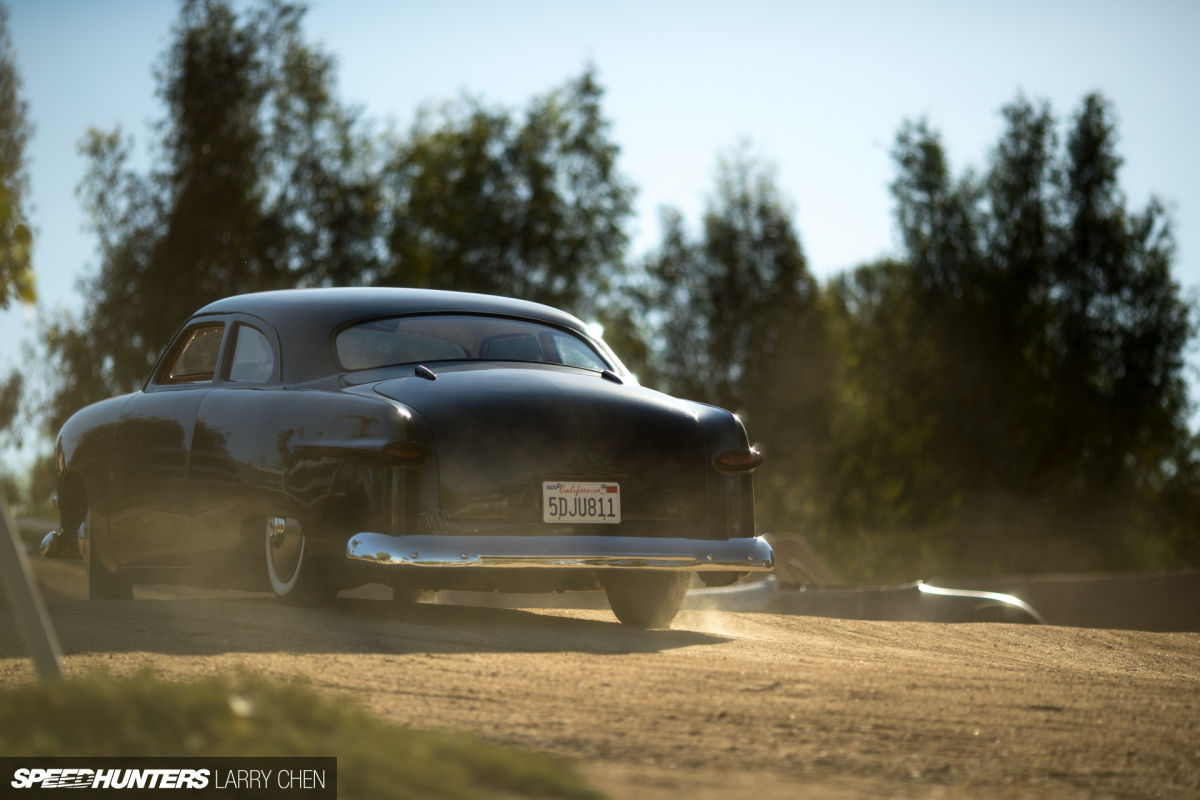 Whatever genre we favor, I think we can all be inspired by the rod and custom guys and how they manage to perfectly balance form and function.
Be sure to check out the bonus gallery below for some additional photos from our visit to Heath's garage.
Mike Garrett
Instagram: japanifornia
mike@speedhunters.com
Photos by Larry Chen
Instagram: larry_chen_foto
larry@speedhunters.com
Cutting Room Floor