Origin Story
As I write this it's been a month and a half since the 2016 SEMA Show, but it really doesn't feel like it's been that long. For me, this year's SEMA event was unlike any other as it marked the first time I actually had one of my own cars displayed. I was actually part of the show, rather than just covering it.
Preparing a car for SEMA was one of the most interesting experiences of my life, but some of you maybe wondering what's going to happen to my '75 Dodge Dart Sport now that the SEMA madness is over…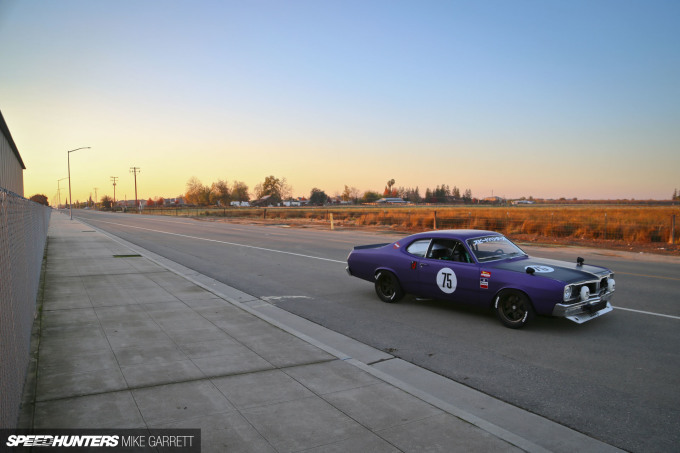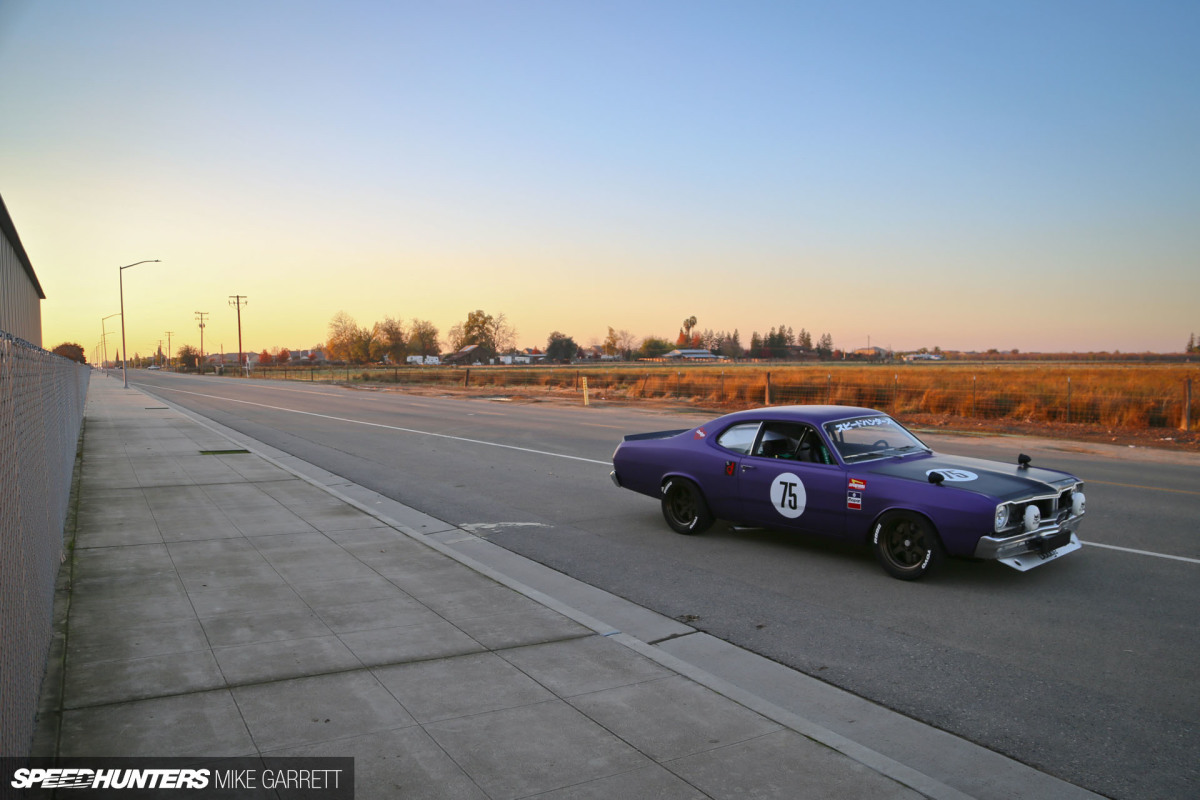 Before I get to that, I want to talk a little more about how Project Yankee's journey to SEMA actually came to be.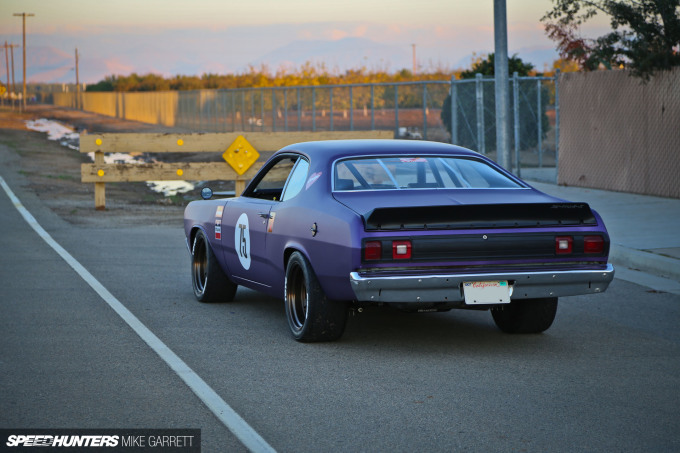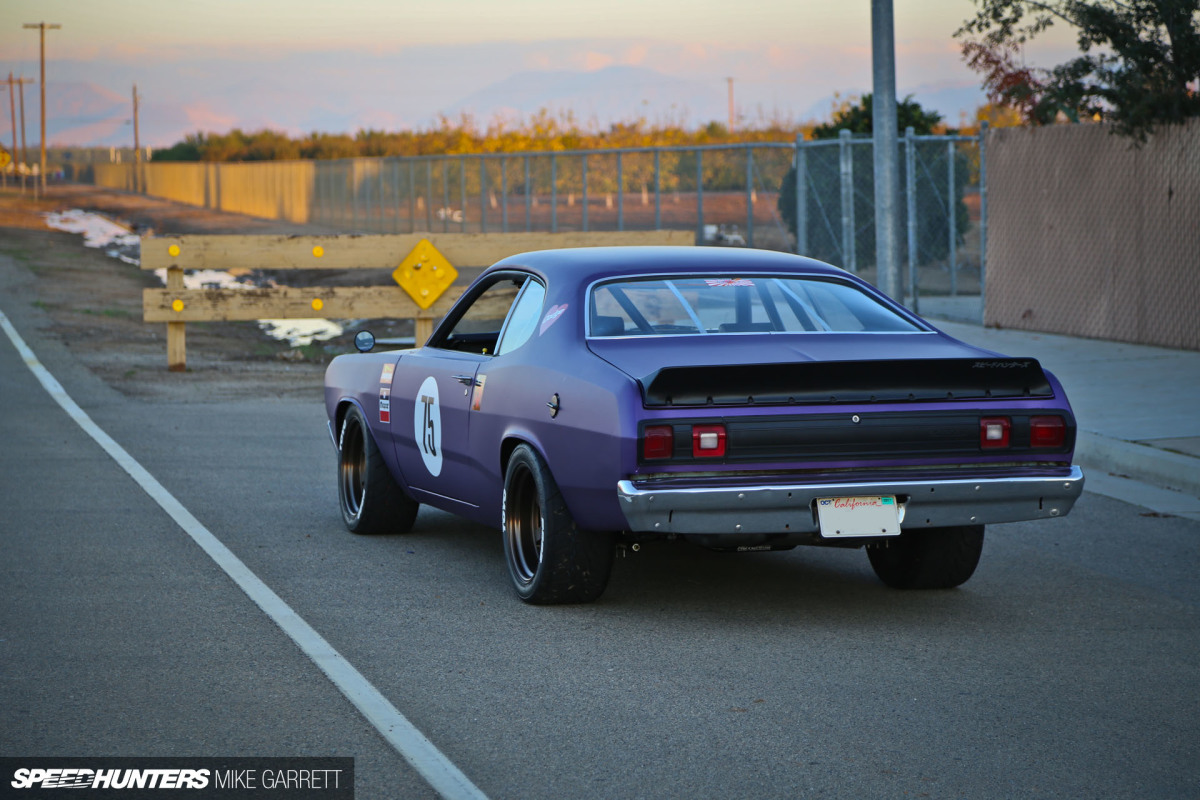 When I first bought my Dart in the summer of 2015, the plan was to slowly build it up into a fun street car without breaking the bank. I'd run with a carbureted small block, swap in a manual transmission, do some basic suspension upgrades and just have some fun with it in my spare time.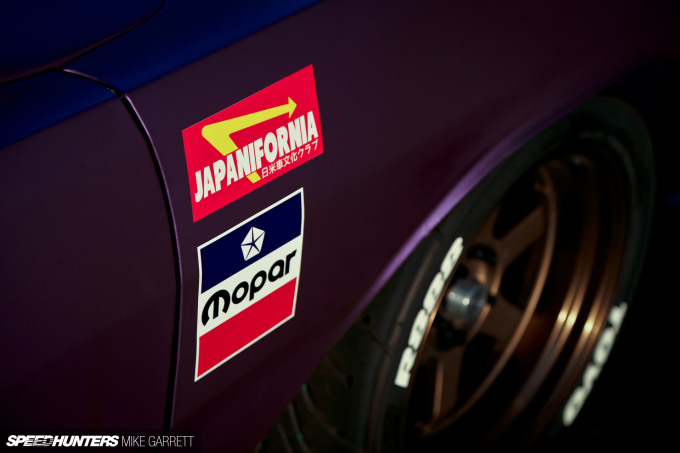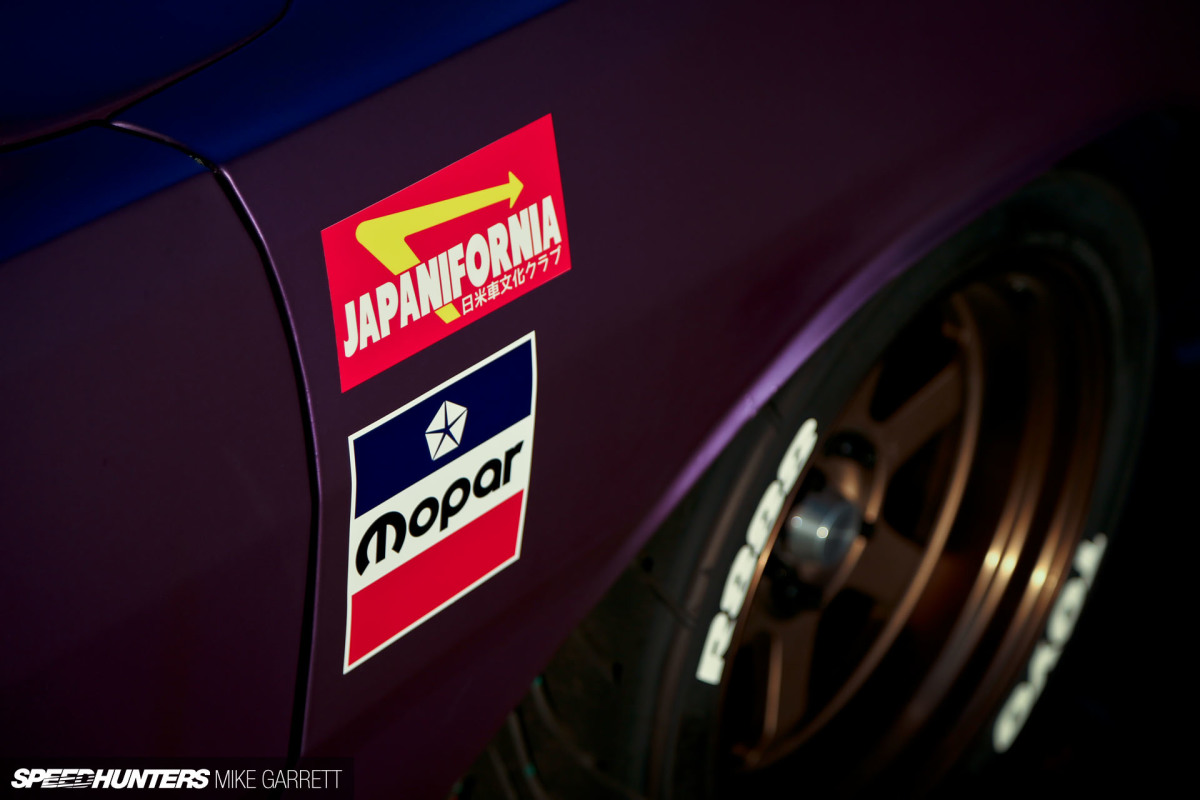 But that all changed this spring when I was contacted by the folks at Mopar with a very tempting offer, and one that would dramatically change the trajectory and timeline of the build.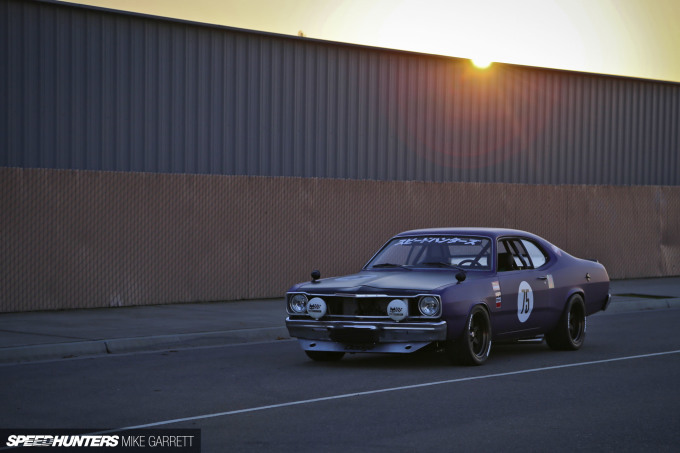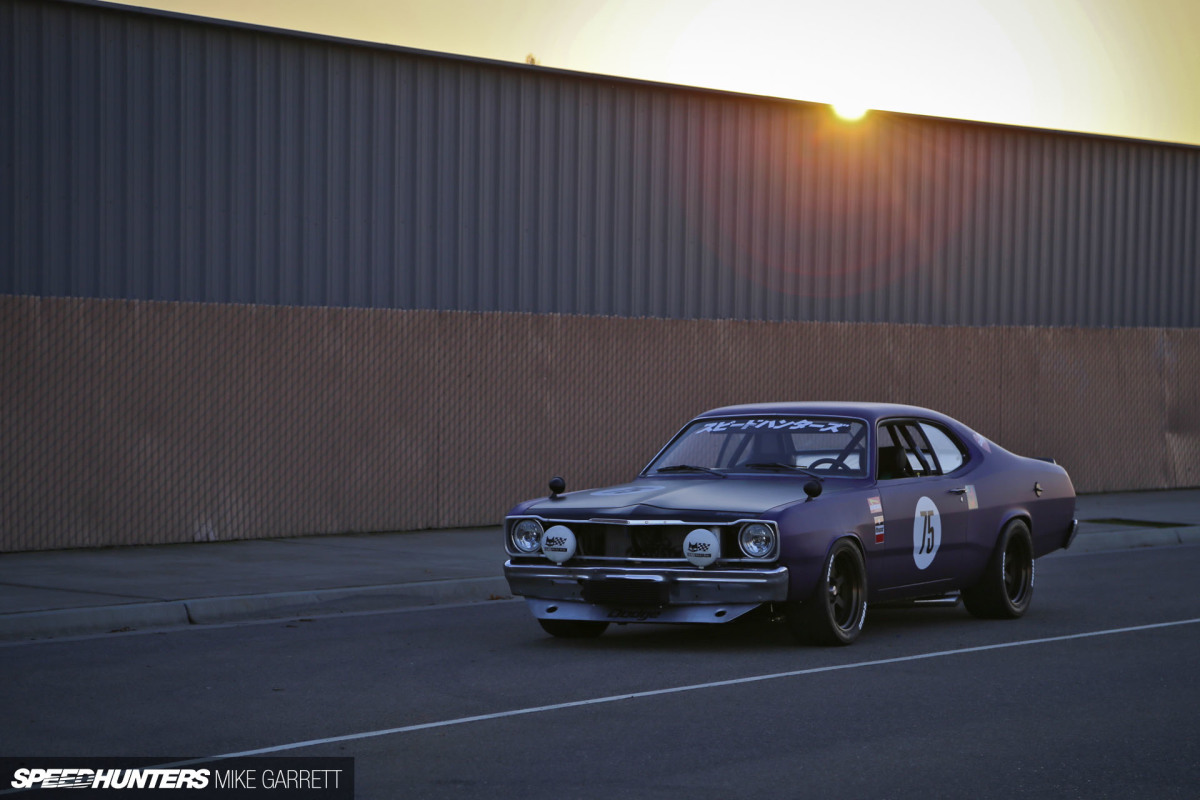 Mopar was working on a new line of Gen III HEMI crate engine packages that would be debuted at SEMA, and after seeing some of my build updates here on Speedhunters asked if I'd be willing to fit one of the new 5.7-liter engine packages into Project Yankee.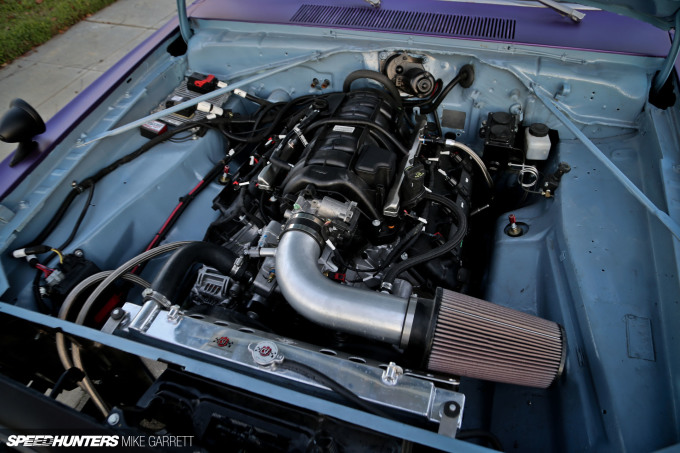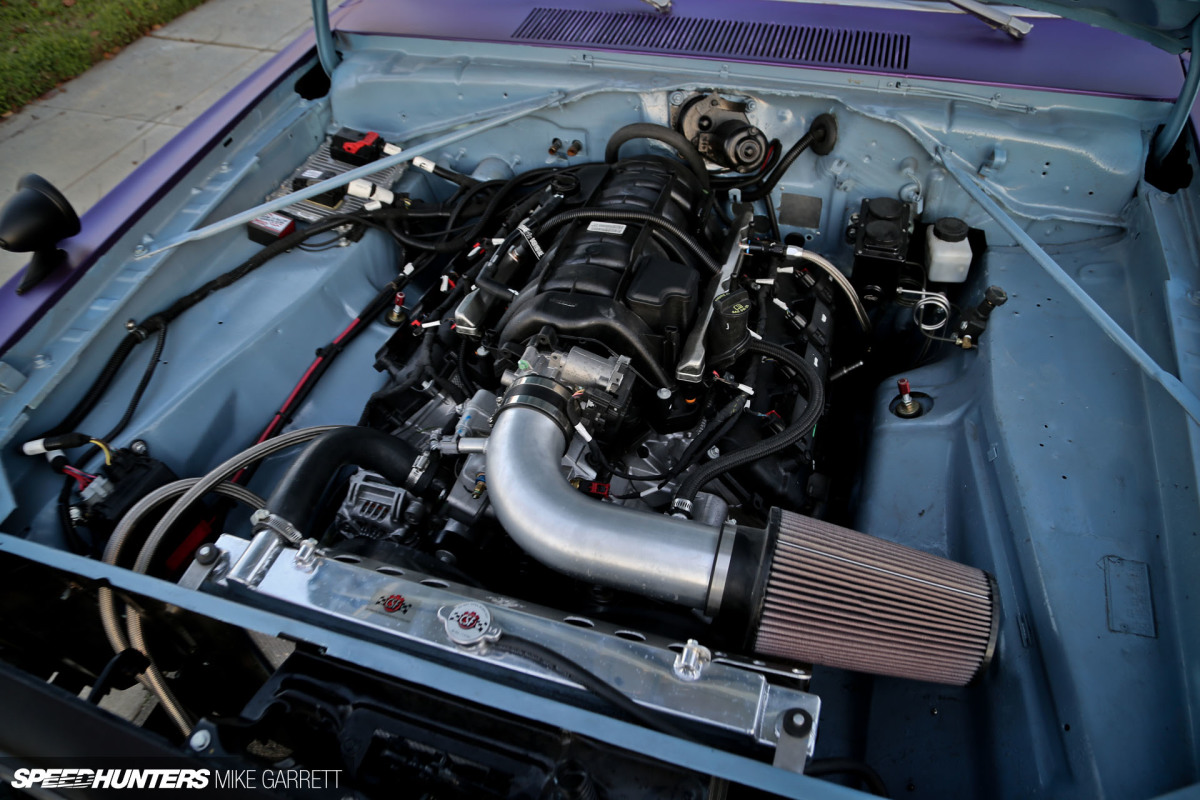 Are you kidding? Hell yes I'd like to put brand new HEMI into my Dart! But there was a little more to it than that, because Dodge wanted my car to be at SEMA too.
While I knew this would be a fantastic opportunity, I also knew it was going to a big challenge. My $3000 Dart was nowhere near show-worthy, and I'd never planned for it to be, but in less than six months time it would need to be on display in an OEM booth at one the biggest automotive events in the world.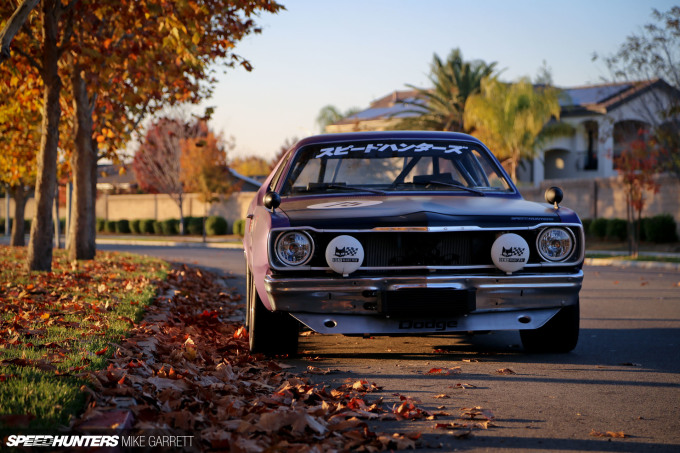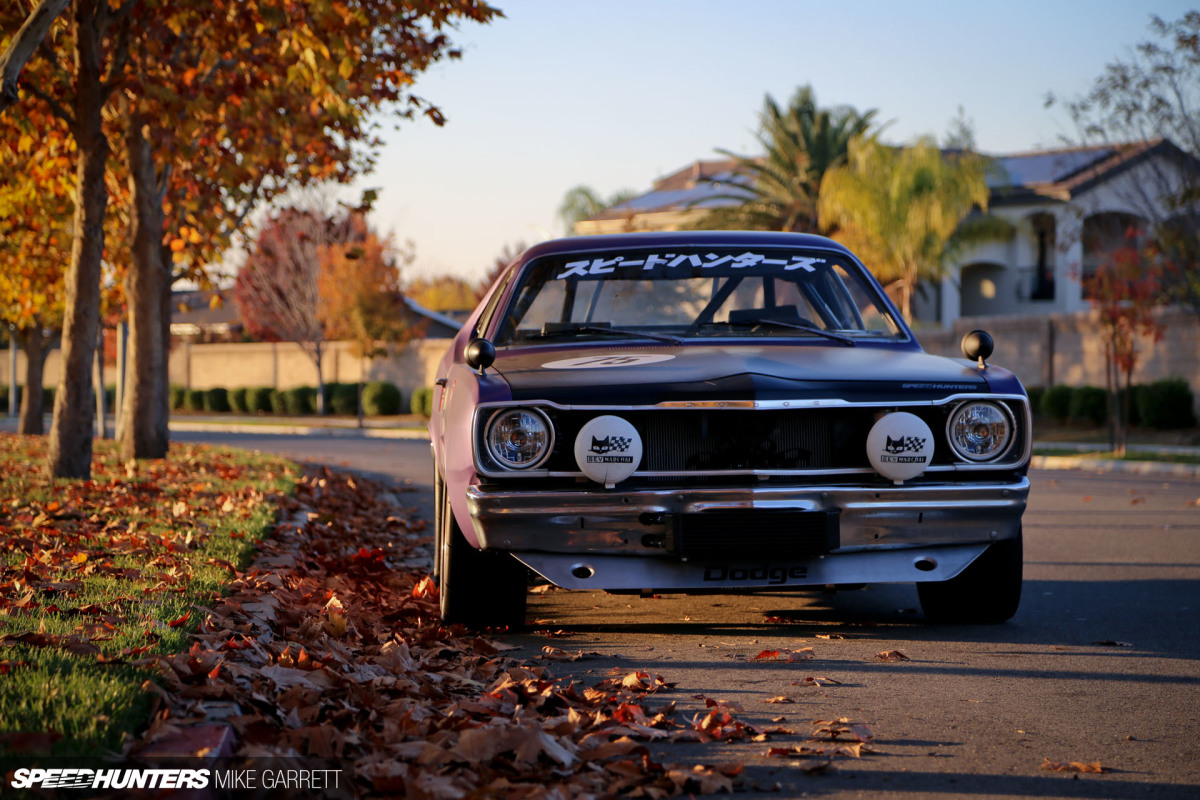 In the end I decided the opportunity was too good to pass up. I sold my 2015 Mustang and bought a cheap 1993 Infiniti G20 as a daily driver to clear up some extra funds for the project. Then it was time to get busy.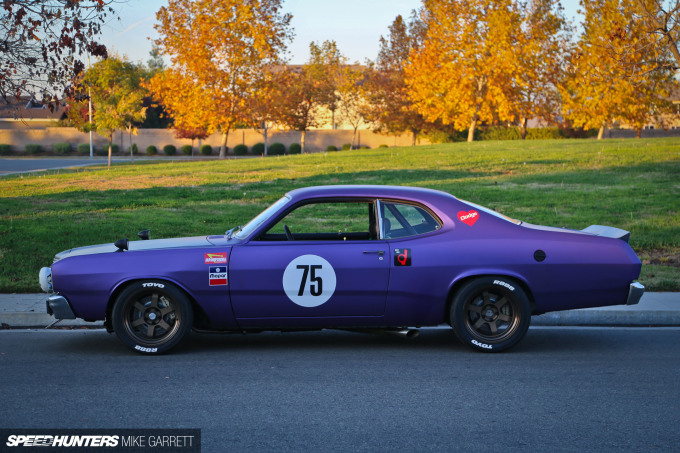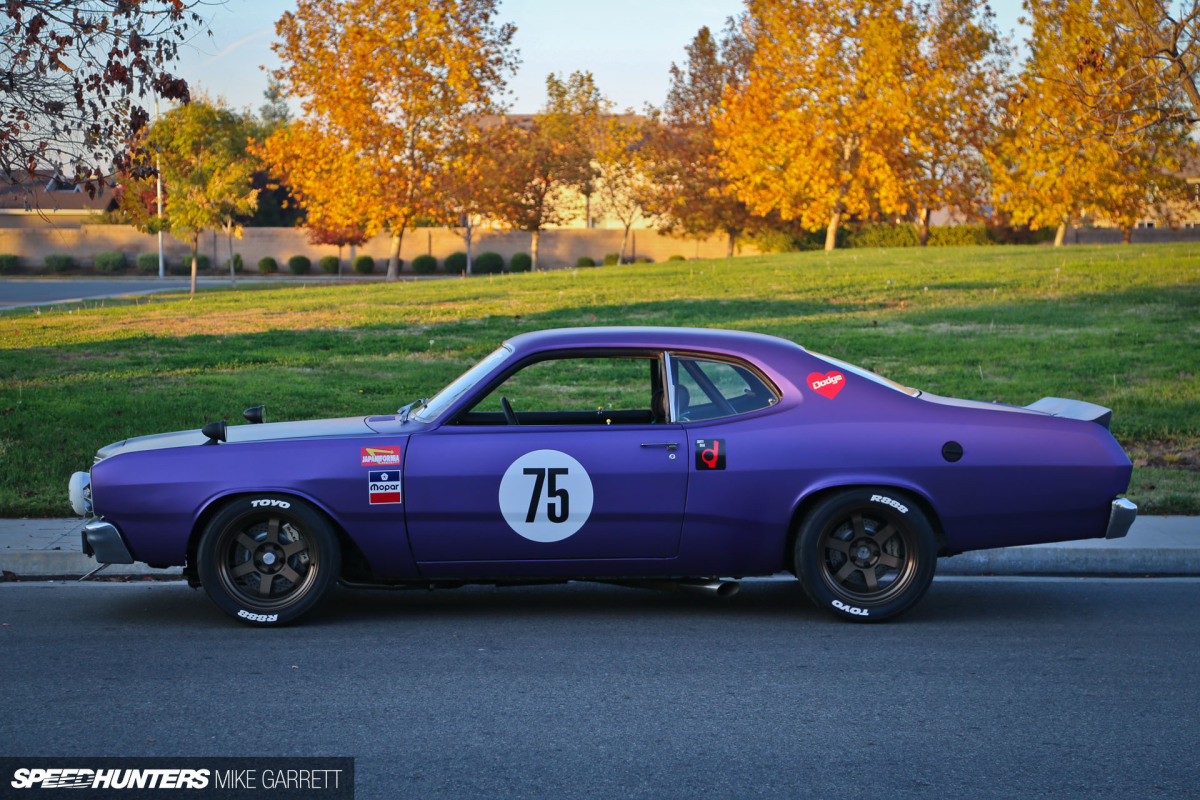 The rest is history. You can go back and look through all of my build updates to see how the project came together through the summer and into the fall with the SEMA deadline fast approaching.
The Heart Of A Yankee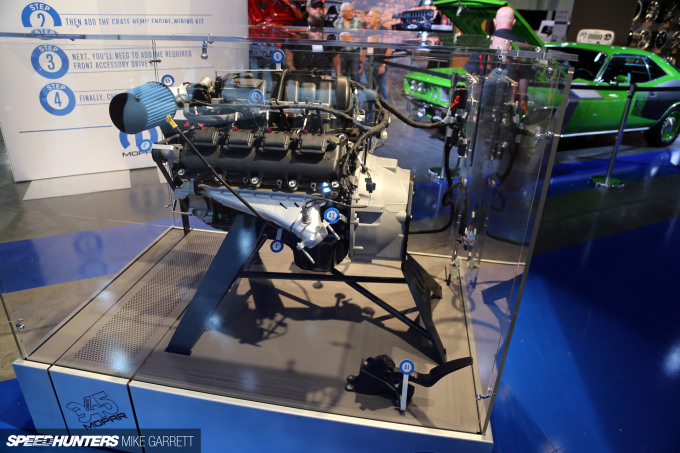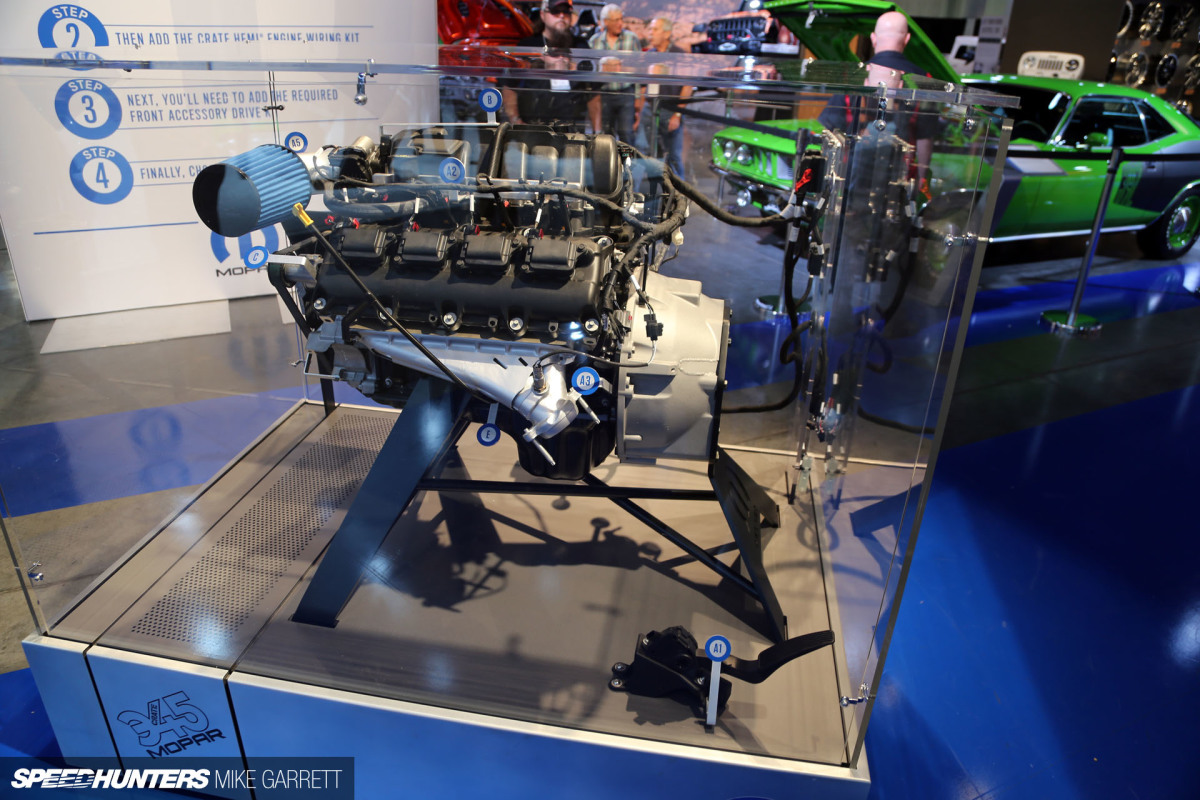 Because the engine package was being kept under wraps until SEMA, I wasn't able to spill too many details on the re-power itself during my build updates. My car is running the new 345 Crate HEMI which is rated at 383hp and 417lb-ft of torque with factory exhaust manifolds. With my TTI long-tube headers I'm guessing I should be little closer to 400 horsepower.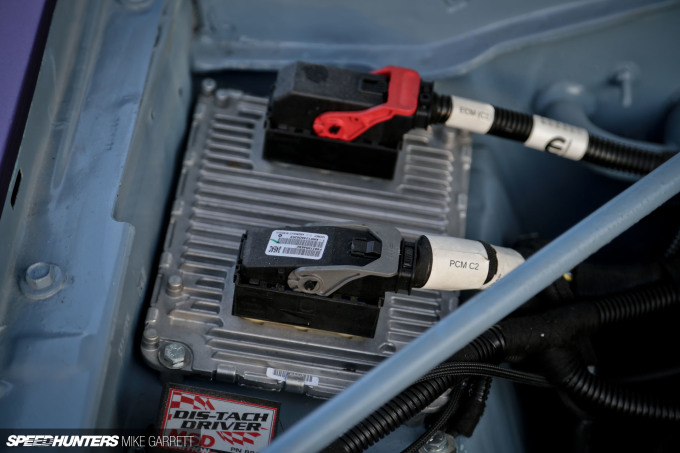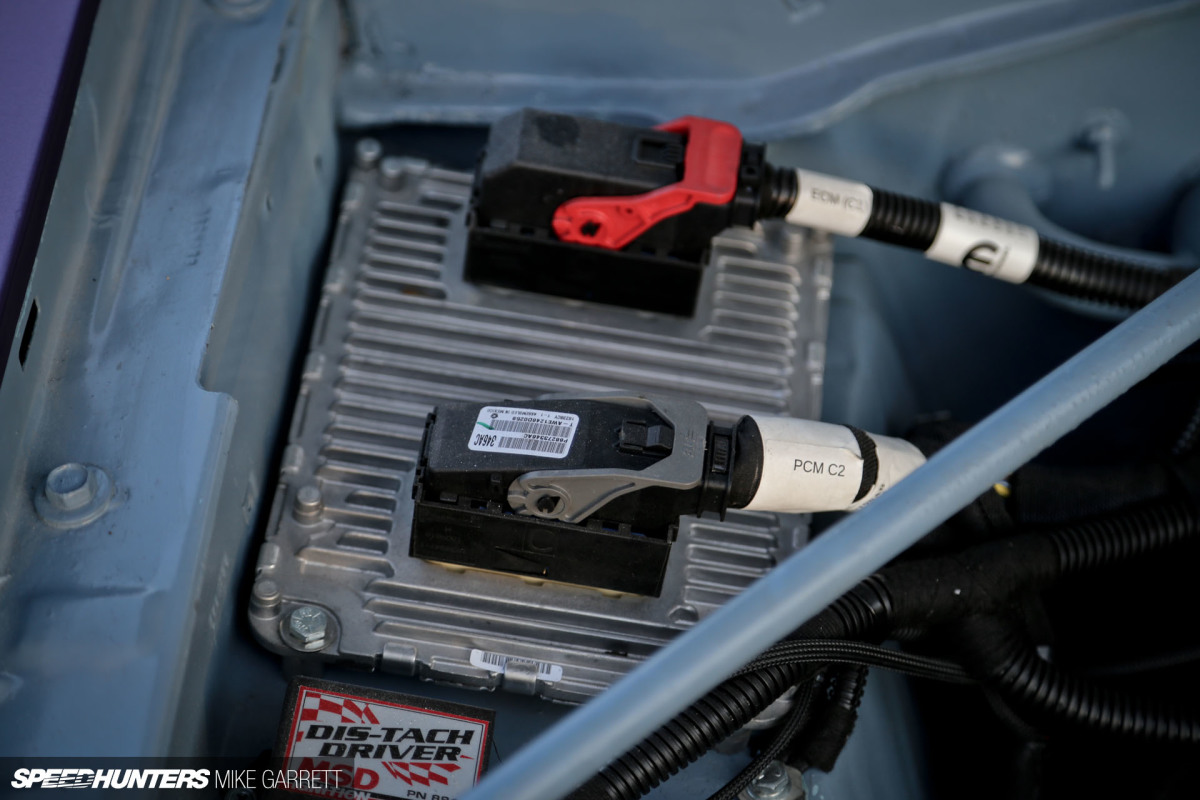 But the real story is the kit that comes with the engine. In the past, people that wanted to swap a Gen III HEMI into an old Mopar had to go the aftermarket route or try to build their own setup when it came the computer and harness. But the new Mopar factory kit is a plug and play solution that includes the PCM, engine and chassis wiring harnesses, accelerator pedal and more.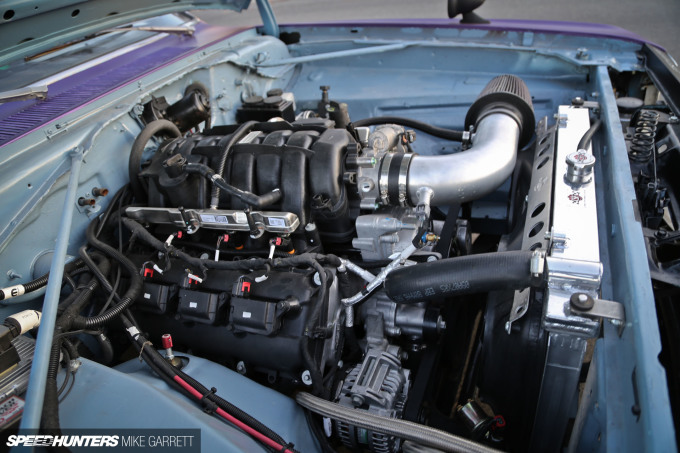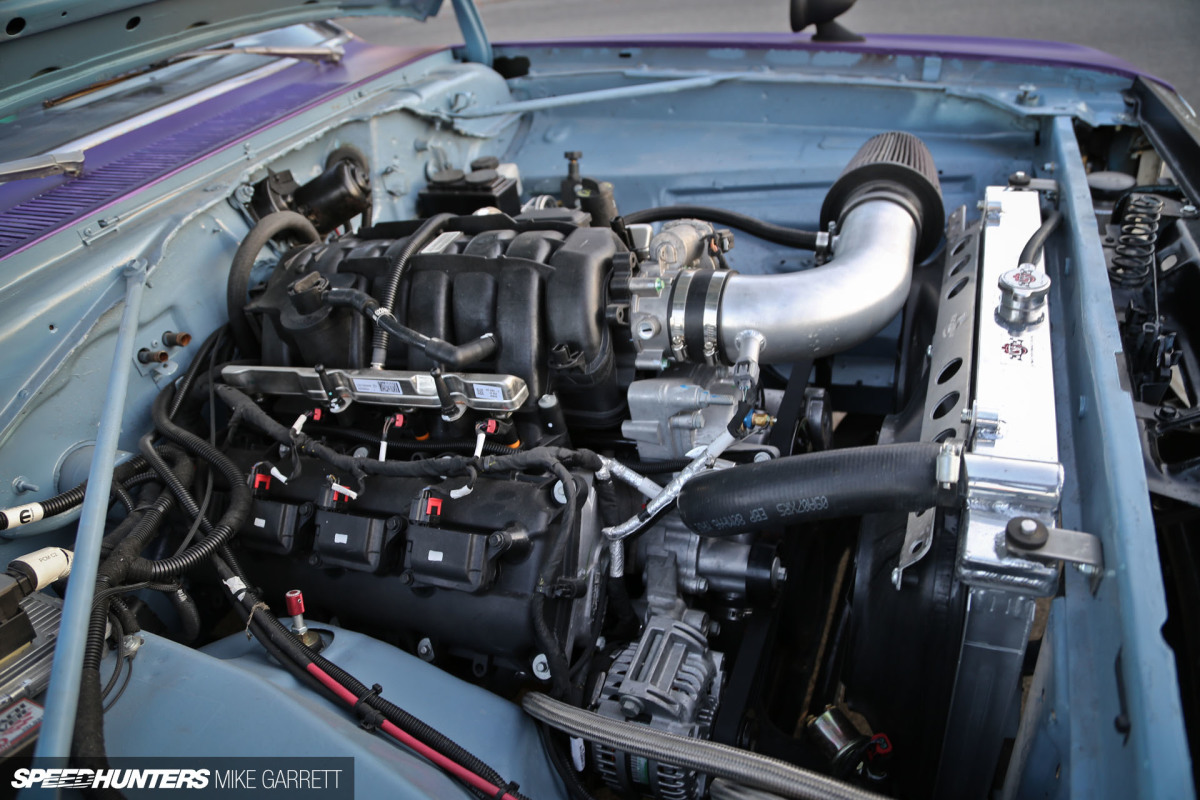 Typically when swapping a modern engine into an old car, the wiring and electronics are the most challenging part. But that wasn't the case here.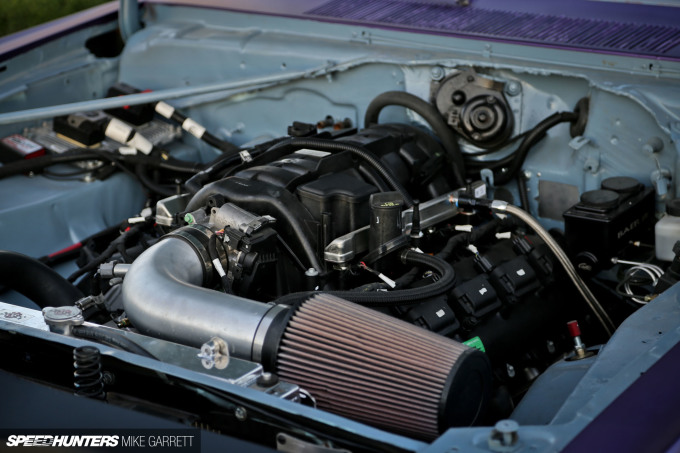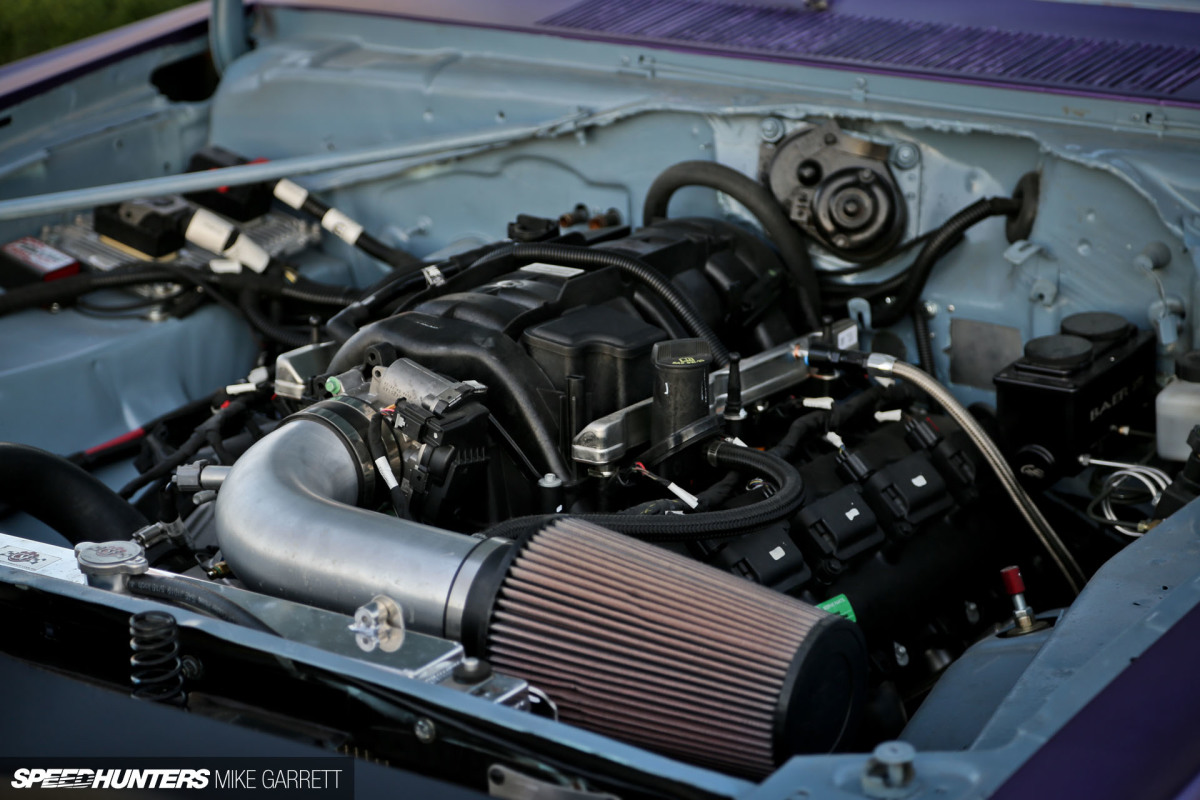 In fact, I can say without exaggeration that getting the 345 crate motor wired up and running in Project Yankee was actually one of the easiest and most straightforward aspects of the entire build. It should be an awesome solution for fellow Mopar enthusiasts looking for a painless way to put new HEMI power into a vintage car.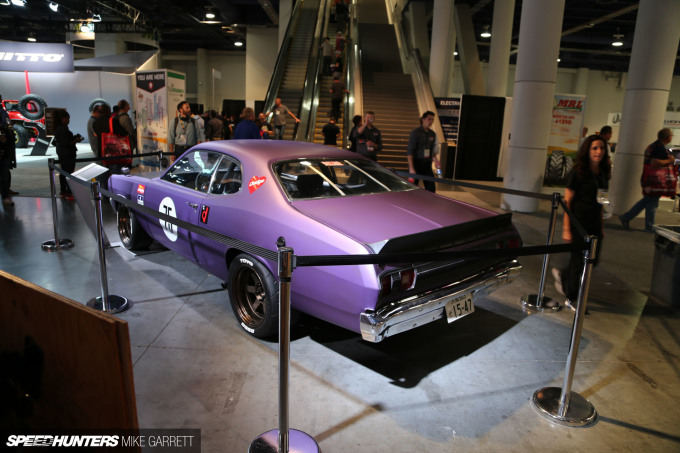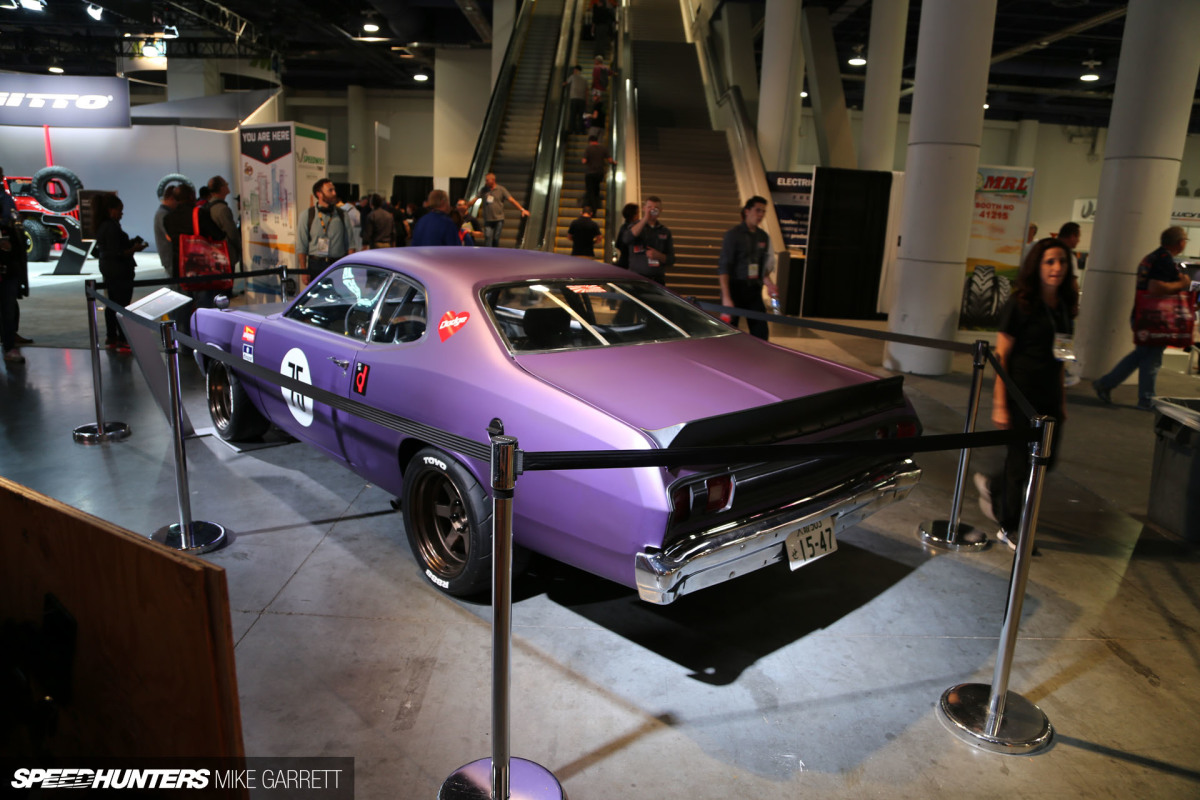 Because Project Yankee was built in a somewhat unconventional style, I was really interested to see how people would respond to it in Las Vegas. And while I know there's no way to please everyone, I couldn't have been happier with the response.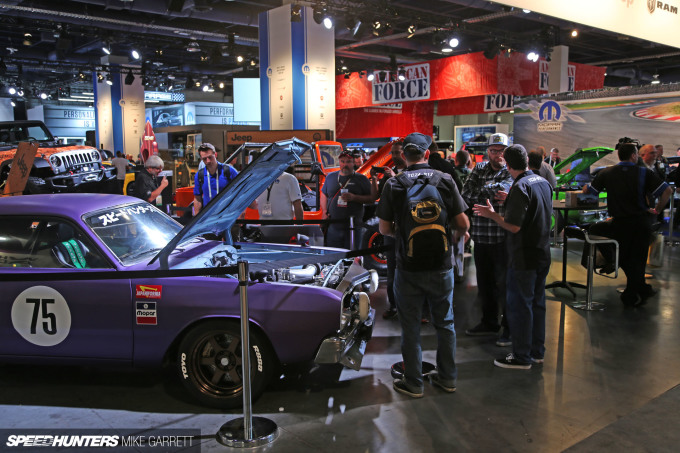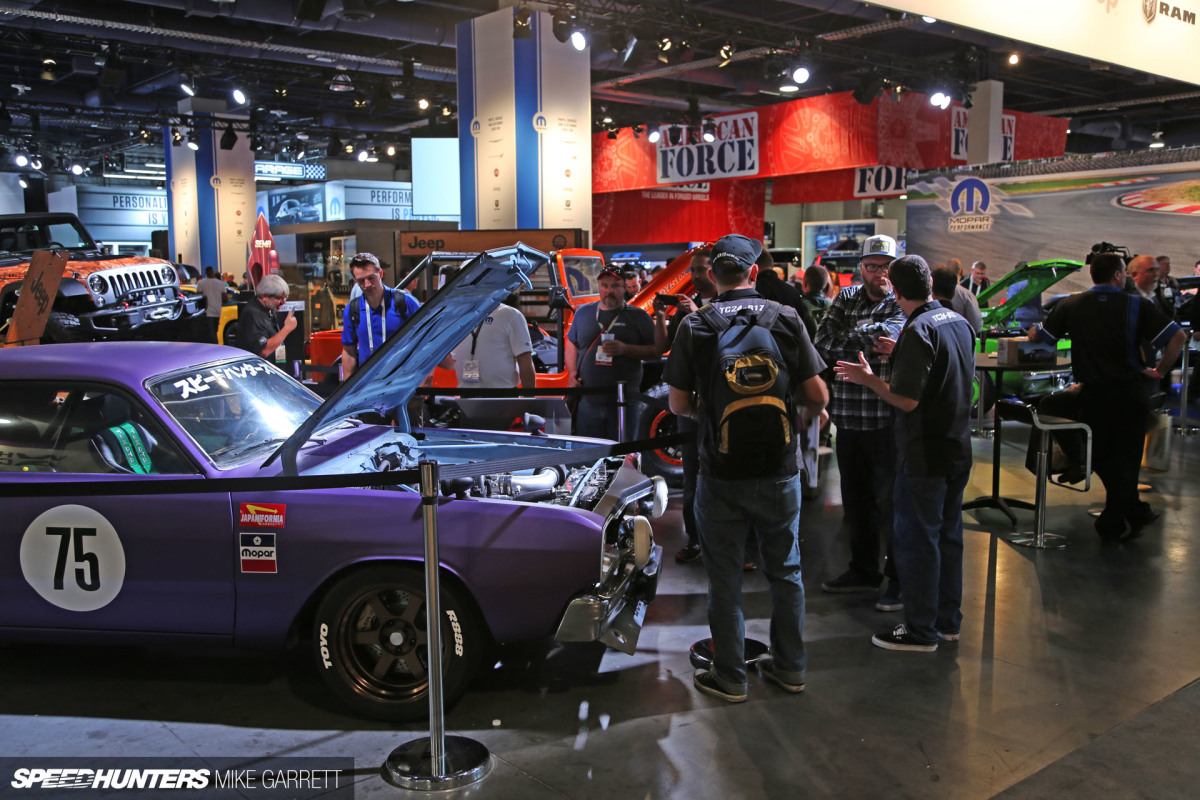 Most of the people I talked to seemed to dig the Japanese influence and some of the other styling elements I added. Considering this was the first time I'd ever attempted something like this, I was very satisfied with how things turned out.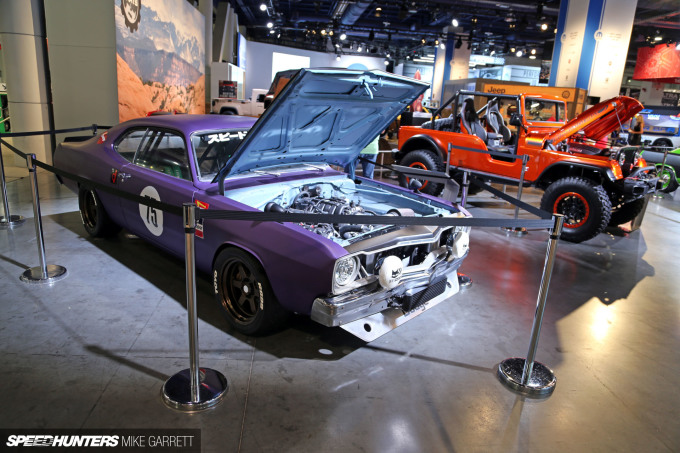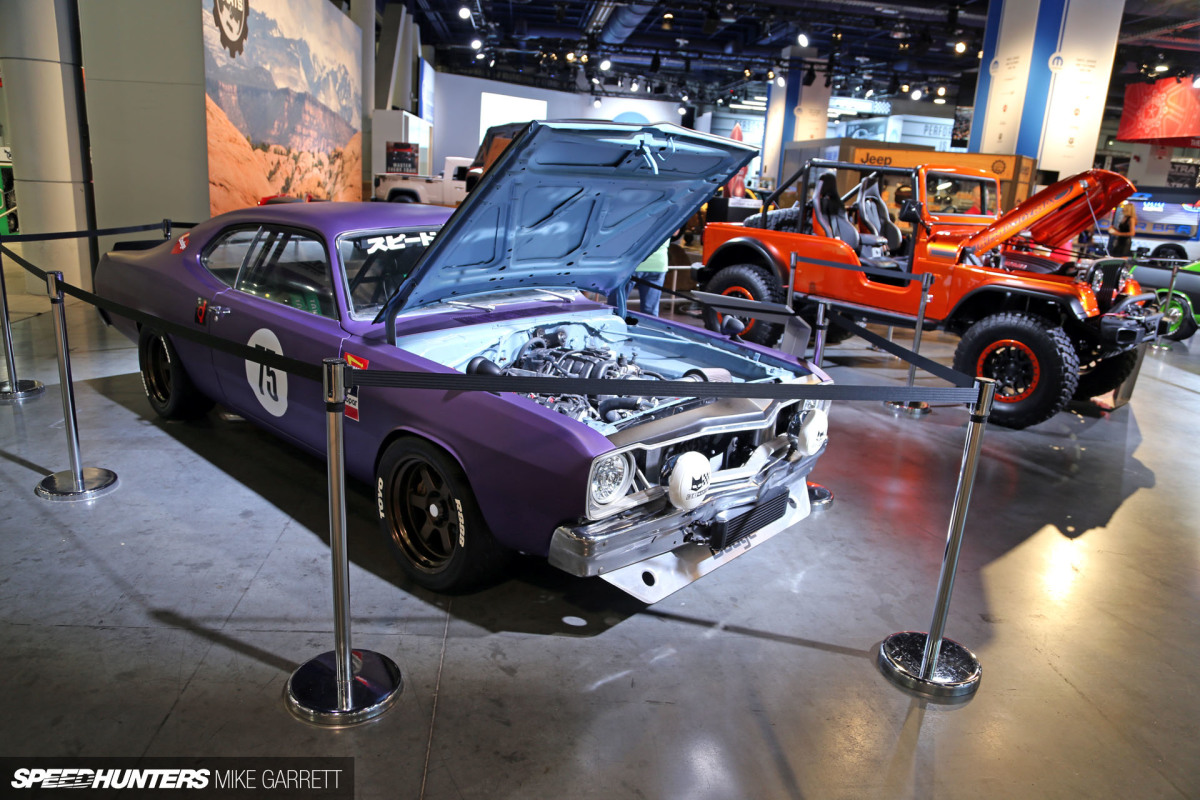 I have to extend my thanks to everyone who came over and checked the car out during SEMA week; it was so cool being able to finally show it off after so many months working on it.
Anyway, before I knew it the SEMA Show was over and the car was on its way back to my house.
What's Next?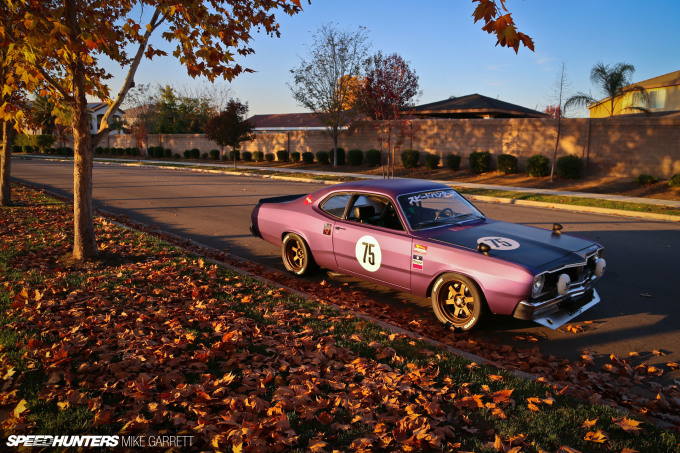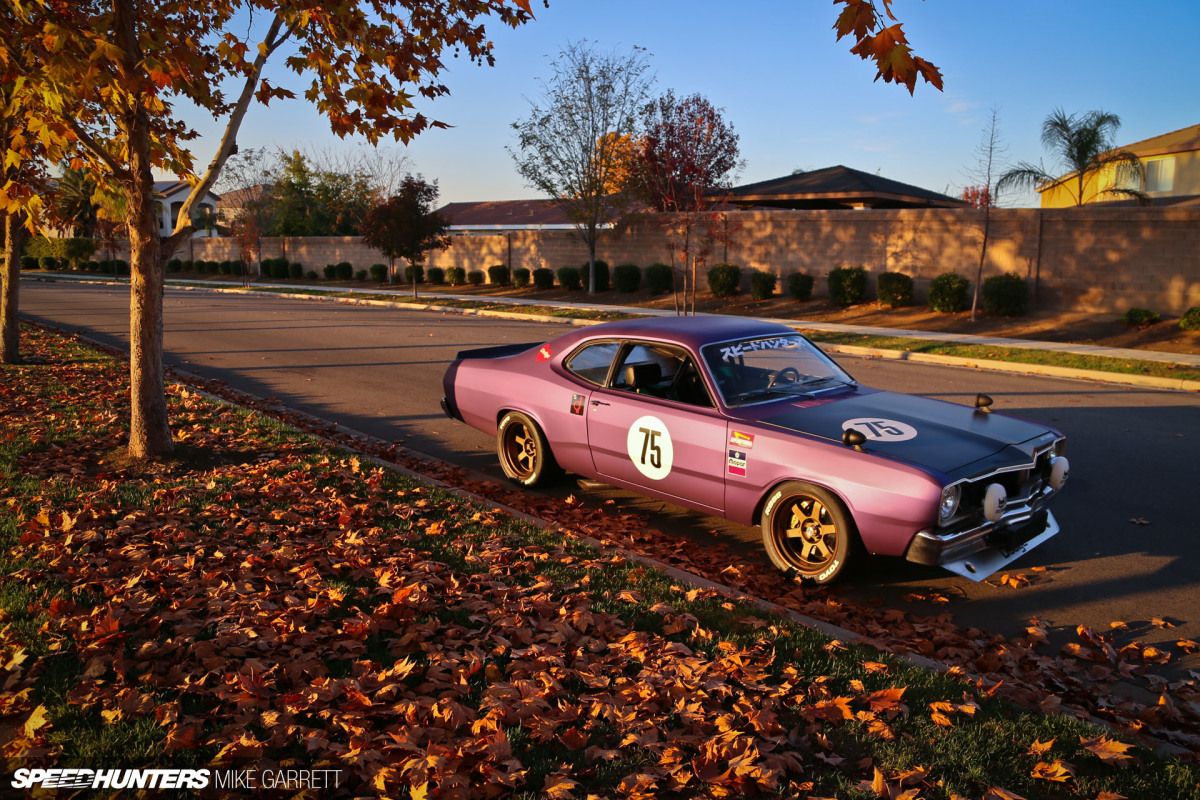 From the beginning my plan with Project Yankee was never to build a 'SEMA Car'. Instead, I just think of it as a project car that was given some extra motivation to be shown at SEMA, and that meant that once the show was over, the story would continue.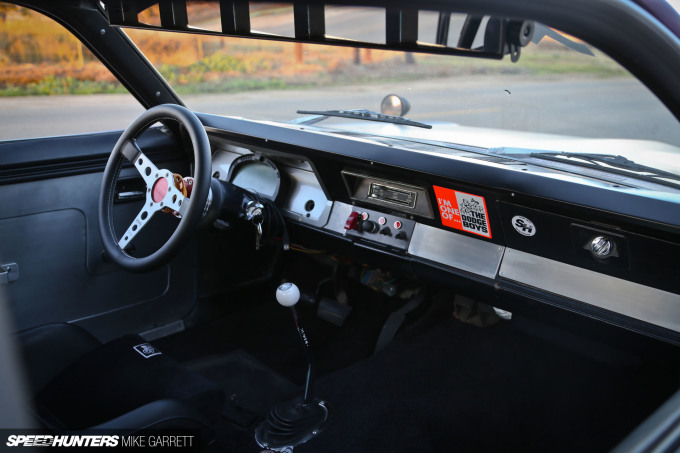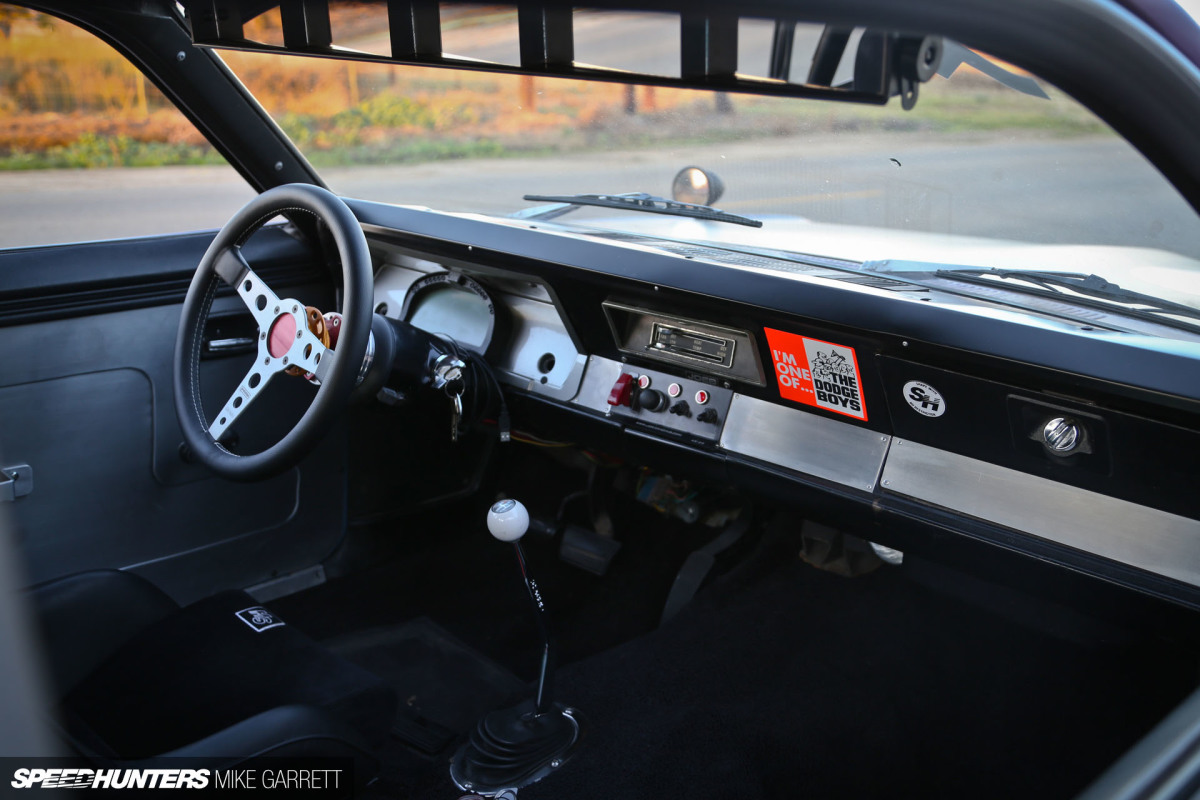 But the first thing to do once I had the car back in my hands and the pressures of SEMA behind me was to actually drive the damn thing and see how it all worked.
Here are a few GoPro/iPhone video clips I put together the other day with the help of my brother. It's nothing fancy, but I think it conveys quite a lot about how the car sounds and drives right now.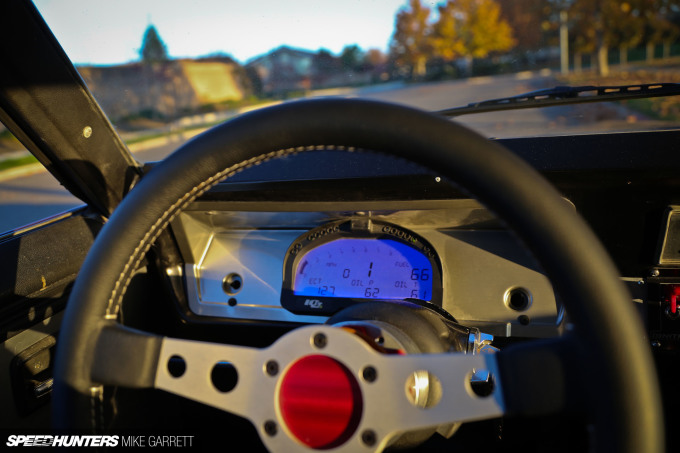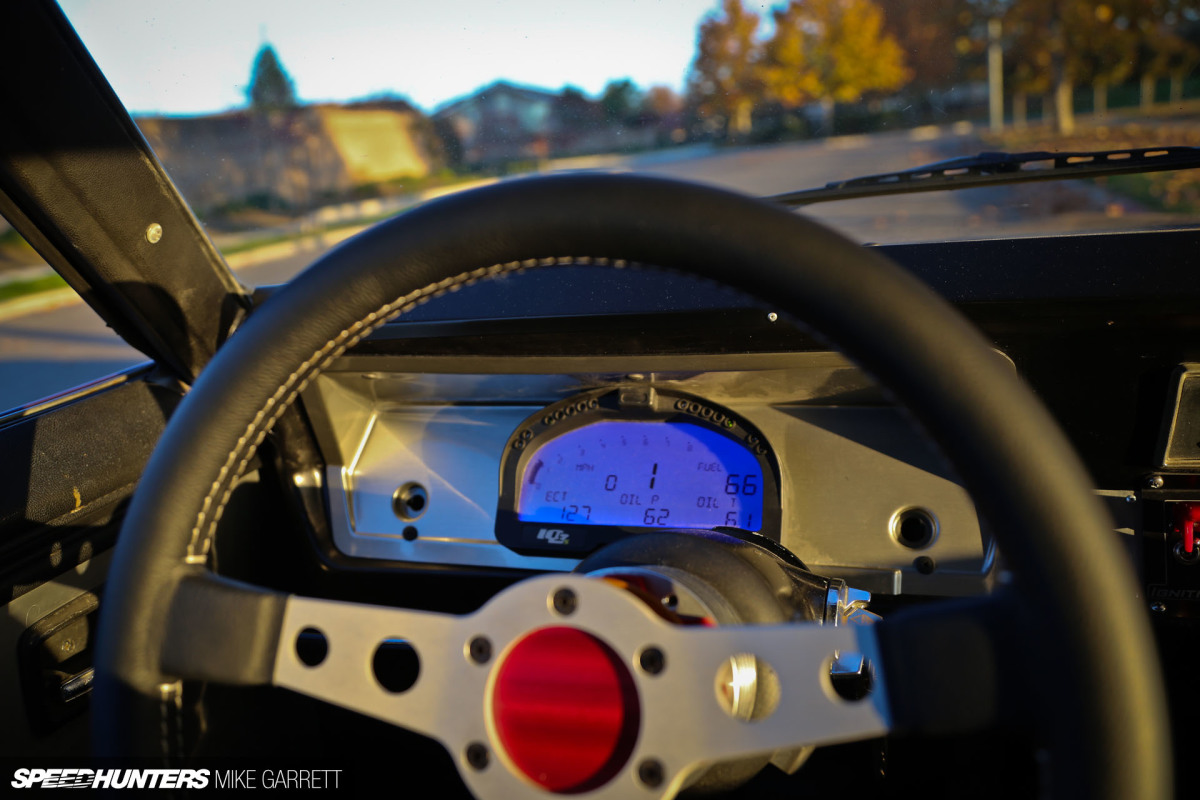 There's still a break-in process that the new motor needs to go through, so I can't really hammer on it yet. But I can already tell that this thing is going to be ridiculously fun, and with close to 400hp in a car that should weigh right around 3,000lbs, it really feels like that perfect amount of power for the street.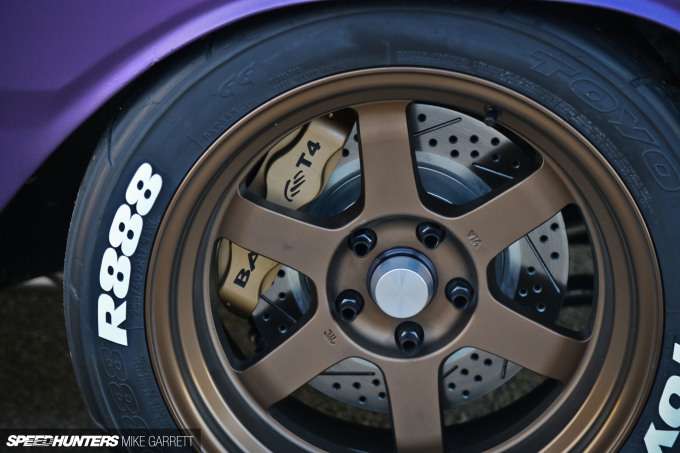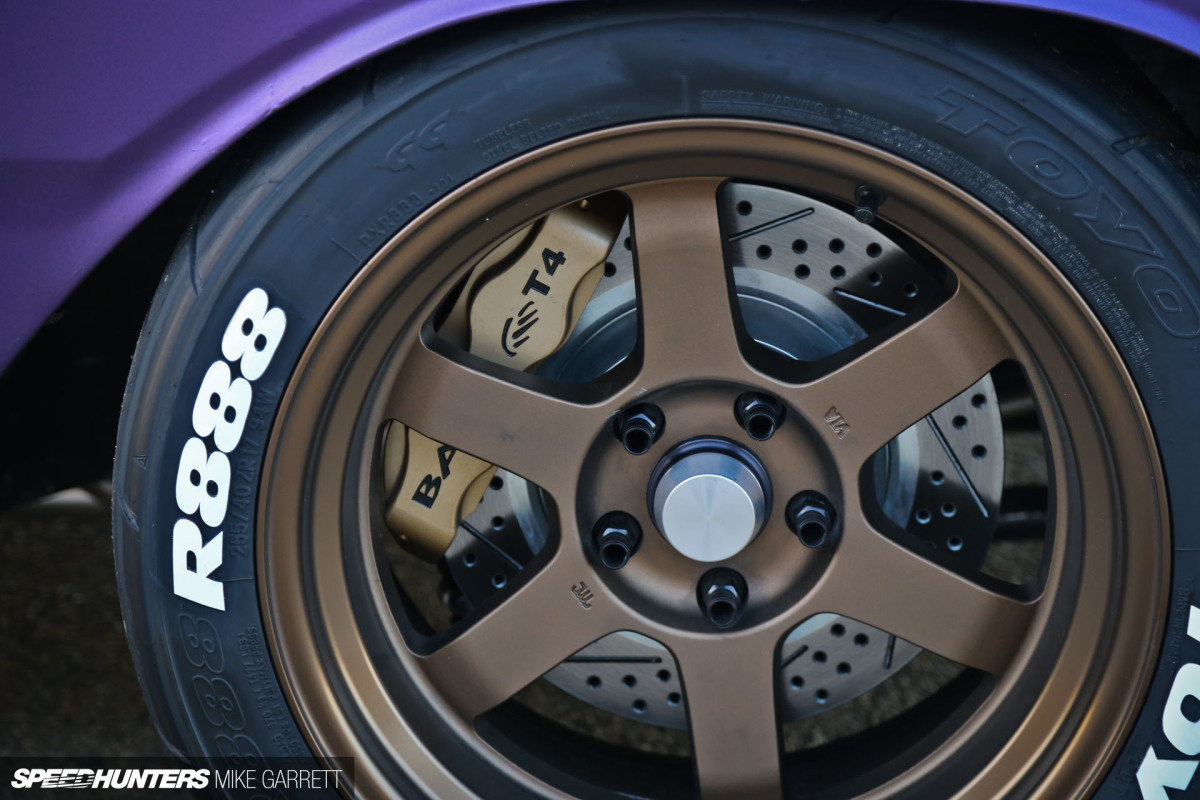 And with the full Hotchkis TVS suspension, Baer 4-piston brakes, and sticky Toyo R888s wrapped around lightweight RAYS Volk Racing TE37Vs, it should hopefully handle and stop as well as it goes. Perhaps during the upcoming holiday break I'll take it out for a shakedown run through the Sierra Nevada foothills near my house.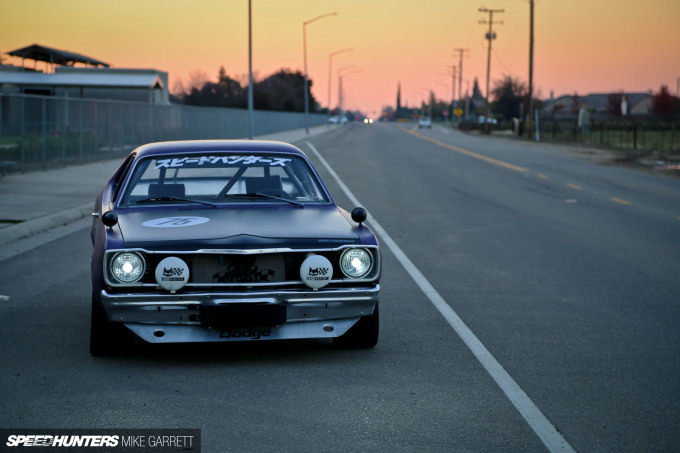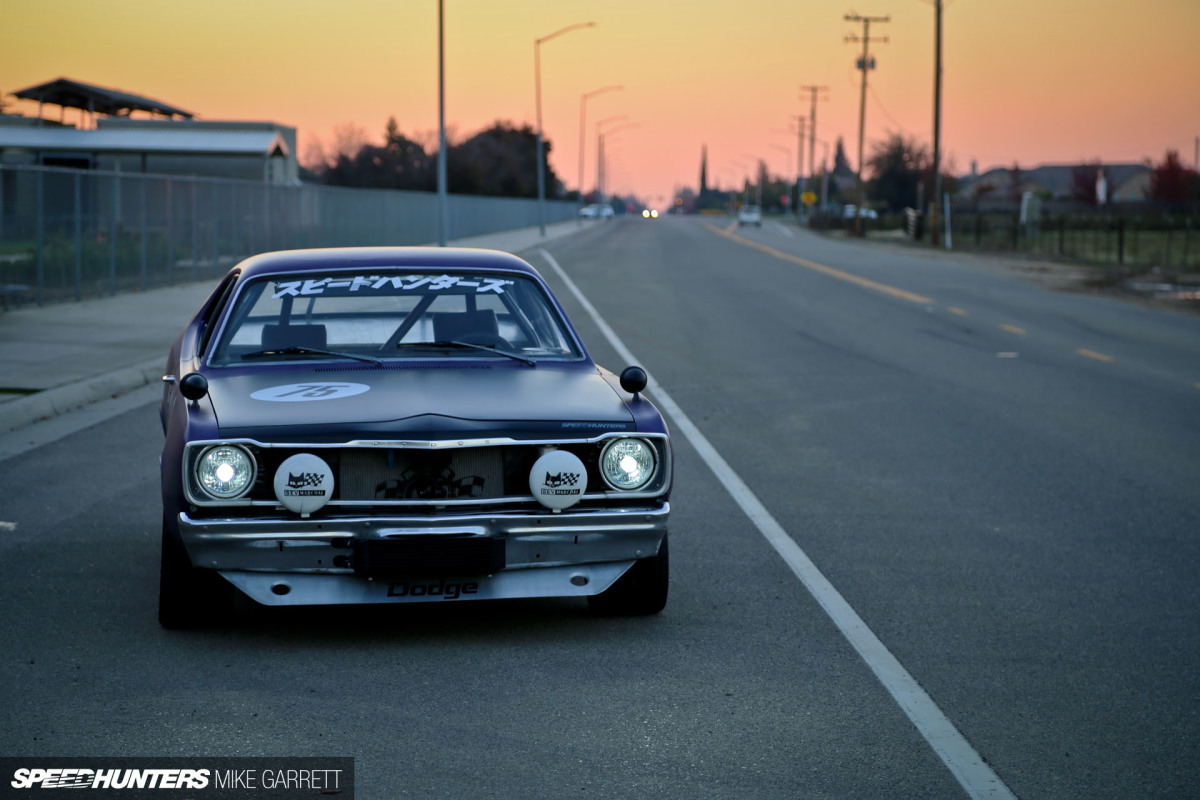 But no matter where I take it, it's always an event. During the few short sessions of driving it around town I've already had dozens of people giving me the thumbs up. One little kid asked if it was a race car and another guy was surprised to see that I was filling it up with pump gas at the local station.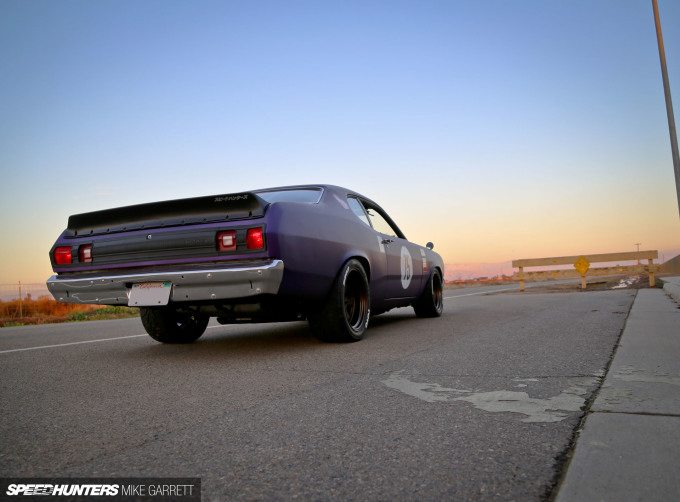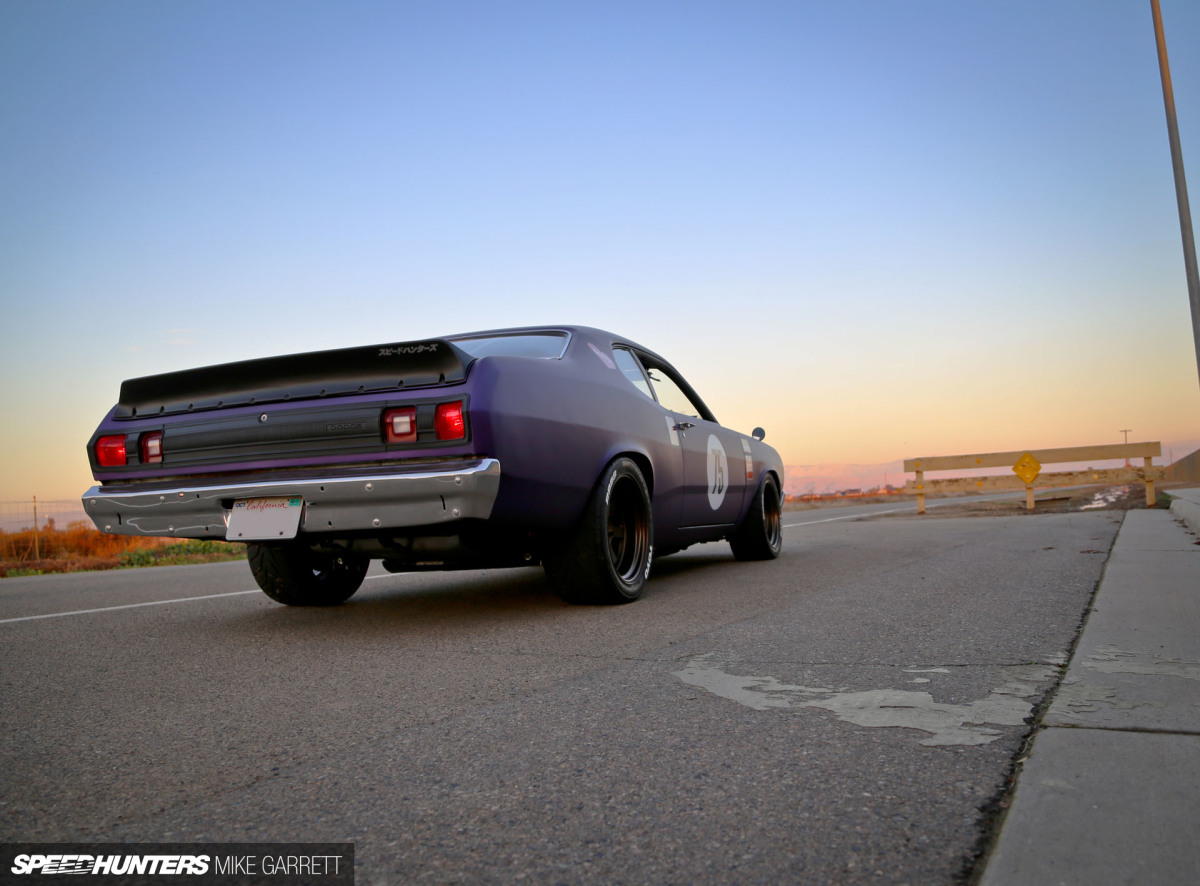 And that's actually the beauty of it. Project Yankee might look and feel a lot like an old race car, but the new HEMI crate motor actually makes it as easy to operate as a modern muscle machine.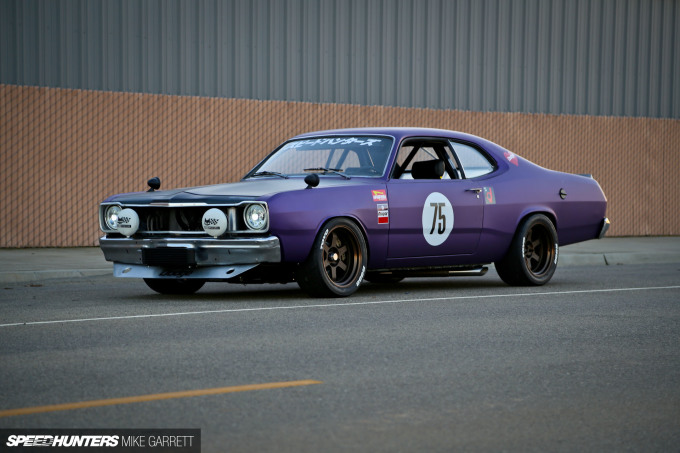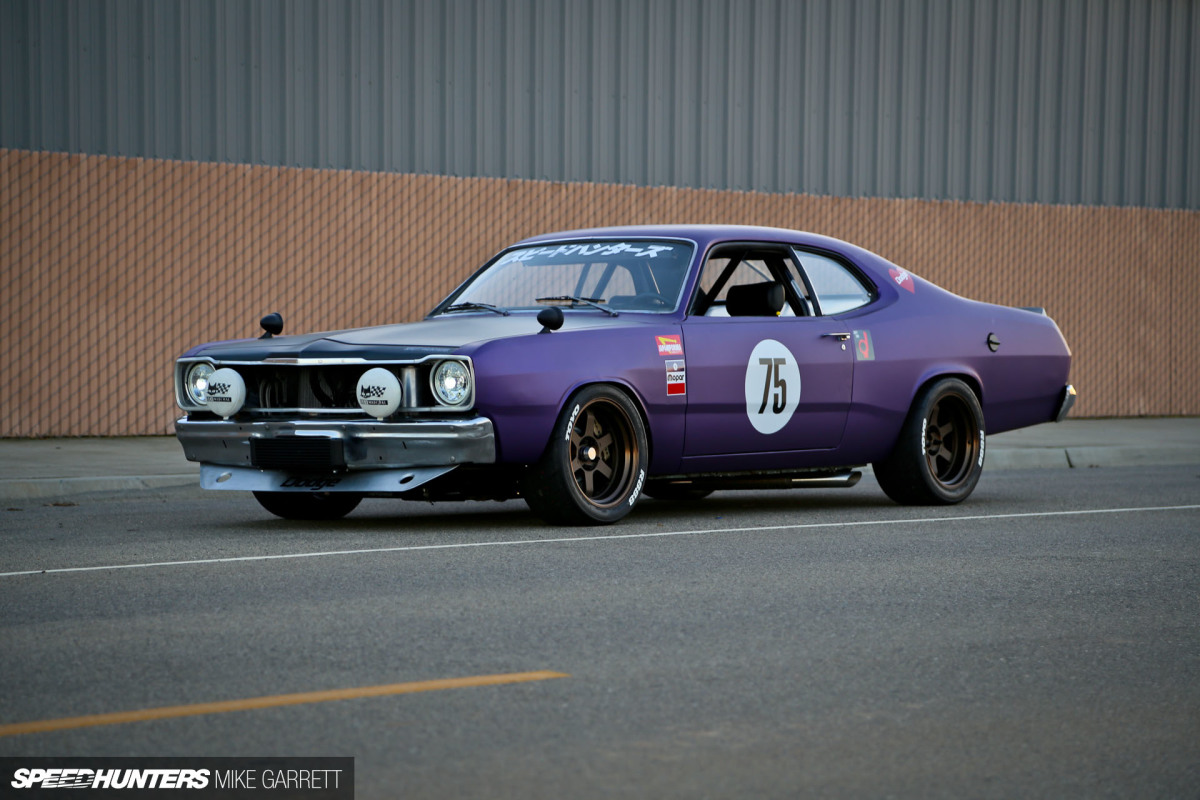 I always thought it was a bit of a cliché to say that your car represents who you are, but I think Project Yankee really does represent me and my automotive tastes perfectly.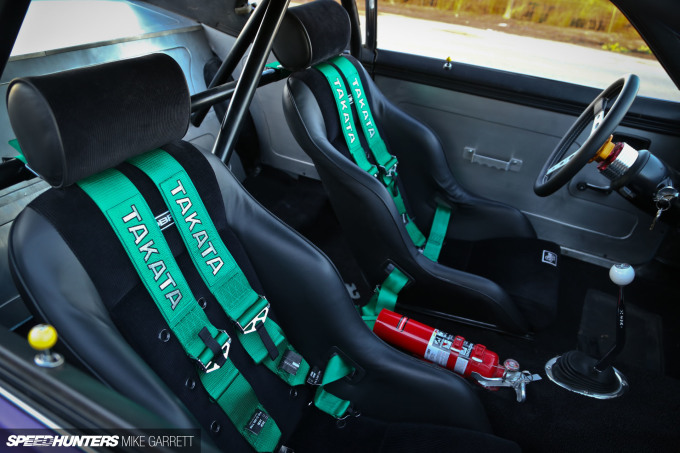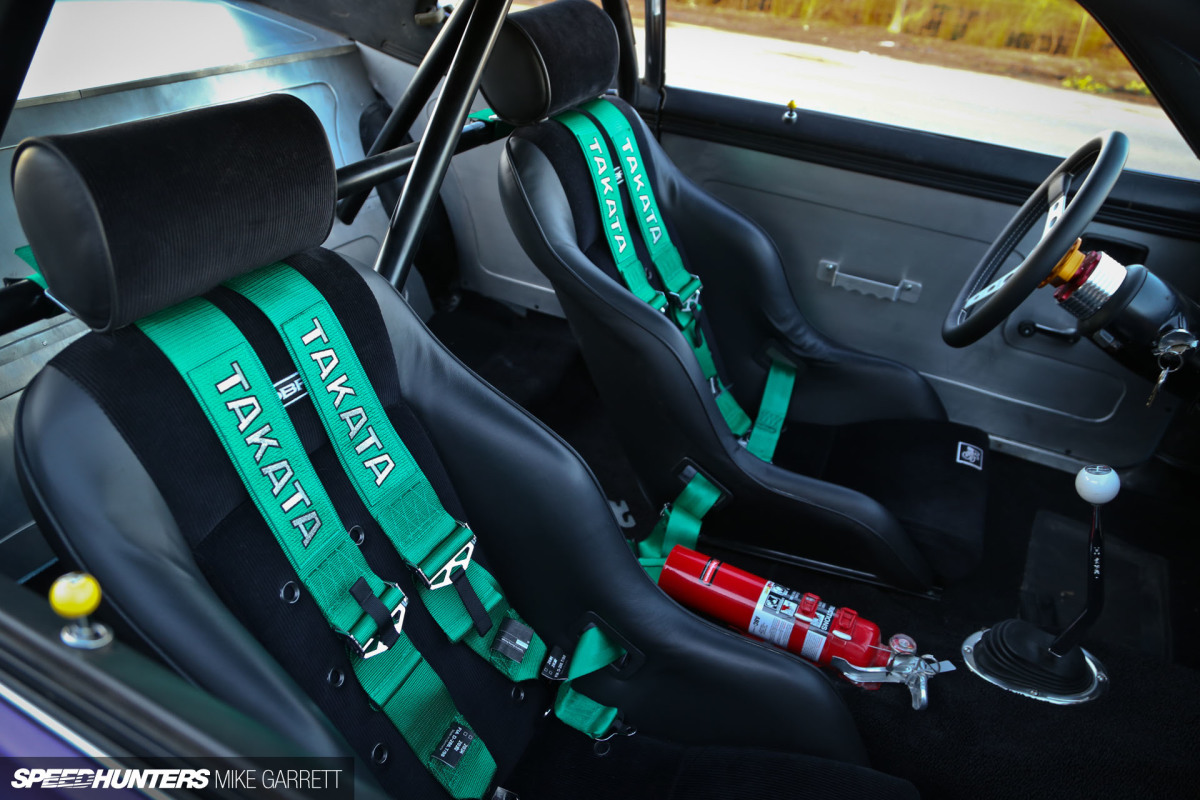 You've got American roots, a mix of modern and a retro elements, a strong Japanese influence and what I think is a decent balance of form and function.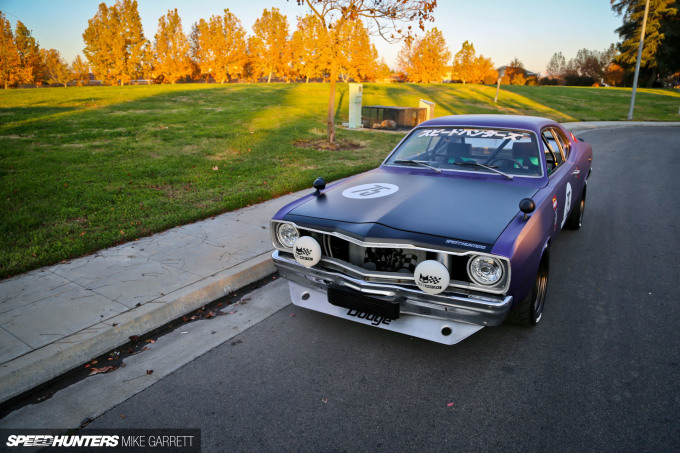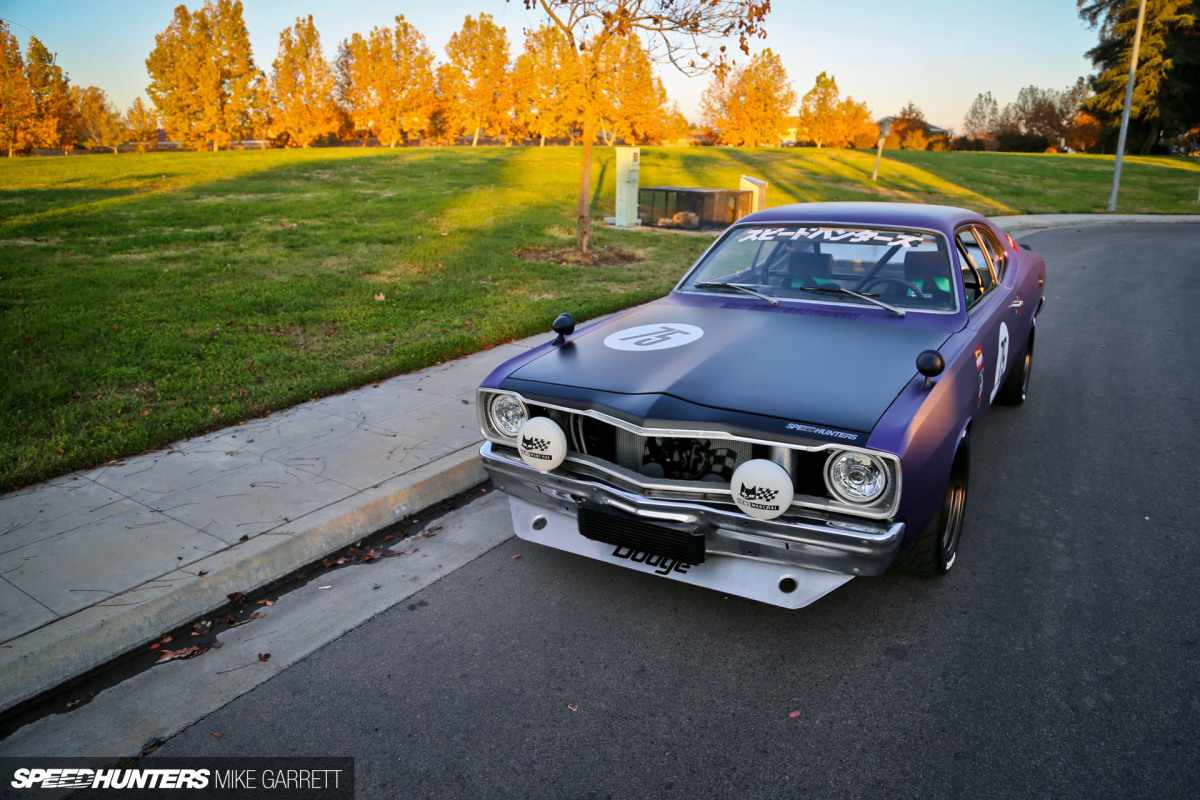 I've been known to change cars at an extremely fast rate – and I attribute that to my constantly wandering mind – but Project Yankee is something different. There's just so much of myself in this car and I plan to keep it for a very, very long time. Perhaps I'll even hand it down to my son, who my wife and I will welcome into the world next spring.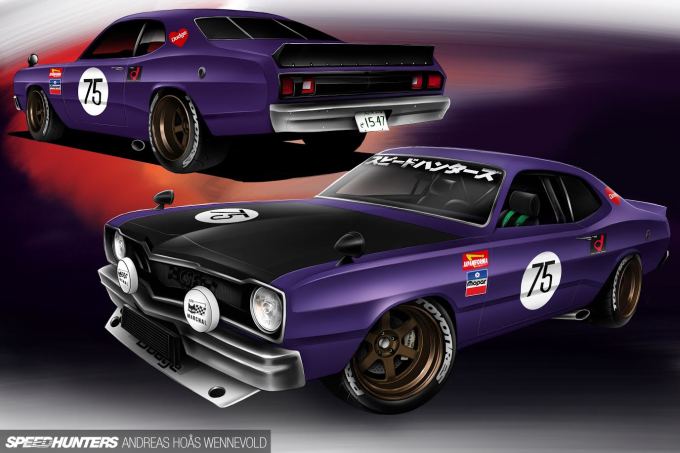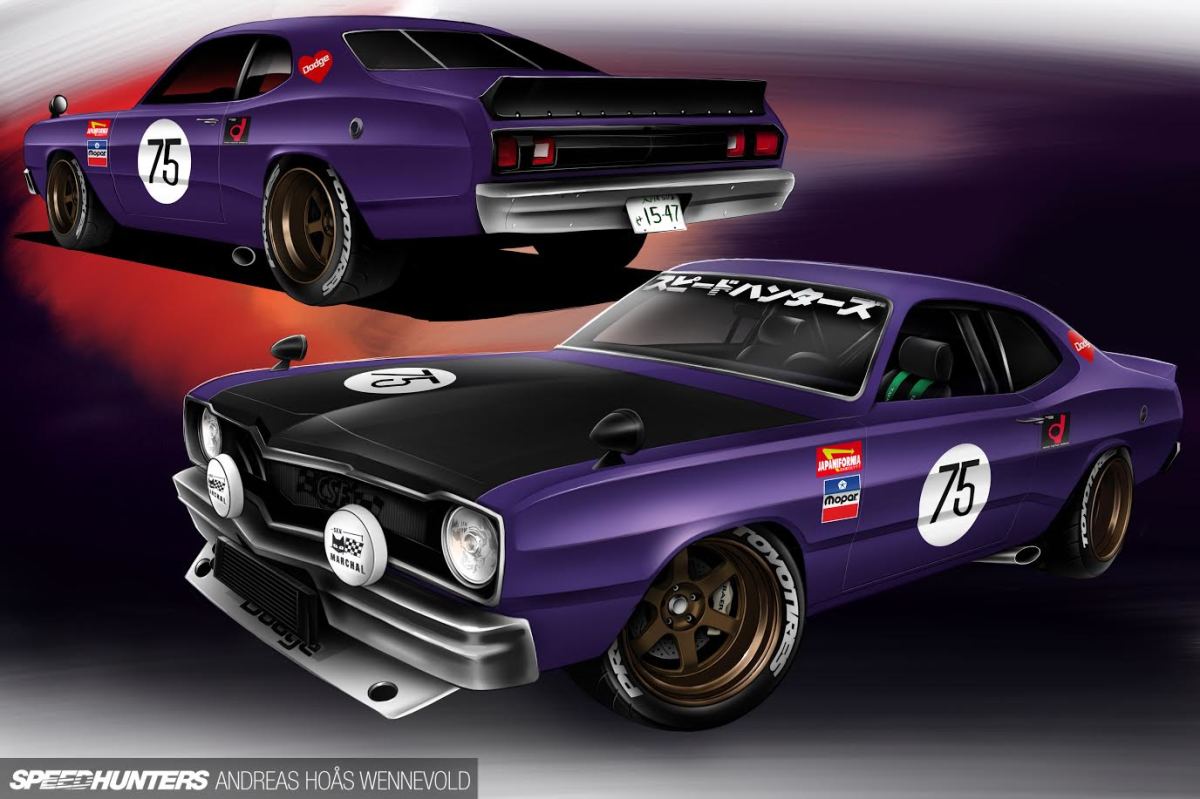 Of course, there's no way I can take full responsibility for Project Yankee on my own. There are so many people to thank, including all of the partners who supported the build, the talented Andreas Hoås Wennevold who put my visions to paper, and Matt and the guys at Caliber Customs for helping to make them a reality. None of this would have been possible without them, or without all the feedback you the readers gave me as I progressed with the project.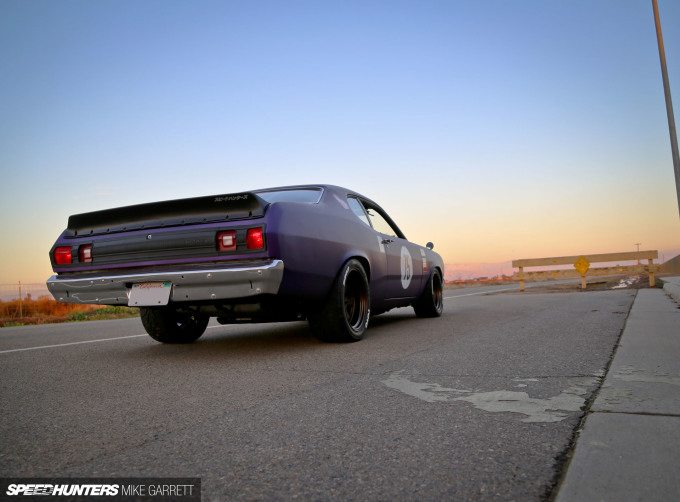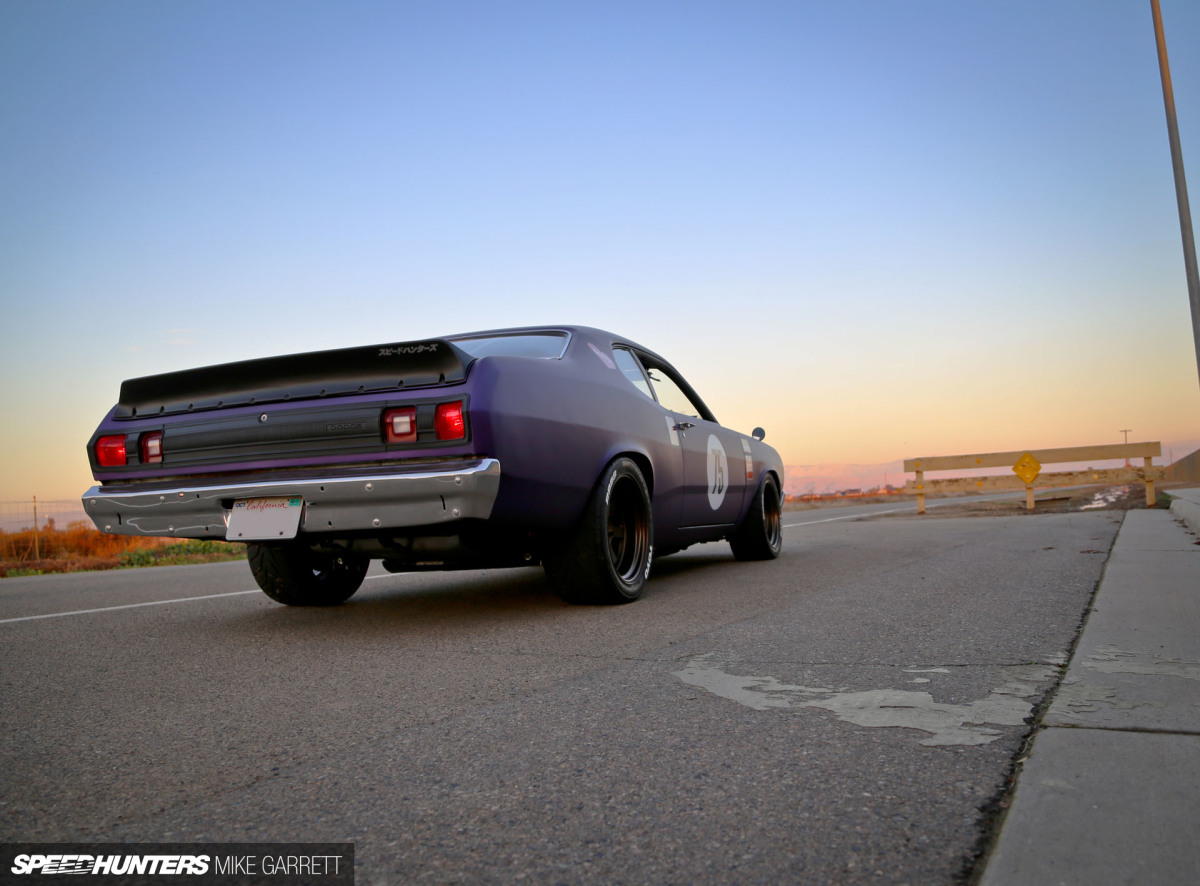 Was it worth all of the money, time and stress to get Project Yankee to where it is today? Absolutely. It wasn't easy, but I forget about all the stress each time I walk past the car in the garage, or flick the ignition switch, touch the start button and hear it come to life.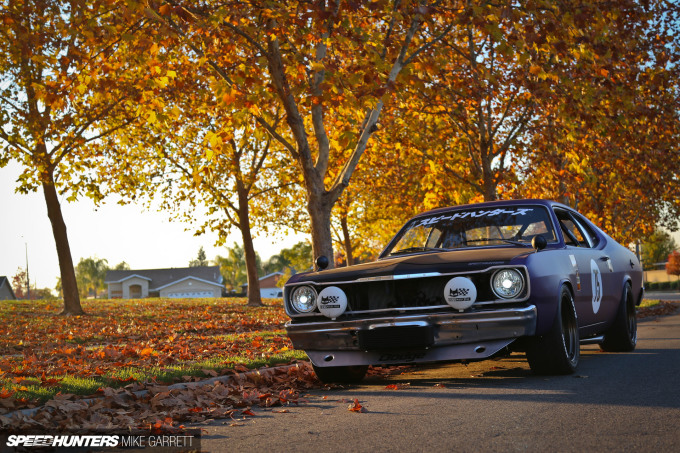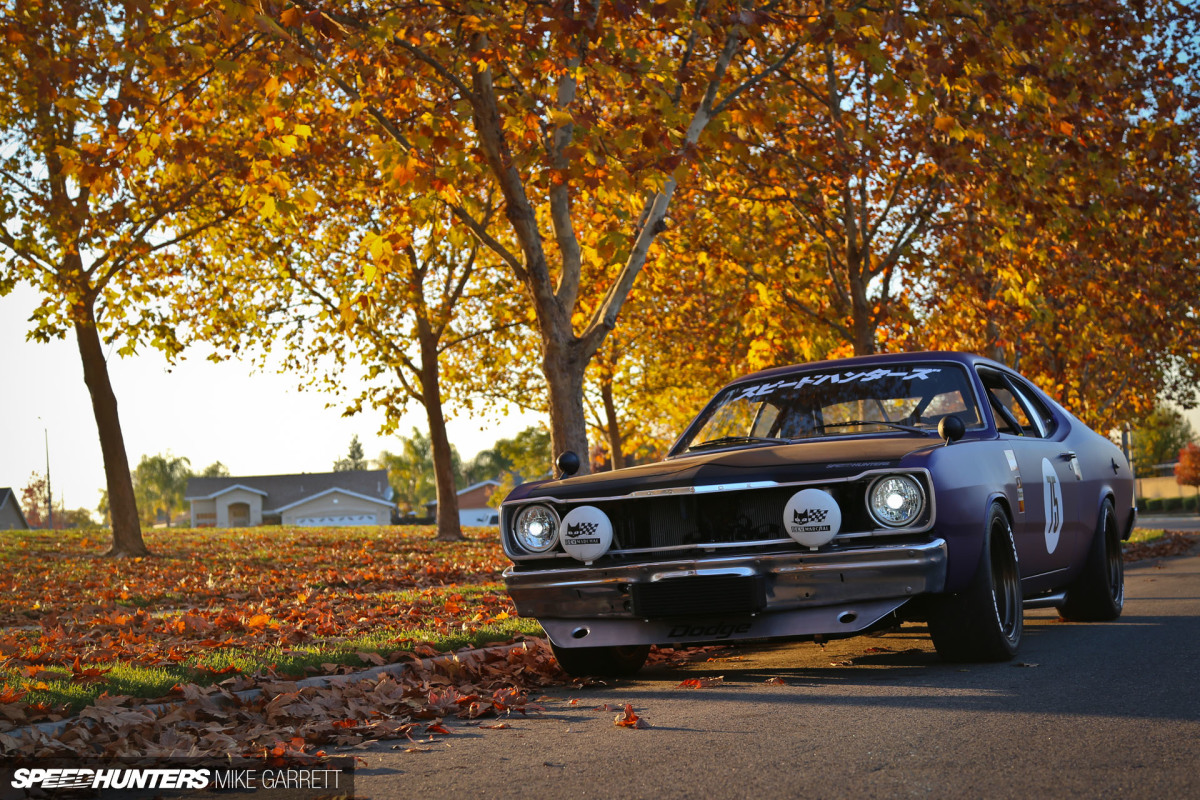 Having the car ready and driving for SEMA was a huge accomplishment, but this is by no means the end for Project Yankee. It's actually the start of a whole new chapter.
In the coming months there's so much more I want to do: additional upgrades, road trips, track days and other shenanigans. You know, all of that great project car stuff. Now it's time for the real fun to begin.
Mike Garrett
Instagram: japanifornia
mike@speedhunters.com
1975 Dodge Dart Sport 'Project Yankee'
Engine
Mopar 345 Crate HEMI 5.7 liter V8, Mopar Crate Hemi PCM & harness kit, Milodon oil pan, TTI headers, TTI motor mounts, custom Magnaflow side-exit exhaust built by Caliber Customs, custom intake with K&N air filter, Tanks Inc. EFI gas tank, fuel pump & FPR, CSF Racing aluminum radiator, Flex-a-Lite electric fans, CSF Boss external oil cooler
Drivetrain
A833OD manual transmission, McLeod Racing flywheel, McLeod Racing clutch kit, McLeod Racing hydraulic clutch conversion, 8.75-inch rear end with complete Yukon 3.73 LSD pumpkin, Yukon axles
Suspension & Brakes
Full Hotchkis TVS kit including tubular control arms, front & rear sway bars, geometry-corrected leaf springs, strut rods & steering rods, Hotchkis FOX adjustbale shocks, Baer Track4 front disc brakes, Baer SS4 rear disc brakes, Baer Remaster master cylinder
Wheels & Tires
RAYS Volk Racing TE37V 17×9-inch -10 (front) 17×10-inch -20 (rear), Toyo Proxes R888 tires 255/40R17 (front) 275/40R17 (rear)
Exterior
Custom bumper mounts & chin spoiler by Caliber Customs, NOS Mopar Direct Connection ducktail spoiler, Vintage SEV Marchal driving lights, Dapper Lighting V1 HID projector headlights, shaved sidemarkers & drip rails by Creative Auto Lab, Avery Matte Metallic Purple wrap
Interior
Racepak IQ3S digital street dash unit, Fastlane West gauge bezel, one-off Cobra Classic RSR bucket seats, Takata Racing Formula 6 harnesses, custom aluminum door panels & package tray by Caliber Customs, Caliber Customs roll bar with harness bar, Hurst Competition Plus shifter, Mooneyes door lock pulls, Momo Prototipo steering wheel, Momo quick-release hub
More Speedhunters Project Cars
Cutting Room Floor