Baseline Numbers
When I pulled the introductory wraps off my Project bB build just prior to the SEMA Show last month, I had no real idea how it was going to be received.
Between Dino's Project GT-R, Paddy's Project GTI, Mike's Project Yankee and all the other Speedhunters builds going on, we're seeing some epic machines being created on the site. But a humble little box-shaped wagon is a different start-point proposition altogether. I think, or at least hope, you're going to like where it's headed though.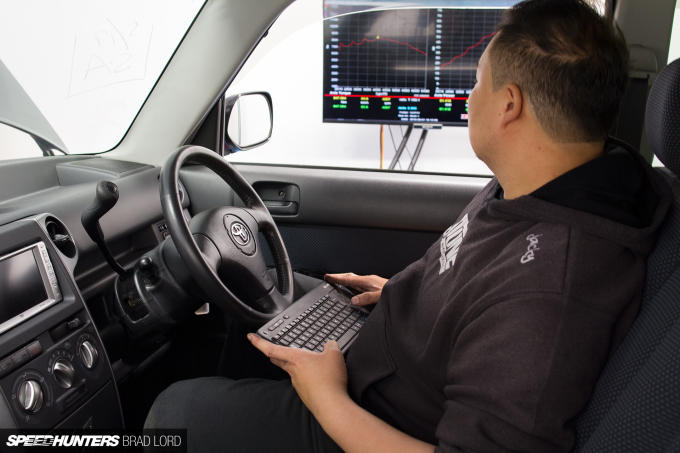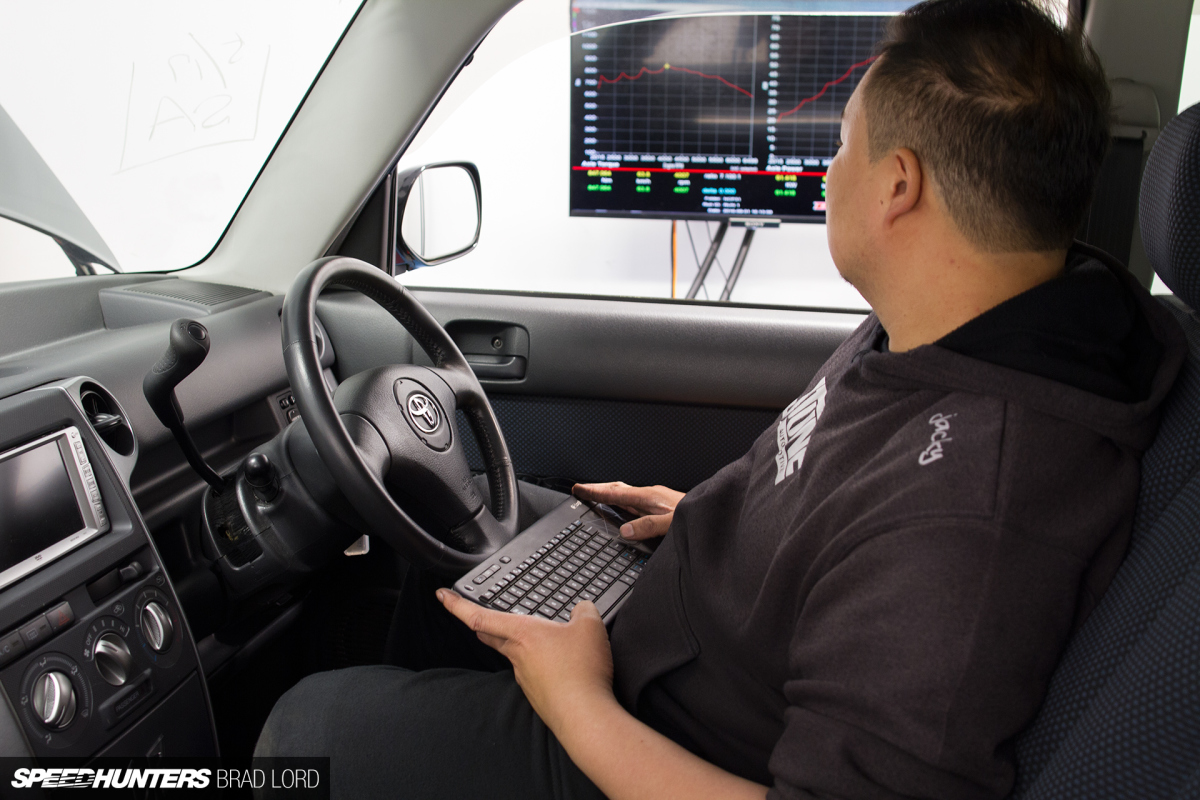 When we left off last time, I was just picking my car up from FastTrack Compliance where it had undergone – and thankfully passed – the major roadworthy inspection that all fresh used imports are required to be put through. Before I brought the bB home however, there was one final thing I wanted to do: throw it on the dyno to grab a baseline power figure.
For this, I took the car back to where it had been dropped off when it arrived into the country, my good friend Jacky's JTune Automotive workshop, which is decked out with a dedicated dyno room complete with Dynapack chassis dynamometer.
If you're familiar with Dynapack dynos, you'll probably know that it's not all that easy to run up an automatic transmission-equipped vehicle, which is exactly what all JDM bBs are (unlike the first gen Scion xB which was available with either an auto or a 5-speed manual). If you know what you're doing, however, it is possible.
Because there is no way to hold the transmission in normal D (drive) mode, Jacky made the power runs in 2 (2nd gear), going easy on the accelerator until he knew we'd be able to achieve a clean run without the car's ECU calling foul and forcing a shift.
As you can see from the air/fuel ratio plot above, in stock standard form the mixture turns extremely rich higher up in the RPM band.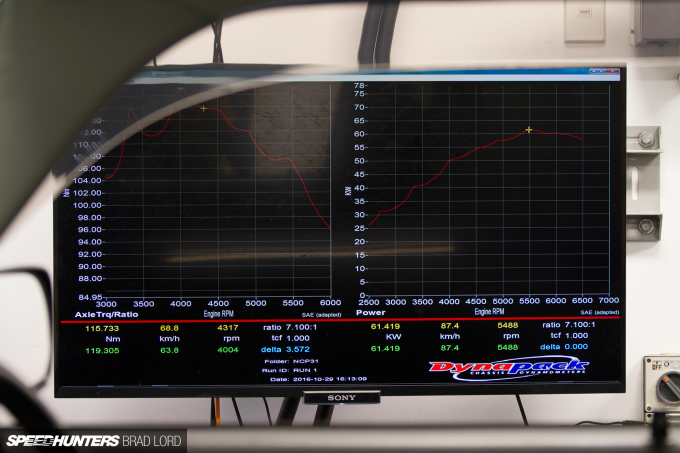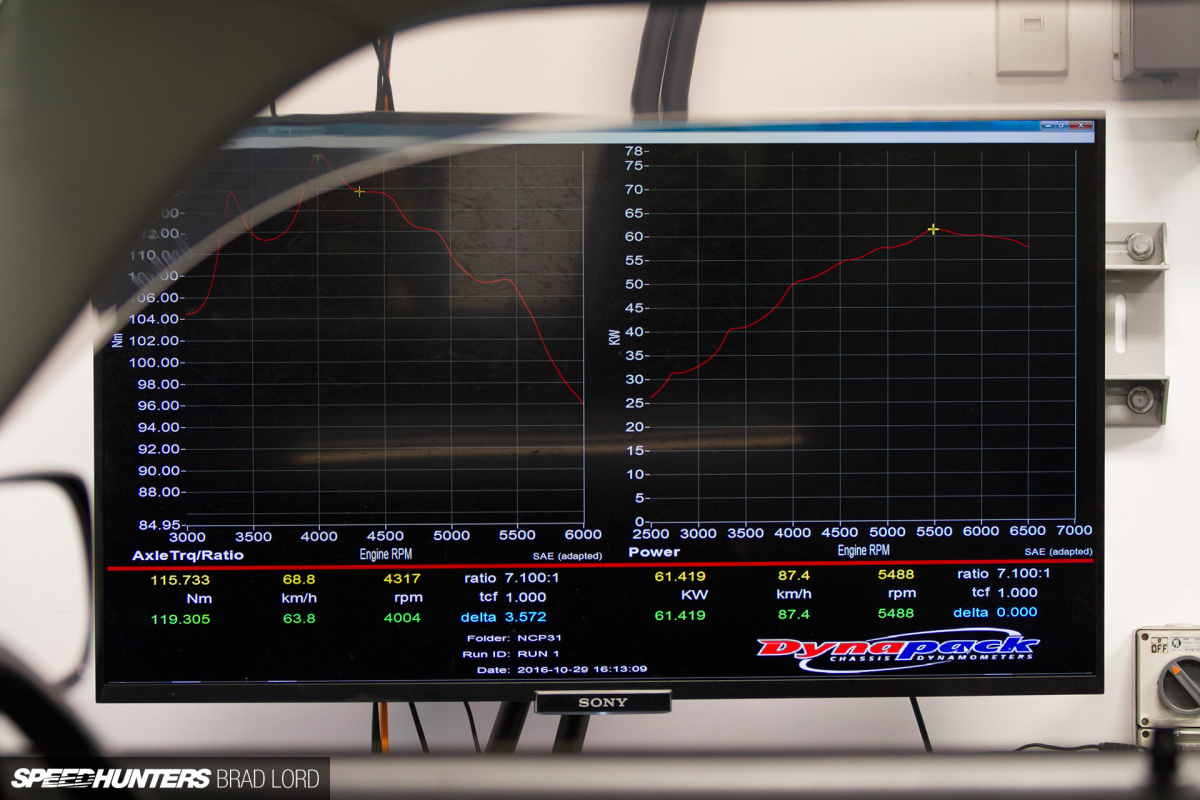 The result? We made a few runs, all of which were in one or two kilowatts of each other, and the highest record was a whopping 61.4kW at the wheels. That's the equivalent of 82.3hp, or 83.4ps. I hope you were sitting down when you read that.
As I eluded to in the title, those numbers represent a new record for JTune's Dynapack. Unfortunately, it's for the lowest output ever seen. Great.
Warning: the above clip is not at all impressive. On the bright side though, 61.4kW represents the 'before' and hopefully once I'm done with this little car it'll be packing a little lot more heat.
The Start Point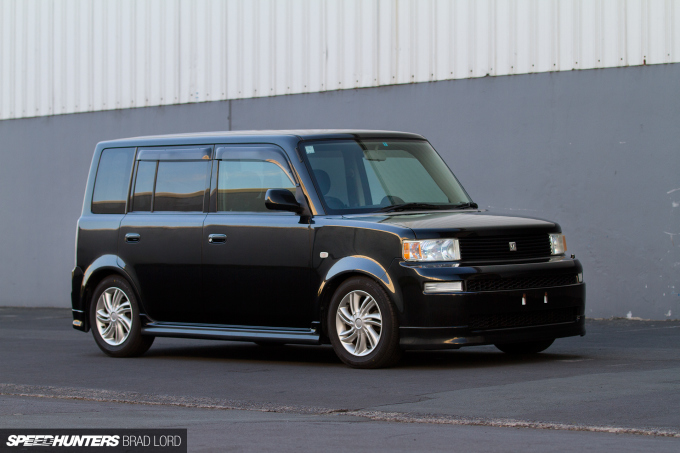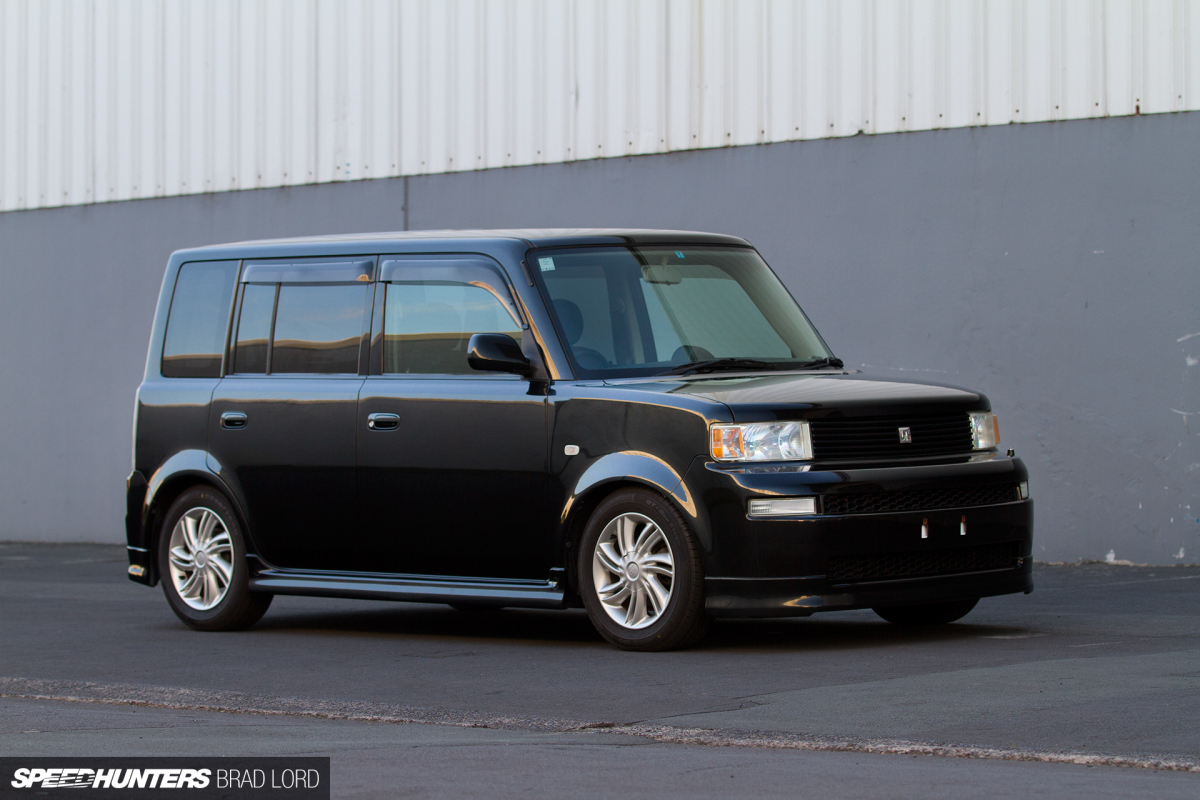 In my Project bB introduction post I talked about finding a suitable start point for this project – which was a ridiculously long and very tedious process – and also the ins and outs of getting it from Japan and legally on the road in New Zealand, which was easy. What I didn't spend a lot of time talking about was the car itself, why I'm embarking on this build, and most importantly, what's in store for it in 2017.
My interest in little Japanese box-like cars began on my first trip to Japan back in late '00. It wasn't a bB that sparked it though (although they were around in their first model year), but a pack of 660cc turbocharged Suzuki Wagon Rs having some late-night fun on Tokyo's C1 expressway. Sure, there were much faster machines out on the city loop getting up to mischief, but there was something about these low, loud, micro-sized vans that really struck a chord with me.
The bB is a bit different in that it's a little bigger and was never marketed as a performance car as many kei machines are, but I've always like this model, hence having previously owned a couple of other examples. And for what I've got in mind, I don't think there's any better place to start.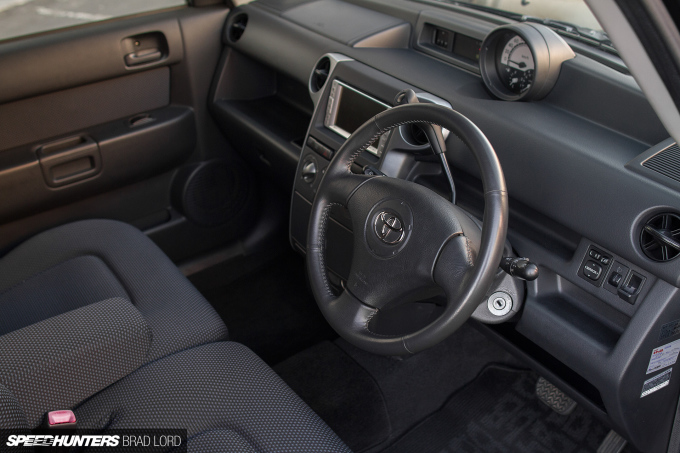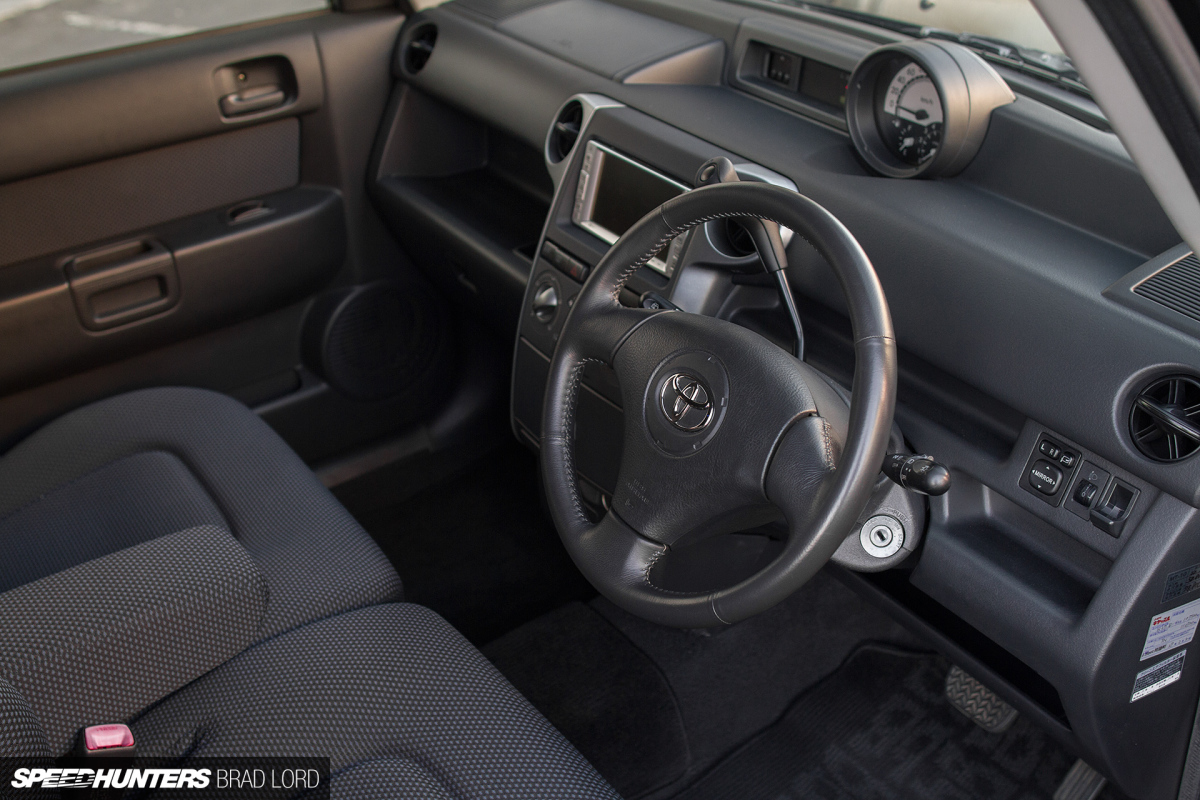 The bB was sold in a few different grades in Japan, including the strange Open Deck form. Four-wheel drive was also an option for regular wagons, but the vast majority (mine included) are front-wheel drive, as you'd expect for a compact Japanese car.
This is a facelift model, meaning it visually shares a lot in common with the Scion xB, and is a Z 'X' Version, which signifies it has the bigger 1.5L engine (1.3L was offered in Japan), plus the top-level trim and spec. In this shot you can see its front seats with a bench-style look which Toyota achieved through exclusive use of a column shifter.
Other details found in facelift model 'X' versions include High Intensity Discharge (HID) headlights, 15-inch alloys, and a subtle kit in the form or front and rear lip spoilers and side skirts.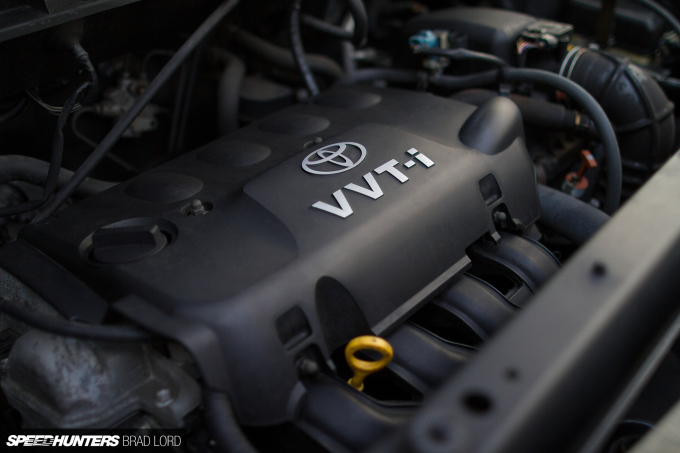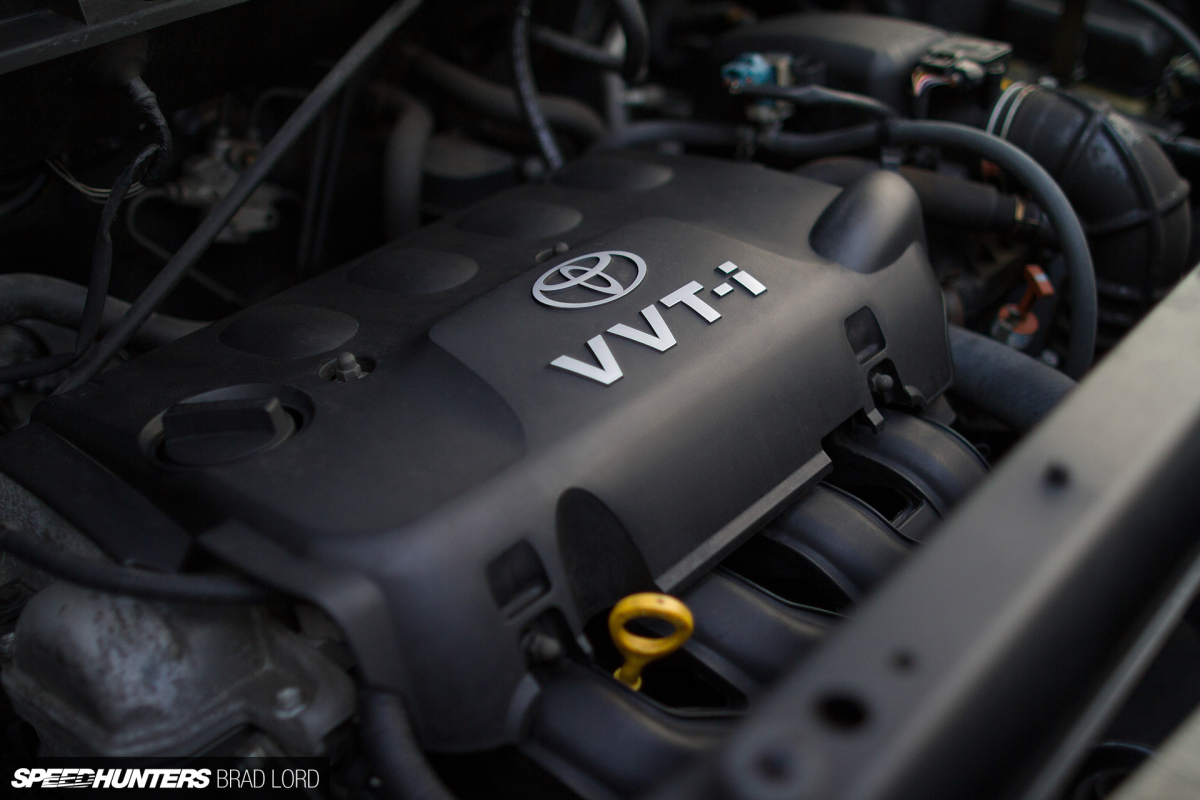 Under the hood is Toyota's 1NZ-FE, a naturally aspirated, four-cylinder 1.5L DOHC 16-valve unit, that found its way into a variety of small and medium-sized models. From a tuning standpoint, the engine has been quite well supported by the aftermarket, which has a lot to do with it being used in Vitz RS and Yaris TS variants. In Japan, Toyota Racing Development (TRD) also offered a dealer-fit turbo upgrade for this engine which lifted peak power from a quoted 110ps to 150ps while maintaining stock internals and 10.5:1 compression. So there's some potential here.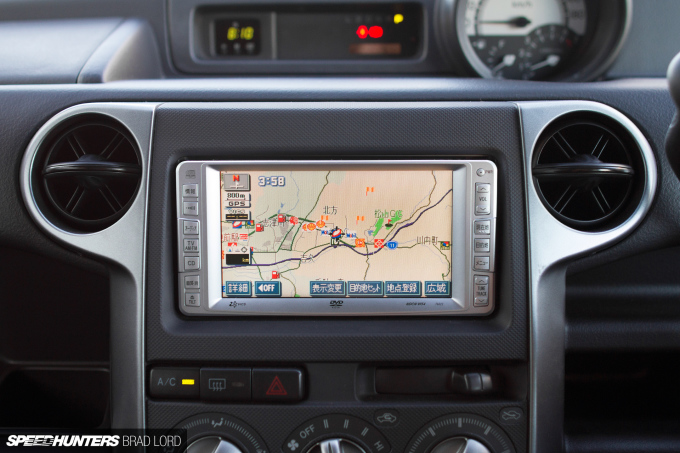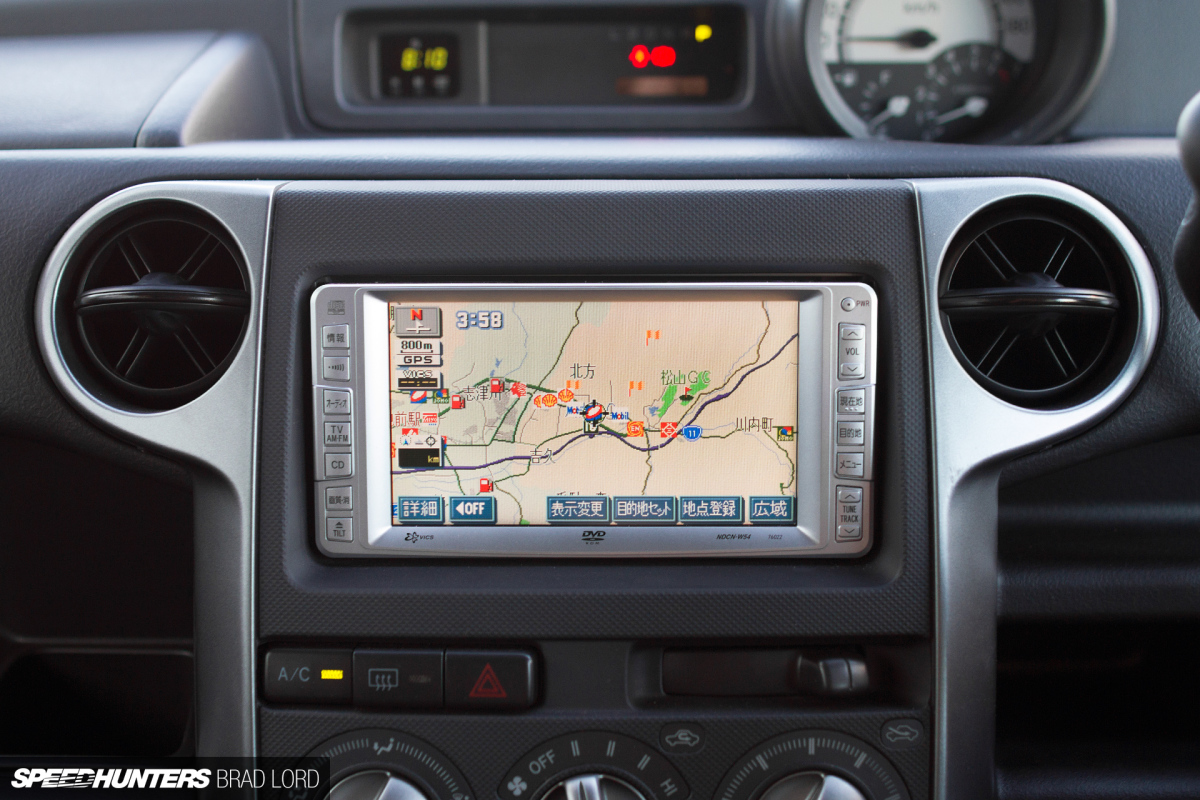 One of the great things about buying used cars from Japan is that they often come with aftermarket upgrades. Right from the get-go I was focussed on finding an original bB, and although I did attempt to buy a couple of cars that had been previously customised, the one I ended up with is as stock as they come. The factory option Toyota double-DIN DVD/navigation system seems to still think the car's in Japan.
I didn't completely luck out though; I scored a blue LED Toyota option parking pole and the previous owner was good enough to leave a CD in the head unit. I'm not entirely sold on the motorised pole, but I'm okay with a little M.O.V.E.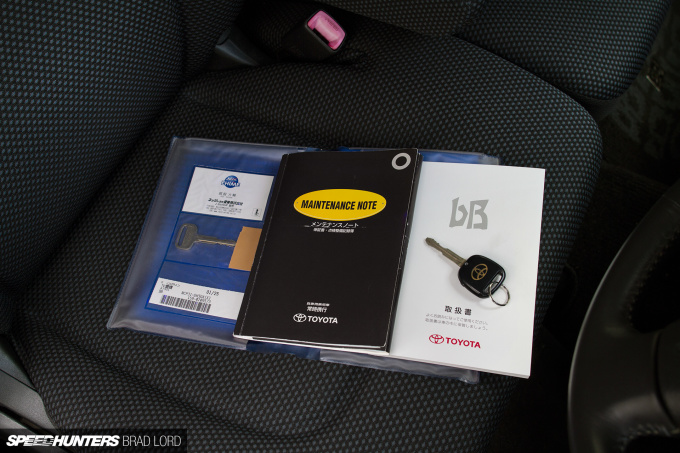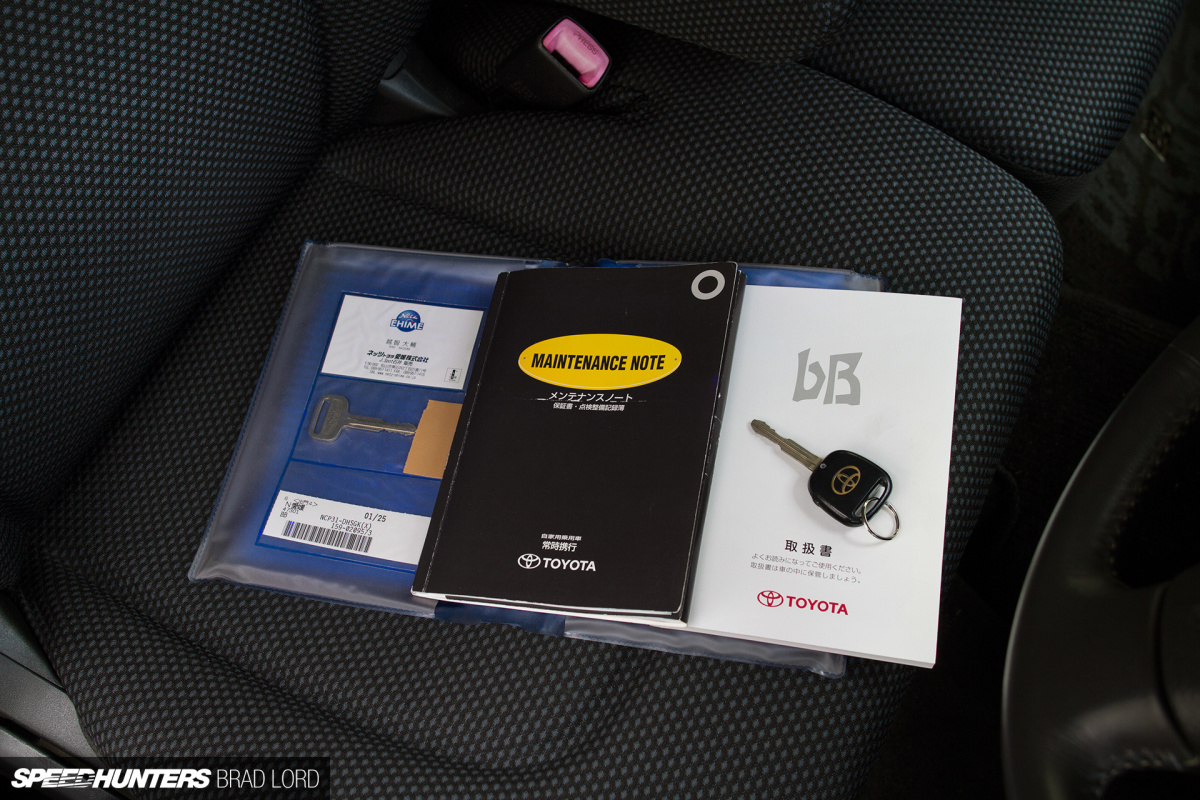 There are a number of things that tell you whether a car's been looked after, and a complete, fully up-to-date set of service records is one of them. The paperwork contained in this folder showed that my car had just one owner from new and was sold, maintained and eventually sent to auction (where I bought it) by same Toyota Netz dealership in the Ehime Prefecture of Shikoku Island.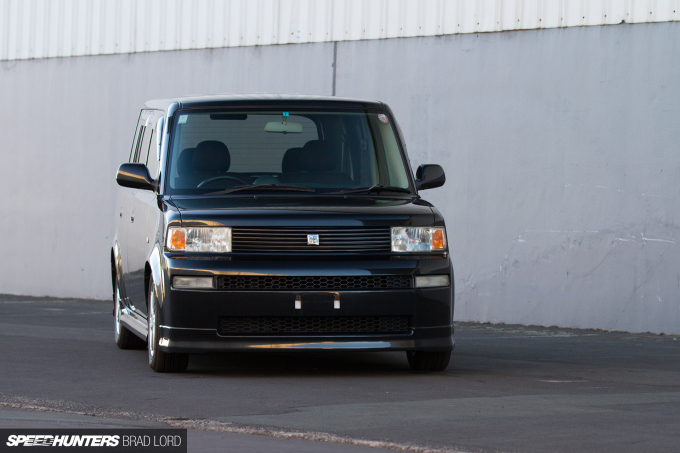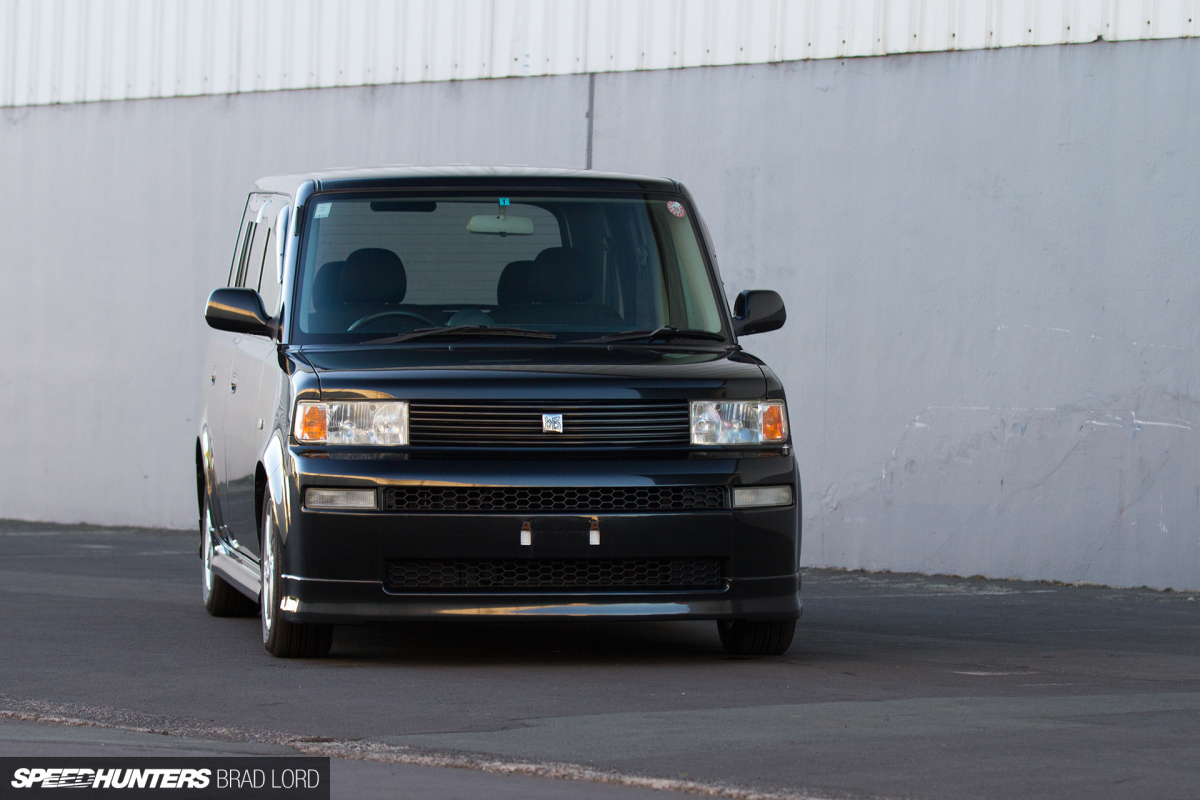 Taking everything into account, and having had the opportunity to give the car a good look over, I'm more than happy with what I've ended up with. So now it's time to get busy.
As the bB sits now, it's riding a little bit lower than it was when it arrived thanks to combination of Blitz coilovers in the front and TRD shocks and springs in the rear. I'm not planning to stick with this suspension setup (both pairs of shocks have seen way better days); it was only installed so I could more accurately figure out measurements for a new set of wheels. This was done by fitting up an old set of 16×7-inch +35 wheels and then using a combination of slip-on and bolt-on wheel spacers to adjust their virtual offset and width until I was happy with the fit in front of me.
More important to the direction of this project, however, is what I want to show you next.
A Boosted Box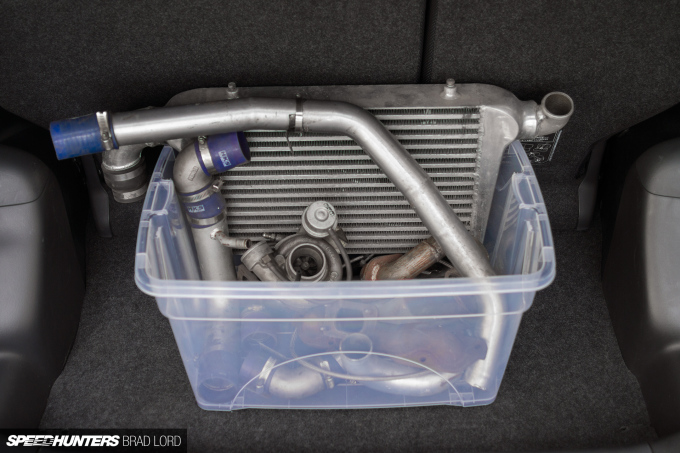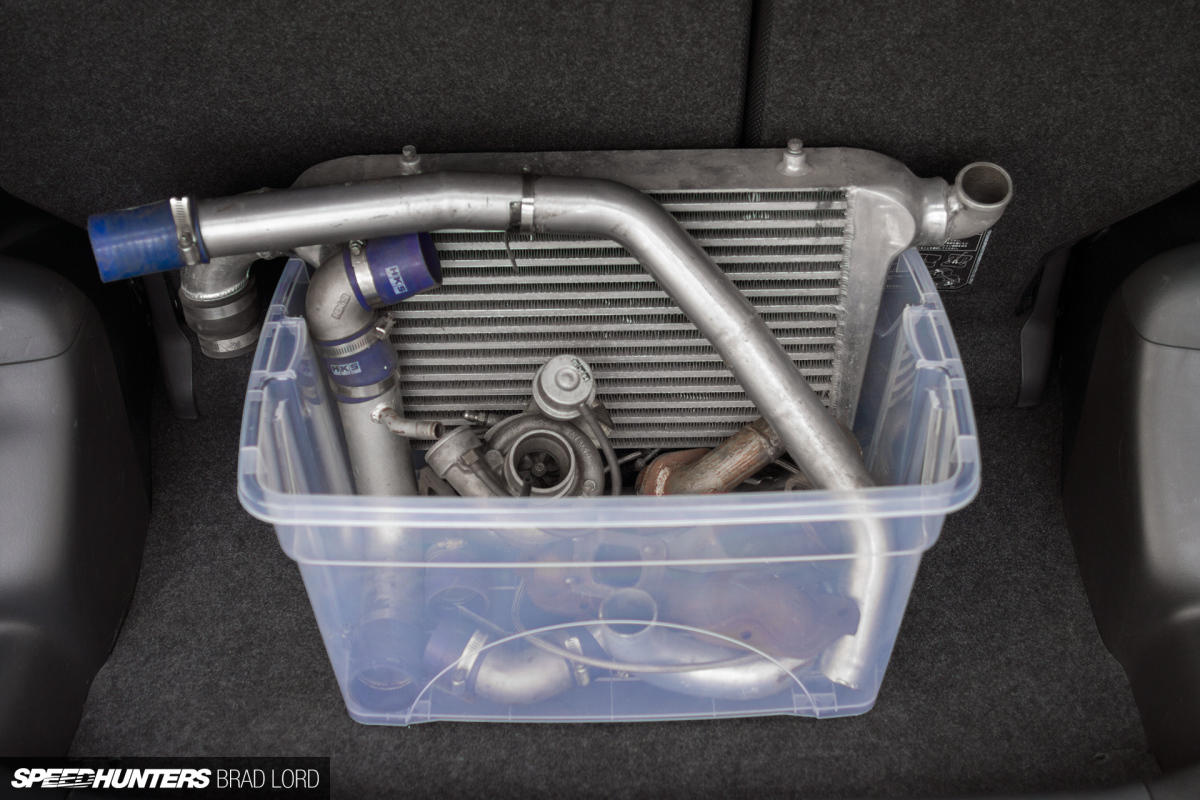 Let me introduce the other catalyst for this build, an old and somewhat broken HKS turbo kit.
I'm not sure what it's like in other countries, but in New Zealand 1NZ-FE tuning parts are few and far between, so when this mostly-complete kit came up for sale for the equivalent of a couple of hundred US dollars last year, I jumped on it straight away.
The seller, who actually turned out to be someone I knew, had originally purchased the kit brand new off the local HKS distributor for use in his Toyota iST – a car stateside readers will know as the Scion xA – and had both good and bad luck with it. On the good side, he told me it transformed the way the iST drove, but on the bad side it ended up costing him an engine when the wastegate stuck, delivering 20+psi of boost instead of the 6 or 7psi it was supposed to. In turns out that stock 1NZ rods aren't all that strong.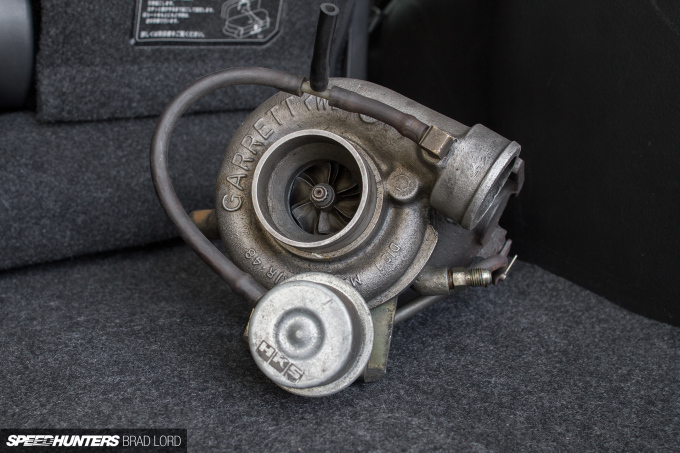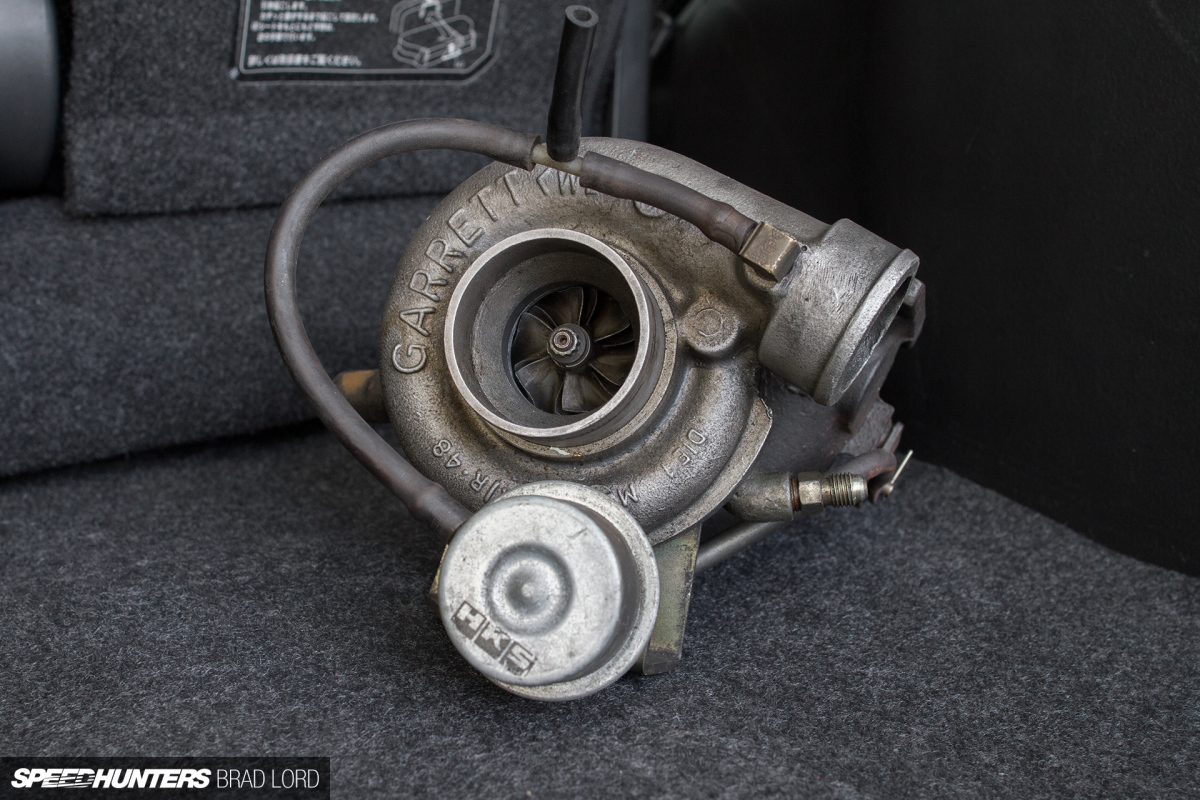 Ultimately, a replacement engine found its way into the car, but turbo oiling issues eventually sealed the fate of the little HKS-spec Garrett T25. There's a lot of play in the shaft, and the compressor wheel blades are looking rather second hand too. The kit was removed and eventually offered up for sale, hence how I ended up with.
So while the turbo needs a rebuild or replacing outright – and I'm really only interested in the latter – the other components are still useable. There's really only one thing I wanted out of the kit though, and that's the now discontinued cast iron HKS turbo manifold. This key component will be carried over into my build and form the basis of a custom turbo setup, its T25 flange opening up a few more options when it comes time to choose a turbocharger. Of course, I'm somewhat limited by space given the exhaust side of the engine backs onto the bB's firewall, but whichever way I go I'll still be running a small-frame turbo, so that's not really a problem.
With boost in the equation and the full gamut of supporting upgrades, my little Toyota should be a whole lot of fun to drive in the future. Just last weekend, I took a big step in the right direction by picking up another important upgrade, and I'm looking forward to sharing that with you in the New Year as the partial teardown and subsequent rebuild of Project bB begins.
Brad Lord
Instagram: speedhunters_brad
brad@speedhunters.com