The 49th Baja 1000
As a Speedhunter, life is pretty much an endless number of bucket list motoring events being ticked off, new builds and breakthrough moments in car culture.
As I always say, there are infinite things we can photograph and present, but within those are a few events that really stand above the rest. For me, the Baja 1000 is among those and right up there with the 24 Hours of Le Mans and the Goodwood Festival of Speed.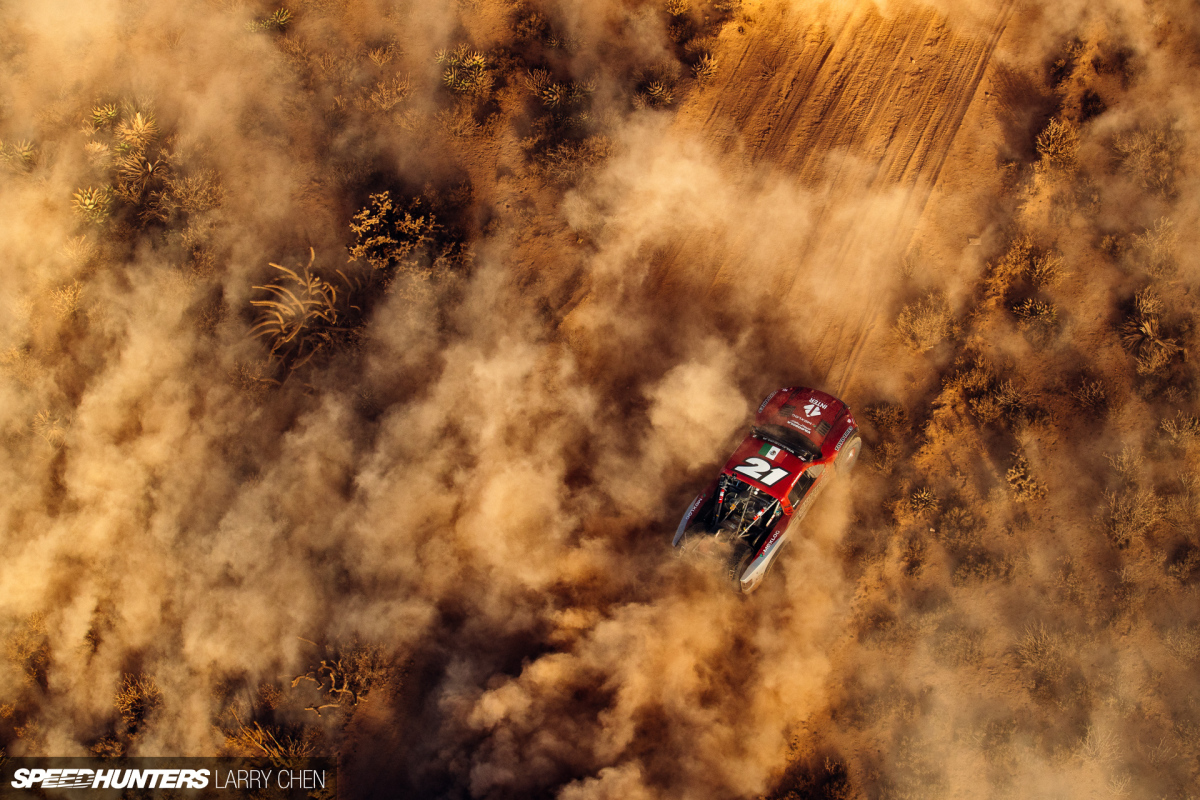 Believe it or not, up until a few weeks ago I had not shot all three of these events. The Score Baja 1000 has always been on my radar, but over the past few years there has always been a scheduling conflict of some sort.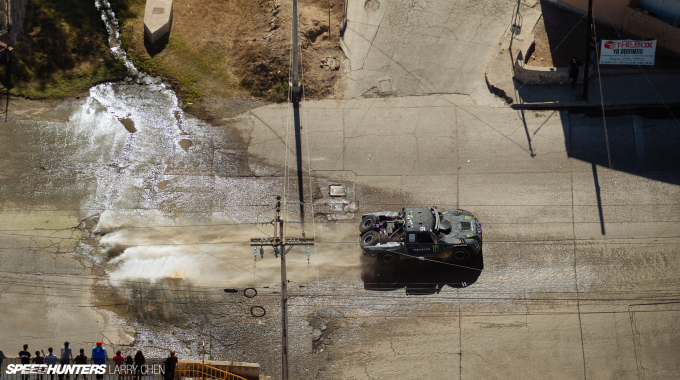 However, this year my schedule was wide open, meaning I could finally tackle the Baja head on.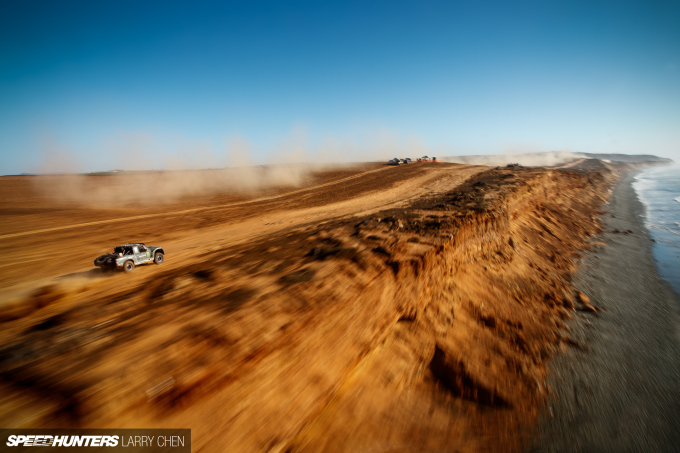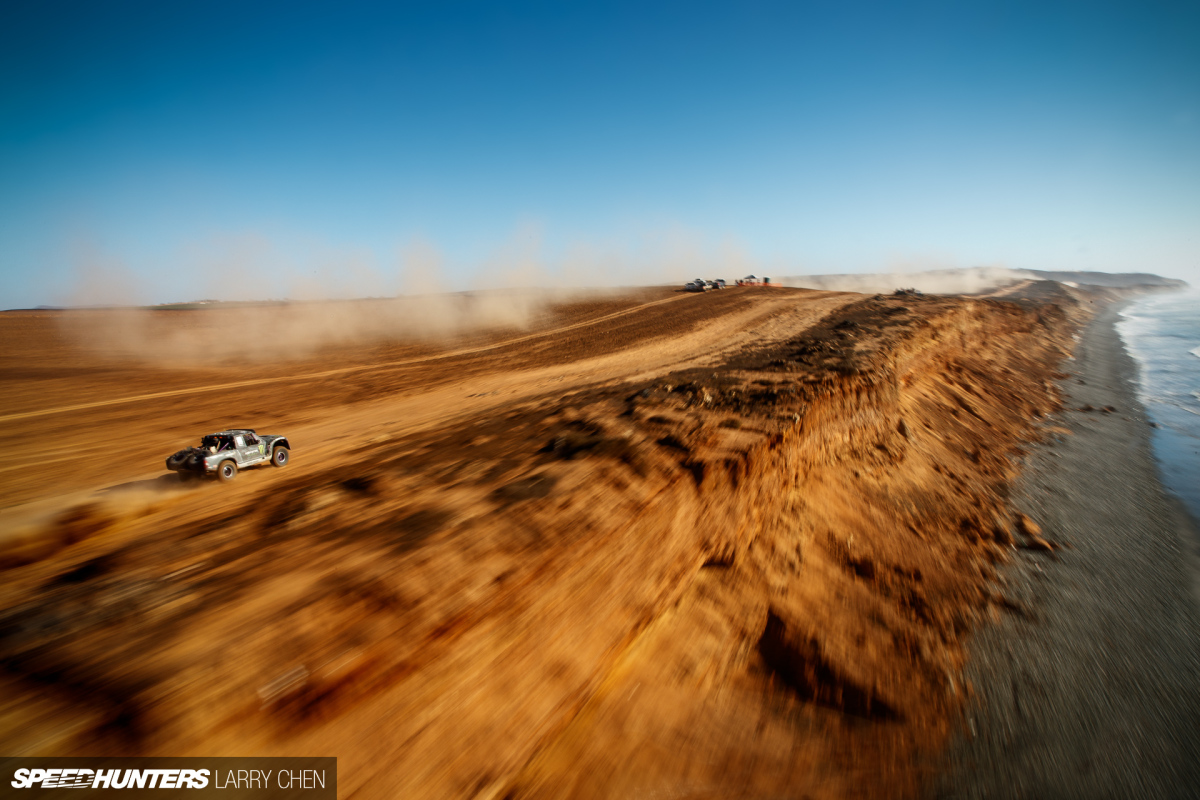 I wanted to follow the big names, like BJ Baldwin, pictured here hitting maximum speed just a few feet away from a sheer drop into the ocean.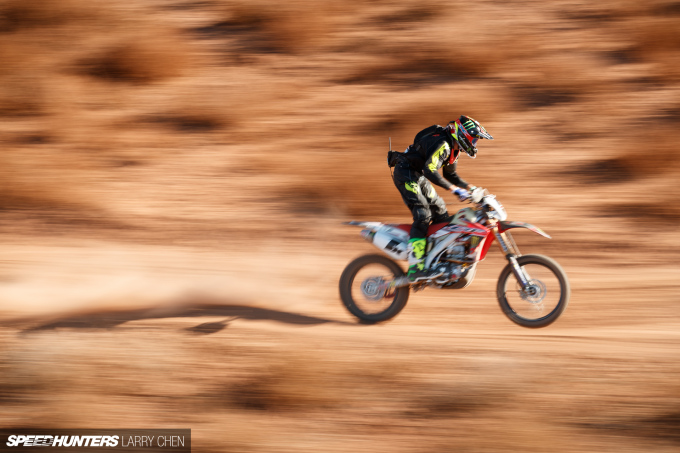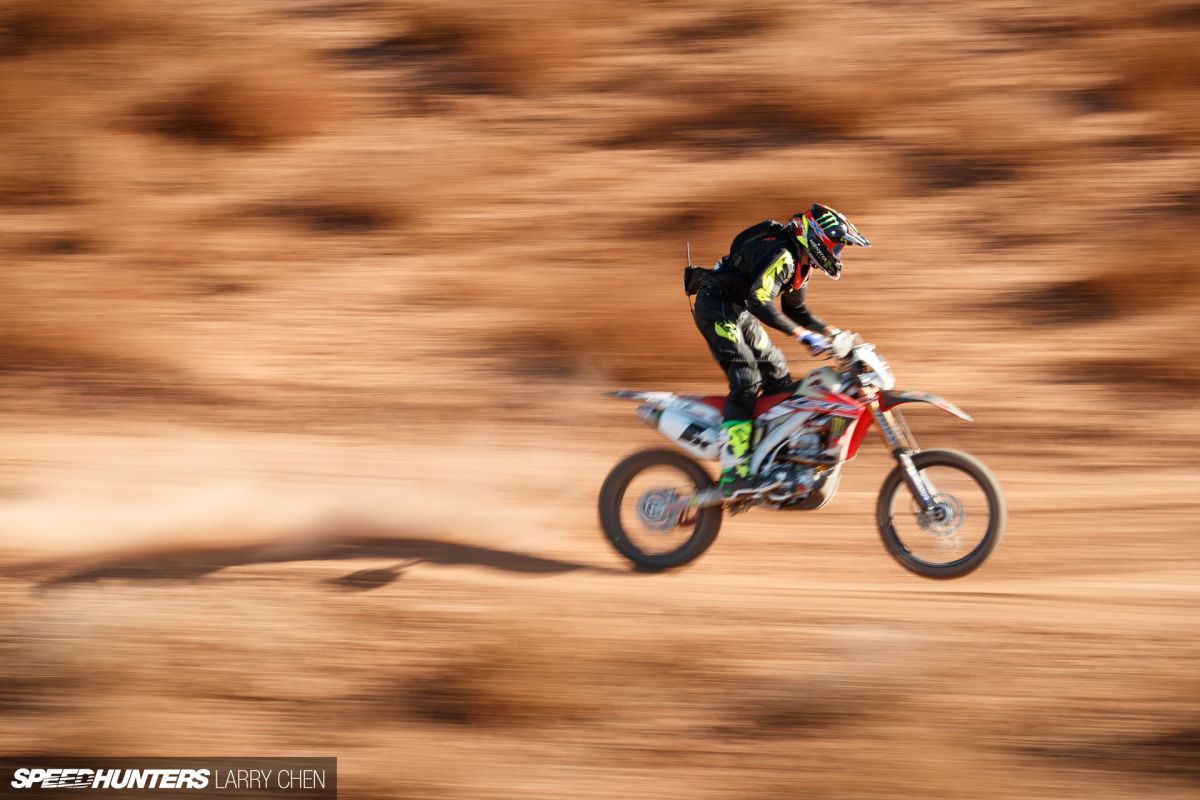 But how can you possibly cover a race that is more than 850 miles long and runs over some of the roughest terrain and backcountry roads in the desert?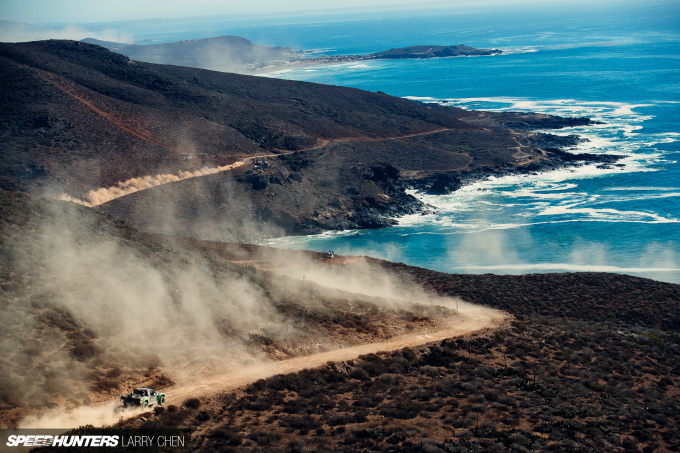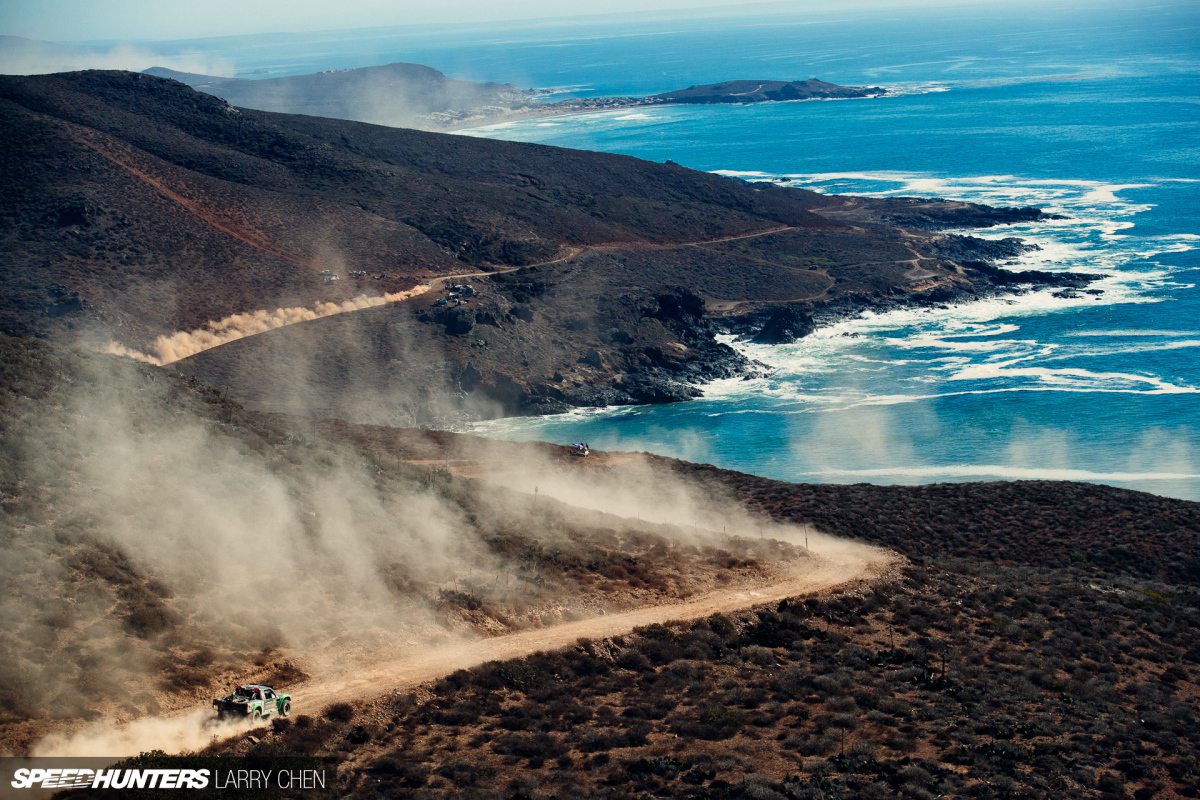 Well, as luck would have it, Monster Energy hired a very expensive helicopter for me with a very seasoned pilot who I have flown with plenty of times before. More on this shortly.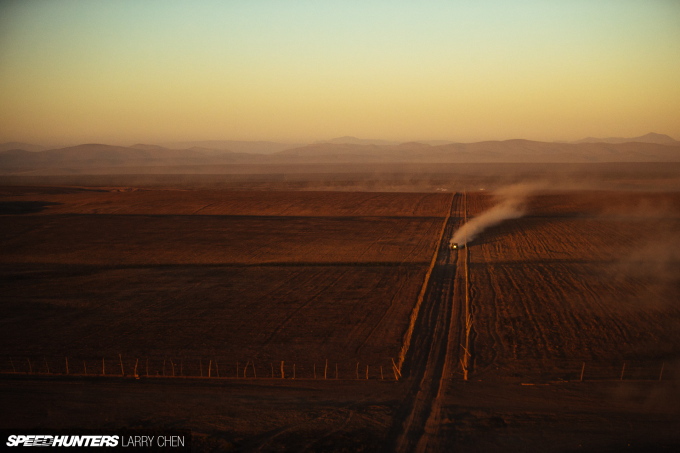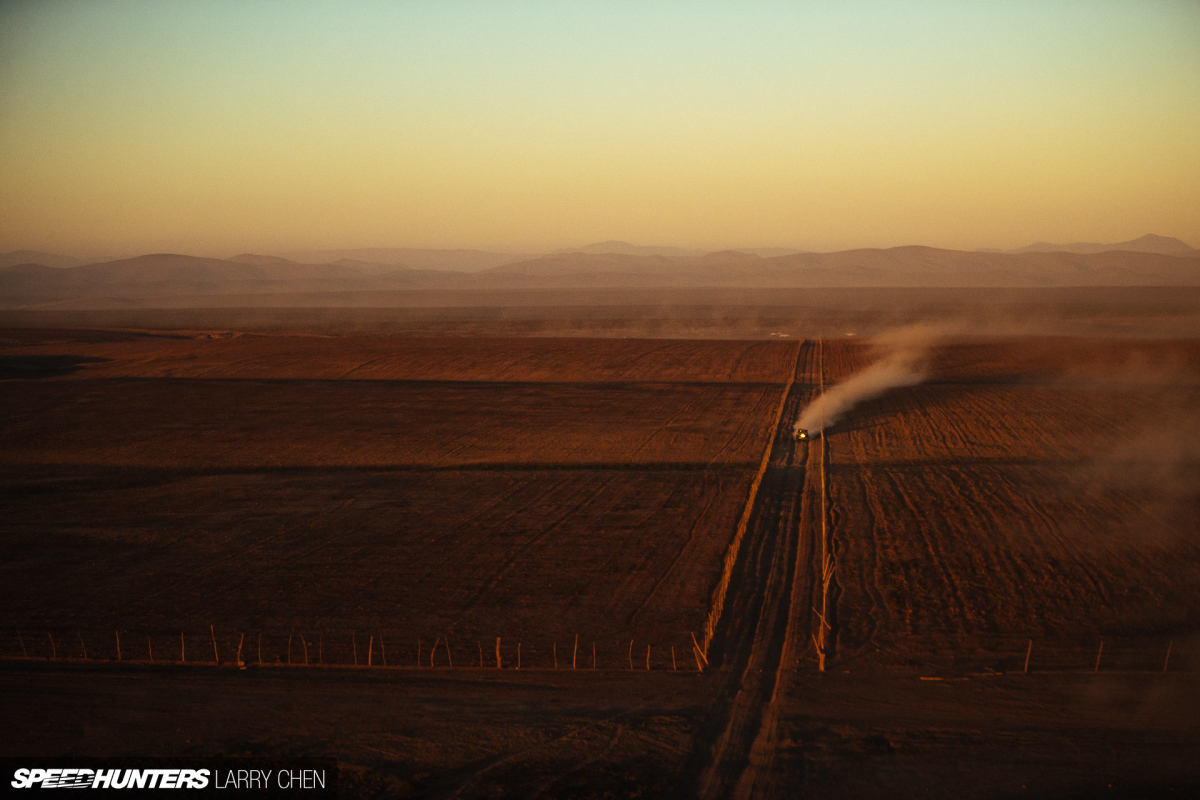 To prepare for such a grueling event, Louis and I actually practiced our plan of attack during the San Felipe 250 race earlier this year, but our roles were reversed then.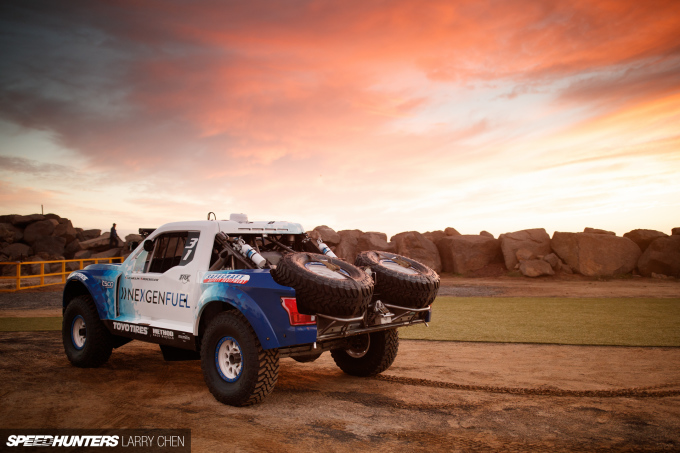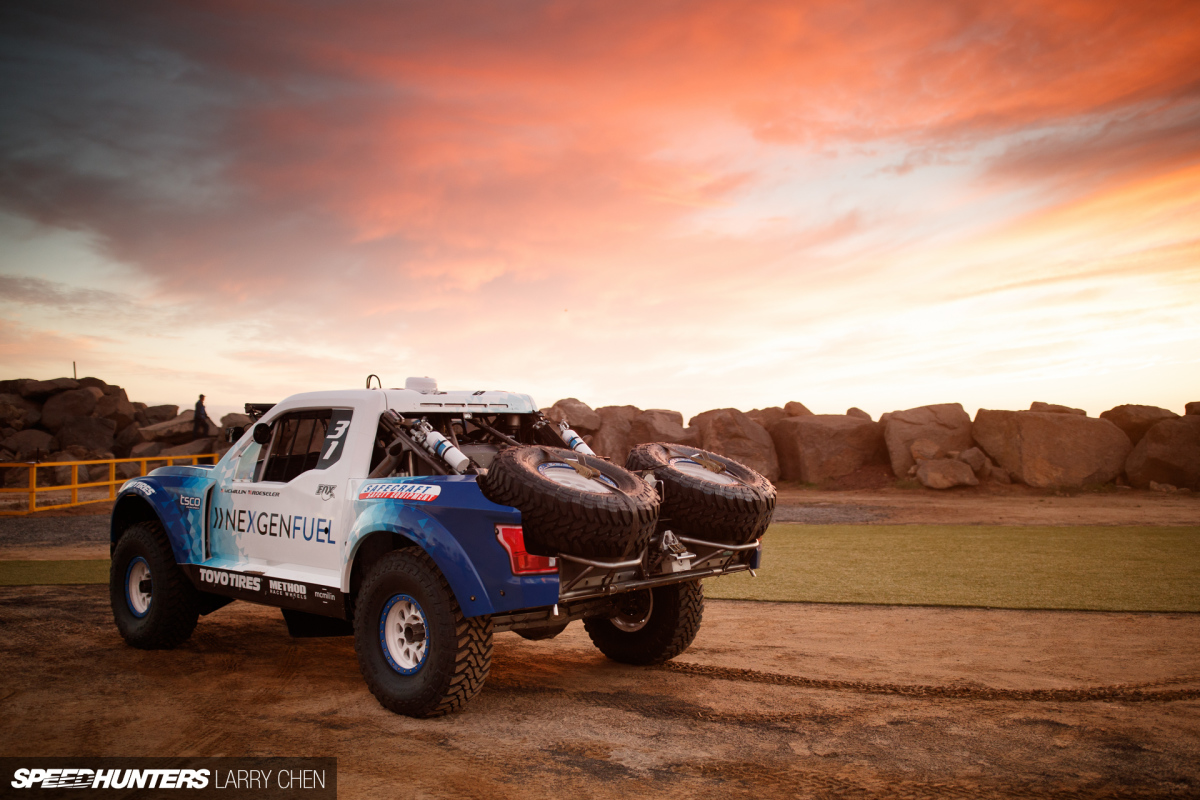 Louis was in the air following Tyler McQuarrie and Pat O'Keefe in the Nexgen Fuel/Safecraft trophy truck.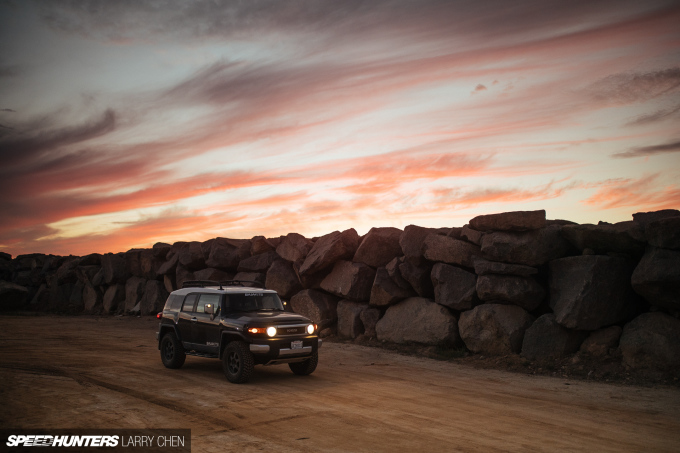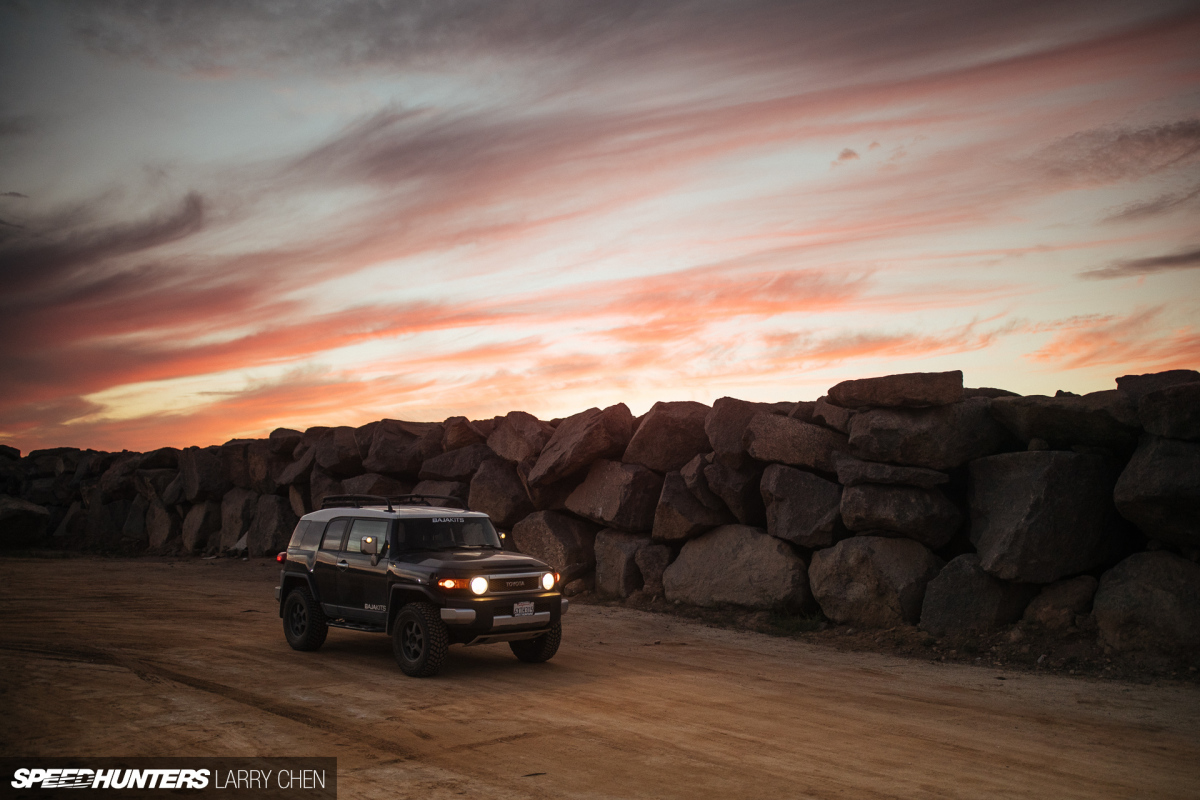 And I was on the ground, using my FJ Cruiser to get me from point to point.
For the big event though, Louis would be shooting from the ground, where he'd sure to be tossed around like a rag doll on the very unforgiving Baja California roads, and I would be flying in comfort.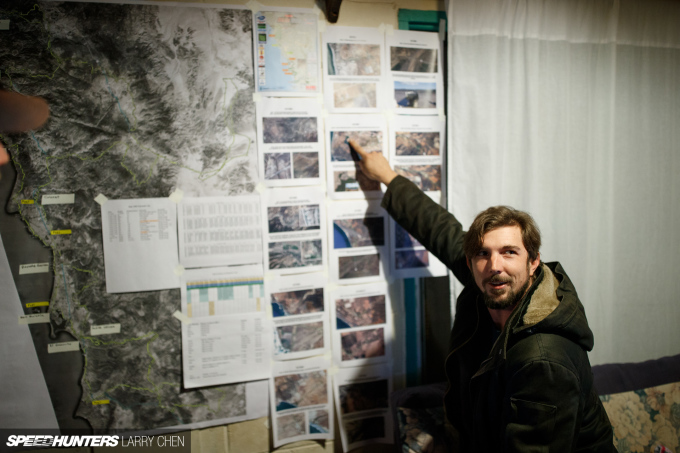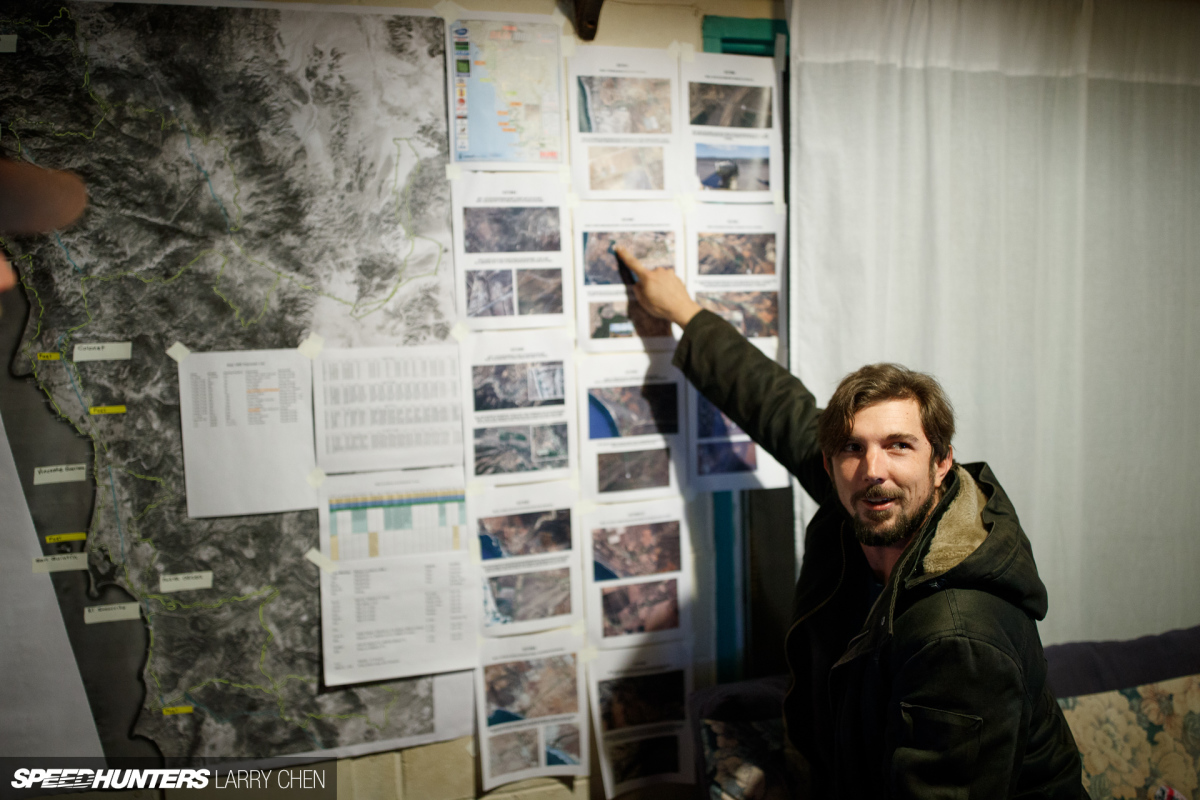 Louis: The night before contingency, it was agreed that I'd tag along with Chris Adams from Tempt Media as he followed the race.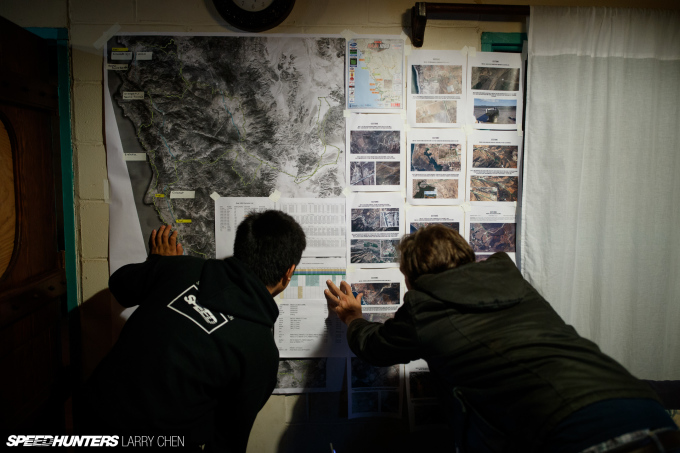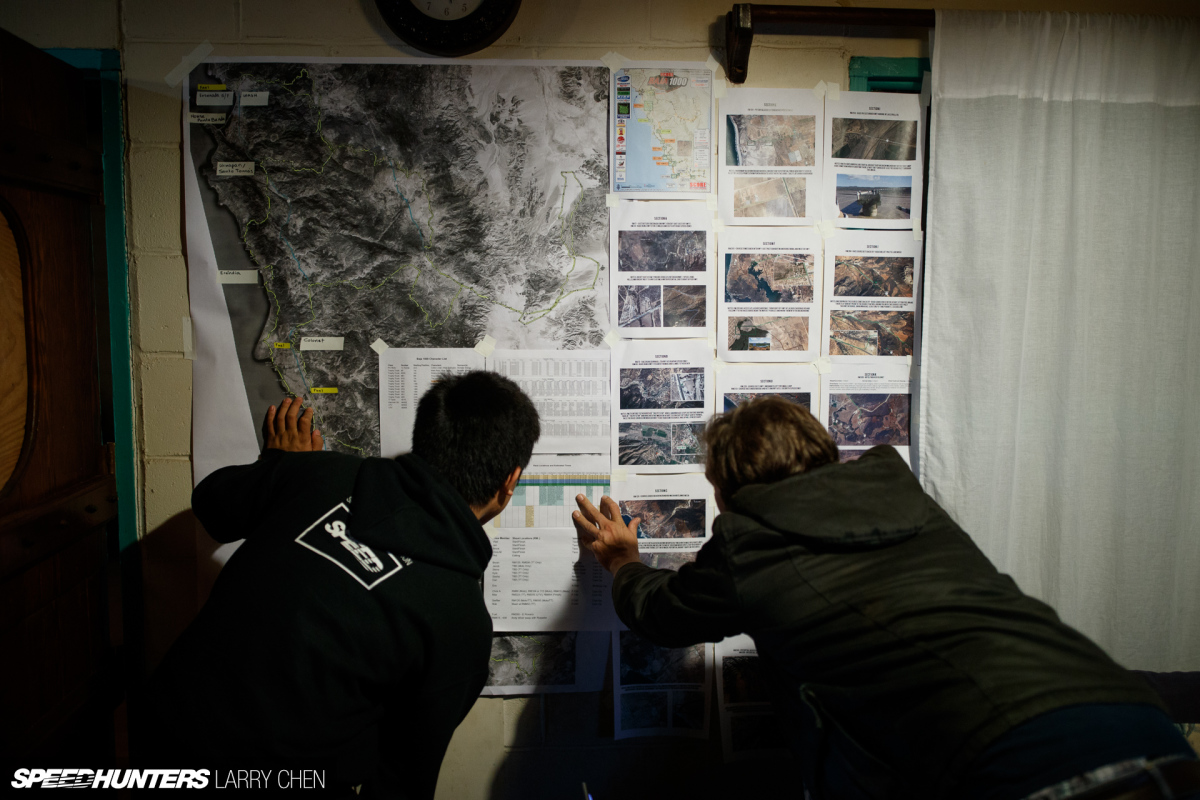 I've never seen any planning quite as complex as this when it comes to shooting locations for any type of race. Chris had divided the team up into various groups, each one tasked with between two and five different locations.
There was a screenshot of each section, complete with an extensive description detailing everything from the estimated arrival times of the racers, to nearby food and fuel outlets. Chris had five planned locations for our group, spread over the entire race day.
Larry: It looked more like a war room than anything else; there was enough video and camera gear to shoot a feature film. Tempt even had an editor on standby for the full 24 hours, his job to load cards and pump out videos during the course of the race. It was amazing.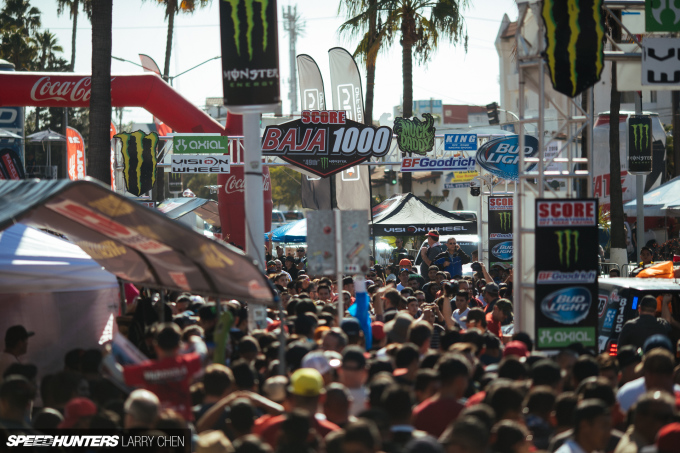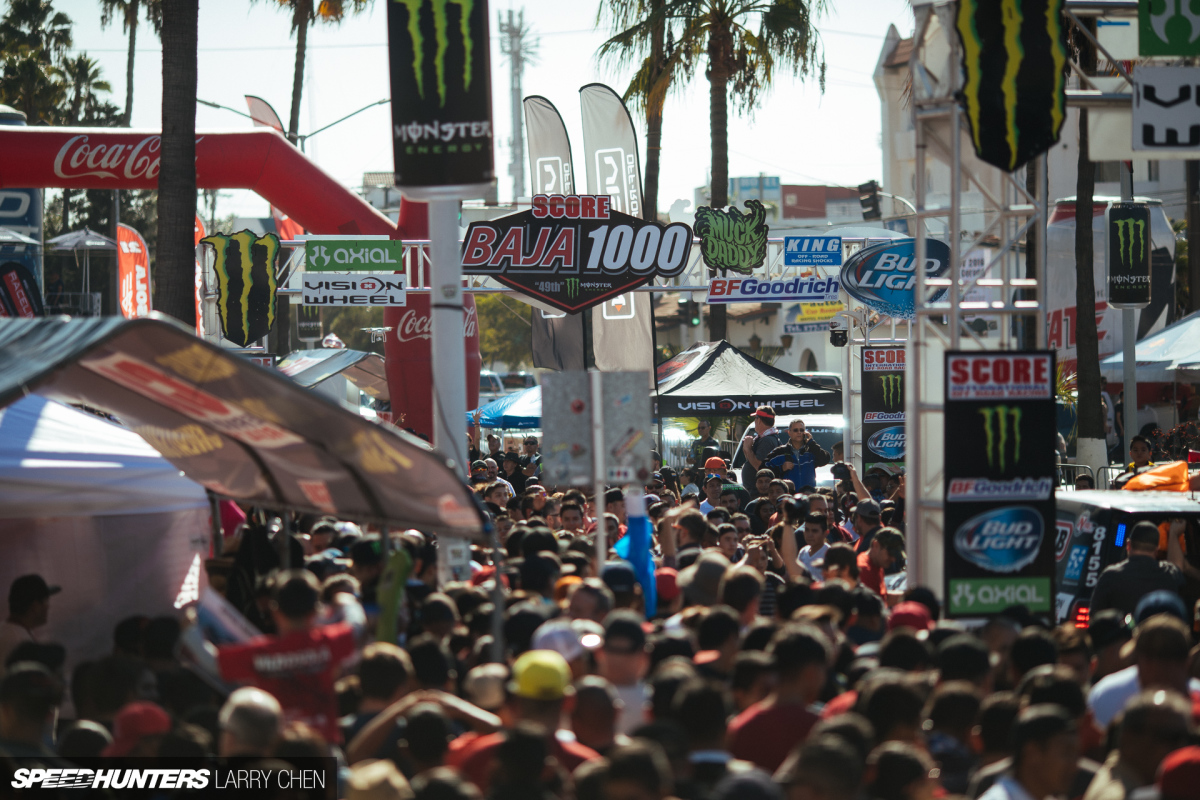 So many people have different perceptions of Mexico, but I don't think anyone should knock it until they've experienced it for themselves. I travel to Mexico a few times a year and it's been nothing but awesome.
I know all the off-road geeks will agree with me, but the people, food and culture surrounding this form of racing really is something else.
The city of Ensenada comes alive during race week, and it really made me wonder if it'd be possible to hold a motorsport event of this size anywhere else in the world. Not likely, I'm guessing.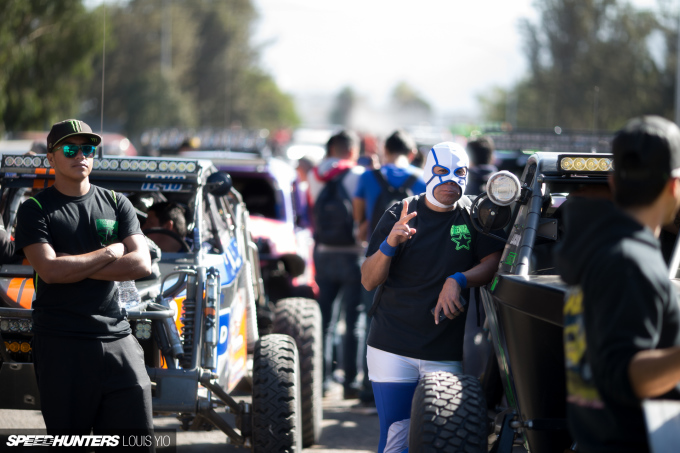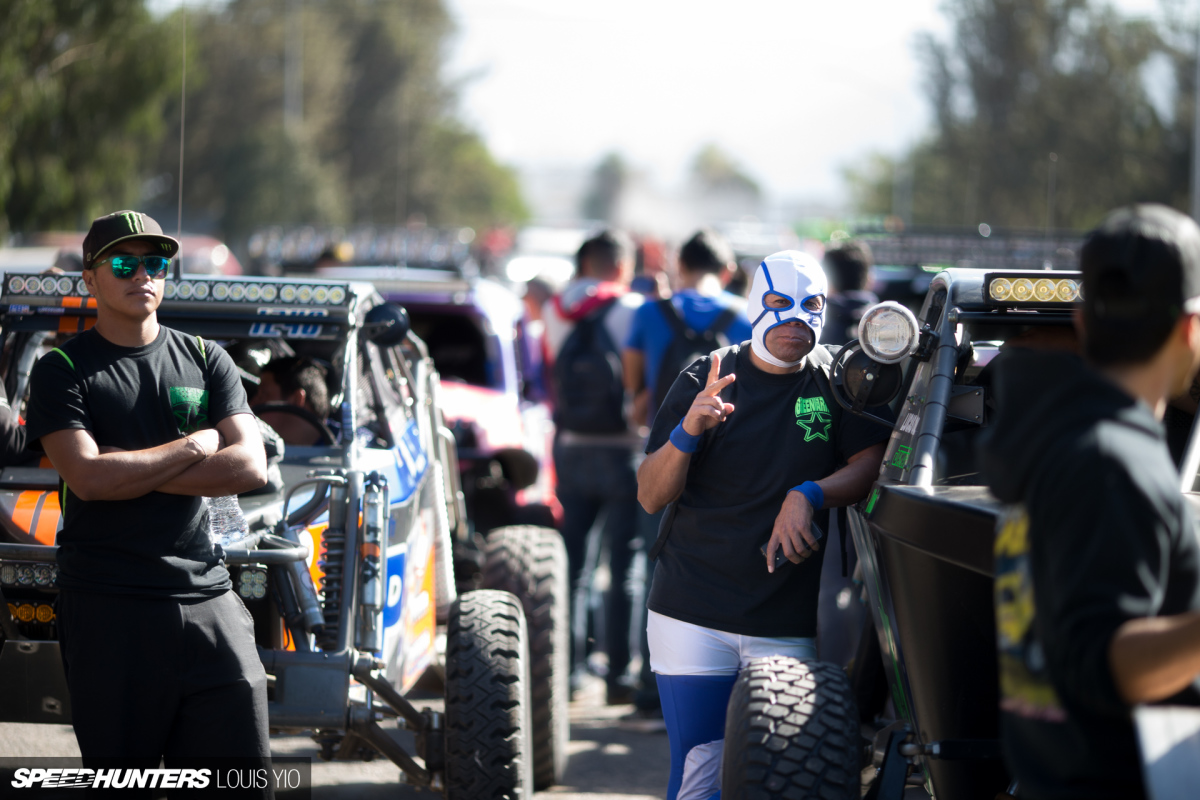 Louis: It's crazy what you sometimes see during contingency. My favorite moment was when this luchador snapped his head towards my camera as soon as he saw me raise it to my eye.
To say the people of Ensenada have a huge interest in desert racing would be an understatement. Because cities in the Baja Peninsula don't have professional sports teams, they turn to motorsports as their primary. Big-name drivers like BJ Baldwin, Rodrigo Ampudia and Robby Gordon are basically seen the same way North Americans look to stars like Kobe Bryant, Michael Phelps and Tom Brady.
Race Day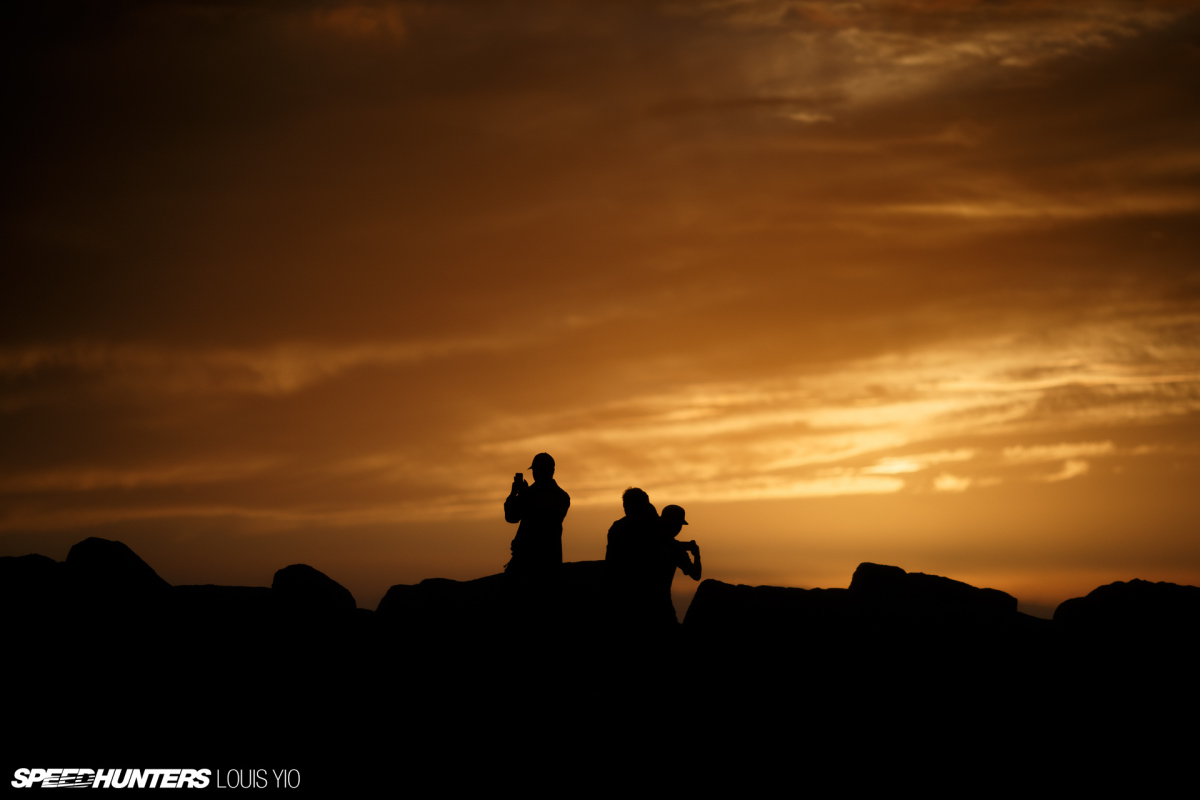 The day started pretty early for me; I woke up around 5:30am (while I'm sure Larry still would have been fast asleep) and within a half hour we were on our way. Our plan was to head to Race Mile (RM) 80 and catch bikes 1X and 3X as they powered through. The trucks weren't scheduled to start the race until 12:00pm.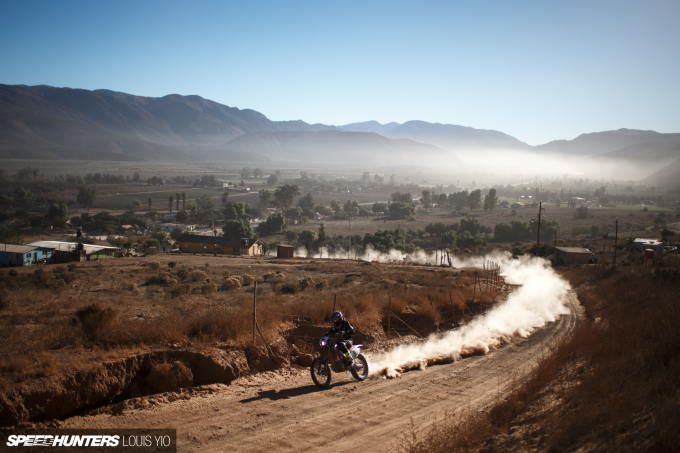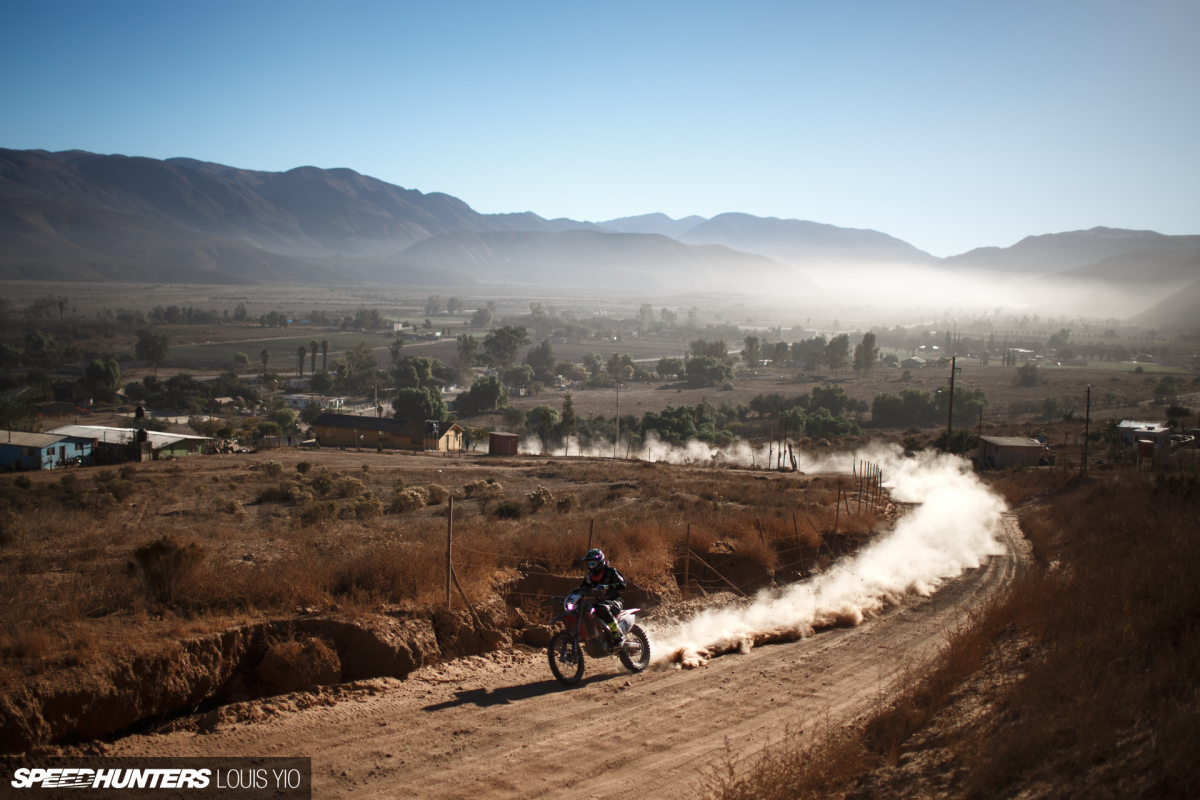 After what seemed like an eternity, the bikes finally reached our location. They were an hour later than their estimated arrival time, but I found out this was due to a late start and the nature of the first section of the 850-mile course, which is exceptionally slow.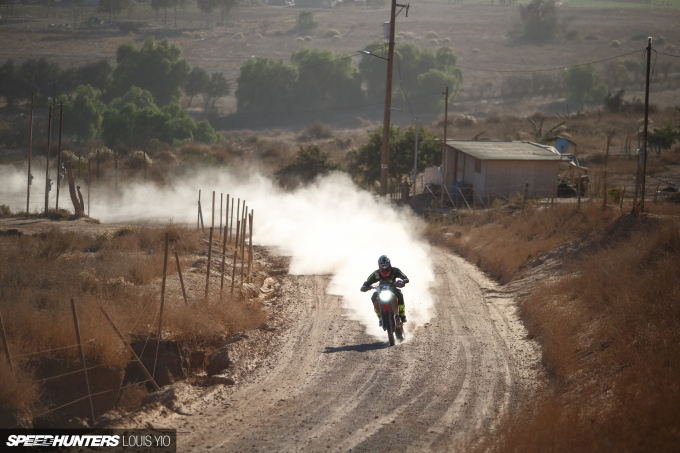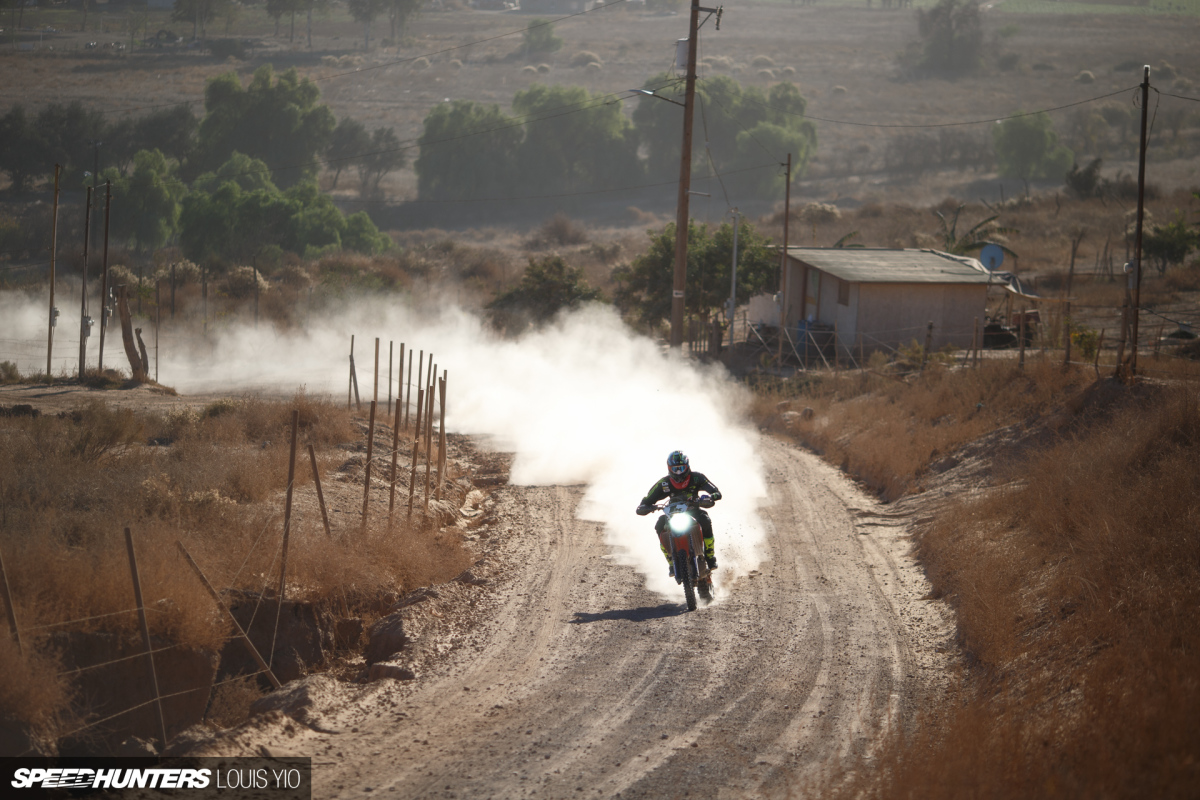 By now it was around 8:30am, and after catching 1X we bolted straight back to the car so we could try and catch him again passing RM120.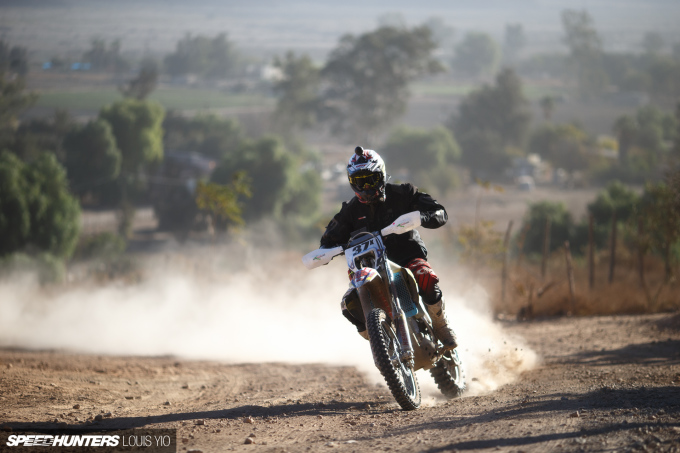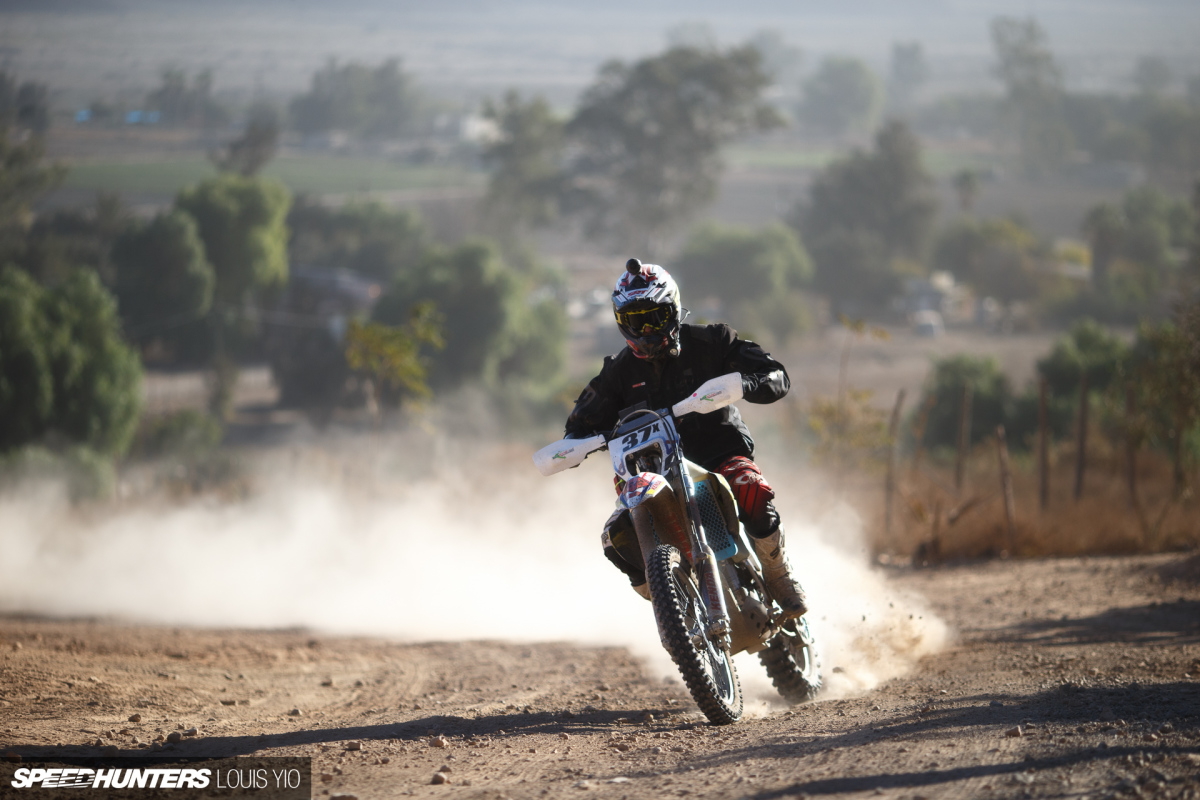 I was able to get one more shot in before Chris started yelling at me to hurry up.
Larry: As Louis, Chris and the rest of the Tempt Media crew were darting around the peninsula, I woke up to a cool ocean breeze blowing outside of my window. We were staying at a friend's house at Race Mile 140, which is appropriately named 'Rancho Relaxo'.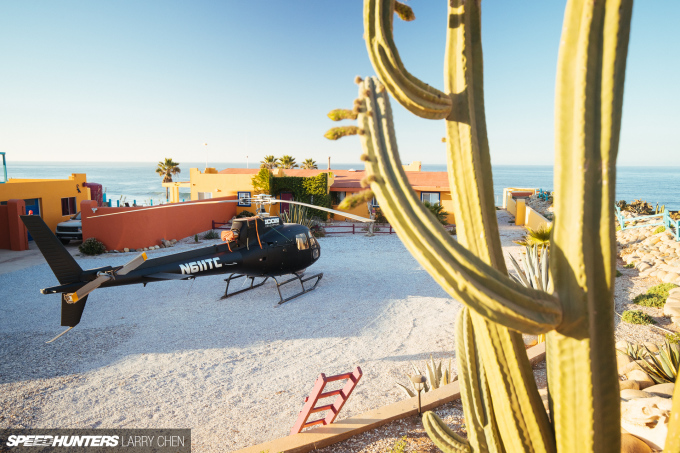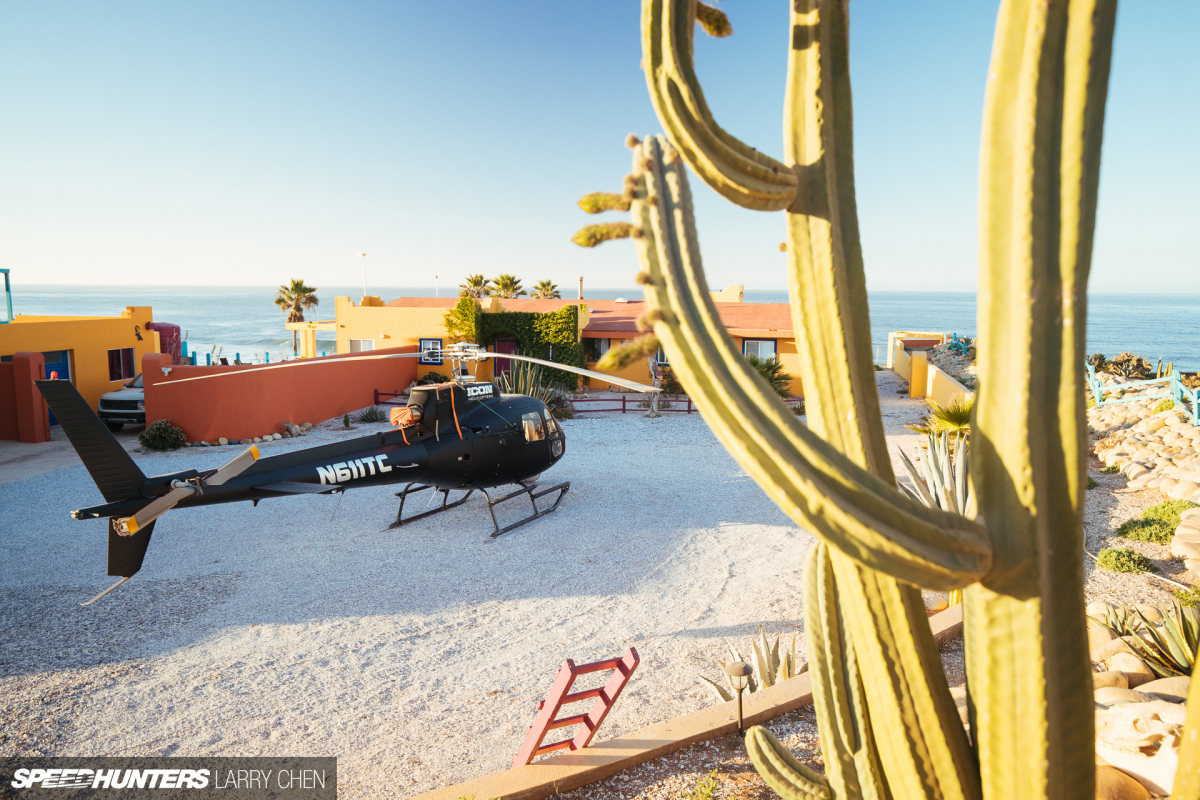 Parked outside my room in the yard was the AStar, all fueled up and ready to go. This was my first Baja 1000 race and I was already being spoiled beyond belief.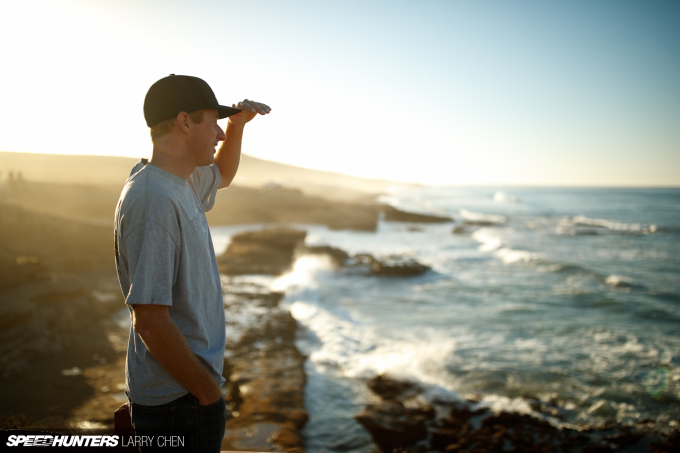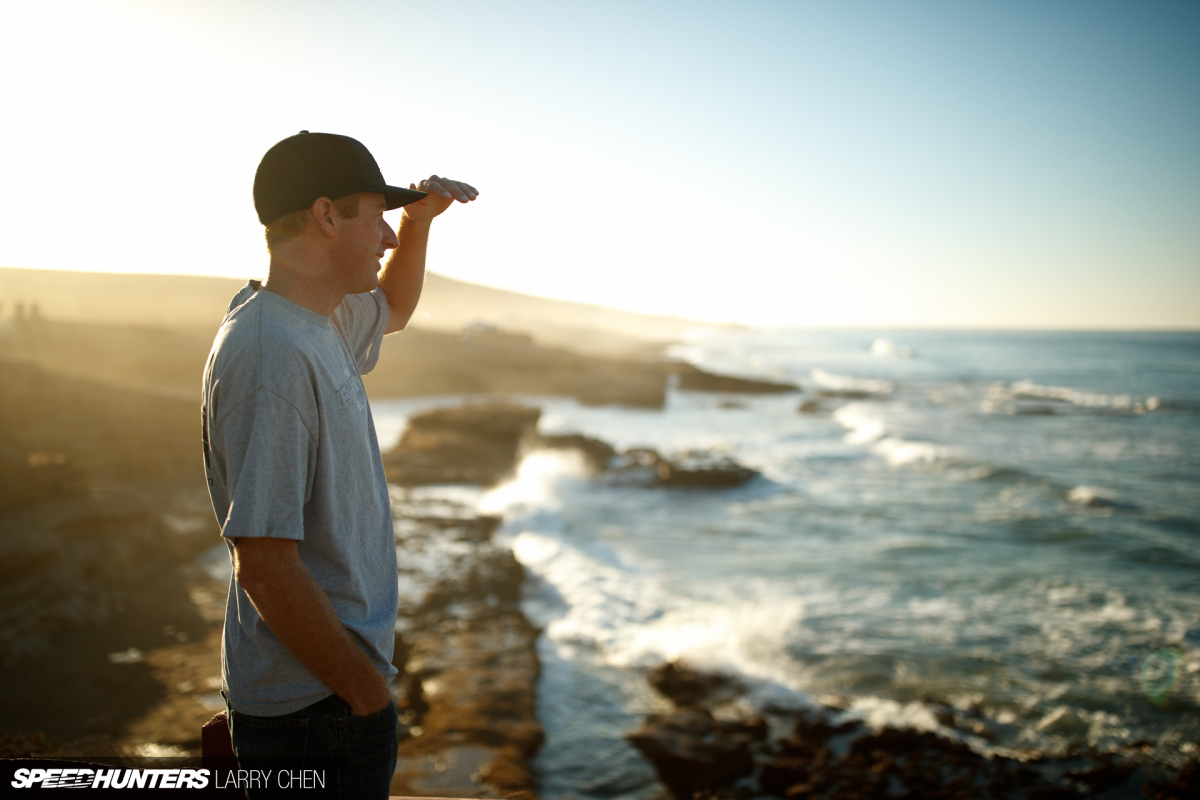 I would be flying with my good friend Eric Everly who co-owns Tempt Media. I've flown with him all over the world in helicopters, and for this event he was operating the Shotover F1 camera system attached to the nose of the helicopter.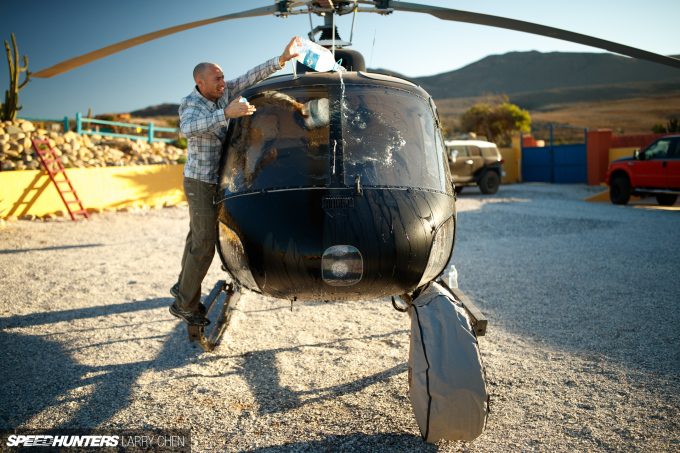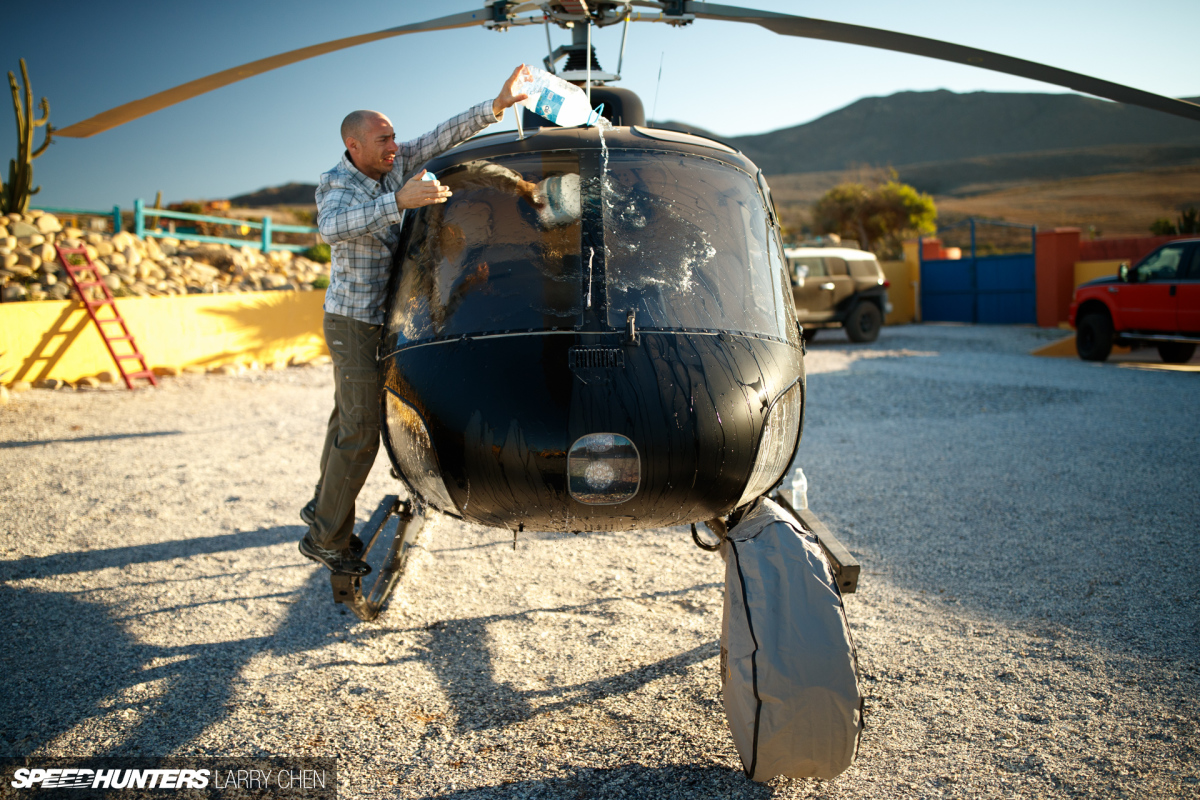 Clean windows means cleaner photos. This is Dave Vernick, owner and pilot of this beast of a helicopter. His company is Icon Helicopters and he operates out of the San Diego area. I've been lucky enough to work with him over the past few years and I trust his skills as a pilot more than anyone else.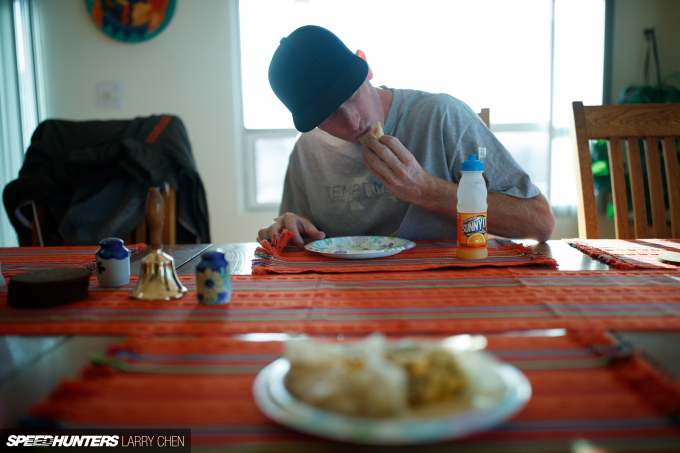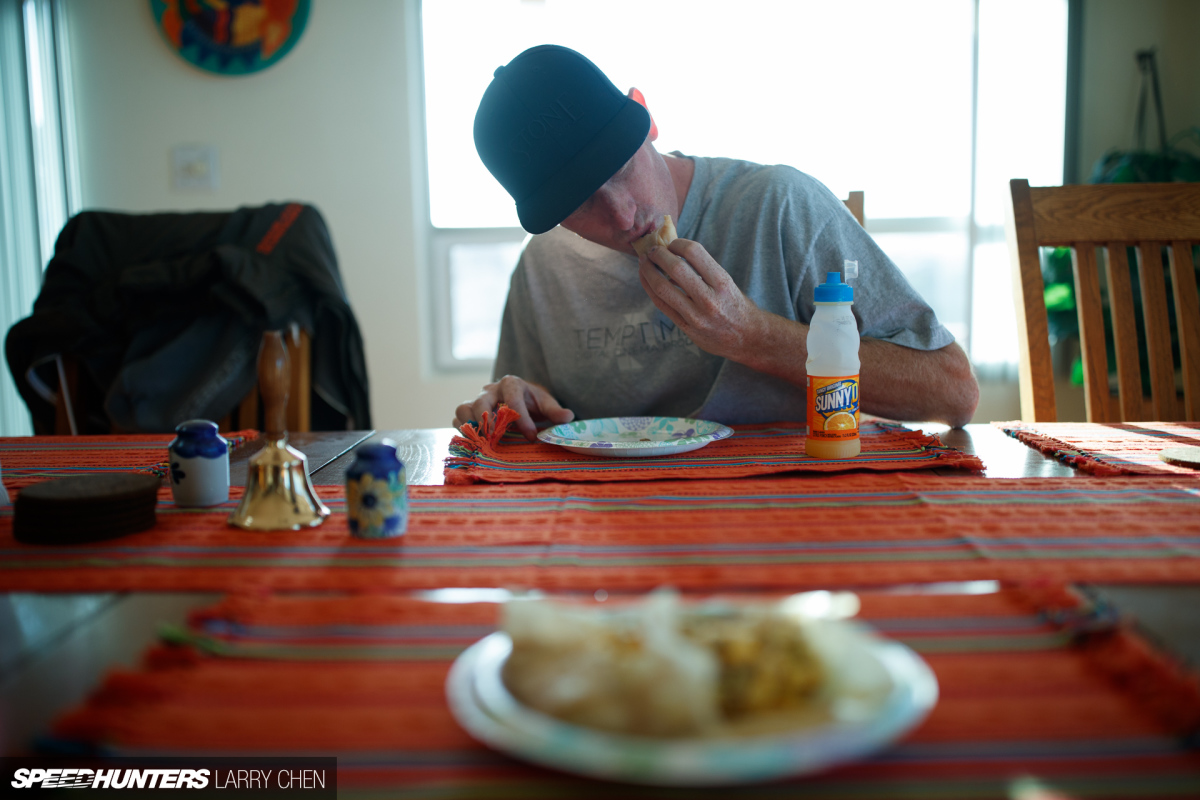 Just as Louis rubbed it in my face when I had to wake at 4:00am to make it to my first shooting spot at the San Felipe 250, I made sure to take some nice photos of my hot food.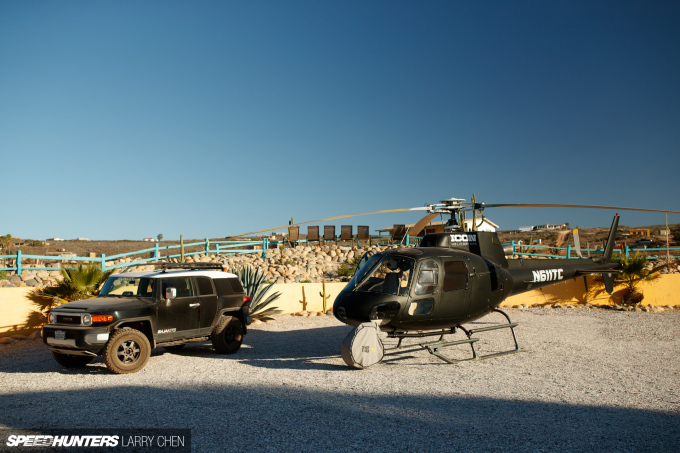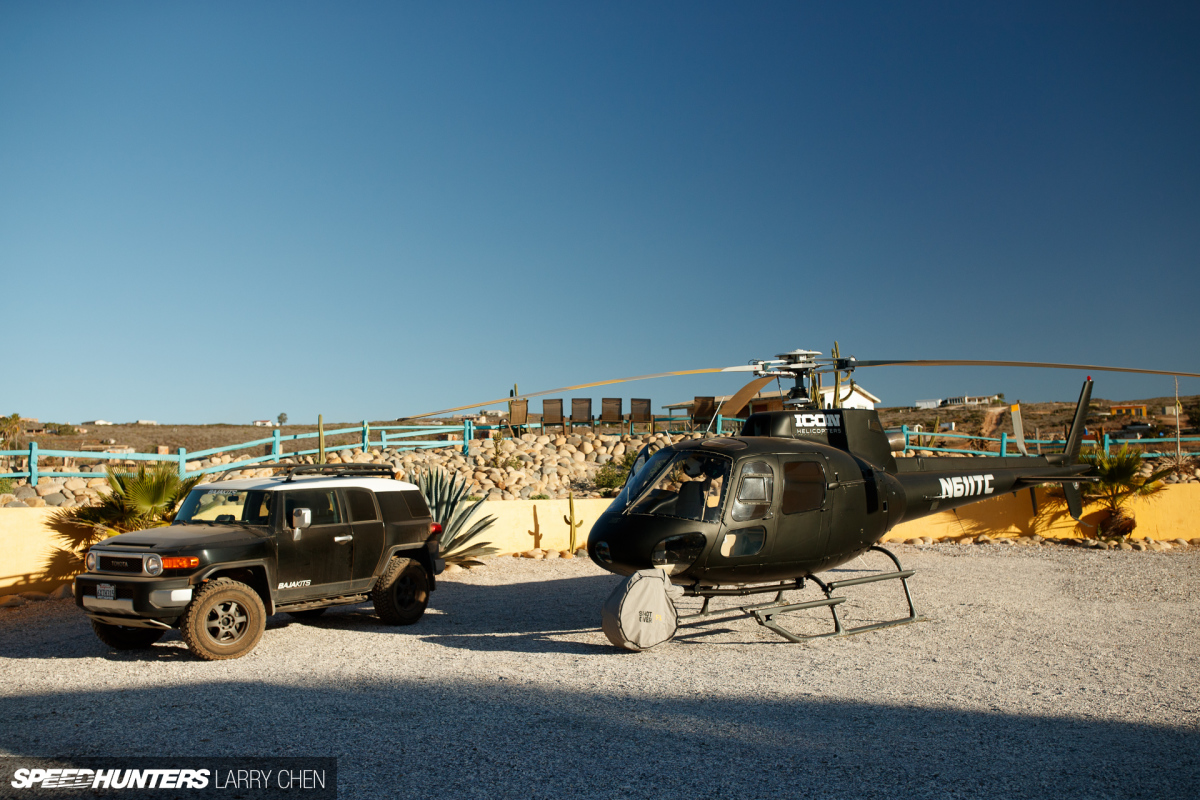 The coolest thing about this Mexican villa? That the race course literally runs down its driveway.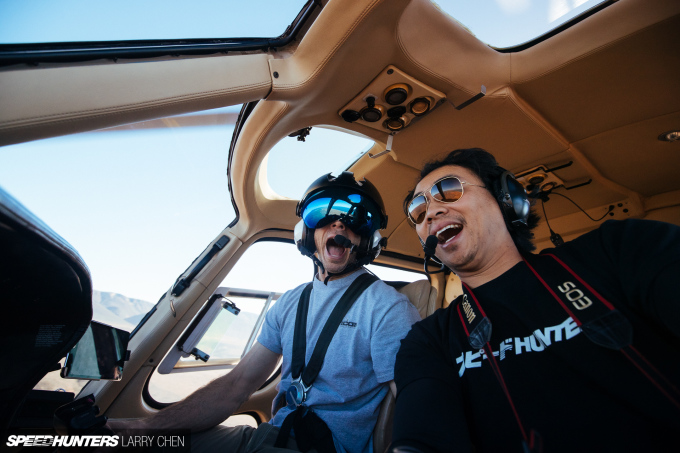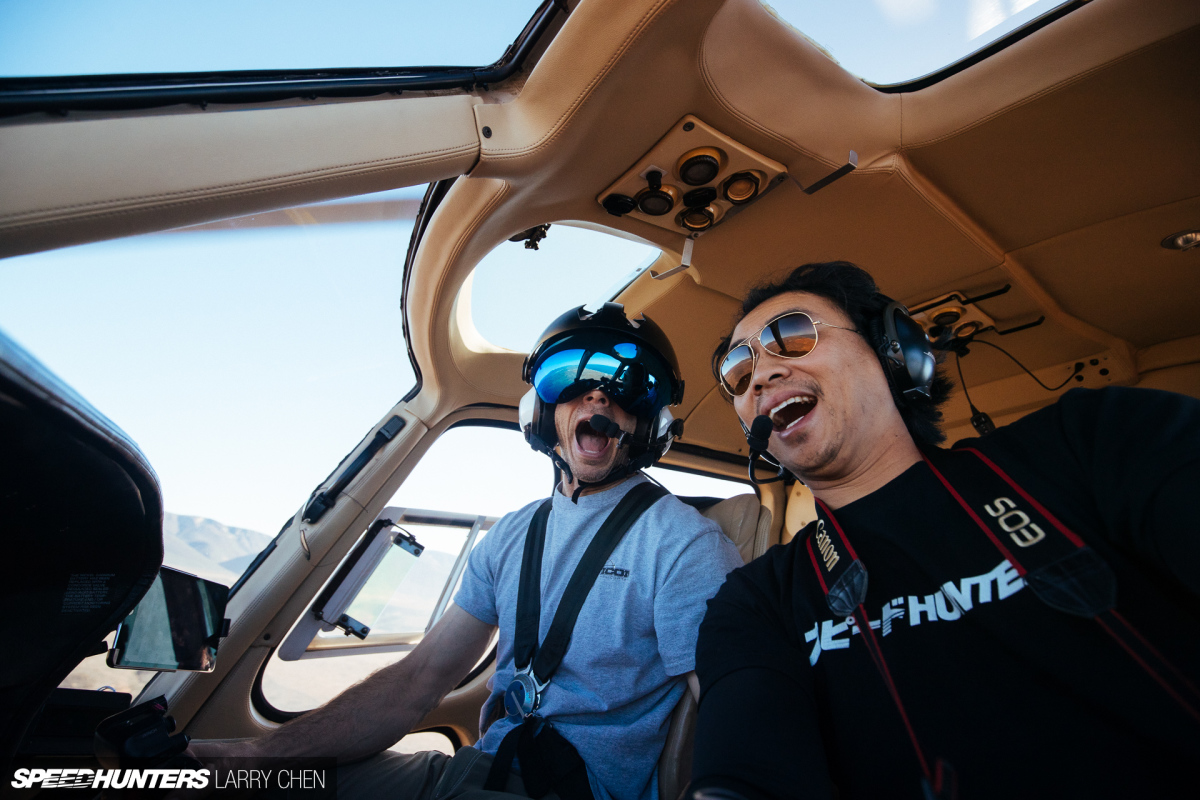 Just moments before Louis had his last shots of 1X and 3X, we were strapped in and ready to go. Then, as soon as they whizzed by the house, we took chase from the sky.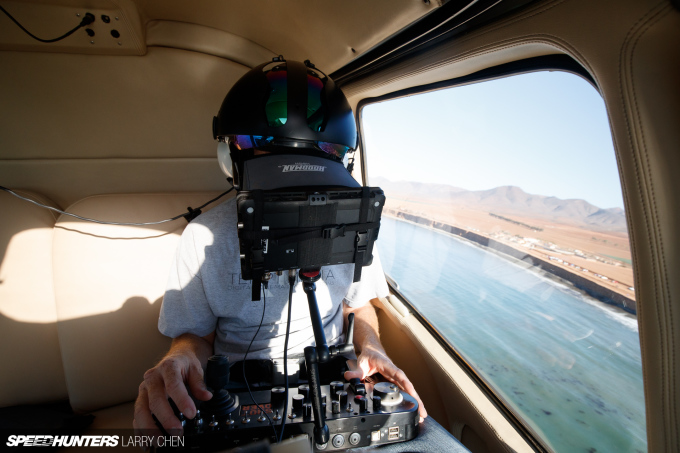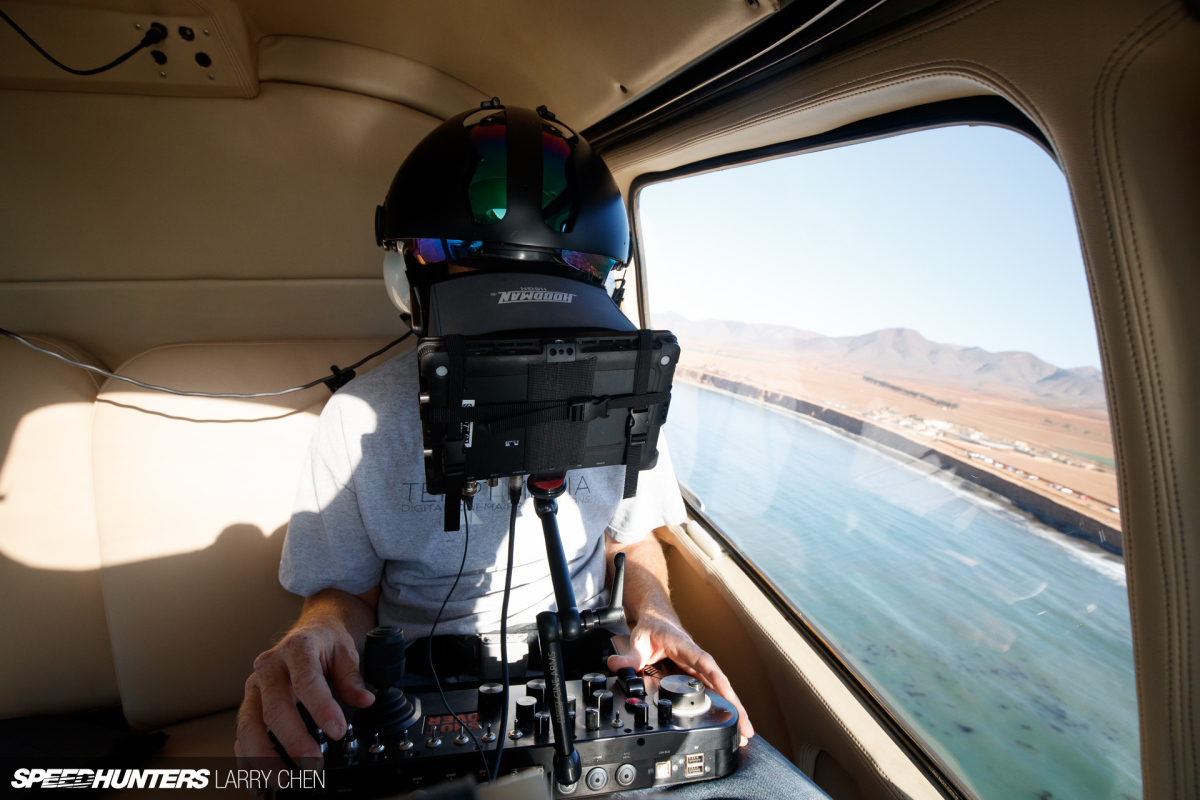 Here's Eric on the sticks of the Shotover; it really amazes me how stable this camera is. He really got me thinking of the possibilities when mentioning that I could mount a still camera in the system and get some extremely slow follow shots from the nose of the helicopter.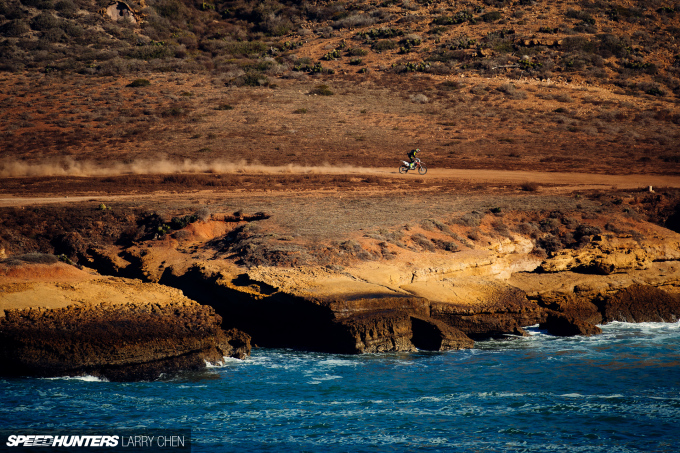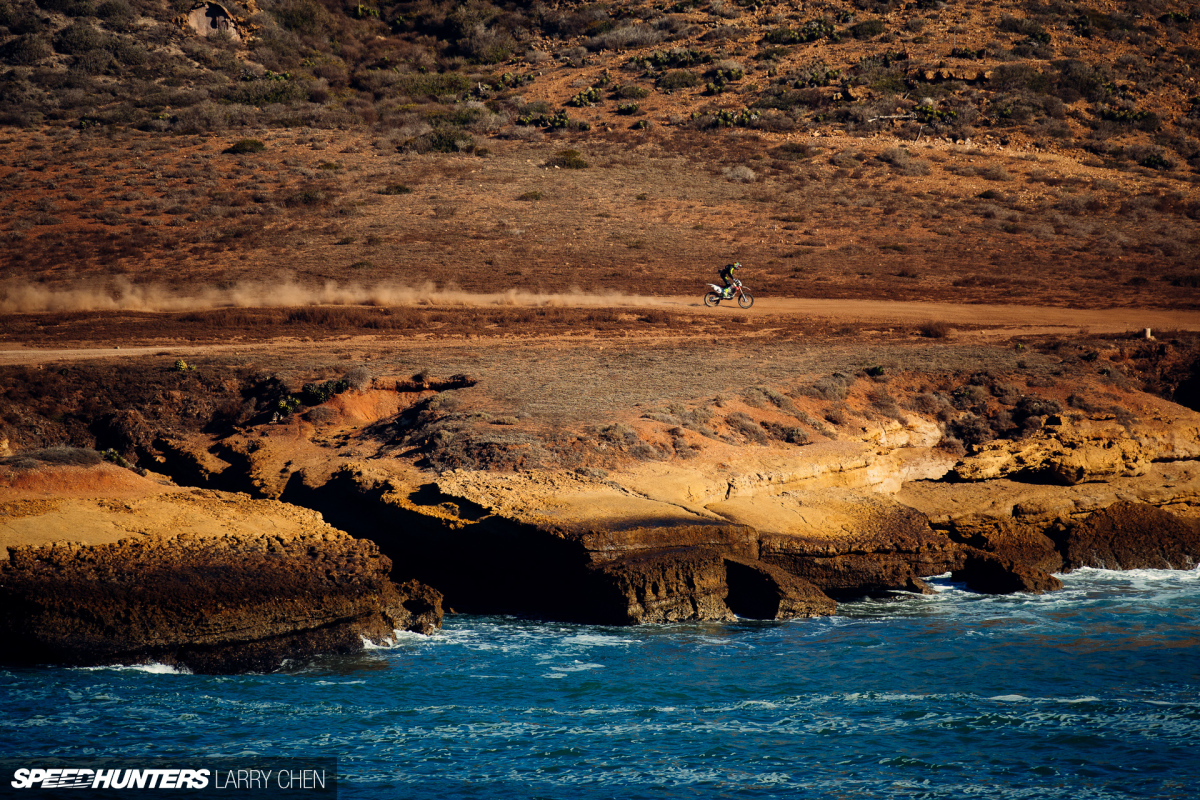 For now, shooting out of a tiny window will do.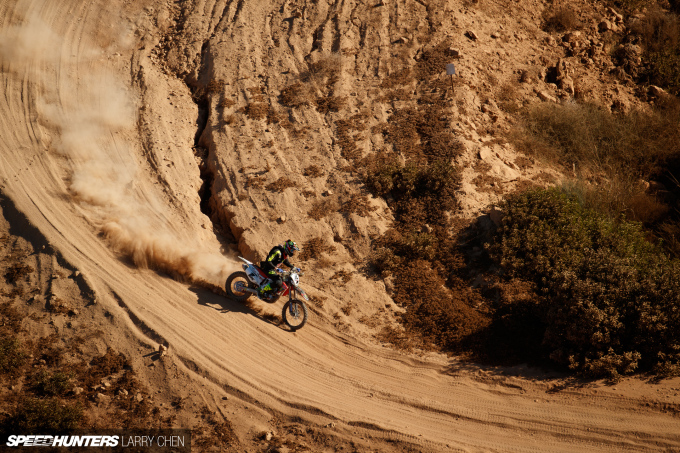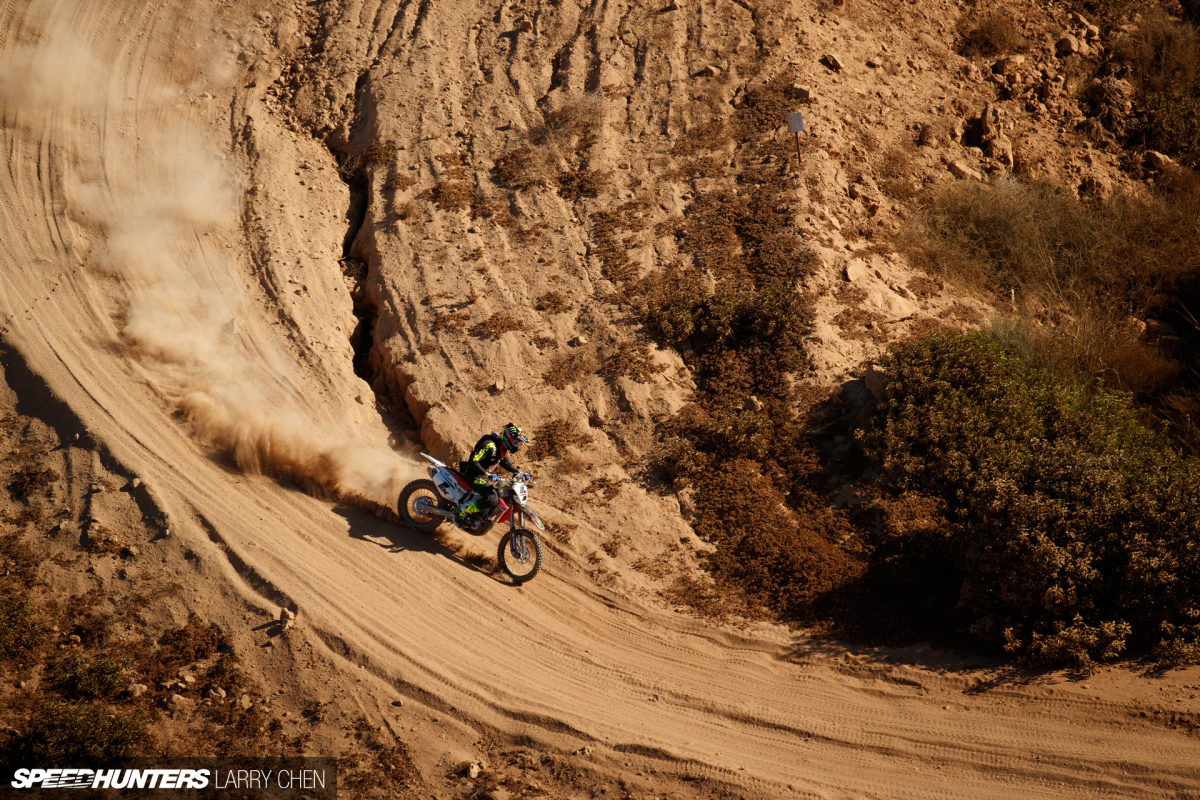 Within moments we had caught up to 1X and I started firing away.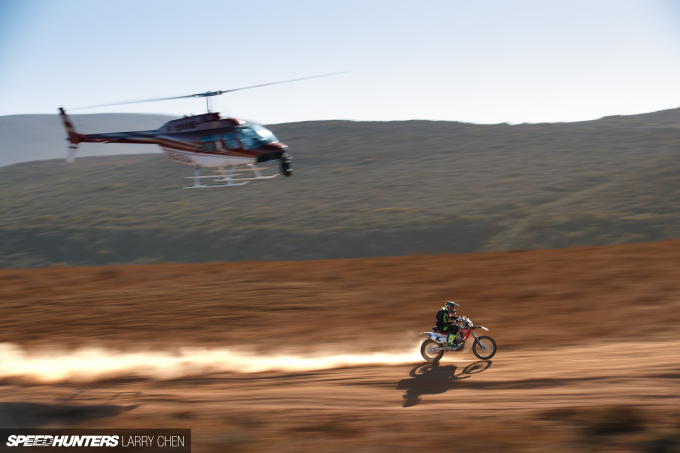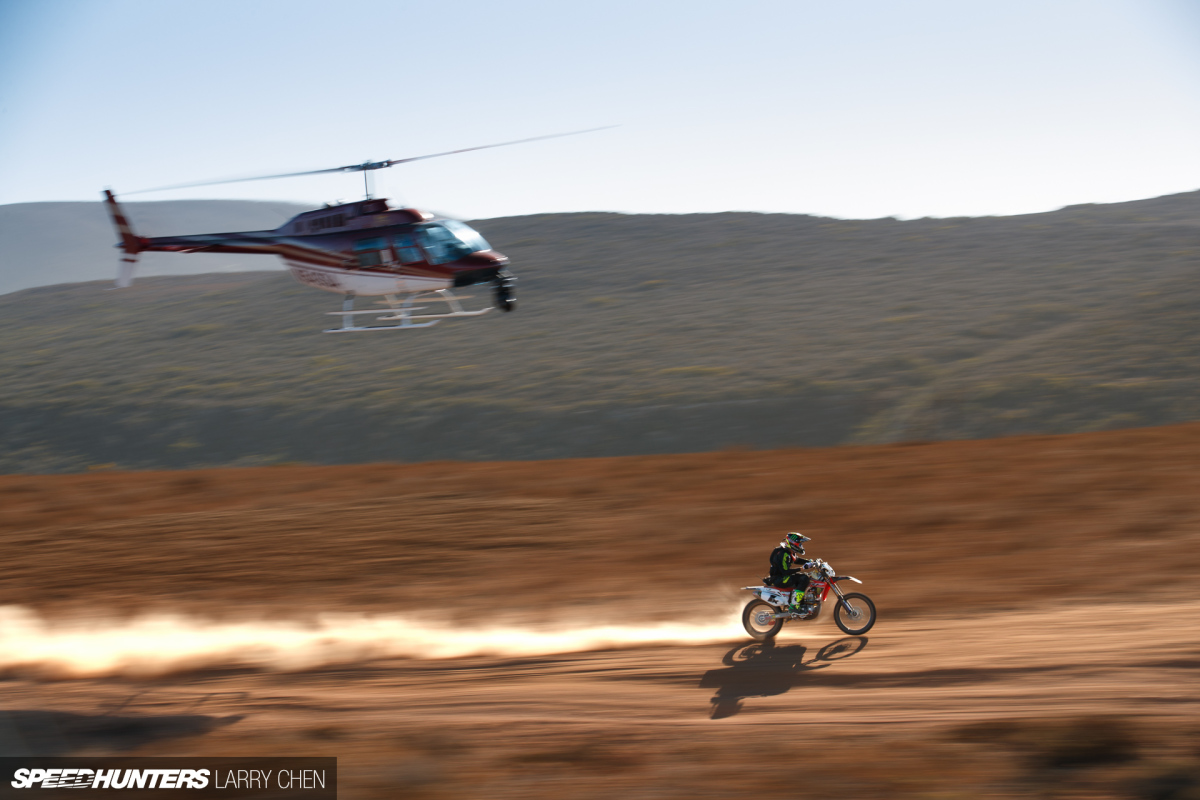 It actually took a while to get back into it, because the feeling of shooting out of something that can potentially move and follow another vehicle just a few feet off the ground going over 100mph is somewhat uneasy.
Party Time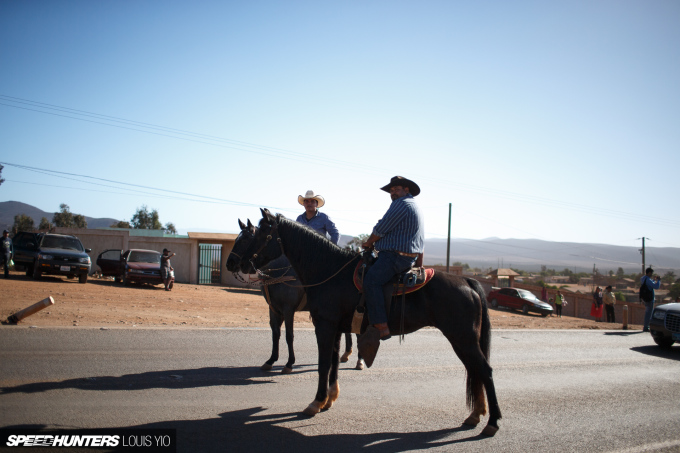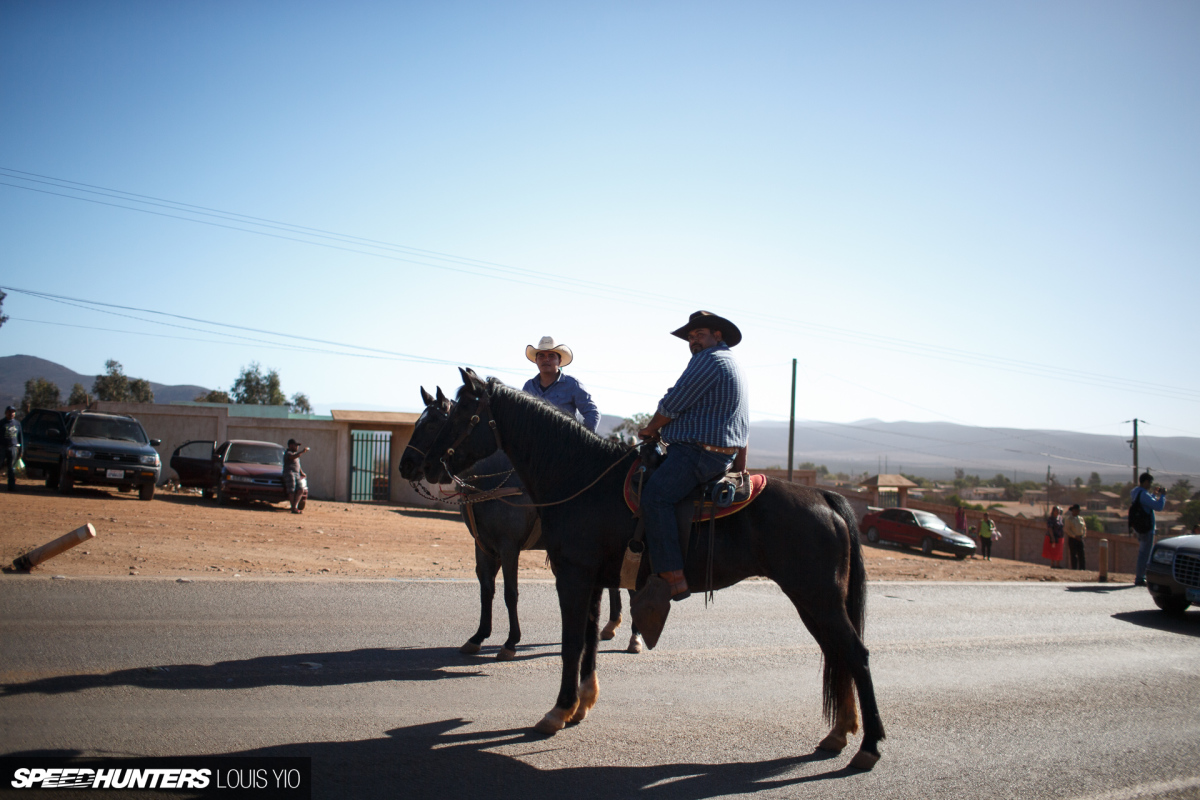 Louis: While Larry and Eric were up in the helicopter, horror struck for Chris and I. He had factored in everything for race day except one thing – a local parade that blocked the only road that would take us to around RM170. I'm 80 per cent sure the place was called Punta Colonet.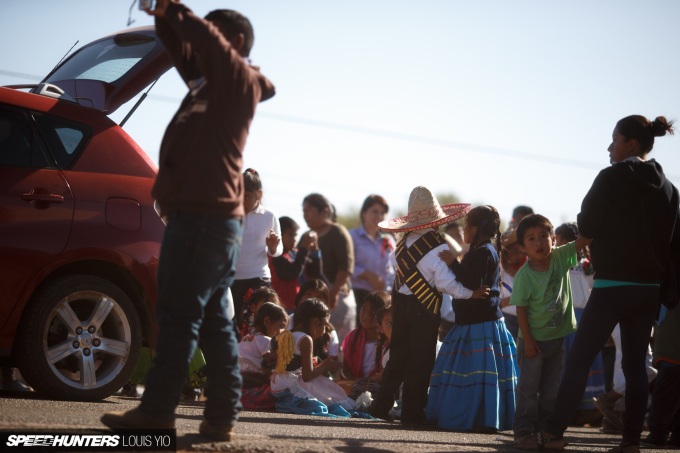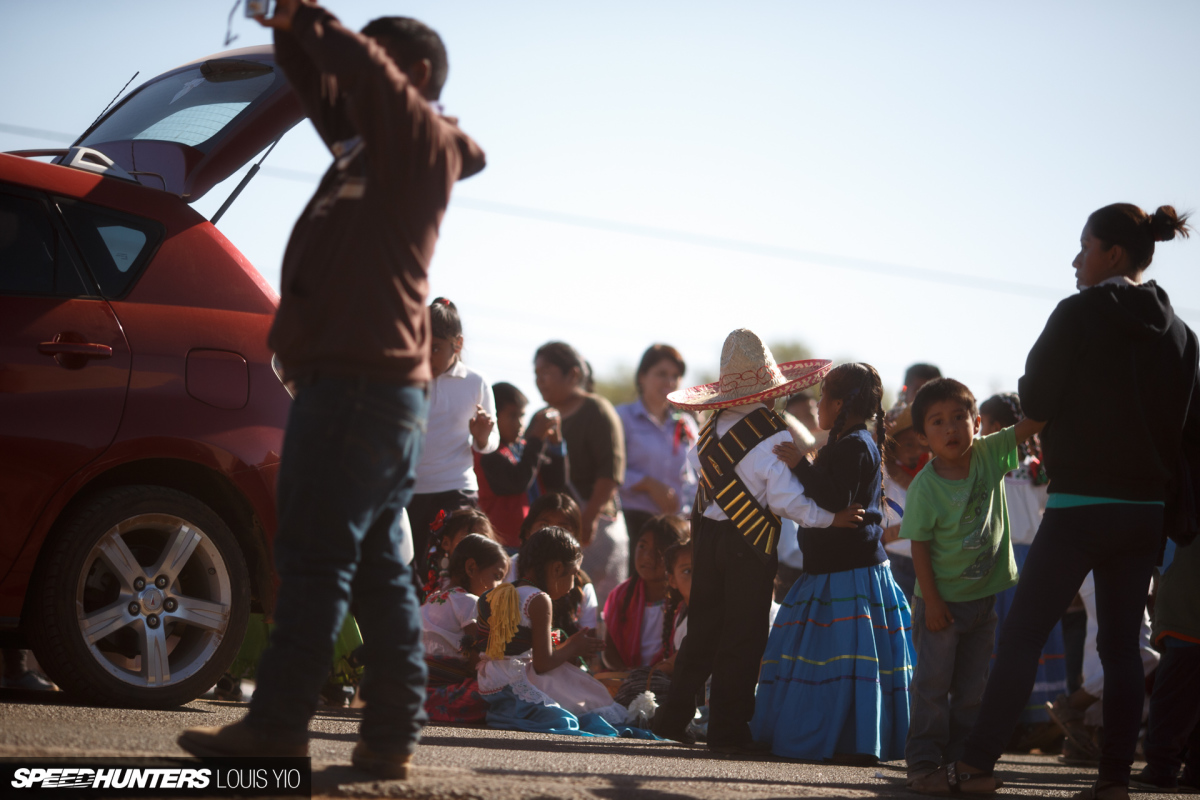 I still don't know what the parade was for, but it was definitely an interesting one. We saw men on horses and children dancing.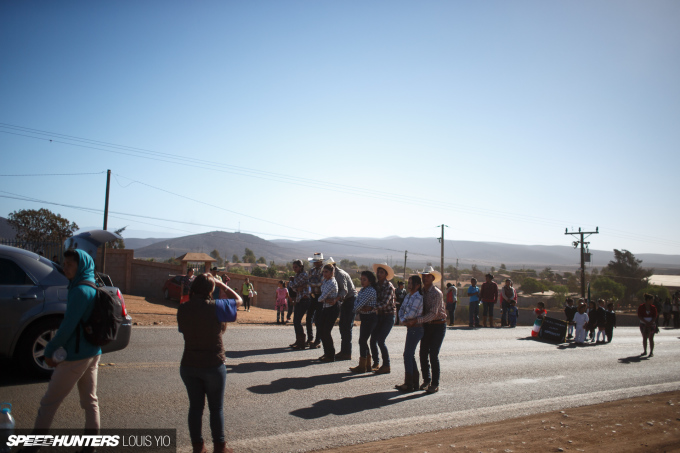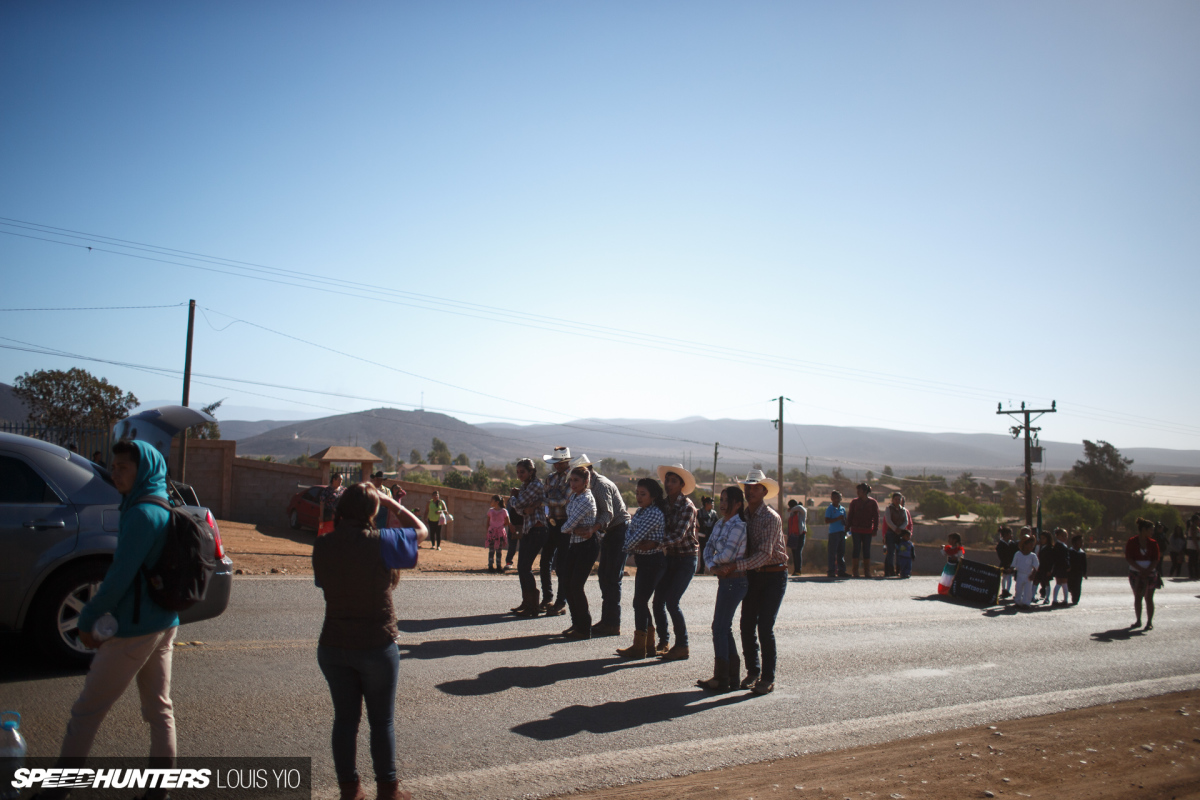 In total, the parade and some unforeseen road construction only held us up for five minutes, which doesn't sound too bad.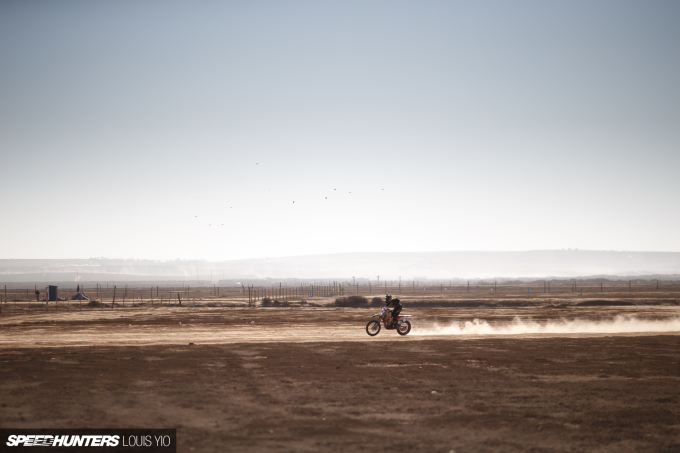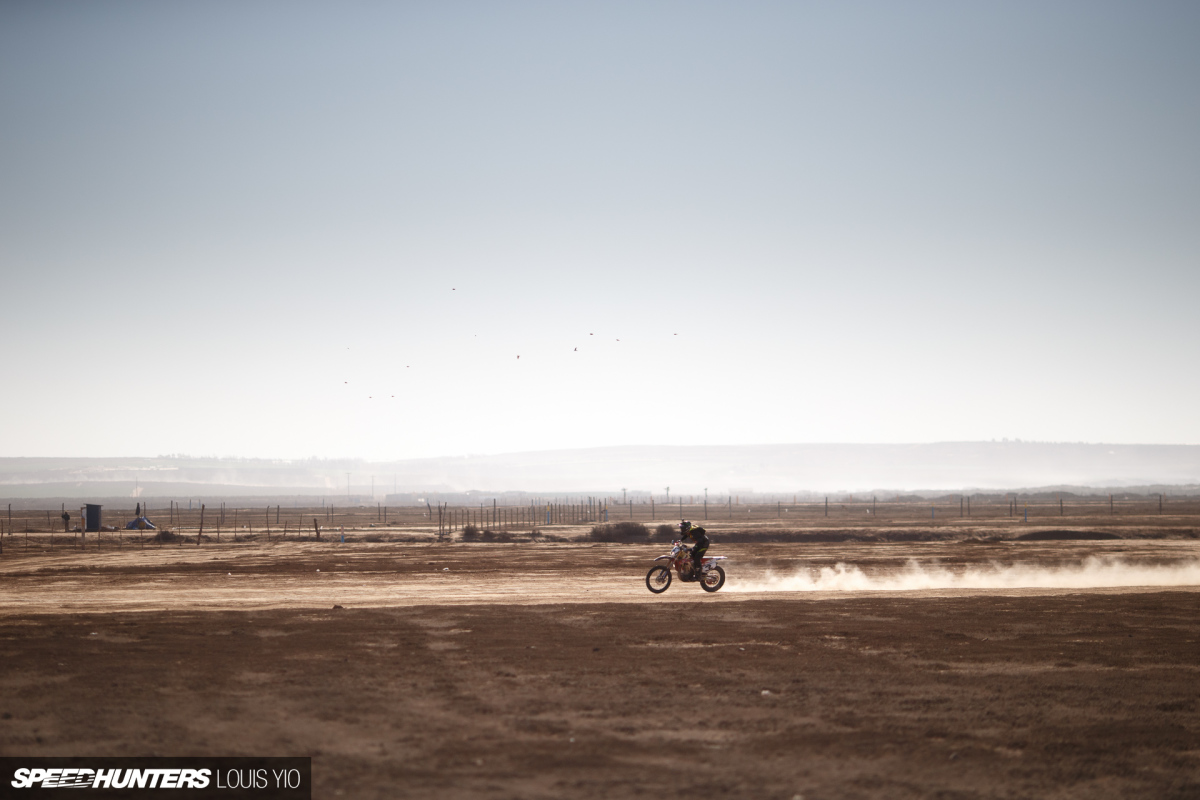 But it was bad. Right as we arrived at our second location we saw the dust trail of 1X. If we had arrived just a minute sooner we might have been able to at least salvage a shot or two. As we came to a stop to try and assess our situation, the bike in second place passed us by, so I grabbed a shot. While opening my images up in Lightroom at HQ later that night, I realized that it was actually 3X that I had photographed, so not all was lost at this location.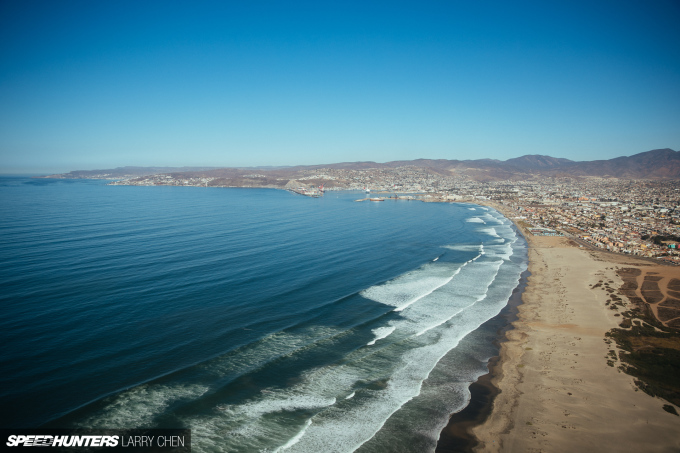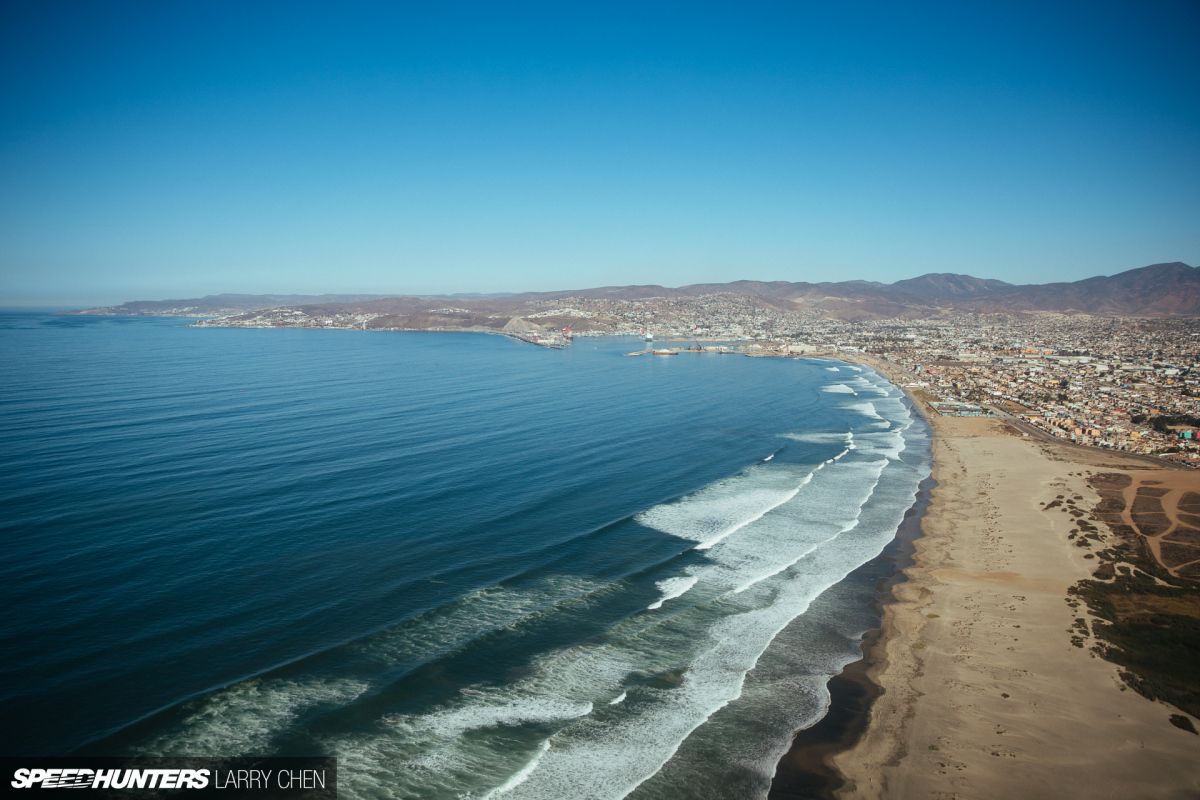 Larry: While shooting the two bikes was important to us, the priority was to head over to Ensenada in time to see the trophy trucks leaving the line.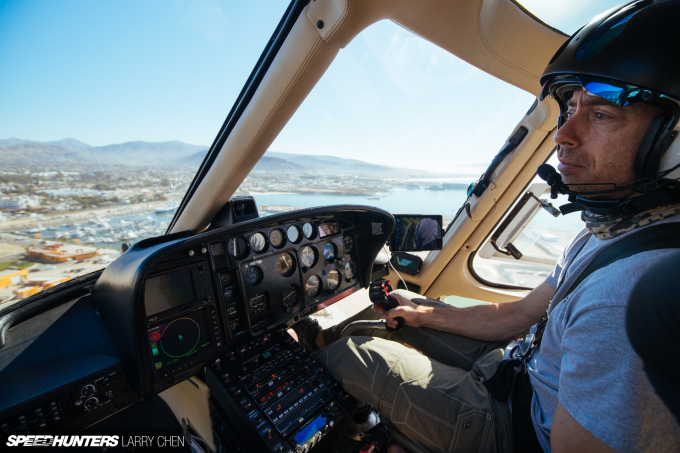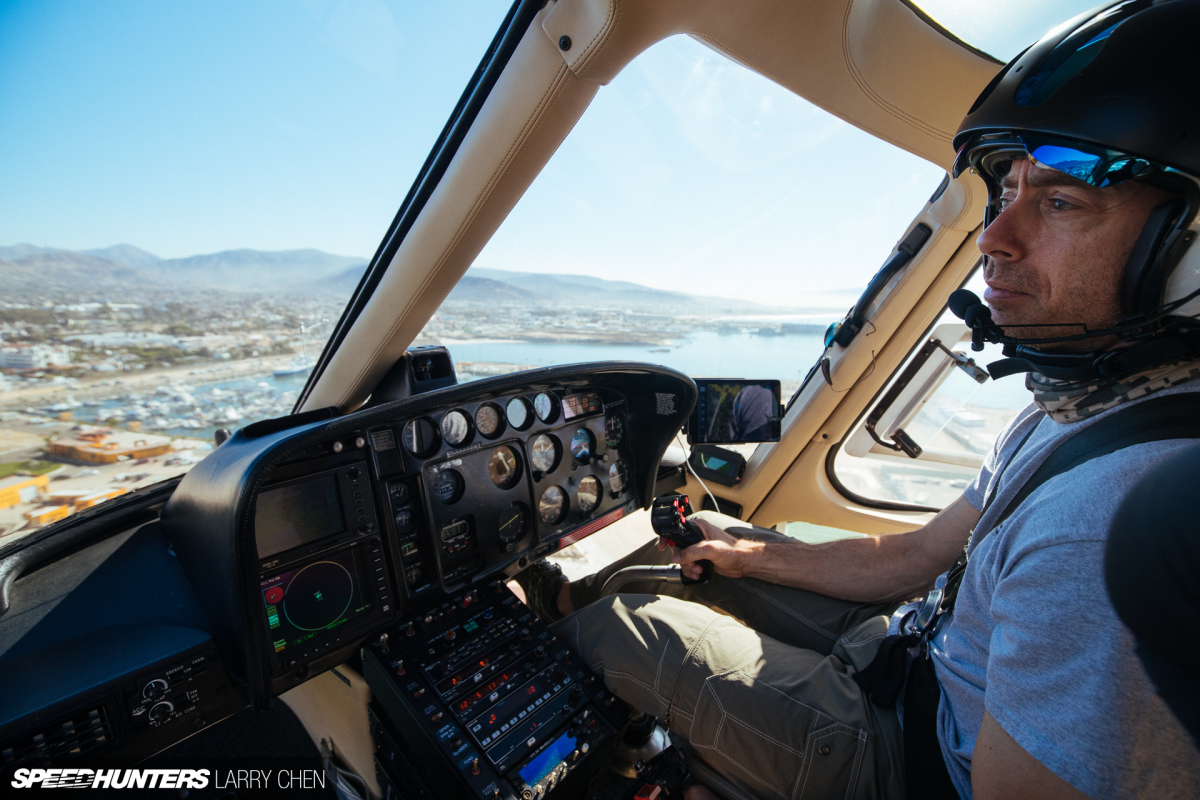 But first we would have to land at Ensenada Airport and clear customs. In total there were 25 helicopters following the race, which is just insane. Can you tell this is a rich man's sport?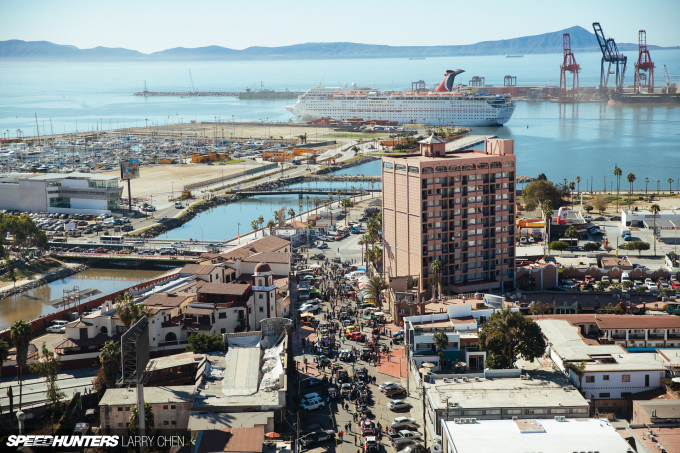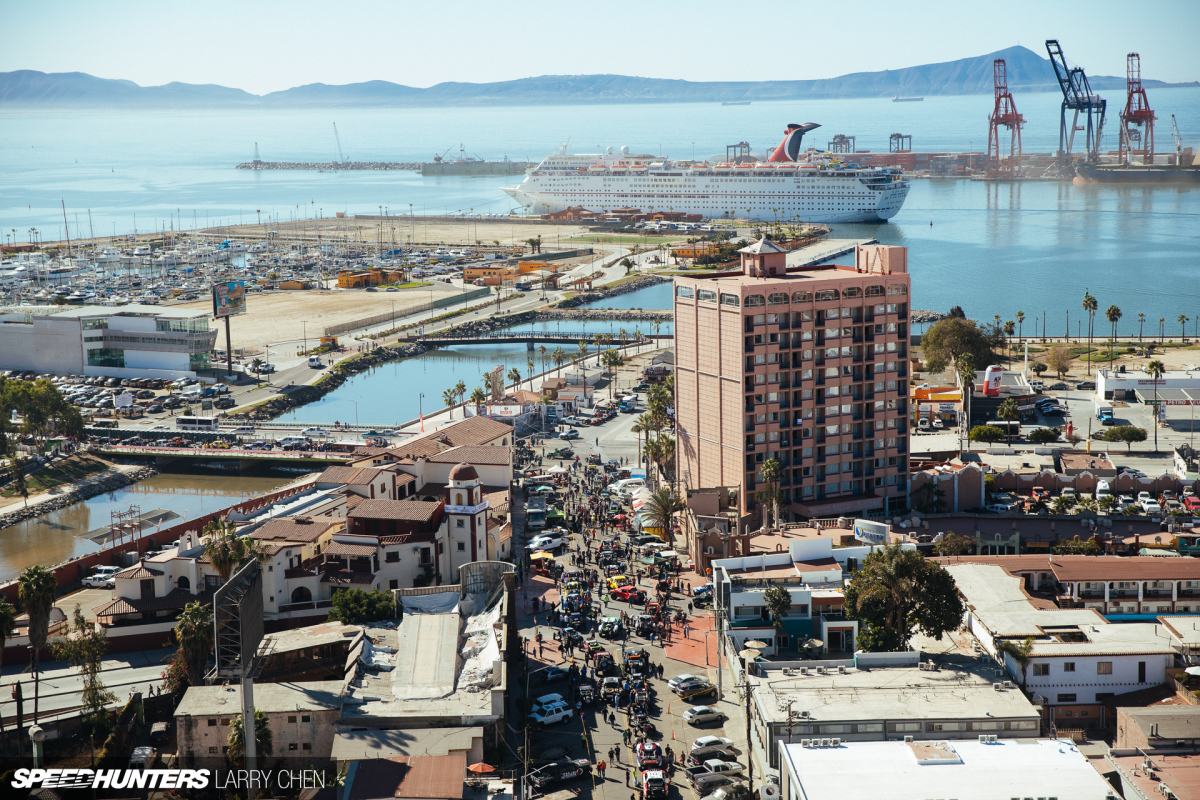 We took off after getting a splash of fuel and hovered at the start line as the big dogs prepared to begin their race.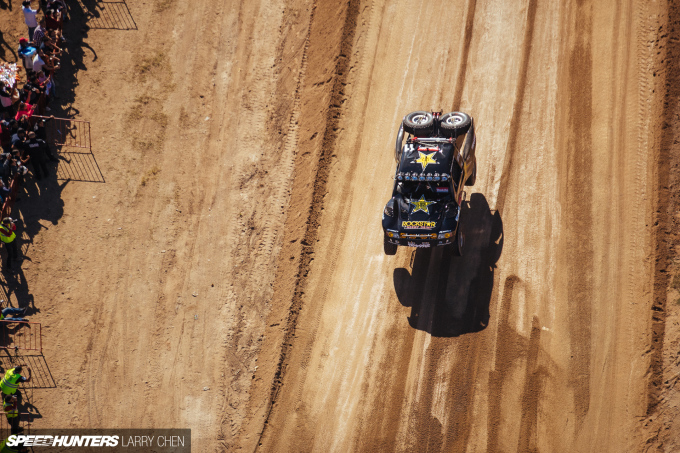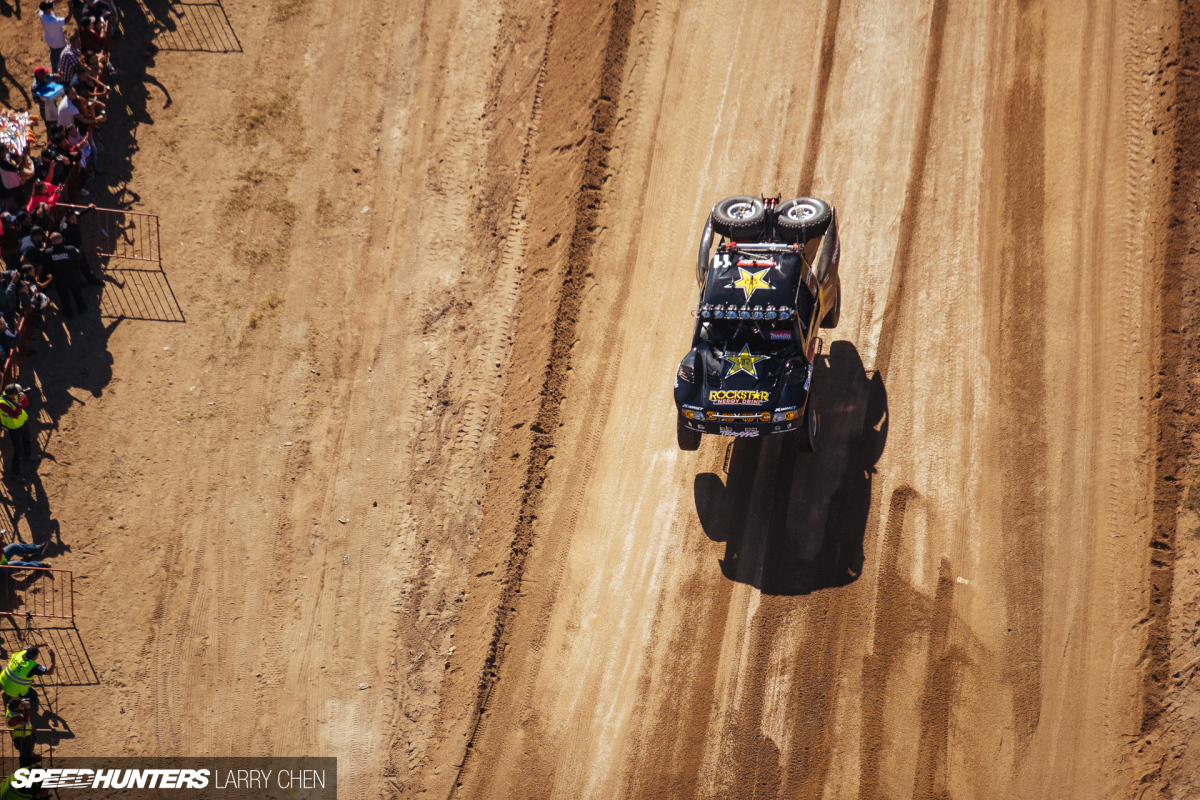 While following the bikes was fun enough, seeing the trophy trucks leave the line really got my heart pumping.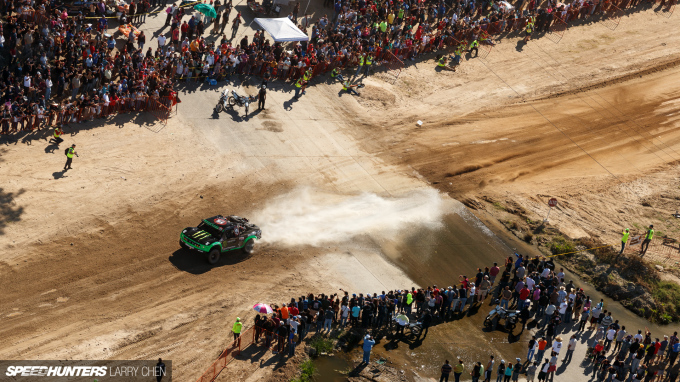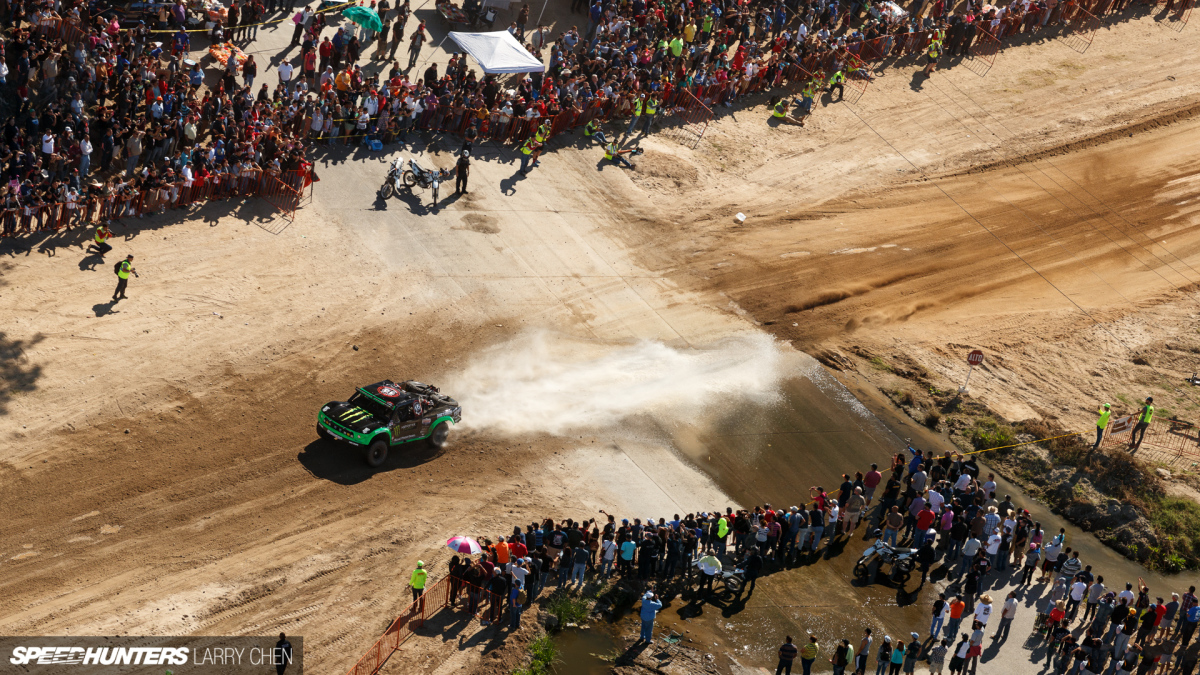 The first section was extremely crowded, and it seems the spectactors as well as some media did not care about being splashed with waste water. These are some diehard fans for sure.
As much fun as it was shooting the leaders blast through the wonderful city of Ensenada, it was time for us to head back to Rancho Relaxo for lunch and wait for the trucks to reach the more picturesque areas after Race Mile 140.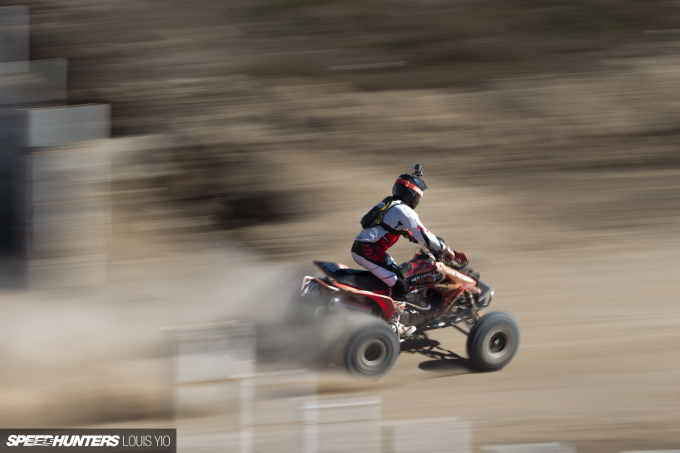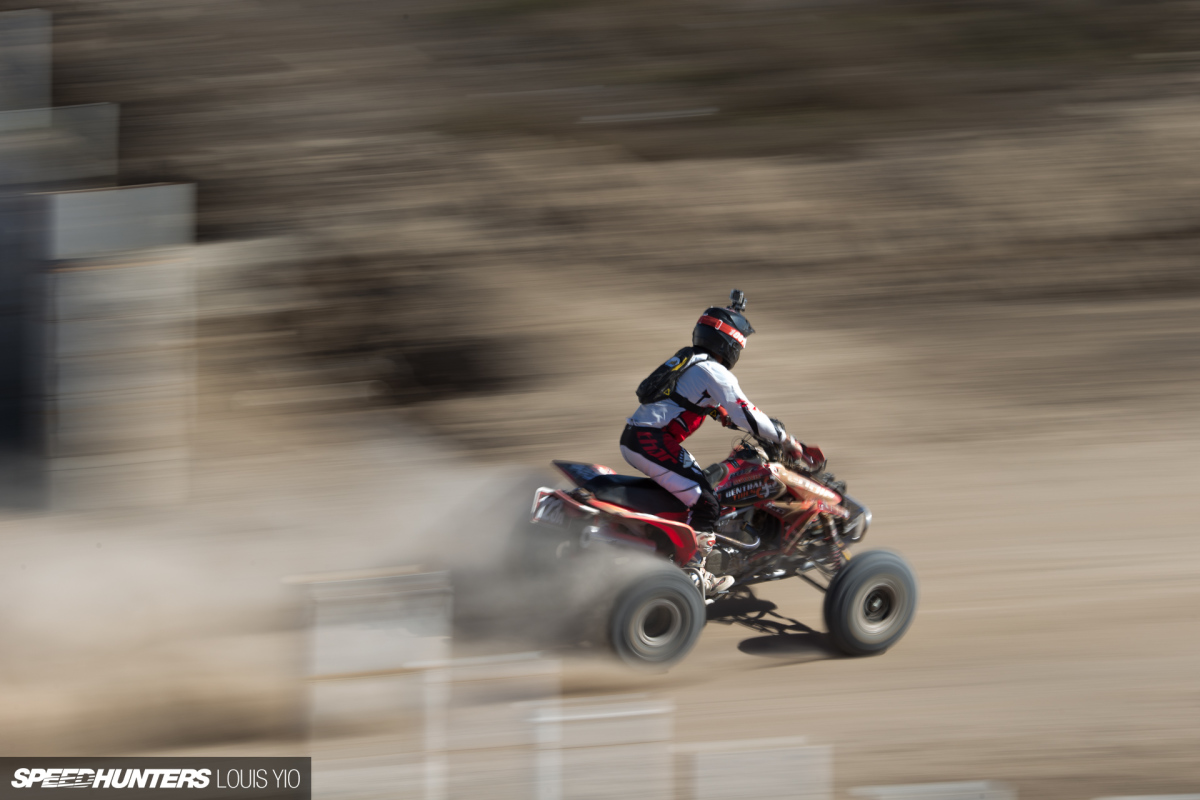 Louis: While Larry was having the time of his life up in the helicopter and its awesome leather seats and air conditioning, I was shooting everything that passed by.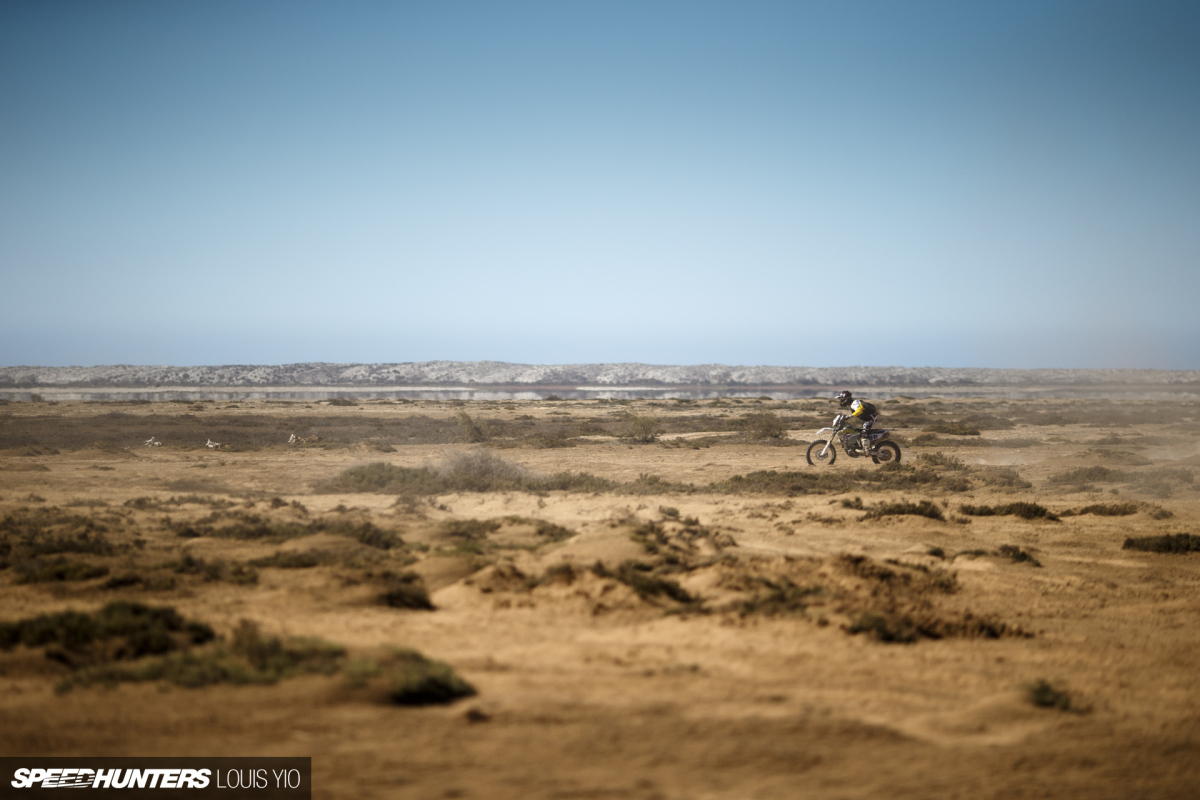 It was about 1:00pm or 2:00pm by now and we were slowly making our way to shoot the trophy trucks. We didn't have plans to catch 1X again until RM470 and RM480 later in the afternoon.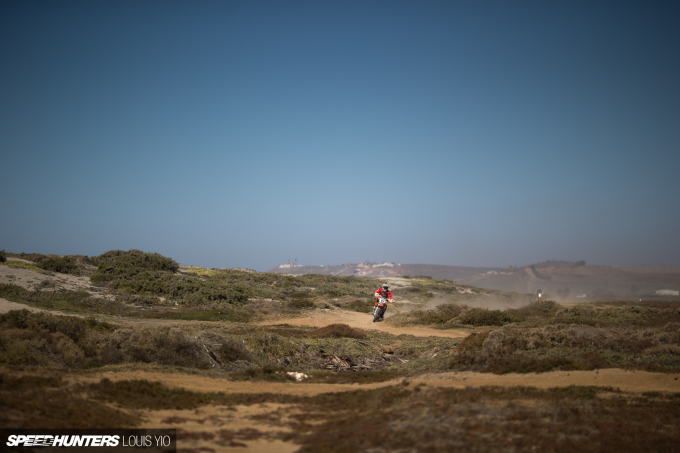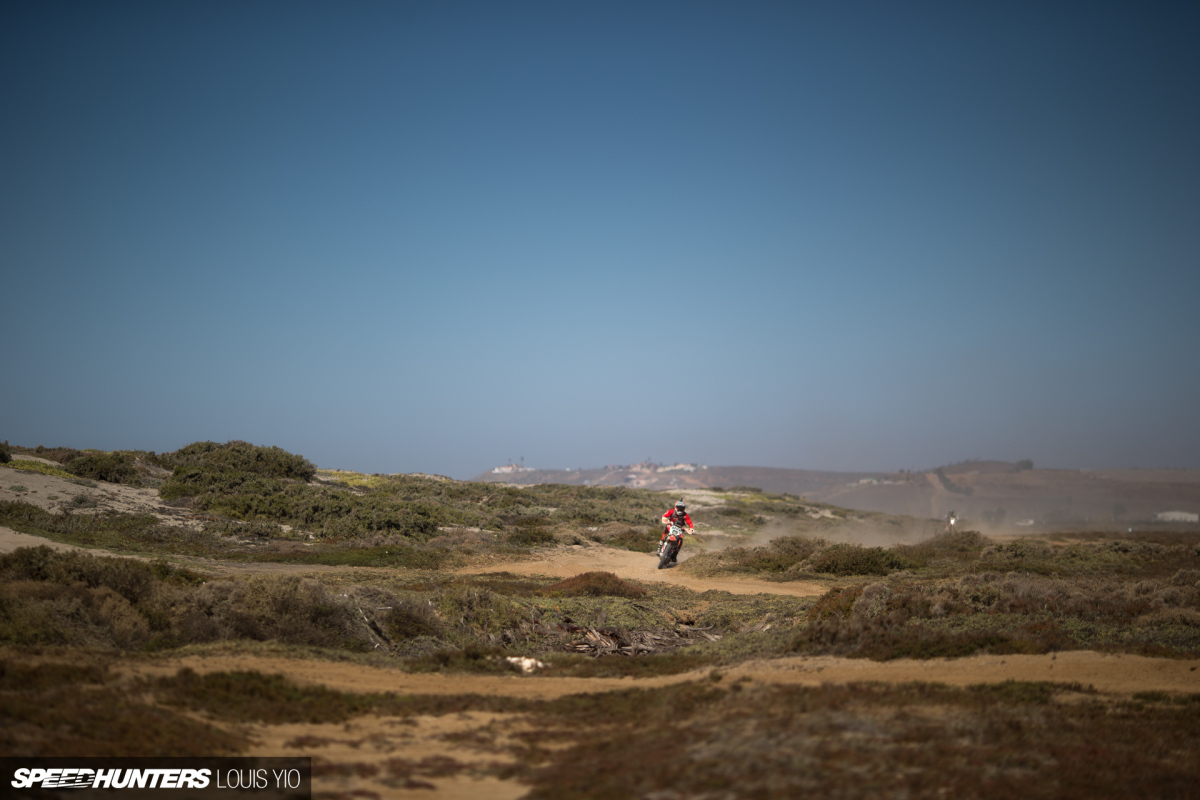 Instead of shooting at RM180, we slowly traversed our way a few miles north to RM183 because it looked like a better shot.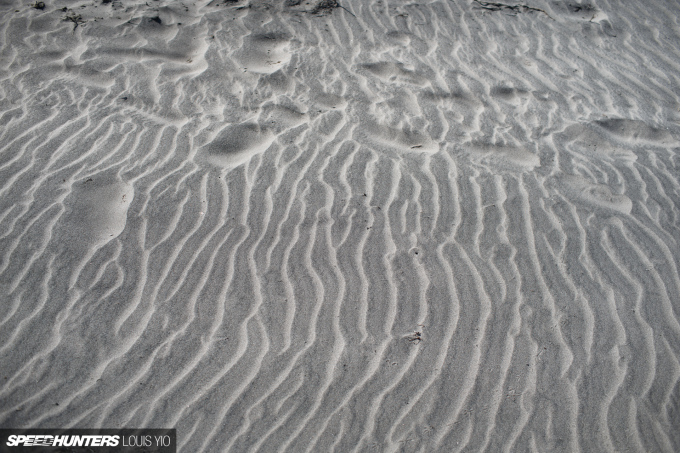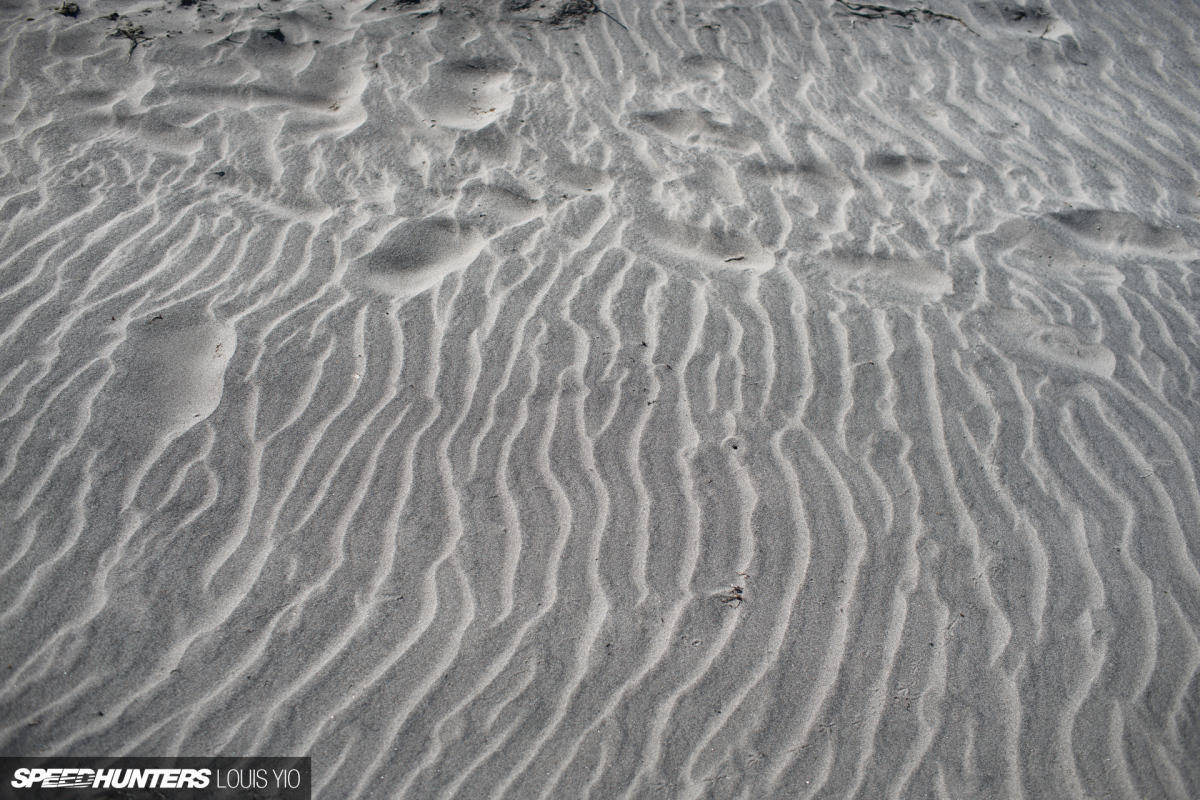 RM185 was next, but instead we ended up right by the beach, which turned out to be way better than our planned spot.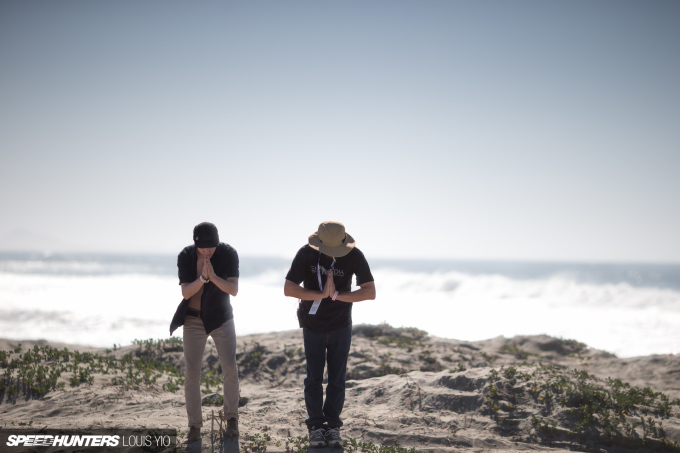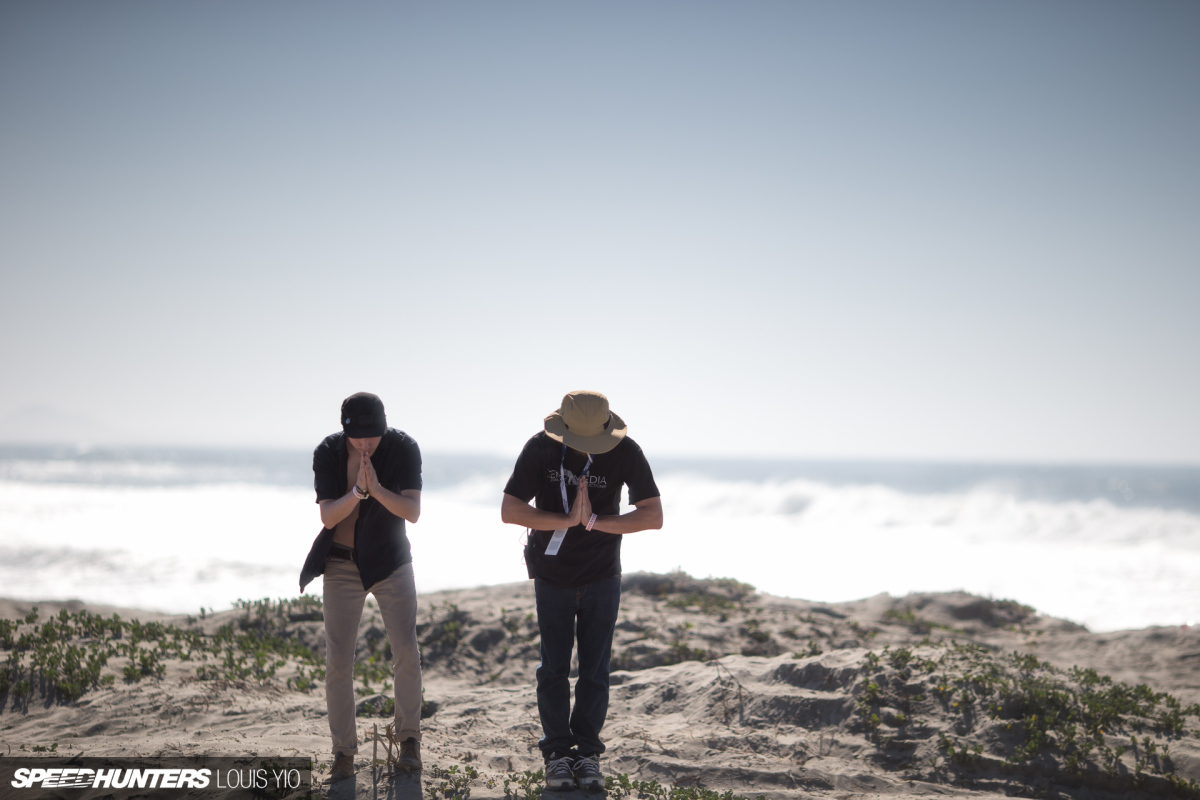 Chris and Max, another of the Tempt Media team, were praying that we'd be able to catch the race bikes once more after the trophy trucks. I had my fingers crossed for it as well.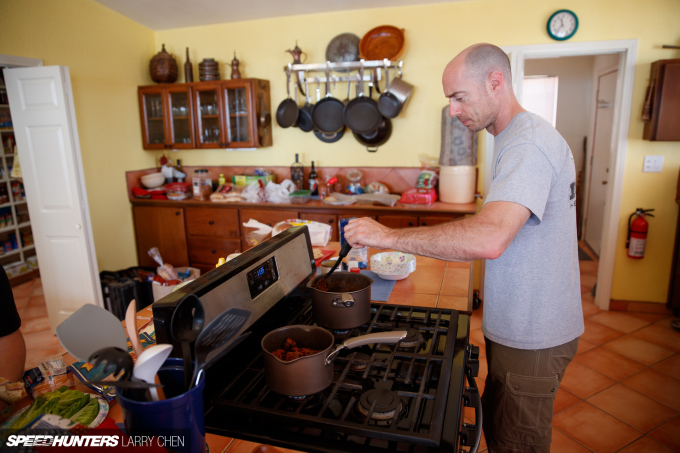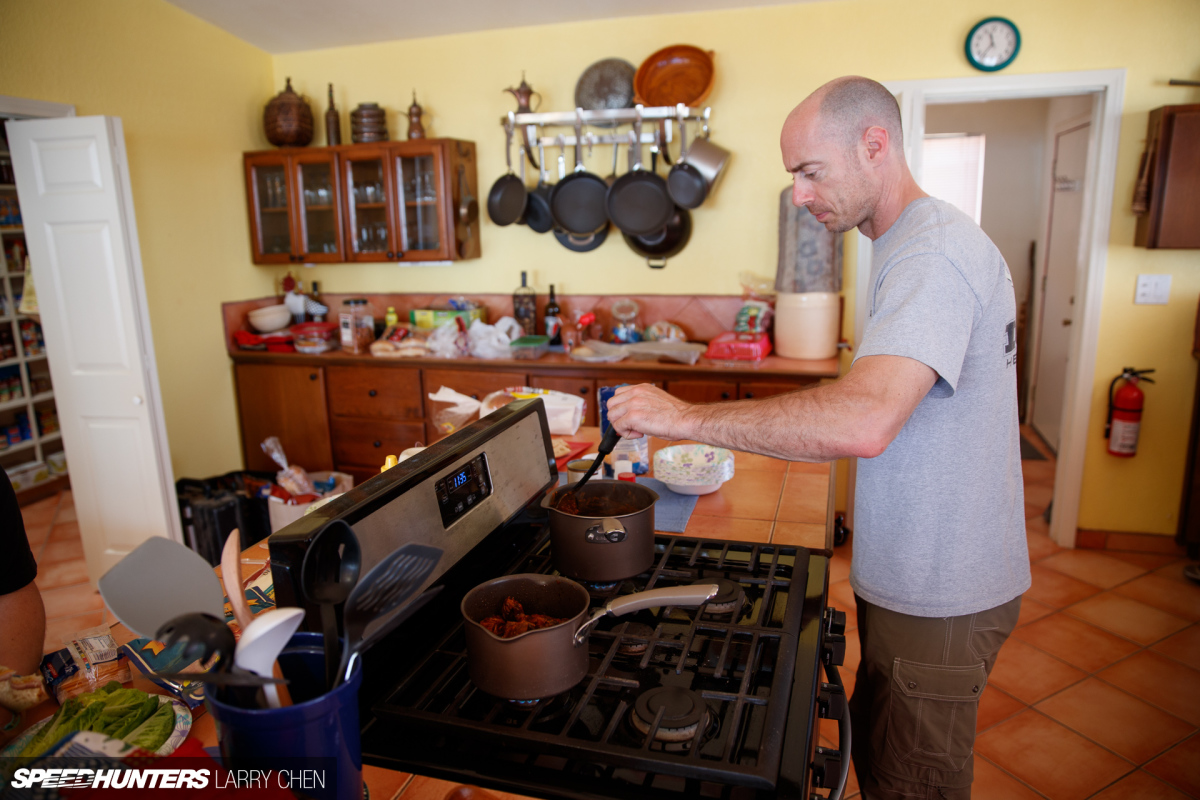 Larry: We touched down back at the house just in time for short ribs and homemade chili. What a tough day in the office for me.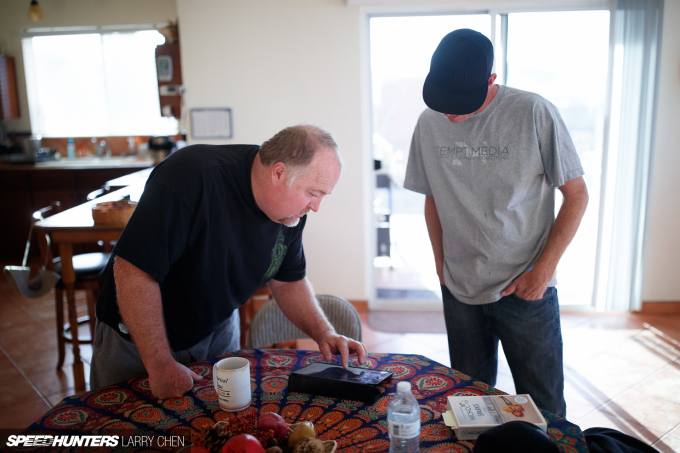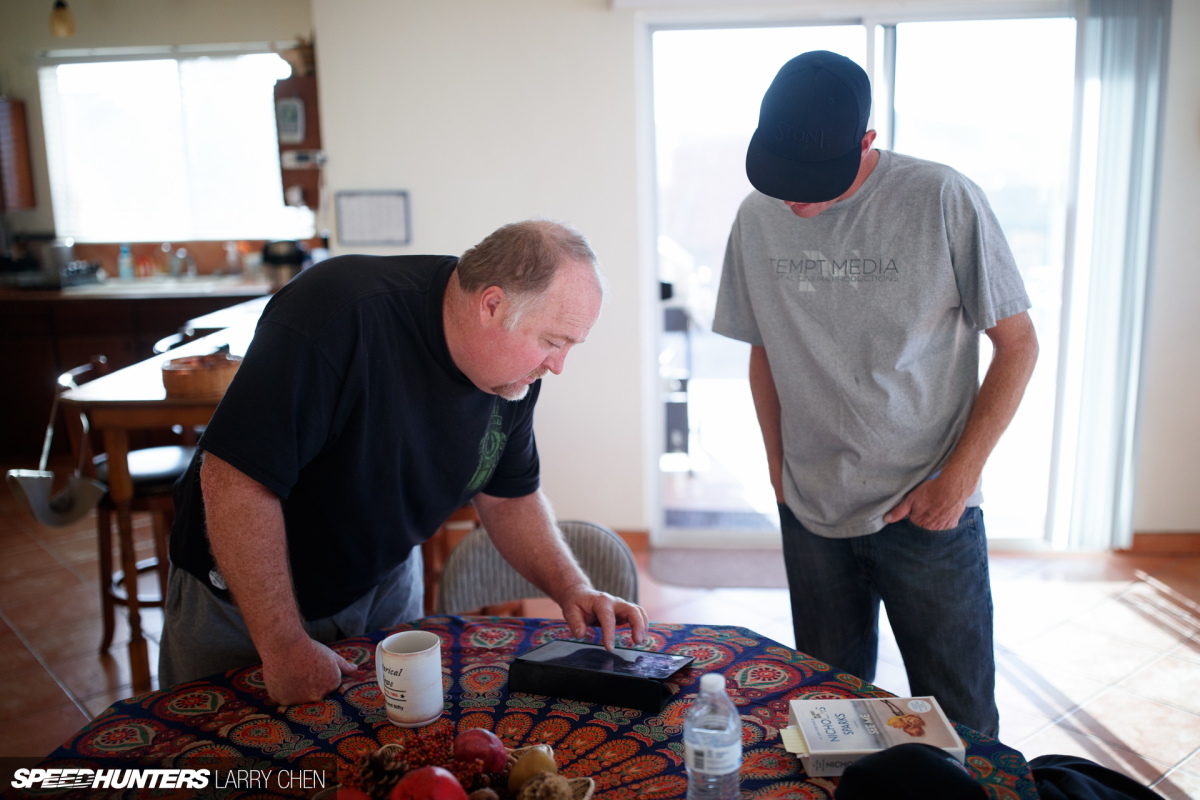 While we enjoyed our lunch, we kept track of where the leaders were because we too had the same plan to shoot the trophy trucks. Once again, we'd be waiting for them to pass by the house which would give us the signal to take off and give chase.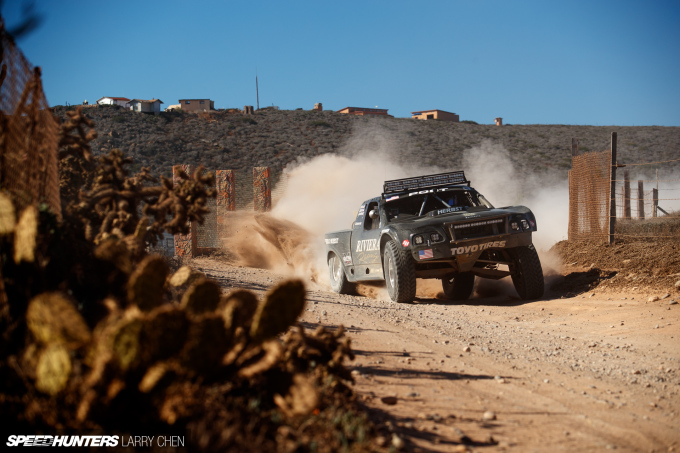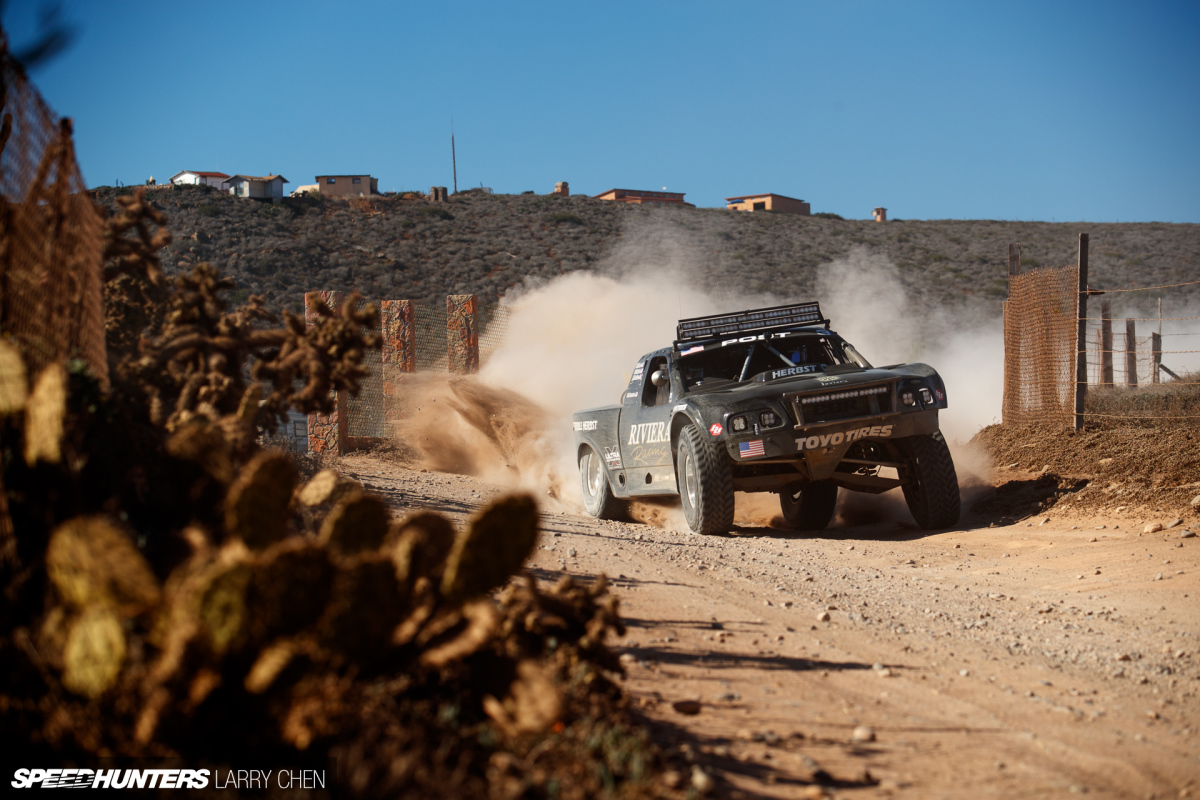 With a few minutes to go, I stepped outside the front yard to get a shot of the leader passing by. It was Kyle LeDuc and he was coming in hot. This exact shot was about 50 feet from where the helicopter was parked and maybe 100 feet from my bedroom. It just does not get any cooler than that.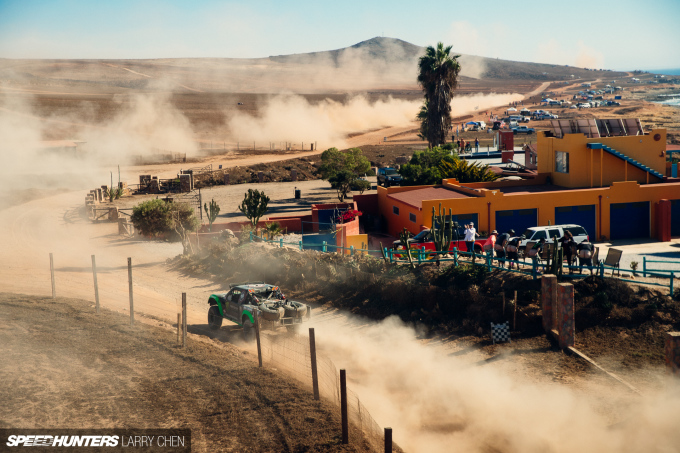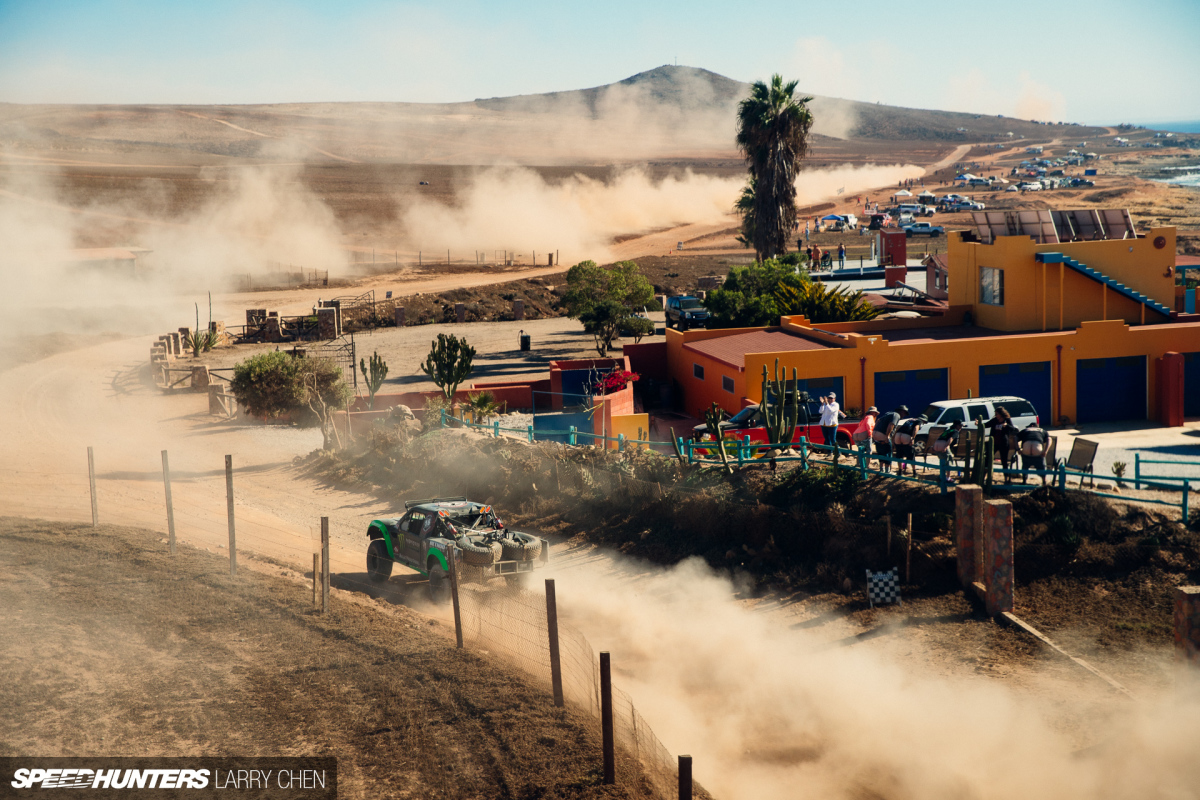 As soon as we lifted off, Eric and Dave decided it would be best if we headed back down the course and worked our way up to the leaders, getting as much coverage of each race truck as possible. Here's a great shot of us 'buzzing the tower' if you will; everyone staying at Rancho Relaxo decided to come outside and watch the race.
See that window by the blue staircase? That was my bedroom.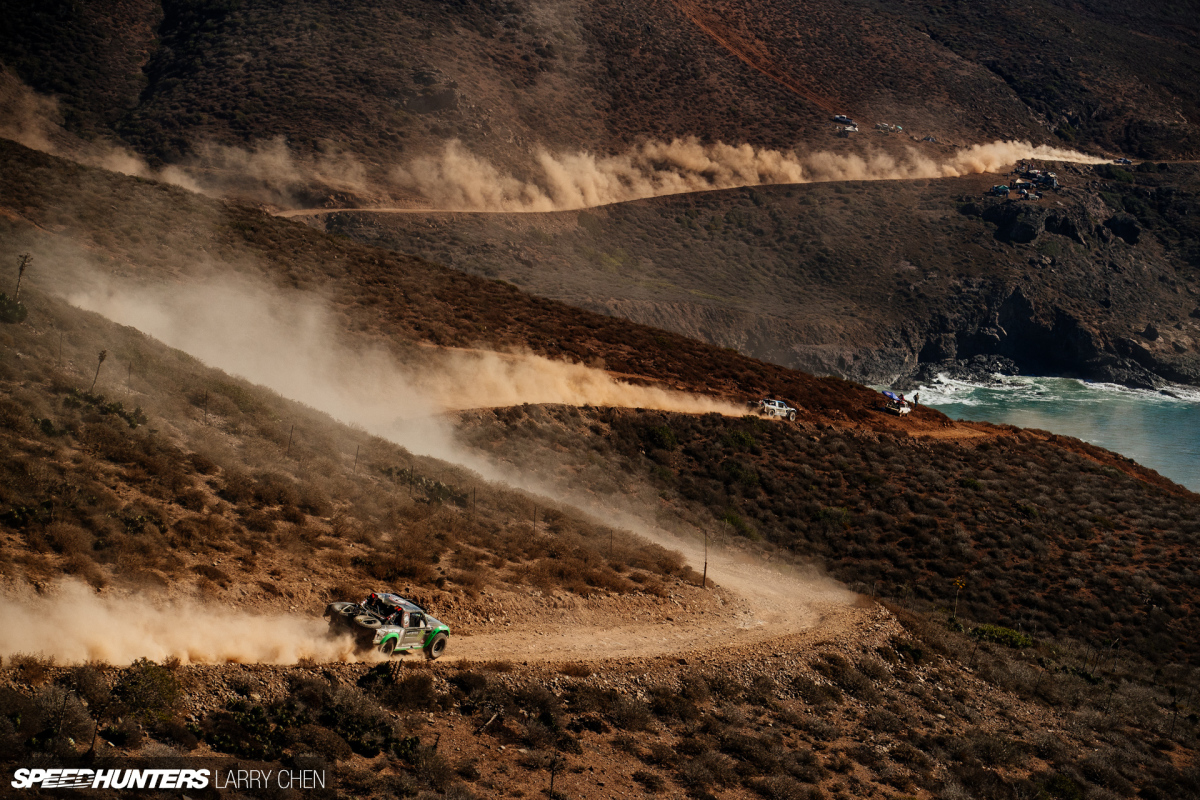 Even after about 150 miles of racing the trucks were still fairly evenly spaced out, but the dust had a lot to do with that. It's really hard to make a pass when you can't even see where you are going.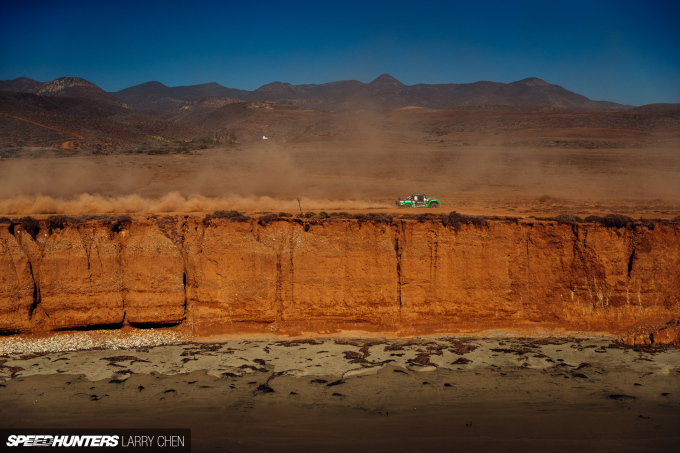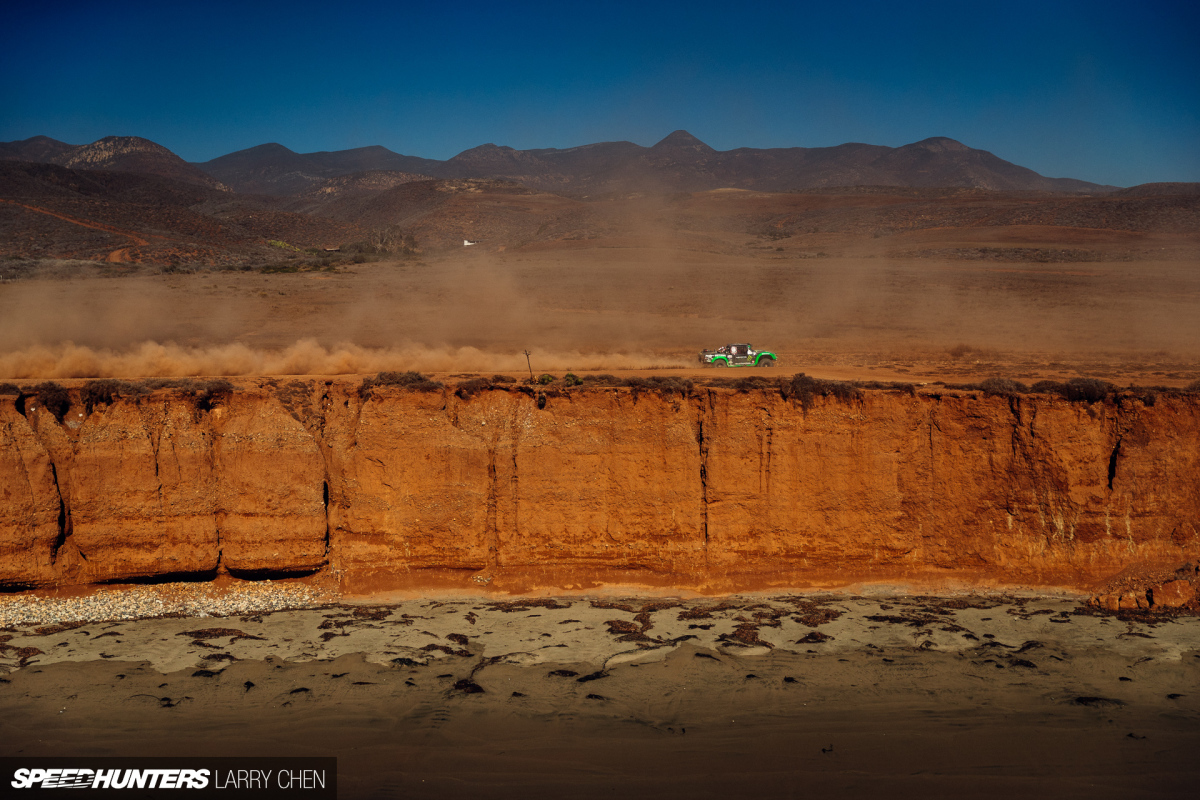 To me, the coolest thing about the Baja 1000 was the landscape. There were some serious pucker moments, especially when you can see that a truck is going absolutely flat out just mere feet from a sheer drop and you know one tiny mistake will turn a good day into a very bad one, very quickly.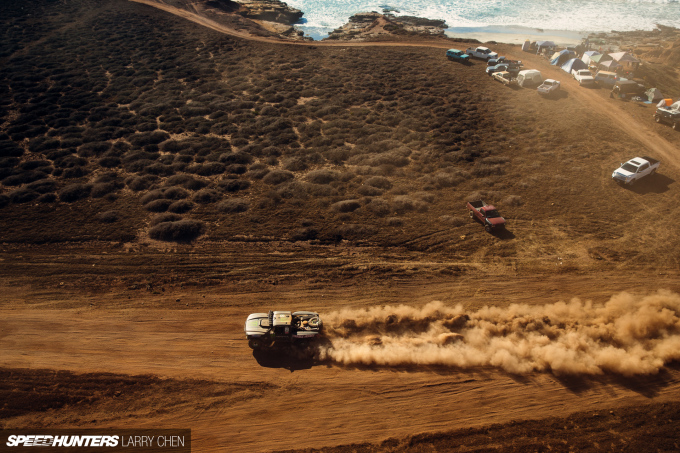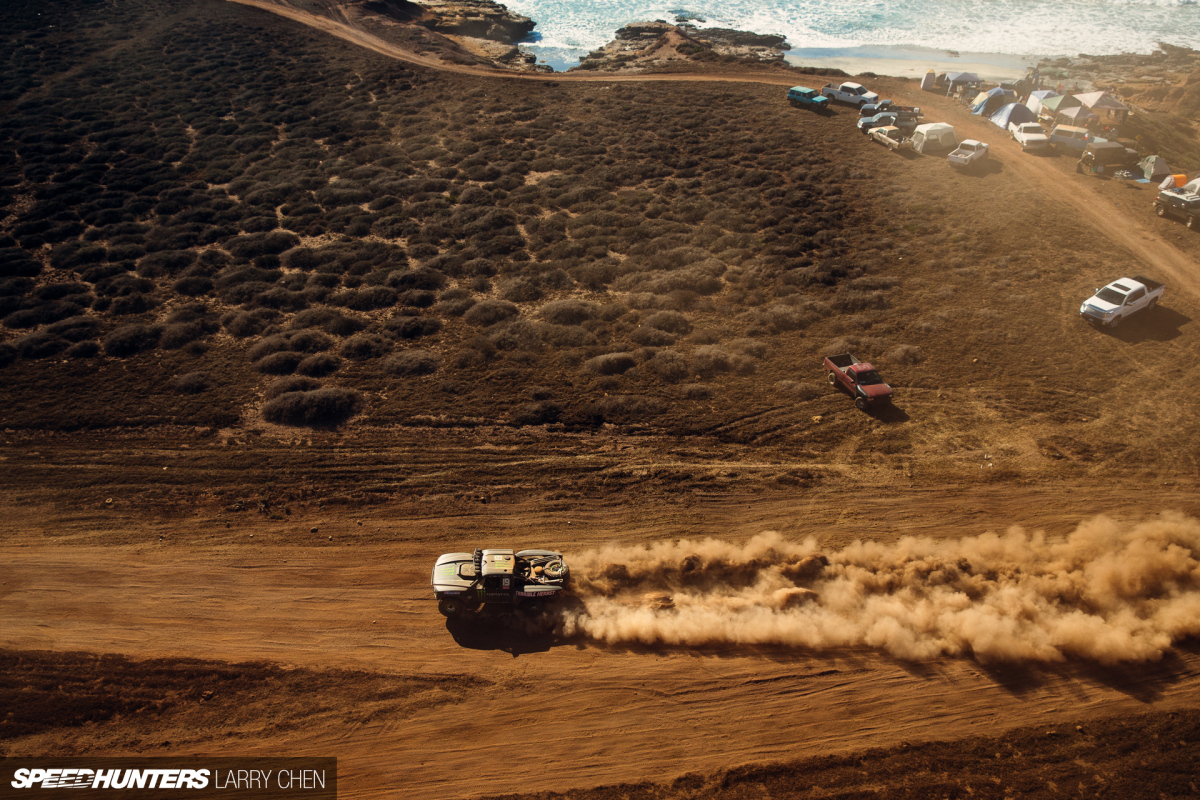 Then, without notice, the course would duck inland again only to pop back out onto the beach a few miles later.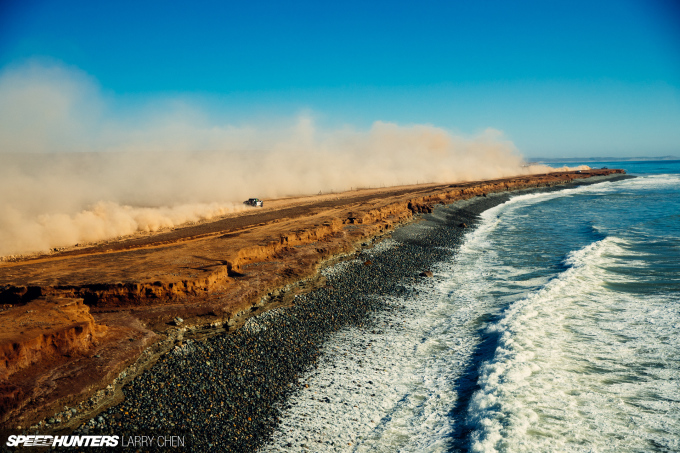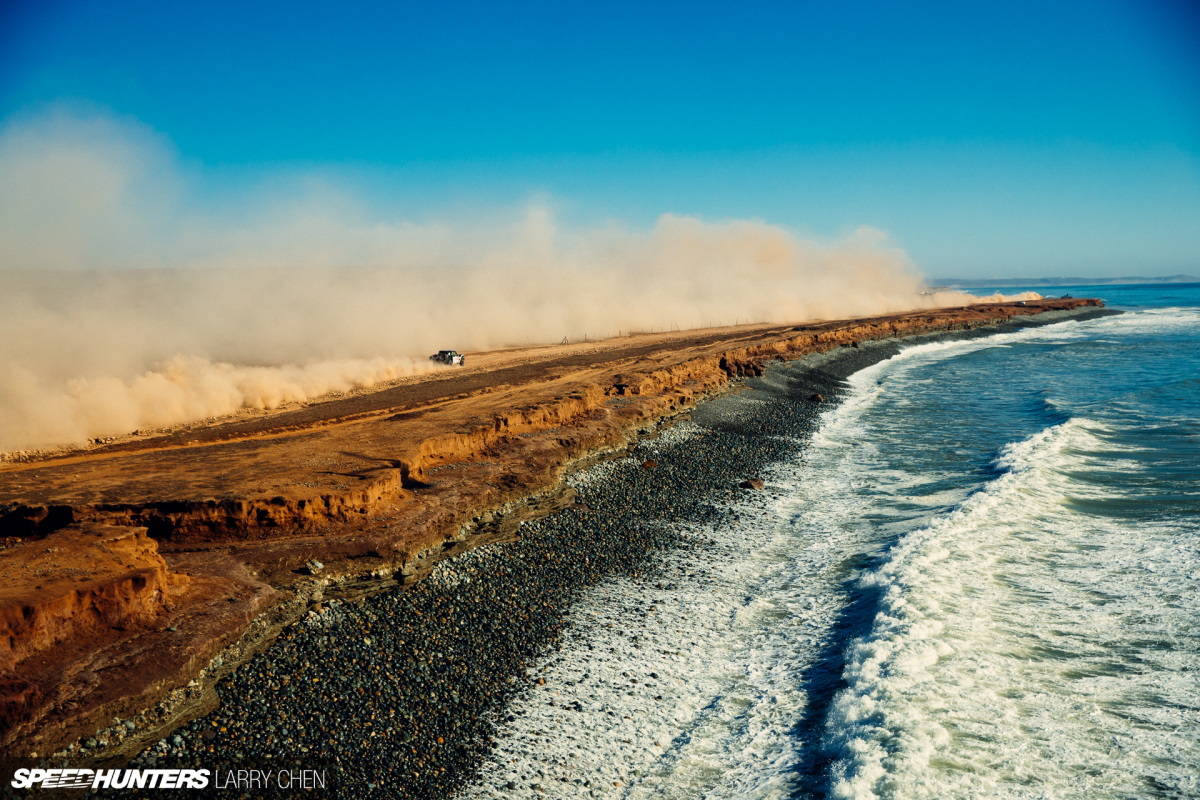 Baja California is beautiful beyond words. Can you believe that this is a race course?
While it was cool to shoot on the coastline, we soon headed back up to the leaders to catch some inland action. I loved the way the dust lingered, but I'm not sure the drivers thought so highly of it.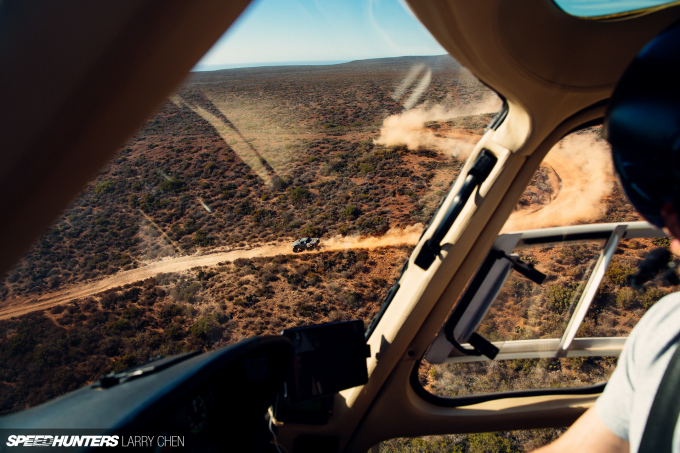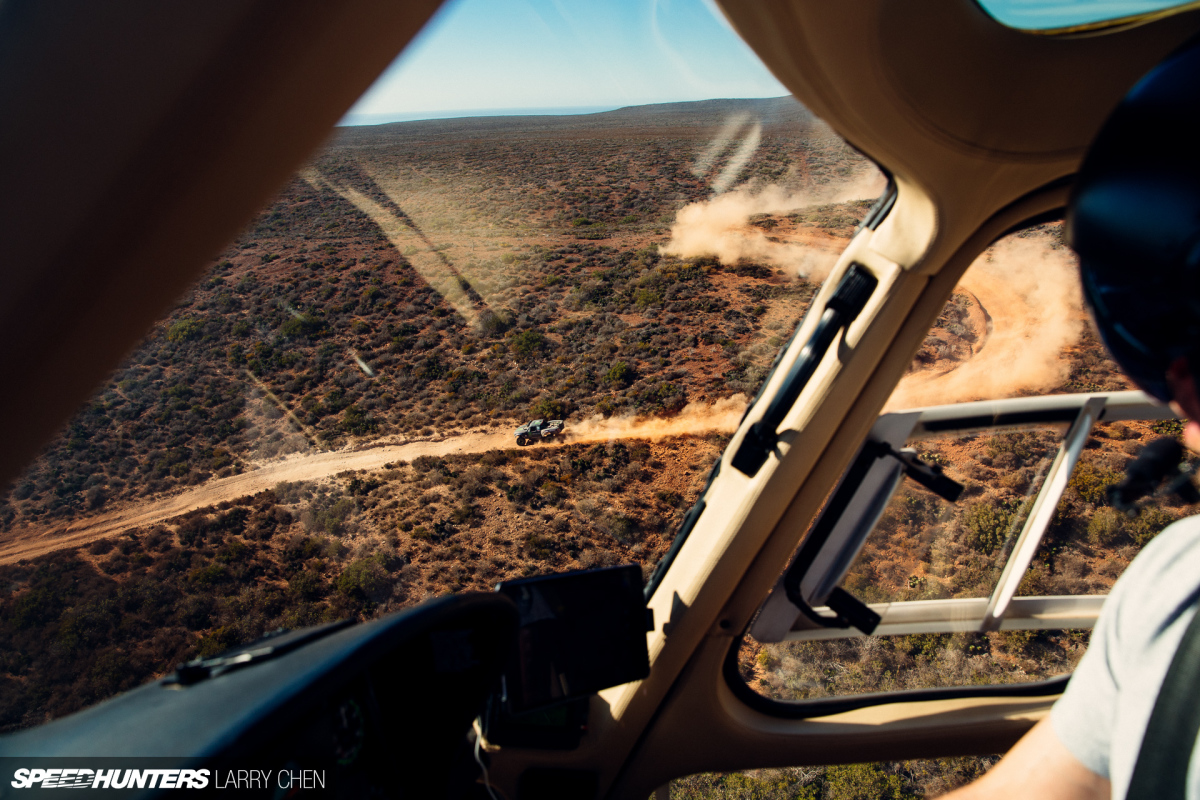 The best part of shooting from a helicopter in Mexico is that we could land pretty much anywhere we wanted to.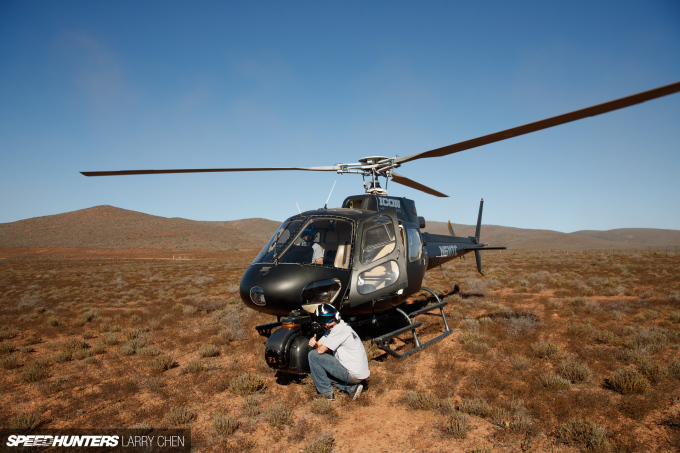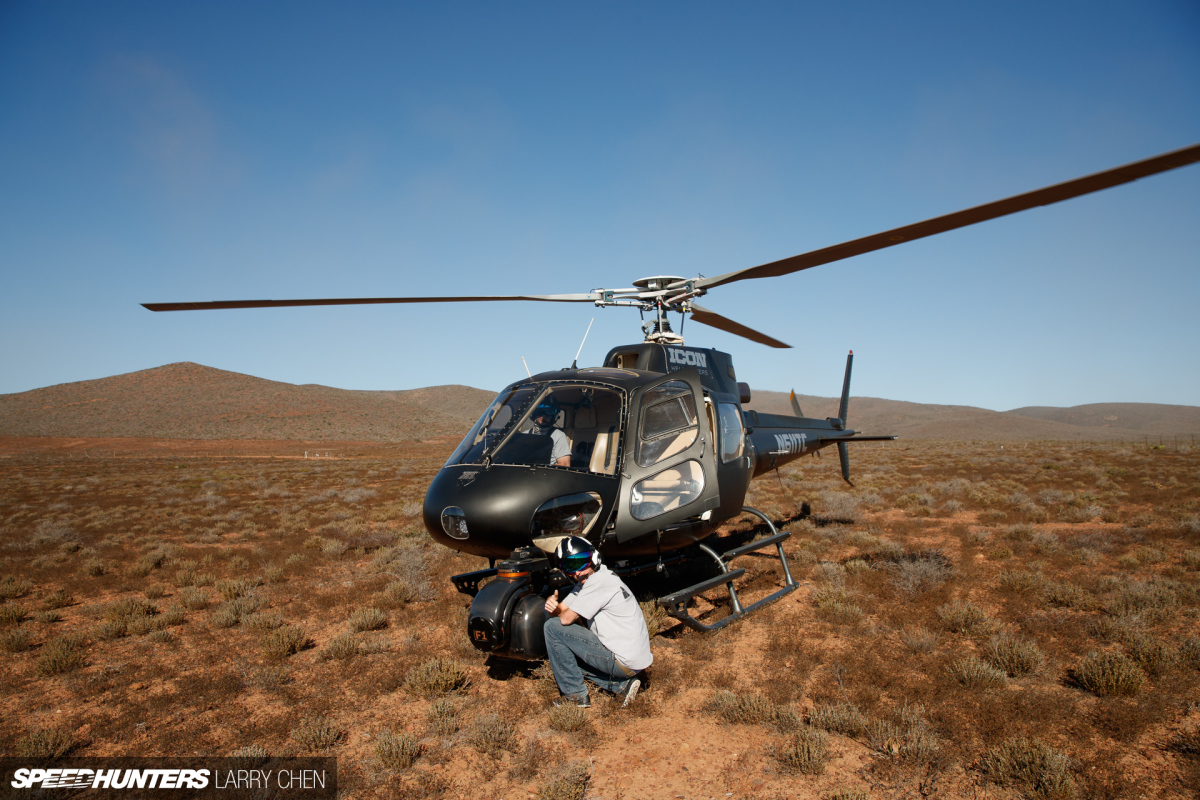 Need to change cards in the Shotover F1? No problem. Need a bathroom break? You got it!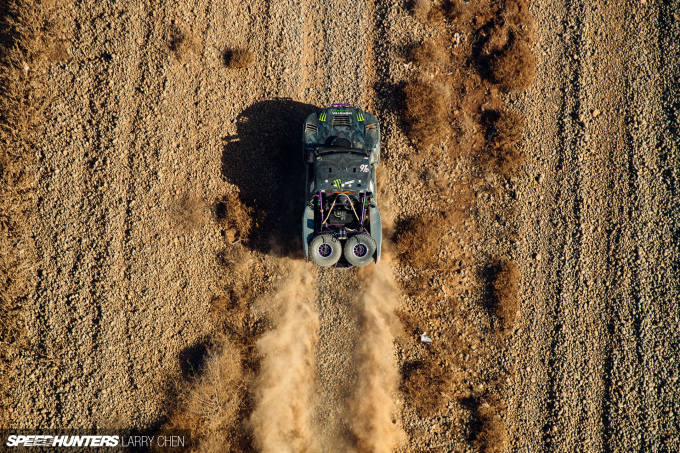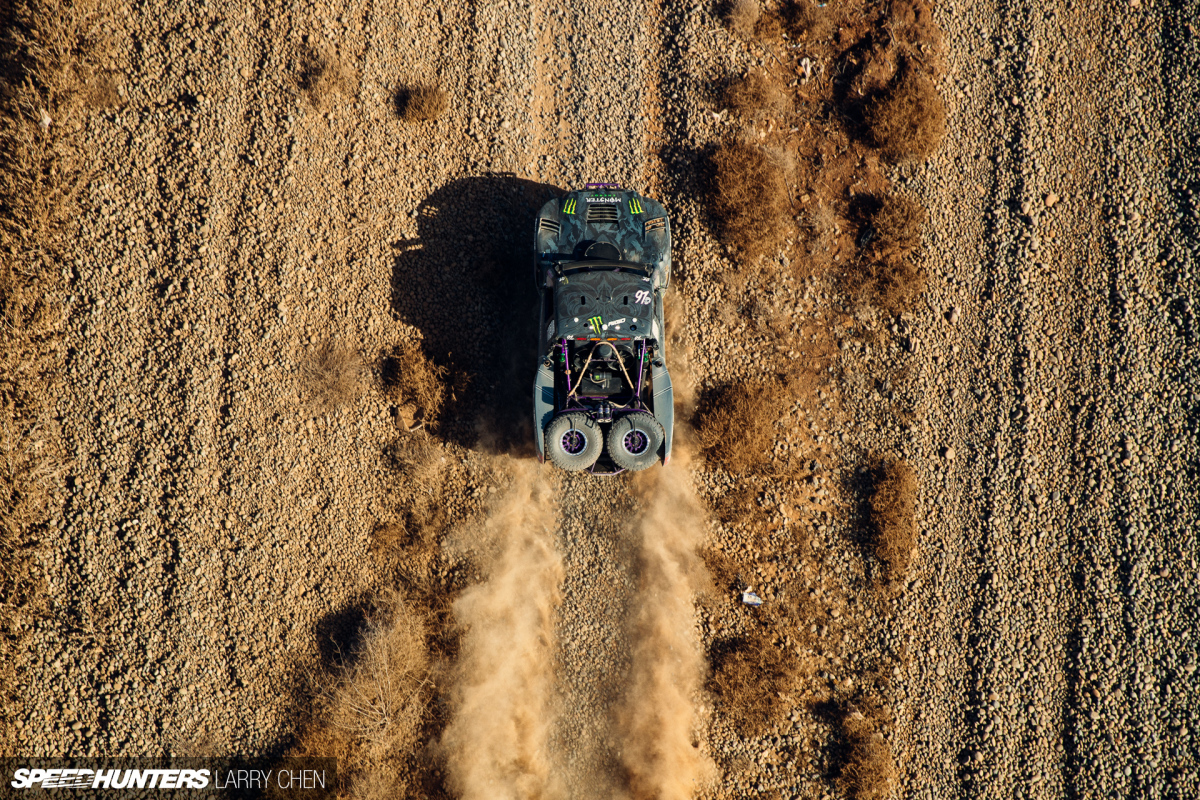 I've been following BJ Baldwin pretty closely over the years and seen him drive from the ground quite often, but up until this event I'd never chased him in the air at race speed. He was in his element and hellbent on 'Iron Man-ing' the race, which means he was going to drive the entire 850 miles himself.
Background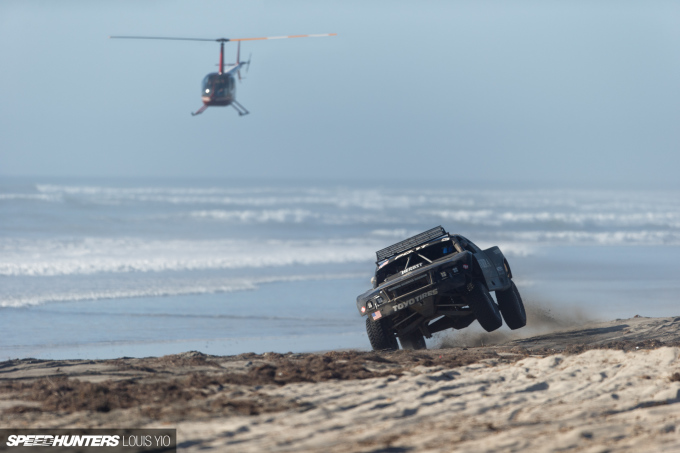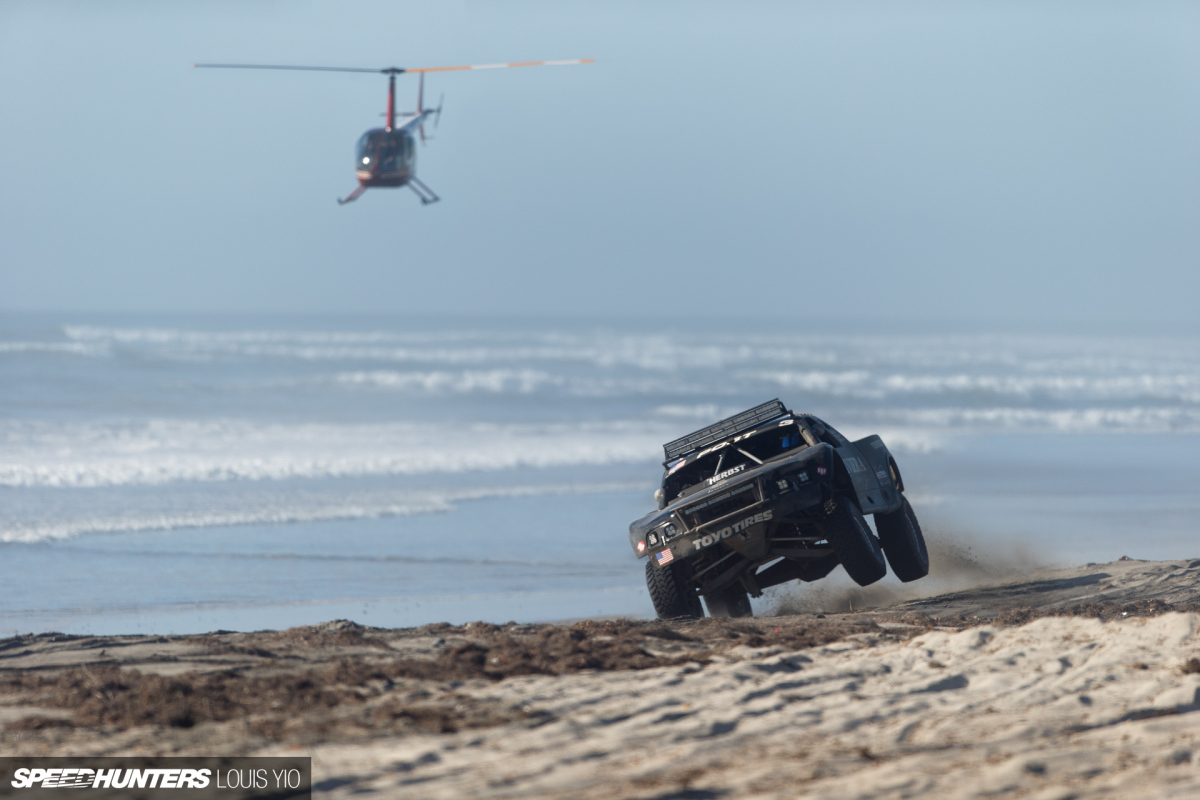 Louis: Soon enough, 2:30pm rolled around and the first few trucks came blasting through. Kyle LeDuc looked extremely comfortable and provided me with a nice little two-wheel lean.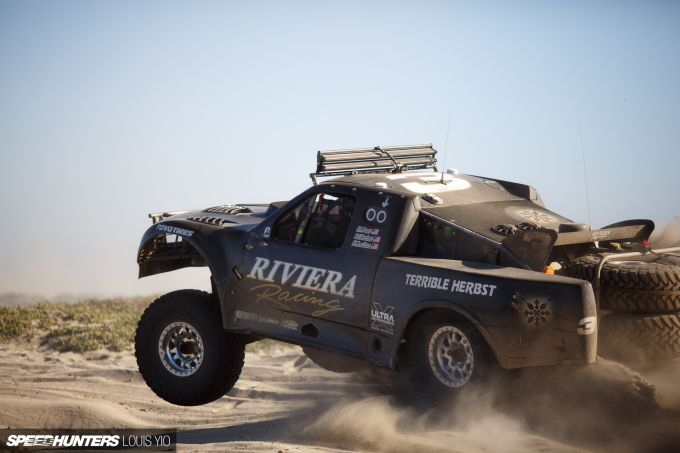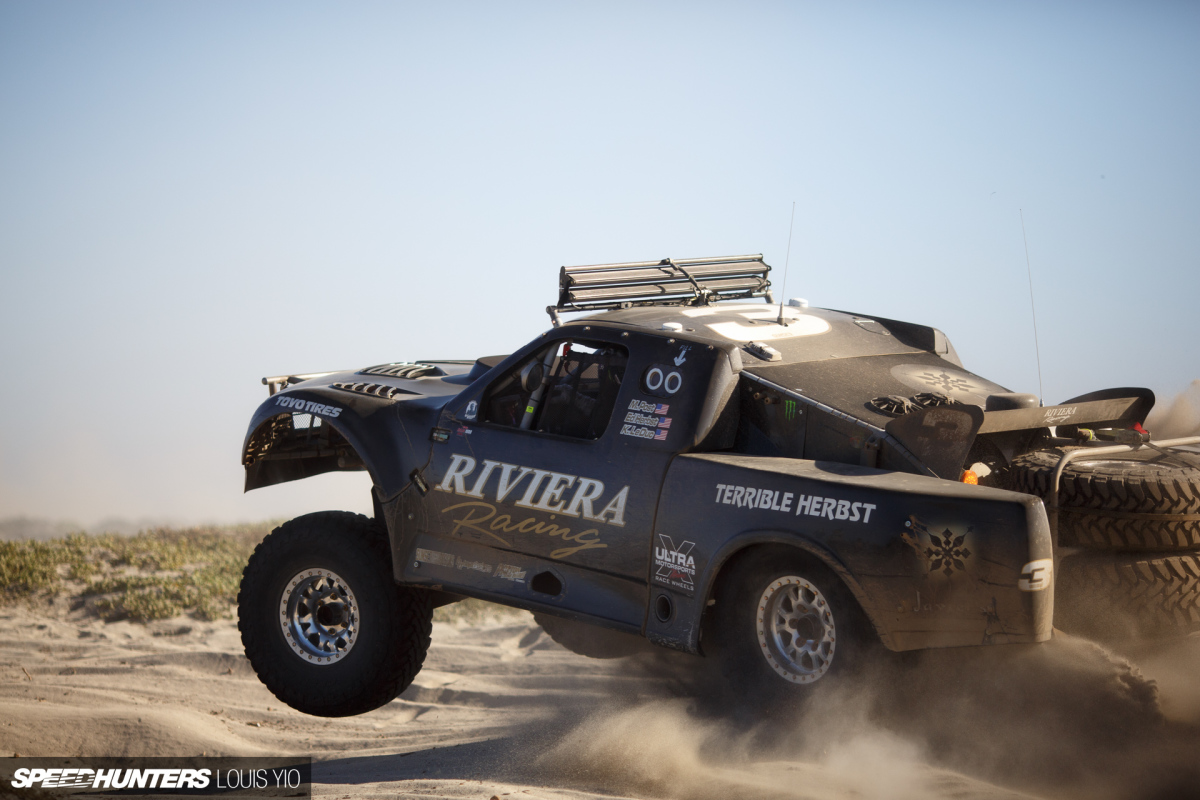 The Riviera Racing trophy truck he was piloting is somewhat dated by today's measures, but you couldn't tell from the way he was driving it.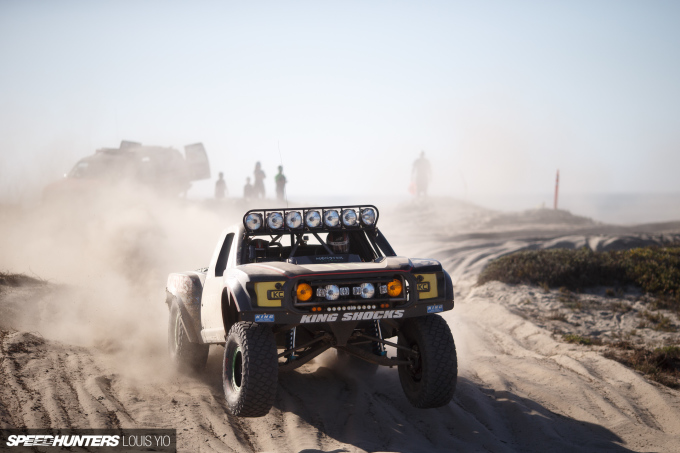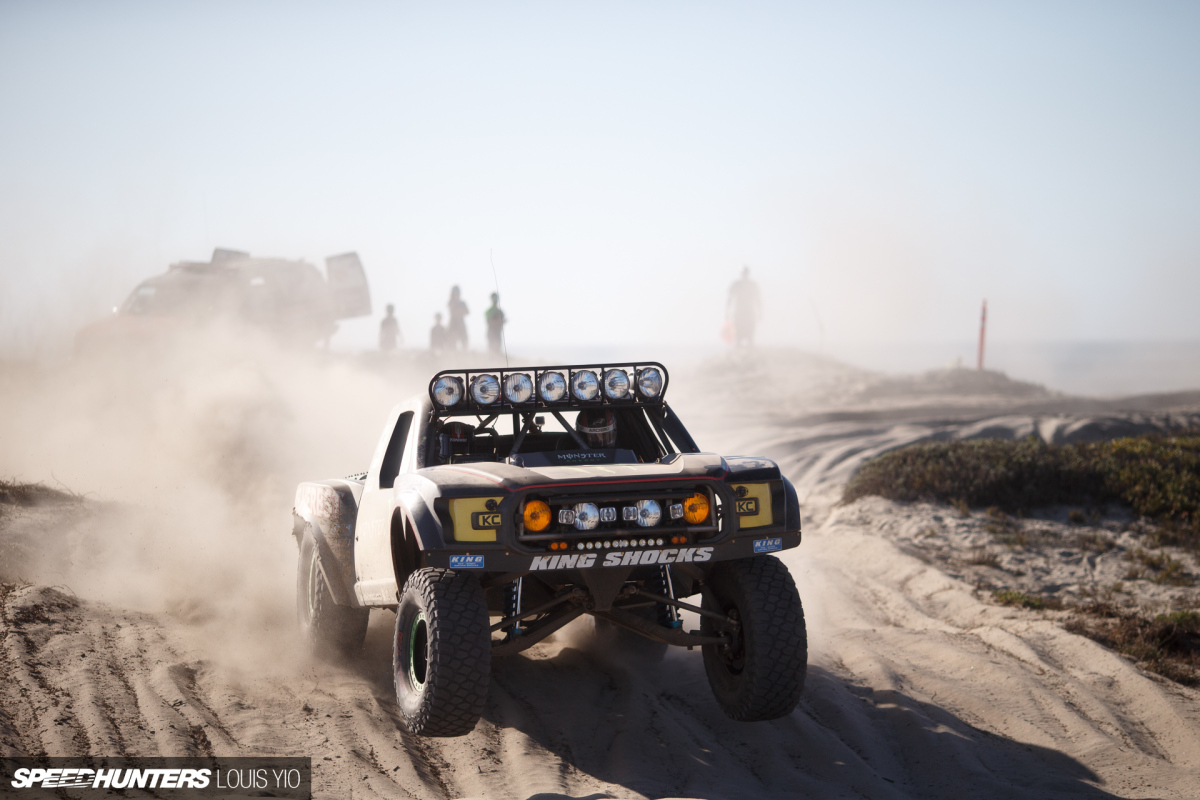 The high speed section we were at led straight to a hard 90-degree left turn followed by a low speed whoop section, followed by another hard downhill right turn.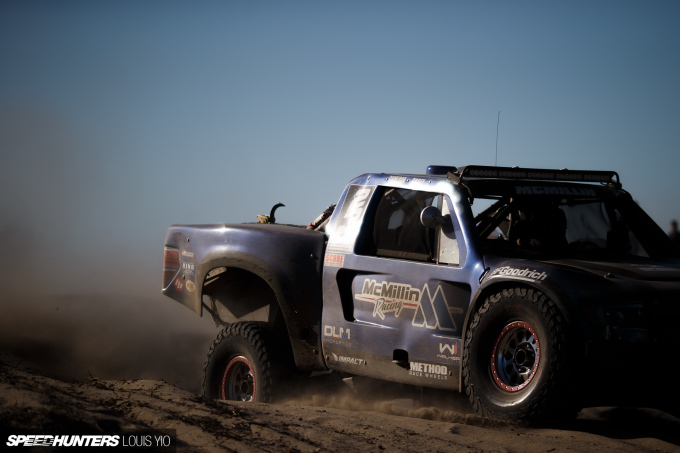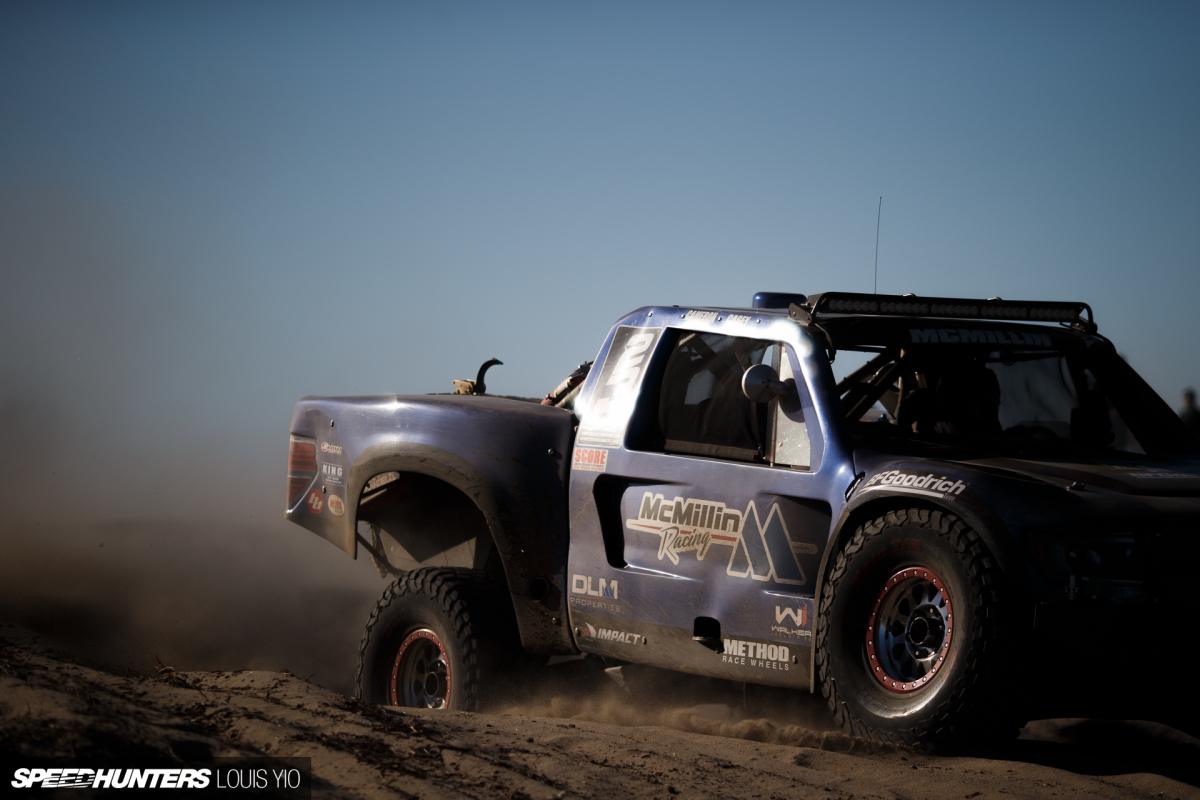 It proved to be a very difficult section for many drivers; a good few of them braked too late and understeered while blindly hitting the whoops.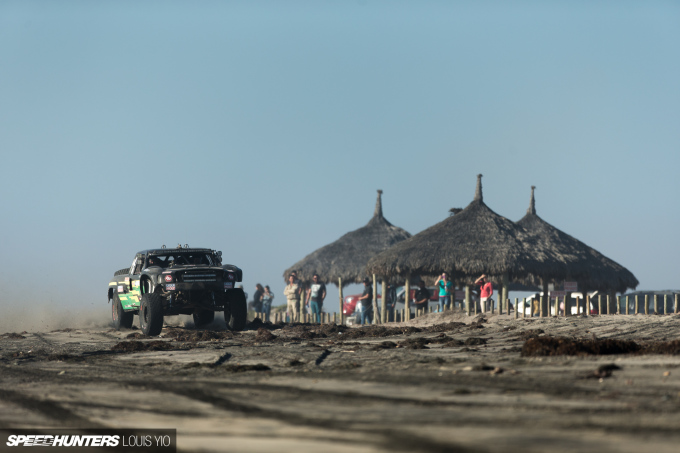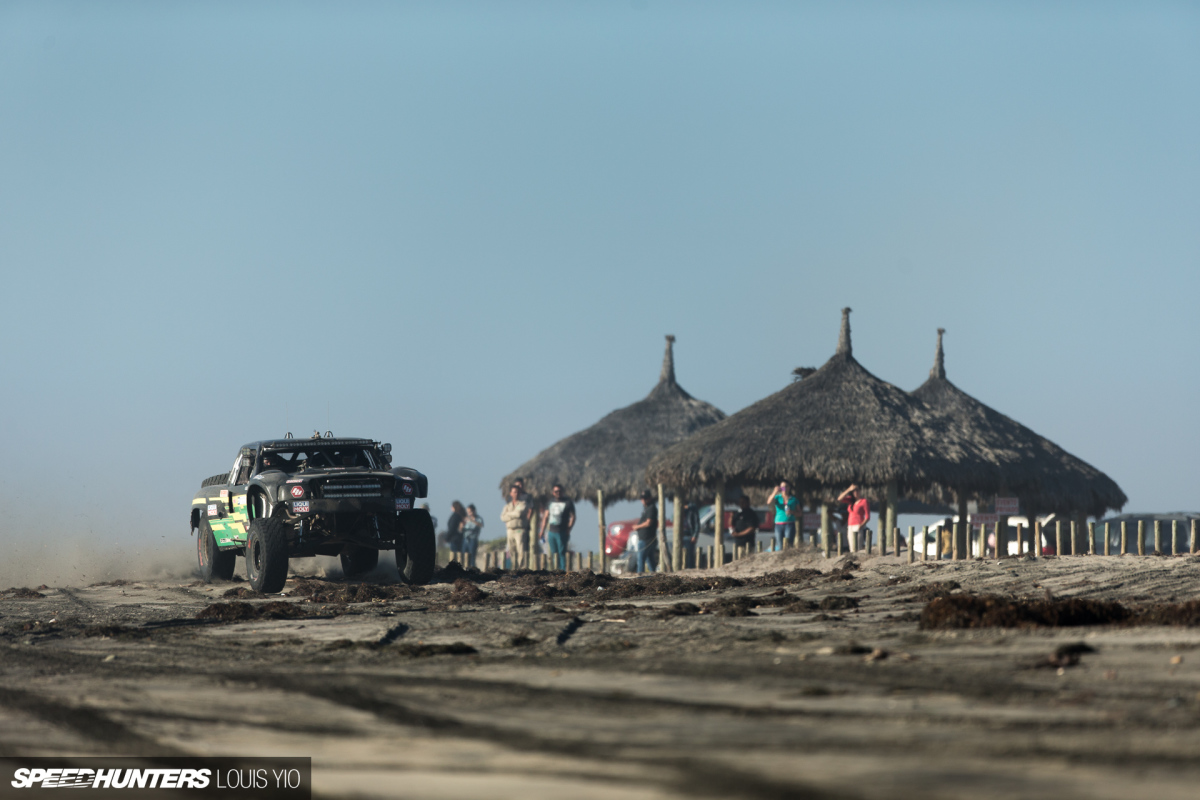 By now we'd received word that bike 1X was about 20 minutes faster than what we had estimated, meaning we would not make it to RM470 in time, especially since we traversed an extra 15 minutes to arrive at the beach. Not only that, but we also had intentions to shoot the UTVs at sunset near RM205. But the specific UTV driver we were following, Marc Burnett, was having technical issues and was running at a far slower pace than we had hoped for.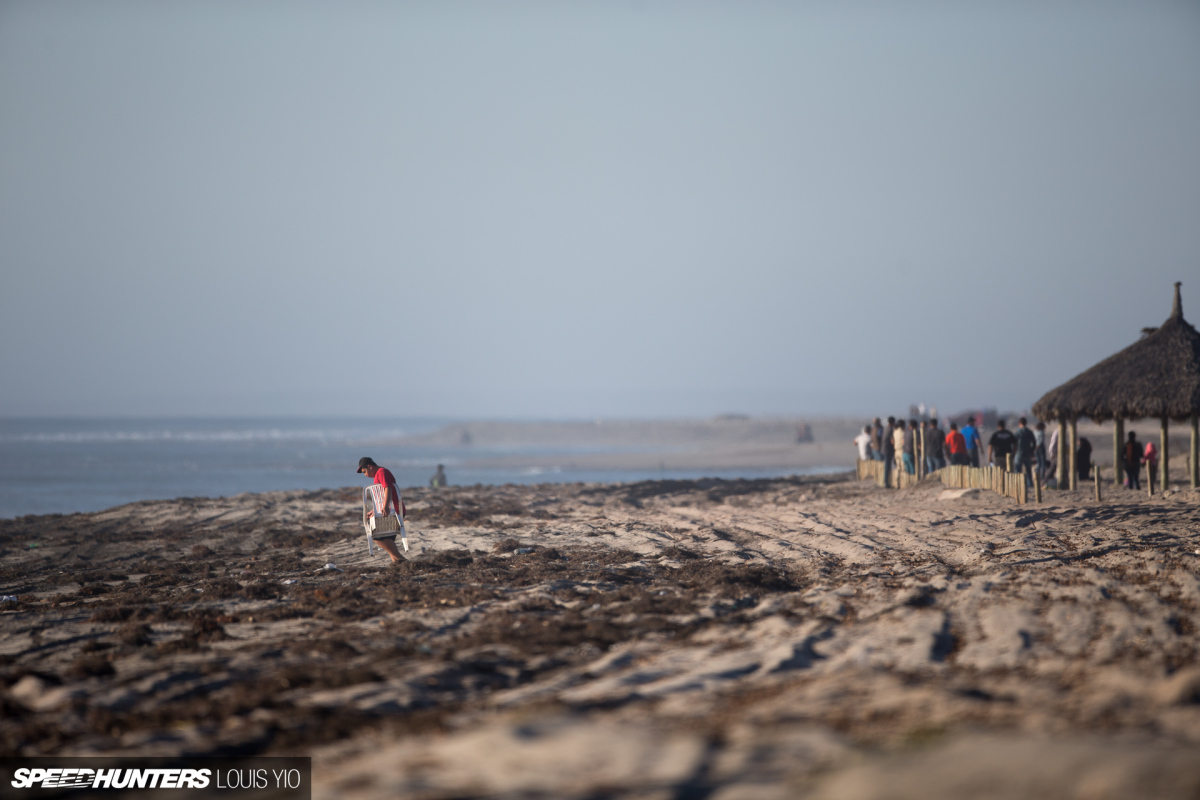 We grudgingly decided to remain at the beach and let it be our final shooting location until the sun went down.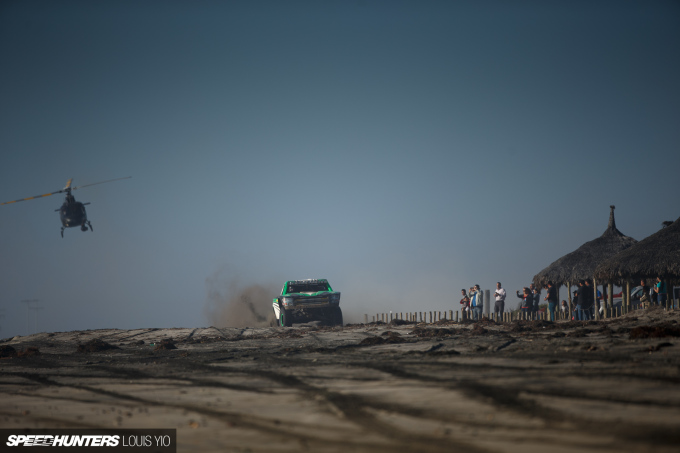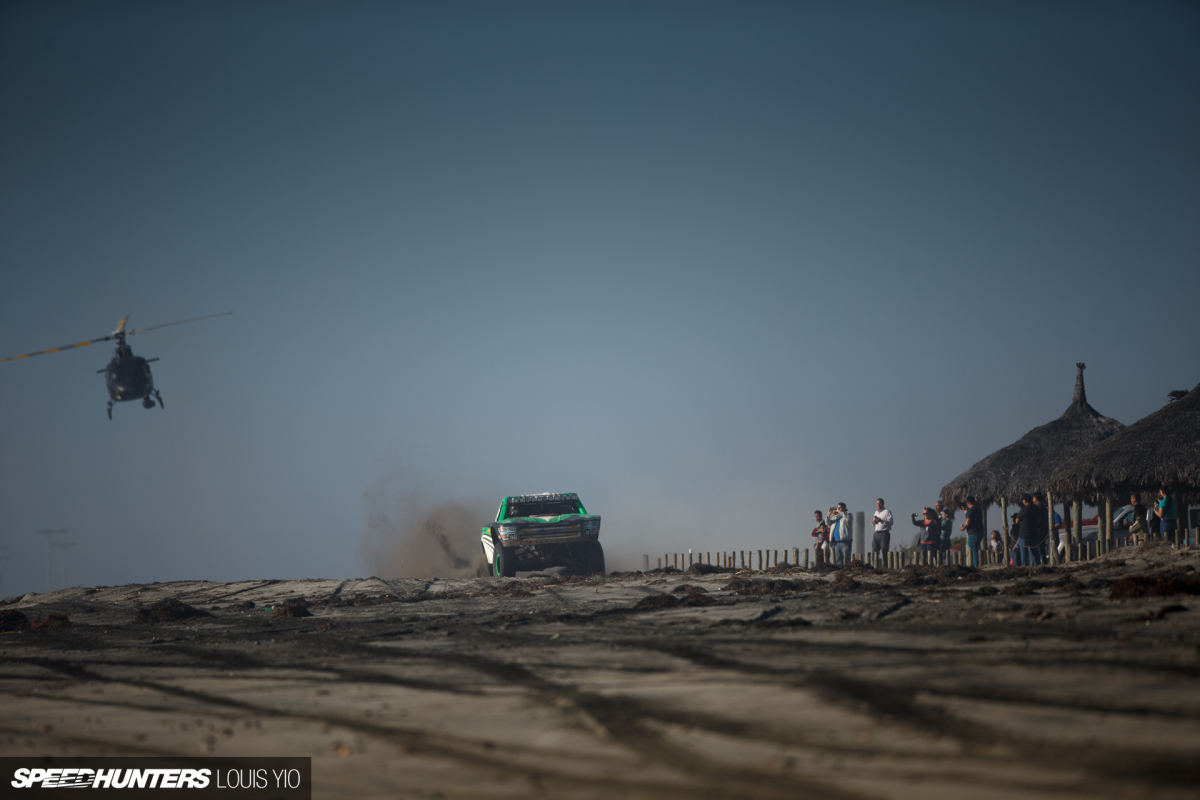 I didn't know this until we were looking at our pictures afterwards, but while I was shooting Steven Eugino pass through the beach, Larry was tracking him from above.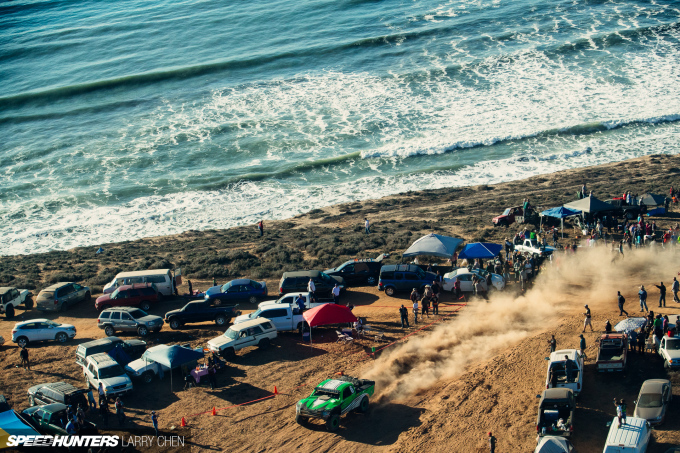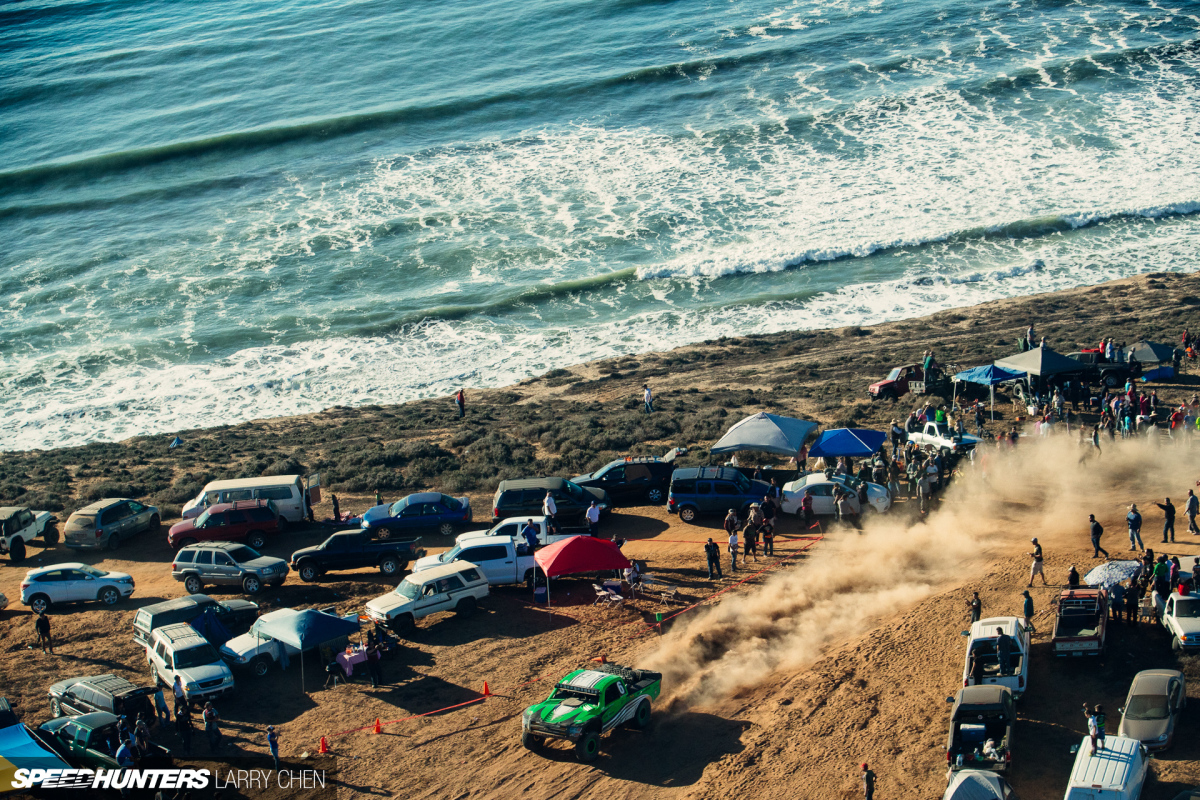 Larry: I figured that there was going to be a very high chance that Louis and I would cross paths during the event, and I even spotted the truck that he was riding in from the air. But for the life of me, I could not find Louis on the beach. That is, until we looked at the photos later on.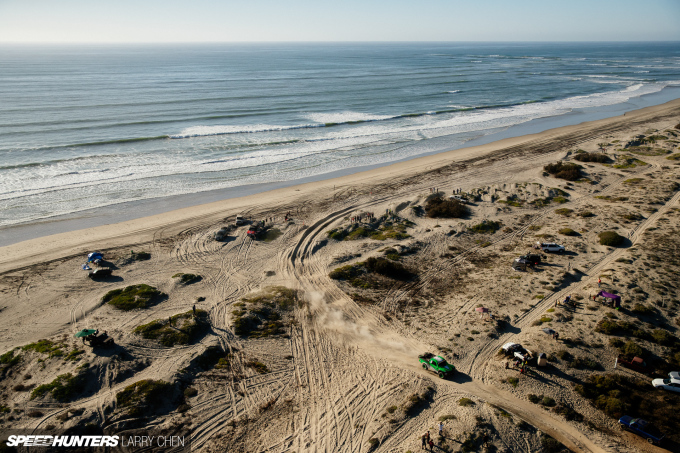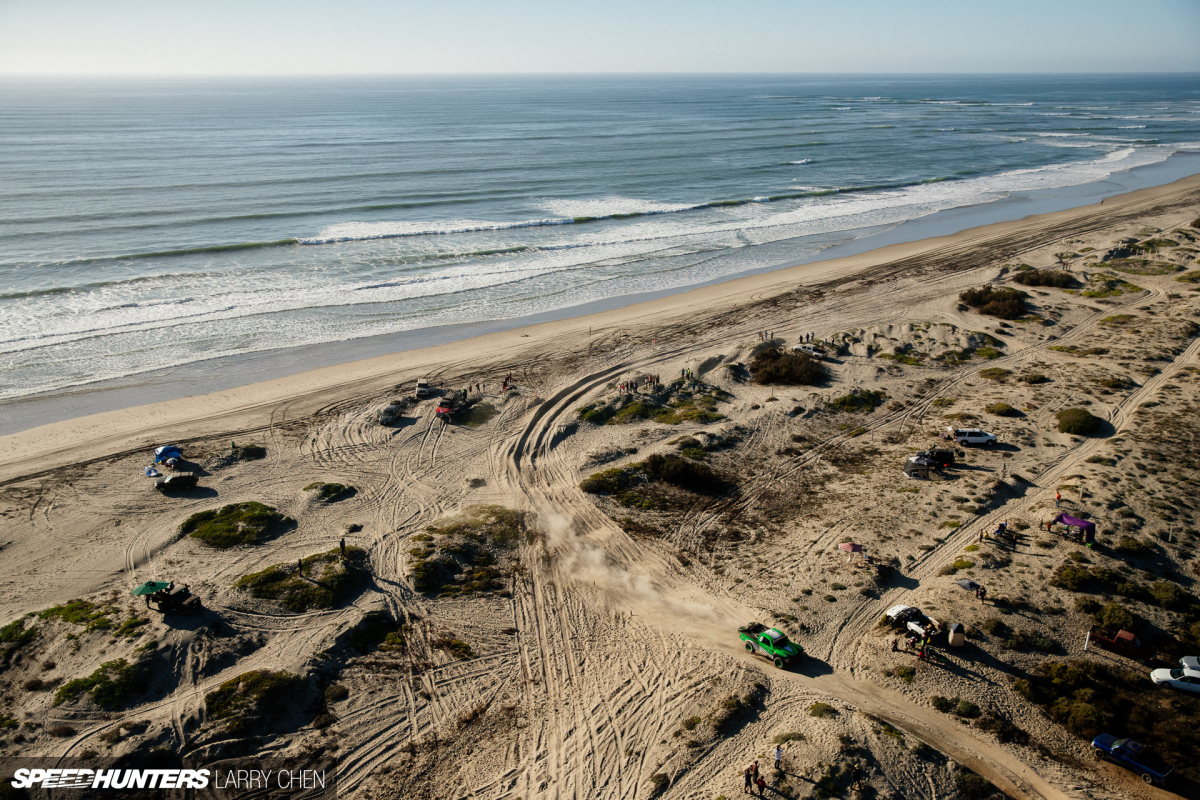 You can barely tell, but if you look at the top right of the frame where the sand touches the water, you will see a black dot. That's Louis. In the full resolution photo we could even tell that he was using his 400mm lens.
There was a great battle going on between BJ Baldwin in his Monster Energy Toyota truck and Alan Ampudia in the Papas & Beer truck. Alan was closing in fast, but it didn't last long.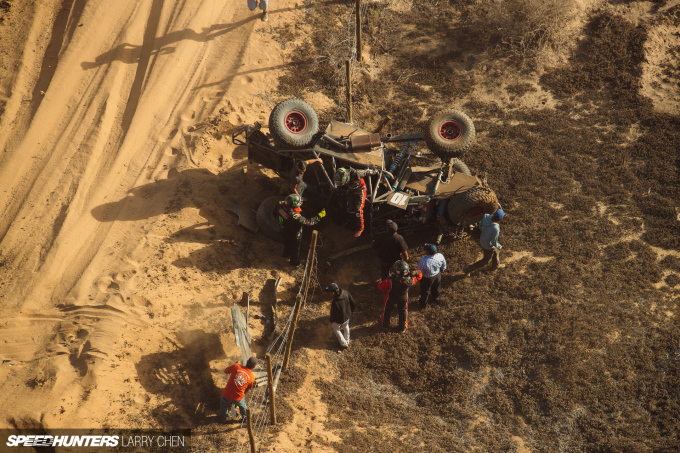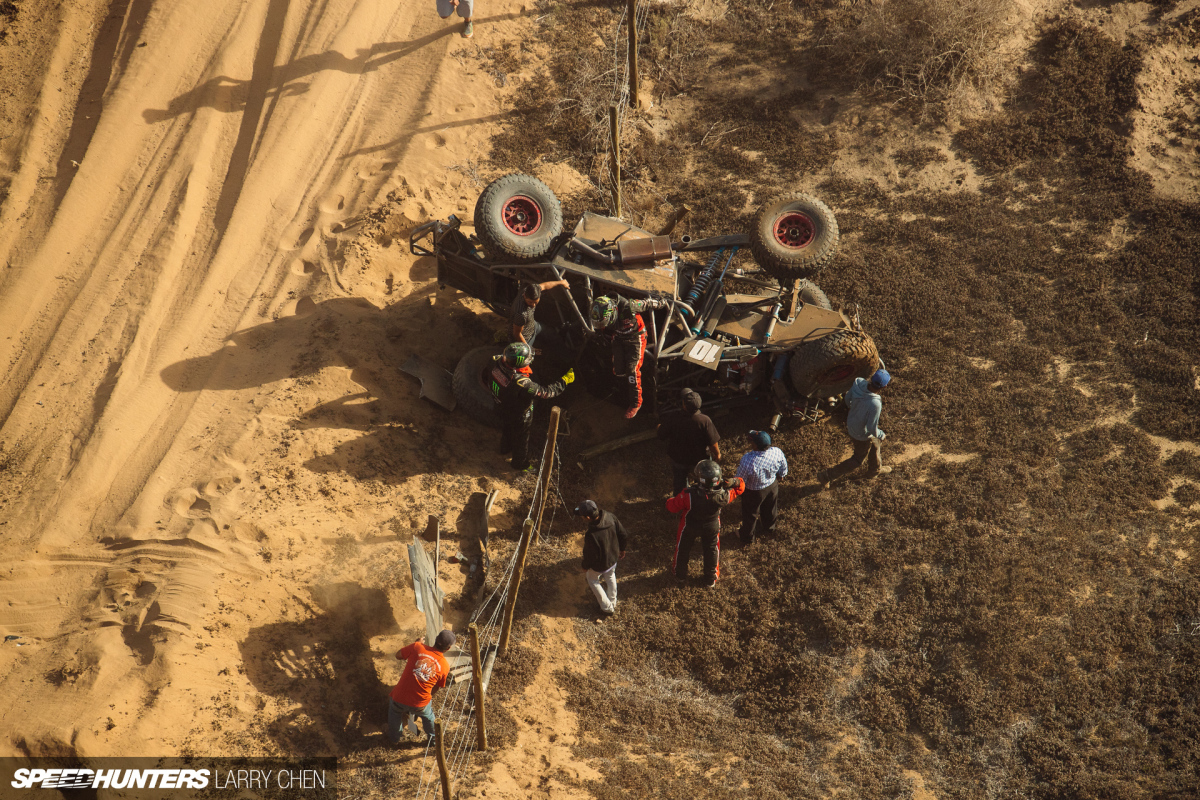 There was a very fast downhill section after a long straightaway; BJ slowed right down for it, but I guess Alan was going full attack mode and wasn't able to make the corner. Thank goodness he and his co-driver were able to walk away from it. You can see the video here.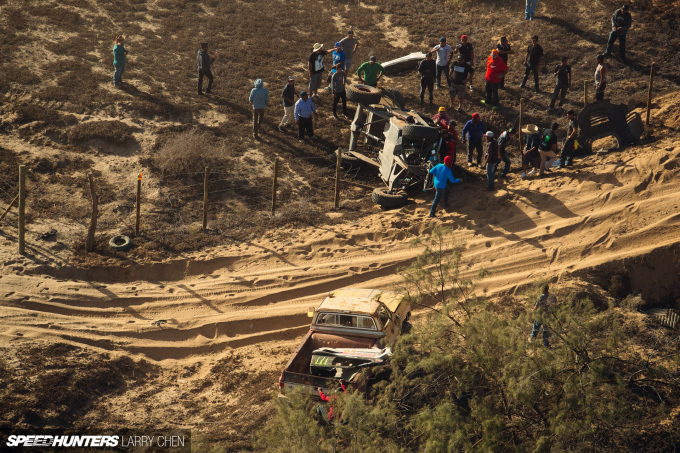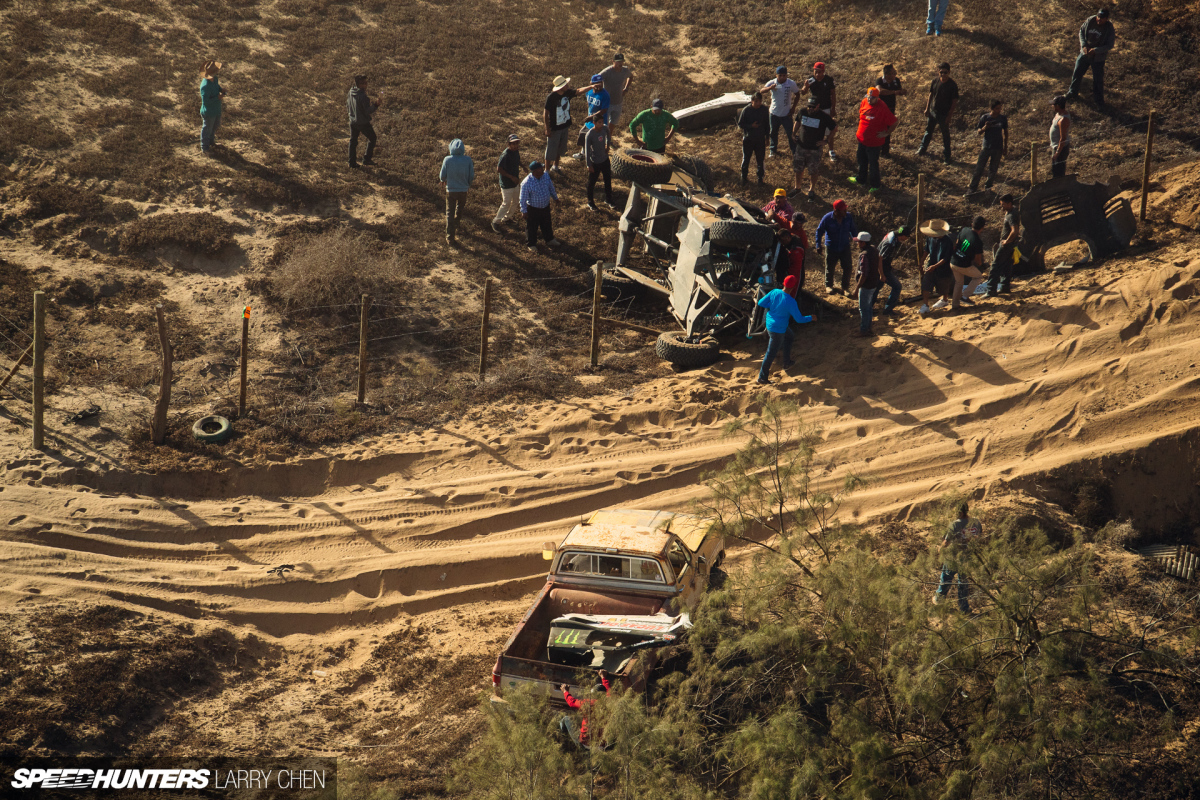 The crash looked bad enough, but what was really unsettling for me to watch was some guys driving a pickup truck backwards on the race course just so they could grab some body panels as souvenirs. Luckily for them, no race trucks came over the blind crest during the senseless moment.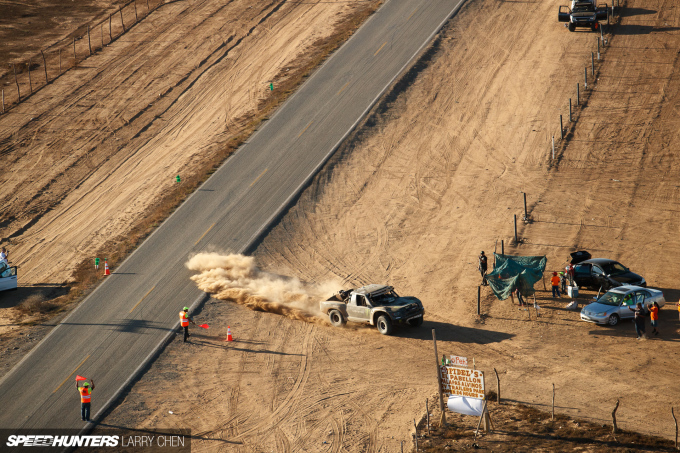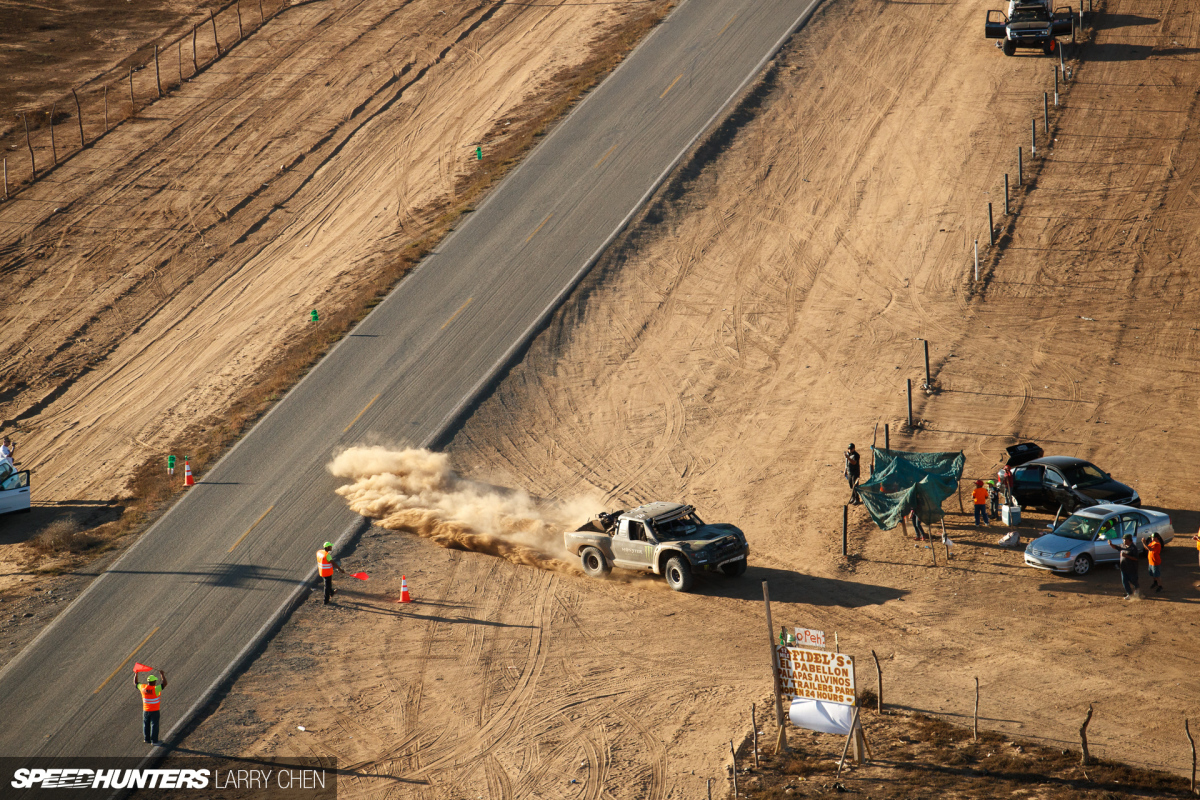 Even though BJ was pushing super hard, he didn't finish the race either. Late at night he crashed into a boulder going around 70mph; the truck was very damaged but both he and his co-driver were just fine.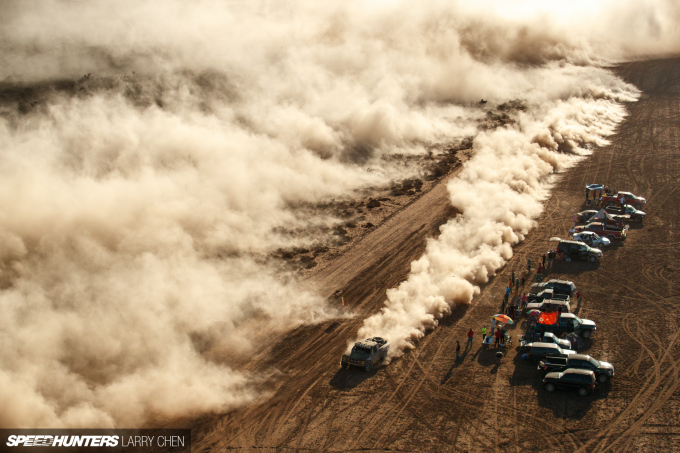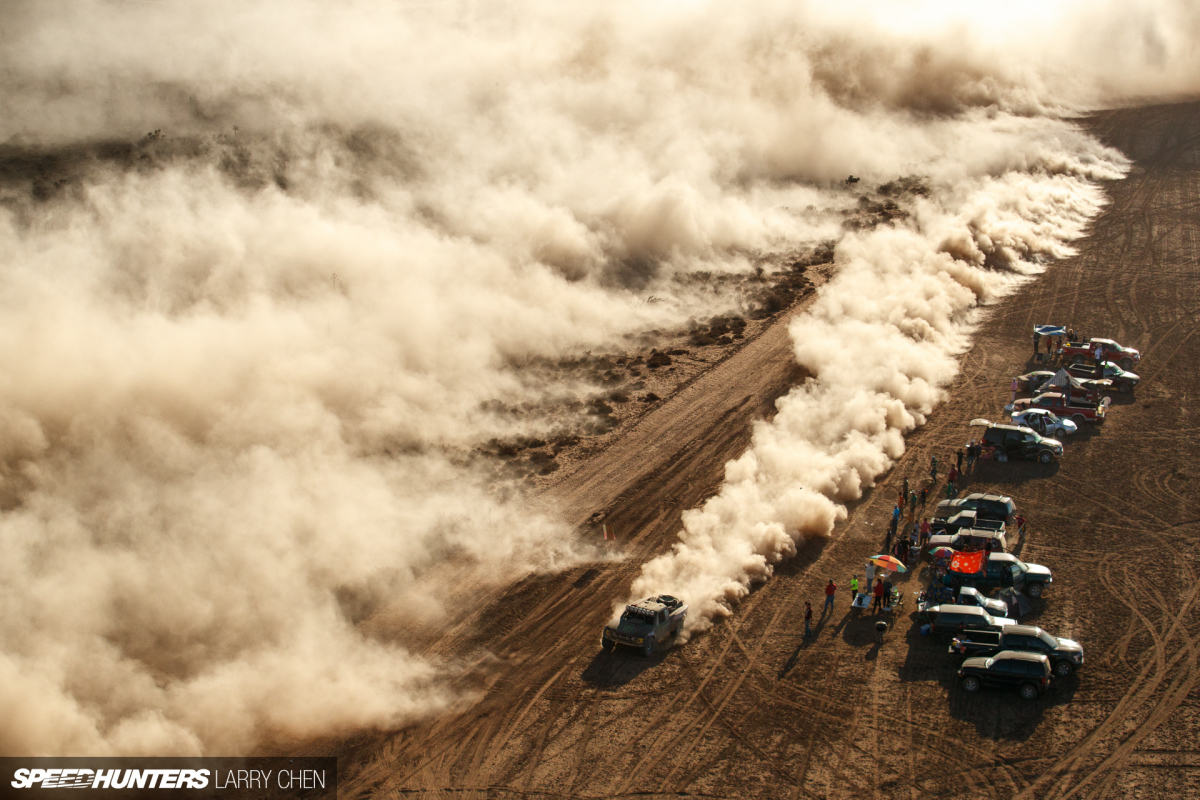 This was actually one of my favorite shots from this event, as it really illustrates just how bad the dust is. The ground looks like it's on fire.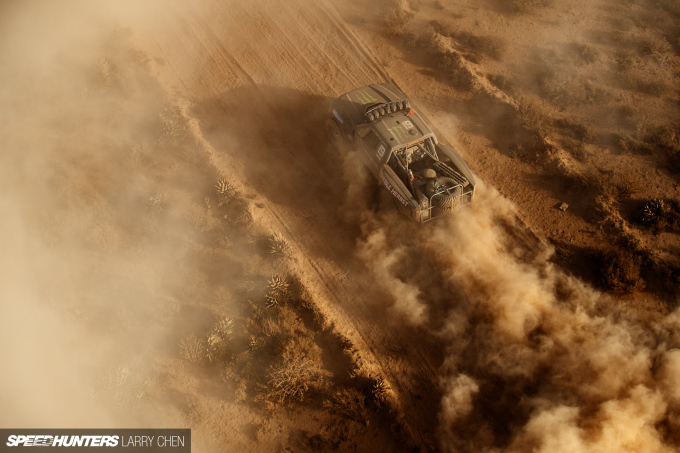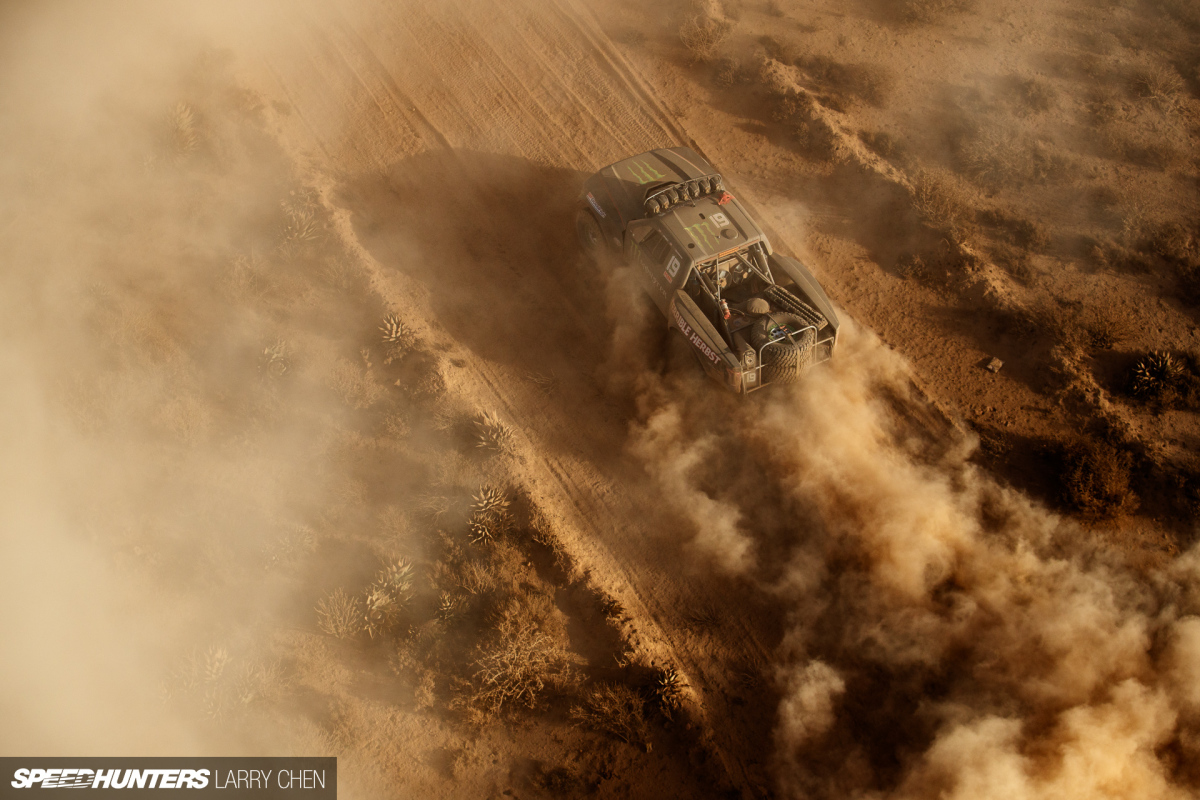 It really amazes me how fast these guys can go in such trying conditions.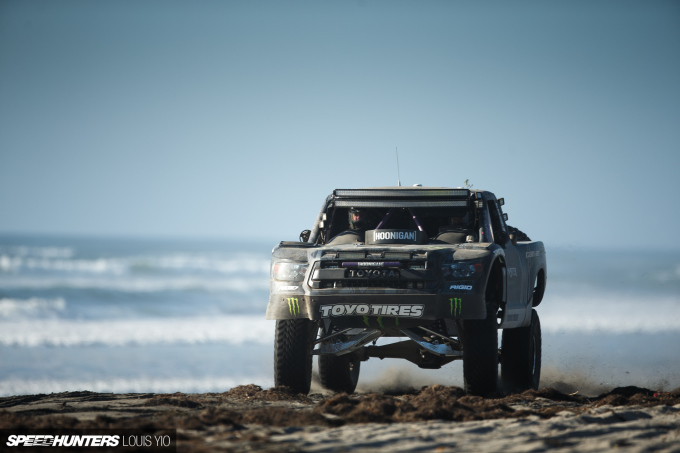 Louis: As Larry went on his way, I continued down the beach.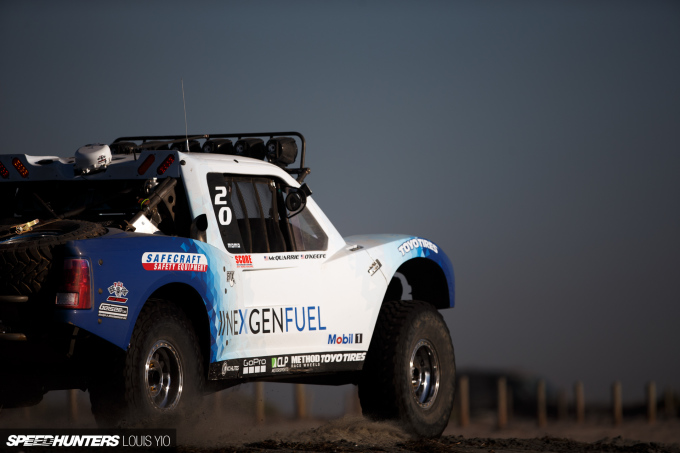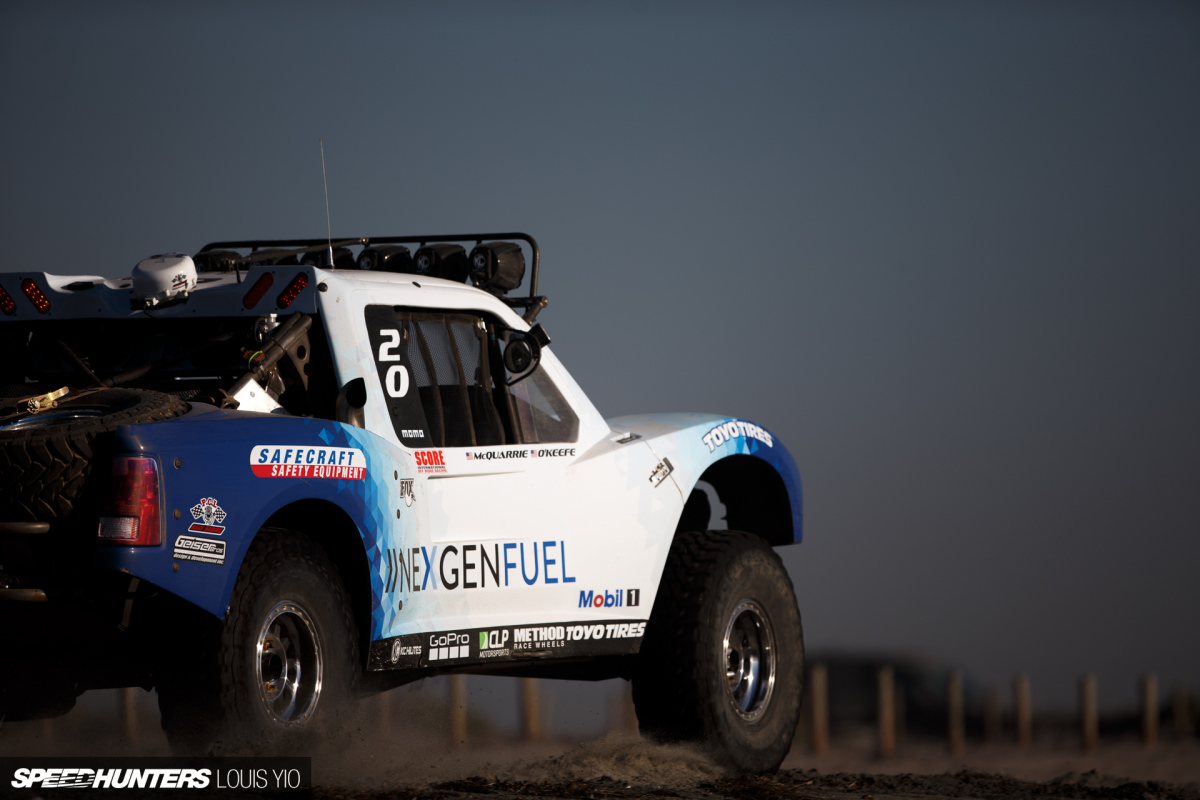 The Nexgen Fuel guys were running a brand new diesel truck and passed me in almost complete silence.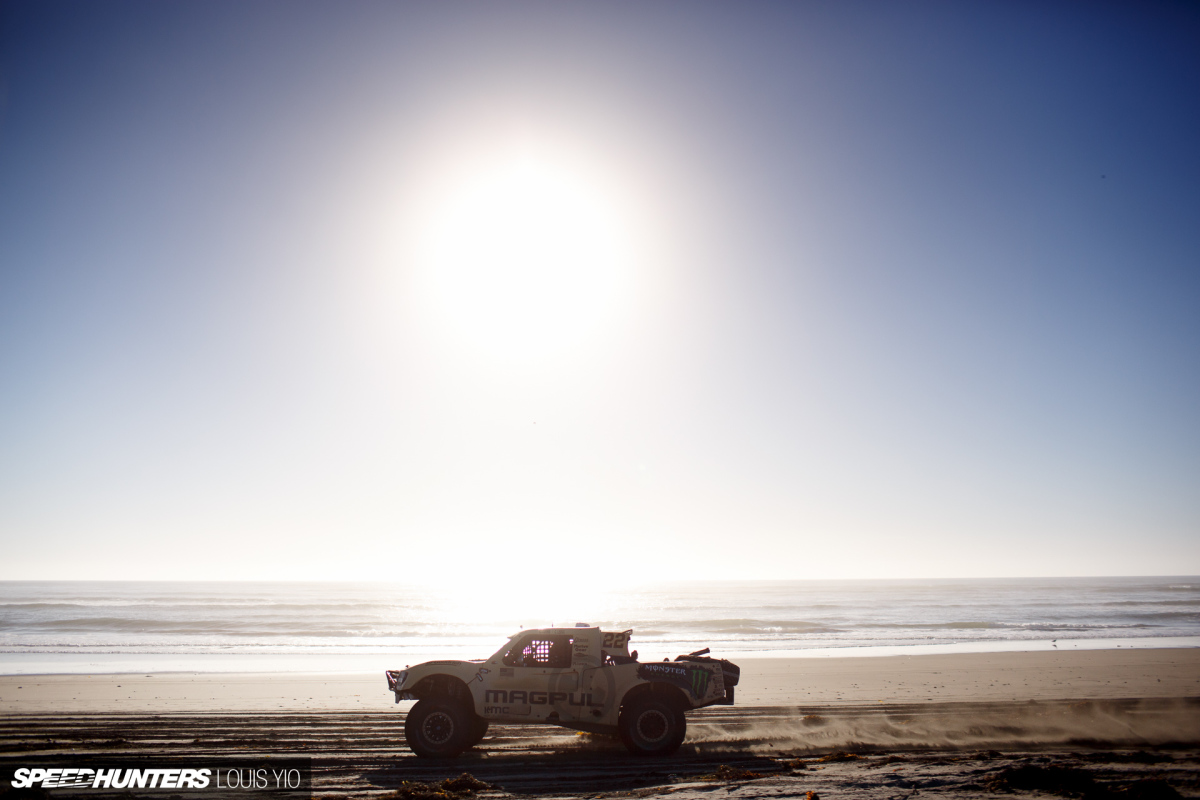 Casey Currie was running the Baja for the very first time this year, and at contingency he said that it was all about testing a new car, his team, and the race itself. He ended up crossing the finish line in 43rd overall, which is an achievement in itself as only half the grid of almost 300 entrants make it to the race end.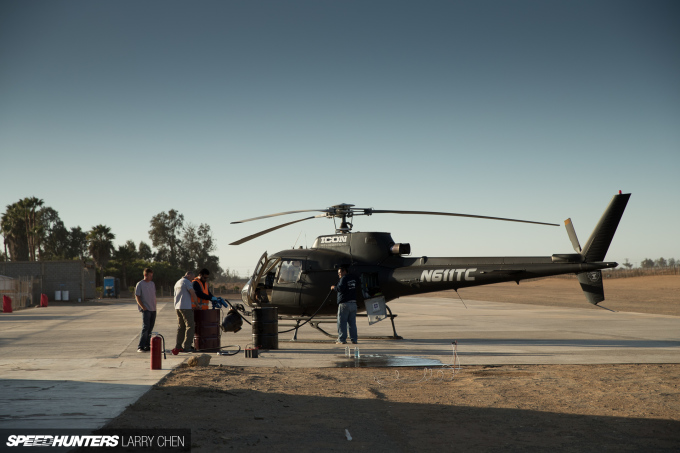 Larry: We were almost out of fuel so we landed near the south end of the race course around RM400. Dave has been doing this long enough to know what to expect, so he checks the fuel every time before filling up in Mexico to make sure what he's being sold is legit. And sure enough, this time they tried to fill up the AStar with high octane piston petrol instead of jet fuel. That could have been a very costly mistake, not to mention disastrous.
This is why I only work with the best in the industry. Many things can go wrong when you are pushing the time envelope.
The sun was setting so we decided to catch up to the lead motorcycles one last time before we headed back. Flying at night was not an option.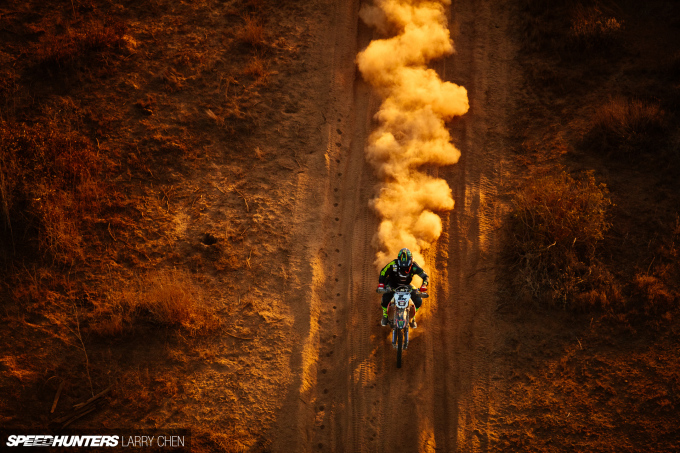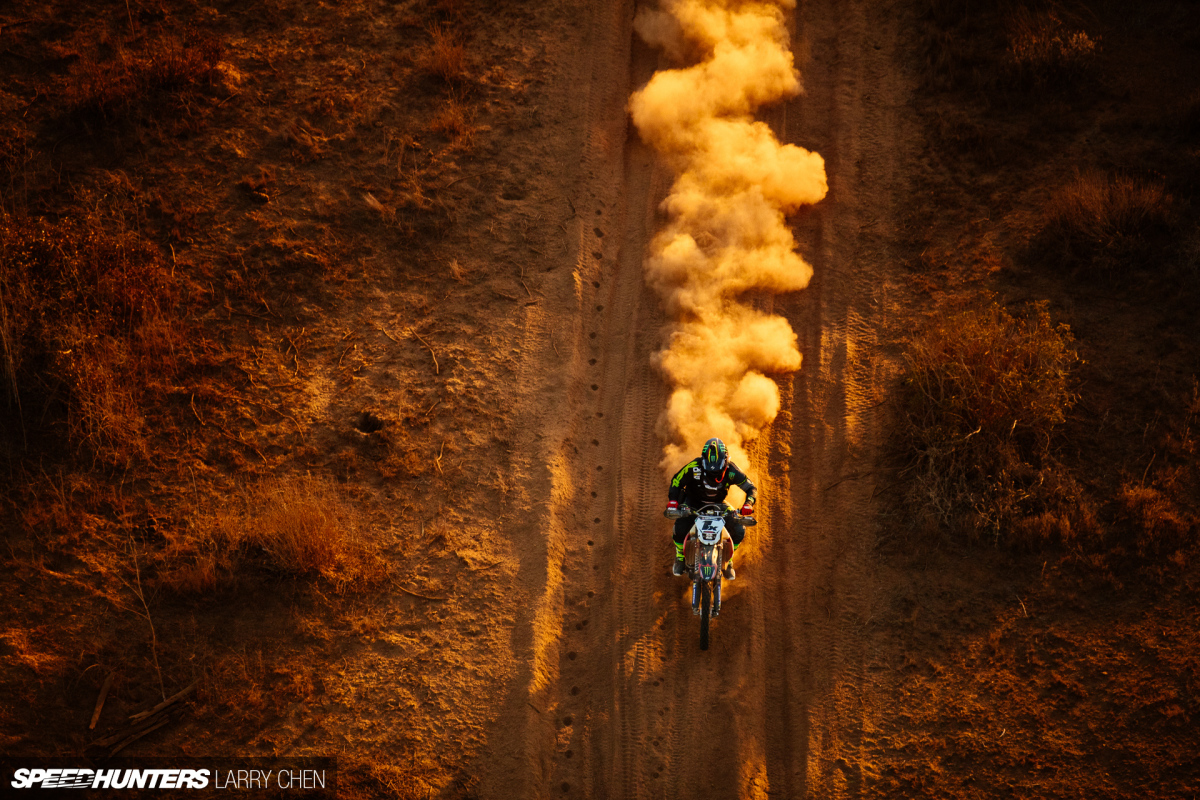 After a bit of searching, we found 1X, which was the lead bike. He would go on to finish in 1st place.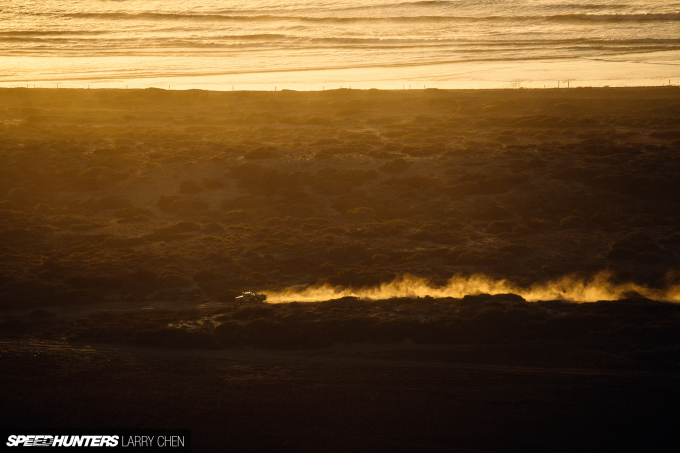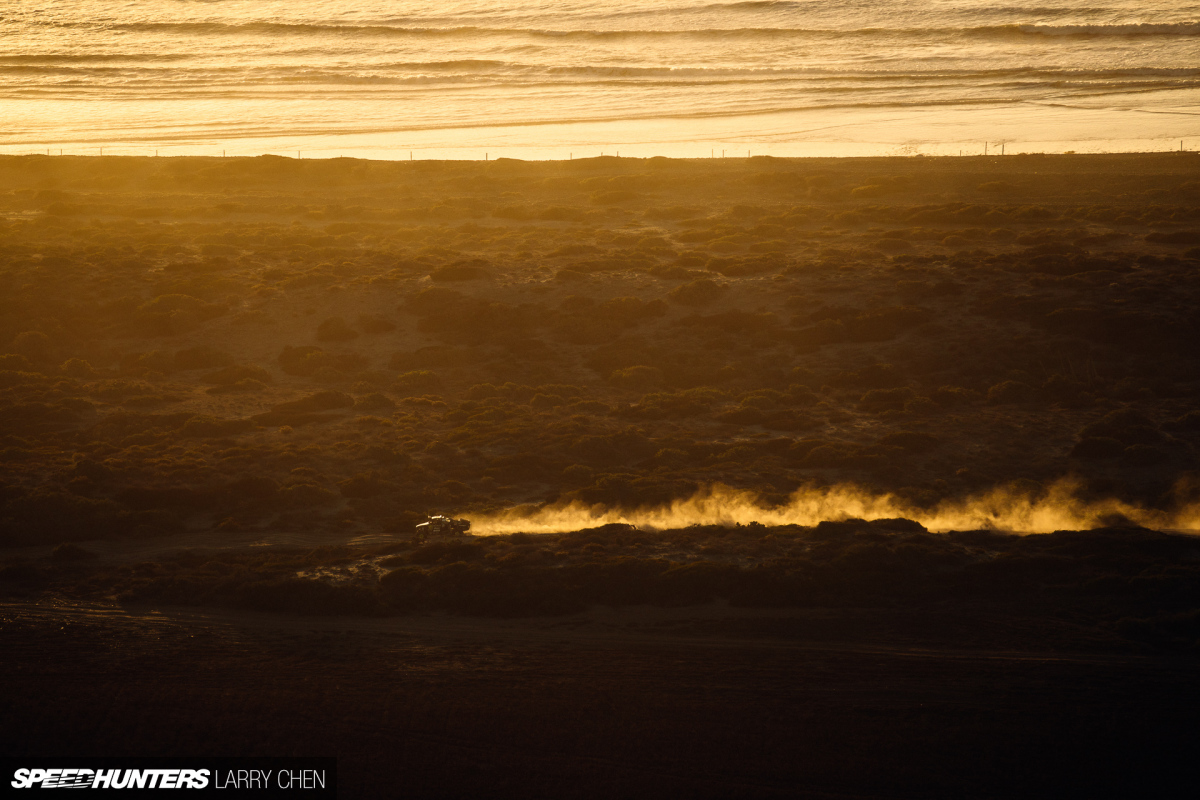 As we flew towards Rancho Relaxo, I was blindly shooting every race craft I could see. I just happened to catch Shannon Campbell in his Ultra4 truck going full-tilt on the ocean side of the course.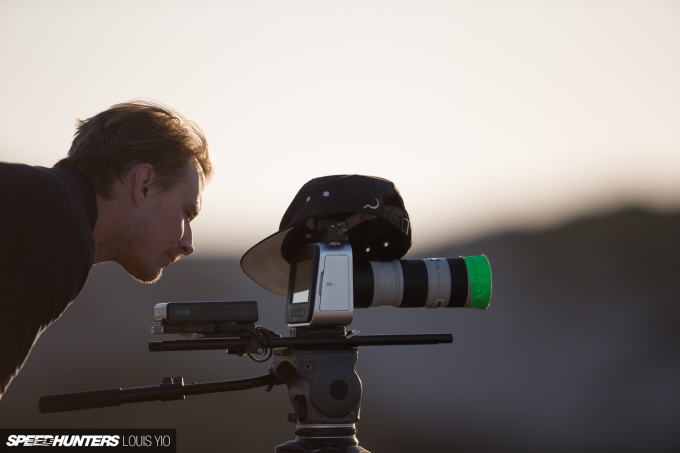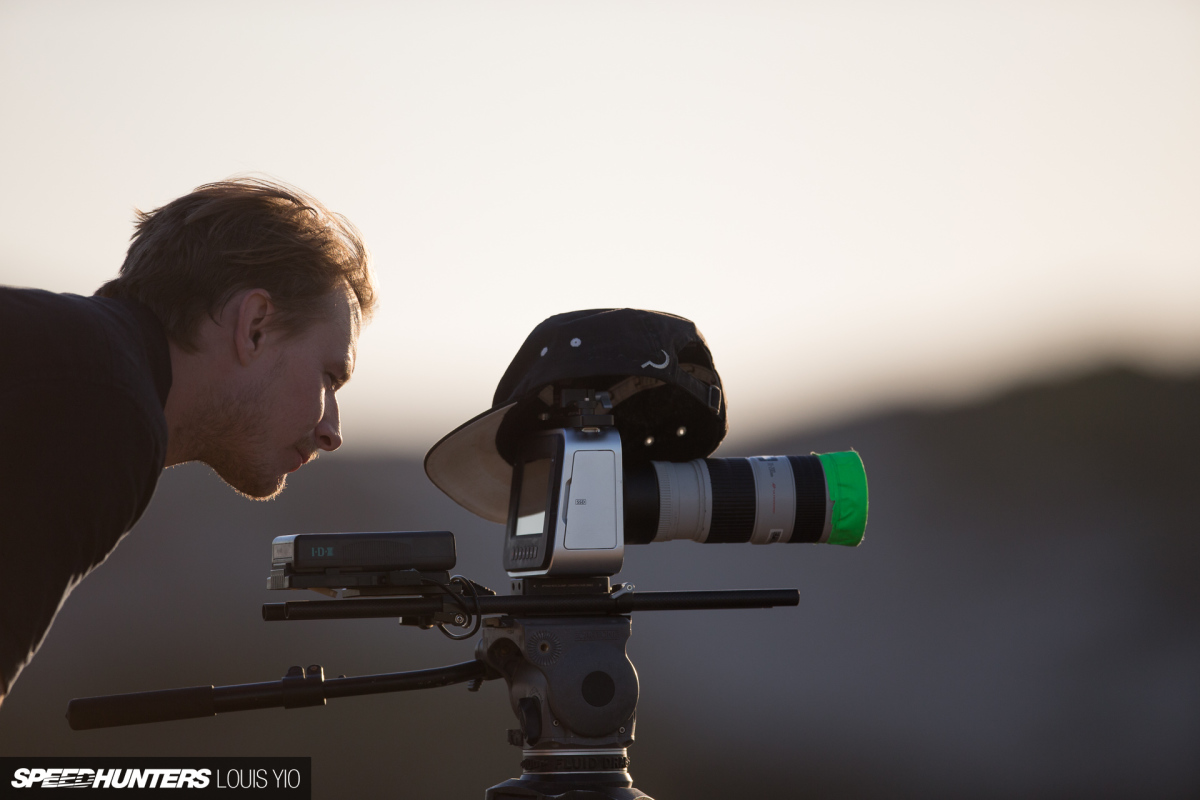 Louis: By now, the Tempt Media guys and I were just waiting for Shannon Campbell to pass through too.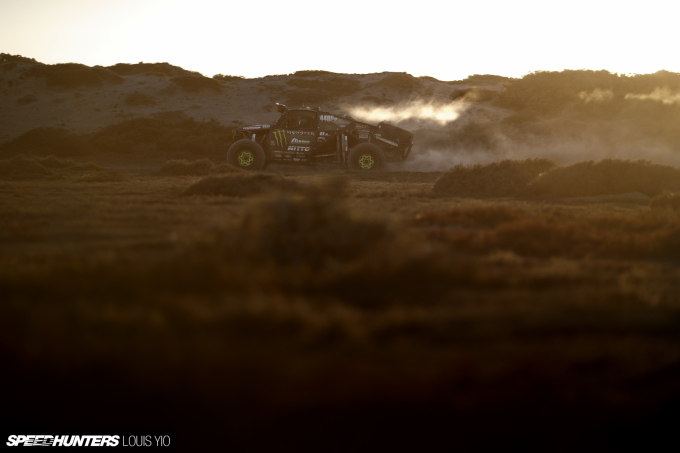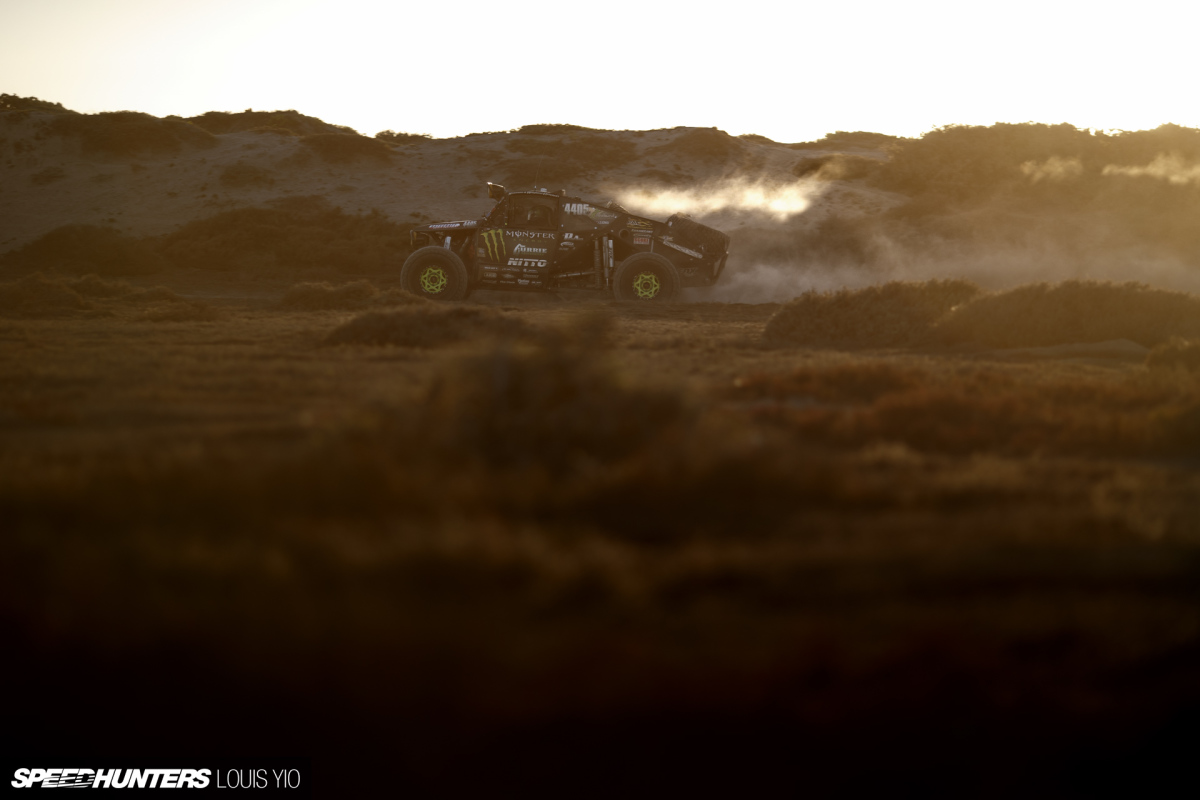 Luckily, five minutes before sunset Shannon blasted by in his repurposed Ultra4 rig.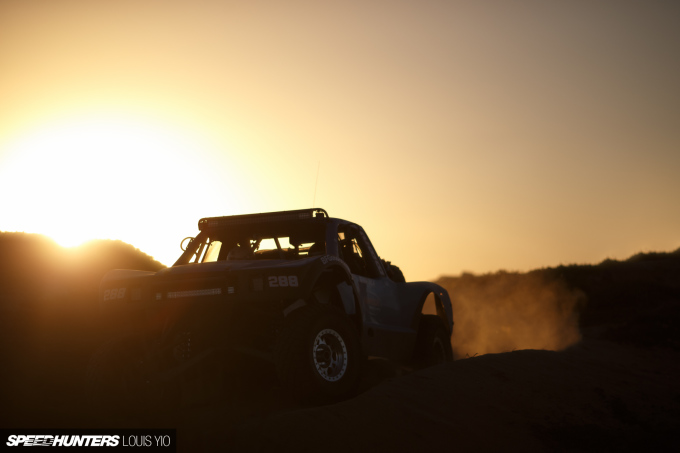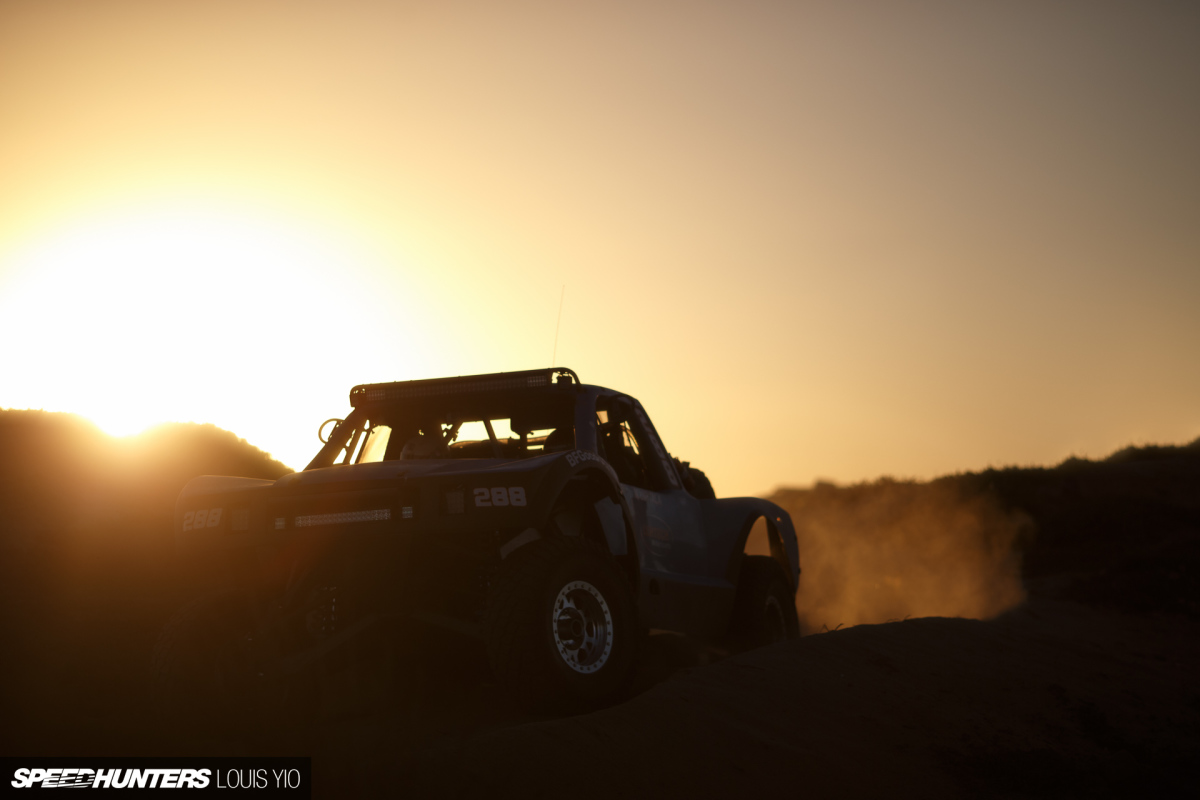 I snagged one more shot right as the sun started dipping below the horizon.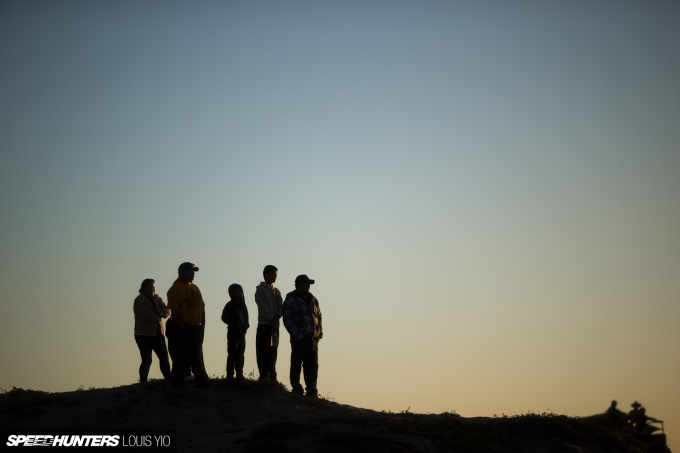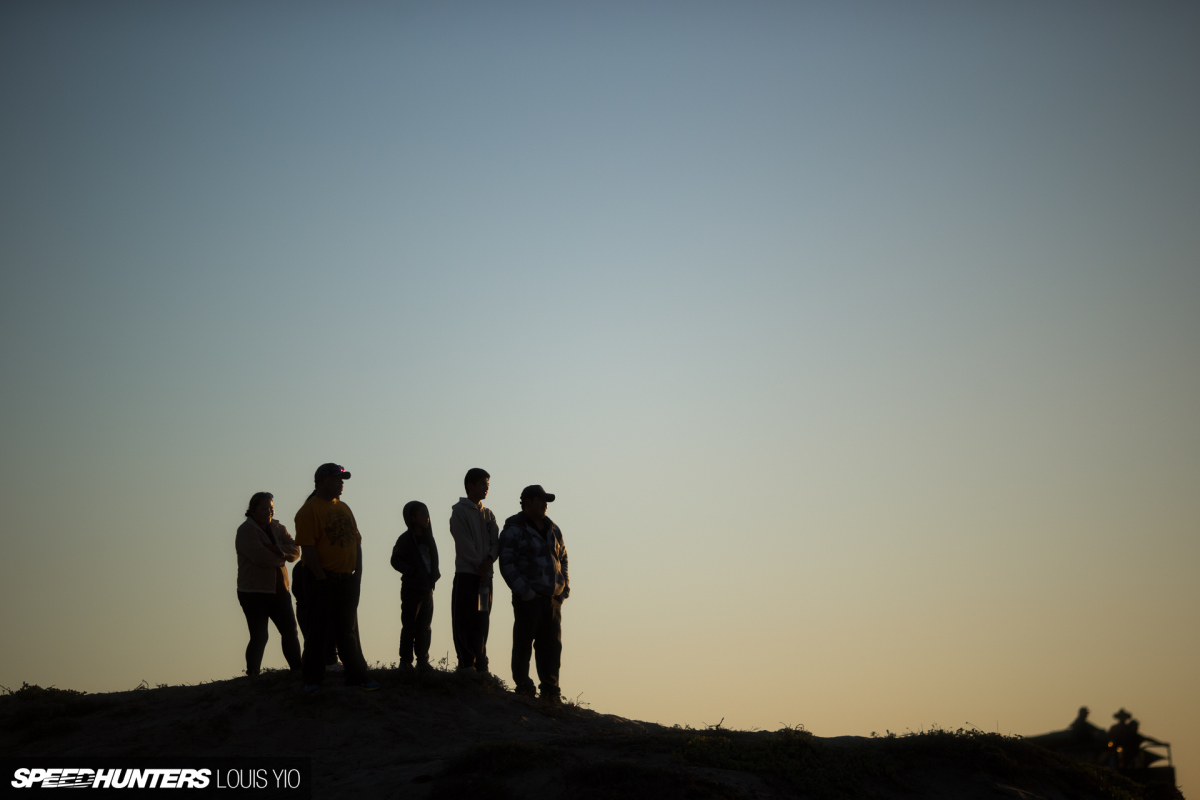 We didn't shoot the night portion of the race as we had intentions to leave early morning the next day.
Larry: With only 10 more minutes of flying time after the sun disappeared we made a final few circles around the house.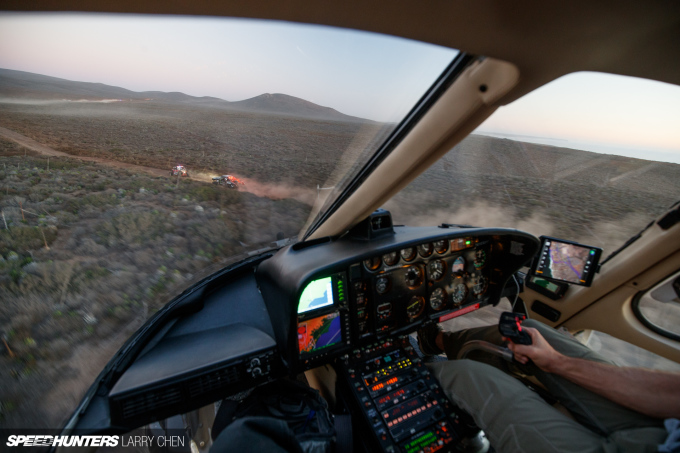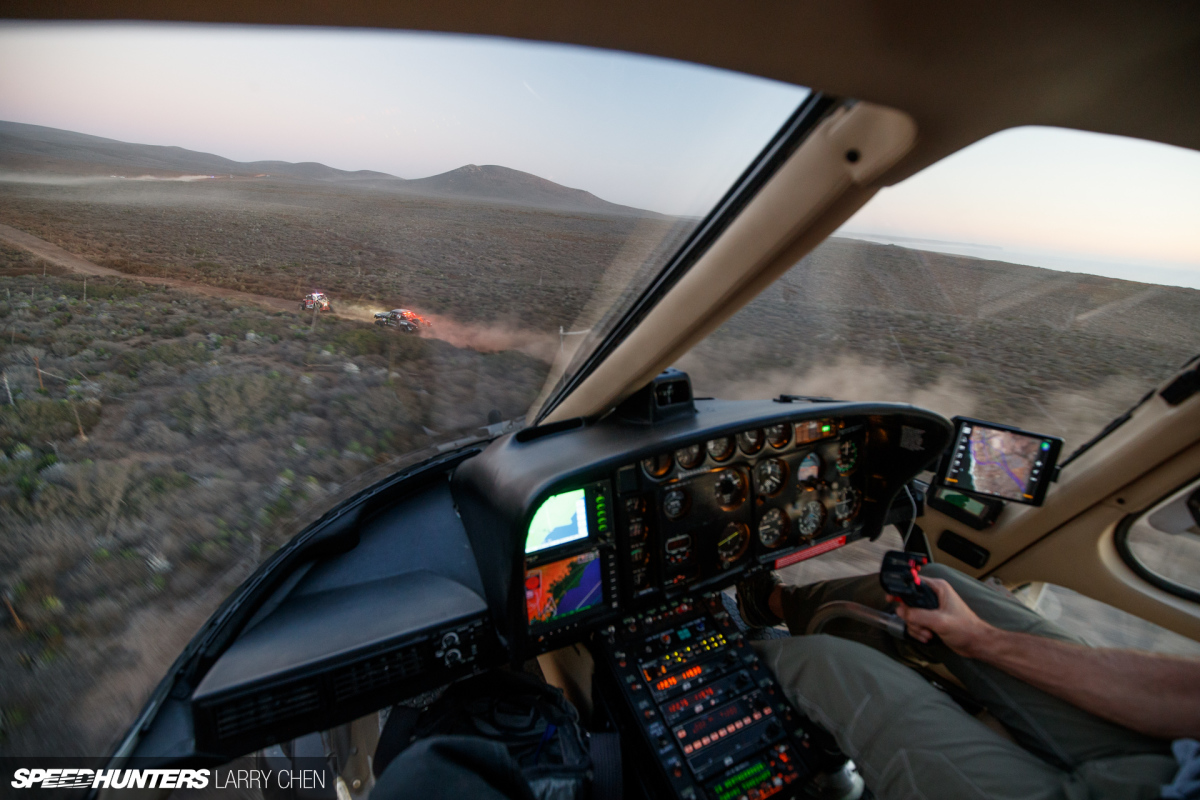 It was at this time we ran across our friend Heidi Steele limping along at RM140. Her truck was hurt bad, but she was still pushing hard and making passes around the lower class guys.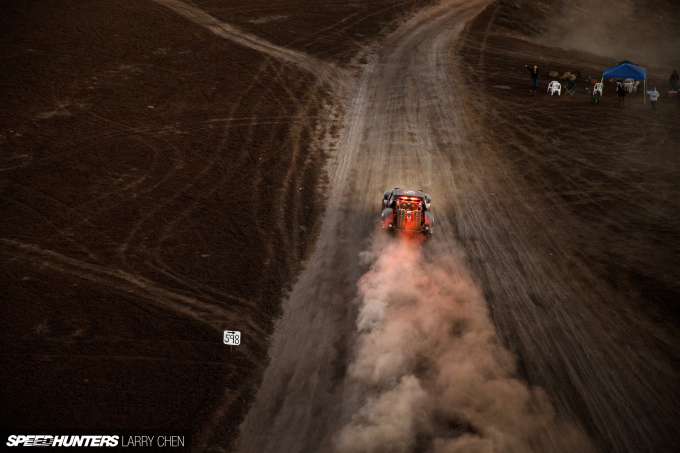 I grabbed one last shot before we completely ran out of light.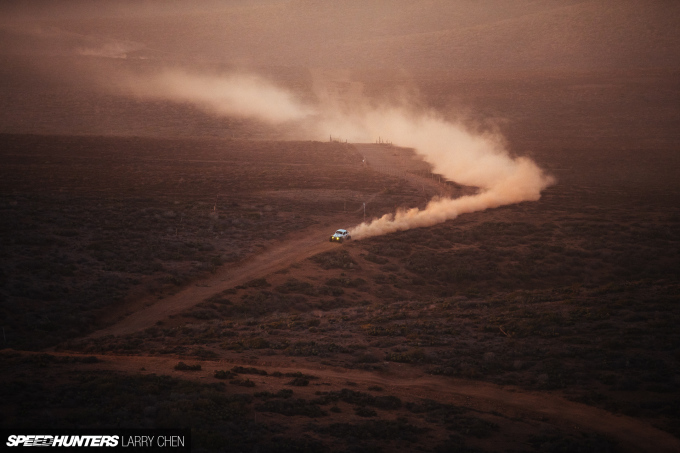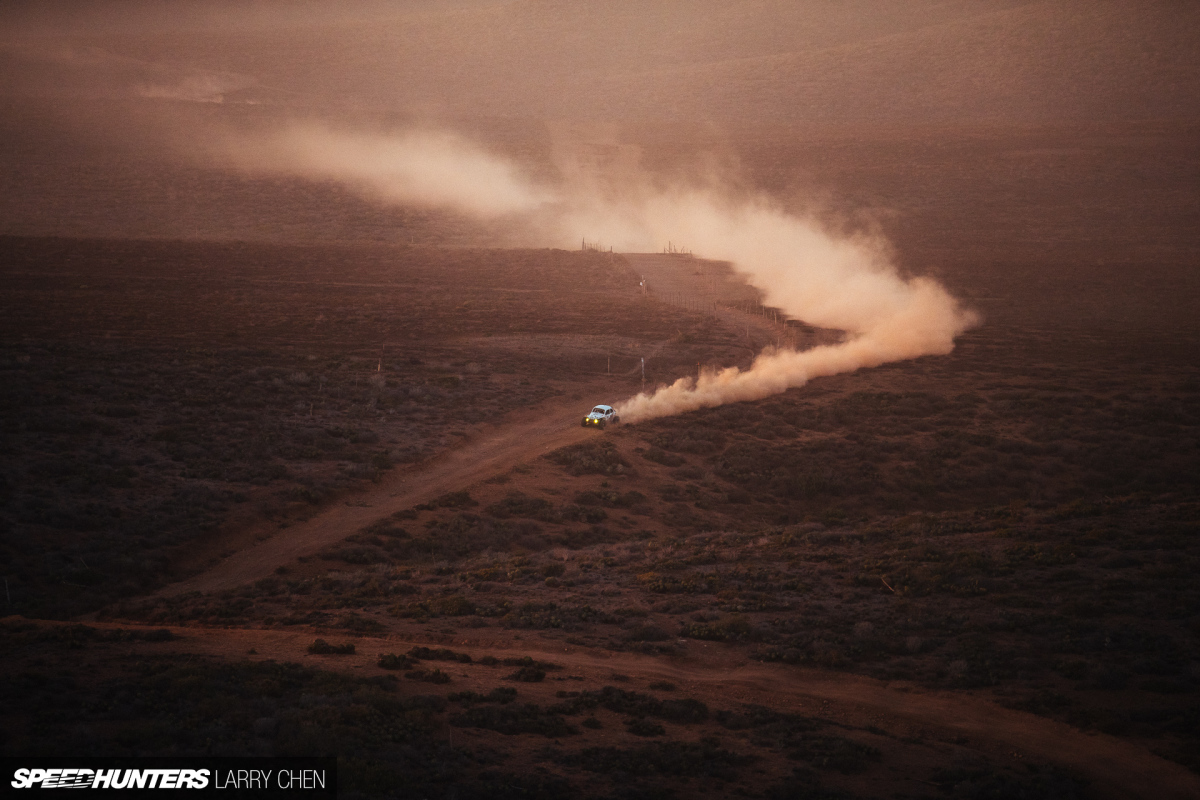 Shooting Baja from the air was absolutely incredible, and I count myself very lucky to get to do what I do for a living.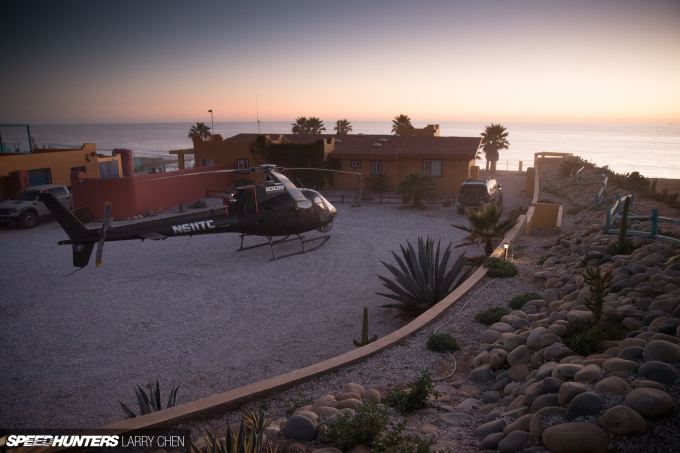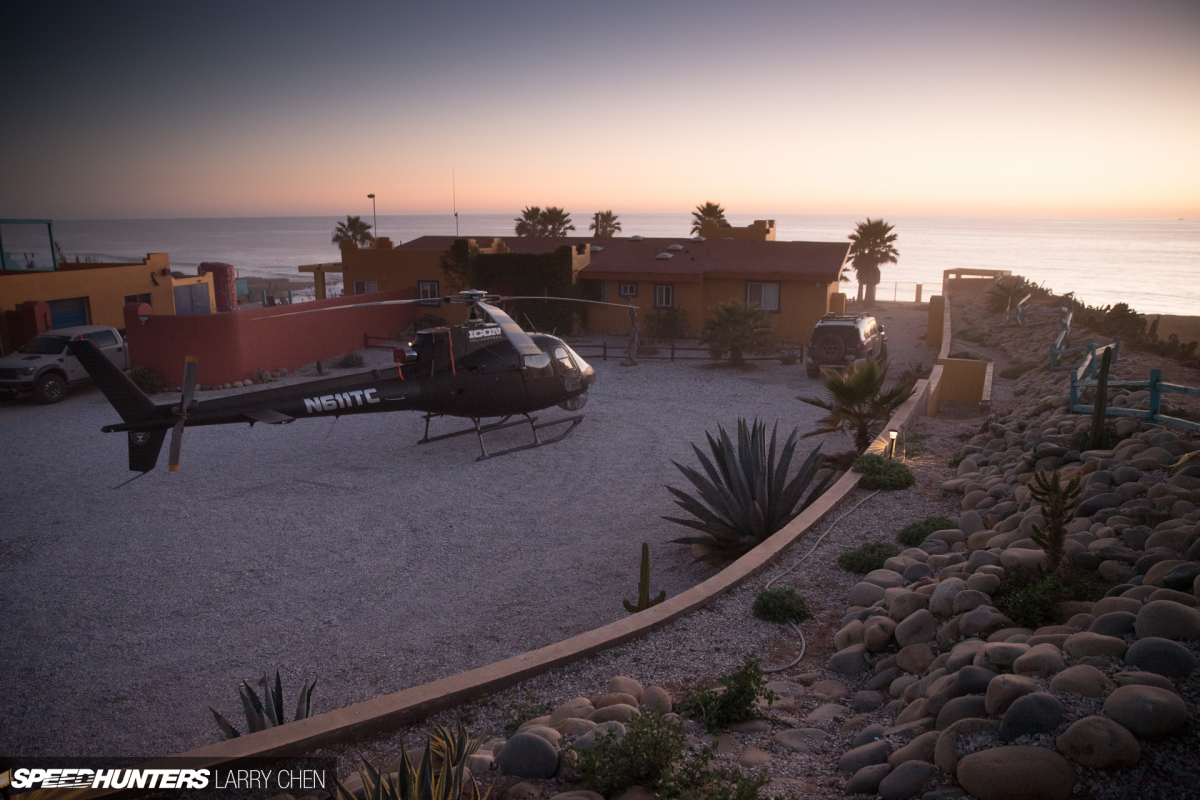 I'd like to thank Monster Energy, the guys at Tempt Media, Eric Everly, Chris Adams, Brian Moore, and of course Dave Vernick the X-wing fighter that kept us all safe. After the bird landed safely the night ended with tequila shots and storytelling by the fire. Perfect!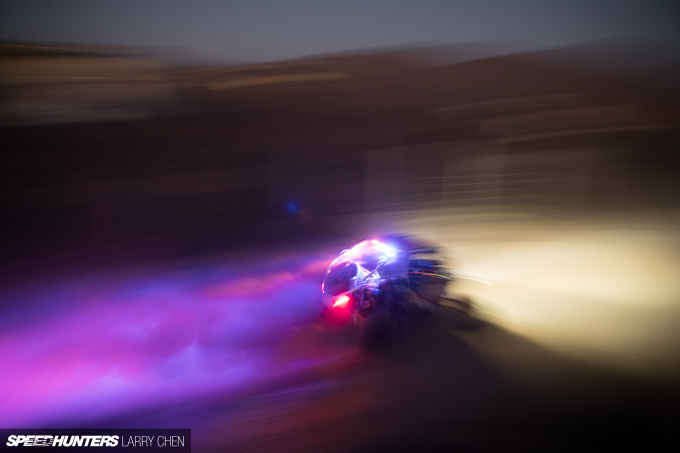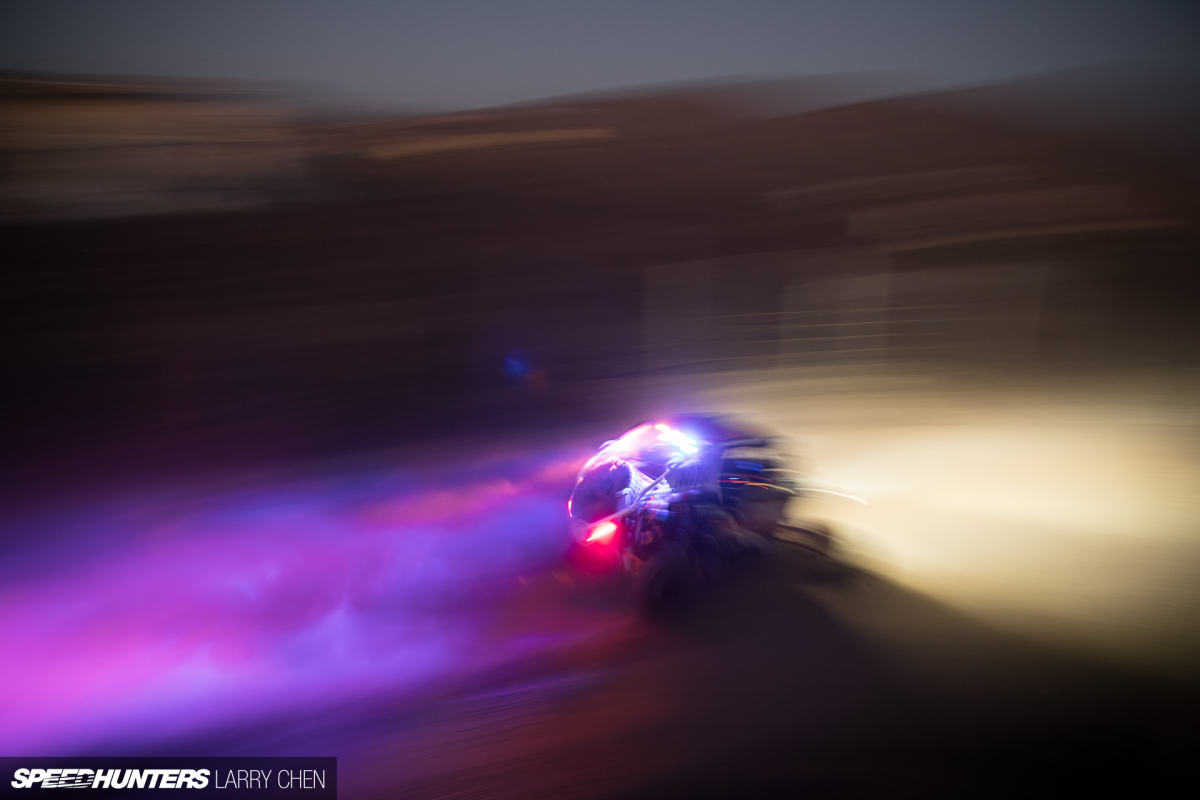 As the tequila warmed me up, I sat outside the house panning race vehicles as they went by. It was going to be a long night for many racers as they have up to 36 hours to officially finish the race. Keep in mind that the fastest trophy trucks can finish it in just 15 hours.
Even though we were up in the air for as long as possible, the winter days were very short and we actually had very little daylight compared to the summer time. While I loved shooting from the air, I know I won't be able to experience the full Baja 1000 atmosphere until I actually shoot it from the ground. Maybe I will switch places again with Louis next year. Probably not though.
Larry Chen
Instagram: larry_chen_foto
larry@speedhunters.com
Additional Words & Images by Louis Yio
Cutting Room Floor