For many automotive workshops, the humble shop truck is a beat-up workhouse with a million miles on the clock and a funky smell. They serve a purpose: picking up and dropping off parts and doing the lunch run, and not much else. But sometimes, shop trucks become the focus of wild ideas fueled by lunchroom banter, and when that occurs and those doing the talking are ultra-talented fabricators, bodywork artisans and engineers, amazing things can happen.
That's definitely the case with this 1966 Chevrolet C10 named 'Tiffany', built out of Classic Car Studio in St. Louis, Missouri.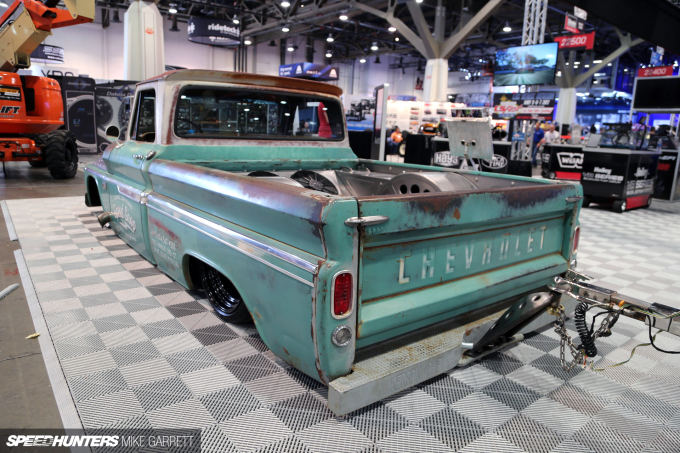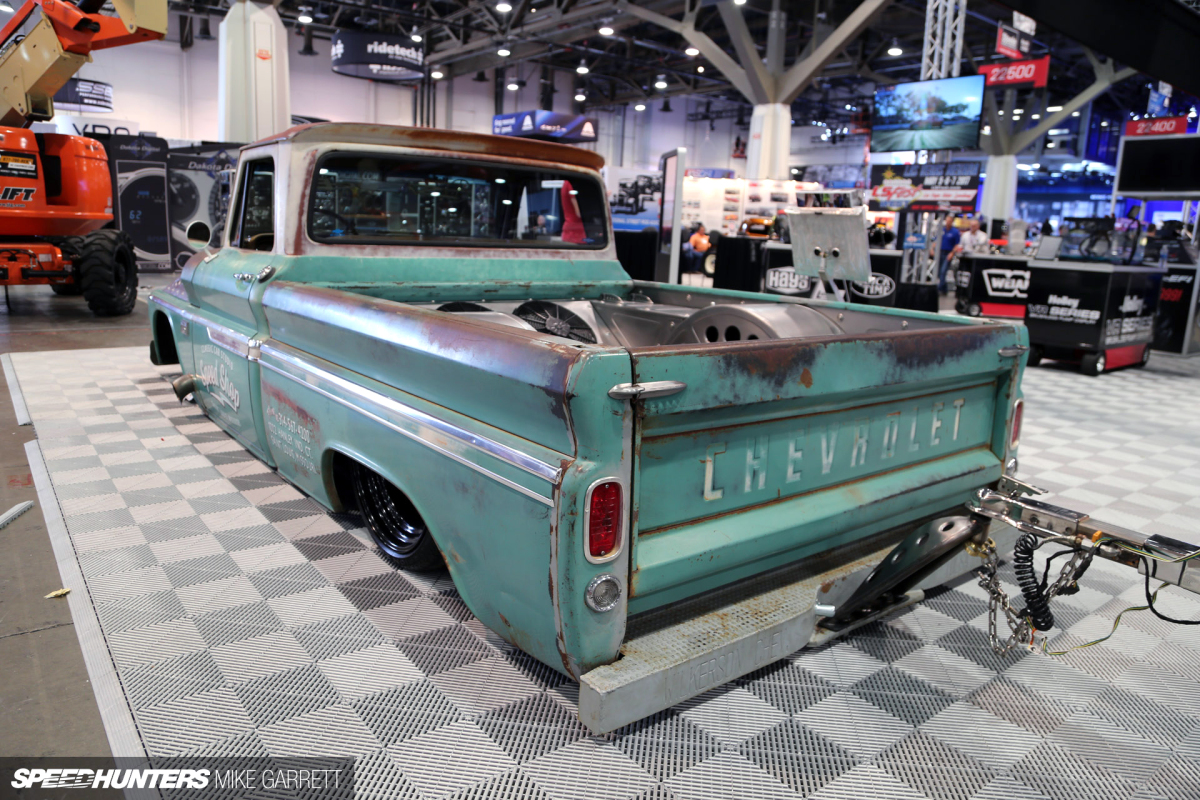 This year's SEMA Show has turned up some stunning four-wheeled creations, and this build displayed on the Holley/MSD Group booth is right up there with the best of them.
Starting with solid C10 base complete with its factory turquoise paint, the Classic Car Studio Speed Shop team have transformed the pickup with the perfect mix of modern technology and custom fabrication, all without losing any of the truck's vintage appeal. The bodywork itself is mostly original, an enlarged rear screen being one exception to the rule.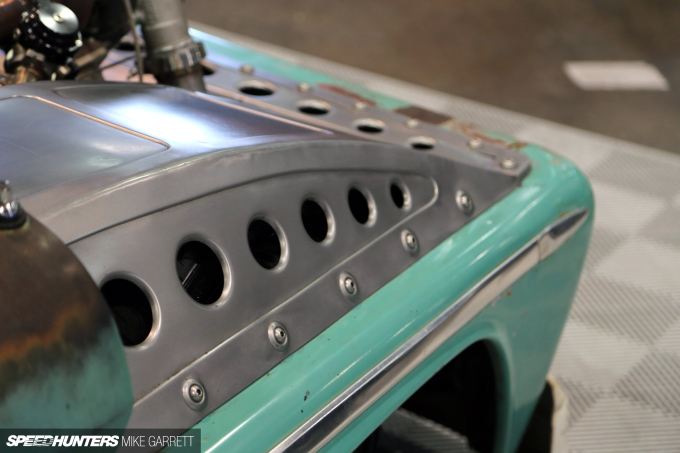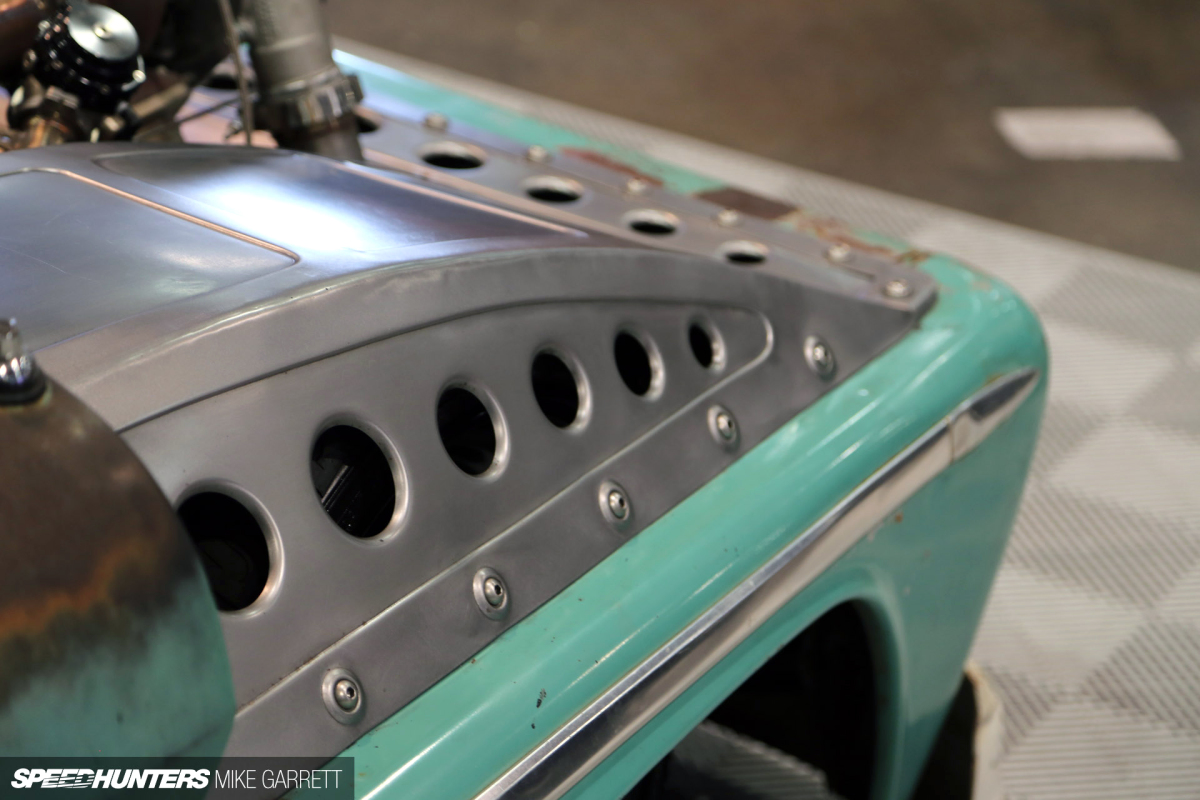 To achieve its ulimate low ride height, major modifcations have been made to the C10's chassis, and with GM Transport wheels now at all four corners a unique inner fender solution was required. Up front, there's full custom suspension and these awesome hand-fabricated tubs.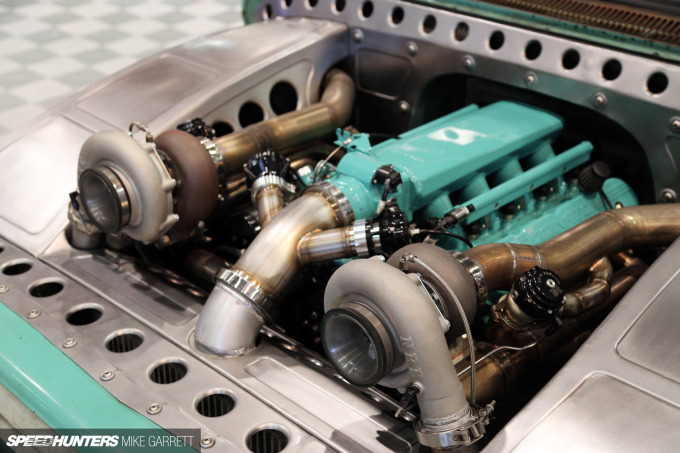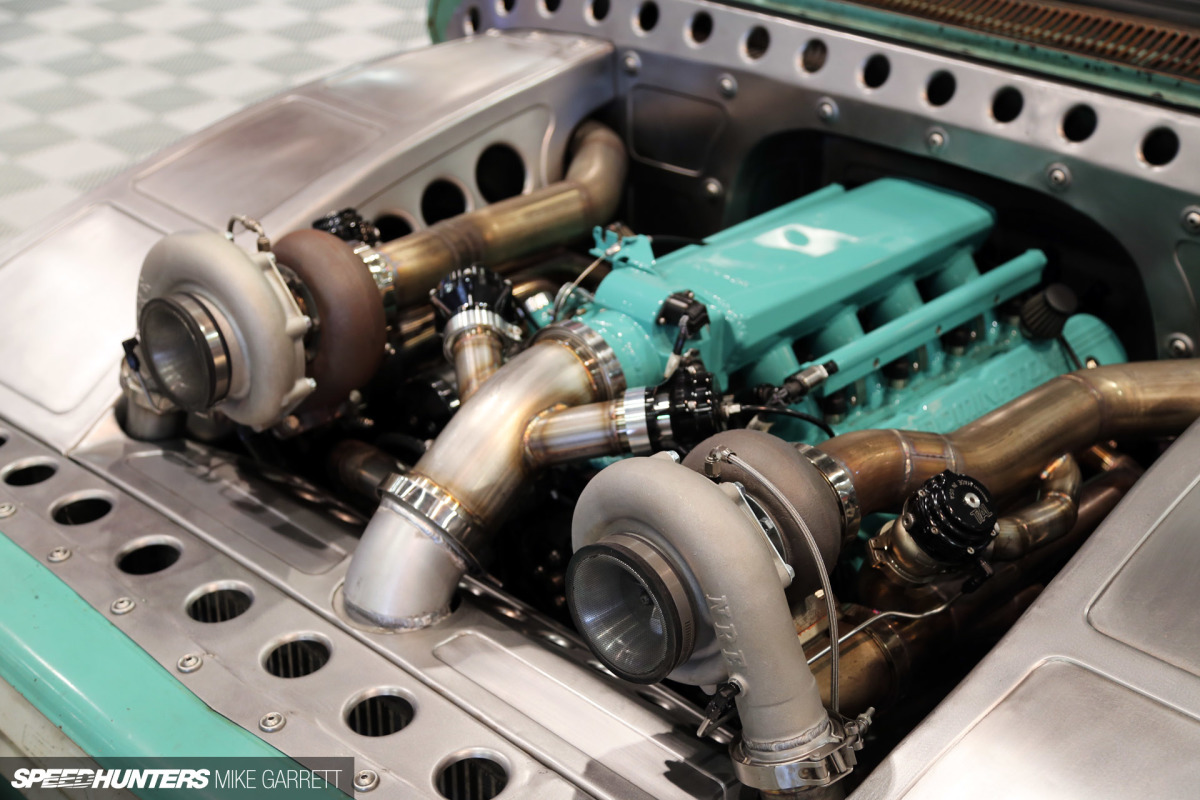 Combined with matching die-dimpled panels at the front and rear of the engine bay, the tubs do a great job of framing the motor within – a small block Chevy good for 750hp. Built around an LS1 block with LS6 heads, the V8 benefits from a pair of Nelson Racing turbochargers running 8psi through TiAL wastegates and a Holley Dominator EFI setup. The exhausts run straight out the side of the fenders, Pro Mod drag style.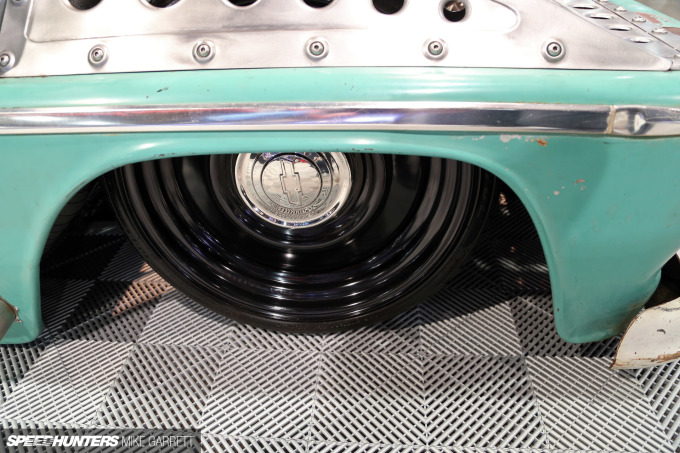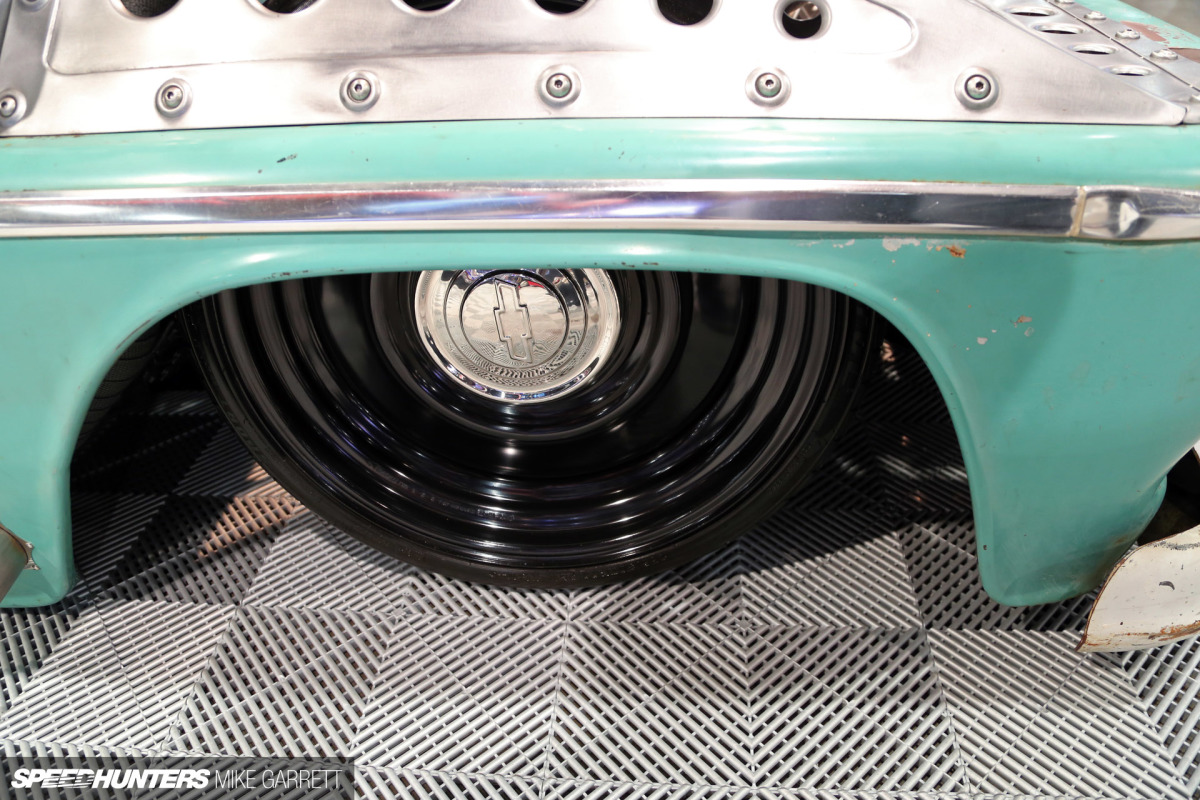 Power is transfered through a GM 4L60E transmission, but out the back it's a Ford 9-inch getting it to the ground. Which is exactly where the bottom of bodywork sits when the AccuAir air ride fully lays the truck out. A Porterbuilt suspension setup features at this end.
Peeking into the bed reveals more custom metalwork, which along with covering the frame provides a neat contrast to the C10's patina-rich paintwork. Those two fans are for the radiator, which was relocated to the rear to make room for a front-mount intercooler.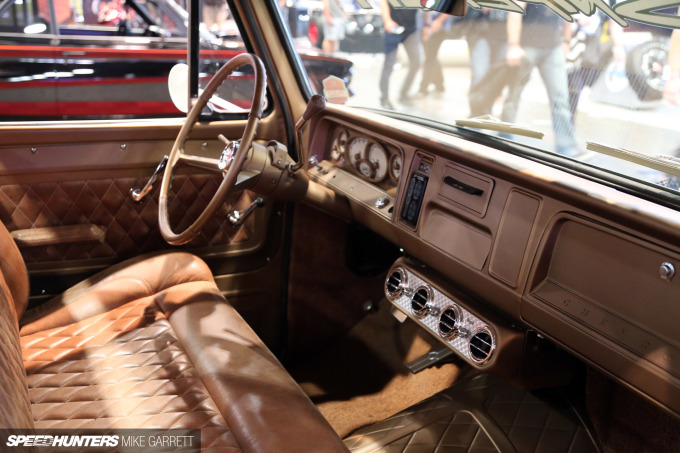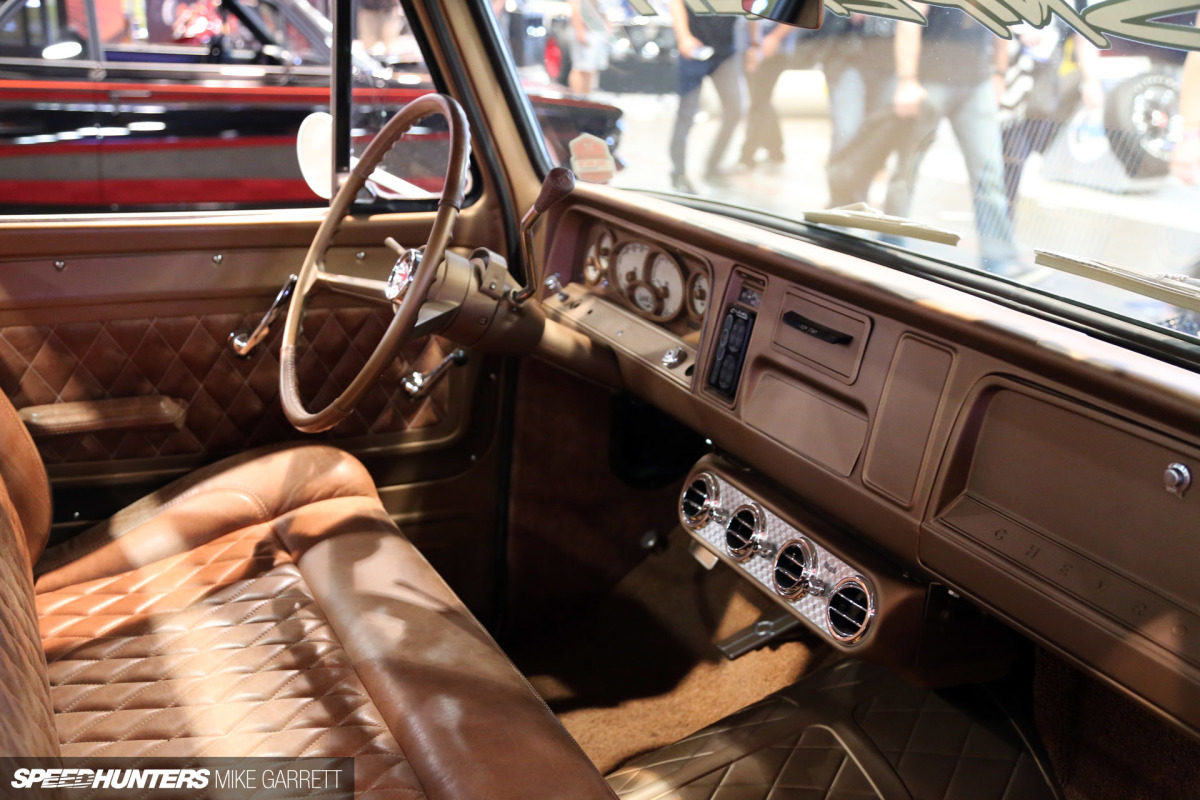 Rounding out the build is a custom interior that pleasingly maintains a real sense of originality. Relicate Custom Leather re-trimmed the C10's bench seat before turning its attention to the door cards and flooring with similar effect. The cabin also features a custom dashboard, Dakota Digital gauges and Vintage Air air-conditioning.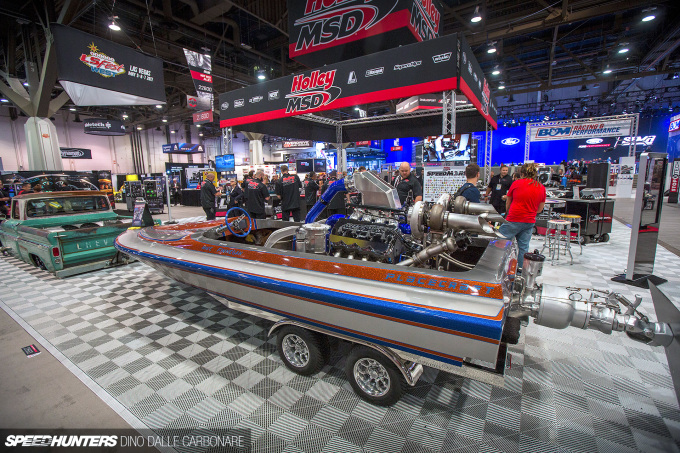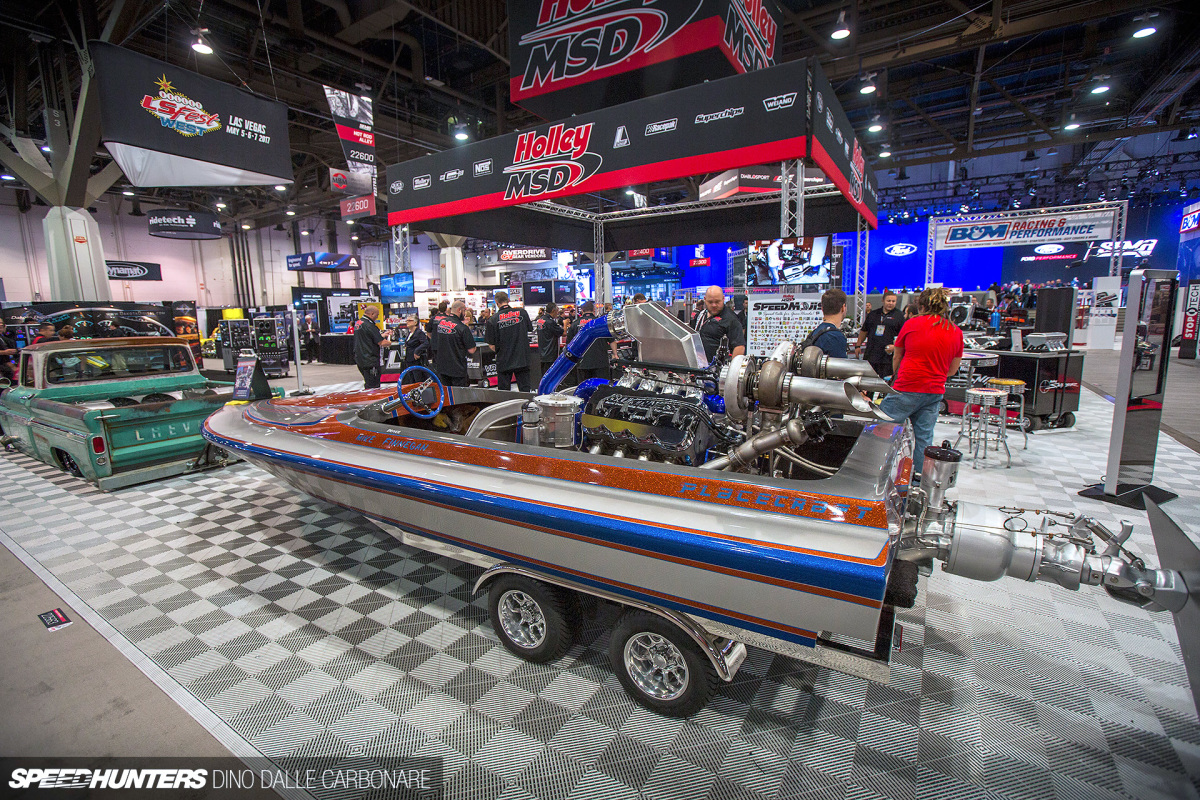 As much as we're sure Tiffany would have wowed the SEMA audience on her own this year, the Holley/MSD Group really wanted to step things up, and it did so with Mike Finnegan's 'Game Over' jet boat.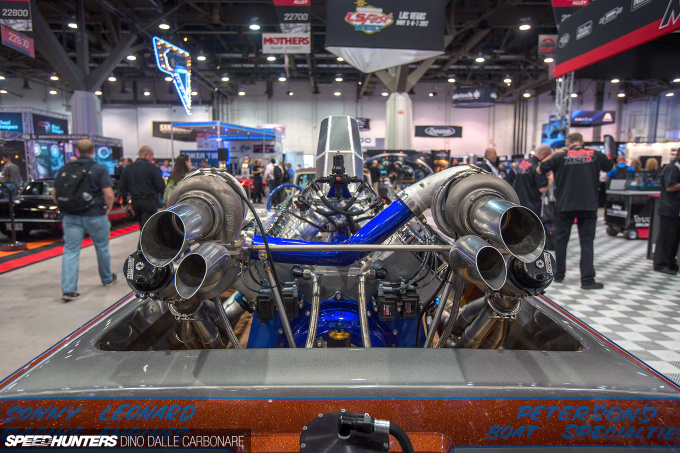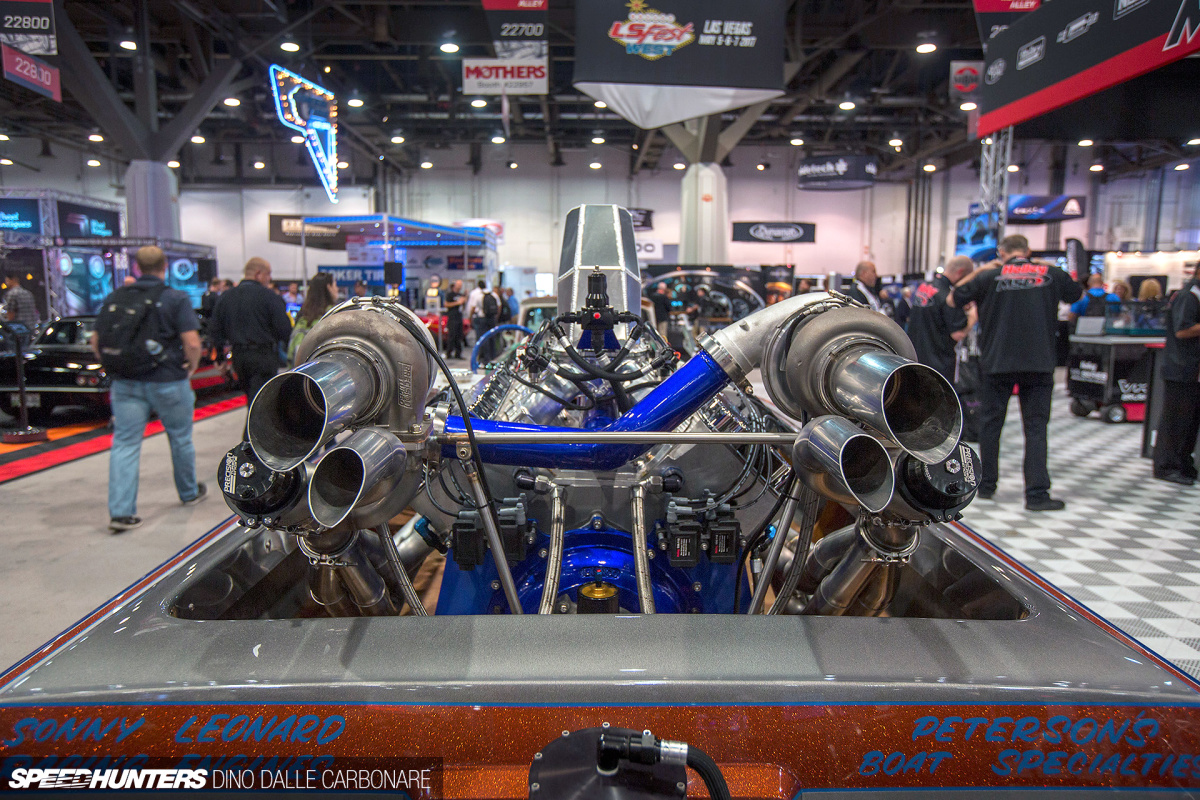 If there was ever anything more perfect to tow behind Classic Car Studio Speed Shop's C10 shop truck, then this 2017 Placecraft running a 711ci Sonny's Racing Engines V8 with giant twin Precision turbochargers and Holley ancillaries would surely be it.
Brad Lord
brad@speedhunters.com
Photos by Mike Garrett
Instagram: japanifornia
mike@speedhunters.com
Additional Photos by Dino Dalle Carbonare