Looking back, it still feels surreal over four years later.
The legend of Dorikin is something that I'm sure a lot of us were introduced to in a similar manner, via a grainy DVD or video download of questionable legality. These were the days pre-YouTube and file sharing was often a physical activity where you swapped discs with your friends. Well, at least where I grew up. I think that we still had a 56k dial-up connection when I first saw the man with red gloves show us the other way to drive a car.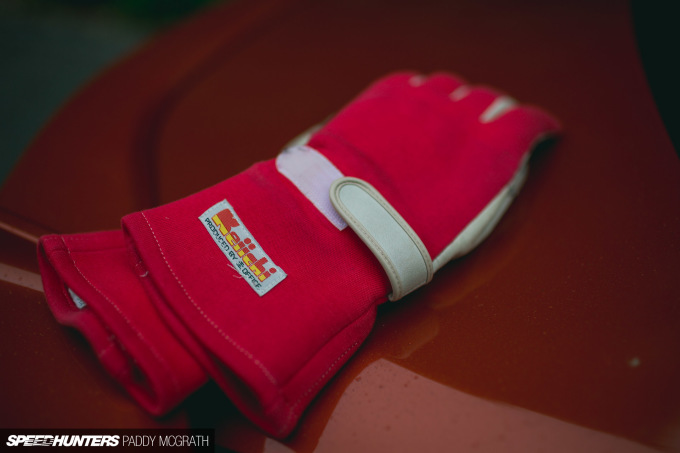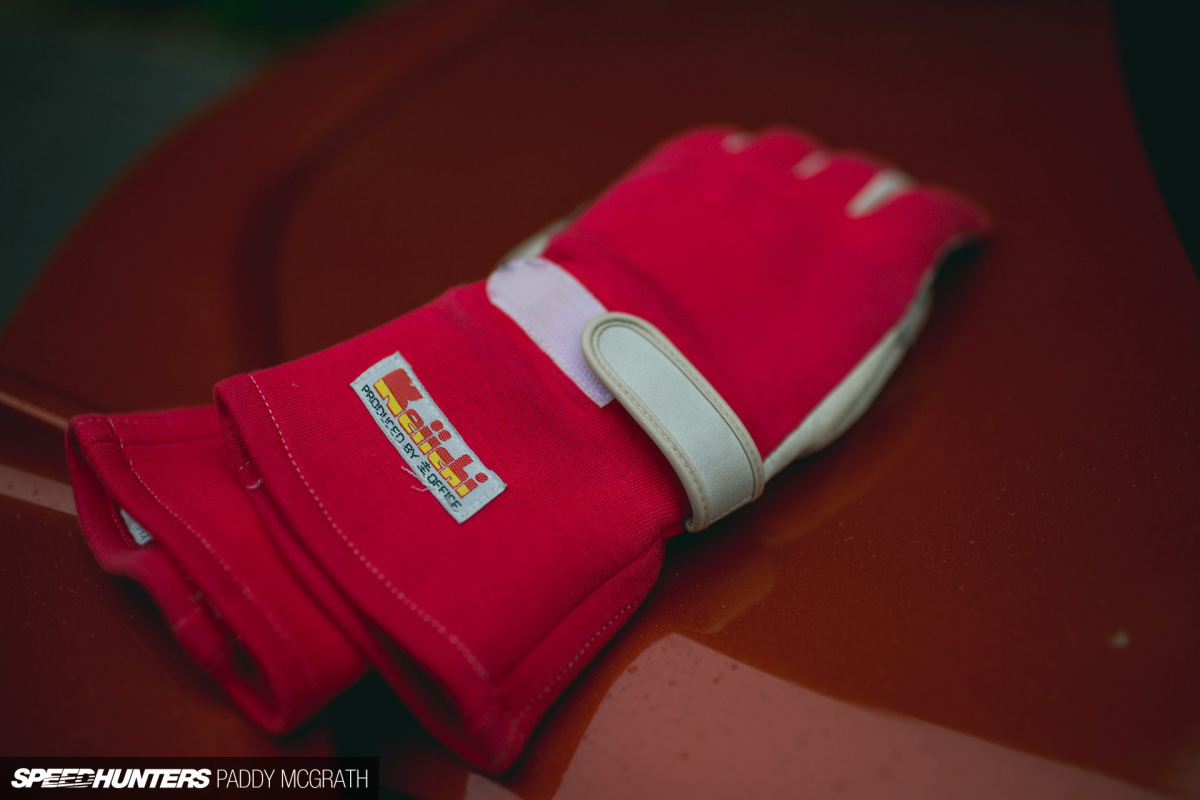 I'm not going to pretend that it was some sort of life changing moment, but it did have a pretty big affect on me at the time. I was always that weird car guy throughout my school and college years, despite not having the means to actually own a car of my own. Instead of studying after school, I'd pore over the latest issue of Max Power, Redline or Fast Car. I was raised in a rally household, but as I grew older, it was the world of JDM that held the most attraction for me. This also coincided with a huge influx of Japanese imports into Ireland in the early '00s and the affordable performance these cars brought to the masses.
Drifting really began to be picked up in Ireland in 2003 /2004, and through some stroke of luck I ended up taking pictures – looking back, not very good ones – for Ireland's first drifting series. Over the years, it was my relationship with drifting in Ireland that opened so many doors for me. It was through a chance meeting with the then Max Power staffer Ben Barry at an event around this time that would ultimately lead to an opportunity six or seven years later to work with the king himself, Keiichi Tsuchiya.
It's funny how things work out sometimes.
Tsuchiya was in the UK for a few days in 2012, working with Toyota GB on the then new GT86 launch. I'm not sure what sparked Ben Barry's memory, but I distinctly remember the email asking if I would be interested in coming to the UK and shooting this story for CAR magazine, who Ben was working with. Like Ben, I had graduated from Max Power to CAR and EVO, although I remained a reader and fan while Ben had established himself as one of the UK's top motoring journalists and remains as such today. CAR had sourced an AE86 for the obvious comparison and as a talking point for its interview with Tsuchiya-san, which would consume the guts of a day.
There was one issue though. On the morning of the shoot, I woke up with severe abdominal pains. It would transpire that my appendix had thrown the proverbial con-rod out of the block and would be removed that night during an emergency procedure. But nothing was stopping me from shooting that day.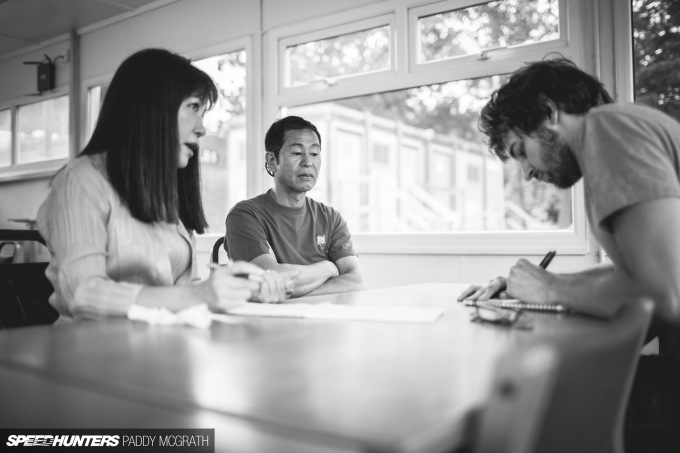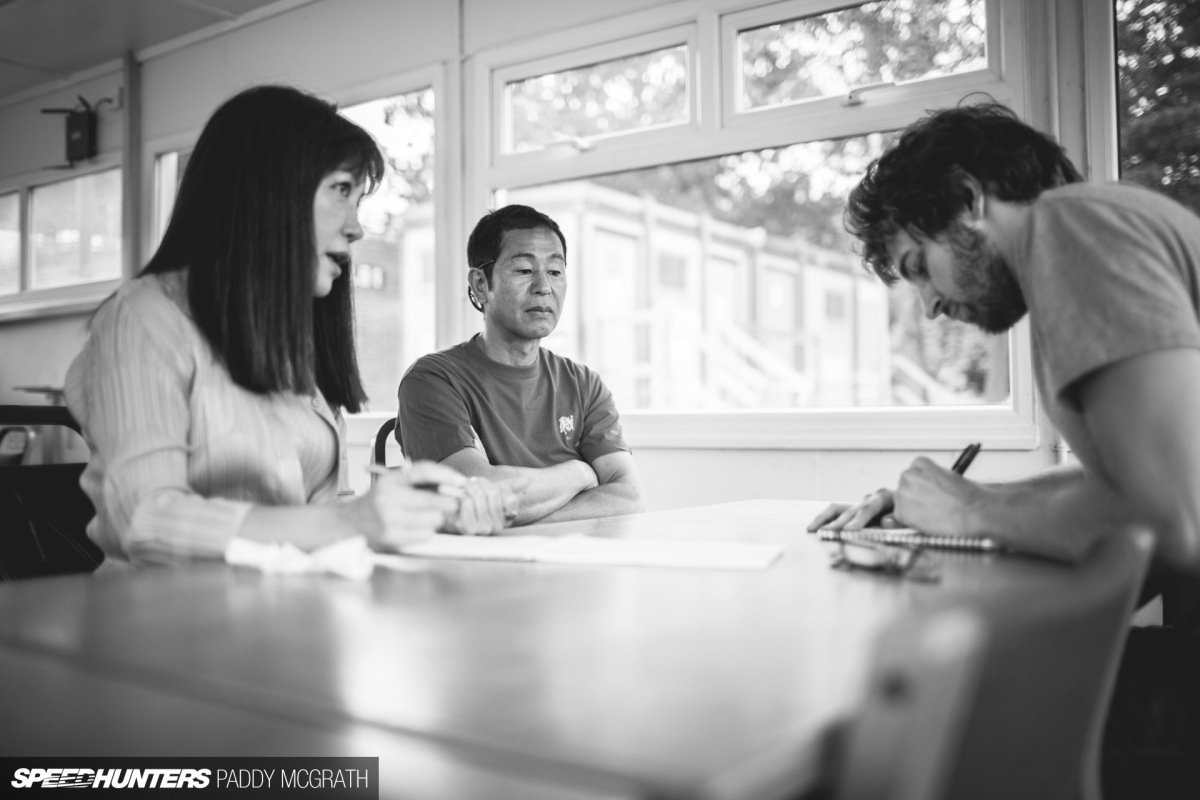 The day started out relatively easily, thankfully, with Tsuchiya arriving ready for action in his famous green race suit, tied with the sleeves at the waist. He was accompanied by a translator, but he had a much better grasp of English than I expected. Certainly better than my Japanese, anyways. A formal meet and greet was carried out before a brief introductory interview was conducted a cabin near the car park at the location.
The location itself was just outside London and near Woking at a film studio/test ground that only the UK could conjure up. While we worked away with our shoot, brand new McLaren 12Cs would arrive, perform a series of tests and leave again. We were under strict instructions to photograph only what we were there for, and I didn't feel like pushing my luck on this particular day. I can't emphasise how strange it was to be stood with Tsuchiya whilst a 12C was doing donuts not even 200 yards away.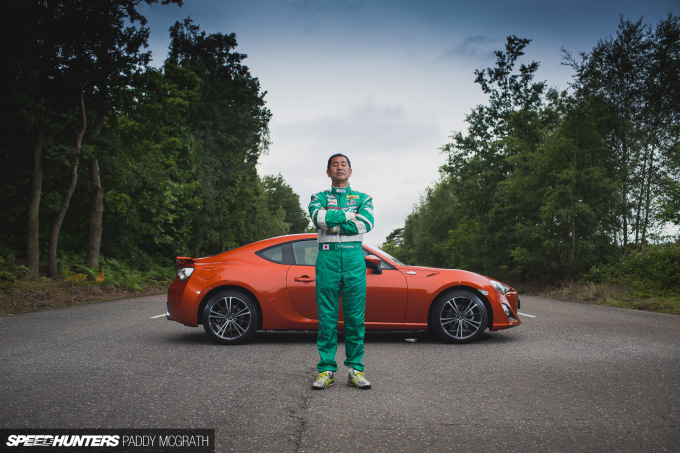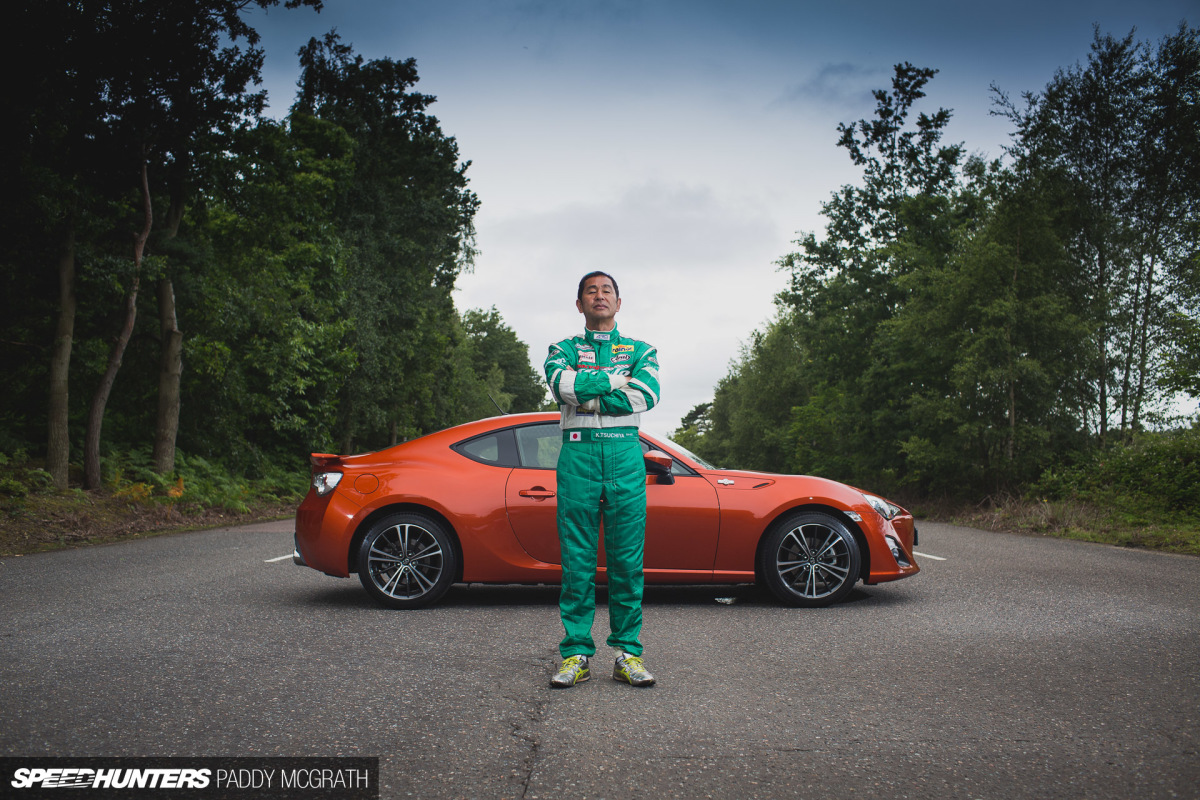 I had a shot list to keep me occupied for most of the day, most of which were pre-arranged images with the two cars. In between,CAR journalist Ben Pulman continued his interview and note-taking with the interpreter at hand.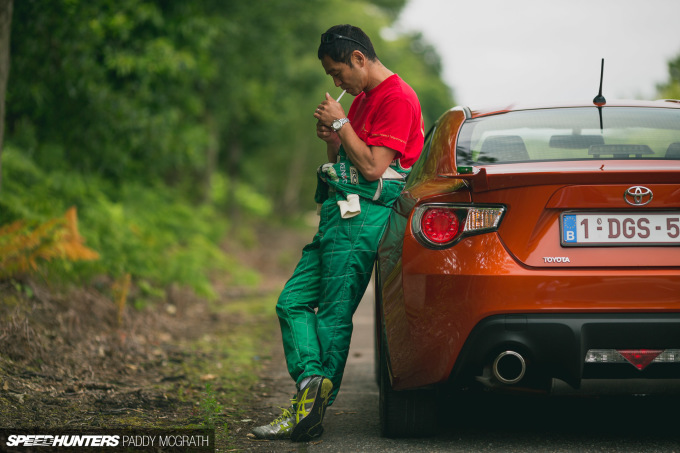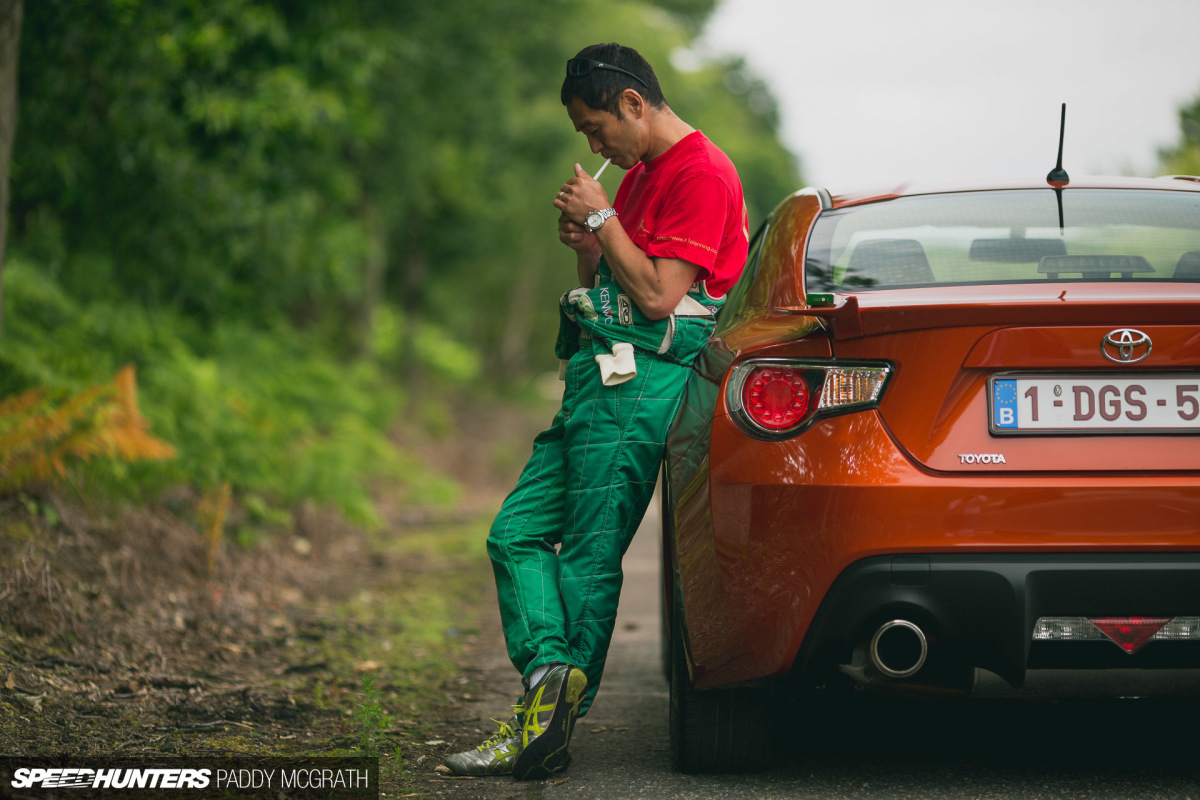 With most of the shots requested already in the bag, I wanted to capture some candid shots of Tsuchiya hanging out with the car. This was actually a perfectly natural photo, although when Toyota's PR representative caught me capturing it, he politely asked if I could re-take it without the cigarette. I duly obliged, but I still think that this is the better photo. To date, it's probably my most stolen and reposted photograph. To be honest though, I'm perfectly fine with that.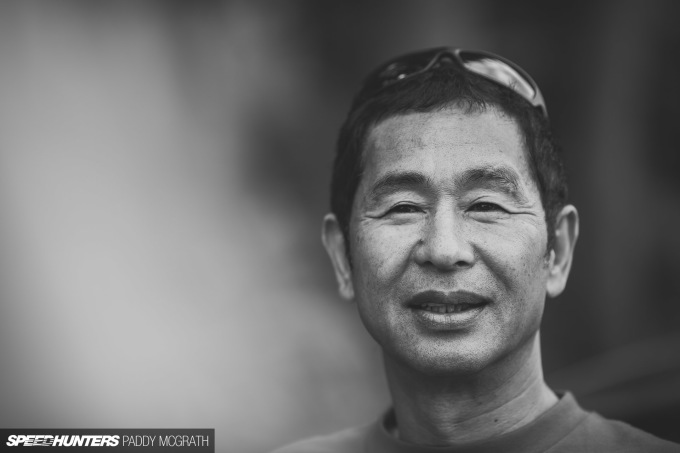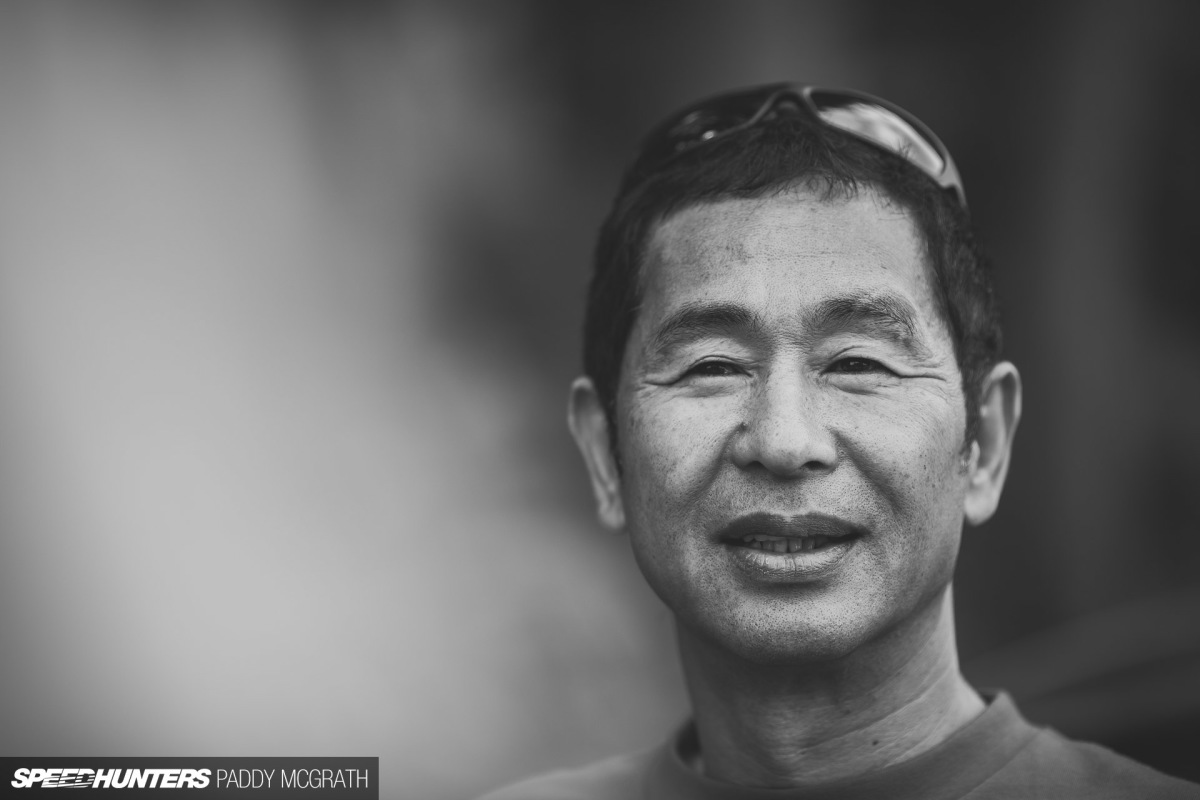 Having watched so many videos of Tsuchiya, I was surprised by his quiet demeanour. I mean, we've all seen the hilarious D1GP judging videos and even some of the wackier sides to the Option and Best Motoring videos, but he carried himself much more subdued on this particular day. Maybe it was the language barrier playing a role to a certain extent, but every now and then you could see glimpses of the more familiar Tsuchiya popping up.
In fact, I do recall one particular story that he told Ben about an early experience filming in Japan. He had relayed the entire story to the translator who was filling us in, but I could see this sparkle in his eye and a smile coming through as she reached the climax of the story with us. The story went something along the lines of he had been hired to drift a car up a touge. The crew had reassured him that the road was closed with all the appropriate permission having been acquired, but as it turned out, this wasn't the case. When he was stopped by the police, the camera crew did a runner and he ended up in a cell for the night. He did sees the funny side of it at this stage, although he learned a pretty good lesson that day.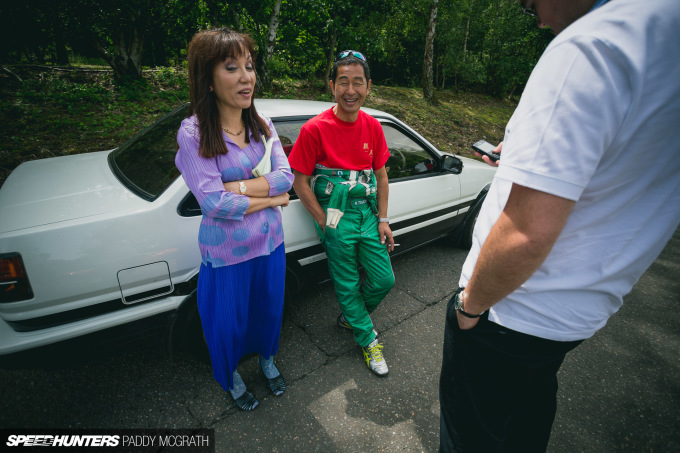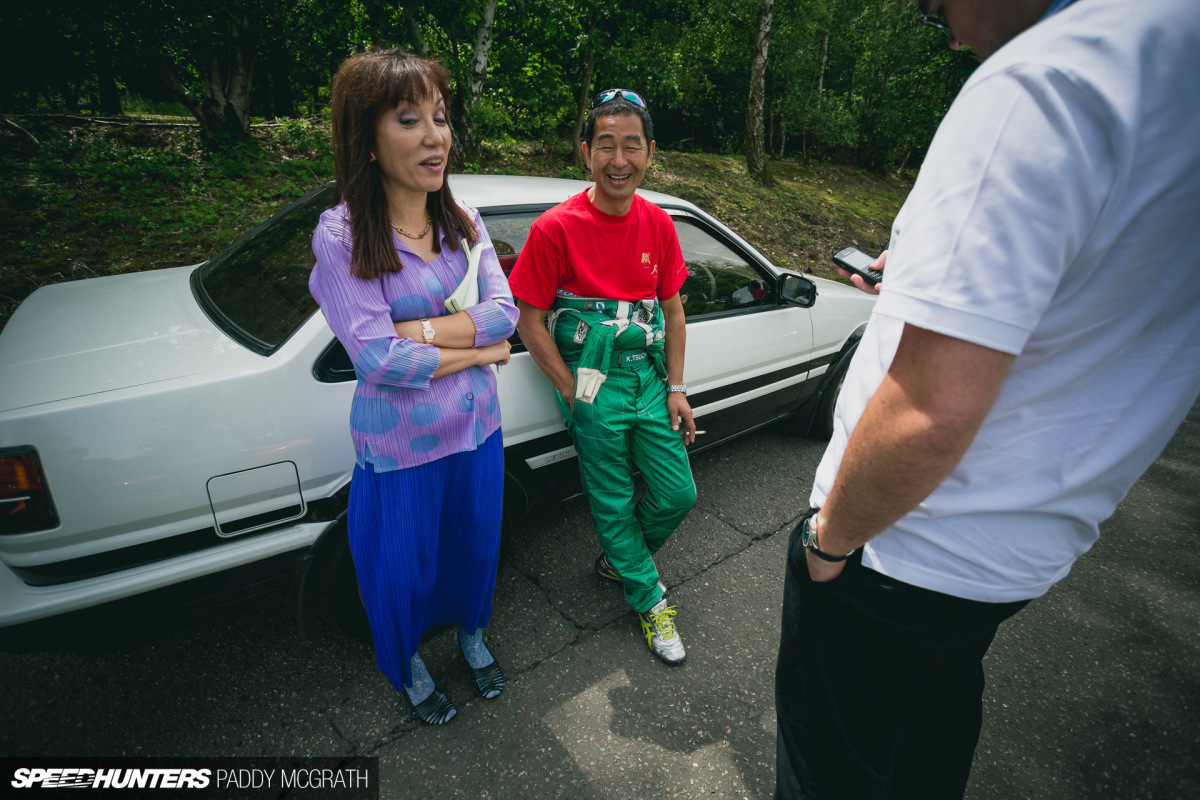 As the day went on, I felt that he opened up more and more. There were several times where I had to pinch myself that this was happening but it only got more surreal when I needed to get shots of Tsuchiya driving from both outside and inside the car.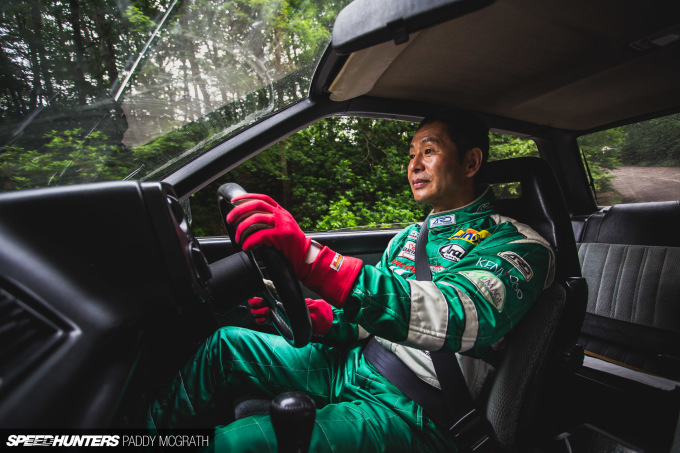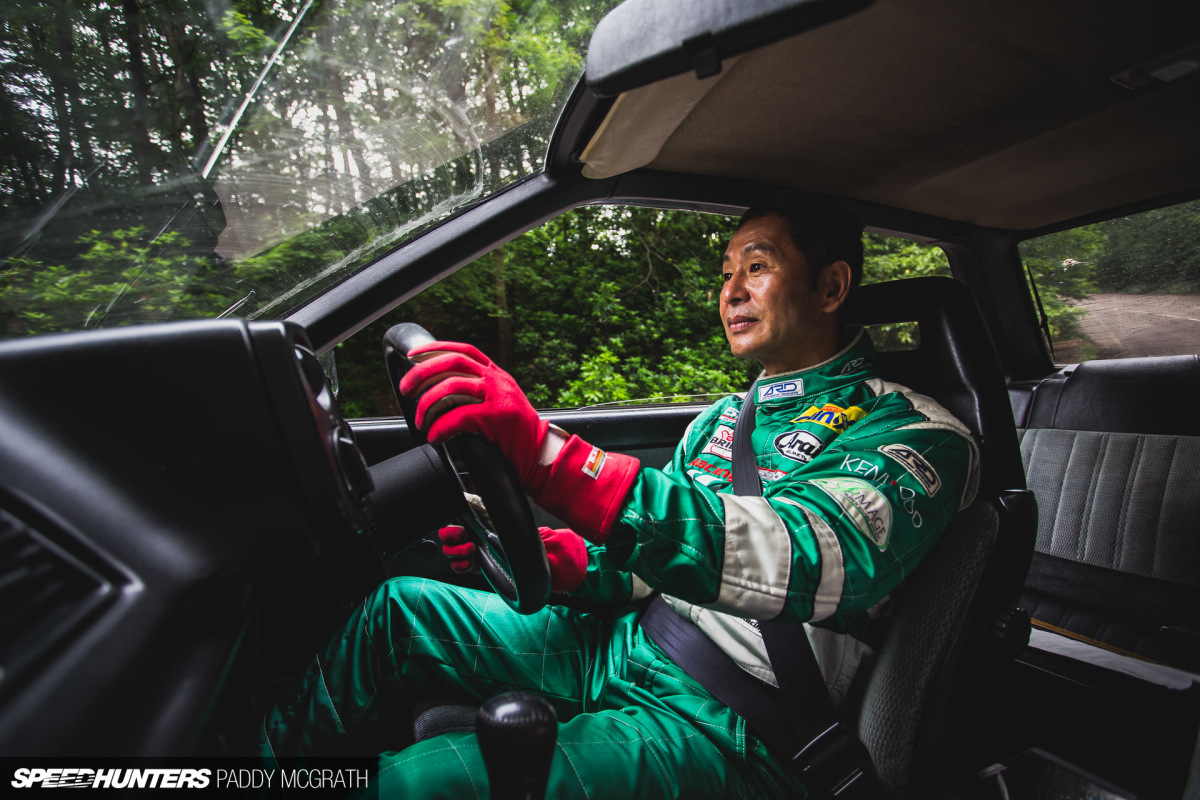 To have the privilege of riding shotgun with Tsuchiya is something that I feel immensely fortunate to have experienced. It was lightly raining at this point and when he hit the wipers, a greasy smudge completely obscured his vision out the windscreen. He could only laugh, looked at me, pointed at the windscreen and simply said 'shit!'.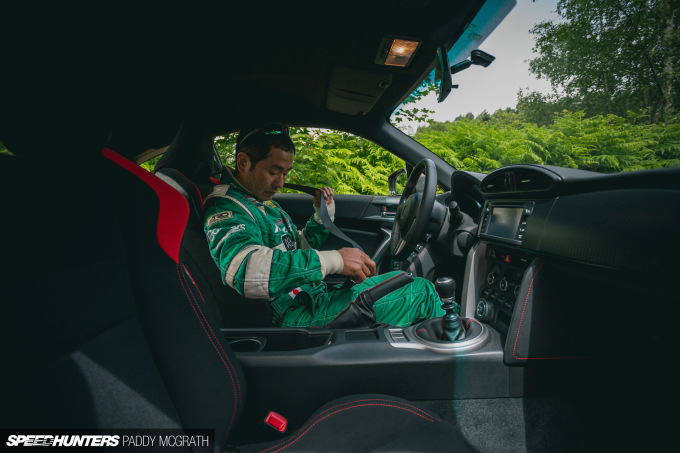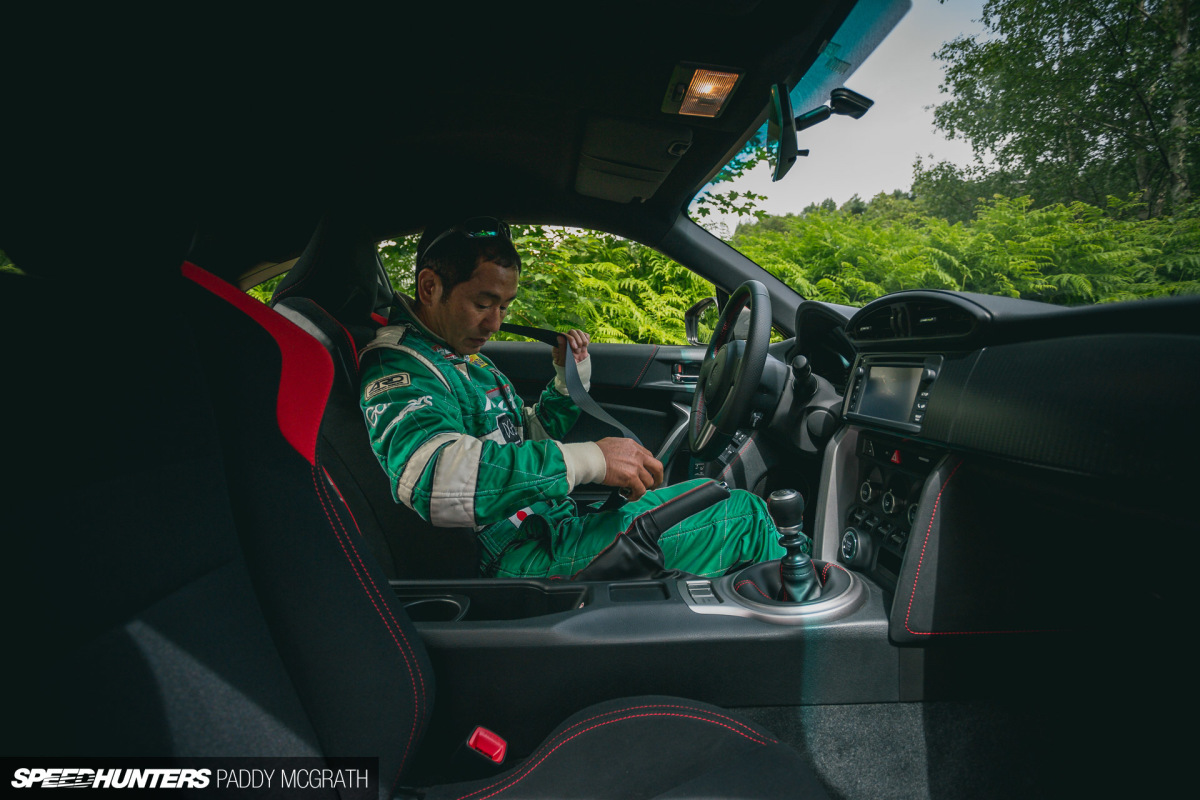 The experience was repeated in the GT86. This time though he shared his own technique for finding the correct seat and steering wheel position with us, which I still use to this day. The wipers weren't required this time.
Finally, we set about capturing the action shots, which proved a whole other challenge as the stock GT86 struggled for power on the fast section of the test course, which just happens to look like a public road. It's funny, since shooting here, I have seen this section used in countless movies and TV shows. As we were shooting this, Fast & Furious 6 was also filming at the very same location. Like I said, it was a strange day.
Tsuchiya managed somehow to get the car to link the fast sections with some impressively aggressive driving.
He also took huge amounts of pride in annihilating several sets of tyres, too. Serious pride.
Before long, it was time to say goodbye and wrap what remains one of the highlights of my career. Even now, I find it difficult to find the words to accurately describe how much it meant to be on an assignment like this. You always want to maintain at least a veneer of professionalism during jobs like this, but inside you're absolutely dancing. To meet one of your heroes, and for them to meet all your expectations is a pretty damn awesome feeling.
I'm not really sure if there's a point to this, but I guess it shows that if you're committed and passionate, you can go from taking photos on a pocket camera of cars doing skids in a field in Tipperary, to photographing the man who arguably started it all in a relatively short period of time.
I just know one thing, I'll never forget the day I met the king.
Paddy McGrath
Instagram: pmcgphotos
Twitter: pmcgphotos
paddy@speedhunters.com