The Opportunity
So you find yourself armed with a car Bisimoto-tuned Porsche 911 and an interesting logistics problem opportunity. What do you do?
In the situation we recently found ourselves in, the opportunity was to drive the newly improved NFS 964 from Los Angeles to Las Vegas. But not by the most direct path.
Since the Interstate 15 was clearly designed by an accountant striving for efficiency over fun, we set upon Google Maps and begun to fill it with pins and alternative routes.
The route we decided was not to be missed and happened to be slap bang in the middle of Death Valley. It offered up the best driving roads we could find, plus a fairly epic shoot location. The site itself is what you are looking at now – an active airstrip at Stovepipe Wells, right next to a somewhat bizarrely placed campsite. The car itself, is the all-new-for-2016, face-lifted NFS Porsche 964 reimagined as Spirit of 147.
Genesis
We're getting ahead of ourselves here though. Let's rewind to the point of inception. Remember this?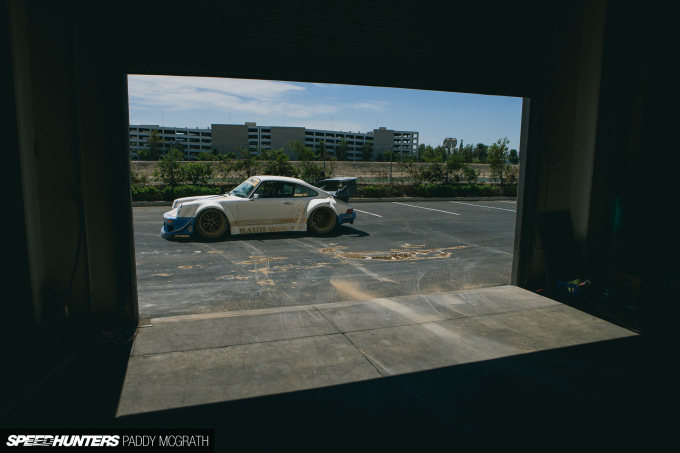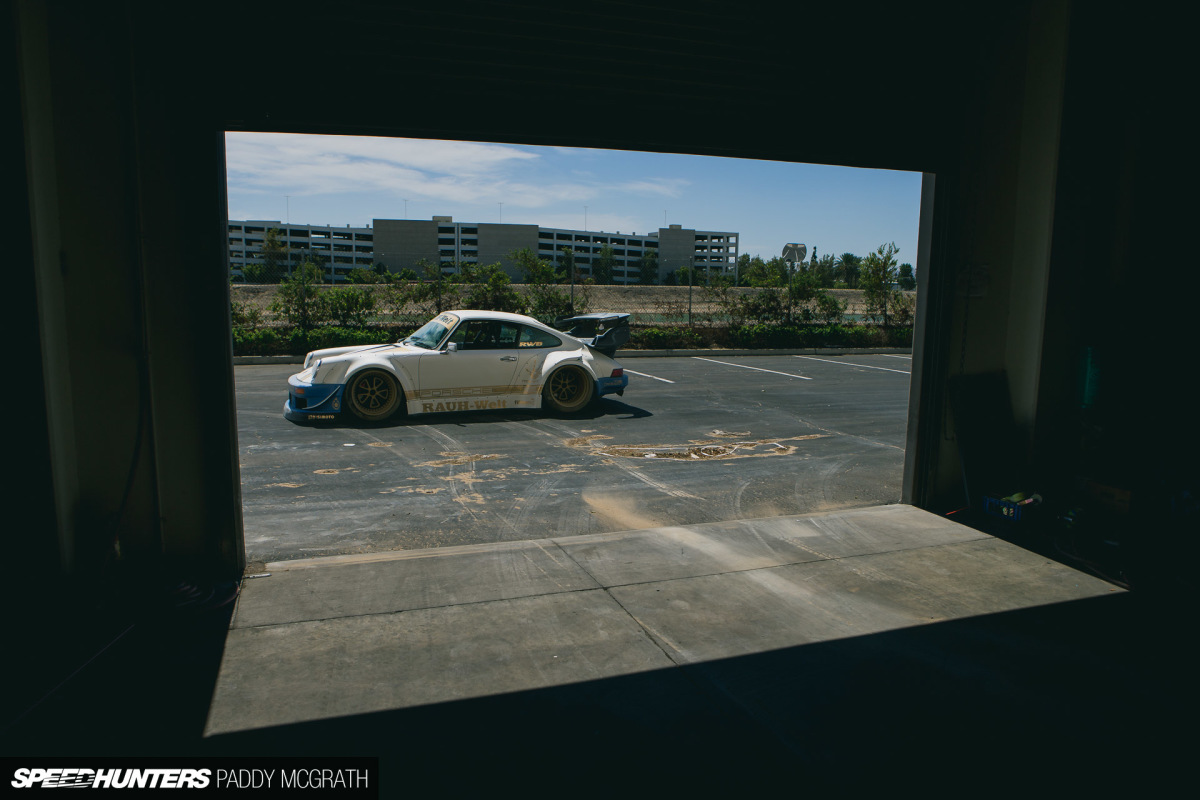 Yeah, well that is the car which the NFS community collectively curated into existence for the launch of the last game (along with the gracious efforts of partners Bisimoto, Fifteen52, RWB et al). Whilst there was a lot to be celebrated about the manner in which the 2015 edition of this car came together, we found ourselves with one more SEMA Show before handing it back to Mr. Fish.
Clearly, there was a lot of scope here, so we began to put our heads together.
The Drawing Board
If this was going to be a Speedhunters edition of the vehicle then it needed a story, a central theme that trigger-pointed an agenda and could be the litmus test for all the ridiculous ideas we had for the car. Equally, seeing how this was going to appear on the booth of our friends at Air Lift Performance, there needed to be a performance angle to the car too.
Enter, the first proper competition Porsche 911.
Back in 1965, Porsche entered the Monte Carlo rally, an event that turned out to be pure hell; 237 cars entered the race but only 22 survived. Porsche's cheeky 911 not only finished, it won its class, making it quite a momentous day. The 911 came second in class after Porsche 904 GTS. The whole event was won by a humble Mini of Timo Mäkinen. 237 cars entered, only 35 finished it (Thank you Vittorio Jano for the correction). Performance, story, passion and awesome vibes – we had our inspiration.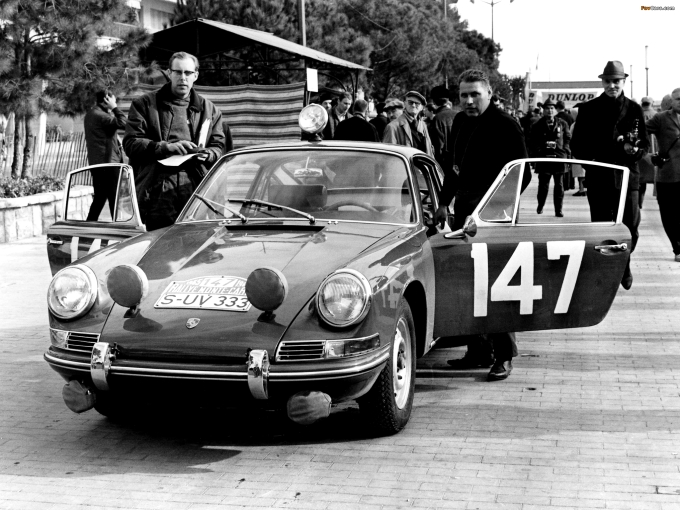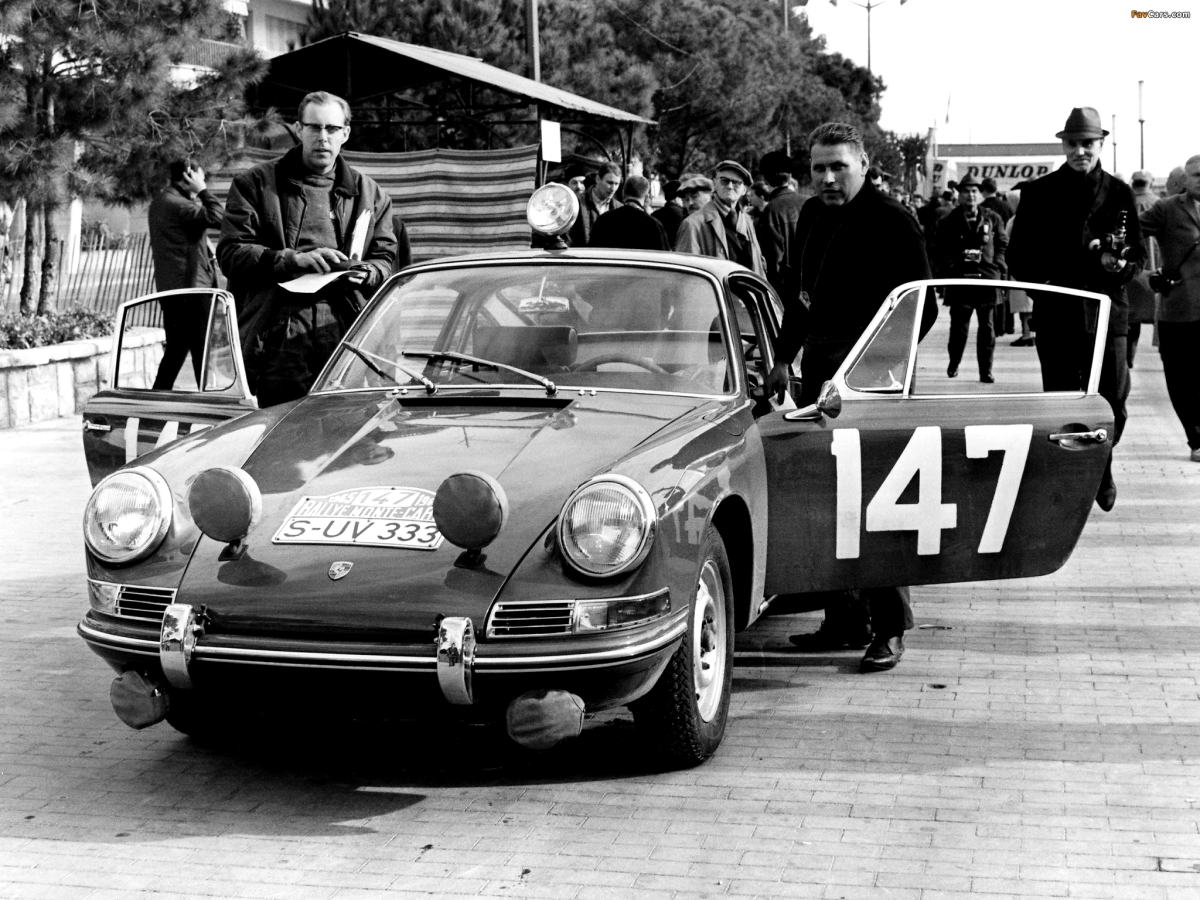 What was utterly fantastic about this discovery – beyond giving us an exciting direction for the car – was that it describes the embodiment of challenge and fierce street-fighting roughness. The sort of stuff that initially attracted us to the original, less show-car work of the mighty Nakai-san, whose automotive stylings are already very much installed on this machine.
This Is Rough World.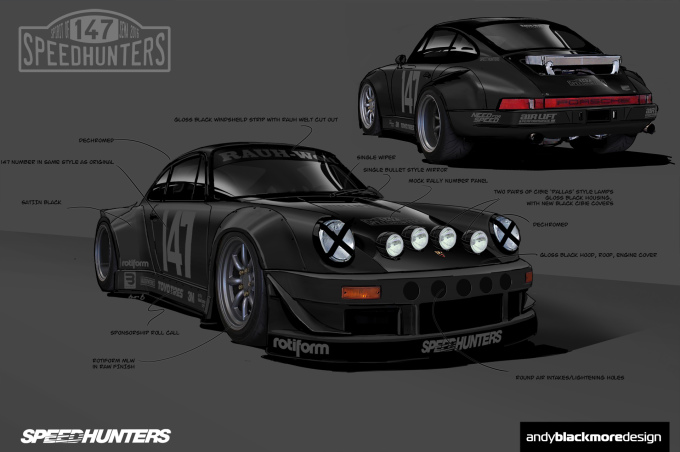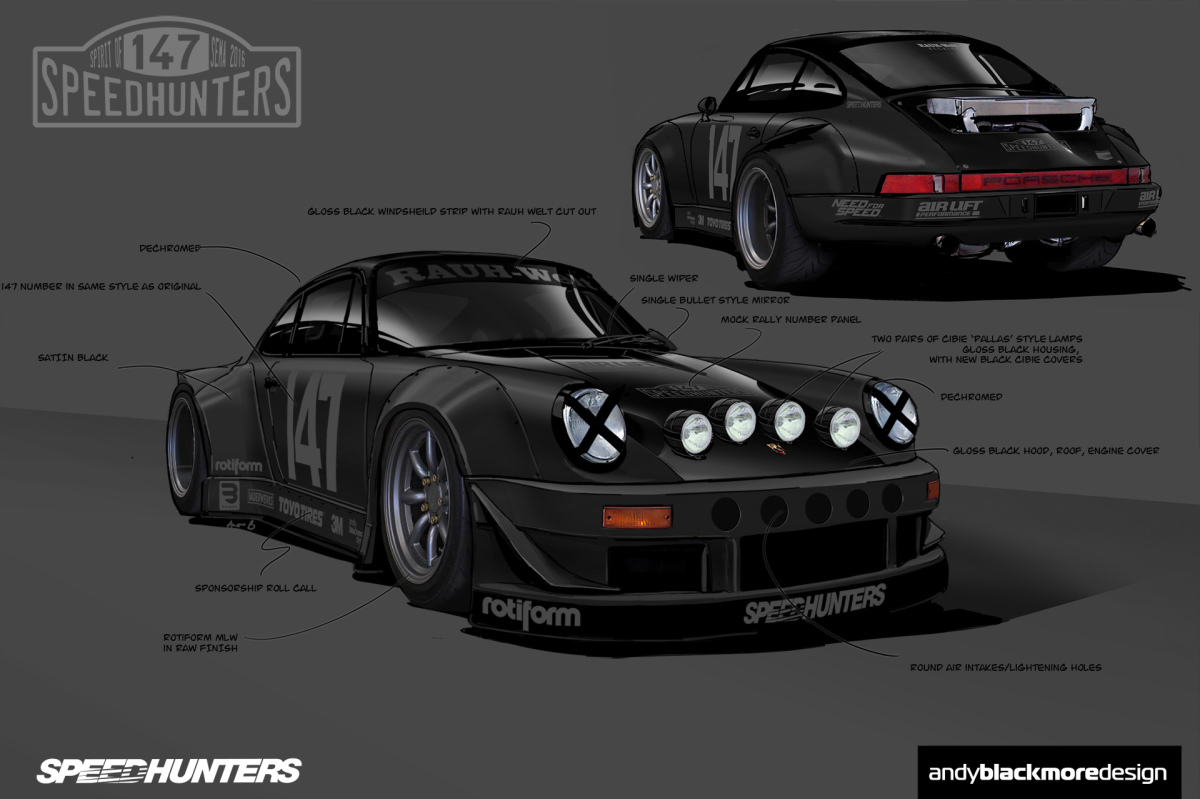 With a direction in place, we contacted the always-on-point Mr. Andy Blackmore to assist with combining our musings into a legitimate plan for the final car. This concept art became the goal.
Our sights set, we got to work. Lots of blackness, 20 or so less spoilers, an exposed intercooler and a new set of shoes. But who was going to build this thing?
The Dark Lord
As it happens, just outside of Malibu in Southern California lies the shop of the one true Sith Lord himself, the darkest of them all.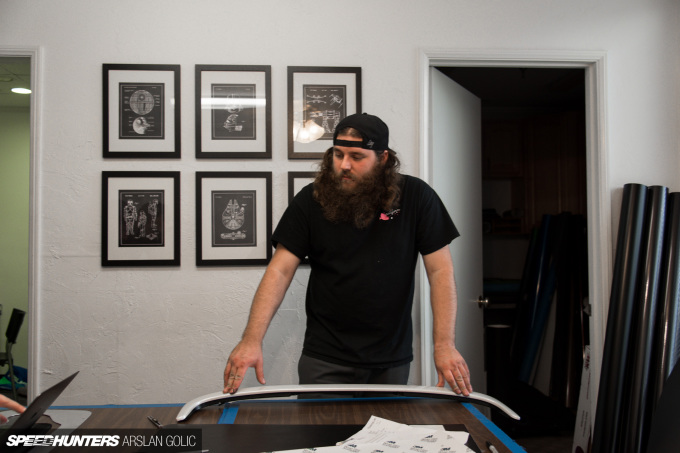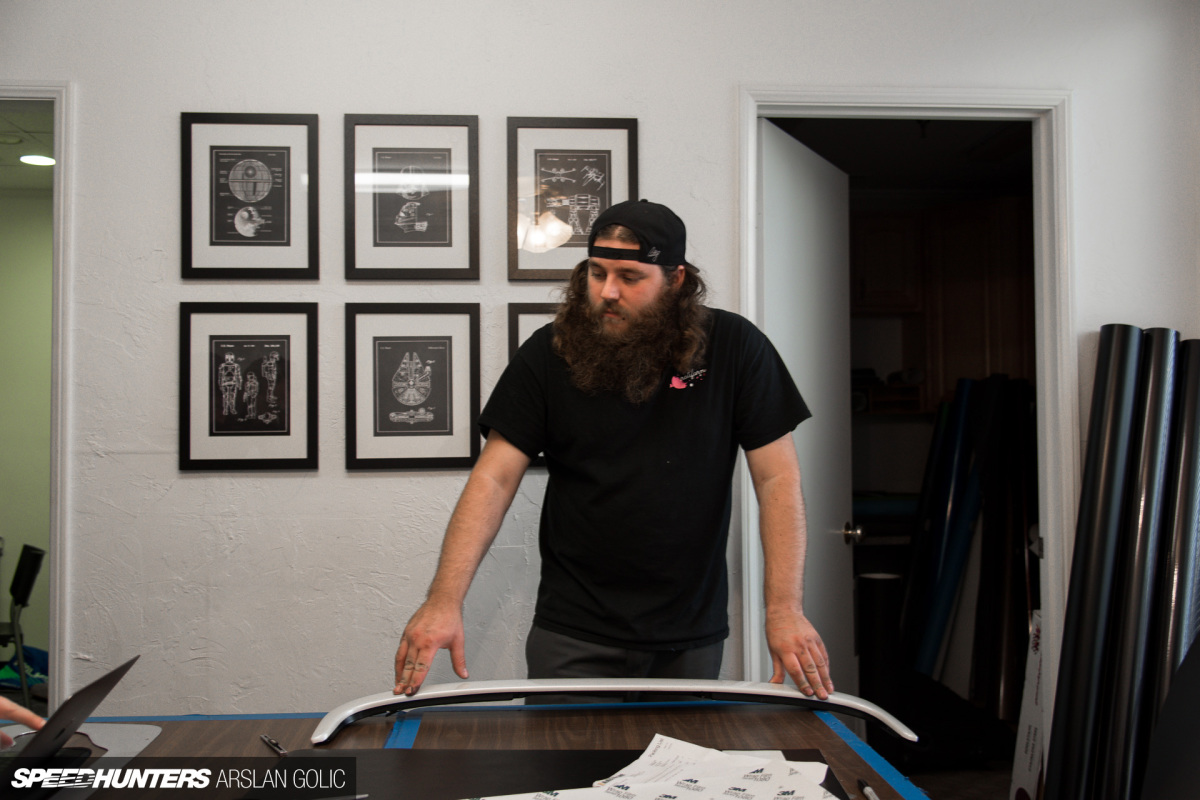 This is Gino, the founder, CEO and chief badman at Vaderwerks, a place where he has been quietly building a reputation as one of the most committed artists in the global wrap game. To Gino, applying vinyl to a car is a lot more than some sticky plastic and a hairdryer. The things this man knows about adhesive alone will shame even the most committed enthusiast.
The moment we stepped off the plane it was straight to Vader to say hello, throw some high-fives and get stuck in.
With a few weeks head-start before our arrival in California, Gino had already done the bulk of the work, taking the car apart and lovingly casting huge swathes of 3M satin and gloss black vinyl over the hulking bodywork that make up a RWB-fitted Porsche 911.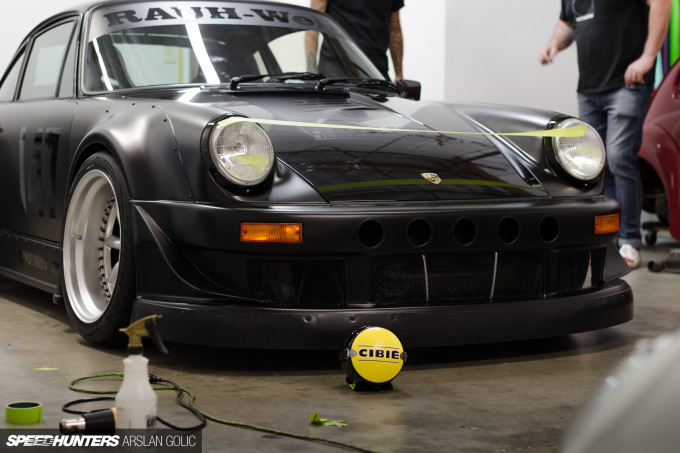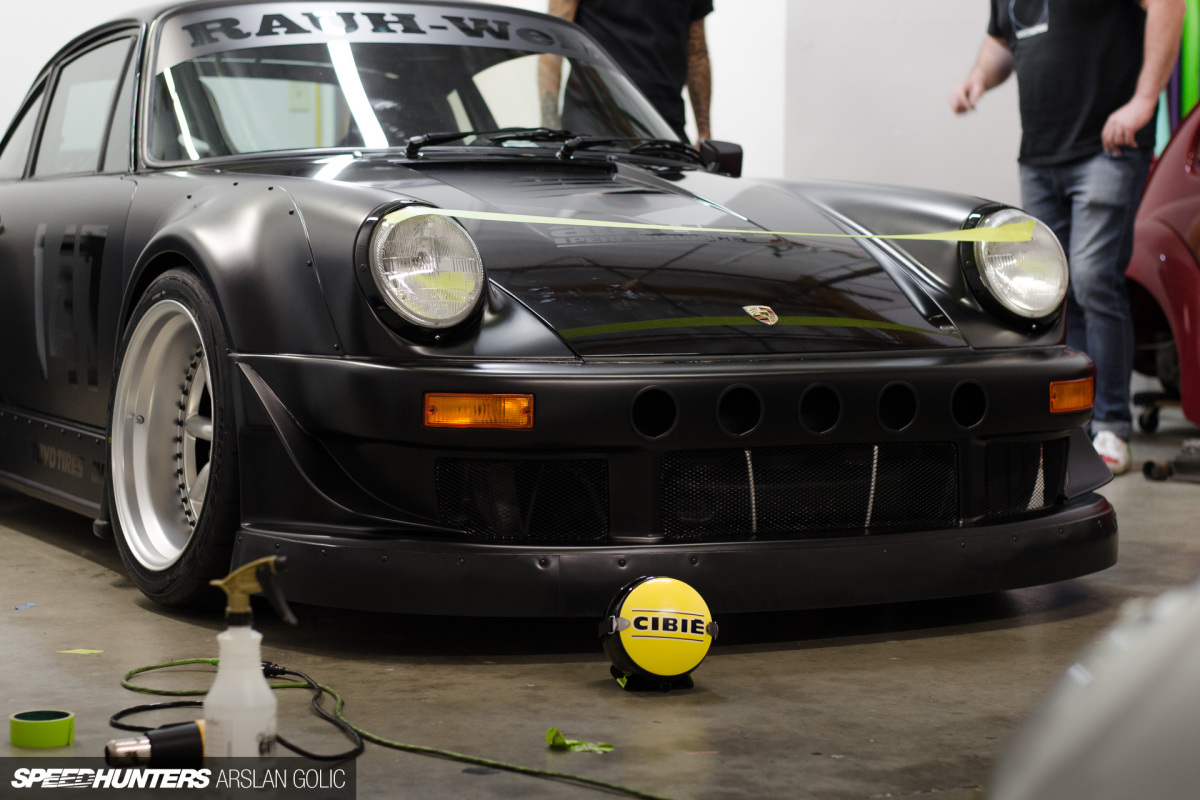 I won't lie, our commitment to details like the exposed intercooler, rally lighting and race number decals were questioned again and again. We doubted ourselves, got back into line, doubted ourselves again. On loop.
I'm proud that we stuck to the original vision and didn't let middle-of-the-road fears of 'doing the wrong thing' stop us from completing this build.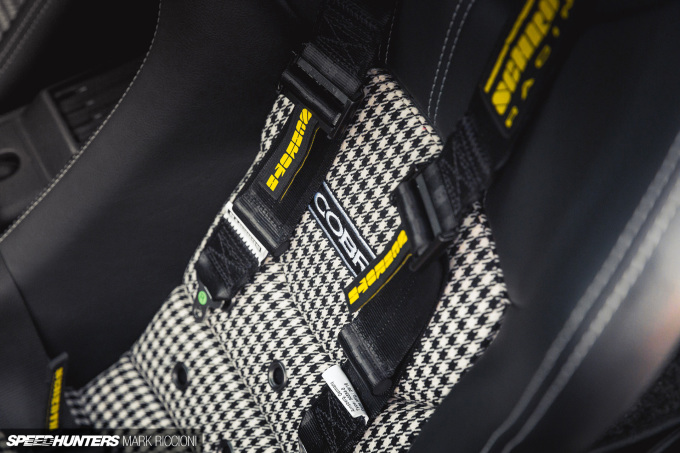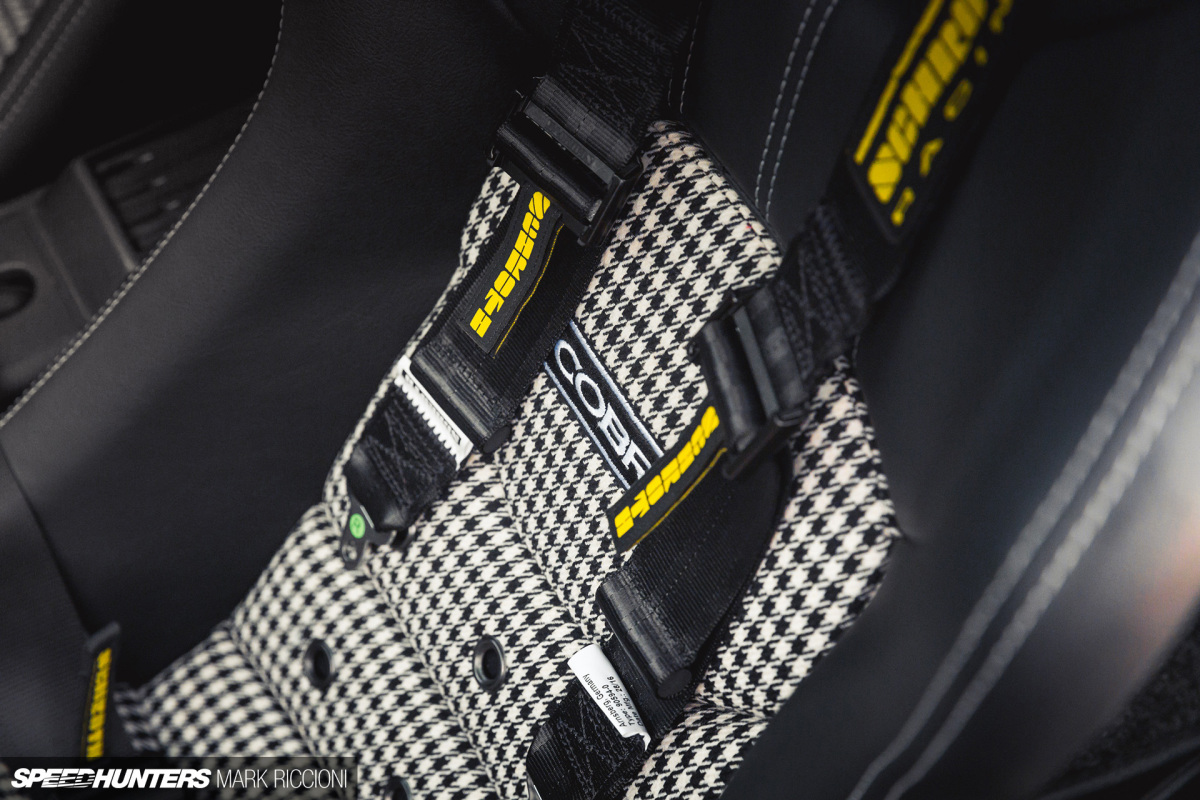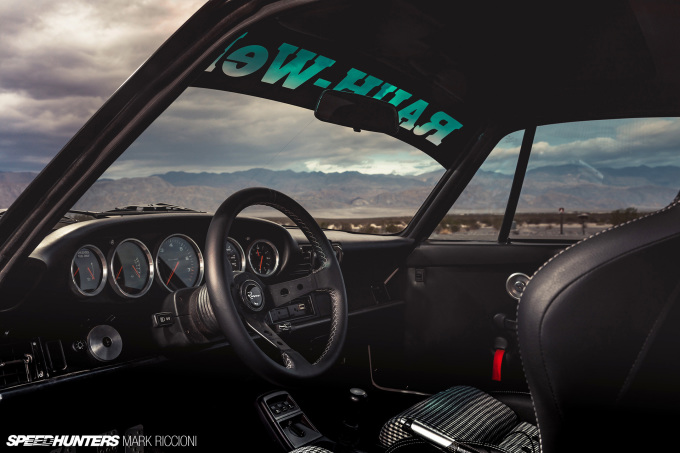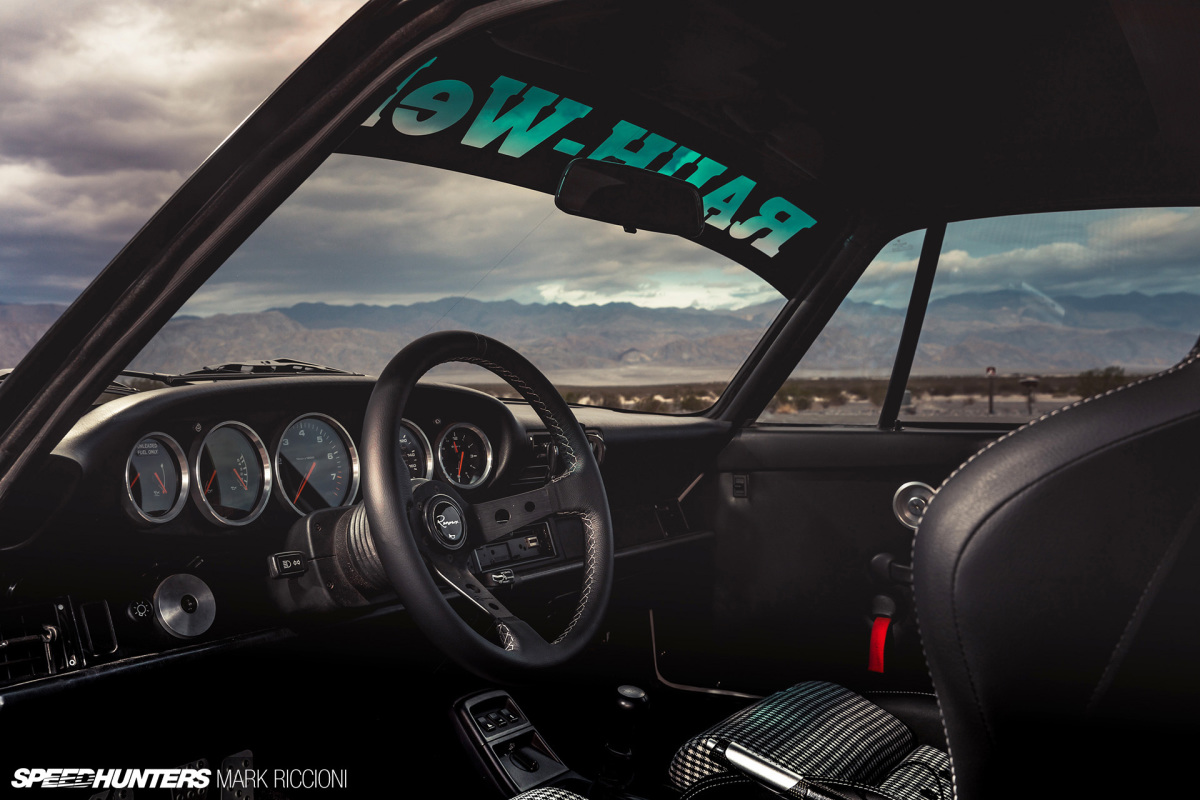 The interior of the 964 was in pretty bad shape, but thanks to the help of talented people at Cobra Seats, Schroth Racing and Renown, a staggering transformation took place.
This is the cockpit that this beast of a car had always deserved. A huge thank you to our partners in helping bring it up to spec.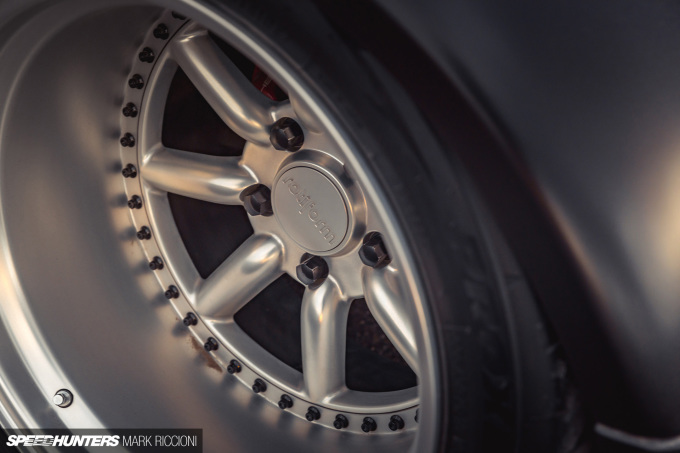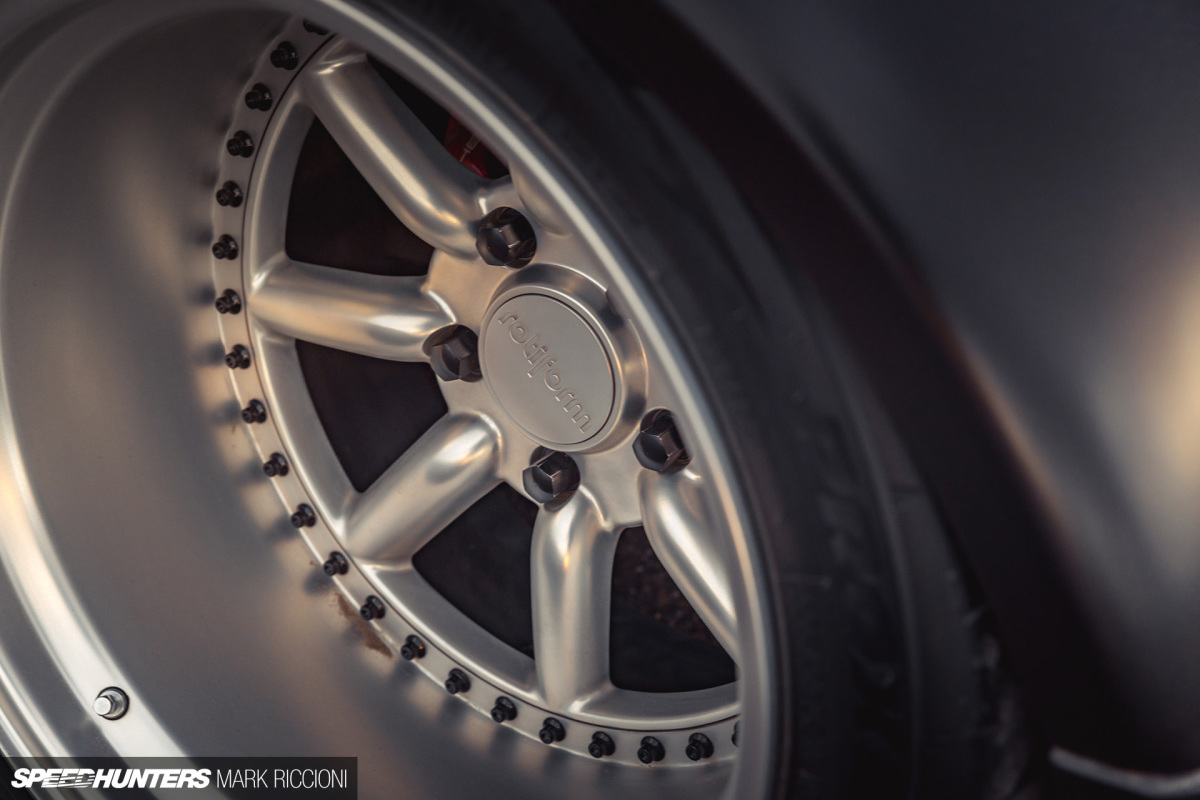 Just before we showed, Gino had taken delivery of a rather stunning set of Rotiform MLWs. Finished in raw alloy with a layer of clear, they more than complete the look of the car.
Without a minute lost they were fitted with a set of the latest evolution of Toyo's hugely popular road-legal track tyre, the Proxes R888R.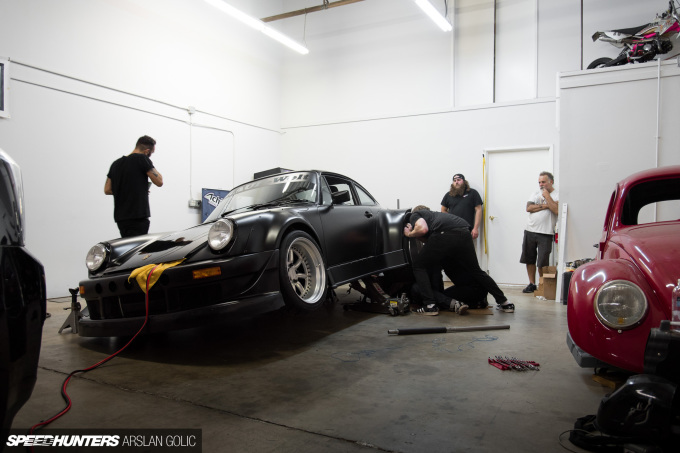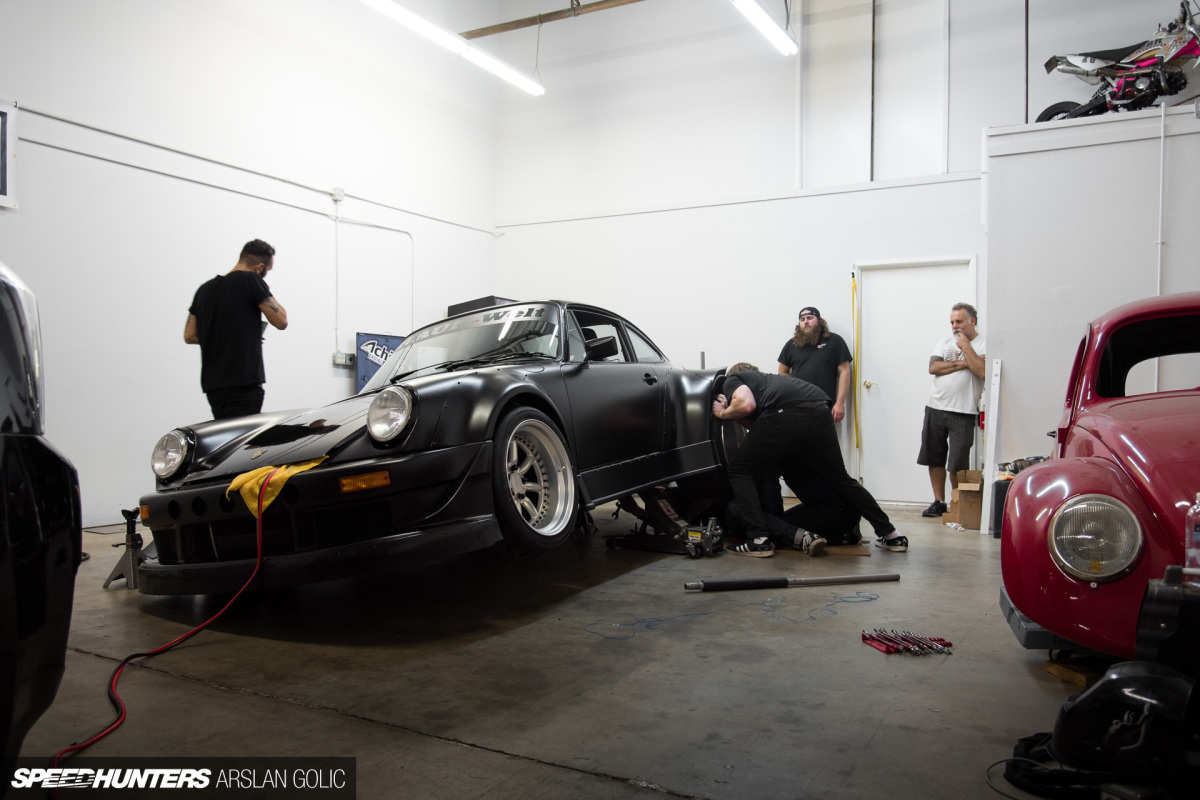 With this done, most of the remaining work involved applying the decals and getting the ride height dialled in. When your car is being hosted by the good people at Air Lift Performance one must consider not just how the car looks whilst at 'drive height' but also completely aired-out and sitting on the floor. Good job we had Ryan – our exceptionally talented, retired race engineer – on loan from Scene Media.
This is engineering my friends. Engineering.
Road Trip
With the car finished there was only one thing left to do. We needed to get it and ourselves into Nevada and have as much fun possible while doing so.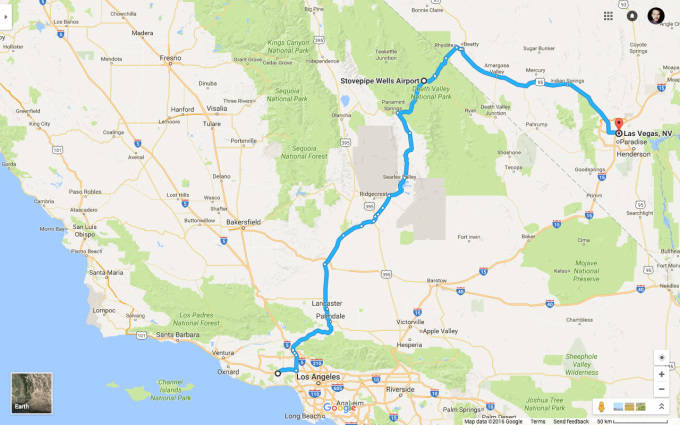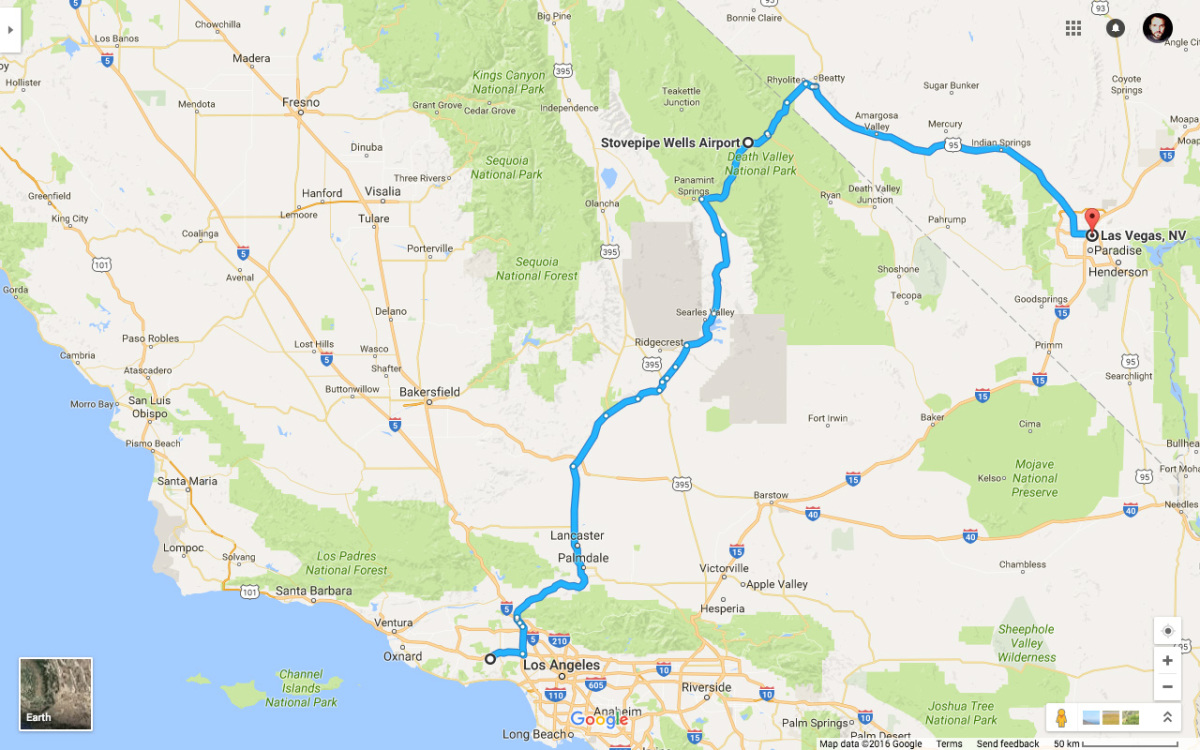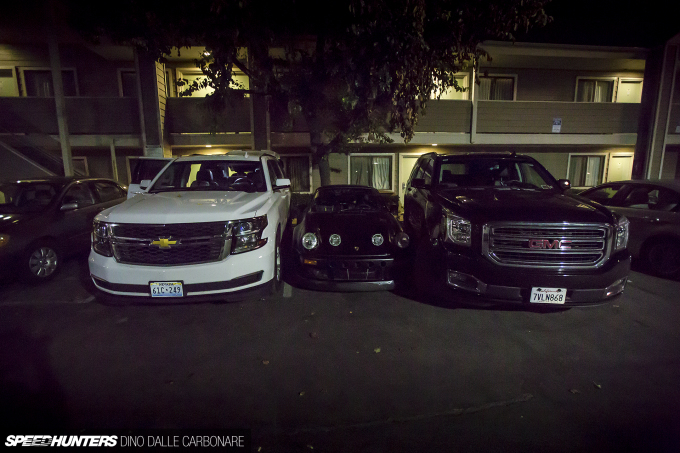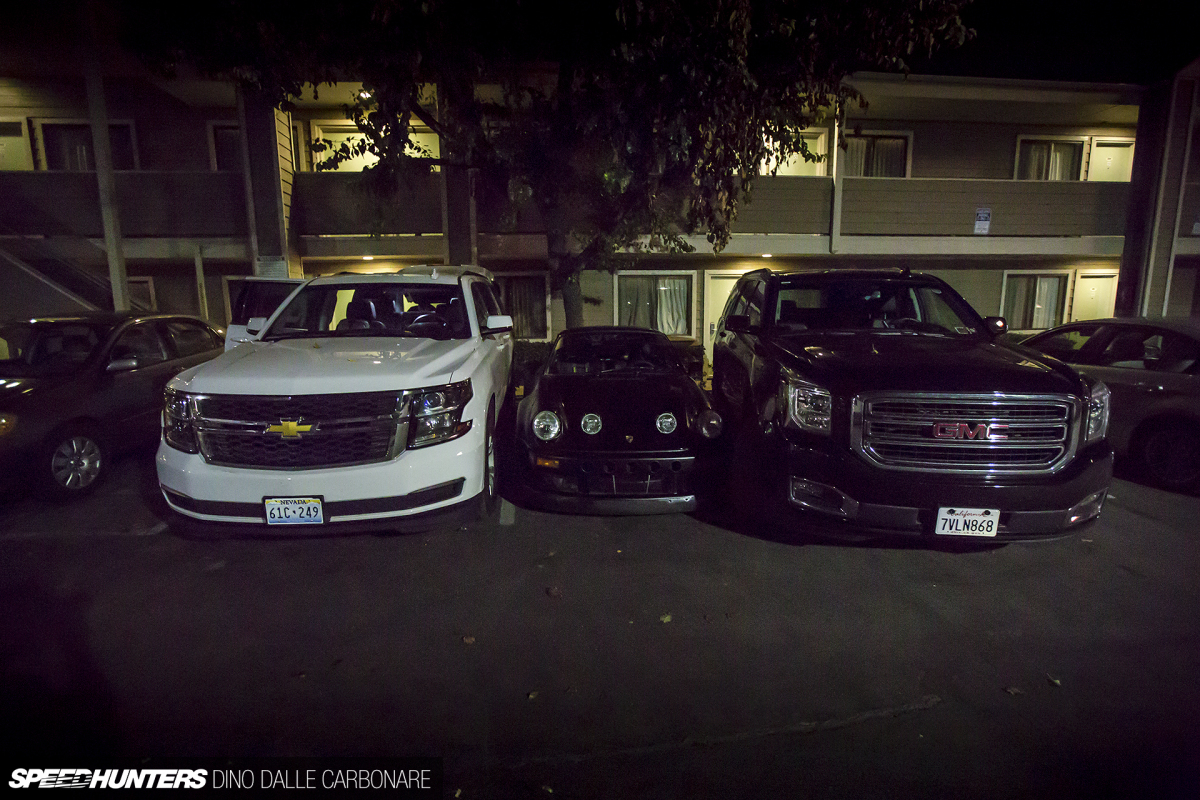 With route set, batteries sort of charged after a few fleeting hours sleep at a motel in Calabasas, we emerged, primed for japes and ready to extract our car from the SUV-shaped protective barrier we installed the night before.
This was 1:00am folks; we expected to arrive in Vegas just before midday.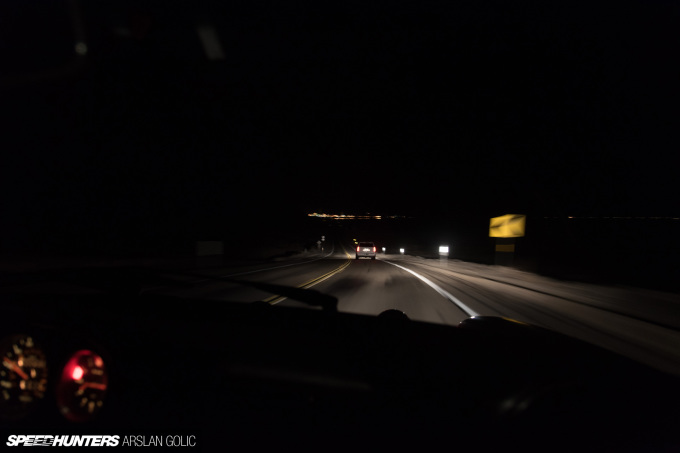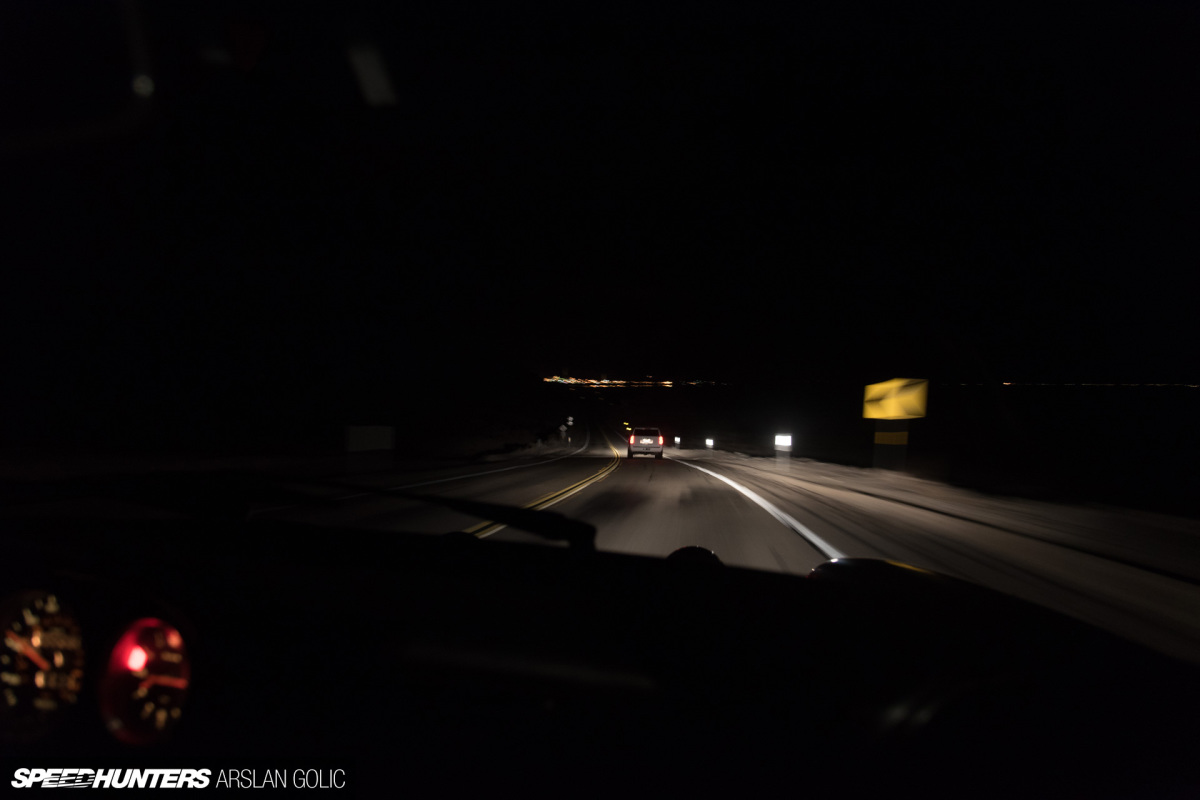 We are go! Into the night went the three-car convoy with Death Valley as our first waypoint.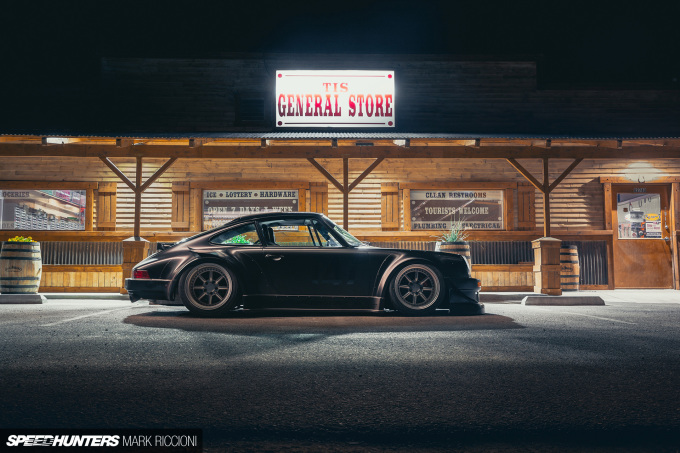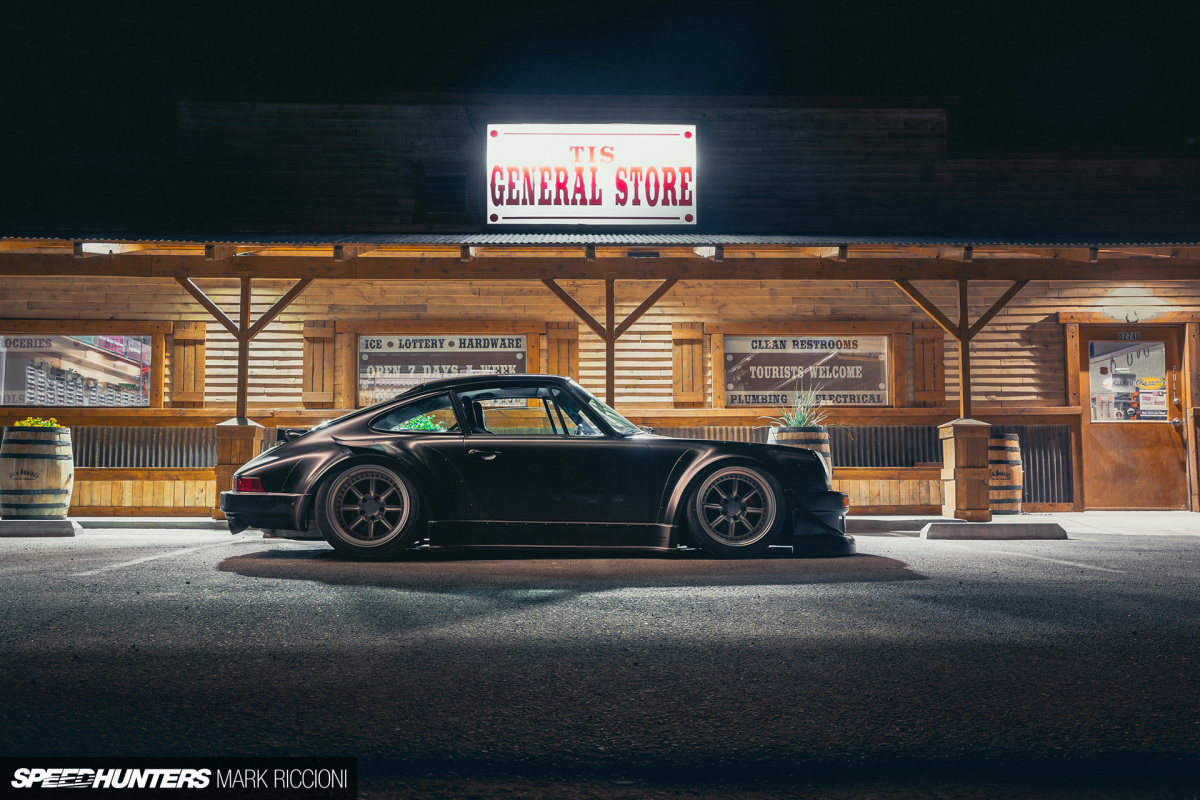 It quickly became clear that in spite of this vehicle being stupidly wide, having zero visibility and as much horsepower as Bisimoto could wring out of the quite dated engine, it was really fun to drive. Objective level 10 cleared with flying colours.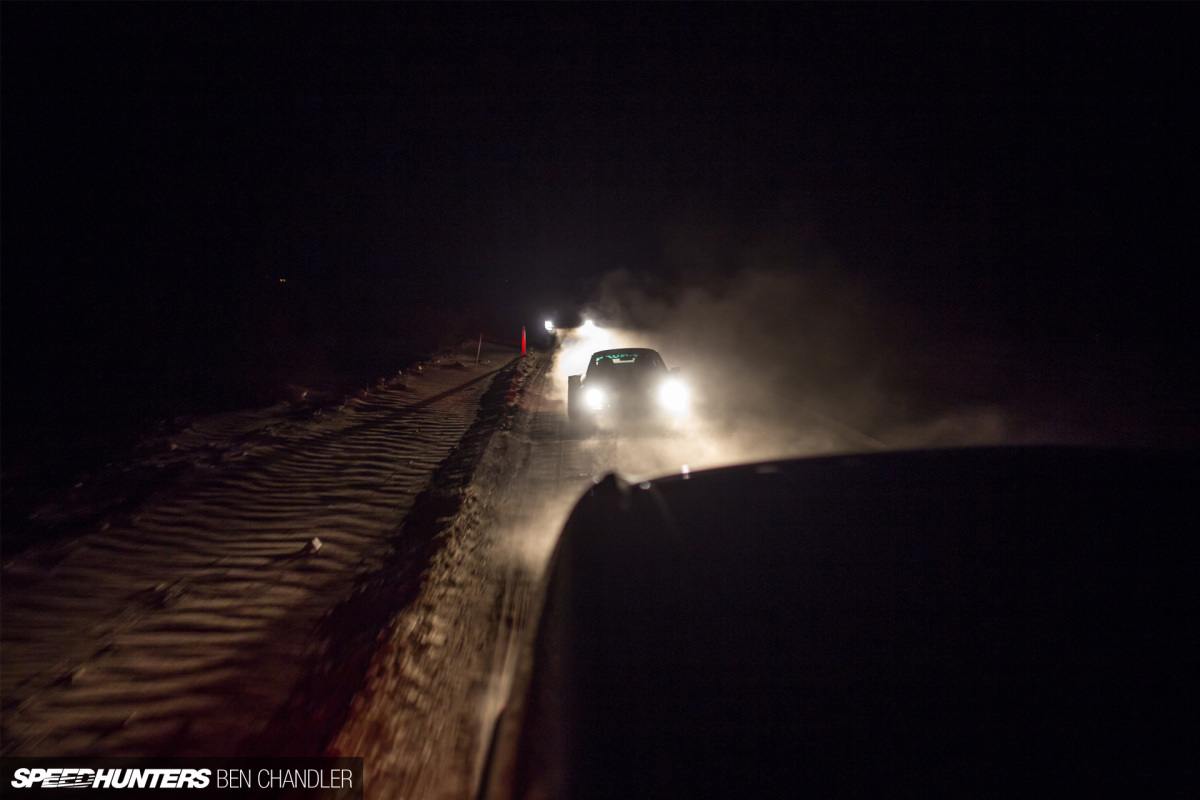 Just before reaching Death Valley, a somewhat troubling series of signs began to emerge roadside telling of an impending interruption to the 'pavement' we had been enjoying so much. It turns out they did not lie; where there was once tarmac, we found found rocks, gravel and sand. So much sand.
The keen listeners will recall the inspiration for this build and be happy to note that it put on a very good show as a car of mettle and steely rally heritage as we powered through the loose dirt underfoot without breaking stride. I'll say it again: "This is Rough World" – a direct quote from our esteemed Editor in Chief, Dino Dalle Carbonare, at the time.
The Shoot
At some time around 6:00am we arrived at Stonepipe Wells, located our spot and pushed the not-so-shiny-anymore Spirit of 147 into place on the airstrip. The previous day's visit to Meguiar's had netted us a good collection of microfibre cloths and a dizzying number of plastic-bottled car-cleaning technological witchcraft which we put to work restoring the 964's finish to photoshoot-ready spec.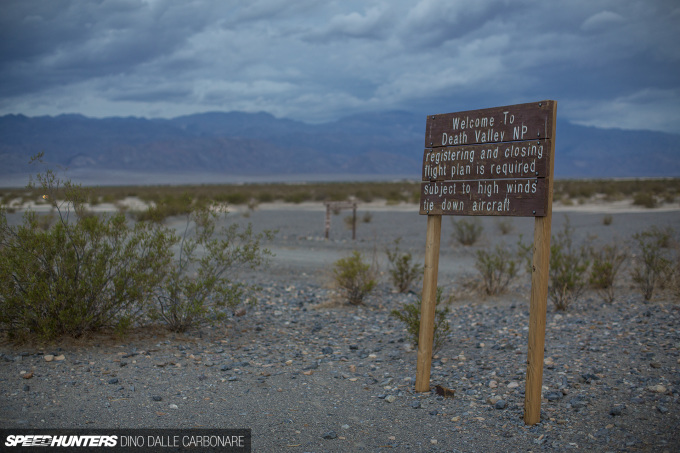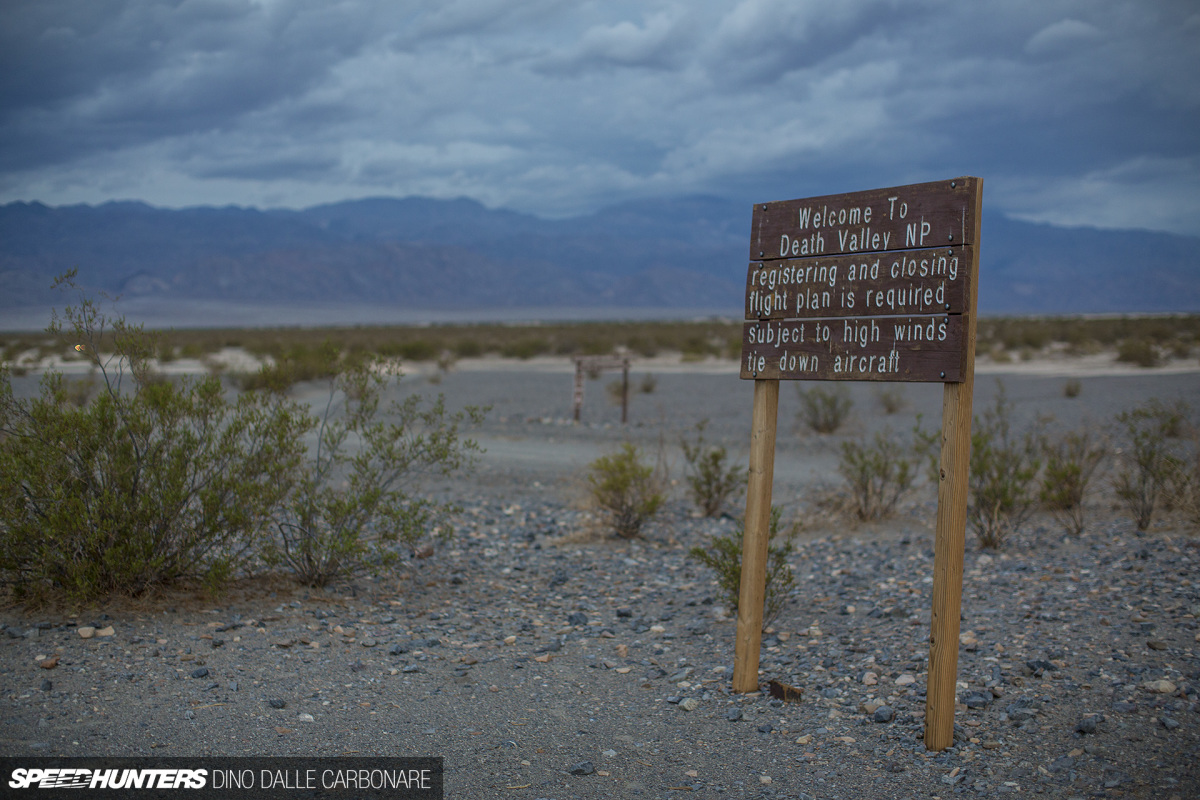 Car in place, we stepped back and left the spookily talented Mark Riccioni to his work. Mark recently took over as Speedhunters' Community Manager and quite quickly revealed himself to be a force behind a lens.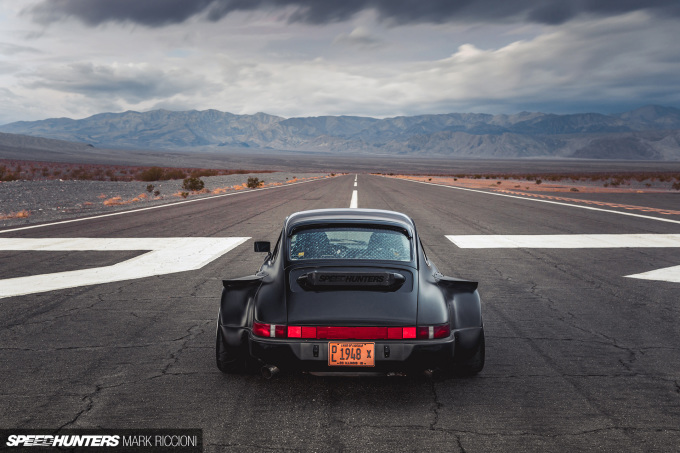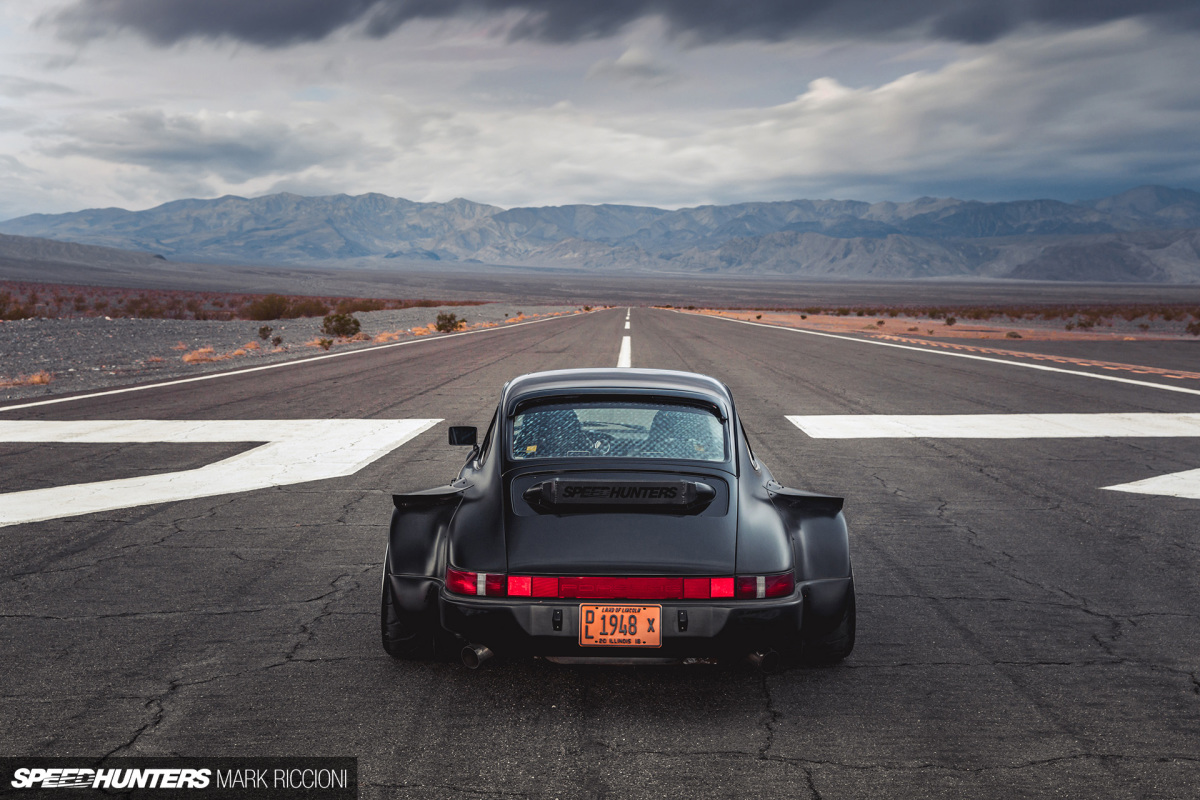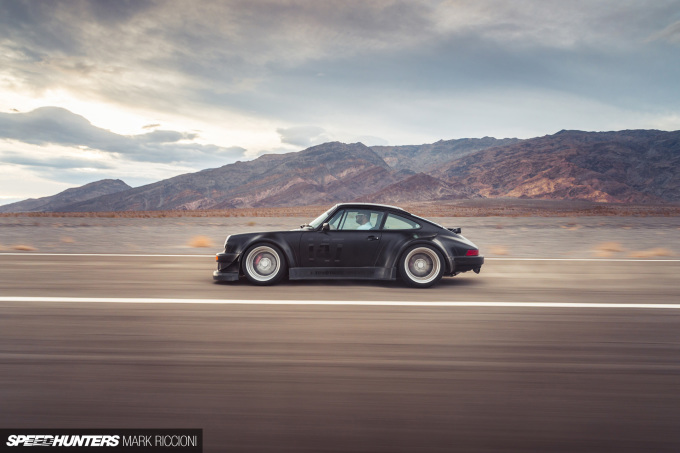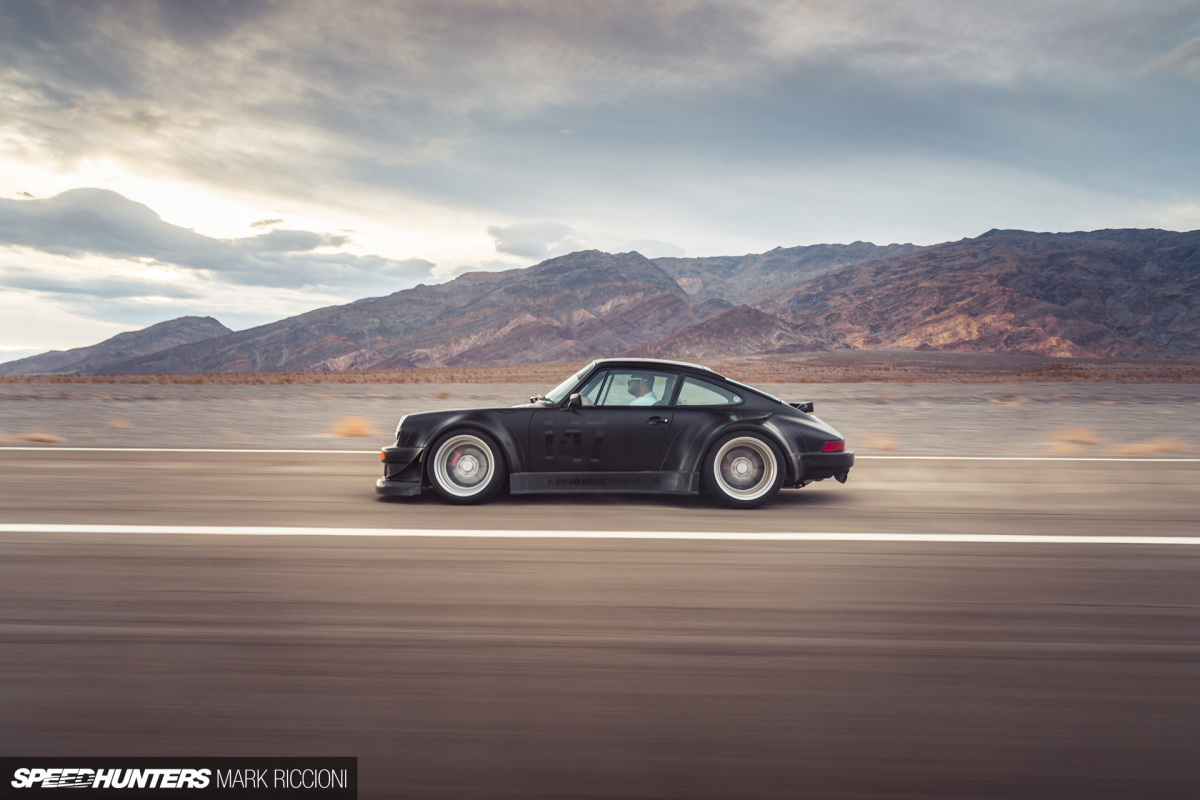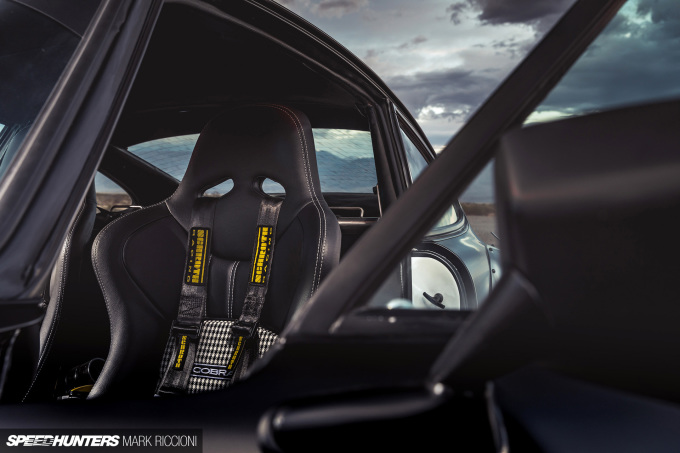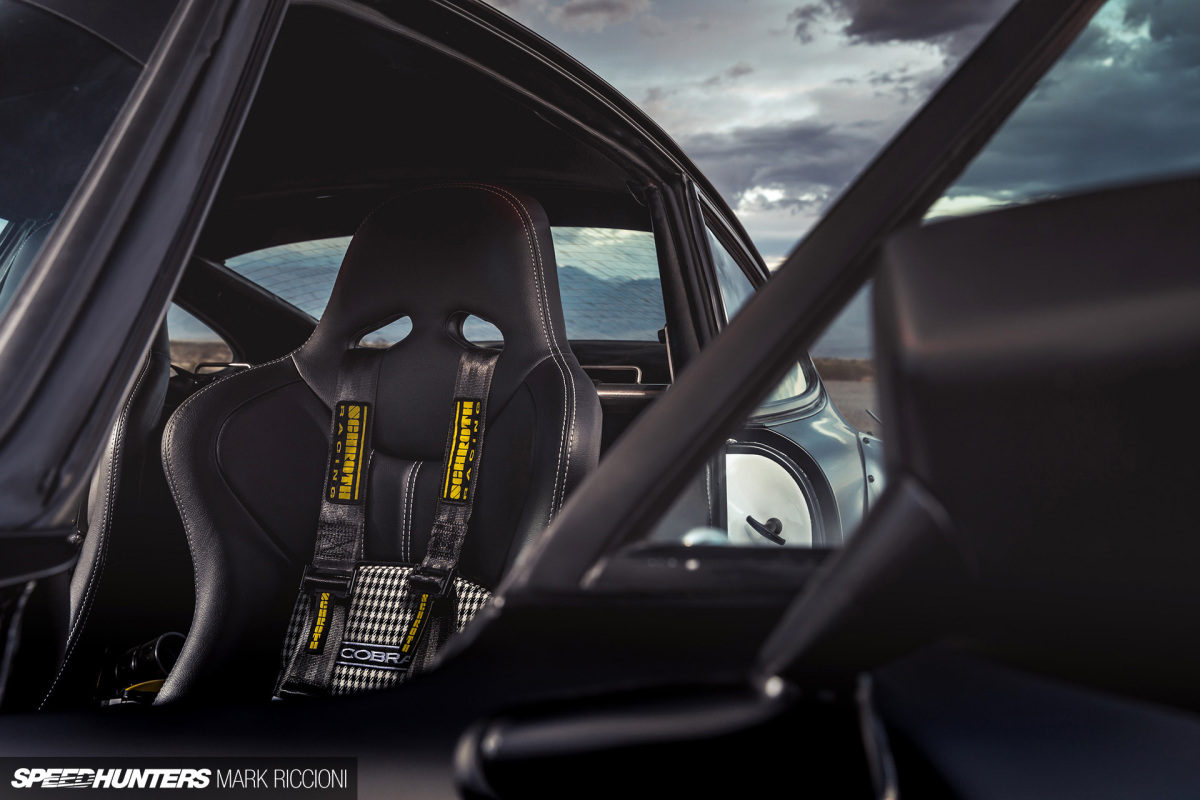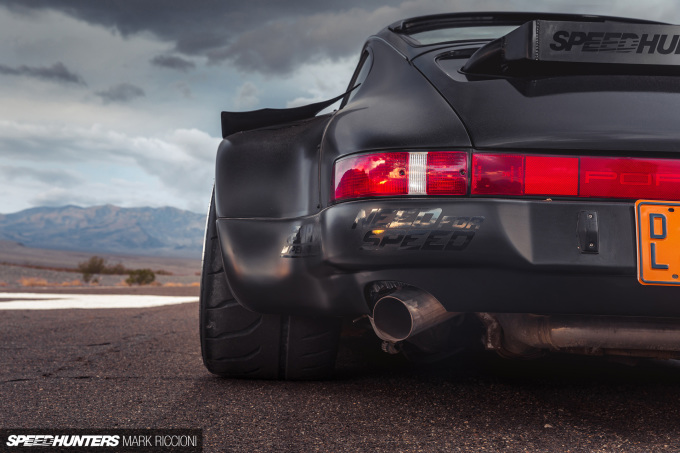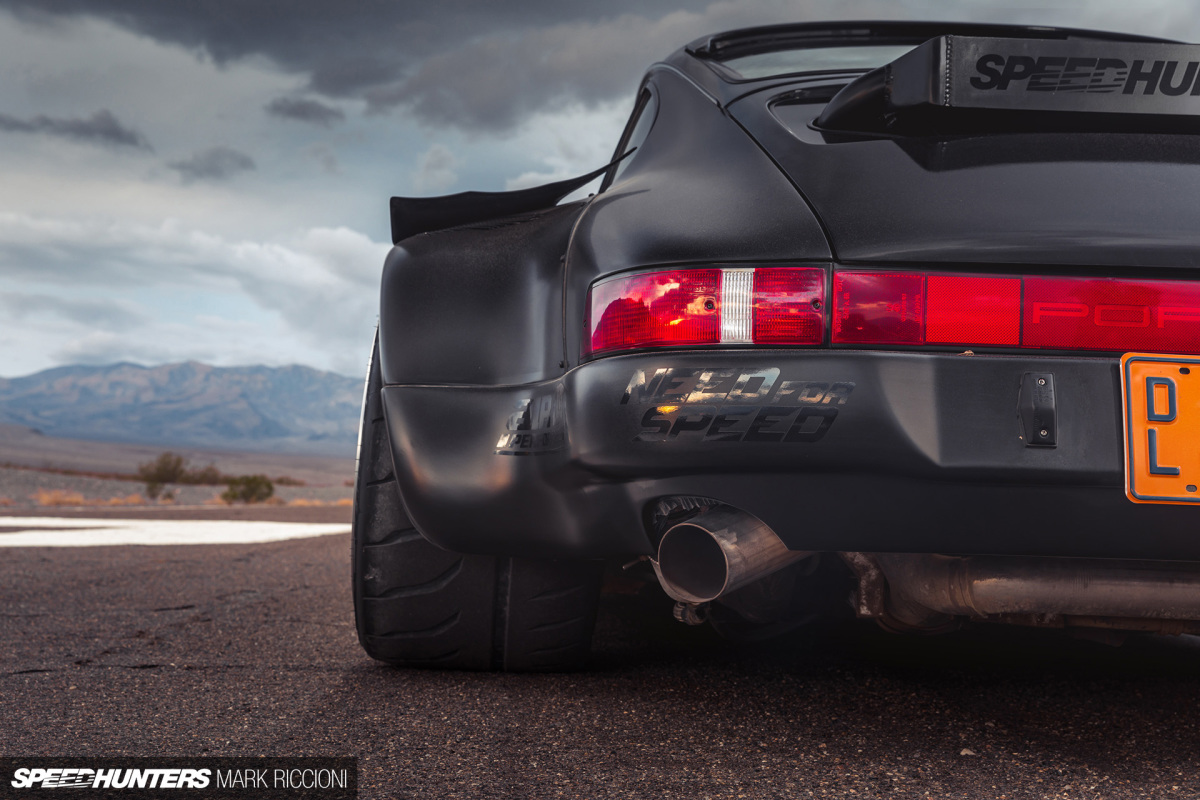 The Final Leg
Photoshoot in the bag, it was time again to hit the road and do a driver swap.
What a difference a sunrise makes. With the magnitude of the Death Valley National Park painted majestically across our retinas, thoughts of being jet-lagged, SEMA-build-worn or any other description of tired was banished to the backs of our minds.
We were here to drive the shit out of this car, and that, readers, is what we proceeded to do.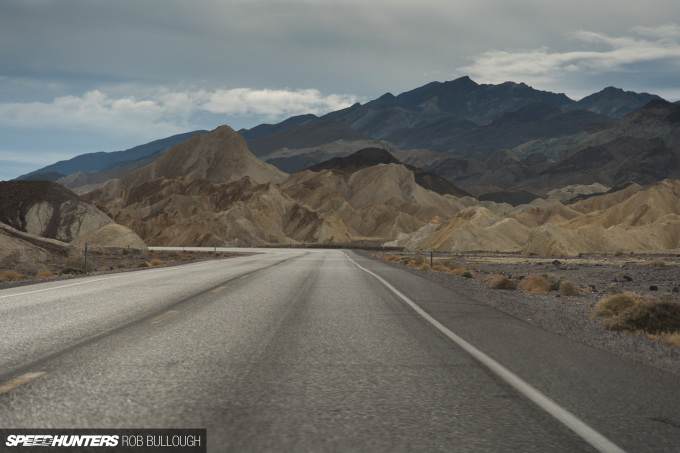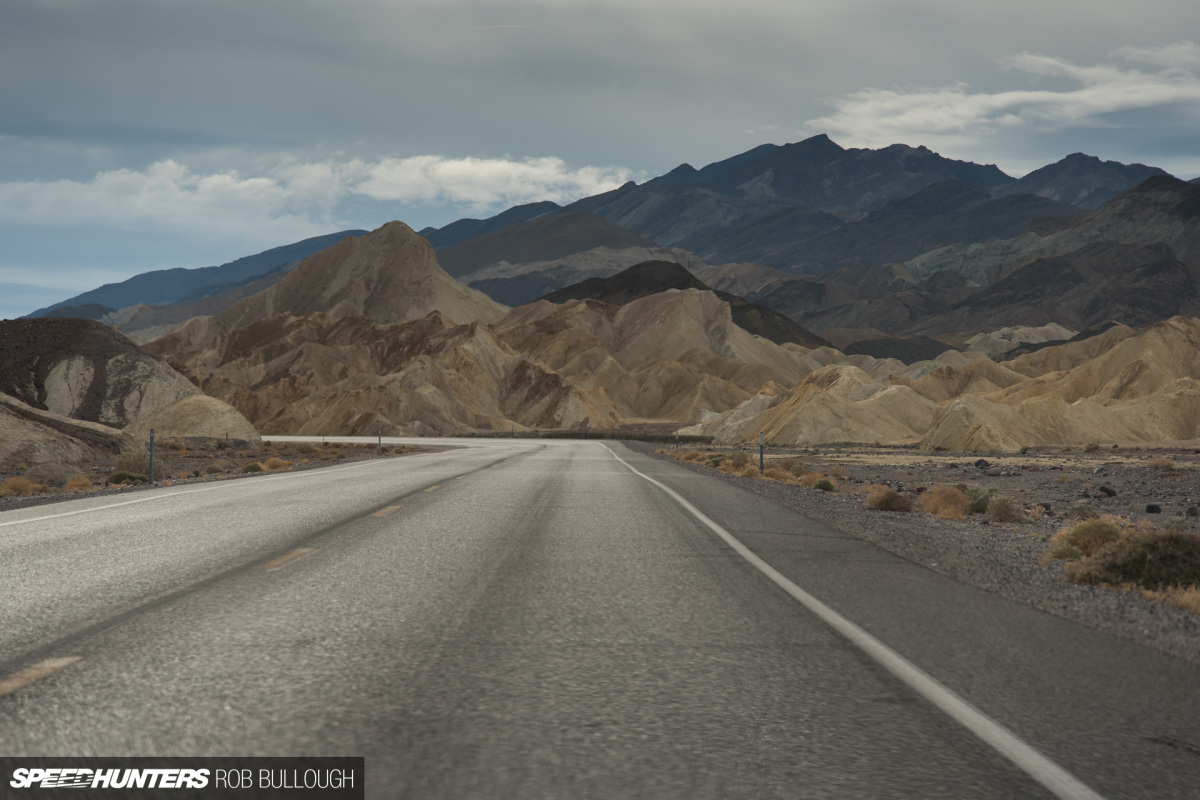 Words cannot describe the vibes in the car as we pushed it through these last few 100 kilometres to SEMA. Blend in equal measures the relief that we'd made it through the night, a giddily rising joy as the Toyo rubber became more and more responsive, and a slight preemptive nostalgia in the knowledge that we were going to have to hand this car back to its owner after the show.
Installed
We arrived at the Las Vegas Convention Center to find the Air Lift Performance team of Carl, Cody and Andy hard at work preparing the booth. Without even so much as a pause, the stand's external 3H control system was fitted to the car and the bros got it detailed.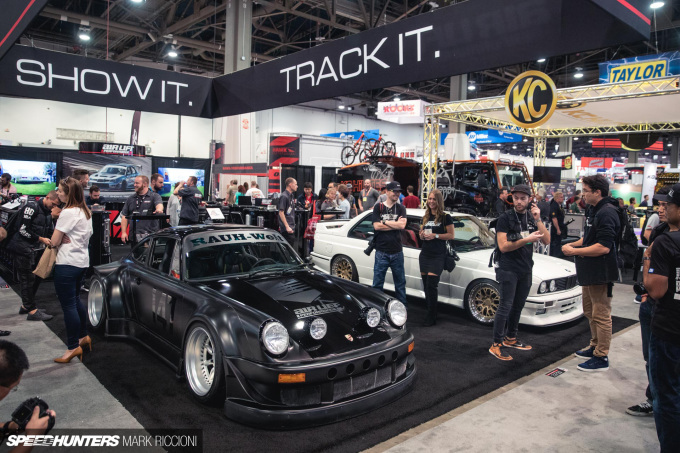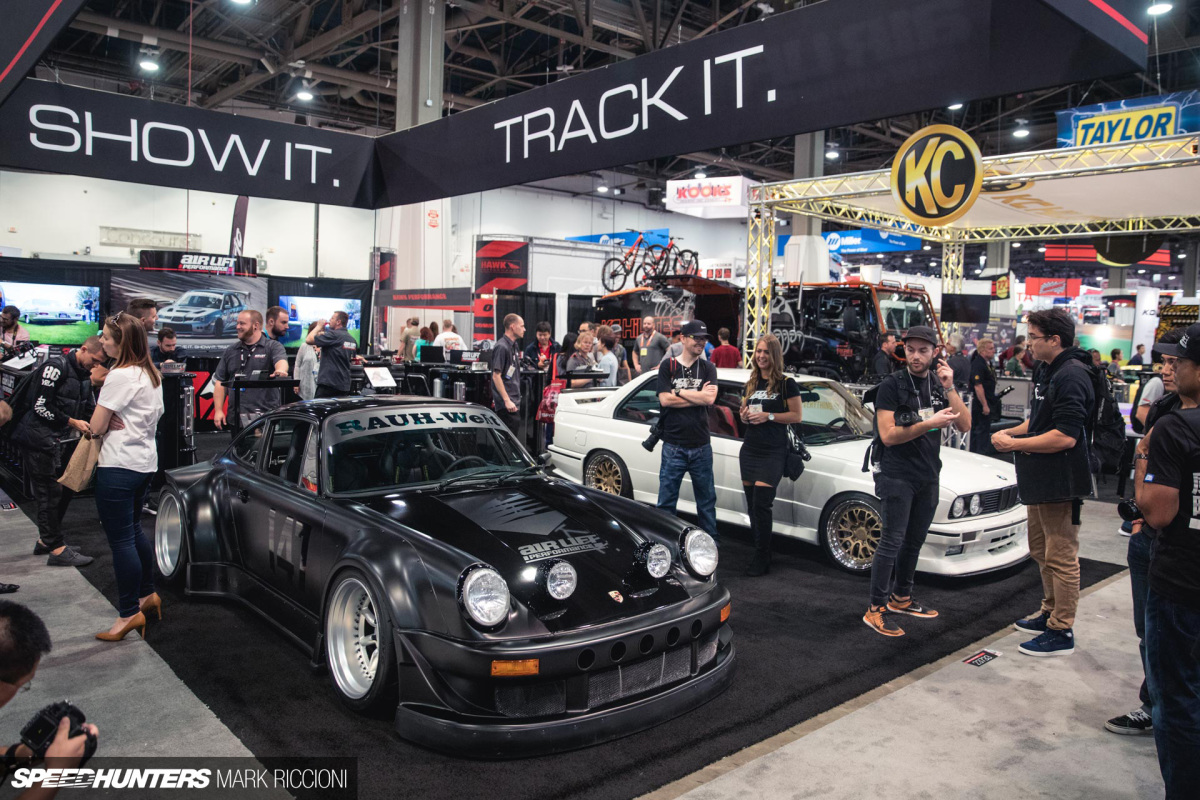 It'll be very sad to say a final goodbye to this car when we head back to Sweden later in the week. Over the course of our having it in our possession it has thrilled, delighted and appalled the audience both inside and in front of it.
All we can say though is that the Spirit of 147 will never die. We bid it a long and prosperous life wherever it ends up next.
Bon voyage old friend.
Rob Bullough
rob@speedhunters.com
Photos by Arslan Golic, Mark Riccioni & Dino Dalle Carbonare
Cutting Room Floor