Hunting Photons
Show up, park up, click. Done. That's all there is to it.
Well, not quite…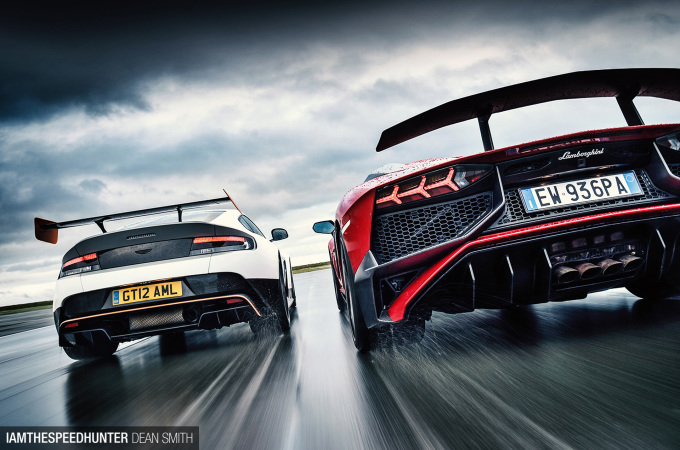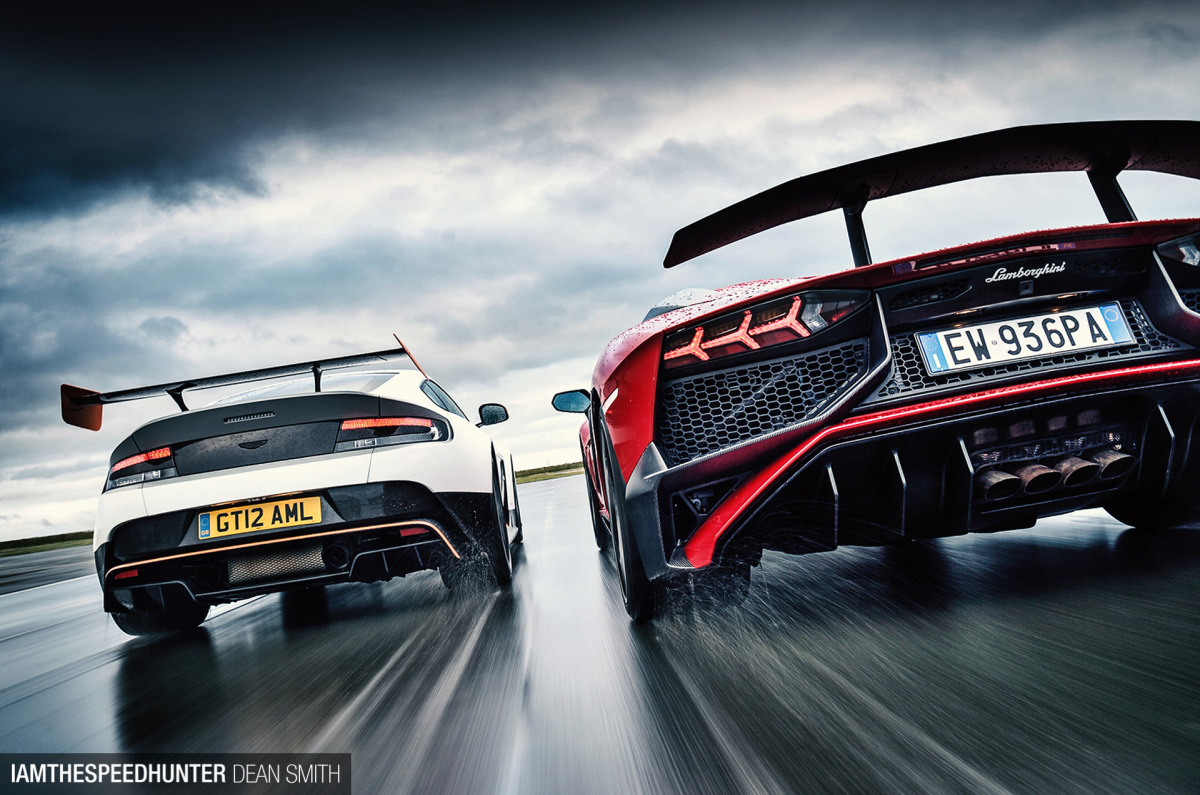 Don't get me wrong – it is without a doubt one of the best jobs in the world. And, as with any job, the results you see are in close correlation to the effort that you put in. You can do it well, or not so well. At the top end of the game the margins between a good image and great one pretty fine, and it comes down to the methods you use and an eye for fine details that elevates one image above another.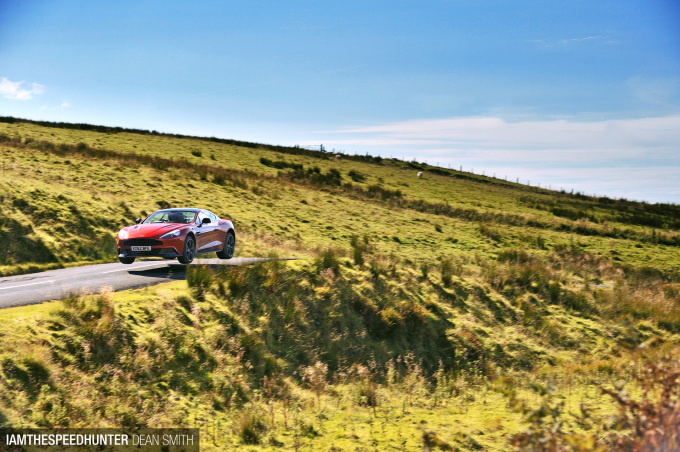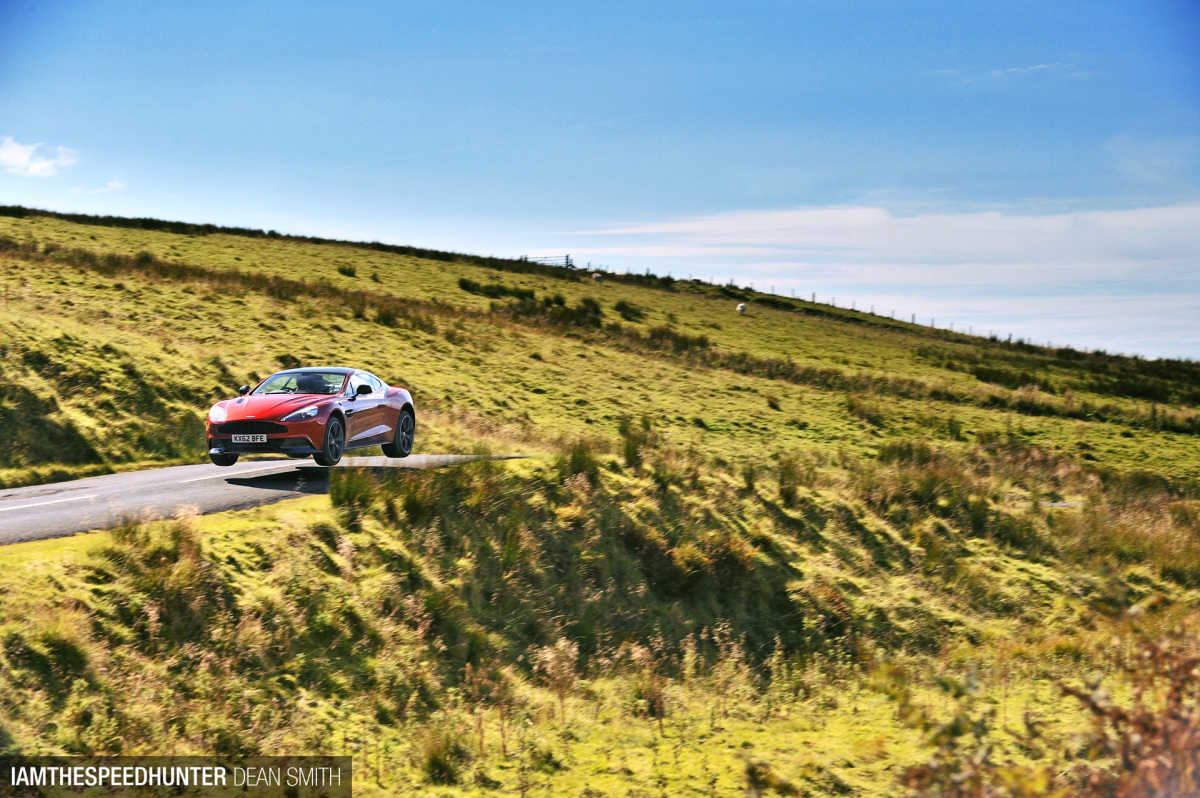 If you've ever flicked through the pages of esteemed motoring magazine Evo at any point over the past few years then it's likely that you too have noticed just how consistently impressive the images within are.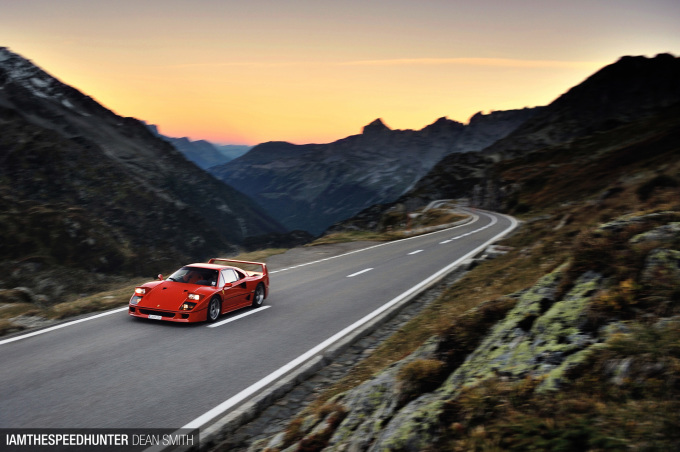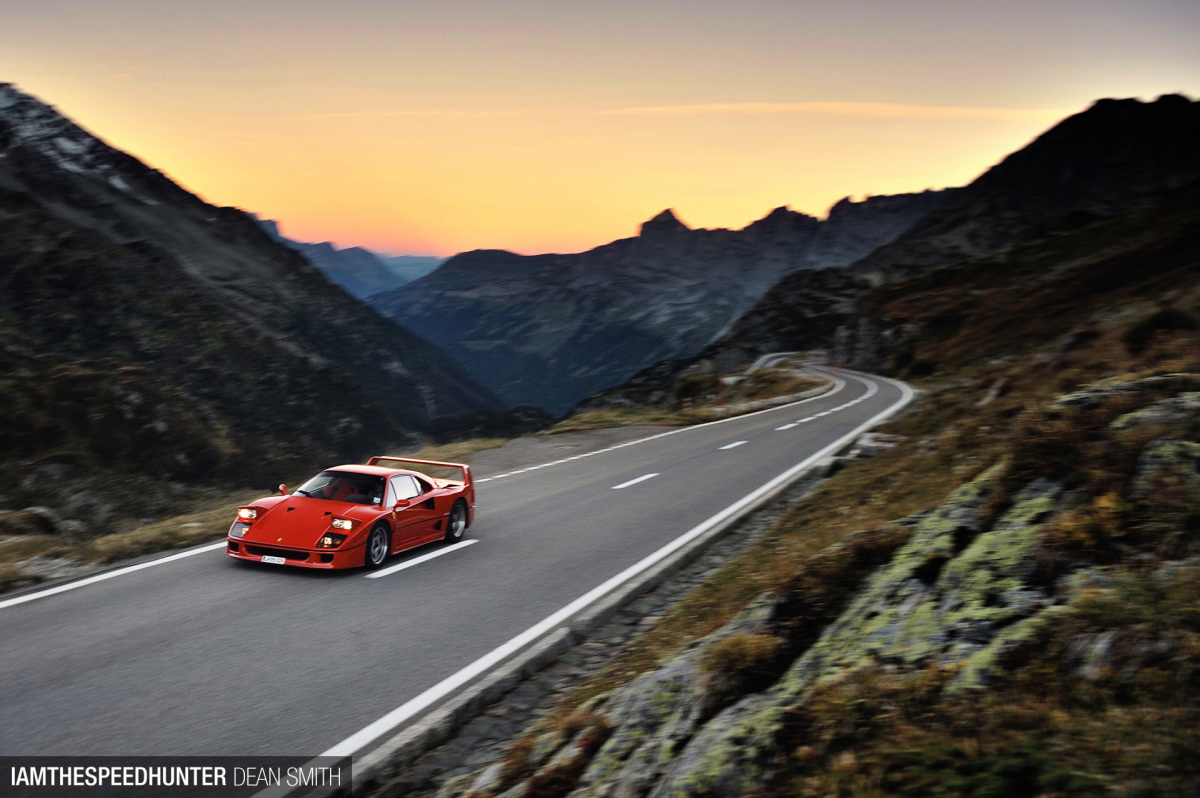 The standard of photography in Evo is aspirational, in my opinion. High calibre photography adds an instant air of quality to any publication, printed or digital, and it's the photography in Evo that sets the tone for the brand.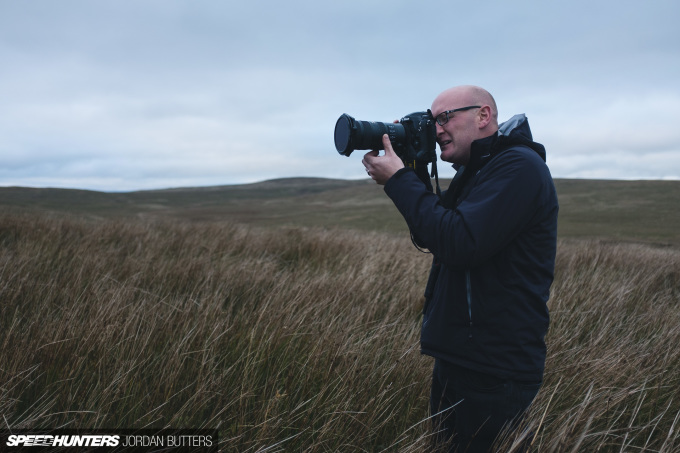 If you're a regular reader or fan of Evo then the name Dean Smith probably rings a bell. Long-time Speedhunters readers might remember hearing from Dean back in 2010, before he made the jump to a full-time professional. Well, things have moved on drastically, and Dean is now one of the UK's leading automotive photographers. He has also been the man behind the lens for the majority Evo's photography for the past five years or so.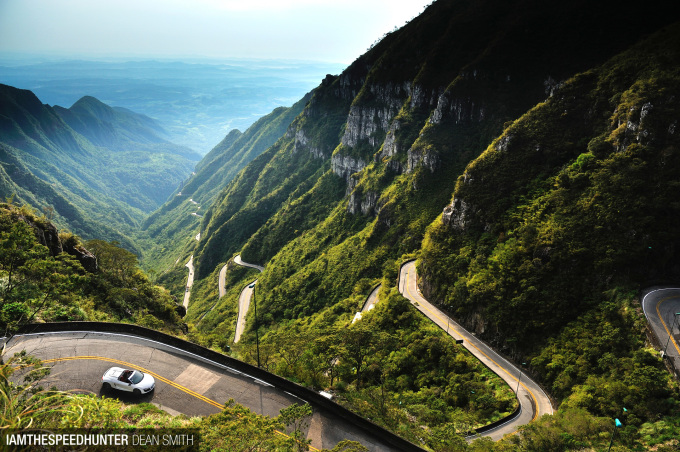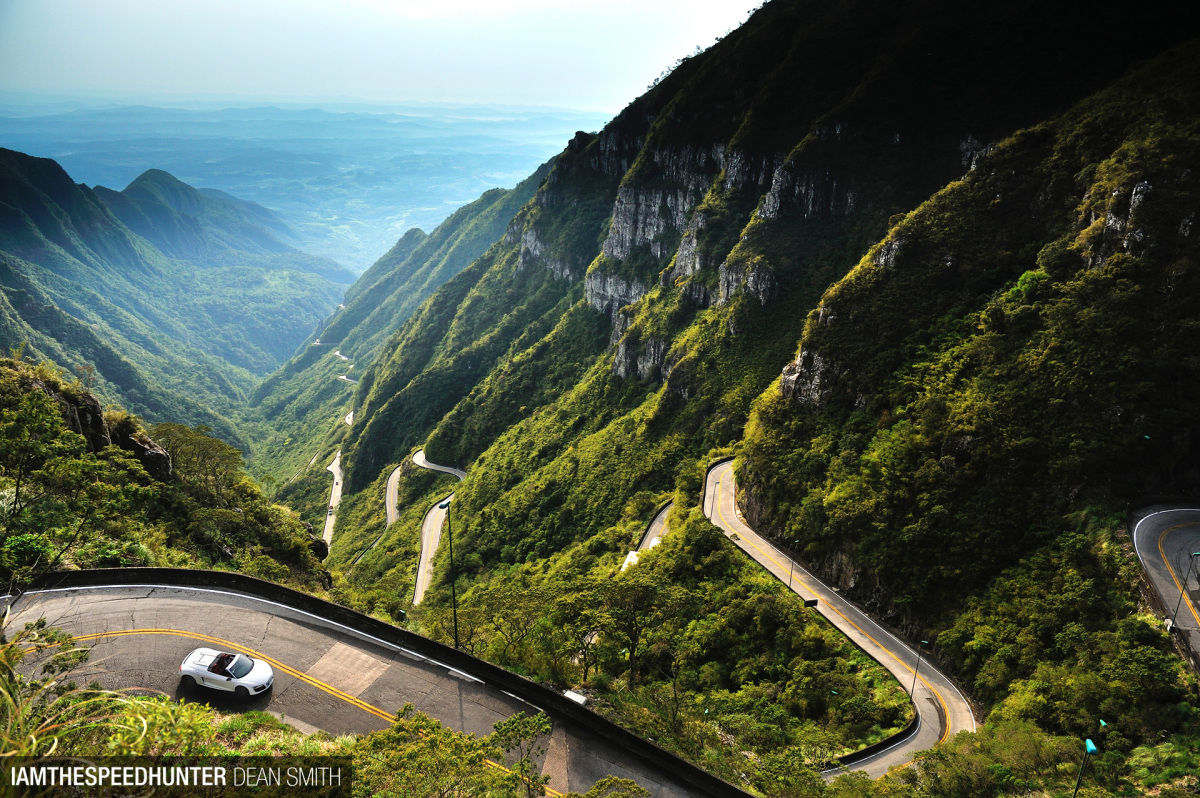 Over the years, Dean's style of shooting has developed into one of the most instantly-recognised in the motoring industry and has become the 'Evo way' of photographing cars. It's one that's often emulated by much of the motoring press. I'm talking big vistas, grand scenic shots, dynamic motion and the sense of being behind the wheel of an exciting car on the open road.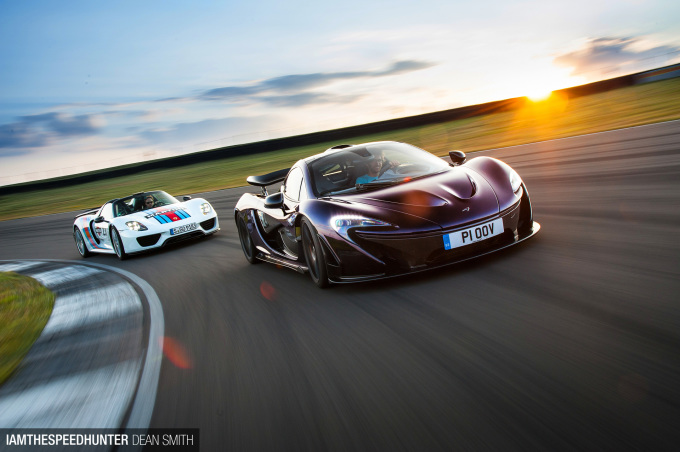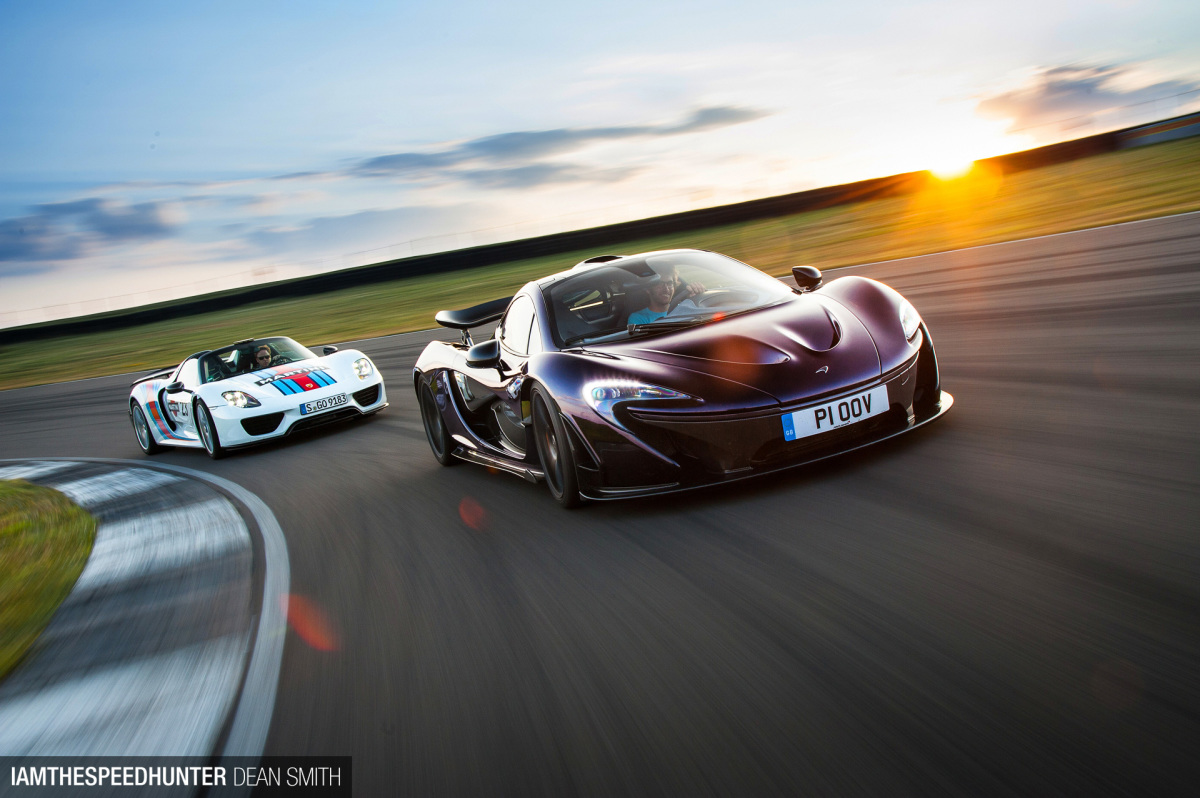 These are all trademarks of his style of photography. Coupled with exotic machinery, great journalism and thrilling driving, it's clear to see why Evo is held in such high regard by so many.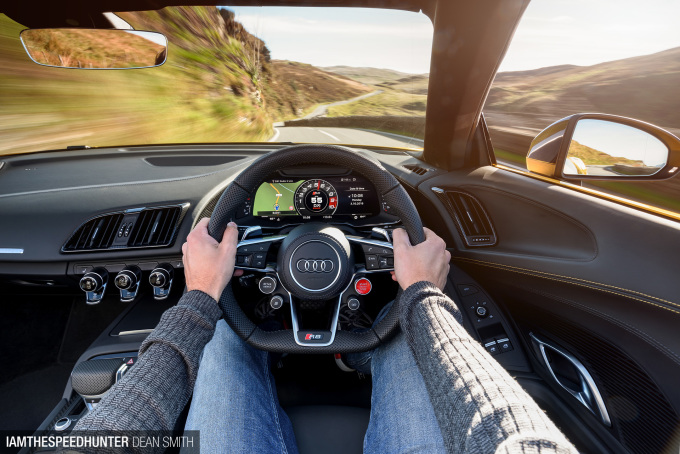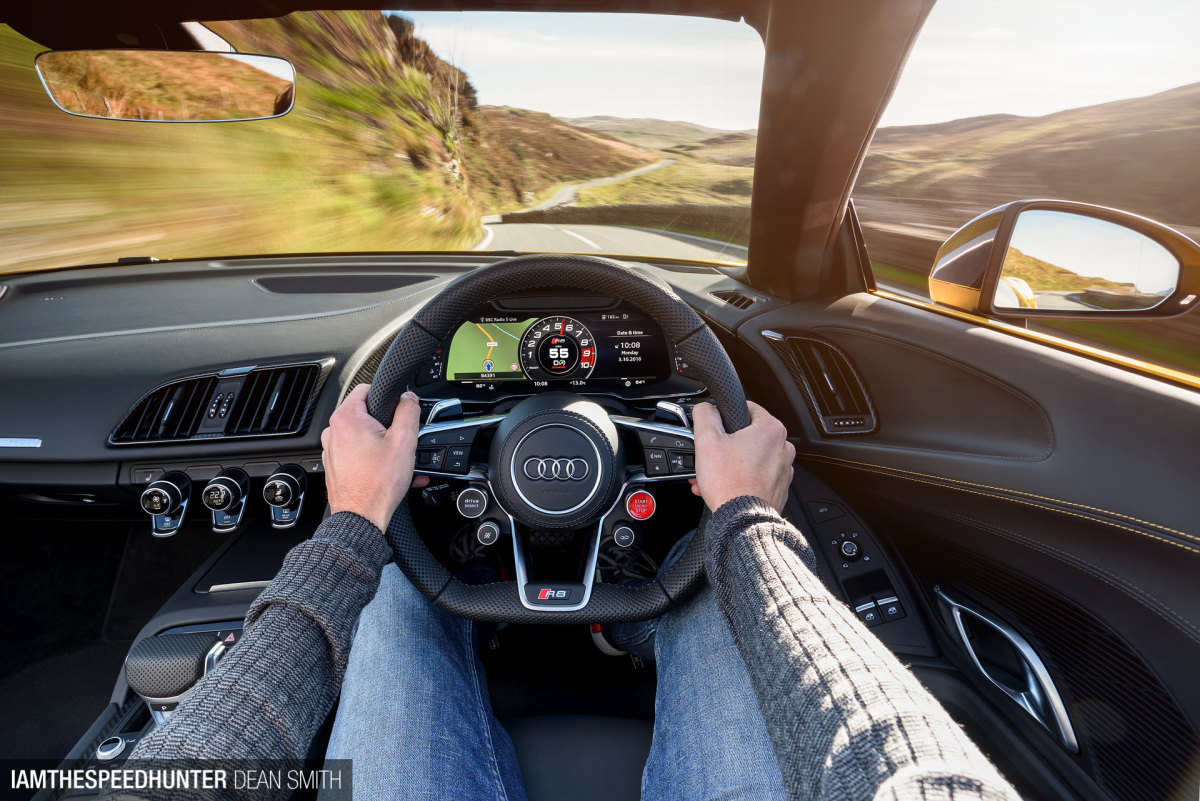 More recently, Dean made the move to go freelance, and alongside his continued work for Evo, he also takes care of press photography for Audi UK. Having known Dean personally for a few years now, I was lucky enough to be invited along to assist on one of these jobs, and while press shoots differ from his work for Evo in many ways, I thought this the ideal chance to give Speedhunters readers a chance to see what goes on behind the scenes of a professional automotive press shoot, and exactly what goes into the creation of the images that you see in many motoring magazines and newspapers.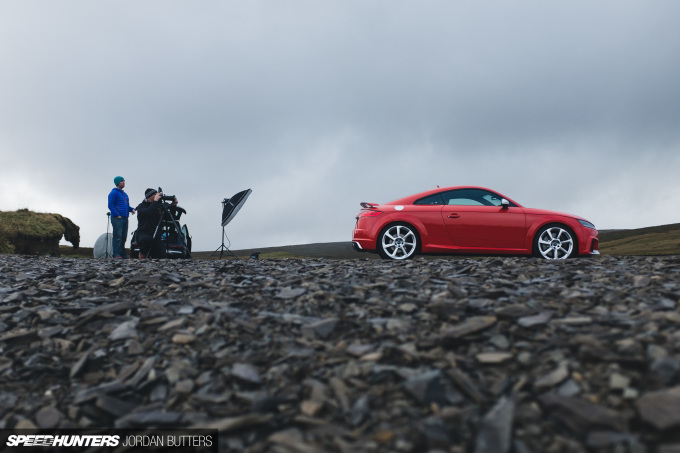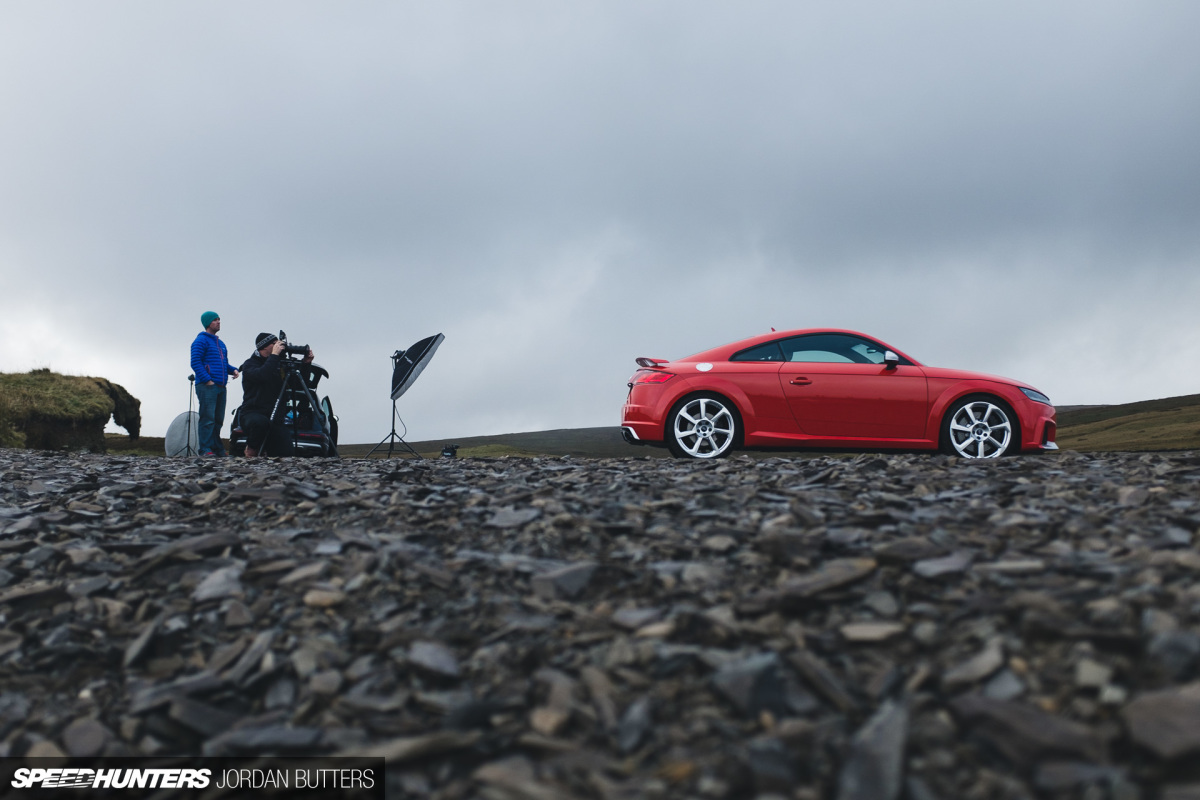 If you've no particular interest in photography or the process behind it, then I appreciate this feature might not be for you, but I hope those of you who have, or who aspire for a career in the industry find it informative.
As much as I enjoy being behind the lens myself, I always appreciate assisting as well; not only do you get to collaborate on work with another photographer and spend some time in like-minded company, but it's also a great learning experience. No two photographers do things the same way and there's no right or wrong way to get to the final results, so picking up new techniques simply adds more tools to your bag of tricks. There's also the old adage that two heads are better than one, and bouncing ideas and suggestions around is common practice on these shoots. There's a strong teamwork mentality in making these jobs a success within the limited timeframe given.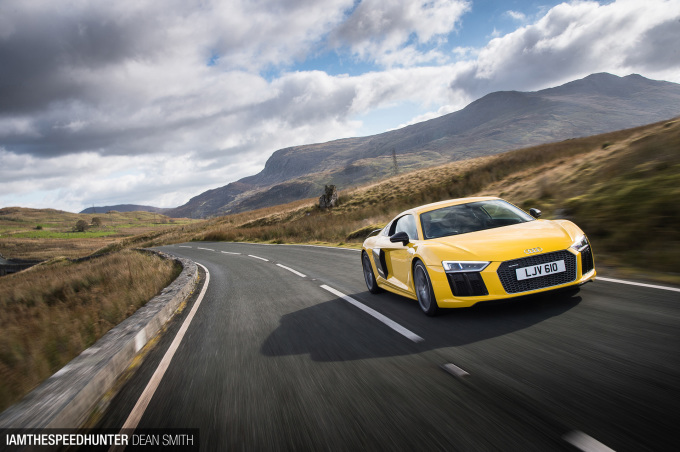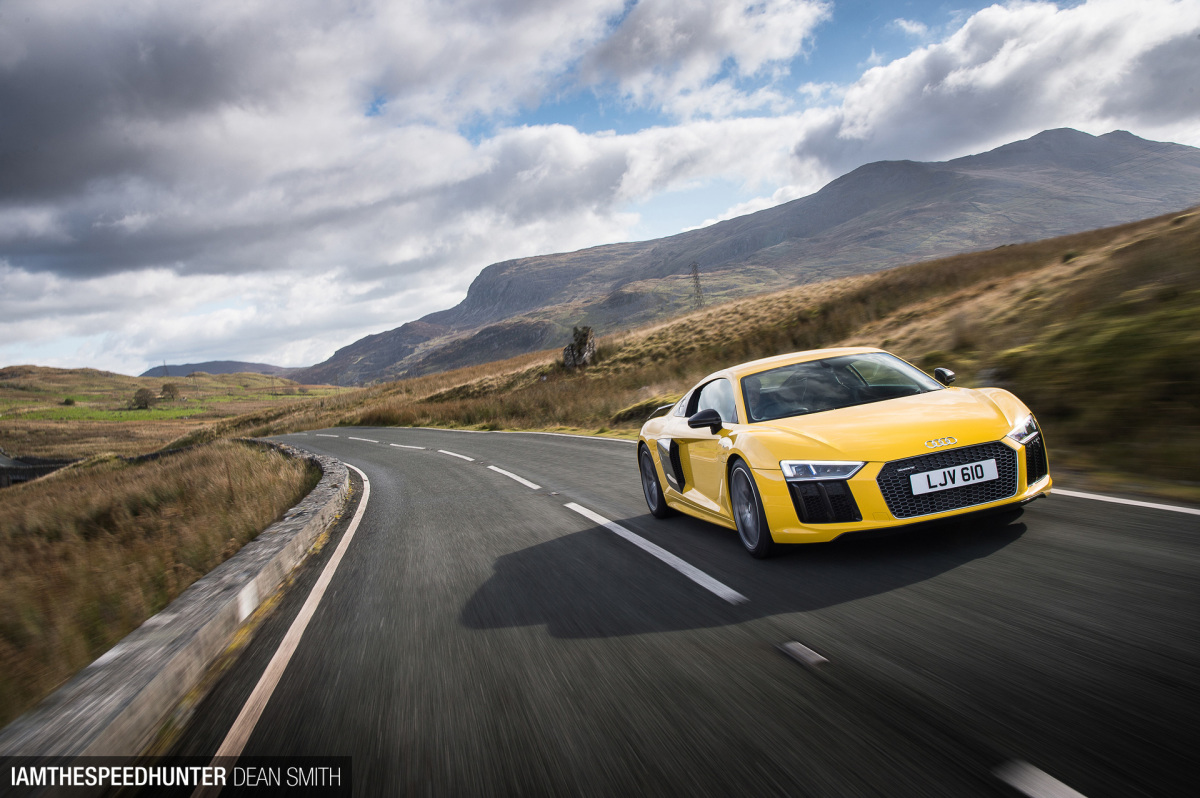 First a little background information on what exactly constitutes a press shoot. Typically, automotive manufacturers will commission different types of imagery for different purposes. There will be one set of images commissioned for use in brochures and commercials, different images commissioned for use on the web and social media, and then images commissioned for use in the automotive and wider press, such as in national newspapers, and on motoring and more general news websites. Each set of images is often aesthetically very different from the next, carefully tailored to suit the audience that will receive it.
While commercial images might typically be shot using a large crew, or multiple lighting setups in a studio, or perhaps on a closed location set, press images tend to be shot in a much more low-key manner, and in a real world setting. They're made available to journalistic outlets that don't employ their own automotive photographer, or don't have the resources to be able to shoot their own images to accompany the road test or review. For this purpose they need to look as if they've been shot during the journalist's road test.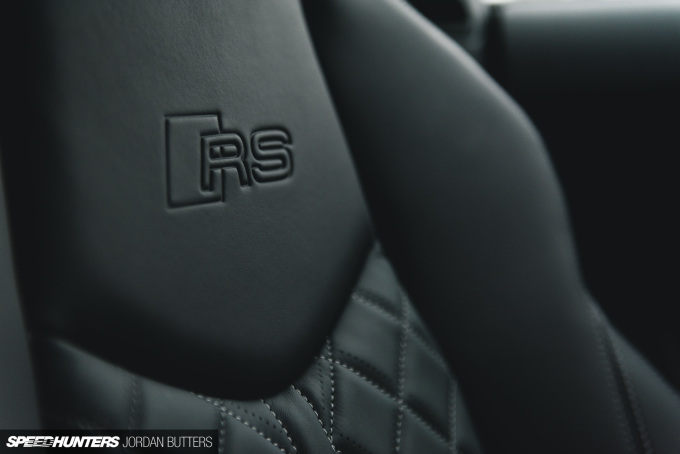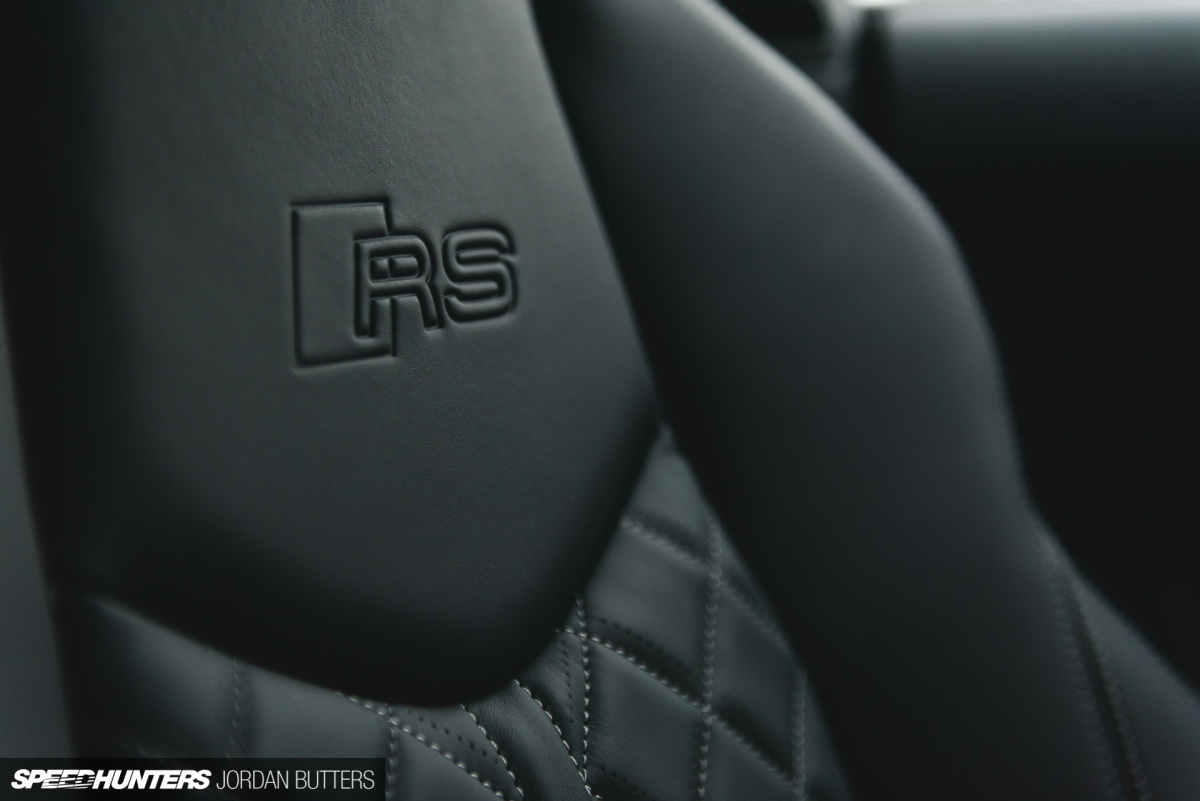 Audi's RS models, such as the RS3, R8 and TT RS, are marketed at those looking to enjoy performance driving on the open road, and Dean's style of shooting suits this brief down to a tee. There's also an air of quality about Audi's products, so the results of Dean's efforts have to reflect this.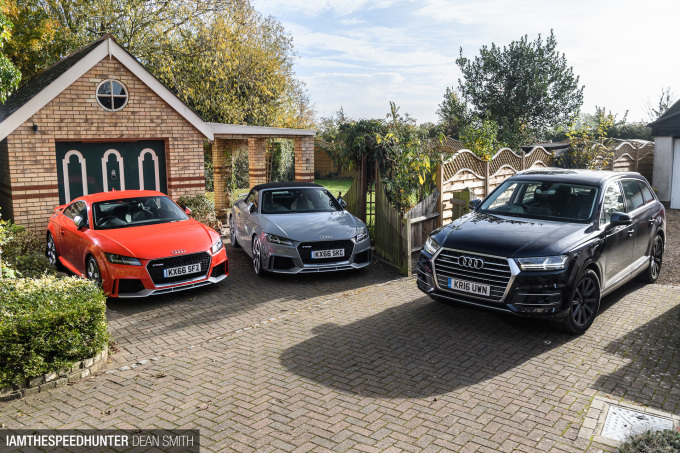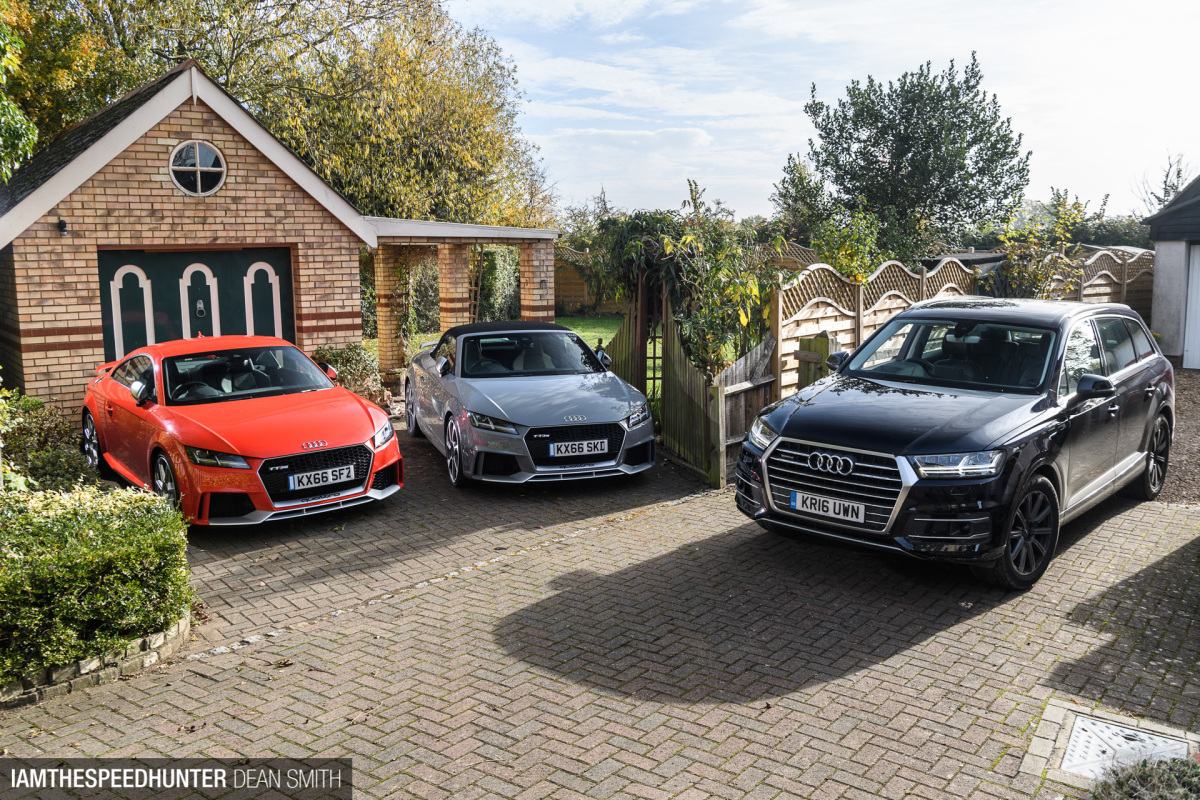 It all begins with the arrival of the cars the day before our shoot. The subject this time was the new Audi TT RS. Audi had sent Dean two models to shoot – a Catalunya Red coupe and a Nardo Grey roadster, along with a Q7 to cart our kit around and act as a camera car.
Time is usually pretty tight on these jobs. They usually take place over two days, which might sound like plenty of time to grab a few images, but in reality between travelling, finding locations, cleaning cars, waiting for the right light, cleaning cars, dealing with traffic, cleaning cars, setting up and cleaning cars, it's quite a tight time schedule, especially at this time of year when daylight hours are vastly reduced. Plus, we need to allow time to clean the cars, too.
I would be driving the red coupe, while Dean's friend Lee would be joining us to drive the roadster. Cars collected, we went our separate ways ready for the next day's shooting – it was going to be an early start.
An Eye For Detail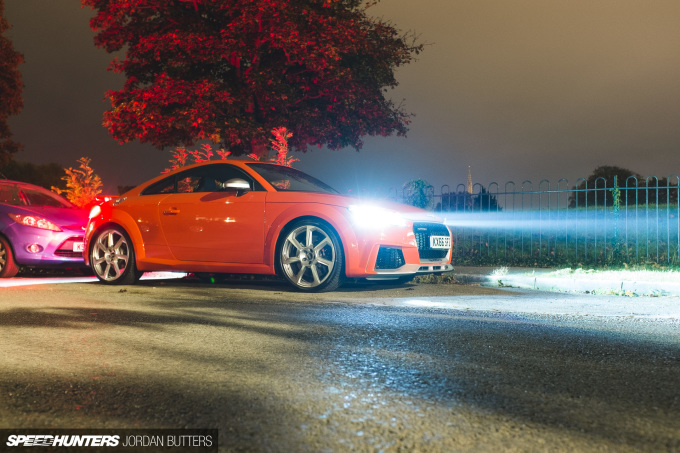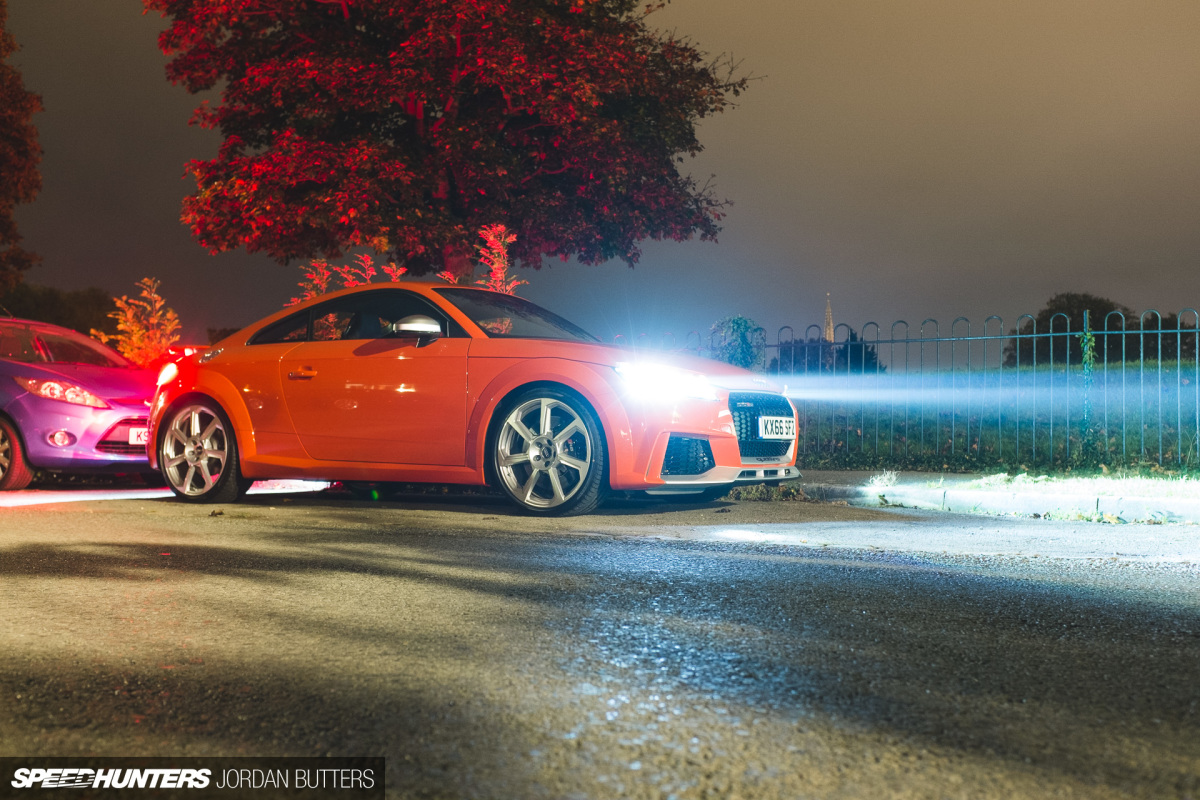 The day started at a ridiculous hour, as I quickly and quietly got ready, exited the house and loaded my kit and overnight bag into the back of the Audi. The pre-programmed pops and crackles of the exhaust did their best to wake the neighbourhood as the TT RS sparked to life, so I made a swift exit and headed for the M1 motorway.
After a quick pitstop to grab a much-needed coffee and to meet up with Dean in the Q7 camera wagon, we hit the road again and made progress across the country under the cover of darkness. Quite often the cars we're shooting are some of the first on UK roads, so they draw attention from the odd knowledgeable early riser along the way. It was a three to four hour drive over to our shoot location, and this jaunt across the country offered plenty of time to get comfortable with all of the cars. There was a good mixture of motorway and B-roads too, so plenty of variety upon which to acclimatise.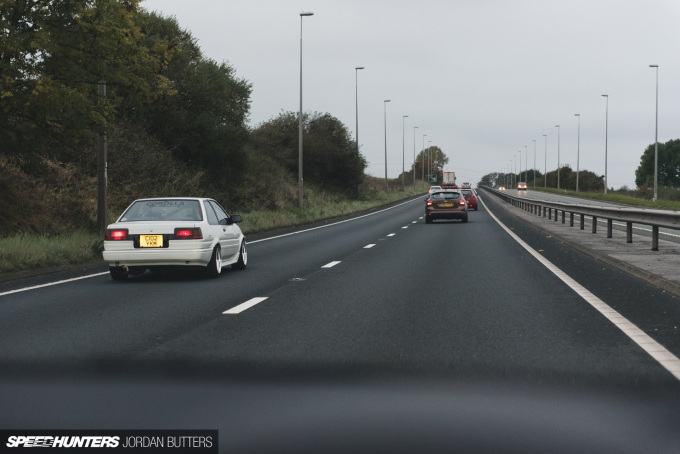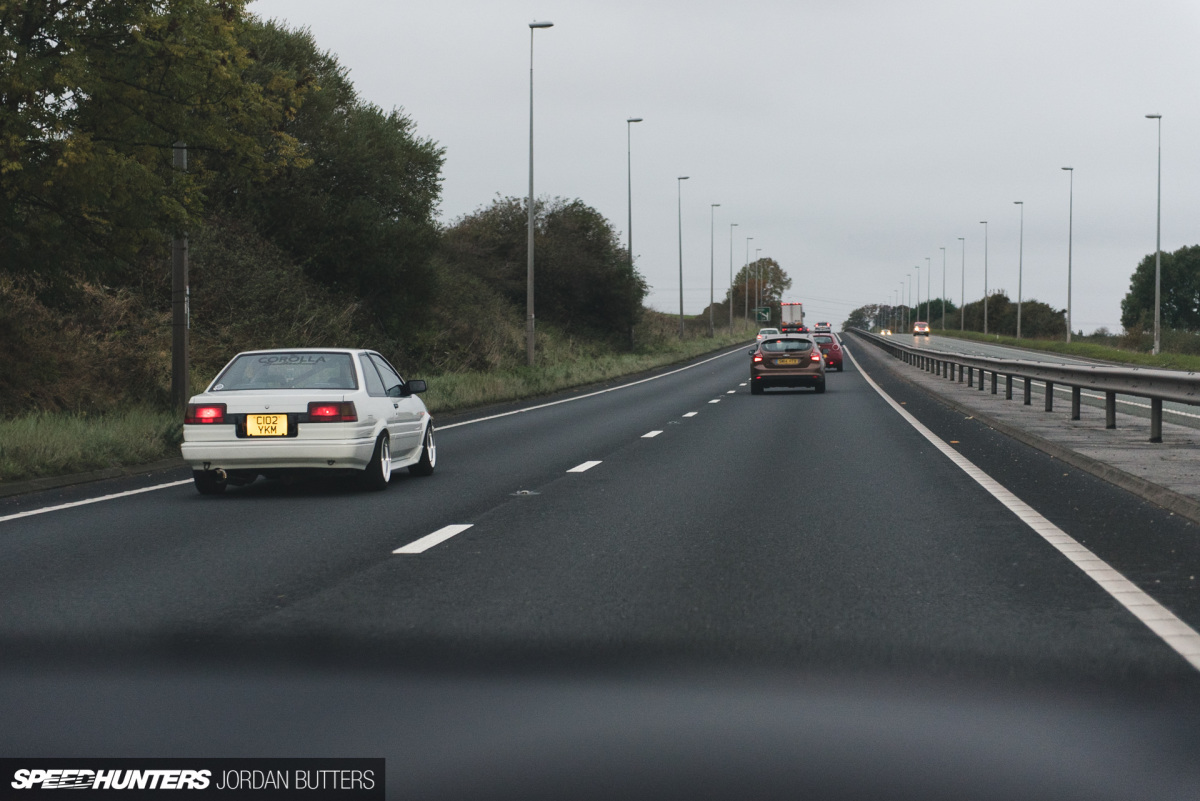 Our destination was North Wales – Snowdonia to be exact. The area offers some of the best driving roads in the UK as well as some astonishingly picturesque scenery. It's the perfect setting for the car and a part of the world that Dean knows like the back of his hand. By complete coincidence, I ended up passing my buddy Rob in his gorgeous AE86 road car on the motorway as he mades his way to a drift event at Anglesey. Rob also owns another, pretty insane, track-focused AE86 that I'm hoping to feature soon for you.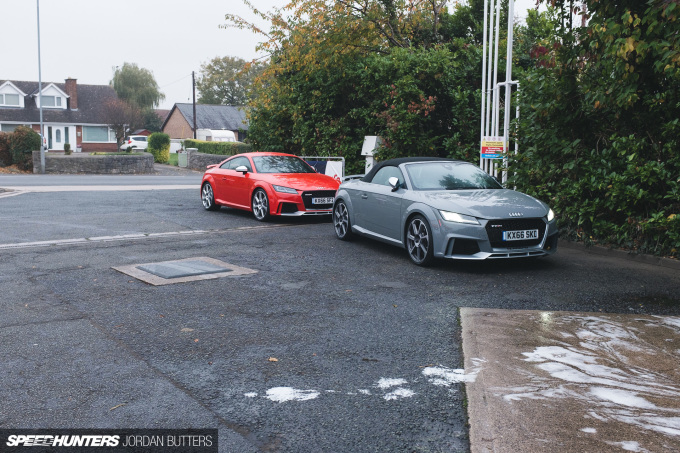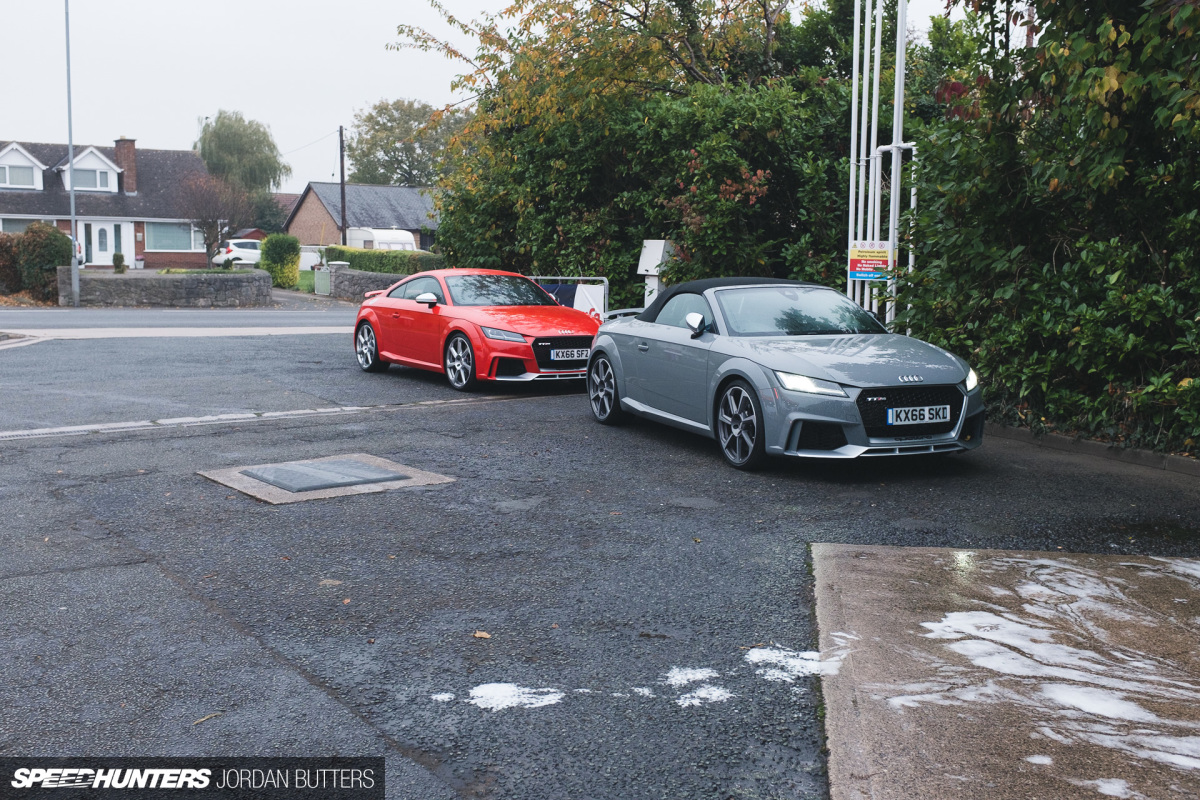 A few hours driving and a couple of hundred miles later we arrived in Denbigh at the first of several fuel stops throughout the trip. Moments later the other TT rolled into the forecourt as Lee arrived.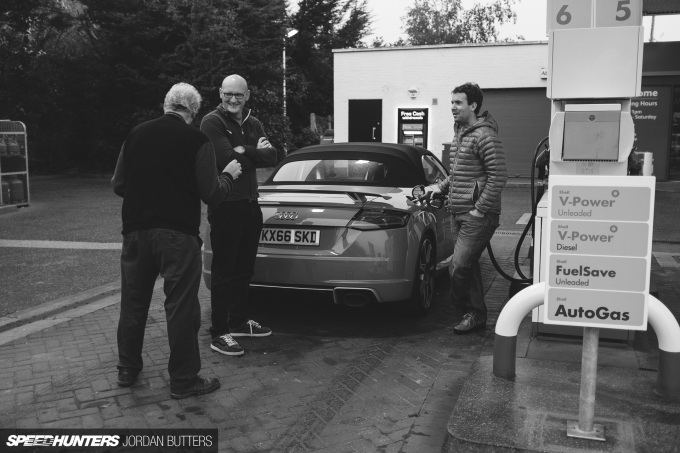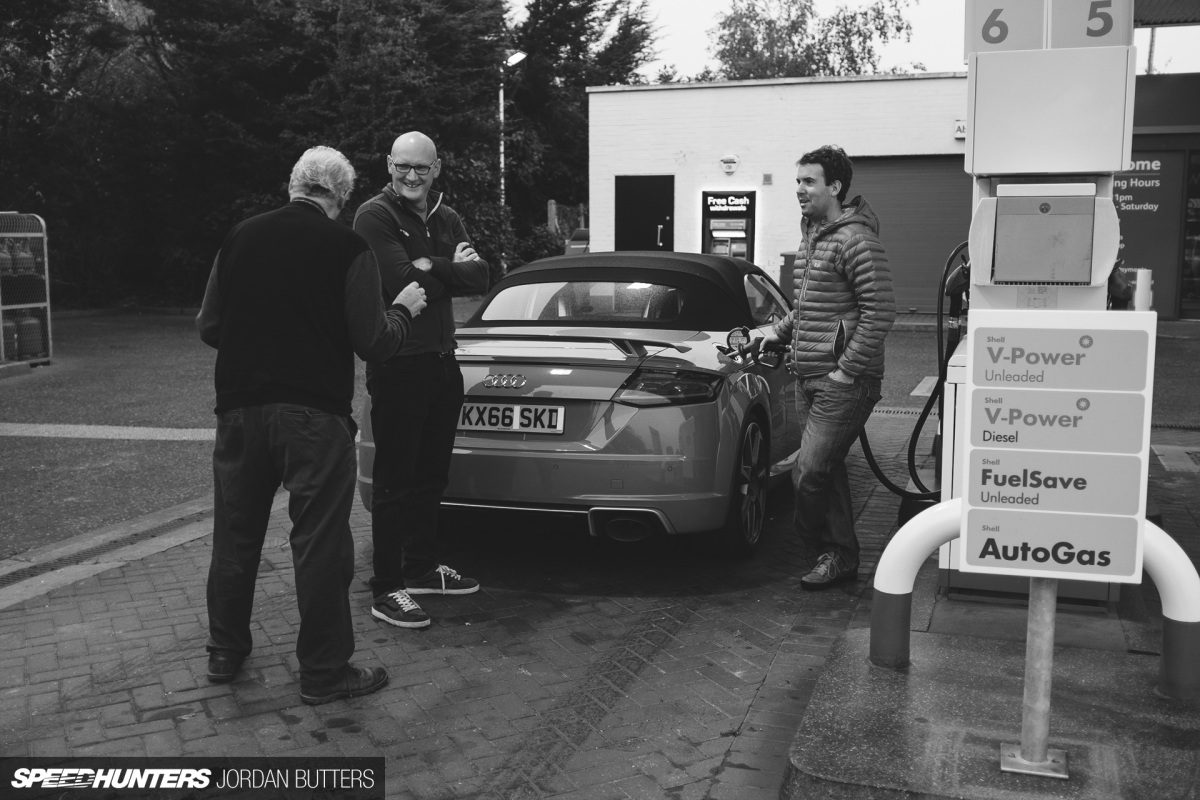 An elderly but eagle-eyed Audi TT fan spotted the new model and headed over for a brief chat about the car. It turned out he owns a first generation model which he only brings out in good conditions. No matter where you are you can always find a petrol head!
Refuelled, with a stock of snacks and drinks acquired, Dean formed a plan for the day while we still had mobile signal. Unfortunately, it just so happens that we were in the region during the Wales Rally GB, which dictated our movements due to road closures and increased traffic in the area. A mud-flapped Ford Focus RS screeching onto the forecourt reminded us of this as its bobble-hat-wearing rally fan occupant stepped out.
With this in mind, coupled with the unpredictable and often miserable weather in the area, Dean decided that we should spend the first day getting the boring, time-consuming stuff out of the way first by shooting all of the small detail images and some static shots in a quiet location.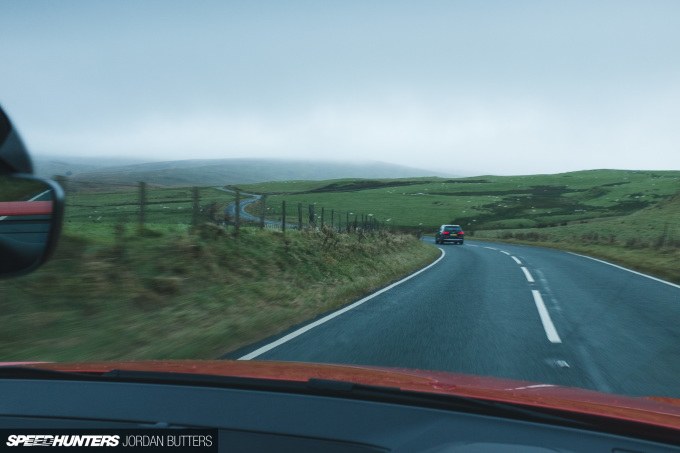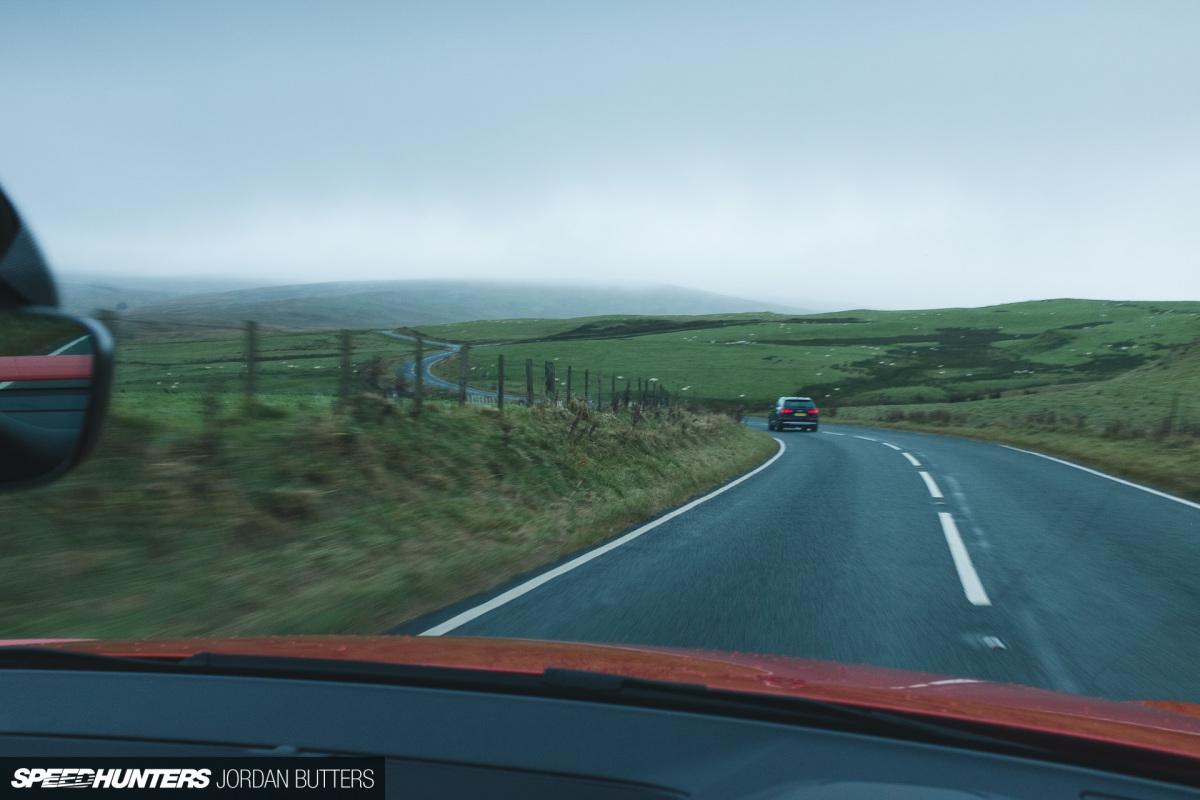 A brief hop over to the infamous 'Evo Triangle' (a collection of roads used for road testing by Evo and subsequently many other motoring titles) and we found that our original planned shooting location was already occupied by eager rally fans in tents and camper vans. Onto plan B, as Dean guided our convoy down a narrow and winding track to a reservoir he knew of. With the water levels low, the plan was to drive onto the lake bed and shoot undisturbed for most of the day.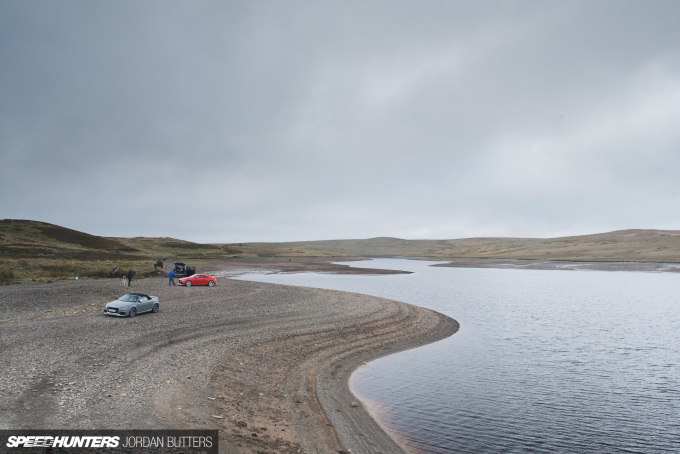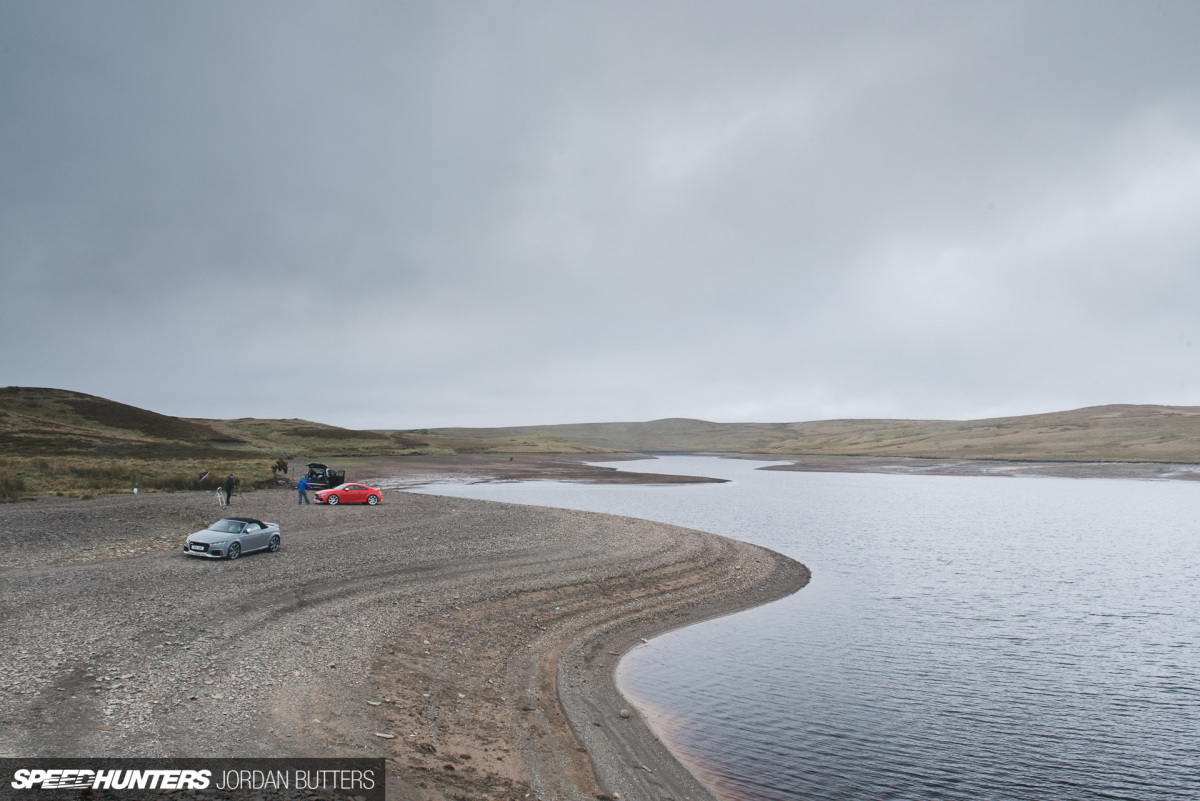 How cool is this for a nice quiet location? If you didn't know it was here you'd never find it. Kit unpacked, Dean decided to shoot the red TT that I've been driving first, and we started cleaning the car – the first of many times over the next two days!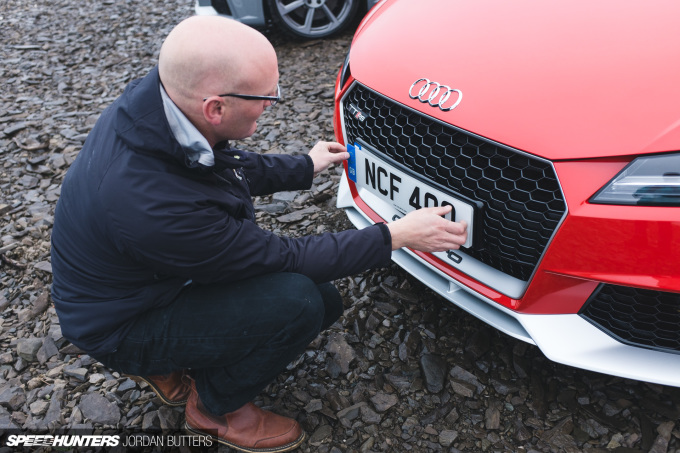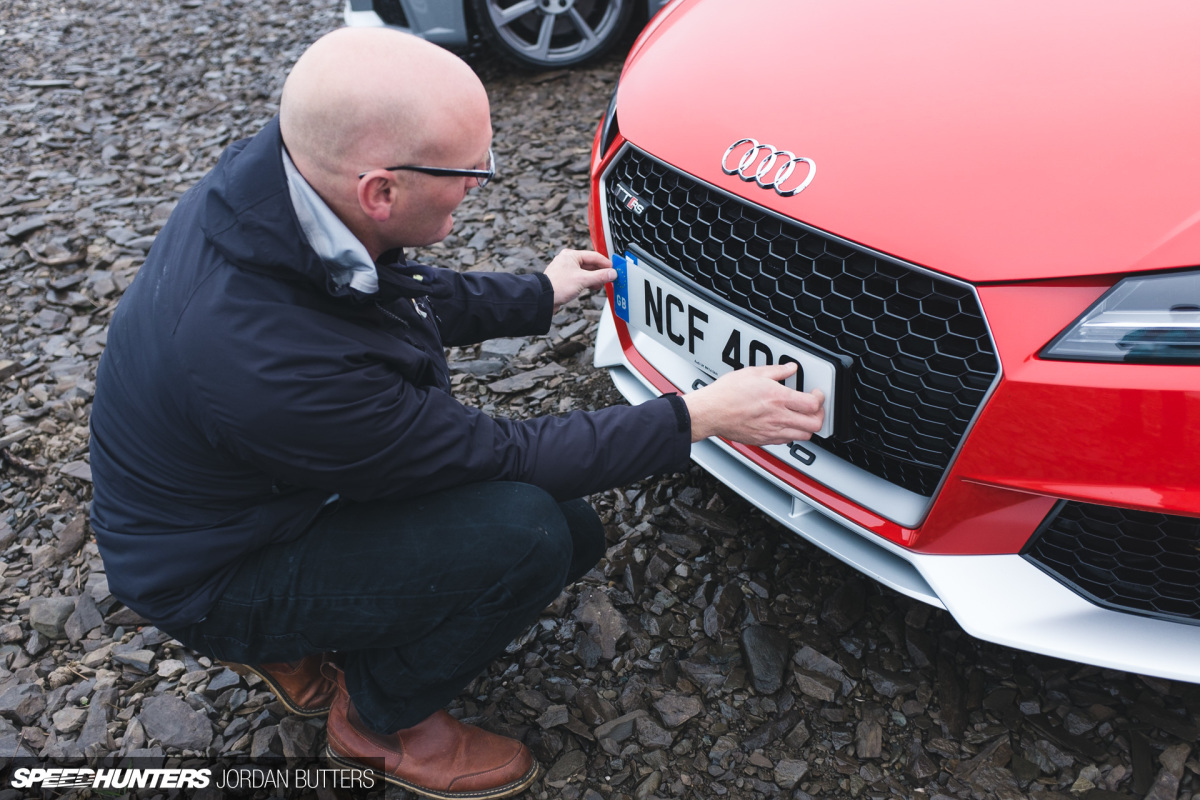 It looks dodgy but it's really not. False plates without age-specific markings are used whenever the cars are photographed, so that images shot now in late 2016 (with the '66' registration), can be reused for the next few years without looking old or out of date.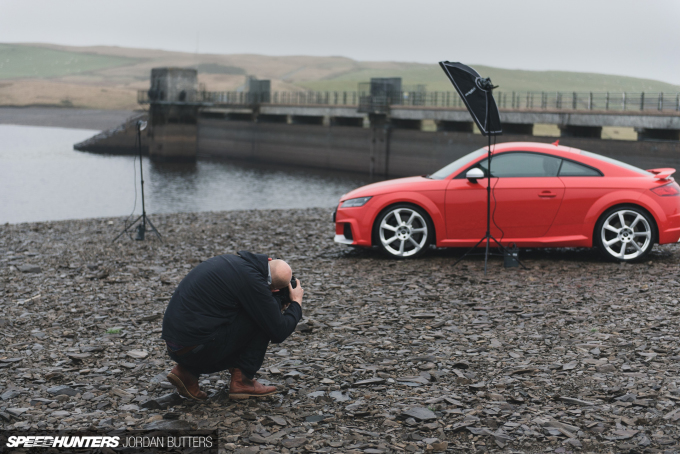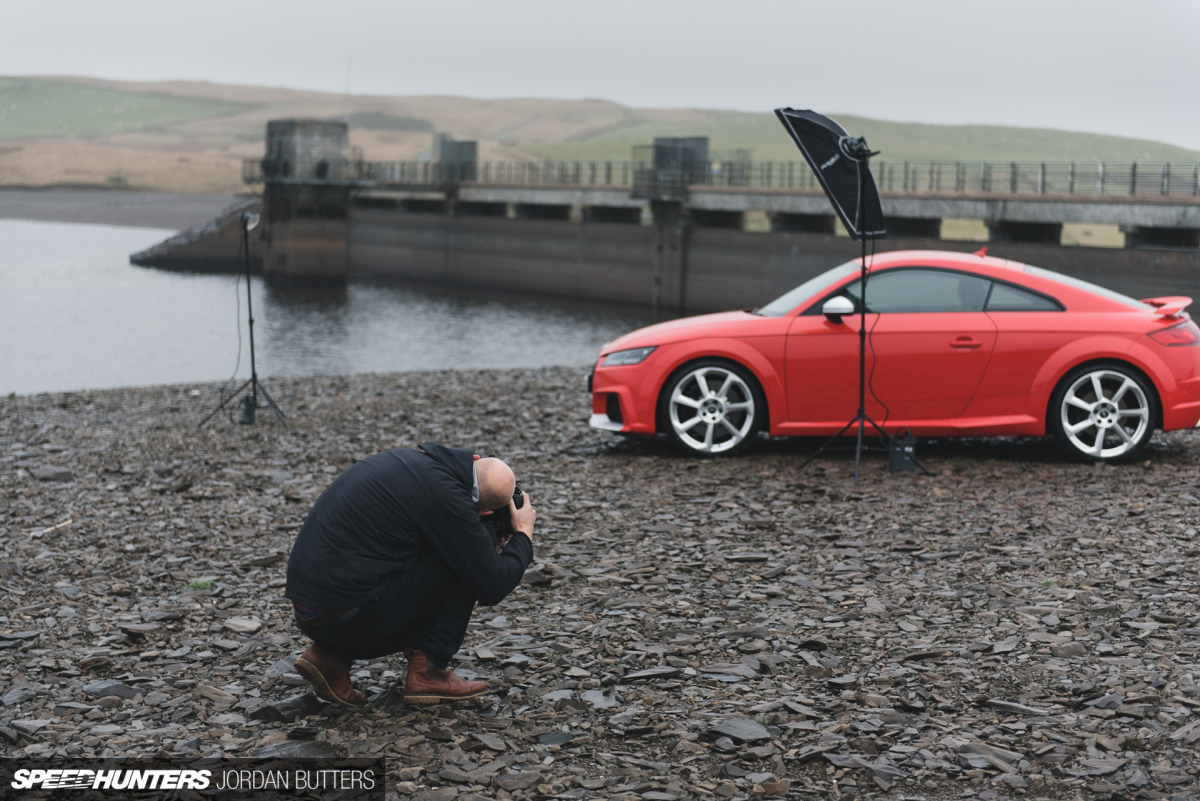 Working to a shot list, Dean made his way around the exterior of the Audi, shooting the details that you'll see used small or inset in the press; things such as wheels, brakes, badges and lights, as well as any styling cues unique to the model, like the silver accents in this instance.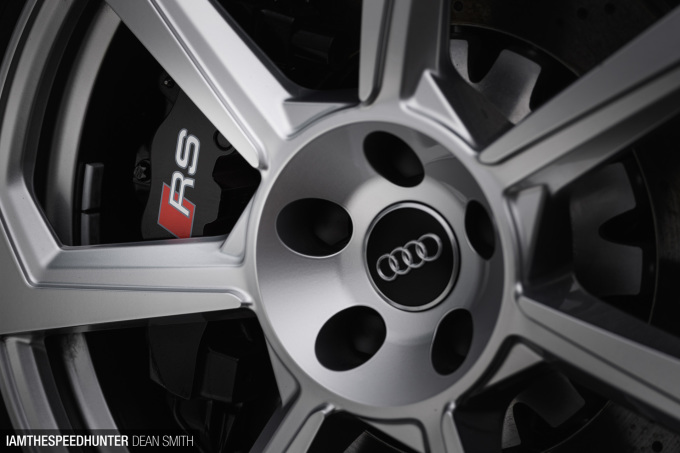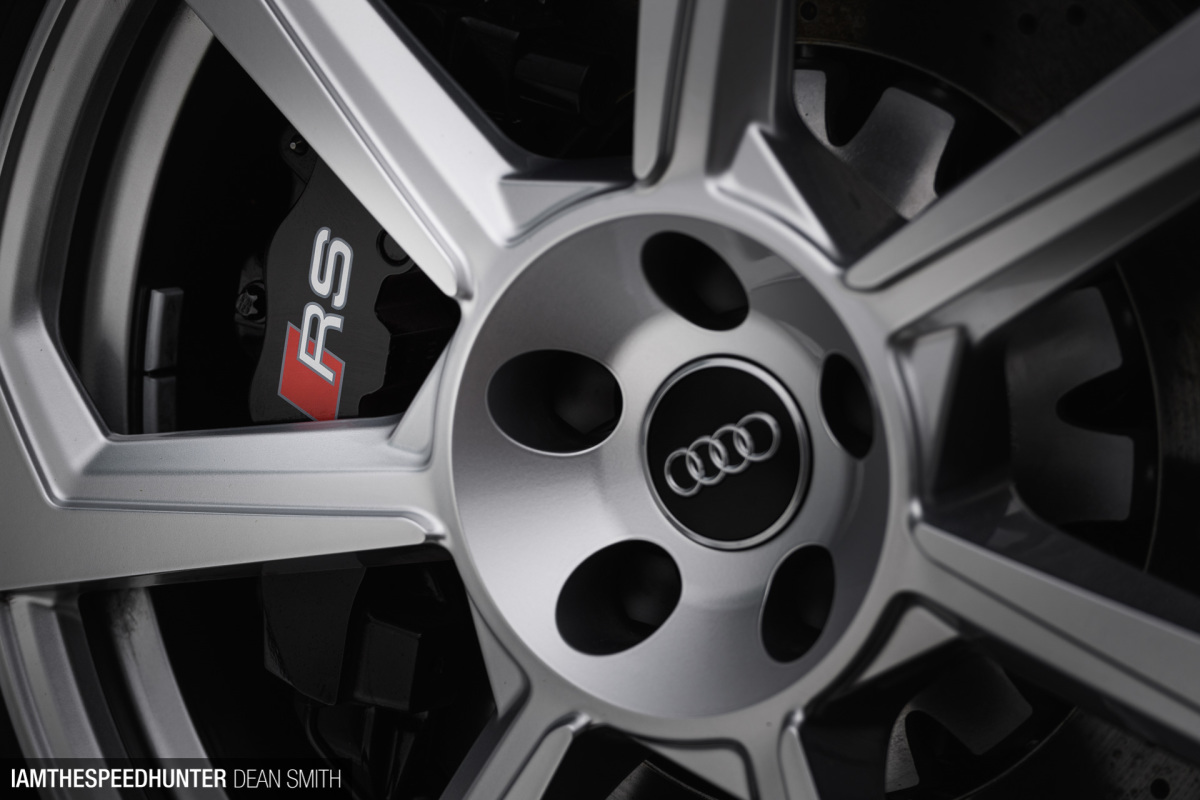 Those thinking that you need fancy studio lights or an elaborate setup to shoot cars, think again. Dean occasionally uses a location flash with a strip softbox, and maybe a second light to add shape, however his single favourite lighting accessory is the humble reflector. While Lee cleaned up the grey roadster I assisted Dean in keeping the fine mist off the parts he was shooting, moving the lights into position, adjusting the power as needed or simply directing some fill light using the reflector.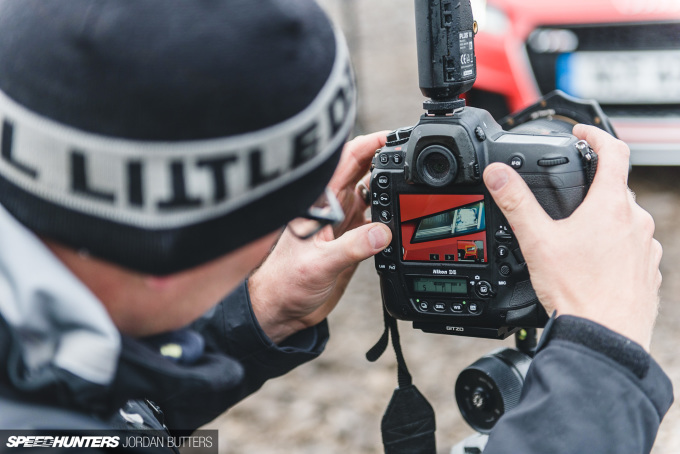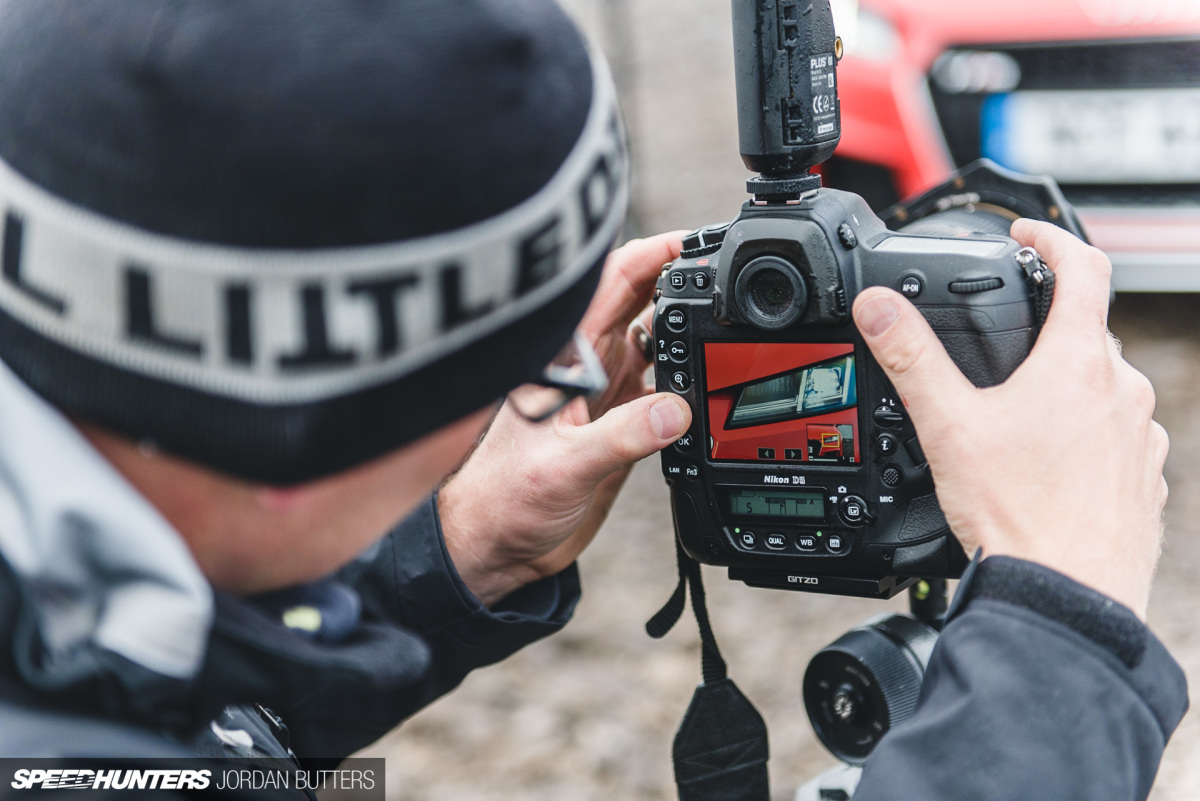 Each shot is carefully assessed for sharpness and any dirt, distractions or reflections that might detract from the image. These images will be distributed by Audi UK to the motoring and general press, so it's important that quality control is super stringent at every stage in the process.
Dean's ethos is very much getting it right in camera, with minimal cloning and editing done afterwards. It's a way of thinking that resonates well; it's better to spend longer out shooting in the real world over time spent in front of a computer screen.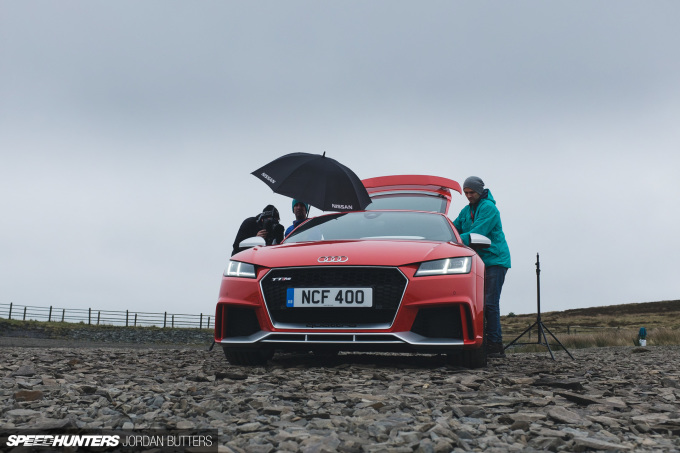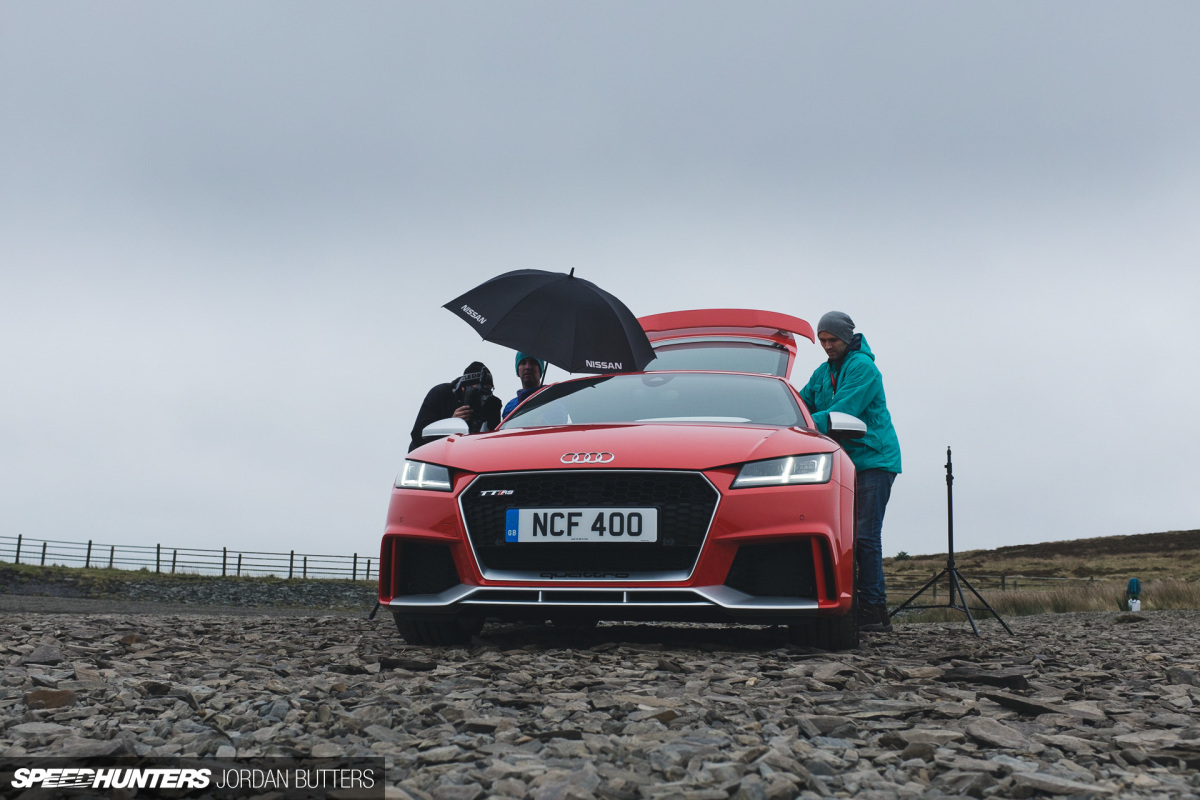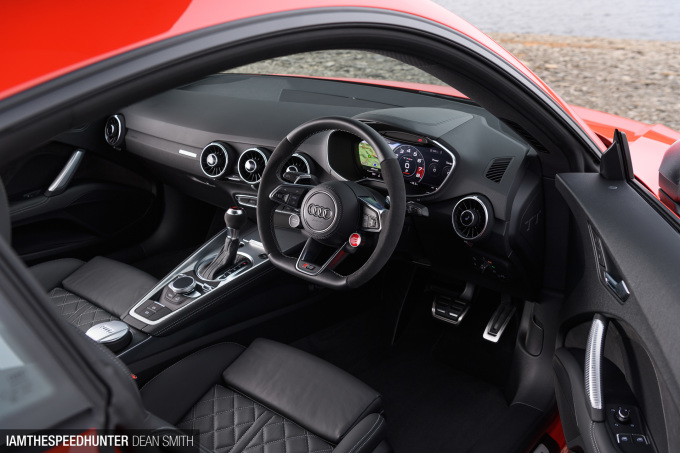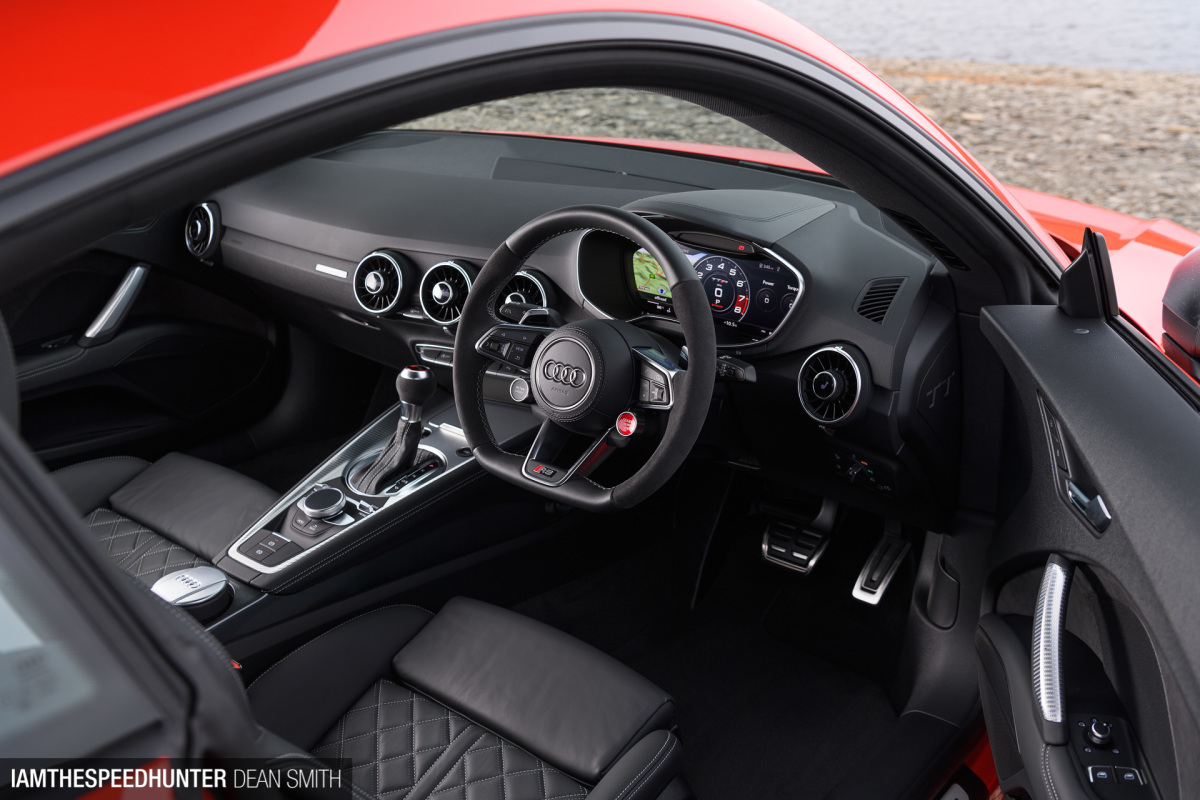 The details need to be carefully considered when shooting the interiors too, because there's more to miss than when shooting the exterior. That includes not only making sure there's no obvious footprints on the mats, or dust on the dash, but also that the digital displays are showing the right things. For the RS models this means switching the display to something like power and torque meters rather than fuel consumption figures, and ensuring that there are no warning messages or lights on.
Even things as mundane as the rear bench and boot have to be composed, lit and shot to look as good as possible. How do you make boot space look sexy?! You can spend up to 10 minutes just trying to get the lights in the right place to make it look half interesting for one frame.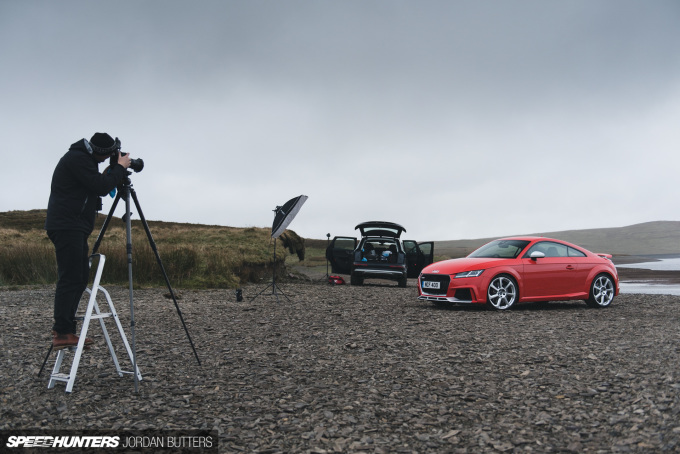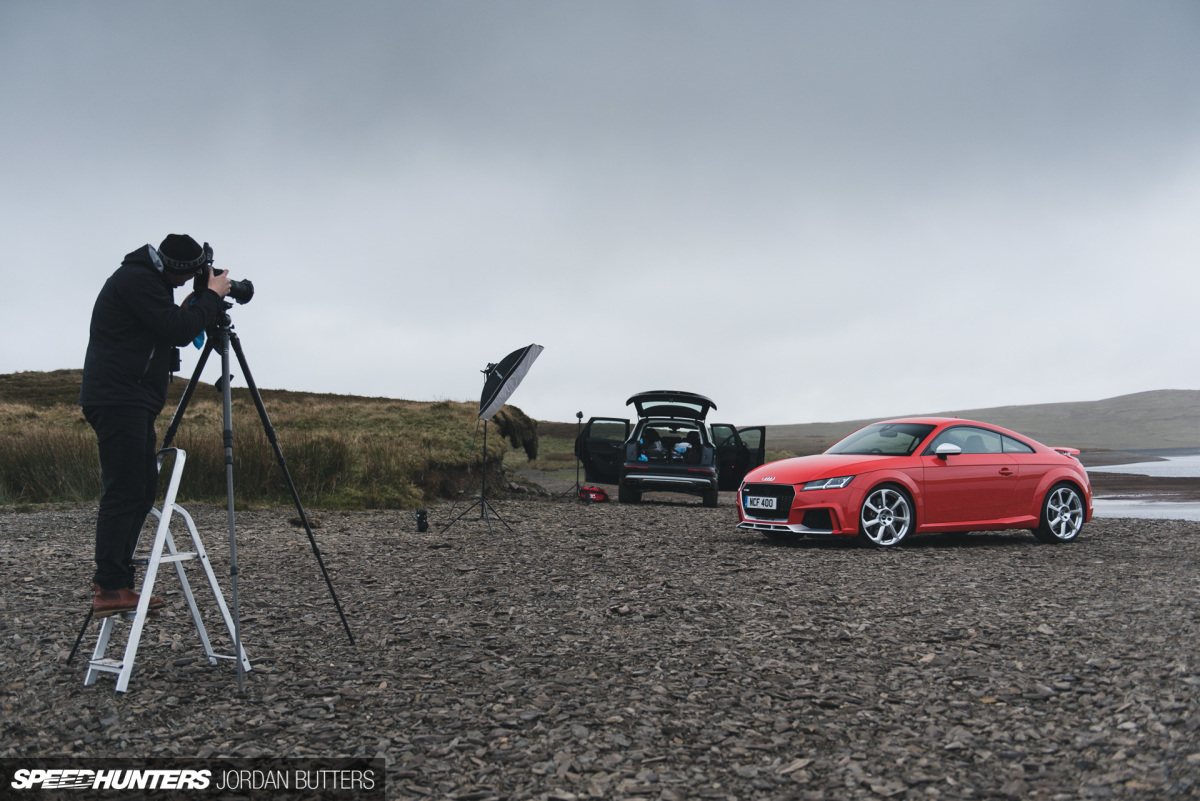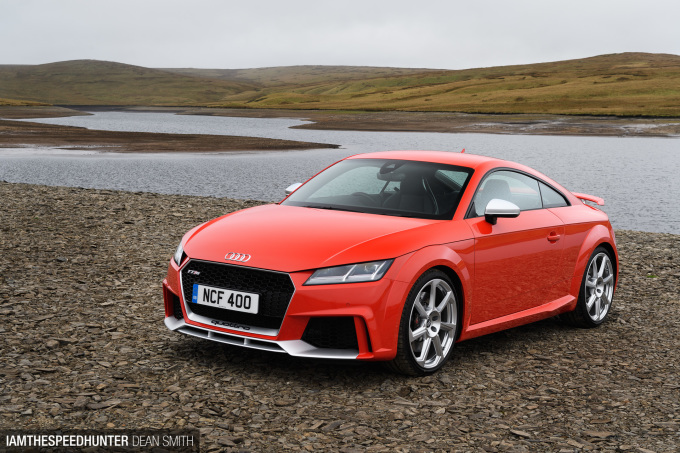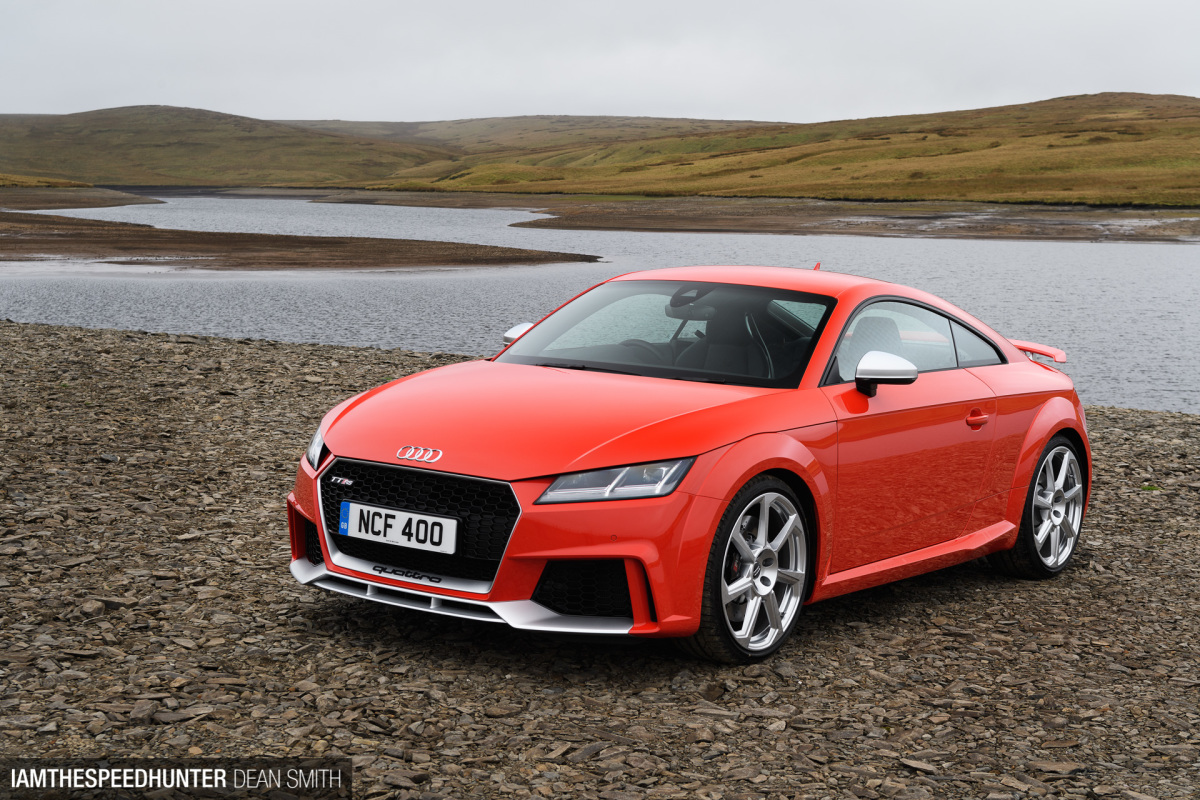 Details wrapped up, and with the mist and rain lifting, Dean made use of the stunning location to shoot some static shots of the red coupe from a variety of angles. By mid-afternoon on day one we'd made good progress with all but the action shots of the coupe done.
As Dean and Lee got to work on yet more cleaning in preparation for shooting the details on the grey roadster, I retreated to the nearest civilisation for more coffee and snacks. It was also a good chance to try out the TT on some fine roads. If you live in the UK and have never treated yourself to a drive around Snowdonia and the surrounding areas before then I implore you to do so – you'll struggle to find better driving roads this side of the Scottish border.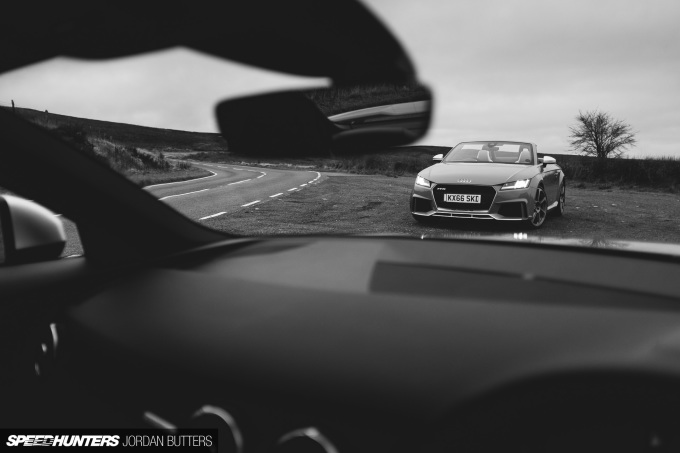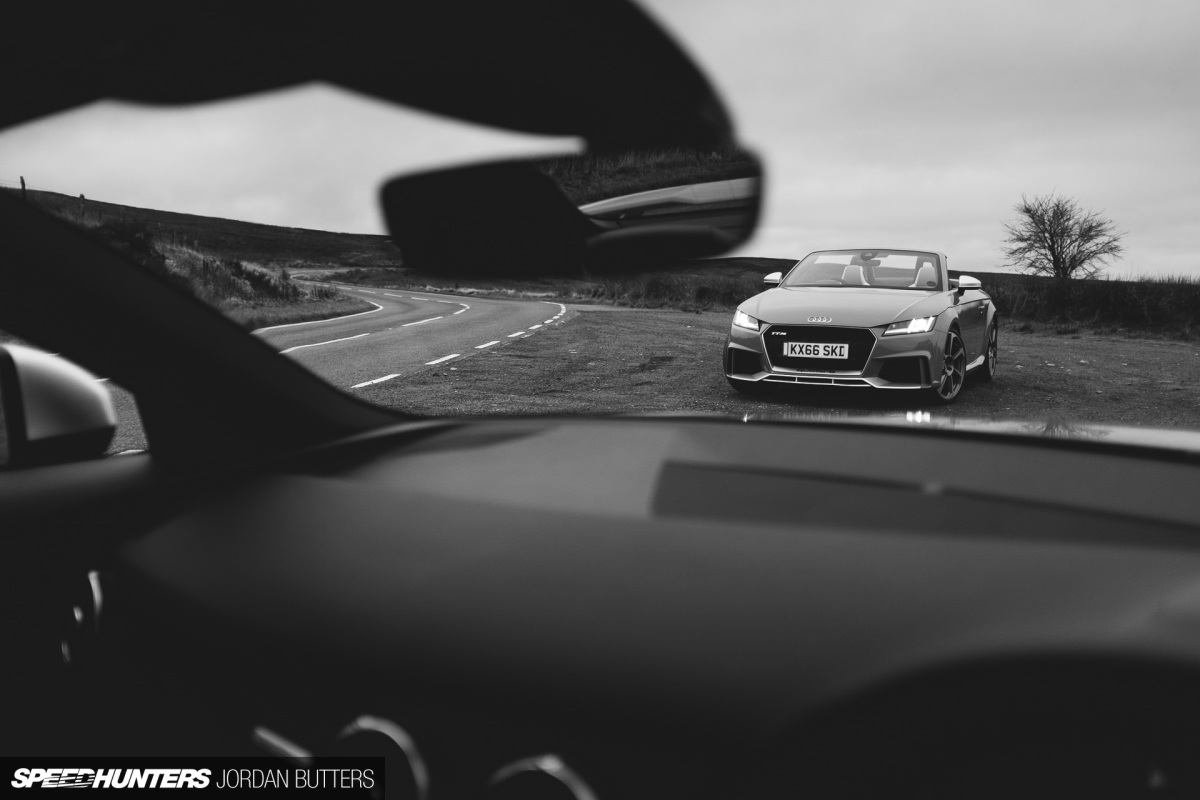 It was approaching the end of day one by the time I returned and Dean and Lee had got all the details in the bag and had moved on to a second location nearby. The aim was to shoot the statics of the grey roadster with the road winding off into the background, however the light and weather really weren't playing ball, and it was getting dark, fast. The weather changes so quickly and drastically here that regardless of how bleak it looks it's always worth being in position ready to shoot just in case you get a moment of direct light, or an interesting sky. You only need a couple of hundredths of a second!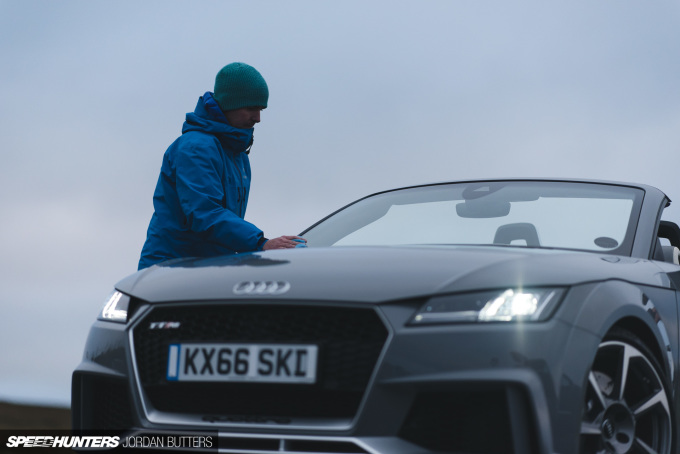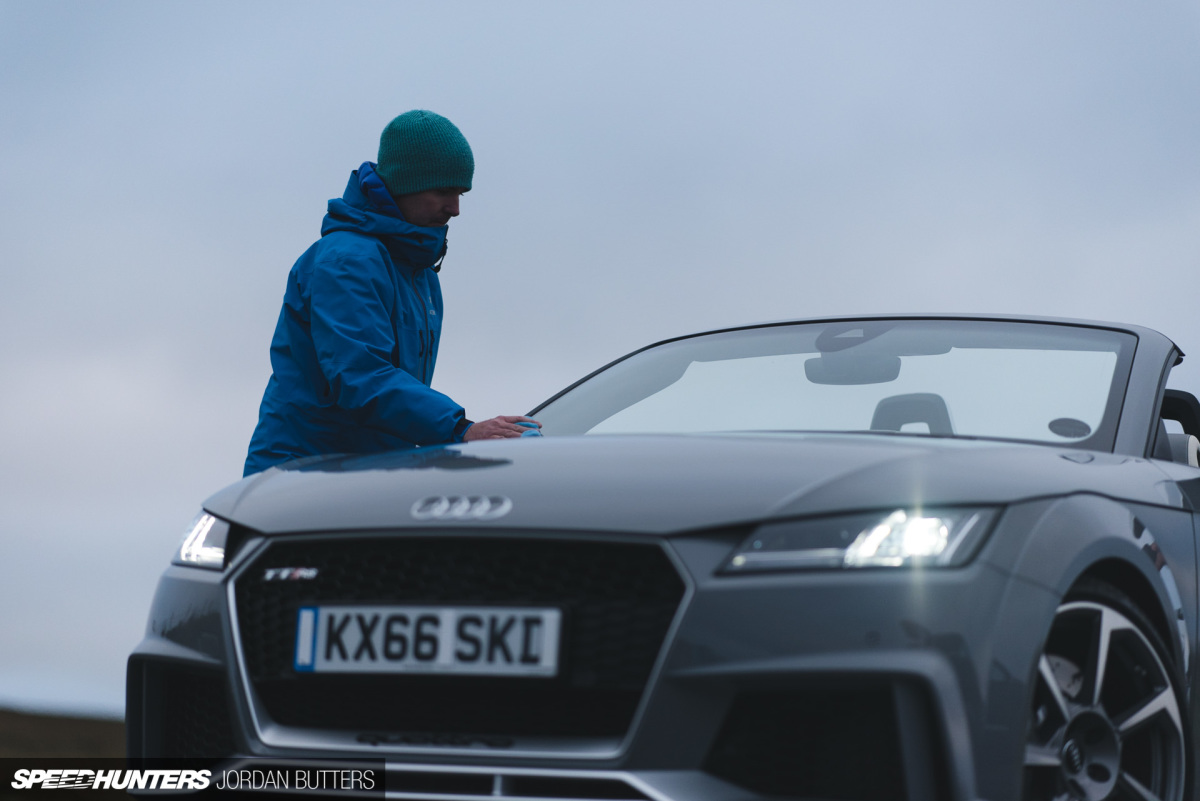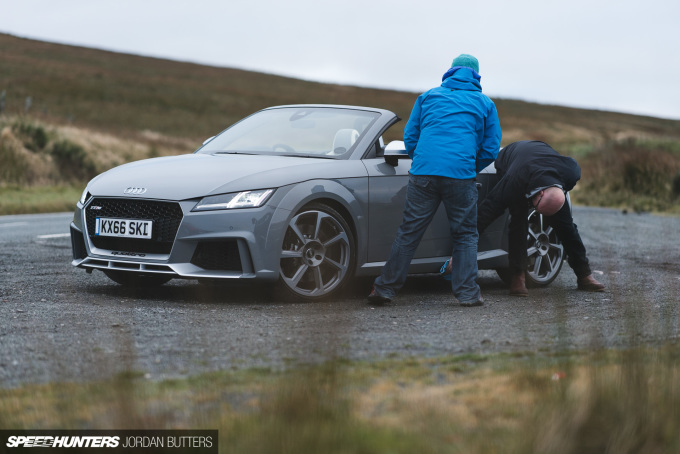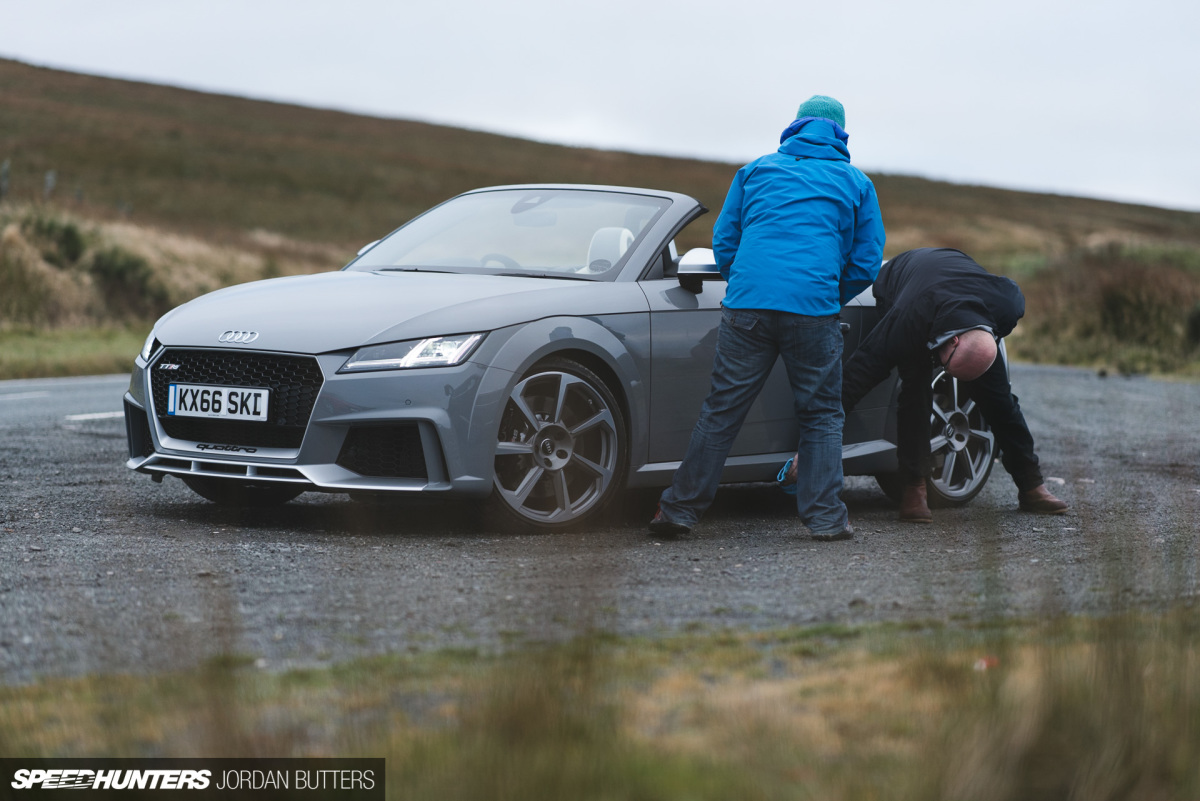 Once again we found ourselves cleaning cars in a layby while we waited for the light. Dean checked the forecast and direction of light, along with the sunset position, but it wasn't looking likely that we'd get the cloud break we needed.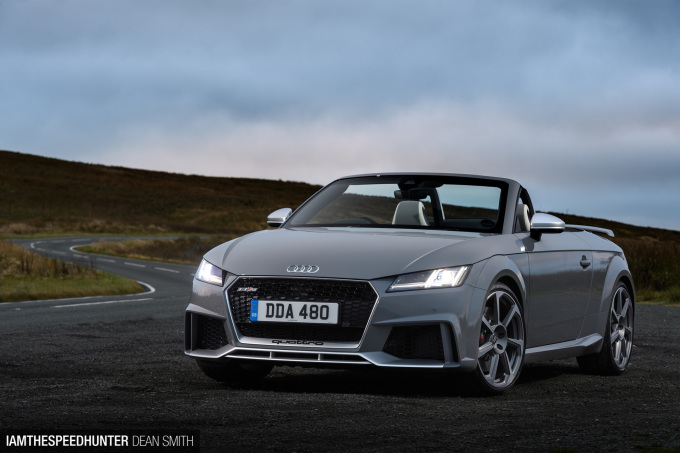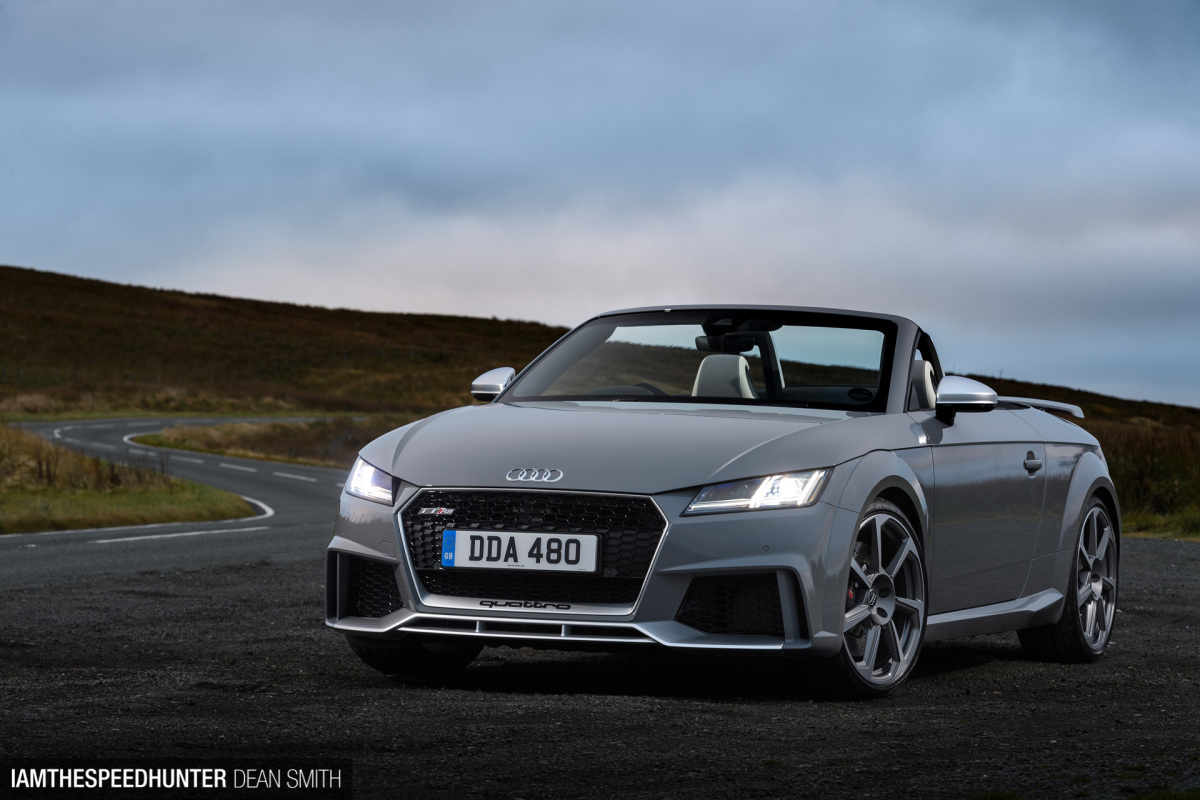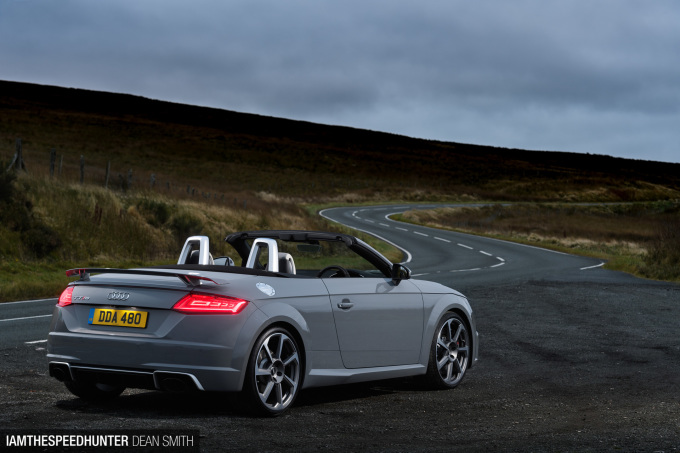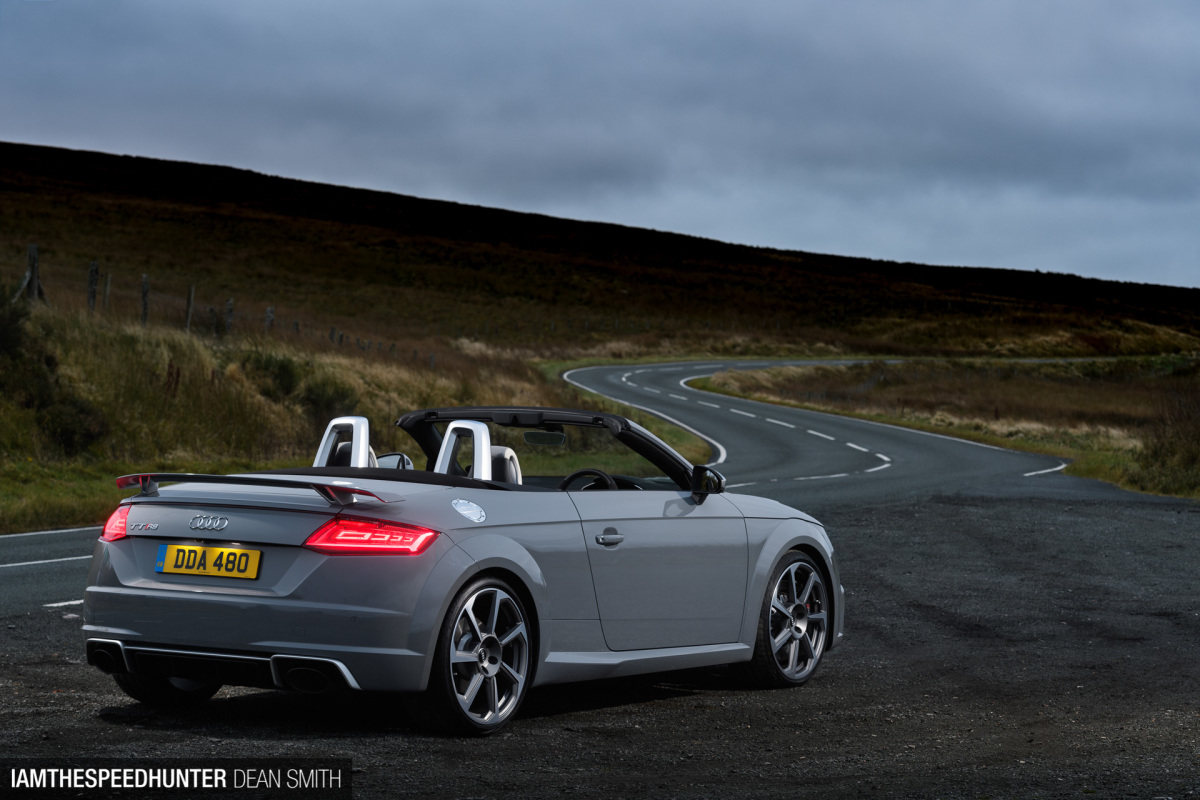 Regardless, we shot on past darkness just in case conditions worsened the next day, to ensure there was something in the bag.
A quick drive to the hotel and a swift beer in the bar was needed. It was a long day with a lot of driving, cleaning and not much action but we'd made good progress. After a bite to eat we hit the sack early ready for another early start.
Time For Some Action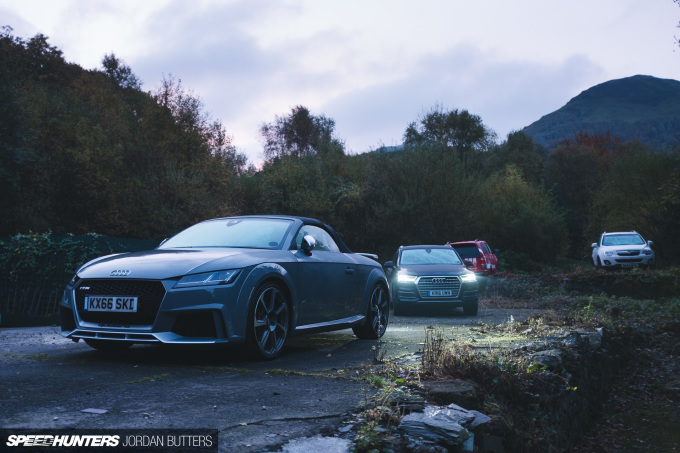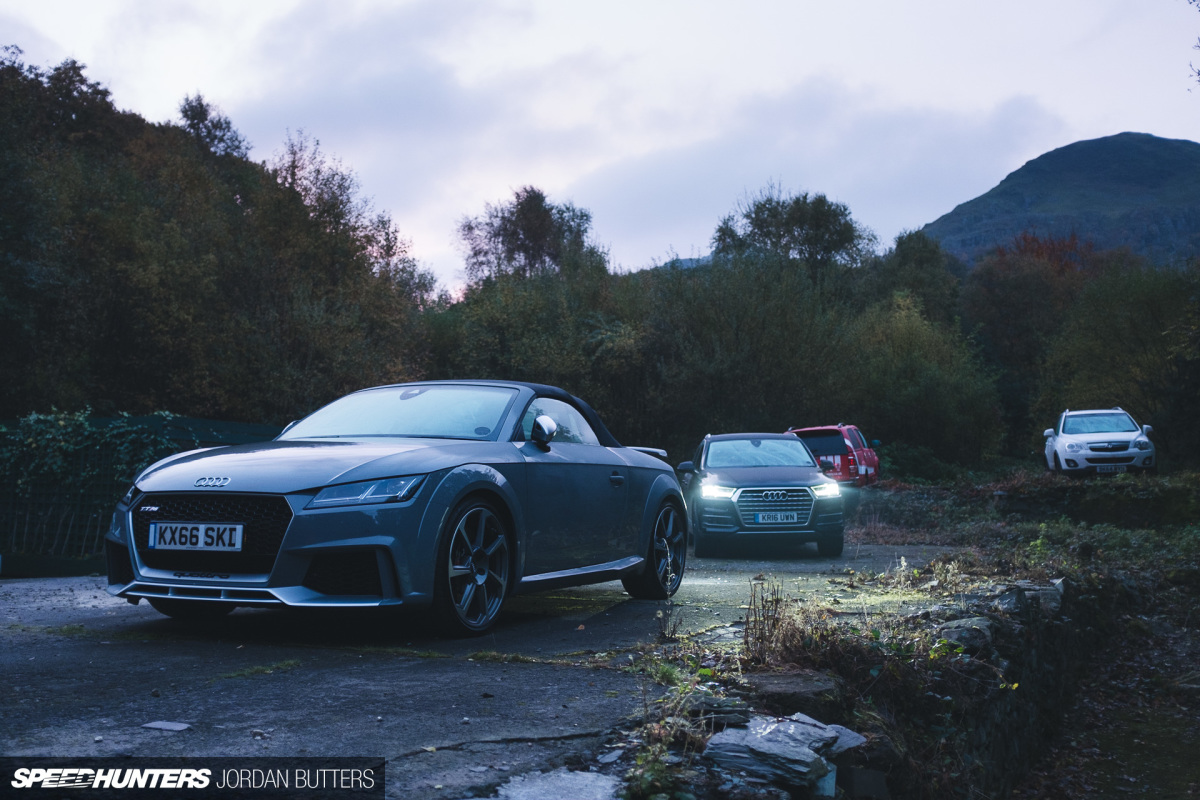 Day two and another early start. The forecast indicated that we weren't going to get anything like decent conditions to shoot a sunrise static of the grey roadster, so imagine our surprise upon opening the curtains at some pretty amazing colour forming in the sky!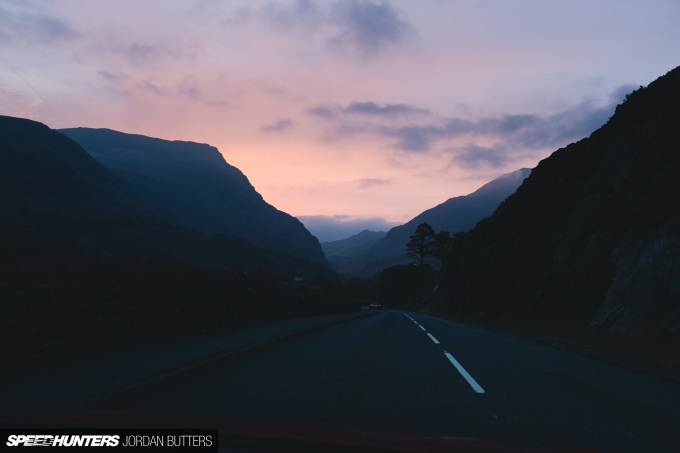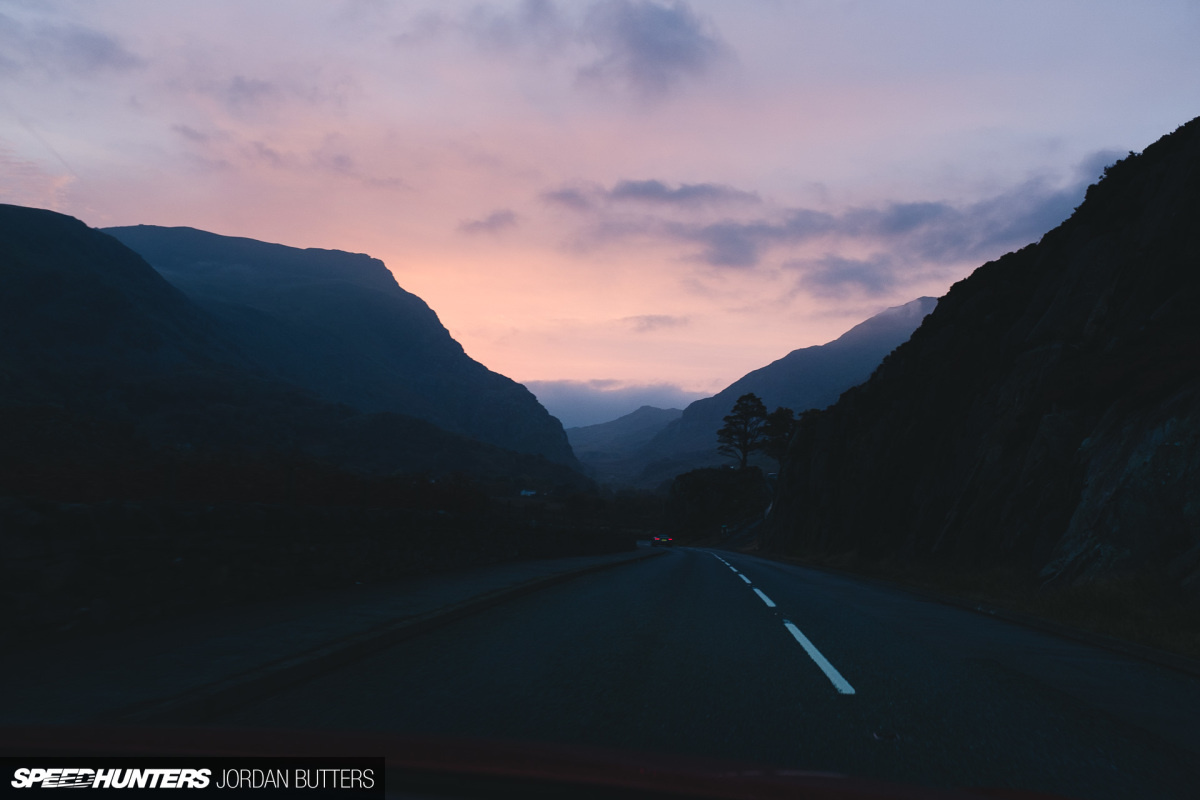 Skipping breakfast and straight into the cars, we hit the road in search of a good location to shoot at. It's being greeted by views and roads like this that make the early starts all the more worthwhile.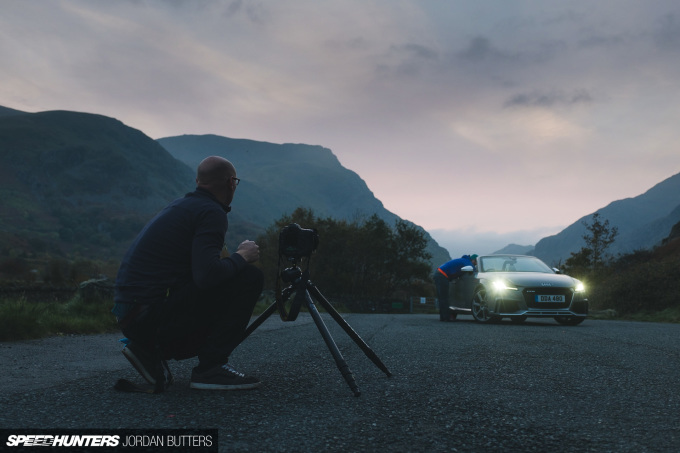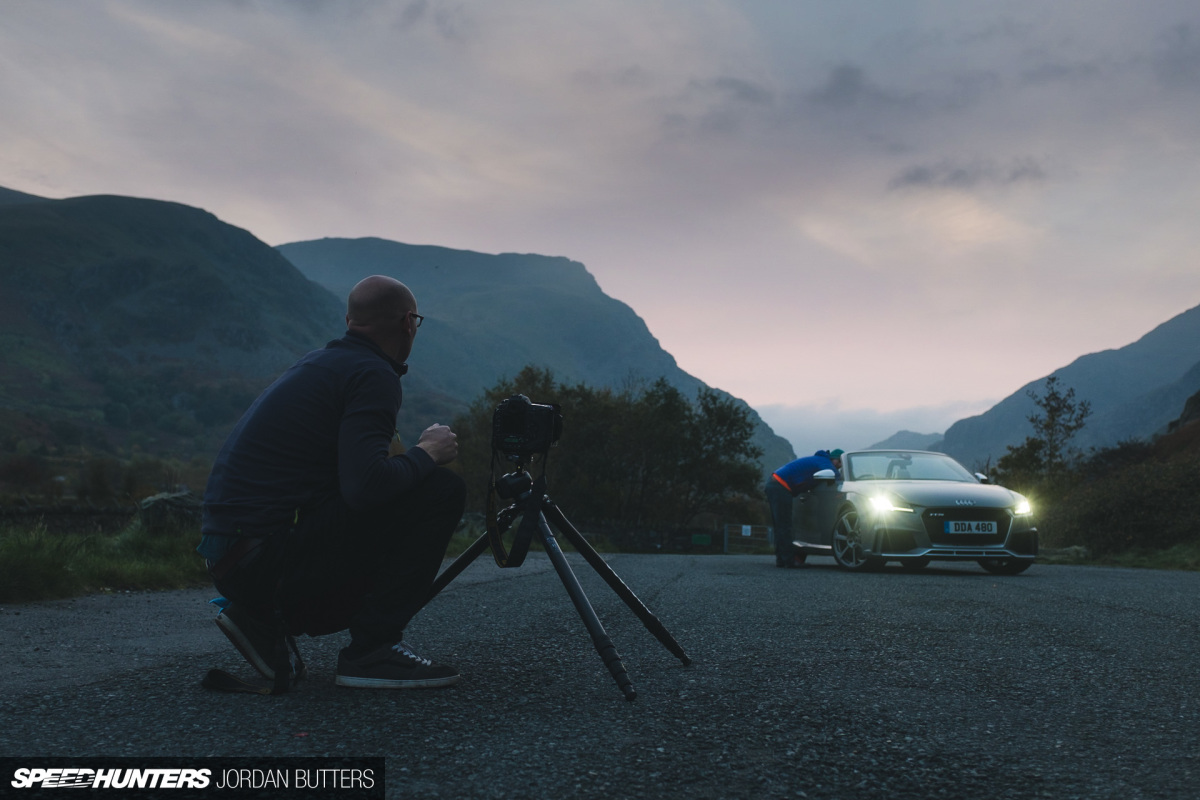 Dean remembered a layby nearby, and fortunately it was fairly empty – at least in the direction that he needed to shoot, looking down the valley towards Pen-y-Pass. Despite all the planning and preparation in advance, sometimes you just need to be able to capitalise on a bit of luck with the light and weather at a moment's notice.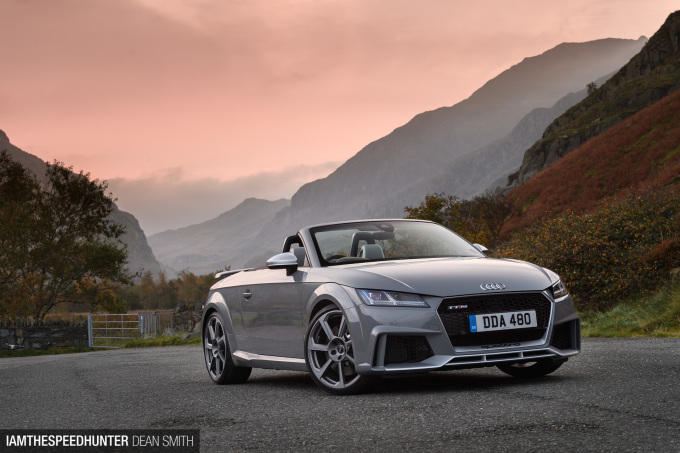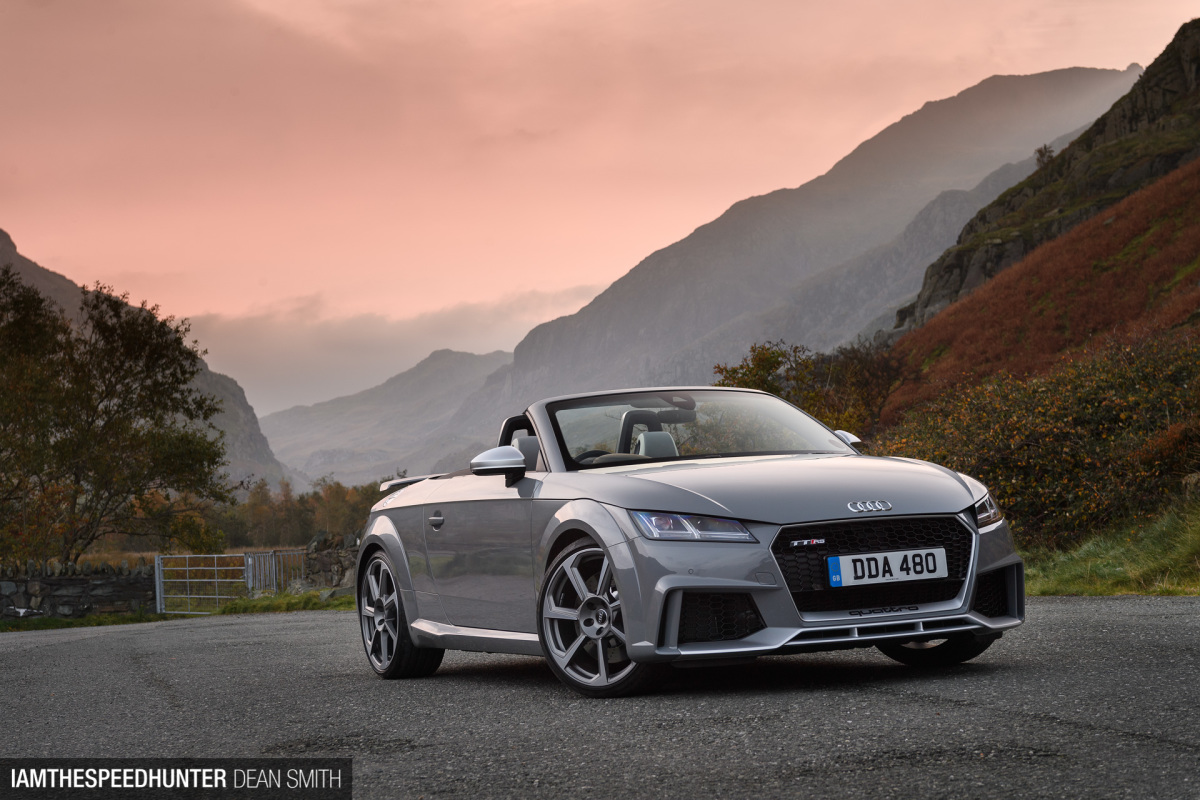 At this point we'd like to apologise to everyone who was using the layby on the A4086 near Llanberis as a camping point for the night, who we woke up with the sound of an impromptu photoshoot at the crack of dawn. We cleaned the car yet again and got to work, moving it into position and making sure everything was just so for Dean to get the shots he needed.
Shooting the roadster statics was a bit more involved than the coupe, as combinations of front, rear and side profiles had to be captured with the roof both up and down.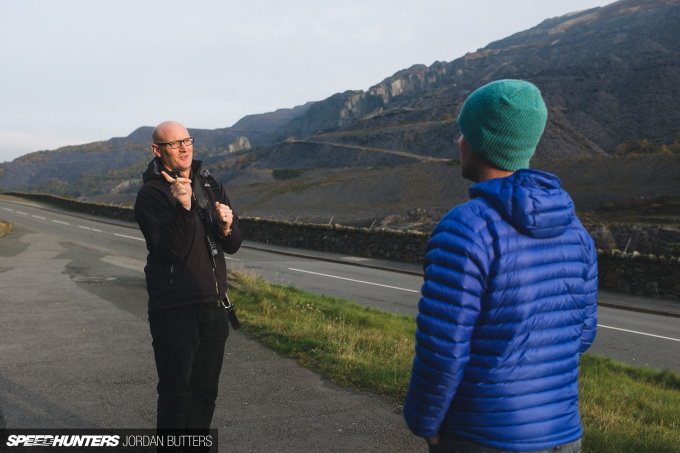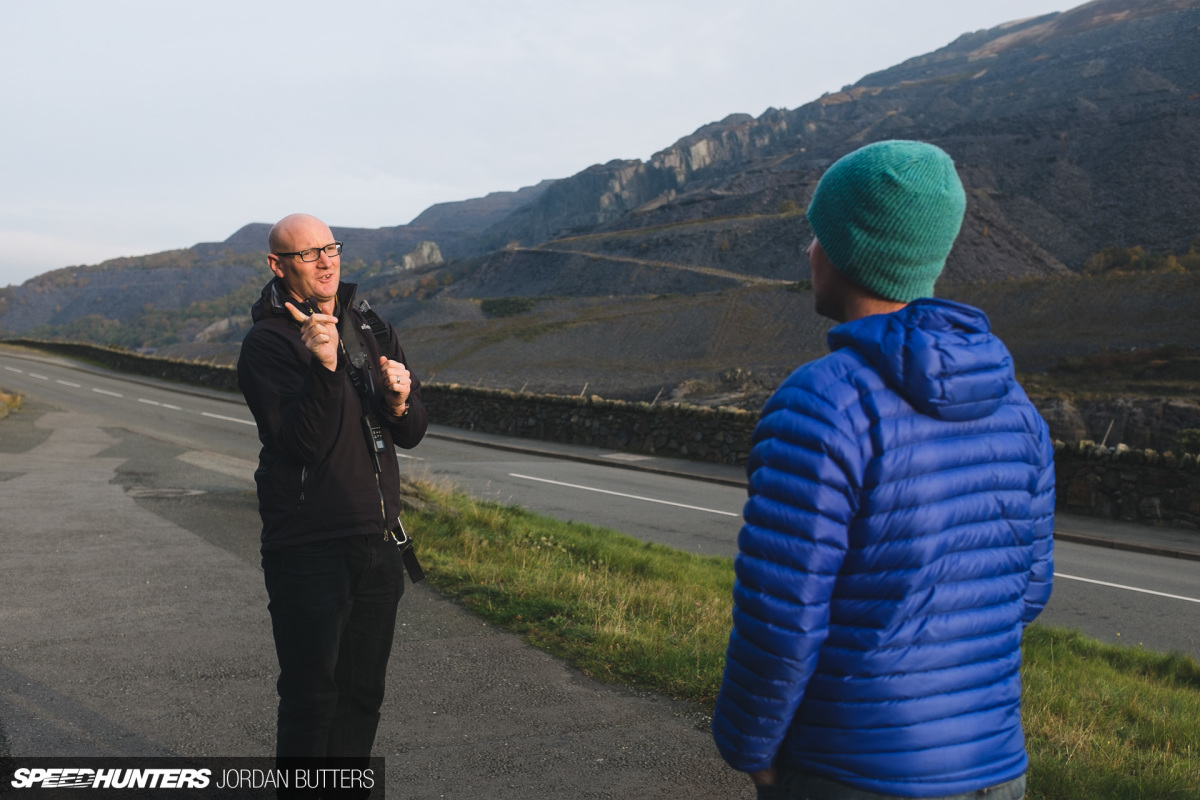 With the light looking so nice and the roads still relatively quiet, we all agreed that breakfast could wait a bit longer while we captured some tracking shots of the roadster. It was clean still, and ready to go, so it made sense. While Dean explained the complex and cryptic 'when I point that way, go that way' hand-signals to Lee, I unloaded the entire contents of the Q7's boot into the coupe.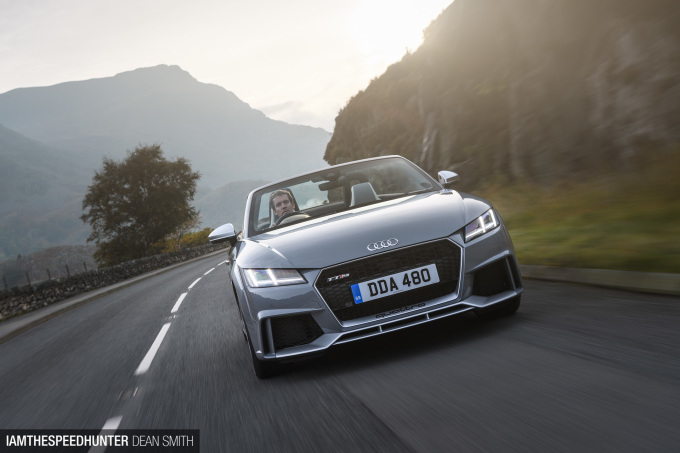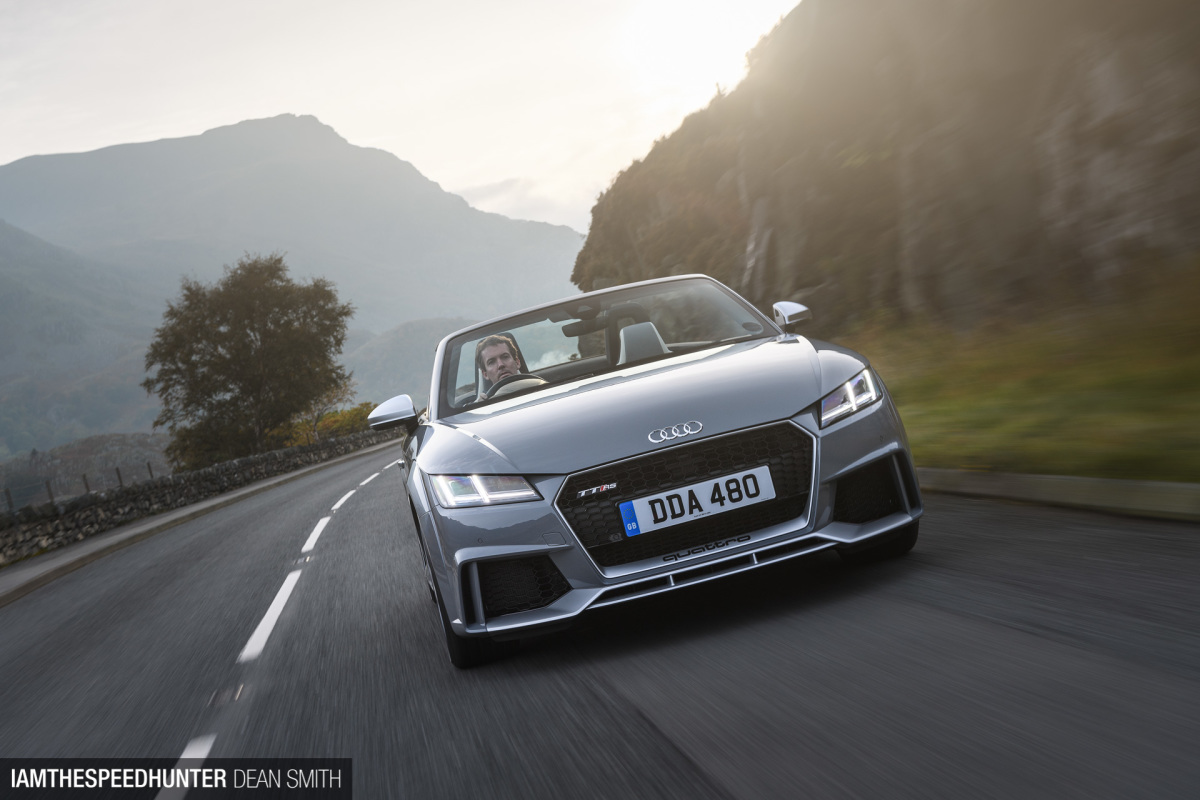 You'll often hear photographers call them 'rolling shots', 'rollers', or 'tracking', but all of these terms relate to shooting the subject car whilst moving from the front or back of another car using a slow shutter to show the car in motion.
The effect is that it looks as if the car is moving along at normal road speeds. In reality, we we're only doing around 20mph for our shots.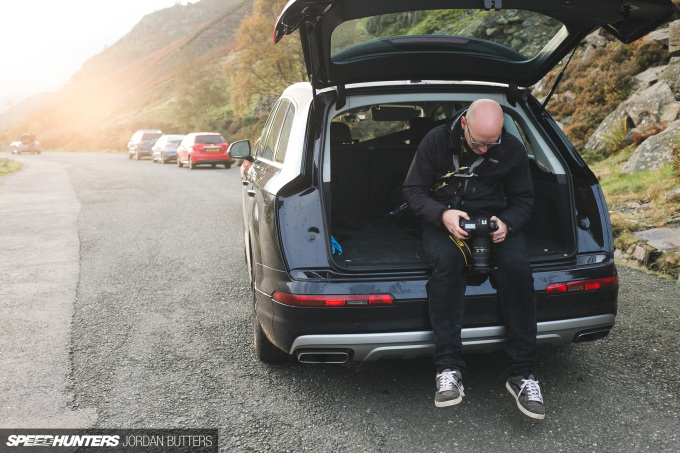 With Dean harnessed in the boot of the Q7, and the drive settings set to Comfort for maximum suspension damping (to kill bumps and vibrations as much as possible), we made a couple of passes up and down the road. The downside with tracking on a live road is that you obviously have to be mindful of other road users. We couldn't have any other cars in frame, and by only travelling at 20mph (often on the opposite side of the road) we effectively become a rolling road block. As soon as another car was spotted the call went out on the radio and we moved off the road to let them pass.
Sometimes this can get hugely frustrating, as it can take several passes and attempts before you get a clean run at the road. Again, Dean literally needs a few tenths of a second to capture the image he needs, but the process itself takes time, understanding and teamwork. And a little bit of luck.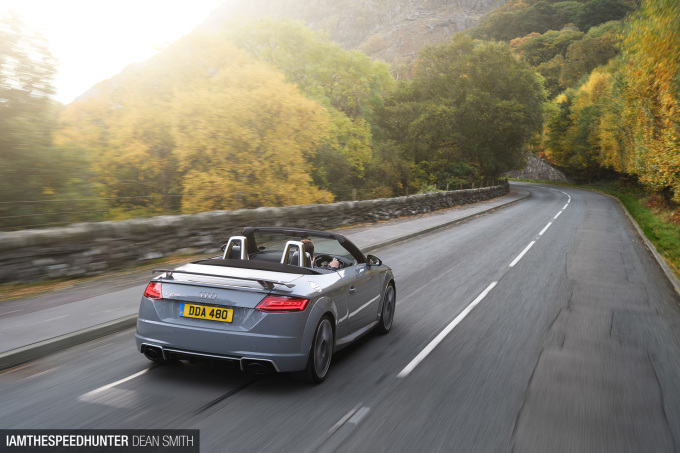 Shooting tracking shots is something that you get noticeably better at with practice; as Dean's done it almost every day for the past eight years, it only takes a couple of minutes for him to bag a handful of keepers. It was time for breakfast and to come up with a plan for the remaining shots we needed from the day.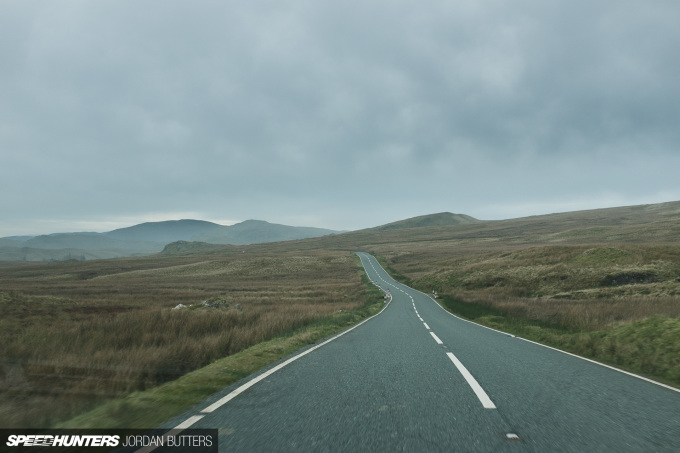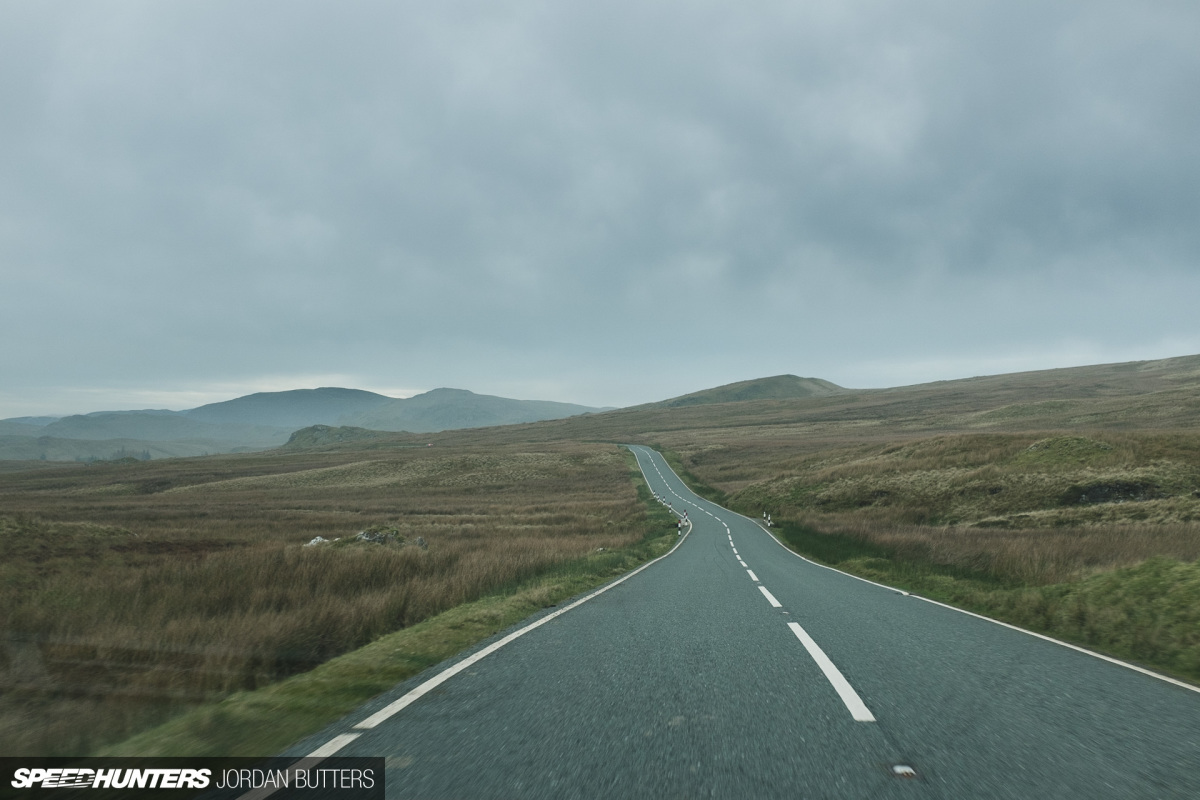 Refuelled with a hearty Welsh breakfast, we hit the road again in convoy. We headed straight to one of my favourite roads in all of the country, the B4391 between Ffestiniog and Bala. I've driven this incredible stretch of asphalt plenty of times, usually because of an unplanned detour; it's all too tempting to add a bit of time onto your journey in favour of a quick blast! I'll be bringing you my own guided tour of this road in the near future.
Parked up and cleaning cars again. The first order of the session was to finish off the tracking shots on the grey car, and repeat the process for the red coupe.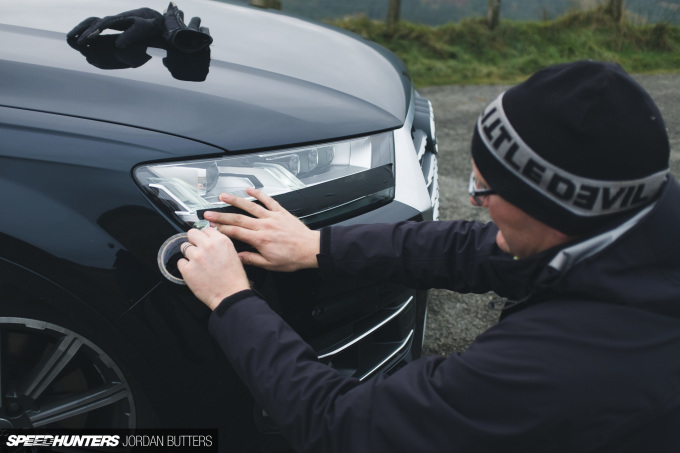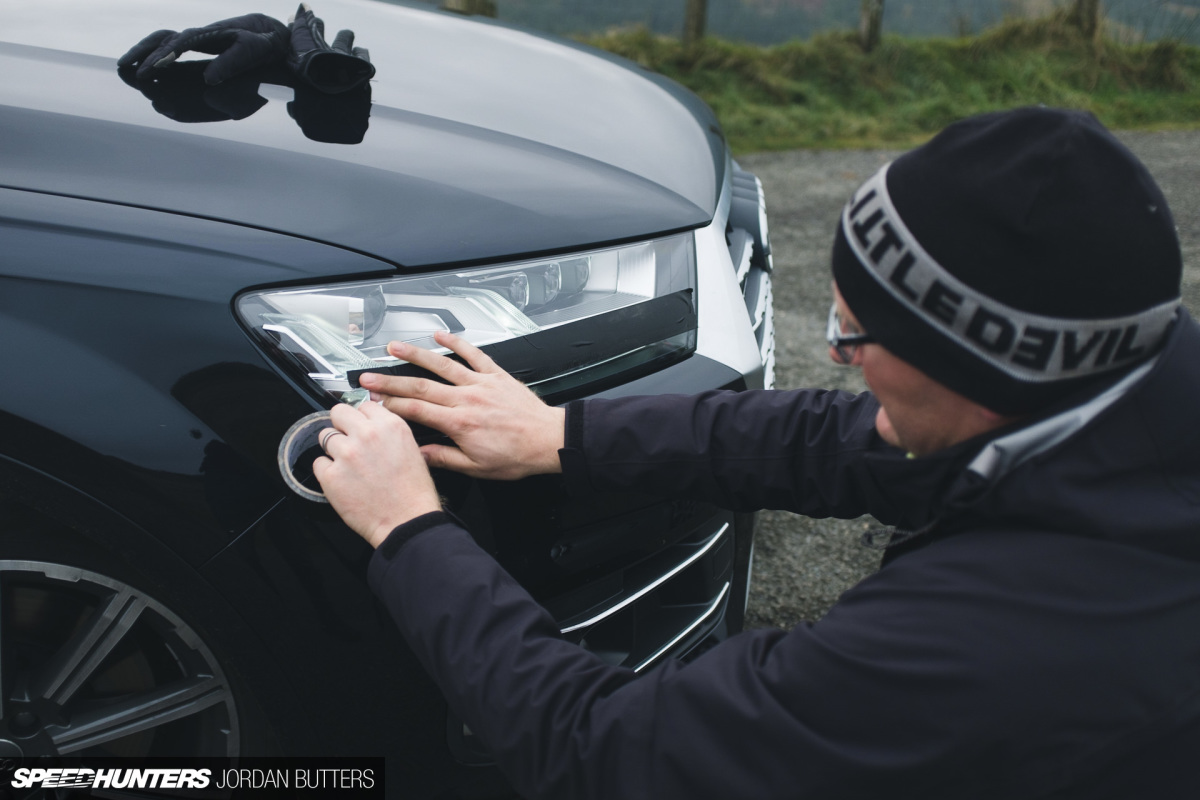 Remember what I said about little details? Dean noticed that the DRLs on the Q7 were visible in the reflections from the earlier tracking shots, but it was nothing that a little gaffer tape couldn't fix.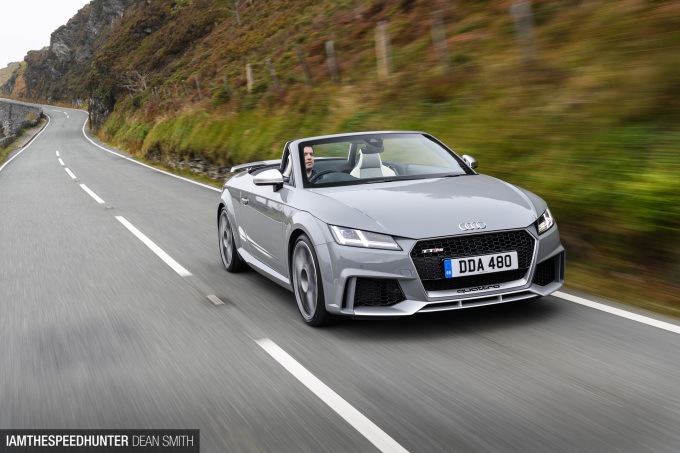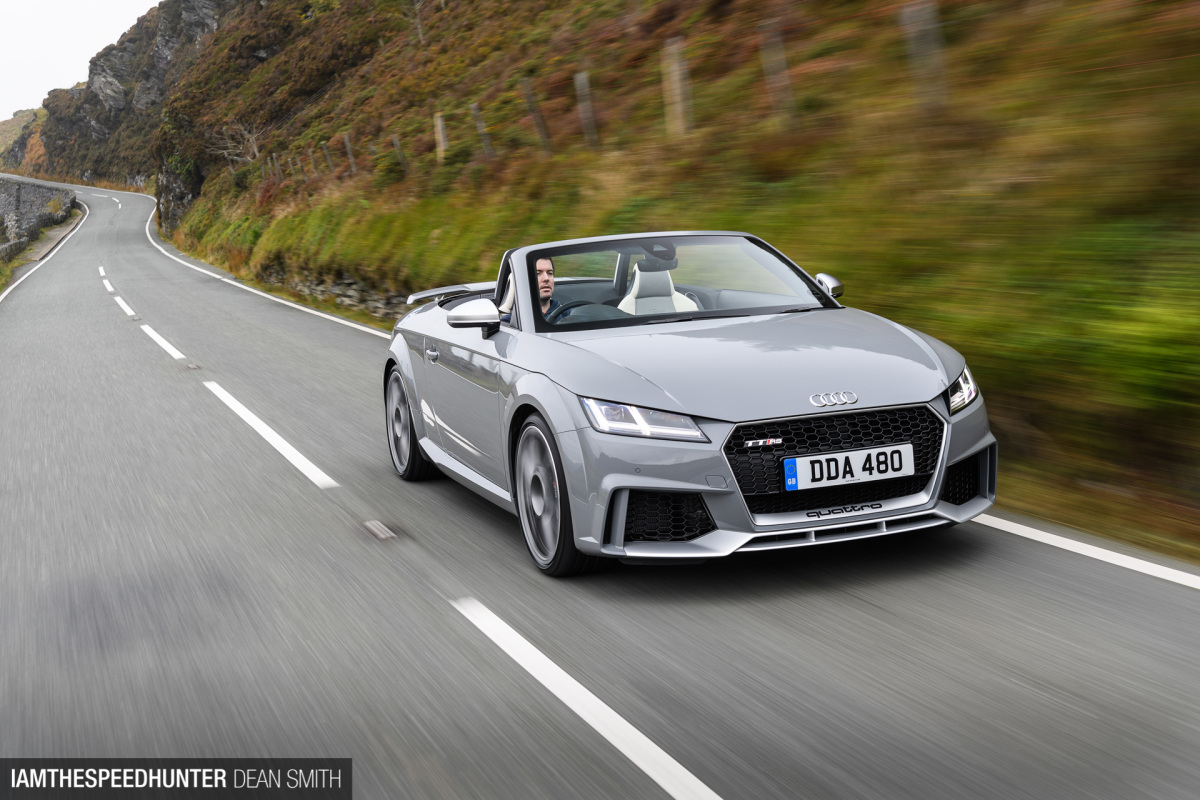 A few more passes down the road with Dean shooting from the boot and sunroof of the Q7 and we had what we needed from the grey roadster.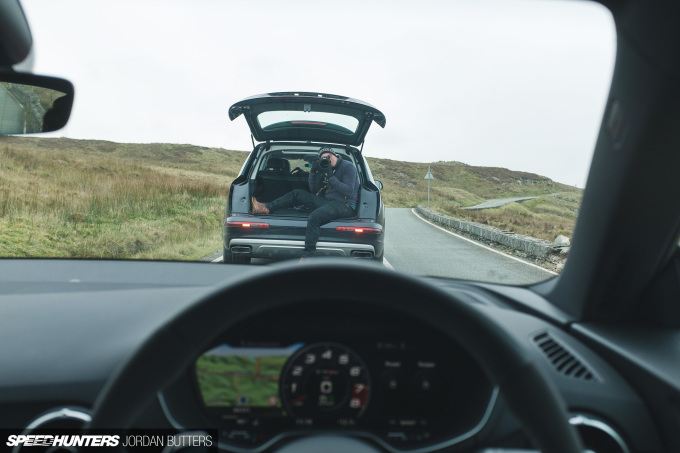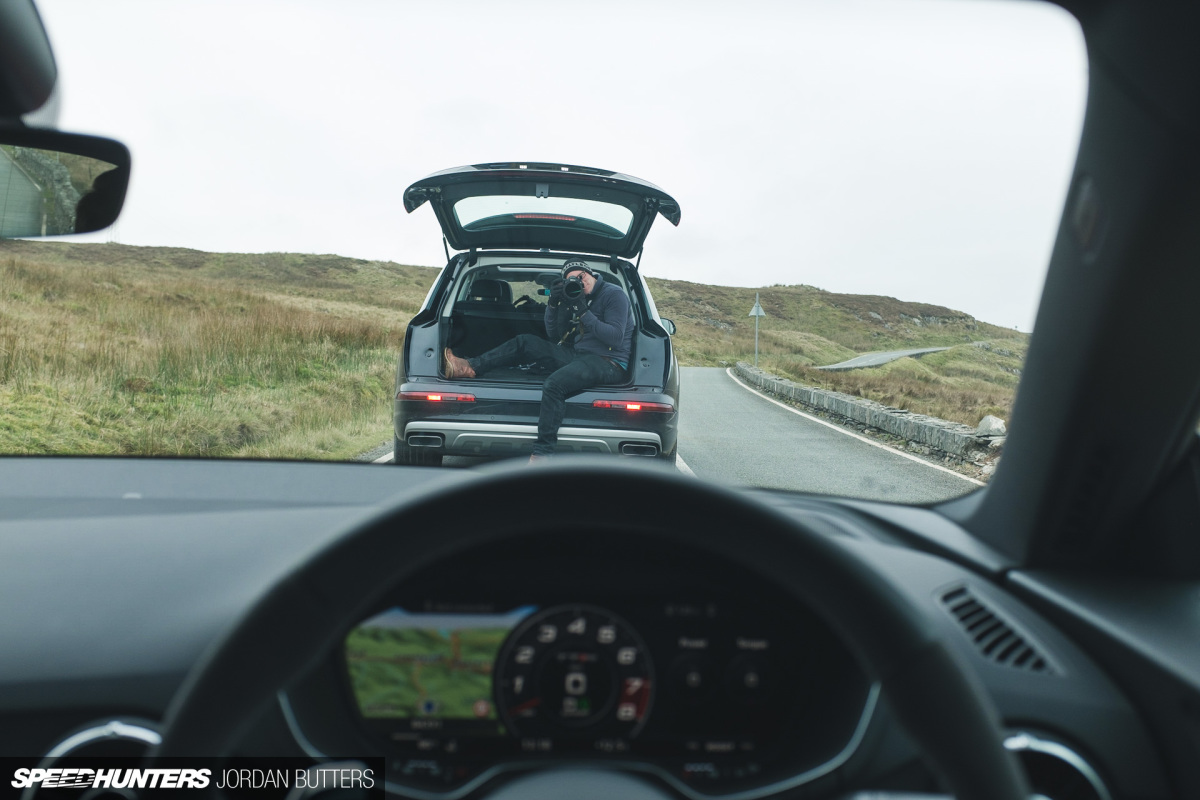 We switched places, and Lee jumped in the Q7 while it was my turn to drive the TT. Maintaining a steady 20mph is tricky with inviting roads ahead of you.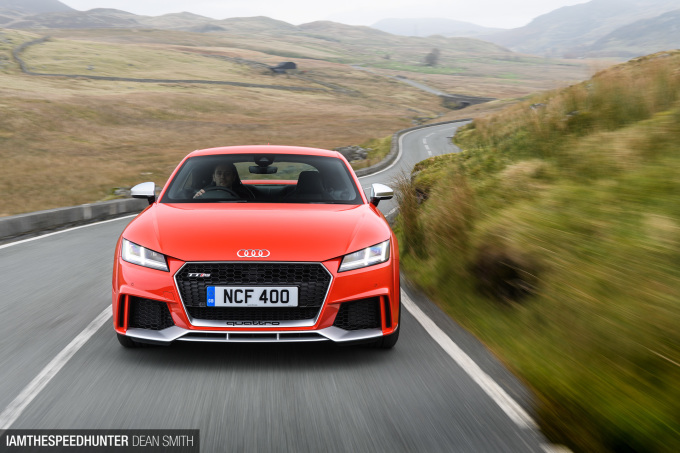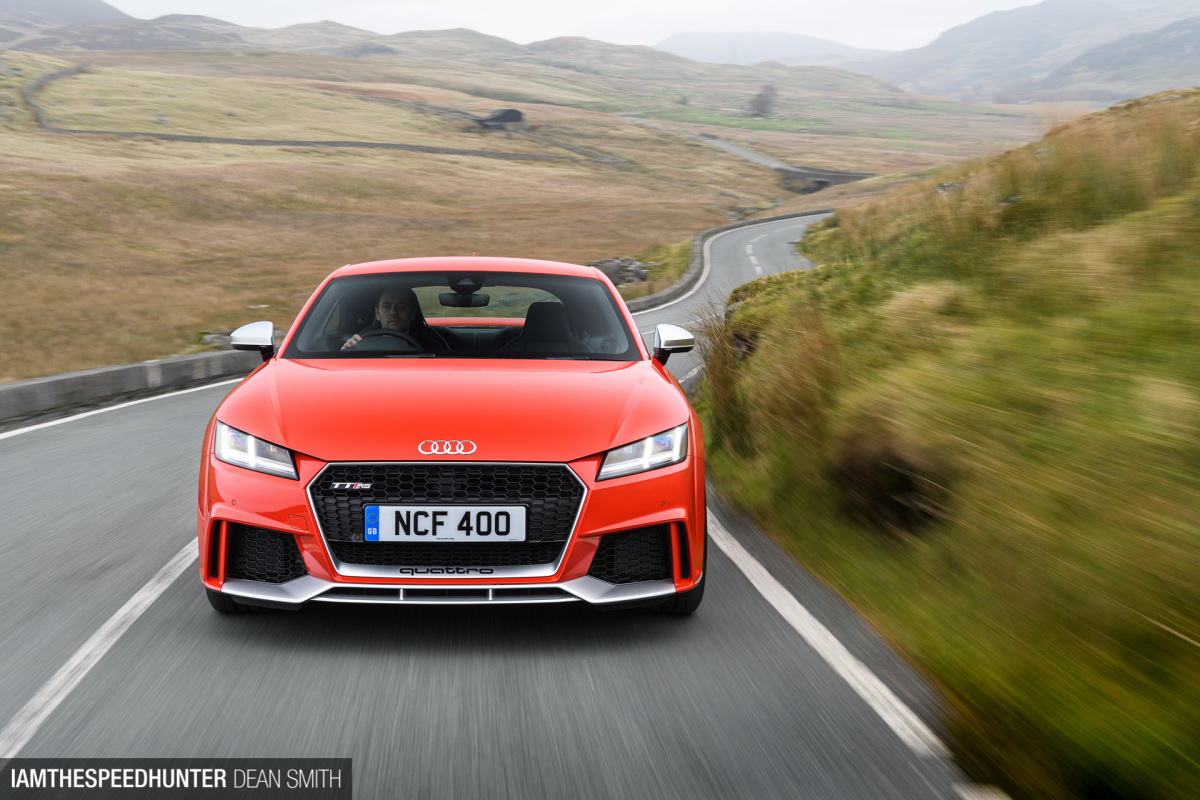 I've been told many times by many people that I'm afflicted with resting bitch face, but I managed to look at least half happy in Dean's shots of the TT, so I must be getting better at acting, I guess?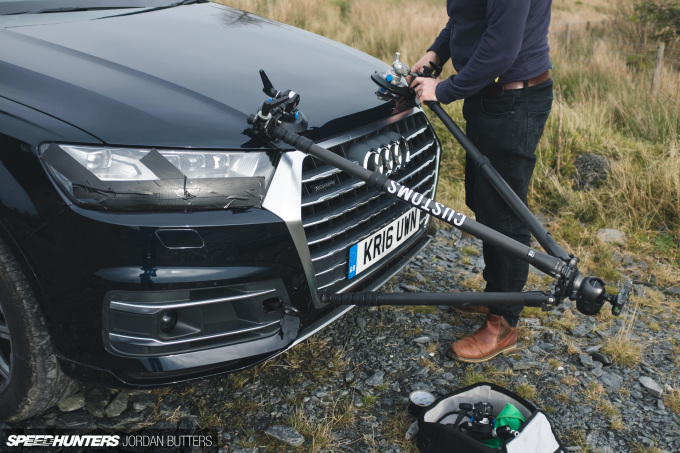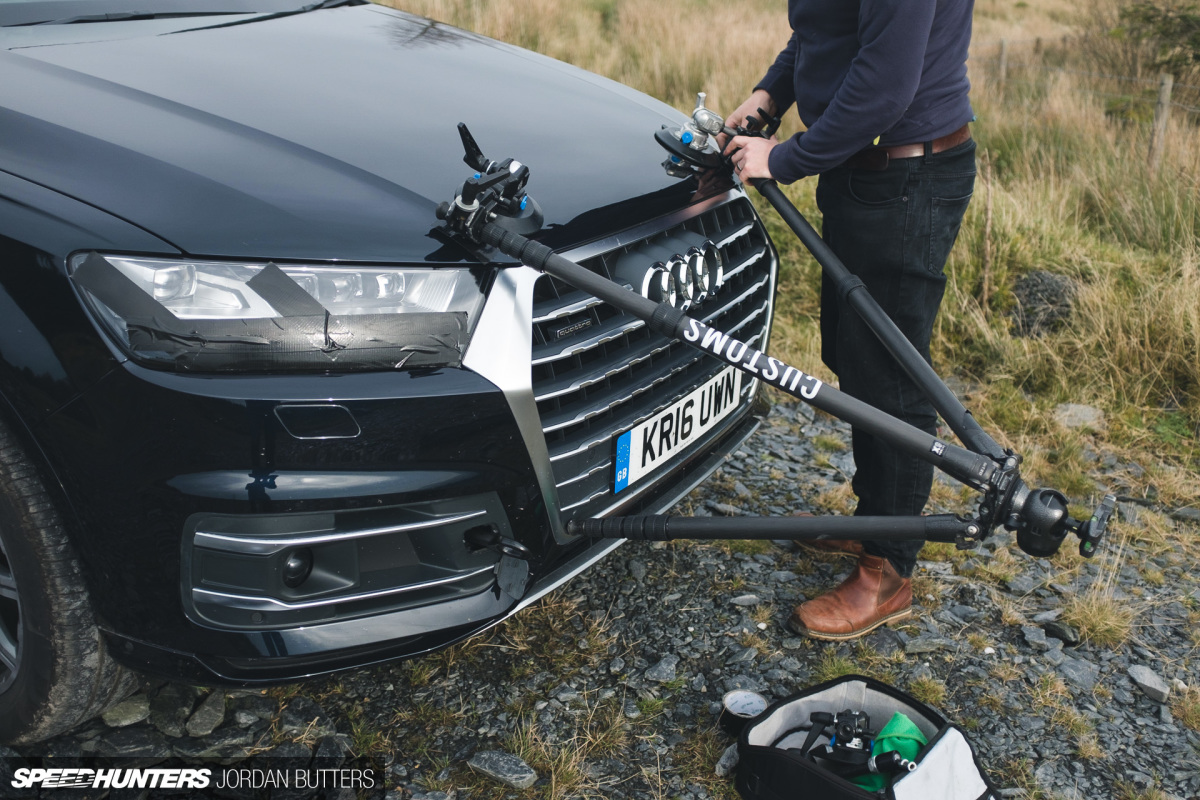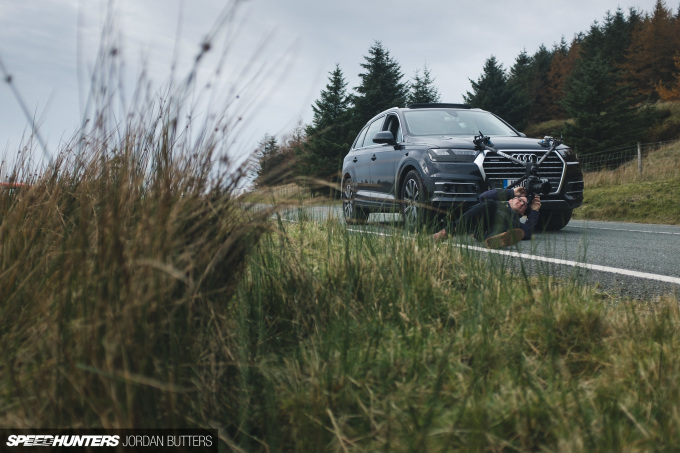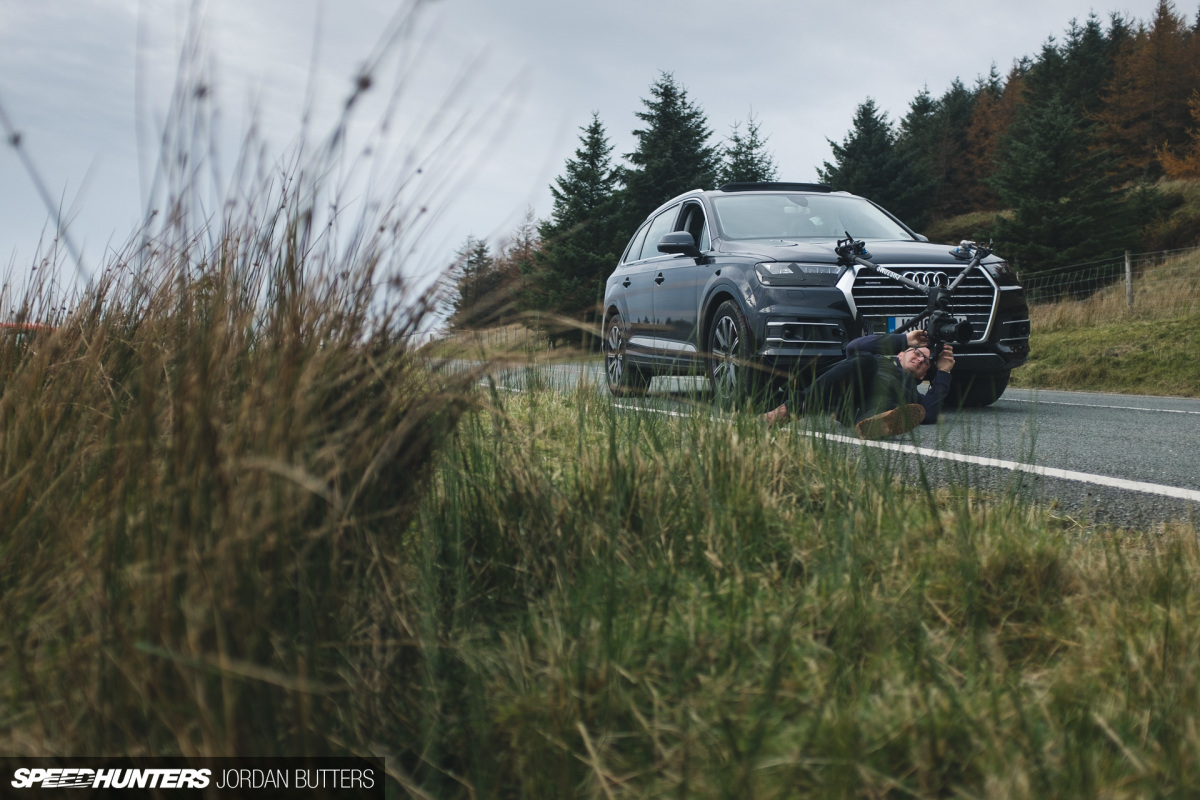 For some low-down tracking shots of both cars Dean rigged the front of Q7 up with his tripod, enabling him to fire from a remote and capture a more dynamic angle of the cars in motion. The tripod's legs are locked into place using suction cups and clamps, so the whole setup was super steady on the heavy Q7. It does look a little odd, however.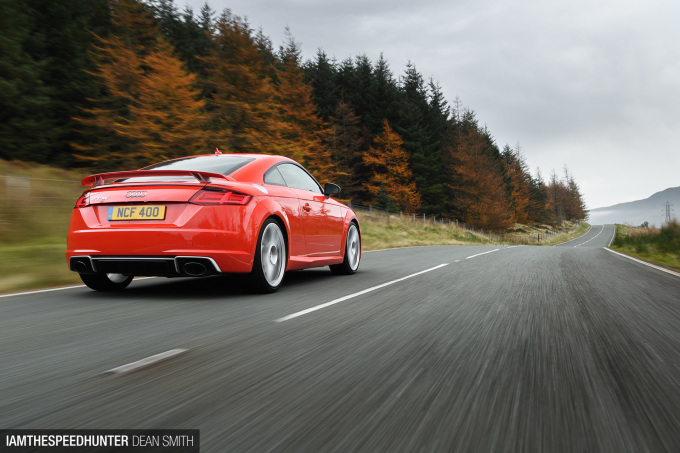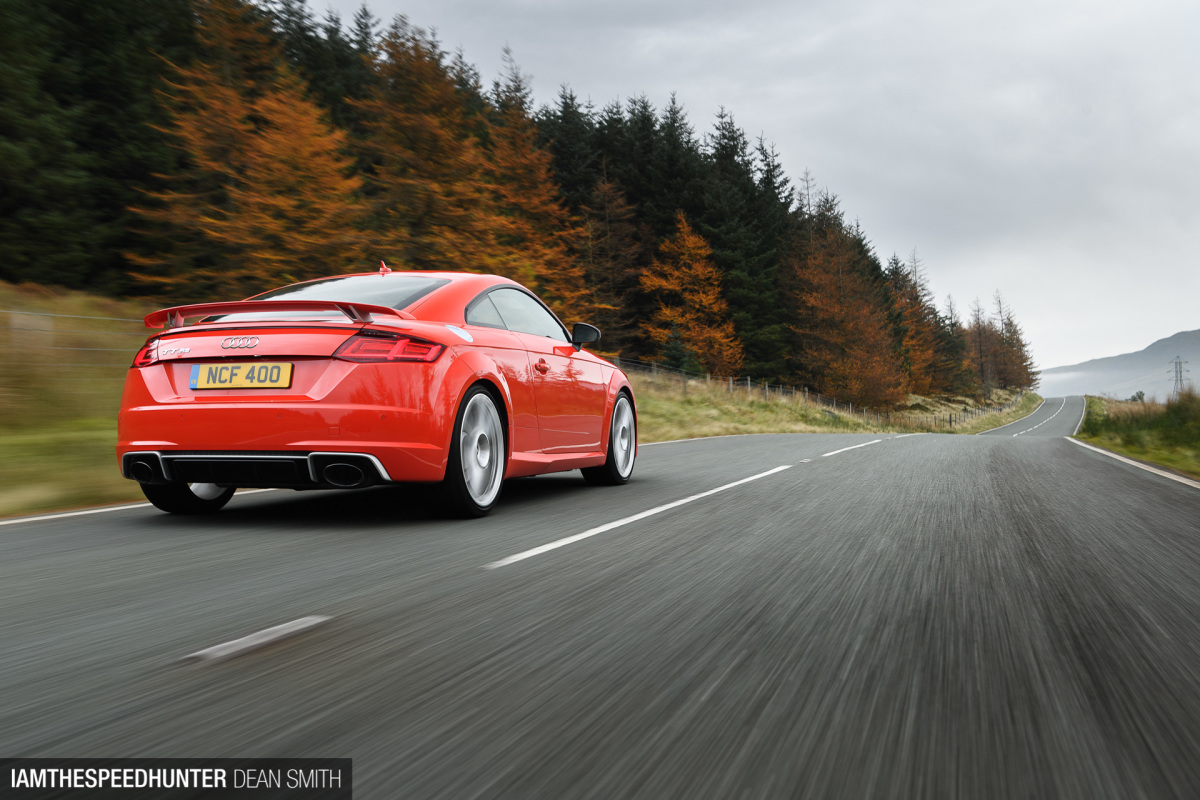 Dean pre-focused the camera on a point in the road a set distance from the front of the Q7, giving him a reference point for how far away the cars needed to be when rolling to capture a sharp image.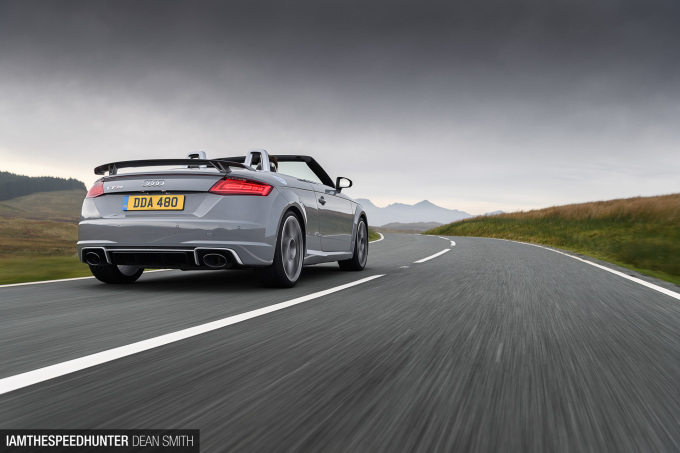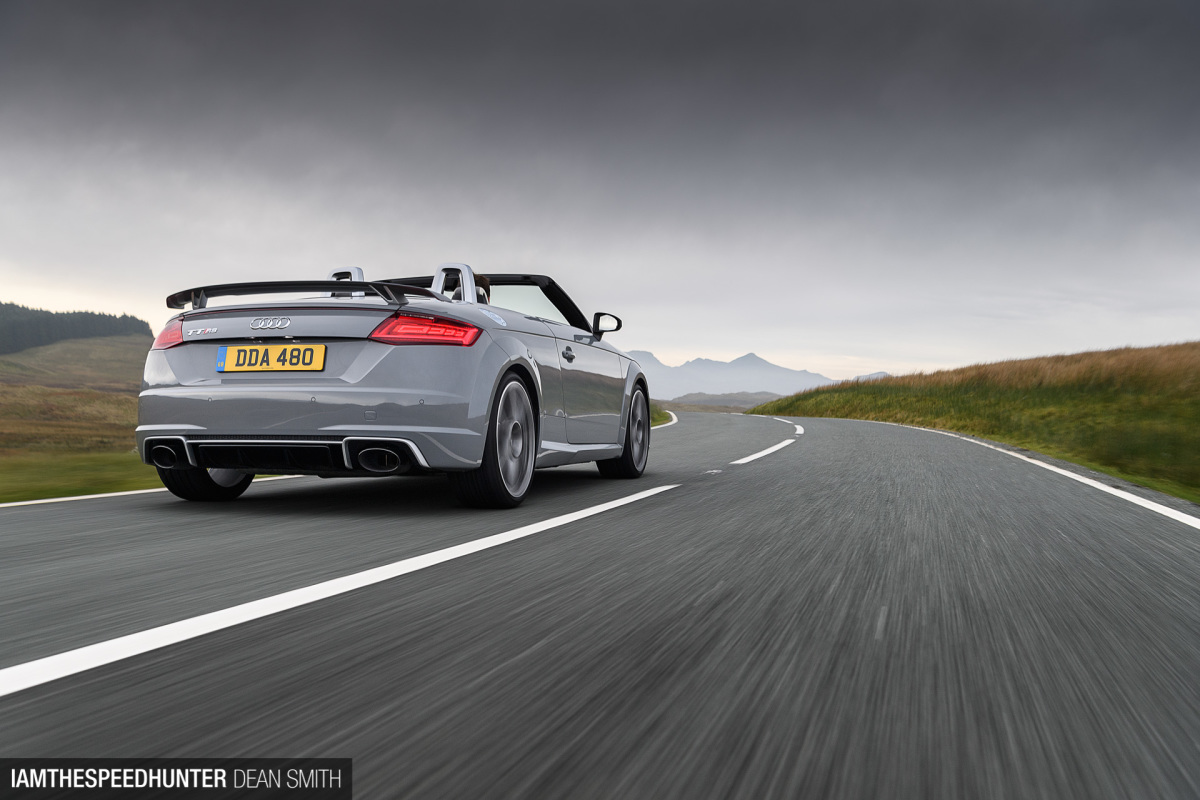 The camera was then triggered remotely from inside the chase car. Pretty neat, huh? It's amazing the difference having the camera closer to the road makes; the closer something is to the lens, the more exaggerated the motion blur is.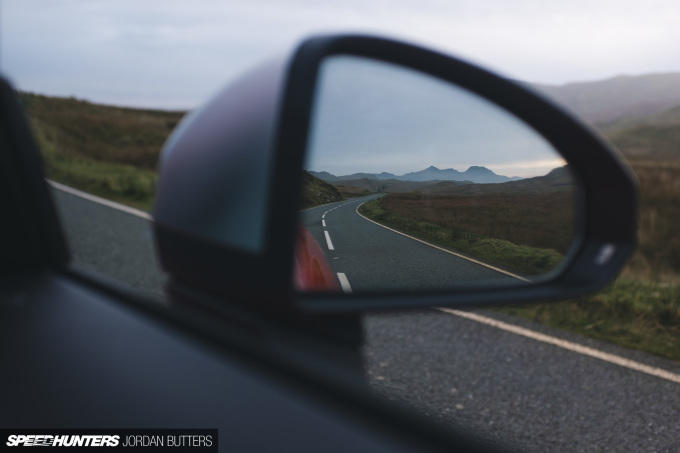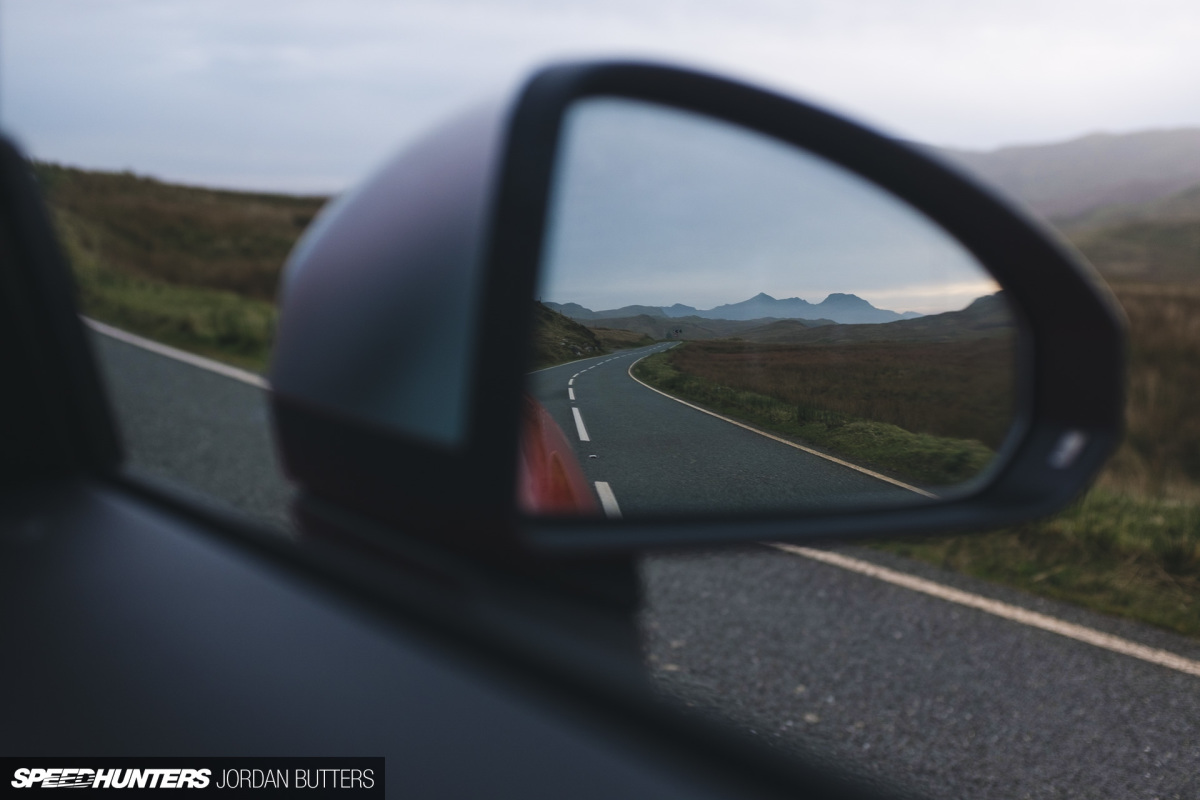 With the light fading all that was left to do was for Dean to grab some images of the two cars cornering. We hot-footed it down to a twisty part of the B4391 and Lee and I took turns in passing Dean at a steady pace while he moved between positions, capturing a variety of angles of both cars as he went.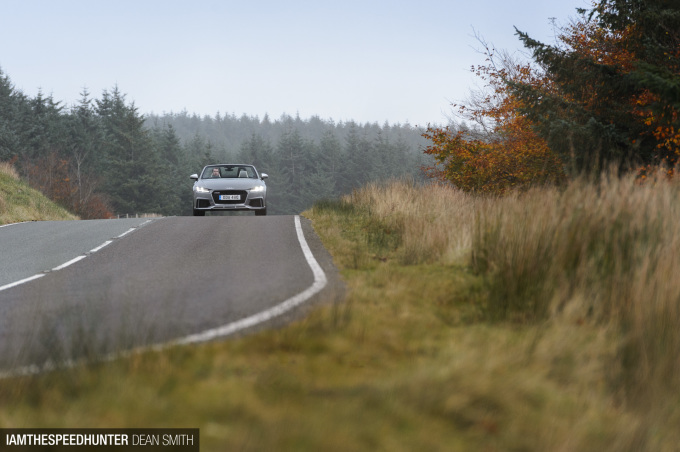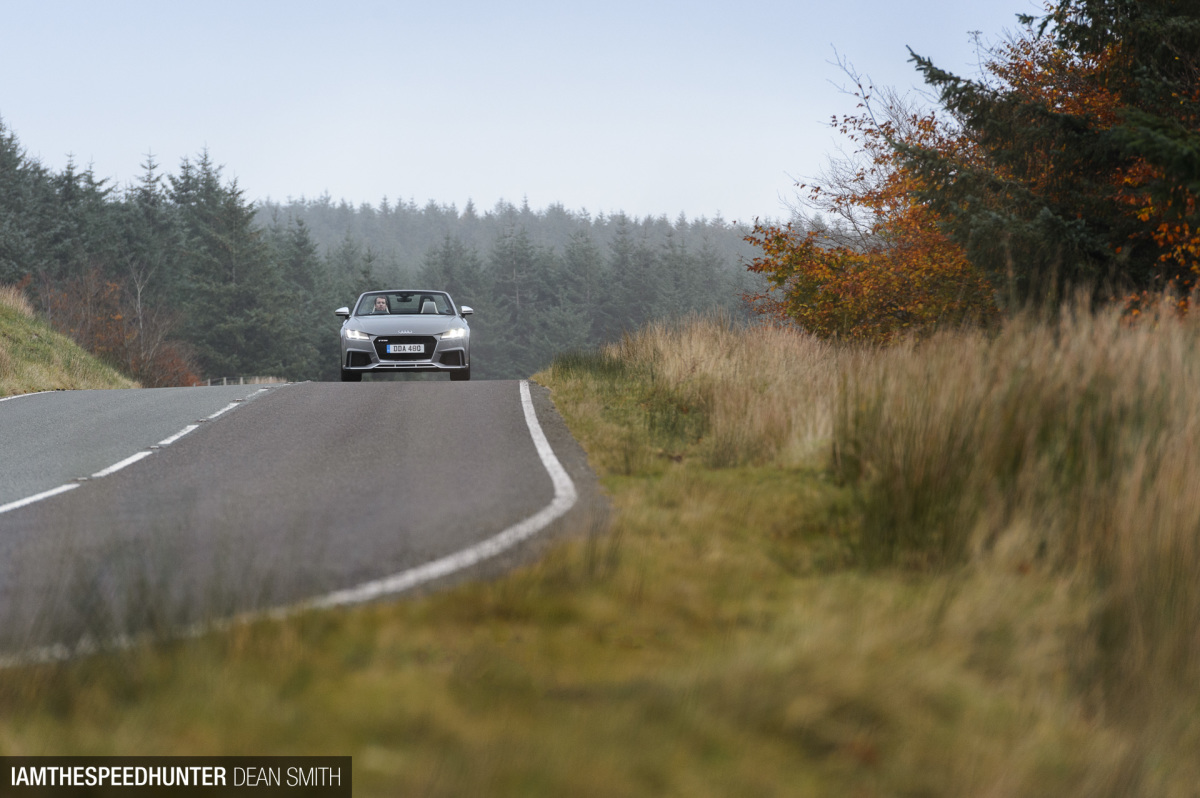 We then moved to yet another location and repeated this process, just to ensure there was plenty of variety. It's always better to over-deliver on image choice than risk missing something important.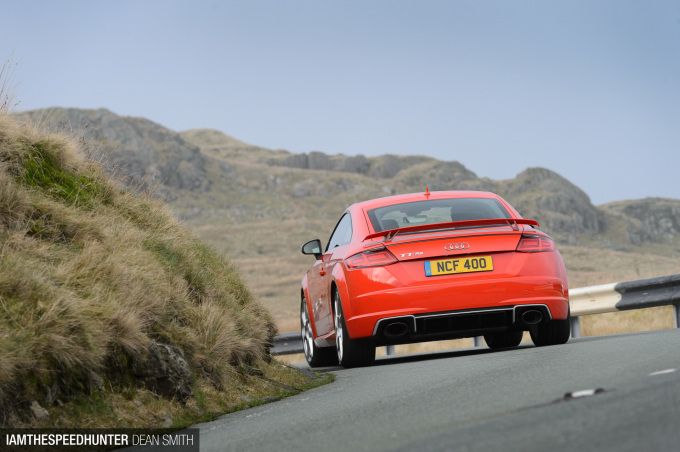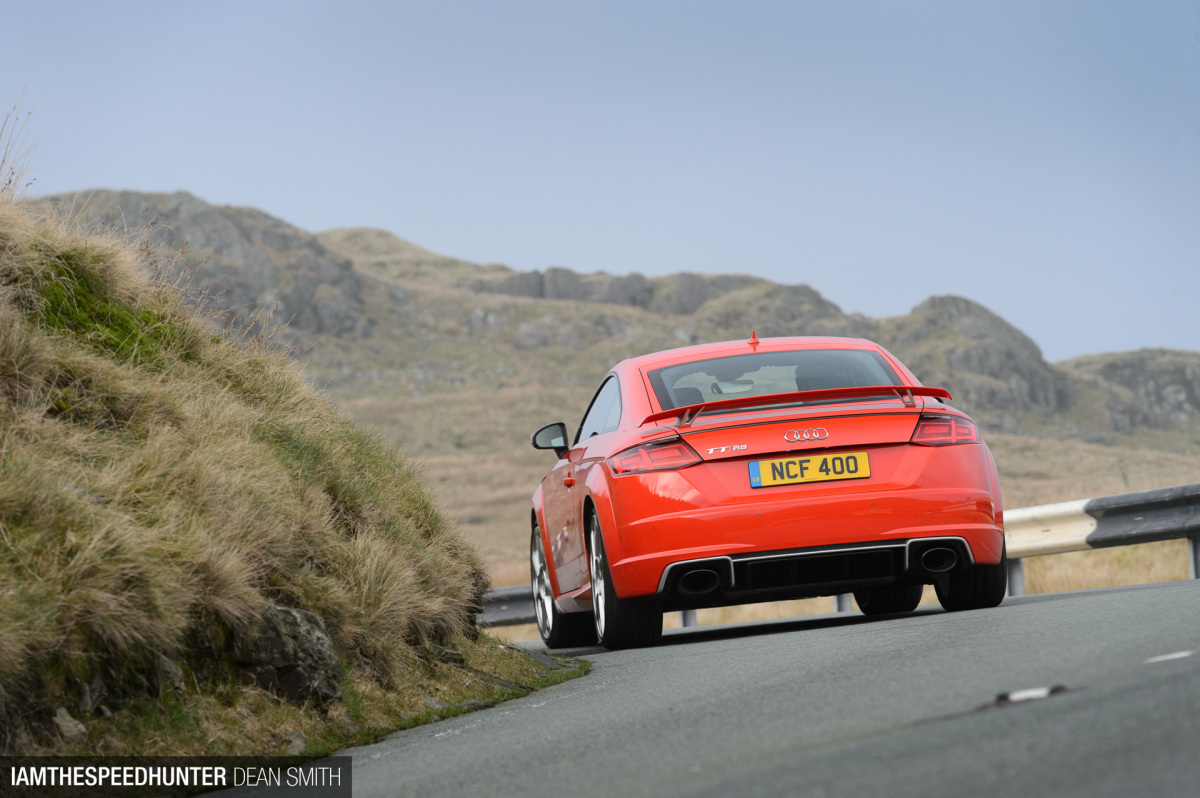 Driving between corners gave me a chance to open up the TT RS a bit more and really appreciate it on these great roads. Packing around 400hp and hitting 60mph in 3.7 seconds, it's no slouch, and felt really well planted in the corners. These were the perfect roads for a car like this.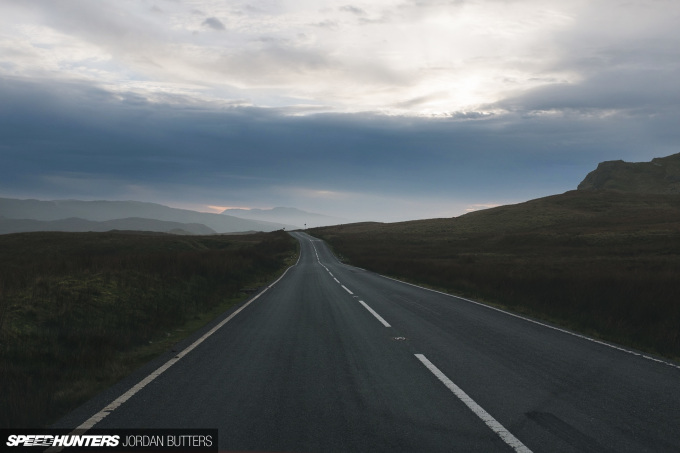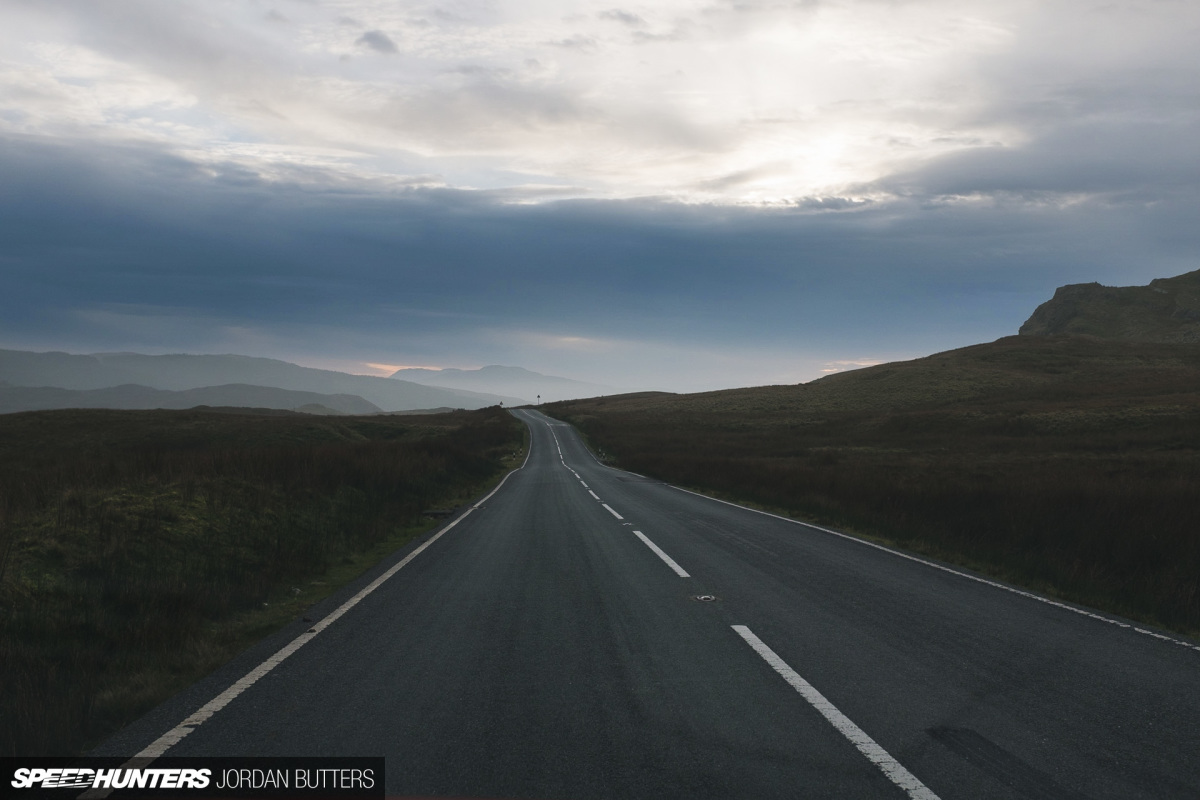 When it's wet, windy and cold and you're cleaning cars by the side of a Welsh mountain, just praying for a tiny break in the relentless weather, it's not so much fun. You're cold, wet, often hungry and deprived of coffee and mobile internet – the epitome of 21st century first world problems.
But then when you get to hit the open road and you're greeted by views like this, you can't really complain about anything.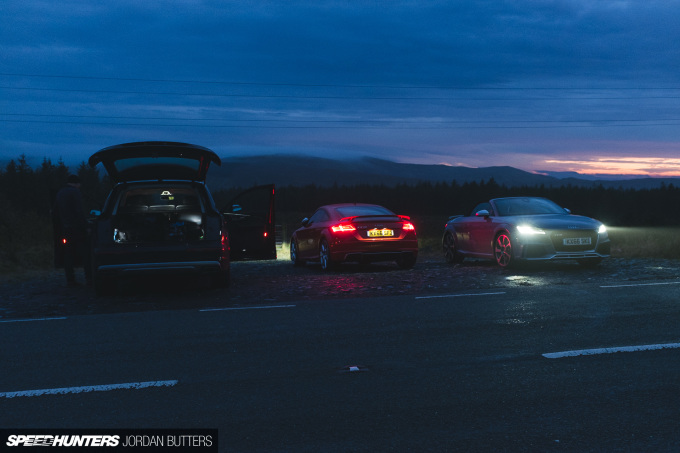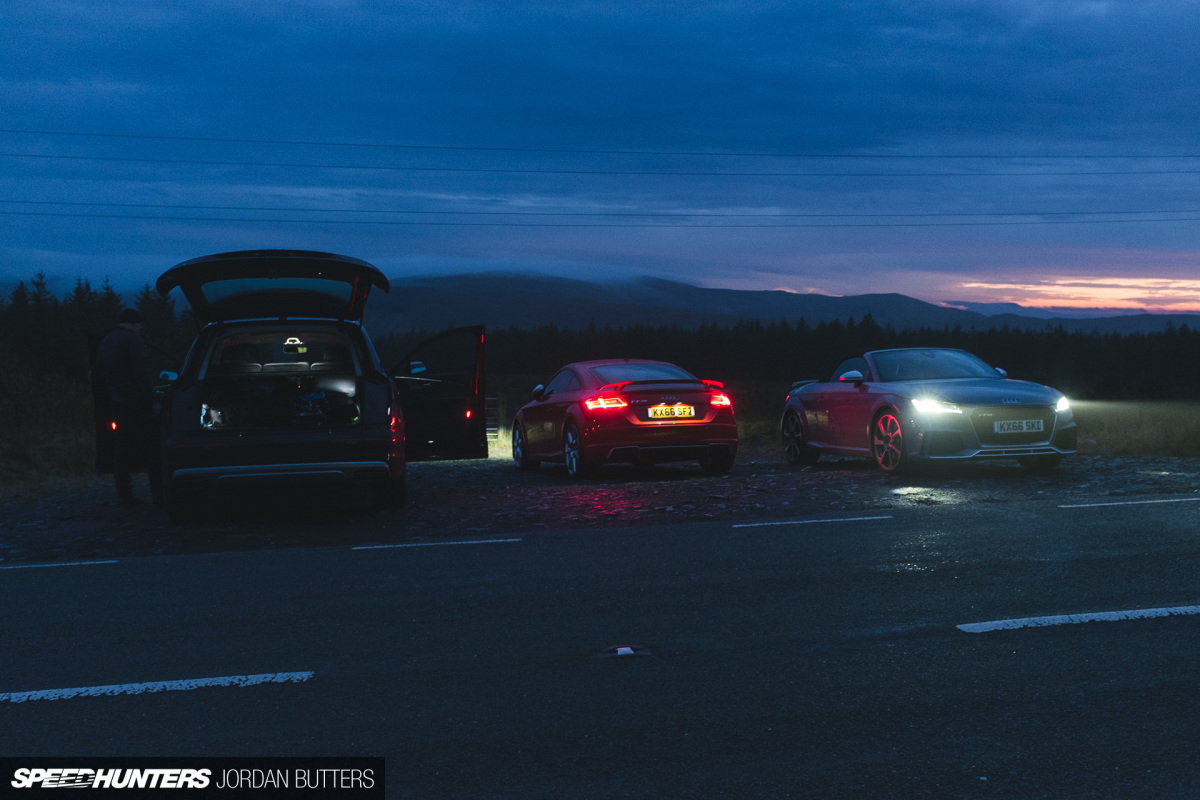 An hour or so later, and with the sun setting, we wrapped things up and set off on our respective long journeys home.
Mine and Lee's work was effectively done, save for delivering the cars back to Dean early the following day, while he then had to sort, edit and deliver the images ready for the cars' UK launches.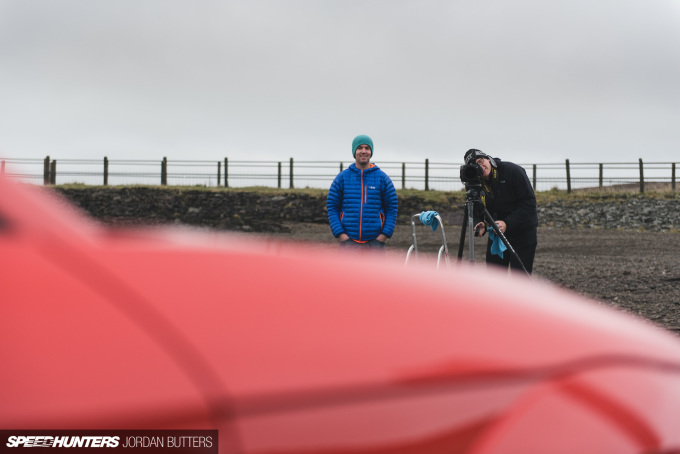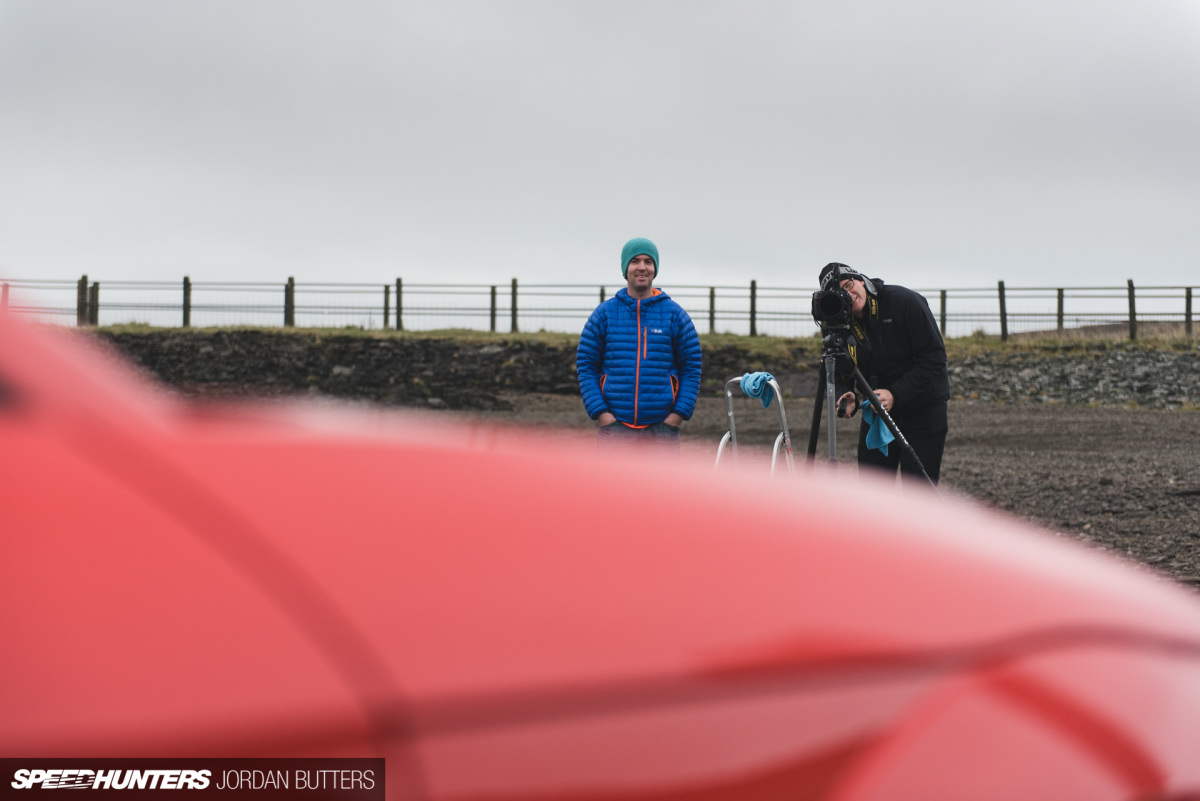 Photographing cars and working in the automotive industry is definitely a dream job, and without a doubt it's up there with the best, but it's very rarely an easy job if you want to do it well. As with all professions, there are shortcuts that you can take but they'll eventually catch up with you, especially if you take pride in your work and the results that you put your name to.
Hopefully this look behind the scenes has given you an insight into the work that goes into creating the kinds of images that Dean creates, and that you see in the automotive press. I know that helping out on shoots like this is always a big lesson for me in how making the extra effort when shooting definitely shows in the final results.
If you've got any comments or questions for Dean or myself then please drop them in the comments section below and I'll be sure to pester him to answer as many as possible.
Jordan Butters
Instagram: jordanbutters
Jordan Butters Photography
Dean Smith
Instagram: deanphoto
Dean Smith – Photographer

Cutting Room Floor