With all the new build debuts, personalities and live action that goes on in and around the Las Vegas Convention Center when the SEMA Show rolls into town every year, it's easy to forget what this event is really about. That is, an expo where the aftermarket industry does business, a big part of which entails showcasing innovation and new products.
We've brought you stories on some incredible SEMA machines over the course of November, but during our many days spent walking the halls of the Convention Center, we also had an opportunity to see what's new and interesting.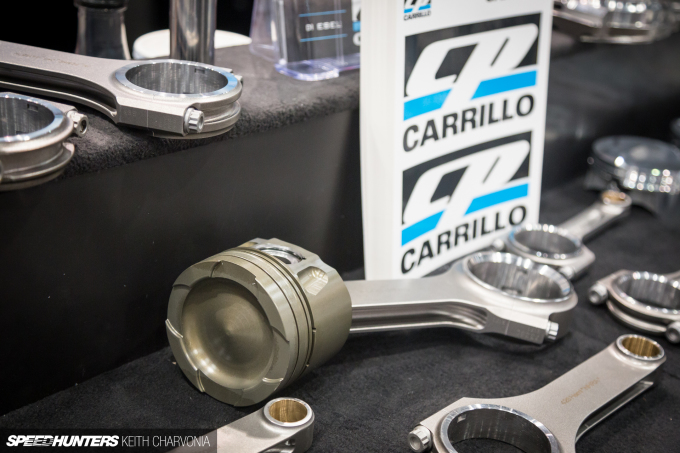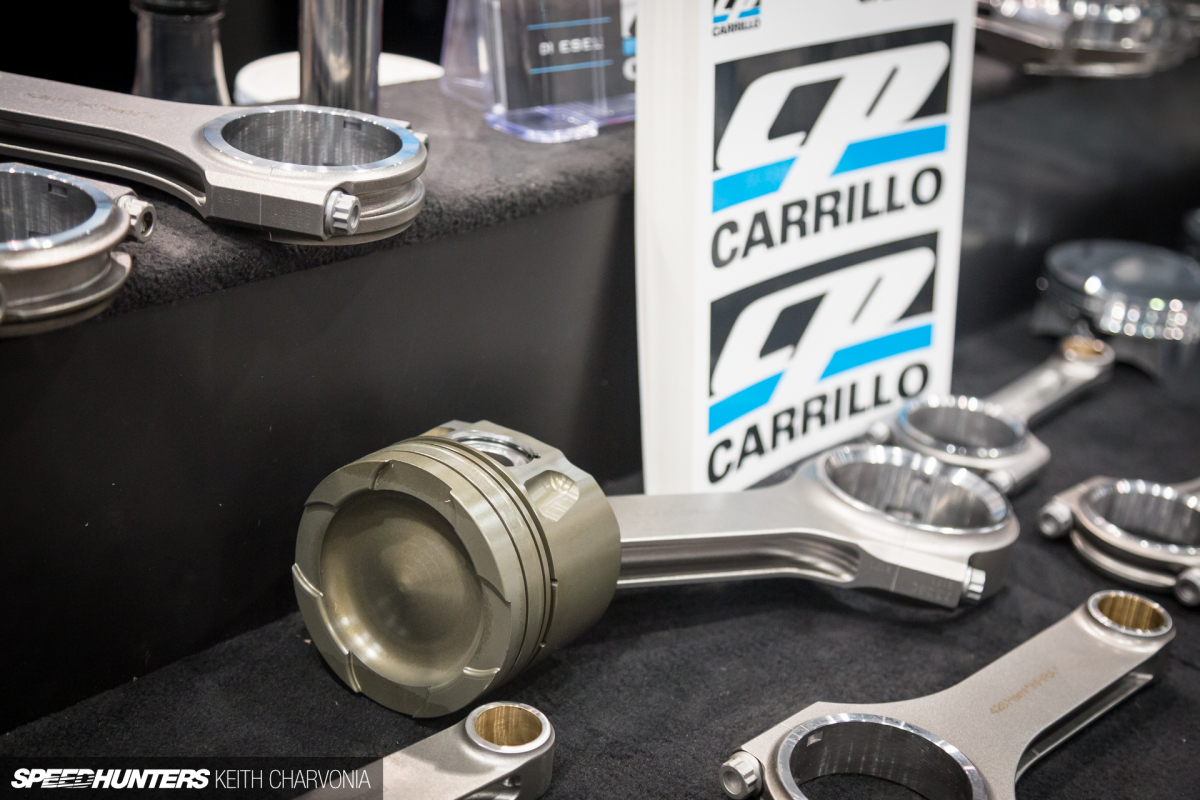 From the latest in hardcore performance and race engine internals…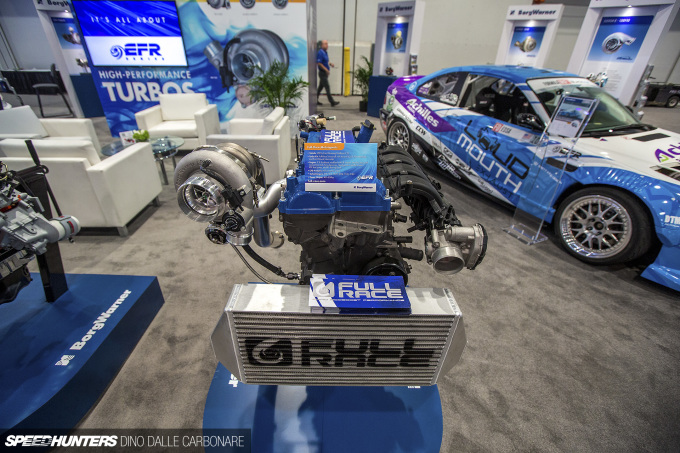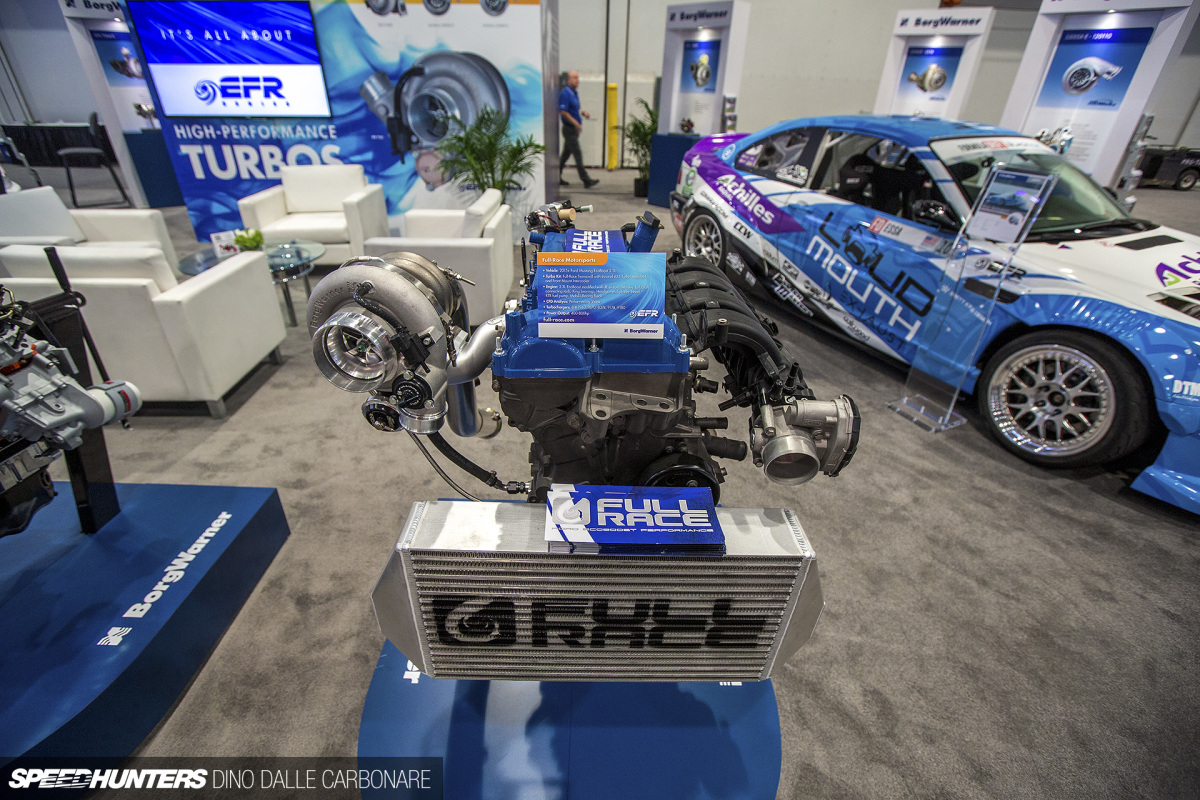 To new release turbo systems and everything in between, once again SEMA had it all.
So to wrap up our SEMA 2016 coverage, which we hope you've enjoyed over the course of the month, we're going to take a look at some of the products that piqued our interest.
The Las Vegas Convention Center's absolutely massive Central Hall, where most of SEMA's Racing & Performance exhibitors call home for the four days of the show, is where we spent a lot of time.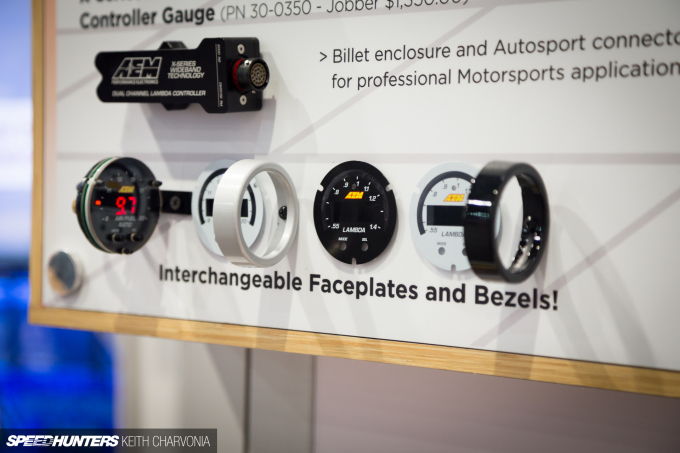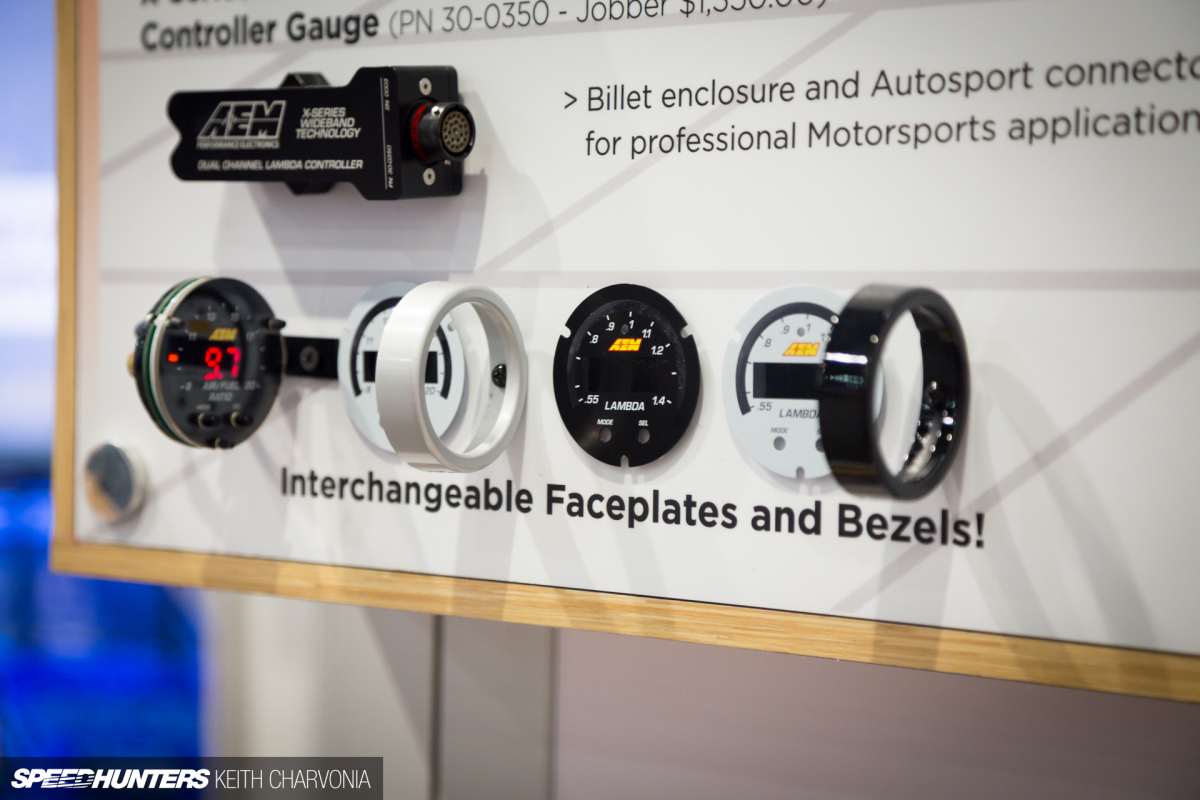 At the AEM Electronics booth we found everything from gauges to the company's full line of programmable engine management systems, but there was one new product that we had to take a closer look at.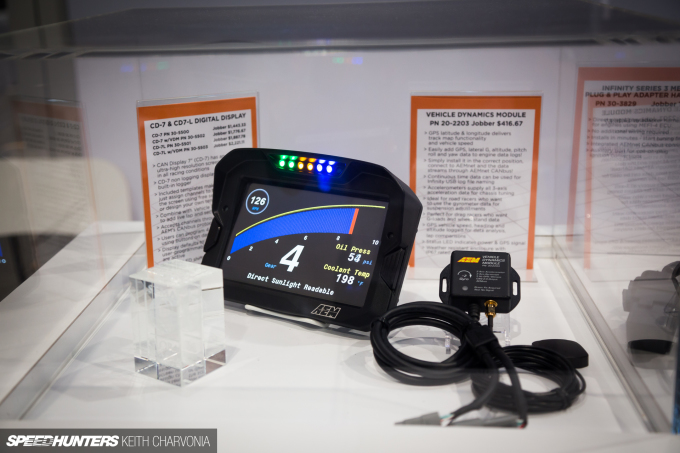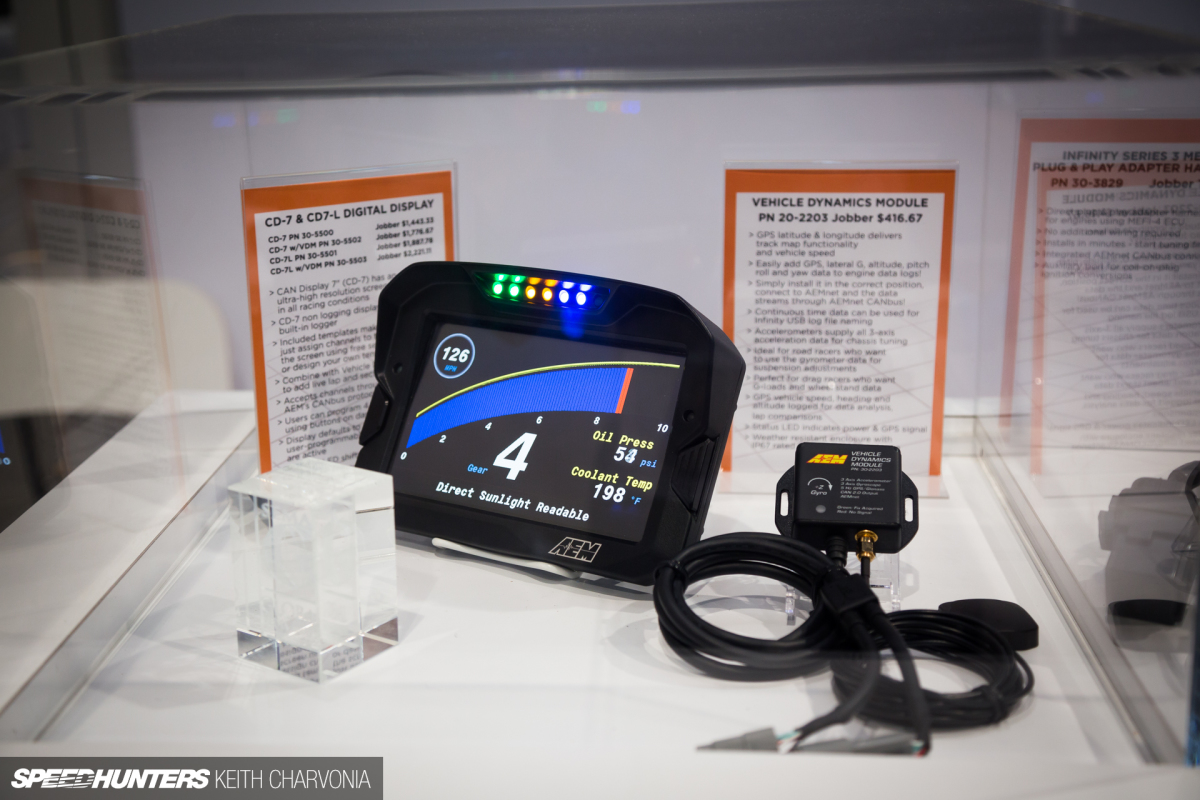 Specifically, AEM's new CD-7 digital display, which will be offered with or without data-logging capabilities. This 7-inch unit operates via CAN bus with all AEM Infinity and Series II ECUs, and on top of being totally user-configurable in the way the screens can be set up, the display also maintains full readability even in direct sunlight.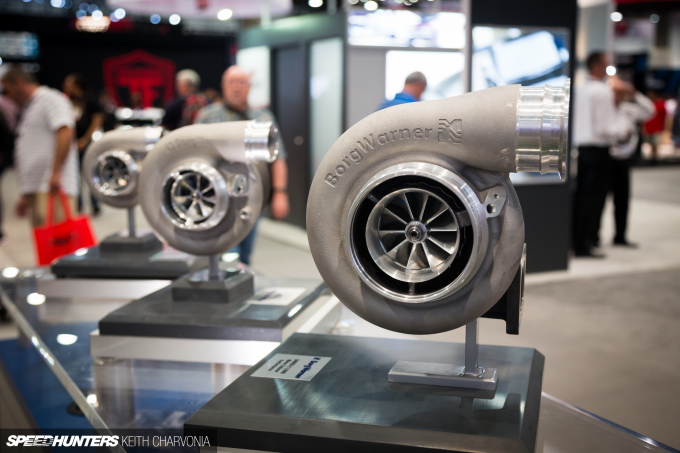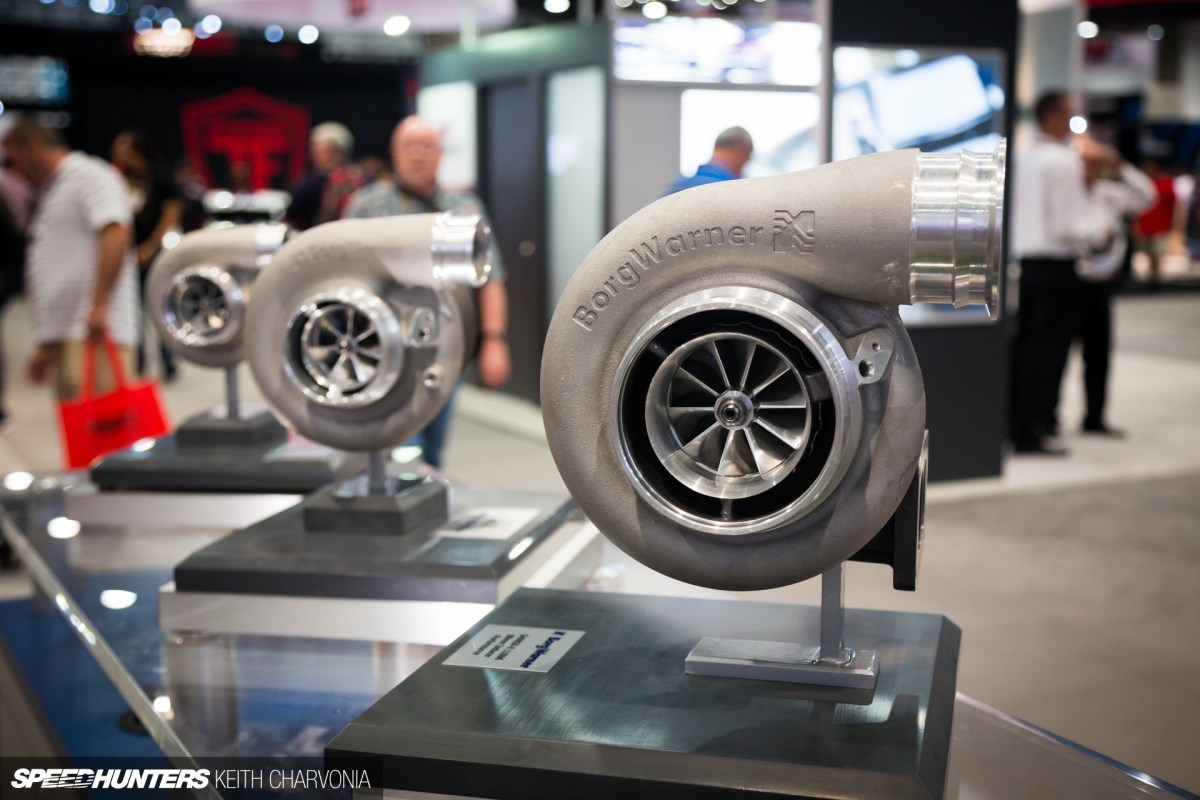 In the world of aftermarket and OEM turbochargers, BorgWarner needs no introduction. For SEMA 2016, it came to Las Vegas with its entire performance line-up and a few new and future products.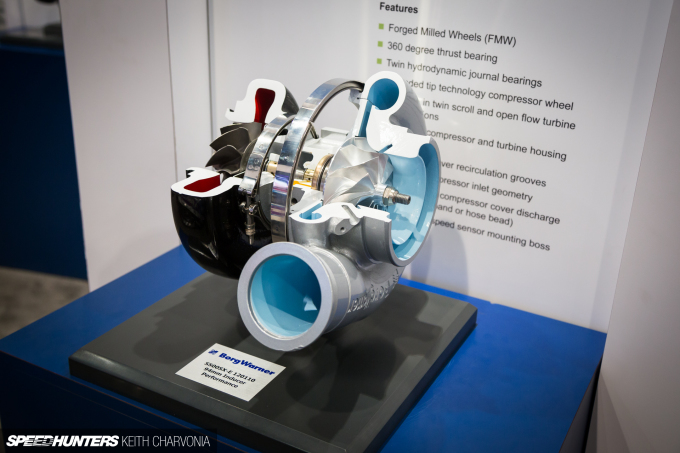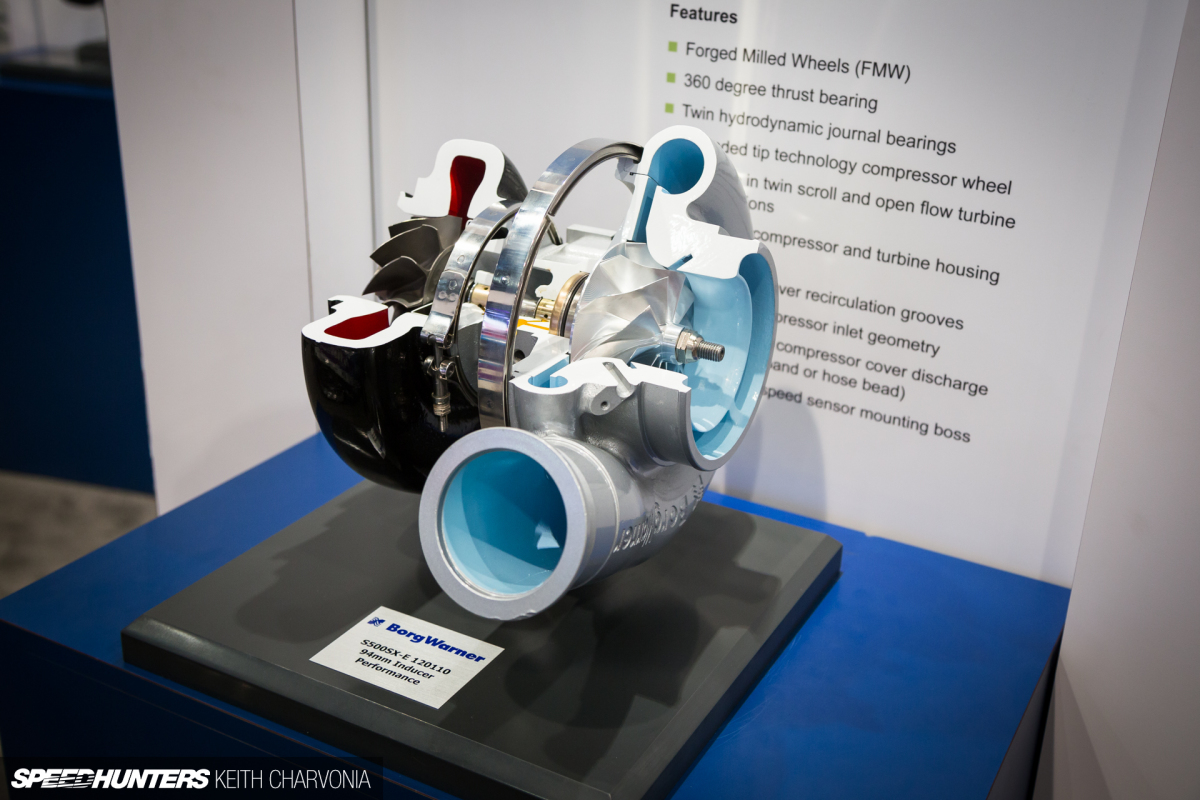 From the AirWerks SX-E range, of which the smallest turbo can flow up to 550hp, the new S500SX-E in 94mm inducer guise is the big boy of the family. According to BorgWarner this unit has the ability to support up to 1900hp, making it well suited for drag racing applications.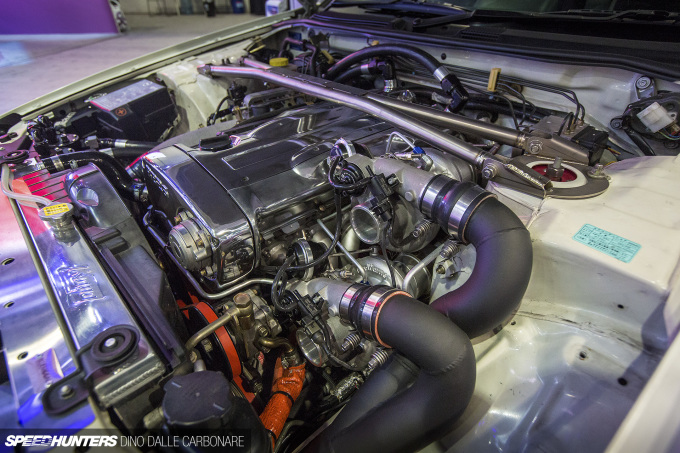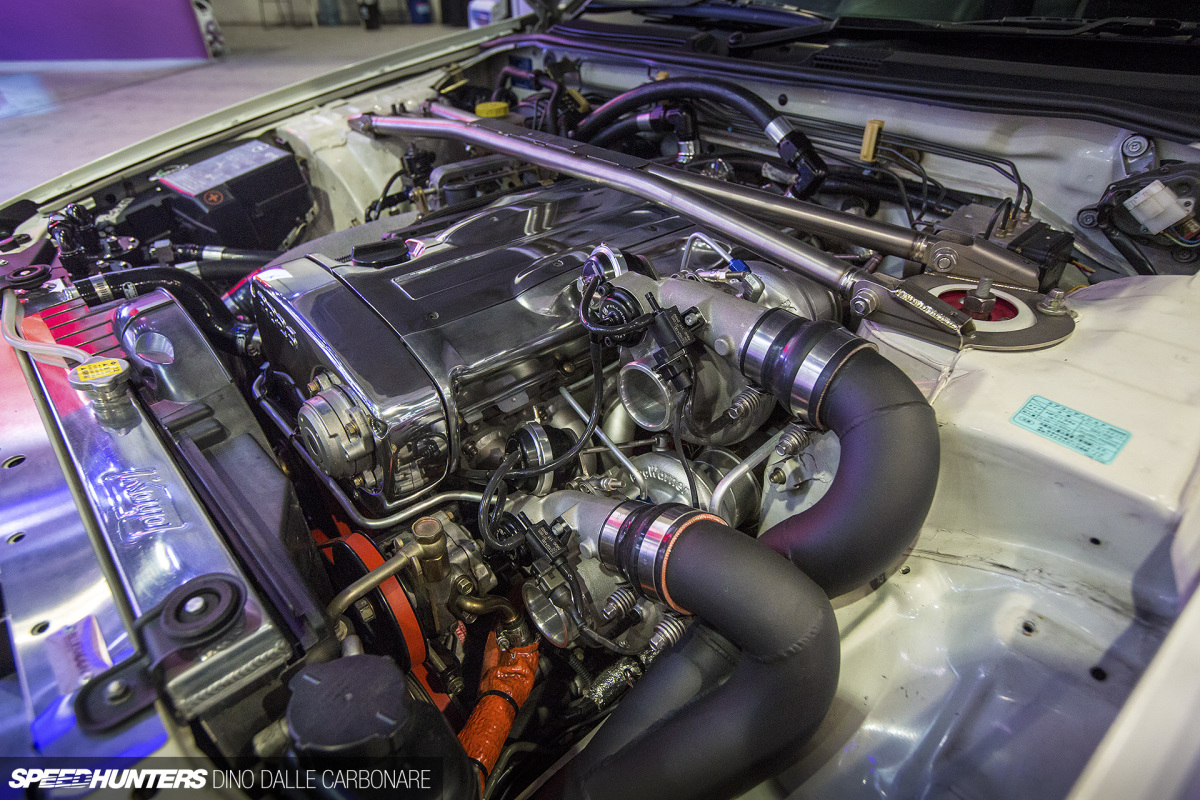 BorgWarner's EFR (Engineered For Racing) series has become very popular for time attack and hard-tuned street cars, and Toshi Hayama's 'Project Time Capsule' BNR34 Skyline GT-R was on display showing off its new twin EFR 6258 set up.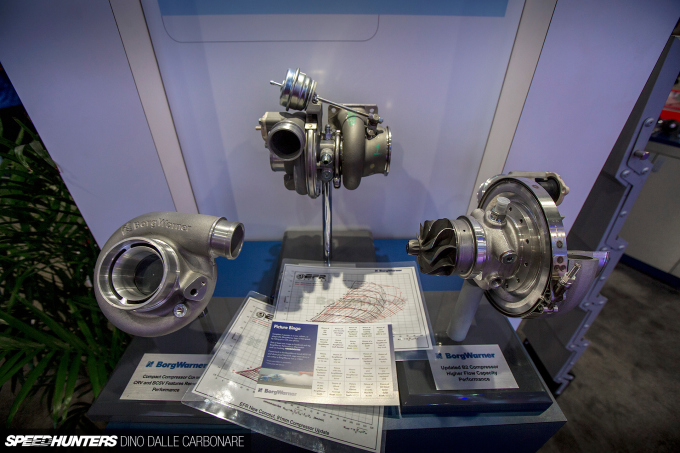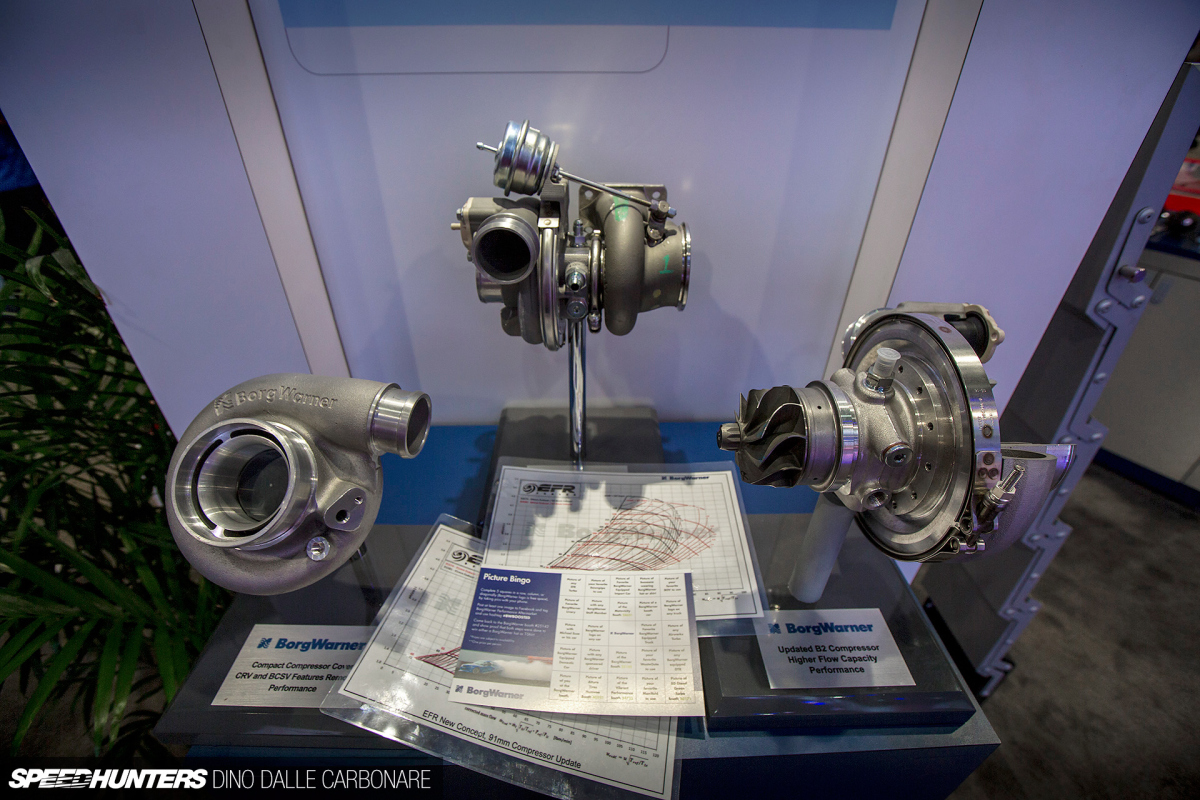 For SEMA 2016, BorgWarner showcased a couple of refinements and one new turbocharger coming to the EFR catalog. The EFR 5951 (pictured center) is a concept turbo destined to become the new 'baby' of the EFR range. Compared to the EFR 6258 (currently the smallest EFR offering) the 5951 has a smaller physical size, but is able to flow up to 95 per cent of its bigger brother with 35 per cent less inertia.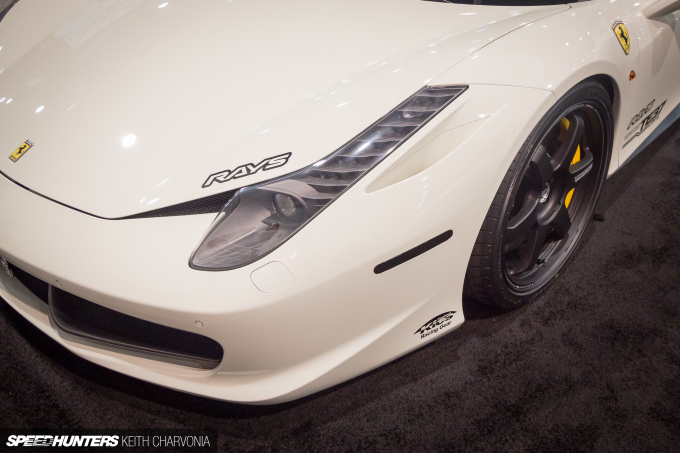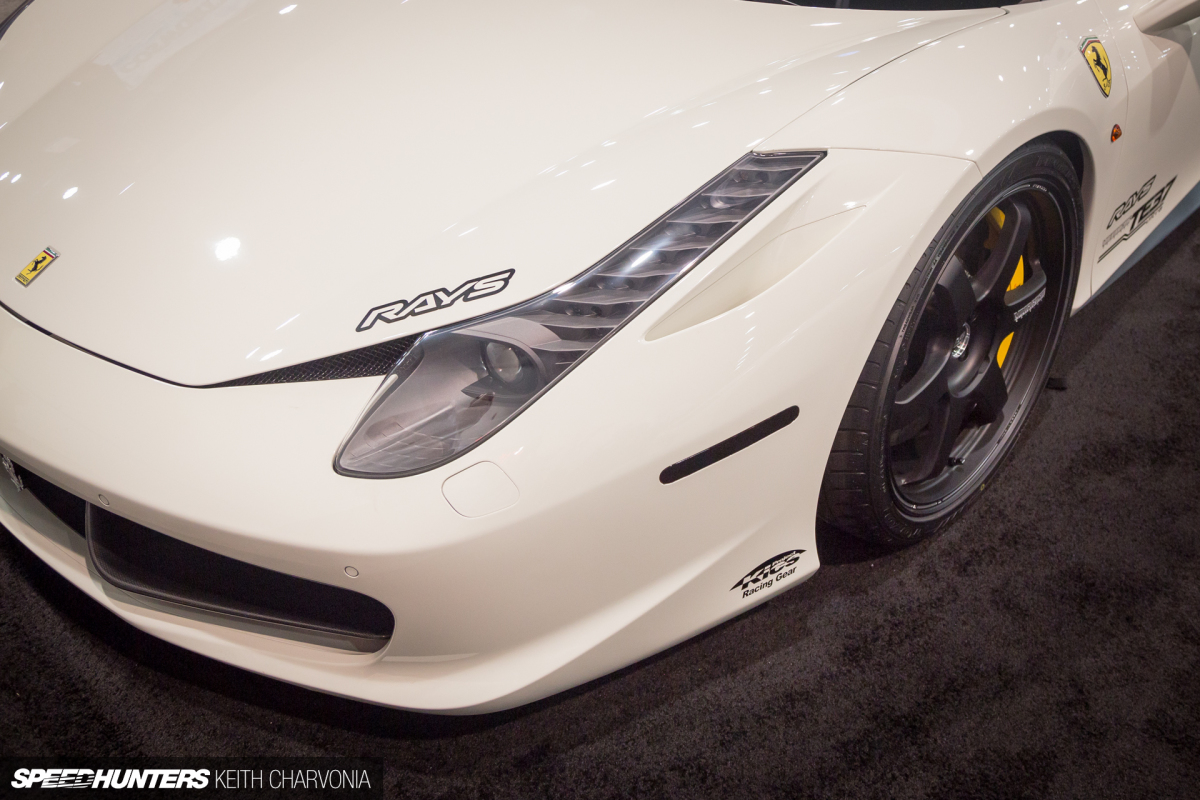 The RAYS booth was one of our first stops during the week, and the Japanese manufacturer had some exciting new wheels on show.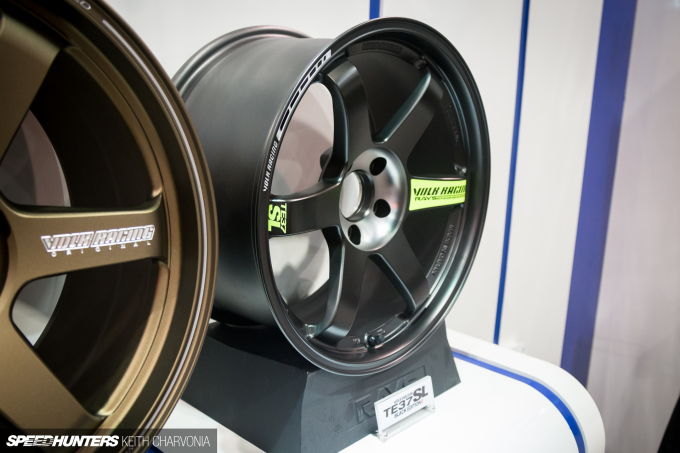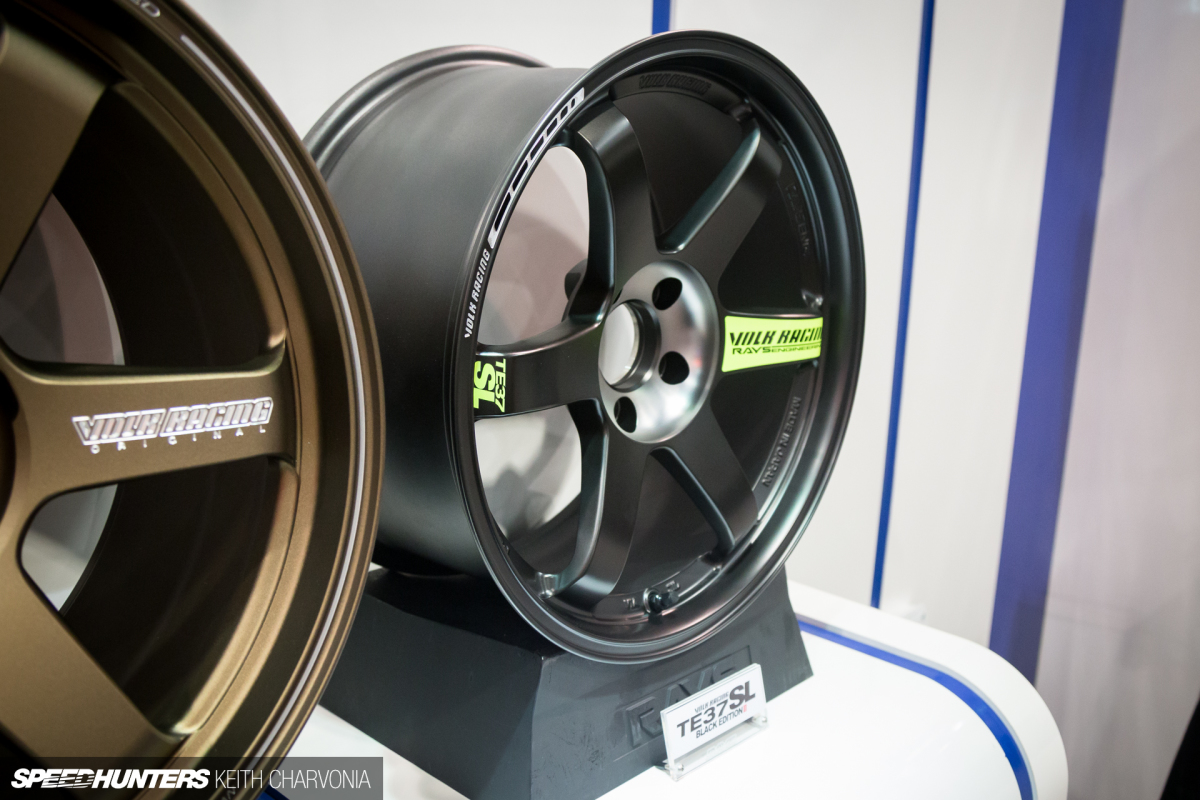 In its Volk Racing line-up, RAYS showed off the re-release of its TE37 Super Lap Black Edition wheel, which looks super tough.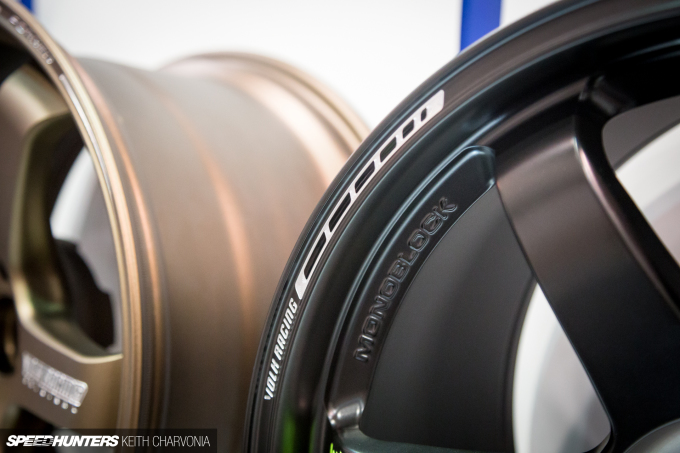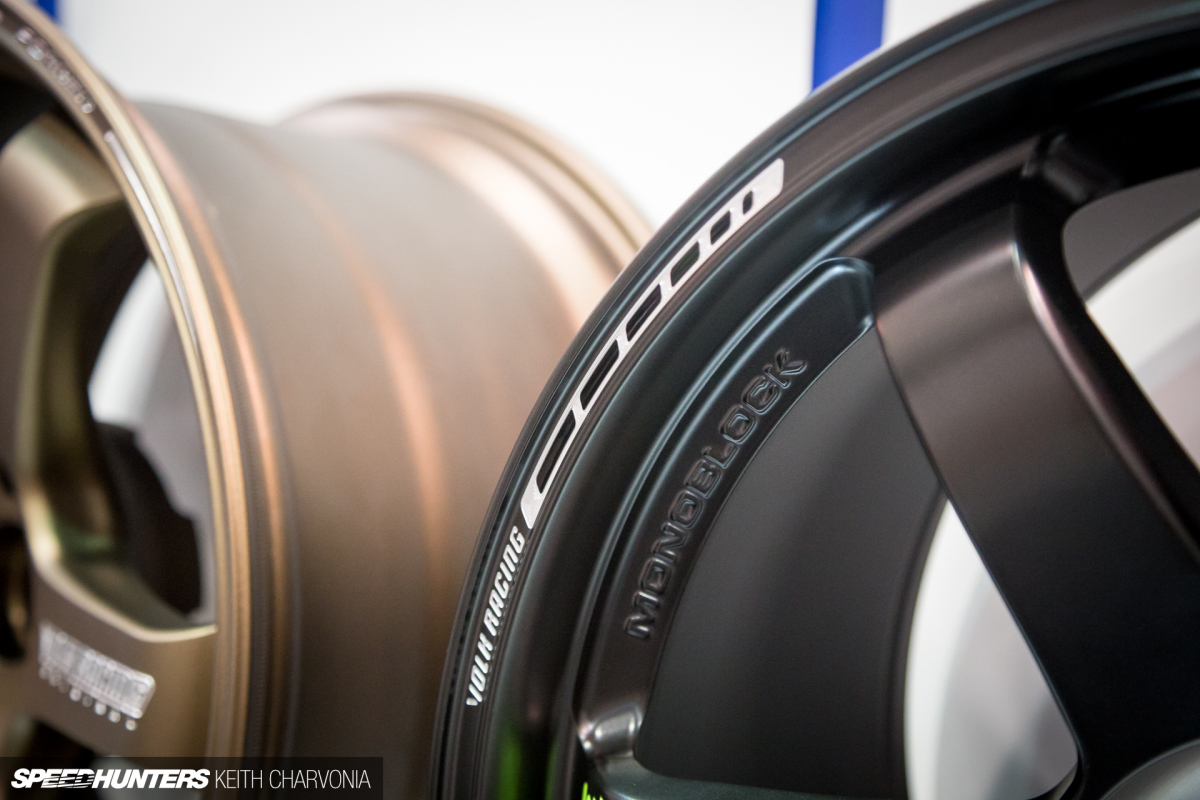 The 'TE37SL Black Edition II' has a Pressed Black (satin) finish with a special machining detail and gloss black 'Redot' treatment on the rim flange, plus luminous spoke stickers.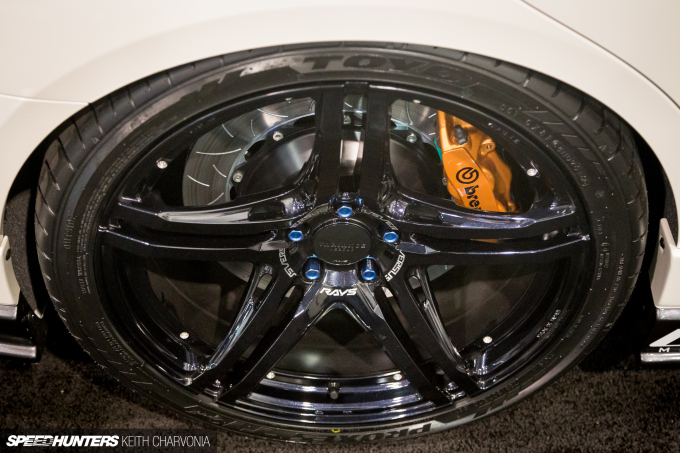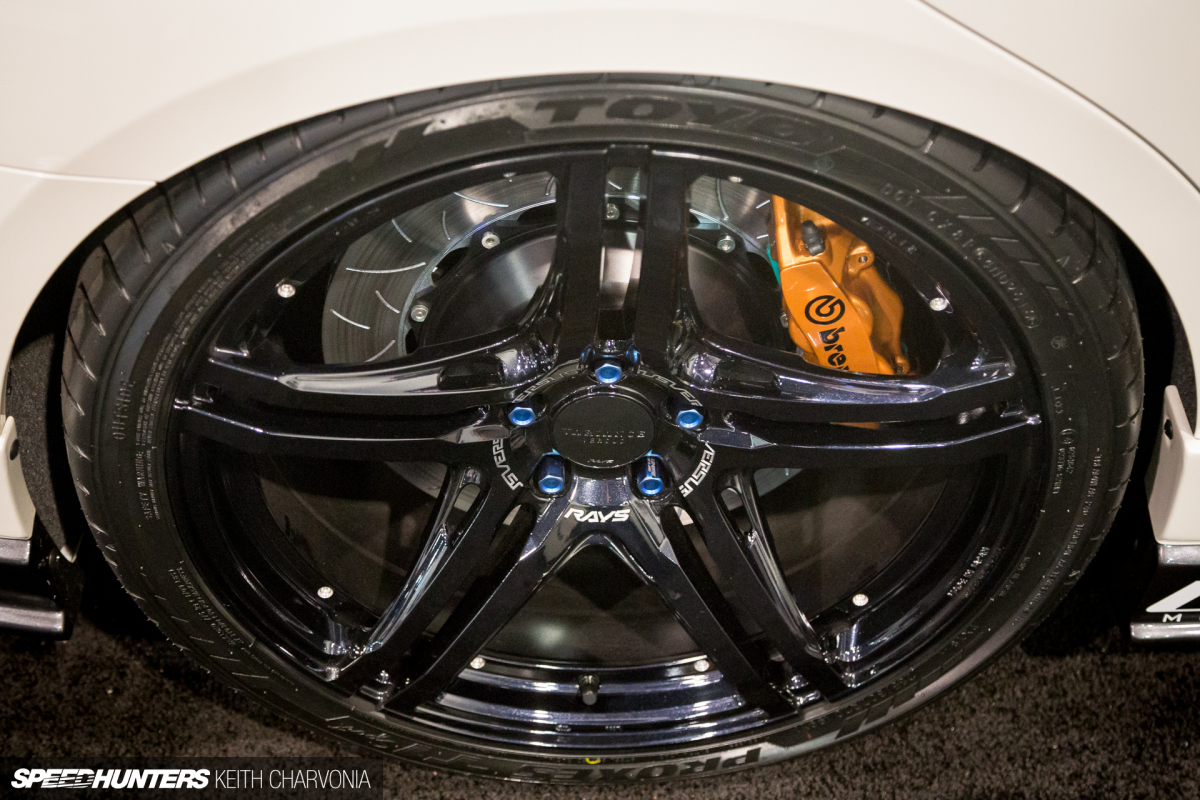 Of course, RAYS is about much more than just its Volk Racing offerings, and added to its Versus wheel line is the new Variance Versus V.V.5.2S, which comes in a couple of 20-inch sizes for 5×114.3, 5×120 and 5×112 fitments. A new casting technique was employed to create the side slots in this wheel's twin-blade spokes for weight reduction and a unique look.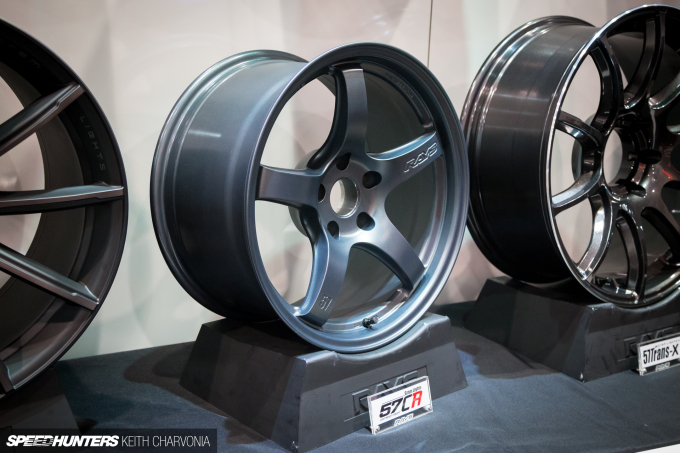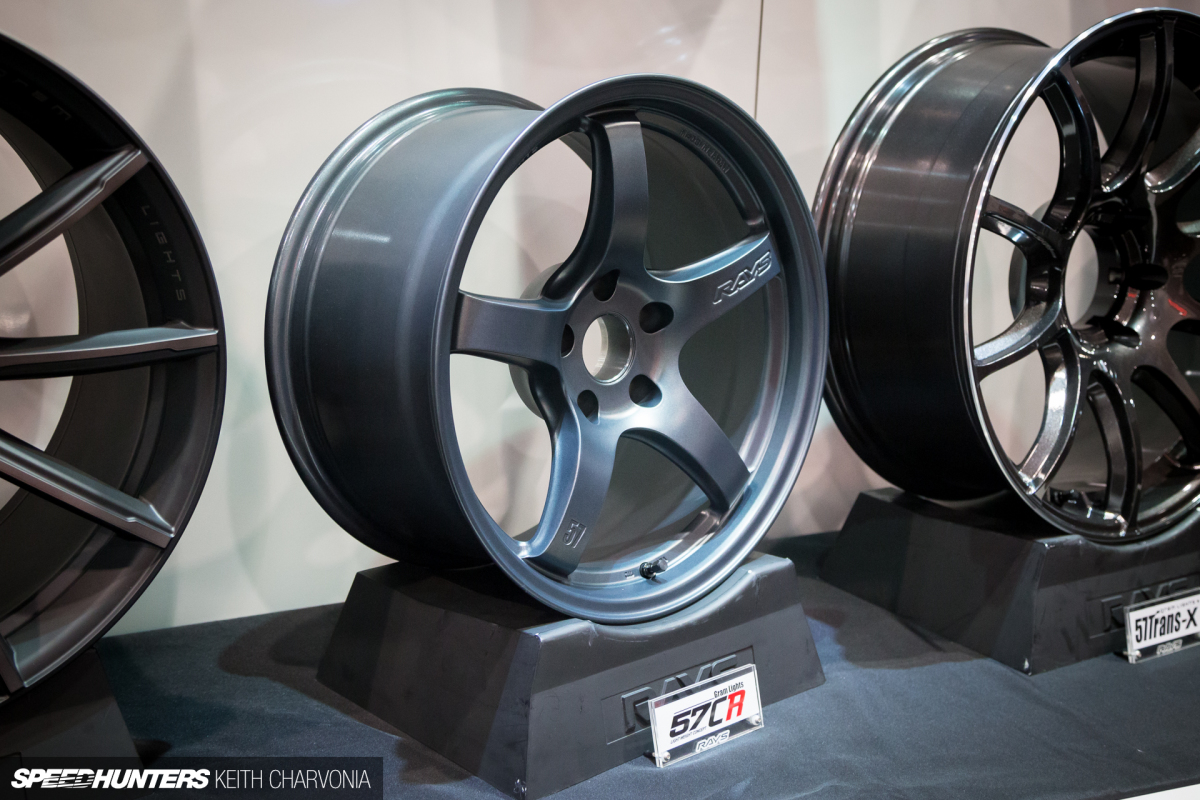 Another new RAYS wheel release is the Gram Lights 57CR. With its concave five-spoke design, this lightweight cast wheel is sure to be popular with its 17-inch and 18-inch fitments spanning widths of 8.5-inch to 10.5-inch.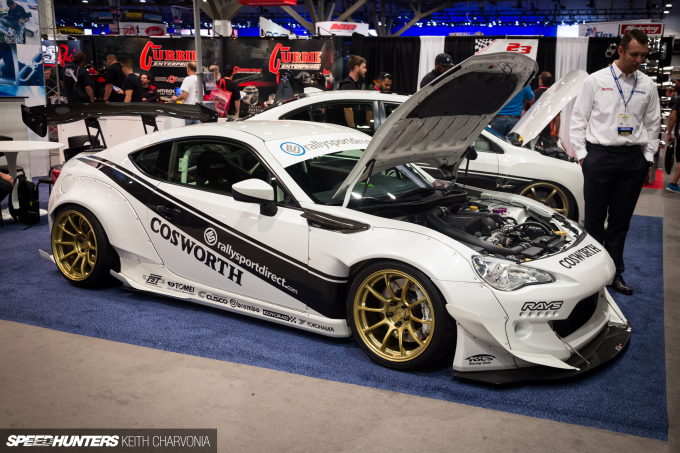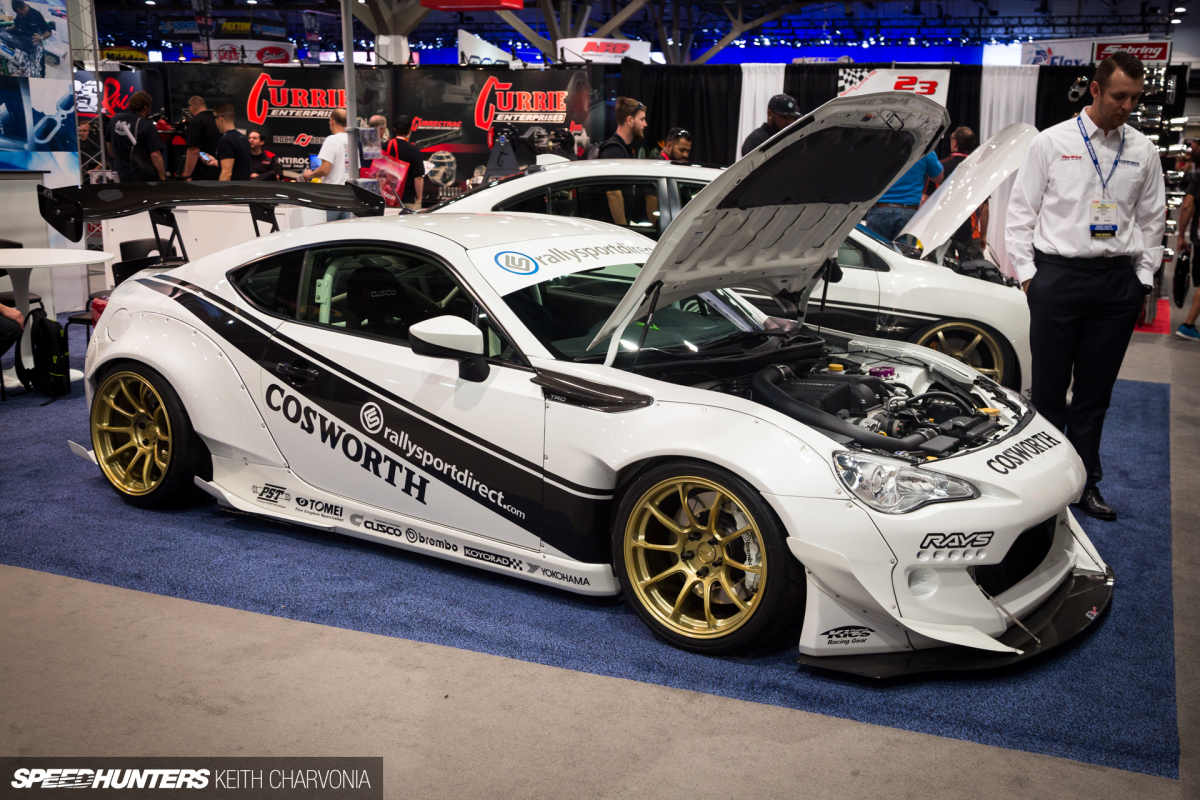 RAYS wheels – specifically Volk Racing ZE40s – also featured on this Scion FR-S in the Cosworth booth. Among many other modifications, including an enhanced Rocket Bunny kit, big Brembo brakes and a race-ready interior, the RallySport Direct-built ZN6 features serious power-making hardware under the hood.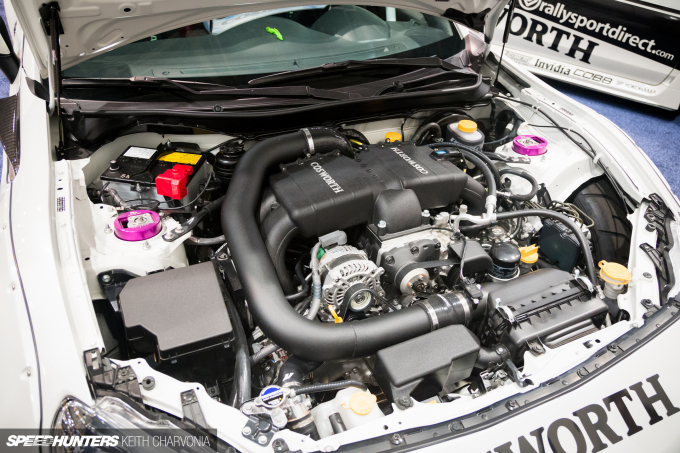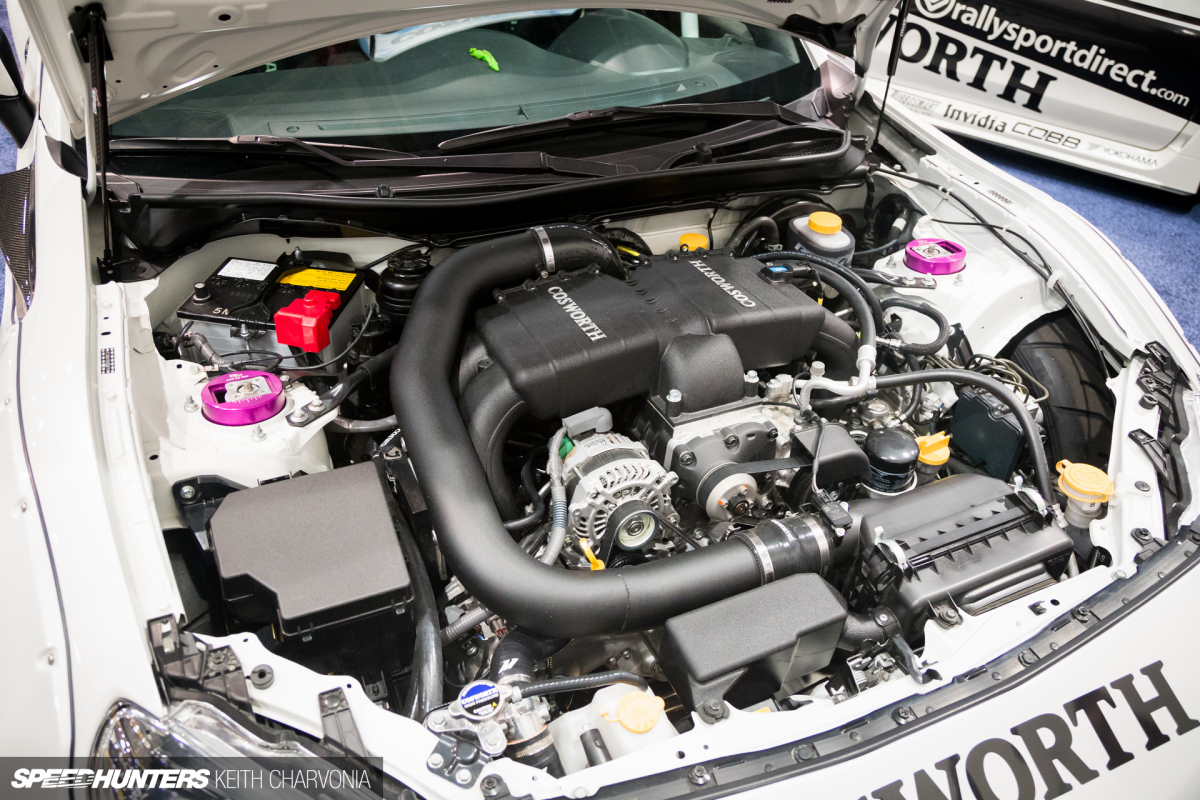 More specifically, Cosworth's supercharger kit for the 4U-GSE/FA20, the production version of the prototype kit that featured on our 2014 Scion Tuner Challenge-winning FR-S. Combining an intake manifold, intercooler and positive displacement supercharger, the Stage 2.0 Cosworth FA20 Power Package builds on the Stage 1.0 upgrade to add 80hp plus excellent throttle response at low engine speeds.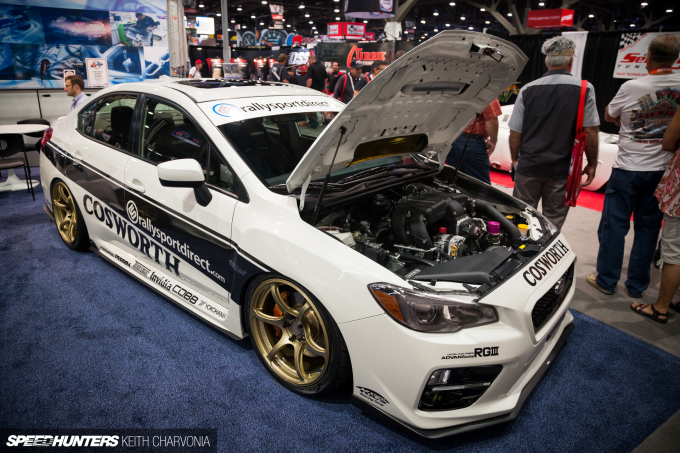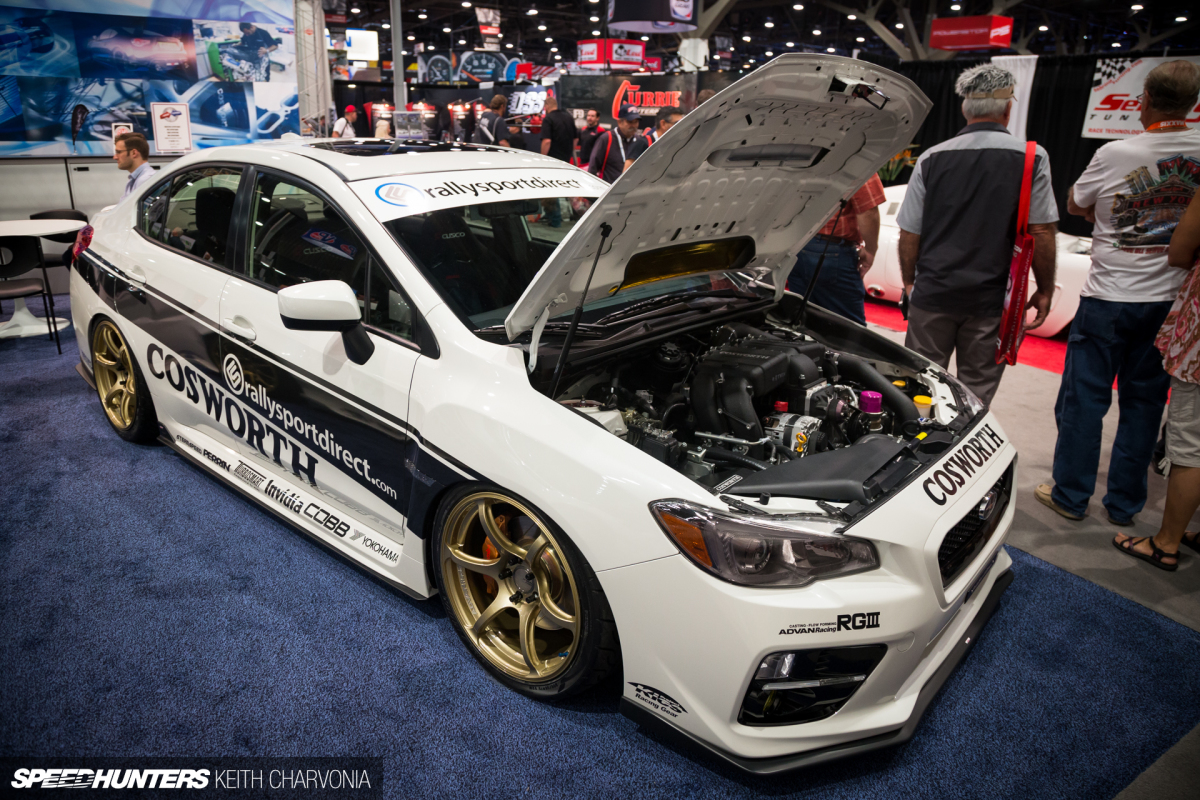 Parked up next to the FR-S was what Cosworth called a fun 'what if' project just for SEMA: a twin-charged Subaru WRX.
Adding a Cosworth supercharger to WRX's turbo flat-four would surely make this car a whole lot of fun to drive. It remains to be seen if this sort of upgrade kit will ever see production, but the neat intake is available.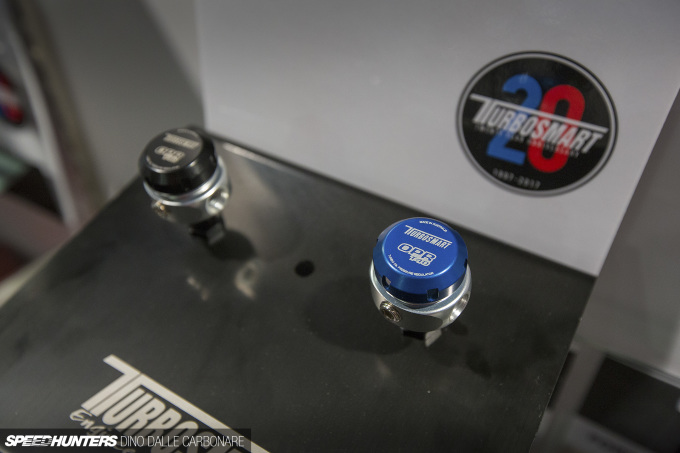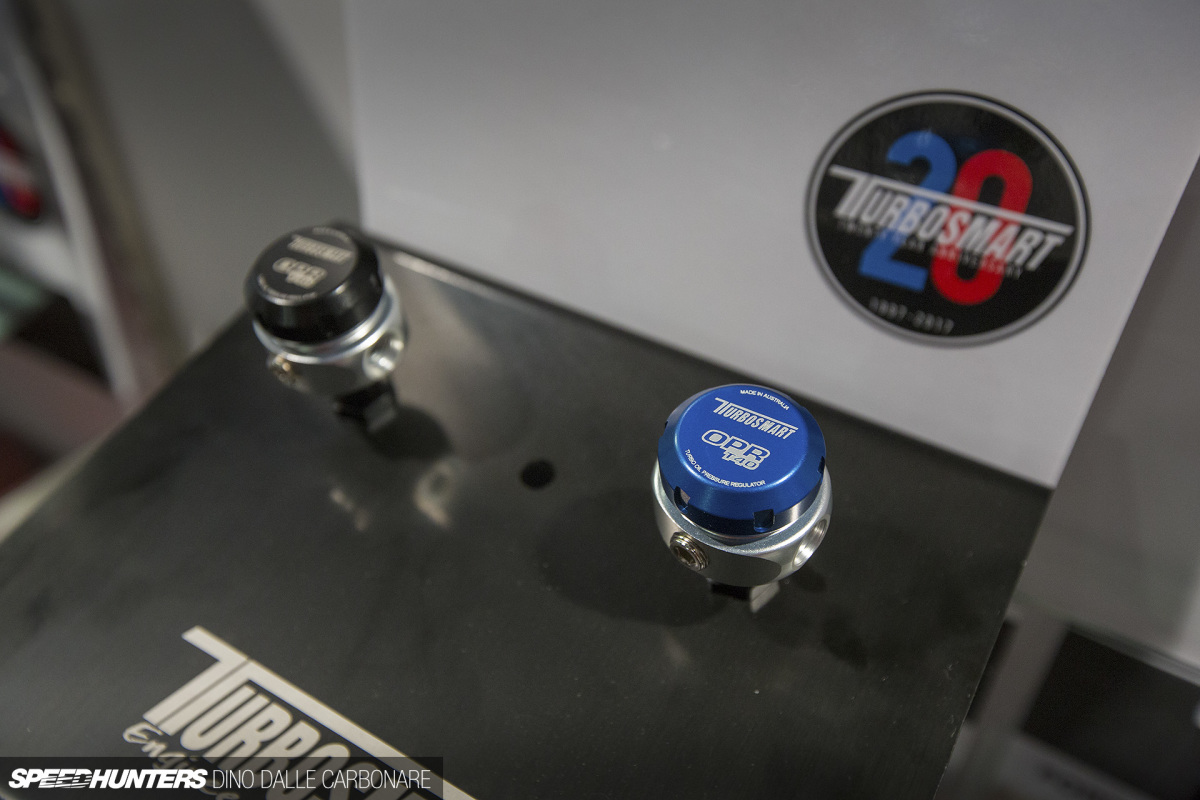 Turbosmart used SEMA 2016 to launch a few fresh products to the industry: a new FPR (fuel pressure regualtor) line with a focus on small size and light weight; a selection of smaller accessories including fuel filters, turbo oil feed filters, oil drains and flange adapters; plus this, the OPR T40 oil pressure regulator. Preset to 40psi max pressure, the OPR T40 is designed to ensure accurate oil pressure supply to a turbocharger, helping to prevent compressor or turbine-stage oil leaking or smoking.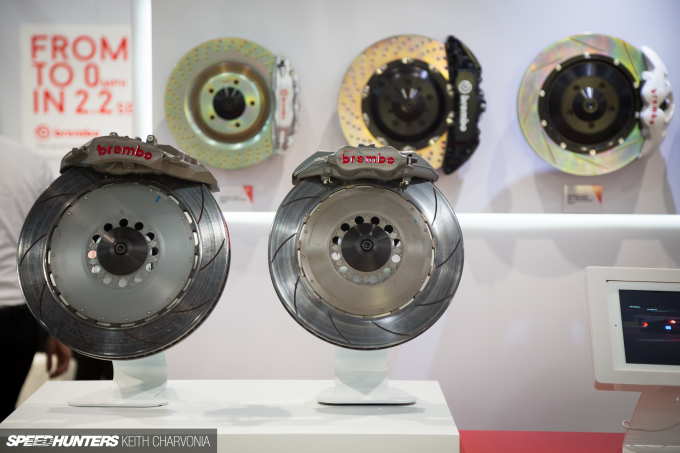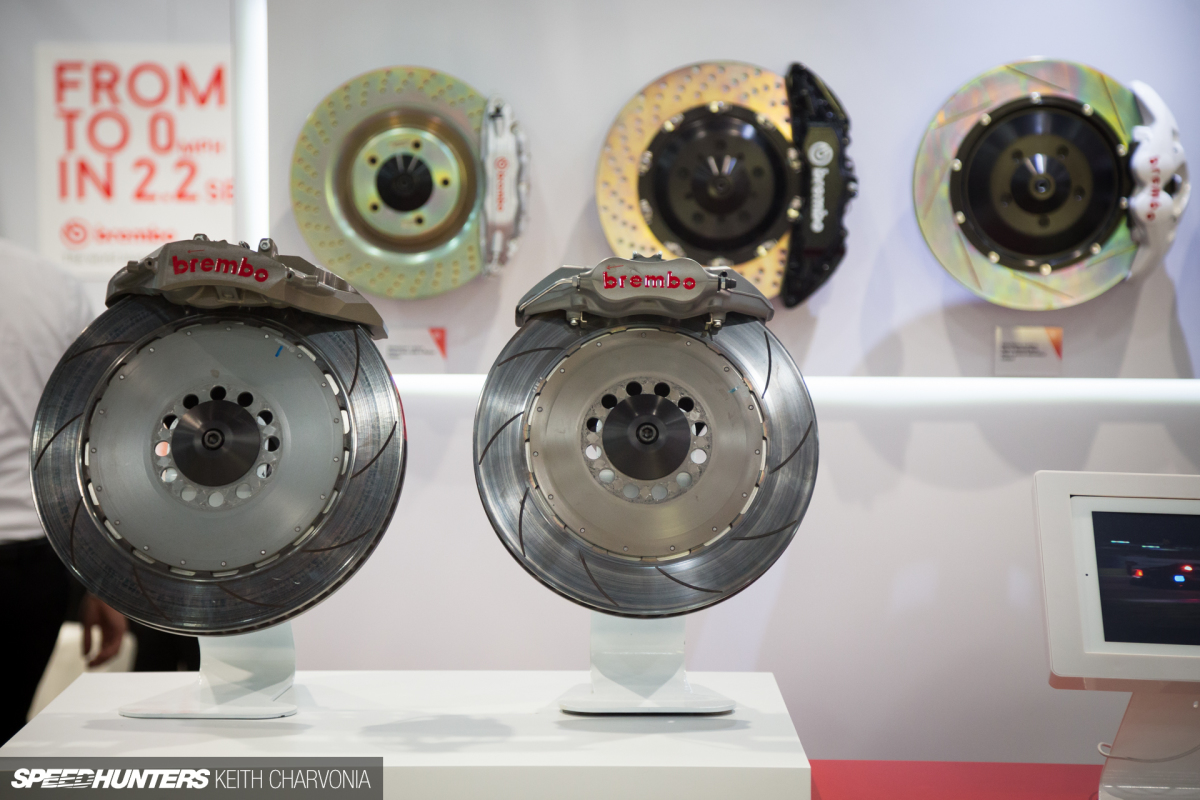 Brembo's booth showcased all of the company's current performance and racing offerings, but not everything was brand new out of the box. These brakes came off Ford's Le Mans-winning GT.
Some of the largest Brembo brake upgrades being shown were for the SUV market, including these massive 8-piston/4-pad calipers.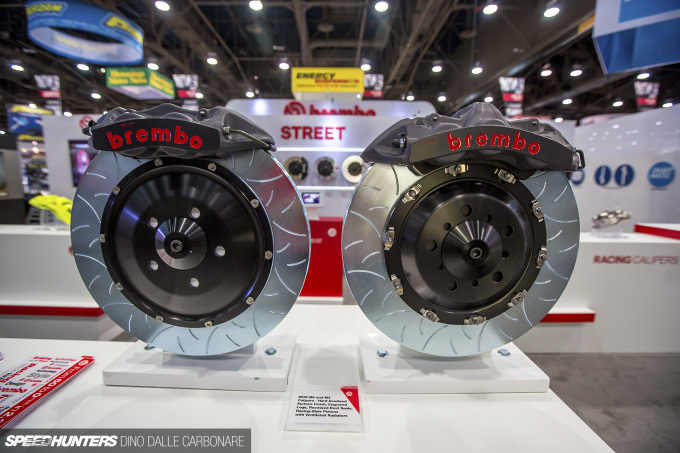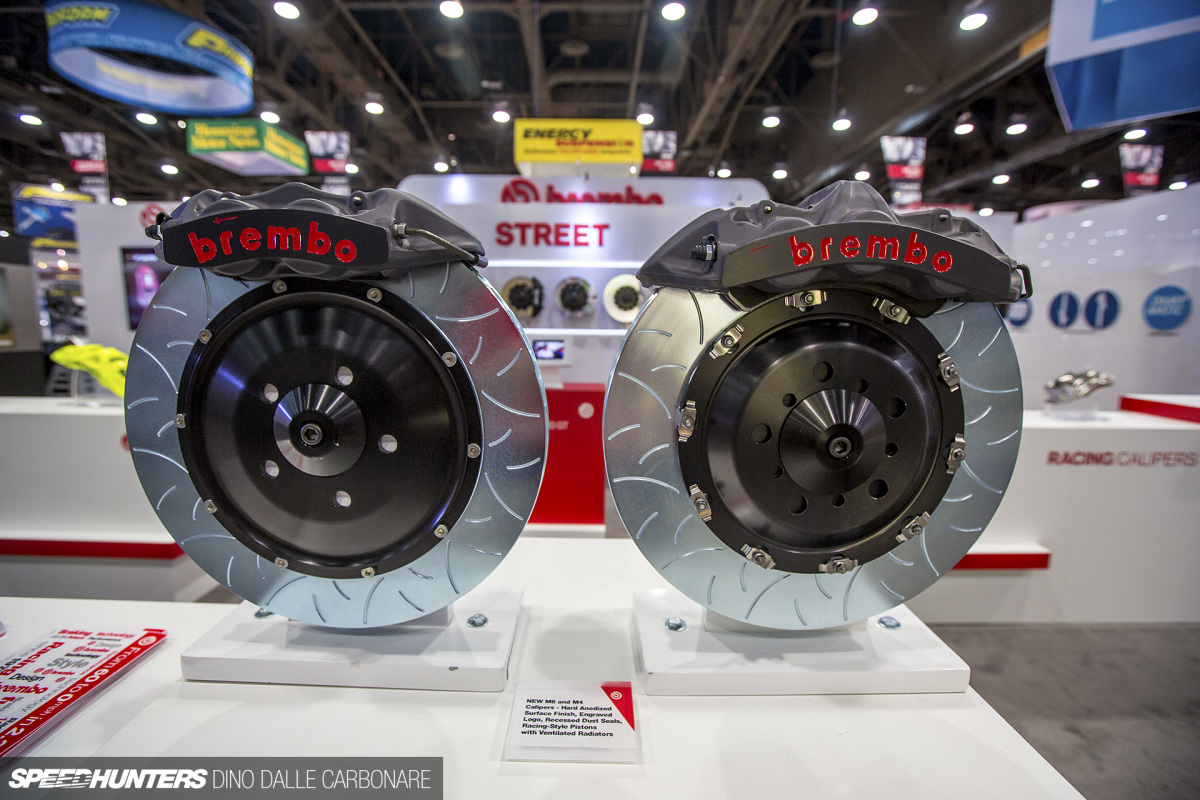 Of most interest to us however, were Brembo's new M4 (4-piston) and M6 (6-piston) calipers aimed squarely at track day racers. Derived from Brembo's Gran Turismo (GT) performance caliper family, these models feature hard anodized surfaces and racing-style pistons among other high performance attributes.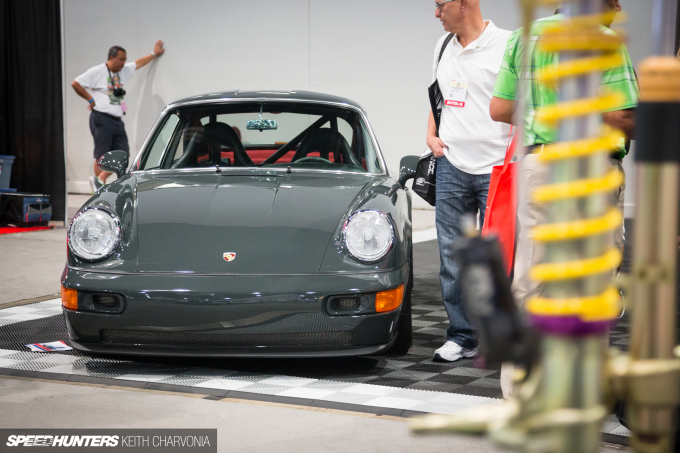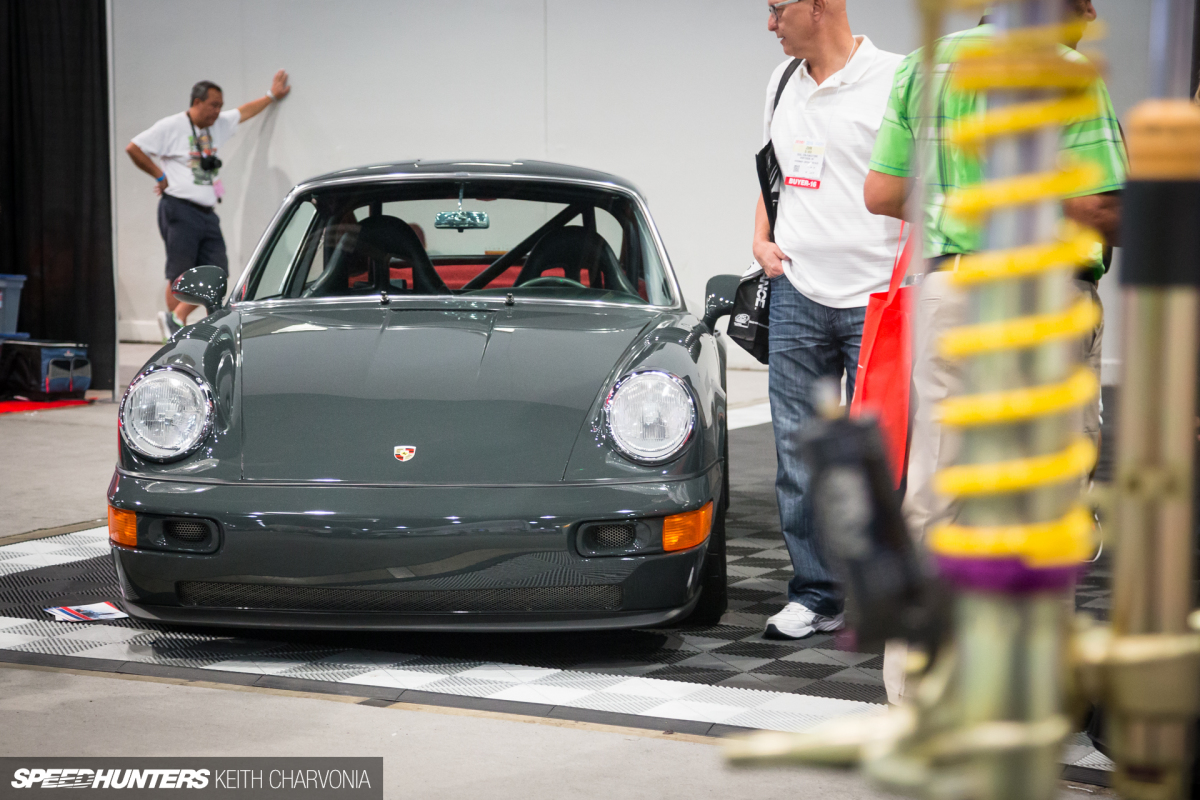 KW had a large presence at SEMA with many show cars using its suspension products, but there was also lots of new stuff to see at its booth. And one of those should be of particular interest to owners of old Porsche 911s with factory torsion bar setups.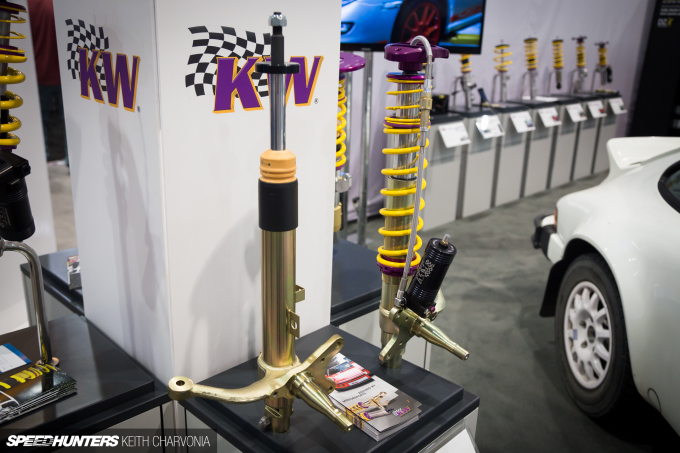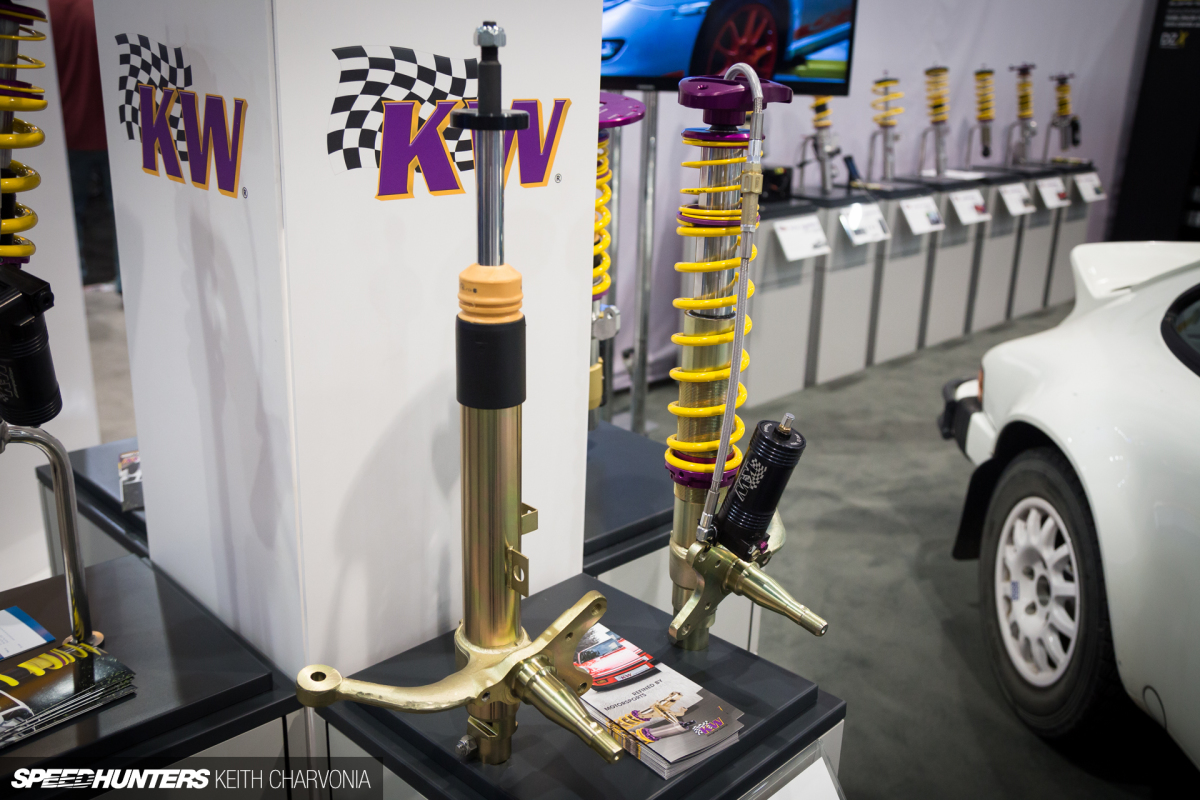 This is what we're talking about: KW's Porsche Classic line. Built on the Variant 3 platform and offering both compression and rebound adjustment, the dampers feature a forged spindle that allows for a straight bolt-in fit – no modifications required. The unit on the right is the full-blown KW Competition version with 3-way adjustability.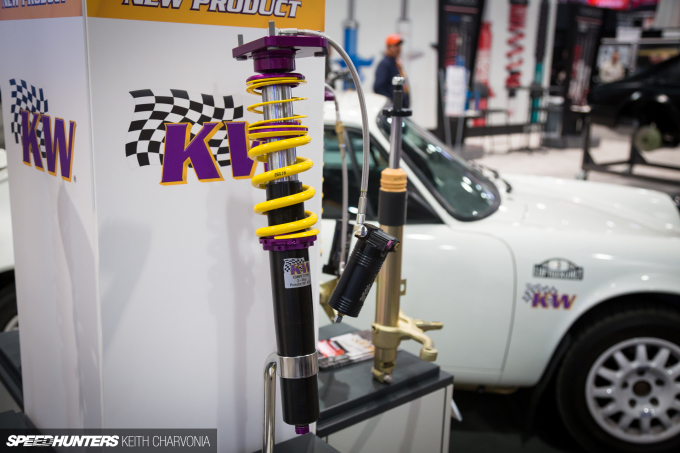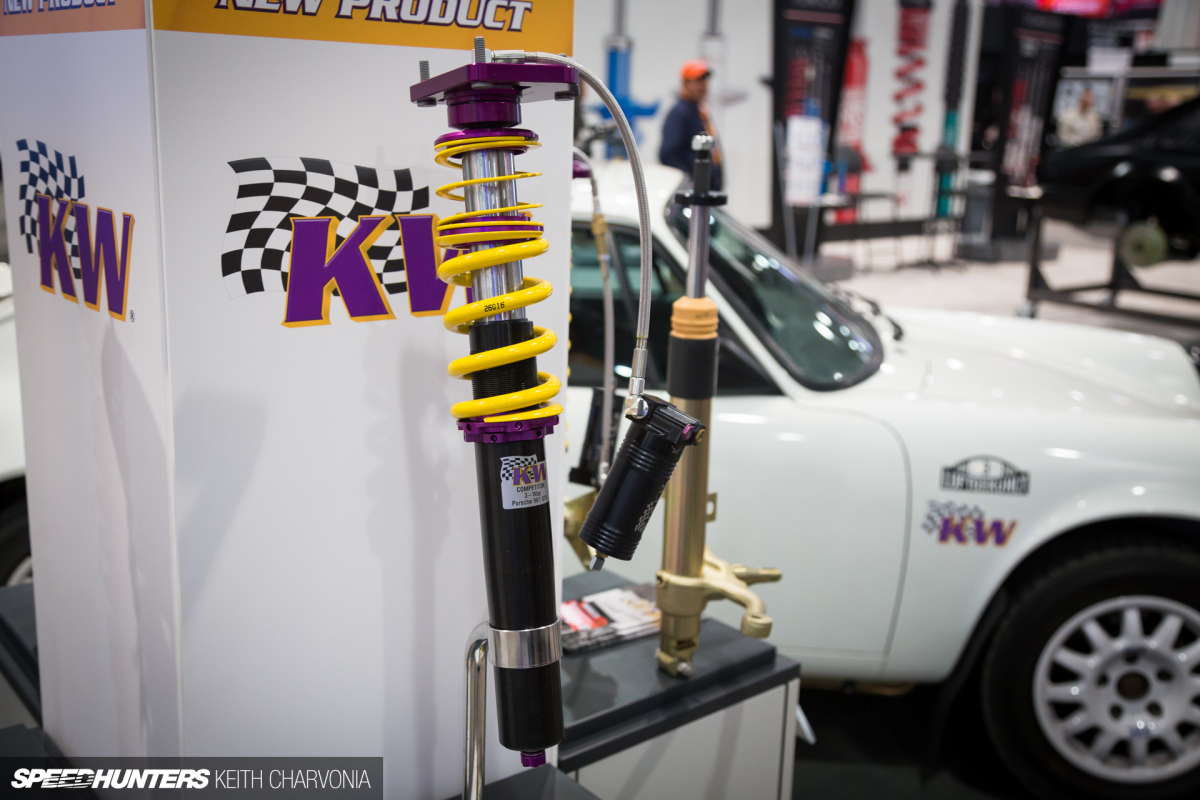 Sticking with Porsche for a moment, this is the new Competition coilover unit for the Cayman GT4, one product in KW's range of aftermarket suspension for this popular new model out of Stuttgart.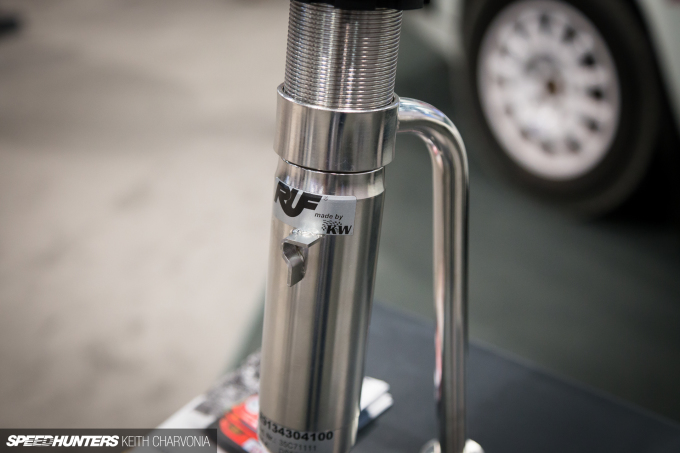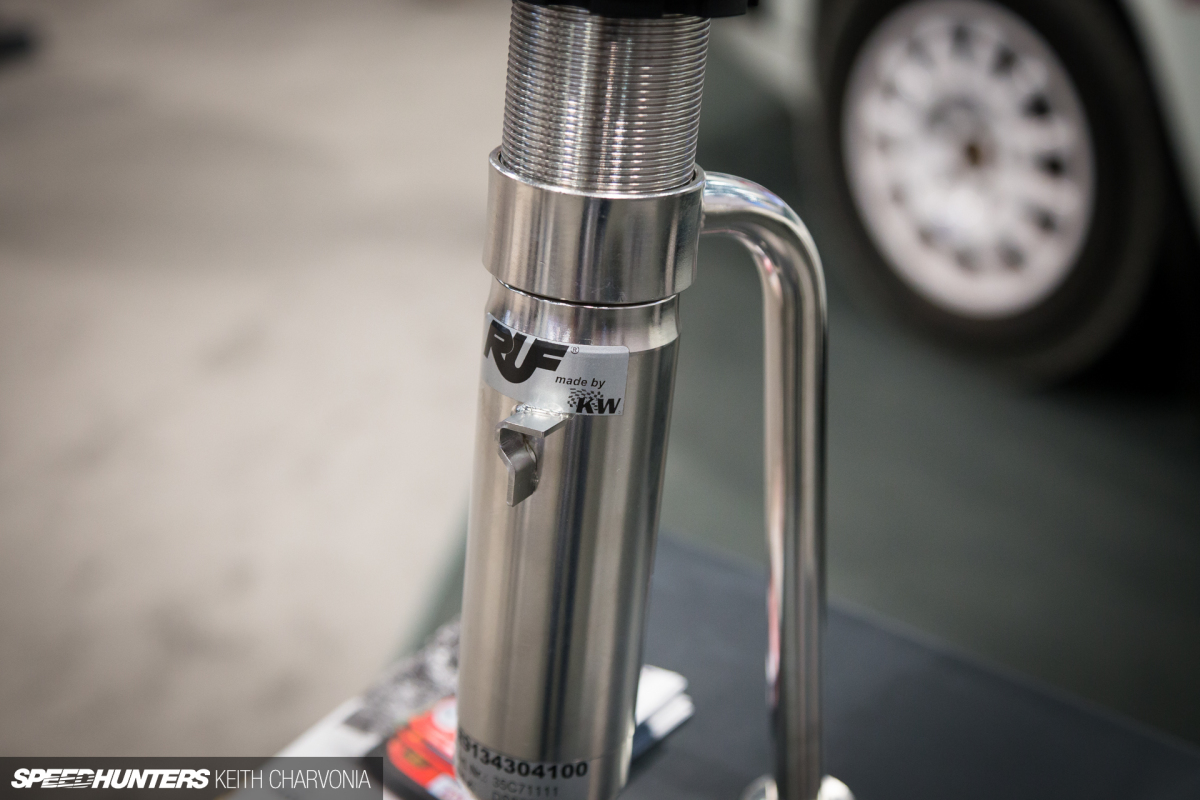 Also on show (but not pictured) was the new 3-way Clubsport shock for the BMW M2, which features the same KW technology used in BMW's GTS programme. Having a vehicle manufacturer like BMW use its products is a great endorsement for the product, but it's not an isolated case; KW's 'Private Label' display showed off other companies that it's lending its suspension technology to.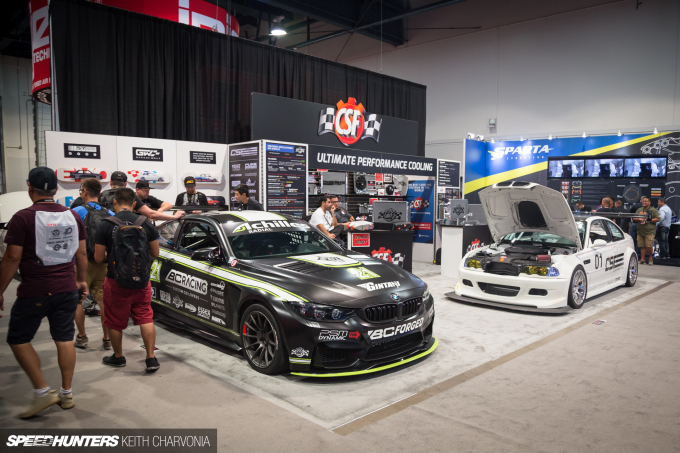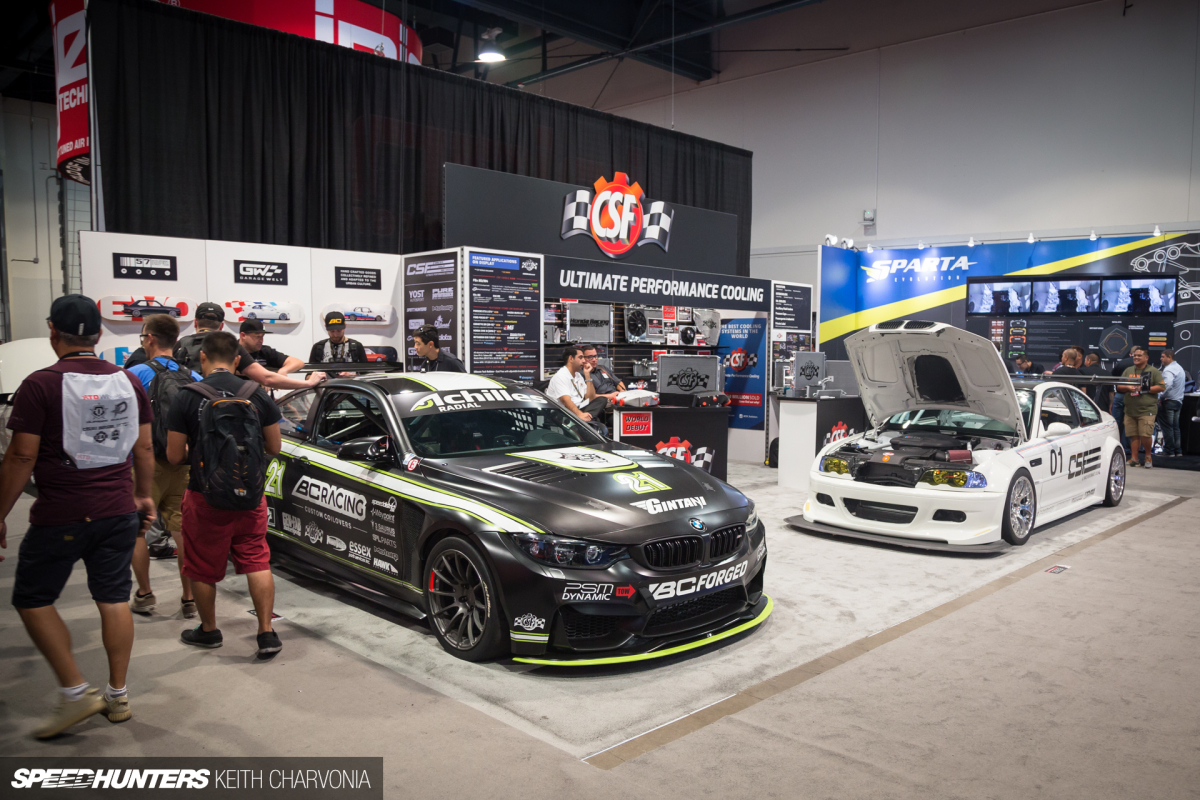 For our friends at CSF, SEMA 2016 had a bit of a BMW theme going on (you'll remember the Yost Autosport BMW M4 from Dino's recent post), and for very good reason.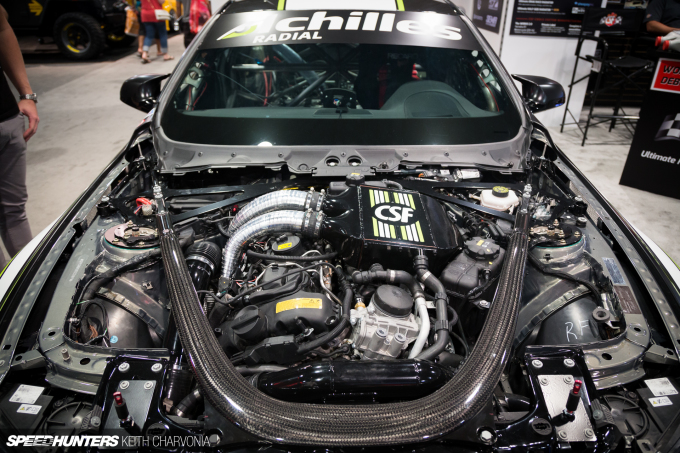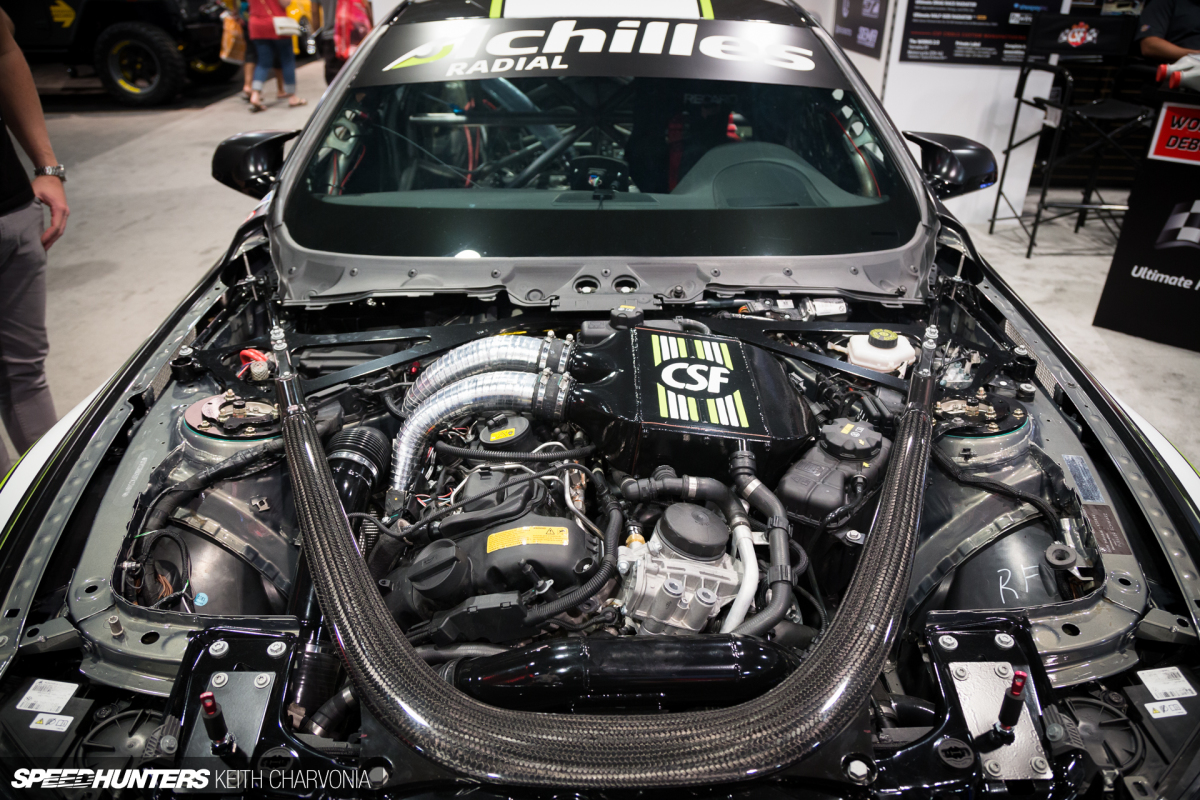 CSF's #BMWtakeover was all to do with the debut of its new BMW F80 M3 and F82 M4 liquid-to-air intercooler. Not only was this CSF's most technically challenging project to date, but it's also the company's first foray into this form of intercooling.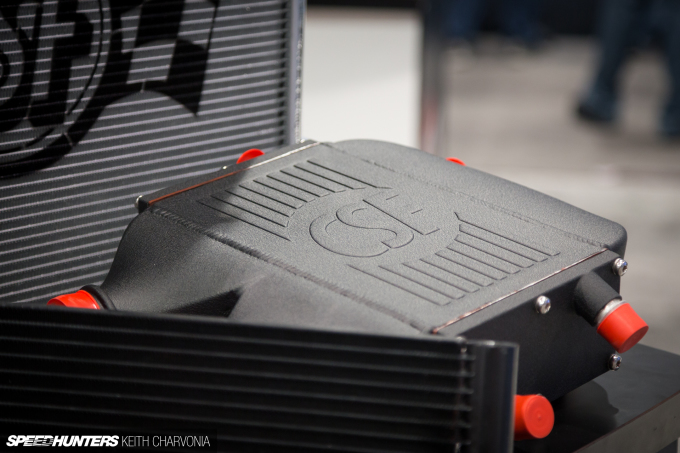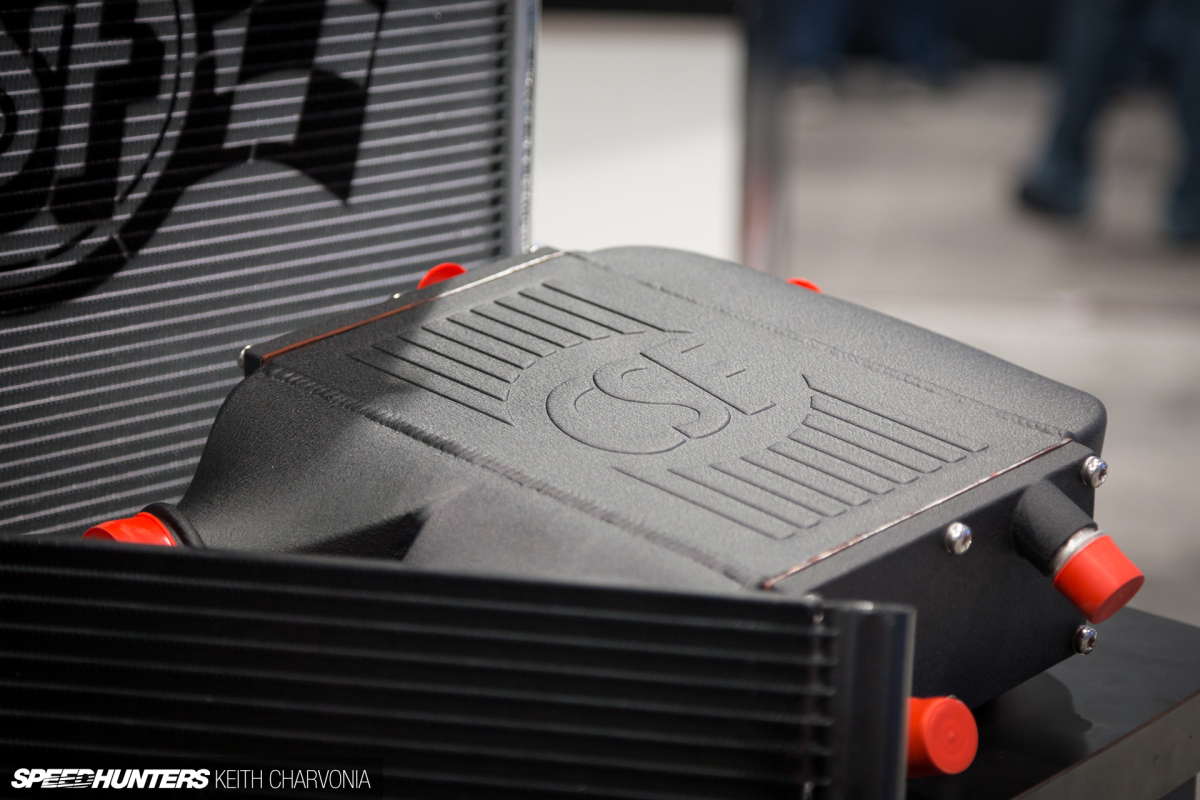 CSF has developed the full package for these cars too; here you can see the liquid-to-air intercooler (center), the required front-mount heat exchanger (rear), and a race-spec trans cooler for the DCT (foreground).
November is a big month for Optima Batteries, because right on the heels of the SEMA event the company holds its annual Ultimate Street Car Invitational (OUSCI) event, of which you may have seen coverage on Speedhunters in the past.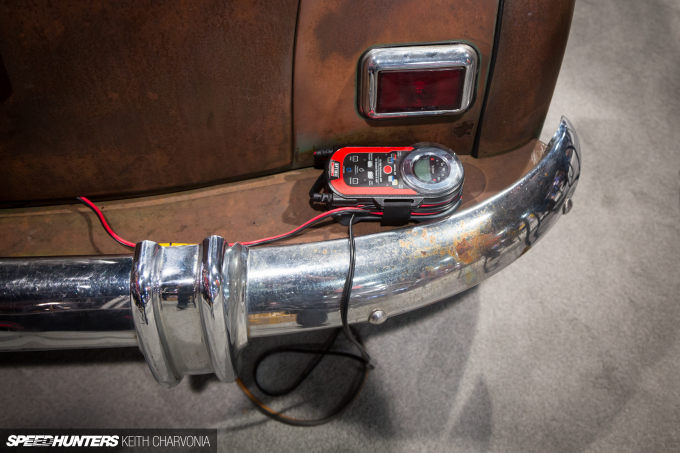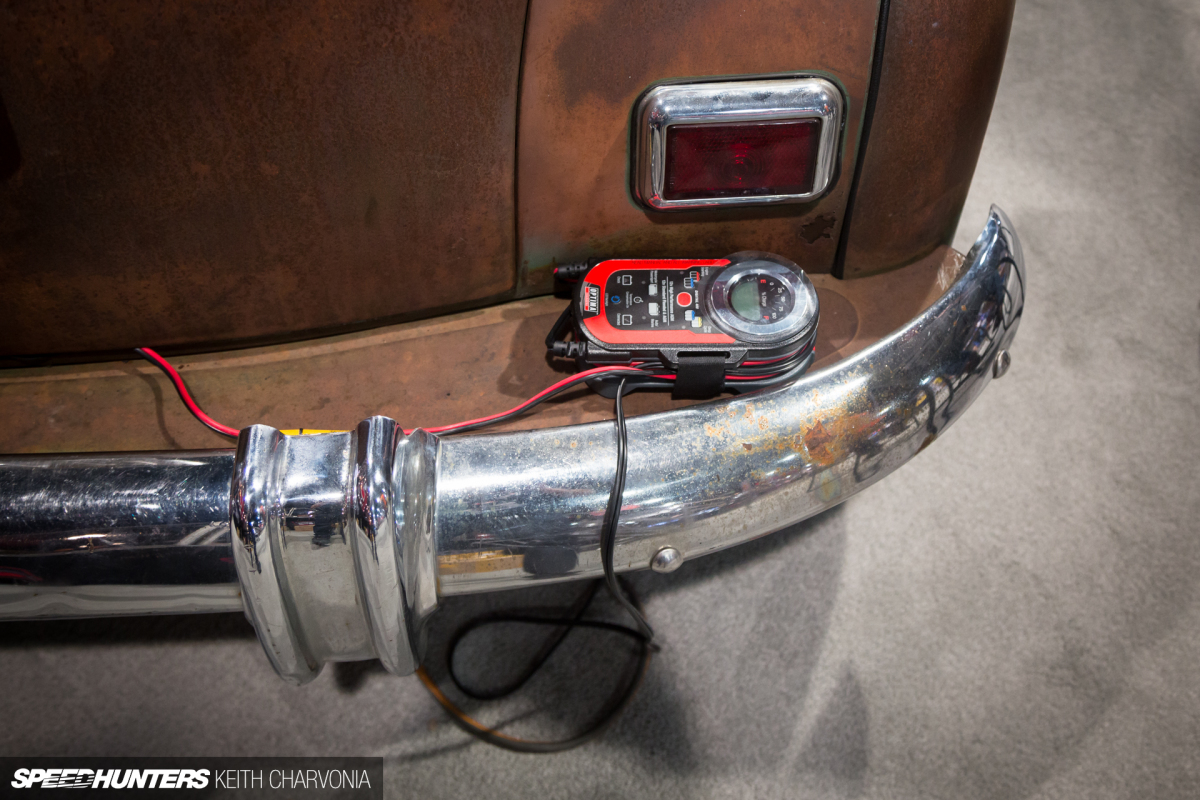 Along with its extensive range of automotive batteries, Optima was showing off its feature-packed Digital 400 and Digital 1200 12V chargers with Jonathan Ward's Icon Derelict on demo duty.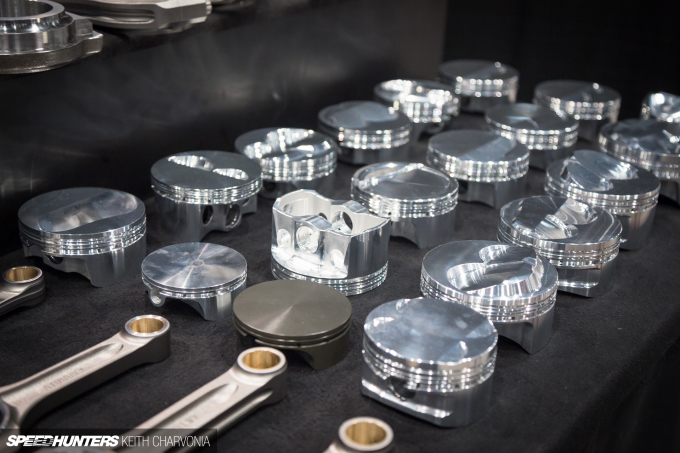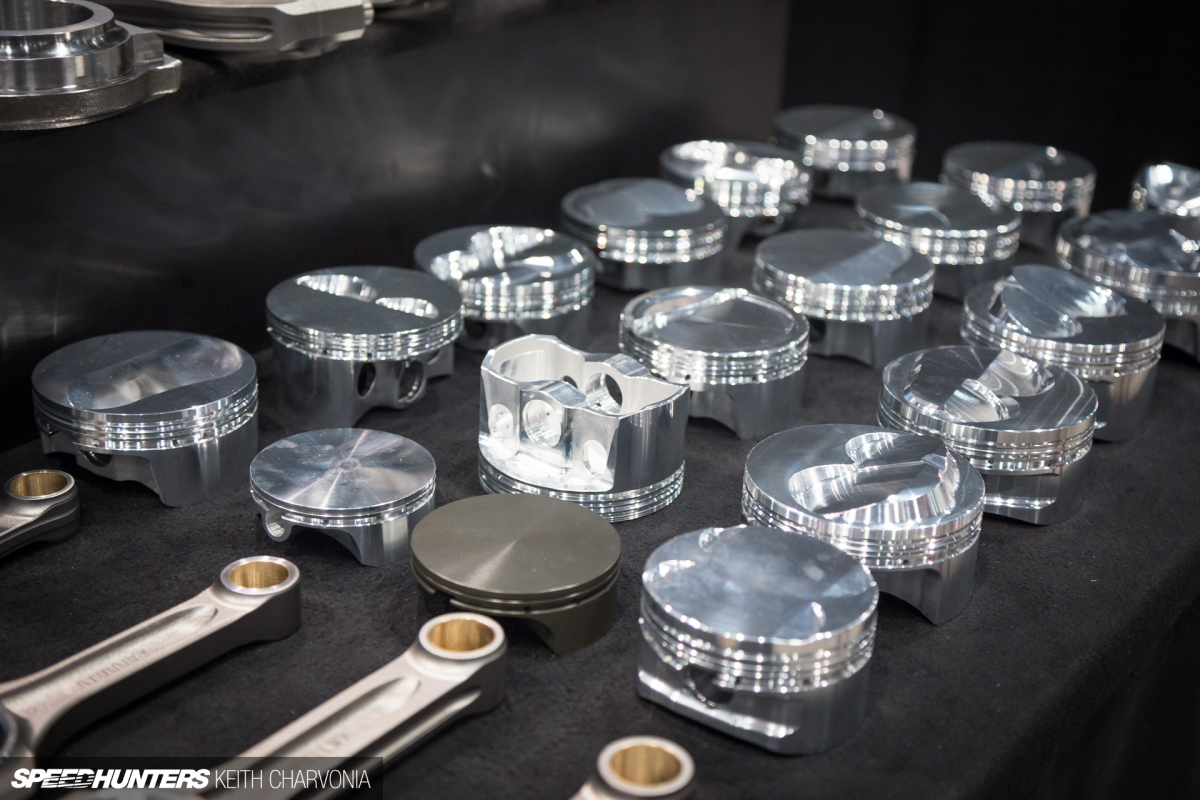 CP-Carrillo is constantly adding new products to its extensive performance and racing catalog, pistons being one side of its forged automotive art.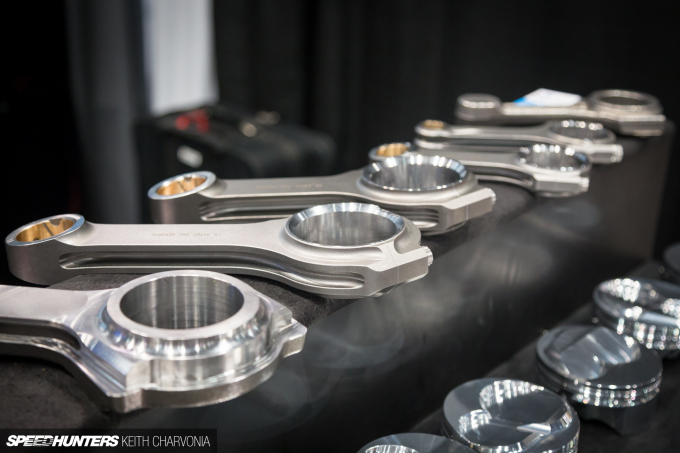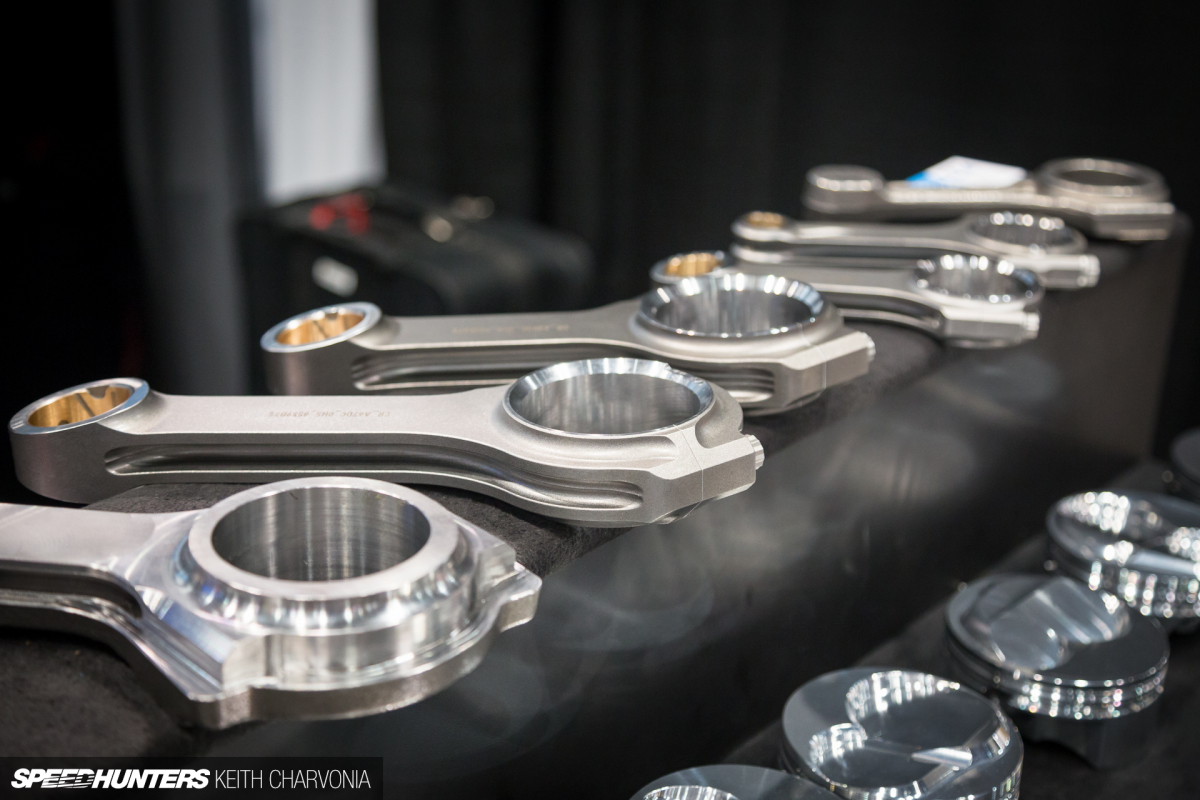 The other is its connecting rods, which too are available for a wide range of applications.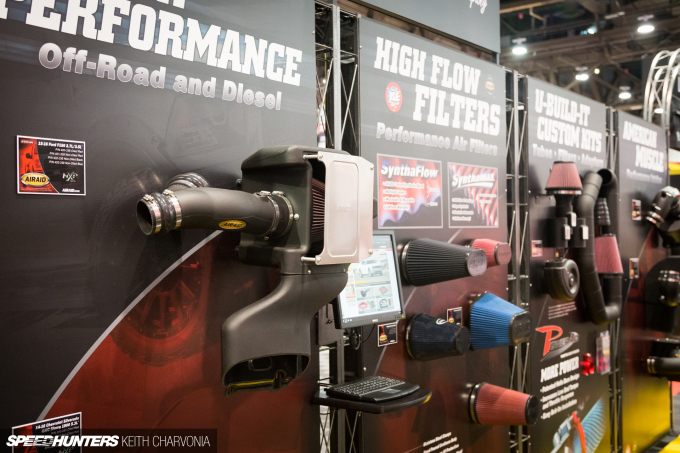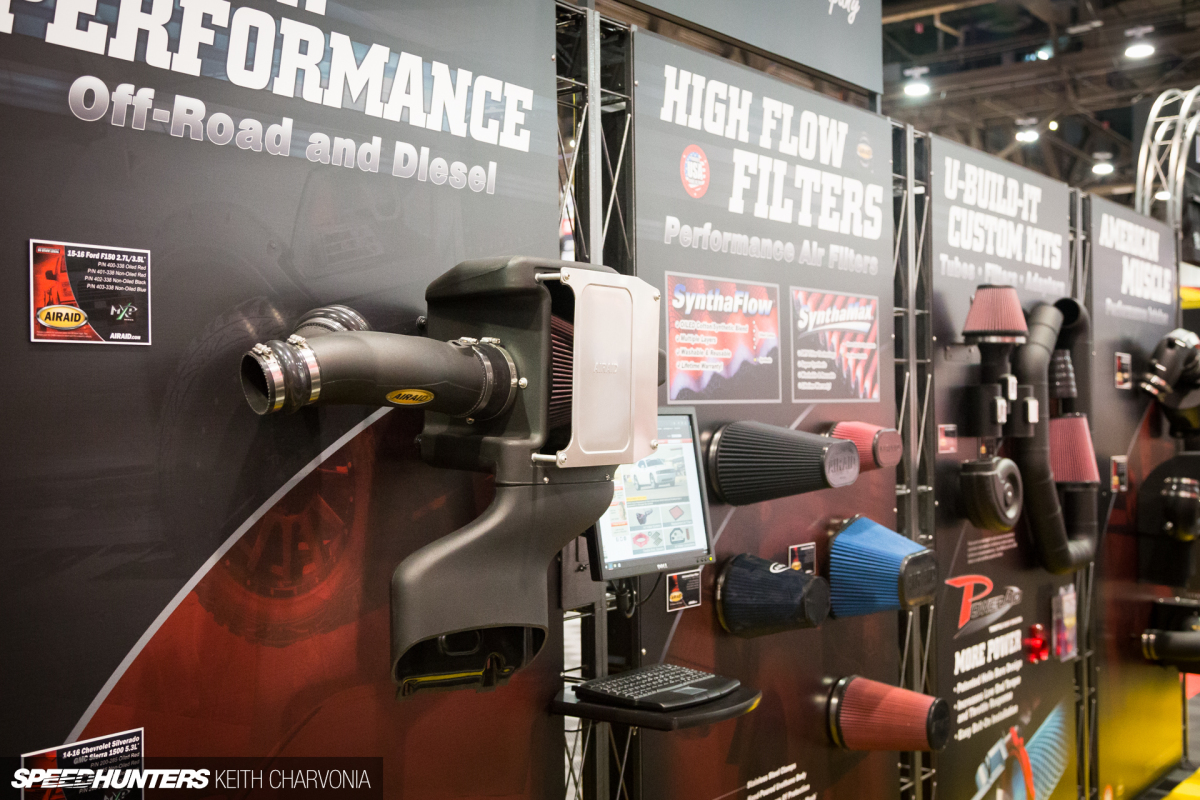 In the K&N booth, filters of all shapes and size lined the walls, including new Airaid cold air intake kits for the F-150, Corvette and Camaro.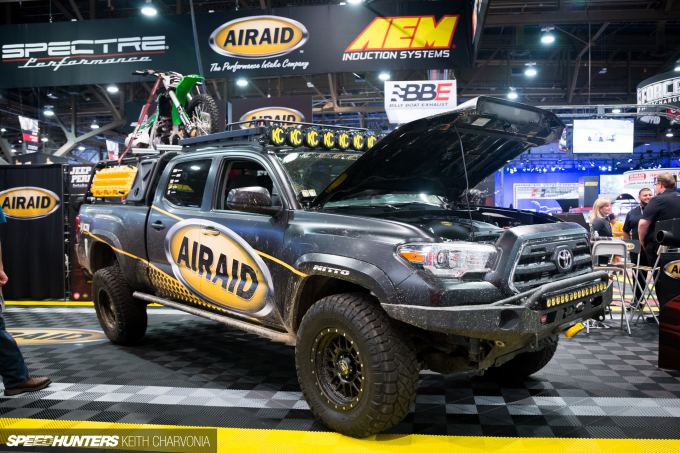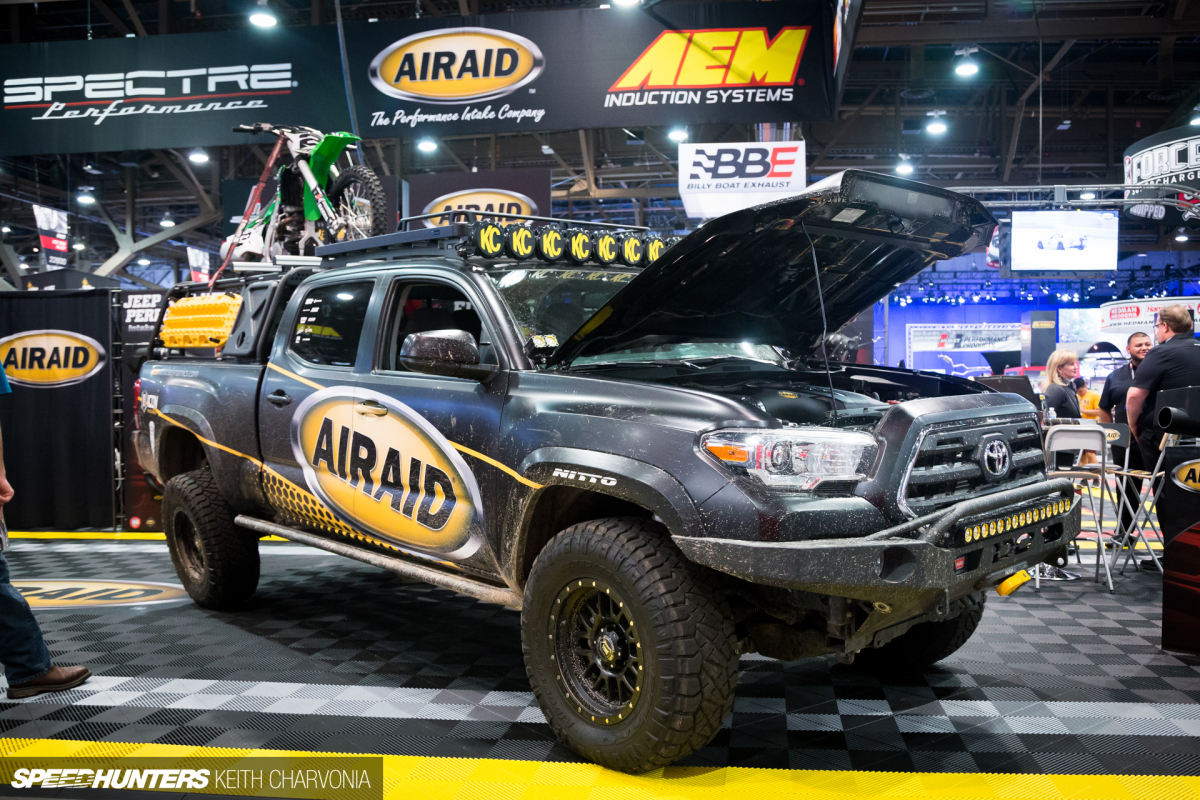 Not every display vehicle at SEMA is buffed to the absolute limit; Airaid's demo machine was a mud-wearing Toyota Tacoma with an expedition theme, as built by Icon Vehicle Developments.
You may know that Speedhunters' own Keith Charvonia also leads product development for Airaid, but since that company was acquired by K&N Engineering last year, his expertise has been put to good use for a special K&N Harley Davidson filter design project (right). This is called the AirCharger.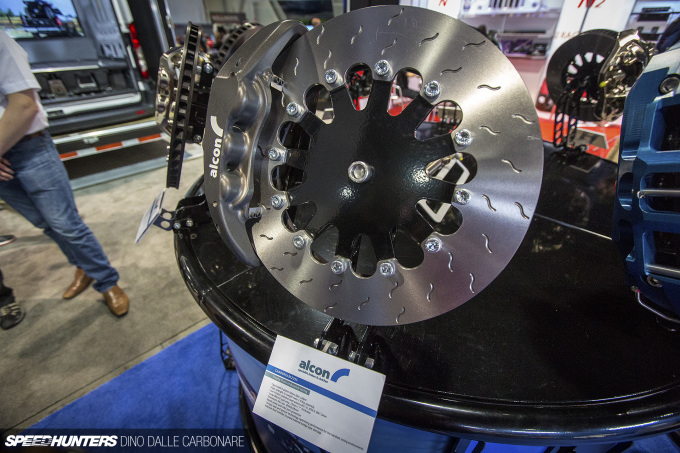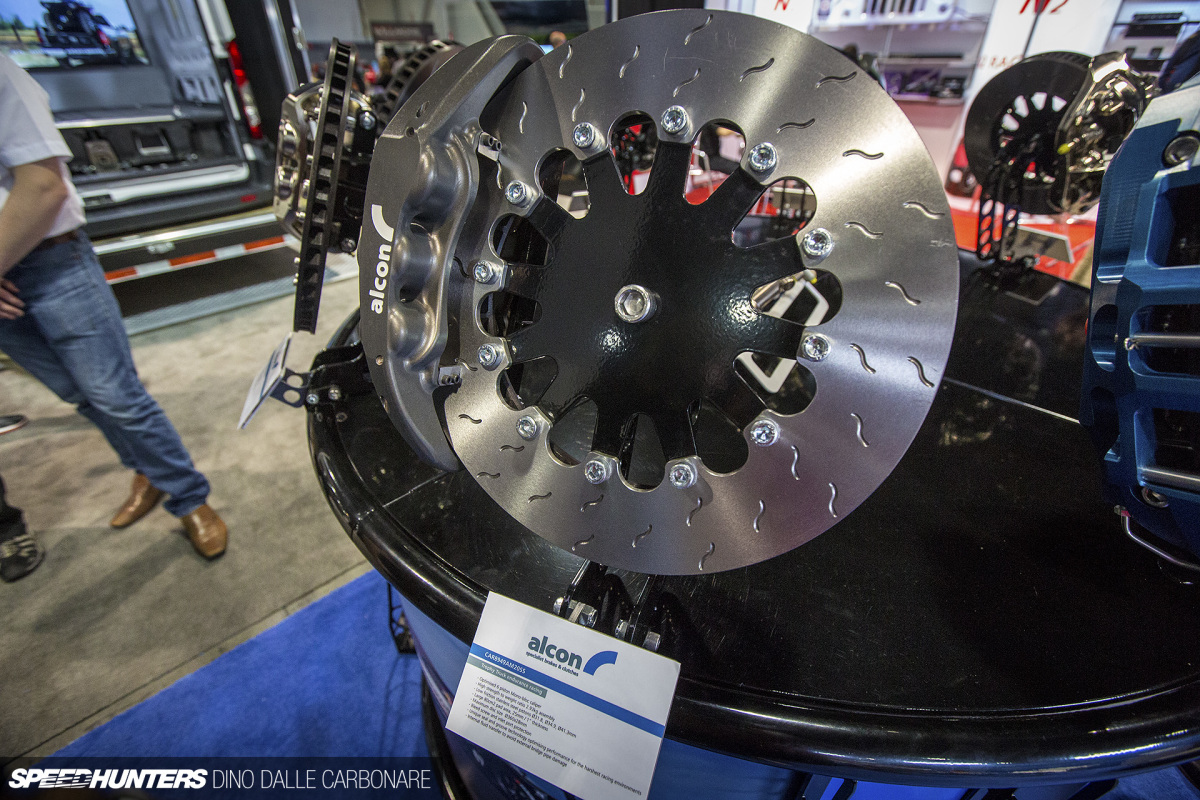 Brembo wasn't the only performance brake manufacturer showing off its wares of course, and the Alcon booth was packed full of high performance solutions. This Trophy Truck-specific package features 6-piston calipers and 360x28mm rotors.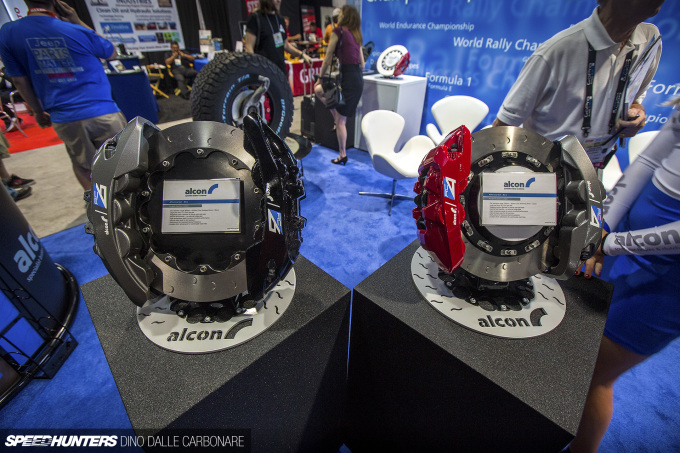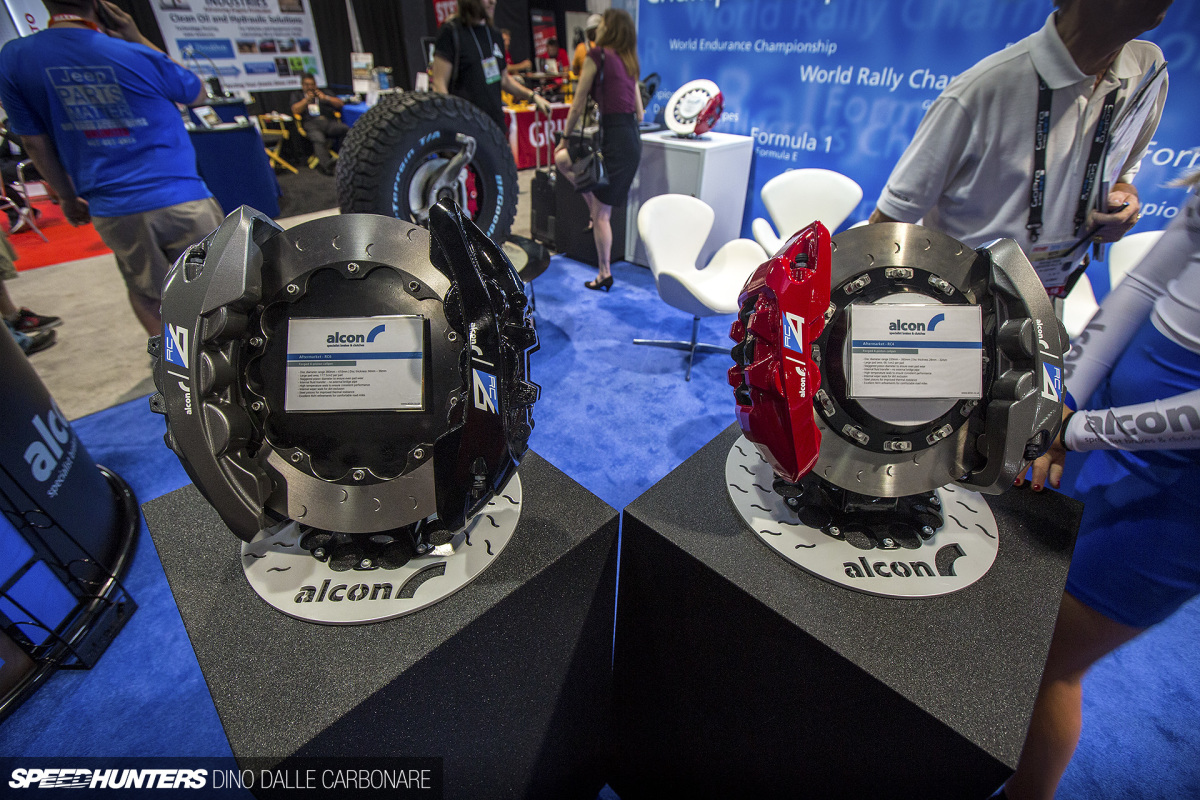 Of real interest was Alcon's brand new RC4 and RC6 calipers for road and track use. The smaller 4-piston RC4 unit is designed for discs between 340 and 360mm in diameter, while the 6-piston RC6 works with 380 to 410mm rotors. Manufactured from forged alloy and available in a few different colours, they look superb too.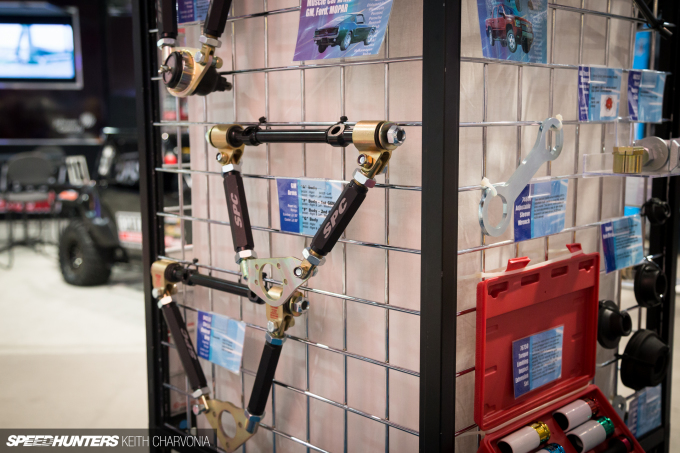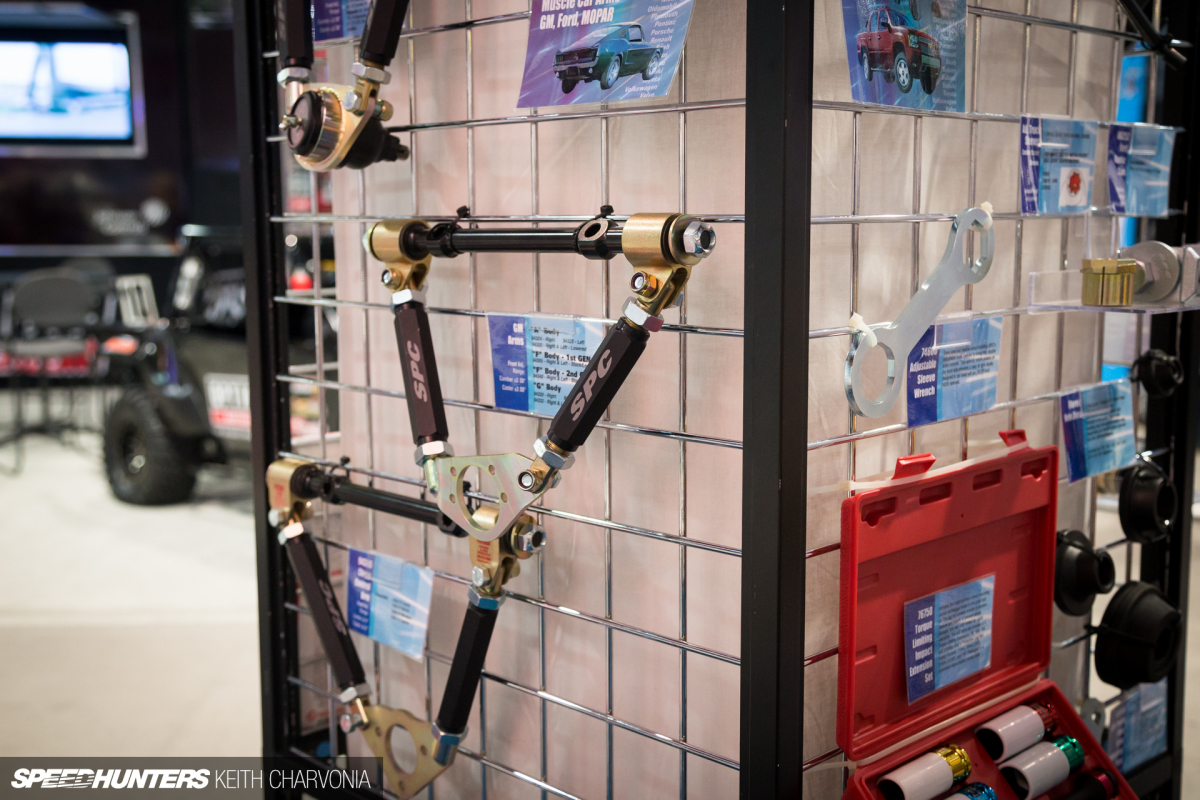 When it comes to aftermarket suspension alignment parts, SPC Performance has a good name in the industry. When you have an opportunity to see them up close – as SEMA offers – it's easy to see why.
We liked the look of these new SPC control arms for Porsche 996 and 997 models, which appear to offer plenty of adjustment.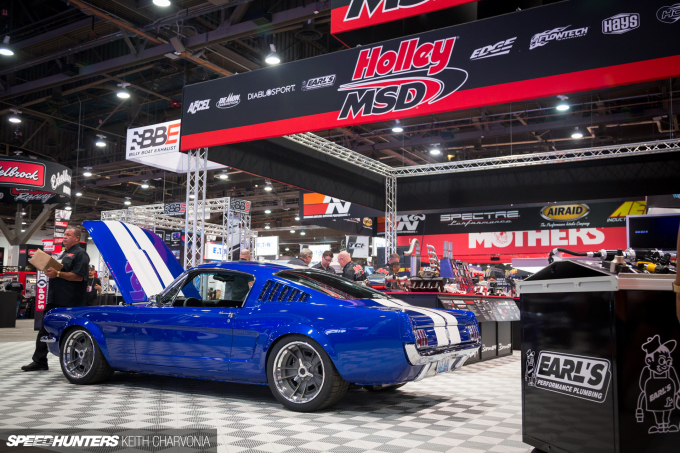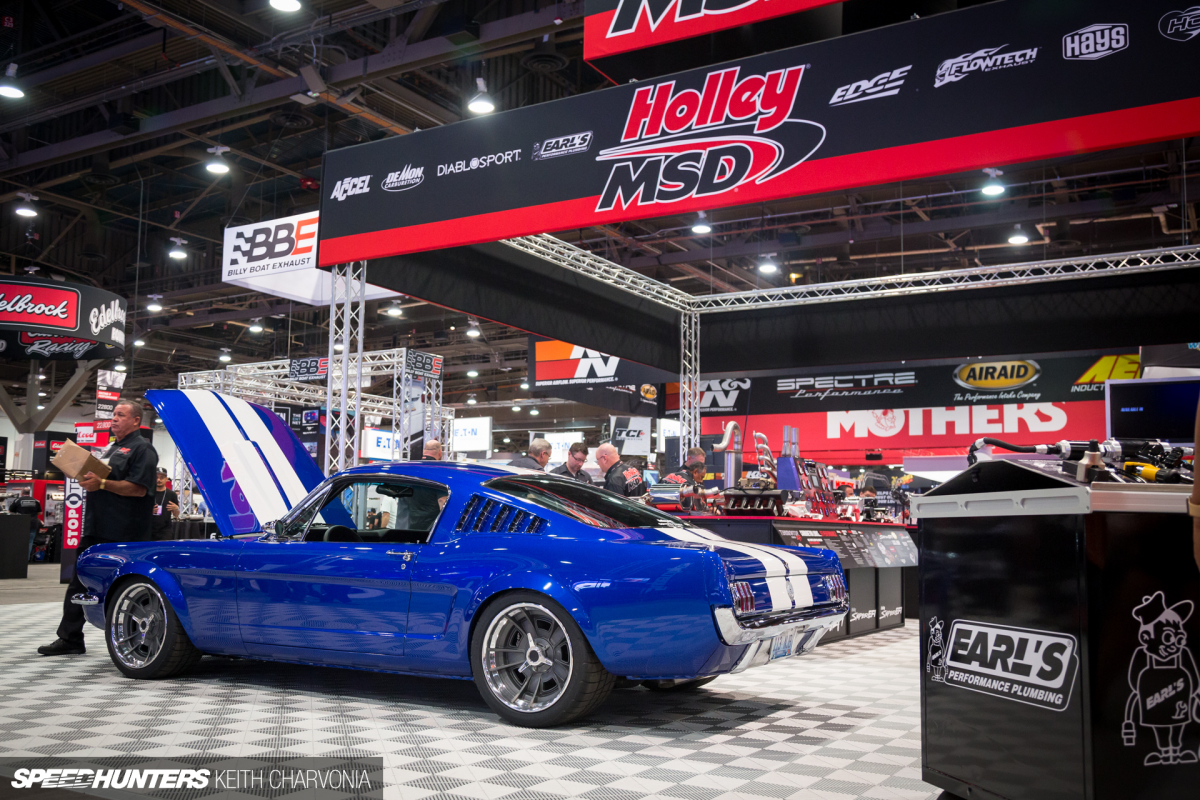 Holley Performance Products always has a big presence at SEMA, and given its acquisition of the MSD Group last year it's now even larger. All of its brand were represented, but we were immediately drawn to the Mustang, aka 'Project Corner Horse'. This is no ordinary Fastback though.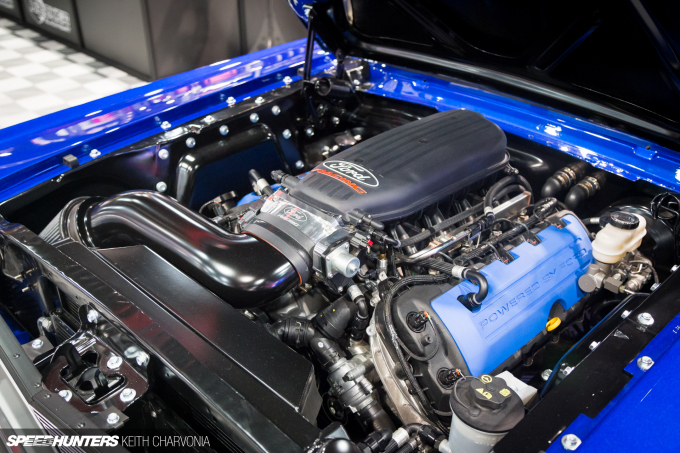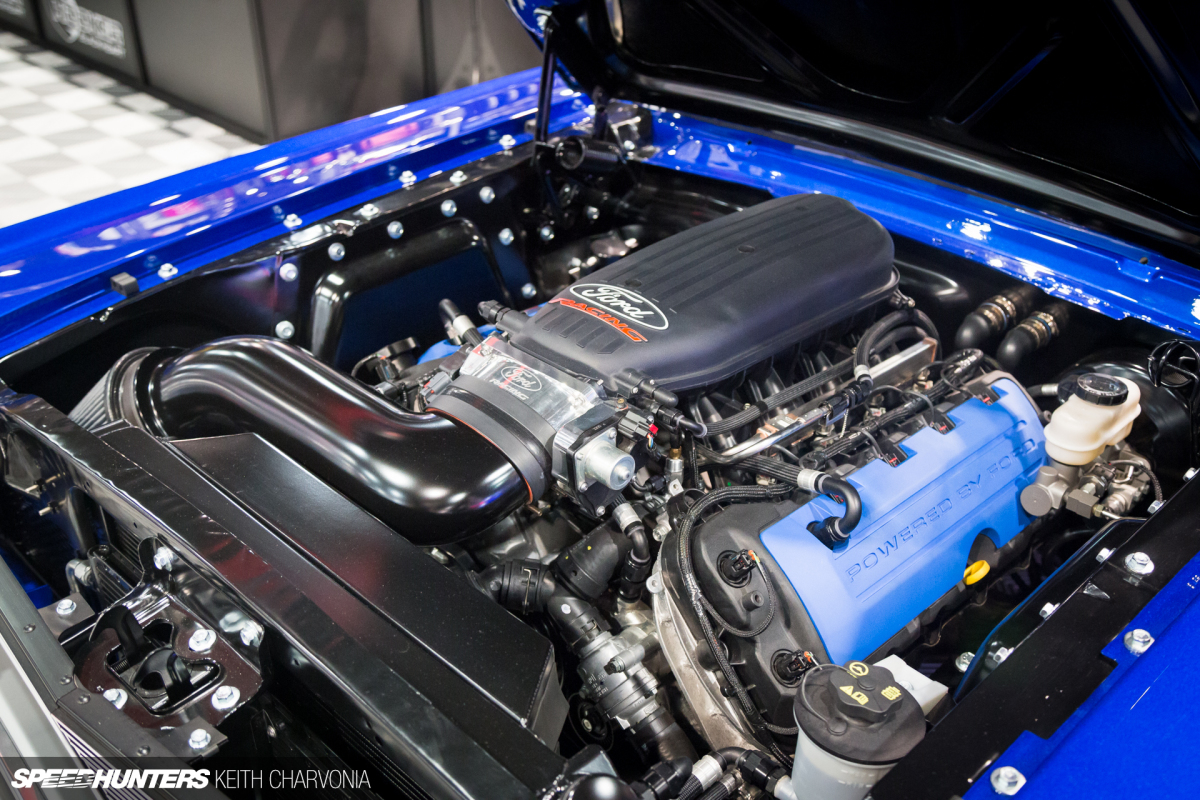 A stunning build in its own right, the Mustang is actually being used to test Holley EFI compatibility with the Ti-VCT injection system used in late-model Coyote V8 engines. Of course, Holley could have used a late-model Coyote-powered car, but we're sure you'll agree that this thing is way cooler.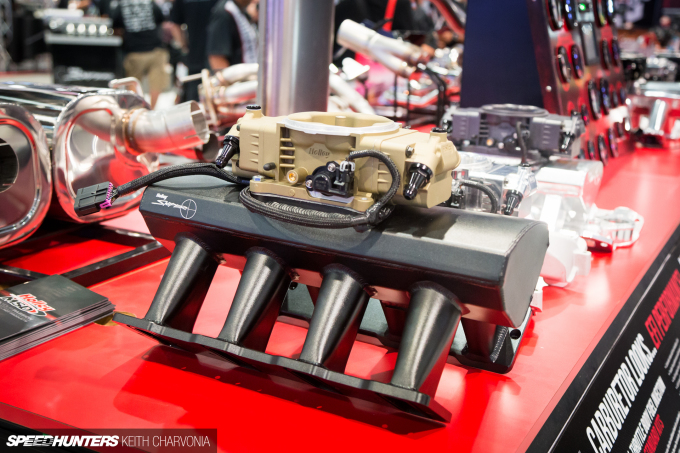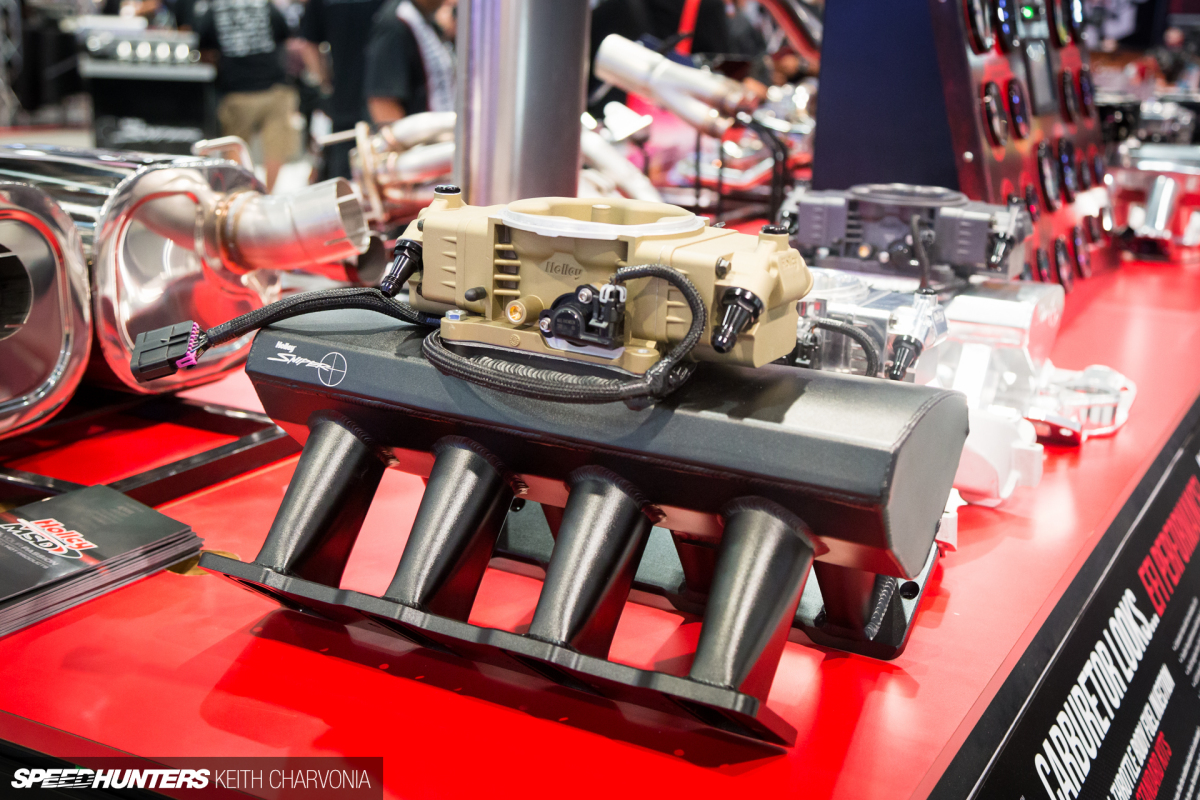 Sticking with Holley EFI for a moment, Sniper EFI and Terminator Stealth EFI upgrades look like a great retrofit fuel injection solution for a wide variety of carbureted engines. Both systems include an integrated ECU and fuel pressure regulator, and setup is as simple as mounting the supplied 02 sensor in the exhaust and using the included 3.5-inch touchscreen unit to activate the self-learn tuning. The Terminator Stealth has some extra features and gives you the option of upgrading to a stealthy carburetor look.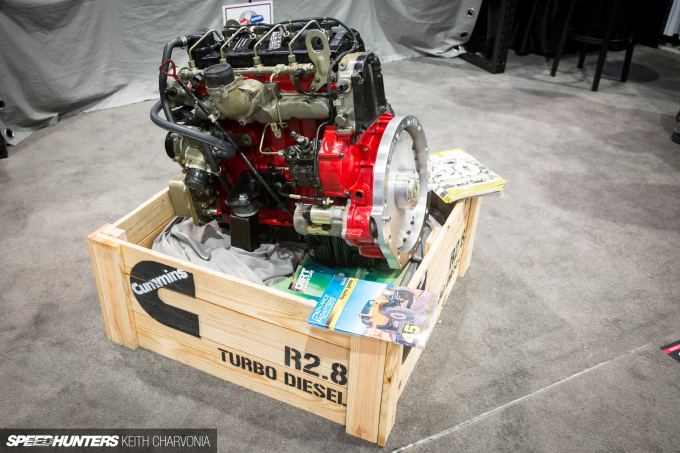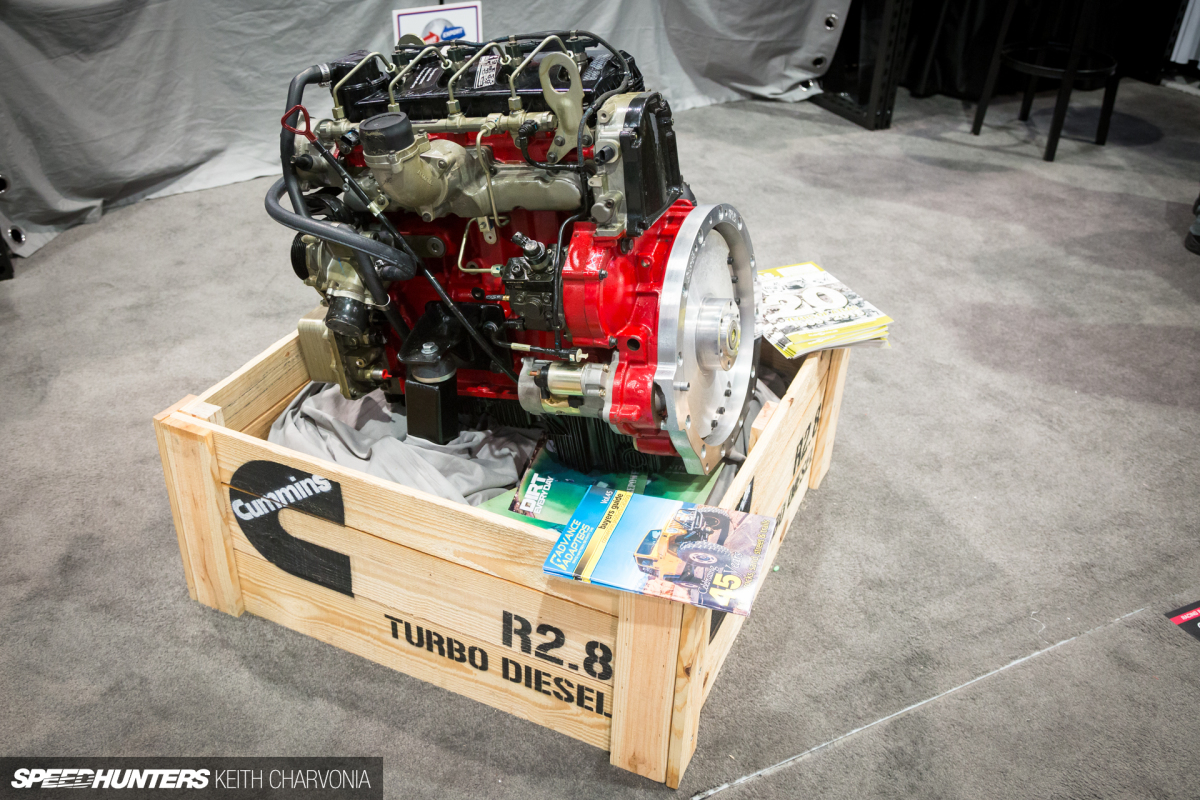 If you're looking for an easy diesel upgrade for Jeeps and the like, this 50-state-legal Cummins turbocharged 2.8-liter swap from Advanced Adapters is pretty damn cool.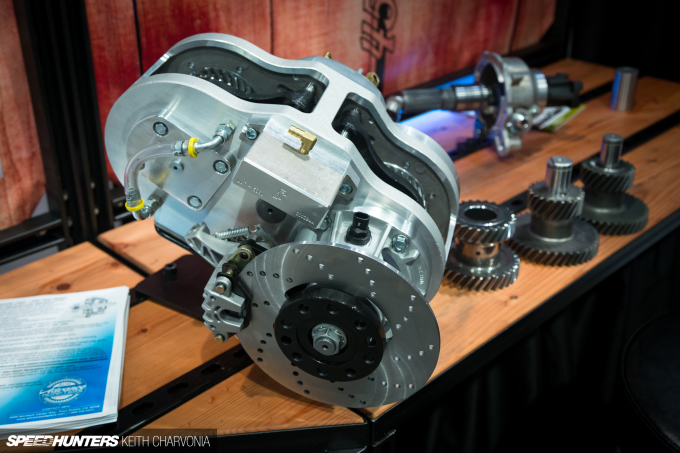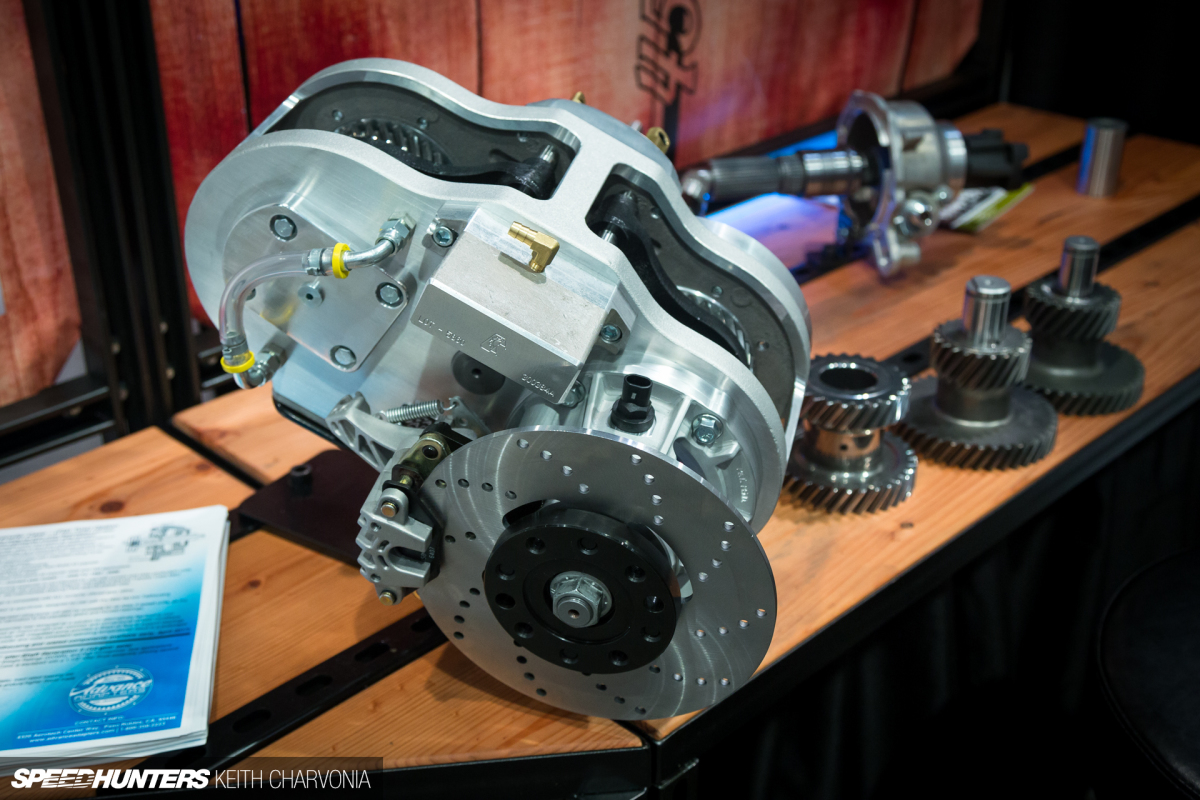 Advanced Adapters also showed off a range of tough-as-nails Atlas gear-driven transfer cases, which are perfect for those building an off-road truck or pick-up that's still going to used on the road.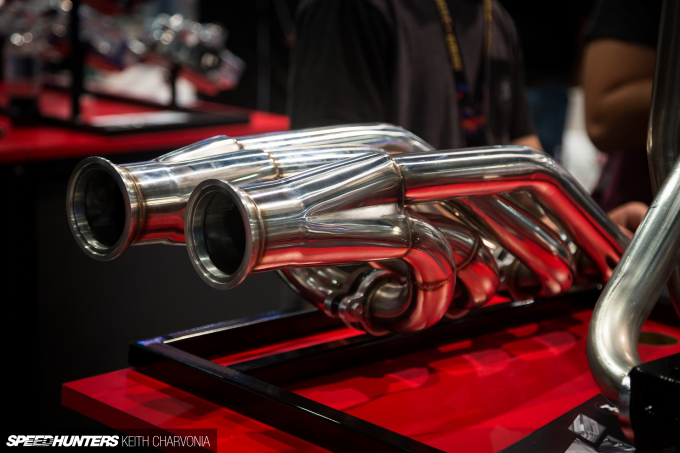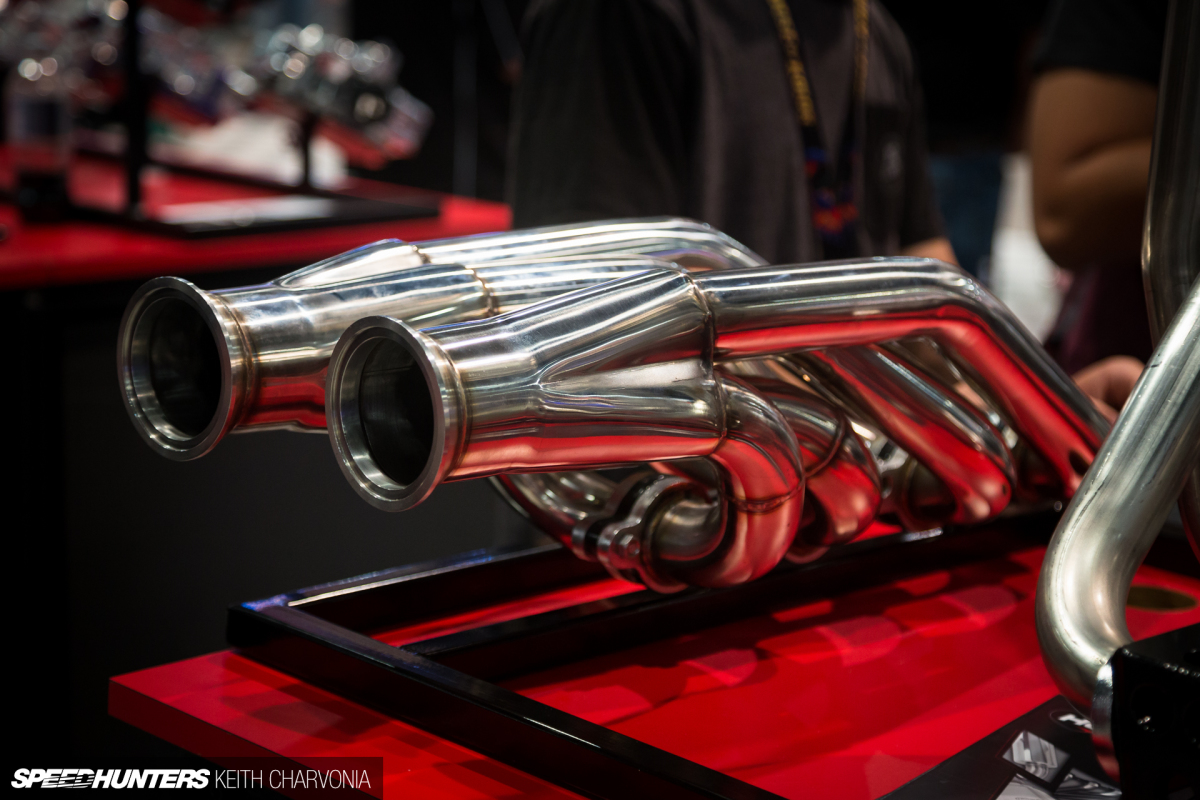 As turbocharging V8 engines becomes increasingly popular, more manufacturers are creating parts to simplify the process. Flowtech is one such company, and these V-band turbo headers are designed for use with LS engines, both for factory fitment and popular swap platforms.
Hooker Headers' display included this BorgWarner turbo-equipped LM7 engine complete with a prototype exhaust manifold, seen here in its raw, 3D-printed guise. That's pretty cool!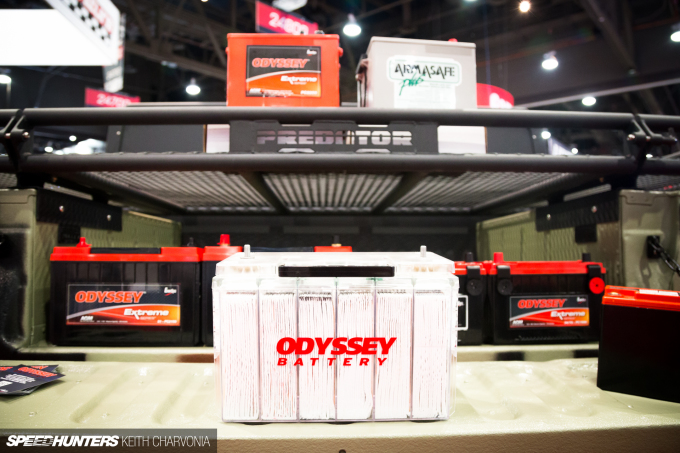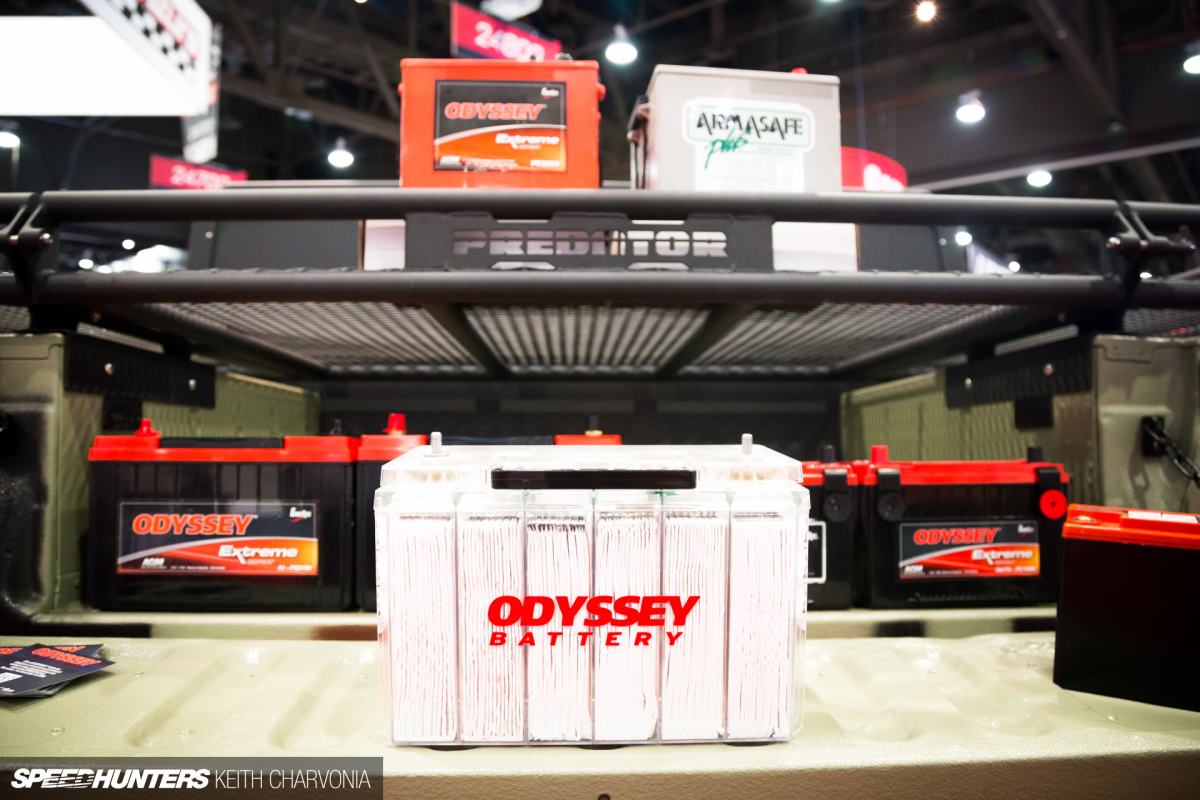 Some SEMA vendors like to show what their products are really made of, and this year Odyssey was one of them. Its Extreme Series batteries are constructed with flat plates of 99.9 per cent pure lead as opposed to the more conventional lead alloy. Because of this, the plates can be thinner, meaning more can be fit inside the battery, boosting the power output considerably.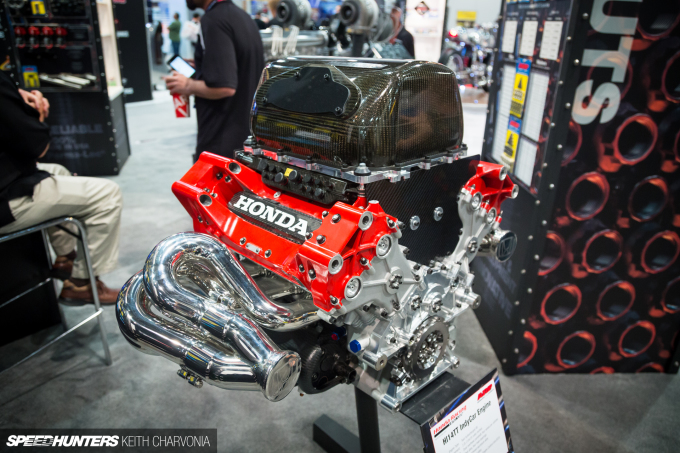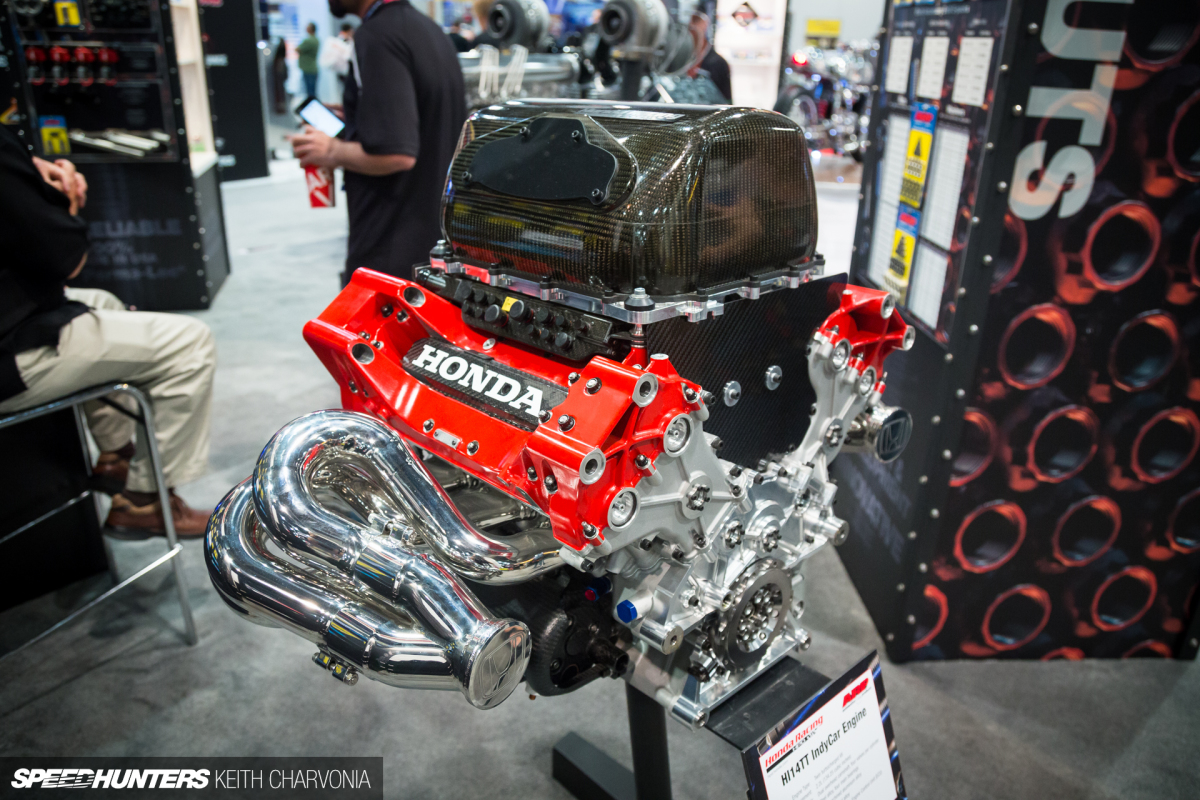 ARP is one of the biggest names in aftermarket performance fasteners, but when you're selling nuts and bolts at an event like SEMA a draw to the booth is necessary. This Honda IndyCar engine – complete with ARP product of course – captured our attention.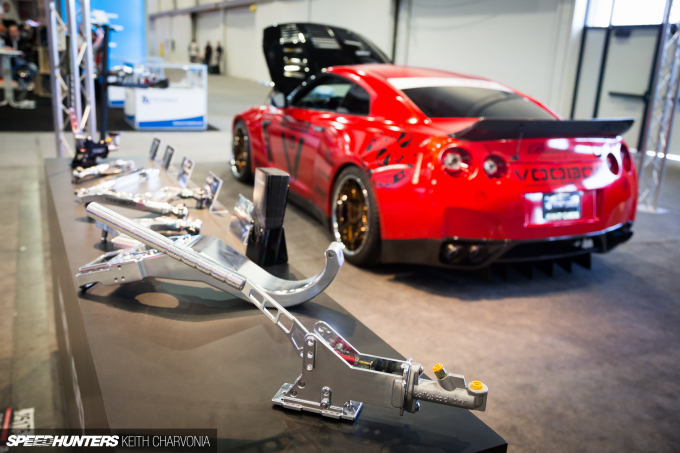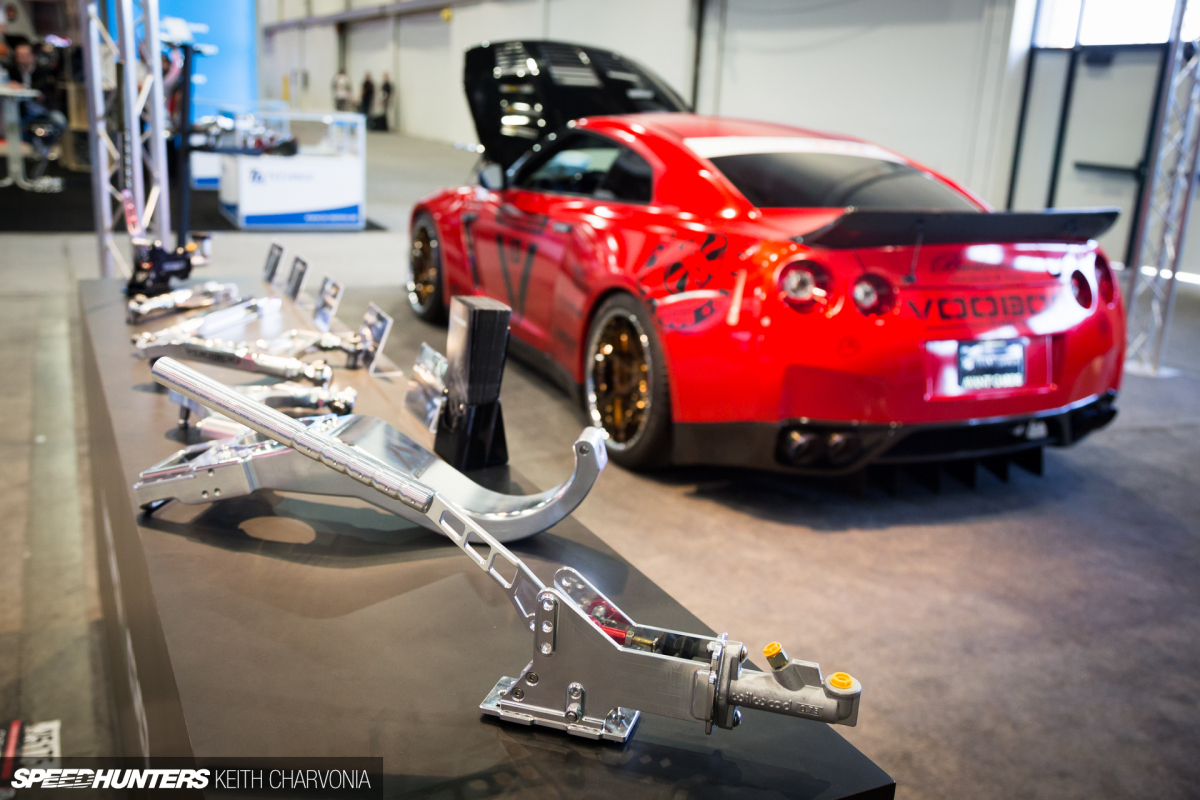 We briefly mentioned Voodoo13 in one of our first posts from SEMA 2016, but of course we had to stop by its booth for a closer look during the week. Resplendent in its raw state, Voodoo13's billet hydraulic handbrake is a very nice piece of gear.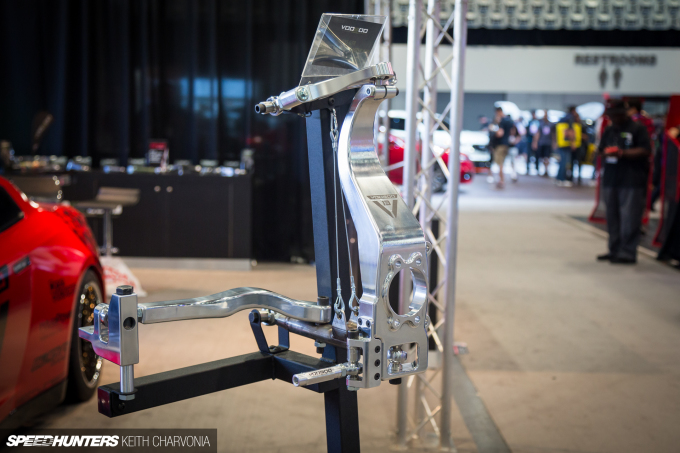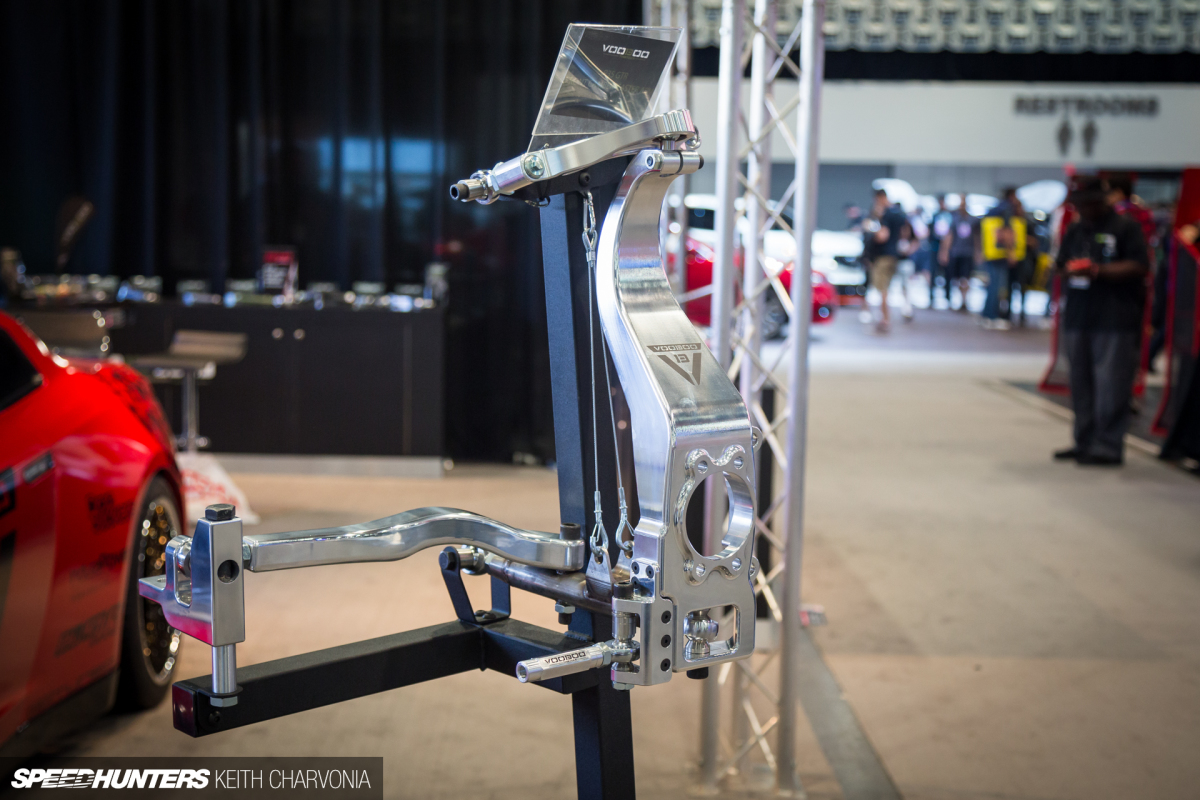 And the same can be said for its R35 GT-R front camber/castor arm too.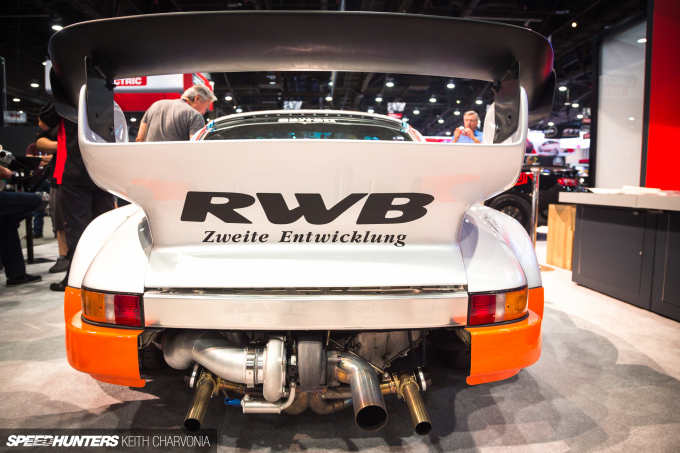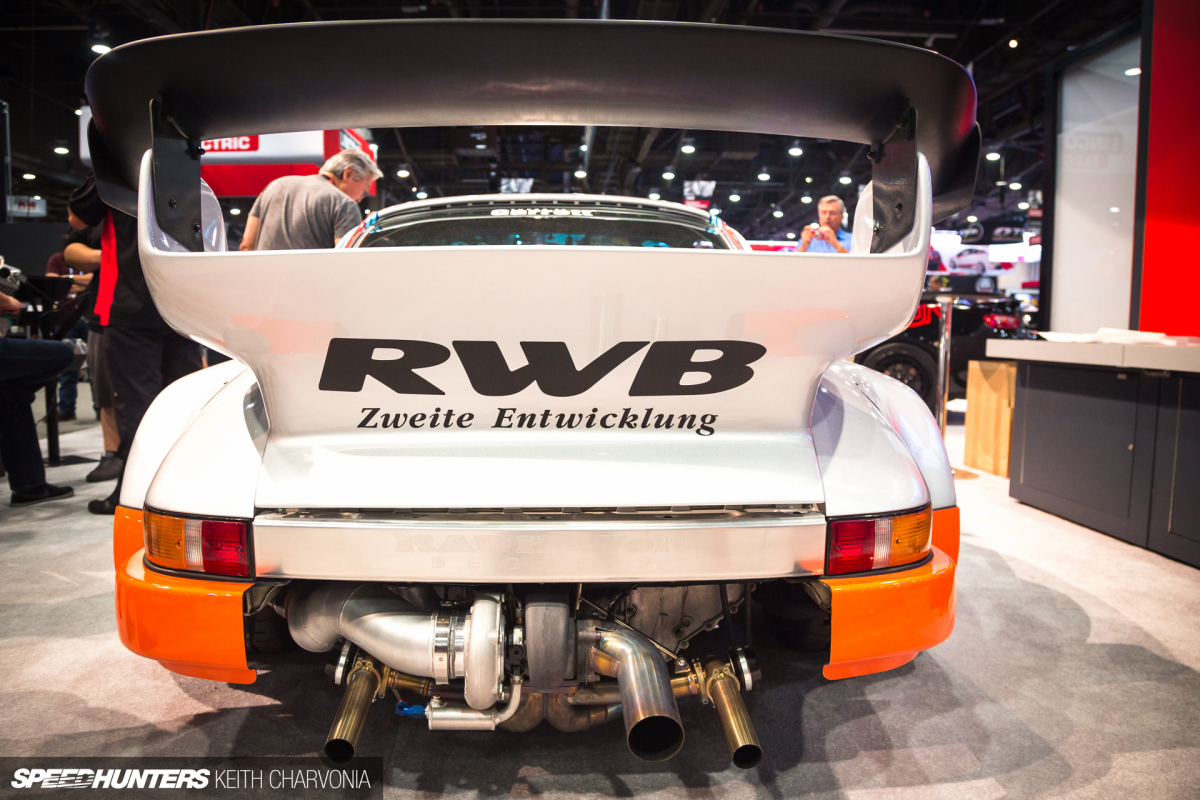 At the Garrett By Honeywell booth we expected to see some cool stuff, and we weren't disappointed. The company's main push was its second generation range of GTX turbocharger – aptly named GTX Gen II – but the cars on display were battling for the limelight.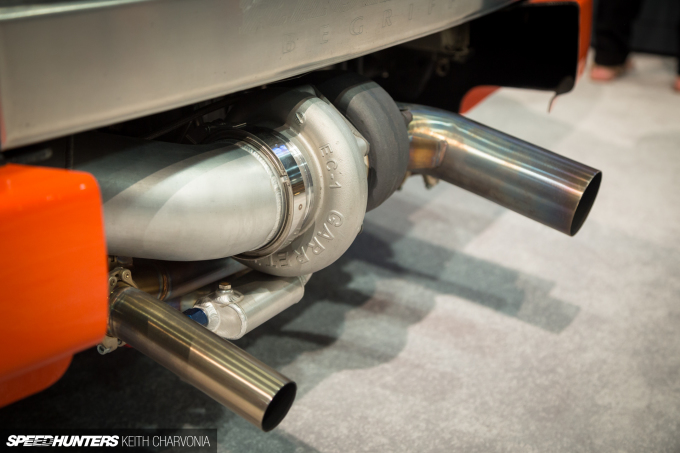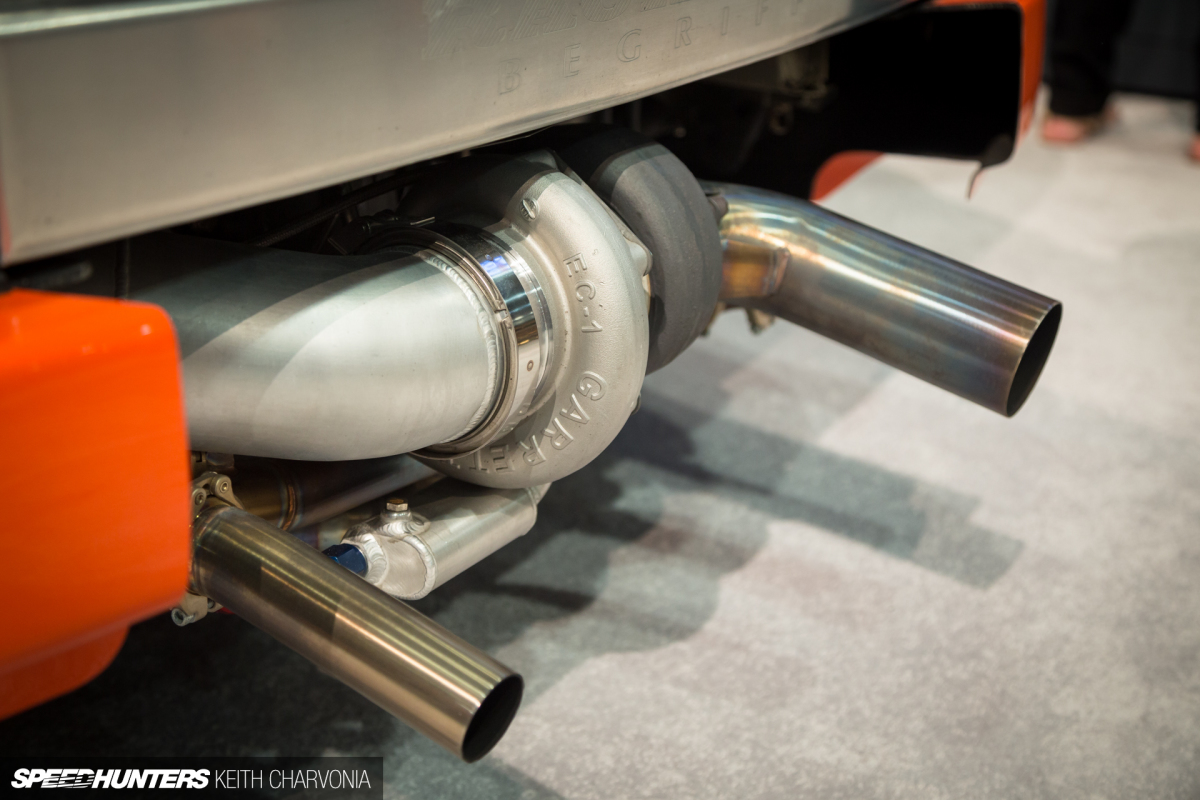 Letting its custom twin-scroll Garrett turbo all hang out was the RWB build known as 'Ichiban Boshi', which we've got a full feature on coming up for you next month.
The other car was Rob Dahm's wild 4-rotor, all-wheel drive Mazda RX-7, which Dino took a closer look at in a spotlight feature. Although the FD3S didn't appear to be running one of the new GTX Gen II turbos, its huge GTX5533R is sure to bring some big power to this rotary package.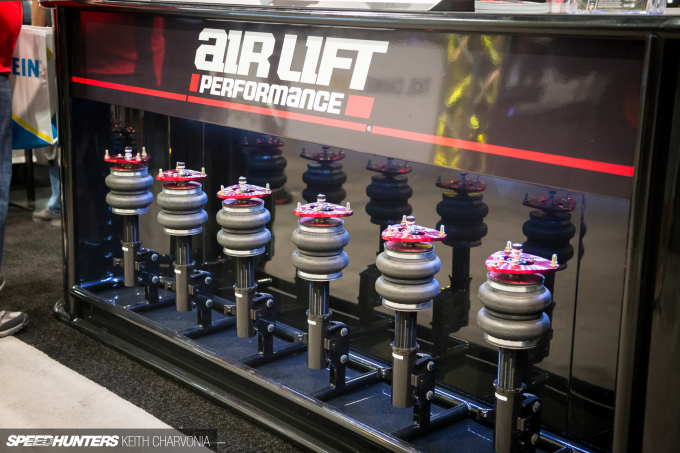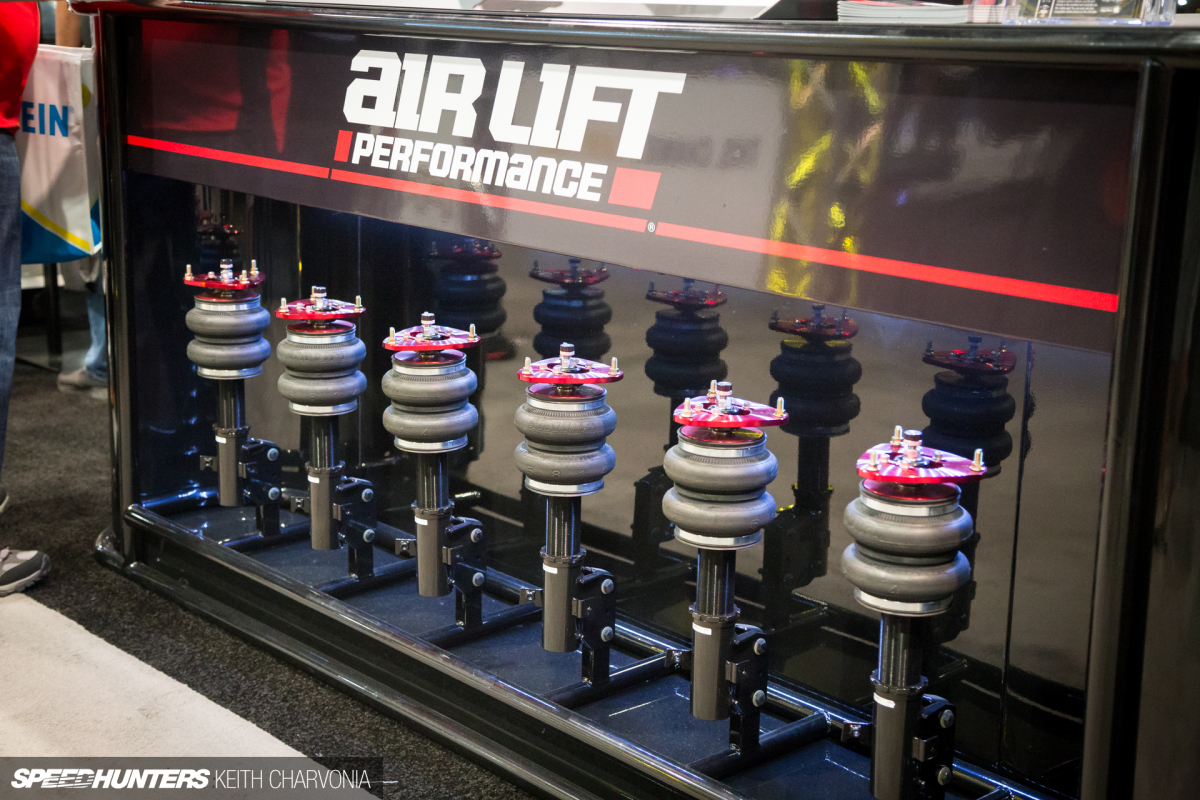 Our final port of call for this feature is the Air Lift Performance booth, and it's where we spent a bit of time over the course of SEMA week.
That's not just because the Air Lift crew are a good bunch of guys, but also because of a certain black Porsche 964 – namely, our NFS 'Spirit of 147′.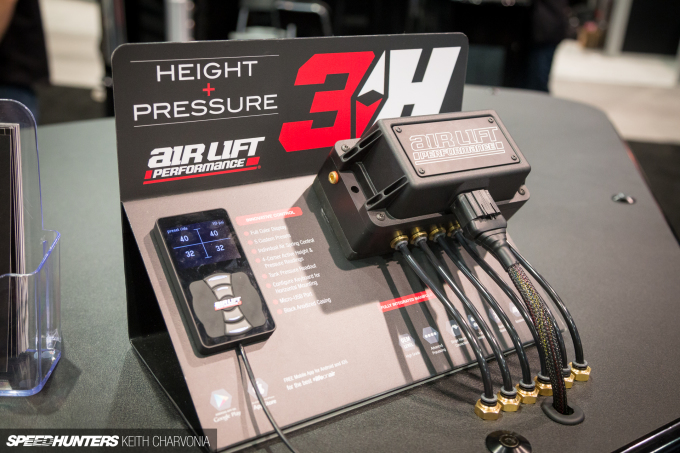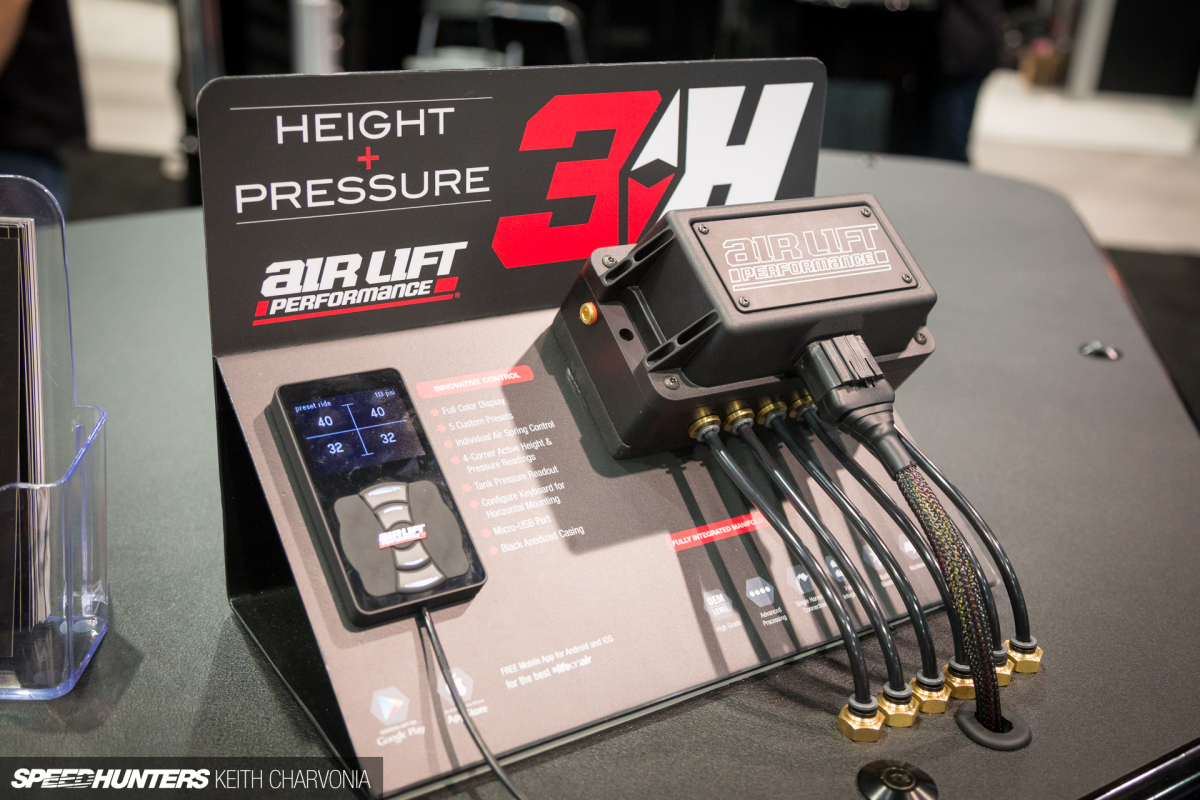 Of course, Air Lift Performance was demonstrating all of its new and current product lines, including the 3H system, which is what Paddy has fitted in Project GTI.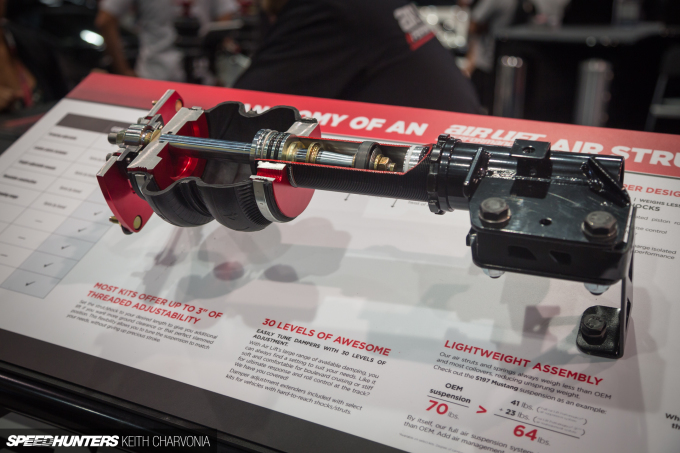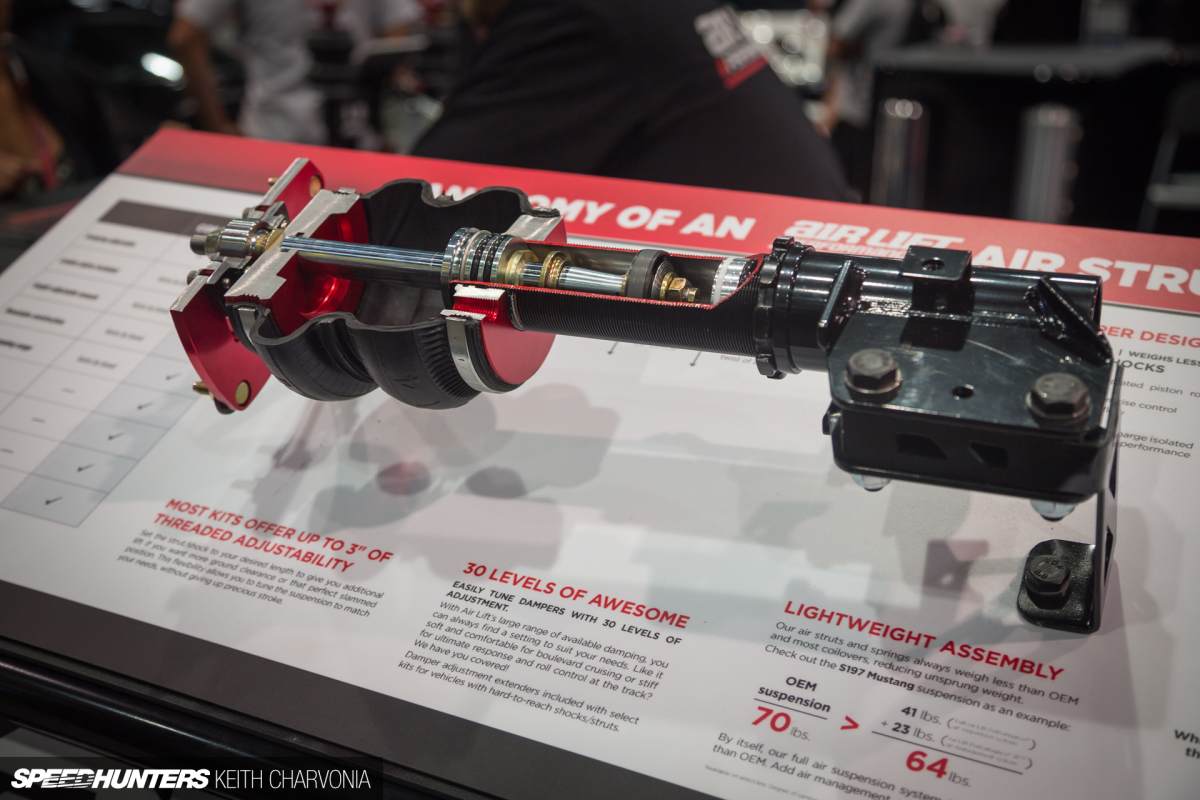 Remember what we were saying about some SEMA exhibitors showing what their products are made of? Well, Air Lift also got in on the act, here displaying the inner workings of one of its air struts.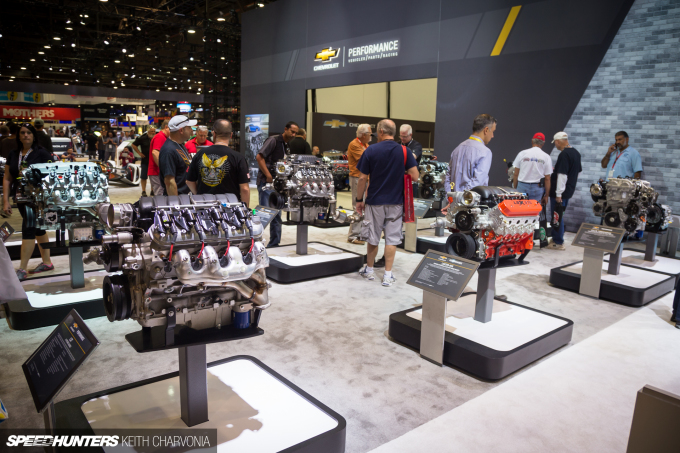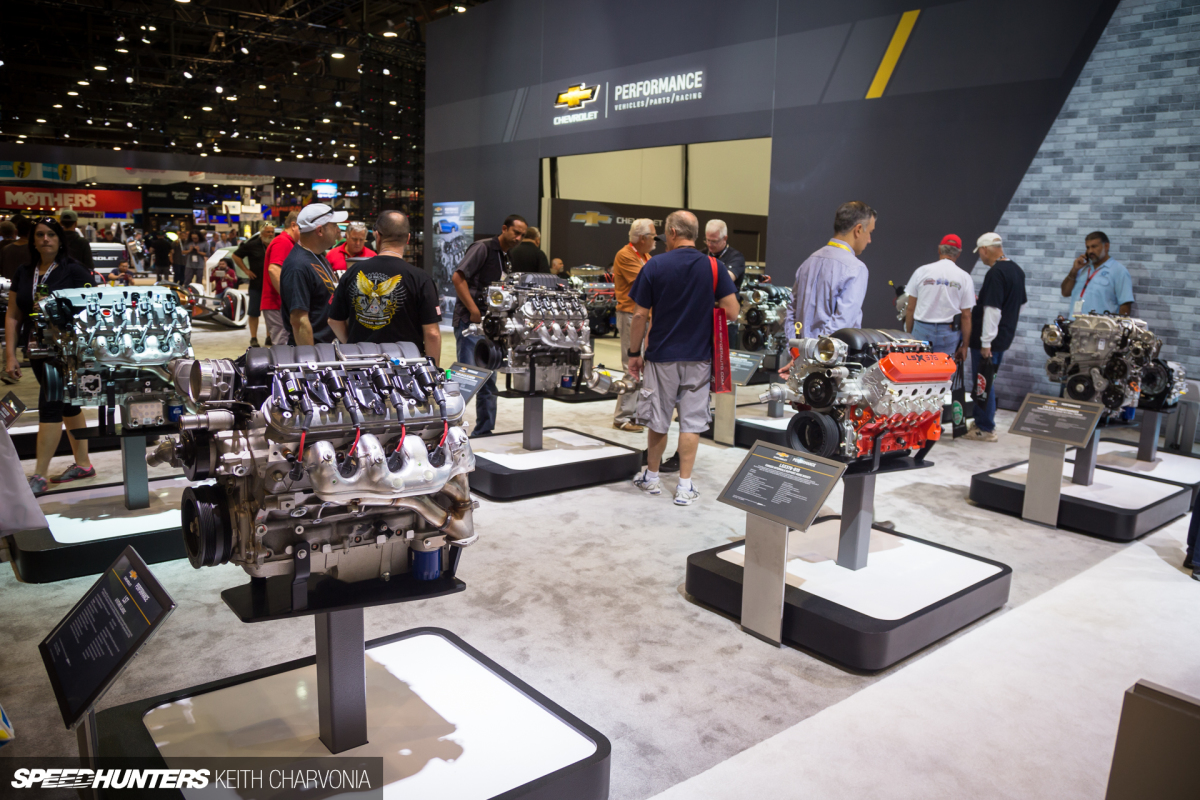 With more than 160,000 people through the show over its four days and a huge number of new products showcased to the industry, SEMA 2016 – the 50th anniversary of the event – lived up to all expectations.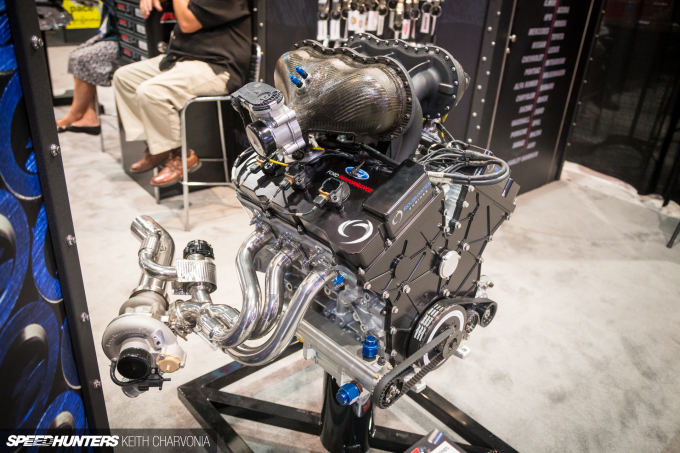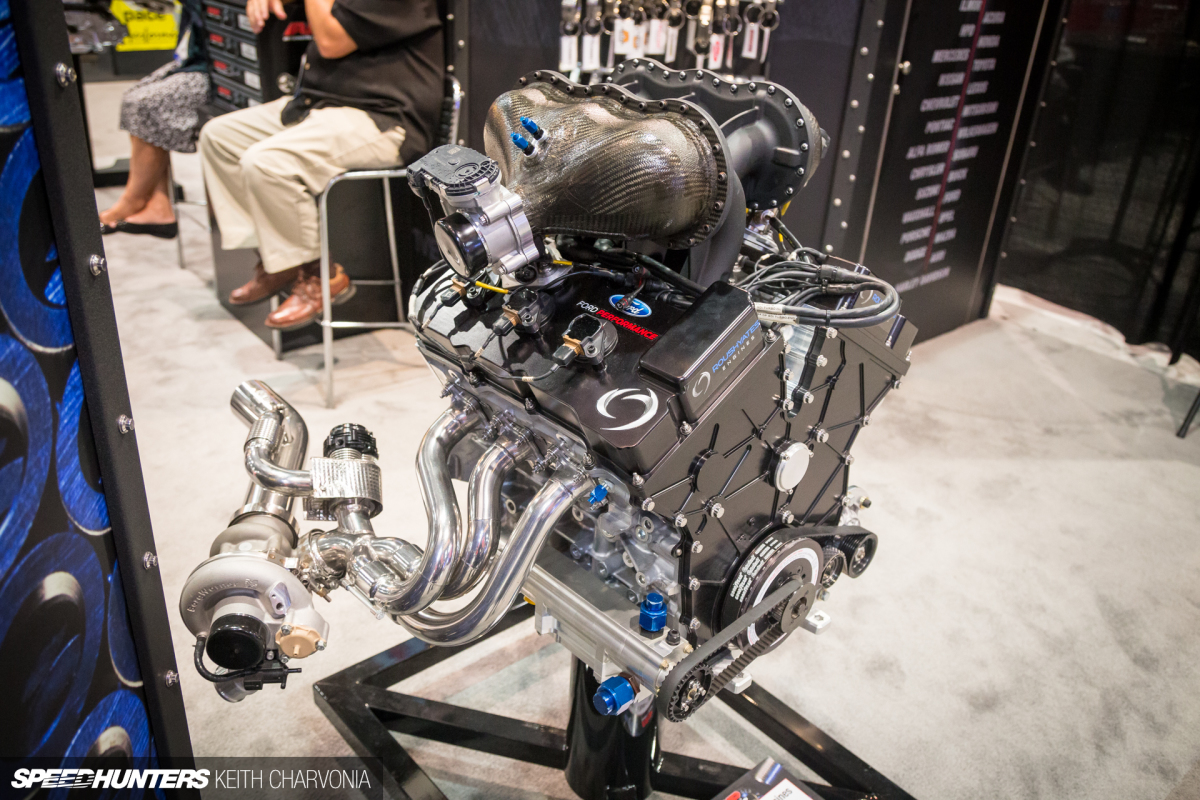 With next year's SEMA Show dates already having been announced we're looking forward to seeing what's going to be in store for 2017, but in the meantime you can relive all of the best bits from the 2016 event by clicking on the link below.
The Speedhunters
Photos by Keith Charvonia
Additional Photos by Dino Dalle Carbonare