The SEMA Show might be one of the most diverse motoring events anywhere in the world, with vehicles and brands representing every corner of the globe being shown off in Las Vegas this week. But if you talk to seasoned SEMA vets, you'll often hear them say it's the American stuff that impresses the most each year.
So with that in my mind, I wanted to go ahead and share some of the cool domestic car builds that I've spotted so far in and around the Las Vegas Convention Center.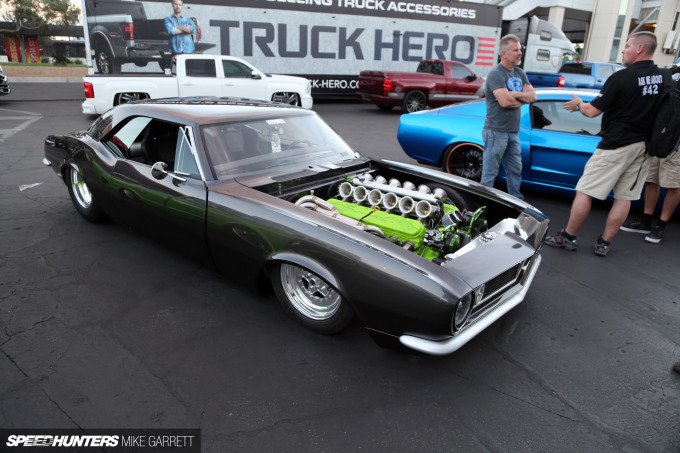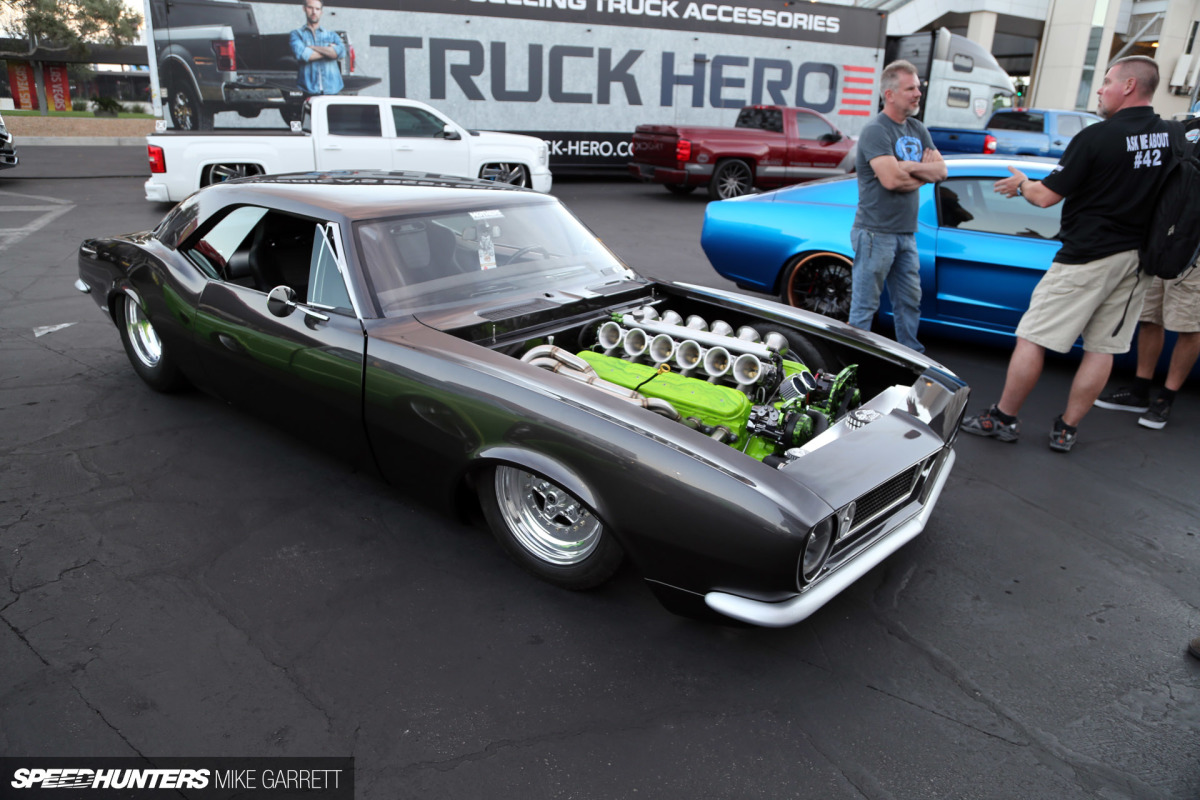 It's an interesting mix of the old and new, the exotic and the simple, and each of these cars is interesting in its own way.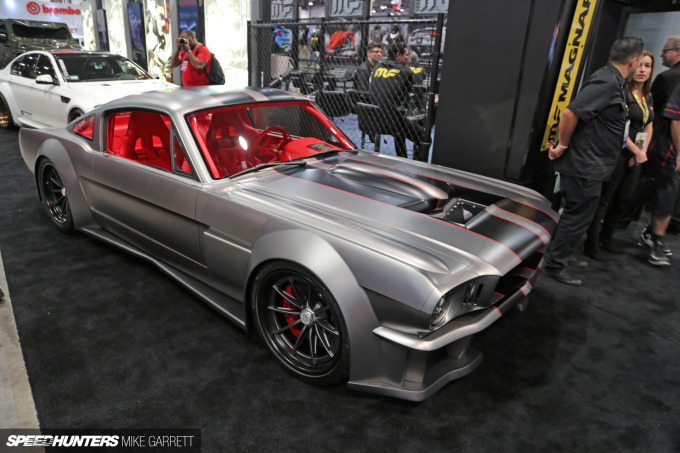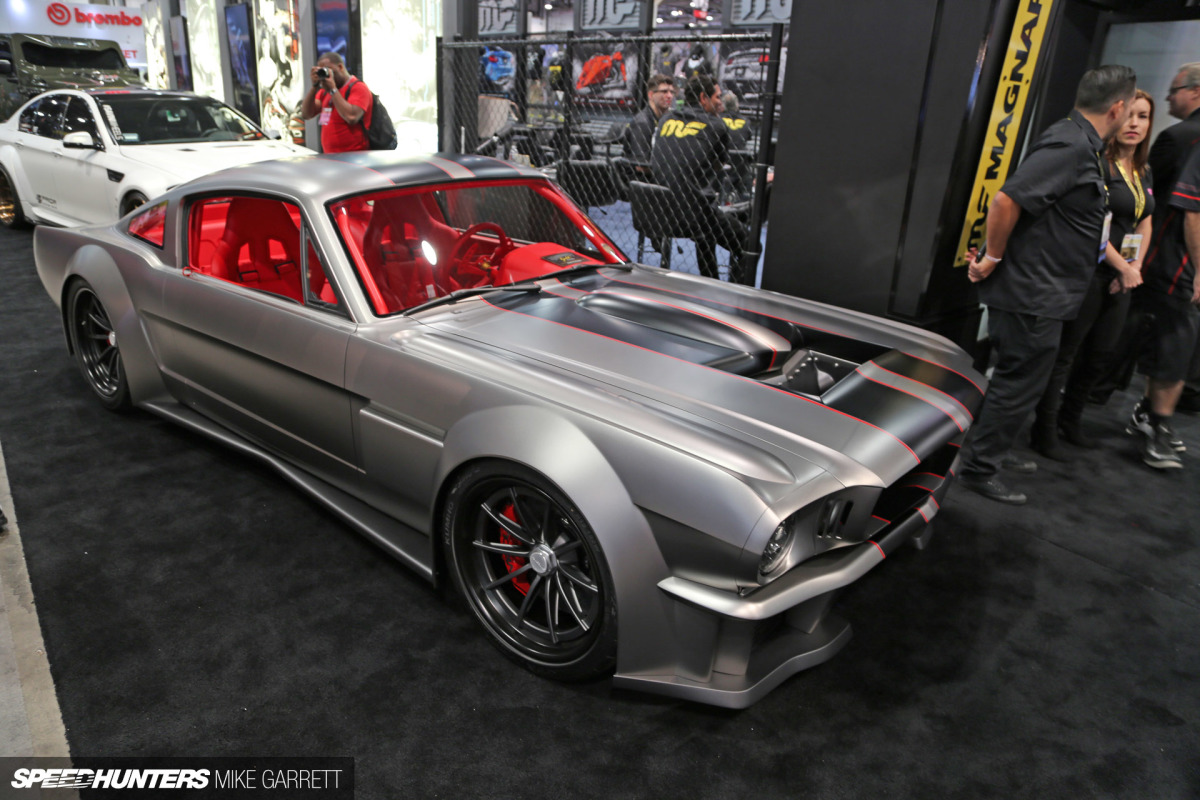 Let's begin with one of the more high profile builds to make its debut at SEMA this year, the Vicious Mustang built by Timeless Kustoms.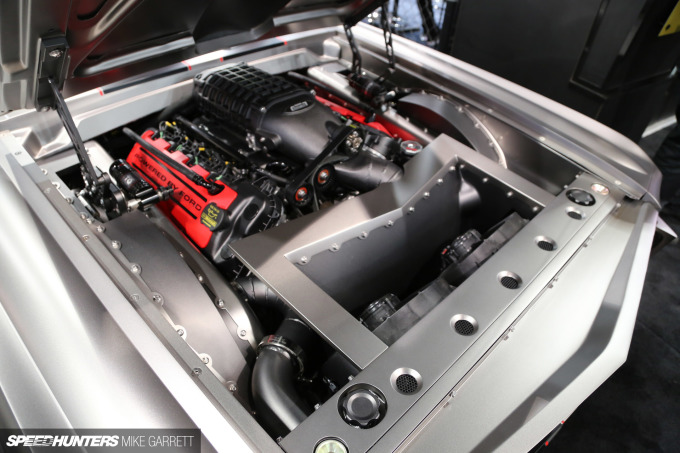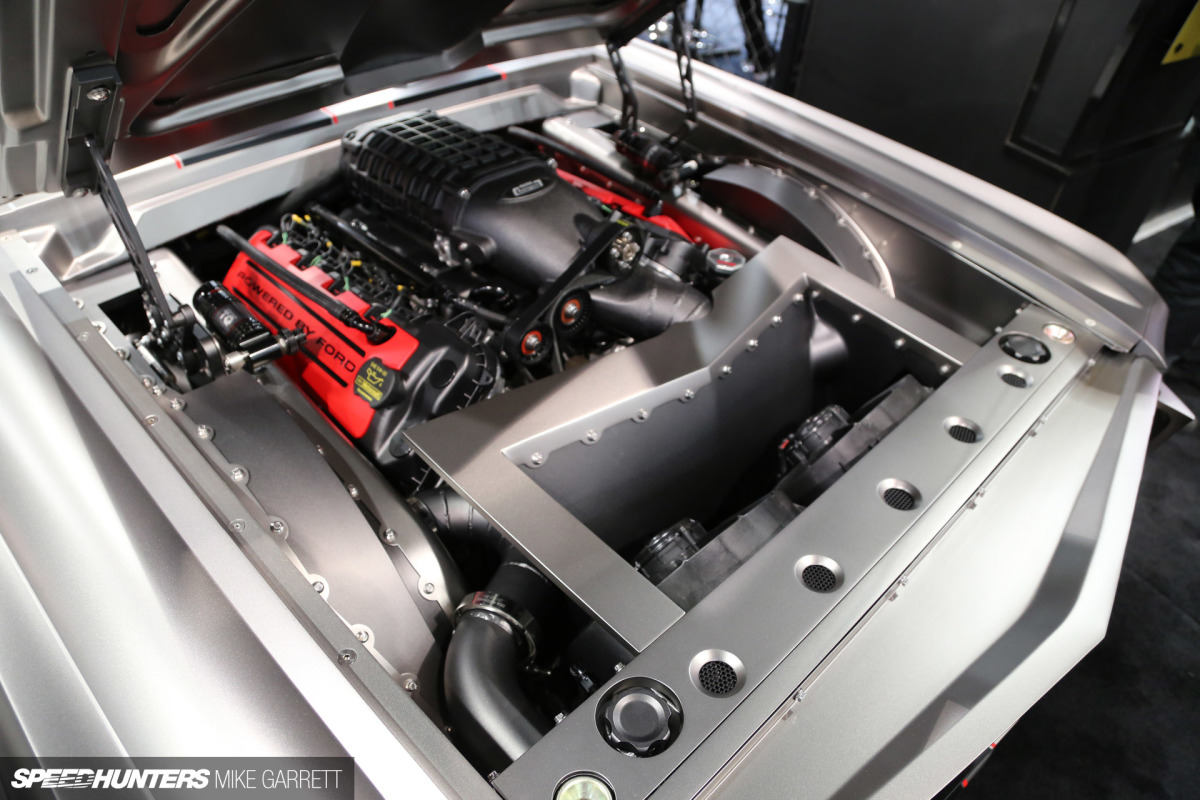 Given the plethora of modified Mustangs on display at SEMA, it takes a lot to stand out, but this build based on a '65 does just that. And it's thanks in large part to a 5.1-liter V8 fed by a Magnuson supercharger and a pair of Precison turbochargers, all together good for about 1000 horsepower.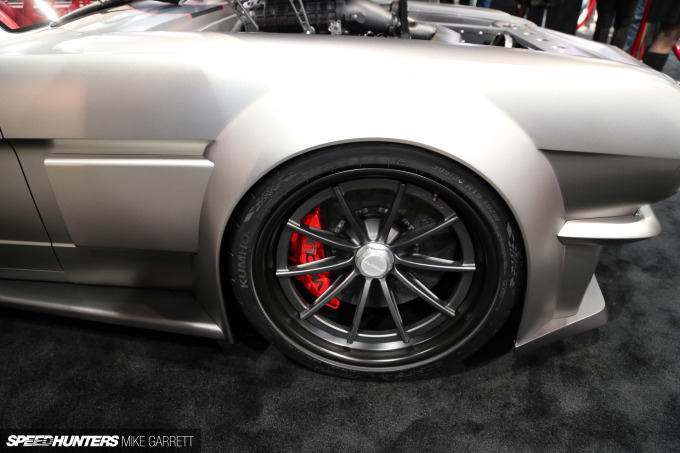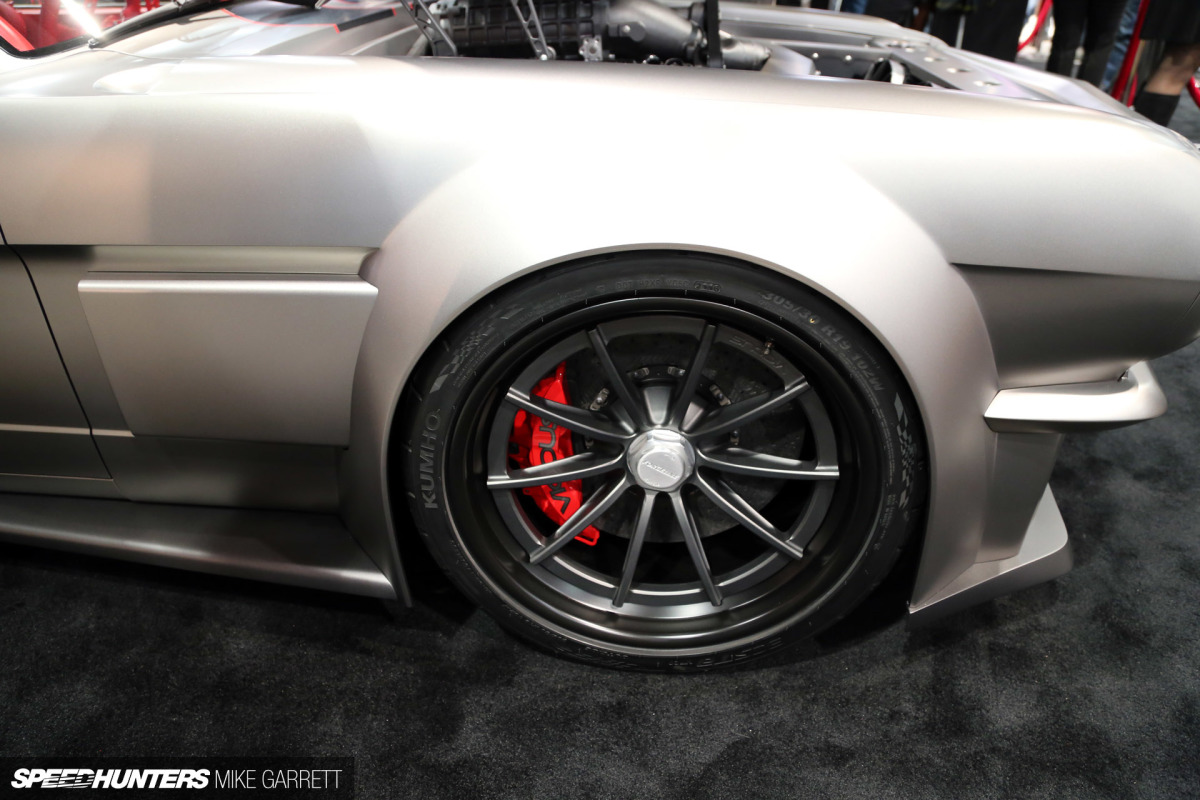 The car actually began life as a coupe, but during the build the body was converted to fastback, widened extensively, and then dropped over a custom Art Morrison chassis with Corvette suspension and RideTech coilovers.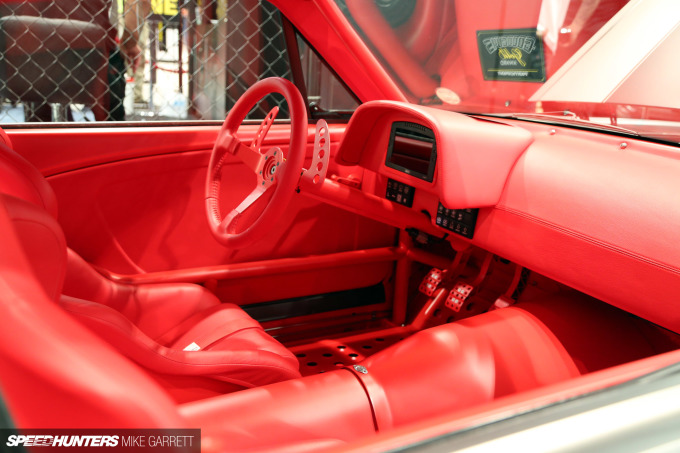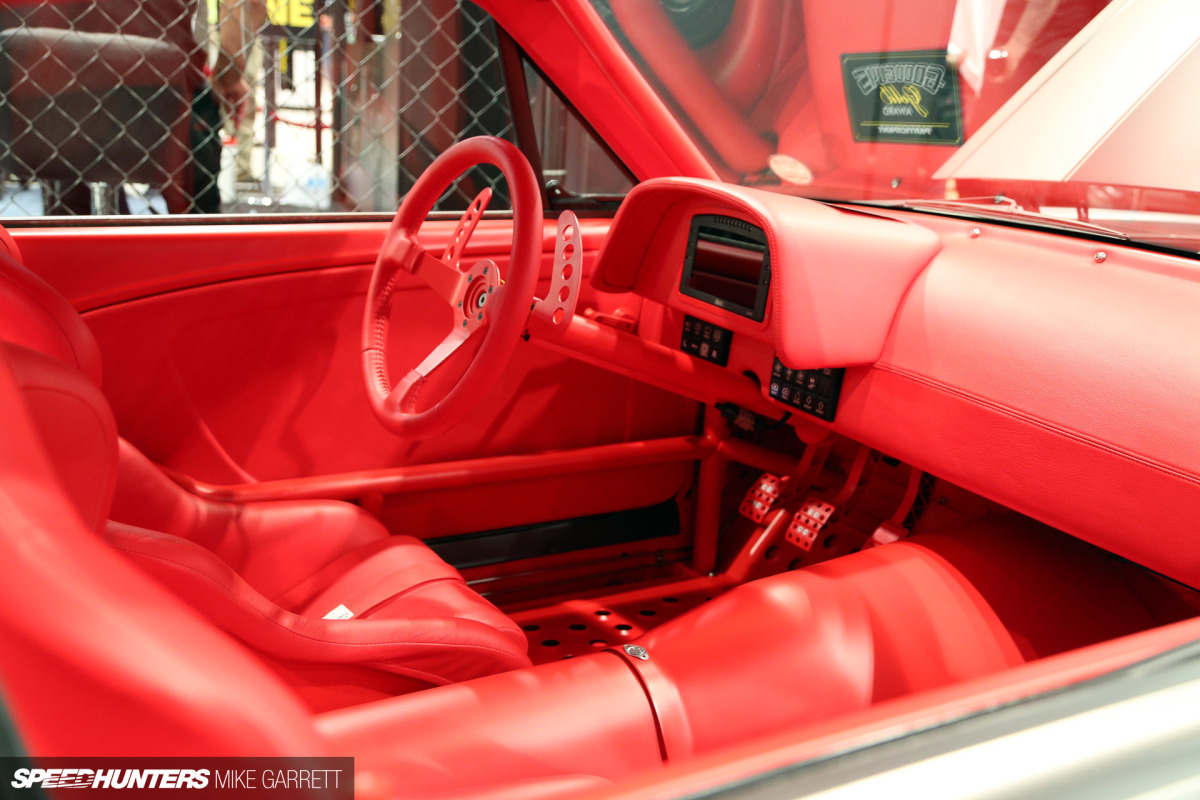 The blown and turbocharged V8 is mated to a 6-speed sequential gearbox which is operated via a pair of trick steering wheel paddles.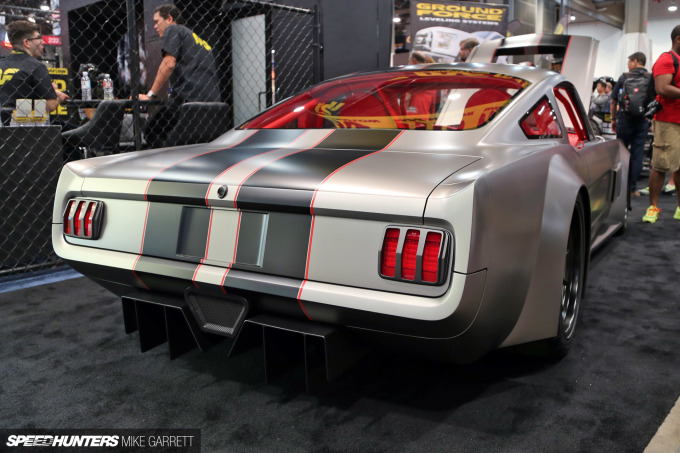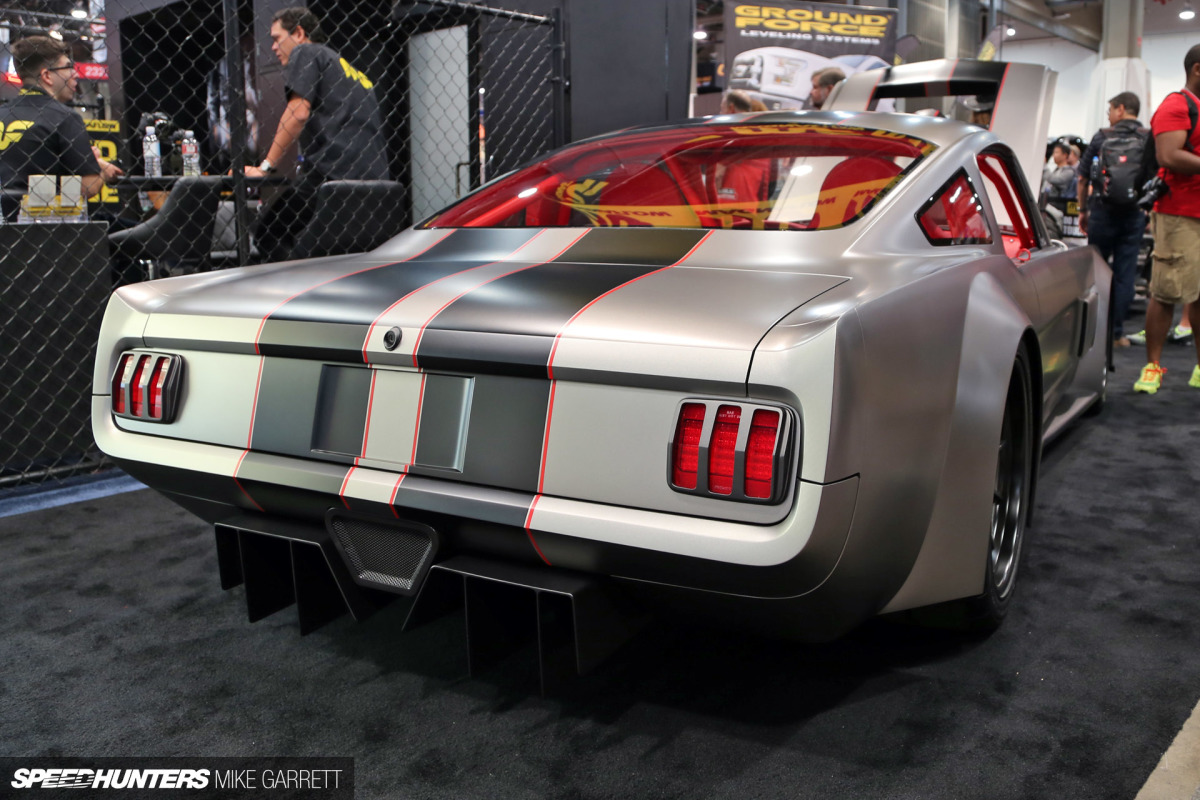 The builders have described the Vicious Mustang as 9/10ths race car and 1/10th street car, and after getting an up-close look at it in the Magnaflow booth it's hard to disagree. When I picture a high-end SEMA build, this is exactly what comes to mind.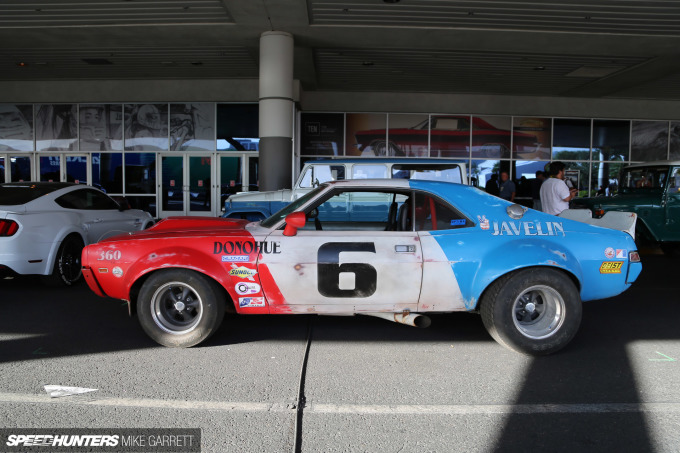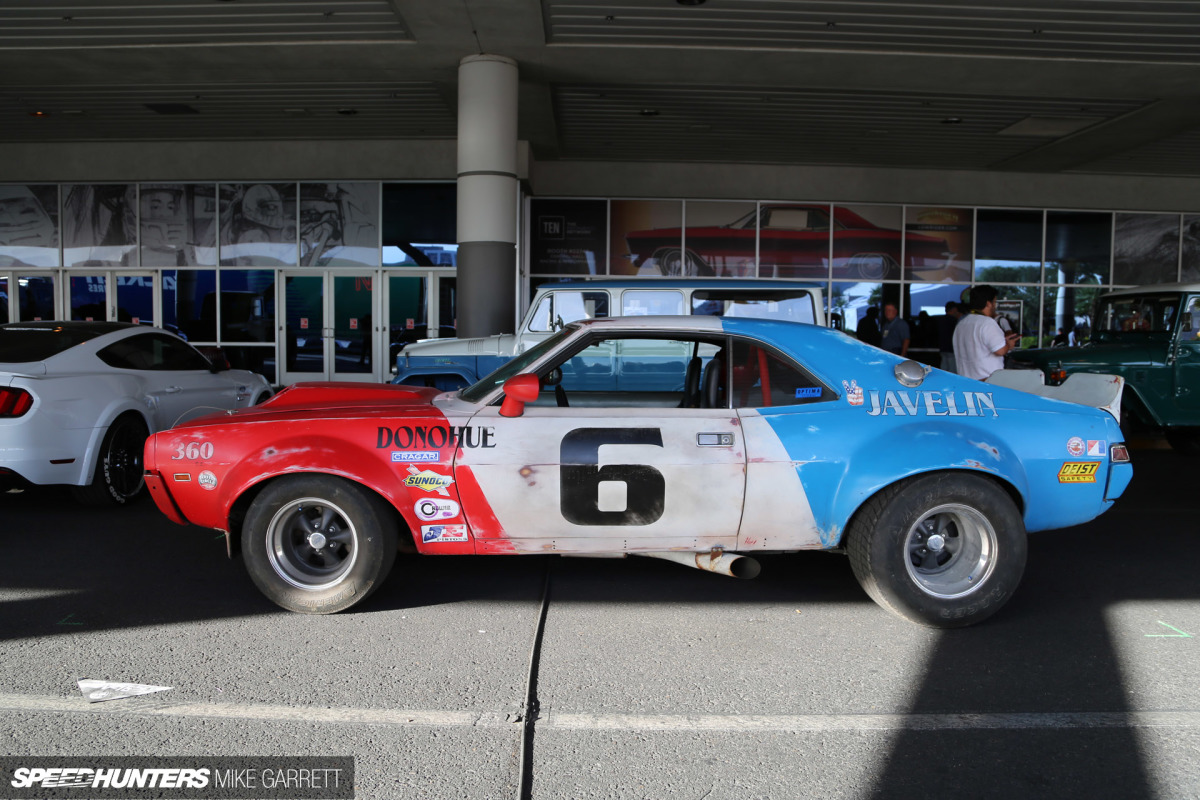 Now that we've seen a modernized creation, let's take a trip back a few decades. This decidedly old school AMC Javelin parked outside was getting a lot of attention, and for good reason.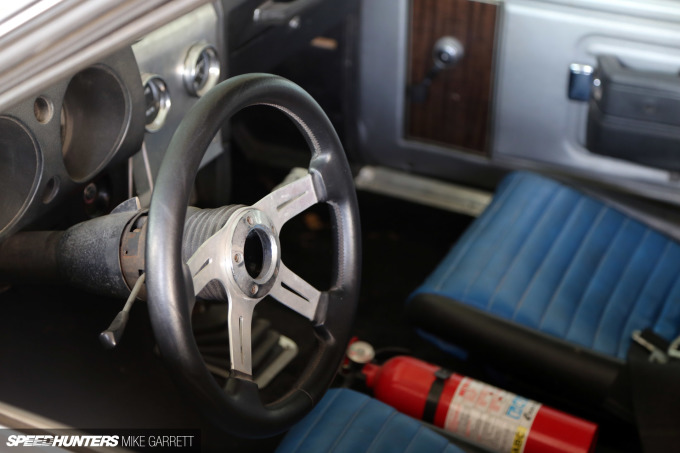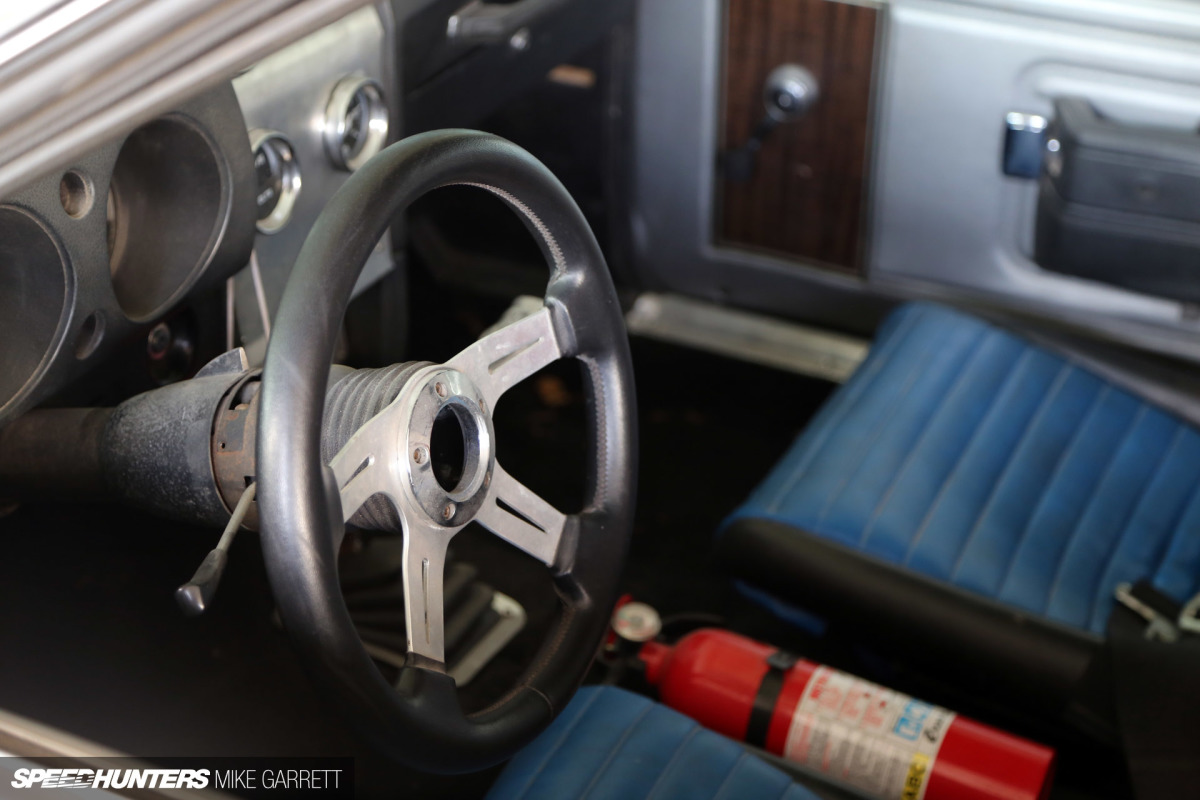 First off, there's the fact that it's just cool to see any Javelin in a sea of Camaros, Mustangs and 'Cudas, but this one takes the retro vibe to whole new level.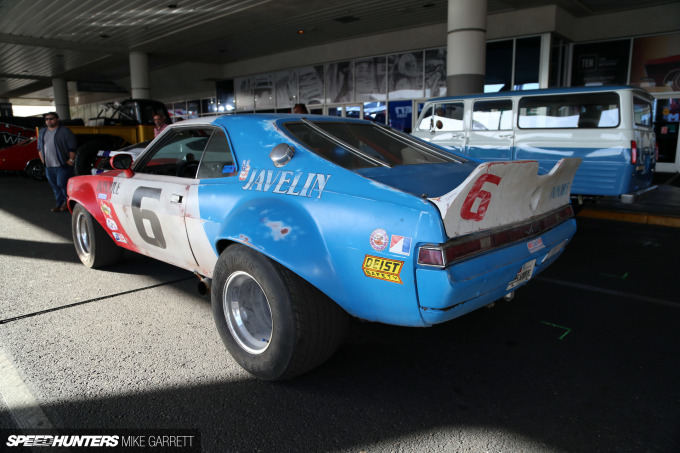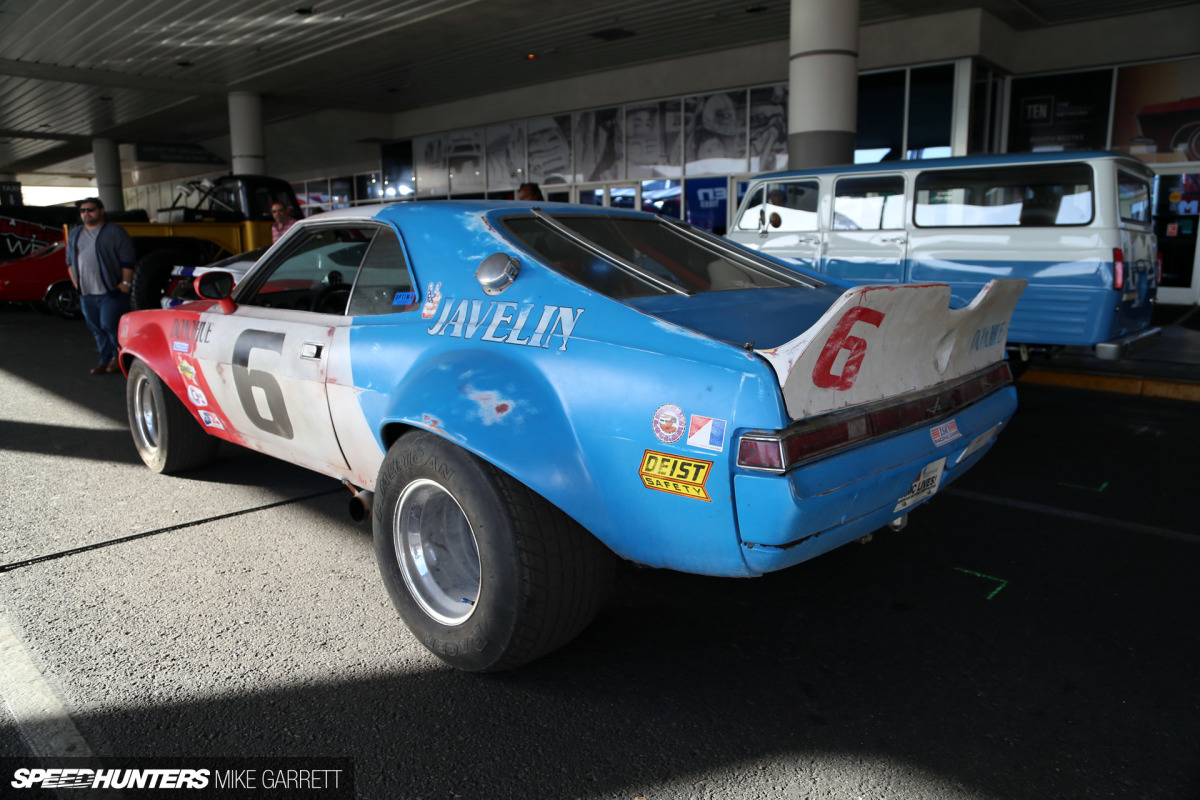 Then there's the classic Mark Donahue Trans Am livery, with enough inperfections to make you think it hasn't been touched since the early '70s.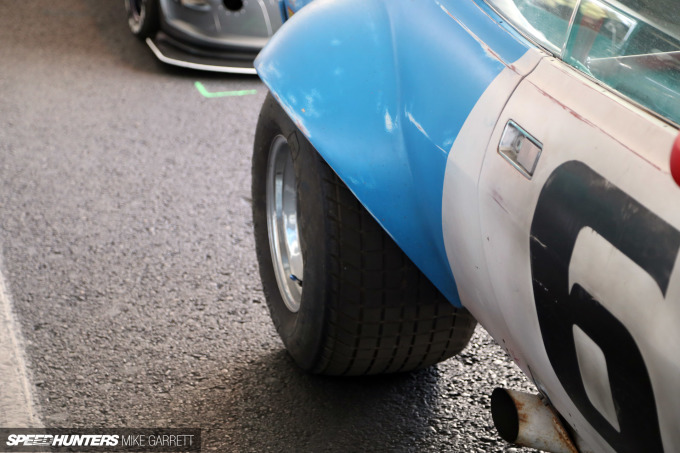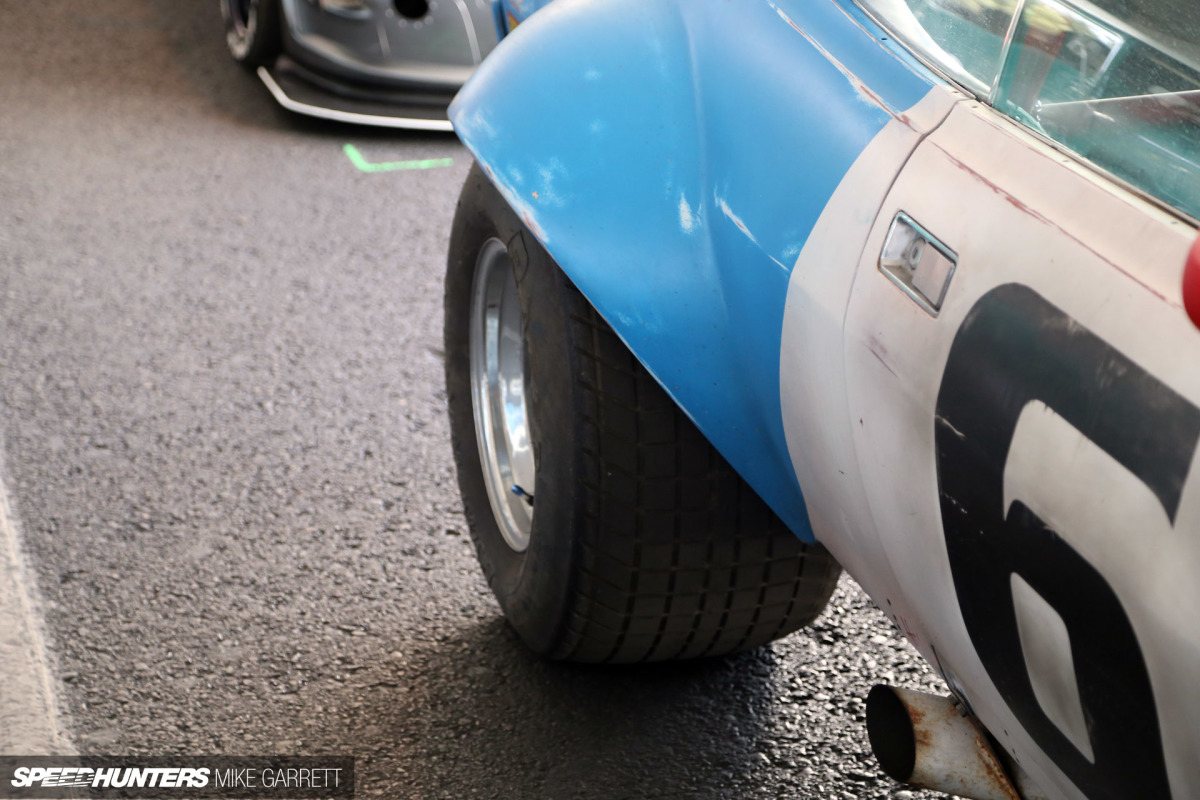 Finally, there's the wild flared fenders which hardly contain a set of Cragar mags and enormous tires. Leave your rubber bands at home.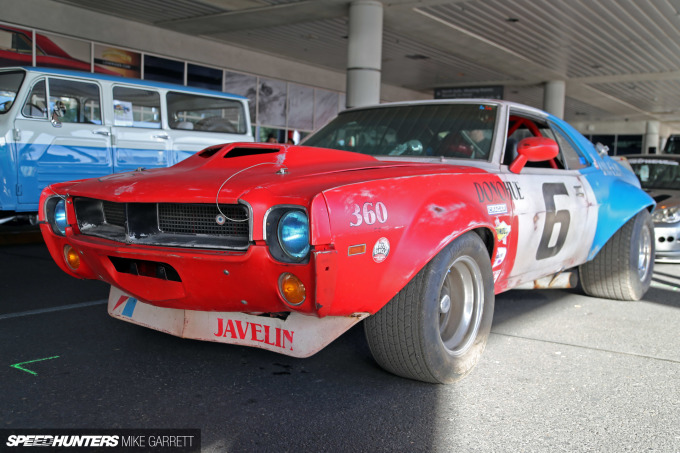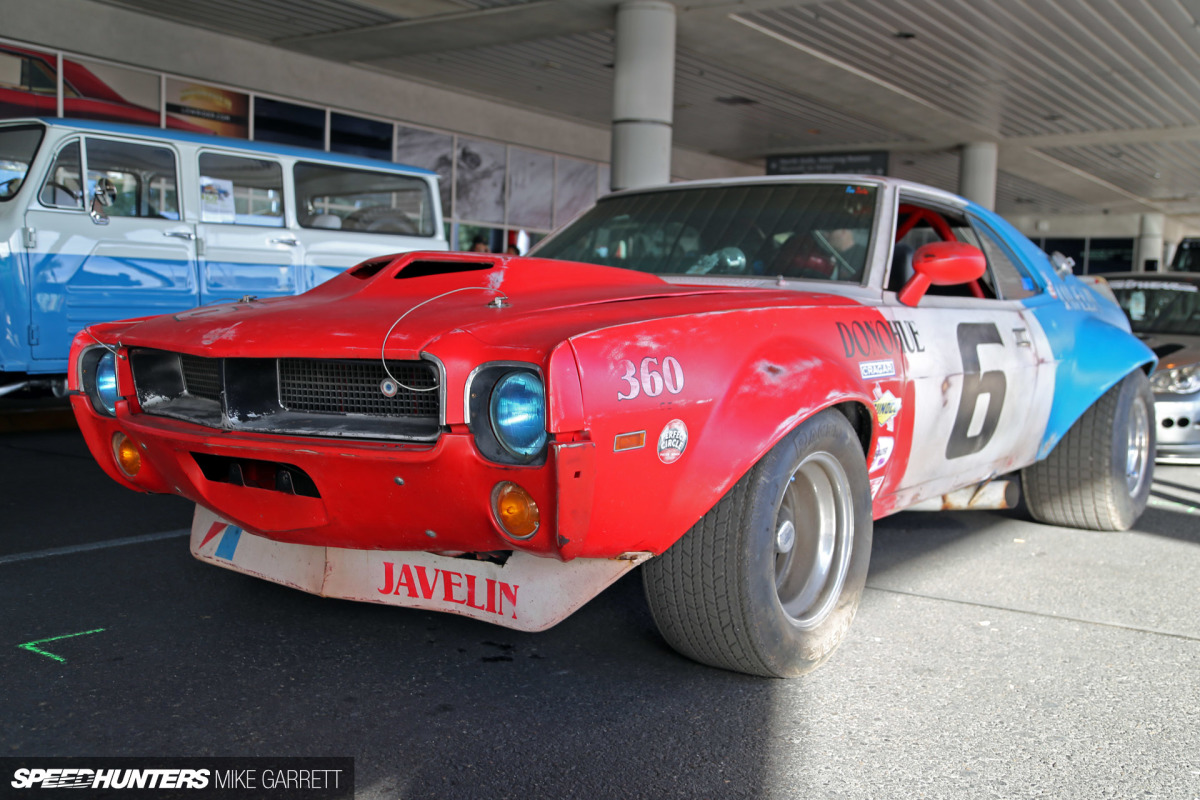 To be honest, it's hard to tell whether this is an actual period build or a more recent build with perfectly executed faux patina. Either way, it's damn cool.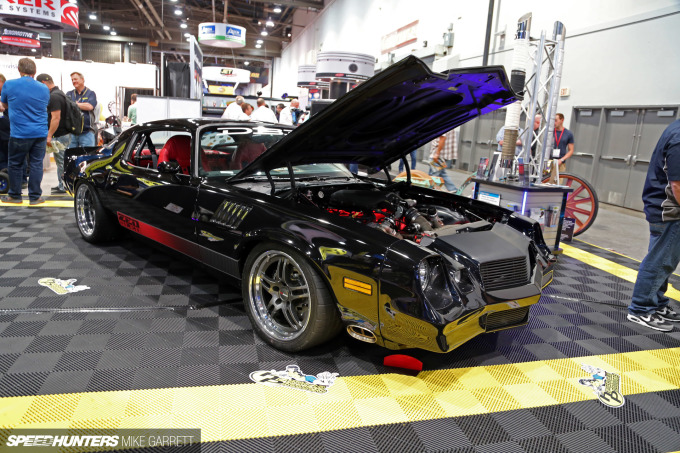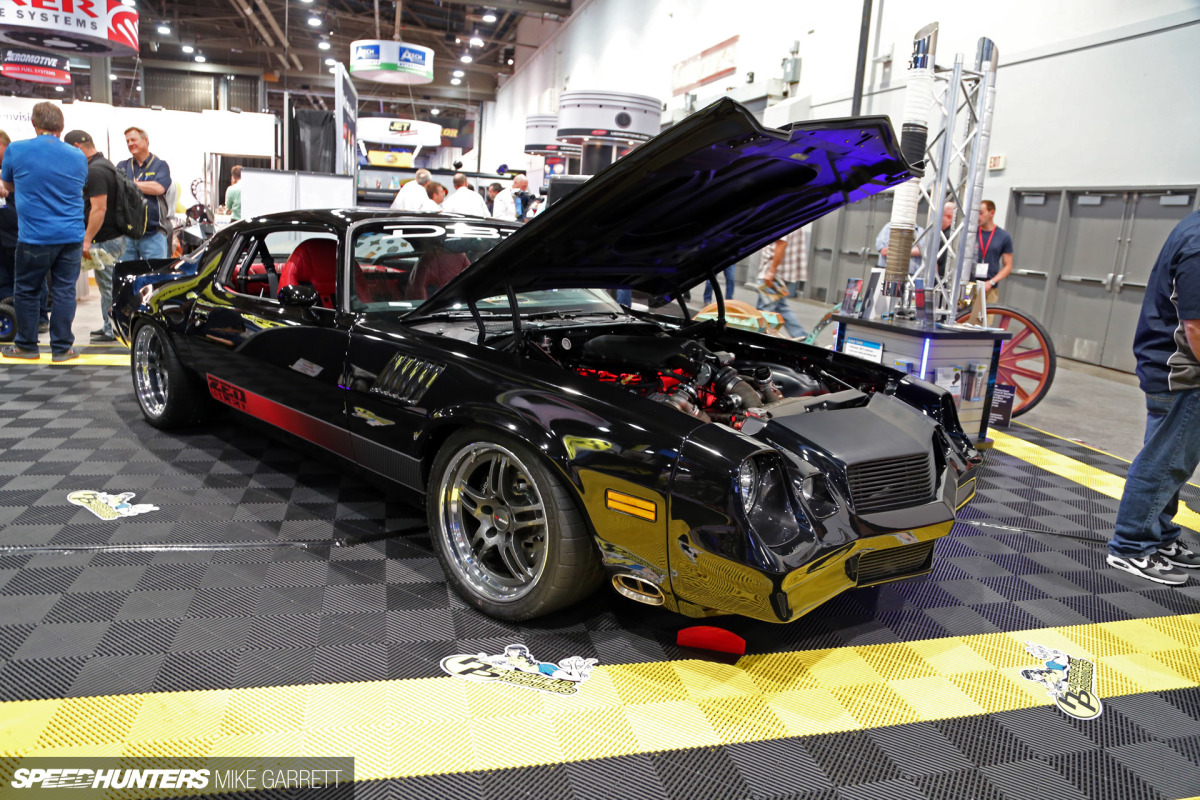 Speaking of the '70s, it was awesome to see this beautiful Camaro Z/28 on display in the Heatshield Products booth, built by Bay One Customs out of Tennessee.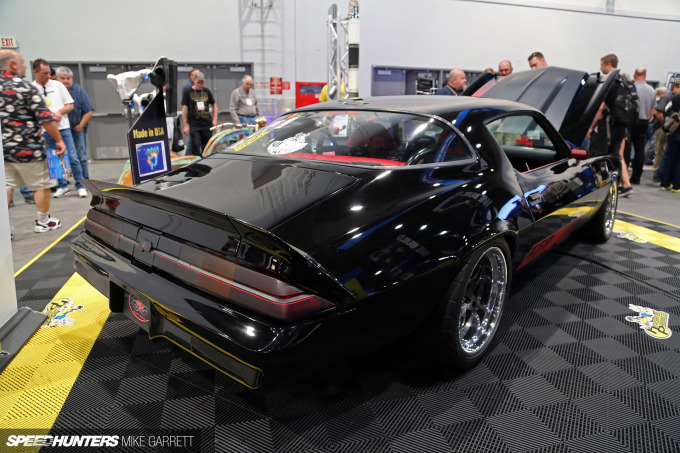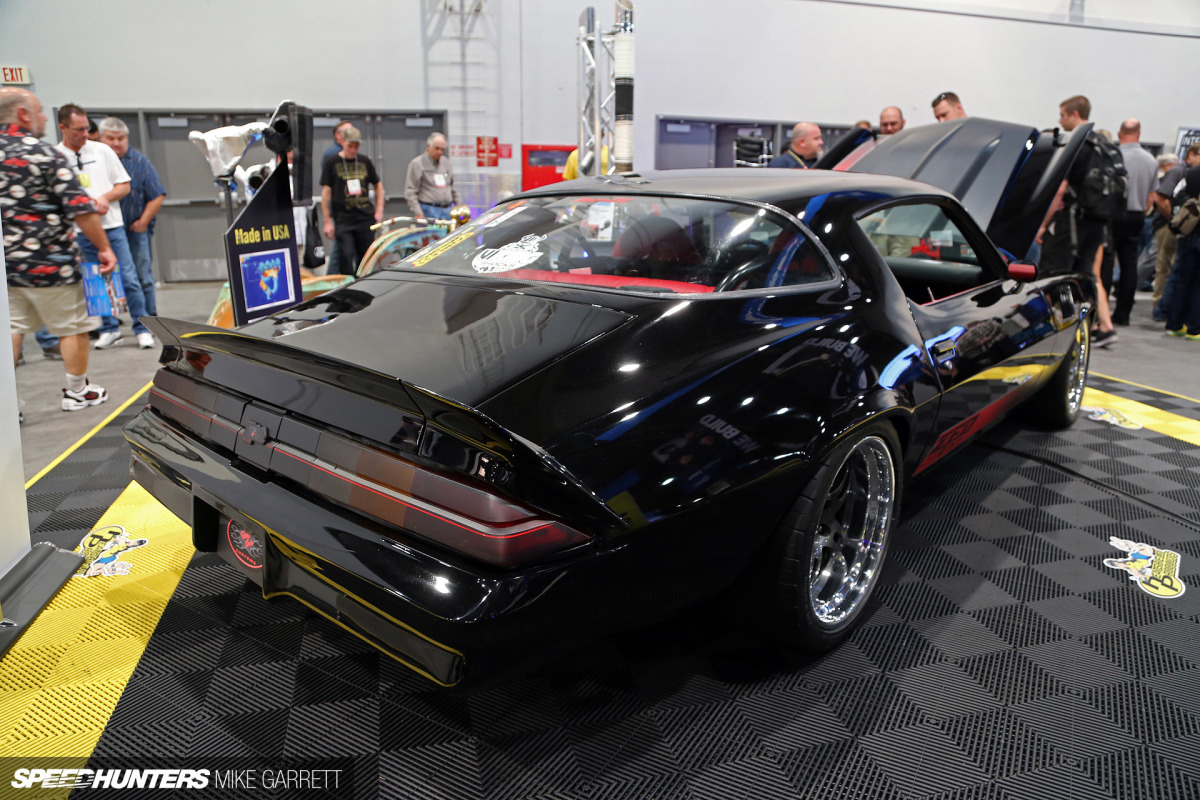 The late '60s and early '70s GM F-bodies get a lot of love at SEMA, but you don't see nearly as many of the later second-gen cars. That's a shame, because as you can see they make for an awesome pro touring build platform.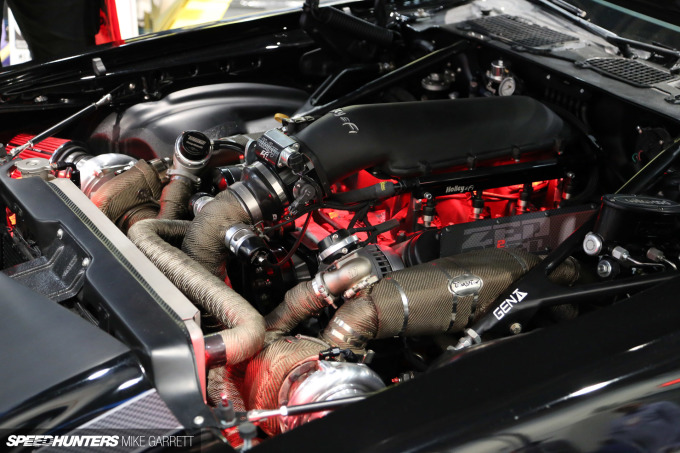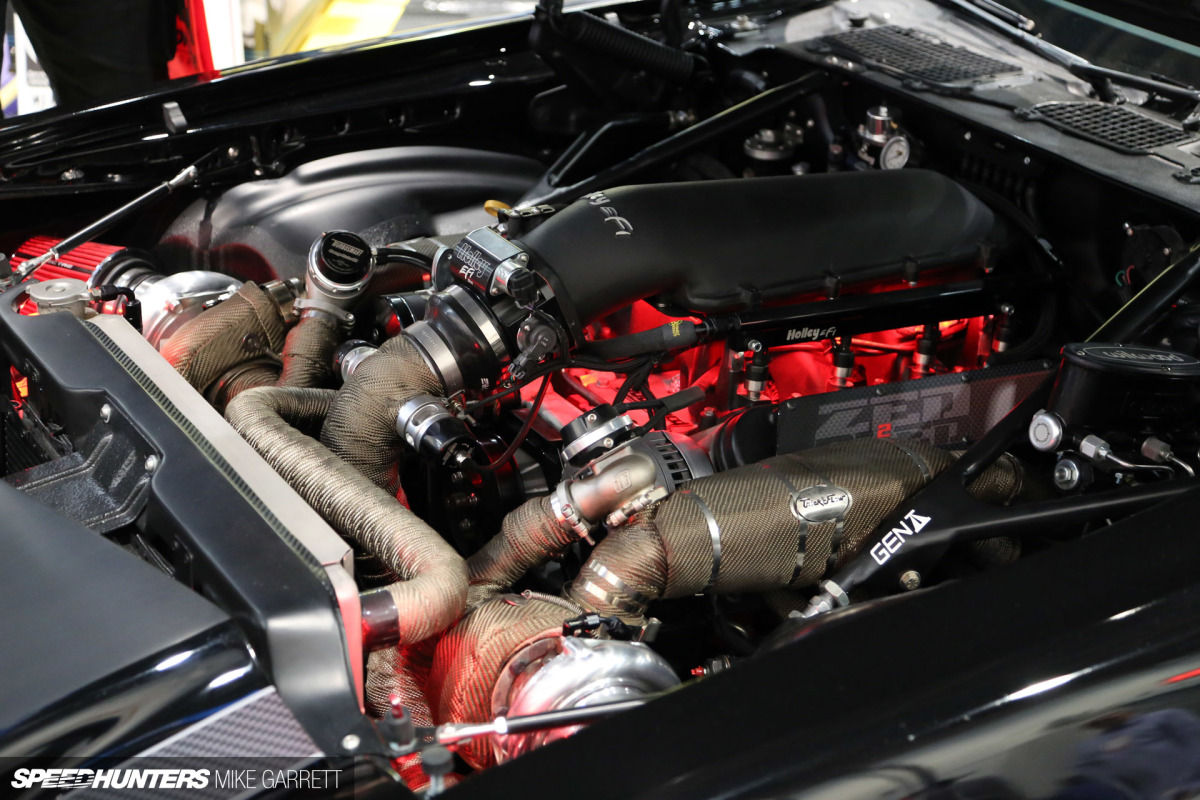 This one's equipped with Holley EFI as well as twin turbo setup. The use of boost has become so popular in SEMA muscle car builds that it feels strange looking under a hood and not seeing a turbo or supercharger.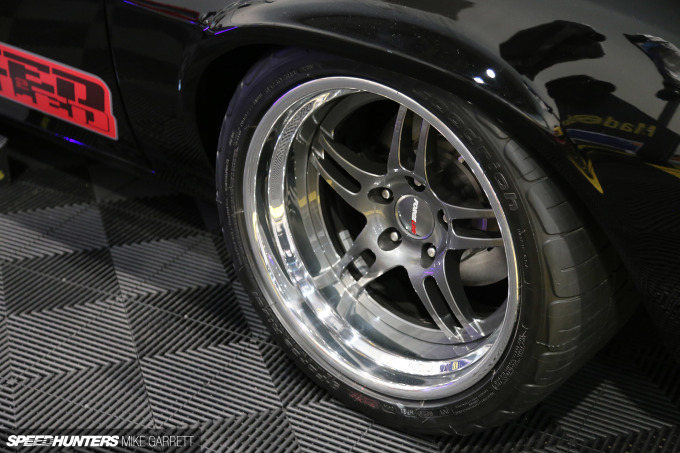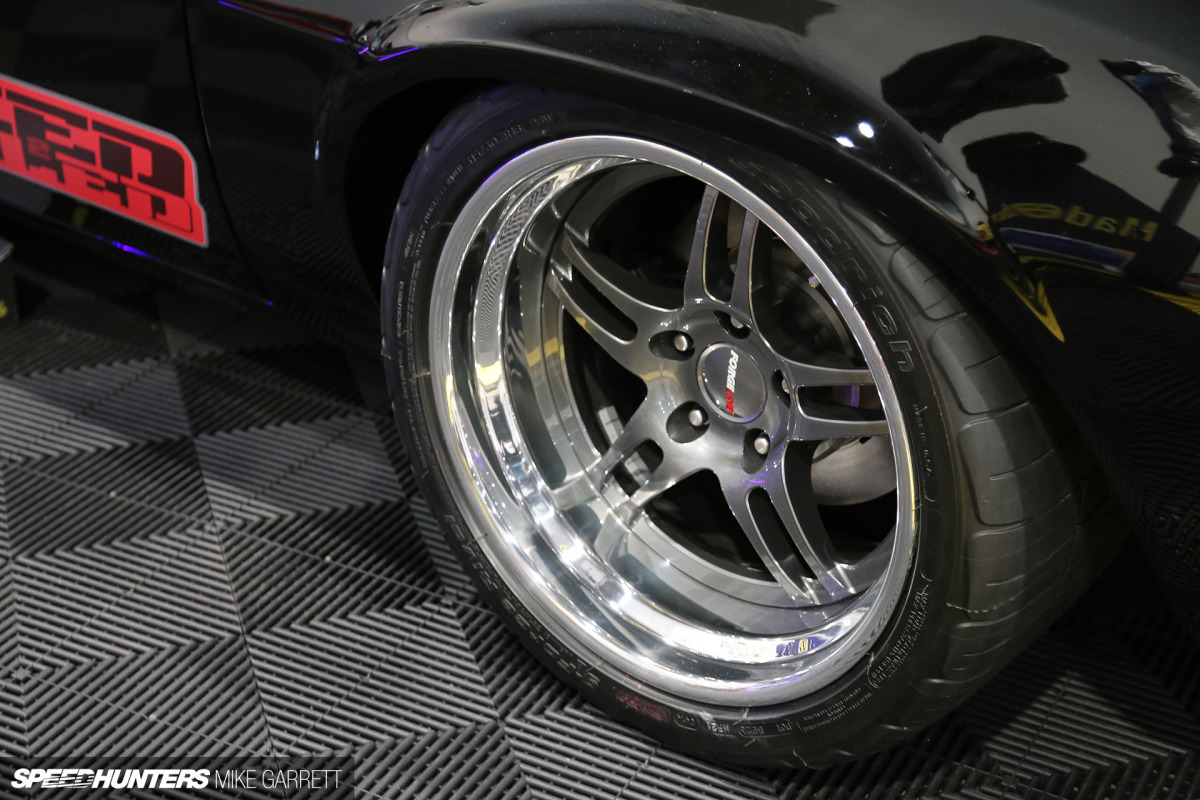 The Z/28 rides on a mean set of Forgeline wheels with BFGoodrich tires, and the bodywork's custom graphics do a fine job of paying homage to the factory color scheme.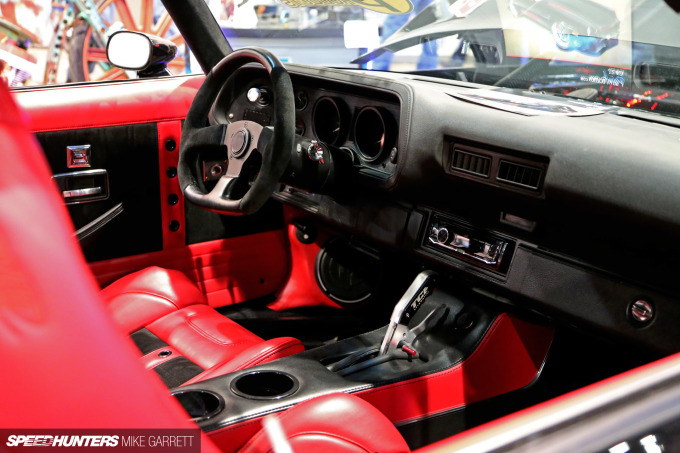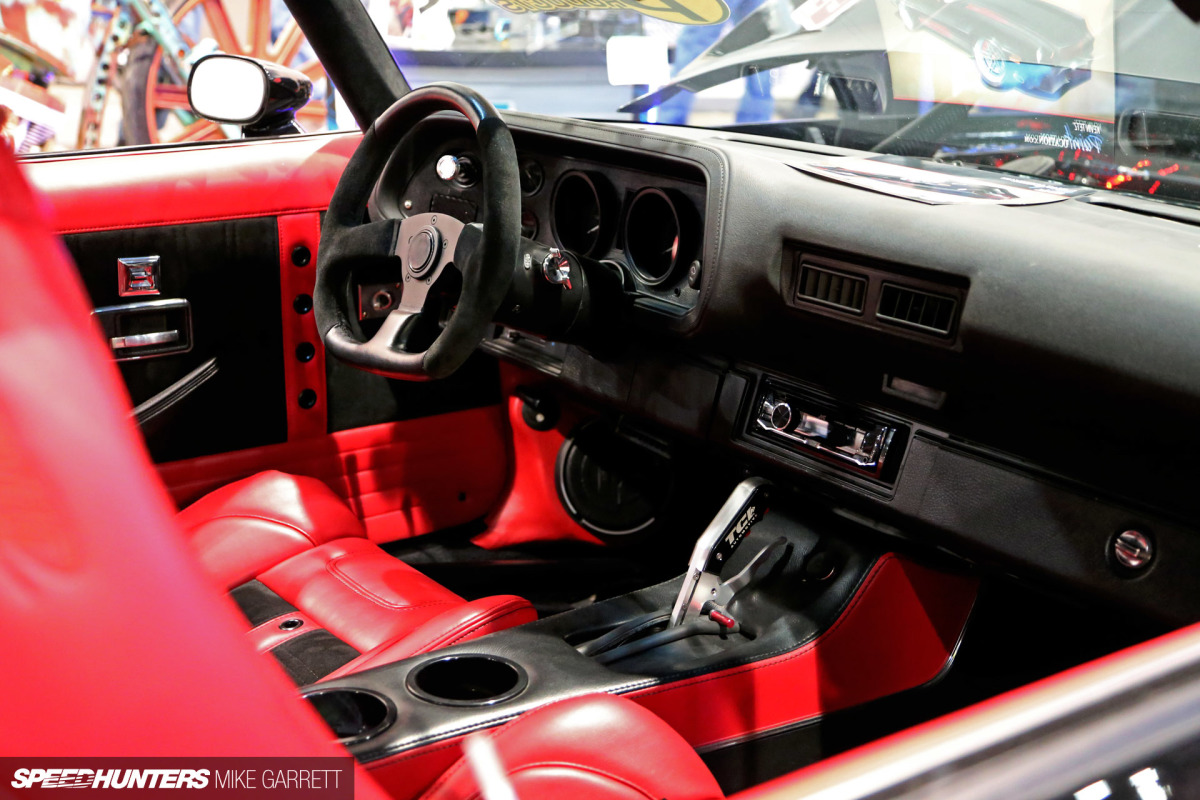 It's all tied together with a black and red cockpit that introduces many modern elements to the classic second-gen Camaro interior.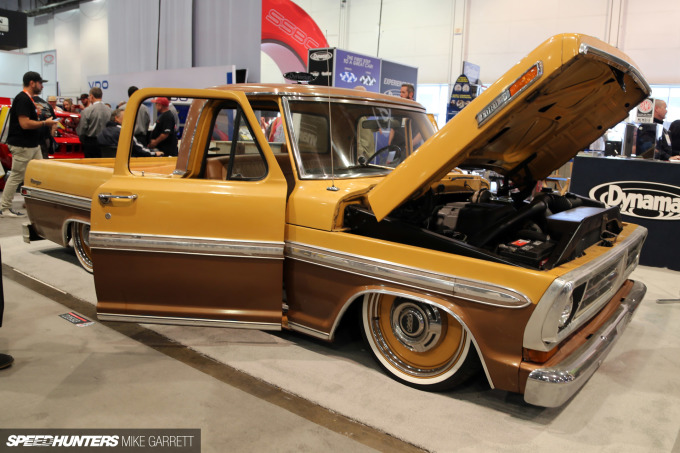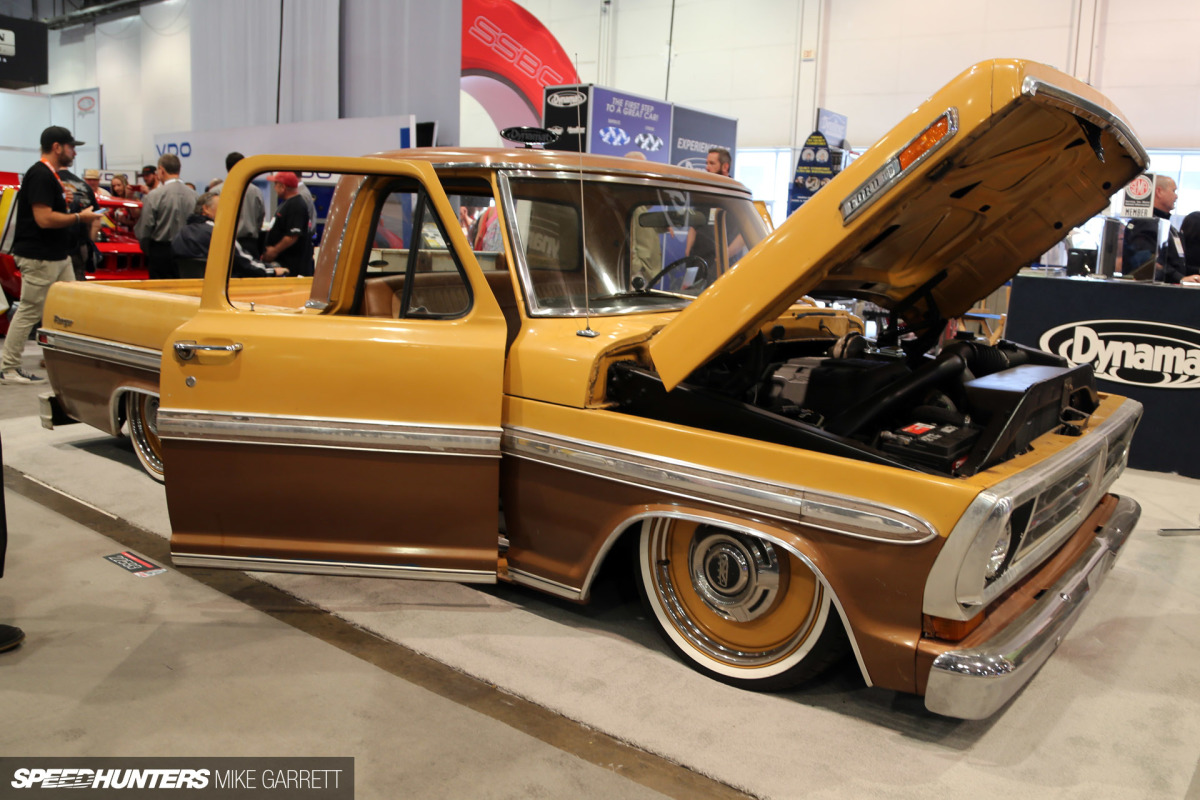 SEMA is a place where the pickup trucks are as plentiful as the cars, and there's no shortage of cool examples on display this year. One my favorites so far has been this '72 Ford F100 built by Mobsteel.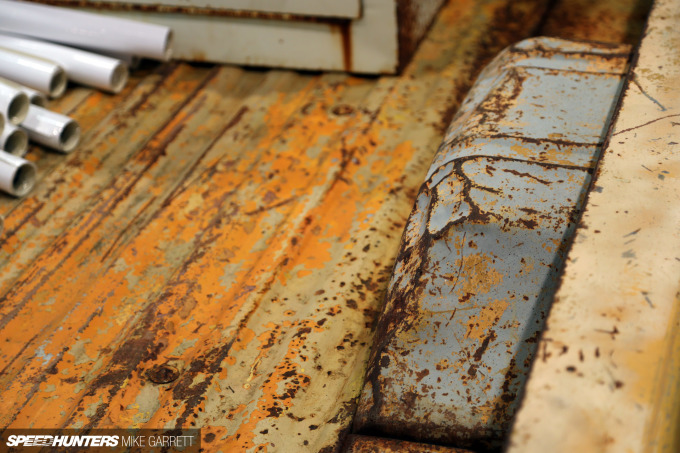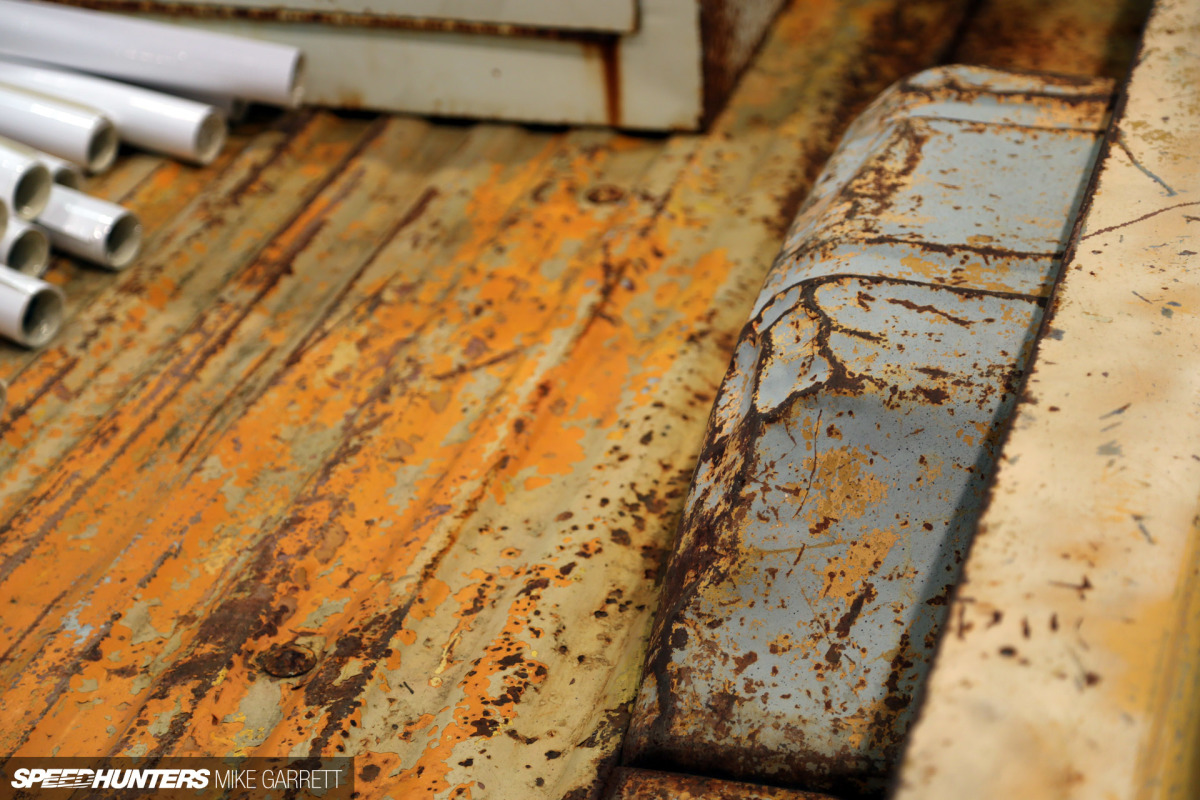 The truck is slammed to the ground obviously, but rather than the exposed air bag and suspension setups that many lowered trucks run, the Mobsteel guys have actually lifted up the stock bed floor, dents, rust and all. It looks awesome.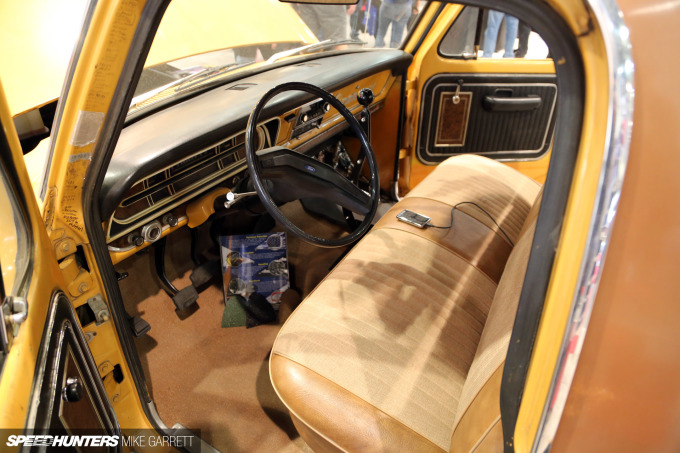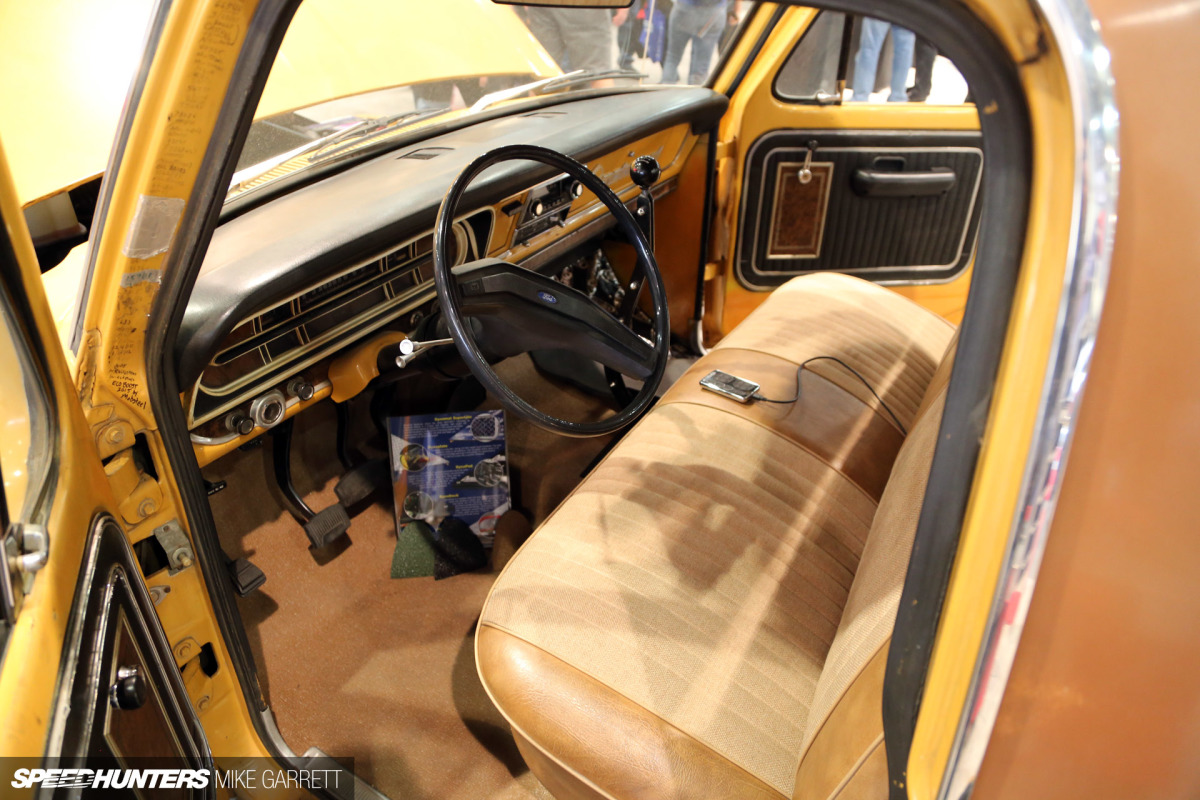 The interior carries the same vintage character too. I especially like how they've kept the big, old school stock steering wheel rather than swapping it for something aftermarket.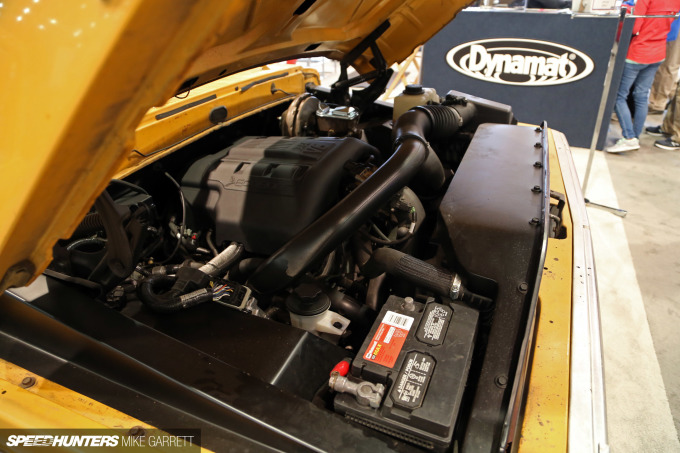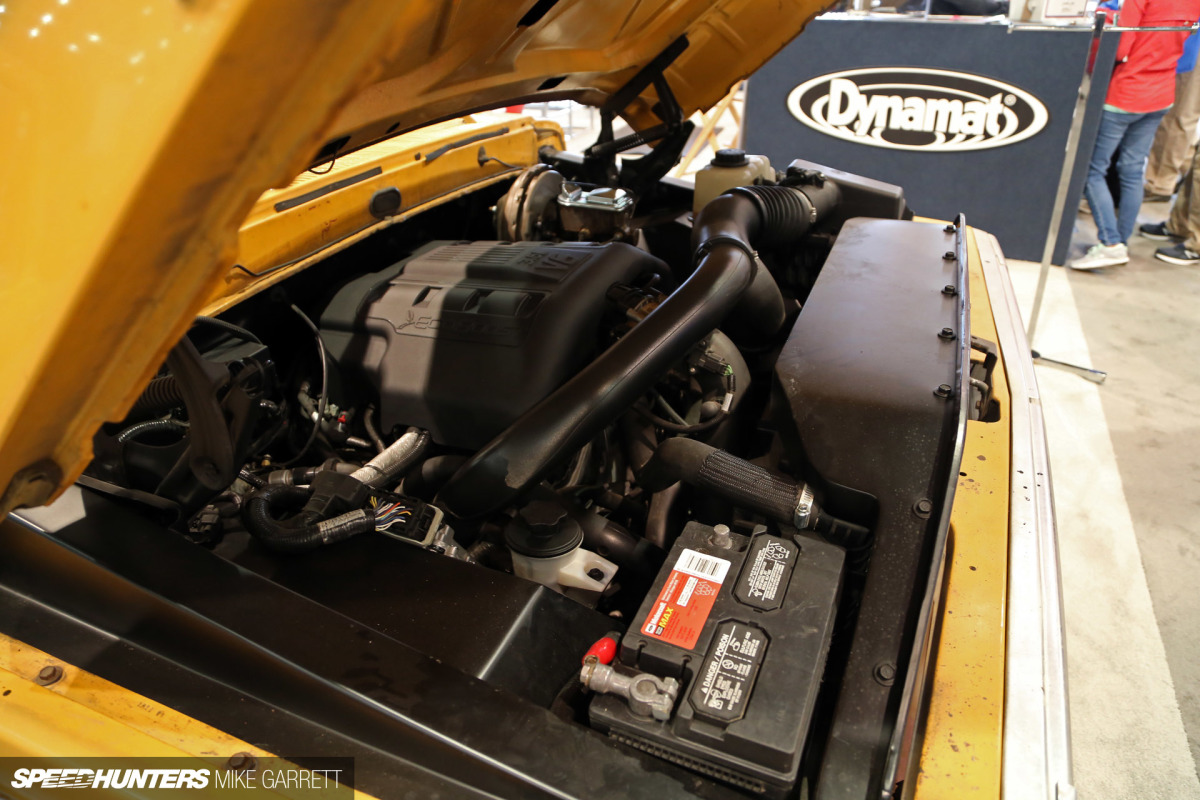 And under the hood? Not a V8 but a 3.5-liter Ford EcoBoost V6 that's mated to a manual gearbox. It's a fitting choice considering how many Ford pickups sold today are powered by turbo V6s rather than V8s.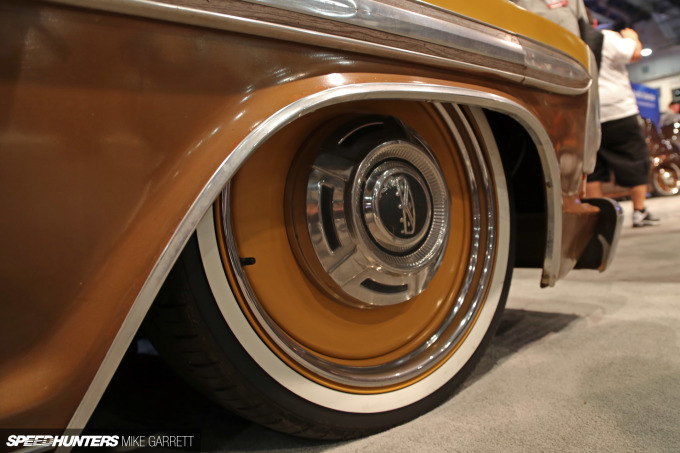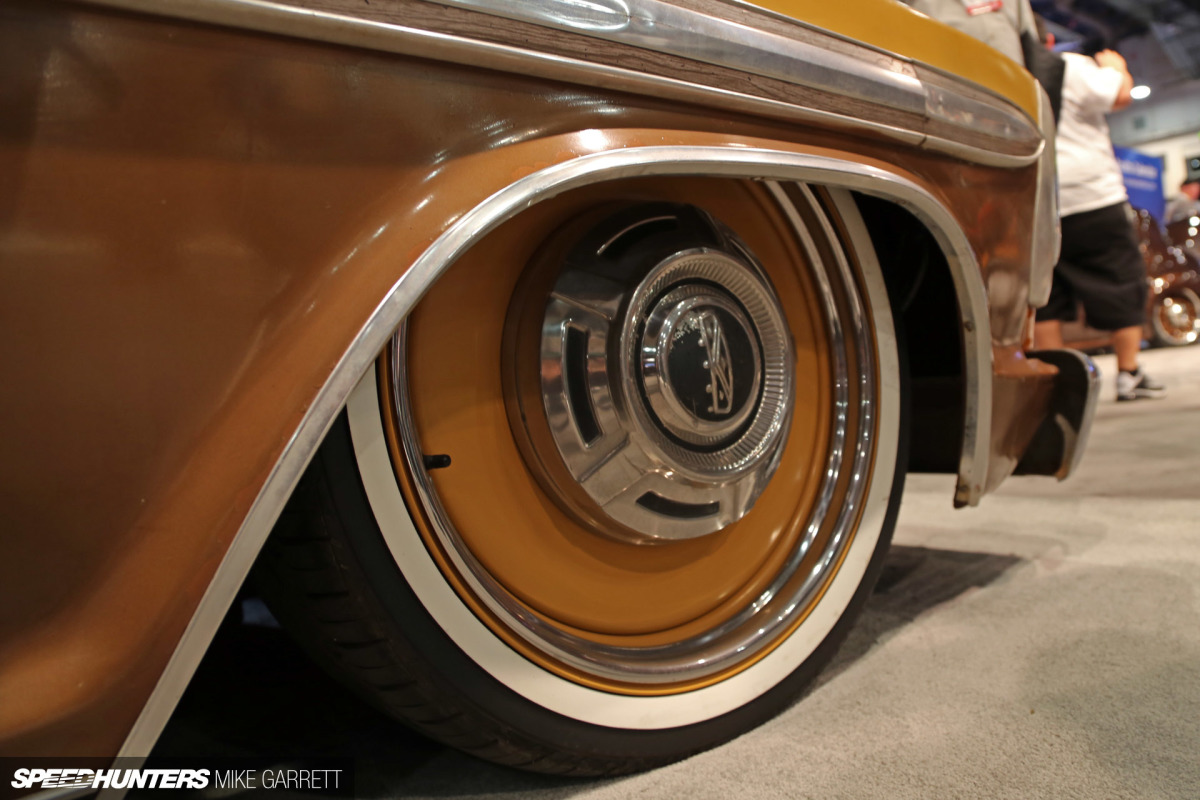 As for wheels, the steelies and white-wall tires are a much larger diameter than the originals, but the factory poverty caps have been kept in place to tie things together. I love it.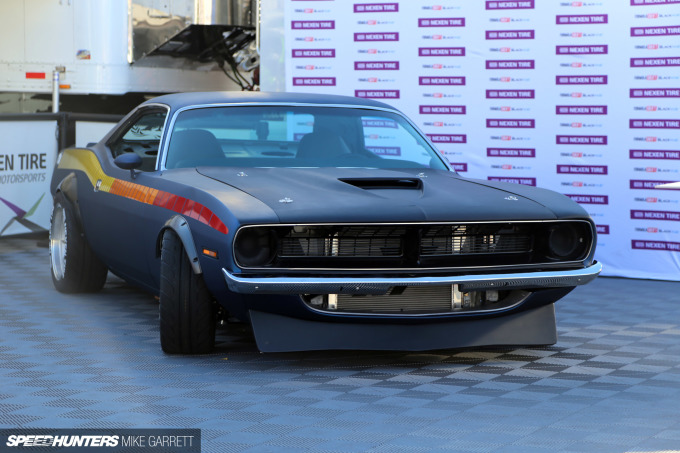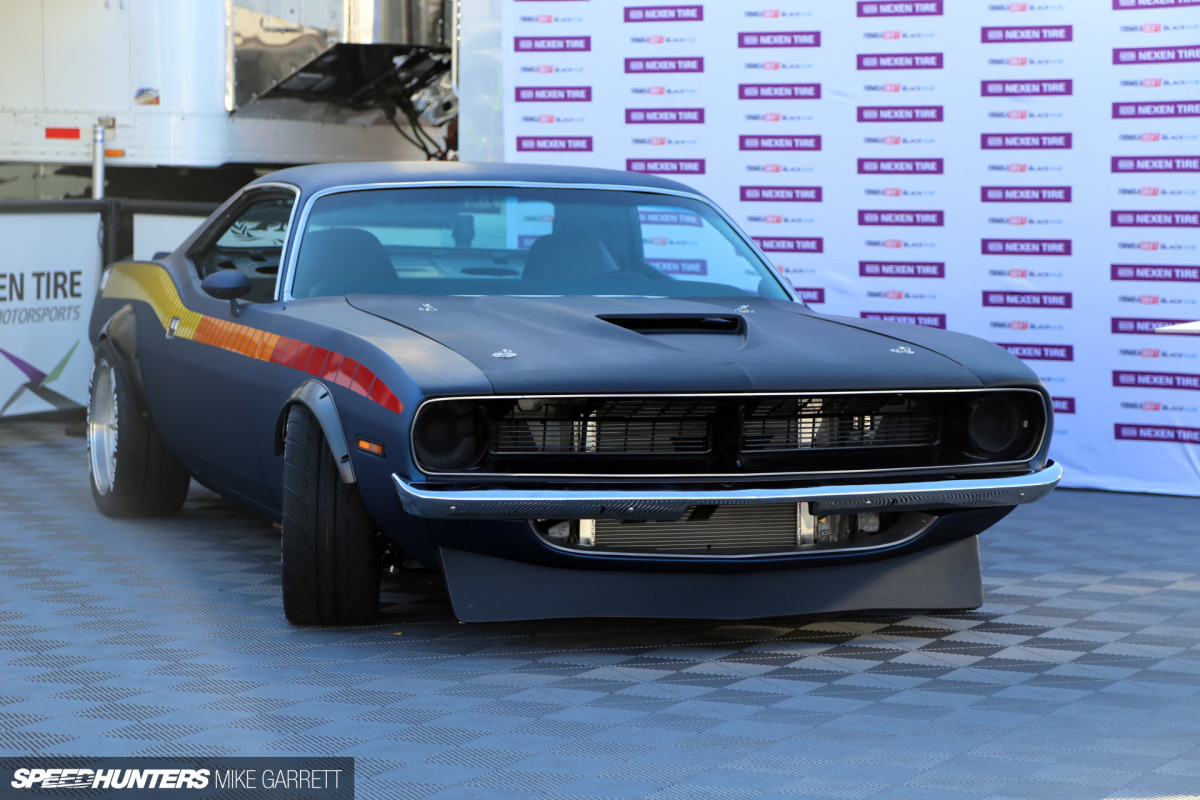 Last but not least we have a Mopar, or more specifically, a Plymouth 'Cuda that was built by our friend Tony Angelo and his pals on the popular Hot Rod Garage show.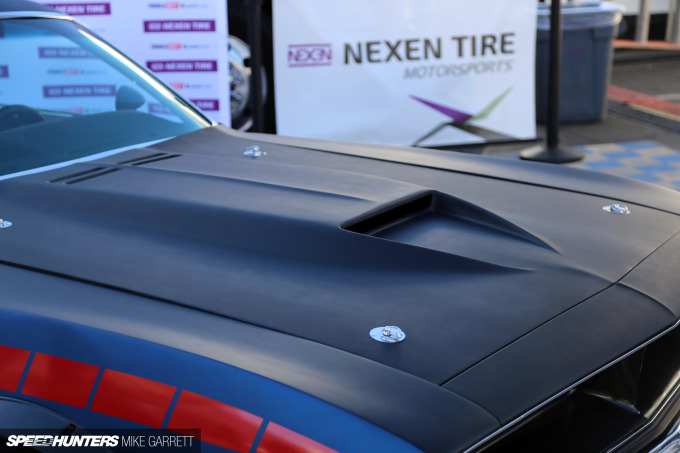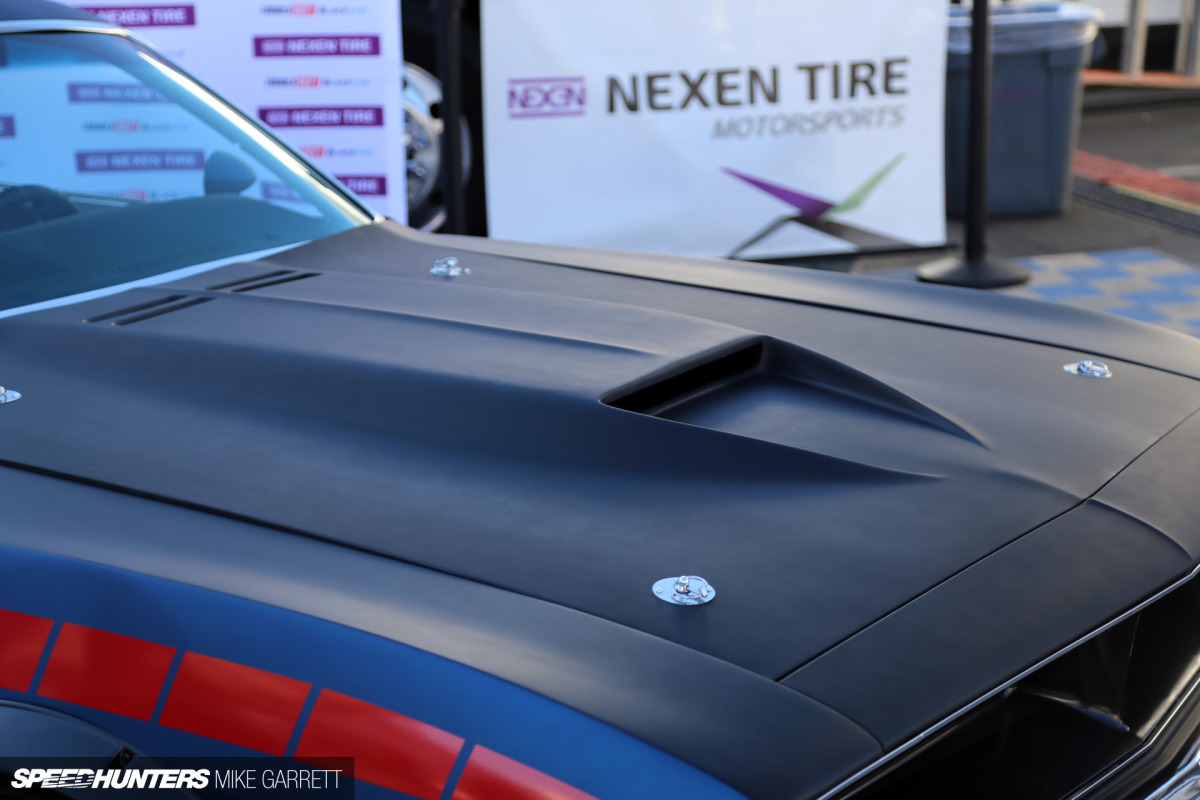 Just like my own Project Yankee Dart, Tony's 'Cuda is sporting a brand new Mopar crate HEMI package under the hood, in this case a 392 cubic inch variant.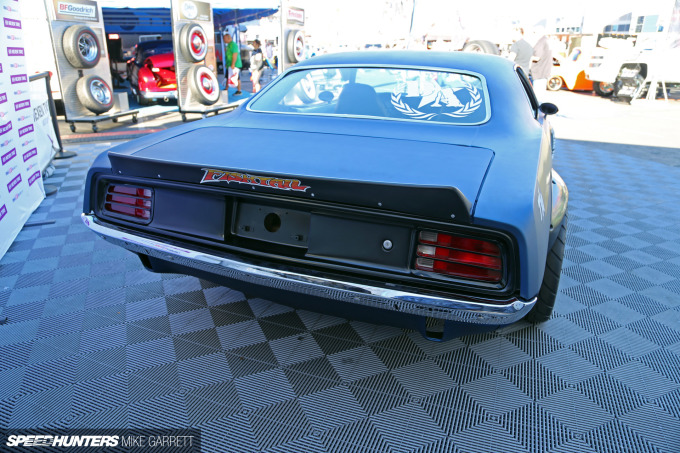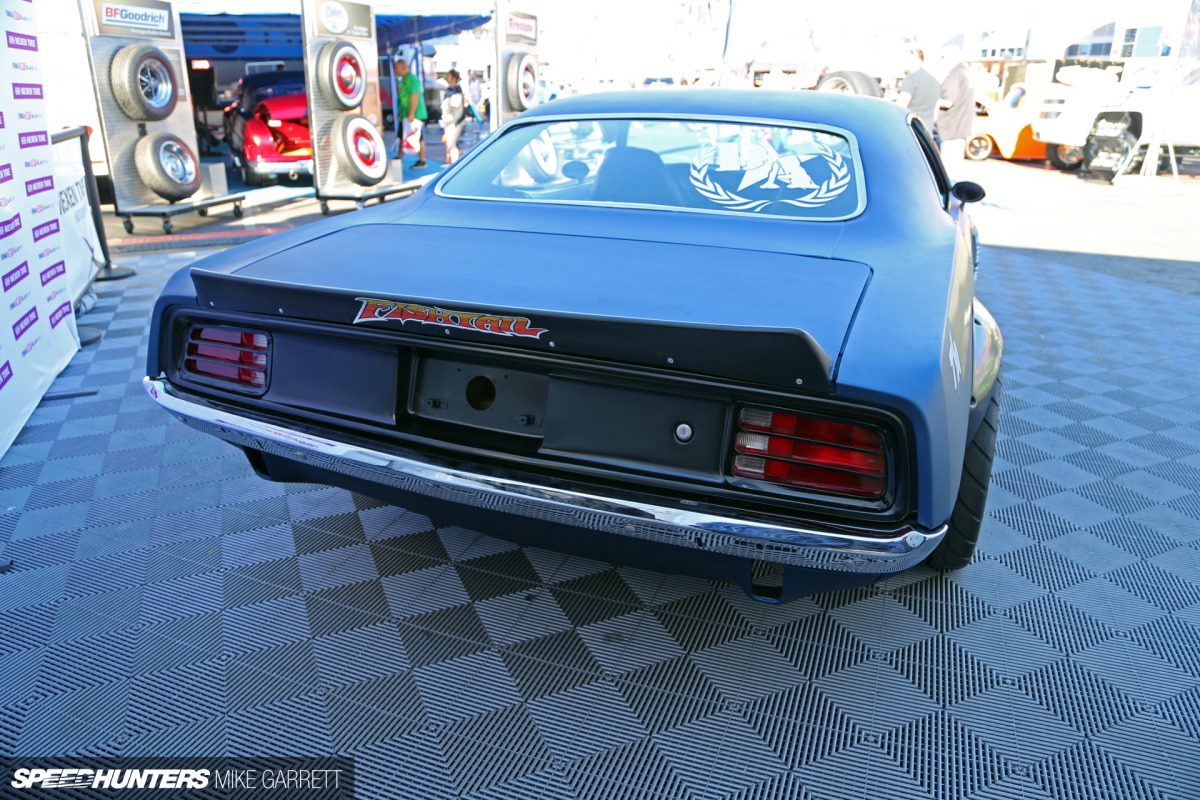 Best of all, Tony actually engineered the car to drift, and beneath the bodywork you'll find custom-built front and rear suspension setups, along with four-wheel disc brakes and a hydraulic e-brake.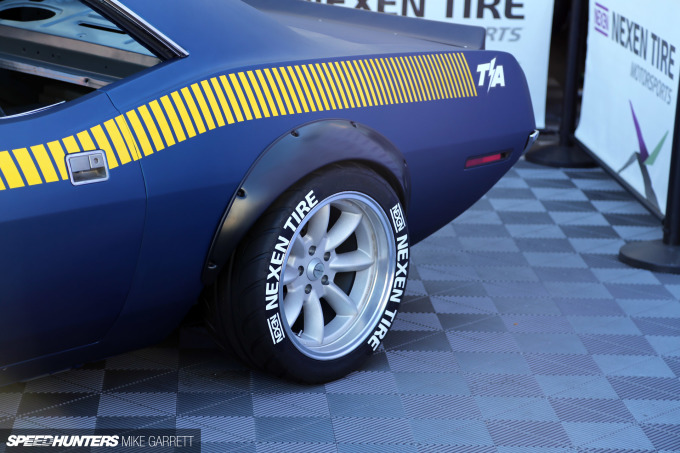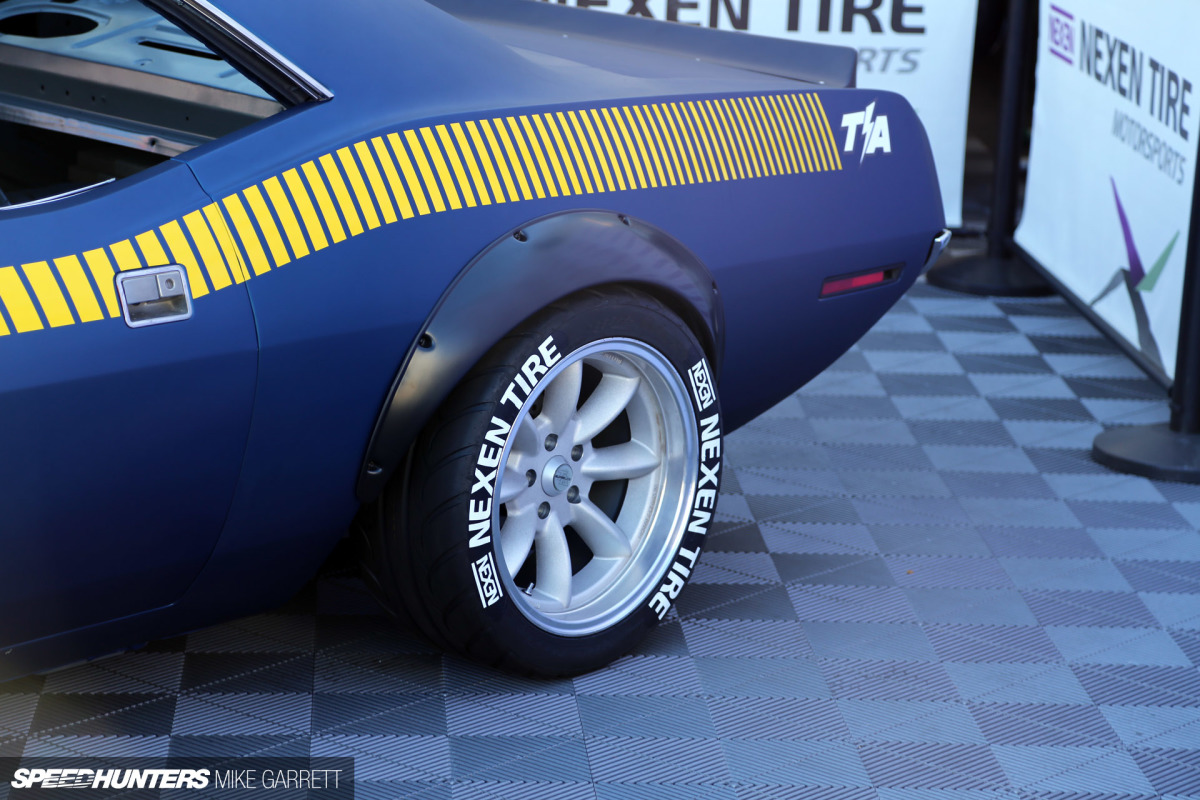 Exterior-wise, he's sporting AAR-style striping, some mild over-fenders and a set of Trans Am Engineering wheels that bring Dan Gurney's race machine to mind.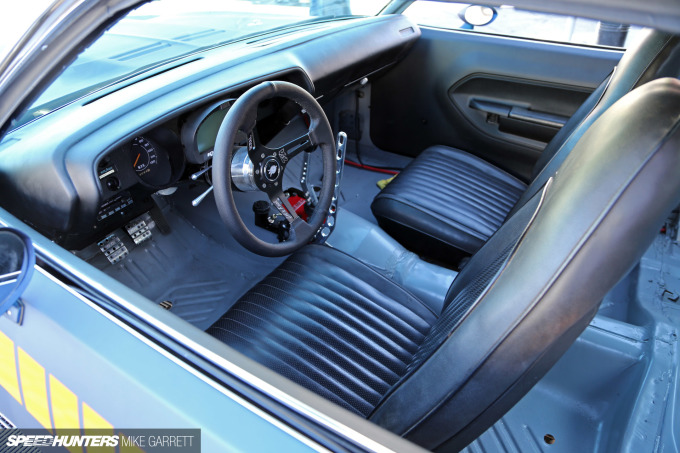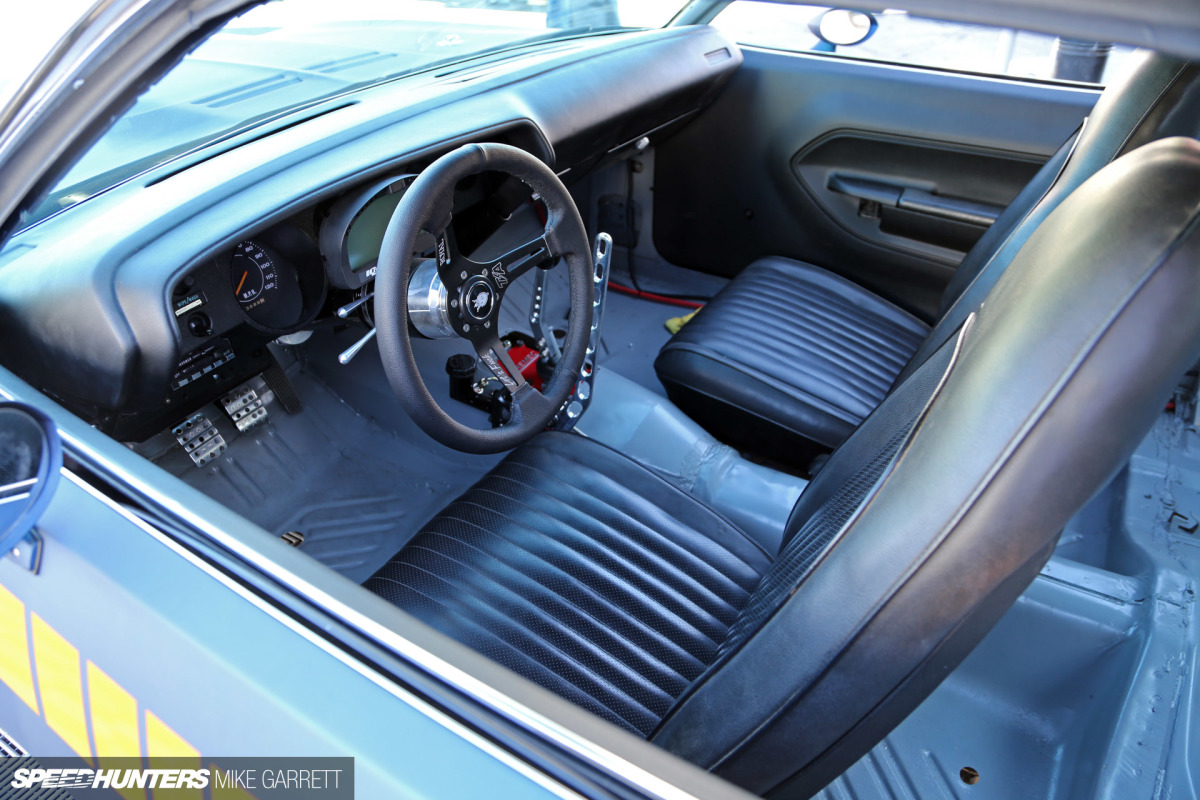 It's a radical build, and I can't wait to see this thing being flicked sideways. Maybe we can even put it together with Project Yankee for a photo session sometime…
Stay tuned for more from SEMA!
Mike Garrett
Instagram: japanifornia
mike@speedhunters.com