Precious Metal
For many of us involved in motorsport, the off-season has finally begun. With the exception of a few races like the Baja 1000 and the 25 Hours of Thunderhill, I like to think that SEMA marks the end of each season. There is a silver lining though, and that's that I now have more time on my hands to make it along to various local car meets. Cars & Coffee is always a fun morning out, and the last time I checked one out was back in February right before the racing season started.
Back at the end of 2014, Southern California's original Cars & Coffee held in Irvine shut down, prompting many others to pop up and try and take over as the #1 Saturday morning meet for the greater area. Almost two years on, things have finally settled down, and Cars & Coffee Aliso Viejo now stands out as a real favorite for many.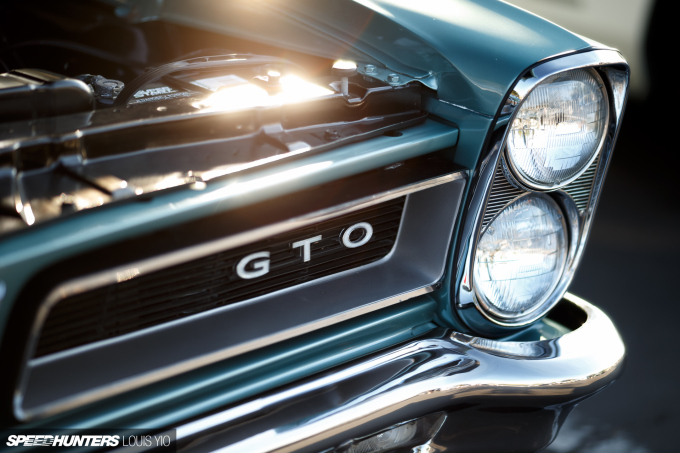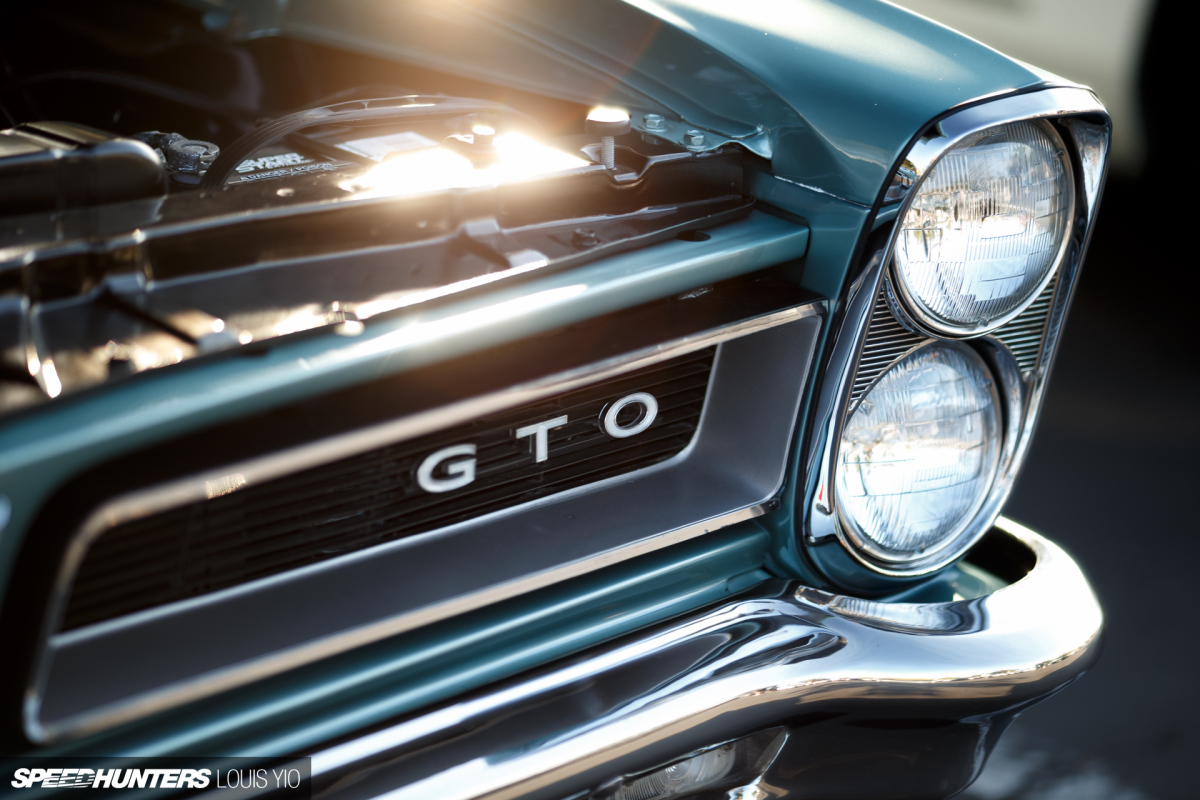 There were lots of things I loved about the original Cars & Coffee, but one aspect of the event that didn't like was that the organizers regulated the cars that were allowed into the lot. This meant that they would occasionally turn cars away and direct them over into the spectator's parking garage. While it did help weed out random soccer-mom-spec Toyota Siennas and the like, there were times when genuinely interesting cars were not allowed in, which was a shame.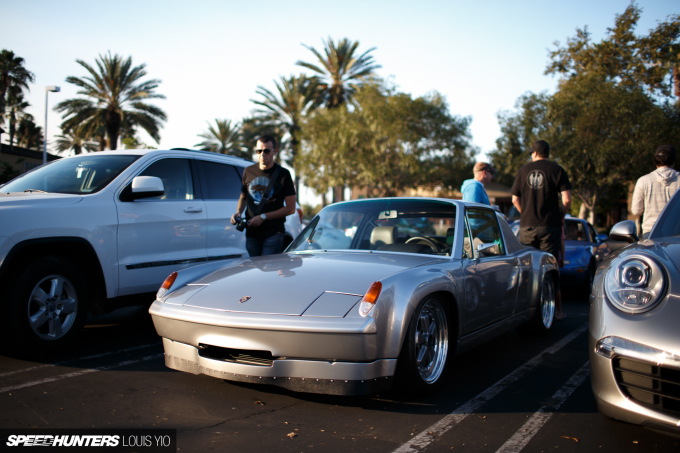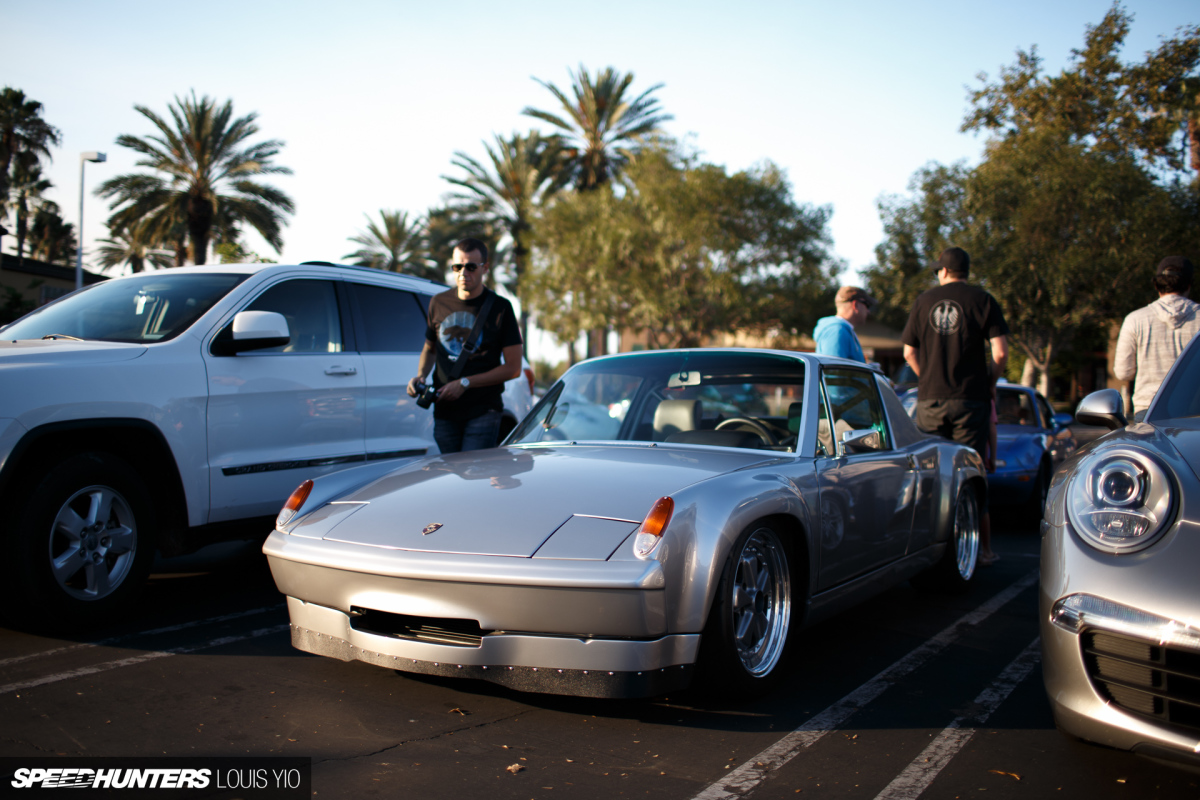 Cars & Coffee Aliso Viejo, however, is open to everyone. It takes place in the parking lot of a large shopping plaza, and because of the early morning hour before the center opens, it is for the most part devoid of random Prii. Side note: Yes, it's Prii, not Priuses, Prius, Prium, or Prien.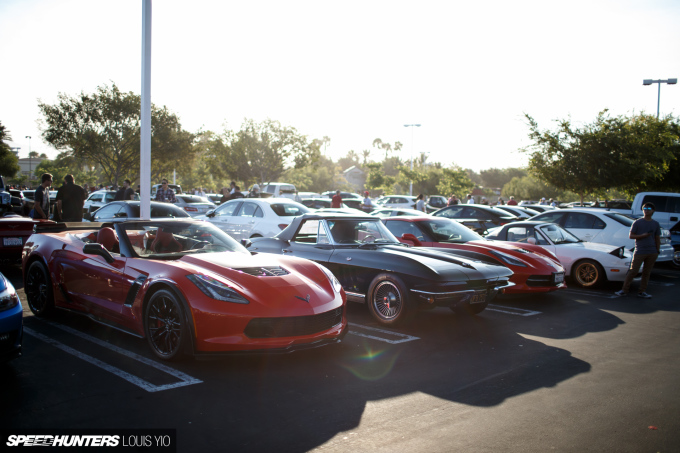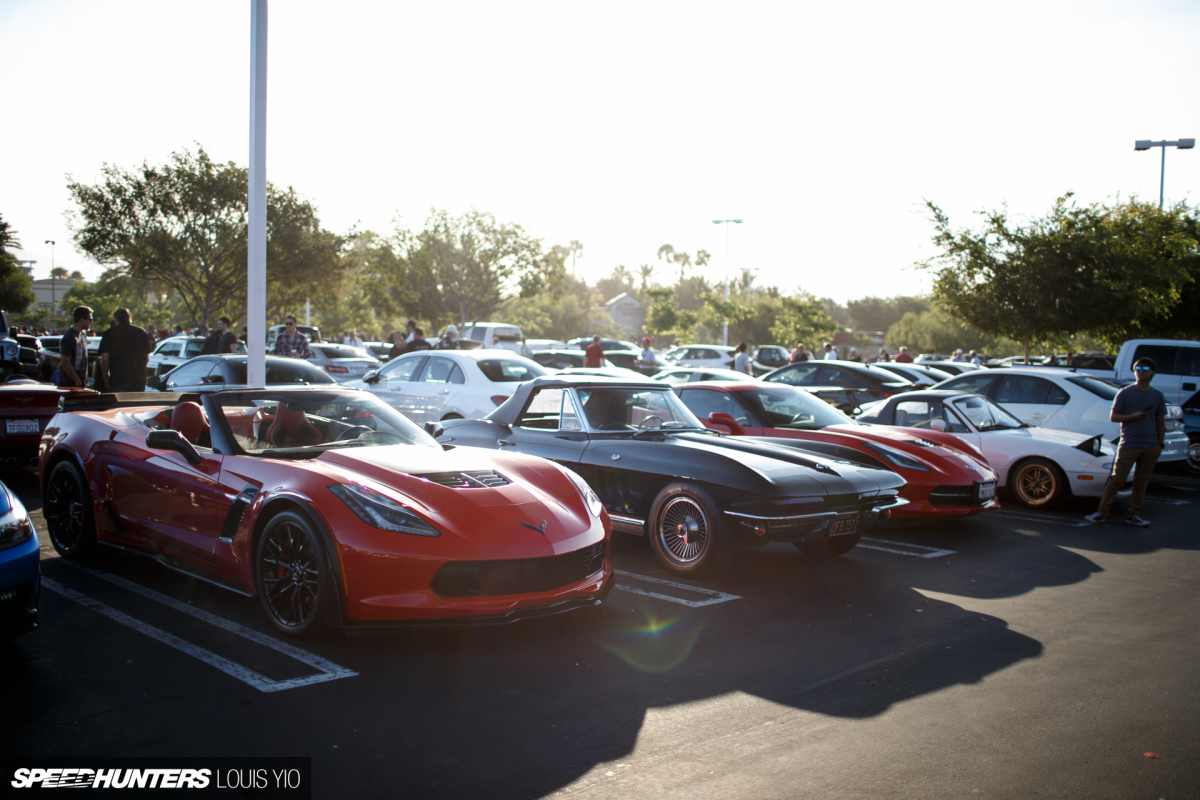 Like the original Irvine event, you'll find a nice variety of cars at Aliso Viejo, and on this particular morning it was everything from the new Corvette to an electric-converted Porsche 914.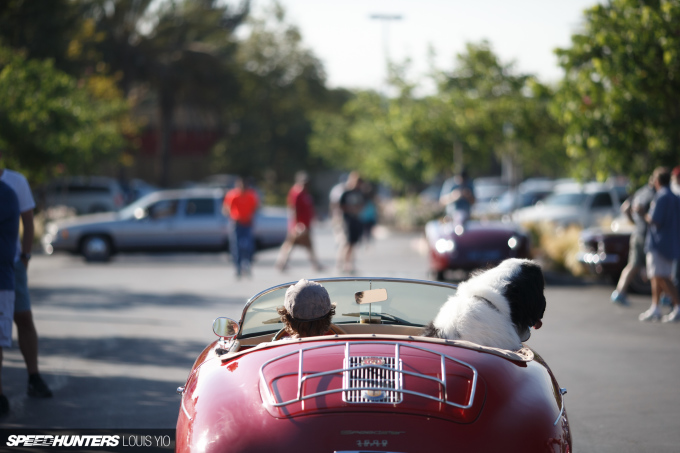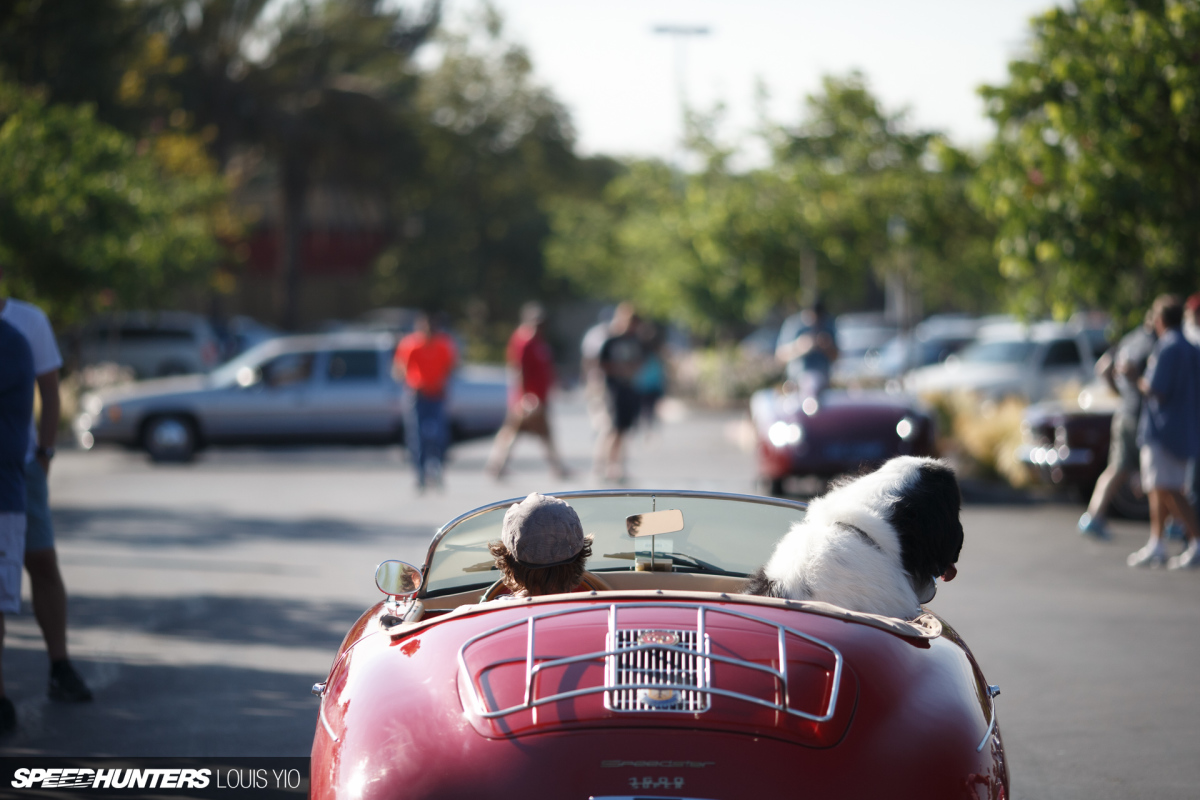 On the countless occasions I've been to Cars & Coffee, there hasn't been a single time I didn't find something that piqued my interest. There's just always something cool and different that shows up, but you never know what it will be.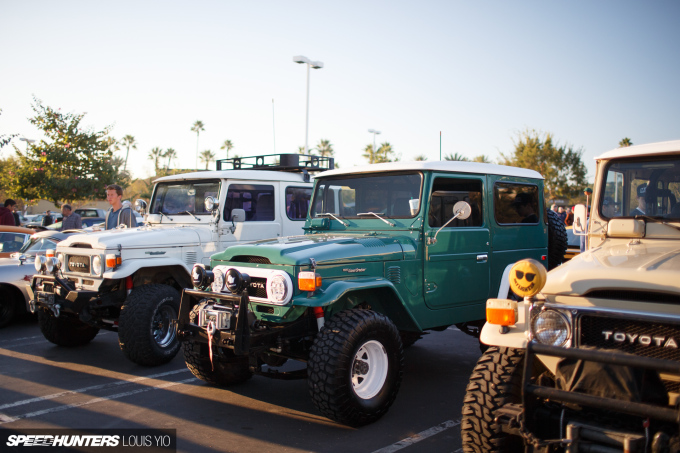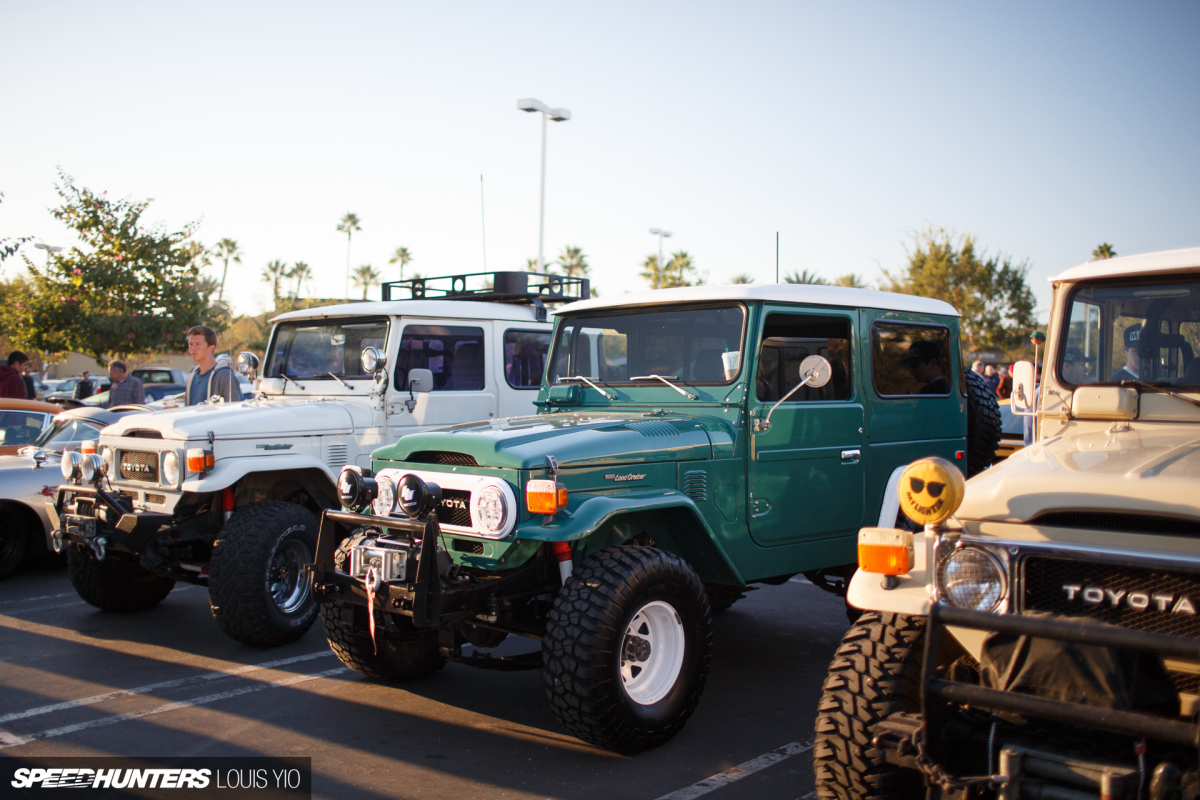 This time it was a line-up of pristine Toyota FJ40 Land Cruisers. It's rare to see these things in SoCal at all, so to come across not just one, but three unmolested examples in one location just completely blew me away.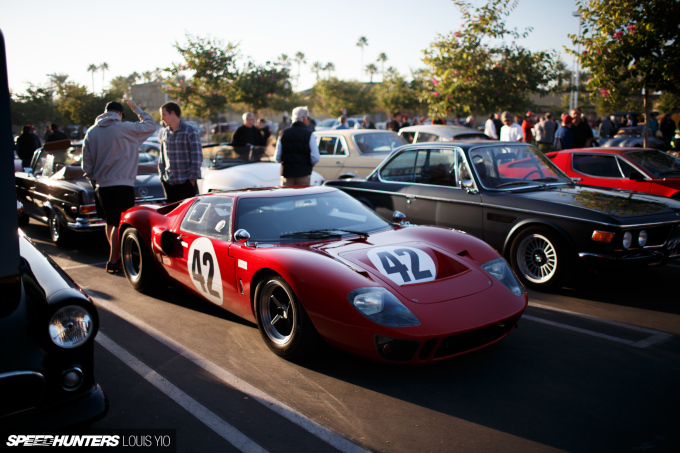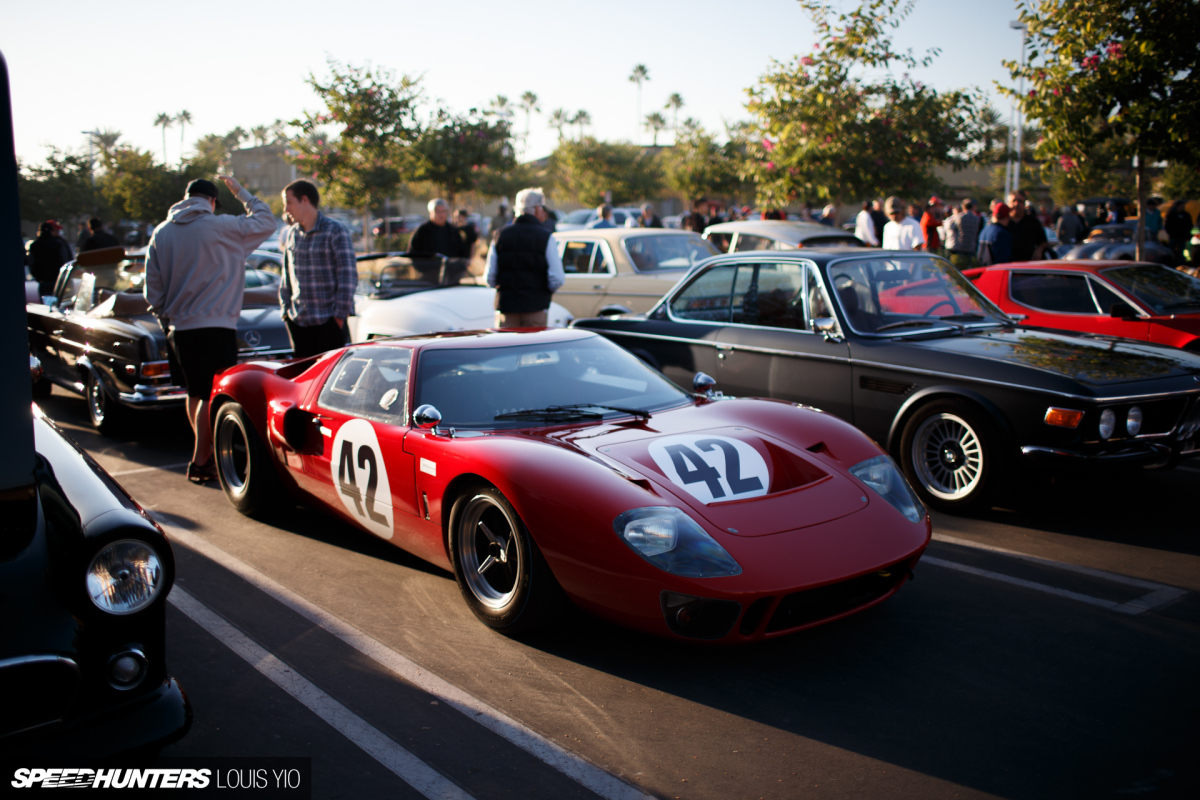 I'm no master of Fords, so I can't really tell the differences between a genuine GT40 and a replica, but this example garnered plenty of interest.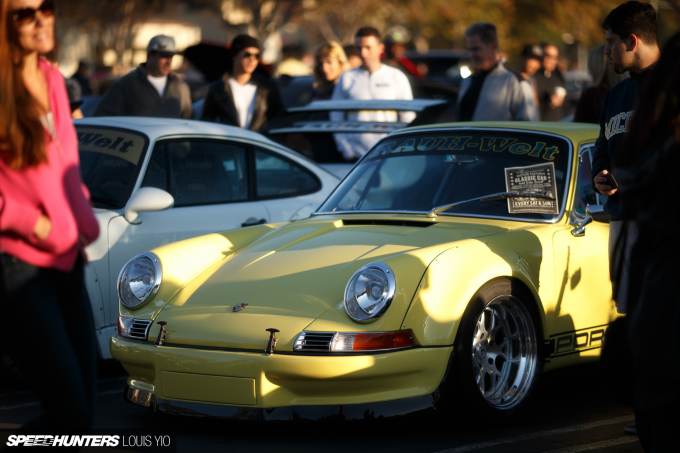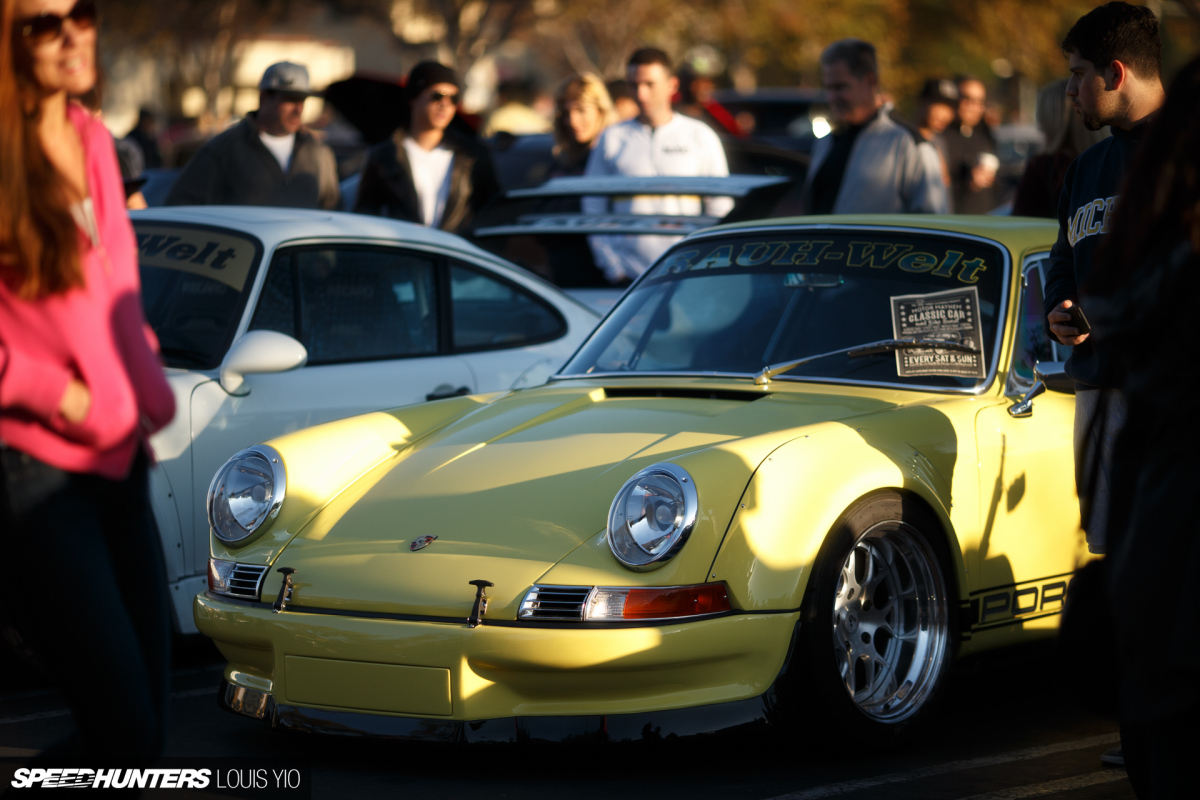 Given their HQ is in Irvine, which is only about 20 minutes north of Aliso Viejo, the guys from RWB USA show up to this event every now and then.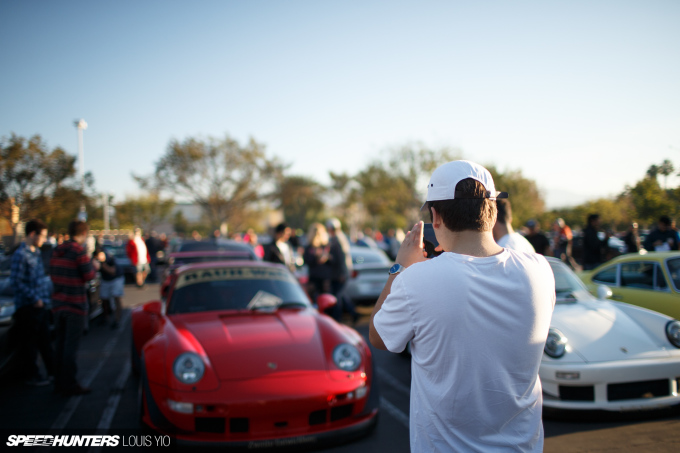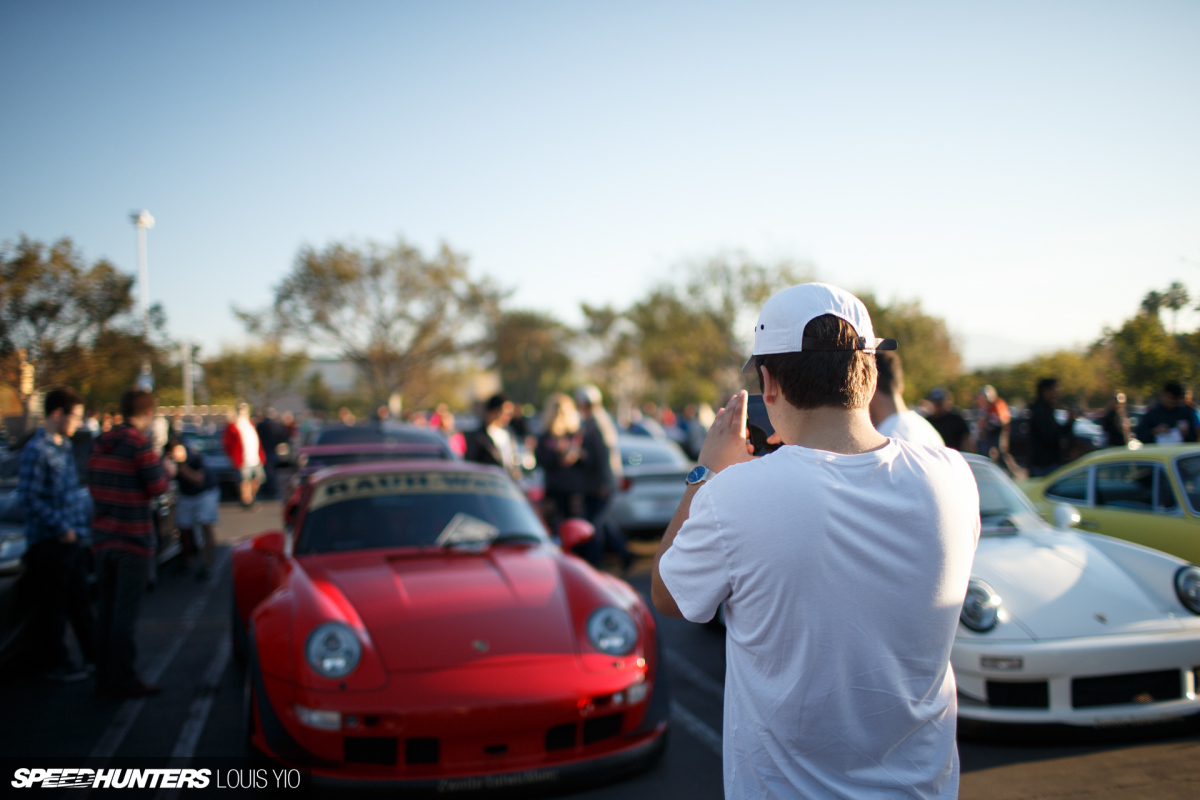 It's always hard to get clear shots of these cars though, as they're almost always surrounded by fans.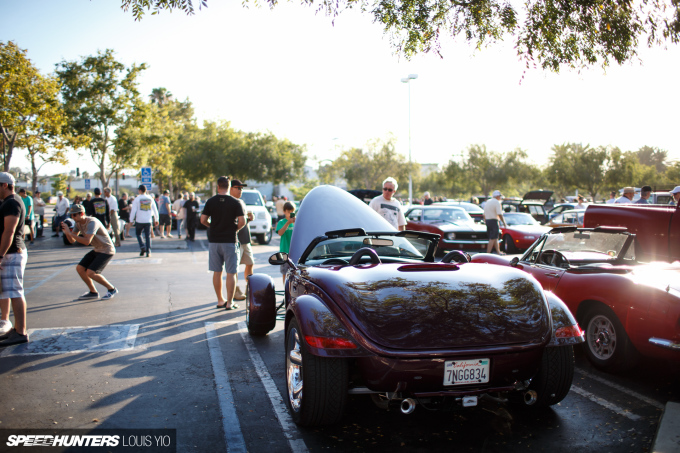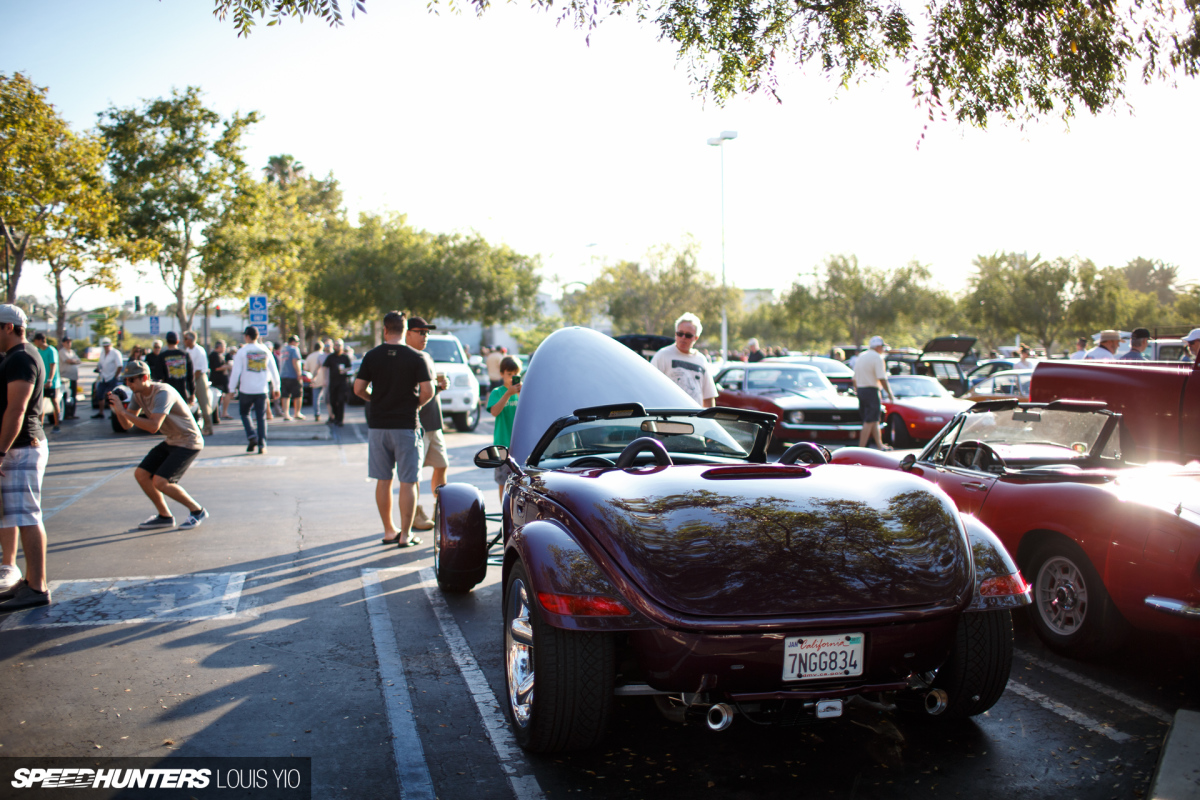 I think there's been only three or four occasions when I've seen a Prowler. Fun fact: Chrysler designers were pretty much given free rein to create what they thought would be a modern hot rod, and this was what they came up with. I first remember seeing a Prowler at the LA Auto Show as a kid, and vividly recall stating that I was going to buy one. I didn't, but I still think it's a pretty legit machine.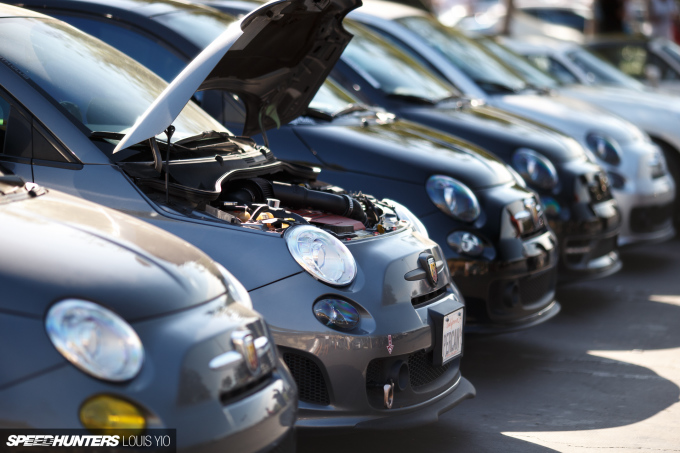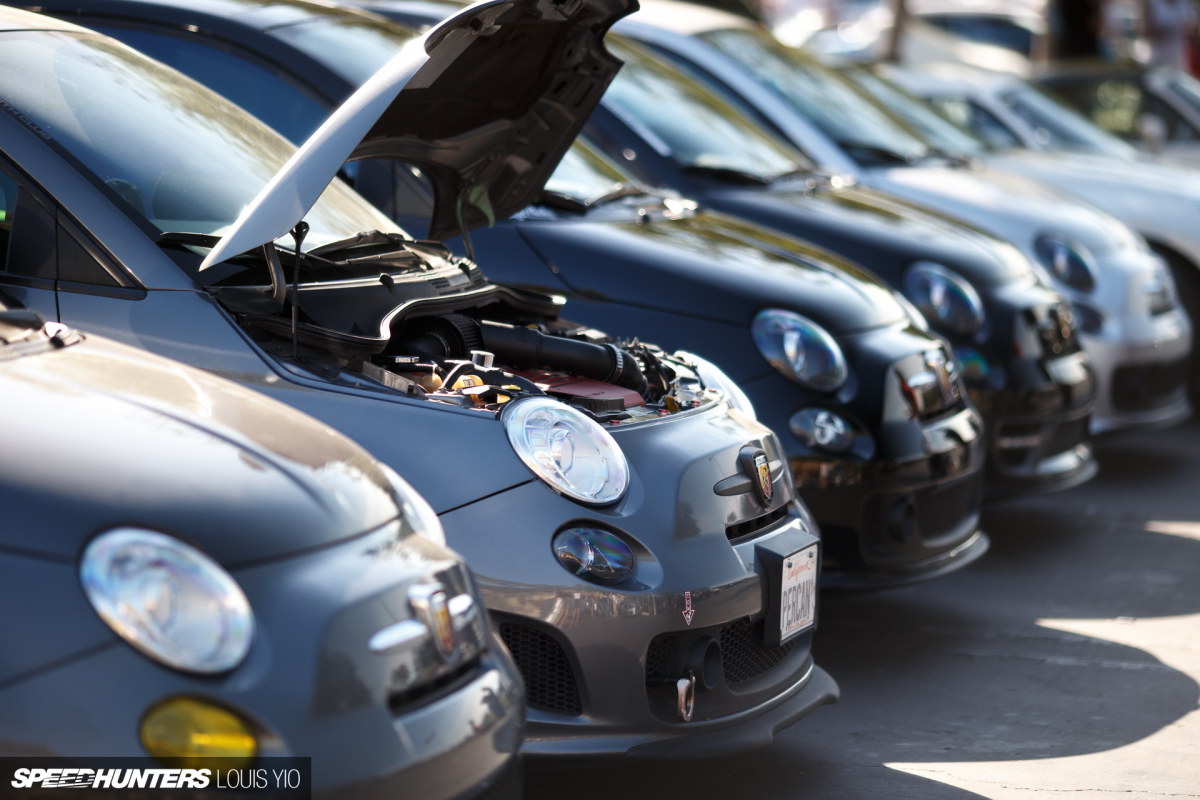 I found it surprising at first, but you can always be sure to find a large number of Abarth cars at this weekly event, and they're always parked in the same place. I'm patiently waiting for someone to bring along a new Abarth 124 Spider.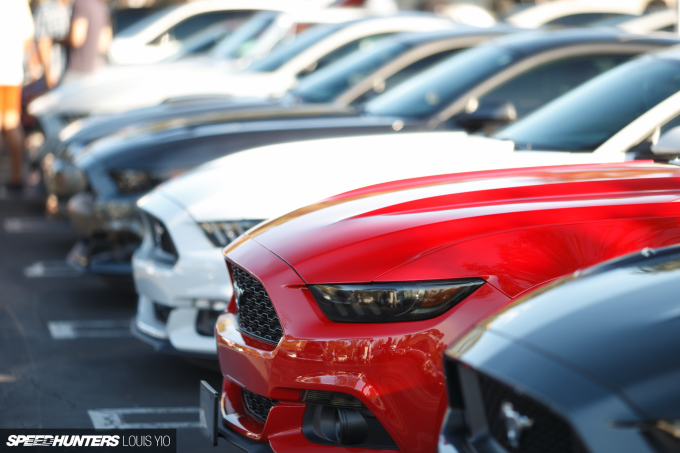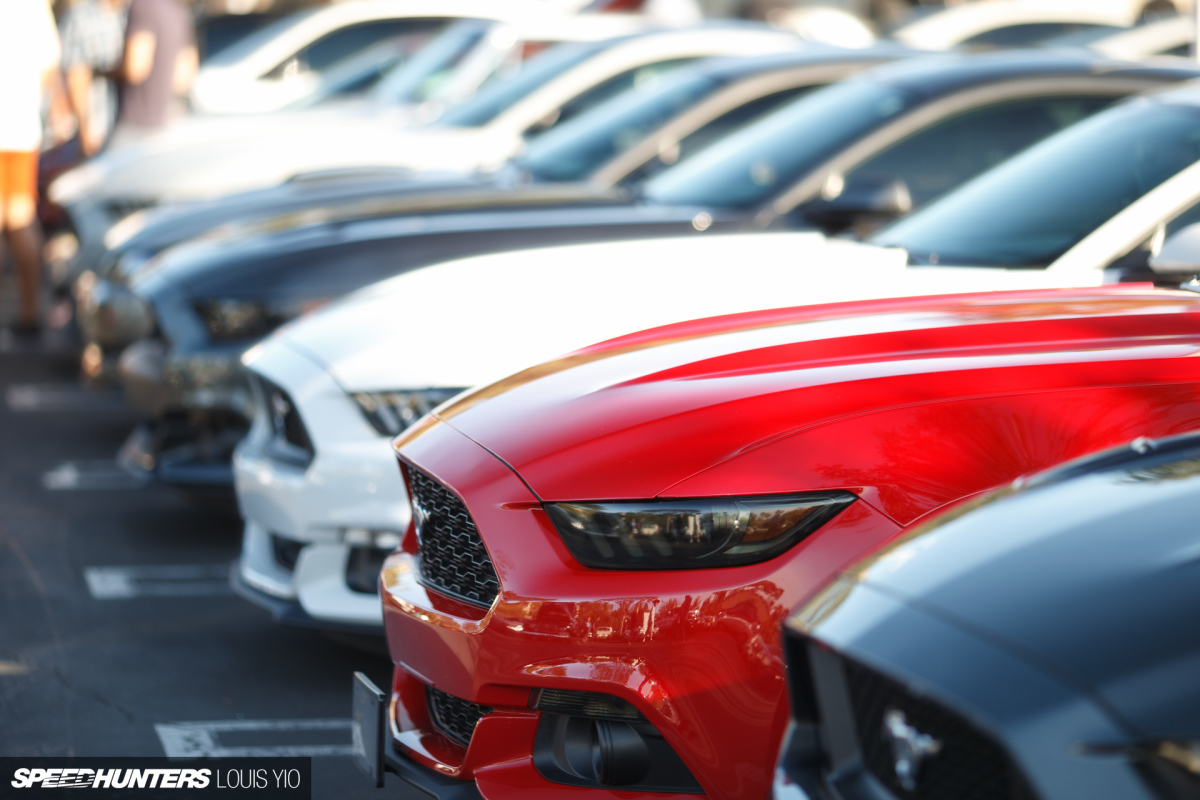 Cars & Coffee wouldn't be complete without a good Mustang showing, and for how many that actually turn up (read: lots), a good few of them are sure to be quite interesting. I've seen everything from an original GT350 to a Boss 429, to the brand new Super Snake.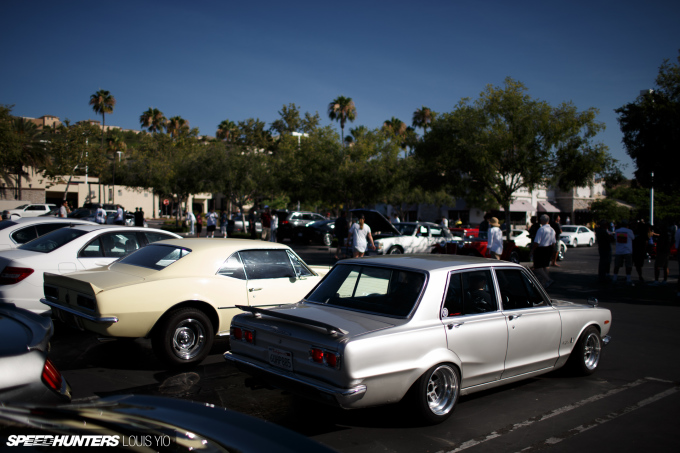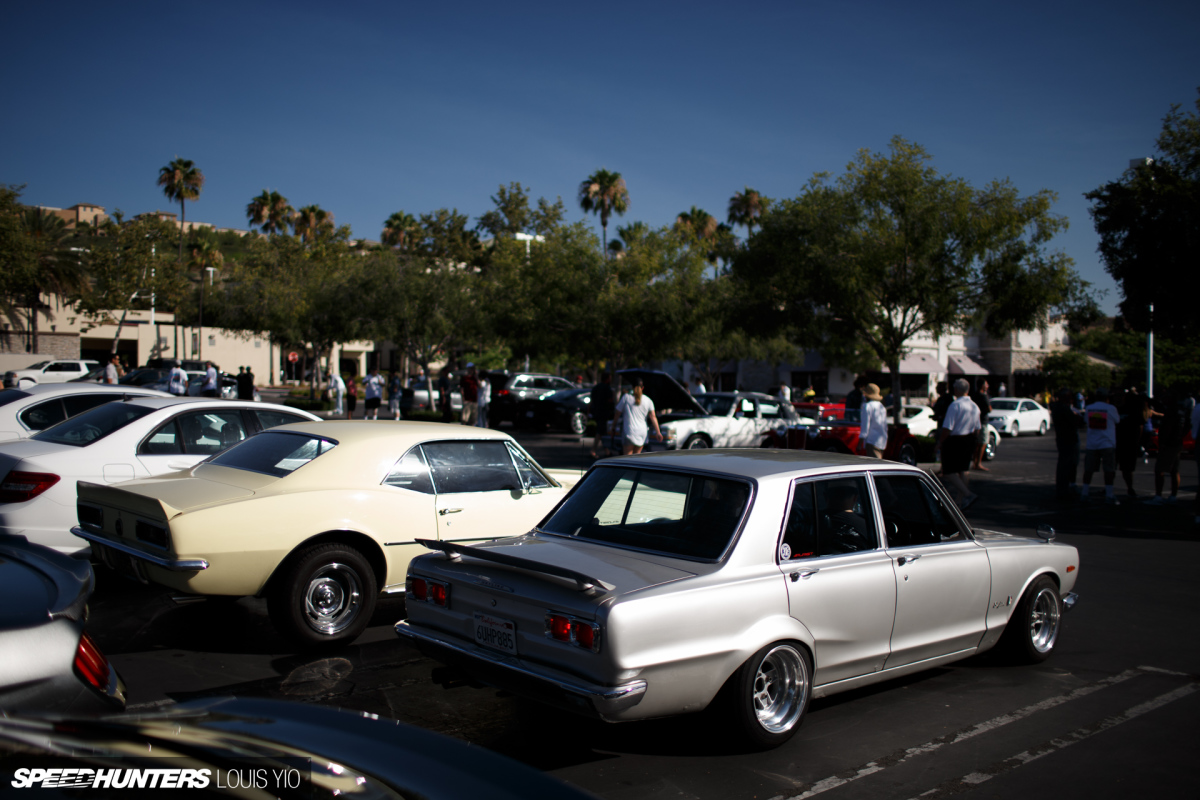 It's always nice to see cars that are technically illegal in California at this event. It's also funny, because even though Hakosuka Skylines are pretty much nonexistent on the streets here, I have a solid 40 per cent chance of seeing one each time I hit up Cars & Coffee.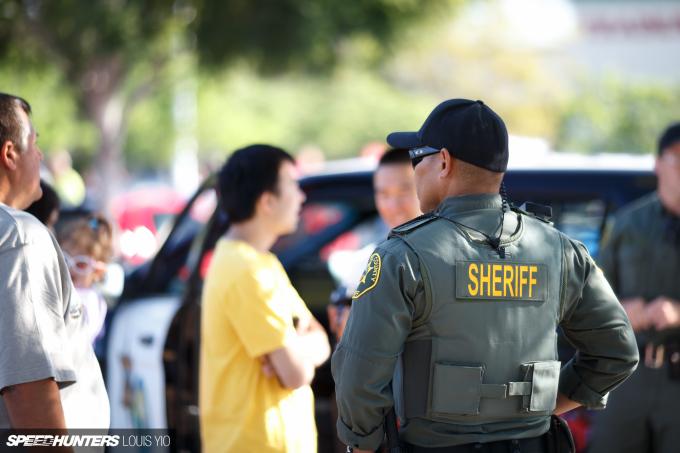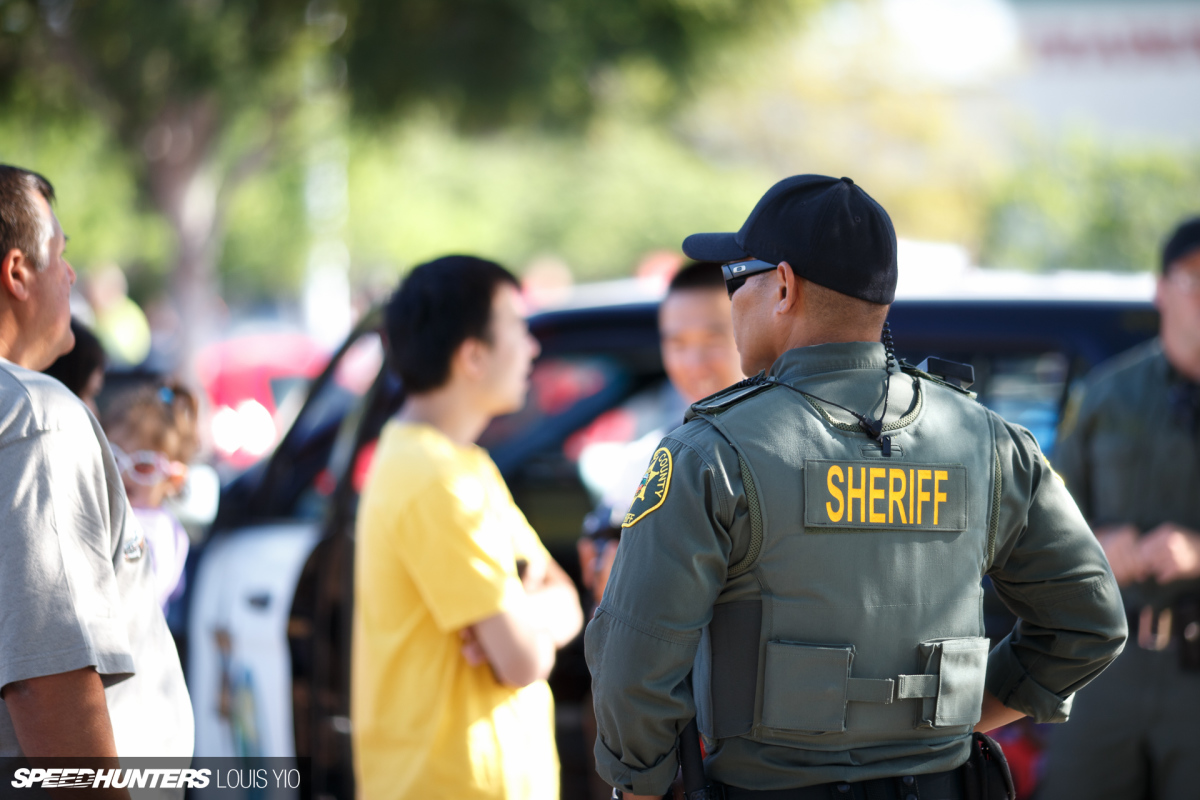 The police showed up, but instead of issuing tickets they were actually showing off their new Ford Explorer Police Interceptor. Yes, I asked my friend to take a picture of me in the back seat with cuffs on, and yes, it was cool.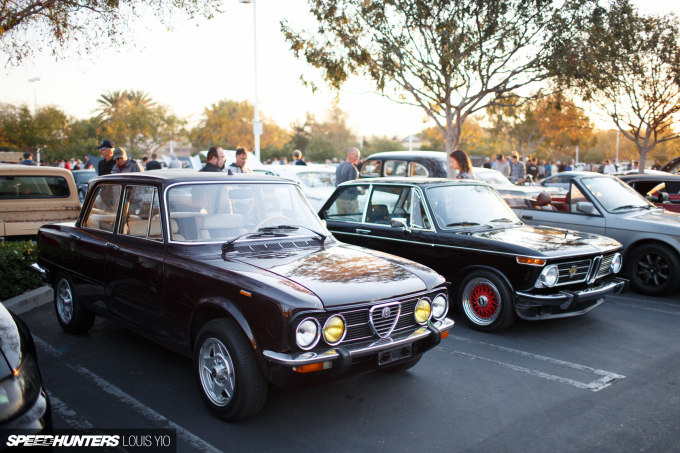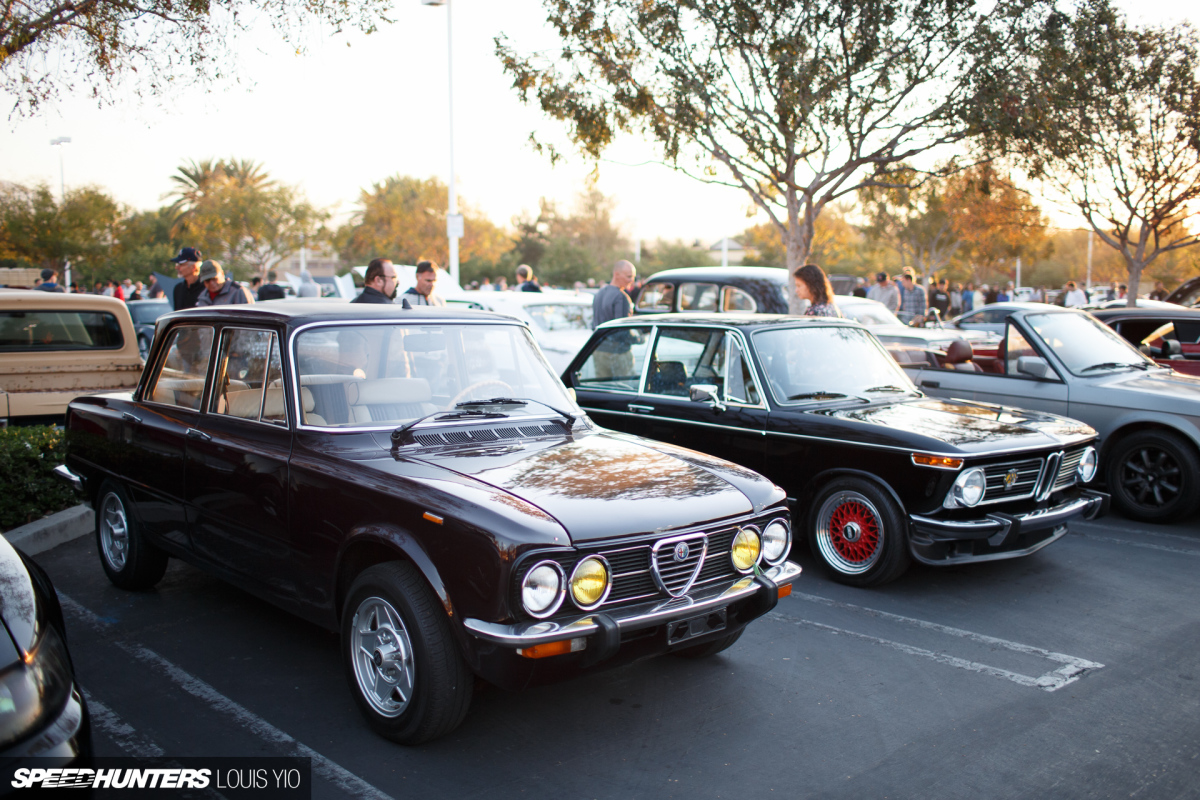 They're so different, yet look so right parked next to each other. It's sad that the Alfa Romeo Giulias from the '60s to '70s are almost impossible to acquire here in California, but on the bright side, BMW 2002s are a bit more common and can still be had for a reasonable price, averaging around $5000.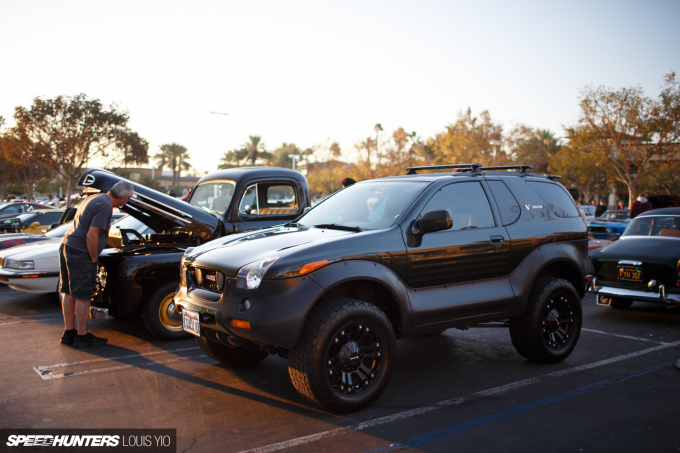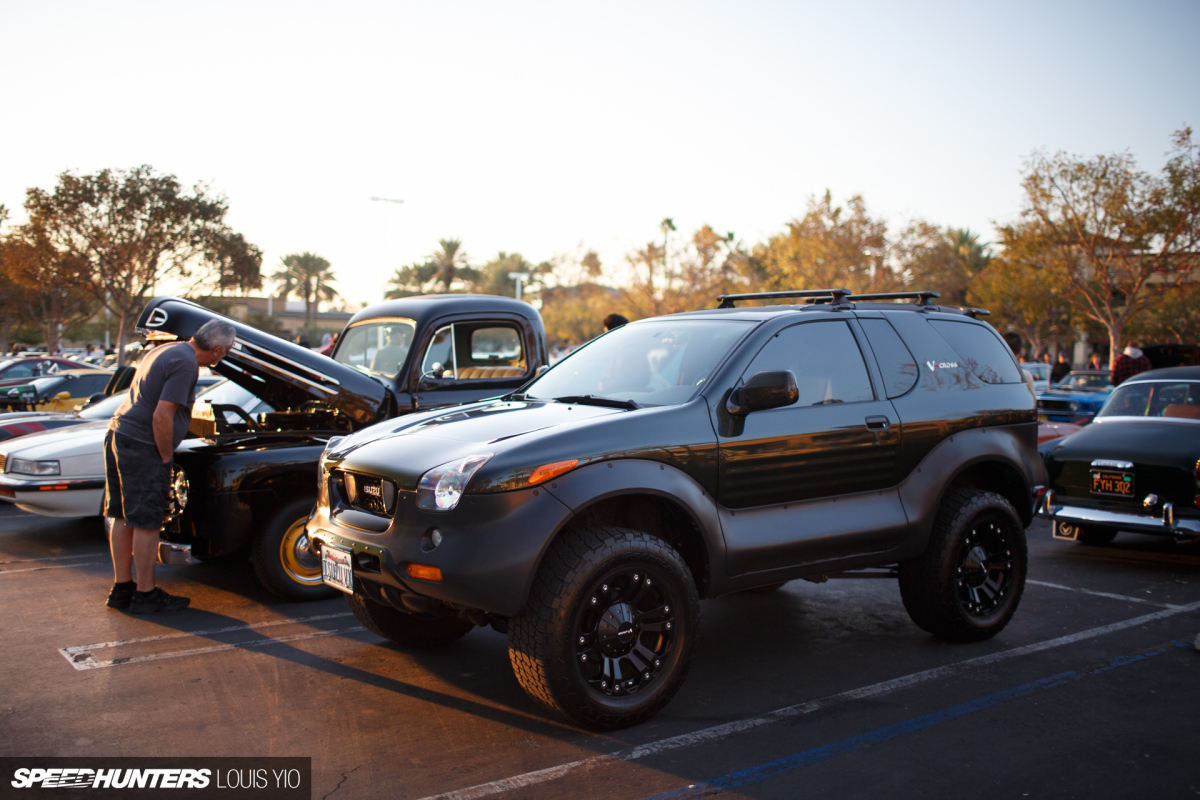 If I had to name one vehicle that defined cutting-edge SUV design in the '00s, it would have to be the Isuzu VehiCROSS.
This was one of the more odd-looking vehicles that showed up, and although I didn't get a chance to talk to the owner of this car/bike mash-up, I spent a long while soaking up the details.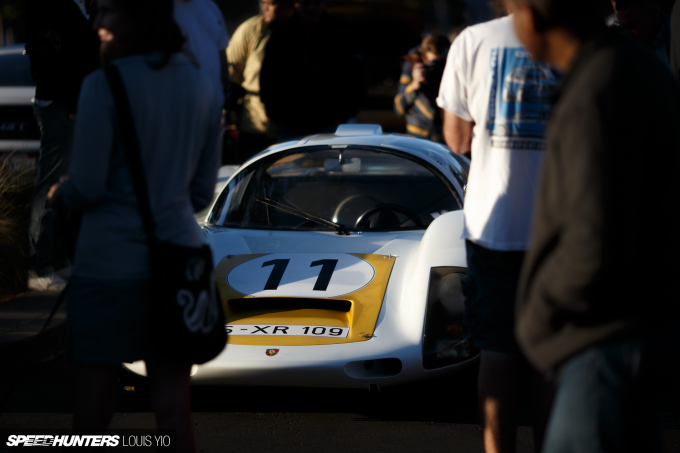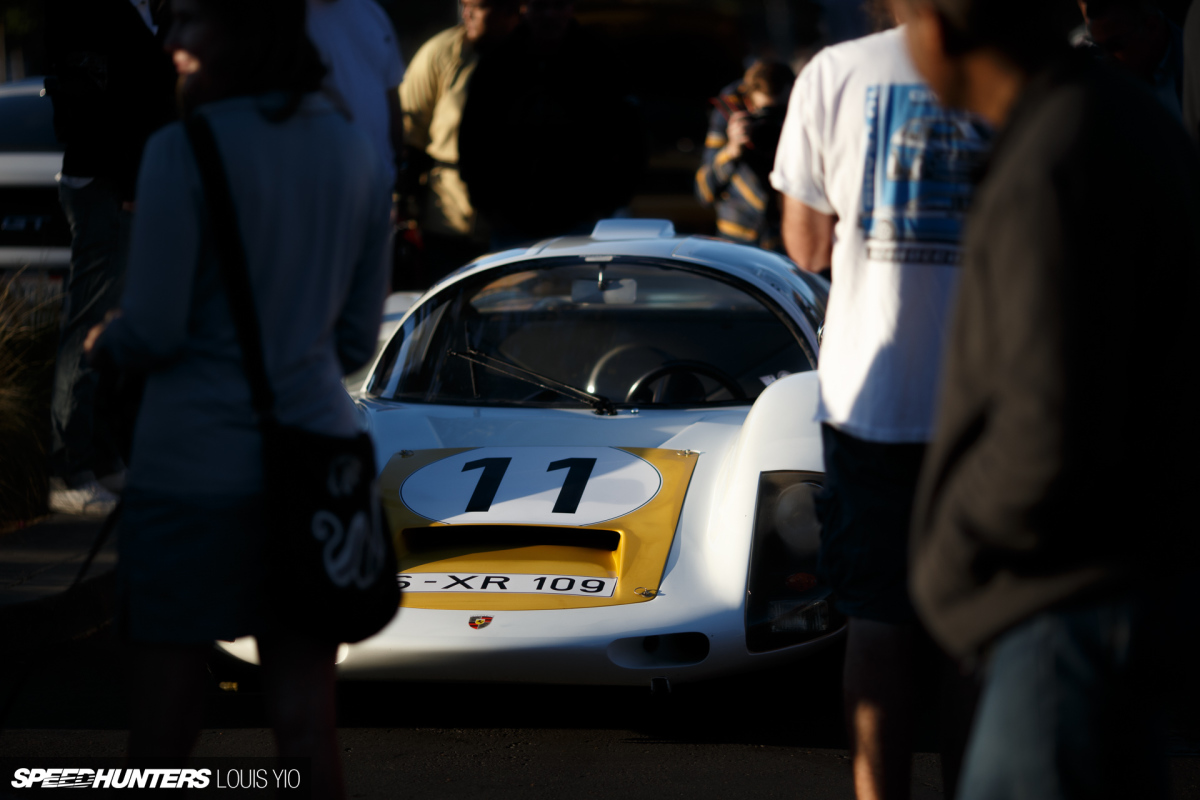 Jeff Zwart brought out his Porsche 906, which is quite literally a road legal race car, and everyone wanted a closer look.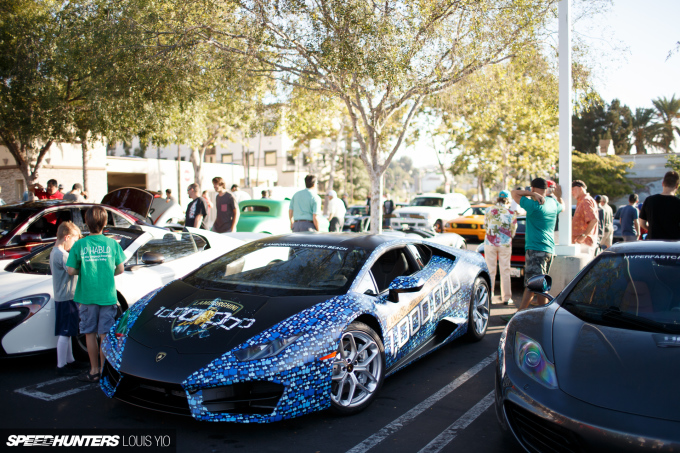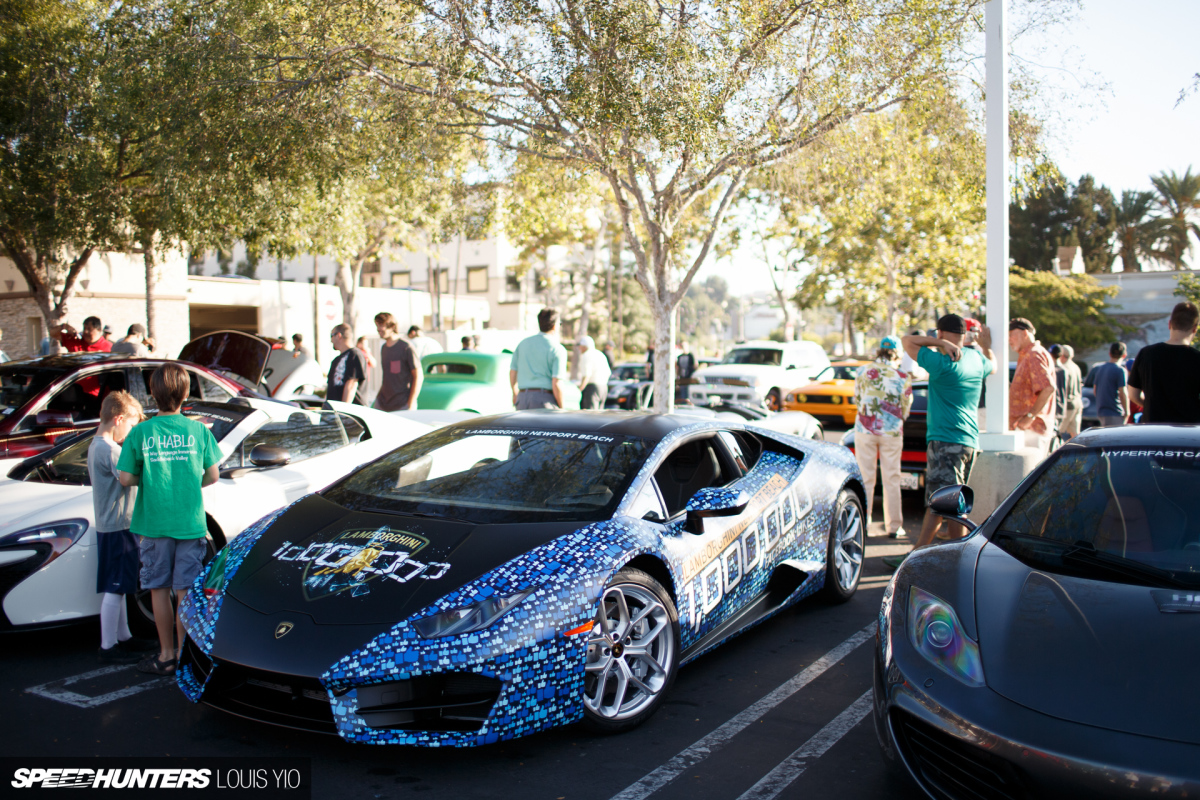 Lamborghini Newport Beach is an enthusiast-friendly dealership and will often bring a contemporary exotic along to Cars & Coffee. This time around it was a wrapped Huracán to celebrate achieving 1,000,000 followers on its Facebook page.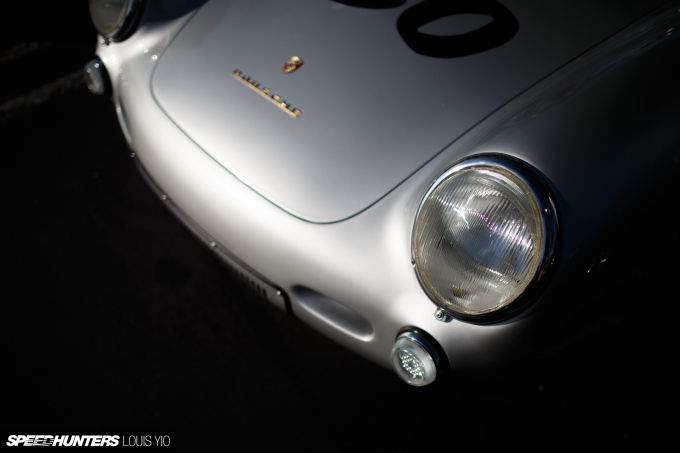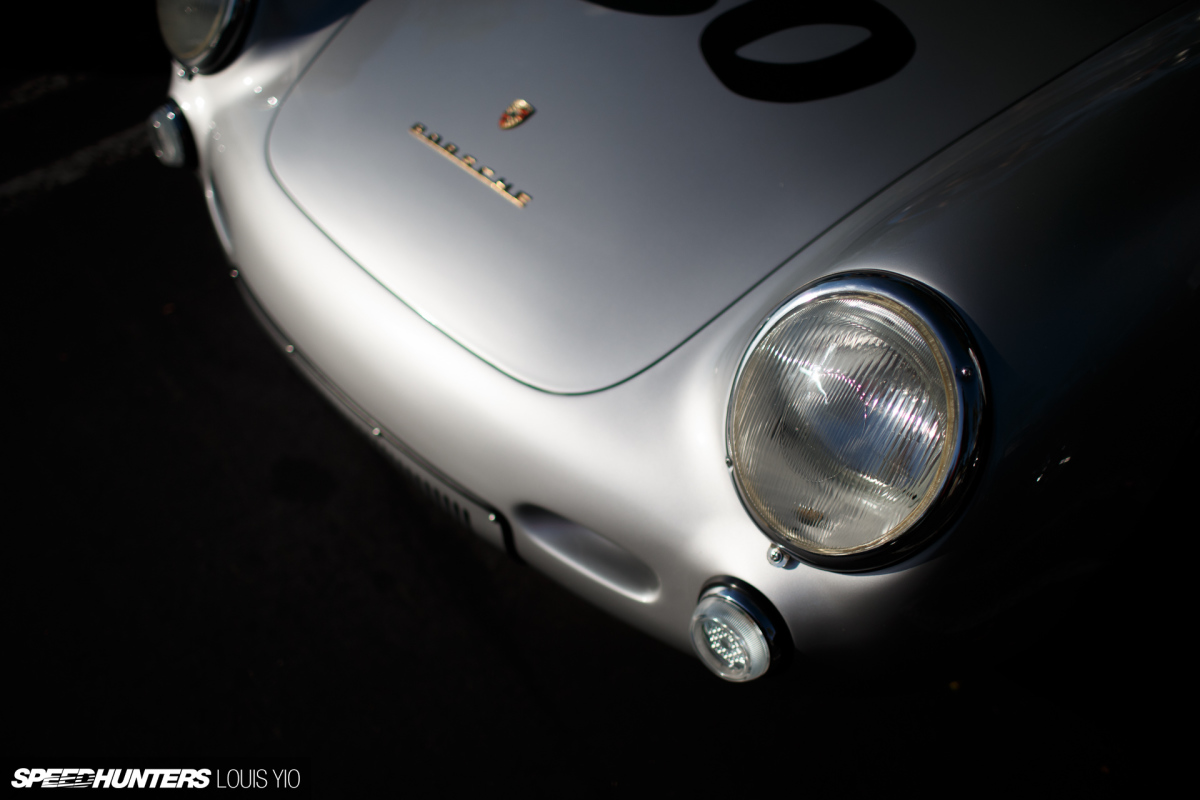 This 550 Spyder had a nice James Dean tribute feel going on.
And this Beetle had an astonishing engine conversion. I didn't know HRE made breather caps, though.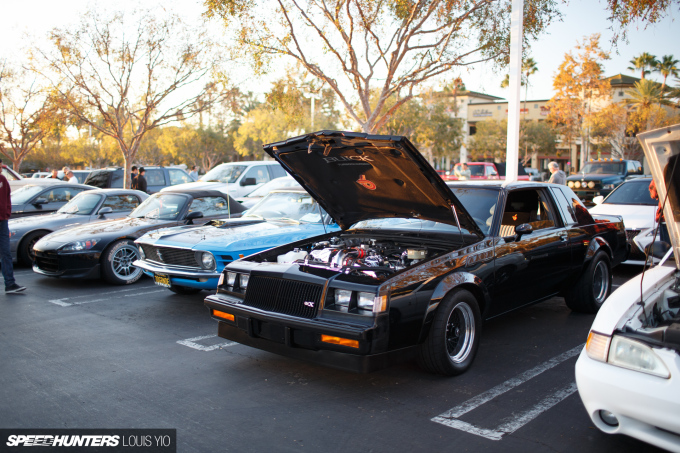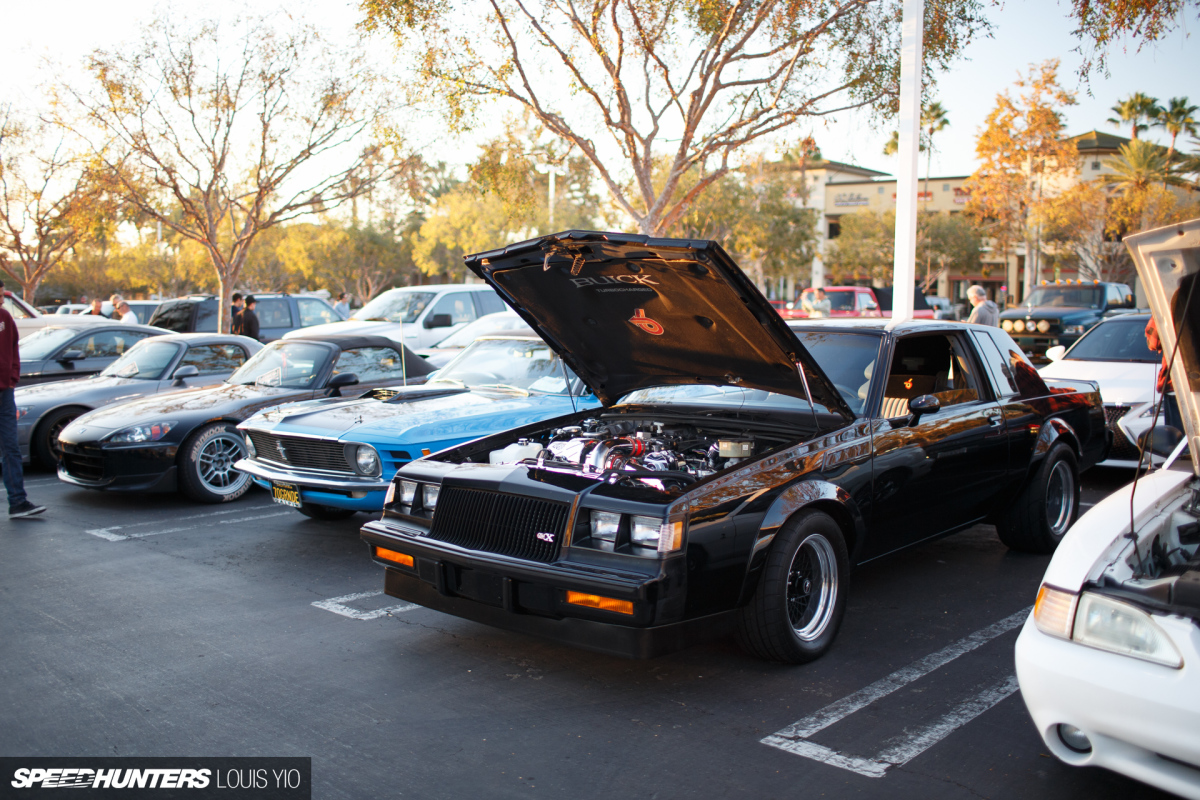 I'm not going to lie, I put the Buick GNX on my car wish-list back in high school after seeing that one in the opening scene of Fast 4.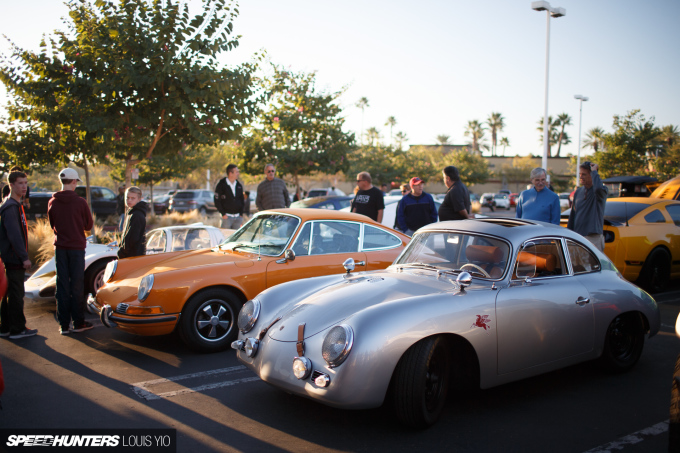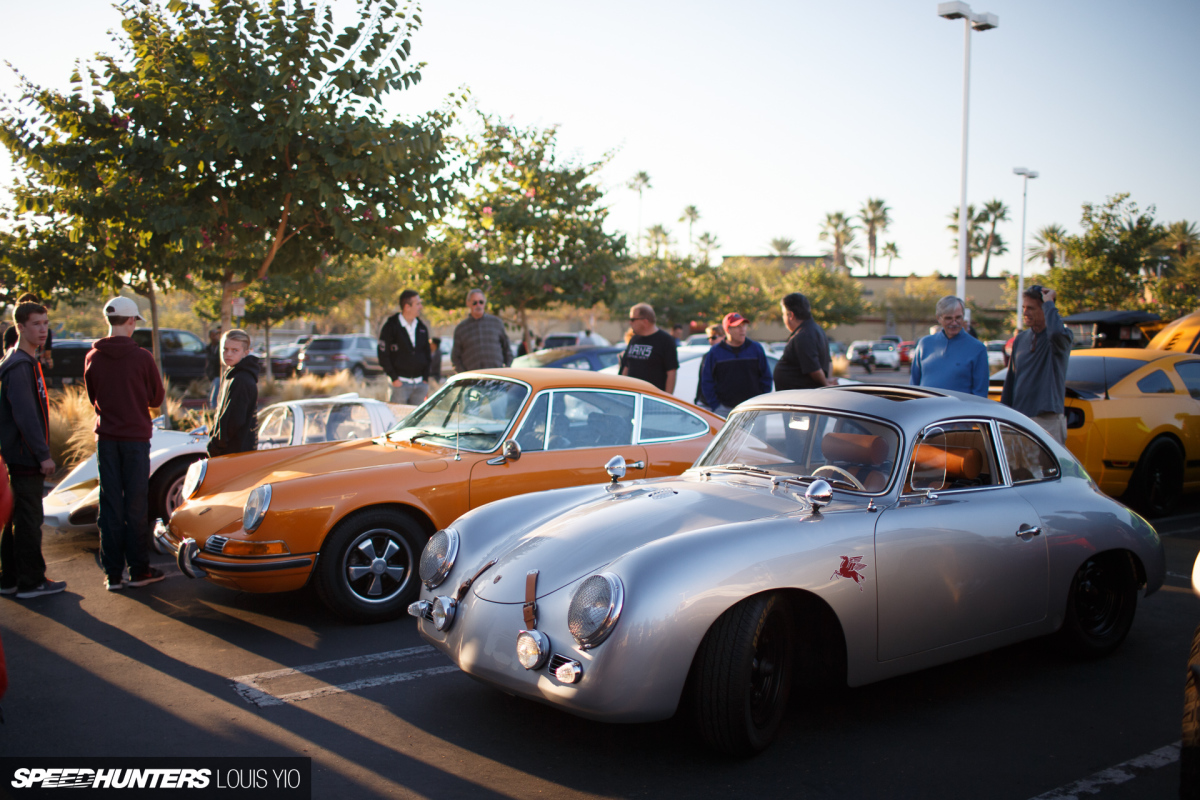 Mr. 356 himself, Rod Emory, also turned up for this event. He and his cars have made appearances on Petrolicious and Jay Leno's Garage before, and those episodes are definitely worth a watch.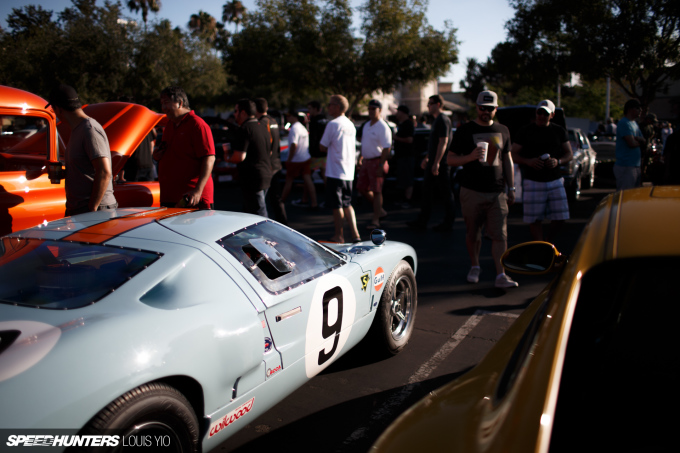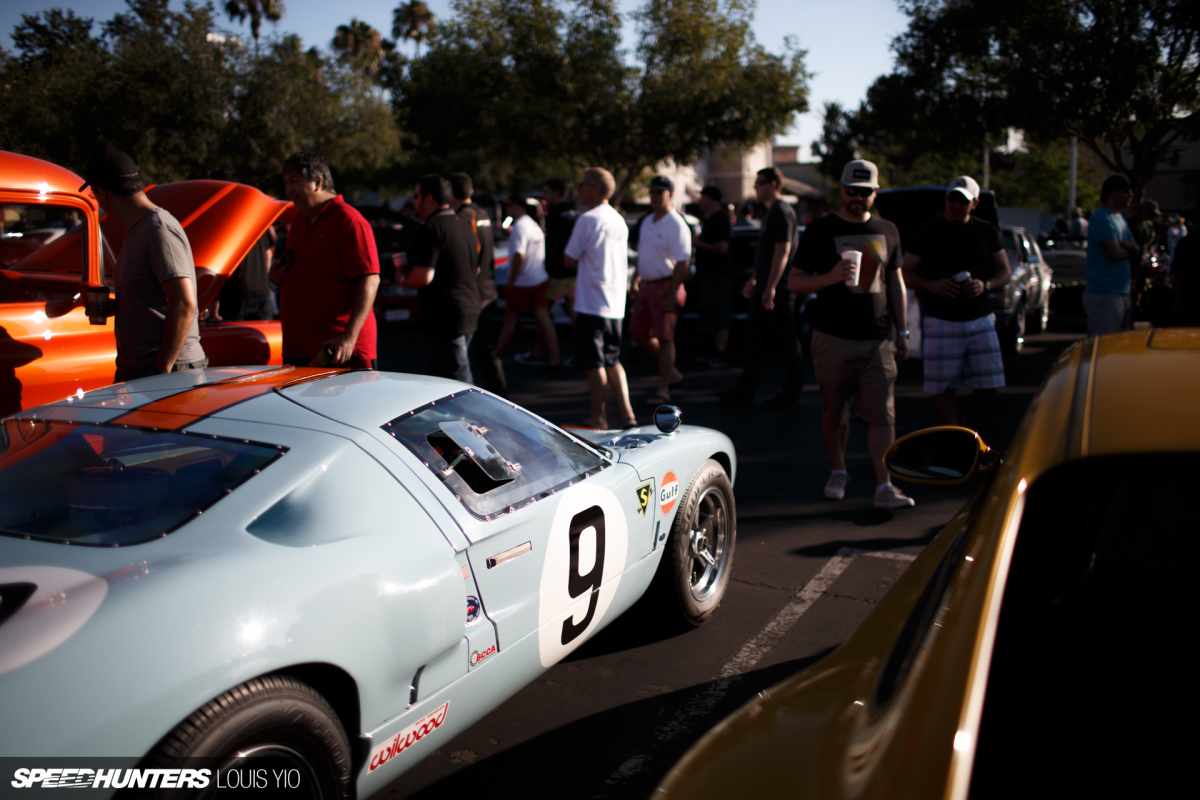 That's it from my visit to a shopping plaza parking lot at 7:00am on a Saturday morning with a bunch of people I don't know, but who all share in this passion for cars we all have. Long live Cars & Coffee Aliso Viejo!
Louis Yio
louis@speedhunters.com
Instagram: @lusciousy
Cutting Room Floor