No Trespassing
2016, to date, has been a pretty damned busy year.
Ireland, UK, Qatar, Australia, Norway, UK again, Germany, UK again, California, Poland and others that I'm sure I'm leaving out. Having spent so much time travelling, it hasn't left nearly enough time to actually take in so much of what I have been privileged to see. I currently have thousands of photographs stored on a hard drive that I'm only now getting around to organising and sharing with you.
Probably one of the most enjoyable visits from this year was also an unexpected one. You might remember the King Kong 'Cuda we featured earlier this year after Fitted Friday, a build which I've personally never seen the likes of before or since. It's a car that truly takes your breath away and one I could probably never tire of shooting.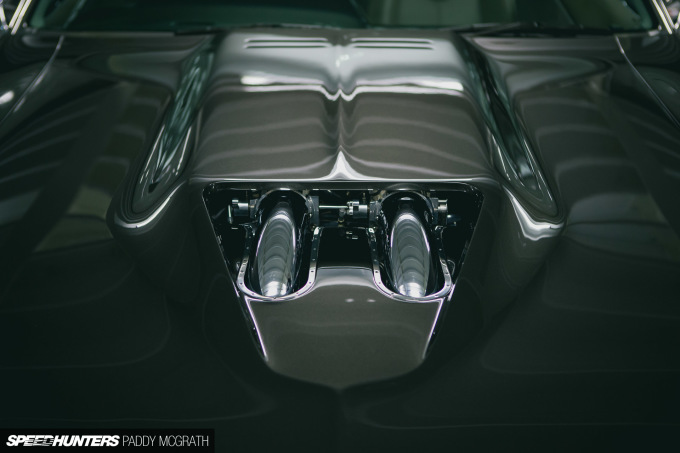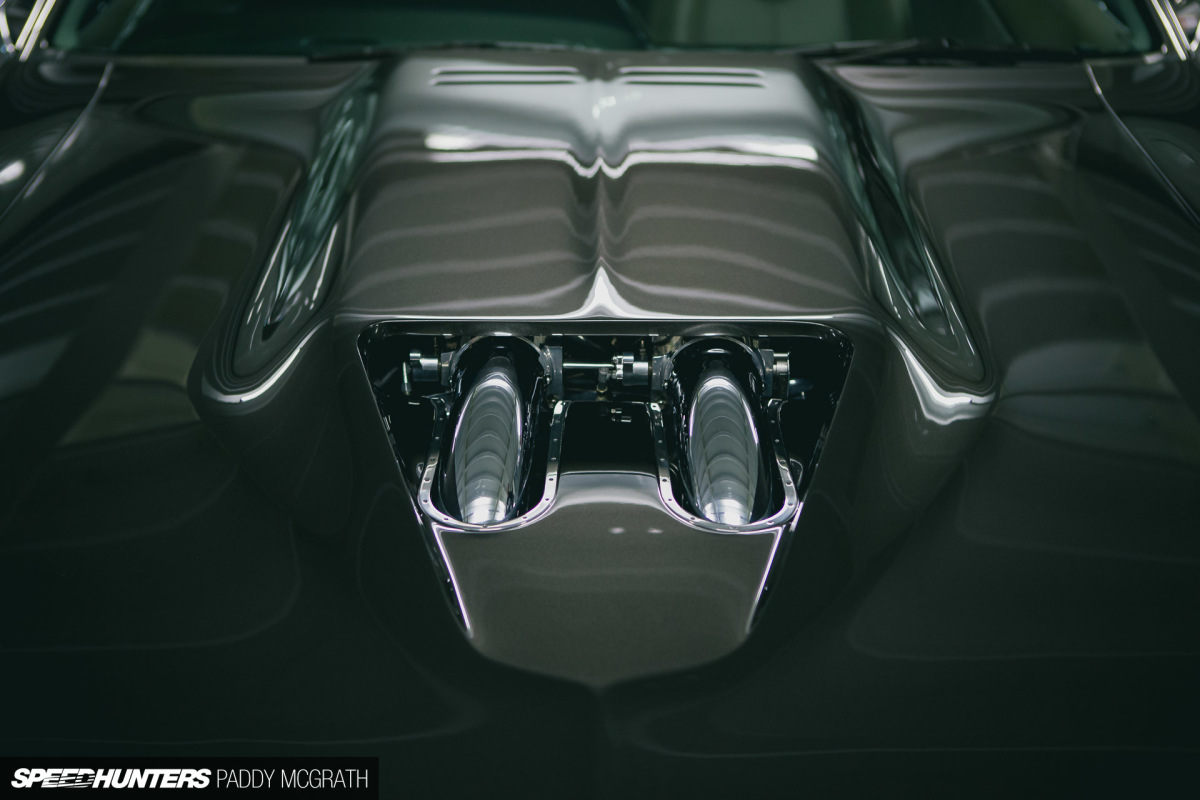 Kong's co-owner, Chris Palazzo, is one of those people who gives the appearance of someone who could quite easily murder you with his bare hands, bury you in the outback and be back home in time for lunch without even breaking sweat. Thankfully, this wasn't actually the case and it turns out that he's just one of us, a guy with a huge passion for cars whom is eager to share this passion with his fellow enthusiast.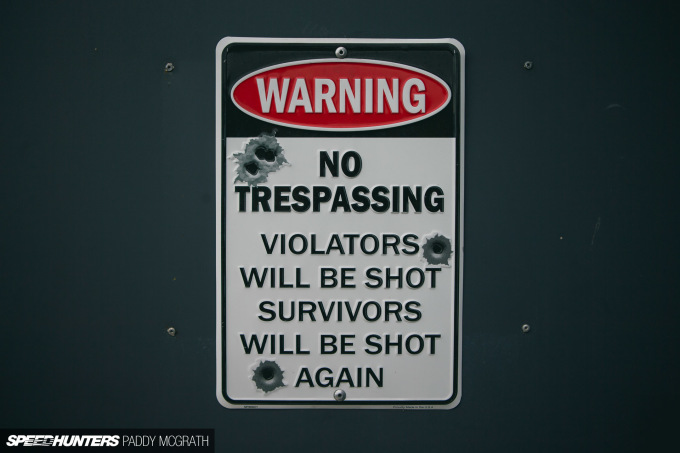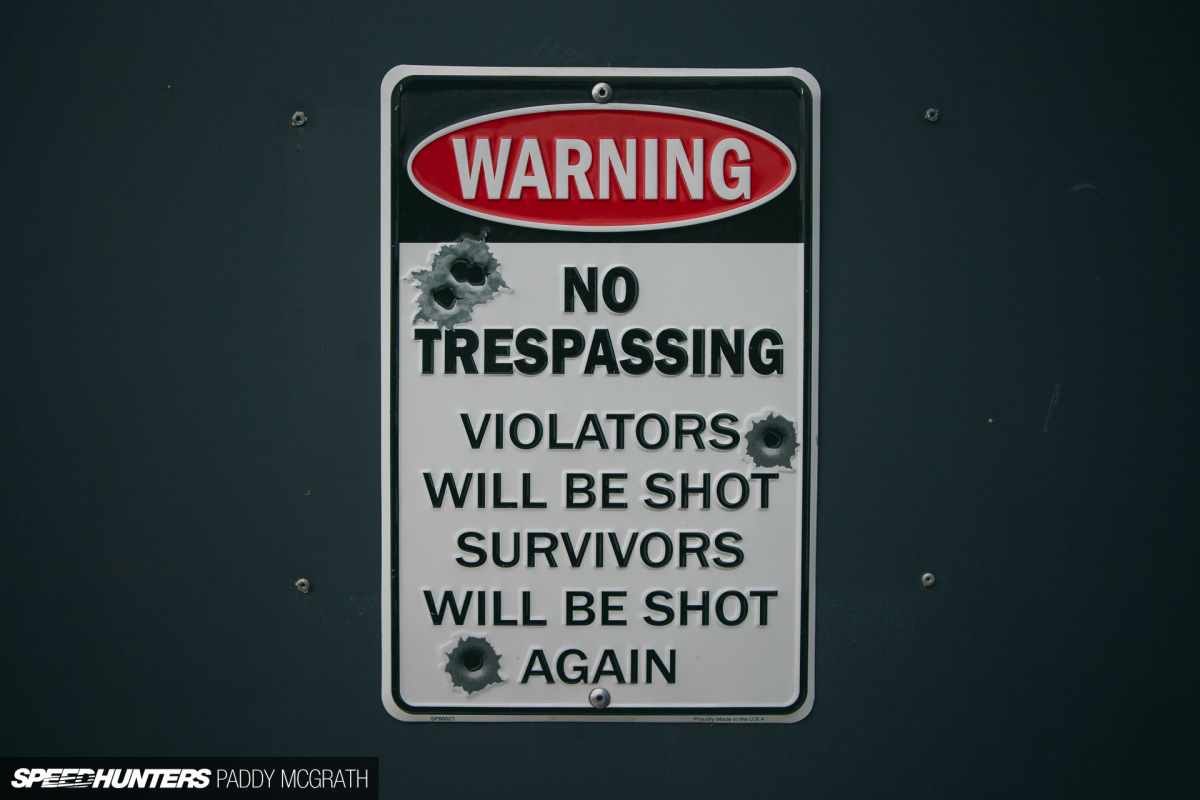 Next to his home, somewhere outside Sydney in Australia, there's a very unassuming garage/workshop with a couple of roller doors. It really doesn't look like much and there's obviously a reason for that as Chris isn't really someone who likes to shout about what he has built over the years. What's inside though, is Chris's temple away from the world. It goes by another name too, the Outlaw Rod Shop.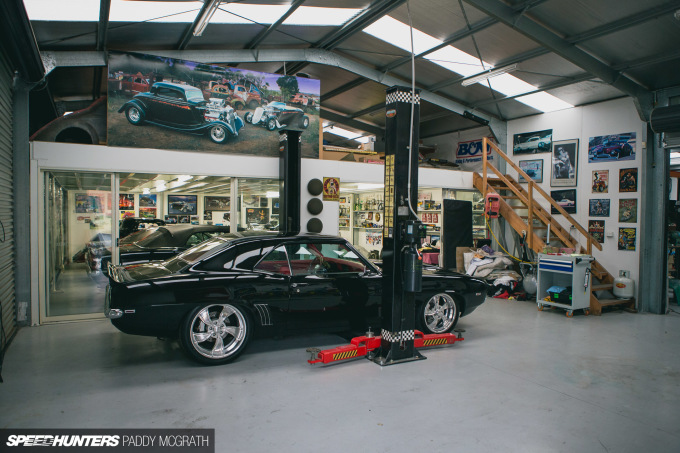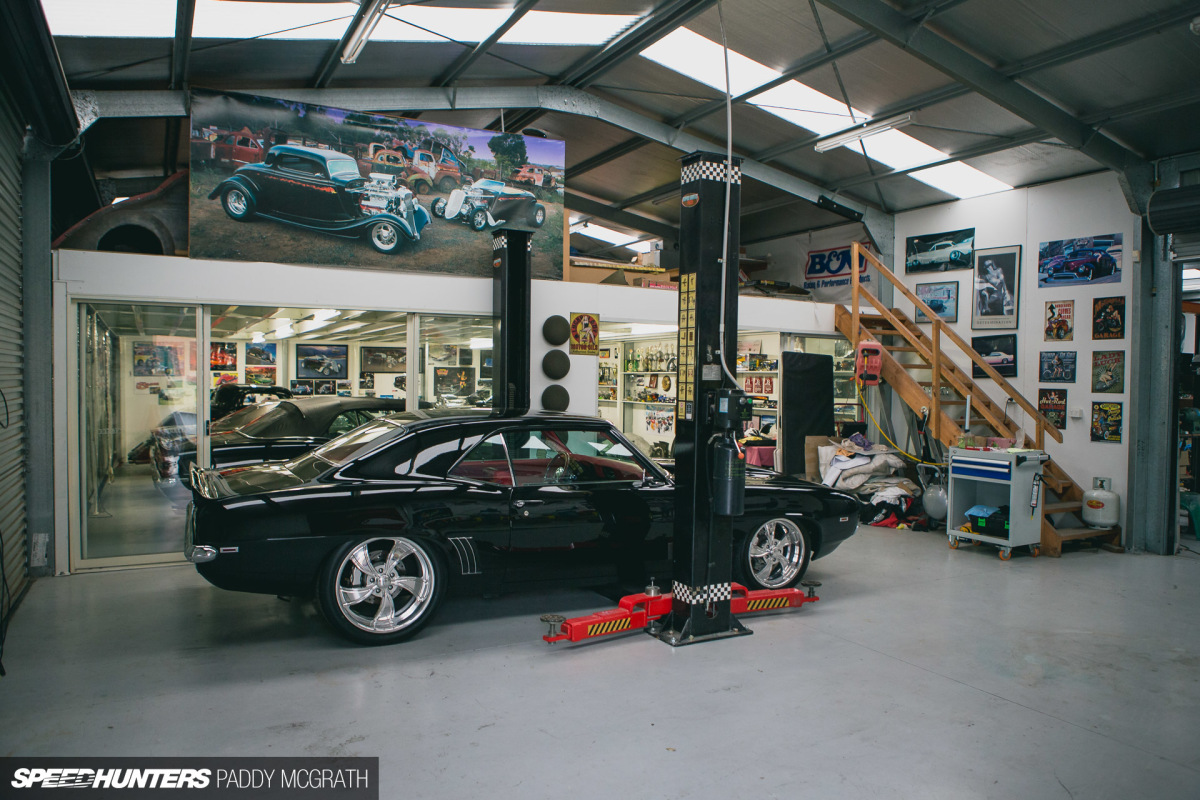 The workshop has gently expanded over the years, almost seamlessly. There's everything in here that you would need or ever want. Ample storage, a two-post lift, plenty of room to work and a temperature and moisture-controlled showroom to safely store the end products of your labour.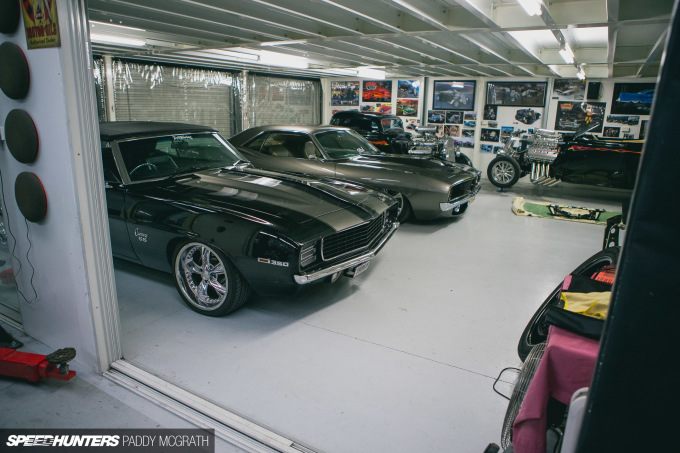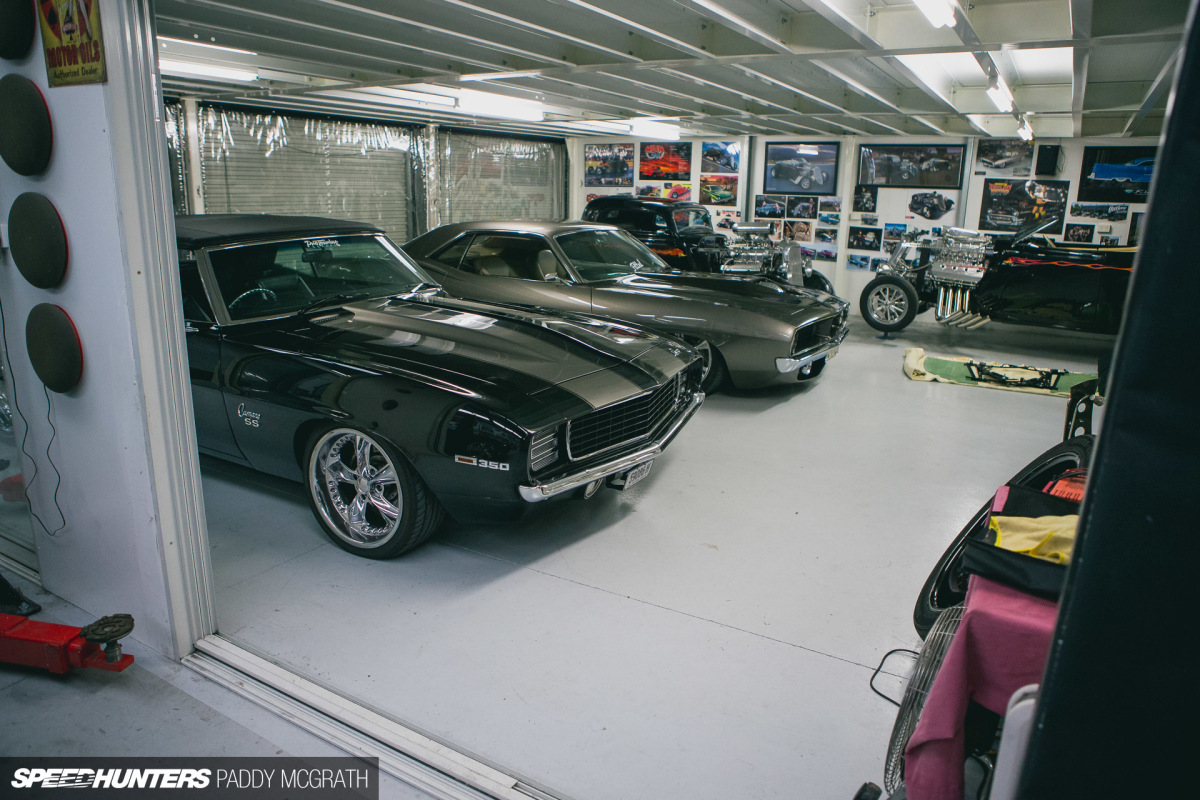 It is the proverbial treasure chest that we as Speedhunters dream of finding. There's a little bit of everything, from finished cars to memorabilia and those other little details that add character and personality within the confines of the four walls. Those things that make every workshop the world over unique.
Camaro Camaraderie
The one thing that absolutely kills me about situations like this, is the fact that I'm out of my comfort zone, but not in the way you might think. I love all things vintage USA, especially when it comes to car culture. My problem lies with that fact that because I wasn't raised amongst it, I struggle with knowing the details. And let's be honest, there's a lot of details when it comes to this particular era and style.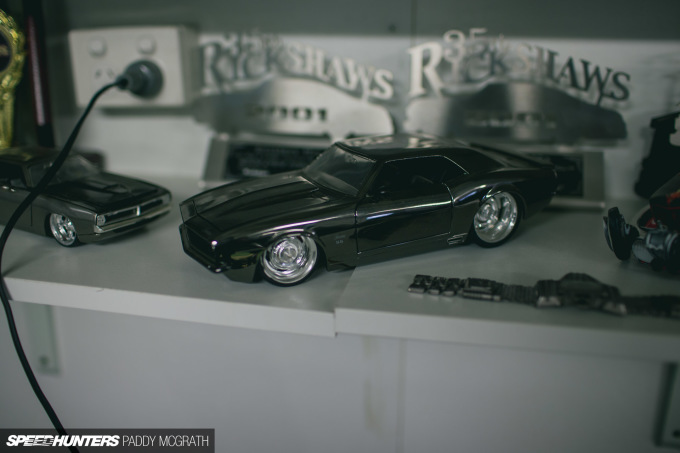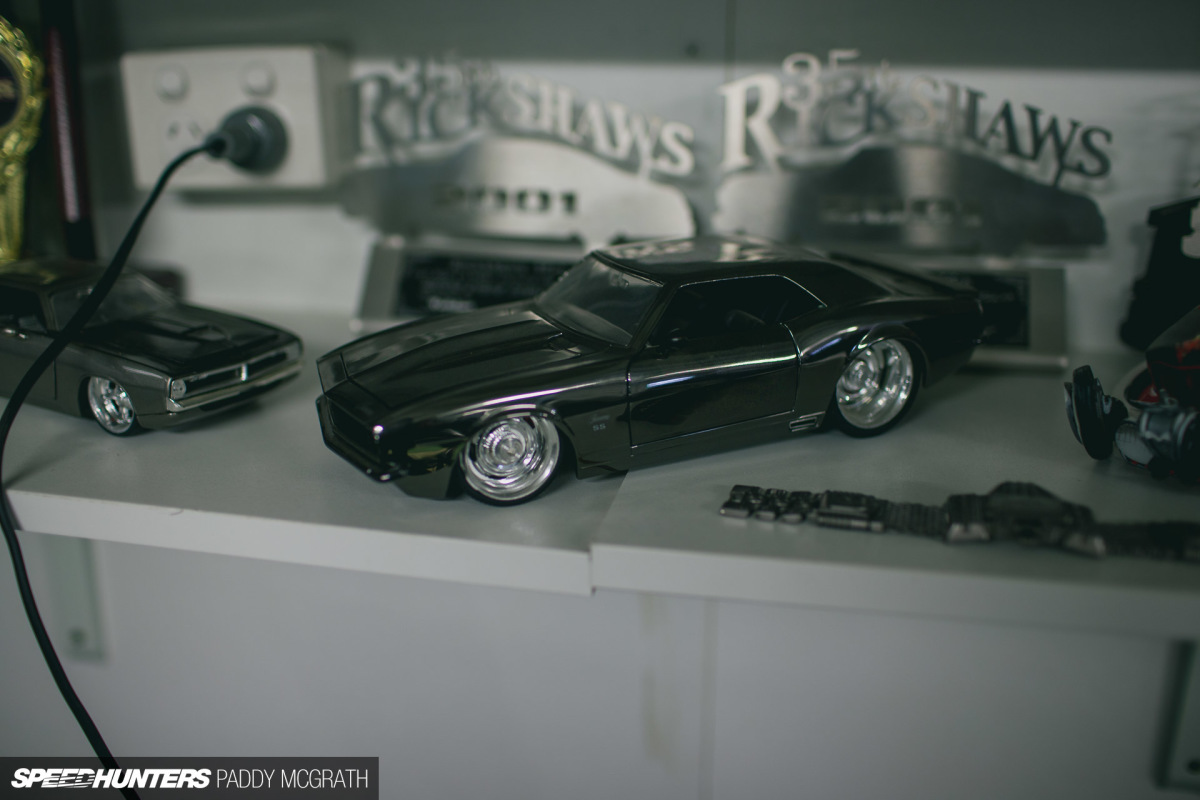 Luckily for me, Chris knows an awful lot. Despite both of our relative distances from the United States, Australia picked up a lot more US car culture than Ireland and Europe did. This in itself is quite curious, considering that Australia is a right-hand drive car market and is seemingly anti-anything that is remotely enjoyable. That's probably a story for another day.
Chris, though, has been submerged in this eclectic facet of automotive culture for quite some time and has even made a living within the industry. Chris is a designer, and asides from being involved in the build of some mega cars, he's also responsible for the design and identities of some major Australian brands. In particular, he designs the annual 600+ page Rocket catalog which can be found on counter tops and workshop benches all around Australia. He's also the Australian distributor for Pro Touring Garage, so you can sort of see how much of his life revolves around cars.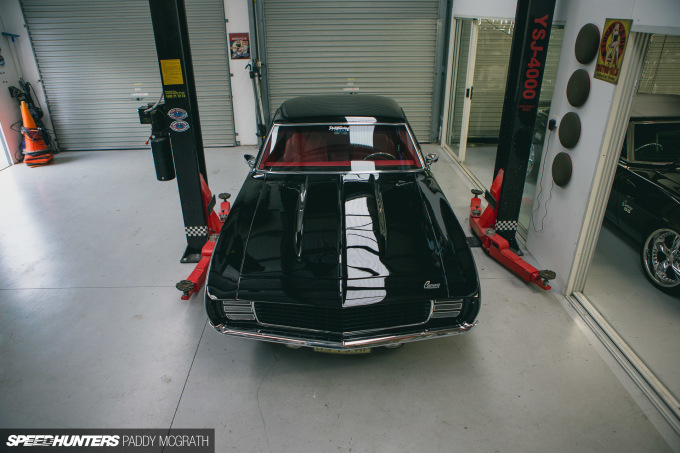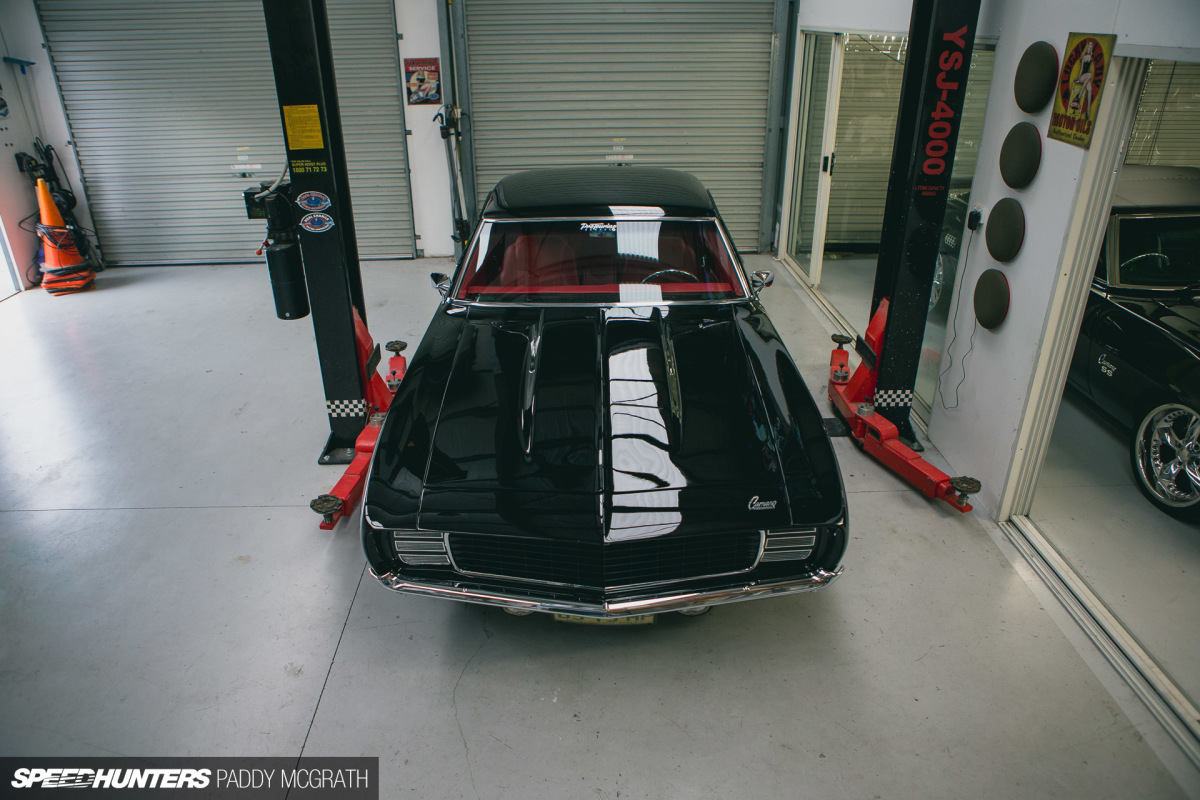 The first car that greets you upon entering is a '69 Camaro RS/SS built to pro touring specification.
It's pretty much the complete F-body. With a Detroit Speed rear end, which converts the rear from a leaf spring setup to a coilover setup, and a Total Cost Involved front suspension setup, the focus has been on improving the Camaro's handling characteristics along with its stopping abilities courtesy of a Wilwood brake setup. I might be a Mustang sort of person, but this is the kind of car that can easily win me over.
It doesn't end there, either. Beneath the hood (I feel more American already) is a 427ci Lingenfelter LS with a MagnaFusion supercharger, producing some 670hp at the rear wheels.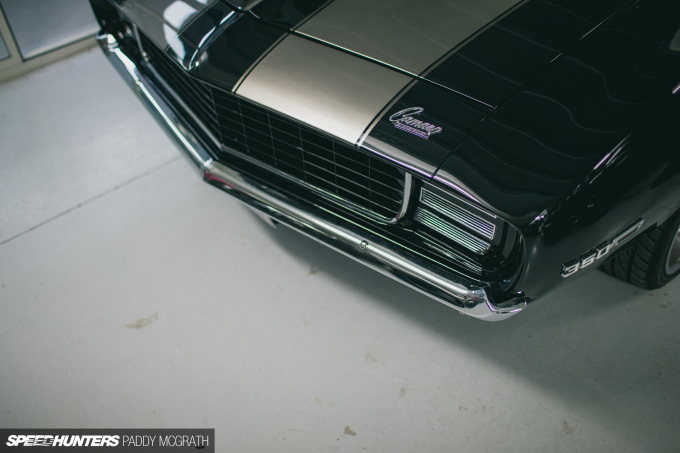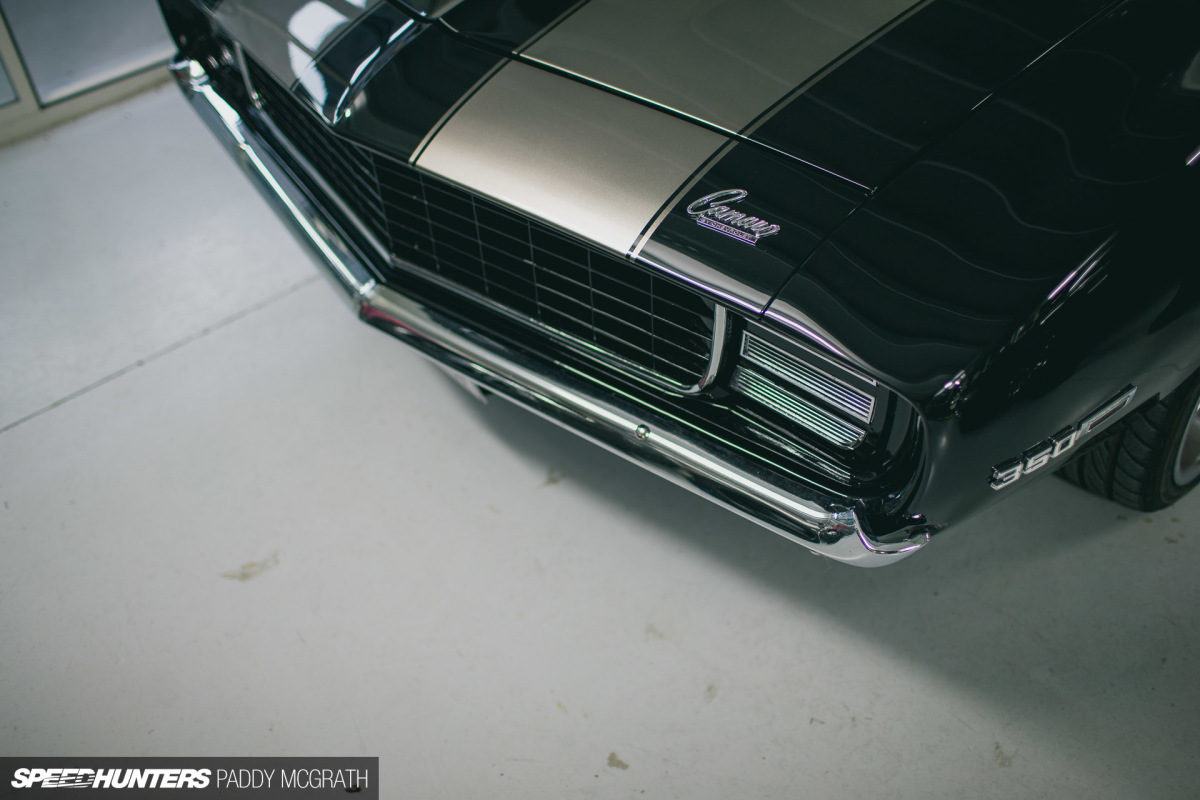 Coincidentally, the car on the other side of the door was also a '69 Camaro, but this was a little bit different and certainly built for a different purpose. Where the RS/SS has performance in mind, this convertible was all about the lazy cruising on a Sunday afternoon.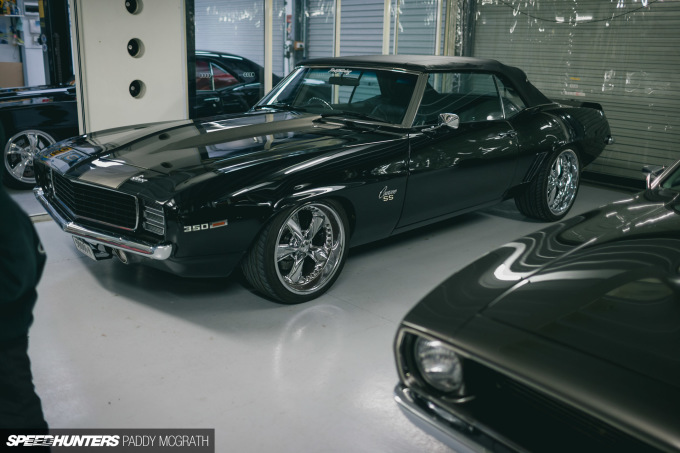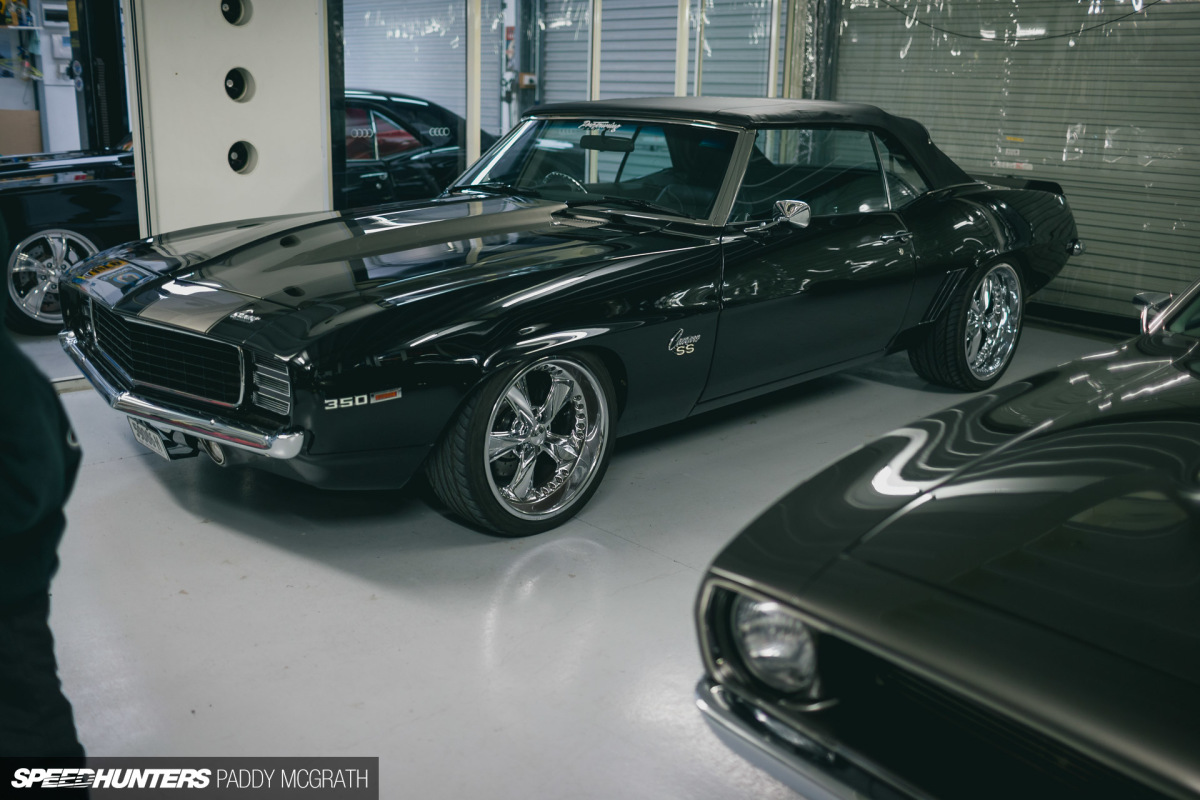 At its heart is a small block 350 Chevy. While tame in comparison to its neighbour, it perfectly suits the car for its intended purpose. The most interesting talking point of this car though is the very tidy right-hand drive conversion. I have to admit, I rarely notice swaps as I generally expect a car to be right-hand drive, but this conversion could pass as factory. Was there ever a right-hand drive factory Camaro?
I quite like the idea of building a car a sibling, which retains a similar style and feel but allows it to follow a completely different path from a performance perspective. I think it's better to have two focused cars than one which is torn between different lives?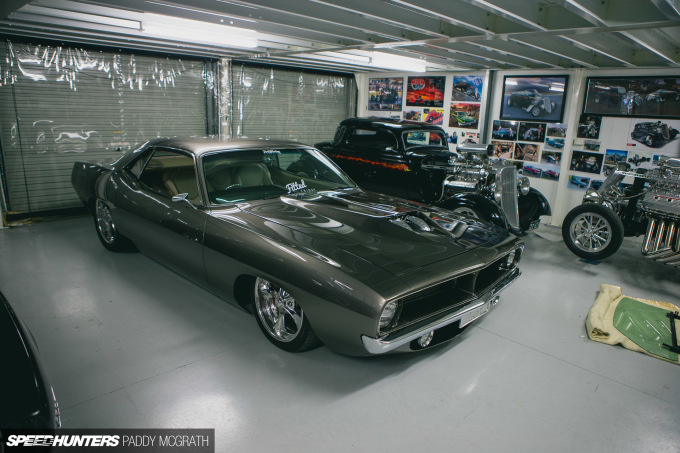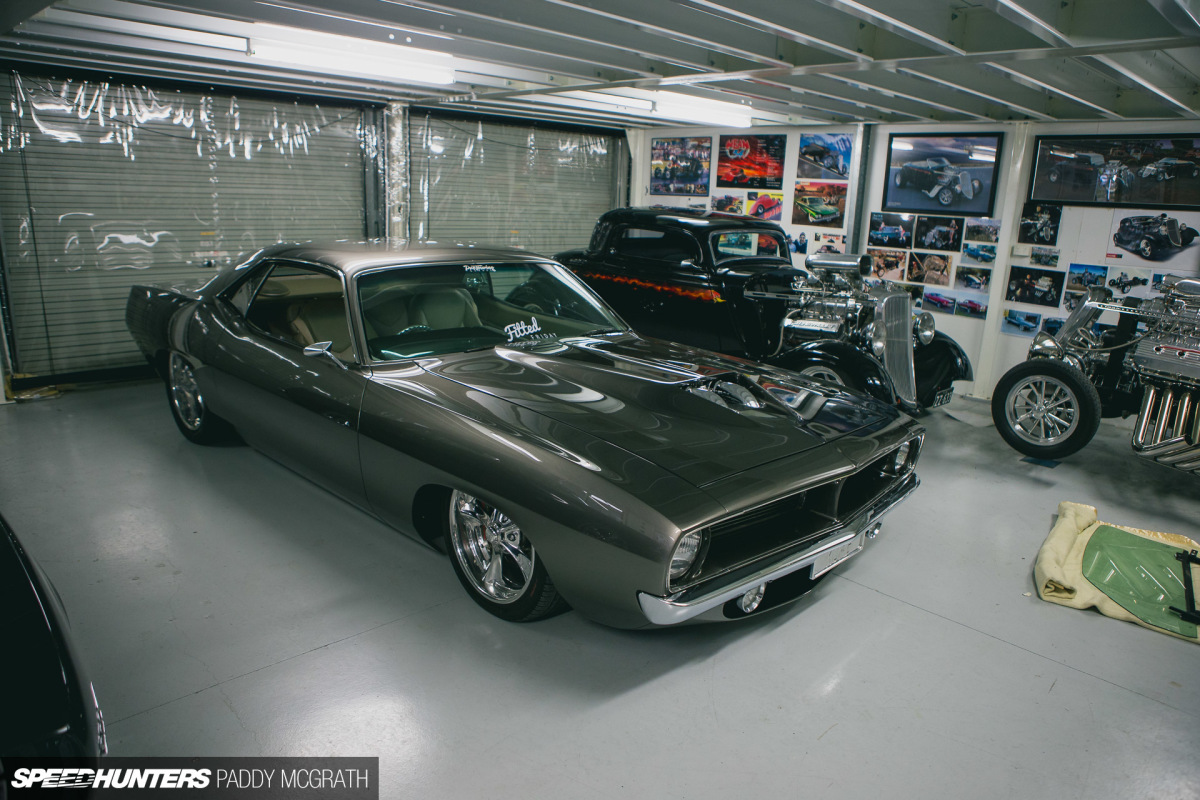 I'm just including a shot of Kong, just because I can.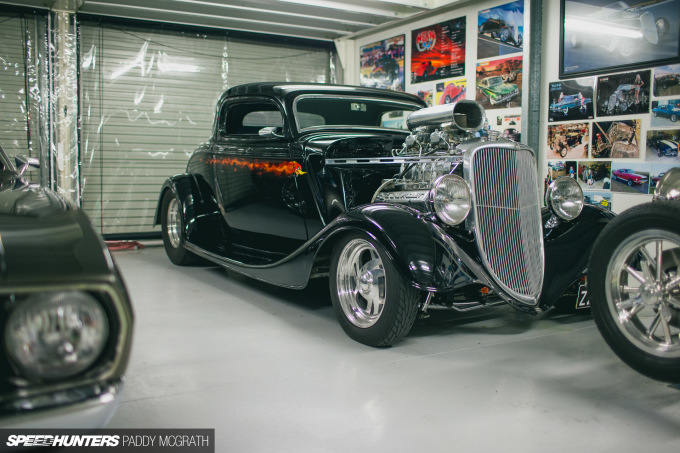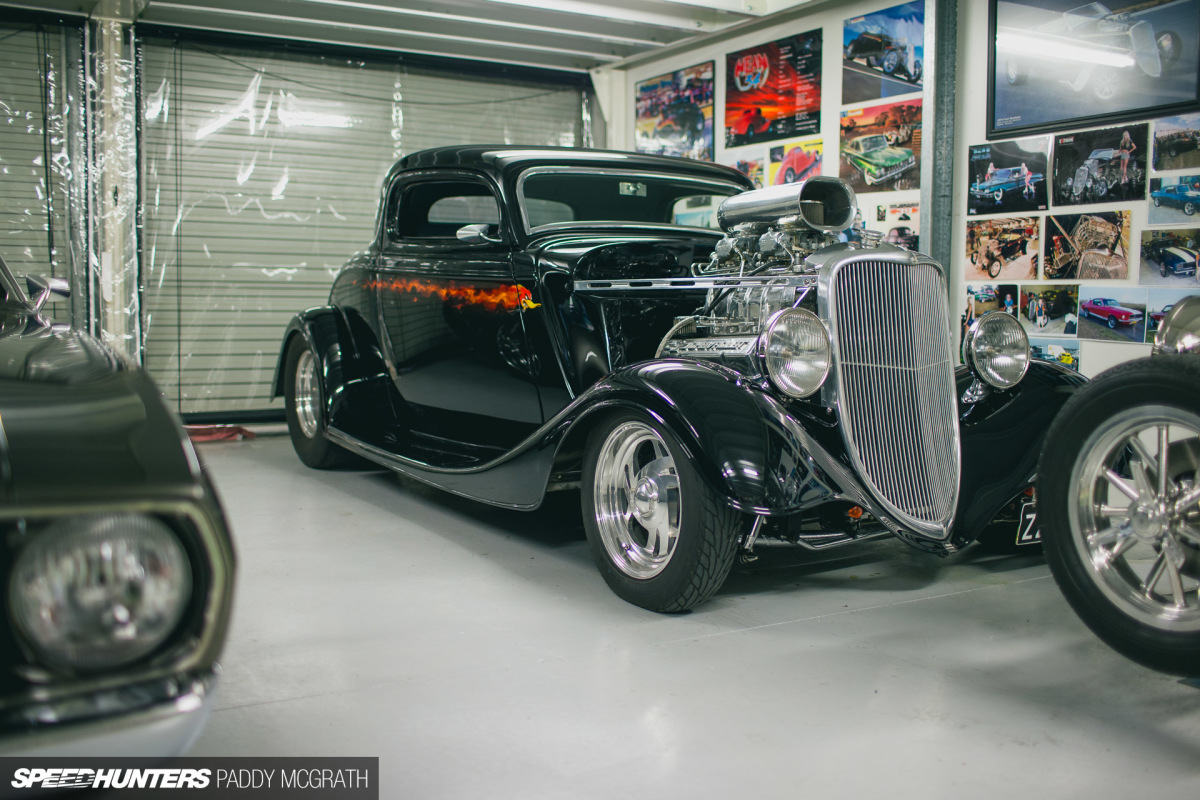 At the other side of Kong lay two very different cars to the two Camaros, although these two also share a similar ethos. What has been christened the Outlaw Coupe, the body of which was originally imported into Australia some 30 years ago. A stroked 427 sits up front, hiding behind the huge front grill. Also behind that grill atop the Chevrolet V8 is a 671 supercharger, which when on full song plays its role in putting out over 700hp.
I won't lie, I don't think I'd fancy seeing what 700hp feels like from the driver's seat. It's intimidating, to say the least. Best of all, it's the tamer car of this next pairing.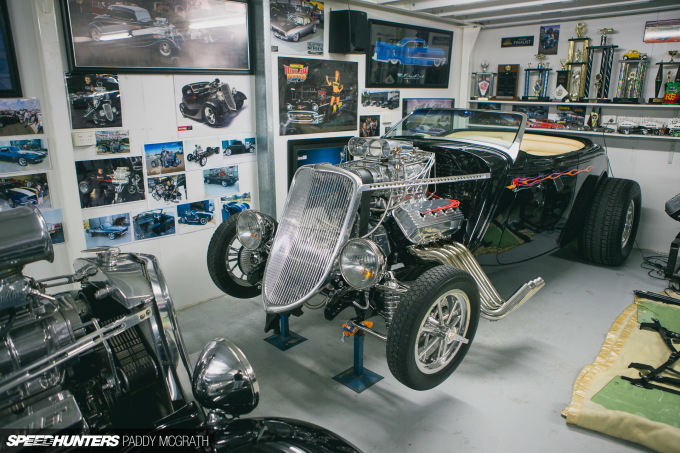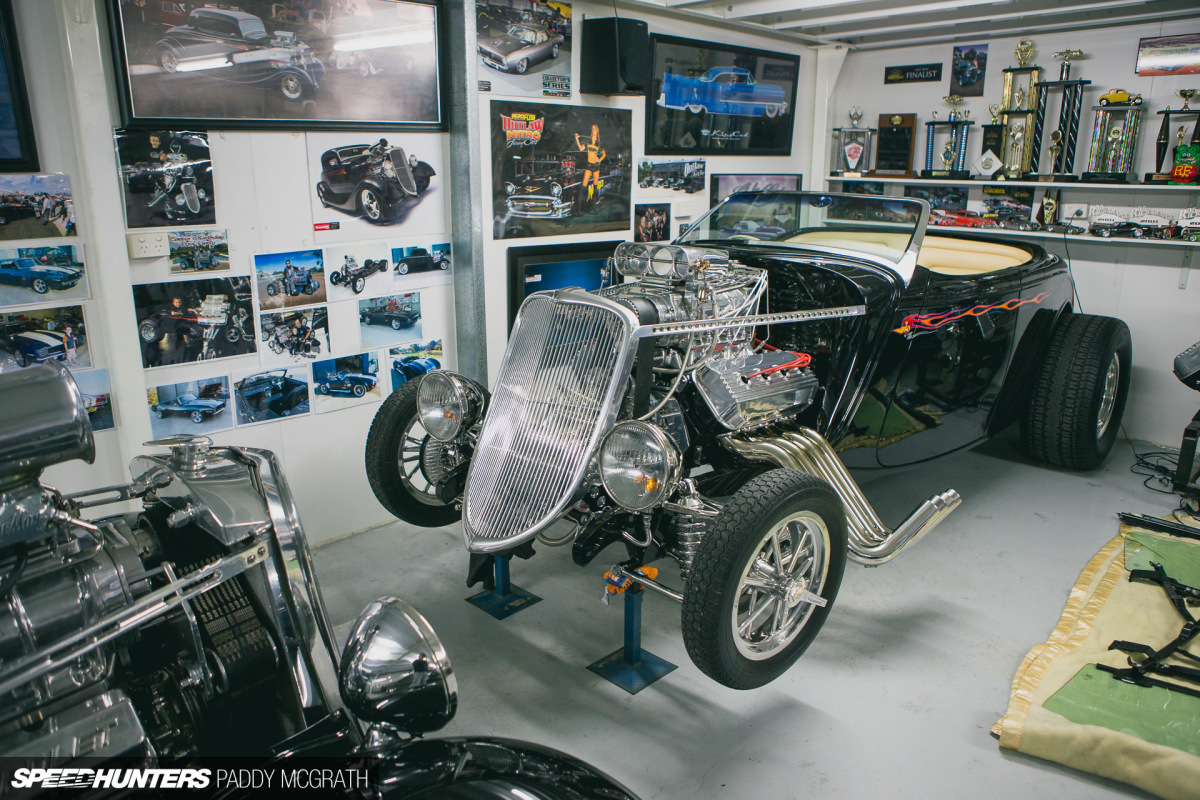 Despite being built 15 years ago, the '33 Ford Roadster known as the Outlaw, is by far and away the most intimidating car under Chris's roof. The blown and injected HEMI motor which was pulled from the rear of a dragster, where it regularly ran in the sixes, produces north of 1000hp on methanol.
It's also a car full of details, which combine both traditional and contemporary styles to create something brilliant. The digital dashboard is a personal favourite, as is the connecting rod which supports the steering column. The latter of which is something that appears on all of Chris's cars.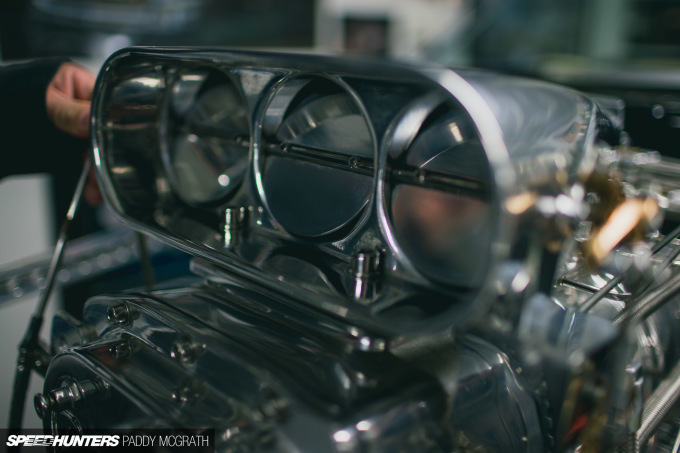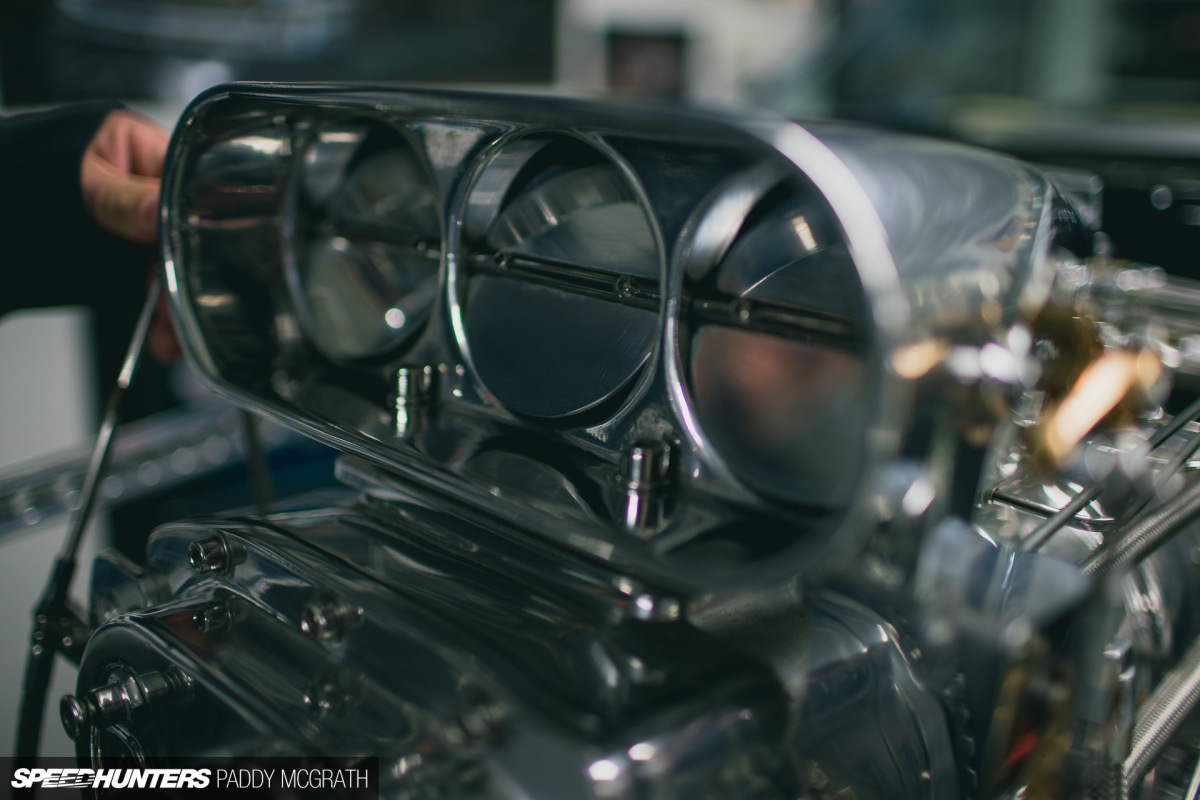 The power delivery is so aggressive that to use it on the road they had to fit a throttle stop so as to prevent the car getting full throttle. It'll still comfortably break traction, even with this much restriction.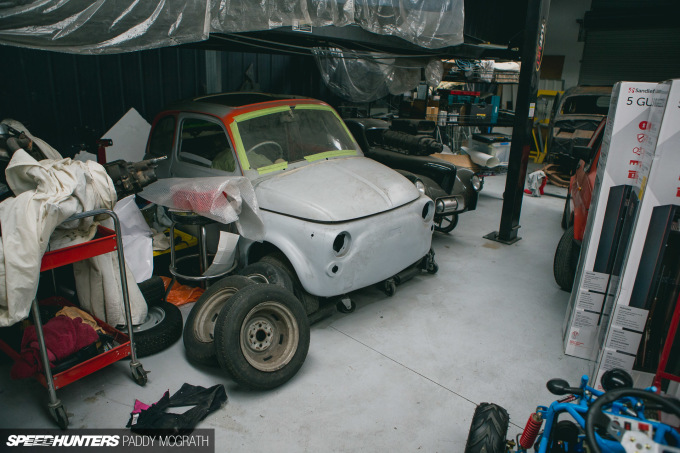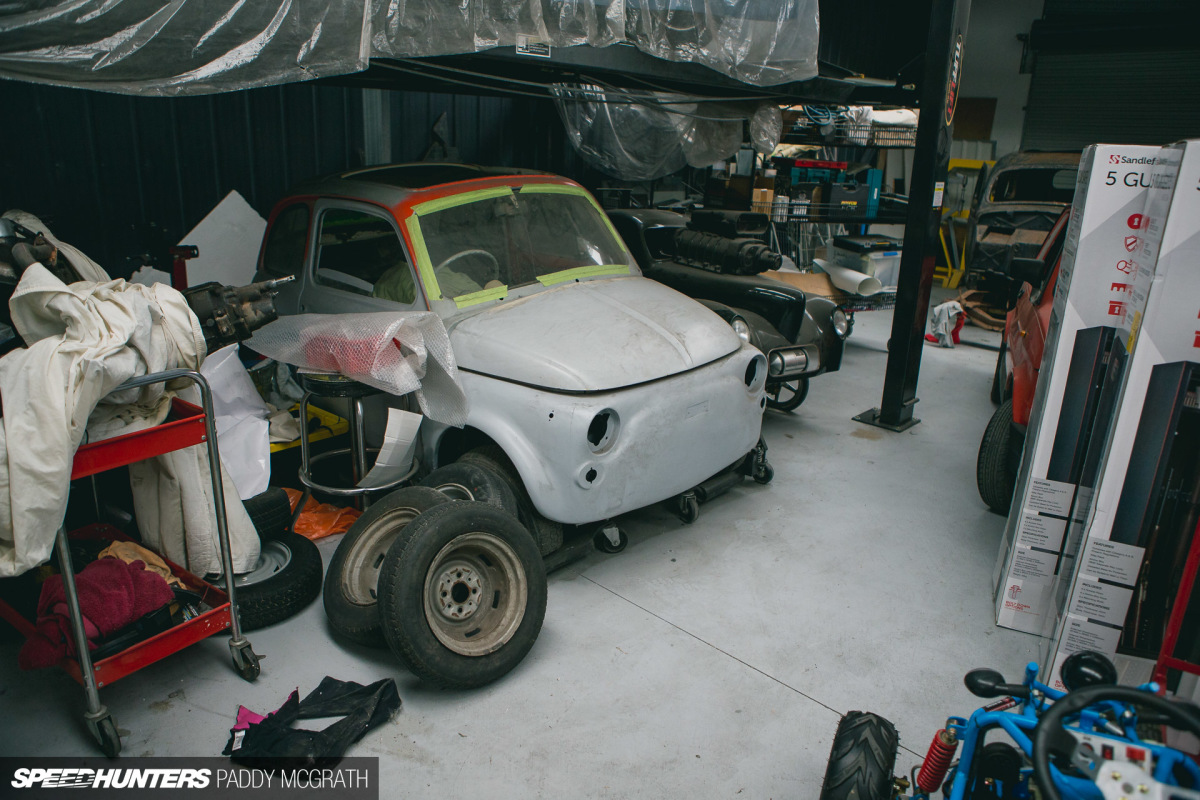 Out the back of the workshop, was something that I really wasn't expecting to see: a Fiat 500. With a surname like Palazzo, I guess he's channeling his heritage, although I'm curious to see what becomes of Turin's tiny Fiat in Chris's hands. I wonder if he's heard of Oemmedi Meccanica's creation?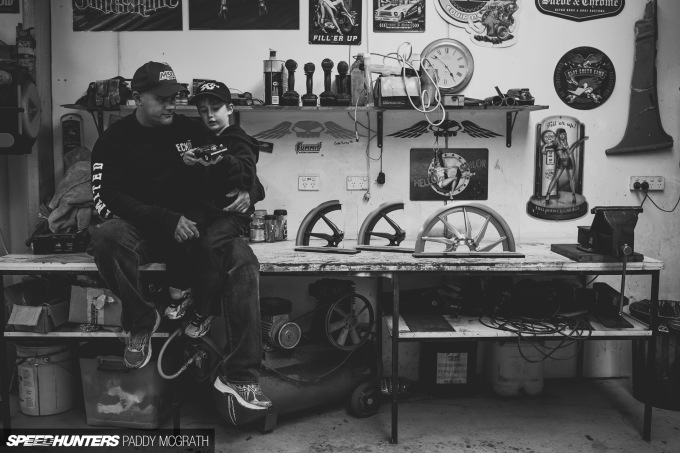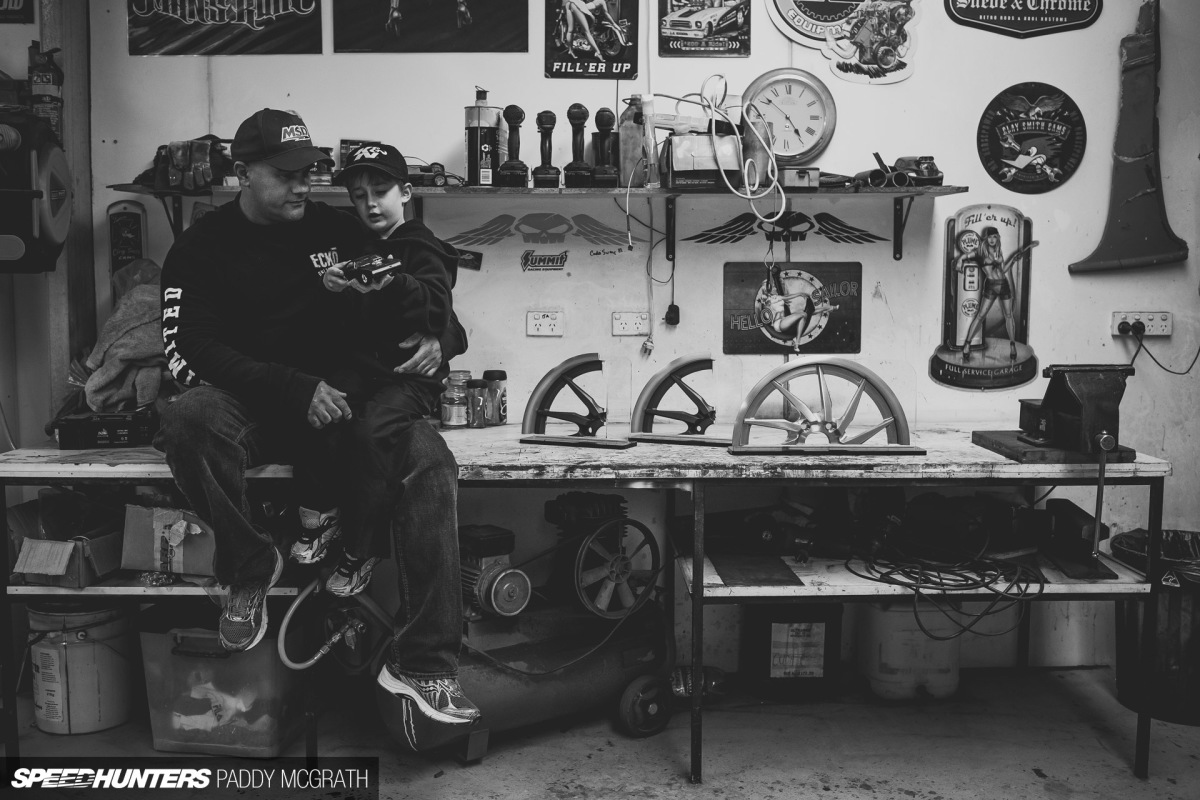 It's a huge gesture to allow someone into your private world and I'm truly grateful to Chris for taking so much time out of his day to show us around and share his past and present projects with us. He's a young man with a young family, so I'm sure there's lots more to come from the Outlaw Rod Shop. He's also automatically been promoted to an exclusive list where if he says he's building something, we're going to feature it without question.
I'm sure there'll be more to come from even the next generation of the Palazzo household.
Paddy McGrath
Instagram: pmcgphotos
Twitter: pmcgphotos
paddy@speedhunters.com
Cutting Room Floor