A Japanese Legend
Nissan Skylines from the 1970s are cool. Iconic, legendary, beautiful – sexy even. Today, Hakosukas and Kenmeris are universally loved and appreciated, and considered dream cars by folks the world over.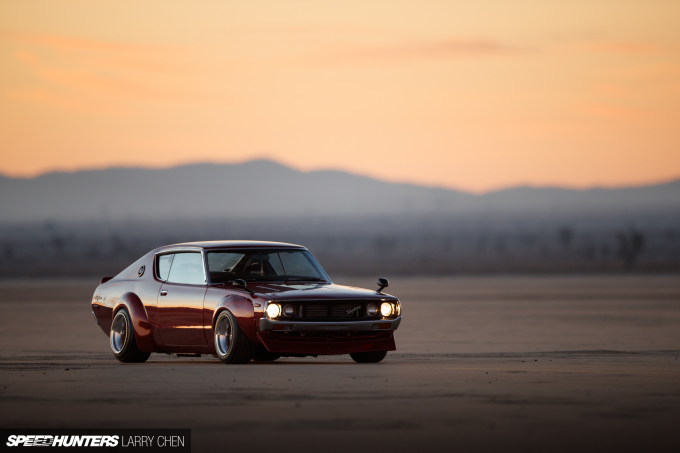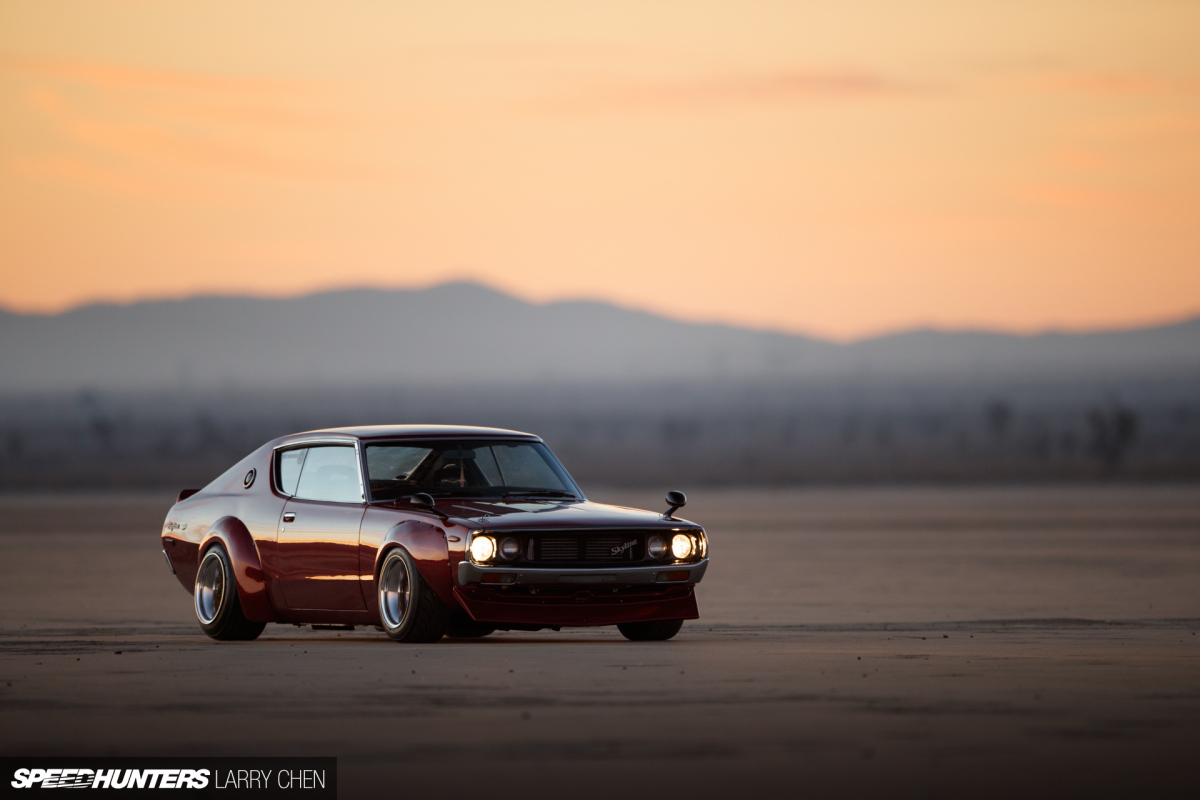 But it wasn't always like this, at least not outside of Japan.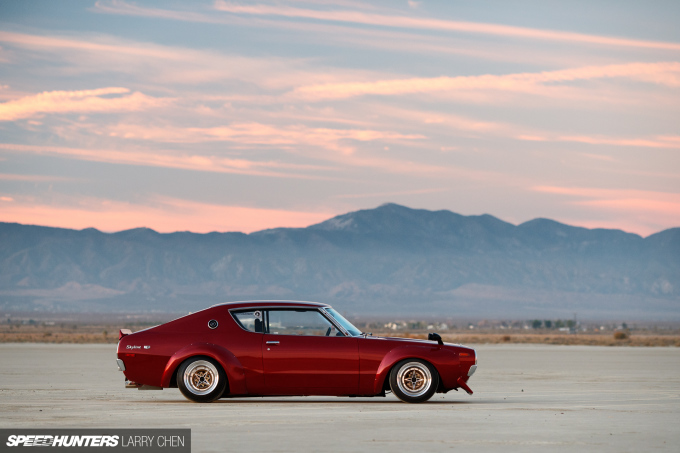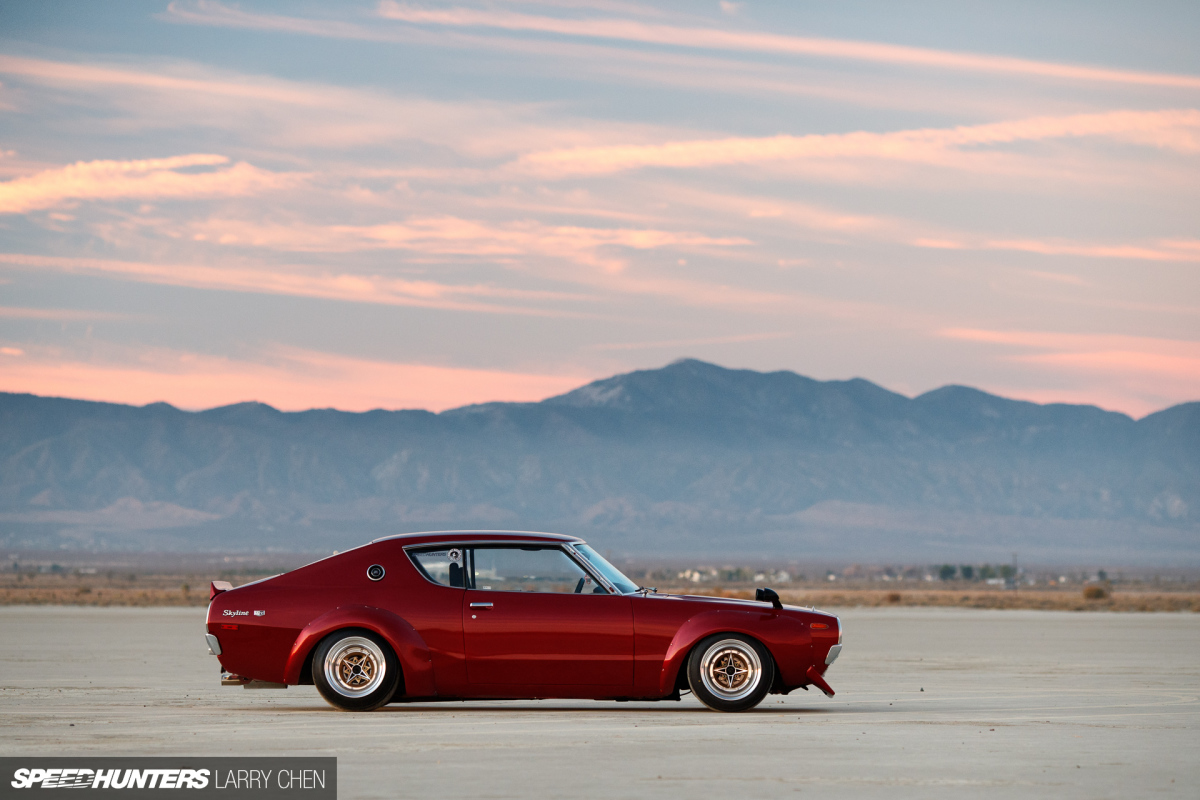 It's not like these models are newcomers to the classic car world though. The Hakosuka and Kenmeri have been out there on the roads and race tracks of Japan building their legend for several decades, but it really wasn't until the last several that their popularity (and values) have skyrocketed internationally.
Vintage Skylines are definitely the 'in' car right now, but back in 2006 things were a little different. That was the year Patrick Soliman took ownership of his 1973 Skyline 2000 GT-X. It was a funky old car that had already been in the United States for a while at that point.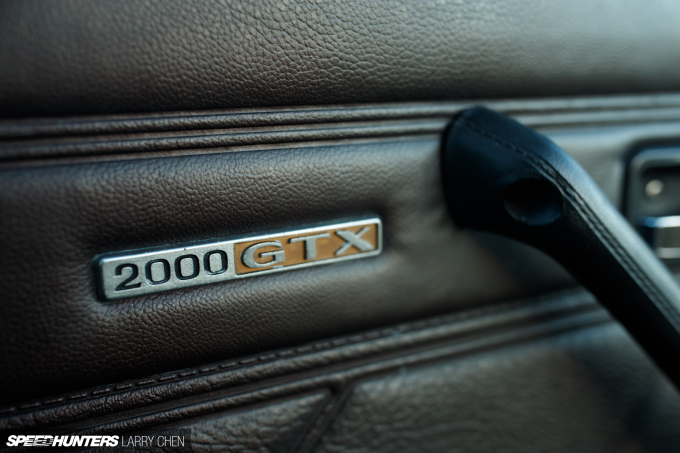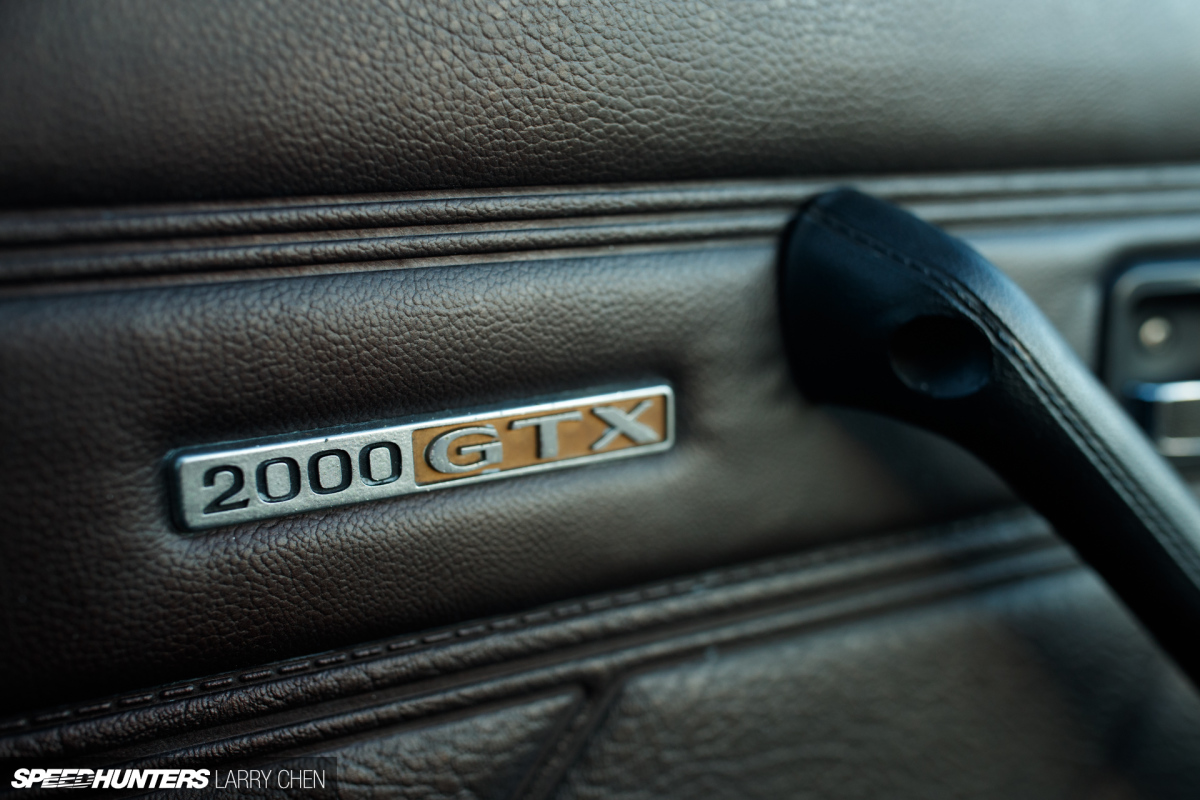 At the time a vintage Skyline wasn't quite the status symbol it is today; instead it was a cult machine, and the car that Patrick bought was far from a cherry.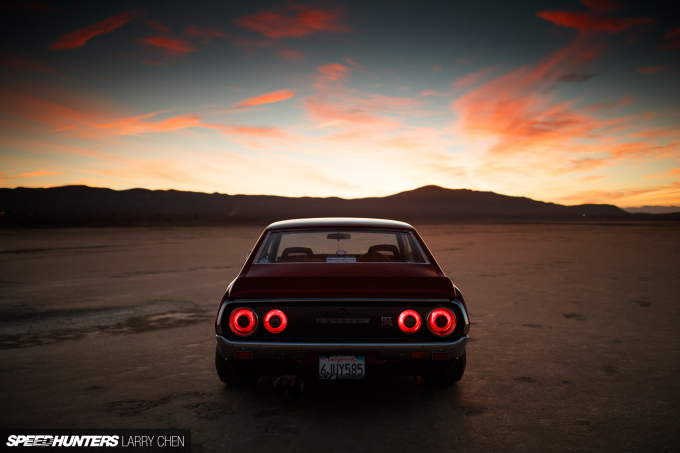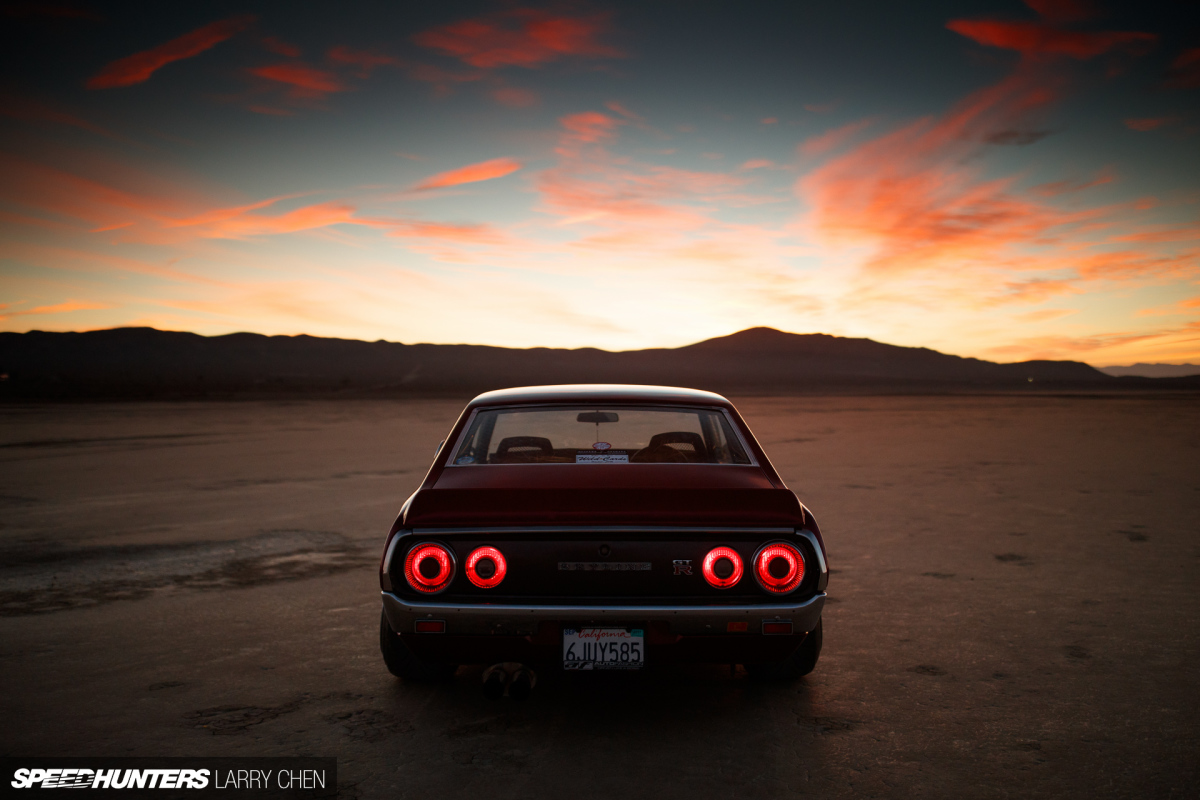 It had been heavily modified by its previous owners and even had an SR20DET swapped in at some point. Whatever the case, it needed a lot of work.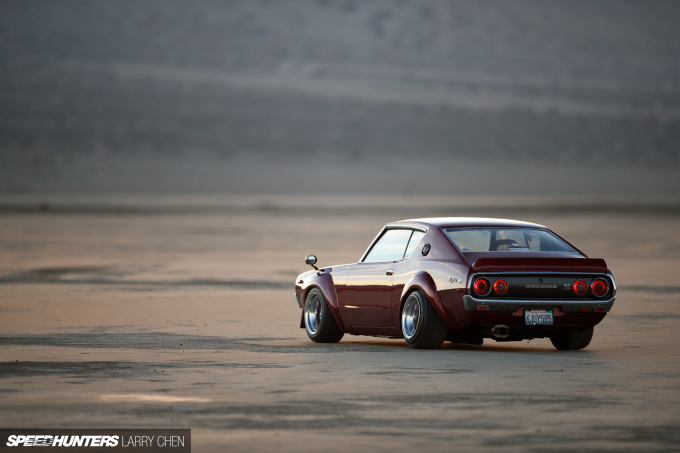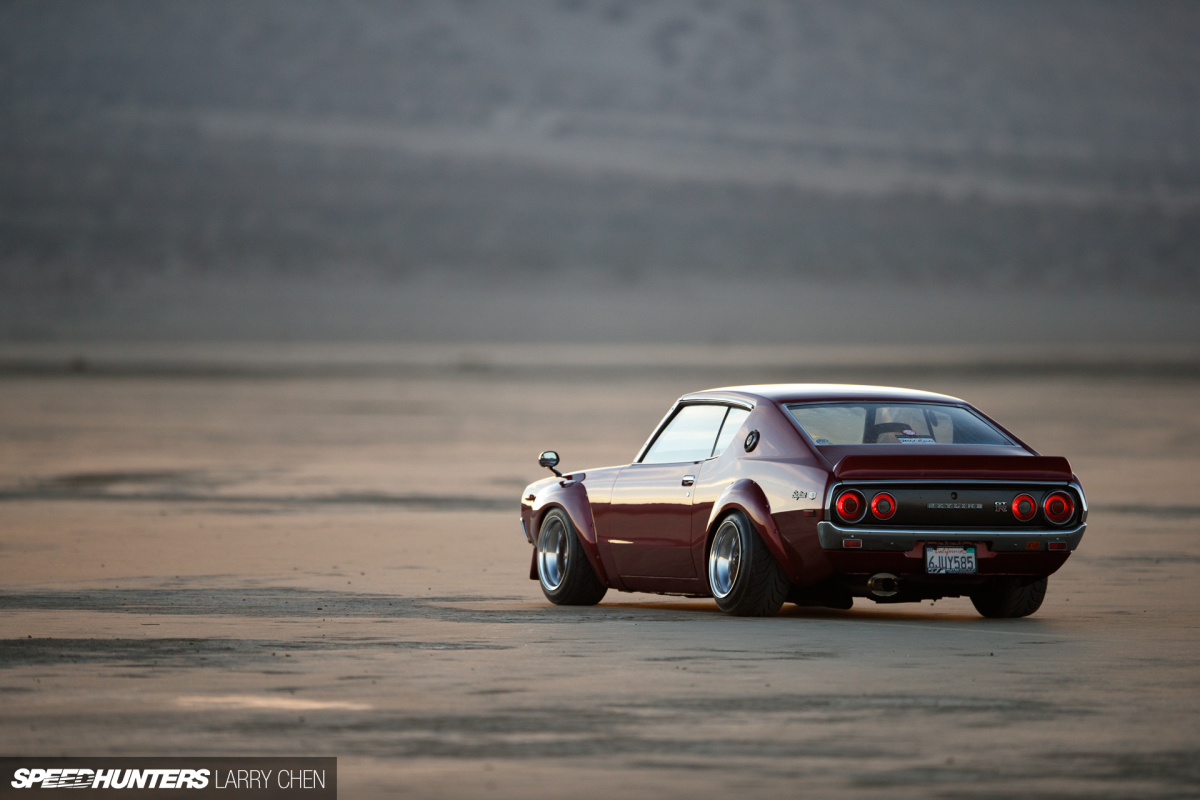 But as you can see, Patrick's goal was never to restore the Kenmeri back to its factory specs. Instead, he decided this would be the perfect car to transform into a one-of-a-kind vintage JDM street machine.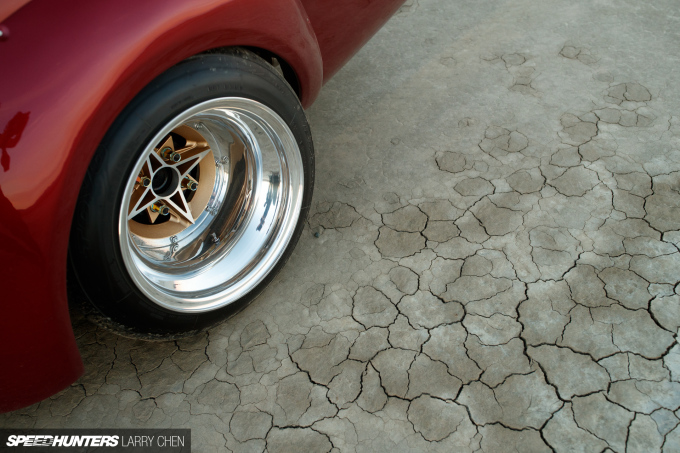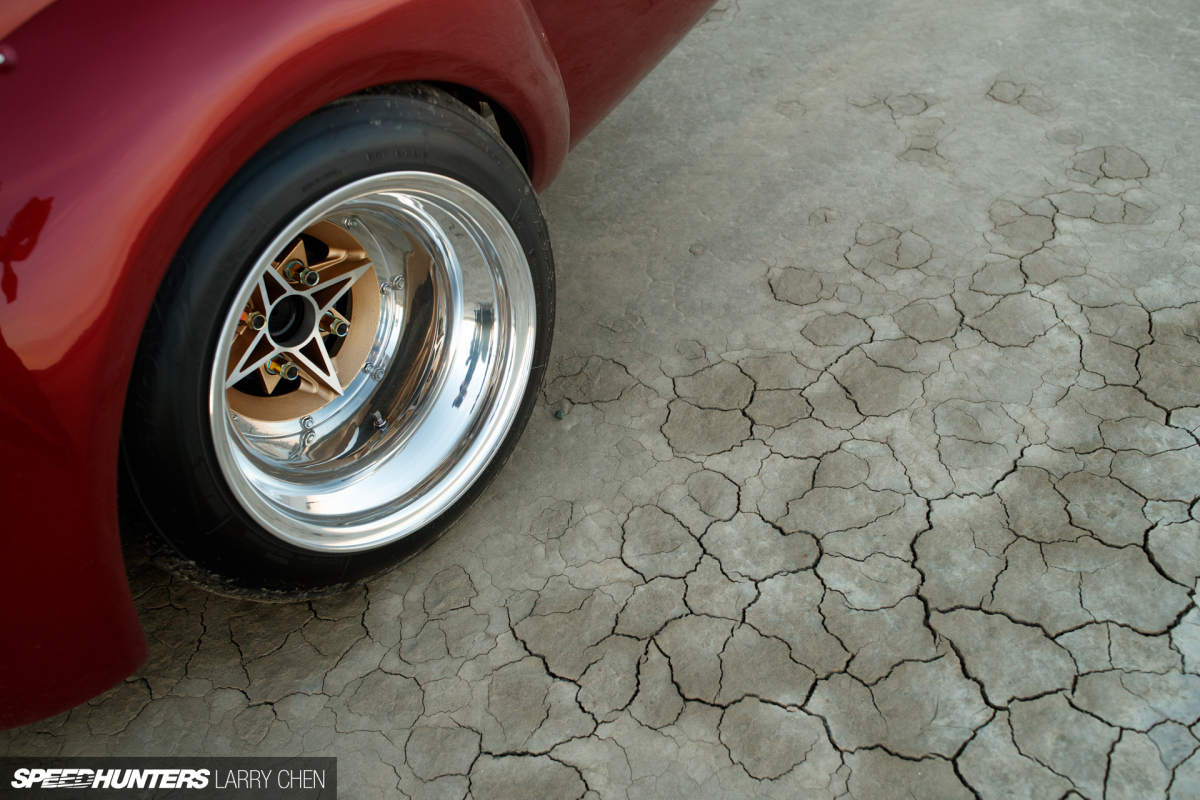 Serving in the United States Navy, Patrick was stationed in Japan for a couple years and that's where he was exposed to the radical kyusha that fill up highway parking areas every weekend.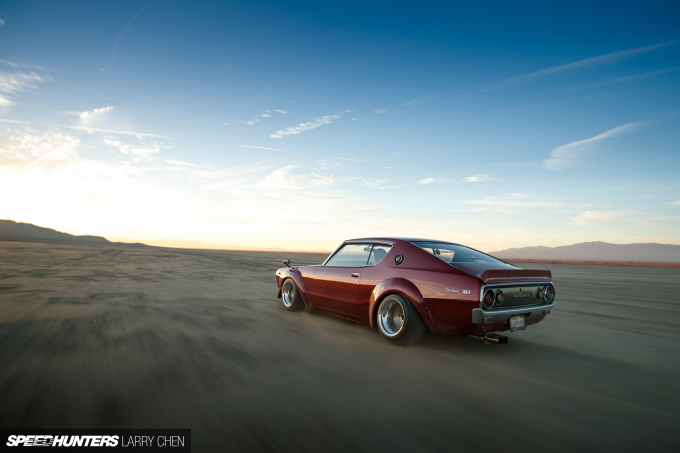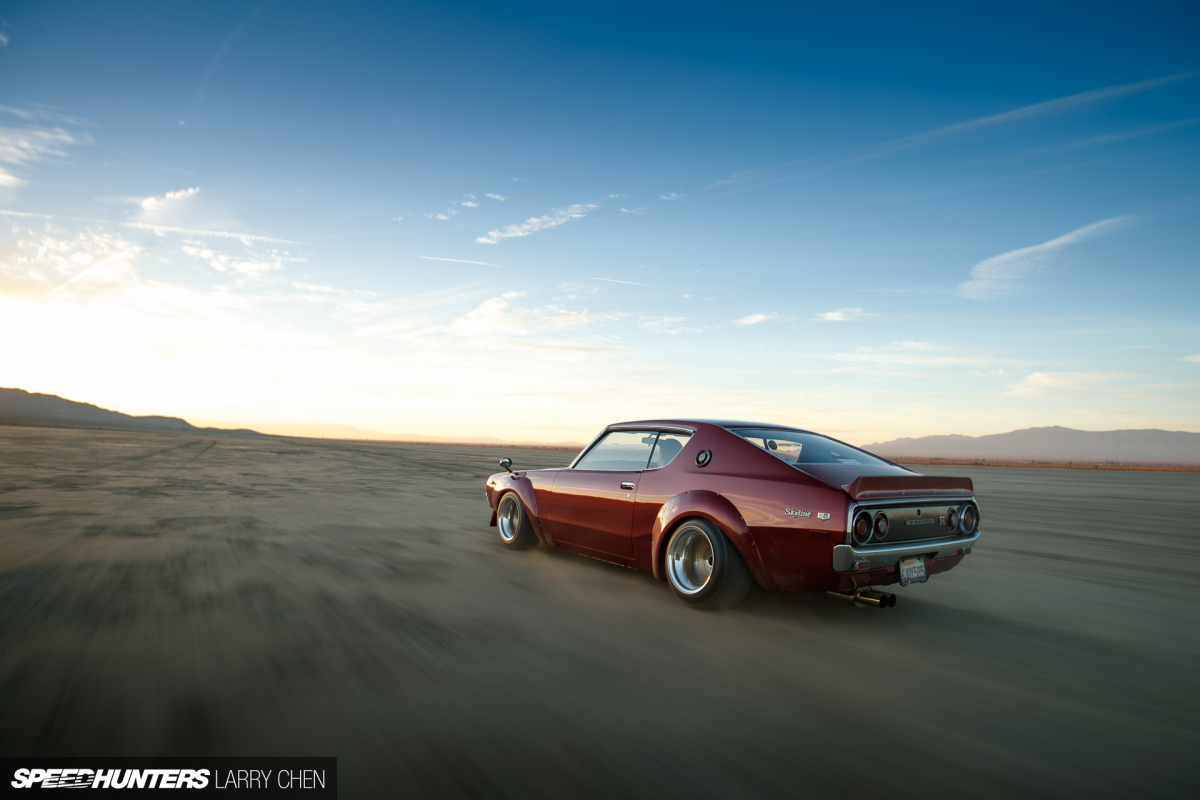 Capturing that authentic look was one of his big goals when he began the Kenmeri project.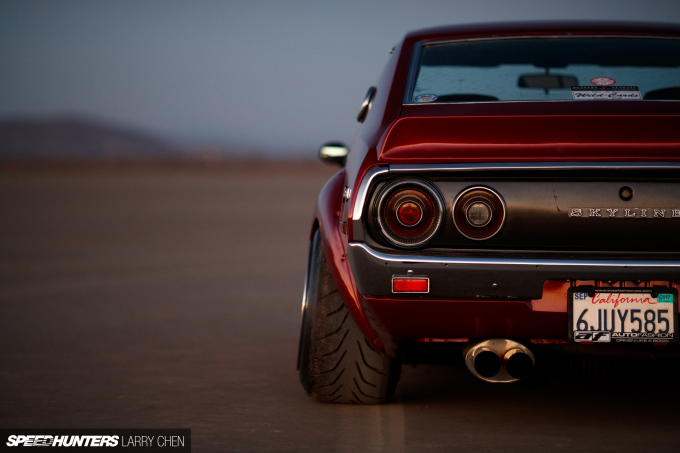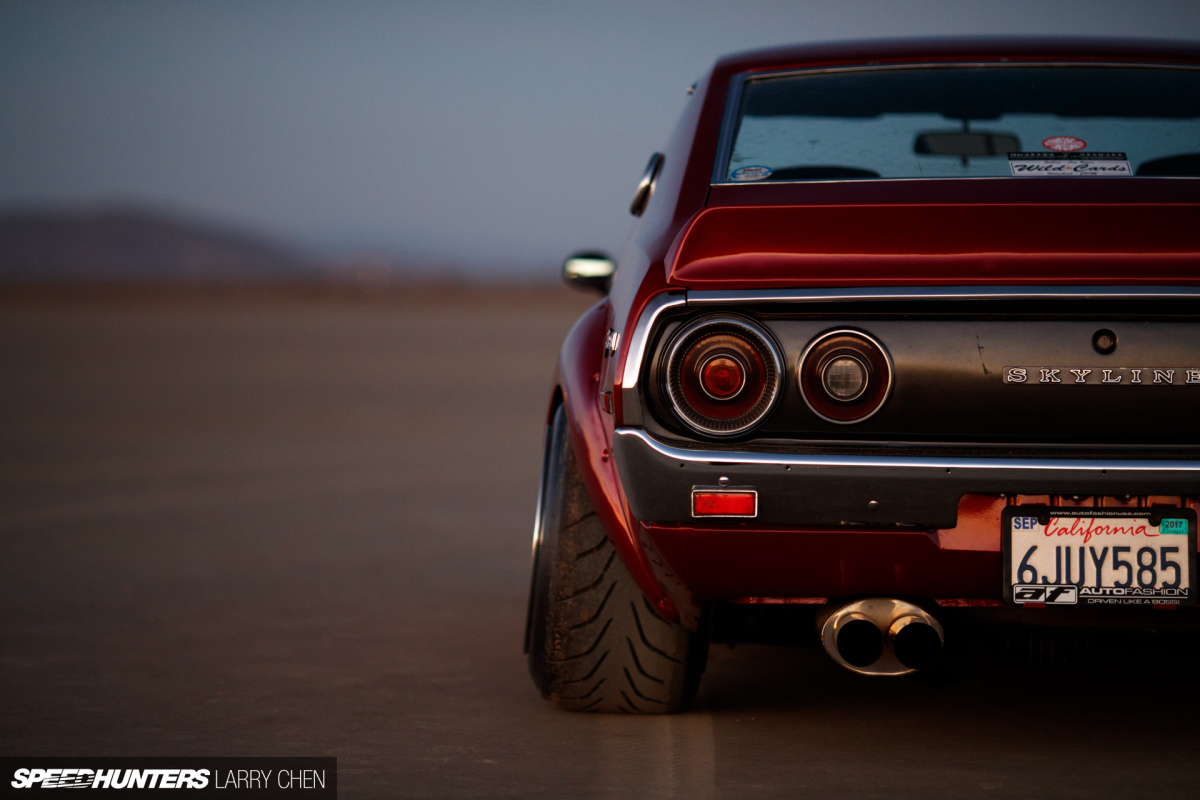 But he didn't just want something that looked special, he wanted to give the Skyline plenty of attention under the hood as well. In Patrick's mind, the car needed the power to back up its aggressive styling.
RB Or Bust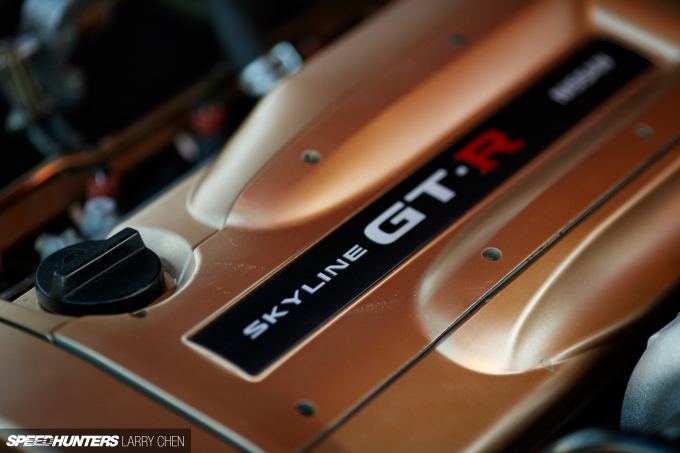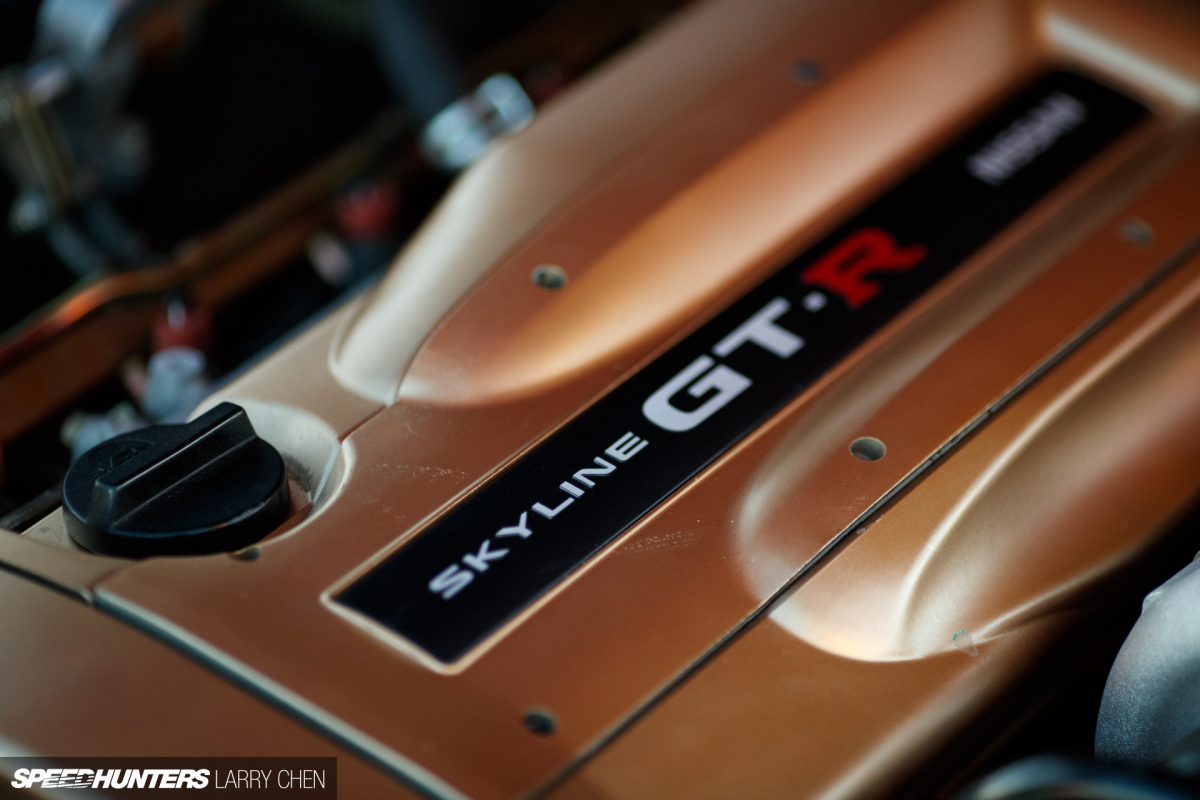 There were various routes he could have gone, sticking with the SR20 the previous owners had swapped or even reverting back to a carbureted L-series setup for that true old school vibe. But Pat had his sights set on something different.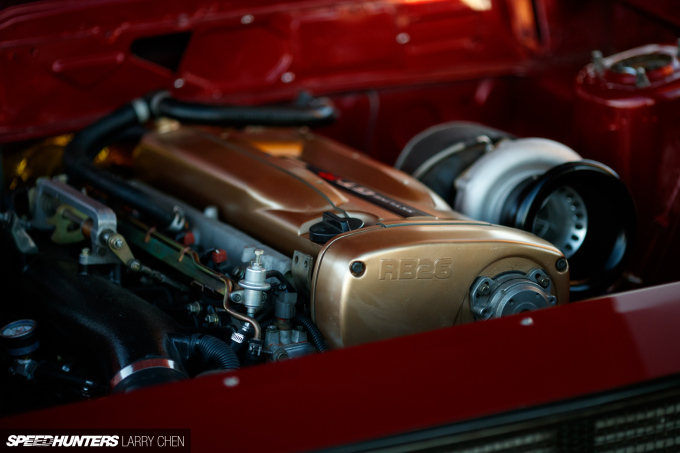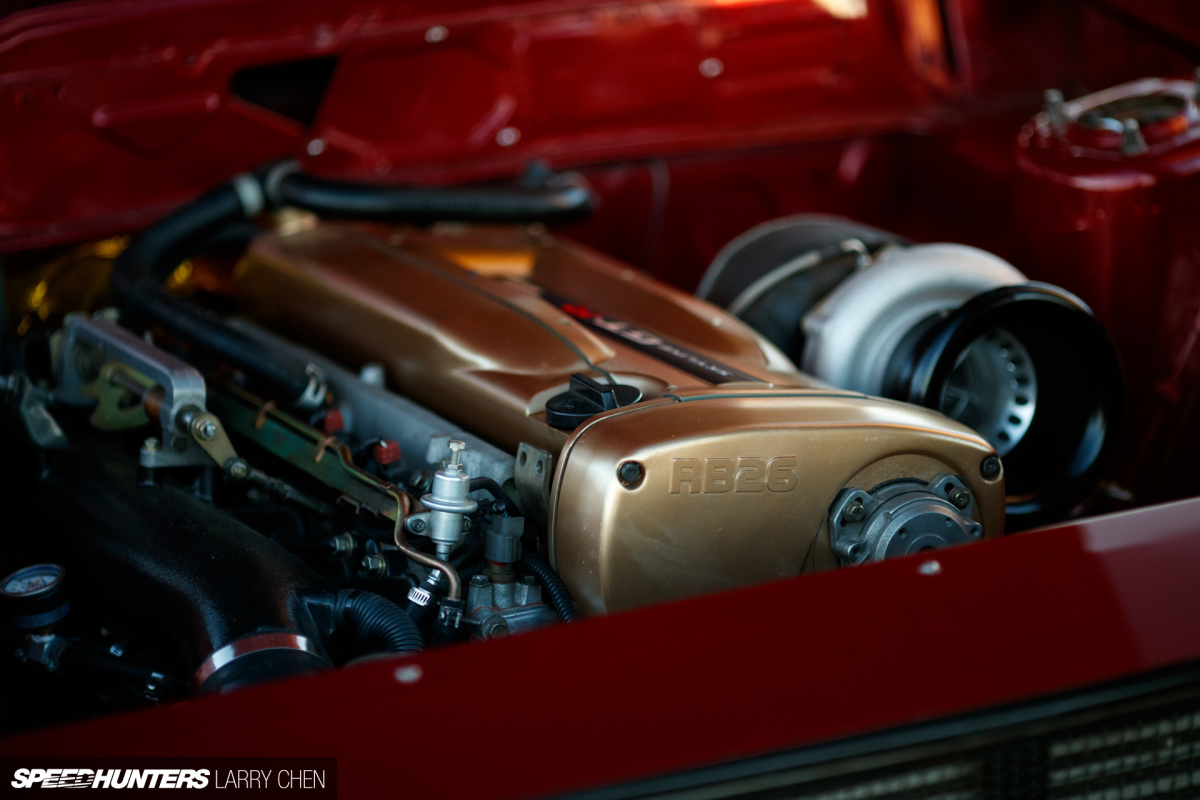 He wanted the heart of a 1990s Skyline GT-R – the legendary RB26DETT – not just for the power but for that unmistakable inline-six turbocharged sound. For him, it was the ultimate upgrade for the vintage Nissan.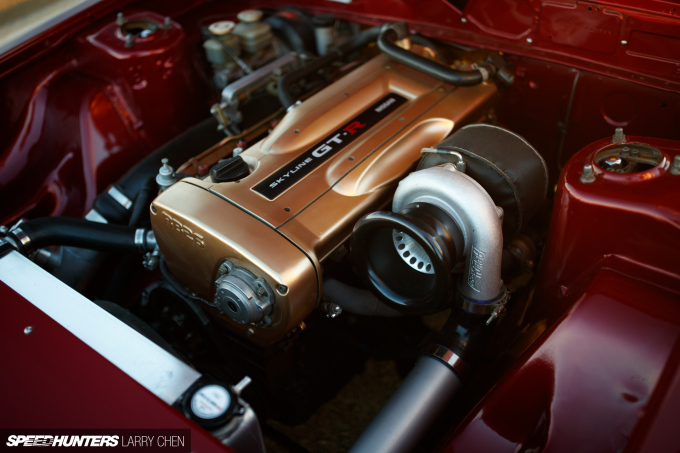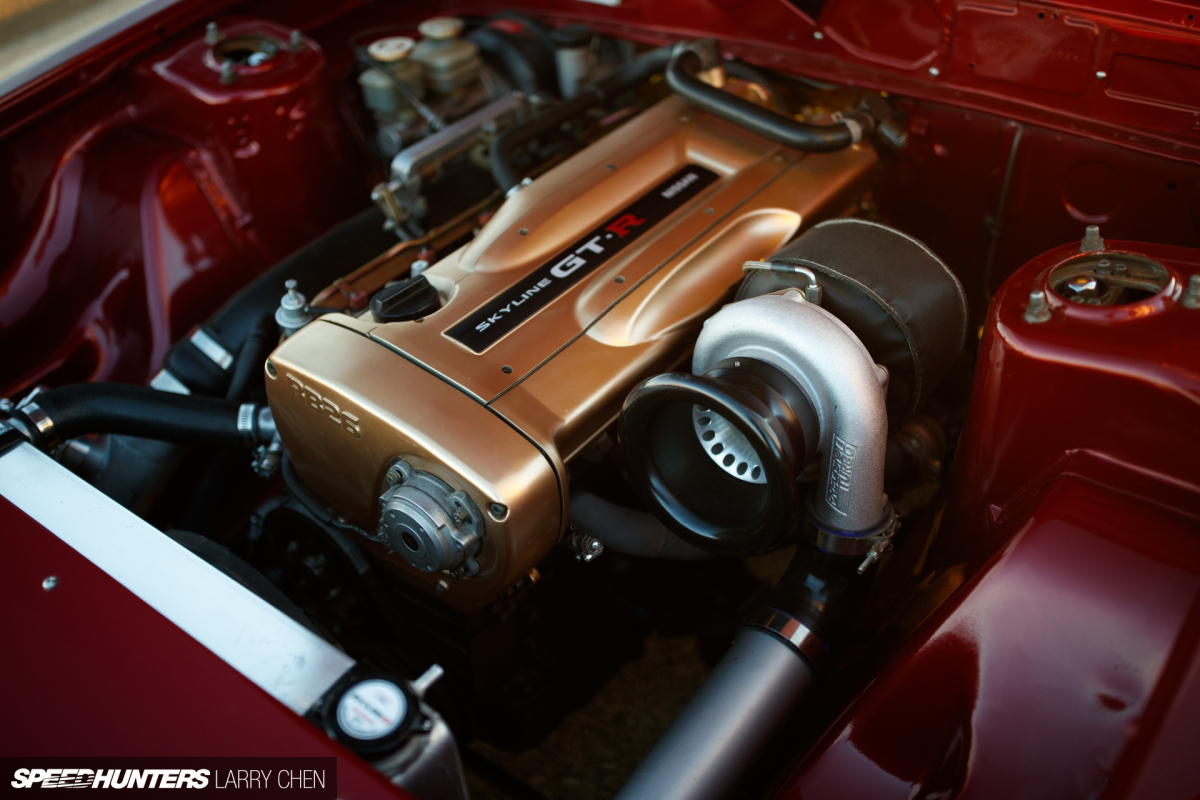 But rather than just dropping in a stock RB26 and calling it a day, the R33 GT-R engine in Pat's car has been upgraded with a large Precision single turbo conversion with a host of supporting modifications, and a custom engine management system.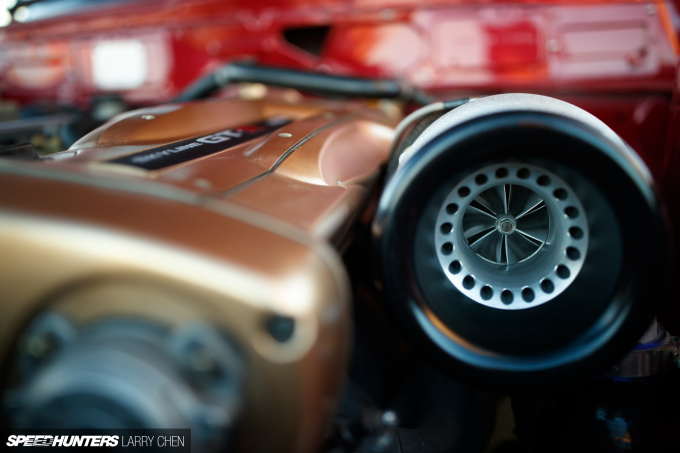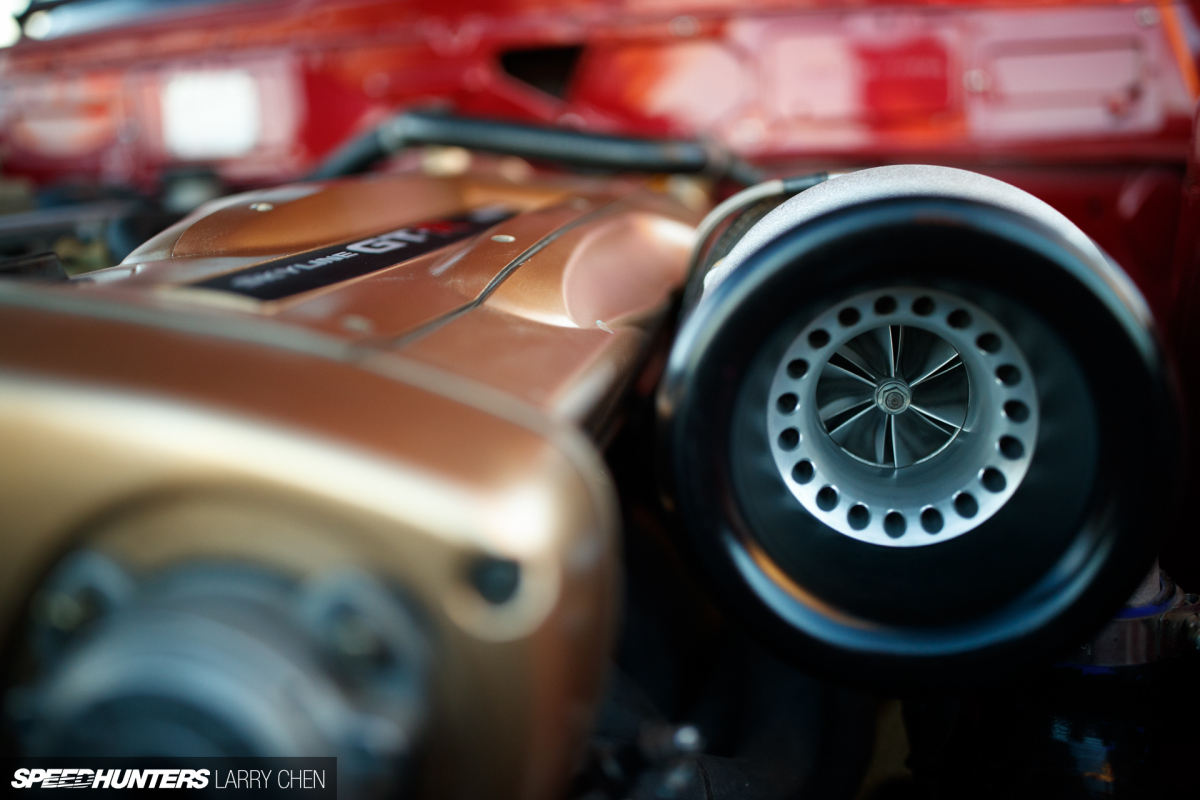 Altogether the setup is good for over 550 horsepower at just under 8,000rpm – impressive numbers for a full-weight R33 with all-wheel drive grip, but downright crazy in a much lighter, rear-drive Kenmeri.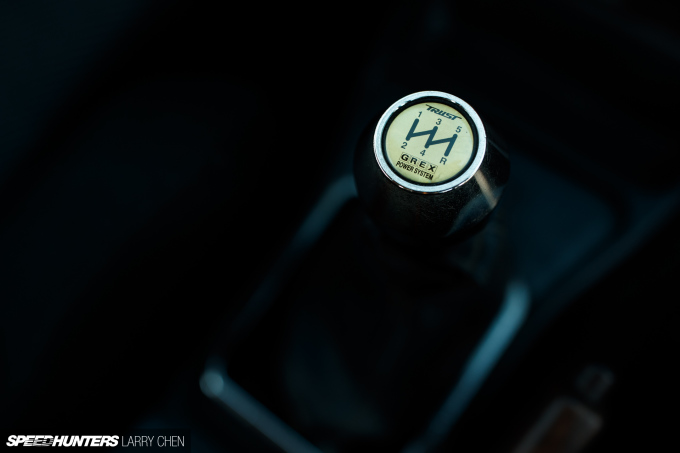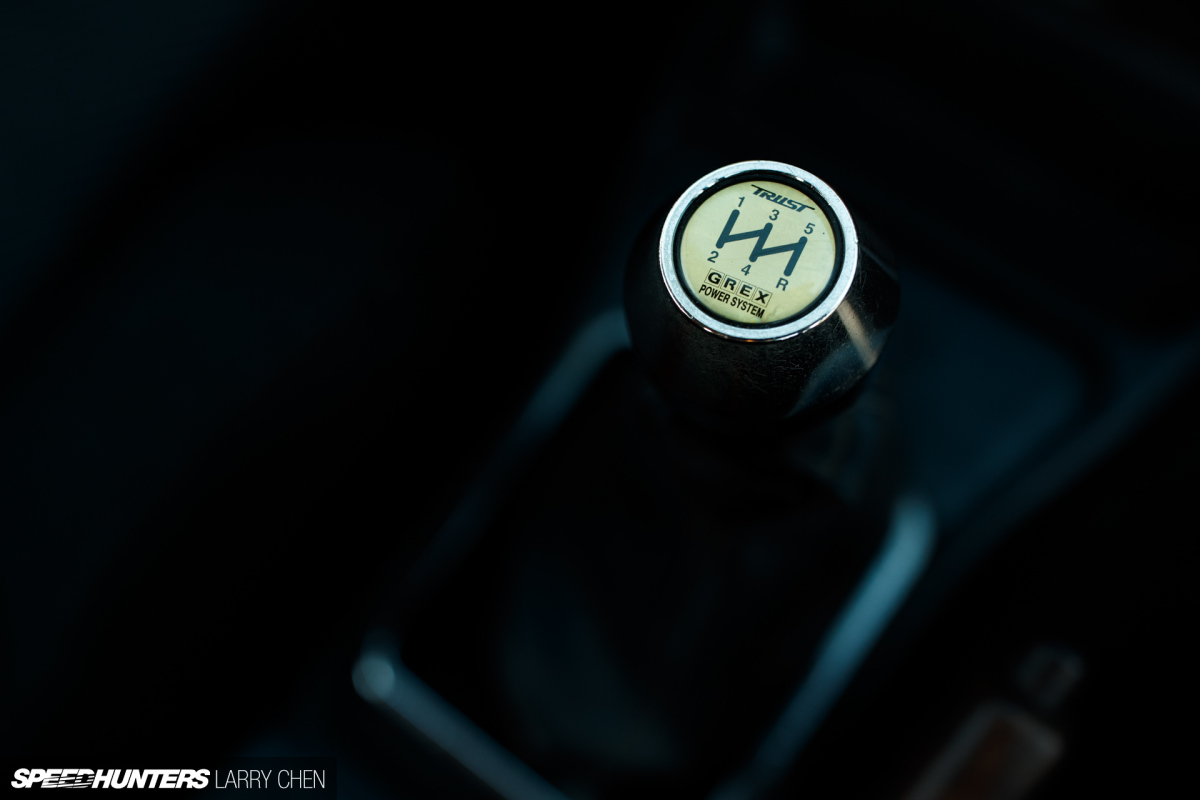 The gearbox is an RB25DET 5-speed with an OS Giken clutch, and the turbocharged power reaches the ground through a Z31 R200 LSD differential with a 3.70 final.
Of course, you just can't add that kind of power and call it a day, so Pat also added custom coilovers all around, T3 trailing arms and a four-wheel disc brake conversion to help bring it all to a stop. The custom coilovers also give the Kenmeri that all-important shakotan stance.
The Journey Continues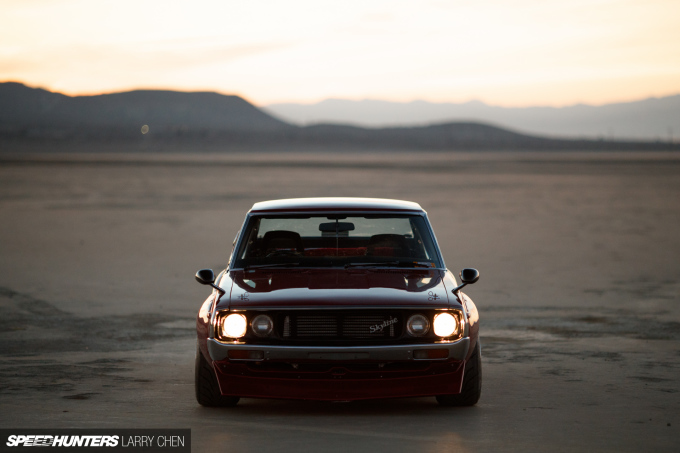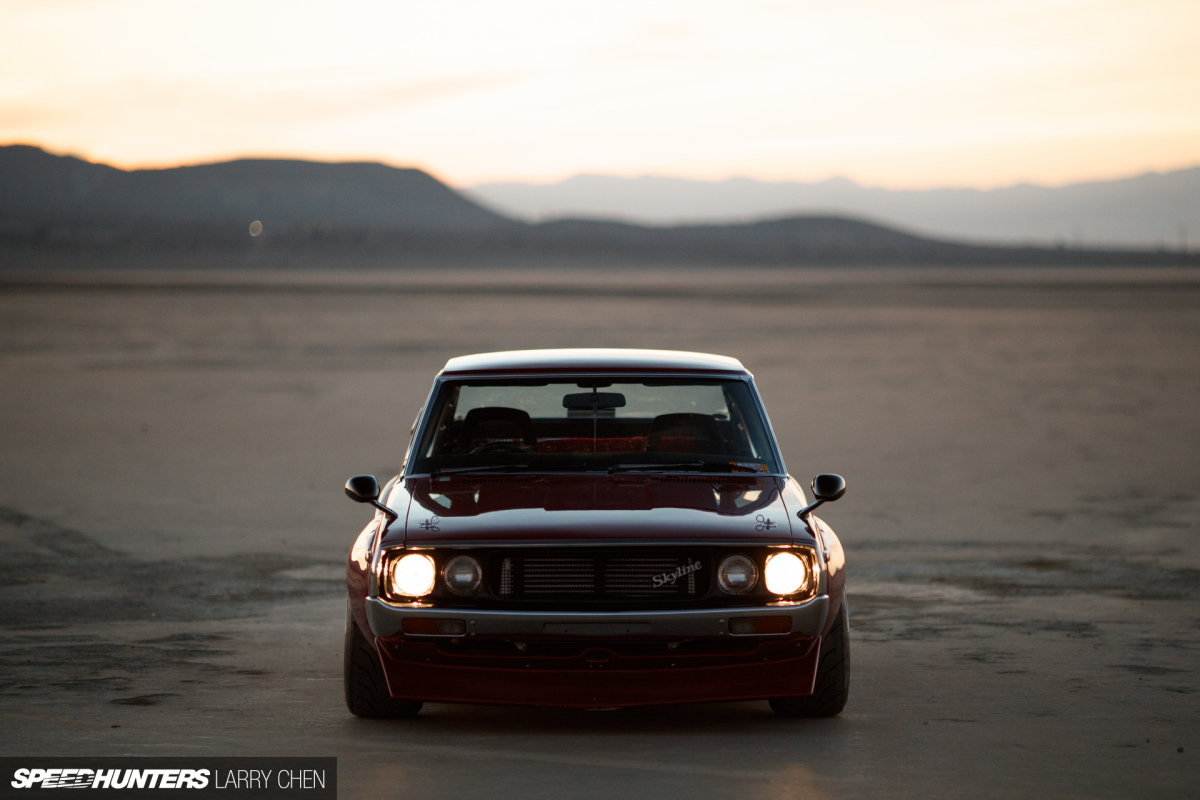 As for the body, Patrick fitted a set of works-style fender flares and a front chin spoiler from Restored.jp, as well as a GT-R front grille.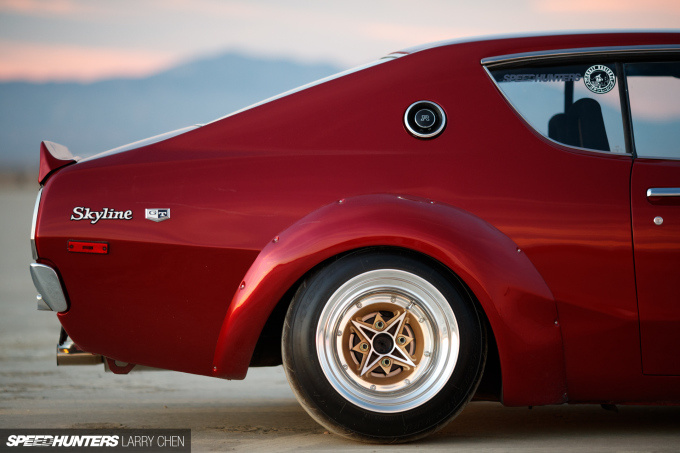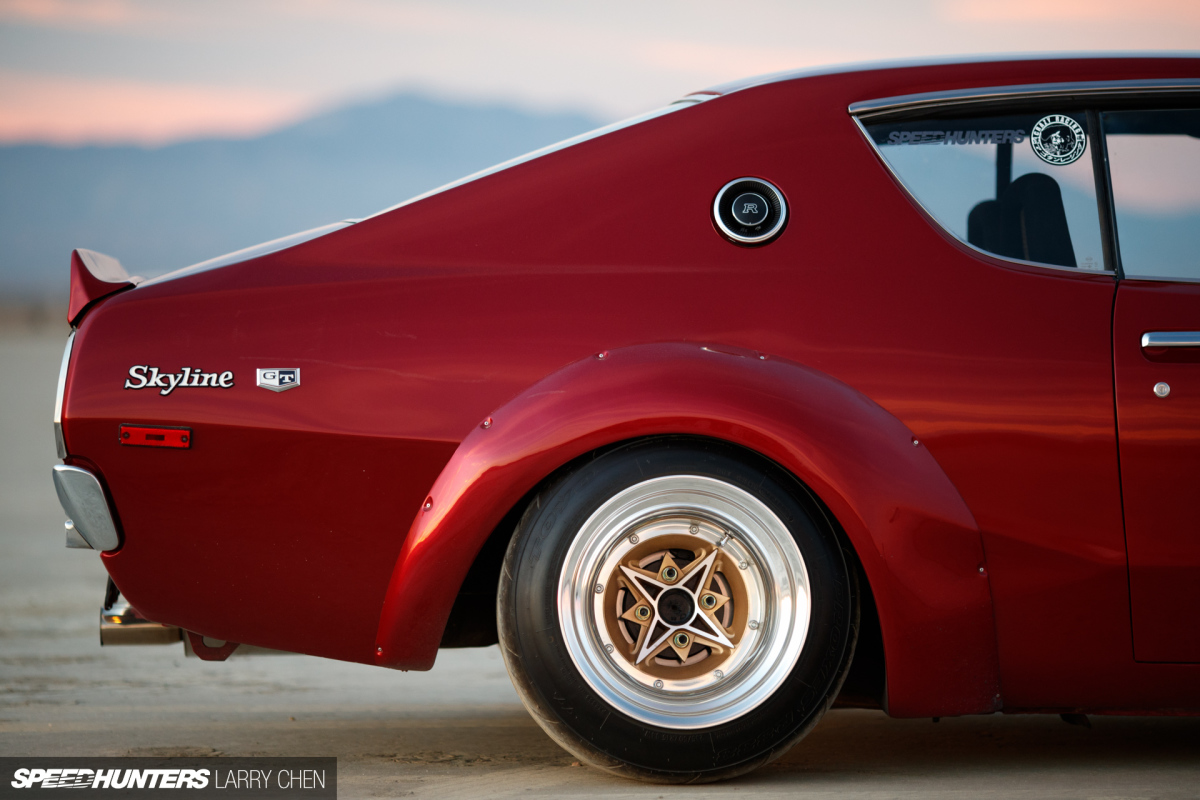 Then he had the whole car repainted in Matador Red from Toyota's color palette.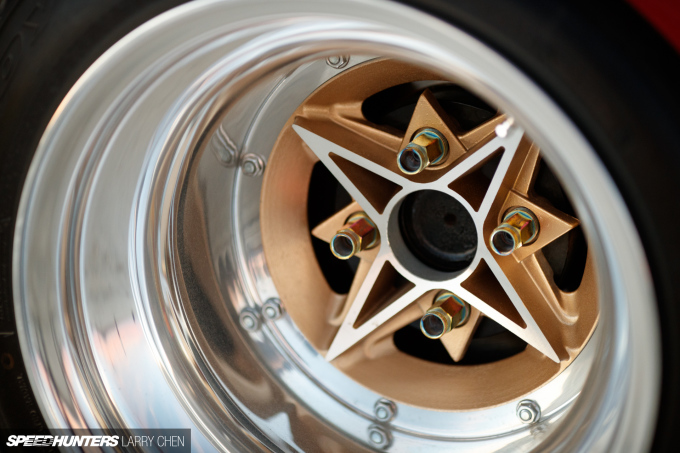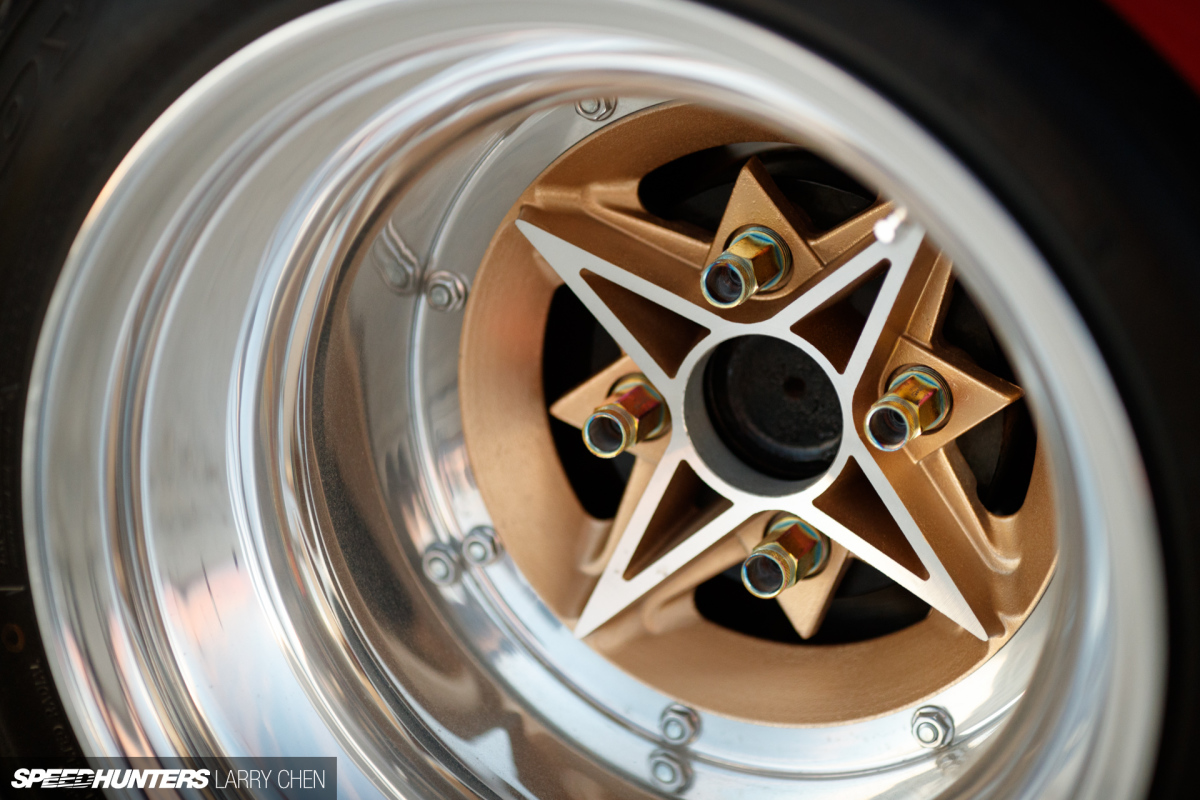 And sitting beneath those flares are custom re-barreled Hayashi Techno Phantom wheels measuring 15×10-inch in the front and 15×12-inch in the rear with sticky Toyo R888s at each corner.
Inside you'll find an interior that's been tastefully modified with a pair of vintage Recaro seats mounted on custom rails, a Nardi steering wheel and a set of Auto Meter gauges to ensure the RB26 is running smoothly.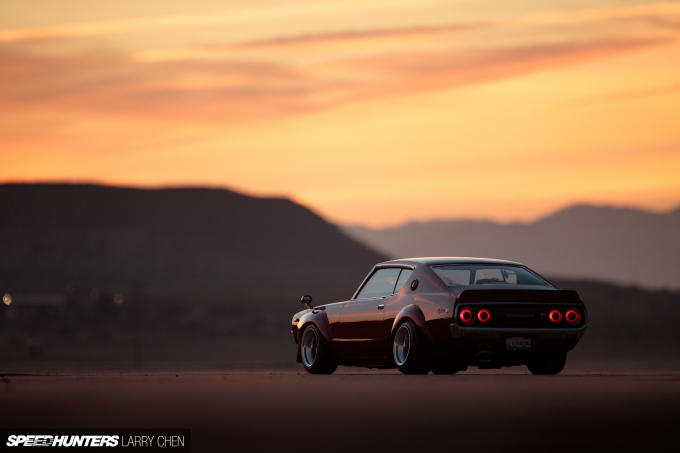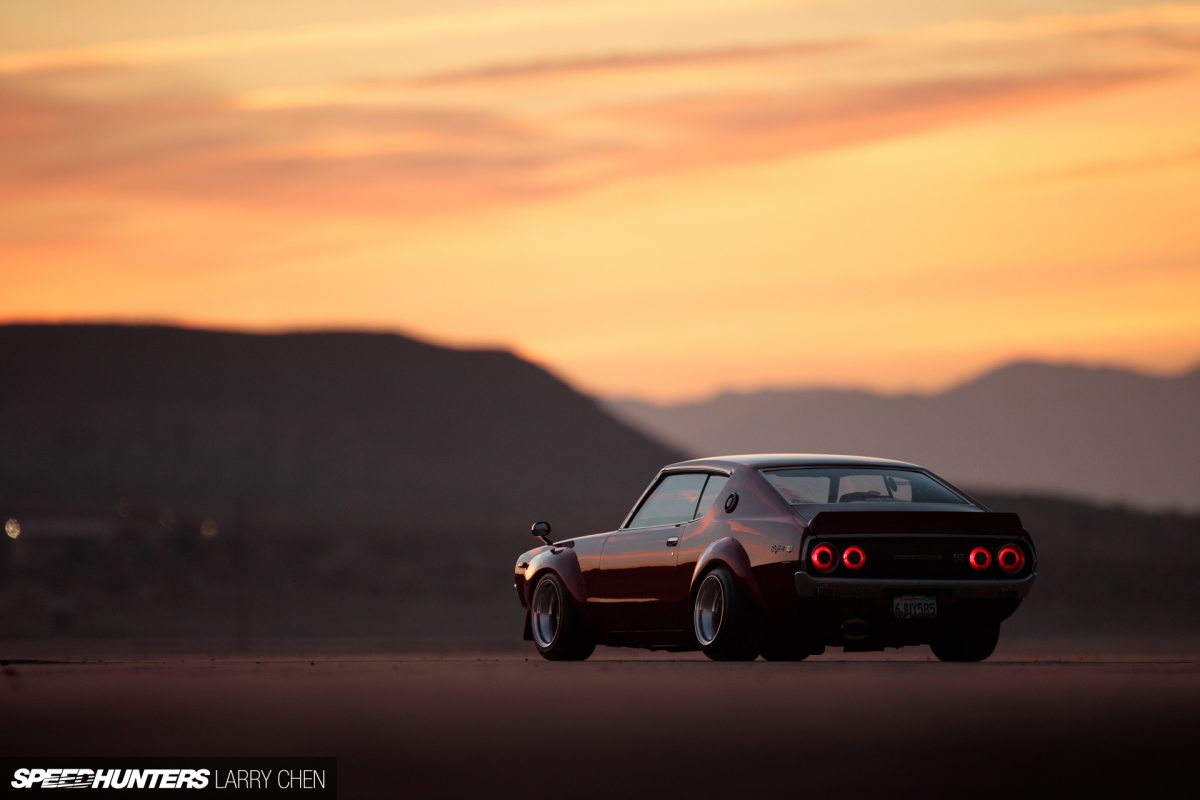 Despite the progress he's made on the car over the last decade, Patrick says the Kenmeri will never be finished. Whenever time and budget permit, there's always more that can be done. Anyone who has ever taken on a project like this should know his thinking all too well.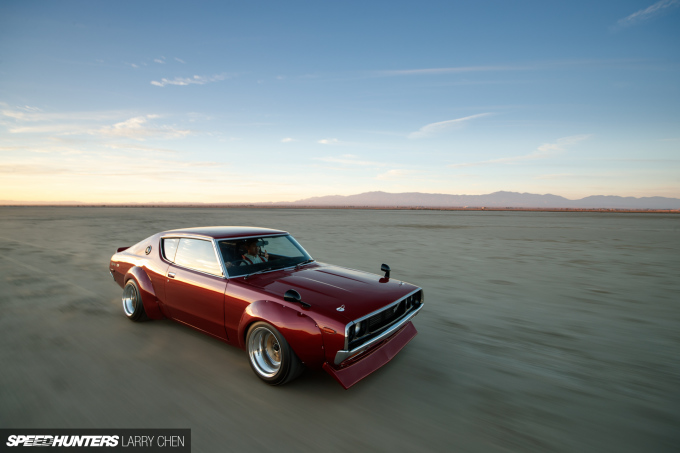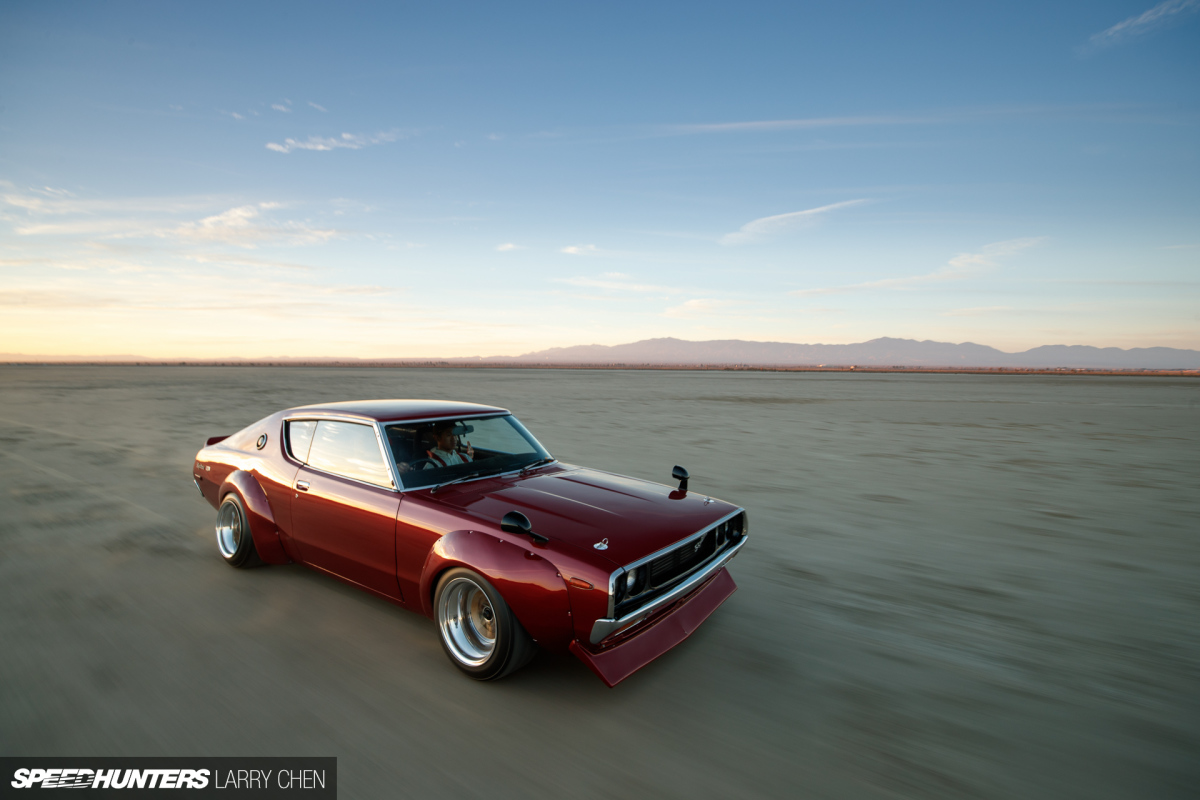 In any case, Patrick's Kenmeri has the looks, the horsepower and most importantly – the authenticity. Even with the ever-increasing number of classic Skylines on North American roads, those attributes easily put this machine at the top of the group.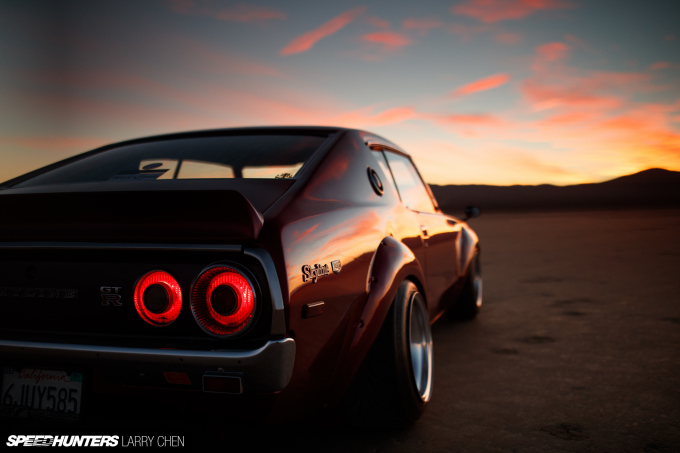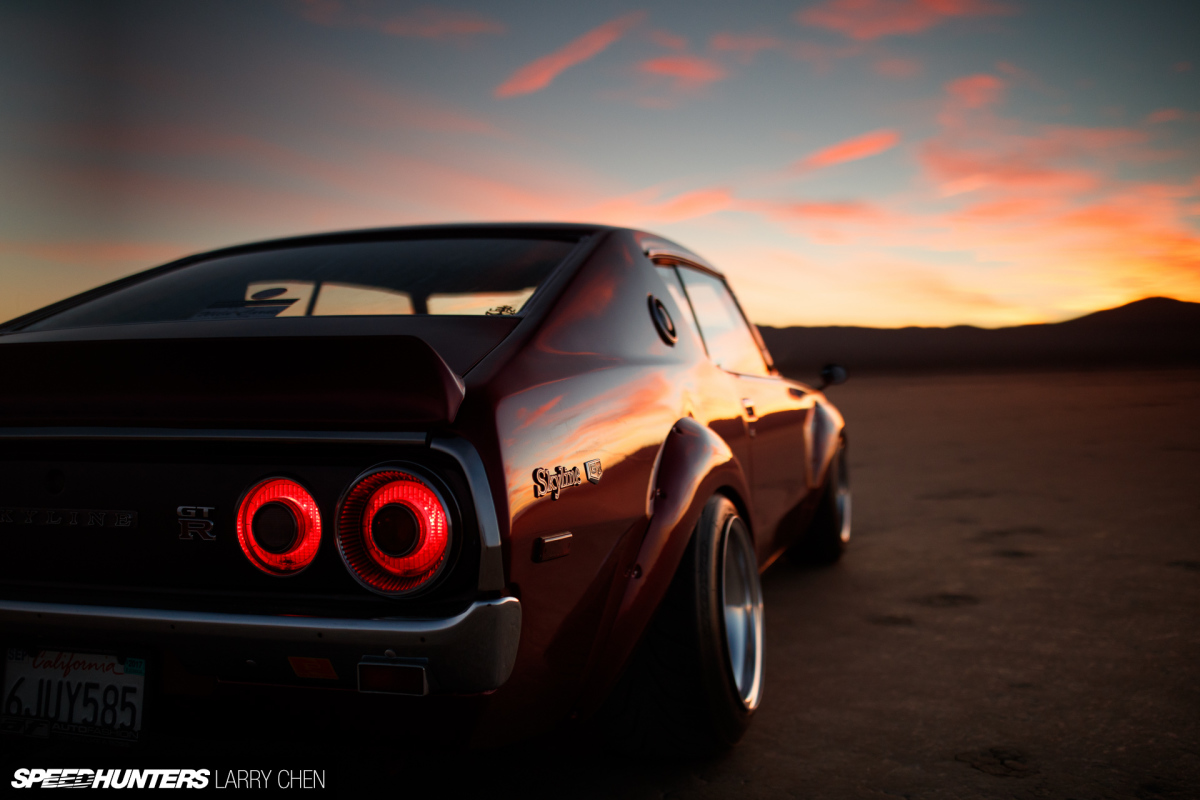 If this car ever made it back to Japan and rolled up at Daikoku Parking Area on a Friday night it wouldn't just fit in, it would be the talk of the whole place. And when it comes to a retro Japanese machine it doesn't get much more legit than that.
Mike Garrett
Instagram: japanifornia
mike@speedhunters.com
Photos by Larry Chen
Instagram: larry_chen_foto
larry@speedhunters.com
Patrick Soliman's 1973 Nissan Skyline 2000 GT-X
Engine
Nissan R33 GT-R RB26DETT swap, rear oil sump, custom crossmember, Hybrid Performance turbo manifold, Precision Turbo 6262 dual ceramic ball-bearing turbocharger, 46mm wastegate, 50mm TiAL blow-off valve, 850cc injectors, AEM 320lph fuel pump, NGK Iridium spark plugs, Nismo fuel pressure regulator, Griffin dual-pass radiator, Spal fan, custom intercooler, 3-inch exhaust with dual-outlet muffler, MicroTech LT-16 engine management, GReddy manual boost controller
Drivetrain
Nissan RB25DET 5-speed manual transmission, custom trans mount, OS Giken dual-disc clutch, Wilwood master cylinder, Nismo slave cylinder, custom one-piece driveshaft, Z31 R200 limited slip differential with 3.70 final drive
Suspension & Brakes
Custom front coilovers with Eibach springs, Tein camber plates, Techno Toy Tuning adjustable trailing arms, custom-mounted QA1 rear coilover shocks with Eibach springs, Datsun 280ZX vented front rotors, Datsun 200SX rear discs
Wheels & Tires
Custom-sized Hayashi Techno Phantom wheels 15×10-inch (front) 15×12-inch (rear) Toyo Proxes R888 tires 225/50R15 (front) 235/50R15 (rear)
Exterior
Works-style flare kit & front lip from Restored.jp, GT-R grill, Toyota Matador Red paint
Interior
Recaro seats, custom rails, Sabelt harnesses, Nardi steering wheel, vintage Nismo horn button, Auto Meter Ultra-Lite gauges, Razo pedals
More Kyusha related stories on Speedhunters
Cutting Room Floor