My name is Kevin Wittrock and I am the owner/builder of a '31 Chevy named Breaking Tradition. I called it this because I broke all the rules of a traditional build. While it's definitely not traditional, it puts a modern twist on a lot of traditional stylings.
Everything is done clean and tasteful, and complex yet simple. It has that classic look from far away, but up close you realise it's not like any car you've seen before.
The body is a 1931 Chevy Sedan that I found on Craigslist. While I'm more of a truck guy than an old car guy, the deal was too sweet to pass up.
I never had any intentions of building a car like this, but I've always wondered what one would look like if someone went all modern and rogue. I love the idea of totally crazy modern chassis under old cars/trucks; that look of a vehicle plucked from a field and dropped over the top of a brand new frame.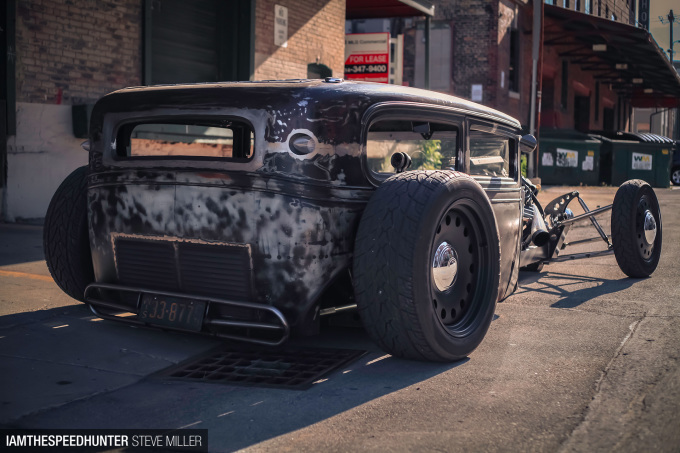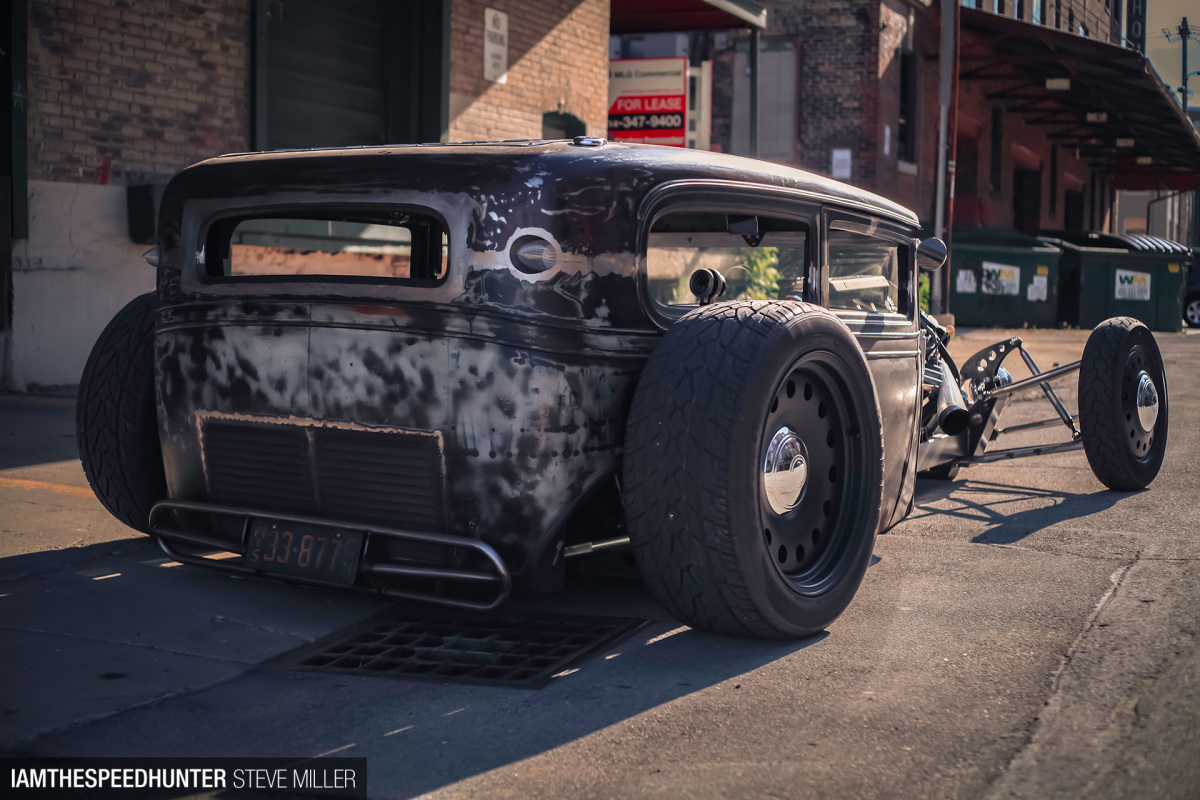 When you tell people that you want to put an independent front and rear cantilever pushrod air-ride chassis with a fuel injected LS engine and a 6-speed under a '31 Chevy rat rod, you are met with some weird looks. As I'm known to be stubborn and to make most of my decisions in life out of spite to prove that I'm going to do things my way and not the way everyone thinks I should do them, I got to buildin'.
Mind you, I'm no professional and only build stuff in my spare time, so one would think I was in over my head with this build. While I have done full builds in the past, this is a little different; I was starting with three sides of a car. Since this model's inner structures and floors were made entirely of wood they tend to rot out pretty fast. Think about it: how many '31 Chevys have you seen in your life, and how many '31 Fords?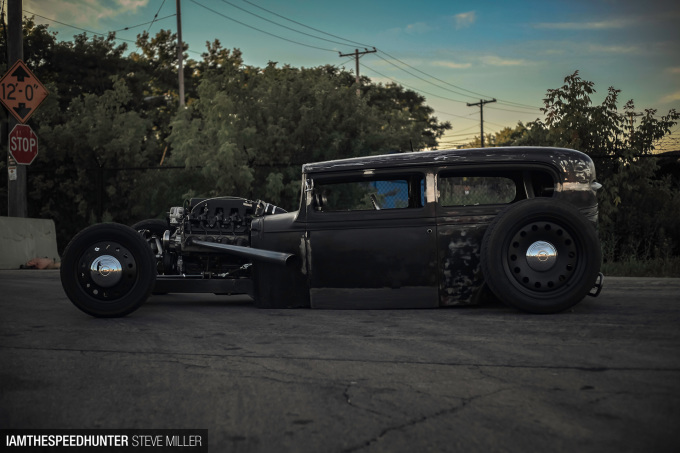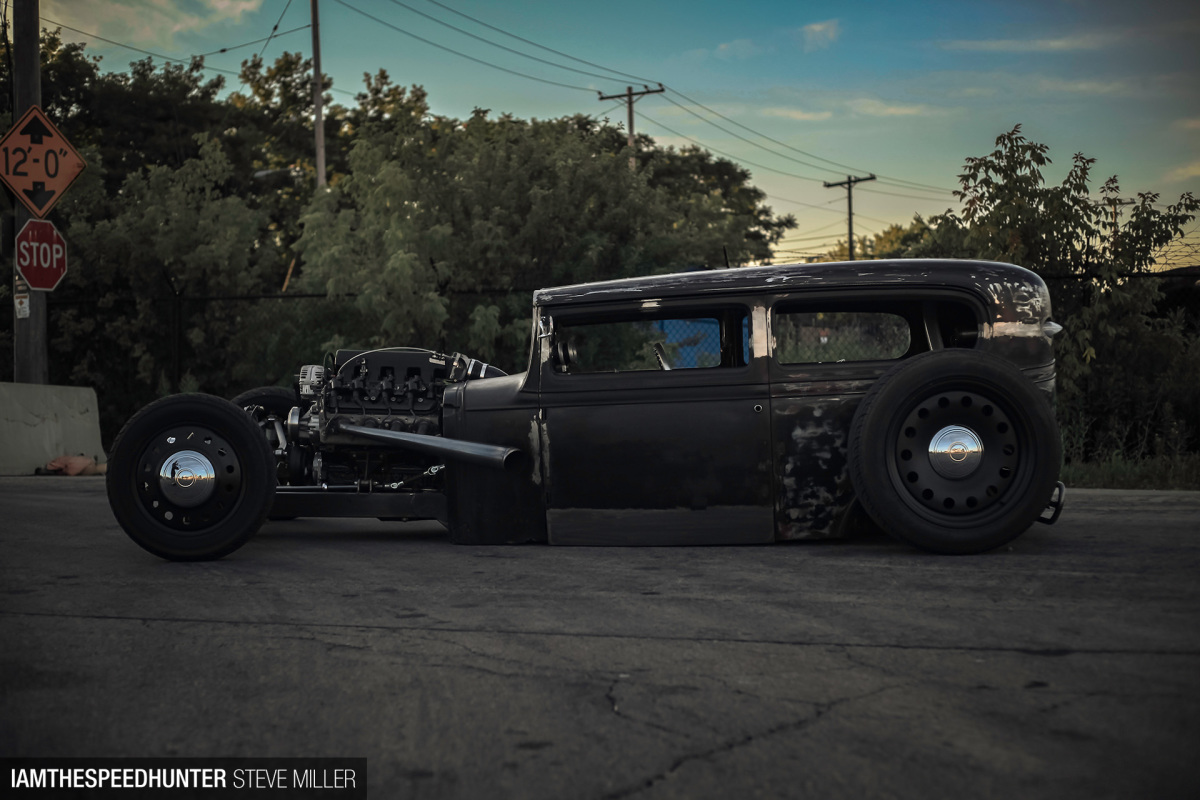 So I started by building the chassis. I went to the junkyard and got an IRS out of a 2001 Lincoln Navigator, which has a Ford 9.75-inch rear end with a 3.73 gear ratio as stock. I fabricated my own control arms, mounts and rear diff cradle to make the rear suspension geometry correct for the new ride height of the car.
Since the rear diff sits off to one side in a Navigator, it allowed me to use two of the longer axle shafts to get the track width I required to push the wheels out past the body; at ride height it's 87 inches from outside to outside of the tires. With an independent suspension that number can decrease when the car is lowered, causing the tires to hit the sides of the body when aired out, so I needed all the width I could get. On the front I wanted a pinched frame look with long control arms, kind of like what you see on trophy trucks and Indy cars.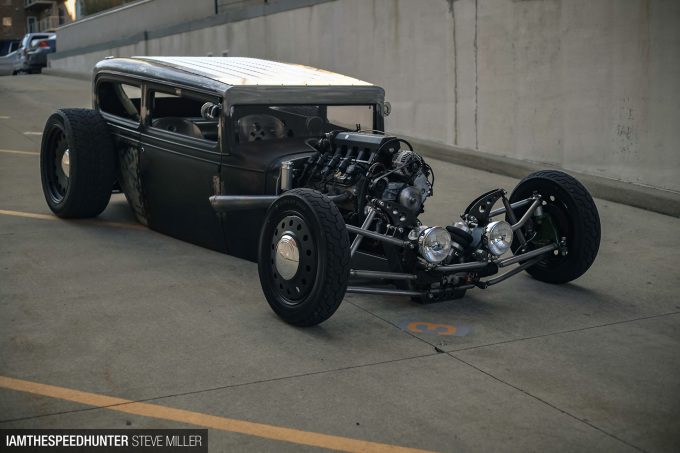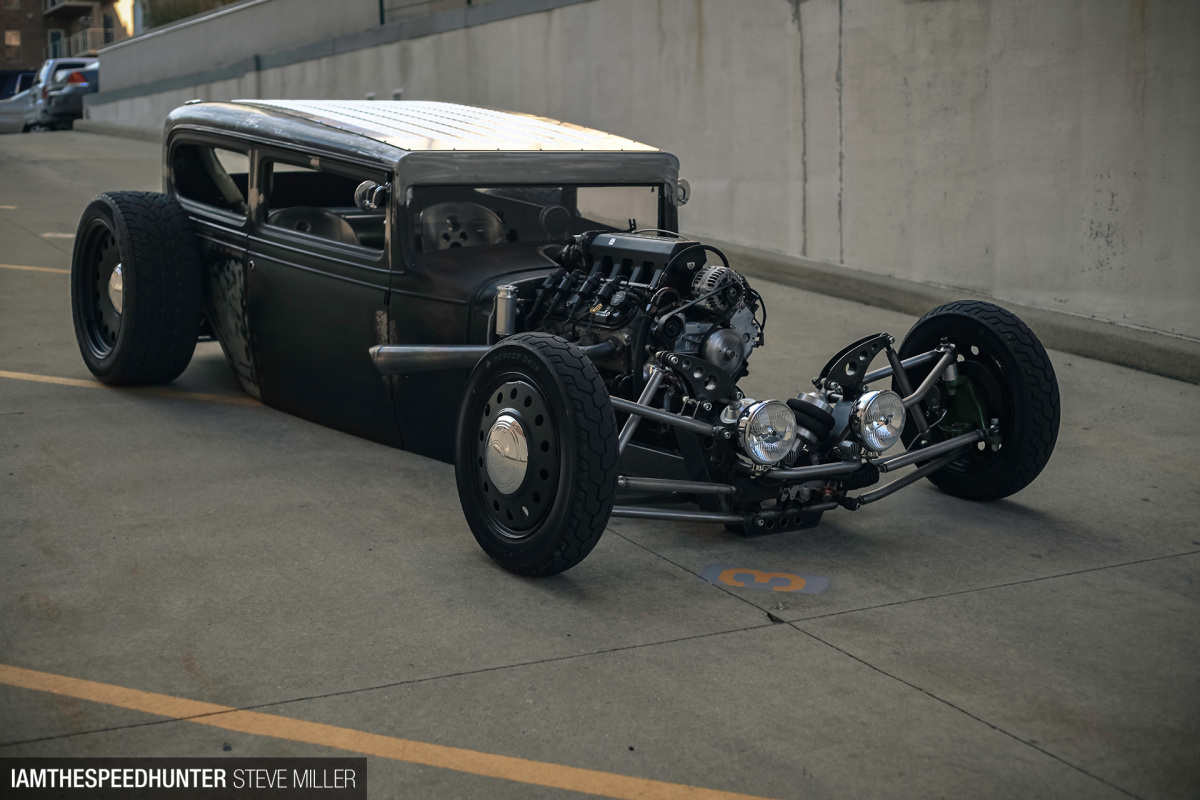 For steering, I went with a custom-made Woodward steering rack that you would typically find in a sprint car. You need your steering rack to match the distance between control arm pivot points, track width and the wheelbase to function properly. One thing I didn't want was your typical unsafe, bump-steering, bad handling piece of sh*t rat rod, as often seen on the roads.
In the suspension department, I used RideTech ShockWaves with offset ratio rocker arms to not only give me more ground clearance, but also provide the smoothest ride possible. The wheels measure 16×5-inch on the front end and 20×11-inch at the rear. And yes, those are motorcycle tires up front.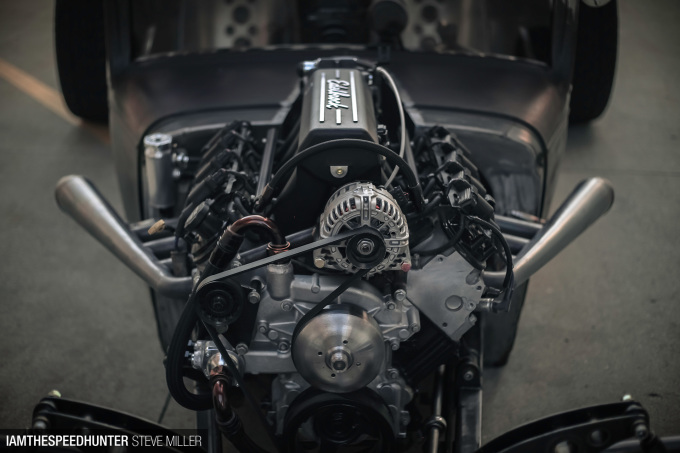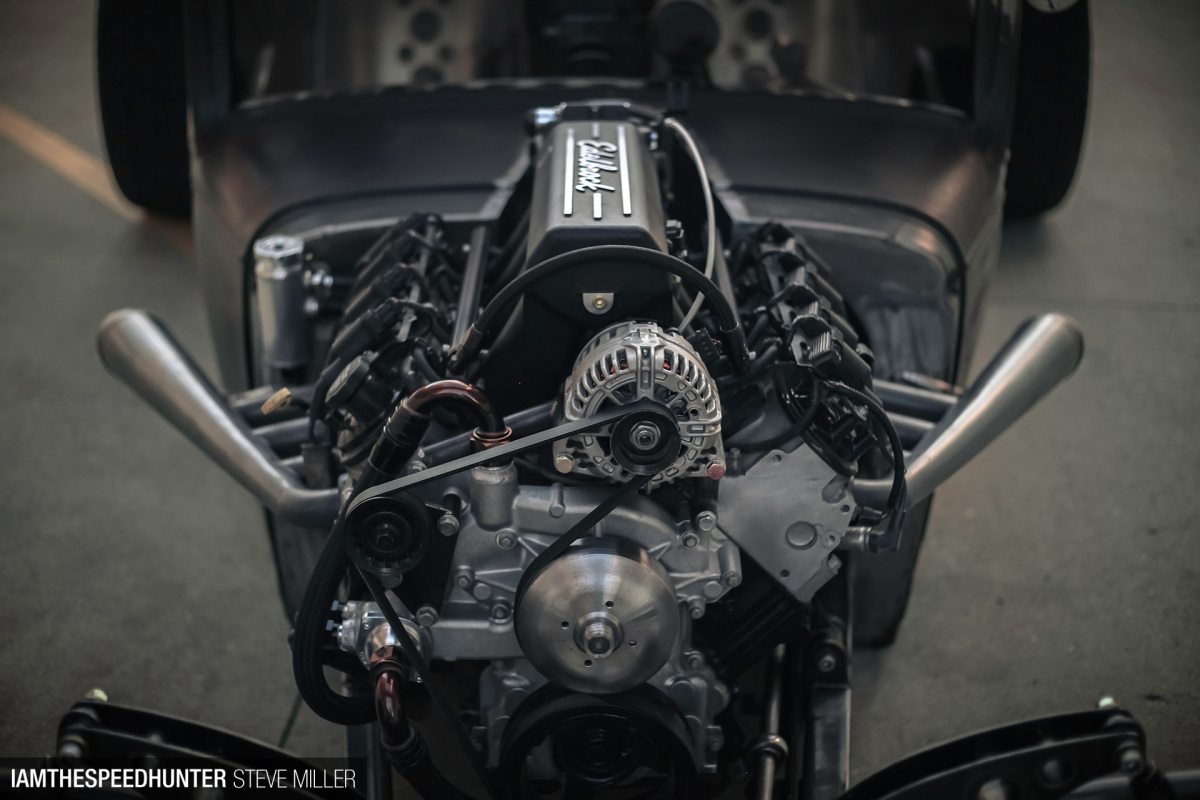 The engine is a junkyard Chevy LS-based 6.0-liter V8 and the transmission is a 6-speed from a Dodge Viper. I went with an Edelbrock Pro Flo intake that I turned backwards to hide all the intake junk, a 90mm throttle body, TSP Torquer V4 cam, upgraded springs, injectors, a tune, and some custom-made headers. It's making about 440hp at the crank, which isn't anything too impressive, but in a car that only weighs 2500lbs, it's plenty .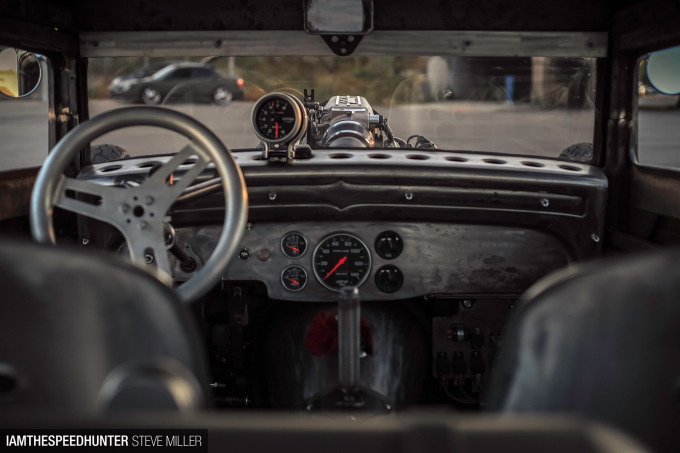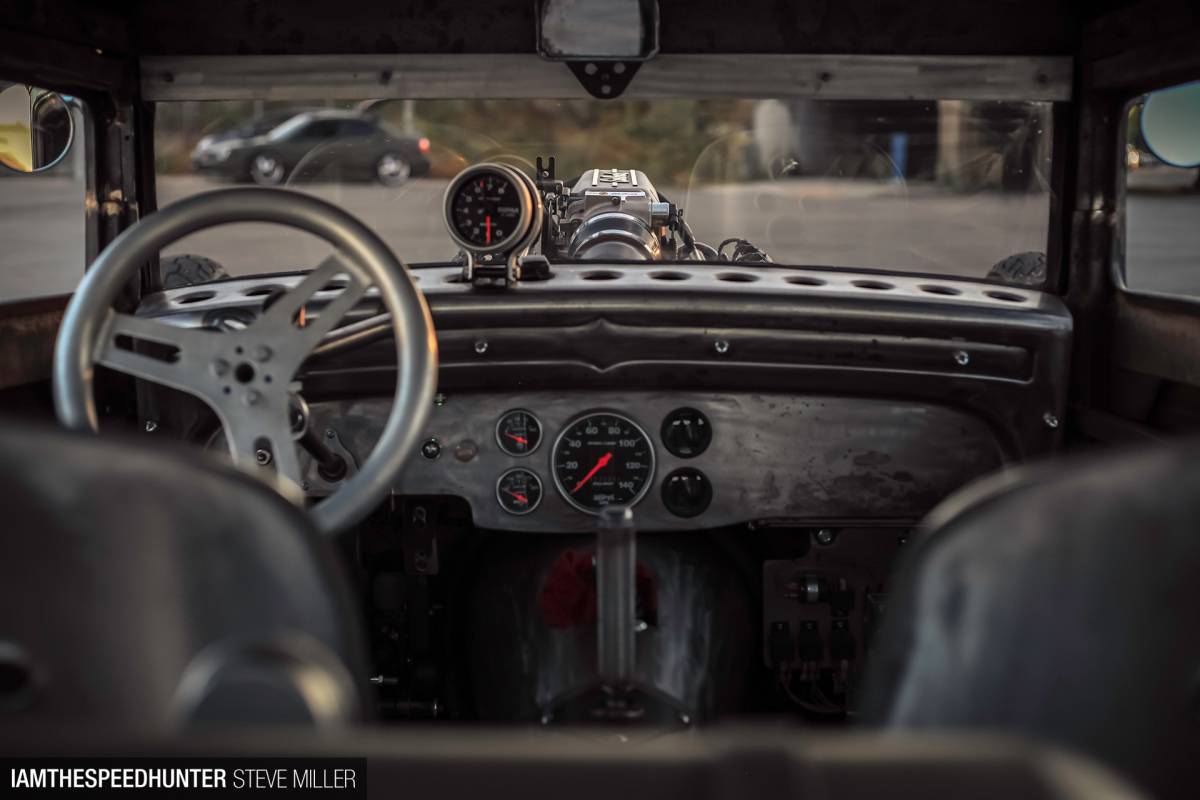 A full floor had to be made from scratch, and since it was going to be left as bare metal, it had to be done as nicely as possible with everything ground and metal-finished in the end. You sit so low in the car the drive shaft tunnel is your arm rest.
With interior room being minimal, I went with a Tilton Engineering pedal assembly, but another challenge for the lack of space was how to integrate the air box, computer, fuse panel and mounts into the same 1ft by 1ft area under the dash. Minimal room was a recurring problem with this build, meaning I had to get creative with how things were mounted. The stock dash was pulled back 4-inches for extra room, then dimple died for a cool look. The shifter is also cantilevered to bring it back to a more comfortable position.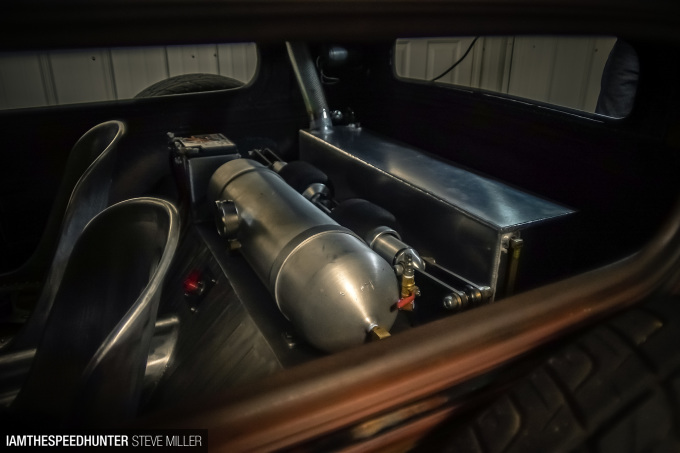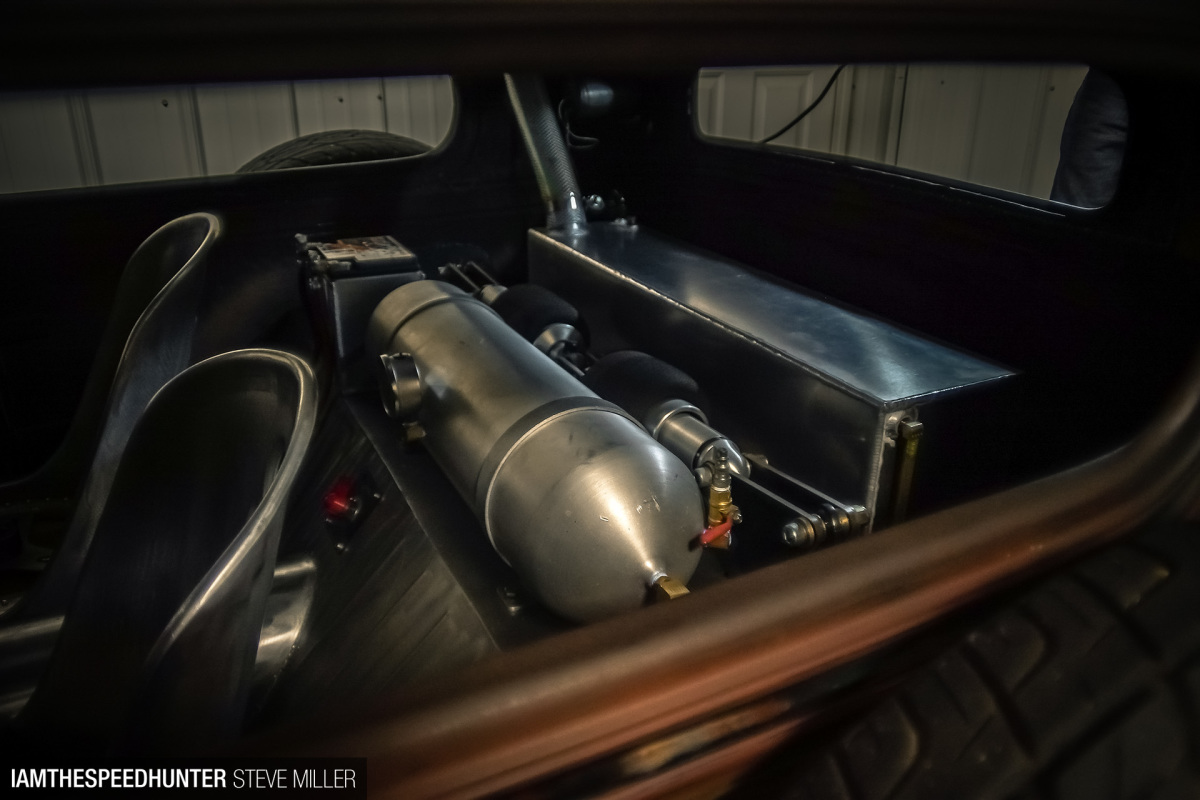 The doors are suicided and the roof is chopped 4.75-inches. It has manual air-ride valves that are integrated into the bottom the the seat for added space under the dash. The roof is a 10-gauge piece of louvered aluminum that was made on a CNC turret punch; it not only looks cool but it also adds structure to the body and helps draw hot air out of the cab. A cool detail of the car is the gas filler that I used from a old motorcycle tank.
The #1 question I get asked (besides, how do you drive it with it sitting on the ground…) is where the radiator is located. Well, it's mounted in the rear of the car under the floor; I have copper tube that runs down the frame to the rear. I used the louvers that were originally on the side of the hood and grafted them into the rear of the body to allow the air to pass through from the radiator. I drive it in traffic in 90-degree weather and it always stays cool.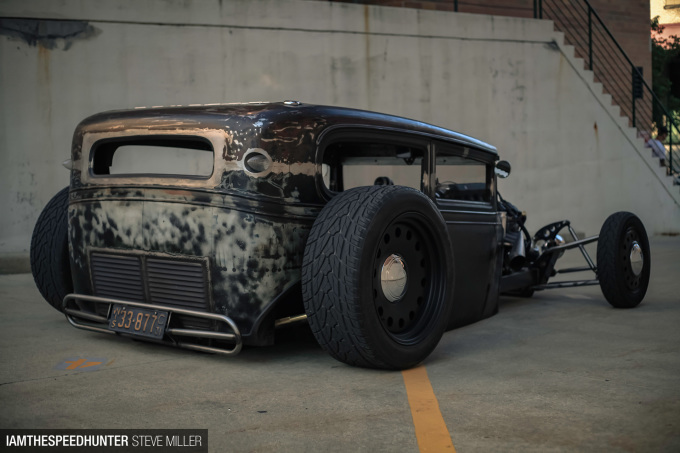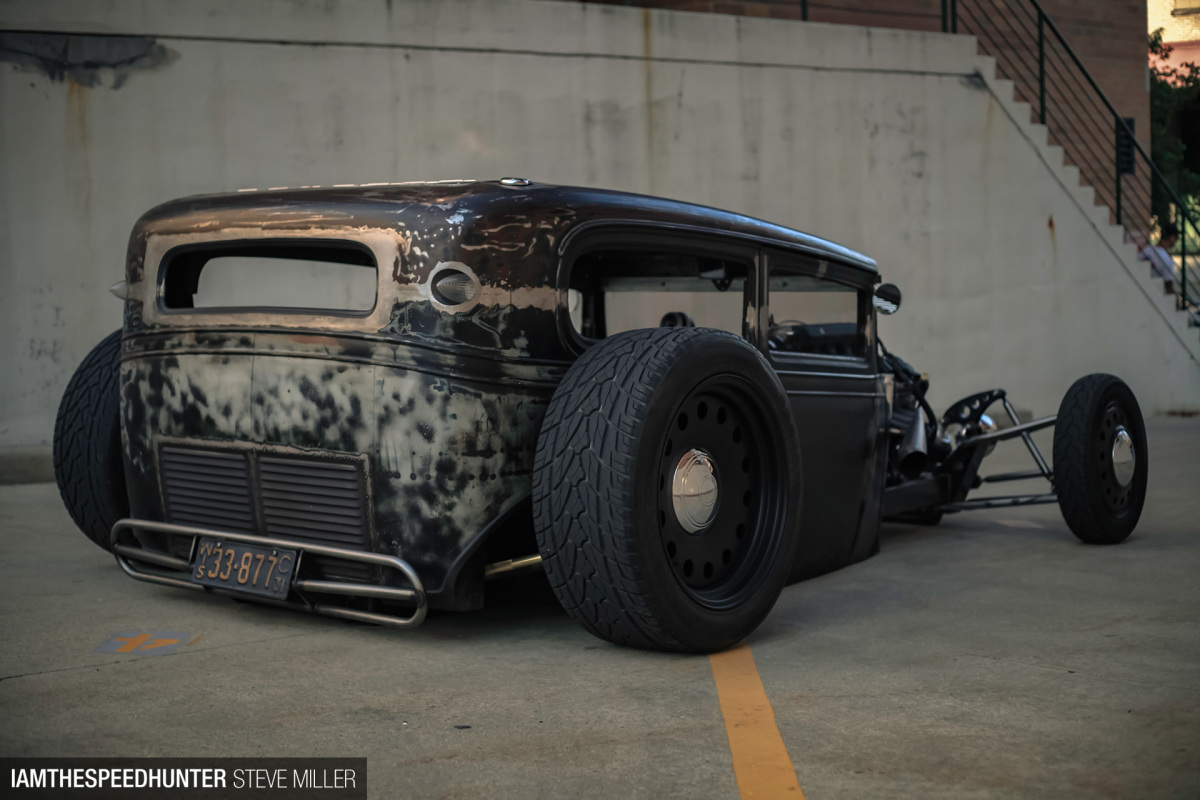 Builds like this are often met with defeat and are never finished, or they turn up to a show on a trailer. I drive this everywhere. I drive it on the freeway in rush hour traffic at 75/80mph, take it to the drag strip, autocross it, and generally just beat the sh*t out of it on a regular basis. That's why I call it a 'modern rat rod street fighter'.
It rides like a Cadillac, handles like a Ferrari, and pulls like a freight train. It was built to be bulletproof and always work, and that's what it does. It wasn't easy; there was a huge learning curve and pretty much everything was built twice since there was no kit or instructions, and nothing similar to steal ideas from. If something didn't work I had to throw it away and start over.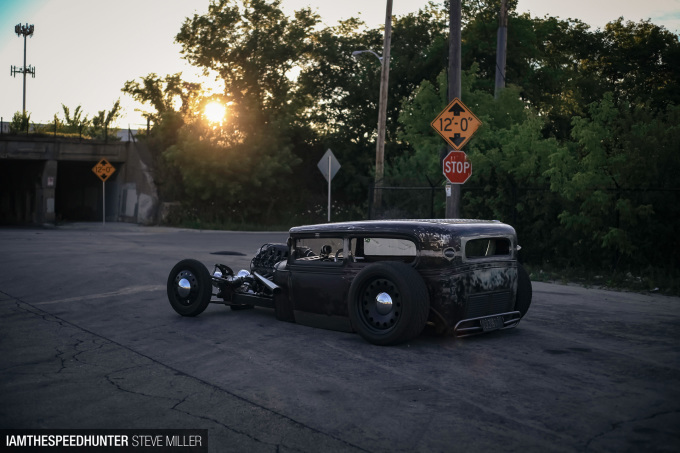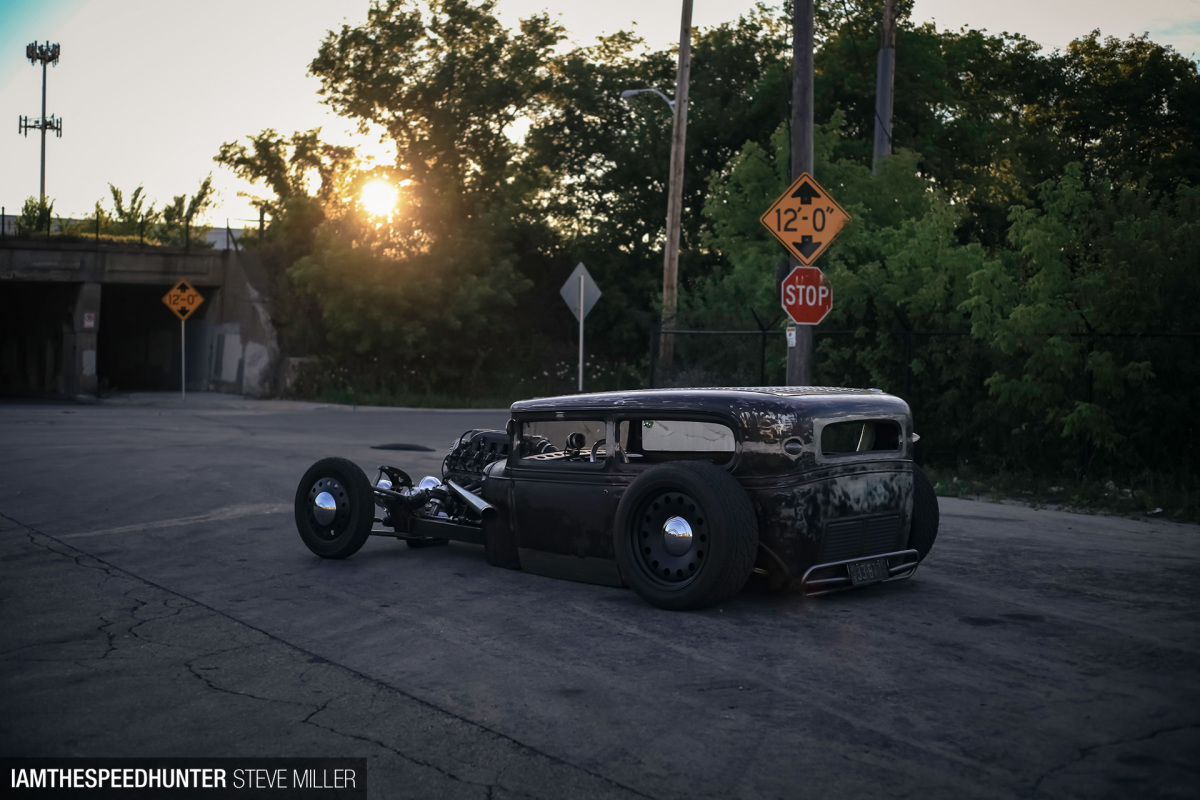 I just do this as a hobby, so to be honest, I really didn't know what the hell I was doing. But a little common sense and the internet will get you a long way. Not everything has to be done the same way, sometimes you just need to break tradition.
Kevin Wittrock
Instagram: wittrocked
Photography by Steve Miller /Raven One Media
Instagram: stevemillerphoto
Video by Jason Brant / Raven One Media
Instagram: ravenonemedia