Hustle Hustle
Are you guys feeling the SEMA fever? I sure as hell am. As I write this, Project Yankee is currently parked in the garage awaiting some last minute touches before it's loaded up for the trip to Las Vegas.
And so with that, I want to present the last build update before we do the final reveal early next week to coincide with the show opening. Let's go ahead and get right to it…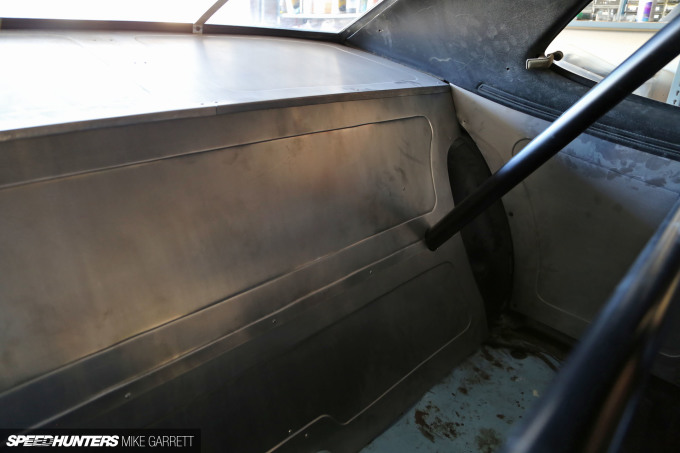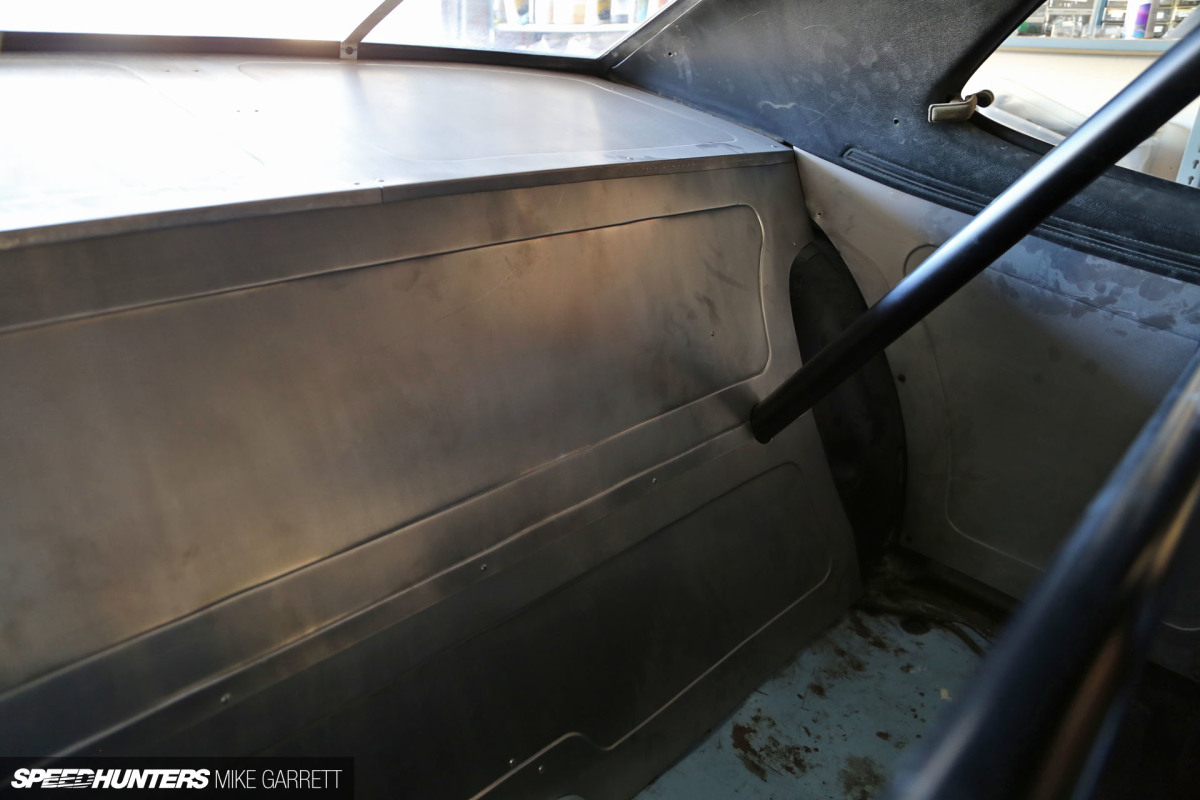 As I covered in the last story, 'vintage racer' was a big part of the theme for Project Yankee's interior, and we got the ball rolling with a rear seat delete and a high quality roll bar built by the guys at Caliber Customs. But before the car left Caliber and headed to the body shop, the last order of business was to finish up with a set of aluminum panels to match the door panels, plus aluminum panels for the package tray.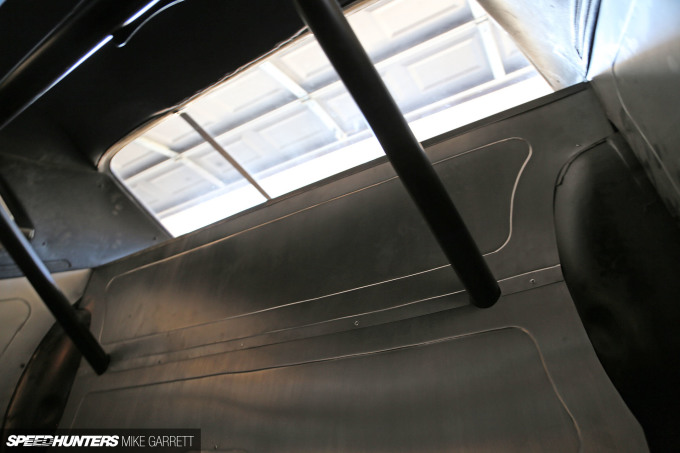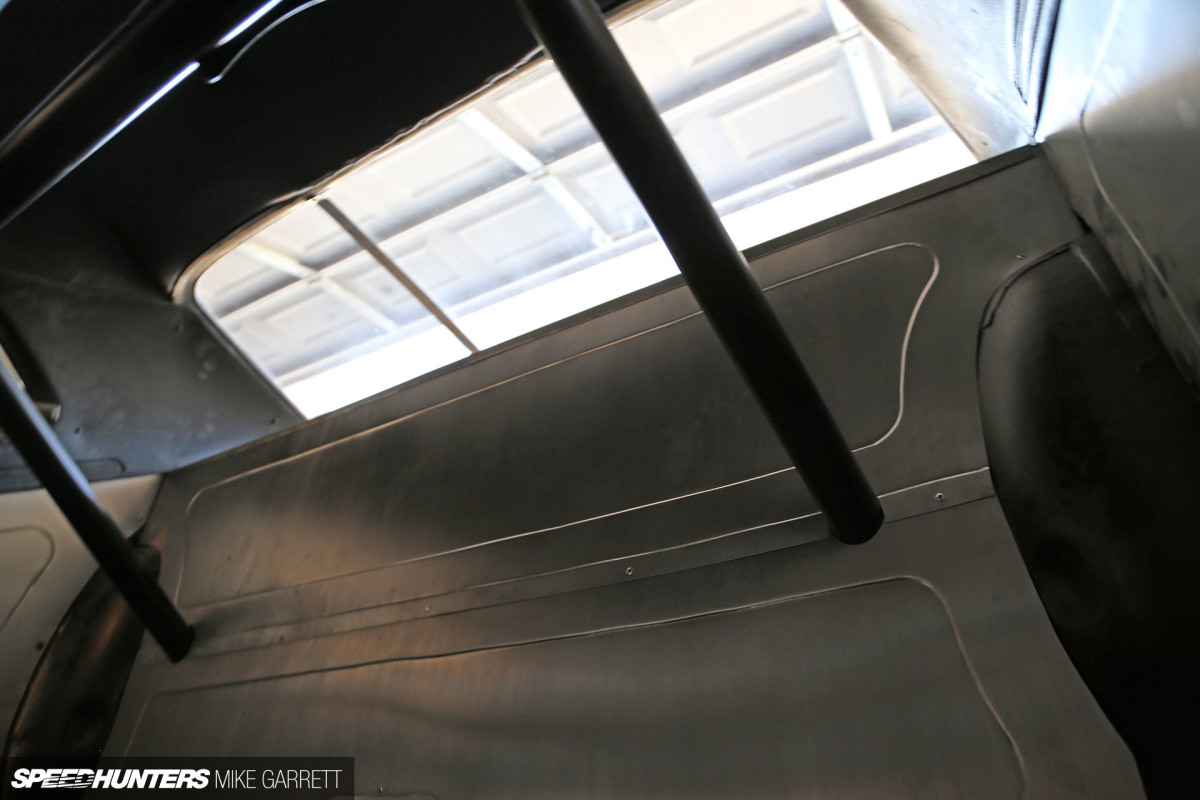 Matt and the Caliber guys did a killer job here. It's light, it looks cool, and as an added benefit it cost me a lot less than trying to restore the interior.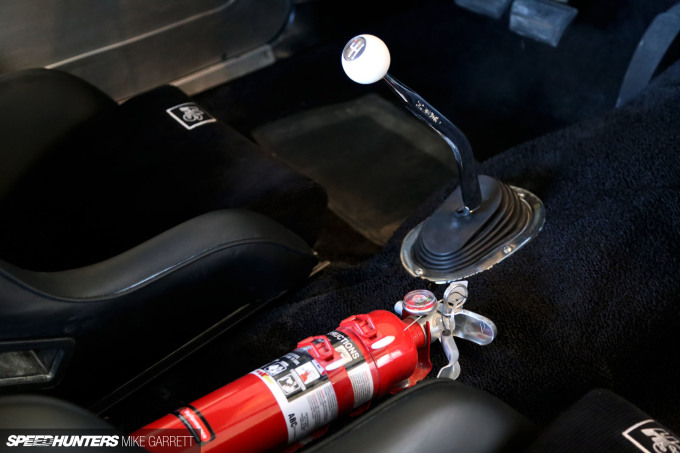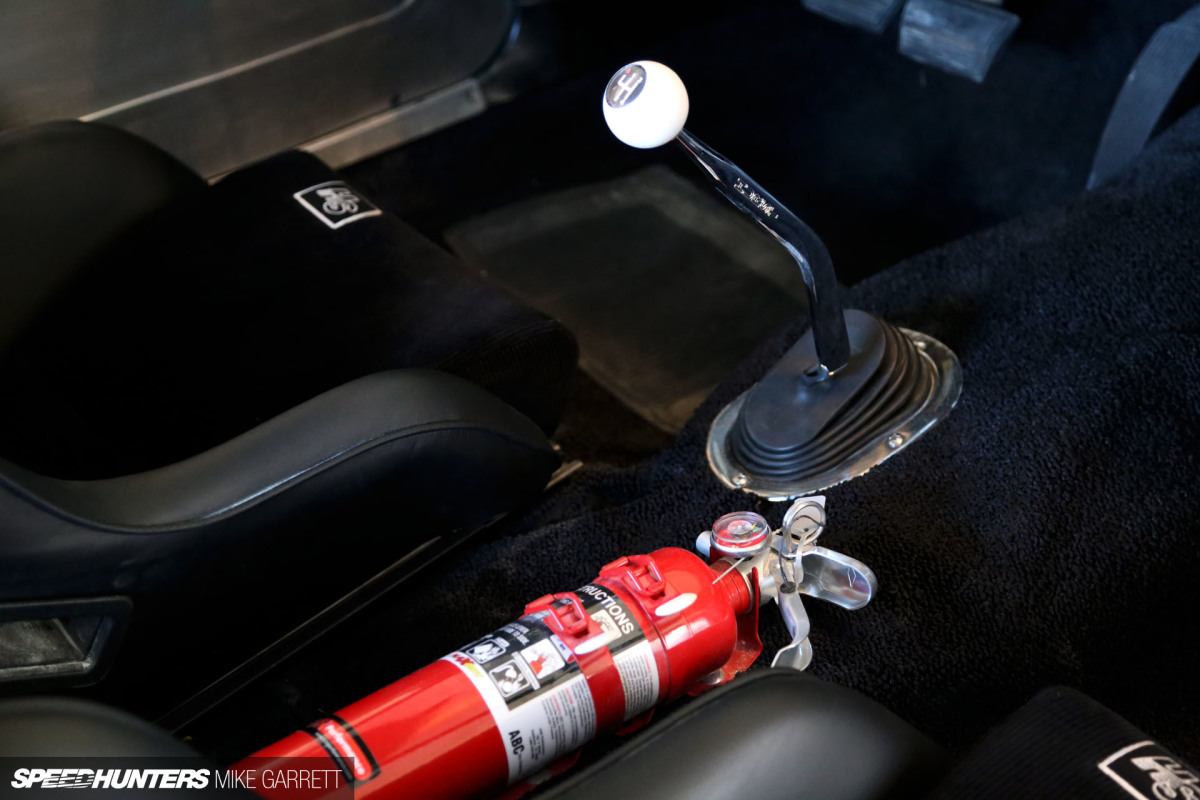 Initially my plan was to run bare floors, but way back when I bought the '72 Dart donor car with the manual gearbox parts, its seller gave me a brand new carpet kit made for a 4-speed A-Body. After throwing it in to see how it looked, I was sold. Black carpet it is!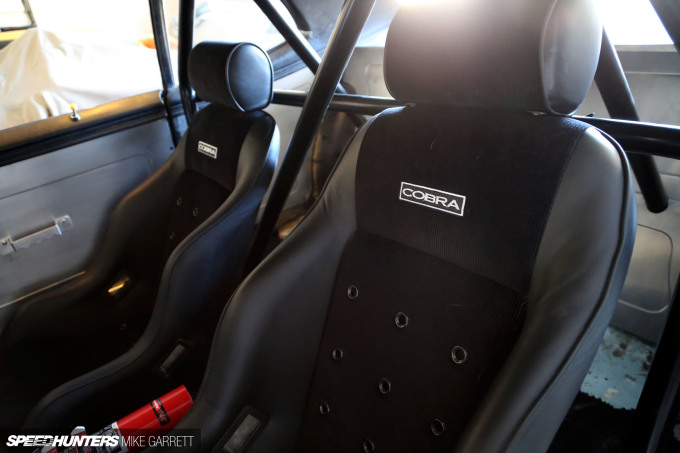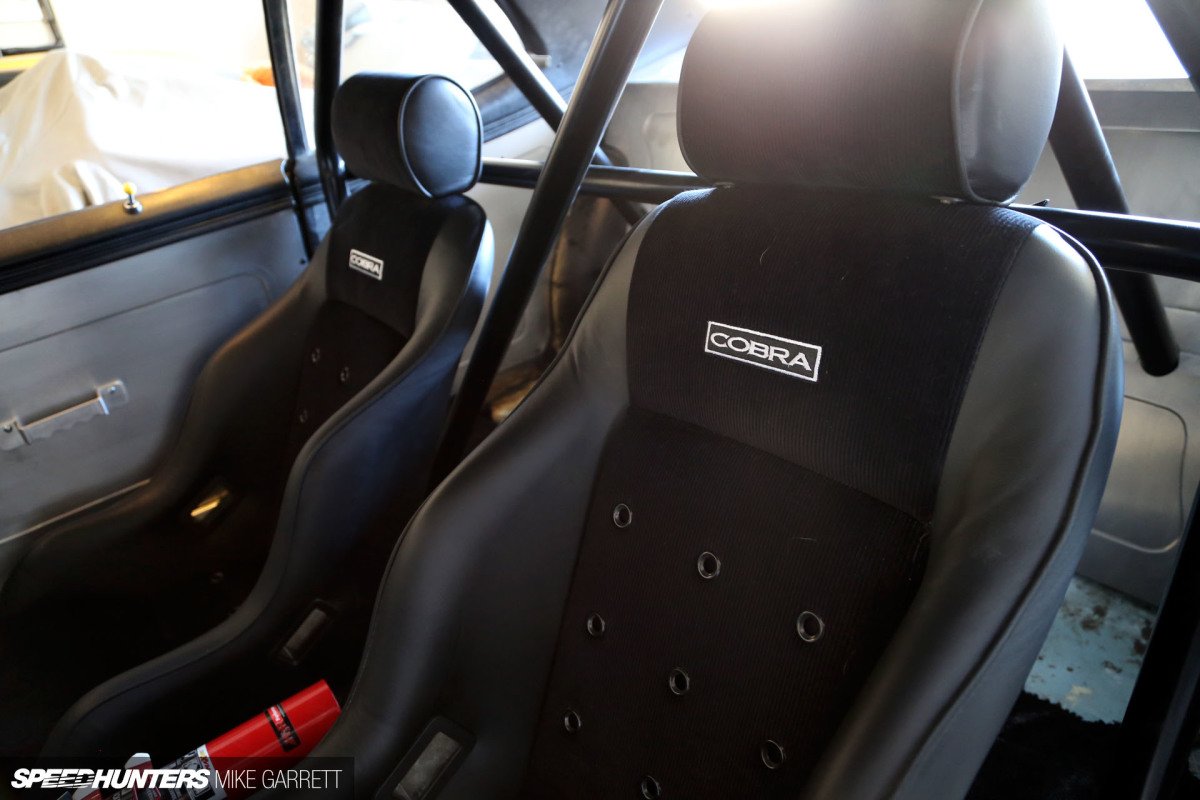 And then there were the seats, something that's right up there with wheels when it comes to making or breaking a car. The crusty old buckets that came with the Dart were no good, and I didn't want to just throw in any aftermarket seats. I wanted something that would fit with the character of the car and of course hold me in place in the corners.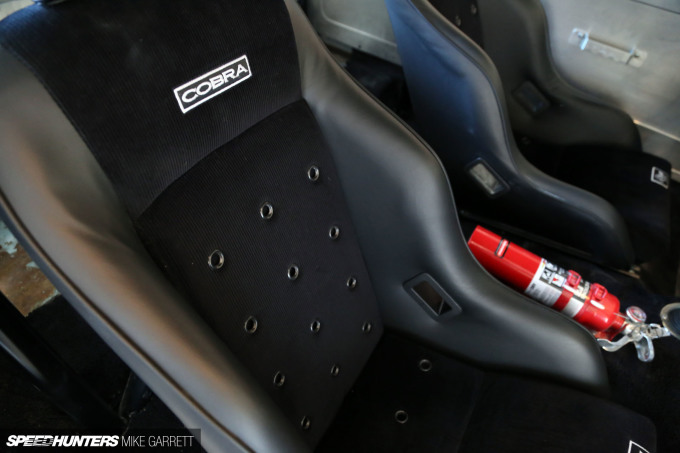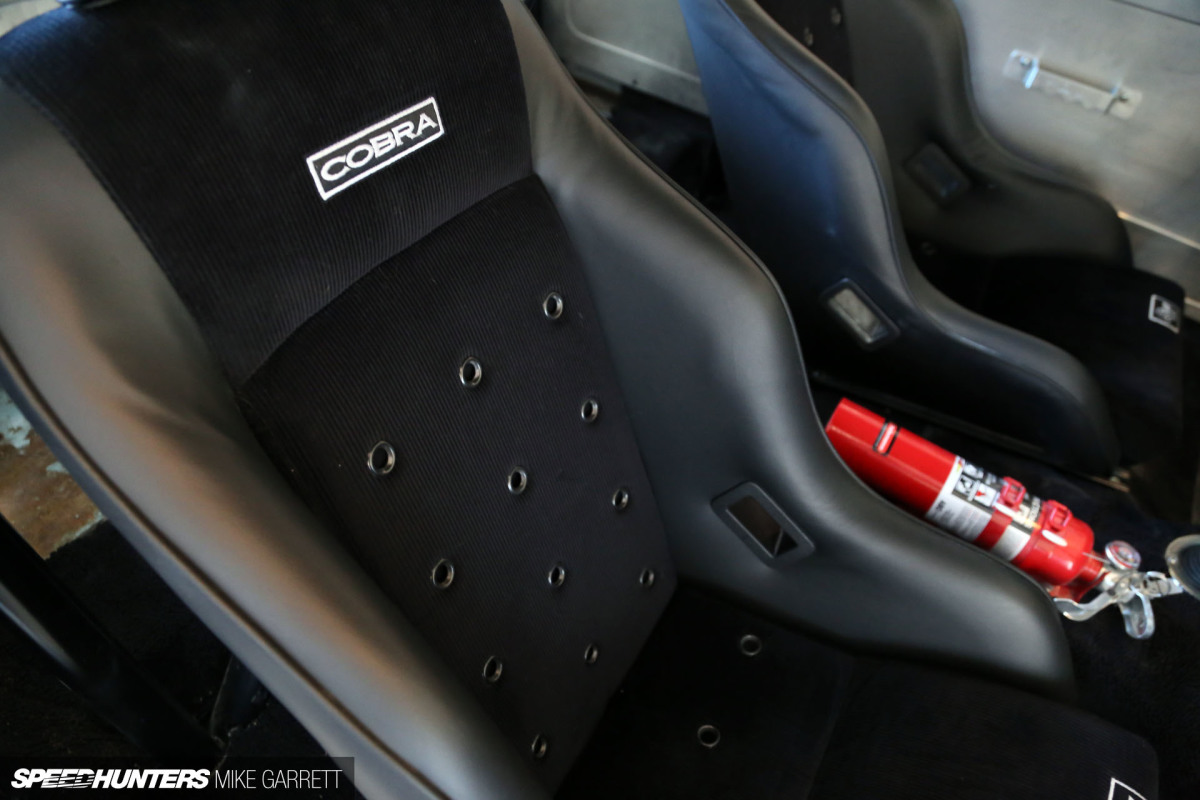 Having seen the awesome seats that Cobra did for the Speedhunters Scion Tuner Challenge-winning FR-S build a couple years ago, I contacted the team and together we came up with a seat design that checked every wish I had.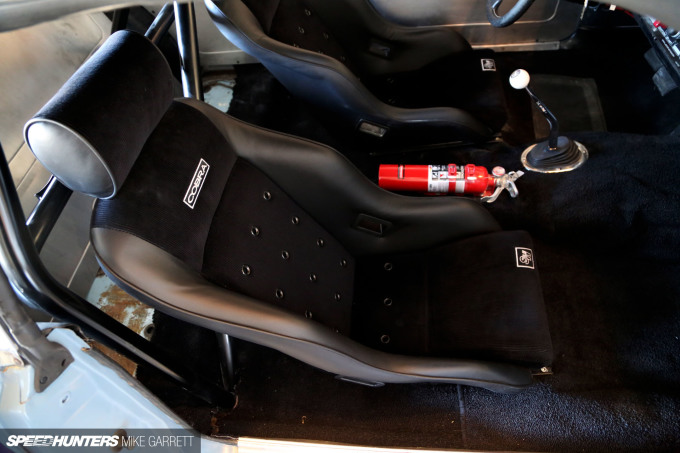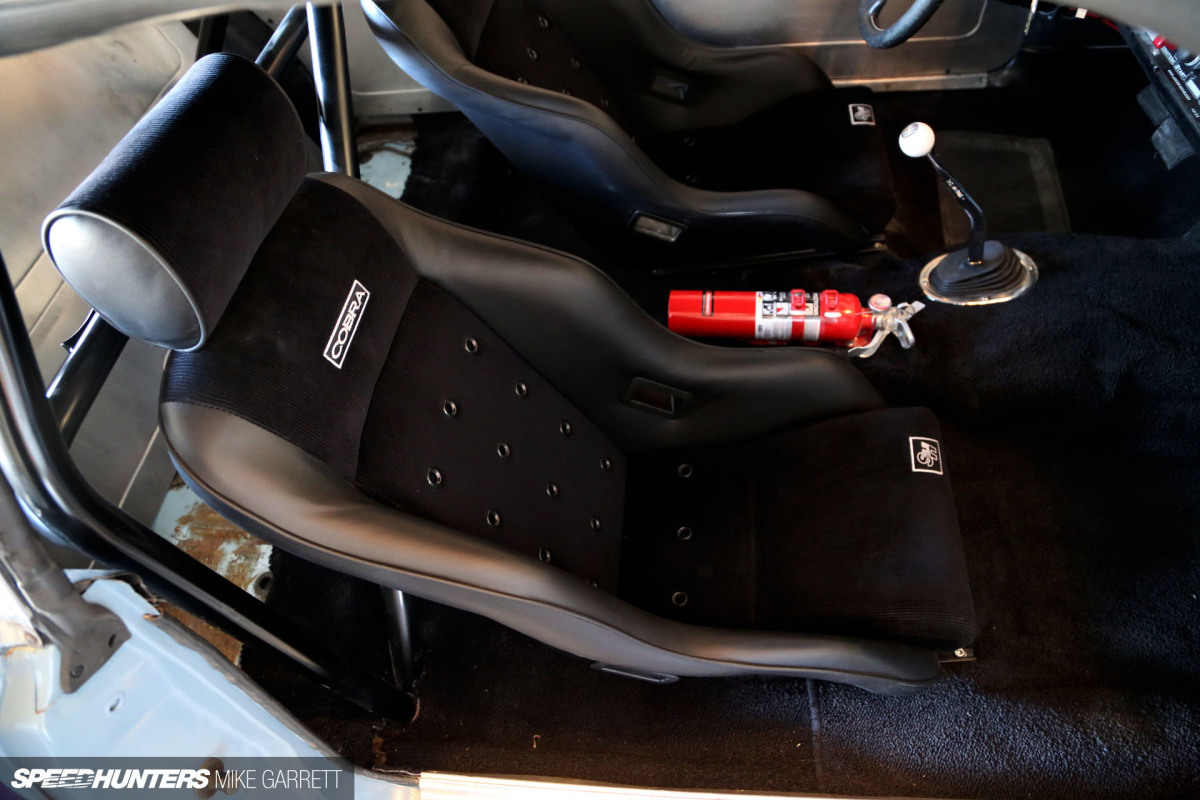 Cobra offers a number of seats designed for vintage car owners, and as a base for my buckets we used the Cobra Classic RSR, which is heavily inspired by motorsport seats of the 1970s.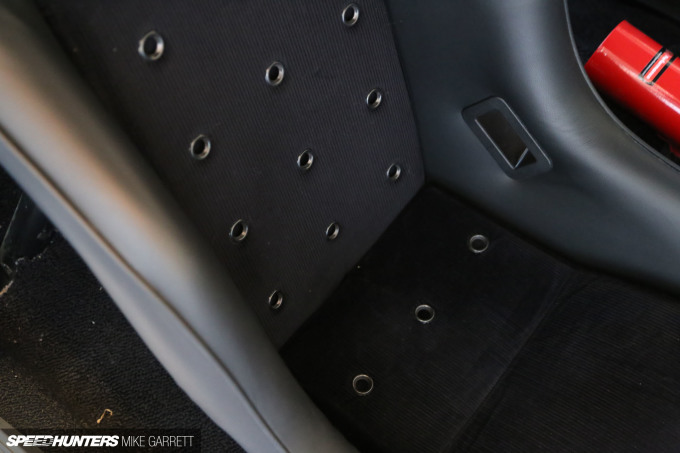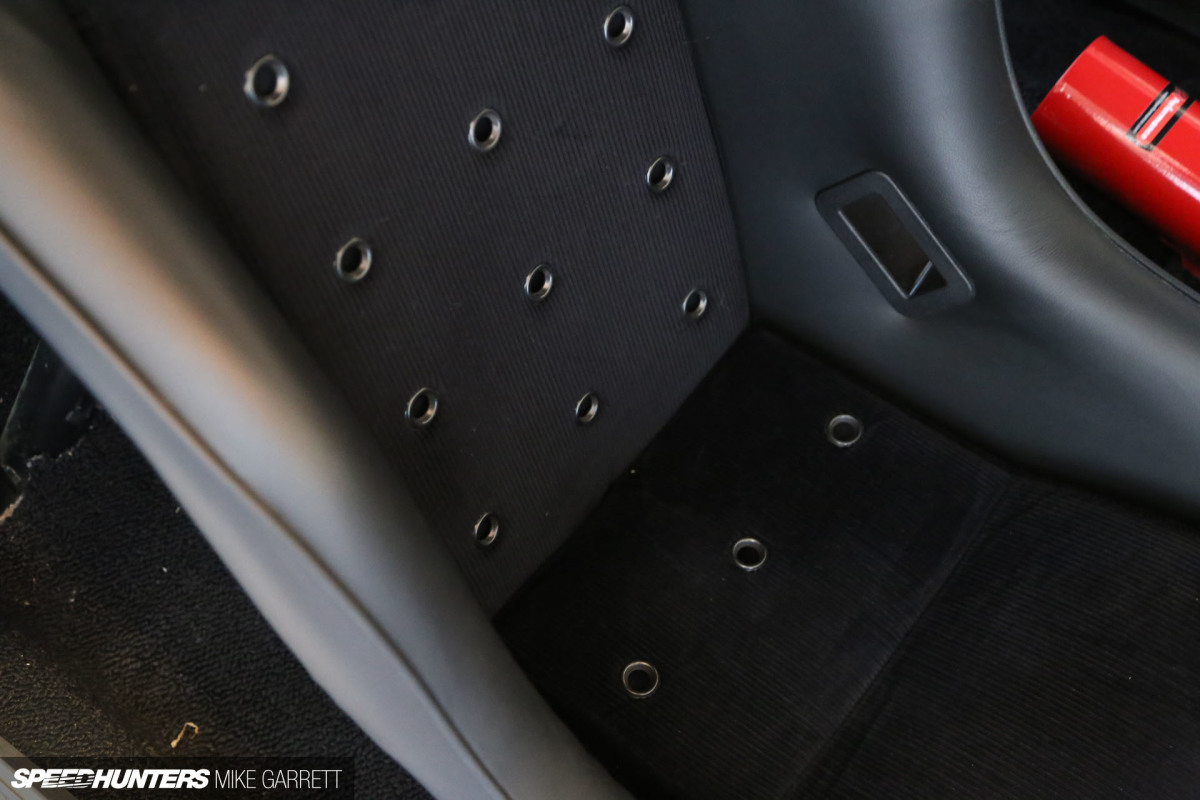 One of the really cool things about Cobra is the wealth of customization options it offers. For example, I had mine done with corduroy centers and eyelets to further build on the retro look.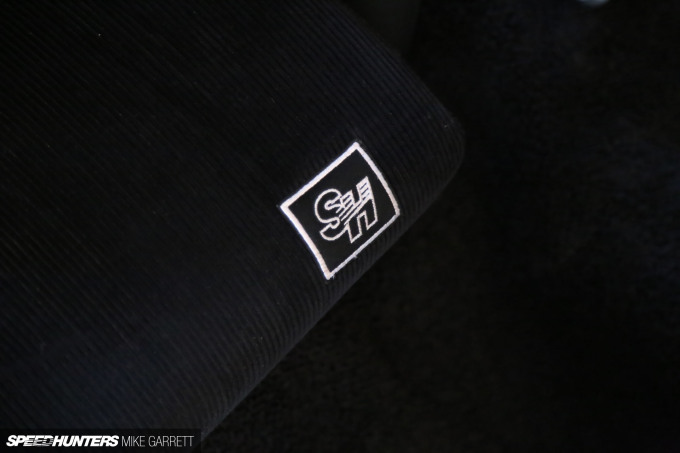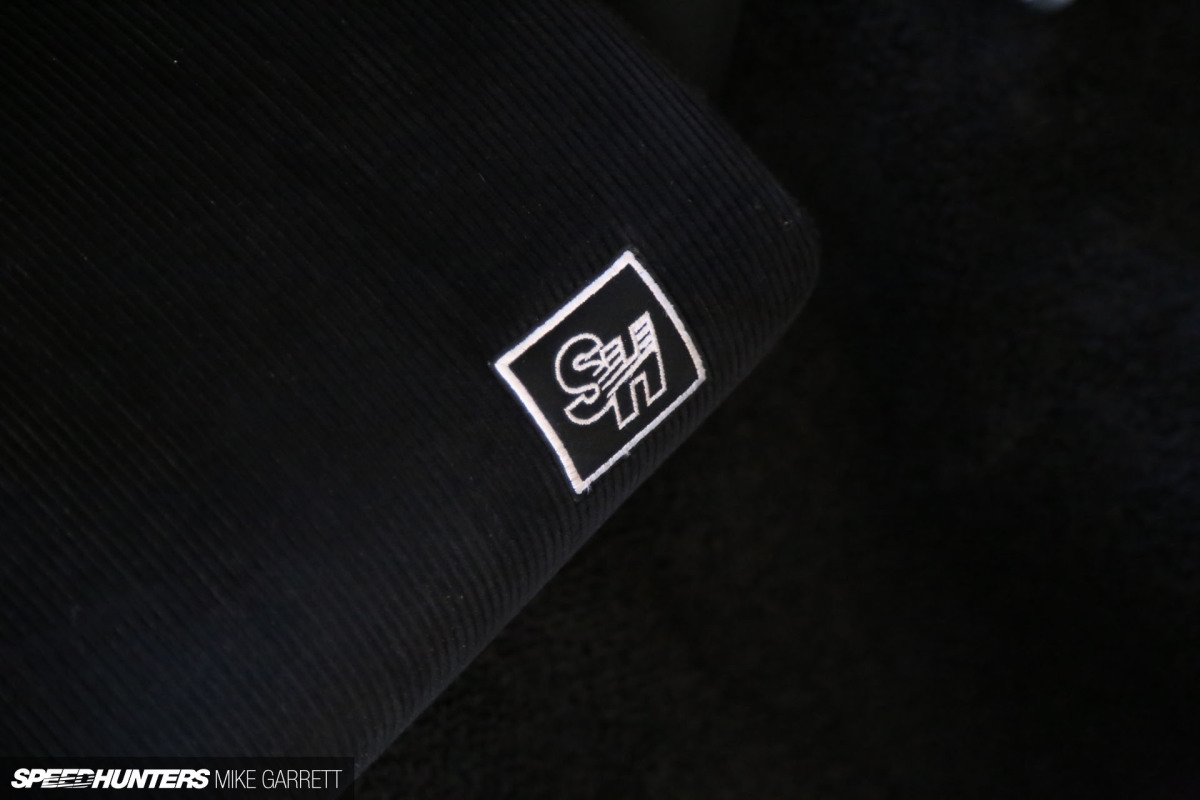 Even the Speedhunters logo is right there on the lower corners of the seat bottoms. Gotta represent!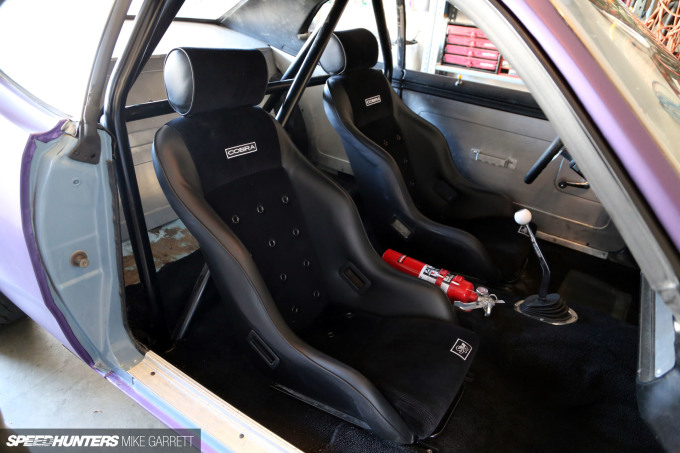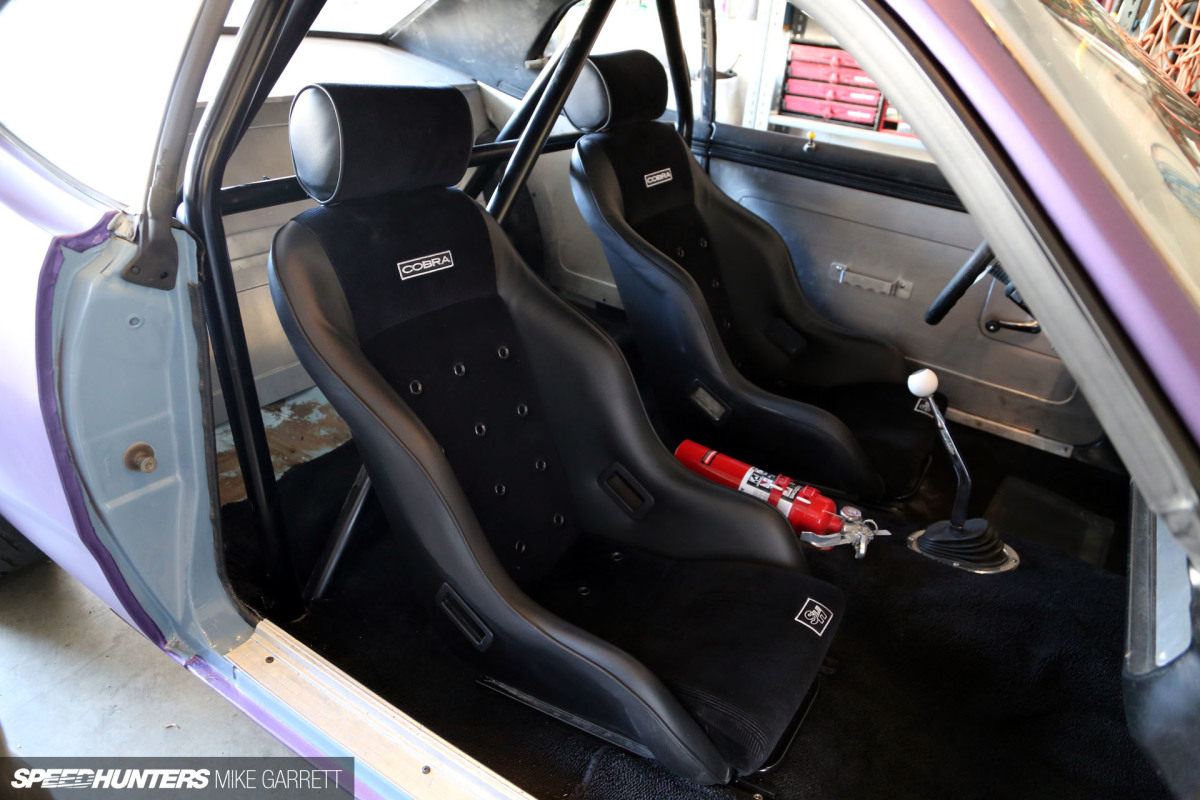 I couldn't be more happy with how they look and how they feel when you sit in them. I should also add that I'm a big guy, but the seats still feel plenty comfortable given their race car origins. I don't think I'll have any problems doing some long distance touring in these things.
Final Touches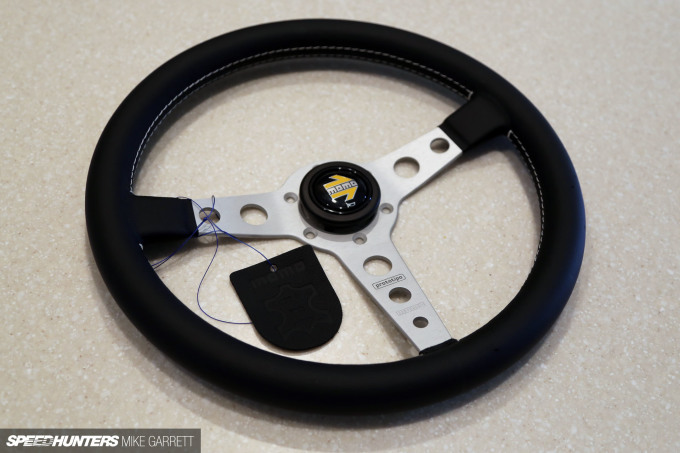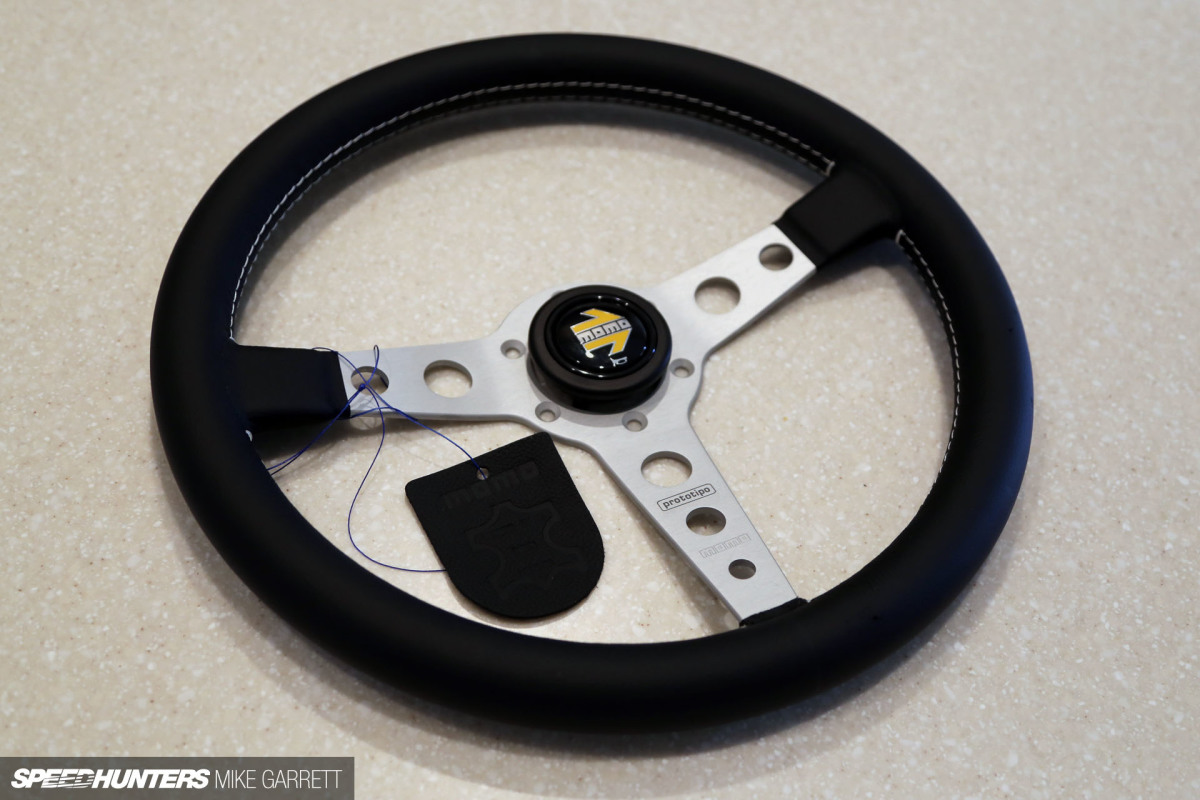 The seats aren't the only part of the interior that bring vintage racing to mind; I'll also be fitting this Momo Prototipo steering wheel which just showed up. In my eye, it's one of those timeless designs that looks good in any car's interior.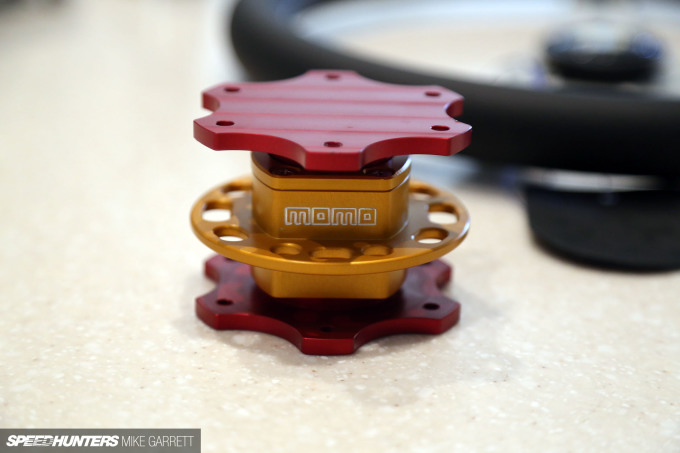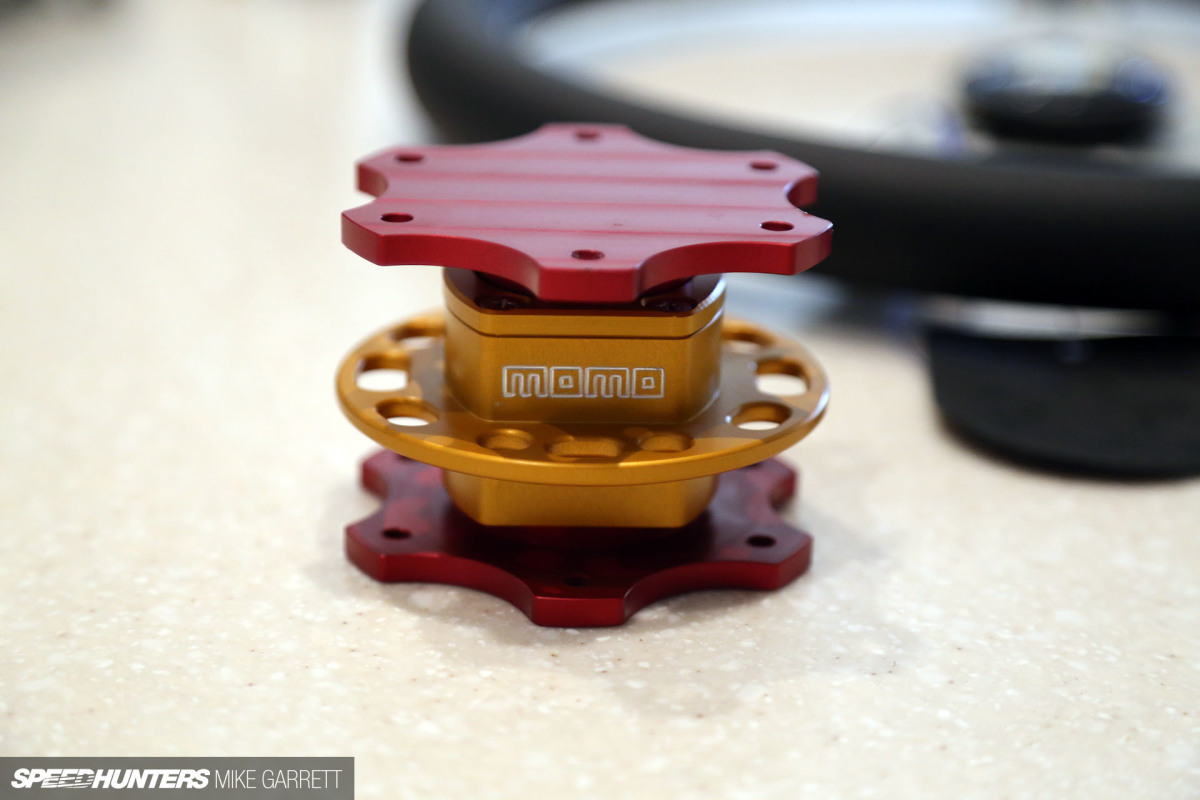 I'll also be fitting this Momo quick release adapter which will help with ease of entry and some added security. The anodized finish also looks quite cool.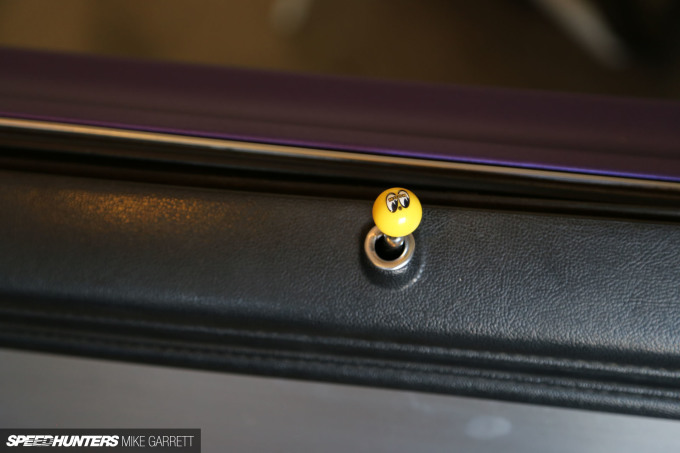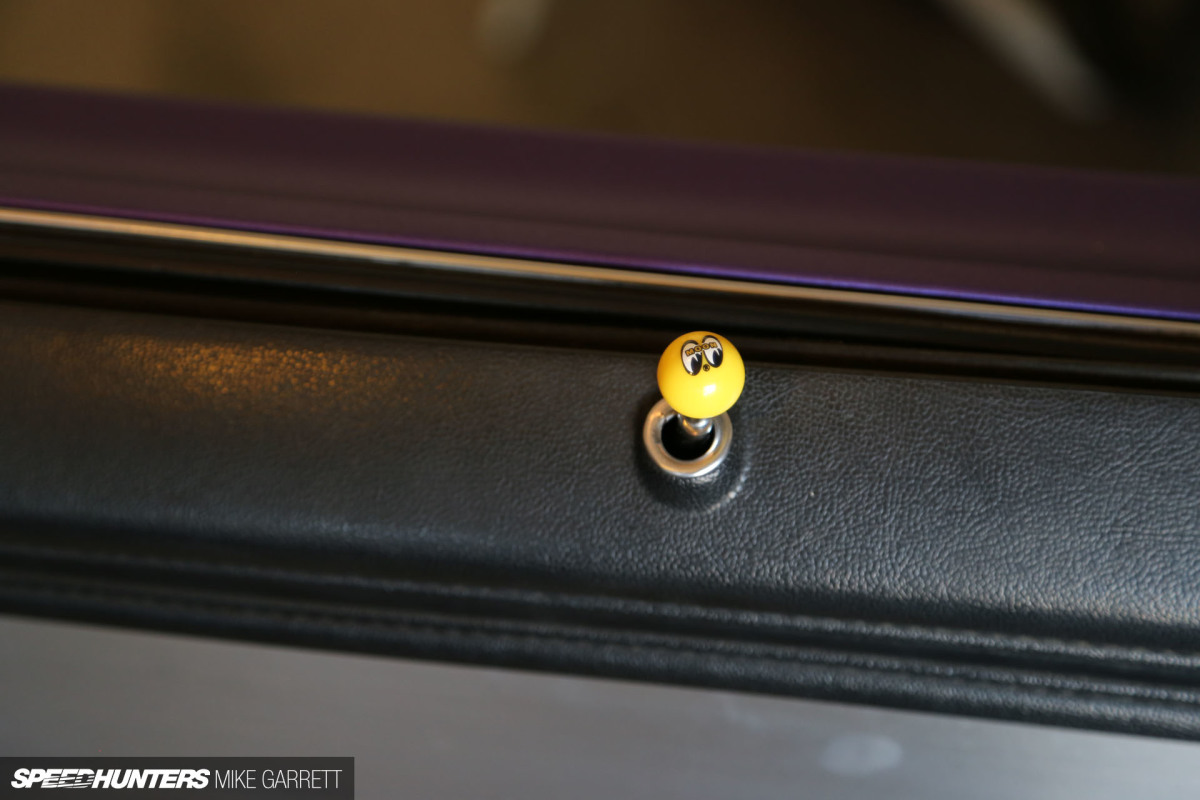 Another little touch I've added for some hot rod/custom car flavor is a set of Mooneyes door lock pulls. They provide just the right splash of fun for the otherwise race-inspired cabin.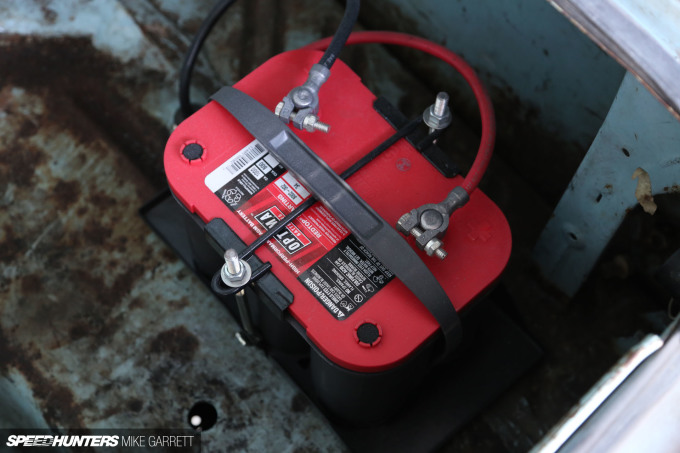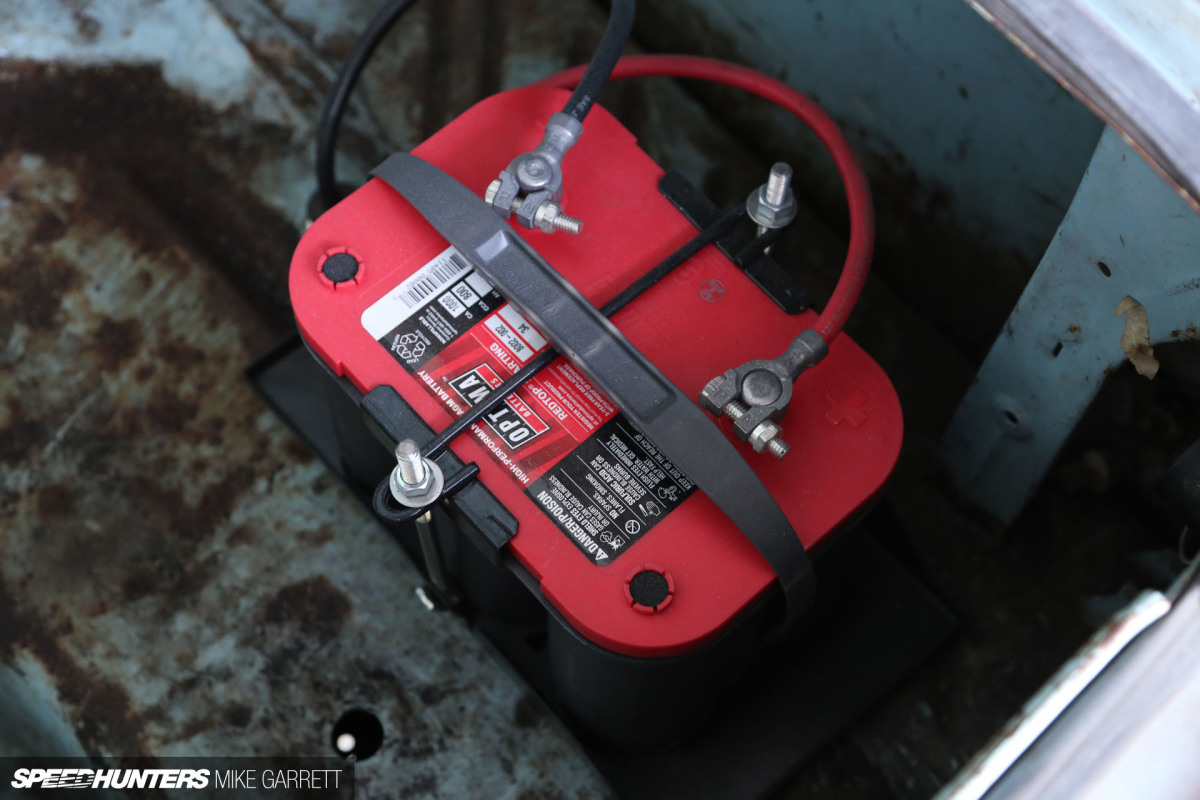 Up until this point I was borrowing one of the batteries that Matt had at his shop, so I needed to get my own before the car left. The folks at Optima Batteries stepped up with this Red Top. Having photographed and written about so many high performance vehicles equipped with Optima batteries, this was an easy choice.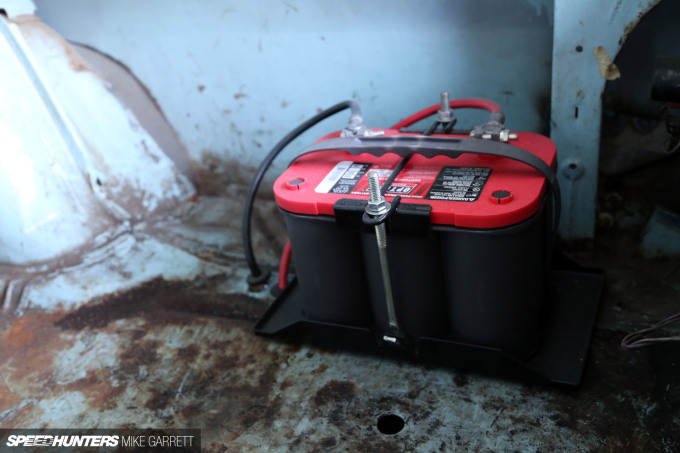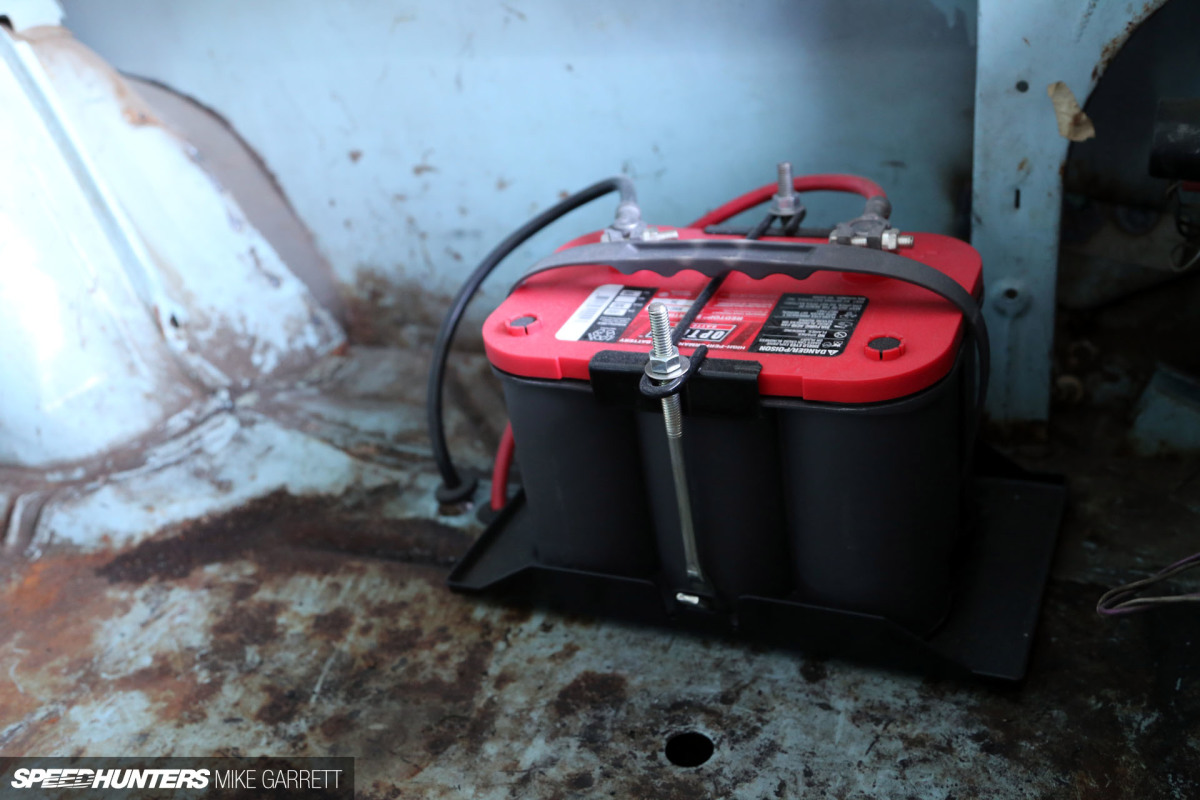 As you can see, we also relocated the battery to the trunk for both weight distribution reasons and to clean up the engine bay.
With that, it was time to load up the car for the next phase of the build process.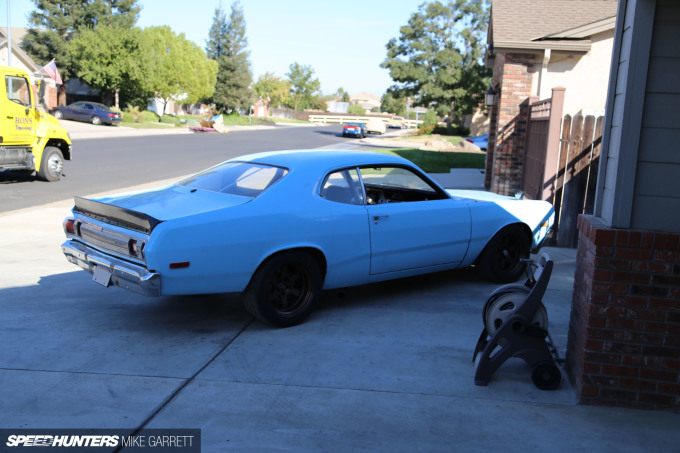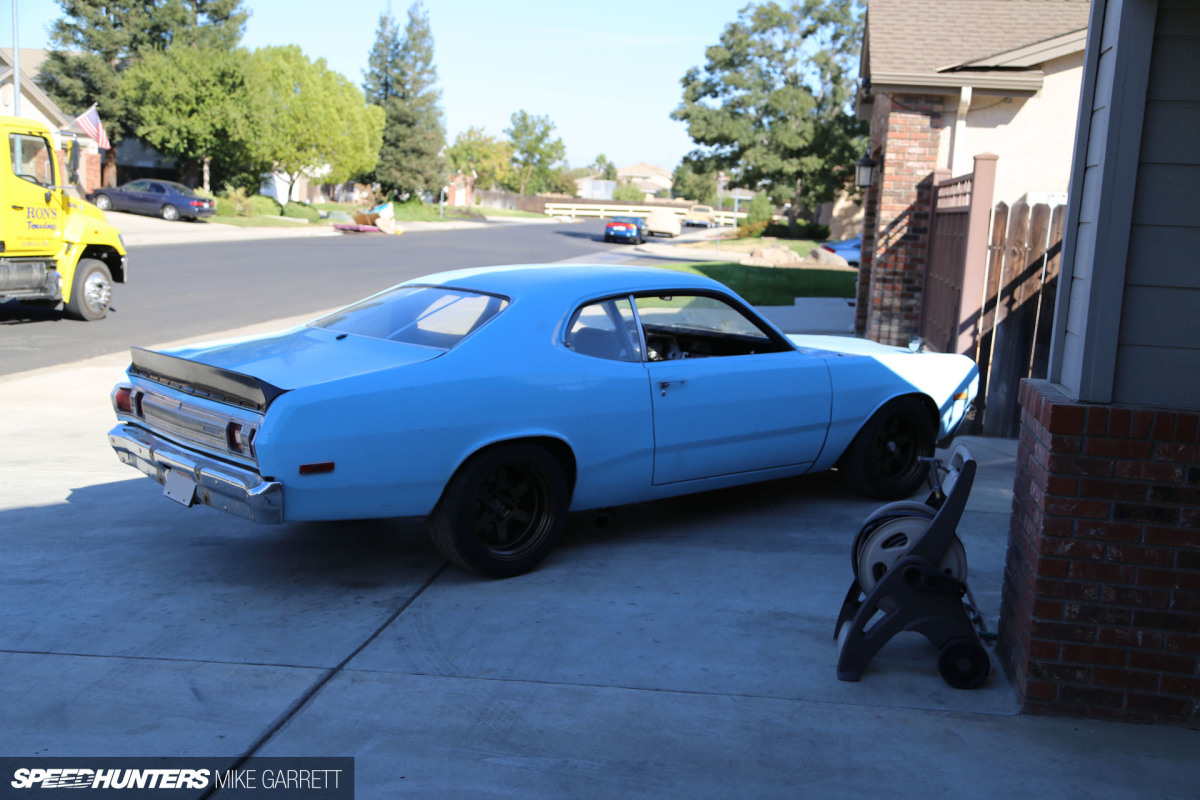 Unlike other areas of the car, the paint and body was something I didn't have a hard and fast plan for. Even though it would be a 'SEMA car', my plan was to focus on the mechanicals first and then address the paint and body as time and budget allowed.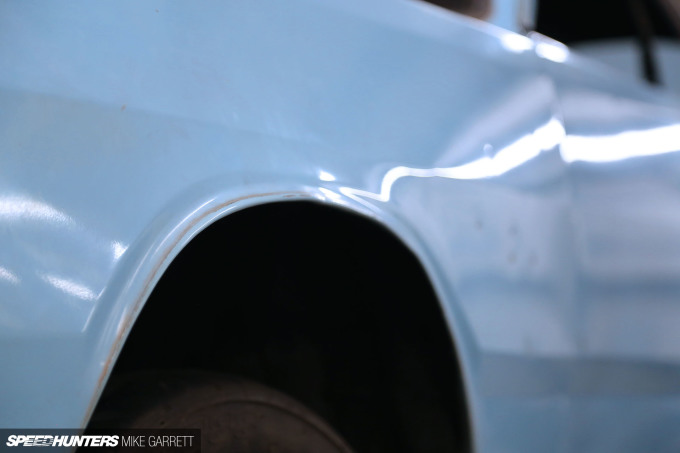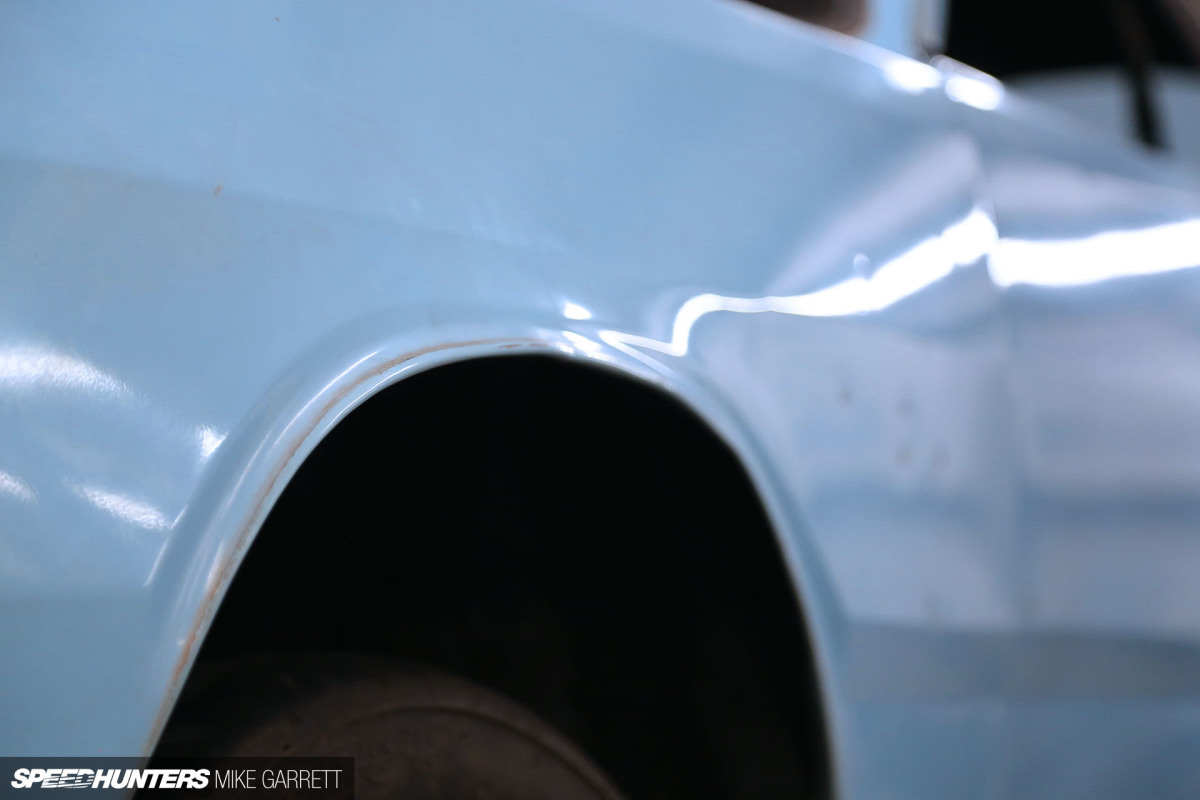 A big part of me had really grown to like the powder blue color, but I was also conflicted. Not because of the color, but because of the condition of the paint and body.
I'm all for rocking worn original paint, but the coat on Project Yankee wasn't original, nor did it have enough natural character to pull off the patina look. It looked okay from a distance, but the closer you got the more imperfections you saw.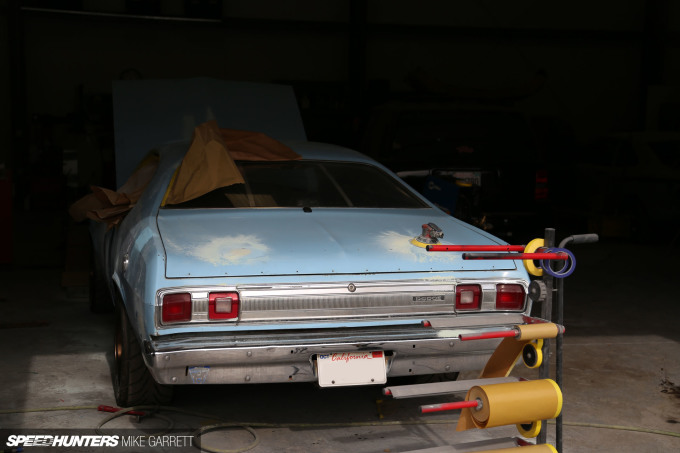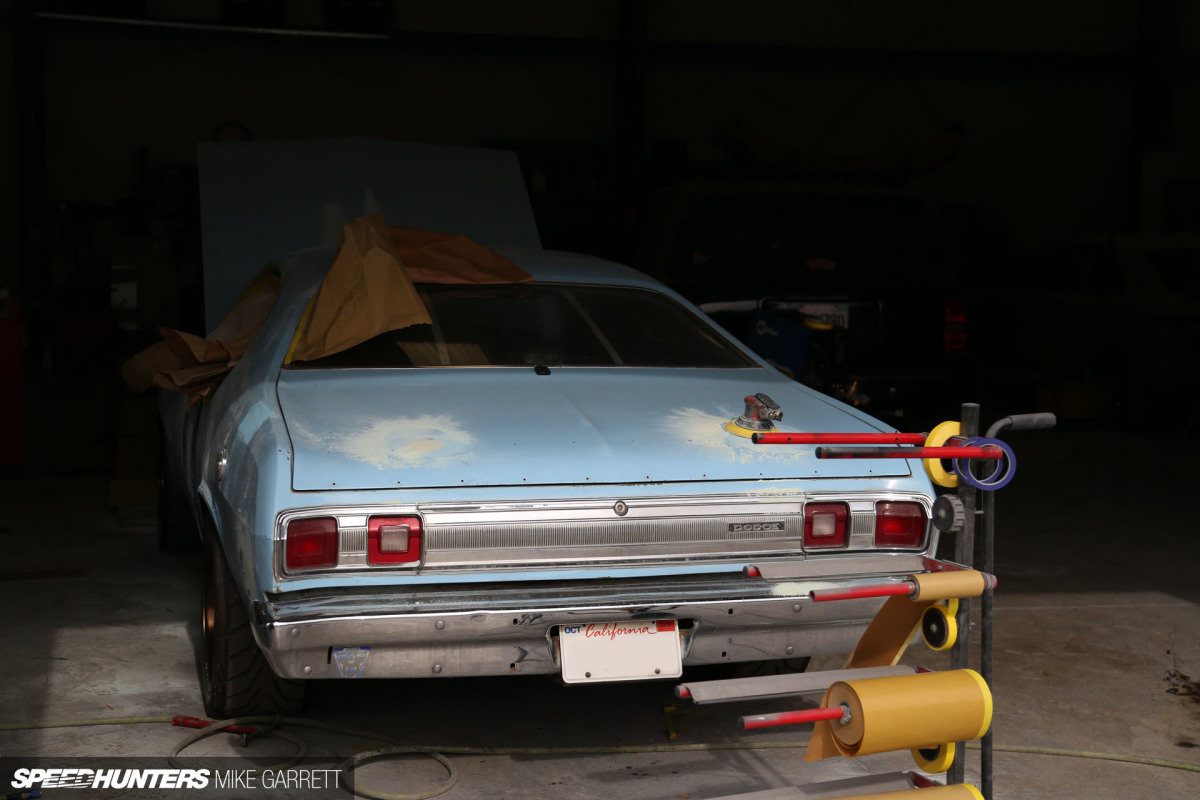 I'm guessing it was probably repainted sometime in the '90s, but it had really started showing its age. And on top of that, while the body had no rust or major damage, there were still little dents and dings all over it. Something needed to be done, I just I wasn't sure what.
See You In Vegas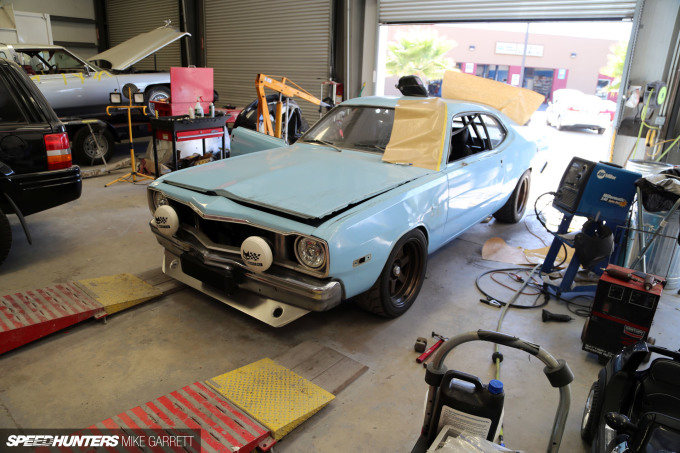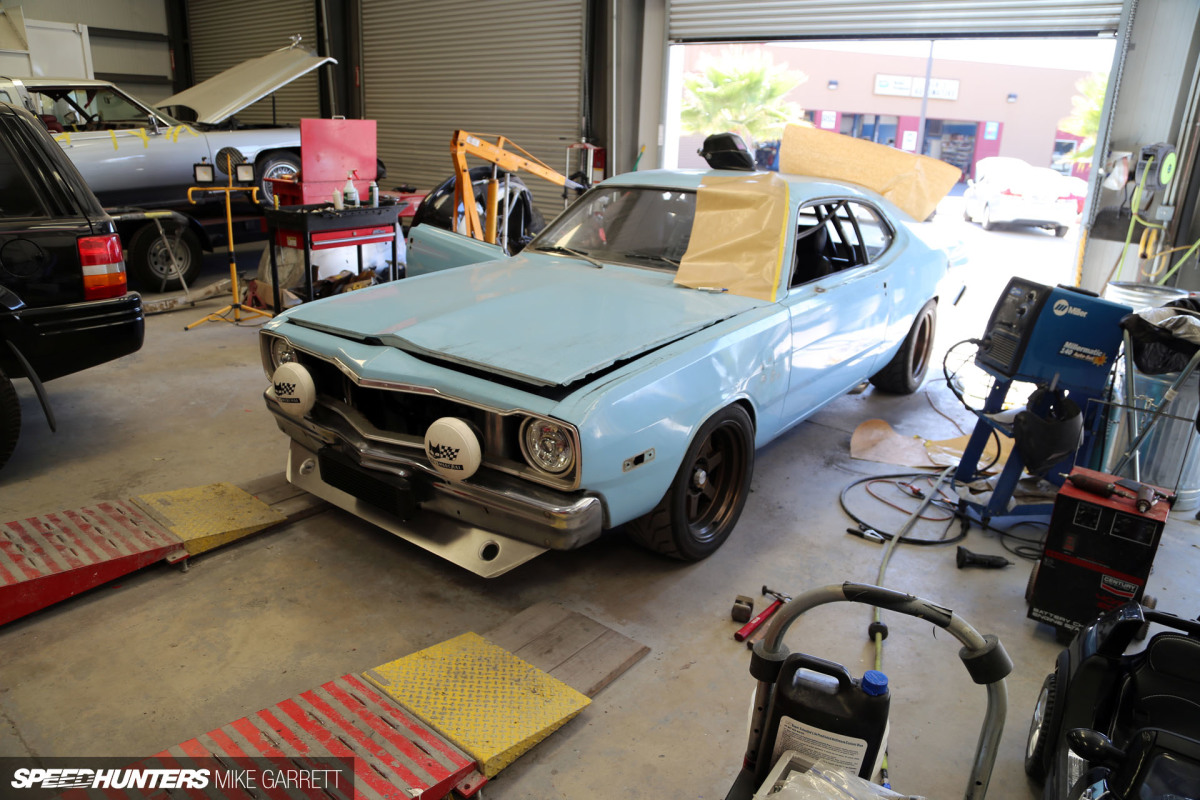 I started contacting body shops here in Central California, asking about having the car painted in time for SEMA. Just about every response I got ended up being both way over my budget and way over my time limit. But then I found Rey Tee from Creative Auto Lab in Clovis.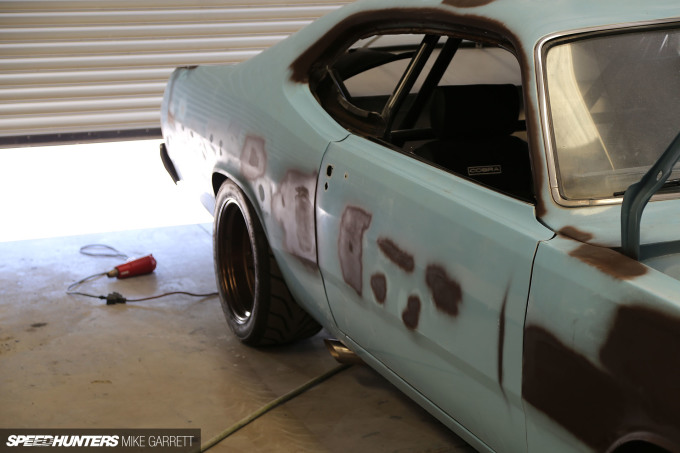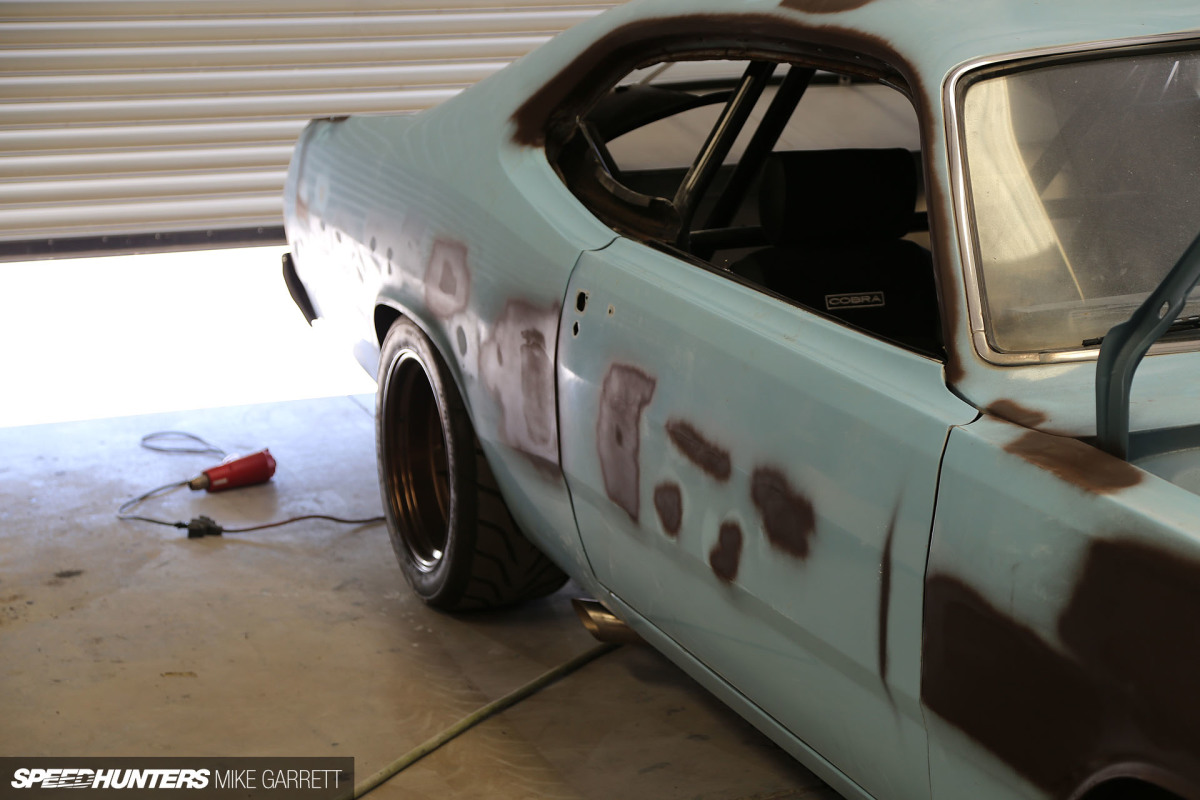 After talking with Rey about my goals, we came up with a feasible plan that would work with my timeline. He would take the car and do some basic remedial repairs, and then we'd do a full vinyl wrap which could be applied quickly and then removed easily down the road when I get a real paint job.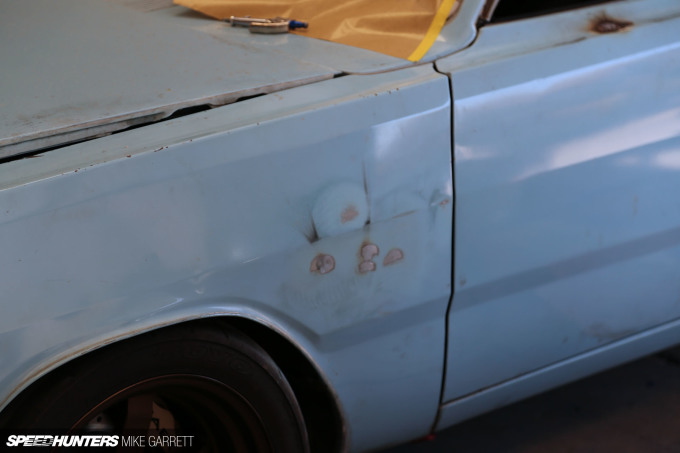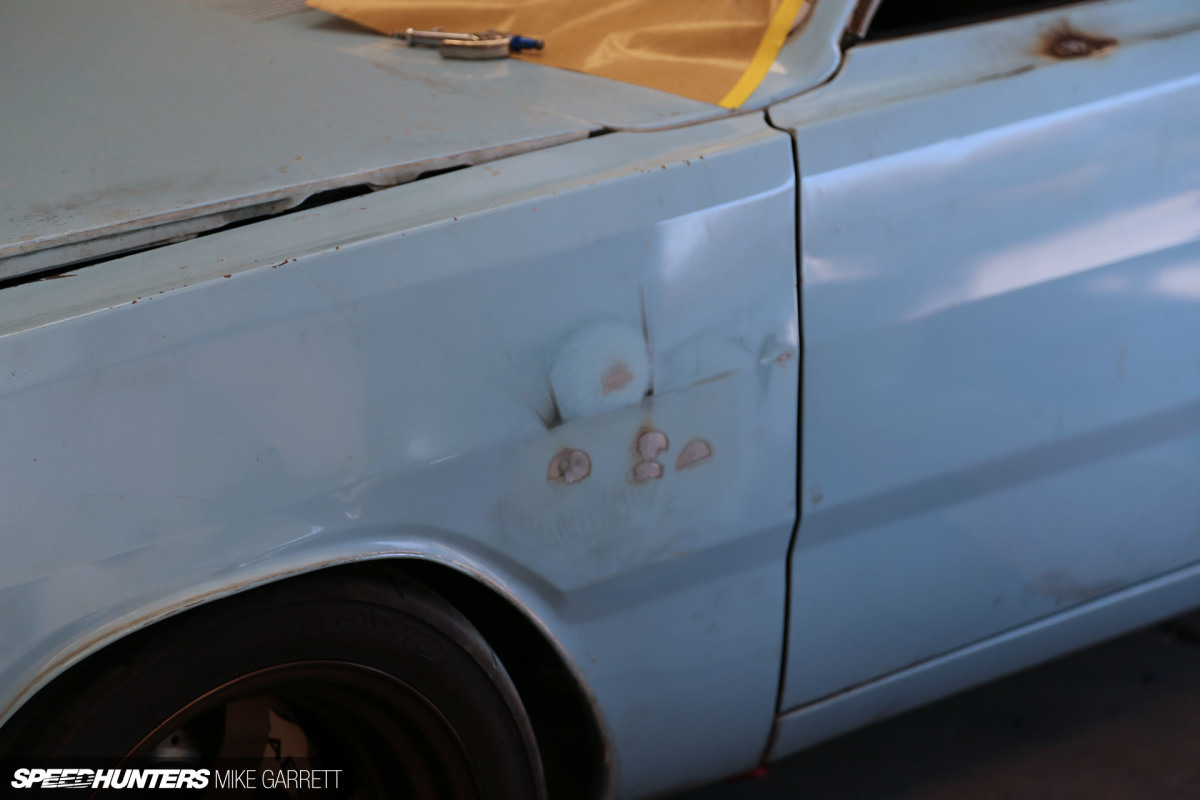 Aside from just addressing the body and filling some of the exposed holes from the trim and mirrors, we ended up doing just a touch of custom work, like shaving the front and rear marker lights.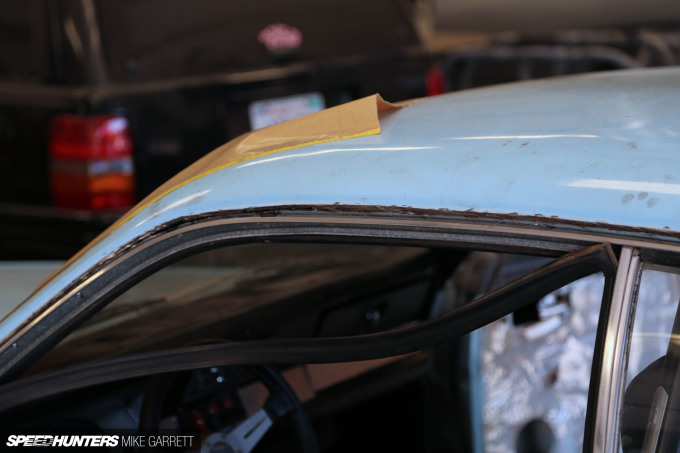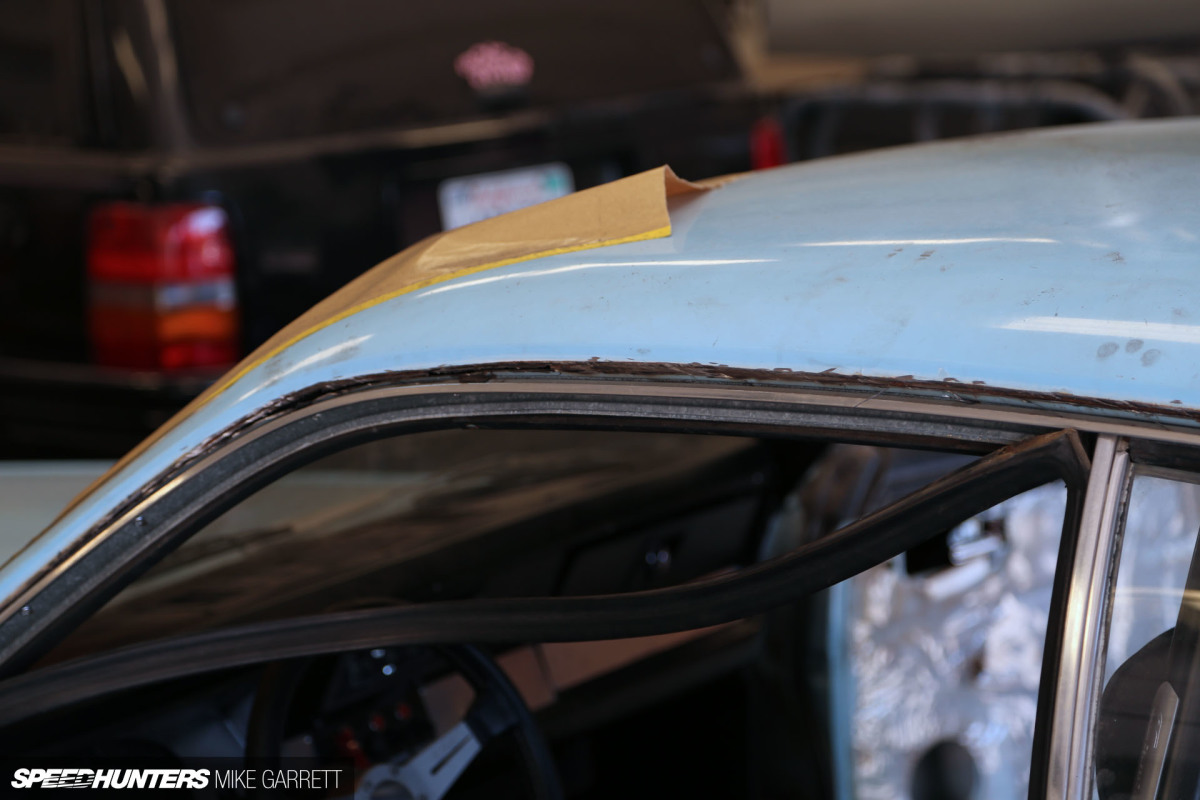 The obtrusive drip rails along the roof line were also removed for a smoother look.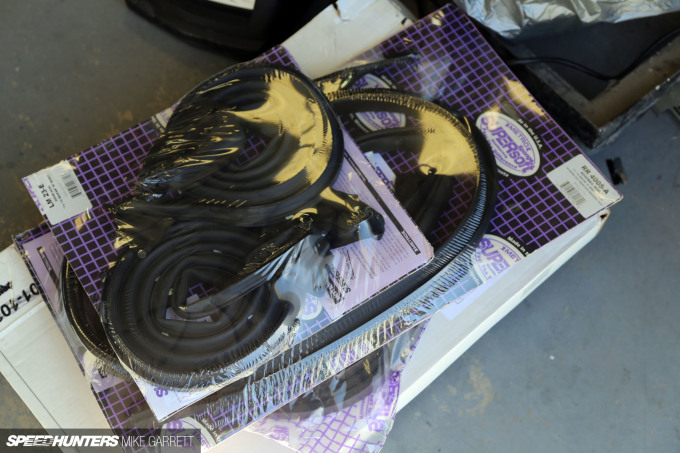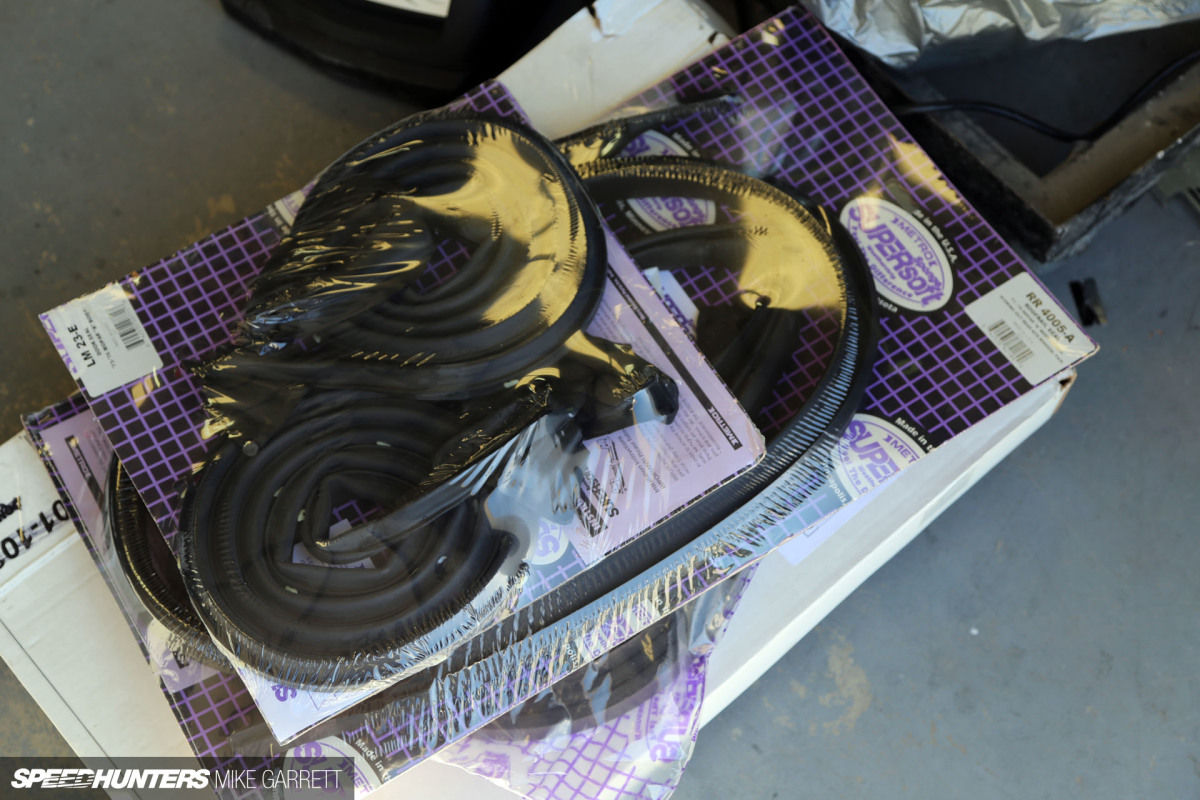 I also figured this would be a good time to replace the worn out weather stripping with a new kit.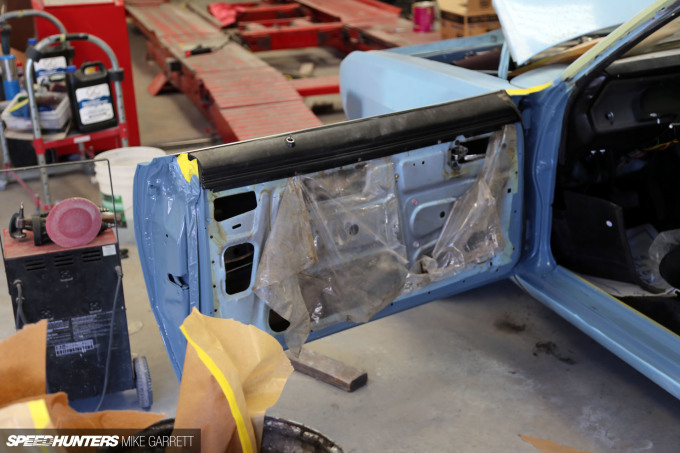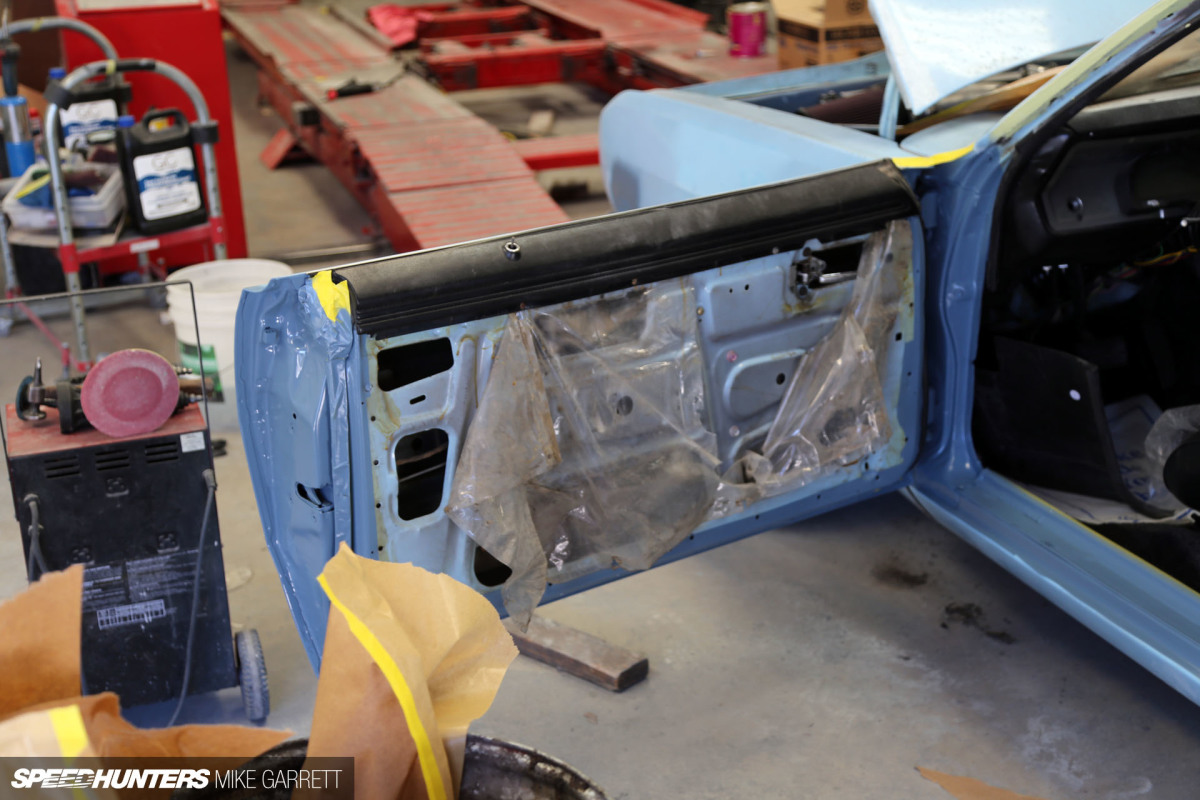 For the door jambs we ended up going with a matte battleship gray/blue finish to match the engine bay that I painted a while back.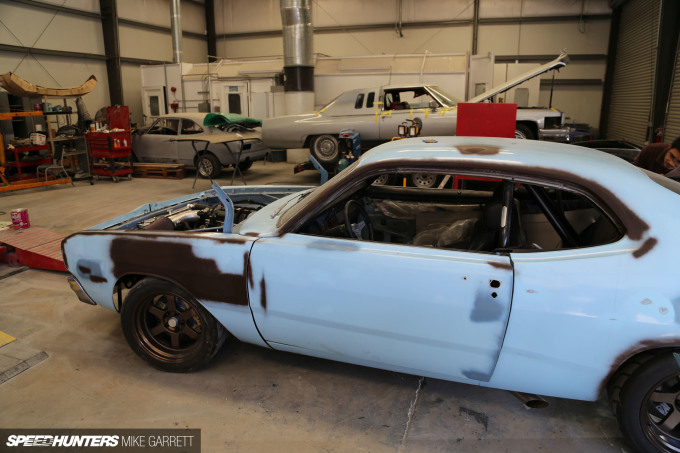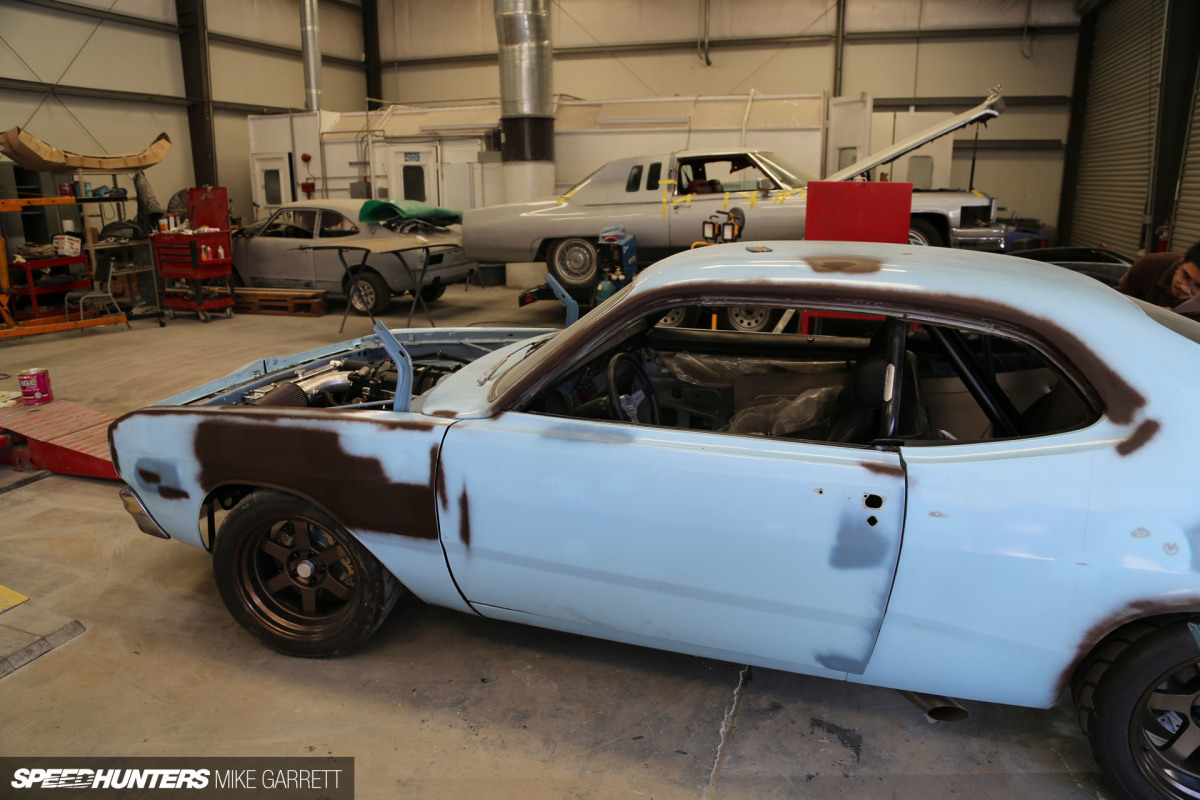 I'd never done a wrap on any of my cars before, so I was hesitant at first. But the more I thought about it, the more sense it made. It was quick, cost efficient and could easily be removed if need be. Now I just needed to choose a color…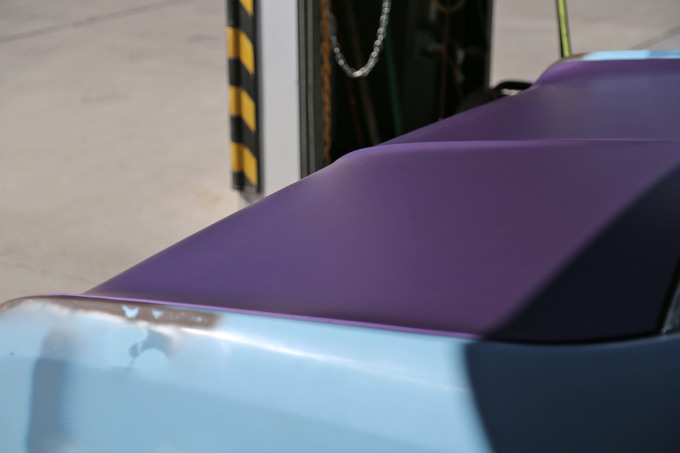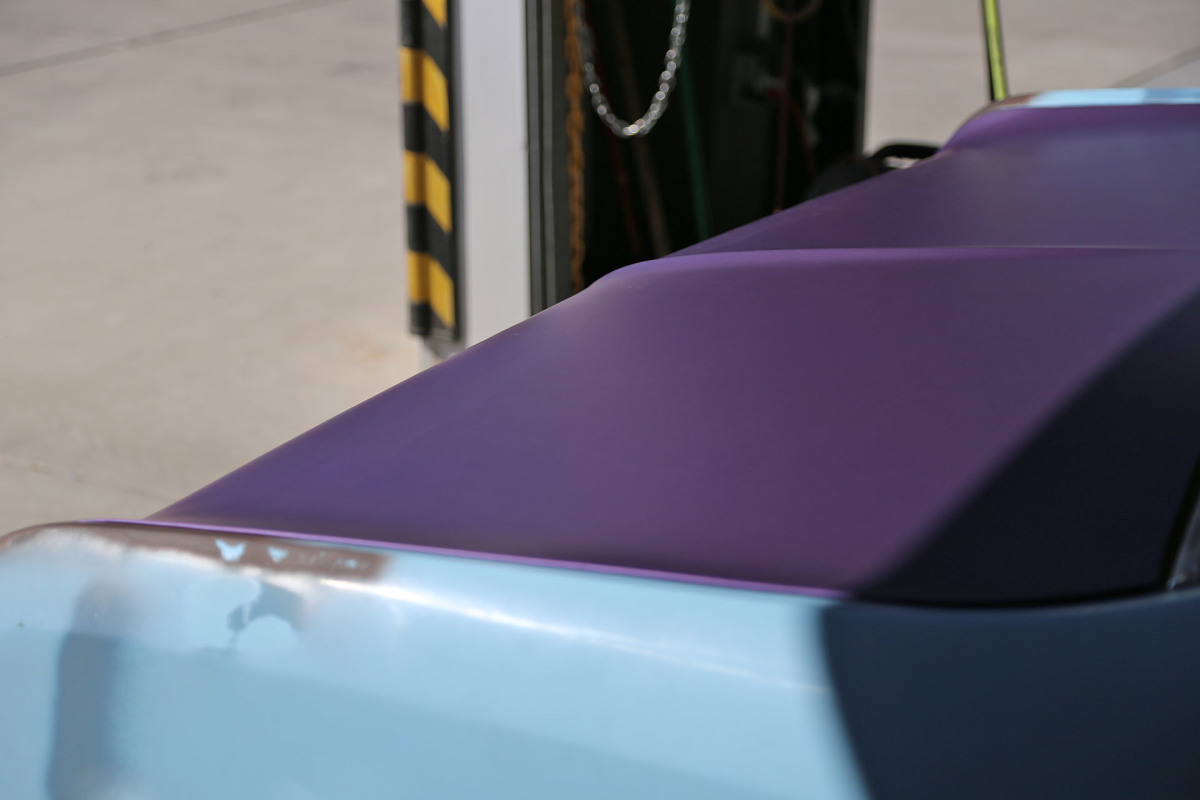 This part was easy actually. If the original blue was going to be done away with, it had to be purple as a nod to those great Plum Crazy Mopars of the early 1970, all while incorporating a matte finish for a tougher look. I'll save the real photos for the full reveal next week, but I'm very happy with the look. The goal was never to have Project Yankee be a show car – and I still wouldn't consider it one – but it's come out great.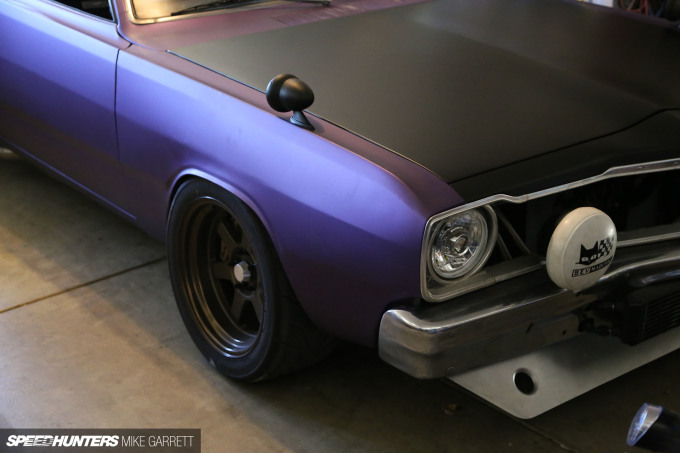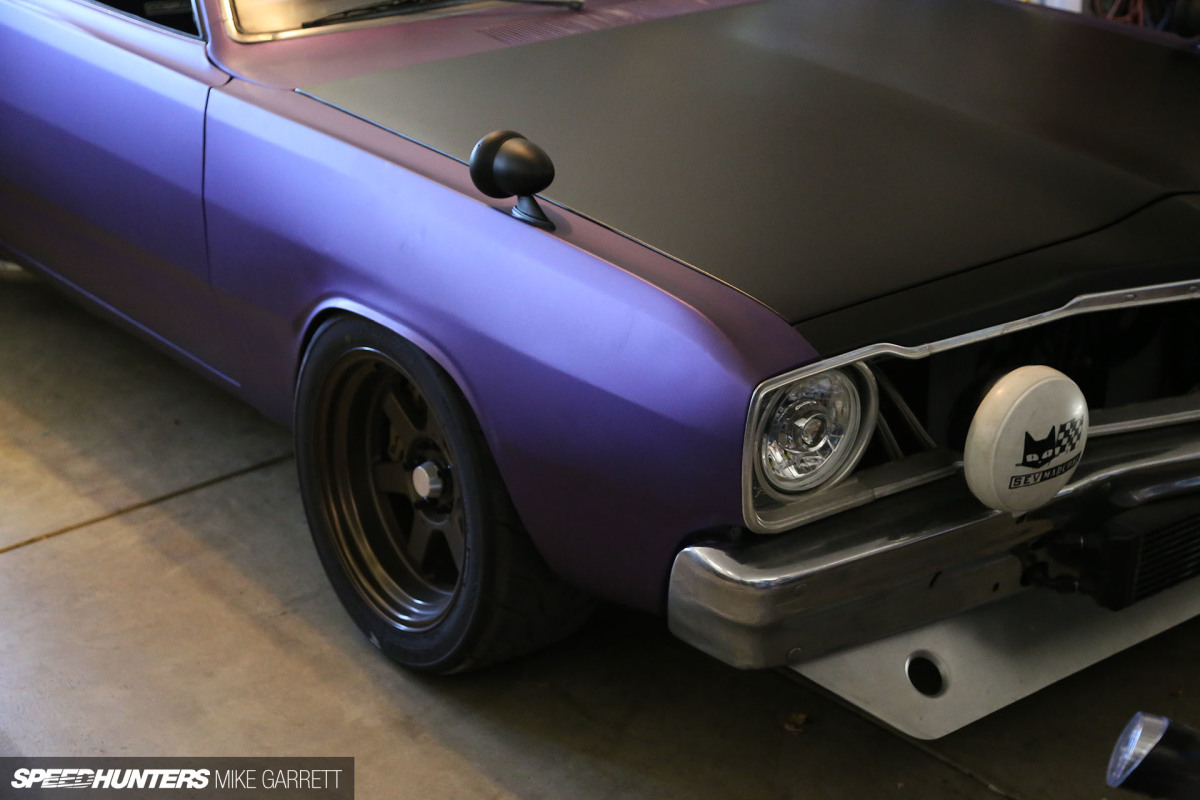 With just a couple days left until Project Yankee is loaded up for SEMA, there's still some finishing touches to be done. It's what I'll be spending the rest of the week doing before heading over to Las Vegas to rendezvous with the rest of the Speedhunters crew for our SEMA attack.
You might be wondering if I've driven my rebuilt Dart yet, and the answer is yes. Very carefully. I actually drove it to and from the body shop and on a couple of quick shakedowns around the block, and it runs beautifully. There's still a break-in period and some fine tuning to do before I can really hammer it, but this thing is already ridiculously fun to drive. Don't worry, there's video proof to come!
Stay tuned because things are about to exciting…
Mike Garrett
Instagram: japanifornia
mike@speedhunters.com