5 Months Later
I don't intend this to be an in-depth update or even all that long of a post. Instead, it's more of a review of the last five months since we installed the Air Lift Performance 3H setup.
It's been a pretty huge part of the puzzle and something that I knew would draw a raised eyebrow or two, especially considering the fast road and track day usage that Project GTI is intended for. I do think we've reached a stage though that most are aware of the performance abilities of a proper air setup.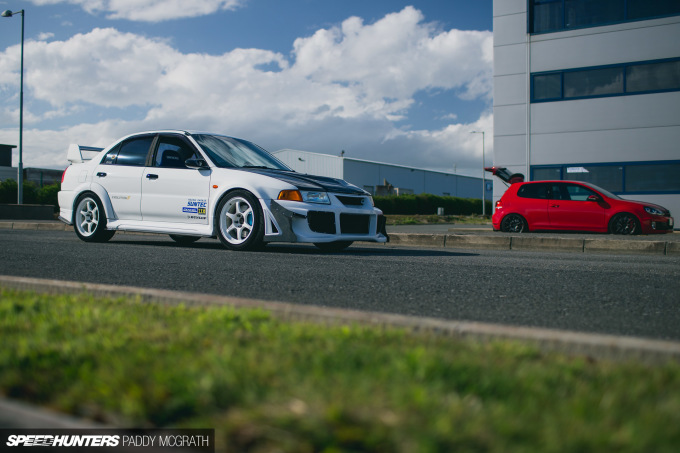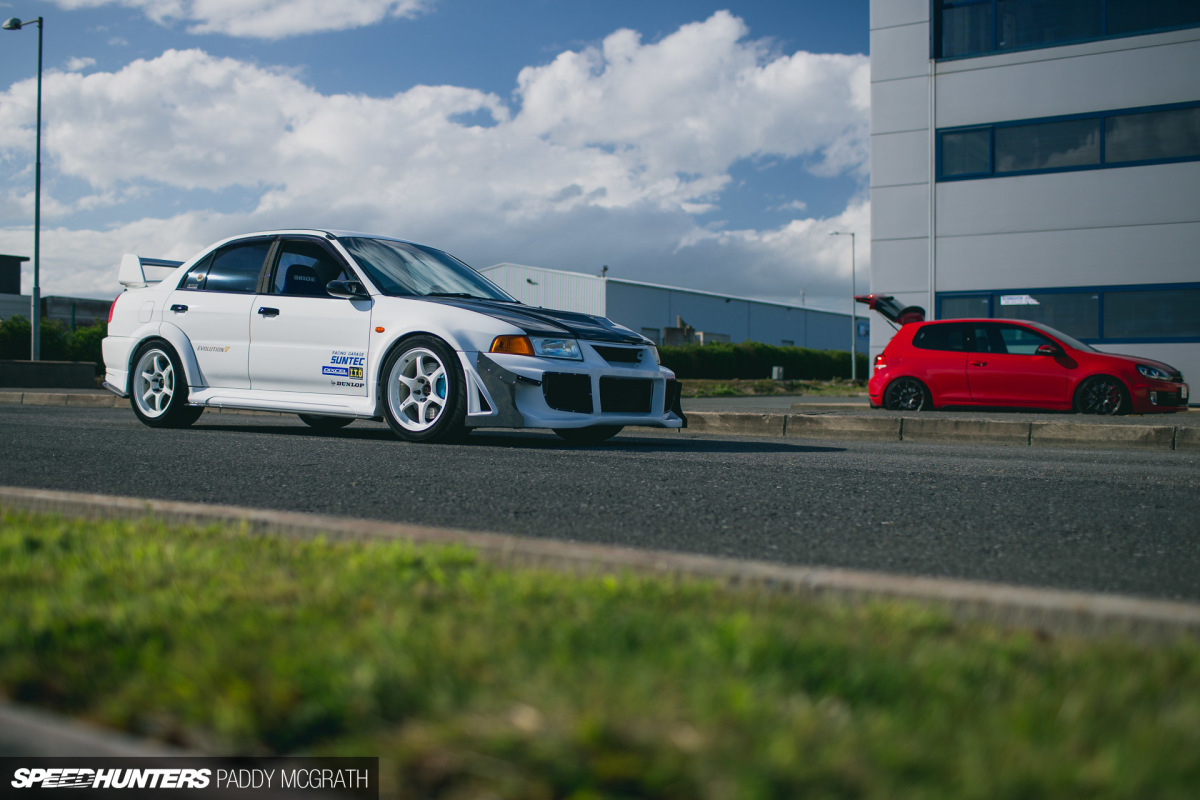 It's my intention to give you as honest feedback from my experiences so far as I can. From day one, the Air Lift Performance-equipped GTI has served me as my only car. It's the car I do my groceries in, it's the car I get stuck in traffic in, it's the car I drive fast and most importantly, it's the car I go to work in.
As such, the car has to be up to the task. It can't be compromised in any area or else, to be blunt, it's useless to me. I'm also not one who considers cars as something that need to be endured. If a car has a shortcoming that negatively affects the driver and even passenger experience, it should be resolved or removed.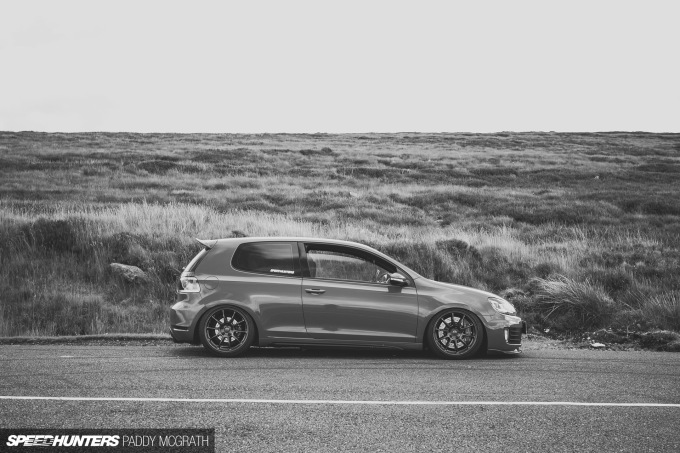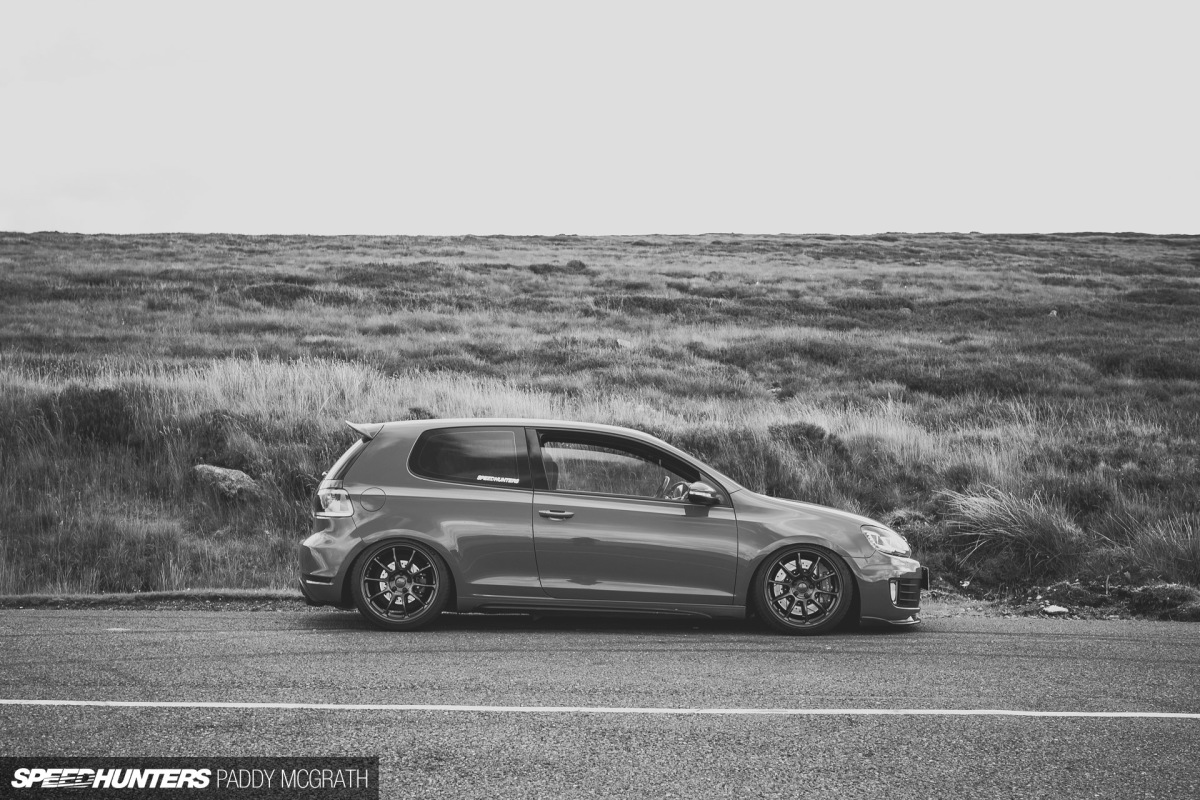 I've put up enough mileage in the past five months to be able to give an informed opinion now. I will say, that from the start, it has been an overwhelmingly positive experience. Considering that the group of us who installed it had never installed an air setup before, and I've had no issues whatsoever, speaks volumes about the kit.
Before I made the plunge, I did have some reservations about converting the car to air. I was confident it would be good, people I know and trust told me it would be good, but you really just don't know until you've experienced it for yourself.
The Hard Work
The obvious association with air is with the show scene. The ability to achieve desired wheel fitment and stance without running the risk of sacrificing body panels, lips or drivability of a car is quite obviously a huge asset in a car. I know some are still convinced that suffering on static is the only 'true' way, but really, that's a bit silly in this day and age.
Ultimate low was never my goal. My number one priority was drivability, but as it happens I'm more than happy with how the car sits when aired down. It can go lower, particularly in the rear where the arches can comfortably swallow the rear wheels, but I choose not to. I like the 'finger's width' of tyre between the arch and the rim. For those of you wondering, it will drive at this height, I just wouldn't recommend it. It's worth being aware how an air strut acts differently compared to a traditional coilover. When the car is aired down, there's less air pressure in the air spring, which in turn makes them softer.
Since I'm running Air Lift's Performance Series, the strut can be set to the desired length. This gives the option of additional lift, should you want more ground clearance, or a greater drop for those who desire a slammed position. The flexibility allows you to fine tune the suspension to match your desired goal without sacrificing damper stroke. Setting up, therefore, is a balancing act and this is something that's almost entirely down to personal preference. I think I found the absolute perfect balance between low and lift when we installed the suspension by following Air Lift Performance's recommendations.
When shooting at Players 10 last month, I noticed that a lot of people would walk over to the rear of my car when I was changing camera or lens out of the boot. I couldn't figure out why for a while until I realised that any other car with their boot open was displaying a show-quality install. Nothing to see here folks, just a camera and my clothes bag.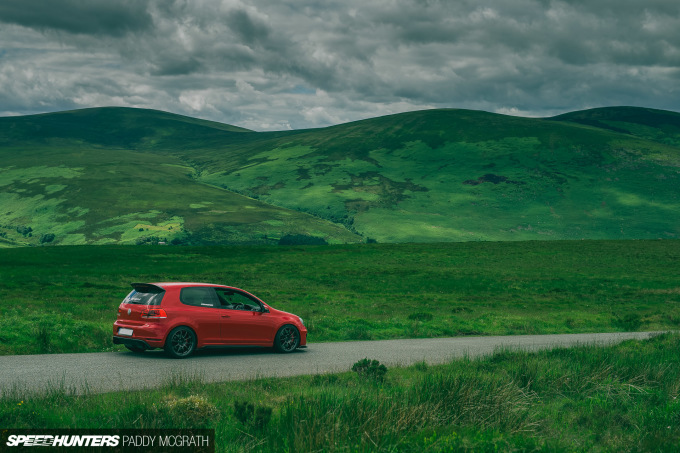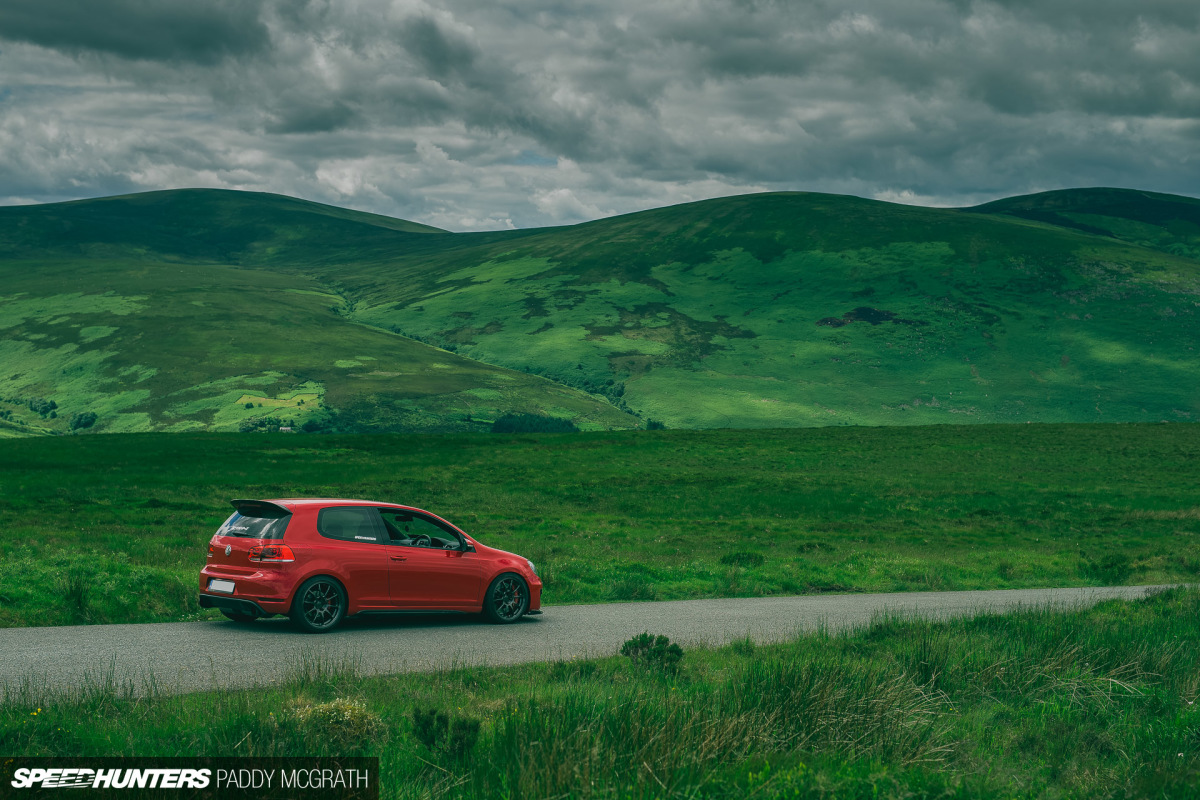 For me, this is where my car is most at home. There are few things I enjoy more than going for a drive up the mountains outside Dublin, roads which will test the character and capability of any car to its maximum. As the car is currently setup, this is my default driving height, which is just under stock GTI height. I'm running around 50psi in the front and 55psi in the rear, which has transformed how the car drives. There's very little roll and the car feels far more assured than it did on standard suspension.
For my setup, 50psi is that sweet spot between performance and comfort; the ride is stiff but it's never harsh. I can drop to 40psi – which will just about tuck the top of the tyres inside the arches – which provides even more comfort, but I'm then at risk of smashing my front lip. At the other side, 60psi is probably where I need to be for track but is too stiff for the road. 80psi is full lift and something I use just for clearing obstacles before returning back to 50psi. The car doesn't rub at any of these pressures.
Also, if you notice my RAYS Volk Racing ZE40s changing colour, some of these photos are from before we repainted them, but all were taken when the car was on air.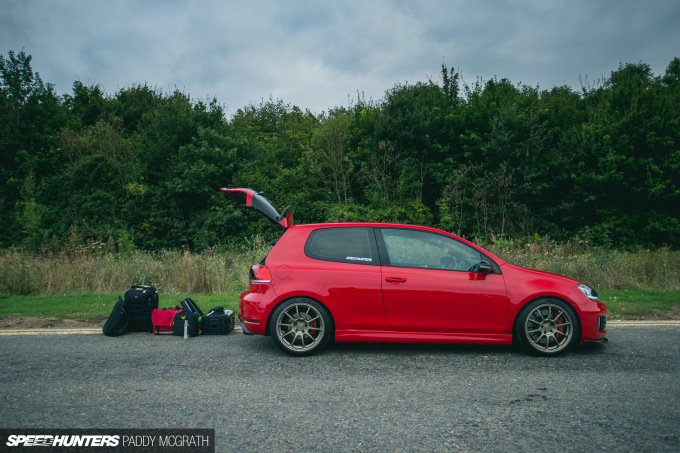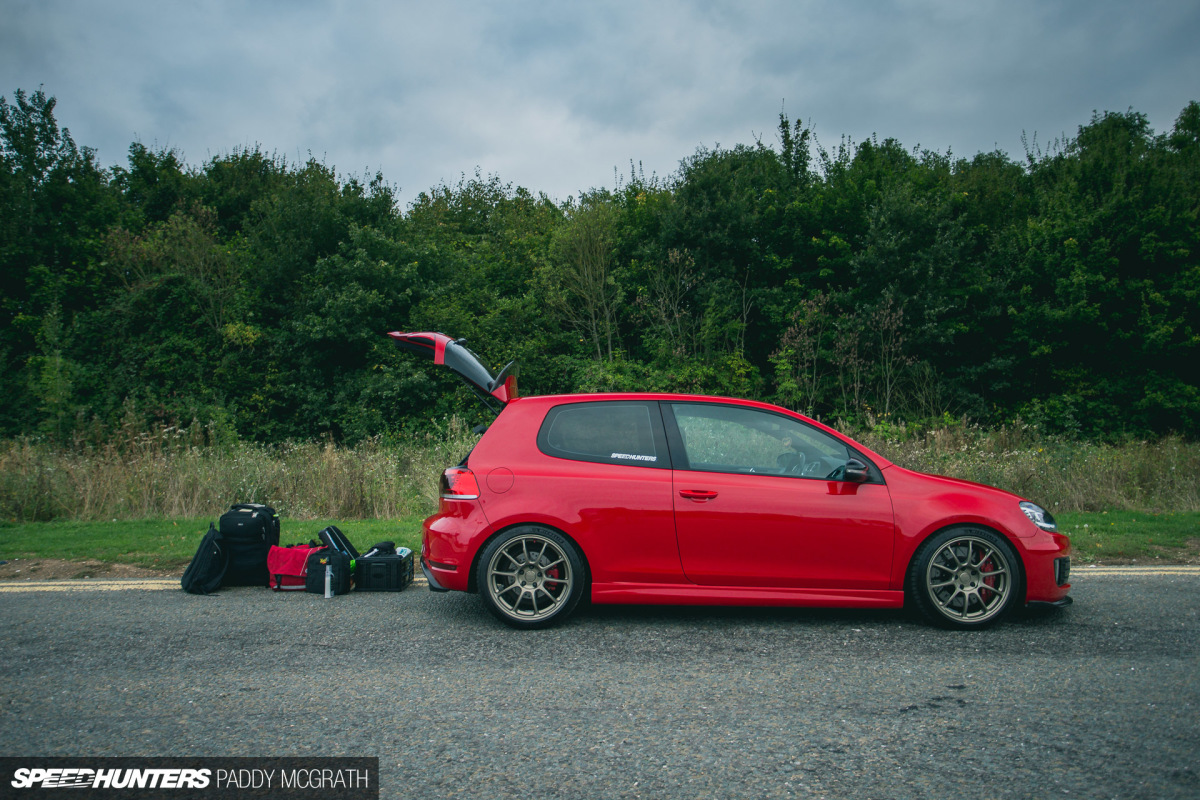 What separates my 3H setup from a regular 3P setup is the presence of height sensors and the car's ability to maintain a preset height. This really does mean that you can install and forget the system if you wish. I actually ran the car without the height sensors activated for about a week so I could see the difference and appreciate what they do.
I'm going to use this as a good example. If I were to load that amount of baggage into the car without the height sensors, the rear would drop about an inch or so (the stuff is heavier than it looks.) That's a normal characteristic of any car and something we would expect to see happen with most setups, air or otherwise.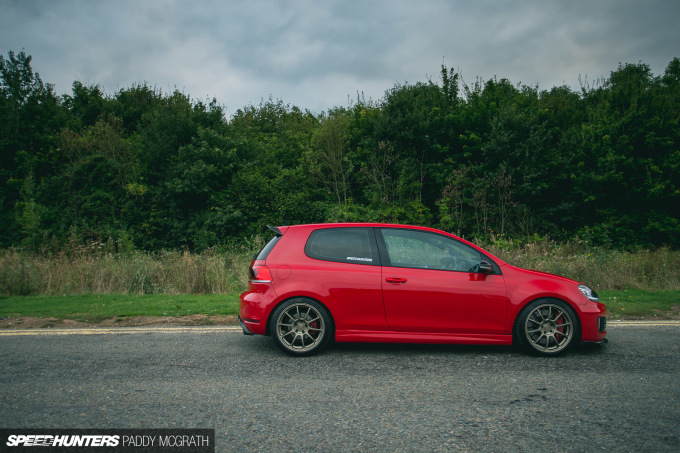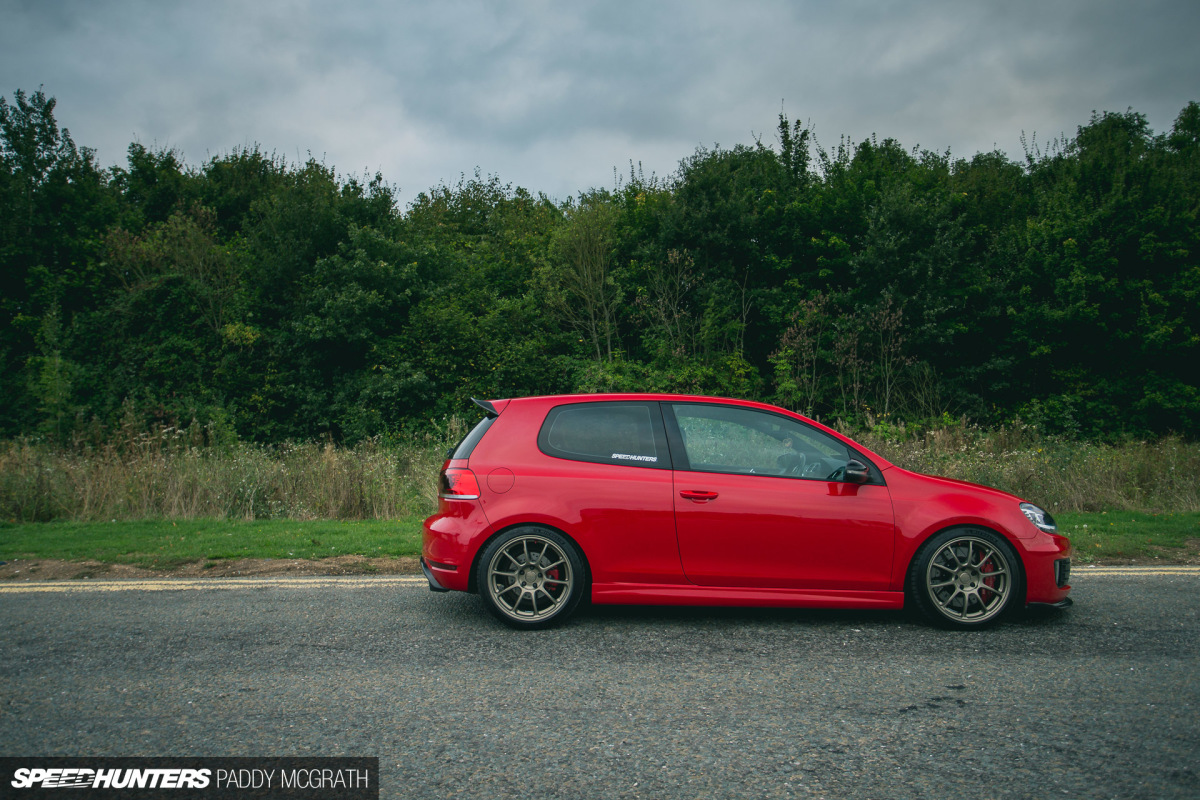 With the height sensors installed, the car remains at the precise same height that I've specified through the controller. The same is true if I load a few friends into the car – the management takes care of the maintaining the ride height for me. It removes the guess work from trying to figure out how much air I should add if it were not on 3H too. It also has the added bonus of keeping the car balanced from a driver's point of view. The amount of weight added is automatically compensated for with the appropriate air spring pressure to maintain its height.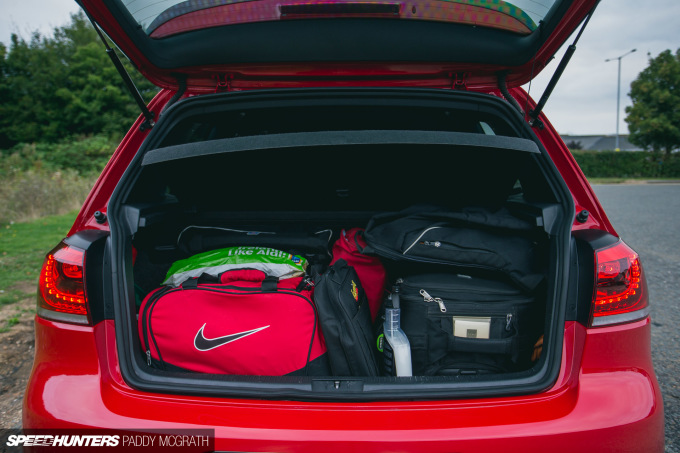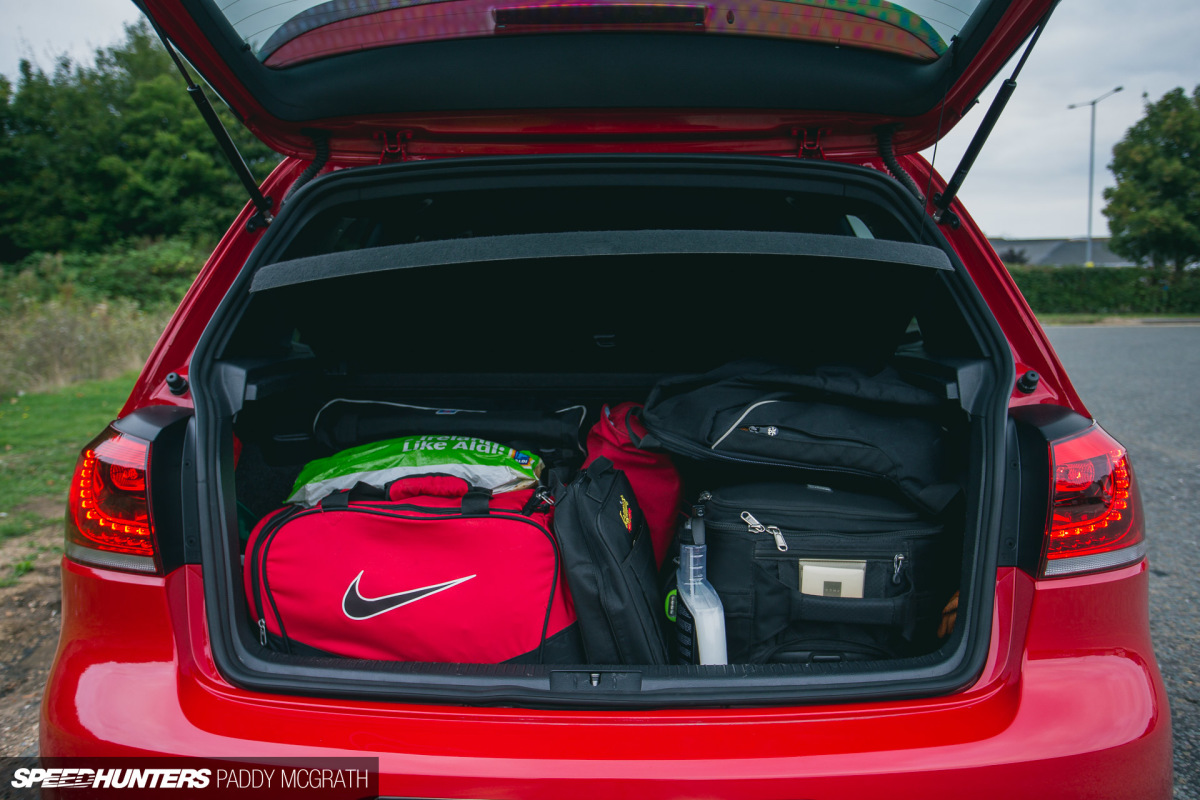 When I ran the car without the height sensors, I found myself adjusting air pressures to allow for these sort of situations. Now, I barely touch the controller and let the management system do all the hard work.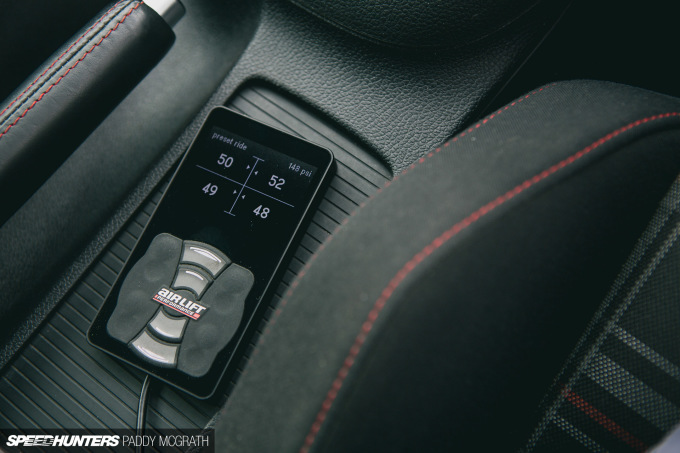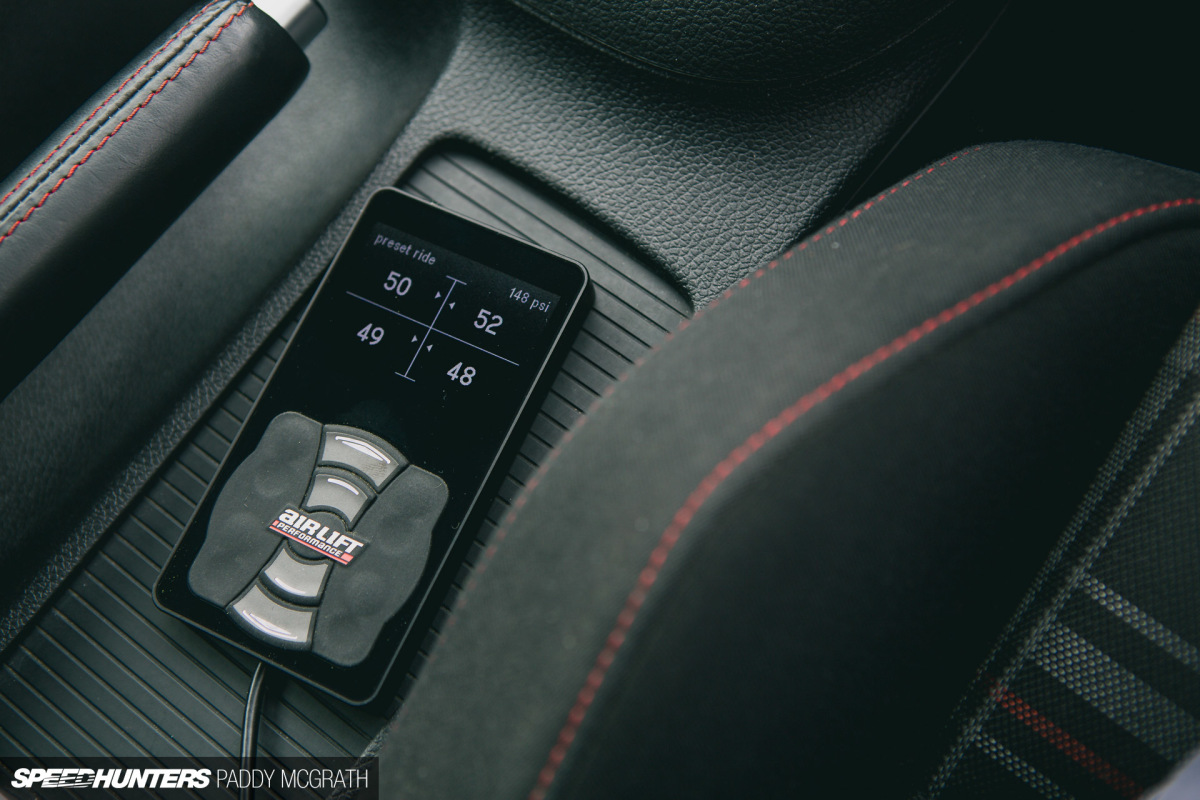 Speaking of the controller…
In the end, I decided that I liked having it free in the cabin and not mounted in one place. It means I can put it away when I don't need it or can hold it freely when I do.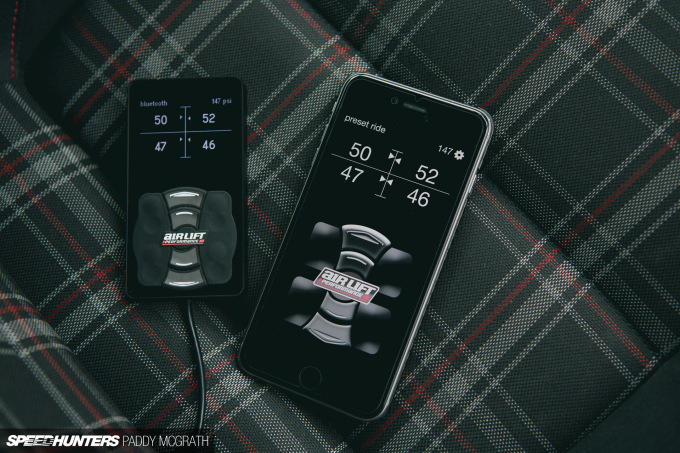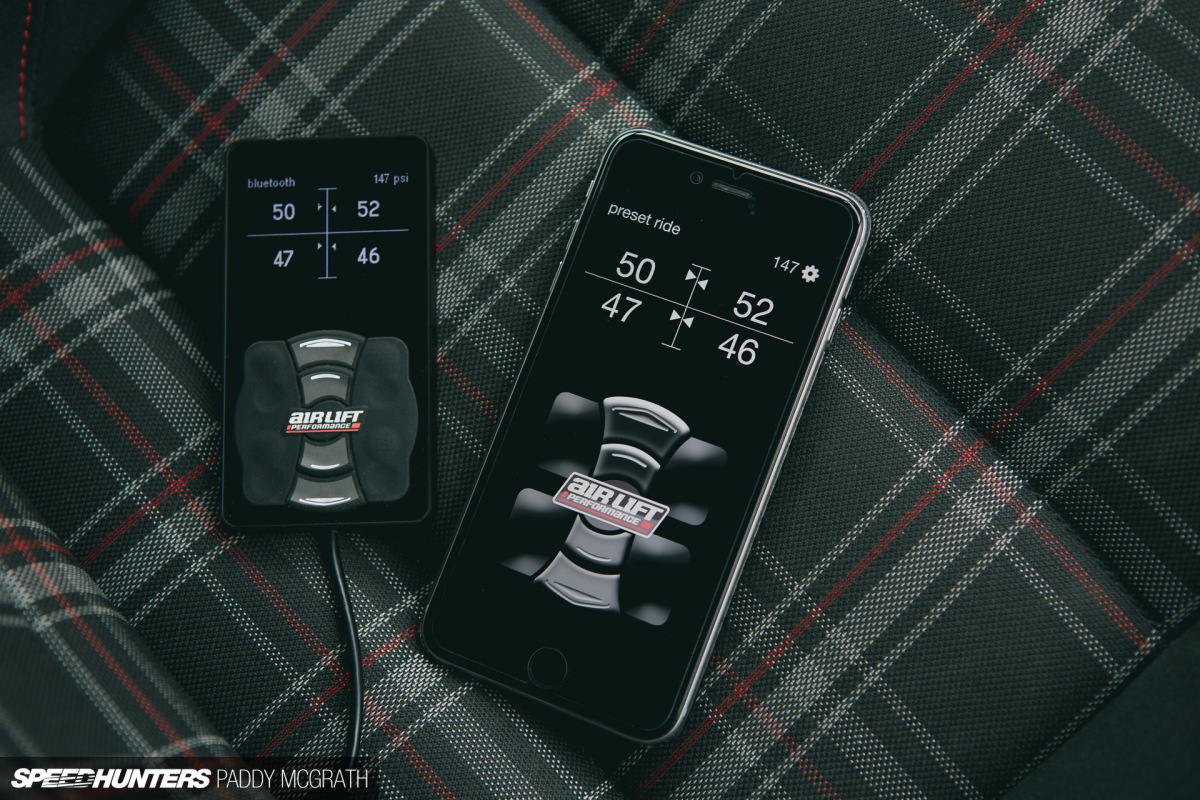 There's also the bonus of using the 3H smartphone app too. It's proved to be tremendously reliable and connects very quickly anytime I've wanted to call upon it.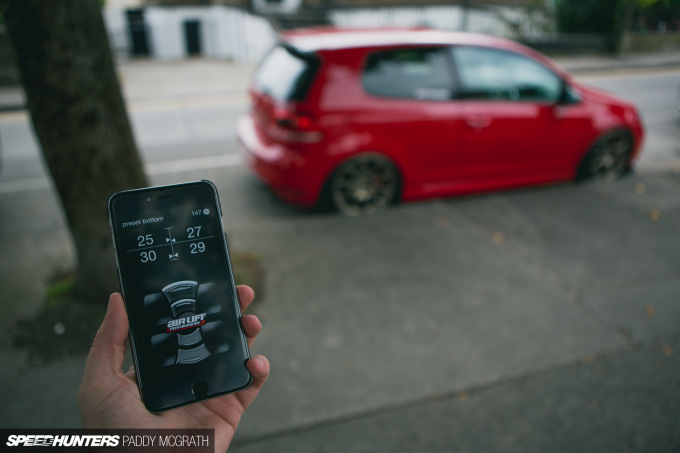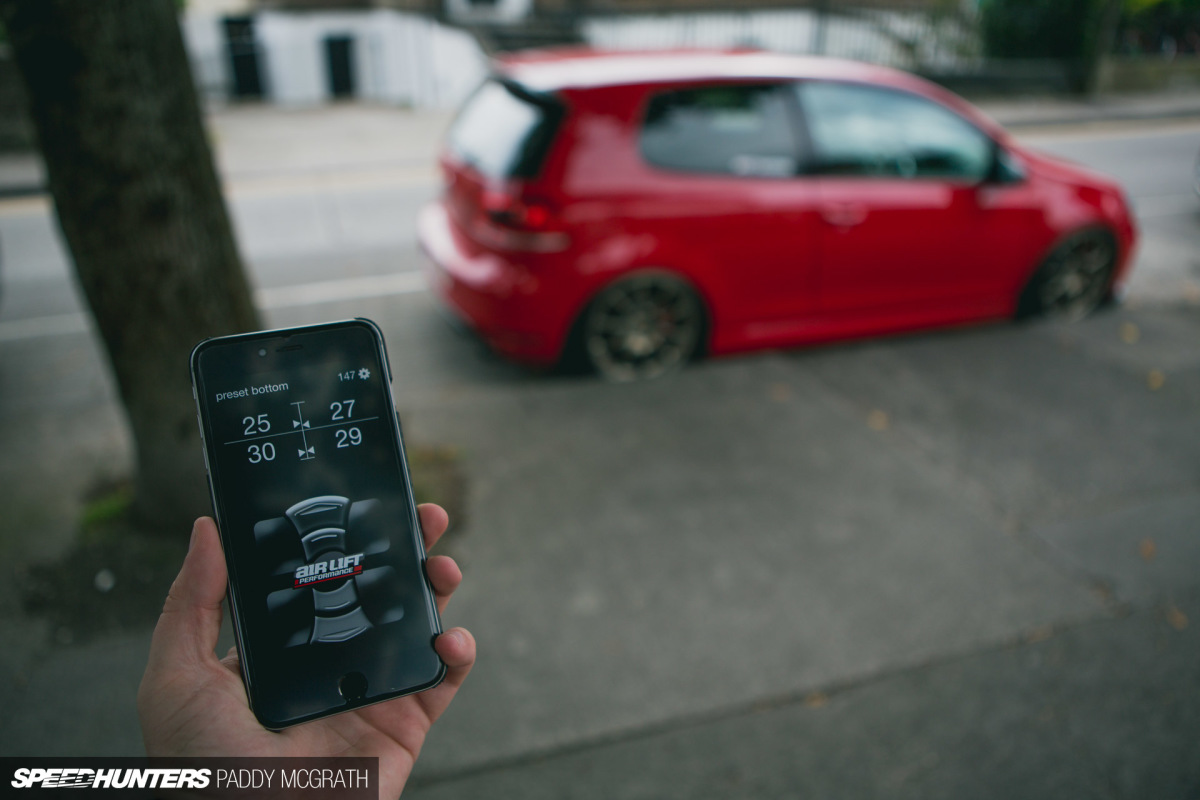 I tend to use the app when I want to setup or modify the presets. I can walk around the car, make changes through the phone which instantly result in the car adjusting, make my measurements (or eyeball it) and save everything with a couple of button pushes. It just allows me to have the car sitting exactly how I want it to sit.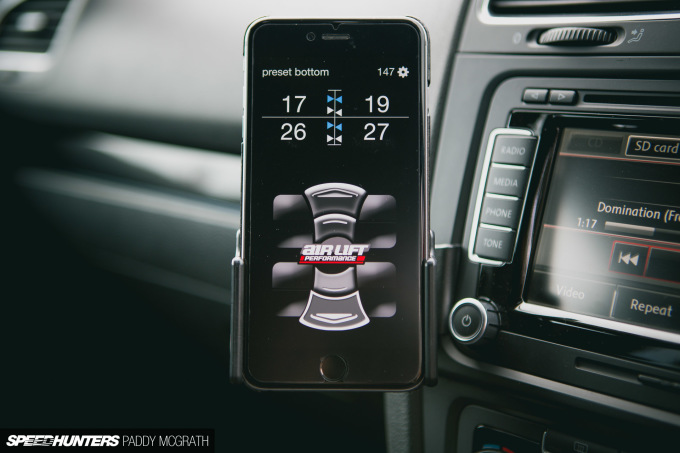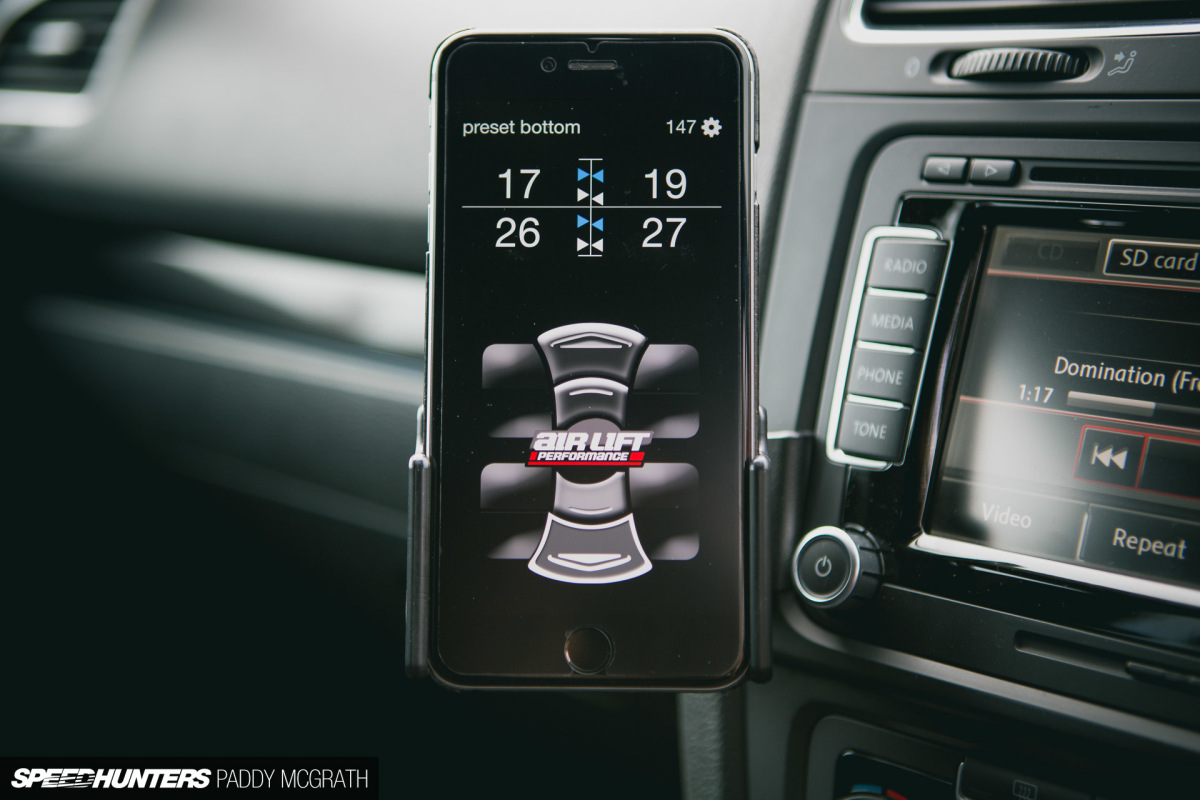 The app allows you to do everything you can do with the hand controller, along with the ability to update the manifolds firmware over the air. These are all simple things, but they just make your life so much easier.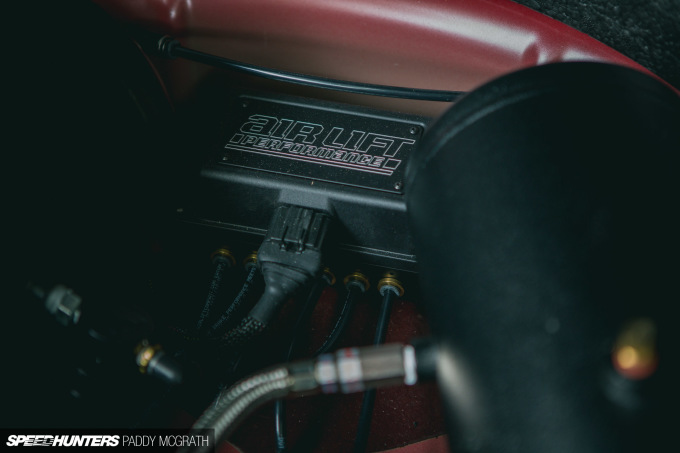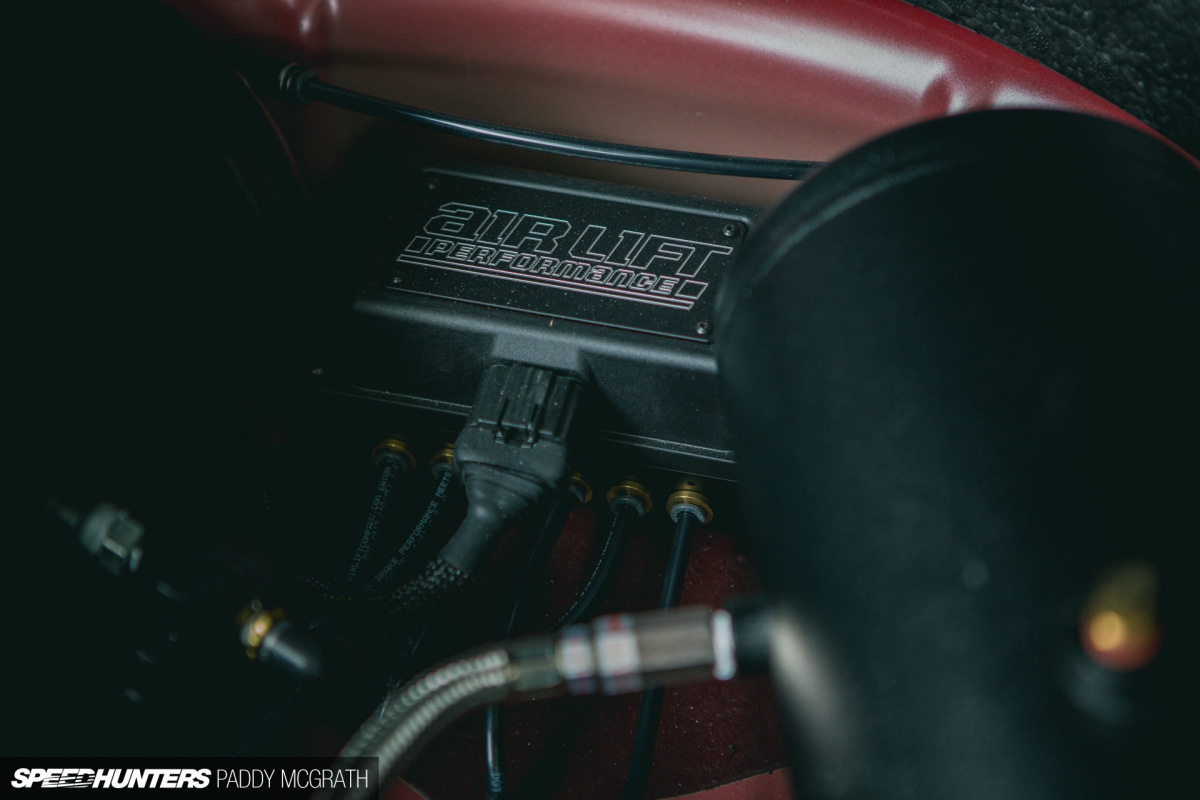 I don't tend to look at this very often, as I have no real need to. I keep telling myself that I'm going to do something fancier, but as it is now it works perfectly and doesn't require any maintenance. It might be a nice project to tackle over the quieter winter months.
When it first arrived, the management setup scared the bejesus out of me as I have an allergy to anything that involves vehicle electronics. Once it was laid out, it became apparent that it has been simplified right down – there's only one plug and everything is combined in a single harness – to the point where even I think I could comfortably troubleshoot any issues if they arose.
Maybe.
Life On Air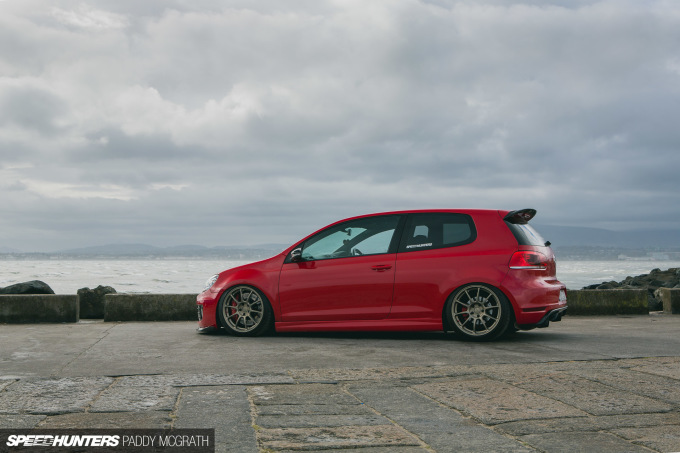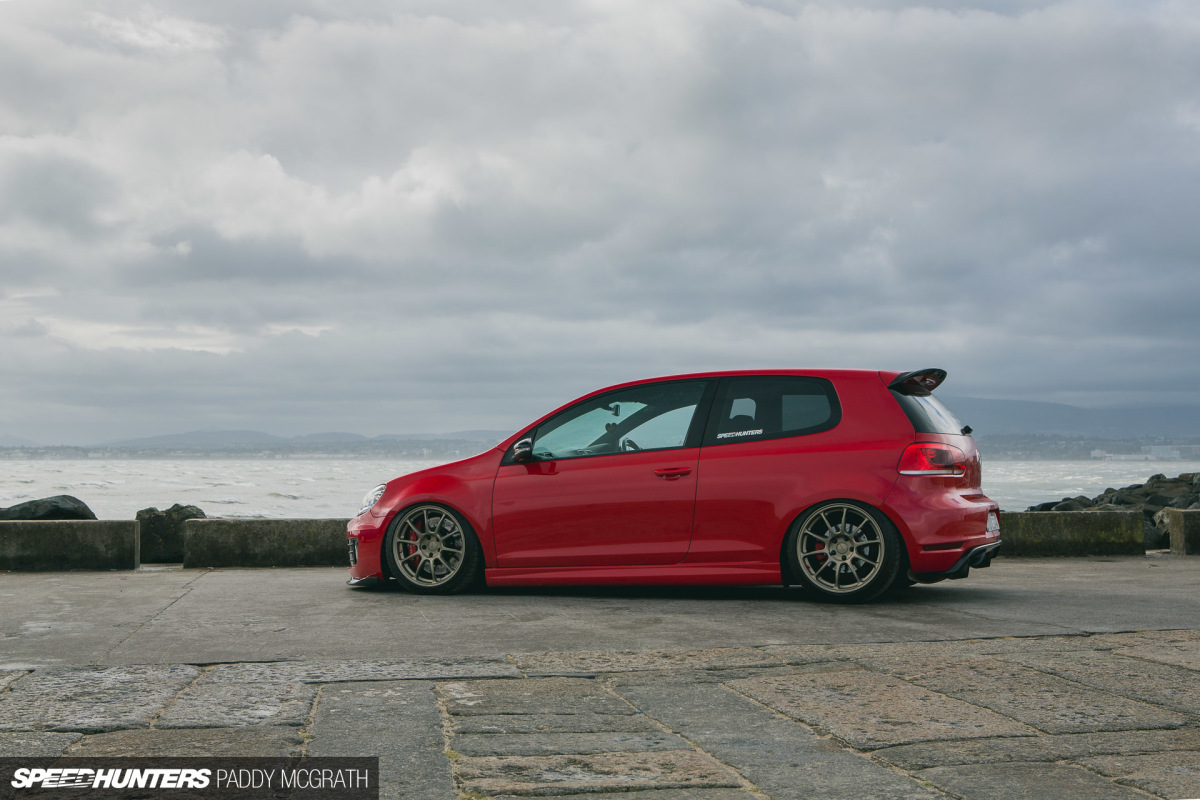 From a day to day perspective, I really couldn't be happier with everything about the car as it currently sits. There's no planning your route around speed bumps or poor road surfaces, and multi-storey parking garages don't require military levels of planning any more. I just get in the car and drive.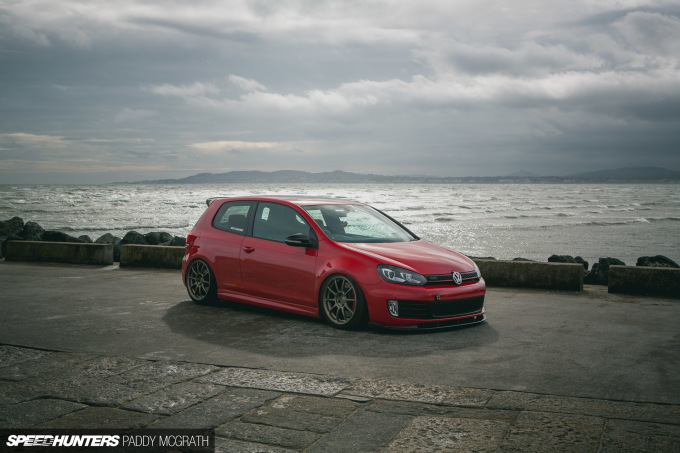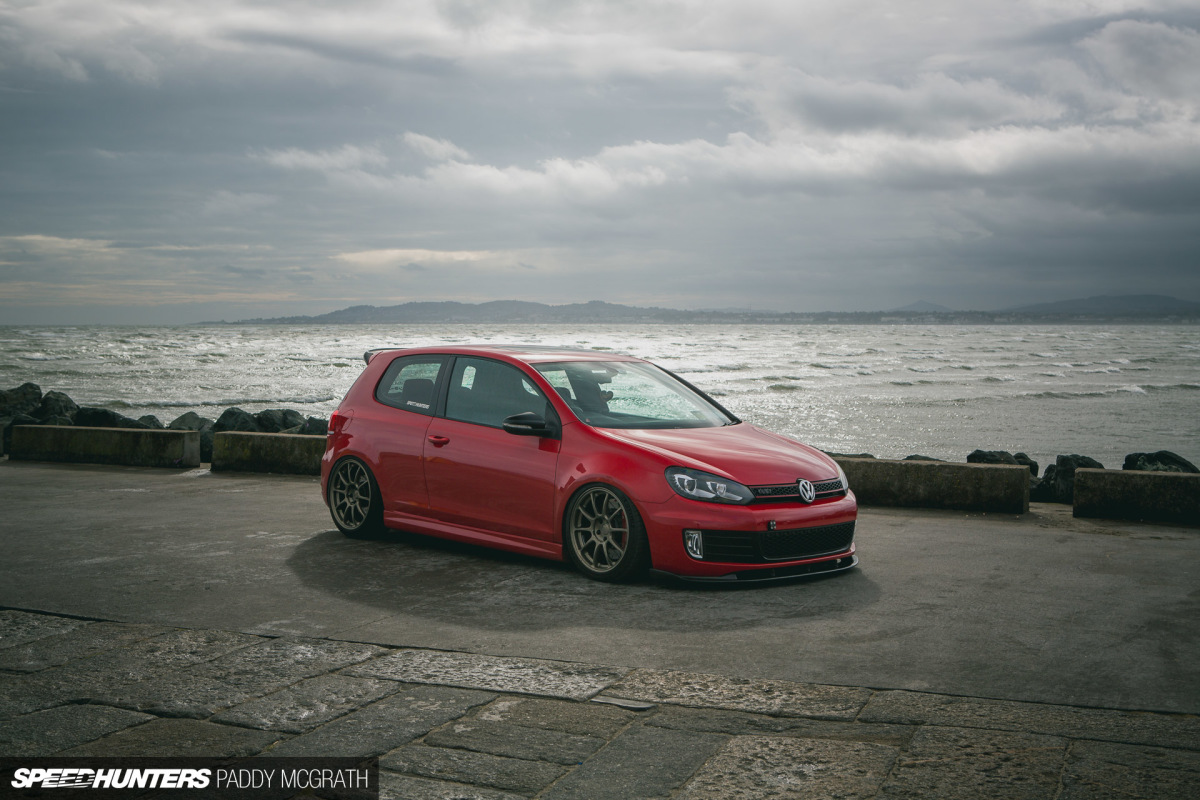 I'm still enjoying others' reactions to it, too. It's not uncommon for people to want to have a chat with me about the car, nearly all of which is positive. The few who complain that it's too low are quickly won over with a single turn of the key in the ignition as the car automatically raises to its preset driving height.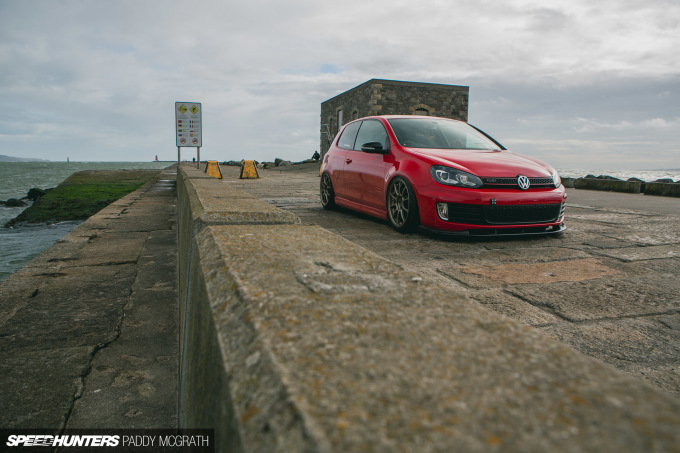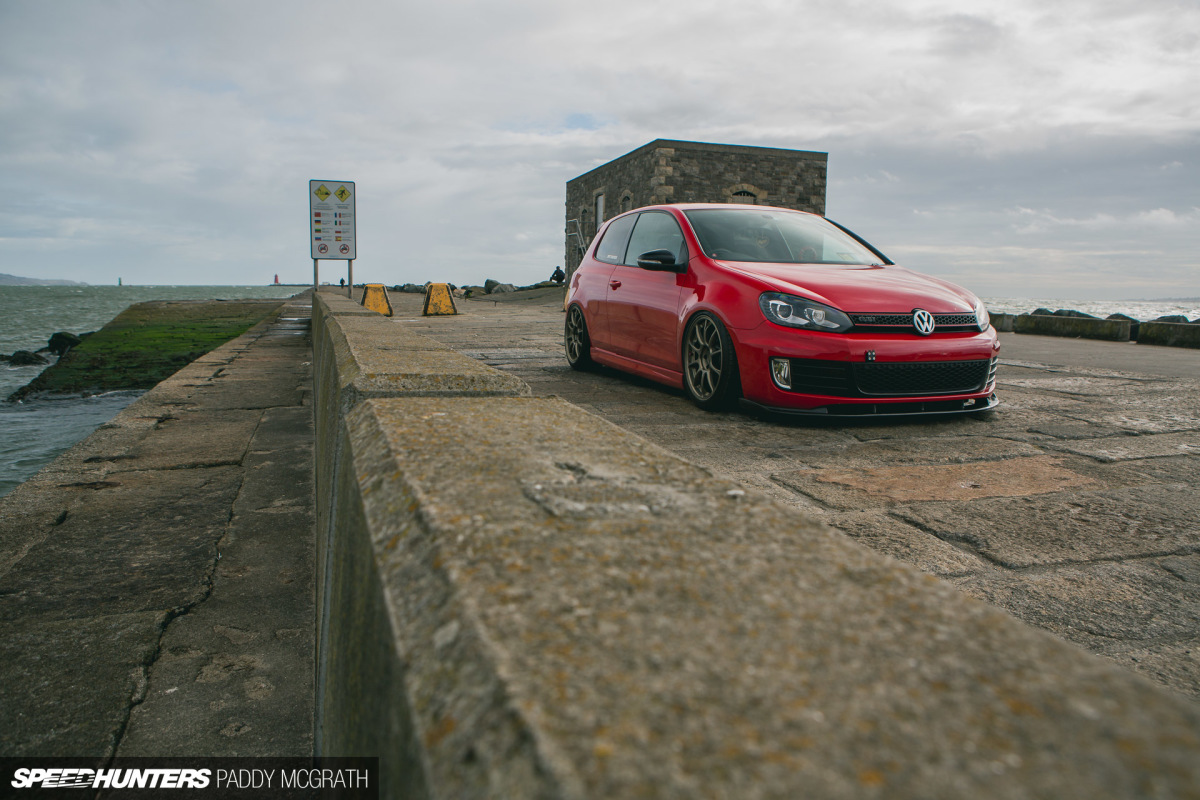 If I had one complaint –  and it's more of a nitpick – it's that I wish I had the ability to adjust when the compressors kick on. As it stands, when the tanks use 15psi, the dual compressors automatically come on to top the tanks back up to 150psi. It only takes a couple of seconds to top them off, but it means that they run every time the car rises from its aired down position. They're not particularly loud – they can't even be heard at all over 30km/h – but it's just one of those things I'd like to have control over, especially considering that I'm running two small tanks.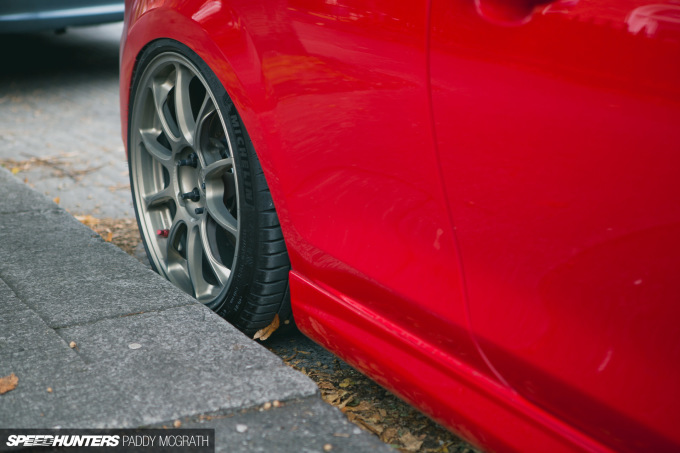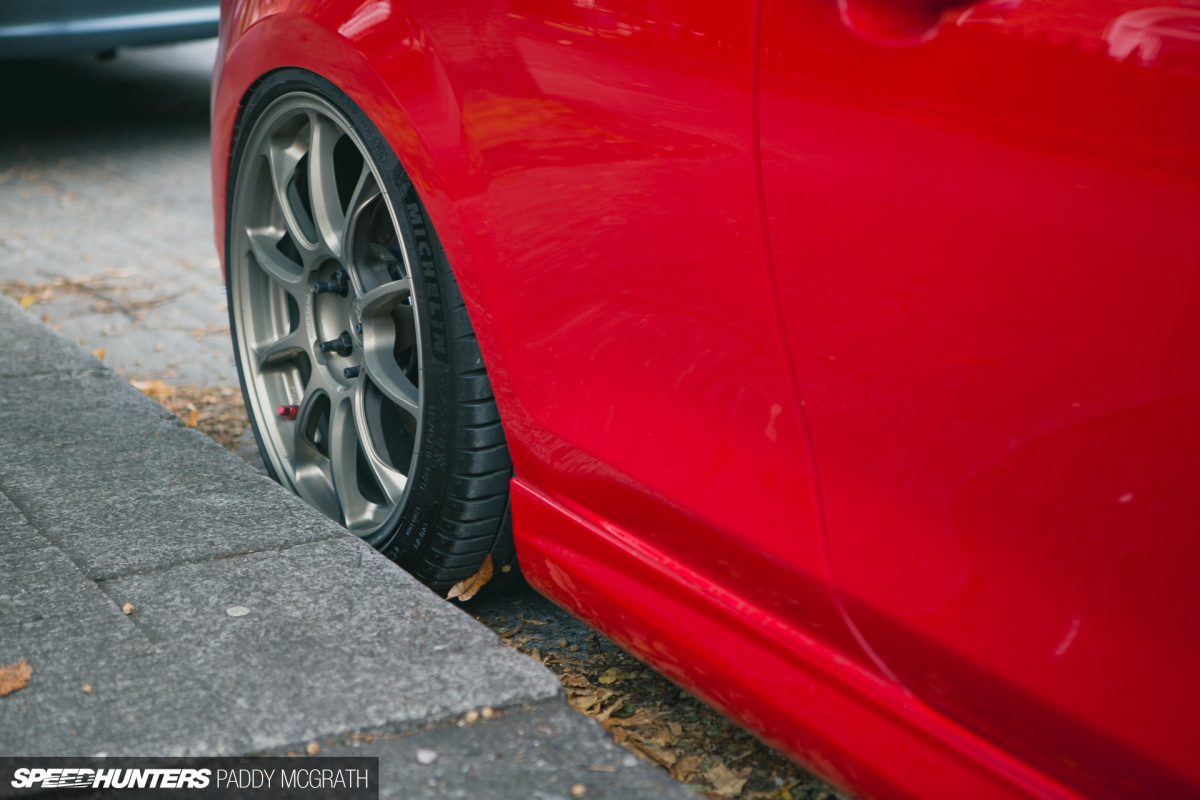 In the grand scale of things, that's a nothing issue, especially considering everything I've gained in the process of converting to 3H. I can run full size tyres and sit my car on the ground. I have properly tight fitment, but my arches and wheels are perfectly safe. I don't have to worry about any 'low car problems' because I can lift the car higher than a stock GTI with a simple double tap of the requisite preset button.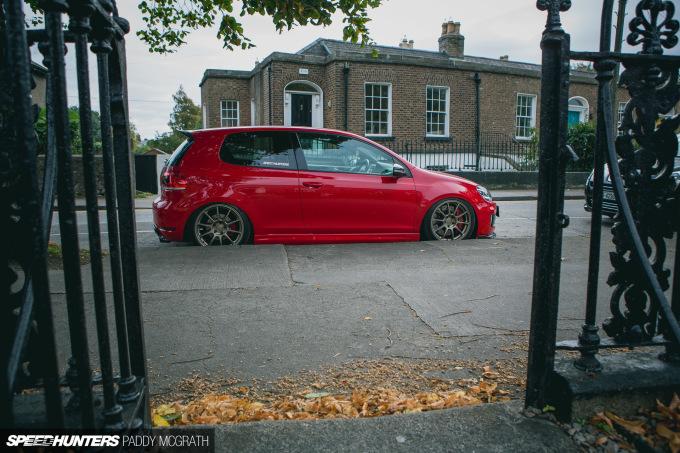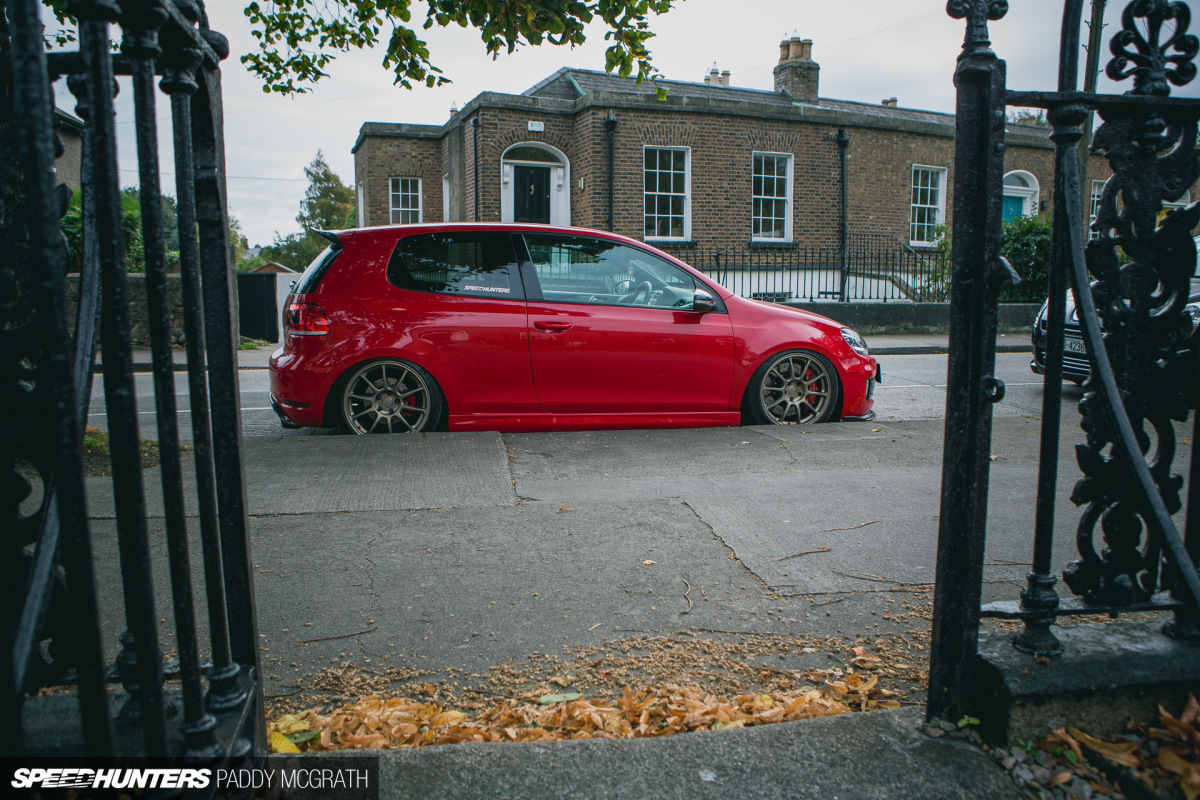 As it sits right now, this is the best car I have ever owned. It does everything and it does it bloody well at the same time. There has been zero compromise on the car's characteristics and only improvement since we started down the long road of making it my own. It's not always been easy and it's not been cheap, but at the same time it's worth every single cent that's been put into it. I still want to get out on track, but I've been limited on time with a hectic travel schedule this summer. Hopefully, we can rectify that in the coming months.
I'm proud of what we've achieved so far and best of all, there's still a way to go yet…
Paddy McGrath
Instagram: pmcgphotos
Twitter: pmcgphotos
paddy@speedhunters.com