As fun as it has been to beat around in Project FJ Cruiser while covering races, the stock suspension has taken a real beating. Down in the Mexican state of Baja, California, I pretty much pushed it to its limits in terms of how fast I could go through the sand and ruts on the trails that surround the actual race course. Given all this, a suspension upgrade has been high on my priority list for a while.
My plan has been to keep the FJ as streetable as possible, while still improving off-road performance. In other words, I still need to get to the places I am shooting in relative comfort, but when I'm there the FJ needs to perform in order for me to get the best shots I can. Enter King Off-Road Racing Shocks.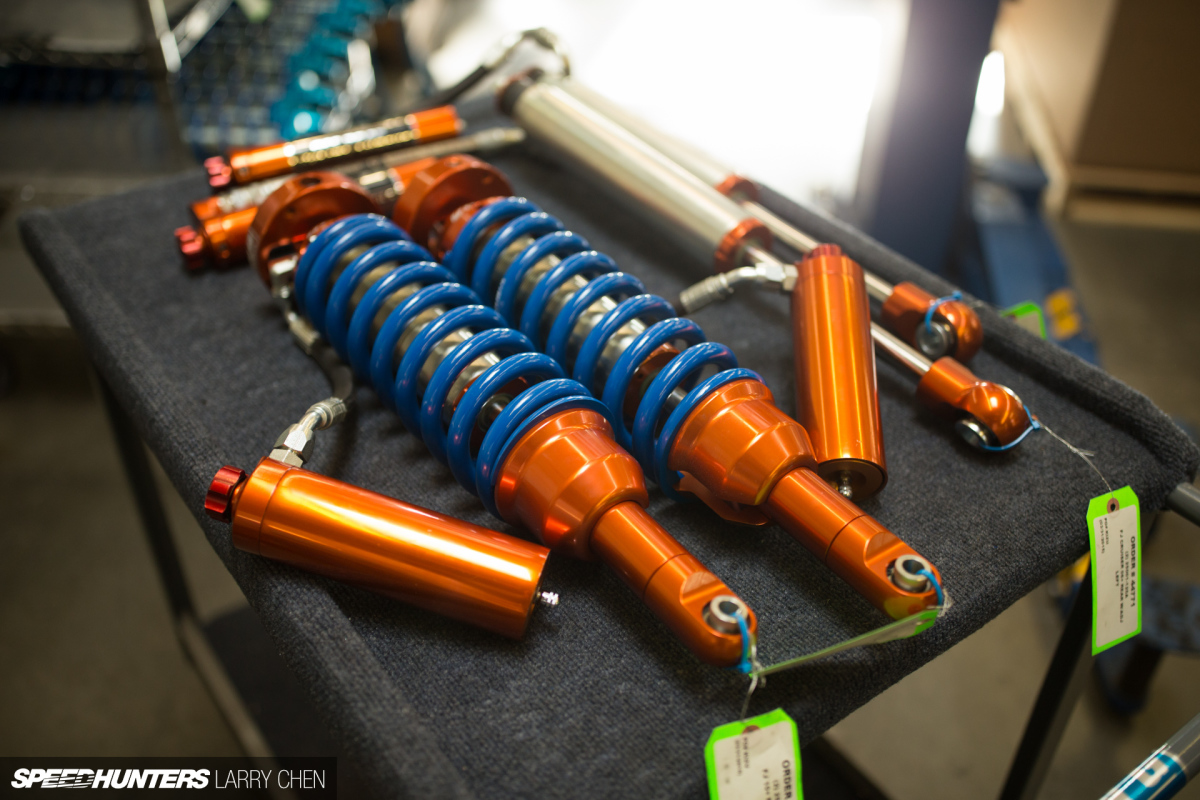 King Shocks is local to me in Garden Grove, California, and when the guys said to come down because they had a set of shocks for me, I had no idea what to expect.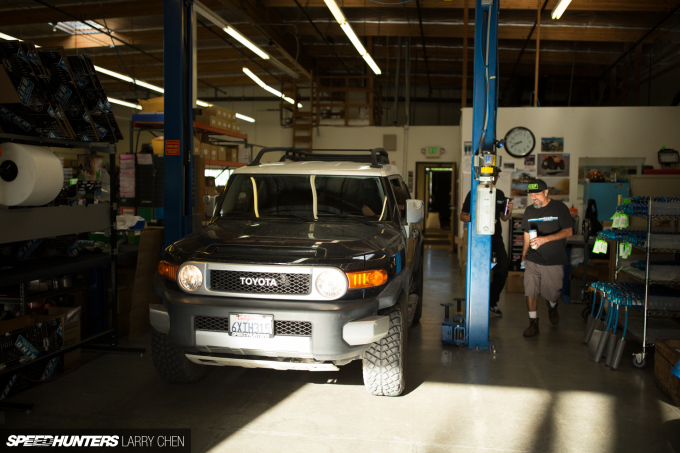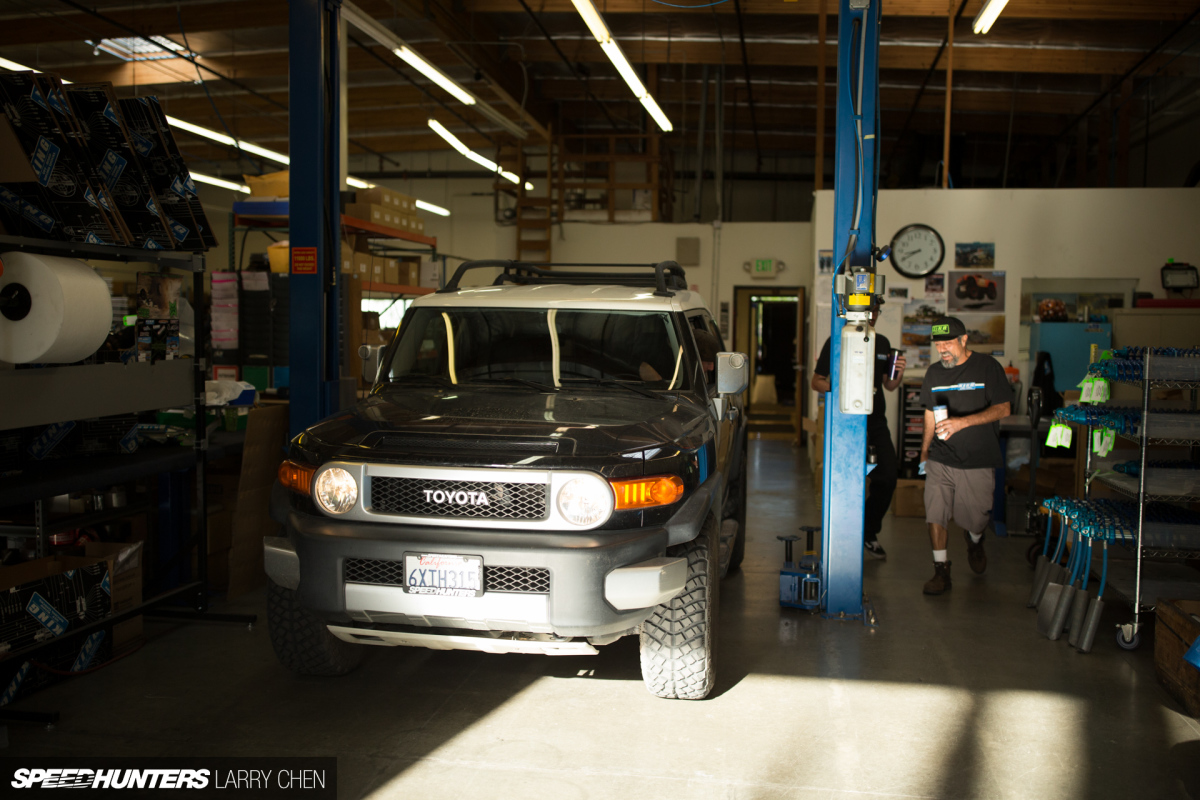 Everything is handled in house at King Shocks – from the research and development to the marketing, all the way to the construction, rebuilding and tuning of the shocks it sells worldwide. I pulled into the R&D building, as that's where the guys would be swapping my shocks.
It was off-road shock heaven! As I'd only seen such a small part of this large operation, while the boys set about installing my brand new shocks I was given the grand tour.
The first thing that caught my eye were these gold-colored shocks. It turns out they're actually plated in real gold, and were custom made for a wealthy customer in the Middle East. These will soon be gracing a Nissan Patrol of all things.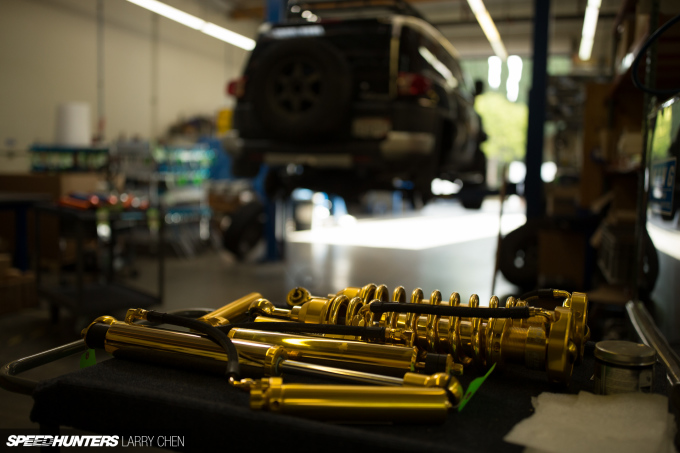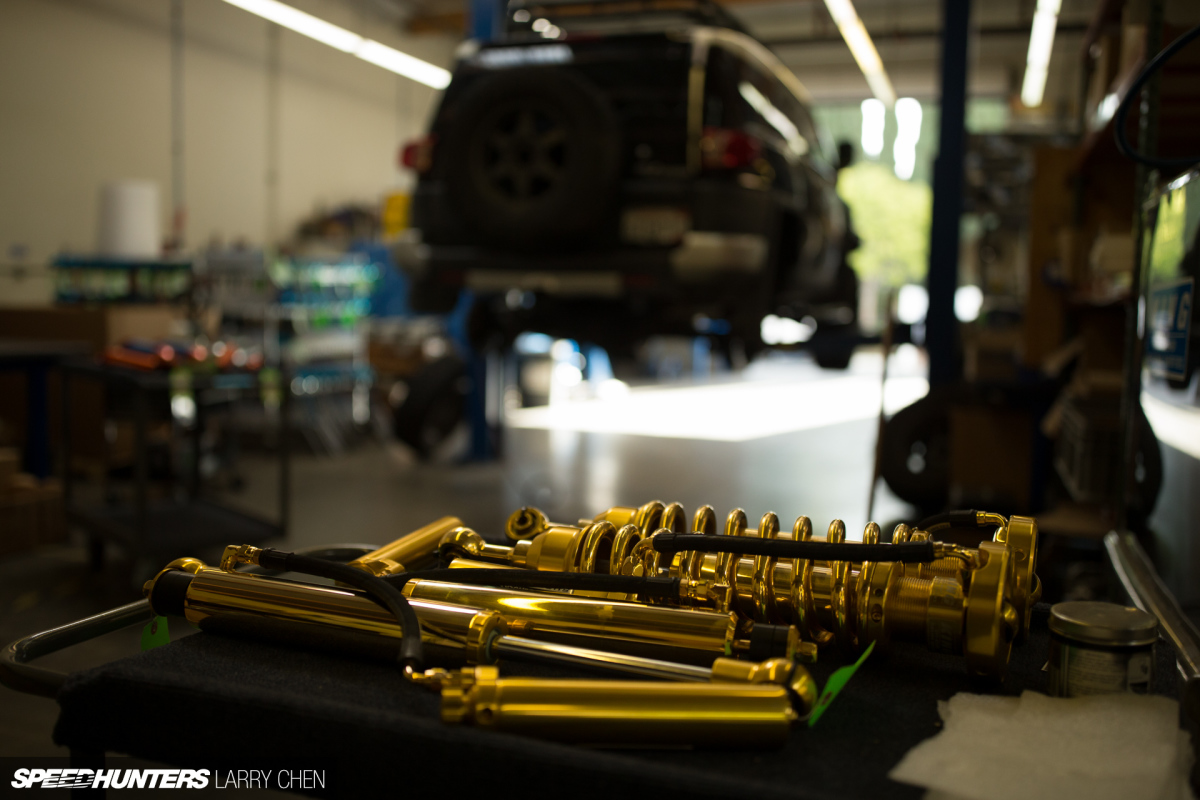 I think they'd look great on a Black FJ as well!
In one of the assembly areas there was an endless sea of blue aluminum anodized parts.
I found it interesting that this entire operation can still survive even though it's located in the heart of Southern California. But then, again off-road is a way of life here.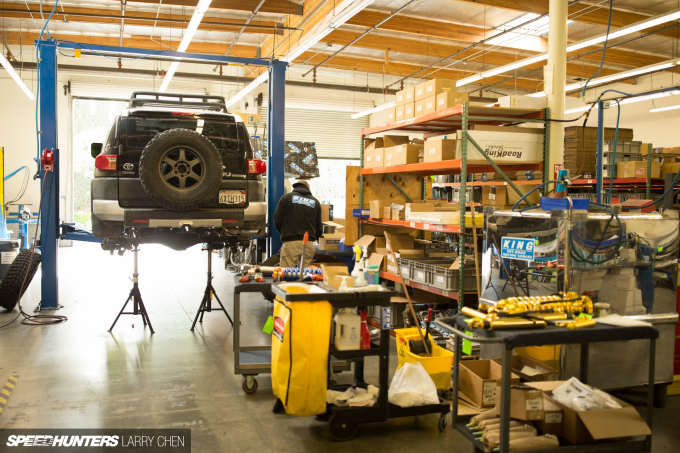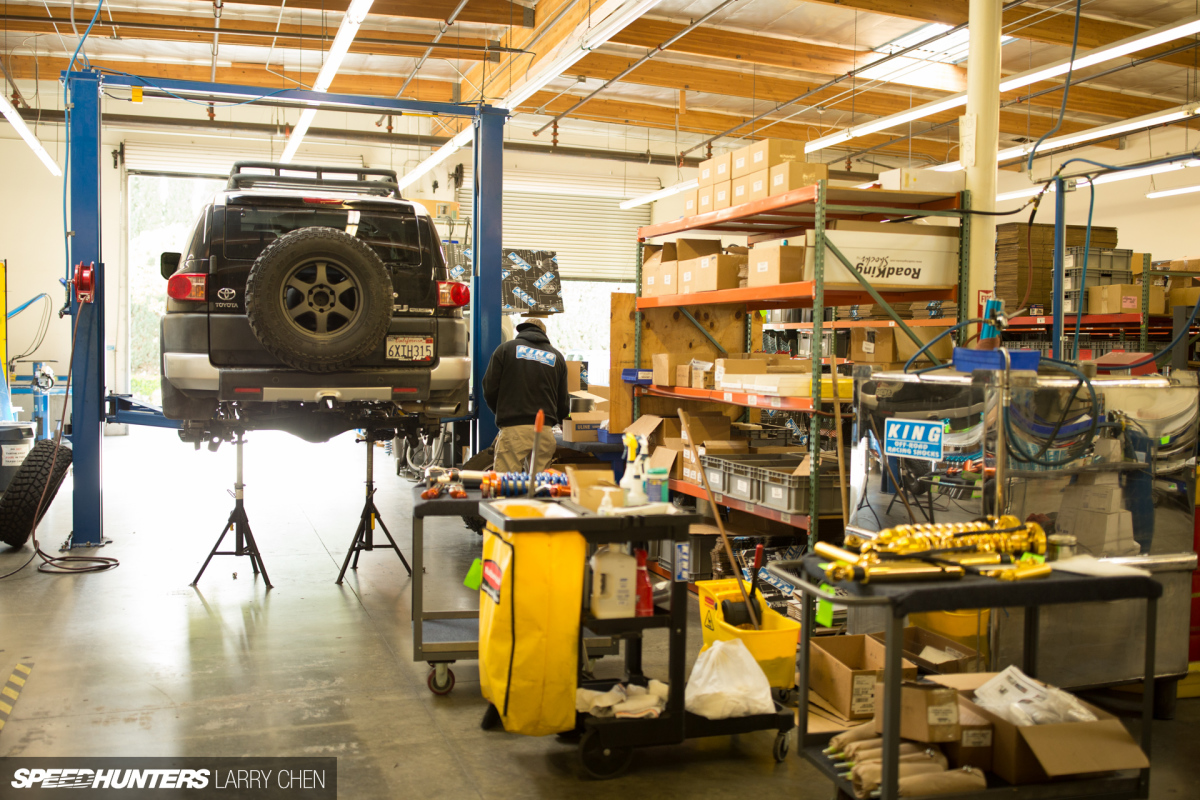 My FJ was already in the air and the stock bits were almost all taken apart, so I headed over to the next building where some of the raw shock bodies were being made.
These series of buildings store all the raw material, including these raw aluminum tubes that get machined into the actual shock bodies.
There are also these raw blank aluminum disks that they used to machine the shock hats.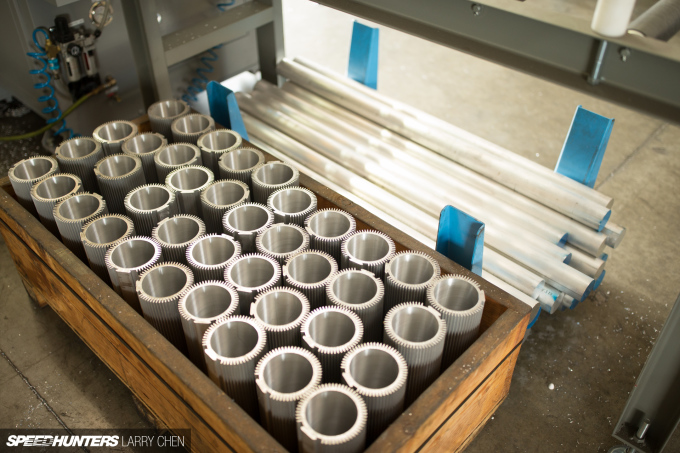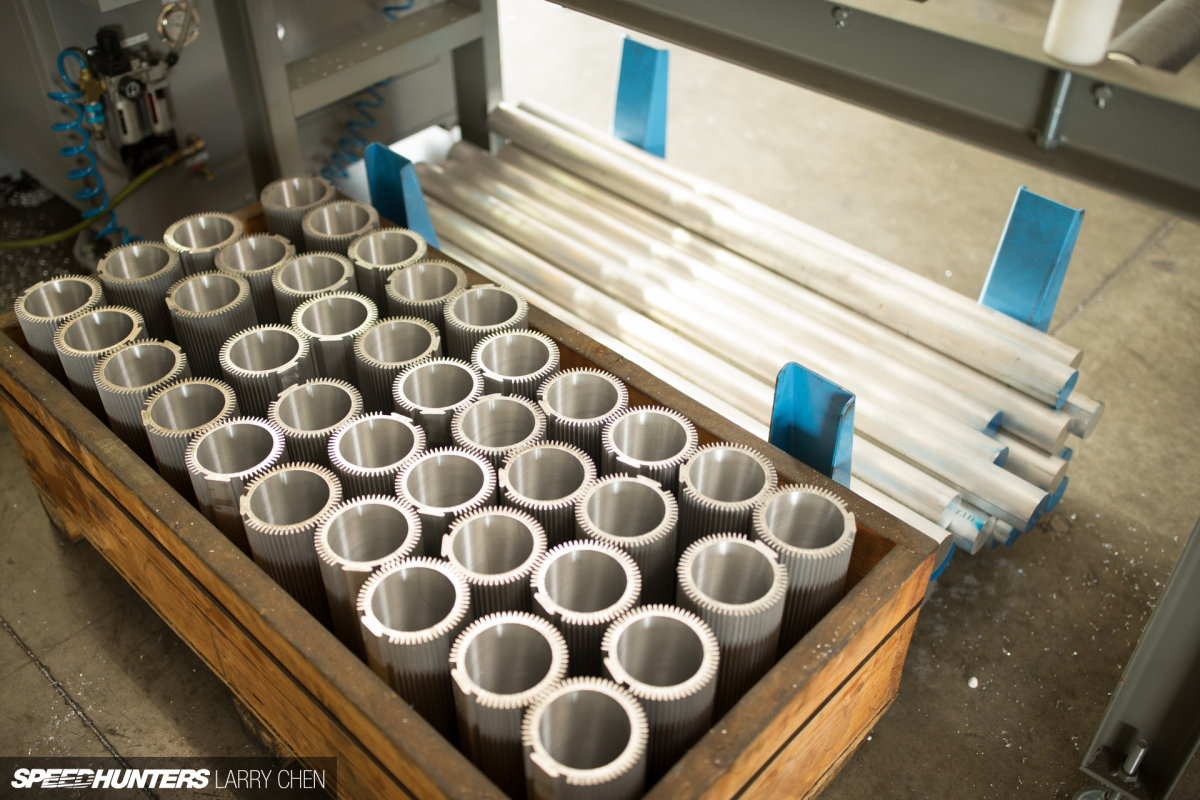 I was surprised to learn that a lot of King Shocks' processes are fully automated, but then again, because the company supplies shocks to OEM manufacturers it's worth it having machines that can pretty much do everything.
A quick check back to the R&D building and my rear shocks were already in and looking amazing.
It was now time to check out the last building, which is actually the most impressive of them all.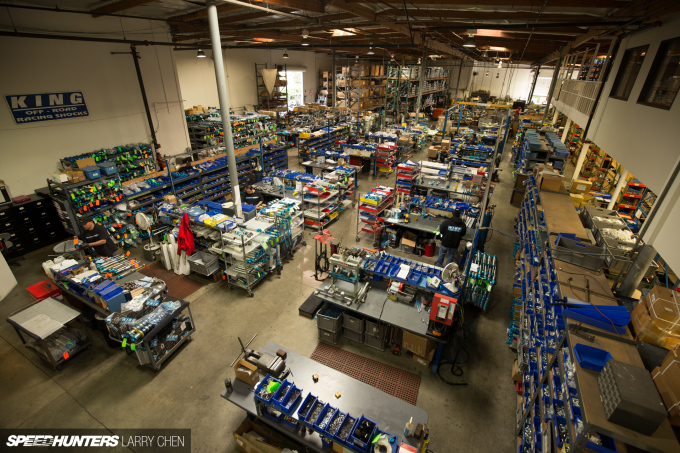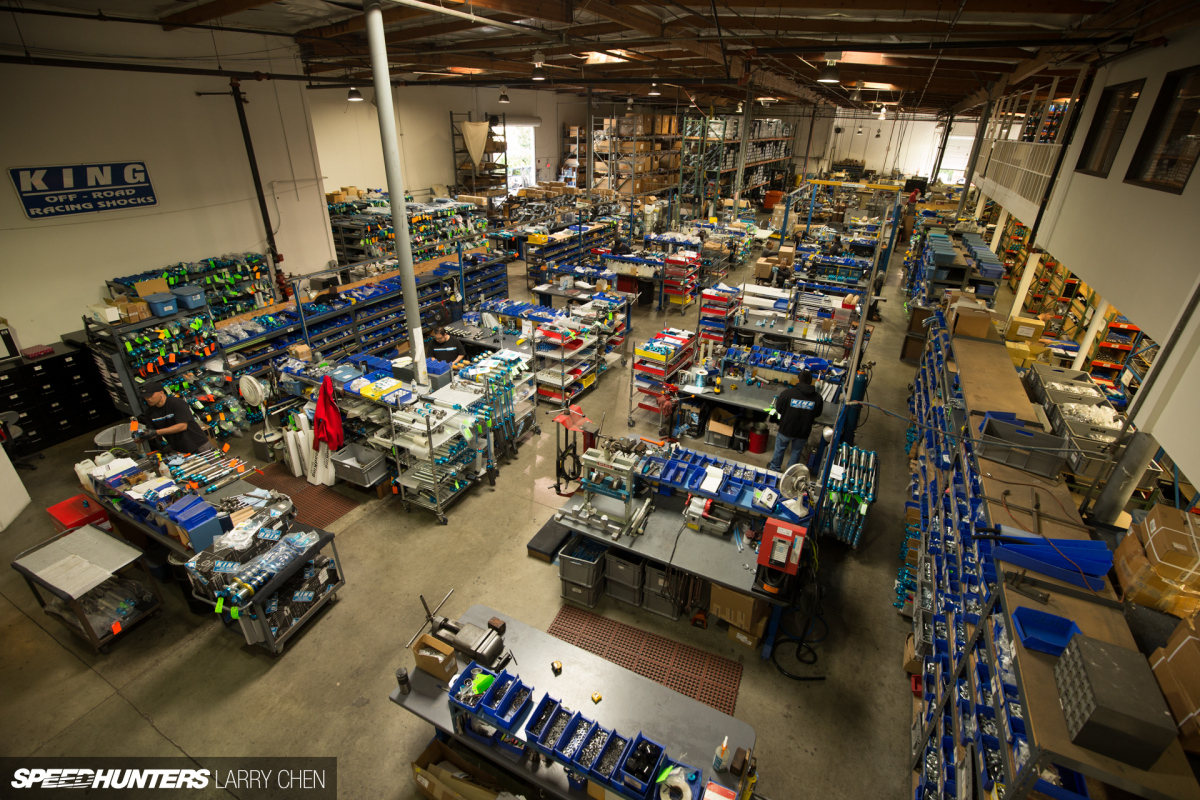 This is the main area were most of the assembly takes place. It's also home to King Shocks' race operations, and in the offices overlooking the factory floor the marketing and design departments.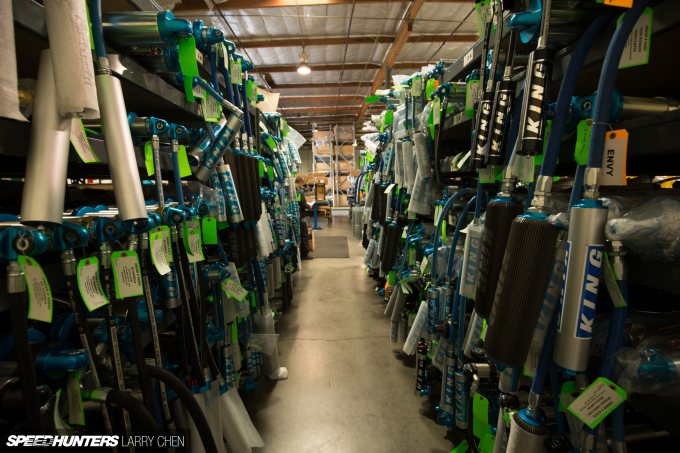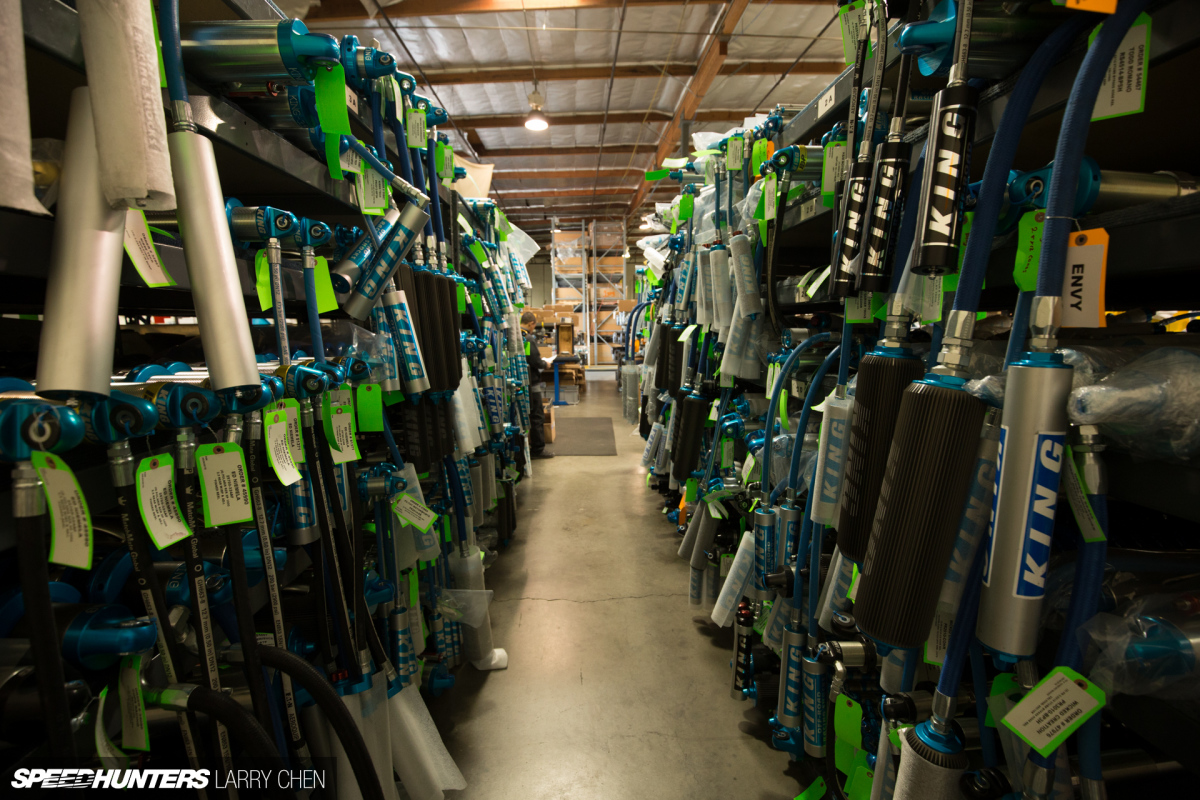 These are almost all race shocks ready to be delivered. Amazing!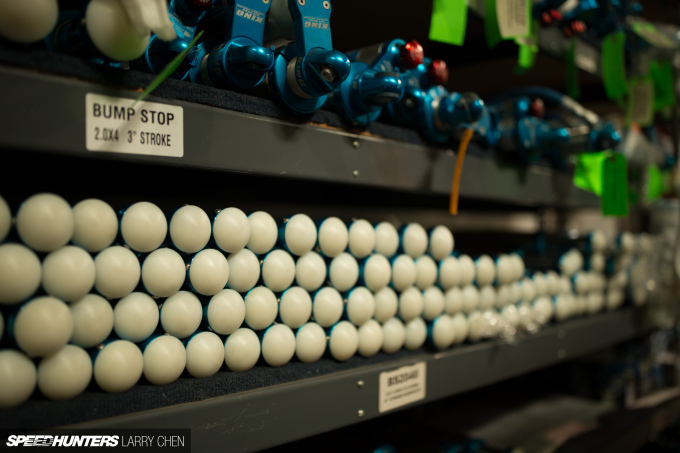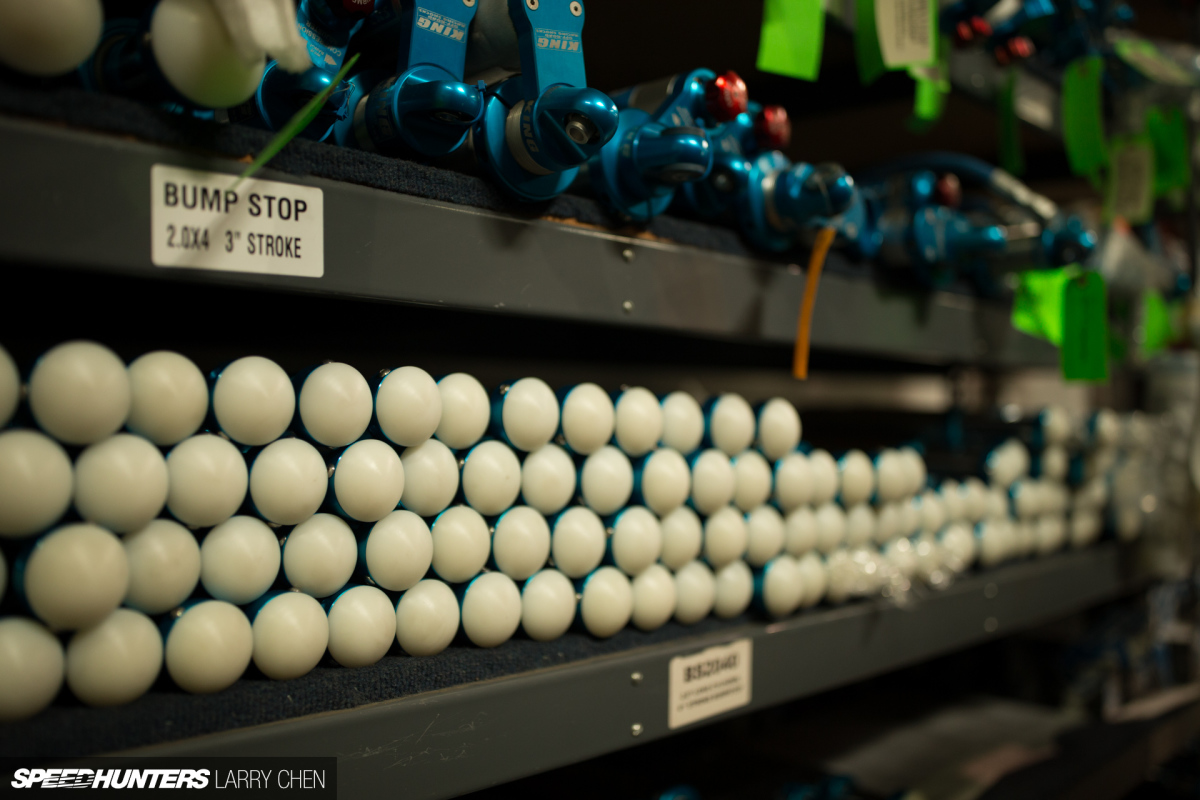 Bump stops for every type of racing application.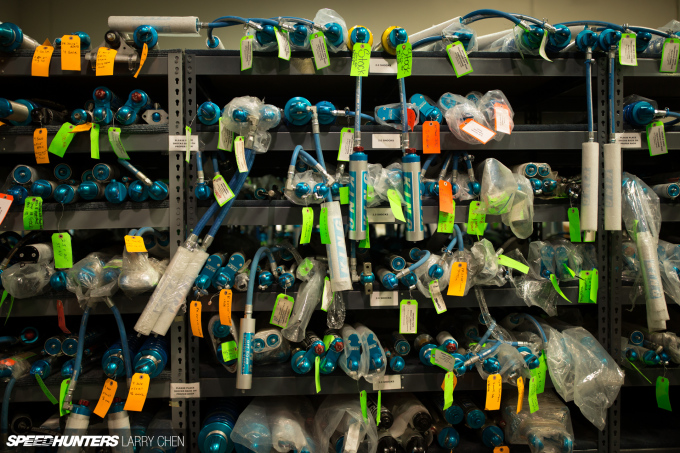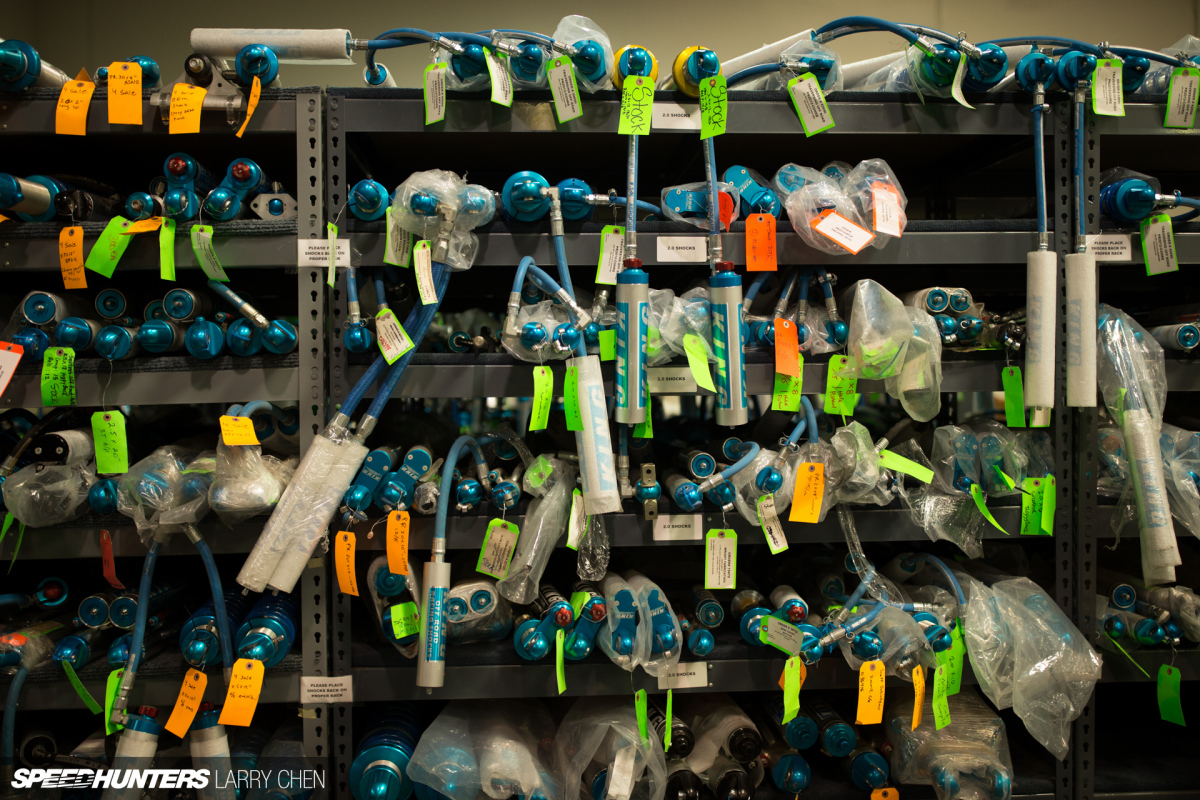 I can safely say that I'd never seen so many shocks in my life. The crazy thing is how much custom work goes into these race shocks.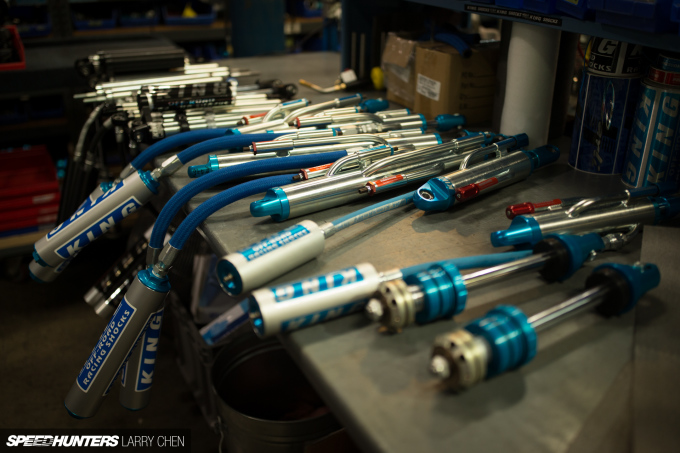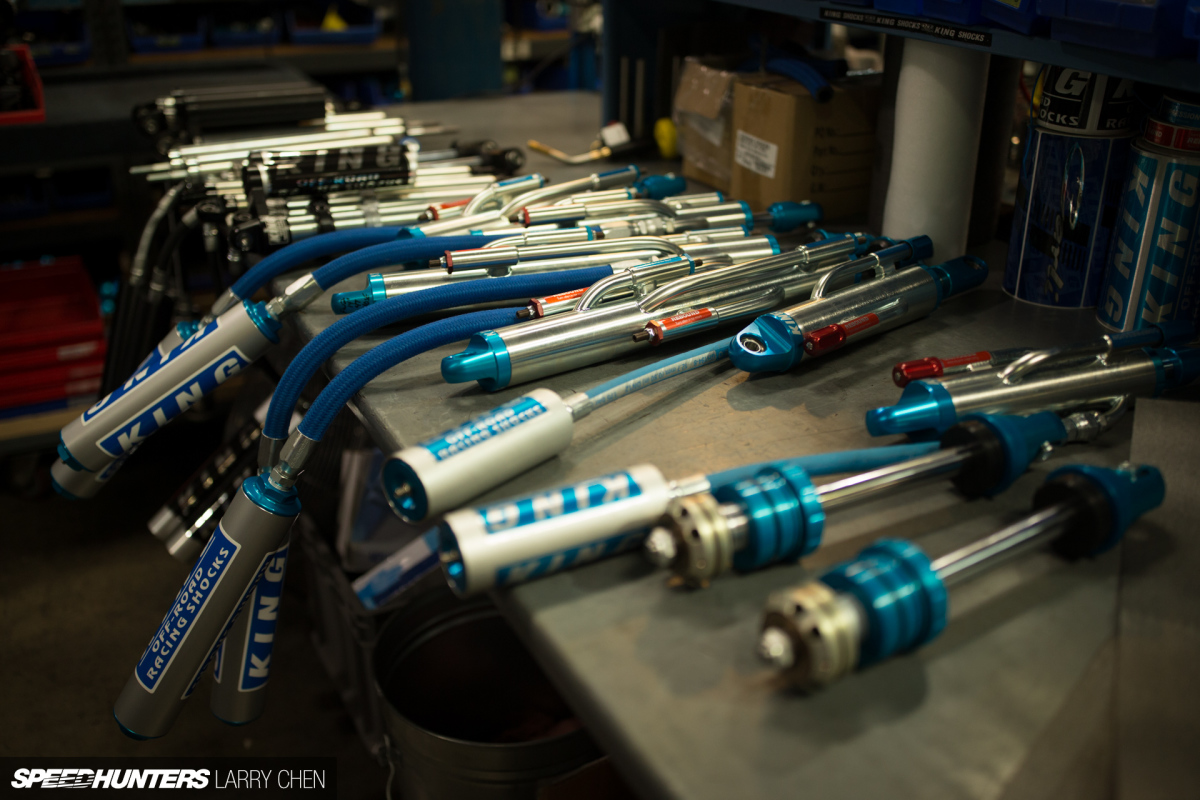 Double or triple bypass – anything goes. Shock rebuilding after race duty also happens in house.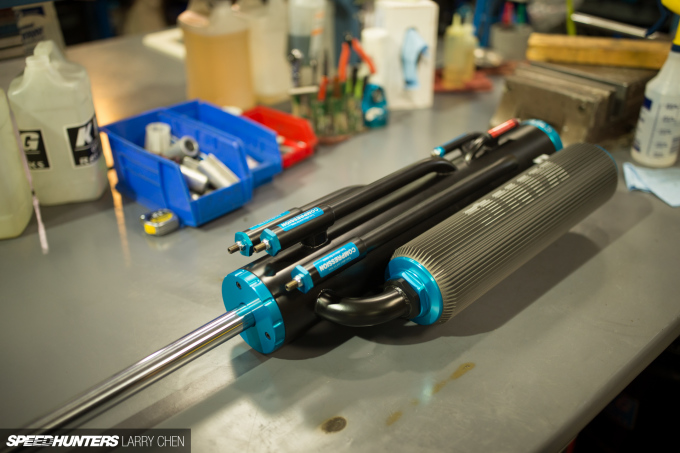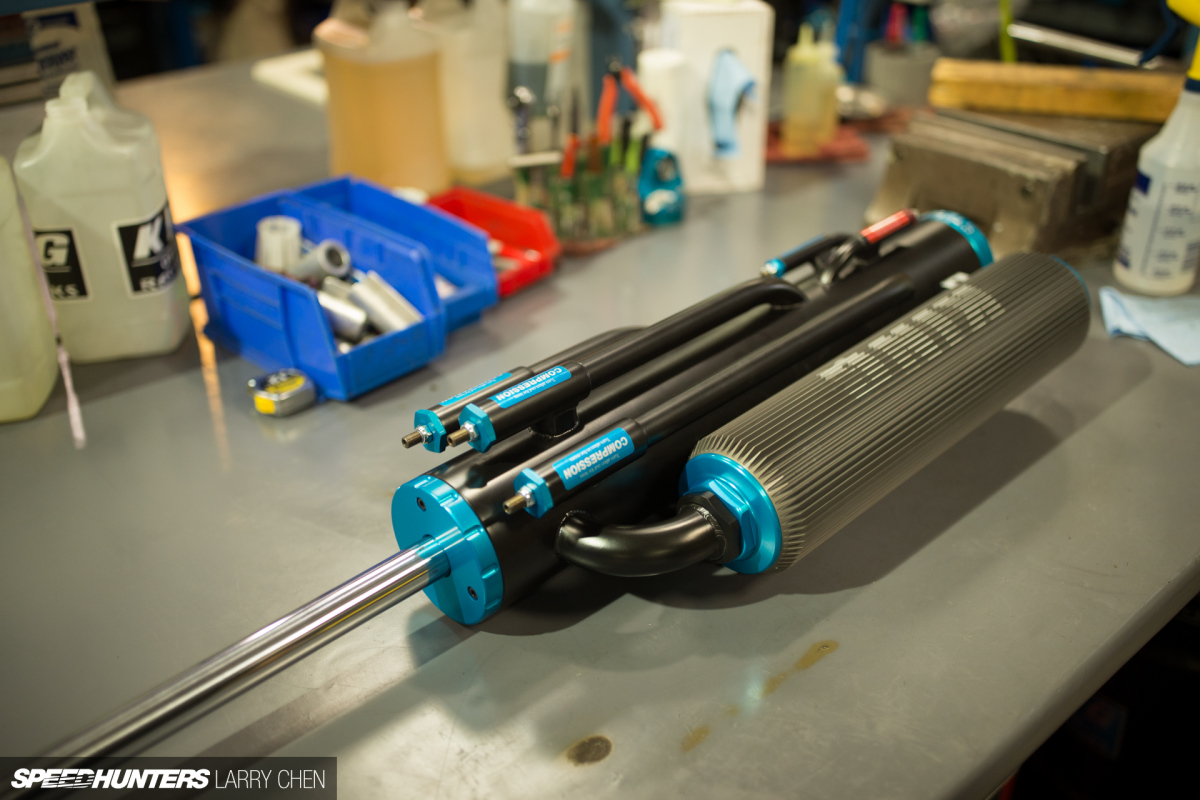 This is pretty much the biggest of them all, the crème de la crème of King's off-road shocks – the 4.5-inch, 7-tube bypass with piggyback finned reservoir. It's what the top dogs in trophy trucks and Class 1 cars use.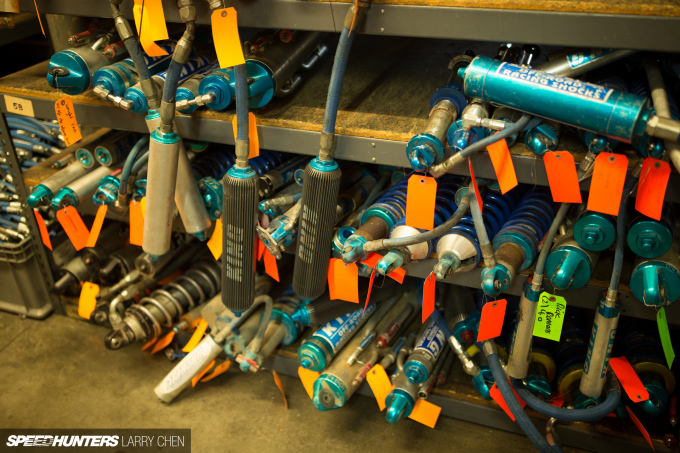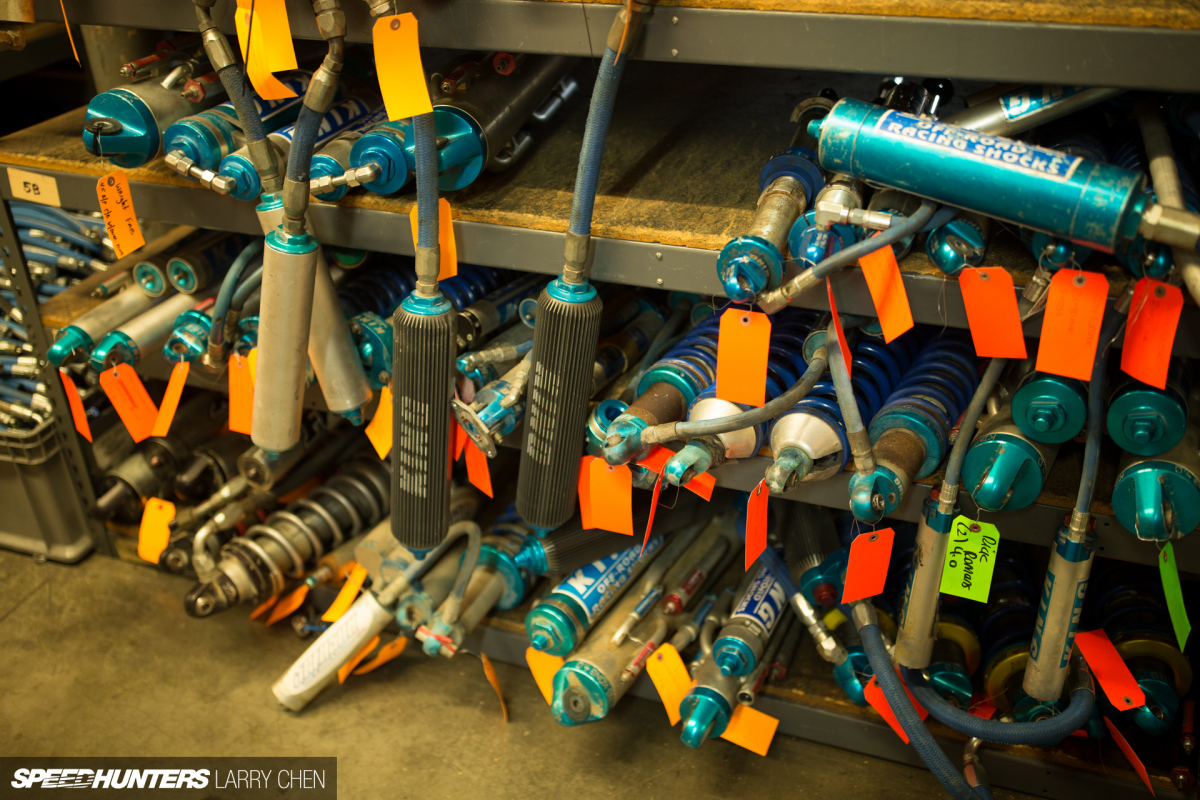 Here we shocks waiting to be rebuilt after hundreds if not thousands of race and test miles.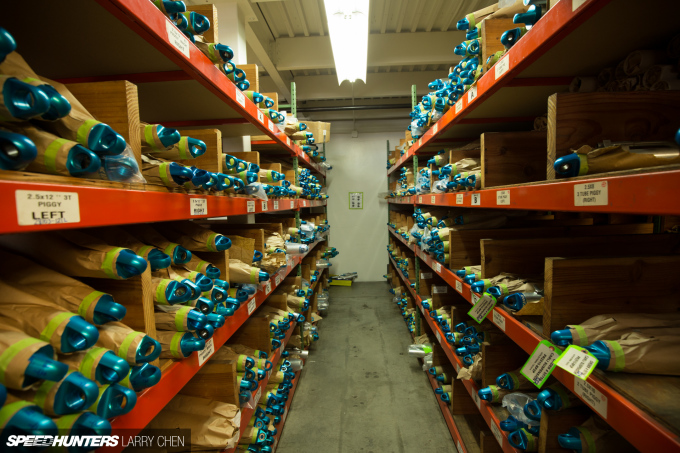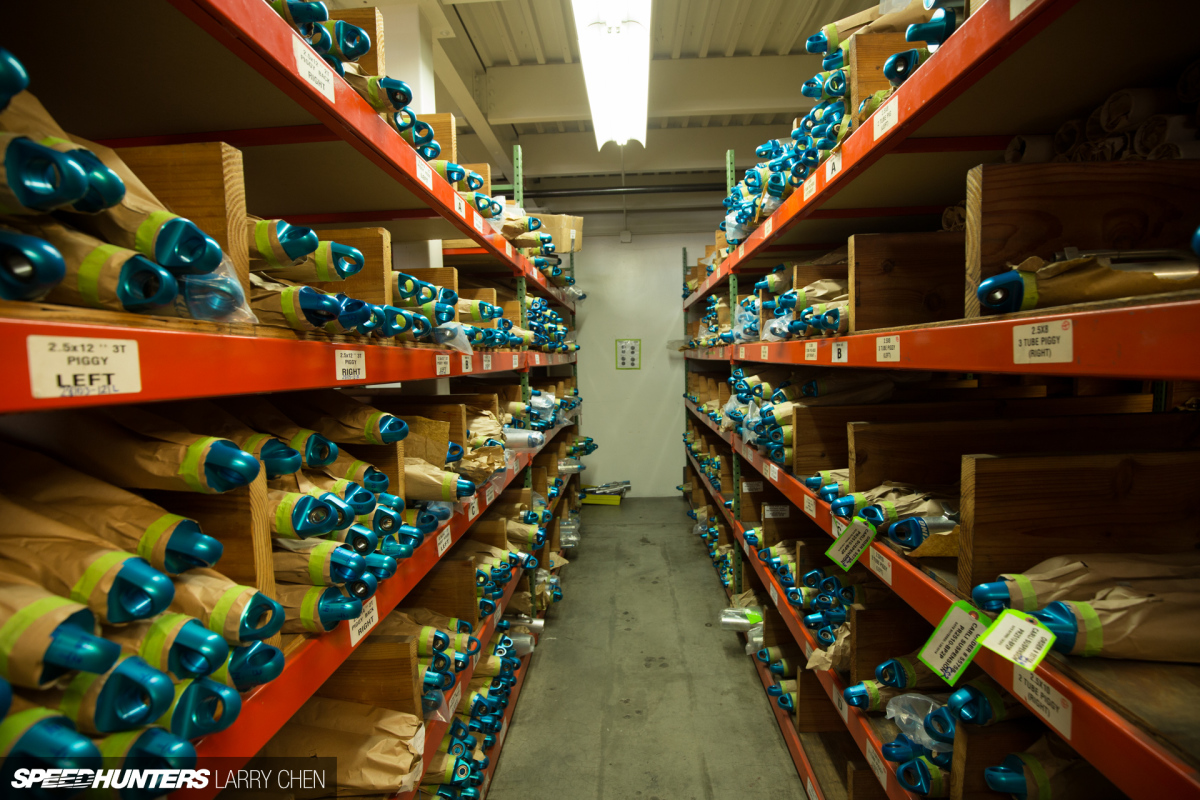 And brand new shocks ready to go in all the off-road applications you can imagine.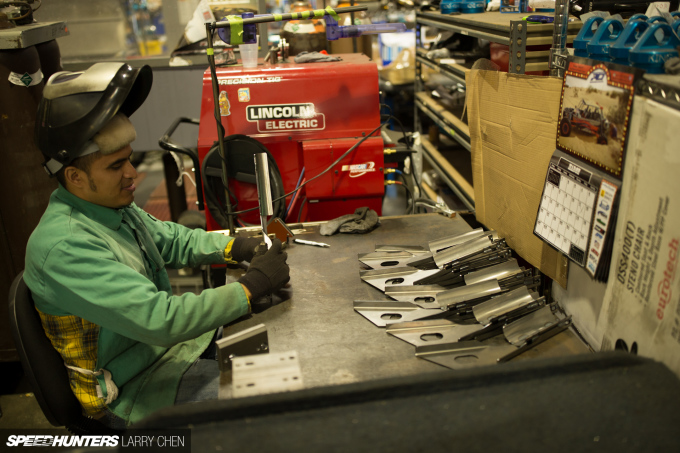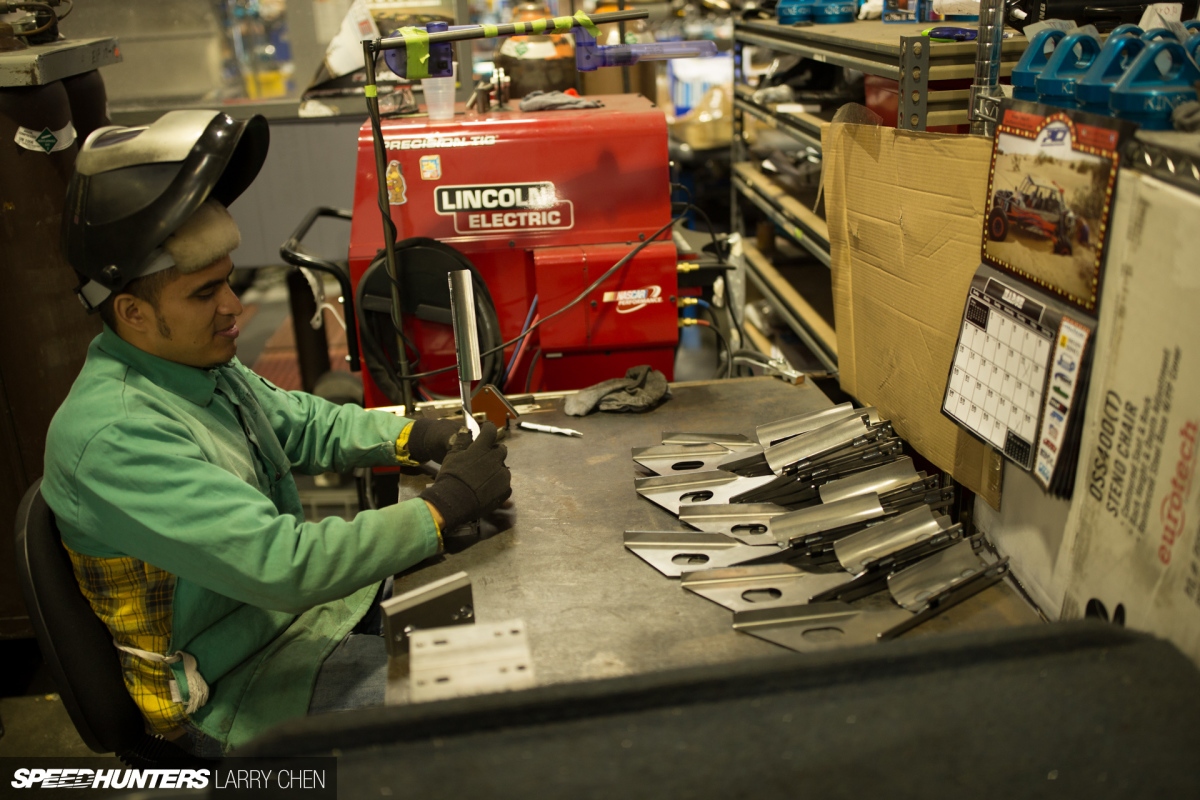 Even the perches are made and welded in house.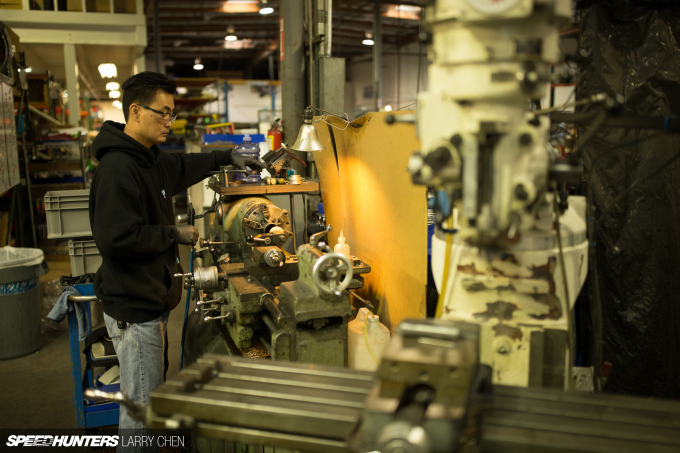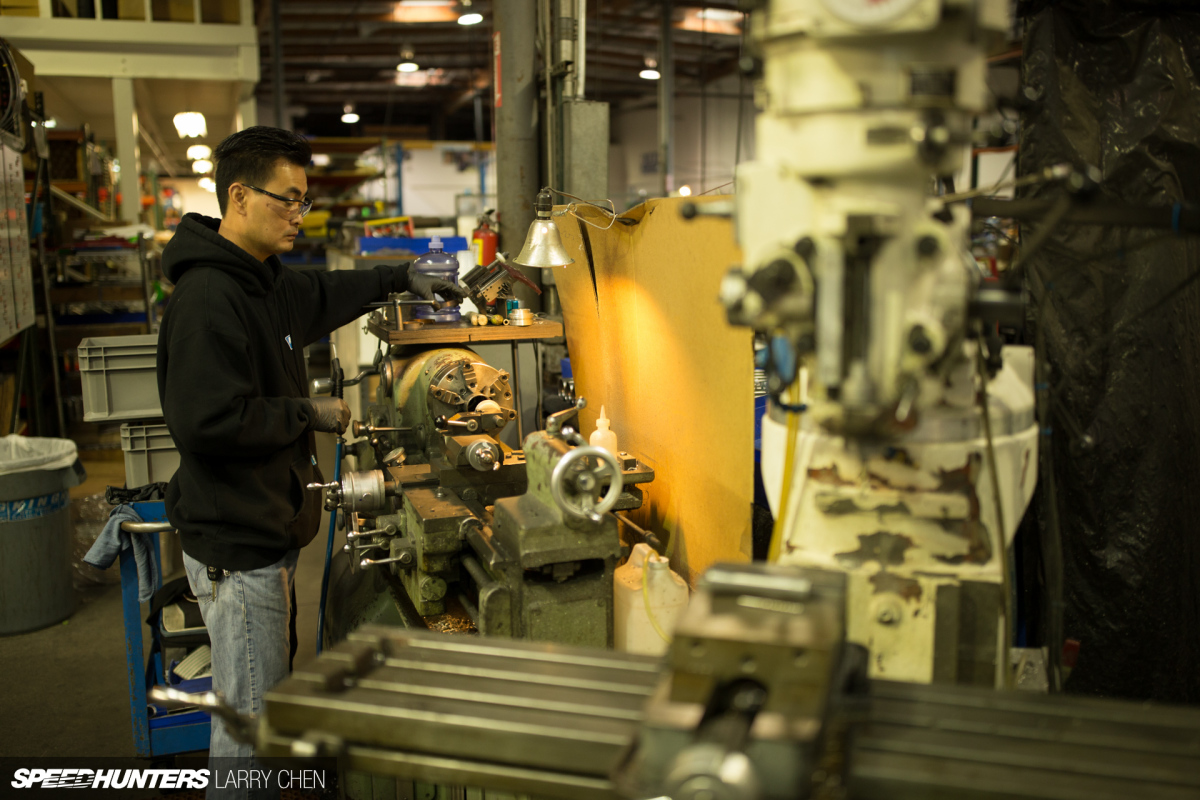 While many components are made by machines, there are still a few things that need the human hand touch, especially if the shocks are for a custom application.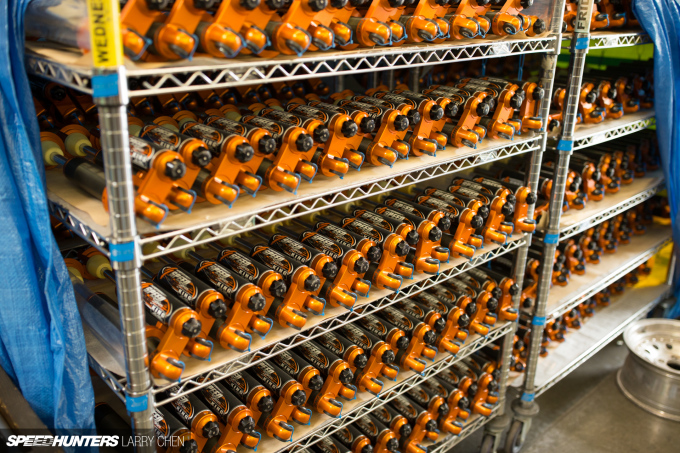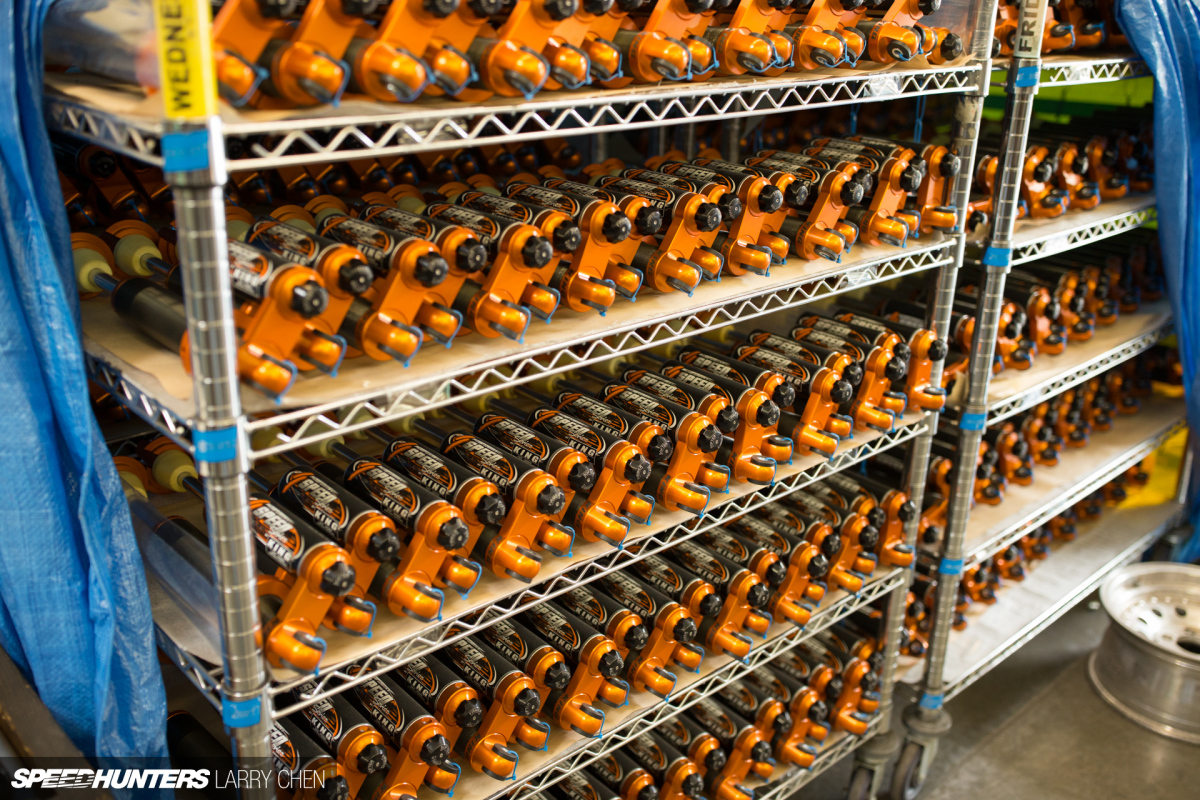 Here's a shelf full of OEM shocks for Robby Gordon Edition Arctic Cat Wildcat X UTVs. How cool is that?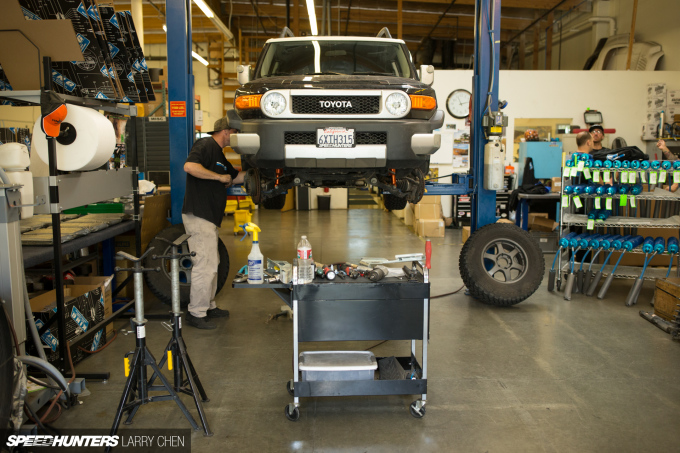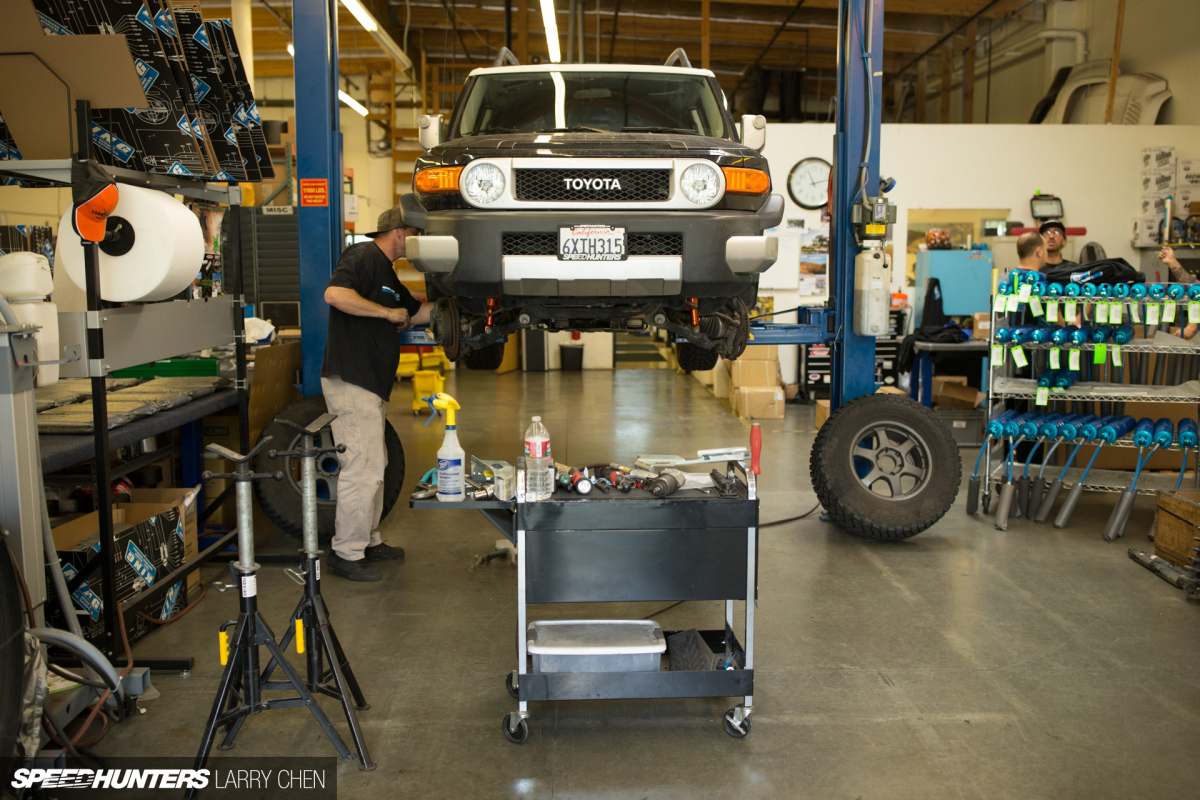 It was about this time that the guys told me my truck was almost ready, so I headed back over to the R&D department.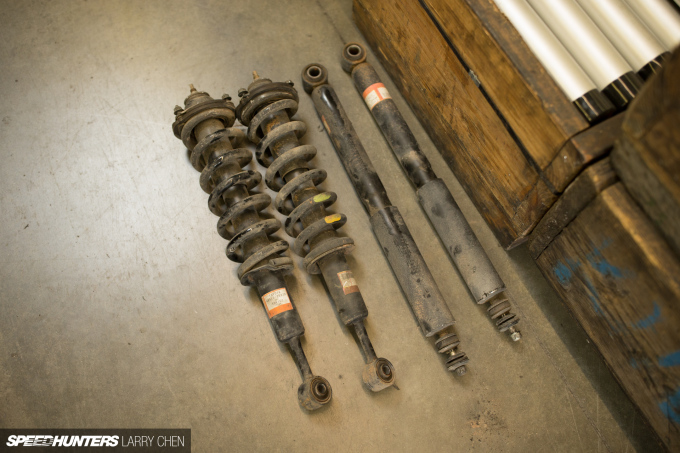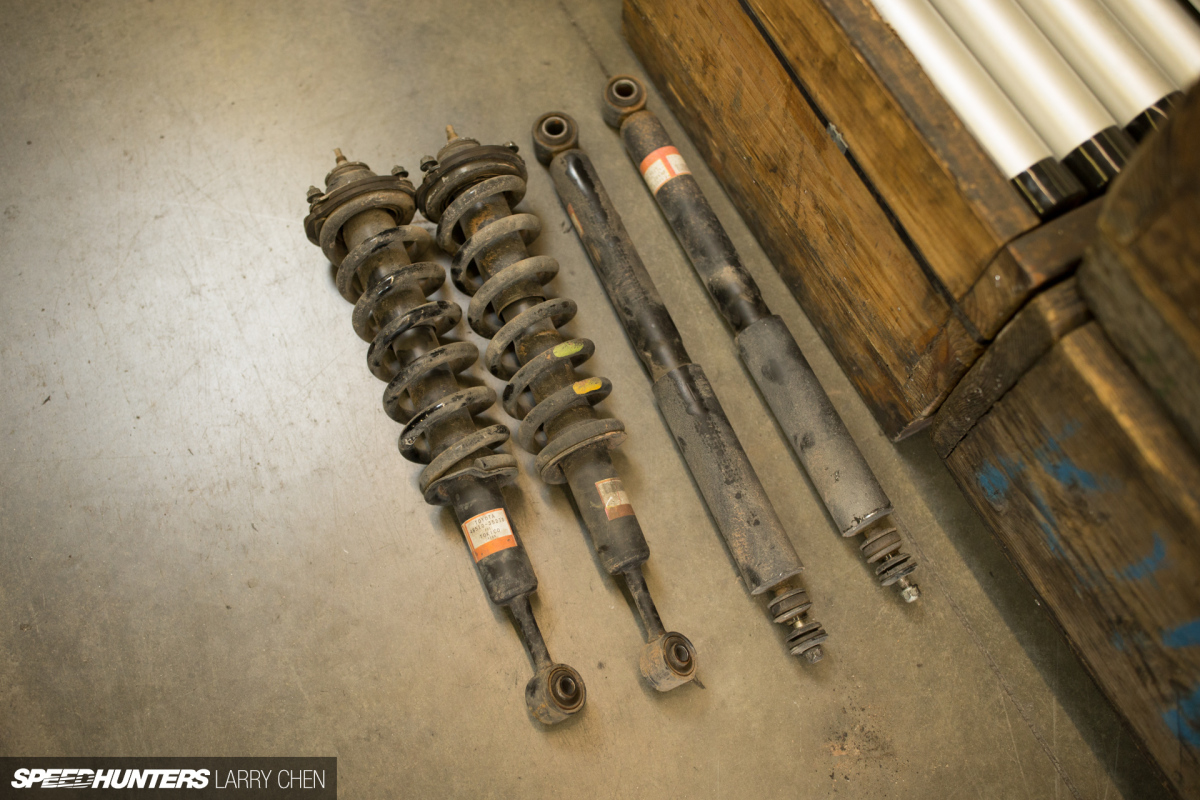 The stock suspension did its job, but I am sure it would not have lasted much longer with how hard I push my FJ.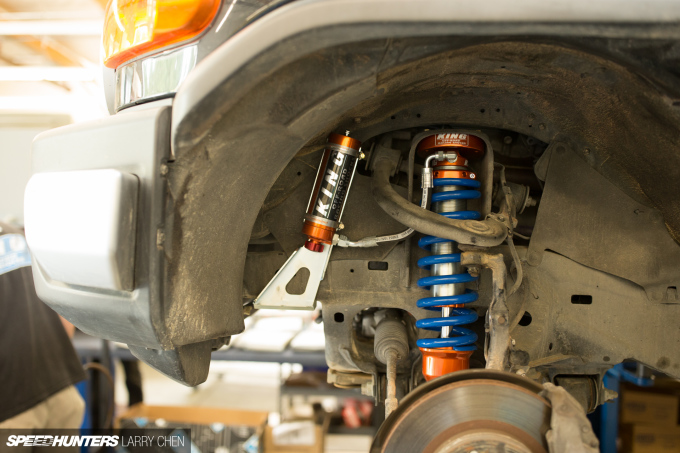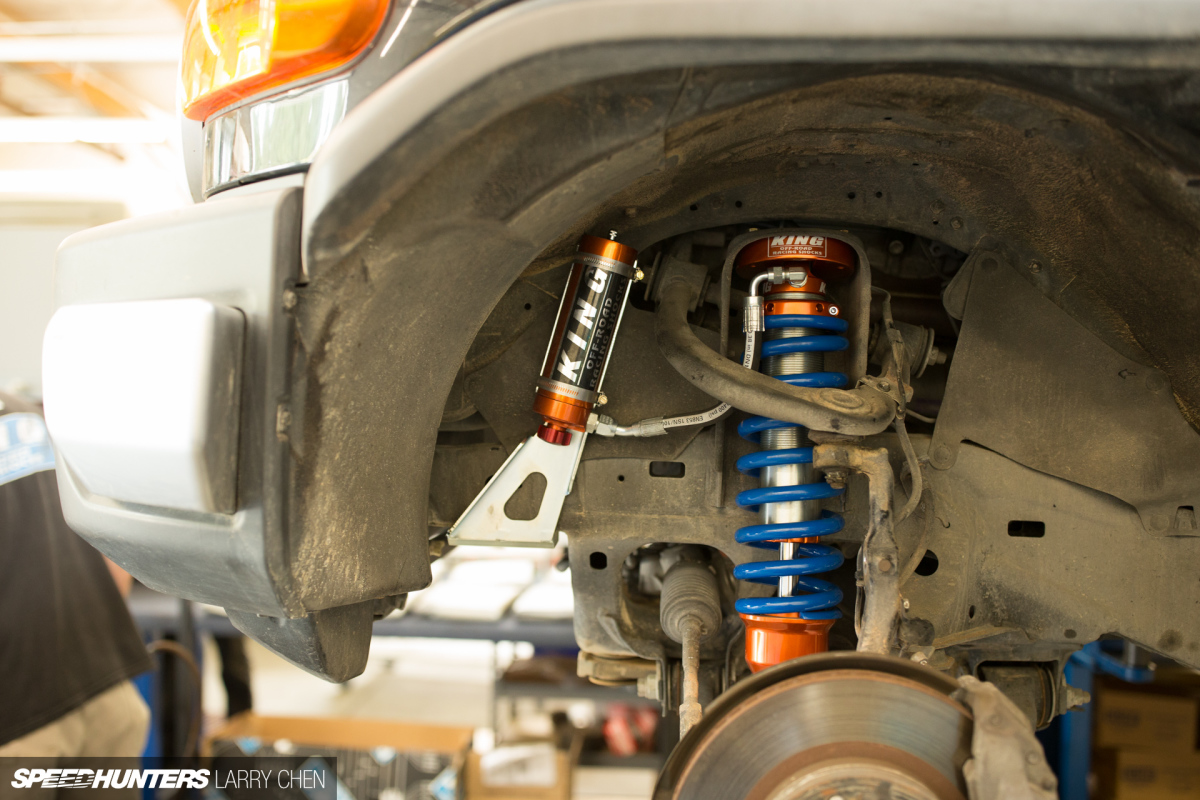 The new King Shocks setup looks absolutely amazing though. The fronts have adjustable ride height as well as a remote reservoir, big 2.5-inch shock bodies and 3-inch coil springs with compression adjusters. Check out how easy it is to adjust the dampening – just a few clicks on that red knob to change the way the truck handles.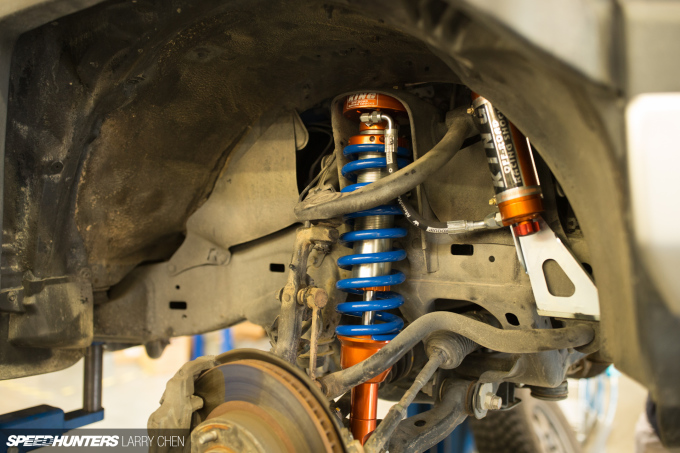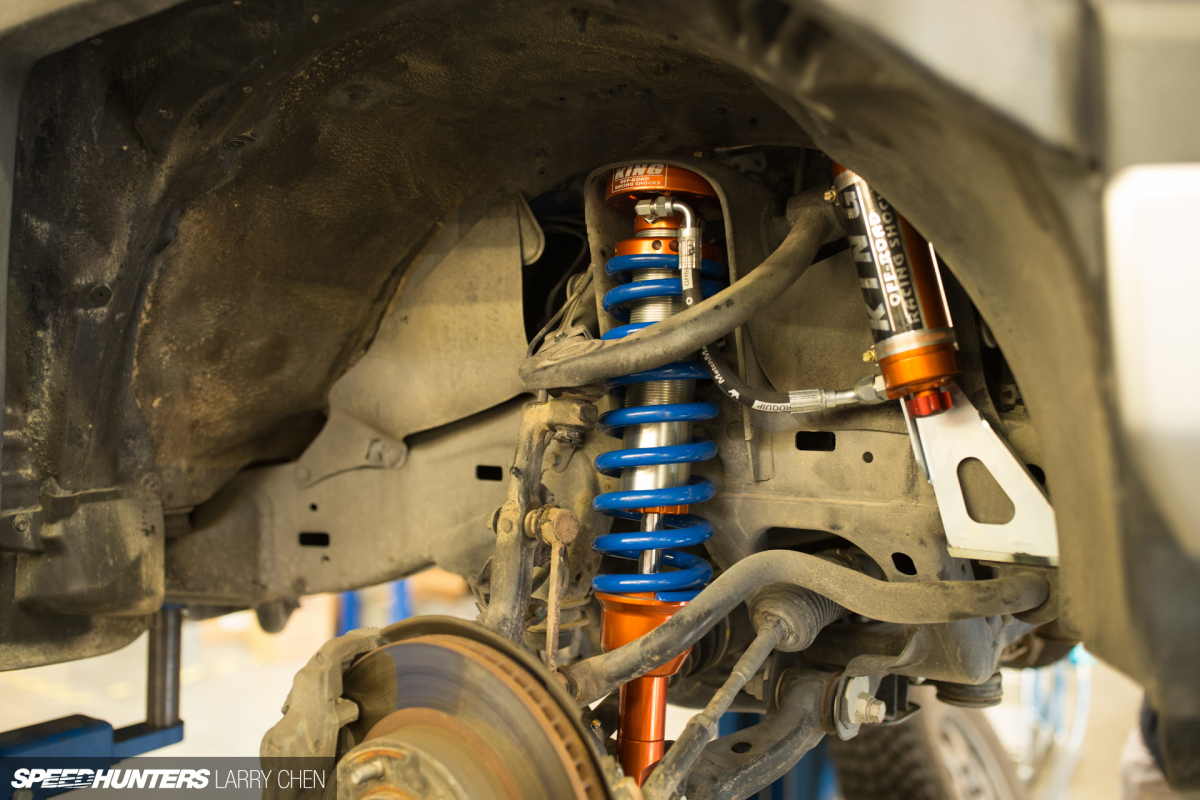 I couldn't wait to take the FJ out into the desert, but before that I'd need to source new upper control arms to take advantage of the full travel that the shocks have to offer.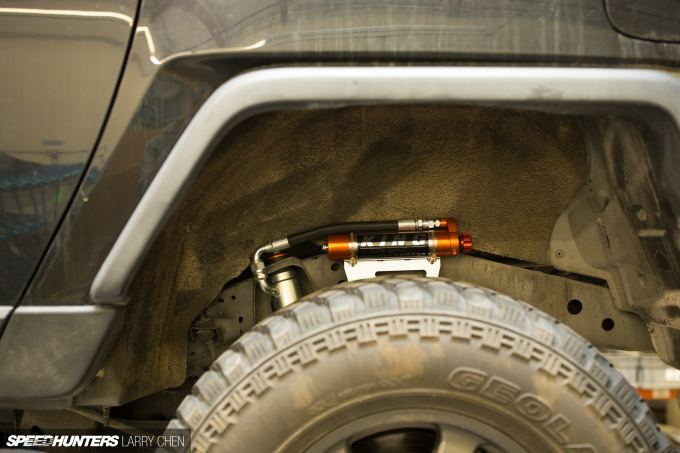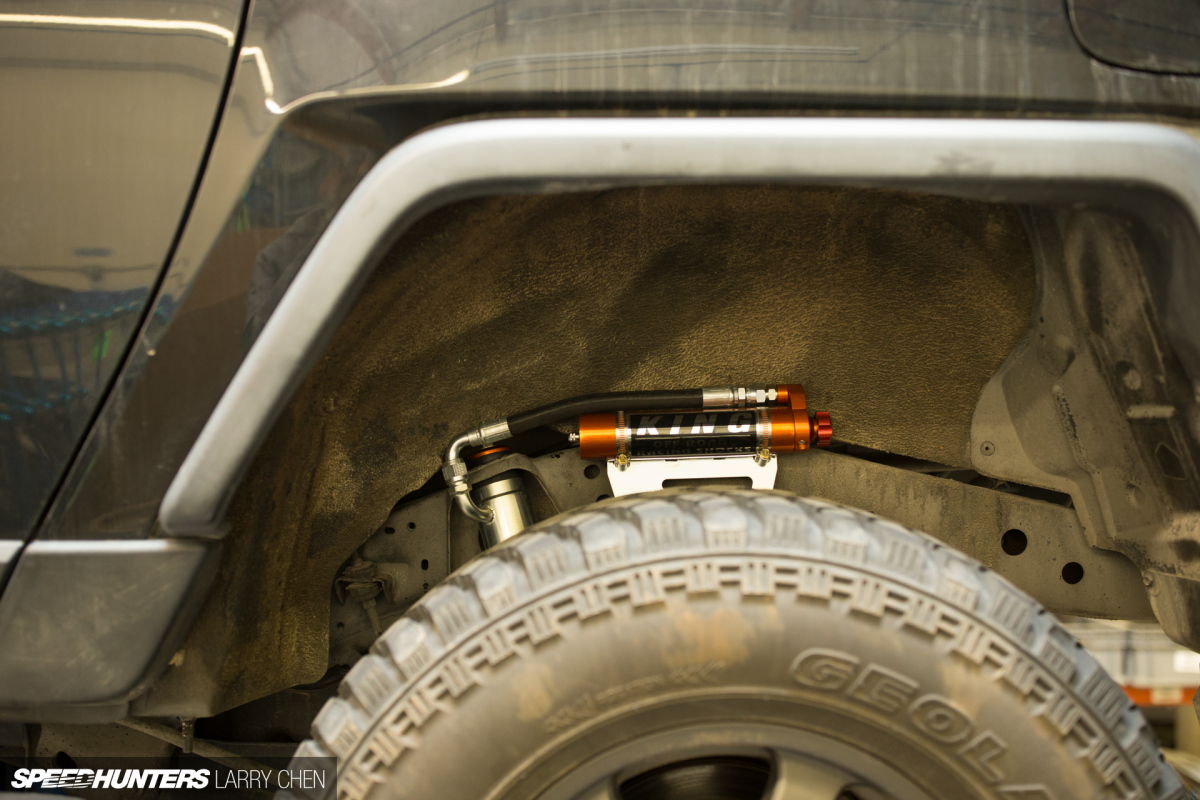 The rears are a bit more subtle, but they're just as easy to adjust. You just reach in and turn the red knob – no tools are required. These also have a 2.5-inch smooth shock body and remote reservoirs with compression adjusters. With this rear setup, articulation is increased and it adds 15 per cent of wheel travel. The best part of all is that it's a completely bolt-in kit.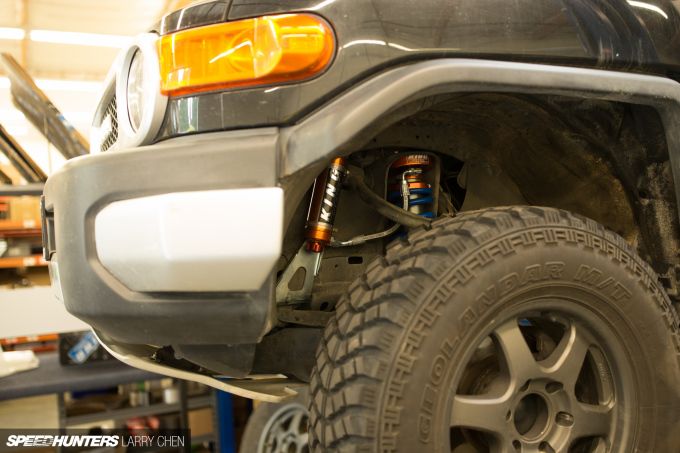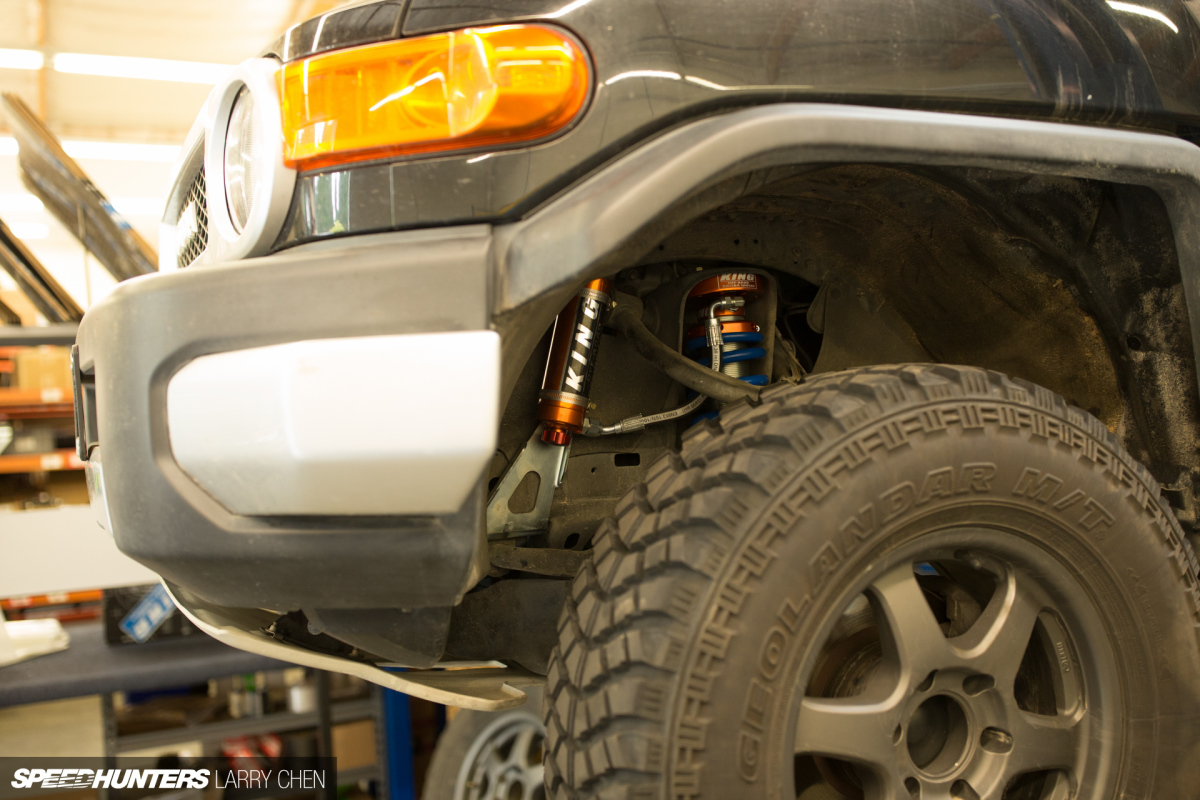 Next up for Project FJ Cruiser is a number of smaller upgrades that will improve the truck overall. As always, drivability and reliability is key to me. Because as much as I love Mexico, I just don't want to be stuck out in the middle of the desert in Baja while chasing a race. I will also touch on my driving impressions with the new suspension versus stock in my next post.
In the meantime, I am open to suggestions on what to do next. Just remember, this truck is pretty much the ultimate tool for me in regards to my off-road photography, so anything for aesthetics is out the question.
Larry Chen
Instagram: larry_chen_foto
larry@speedhunters.com