Full Circle
A gigantic storm races towards us, but for now the thunder is provided by the very angry and lumpy L28 sitting centimetres in front. We're tearing down deserted country lanes with petrol fumes, amazing views and the unmistakable cool feeling that cruising in an older and less refined machine brings.
Yep, we're living the dream today. Views, sounds, smells and old school cool feels. Sounds perfect right? How could you improve on a Sunday Speedhunting session like this? By hunting in a pack, with one of your closest mates, of course!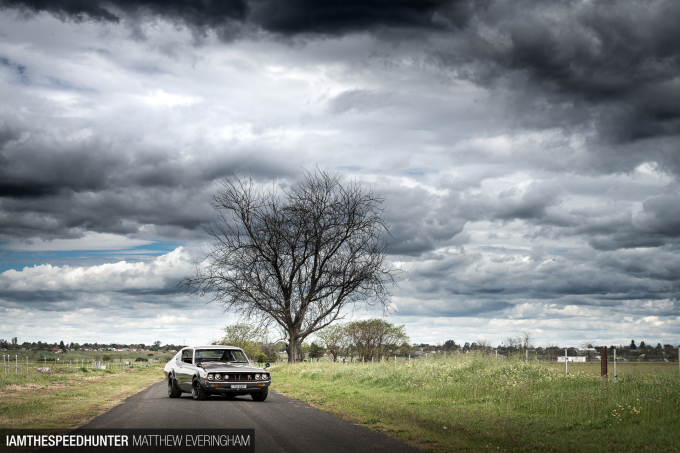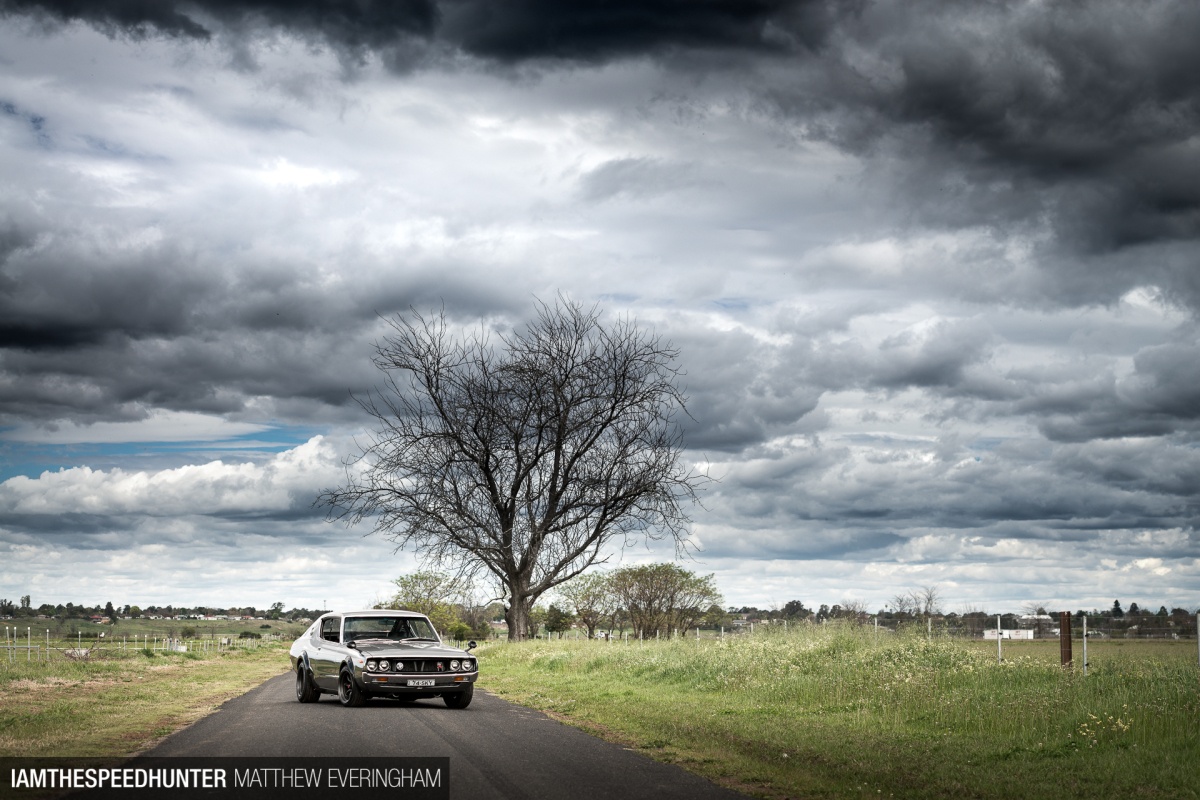 I met Brad, the owner of this immaculate C110 by sharing car magazines in the classroom over 15 years ago. He was new to town, but with a shared love of cars, mainly imports at the time, we were buddies in no time at all.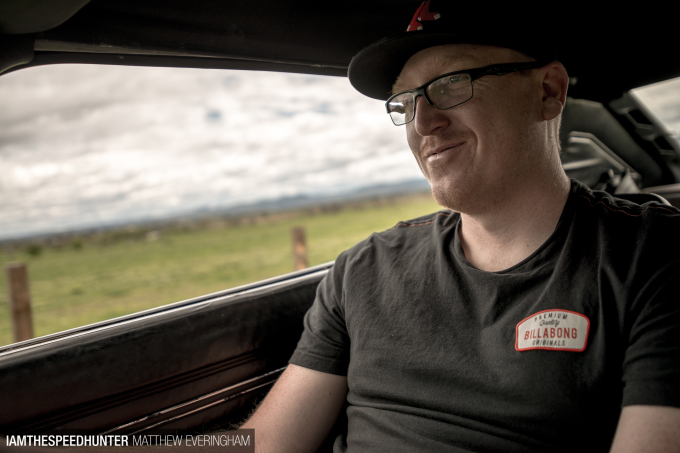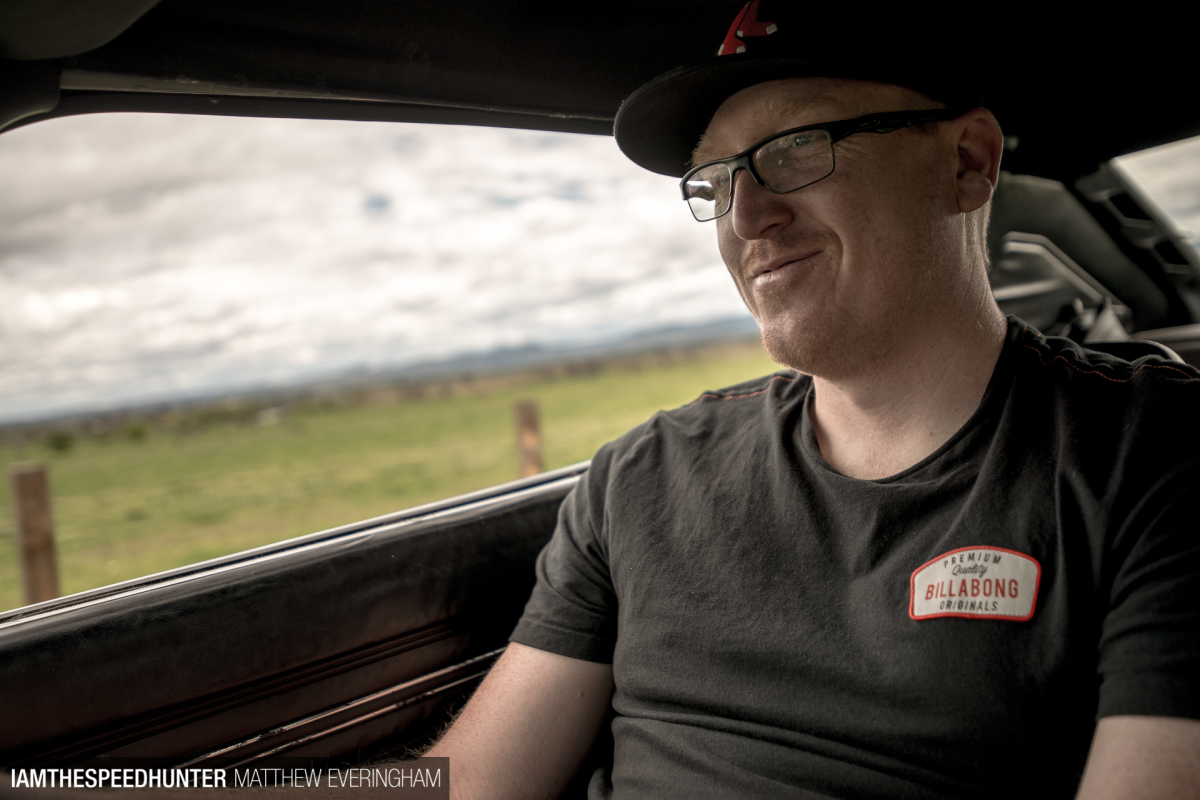 Like the rest of us, Brad was always a bit of a dreamer with no shortage of ambitious plans for the cars he'd build in the future. Only now, equipped with 15 years of hindsight, it turns out that he was committed and more of an achiever than a dreamer.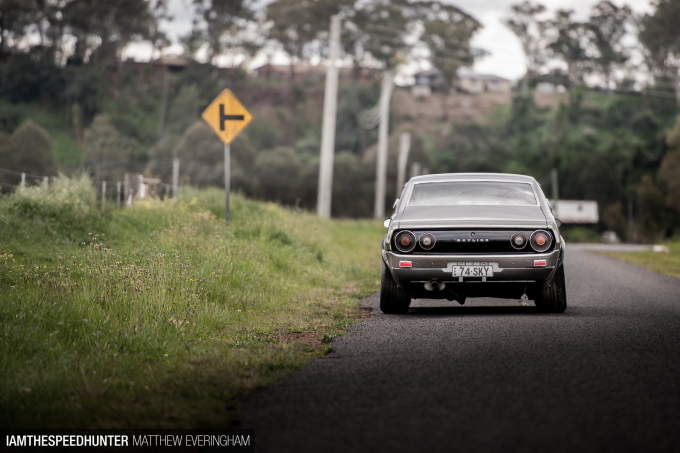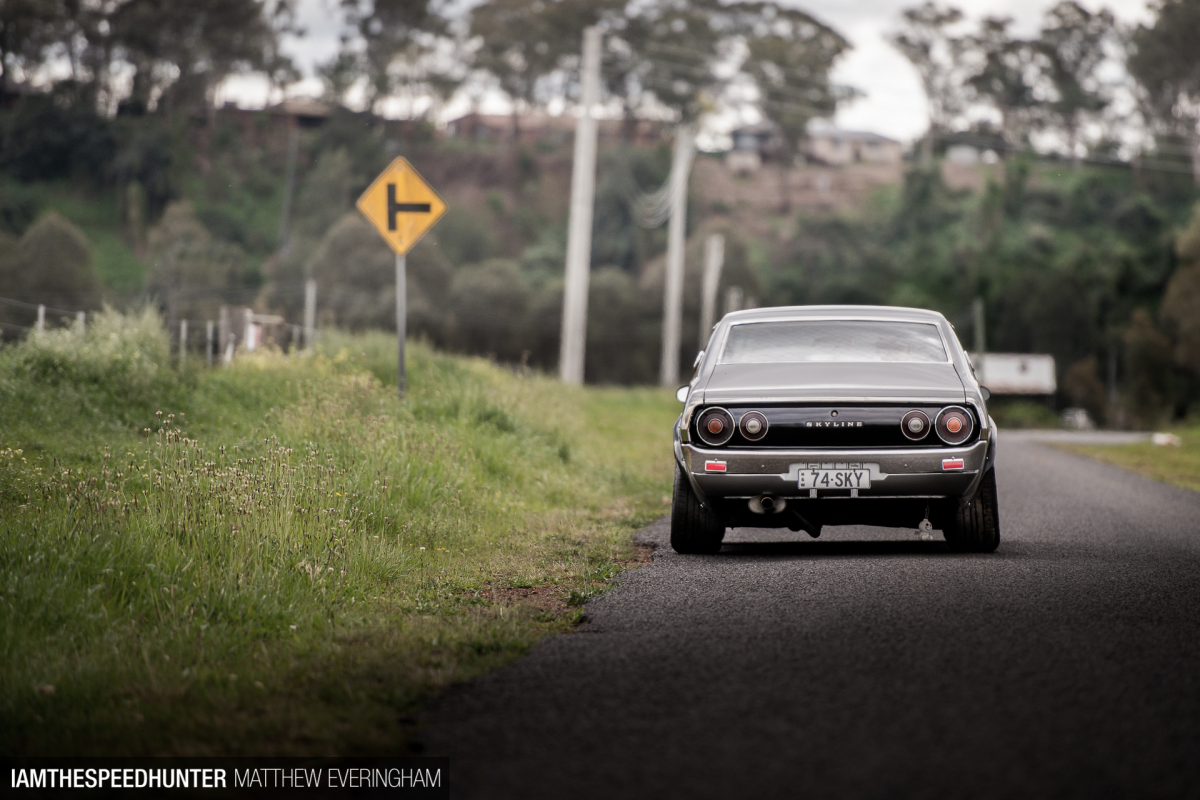 That's what makes this story so special. Both of our respective and very different journeys within the automotive community have come full circle, and we get to once again be poring over car stories together. Except this time we're working together to share Brad's story with the next generation of rev-heads, who should be paying attention in class instead of reading this article right now.
Six Long Years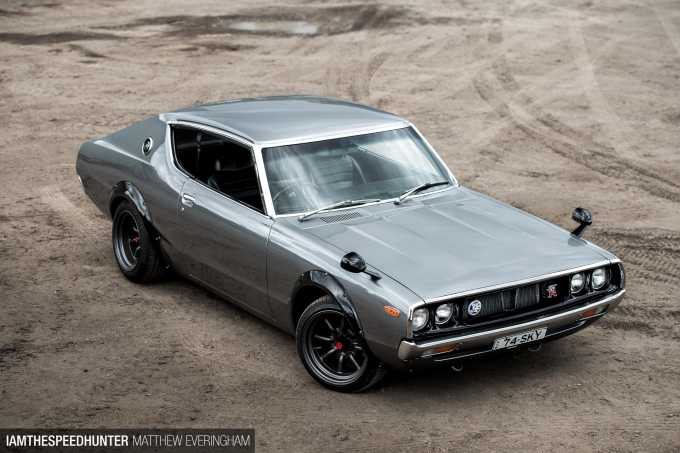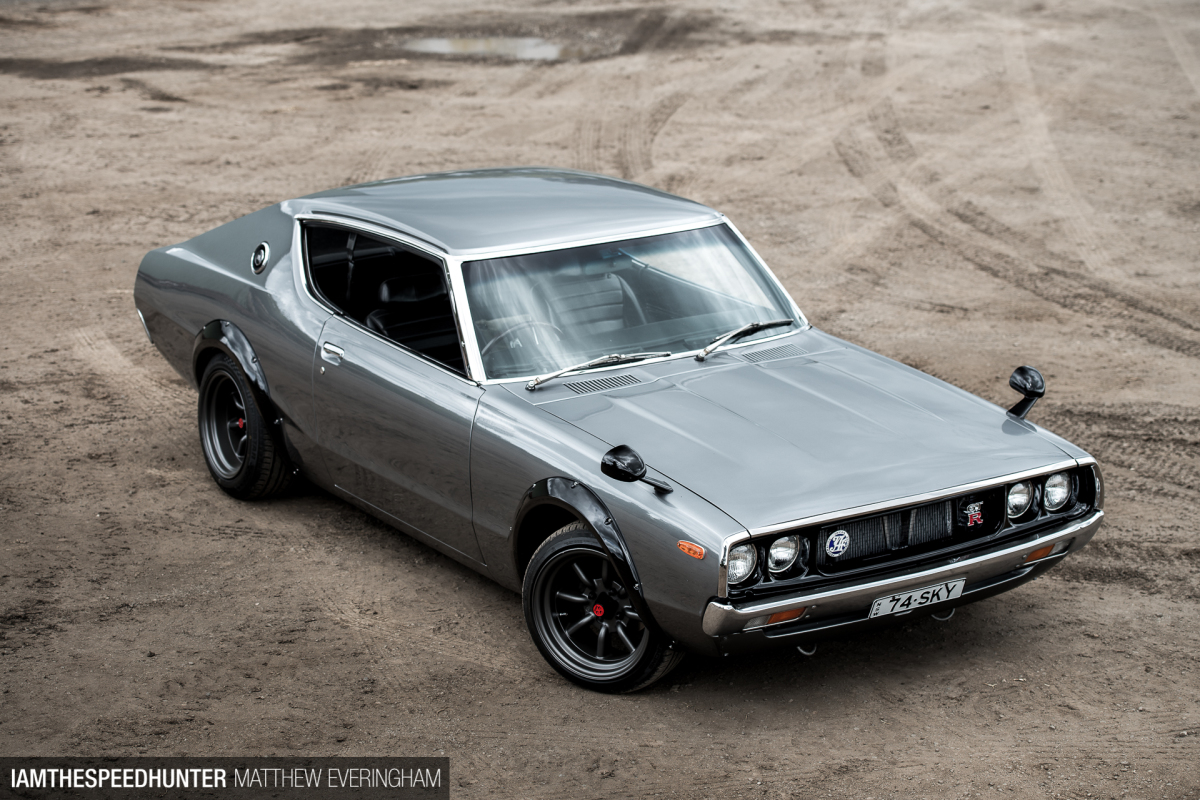 At the time of inception, circa 2010, there were almost no C110 builds on the streets in Australia. I'd wager that even the majority of JDM fans wouldn't have had a clue who Ken or Mary were, or why they were in a GT-R. I'd certainly never seen one in the wild.
This was never going to be an easy project to complete, but that was part of what made the idea so appealing. With C110s being so rare down under, Brad was basically on his own. He was armed with only a handful of images from Japan and a clear idea of the final goal. How he was going to achieve that goal was going to be interesting.
It took nearly 12 months of browsing auctions, wrecking yards and classified sites to find the right chassis to start with. Eventually, he came across an old 1974 Datsun 240K coupe.
Although it was essentially a parts car it, had a straight chassis and almost no rust. It was going to require some panel work and replacements, and some glass which proved to be more difficult to source than you'd think. But overall it was a great platform to get started with.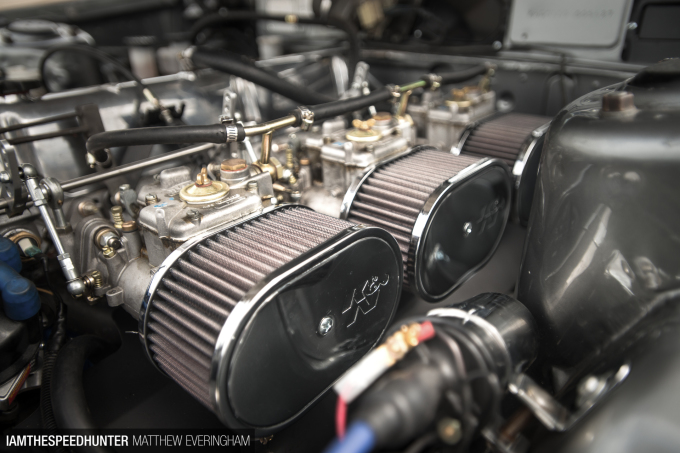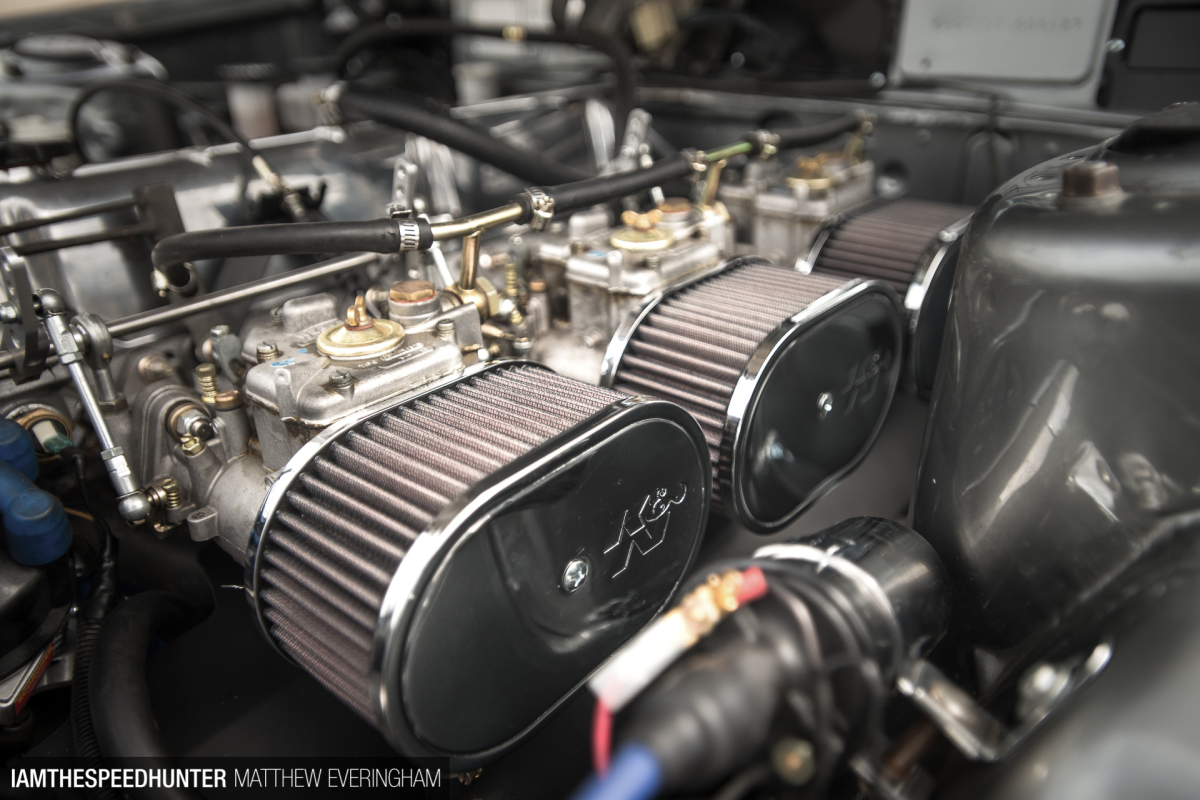 Brad's previous project was a power-focused R32 Skyline GT-R called 'FEAR' that pumped out close to 500hp at all four wheels. It was a monster for its day. This time around though, he wanted to take a build in a completely different direction. Instead of chasing power, this adventure was all about chasing authenticity.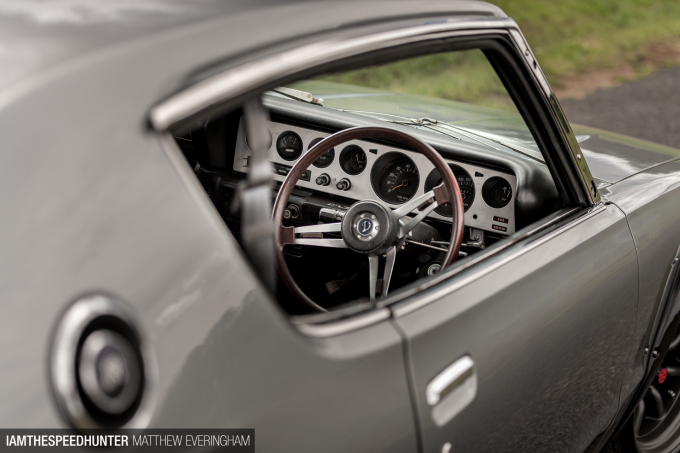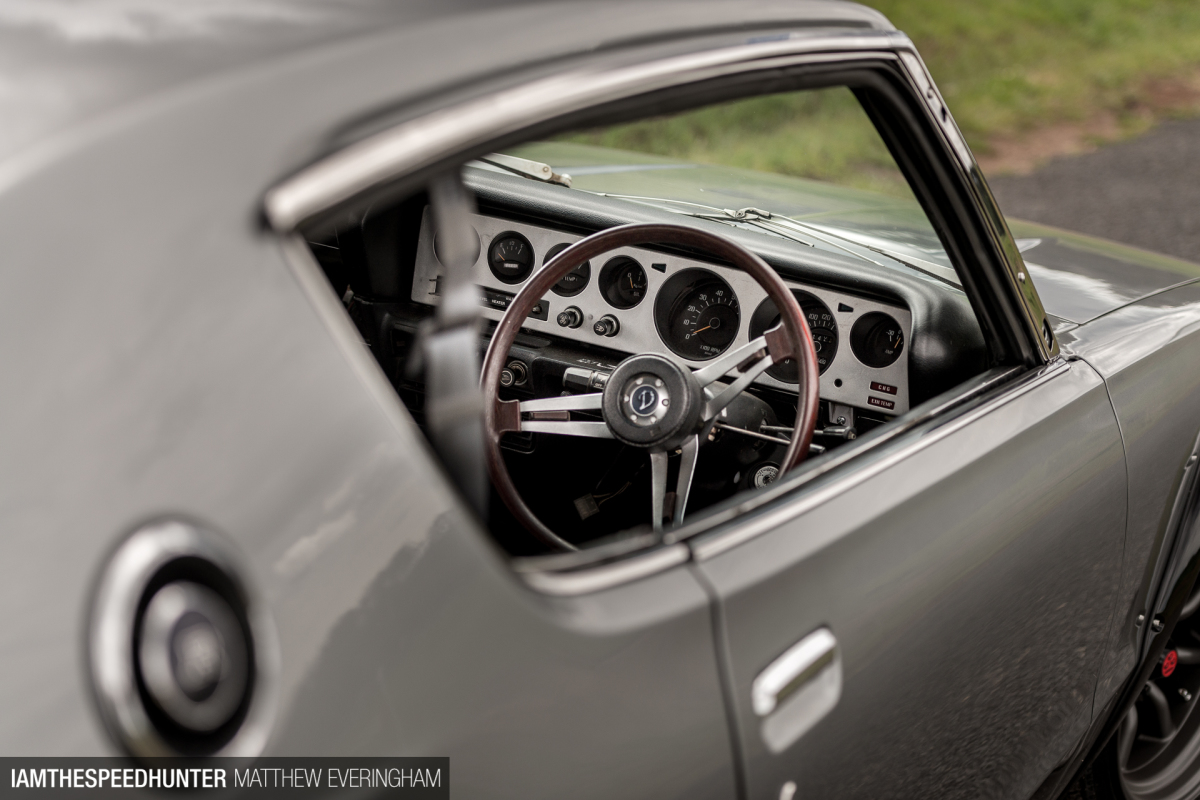 The slow nature of hunting for rare parts in other countries saw the chassis hibernate in the garage for a couple of years. But good things come to those who wait and the extra time ensured the project would be built properly on the first go. Slowly, piece by piece and panel by panel, Brad and a good circle of mates did the prep work to transform a rough Australian-delivered 240K to what it is now.
I was fortunate enough to witness the entire process and even get my own hands dirty during the transformation (probably not as often as I should have though). Every few weekends, a small group of good mates would hide behind the very vague excuse 'I'm helping Brad', escaping real life obligations to talk sh*t, hang out and occasionally do some more prep work on the C110 for a few hours at a time.
The first task involved stripping the entire car back to a bare chassis. Literally everything except the suspension was removed at this point.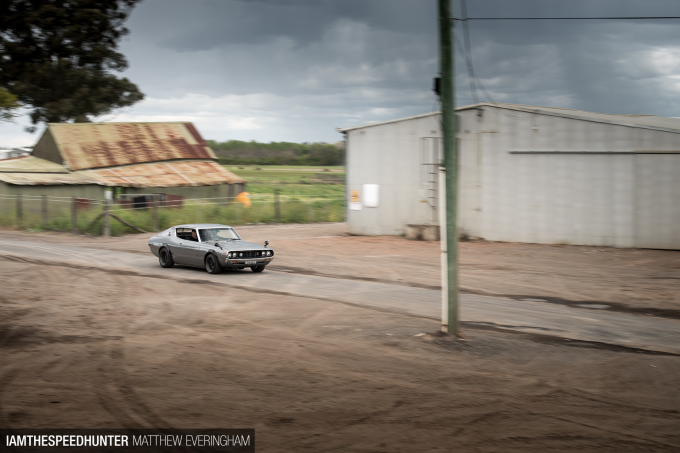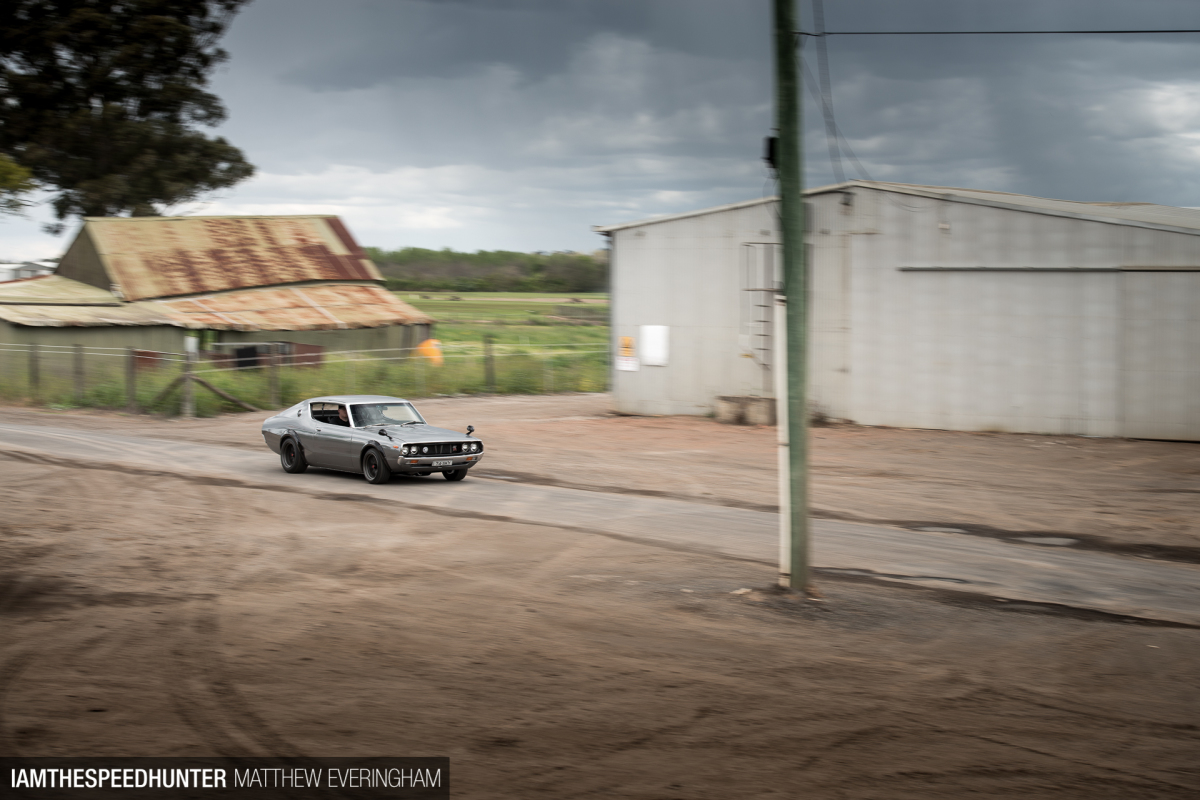 This is when the original engine was removed and pulled apart for assessment. The good news was that the stock L24 was in very, very bad condition and would require a full rebuild. I say 'good' news because it just made throwing the whole block in the bin a whole lot easier.
The ultimate engine replacement would have been the S20, which the original Kenmeri GT-R was fitted with, but finding one proved almost impossible and completely uneconomical. As an example, an S20 engine was found selling for USD$50,000, and that's without replacement parts.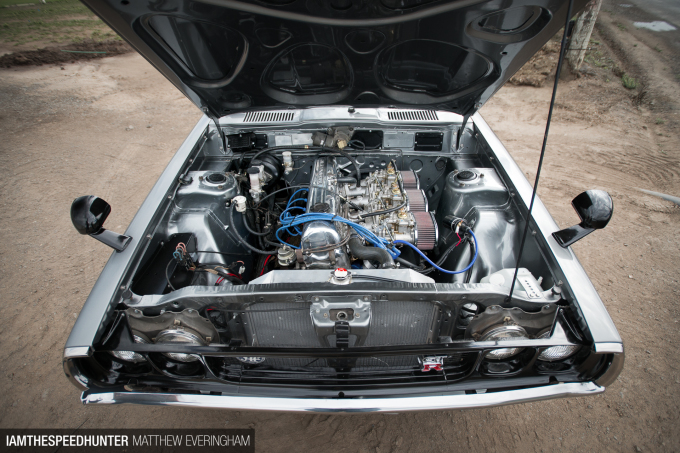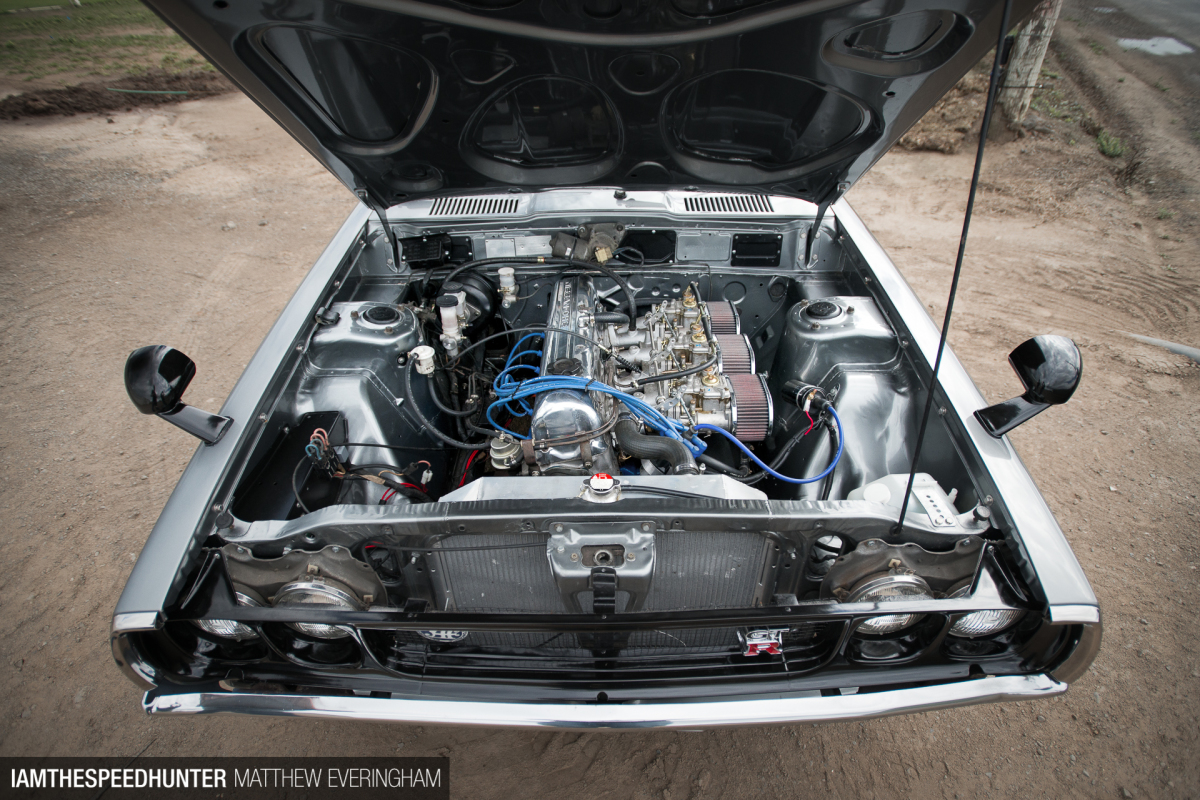 The more viable option was to find a larger L28. The L series is still true to the C110 model and the larger displacement would yield some extra power – especially with a bit of extra work and a refresh. A suitable replacement was found not to far from home and torn down as soon as it hit the garage. The block was bathed, cleaned and every component was assessed from top to bottom. Anything that looked to be worn was replaced or rebuilt.
A set of six high compression forged pistons provided the basis of the build, and the cylinder head was ported and polished while everything was stripped back. A more aggressive stage 2 camshaft was fitted up to give the engine a super lumpy idle and more grumble the entire way through the rev range.
The convenience of electronic injection was never an option for this build. Instead, a set of triple Weber 45 DCOE carburettors hang off a Redline inlet manifold. While the old school carbs might be harder to dial in and adjust, they give the engine that burble and pop you lose with the precision of electronic injection. They're not horrible to look at when you open the hood either.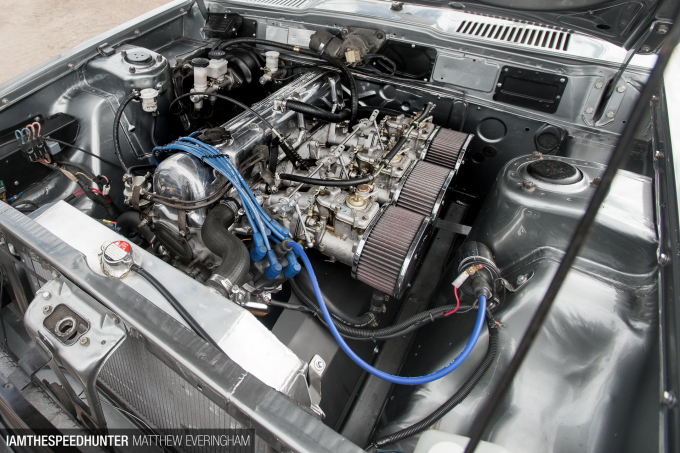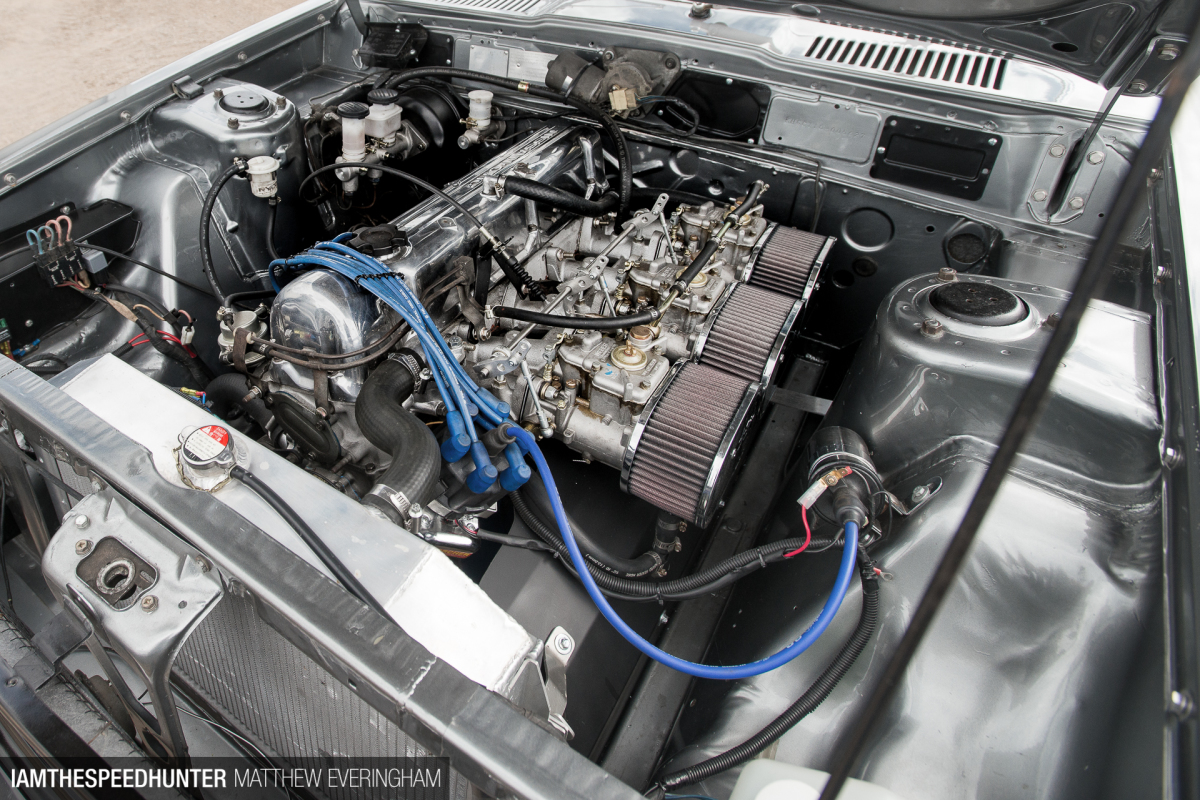 The ignition is the only part of the engine setup that's receive some new tech, a Scorcher electronic distributor replacing the standard points system. It wasn't a part of the original plan, but Brad had issues setting up the points and deemed the ignition timing too important to leave almost completely to chance.
The exhaust is a pretty simple setup – a custom set of tuned-length extractors running into a 2.25-inch straight pipe exhaust with a single muffler. Fortunately, the car gave out a super sweet note first go.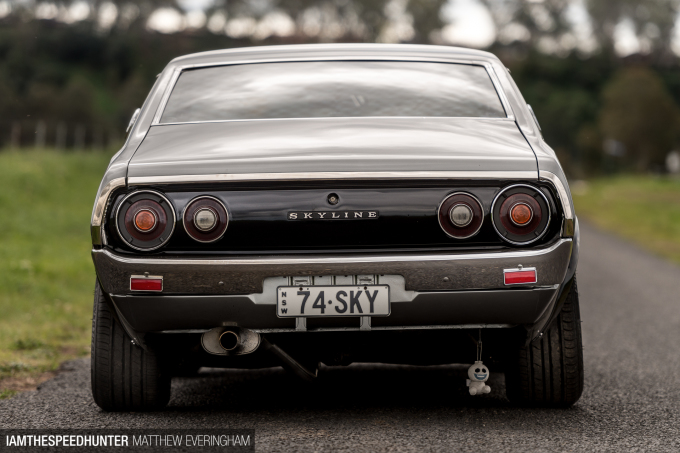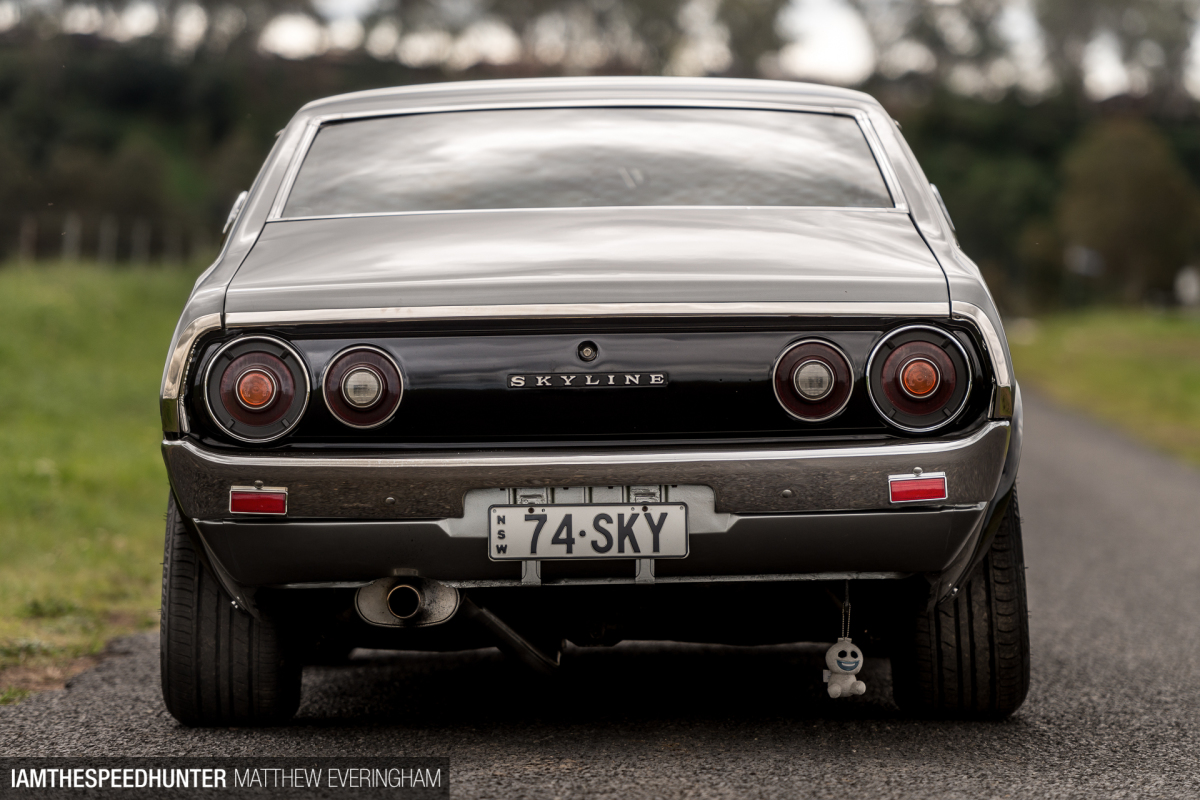 During dyno tuning, 190hp was recorded at the rear wheels. While that number alone isn't mind blowing, I can tell you first-hand there's still enough power to give you a real buzz while driving, mainly because the chassis only weighs in at 1,100kg and the car steers like a truck. You throw this recipe on a twisty road and it's impossible to not enjoy yourself.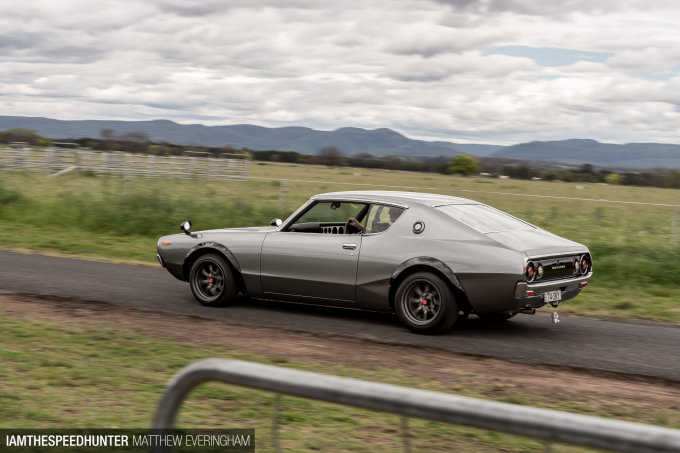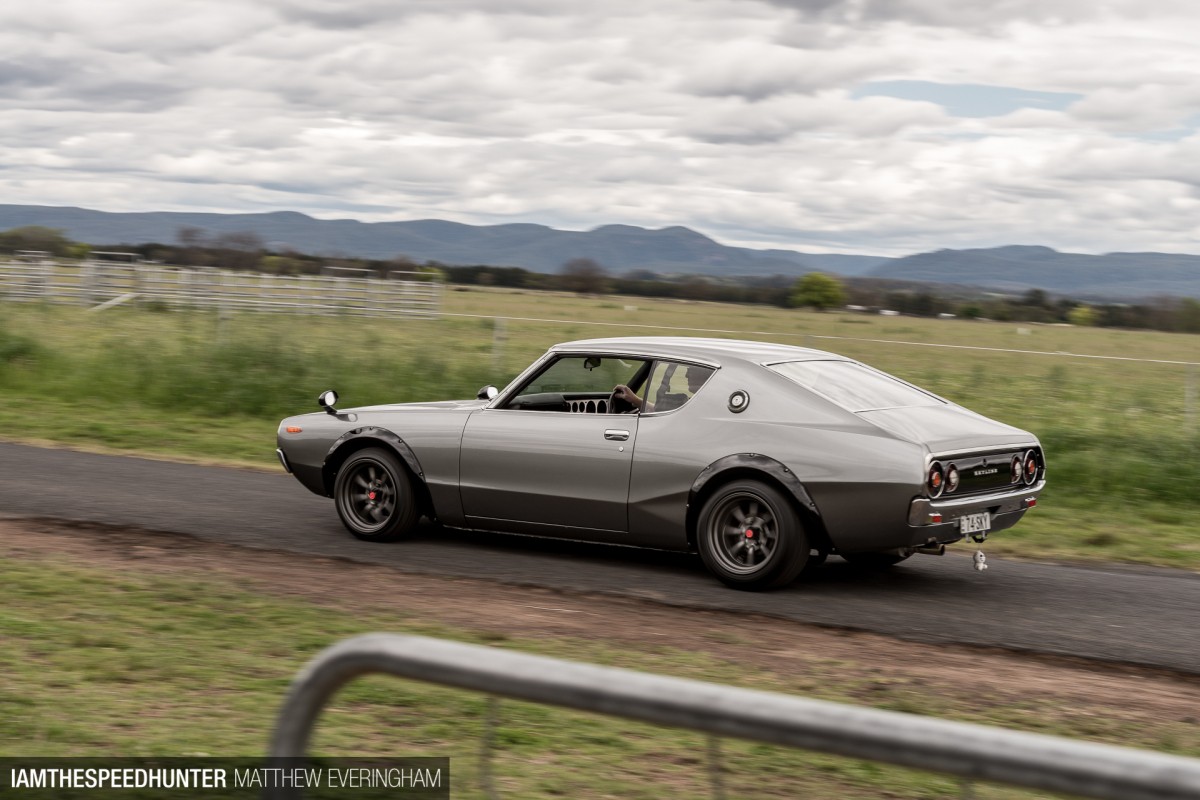 The power is transferred to the ground through a 5-speed gearbox ripped out of an Aussie-delivered R31 Skyline. The R31 box is famous down here in Australia for being almost unbreakable and totally capable of withstanding an absolute flogging.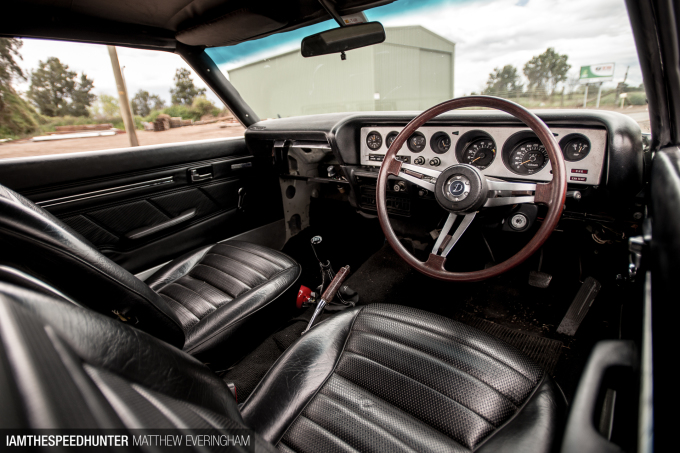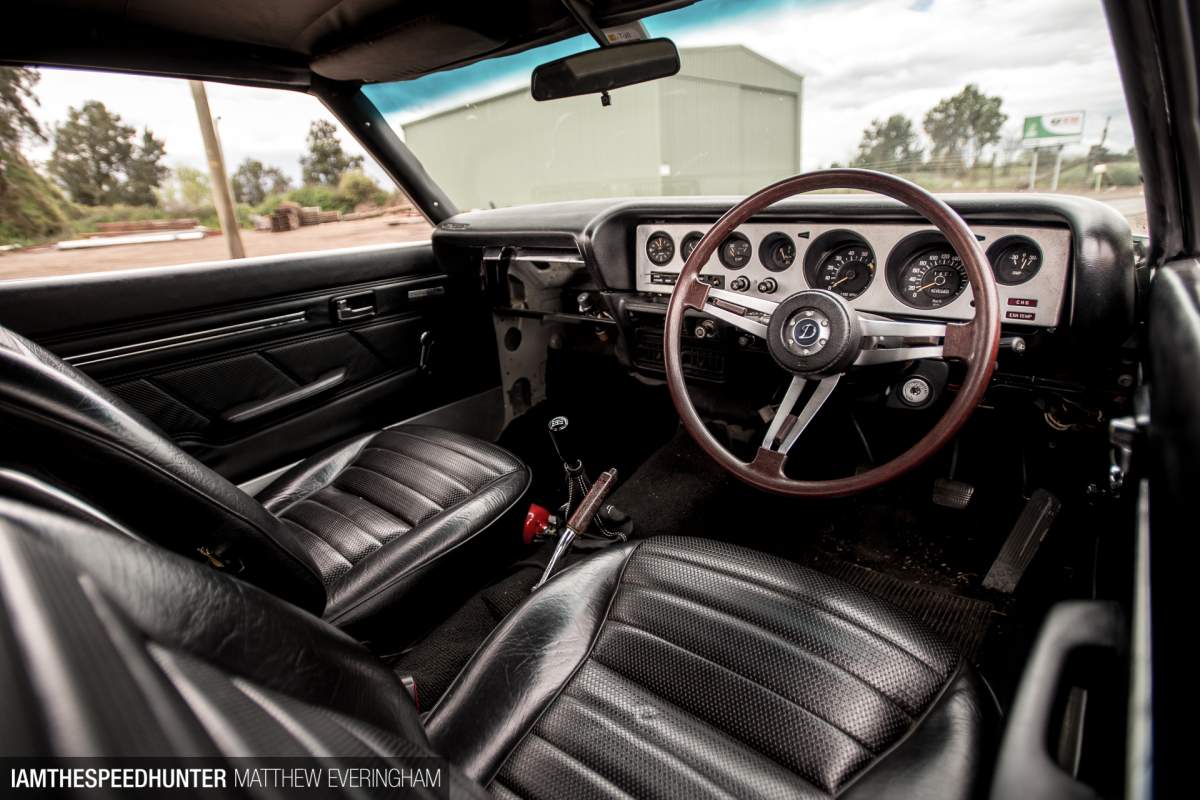 Luckily, the C110's interior was in amazing condition and not a lot of work was needed. After a good clean the seats came up looking brand new, and new carpets and a few other replacement items from Japan added the final touches. The brushed aluminium cluster surround replicates that of the original GT-R. It's clean, neat and subtle.
Some of the original Datsun and 240K placards were left intentionally as a reminder of where the project began. The music and in-car entertainment is provided by the L28 and two windows. Climate control is as simple as wearing more clothes in winter and less in summer.
The Finishing Touches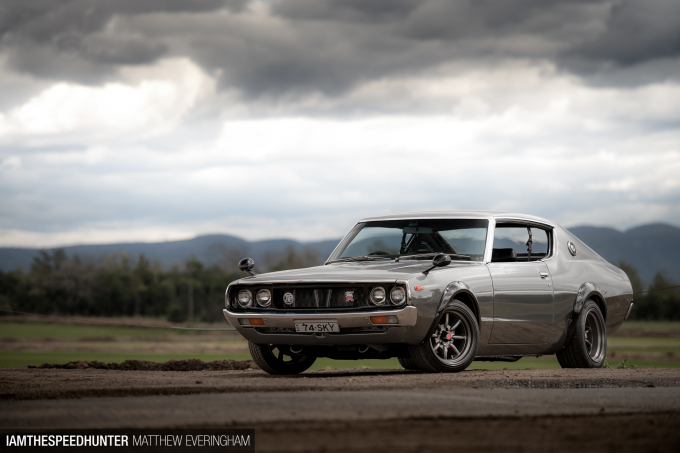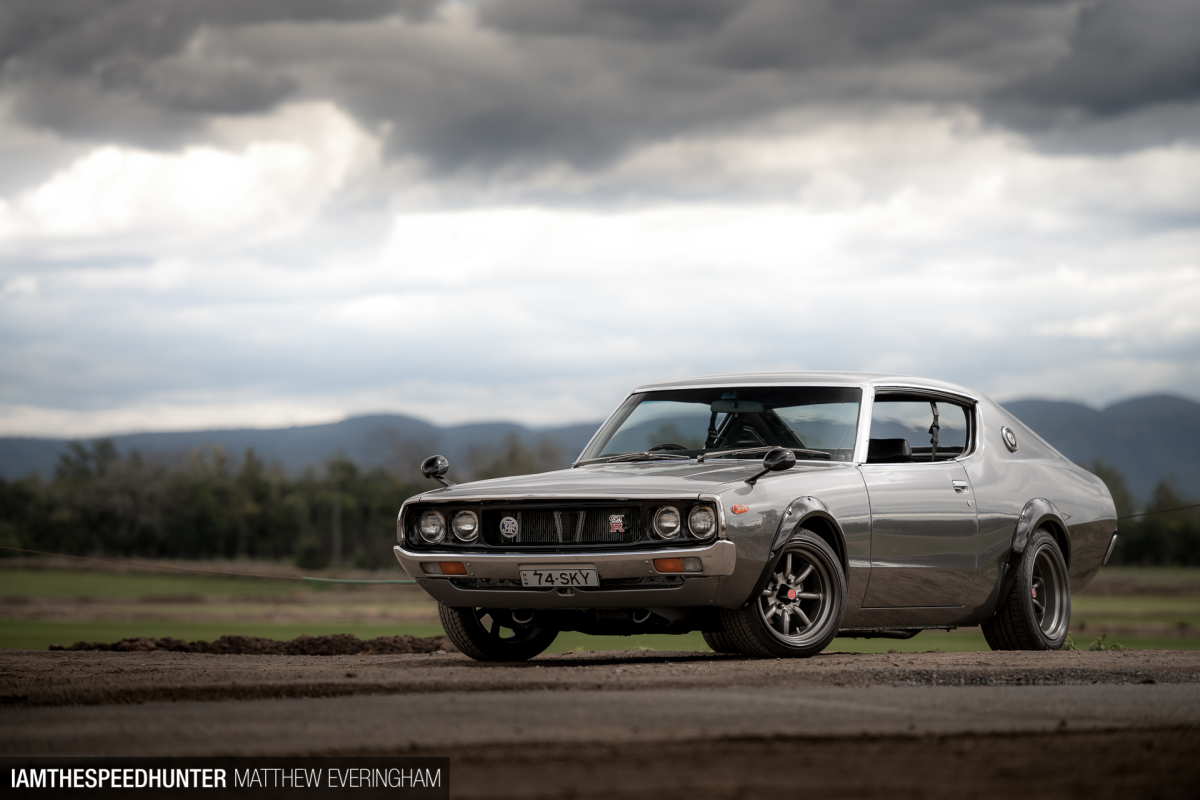 Very slowly, Brad sourced the finishing touches for the exterior from Yahoo! Japan and a few other import parts suppliers. You'd think that it'd be fair easy, right? Well, only 197 KPGC110 GT-Rs were ever sold and all in Japan, so finding the right parts meant checking frequently and also required a little bit of luck. Even though it was one of the most frustrating aspects of the build it was also one of the most rewarding. Every decal, tail light and badge felt like hitting the jackpot. All the chrome trim was replaced, and those last few parts that were impossible to find were sent off to be repaired.
A darker tint of paint than you'd normally see on a Kenmeri in Japan was applied during the car's bare metal respray. It looks like a custom colour, but it's actually the same Pewter Silver found on the S15 Silvia. Standard glossy black coats the flares, front mirrors, rear louver and front GT-R grille.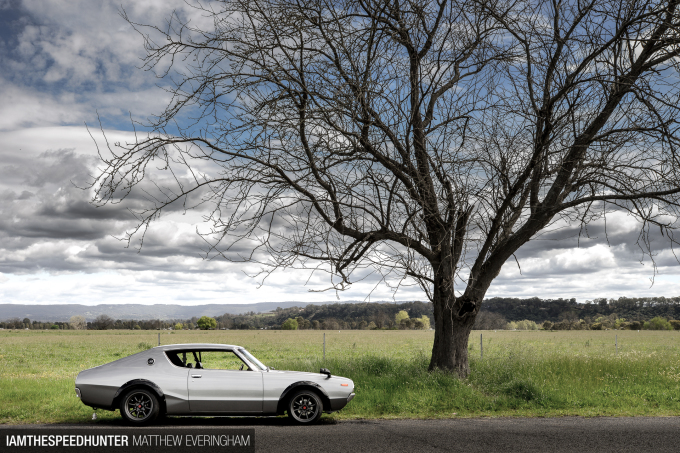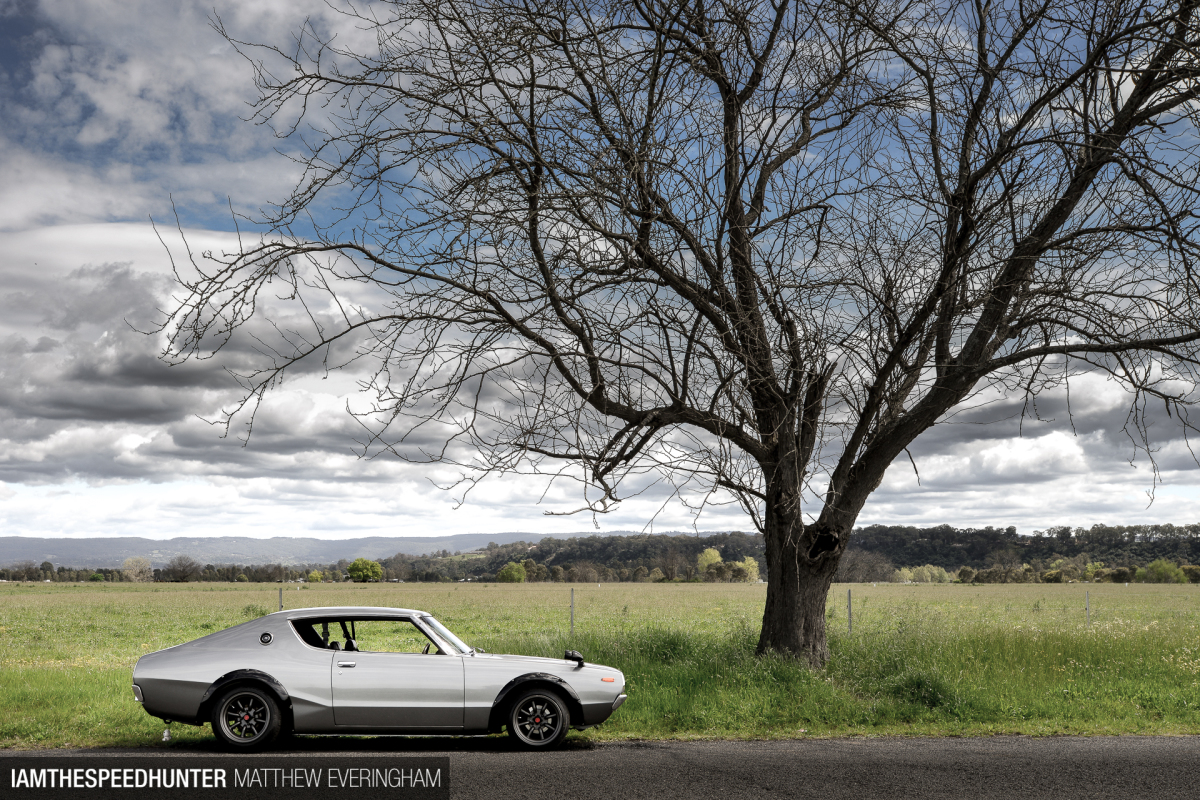 The C110 sits 55mm lower at the front and 60mm lower at the rear thanks to a set of lowered springs; the ride remains comfortable and it handles well enough during spirited driving. Currently, the plan is to keep the C110 as a street cruiser and away from the track, but anyone who knows the owner will be able to tell you the car is almost guaranteed to eventually see itself out on the circuit. Brad has already worked out how to best customise under the car to fit suitable coilovers, you know, just in case…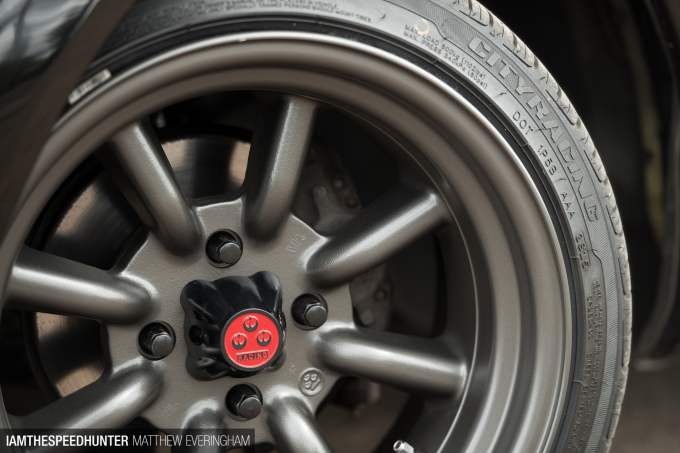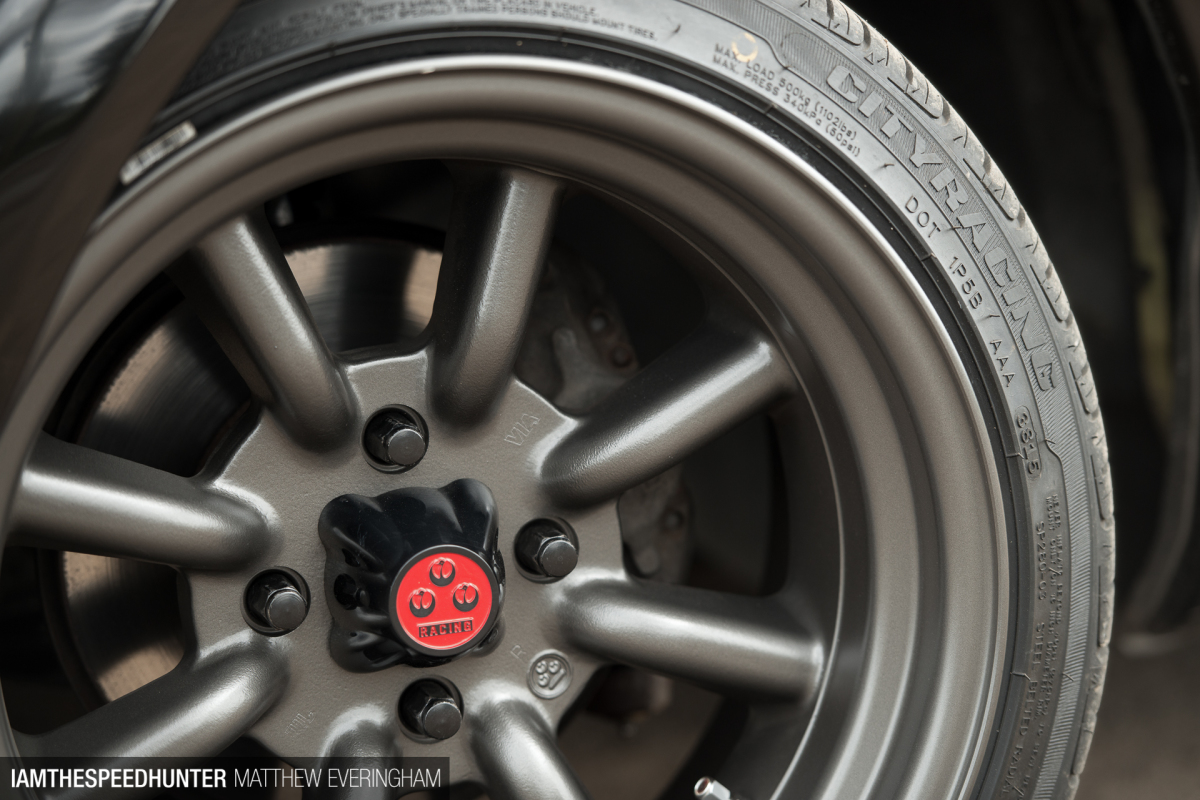 There was only ever one wheel that could finish the car off, and the simple but beautiful design of the RS Watanabe 8-spoke must have been burnt into the mind of every Japanese car designer of the era. Perfect is a huge call, but that's what they are for almost any car from that golden age of Japanese motoring.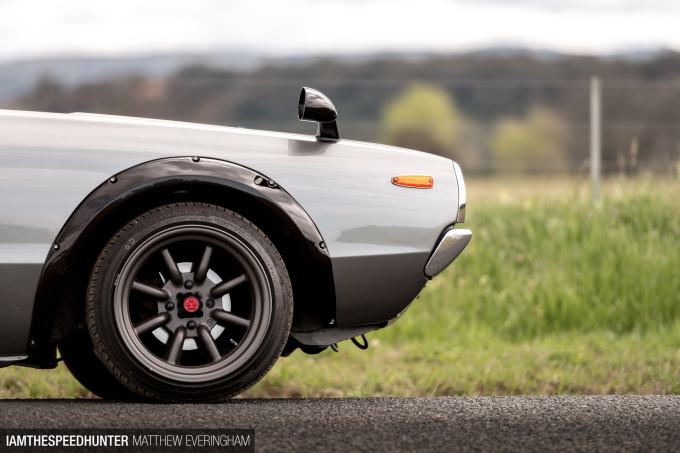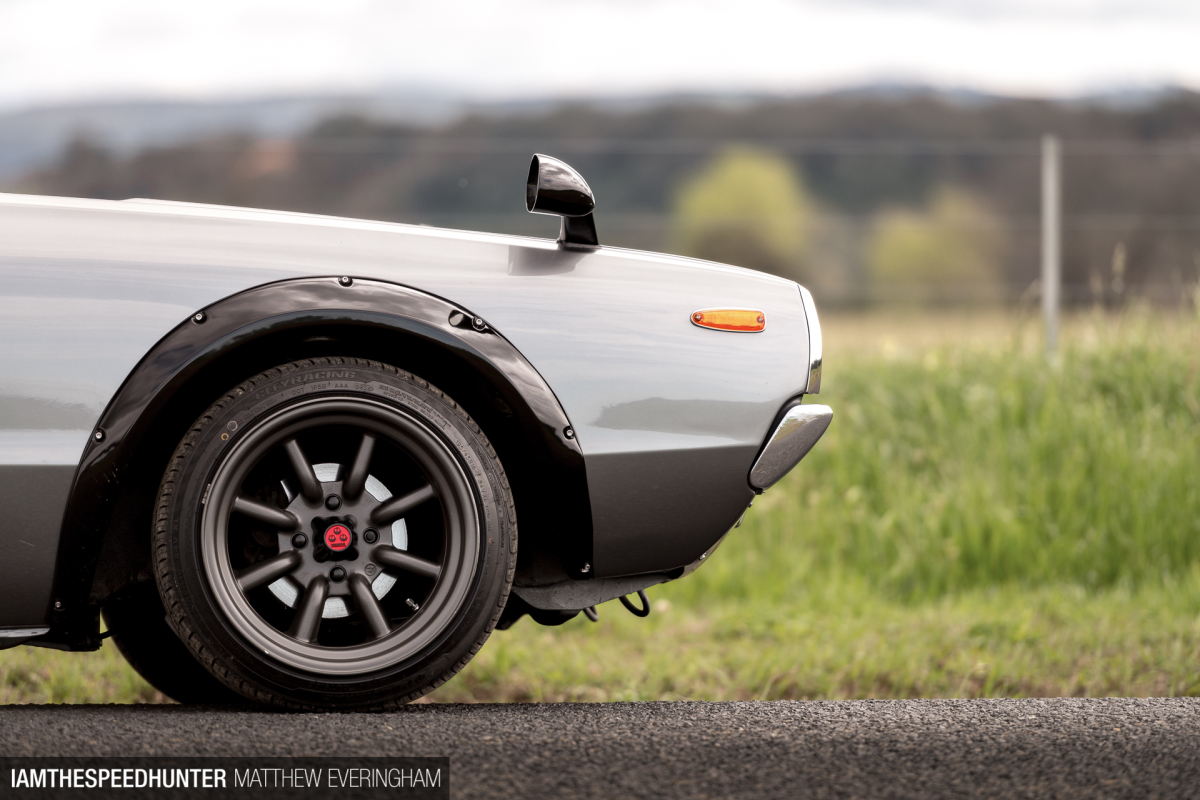 Originally, a set of 17-inch rims were test-fitted, but the larger rims destroyed that old school charm and were replaced with 16-inch R Type equivalents – 8.5-inch wide in the front and 9.5-inch wide in the rear. It's amazing what a single inch can do to the profile of a car!
The Reward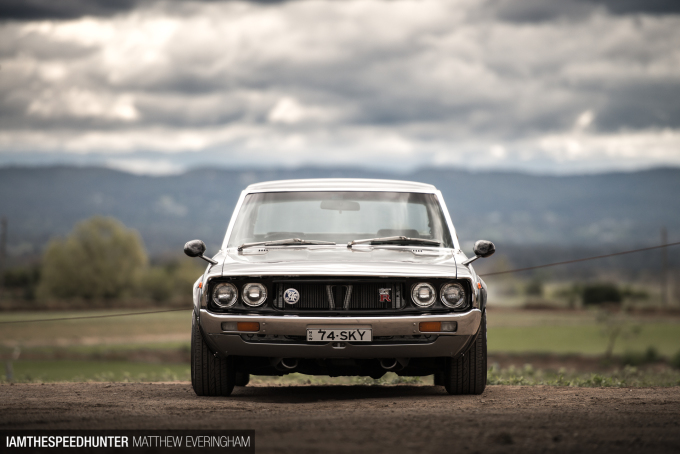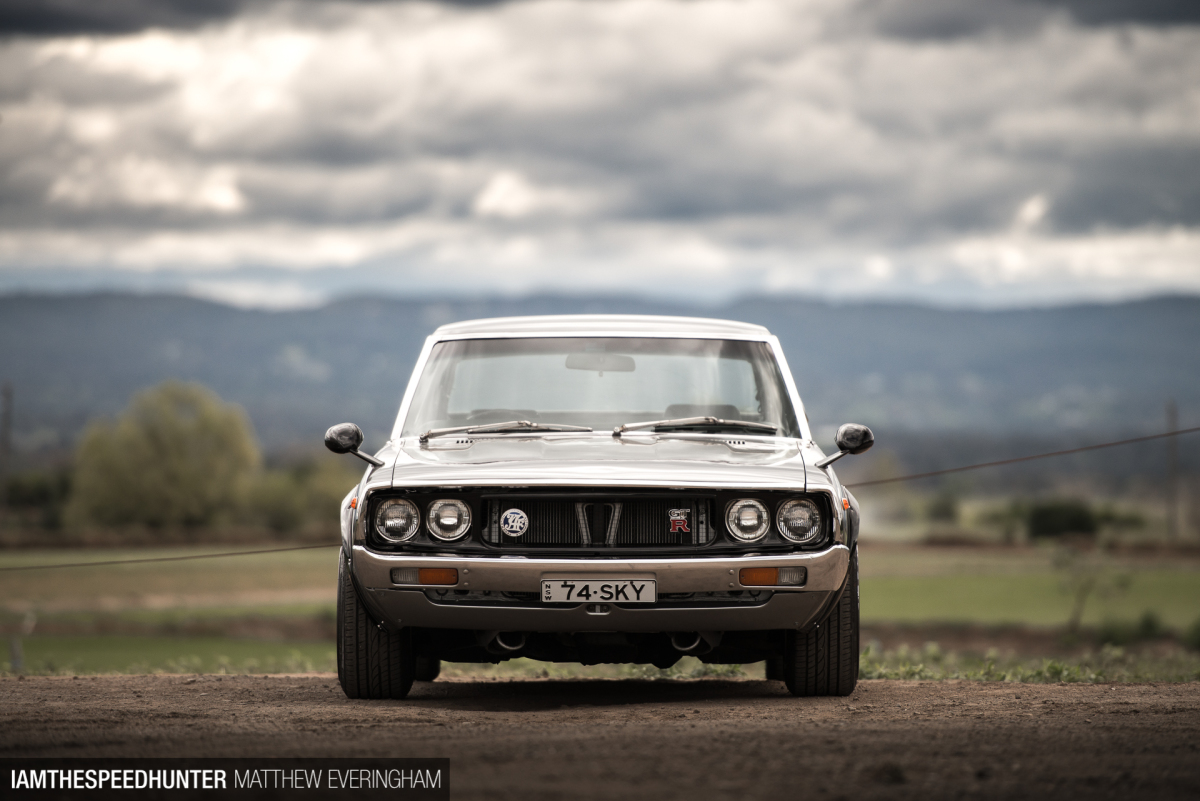 The journey was long, some of it fun, some of it frustrating. The question now is, was it all worth it? When I asked I just got laughed at while Brad kicked it back into second gear. The engine roared through our open windows and I had my answer.
Like all good things that take time, the Kenmeri GT-R replica was more than worth it. That feeling of freedom and the vibe of old school cool are both priceless in themselves. The long term commitment, every dollar and every year spent was a wise investment into something that money usually can't buy.
Like all projects of this scale, there was a team of dedicated individuals working together to create something great. Brad would like to thank his friends and family for their support, getting their hands dirty and looking for parts. It simply wouldn't have happened otherwise. He'd also like to thank the C110 online community for helping out along the way.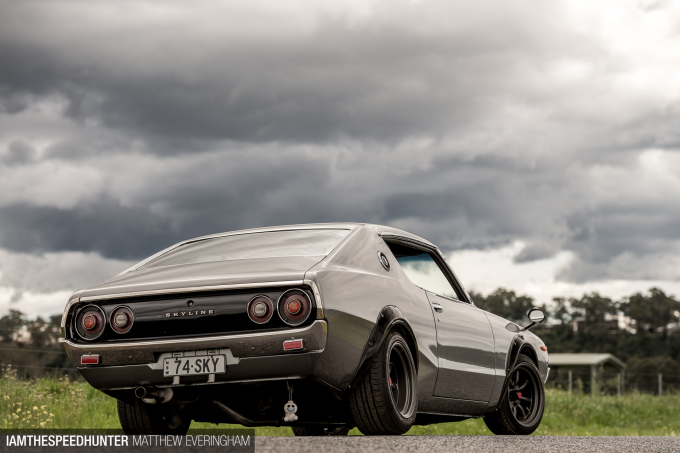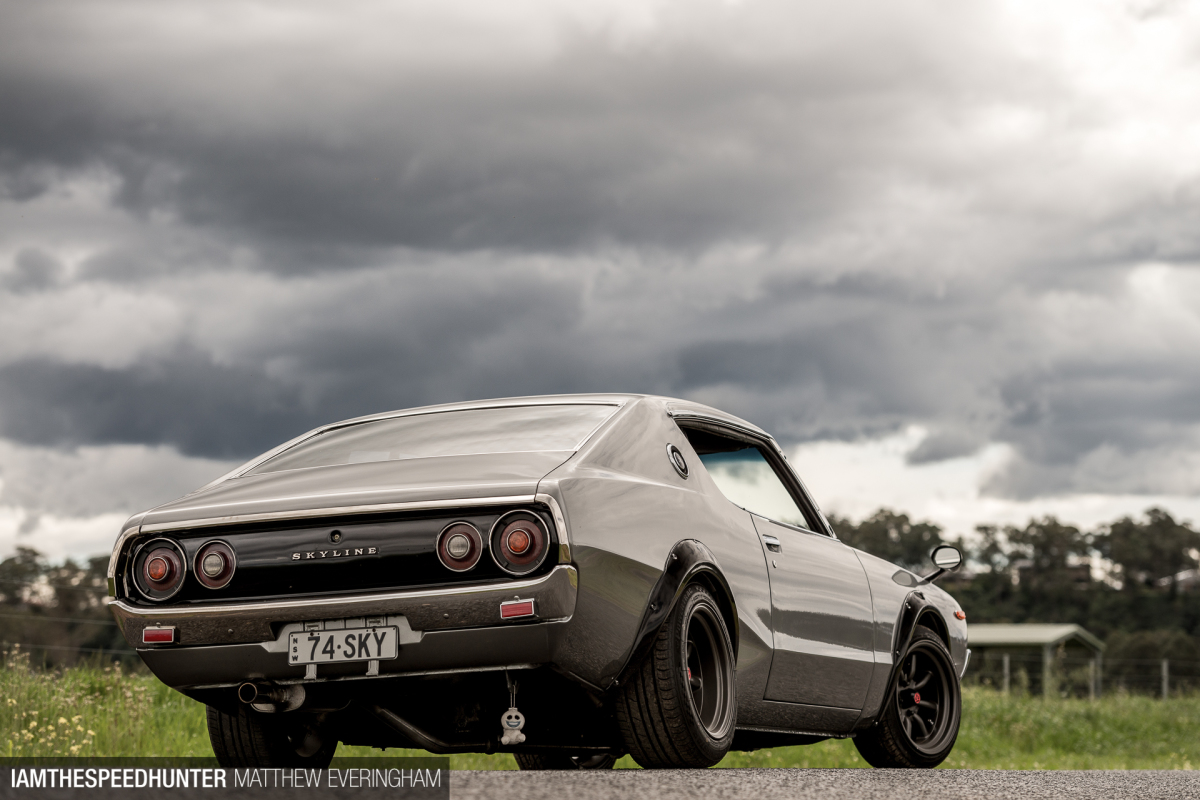 I wonder if those kids reading car magazines instead of paying attention in class would believe you if you could travel back in time and tell them that one day they'd have the opportunity to showcase their hard work, dedication and love of machinery internationally through Speedhunters? I know I probably would have laughed and dismissed the notion. Brad on the other hand would have probably just shrugged casually and said, 'Yeah, I know.' He's always been good like that.
As an added bonus, I tracked down the original television commercial that gave the C110 its Kenmeri moniker. The car is named after the happy and adventurous couple Ken and Mary who featured in the ad campaigns.
Matthew Everingham
Instagram: Matthew_Everingham
matt@mattheweveringham.com
Cutting Room Floor