Growing Up
As a kid, I was never a big Porsche fan. I wasn't raised in that sort of household. I was brought up on an automotive diet of rallying, rallycross and the occasional Grand Prix. My heroes drove Fords and Subarus, not Porsches or Ferraris.
While it may not be the case today, there was a time when I considered Porsche as being on the same level of exoticness, and thus, the same distance out of reach as the premier Italian supercar manufacturers from Maranello and Bologna. They were respected but never really admired.
If anything, Porsches very much passed me by as a youth.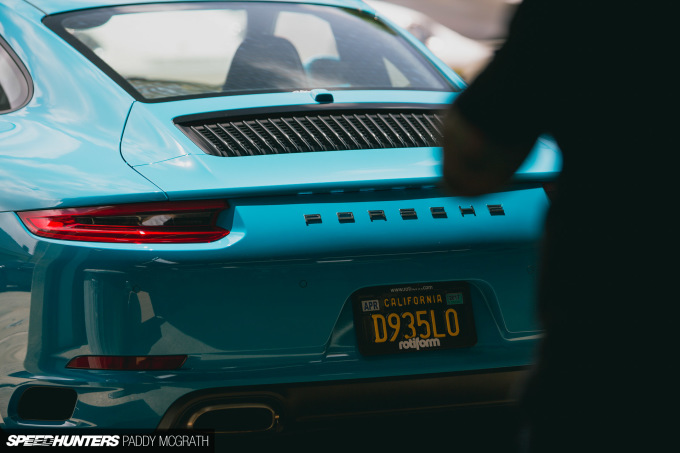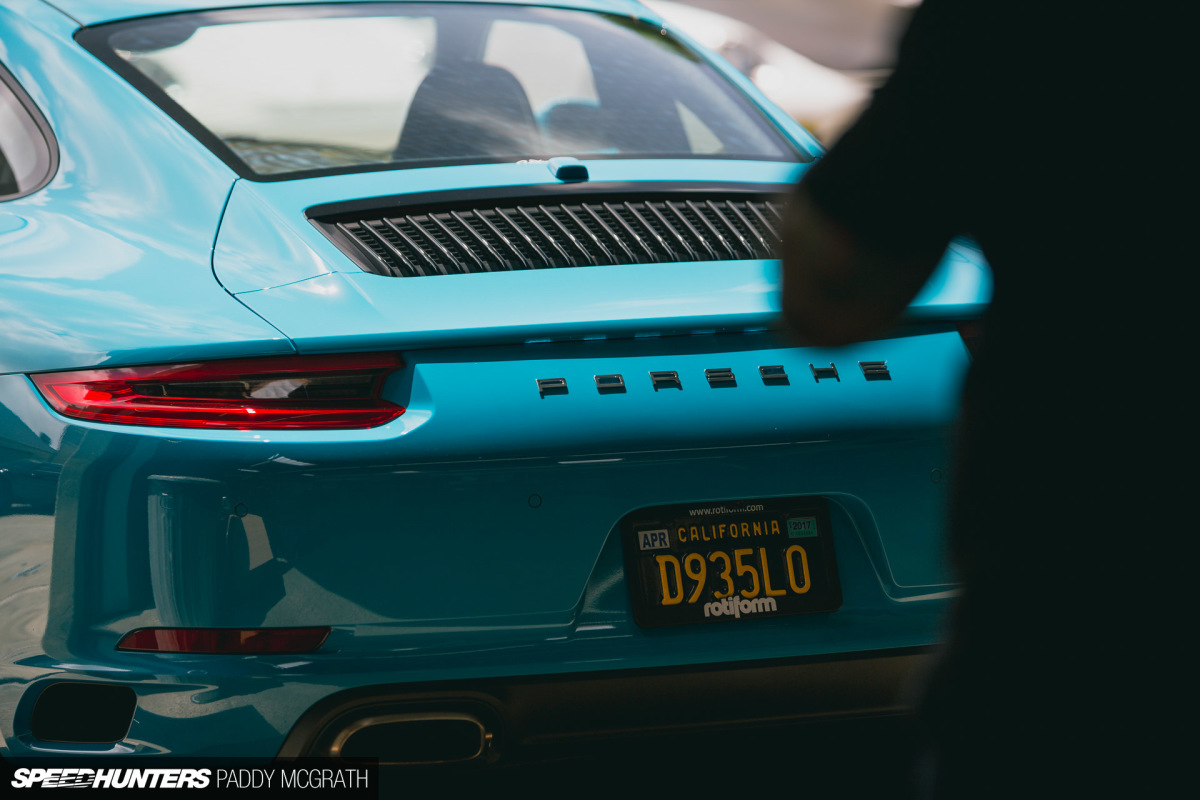 During my early Speedhunters years, the 911 remained low on my radar. Maybe there was a little bit more interest towards them, but that may have been out of necessity than anything else. The Turbo, GT2 and GT3 variants were the only ones worth considering, the rest were there just to make up the numbers.
My opinion of them hit rock bottom after driving a 996 Carrera 2 around Mondello Park a few years ago. Everything felt, well, wrong. The pedals in the right-hand drive car I drove were offset to the left, with the accelerator pedal was where the brake pedal should have been. It wasn't particularly fast and just gave me an overwhelming sense of 'ordinary'.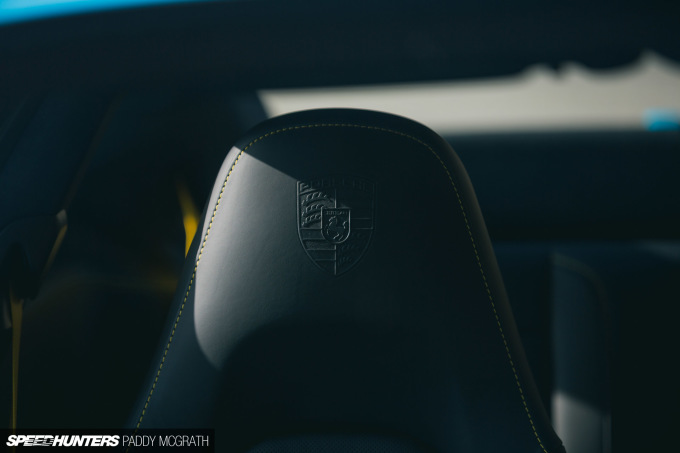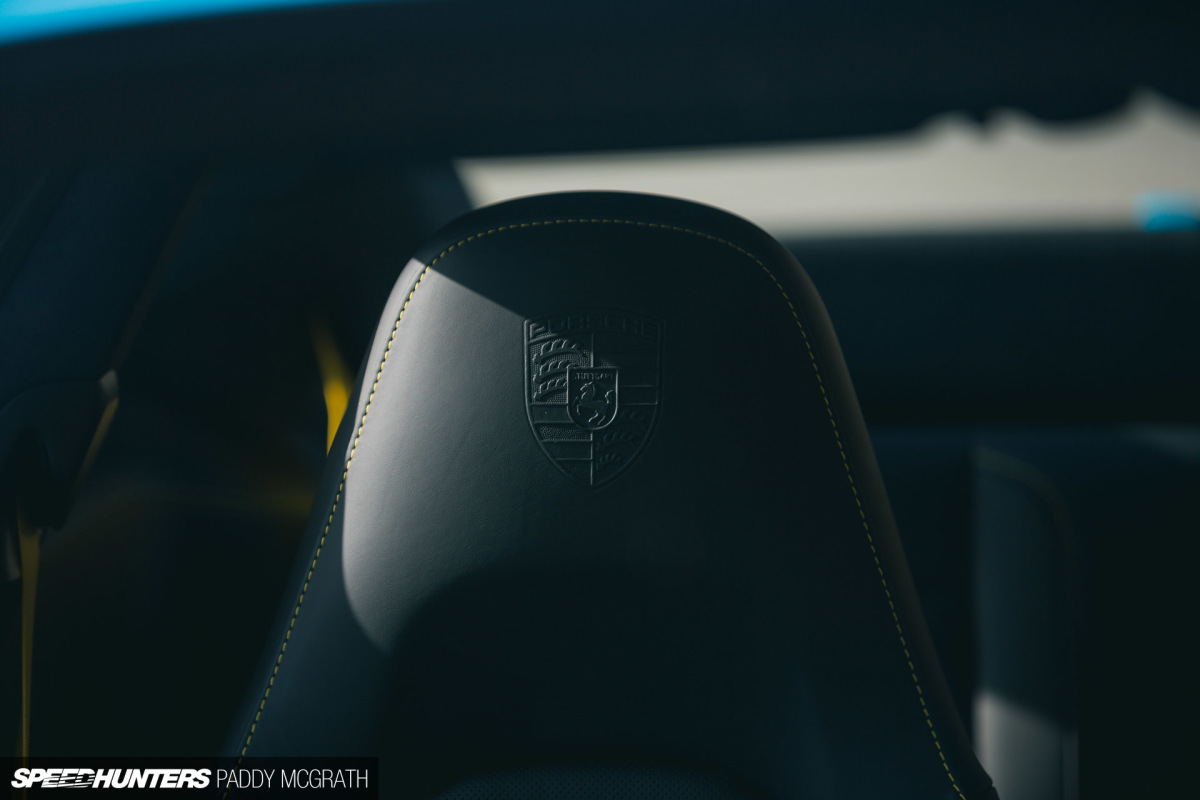 To be fair, I was aware that the 996 I drove was a particularly tired example and that the 996 itself wasn't exactly considered the pinnacle of Porsche, but I still felt deflated afterwards. I had wanted to like it, I really did, but it just didn't do anything for me.
Fast forward another few years to a time when I arrived in London to rendezvous with a group of friends, before making my first pilgrimage to a little Austrian lakeside village called Velden-am-Wörthersee. I didn't know it then, but this trip would change everything I thought I knew and loved about cars. We actually met up at Milestone71, just a stone's throw from Heathrow, and on arrival the first thing to catch my eye was a mint green 911 parked in the corner.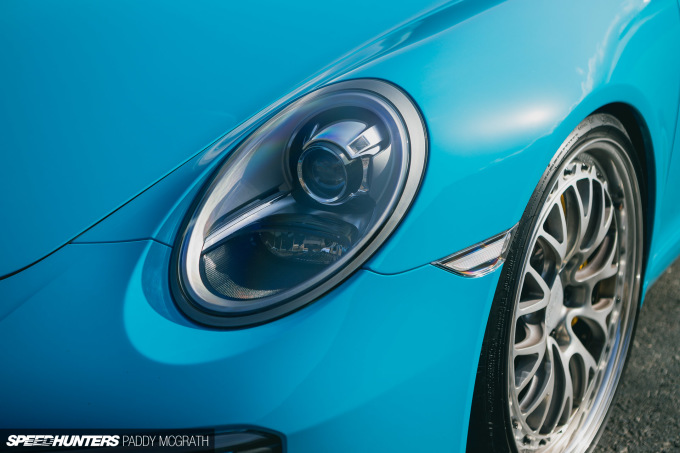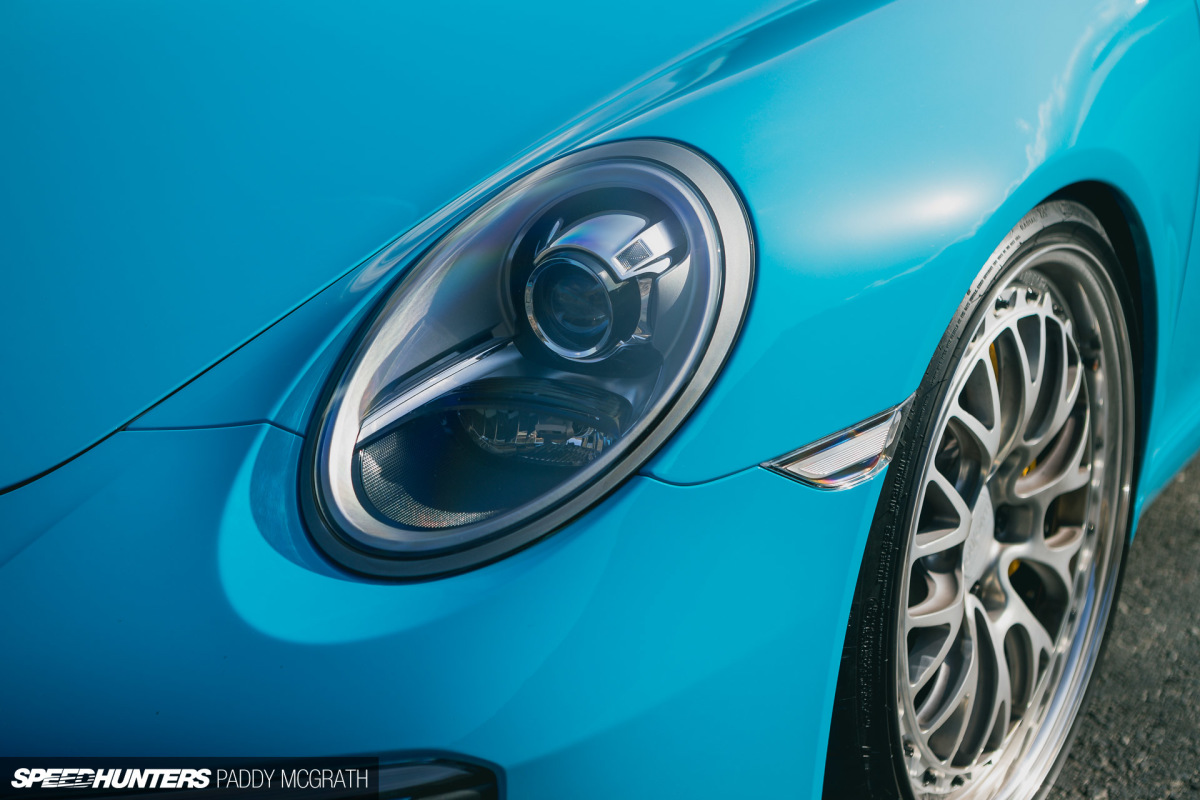 I was then introduced to its owner, Brian Henderson, for the first time. I had known of Brian and his niche wheel company, Rotiform, but I can't recall speaking to him properly before this. Like everyone else there, he was excited to get on the road and start the considerable journey south. His obvious passion for Porsche and his friendliness made the car so accessible for me.
I can distinctly recall being absolutely fascinated with the green 964 as we drove through country after country, admiring it from the passenger seat of whatever car I was in at the time. Its silhouette against the backdrop of rolling fields, the sound it made and even just how it rolled on the road – everything just seemed like a perfectly thought out evolution. It just looked right.
We ended up shooting the car towards the end of our trip, and I can definitely say that was the turning point in my fascination for the Porsche 911. This was at a time when RWB was exploding all over our web browsers and overfendermania was kicking off. But it was this original and narrow-bodied 911 that absolutely stole my heart.
There was no going back.
Three Years Later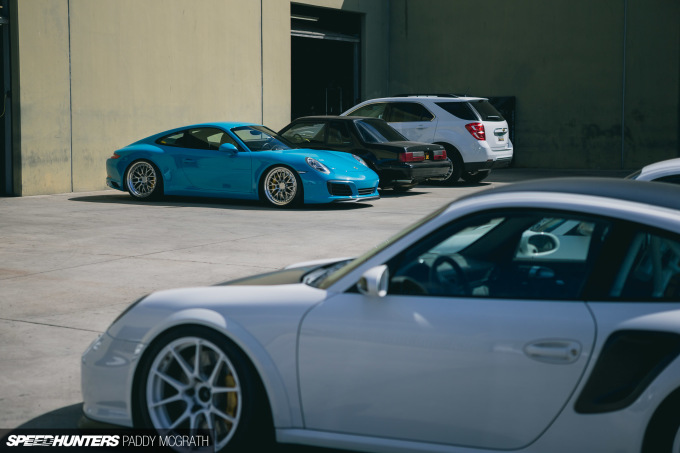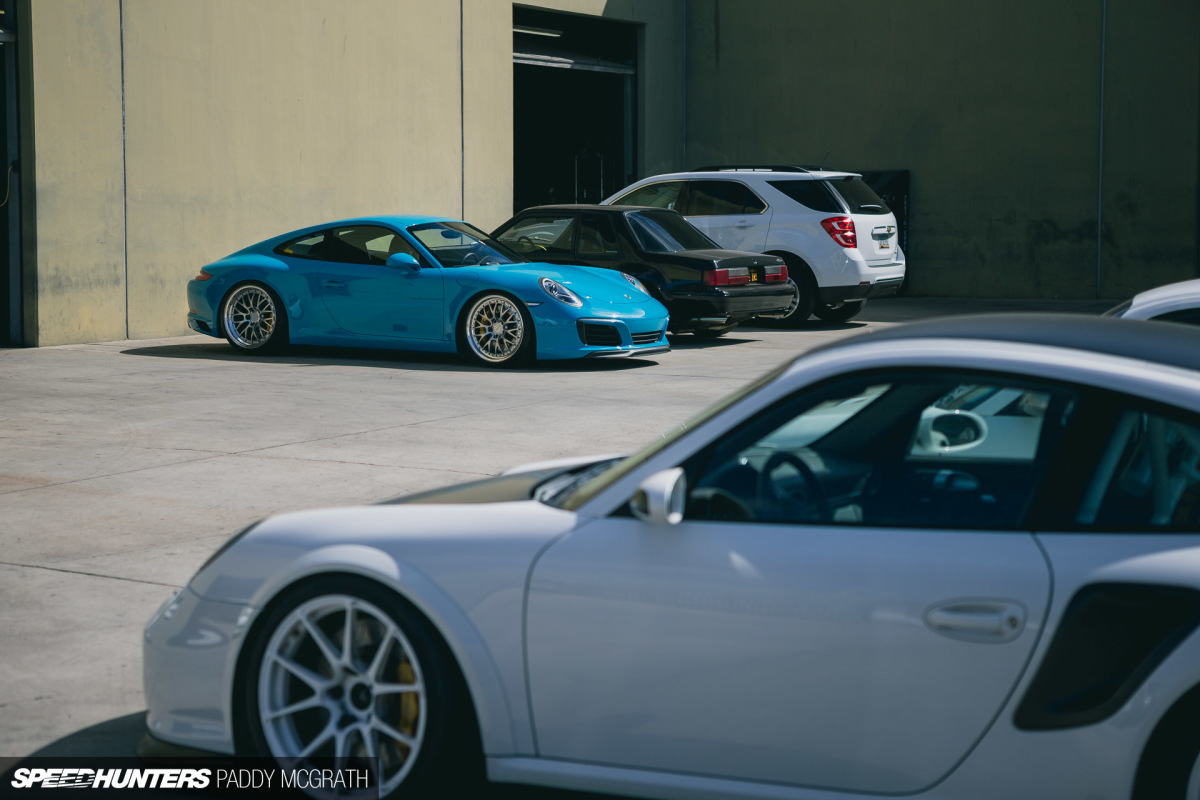 Fast forward to last month and I was in California for the first time, shooting pretty much anything that moved. We had visited Rotiform a couple of days beforehand when Brian asked if I would be interested in driving his new 911 in the canyons. The answer was of course a resounding yes. I had seen the car on Brian's Instagram, so I was vaguely aware of the details. As I've said before, any opportunity to drive should always be welcomed.
We arranged to meet at BBI Autosport, located somewhere within the urban sprawl of Los Angeles. Brian had the car previously booked in for a once-over and a fresh alignment, and wanted to make sure everything was perfect before we headed out of town.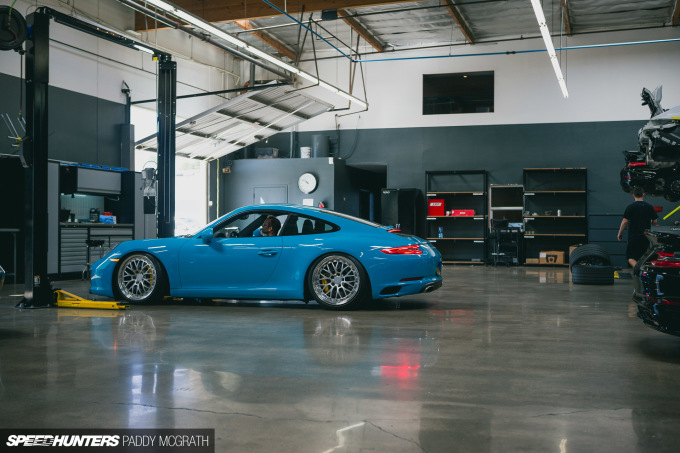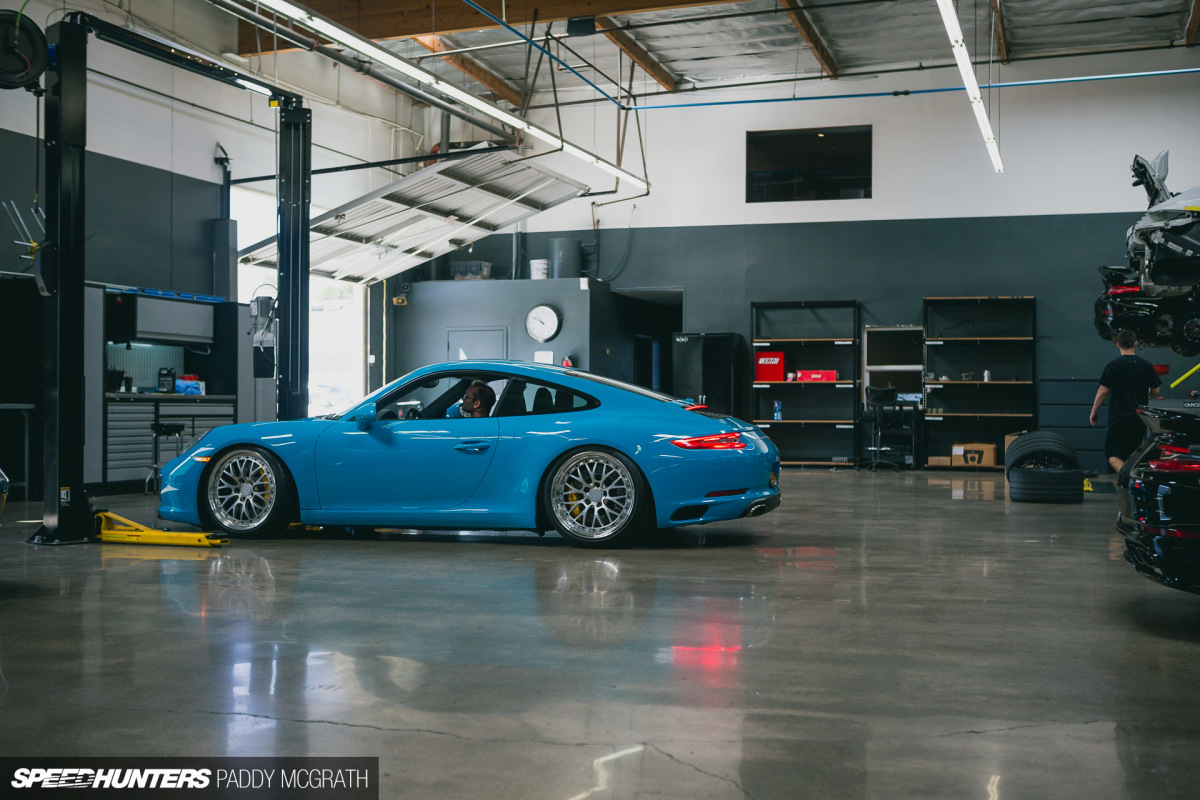 It was also a great opportunity to pore over the car, seeing as it's practically impossible to examine a modern 911 anywhere else except on a lift.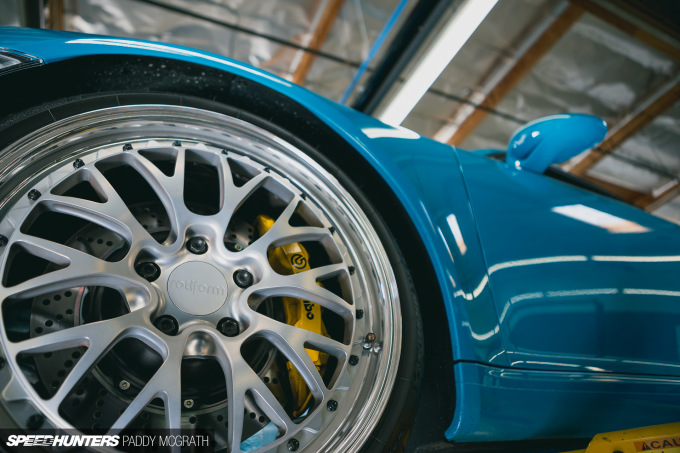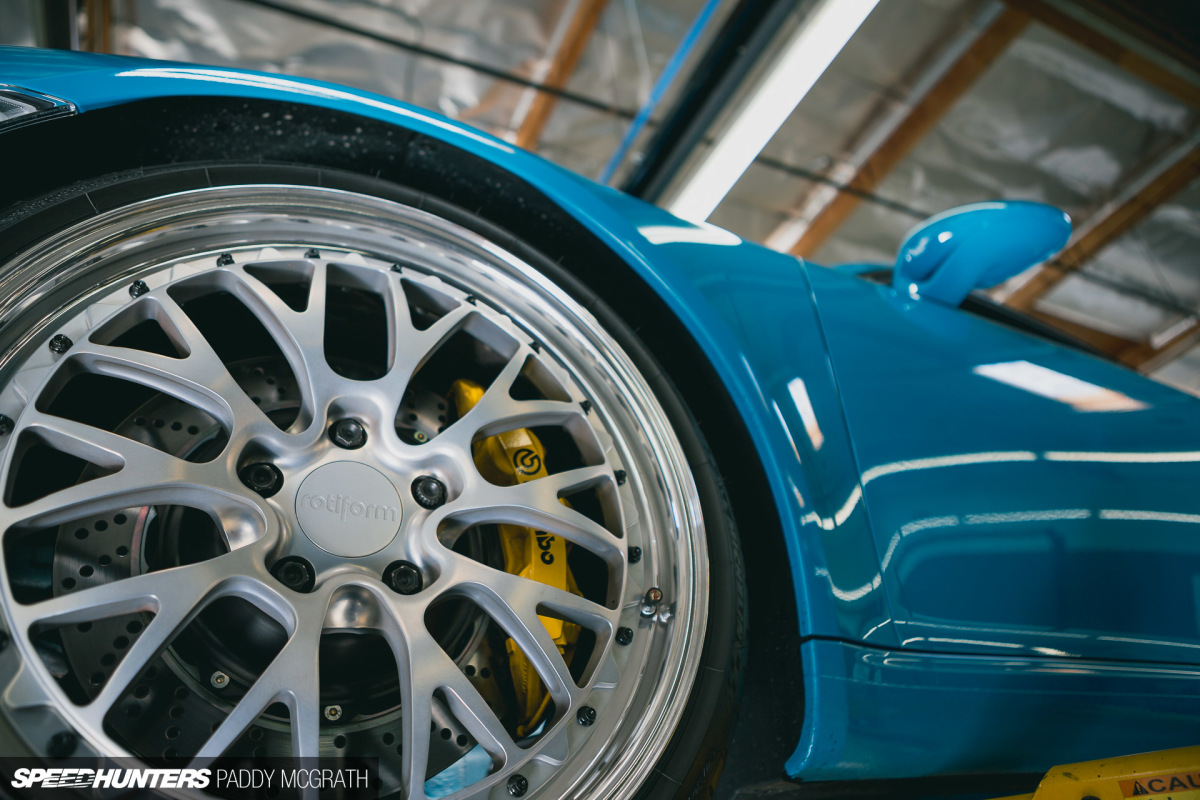 I would consider this as very much the modern equivalent of Brian's own 964, it's subtly and tastefully modified. It has a custom BBI-built, straight-through exhaust system, but because everything hangs off the rear of the car, makes virtually no interference in the cabin. It's lowered on Bilstein coilovers, wears huge Brembo brakes (front and rear) and of course sits on Rotiform's own LSR type wheels.
But what makes it really special is that this is Brian's first brand new Porsche, something that he has been working his whole life towards. As you can probably guess, it means quite a lot to him. He obsessed over every detail when ordering it, but the results of his custom order are pretty much as close to perfection as you could hope for. Not to mention, it's one of only a handful of manual 991.2 Carreras in the United States.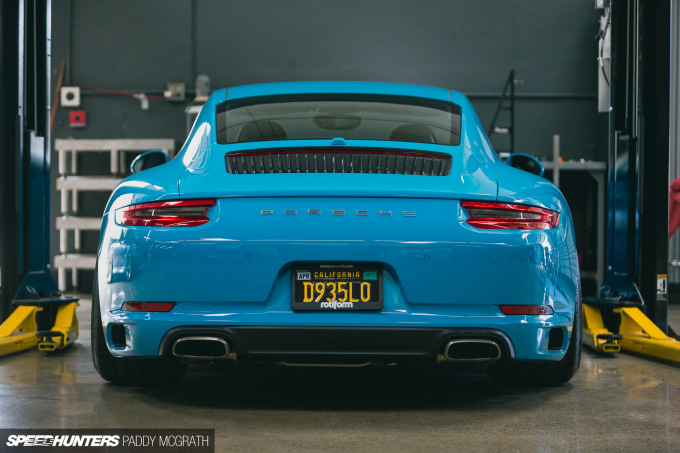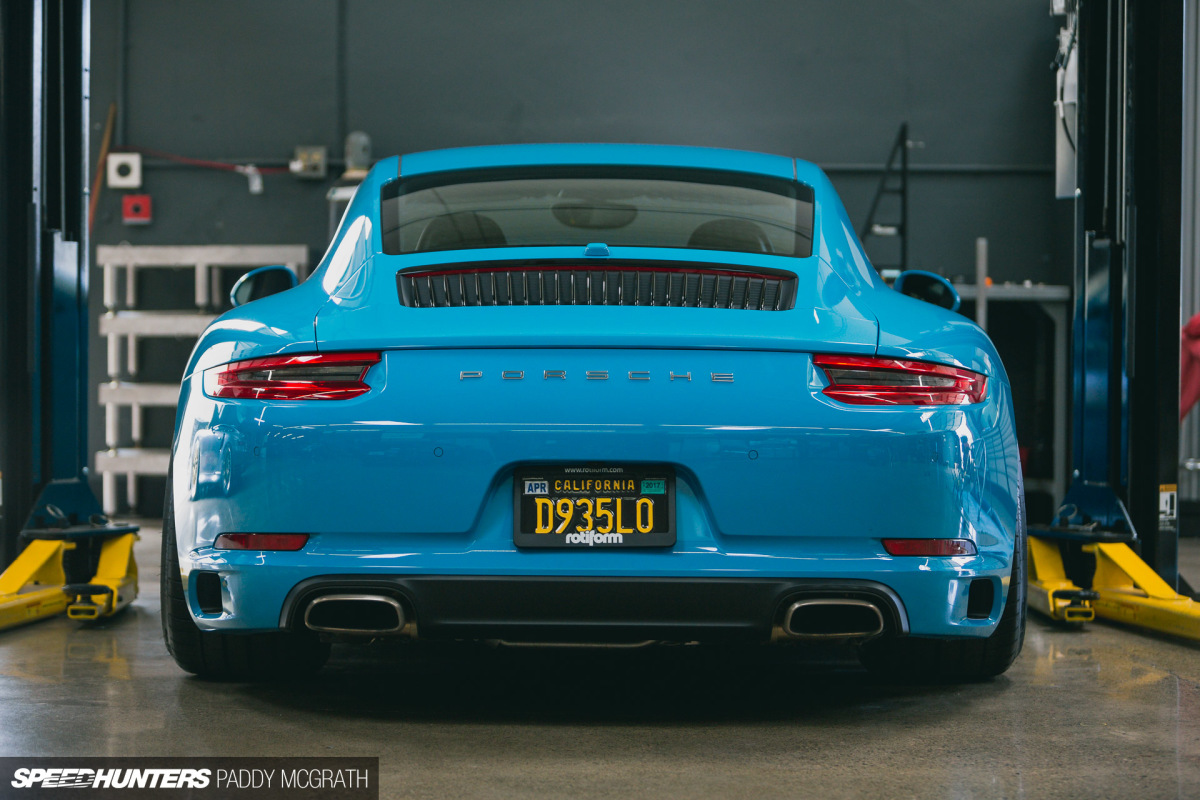 Being the latest iteration of the 911, it's also the first of the new turbocharged cars, but it's not a 'Turbo' model. Gone is the naturally aspirated flat-six and in its place a slightly smaller capacity boosted flat-six. As I would learn, it's not quite your typical turbocharged setup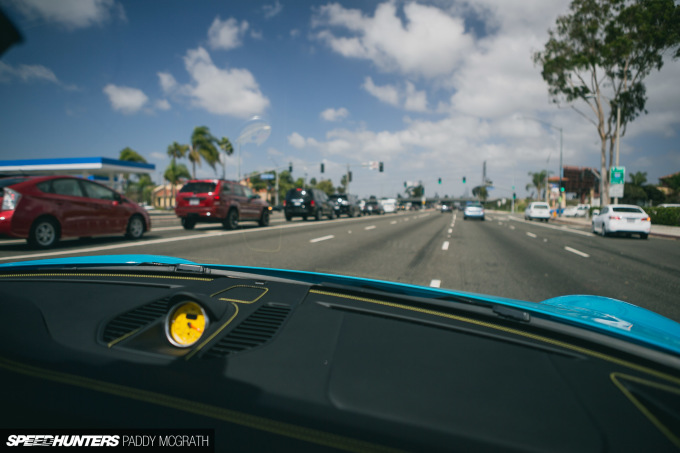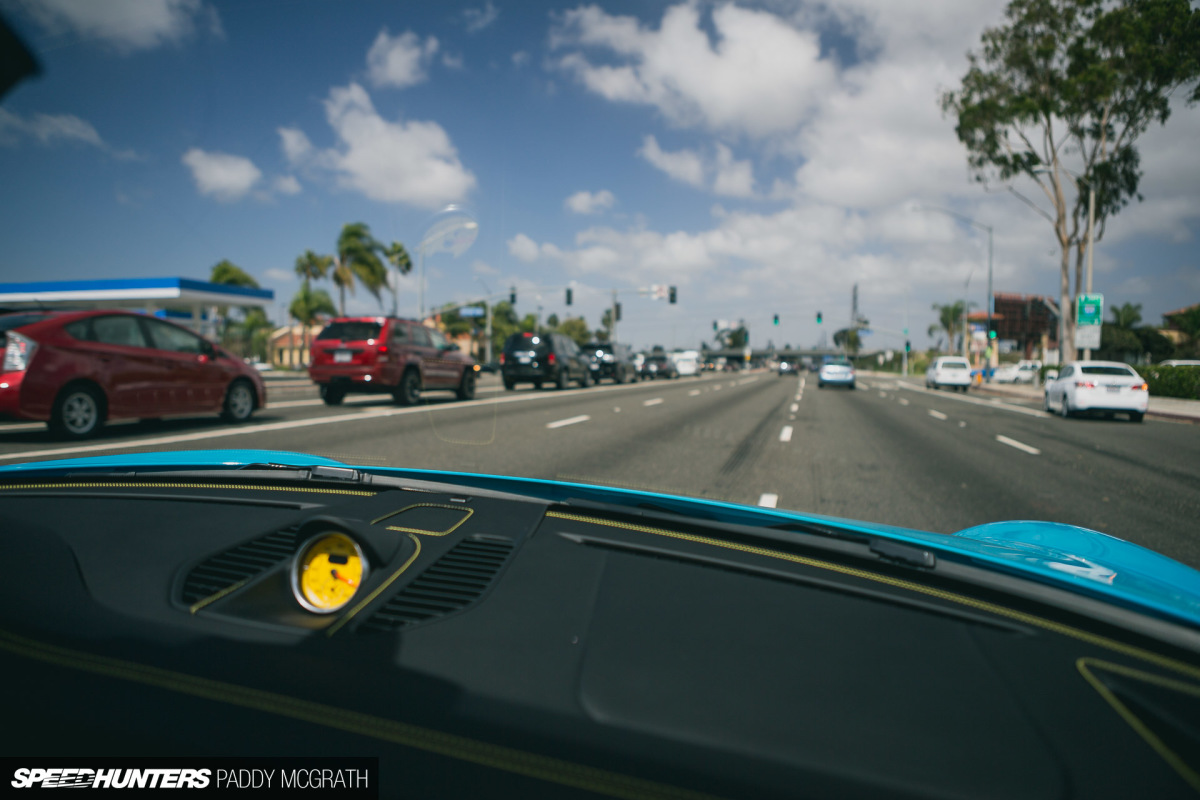 Once BBI was happy with the car, we immediately hit street and made our way towards the mountains. I wanted to shoot from the passenger seat for a bit and to catch up with Brian, so he drove us out. Plus, I would have gotten us really, really lost.
I had heard previously of the horror of LA traffic, but I never considered it to be truly dreadful at any point over the course of our trip. There was always something interesting to look at too. Not including our rented Tahoe.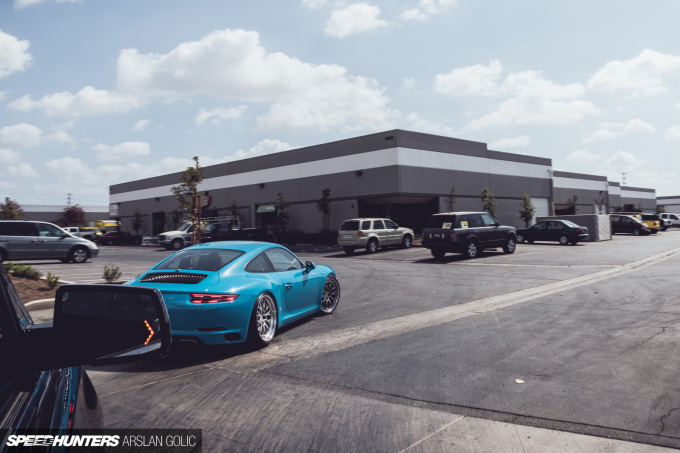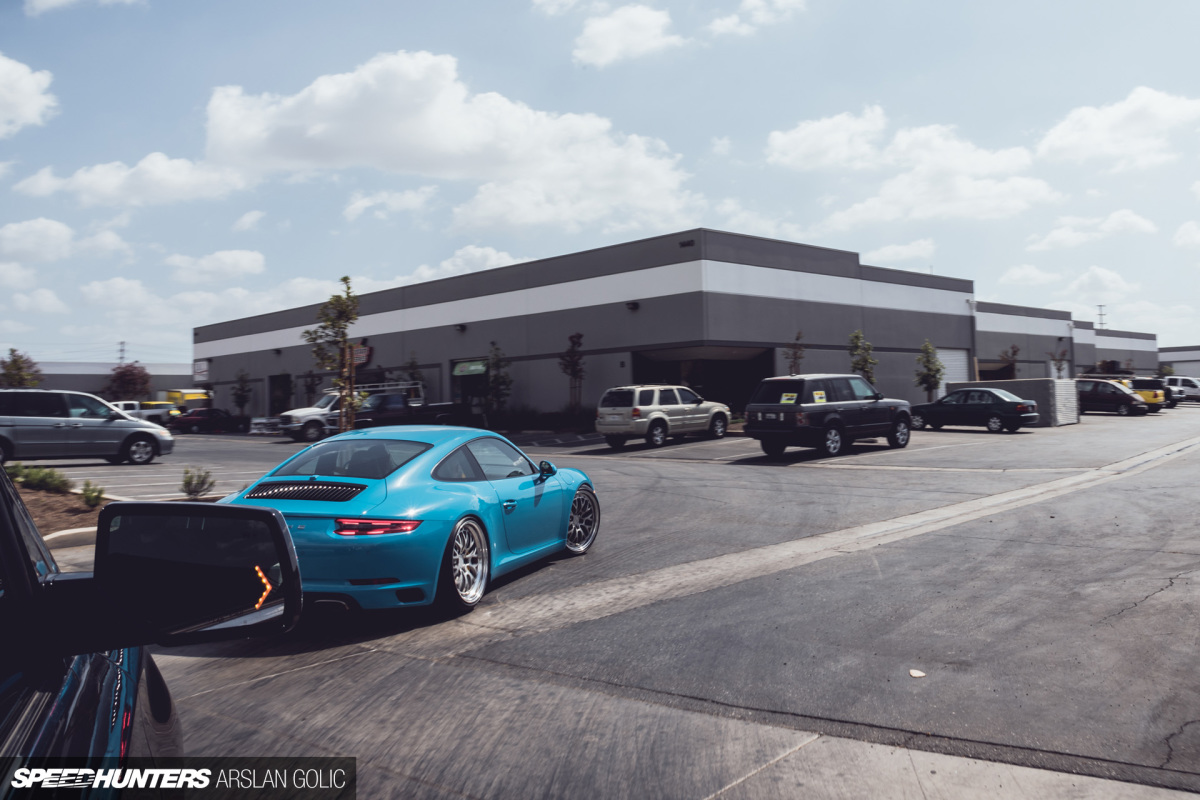 Brian wanted to stop off on our way to grab some friends to come and join us. The more the merrier, right?
I just hadn't expected for his friends to drive a new GT3. This day just got that little bit more interesting…
We had stopped off at the home of iDL Design USA, a group of guys who also just happen to love cars. I can't show you what was inside their workshop, as there was a few SEMA builds underway, but with that event just a matter of days away now you'll be fully exposed to them very soon. What really excited me though, was when I realised that the owner of the GT3, Darren Yoo, was the same guy who built what I consider to be the best BMW E90 of all time. Pleasantries were exchanged amongst us all, but the canyons were calling.
It's amazing how quickly the scenery changes around LA, because before I knew it we were climbing into the hills on perfectly paved roads. It was probably at this point that I was starting to feel the nervous excitement that comes with driving a new car. I was trying to take in as much as I could from the passenger seat, but without a wheel to hold onto, it's difficult to judge how a car is behaving.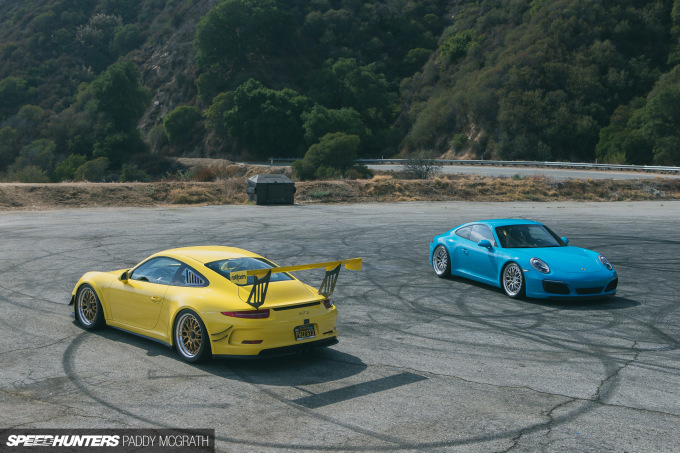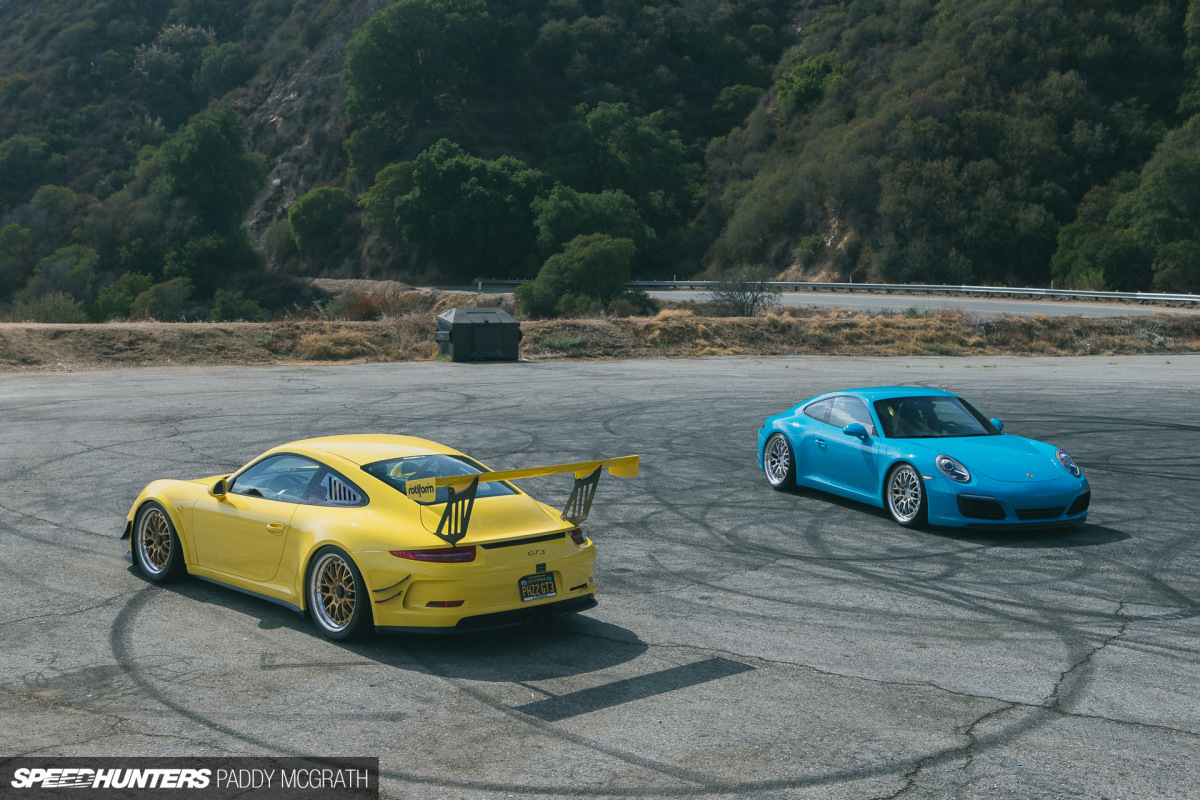 Eventually, we found a good place to pull in with enough room for all the cars. I'd tell you where this was, but I honestly can't remember the name. It's no harm as I'm sure those who know will know, and I don't really want to blow up their spot either.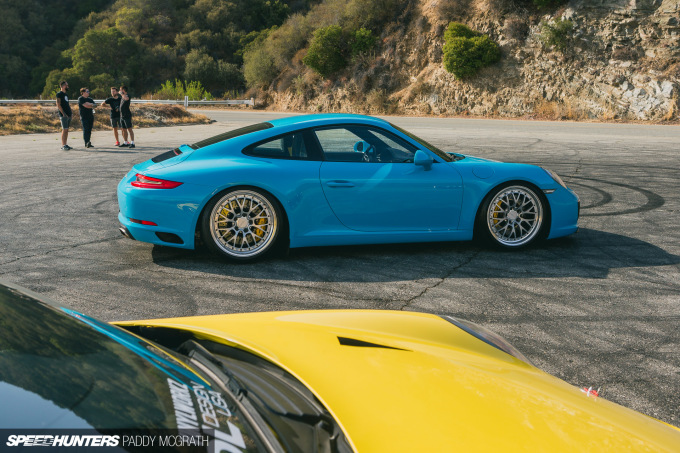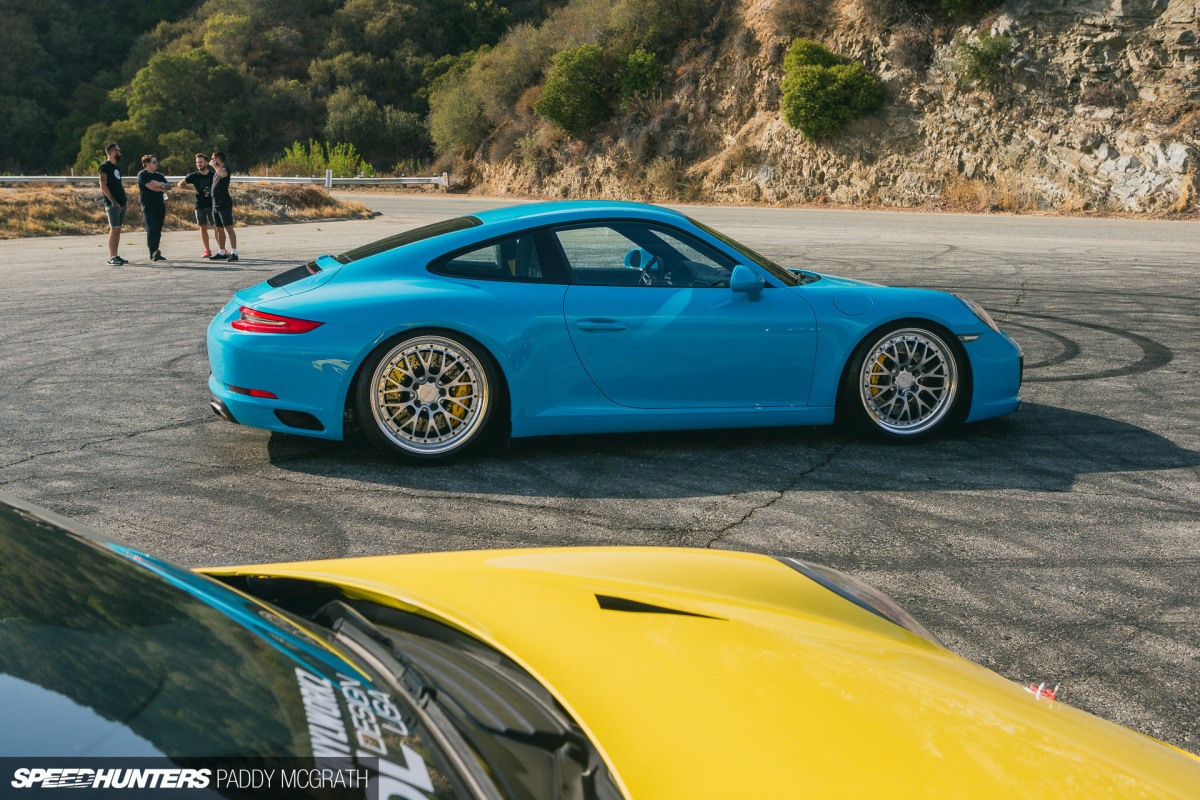 For me, this was quite a surreal moment. I can't remember the amount of photos or videos I have seen from places like this, but I'm always envious of the backdrop and the perfect roads that LA photographers have at their disposal. The sunshine didn't hurt either.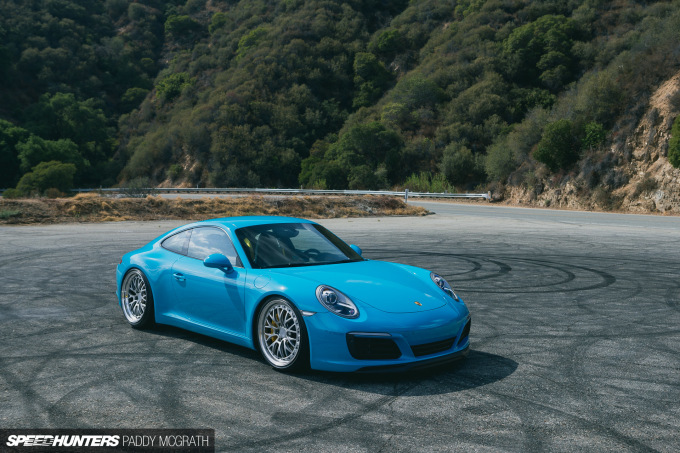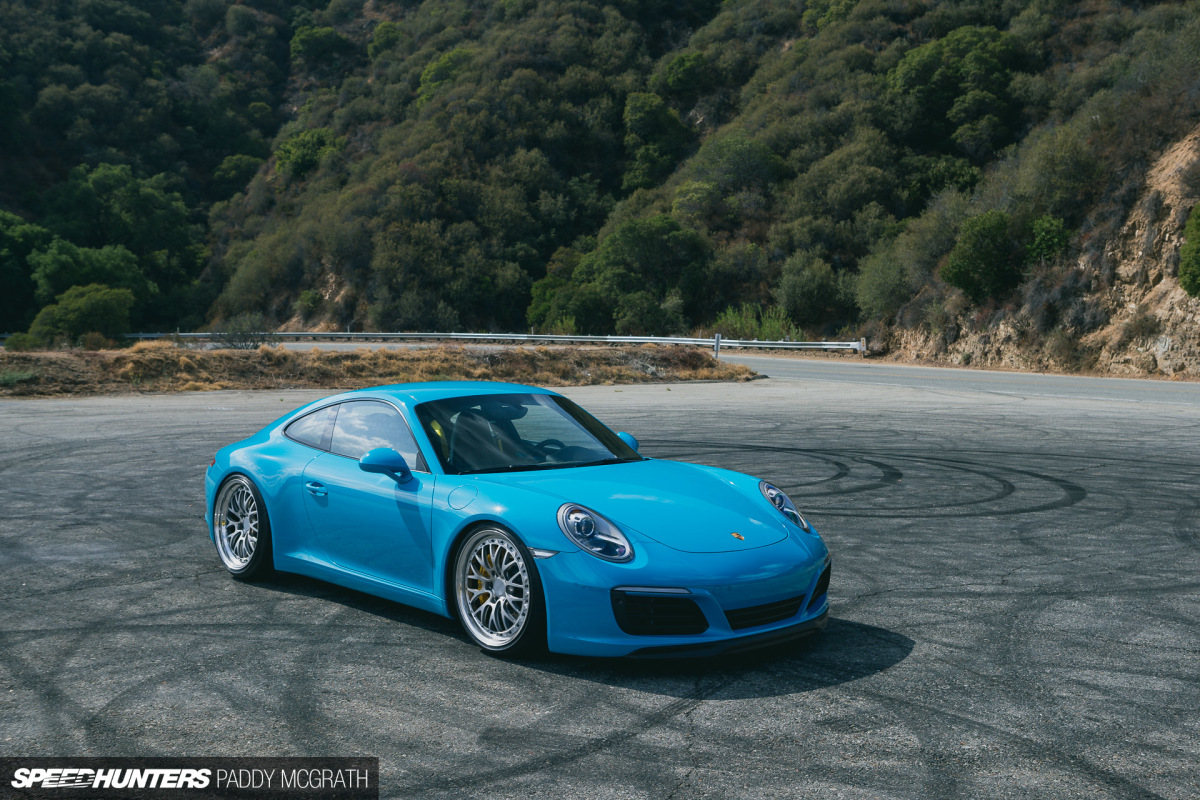 Before I started shooting though, and while the car was still warm, Brian handed me the keys and gestured in the general direction of his 911. If you insist…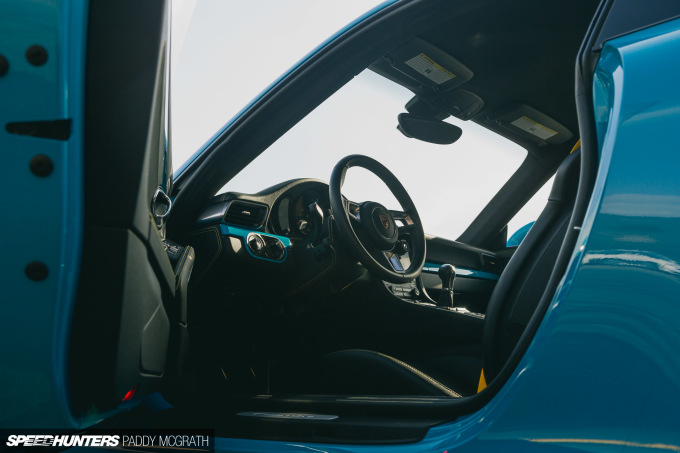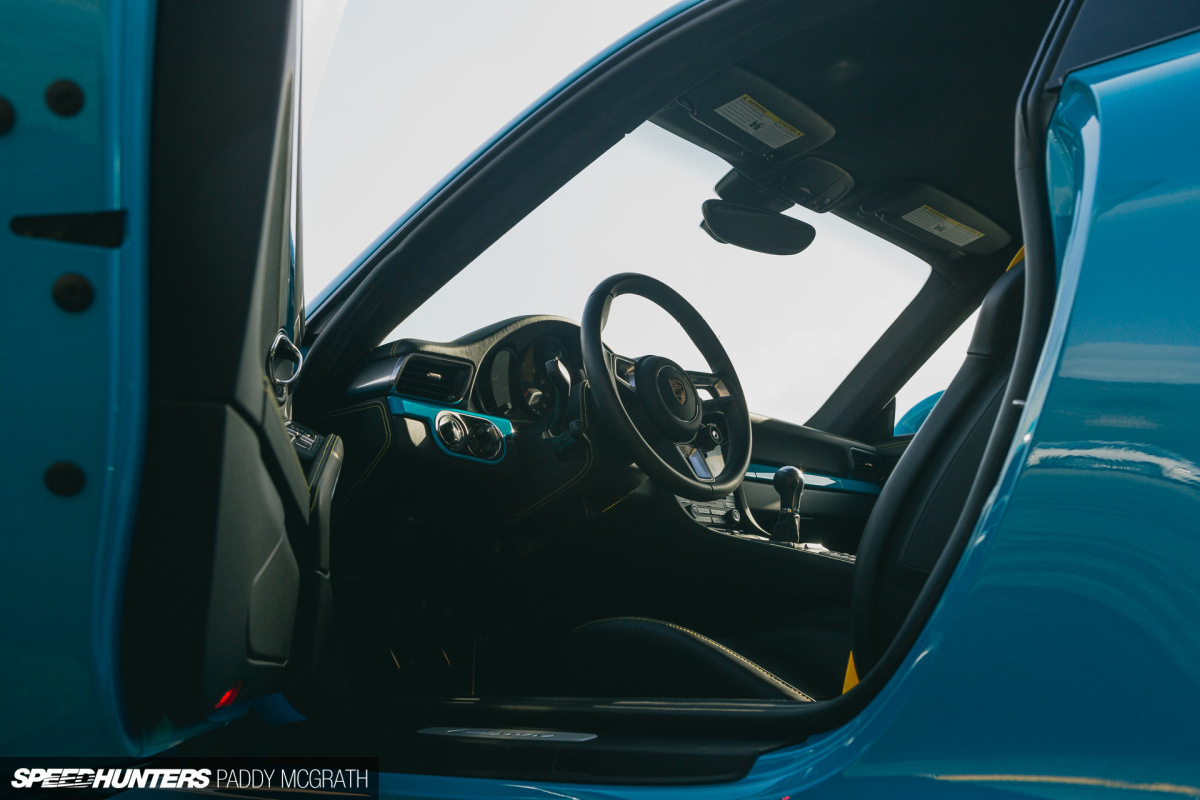 For the first time behind the wheel, I began to familiarise myself with everything whilst setting the seat and wheel positions just right. Despite the amount of times that I've driven left-hand drive cars, it still doesn't feel natural and takes a couple of minutes to adjust to.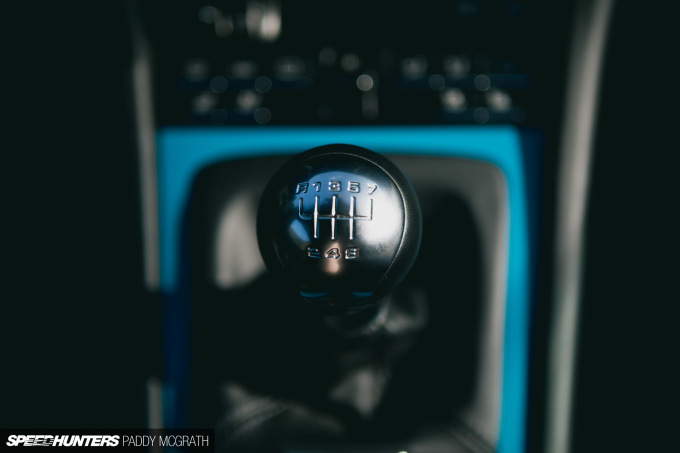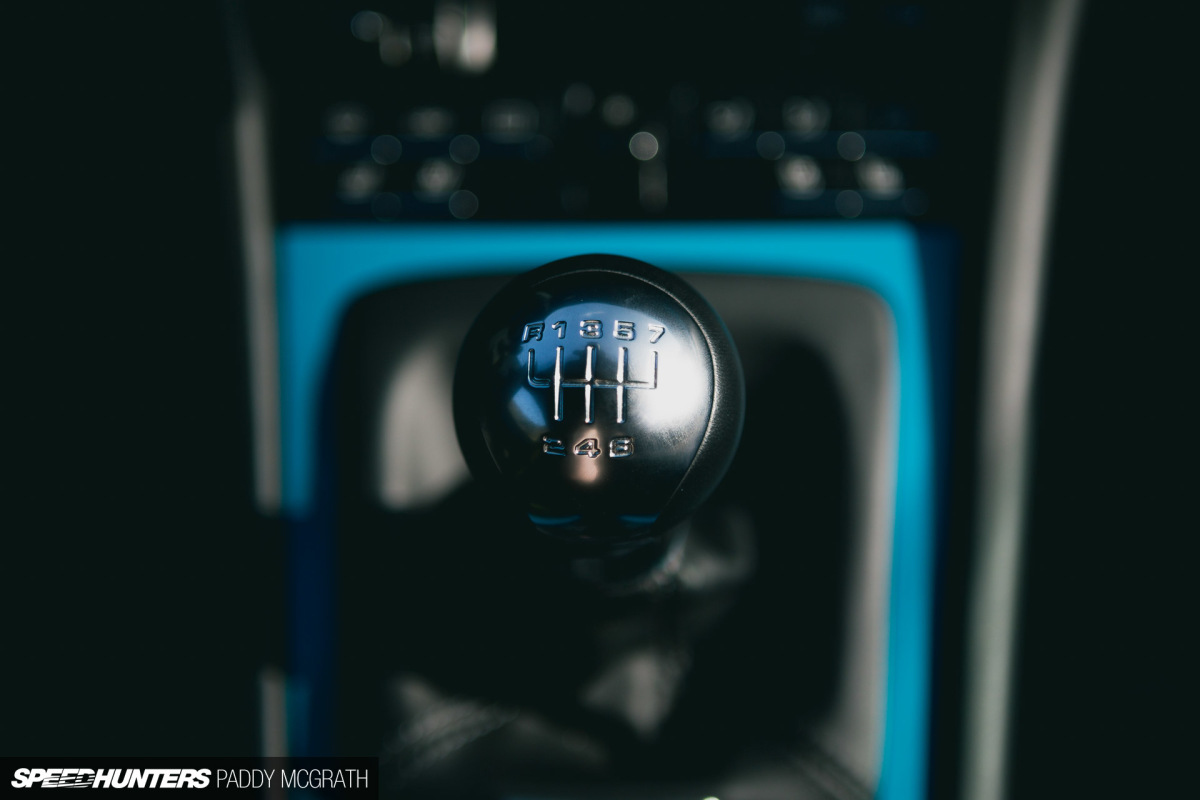 This would also be first car that I've ever driven with seven forward manual gears. Fortunately, the pattern was regular and not dog-legged, so it really didn't make that much difference, asides from the fact I would change gear with my right hand as opposed to my left.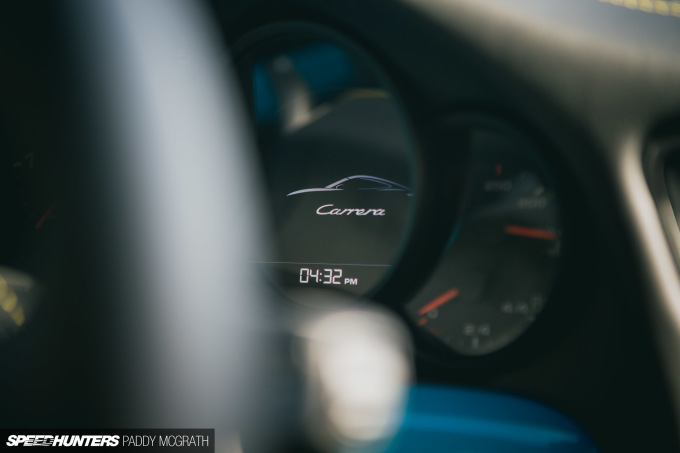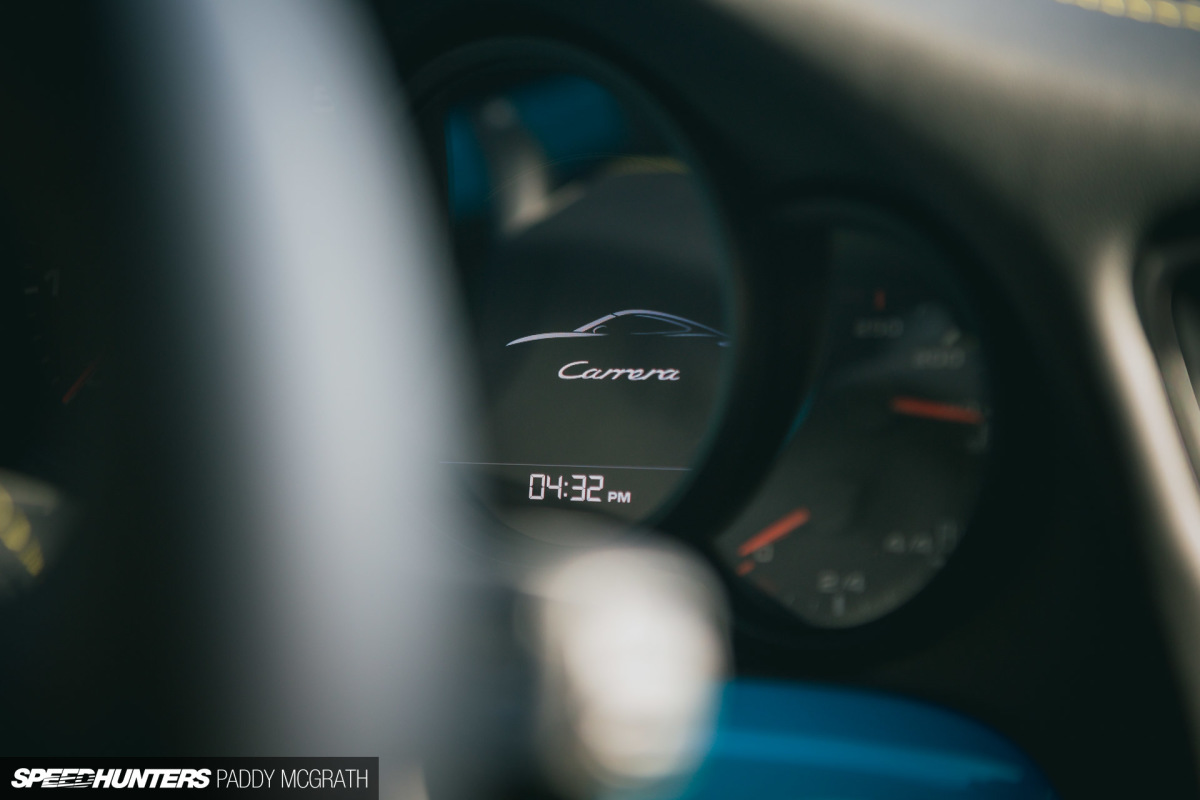 Brian briefly talked me through the controls and advised me to disregard the warning lights on the dashboard. As the factory adaptive suspension had been removed, Brian was still waiting for the correct adapters to put the car's electronics at ease. It made absolutely no difference to the driving experience, I just know that the eagle-eyed amongst you will spot it.
Rolling gently out of the lay-by, I slowly accelerated in first around the immediate left-hand corner, before making a slow and purposeful shift into second. With a straightaway immediately in front of me, I eased the throttle pedal into the carpet. I expected some lag, but there was none. The 911 immediately began to push towards the next corner at a surprising rate.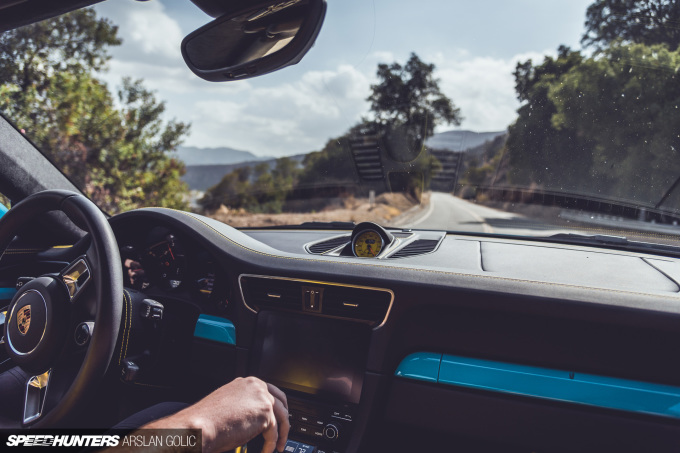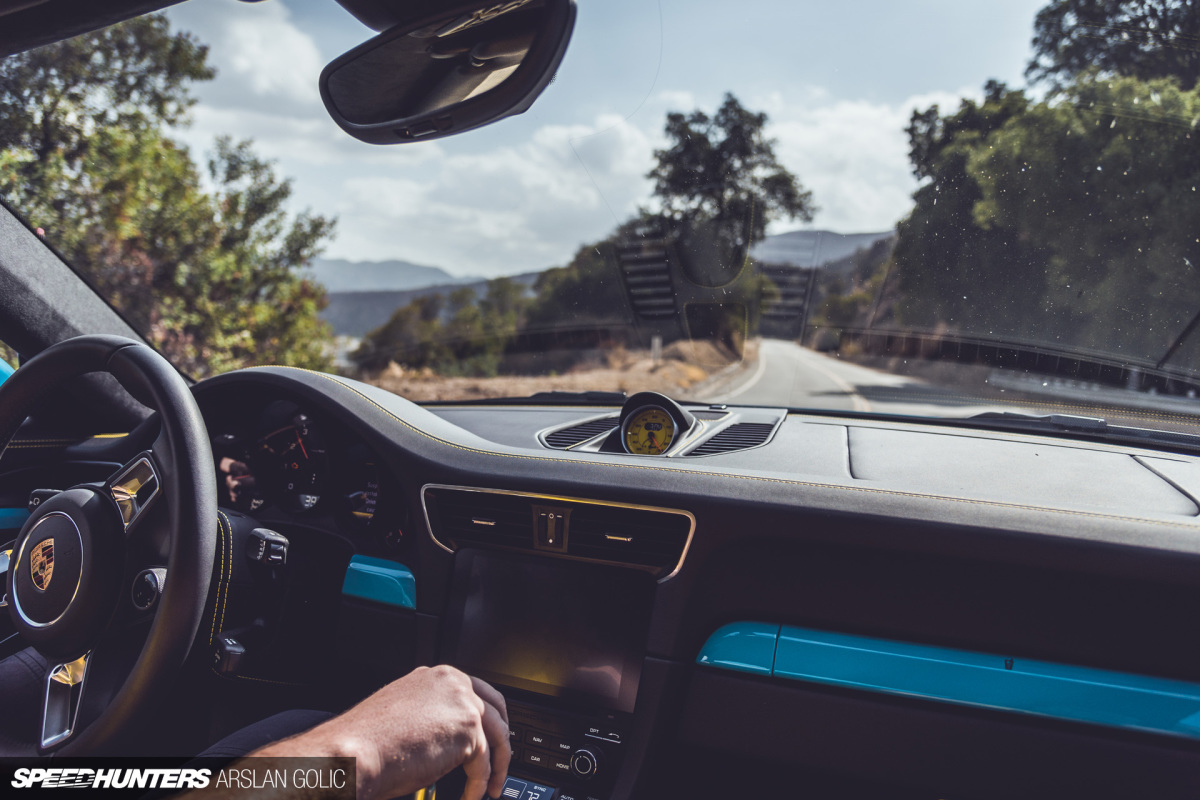 I glanced at the tachometer, the needle passing 7,000rpm, and went for third gear. There was a slight clip of the rev limiter before the shift; the car was revving much freer than I had anticipated but we were still making progress.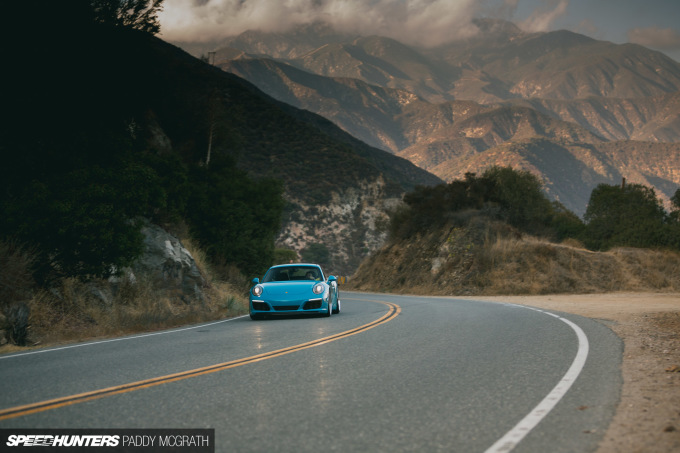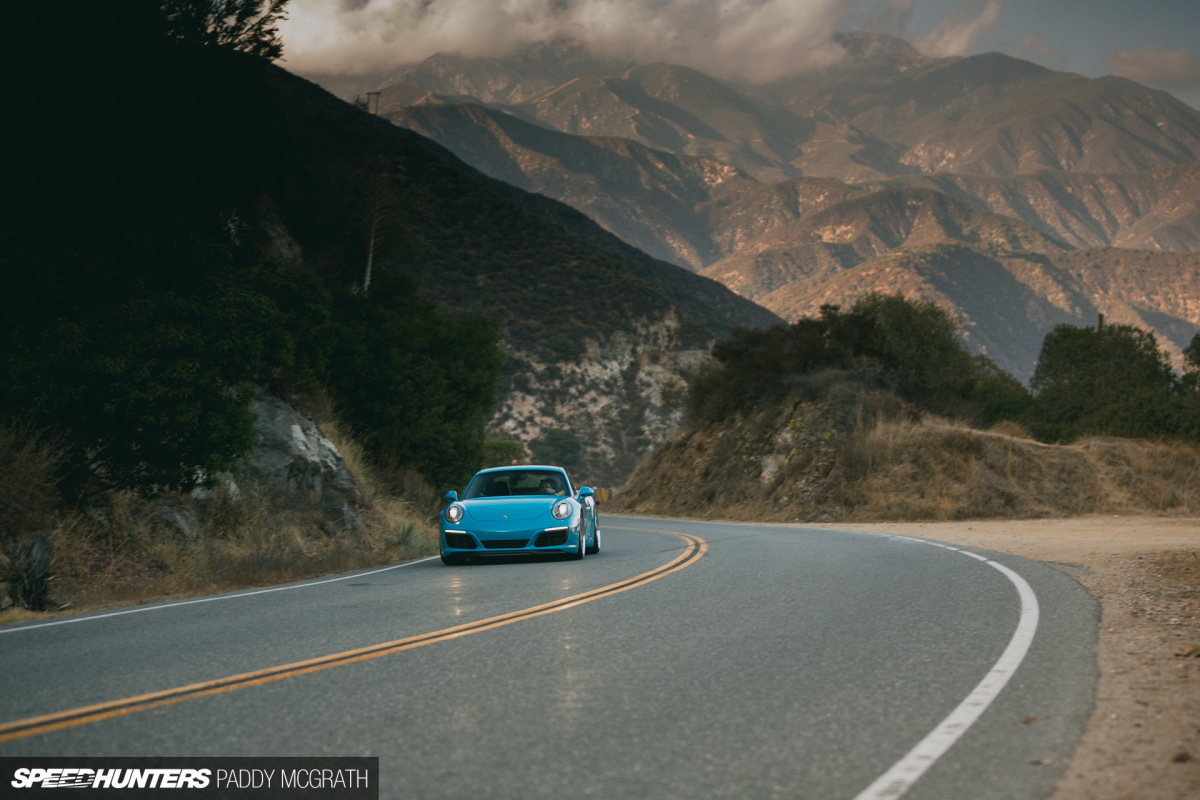 Just before I could have upshifted into fourth, I eased onto the brakes before deliberately squeezing the pedal harder and harder to see what the Brembos were capable of. As it turns out, quite a lot, and the next corner was taken at a much slower pace than it could have been. Clutch in, back to third with a blip, clutch out and we were on our way again at the corner exit.
Continuing the downhill descent, I stuck with third and fourth gears, revving out the former but keeping it sensible with the latter. While I was aware that there were six-cylinders and two turbochargers hanging out at the back of the car, I was comfortable with the pace and knew that I wasn't even close to unsticking the car. Mid-corner, I could comfortably adjust the car's line with practically zero hesitancy or any sense of nervousness from the car.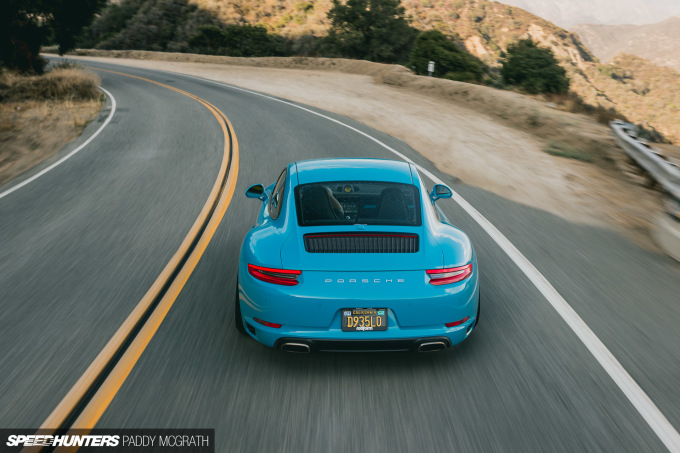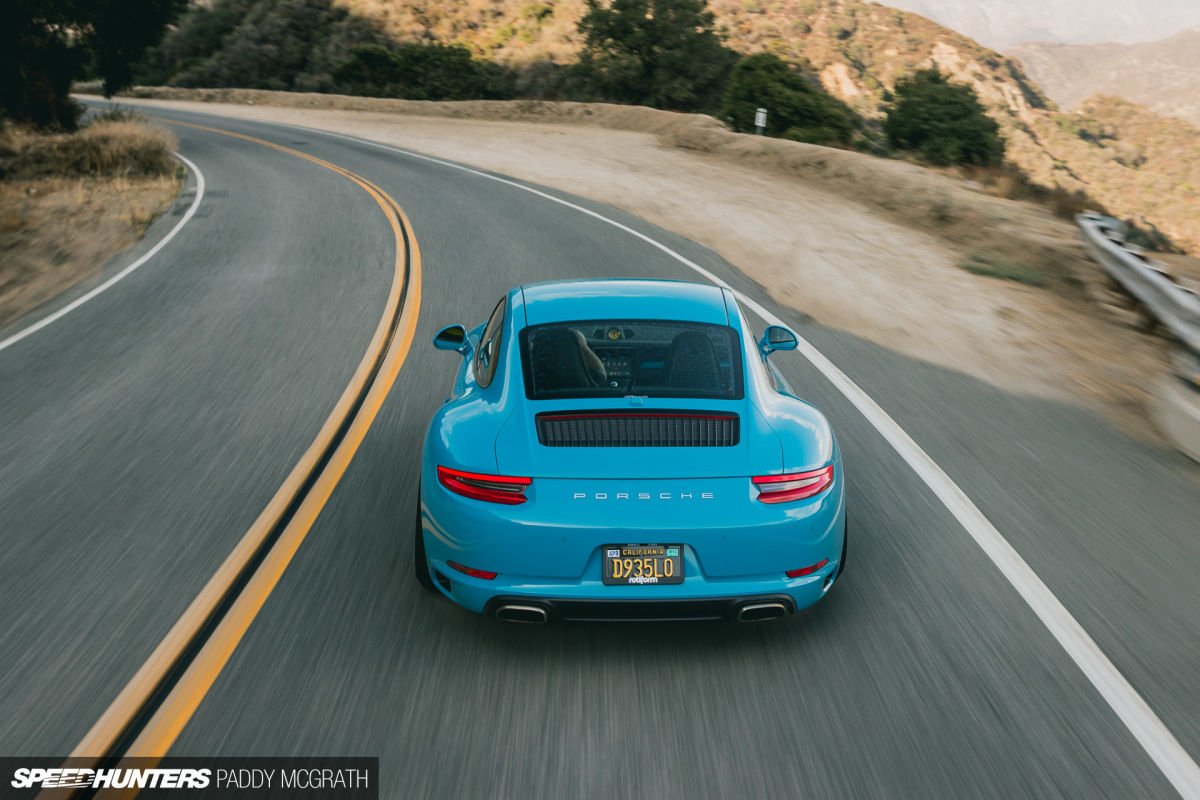 Finding a spot to turn around safely, I headed back up the road. On unsighted corners, I took it easy but tried to push that little bit more where I was confident there was nothing else around. It was during the slow-speed driving that I noticed an interesting quirk of the turbocharged setup.
With the window down an inch, the straight-piped exhaust was kind enough to explain to me why I had been surprised by the car's lack of turbo lag. With my foot completely off the throttle in-gear, you could clearly hear the turbochargers spool up. A dab of the right-most pedal was rewarded with an instant surge of acceleration courtesy of this unusual anti-lag feature.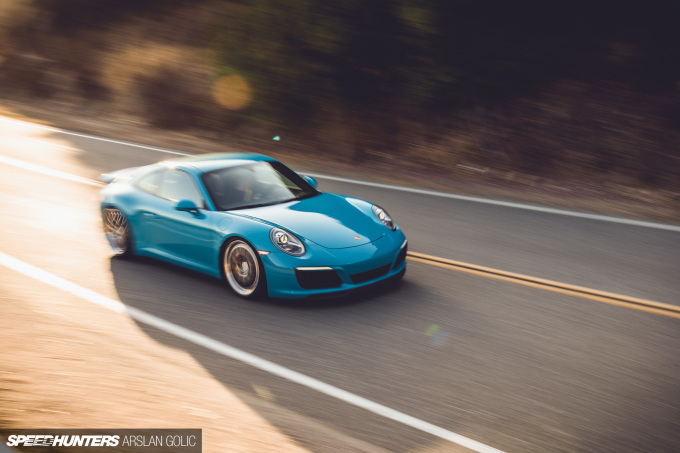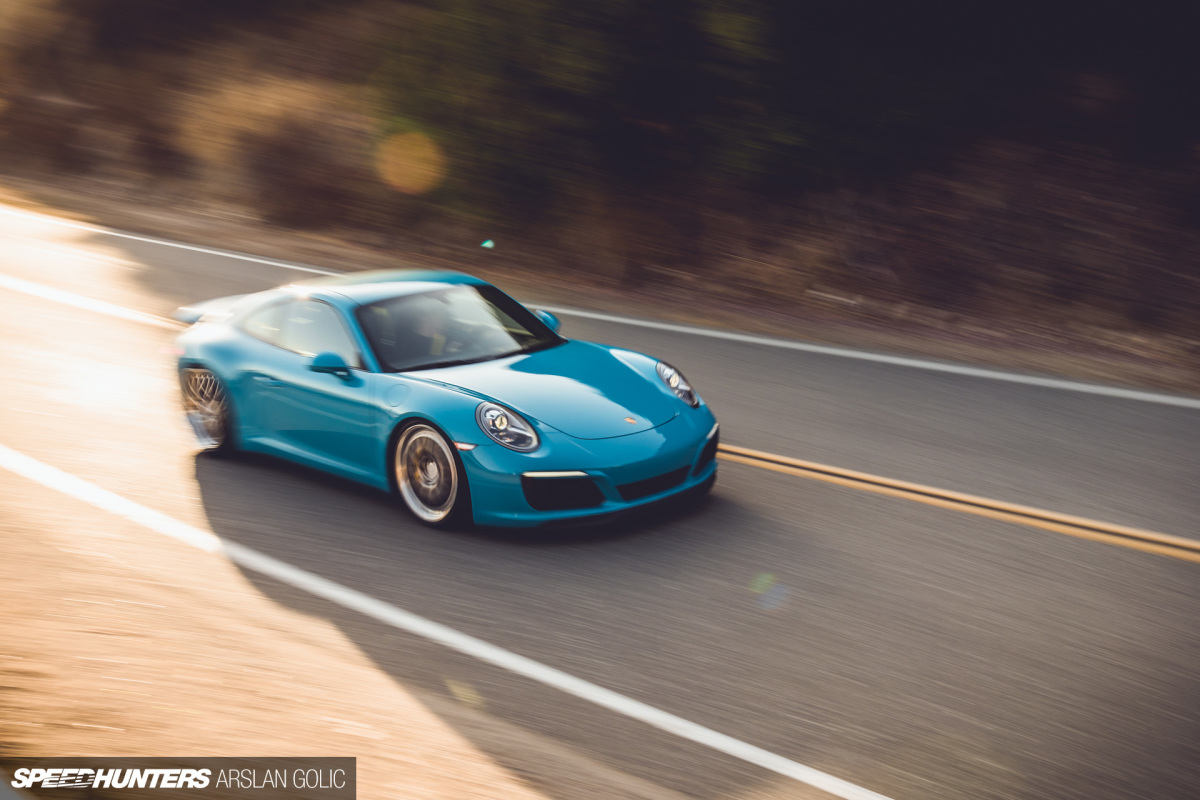 It's certainly not the fastest car in Porsche's line-up, but it's one of the most enjoyable cars that I've driven all year. It's very well balanced and really is a very neutral car, which can be tweaked depending on your preference. I might be a dual-clutch convert, but it'll always be rewarding shifting and rev-matching yourself, even if a computer can do it faster for you.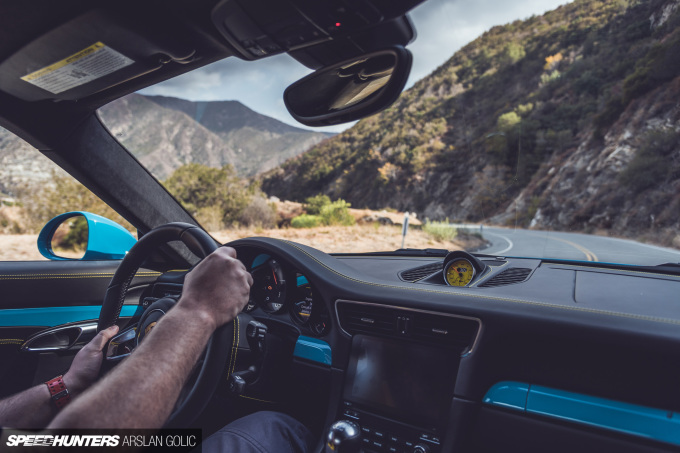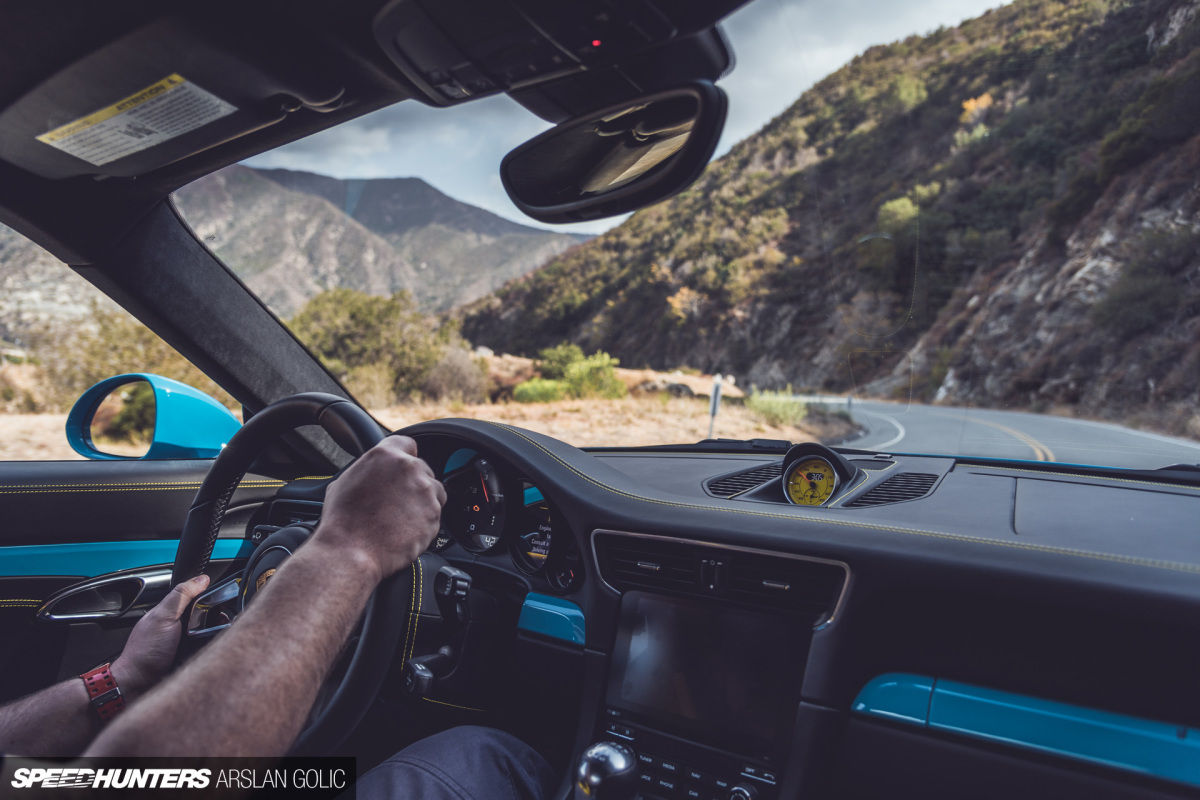 Once back at the top, I turned around and headed back down again. For science, of course. It's always hard to get a full feel for a car over a short distance and a short amount of time. I was maybe only driving for half an hour, but it was so far ahead of what I had experienced before in the 996 that it's not even worth comparing the two.
I now know exactly why Brian made the choices he did when buying and modifying this. He's found a perfect balance between a car that can be used daily if he needs to, but also remains special to drive when he feels like it. It's comfortable, the bonus of having a car that's properly setup to work with what it has, and pretty easy to drive too. Finding its limit though is whole other thing.
The Mountain Top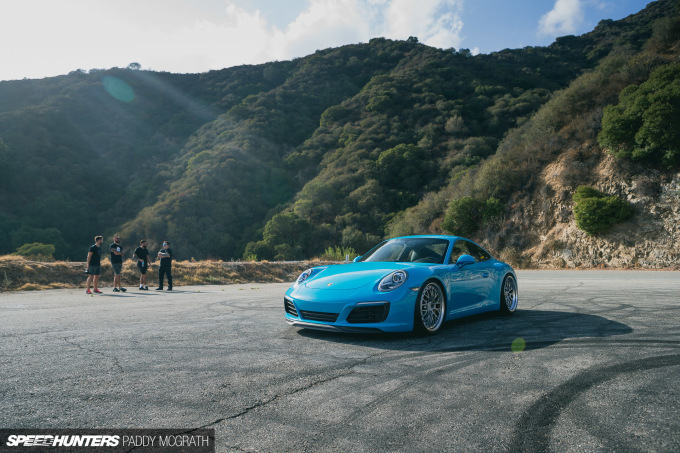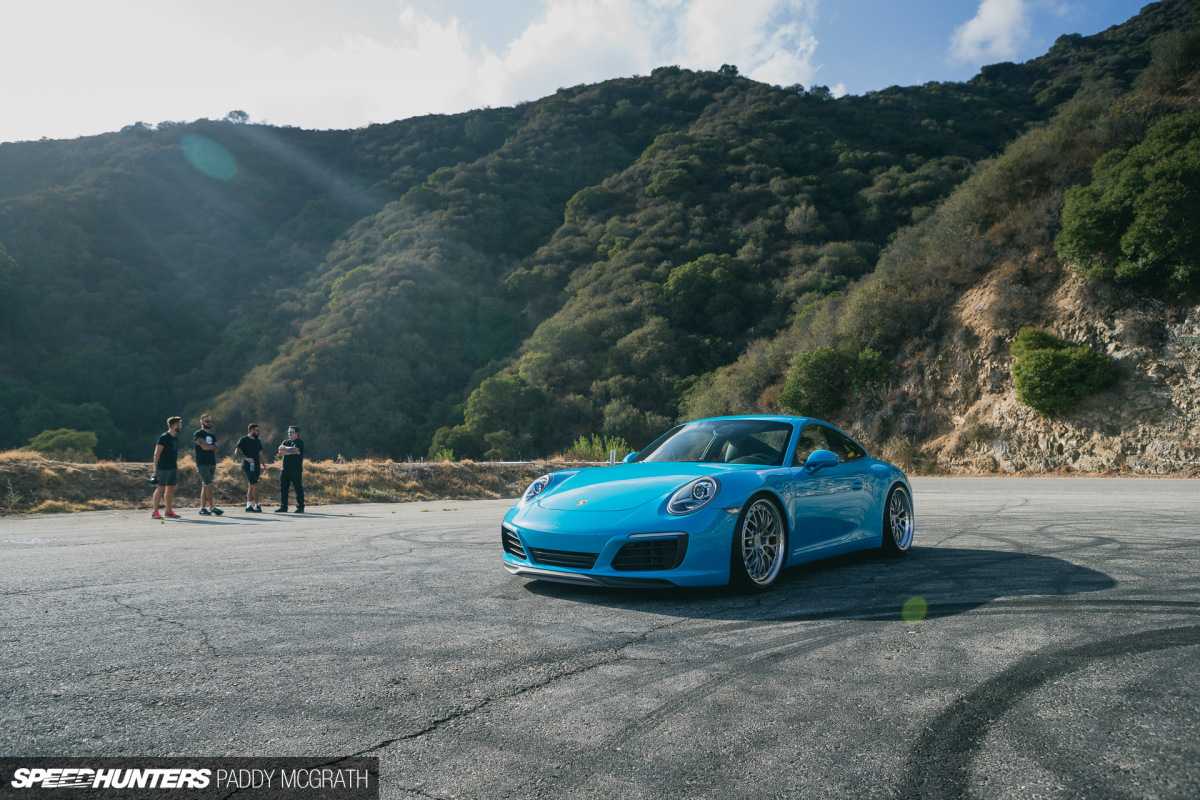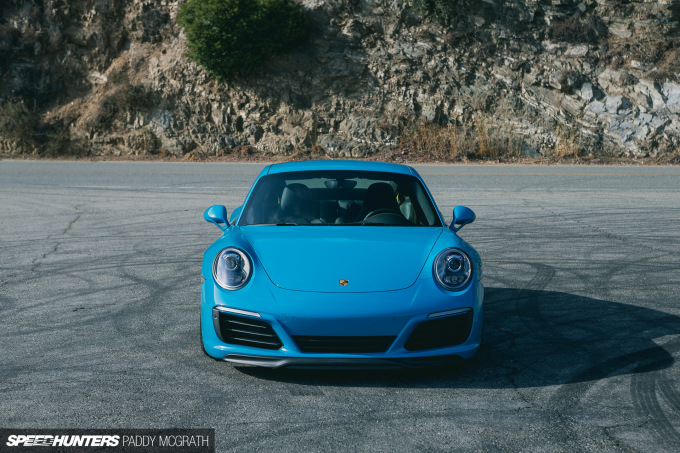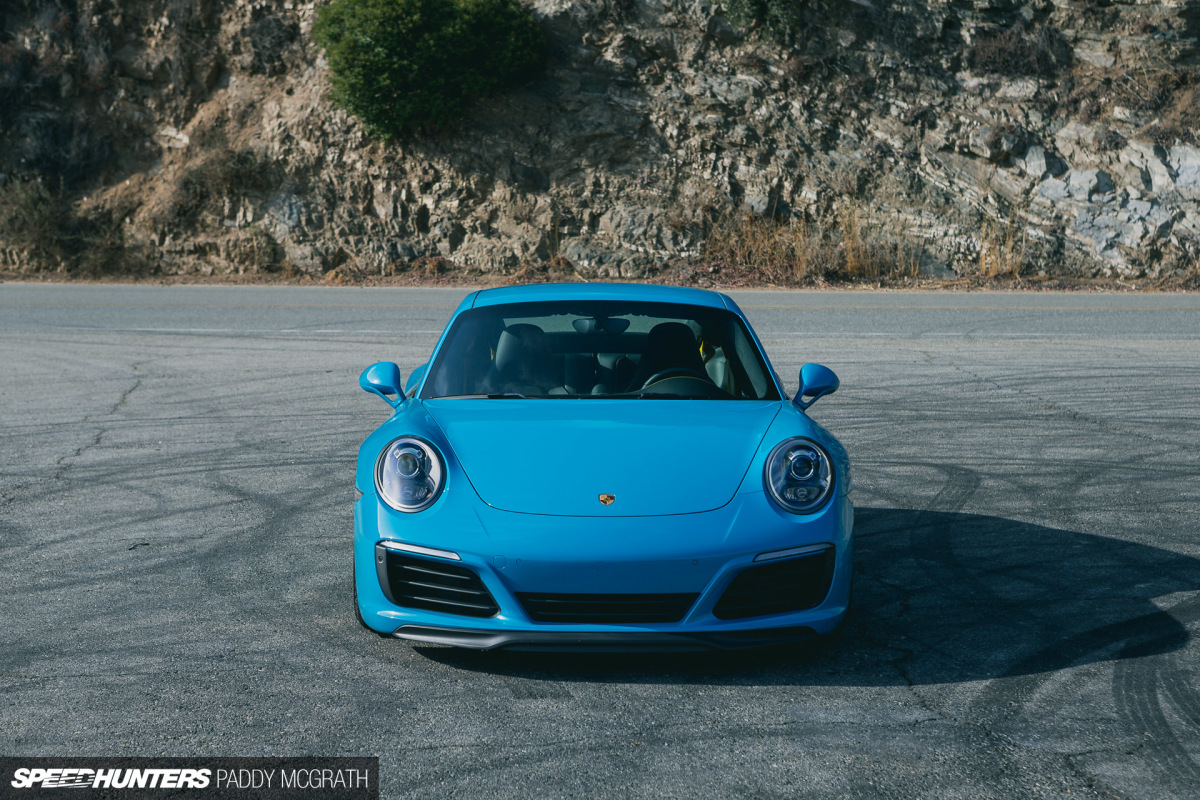 I did eventually – and somewhat begrudgingly – call a halt to play time and set about shooting the car for this story. Our entourage, so to speak, seemed to be enjoying the good weather and surroundings so there was no real pressure to wrap up the shoot. There was a complete lack of phone signal too, which kind of gave everybody no other choice but to interact with each other.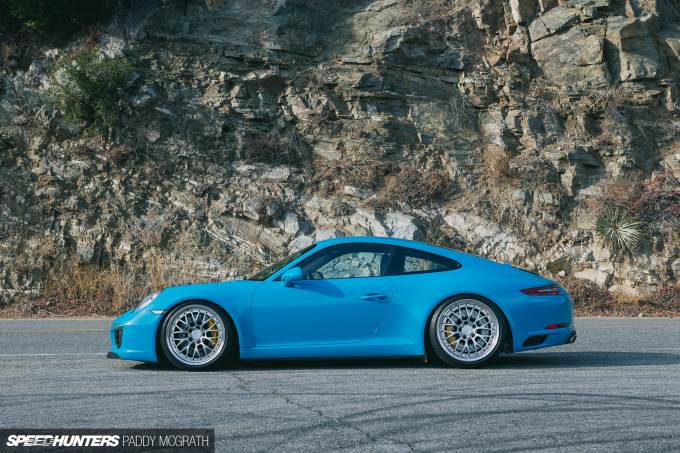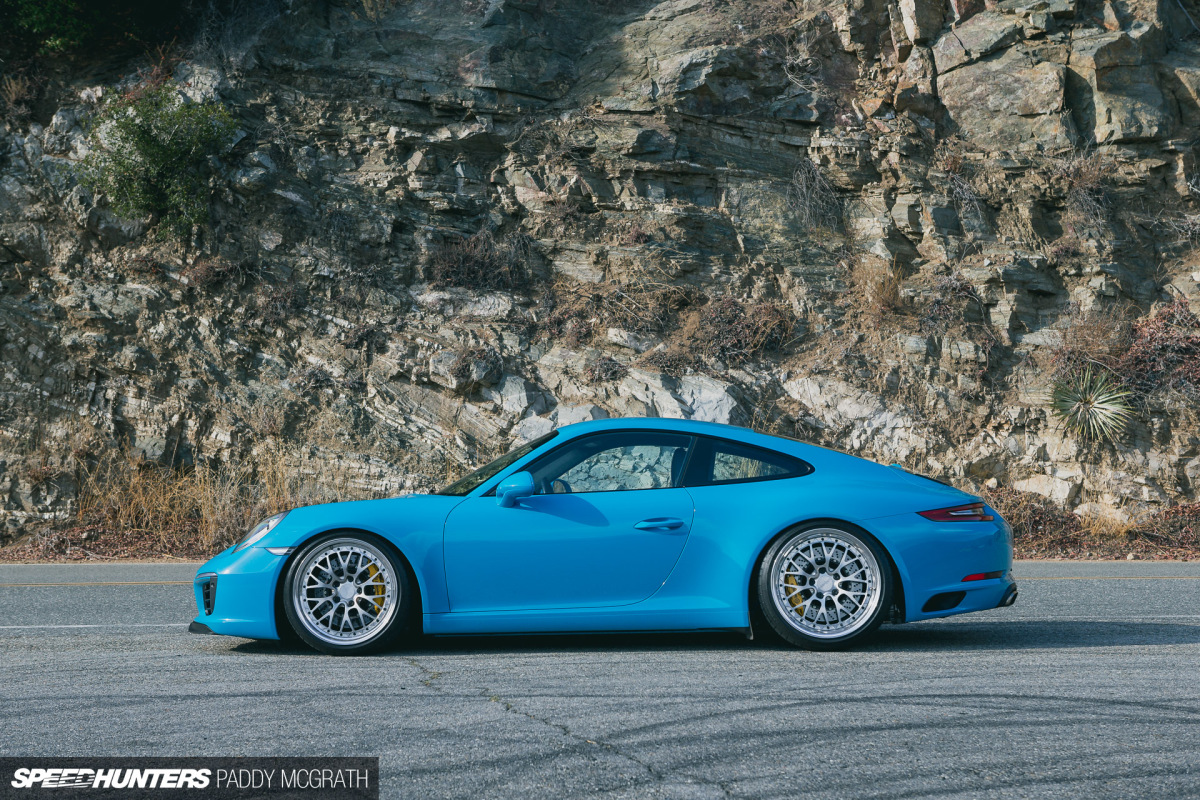 I began to enjoy shooting the car, just as much as I had driving it. It's a simple car but I think that it's absolutely beautiful. It sits right, the wheels are the perfect size and it's full of interesting details.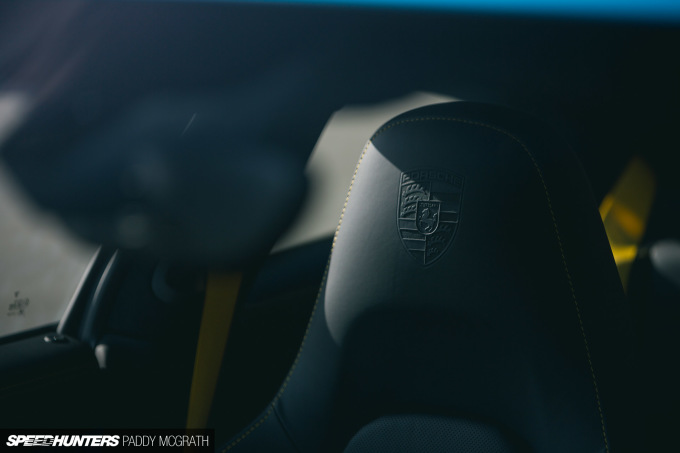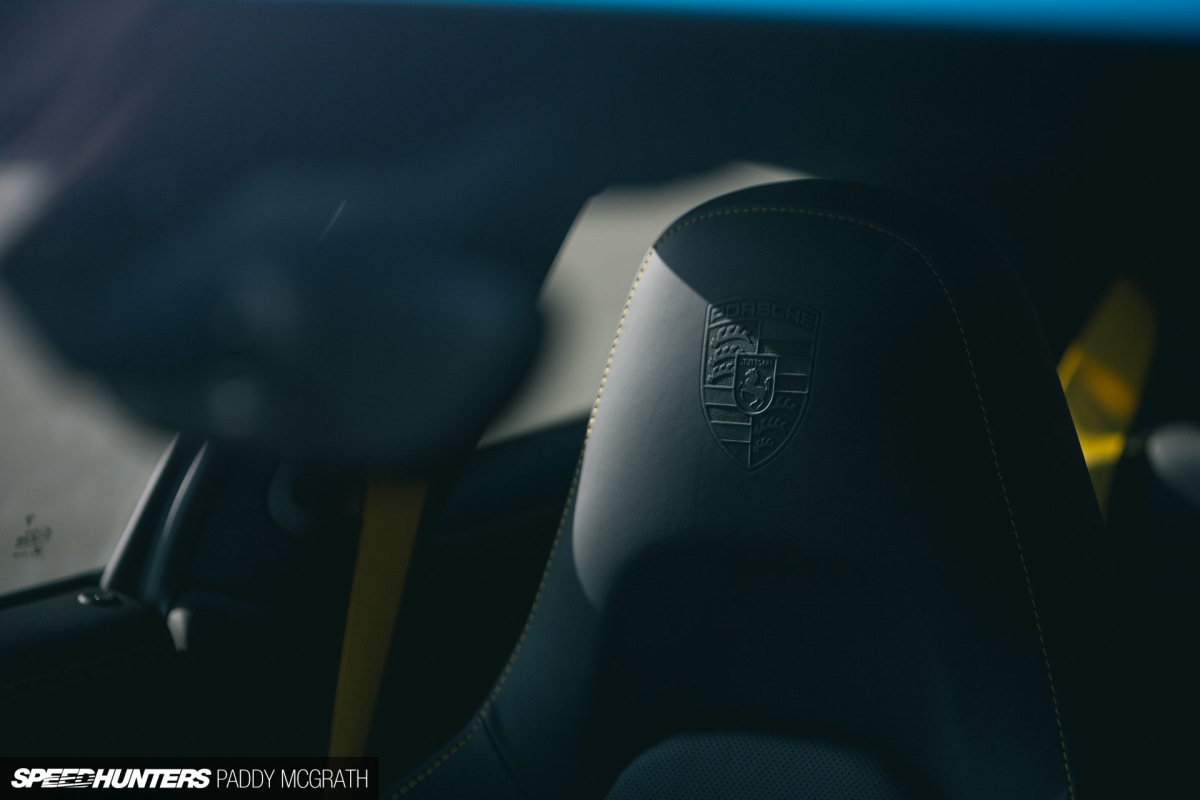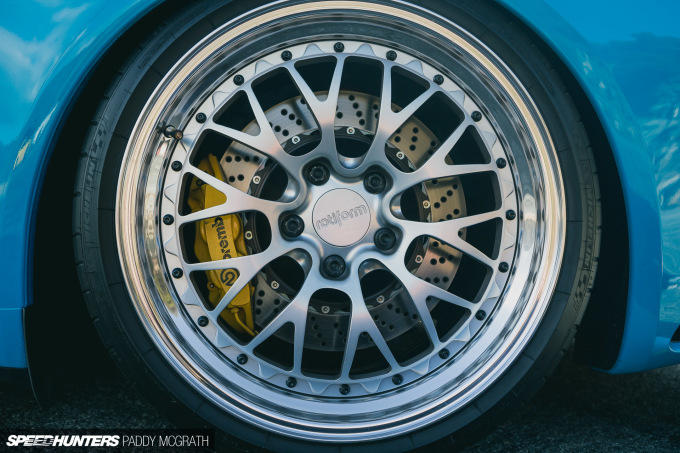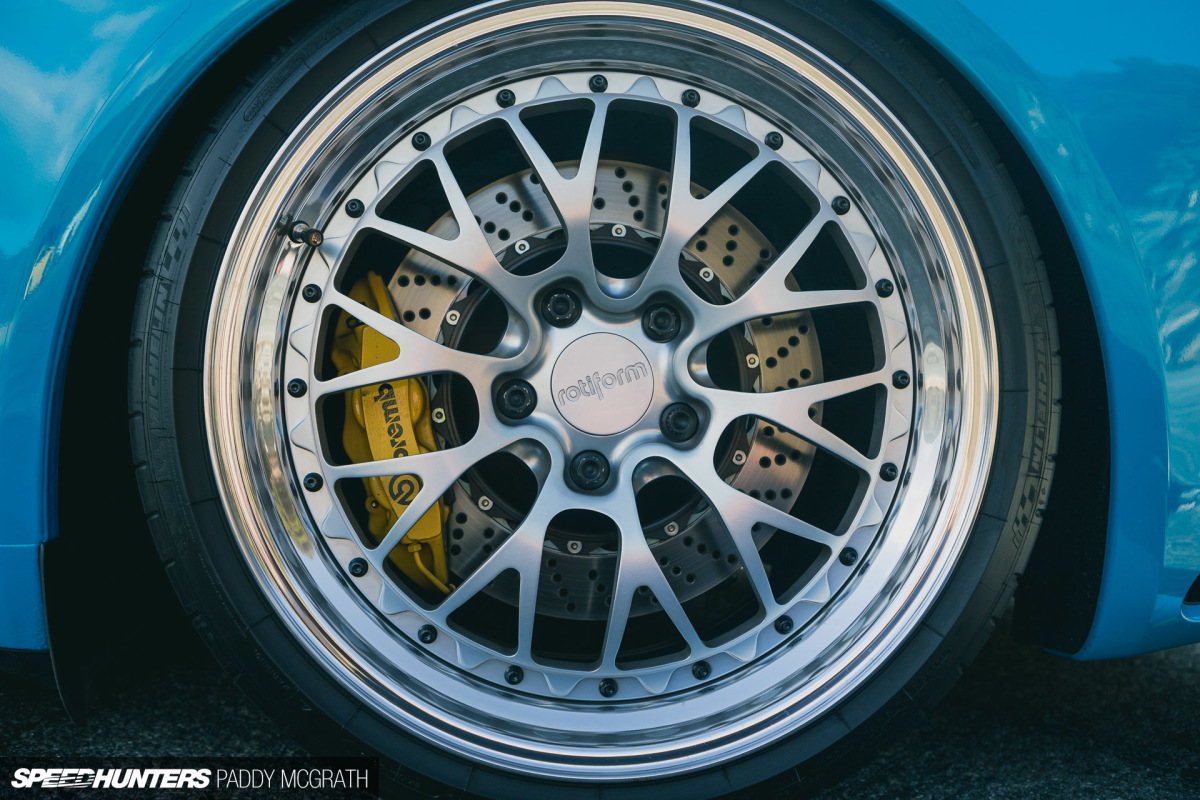 The complementary yellow detailing around the car works so well with the Miami Blue paint, a colour combination which I'm unsure would work anywhere outside California. It needs the sunshine to make it work.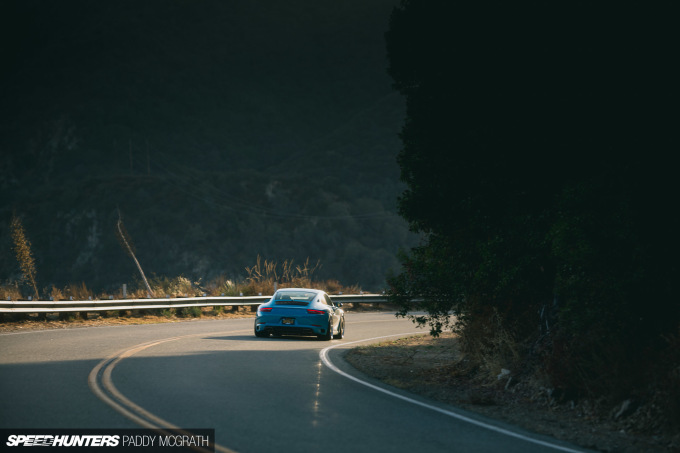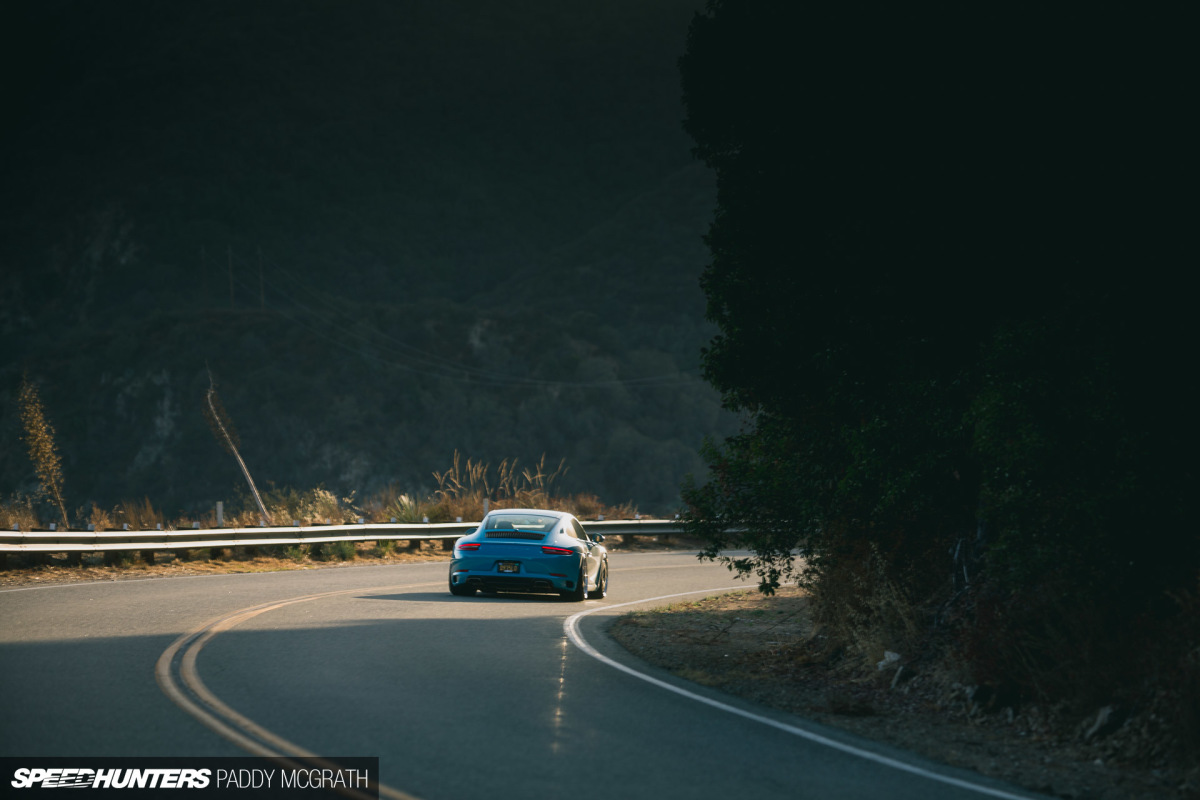 Before we could wrap up, I wanted to capture some dynamic images of the car, which gave Brian the excuse to get some seat time in himself. Not that he needs the excuse. It's only from the outside that you really appreciate the distinctive tone from the car, especially up here where the hills amplify the sound, like a natural auditorium.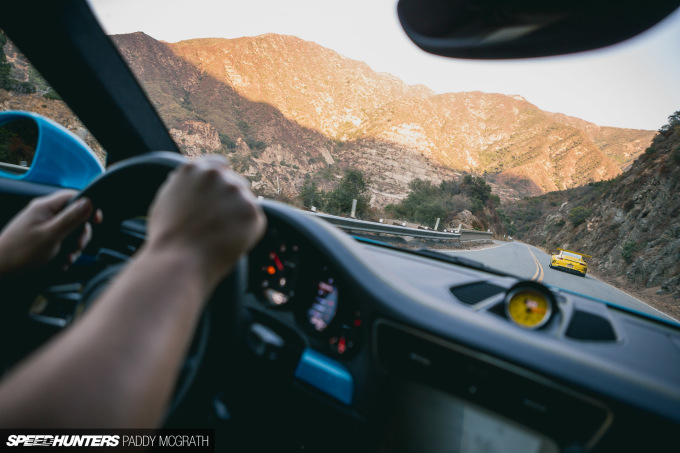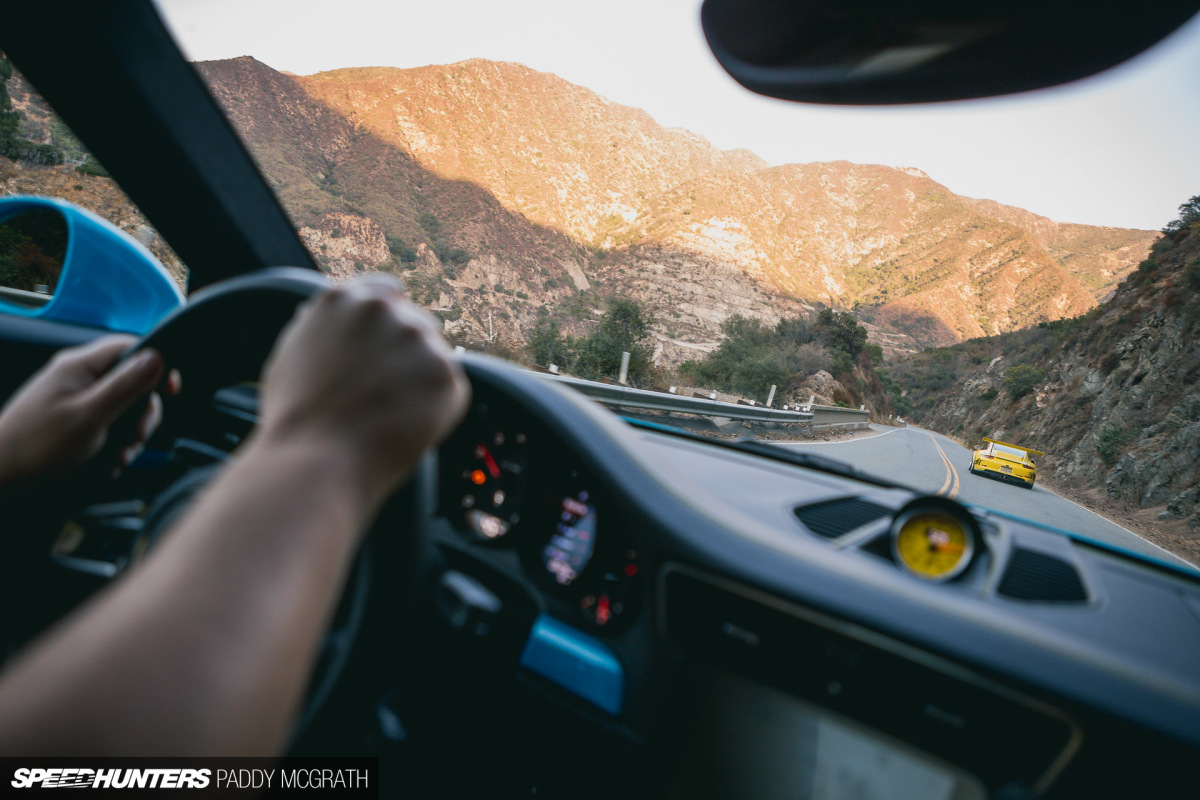 The return journey was relaxed. There was no urgency to get home; it was a quiet and reflective drive where I think everyone could basque in the moment. I certainly did.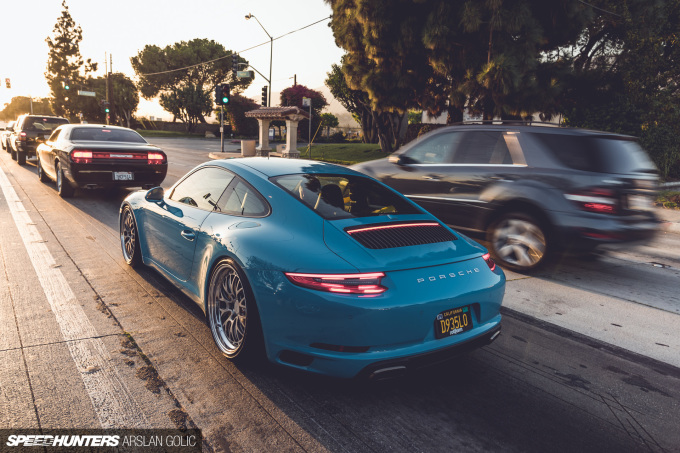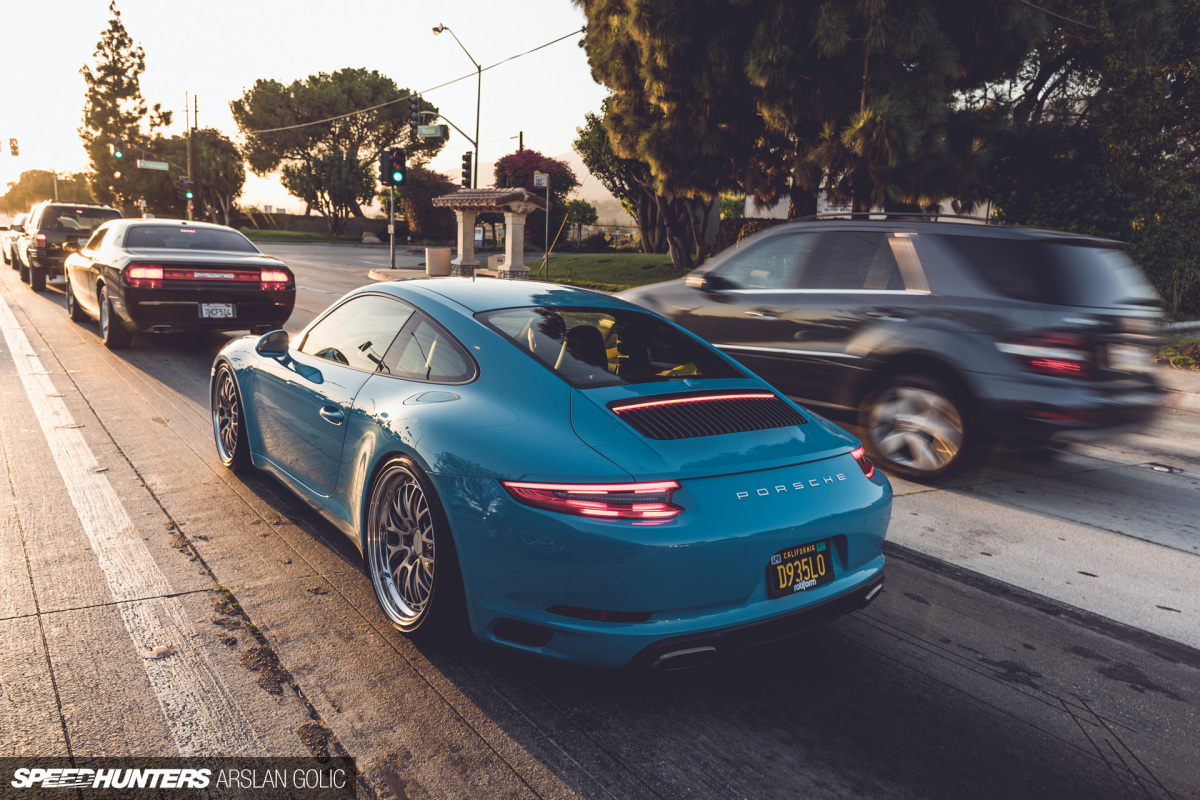 I won't even pretend that I'm not envious of what Brian has been able to achieve or the perfect pairing of Porsches that he has acquired. I don't begrudge him though, I admire him. I want to use his success as motivation and fuel to drive my own ambitions.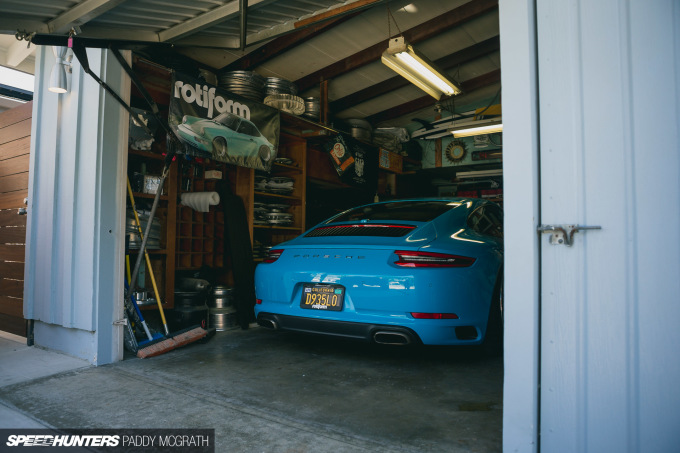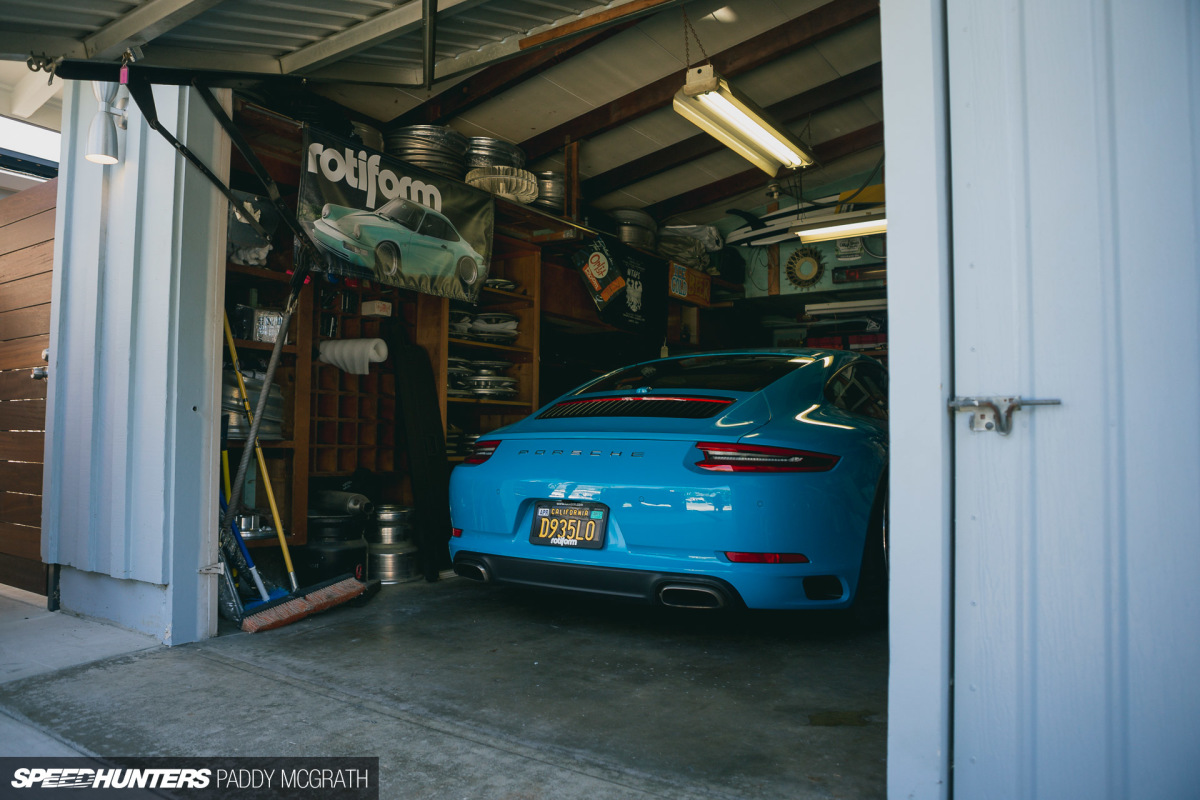 Let's be honest, 911s aren't cheap cars but they're not completely unobtainable though either. Although, if the 911 bubble continues, that might not hold true for much longer. Still, there's something desirable about them now that I never felt before. Where I never had any real feelings in the past, I now see a 911 as the ultimate goal, something I never would have imagined even a handful of years ago. It might not happen, I don't even know how it will happen, but it won't be from a lack of trying, that's for sure.
This wasn't the only story from this particular day. It only took two other sentences to change what was already a good trip to the trip of a lifetime: "Would you like to drive my GT3?" and "You should check out my neighbour's garage."
Those are stories for another day.
Paddy McGrath
Instagram: pmcgphotos
Twitter: pmcgphotos
paddy@speedhunters.com
Cutting Room Floor