I'm a car gal to the core with an appreciation for every niche in the hobby, but my love for the adrenaline, grit, and action of motorsports photography keeps me coming back to stage rallies. It's the perfect combination of exploring the great outdoors in my Jeep, and challenging myself to capture the next best shot. I walk away with a wide grin full of dirt every time.
Stage rallies may be the most difficult events to cover; it's all about scouting the best location on each stage – which are at most times miles apart – and being in the right place at the right time. The best shots that come out of these races can be chalked up to sheer luck.
It is also the most challenging motorsports niche for drivers: the cars race no matter what the conditions may be, whether rain or shine, or even snow. The road surfaces are heavily varied throughout each stage, and everything from mud, to gravel, to concrete, and rutted, unmaintained seasonal areas are battled through each course. Drivers depend on their co-drivers to accurately lead them through each obstacle, and teams put countless hours and dollars at stake for a chance to come out on top in their class, or better yet, earn the best time overall.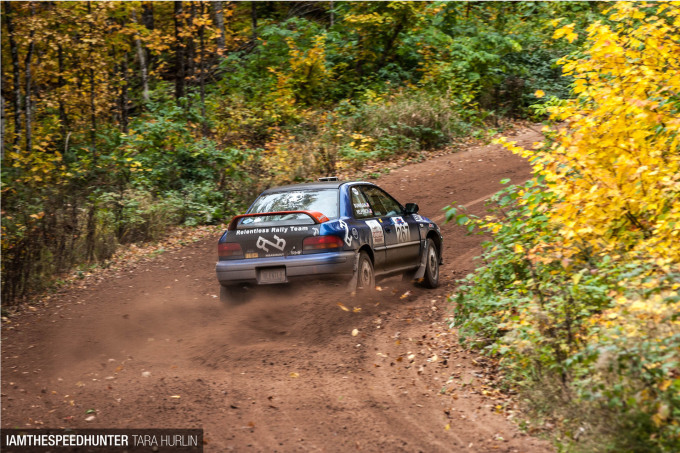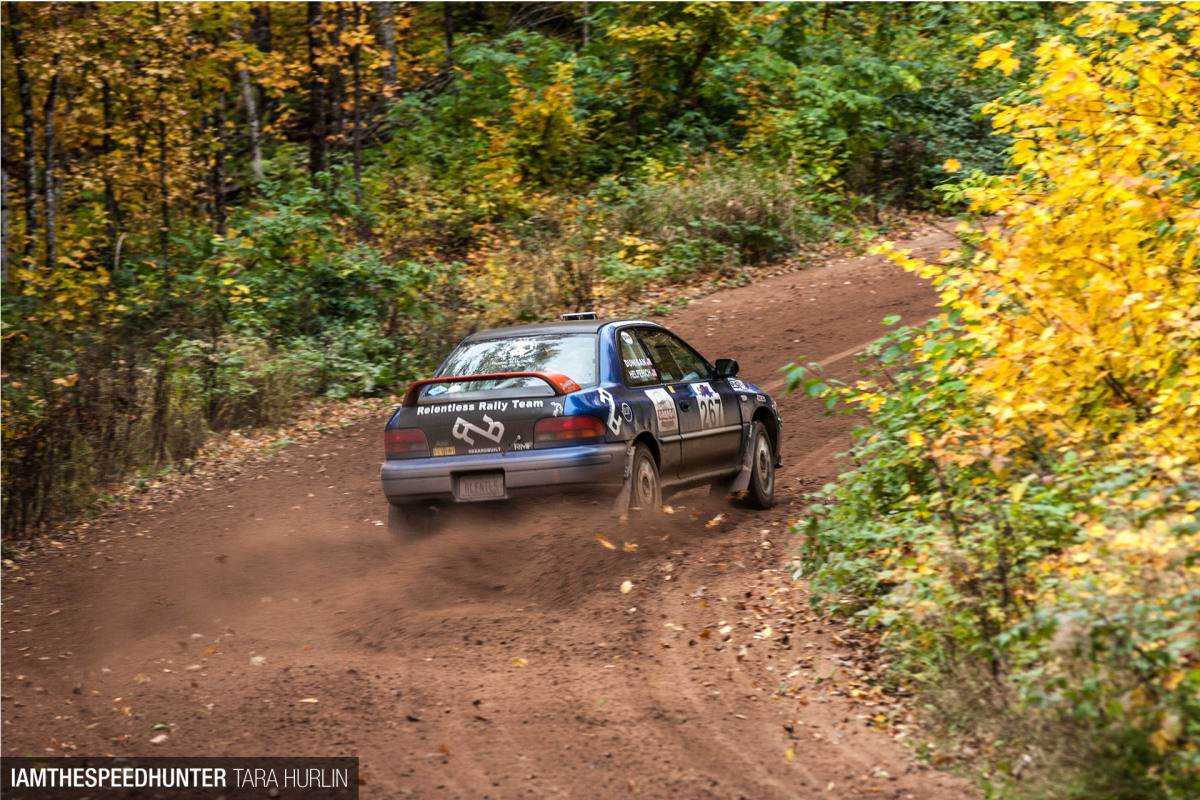 Rally America is host to the best national championship stage rallies in the United States, and the eighth and final round of 2016 championship came to Houghton, Michigan, on October 14, during the peak fall color show. Varying course conditions were fought throughout the Lake Superior Performance Rally's 15 stages, and several teams were forced to forfeit. Others held on until the end despite failing mechanical components, such as the Relentless Rally Team's blown steering rack.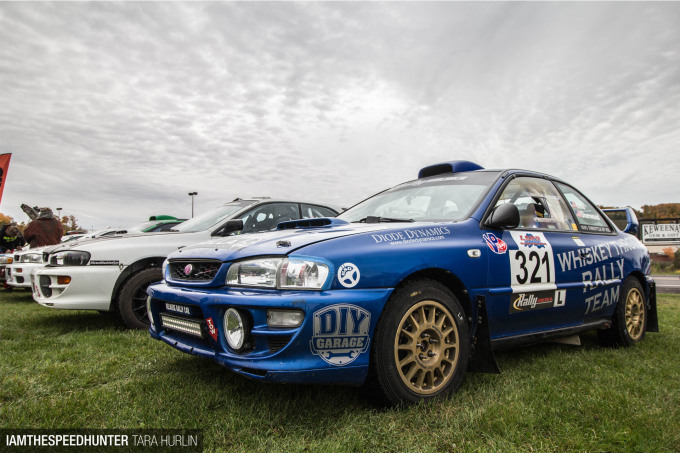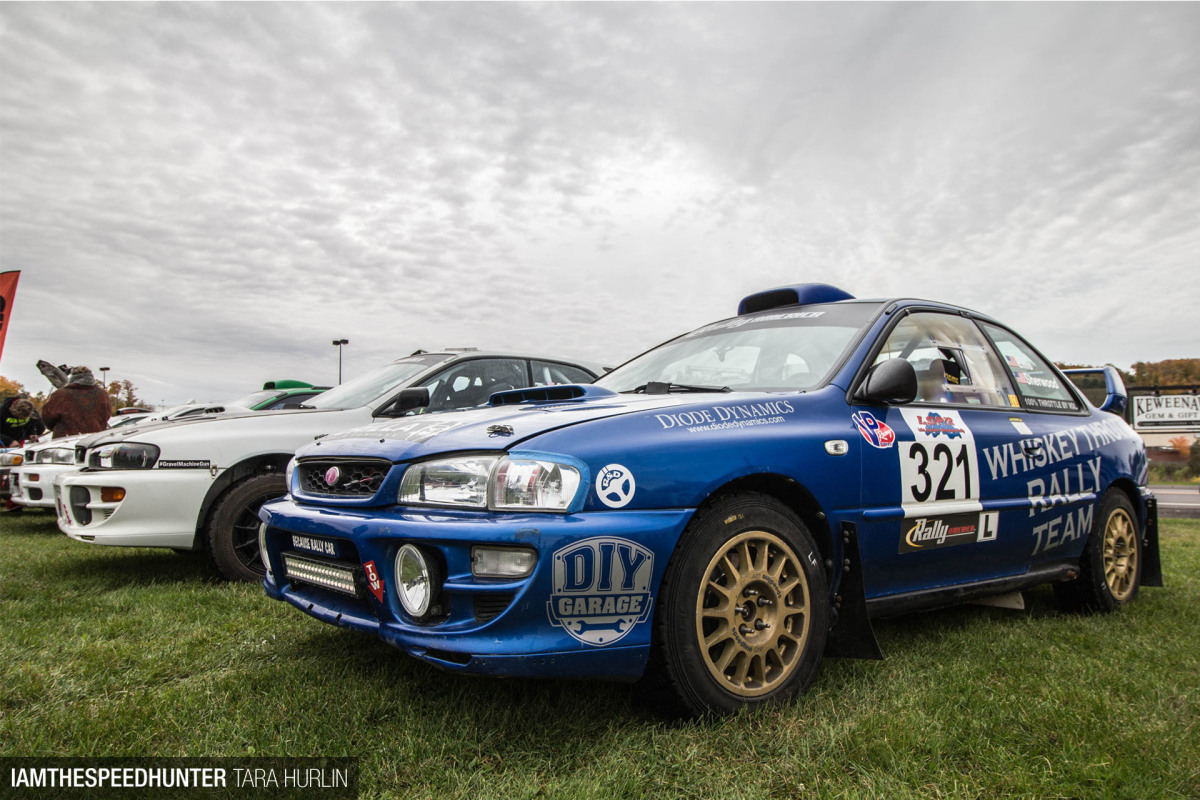 Before the event began, fans excitedly gathered for the Parc Expose at the Country Inn to meet the teams and surround themselves with rally cars – everything from a 2016 Toyota RAV4 to a 1990 Ford Mustang, and yes, Subarus. Glorious Subarus. The rumbling exhausts notes reverberating through the ground made me salivate.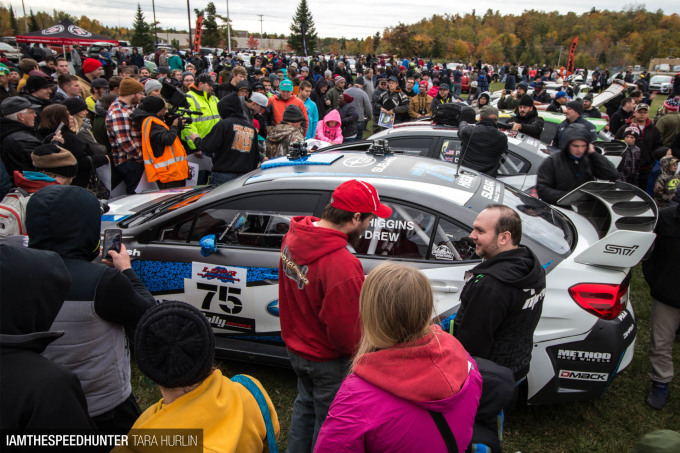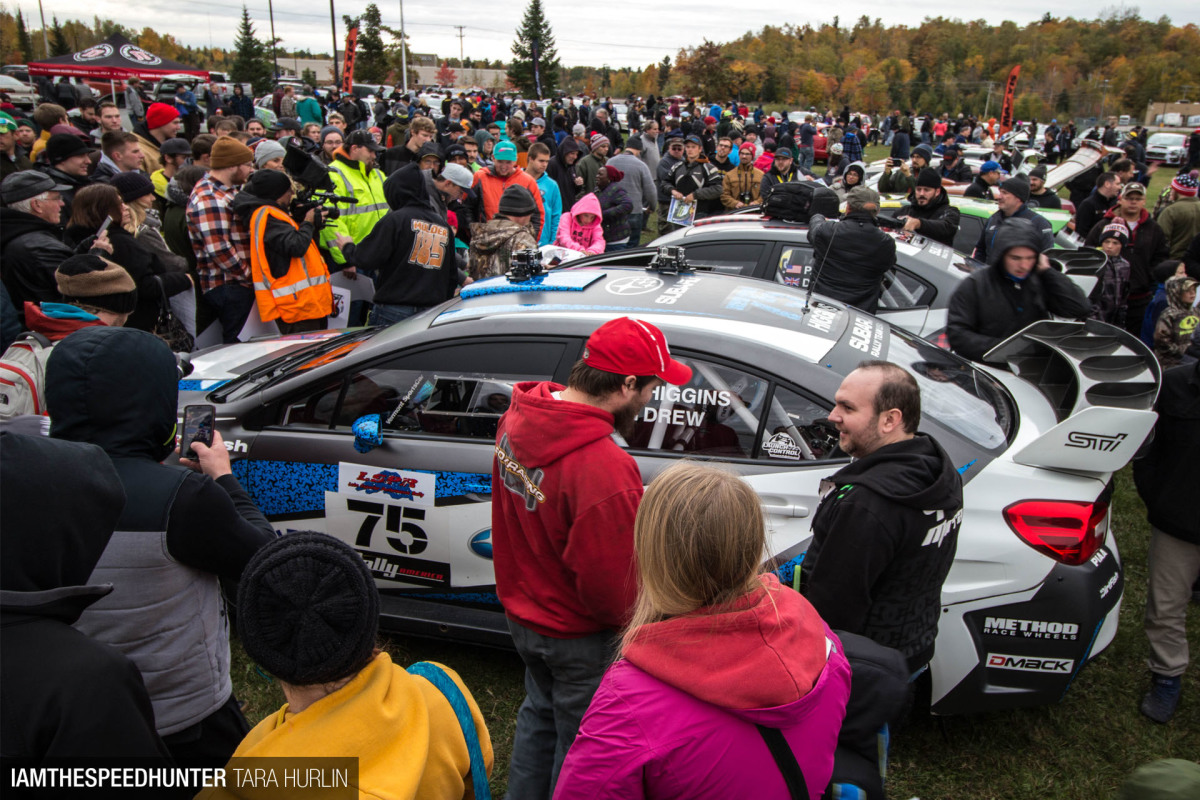 When Subaru America pro drivers Travis Pastrana and David Higgins with co-drivers Robbie Durant and Craig Drew rolled in, the crowd swarmed like bees on a honeycomb. Then, as soon as the rally cars began to fire back up, sending that warm, tickly feeling of excitement up my spine, I knew it was time to leave for the first stage.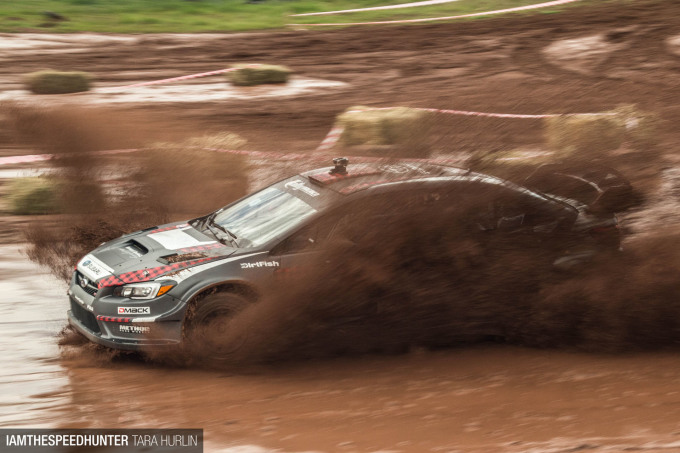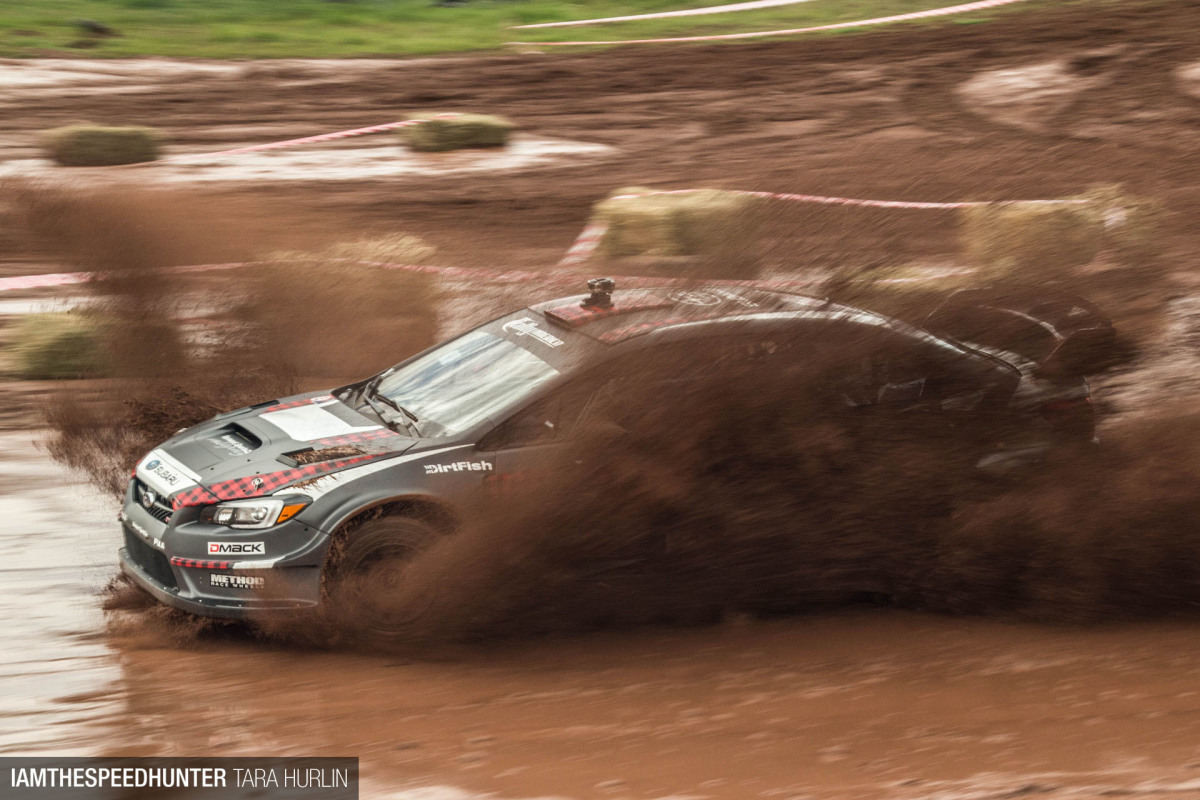 The cars got dirty early on the Fairground for Stage 1 where a muddy .23-mile course was roped off. It was like a mud bog for rally cars, but thankfully no one got stuck, and my lenses remained splatter-free. The two-wheel drive cars made it through full throttle, and those with all-wheel drive, such as Pastrana, simply split the muck in two.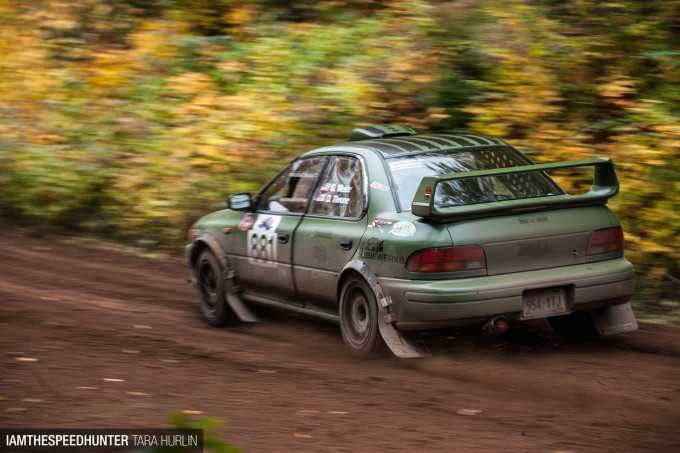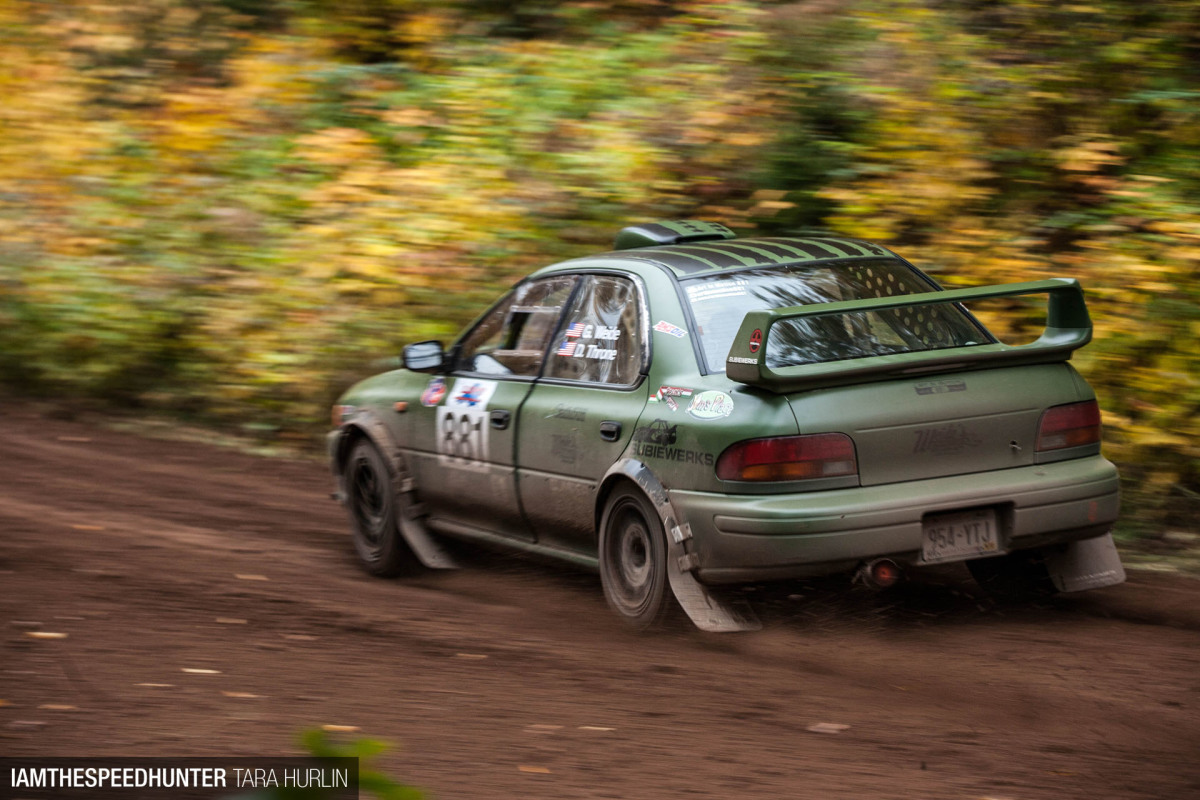 From there, spectators scattered to find the best backwoods viewing locations; some, such as myself, trekked down two-tracks in search of the most action-packed corners. The worst fear upon arriving to a new stage is hearing the roaring of engines, signaling a late arrival. Fortunately, I arrived to silence at almost every vantage point, eagerly awaiting the first faint rev.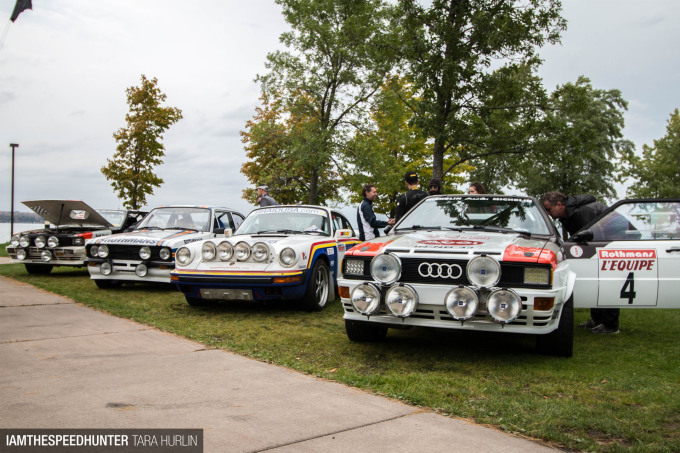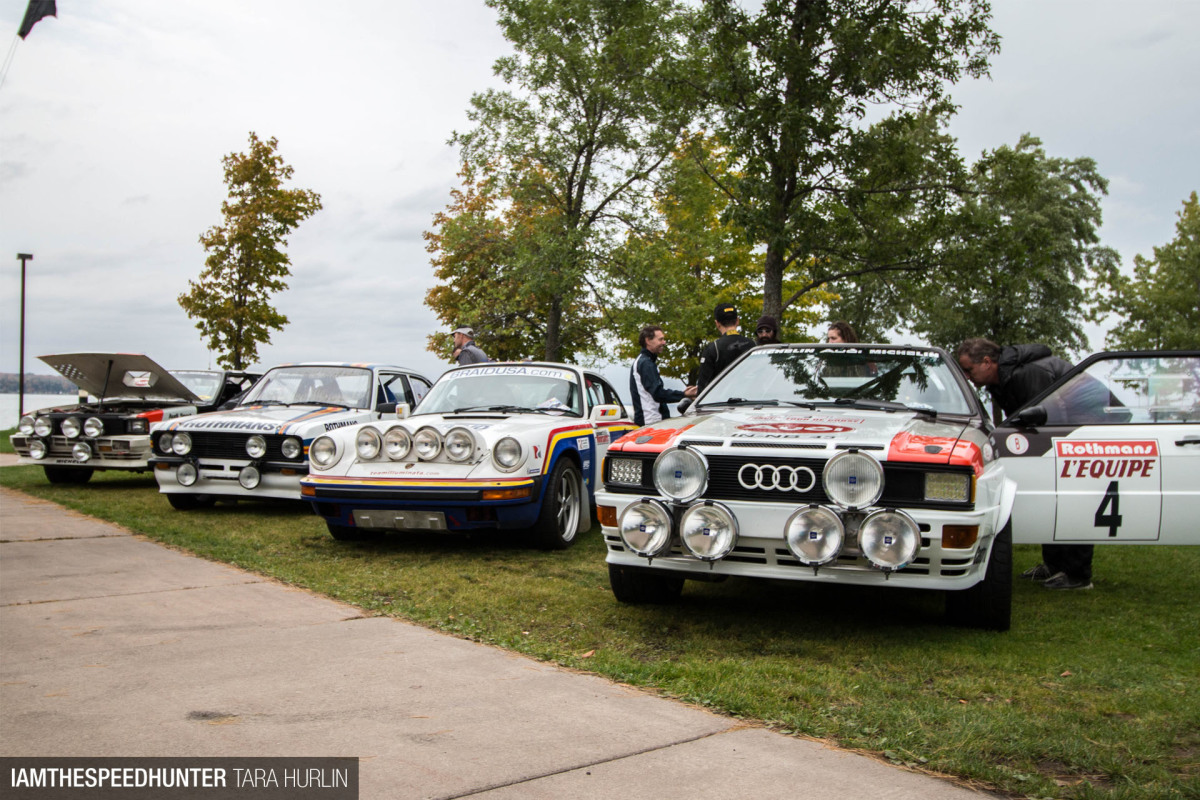 Saturday was kicked off at the Parc Expose near the waterfront in L'Anse, and the crowd doubled. While the teams mingled with their fans, a line of nostalgic vintage rally cars nestled on the lawn caught my eye. Just imagine how they look in action.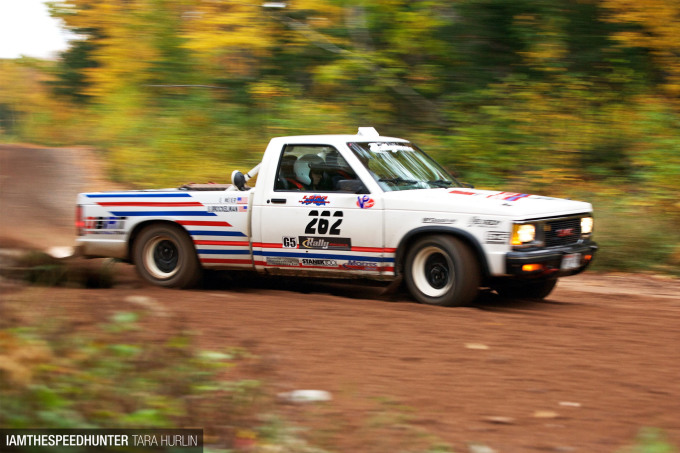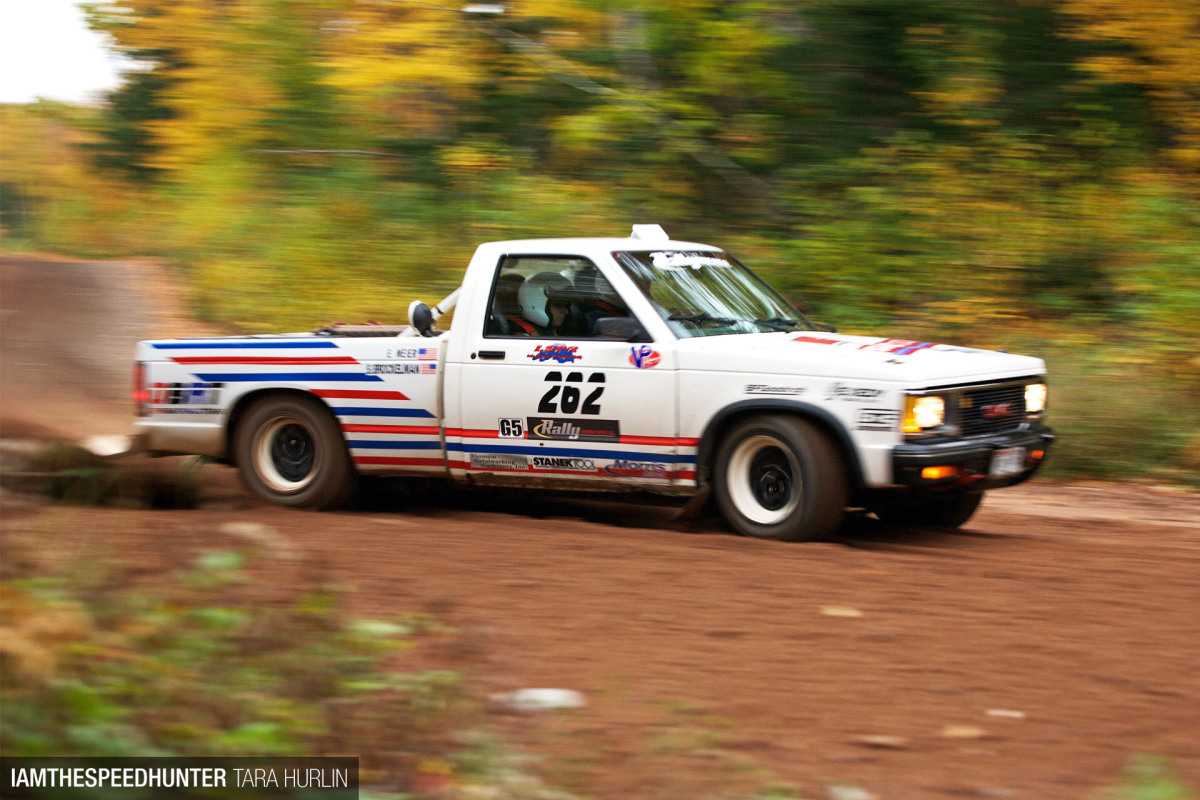 Light overnight rains and random sprinkles throughout the day left the stages slightly muddy but no worse for the wear: perfect conditions for rally. Even so, several drivers found themselves out of the race, whether from mechanical failures or running off the course.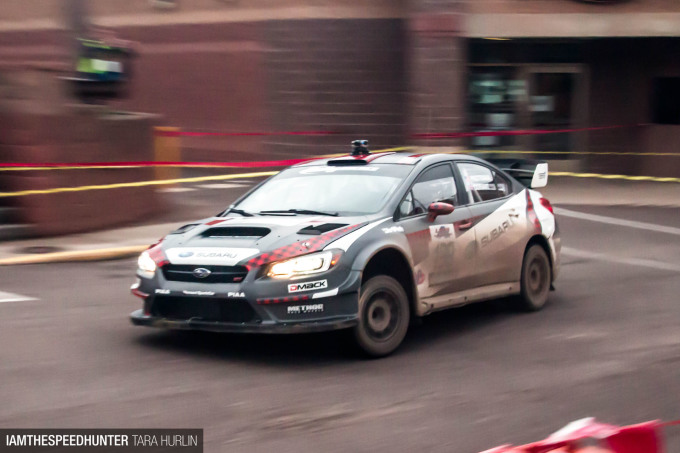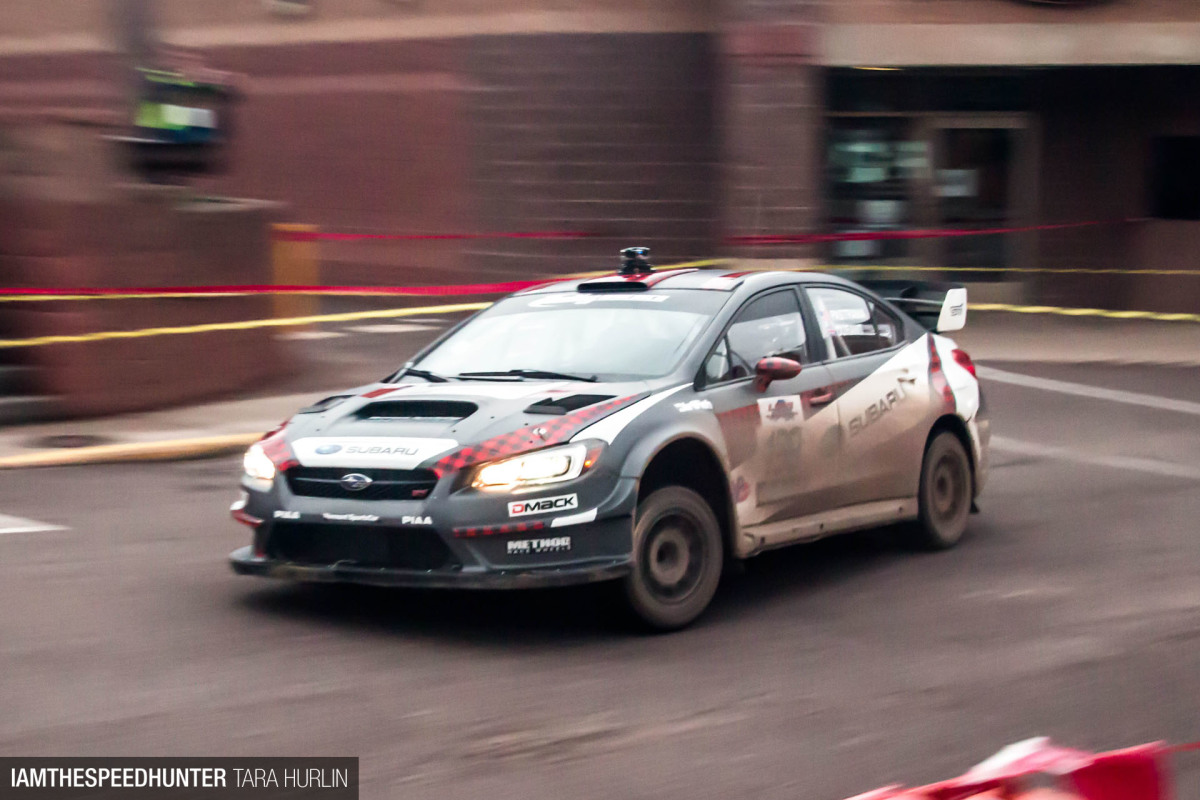 The city of Houghton gave rally fans an extra-special treat for the final stage. Lakeshore Drive was shut down, and a course built of concrete barriers forced the teams into technical, risky driving. Hoards of people occupied every possible viewing area, some resorting to balconies and rooftops.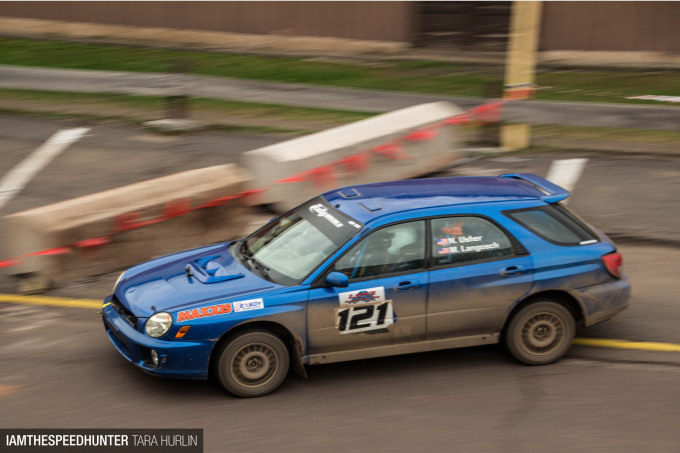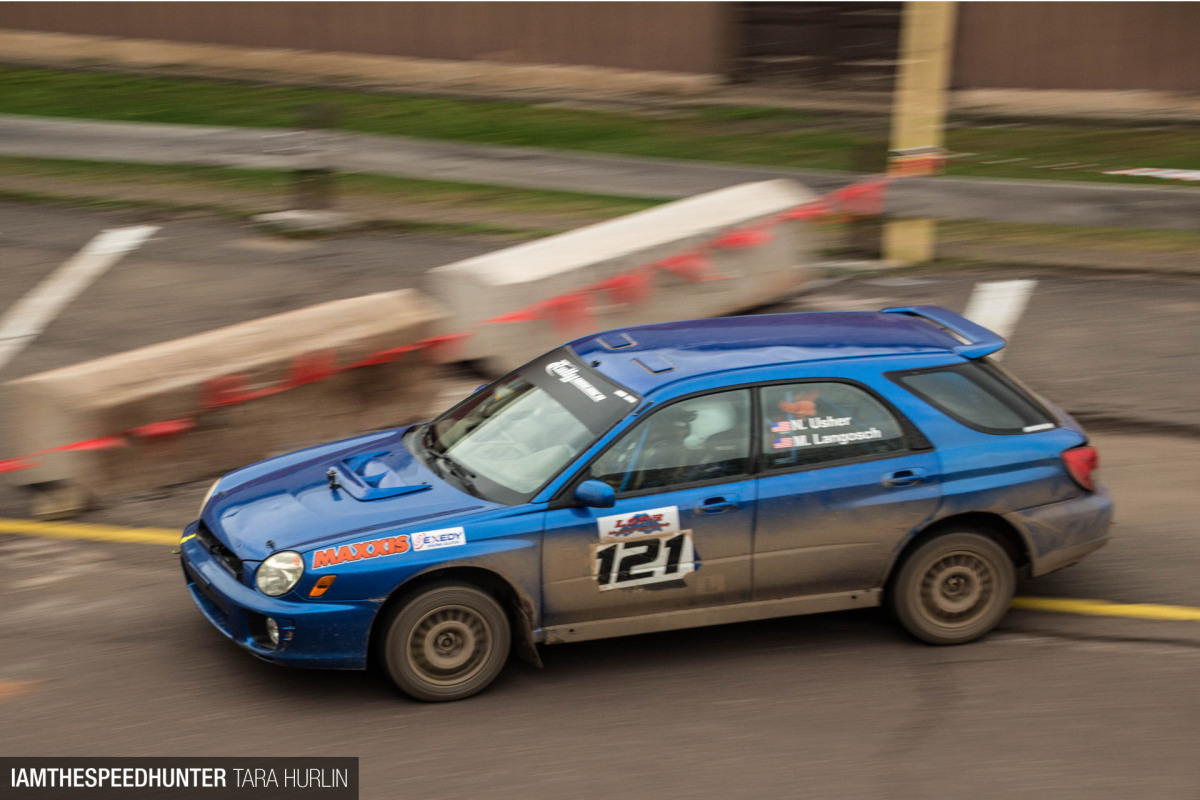 Sneak Attack Rally was one of the lucky teams to make it to this point of the rally, and co-driver Marianna Longosch said she was confident going into the barrier-lined stage as driver Nathan Usher had autocross experience in the car. They came out unscathed.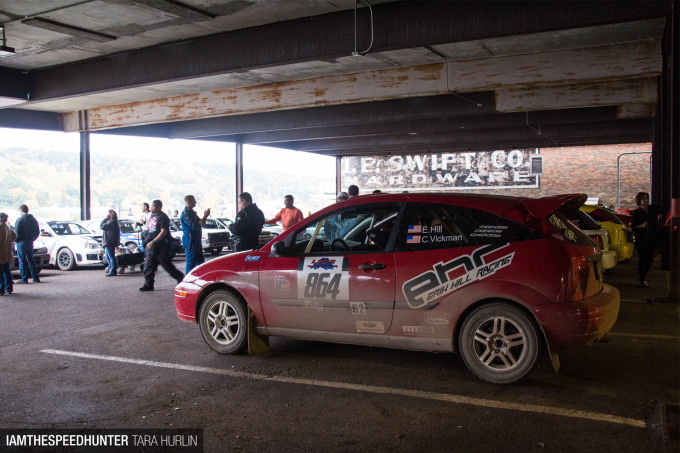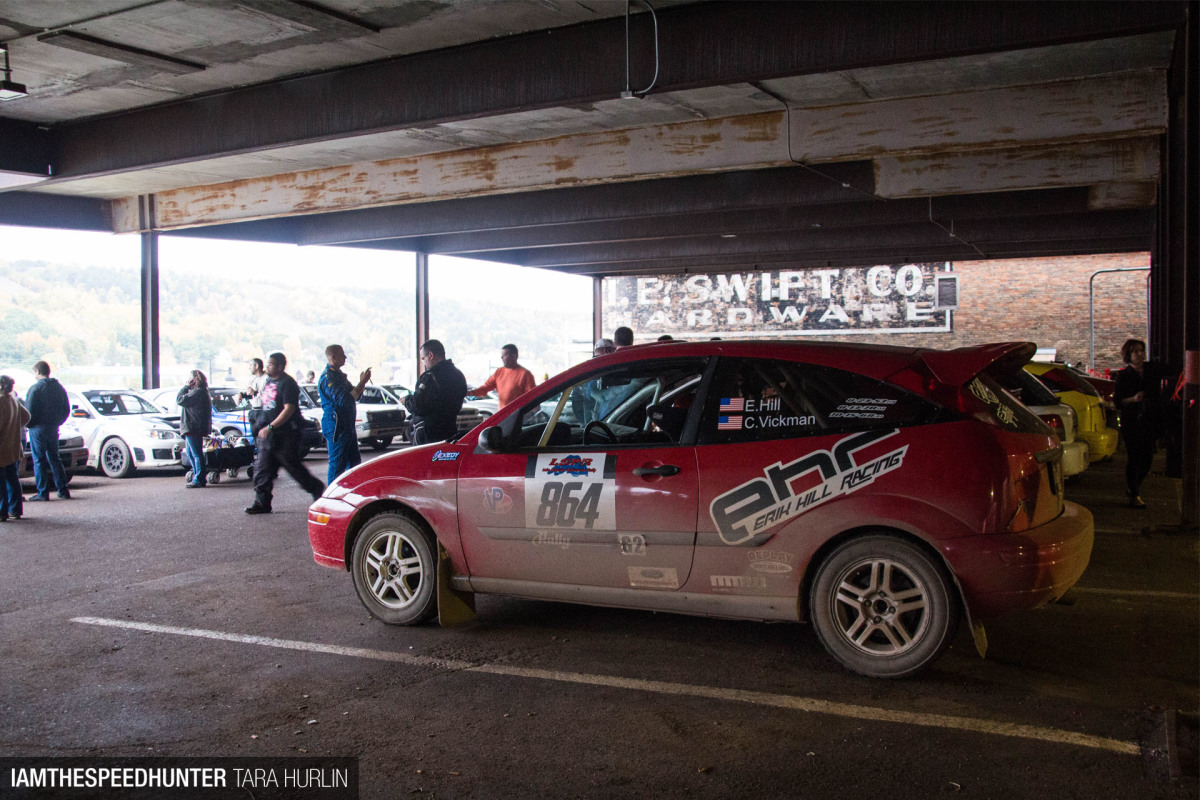 After a tough and challenging weekend, Team Subaru's David Higgins and Craig Drew boosted ahead to first place with an overall time of one hour, 32 minutes, and 6.8 seconds. Travis Pastrana and Robbie Durant kept a steady pace in second, trailing only one minute and 32.5 seconds behind. Team Subaru remains the sport's top competitor until competitors and fans bundle up for Sno*Drift 2017 in Atlanta, Michigan.
Tara Hurlin
Instagram: reallyrottenturbo
Facebook: tara.rottenhurlin