The Keychain & The DTM
Among guys like us, and by that I mean those born in the mid '80s who spend their nights on engine swaps with friends, there is a specific desire and attachment to that magical motorsport decade of the '90s.
The legendary German DTM series was born in this decade, and it's one I'd always wanted to see live. This story is about how the dream came true for me and my friends.
The question is, how are guys like me and my friend Igor so crazy about something like DTM? Well, it's all about Speedhunting. Actually, the answer lies in how I met the guy in the photo above, who is now one of my best petrolhead friends.
It was in 2012 when I met several new people in a then newly-formed local Polish stance community called WrocLOW. We all went to a car meet at a parking lot, and there saw mostly lowered VWs and BMWs. But there was this one guy with an ugly bottle-green Opel Omega. Oh lord, that car was a tragedy; it was full of rust and had no style at all. What it did have though was a 3.2L V6 swap with a manual tranny and LSD diff, and the owner seemed to know exactly what to do with it.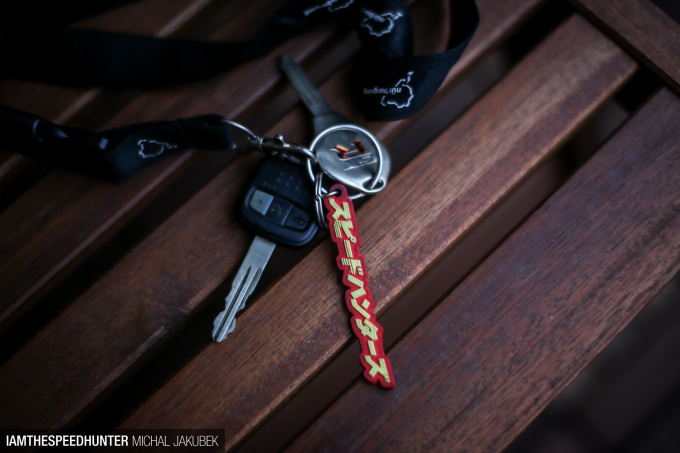 However, it wasn't until we all met up for a coffee together later that the story comes together. As he was locking up his bottle-green beauty I saw something attached to his car keys. At first I just couldn't believe it, but the crazy V6-swapped Omega guy had a genuine Speedhunters keychain! 'He's going to be my bro,' I thought. I know it sounds crazy considering Speedhunters gear is pretty easy to get now, but in February 2012 not many guys here in Poland even knew about Speedhunters. Almost four years later on my 30th birthday I received a gift from this guy, and of course it was a Speedhunters keychain. My own!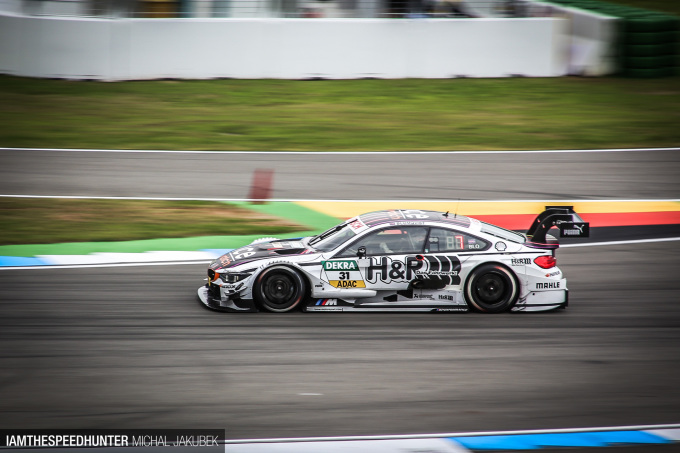 Igor and I are quite similar when it comes to cars. We really don't care about what badge or logo is on a car, all we care about it performance, drifting, time attack, engines, drivetrains, suspensions and turbos. We have a love for racing and chasing the limits. This is who we are and why we had always dreamed of watching a DTM race live. Simply, we consider this type of racing to be the purest of all motorsports.
The Cancelled Birthday Party & A Surprise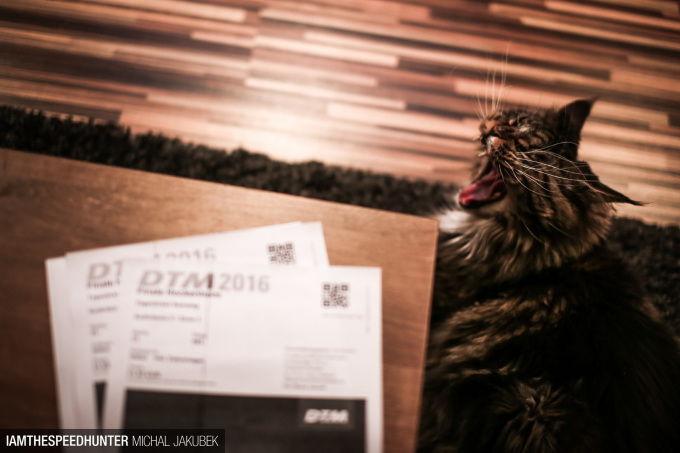 Some weeks ago, just a few days before my birthday, I was reading an article about 'De Grande Finale' of this year's DTM championship. It went on to say that there were still some spectator seats available at the Hockenheimring – I could not believe it. Right then and there a crazy idea came to mind…
I quickly cancelled my planned birthday party and asked a few of my closest friends to make a quick decision. I told them that I wanted to do something epic for the weekend instead of a party and that it would be a surprise. I told them that they would need to give me some money, and then wake up at 3:00am on the Saturday morning and travel 800km one-way with me. I also told them that it would be epic. It sounds crazy, right? But guess what? They agreed!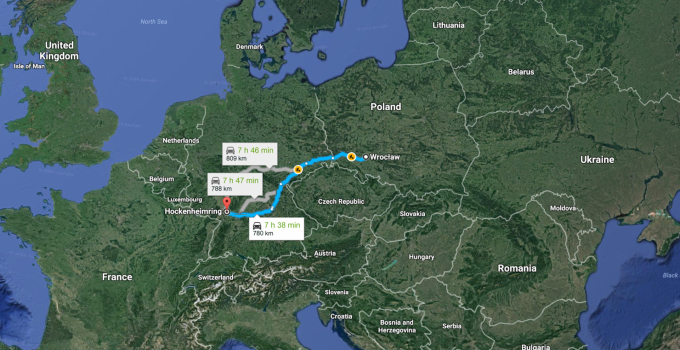 I was only going to tell them where we were going once we had left, but that was going to give them too much time to figure it out for themselves, so two days before we were due to leave I broke the news. As expected, they went totally crazy and could not believe that we were actually going to the DTM final.
And so, with camera batteries charged, coffee brewed and our gear checked, we hit the A4 highway in Wrocław and headed towards Germany and the Hockenheimring.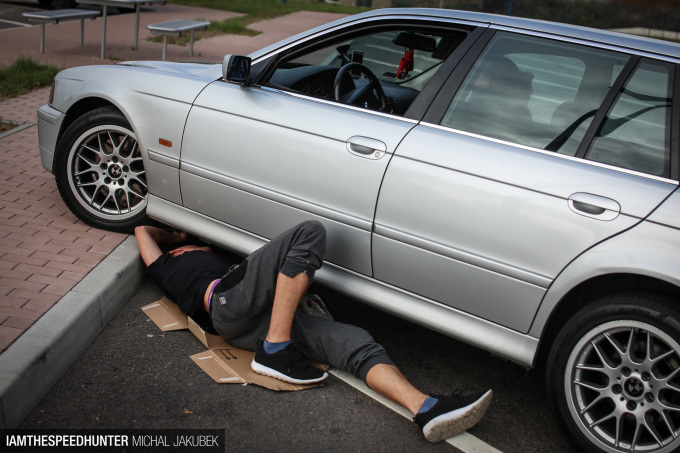 Of course, our trip had to be fun; we love our daily-driven, non-modified cars for their reliability and trustworthiness. Said no Speedhunter ever!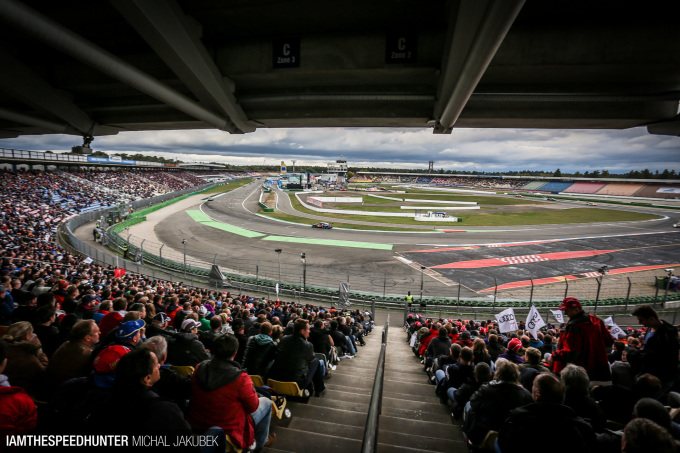 Finally, after eight hours on the highway we arrived and headed straight to our seats to check out the view. It did the job. We chose the southern tribune at the last turn before the finish line, which provided a fantastic view of the last few corners.
We were given some free flags at BMW's exposition, and since we have a few BMWs in our crew we thought it would be fun to wave then. What we did not know is that our tribune was full of Audi fans waving Audi flags! So, we let it go.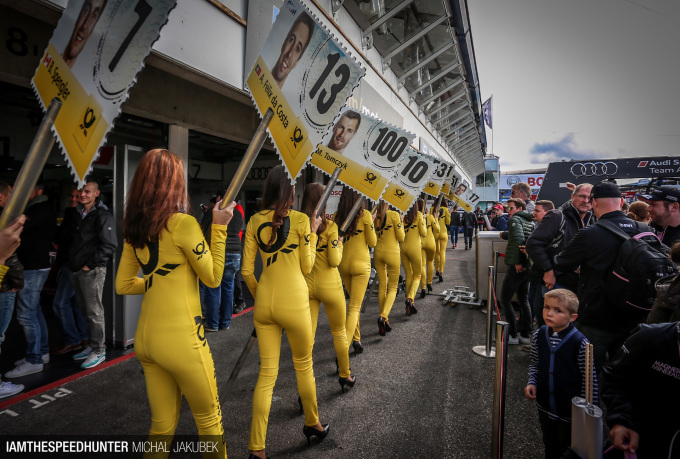 Obviously, we bought paddock passes too. I could not imagine coming this far and not doing so. What you get to see in the paddock is absolutely stunning; the atmosphere, the cars, oh wait!
Instead of pushing towards the crowd and trying to fight for driver autographs, we decided to go around the tents and trucks and find other views of the cars. The AMG GT3 totally blew our minds.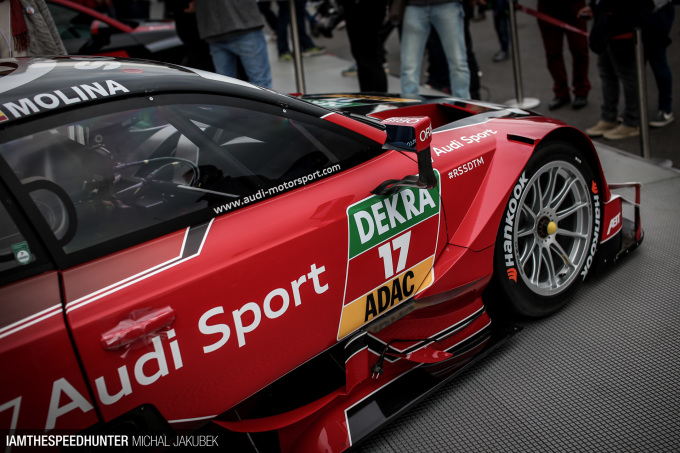 The technology used in GT3 and DTM cars is something worth taking a closer look at. It's almost as advanced as F1, but these cars retain a close-to-original shape, style and soul. Seeing these cars in person makes you want to do bad things to your own car. I took a lot of inspiration away from the Hockenheimring, and now my petrolhead wife is anxious about what I am going to do with my R34 in the garage this winter.

I am completely in love with the rules and regulations of DTM too; this motorsport series is very fair. All of the cars use 4.0L naturally aspirated 90-degree V8s with two 28mm air inlet restrictors, the same gearboxes and run Hankook tyres, Aral fuel, and Bosch ECUs. The standard minimum car weight is 1120kg (1115kg for the BMW M4) and the standard driver weight is 84kg. If the driver is heavier or lighter, the officials just take away or add ballast. After two practise sessions every driver has his 'theoretical best lap time' which is a sum of best performed sections. Even if a driver get pole position after qualifying, his car can still be made to run extra ballast if the discrepancies in lap times are too big (e.g. over 1 per cent). This makes the race totally amazing and equal, which gets the best out of the drivers.
Chasing Marco Wittmann – The DTM Final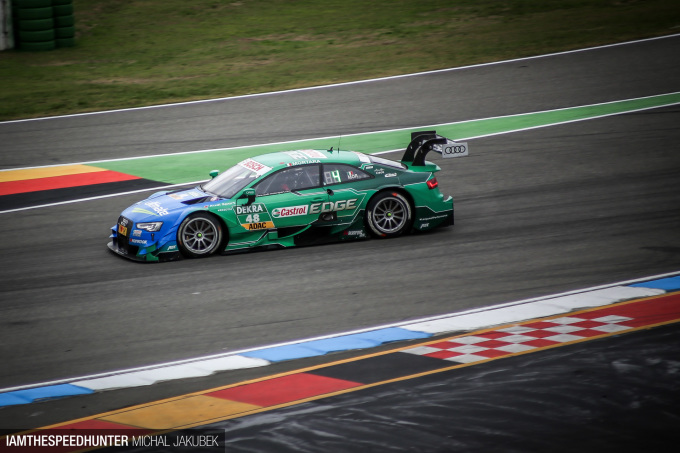 The moment when all the cars brought up their engine revs on the start line is something I will never forget. The mesmerising and overwhelming sound of 24 V8 engines was enough to drown out the TV helicopters above our heads, and in those seconds I felt like the tribunes were going to fall on our heads. It was a stupendous moment; we had goosebumps all over our bodies. We witnessed the most beautiful thing in motorsport, and with the sweet smell of high-octane fuel and burned slick tyres in the air, the final race started.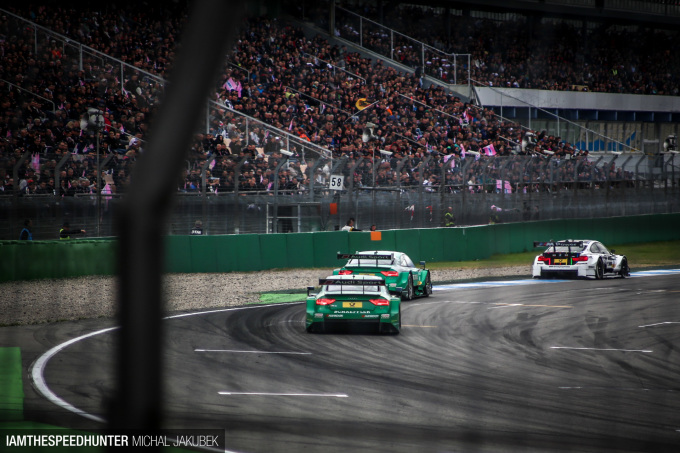 We witnessed Edoardo Mortara in his Audi RS5, who was 2nd in this season's table before the last two-day final round at Hockenheimring, do some amazing driving trying to chase the leader, Marco Wittmann in the Red Bull M4, who was 20 points ahead. There were a few ways Mortara could snatch the championship out of Wittmann's hands, but essentially he had to win both races or at least finish on the podium, and Wittman could not score at all. A piece of cake, right?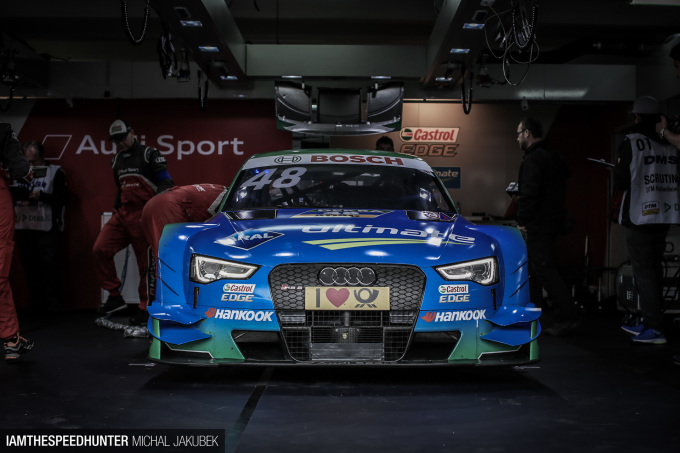 It's amazing how the crowd reacted to what was happening on the track. Flags waved above our heads as thousands of petrolheads indulged in pints of great German beer.
Right after first few corners we saw Wittmann in 2nd position and Mortara in 10th, which meant that if it ended up like this the series would be decided on Saturday with Wittmann as champion. But Mortara wasn't going to give up. We witnessed the spirit of rivalry as he started to overtake other drivers one by one, every second lap. The crowd was going crazy seeing this; the tense atmosphere was unforgettable.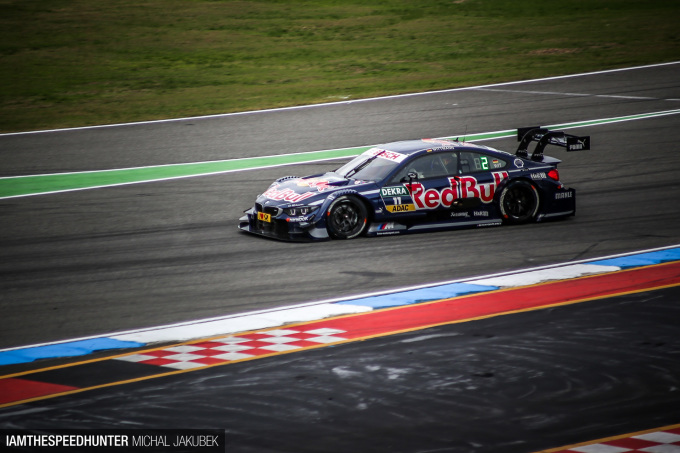 Edoardo Mortara made it up to third position right behind Wittmann. There was still a chance for Mortara to win the championship, but the only way to do so would be for him to win Sunday's race and for Wittmann not to score at all, which meant placing fifth or below.
Mortara pushed so hard in Sunday's final race and finished in 1st position like he had to. But Wittmann finished in 4th, bringing points and the 2016 drivers' championship.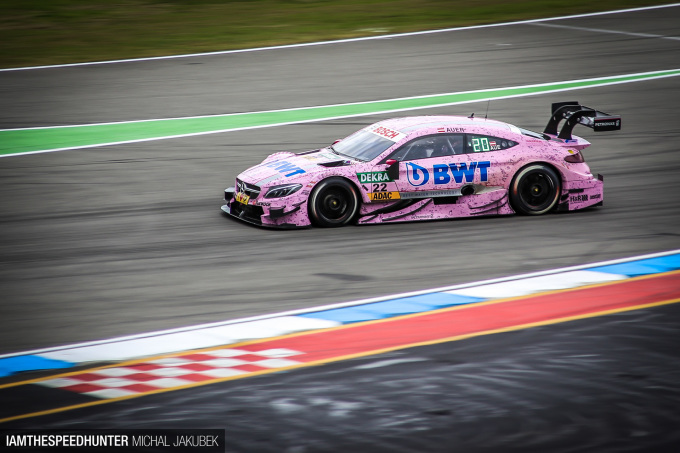 This is what we love; this is motorsport. I am so respectful to the hundreds of team members in the paddock, because they all work so hard. There was joy and heartbreak at the same time, but that's racing.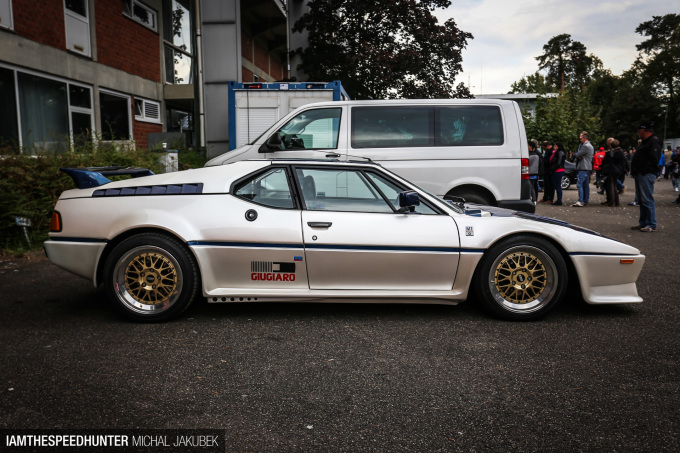 Peacefully walking towards the parking lot we saw a legend parked right next to the tribune. This BMW M1 was in fantastic shape and looked great with white pearlescent paint and BBS LM wheels. I'm sure you'll agree that the M1 is one of the best German sports cars ever made.
We took few photos of it, what was pretty hard considering hundreds of people wanted to do the same, and then headed home to Wrocław.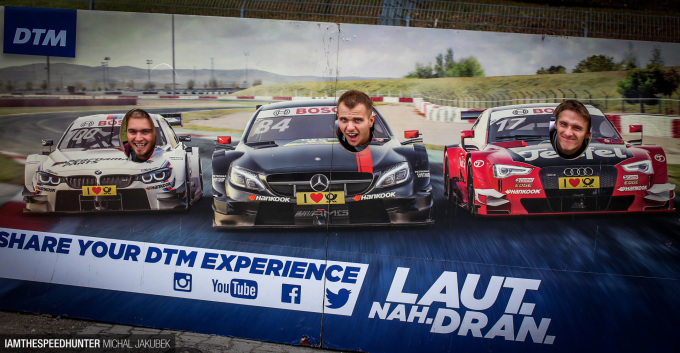 Watching a DTM race, and such a close final was a dream come true.
Coming home was not as easy as we expected it to be though. Our car developed an injection system failure while driving 170km/h on a highway (yeah, one of those beautiful German roads with no speed limit) , which was not fun; trust me. Then we had to push two ton's worth of daily driven goodness for 1km to the next parking area with a German police escort. Thankfully, they were very helpful and we didn't get a ticket for trying to fix a car on the highway in the middle of the night.
Luckily, I had my best friends and 'personal mechanics team' of Paweł and Dawid on board, and after three hours of pretty hard work in the dark and cold with almost no tools, the car was fixed. It was a miracle really, but we finally arrived back home in the morning.
One thing I said to my friends, we will not always be this crazy and able to do things like this. So, in the meantime we must do things like this as often as we can. Having these kinds of stories to tell to our grandchildren one day will be a real pleasure.
To end, here's a photo of some crazy Speedhunters from Poland!
Michal Jakubek
Cutting Room Floor