A 20-Year Journey
"If only it was rear-wheel drive."
I can't tell you how many times I've heard or read that phrase during a discussion about a Honda. But whether it's a Civic, Integra, Prelude or an Accord, there's a lot to love about these Honda models; the suspensions are great, the engines are extremely responsive, the racing DNA is strong, and the overall feel is top notch. But if there's one thing that's kept many from jumping into the Honda movement, it's the fact that the vast majority of Hondas are front-wheel drive.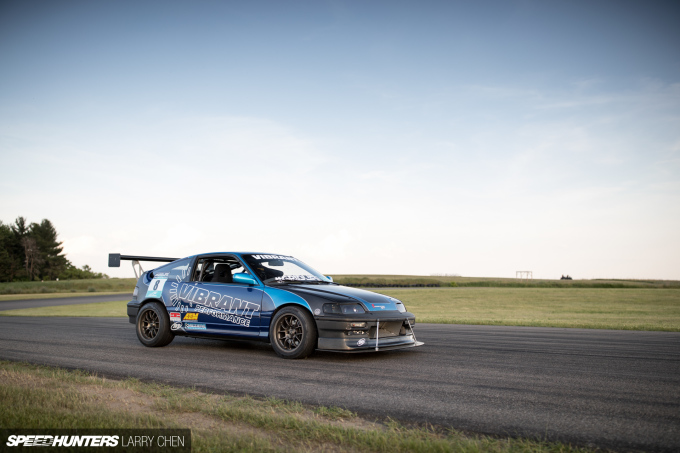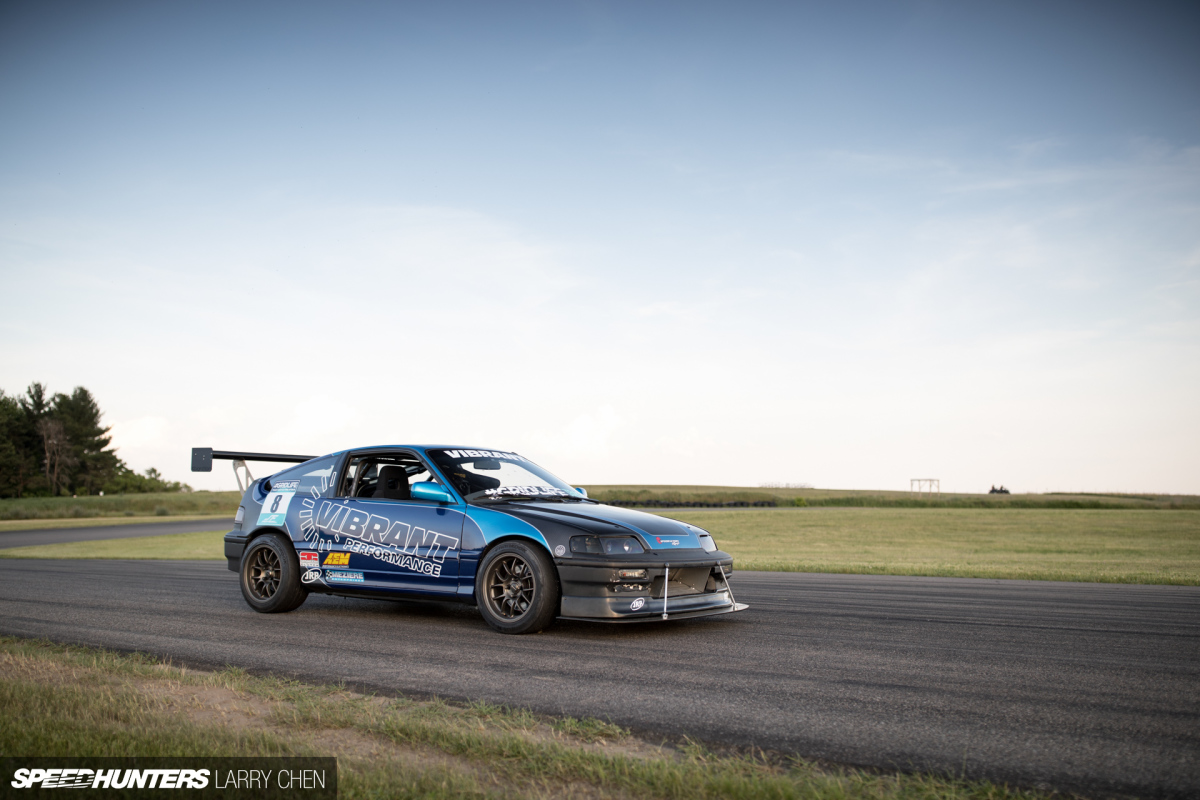 For some this isn't a problem, and there are no shortage of engineers, builders and drivers out there who have proven that FWD Hondas can be brilliant machines. But that hasn't stopped people from dreaming about what a RWD Civic or Integra might be like. And over the years a small number of crazed enthusiasts and backyard builders have actually tried to make it happen.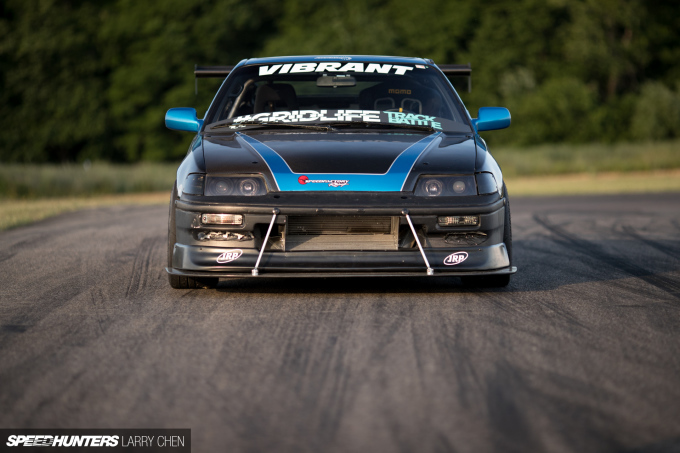 Aaron Weir is one of those people. He's the man responsible for the radical, rear-drive Honda CR-X you see here – a car that he spent the better part of five years converting from FF to FR.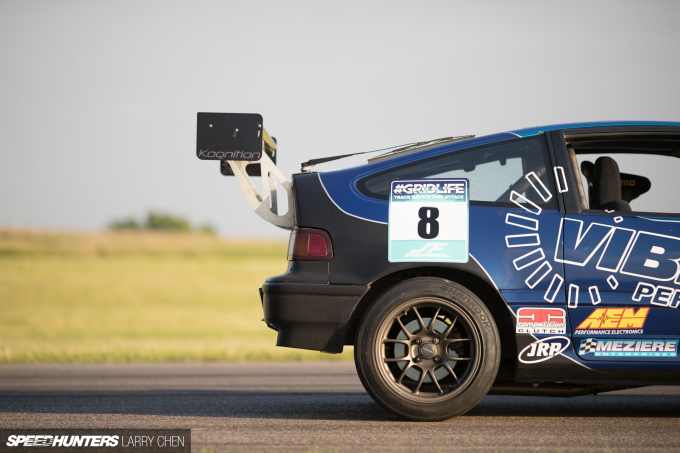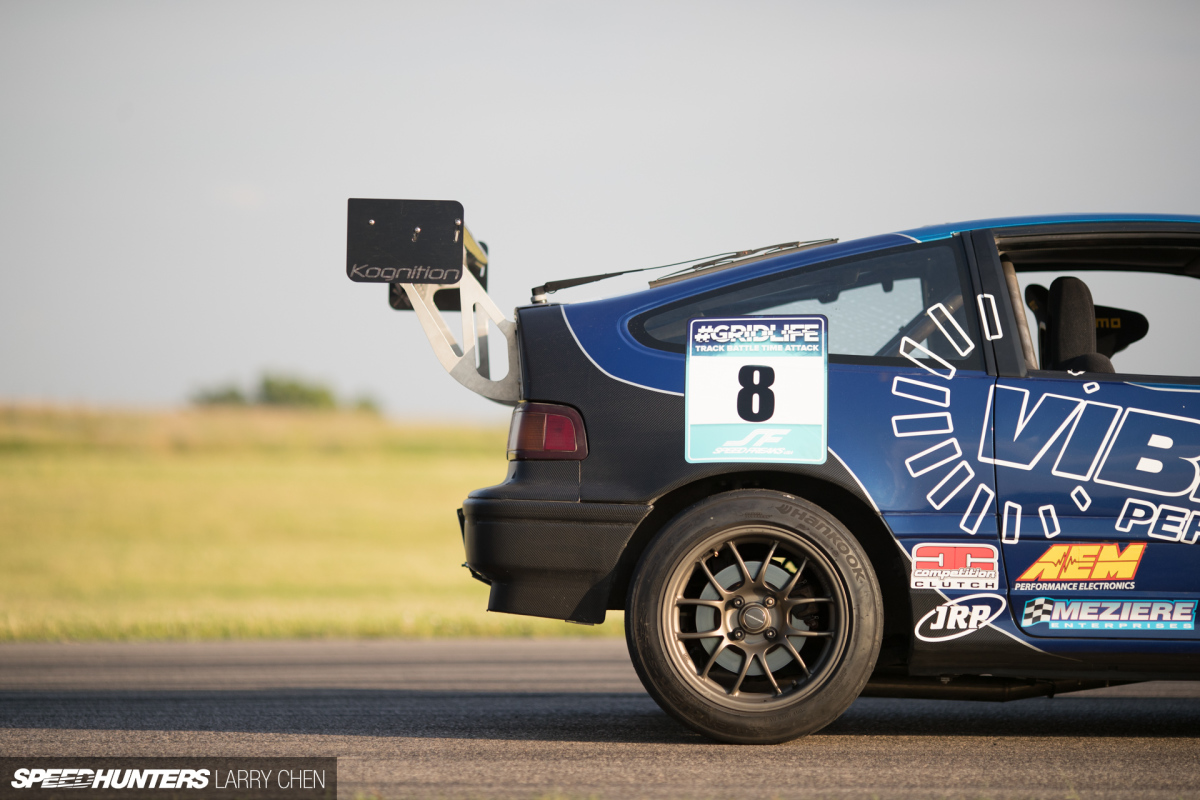 But the story of Aaron and his 1989 CR-X Si starts well before the radical conversion. It goes all the way back to the year 1996 when he purchased the CR-X as a 23rd birthday present to himself.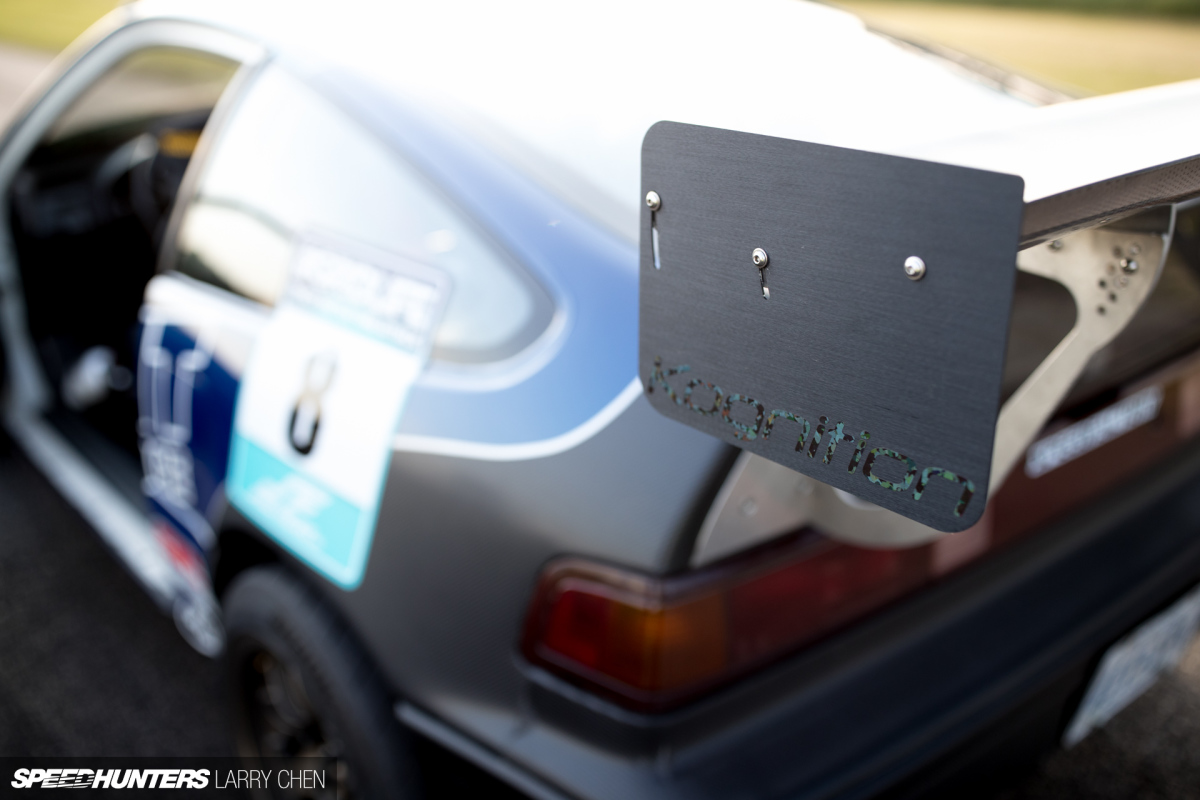 When he first bought the CR-X, Aaron didn't know much about cars at all, but he soon began reading about modified Hondas in magazines and gathering with other CR-X owners around his home in Ontario, Canada. He also began auto-crossing at local events.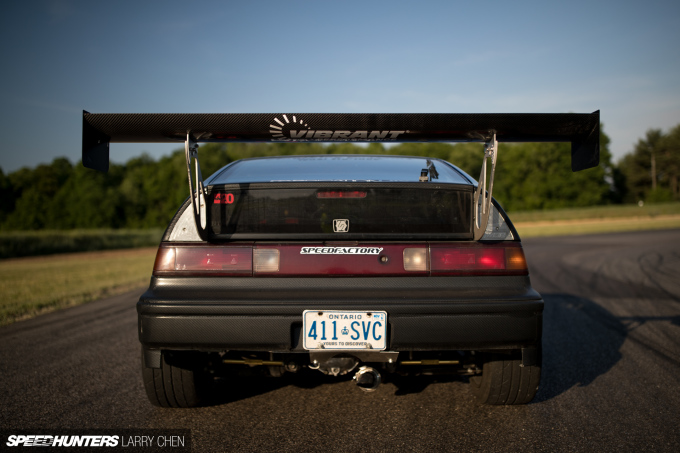 Naturally, Aaron began to modify the CR-X, first with the help of friends and family and eventually on his own. He started with the basic bolt-on upgrades, experimented with nitrous oxide, and then in 1999 swapped out his single overhead cam engine for a DOHC B17A motor. After that came a couple of custom turbo setups.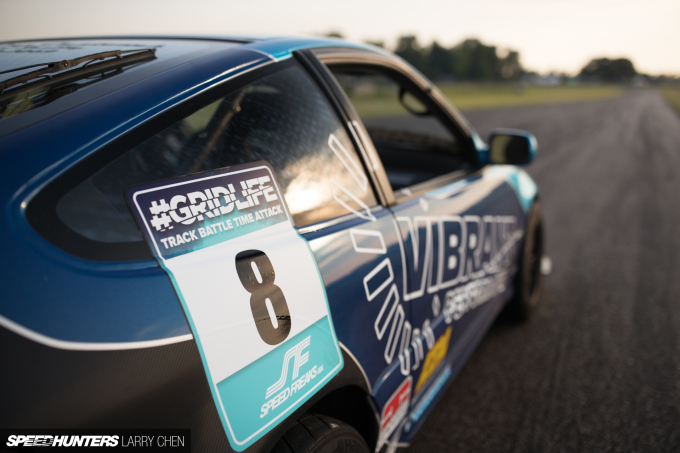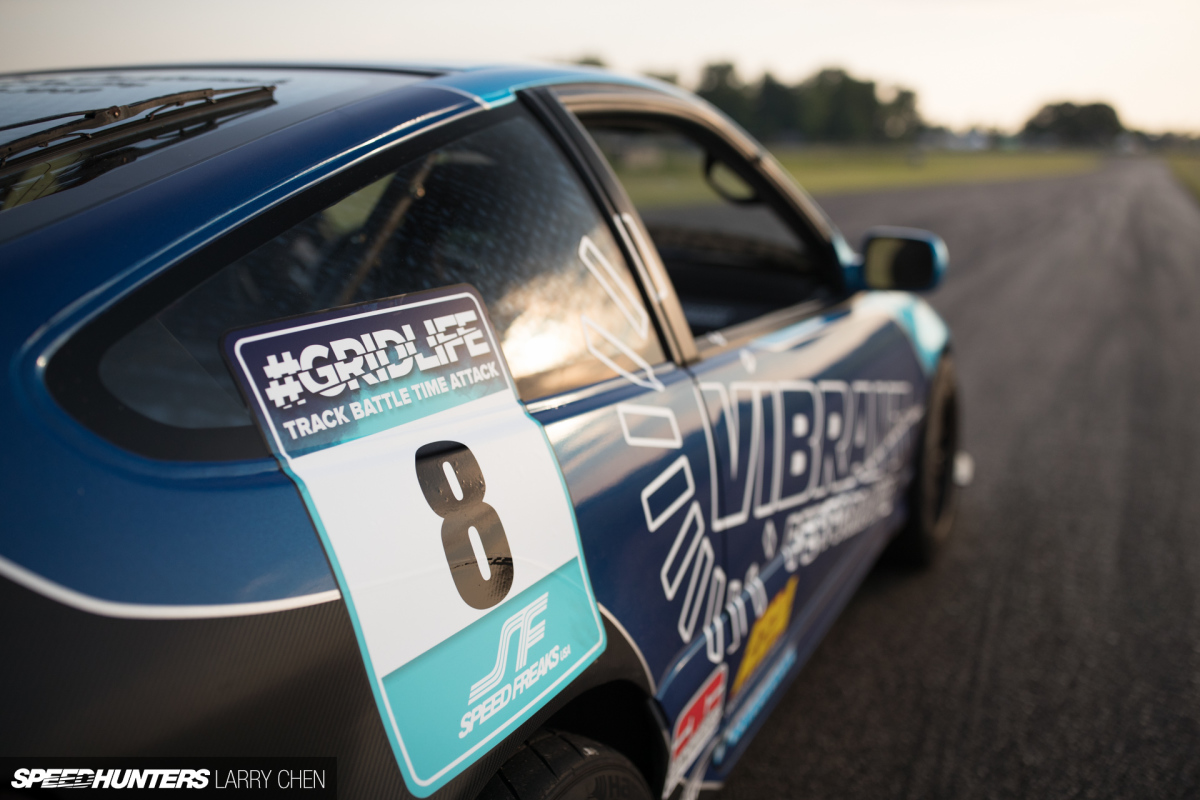 As his confidence working on the car grew, so too did Aaron's skill as a tool and diemaker, and by 2001 he was a certified toolmaker with extensive knowledge in CNC equipment. In 2007 he opened up his own business called Weir Technologies where he did machining and fabrication for both industrial and enthusiast customers alike.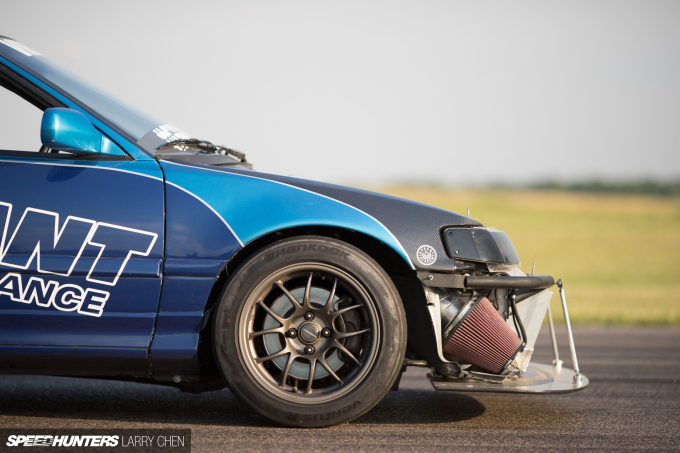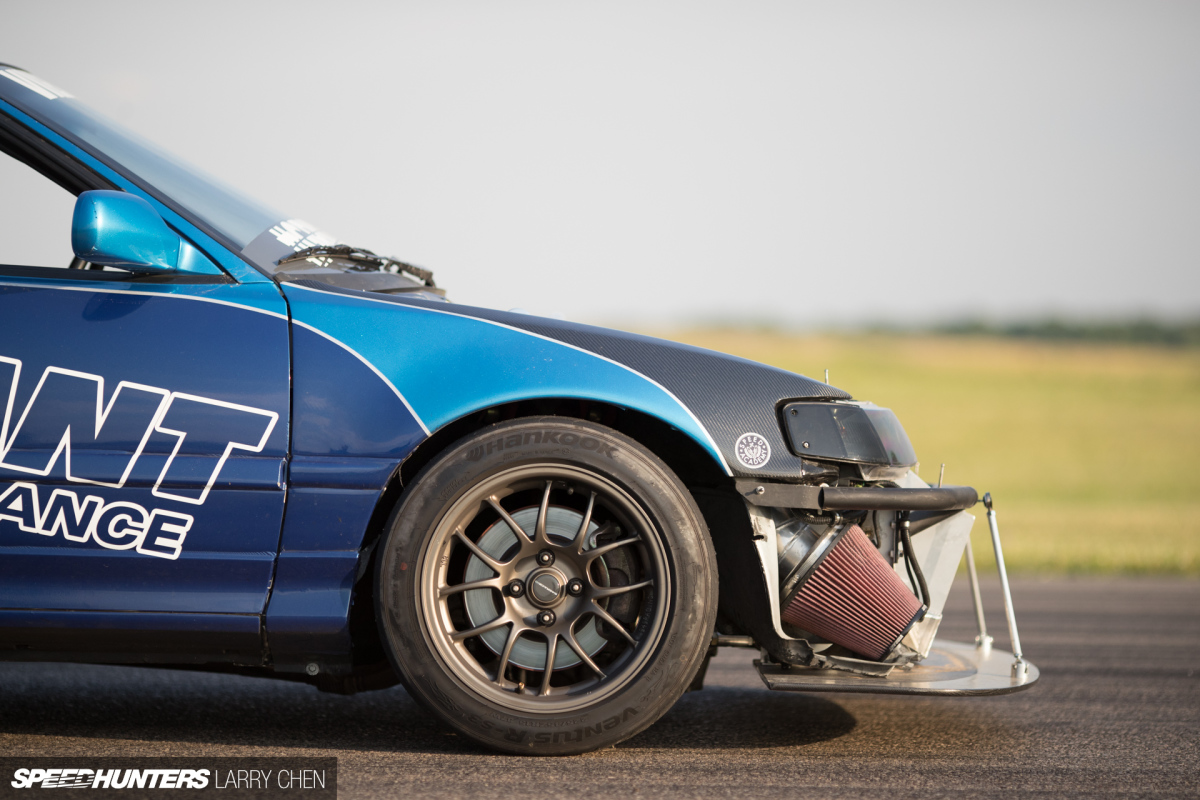 Having constantly evolved the CR-X in the 10+ years that he'd owned it, Aaron decided to put the car under the knife for a major rebuild in 2007. It wouldn't just be an engine swap this time though – he wanted to convert the Honda to rear-wheel drive.
RWD Is The Way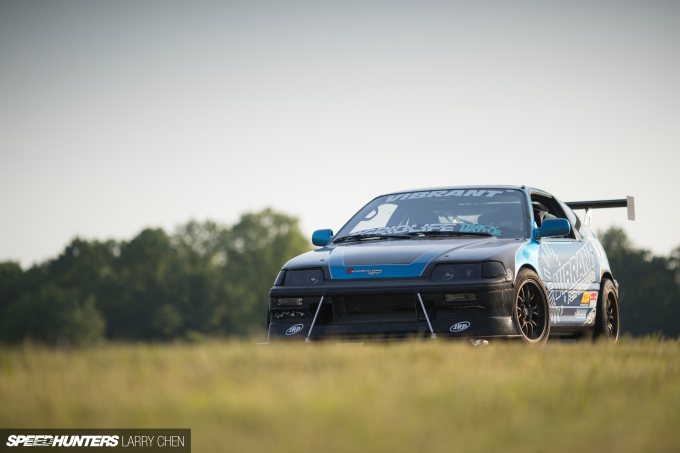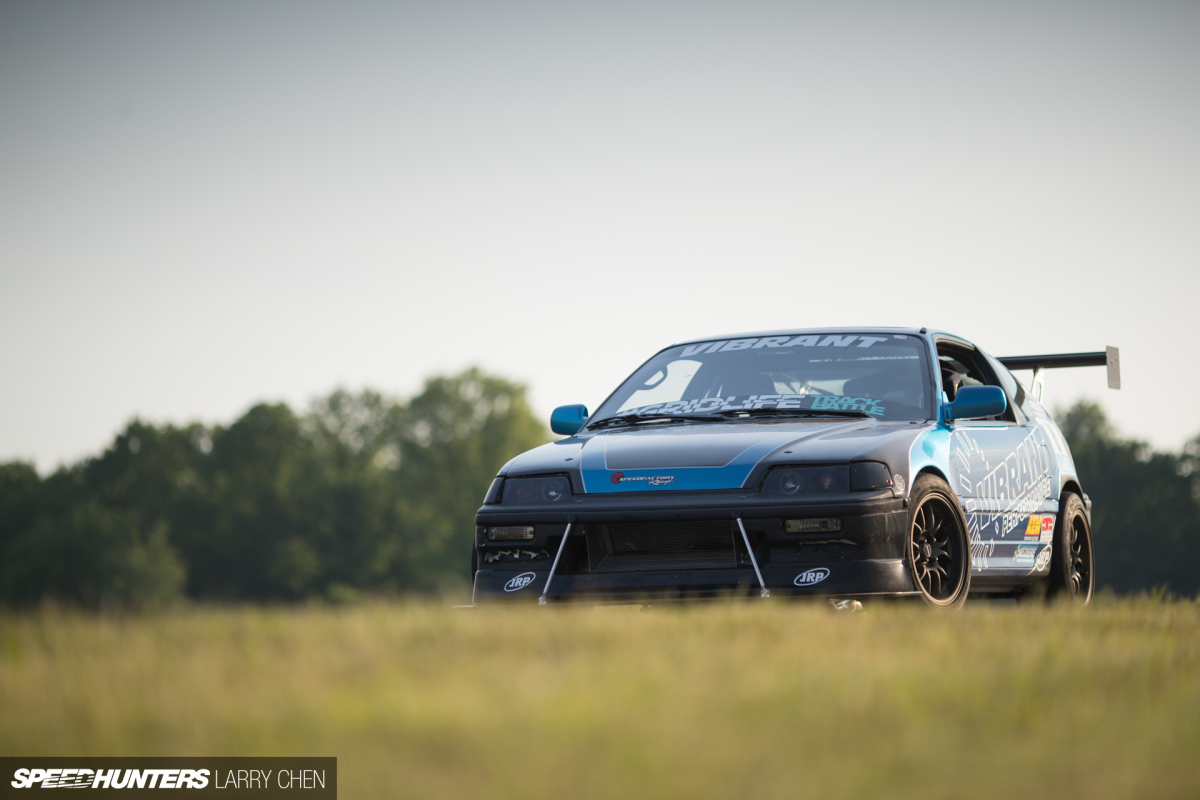 Aaron admits he had "no idea" what he was doing when he first attempted the conversion. All he knew was that he wanted to do something different, and was eager to put his fabrication skills to the test. He also figured that building something 'off the wall' would be a good way to promote his business.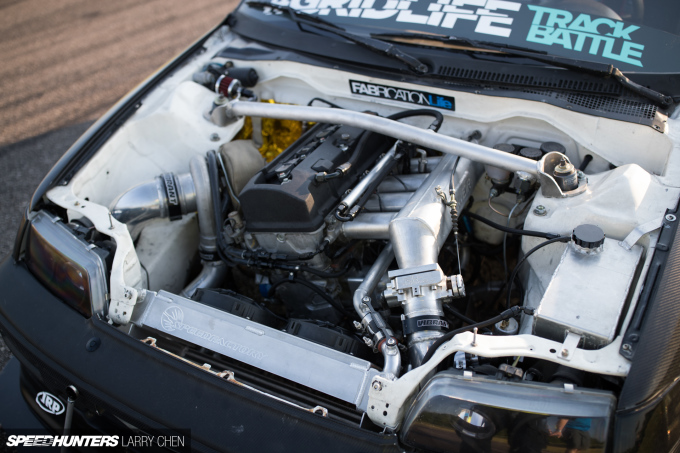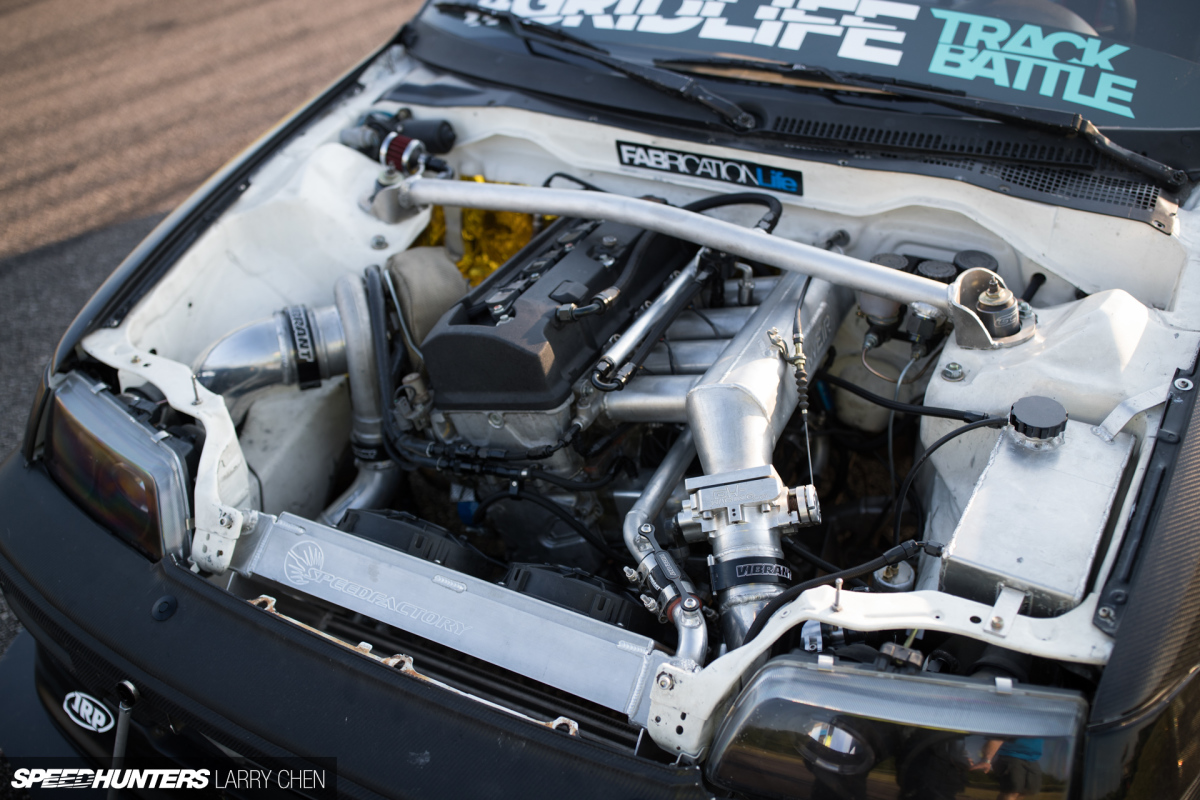 There are a few different routes one can go when attempting to convert a FWD Honda to RWD, but Aaron decided to base his conversion around the Honda S2000 and its longitudinally-mounted VTEC engine.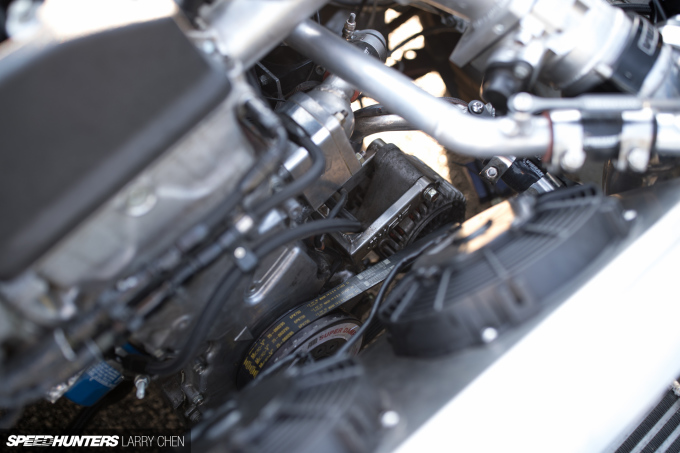 Getting the RWD-oriented F22C to fit inside the CR-X's engine bay was not an easy task. In fact, the CR-X steering rack had to be dropped five and a half inches to clear the oil pan. In addition, the tie rod mounting points had to be lowered and the rods themselves use risers to stay near parallel with the front control arms.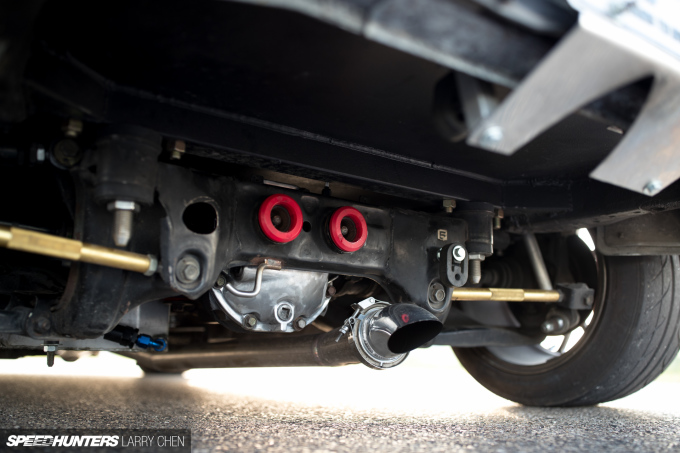 The engine is mated to an AP1 6-speed manual transmission and power is then sent to an R200 viscous LSD differential inside a Nissan S14 rear subframe. Aaron has experimented a lot with the rear suspension in order to get correct geometry and this is the third variation of the setup.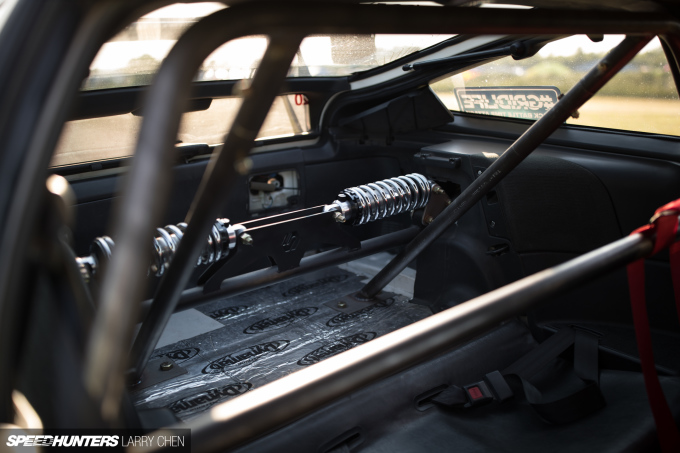 With both packaging space and geometry to consider, Aaron built a custom pushrod cantilever rear suspension system that uses QA1 single adjustable coilovers.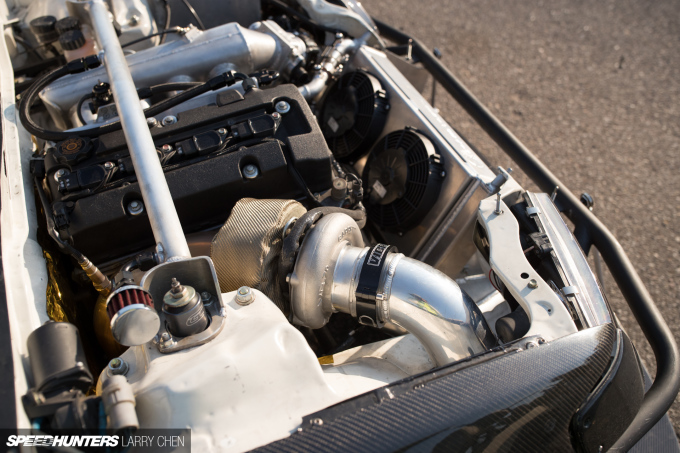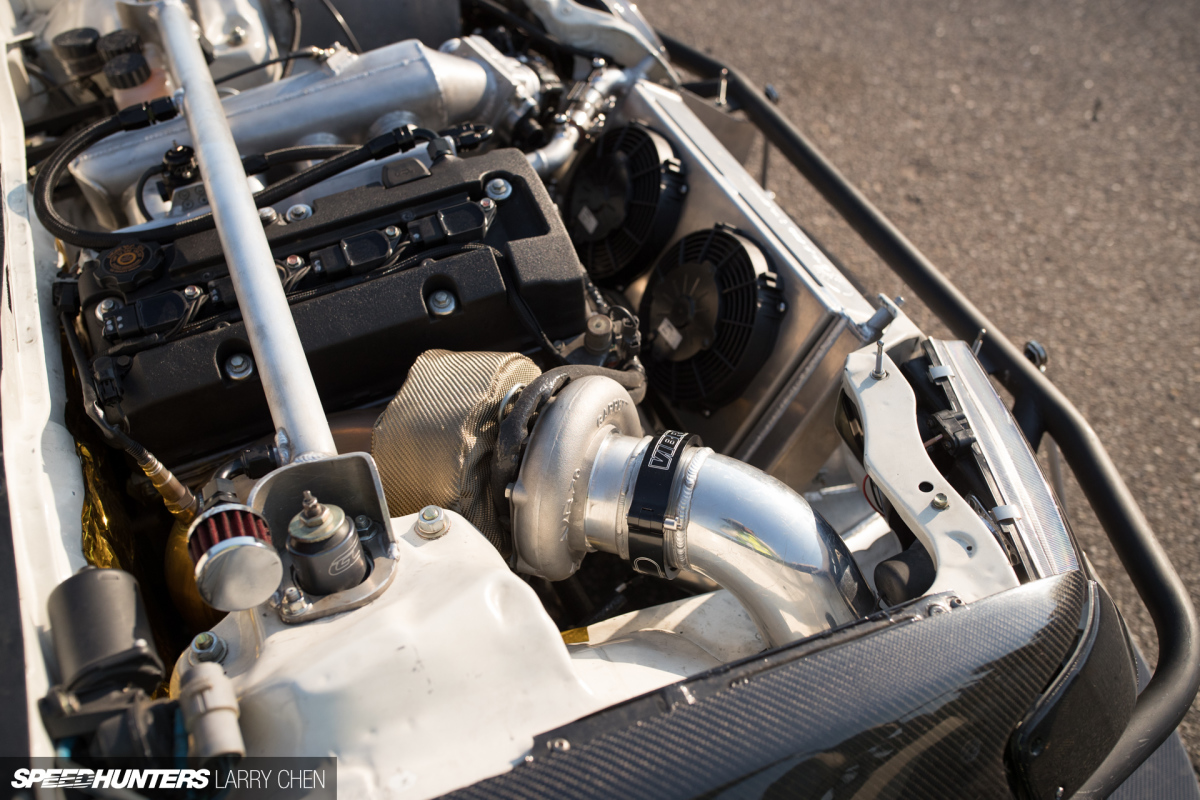 Having had plenty of experience with turbocharging in the past, Aaron also wanted the RWD CR-X to feature forced induction. The current setup includes a Garrett GT35R turbo on a custom manifold, and at 9psi boost it's good for 330hp and 230lb-ft to the rear wheels with stock engine internals.
Something Different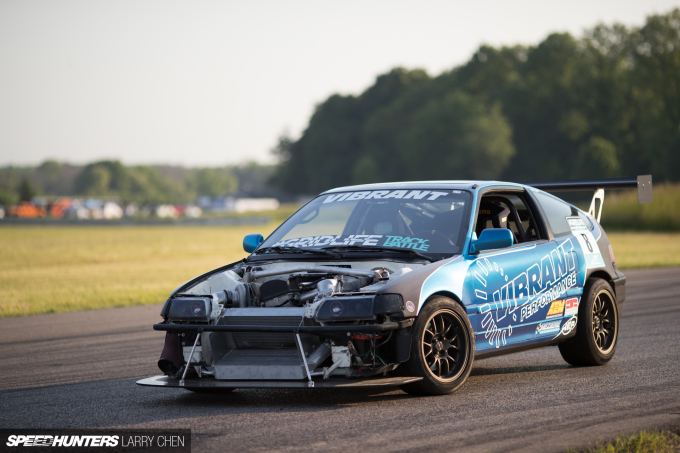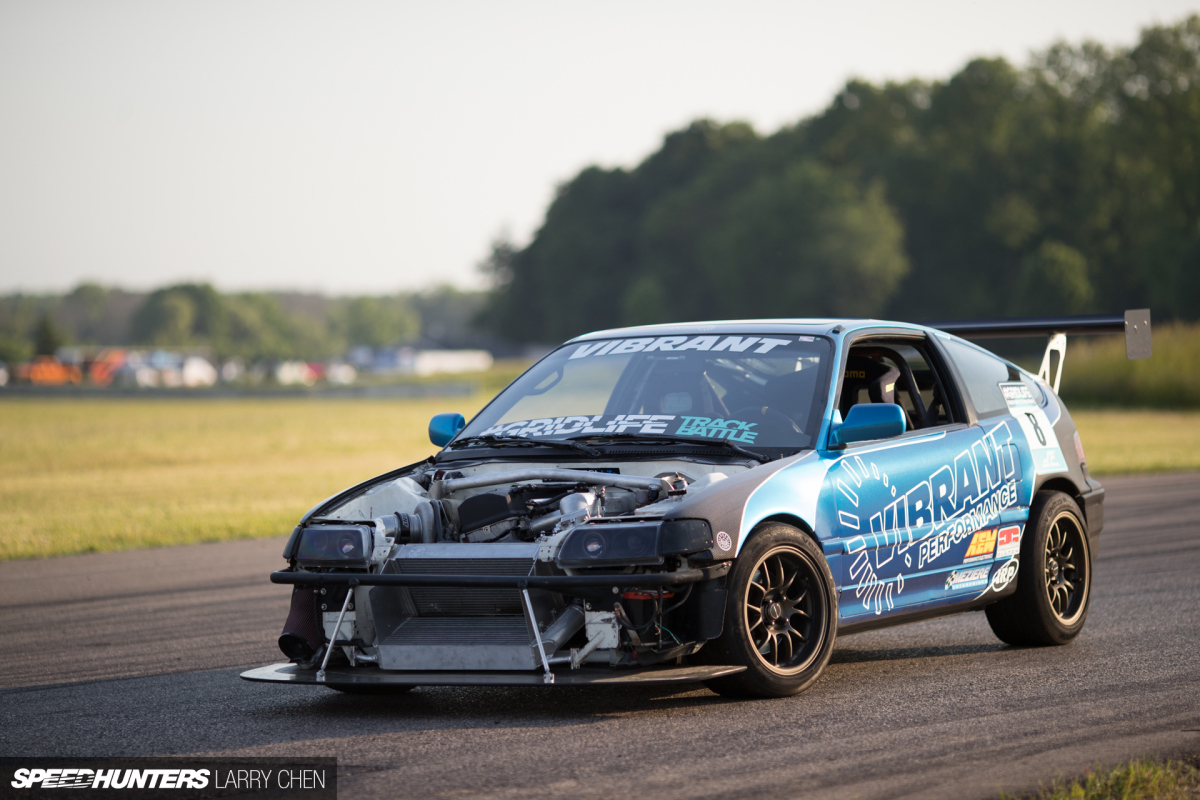 With the help of his father-in-law Frank and a few friends, the initial RWD conversion took Aaron five years to complete, with the car emerging from the shop in 2012. And he's been constantly tinkering with it since.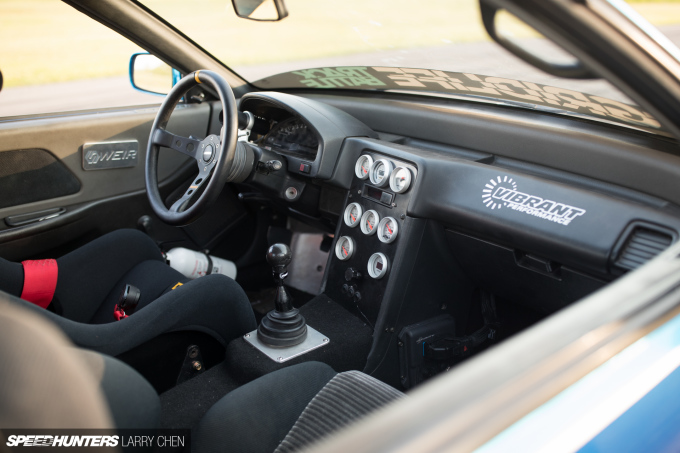 In 2012, Aaron decided to close up his business and go back into toolmaking, but then in 2013 he got the chance to take a job with Vibrant Performance, a gig which he considers his dream job.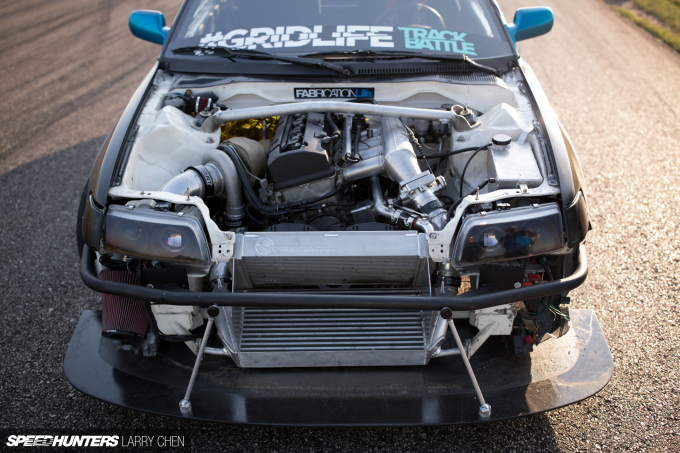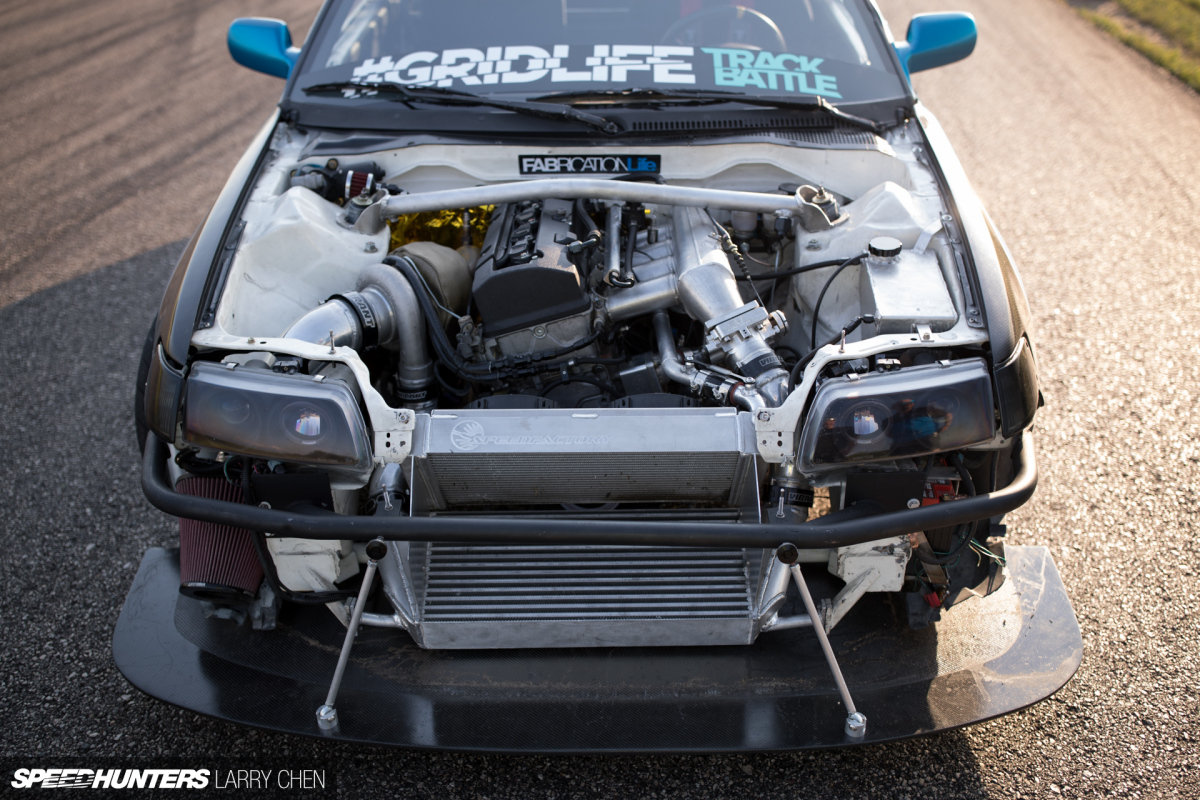 And when he's not busy at work developing parts for Vibrant, Aaron has continued to upgrade the CR-X with a revised turbo setup, V-mount cooling and more.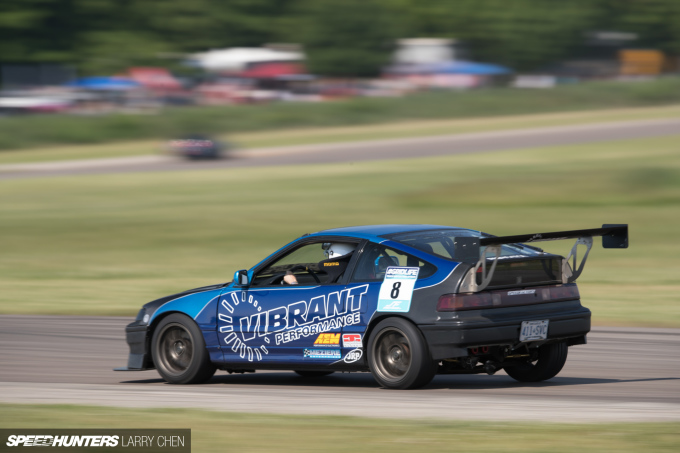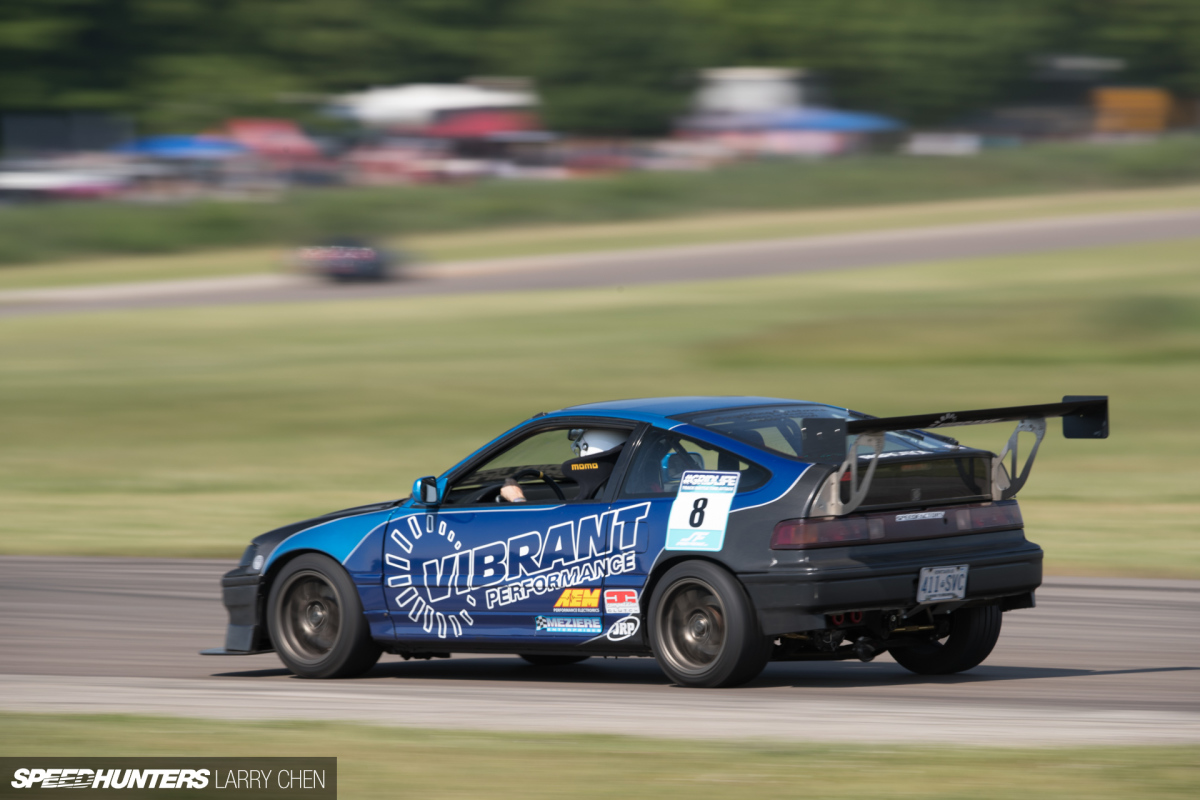 Needless to say, there's plenty more he's planning to do, including a dry sump system, an upgraded transmission and additional aero improvements for the track. With two kids and a full time job, it's simply a matter of finding the time to do it all. And speaking of his kids, he even made part of his roll bar removable so he can put the backseat in if they want to go for a ride.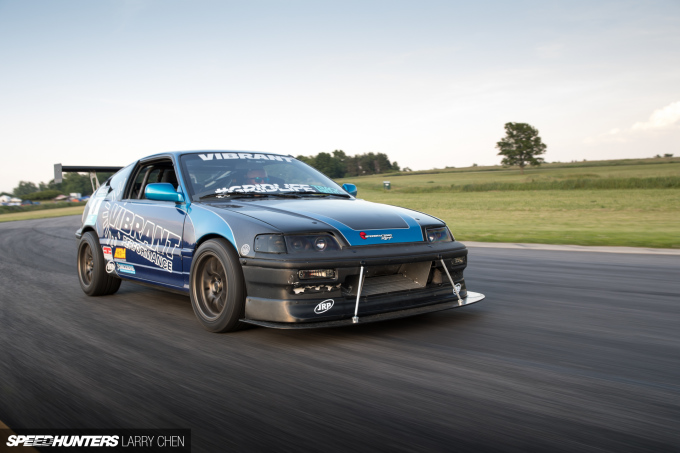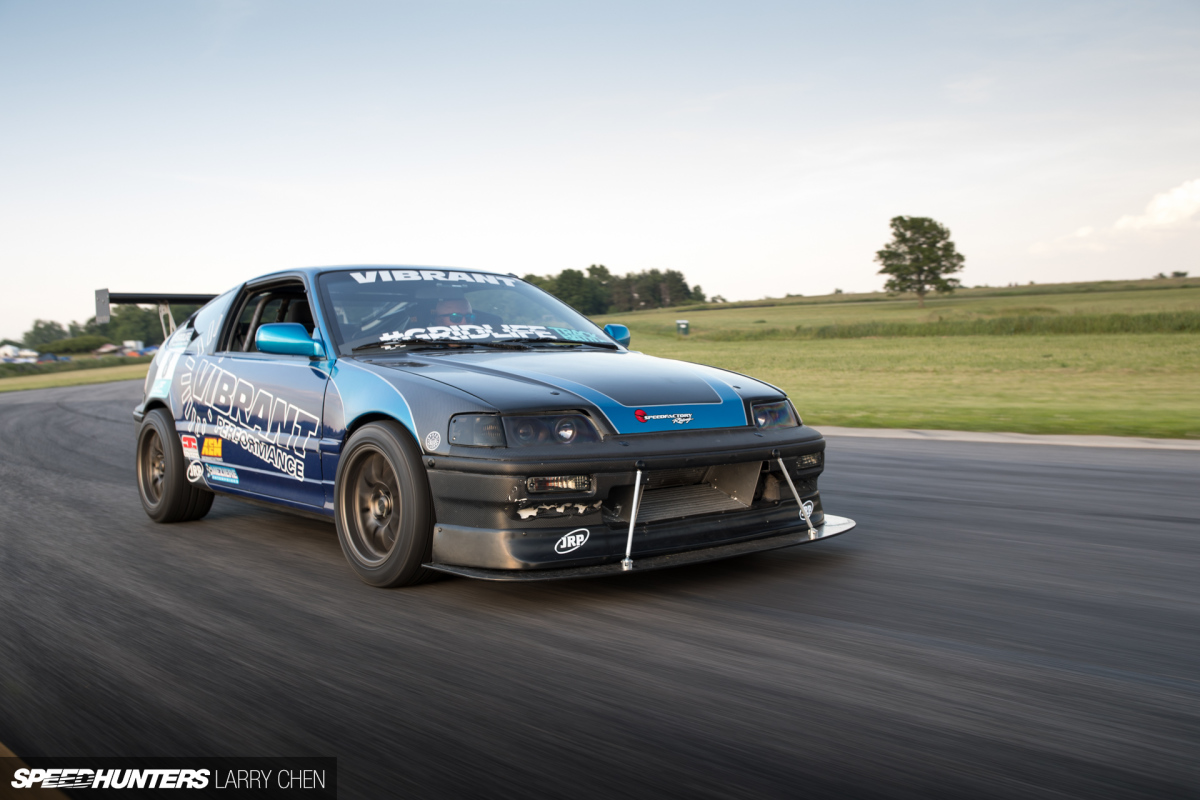 Whenever he has the time, Aaron loves to get behind the wheel. Whether it's to the track for an event or just out for a drive, as he tells me, "When the sun's out, the CR-X is out".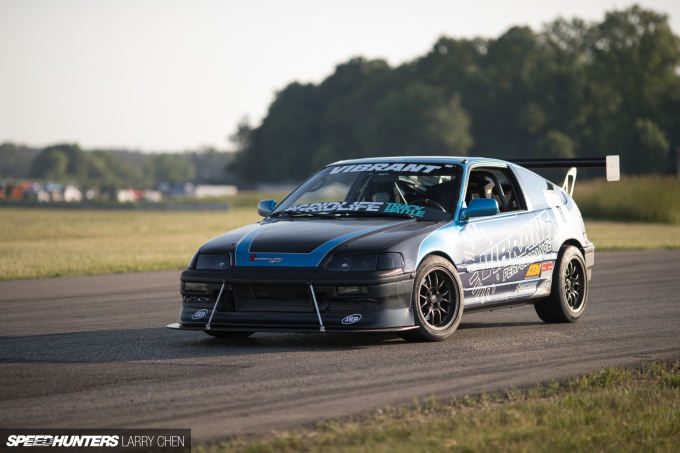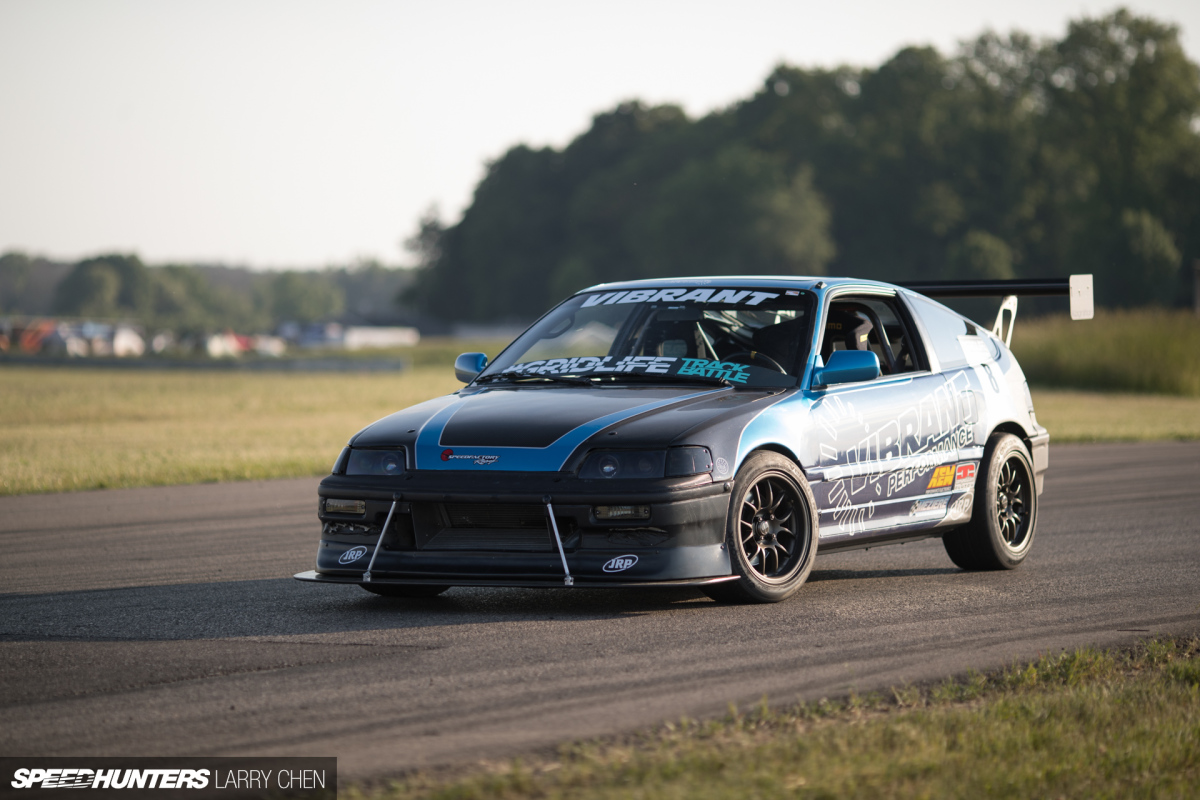 And with a car that's so special it's easy to see why he feels that way. Aaron no longer has to wonder what a RWD CR-X might be like, because he has one parked in his garage.
Here's to another 20 years of fun with one of the world's most unique Honda CR-Xs.
Mike Garrett
Instagram: japanifornia
mike@speedhunters.com
Photos by Larry Chen
Instagram: larry_chen_foto
larry@speedhunters.com
Aaron Weir's 1989 Honda CR-X Si
Engine
2005 Honda S2000 AP2 F22C, removed factory water pump, tensioner & flipped alternator with Weirtech bracket/tensioner for lower placement, Weirtech tucked wire harness with Vibrant Performance split sleeve wire loom, Roro Designs powder-coated valve cover, ATI crank pulley, Vibrant Performance air filter, velocity stack, aluminum tubing to Vibrant HD clamps welded to turbo compressor inlet/outlets, Vibrant bar-and-plate intercooler core all fabricated by Weirtech, DH Racing 74mm billet aluminum throttle body, Weirtech intake manifold with billet velocity stacks inside 3.0-liter tapered plenum and 1 degree tapered runners, Weirtech fabricated turbo manifold made with Vibrant Performance flanges, Schedule 10 piping & collector, ARP exhaust manifold head studs, Garrett GT35R turbocharger with .82ar turbine housing, Precision 44mm wastegate, Vibrant GESI ultra high output catalytic converter, Vibrant Performance electro polished flexible bellows feeding 3.5-inch Vibrant oval tubing, assembled with Vibrant V-band assemblies, aluminum turn down tip, Weirtech trap door baffled 15L fuel tank, Bosch 044 inline fuel pump, Weirtech fuel rail, Injector Dynamics 1000cc injectors, AEM fuel pressure regulator, Vibrant Performance hoses & fittings, Meziere Enterprises WP136S 20GPM electric water pump, Speedfactory dual-pass dual-core radiator with dual fan shroud, Weirtech CNC billet aluminum thermostat housing, Vibrant Performance aluminum tubing hardlines, silicone couplers, t-bolt clamps & boost braces, Odyssey PC680 battery, AEM Infinity engine management system tuned by BR Tuning
Drivetrain
Honda S2000 AP1 6-speed manual gearbox, Competition Clutch twin disc clutch, Hush22 hydraulic clutch conversion kit, custom prop shaft, Nissan S14 rear subframe assembly, R200 viscous LSD with 4.09 final drive ratio, rotors/spindles redrilled for 4×100 bolt pattern
Suspension & Brakes
Ground Control front coilover kit with single adjustable Koni yellows & Eibach springs, QA1 rear single adjustable coilovers mounted in Weirtech pushrod/cantilever cross member system, Bings adjustable camber/toe links, Energy Suspension polyurethane bushings, Accord Wagon front brake calipers with Prelude 11.1-inch rotors redrilled to 4×100, Nissan S14 rear discs redrilled to 4×100, Hawk brake pads
Wheels & Tires
949 Racing 6UL wheels 15×9-inch, Hankook RS3 tires 225/45R15, ARP extended lugs
Exterior
Championship White paint, Anything Customs vinyl wrap, Fiber Images single-ply carbon fiber hood, Carbon Creations carbon fiber front fenders, C3 Custom Carbon Composites front splitter with Weirtech quick disconnect mounts, Kognition carbon fiber wing with 68-inch span, Weirtech CNC mount plates and uprights, shaved door handles, smoked corner lenses, bumper signals & headlights, OEM '90-91 CRX taillights
Interior
S2000 AP1 gauge cluster, Vibrant Performance carbon fiber shift knob, Momo steering wheel & Lesmo One seat, Weirtech 6-point bolt-in roll bar, AEM UEGO digital wideband AFR gauge, Auto Meter shift light, fuel pressure, oil temp, oil pressure, coolant temp, fuel level, voltage gauges, Dynamat throughout the floorpan, custom floorpan upholstery, UKDM rear seat & belts, Weirtech CNC billet door handle covers, OEM digital clock
More Honda stories on Speedhunters
Cutting Room Floor