Tokyo Bayside Classic Cup
Earlier this week, I took you on a quick tour of a unique mechanical workshop in Tokyo called David. Uncovering the treasures of a British car specialist in Japan's capital was one thing, but while there I was introduced to a classic car owner named Higuchi-san, who graciously invited me along to check out a round of the Tokyo Bayside Classic Cup the following weekend. It was an opportunity I couldn't pass up, and when the day rolled around I met up with him bright and early (read: 4:00am) at Nakano Station, so we could convoy together to the destination: Sodegaura Forest Raceway.
The weather forecast painted a gloomy outlook, and it was already drizzling at the time we left Nakano. However, this is Japan and a little rain is not going to spoil anyone's fun, and when we arrived at Sodegaura the paddocks were already completely full with a wide variety of beautiful machines.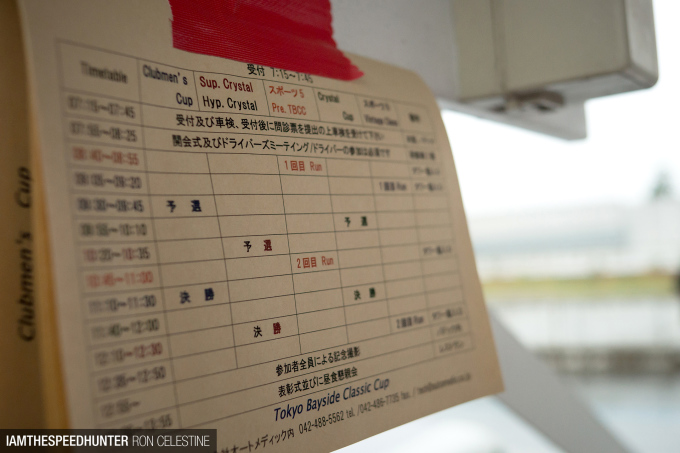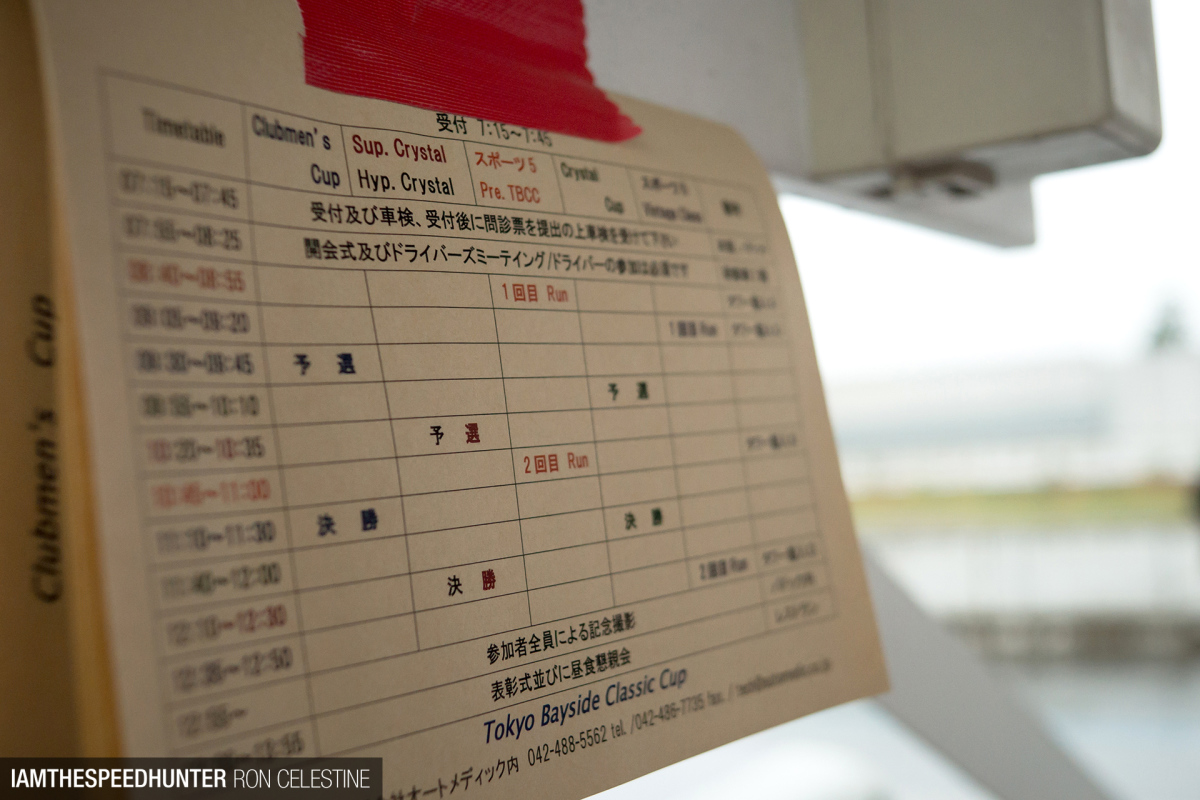 The Tokyo Bayside Classic Cup is organized by a bunch of enthusiasts with the same passion for racing and cars, the latter being mostly of European origin. There were six race categories in total, based on a number of factors including vehicle specification.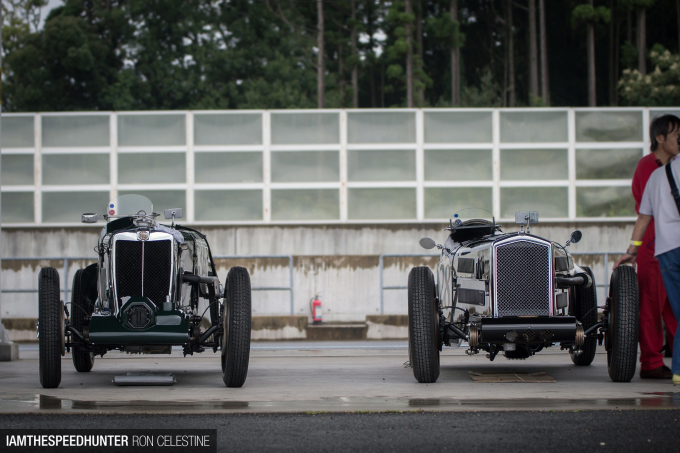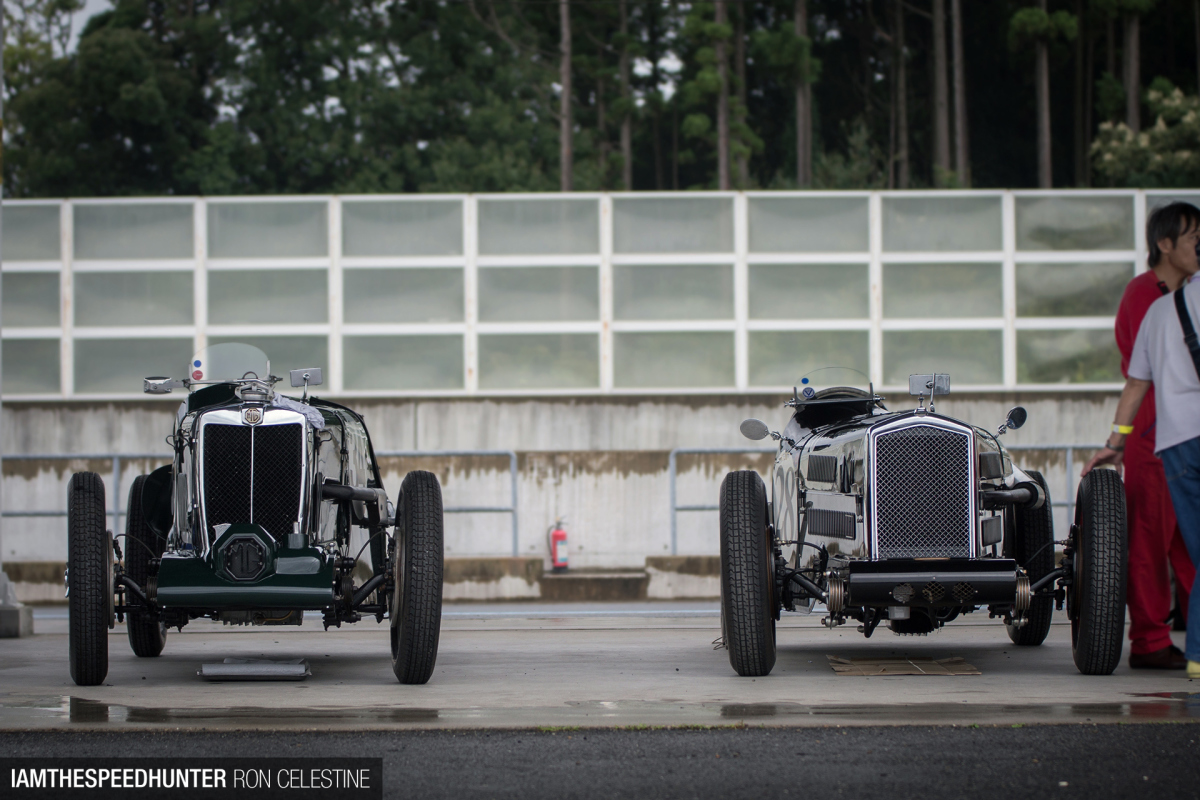 As if having its own gravitational pull, I was immediately drawn directly towards the 'Vintage' class. Only at very special events like the Mille Miglia can you find such selections of pre-WWII cars gathered in one place, so I was planning on spending as much time with them as possible.
There is something so special about cars like the MG L Magna, Magnette, and Alfa Romeo 6C. Maybe it's the fact that these were created in a time even before my parents were born. Maybe it's the eloquent and timeless styling that captivates my attention and makes me wonder if we can trace subtle styling cues in today's modern cars.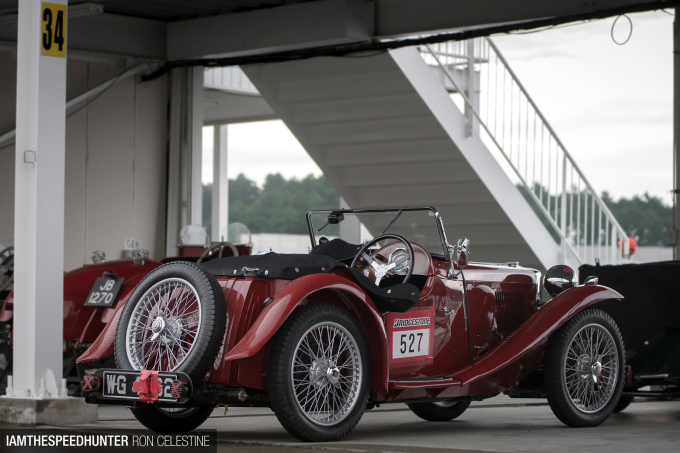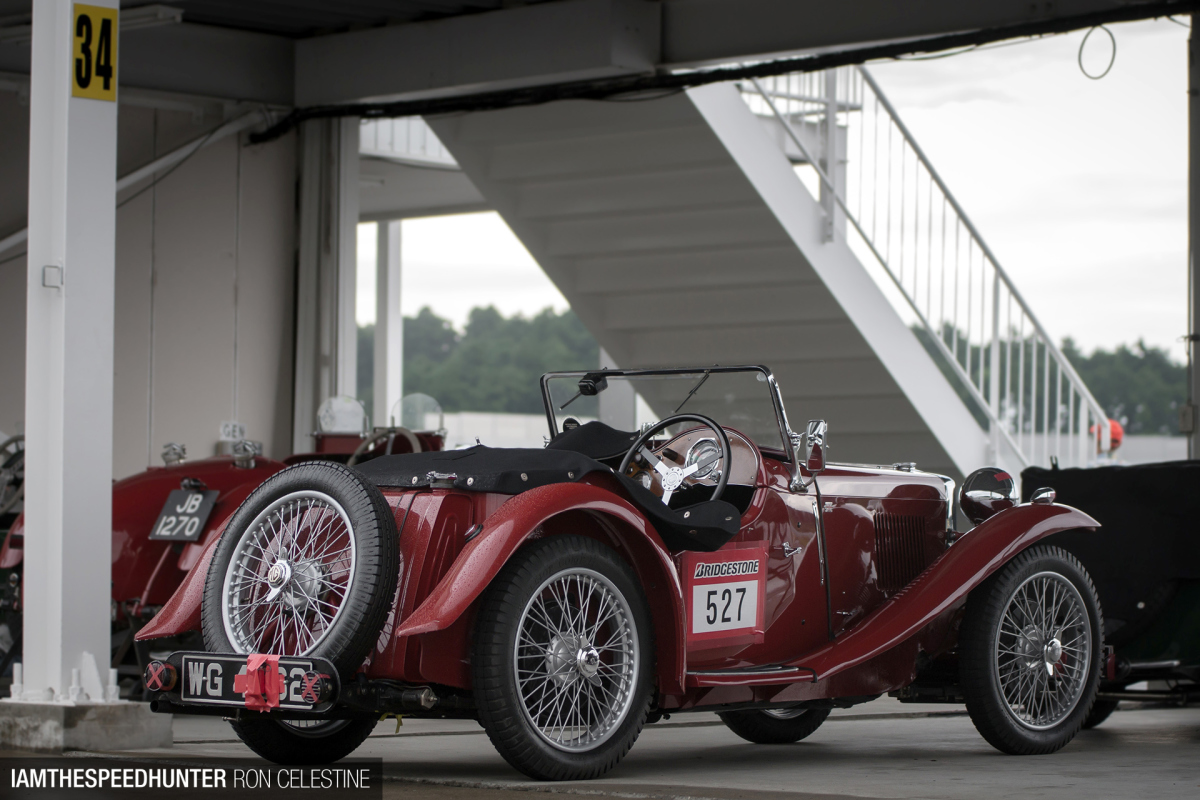 Or maybe I'm just a sucker for wire wheels and the thought of being able to drive around the vast streets of Tokyo like Jay Gatsby.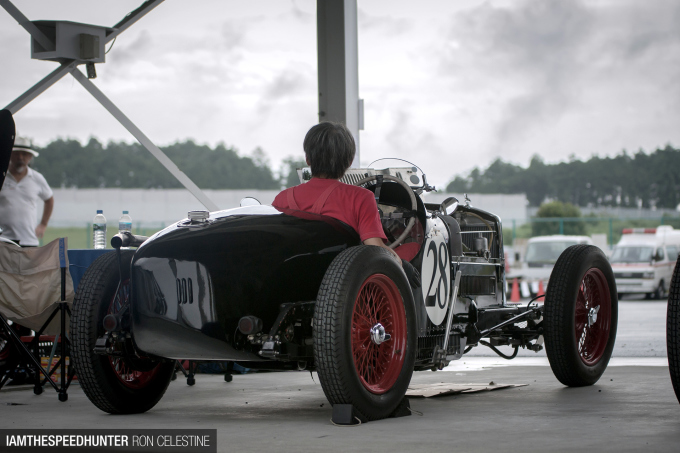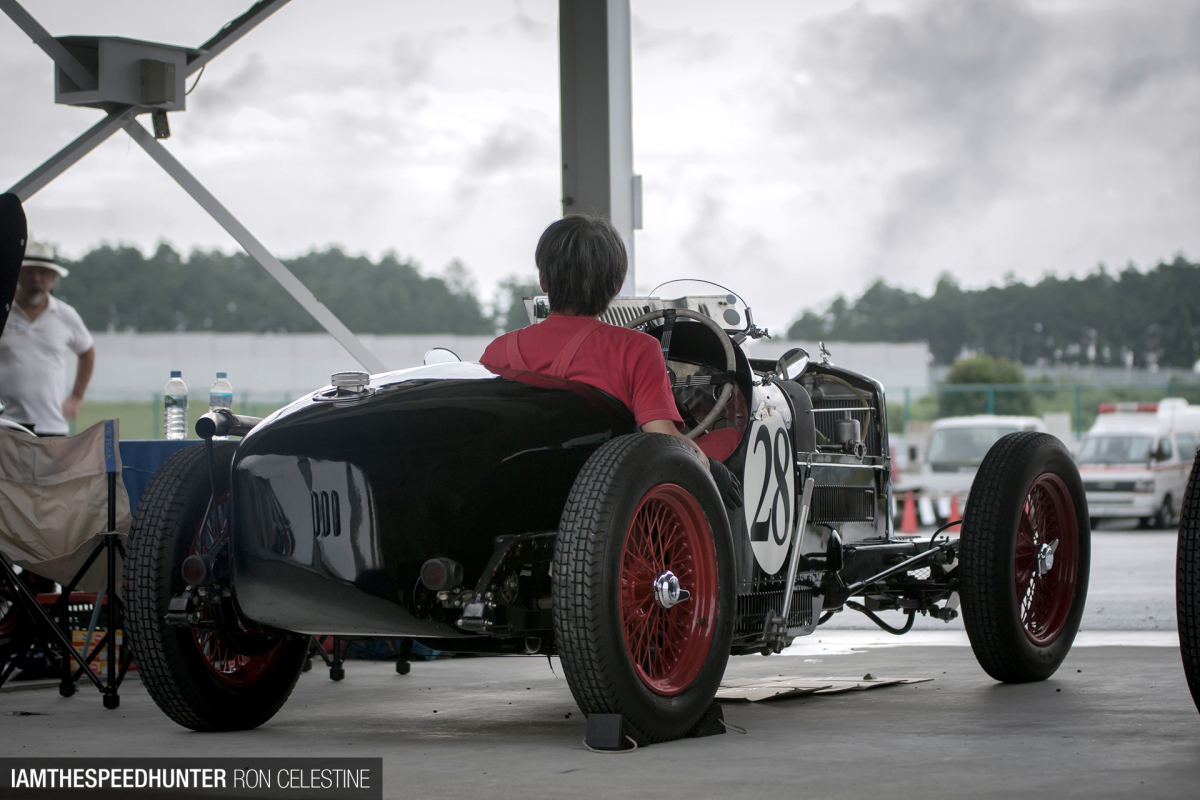 As one would expect, a lot of work goes into maintaining these time machines; a team of dedicated mechanics went from car to car ensuring everything was ready for the day's racing.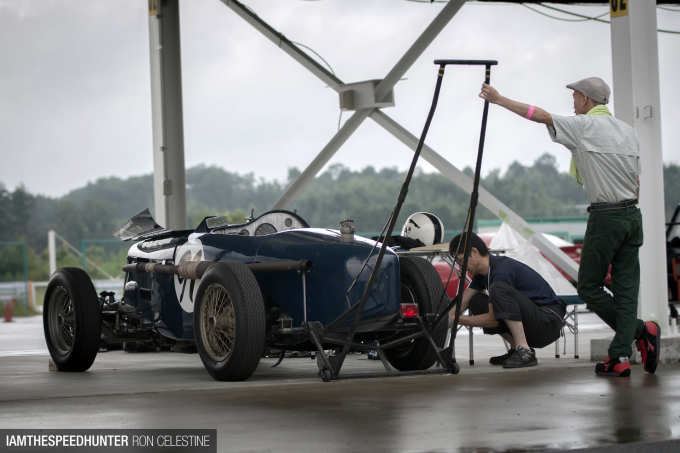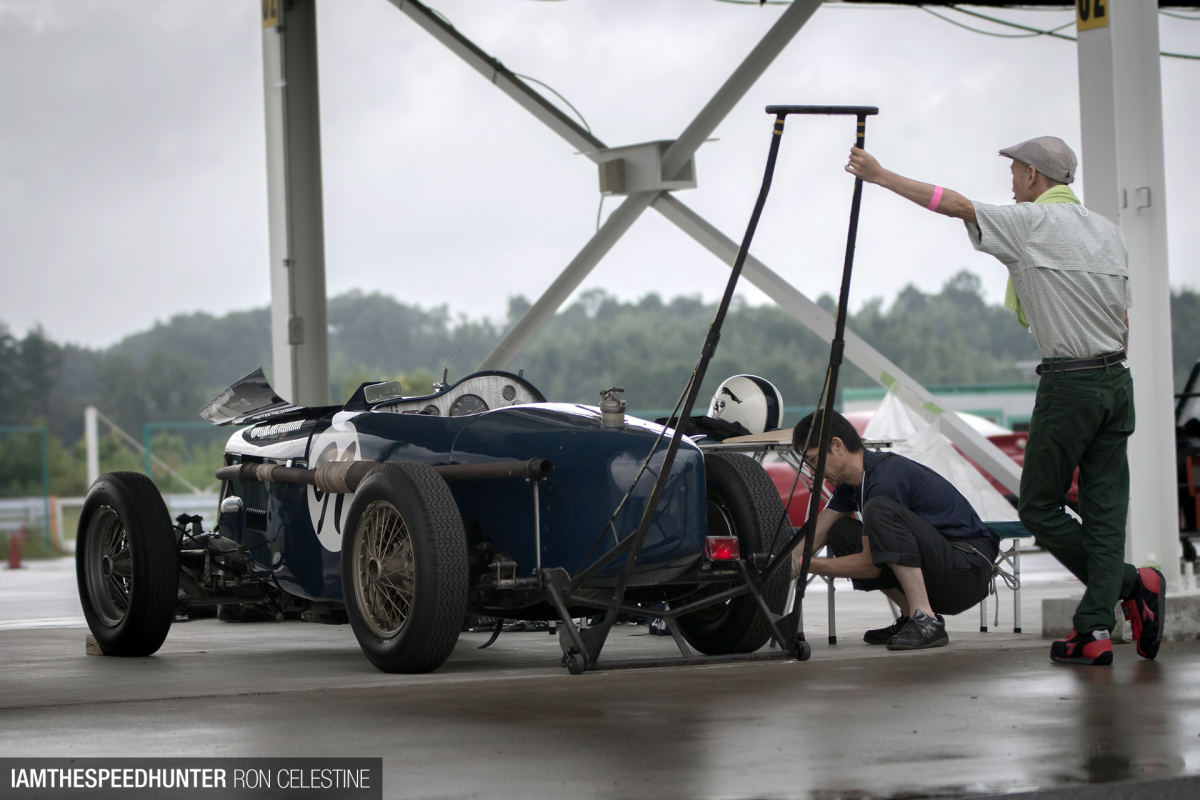 Cars like Riley 12/4 are such mechanical masterpieces that the engineer in me could just sit back and watch in bliss as the mechanics performed their delicate operation on the cars. However, there was still an entire paddock's worth of cars to check out…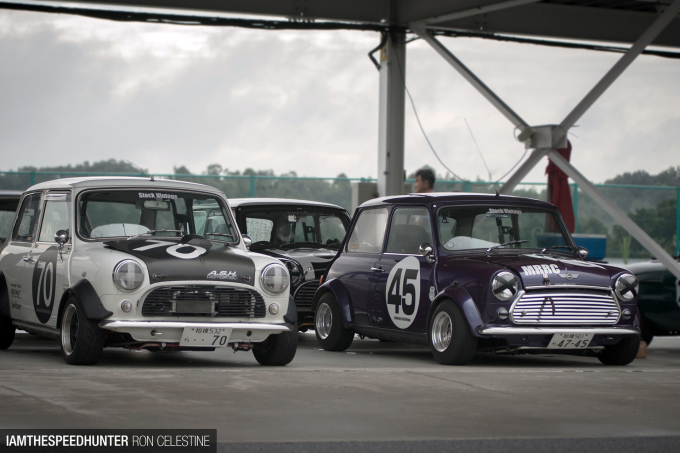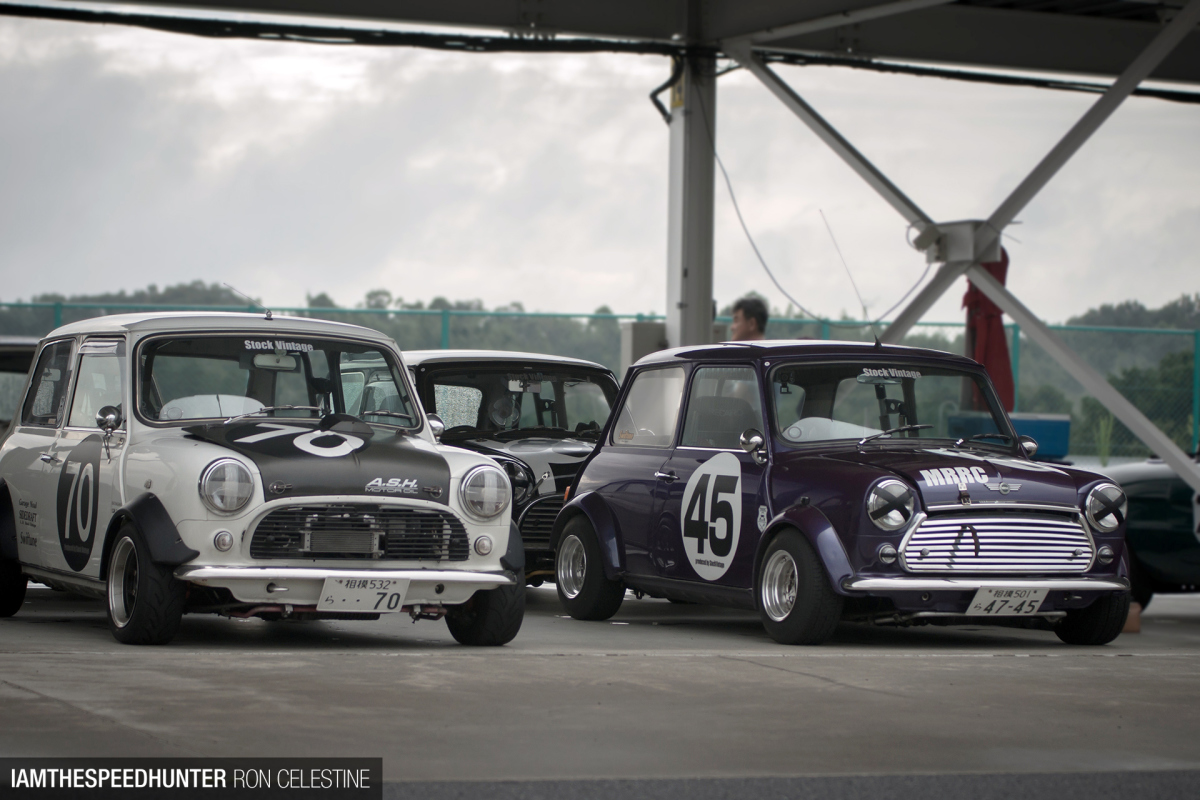 Being lightweight, decently powered and nimble, the Mini a very popular classic track platform in Japan, and the Sodegaura Forest Raceway paddock was in no short supply of them.
Each one was injected with its owner's personality; some focused on power and increasing efficiency, while others had gone down the fun route and had rather interesting paint schemes. The green car was paying a little homage to its British roots.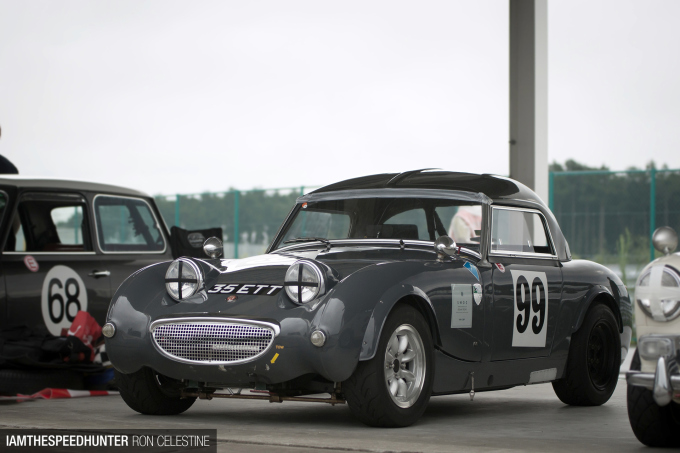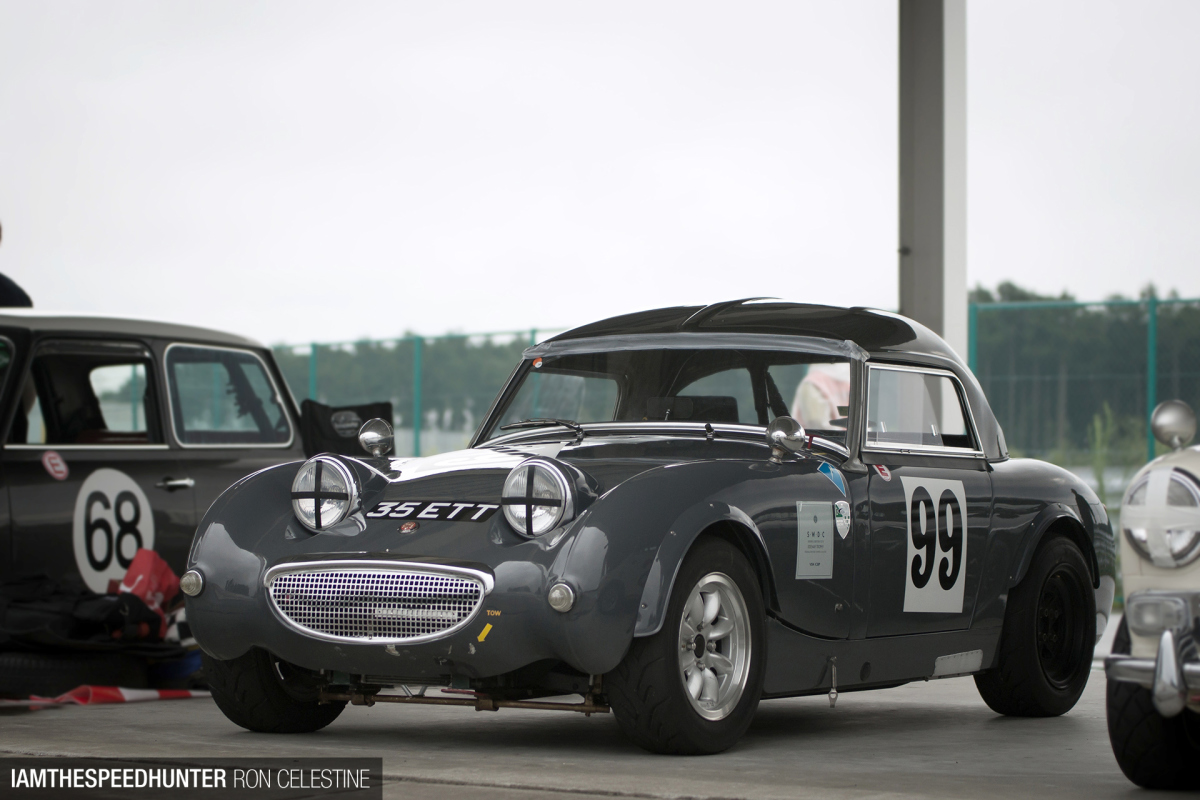 The Austin-Healey Sprite always looks happy, and I can't help but smile when seeing one. The 'frog-eye' look comes from the fact that the headlamps were originally designed to have pop-up mechanisms, but the idea was scrapped due to cost savings.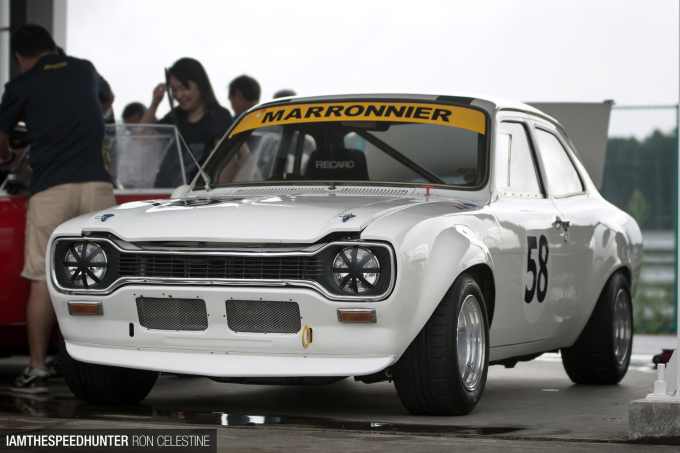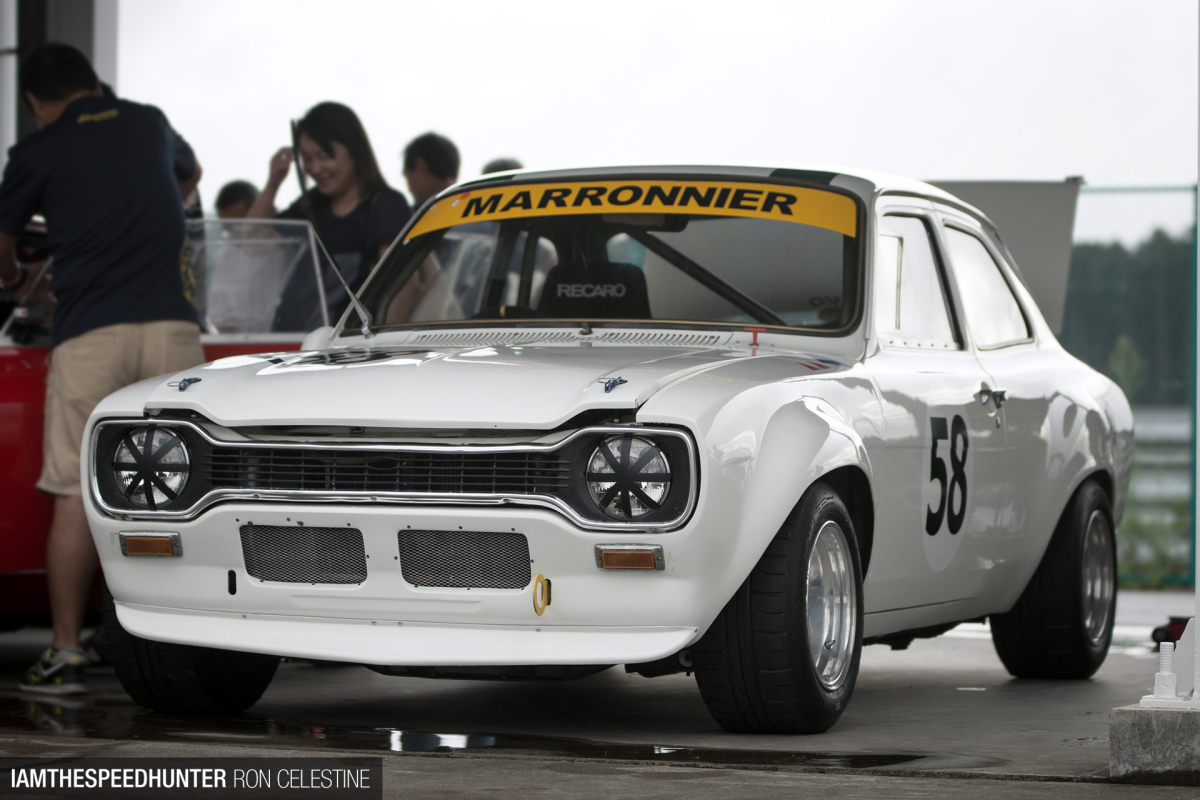 Having the distinctive Coke-bottle styling, a dog-bone front grill and other contemporary styling cues, the Ford Escort MkI was one of my favorite cars at the event.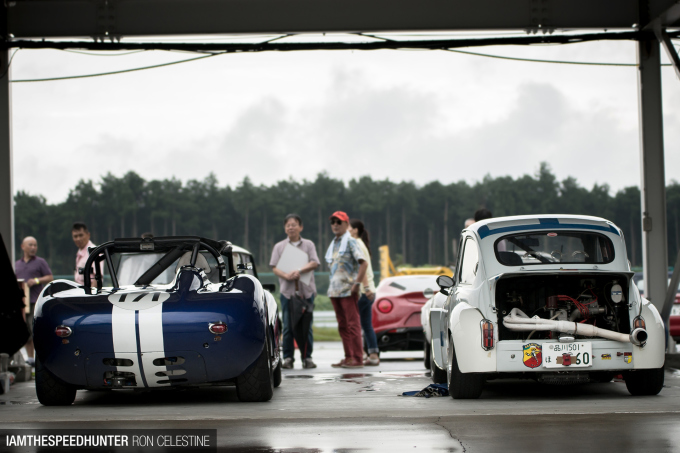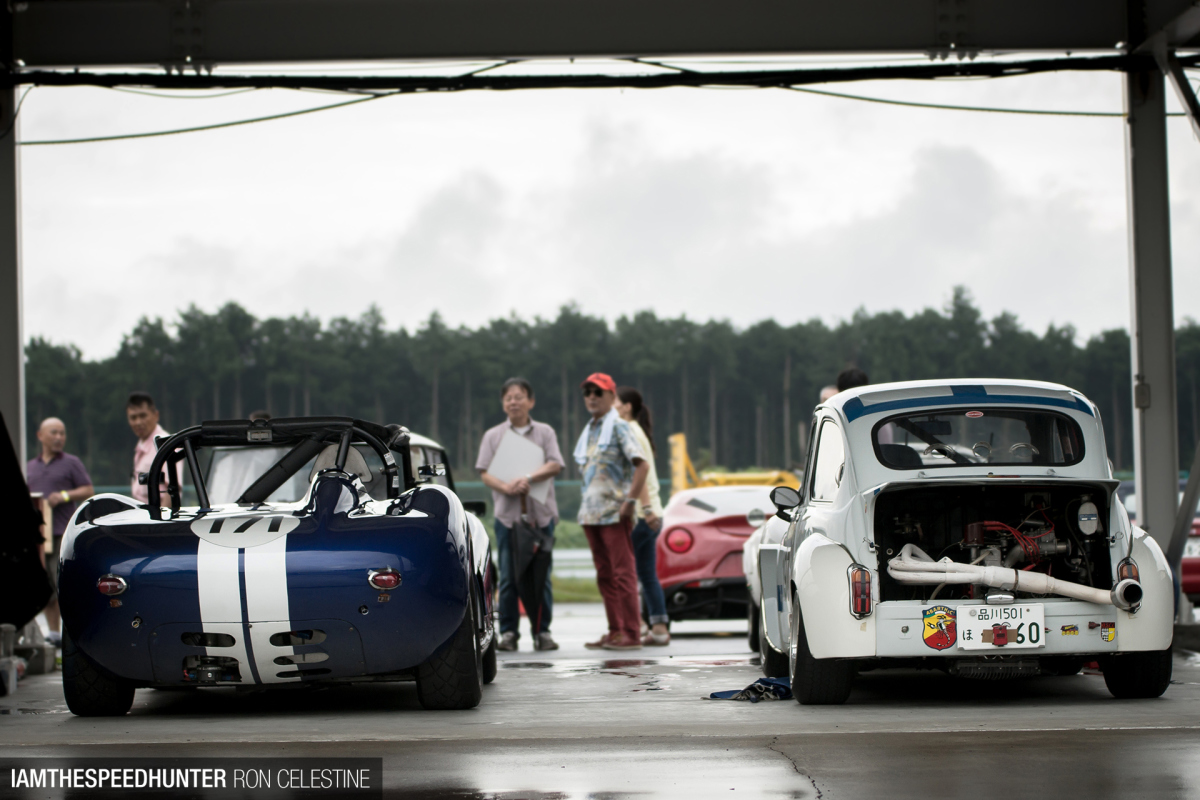 However, it was actually these two that stole my attention.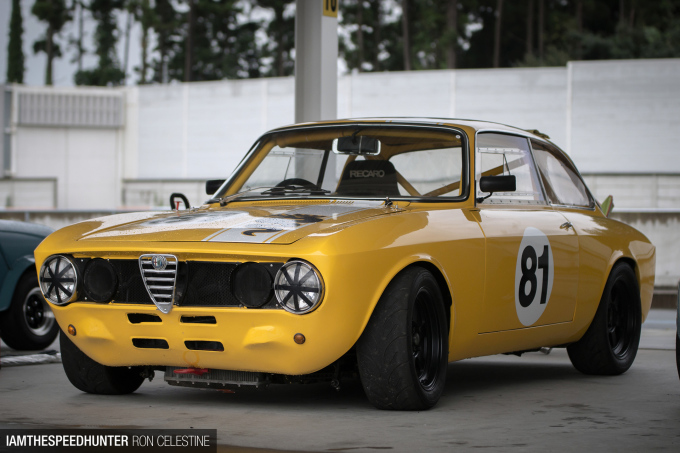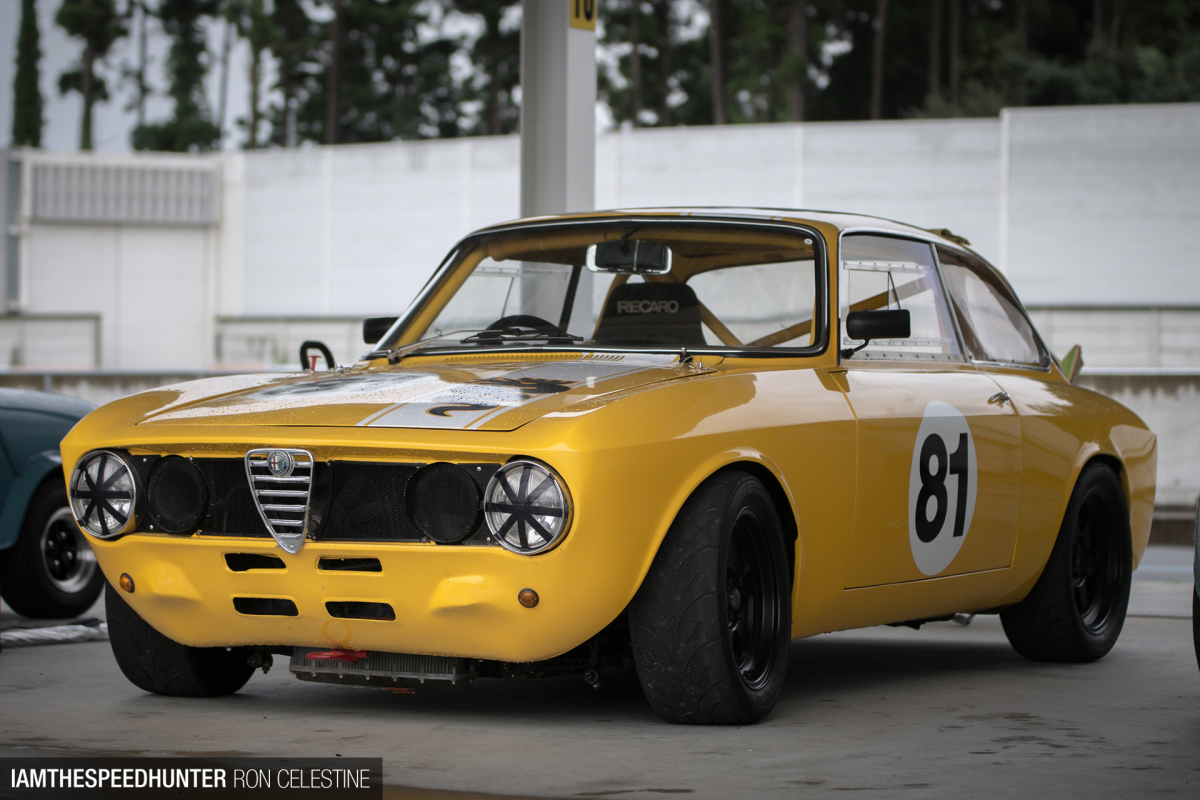 Not to be outdone by their British counterparts, a wide variety of Italian cars also filled the paddock. The clean yellow and black scheme of this Alfa Romeo Giulia was pretty cool.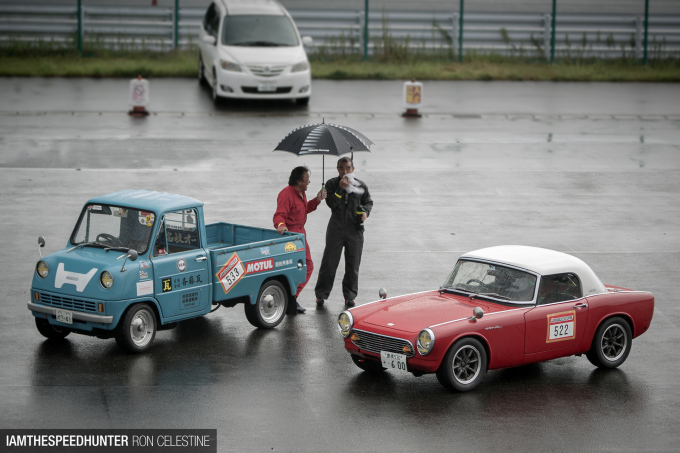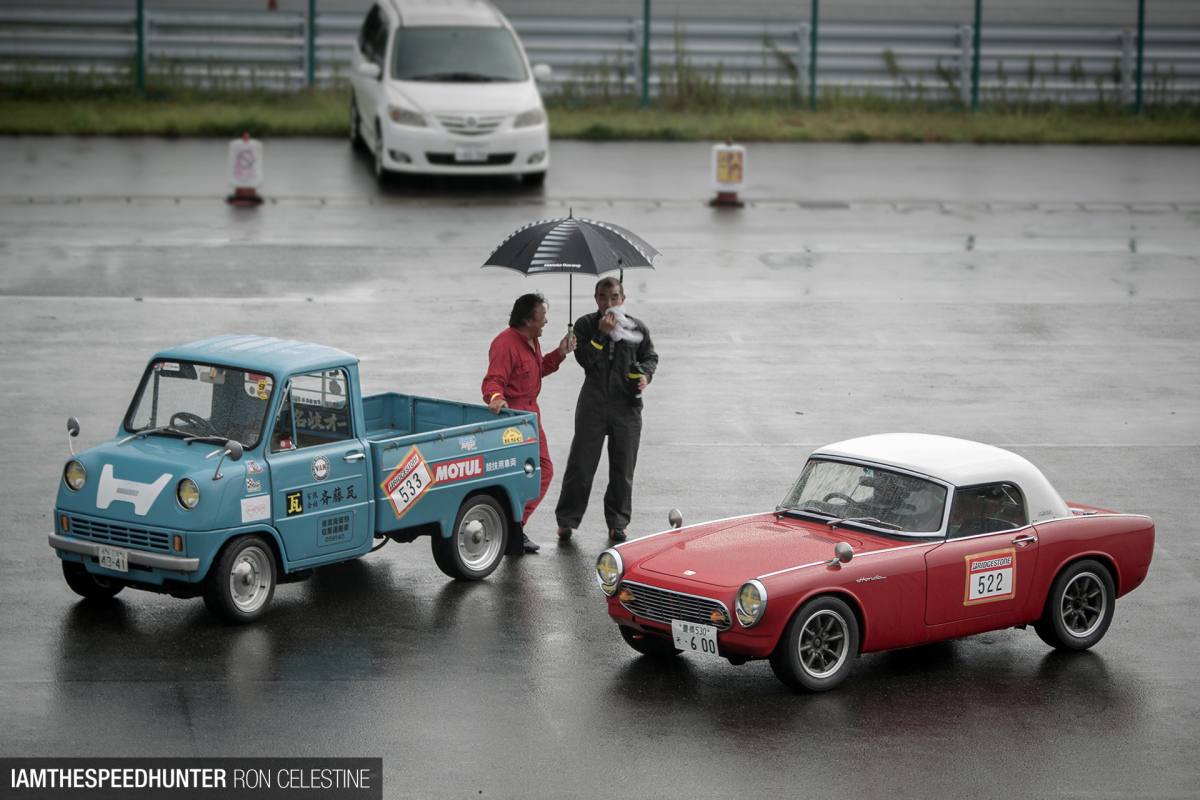 But being Japan, it couldn't possibly be a classic racing meet without some Japanese icons of a bygone era. I spotted this Honda S600 parked up alongside Honda's first production vehicle, the T360.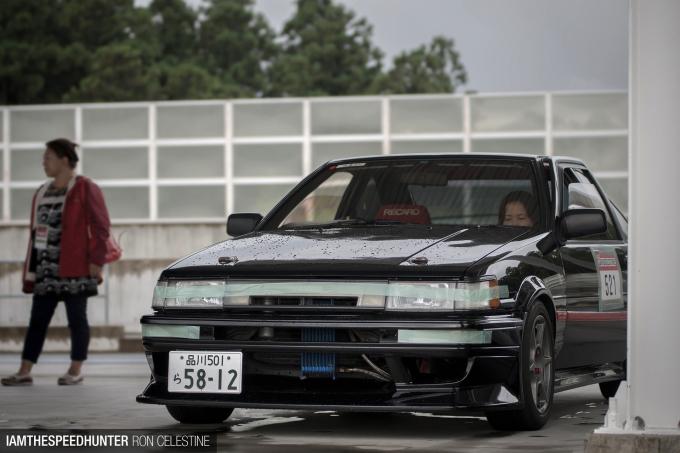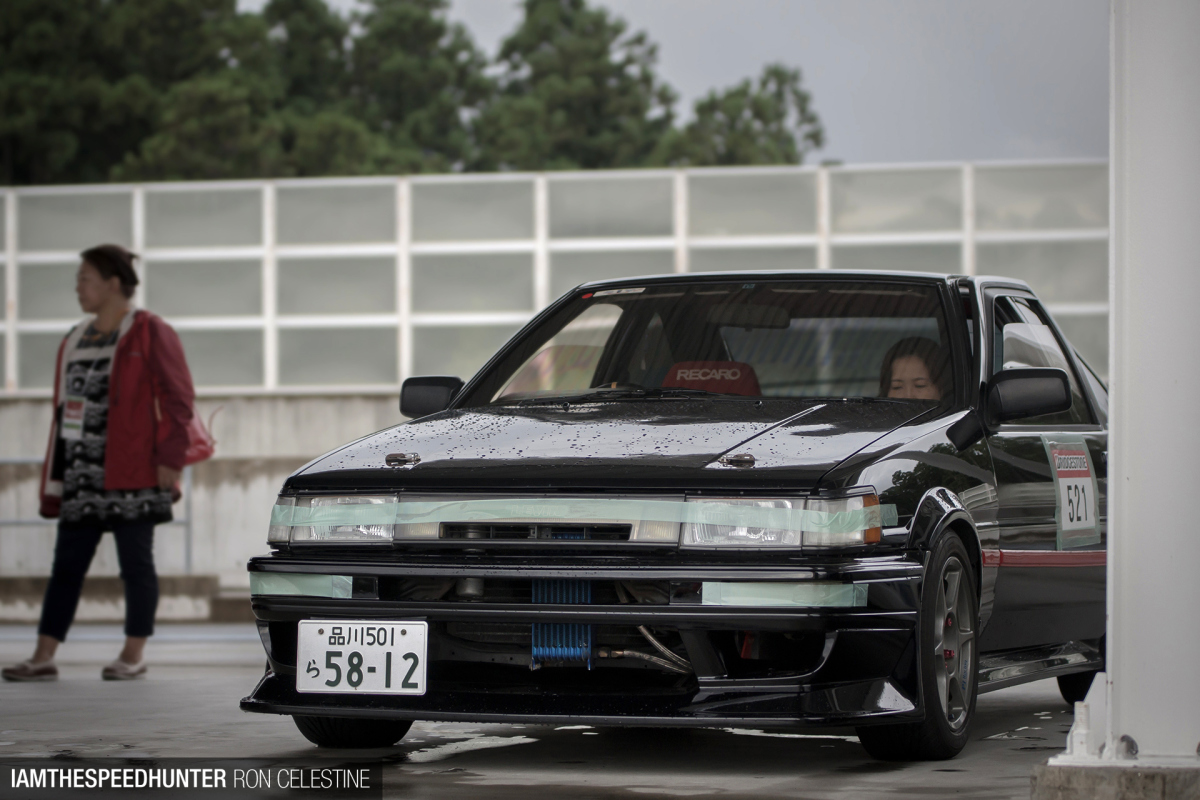 A modern machine given the company, this AE86 Levin sat waiting its turn to attack Forest Raceway.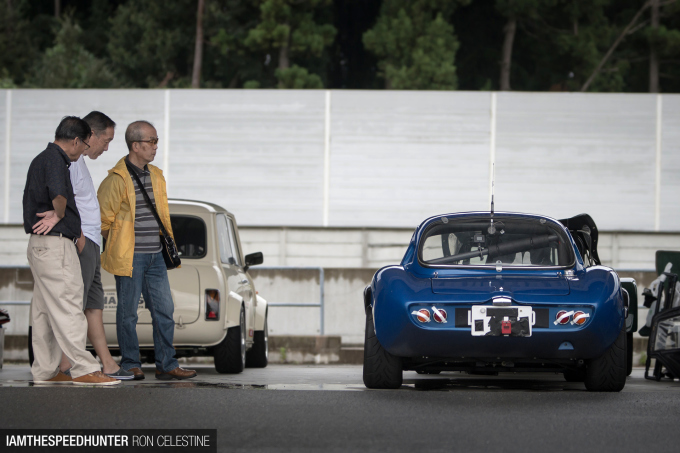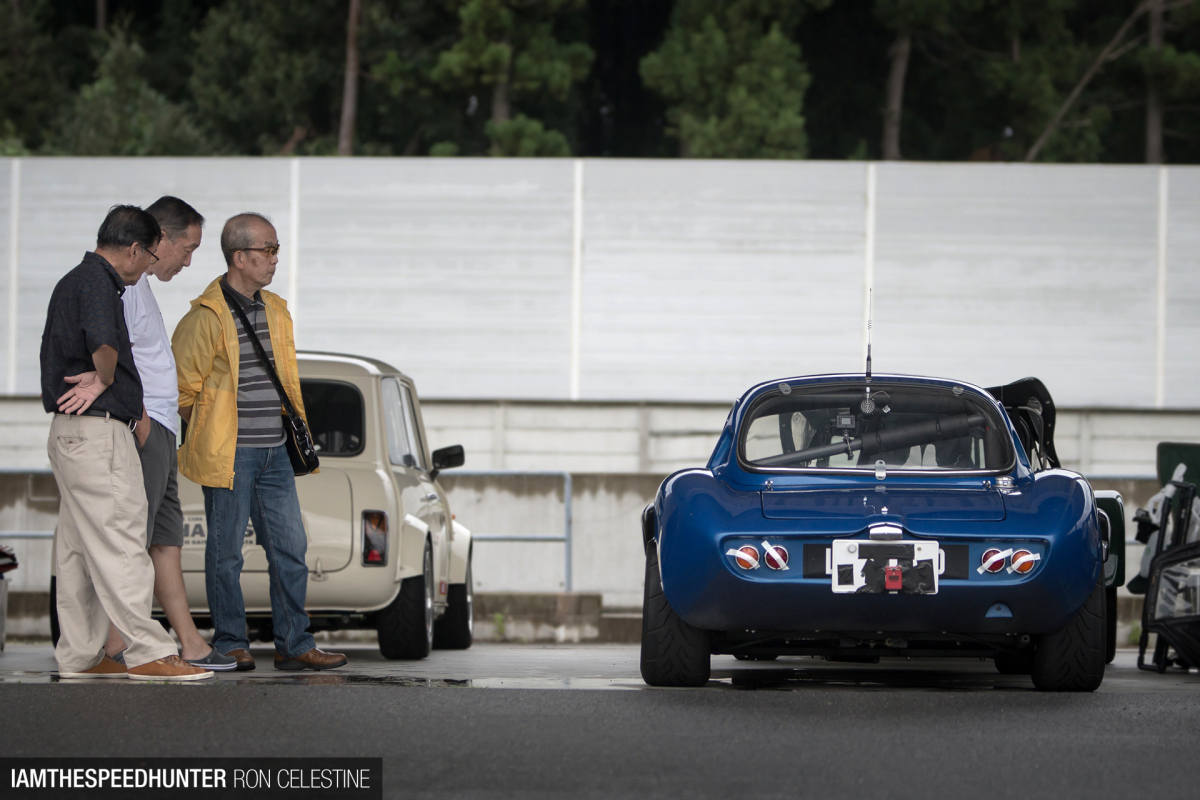 It was about this time that the race organizer announced over the PA system that the first group needed to head out for their qualifying runs.
Wet, But Not Dampening Spirits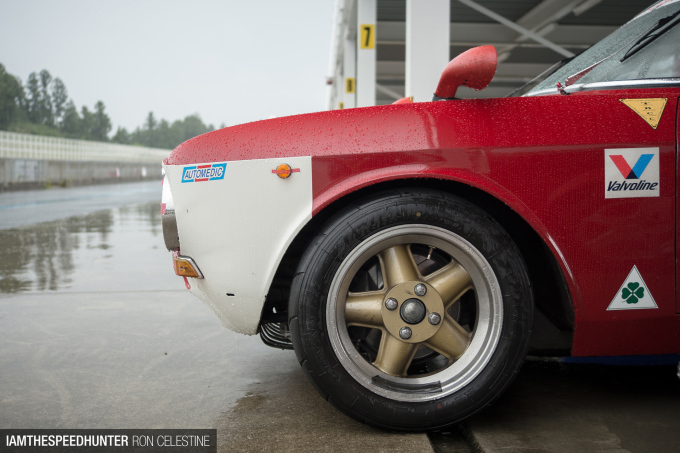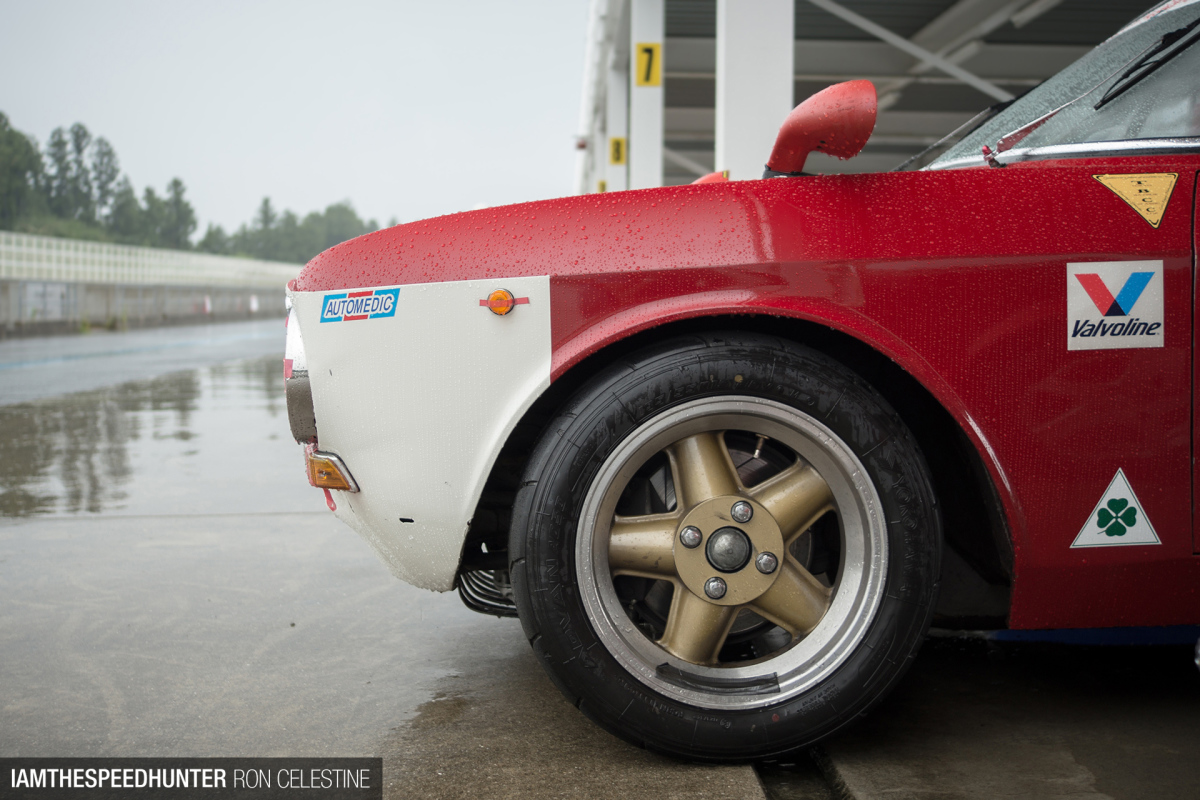 It wasn't look great though. The entire time I was exploring the paddock and conversing with some of the drivers, the rain had been slowly getting heavier, and now for qualifying it was pouring.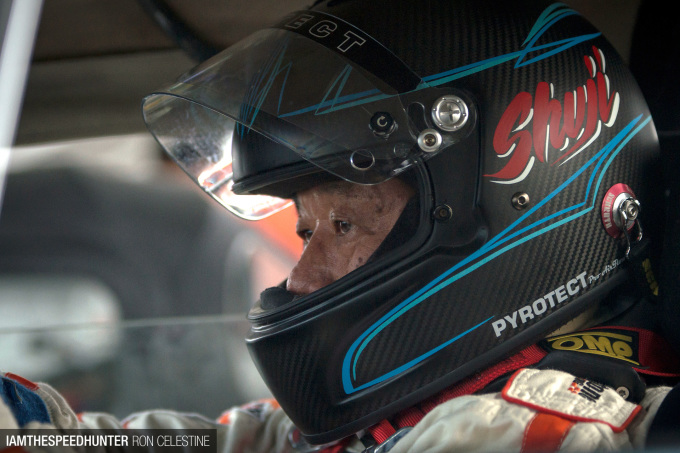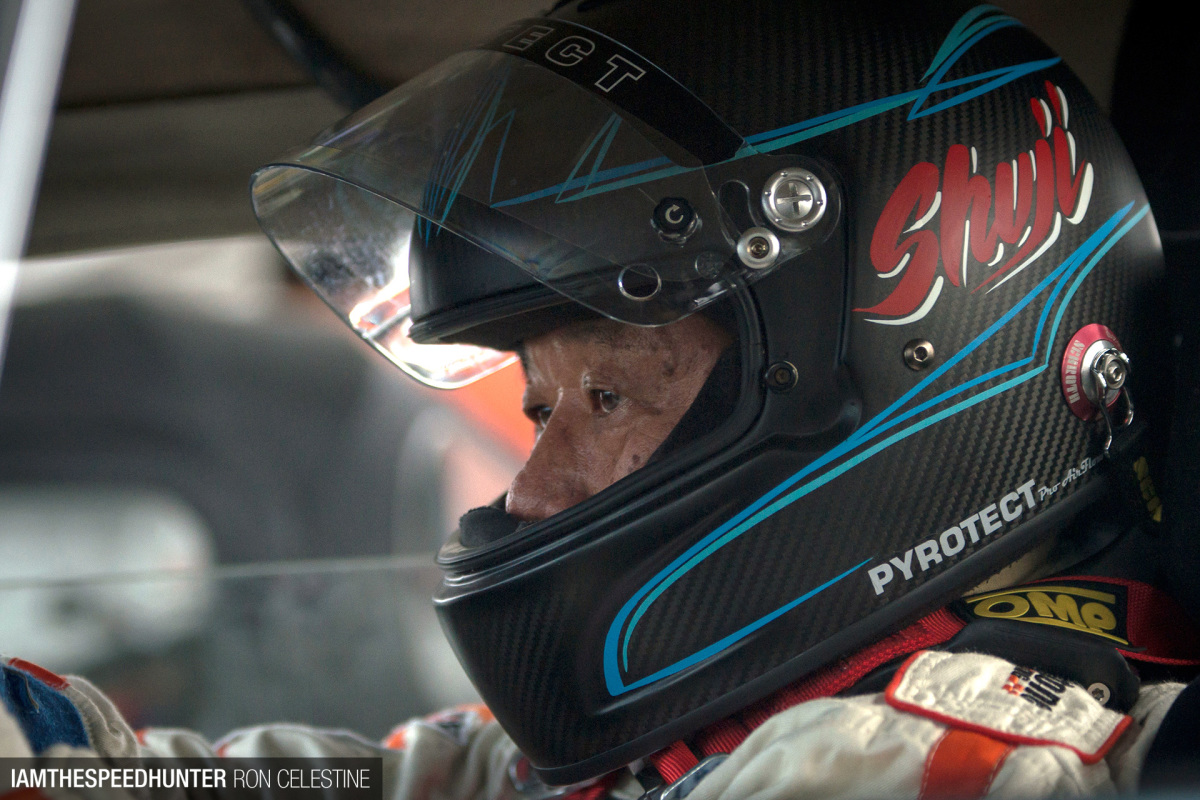 However, Higuchi-san didn't seem to bothered. He got suited, jumped in his 1967 MG MGB and psyched himself up.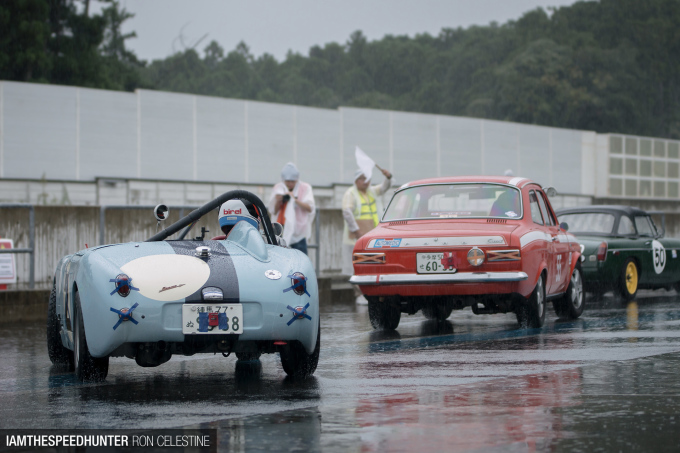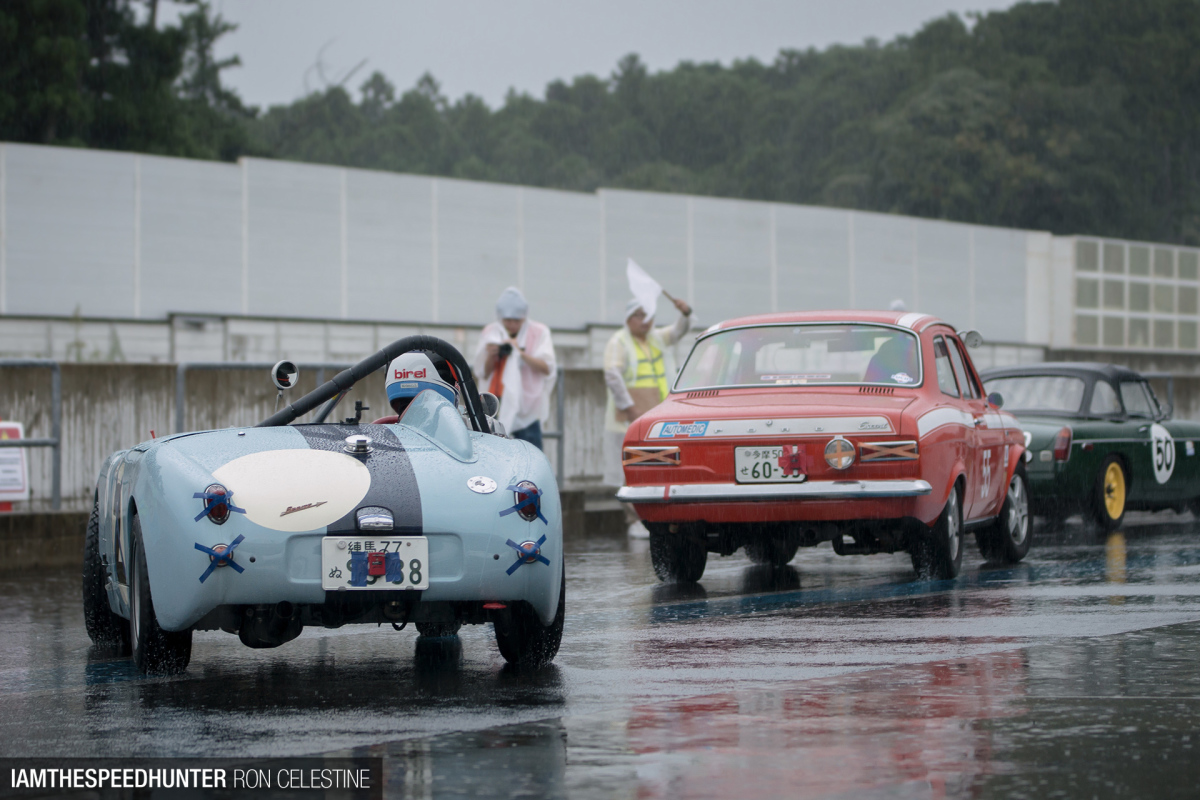 The rain was relentless and just kept coming though.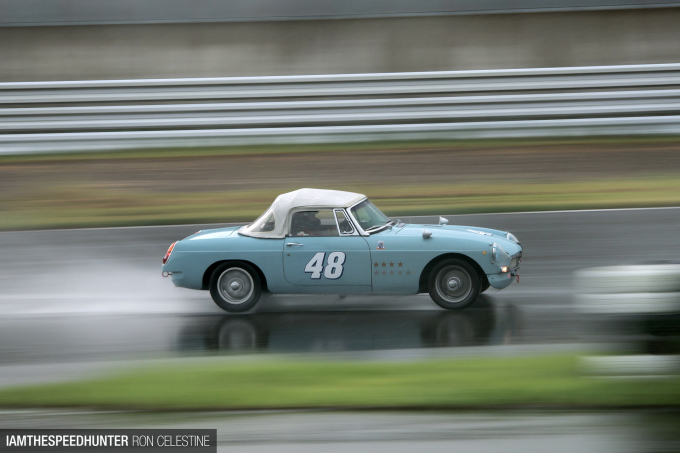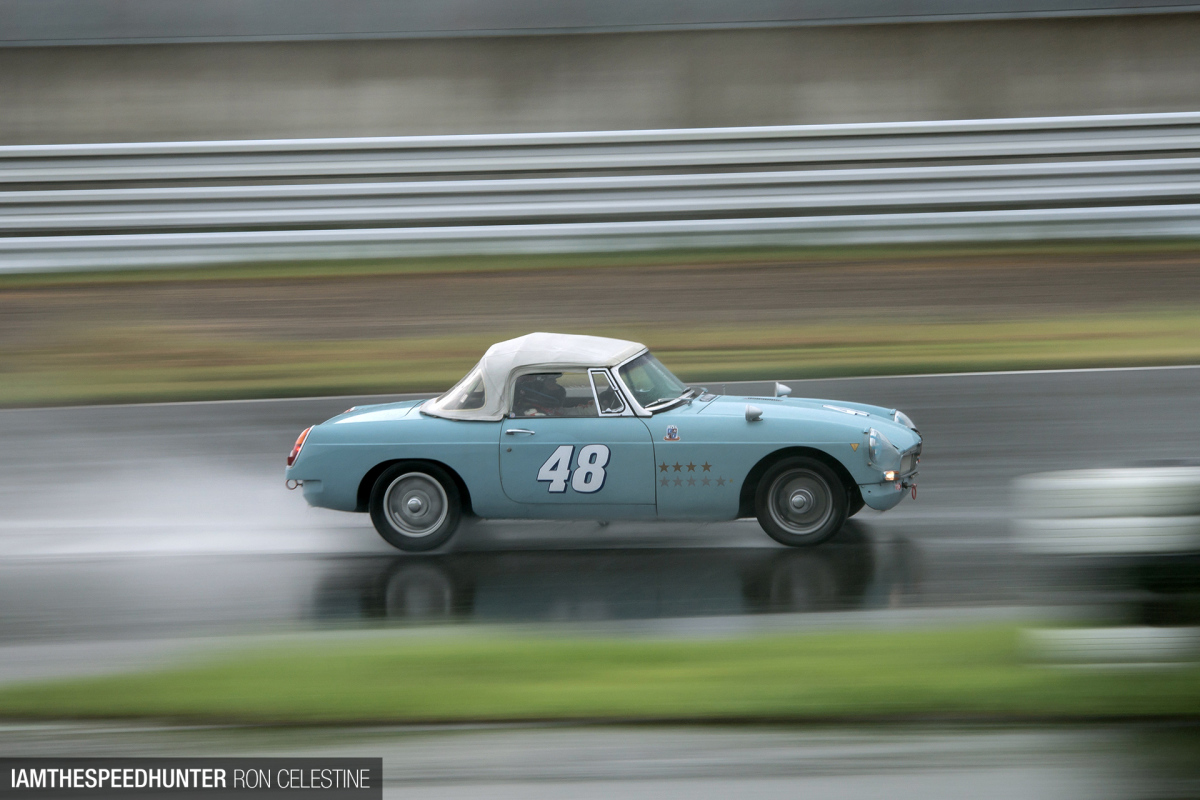 With nerves of steel, Higuchi-san attacked the course with the other competitors in his class. However, with the entire track becoming more and more soaked, all the drivers could do was try to stay in control of their cars.
The final turn before the main straight is at the bottom of a hill, and here the run-off water from the heavy rain really began to pool up. The section quickly turned into a miniature lake forcing all the cars to a crawl through.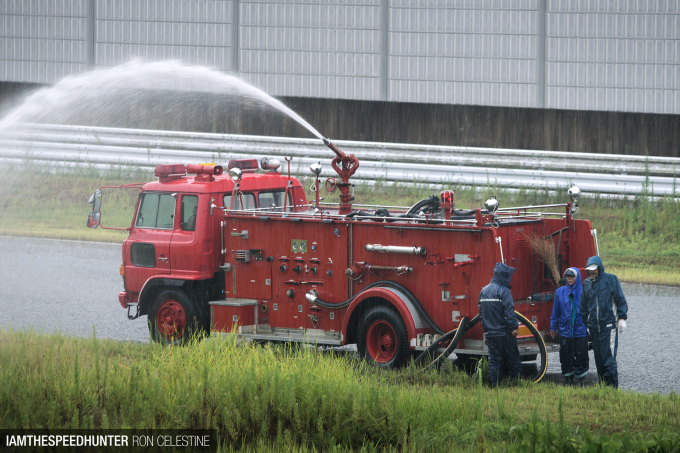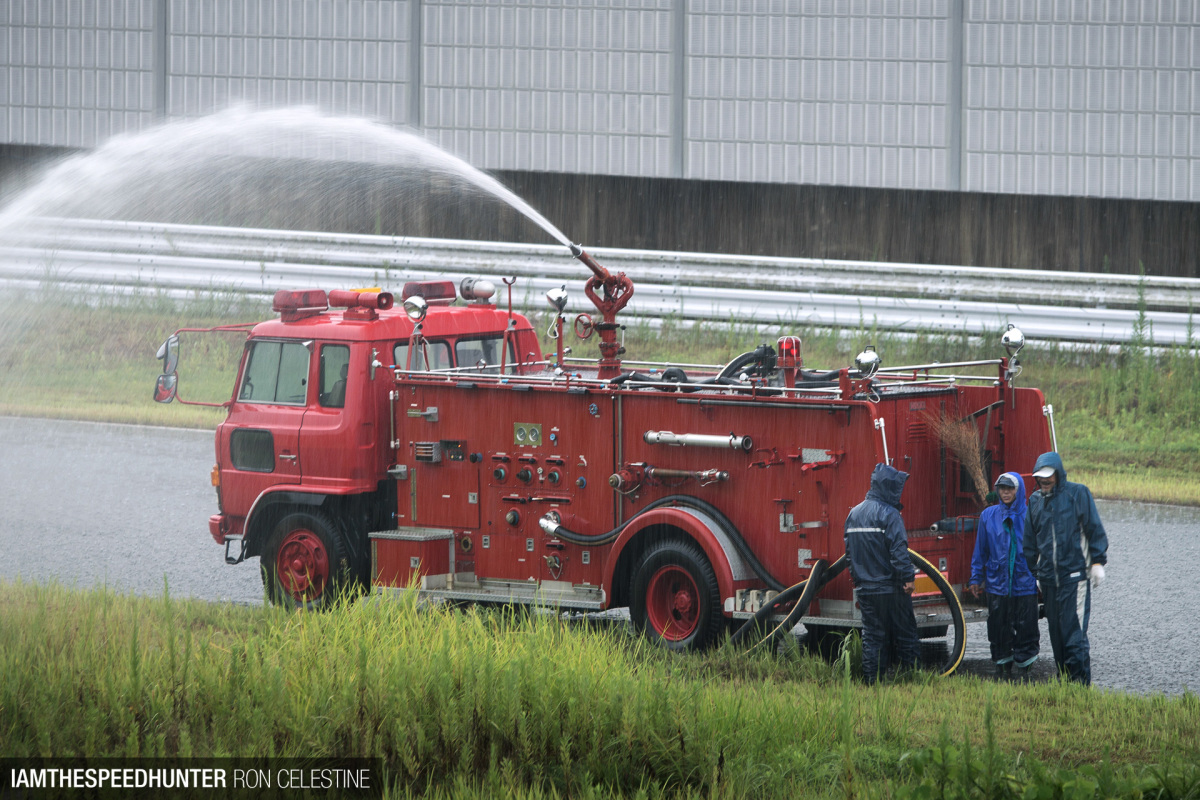 Becoming increasingly dangerous, all the cars were called into the pits and the circuit's crew began to pump water off the track, which to everyone's surprise and great amusement involved a fire truck. The only problem with this was they had forgotten this section was at the bottom of the hill, and the water was arriving as fast as they could get rid of it. It was a fruitless exercise.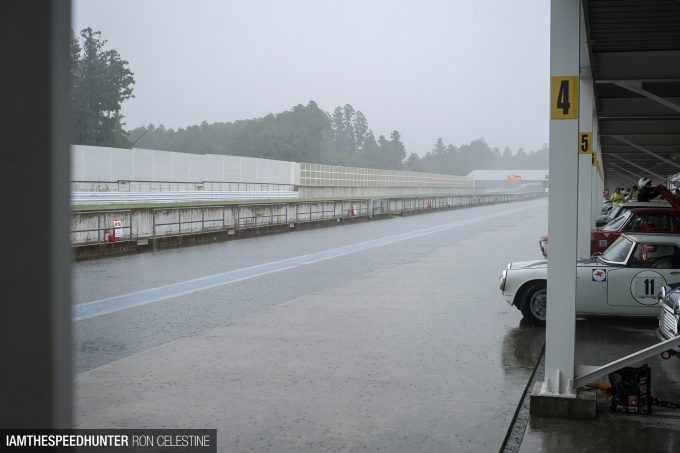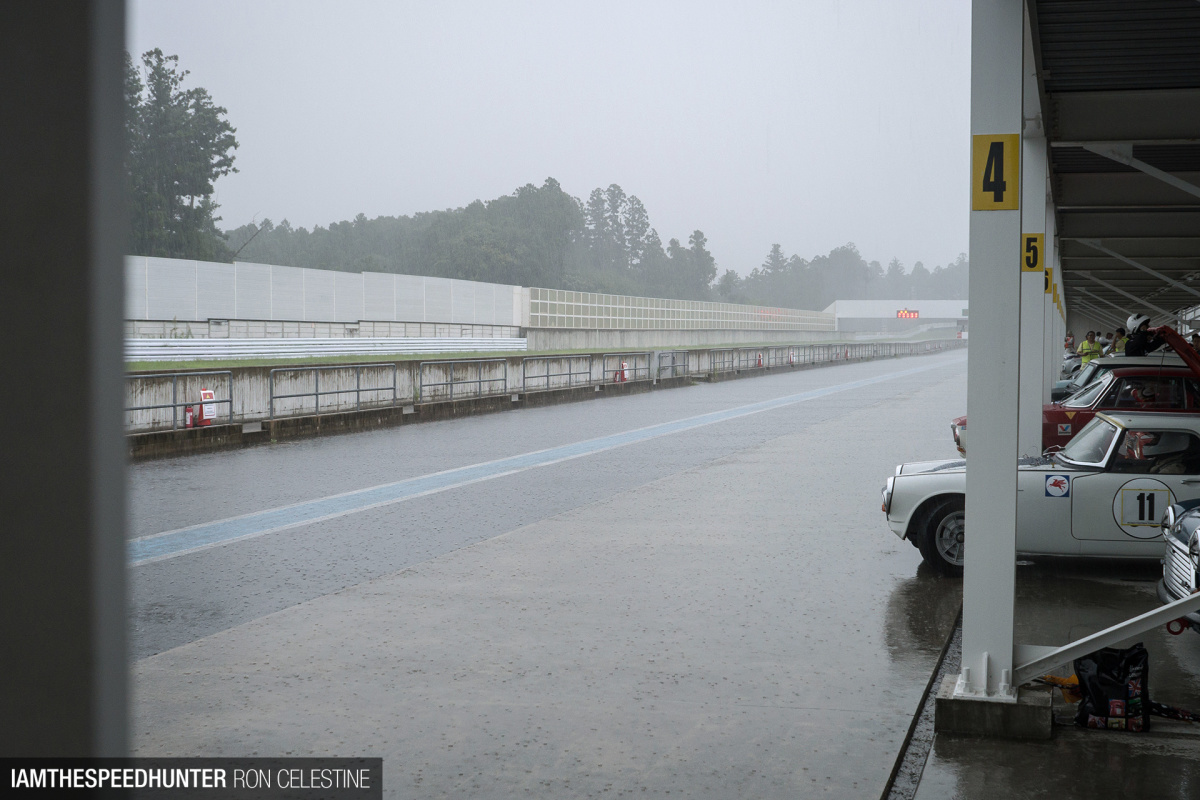 In the end, the event had to be cut short and rescheduled for a different day. Crews began to pack their cars up and head home.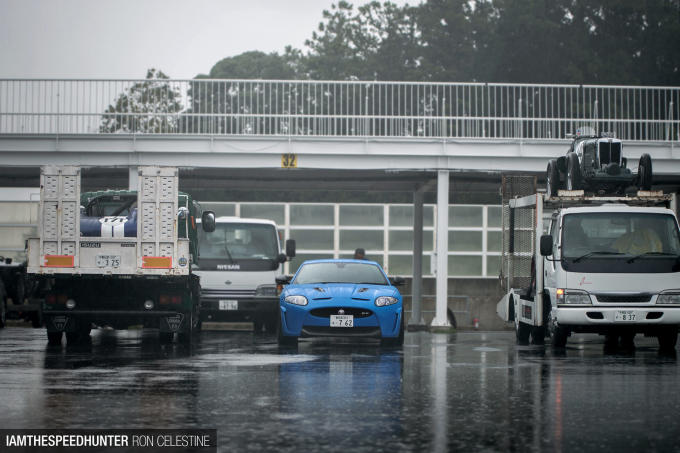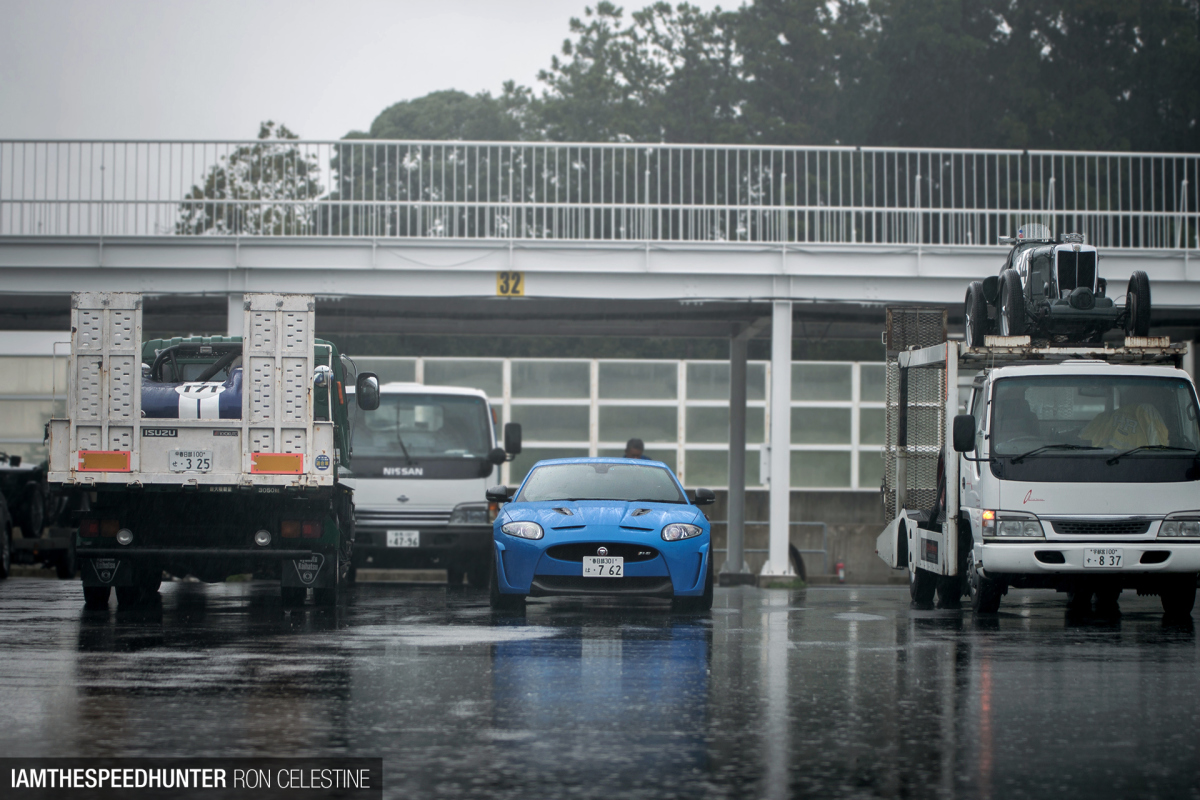 It would have been easy to get upset about the day being spoiled by bad weather, but sometimes there is nothing you can do about it. Fortunately, no one was hurt and everyone could still enjoy themselves.
People still brought out their timeless masterpieces even knowing the possibility of rain could cause the event to come to an early close, and for that I'm very grateful.
Ron Celestine
Instagram: celestinephotography