Sacrilegious Or Simply Awesome?
Warning: Anyone who considers themselves an automotive purist might want to hit the back button at the top left of the screen before you become irate with what you're about to see. I'm not even going to try and defend it, because this 1991 Ferrari 348 TS is absolutely nuts.
Ginpei Yamaguchi is the man behind this one-of-a-kind onikyan-style 348, and over the past couple of days I've been able to spend some time with him in Hokkaido, the northernmost of Japan's main islands.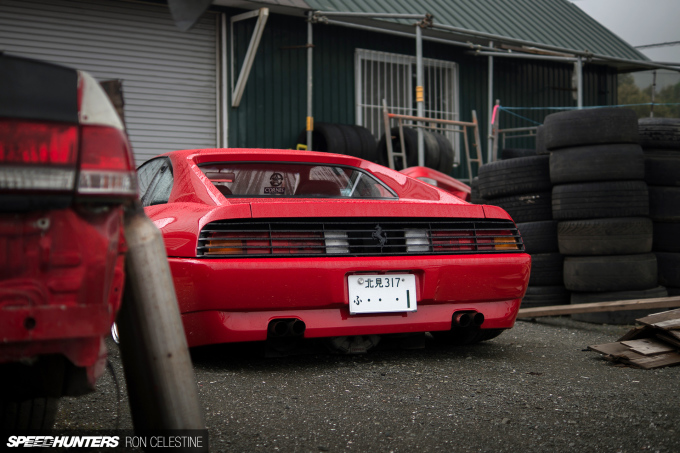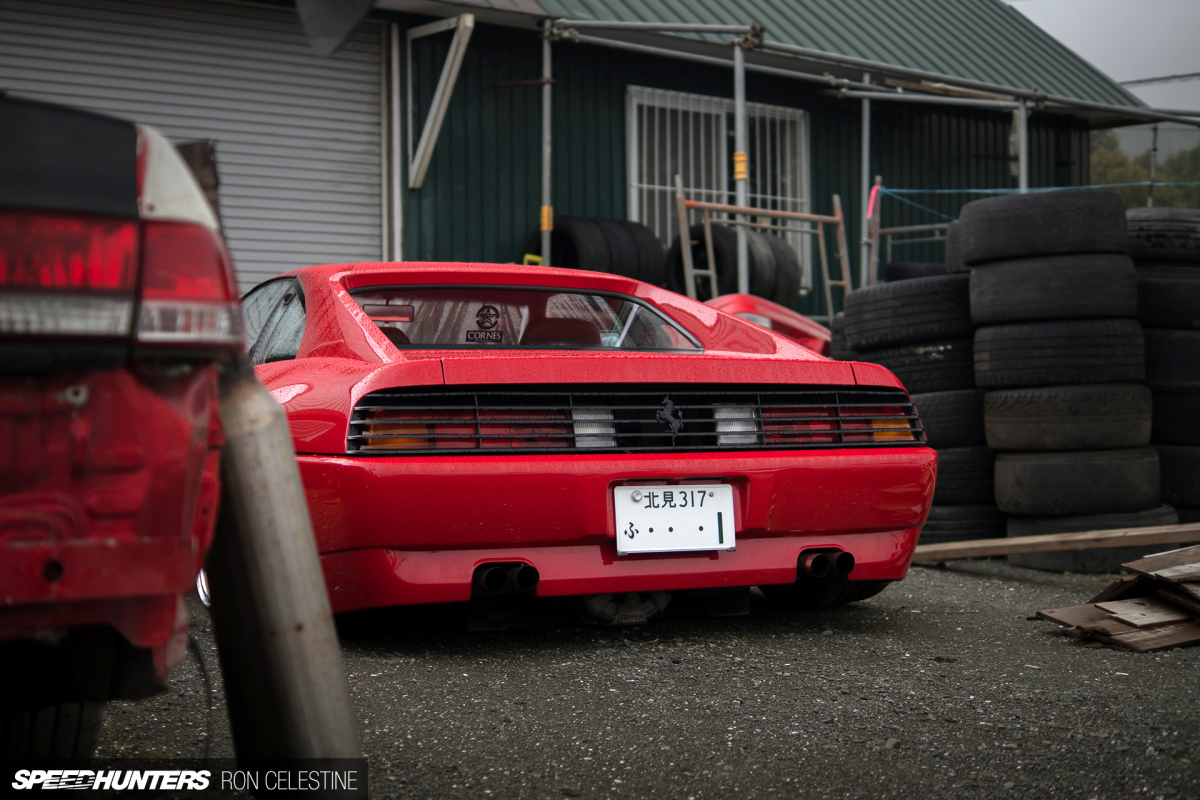 My mission, to figure out why on earth anyone would dare to take a Pininfarina-designed stallion and modify it in such a controversial way.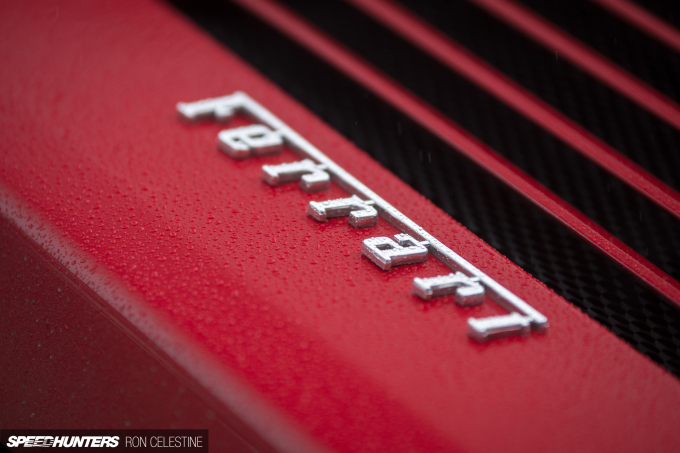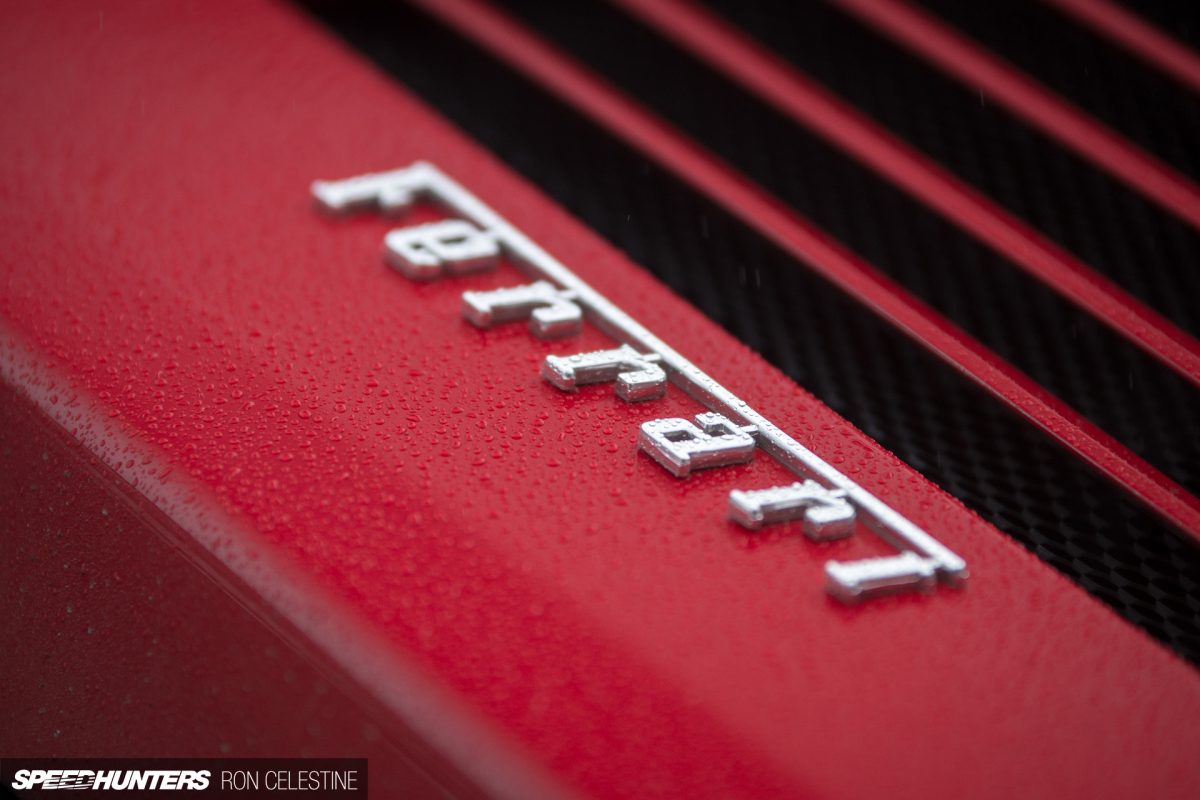 For as long as Ginpei-san can remember, he has loved three things in the automotive world: drifting, stance and classic cars. As his company Slacker's Haunt has grown, it's allowed him to indulge in these three loves, and over the years he's purchased a fleet of Silvias, JZXs, Supras, air-cooled 911s and even a couple of 1600 GTs. However, the one car that always eluded him was a Ferrari.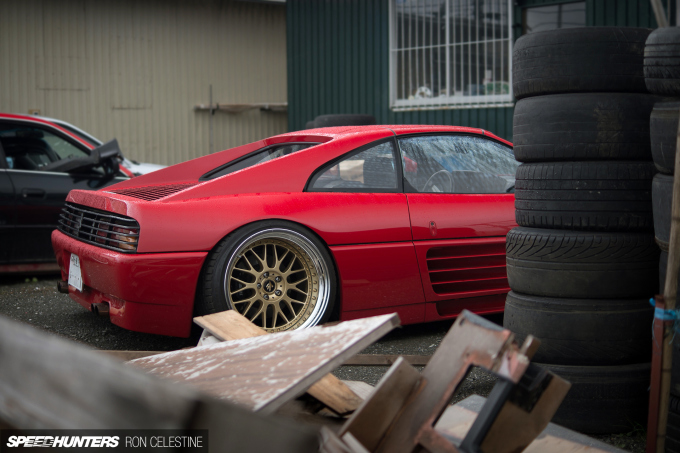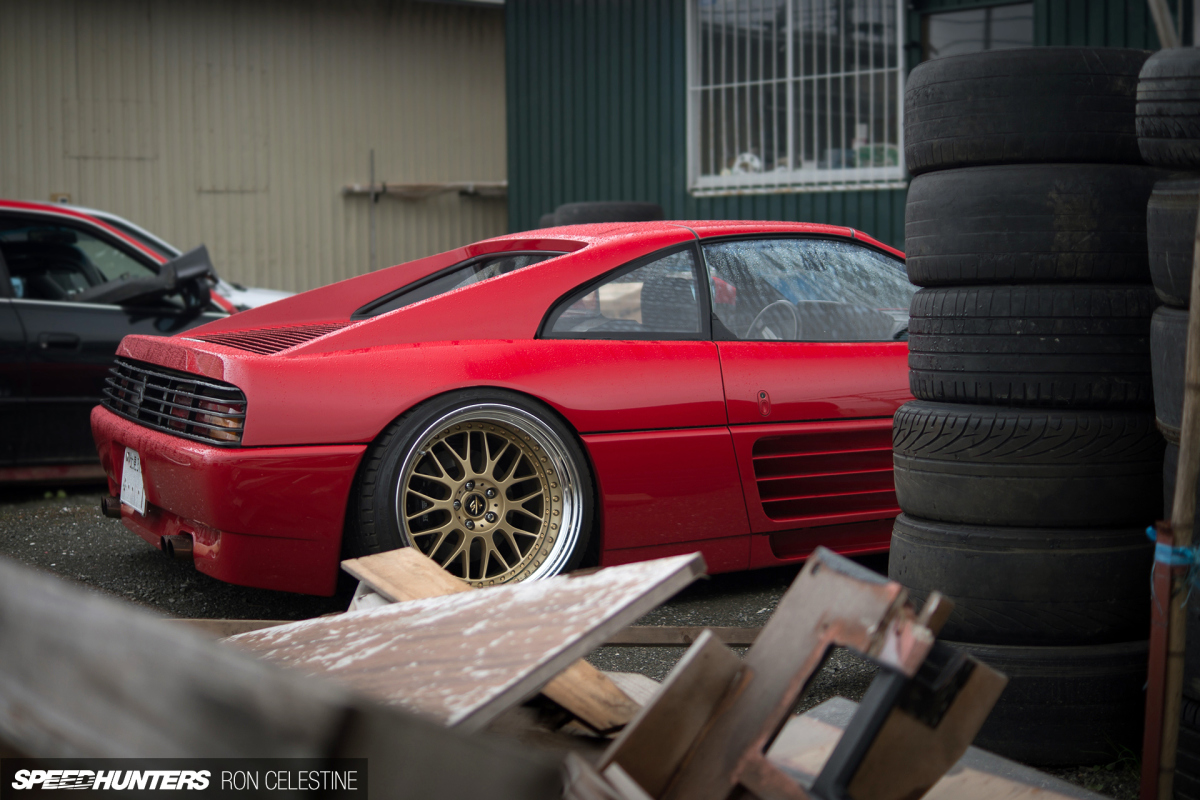 Ginpei-san had no interest in newer Ferraris – to him they've just lost too much of their driving purity to an overabundance electronic driver aids.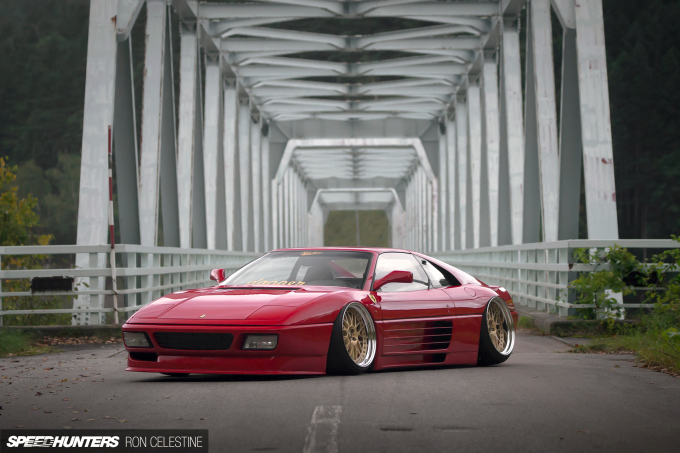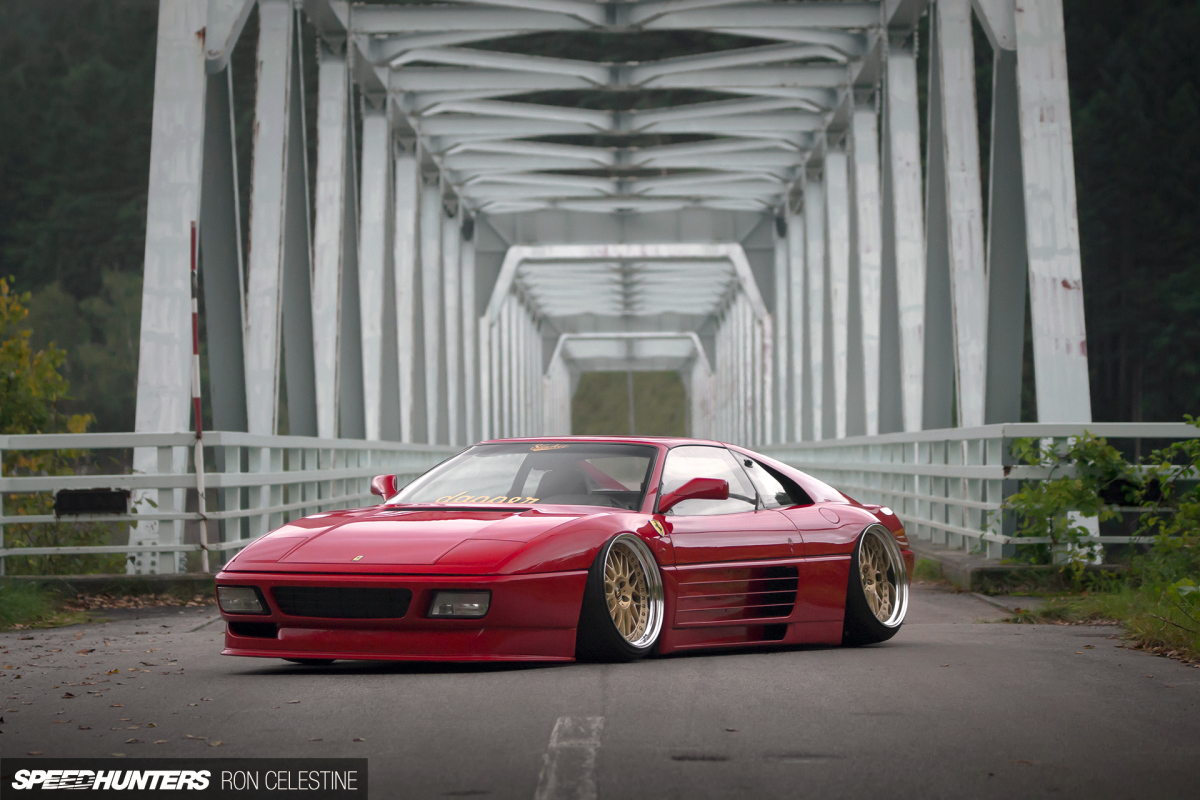 So when a stock 348 TS popped up on his radar three years ago, he knew he couldn't let the opportunity to purchase the car pass him by. But not even a few months into ownership, Ginpei-san became bored with the car's stock looks and decided it was time to go wild.
The first thing that Ginpei-san wanted to change was the exhaust. As a workshop owner, it was no problem for him to fabricate a one-off x-pipe system for the 348, and the custom exhaust not only allows the 3.4-liter V8 to breathe better, but it's also raised the noise to extraordinary levels. Check out the video below and you'll see what I'm getting at…
Everything remains calm and reasonably civilized up to 3,000rpm, but as the revs rise beyond there all hell begins to break loose.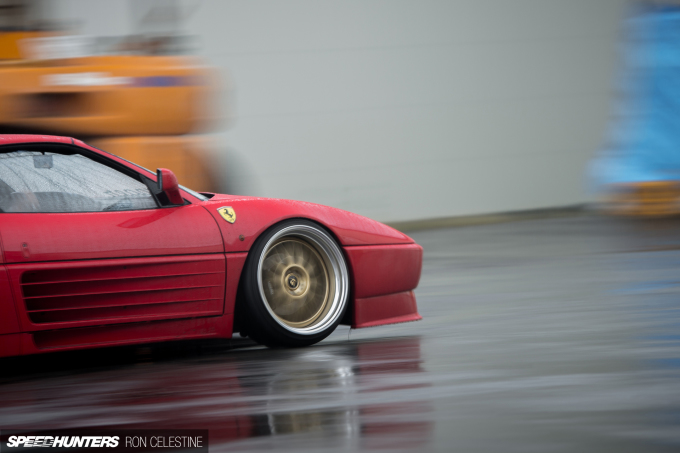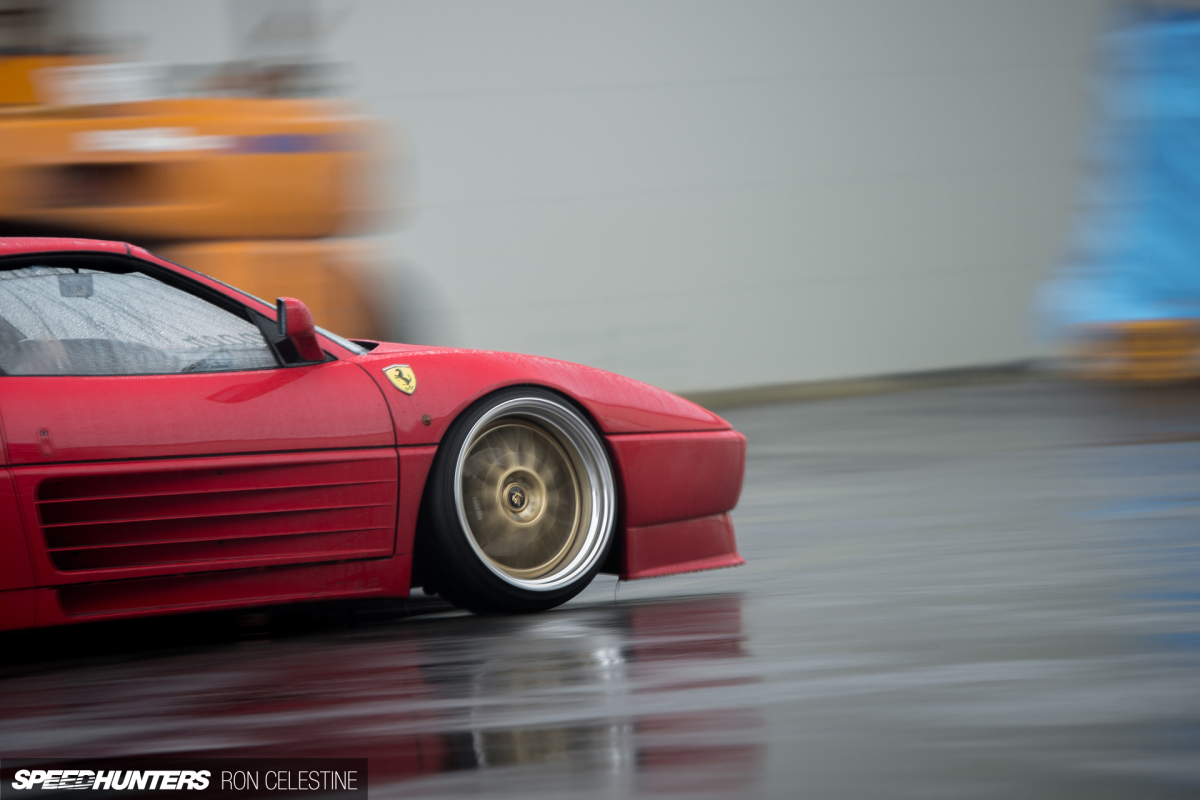 From 5,000rpm the unmistakeable sound of a Ferrari F1 V8 erupts from the quad-tip exhaust, with the sole purpose of destroying ear drums. Every day Ginpei-san picked me up from my hotel, I could hear the car coming from the 5th floor while he was still a good couple of minutes away.
As you'd expect, the Ferrari's noise hasn't gone down well with Ginpei-san's neighbors or the local police, so he's added a valve system to quieten the car down when it needs to be. Similar to the cable brake system on a bicycle, with a quick pull, the exhaust is partially silenced.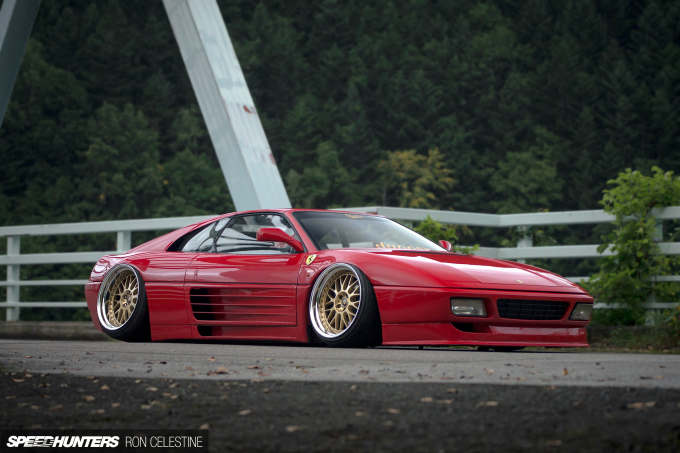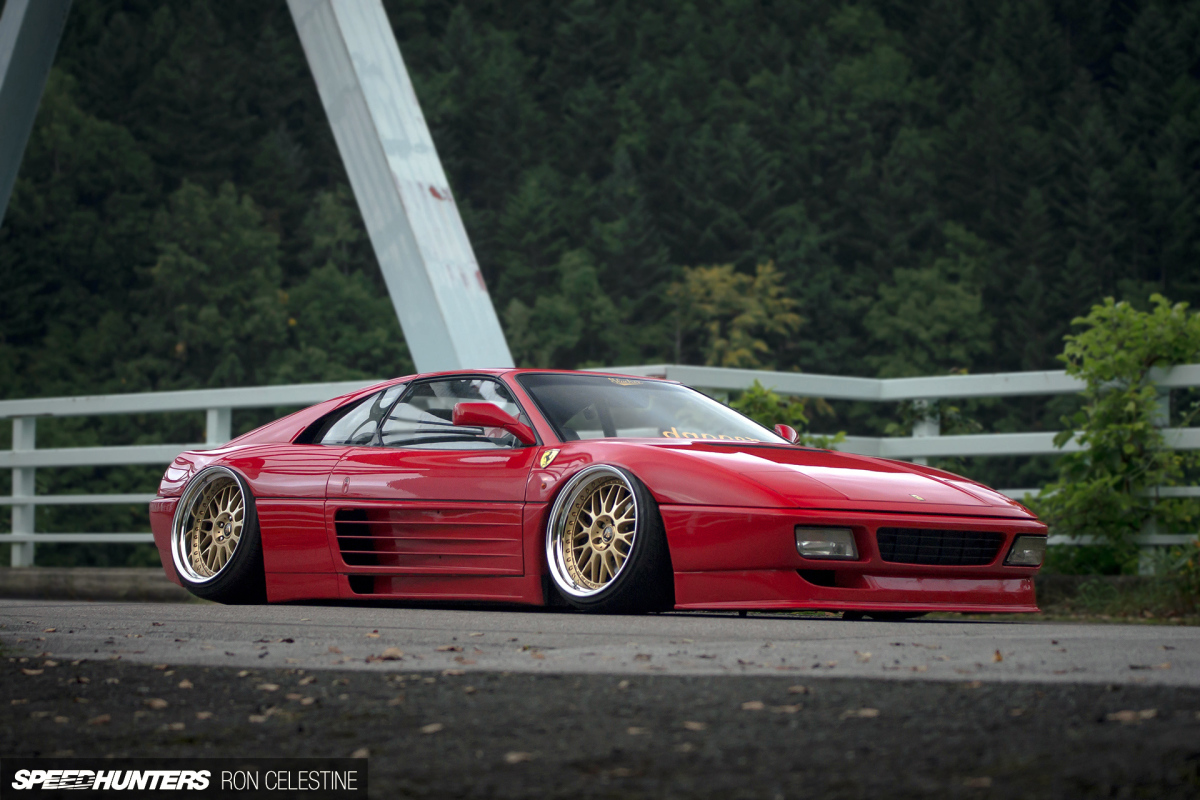 With that taken care of, it was time to fix the stock ride height of the 348.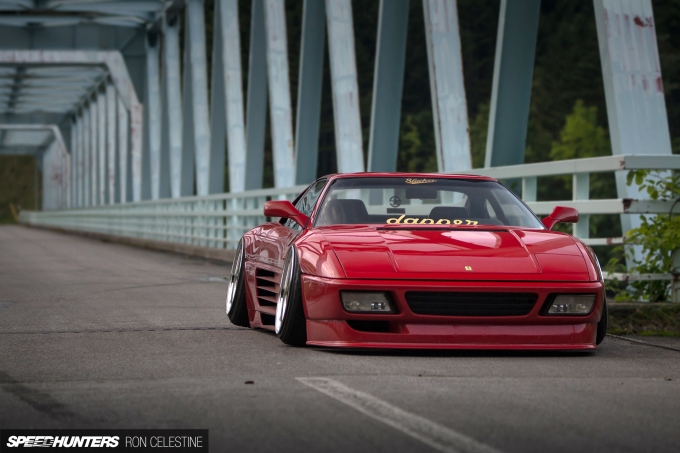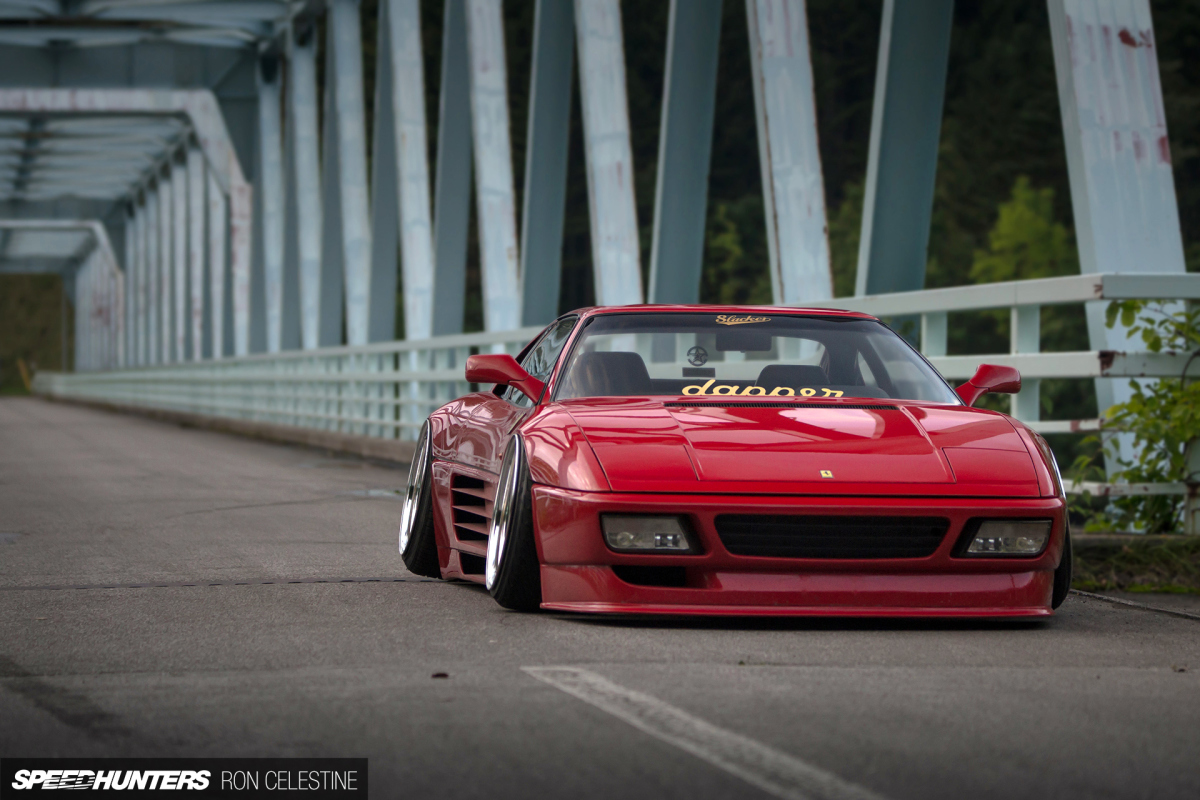 Since there really isn't an aftermarket suspension kit on the market that would take the Ferrari down to the height Ginpei-san wanted it to be (and let's face it, why would there be?), he decided the quickest way to get the desired result was to go old school and just cut the springs. This was a decision he instantly regretted though, as the ride quality turn to absolute garbage.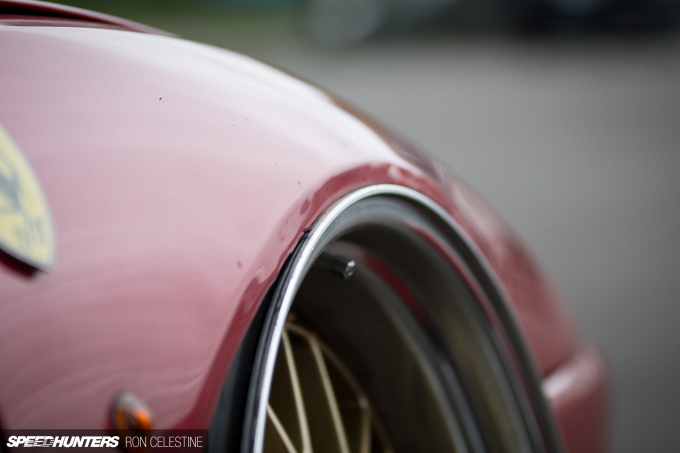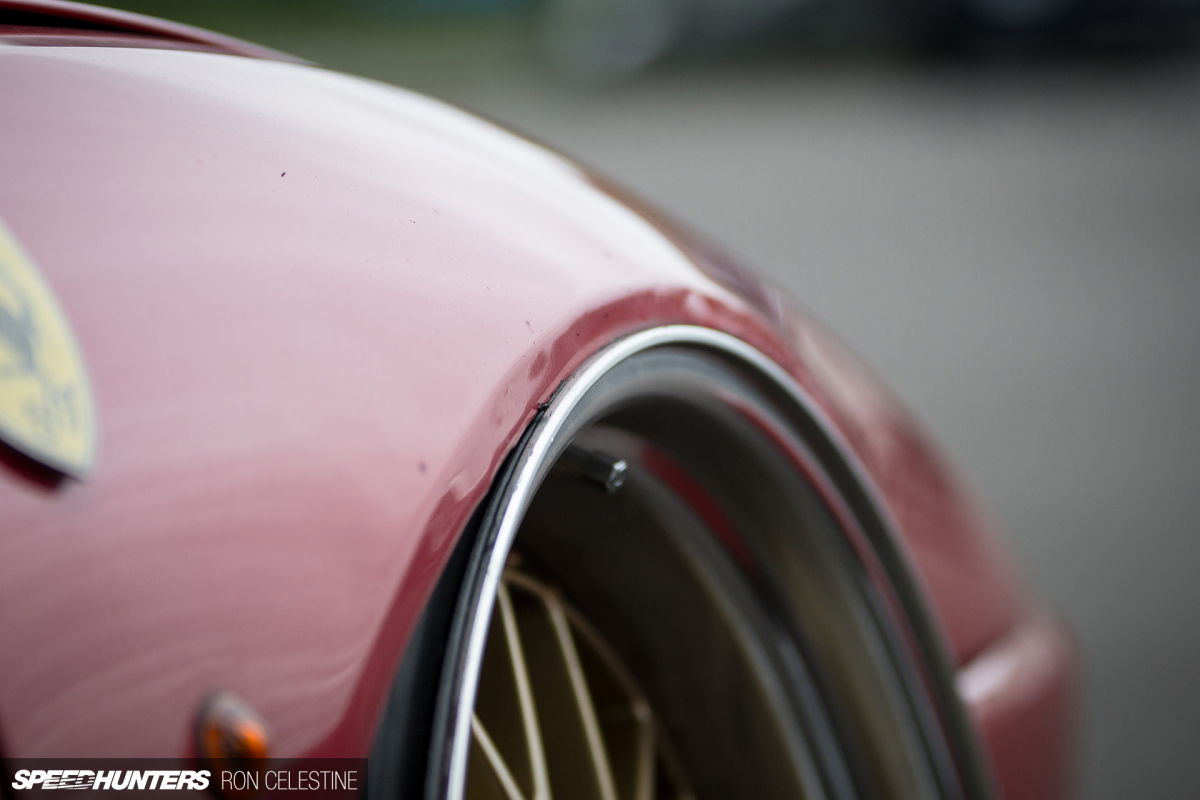 Desperate to rectify the situation, he borrowed the suspension from a JZX Toyota sitting outside his shop and shockingly rode around for two years with the temporary fix.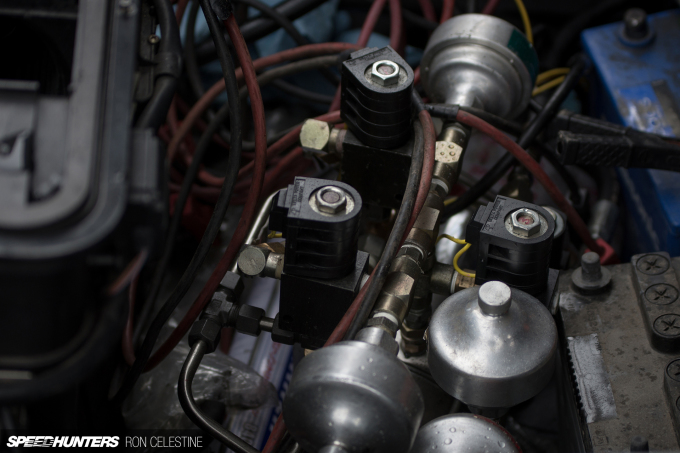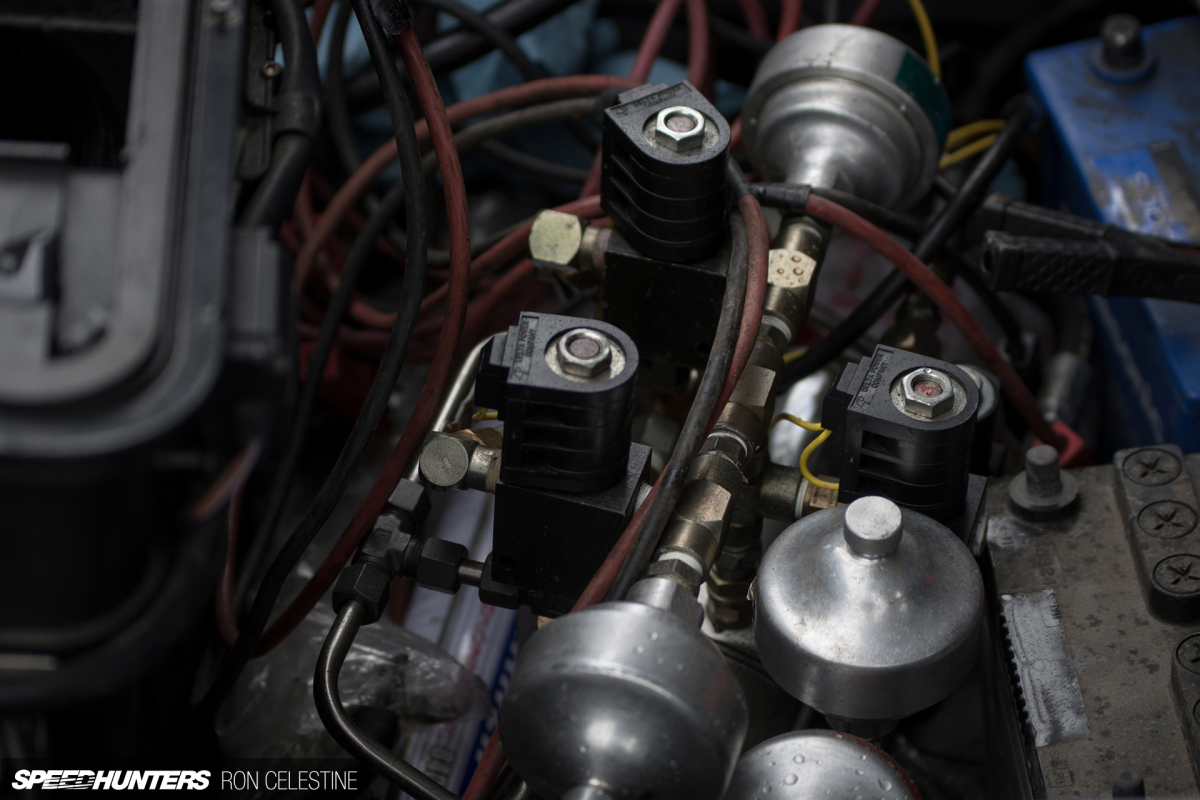 But last December he decided to finally get things sorted by adapting an hydraulic system.
Stupid Low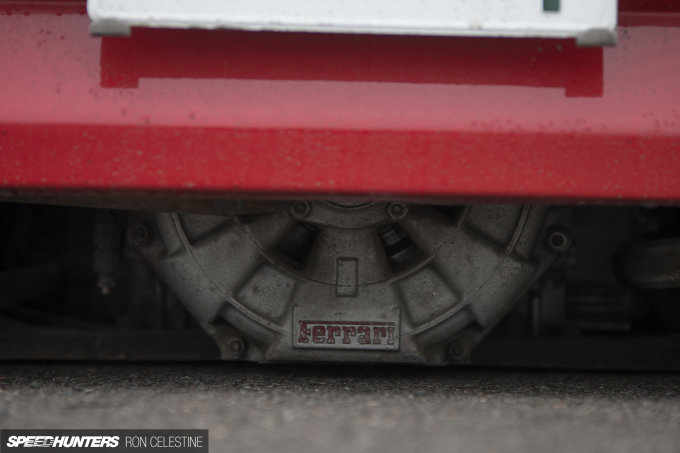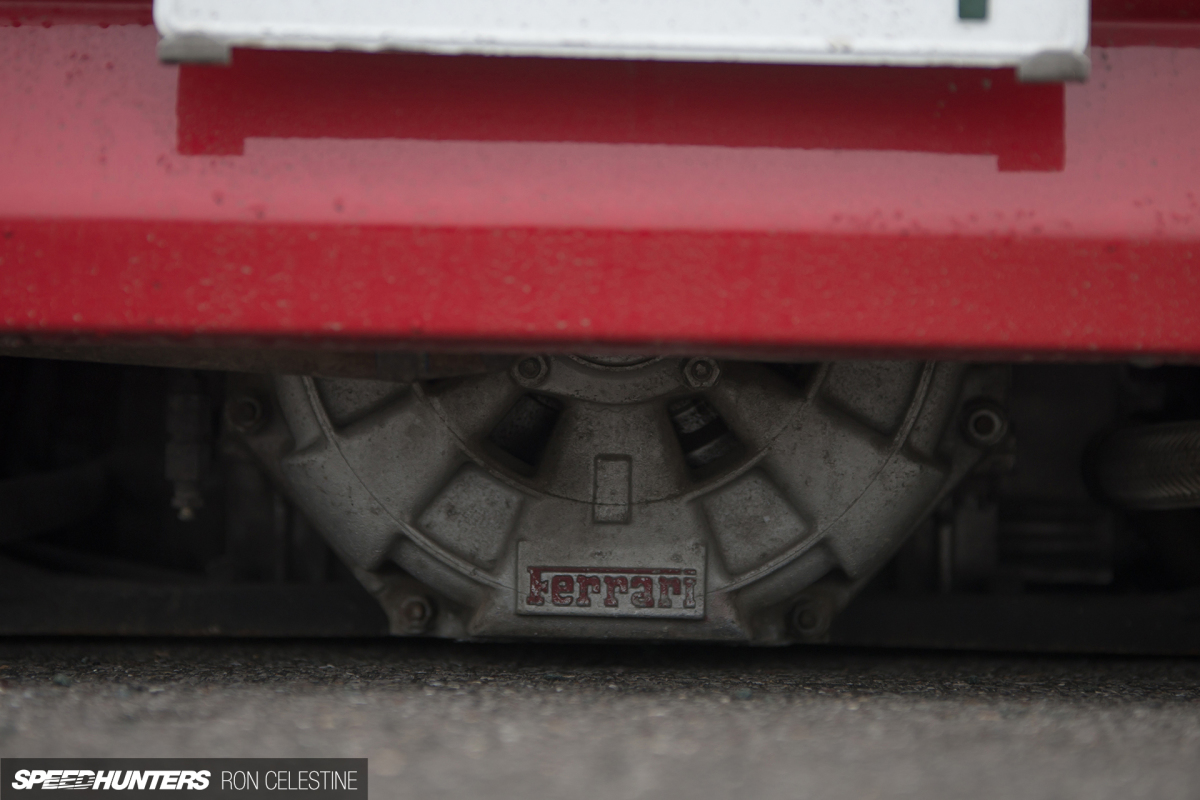 Ginpei-san's 348 is stupid low. There is simply no other way to accurately describe it. When it is completely slammed, the subframe which protects the engine block and transmission is only a few millimeters away from touching the ground.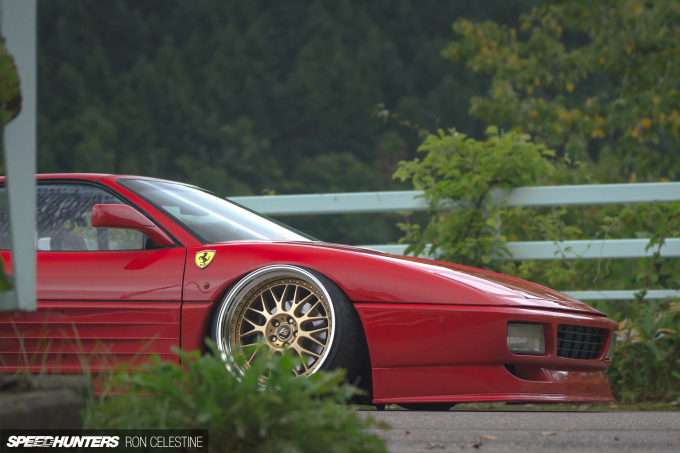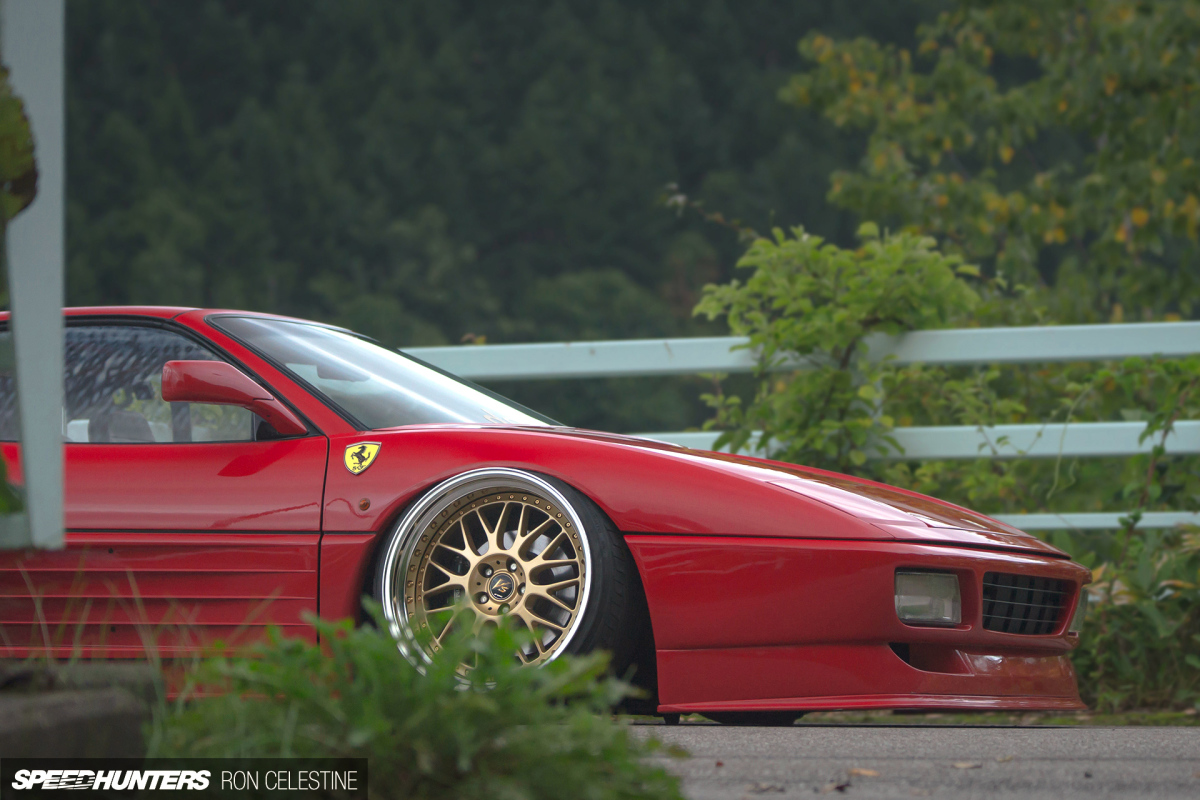 Even at driving height the 348 is still incredibly low, which means you have to always be on the look out for anything resembling a dip or bump in the road. Miss one and you'll be met with the loudest bang as the subframe smacks the pavement.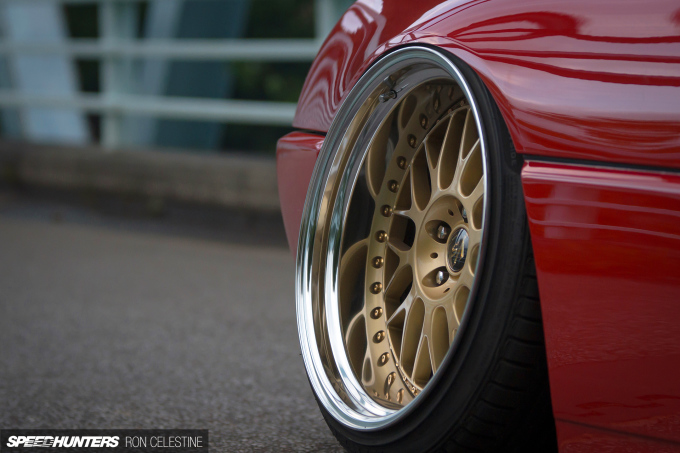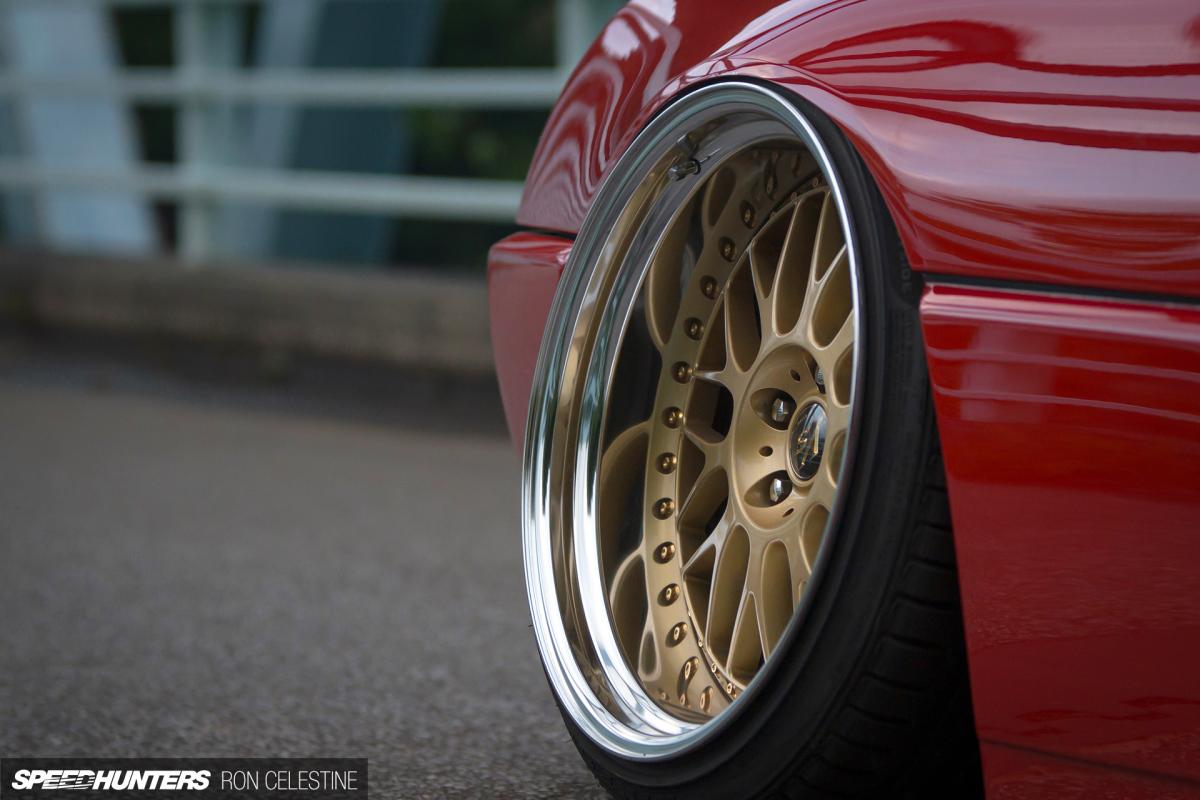 The next item on the agenda was widening the rear fenders to tightly accommodate a set of 19×12.5-inch Work Wheels VS-XXs – Ginpei-san's all-time favorite wheel.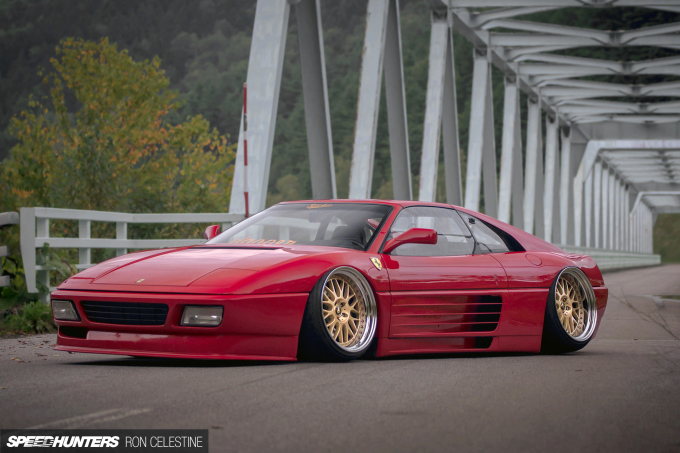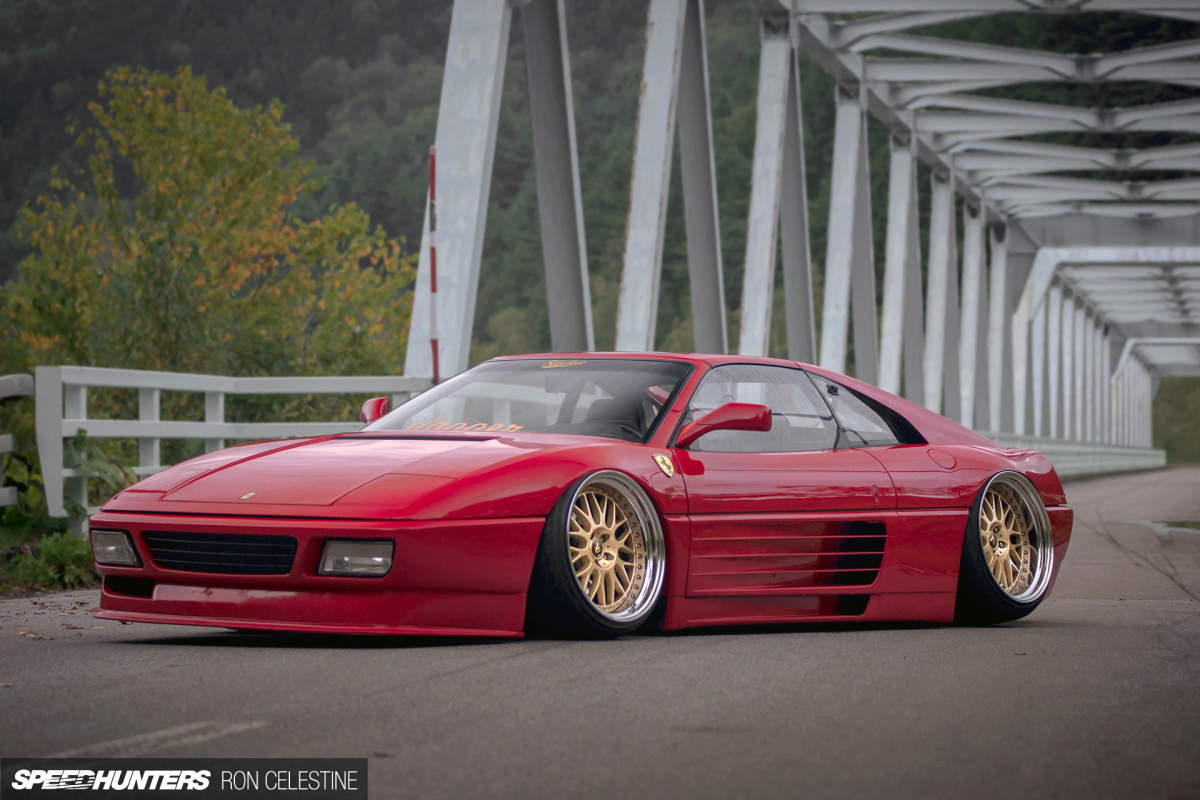 Wanting to keep the body lines of the 348 as natural looking as possible, he took the car to the workshop of a friend with several years' experience cutting and widening fenders.
This is the last chance for you to hit the back button…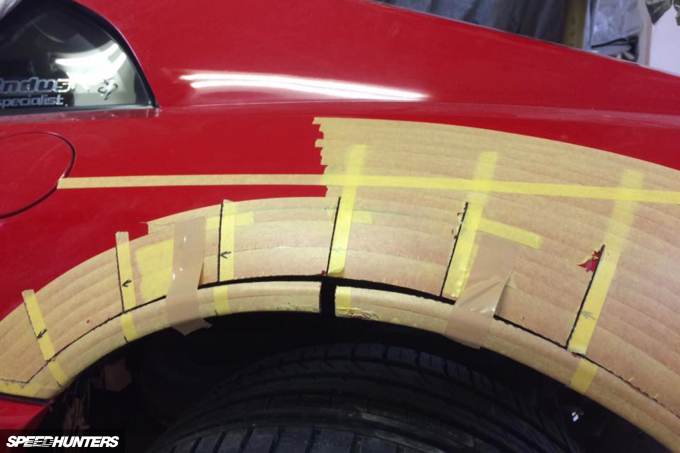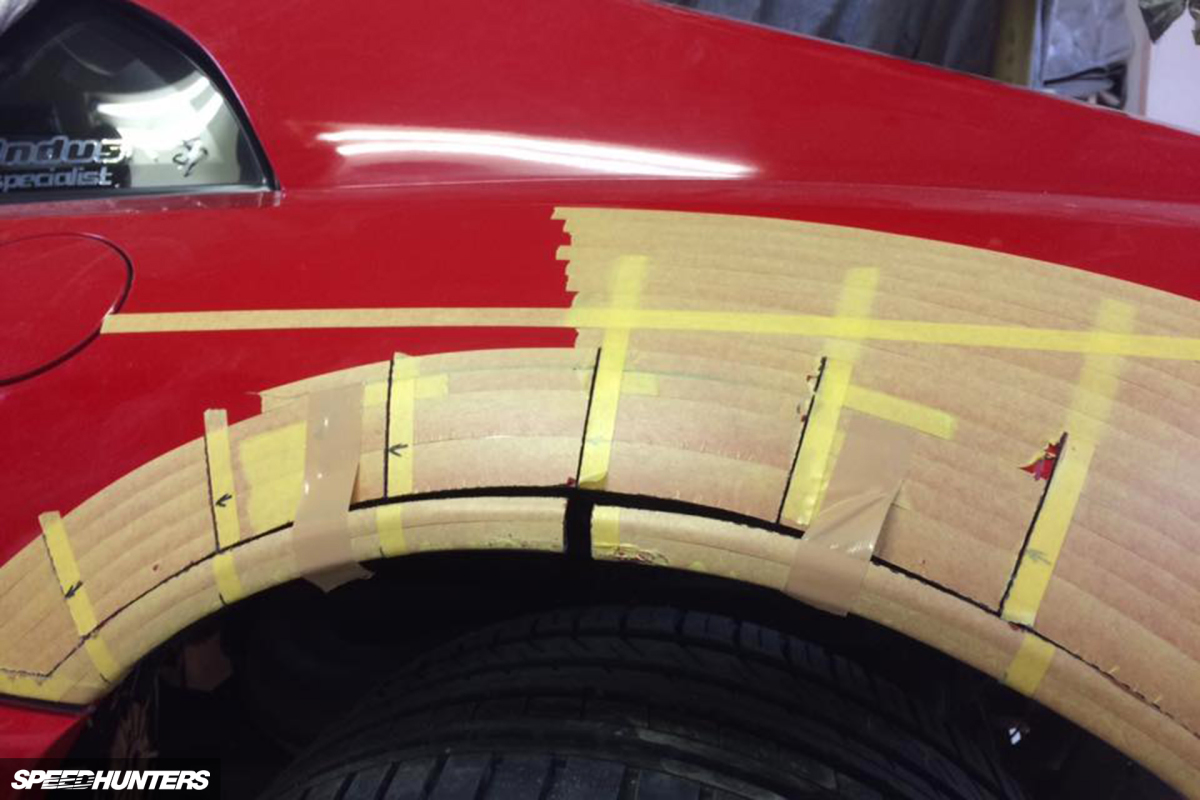 After marking the fender into eight equal sections, the lower part of the fender was cut and then split in half, making it easier to pull away. Then, with the fender cuts made, it was simply a case of bashing the metal into shape.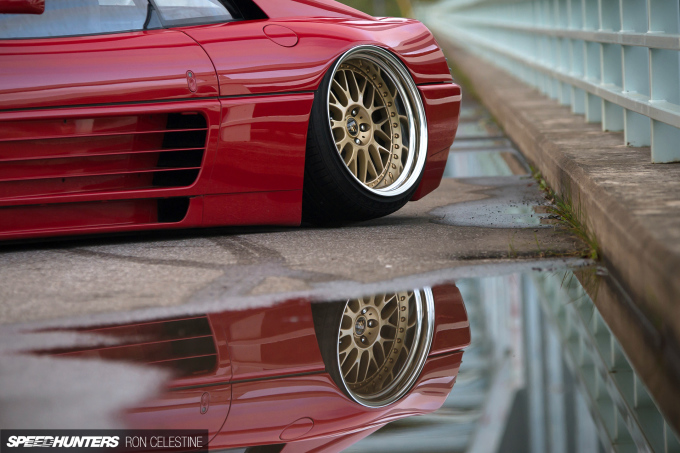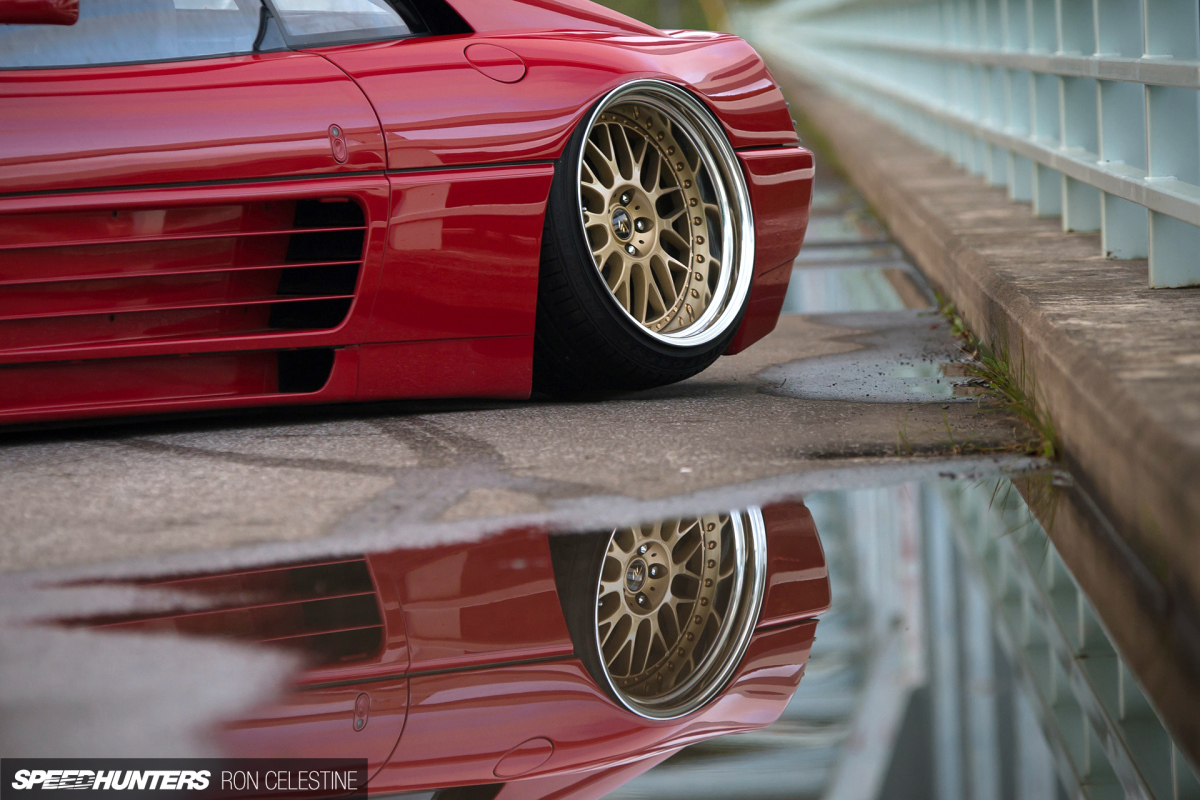 By attaching the VS-XX wheels, they could then visually see how far the fenders needed to be massaged outwards for the perfect fitment. In total, around 20mm of extra width was gained at each side.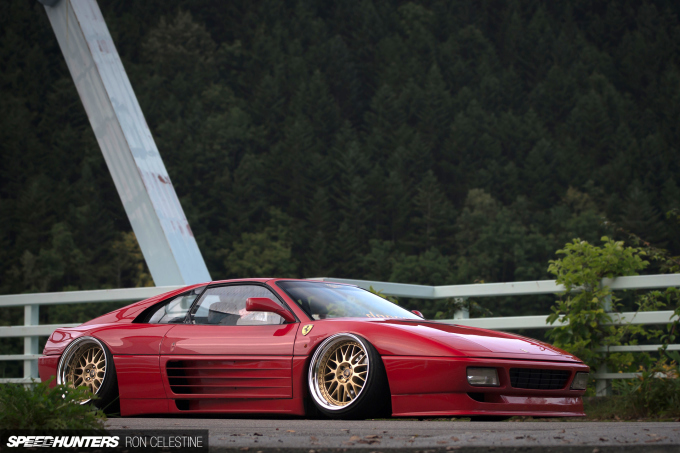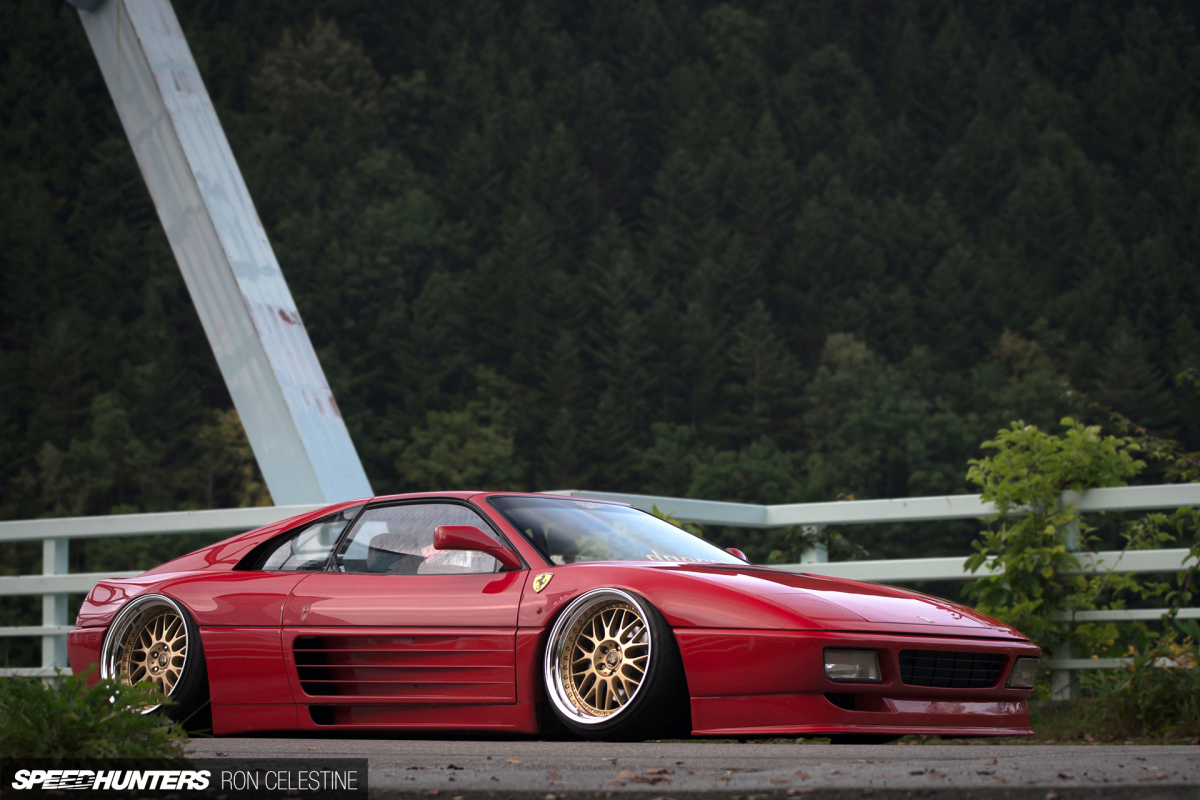 From the first cuts to the final finishing, the entire process took around five months. For how reckless the process sounded, I have to say that the end result is absolutely stunning in person.
The interior remains mostly in stock condition and is still in the process of being restored, which explains why some of the switches don't work correctly or are not in their proper places. A Nardi Classic steering wheel replaces the Ferrari original.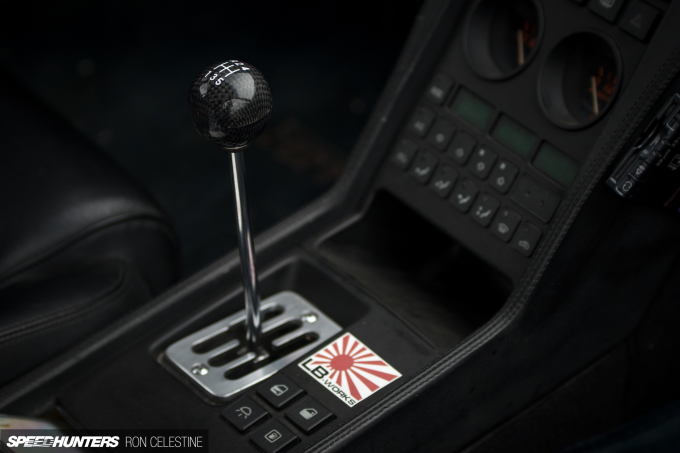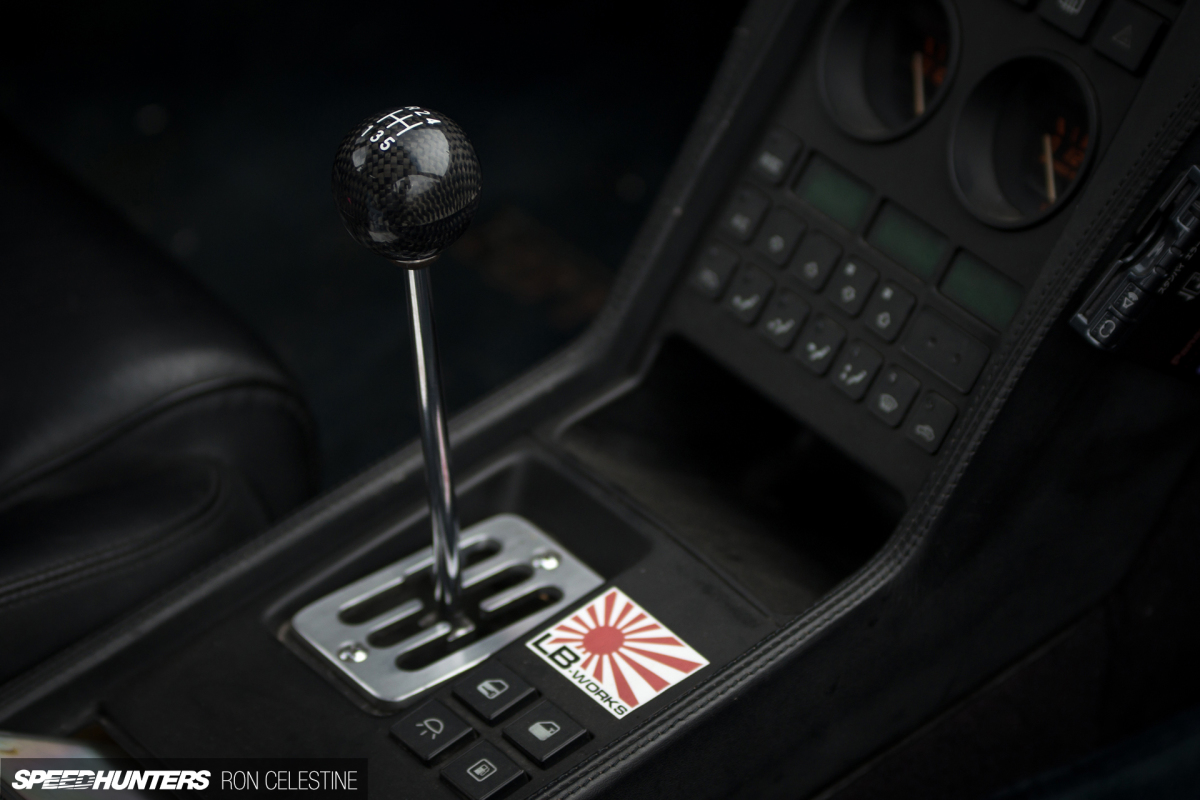 Nothing beats a gated shifter, as every time you shift from 1st to 2nd gear, you are rewarded with the most satisfying of mechanical clunks. Combined with the F1-esque sounds coming out of the exhaust, you have yourself one hell of a fun car to drive.
Rough Riding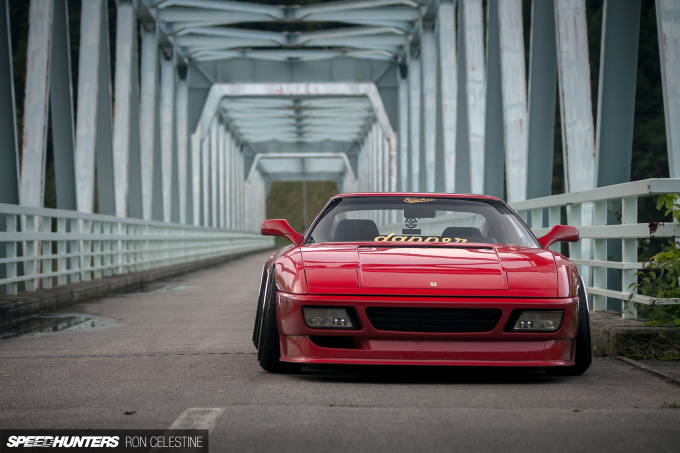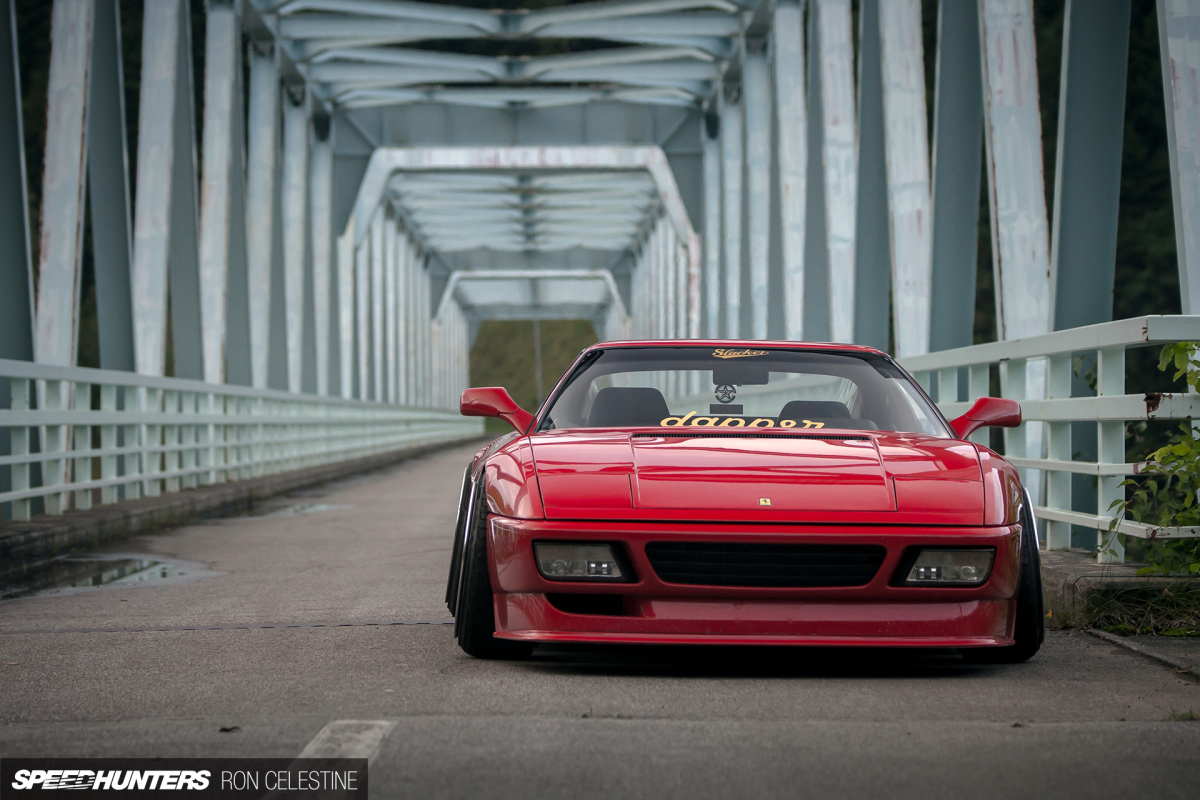 This is probably the part of the story where I should ask you to stay open-minded and just appreciate the hard work and gumption that it took for Ginpei-san to do what he has with his 348, but to be frank, this car has some real shortcomings.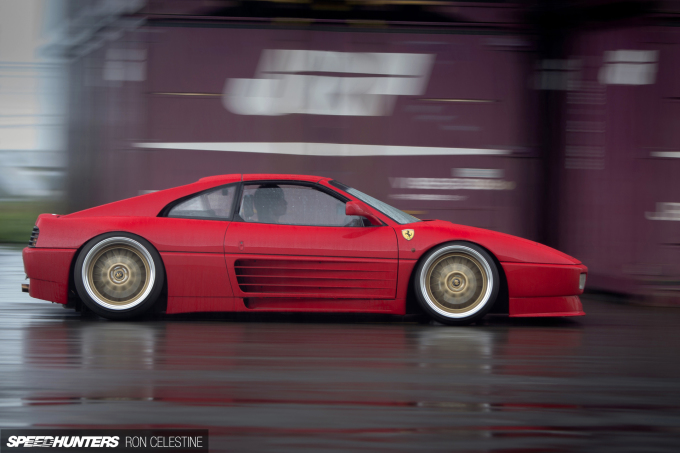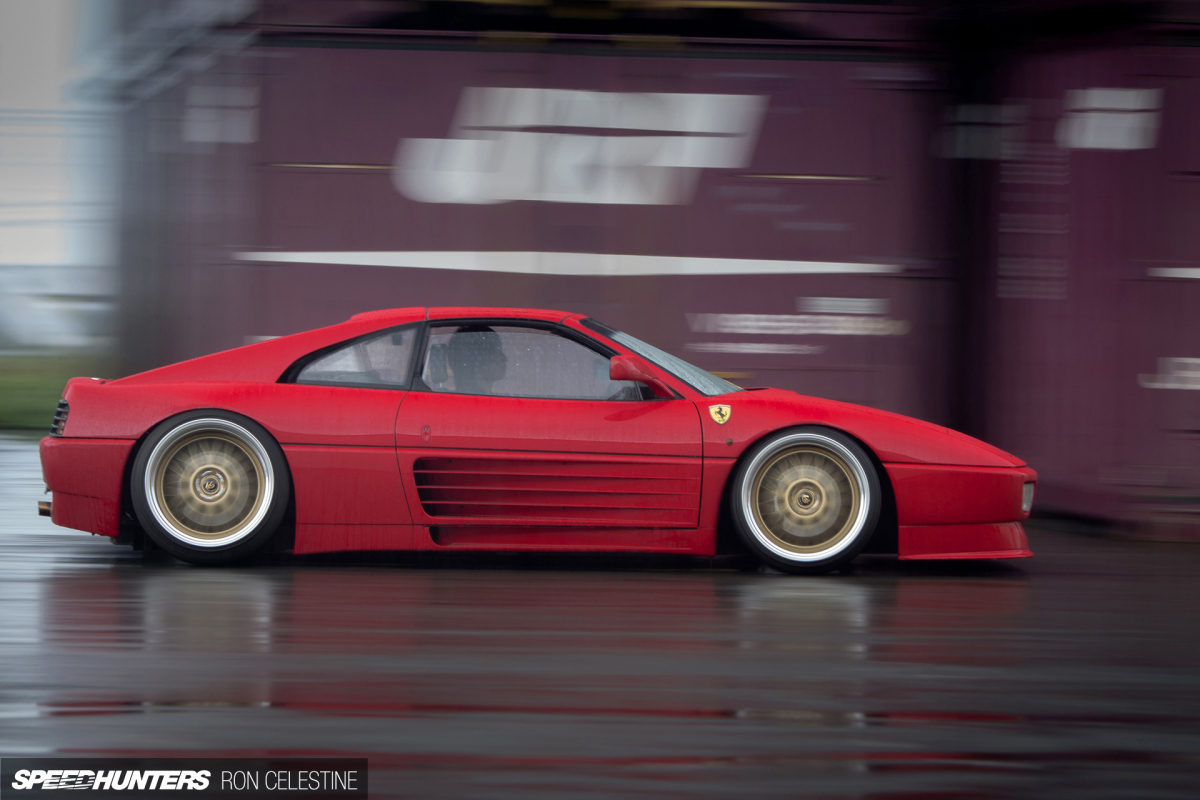 For starters, the ride quality is just plain horrible. I spent a few days riding around in the 348, but I could never get use to the scraping and banging as the subframe duked it out with the pavement. It was mechanical torture.
And then there's the noise. Even with the valves in quiet mode, it's just too loud. In fact, my ears still hurt!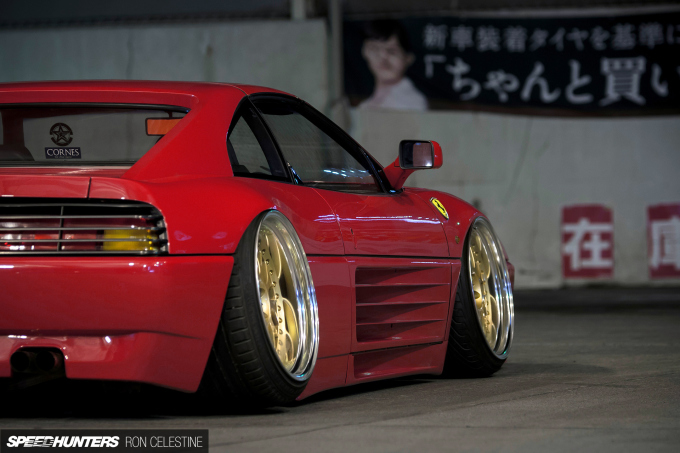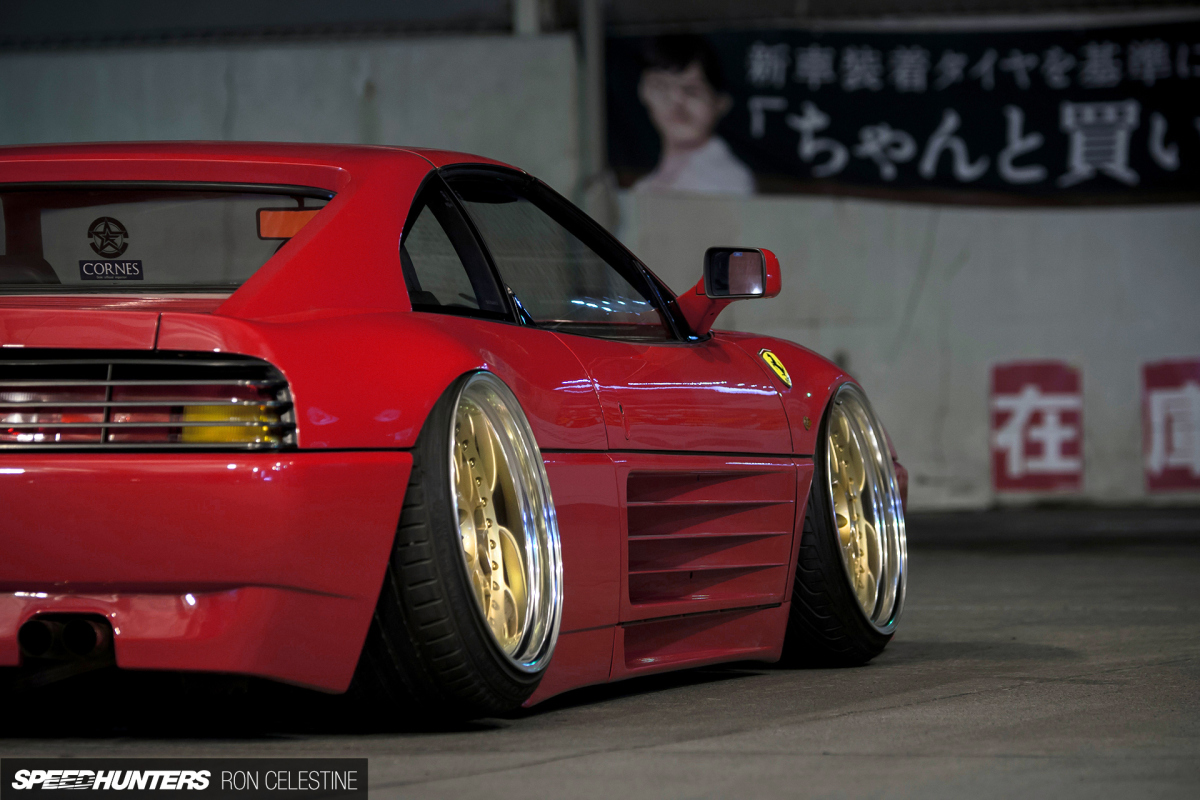 But with that all said, I have never had so much fun in a sports car in my entire life. I've been blessed to ride in and drive a laundry list of cars, and I can tell you that nothing has put a bigger smile on my face than Ginpei-san's onikyan Ferrari.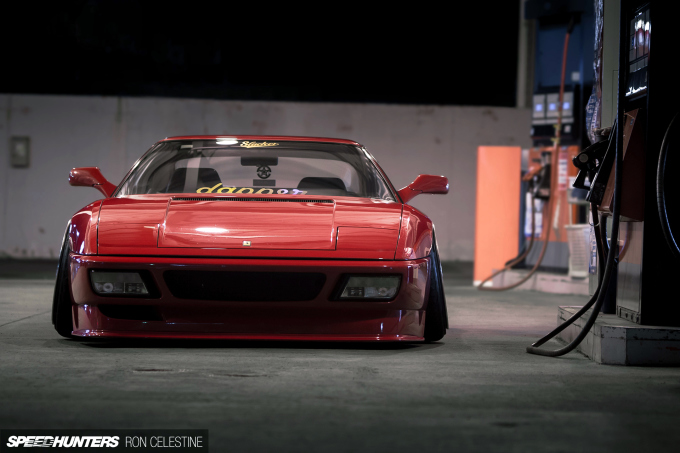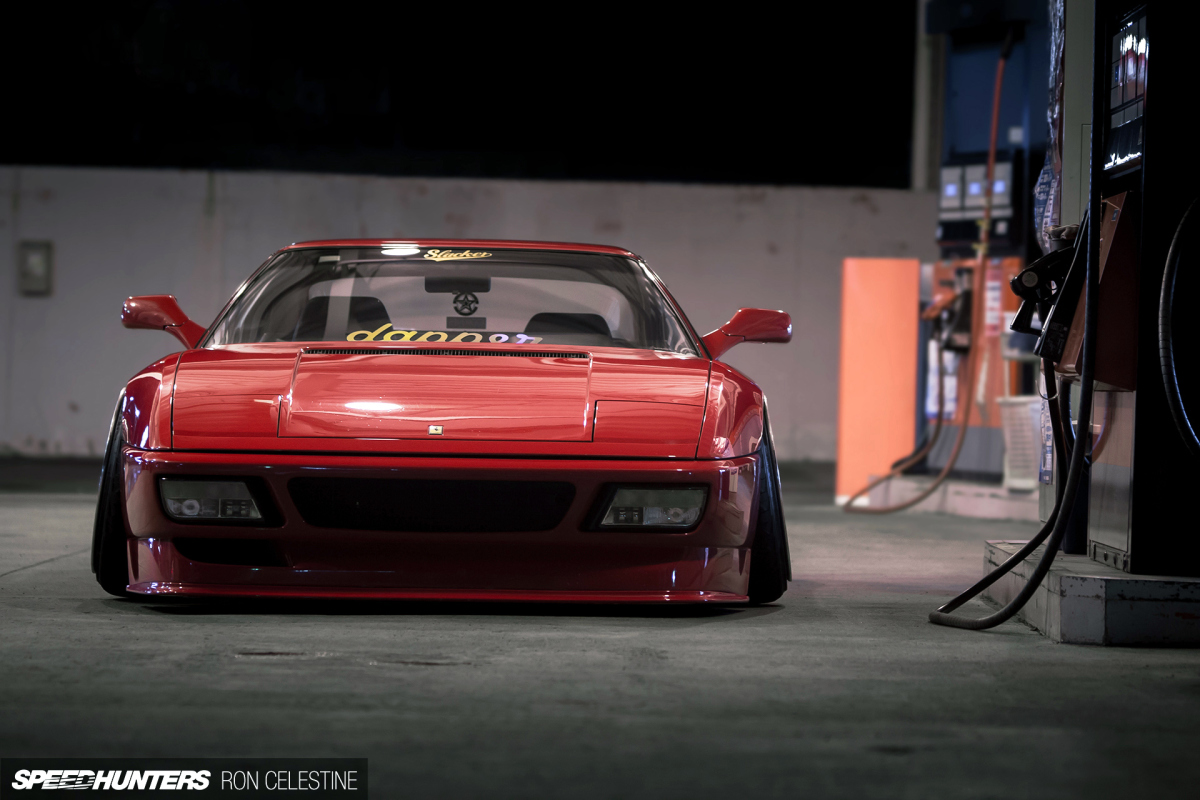 Driving around in the 348 is like being the main star in The Truman Show. Everywhere you go, people stop in their tracks and stare, give thumbs ups, and take pictures and shoot videos. In fact, I lost track of how many times I waved back to bystanders when Ginpei-san revved the Ferrari V8 up to 6,000rpm at the lights.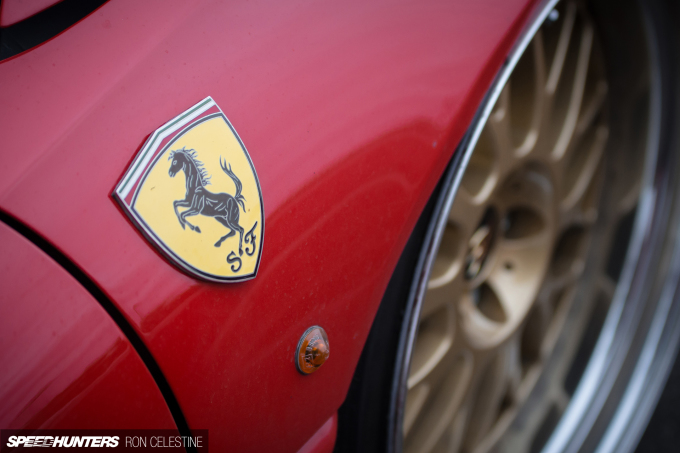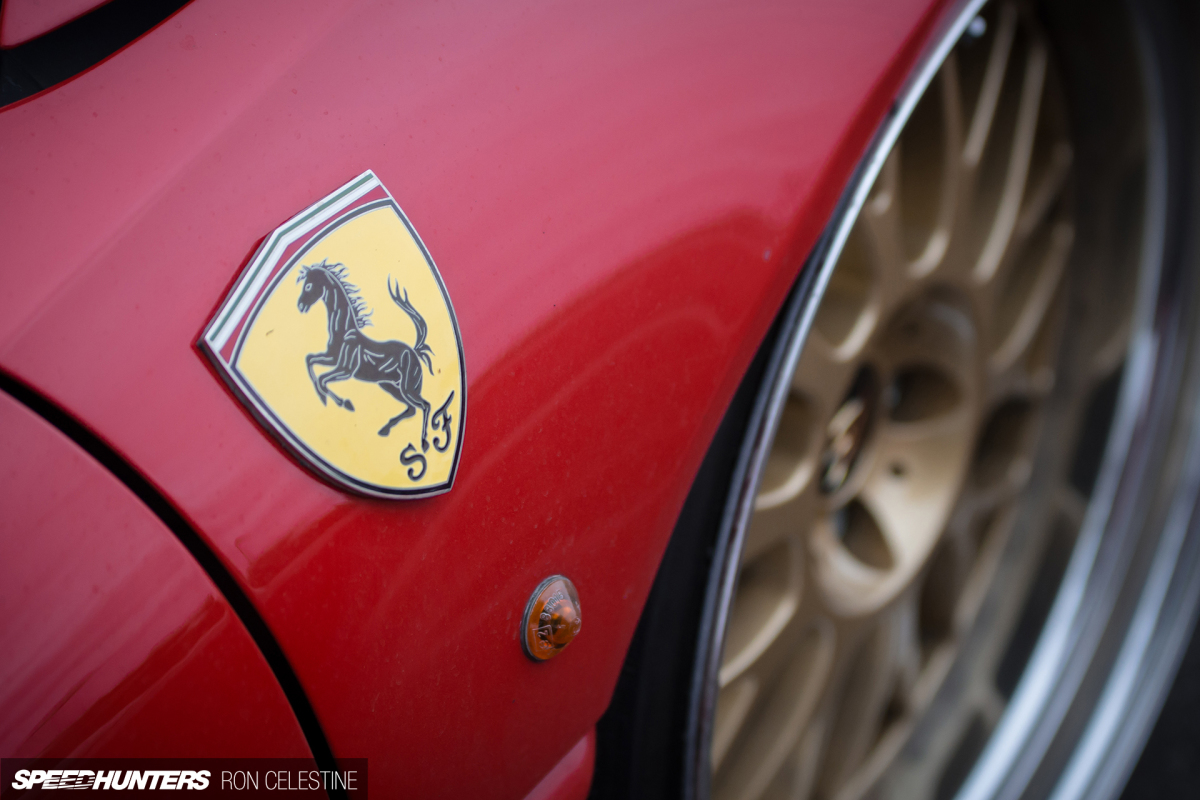 It may not be to everyone's liking, and as I've said, it's far from perfect, but when riding in this 348, you can't help but laugh and smile. And that's exactly how a sports car is supposed to make you feel, right?
Ron Celestine
Instagram: celestinephotography
Slacker's Haunt 1991 Ferrari 348 TS
Numbers
Max Power: 300hp, Max Torque: 235 ft-lb
Engine
Ferrari 3.4-liter V8, Slacker's Haunt custom x-pipe exahust system, valve-actuated silencer
Drivetrain
5-speed transverse manual gearbox
Suspension
Slacker's Haunt custom hydraulic system
Wheels
Work Wheels VS-XX 19×10-inch (front), 19×12.5-inch (rear)
Exterior
Factory Ferrari 348 TS, custom widened rear fenders
Interior:
Factory Ferarri 348 TS, Nardi Classic steering wheel