That Thing Got A HEMI?
It's time for another quick update on Project Yankee, my 1975 Dodge Dart Sport that's currently undergoing a 5.7-liter Gen III HEMI engine swap and a whole lot more.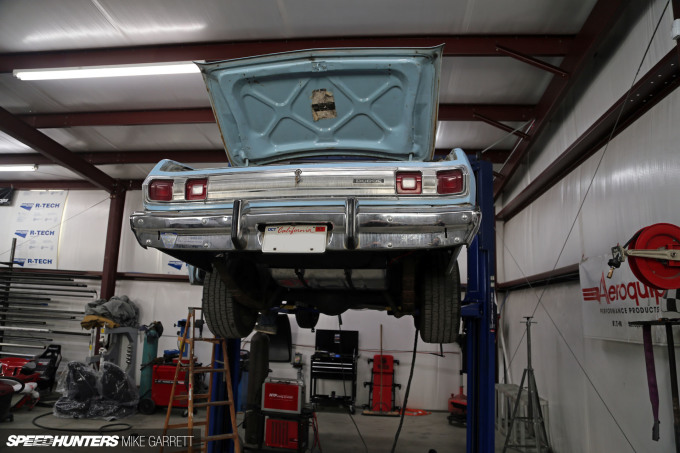 Work has been hot and heavy as we attempt to have the car in Las Vegas for this year's SEMA Show, so let's go ahead and catch up on some of the progress that's been made over the last week or two with the help of Caliber Customs.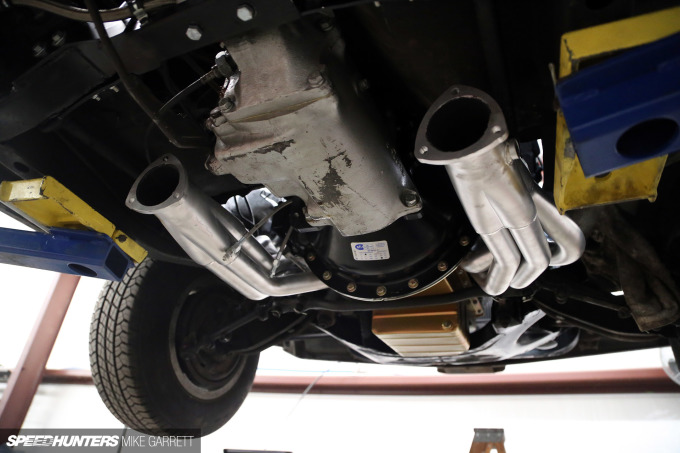 When we last left off, we'd done a successful test fit of the HEMI engine and then pulled it out again to mate up the A833 gearbox and fit a set of TTi long-tube headers.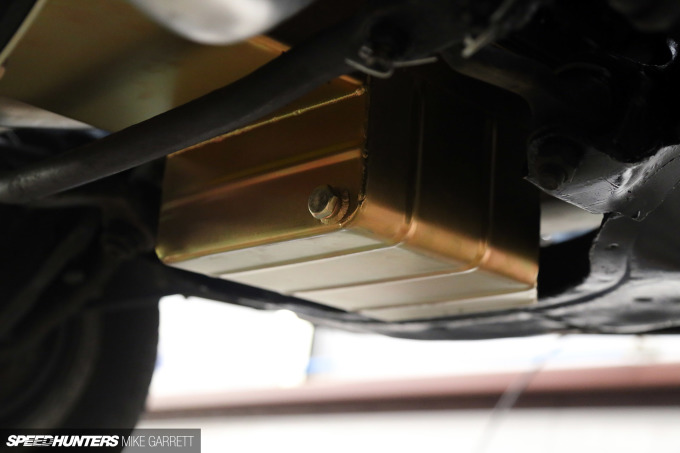 Once the headers were fitted and the transmission and clutch setup was all assembled, the entire front subframe was raised up through the bottom, which turned out to be easier than trying to fit the headers the old fashioned way.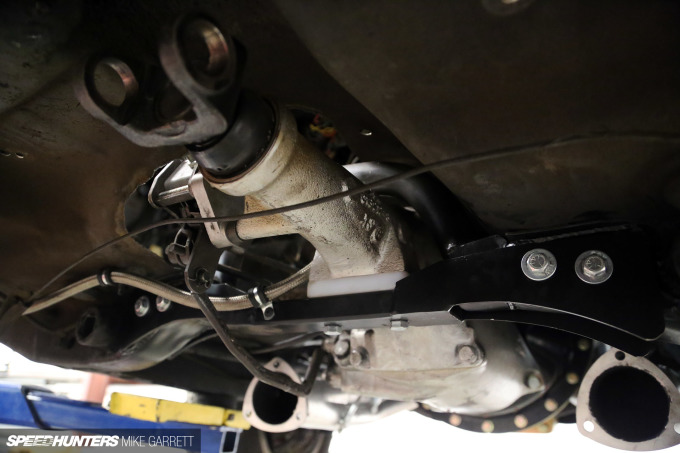 While the original factory-style transmission mount technically would have worked with this setup, Matt recommended we replace the worn out, 40-plus-year-old components for something a little more sturdy.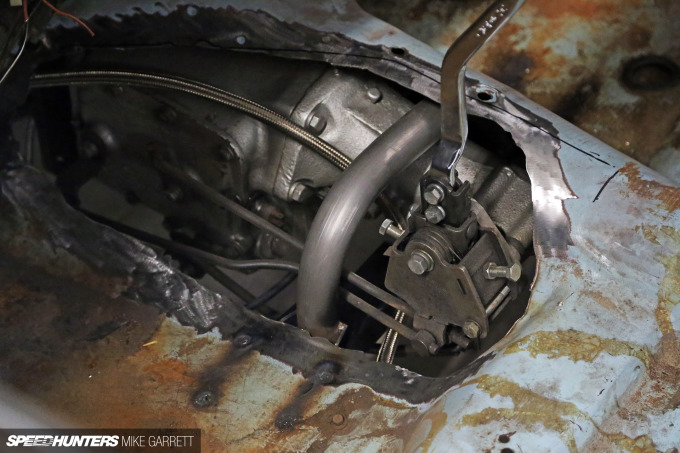 And when he said sturdy, he wasn't kidding. Matt fabricated up this heavy-duty, wraparound trans mount that should be able to withstand any kind of abuse that's thrown at it. Being an avid racer himself, I trust Matt knows a thing or two about making parts that will hold up.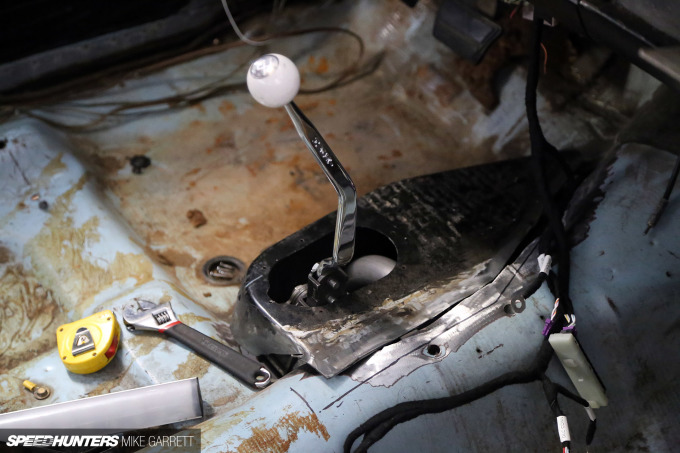 Because we are converting from a column-shifted automatic to a manual, the transmission tunnel would also need some work. If you'll recall, I was able to cut this 4-speed trans hump from the Dart donor car I bought earlier this year, and we've been able to use it, albeit with some slight modification to clear the new and improved trans mount.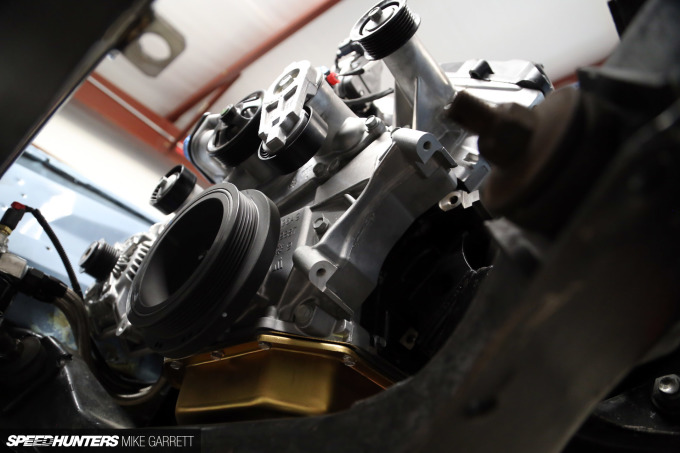 Having the motor and transmission successfully mounted in the car was a big step, but at this point there was still lots of work to do before we could fire up the HEMI.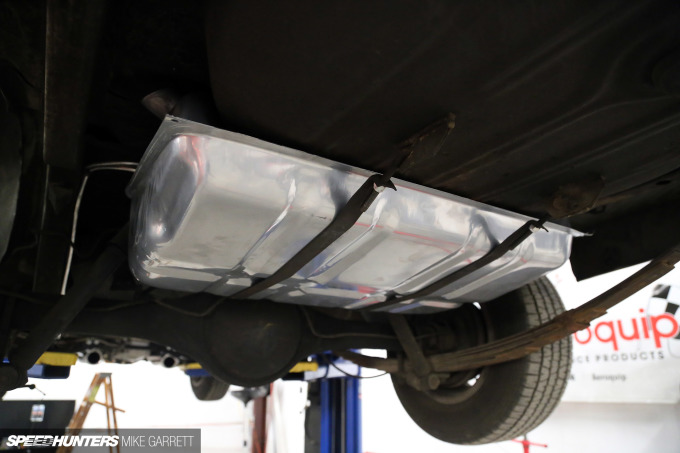 First off, there was the fuel system. There are many ways you can run a late model, fuel injected engine in an old car, but rather than doing an external fuel pump setup I opted to go with this Tanks Inc. EFI fuel tank sourced from Summit Racing Equipment. It's a direct bolt-in tank made for an A-Body Mopar and is fitted with a matching in-tank fuel pump. It can also be fitted with an array of sender units for stock or aftermarket instruments, so it's about as straightforward as it gets.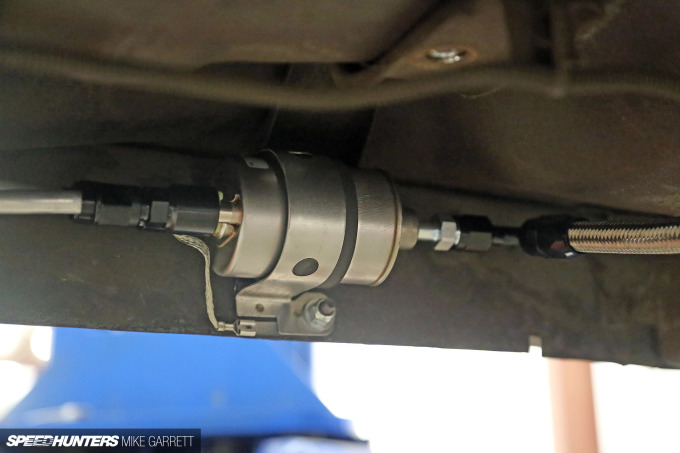 We'd also be running this Tanks Inc. fuel filter/pressure regulator which is technically made for LS swap applications but also happens to deliver the same 58.5psi required to feed the HEMI.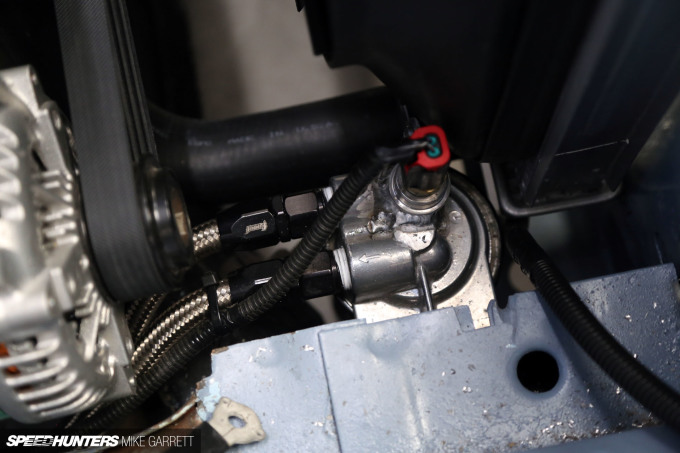 Another item that needed to be addressed was the remote oil filter setup.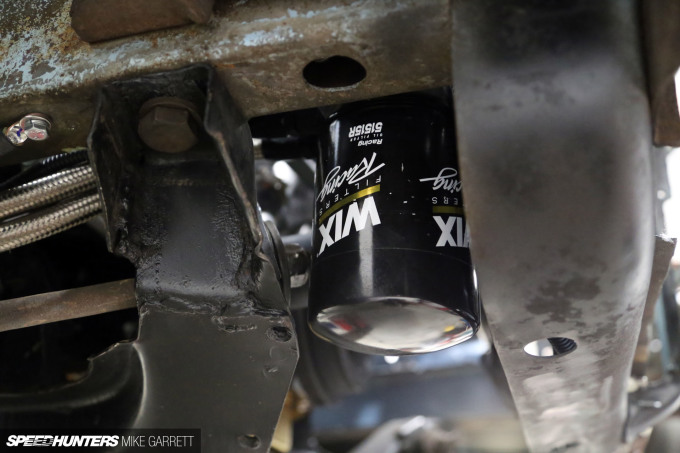 It was nothing that a quick flick through the Summit Racing catalog couldn't take care of, and soon we had the filter moved over to just below the radiator.
Keep Cool, Bro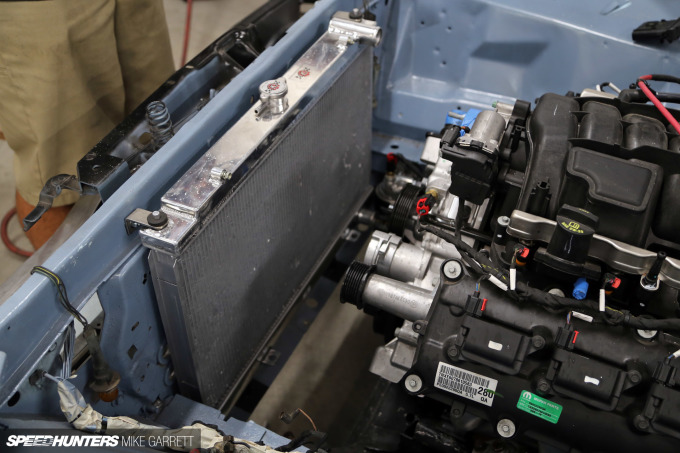 Speaking of the radiator, as mentioned in the last update I got in touch with our friends at CSF to see if they had an aluminum radiator that would work for me. From their extensive catalog we were able to find an S14 240SX unit that happened to fit very well.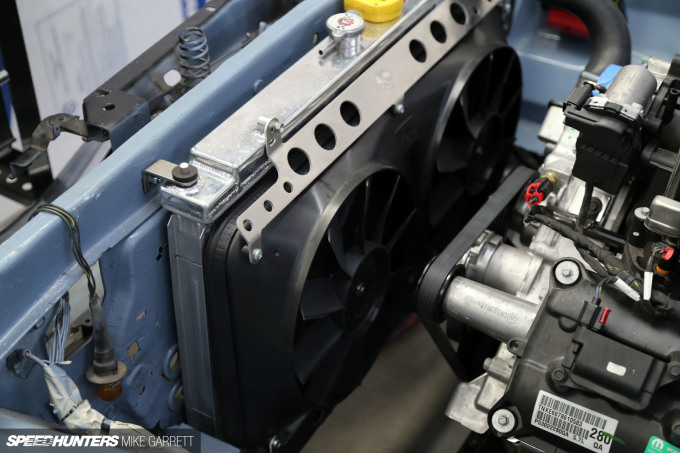 It also matched up perfectly with the Flex-a-Lite twin electric fan setup, and together with the CSF radiator there shouldn't be any worries about this sucker getting hot during spirited driving or while sitting in traffic.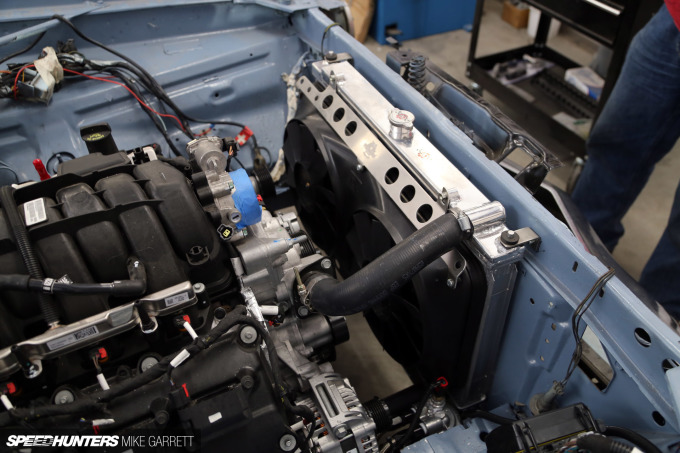 All plumbed up and ready to go; another big part of engine swap process taken care of.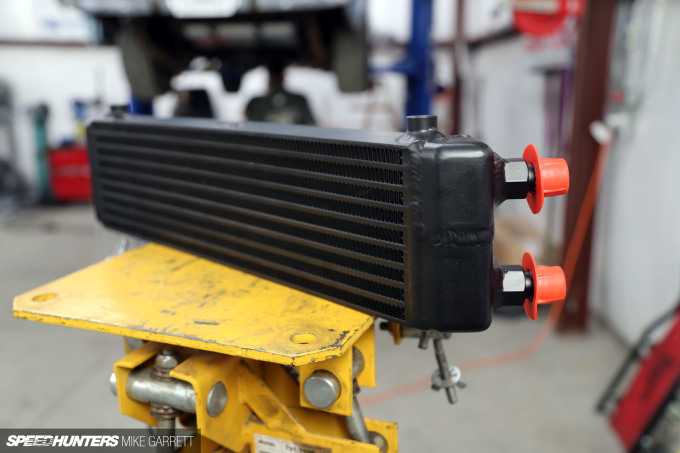 While on the subject of cooling, another neat bit that just showed up from CSF is one of its new heavy duty 'BOSS' oil coolers. It's made with external mount applications in mind, and I've been kicking around some cool ideas for its placement. Stay tuned for that.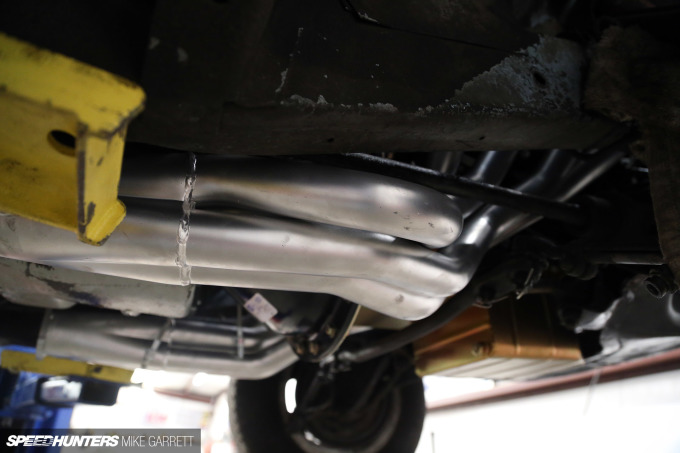 Another area that would need to be sorted was the exhaust system. As radical as open headers would sound, I'm actually planning to put some miles on this thing so some sort of exhaust would be needed.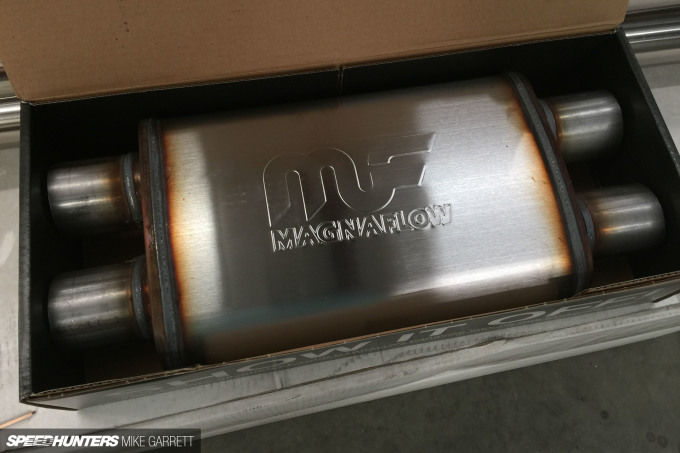 Having a pretty good idea of what I wanted, I got in touch with Magnaflow to see about sourcing some products that would allow us to put together a cool little one-off system.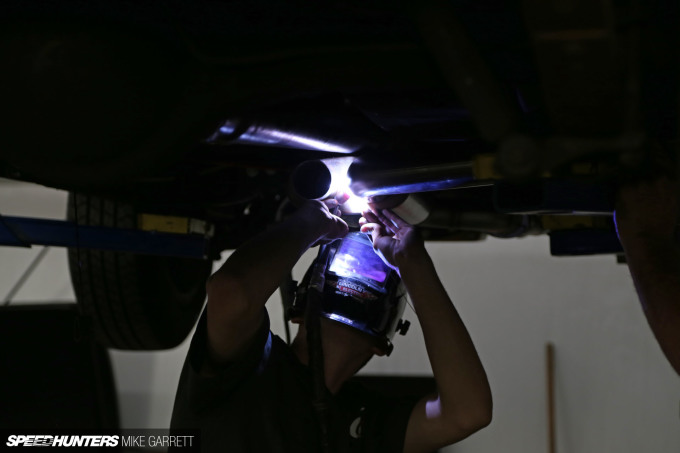 Shortly after, an X-pipe muffler and a box of all the required stainless piping and bends arrived at Caliber, ready to play the sounds of a long-tubed Gen III HEMI.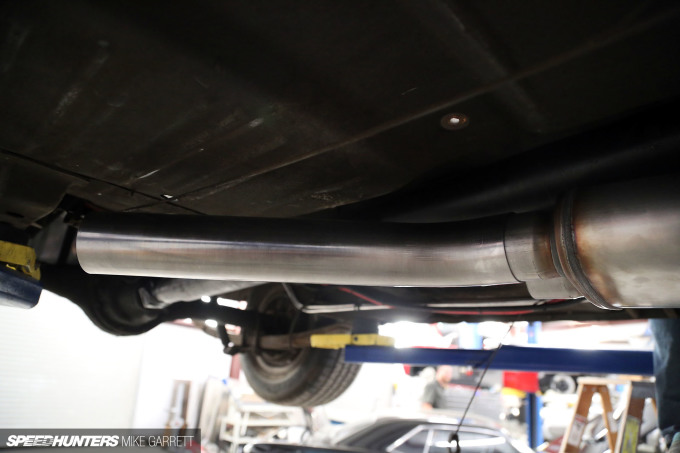 I'll have some photos of the completed system in my next update, but I'm quite happy with how it all came out.
Almost There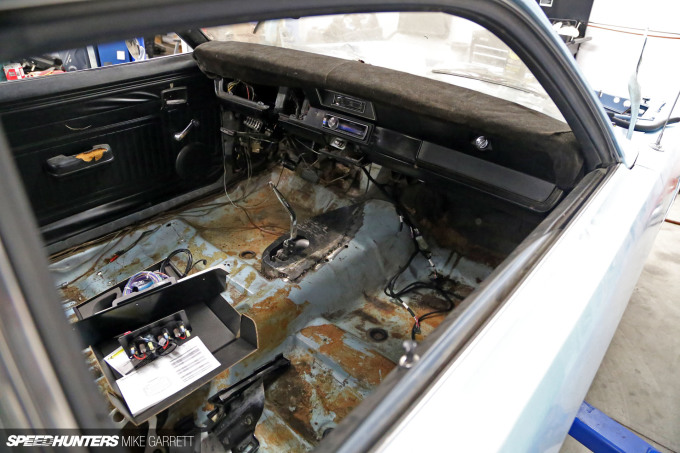 Several people have asked me about what we are doing for an ECU and wiring for the swap. I'm not allowed to reveal anything on that front quite yet, but you can expect to read all about it in the near future. I will tell you it's pretty damn cool though.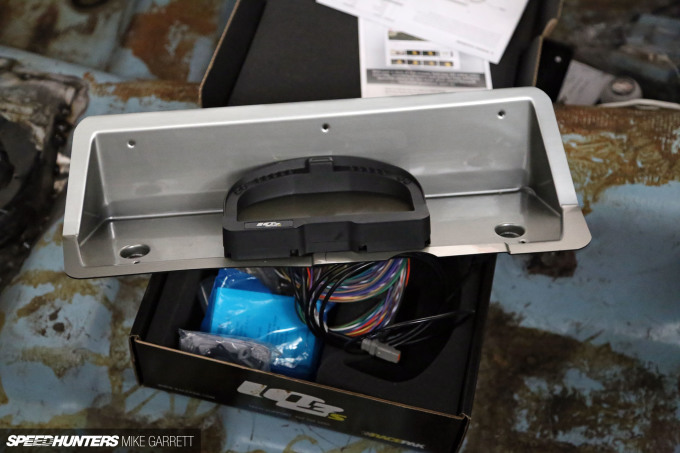 In the meantime, we needed to mate our Racepak IQ3S dash unit with the new engine, and also find a suitable way to mount it in the dash.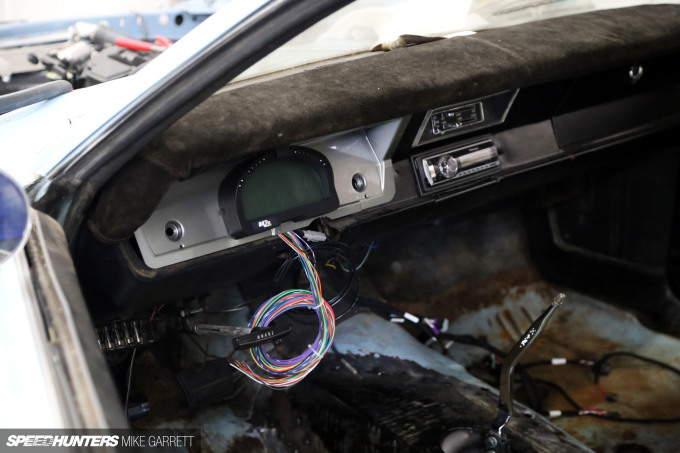 A company called Fastlane West in LA sold me a blank gauge bezel made specifically for the '70-'76 A-Body, and after some simple cutting the Racepak went right in. The IQ3S is an impressive piece, and I'll have more details on it once I get into the interior part of the build.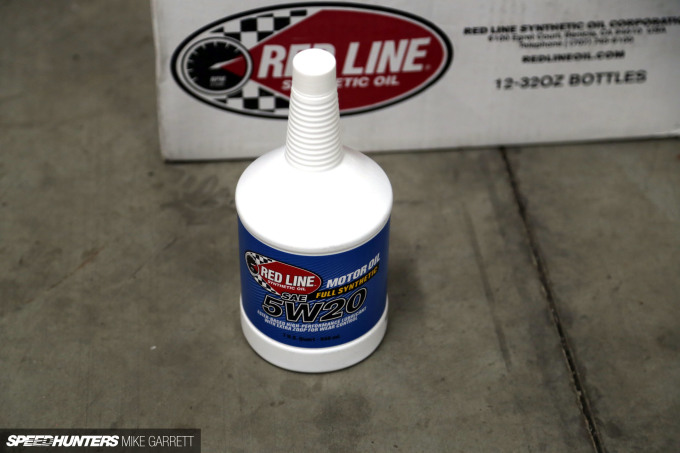 By now it was just about time to try and fire her up for the first time, but before that we'd need to fill the HEMI with fluids. Fortunately, the folks at Red Line had us covered with a big case of synthetic oil. The excitement was building.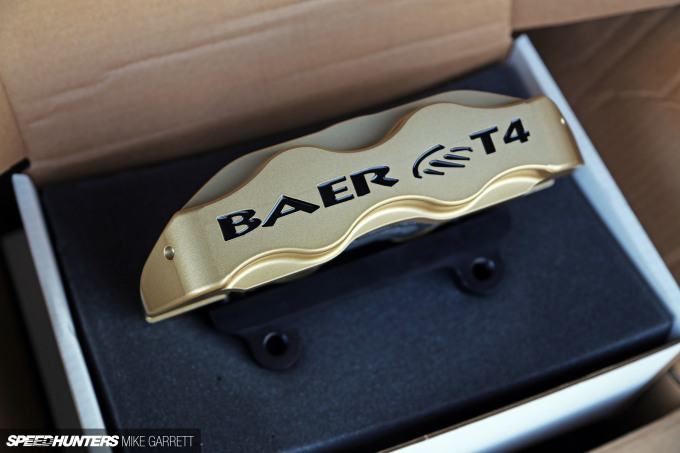 As we'd been preparing to start the engine, parts for the rest of the build continued to arrive. The latest delivery is some drool-inducing goodies from Baer Brakes.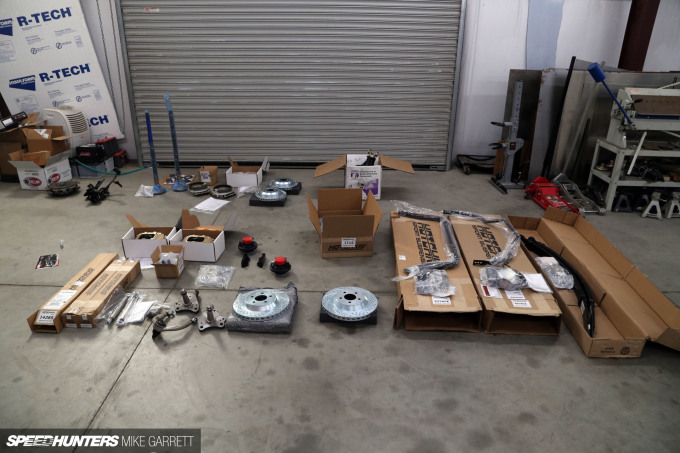 They've joined an increasingly large pile of suspension and drivetrain parts that are waiting to be installed. Needless to say, I'll be covering all of this in detail soon.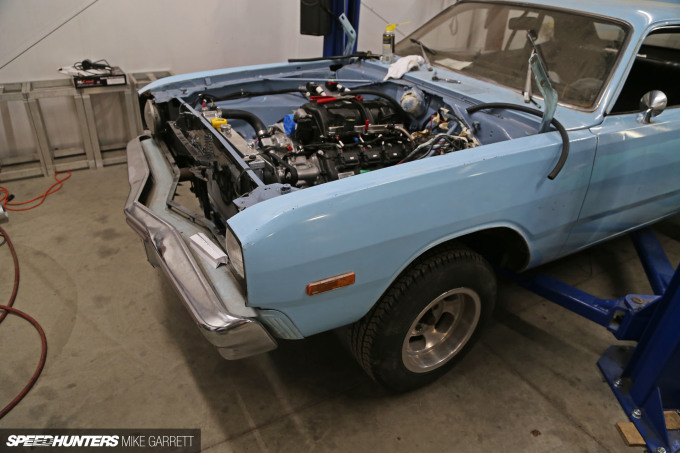 But before that it was time to get this bad boy fired up. You can look forward to that in my next update, which will be coming hot on the heels of this one. Maybe I'll even include some video…
For now though, there's a ton of work left to do, and we're right back into it today. Stay tuned.
Mike Garrett
Instagram: japanifornia
mike@speedhunters.com