It's been a long time coming, but it's all beginning now for Project GT-R. Sort of…
It's the nature of the tuning game I suppose; when you set off on a project there are always things that are going to get in the way of progress.
It all began at Do-Luck in Yokohama a few days before the recent R's Meeting. There, Ito-san and I laid out all the parts that over the course of a couple of days we should have fitted to the GT-R.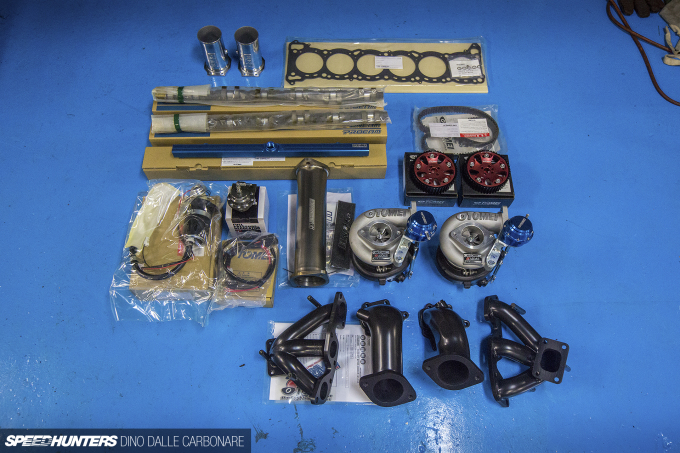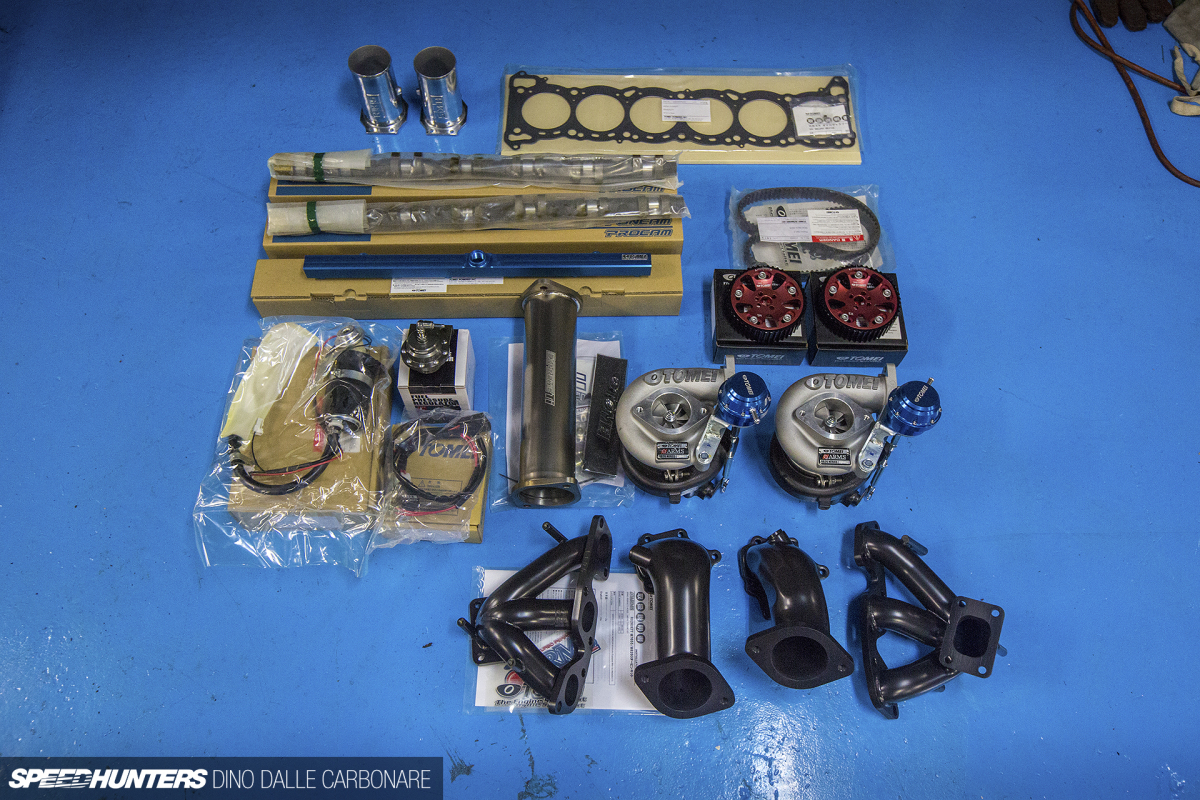 Many of you would have already seen most of these bits; I've been hanging on to them for years as I slowly collect what is needed for a decent first step upgrade.
Back in 2013, you might remember that I sent off the Tomei Arms turbine housings, along with the Expreme manifolds and outlet pipe, to Martelius in Finland for ceramic coating. The idea here was to help keep engine room temperature on the hot side as low as possible, therefore eliminating the need for ugly exhaust wraps which are sometimes blamed for causing cracks in stainless steel manifolds.
Since you saw the first bunch of parts that Tomei sent over, more have arrived. So, with the turbo upgrade and Tomei Procams, plus Tomei cam pulleys and timing belt, the fuelling obviously needed to be addressed too. I had already sourced a set of R35 GT-R injectors but nothing beyond those, so Tomei stepped in with one of its billet fuel rails, an adjustable fuel pressure regulator and a 260lph in-tank fuel pump to provide enough flow.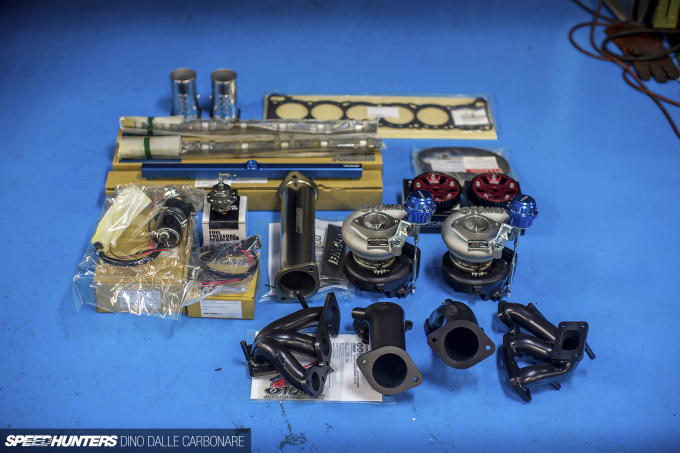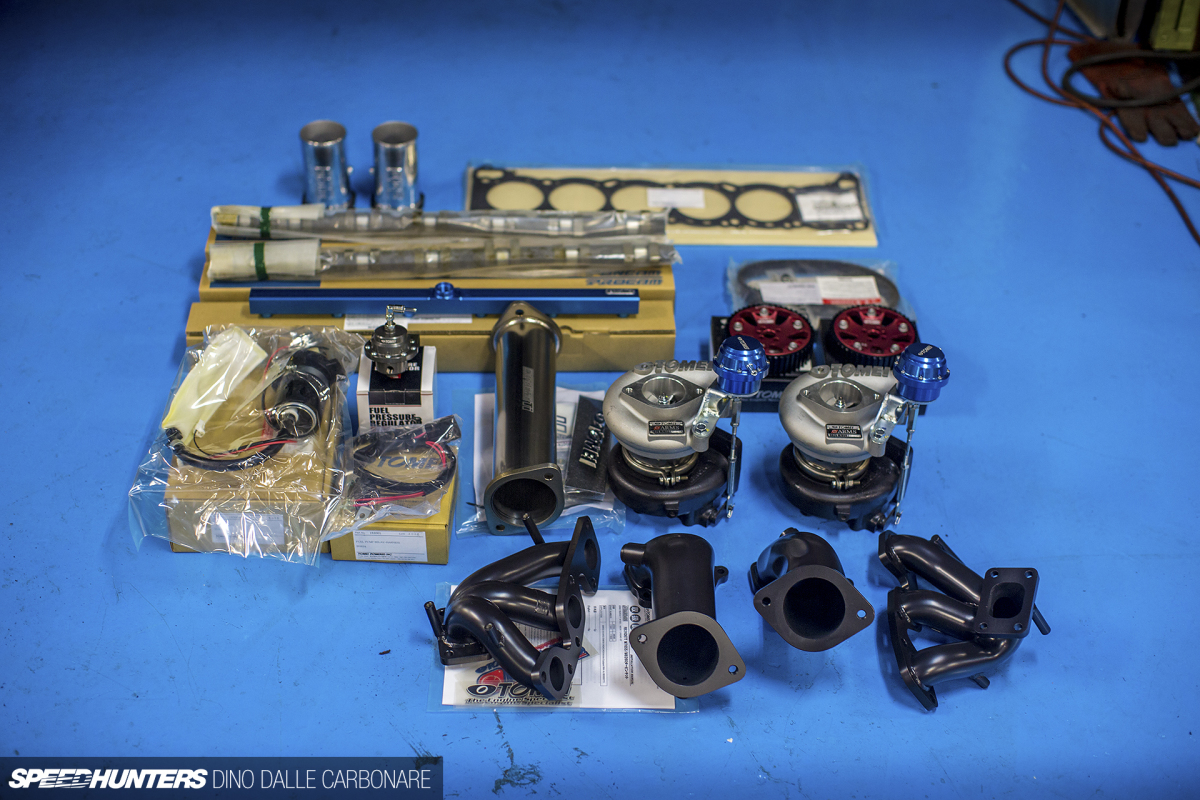 Except, I overestimated the actual ability of the R35 injectors. While these are rated at 570cc/min, for my upgrades I'd still be running them at a pretty high duty cycle. On top of this, I do have additional stages of upgrades planned for the engine, hence the long wait in getting started. So after much talking with Ito-san and Ennio Rancati of Brewed Motorsport (the guy that advises Under Suzuki on his MoTeC engine management system), who would be taking care of mapping the new Haltech Elite 2500, we decided that we might as well do this fuelling right the first time, and then not have to worry about it.
That obviously means yet another delay, but with how long this stage has taken already, it's really not that much of an issue for me. Over the past few days I've been chatting to Tony Palo of T1 Race Development in Texas, the company behind Injector Dynamics, and have agreed on a solution that will work in the long run.
On top of all of this, you can also see the Tomei 1.2mm metal headgasket – a must on an RB26 when pushing over 1.1bar (16.1psi) to 1.2bar (17.6psi) of boost – and right there in the back of the image above image are HKS air flow meter delete (dummy) pipes. Thanks to the built-in MAP sensor on the Elite 2500 I can finally get rid of of the hot-wire based system and not have that silly restriction in the way. A Tomei Expreme titanium cat replacement pipe will also ensure that big flames exit at the rear.
So it's all coming together. I just need a little sprinkle of extra patience right now, but soon enough I'll be able to start exploiting the potential these RB26s have hidden within.
Dino Dalle Carbonare
Instagram: speedhunters_dino
dino@speedhunters.com