Greathunting
Did America ever stop being great? Let's examine that for a second. This is the land which pretty much trademarked opportunity. This is the home of the free! This, dear friends, is unmitigated adventure around every turn.
We don't need politicians to make America great, we don't need banners and slogans; border control certainly isn't going to deliver this fabled greatness. No. All we need is a vacant desert and four wheels attached to something daft and fast.
Some of the most fun you can have in a vehicle is off the road. This is a scientific fact. Sure, we are all about pushing our cars to their limit at the track, but there is simply nothing quite like opening up into unpaved madness of an unmapped desert canyon.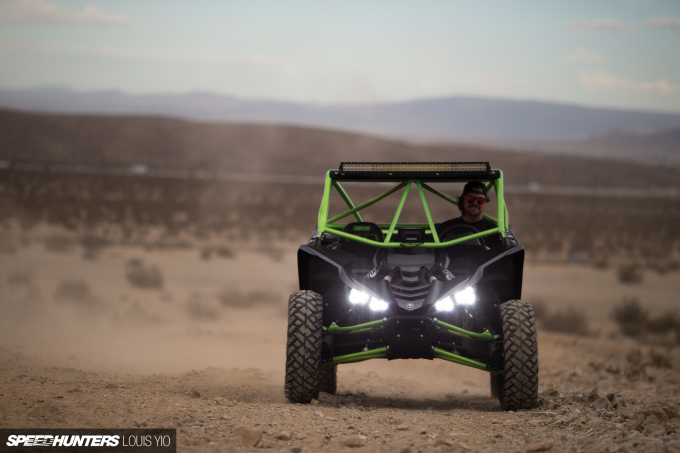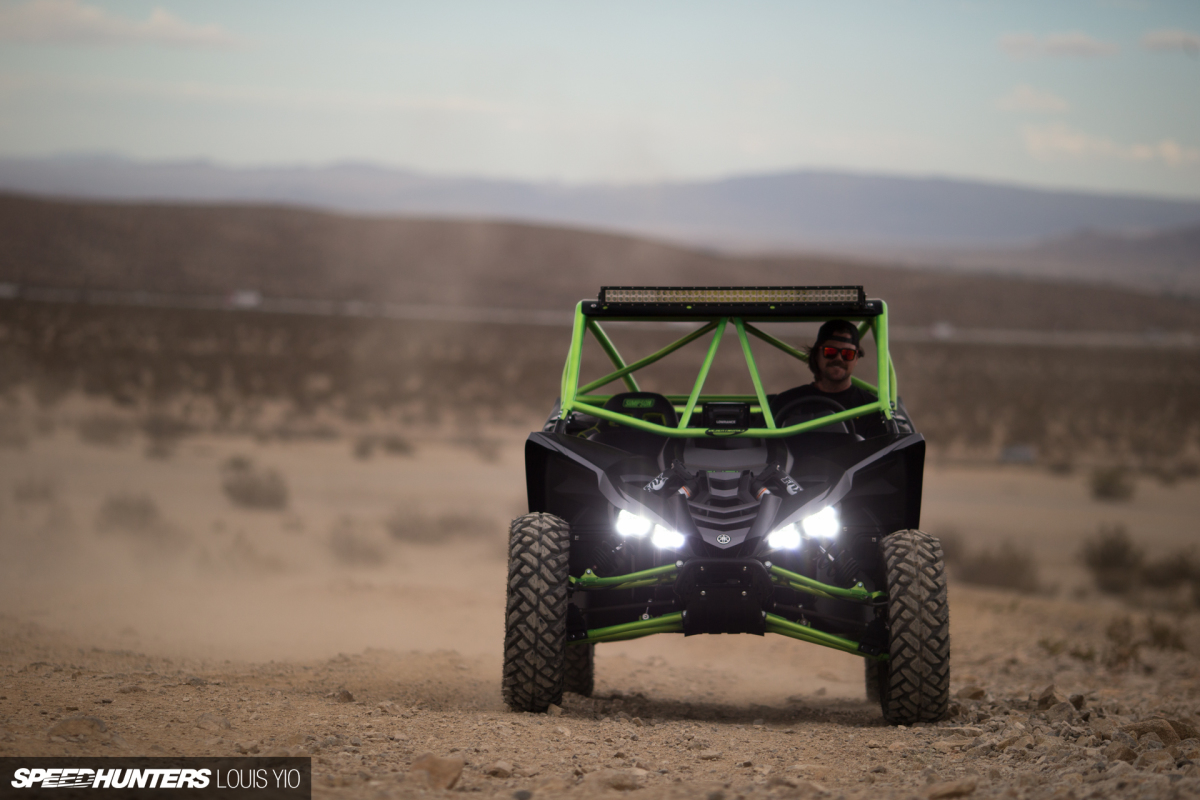 The best part about it? Many vehicles available for off-road use are a huge amount of fun right out of the box, even the Prius-equivalent ones. Take Yamaha's YXZ1000R for example. For those of you who don't know, this is currently the world's only 5-speed manual transmission equipped UTV, and because it's made by Yamaha, the 3-cylinder engine also revs past 10,000rpm and sounds like a finely-tuned orchestra. Seriously, we challenge you to not fall in love with that.
The sheer amount of thrills that become available to you once you're sat inside this hardware is staggering.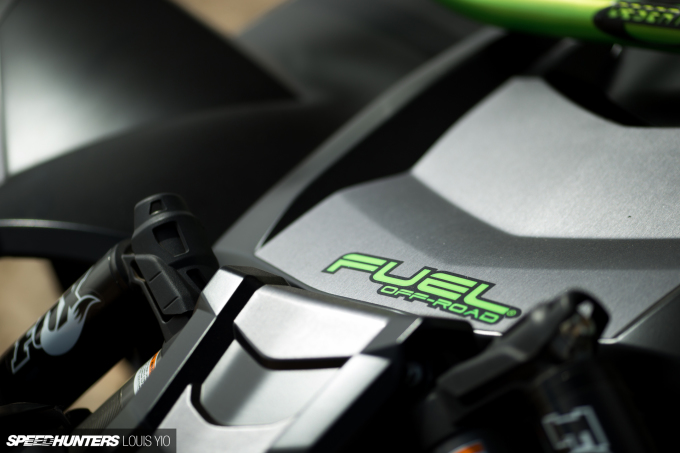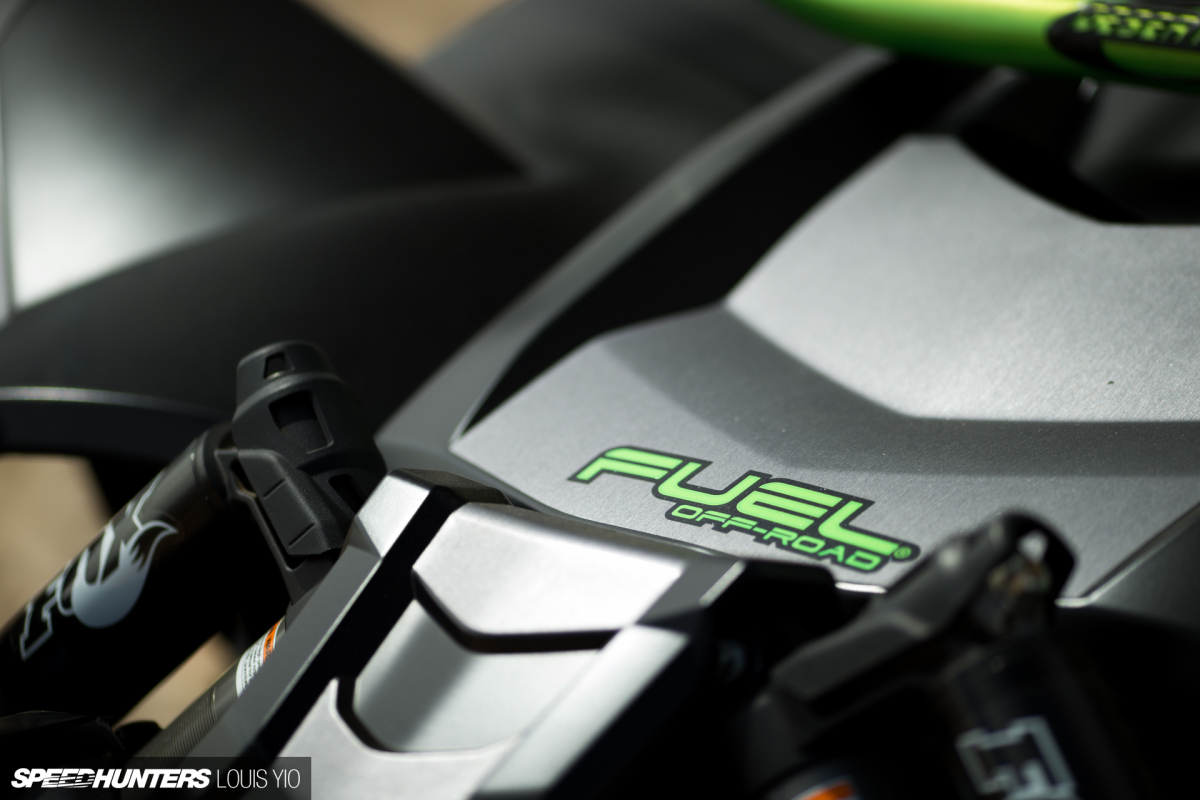 In this respect, you could argue that the YXZ1000R is the perfect platform to build upon. And this is exactly what our friends over at Fuel Off-Road decided to do with this beast.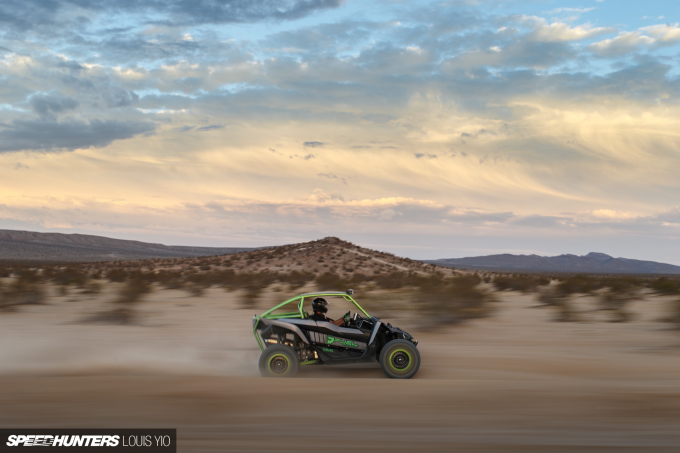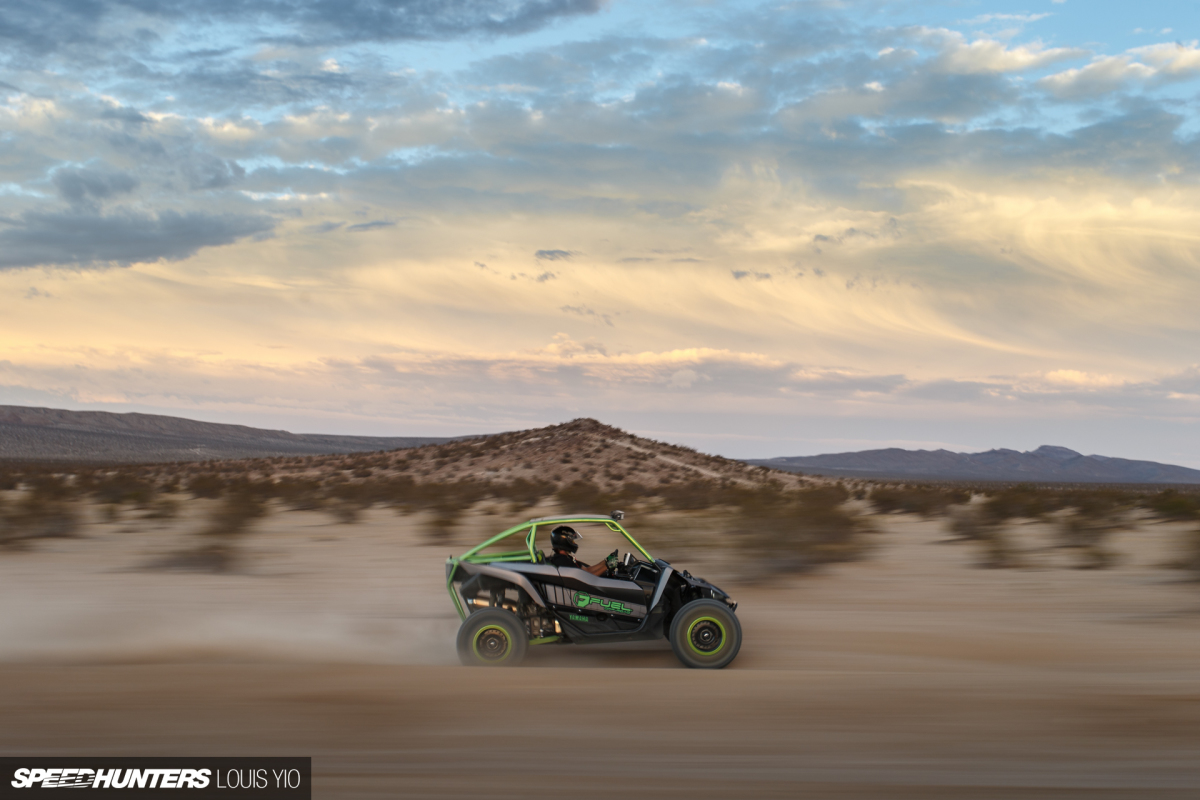 Fuel Off-Road specializes in wheels, tires and grilles for trucks and off-road vehicles, and our very own Louis Yio was recently invited out to Barstow, CA, to check out this modified UTV while the MHT Wheels TV guys put together this awesome film in the San Bernardino desert.
The search for good times is over.
All In The Details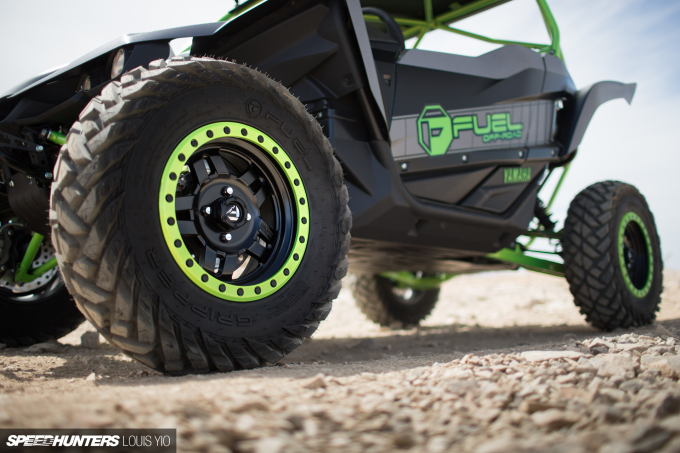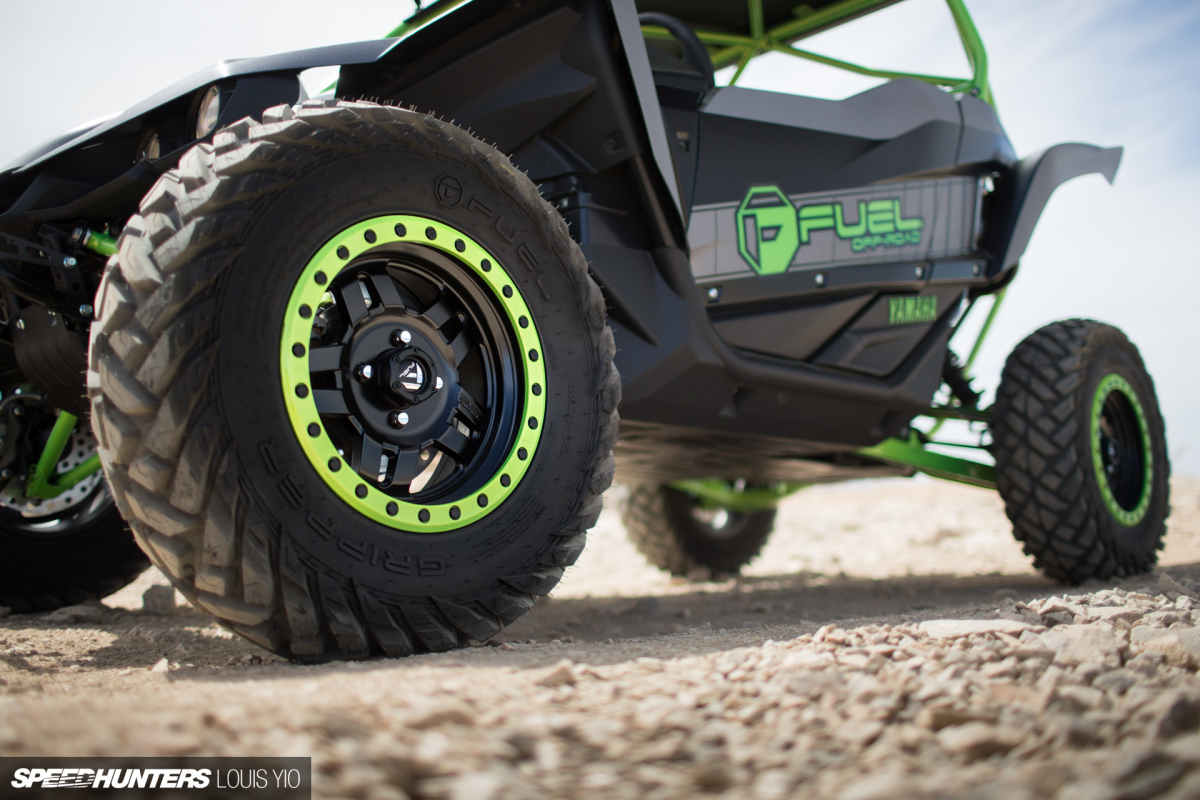 It should come as no surprise that Fuel Off-Road fitted the Yamaha with its newest wheel and tire designs. The Anza D557 is a matte black UTV-specific wheel that comes in 14- and 15-inch sizes, and here they measure 15×7-inch front and rear with custom Tiger-Lack Green rings.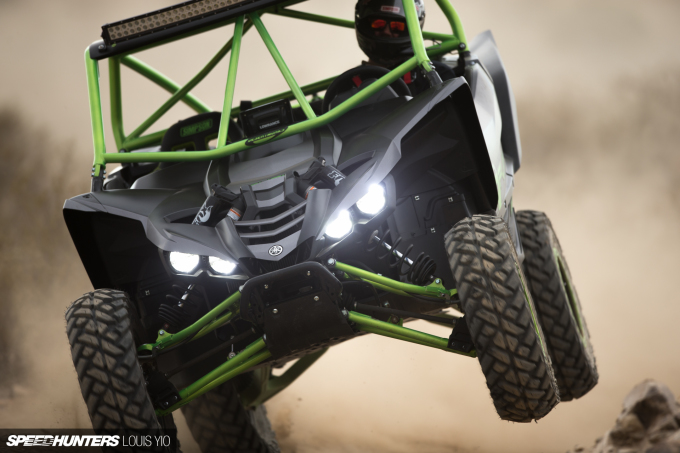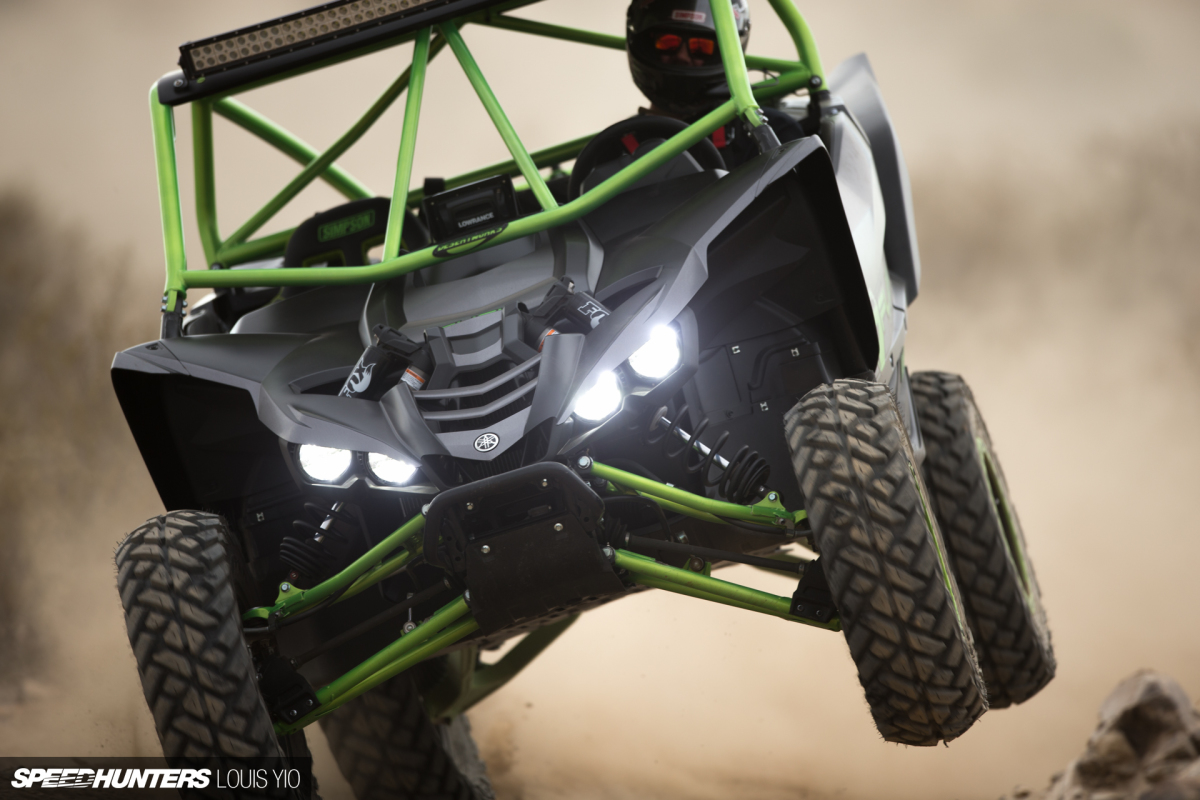 The Gripper UTV tire is also quite nice. You may not have noticed, but the tread pattern is actually the 'F' in the Fuel Off-Road logo, which is a subtle way to marry form and function. For this build, the YXZ1000R is sitting on 30×10-15Rs.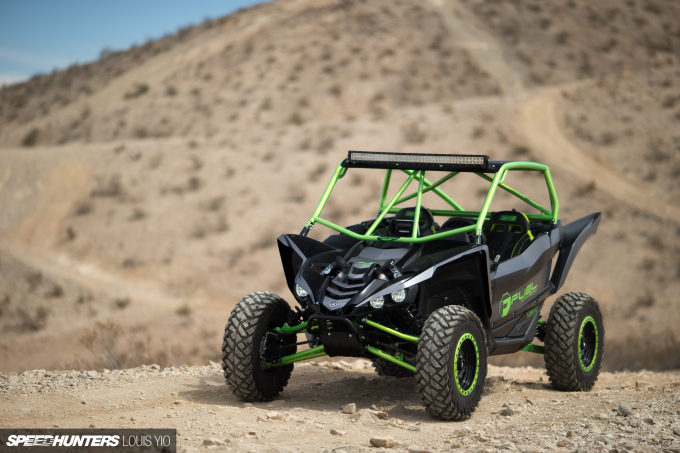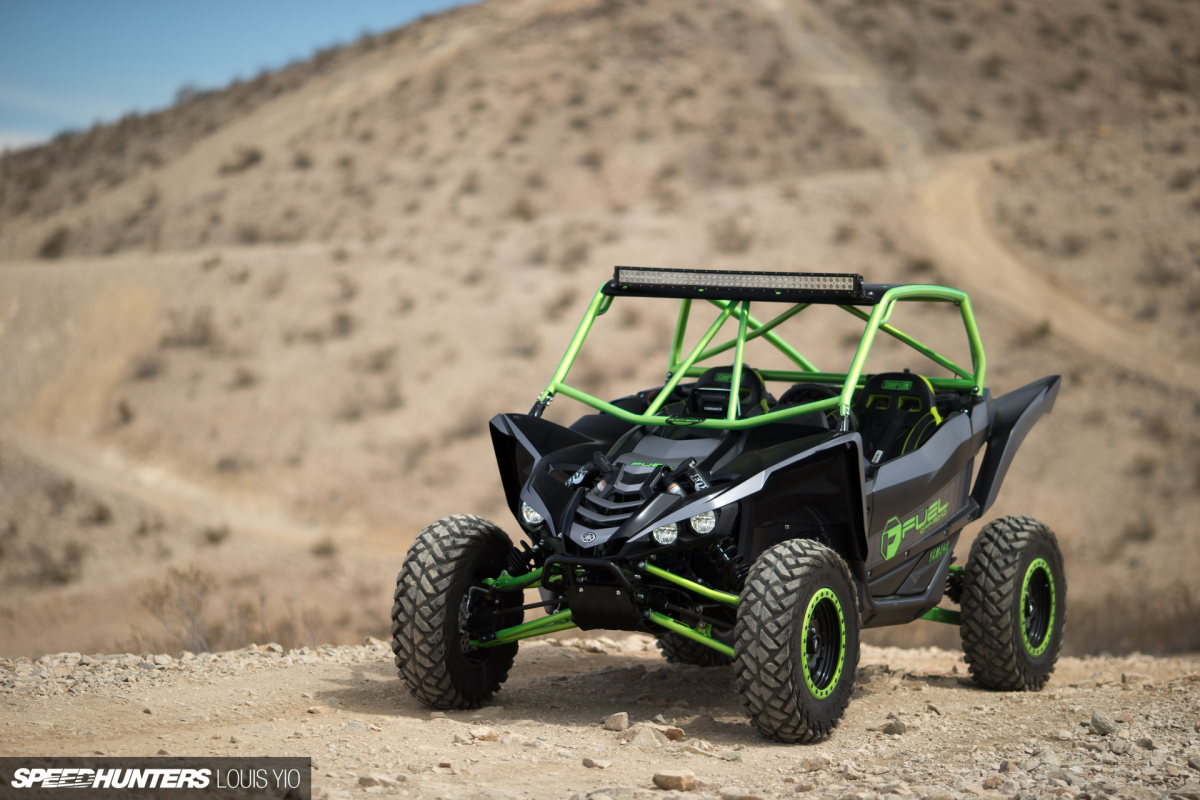 The Fuel Off-Road guys partnered with Desert Works and fabricated a complete custom rollcage to replace the original offered by Yamaha. A Bulldog Lighting light bar was also added for night driving. The interior now features custom Simpson seats as opposed to the originals, with Crow Enterprizes harnesses holding the passengers down. Because it's ultimately meant for desert mobbing, Fuel also added a PCI race radio along with a Lowrance GPS system.
The guys powder-coated the car Crushed Silver and the cage is Tiger-Lack Green. If you've seen the stock YXZ1000R, then you know how much more aggressive this one is.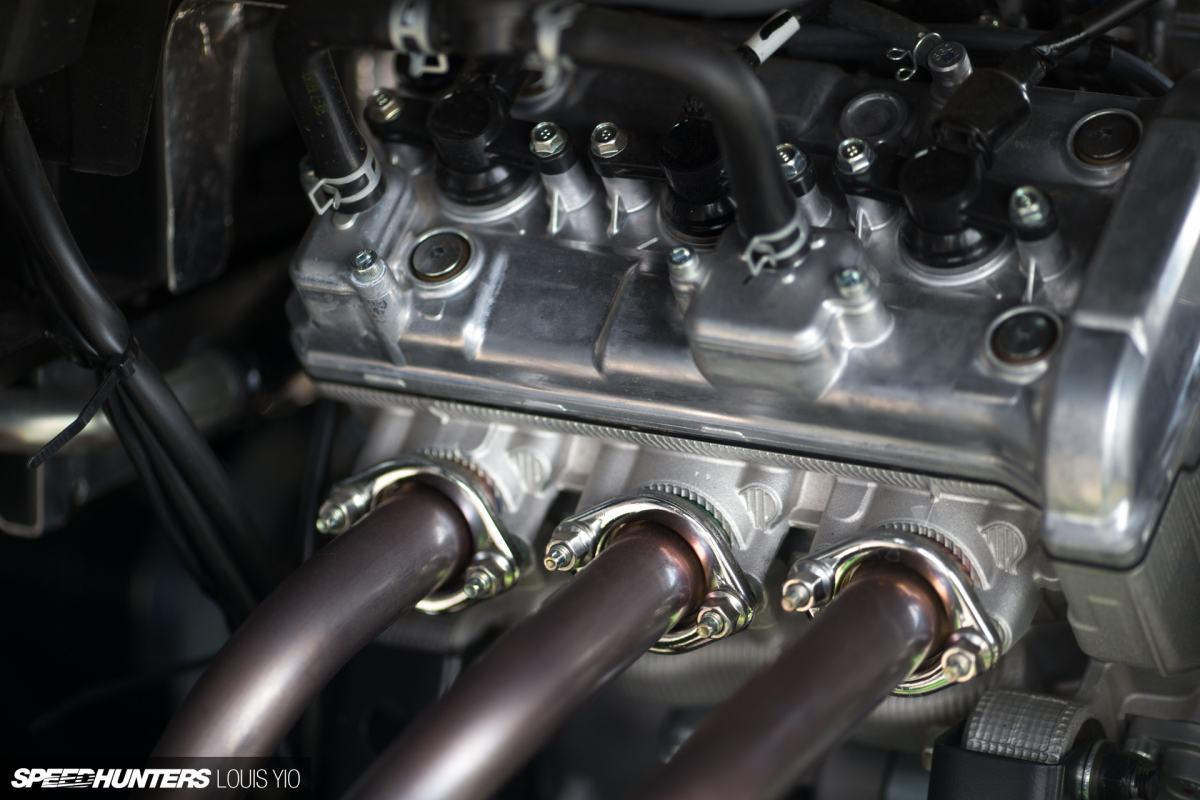 As mentioned earlier, the Yamaha runs a 3-cylinder engine (a 998cc 12-valve DOHC unit to be precise), and revs out to a glorious 10,500rpm. Are we having fun yet?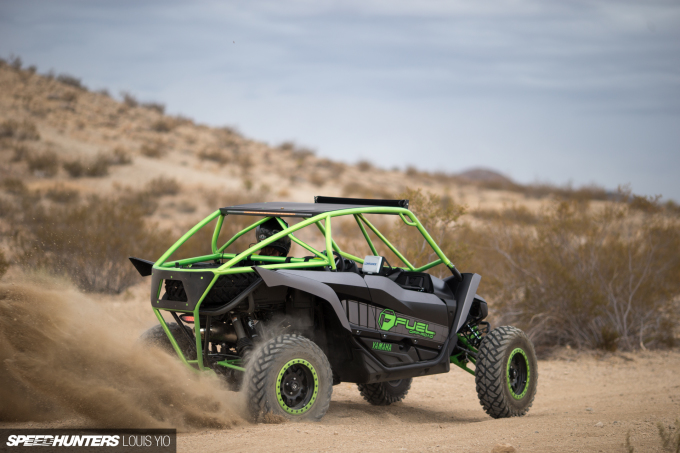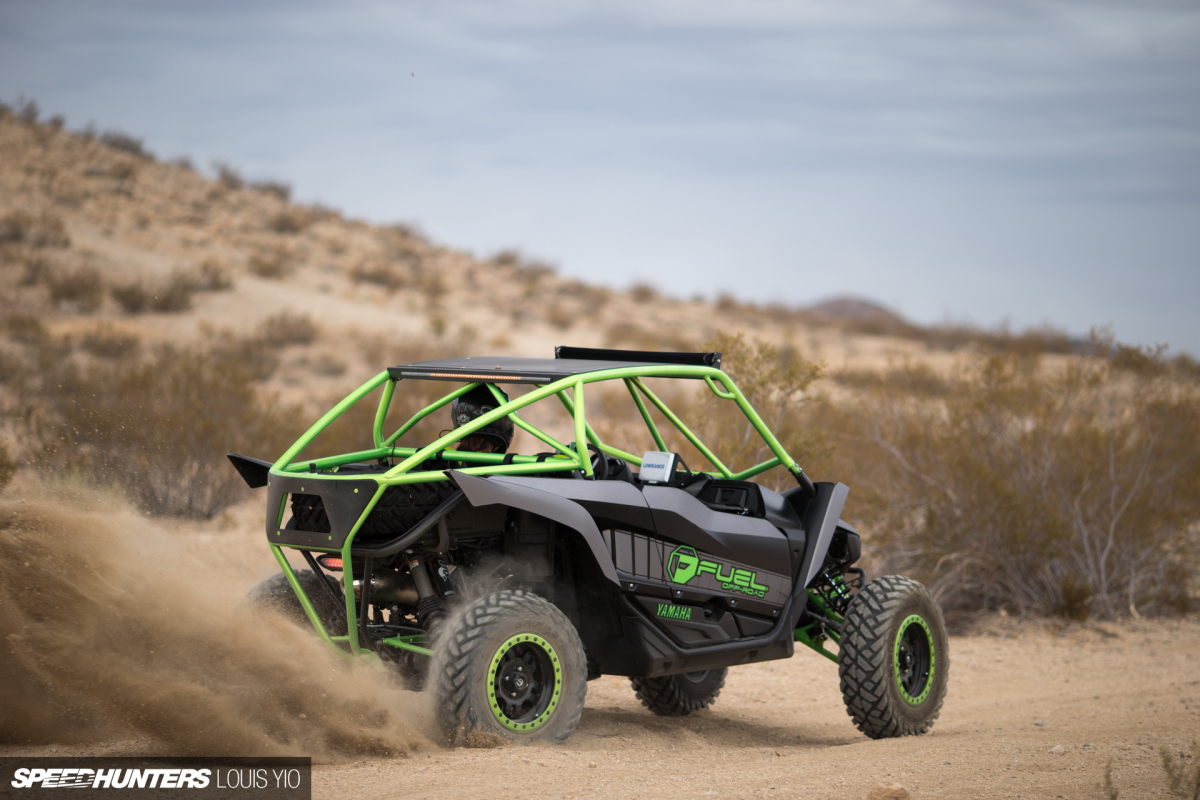 There is nothing better than a stick shift, three pedals, and you the driver's seat, so the sequentially-shifted manual 5-speed in the YXZ1000R is a welcome addition. Sure, there are some advantages having an automatic transmission in a UTV, but for the hardcore enthusiasts out there, this one's for you.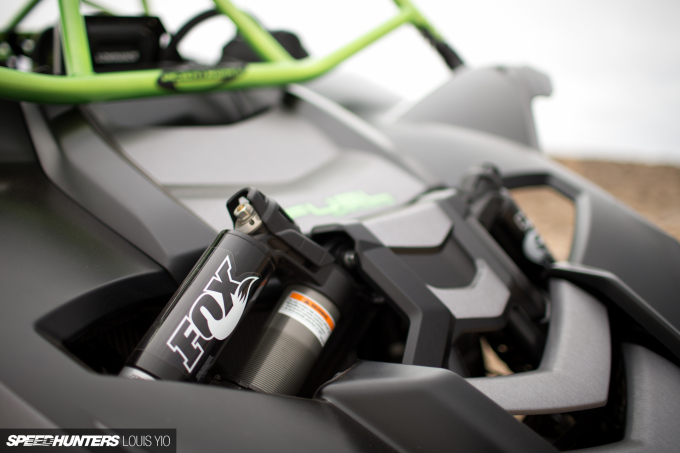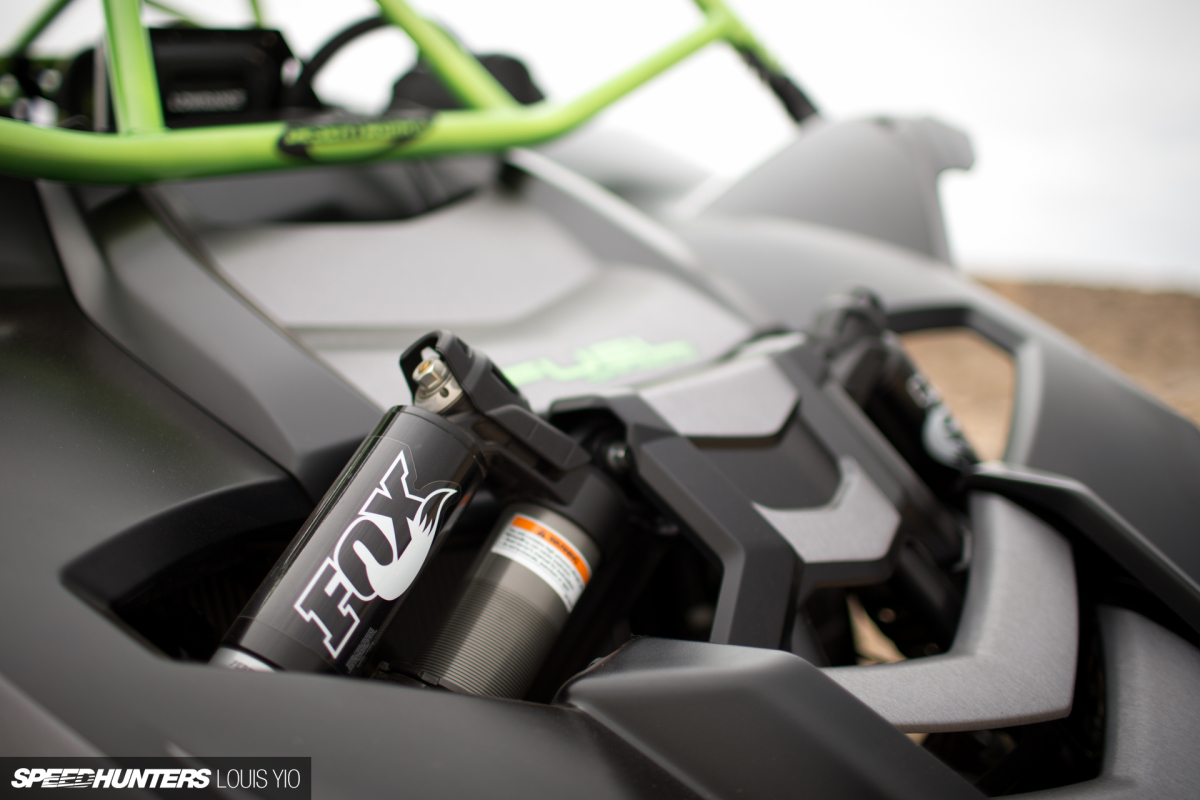 In the suspension department, Yamaha partnered with Fox to offer its 2.5 Podium RC2 shocks all around.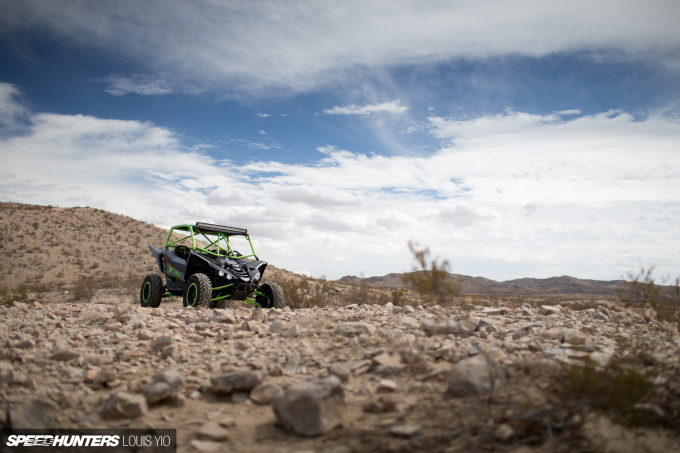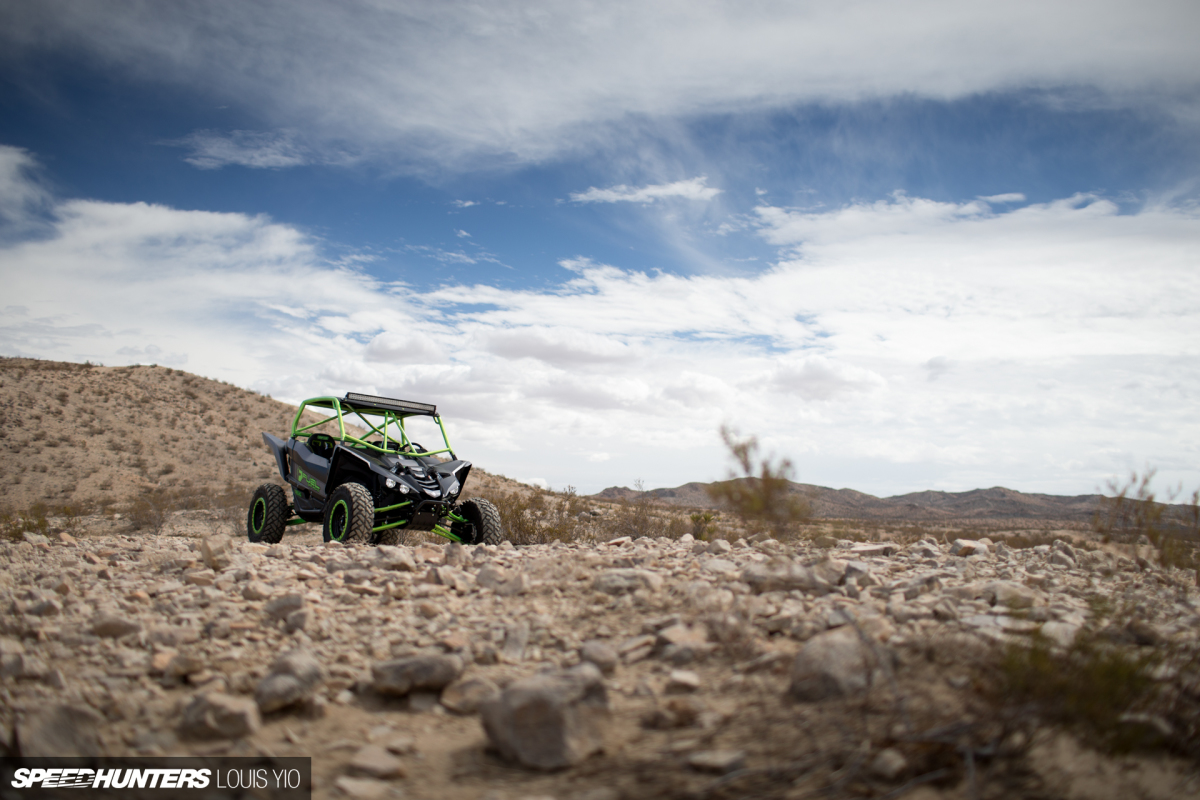 Up front you'll find 26-inch units, and in the back massive 32-inch shocks. Not only that, but they're all fully adjustable.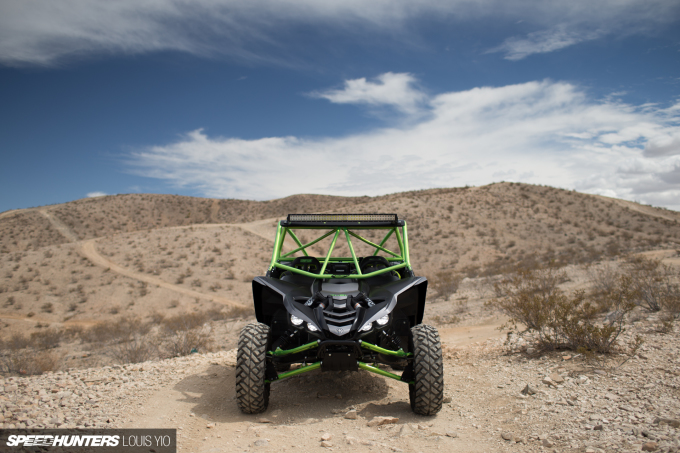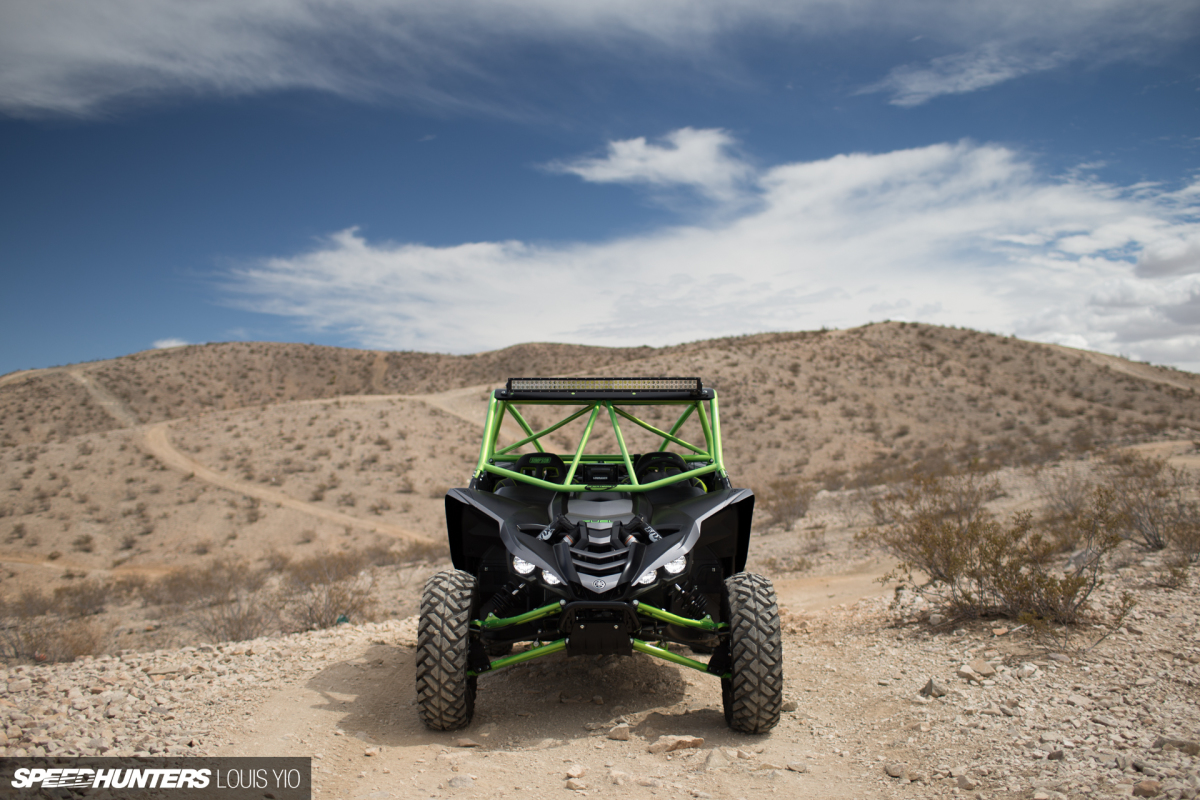 Both 2WD and 4WD can be toggled between, and it also comes with differential lockers to really help out in sticky situations.
In the Desert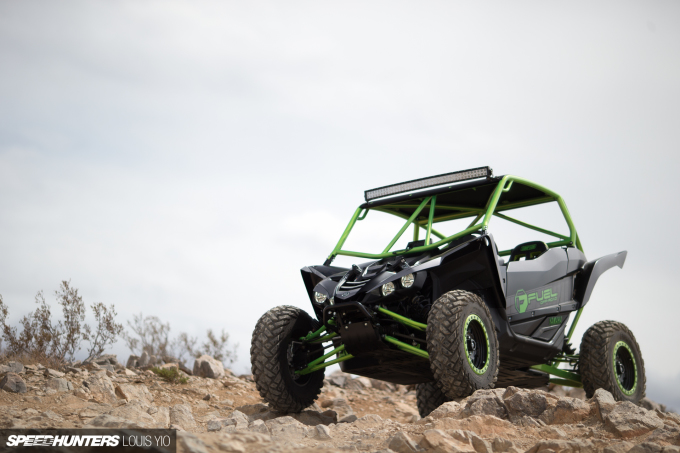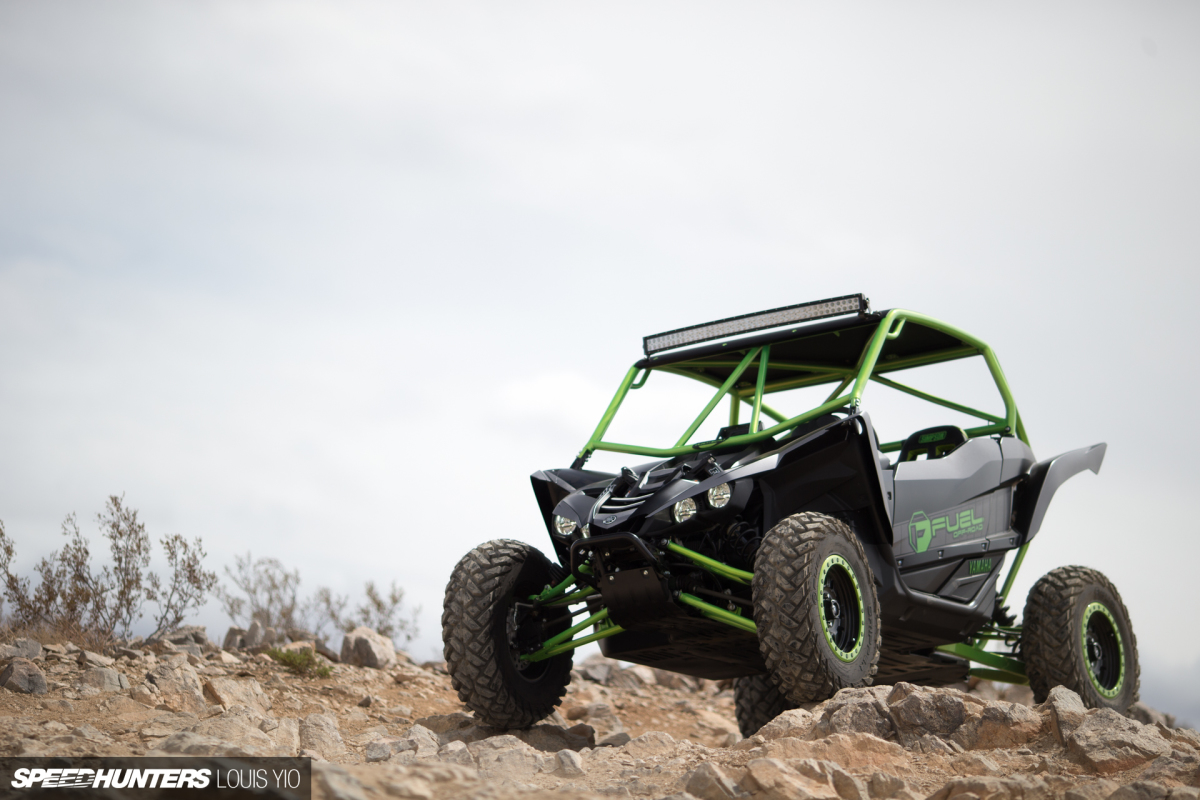 Meticulous planning goes into a shoot like this which allowed us to cherry pick the best spots and await the action to blast in front of our lenses.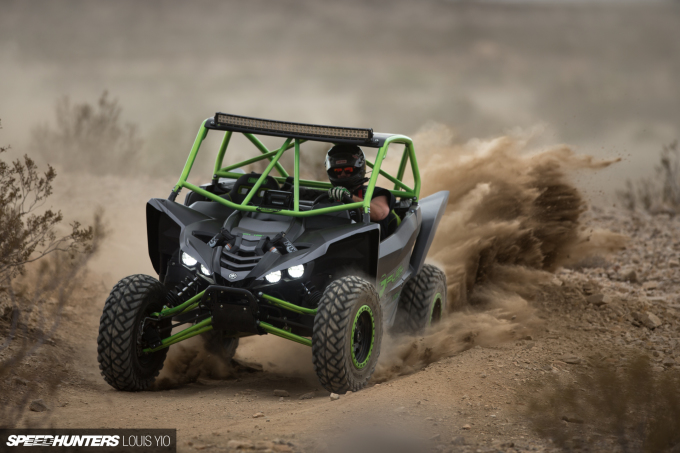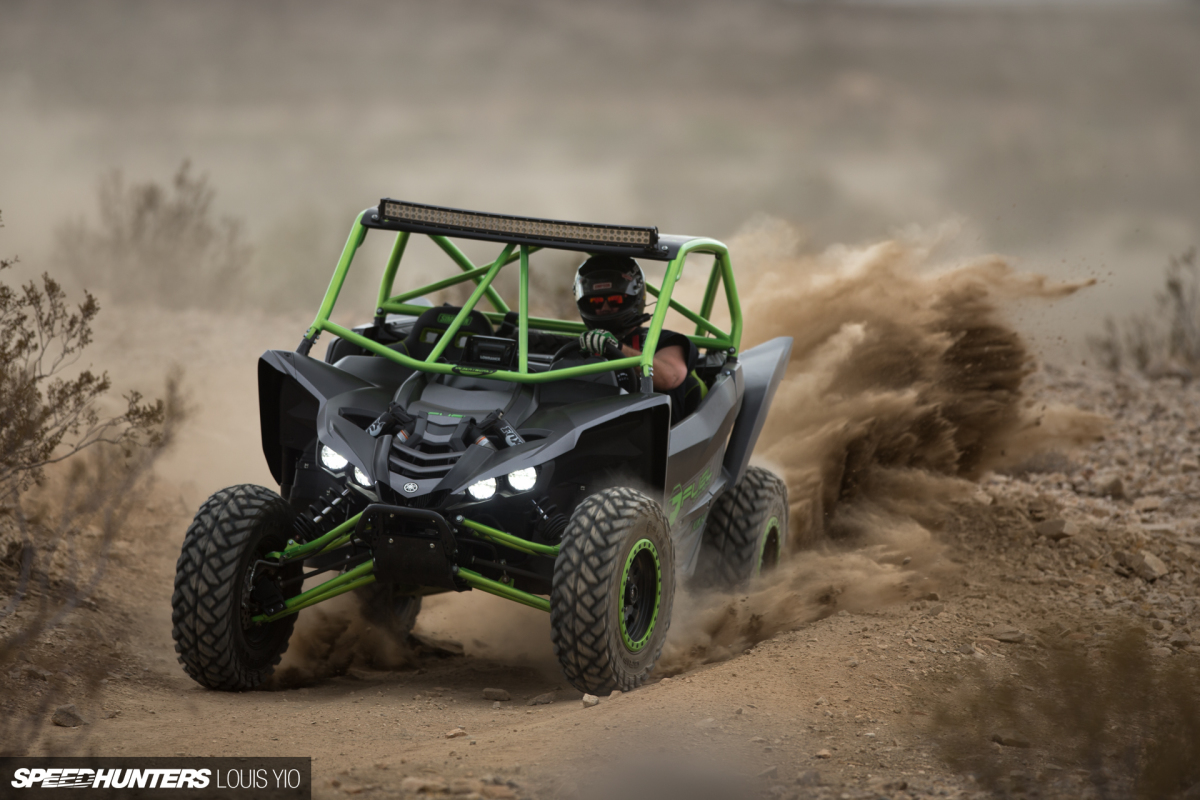 This route was filled with some incredible corners where the UTV would be able to really kick up some dirt.
It's always fun to shoot something new like a UTV. We photograph road cars 99 per cent of the time, so when the opportunity to play around with a something different, like a brand new Yamaha UTV that is unfortunately not street legal in the state of California (along with all UTVs), our heart rates begin to escalate fairly rapidly.
California laws… It's tough being a car enthusiast here – no UTV, no R34, no Rover Mini. Sigh…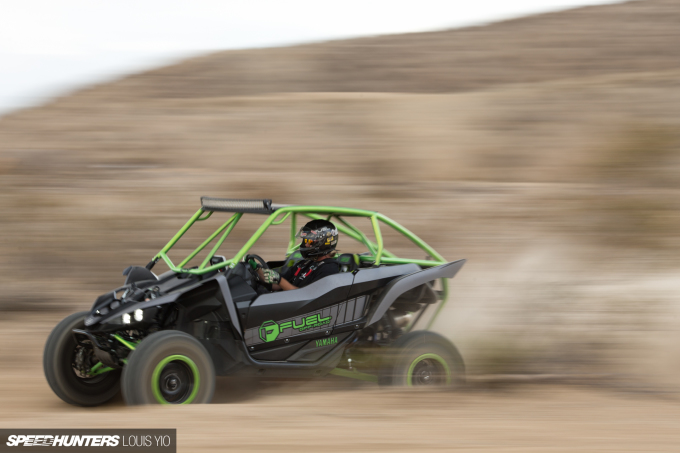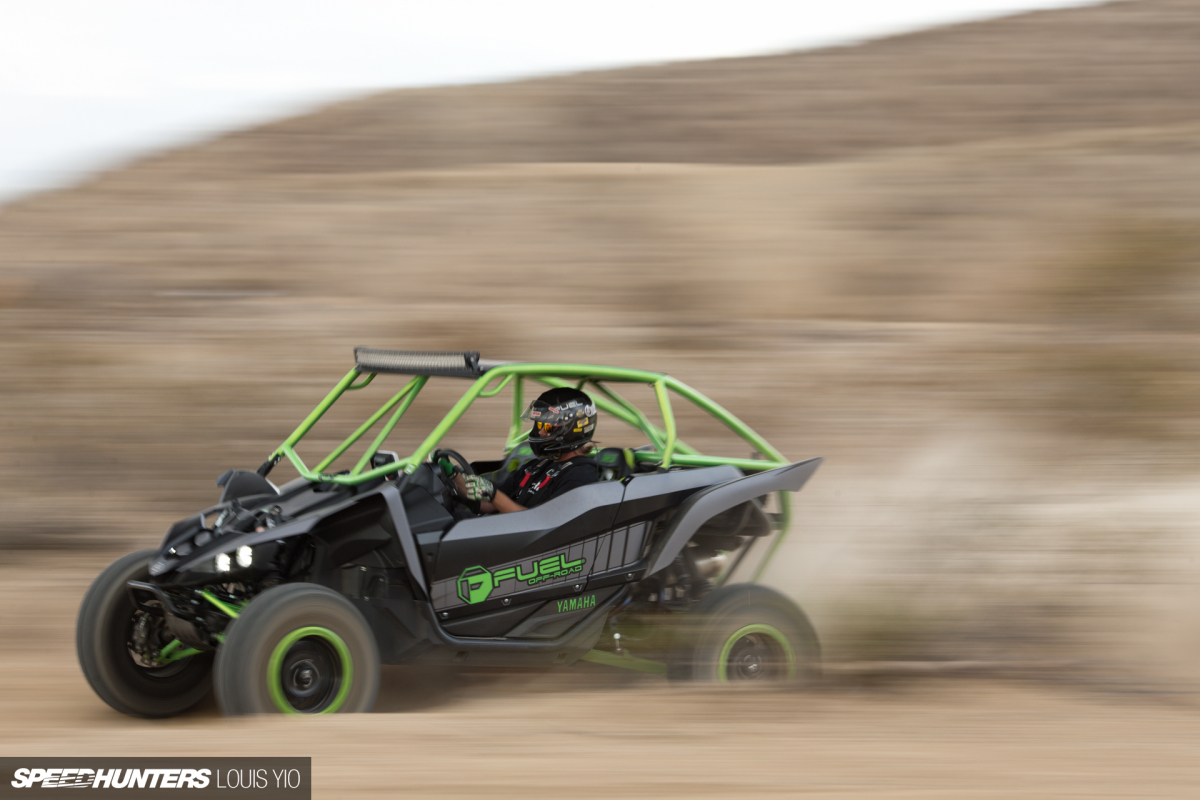 Getting back on topic, we shot right throughout the day and into the evening.
Watching Fuel Off-Road's UTV powering down the trail at sunset was truly exhilarating. This is the California desert, that is a wild animal being driven by a guy having the time of his life. What's not to love?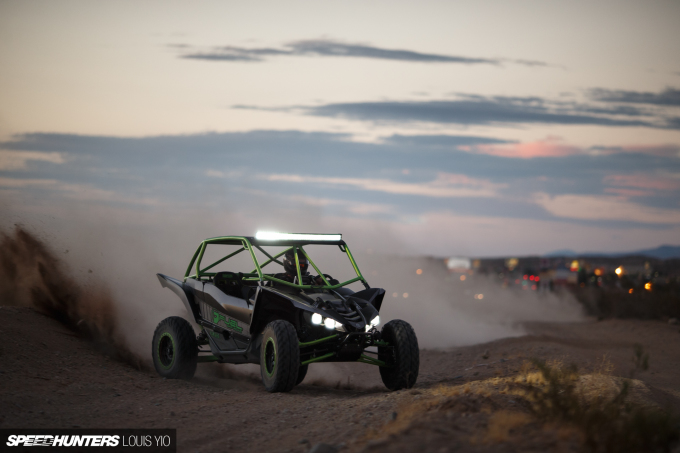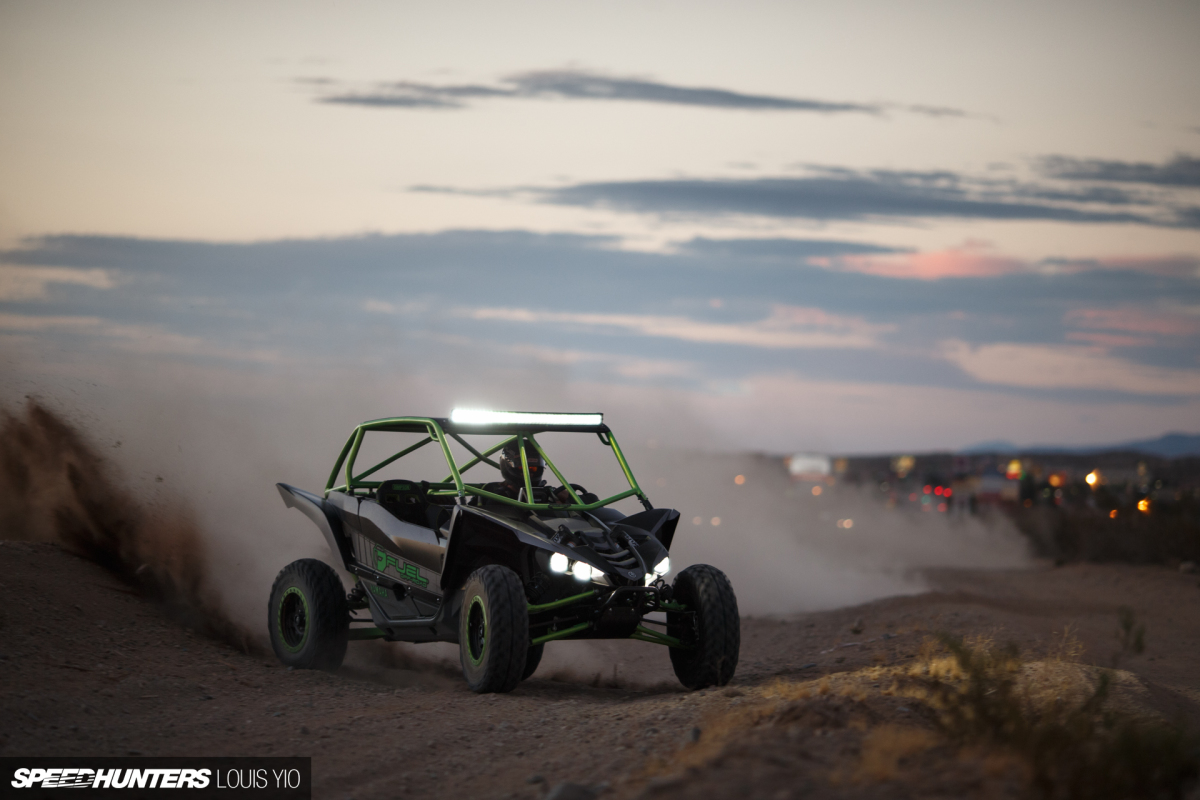 We finished the day off properly by asking our driver, Andy Rodman, to manji down a trail, resulting in magical lols from everyone present. Nobody wanted this to end. This was us doing our own little bit to shine – to bask in the vast expanse of thrill-seeking, freedom-loving good times that makes America, deserts and daft little dirt-crates like this the greatest thing on earth!
The Speedhunters
Images: Louis Yio
Instagram: lusciousy
louis@speedhunters.com
More Off-Road related stories on Speedhunters
Fuel Off-Road
Cutting Room Floor